So you're shopping for your wedding dress! Exciting! And while you want something classic and beautiful, you also want to make sure you're not wearing the same dress as every bride at every wedding you went to last year, but rather something fresh and fashionable. Lucky for you, the bridal runways are teeming with brilliant ideas at the moment – new takes on old silhouettes, exciting embellishments, and dreamy fabrics. We've looked into our crystal ball to predict the ten wedding dress trends that will be making a splash with brides in 2019. You will have already seen some of these gracing celeb weddings, and others on the bridal catwalks – we can't wait to see them in our real weddings inbox! Which of these 2019 bridal trends speaks to you the most?
*Links in bold denote affiliate links. The cost to you remains the same, but SBB may receive a commission for any sales made.
1. Metallics
Shiny metallics have been on the up for a while, but they're really having their moment right now. And while golden shades are still en vogue, the real hit of the Spring 2019 catwalks was silver. Whether you opt for metallic thread in your fabric, metallic details, or full-on sequin glamour, this is a gorgeous look for a modern bride.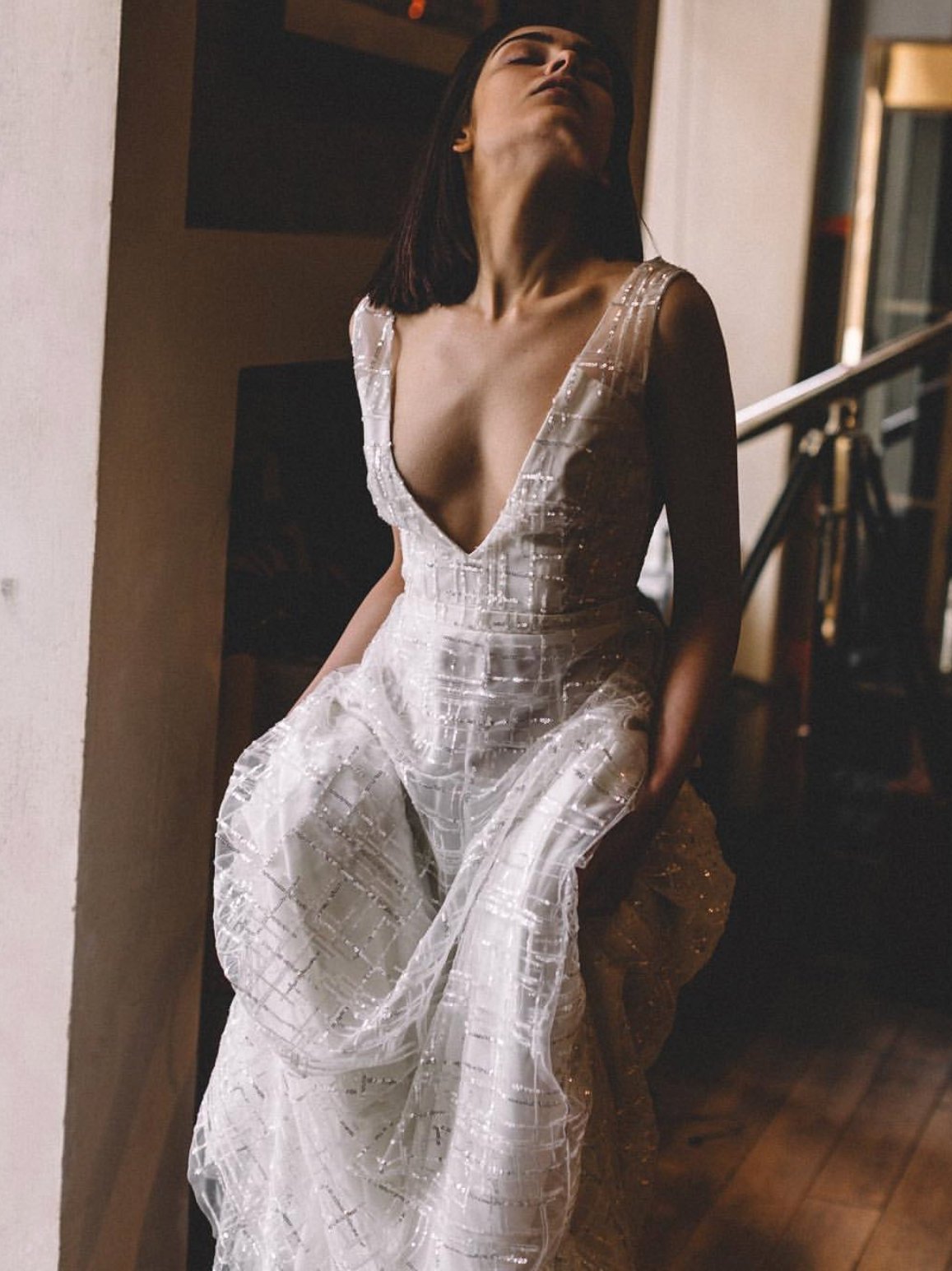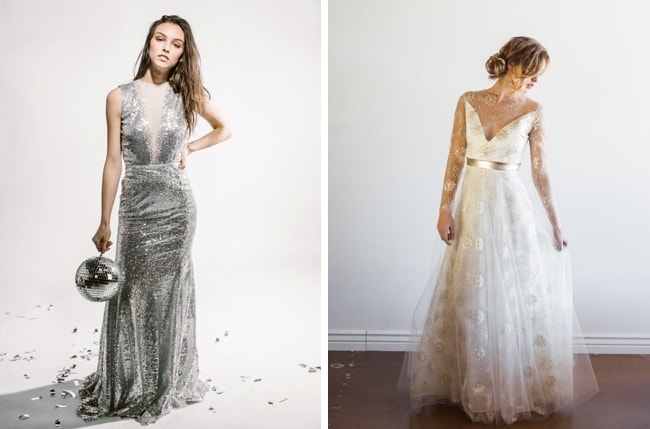 Unique Sparkly A-line Wedding Dress by Boom Blush (top) | Buchanan Sequin Wedding Gown by Sweet Caroline Styles (bottom left) | Samantha Tattoo Lace Floral Metallic Gown by Cleo and Clementine (bottom right, image: Rebecca Young)
2. Statement Bows
Brides love bows! This classic embellishment is definitely having a bridal fashion moment right now, and we're loving all the beautiful ties seen on the catwalks earlier this year. From statement sculptured back bows, to bow-tied high necklines, to bow embellished shoulders, to unique bow necklines – they all make a gorgeous statement!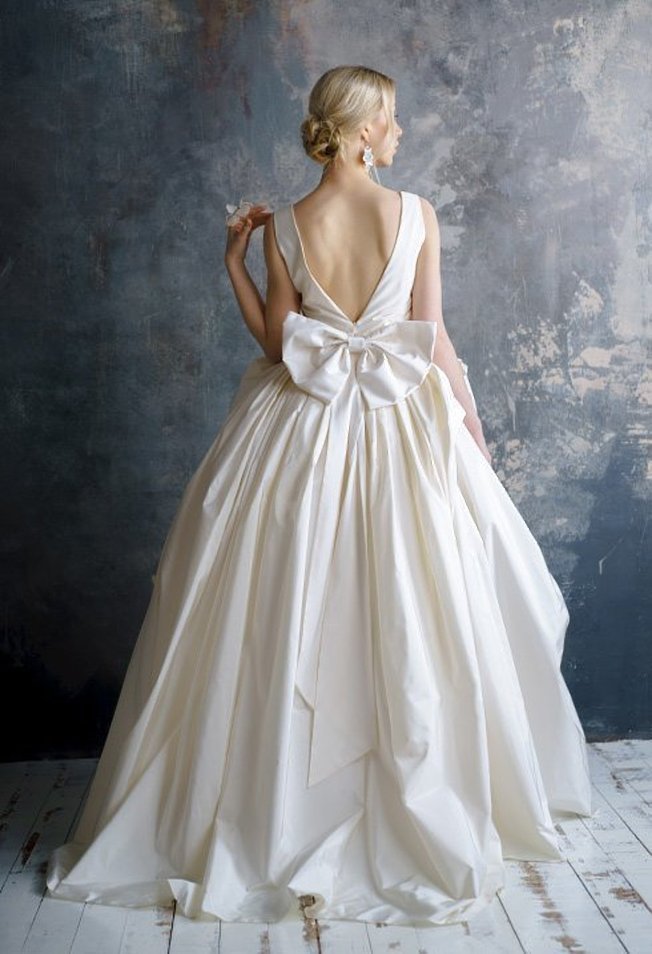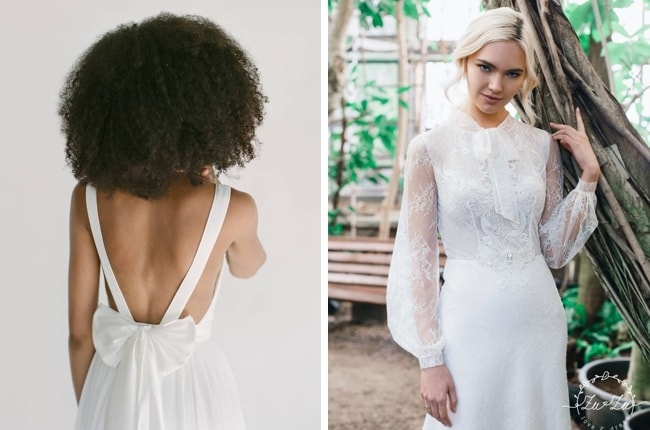 VERIDA Wedding Dress with Bow by Victoria Spirina (top) | Brianna by Truvelle (bottom left) | Estella Elegant Lace Bow Sheath Wedding Dress by Dress ZuZu (bottom right)
3. Jumpsuits
Once just for civil weddings and bold fashionista brides, bridal jumpsuits and pantsuits are very much here to stay. Love the look but still want to rock a dress for your ceremony? Opt for a removable skirt, or change into a jumpsuit for your reception. Style AND comfort – so good!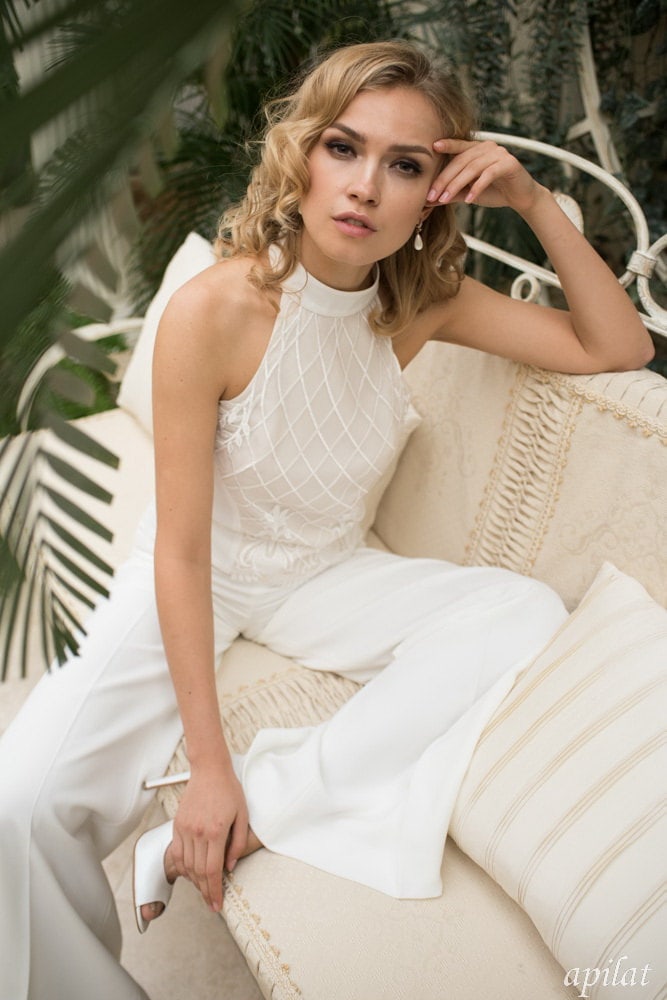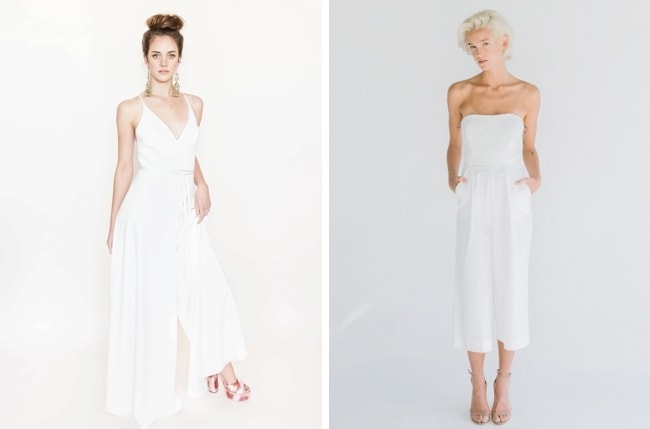 Modern Two Piece Trouser Wedding Suit by Apilat Wedding (top) | PENELOPE JUMPSUIT by Frankie and Maude (bottom left) | Juniper by Truvelle (bottom right)
See more bridal jumpsuits in our roundup!
4. Modern Minimalism
Make like Meghan Markle with your wedding dress pick – minimalism is all the rage! We're loving the sleek silhouettes and luxurious fabrics that we're seeing in the new collections, simple, understated gowns that channel a beautifully retro '90s vibe. Plus, this is a look that will age beautifully – classic and contemporary at the same time.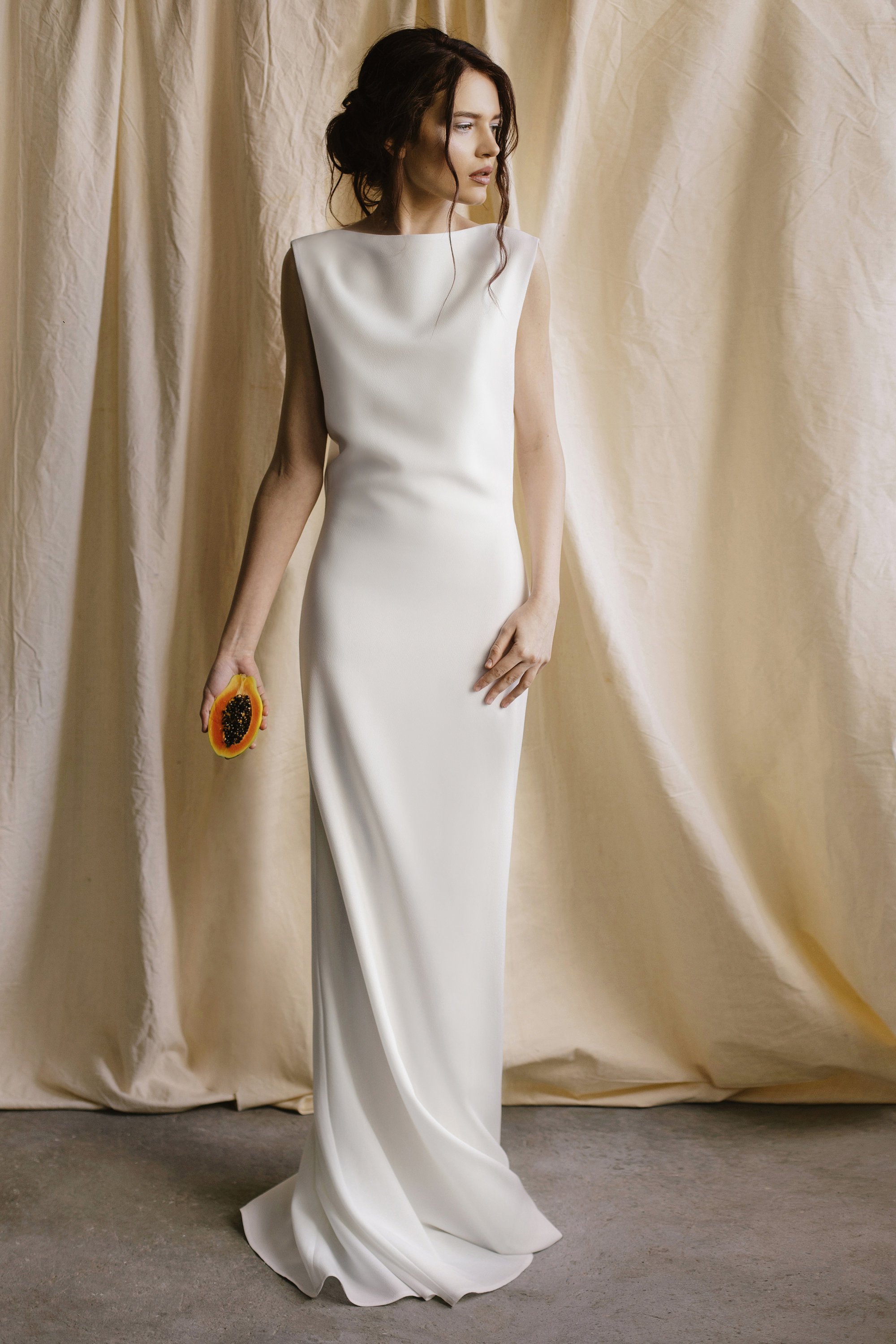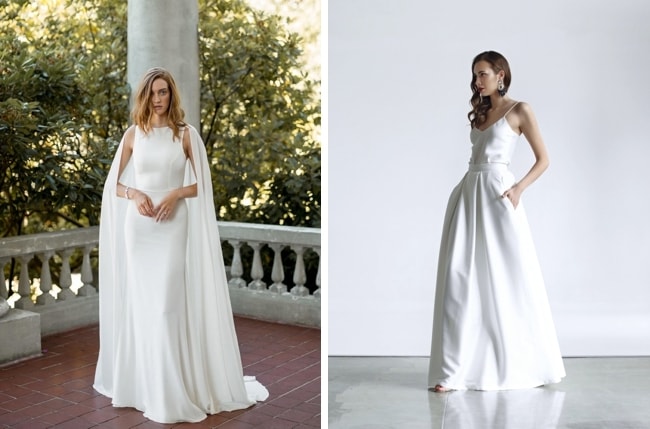 Minimalist Wedding Dress by Be Twins (top) | Vivienne Modern Sophisticated Bridal Gown by Davie and Chiyo (bottom left, image: Inga Avedyan) | Boho Maxi Wedding Separates by Dream and Dress (bottom right)
See more minimalist wedding gowns in our roundup!
5. Bold Blooms
Not like florals for bridalwear are new, but they're definitely getting bolder and ever more beautiful. This includes floral prints and embroidery, as well as gorgeously whimsical 3D floral embellishments that make dresses like magical secret gardens. Swoon.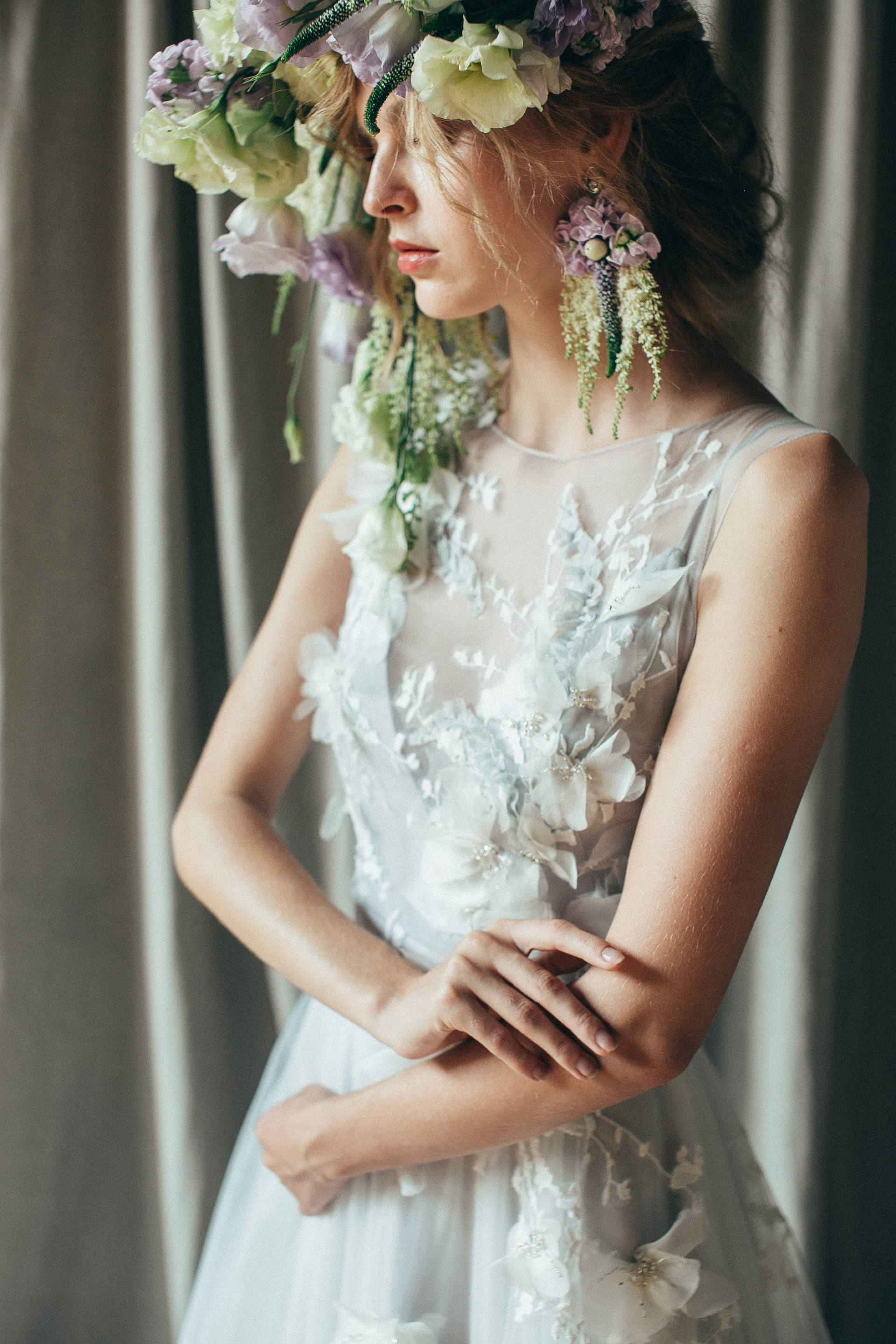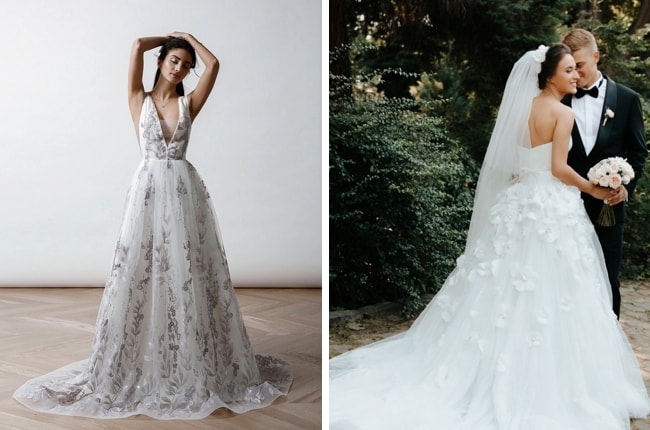 Veronika Ivory Tulle Wedding Gown by Mywony Bridal (top) | Boho Lace Floral Wedding Dress by Boudoir Wedding (bottom left) | Strapless 3D Ivory Flowers Bridal Dress by Niel Atelier (bottom right)
See more floral wedding dresses in our roundup!
6. Plunge V-Necklines
With many of the current trends leaning towards modesty, deep v-necklines are a great way to add a daringly sexy touch. If this is a look you can pull off, why not take the plunge?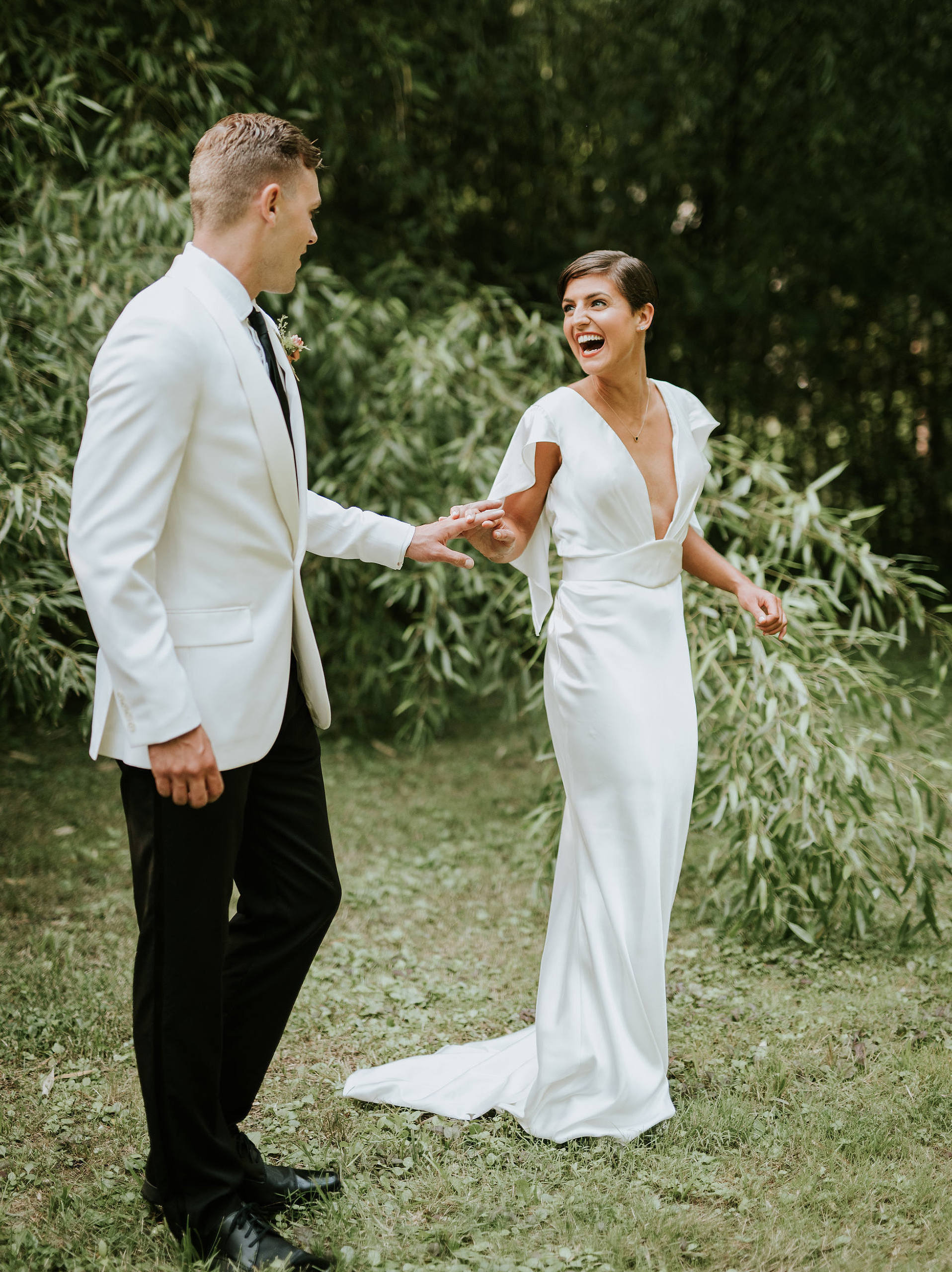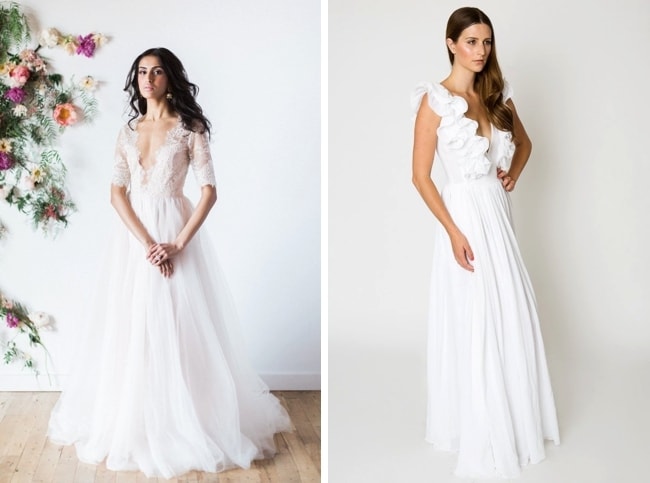 Bianca Plunging Goddess Boho Bridal Gown by Theodora James Armoire (top) | Azalea Blush Wedding Dress by Mywony Bridal (bottom left) | White Ruffle Bohemian Wedding Dress by Dreamers and Lovers (bottom right)
7. Lilac & Lavender
Blush has had its moment, blue has had its moment – mix 'em together and you get possibly the prettiest pastel wedding dress shade of all! Soft lilacs and lavender are a big bridal trend for 2019, having popped up for everyone from Vera Wang to Hayley Page. We're big fans!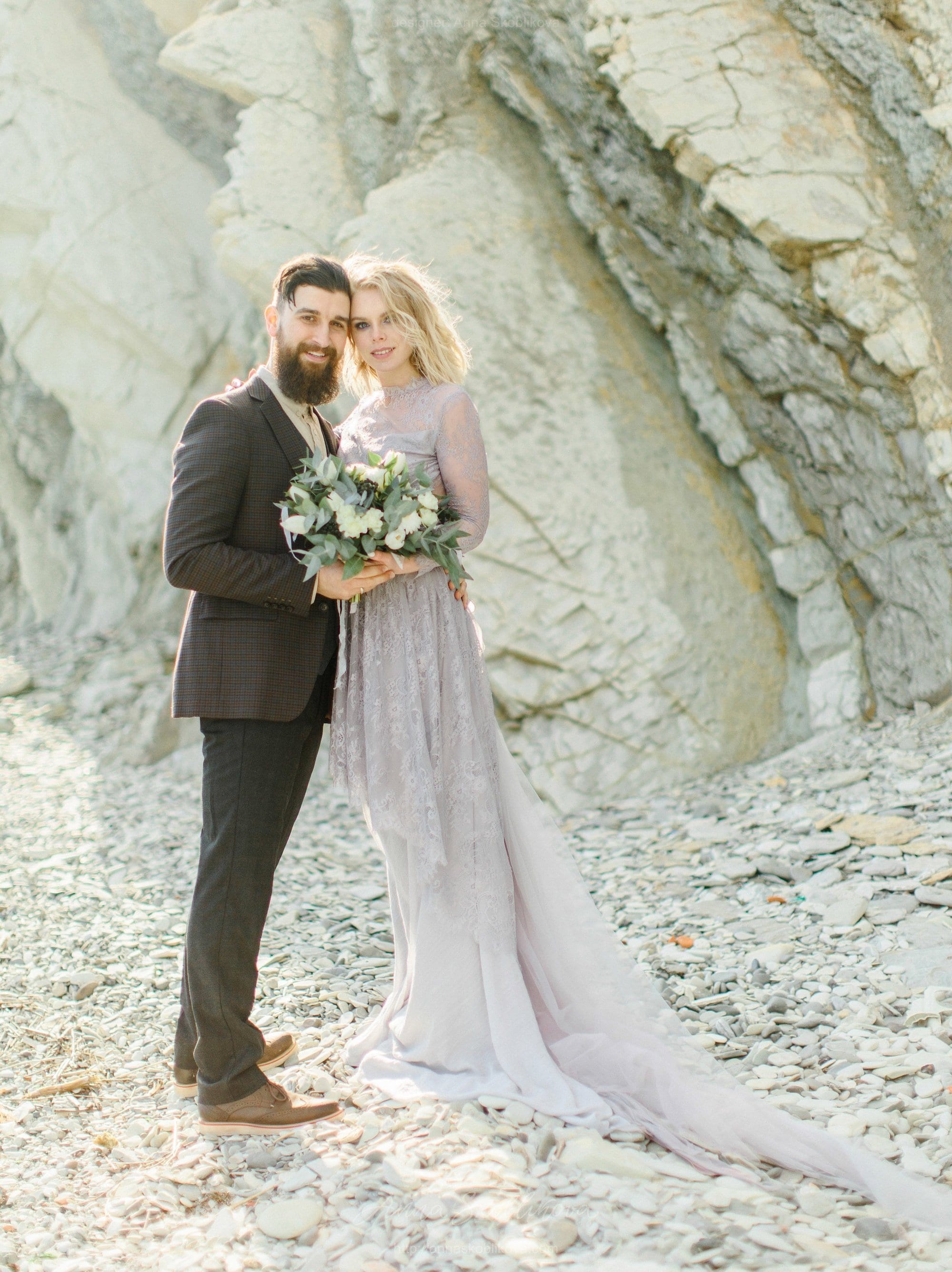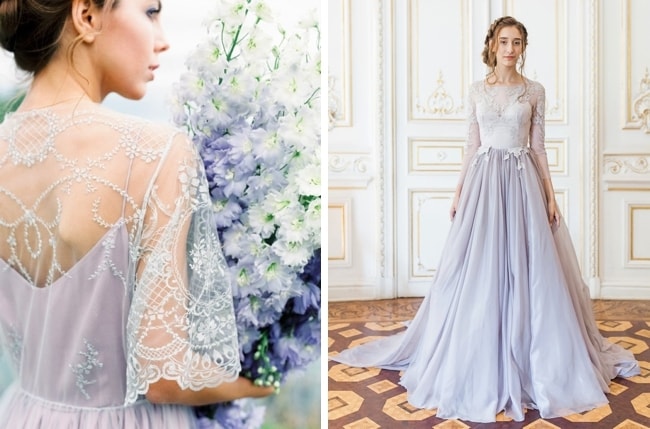 Lilac Long Sleeve Wedding Dress by Anna Skoblikova (top) | Wedding Dress 'Silver Lilac' by Bluebells Wedding (bottom left) | Lalaing Wedding Dress by Cathy Telle (bottom right)
See more lilac & lavender gowns in our roundup!
8. Tiered Skirts
Multi-tiered skirts are everywhere for next season, proving what's old is new yet again. This time round, tiers get a high fashion makeover, so not only are they perfect for boho brides who want to evoke the '70s, they're also a beautiful option for high fashion and romantic brides.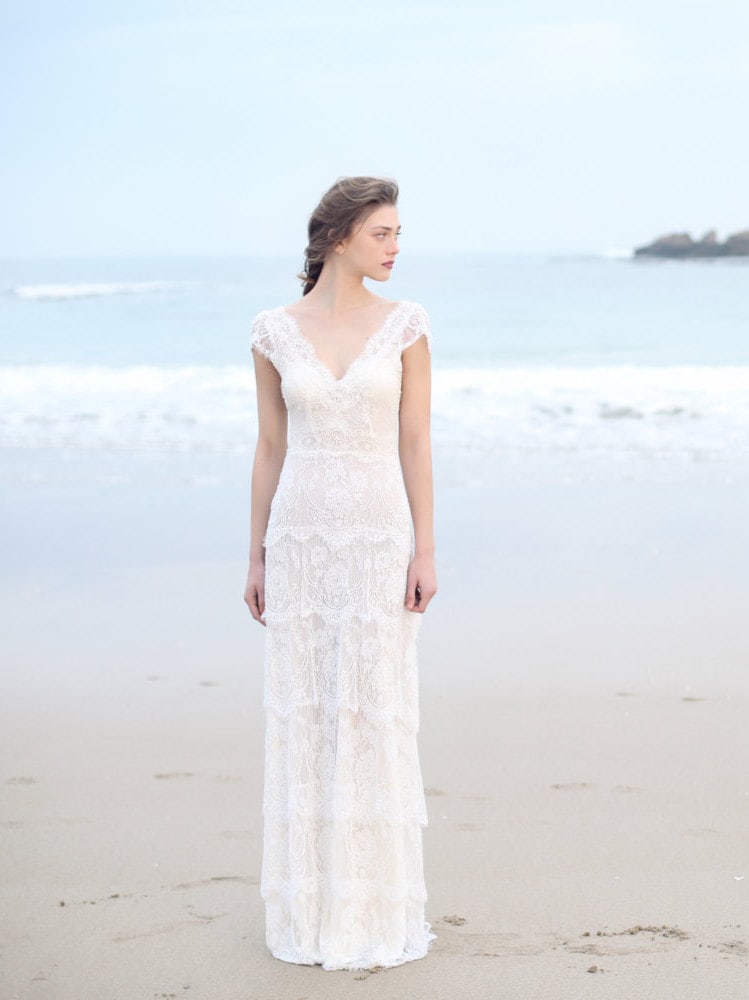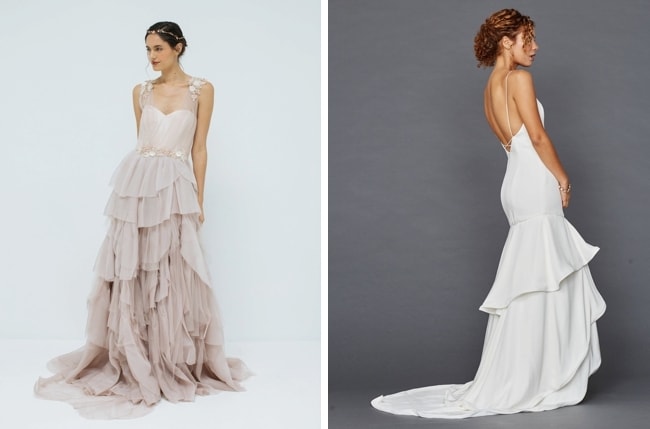 Beaded Boho Tiered Wedding Dress by Motil Bespoke Bridal (top, image: Ella Uzan) | Millicent Rose Wedding Dress by Natalie Chan Bridal (bottom left) | The Celia by Gretchen Dawley Bridal (bottom right)
9. Pearl Embellishments
Pearls are back! With pearl jewellery having made a comeback over the last year, it was only a matter of time until pearl embellishments showed up on the bridal catwalk. If you love a bit of luxury, but are over the bling of crystal, then this is the perfect look for you!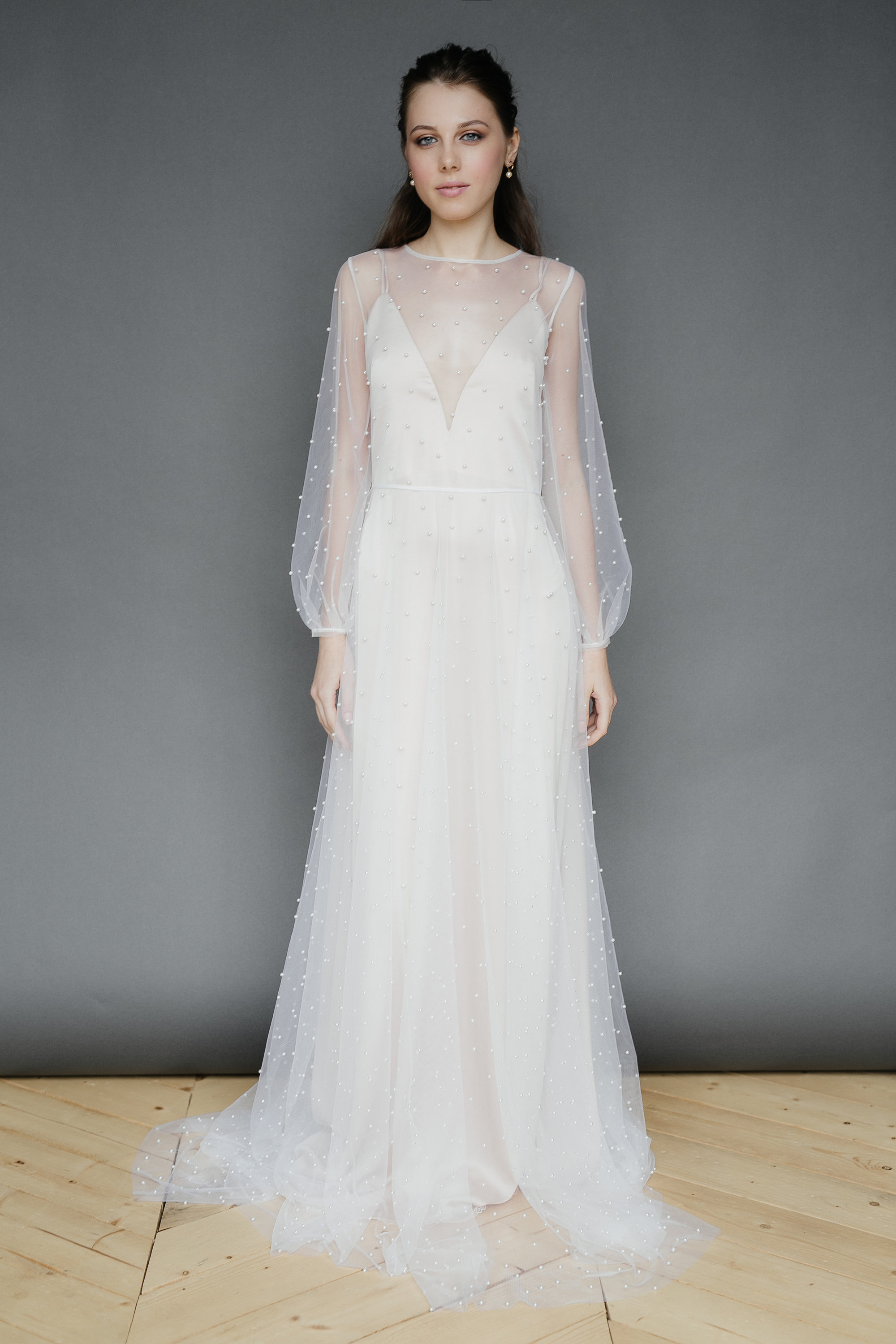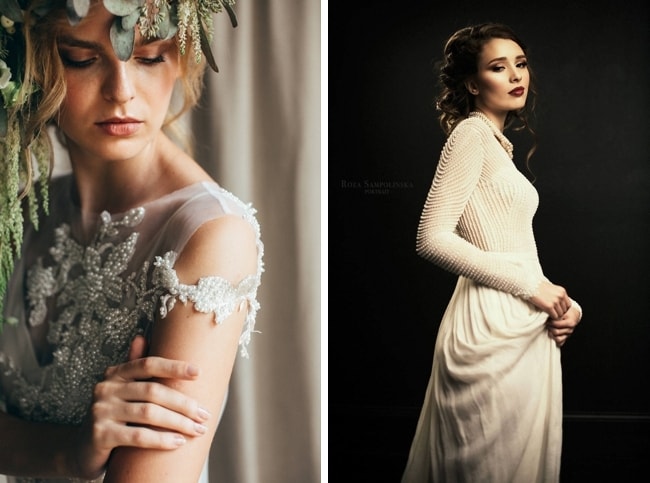 Wedding Pearl Dress with Tulle Skirt by Dream and Dress (top) | Felicia Boho Wedding Dress by Mywony Bridal (bottom left) | Hand Beaded Pearl Wedding Dress by A Cherie Couture (bottom right)
10. Puffy Sleeves
Sleeves have gotten super playful all of a sudden, and the breakout trend for 2019 is puffy! But make no mistake – these are not the ugly poufs of the '80s bubble sleeve. Oh no – these are sheer, pretty, and definitely fashion forward. They add a playful, ethereal touch to a dress that we love.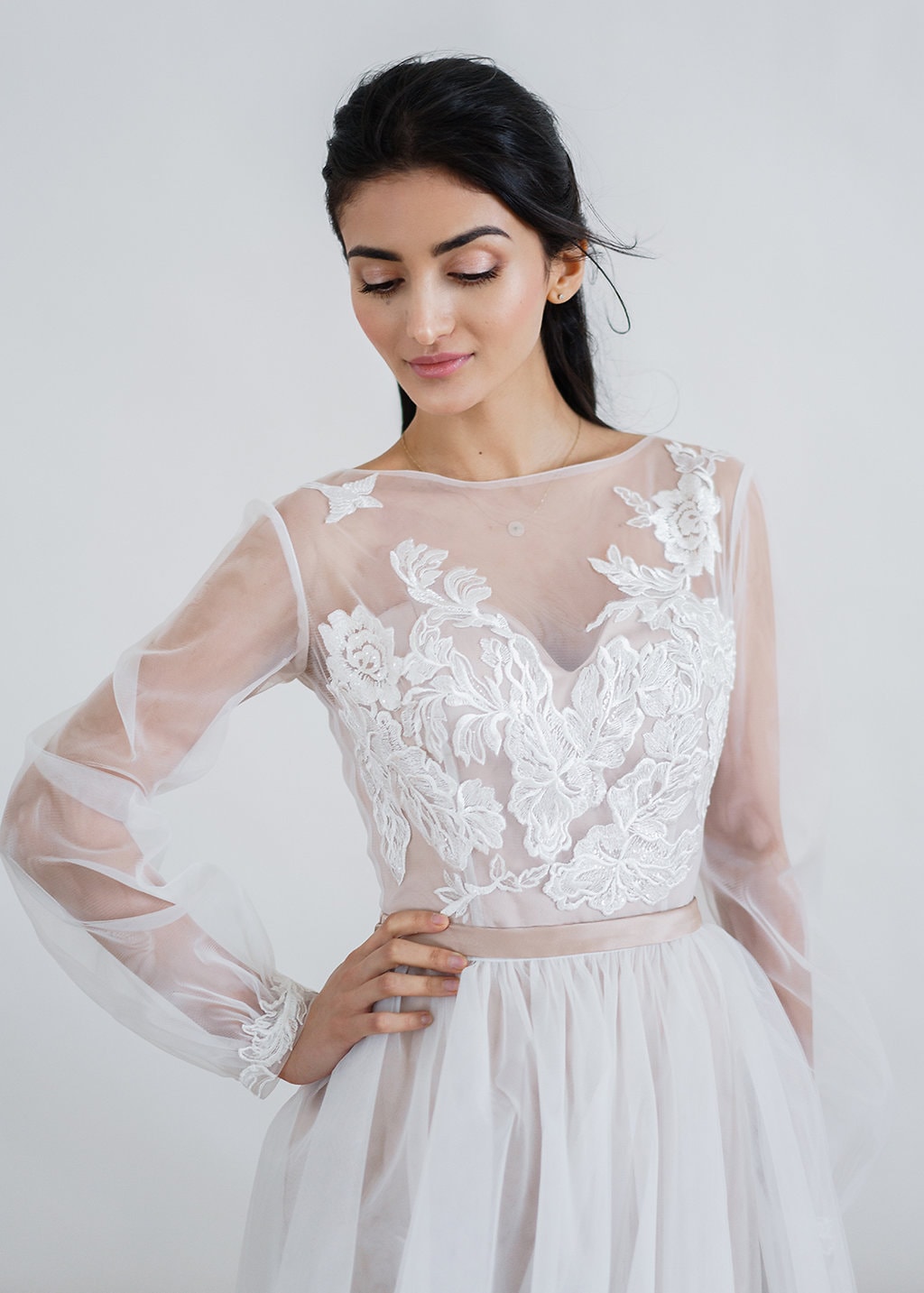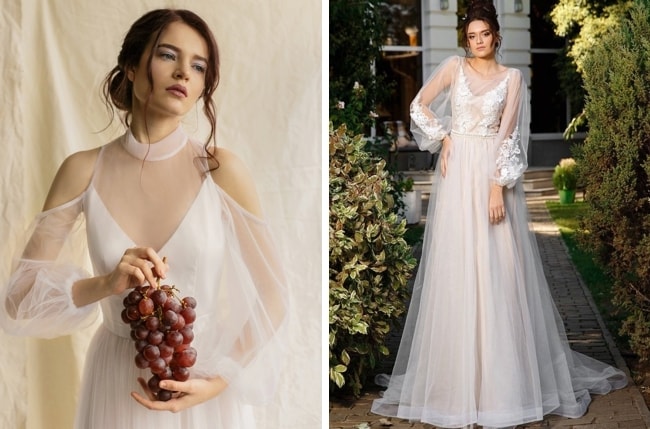 Long Sleeve Bohemian Wedding Dress by Boudoir Wedding (top) | Minimalist Wedding Dress with Puffed Sleeves by Be Twins (bottom left) | Ivory Lace Boho Wedding Dress by Vanilla WFG (bottom right)