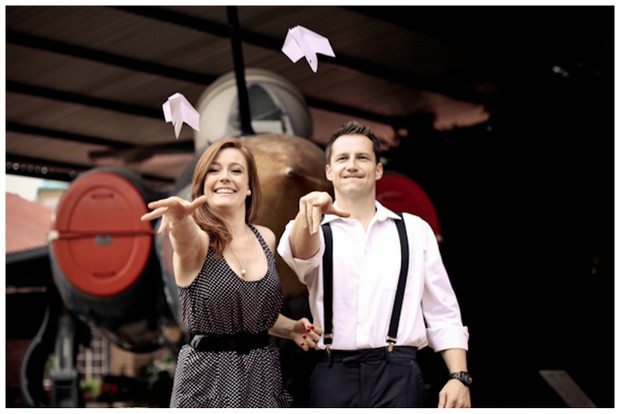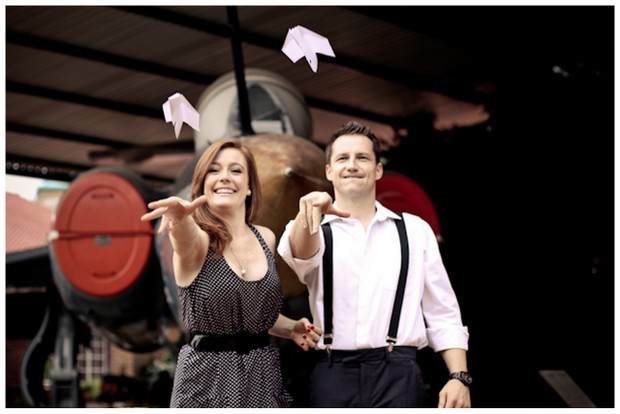 Goodness me, but I love this shoot! A few weeks back, the lovely Alana Meyer contacted me to share Nikki and Wesley's eshoot, and I absolutely fell in love with the cheeky 1940s vibe, the couple's cool black and white styling, and the backdrop of old planes and vehicles. Not to mention how gorgeous the couple are (don't you think Nikki looks a bit like Lindsay Lohan, but back when the LiLo was stunning and sparky and not a washed out media hag, obvs?). Alana's done a brilliant job of capturing the fun these two obviously have together, and it all adds up to some really memorable couple pics.
Here's how the engagement went down, according to the groom…
We had been talking about taking the relationship to a higher level for some time, and had been involved in a pre-engagement course to give us the best possible foundation for the future. It seemed only natural that engagement would be the next step.
We do our best to have a date night once a week, in order to reconnect and spend some time alone together. On that week, we'd planned our date night for Thursday, but  I asked if we could reschedule for Friday night and also told Nikki to pack a bag. I left the office early and went to her place while she was still at work, leaving long stem roses and chocolates in her bedroom – I have to say, I'm a bit of a cheesy romantic! I then went through to the Hyde Park Southern Sun and got them to set up a room with champagne and more rose petals. The week before, I'd painted a picture that said 'Will you marry me?' and I placed this on the table along with the ring in the box. Then finally, I dimmed the lights and turned on the reading lamp, which lit up the painting and the ring so that she would see it straight away. When all was done, I dressed in a suit and tie and went to pick her up. She looked breath-taking as always; she really is stunning. We arrived at Hyde Park and I told her that we would be staying there; she seemed very excited about the prospect. I told her that we needed go up to the room and put our bags down before dinner. When we walked into the room she saw the painting and the ring and started crying. She was shaking and just hugged me saying 'I love you'. I put the ring on her finger and asked if that was a yes, and she said of course it was.
It was an amazing moment and one that I will cherish forever. We have gone through a lot in our relationship and so this was more than just a single event but rather a moment that captured the essence of the journey we have been on in the past year and a half. Nikki is such a beautiful person, inside and out, and I wanted to show her that I appreciate who she is and how much it has meant to have her in my life.
You can see more (as well as see Nikki and Wesley's wedding) over on Alana's blog.