*UPDATED FOR 2018* Today we're starting a new series, looking at how to buy a wedding dress that suits your body shape. I'm always a bit dubious of body shape stuff (mostly because the things they say for mine are usually nonsense) and I do think that the best thing you can do is to try on lots of dresses and have a chat with the ladies who work at dress shops, because they really know their stuff. But with that said, I think it's a good idea to have a starting point. You want to look your very best on your wedding day, and the good news is, whatever your shape, there's a dress (or several) out there that will make you look like a superstar. It's all about emphasizing your best features and playing a bit of visual trickery to draw the eye towards them. We're starting today with pear or triangle shape brides – a really common shape, and one which is pretty much made for a wedding dress! And as long as you avoid the wrong type of dress, the answer is no, your bum won't look big in this. ;) *Links in bold denote affiliate links. The cost to you remains the same, but SBB may receive a commission for any sales made.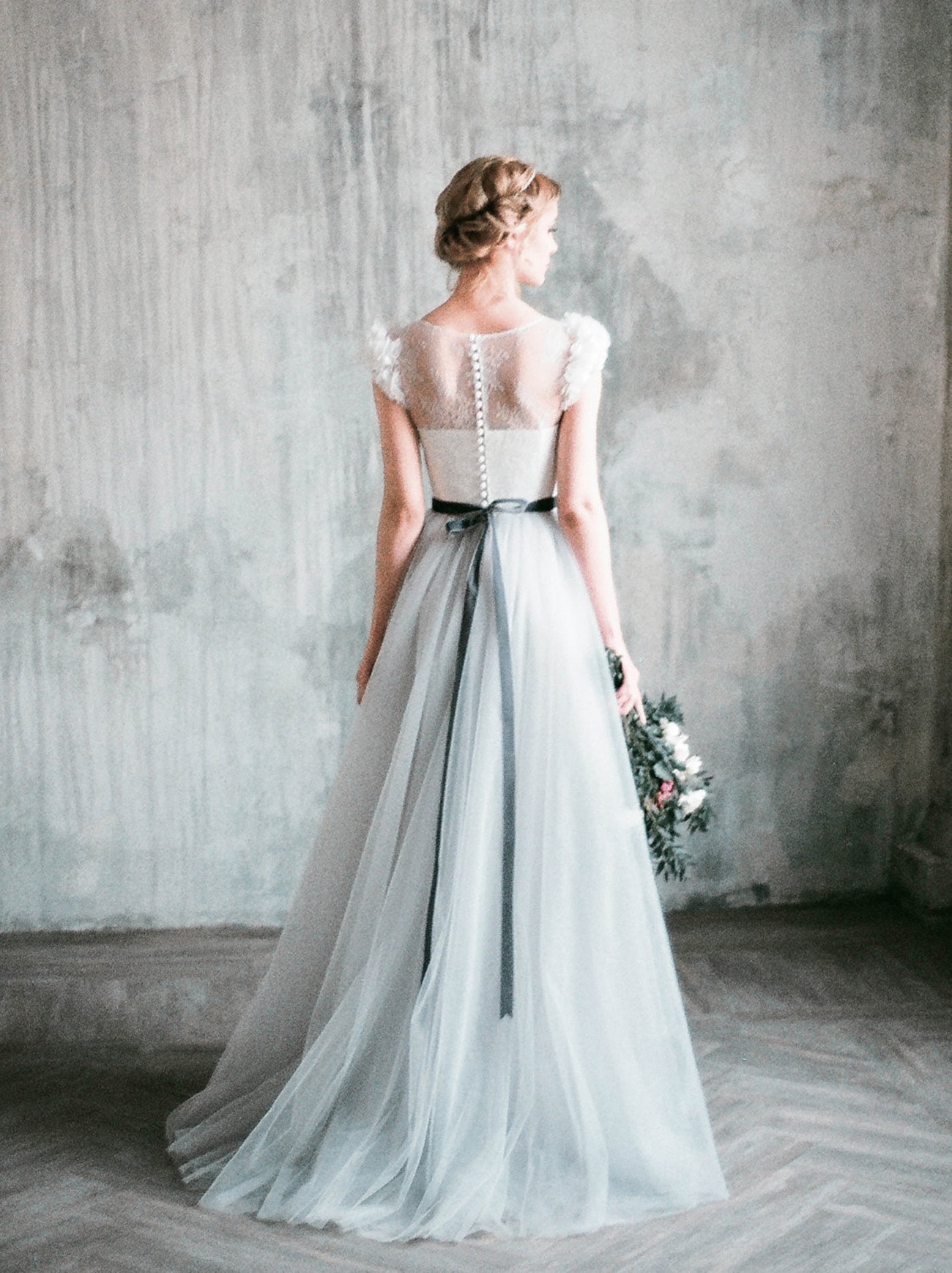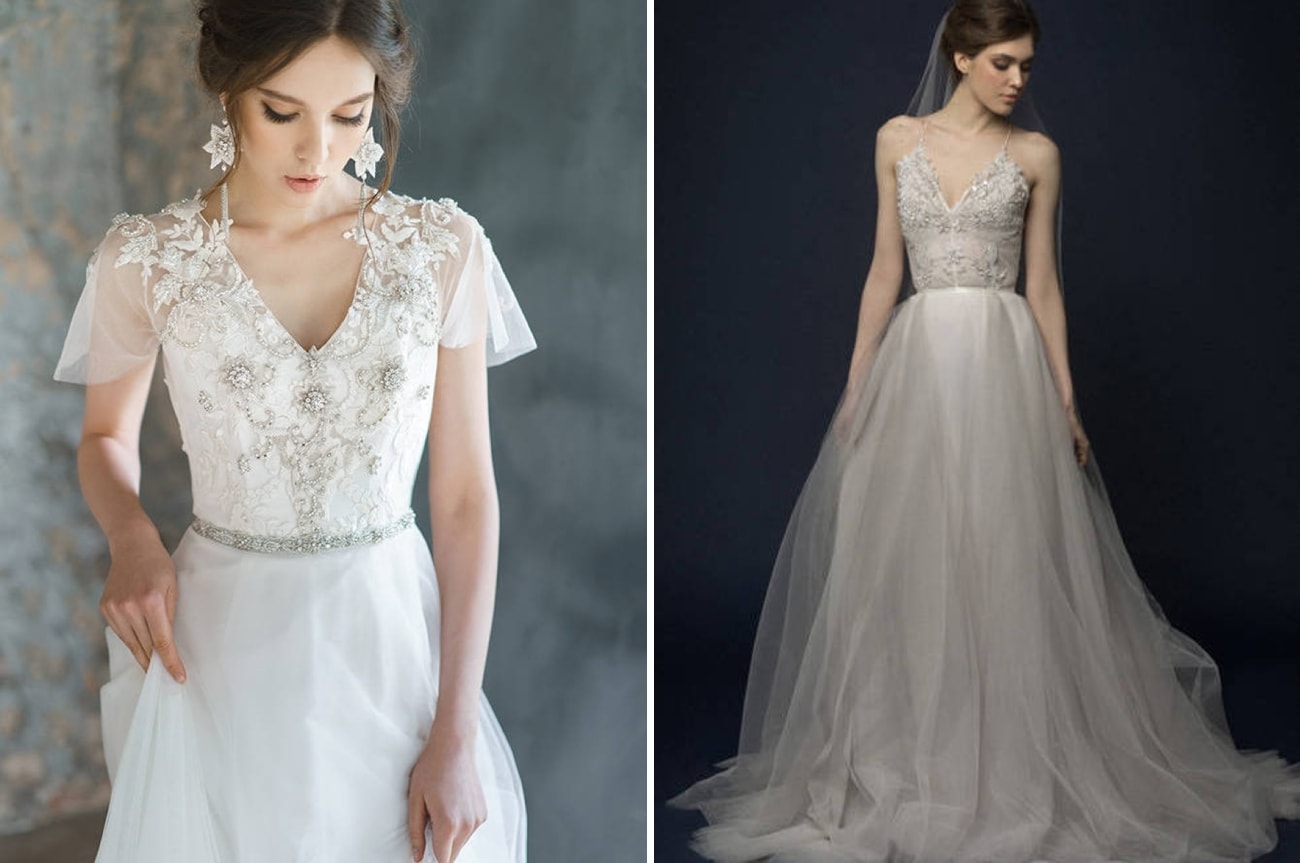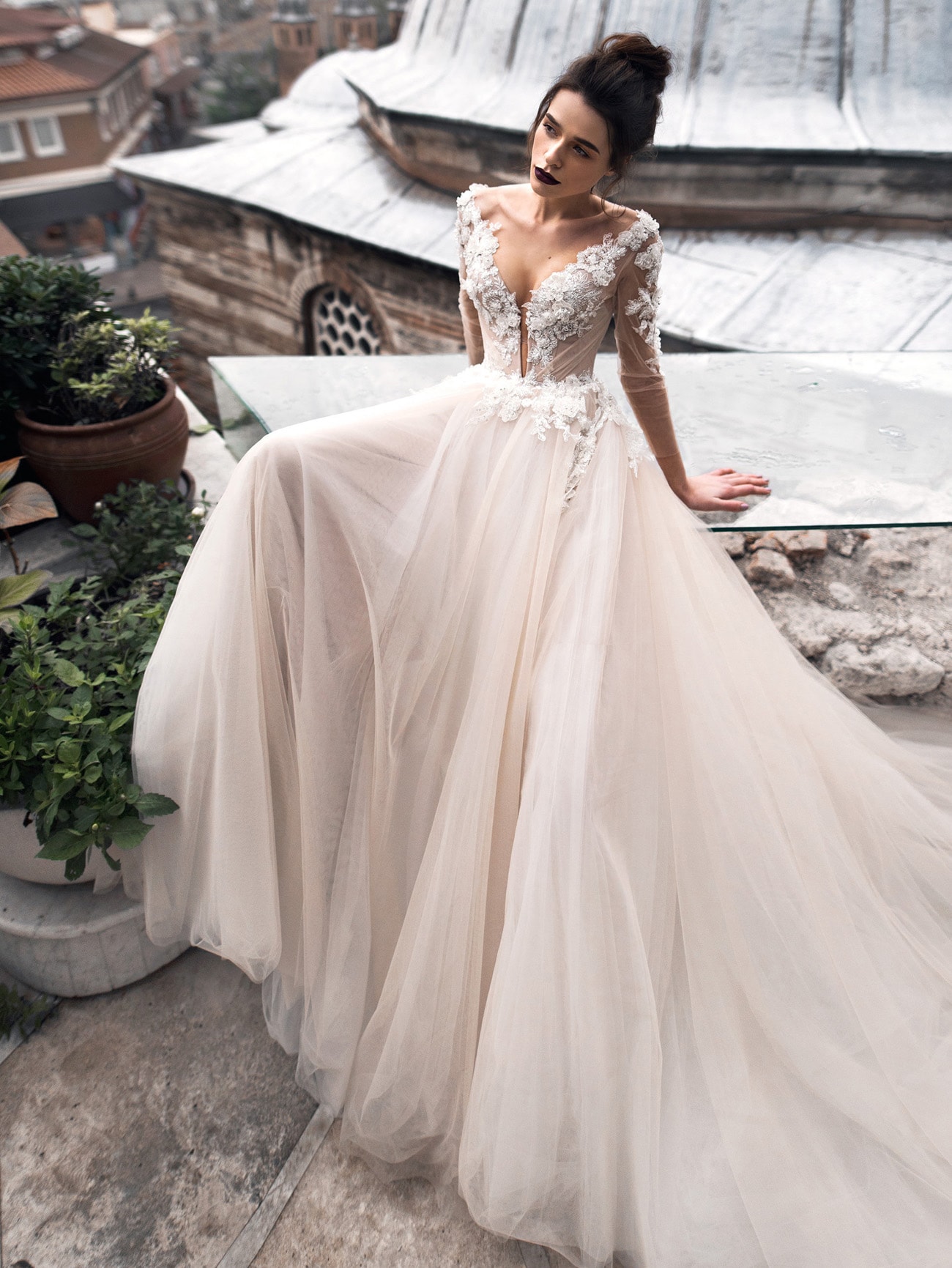 Row 1: Neva Romantic Grey Wedding Dress by Milamirabridal, image by Ksenia Milushkina | Row 2: ANISIA Embroidery Lace Wedding Dress by VICTORIA SPIRINA (left); ALMINA Ivory-smoky Wedding Dress by VICTORIA SPIRINA (right) | Row 3: AINAR A-line Wedding Dress with Long Train by BLAMMO-BIAMO from Kuraje Wedding Dresses

Triangle shape ladies have small upper halves with slender arms, neat busts and well defined waist, with a sexy curve on the bottom. Now working that booty J-Lo style is awesome, but on your wedding day, you're probably going to want to go for an elegant silhouette. That means an A-line or ballroom shape with a neckline and detailing that draws the eye to your slim top half. This gives the illusion that your whole body is as slender as your upper half. A defined waist also helps to balance out the look. Avoid sheath or fishtail dresses that will be cut too close and emphasize your bum and thighs. A high neck can also make you look disproportionate.
Row 1: Boho Wedding Dress by Vanilla WFG | Row 2: Crop Top Wedding Dress by Mila Bridal (left); Open Back Wedding Dress with Pockets by Molteno Creations (right) | Row 3: V-Neck Wedding Gown by Black Pearls Creations (left); Nicole Ivory Tulle Wedding Dress by Mywony Bridal (right) | Row 4: Alexandra Wedding Dress by Truvelle

What that means? Well, you can rock a frothy Vera Wang, for one. (Jealous!) But you really have your pick of beautiful dresses. I've picked just a few from Etsy to showcase, but you'll find plenty of options in every price range.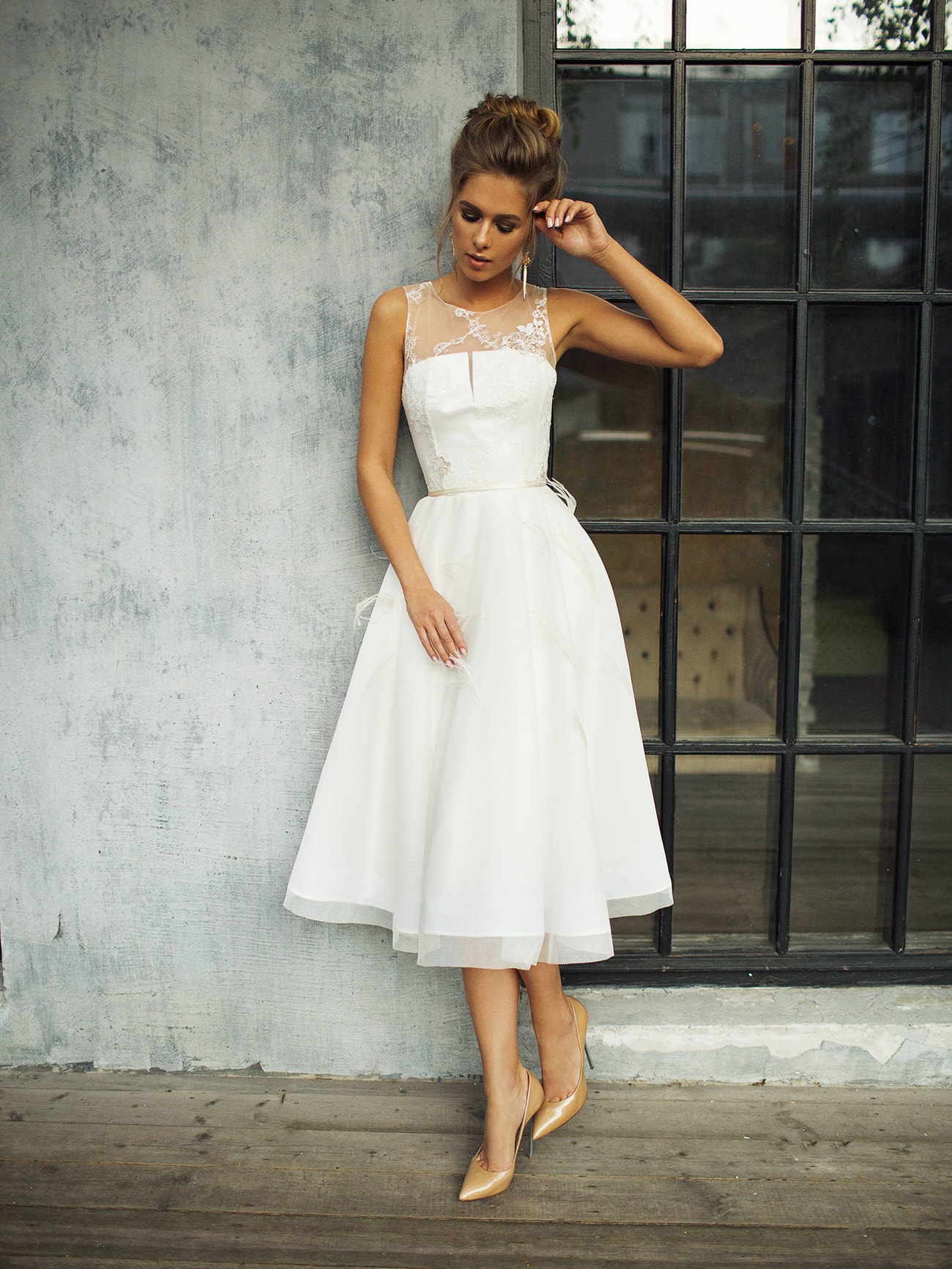 Row 1: Dakota Blush Tulle Wedding Dress by French Knot Couture | Row 2: One Shoulder Wedding Dress by Renz Bridal (left); Princess Wedding Dress by Vanilla WFG (right) | Row 3: STEFANI Wedding Dress by Alex Veil Bridal

CELEBRITY PEAR SHAPED BRIDES: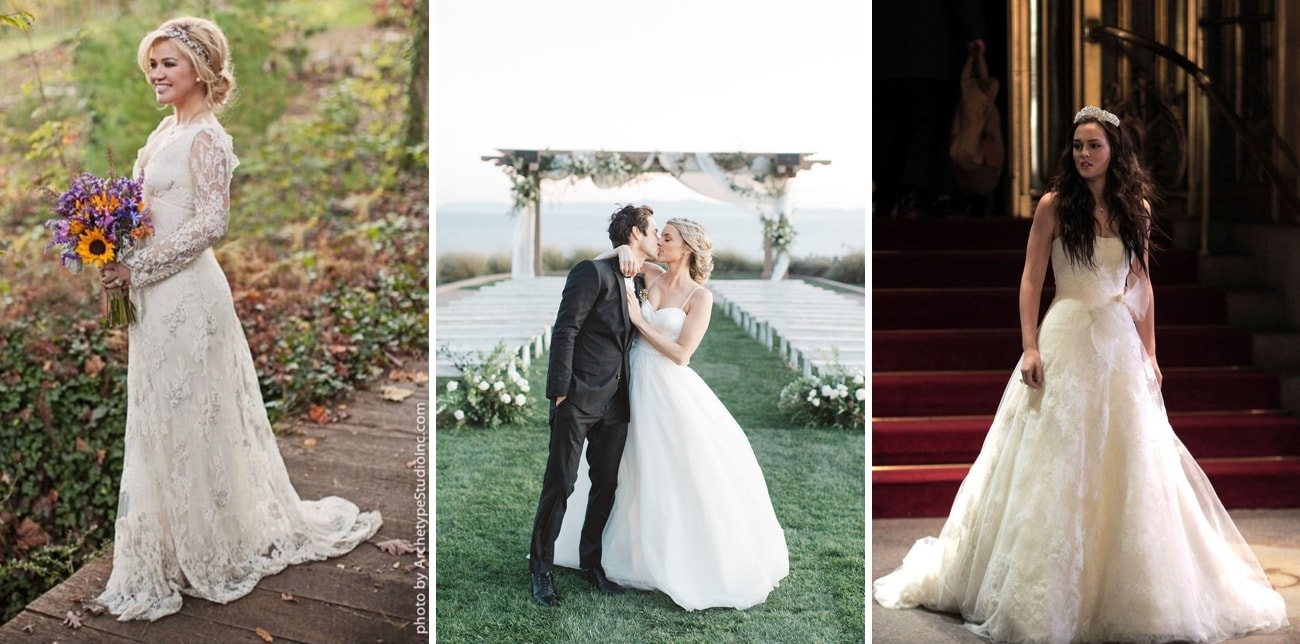 Kelly Clarkson and Ali Fedotowsky were two more recent real brides who knew how to work their pear shapes. Kelly went for an empire line lace gown that beautifully flattered her smaller bust, and Ali went for a classic spaghetti strap ballgown that showed off her figure. But I think my favourite is still Leighton Meester in her Gossip Girl wedding dress, which follows all the rules perfectly for this shape.
Here's a neat little summary of everything you need to know about choosing the best wedding dress for your pear-shape figure: