*UPDATED FOR 2021* You know how on Say Yes to the Dress, there are those moments when a bride comes in and she's adamant about a specific shape of dress she wants, and when she puts it on it just looks… wrong. And then, if she's smart, she tries a shape the consultant suggests instead, and is instantly transformed into a goddess? I love those, because I KNOW the feeling of trying something on and it looks nothing like how it did in your head or on the hanger and you feel desperate because omigodnothingisevergoingtofitmeorlookawesome. Trying something on that is right for your shape is the opposite of that feeling, but the truth is that it only happens when you let go of some of the pre-set ideas you have, and work with reality. That's what this series is about – making our brides feel like a zillion dollars, whichever of the main body shapes they are rocking. Today we are all about hourglass shaped brides, and I'll be giving you some tips for dressing this curvy shape to perfection, as well as swooning over some incredible hourglass wedding dresses from Etsy.
*Links in bold denote affiliate links. The cost to you remains the same, but SBB may receive a commission for any sales made.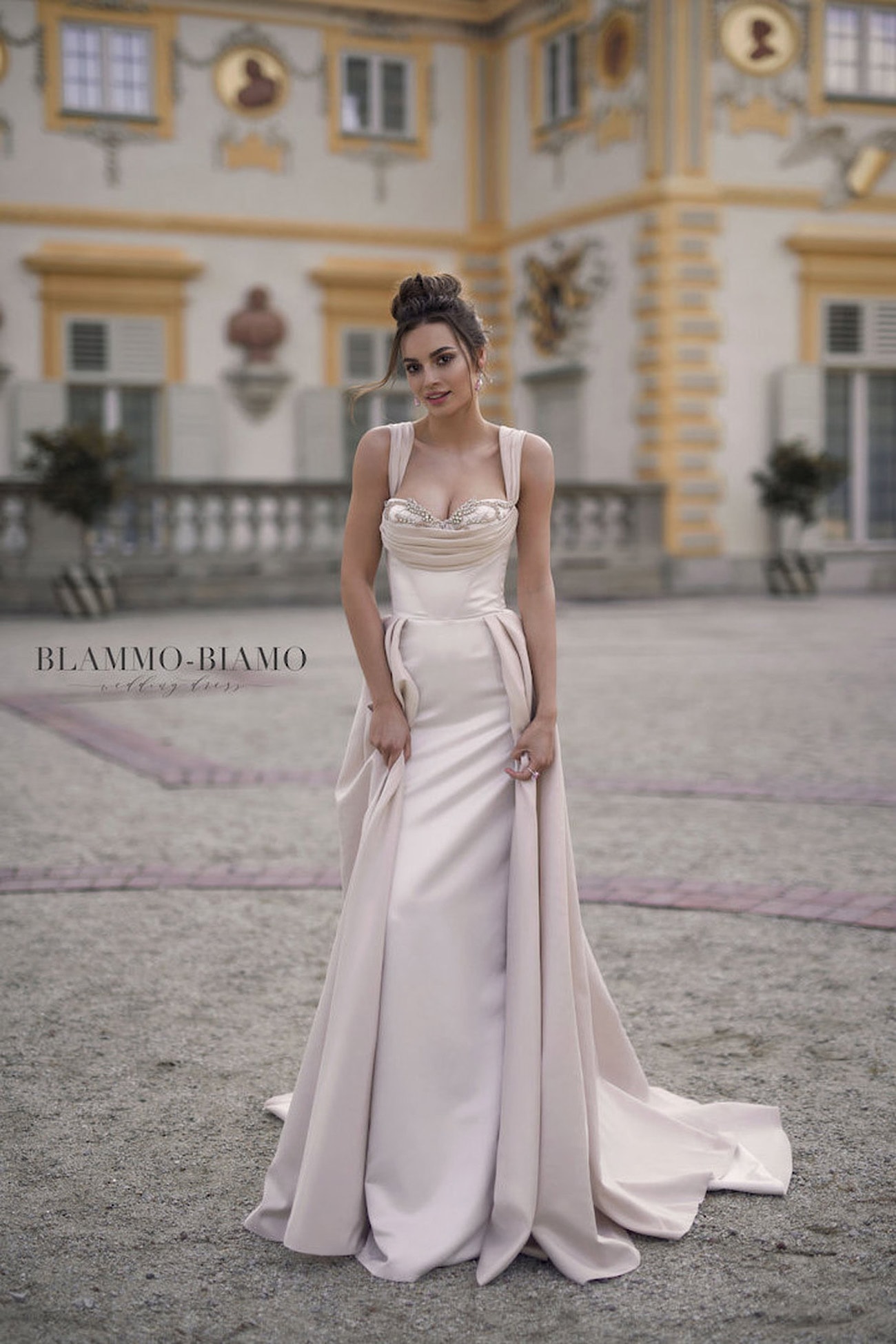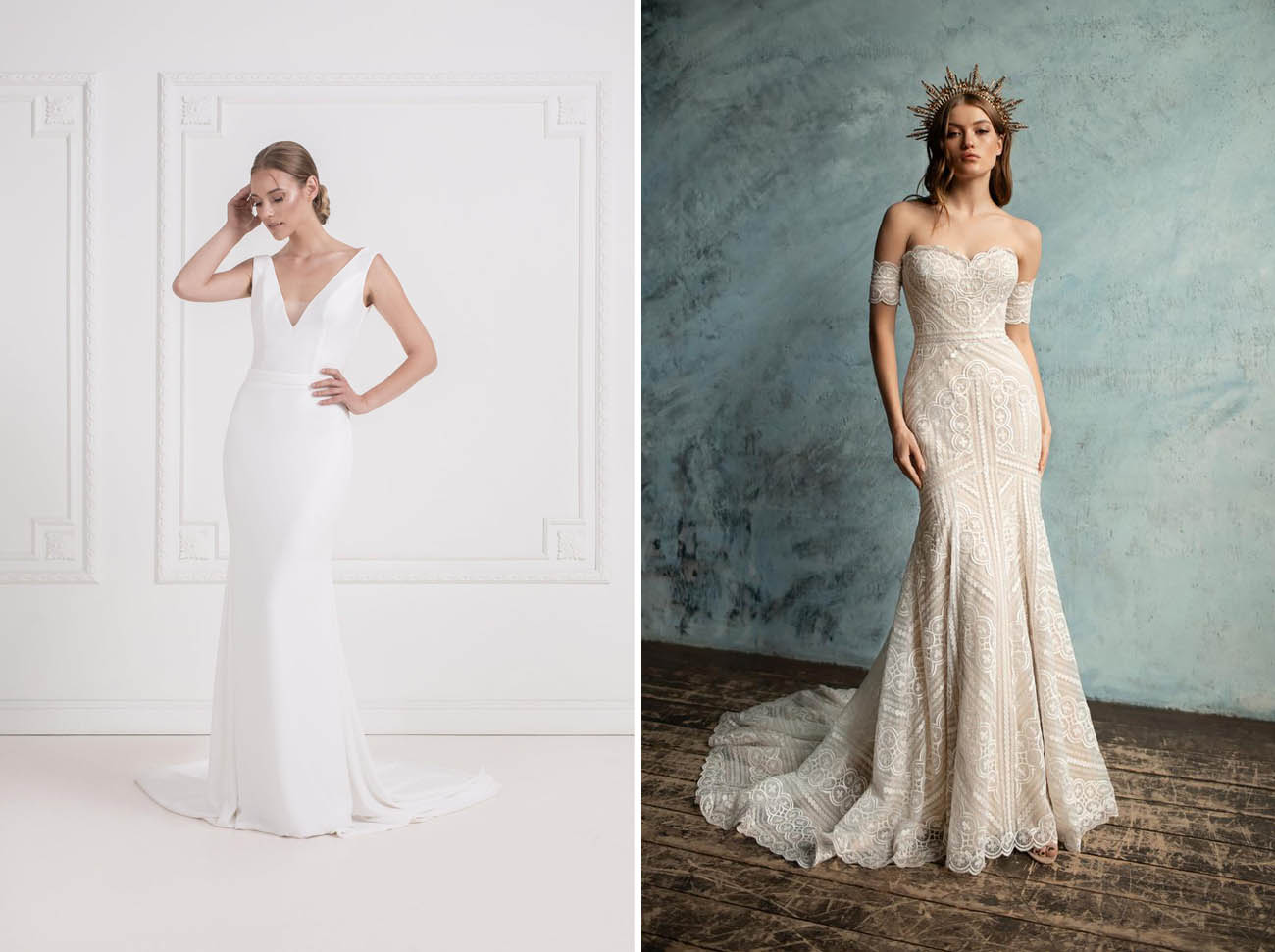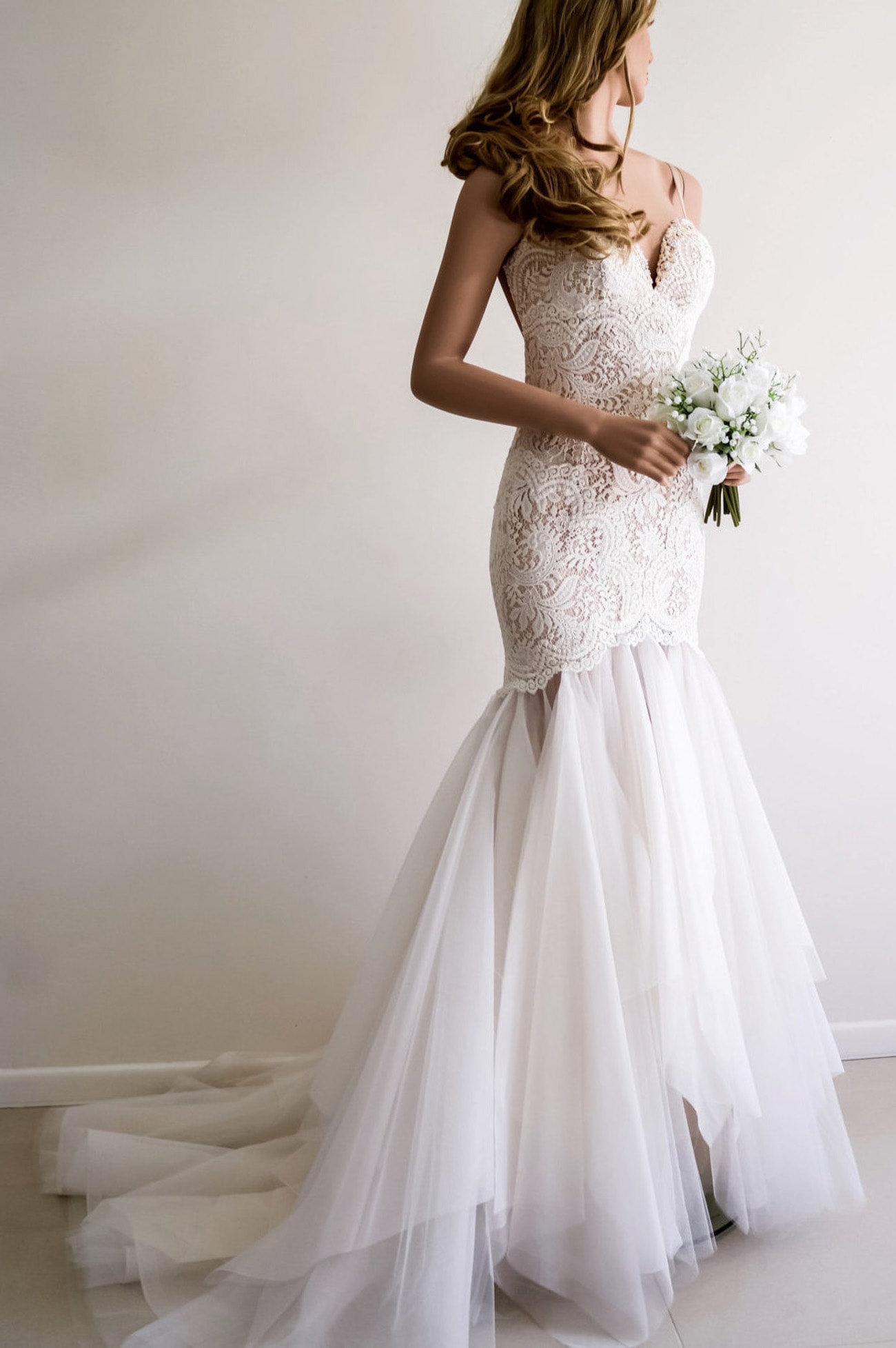 Row 1: Lolis Fabulous A-line Satin Wedding Dress by Blammo-Biamo on Kuraje Wedding Dresses | Row 2: Minimalist Wedding Dress by Innamorata Bridal (left); Boho Strapless Fit and Flare Wedding Dress by Lovespell Design (right) | Row 3: Low Back Mermaid Wedding Dress by Silk Brides
I know a lot about this body shape, because it just happens to be my own (although I'm a bit more of a full hourglass than a neat one these days!). Neat hourglasses have their shoulders and hips roughly in line with a defined waist in the middle. They have a neat (but full) bust, a curvy bum and neat hips. Think Scarlett Johanssen, pretty much. I always laugh when I read descriptions of this as the 'perfect body' and the 'easiest to dress' – although I have also come to believe it's an absolutely gorgeous shape, I definitely didn't see it that way when I was younger, and other hourglasses will know that most standard shops don't cut their clothes for us, whatever the designers might do for celebrities. The great news is that, if you haven't fallen in love with your feminine silhouette yet, you're bound to do so in a wedding dress. Because the one rule for this shape is that you have to accentuate it. Try to hide an hourglass and you'll go from fab to drab in one move.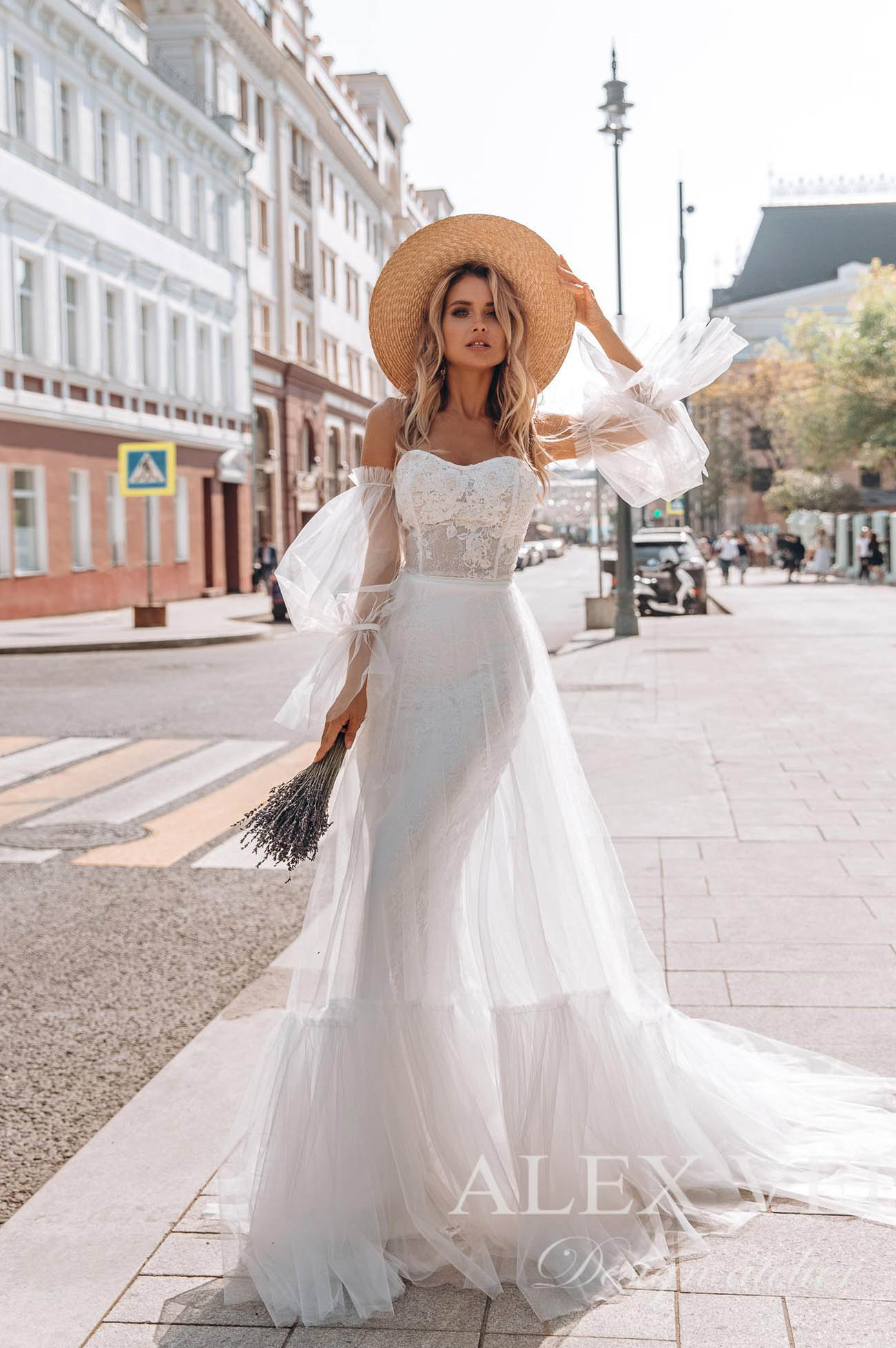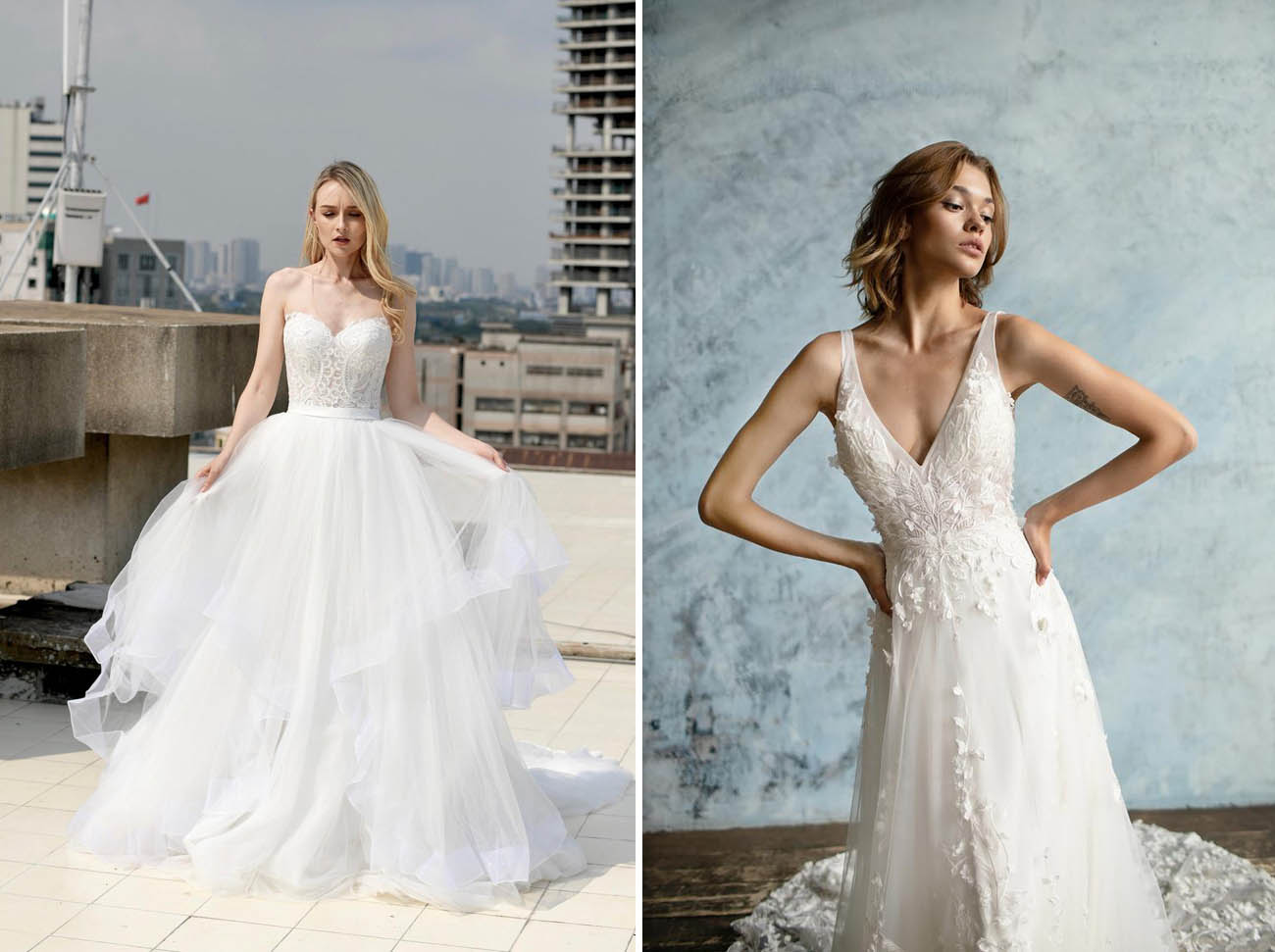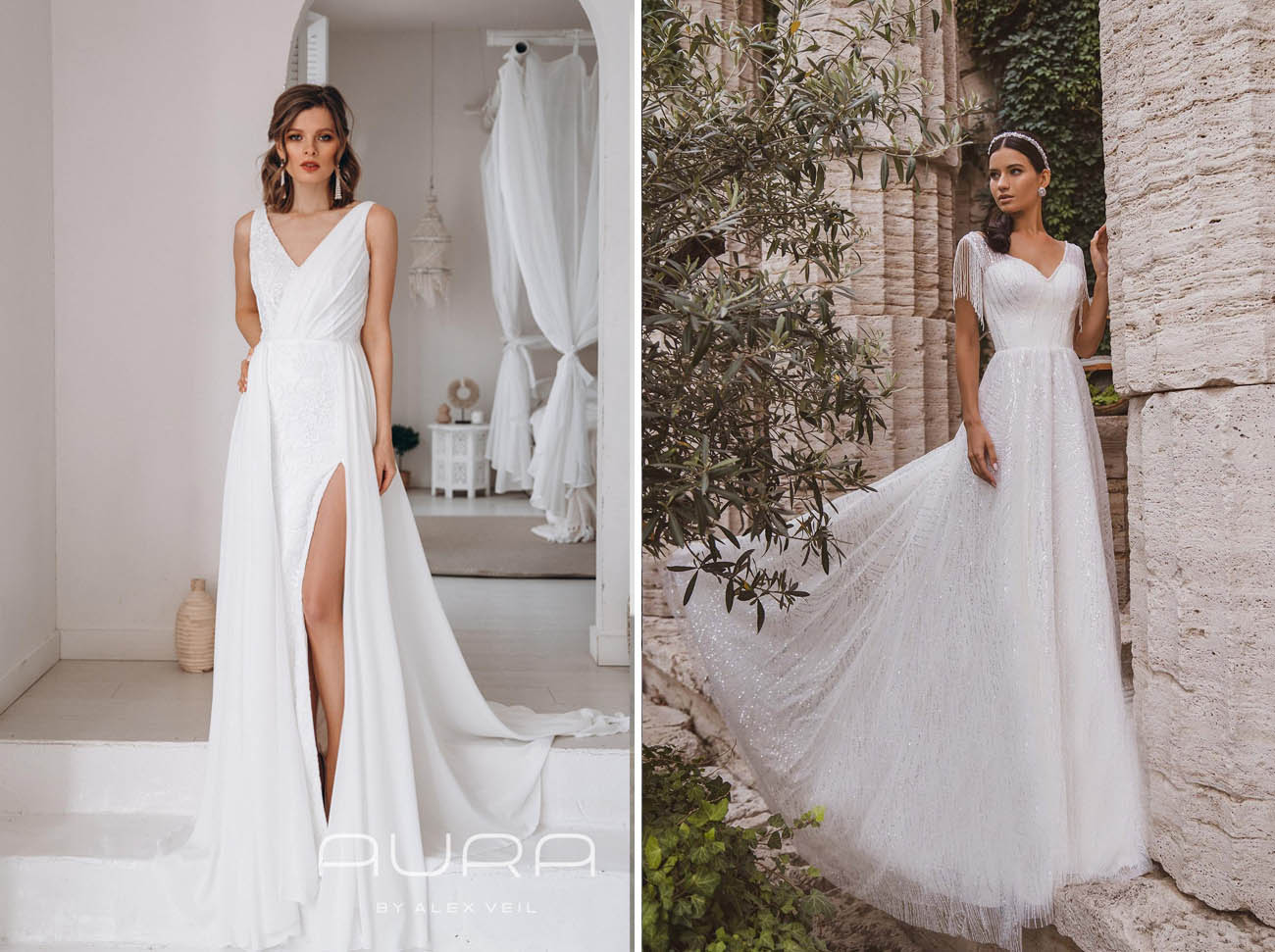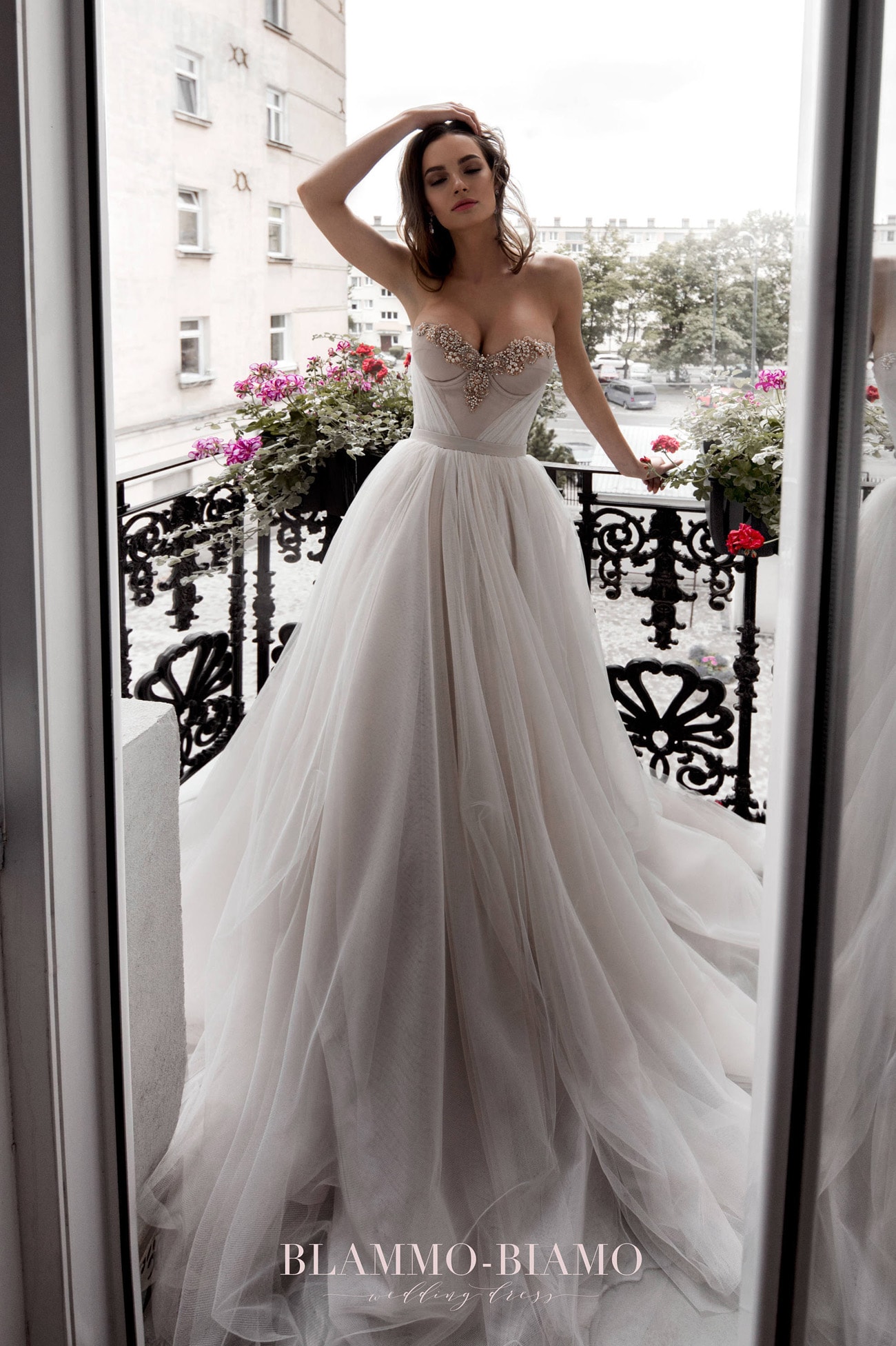 Row 1: LORENA Wedding Dress by Alex Veil Bridal | Row 2: Strapless Sweetheart Wedding Dress by Selfa Bridal (left); Boho Wedding Dress with Removable Sleeves by Lovespell Design (right) | Row 3: LISABETH Wedding Dress by Alex Veil Bridal (left); Romantic White Wedding Dress by Wedboom Store (right) | Row 4: Nora Royal A-line Wedding Dress by Blammo-Biamo at Kuraje Wedding Dresses, image by Rodion Shapor
Another thing that makes me laugh is when I see empire lines recommended for hourglasses. This is complete and utter nonsense. Not only do they not fit, they squash your boobs and disguise your nipped-in waist. I have made this mistake countless times – don't do it on your wedding day. Sheath dresses, low waists and loads of ruffles or layers (especially around the cleavage) can also look unfortunate. However, fit and flare (aka mermaid) silhouettes, ballgowns, and A-lines will all look amazing. The golden rule is to follow your body line – do this and you can't go wrong. And the best part? Boning and structure in many wedding gowns will give you the kind of support that you have only dreamed of IRL.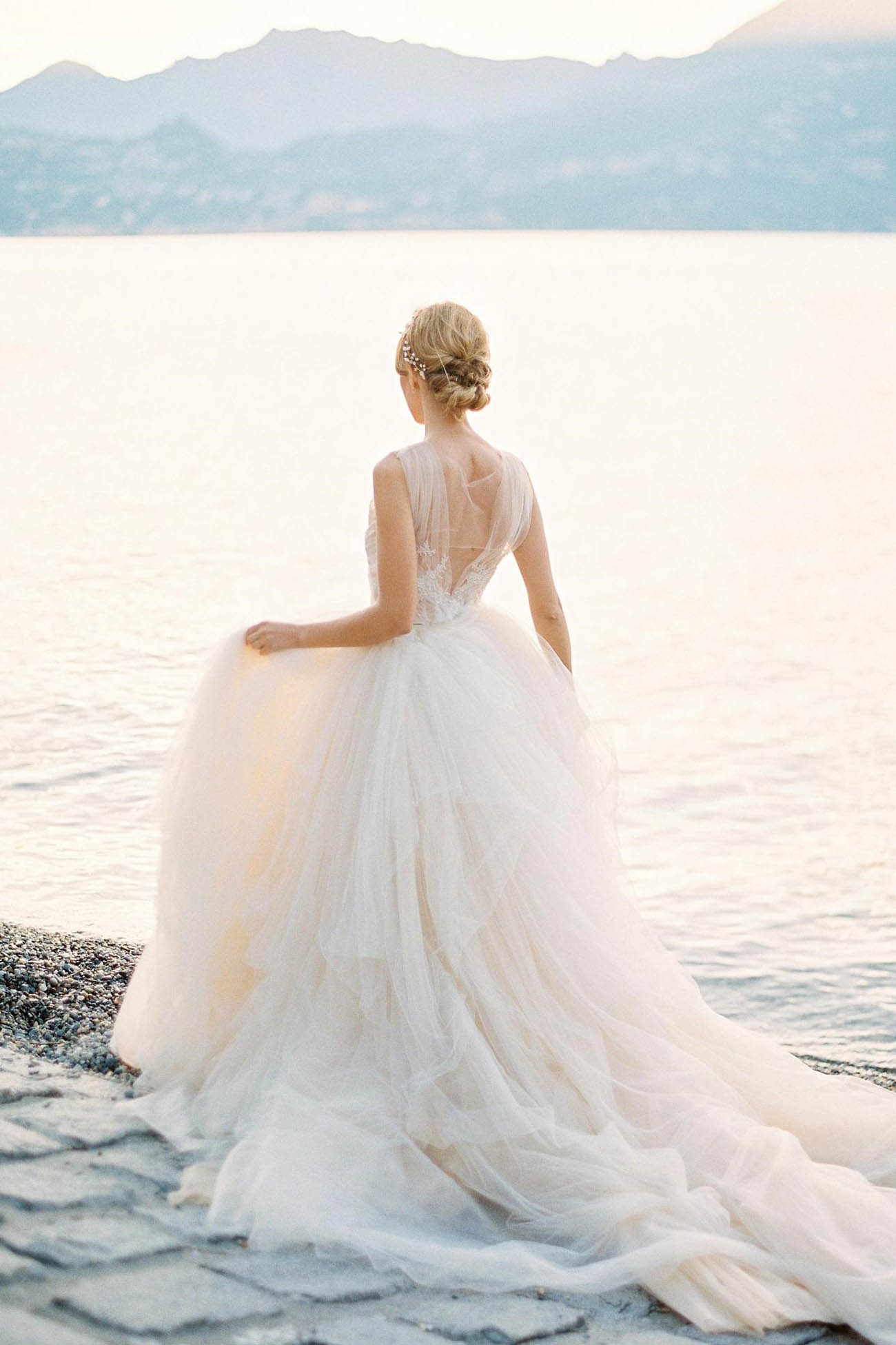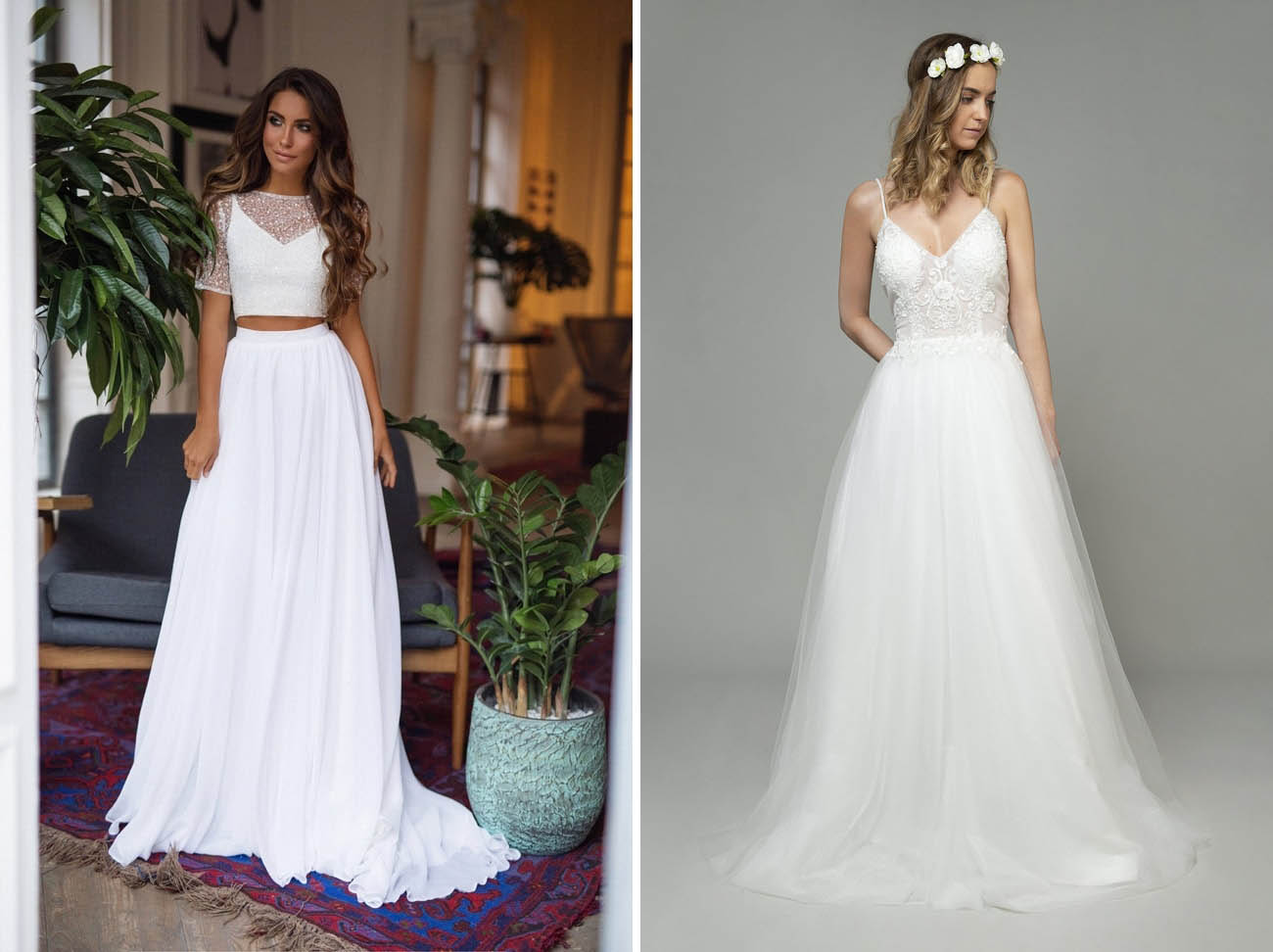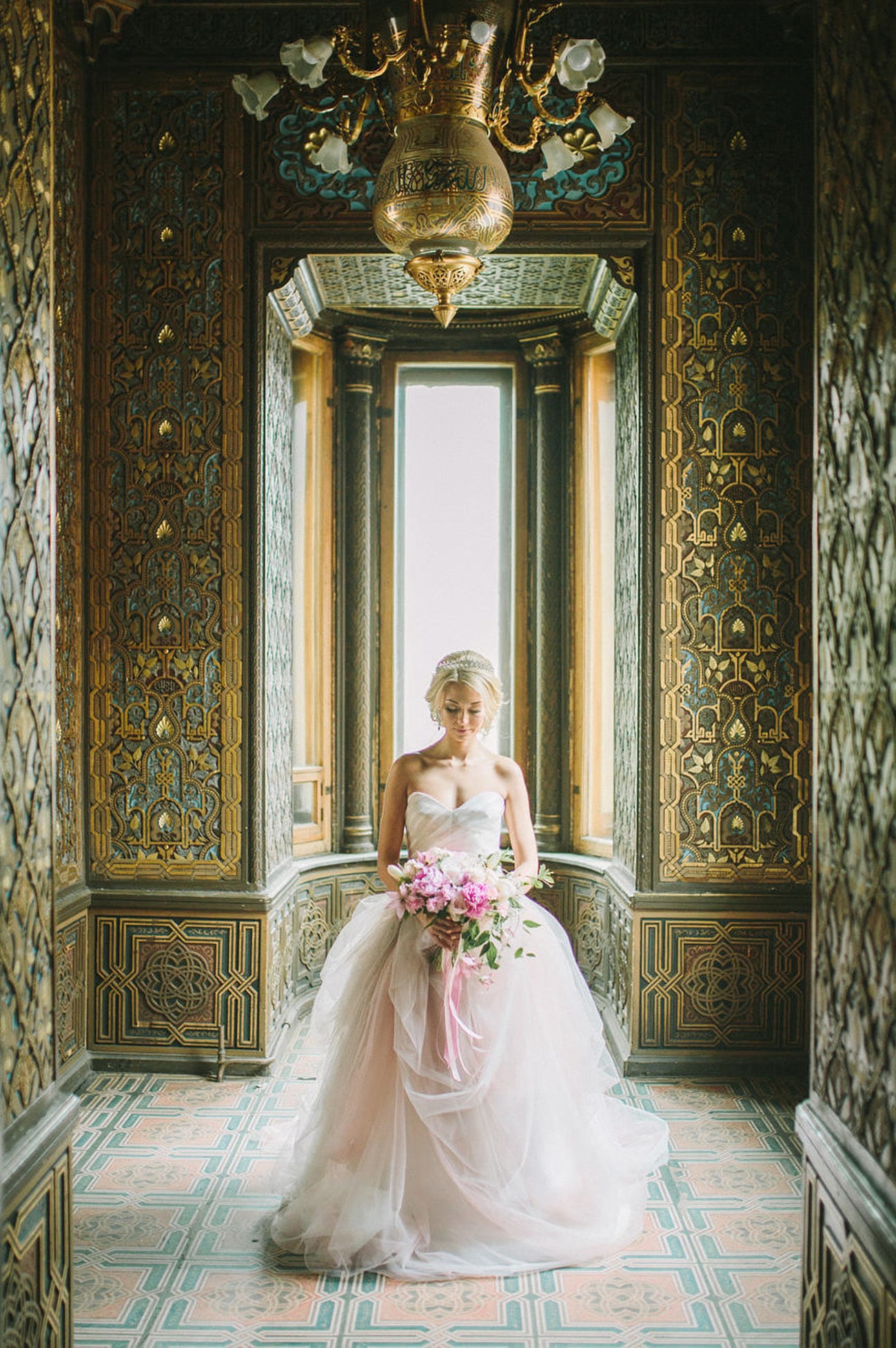 Row 1: Calypso Daylight Tulle Wedding Dress by Mywony Bridal | Row 2: Two Piece Bohemian Wedding Dress by Mila Bridal (left); Bohemian Lace Spaghetti Straps Wedding Dress by House of Bali (right) | Row 3: Rodiona Fairytale Ballgown Wedding Gown by Milamira Bridal
CELEBRITY HOURGLASS SHAPED BRIDES: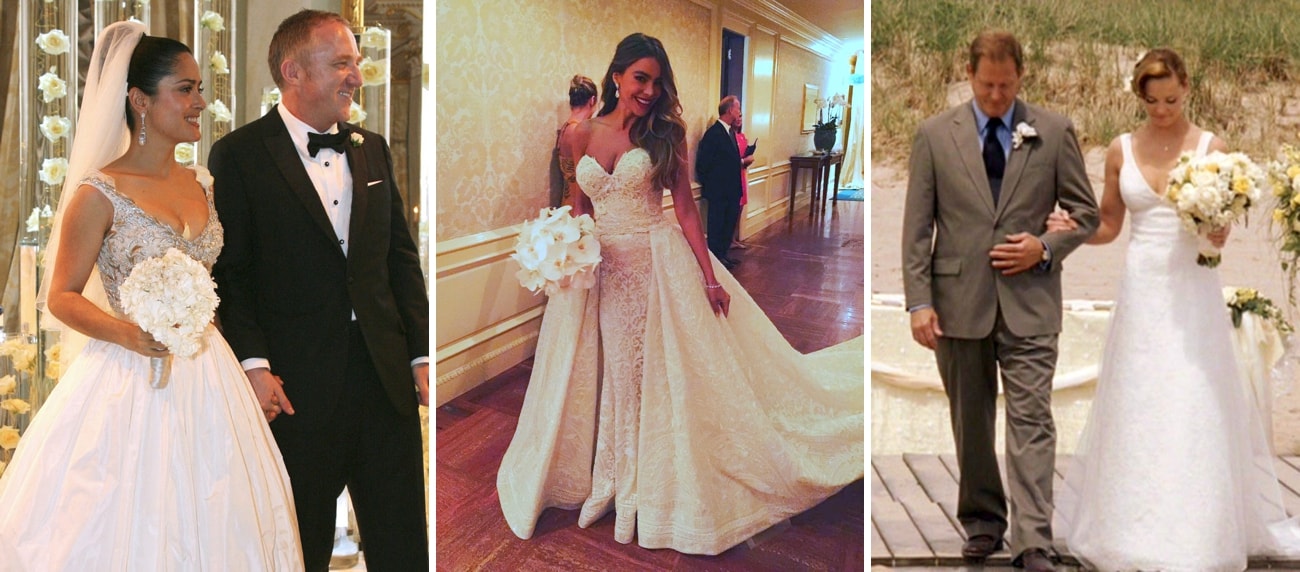 There are so many more celeb hourglasses now than when I was a teenager, which is actually pretty awesome. They definitely show how to rock this silhouette! Selma Hayek's wedding day look was absolutely perfect – a neat bodice (with detailing that doesn't add volume and a v-neck that still flatters in terms of the amount of cleavage), a defined waist, and a beautiful a-line skirt. Sofia Vergara also nailed it – her convertible dress made use of the ballgown silhouette for the ceremony and then turned into a slinky beauty for her to dance the night away in – the very best of both worlds. I also really loved Katherine Heigl's dress in the last scene of 27 Dresses – if you love the soft look of sheath dresses, this A-line with a deep v neckline is a perfect alternative for an hourglass bride. Check out Katherine's own wedding dress as well – a great example of how to do ruffles well.
Here's a neat little summary of everything you need to know about choosing the best wedding dress for your hourglass figure: