*UPDATED FOR 2018* Time for the second installment in our new series on how to pick a wedding dress for your body shape, and I must admit, as an hourglass I am more than a little jealous of the tube shaped body silhouette (we always want what we don't have, right?).Columns/bananas/rectangles/tubes are slim builds, often athletic, with similar measurements throughout the bust/waist/hip zones.They have narrow shoulders, lean limbs, narrow hips and flat bums. They also tend to have long waists with little definition. The look is angular (and very easy to dress well), with both a small upper and trim lower body to accentuate. And of course, I've chosen some beautiful dresses from Etsy to illustrate. *Links in bold denote affiliate links. The cost to you remains the same, but SBB may receive a commission for any sales made.
Row 1: Ivory Chiffon Wedding Dress by Apilat Wedding | Row 2: Madison Ivory Lace Sheath Dress by millimday (left); Stella Retro Wedding Dress by Jillian Fellers, image by Blue Rose Photography (right) | Row 3: The Elle Gown by Elika In Love

The biggest complaint from column shaped girls is that they look 'boyish', and of course we all want to look and feel feminine and romantic on our Big Day, so it's important to get this aspect right. Unlike curvier girls, who might use a ballroom or corset gown to emphasize the waist they have, banana shapes need to create the illusion of a waist with a belt or similar detailing. Ruffles and embellishments add volume to the top half (and plenty of girliness) but also draw the eye up, showing off those gorgeous little shoulders and arms. Try to stay away from angular, square cuts, which can make you look a little boxy, including straight edged halters and some high necklines (although petite bananas can sometimes pull these off). On the bottom half, layering or ruffles is a good idea, but without too much volume. You're looking for styles that fit and flare, rather than being too close cut, which can make the body look too drawn out.
Row 1: Calista Silk Crepe Sheath Wedding Gown by Rebecca Schoneveld | Row 2: Dinah Lace Peplum Wedding Gown by Davie and Chiyo, image by Inga Avedyan (left); FILALI 3D Lace Embroidery Wedding Dress by VICTORIA SPIRINA (right) | Row 3: IVORY Alternative Bridal Tulle Ruffle Skirt by JuLee Collections, image by Linda Tran Photography (left); Lace Sheath Wedding Dress by Cest Toi Bridal Atelier (right) | Row 4: Sheath Nude Wedding Dress by Cathy Telle

The biggest no-no for this body type is the ballroom gown, which can really overwhelm a column shape. That's not to say you can't make a princess look work, but you'll need to lean on the side A-lines, or ruffles that add shape without too much bulk. The good news is, you can wear pretty much everything else, from bias cut to short styles. Sheath dresses are particularly flattering (a narrow shape that falls straight down from neckline to hem), and trumpet or mermaid styles can also be used to create curves.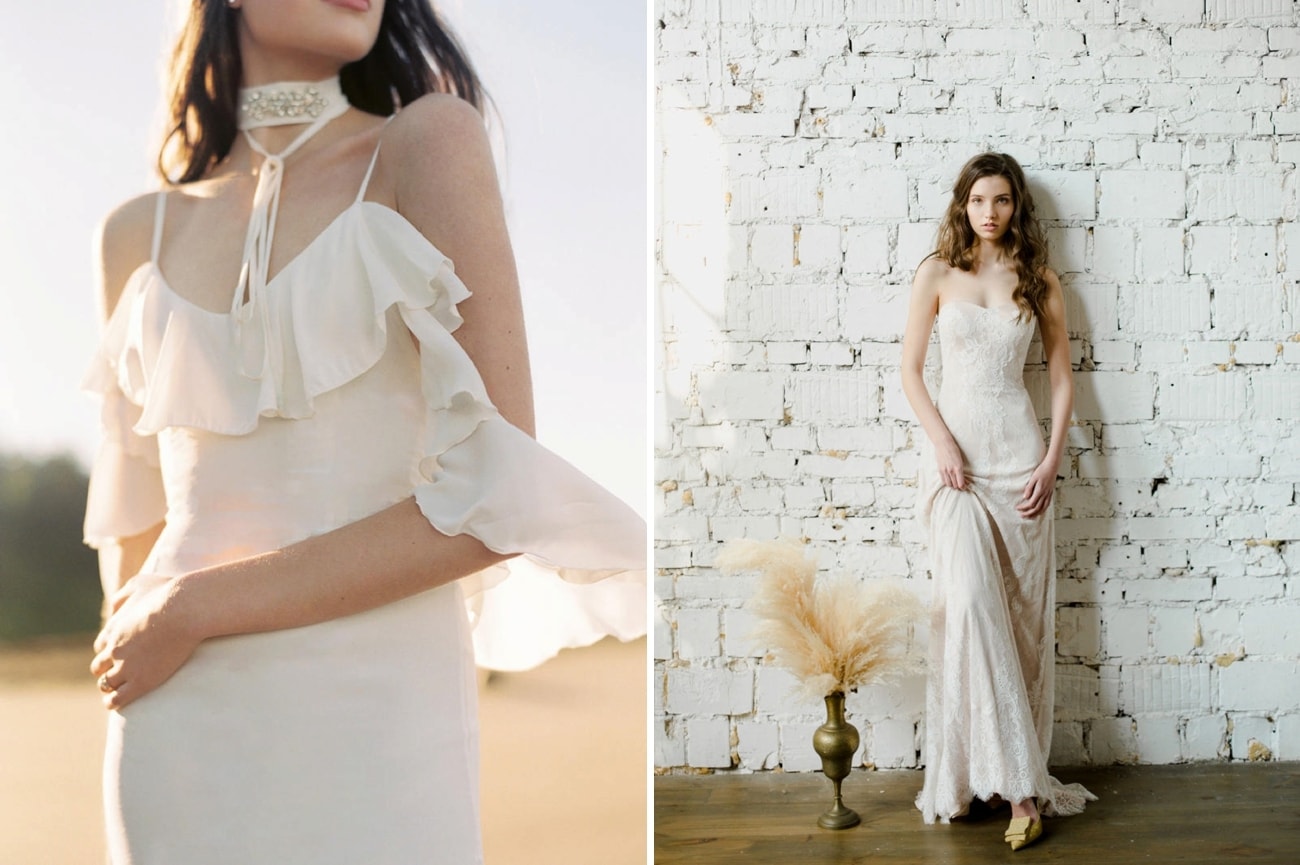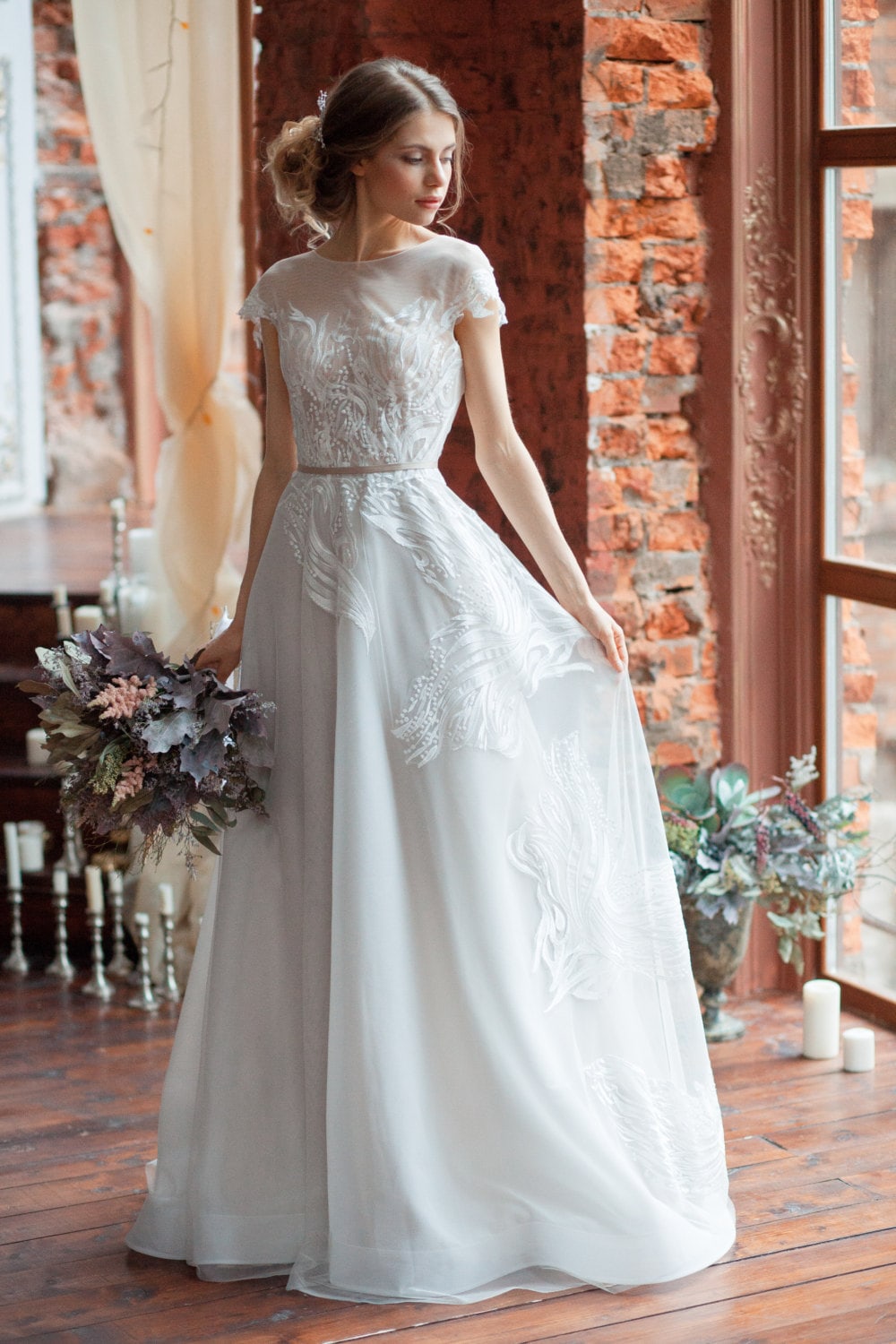 Row 1: Carey Classic Wedding Dress with Cap Sleeves by Dresses Lioness | Row 2: Lotta Boho Silk Bridal Gown by Davie and Chiyo, image by Inga Avedyan (left); Strapless Sheath Lace Wedding Dress with Sweetheart Bodice by Cathy Telle (right) | Row 3: LORA A-line Wedding Dress by Alex Veil Bridal

CELEBRITY COLUMN SHAPED BRIDES: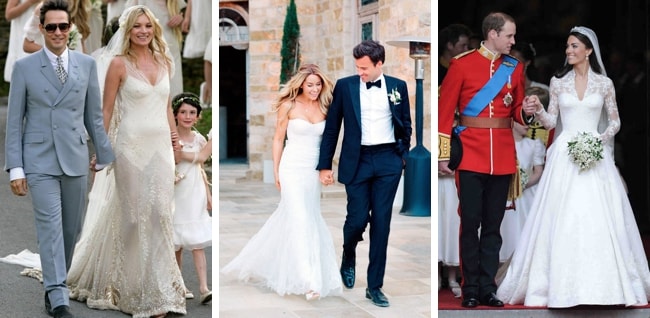 As you can imagine, there are quite a few models and actresses who fit the profile of this body shape – a great example is Cameron Diaz and, while she hasn't got married yet, studying her Oscars dresses will give you such a good idea for how to best rock the look. She's so good at it! And of course, so was Kate Moss, a typical banana shape, who managed to make herself look curvy in all the right places in her gorgeous wedding gown that hugged and flared in all the right places (see the usage of embellishment and layering there?). Lauren Conrad created the illusion of beautiful curves with a strapless trumpet style, and Kate Middleton's gown also really worked the A-line silhouette to create a waist.
Here's a neat little summary of everything you need to know about choosing the best wedding dress for your column-shaped figure: