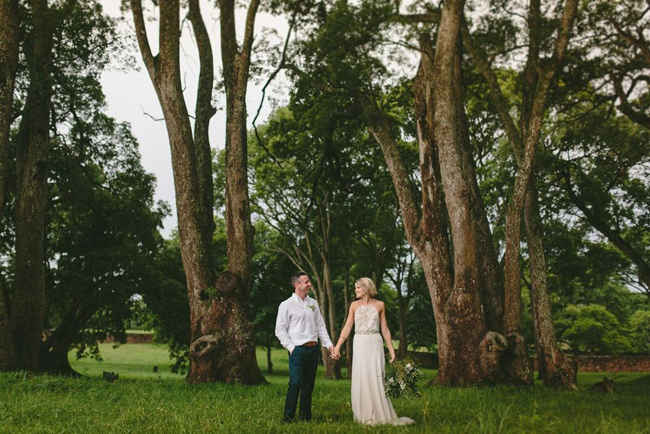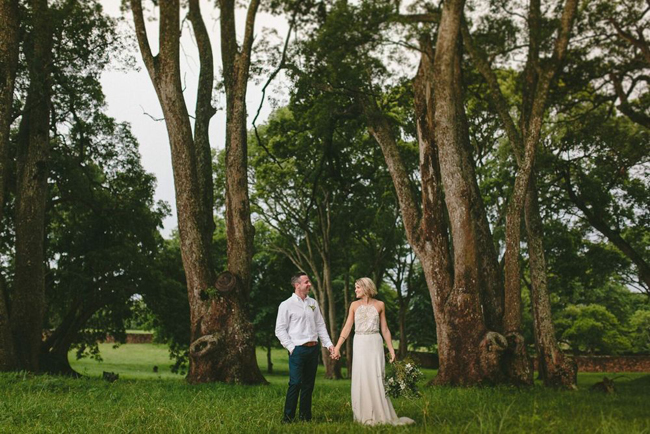 Working in the wedding industry, I'm lucky enough to regularly come across some of the most creative, interesting, and downright nice people you'll ever meet. And maybe it's just my opinion, but I think industry weddings are some of my absolute favourites. Maybe that's down to a combination of the fact that they know immediately who their go-to dream team of suppliers is (and trust them to work their magic) and the fact that when you've seen a hundred other people's weddings, there's a simplicity to your choices that really lets the love shine through. And shine through it definitely does in today's wedding – when I first saw Bron and Dean's breathtaking pictures by Kikitography pop up on my Facebook feed I couldn't take my eyes off them! Boho country foresty perfection, not least thanks to Bron's incredible gown and the backdrop of gorgeous Camp Orchards in KZN. You may know Bron from her work behind the camera as the owner of Vanilla Photography, very much a SBB fave, but it turns out she's just as radiant in front of the lens, along with her handsome groom. Add in some of the most perfectly mismatched bridesmaids and groomsmen, and organic-style greenery arrangements by the wonderful Carolyn of Adore Weddings, and it's a treat for the eyes and for the soul.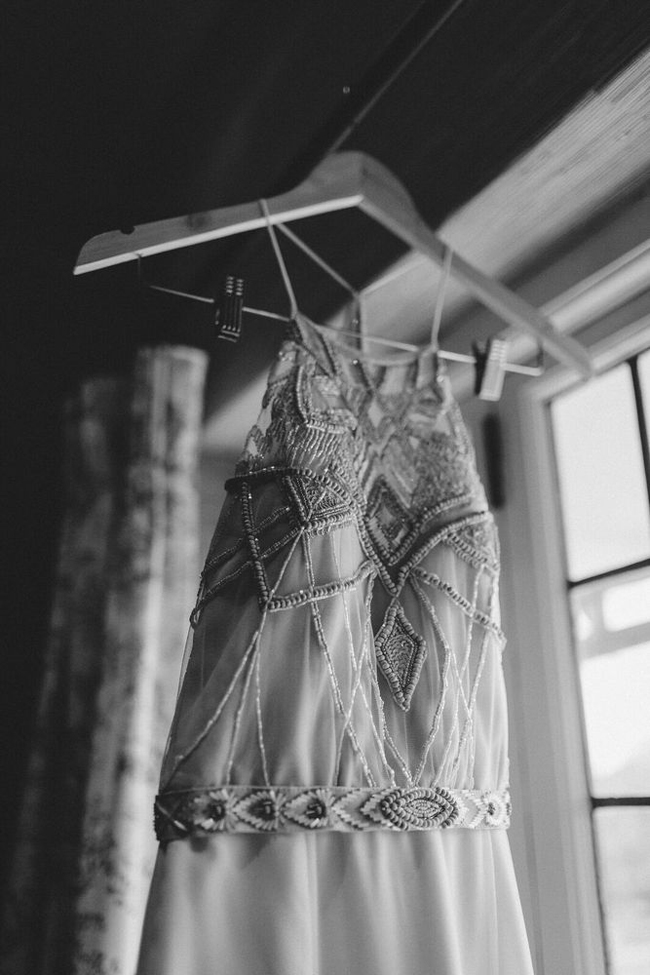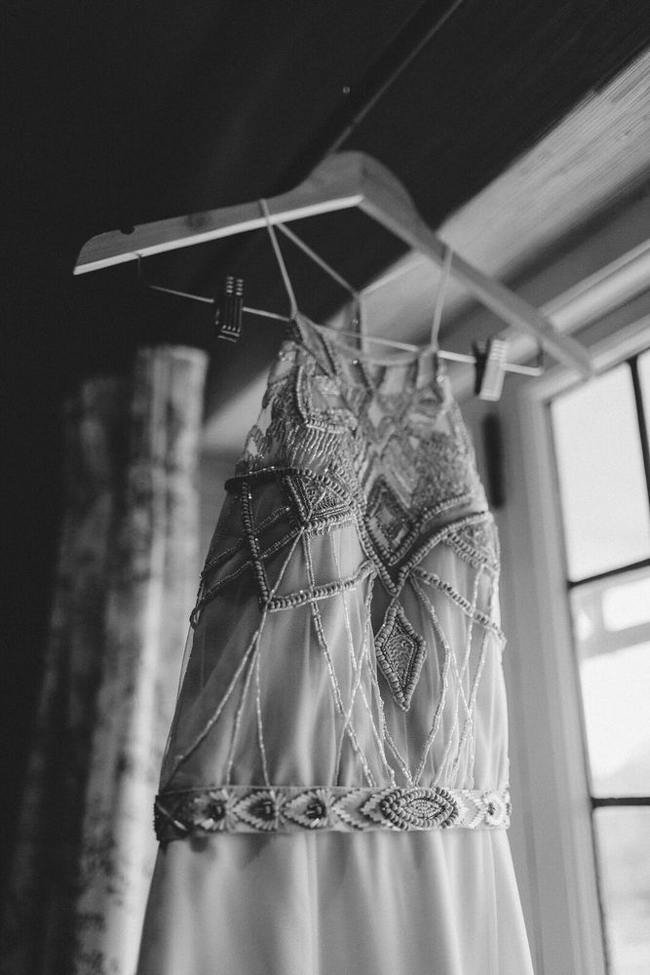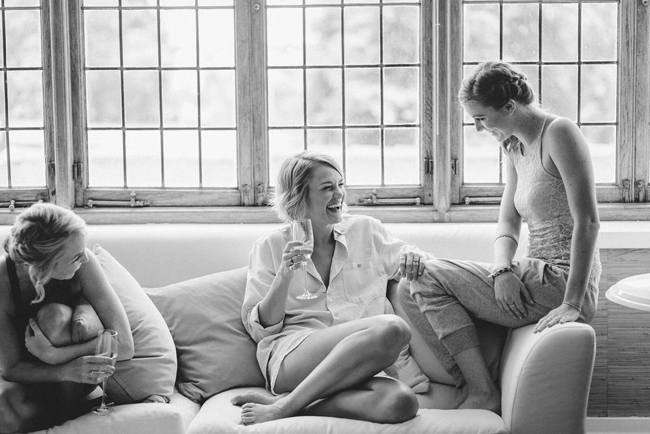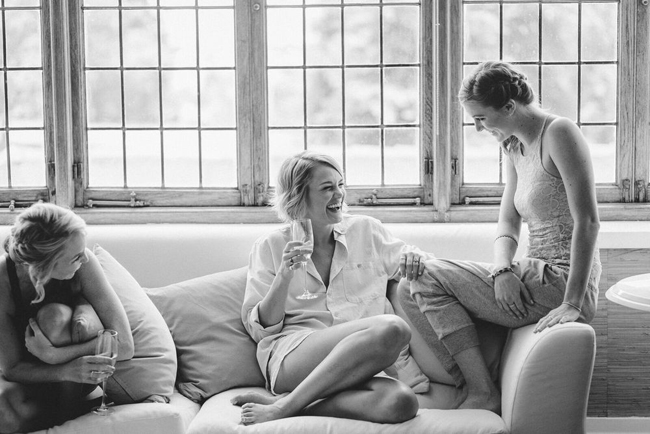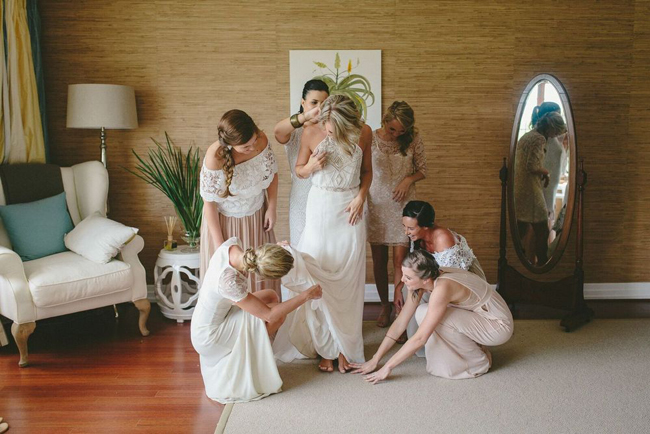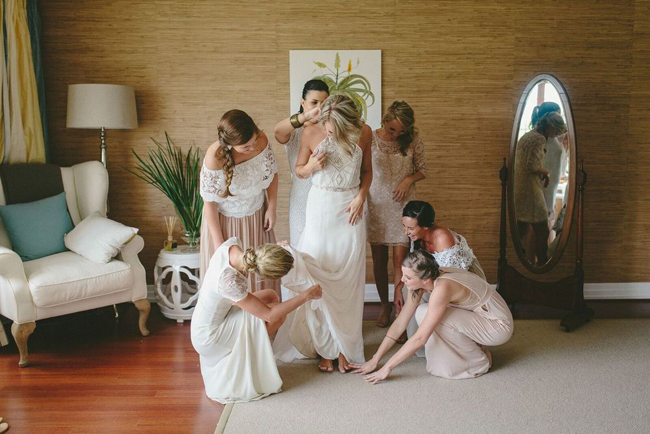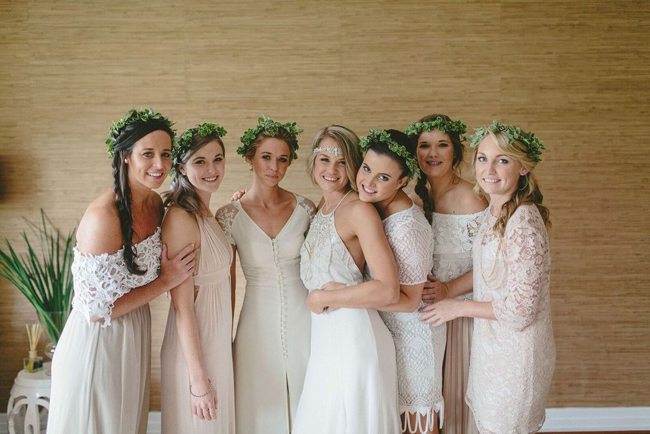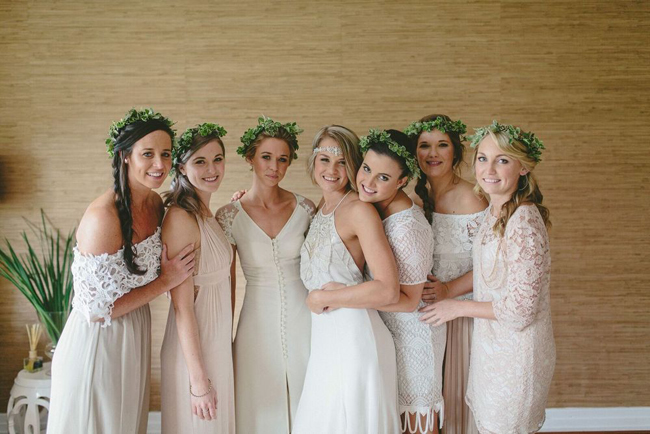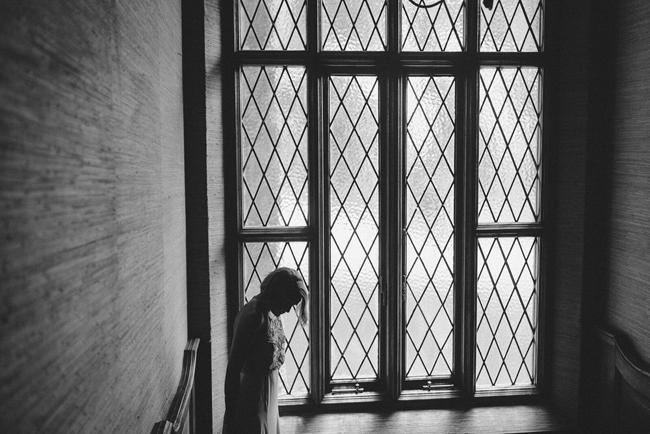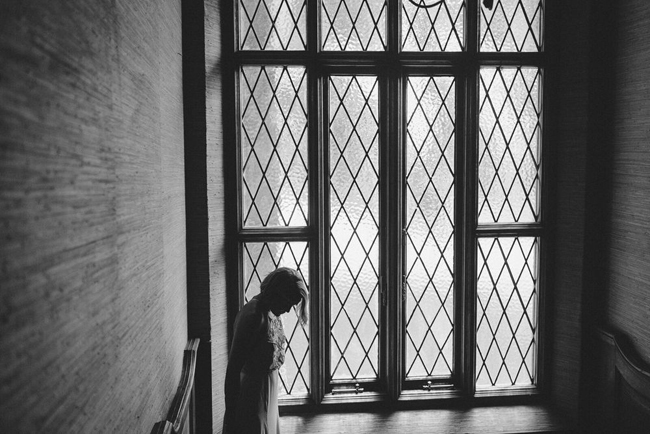 Love Story
Ours isn't very romantic… Dean and I met through mutual friends many moons ago! We were both dating other people at the time, and were in the same circle, never imagining that we would end up together! Eventually the other relationships fizzled out respectively, and we started spending a lot of time together. After a couple of months, one night in Ponta D'Ora, Dean finally made his move. There was a kiss, and the rest is history!
The Proposal
It was very sweet and very 'us'. It was very, VERY early in the morning on a Sunday. I had a wedding hangover (after shooting my last wedding of 2014), and couldn't believe he had woken me so early, as we were leaving to go overseas that evening for a Christmas holiday. He asked me where the dogs were (they sleep in our bed), and to put them in the middle so that we could give them a cuddle before sending them to their doggie sitter while we were away. Once I'd placed them in the middle, he rolled over onto one knee and said 'Now that our whole family is together… Will you marry me?!' I was in total shock, and don't even know if I ever said YES! He'd also planned a breakfast with our families, who thought they were just meeting up with us to say goodbye before we left for the Christmas trip. Very thoughtful and an incredibly special day!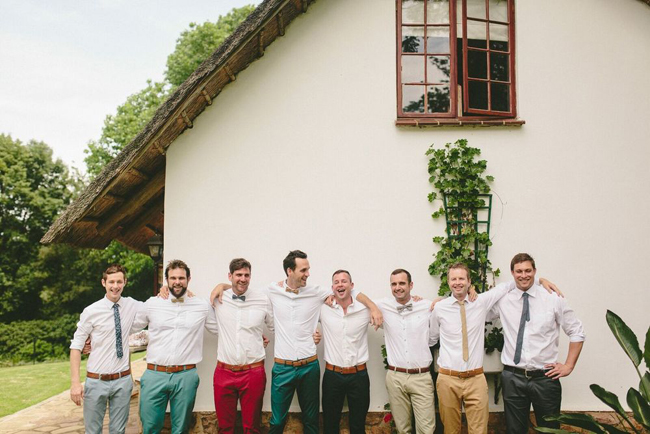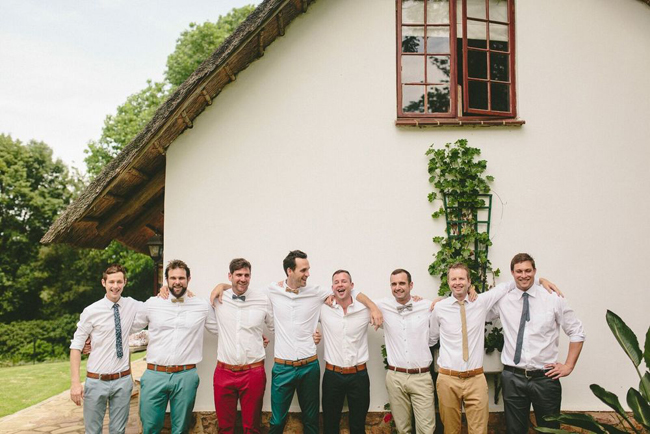 The Venue
We knew that the wedding had to be local, and where we could have our ceremony outside. Somewhere that wouldn't be too much of a mission to get to, and somewhere that could fit our guest list. This didn't leave a lot of options, as we had 250 people. Having been to most of the venues in Durbs for work, I immediately knew which was my favourite. Camp Orchards had everything we needed it to offer, and is just SO beautiful!
Wedding Style
My vision was good food, good music, good friends! I didn't want too much 'fuss'. I wanted the tables to be basic, so that they could fit LOTS of food. Greenery rather than flowers, and candles to provide an ambience. I knew I wanted cafe lights, as my dream would've been to have the reception outdoors as well. Having our wedding in Durban in December meant that was too risky, so I took the outdoors indoors! Carolyn from Adore Weddings is a dear friend, and totally got my vibe from before I was even engaged. I gave her free range to run with the ideas for a 'basic' look, and she nailed it! I guess you could call our wedding slightly 'boho'… I just wanted it to be very relaxed, and a very chilled day spent with the people we loved!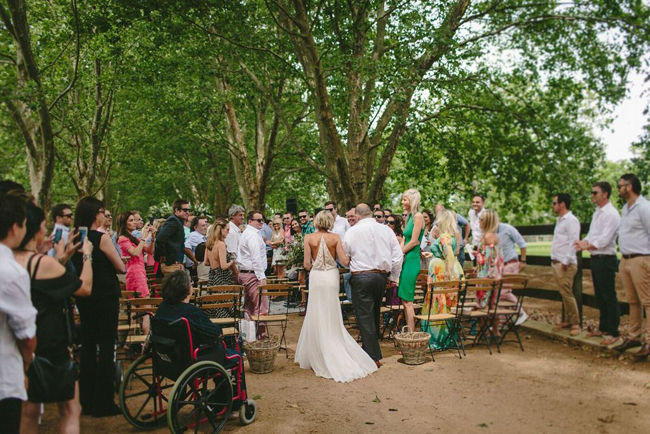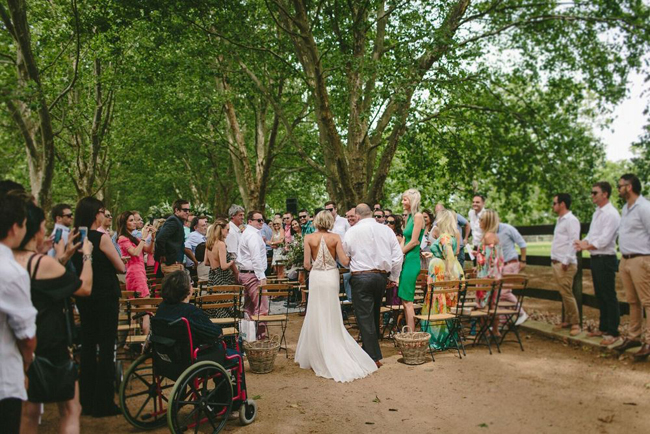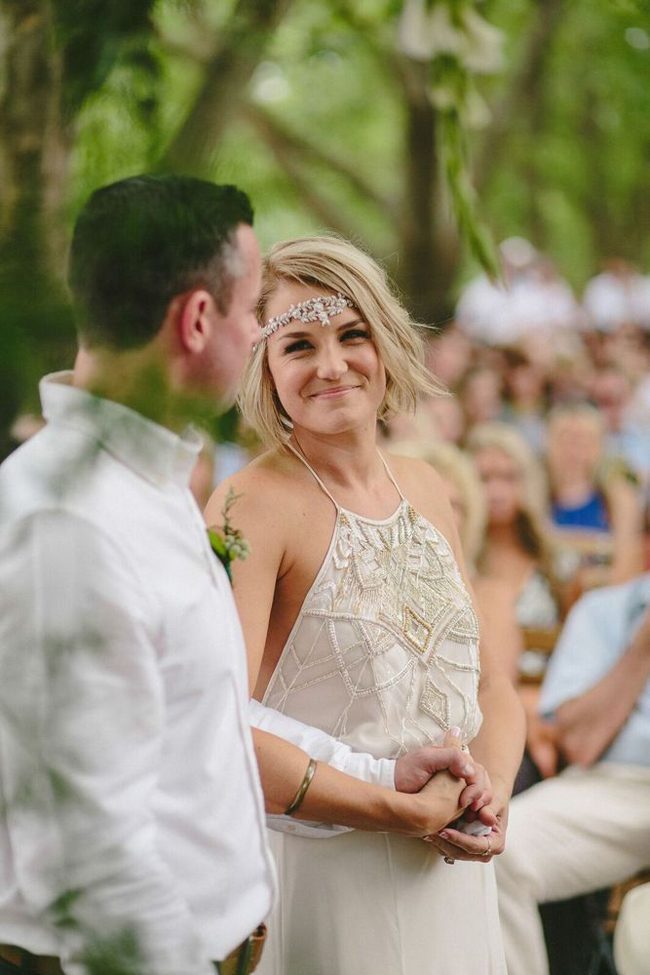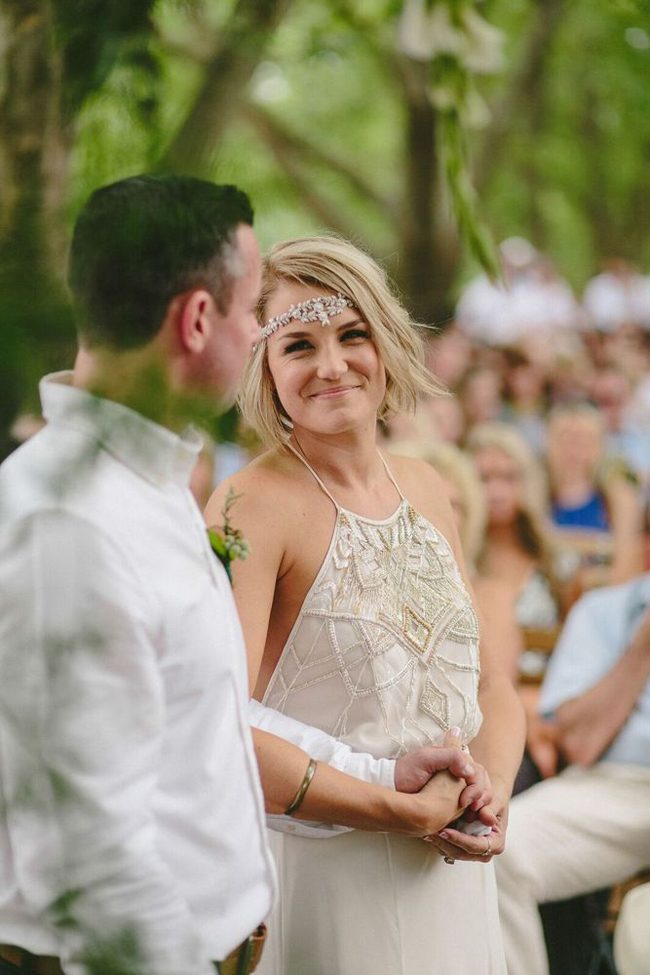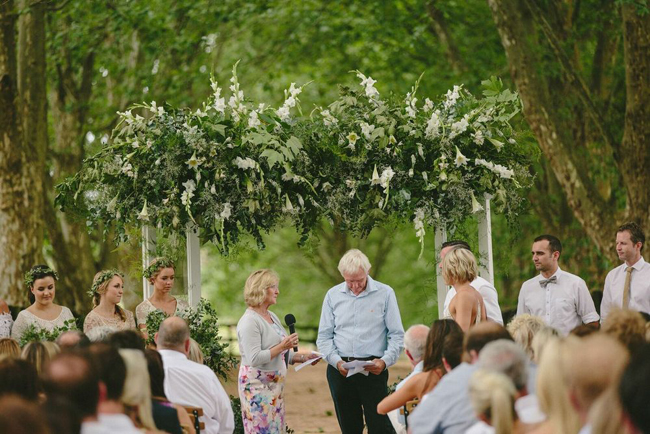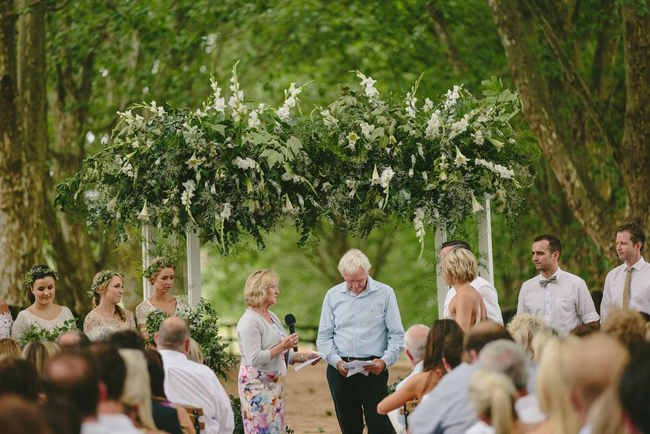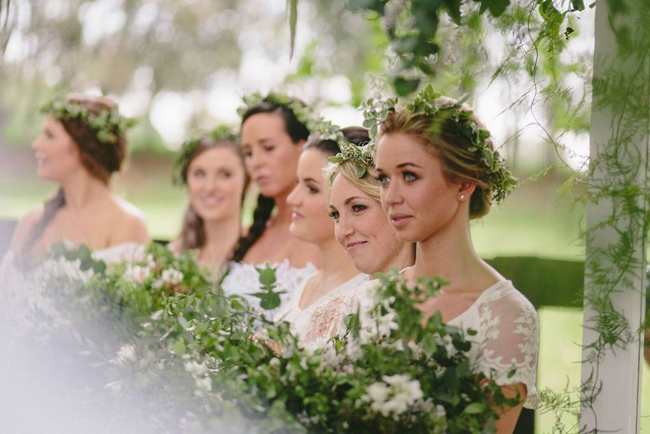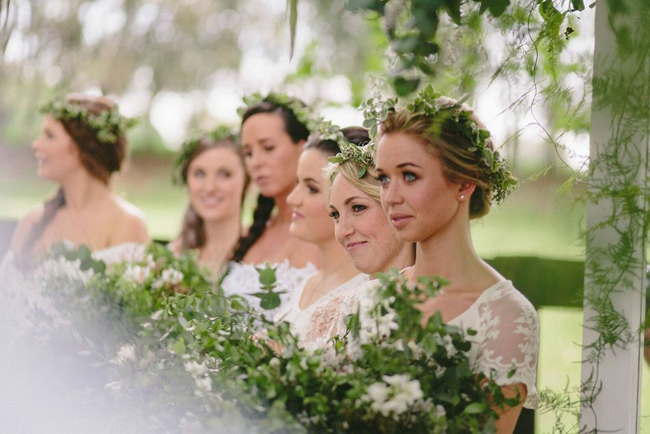 Wedding Details
There were so many things we did a bit differently that I loved! I really wanted our wedding to feel extra special and 'different', as I spend every weekend watching other people get married. One of these was our ceremony. My favourite thing we did was ask Dean's uncle, Charles, to 'marry' us. We also wrote our own vows. This was incredibly special to both of us. Neither of us are religious, and we wanted the ceremony to be personal and special, and different. We also asked that nobody took photos during the ceremony, and this made people really listen and be present. I can't even tell you how many still remark on how special and beautiful our ceremony was. It was just super personal and Charles was incredible.
Our timeline was also a feature – we got married really early in the day compared to 'normal'. This was so we were able to spend extra time with our guests while they mingled and had canapés. I didn't want to go for photos until just before sunset, and this meant that we had so much time to really enjoy our day, the same way as everyone else does. I also knew I wanted to get dancing as early as possible, as the venue closed at 12pm. We had our first dance just after sunset, and we didn't leave the floor until they shut us down!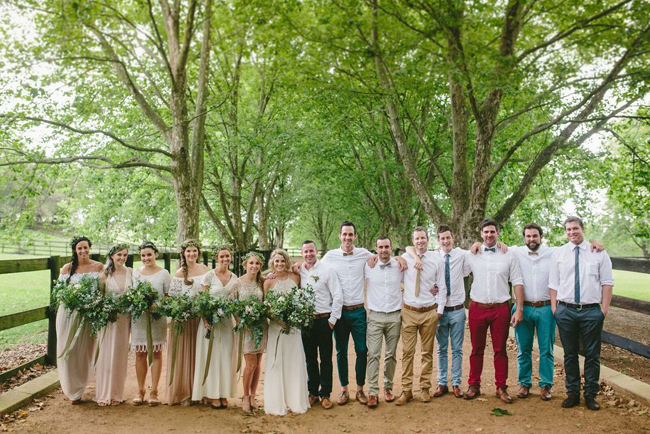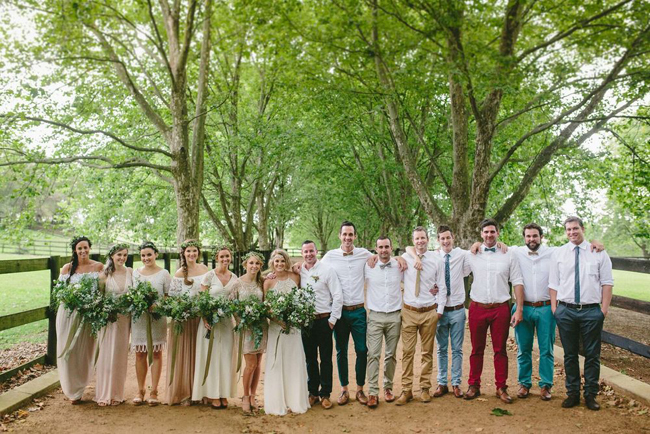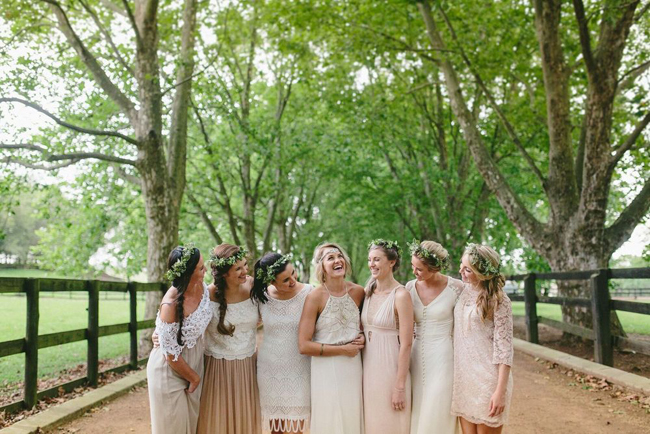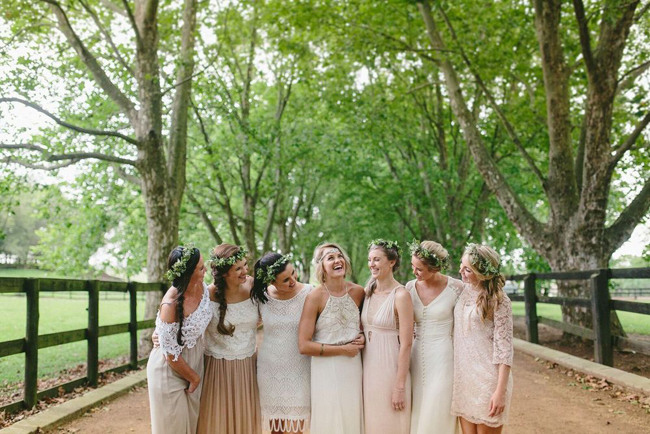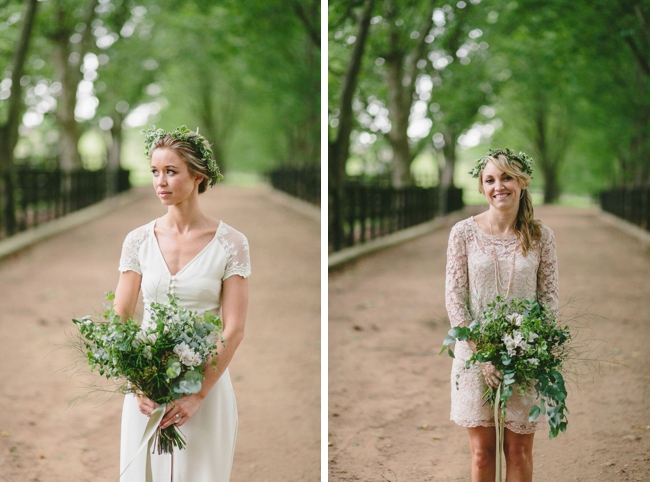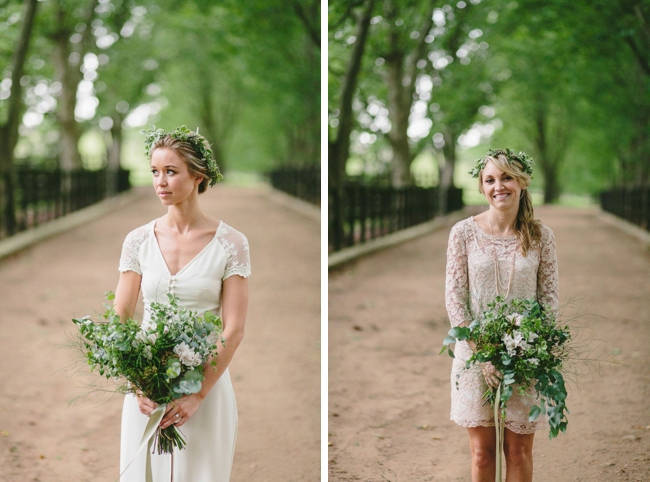 DIY Elements
My step-dad built the arch that we got married under, and Carolyn covered it in beautiful greenery and flowers. I loved this extra special element!
The Flowers
I love texture! Flowers were not that important to me (sorry Caz!)… So I opted to rather have a lot of greenery and textures instead. I wanted the greens and coppers to stand out, and told Carolyn I just wanted a wild bouquet of different textures for each of the girls, as well as tiny green crowns for the bridesmaids and little flower girl.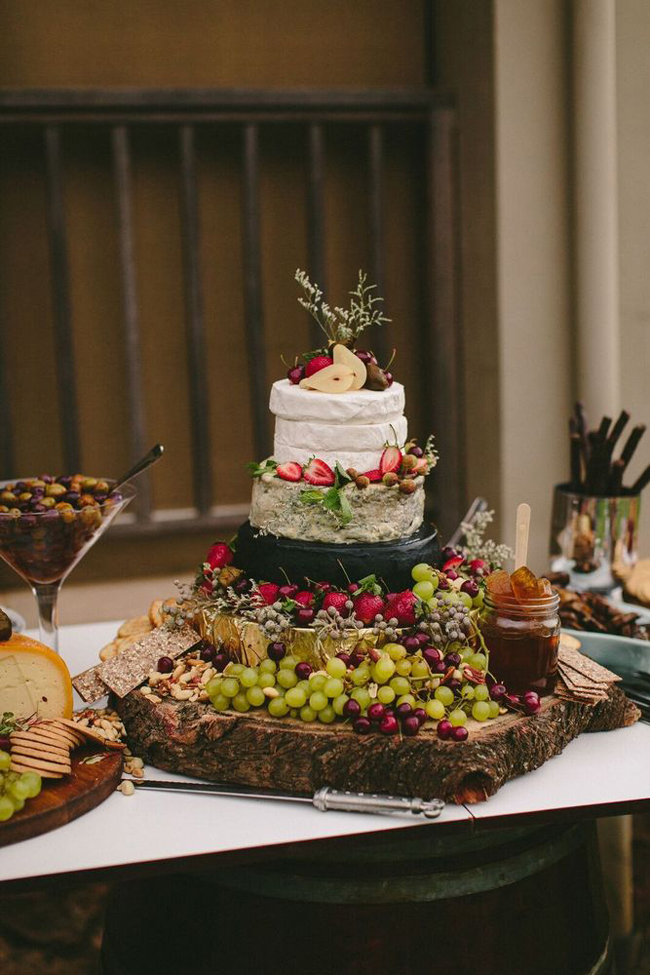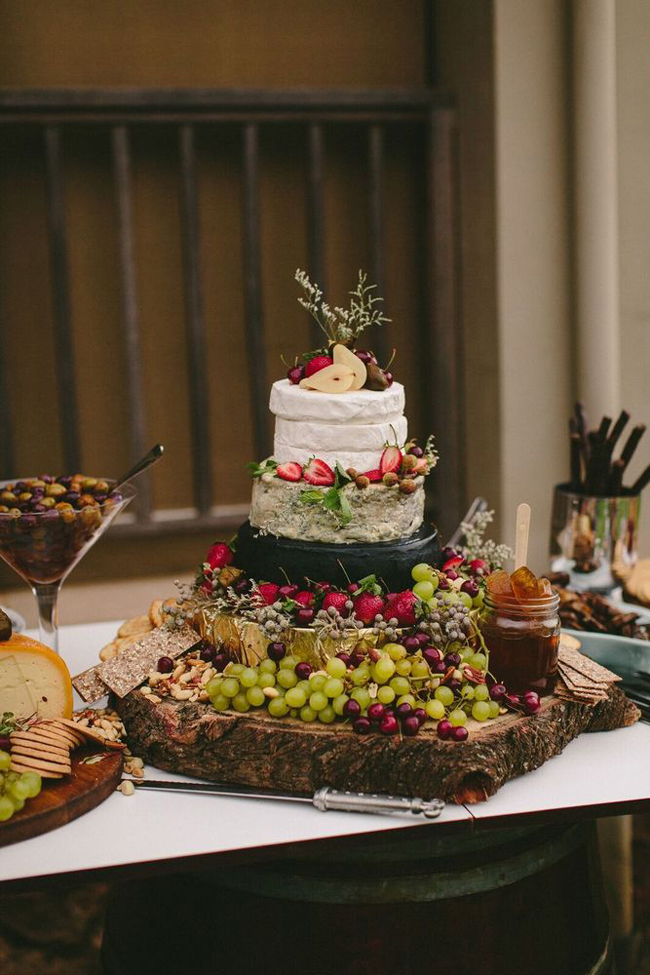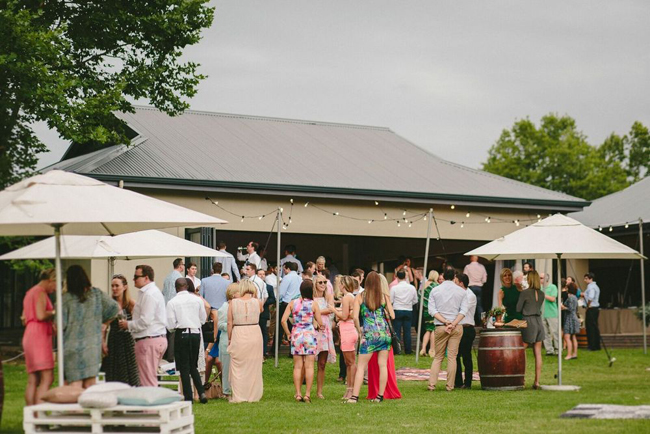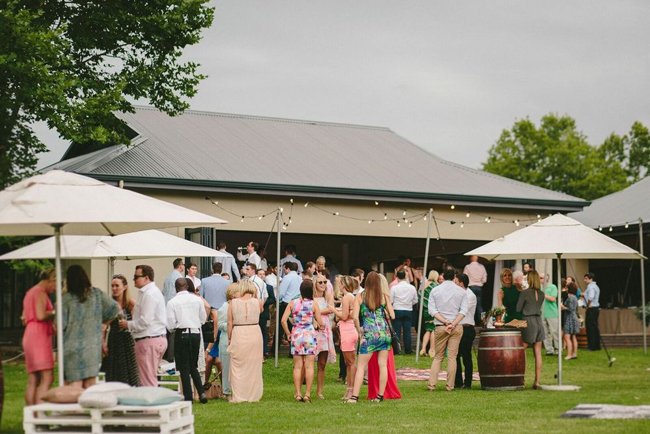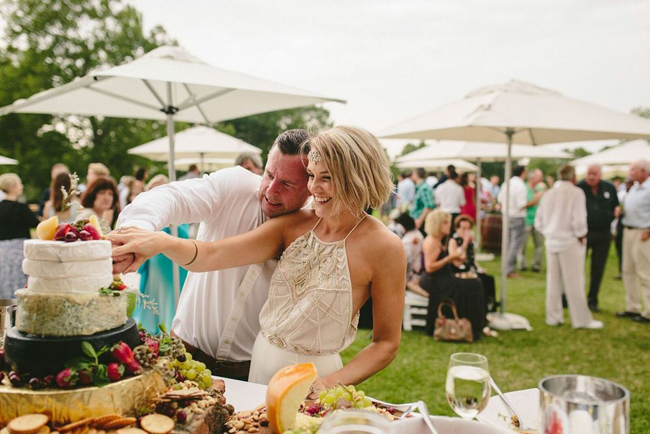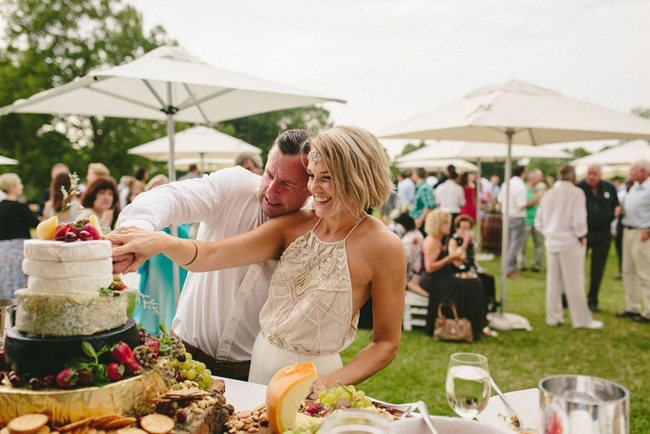 The Dress
There was a dress design that I had found on Pinterest that had the most incredible back… When we got engaged, I decided this would be the back of my wedding dress! I met up with Julia Ferrandi, and told her to get creative with the rest. What she came up with was my dream come true – actually, even better!
The Bridesmaids
I had six amazing bridesmaids. Three of them live overseas, one in Swaziland, and two in Durbs. This meant it was going to be a little bit difficult getting dresses made, or having something that I would be sure would fit them all perfectly. I decided to rather let them choose whatever they liked! I gave them a few pictures for inspiration, and a colour palette to use. We didn't see all the dresses together until the morning of the wedding… it was like magic! They're so clever!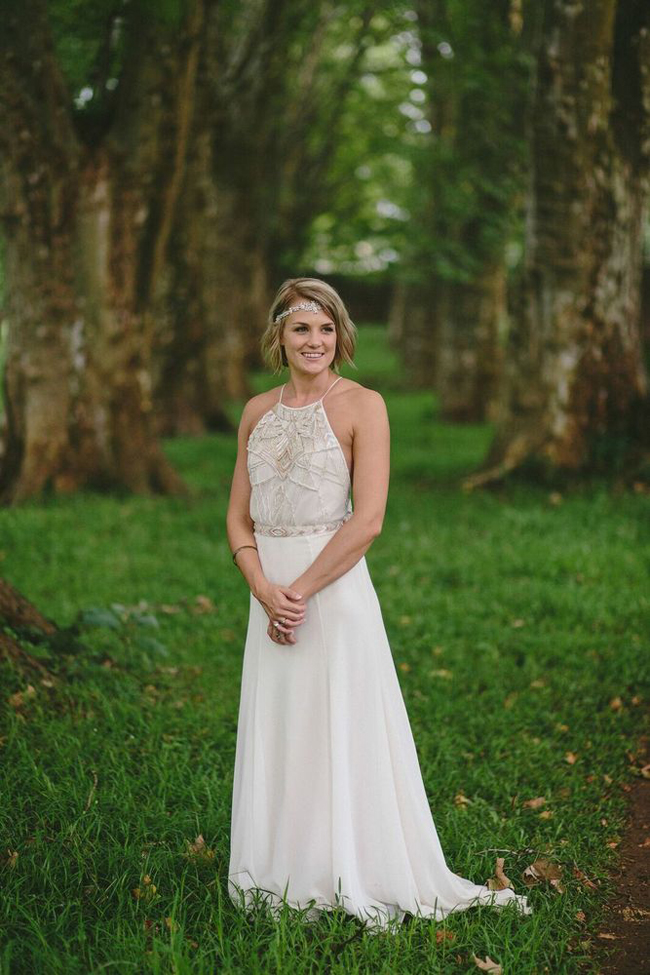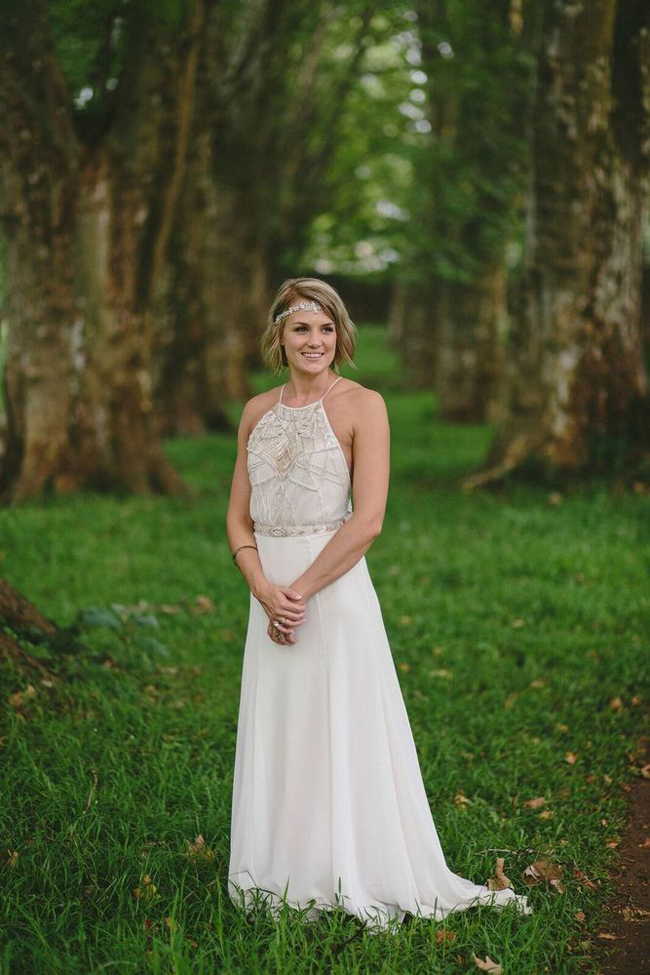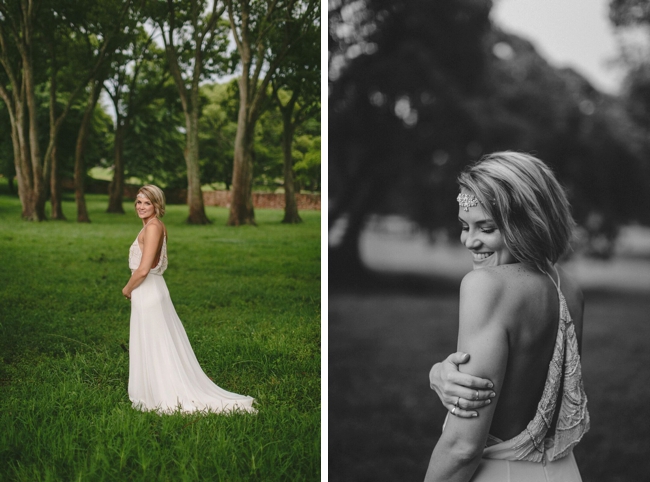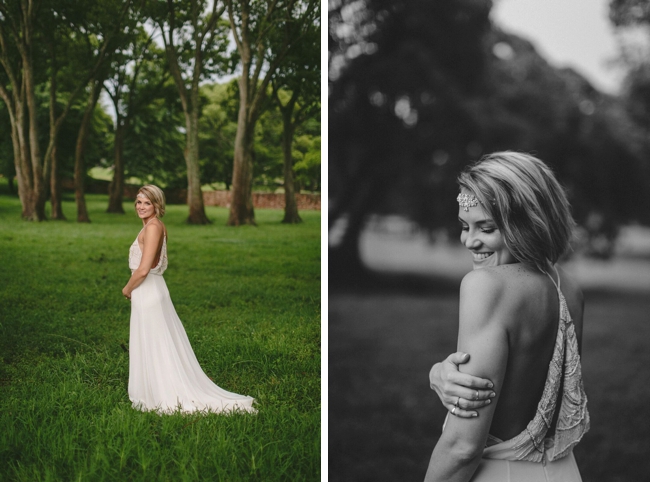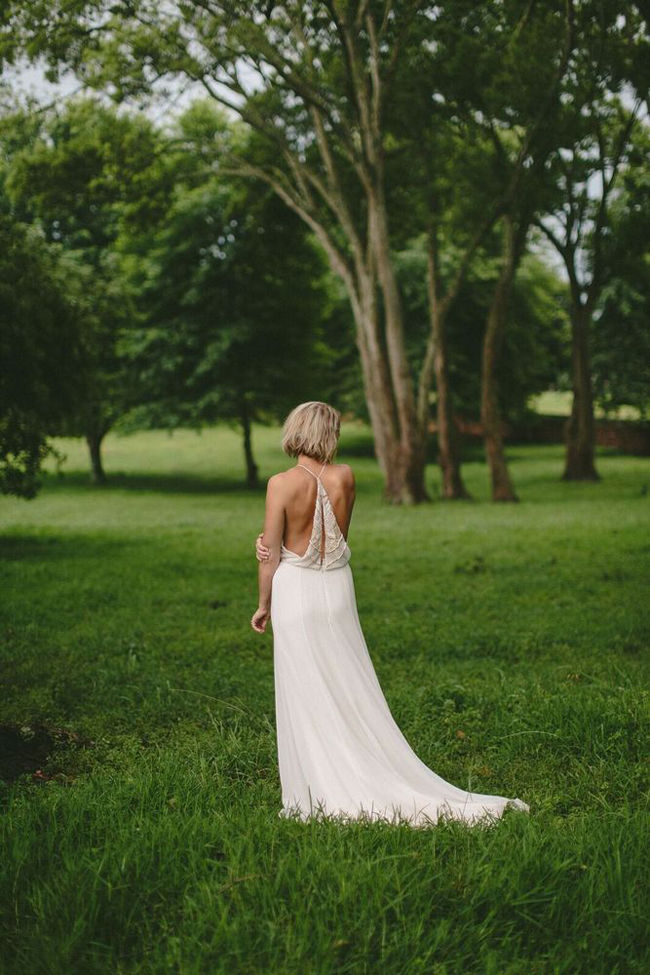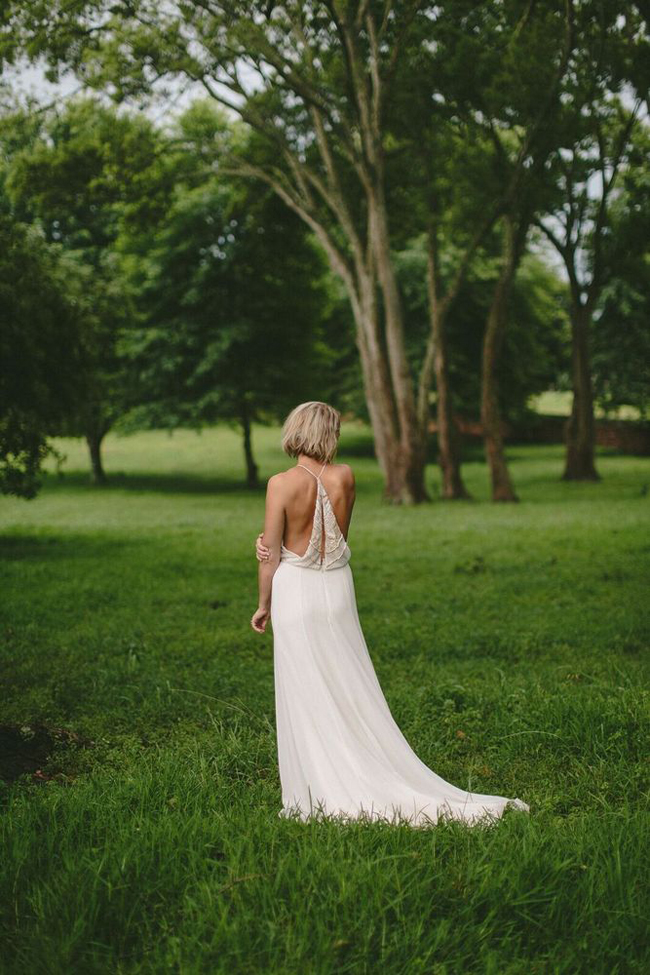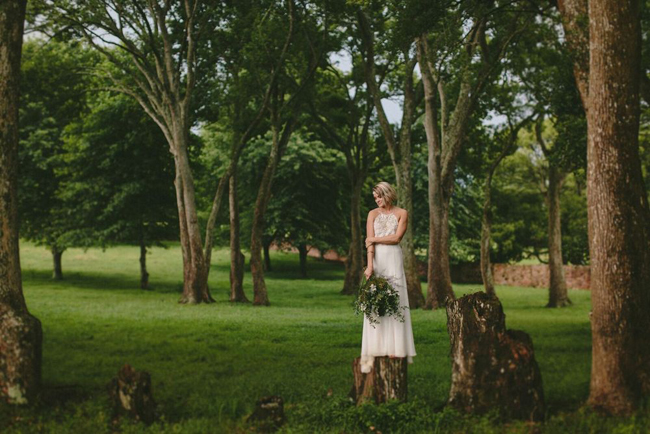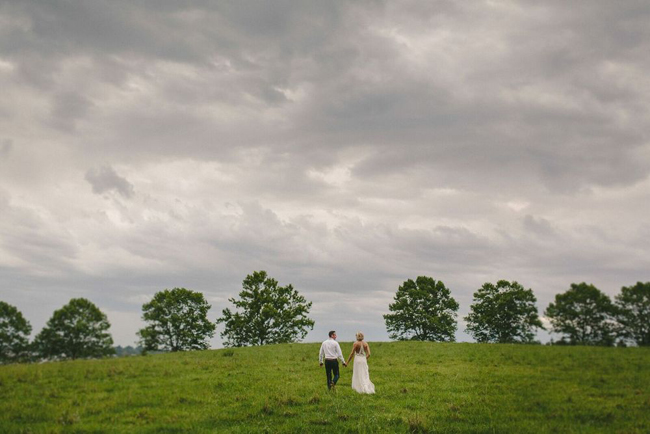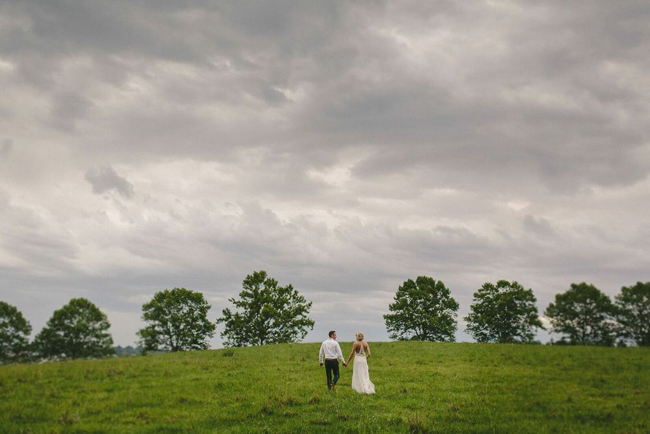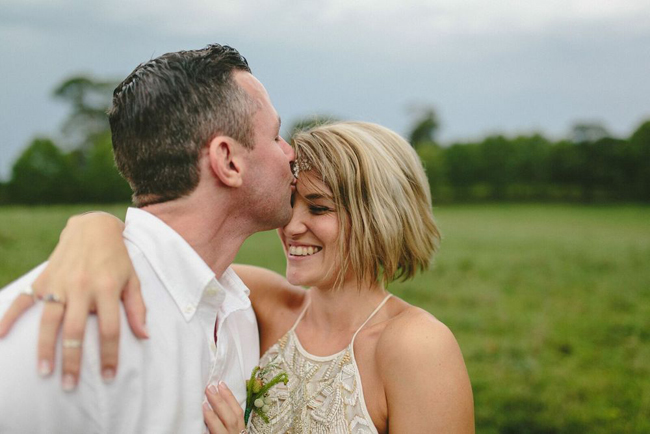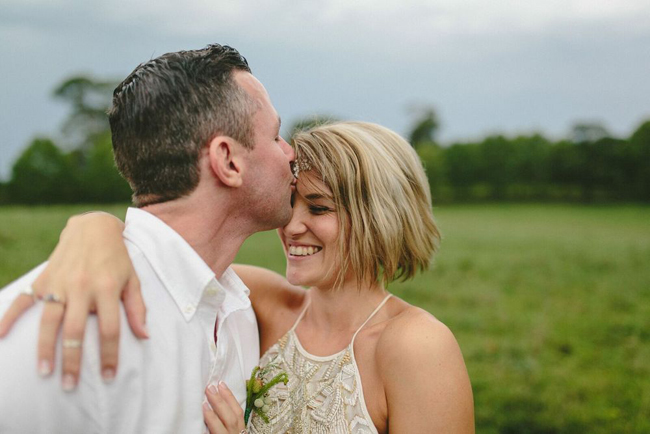 Memorable Moments
The whole aisle thing. For both of us. From the moment when my dad and I got into the car, to starting the walk down the (very long) aisle, then seeing Dean's face at the end. I'll never forget the feeling I felt when that all happened. Pure elation. I could not have been more sure of what I was about to do. Dean says he'll also never forget his best man's speech – that was one of his highlights. He was hysterical! Oh- and lastly, our little three-year-old page boy sprinted down the aisle before I walked. He literally ran right past Dean, and all the way to the end of the avenue. He said he wanted everyone to see how fast he was!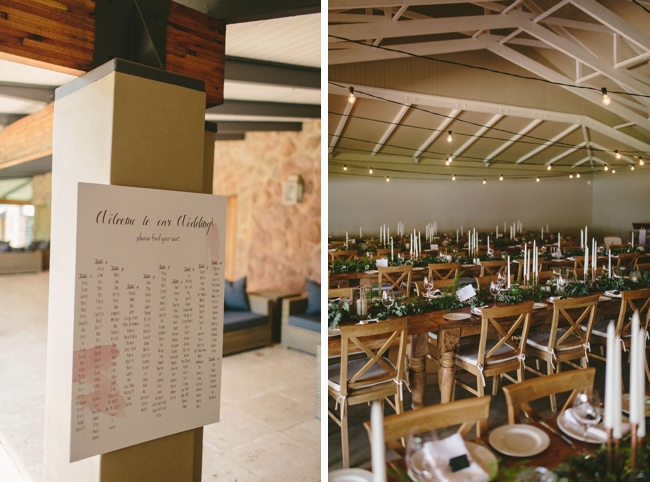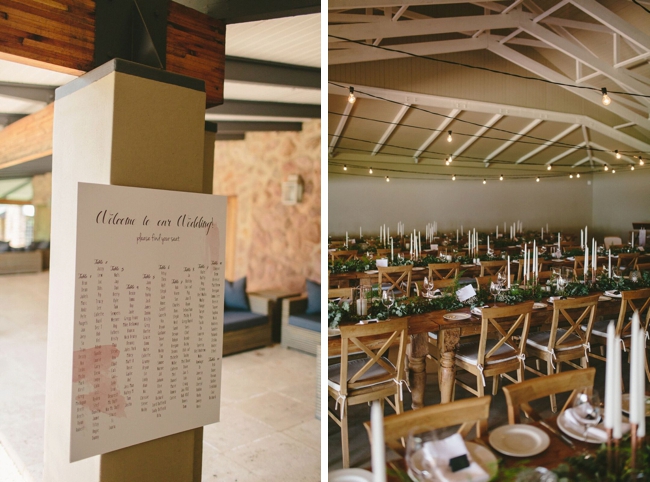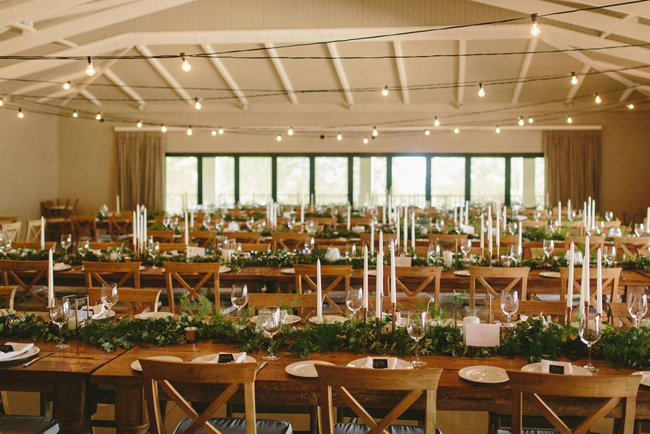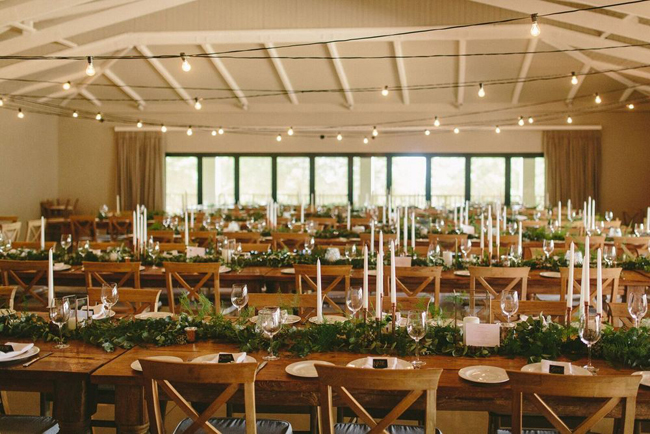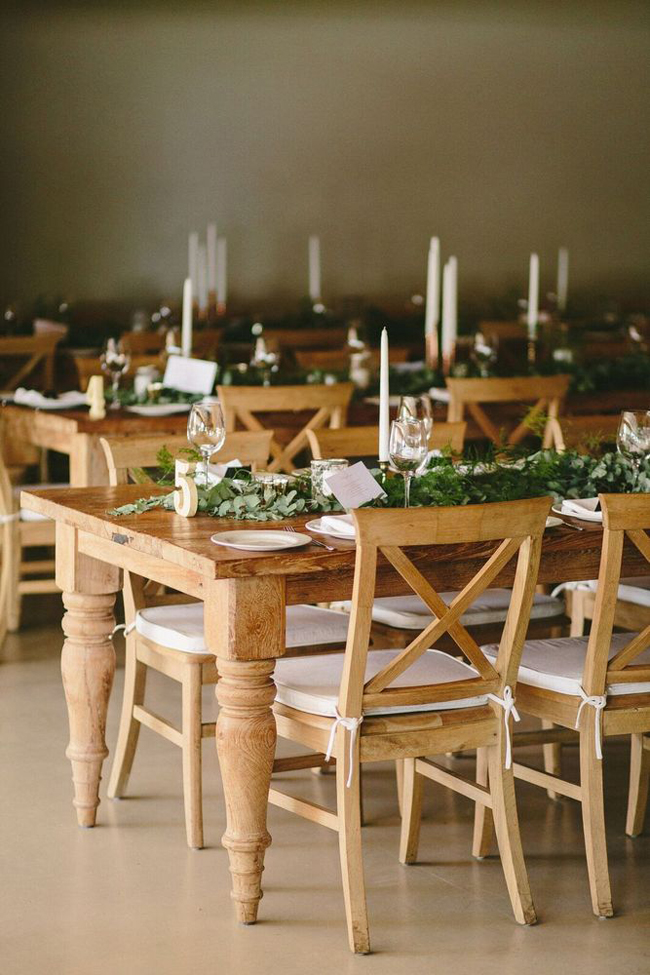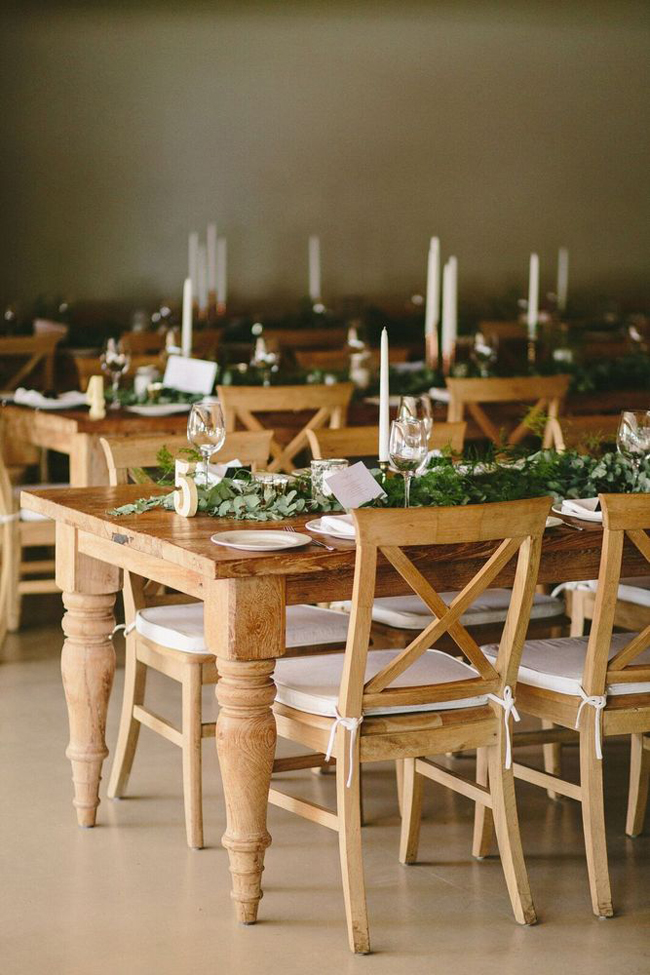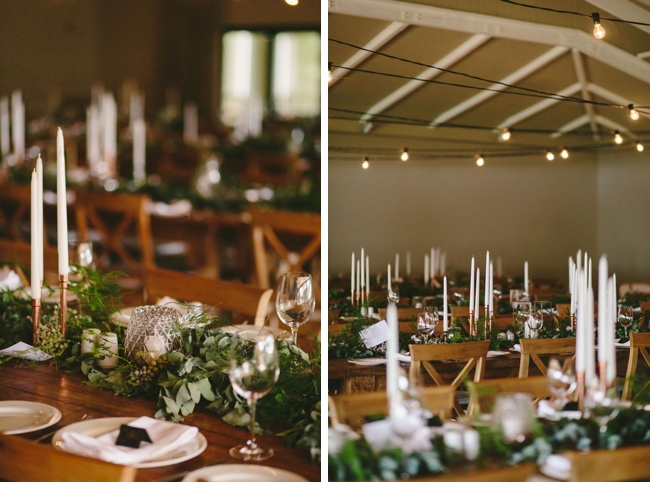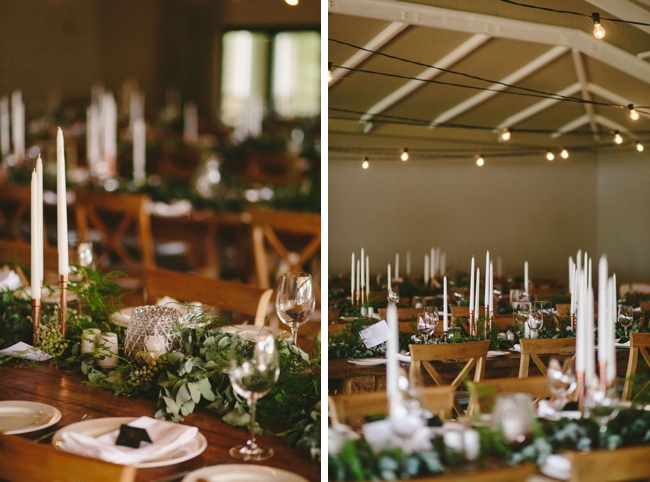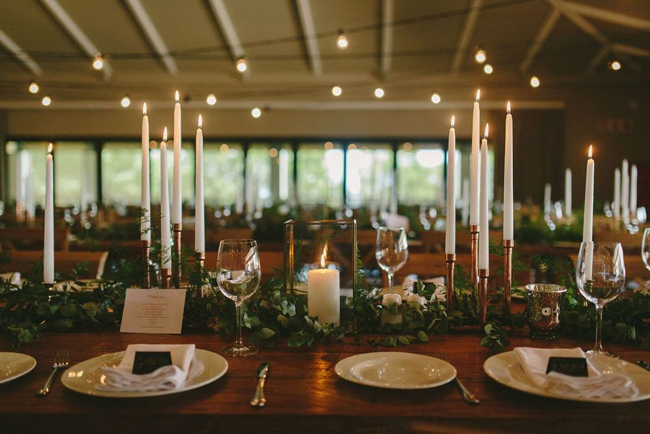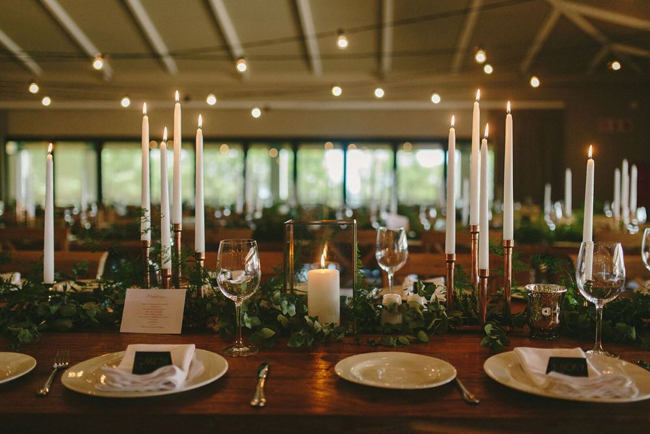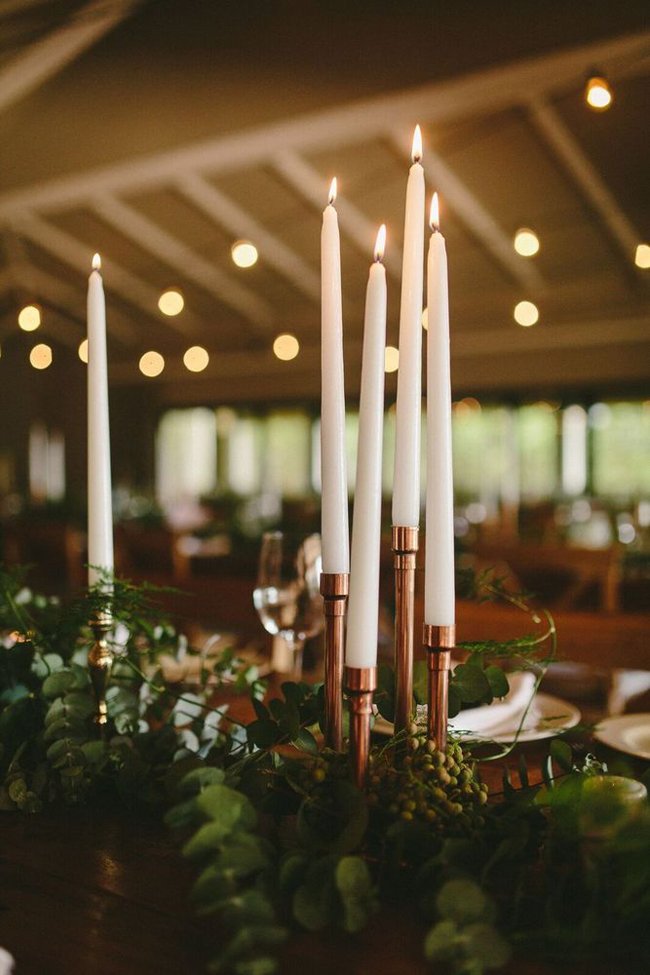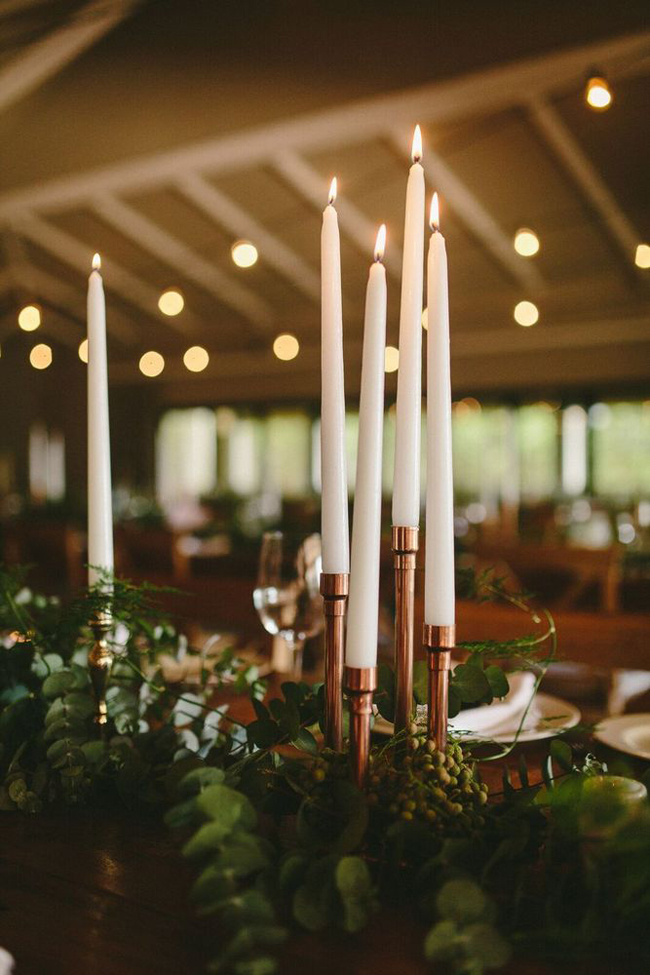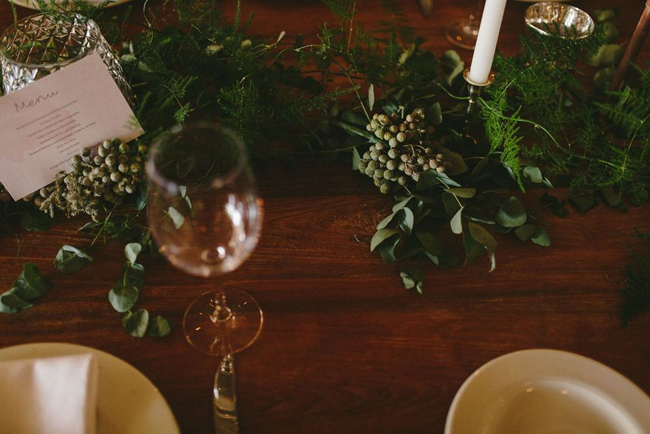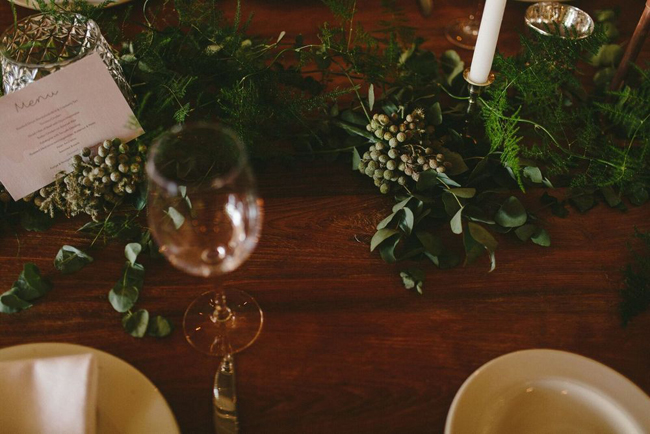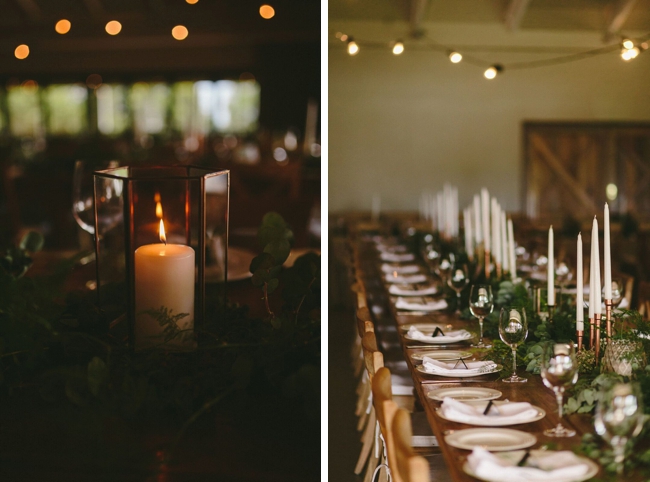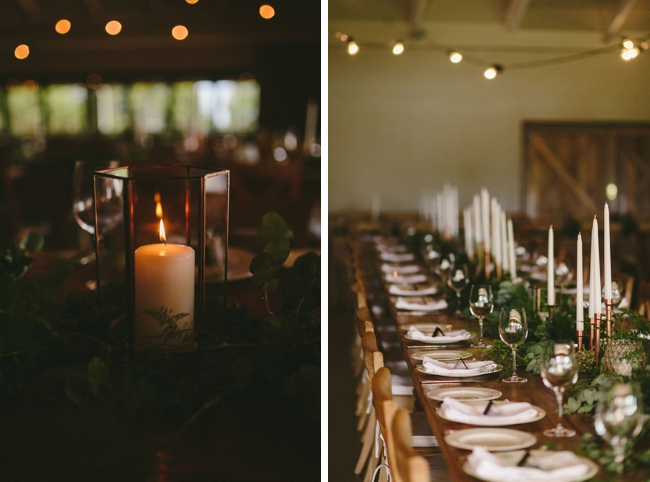 Best Decision
Trusting my suppliers! We gave them all creative freedom, and they all did the most incredible job!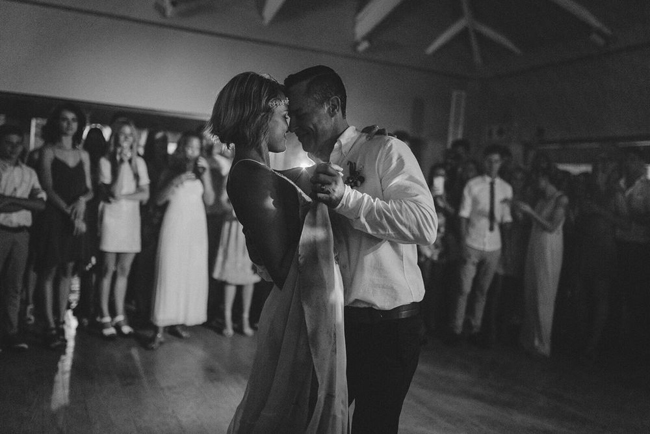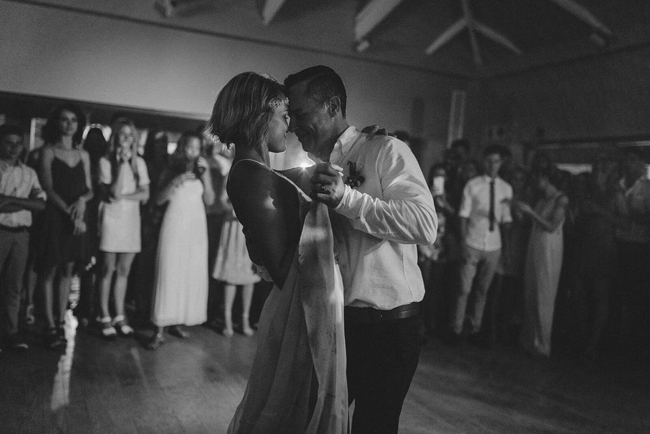 Advice for Future Brides & Grooms
Hire suppliers you can trust and LOVE the work of. That way you'll never be disappointed!
Don't sweat the small stuff. There are going to be some tough decisions that need to be made. Just remember that at the end, the ONLY thing that really matters is the two of you, and what the day is about – your commitment to each other.
Spend time thinking about your timeline, and how you'd best like to spend YOUR day. Ask you photographer/planner to give you advice and what works best for photos, and then personalise it to you and how you'd want it to play out.
Be sure to watch this beautiful video by The Minerals!
You can see more from this wedding on the Kikitography blog.
SERVICE PROVIDERS
Venue: Camp Orchards | Catering & cake: Aubergine | Photography: Kikitography | Co-ordination, flowers & décor: Adore Weddings & Events | Stationery: Seven Swans | Video: The Minerals | Bride's dress: Julia Ferrandi | Bride's accessories: Bo & Luca (headpiece) | Hair: Stacy from CROP | Makeup: Laura Halgreen | Groom & groomsmen's attire: Zara, Woolies & Markhams | Bowties & ties: HIS Clothing | Hiring: Barserve Decor Items (bars); Weddings & Functions by Jackie (café lights); Crystal & Vine | DJ: DJ Vivian | Entertainment: Gary Nixon- The Kickstands


Save
Save