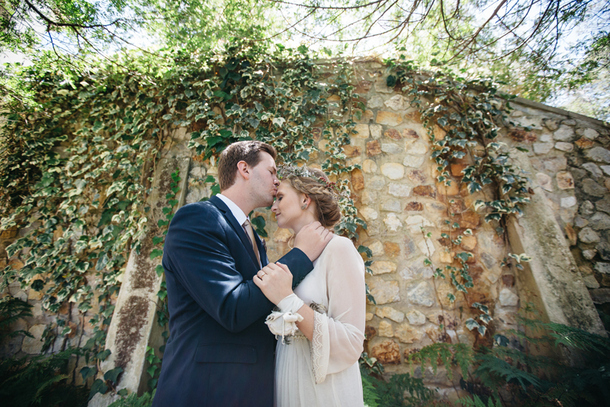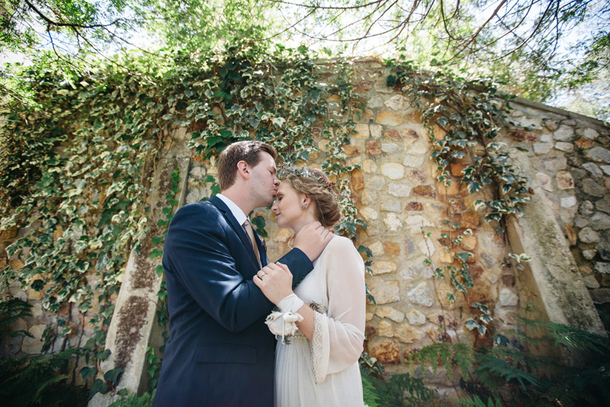 I hate when people talk about cookie-cutter weddings, because in my experience, there's so much thought and love and care that goes into every couple's wedding, whatever decor and design they choose. But some weddings really manage to go above and beyond in being a perfect expression of the pair involved, and where I feel like I can get a beautiful sense of who they are and what they love just from the choices they make for their Big Day. Today's wedding is one of those – a heartfelt day in the middle of spectacular natural scenery, surrounded by (and handmade in many cases by) the people that Angelique and Marnus love and admire the most. My absolute favourite element though, is Angelique's vintage dress – vintage in the true sense of the word, since it belonged to her great grandmother. What an incredibly special thing to be able to share, and what a gorgeous gown, on its second outing. These lovely pics by Kikitography really get across the sense of peace and joy that radiate from bride and groom, and from the wedding they created.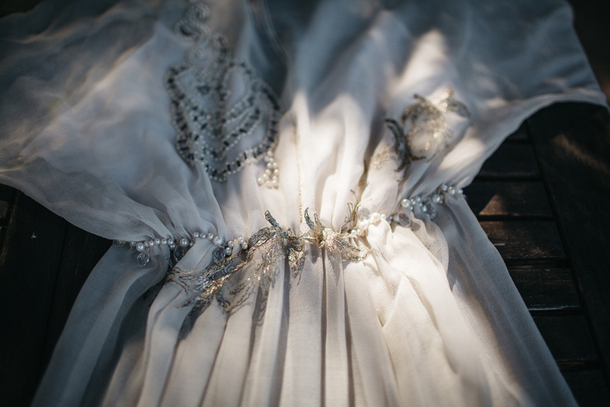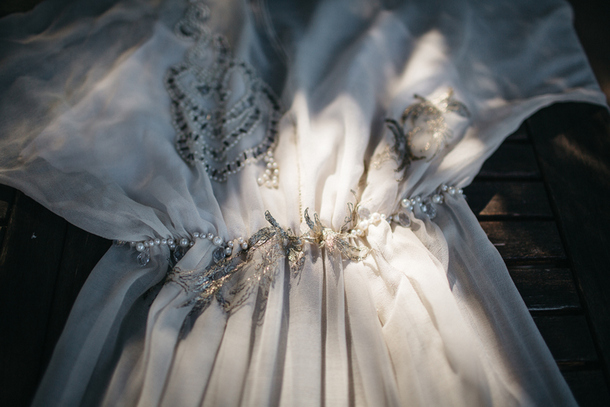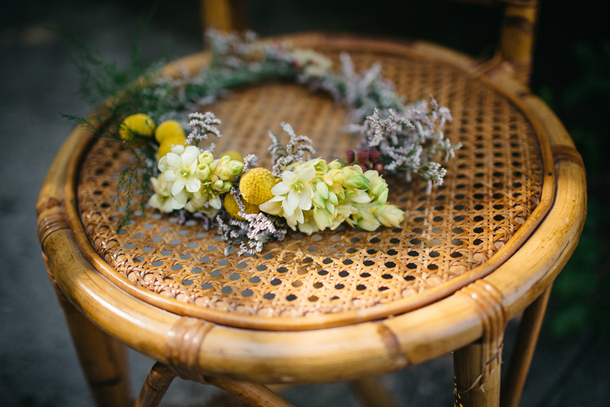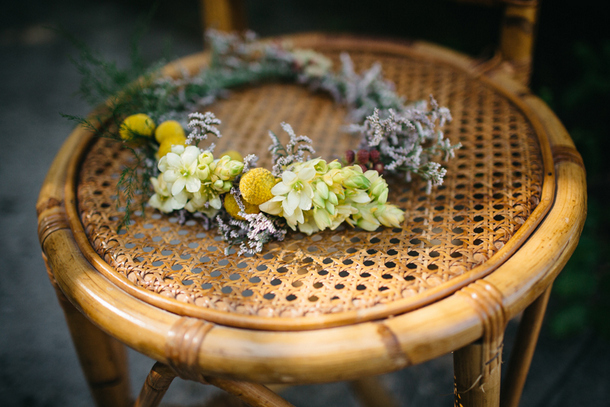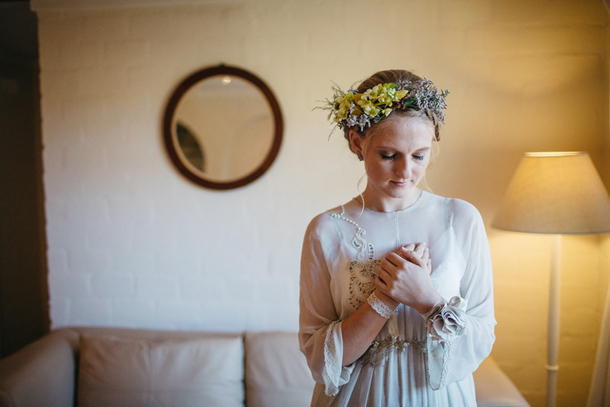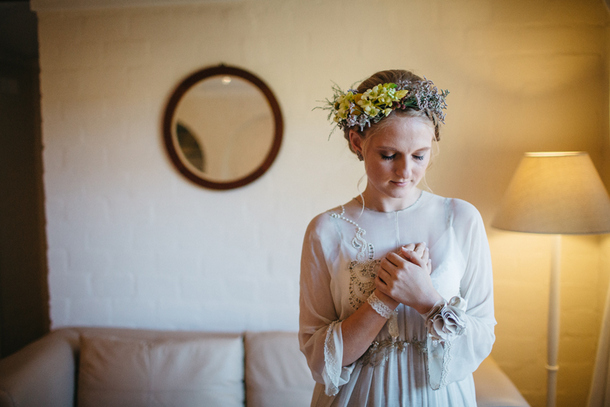 Love Story
Marnus and I were Stellenbosch sweethearts. As classmates, we met in our first year on the first day that formal classes started in the beautiful, historic buildings of the faculty of Theology situated in the renowned Dorp Street, Stellenbosch. On this specific day, after being introduced to each other, we got along so well that we spent the rest of the day exploring Stellenbosch whilst talking non-stop. This meeting was the start of a wonderful friendship of three years and as we got to know one another better, the relationship grew to become something very extraordinary and precious.
The Proposal
Marnus is a 'grand gesture' type of guy and that is exactly how he also planned the proposal. The date was significant: it was graduation day, where we both received our Masters degrees, and it was also Marnus' father's big 50th birthday party. After the graduation ceremony, Marnus and I, as well as our families, went to celebrate at a well-known restaurant in Stellenbosch where a room was booked for the event. After quite a few speeches, it was Marnus' turn to deliver his speech for his father's birthday. The speech quickly changed course and before I knew it, he was on one knee with a black velvet box in his hand and in front of our family and the people in the restaurant he asked the BIG question.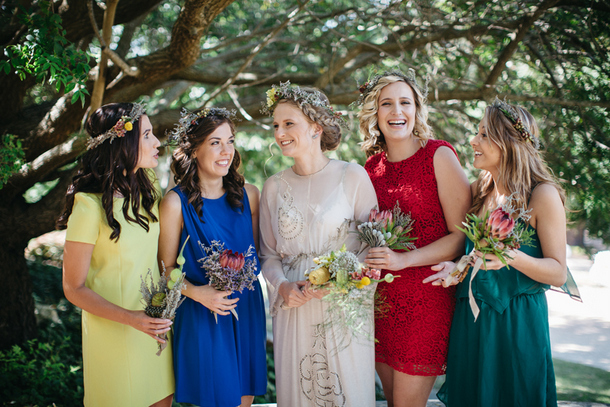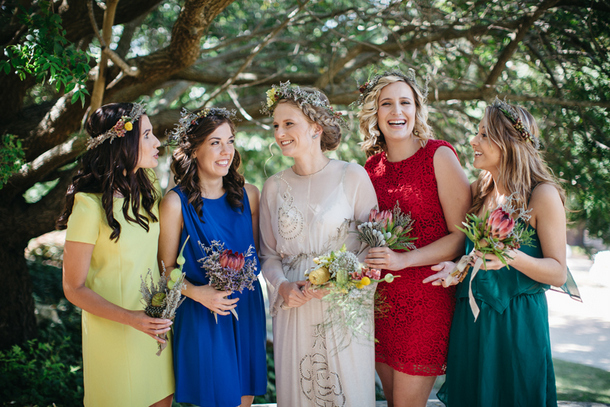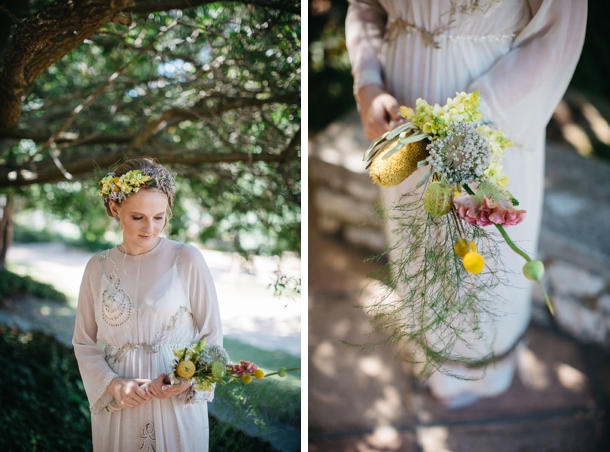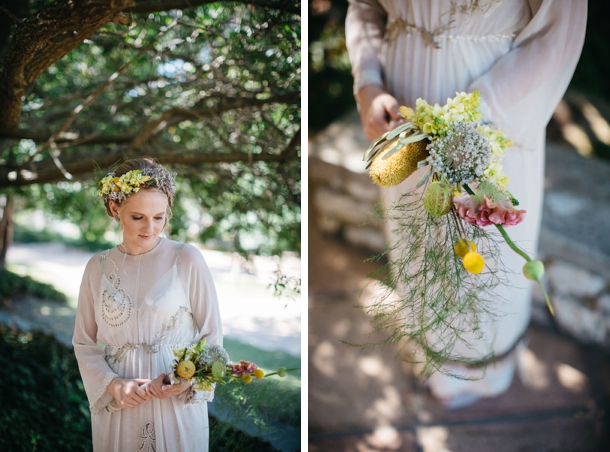 The Venue
Both Marnus and I studied Theology and in our fifth year we attended a spiritual retreat at the farm Volmoed, situated in the Hemel-en-Aarde Valley, Hermanus. We were overwhelmed by the whimsical beauty of the surroundings, the peaceful atmosphere and significant story of the farm, and in the course of our time there we decided that if we should ever marry someday, Volmoed would the the ideal venue. Volmoed is also the home of Professor John de Gruchy (a very well-known South African minister and theologian) and his artist wife, Isobel. We greatly admire his work and the role that Volmoed played in their life story. It was therefore also a great privilege for us to host both our ceremony and reception there.
Wedding Style
Our wedding did not have a very specific style or colour palette but can be described as a mixture of earthy, natural and bohemian elements. We were inspired and guided by the surroundings of the venue, the wonderful countryside and the spiritual sanctuary that is Volmoed. We worked with earthy tones and added limited bursts of contrasting colours. We incorporated raw materials such as different types and forms of wood, and concentrated on using browns and greens as our base colours. The only striking colours we used were the bridesmaids' dresses (cherry red, lime green/yellow, dark olive green & deep blue) and my flower crown, which had flowers with some of the same colours.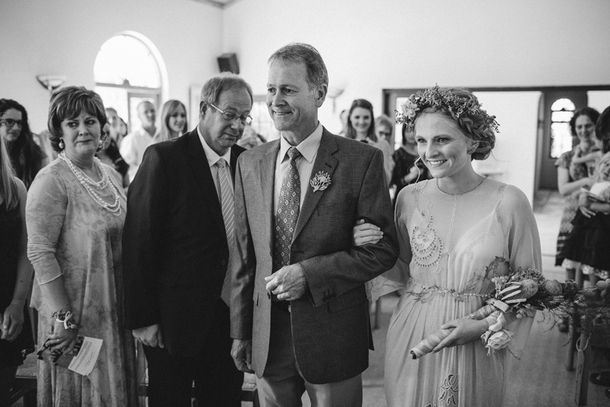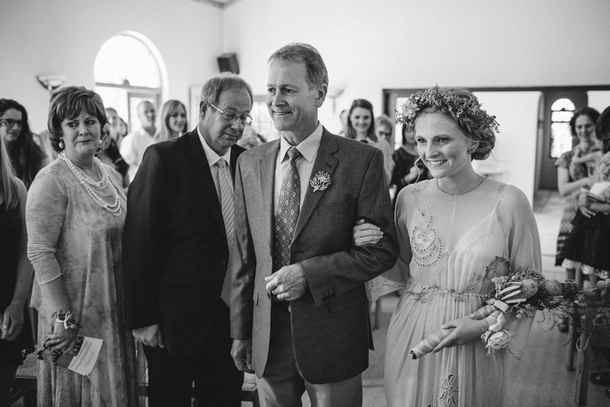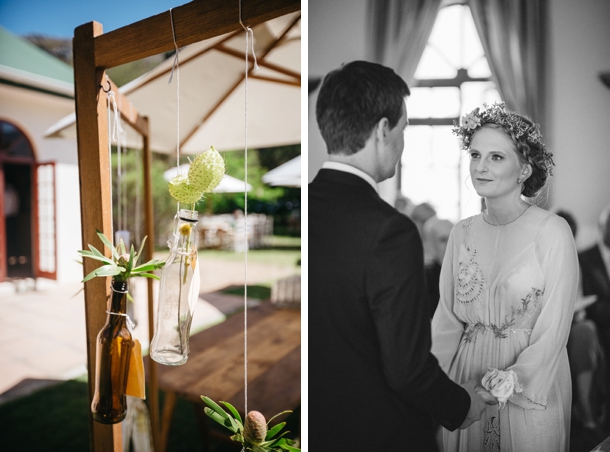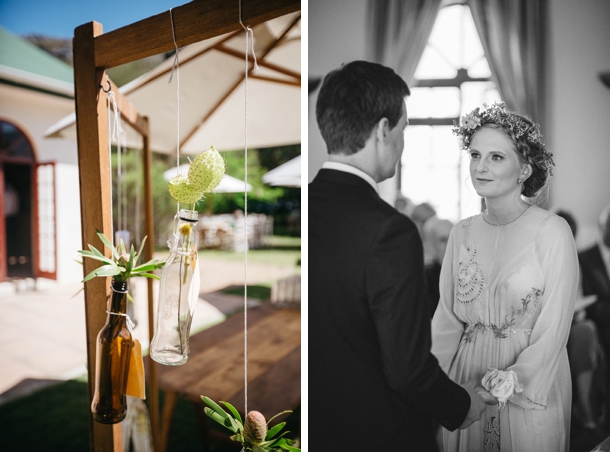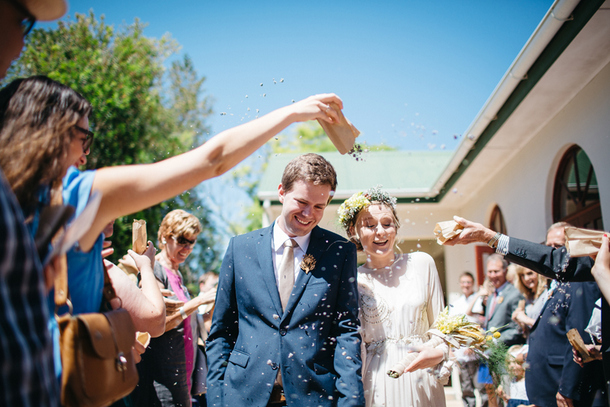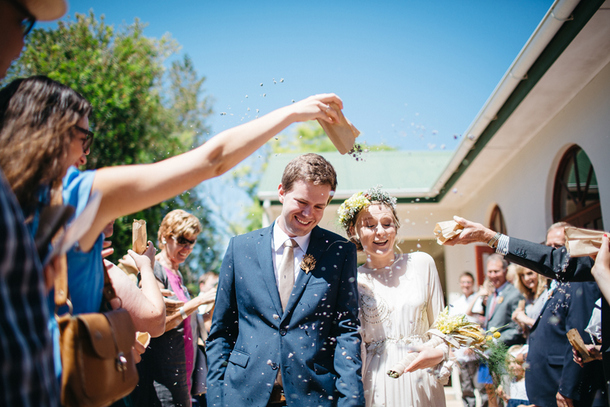 Wedding Details
We tried to make our wedding as personal as possible and therefore moved away from any element that did not reflect who we are as a couple, and went to great lengths to handpick many of the details. As we are both in ministry, we wanted our faith to play an important part in our wedding, so the evening before we had an intimate ceremony where we celebrated Eucharist with close friends and family, conducted by one of our mentors, Professor Elna Mouton. Marnus and I are both art lovers, so Andrei Rubley's icon of the Trinity was an integral part of the ceremony on the day, and the congregation where I work was also represented as we used their beautiful wooden trestle tables for the reception. Family legacy is something we cherish, so as well as wearing my great grandmother's gown and earrings, we used the same crystal champagne glasses Marnus' parents had at their wedding. We love the outdoors and especially the unique flora and fauna of the Western Cape such as fynbos and protea. My engagement ring is a protea setting, and all the groomsmen wore a wooden protea-shaped pin – it was also incorporated into our invitations, programs, wooden platters and in the floral arrangements. Finally, since both of us place great value on relationships, many of the people involved in the wedding were close friends, from the minister to the DJ. We not only needed their help, but wanted the day to be as filled with loved ones as possible.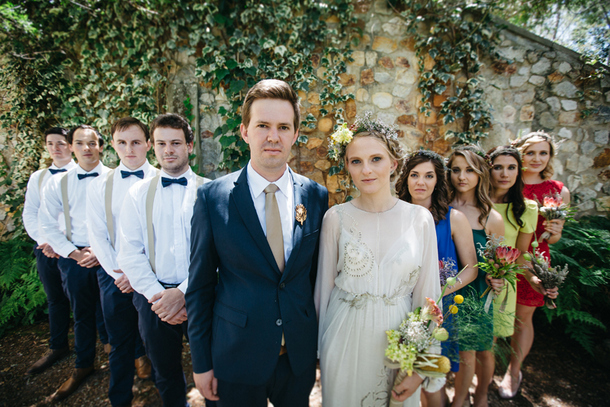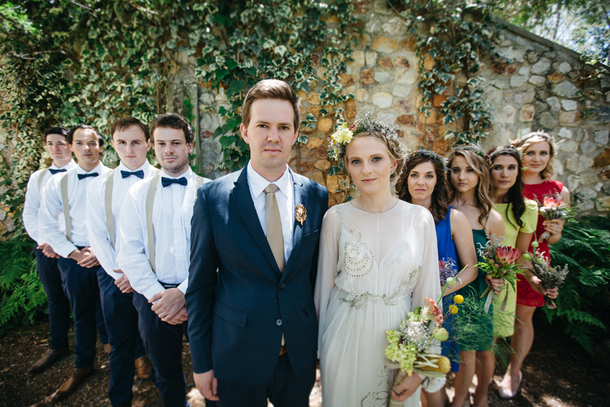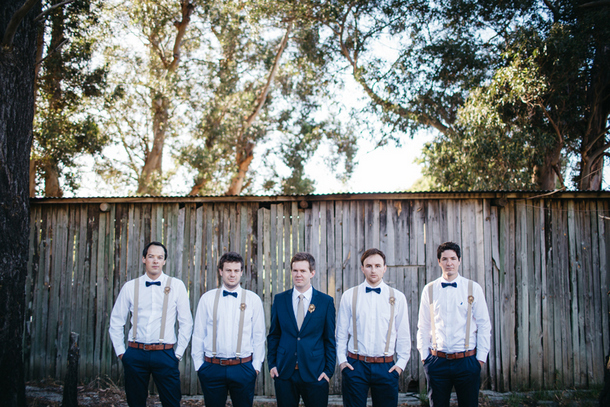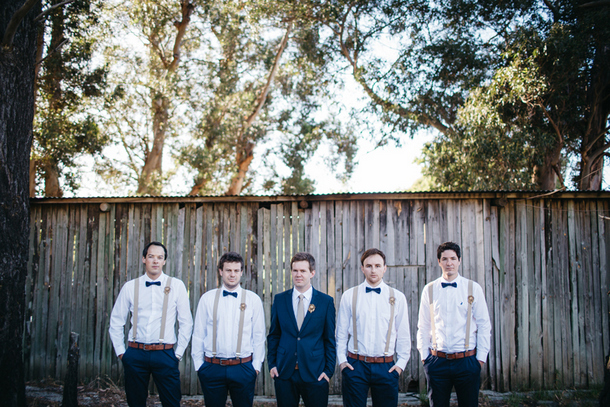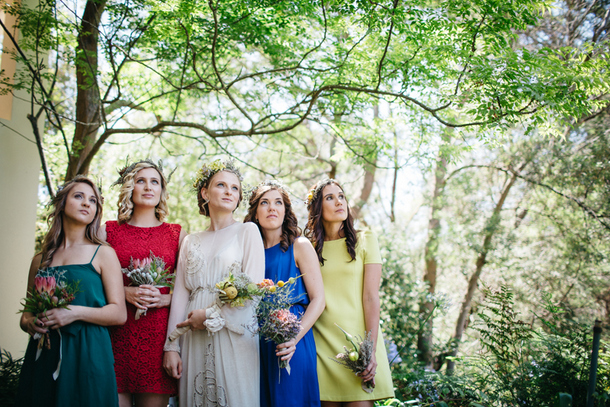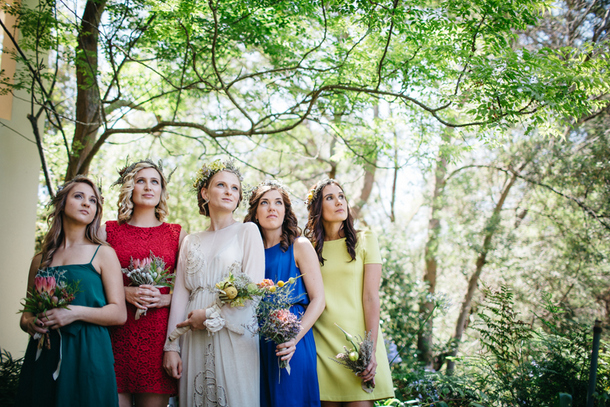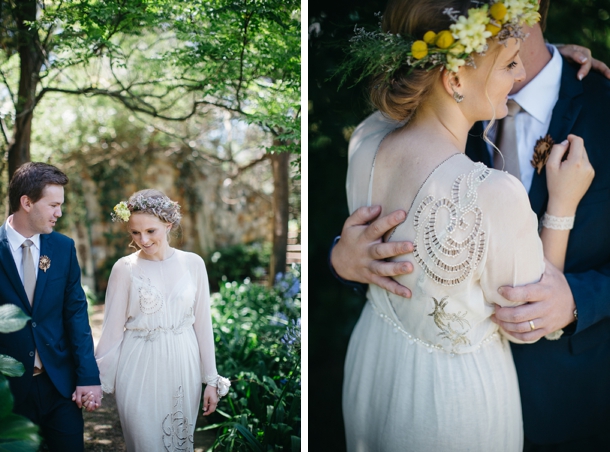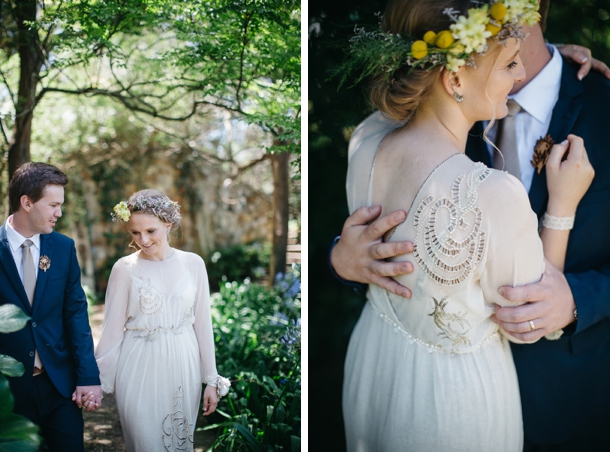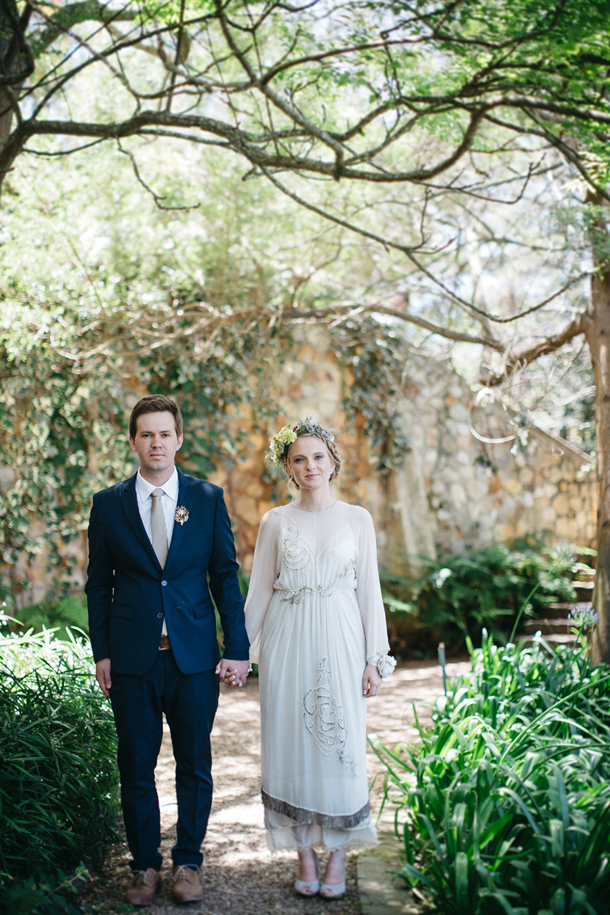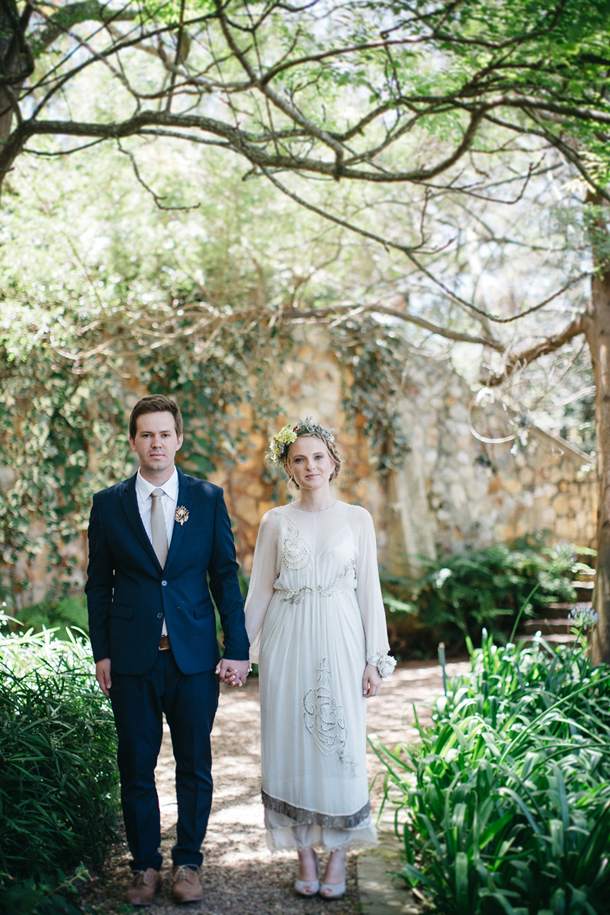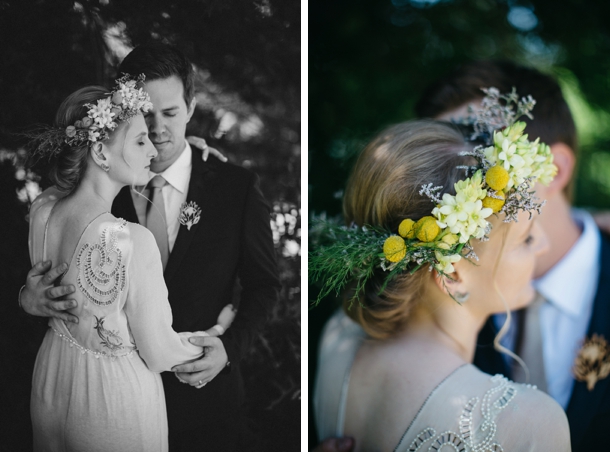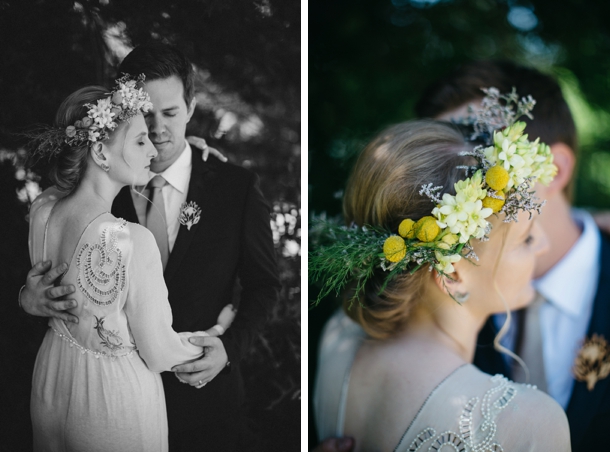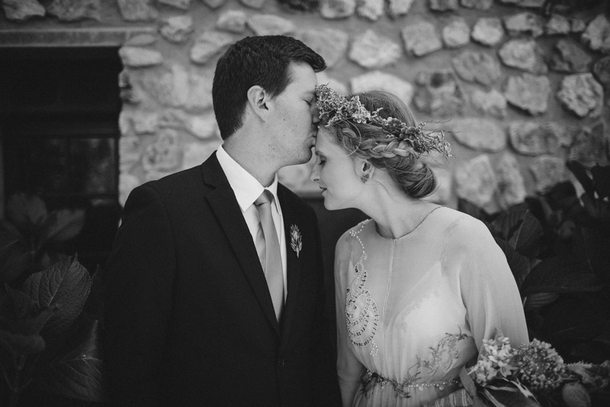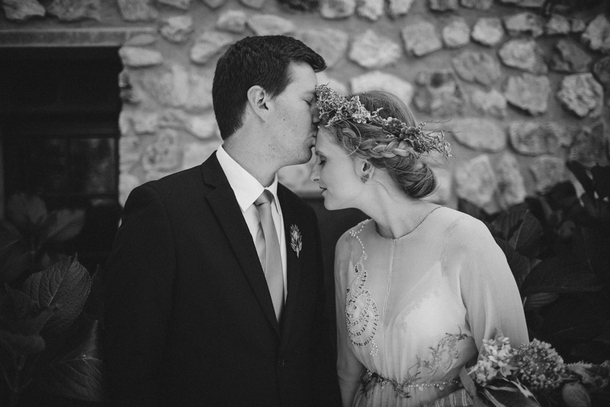 DIY Elements
I love being creative and our wedding was the perfect opportunity to plan and create to my heart's content. We made our own bunting using doilies and hessian, and small wooden platters using Supa Wood, on which we stencilled different protea flowers with non-toxic, natural paint and sealed it with non-toxic sealer. Each guest's platter was set at the table to be used as their plate during the reception. It doubled as part of the thank-you gifts that the guests could take home. Instead of hiring expensive cutlery, we bought sets of bamboo cutlery that worked well with the natural decorations. We made a great deal of these decorations ourselves: large tags on natural paper with quotes of love poems that we hung from trees between the tables at the reception; small, stamped brown bags that were used to put the cutlery and serviettes in; and we designed and printed labels for the wine bottles we gave as thank-you gifts.
Favourite Details
My wedding gown was one element in our wedding that contributed to an extraordinary atmosphere on the day. In a way it transpired the sense that there is much more to a wedding than just the marriage between two people. We also designed a special booklet filled with photographs and stories for each of our guests. In the booklet we told the history of my wedding gown, our love story, the stories of each of the bridesmaids and groomsmen as well as the minister. It also contained the programme of the ceremony, the hymns we sung and a thank-you message to our parents with pictures of them on their wedding day. We love the way it became a special souvenir that still tells the story of our day.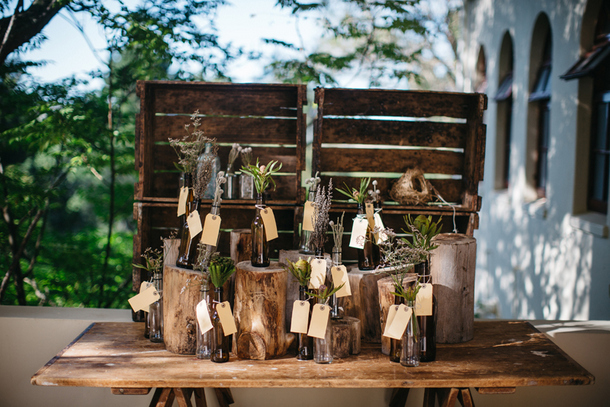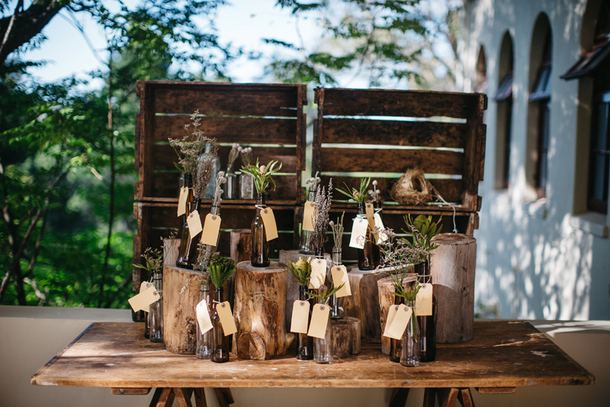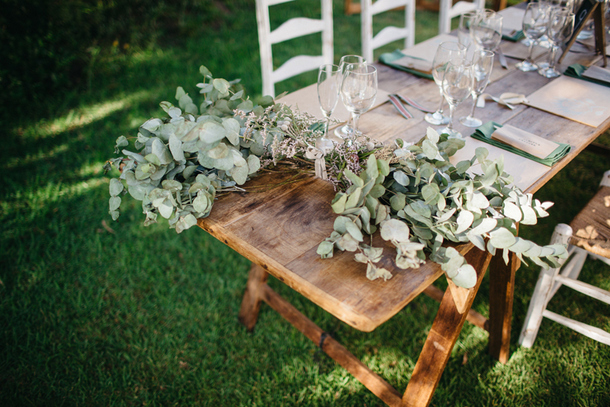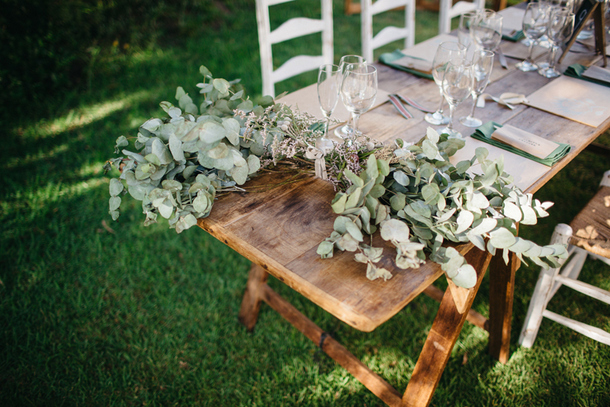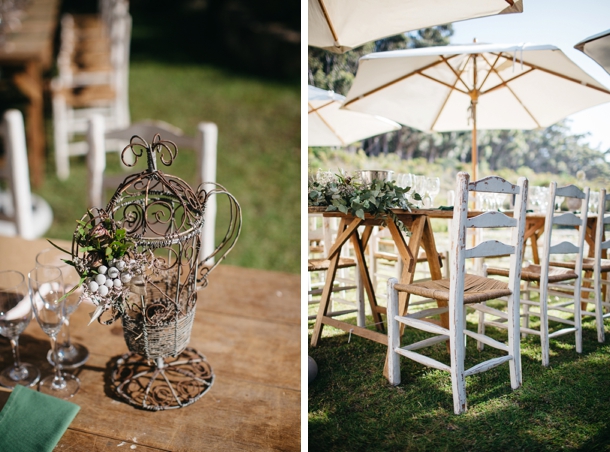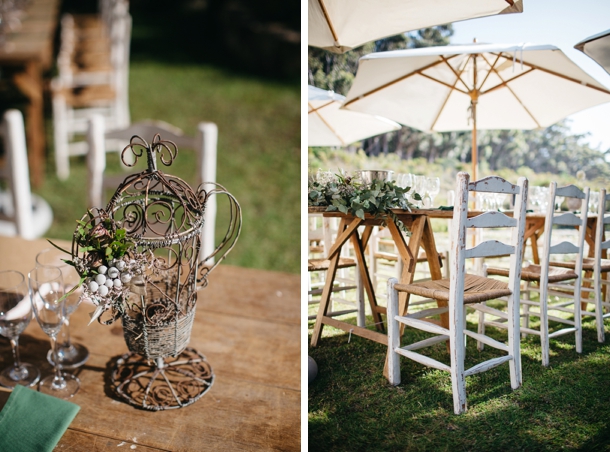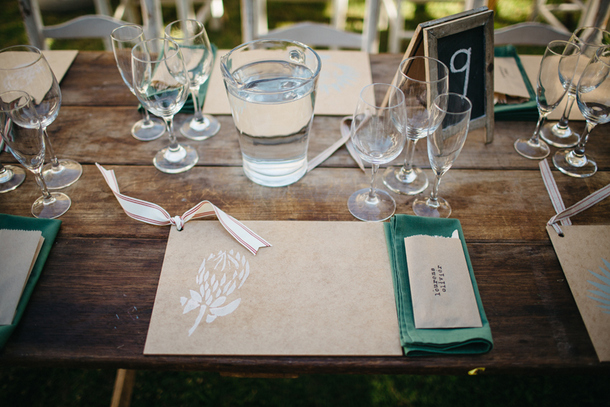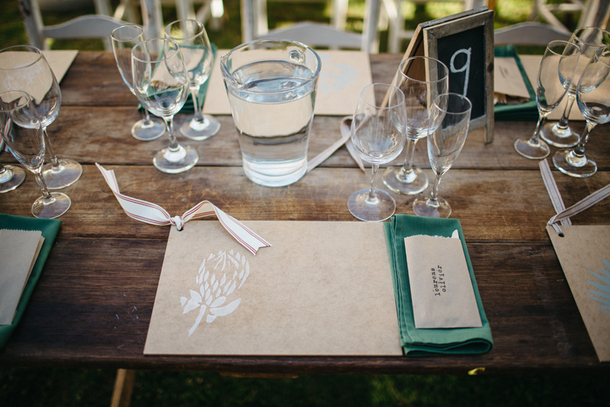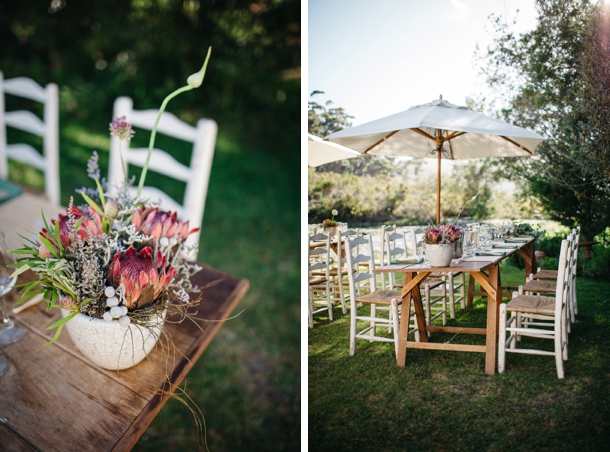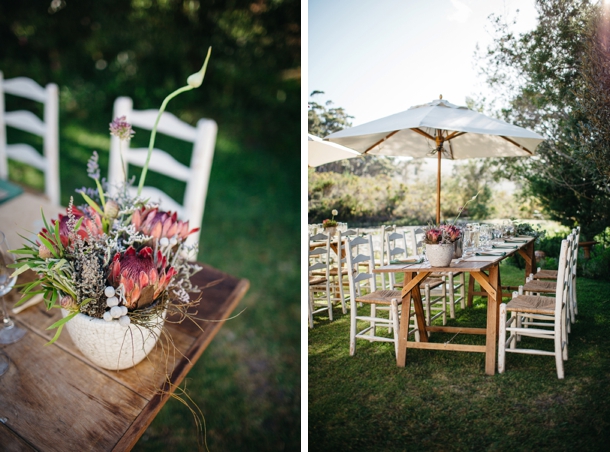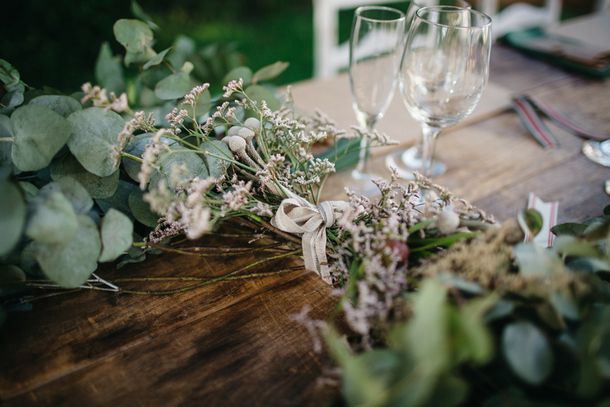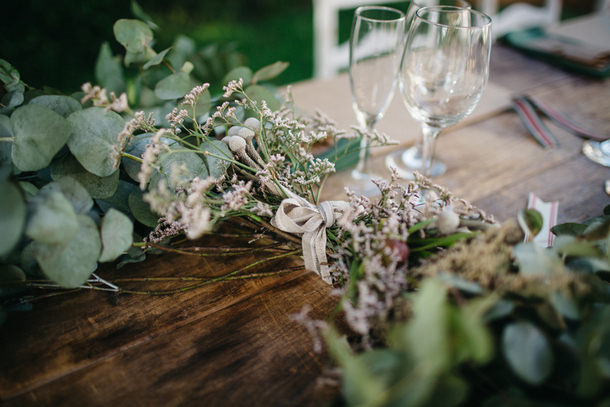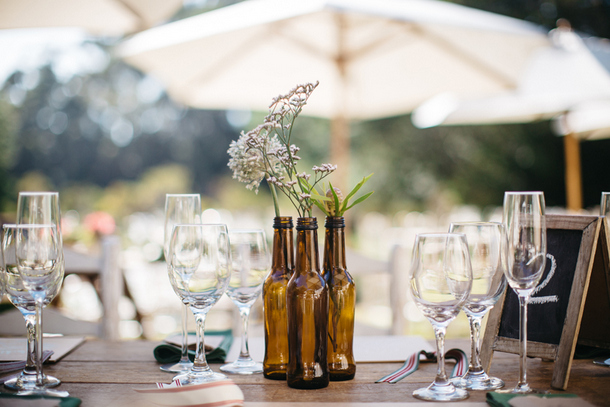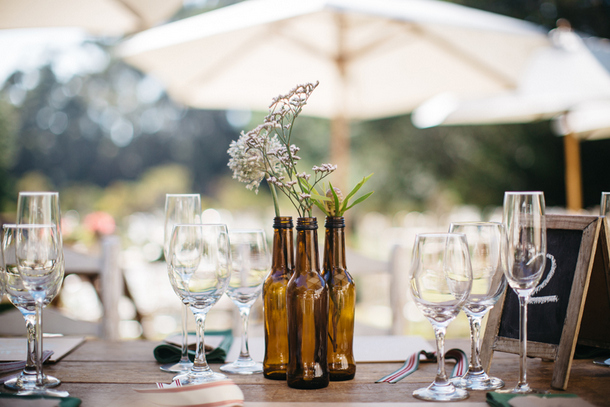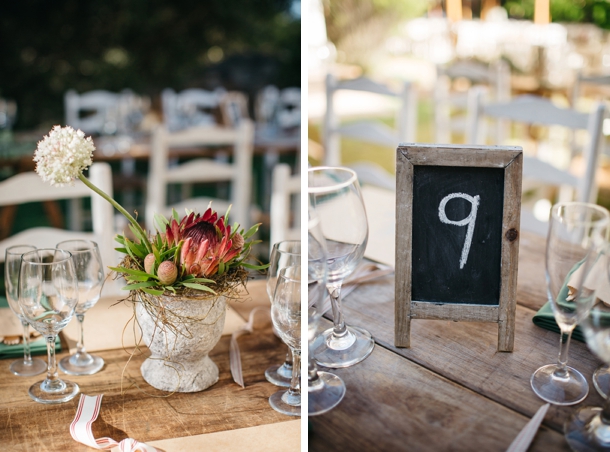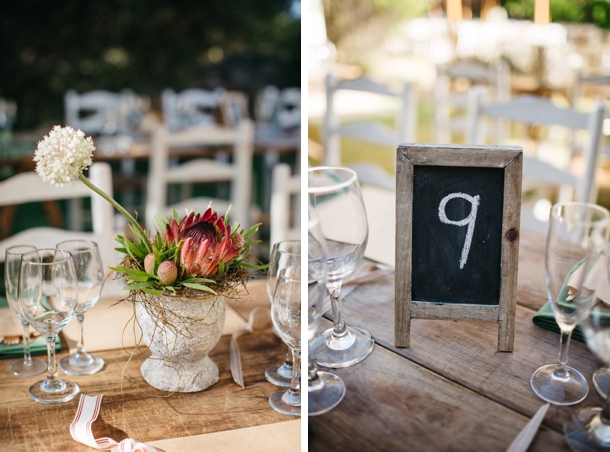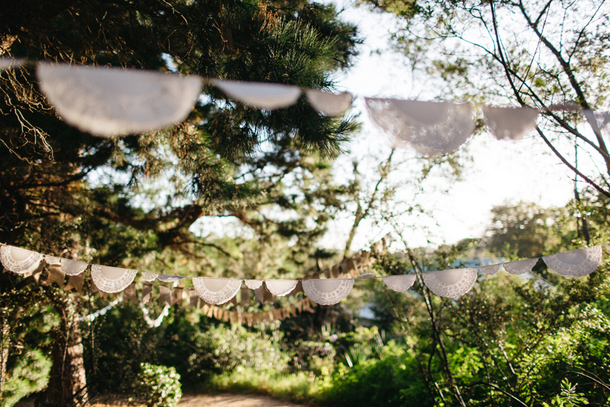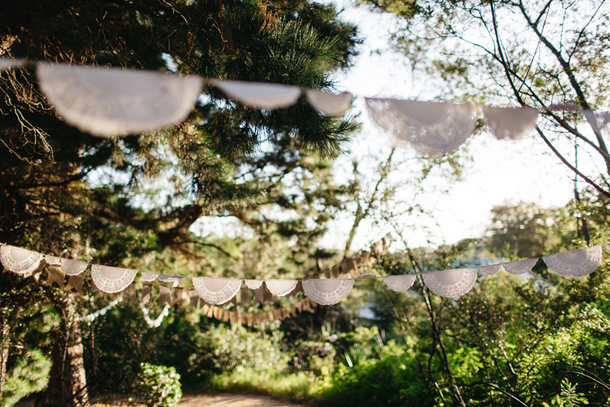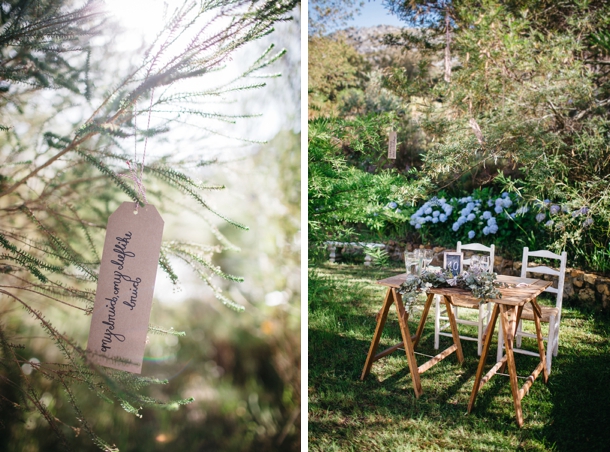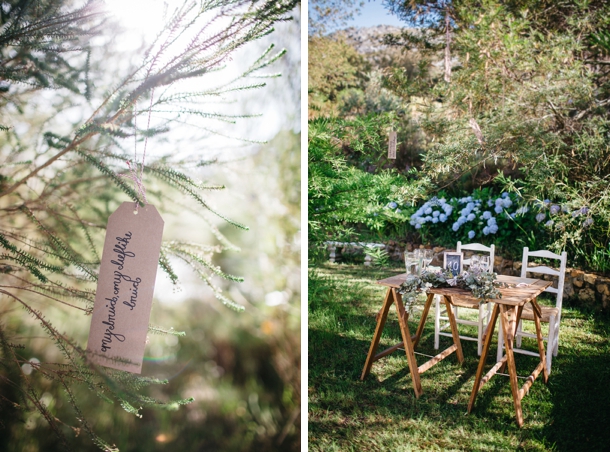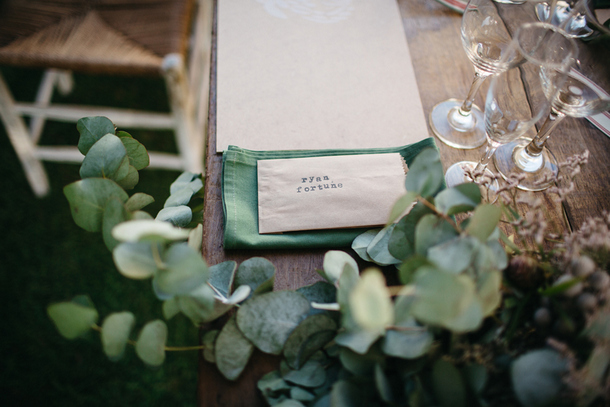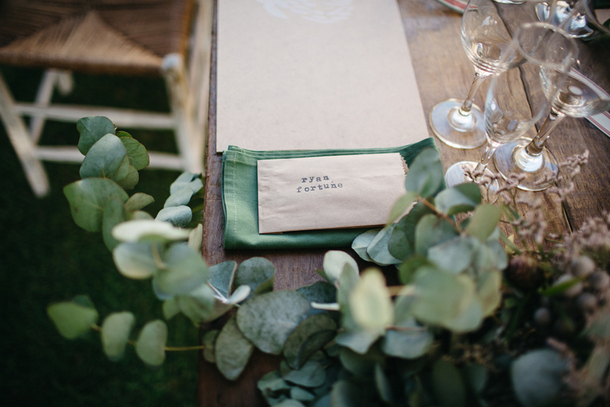 The Flowers
Bloom Trading helped us with the flowers and décor. The wedding flowers we used were natural and organic to suit the Fynbos-and-Protea-filled environment of Volmoed. We incorporated various types of Fynbos, some Proteas and yellow Ornithogalums (chinks).
The Dress
I had the incredible honour of getting married in my great grandmother's wedding gown. It is 97 years old, was ordered by catalogue and handmade in London. It was then shipped to South Africa and delivered by a post wagon to an address in Wepener, Free State. In September 1917, my great grandmother, Elizabeth Angelique Dijkman married Carel Petrus Snyman in this dress. As a little girl I once saw the dress in a suitcase in my mother's closet and when we started thinking about a dress, I immediately remembered the gown. I tried it on and it fitted perfectly! We then began the exciting process of repairing and altering the dress to the final product that you see in the photographs.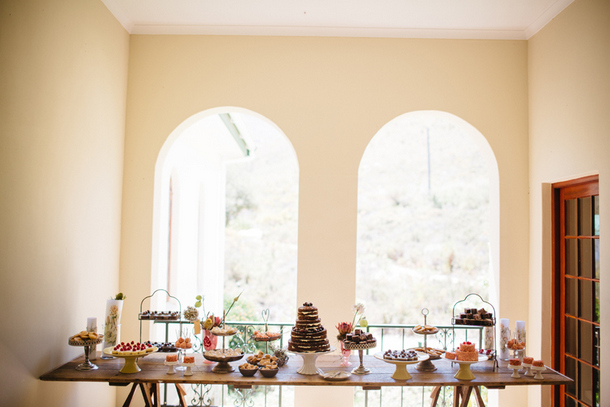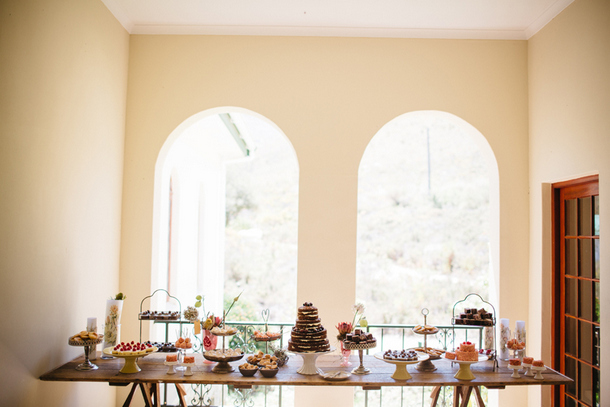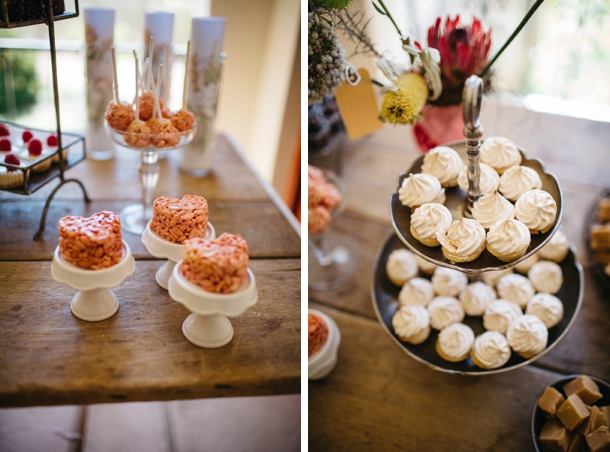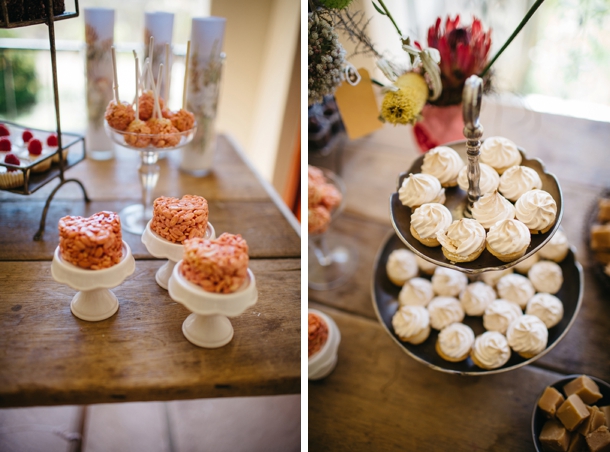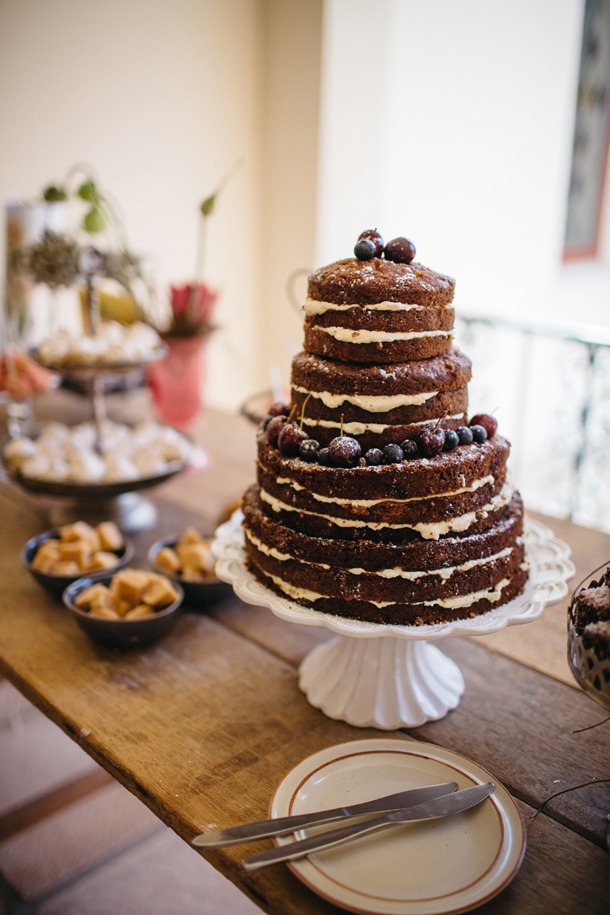 The Honeymoon
I had no idea where we were going until we stood at the airport! It was indeed a lovely surprise. We spent part of our honeymoon at the Oyster Box Hotel in Umhlanga and part at the Drakensberg. Marnus carefully planned even the tiniest details and every day he had a surprise event in store for the two of us.
Advice for Future Brides & Grooms
Plan a wedding that suits you as a couple and reflects something of your unique personalities. This decision made the whole process into a special time for us as a family. Also, do something you truly want instead of something you think others expect contributes to stress-free planning. Make use of your friends' talents and help when planning your wedding celebration. Not only are they more intricately part of one of the most important moments in your life, but they also feel appreciated. It is also an added bonus considering your wedding budget. Finally, don't be afraid to try DIY projects.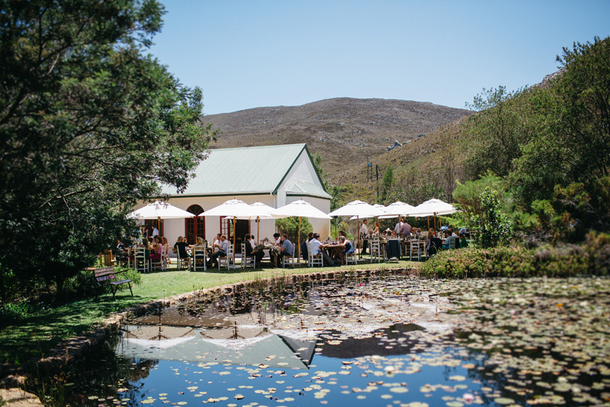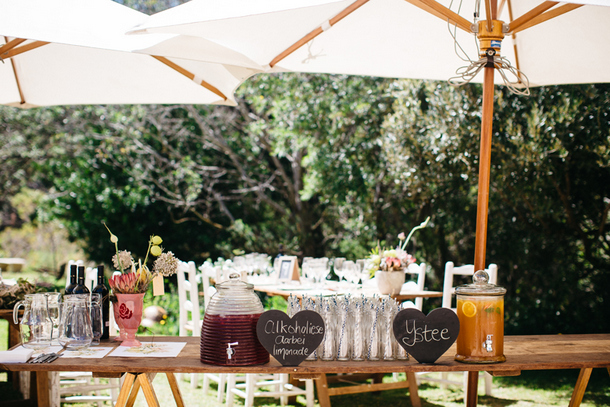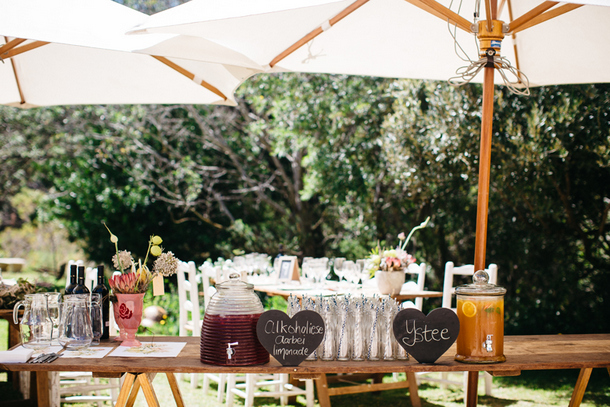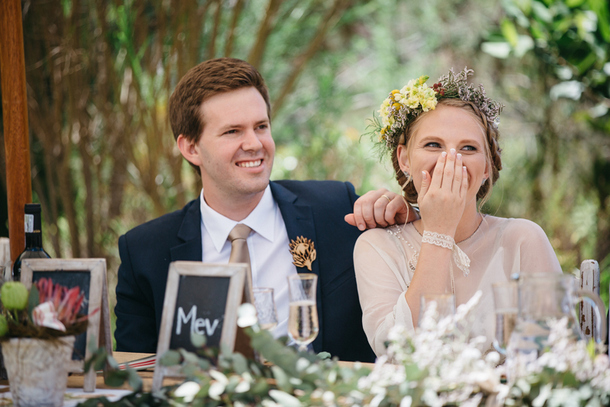 You can see more from this wedding on the Kikitography blog.
SERVICE PROVIDERS
Venue: Volmoed | Catering & cake: Linda Bruyns | Photography: Kikitography | Flowers & décor: Liezl Williams, Bloom Trading | Stationery: Anja van Wyk, Black Blossom | Bride's dress: Odette Gomes | Hair: Inge Leonard | Makeup: Bernice Drake | Hiring: 4 Every Event (chairs); Prolific Cape Town Events (umbrellas)