A good while back, I wrote a feature on brunch weddings that became one of SBB's most popular posts ever. Clearly this is a trend that is growing, and I'm sure we'll be seeing much more of in the future! It's a great way not only to save costs, but to give your guests an unusual experience, especially when it comes to the food. I mean, what could be more fun than eating pancakes at a wedding? You can see the full feature, with ideas for decor and food here, but today I thought I would pick up on two of the coolest details with a couple of quick how-tos.
BLOODY MARY BAR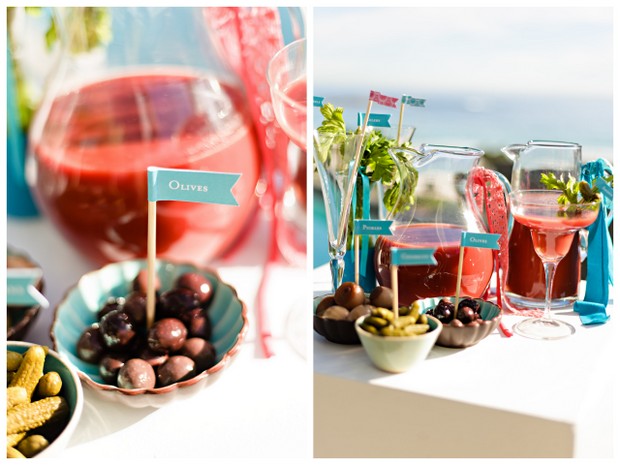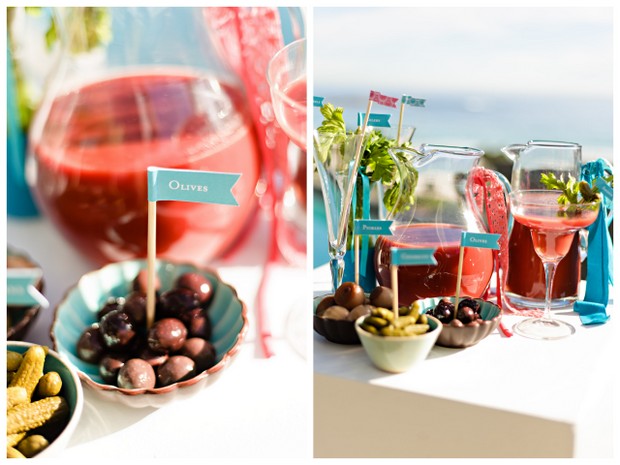 One of my favourite brunch wedding ideas was the Bloody Mary bar, and today I'm going to tell you how to create it! The classic cocktail is made by pouring tomato juice and vodka into a shaker with ice, Worcestershire sauce, Tabasco sauce and lemon juice, and garnished with a celery stick. Cayenne pepper (or black pepper) and celery salt are also often added. One idea is to print up the classic recipe on napkins or coasters in your wedding colours or write it on a sign for the table. Then provide a series of fun variations – flavoured vodka as well as plain (try pepper or citrus), gin, whisky and tequila (this is called a Bloody Maria). You could even offer beer or Guiness as variations on the spirits. Then include a series of garnishes on top of the celery: olives, lemon wedges, lime wedges, red peppers, gherkins and other pickled veggies, cucumber sticks, horseradish, cherry tomatoes. You should also include a number of hot sauces, including piri piri, wasabi, habanero, for example. And there you have it!
Here's some more Bloody Mary bar inspiration: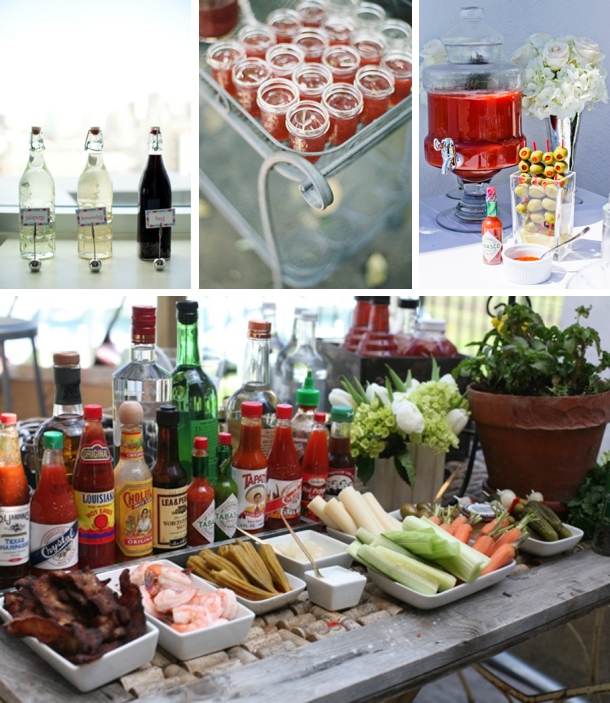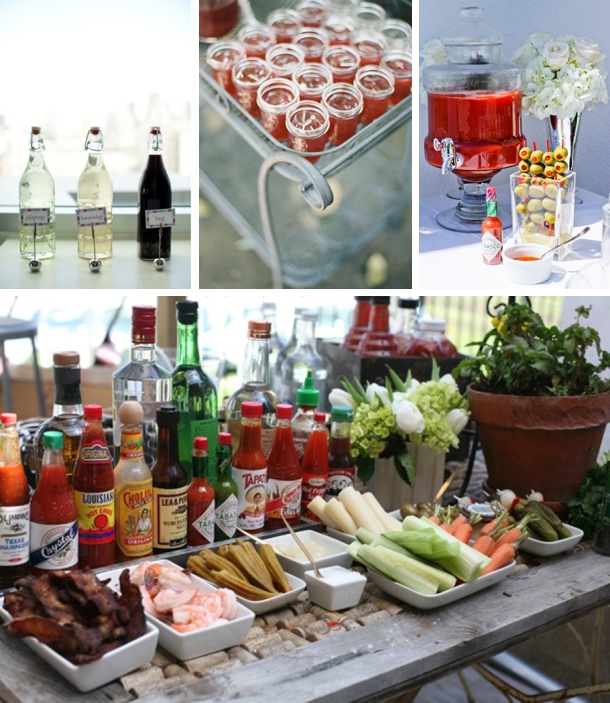 Sources: Row 1 – Annemari Ruthven/Wedding Concepts on SBB; Row 2 – Christina Diane/Vivacious Design and Event Planning via On to Baby (left); Tec Petaja Wedding Photography/The Modern Hostess via Style Me Pretty (centre); via The Vegas Wedding Planner (right); Row 3 – Hello Love Photography via The Daily Meal
CHOCOLATE CHIP PANCAKES IN A JAR FAVOURS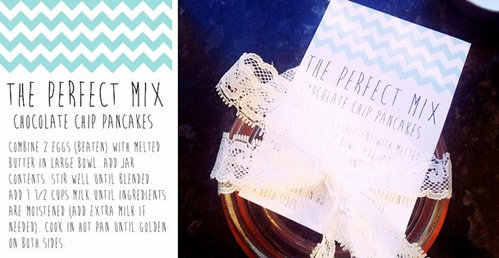 Another of my favourites was jar mix favours, for example, home made granola or pancakes. I included a pic of chocolate chip pancake mix, and I had a couple of queries from readers about this. It's such a cool idea – something your guests can take away and whip up on a rainy day (all they need to add is eggs, milk and butter), and they'll remember the fun they had at your wedding as they tuck into their delicious pancakes. It's also cost effective and really simple to make, so I thought I would have a go! I should add that I did this DIY for our newsletter last year, and ended up making the pancakes for breakfast on Boxing Day and YOU GUYS they were delicious. I even kept the leftovers refrigerated and popped them in the toaster for breakfast over the next couple of days, and they were still soooo good. Win.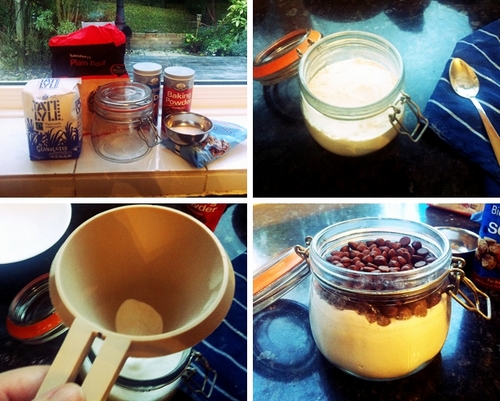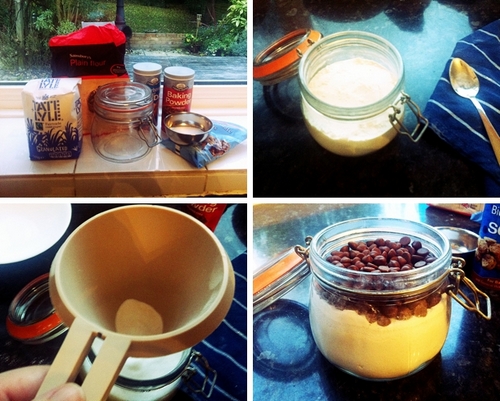 What you'll need (per jar):
2 cups all-purpose flour | 1/3 cup sugar | 4 1/2 teaspoons baking powder | 1/2 teaspoon baking soda | 1/2 teaspoon salt | 2/3 cup chocolate chips | glass jar with rubber seal | cardstock and printer | lace or ribbon
Step-by-step:
Pour the flour into the jar, shaking gently to level. Press down with the back of a spoon.
Add further dry ingredients one at a time, using a funnel. Distribute evenly to create layers, paying particular attention to the sides of the jar. Even with spoon.
Use chocolate chips as top layer.
Seal jar and decorate using labels attached with lace, ribbon, washi tape, etc.
I created my own little chevron labels to go with my jar, which you can download here.
These posts were first published in the SBB newsletter. Want to be the first to read our inside guide to SouthBound weddings? Sign up here.