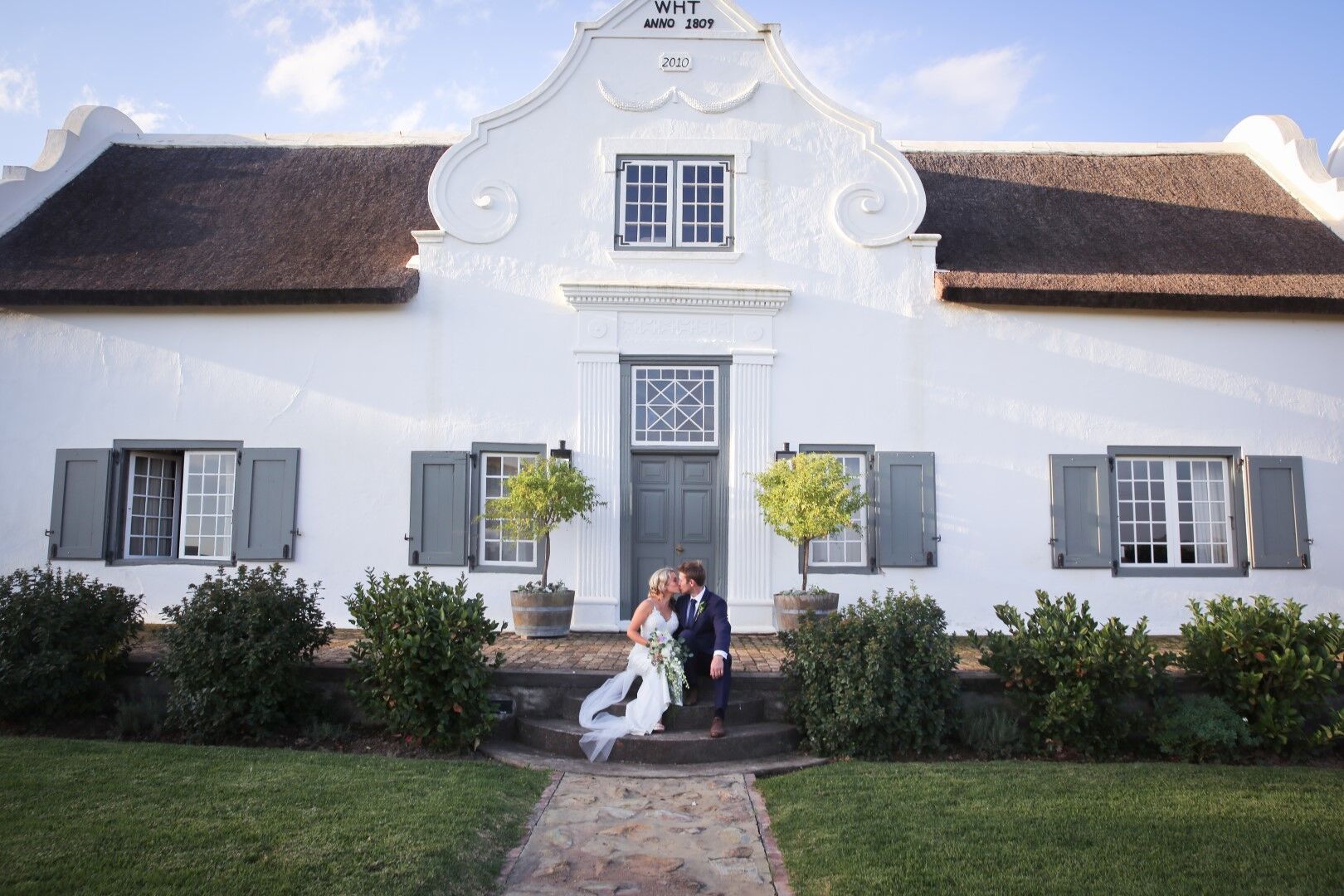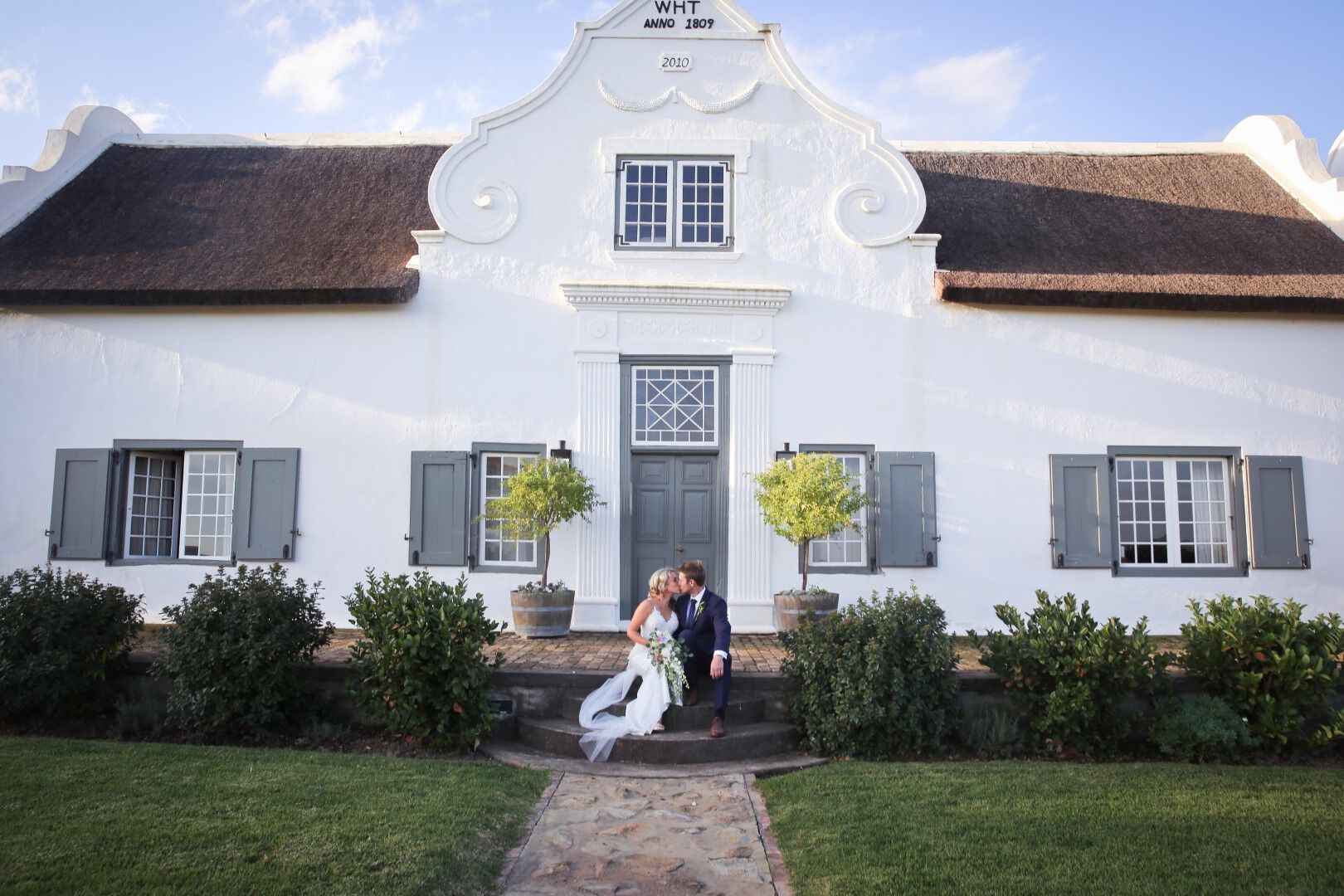 If you need me, I'll be over here starting a little Event Affairs fan club. Because not only was today's country chic soiree planned and executed by this fab wedding planning team, but it was for one of their own, the lovely Megan, and her sweetheart Andrew. And if you want to be sure of your co-ordinator's good taste, just take a look at the choices they make for their own big day! For their romantic nuptials, Megan combined her city girl glam with Andrew's more rustic sensibilities, and the result is a wedding filled with charm. Surrounded by golden light,  these lovebirds exchanged their I dos, and went on to a reception filled to the brim with lovely details, from the bridesmaids' watercolour-print gowns a the riot of gold and white paper lanterns, to the custom beer bar to the croquembouche cake, all captured by Susie Leblond. Be sure to check out Event Affairs in our directory to find out what loveliness they can add to your big day!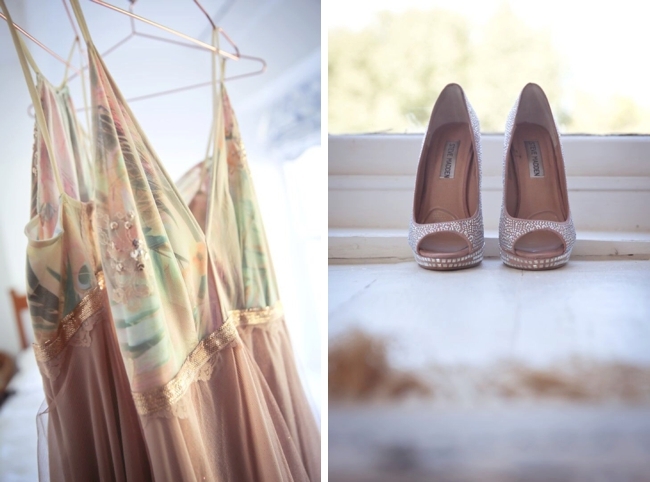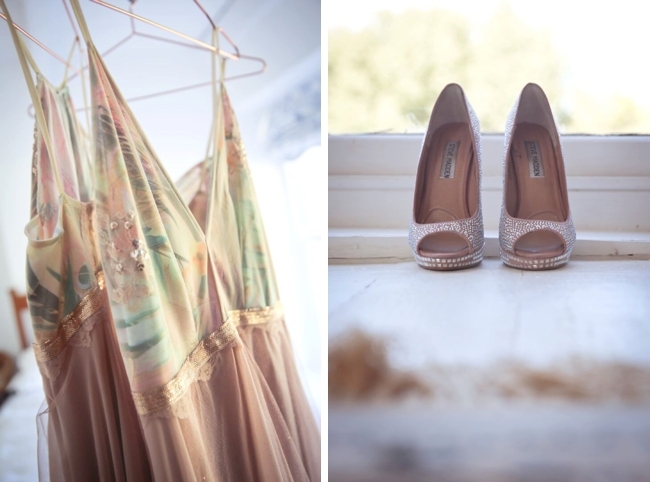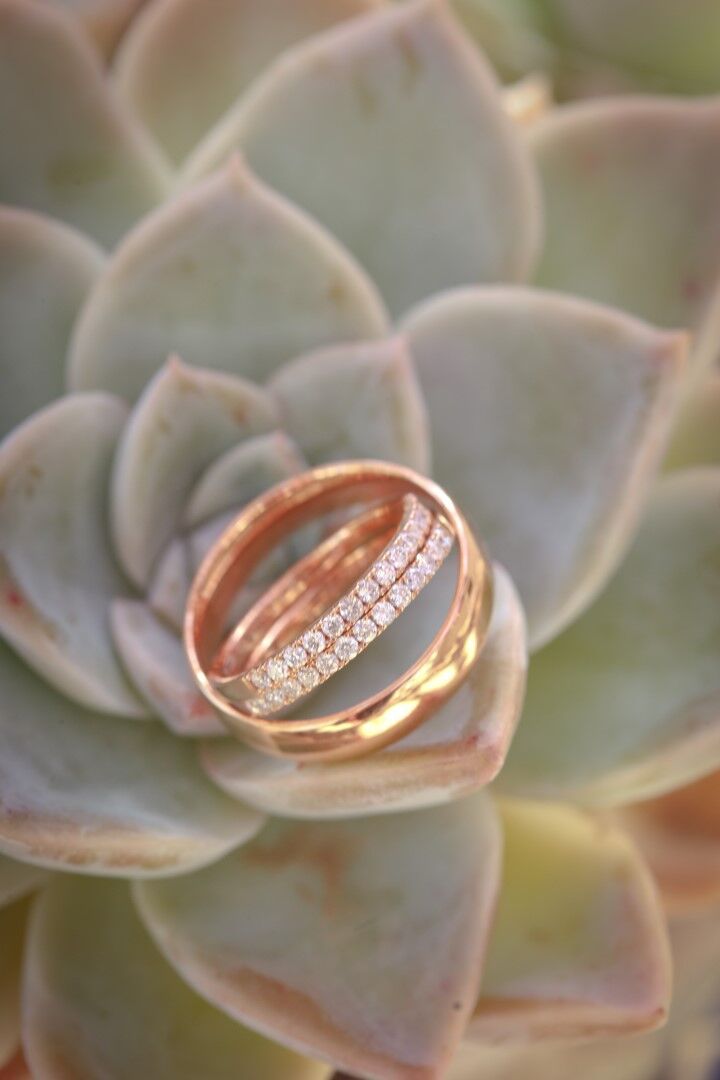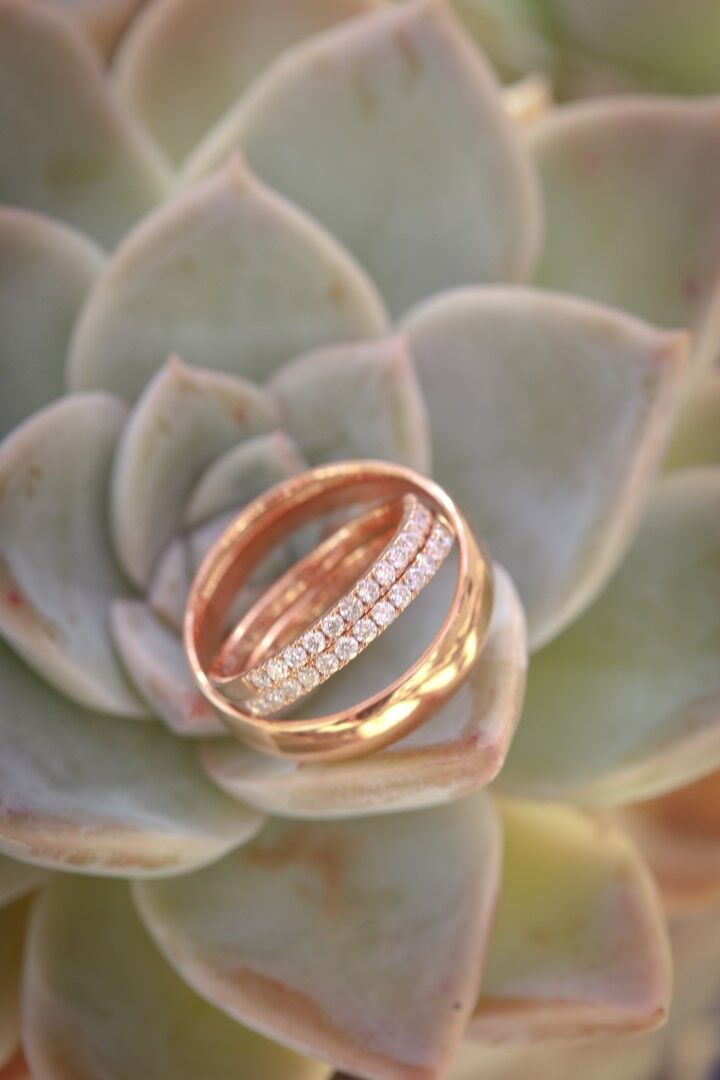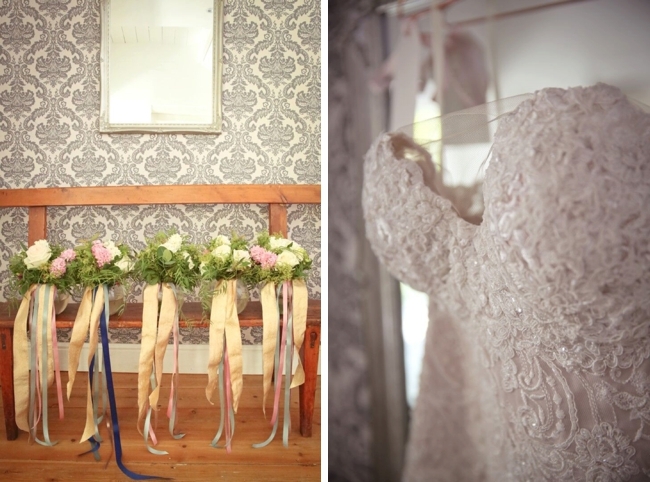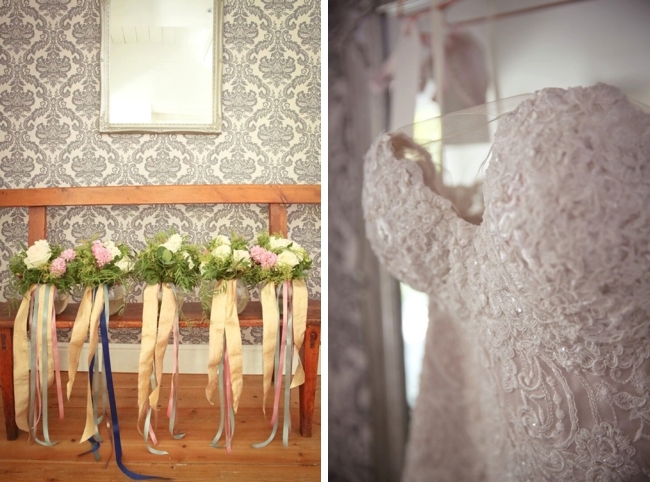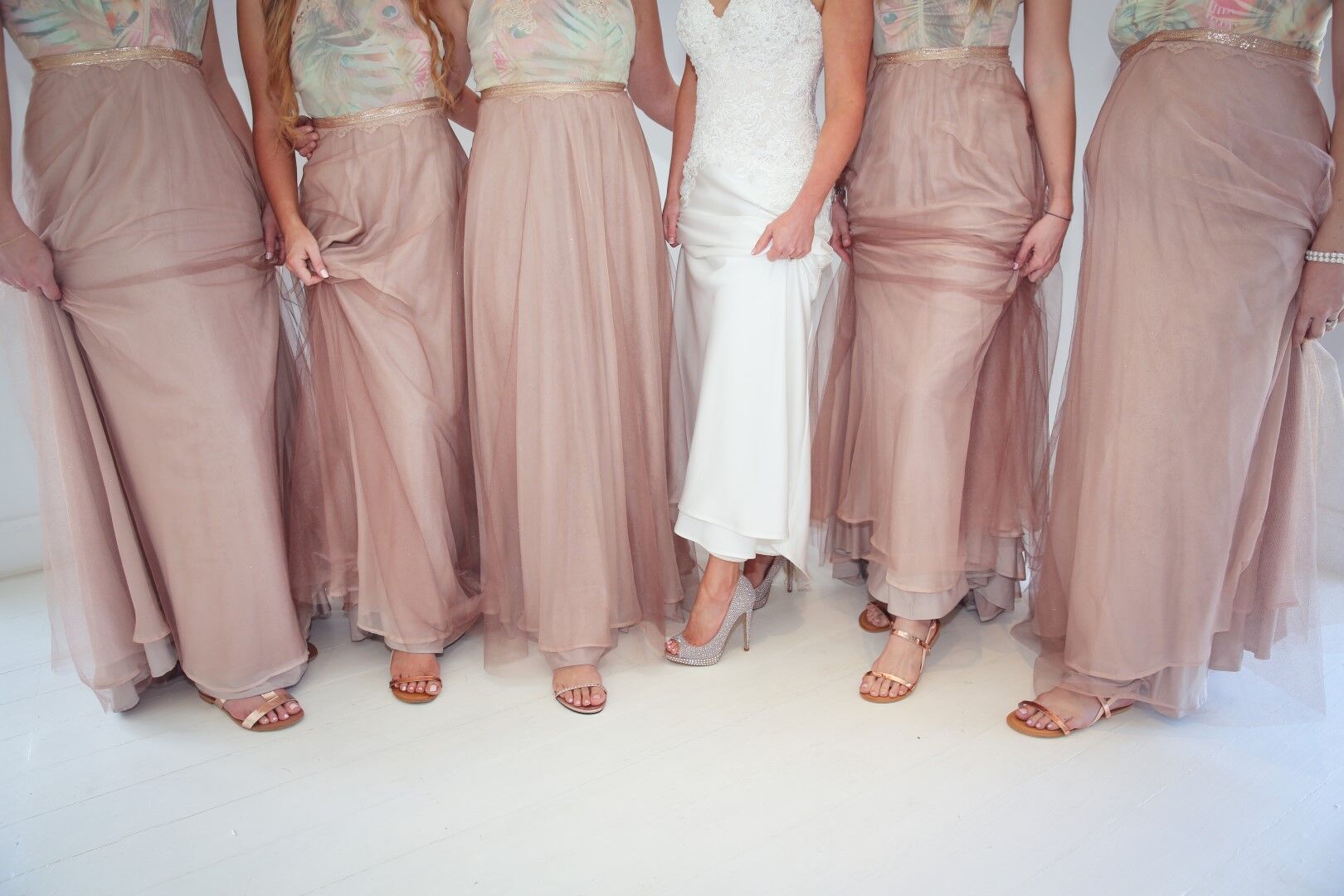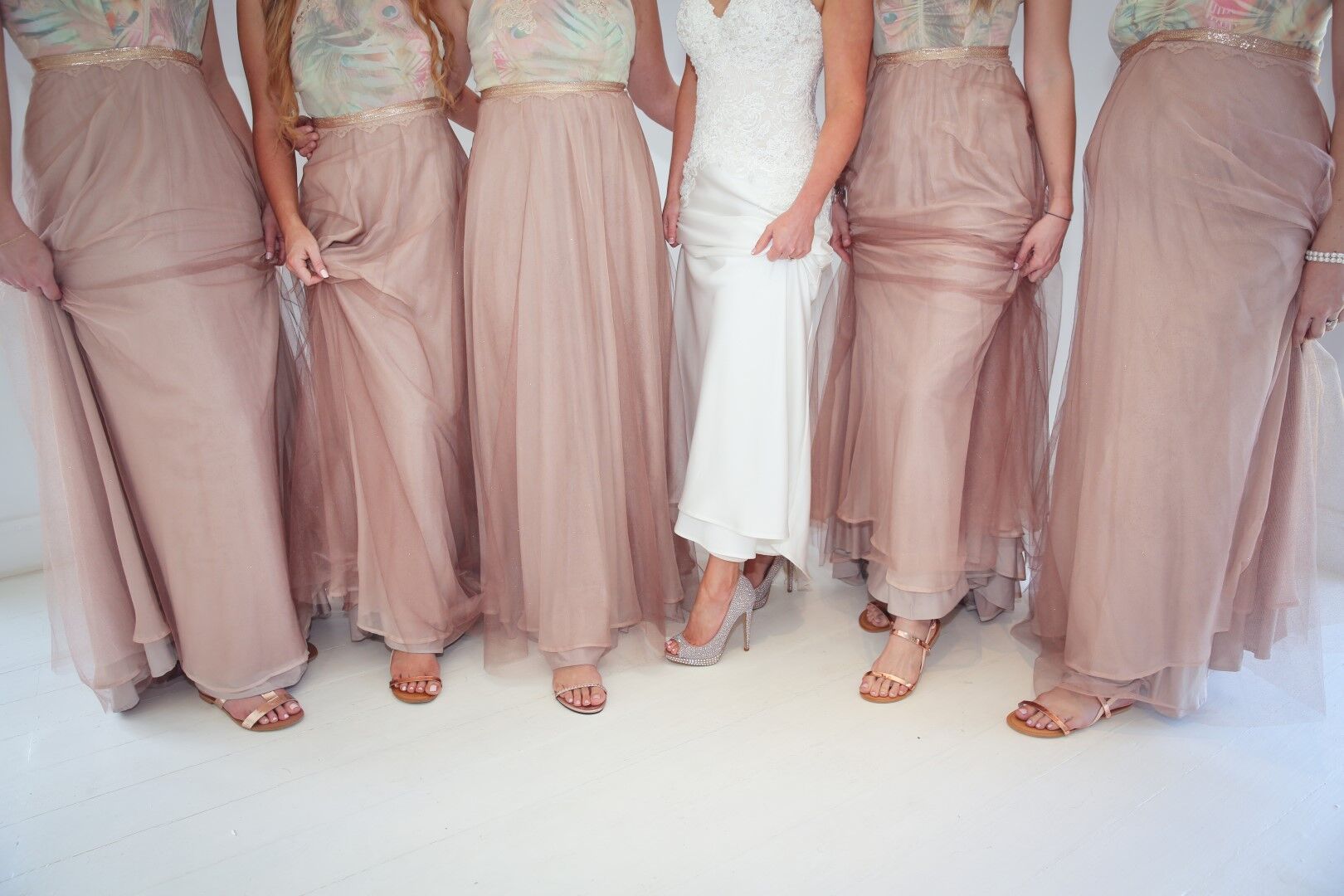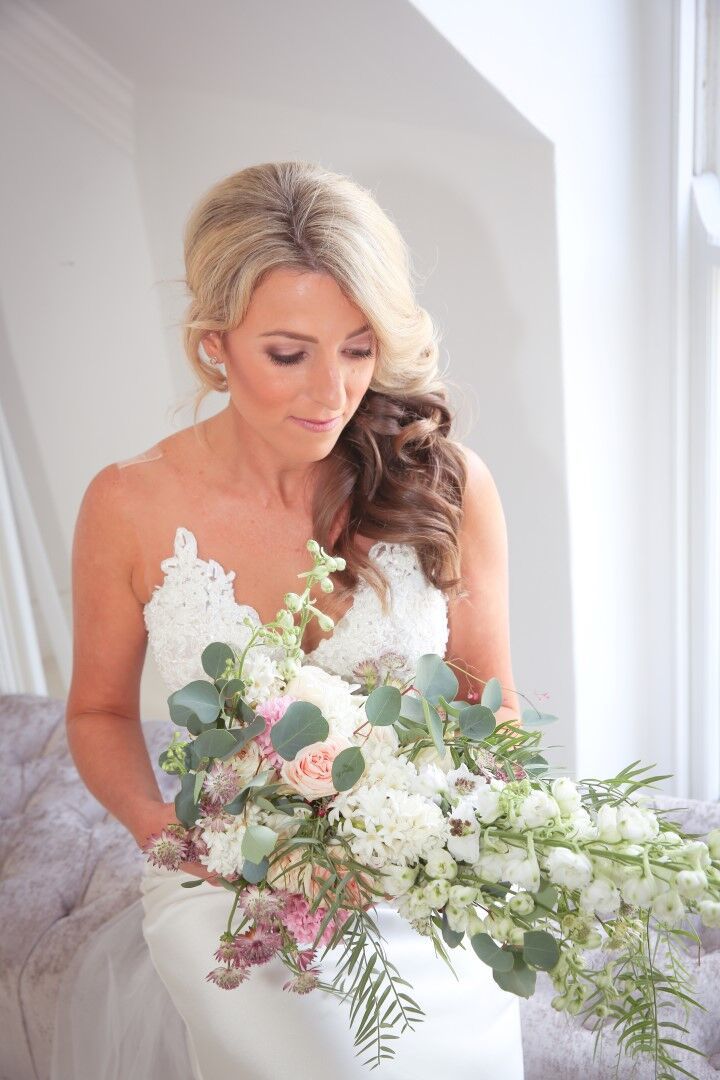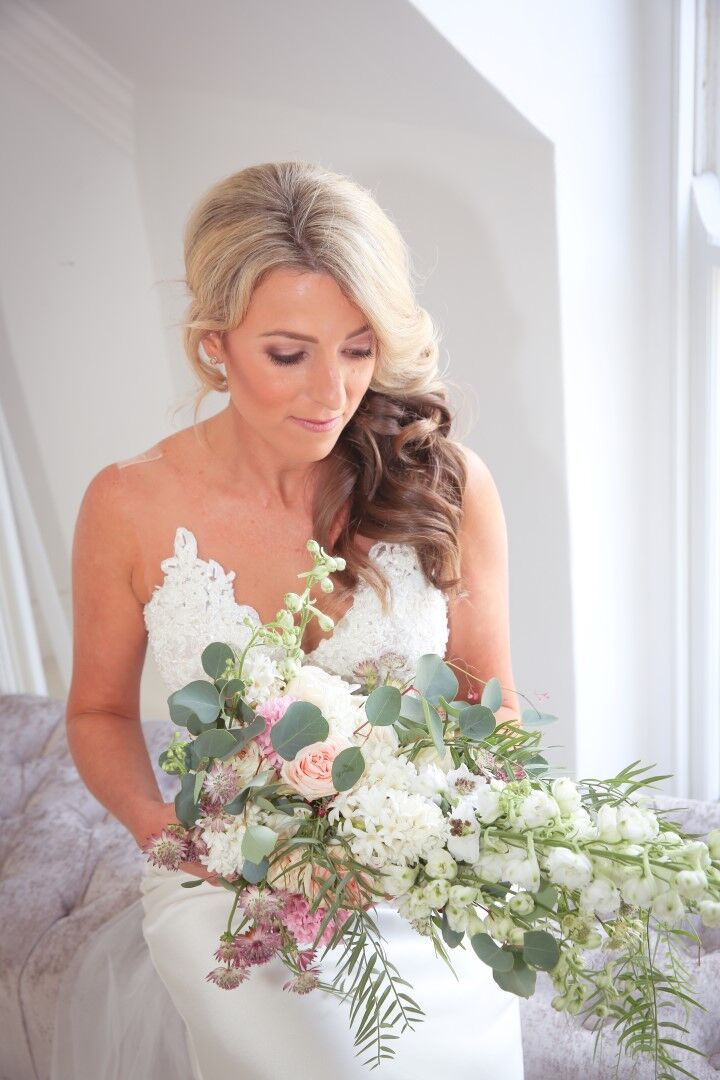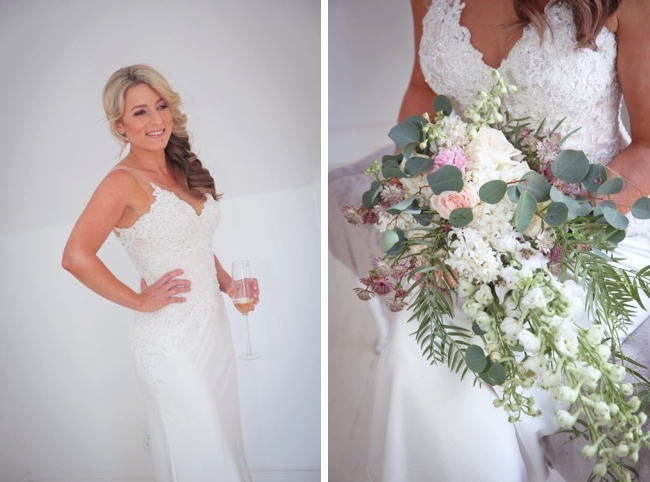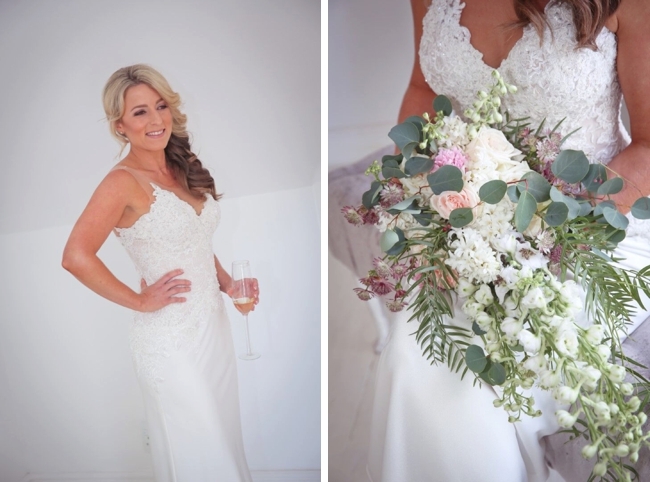 Love Story
Andrew and I met in the events industry; we were both working at the same company and over time became very good friends. A couple of our friends mentioned that there were sparks between us but I honestly couldn't see him in any way other than my best friend. One night, we went to a mutual friend's birthday together and chatted the night away – we were completely inseparable. I suddenly felt a bit weird and told him I was going home. I remember lying in bed that night thinking 'it can't be true'. A week later, he sealed the deal with a kiss in his kitchen and it's been pure happiness for the past seven years.
The Proposal
Andrew hadn't traveled much and I knew Indonesia was high up on his bucket list, so for his 30th birthday I arranged for all his friends and family to club together to buy him a flight to Indonesia. Needless to say, he was absolutely blown away. Little did I know, he had been planning to propose and this trip was the ideal opportunity. We travelled around Indo for three weeks, with a gorgeous engagement ring stored carefully inside his bag, completely unbeknownst to me. On our LAST day, we sat on the beach admiring our last gorgeous Bali sunset. We attempted 'jump' photos on the beach that failed miserably and then sat down to watch the sun go down. It was the most picture perfect setting with a Jukung (boat) crossing the ocean and the sun setting in the background, so when Andrew was suddenly facing me on one knee and smiling strangely and confessing his undying love to me (which wasn't really registering), I thought he was making fun of the 'perfect' setting and pretending to propose as a joke. I kept telling him to stop playing around, I couldn't stop laughing. He then pulled the ring box out his pocket, and despite the fact that it was upside down and looked empty, I realised this was the real deal. We still laugh at the fact that I actually never said yes. We had the most divine evening on the beach with champagne and an eight course dinner and just glowed at each other the whole night. We kept the news to ourselves for a while – it was so special having the feeling of being engaged soak in before sharing it with the world.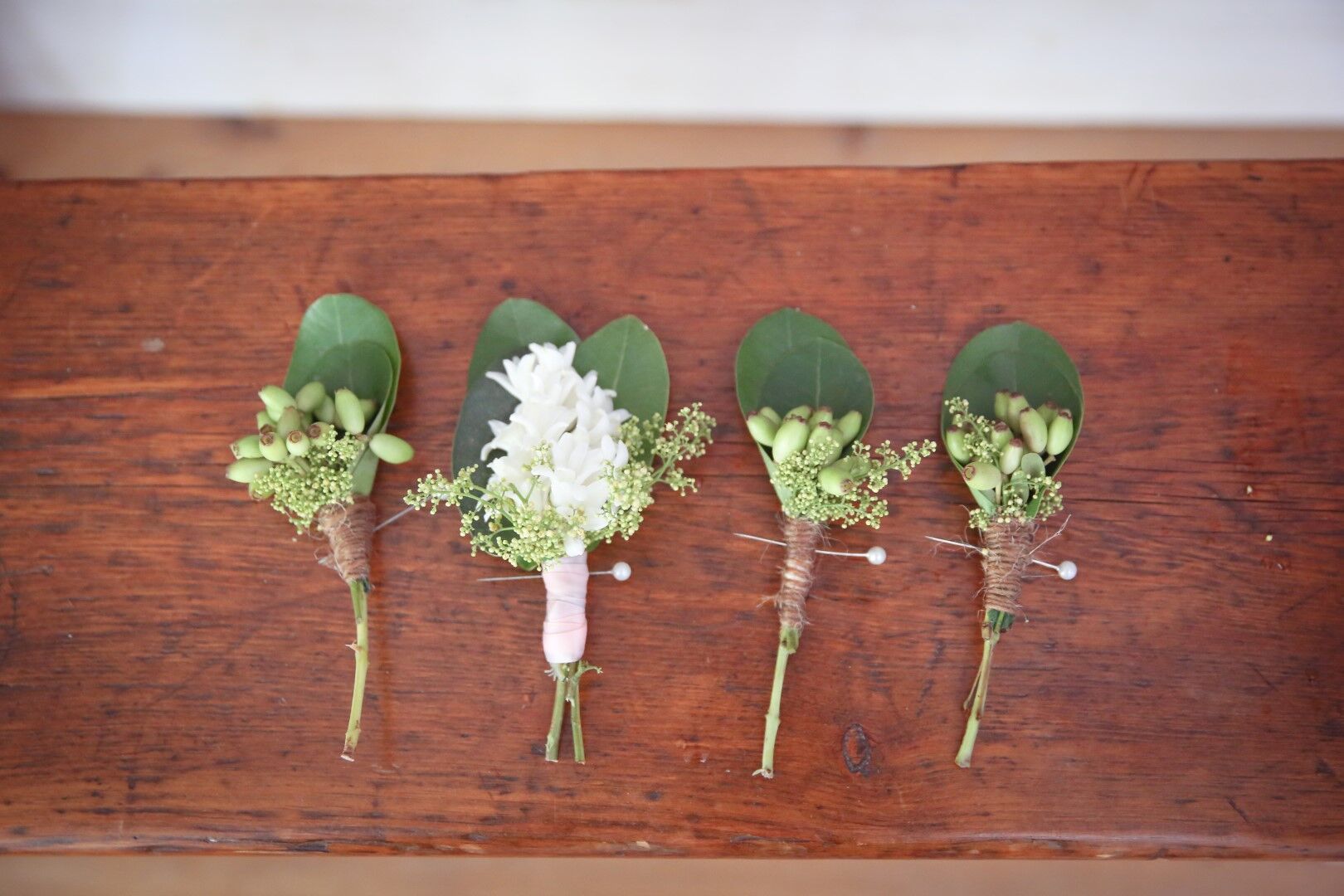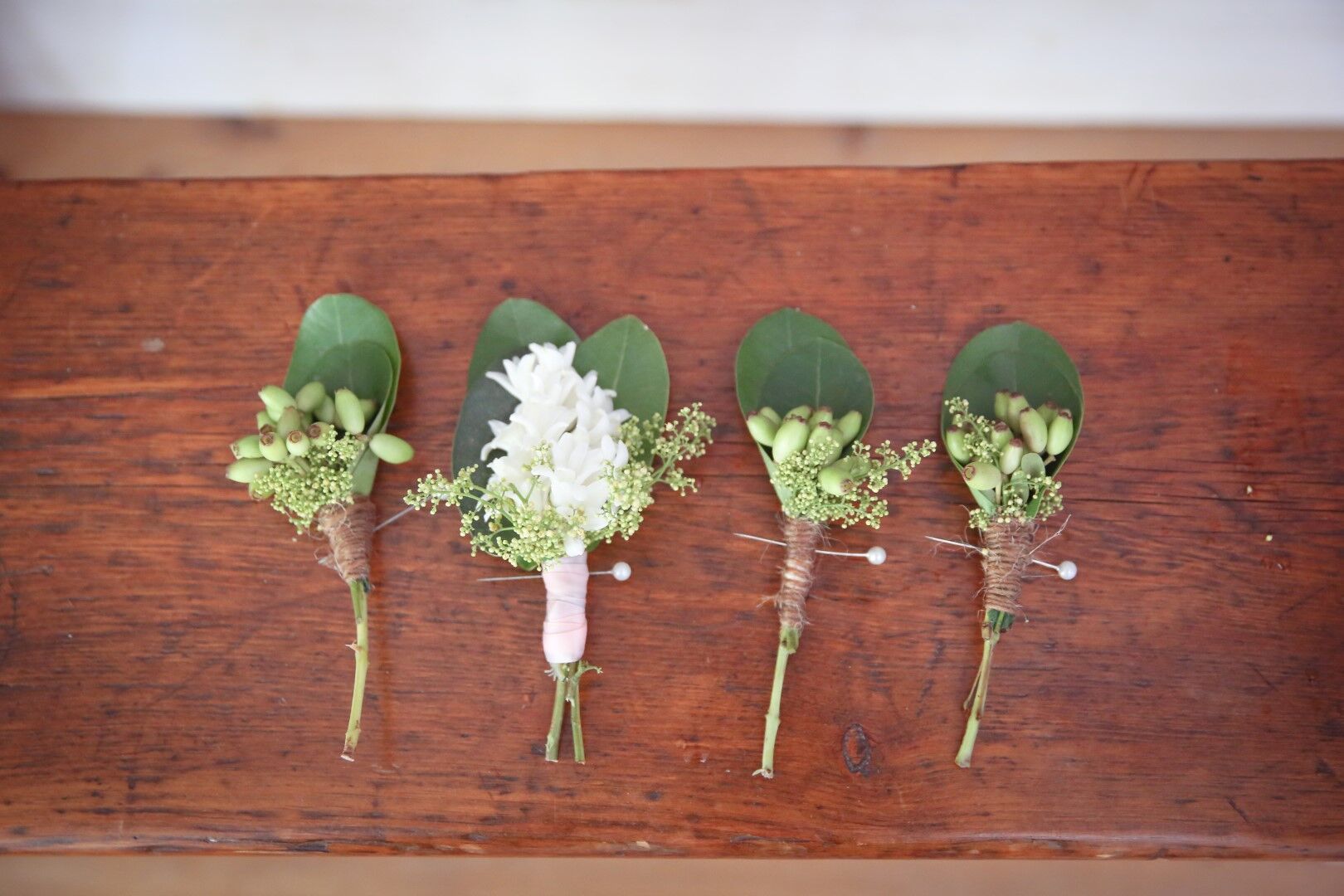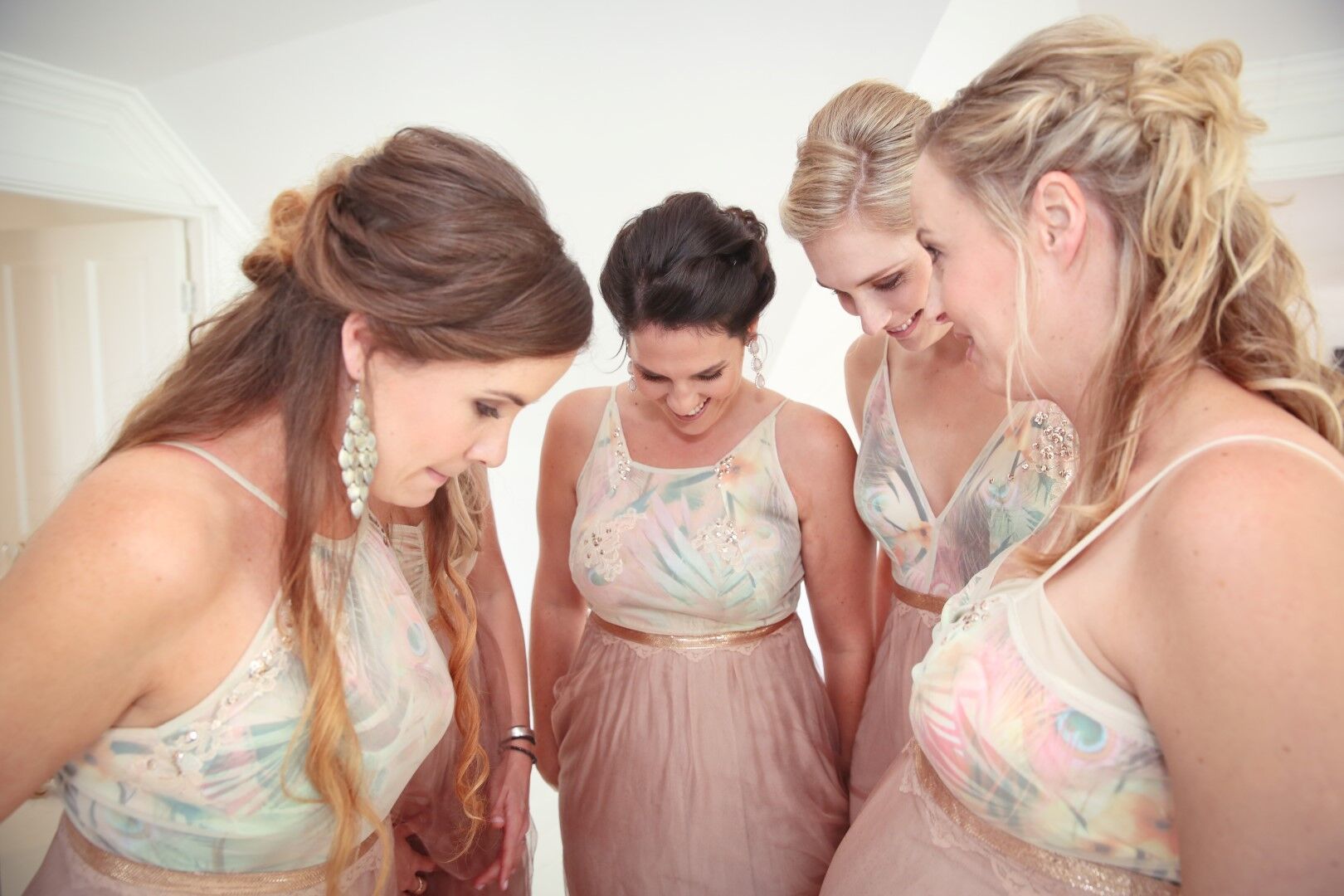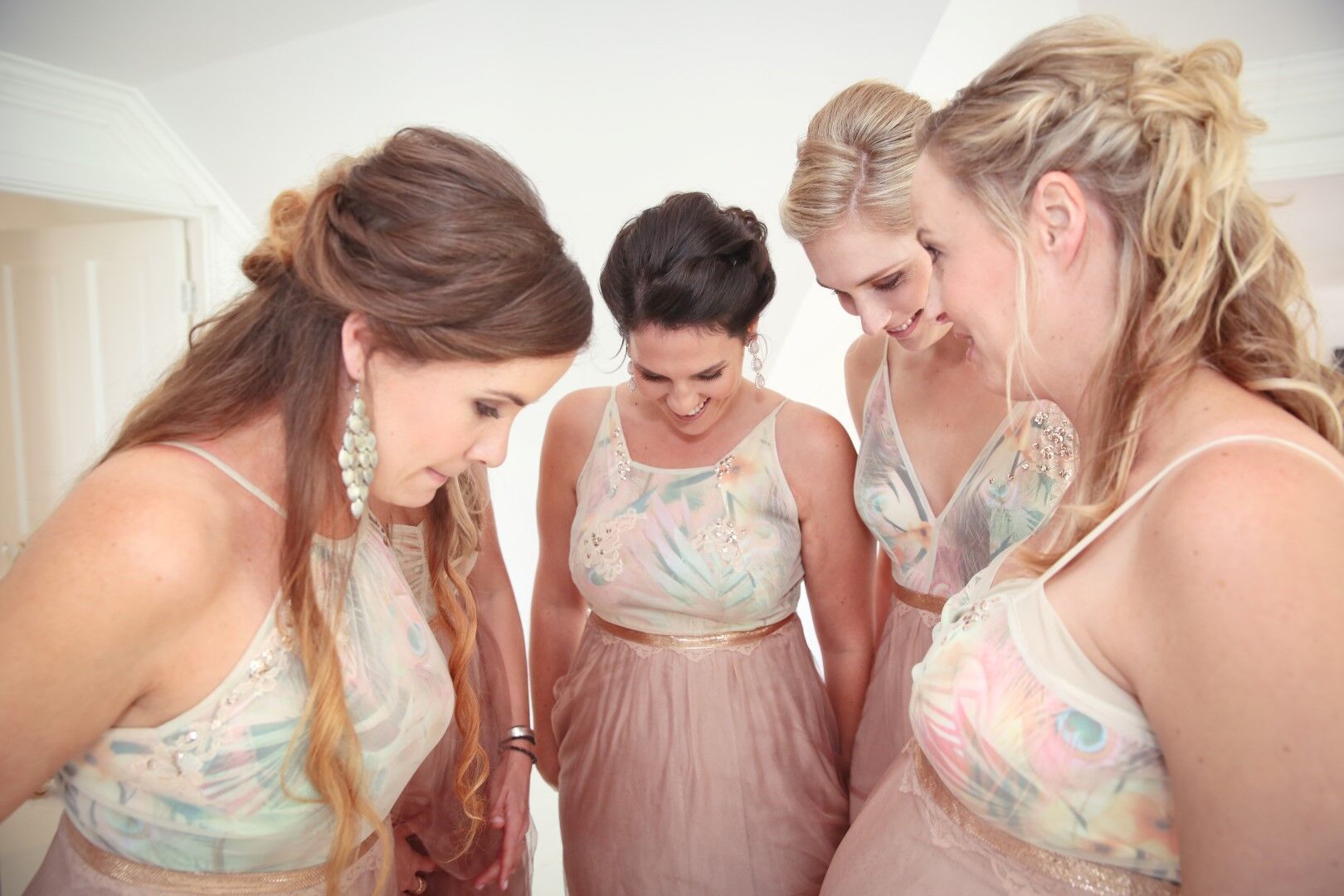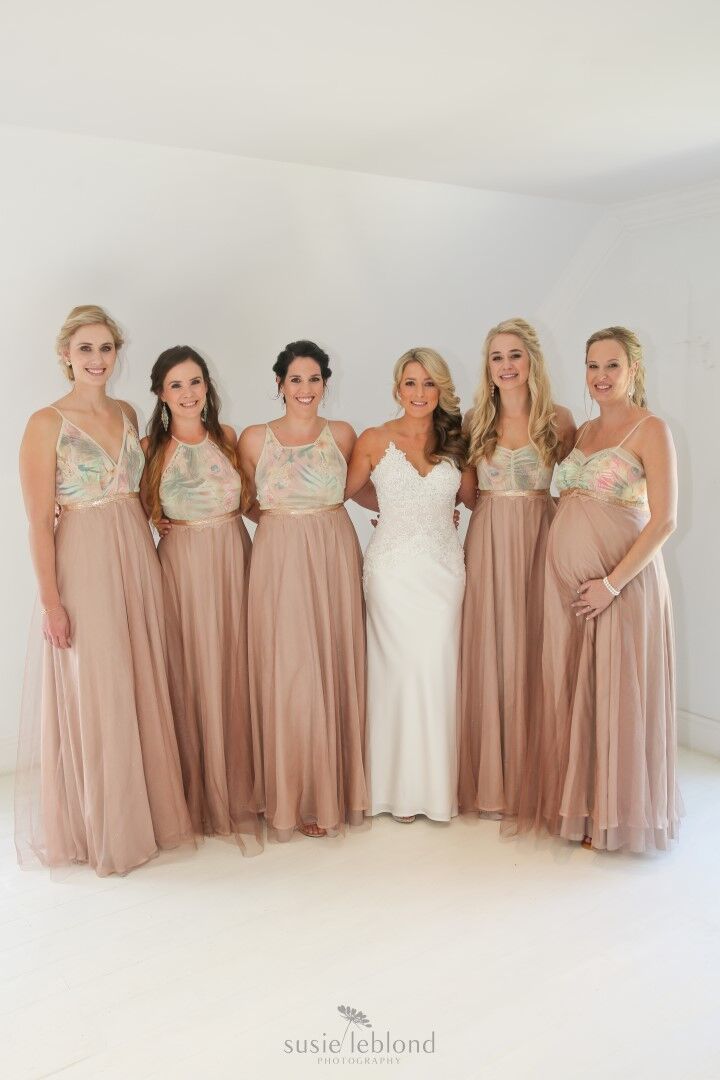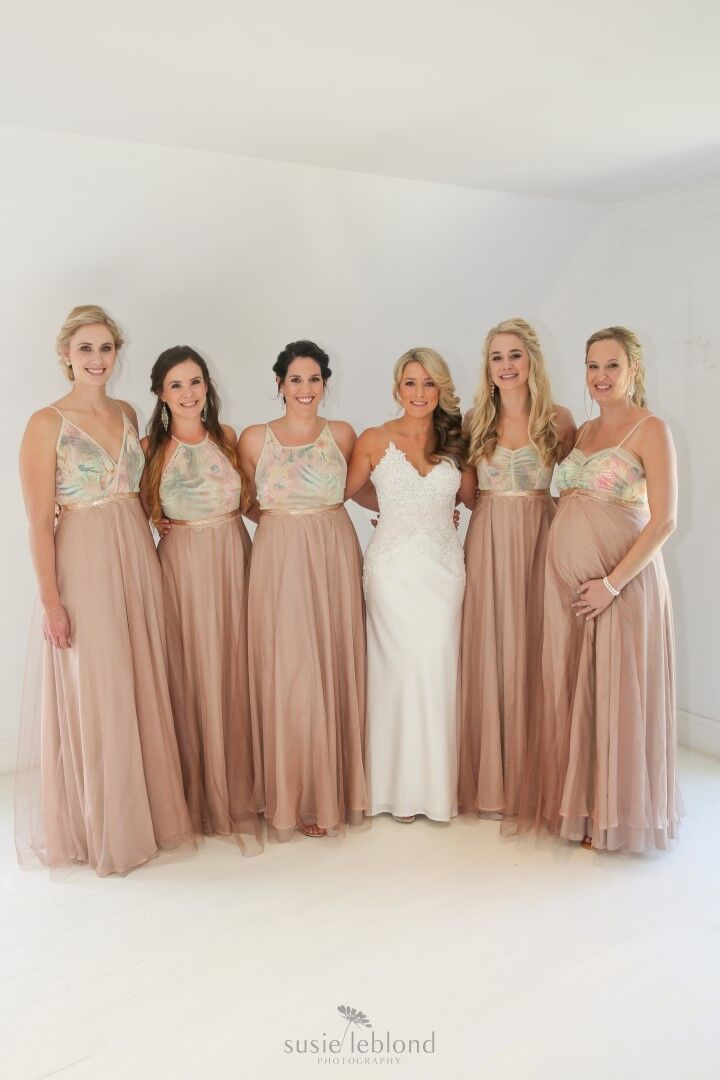 The Venue
We wanted a weekend-long wedding as our family was coming from all over and we wanted to capitalise on our time with them. I also didn't want my day to only be 'a day' and then it's all over, so we decided a venue that was out of town was a must. Being an event manager/wedding planner by profession, I didn't want a venue that I had worked at before and through months of searching, we finally found The Oaks – a homely, country feel in a gorgeous setting.
Wedding Style
Being the co-founder of Event Affairs, a wedding planning and event management agency, this day had very much been planned for years before we actually got engaged. However, Andrew and I are very different people – almost polar opposites in many ways – so we knew the planning of our wedding was going to be a lot of discussion, sacrificing and negotiating on both our sides. I am more of a city girl and wanted more elegance and sophistication, whereas Andrew is a farm, surfer boy, who wanted a chilled and natural environment. It was important that both our personalities were reflected and combined carefully to still suit the settings as well as represent us as a couple. I have been in love with pink since I was a young child so blush was a non-negotiable and I've always loved gold (my engagement ring and wedding bands are rose gold), so we decided to include greenery and white to add a natural, country feel and a touch of navy to bring in some masculinity. We infused the blush through the floral and bouquets, as well as the greenery and white. The bridesmaids wore champagne dresses with hints of blush, and the groomsmen wore navy suits. It all pulled together so beautifully and was perfect for the setting. We also used gold-rimmed champagne glasses and glass base plates which, paired with the bare wood tables at reception, created the perfect balance of elegance and country. Our stationery was also designed with white and gold in mind, but we had a beautiful floral design created by Lara's Designs which, again, softened the very elegant look and feel to match the setting.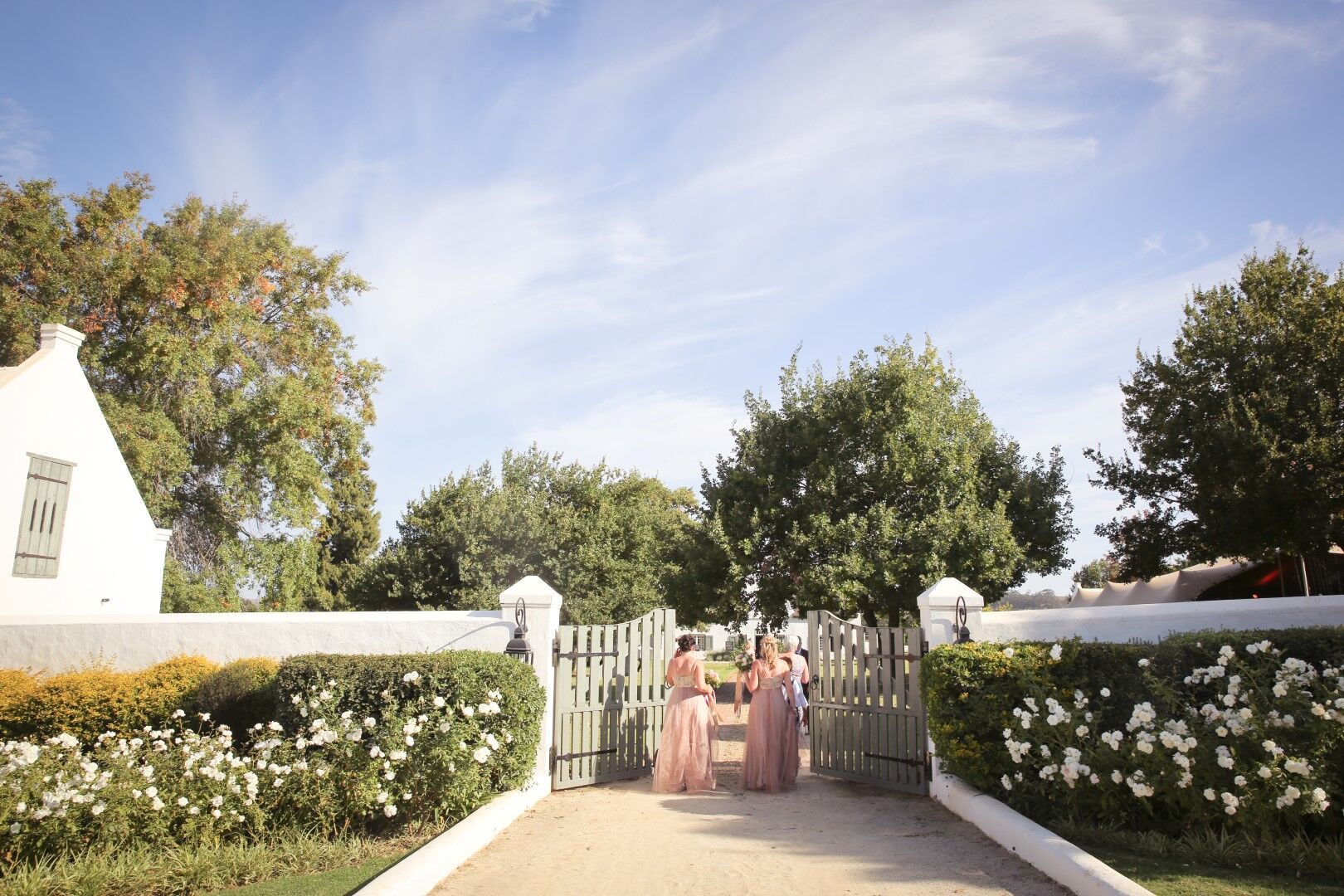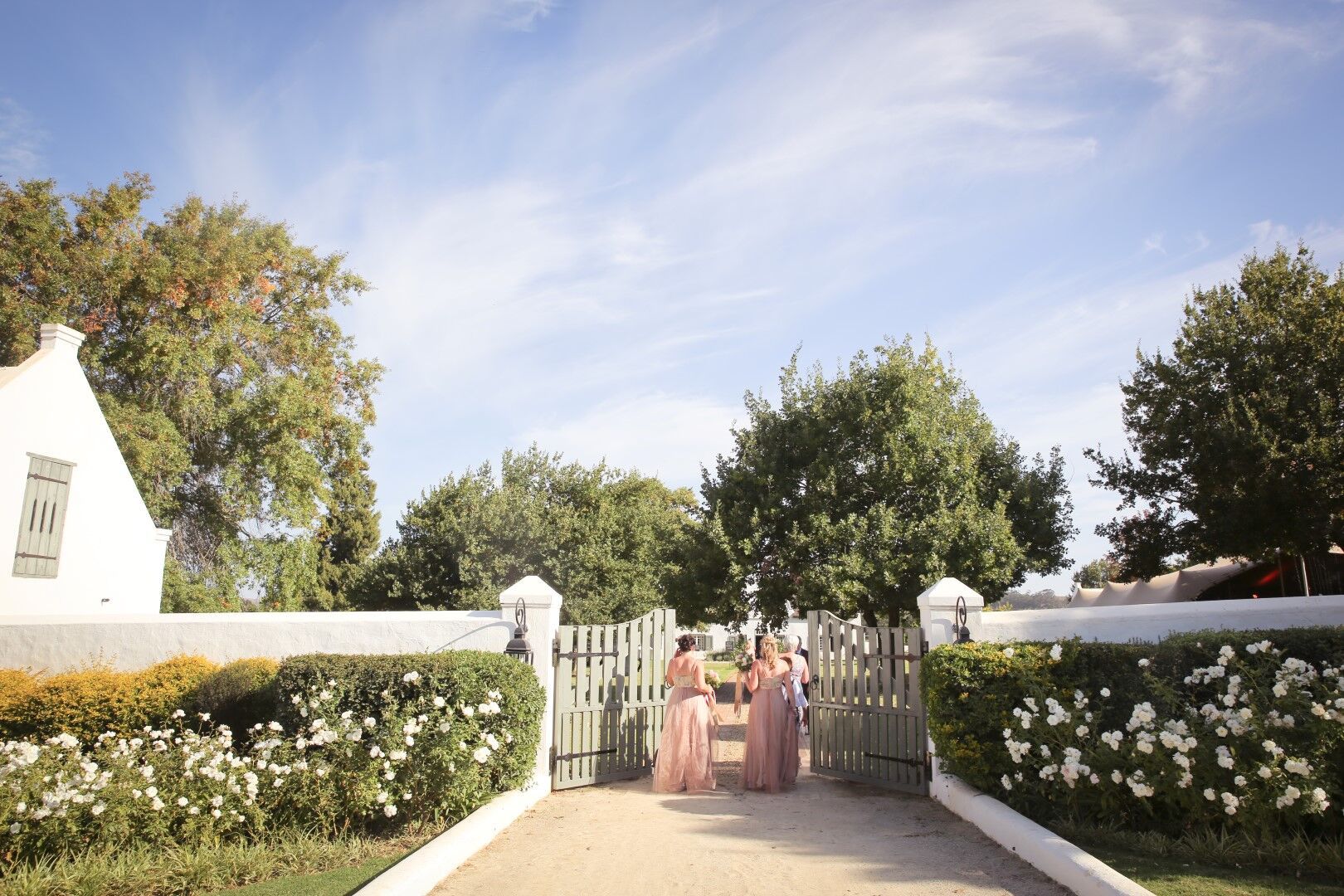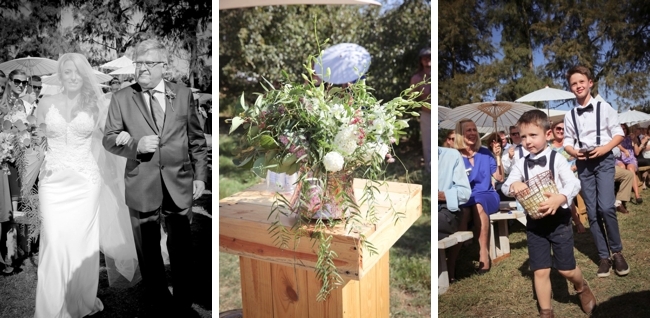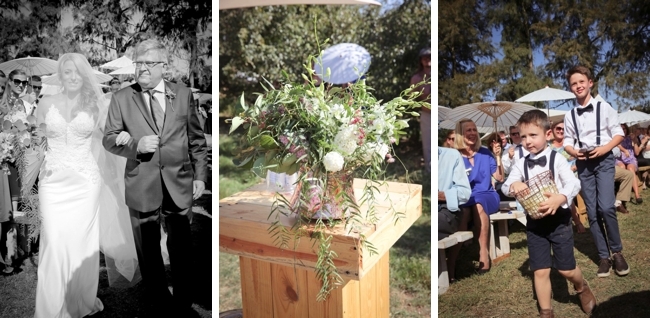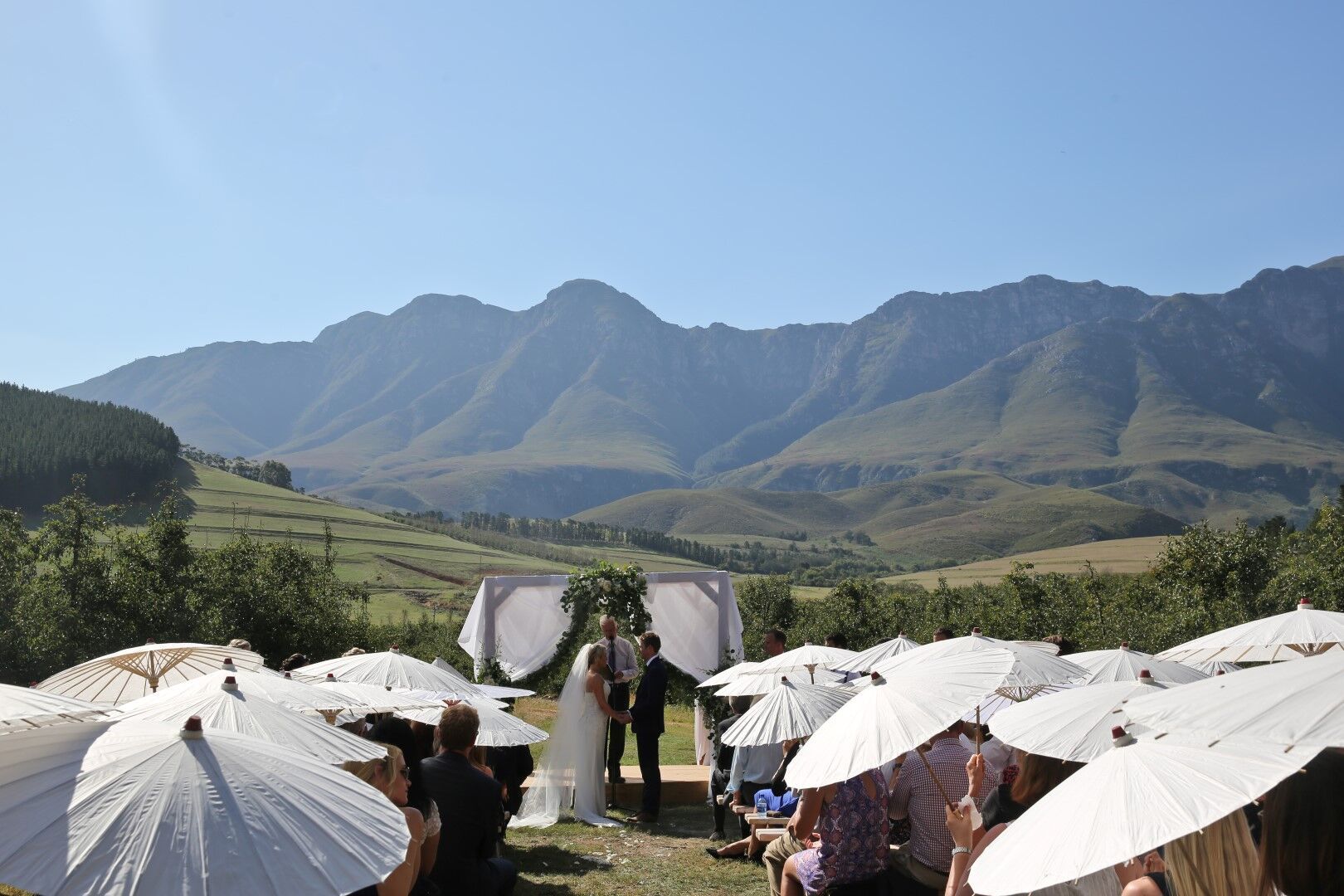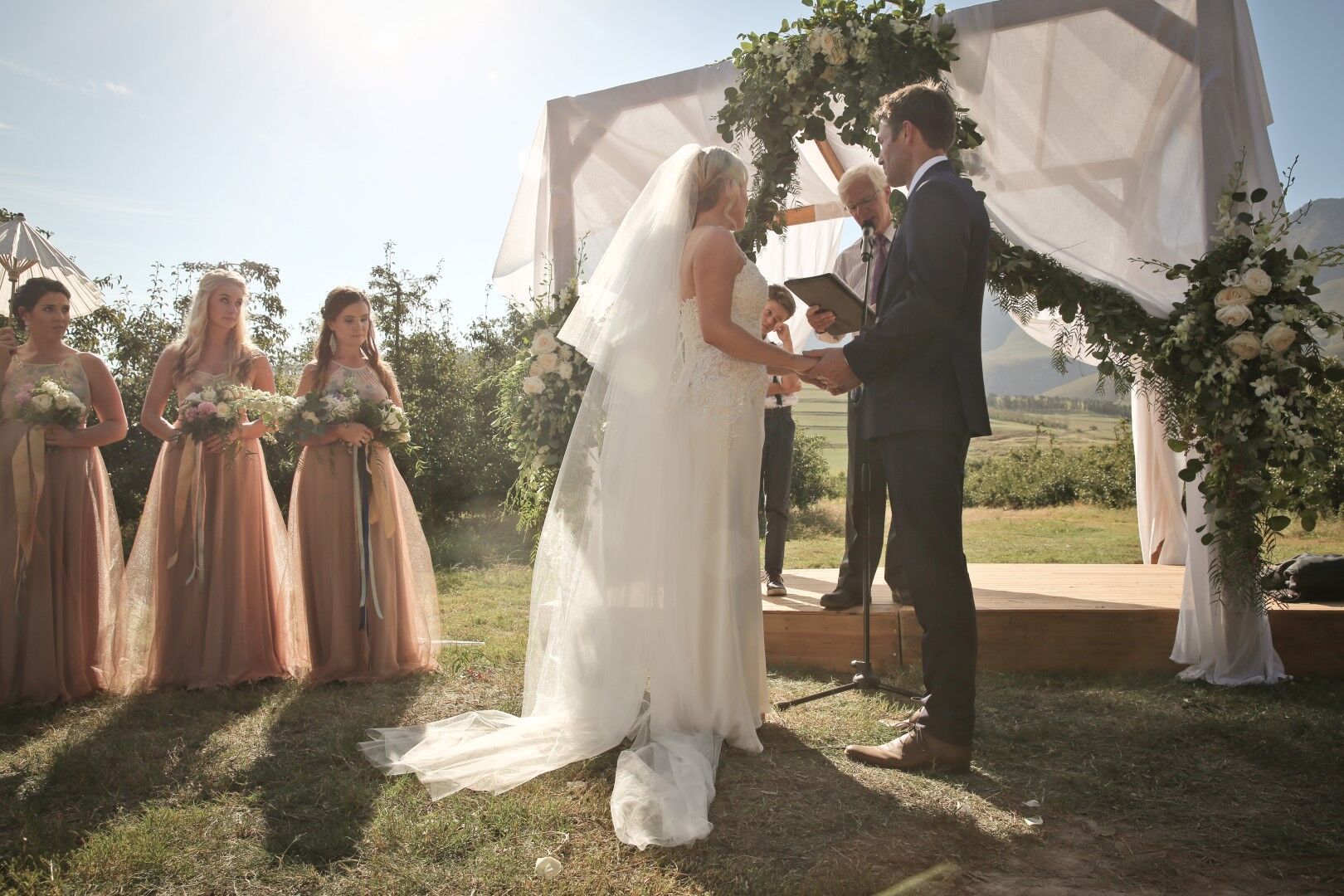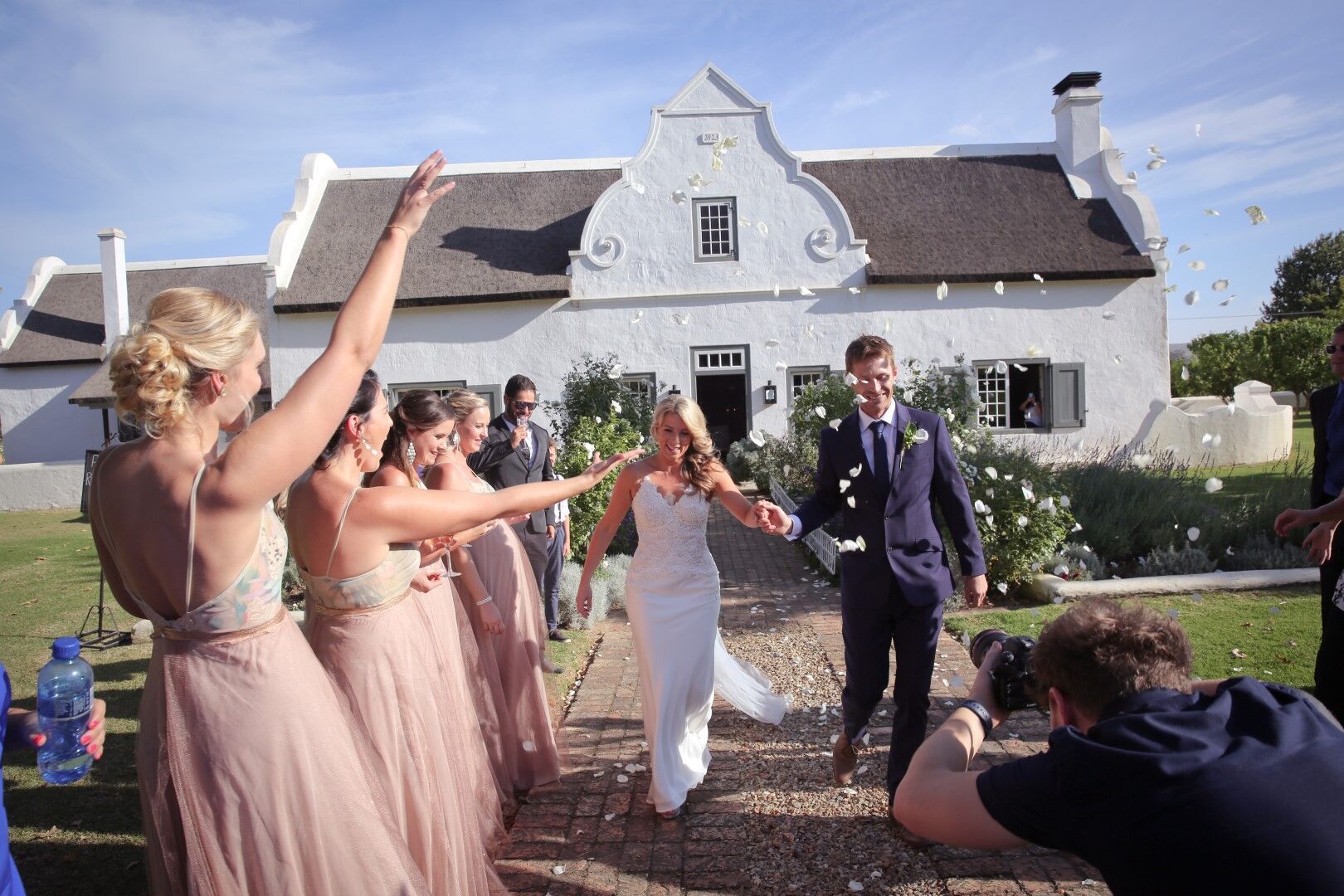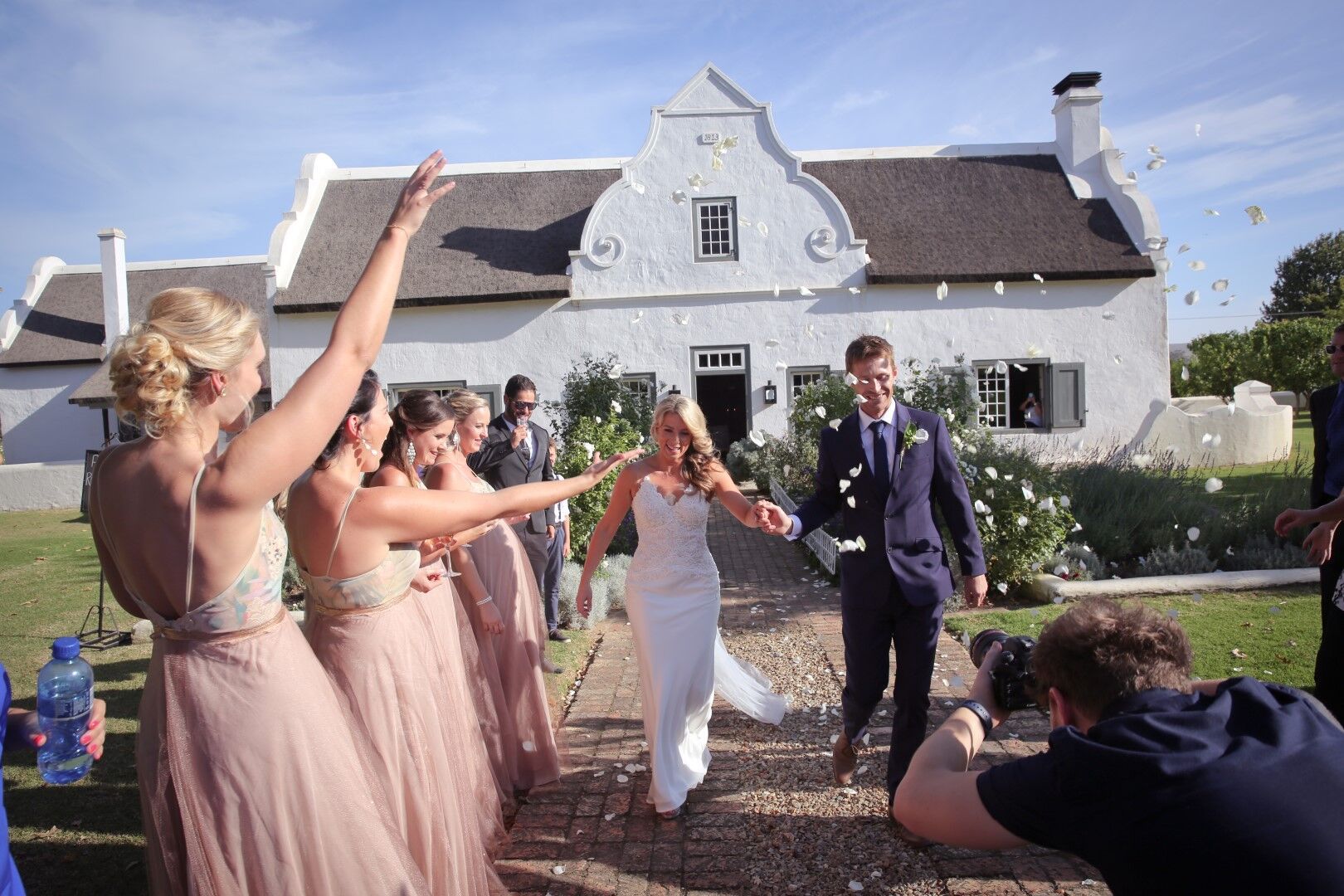 Wedding Details
Andrew is an excellent carpenter and great at DIY so we decided to make M & M marquee signs (Andrew's nickname to most people is Mac). They looked absolutely stunning on the night. We also wanted a longer pre-dinner drinks so we could spend more time with our guests and actually enjoy the bubbly and canapes. So often, my bridal couples say they regret missing out on pre-dinner drinks as it's become so much more than the old-school 'cocktail hour' whilst the bridal couple goes for their photo shoot. We had an incredible guitarist and singer and the whole vibe was exactly what we envisioned – loads of food, gin cocktails and bubbly, and awesome music that everyone could enjoy. The reception layout and concept was very close to my heart as I really wanted a lot of detail and it needed to be perfect. After doing so many weddings in the past, the reception setup has always been my favourite and the smallest things can make or break it. Andrew got quite involved in the table concept as well which was really special and he has a great eye for detail. It looked absolutely gorgeous in the end – we used white and amber water glasses and alternated them per table creating an interest point. The bare wood tables combined with the ghost chairs was a perfect combination. And then the overflowing table floral with soft tulips and garden roses in crystal vases with candles running along the table all looked magical. The menu was also such an important aspect to Andrew and I. We had both worked with Annalize Buchanan many many times and so she was a non-negotiable. We worked closely with her on the menu design and we were far from disappointed. I honestly still have friends and family say to me that it was the best food they have ever eaten. We also had the resident donkey at our pre-dinner drinks and he was an absolute hit; I think almost every guests got a photo with the donkey. We loved looking at our instagram feed on honeymoon of all the pictures with the donkey!
DIY Elements
Our ceremony gazebo was draped by my sister-in-law. My maid of honour painted our sign for the beer bar: 'Something Old, Something New, Something Borrowed and Something Brewed'. And my clever hubby made the M & M marquee sign.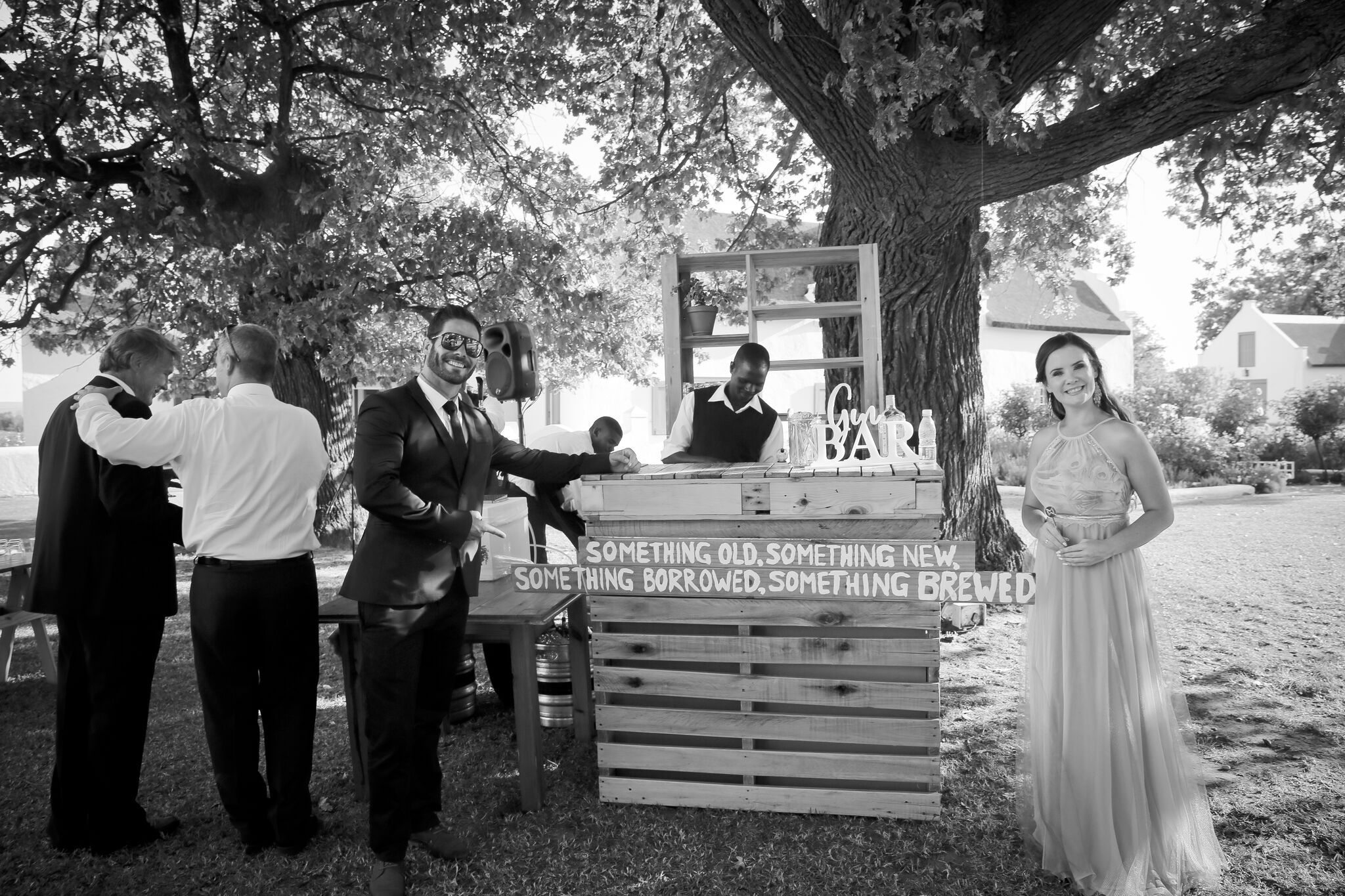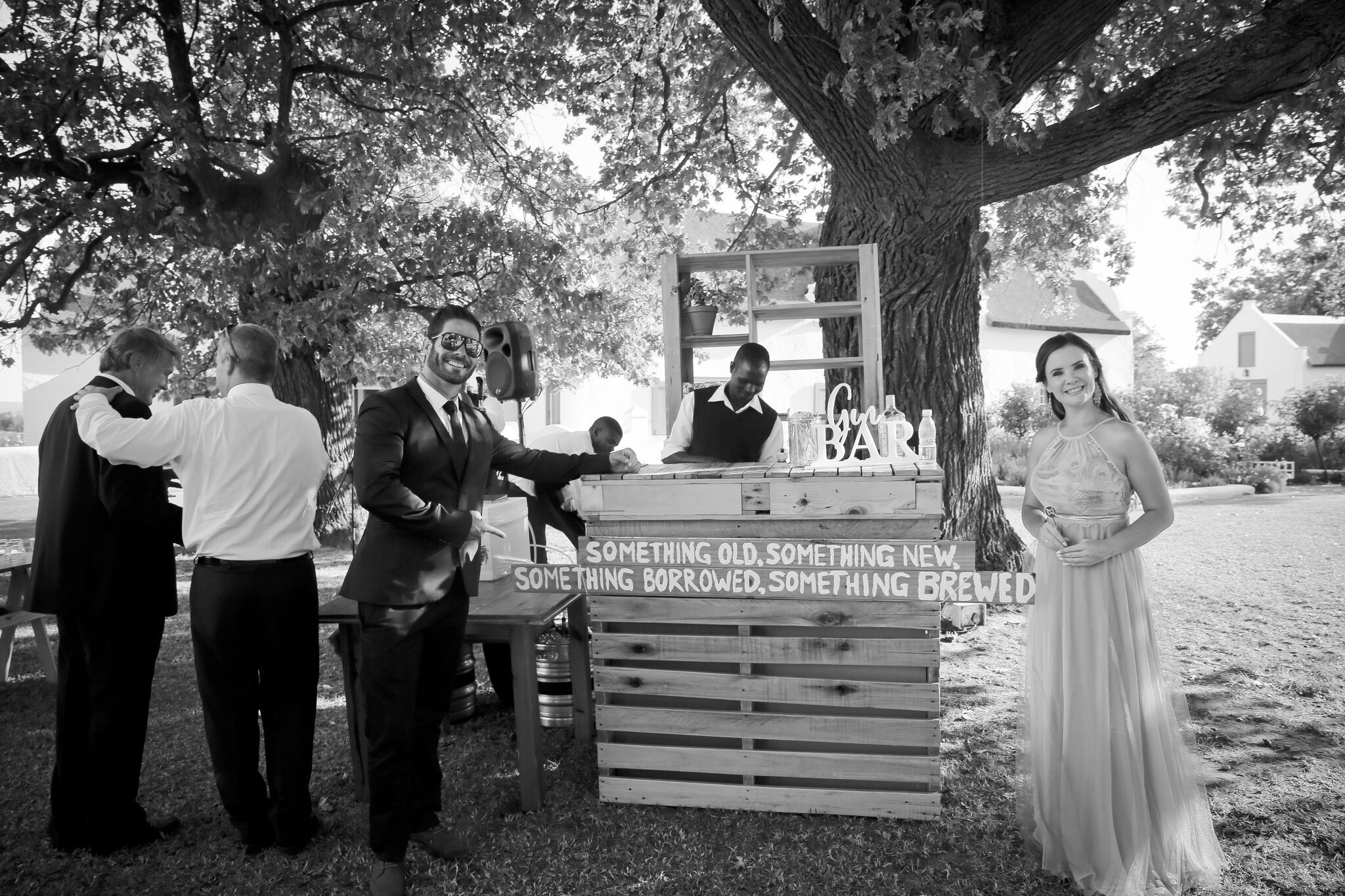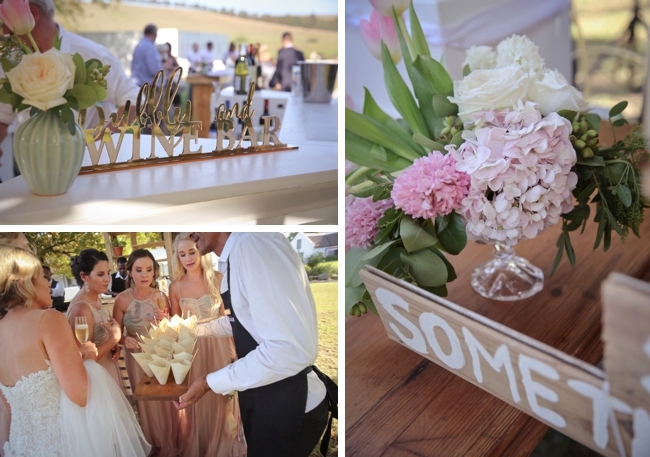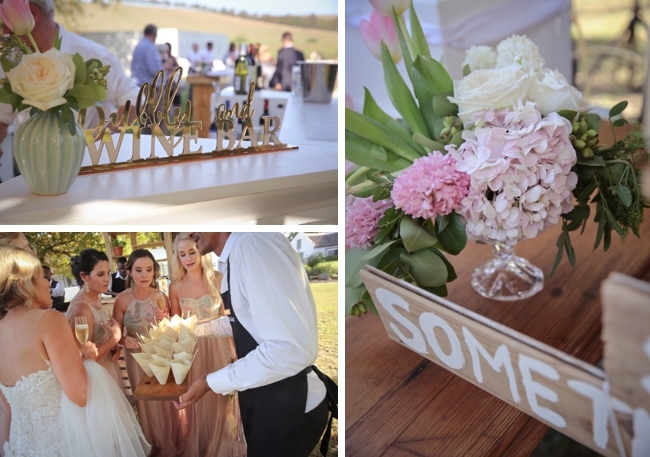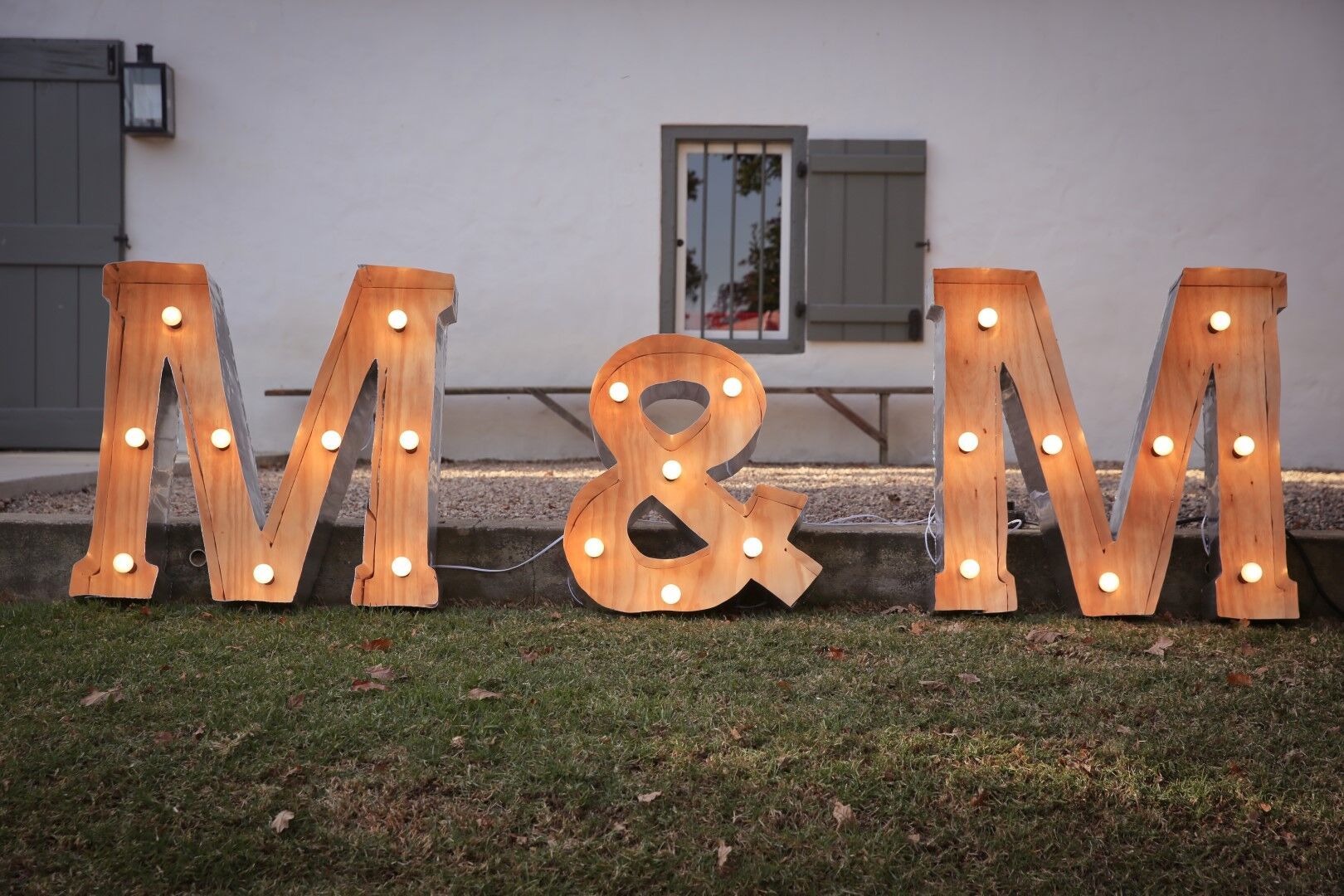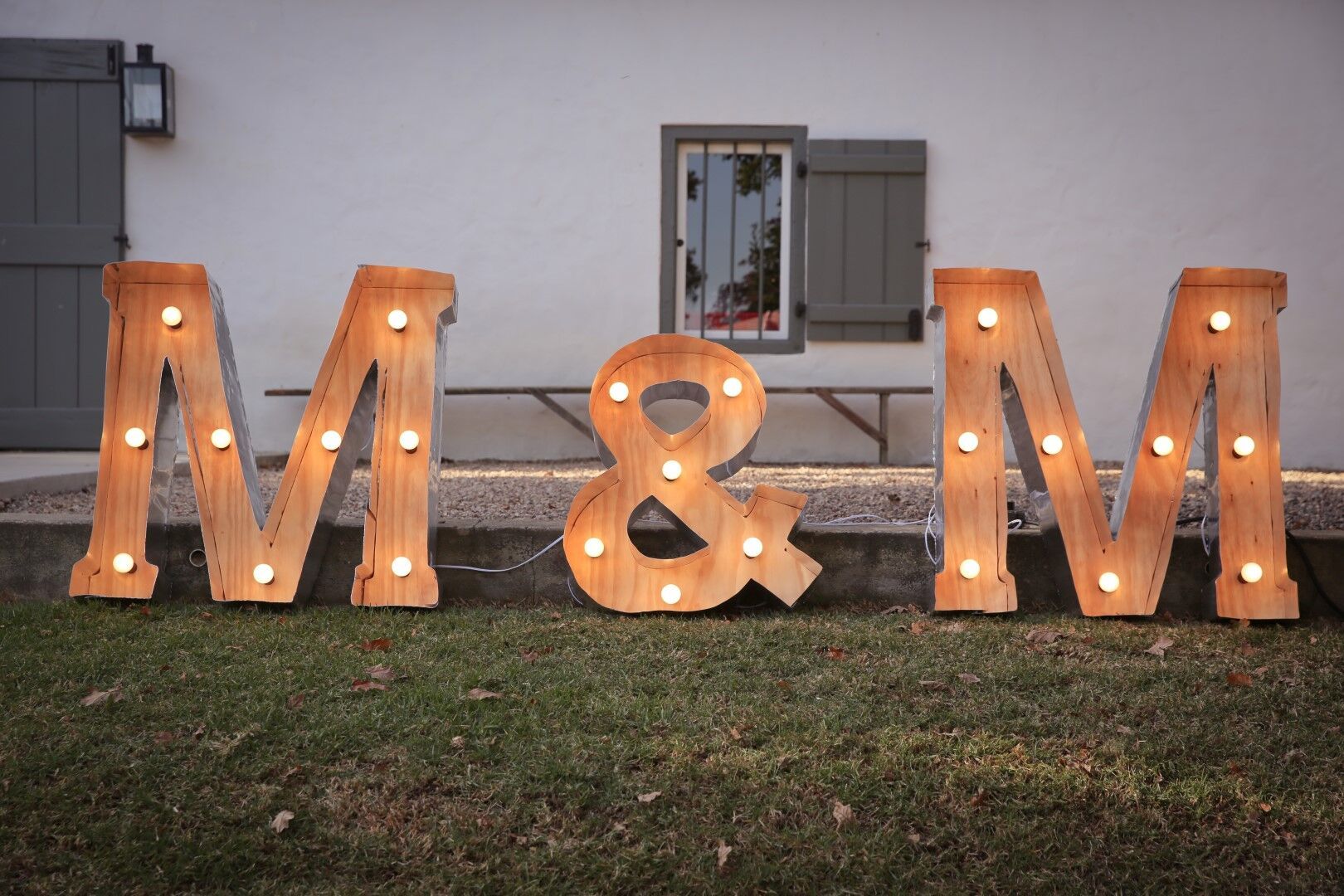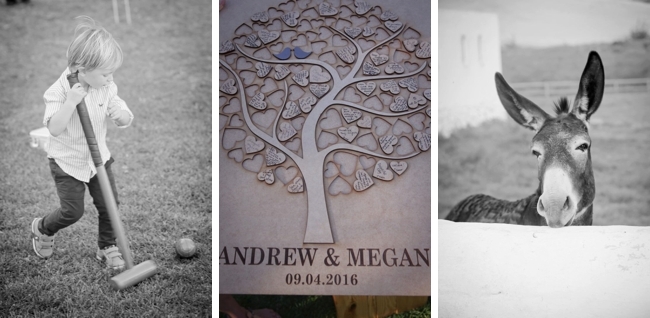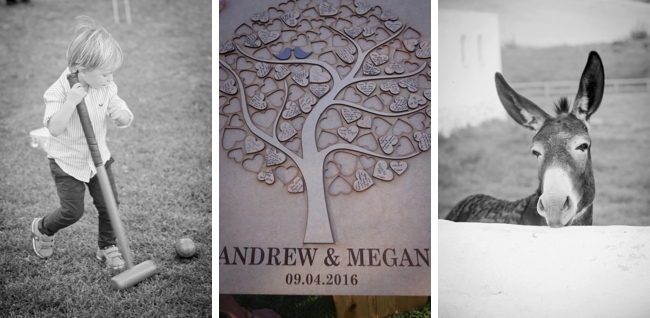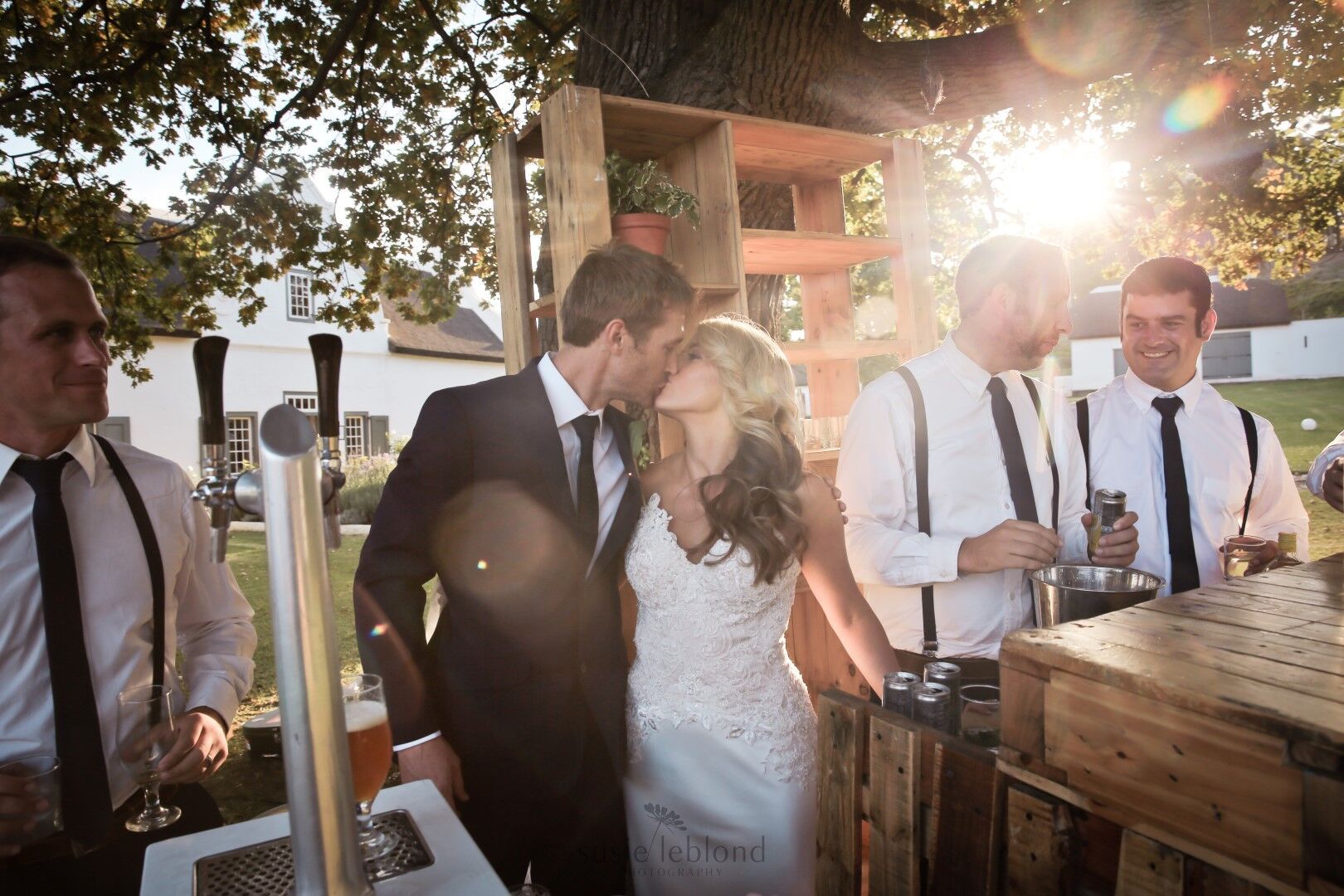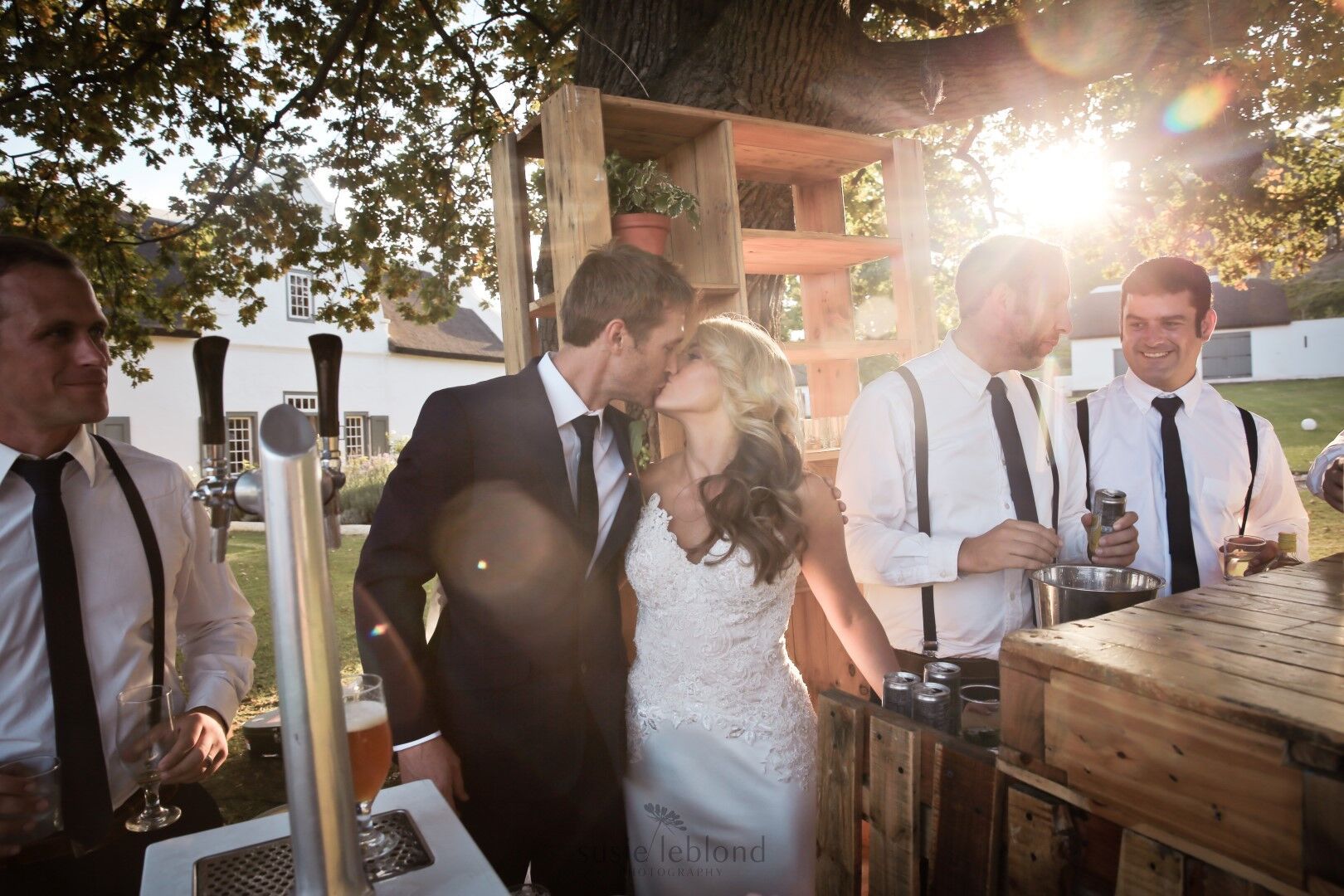 The Dress
I knew from the start that I wanted to have my dress made and the universe was perfectly aligned as a friend, a dress designer extraordinaire, decided to start her own wedding dress design business – Charlotte Francina Designs – at around the same time. We worked closely together creating the design and went through many, many changes before we landed at the final product. It fitted perfectly, was incredibly comfortable and was so gorgeous.
The Bridesmaids
I had five bridesmaids. I really wanted them to be comfortable but I did want them more uniform than not. We decided to use the same design concept and material for all five dresses but changed the neckline according to the preference of each bridesmaid so their unique style came through. I think they all looked stunning. They are definitely unlikely to wear them again but that's fine with me :)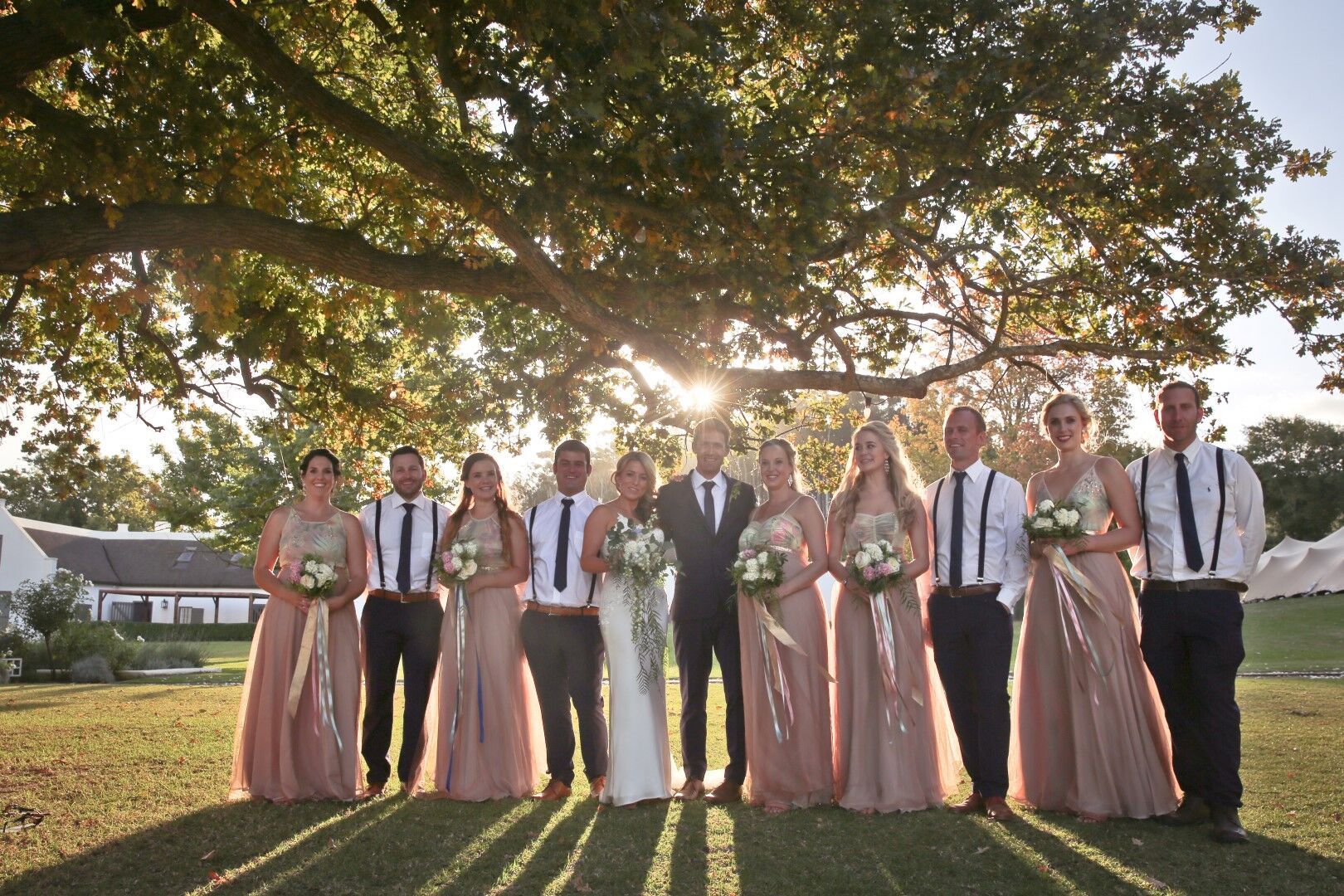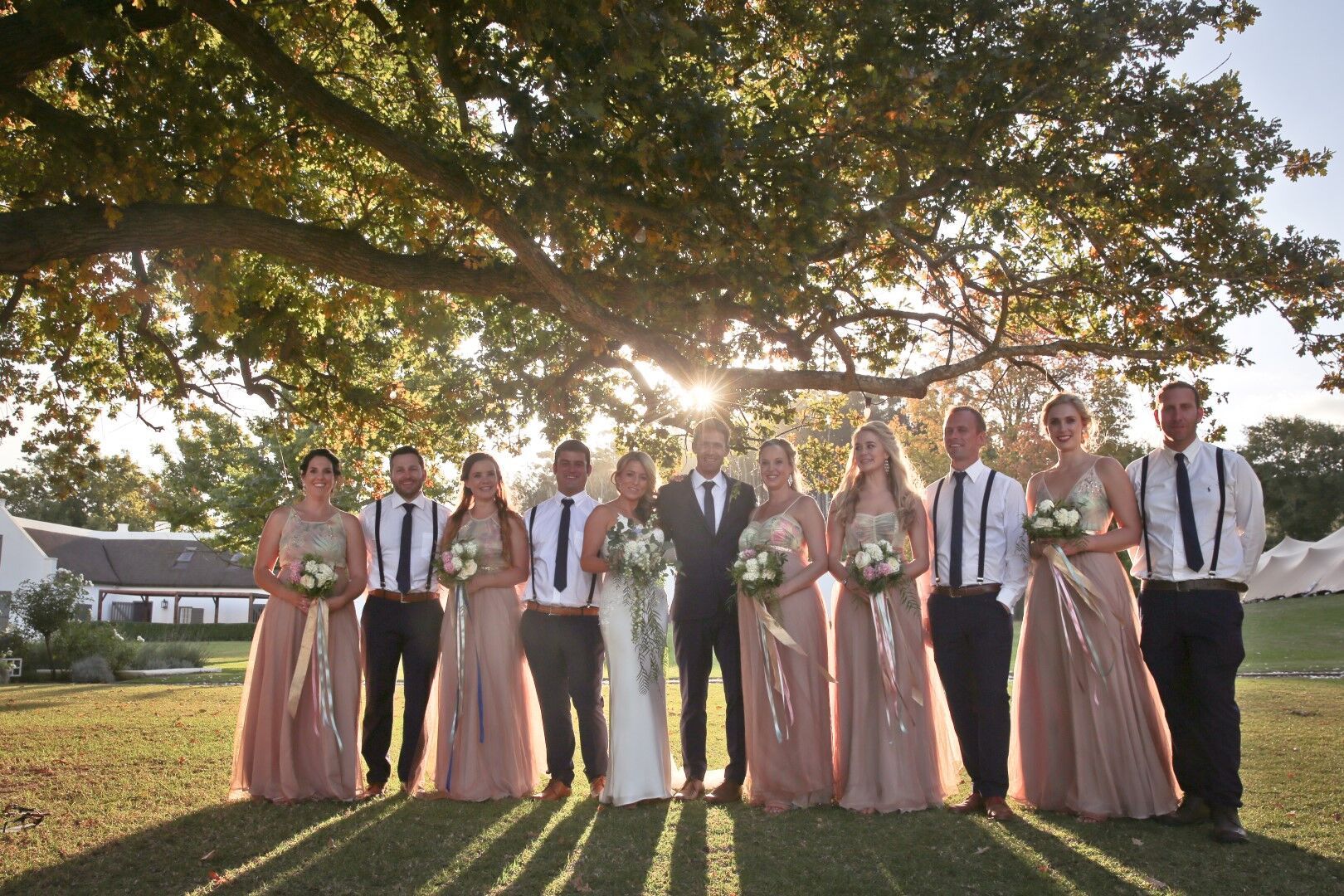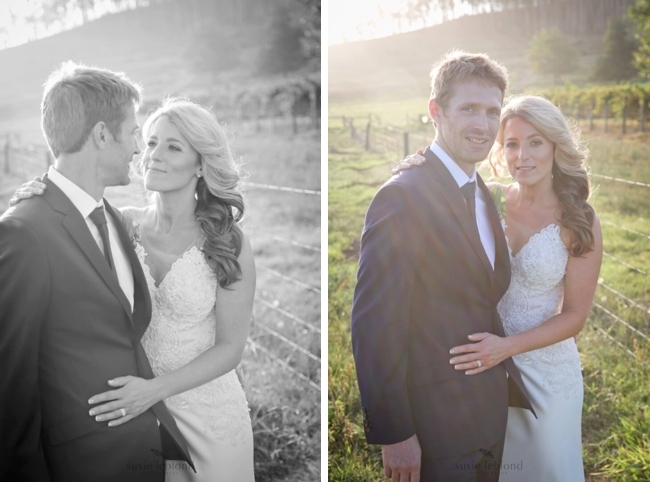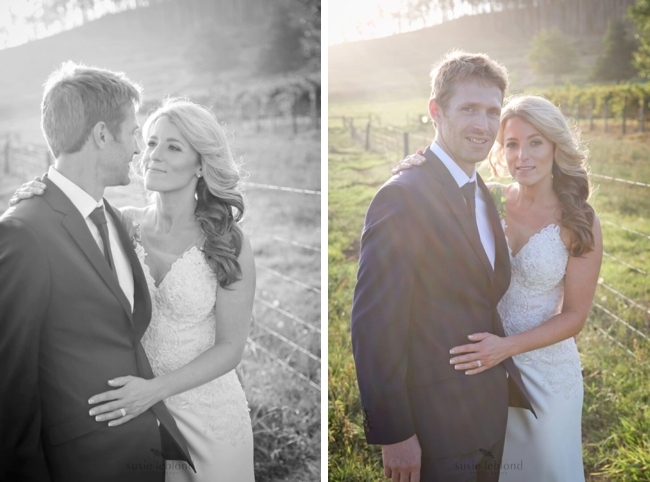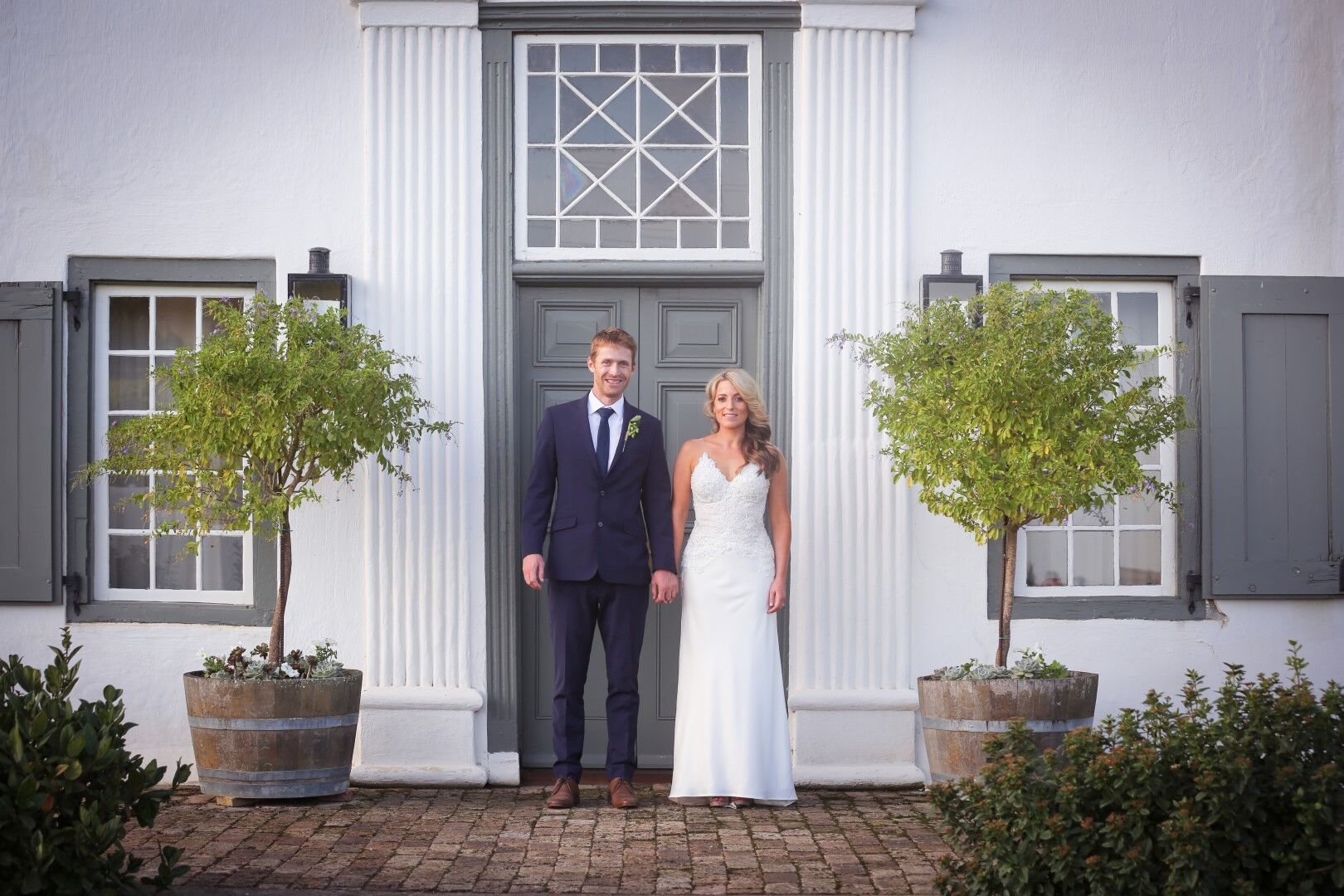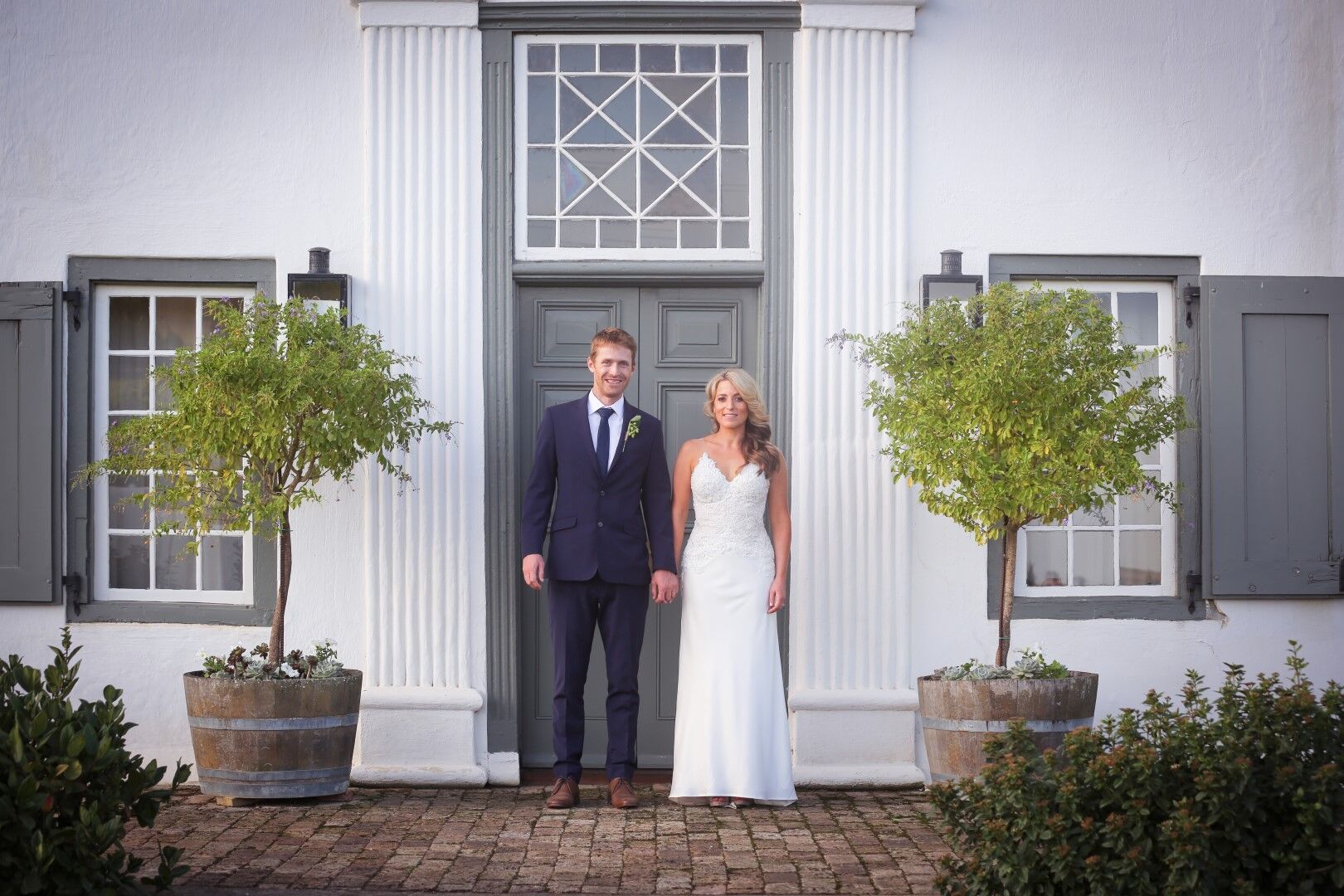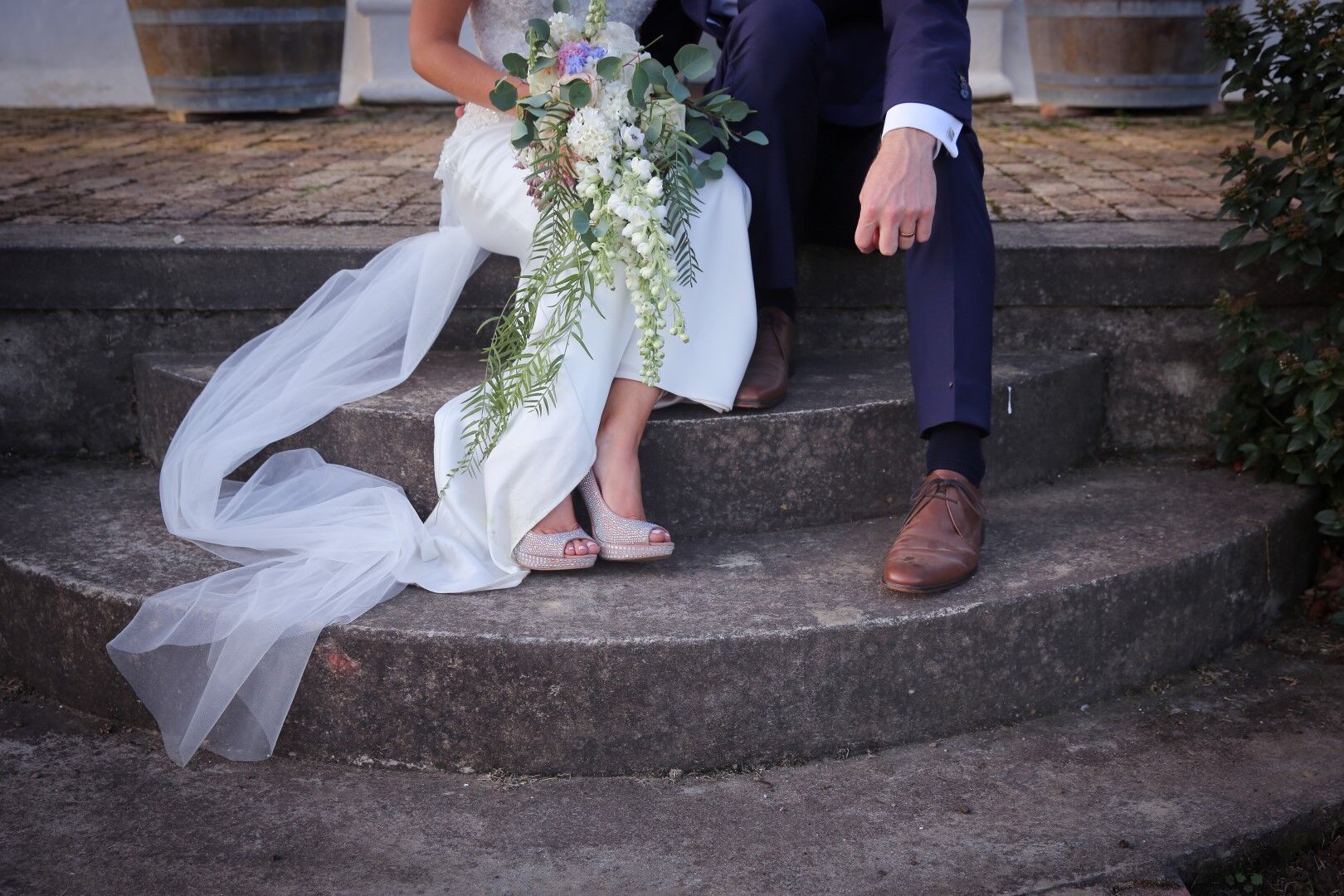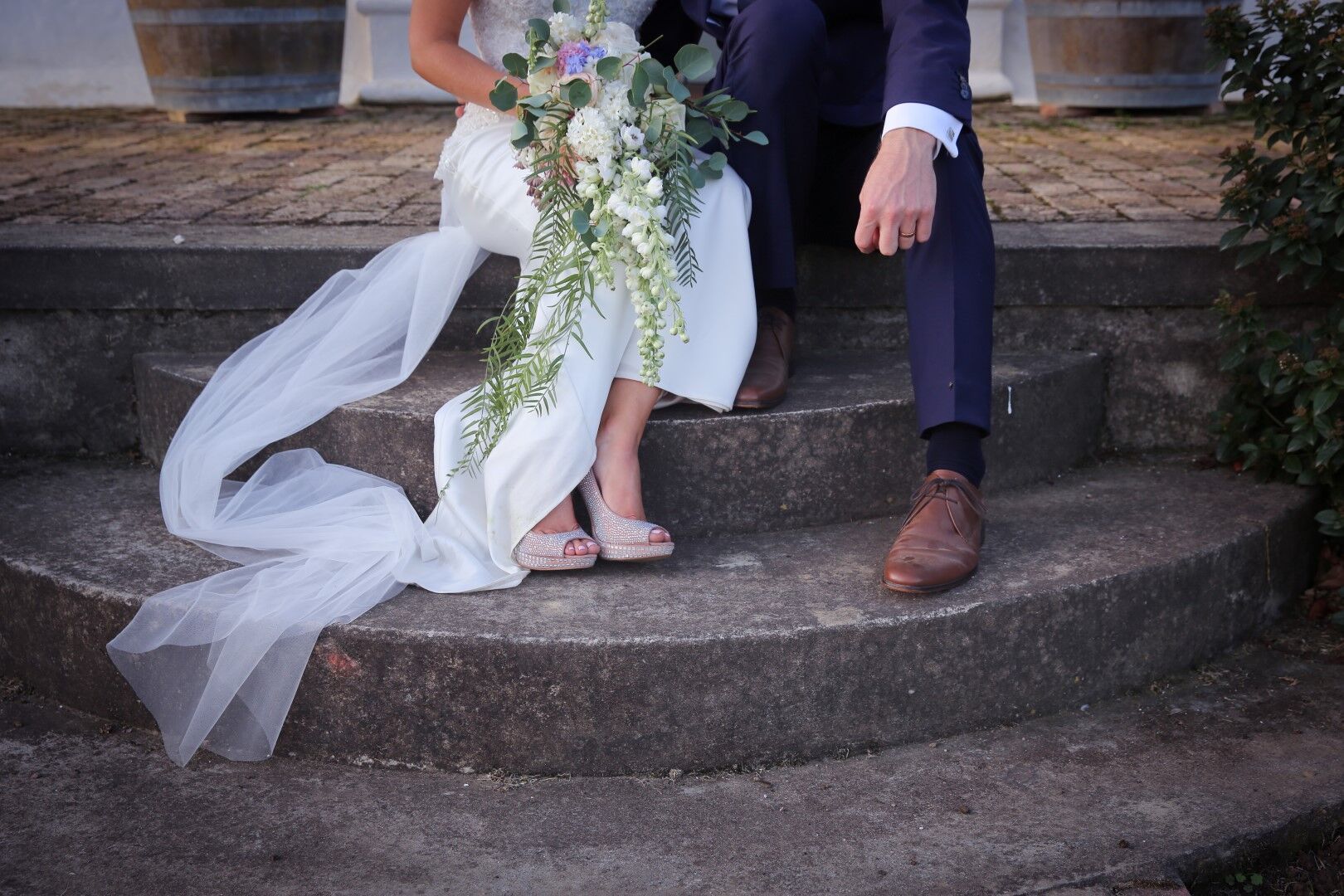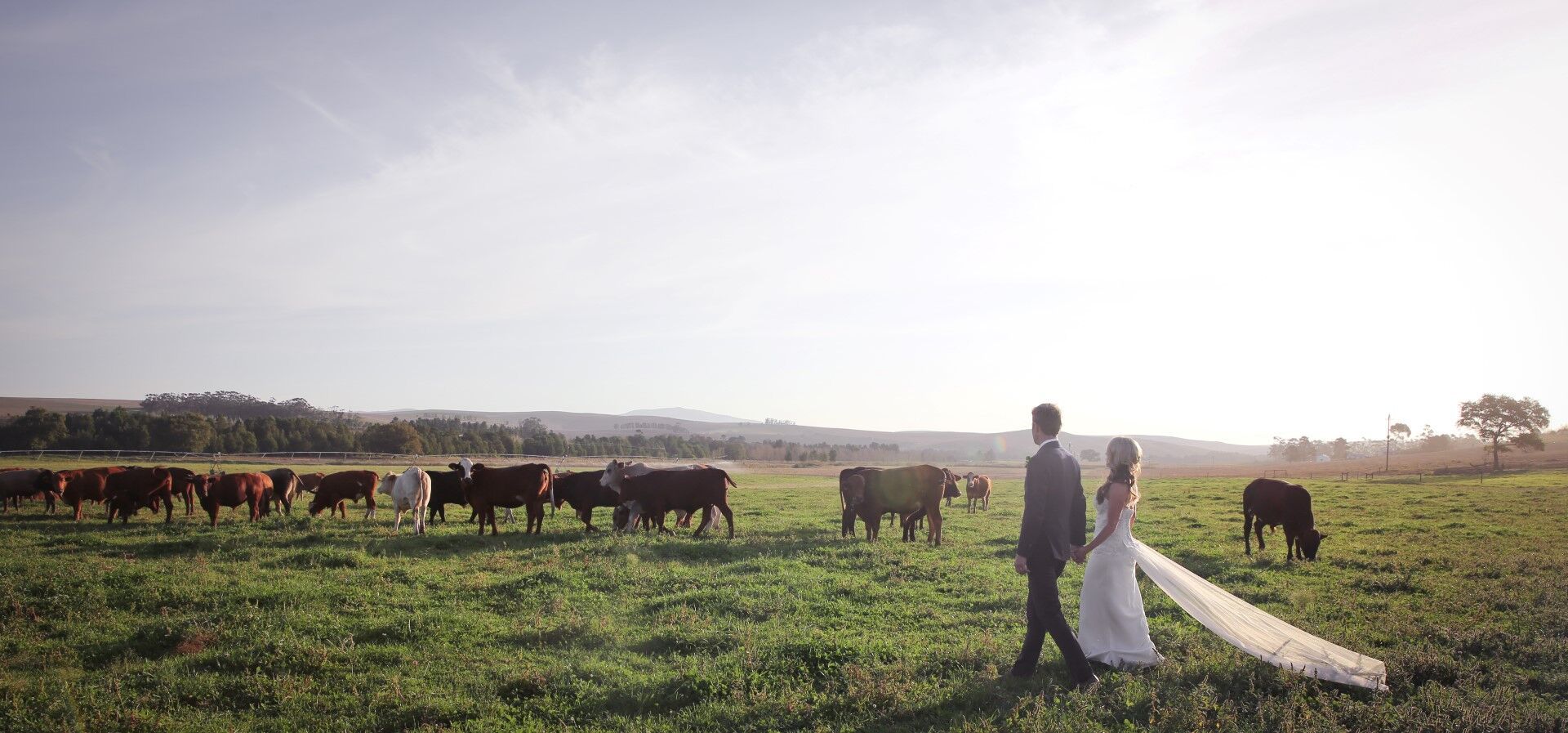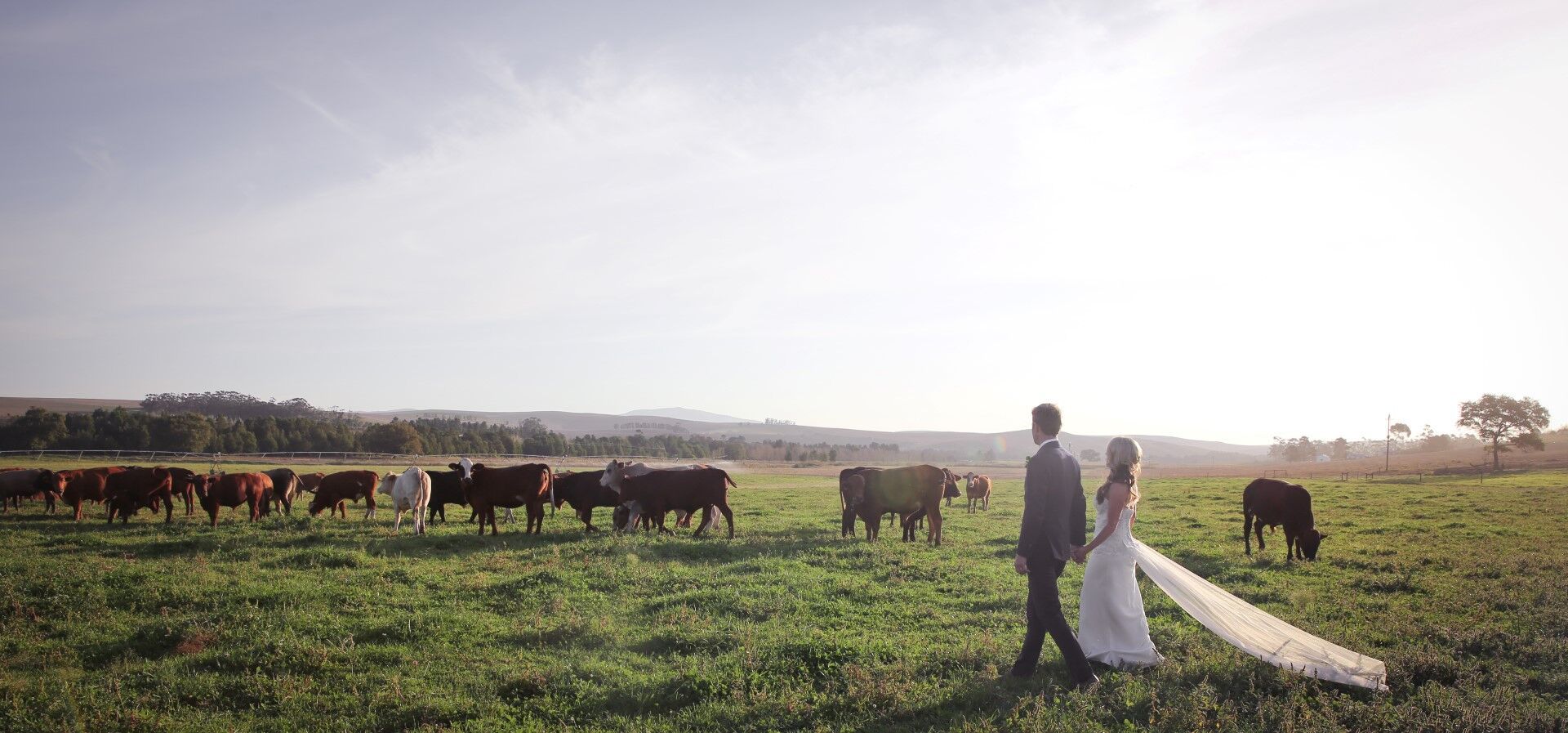 The Flowers
Despite having a pretty comprehensive Pinterest board, I left Heike of Fleur Le Cordeur to her creative devices. I wanted a wild, non structured bouquet and the bridesmaids' bouquets to be soft and pretty. I also wanted a 'wild' look to be carried through in certain aspects of the wedding so she used lengths of Penny Gum and greenery along the frame of the draping on the gazebo. We also filled my mom-in-law's copper pots (from her kitchen) with wild, unstructured arrangements. The reception flowers were a lot more structured, softer and more feminine. Heike used the most gorgeous Bridal Piano-type garden roses, pink tulips, white hydrangeas (I LOVE hydrangeas) and overflowing greenery and penny gum. It looked stunning and smelled amazing!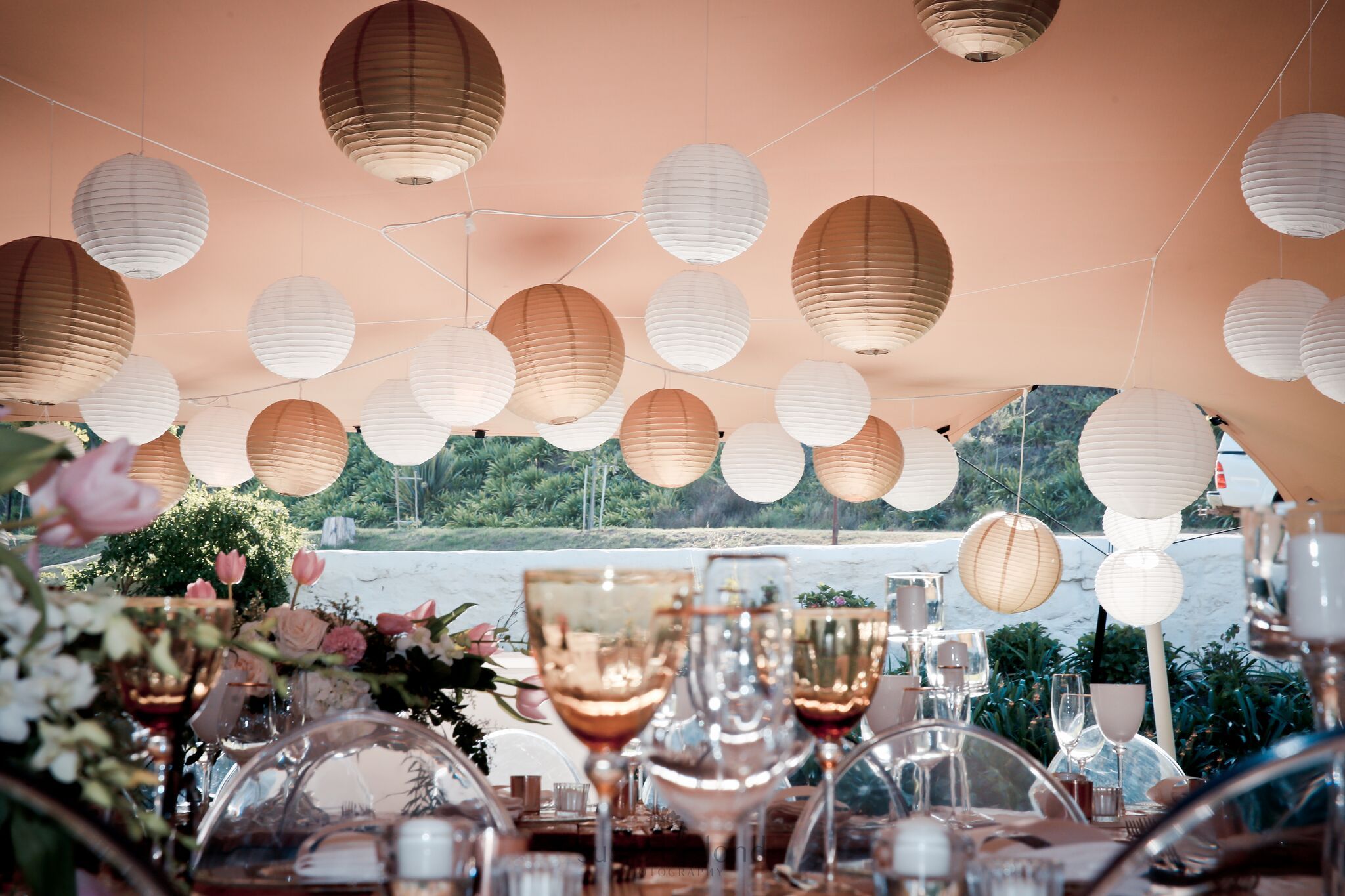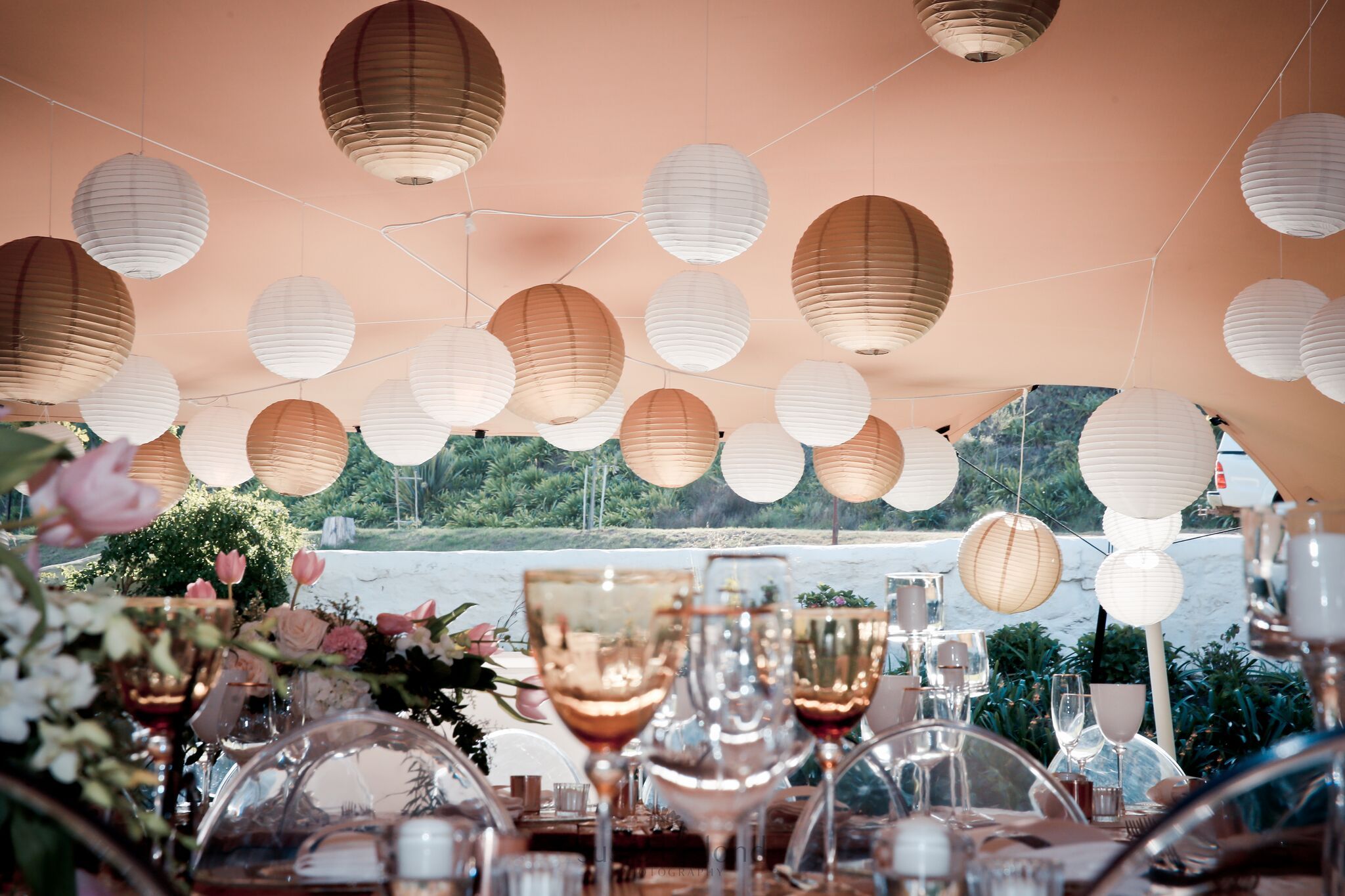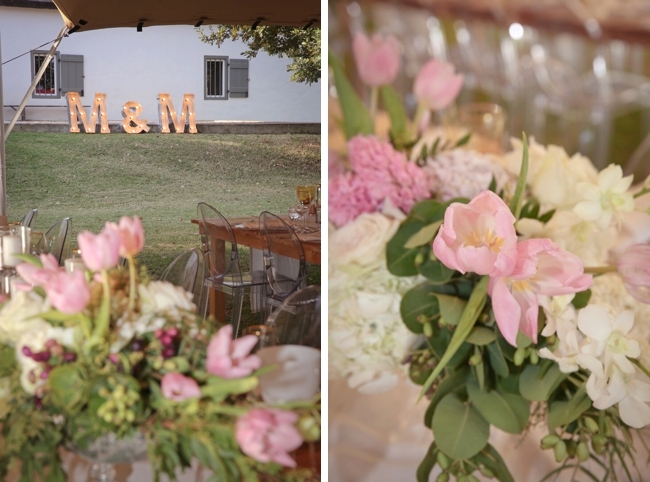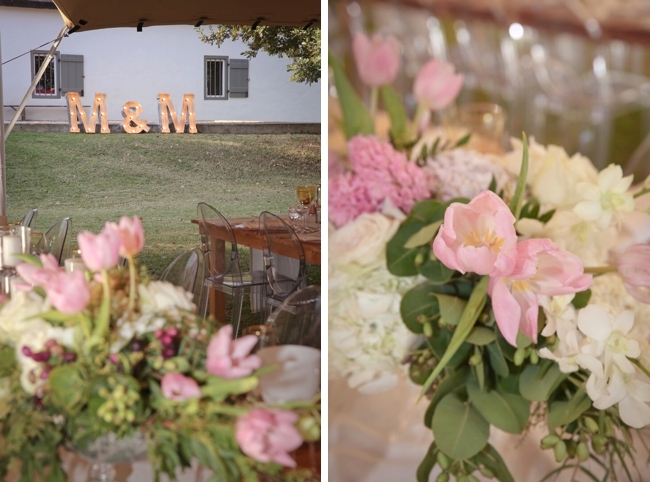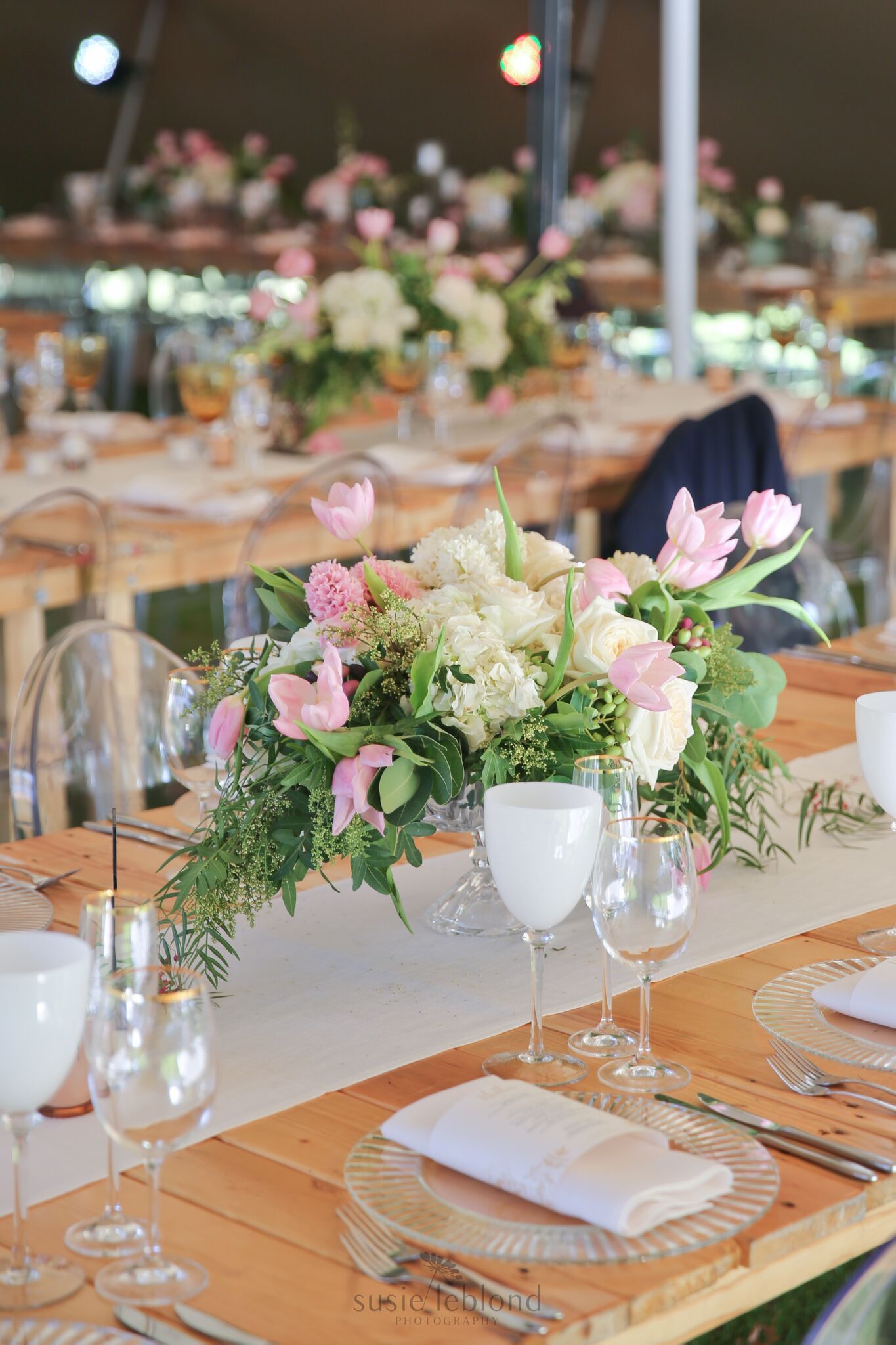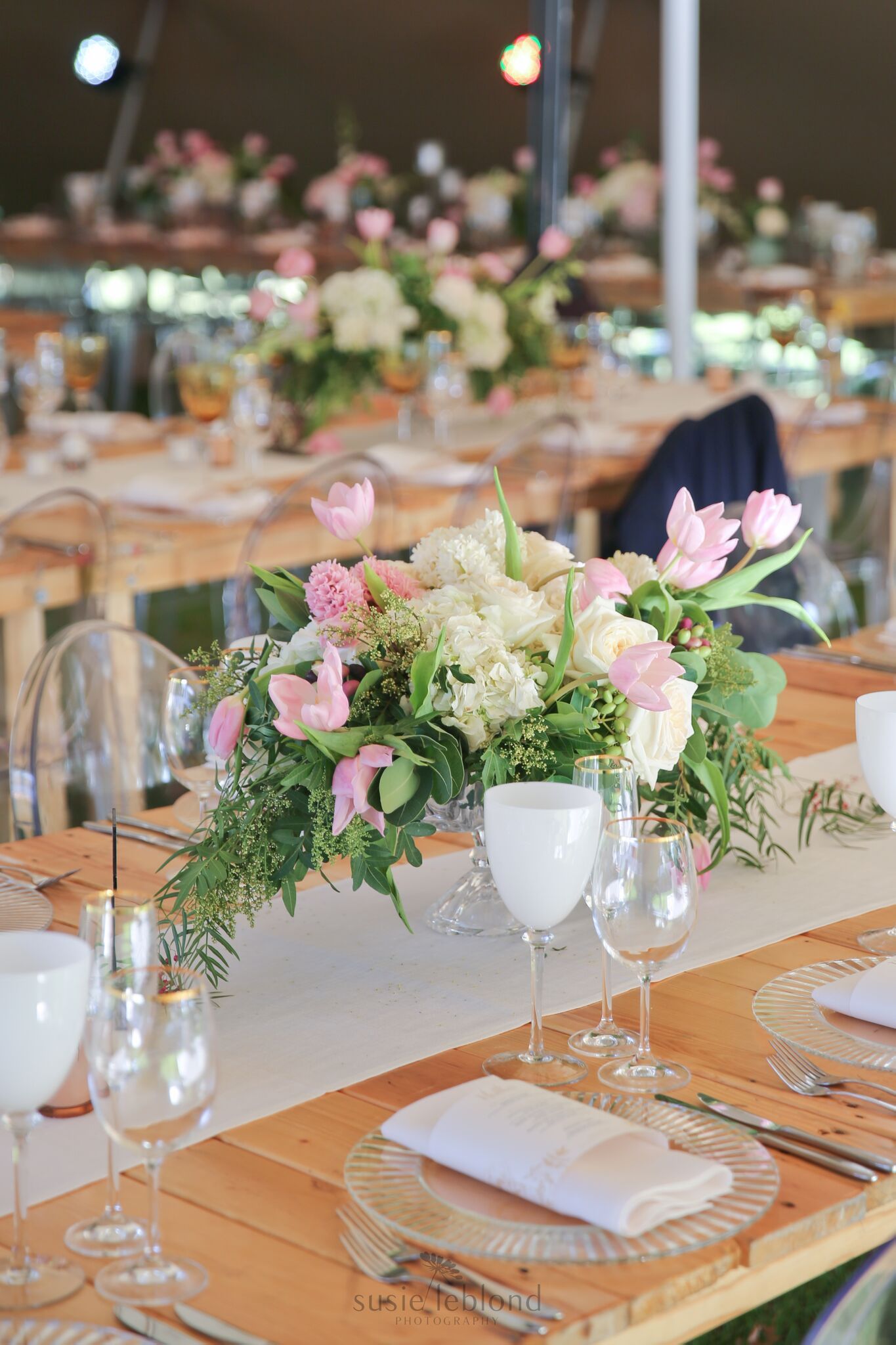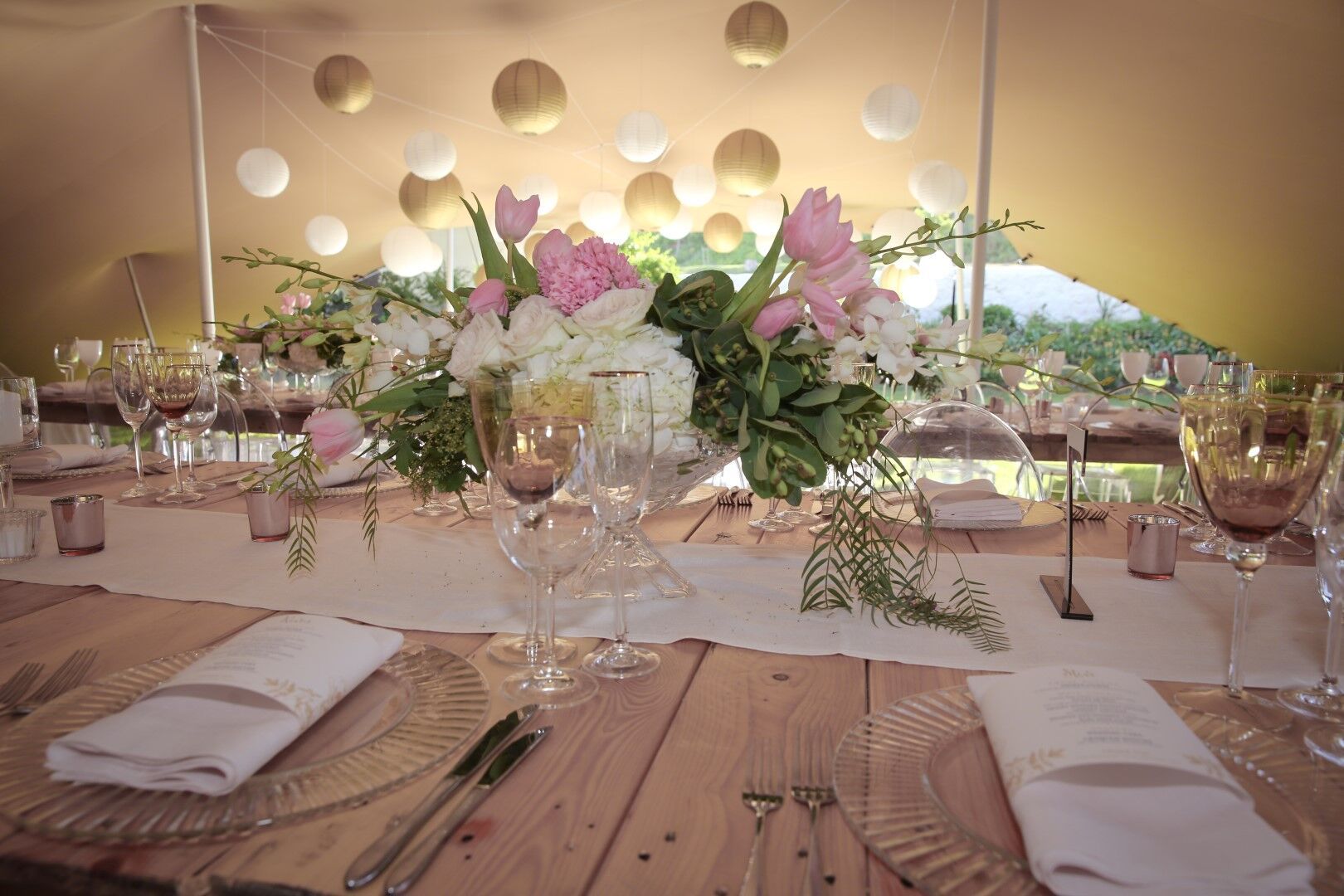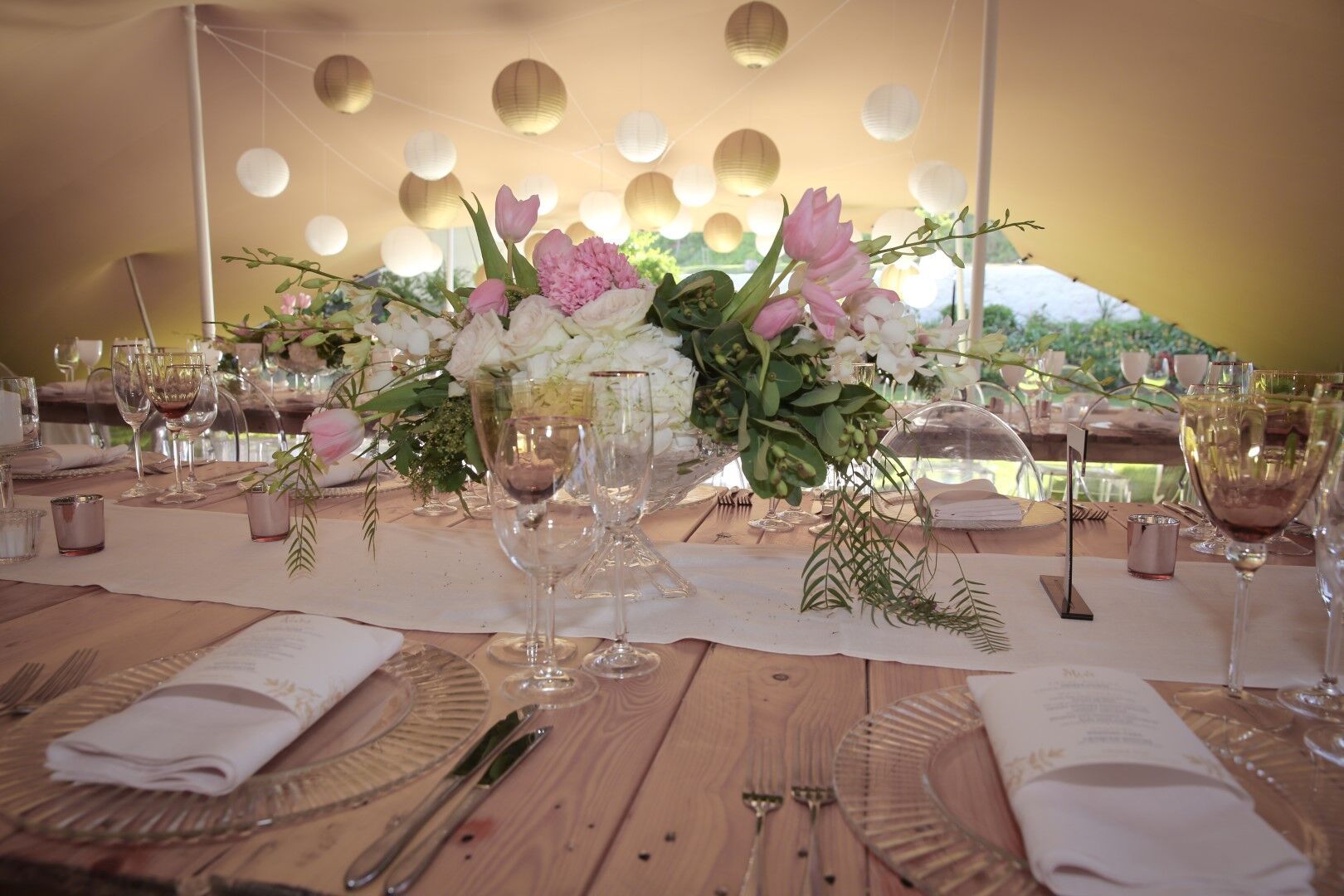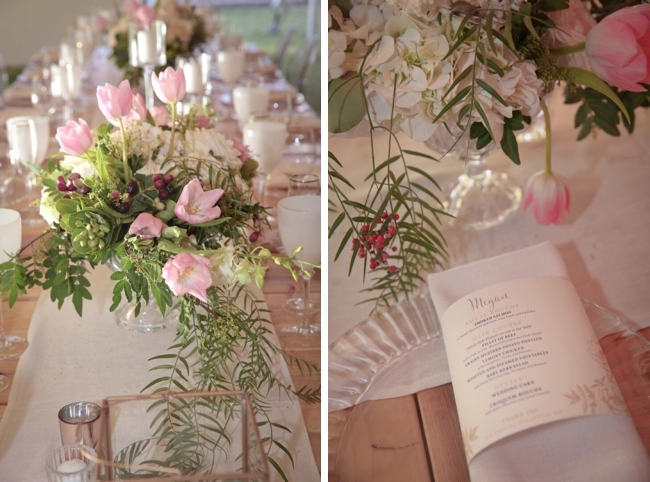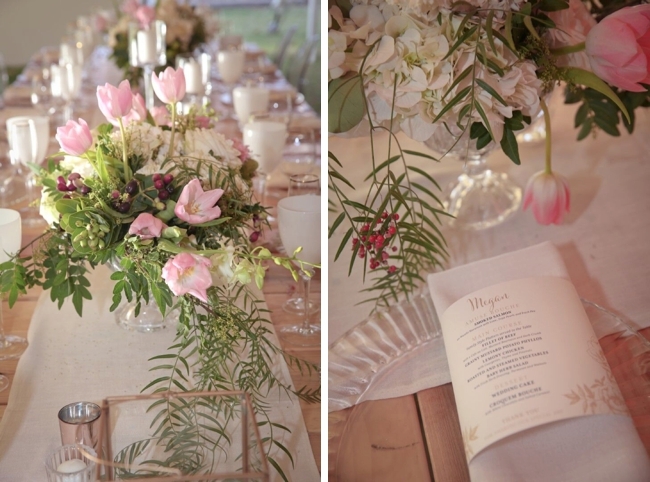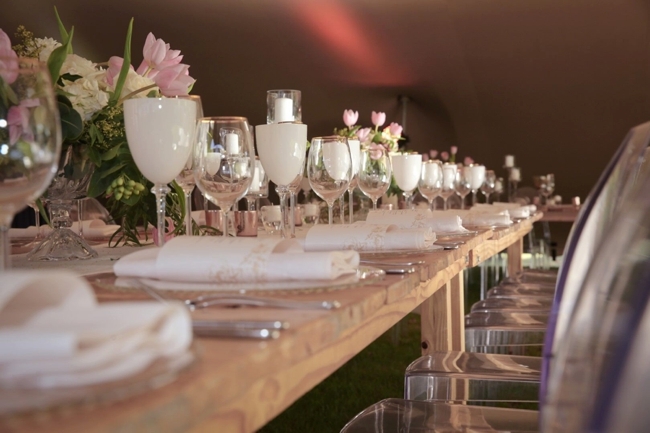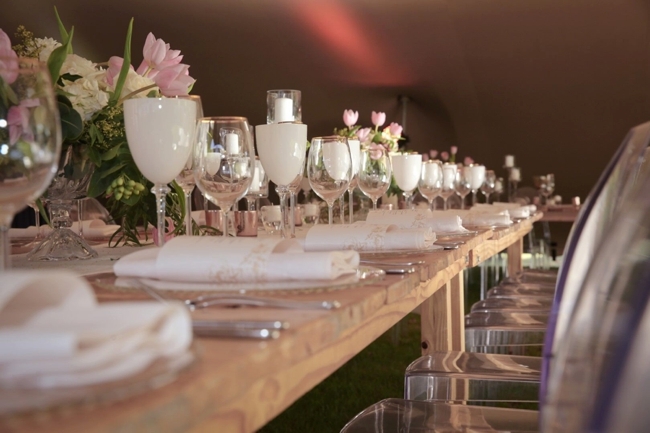 Memorable Moment
Andrew's speech – he is an incredibly kind man and the most loving partner and he wrote the most unforgettable speech. The was the one part of the day I couldn't predict and he blew me away. His words were so kind and genuine and his gratitude to his parents and my family was so heartfelt.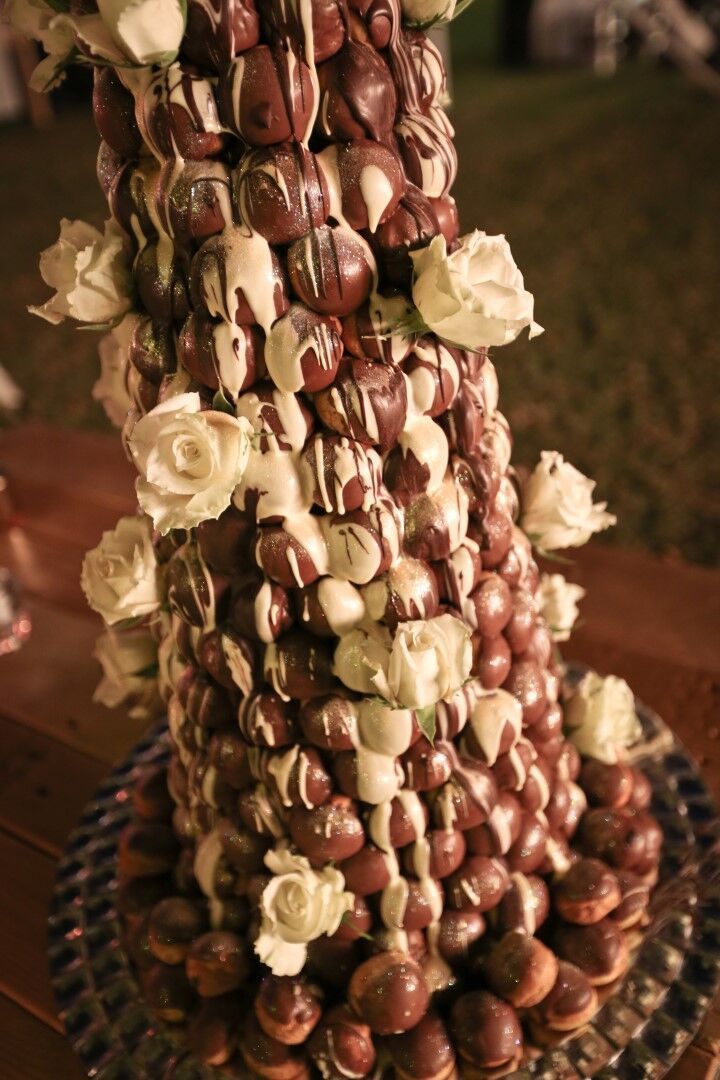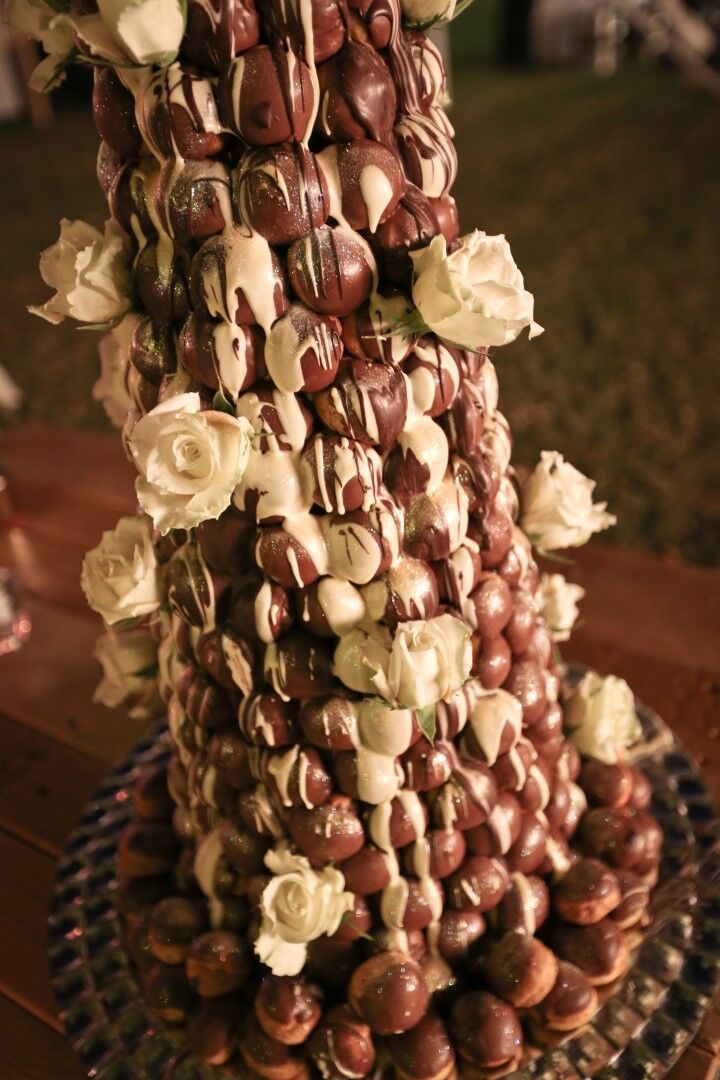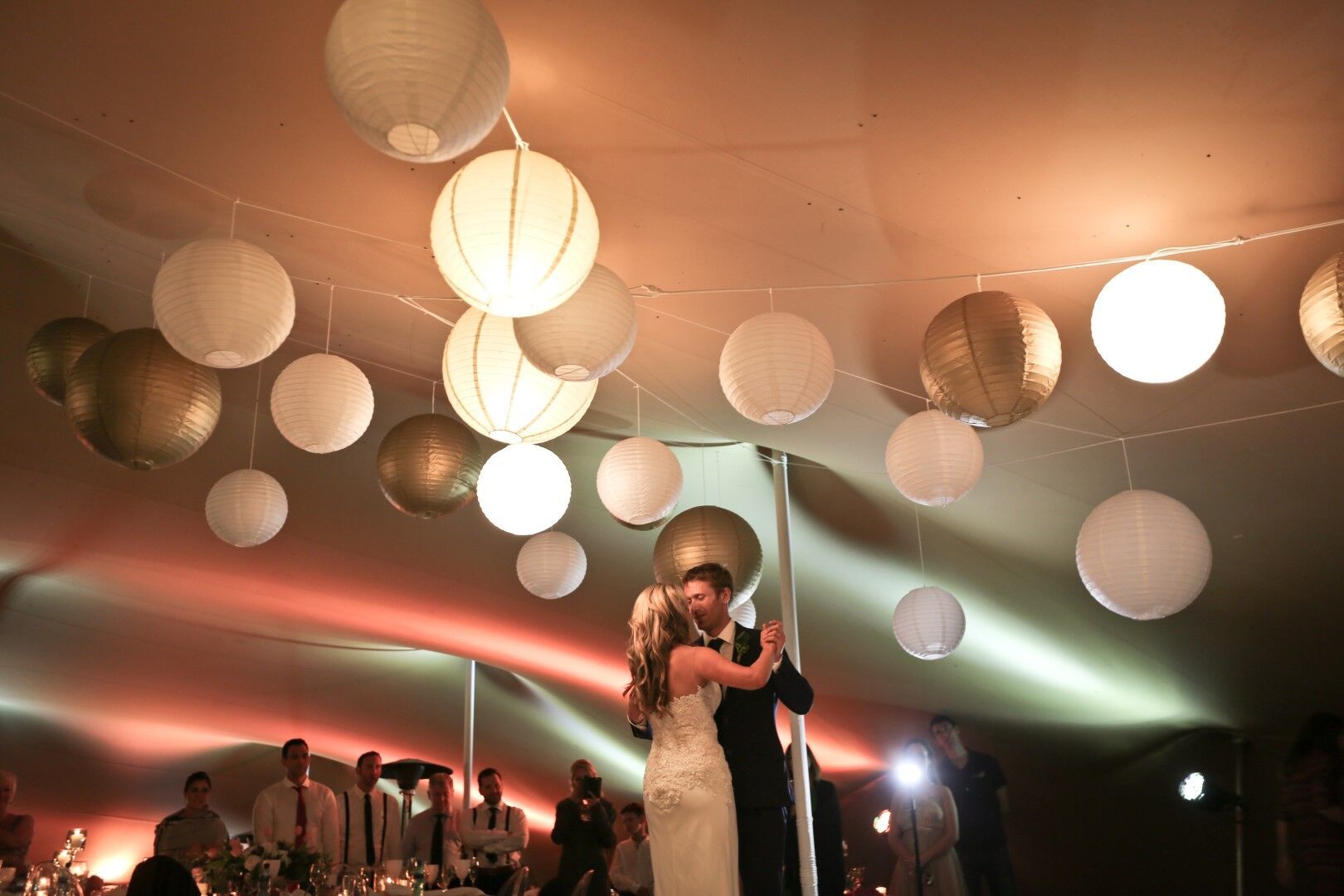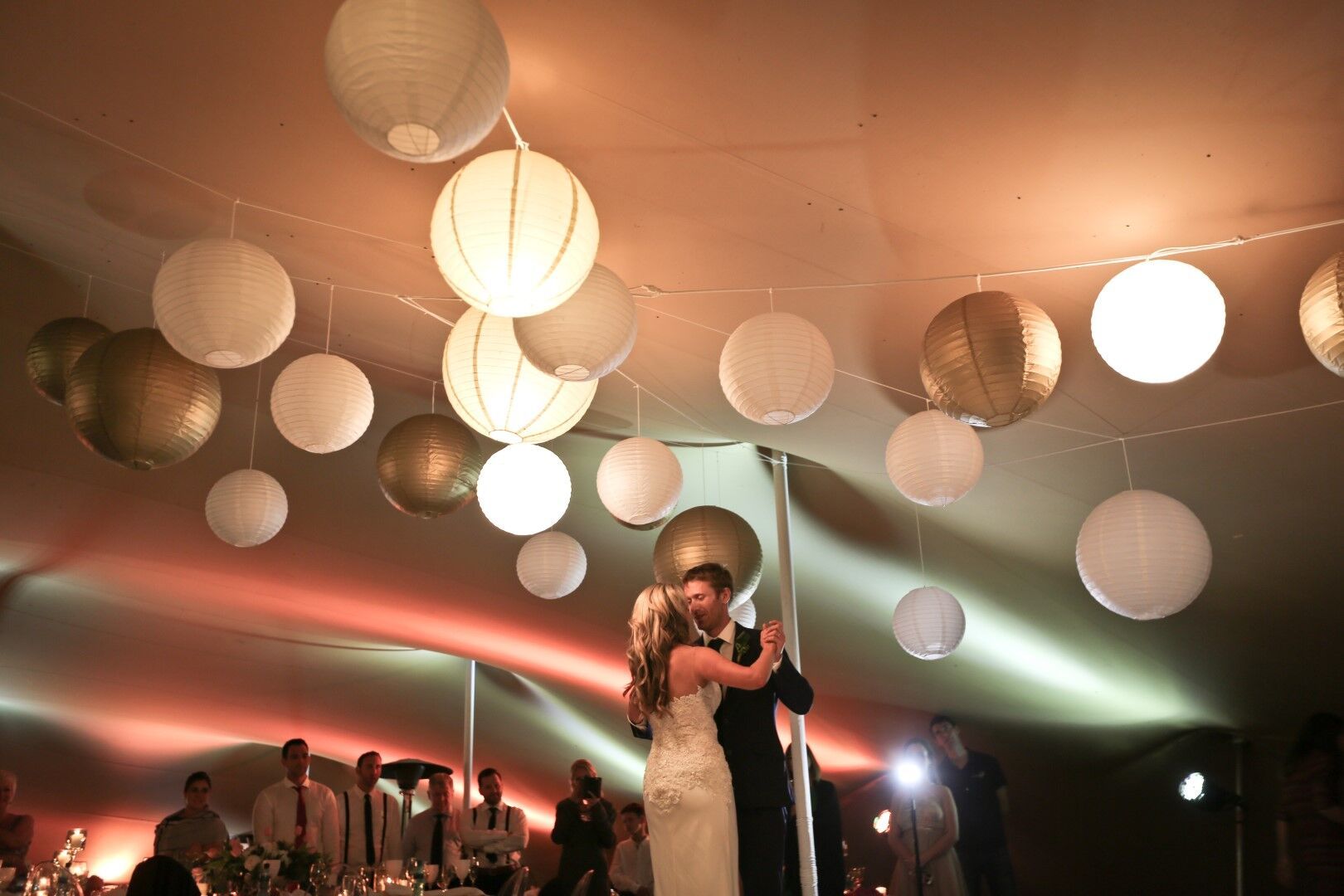 Best Decision
Having a long engagement! Despite knowing which suppliers I was going to use and having the contacts that we have, the planning process is stressful, regardless of whether you know what you want or who you want. There are pressures from all angles as well as work demands and general life demands, so by having a long engagement, it gave us time to try to enjoy the process as much as possible.
Advice for Future Brides & Grooms
Get a wedding planner – this experience was the most enlightening in what an invaluable role a wedding planner plays in your wedding planning leading up to the big day and on the day. The day goes so quickly, make sure you find time to spend it with your husband. You also won't get to speak to everyone or spend time with them. Don't feel guilty about that. And then make sure the day is about you and your partner-to-be. Try your best not to get sucked into what others want for your day and avoid getting caught up in the stress of it all. Your wedding day is a significant aspect to the start of your married lives together. It's supposed to be exciting and fun. Everything will go smoothly and what doesn't, you won't notice as long as you surround yourself with your favourite people.
SERVICE PROVIDERS
Venue: The Oaks Estate | Catering: Annalize Buchanan | Photography: Susie Leblond | Co-ordination: Event Affairs | Flowers & décor: Fleur Le Cordeur | Stationery: Lara's Designs | Video: Ebert Steyn | Cake: Le Petit Four | Bride's dress: Charlotte Francina Designs | Hair & makeup: Yolande Du Toit | Bridesmaids' dresses: Charlotte Francina Designs | Hiring: urbantonic + Tablecloth Hiring | Marquee: Freeform Tents | Dancefloor & lighting: Solid Events | DJ: DJ King Louie | Entertainment: Campbell Colledge