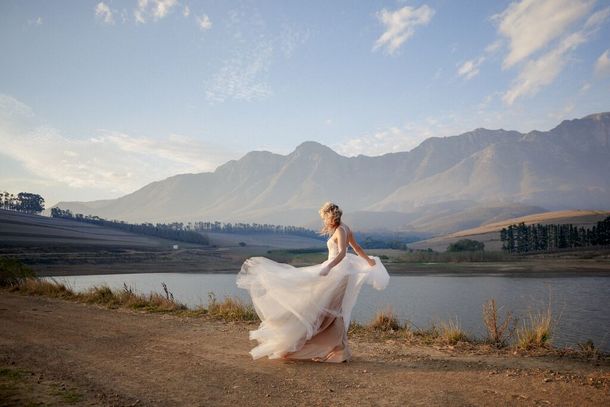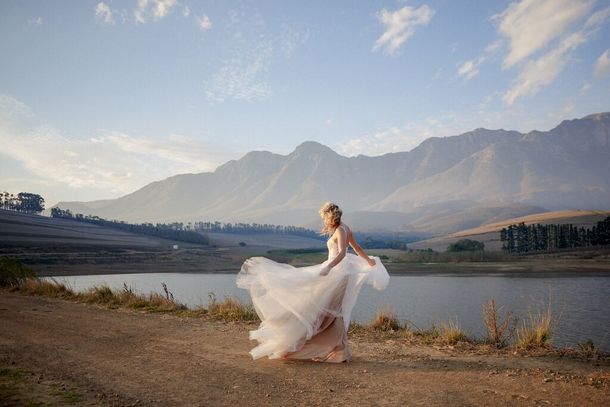 I know I say it all the time, but when you let your personalities shine through every detail and facet of your wedding, just as this pair of lovebirds so gracefully did, you'll end up with a celebration as memorable as it is fun. Think rustic wooden tables laden with boxed arrangements of country flowers, lavender seed favours and gelato instead of cake, the bride in a seriously dreamy Watters gown, and photographer Jani B. floating about turning every so-good-you'll-remember-it-forever moment into beautiful images. Sounds pretty much perfect to me.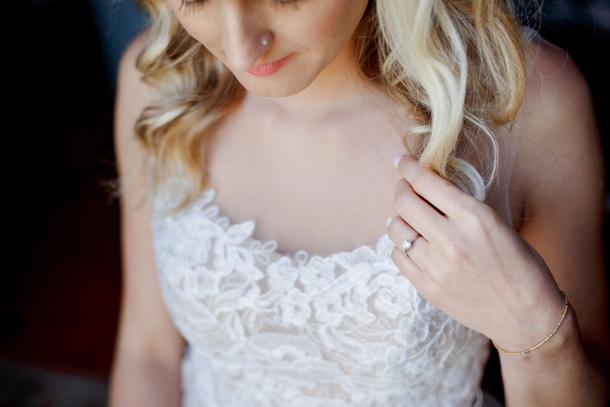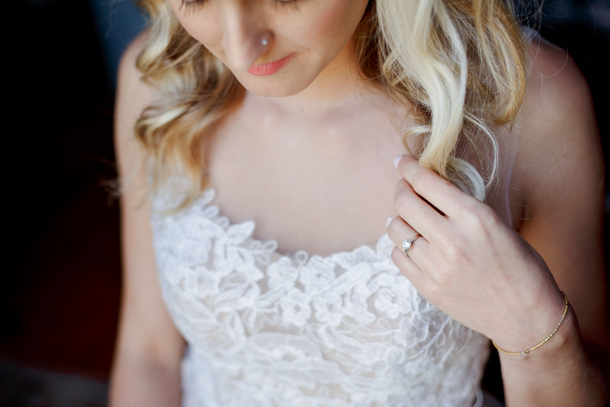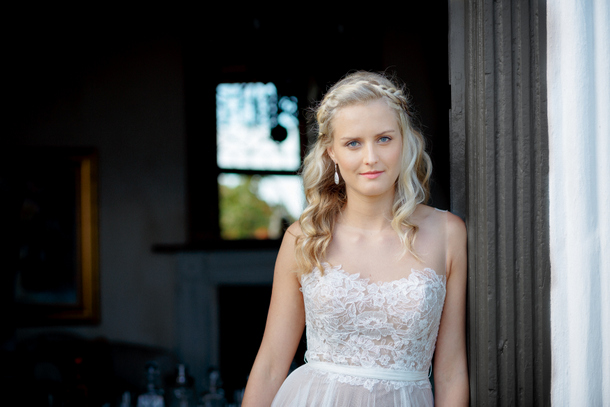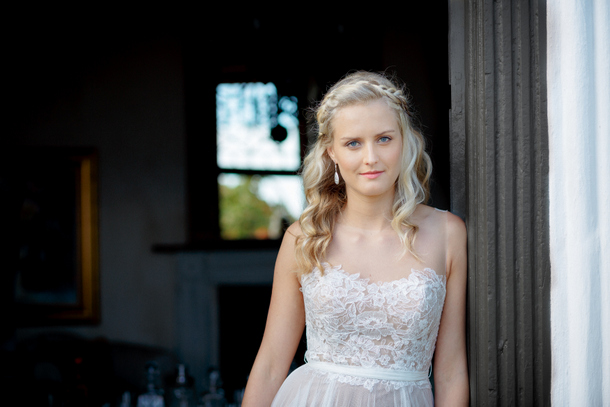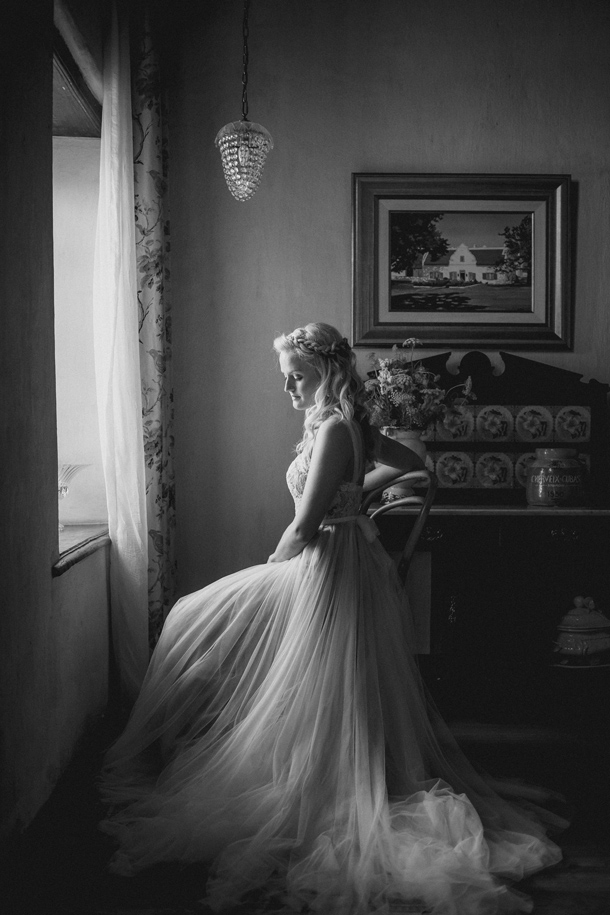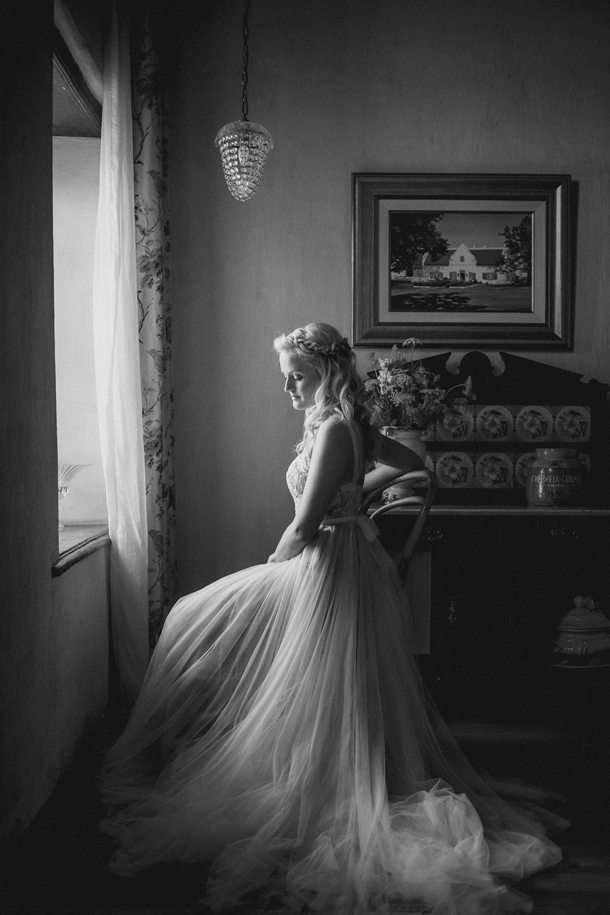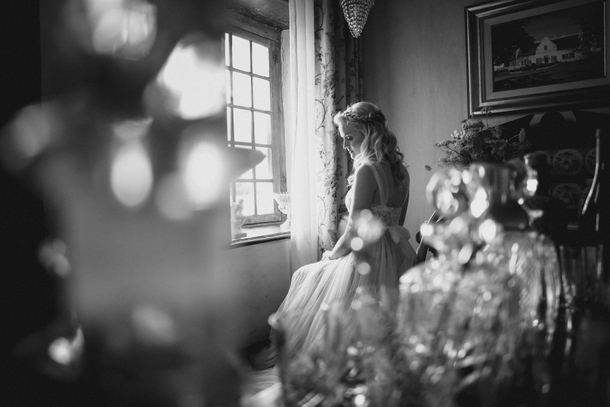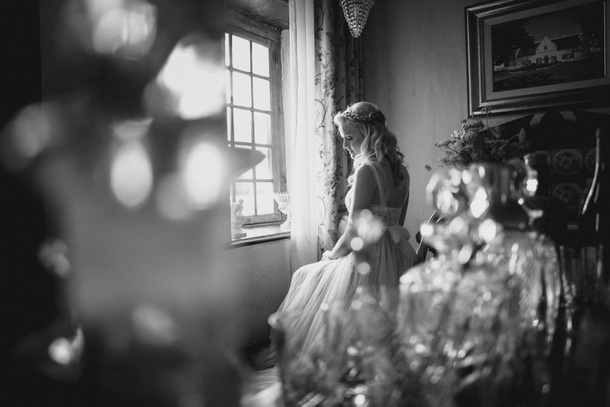 Love Story
Our story is quite interesting. We both studied at Tukkies and he was friends with a lot of the girls in my residence, yet somehow our paths never crossed. A couple of years later he moved to the UK and I followed a few years after that. I went to a snowboarding festival in Austria and started chatting to a guy (and was told by this rude South African, who turned out to be Chris, that the guy I was talking to was married). Here our paths crossed the first time but the time was not right just yet. A few months after that I was at a gig in London and saw this guy in bright blue skinny jeans and just knew he was someone I'd like to get to know. We started dating a few months after the gig. (After a few weeks we realised that he was the guy at the snowboarding festival as he was in the background of one of my photos!) 
The Proposal
We were in Cinque Terre in Italy (Italy is one of our favourite places in the world). He had hired us a little private boat to sail along the five villages. As our boat approached the beautiful view of Vernazza he went down on one knee and told me that he'd like to experience many more adventures with me as his wife.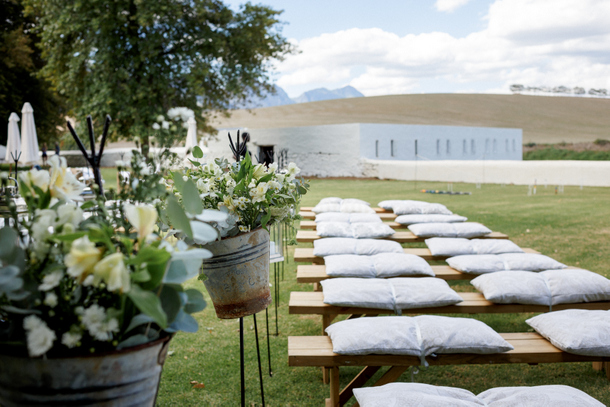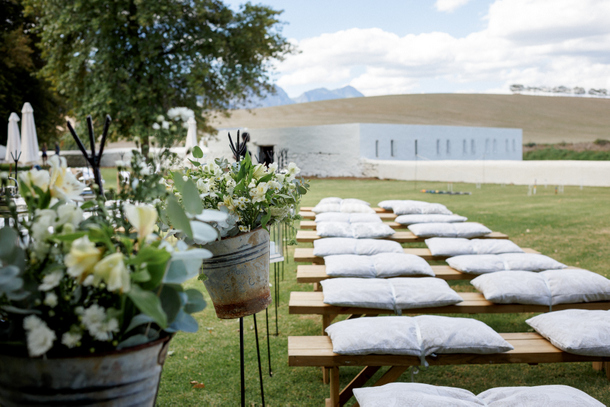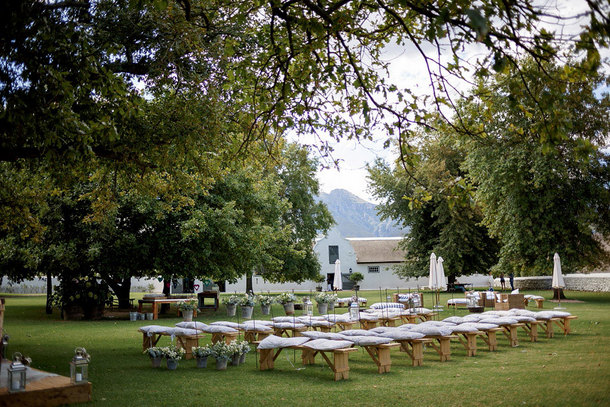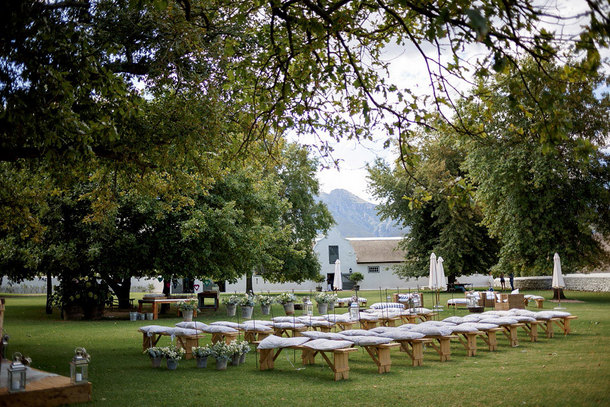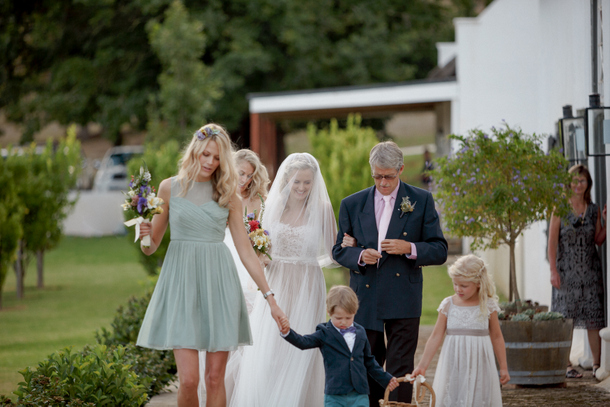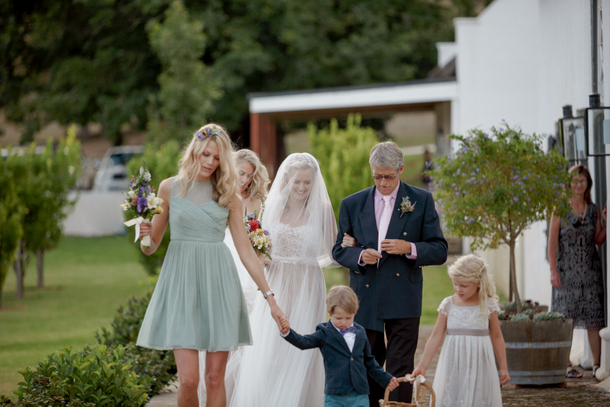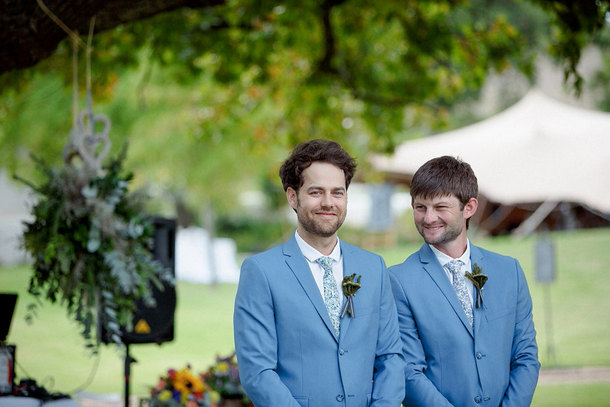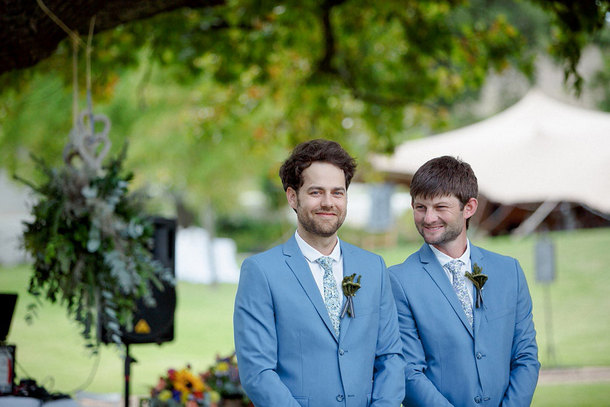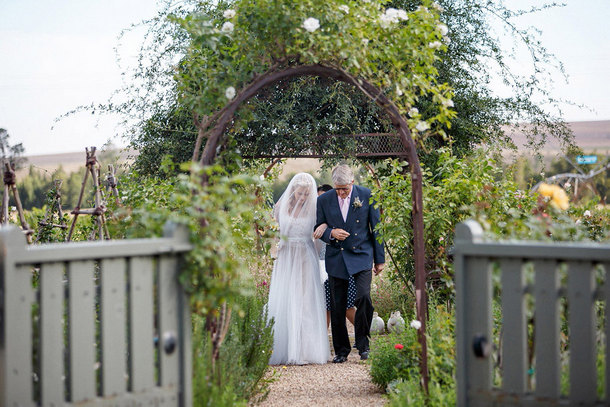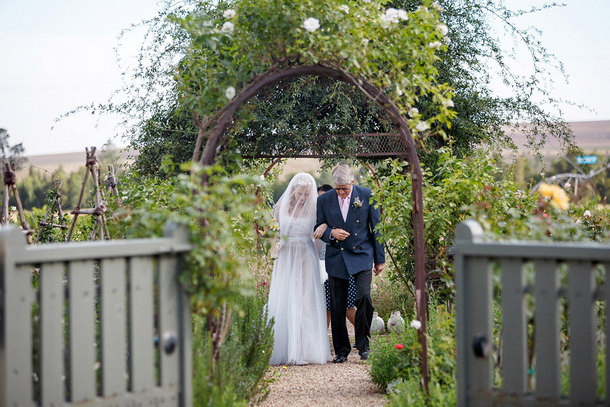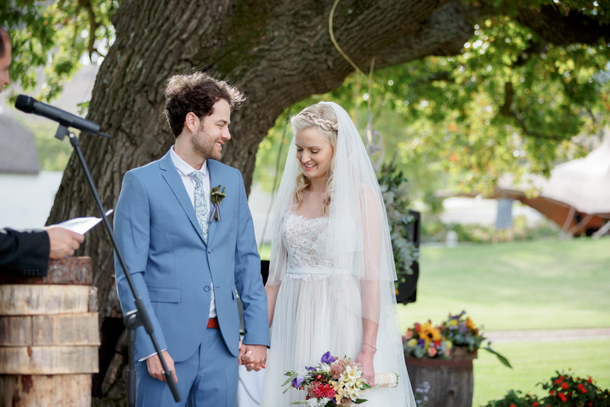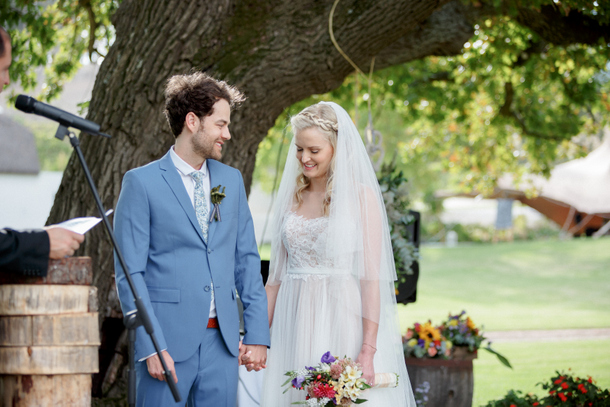 The Venue
As we live in London this was very tricky. We did some online searches and made a list of places that had the capacity to do an outdoor wedding and sent my dad on his way. He narrowed the list down to thre places, but said that there was one (The Oaks Estate) that was 'something quite special'. All we could do was put our trust in him – luckily he was right. 
Wedding Style
We were going for a very 'earthy' feel but wanted to add some colour by having really colourful flowers. I initially found a lovely dusty lavender ribbon which I somehow wanted to incorporate and the colour palette grew from there. I also wanted to steer away from the traditional idea that all the bridesmaids have to wear the same colour or shade. All the colours were very soft except the flowers which were supposed to be the visual 'pop'.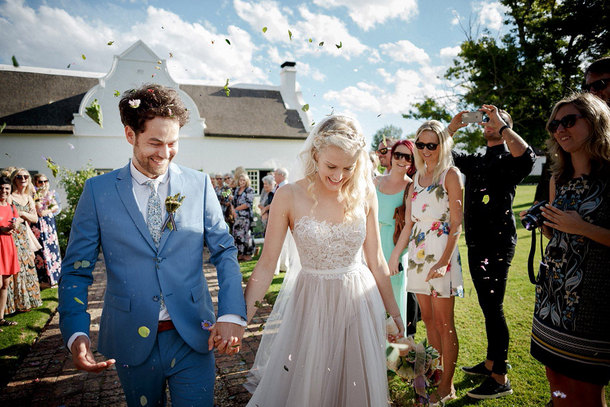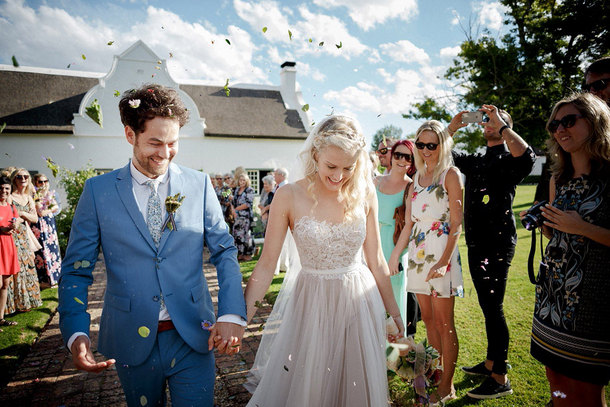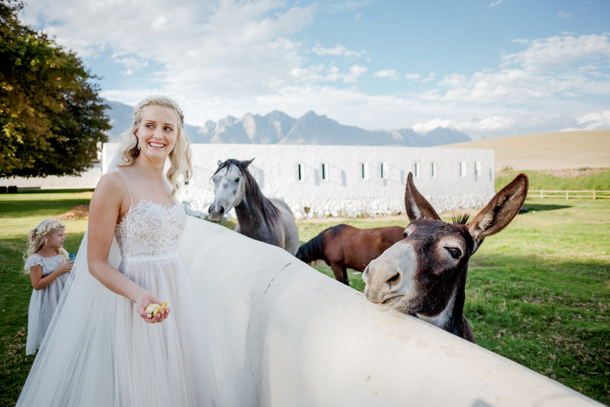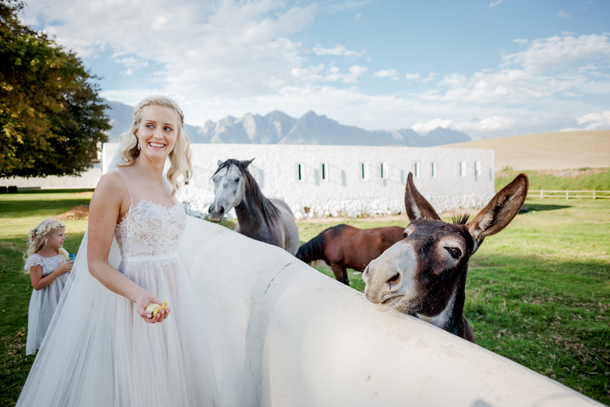 Wedding Details
We both love gelato (me probably more than Chris) and just knew that there was no other option but to have an ice cream stand with cones for dessert at the wedding. We share a very big love for travelling and had printed out polaroids of all of our adventures which we hung along the back of the bar. We both also love nature, gardening, etc., and therefore had lavender seeds as wedding favours.
Budget & DIY Elements
Chris' sister helped create our 'Fun Boxes' which included disposable cameras, small props for photos, sparklers and a little wedding wishes note where guests had to write how they knew the bride and groom, wishes for the couple and a few other fun questions. His mother also sourced the material for and made the table runners. We used some of our own photoframes and candlesticks for décor to save some money. Other things we did to save some money were making the name cards ourselves by writing the names on kraft paper luggage tags with calligraphy and painting a board with chalkboard paint to create the table seating plan.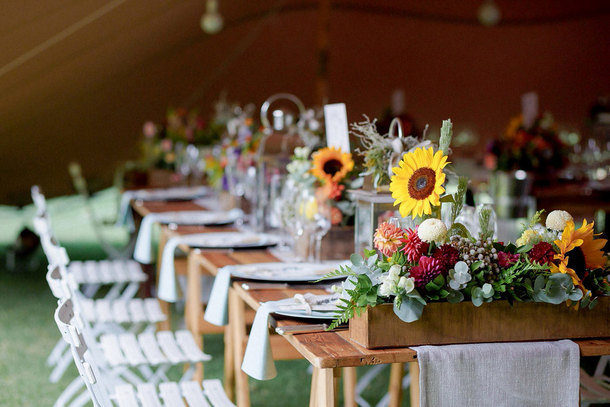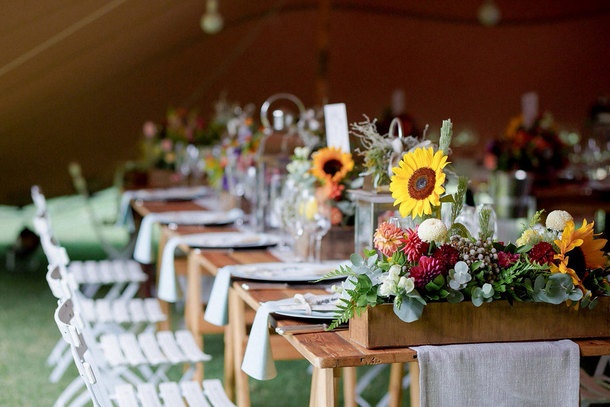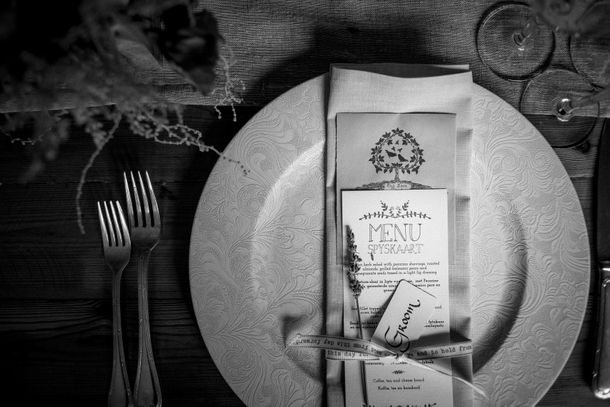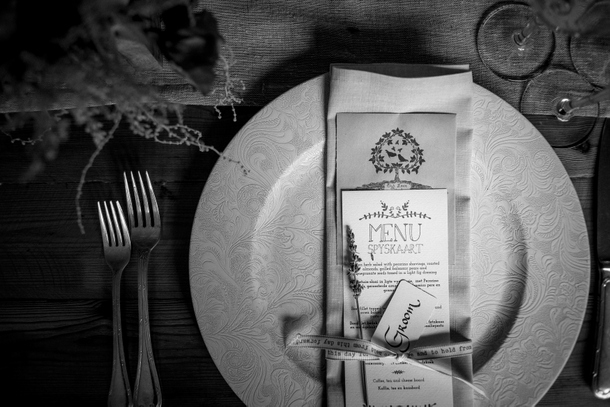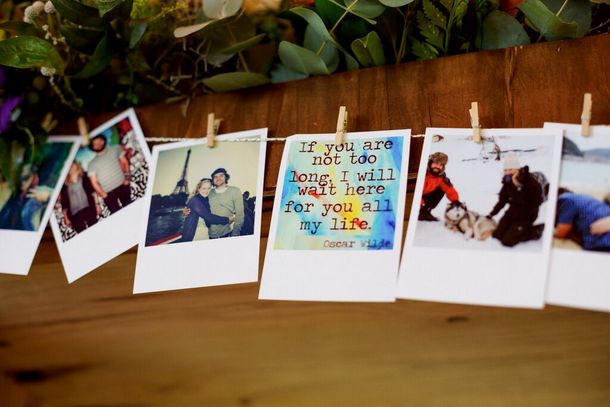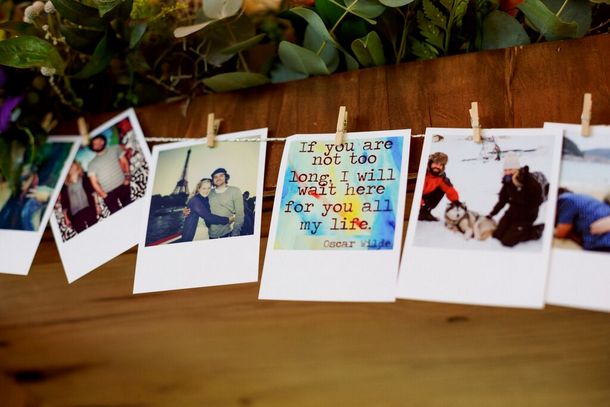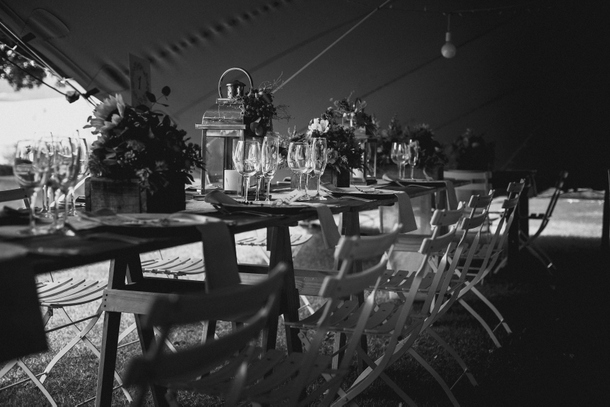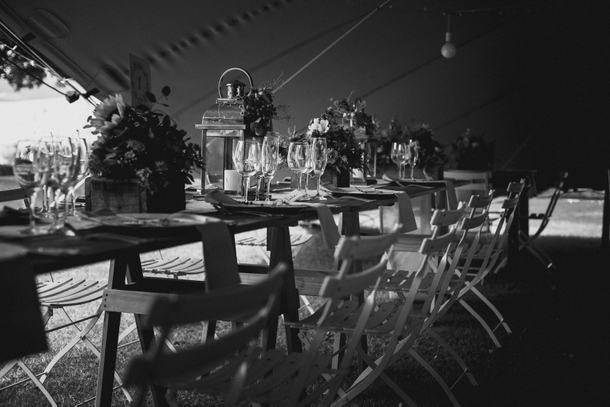 The Flowers
We were going for a very 'earthy' feel but wanted to add some colour by having really colourful flowers. The idea was supposed to be that they just got picked in a field or garden. I didn't want anything to look 'uniform' but rather have a 'free', relaxed effect. 
The Dress
I started with a Pinterest board for inspiration. I knew I wanted something boheme/ethereal. I ended up going to a few different wedding gown boutiques and found a designer whose dresses I seemed to really like so went online to look at the entire range and found 'the dress'. One of the boutiques was receiving that dress for the showroom in the next few weeks and as soon as it arrived I tried it on and was sold immediately. It wasn't too heavy, had unique lace detail and the nude undergarment had an amazing effect.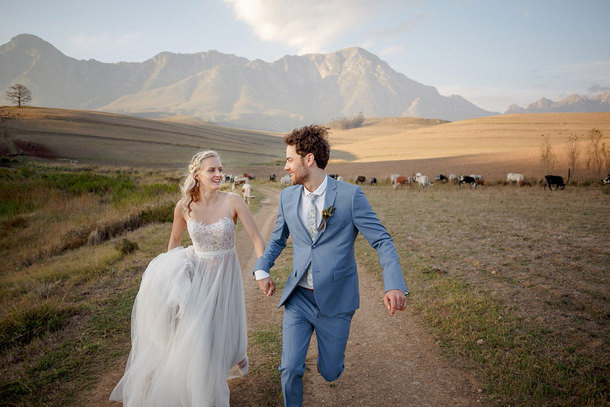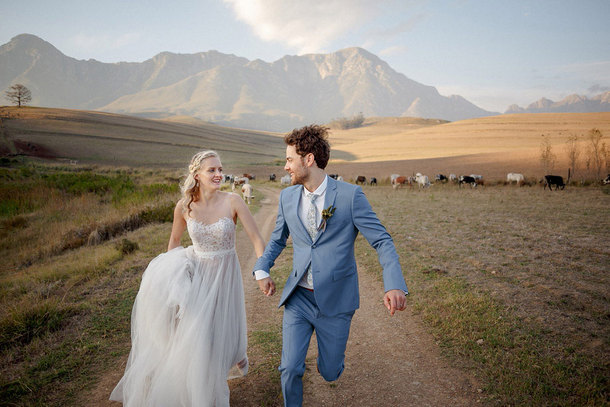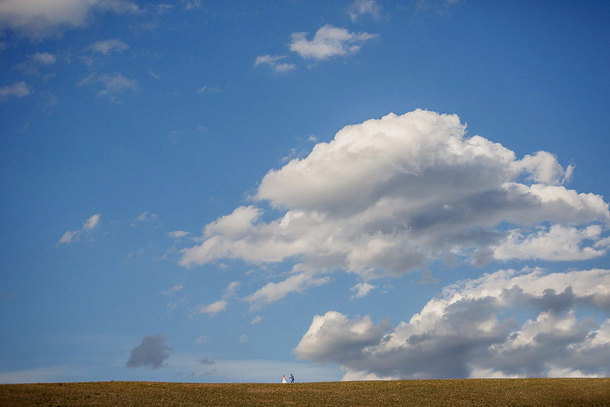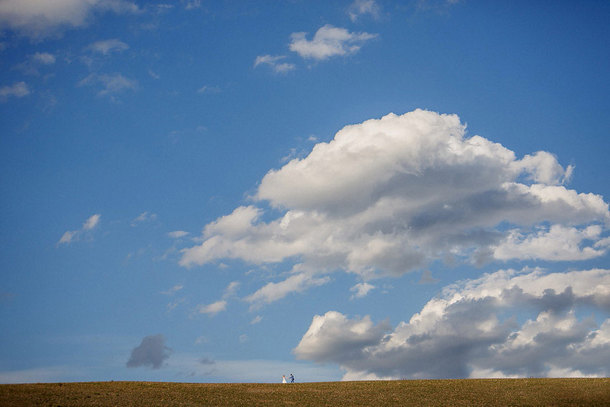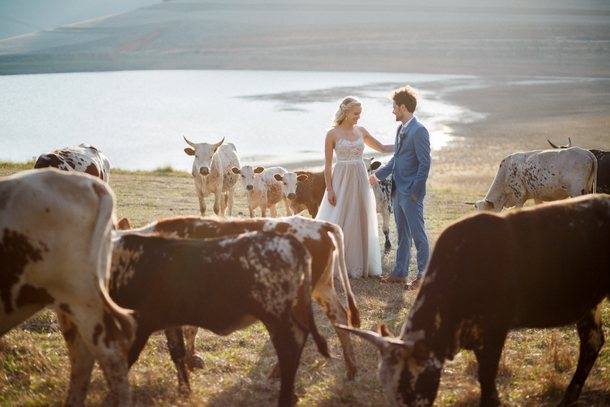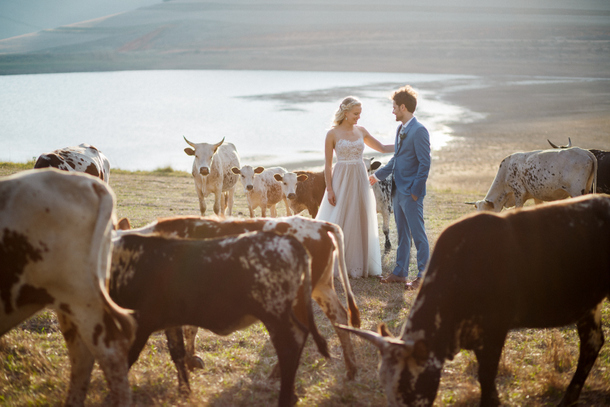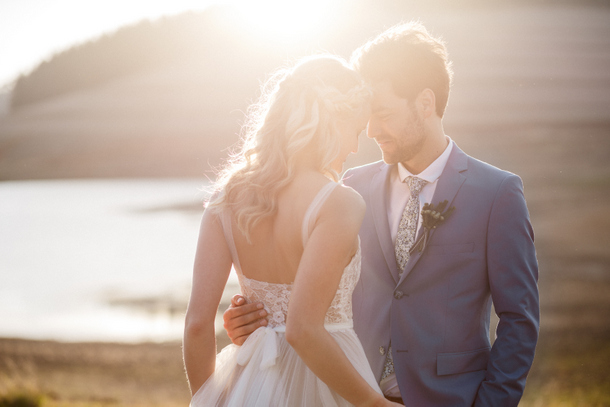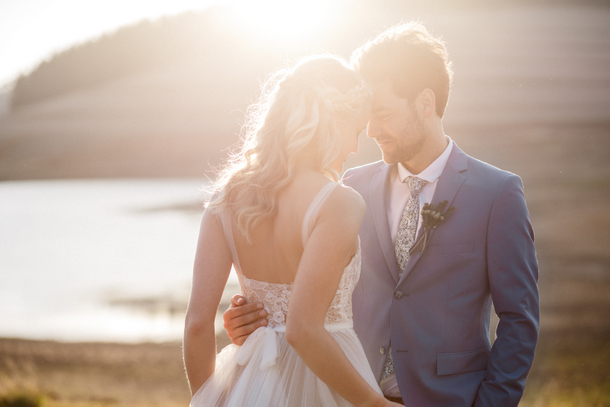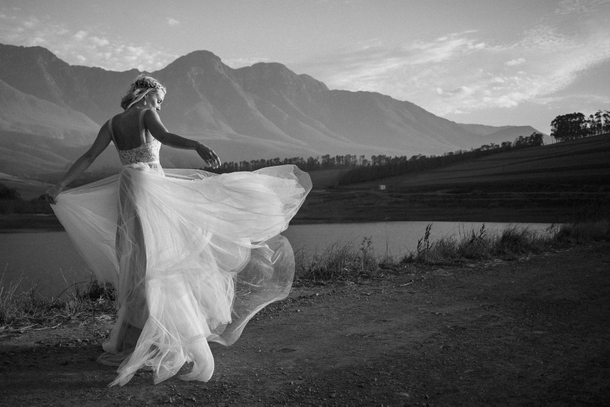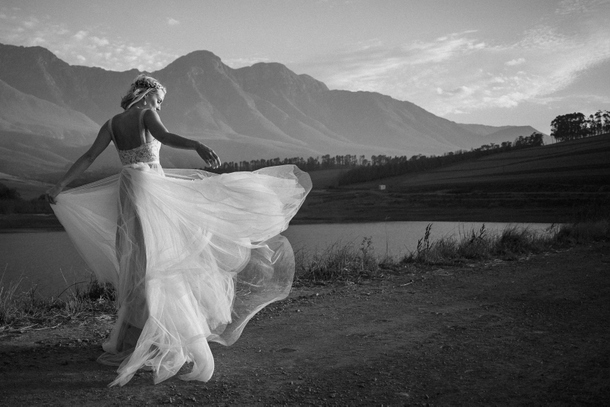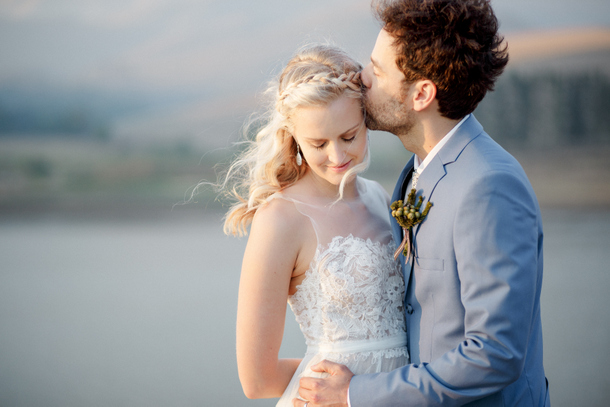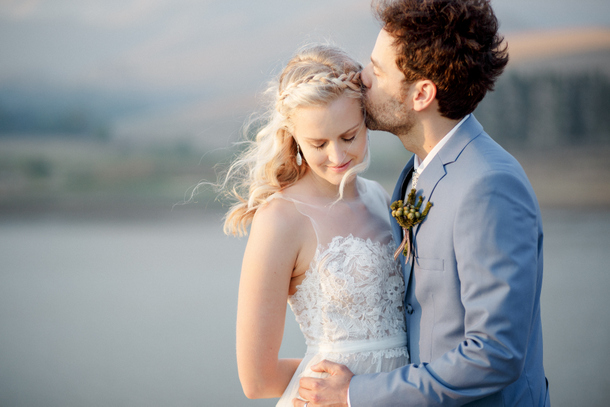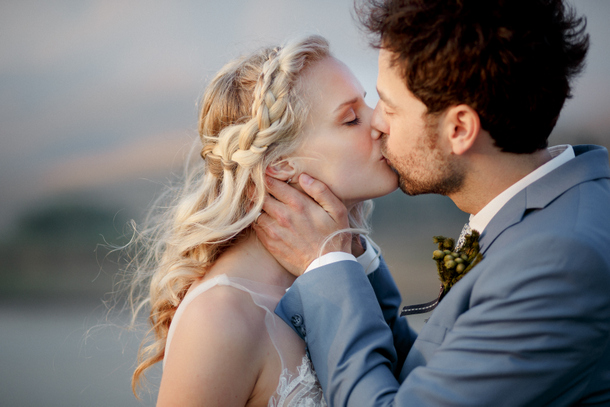 Most Memorable Moments
There were so many, but a few that come to mind… Just before walking 'down the aisle' the rush of adrenaline that I experienced was something quite unique. I knew that this would be the first and last time that I would ever experience this special moment and was quite overwhelmed by it.
Chris's speech. I never knew he was such a good public speaker and I just fell in love with him all over again.
Another thing that was quite unplanned: we had just returned from our photoshoot and were in the manor house as everyone was already seated in the tent. The MC had announced our entrance which we were not aware of until we started hearing our song (The Scatterlings of Africa). At that point we started running outside, up the little grass hill to the sound of people stamping their feet and cheering us on (as we had obviously kept them waiting). It was completely unplanned but such a cool welcome into the tent.
Proudly South African Details
As we live in London and had quite a few guests from all over the world we wanted to be sure to have some typical South African elements. The Oaks has a small wine cellar and offered wine tastings after the ceremony (before the reception) which is something we feel epitomises the Cape (good wine). We also had 'rooster broodjies' as part of the canapes and had Amarula flavoured gelato for dessert. Our song that we came into the reception on was 'Scatterlings of Africa'.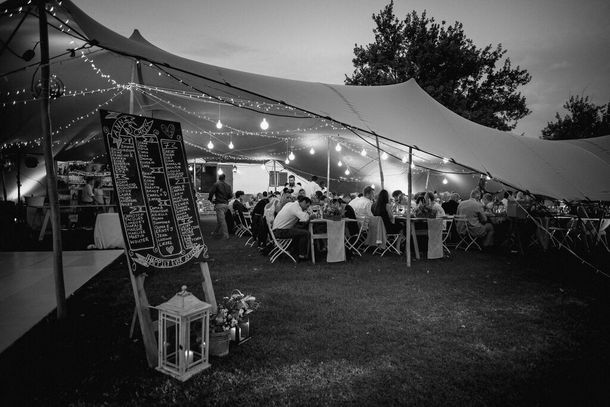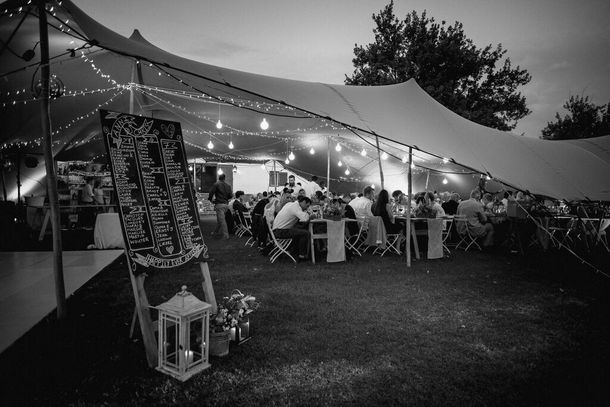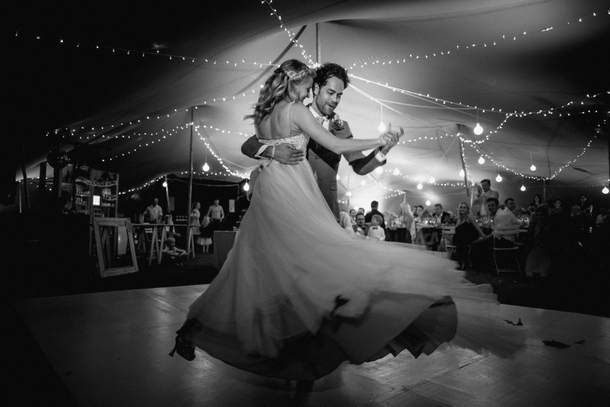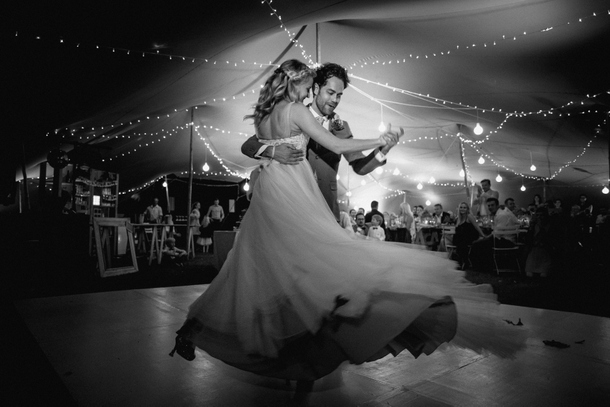 The Honeymoon
We went to the Maldives for seven nights. It was a complete surprise (although I had hinted at wanting to go there since getting engaged). Chris didn't even allow me to check myself in at the airport. We caught a connecting flight in Dubai so he first made me believe we were going there once on the flight. It was truly a paradise. 
Advice for Future Brides & Grooms
One of the things I found most special about our wedding was that it was very personal as it wasn't too big. Eighty people was just enough to make sure it feels like an intimate party rather than a large gathering. Be sure to keep the size of space, amount of guests and the atmosphere you want to create in mind. Also – be sure to budget for enough flowers. A lack of flowers can very easily make a wedding look 'empty'. If you need to save money save it on some of the other décor, but not the flowers.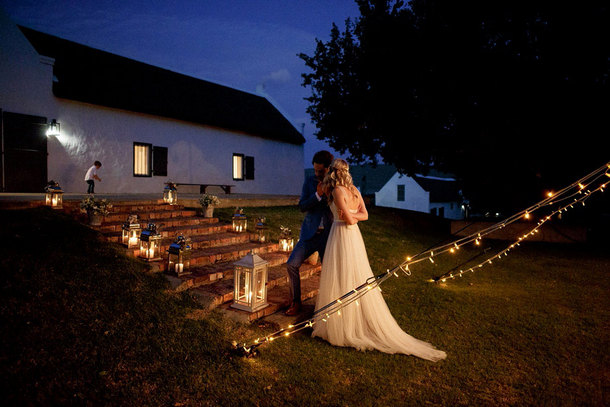 You can see more from this wedding on Jani B's blog.
SERVICE PROVIDERS
Venue, cake, flowers & decor: The Oaks Estate | Catering: Herman & Phillipus for 254 Catering | 
Photography: Jani B | Stationery: Mareli du Toit for Troufees | Bride's dress: Watters (Love Marley Collection) | 
Bride's accessories: Dune London (shoes)
 | Hair & makeup: Ané Kossatz Makeup Artistry | 
Bridesmaids' dresses: J Crew | 
Groom's attire: Top Shop (suit), Mrs Bowtie (tie)
 | DJ: Capricorn Music