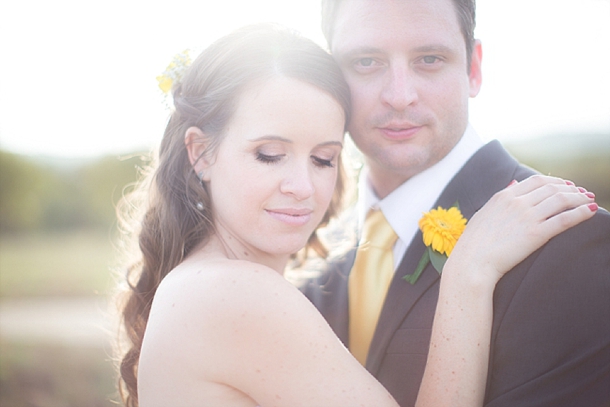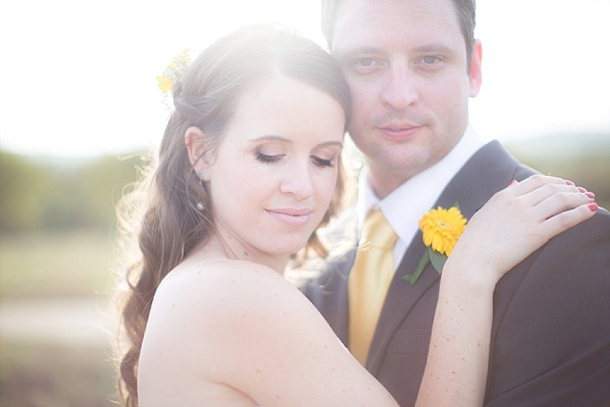 Roses are red, violets are blue, and sunflowers… well, sunflowers are the colour of happiness. They always remind me of my days at university, when us girls would often buy a single sunflower stem for a friend, or just to make our own day. They also remind me of the fields of sunflowers I've seen from the window of a train rolling through the Tuscan countryside. Such happy memories! Like proteas, I love how a little goes a long way (even a single bloom makes a statement), and of course their relentlessly cheerful bright yellow. It goes perfectly with the gorgeous aqua/mint chosen by Carin and Darren for their rustic chic wedding with a chilled outdoor reception by a gorgeous river landscape, and photographed beautifully by Genevieve Fundaro.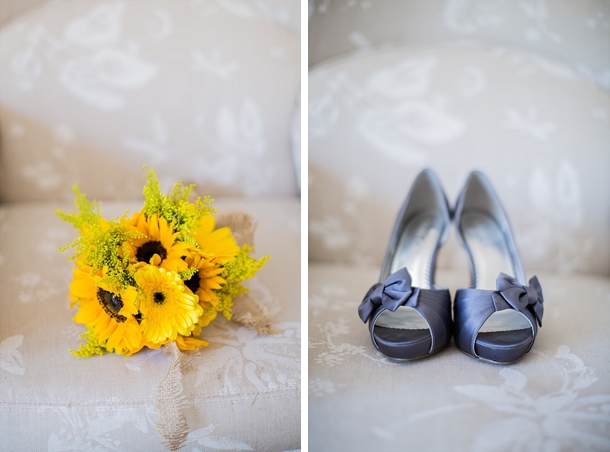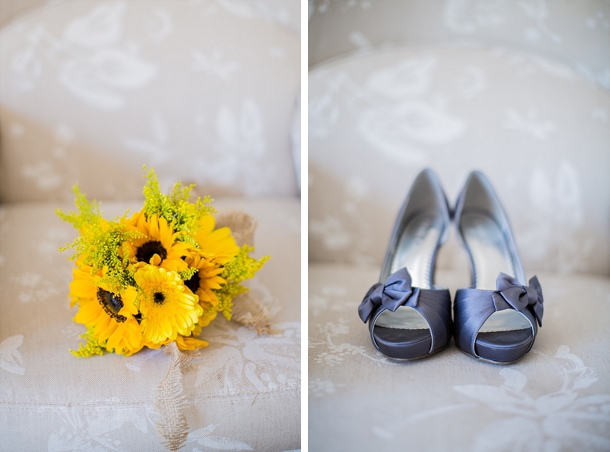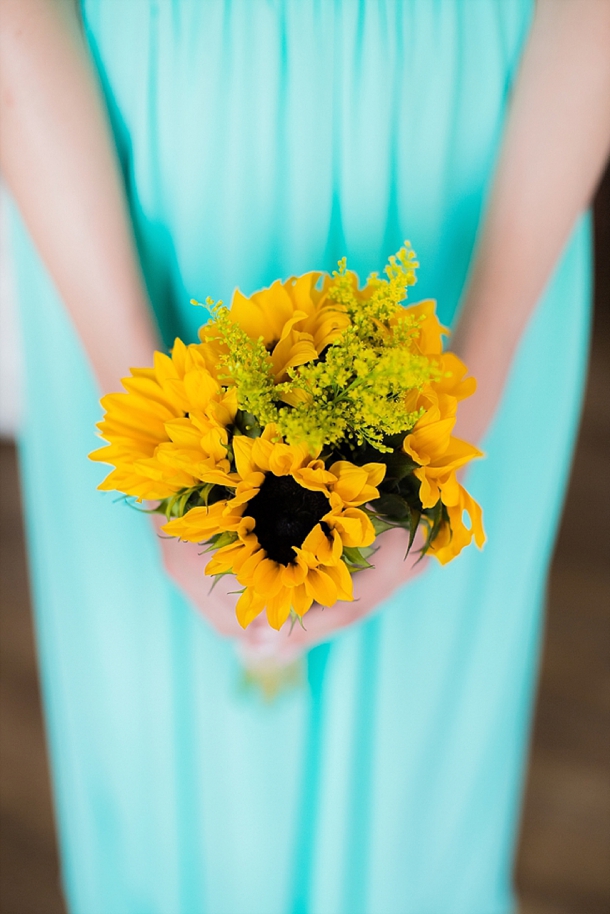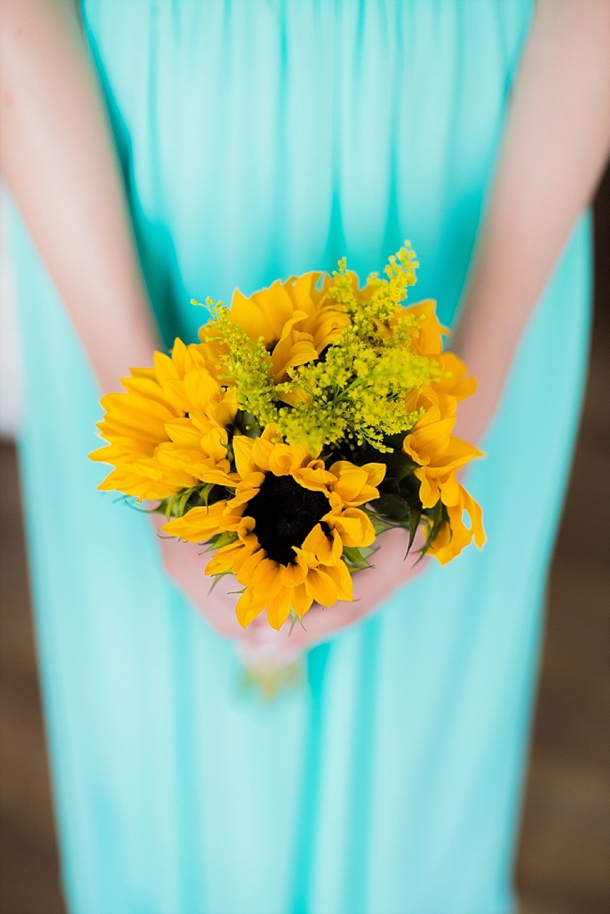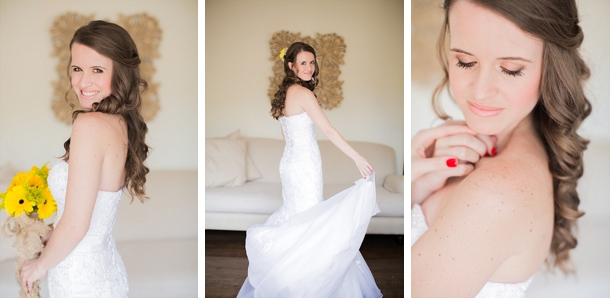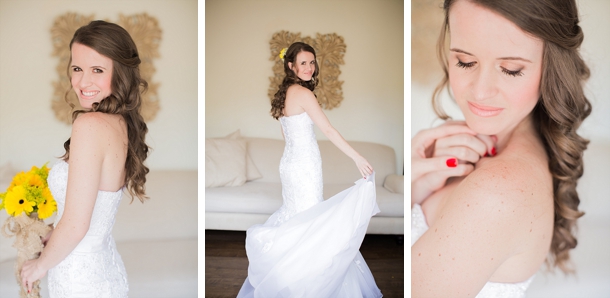 Love Story
We met through Darren's brother and a friend of ours. Our love story… Boy sees girl in tight jeans, girls sees boy playing with his dog (we're both big dog lovers) and the rest is history!
The Proposal
We had decided to go away to my parents' holiday home on Bronkhorstspruit dam to celebrate our five year anniversary (little did I know Darren had a little more planned for me than I thought). Darren cooked me a beautiful dinner and then it was time to open each other's presents. Darren had made me a beautiful album filled with 60 pictures which each gave a reason why he loves me. The last page in the album was a picture of him down on one knee. In perfect timing Darren got down on one knee and proposed. It was the most amazing day of my life.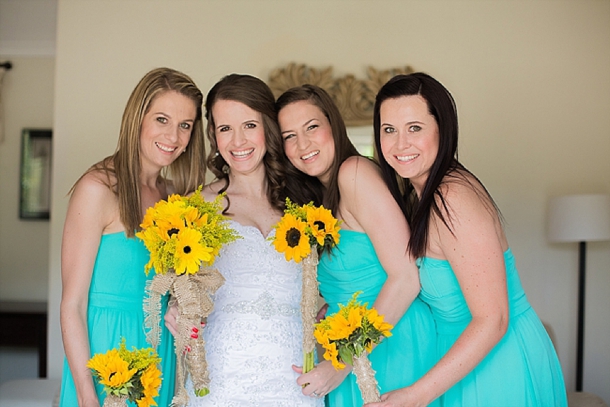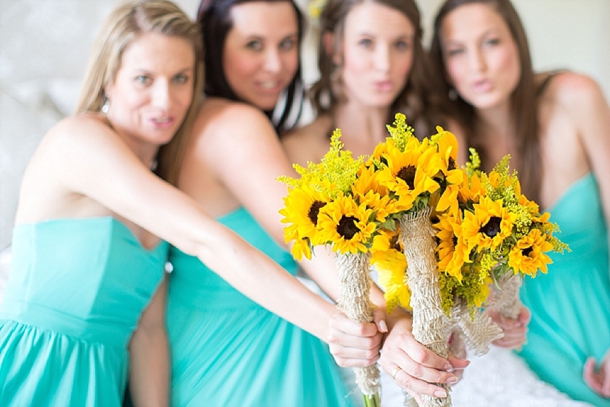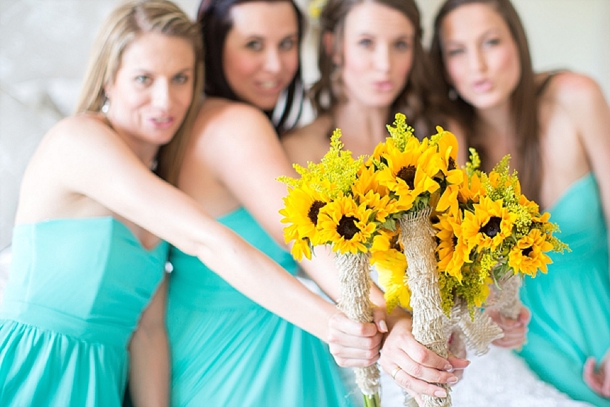 The Venue
We wanted a venue that had a natural beauty about it. On viewing River Place Country Estate we just knew it was the venue for us. With a river running through the property and the awesome green of the surrounding vegetation, it's so pretty it hurts. The venue has a large wooden deck that overlooks the venue which allows you and your guests to sit in amongst the beauty of it all.
Wedding Style
For our wedding style we knew that we wanted something natural and simple, but still beautiful. We decided to go for a quaint, café-style themed decor with green and yellow as our colour palette and this worked absolutely perfectly with the natural beauty of our stunning venue.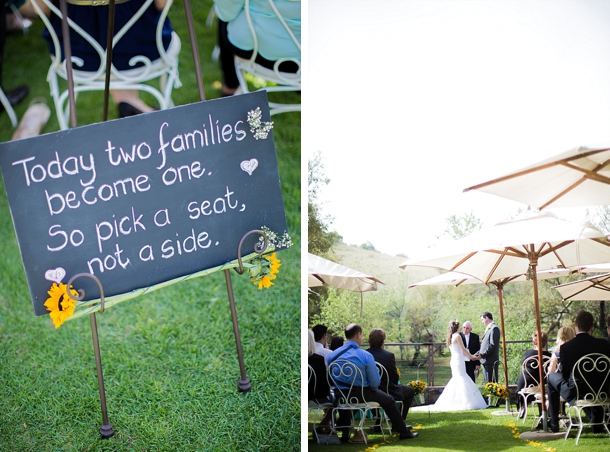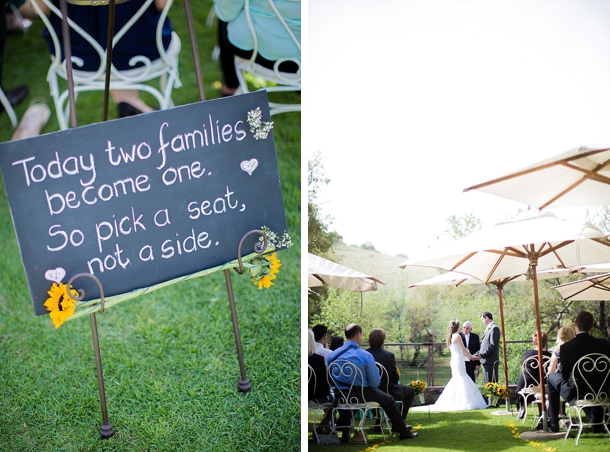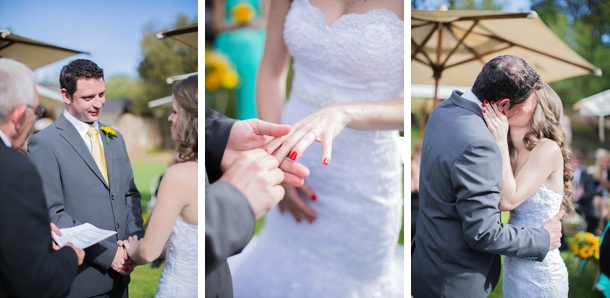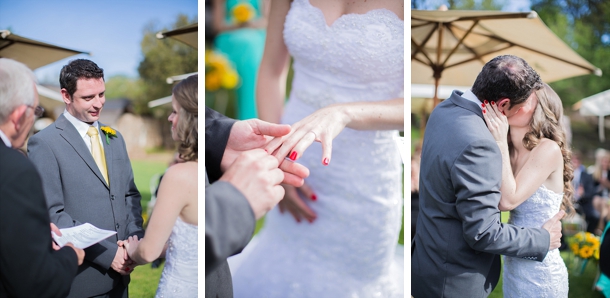 Wedding Details
The details of our day were all aspects that my husband and I love. For example, we had a frozen yoghurt machine with yummy toppings in place of dessert and a cake, because Darren and I absolutely love frozen yoghurt. We also had two different games that our guests could play during the pre-reception drinks, one being bowls which we often play during weekends at the dam, as well as an awesome nail game we learned during a skiing holiday in Austria. We didn't follow too many normal traditions, because we just wanted a relaxed day that was more 'us'.
DIY Elements
Due to the fact that we did have a budget, Darren and I, with the help of our families and bridal party, did all of the decor ourselves. This included some of the elements on the tables, as well as the stationery. Our decor was so simple, it made more sense to do it ourselves.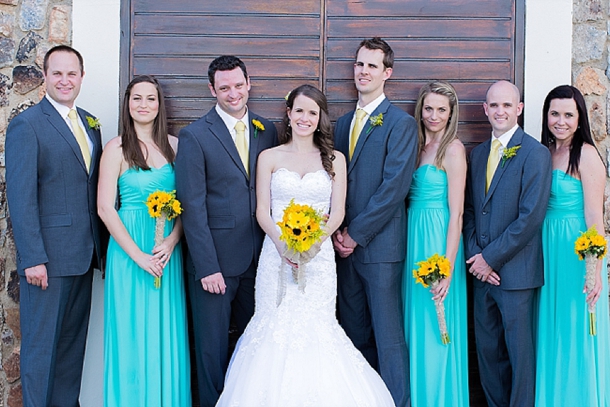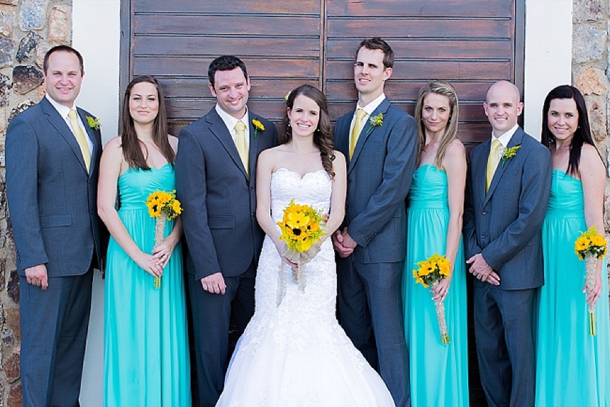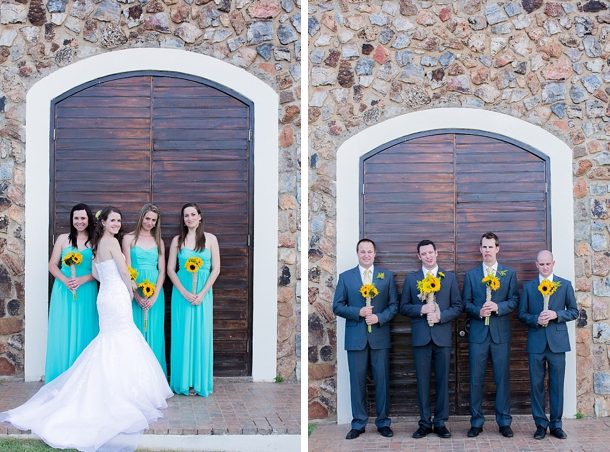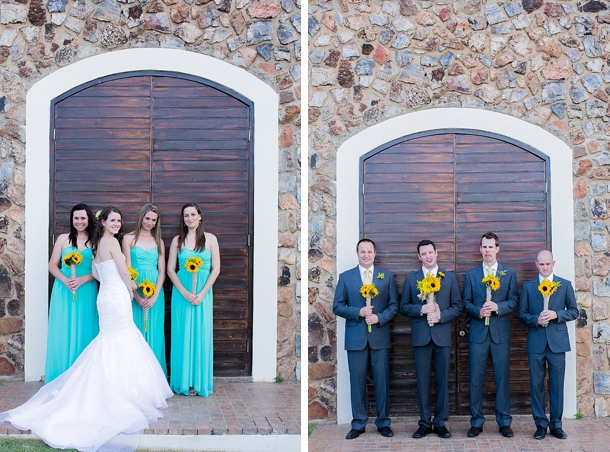 The Flowers
Gorgeous and dreamy! Our table arrangements and ceremony flowers overflowed with gorgeous sunflowers (my favourite flower). The colours were amazing and were enhanced by the natural beauty surrounding the venue. Jason's Flowers did a great job!
The Dress
My wedding gown was a stunning, tight fitting lace mermaid shape with a train. It had gorgeous pearl colour beading which catches the sun's rays (we got married outside so it looked very pretty). Darren and I had a strict budget that we wanted to stick to for our wedding, so I had done a lot of research (got to love Google) on different wedding boutiques. I finally came across Amber Rain in Benoni and when Susan pulled this dress, I just knew. It took my breath away, made me feel like a princess and was very affordable- what more could a bride ask for!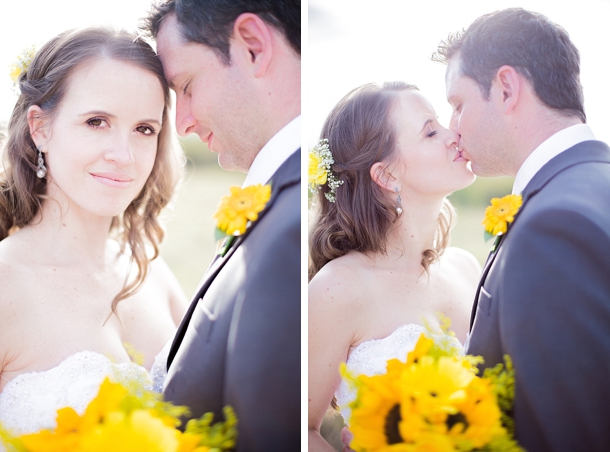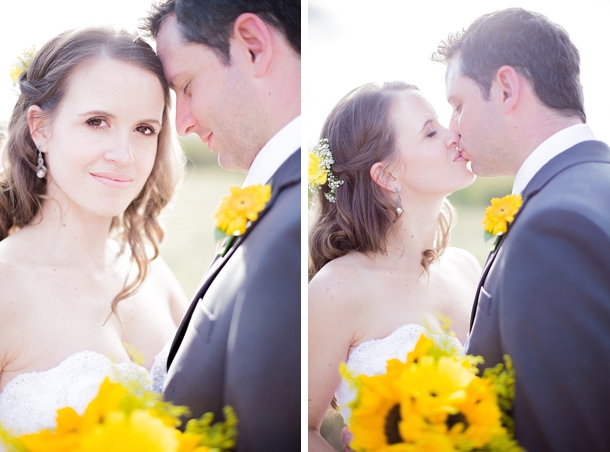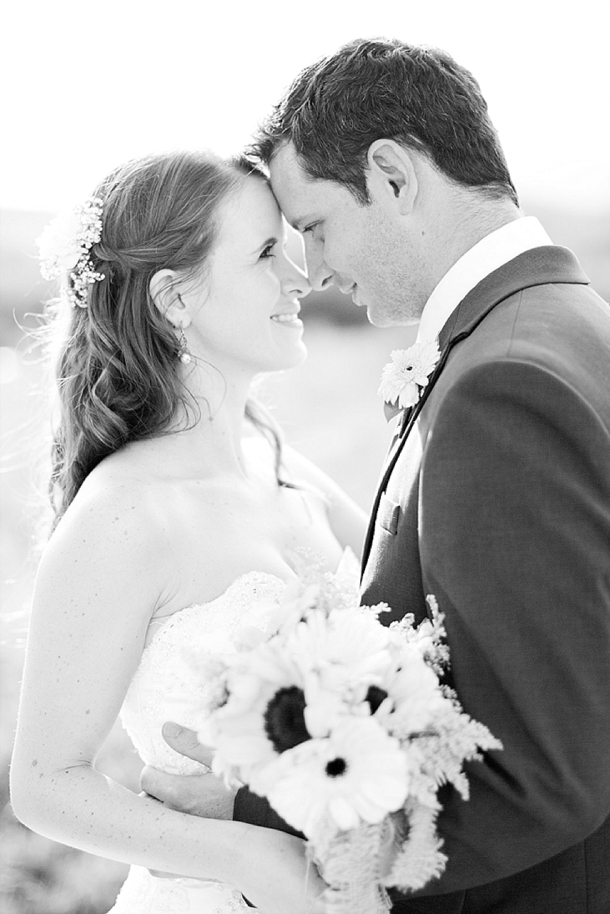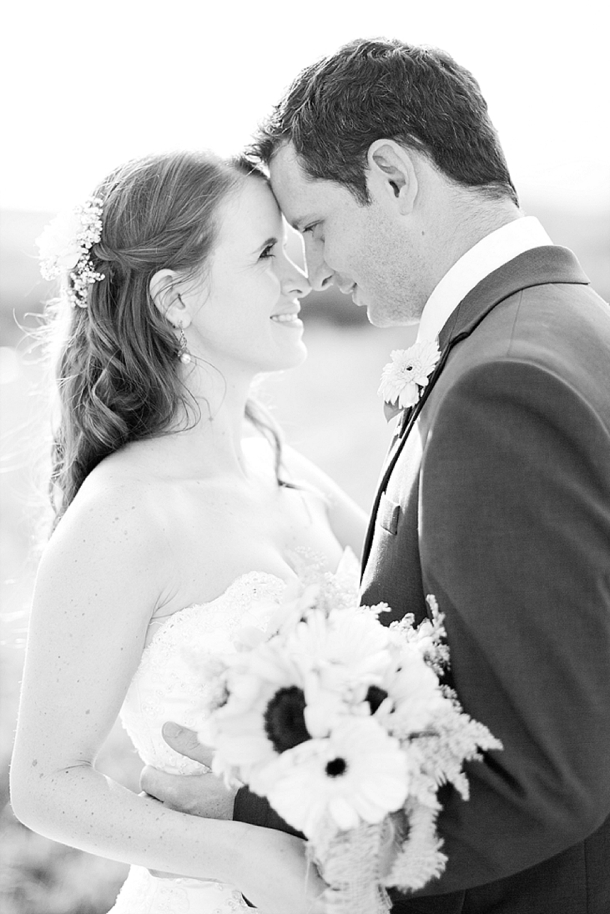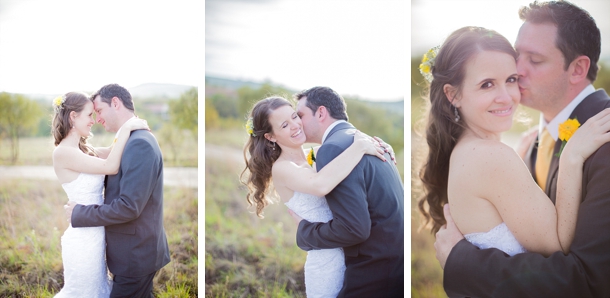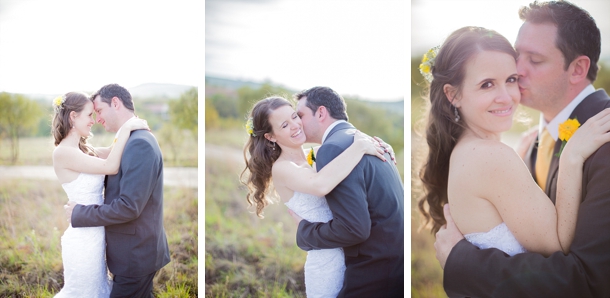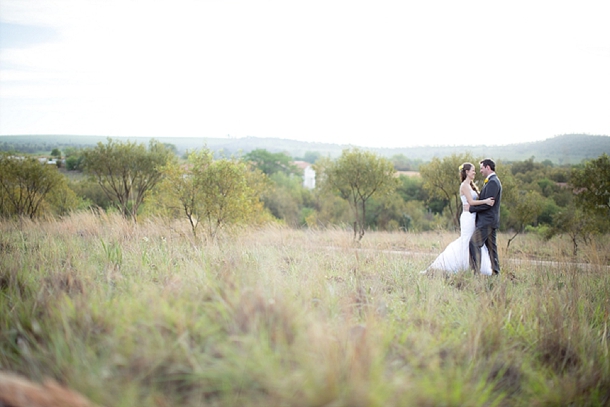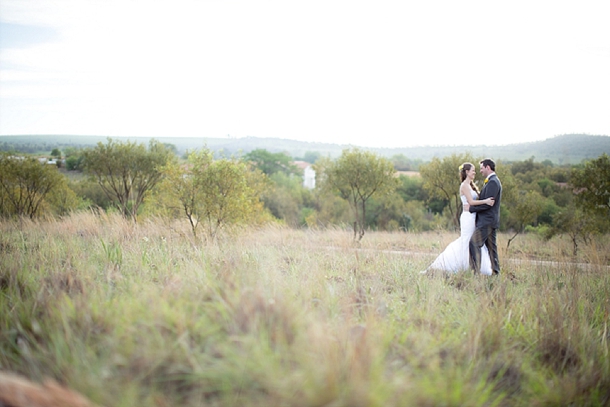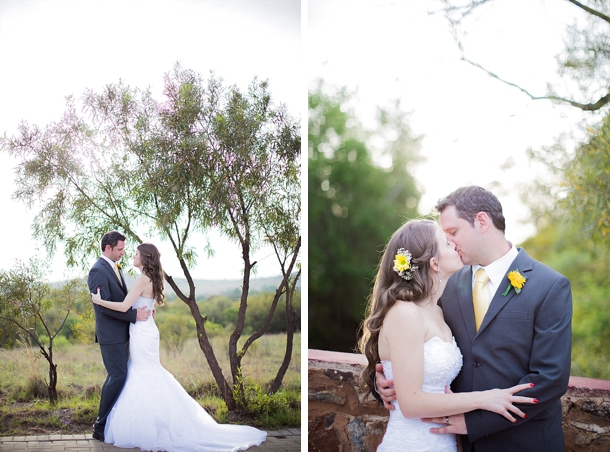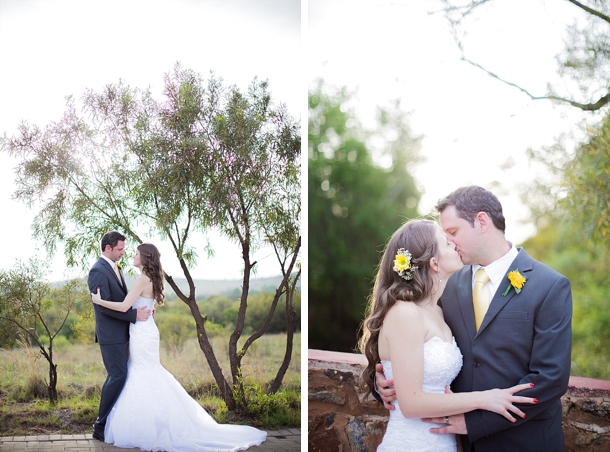 Memorable Moment
Wow, I think we have many favourite details of that day. But seeing each other as I walked down the aisle probably topped it all.
Proudly South African Details
We decided to give Rhino Force bracelets as our guests' gifts, donating the money to help fight against rhino poaching in Africa. We are both big animal lovers and this is a cause dear to our hearts.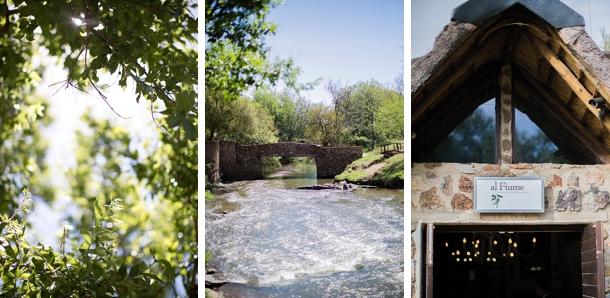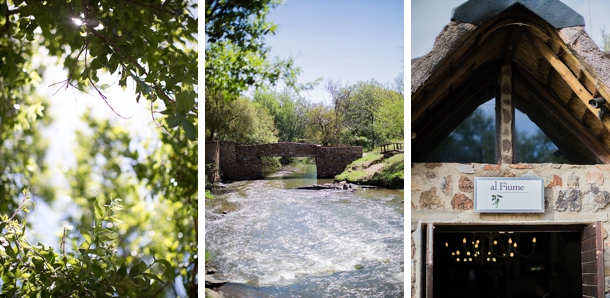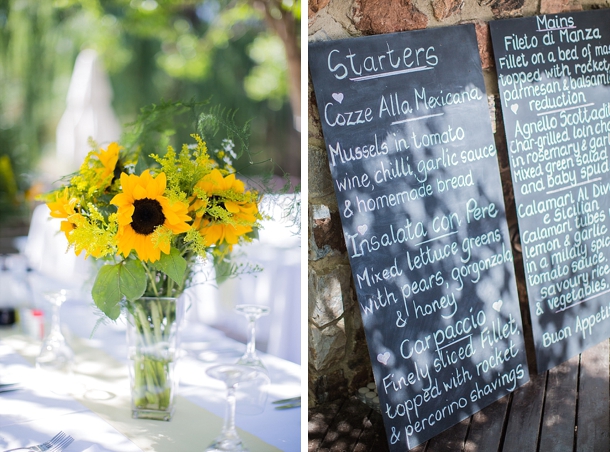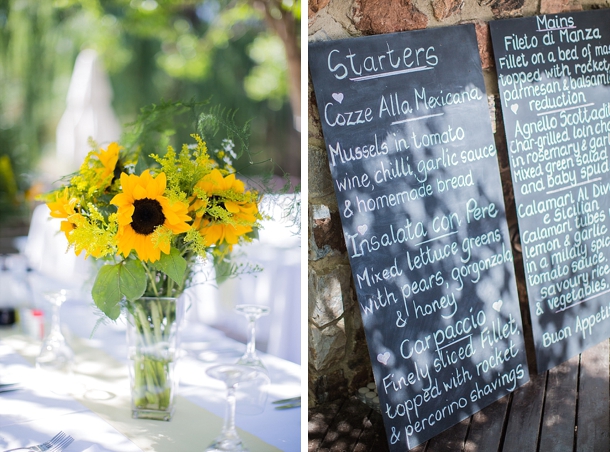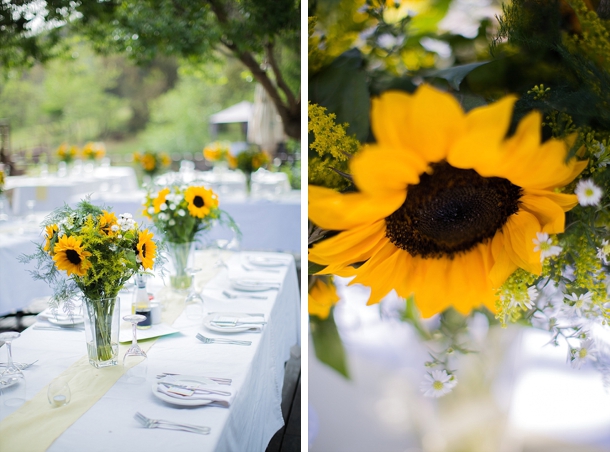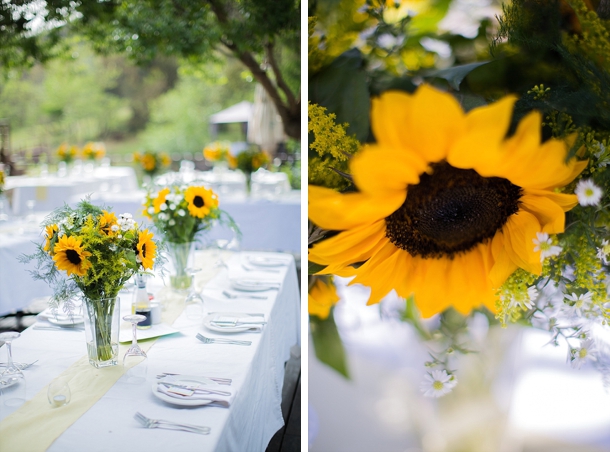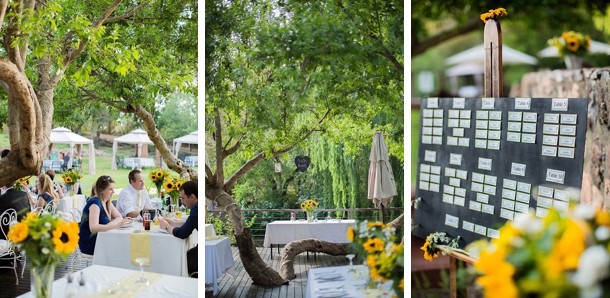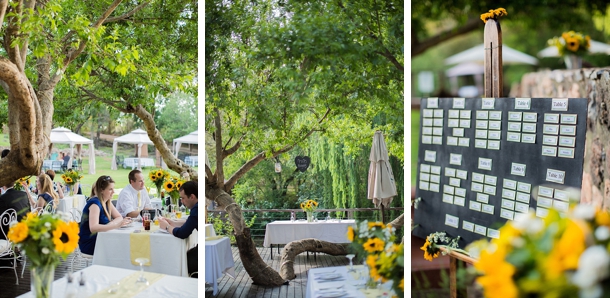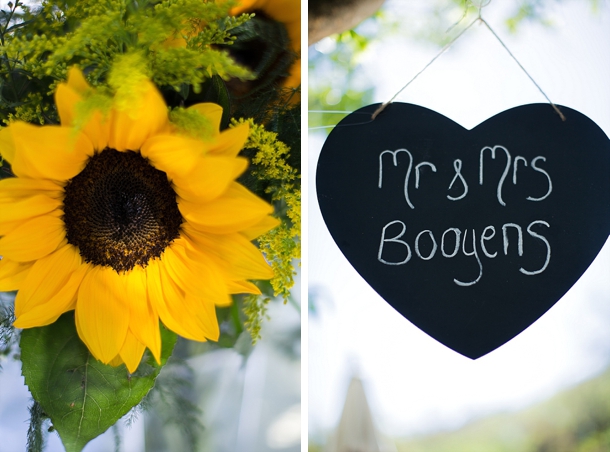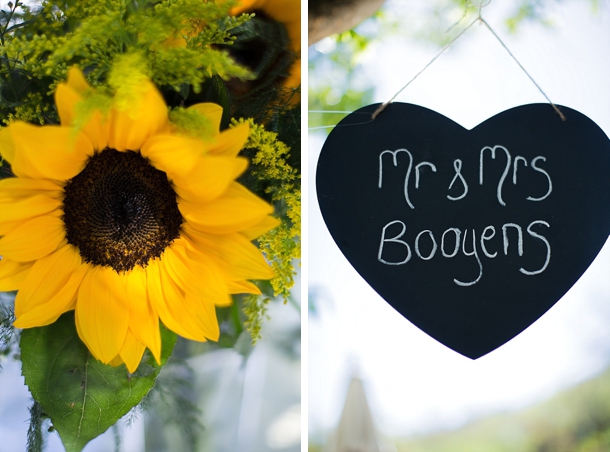 The Honeymoon
We went to Krabi, Thailand, for our honeymoon. It was absolute paradise. And then Darren surprised me with two nights in Cape Town when we got back. I am a lucky girl!
Advice for Future Brides & Grooms
Plan your wedding as a couple. We had lots of fun planning our wedding together. Make your wedding specific to you, it's your big day after all so if you don't want to throw the bouquet or the garter, don't. Planning a wedding can be stressful. Make sure to take some time together where you don't talk about wedding details at all.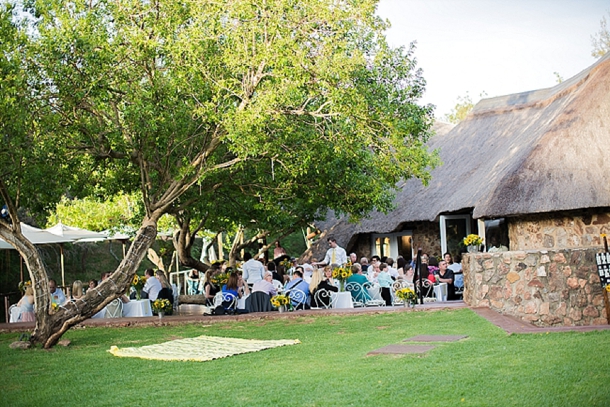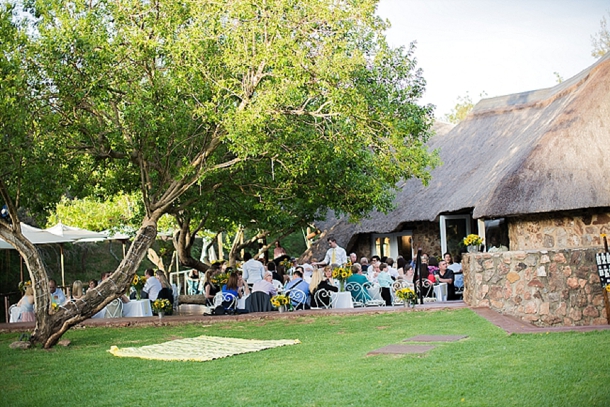 You can see more from this wedding on Genevieve Fundaro's blog. And if, like Carin, sunflowers are your favourites, check out her sunflower crown in their sweet engagement shoot!
SERVICE PROVIDERS
Venue & catering: River Place | Photography: Genevieve Fundaro Photography | Co-ordinator: Liesel Killian | Flowers & décor: Jason's Flowers at Multi Flora | Bride's dress: Amber Rain Bridal Studio | Hair: Tiffany Taylor | Makeup: Candi Makeup | Bridesmaids' dresses: YDE | Groom's attire: Oriental Plaza | DJ: Archie from Soundworx | Dance lessons: Charis at Kaliente Events