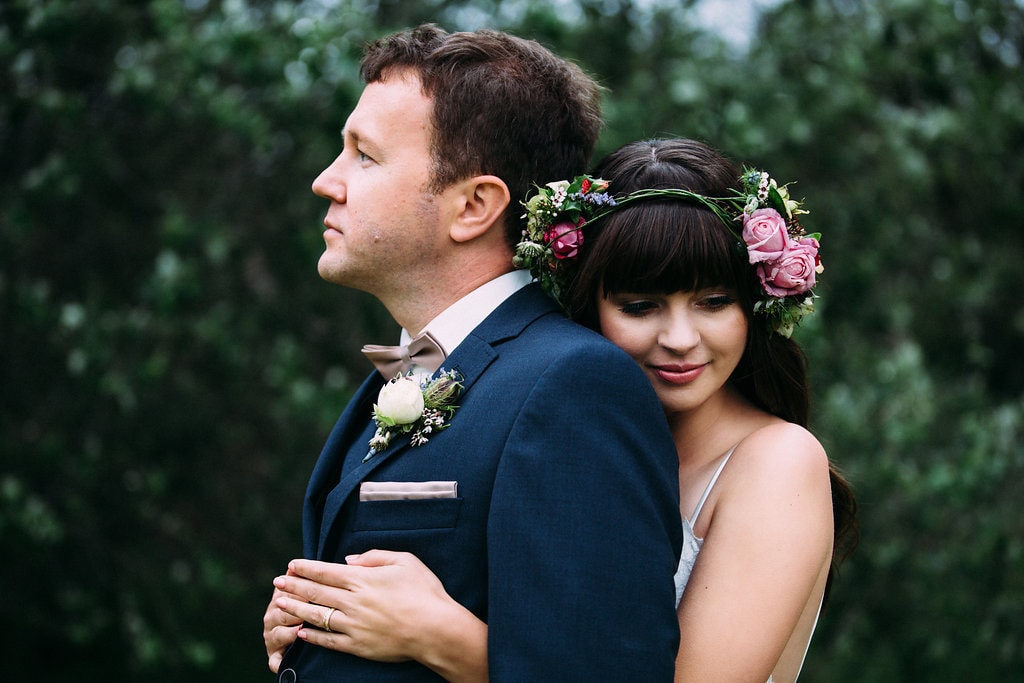 With the darling buds just showing their spring faces to this side of the world, sweethearts Erin and Julia made their way all the way from Switzerland to tie the knot on South African soil. And what a lovely wedding it was! Combining touches of their Swiss life with local traditions, it paid tribute to their different heritages and sweet personalities. The decor was pastel, rustic, a little vintage, and ever so pretty, and Julia herself was a natural knockout in her simple gown and floral headpiece. The flowers were soft and a little rambling, like they'd just been picked from a Swiss mountainside. I especially loved the little handmade touches – the cake baked by the groom's mom, the arch crafted by his father, and the couple's beautiful quilt. And here's something else I love – the story below is written by the groom, Erin. Always a pleasure to hear a groom's perspective! Kusjka du Plessis took these absolutely gorgeous pictures of the big day.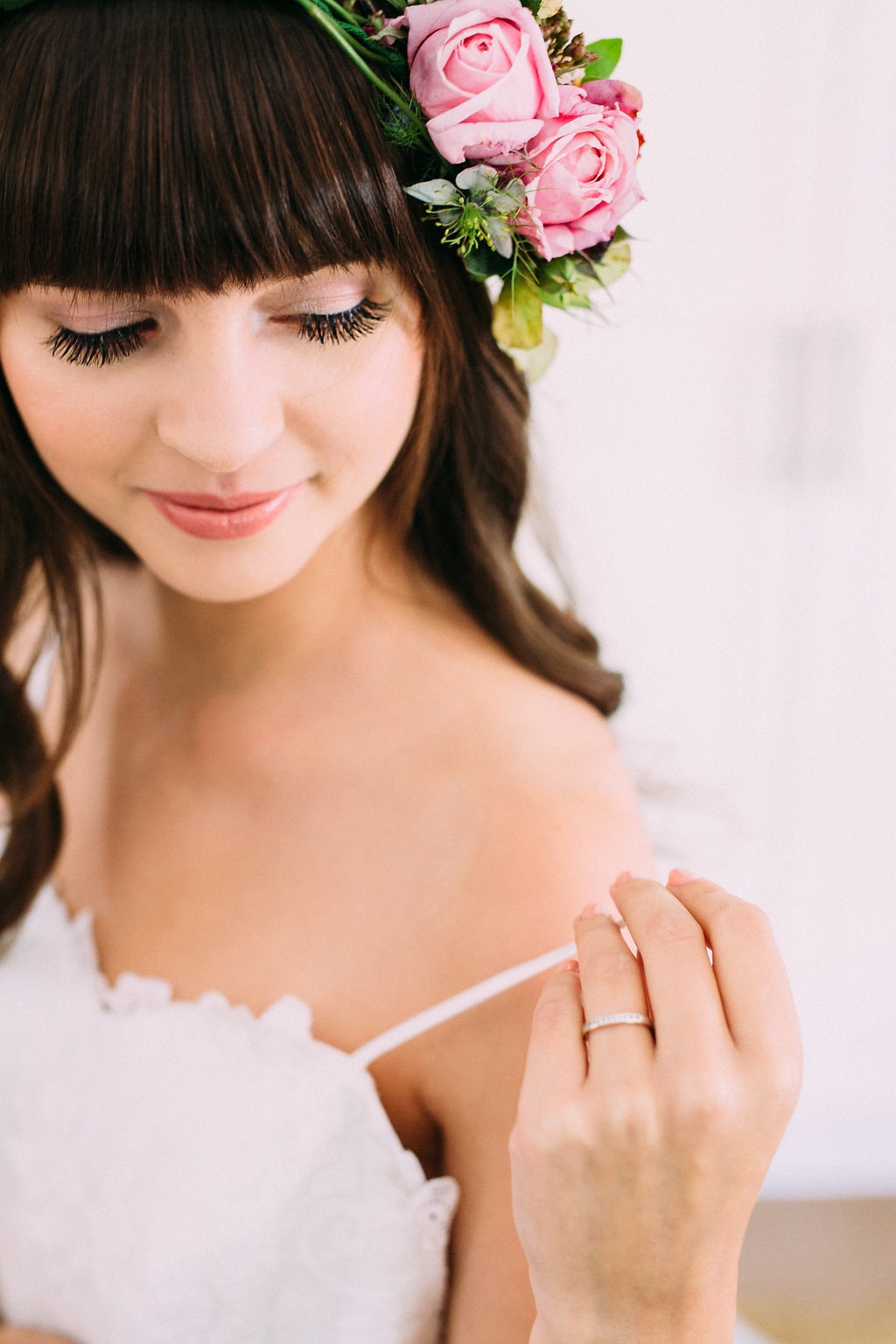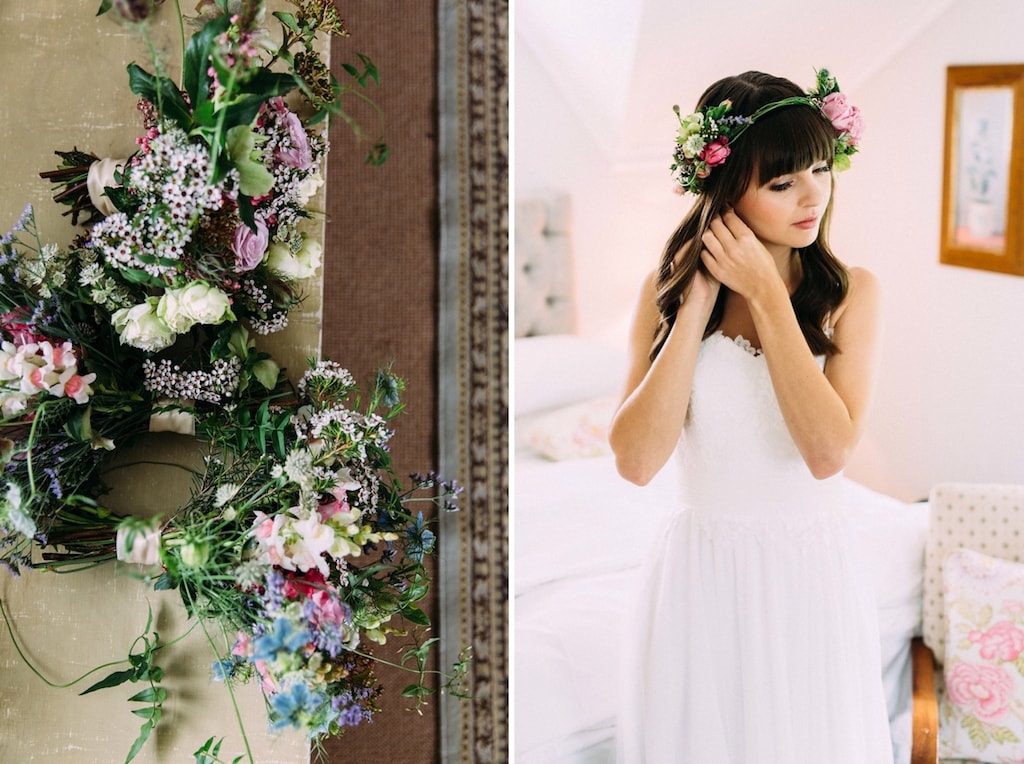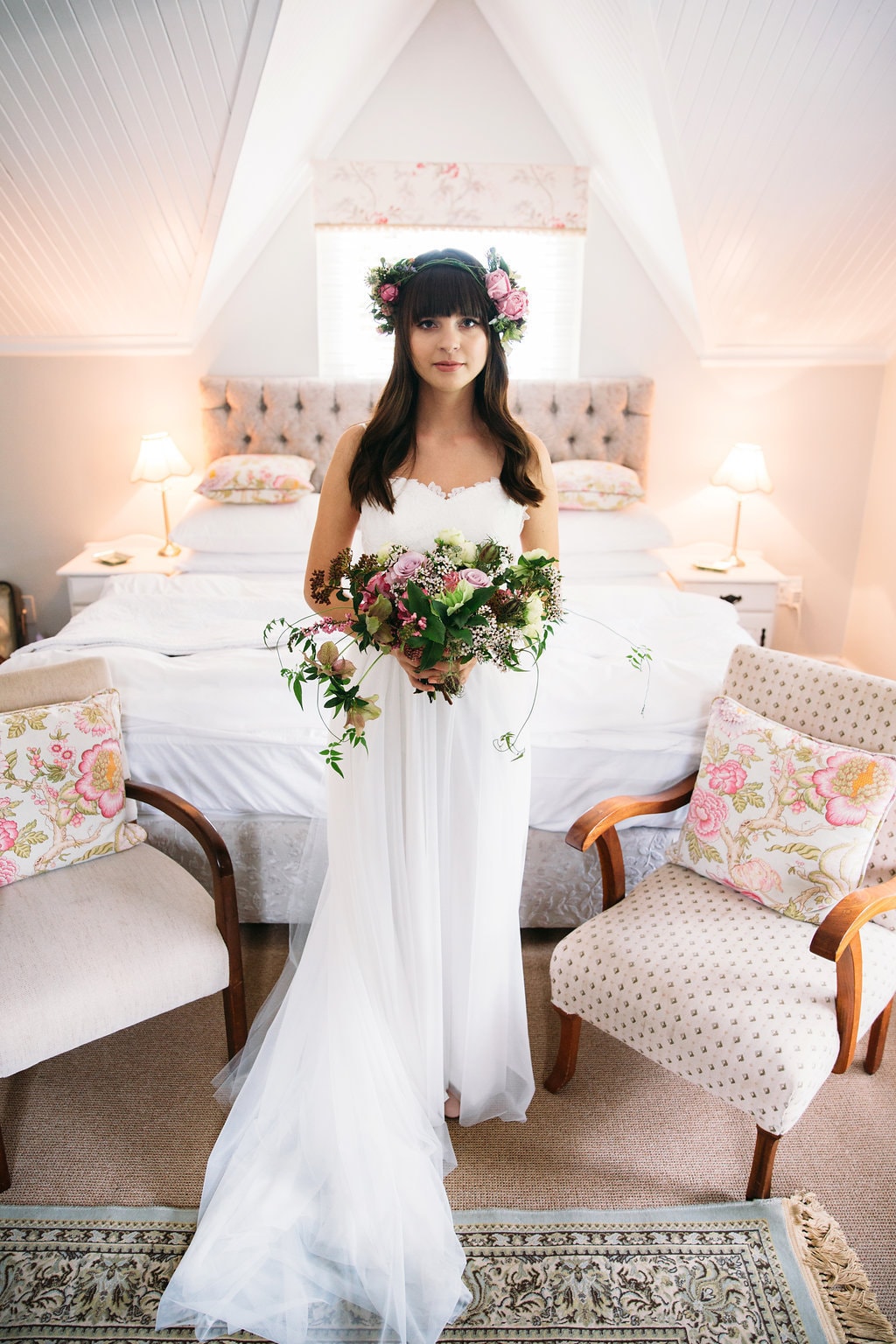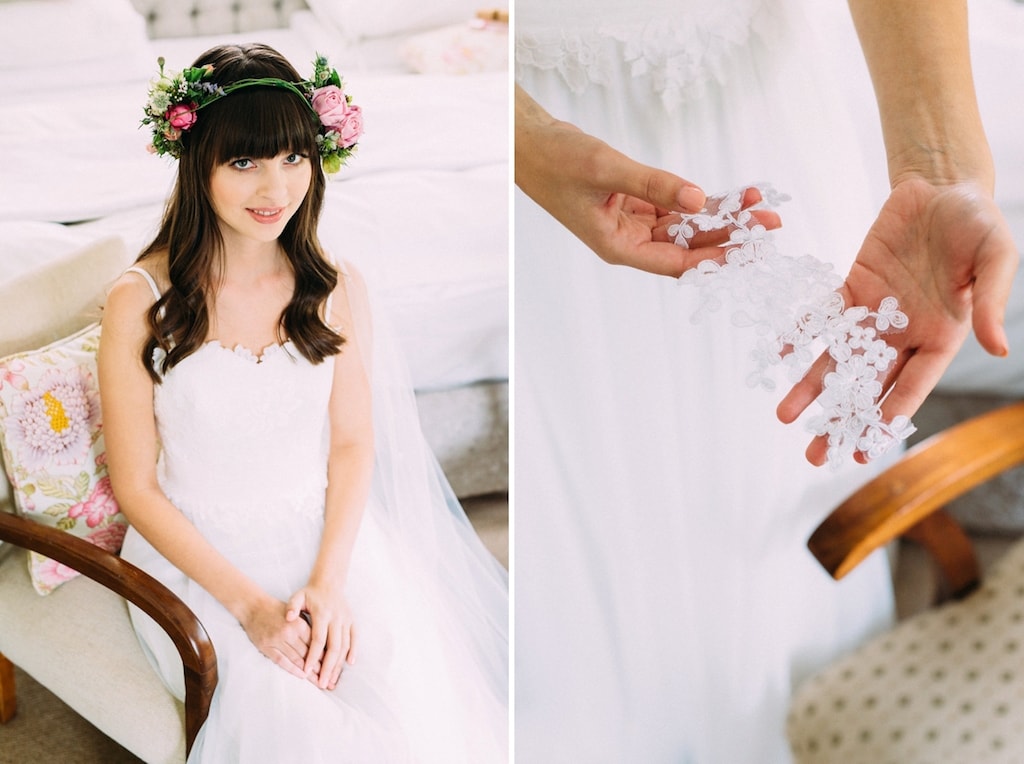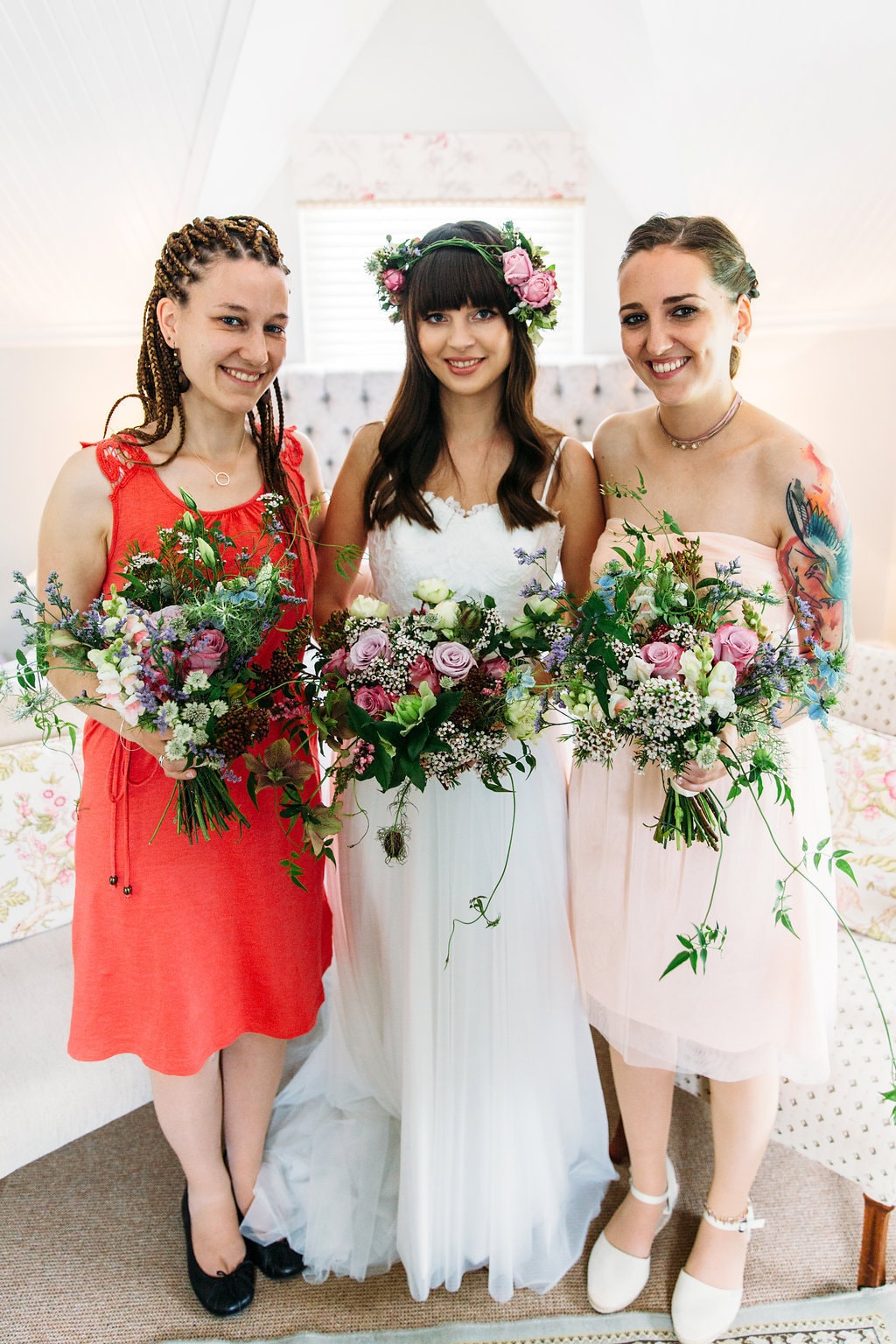 Love Story
It was a Friday night. We were both not in the mood for going out, but our friends dragged us out. I then saw her in the crowd, and went to talk to her. We ended up having a good conversation, and at the end of the night we felt that we must see each other again. The following day, however, I had to fly to South Africa for three weeks, but during this time we were luckily able to keep in touch. Once I returned to Zurich, we finally had enough time to get to know each other.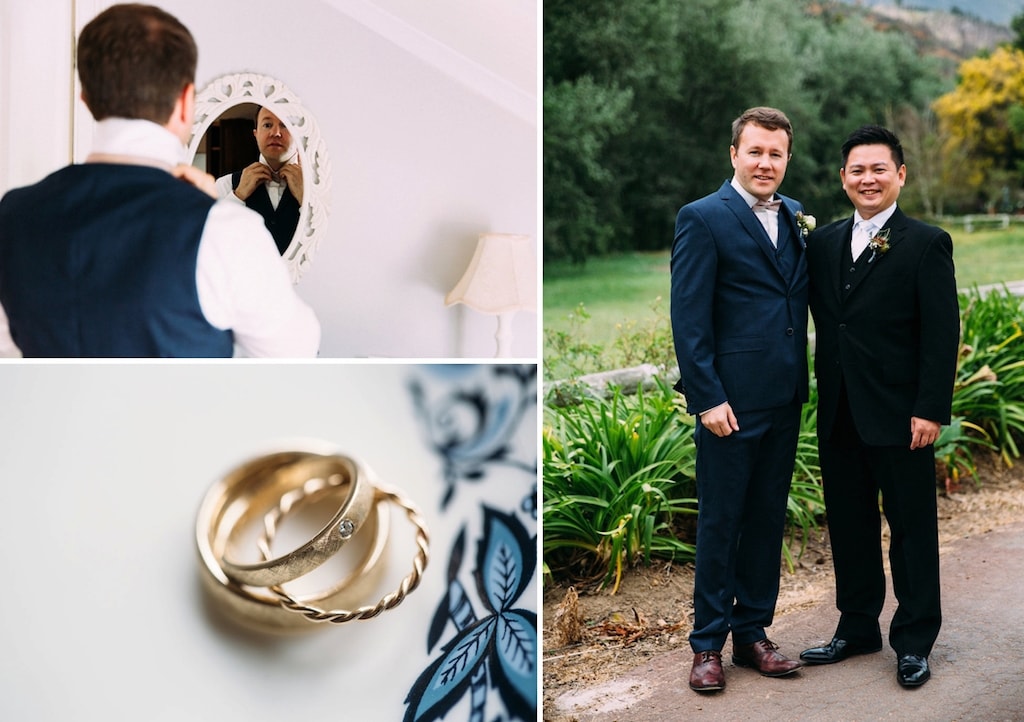 The Proposal
It was Julia's birthday and I arranged for a trip to Paris for us that weekend. Upon arriving at the hotel, Julia asked huh, why did we get free champagne in the room… is it a mistake? She was sitting relaxed on the bed, and I then suddenly went down on one knee in front of her. She was shocked and asked: "What are you doing?" Then I proposed, and she said an emotional yes. We were so stuck in our bubble that we were completely oblivious to the noise and sirens outside, from the Paris attacks that were taking place a few hundred metres away from our hotel. We only realised the next morning what had happened.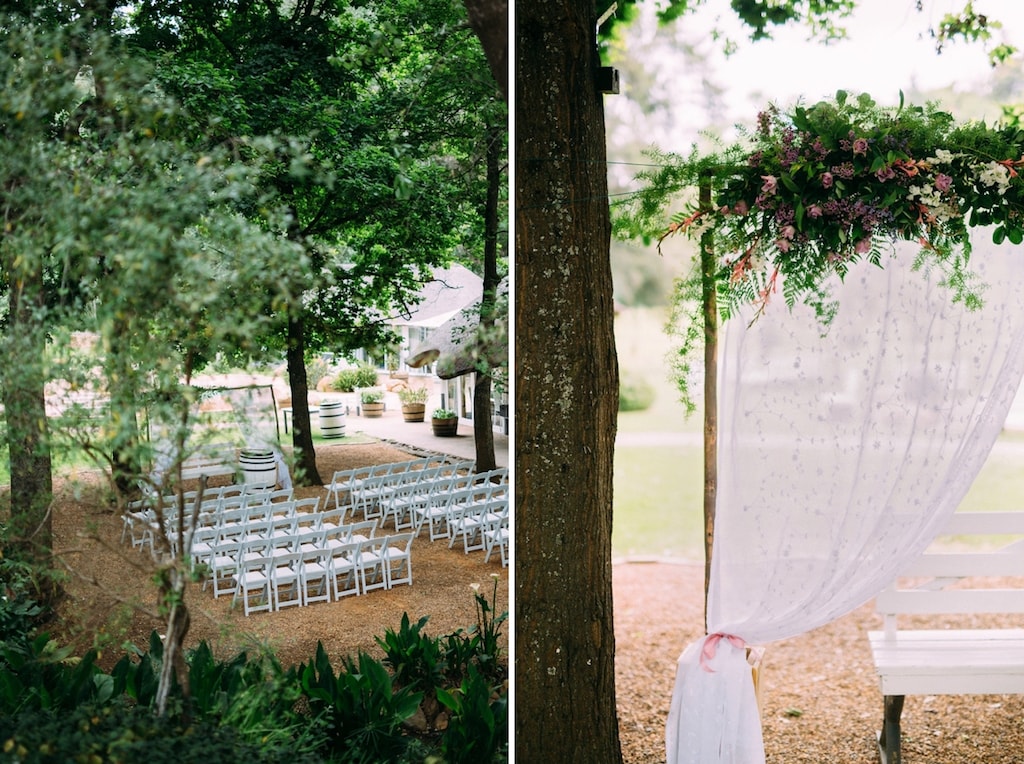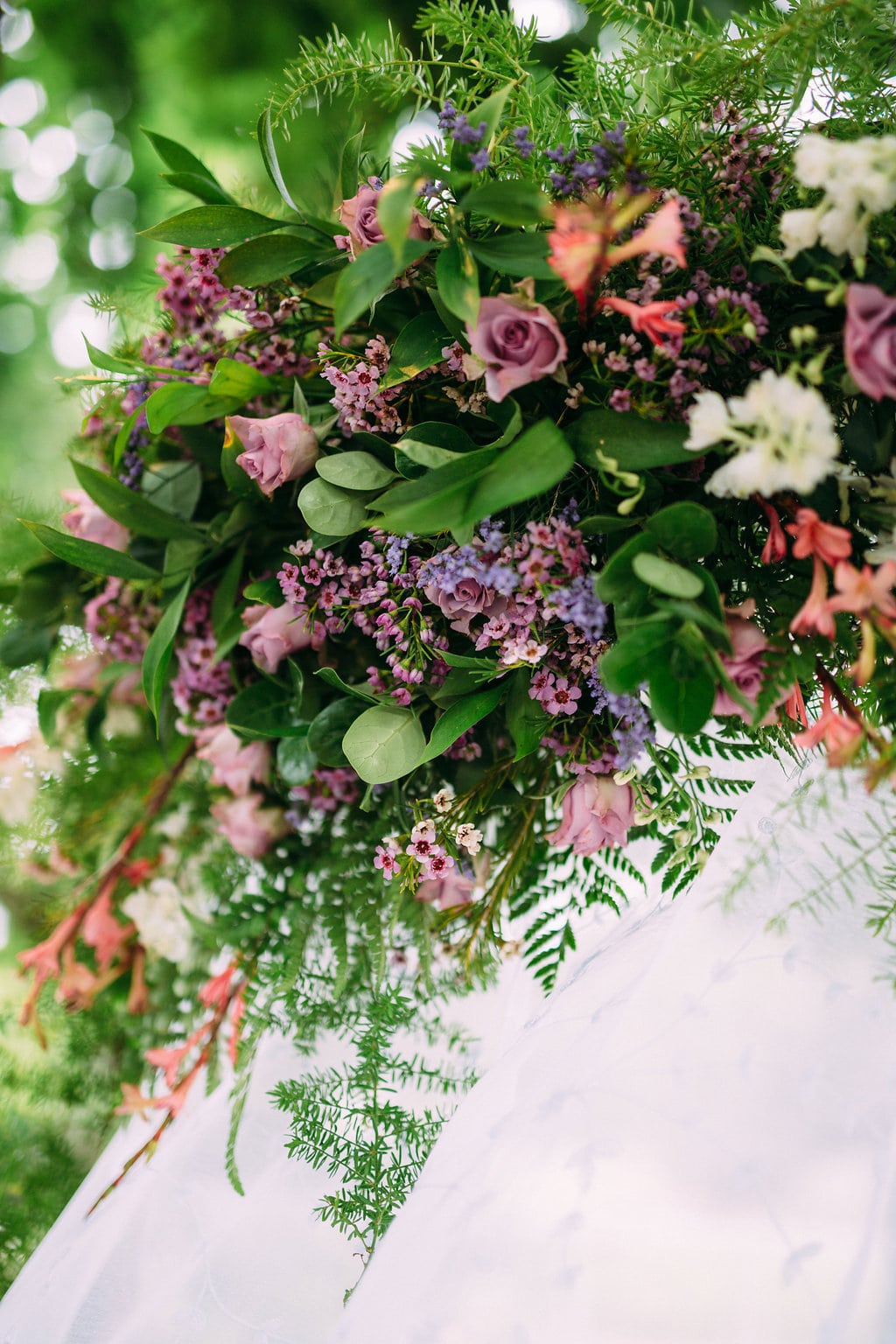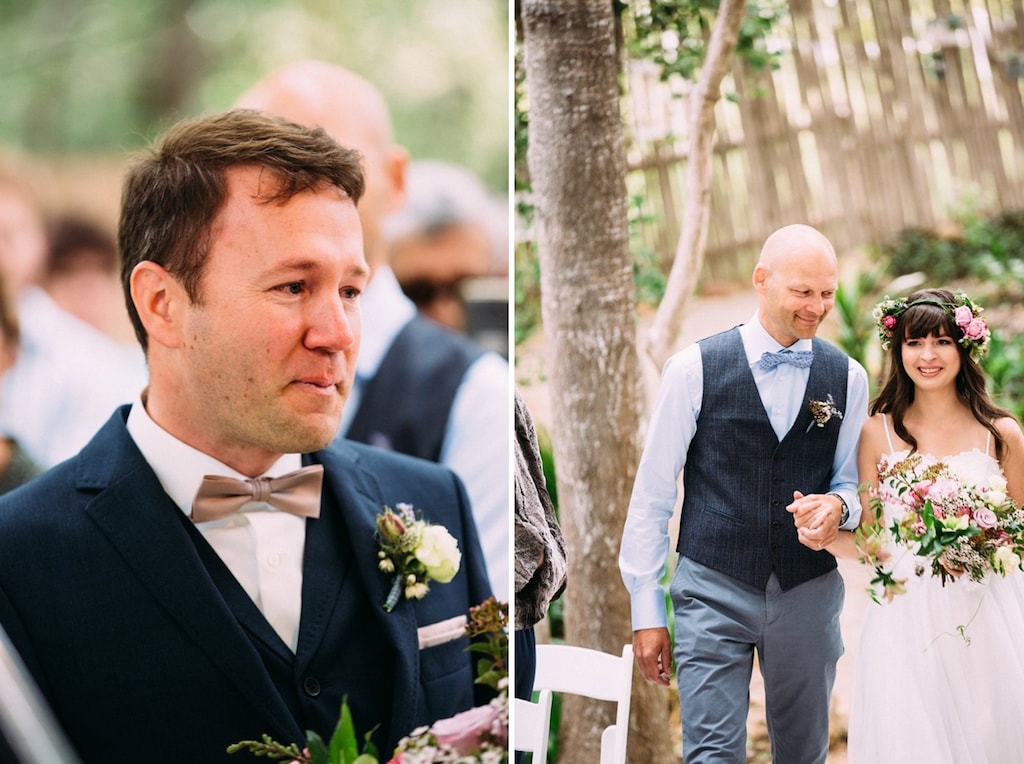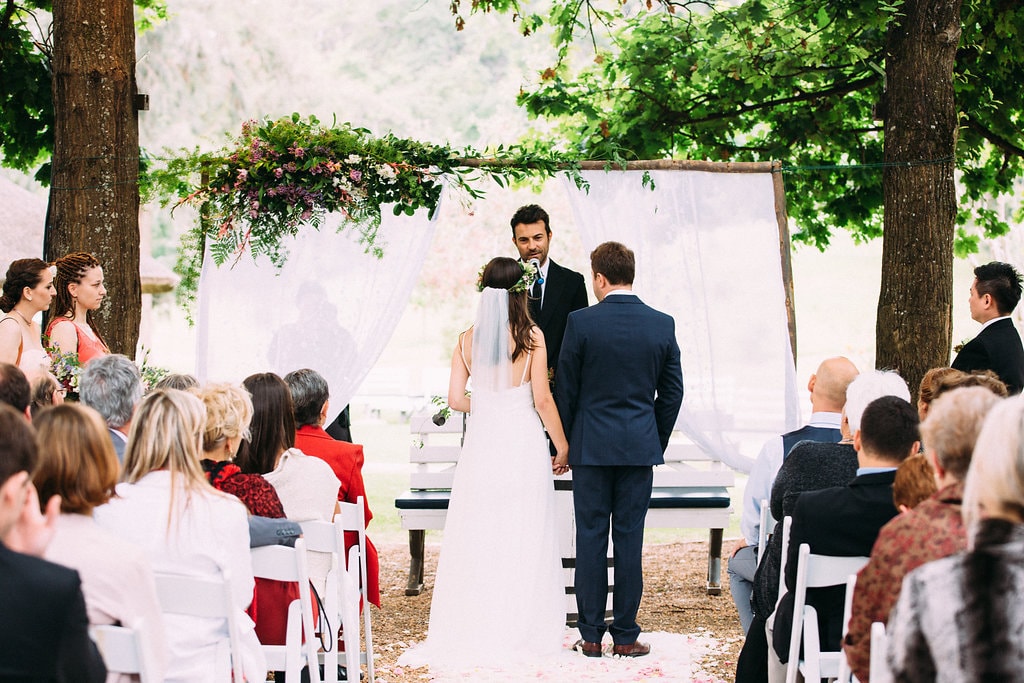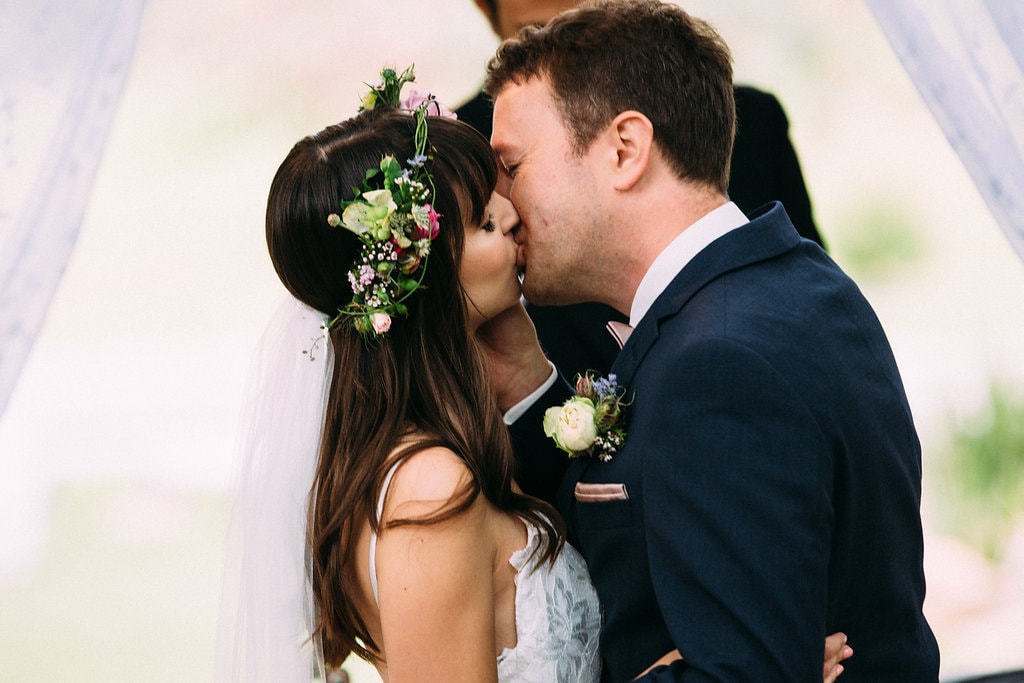 The Venue
It was a difficult choice where to have the wedding, as our lives are nestled in Switzerland. Since I grew up in South Africa. my parents and family still live there, and we've been on a few trips to South Africa together, so we wanted to make it a part of our special day.  We spent several weeks in South Africa visiting venues and talking to the hosts. We wanted a venue that would work outdoors and under the trees, where we would have exclusive use of the area. While visiting several wine farms in the Stellenbosch area, we instantly knew that Towerbosch was the right fit.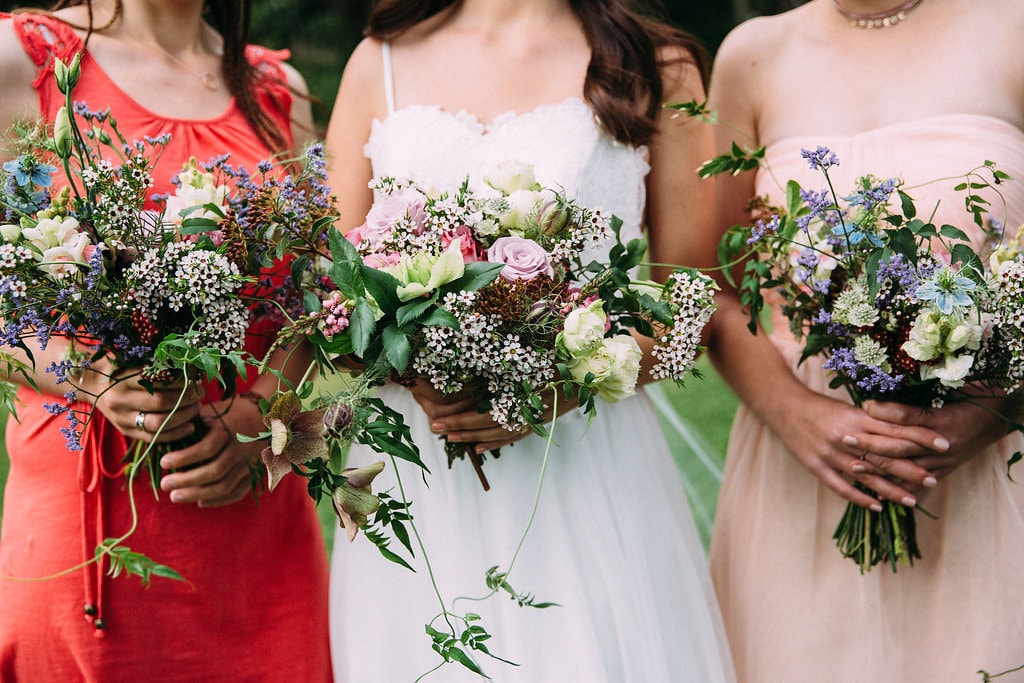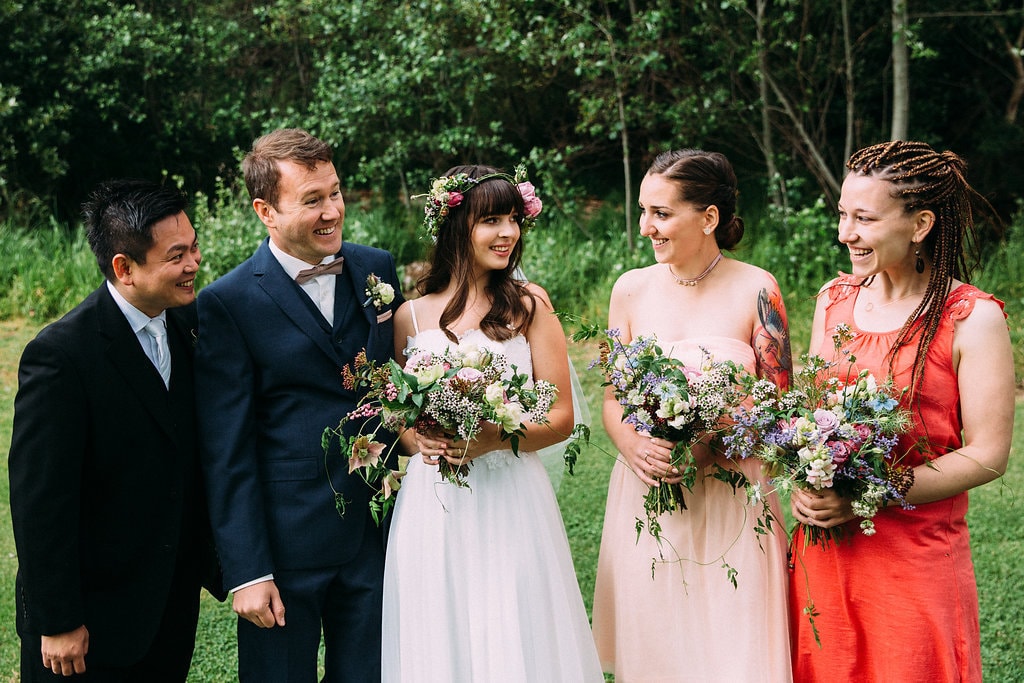 Wedding Style
We wanted the flowers to appear as if they were picked fresh from the field. We wanted to have a natural, laid back event, with not too many guests. We love to travel, and we were blessed to have guests from Switzerland, England, Japan, and Namibia travel down to Stellenbosch to celebrate with us.
DIY Details
My mother baked our cake herself and it was really delicious. My dad created the wooden arch that stood at the front of the ceremony. Julia made the table numbers from photos of us, when we were children.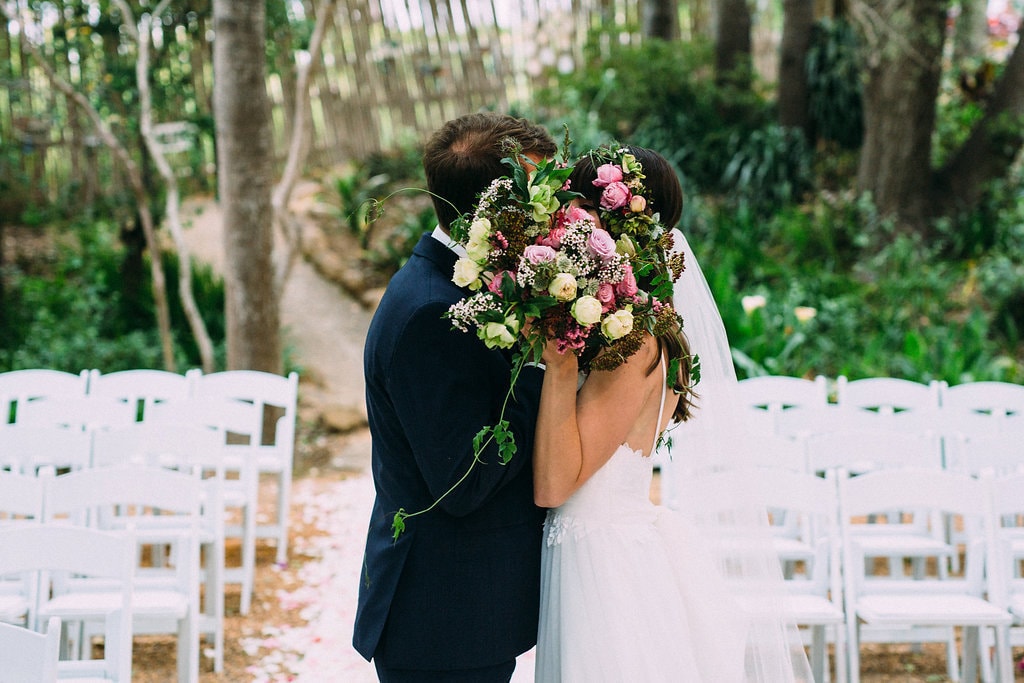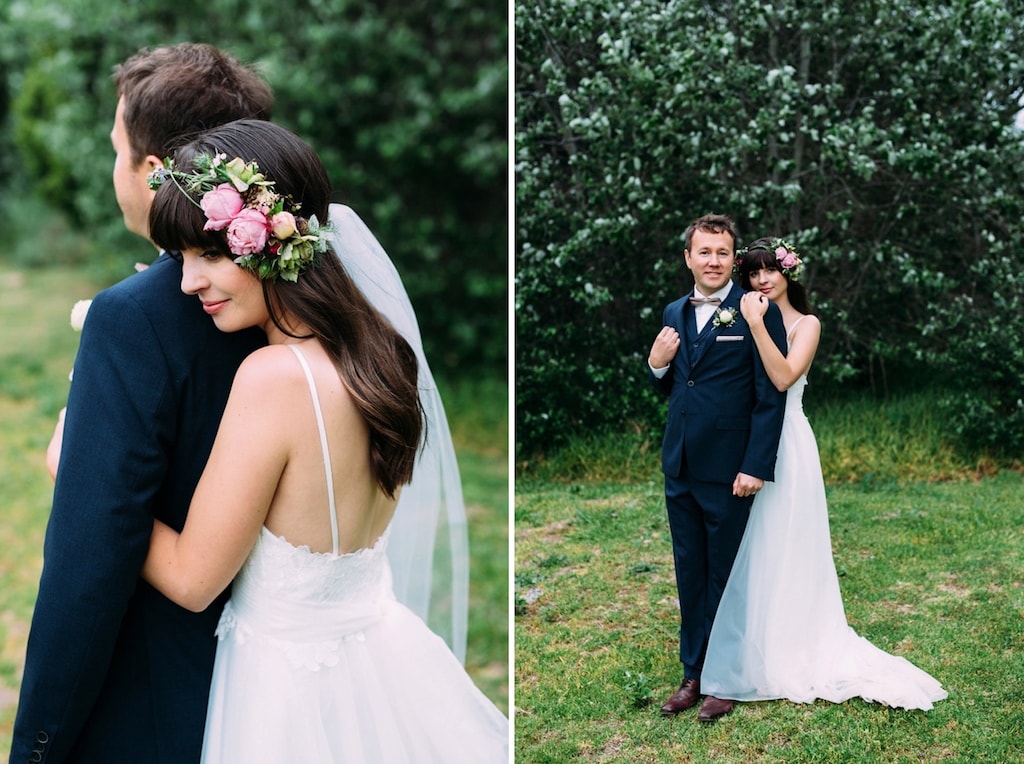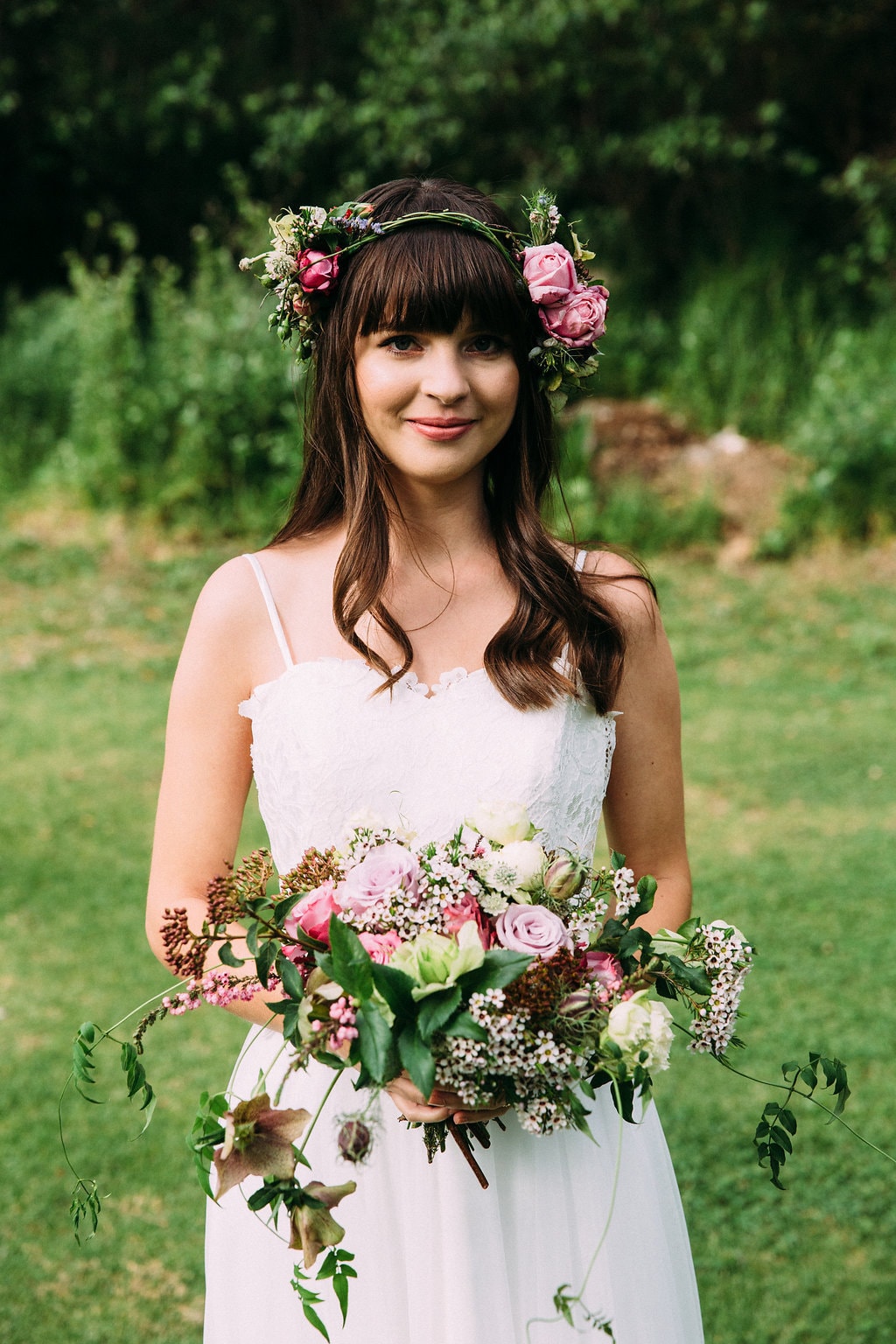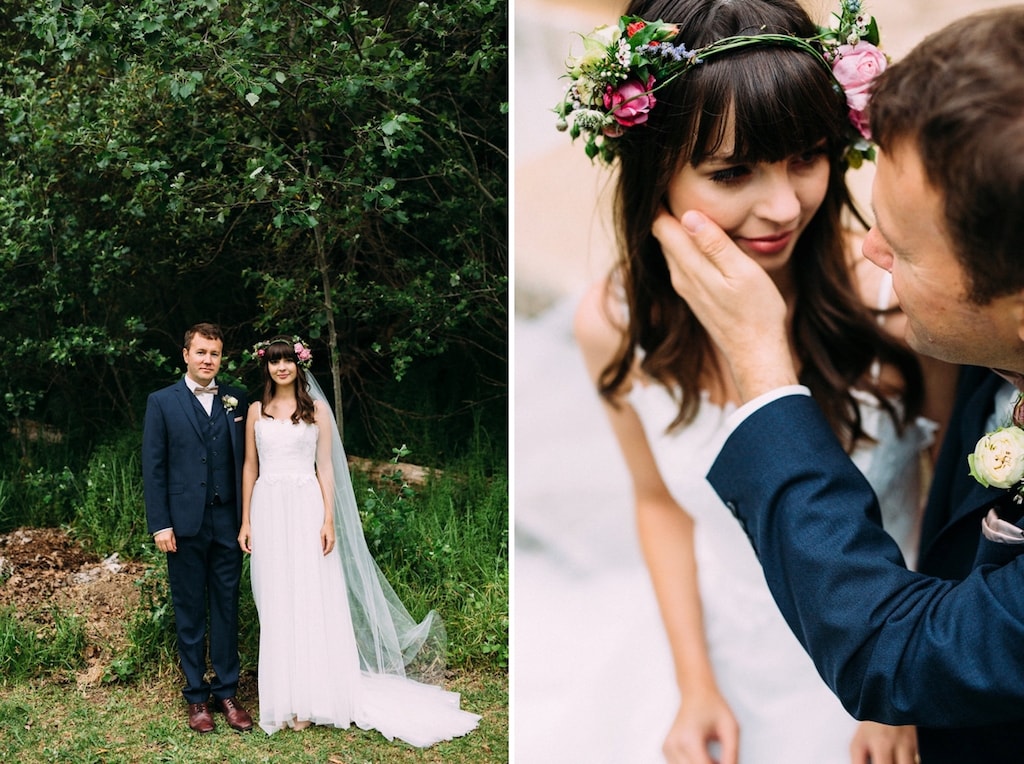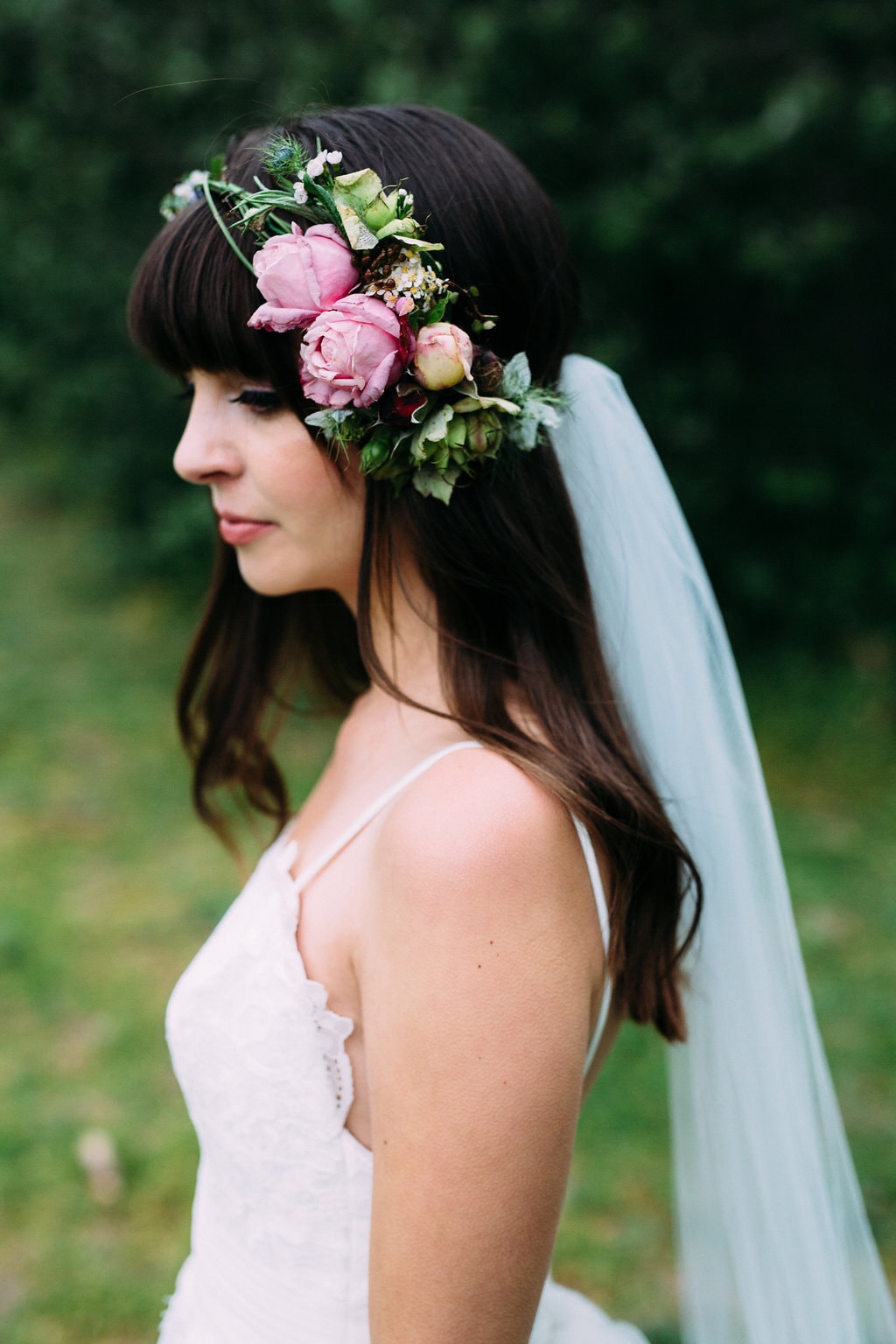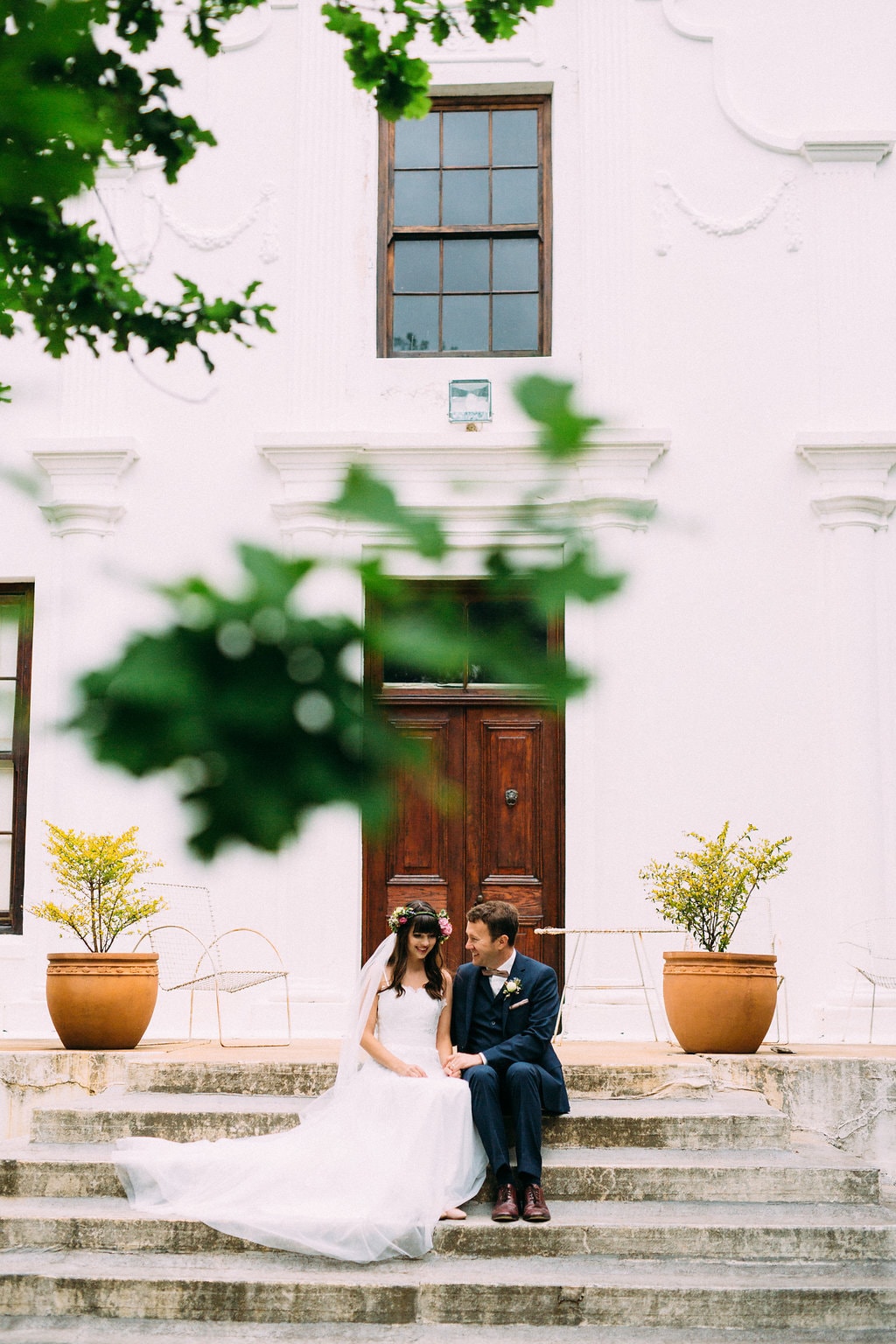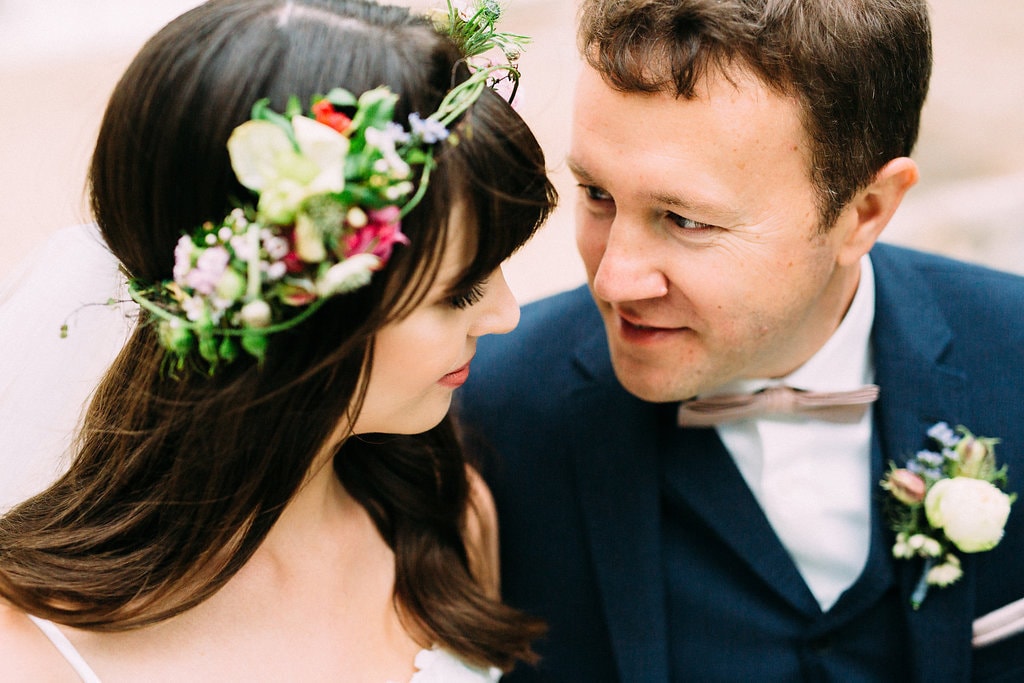 The Dress
Julia at first went to a wedding dress shop with 2000 wedding dresses, but could not find the one she imagined. She wanted a natural, romantic dress, that would be suited to an outdoor wedding, a combination of lace and silk. She found a lady who makes custom wedding dresses from online orders, and it was what she imagined, and so ordered it. To enhance the romantic feeling, she added a flower crown.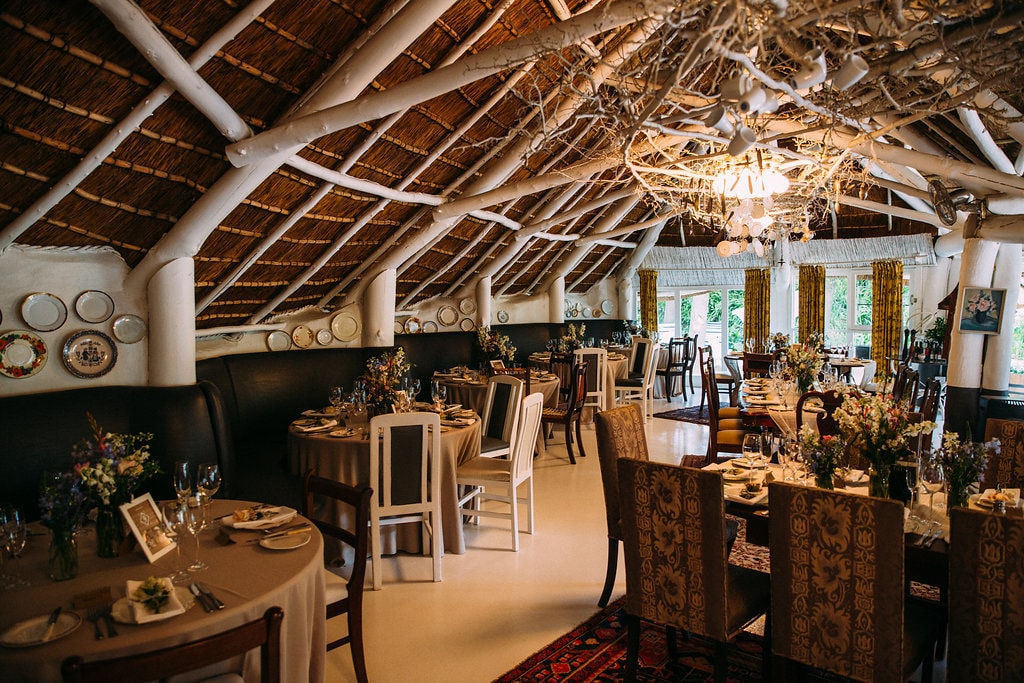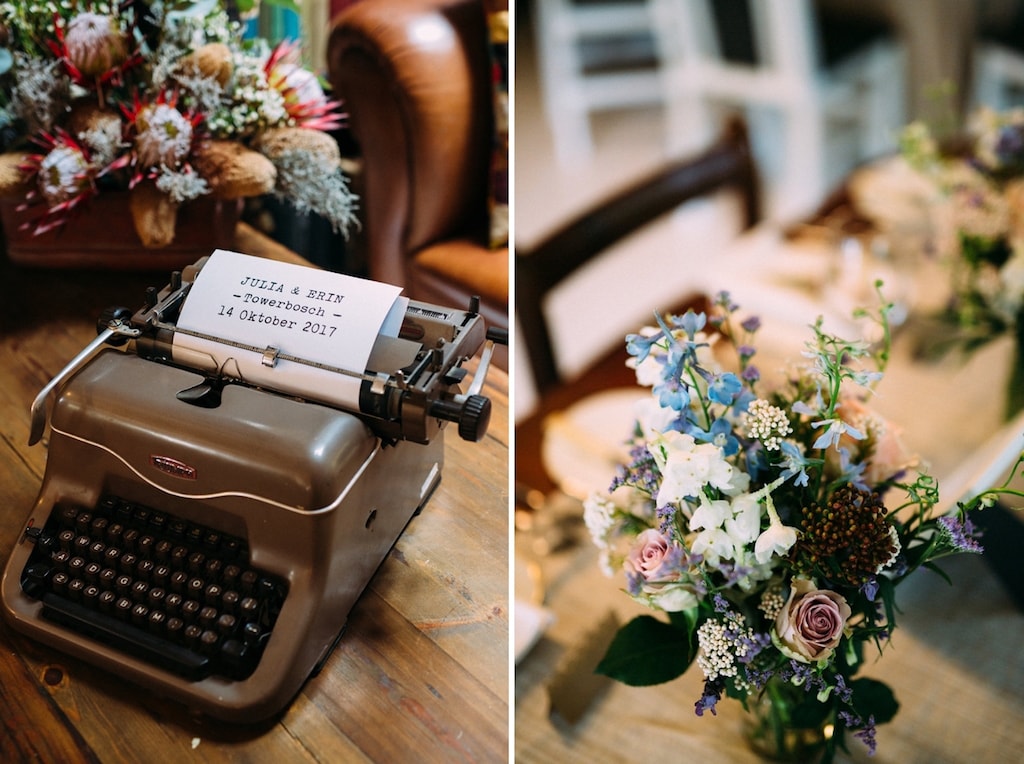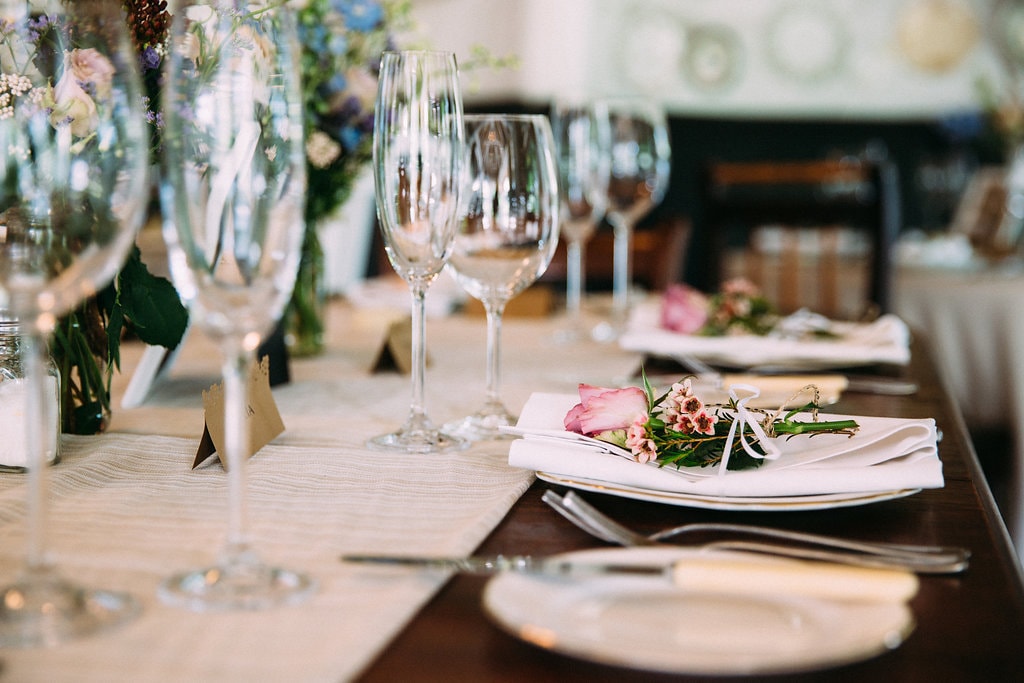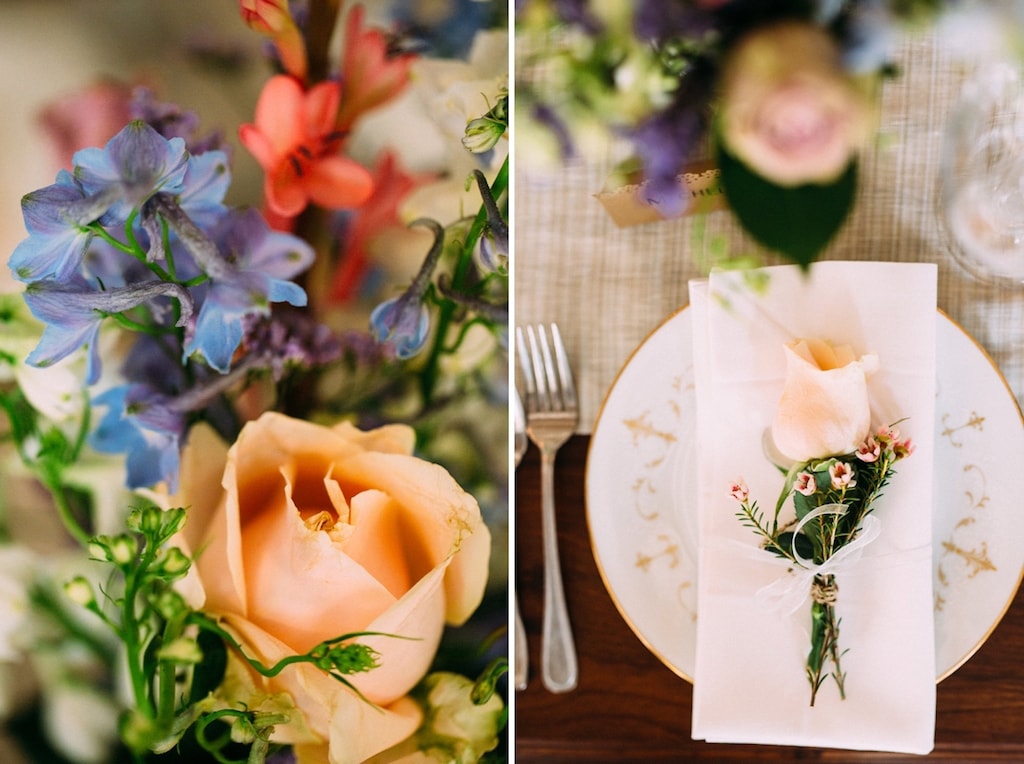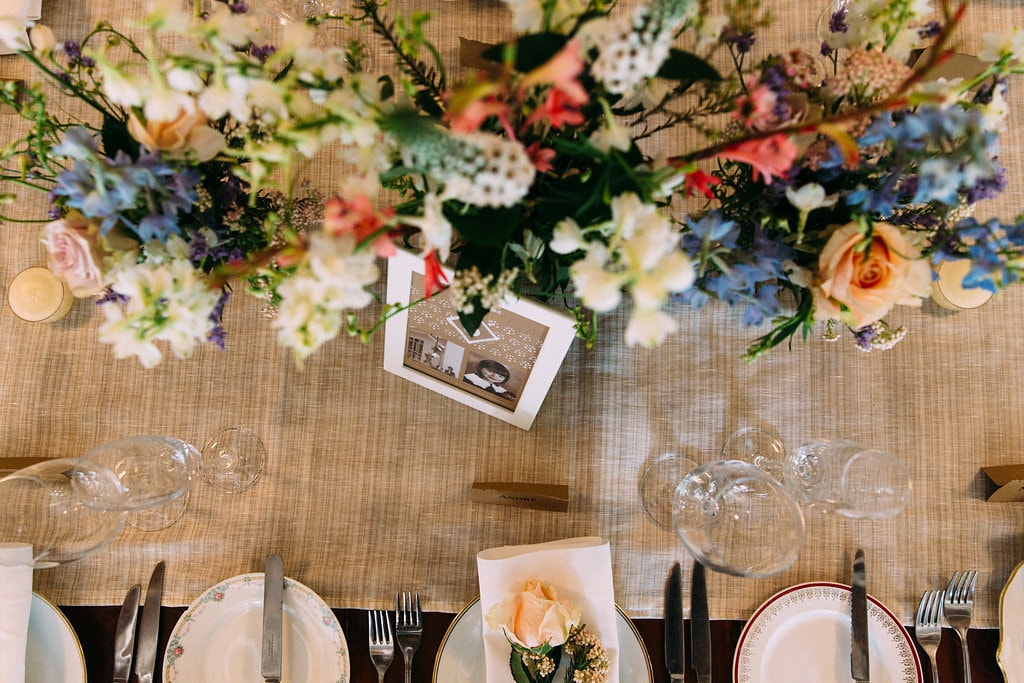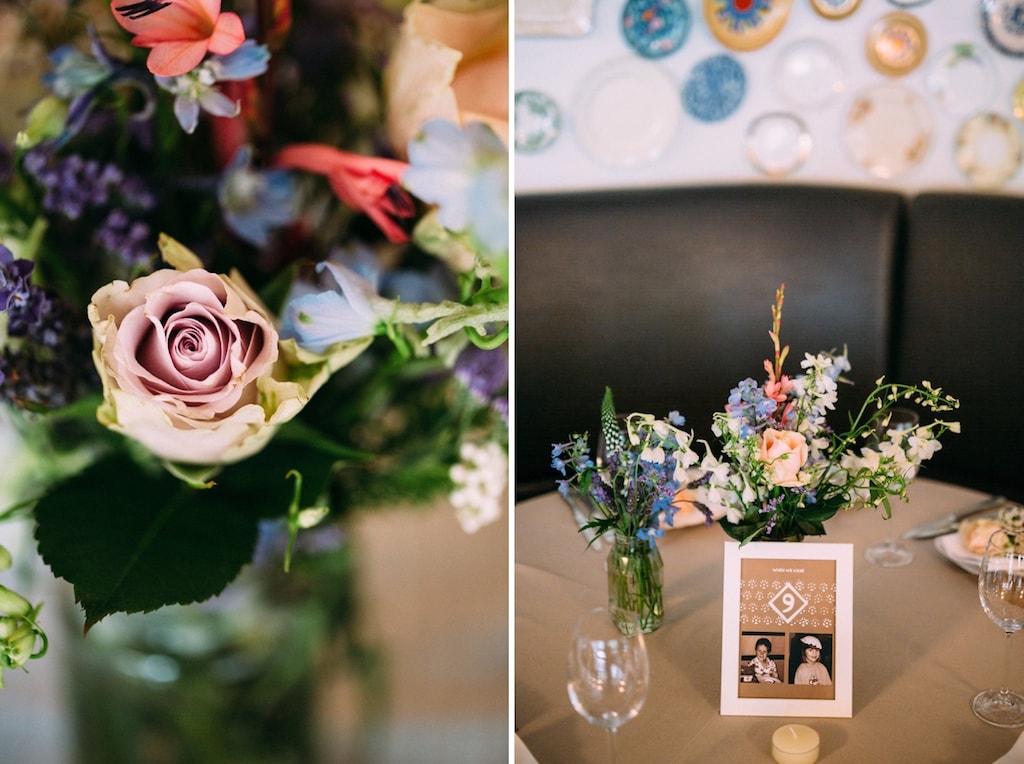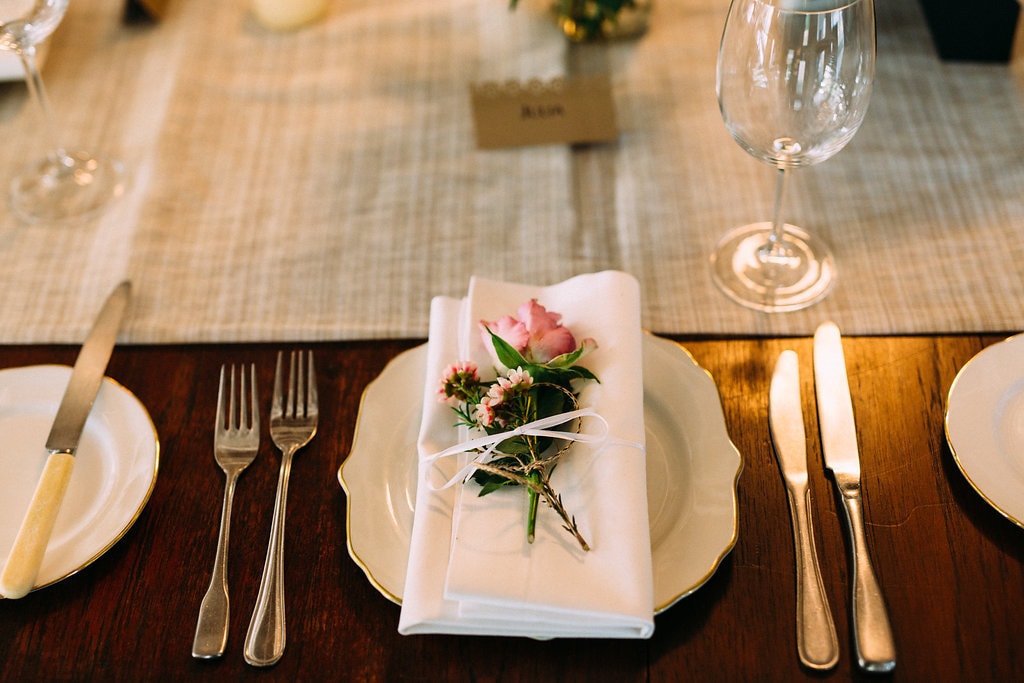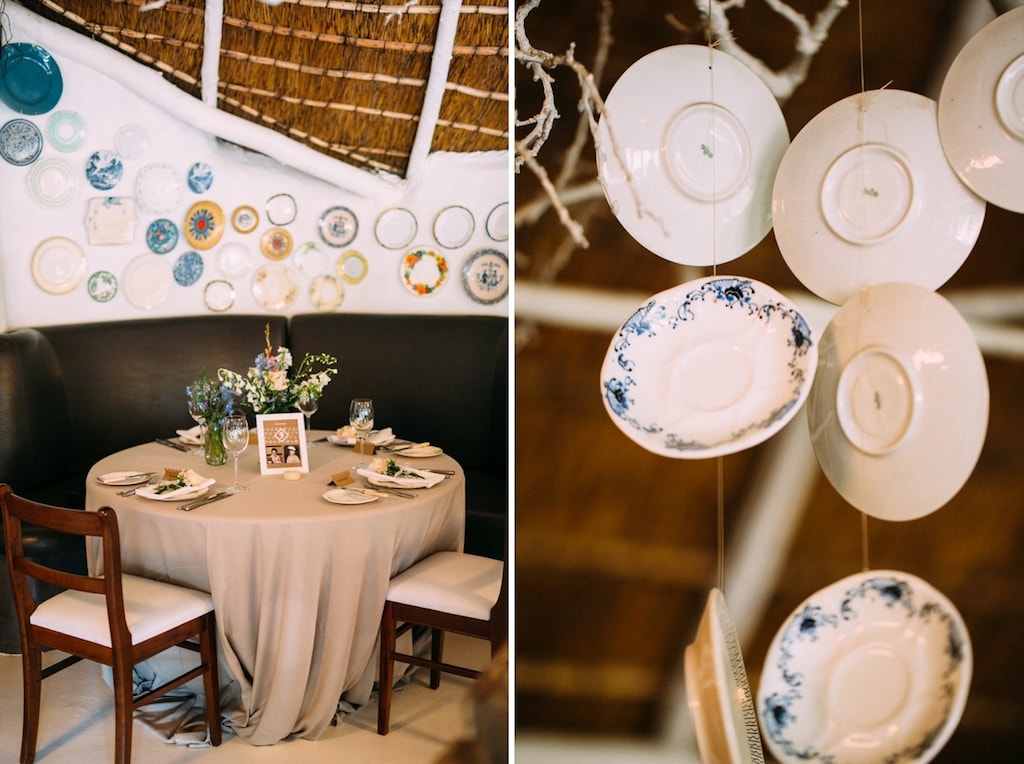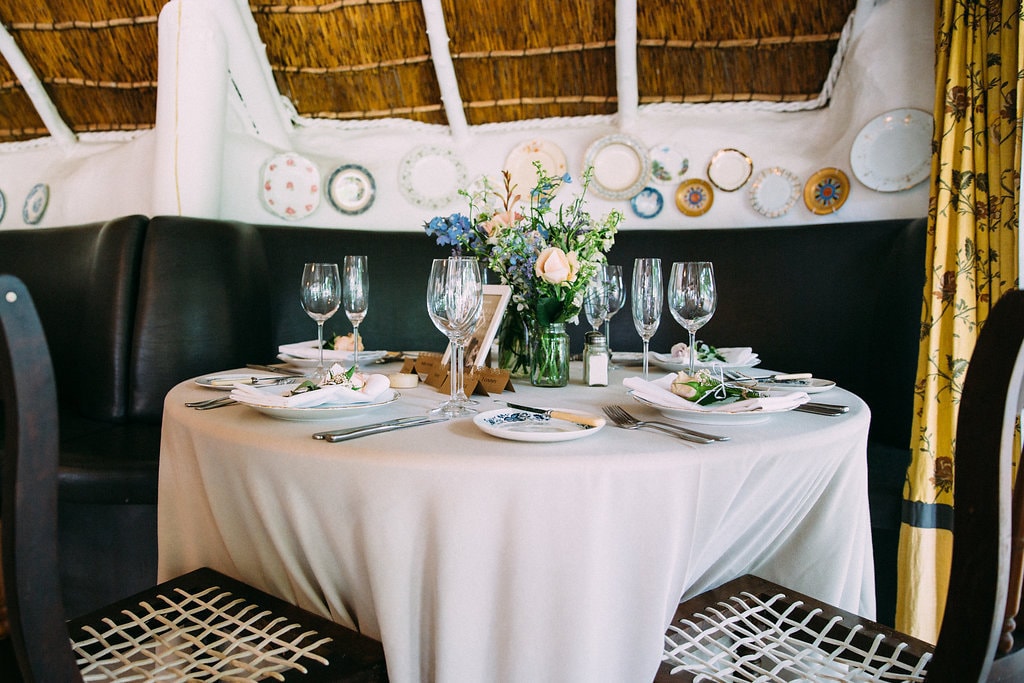 Memorable Moments
When we saw each other for the first time at the ceremony and we both teared up. Walking into the dining room and noticing all the guests that came from far and wide especially to be with us on our day. The presentation from Julia's parents about Switzerland, in three languages (Swiss-German, Afrikaans and English). The dancing of the two moms at the end of the evening.
Proudly South African Details
The bride practiced several sentences in Afrikaans, and used it in her opening speech. I live-translated the presentation of Switzerland with my parents in-law into Afrikaans, much to the delight of the Afrikaans guests!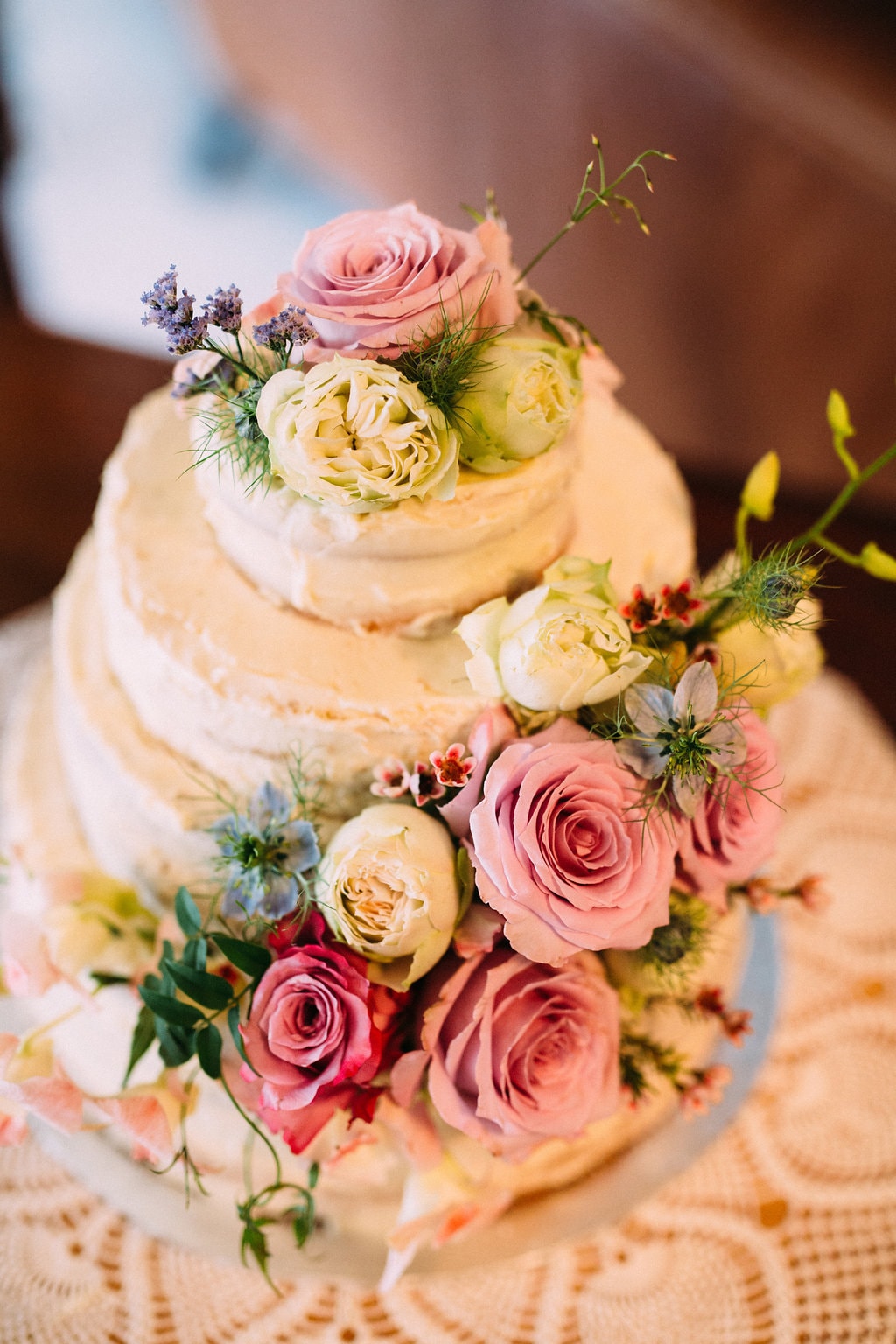 Advice for Future Brides & Grooms
When doing a destination wedding, it's extremely important to have people at the destination who can visit the venue and clear up questions in advance. We decided not to use an external wedding coordinator, as we had a lot of support from my mother and from Marguerite at Towerbosch. Accept help when it is offered. No matter how much you stress in advance, on the day, it all comes good together.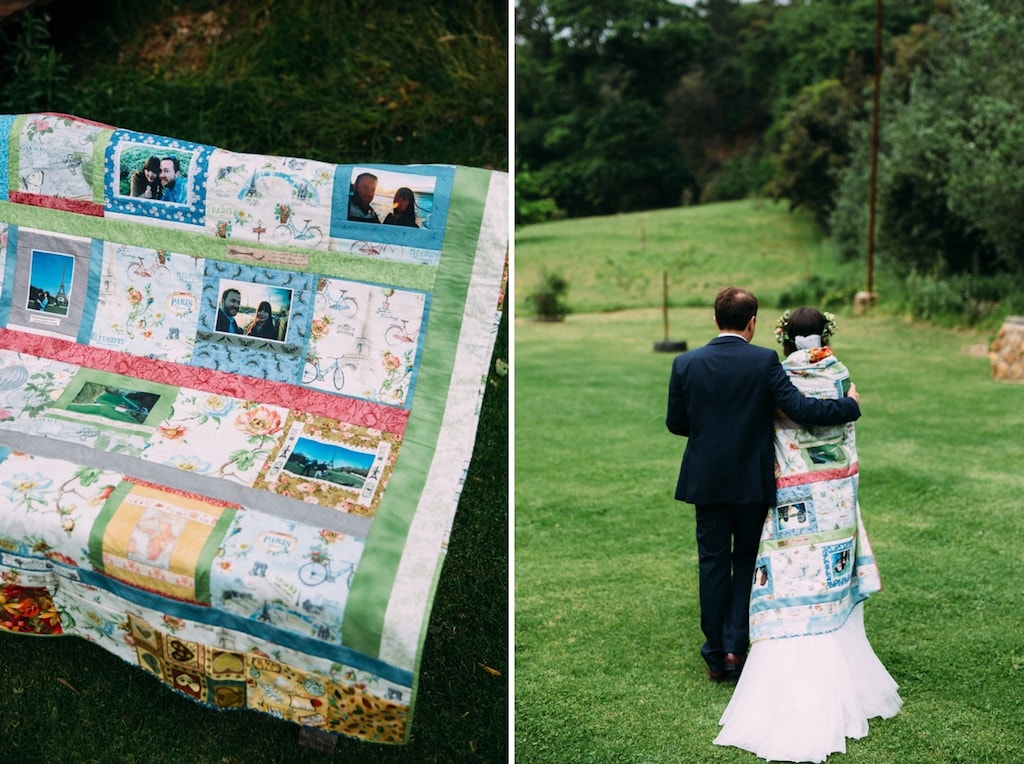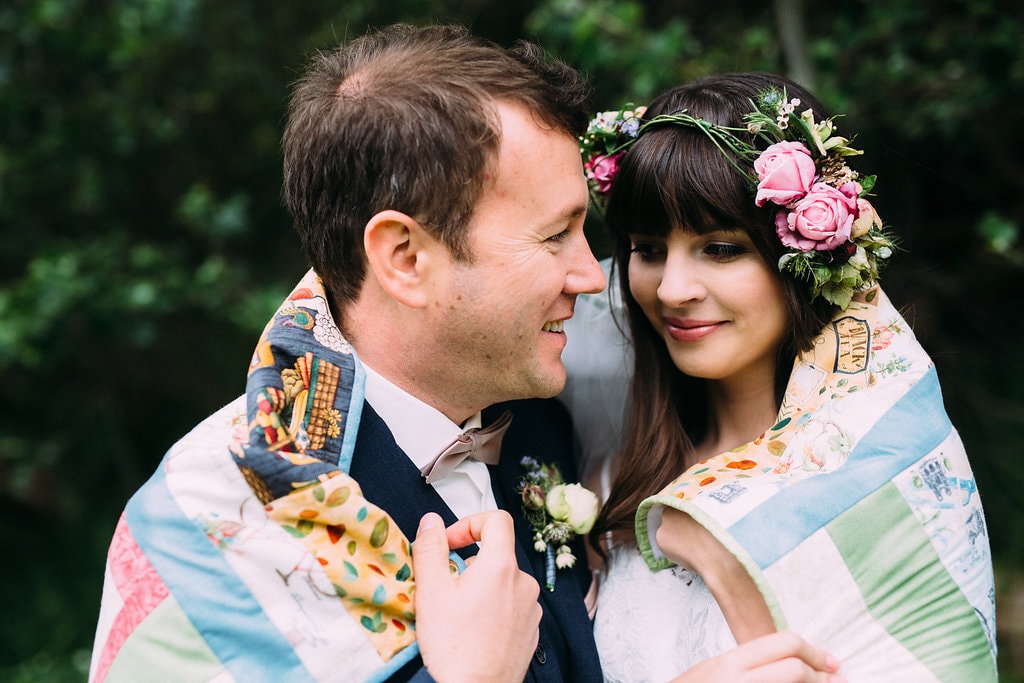 You can see more from this wedding on Kusjka du Plessis' blog.
SERVICE PROVIDERS
Photography: Kusjka du Plessis | Ceremony Venue: Knorhoek Wine Estate | Reception Venue: Knorhoek Wine Estate | Floral: Chincherinchees | Floral: Flowers in the Foyer | Hair: Sam Scarborough | Makeup: Sam Scarborough | Wedding Cake: ANITA LALOR | Submitted via: Matchology