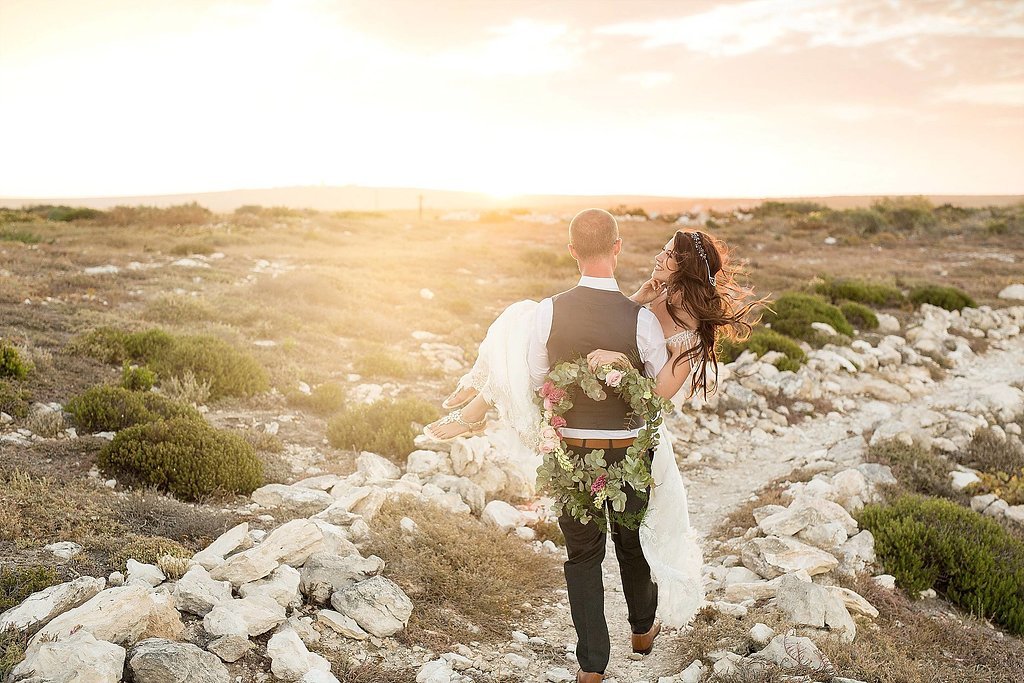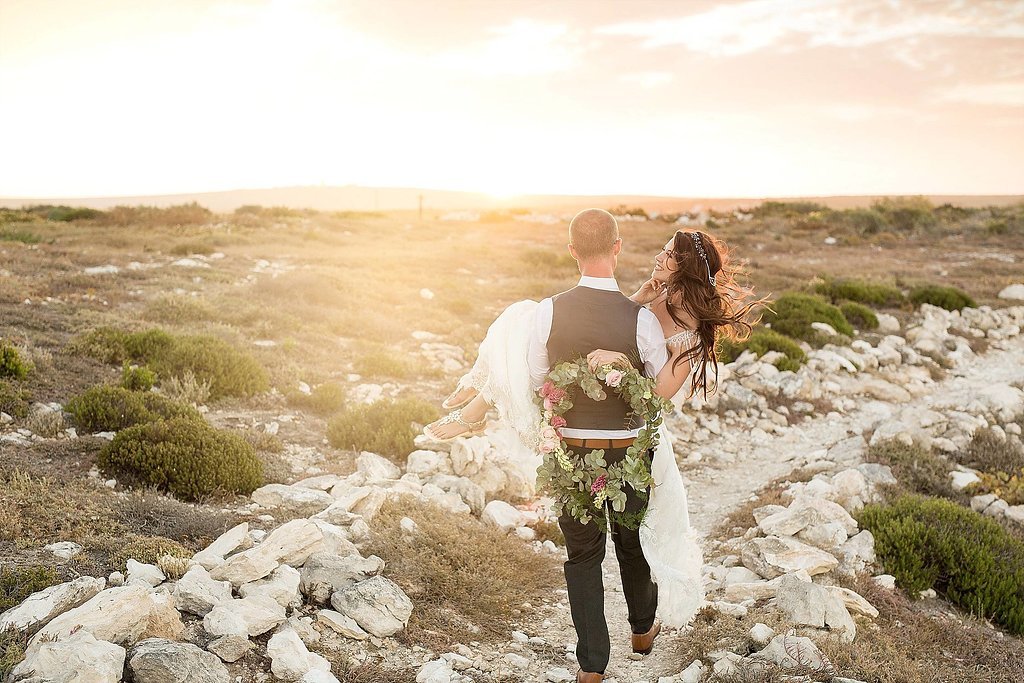 Pretty as a picture and coming to your screen right now, Altus and Leandri's wedding is one for the books! This sweet couple decided to combine the relaxed summer ambience of the West Coast sunshine with a bright (bang on trend!) berry palette, and seal the deal with family friends and fun! I love this wedding, not just because of how well all the little details fall together or how fabulous the colours are (those bridesmaid separates, wow!), but because Kusjka du Plessis has captured it in the most gorgeous images – the sunset shoot of bride, groom and bridal party is like something from a magazine! But then again, models never get to have this much fun!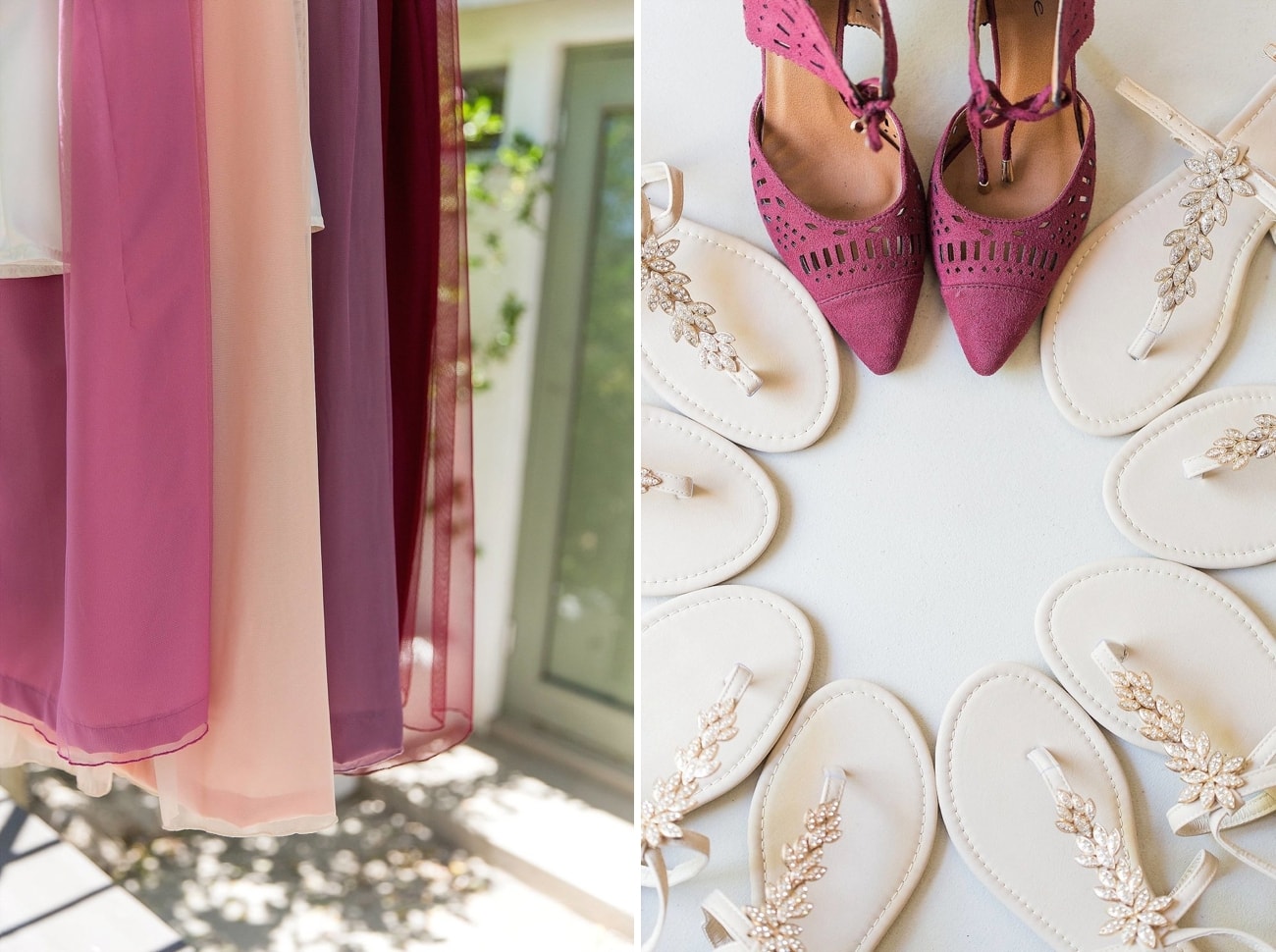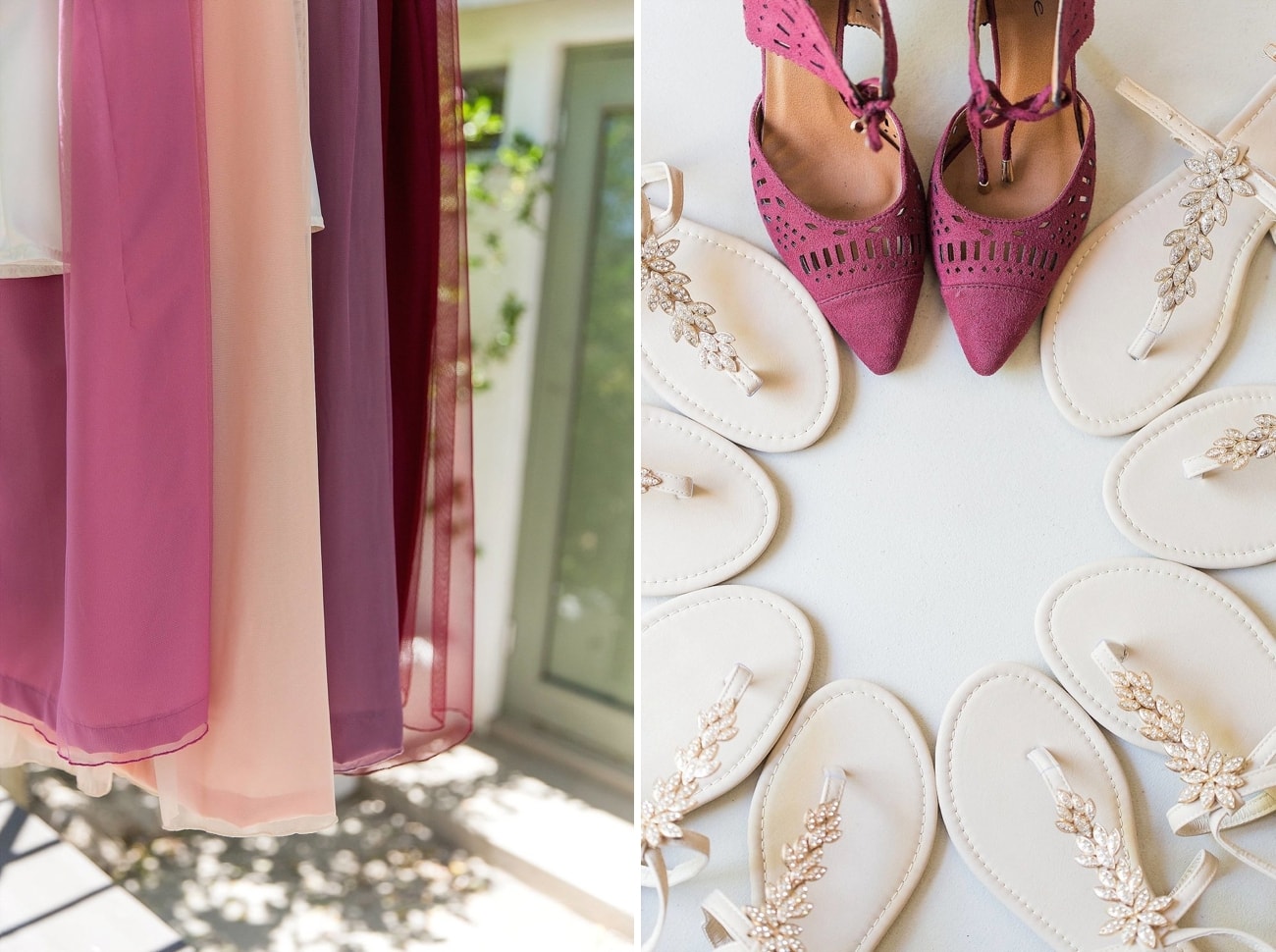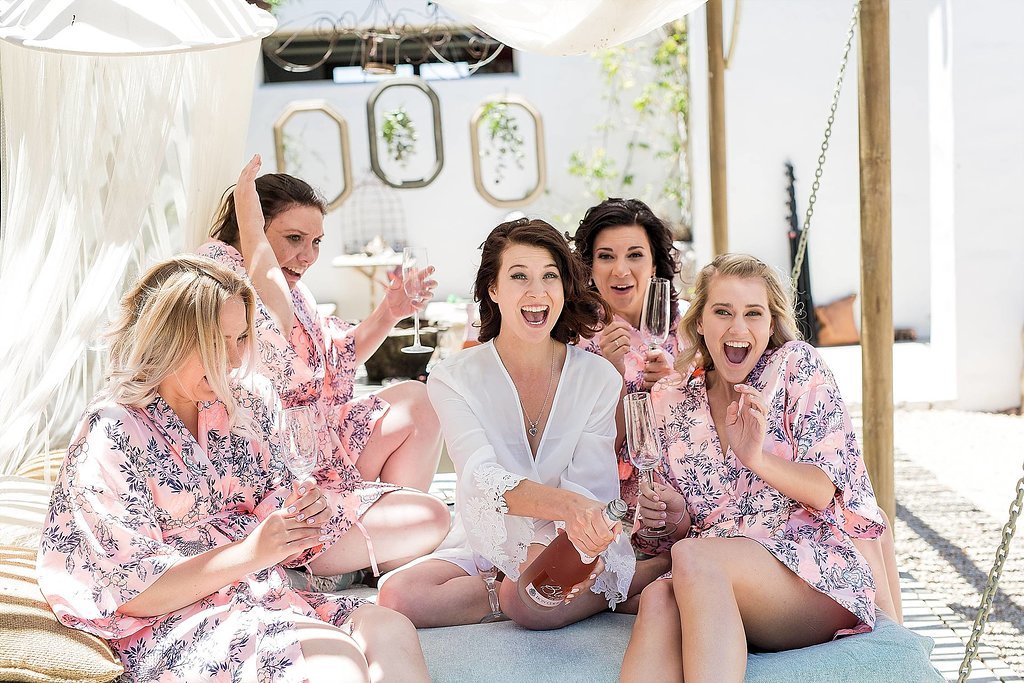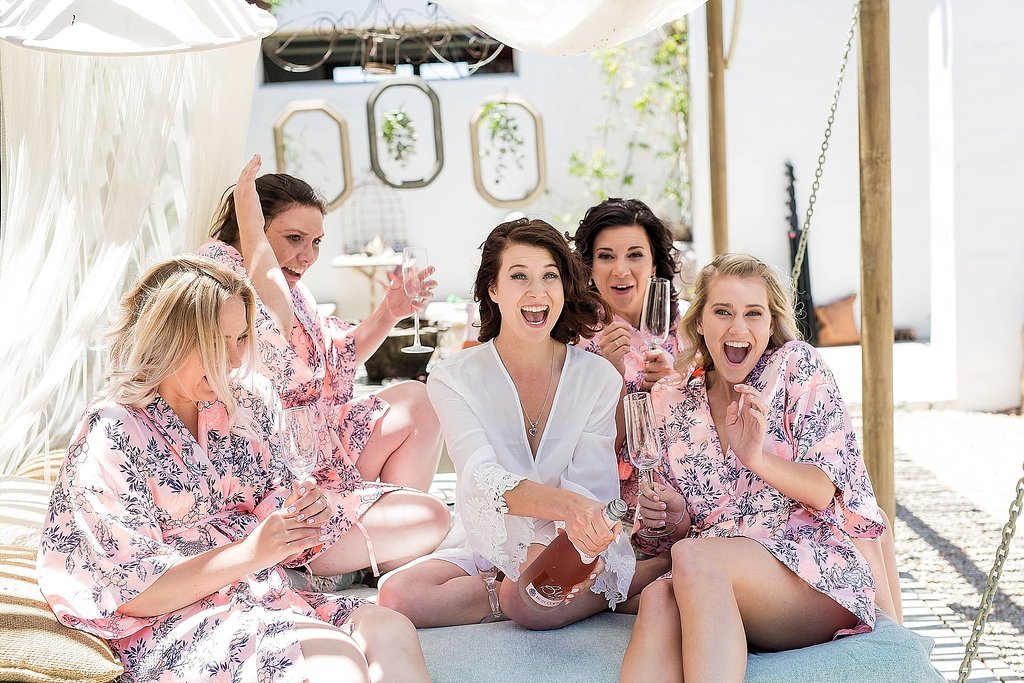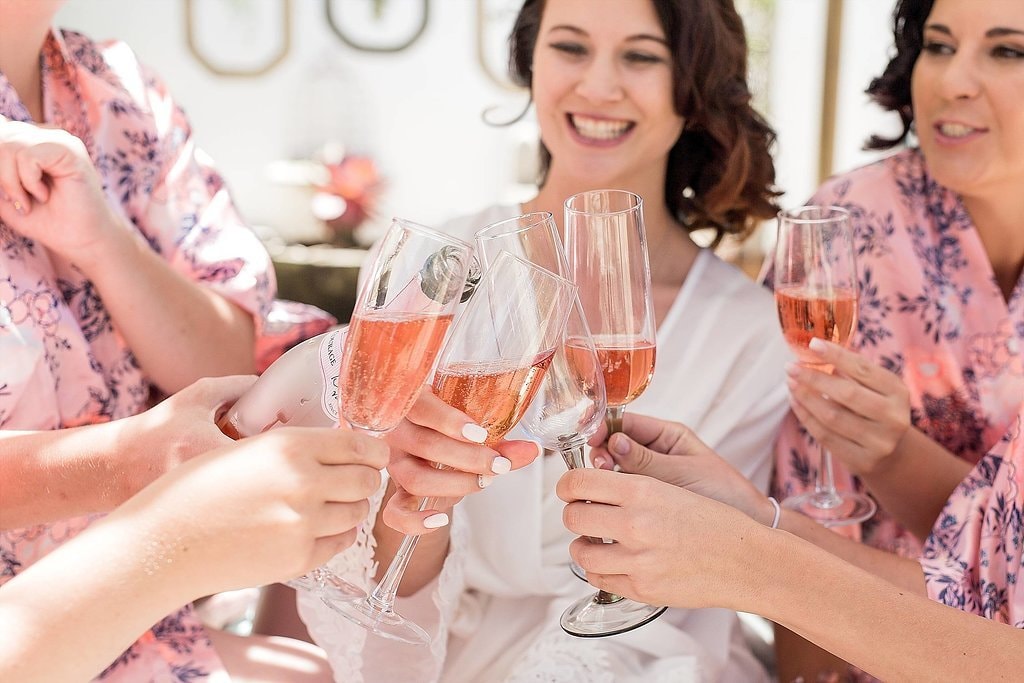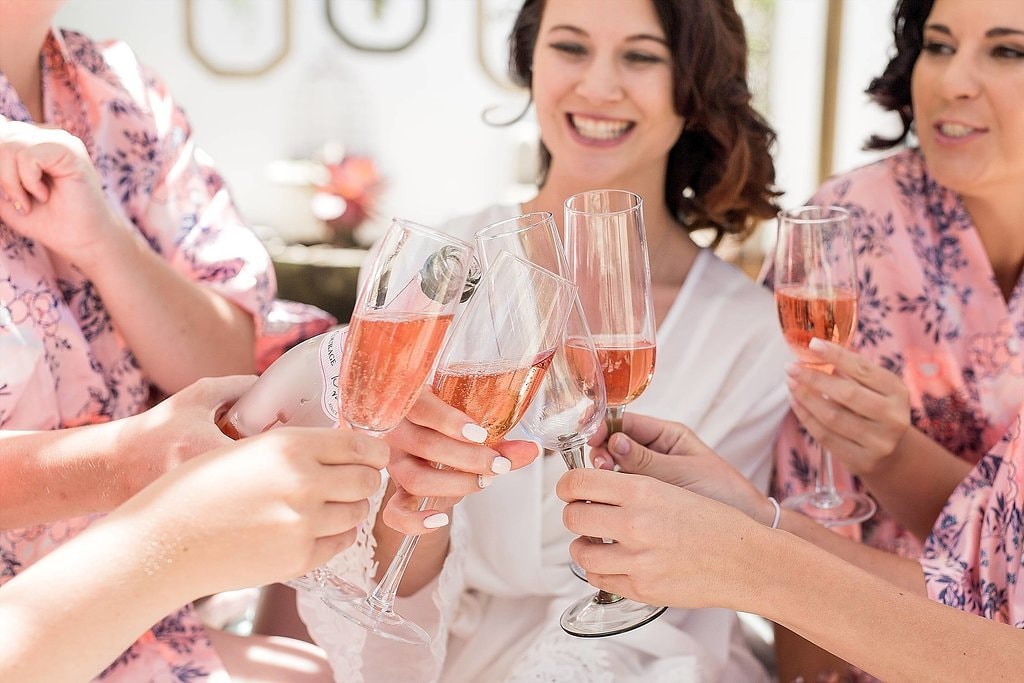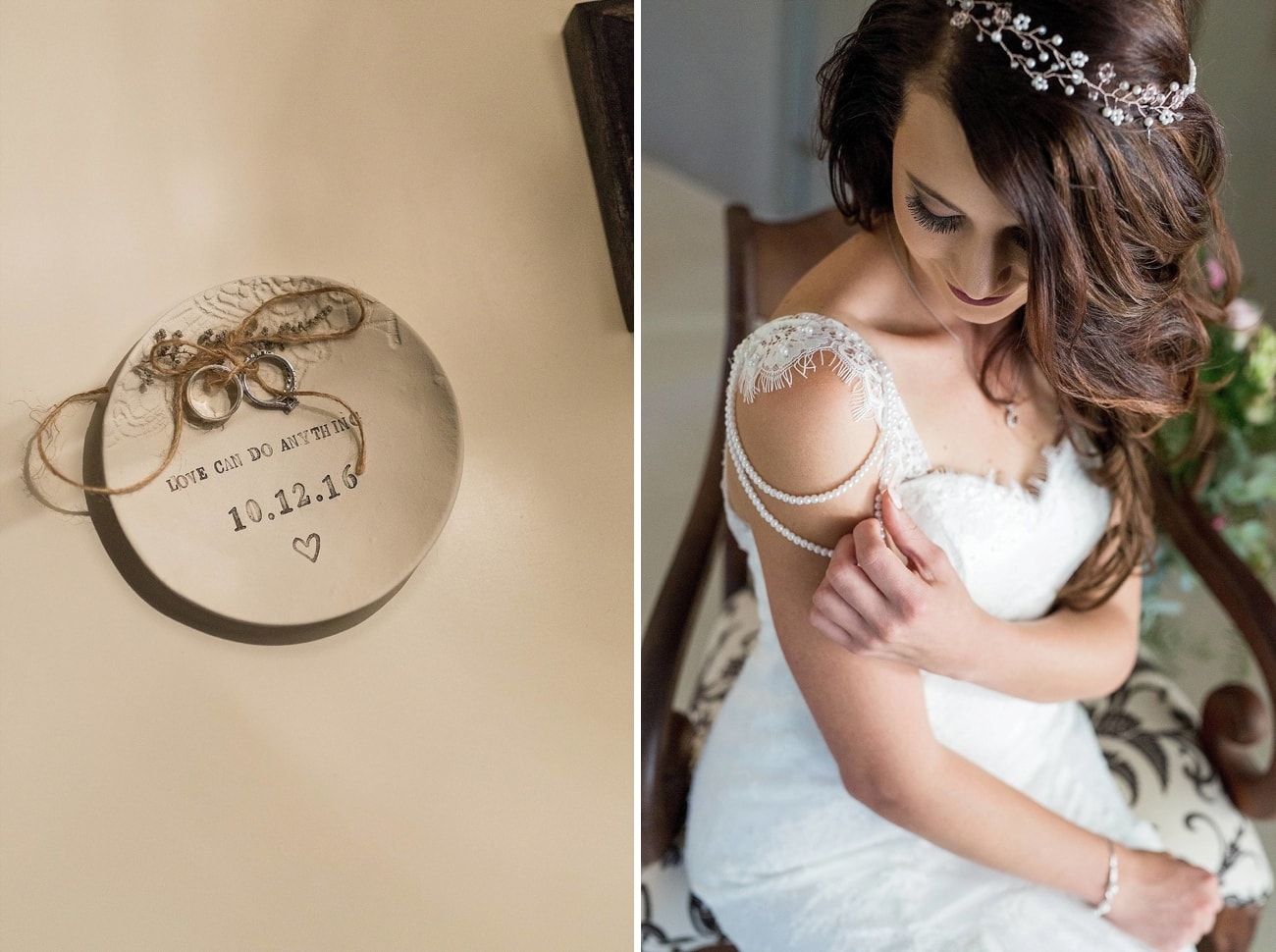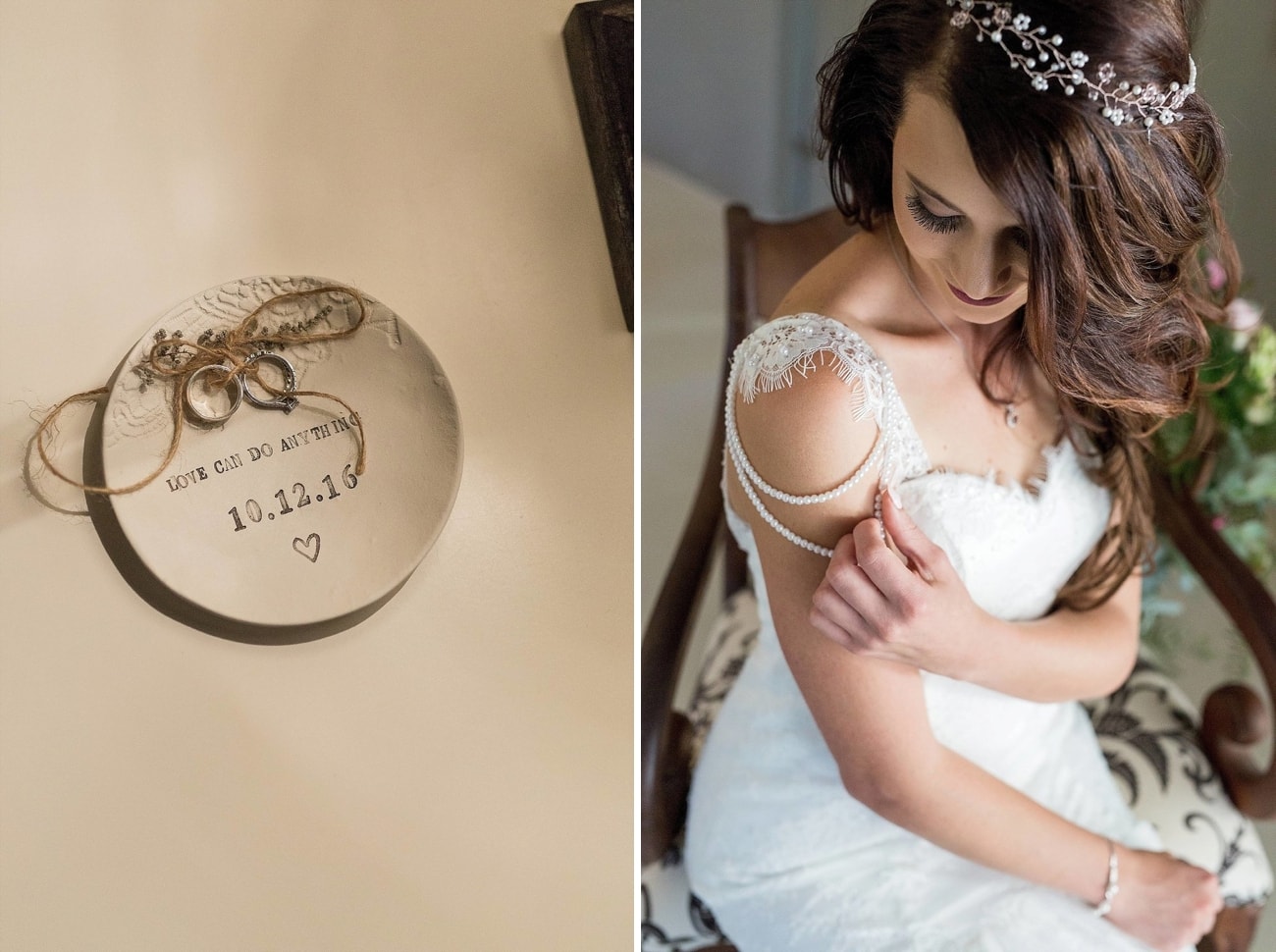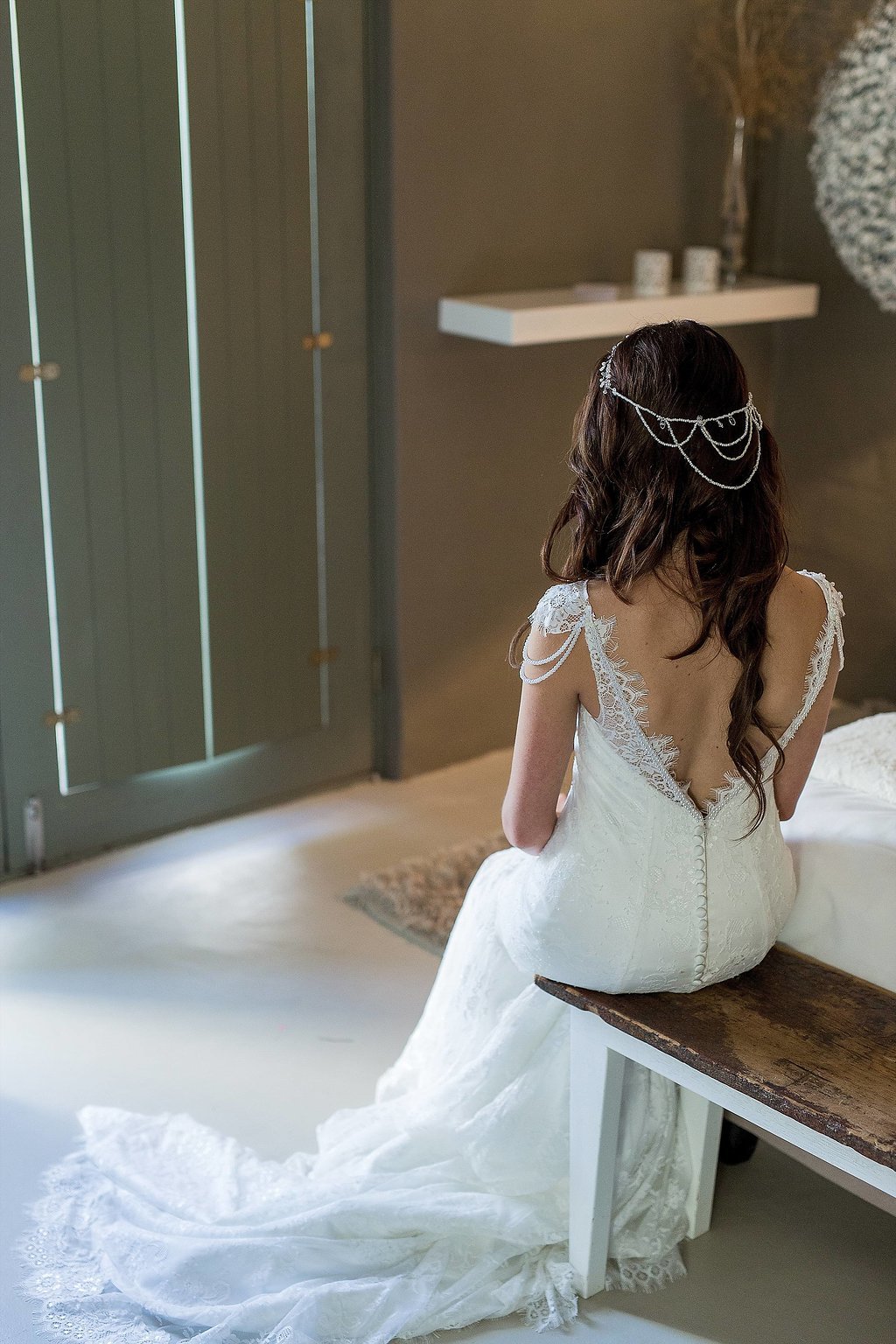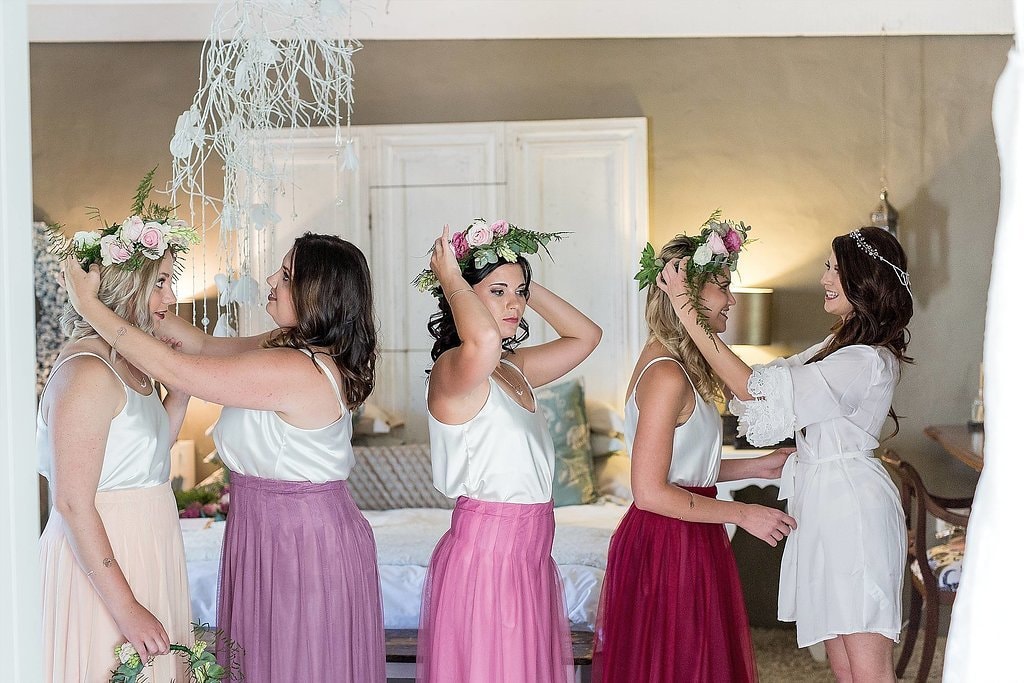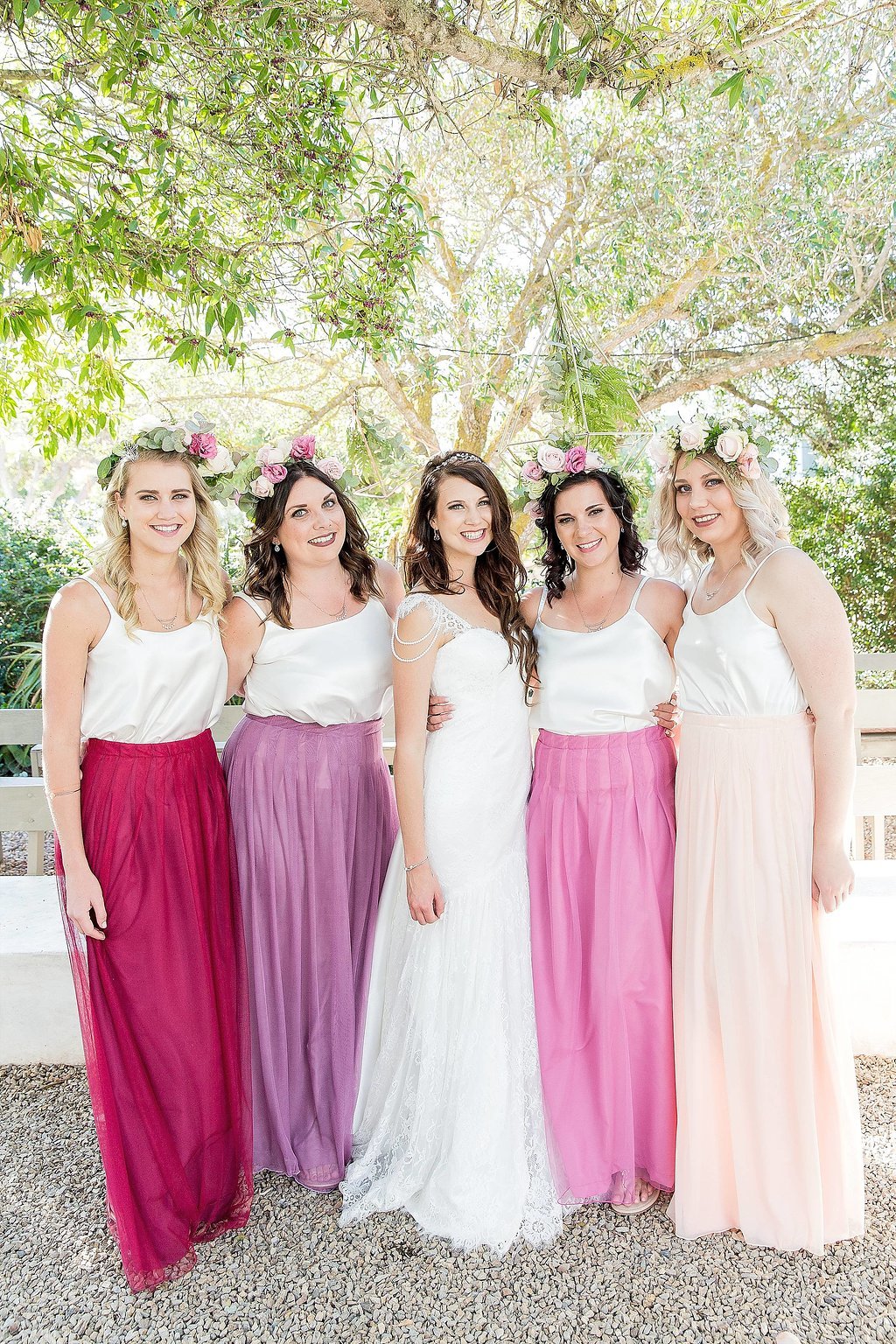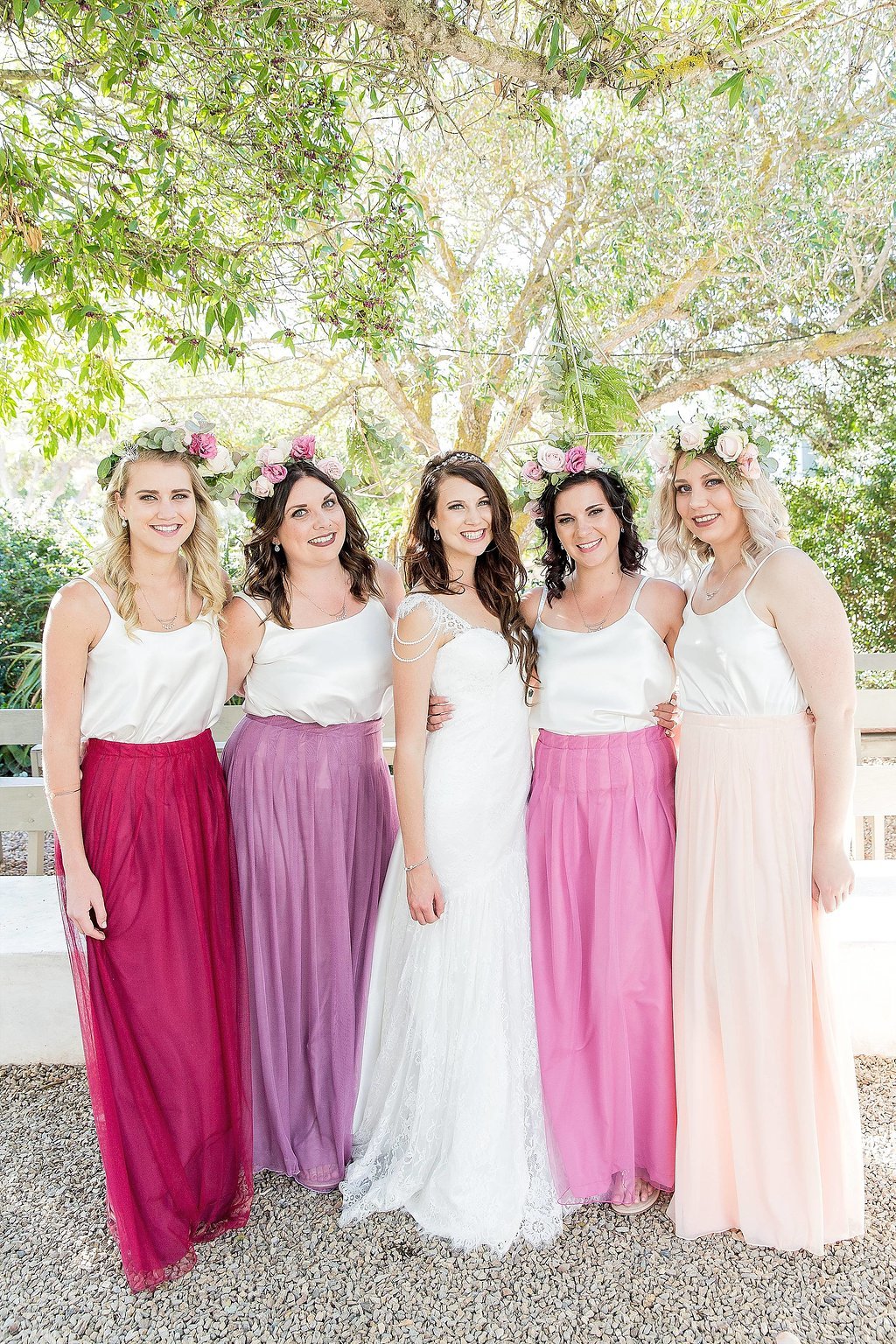 Love Story
It was very spontanious and sweet. We met through my cousin and Altus' best friend. We went out that summer evening with friends and my cousin told me about this guy I should meet. I laughed it off because I lived in Pretoria back then. Altus kind of knew what I looked like, and was watching me in the room, without me knowing it. Later that evening I grabbed the bull by the horns and went straight up to this good looking bearded man, shook his hand and said "you look kind of like a loner, you must sit next to me." With all my jokes we chatted and our dry sense of humor and his shyness made us click. Without me knowing, it was the same guy I was supposed to meet that night! Two years into doing a long distance relationship, I jumped on a plane to live close to him in Cape Town. The long distance was not easy at times, especially the ocasional six month waiting period to visit each other. We would send packages with letters, snacks and photos of our visits through the mail that made things special. With trust, faith and humour we saw that love conquers all!
The Proposal
Oh so romantic and very sneaky. He arranged everything from the roses to the ring together with his family. Back then we rented an apartment together with his brother. On our 3 year dating anniversary he arranged with his mother behind the scenes to take me to the movies. She was very excited on our way to the door and she kept on saying you two must enjoy every single moment. I did not expect anything. As I opened the door I remember falling against the wall with surprise. There were trails of rose petals and candles on the floor. As I looked up with tears of happiness, Altus walked down the stairs all suited up. Sjoe! He took my hand and showed me the photos against the wall, of all our memories that we had created together. A memorial table with all our dates and CDs that we shared together and even my favorite red bottle of wine with a dozen roses. He ordered Chinese food and sushi for the three year "date". We laughed and cried about the long distance relationship and how everything just worked out for the best. I just sat in awe and looked around me and enjoyed how special he made me feel. He went to fetch the "pudding" – I remember looking up at him thinking that this is the man I would love to spend my life with. When he came back he went down on one knee asking for my hand in marriage. With all the excitement I forgot to say yes and just jumped on him with hugs and tears of laughter and he had to repeat his question. It was so special and I will cherish it with all my heart.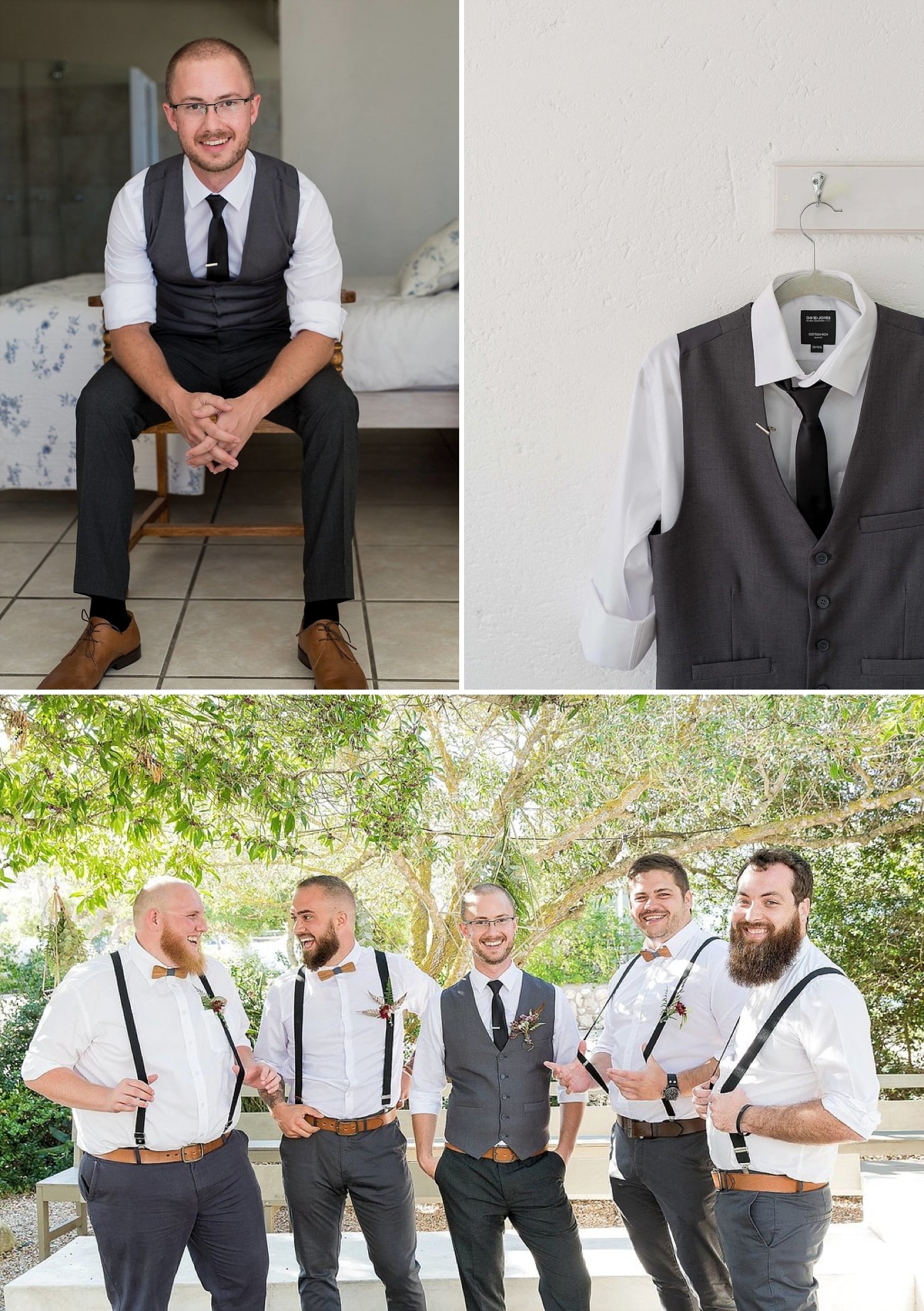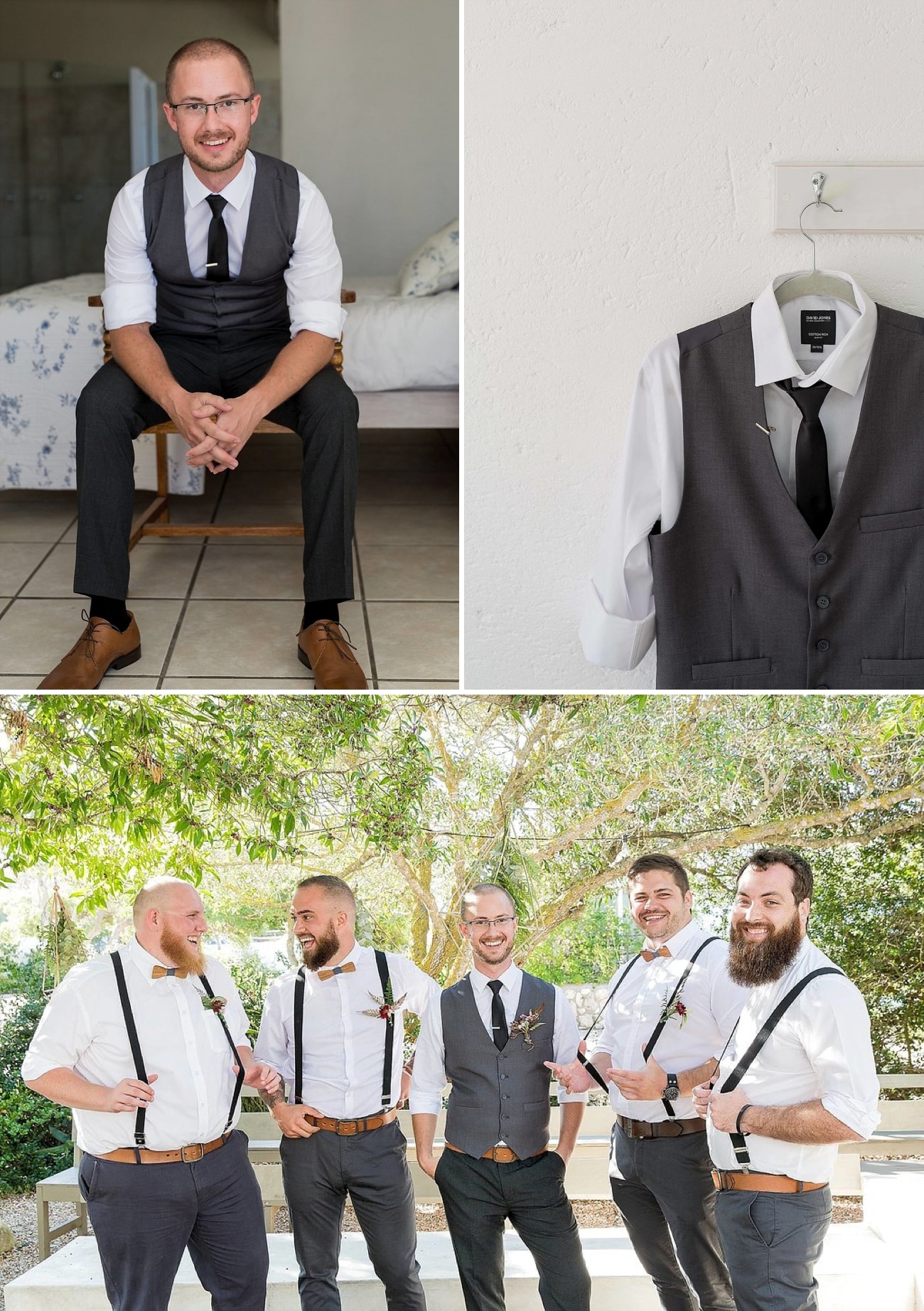 The Venue
We are very family orientated and we felt that it was important to keep it informal and fun for our family and friends. Our wedding was in December, so we thought of combining the beach with a rustic garden wedding. Gelukkie just blew us away. We loved the u-shape layout which had a reception area, bar and a dancefloor with the outdoor courtyard right in the middle. It was very unique and everything flows so naturally. It has a very rustic, romantic and typical West Coast feel to it which brings people together. Ruth, the owner, is very creative with the decor and vision of our wedding day and she made us feel right at home.
Wedding Style
Our vision was to have a fun and informal yet very romantic and modern feel to our special day. We loved the outdoor setting that had a rustic feel, brough together with the succulents. The ceremony took place underneath the beautiful trees where people could relax and view the wedding in the shade. Our colour pallette was a warm maroon colour together with berry tones and rose gold. Ruth did some DIY geometric shapes with straws and sprayed them rose gold and surprised us with a rose gold beverage container that added to the decor. She added a romantic touch by having garland runners together with greenery, adding interesting berry toned flowers and candles on the tables, and went out of her way to hang the most beautiful circular flower centerpieces over the dining area. It looked like a Pinterest wedding!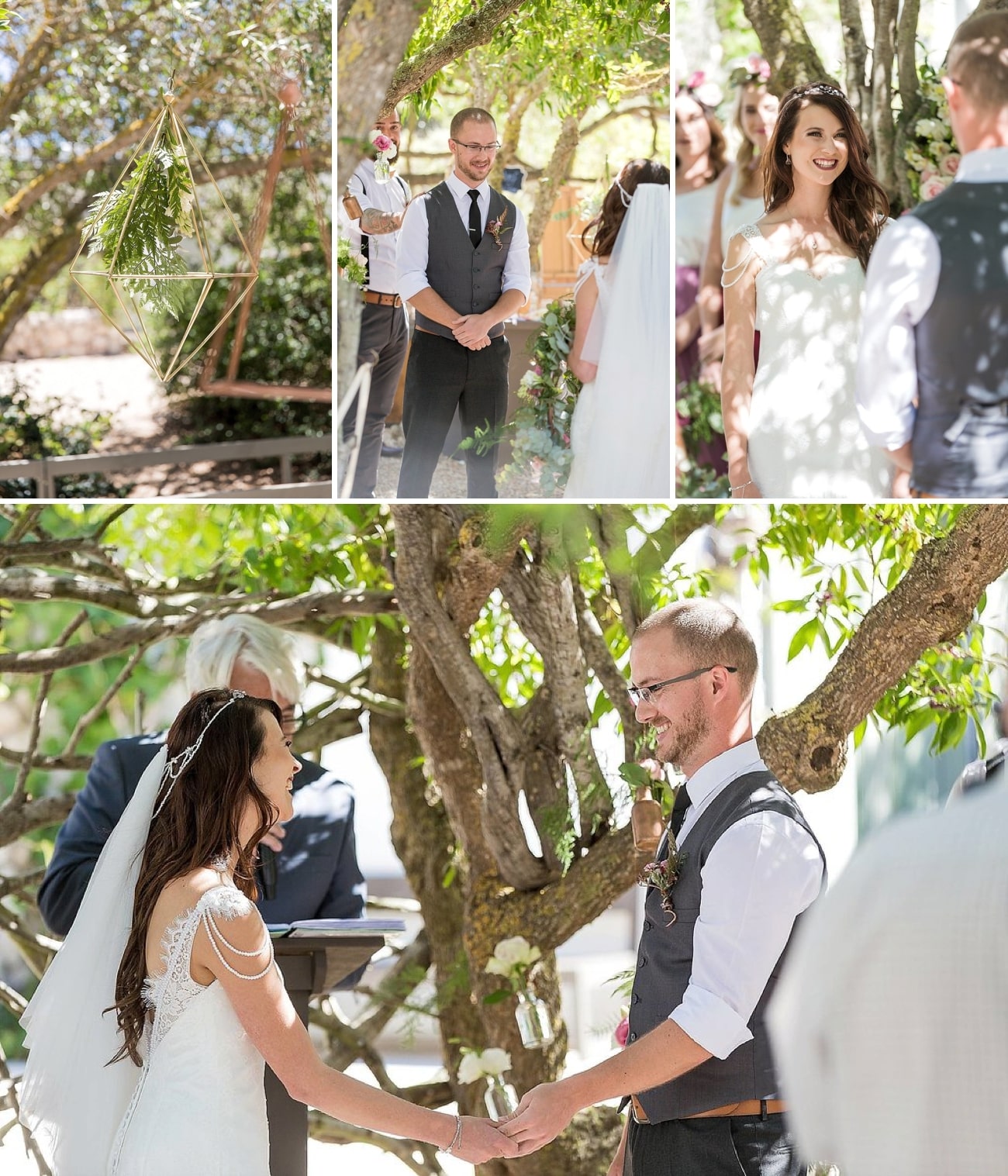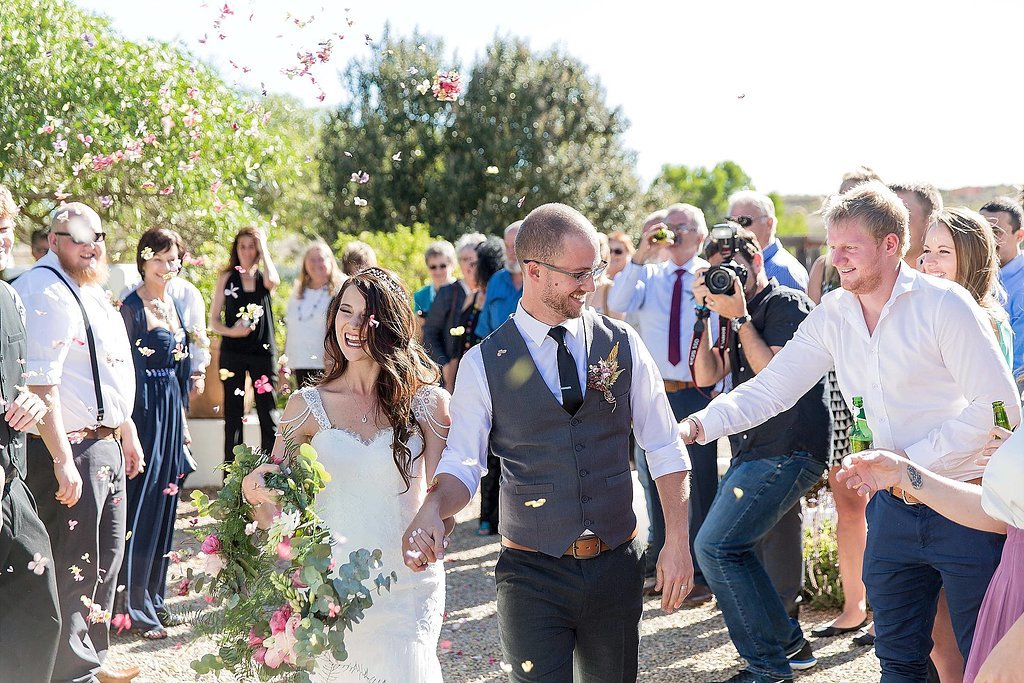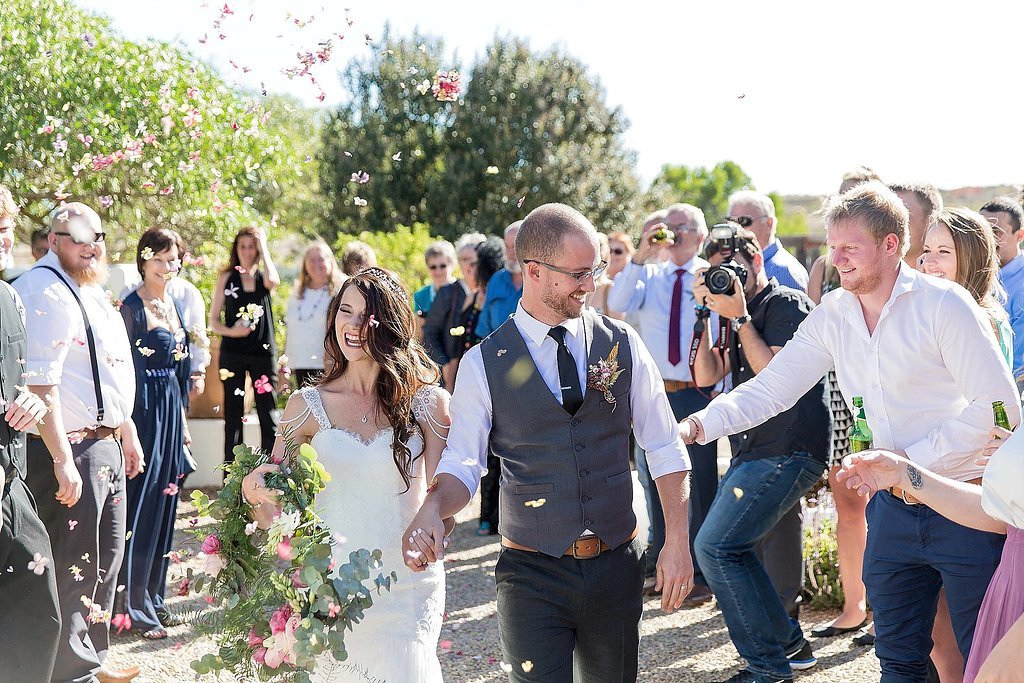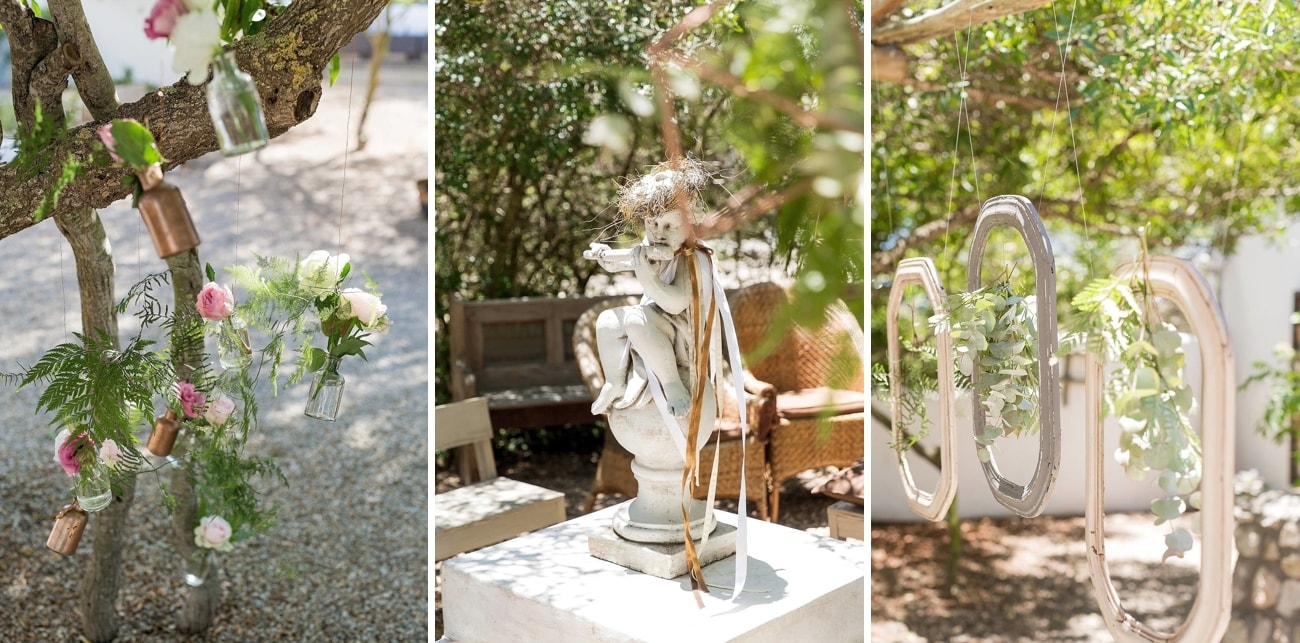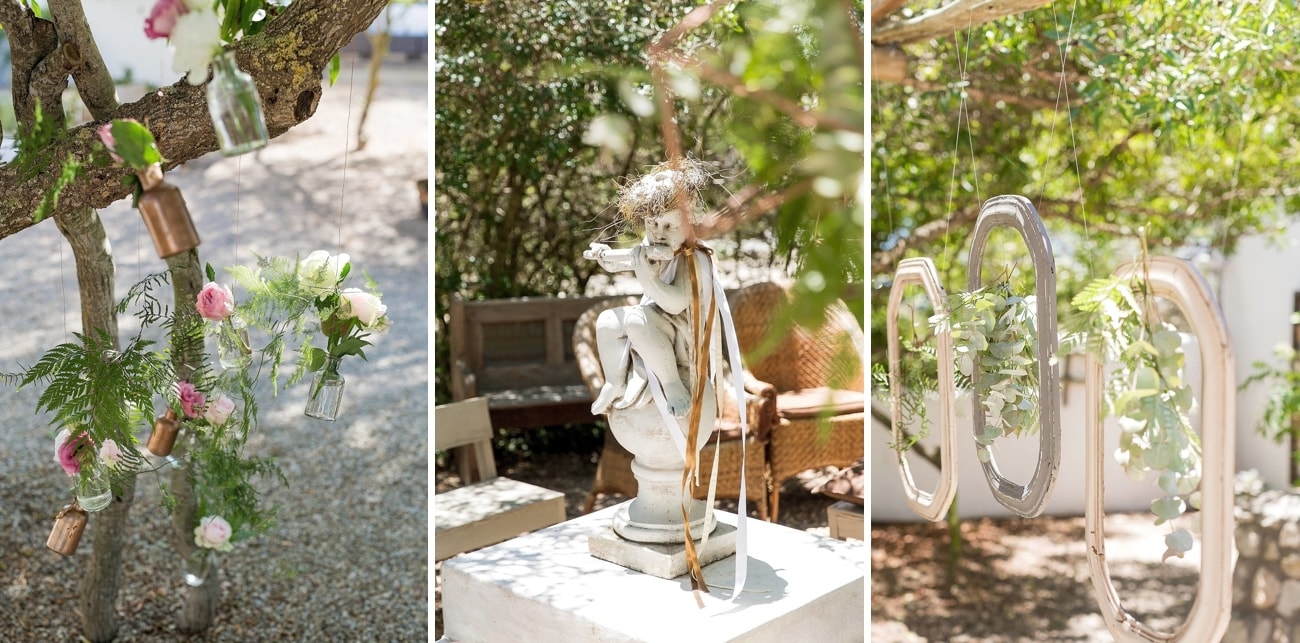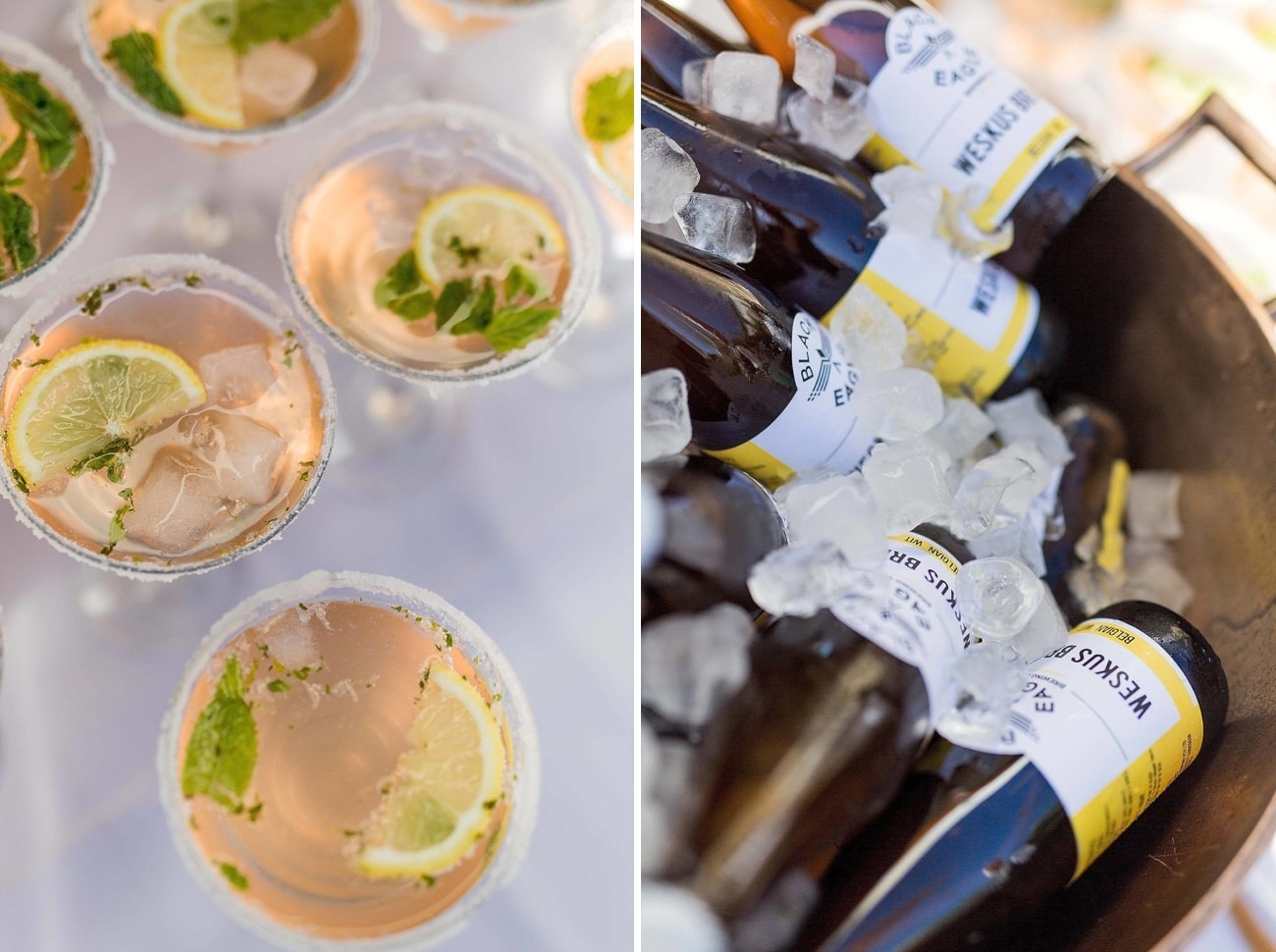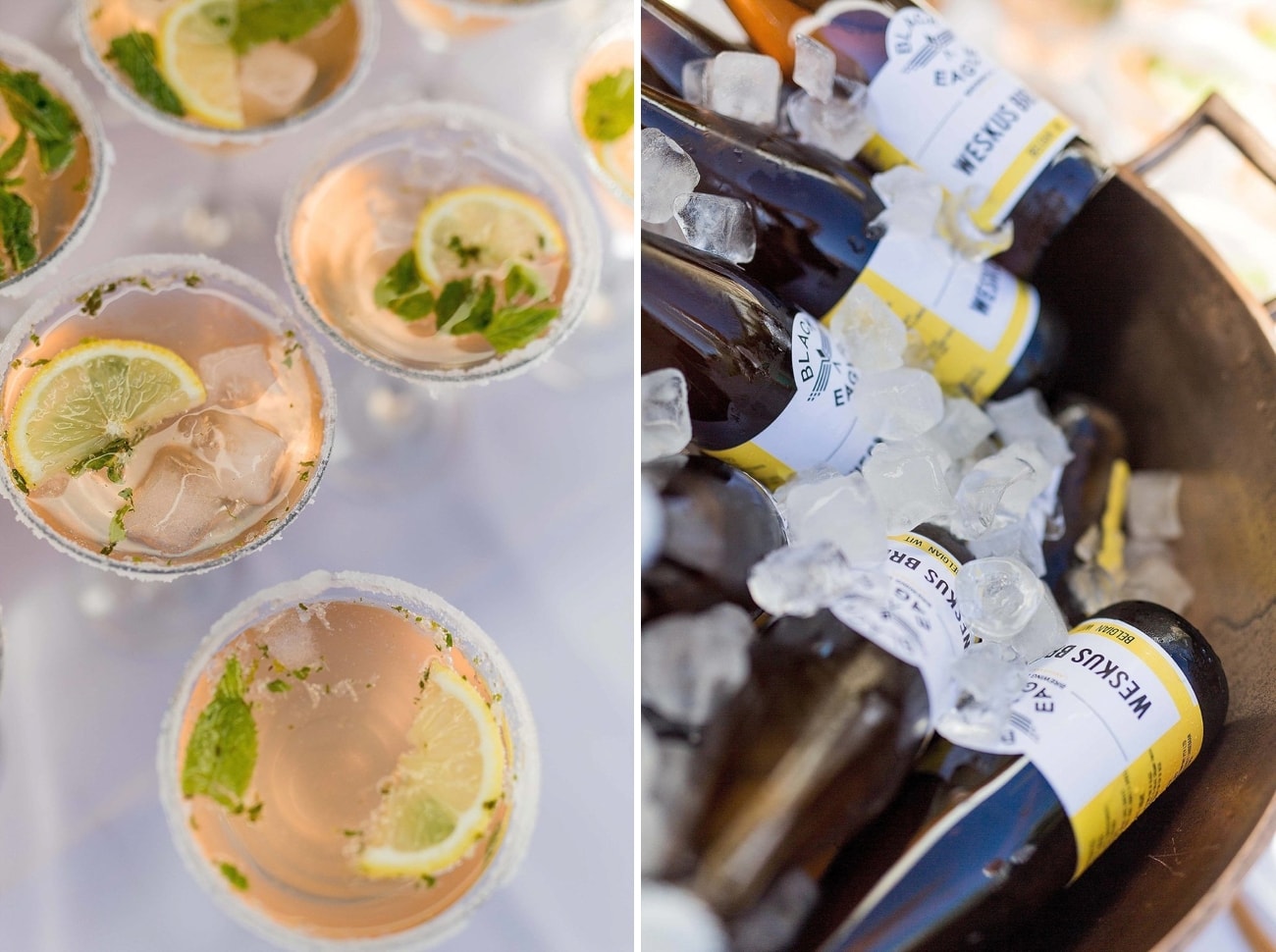 Wedding Details
We are very fond of braaing and cooking together. So for the guests we gave the men herb braai spice with a custom label that read: "Die liefde laat jou lekker krui" as a thank you present and for the ladies a herb plant which they could take home to use and to grow. We got our green fingers dirty replanting them and making the glass bottles look pretty! The foldable menus were a unique and playful way to entertain our guests – thank goodness for our bridesmaids, who helped to cut them out and fold them!
The Flowers
Ruth had the freedom to play with different flowers in the berry tone colour pallette. There was lots of greenery, roses that looked a lot like peonies that added the berry tones, an interesting onion plant that makes the most beautiful white flower and snapdragons (antirrhunim majus). The bridal bouquet was a hula hoop wreath with greenery and flowers that reflected the flowers at the reception.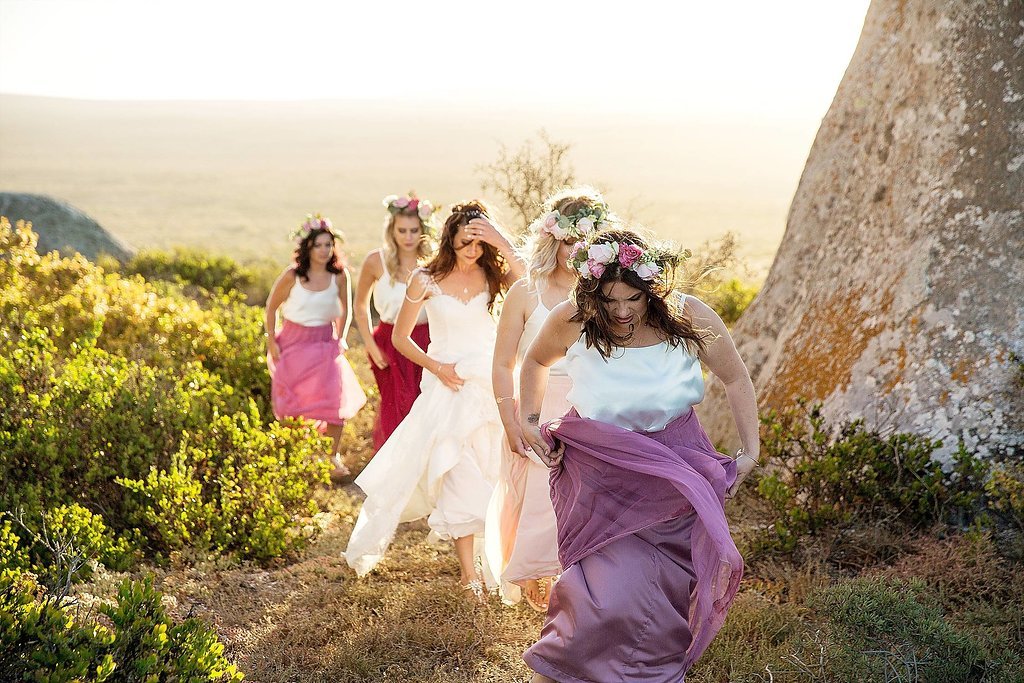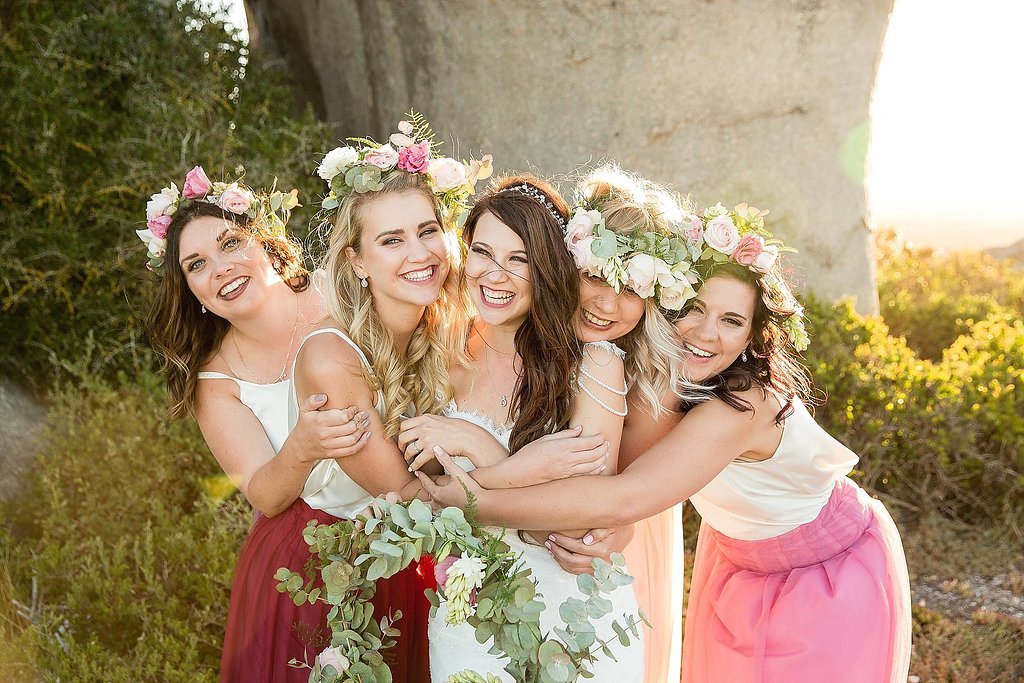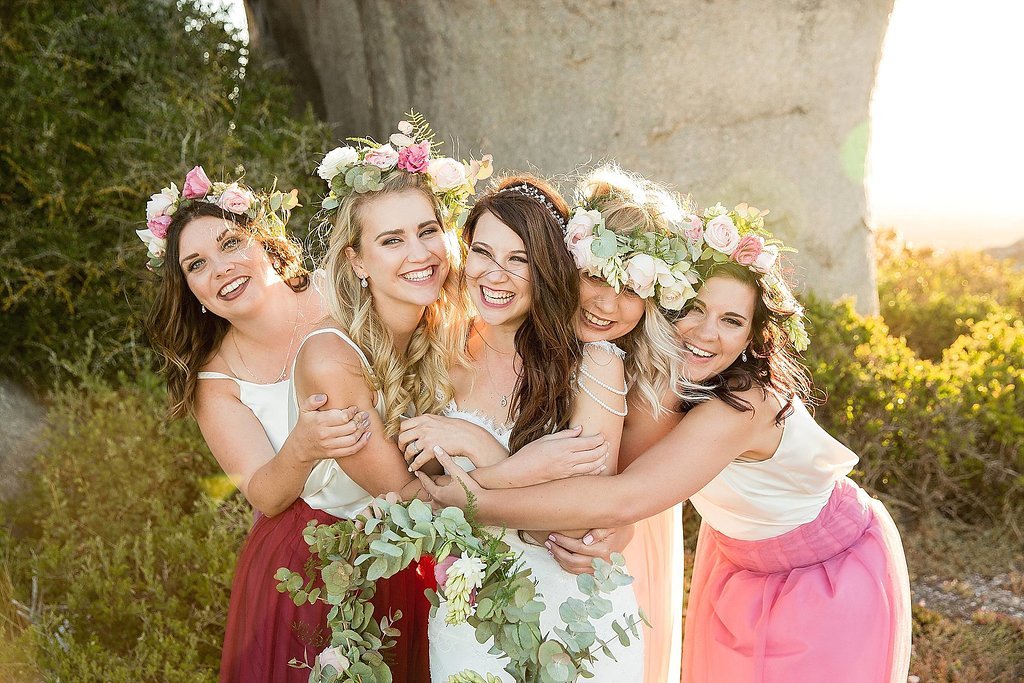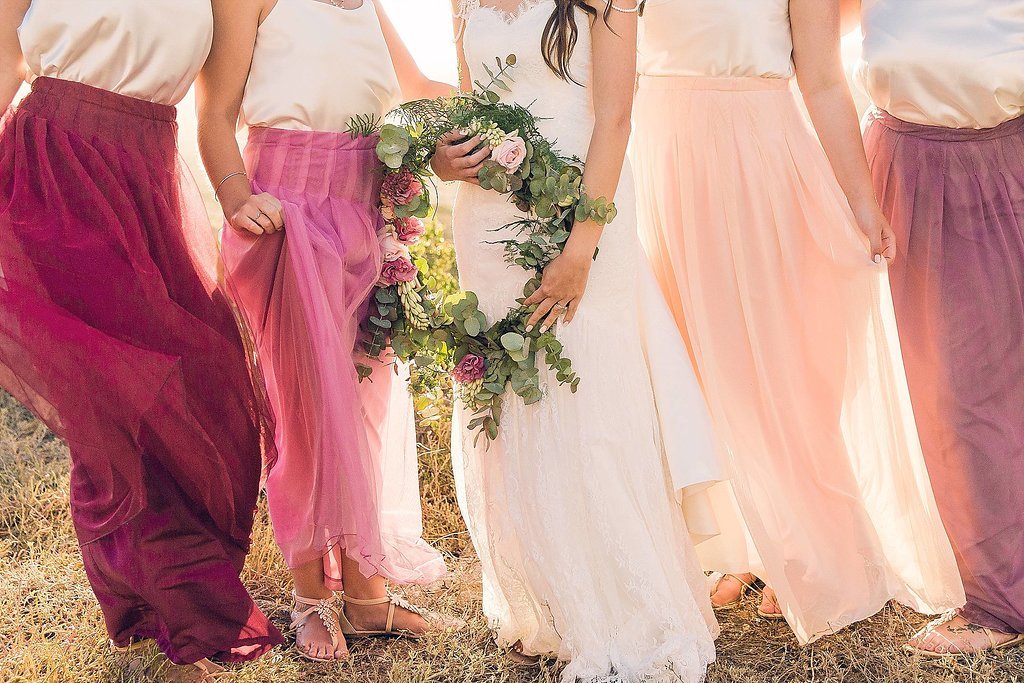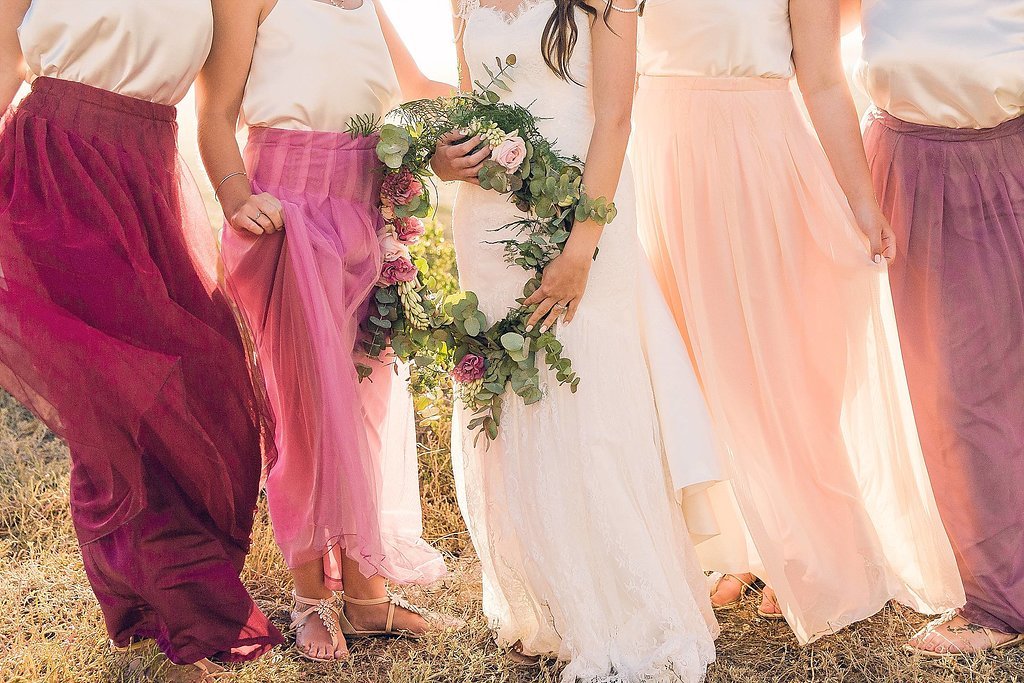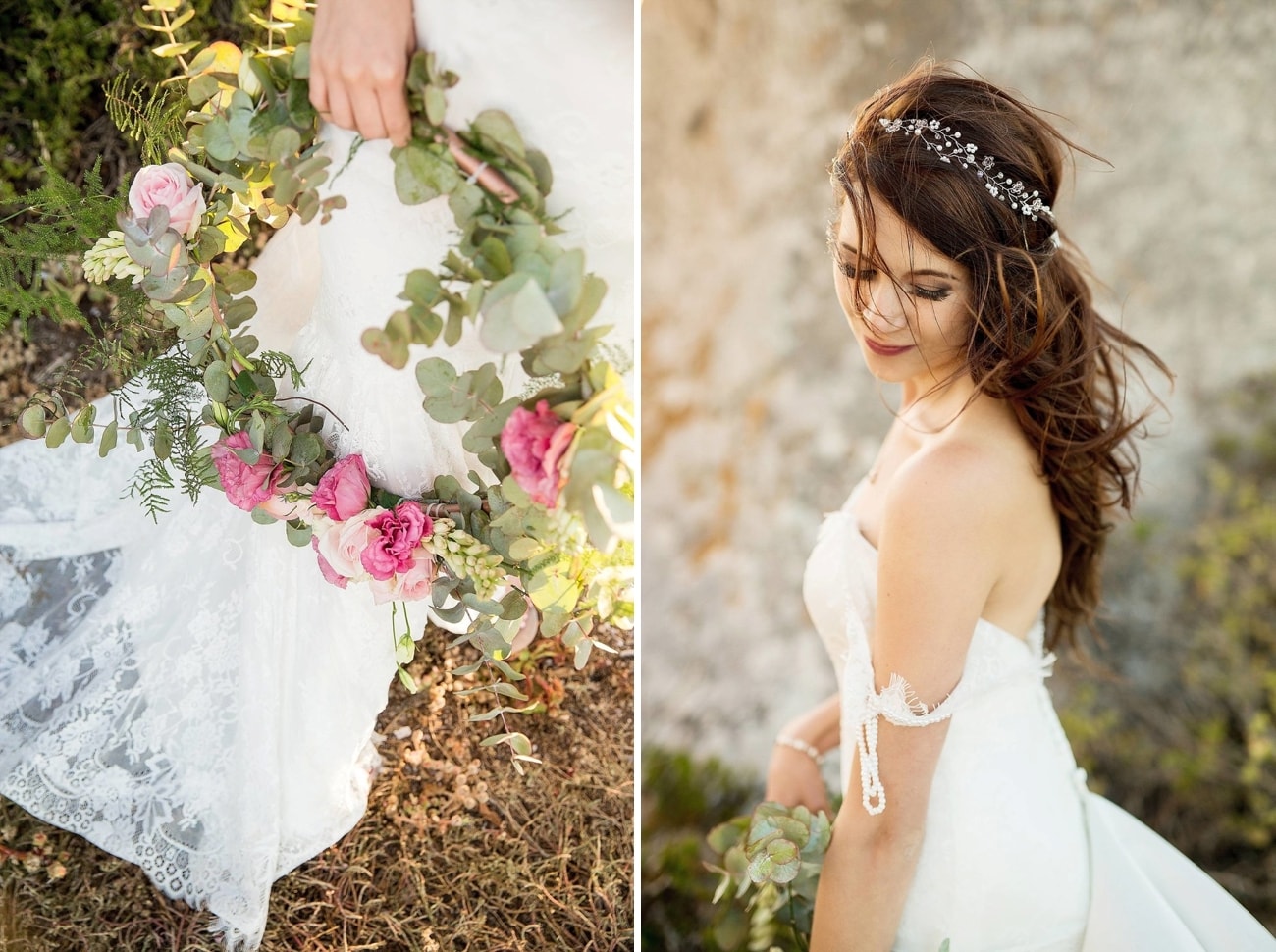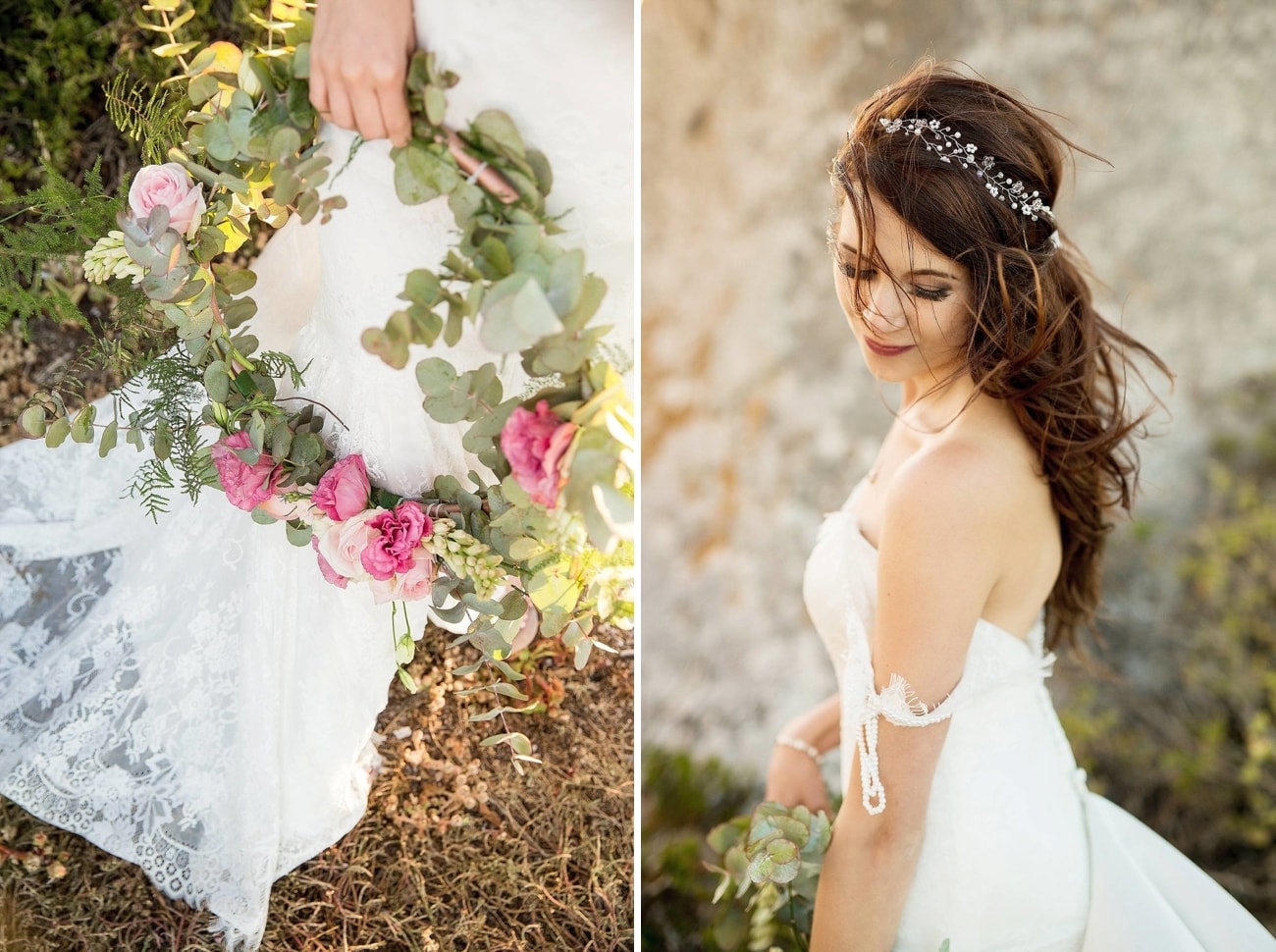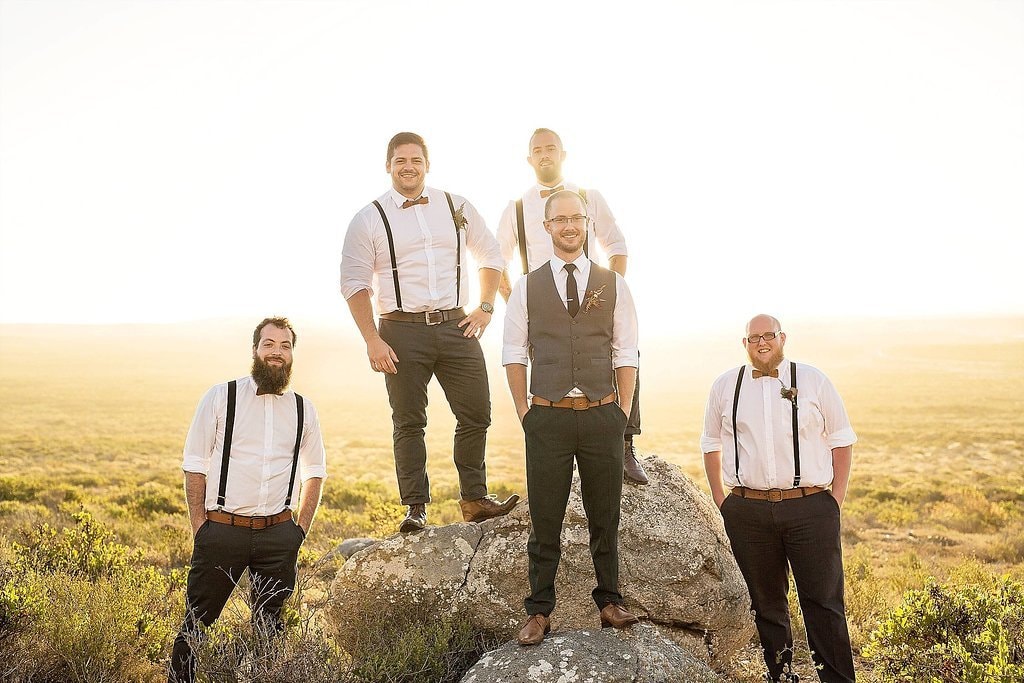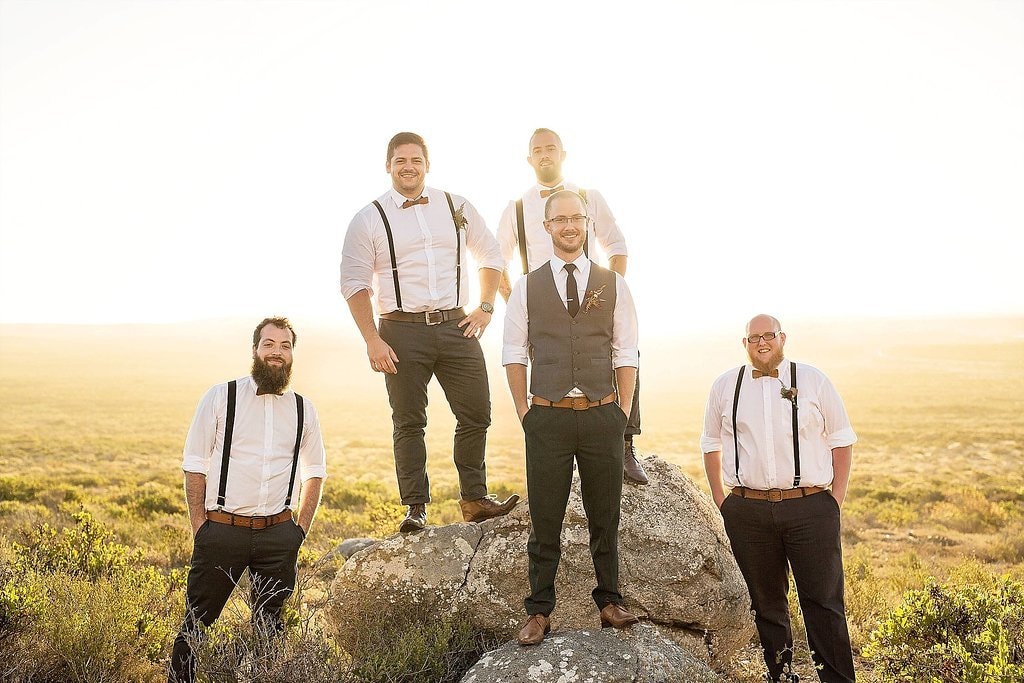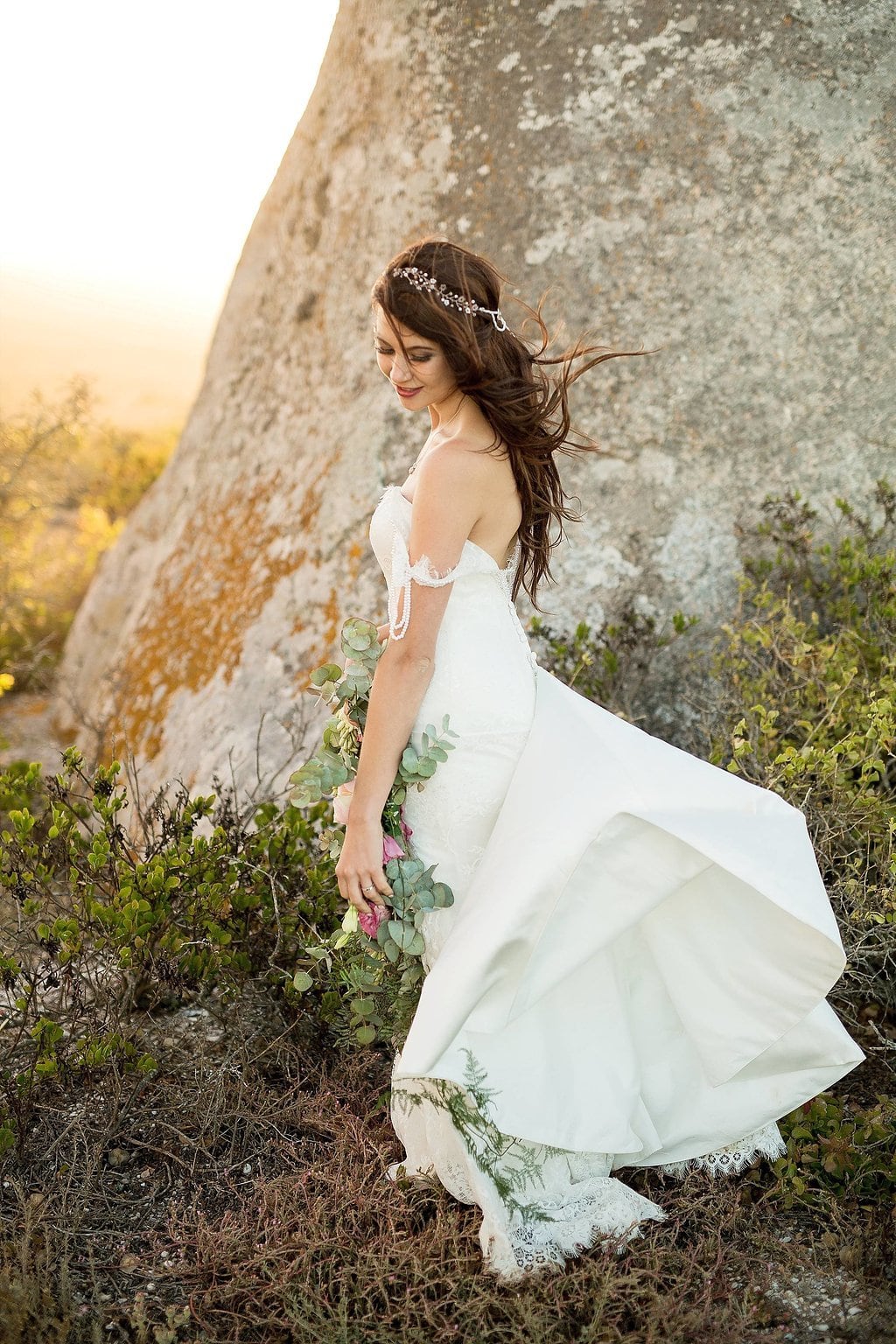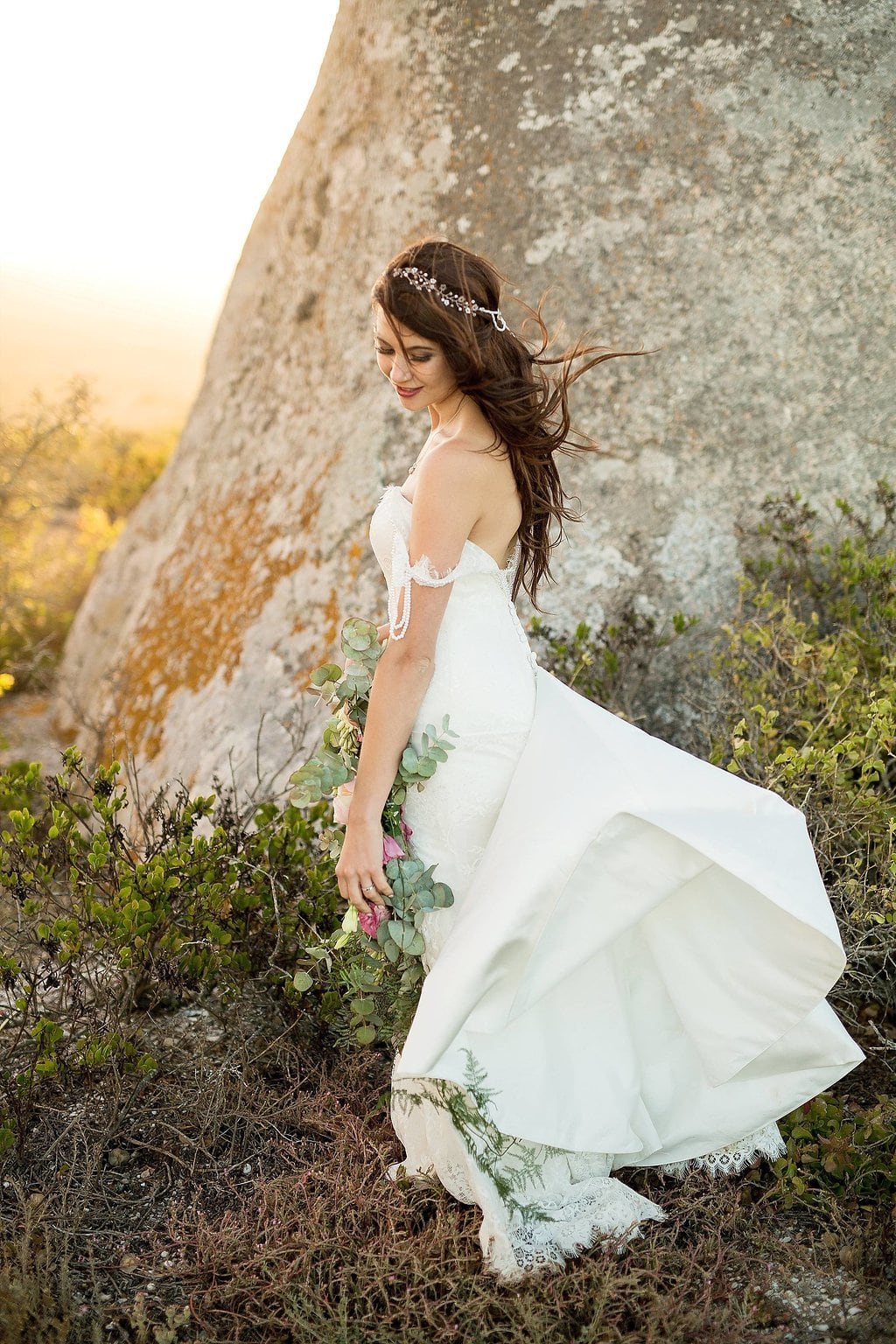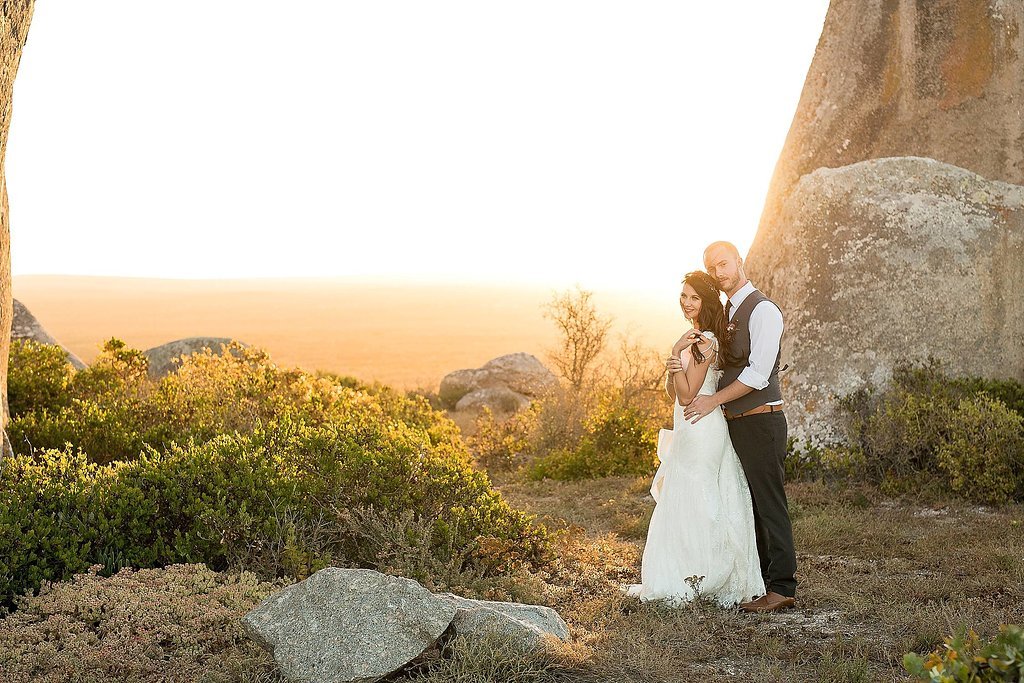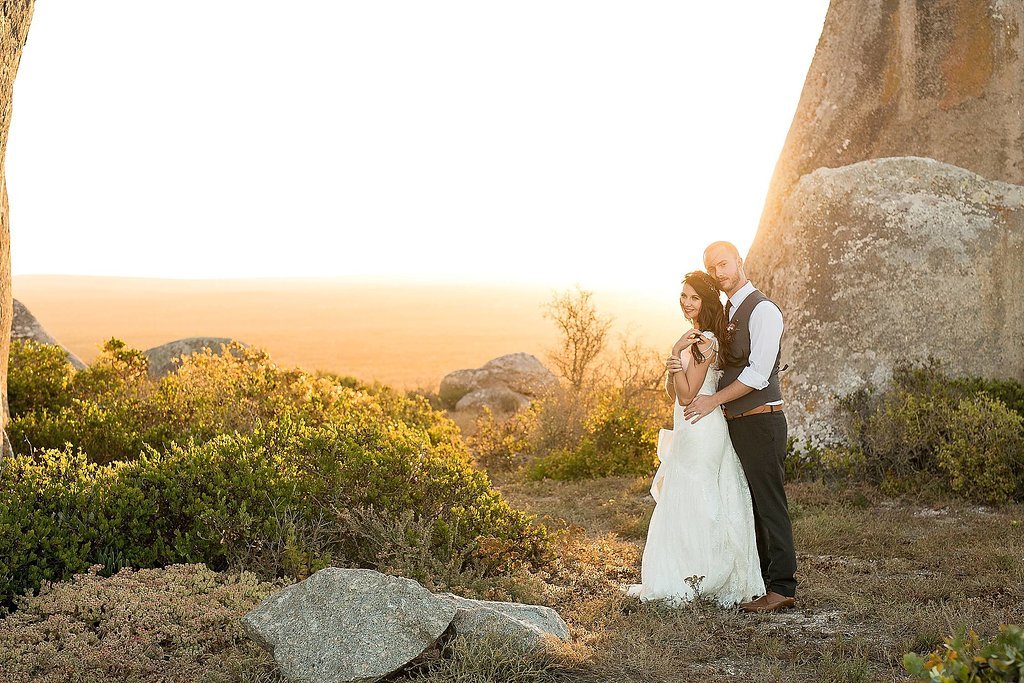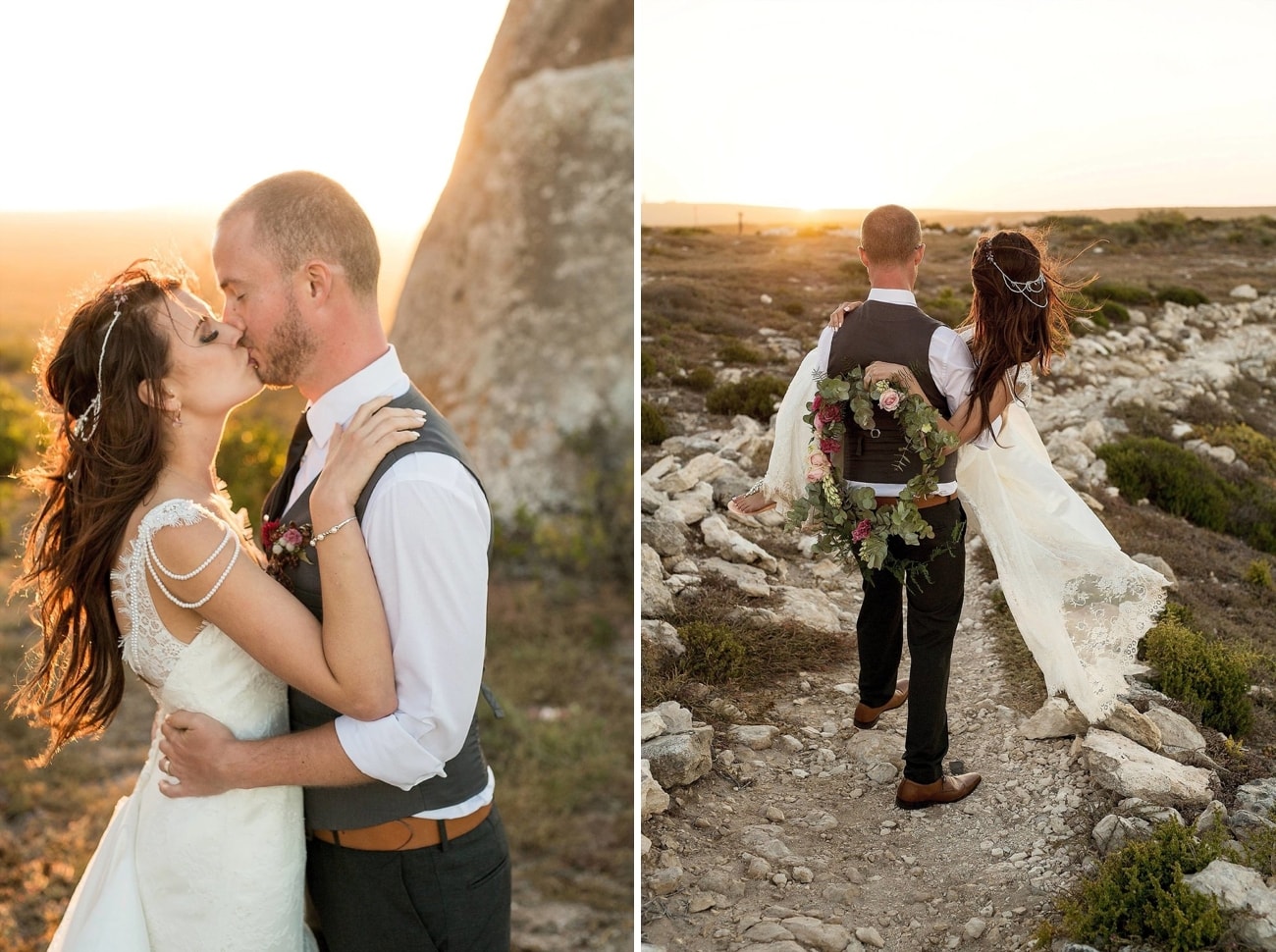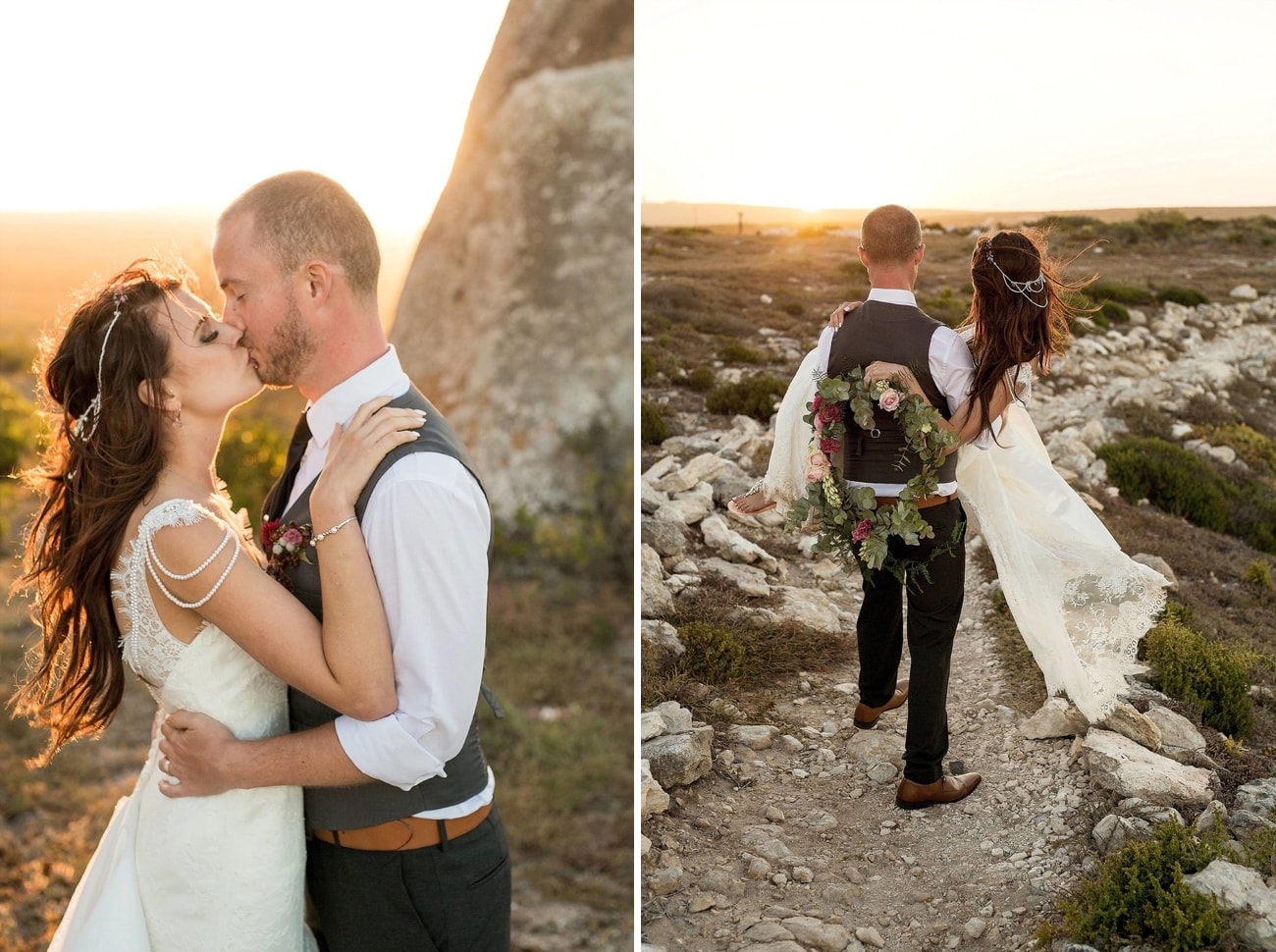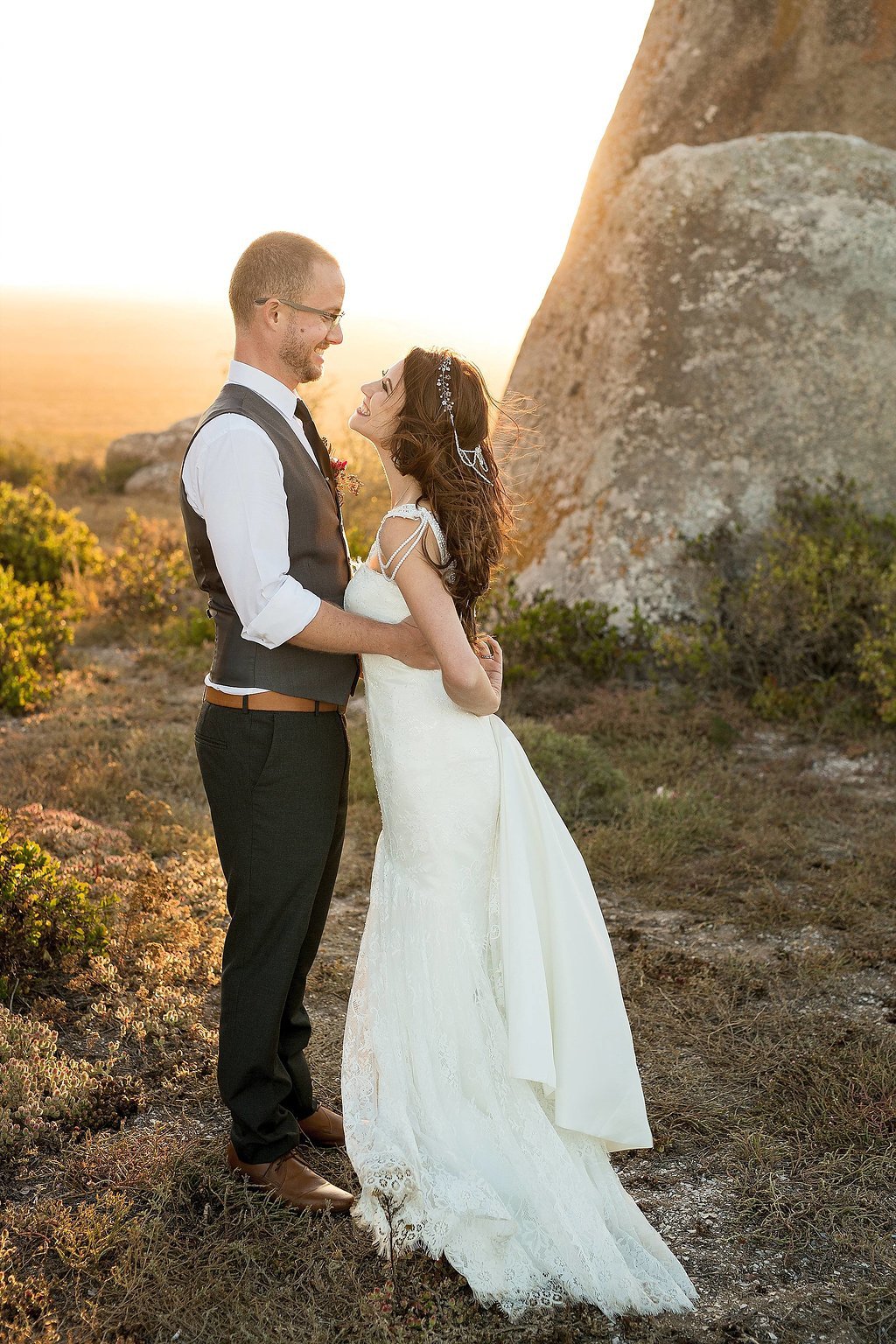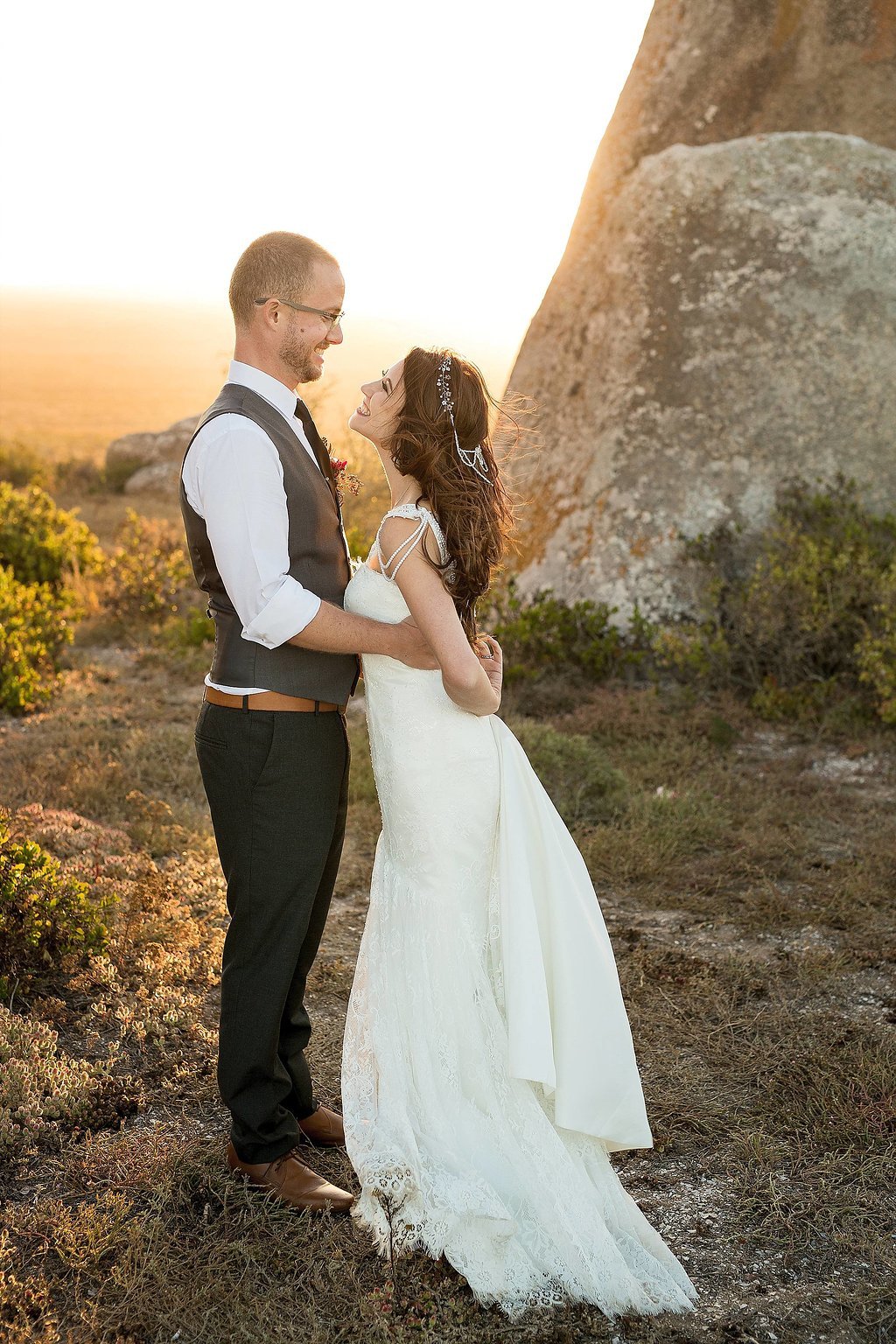 The Dress
Wow…everything and more I had hoped it would be. Taryn had I shared the exact vision of the type of dress that would fit my body type and personality. She is the owner of Urban Bride in Bellville. She and a designer work together to bring the bride's vision to reality. A mermaid style dress, light and whimsical, with pearls and vintage lace. The dress had an open back with pearls attached to the lace. Cap sleeves with hanging pearls on the side. The dress had a medium train and a chapel-length veil to let the photographer have some fun with – it made for beautiful photos!
The Bridesmaids
I had four bridesmaids. I chose my sister, my two cousins, and my best friend of 16 years. They are very close to my heart. I chose a two-piece playful and whimsical look with a berry tone pallette they could choose from for the skirts. The wedding venue only allowed flats, so they chose the same sandals with gold embellishment on the top. They wore rose flower crowns and minimal jewellery. It was not always easy for fittings because three of the bridesmaids lived abroad, but they all looked breathtaking without any fittings!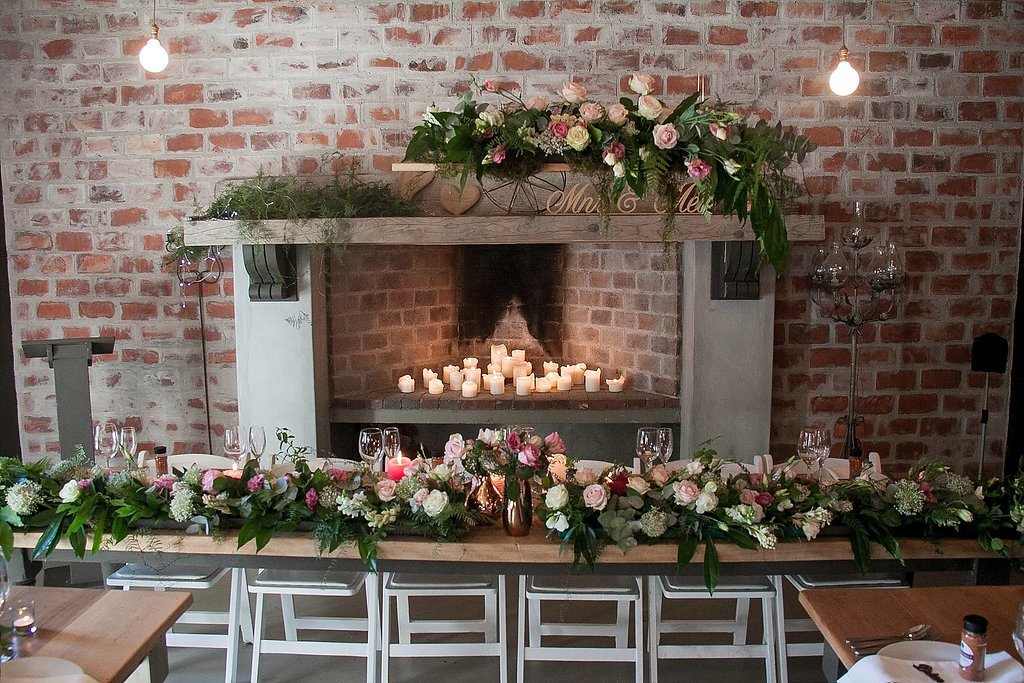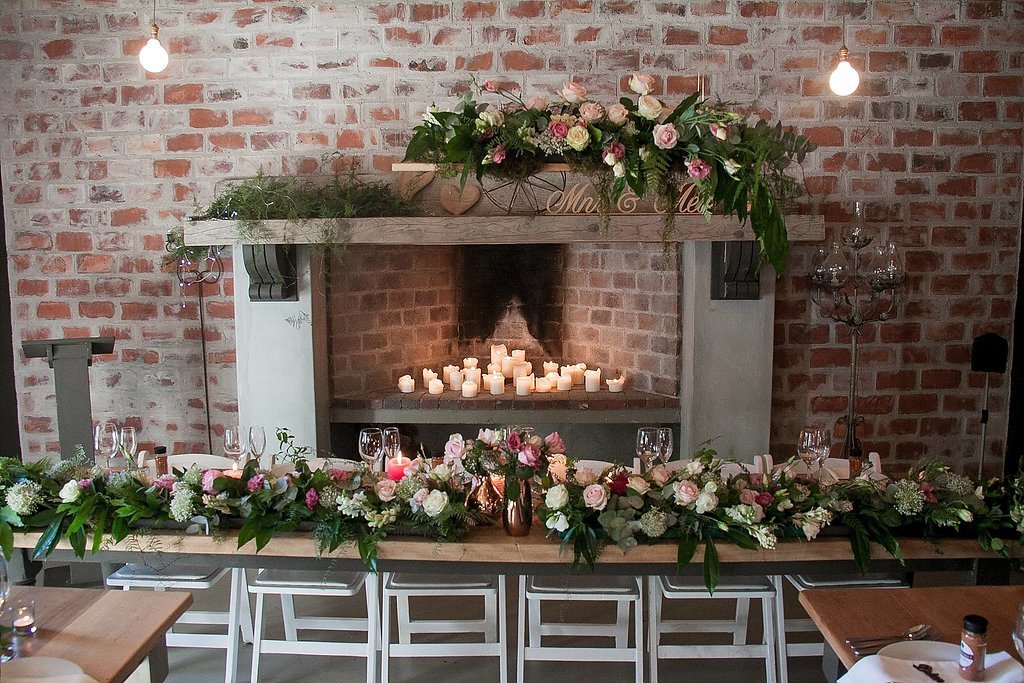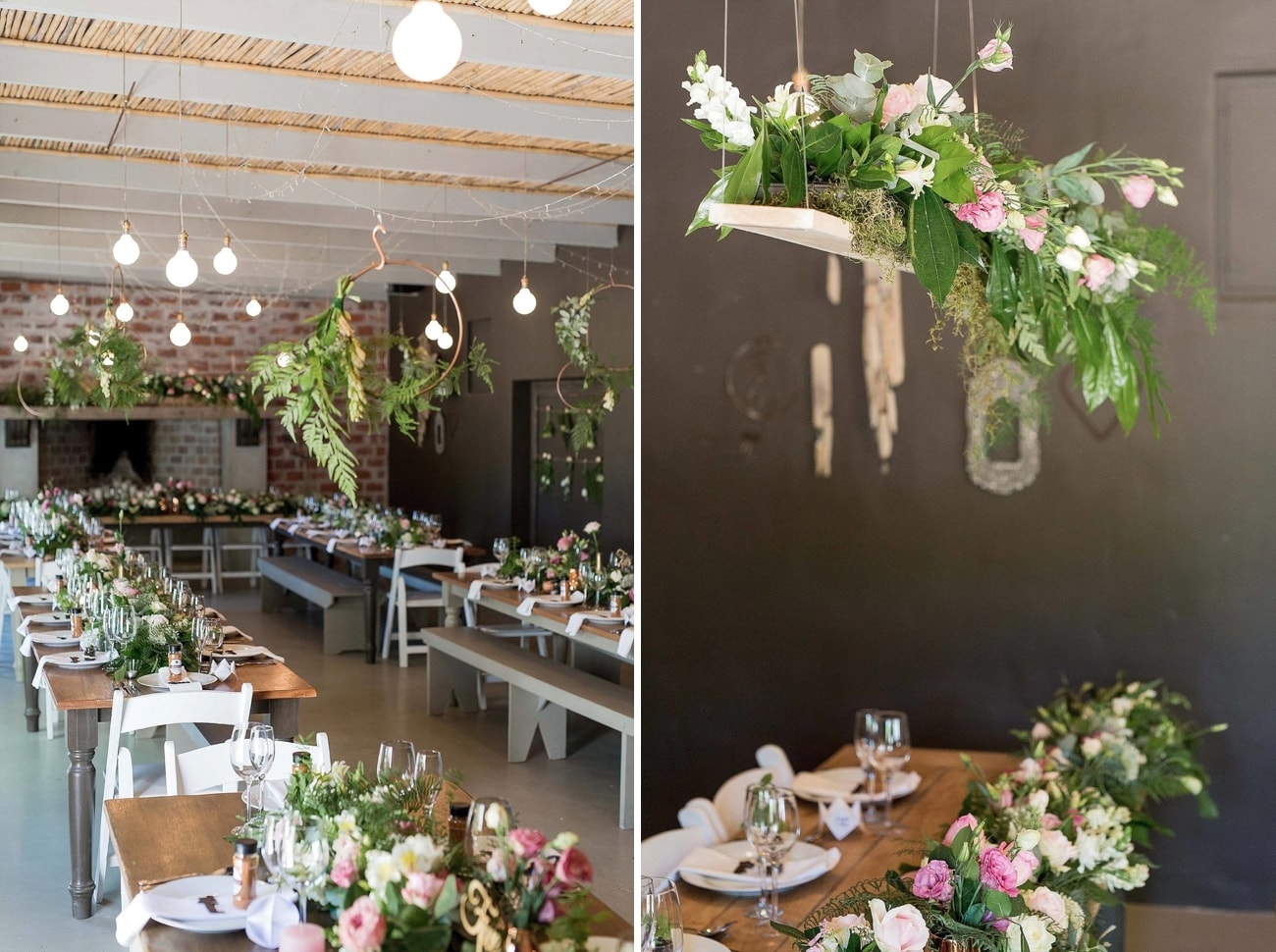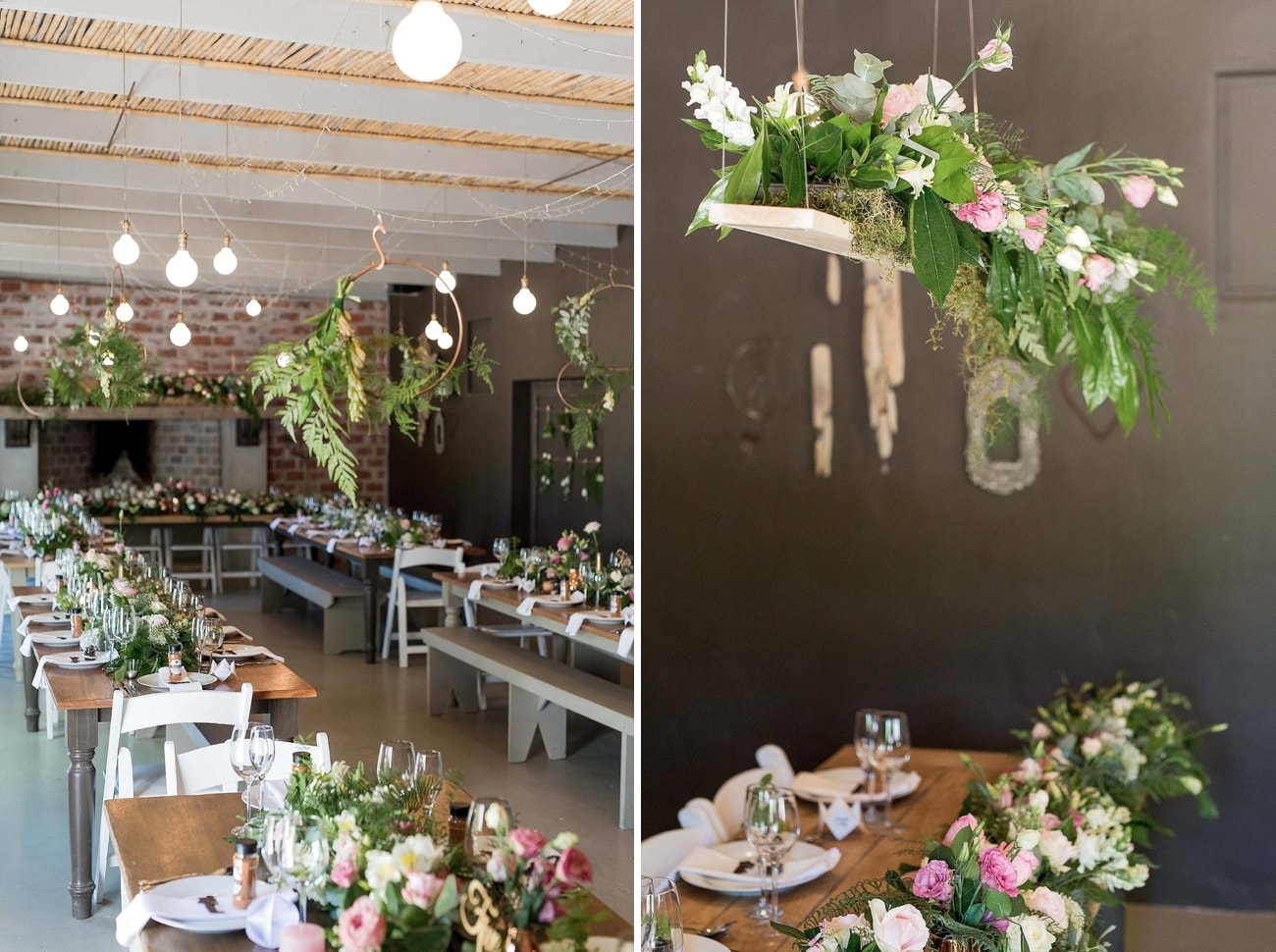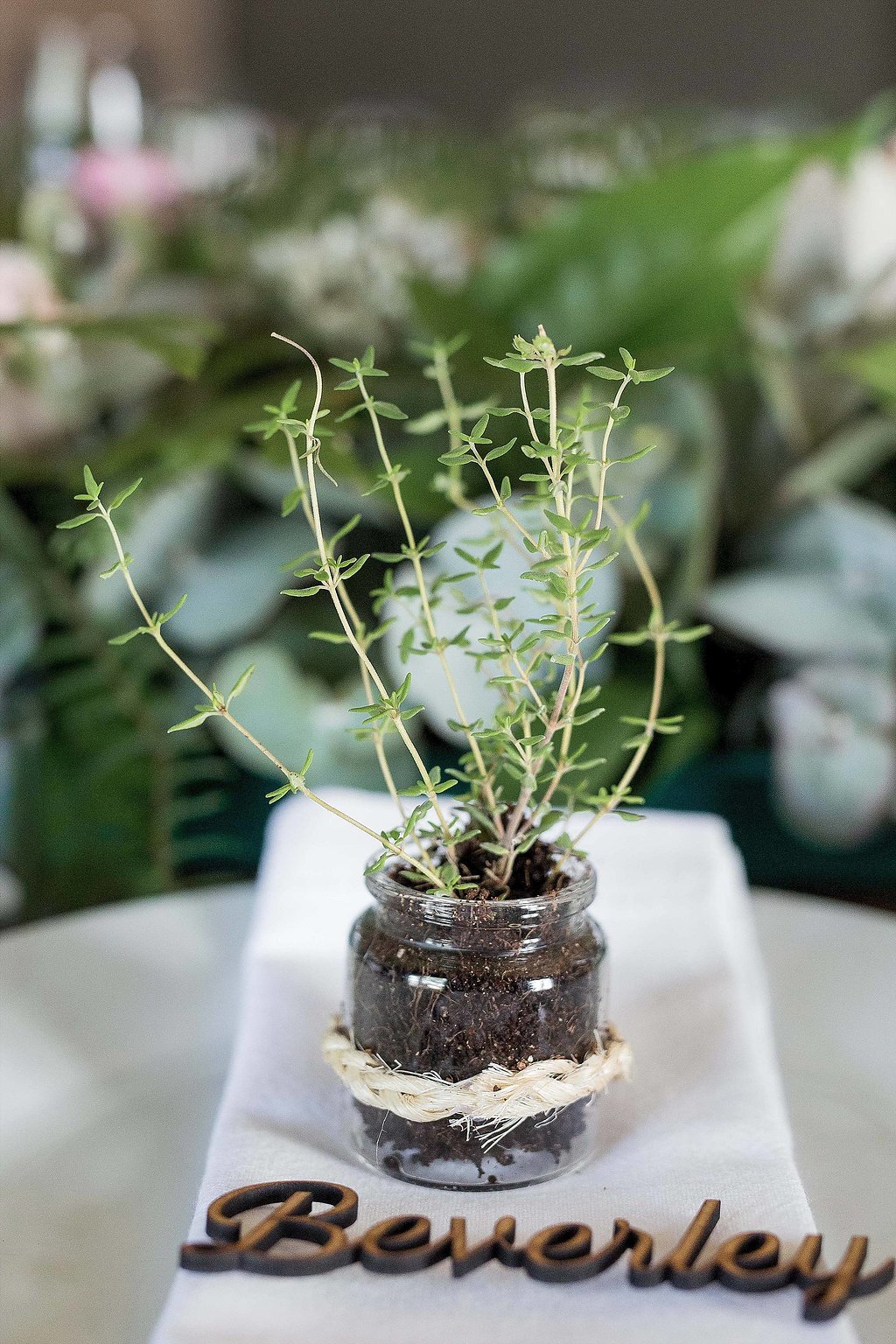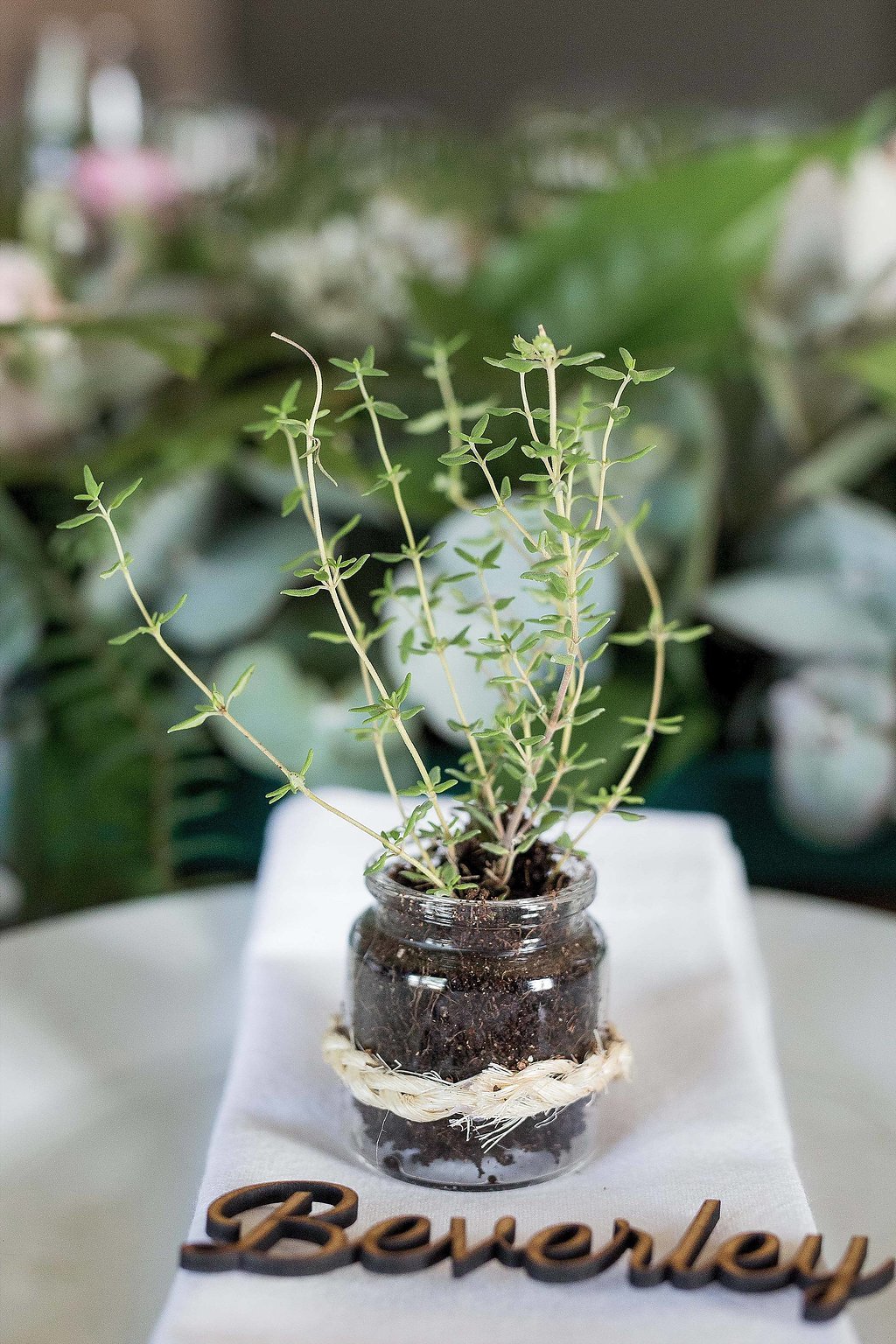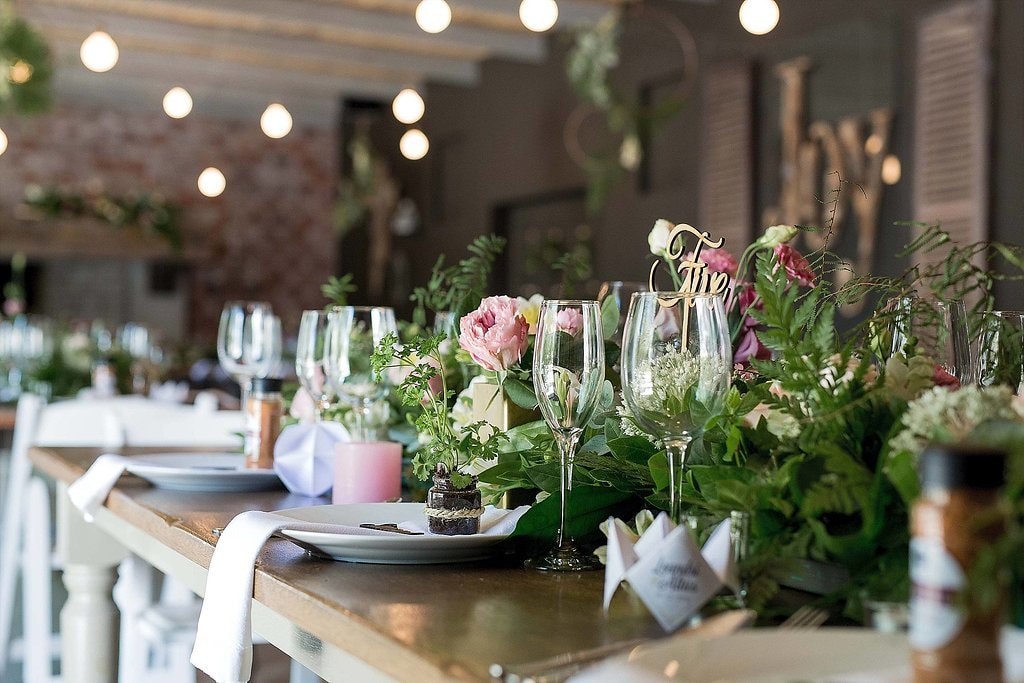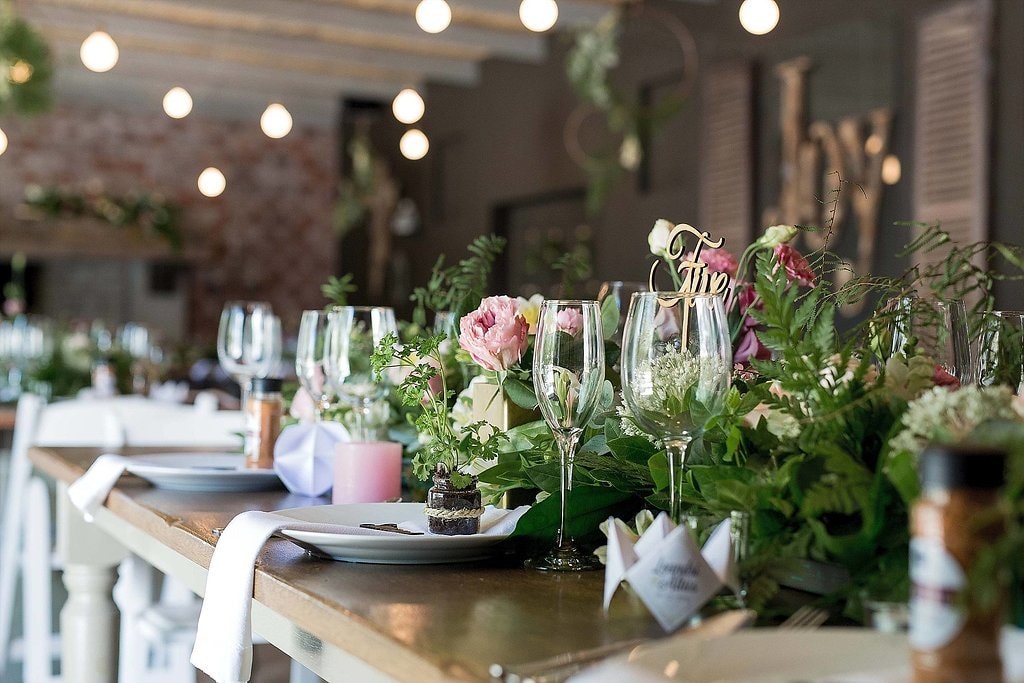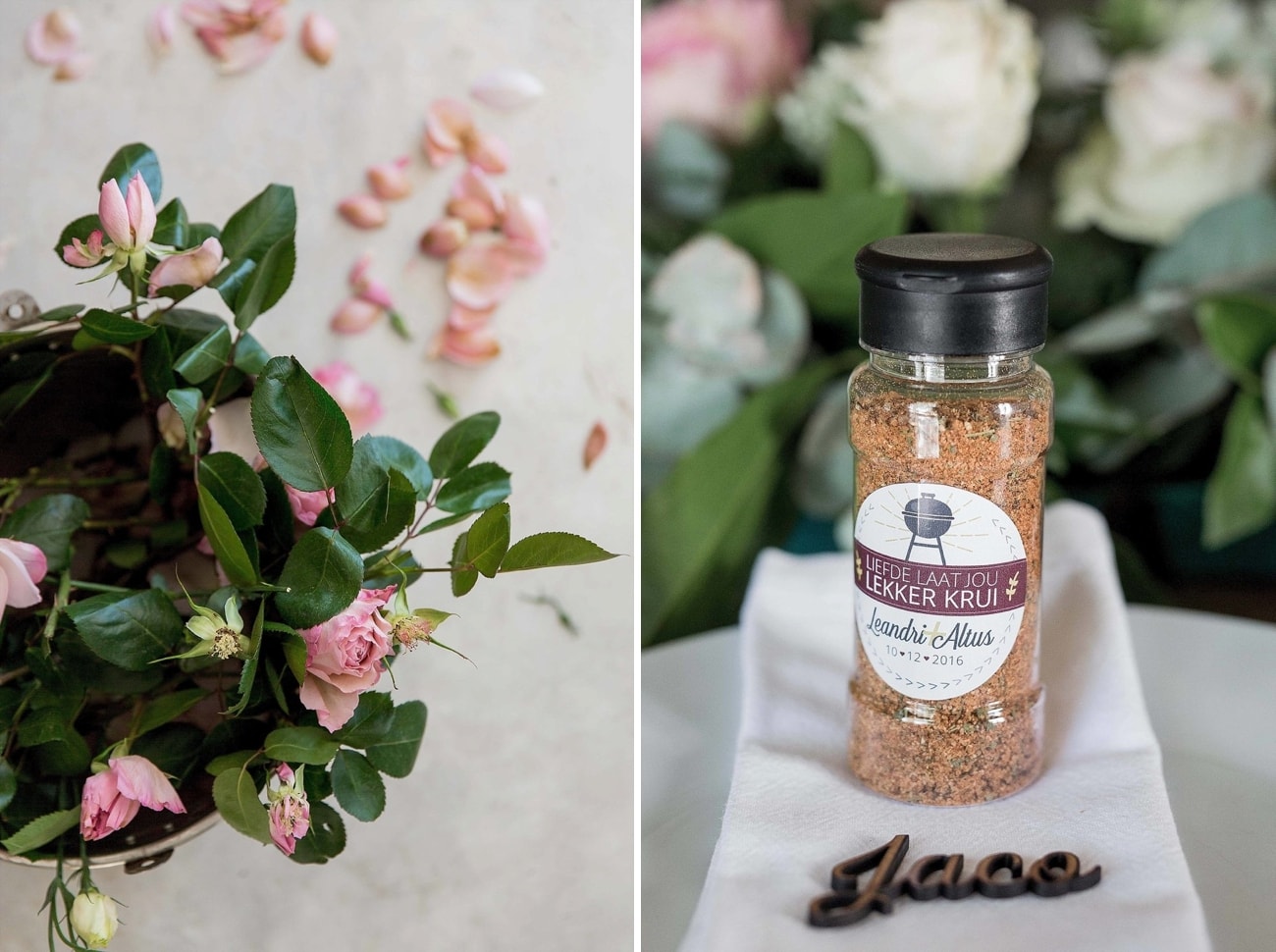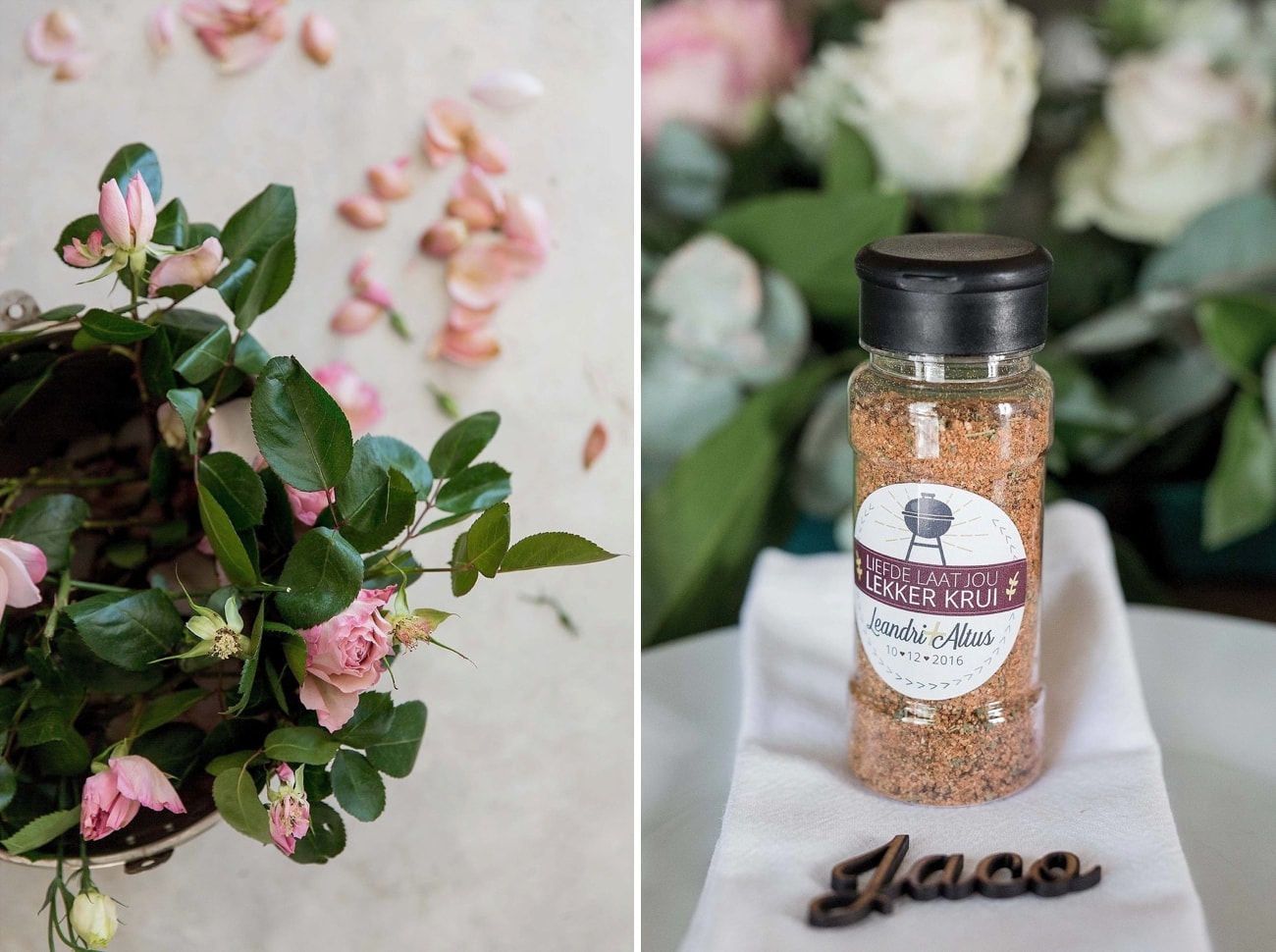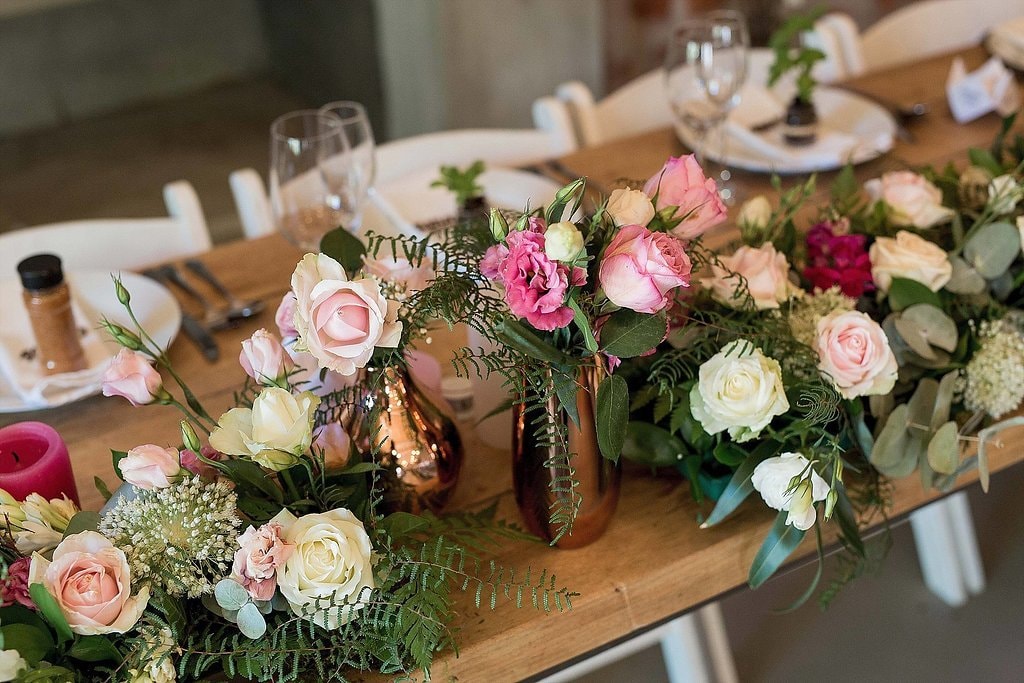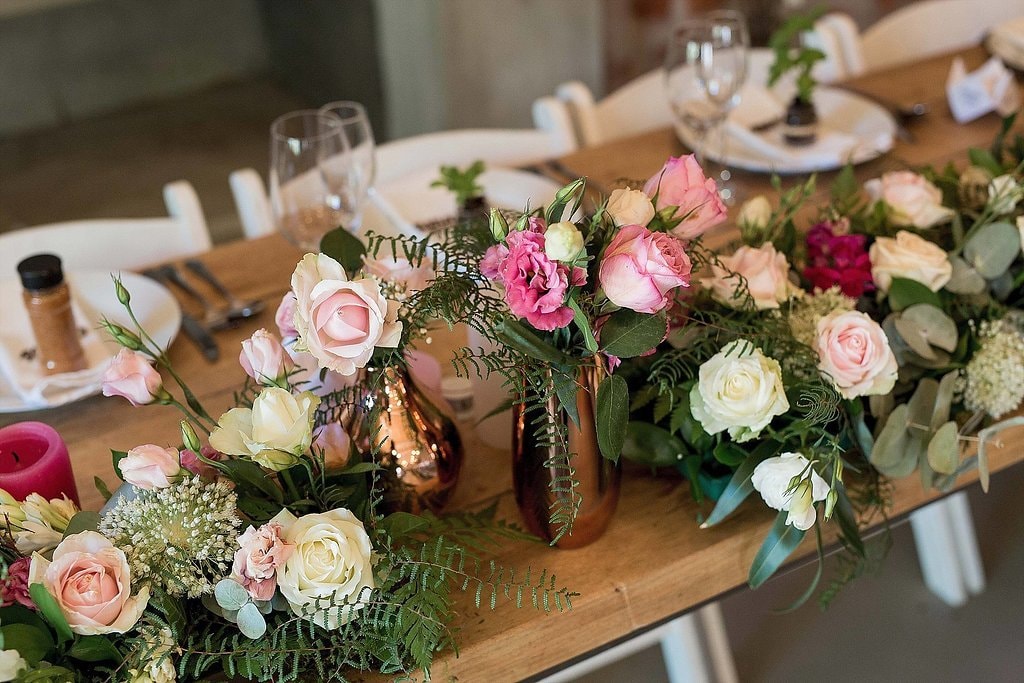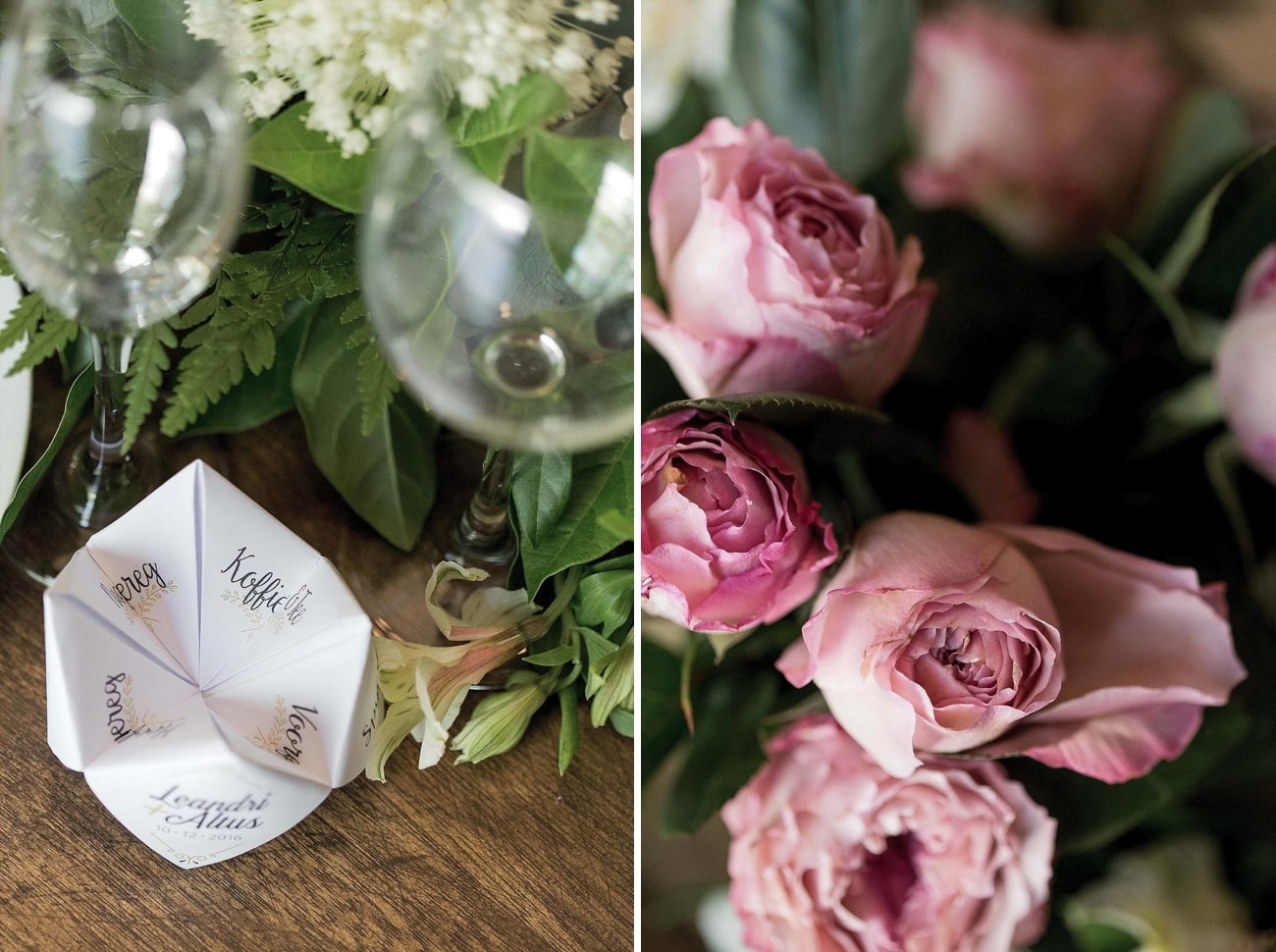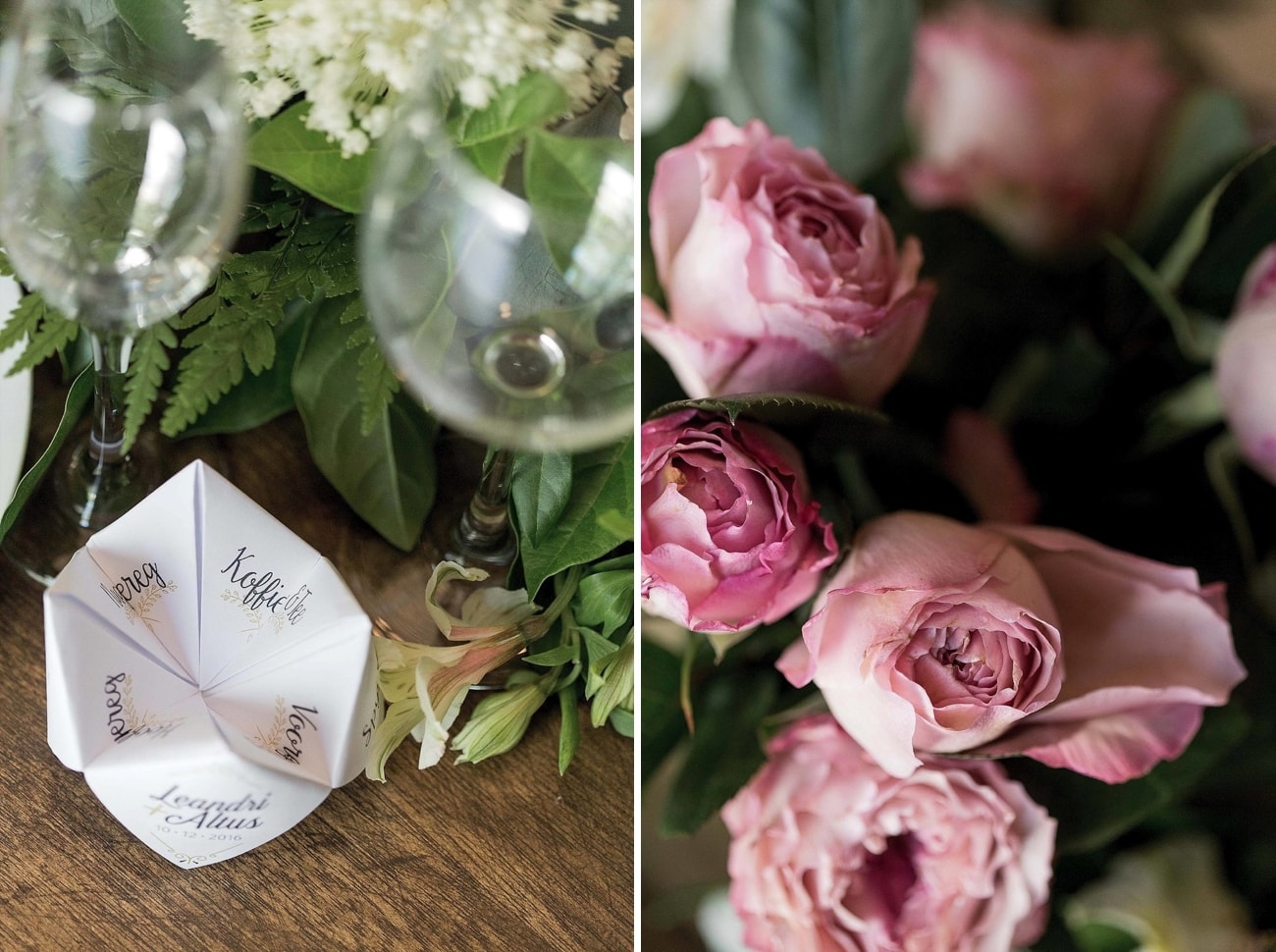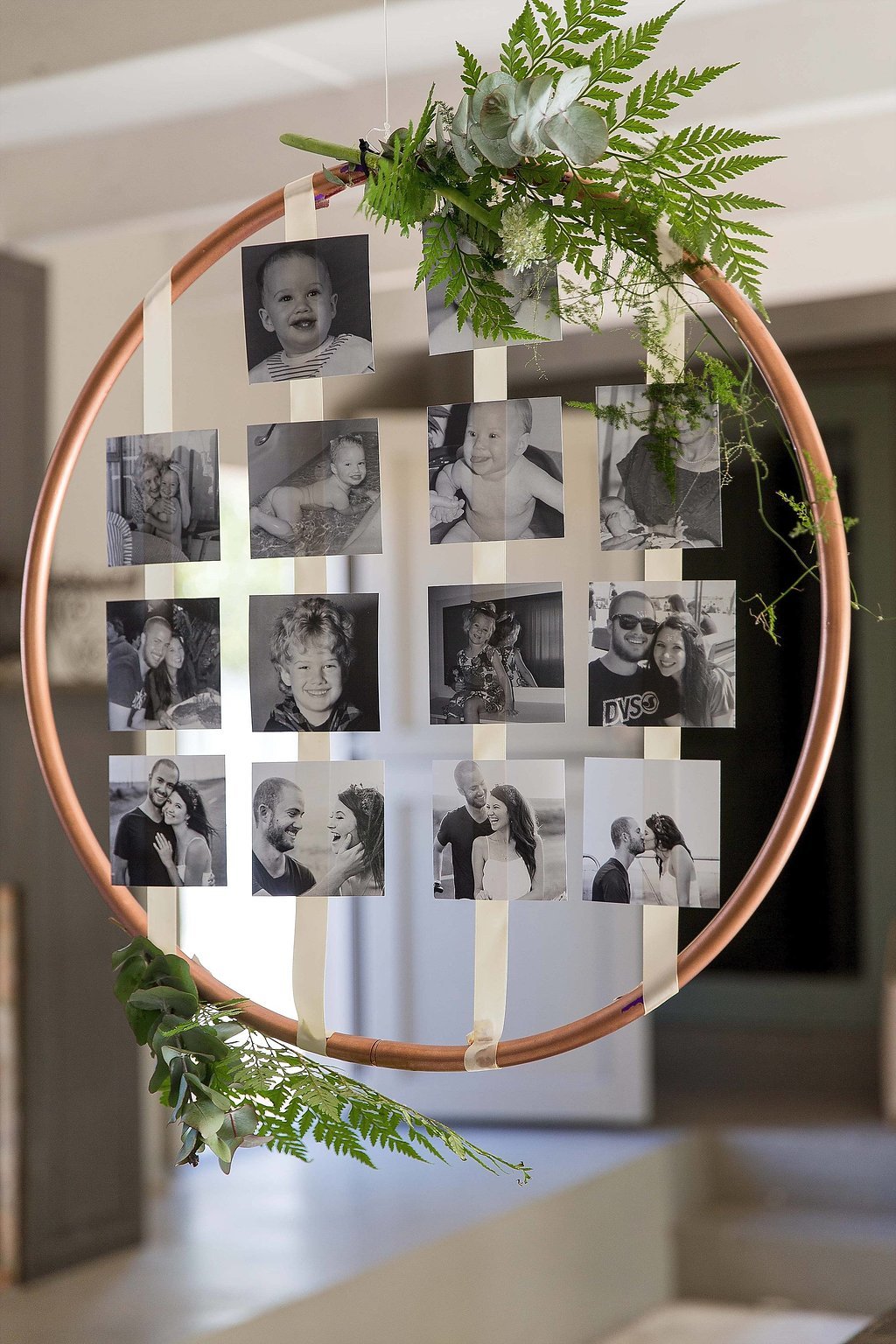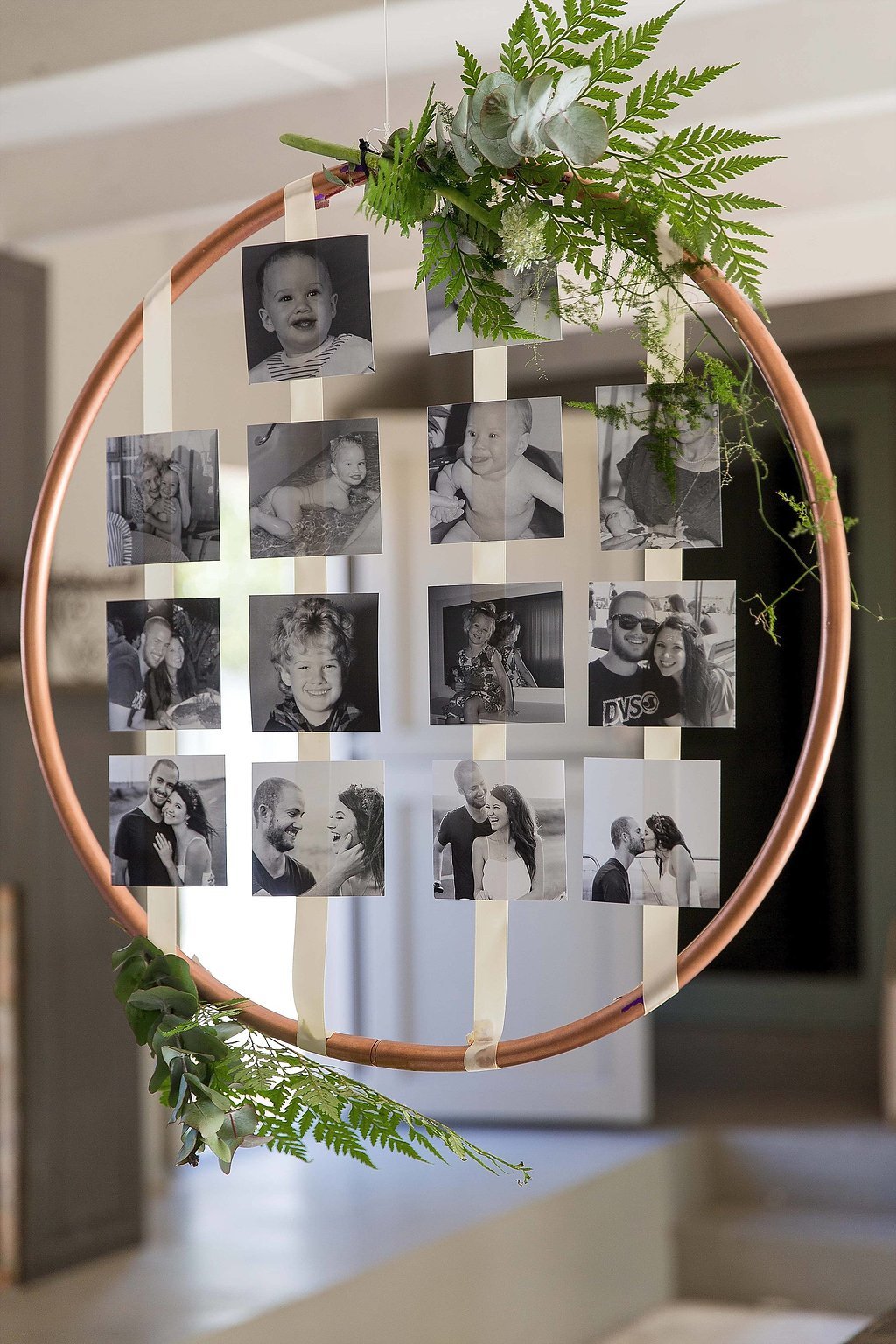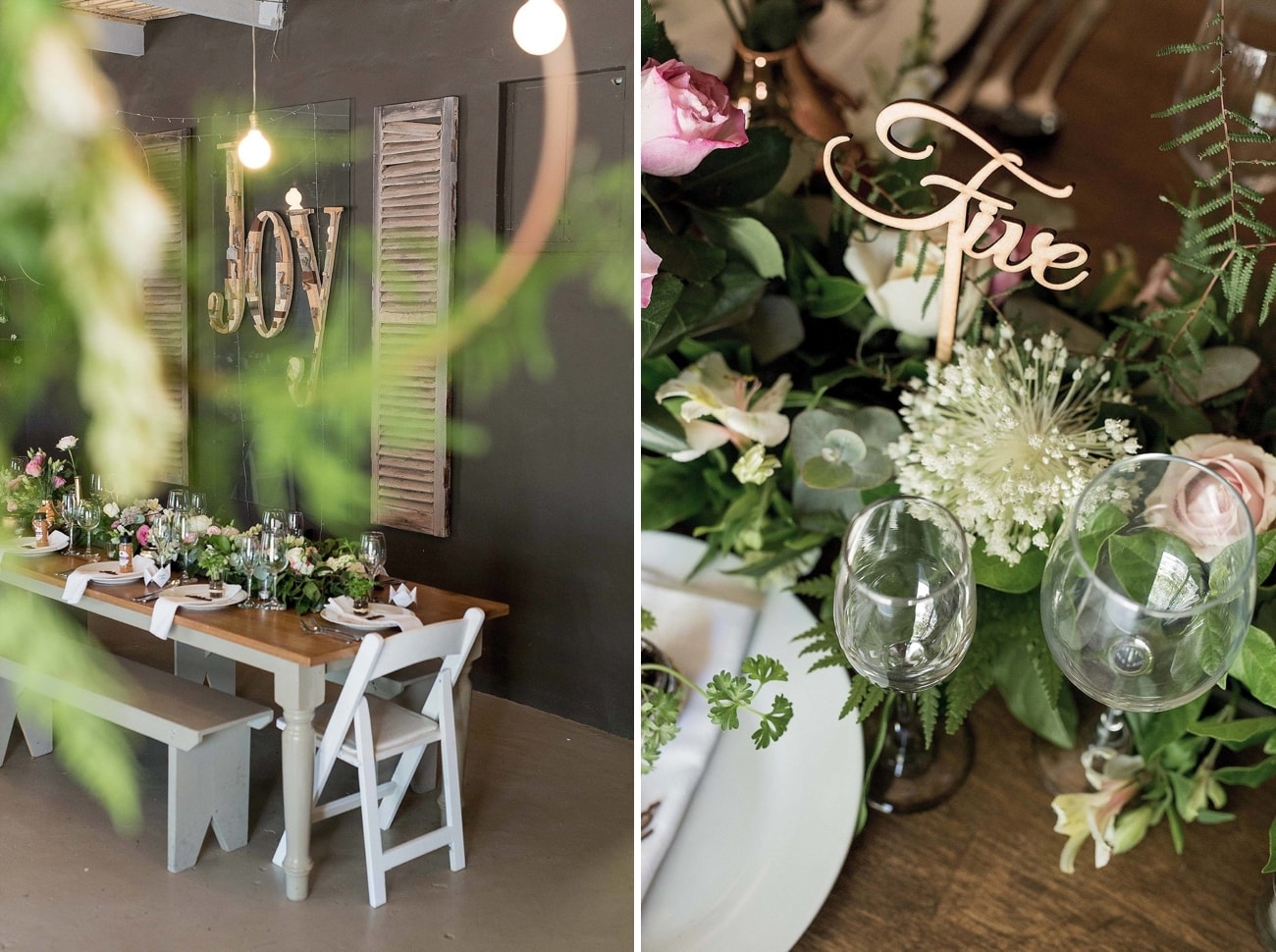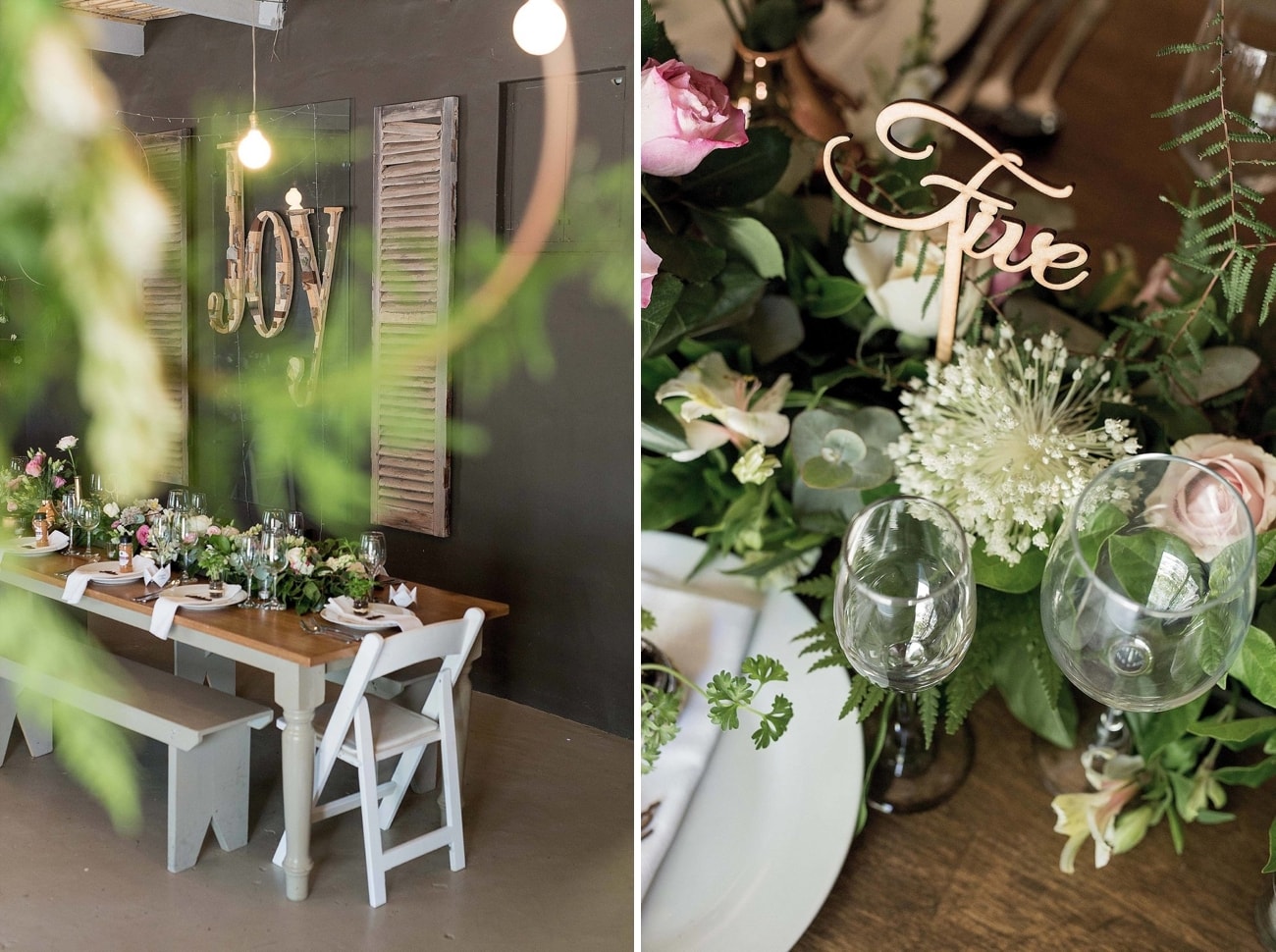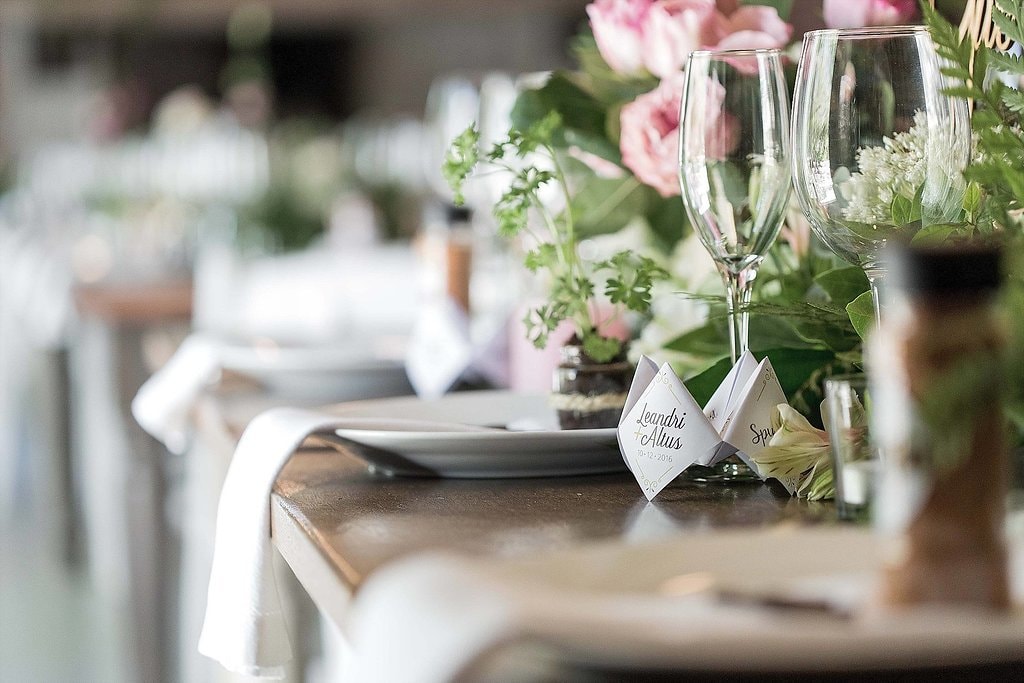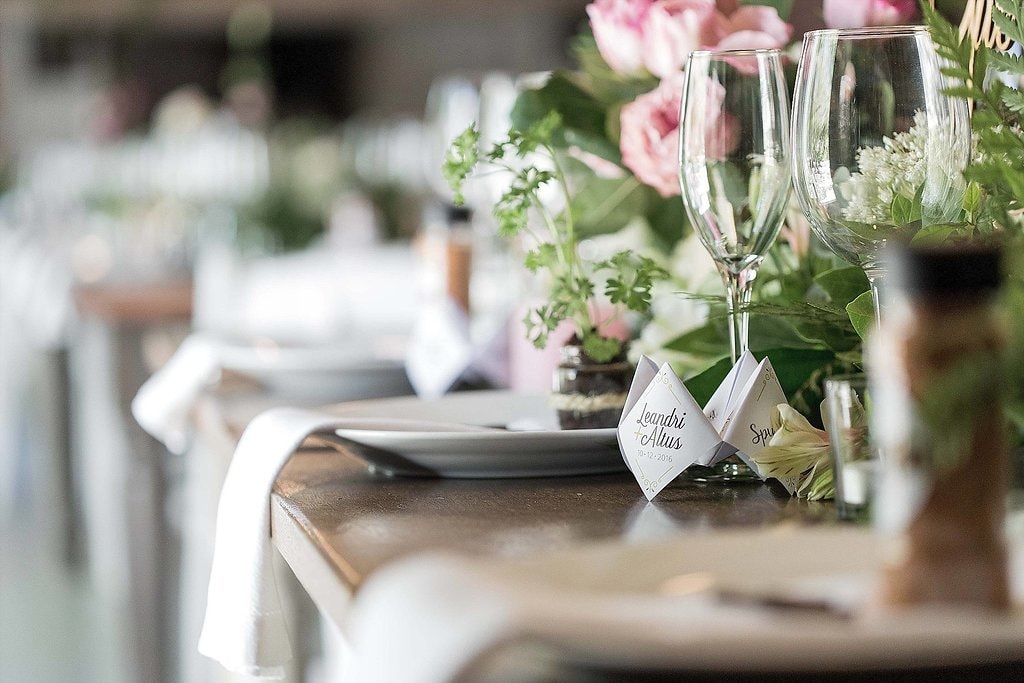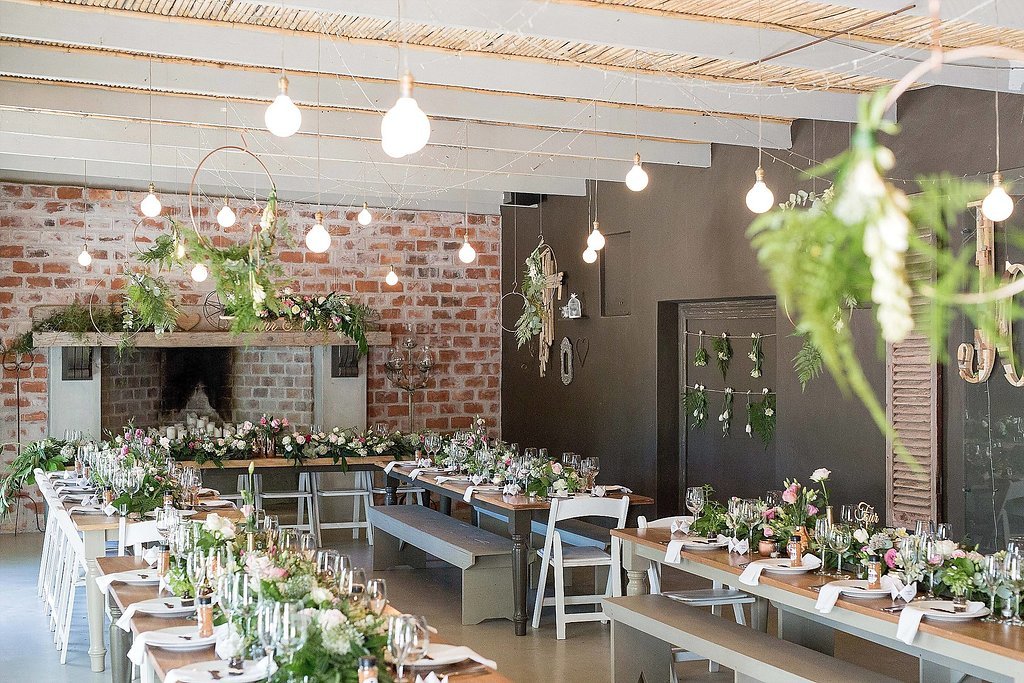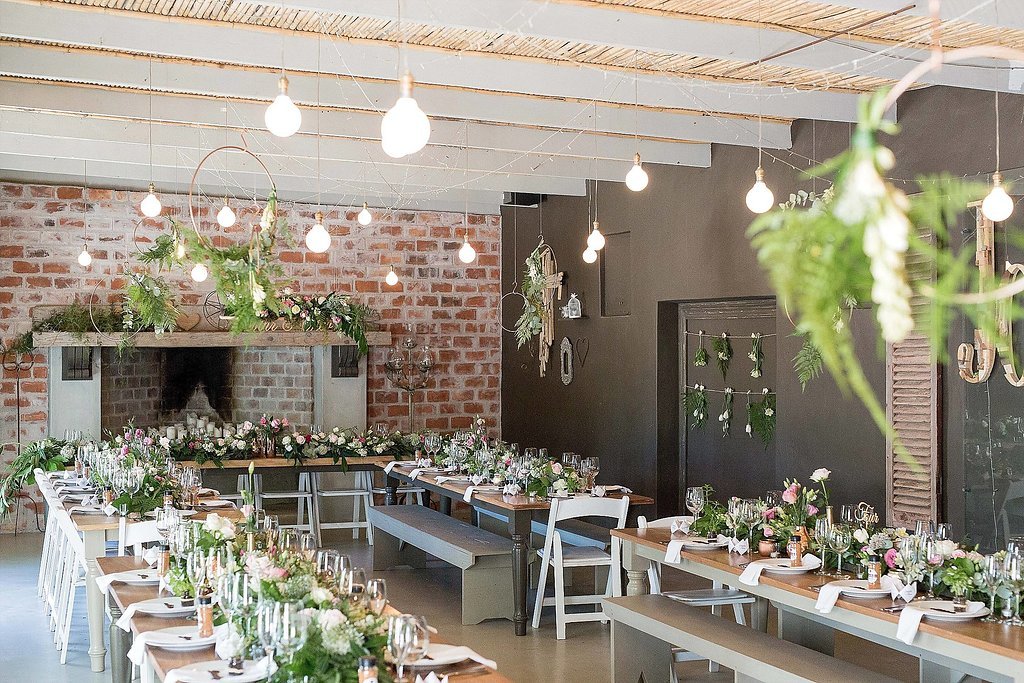 Memorable Moments
Most definitely the speeches, especially my husband's! The memorable moment where we walked down the aisle as one and people threw the confetti clapping and cheering. We felt very loved and cherished. Oh and the first dance was my favourite, where all the formalities were done and dusted and we could just have fun with our family and friends.
Proudly South African Details
For the cocktail hour, we had local Weskus craft beer for the guests to enjoy. The starters included the most succulent Saldannah mussels in a white wine sauce from the Weskus. Most of the food was braaied in an wood oven or over a bonfire at the venue. Our Afrikaans music and traditions made it the typical South African wedding.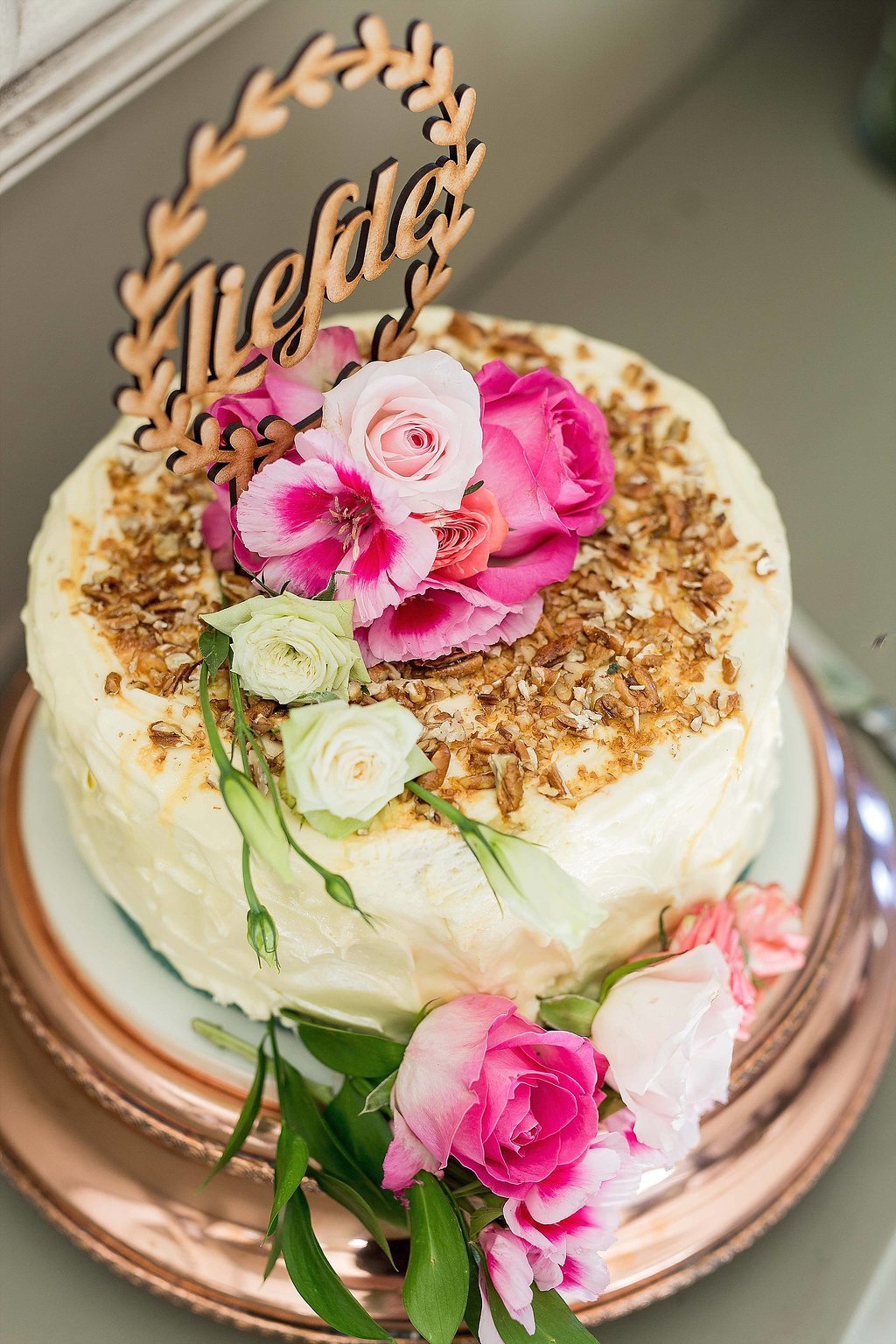 Best Decision
Choosing the venue at Gelukkie, Paternoster. The magnificent day was spent with loving guests and good food, and the great team at Gelukkie made it that much more memorable. Thank you!
Advice for Future Brides & Grooms
This day is to celebrate the love between the two of you. So why not celebrate it with friends and loved ones. Do not stress too much, but remember to plan ahead and let the rest spontaneously fall into place. Take advice and all the DIY help from family and friends, especially if you are on a tight budget. On the day of your wedding, take some time away from your guests and breathe the beautiful moment in; it is, after all, the biggest party you will ever get to throw. Enjoy it!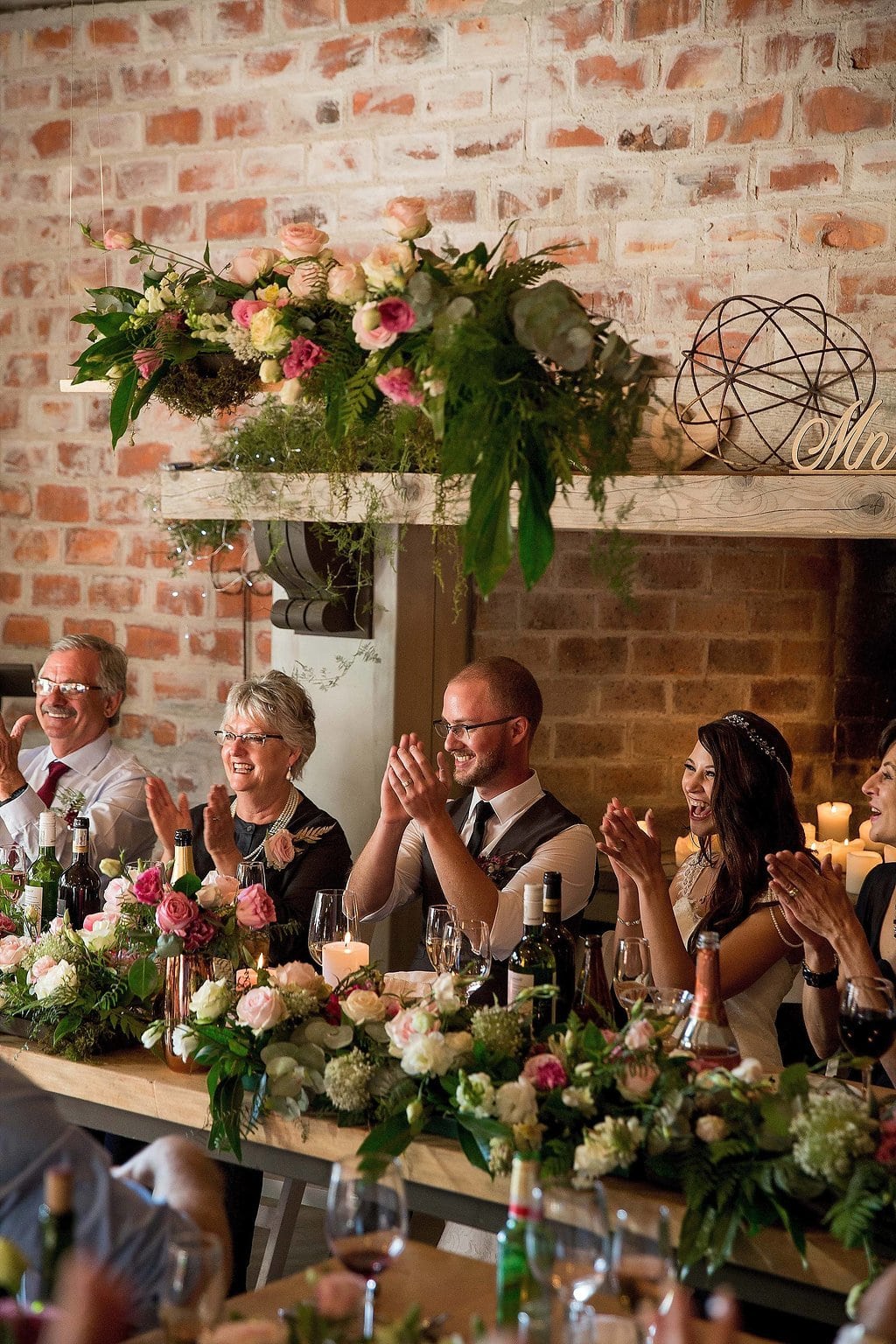 You can see more from this wedding on Kusjka du Plessis' blog.
SERVICE PROVIDERS
Venue, catering, floral & decor: Gelukkie, Paternoster | Photography: Kusjka du Plessis | Cake: Madri Koeke Moller | Bride's dress: Taryn at Urban Bride | Bride's accessories: Browns the Jewellers (rings) + Bella Chiara (headpiece) + Swarovski (earrings) + Queenspark (shoes) | Hair: Monita at The Heartfelt Collection | Makeup: Michelle van Noordwyk | Salon: Natasha Bester | Bridesmaids' dresses: Ouma Elsa (family member) | Groom's attire: Woolworths + Edgars | DJ: Sks Entertainment
Save