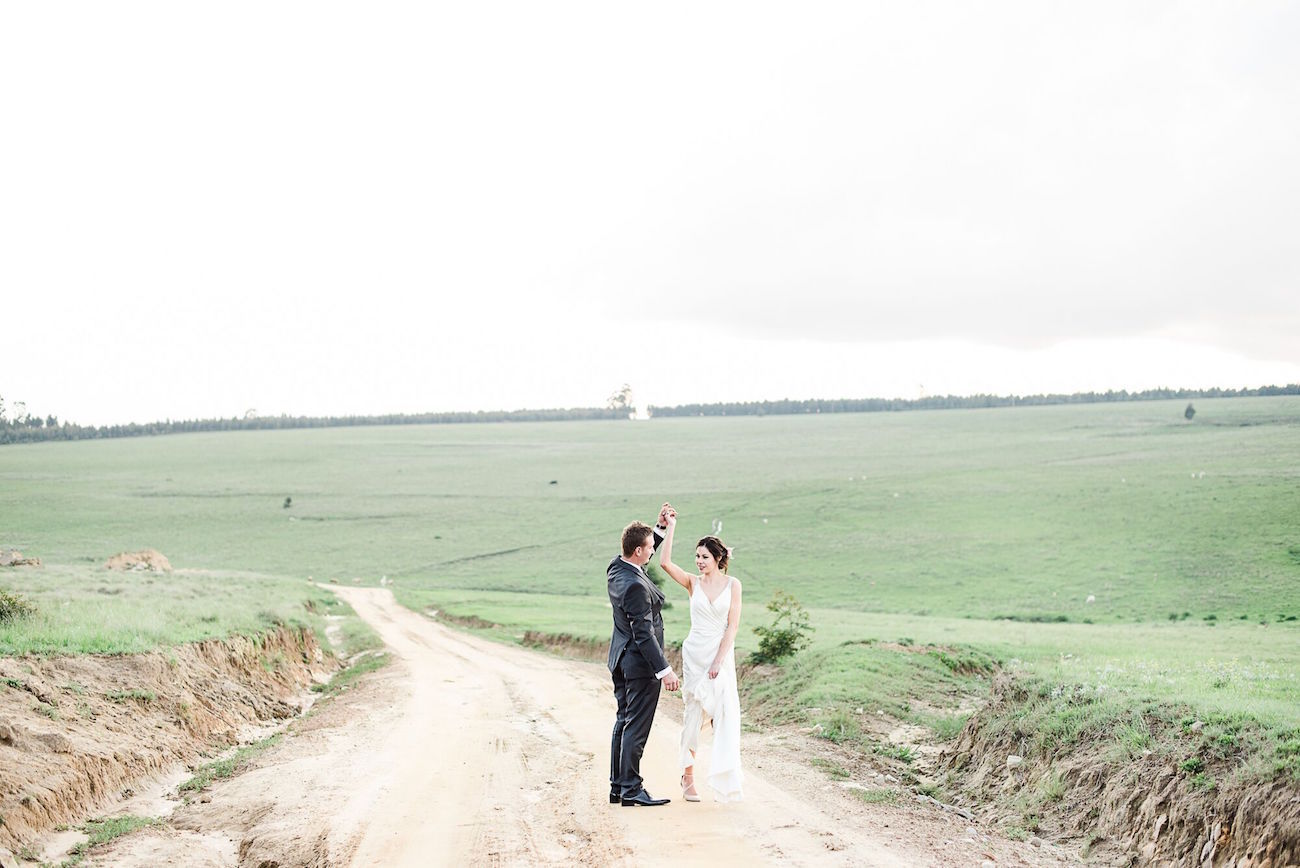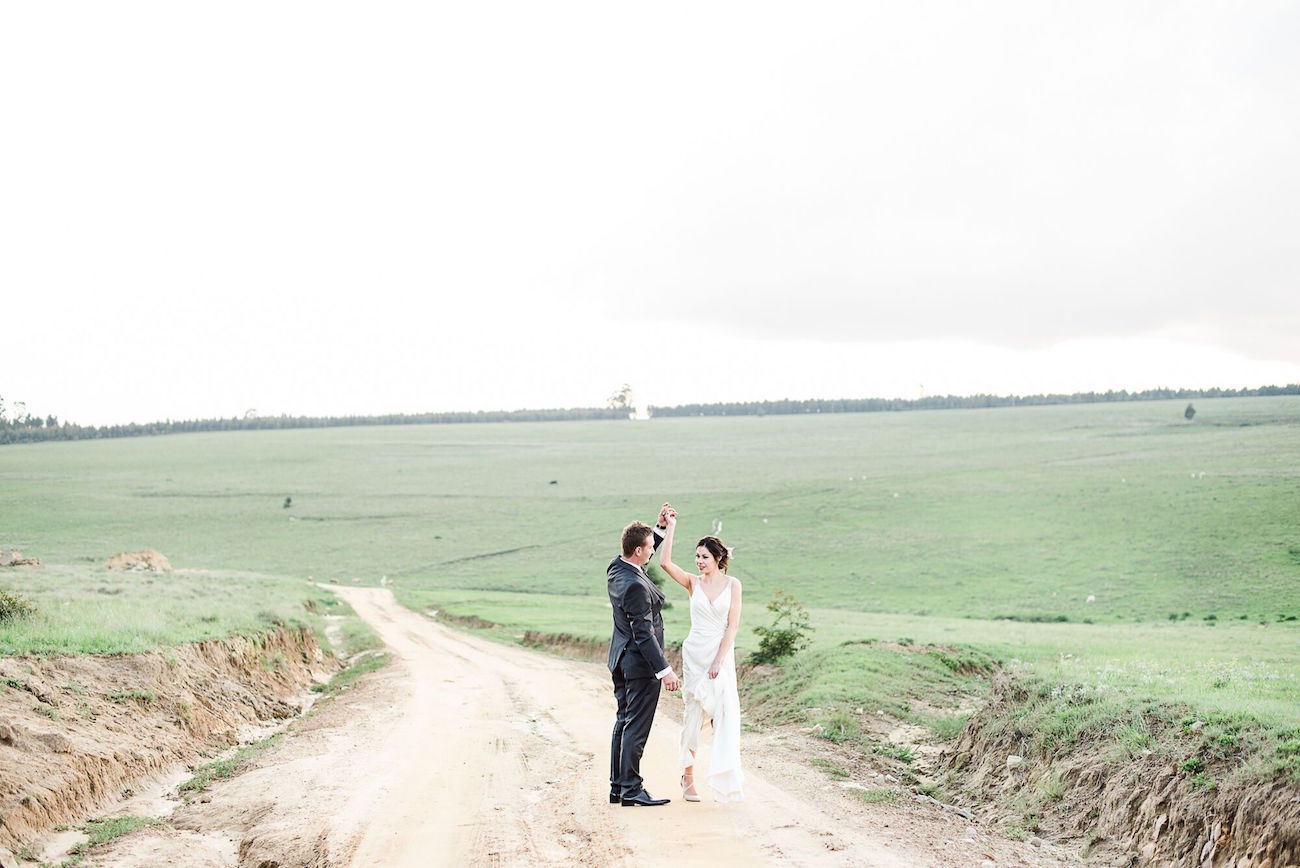 If there's one look that's really standing out for me as THE trend amongst SA brides at the moment, it's jewel tones. Beautiful rich palettes with dark and moody shades and pops of colour that really make an impact, whatever the season. Today's elegant farm wedding of Jeanine and Marthinus is a perfect example. Navy, burgundy, deep pinks and green foliage work together so beautifully, making the whites of the lines whiter and the smiles brighter! And speaking of making an impact, Jeanine's gown is the absolute bomb, a touch of Hollywood glamour against the rural backdrop! Add to that beautiful stationery, lovely tables, and hanging greenery, and you have a super inspirational day, captured exceptionally well by Wildflower Photography. Let's take a peek, shall we?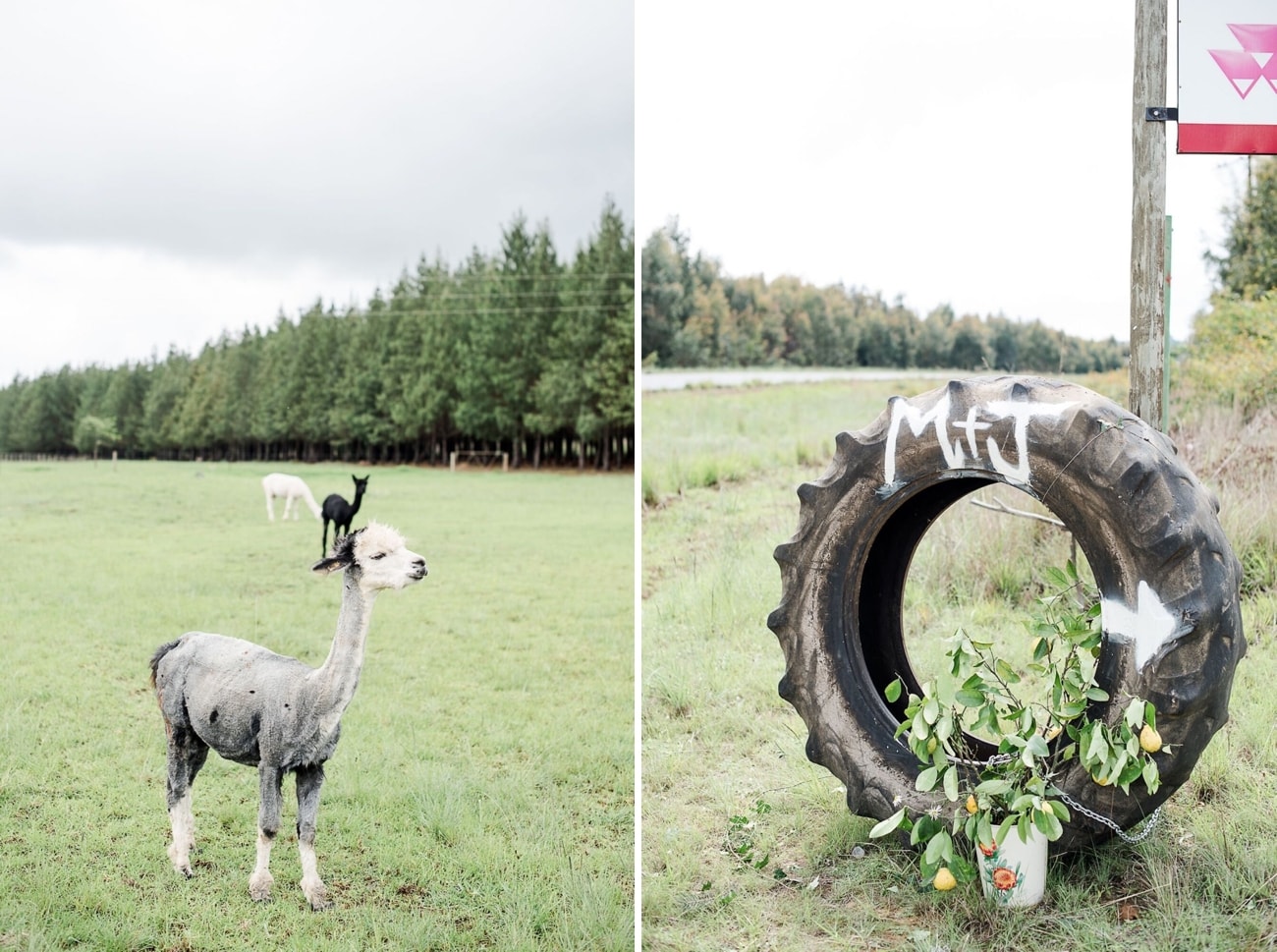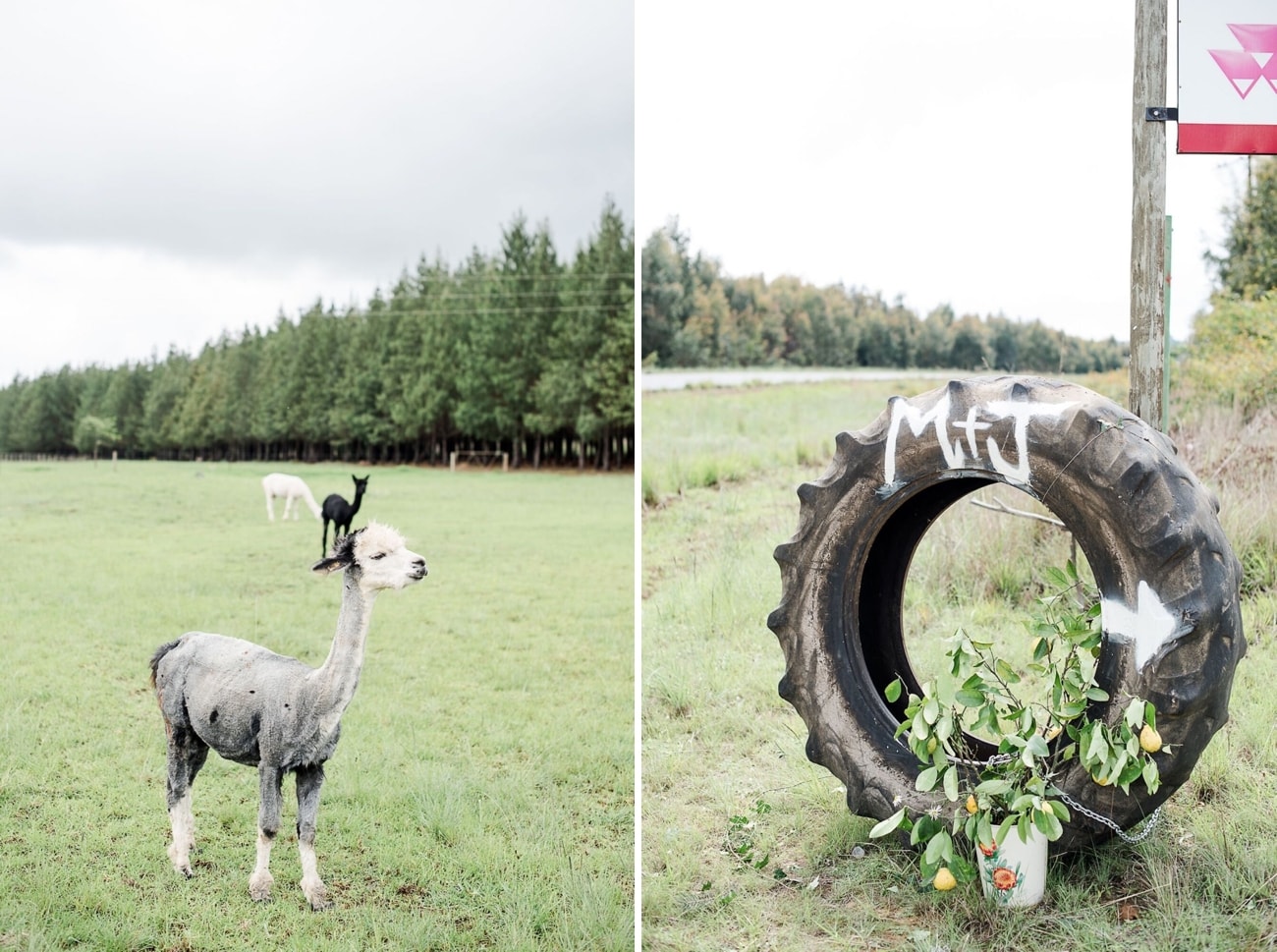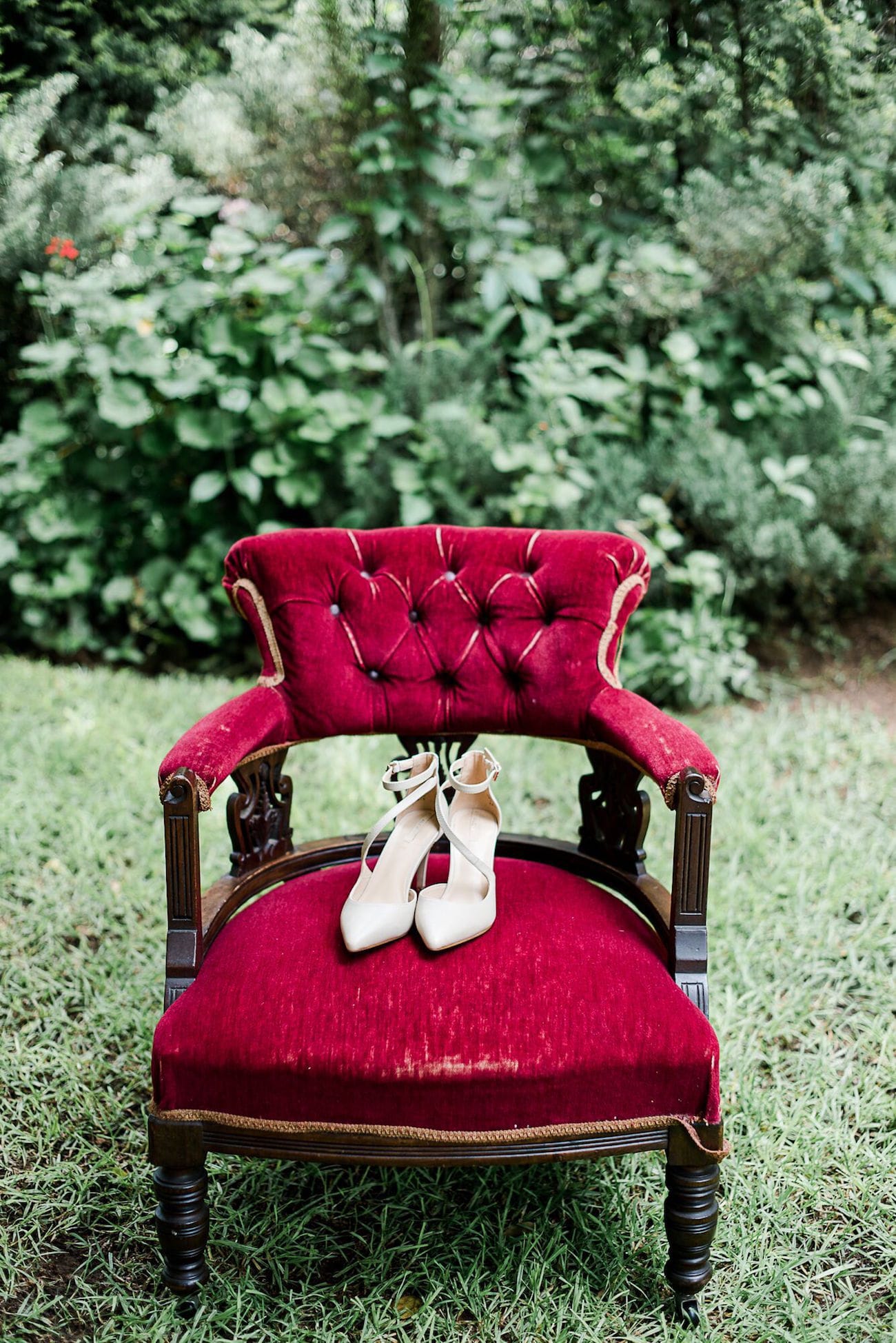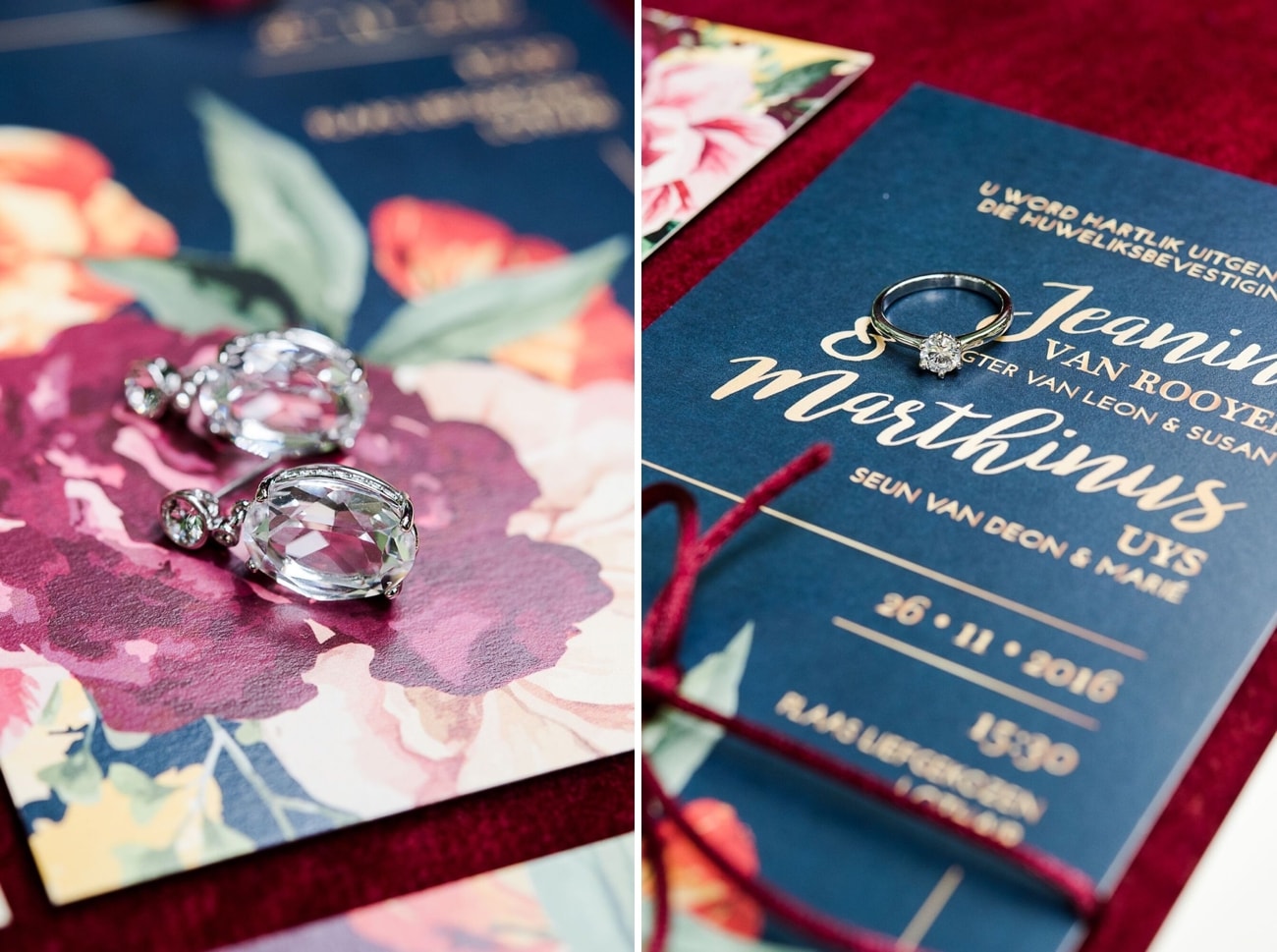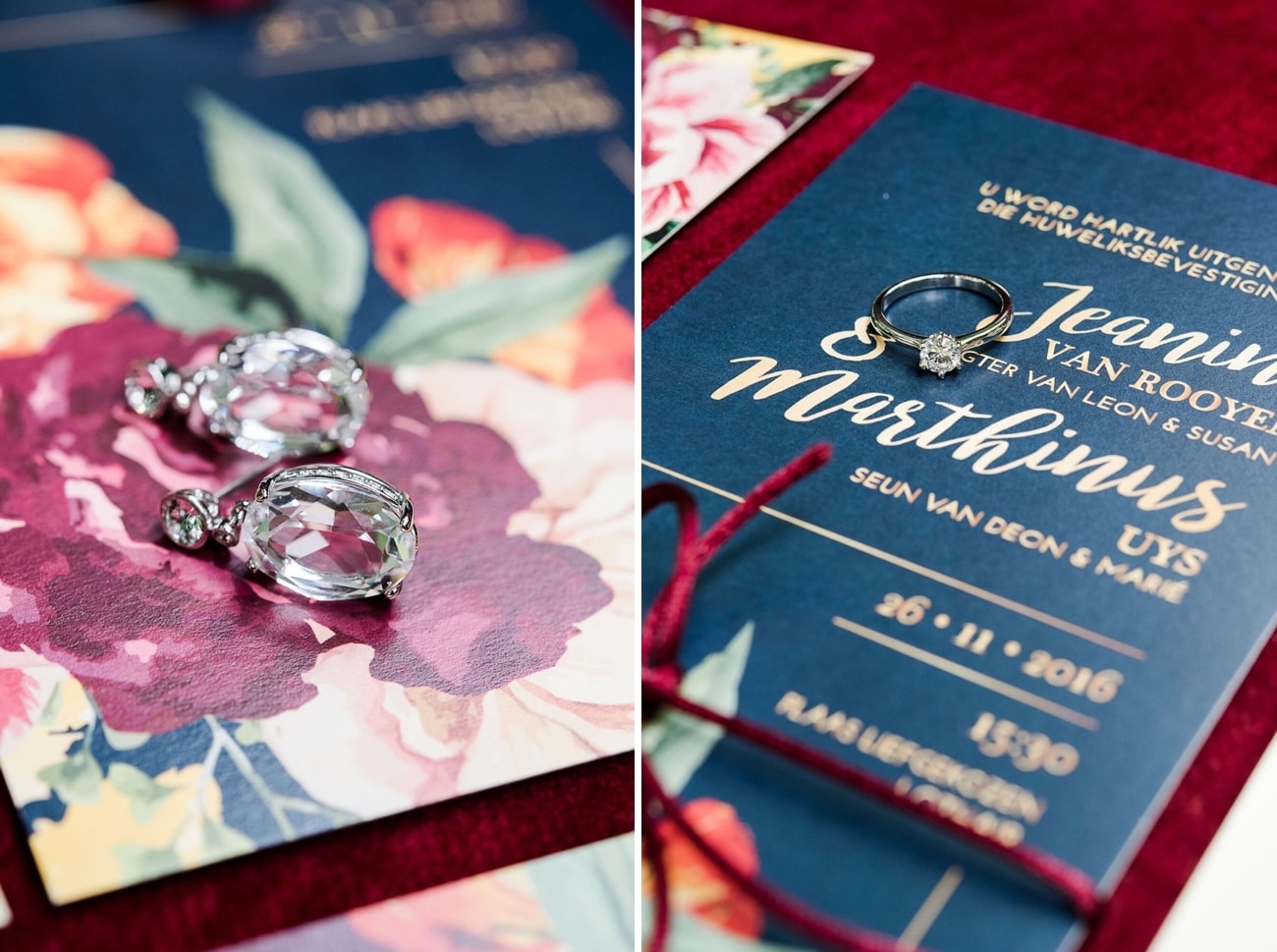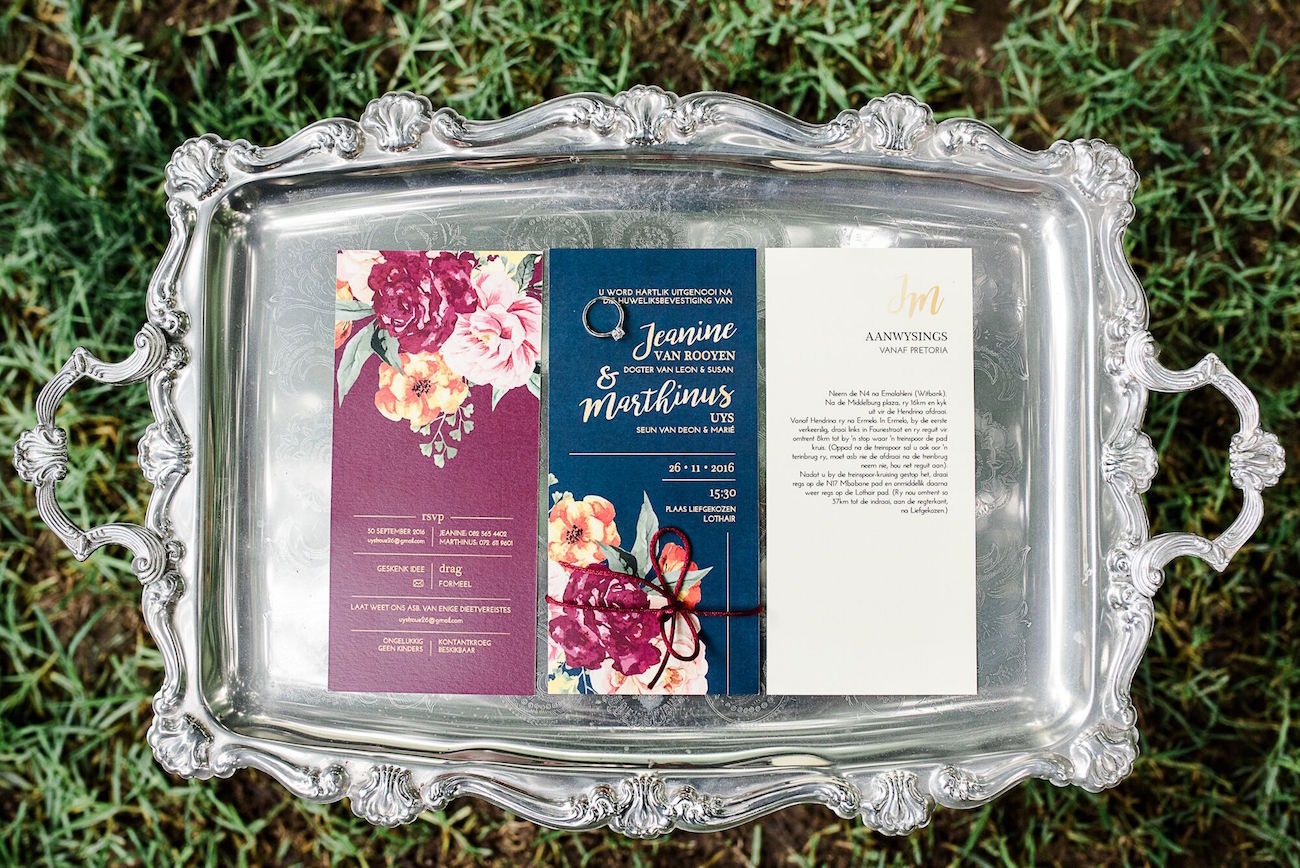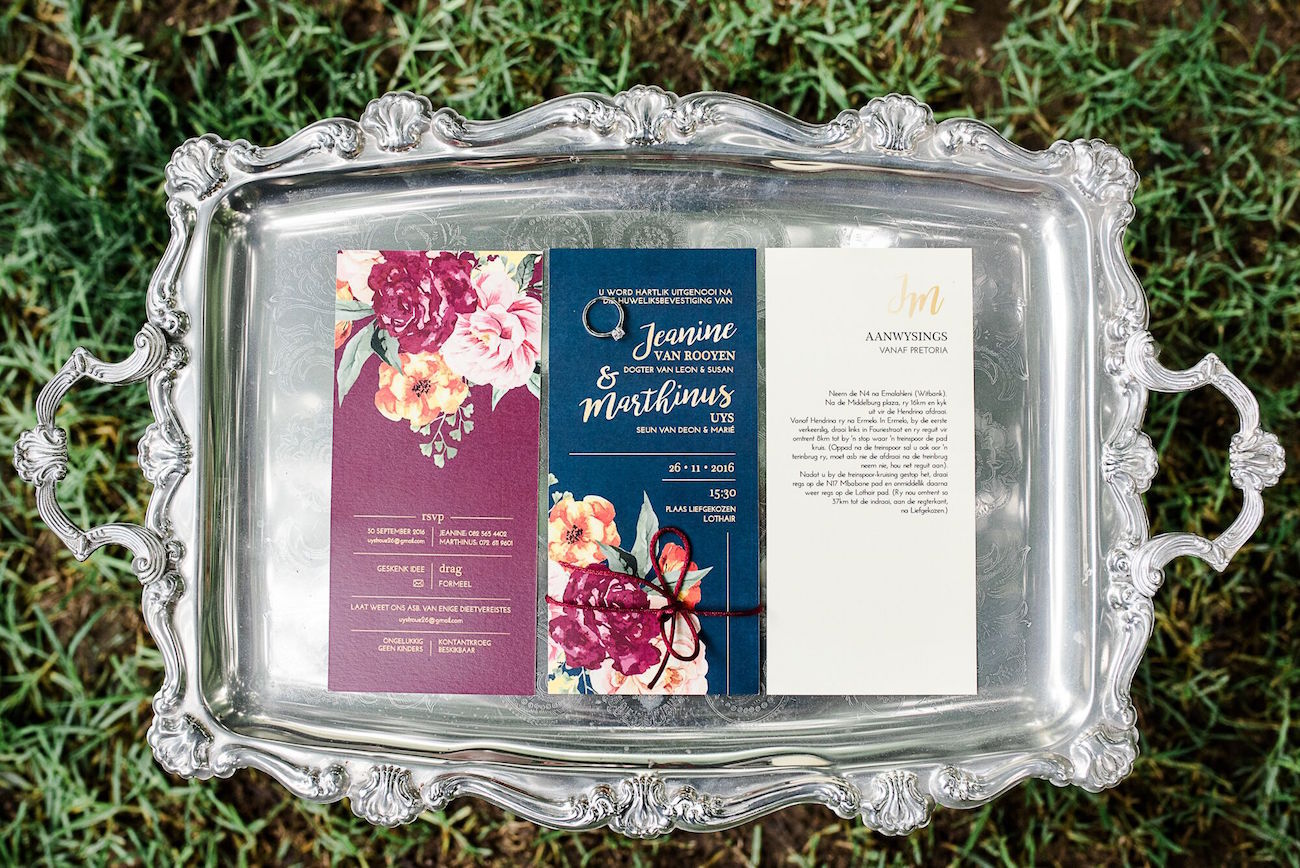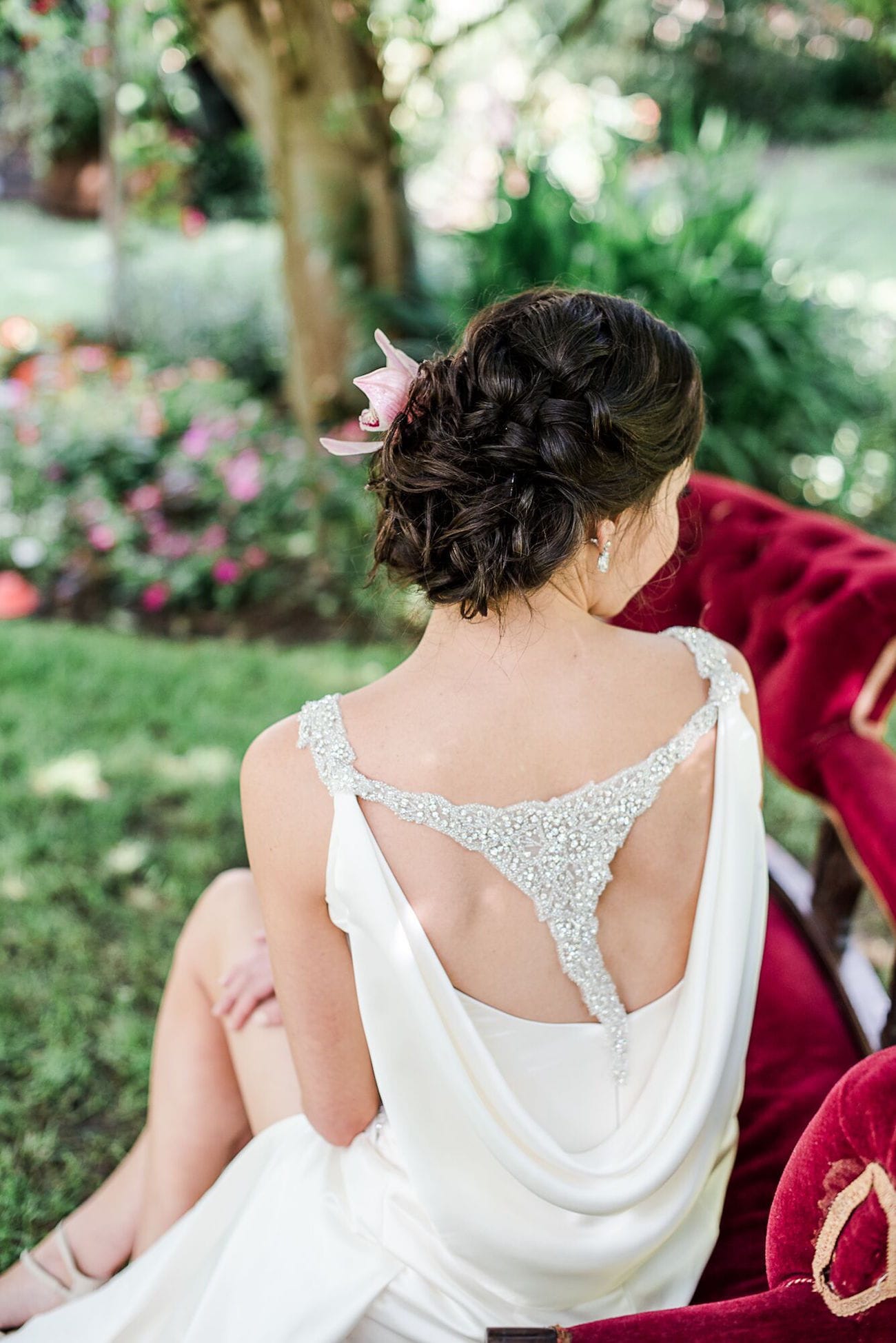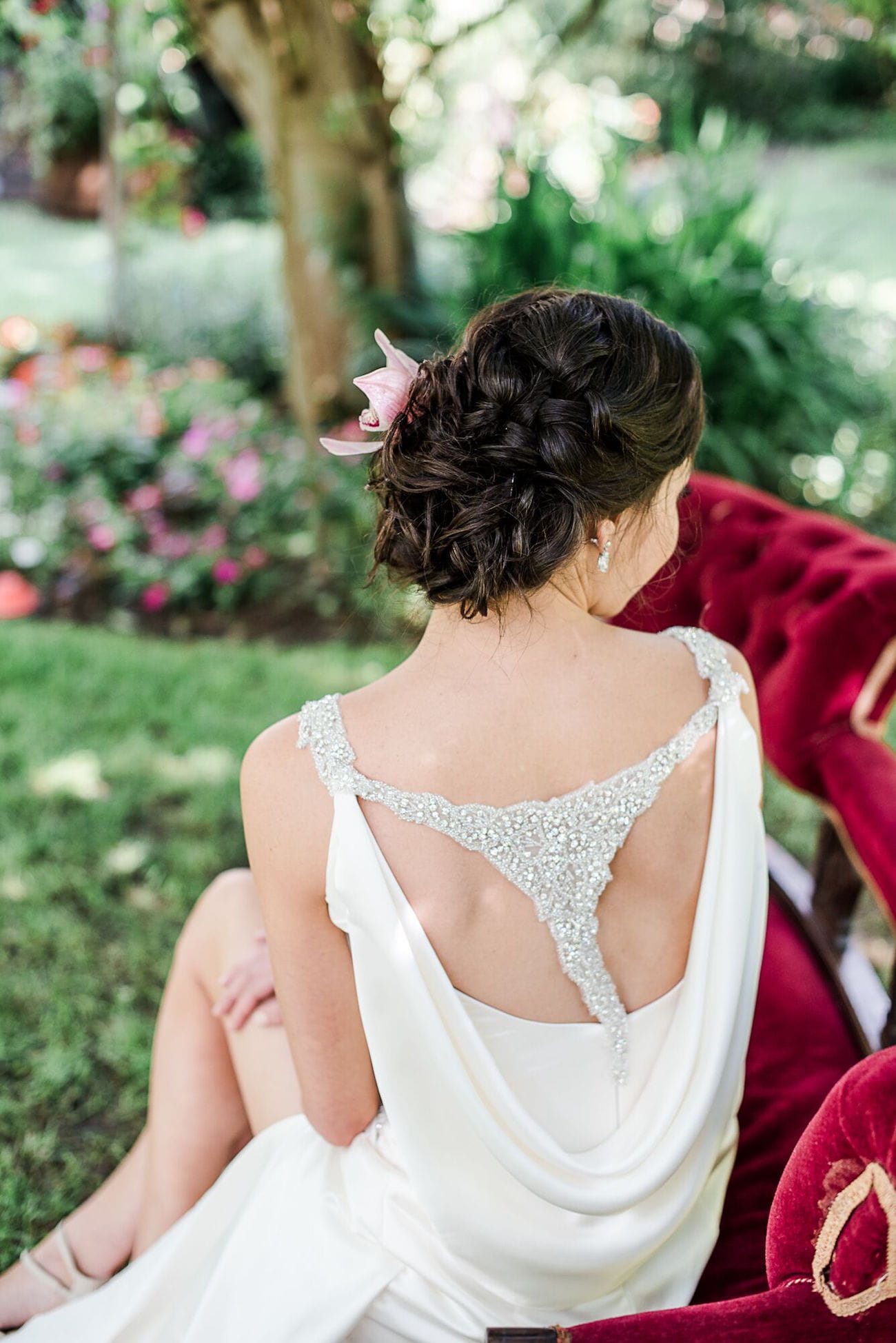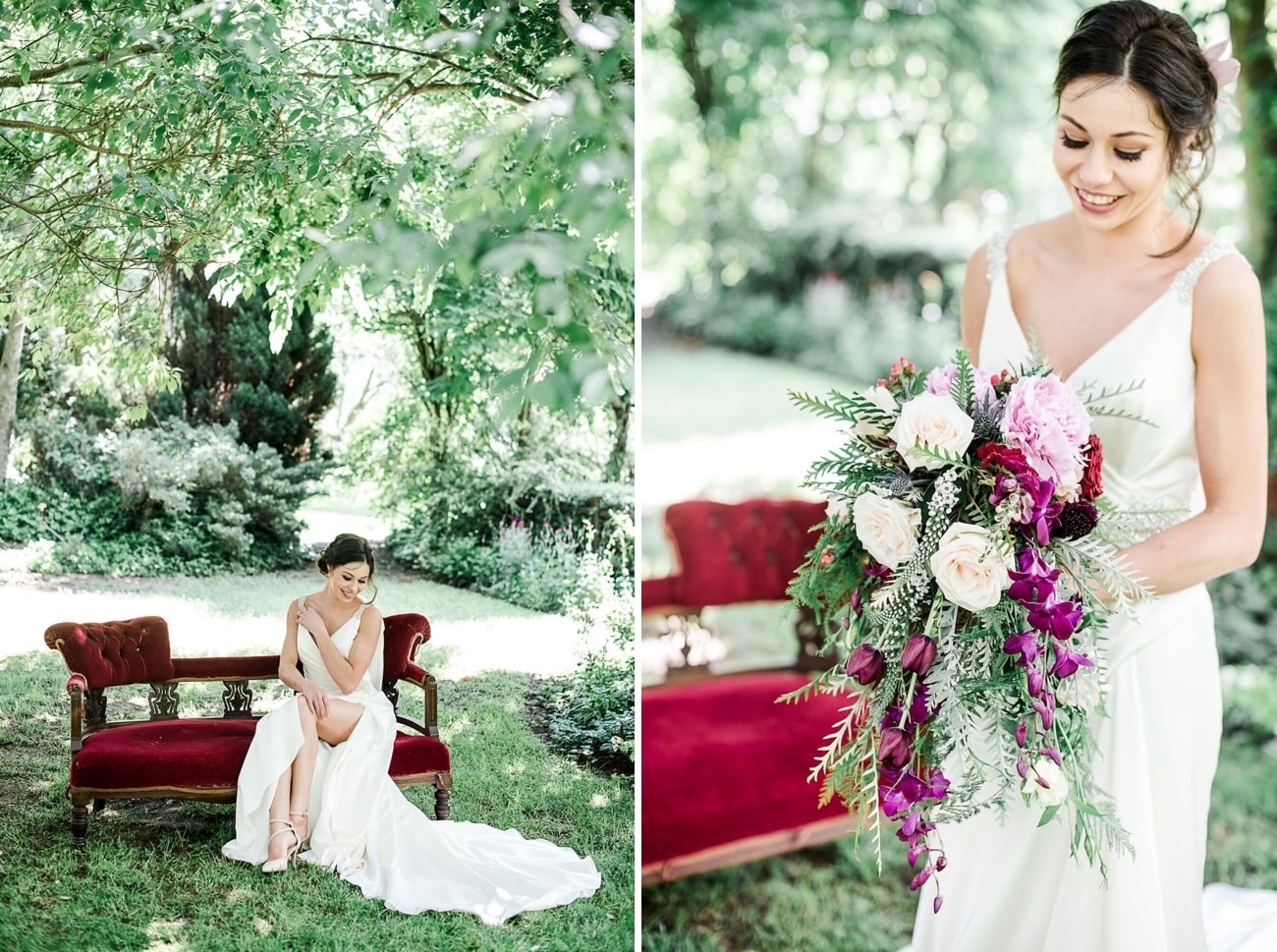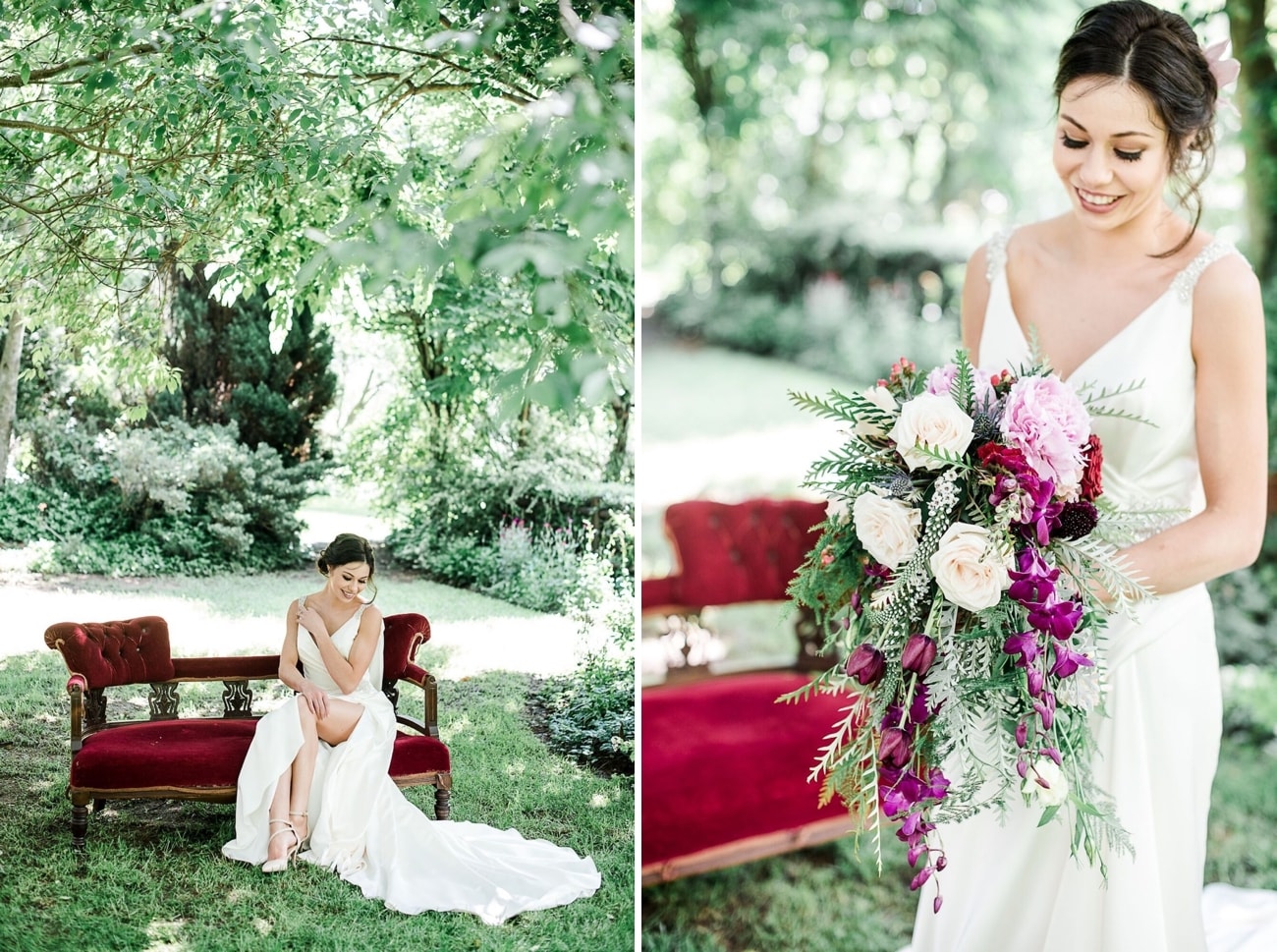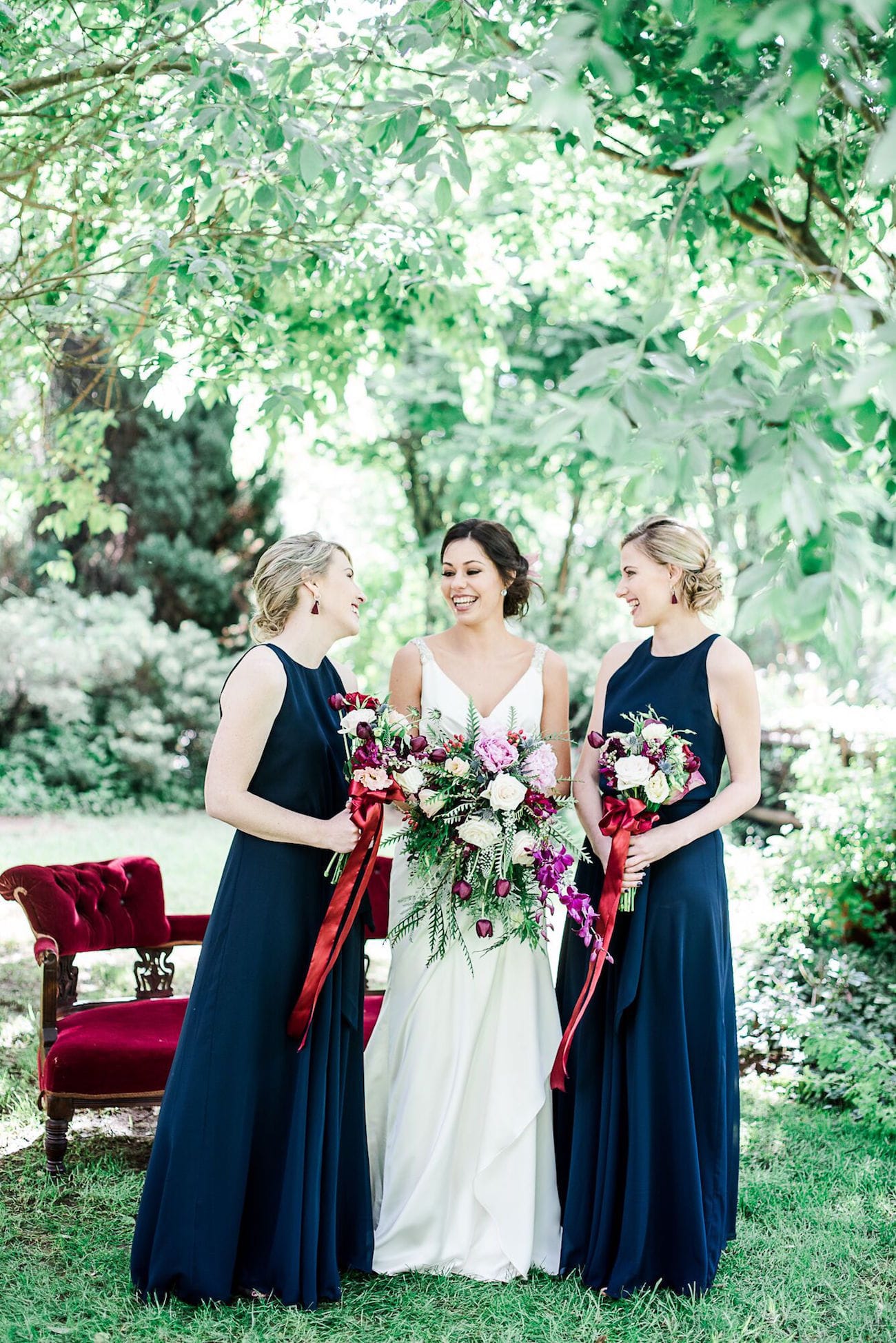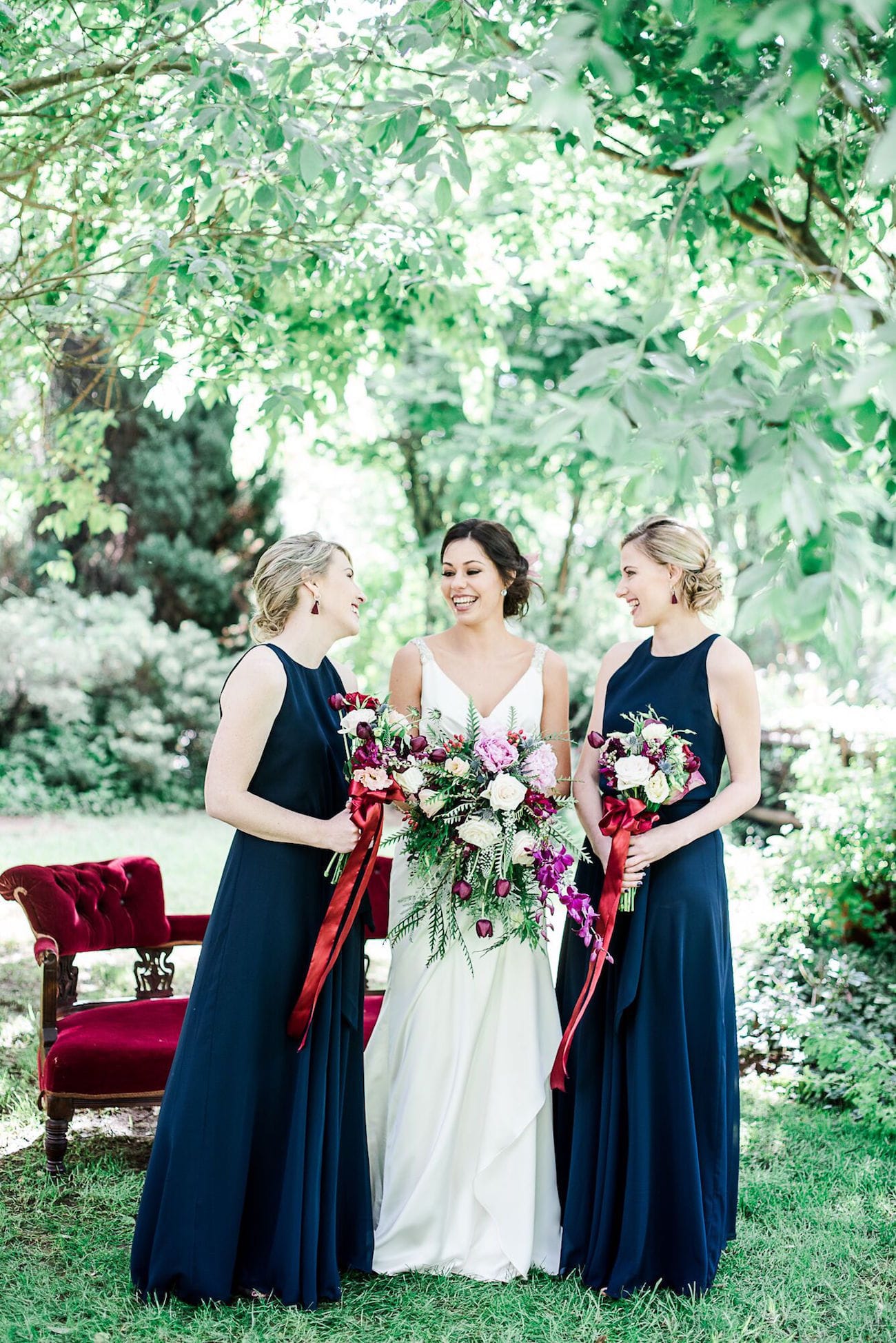 Love Story
We met at work and kept it very quiet at first. Having a relationship with someone that you work with can be very difficult and as I was only starting out with my career, neither one of us wanted to seem more interested in each other that at work. We did not even go out for lunch and only spent time together after work and on weekends. We could not, however, fool any of our colleagues!
The Proposal
It happened over the Christmas holiday. We spent Christmas apart from each other with our families, so I was in Cape Town and Marthinus was in Bela Bela. We decided to plan our own holiday together after Christmas – or at least I thought that was the plan! He surprised me the day after Christmas by arriving at my family's holiday house in Betty's Bay – my whole family was in on it! He suggested we visit some of his family in Saldanha Bay, but turned off to Yzerfontein and parked at Strandkombuis for what he said was a toilet break. I waited in the car and he returned with a key, saying they had allowed him to use the restroom in one of the chalets. Although I thought it was odd, I didn't think too much of it. I went with him to see what the rooms looked like and next minute, Marthinus started to bring in our bags – we were staying there for the weekend! The next morning we went for a walk on the beach, one of the longest stretches of beautiful white sand beaches in the country. Generally, Marthinus doesn't enjoy very long walks, but we just kept on going until I suggested we turn around. He had fallen behind and, when I turned around, I saw he was scratching in the sand. I just thought he was picking up shells, but when I came closer, I saw that he was drawing a question mark in the sand and was down on one knee. I immediately started blurting out "no no no!" in shock, and Marthinus replied that I was supposed to say yes! It was without a doubt the highlight of our relationship, and a day that I will never forget.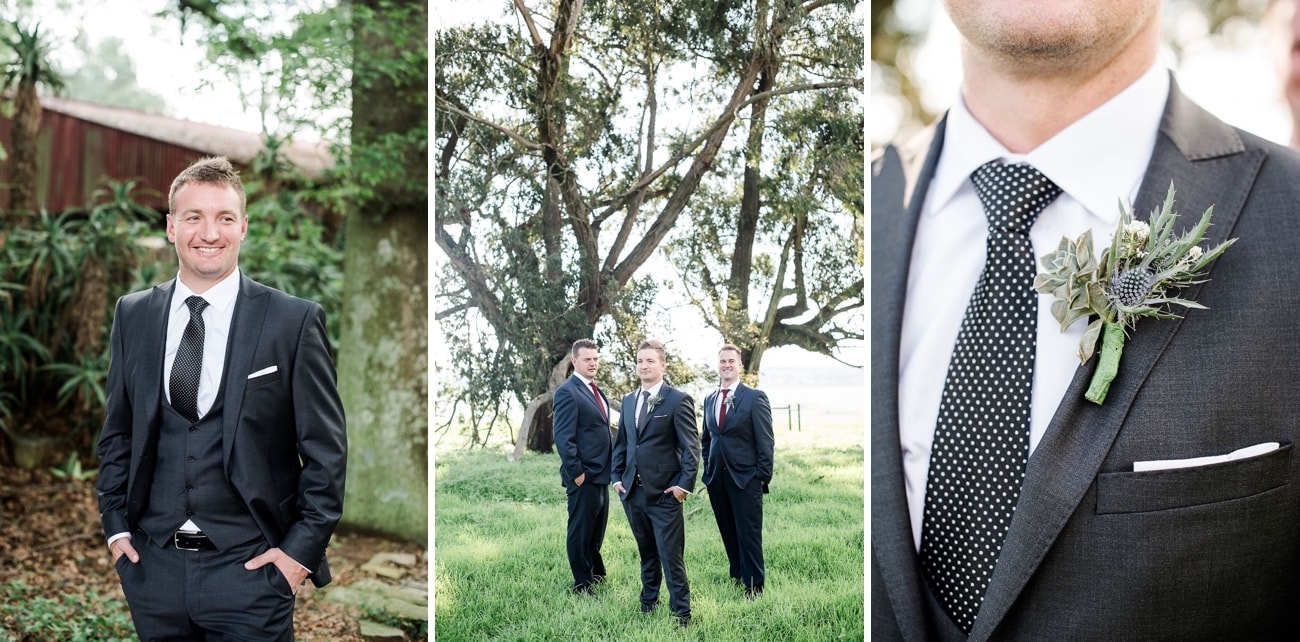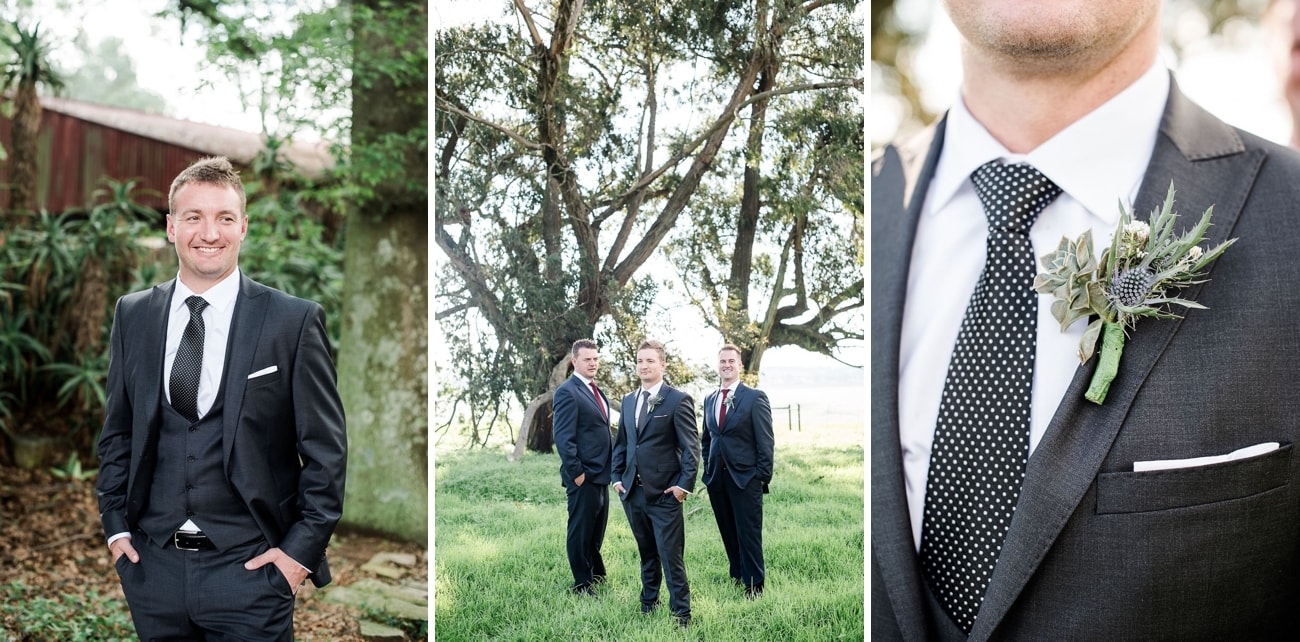 The Venue
We got married on our family farm where I grew up, in Mpumalanga. The closest town is Lothair. The farm was not a wedding venue prior to our wedding and that meant that we had a lot to do, but it made for such a special location.
Wedding Style
We both wanted a classic wedding, but done our way. We wanted to celebrate with our friends and family and did not want to be confined to any venue rules or requirements. I love jewel tones and did not want a blush pink and peach colour scheme. I wanted dark colours that would be colourful. My mother helped me a lot and we did so much of the decorations ourselves.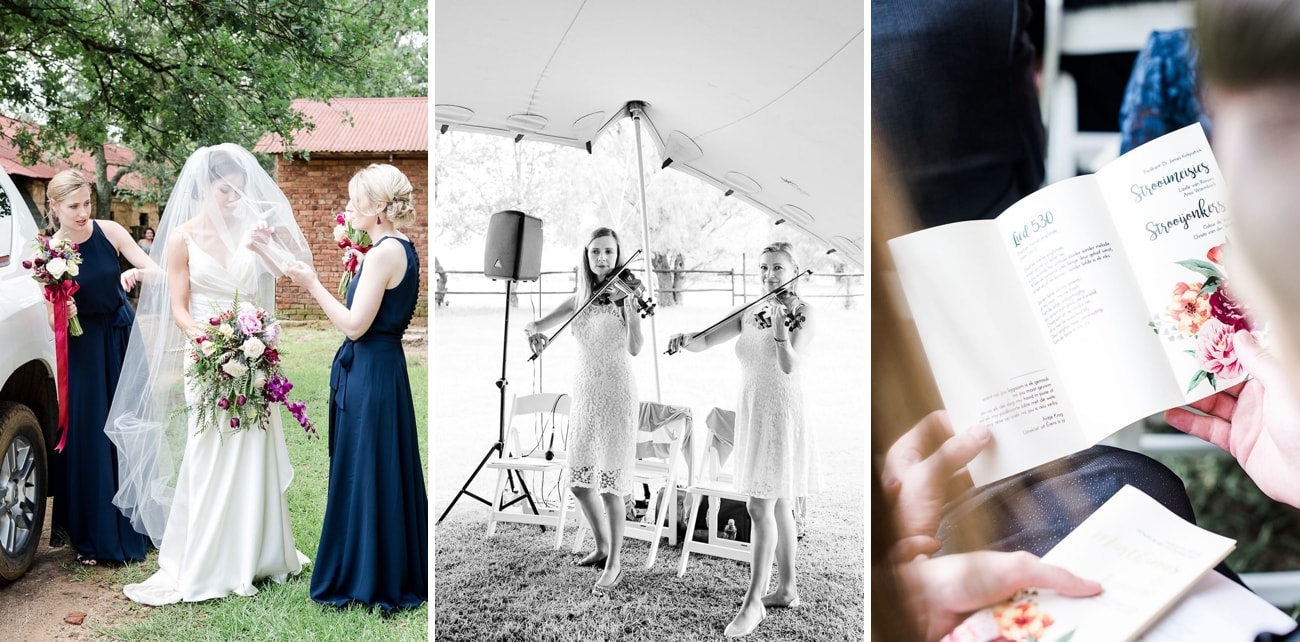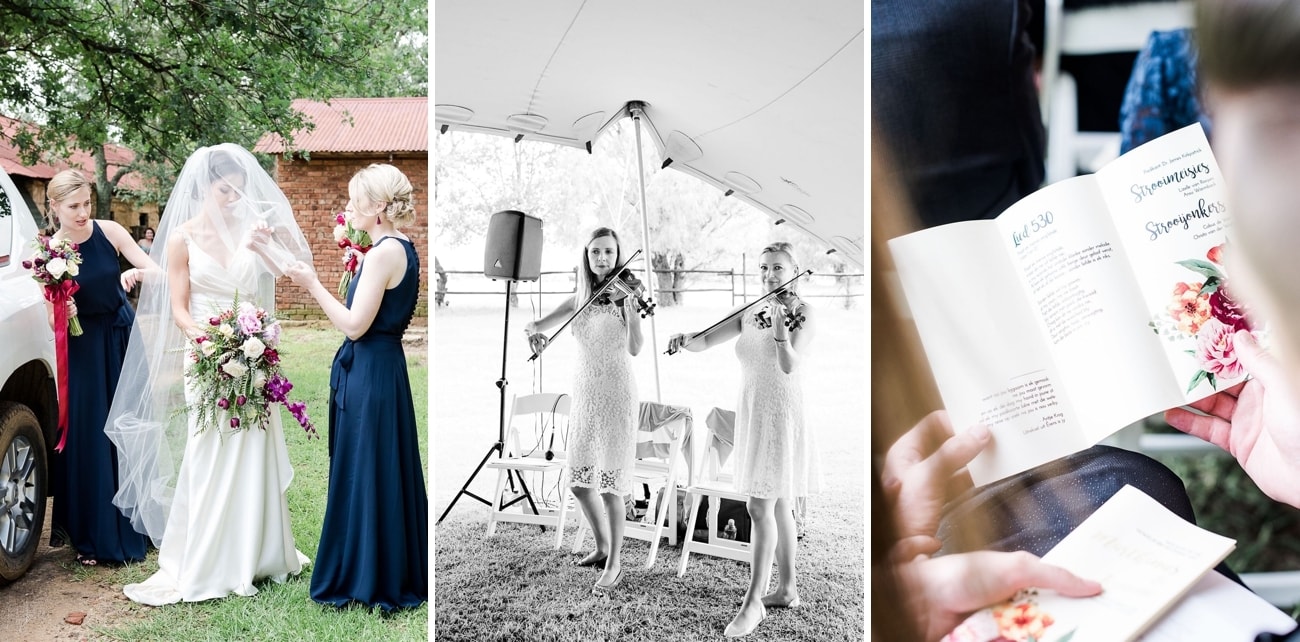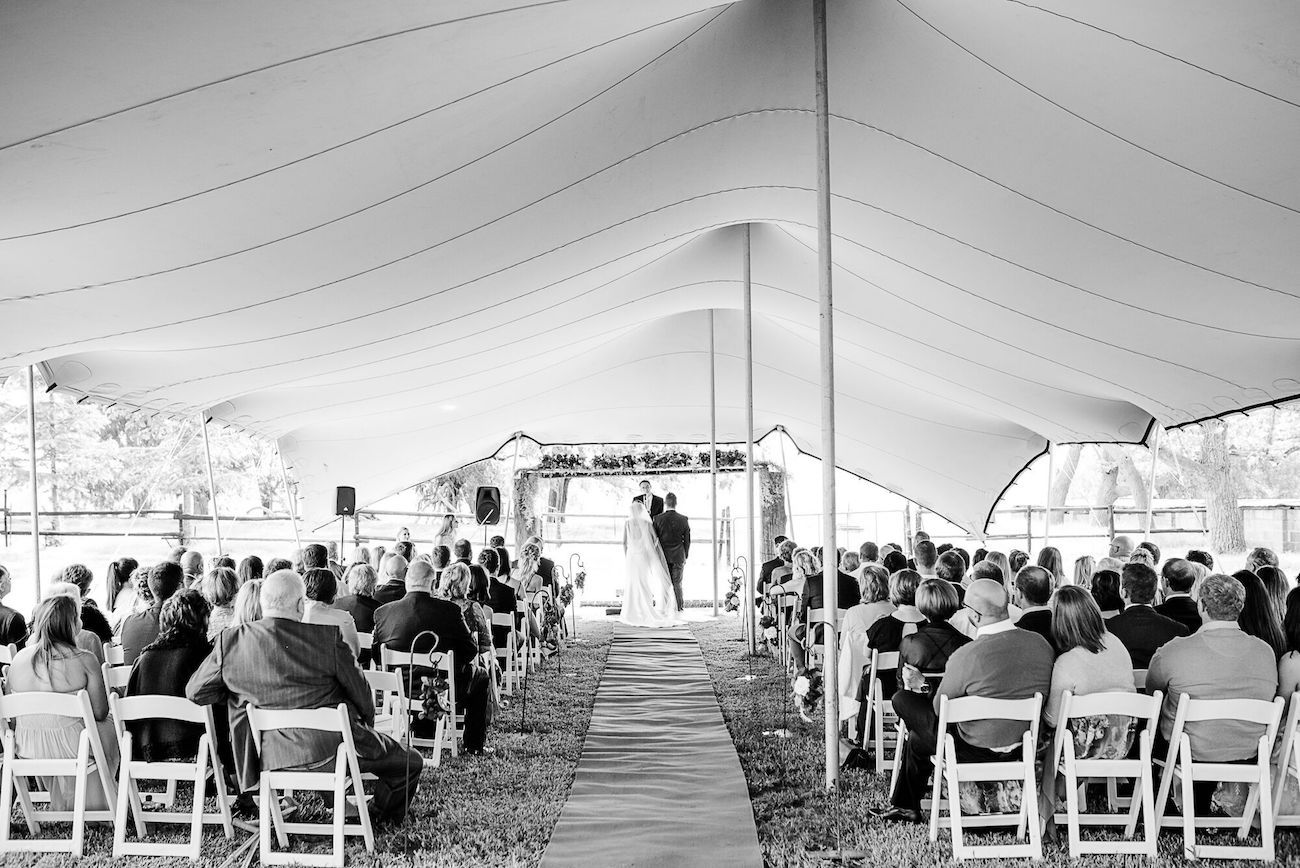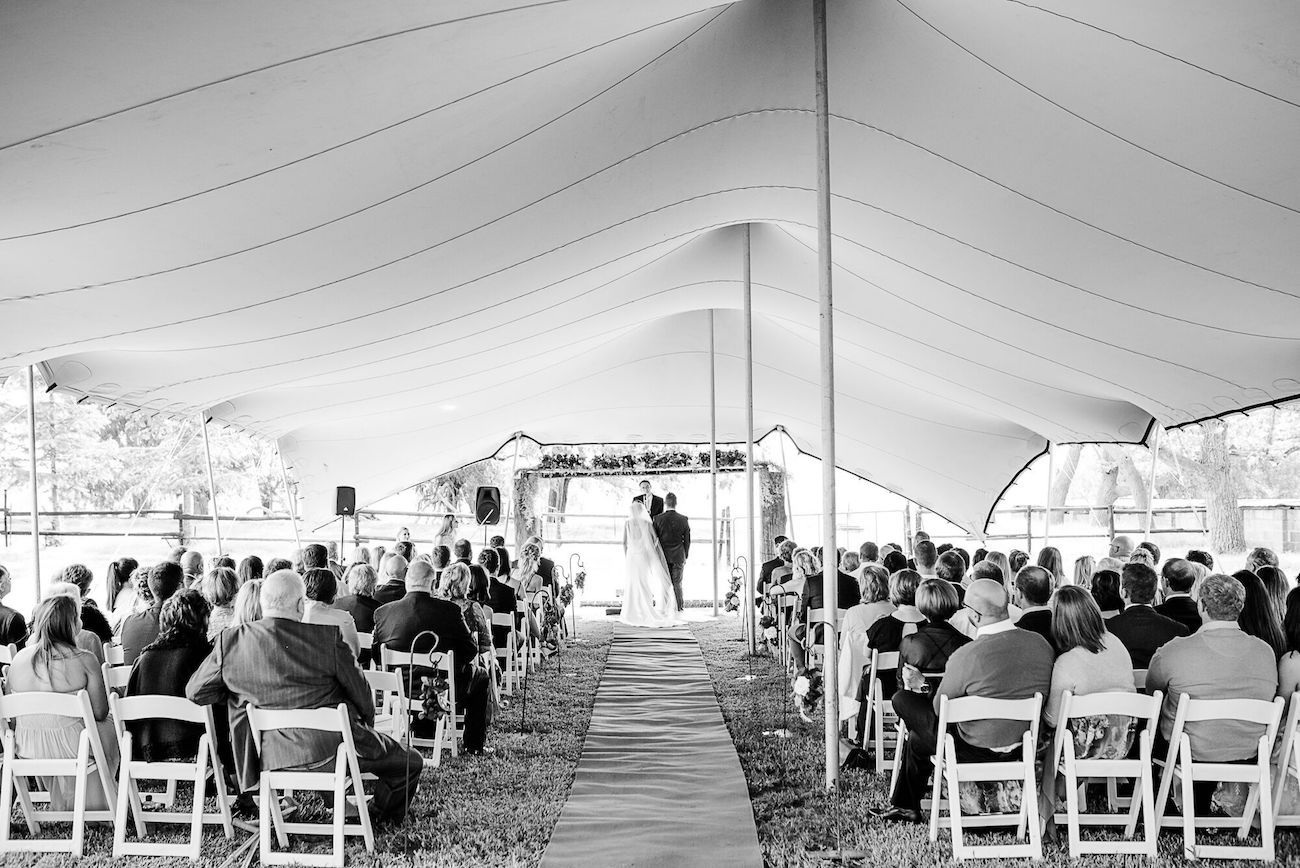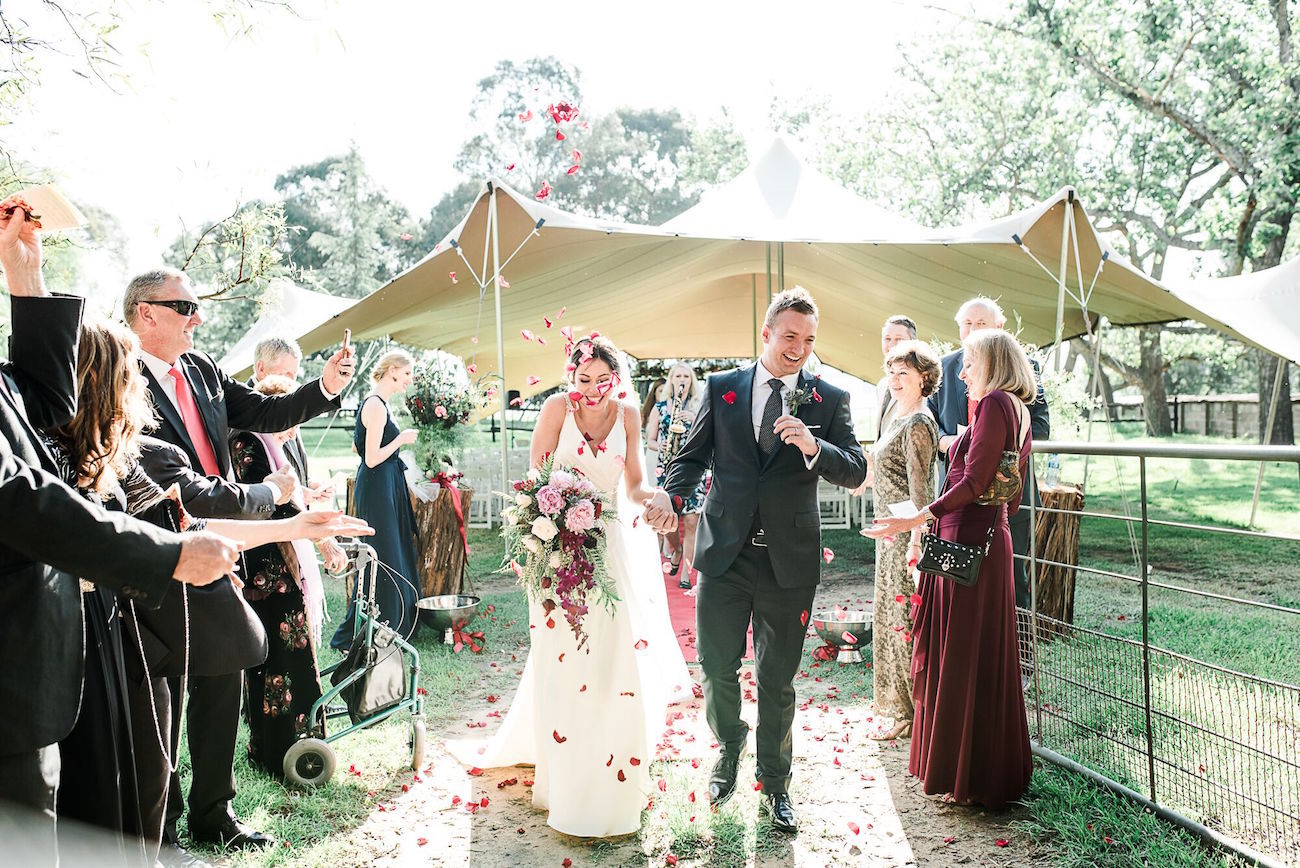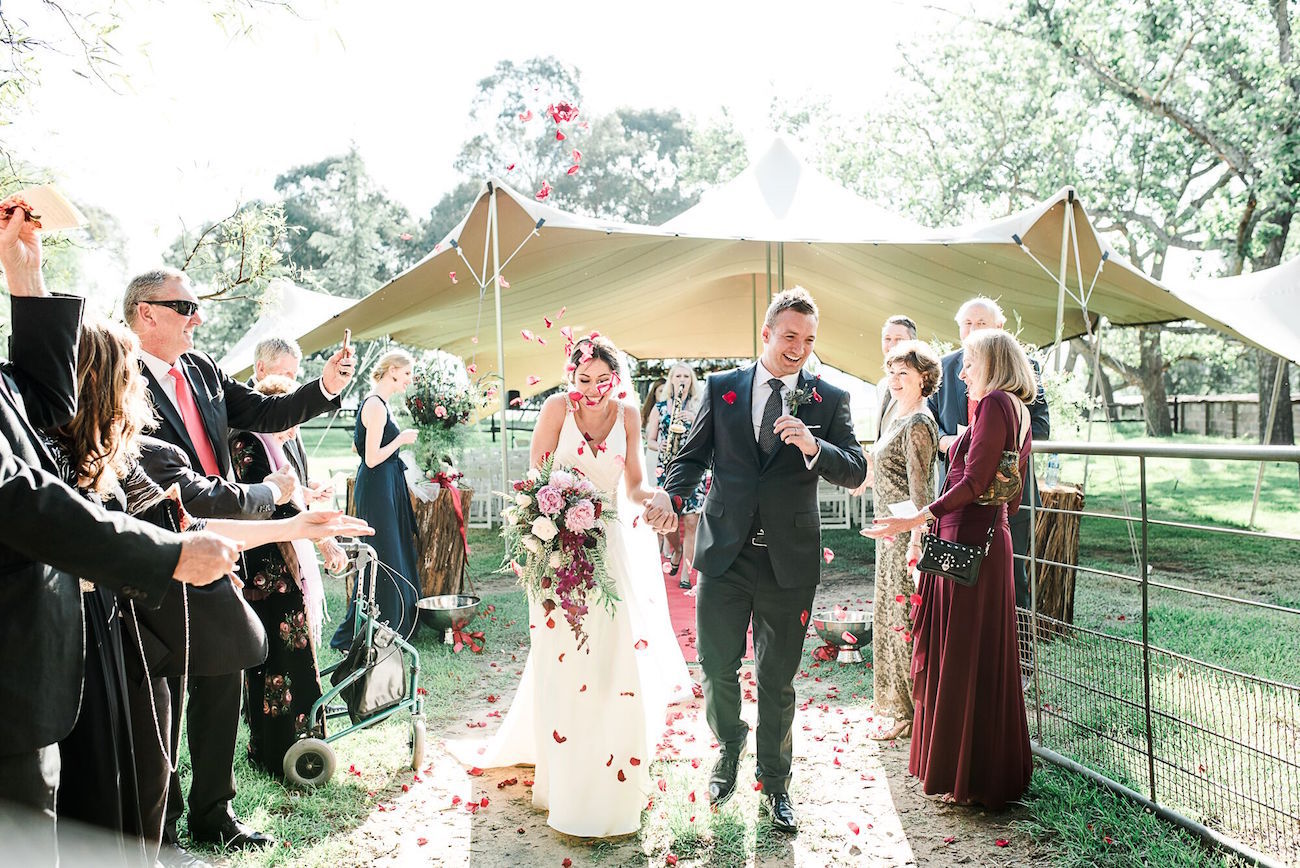 Wedding Details
I really love the arch that my dad built for me. We were married outside and did not need a backdrop for the beautiful farm setting and cattle and horses grazing and watching us, but it just finished it all off. I also wanted wedding stationery and although it took some extra time, I loved that we had paper invitations!
DIY Elements
We had so many DIY elements! My mom hand made all the table linen, napkins and blankets, as well as a three tier wedding cake with sugar flowers. We knocked down a wall in the shed and used the sandstone bricks to build a bar. The ceiling was not waterproof and we had to prepare a shed to house all our guests and keep them dry. Literally everything had to be revamped. We did not want to take away from the farm and the rustic setting that it was, but we had to do some finishing touches. The restrooms called for some creativity as well; the ladies' restrooms were in an old shed and the men's restroom was behind hessian under a covered parking space, where my dad's tractors were usually parked. My family helped with some of the flower arrangements in old milk cans from the farm. My sister and I filled all the glass bottles with olive oil and balsamic vinegar as gifts for the guests, and we tied each guest's name to the bottle. We also folded all the napkins and inserted the menu in the pocket we had folded in the napkin. We did the table setting the night before and stocked the bar. A close friend and chef was up for the challenge – all the food was made on a braai, and it was gourmet food, no steaks and chops here! All he had was a table for prep, braais, a basin and a fridge on wheels!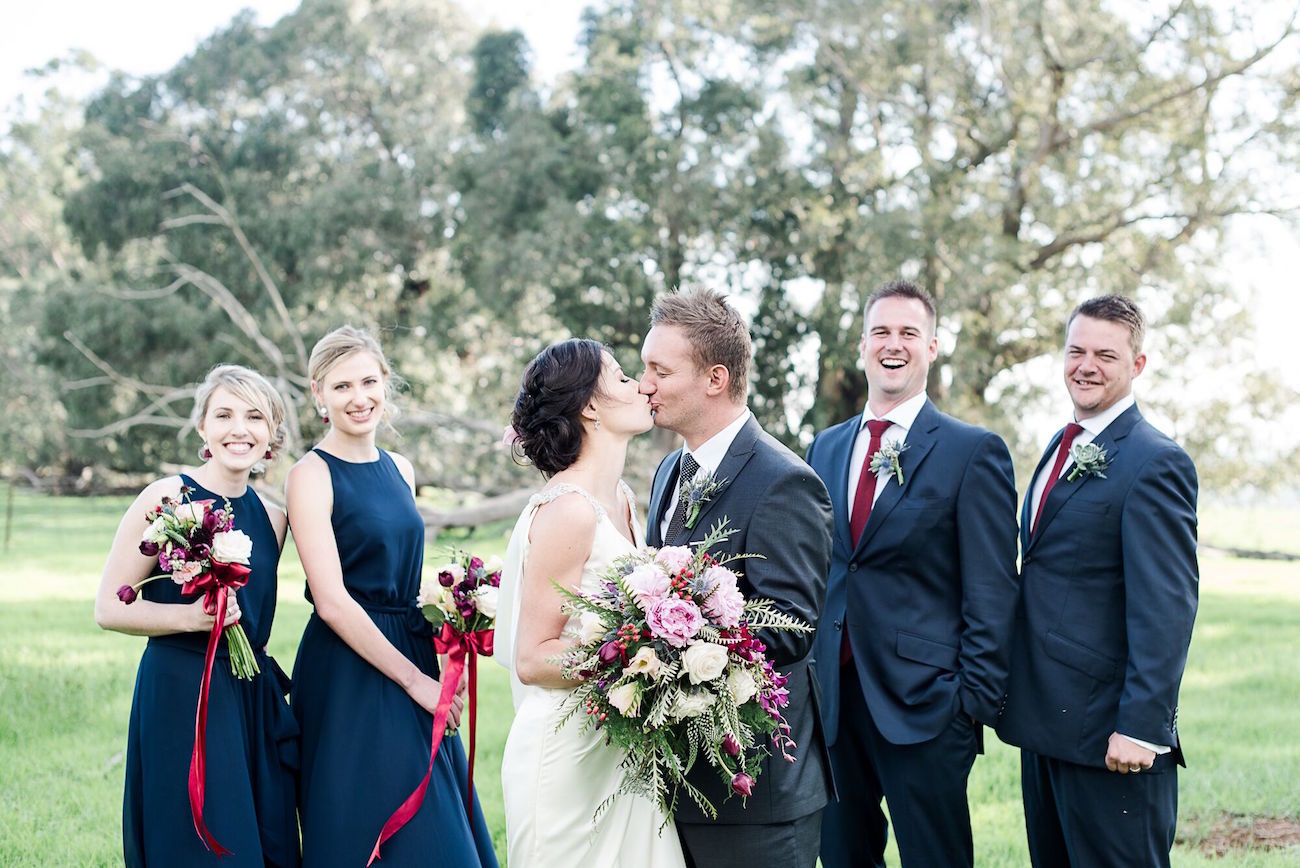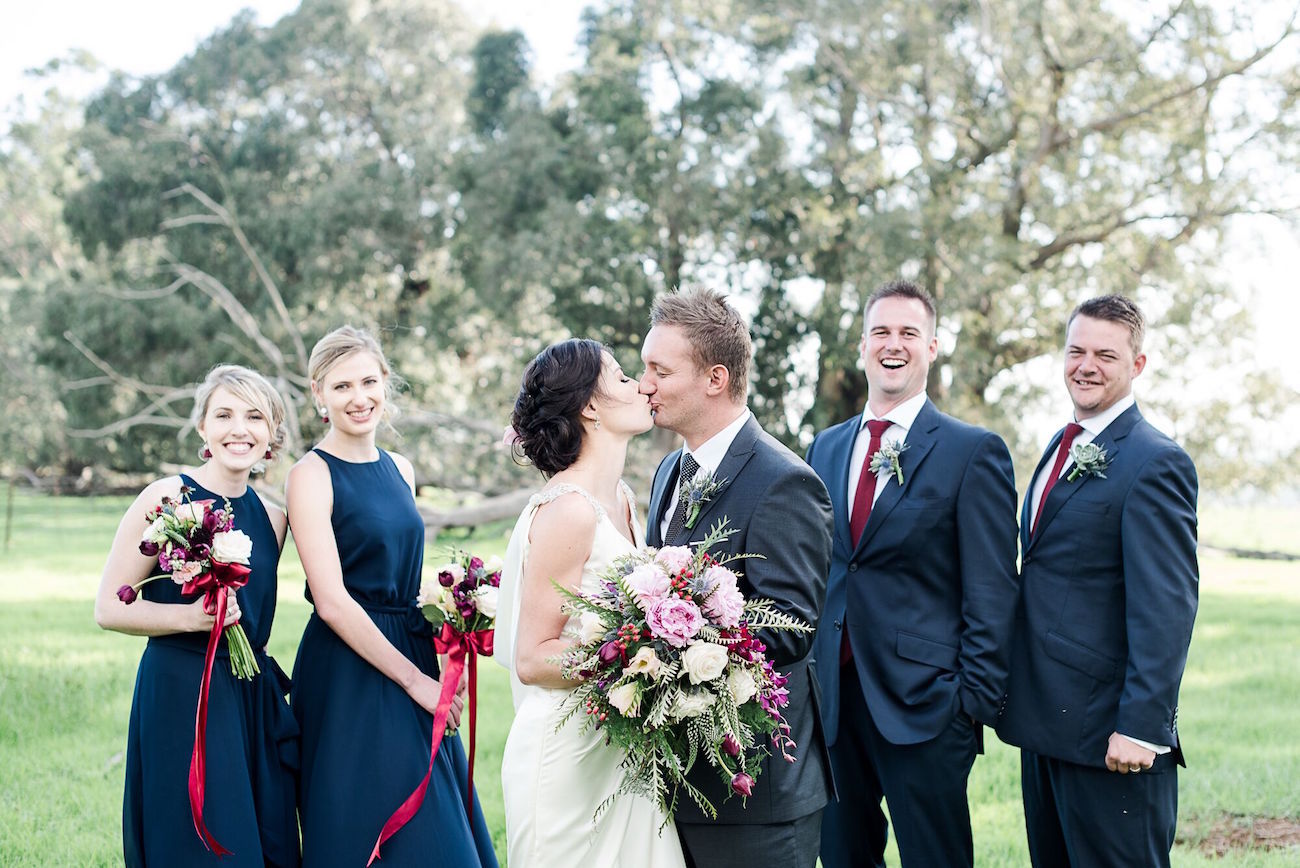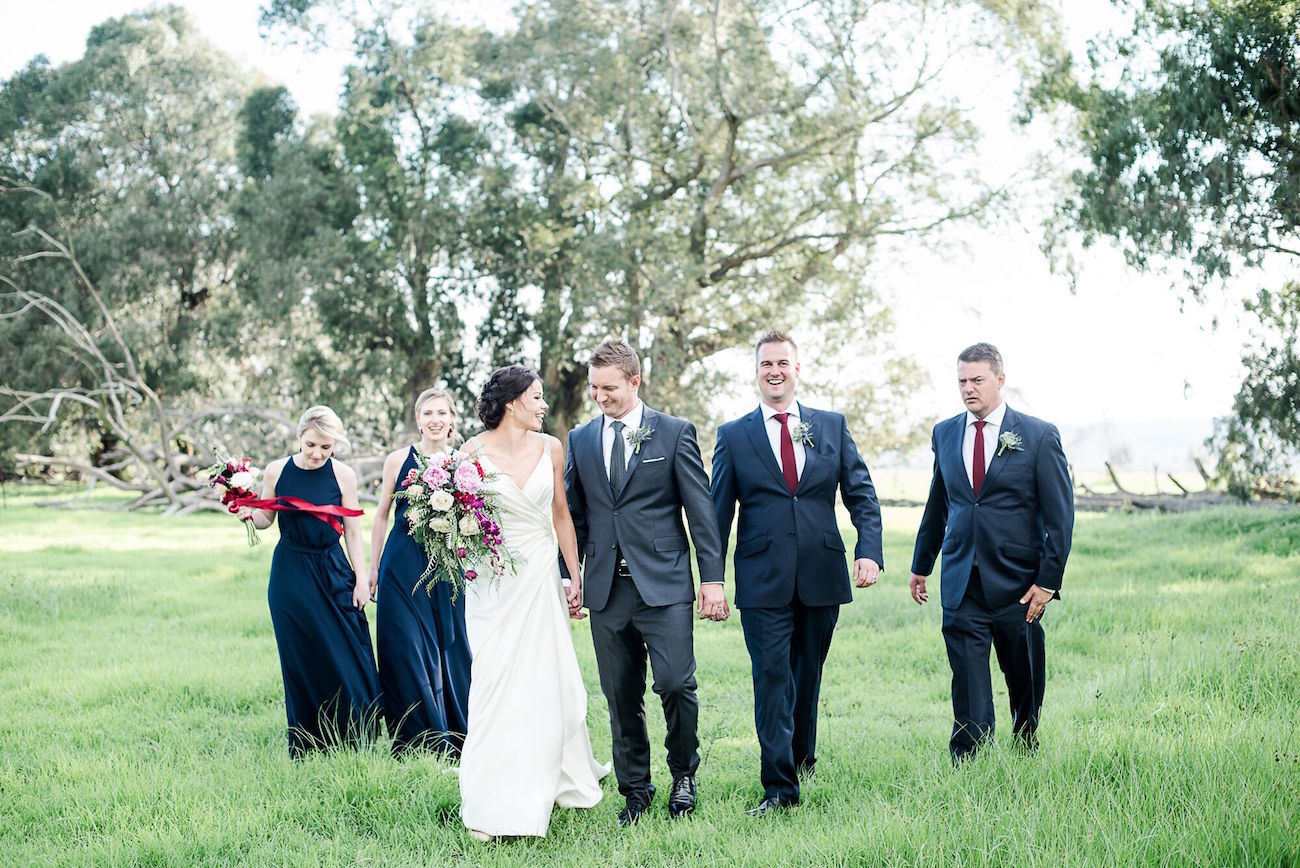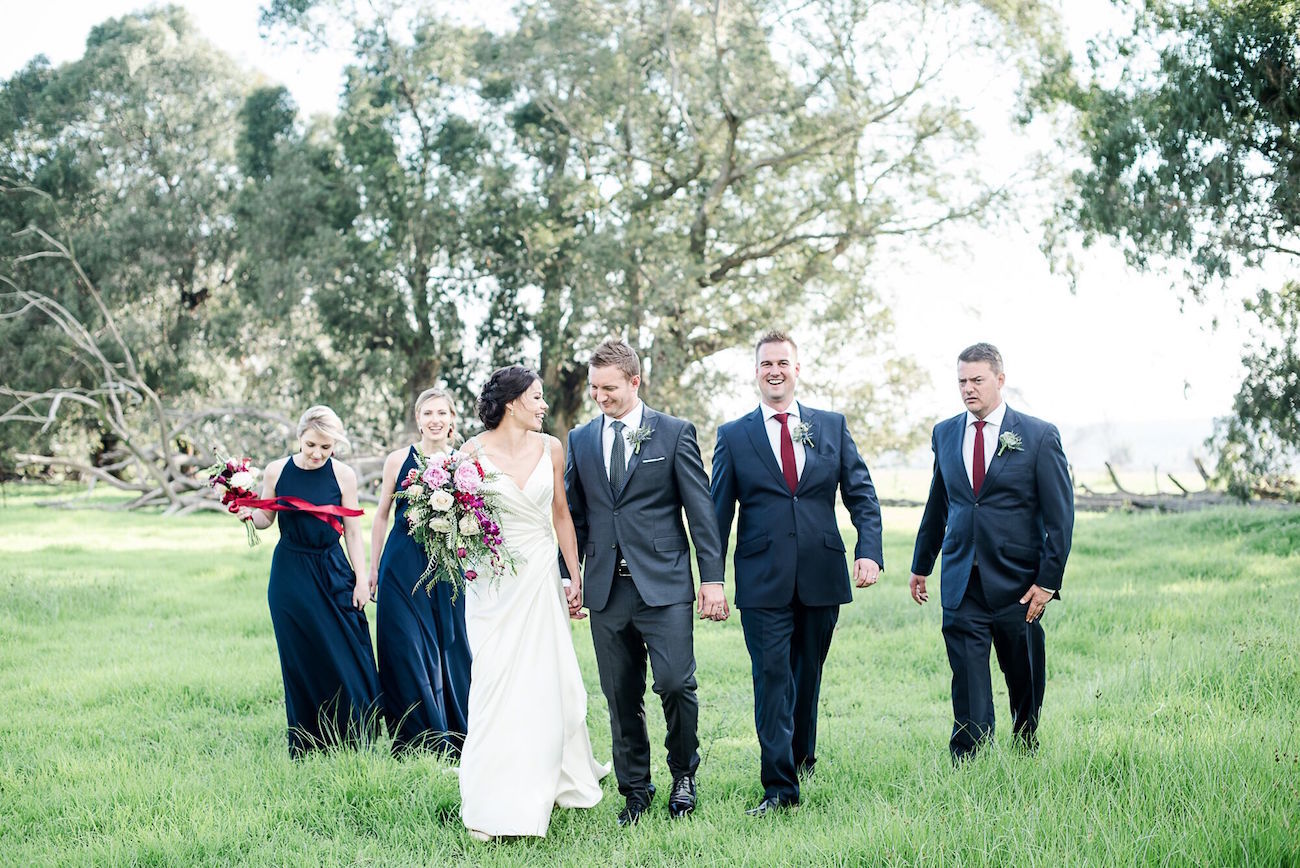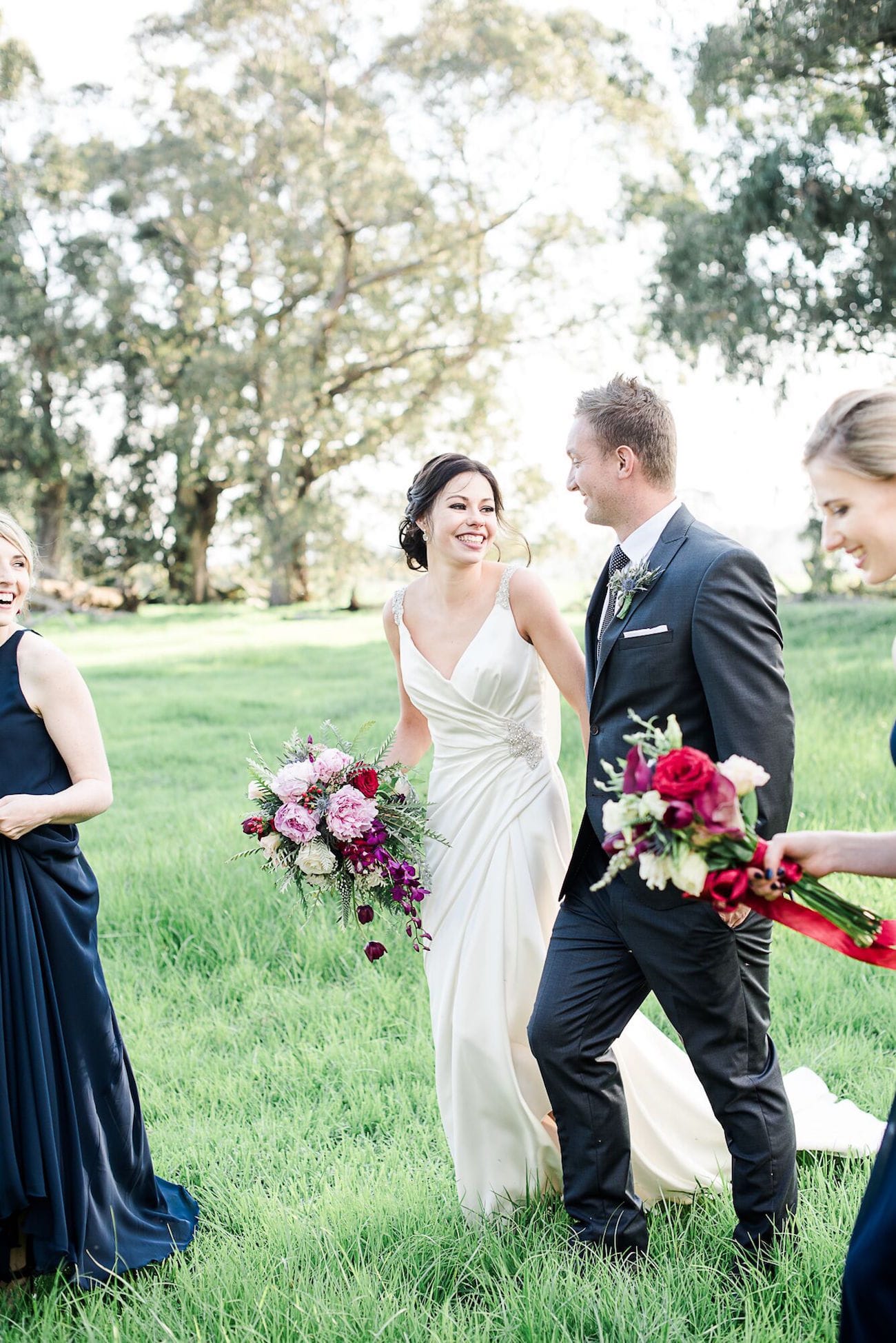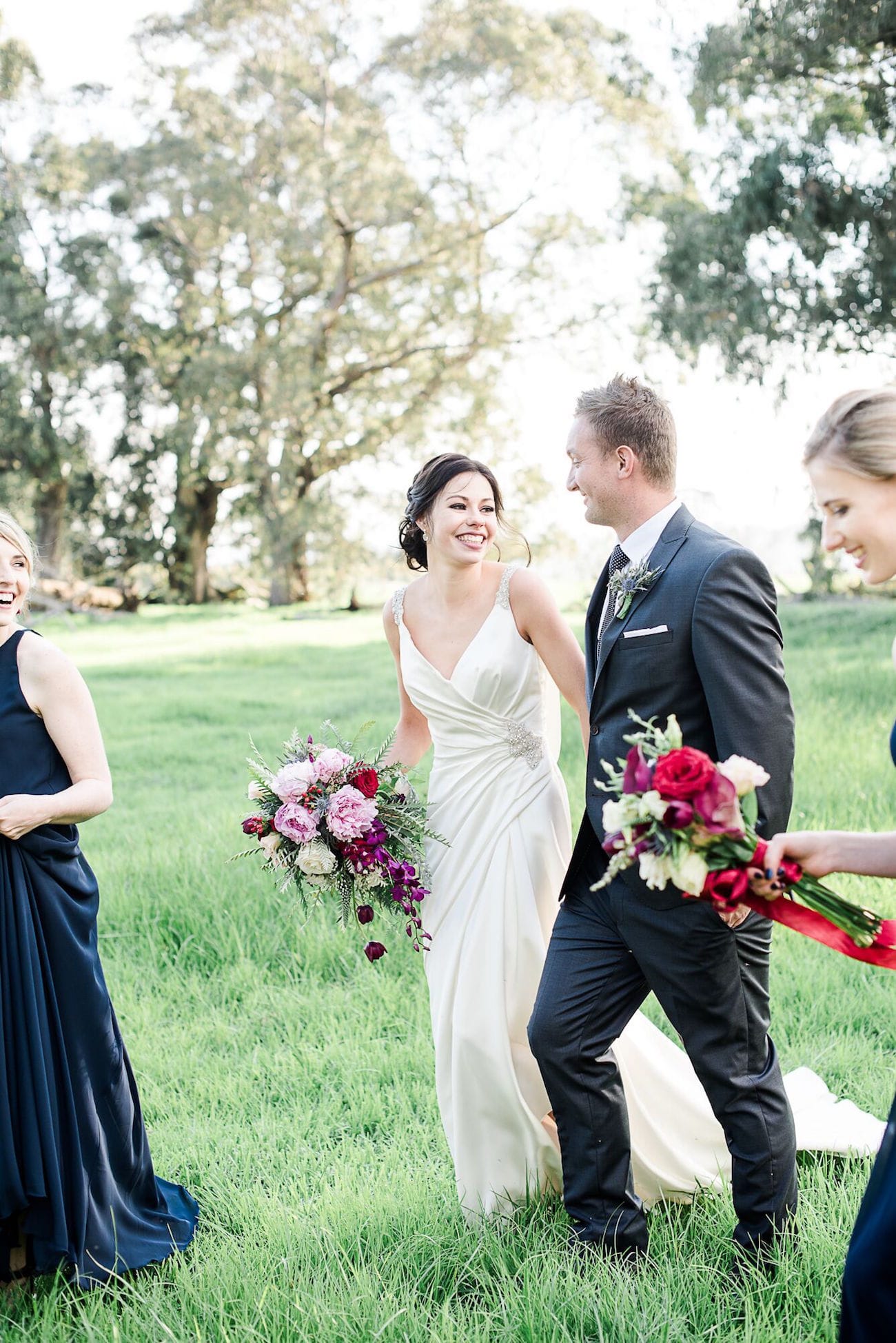 The Dress
I did not want any lace and definitely did not want a ballgown. It was actually the first dress that I tried on. I was certain that I was going to have a dress made, but after trying on this dress, I cancelled all my other fittings and the designer I had lined up. It made it really easy to know that the dress was done and settled, and this allowed me time to attend to the other details. I loved the silk fabric and the cowl back.
The Bridesmaids
I had two bridesmaids – my sister and my best friend. I chose a really dark navy fabric and we had their dresses made. They both live in Cape Town, so I never even saw the final dresses, except for a few photos, until the wedding day. The dress had a high neckline and open shoulders, so from the front it almost looked like a halterneck dress.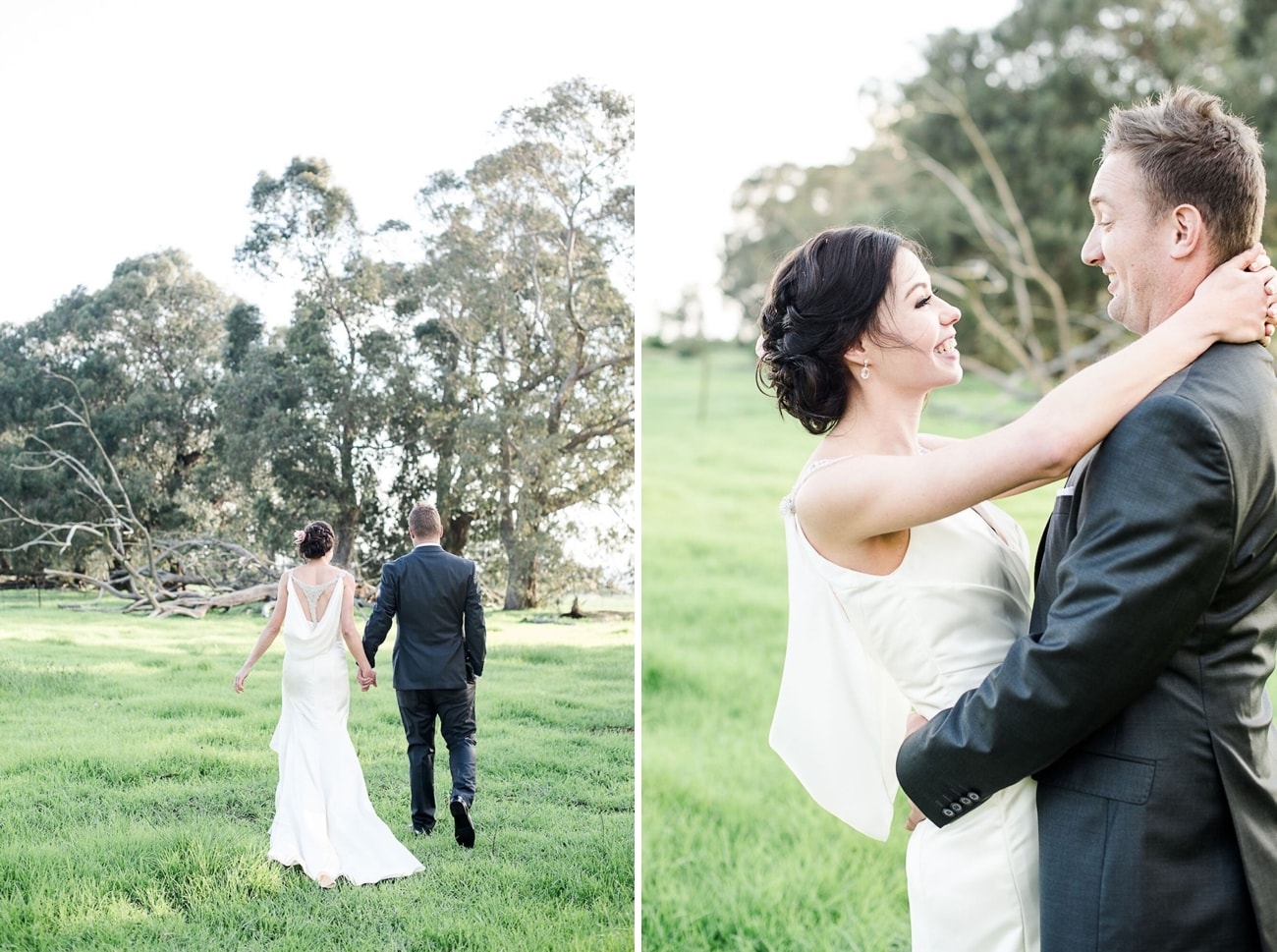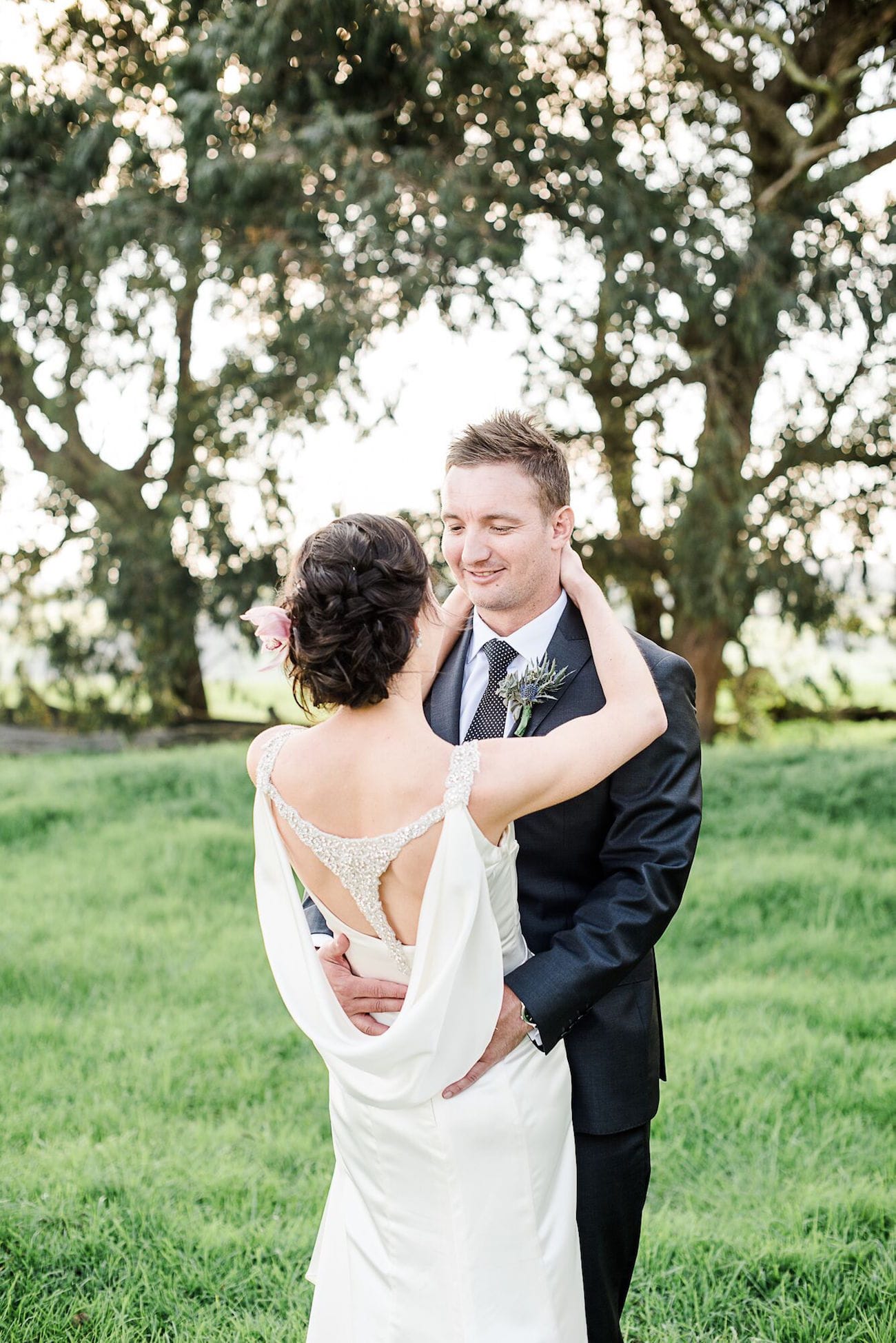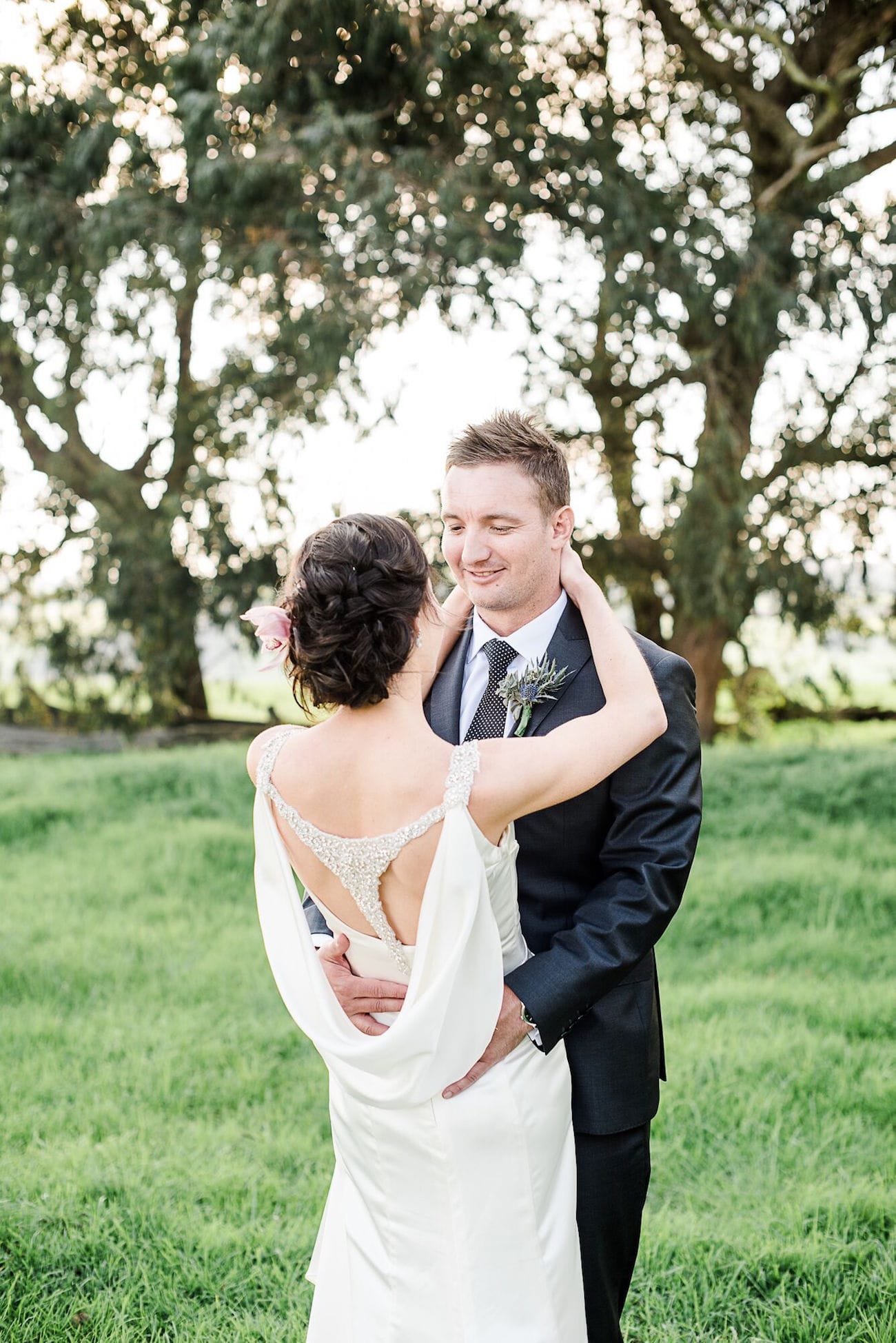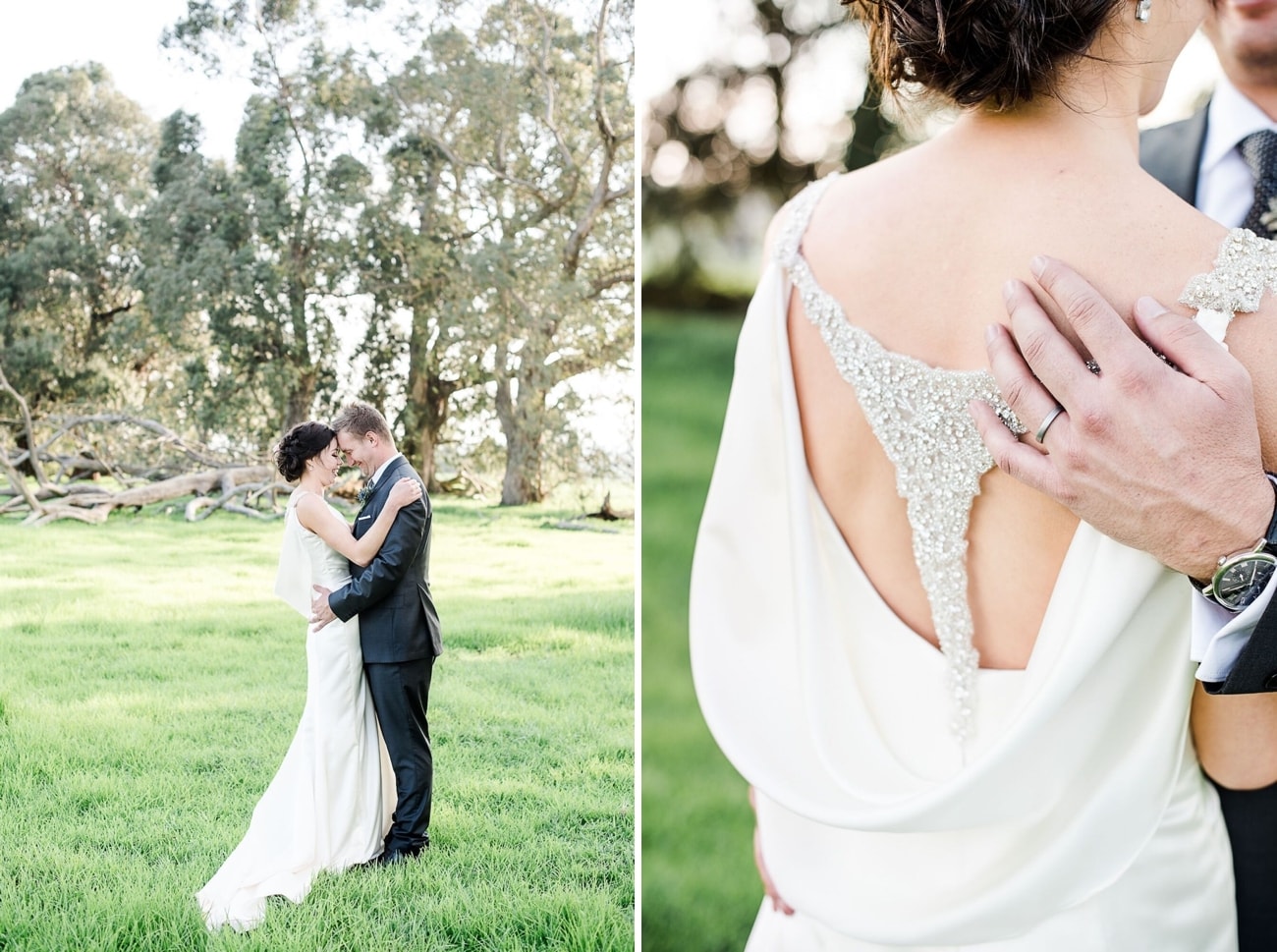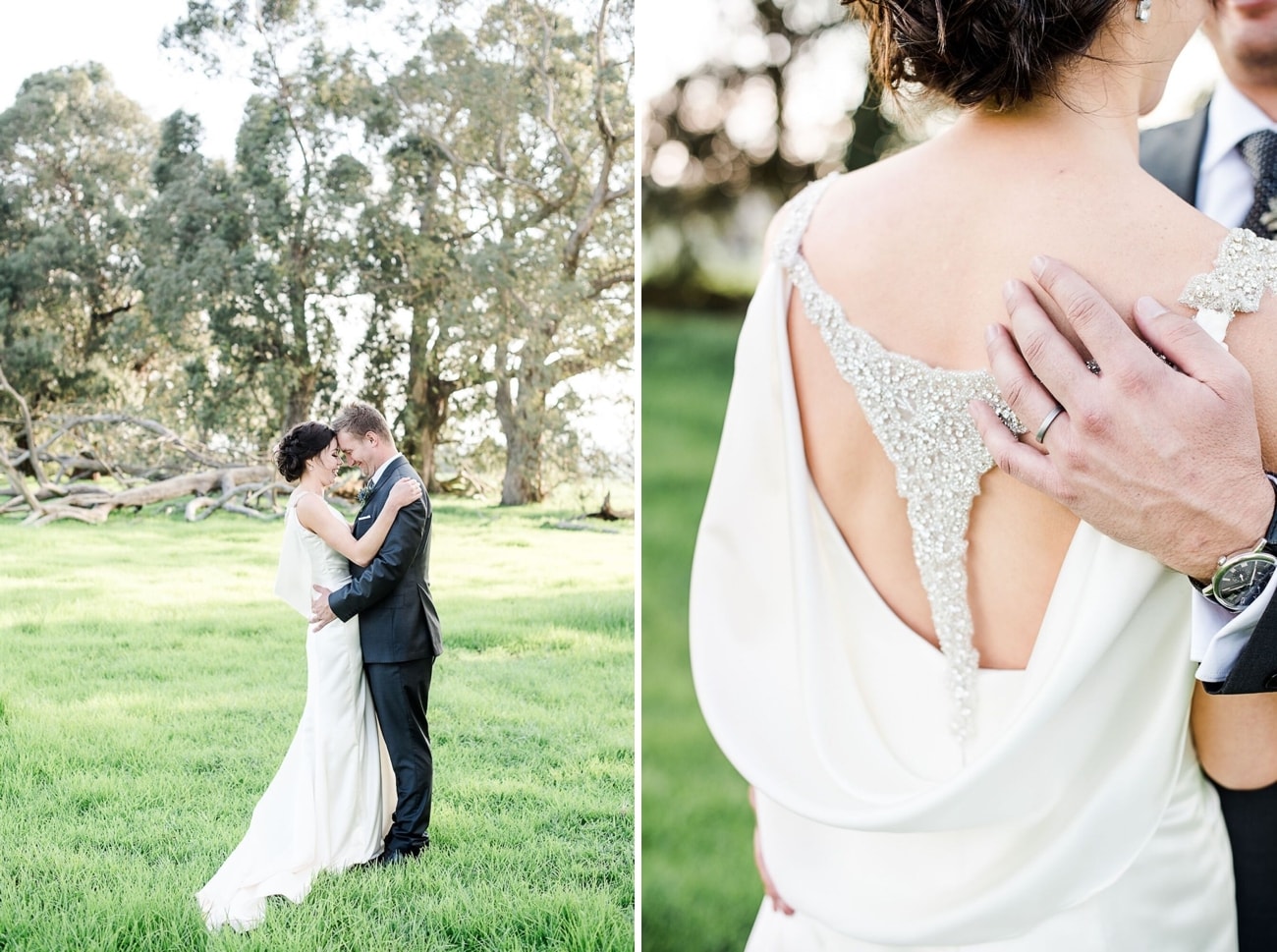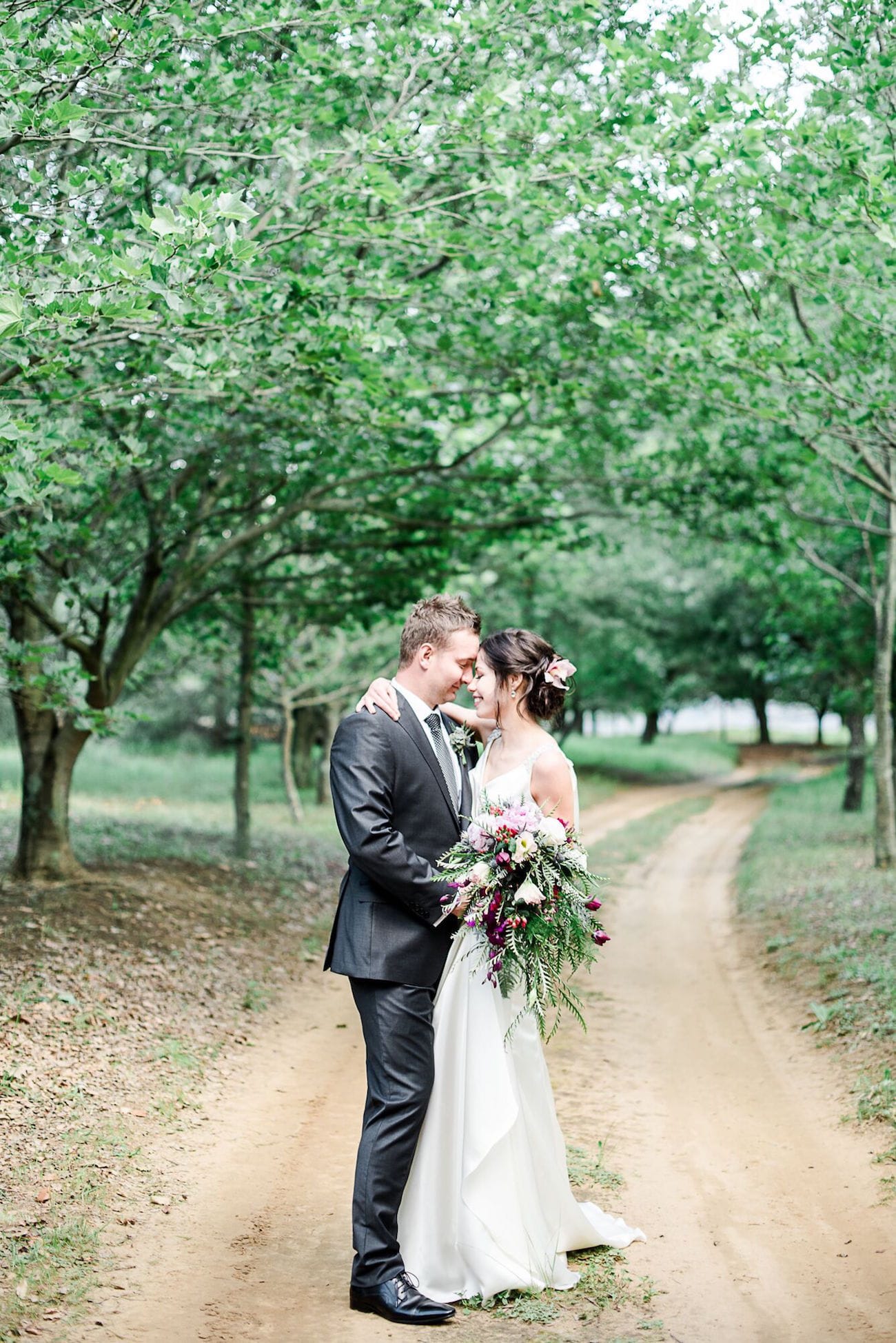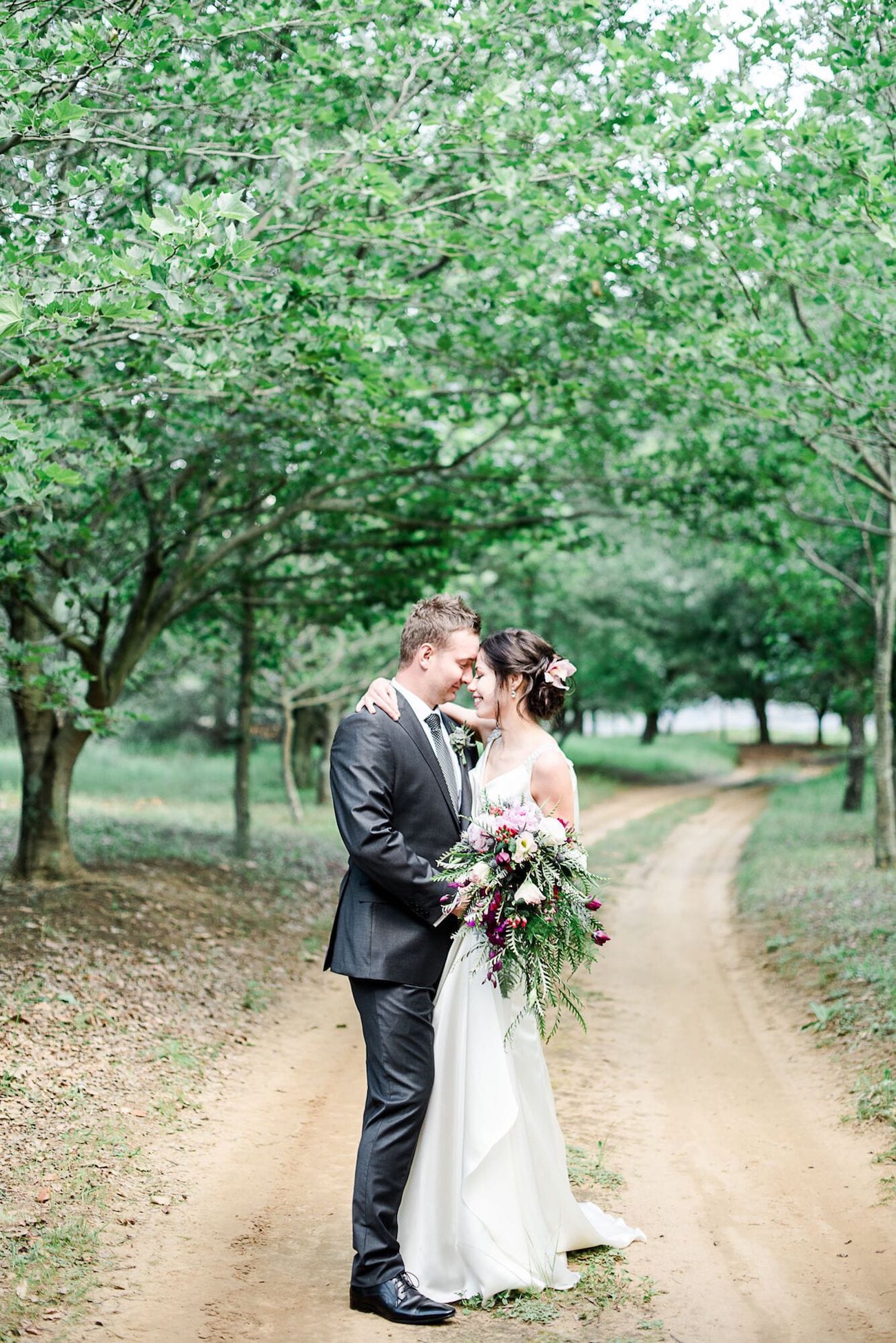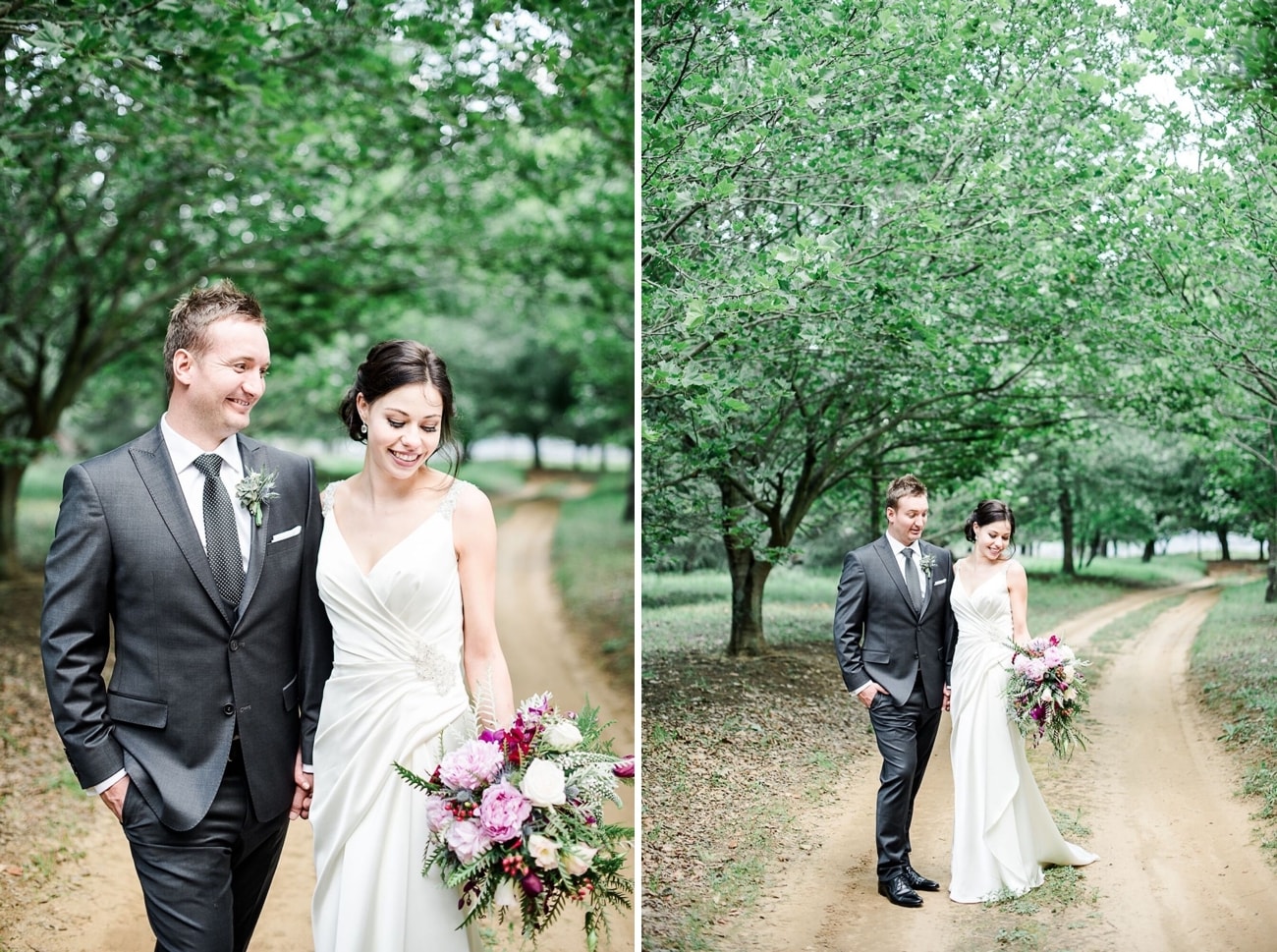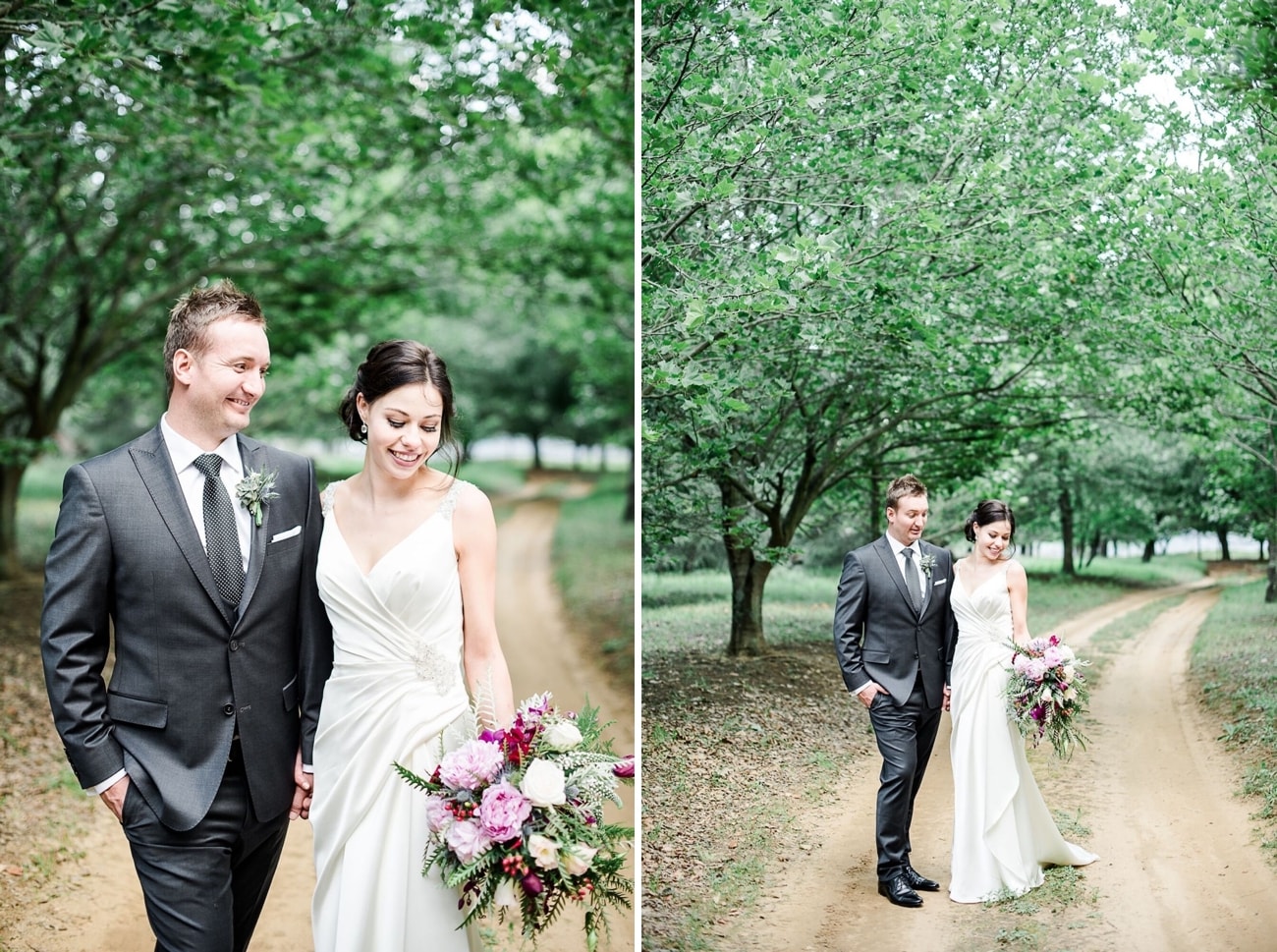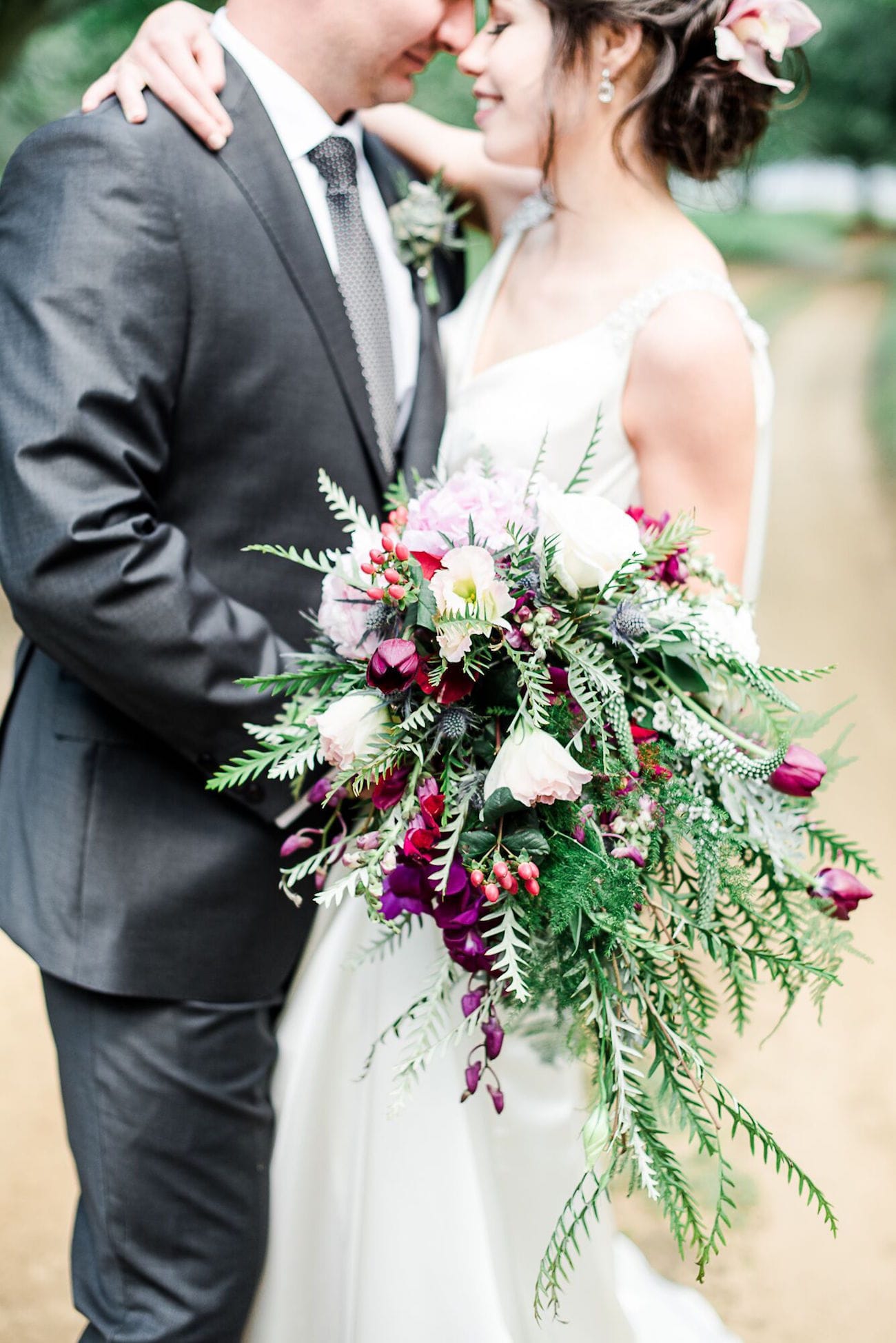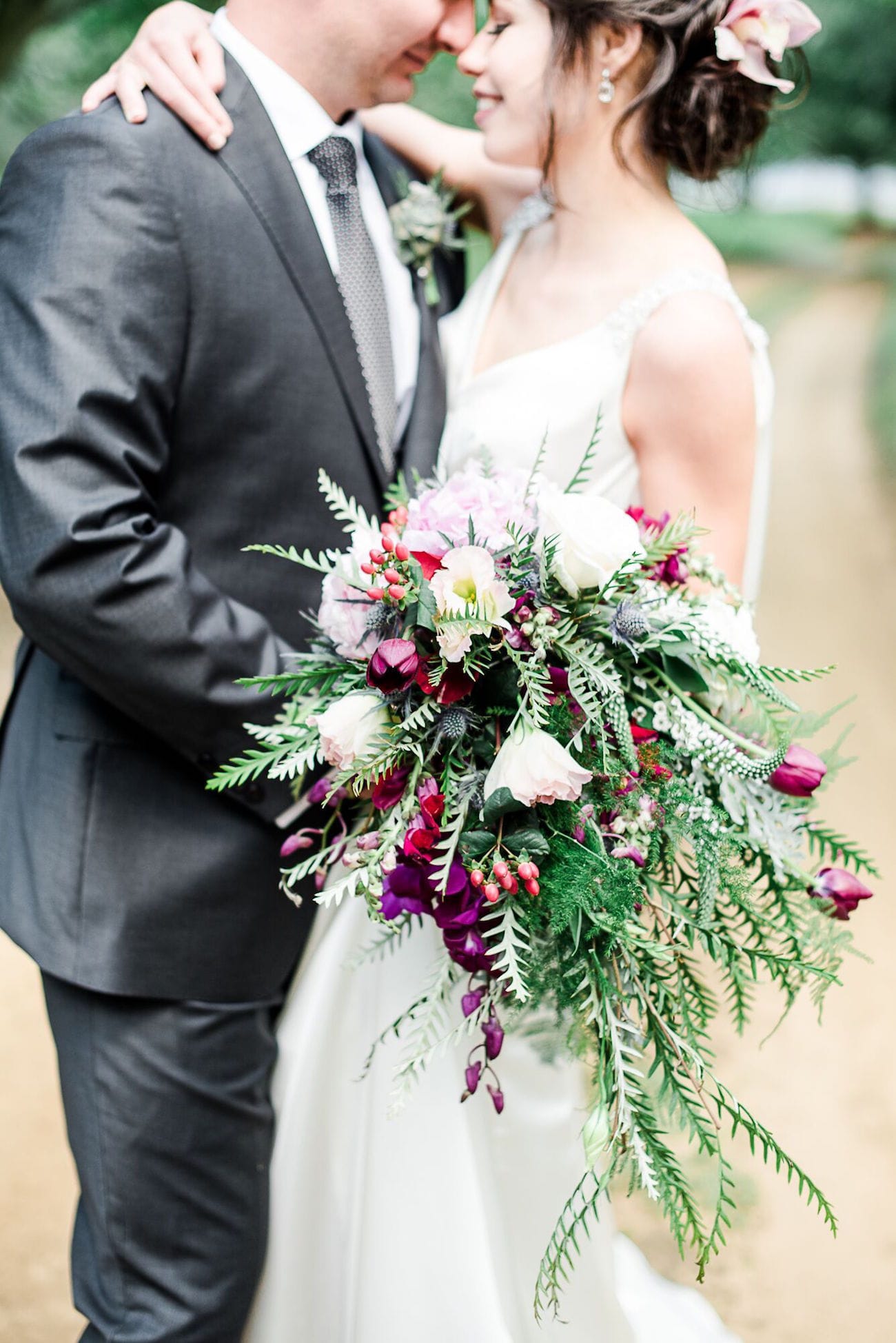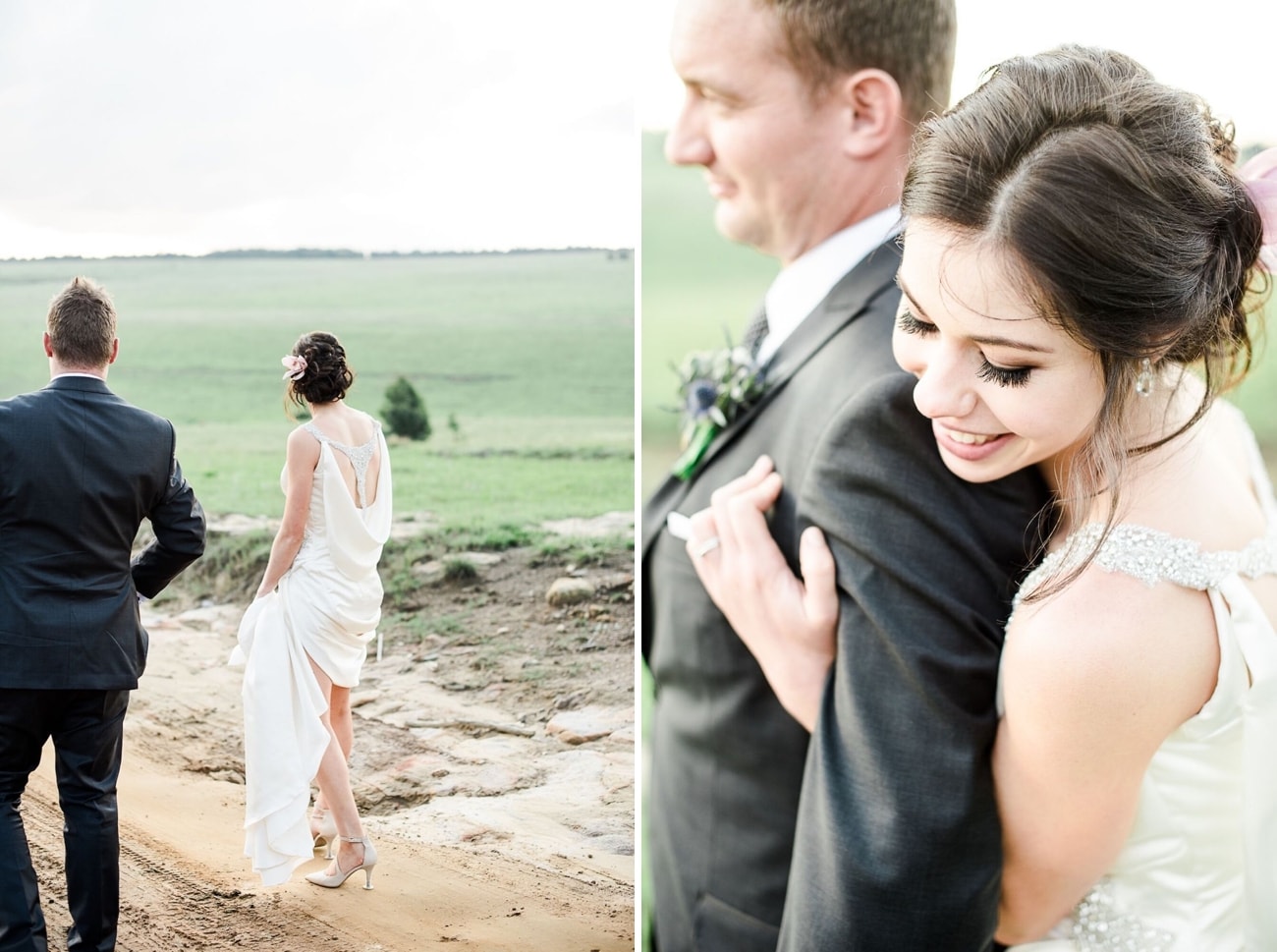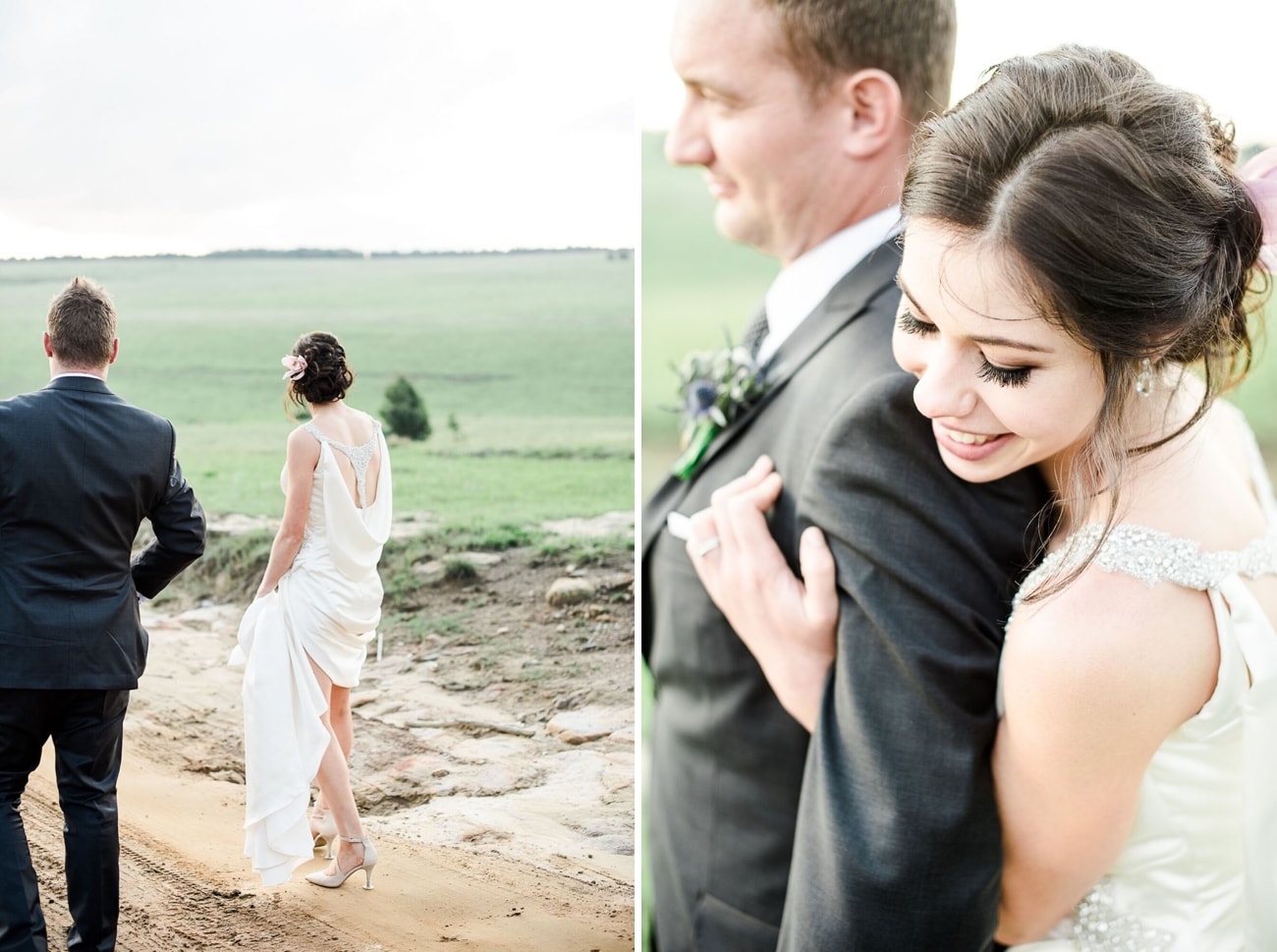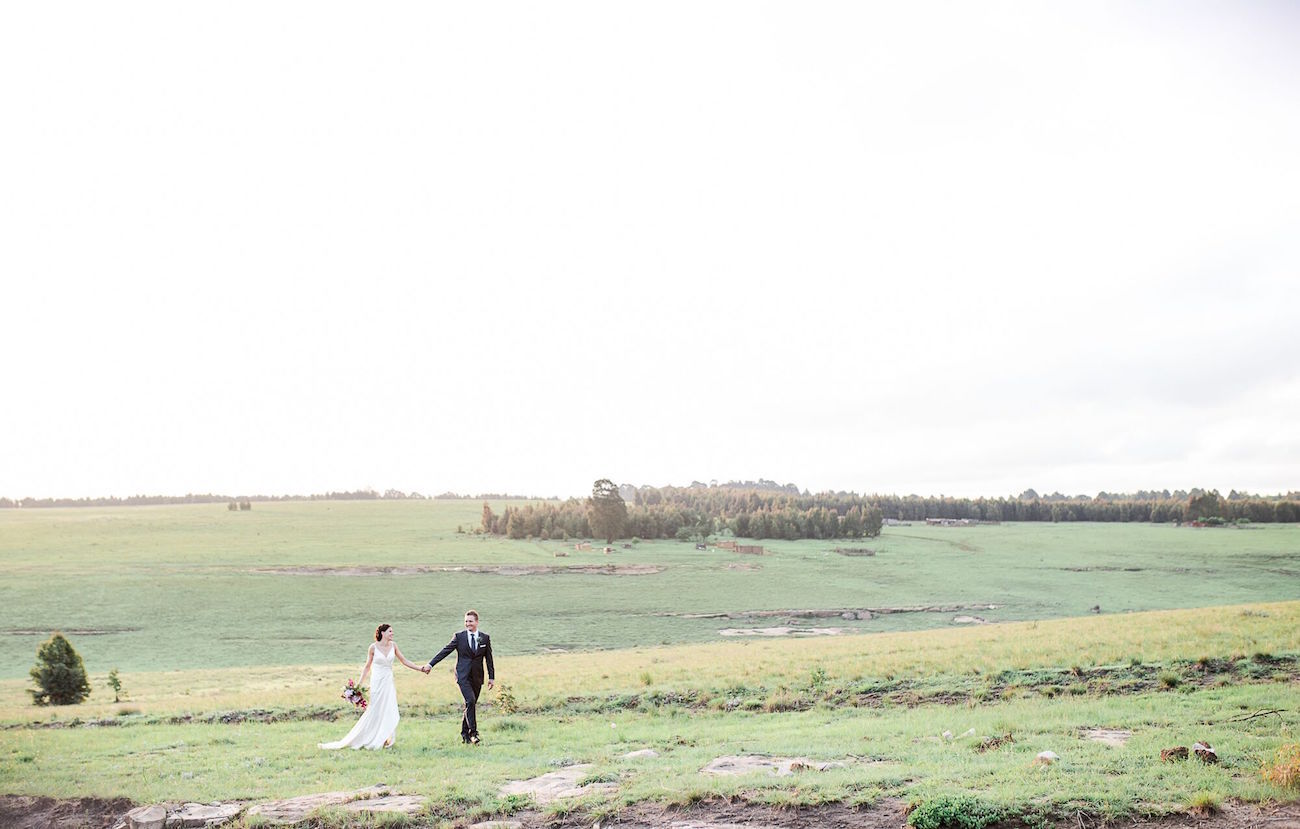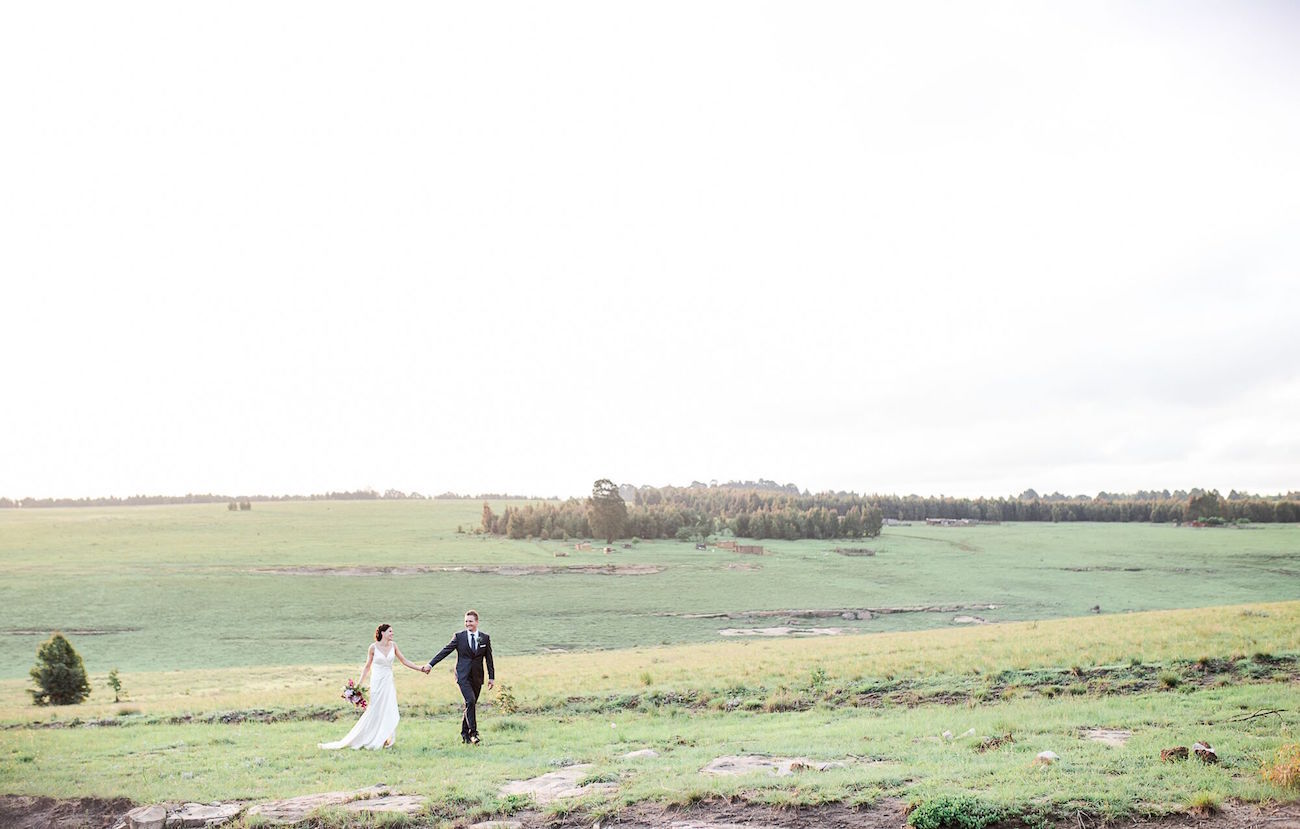 The Flowers
I did not choose any specific flower. I was more specific on the colours that I wanted. I also did not want flowers that were too formally arranged. I did have one request and that was that it must be colourful and that I wanted peonies in my bouquet.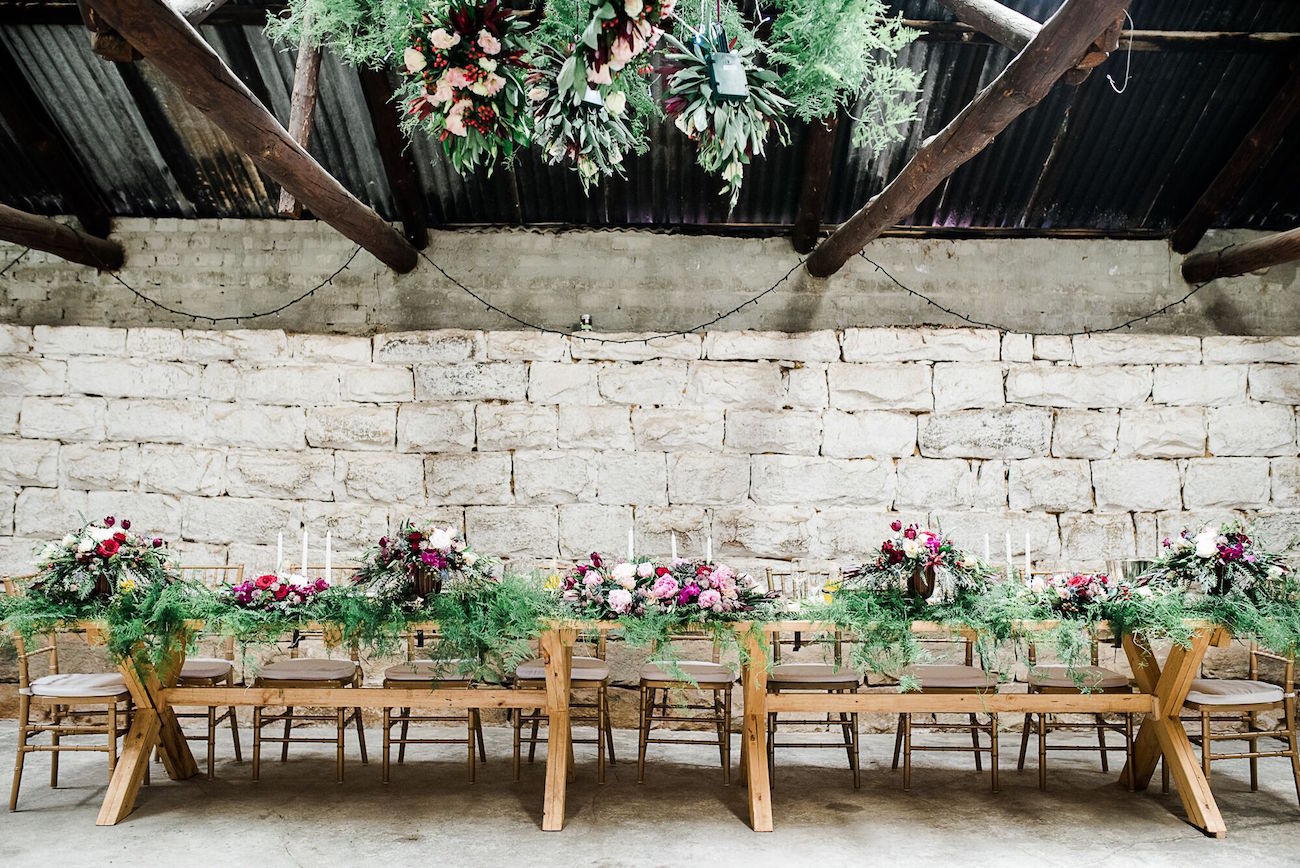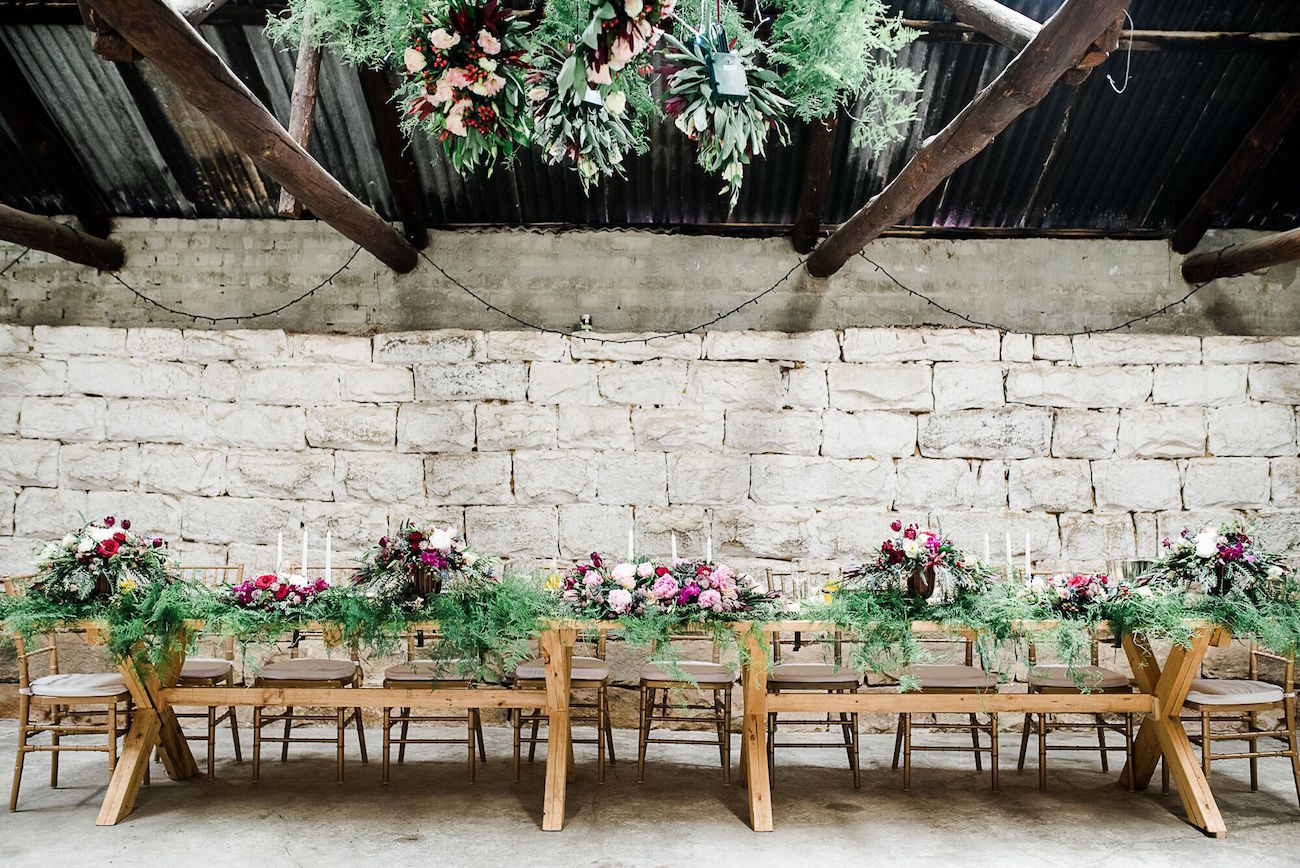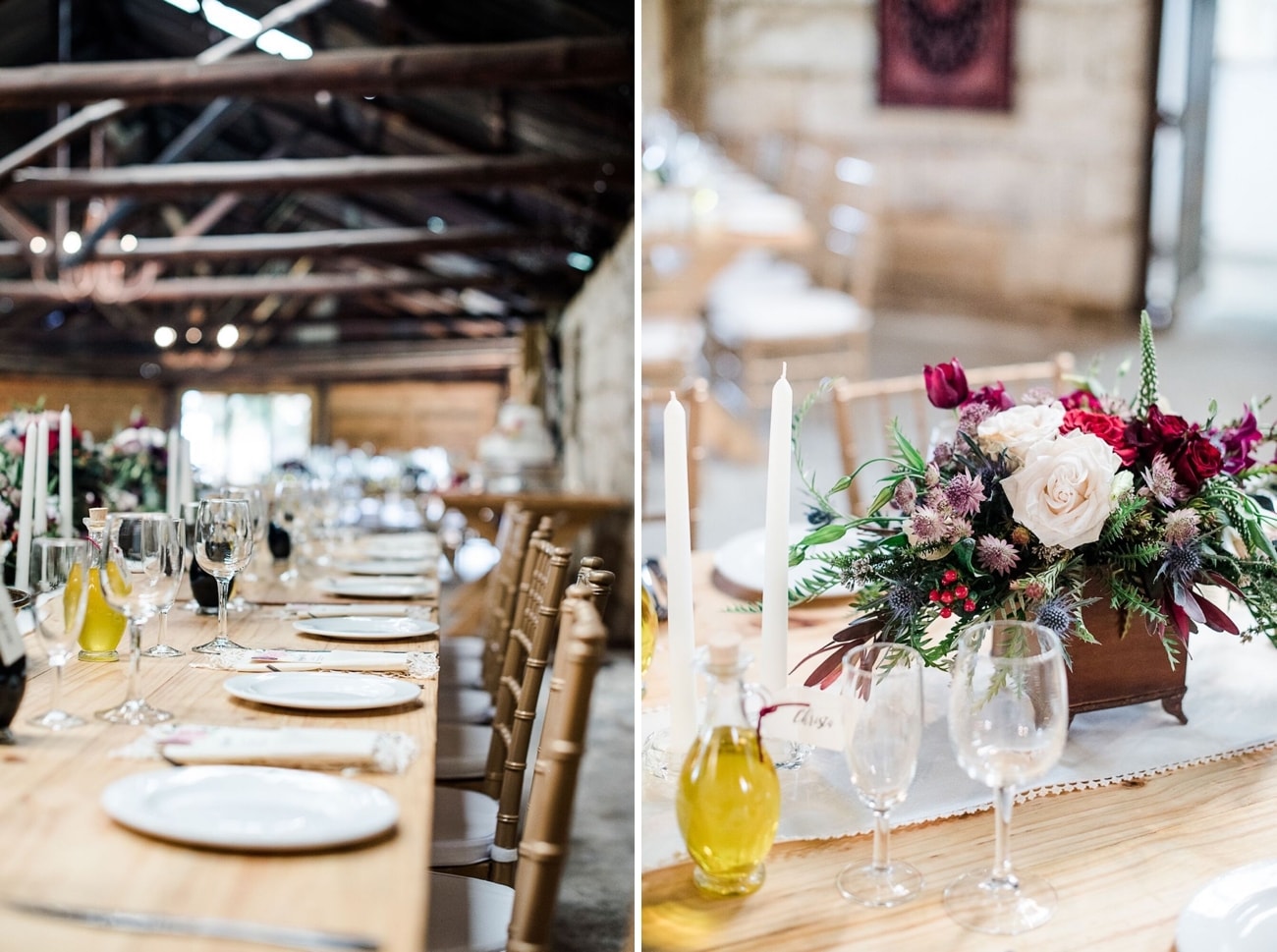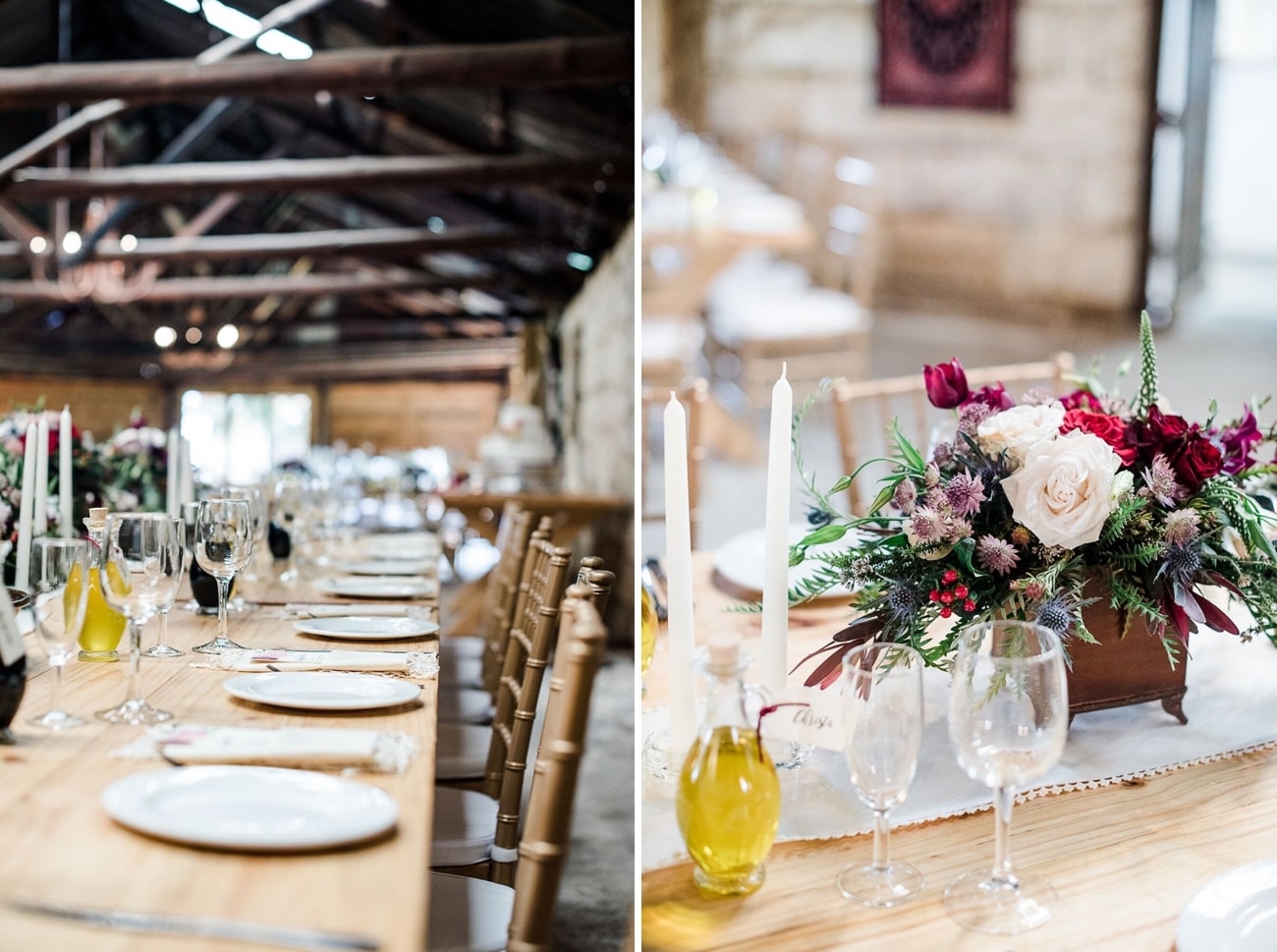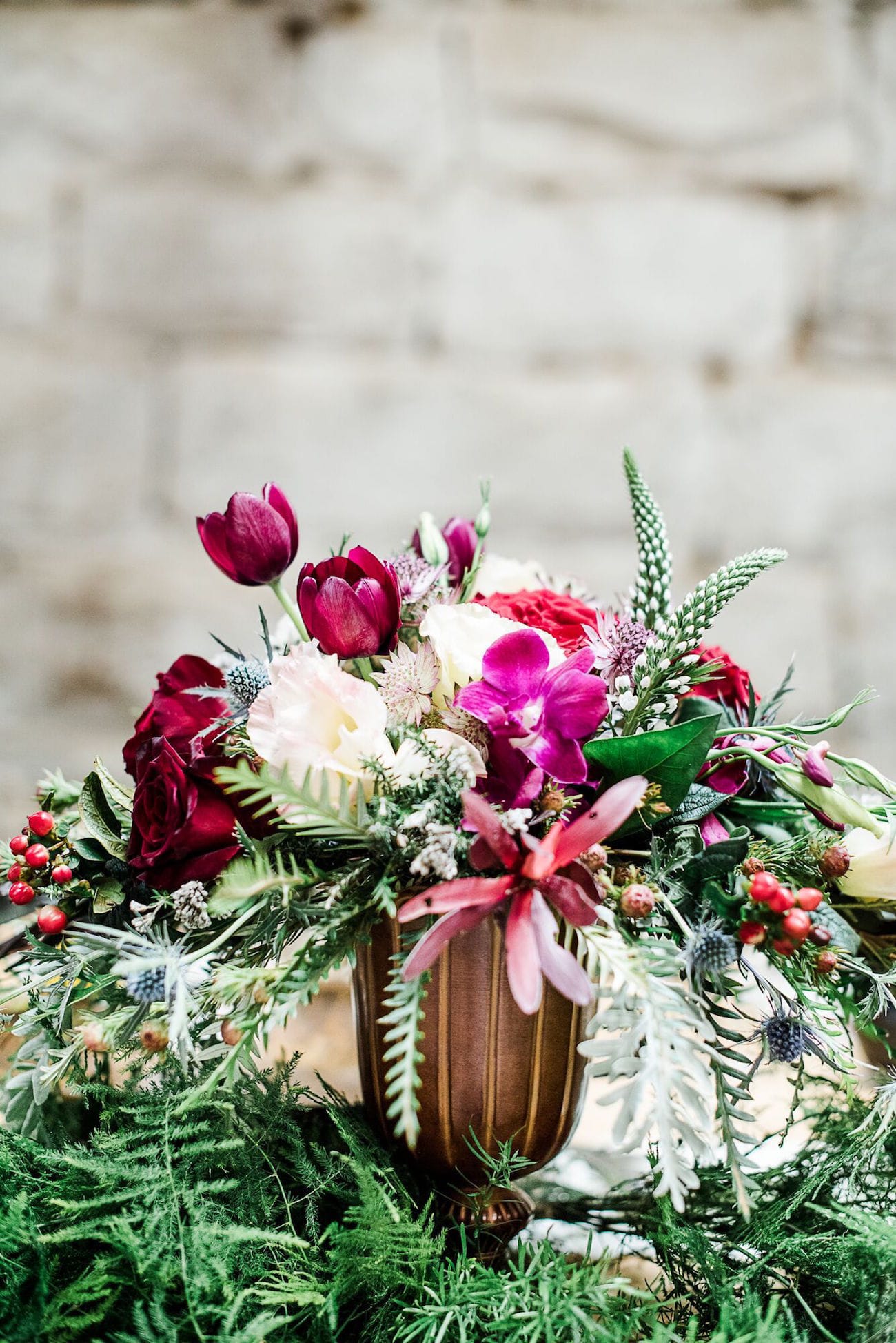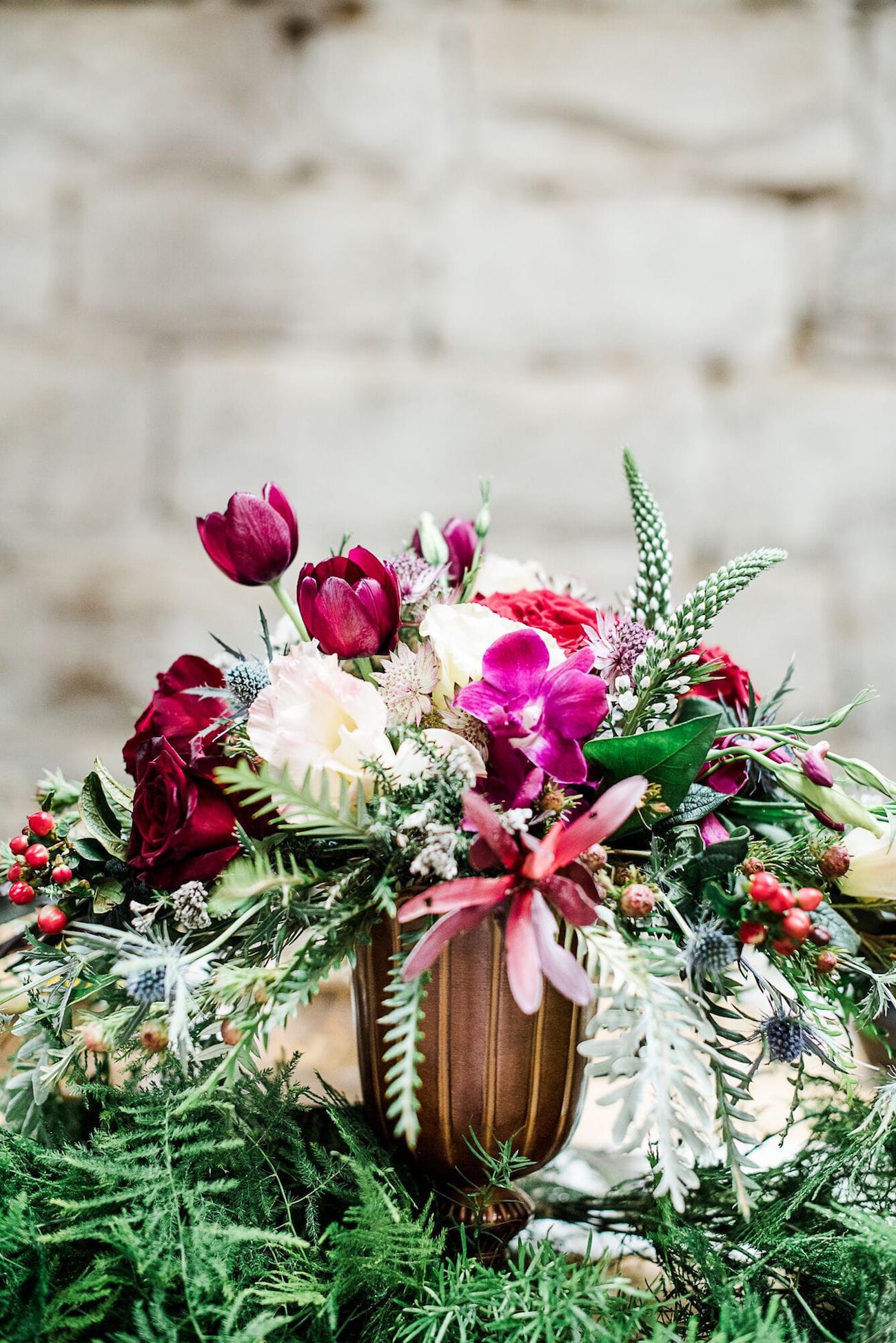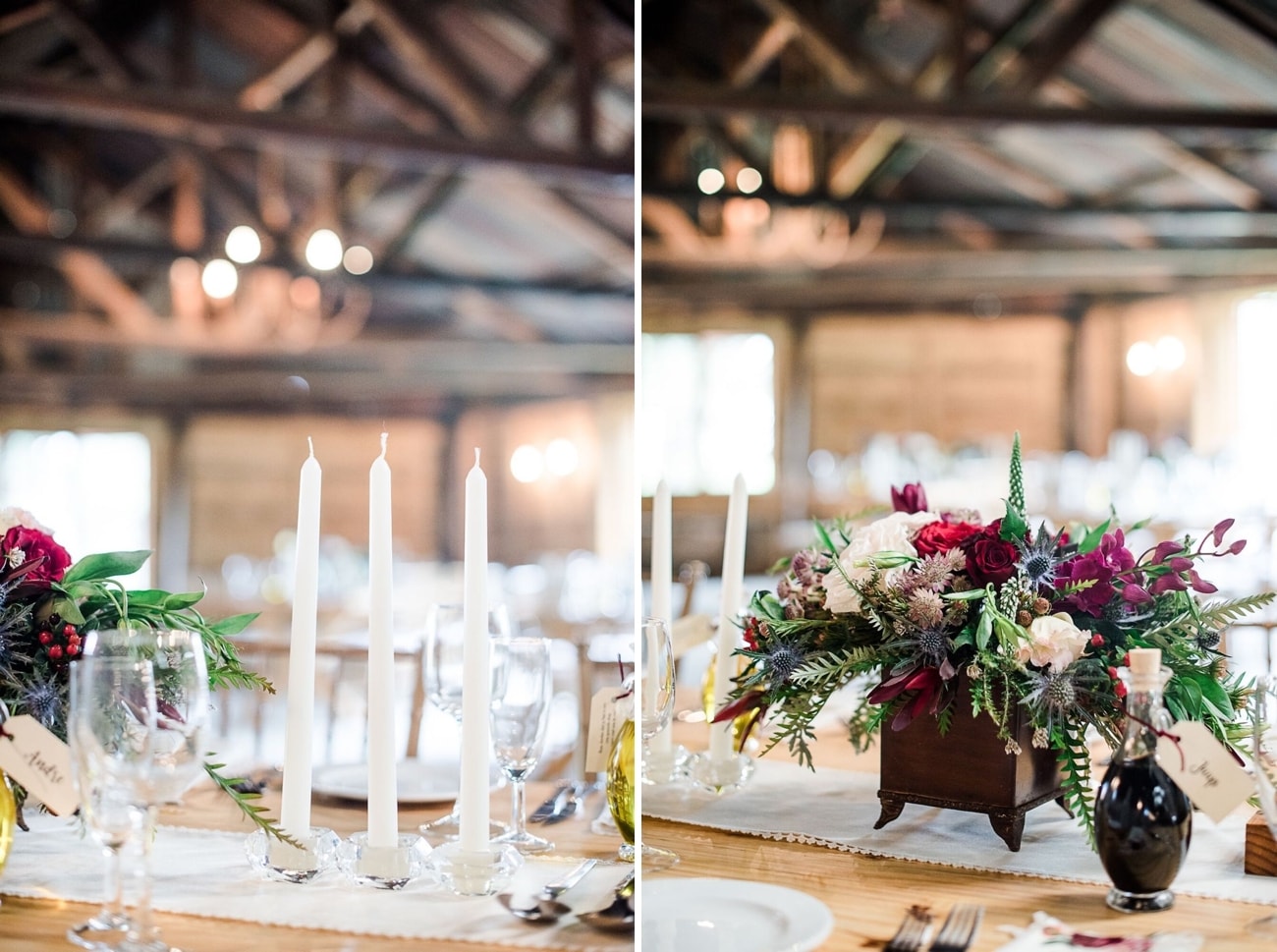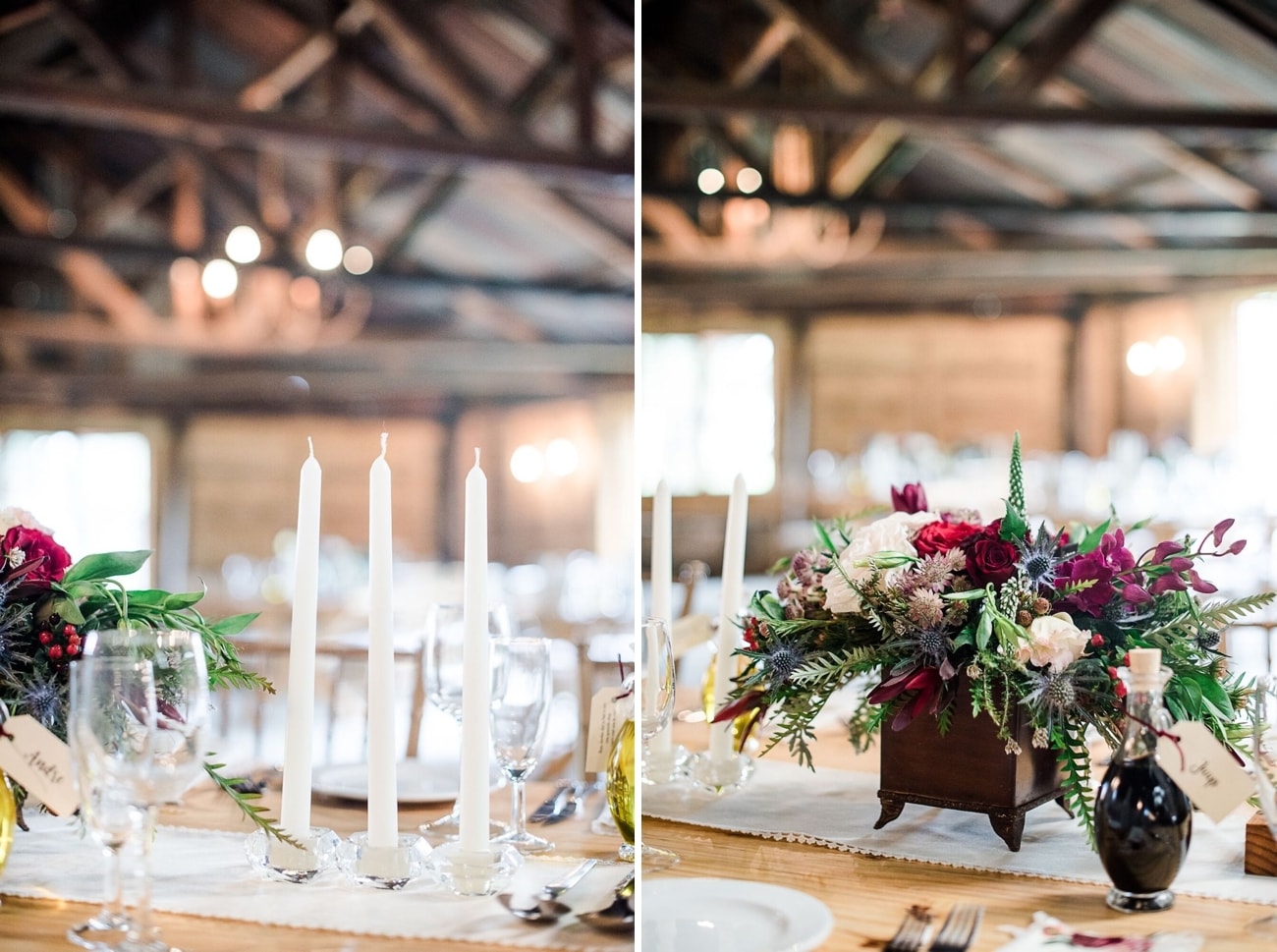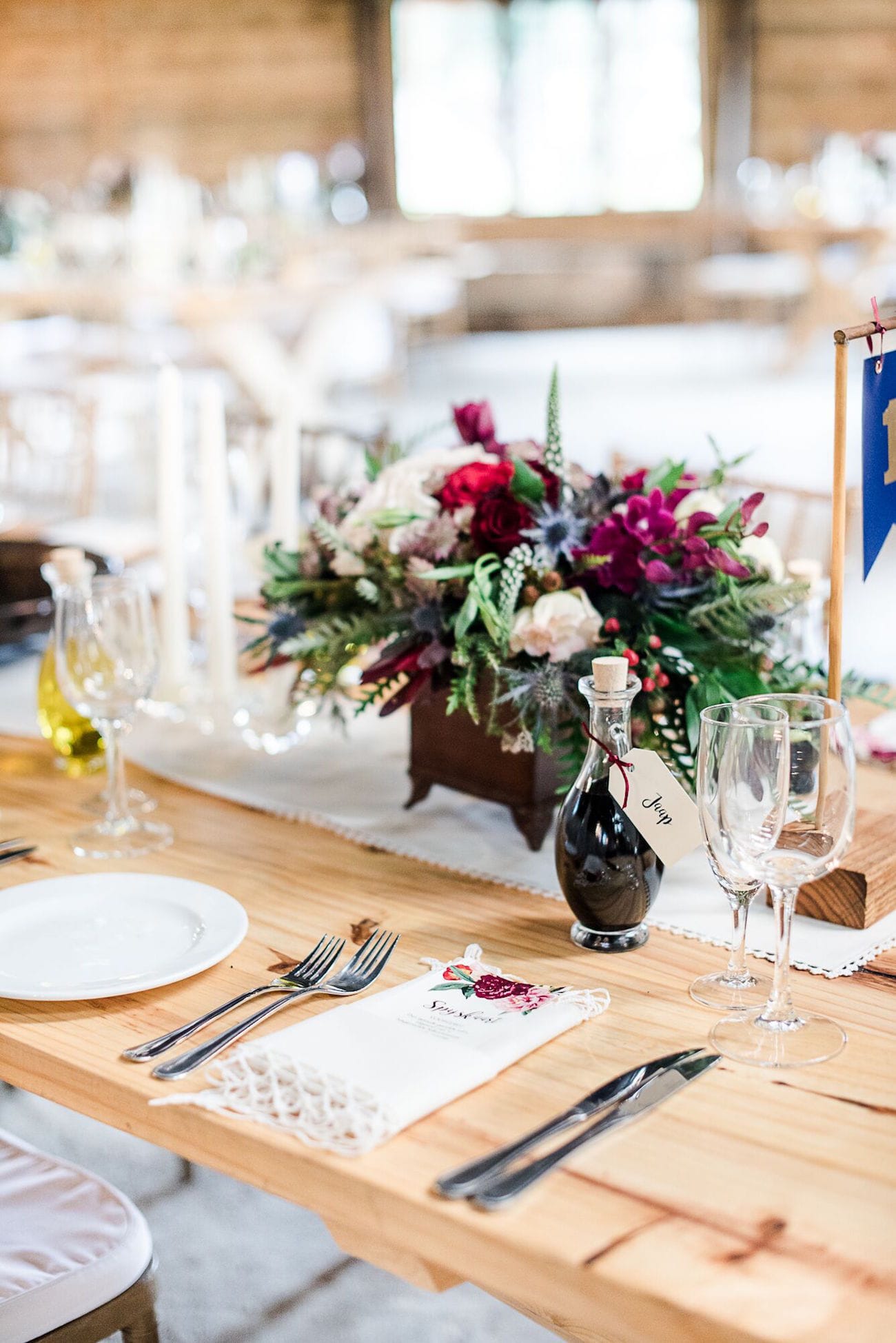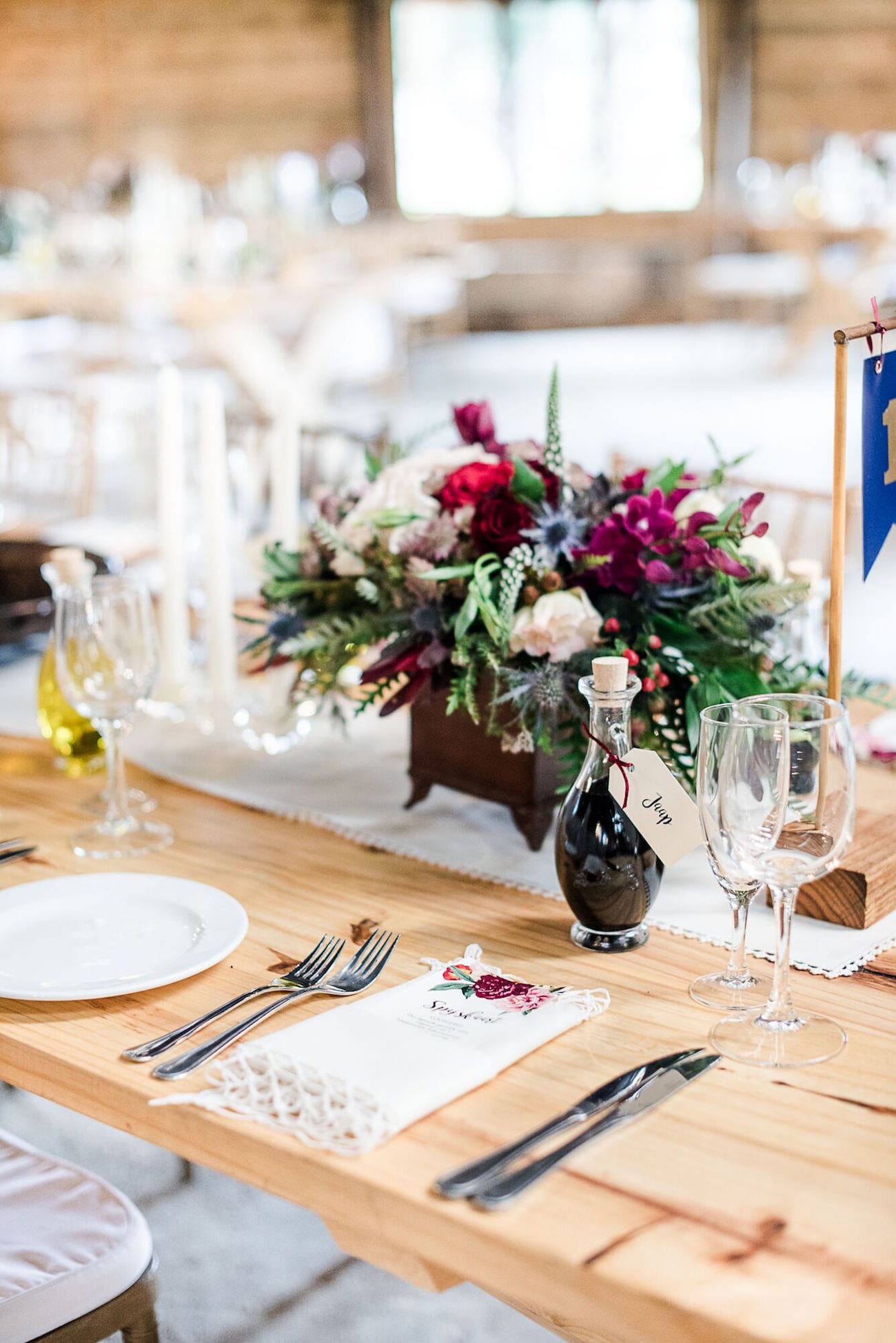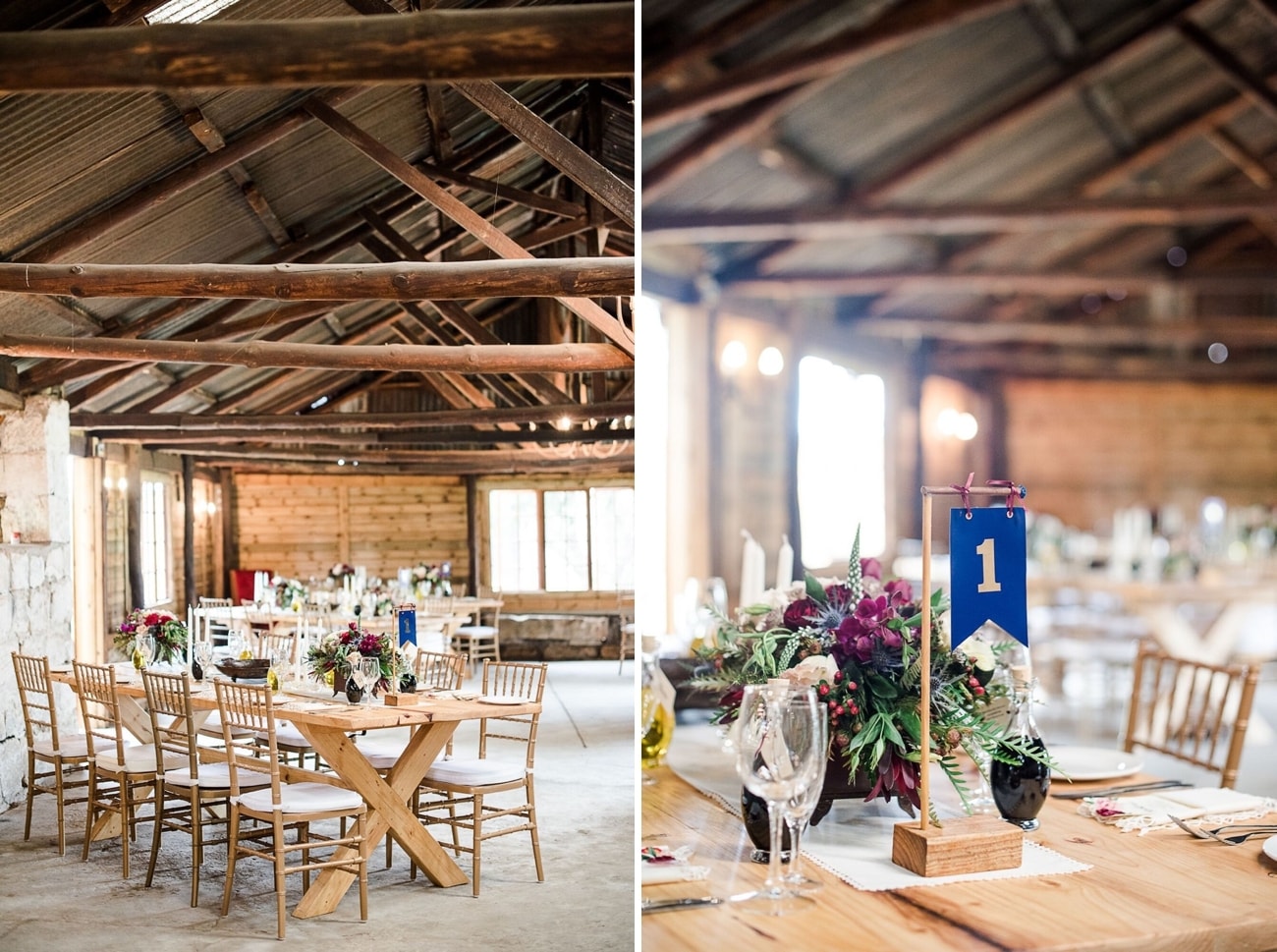 Memorable Moment
The moment we walked into the reception and everyone was cheering! It was amazing and I felt so excited. We were married!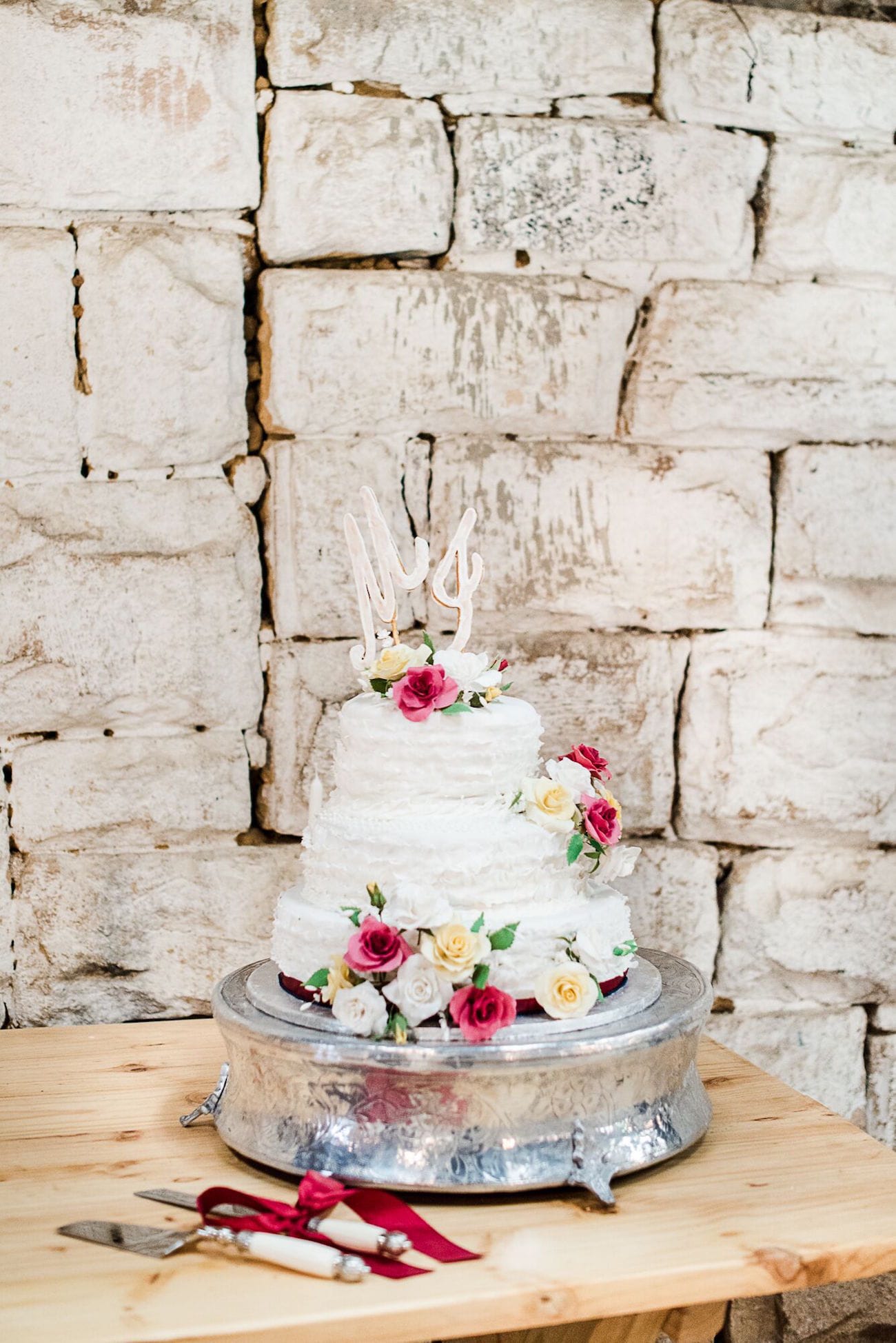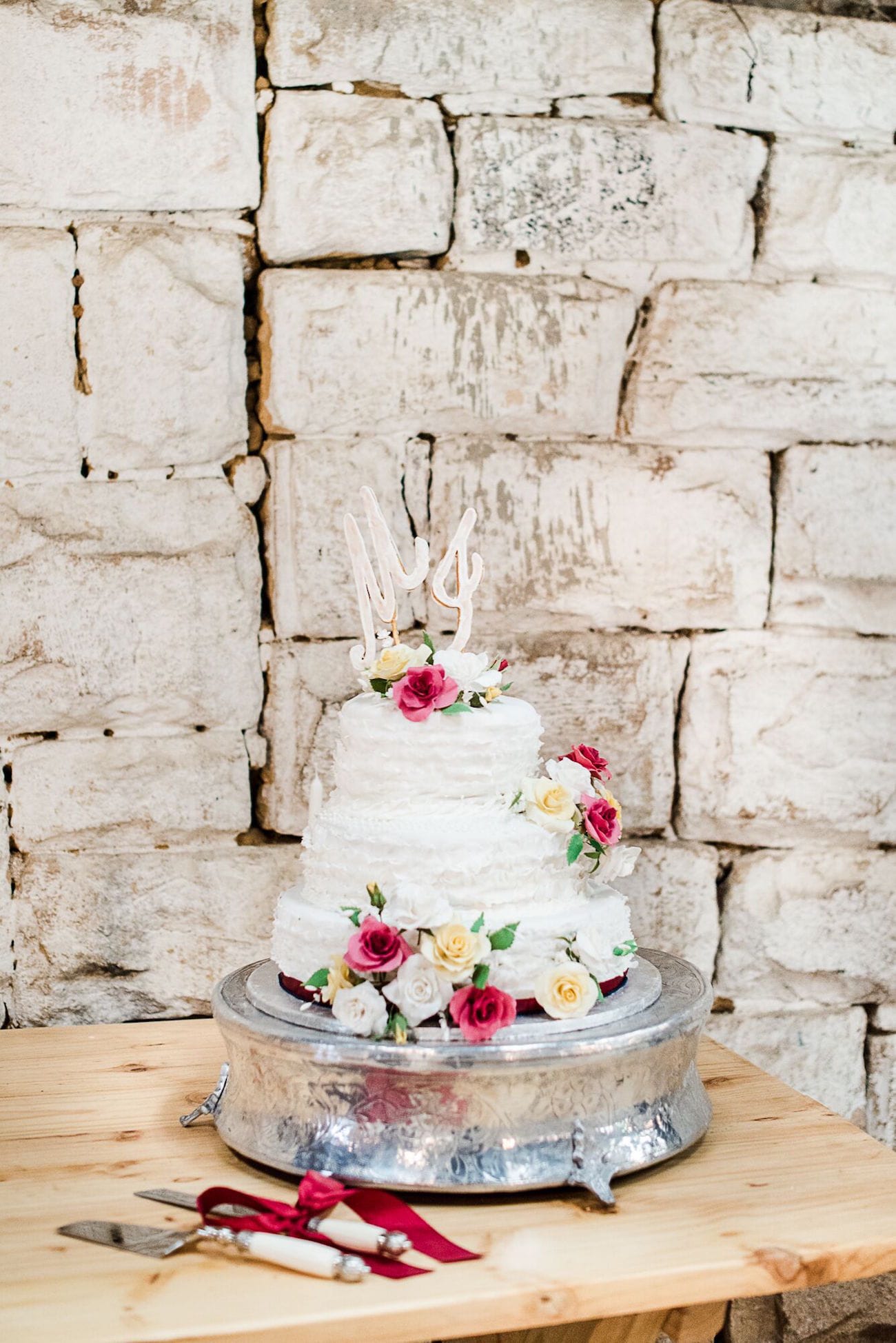 Best Decisions
Having the wedding on the farm and planning the wedding and attending to the details myself. This way I had total control. Marthinus was also very involved and did a lot of the planning himself. He arranged and surprised me with violinists and a saxophonist . We made it our own.
Advice for Future Brides & Grooms
It should be fun! It is, however, time consuming, and since we all have day jobs to attend to, it is a lot to take on if you don't have assistance. Plan ahead and ensure that you have a list to tick off what you have done and to ensure that you don't forget anything. (If you do forget something, it really does not matter on the day. We forgot about coffee cups, although we spent time ensuring that we had an urn, milk jugs, coffee, sugar and teaspoons.)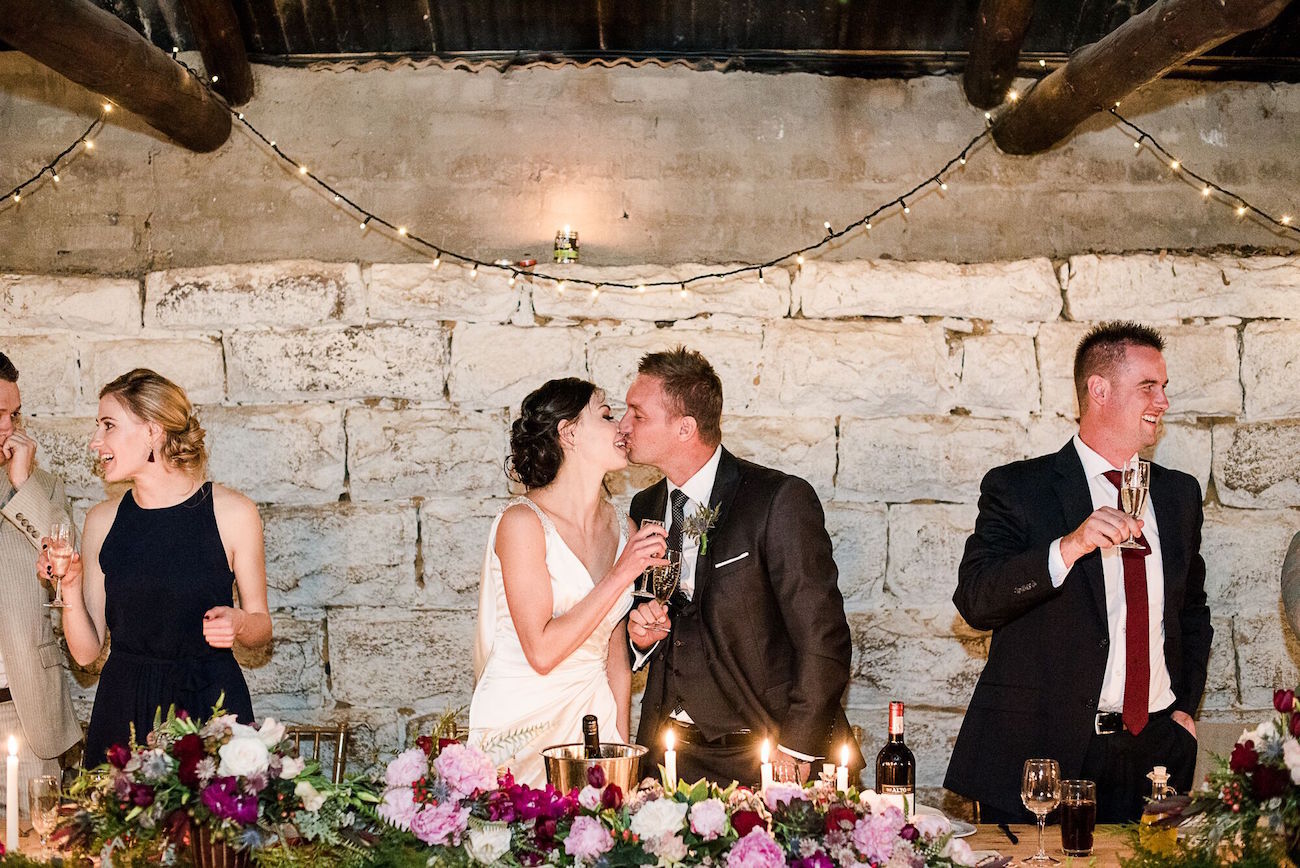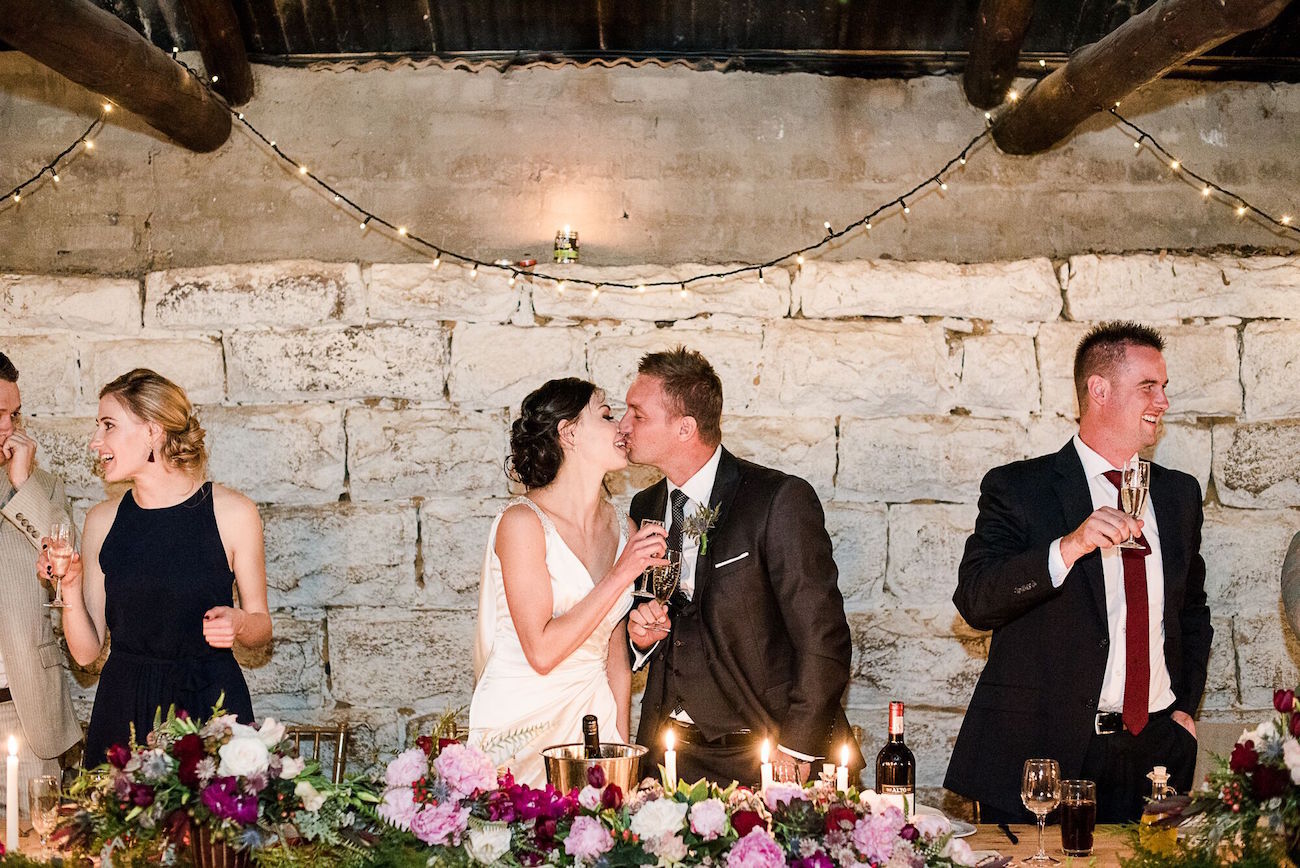 You can see more from this wedding on the Wildflower Photography blog.
SERVICE PROVIDERS
Venue: Liefgekozen Farm | Catering: Neil Simon (family friend) | Photography: Wildflower Photography | Stationery: O.three Photography and Design | Cake: Bride's mother | Bride's dress: Enzoani | Bride's accessories: Swarovski (earrings) | Hair: Mooie Nooie, Ermelo | Makeup: Bride's aunt
Save