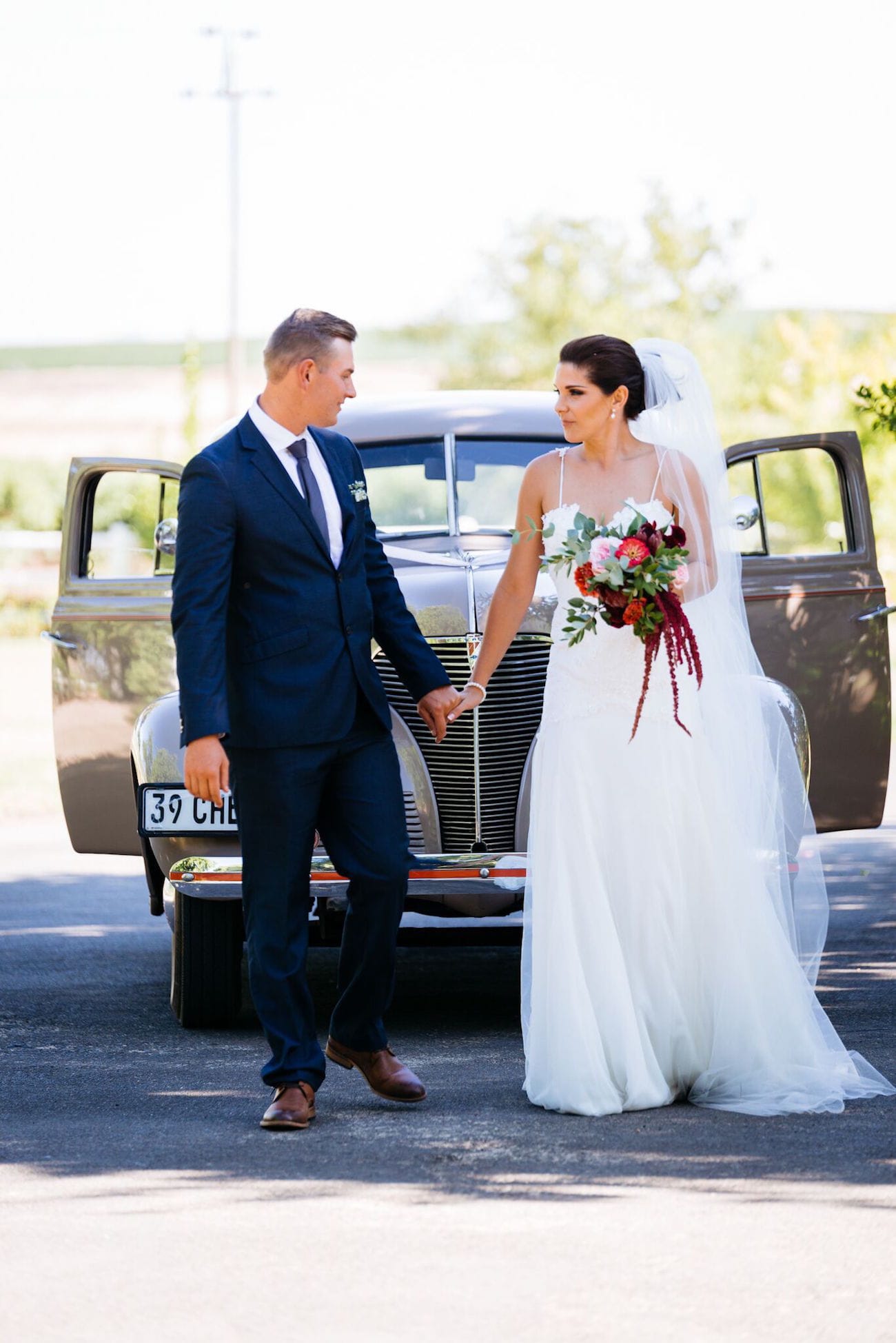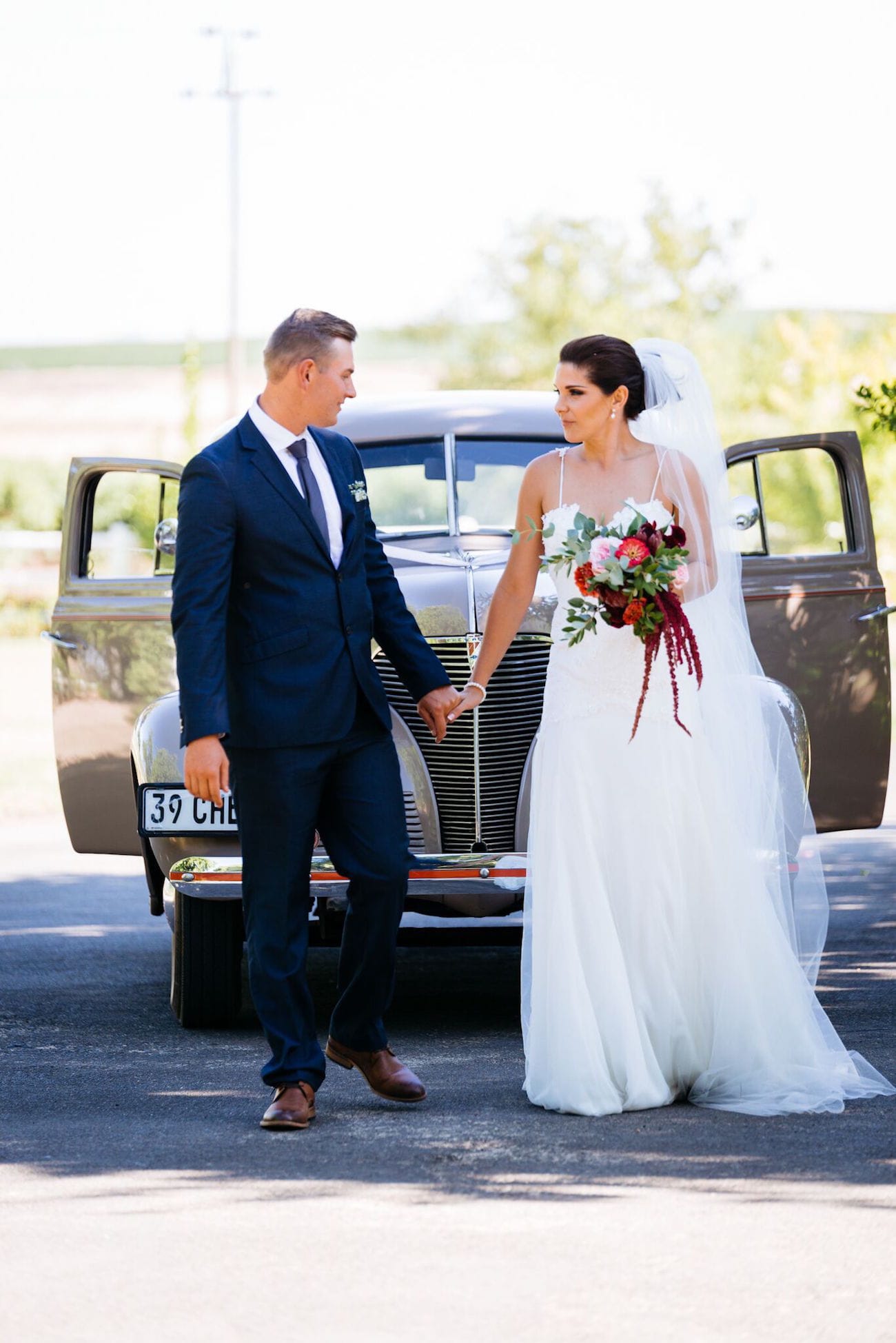 They say it takes a village to raise a child – well, sometimes I think it takes a village to make a wedding too. I'm always touched by the lengths our couples' family and friends go to in helping with their big day – from folding hundreds of paper cranes to making space for the wedding on their properties, to simply being there, cheering them on throughout the process. That's why a wedding is so much more than a pretty day, or even an exchange of vows between two people. It's also about all the love and joy of their people, the ones who care for them and help them make it happen. So today's wedding is bittersweet. It's a beautiful, beyond-happy celebration, made possible not least through the love and generosity and hard work of the groom's sister Sunita and her husband Jacques. I'm told Sunita loved to create beautiful events, so the farm where she and Jacques lived was the perfect place for Hendriette and Manus to plan their lush, vibrant, rustic barn wedding. Together, the two of them helped turn the utilitarian industrial-style shed into a wonderland filled with curtains of twinkle lights, and lashings of greenery and jewel-coloured blooms. Hendriette made for the most elegant of brides, in her stunning low-back wedding gown, and was joined by a troop of girls in glittery sequin bridesmaid dresses, her handsomely suited and booted groom and his gents, and a vintage car just to finish off the rest of the glam in this rustic + glam equation. It was perfect. And while tragically the family lost Sunita and Jacques recently, this wedding is a testament not only to Hendriette and Manus' relationship and happiness, but to how much they were loved by those close to them. To the couple and their families, I'm so very sorry for your loss. I hope this post, and Matthew Carr's wonderful images, bring back some very precious memories to bring you some comfort.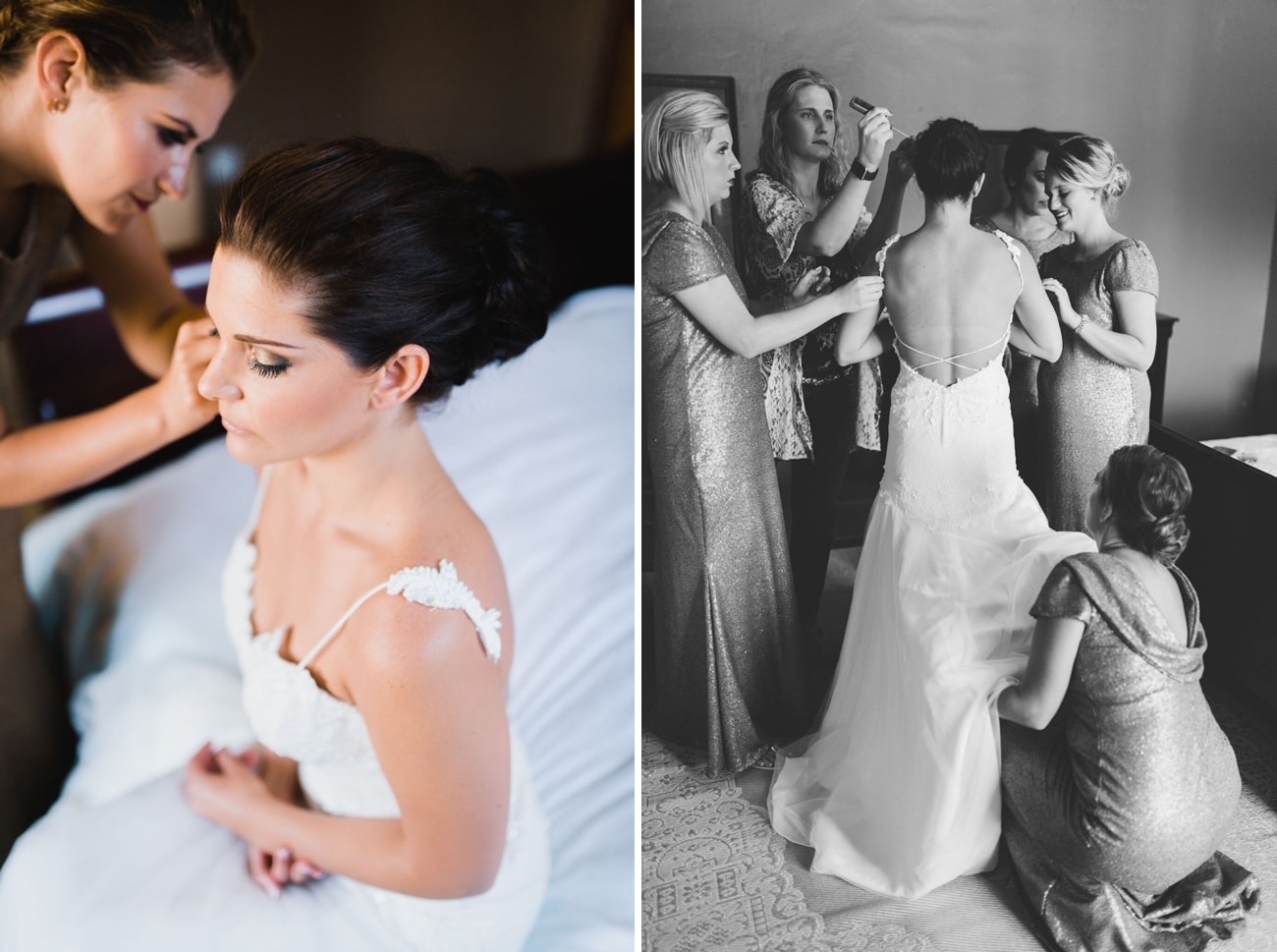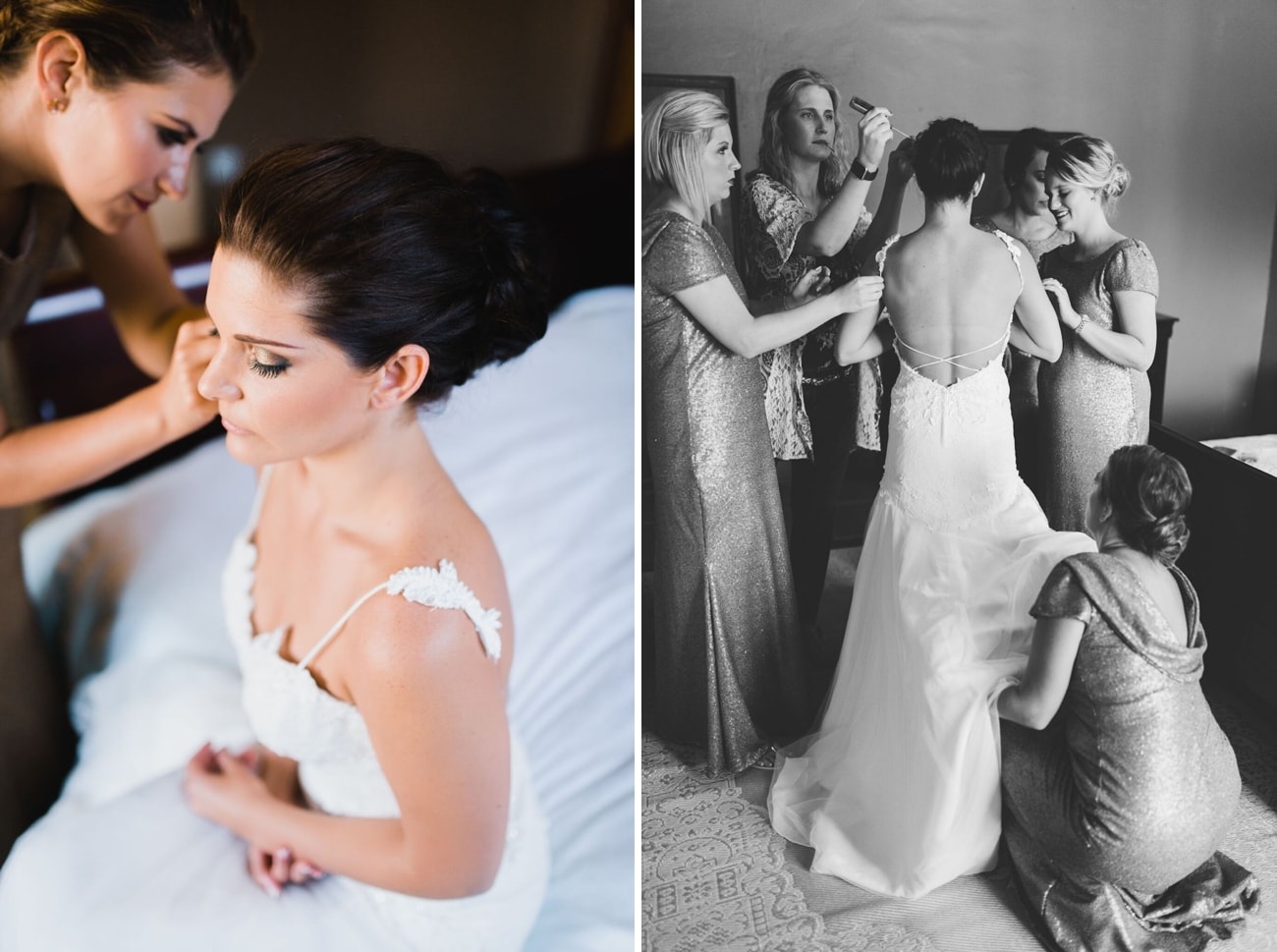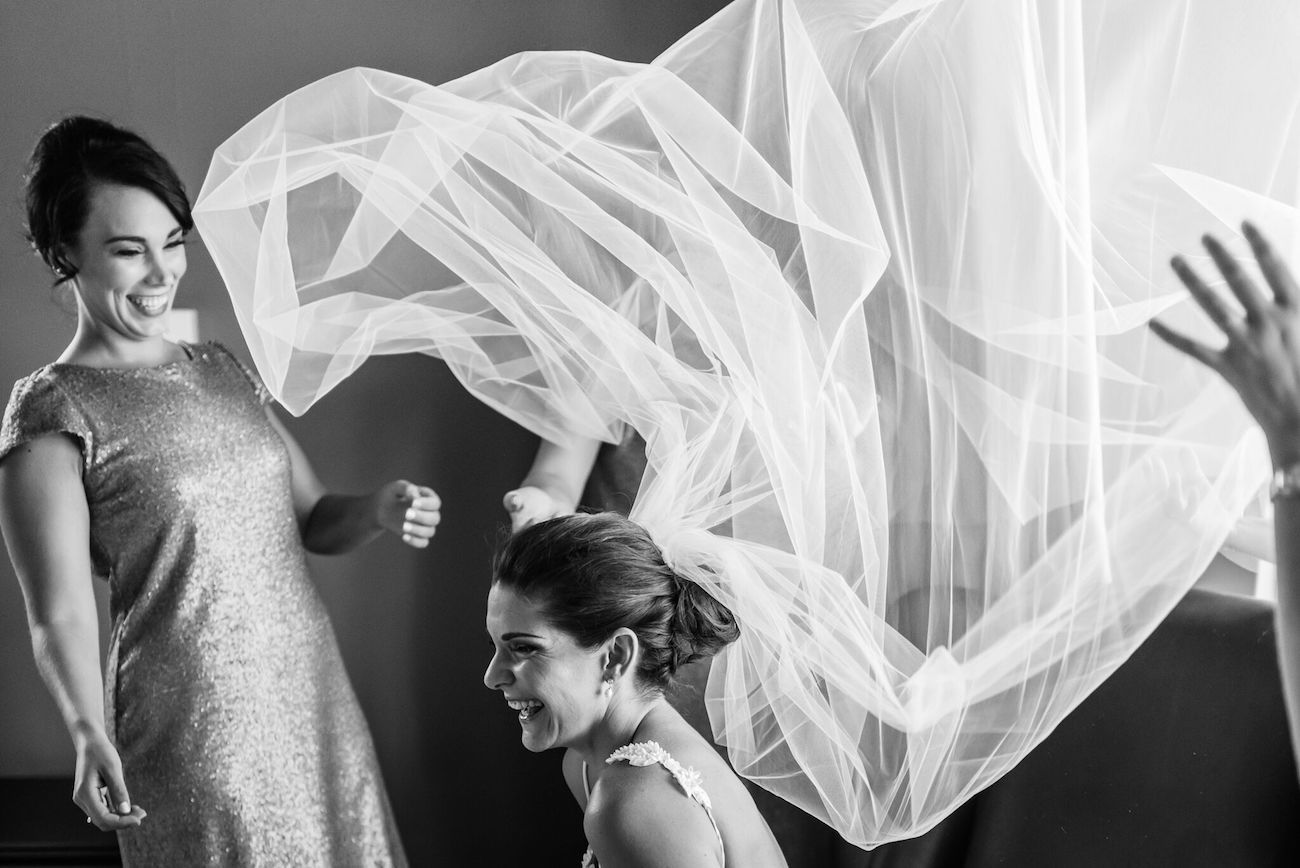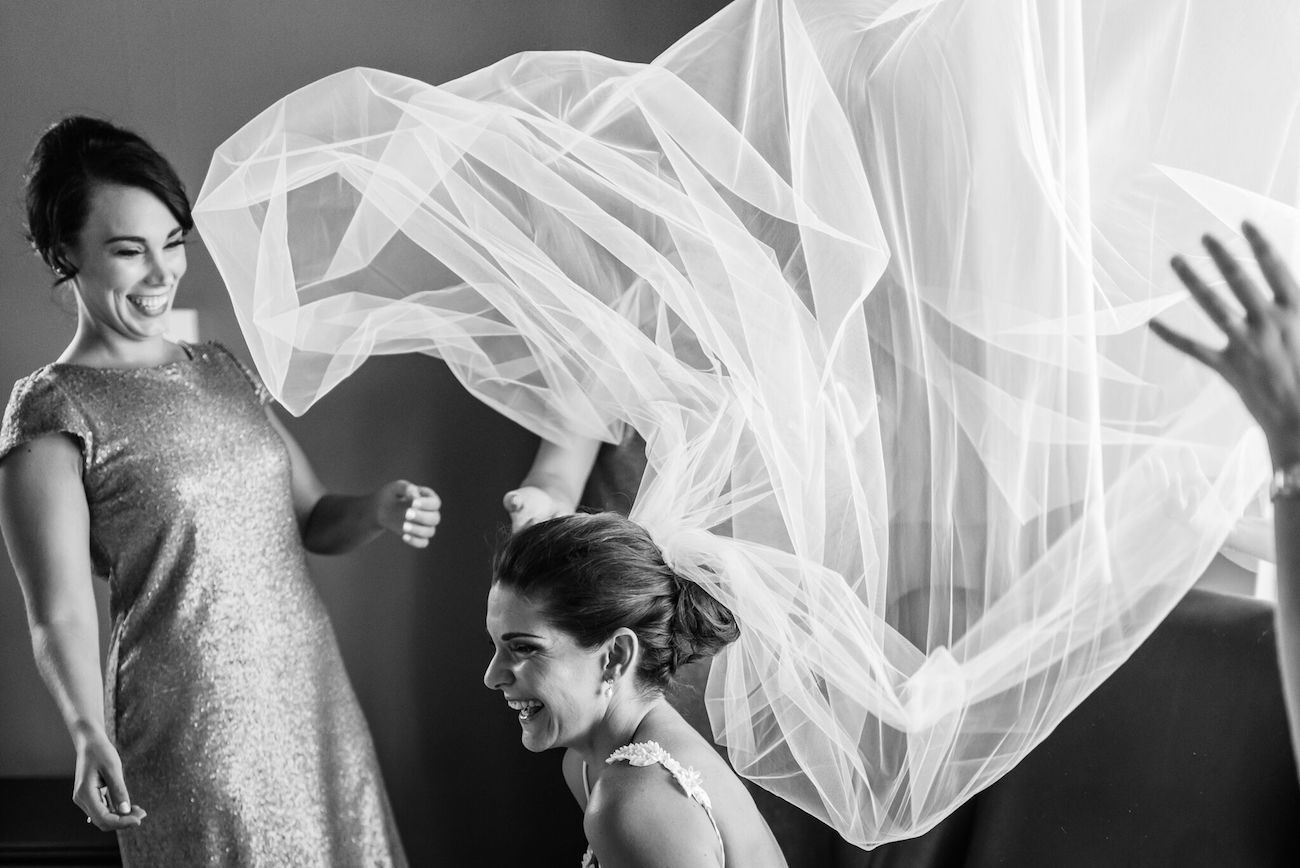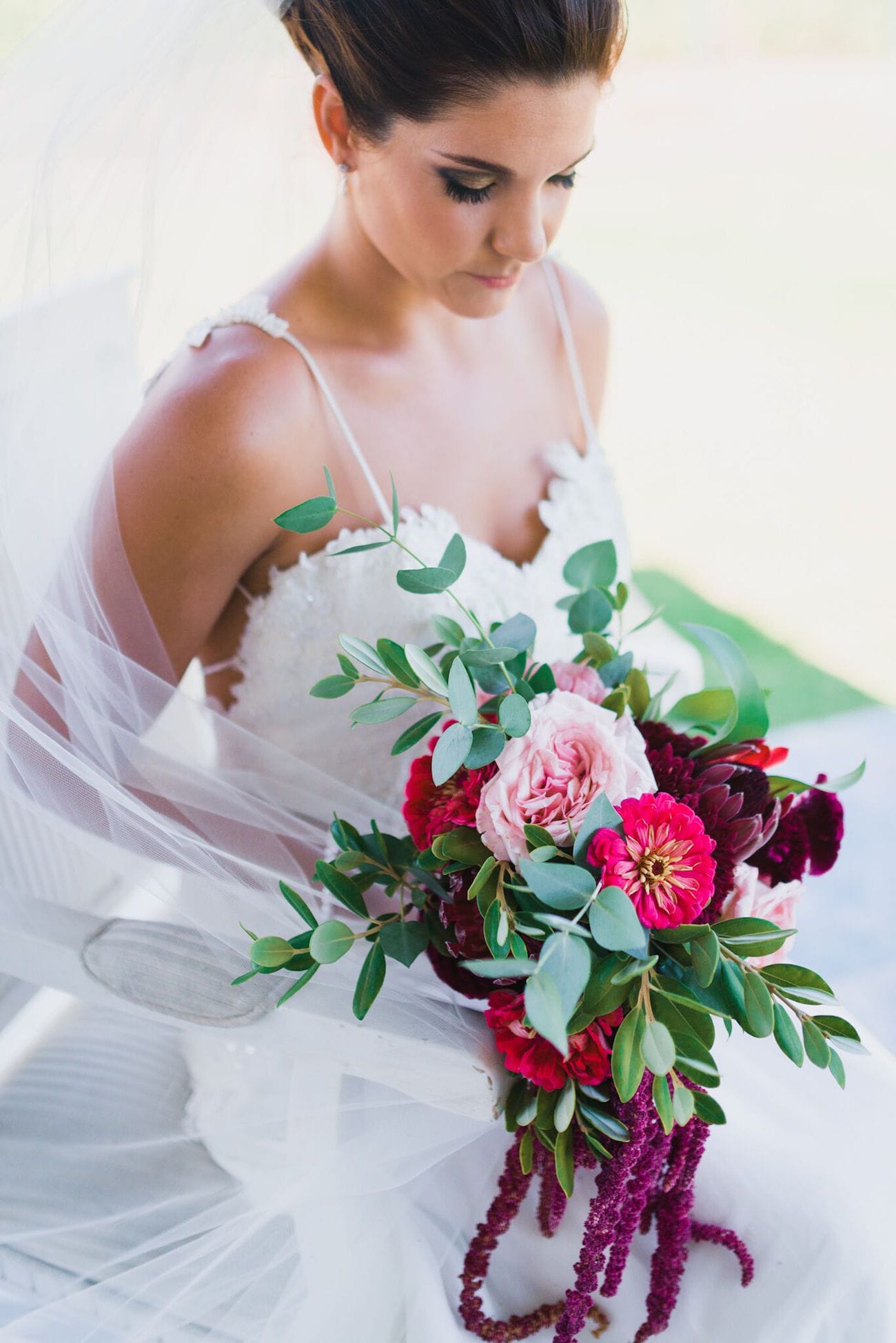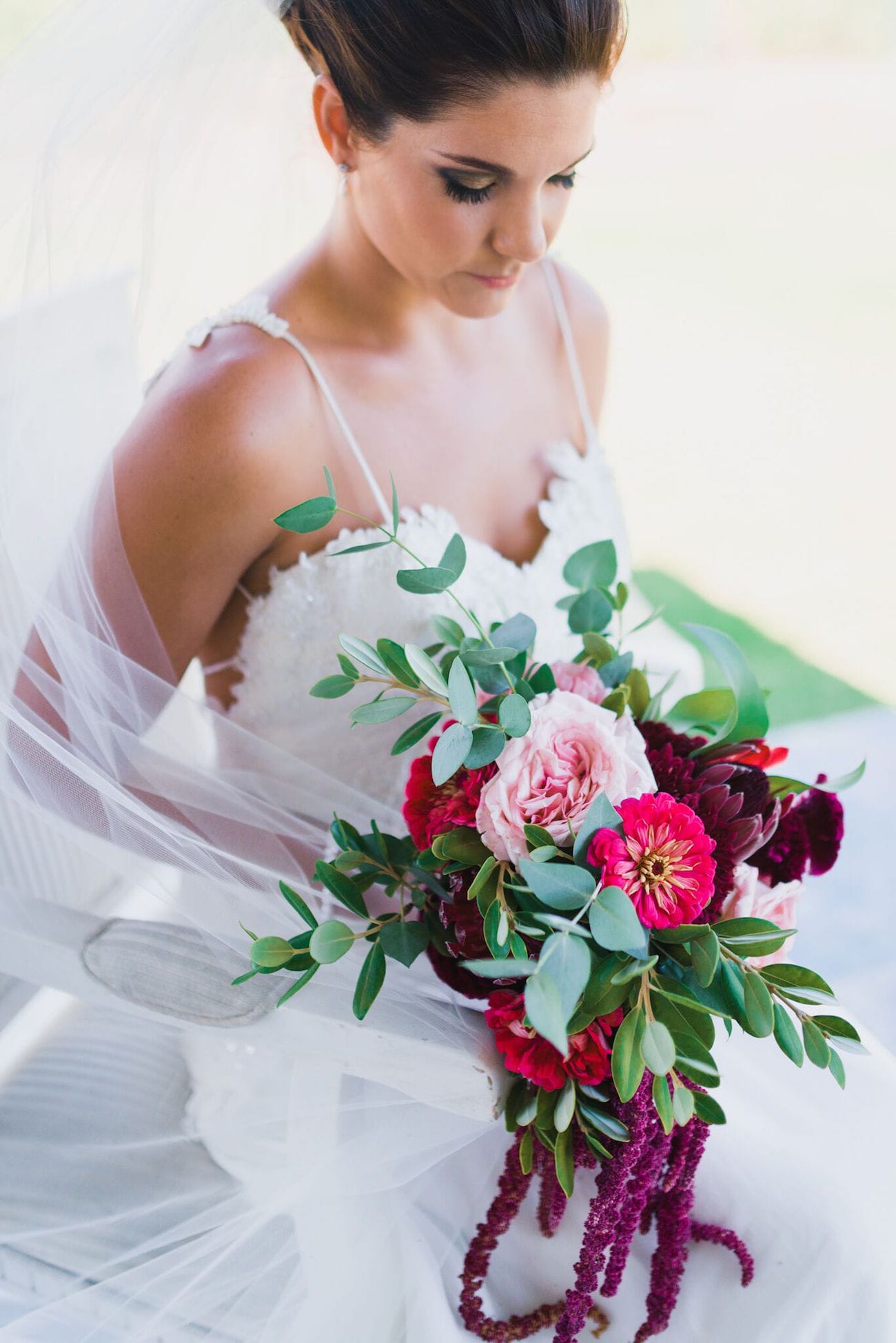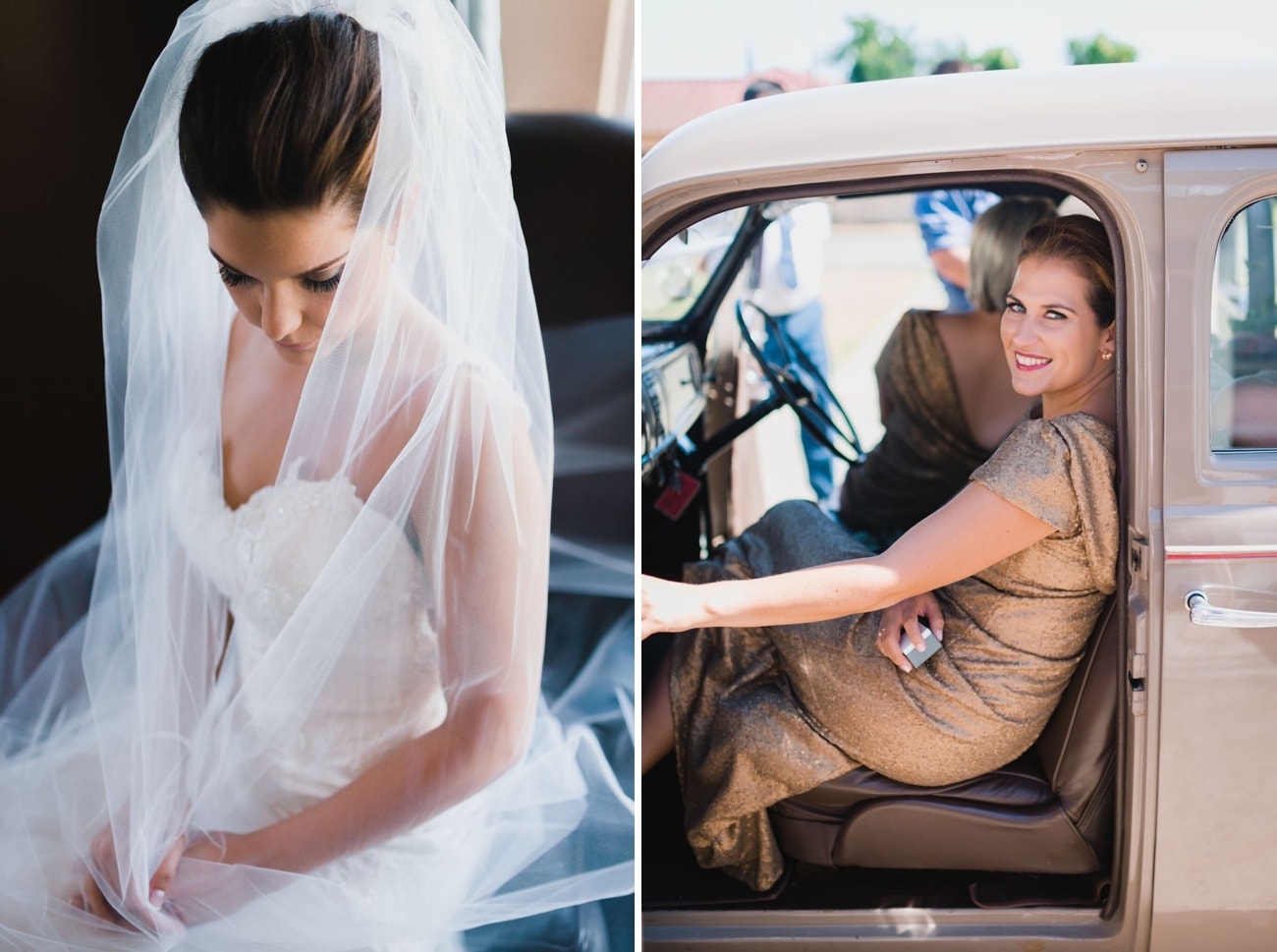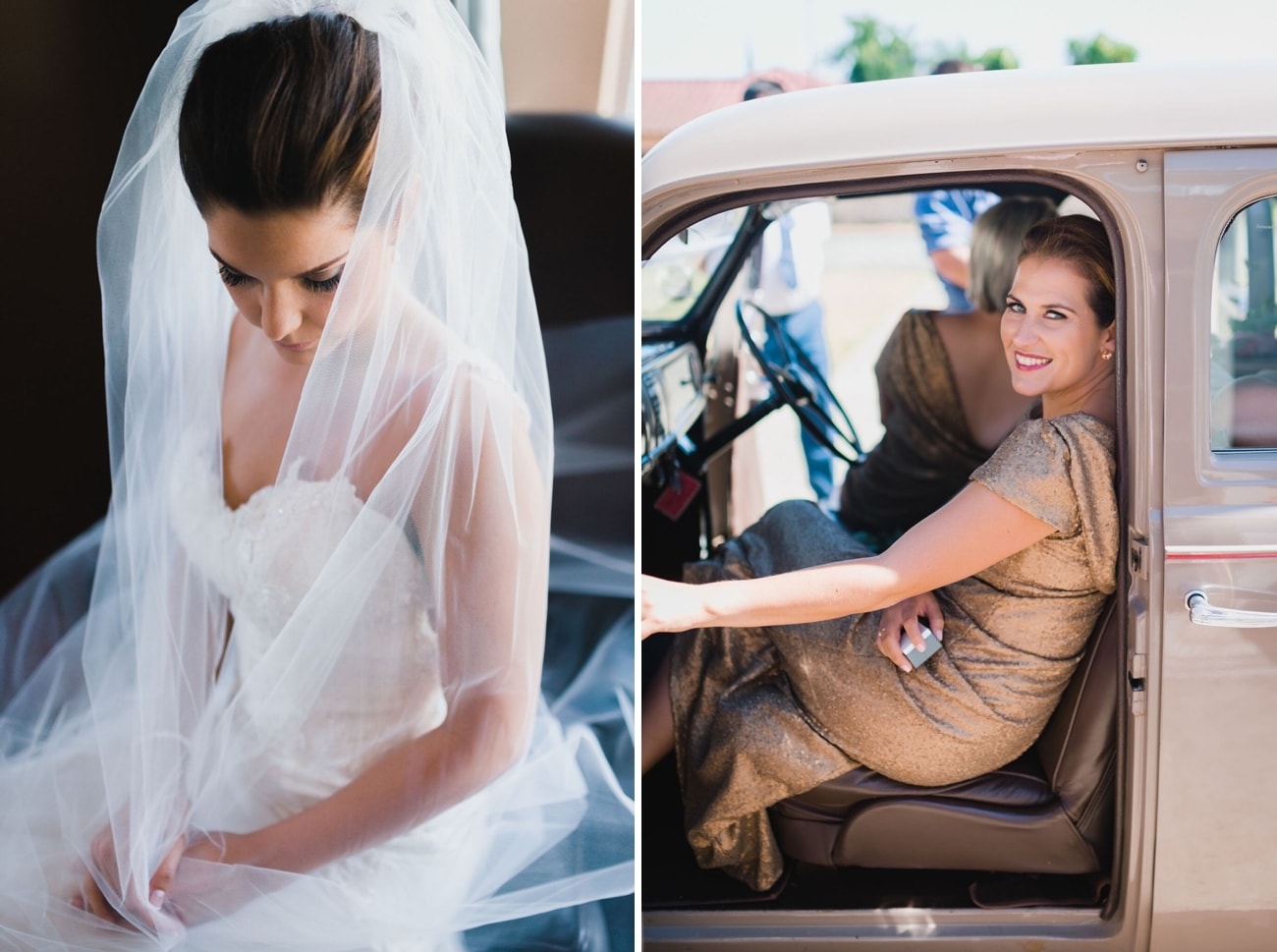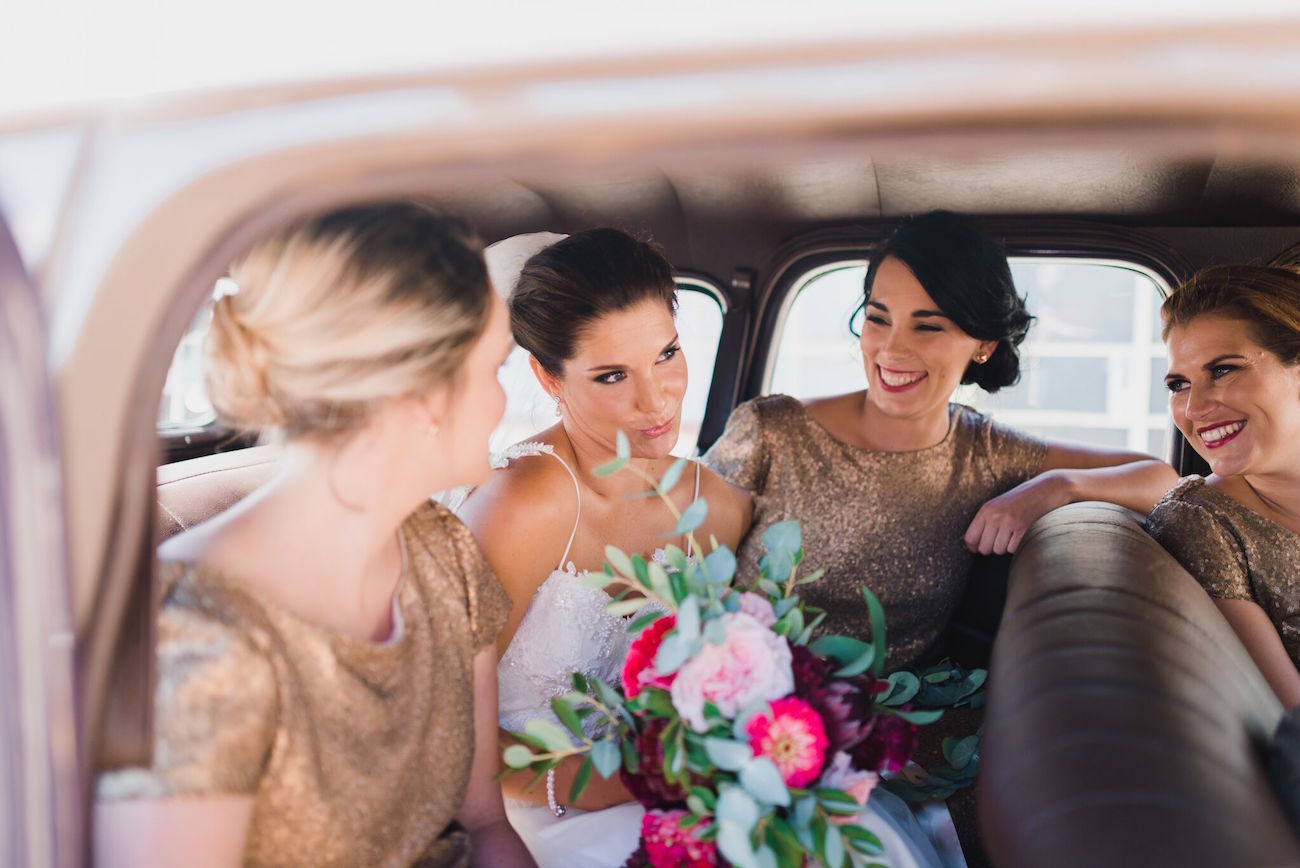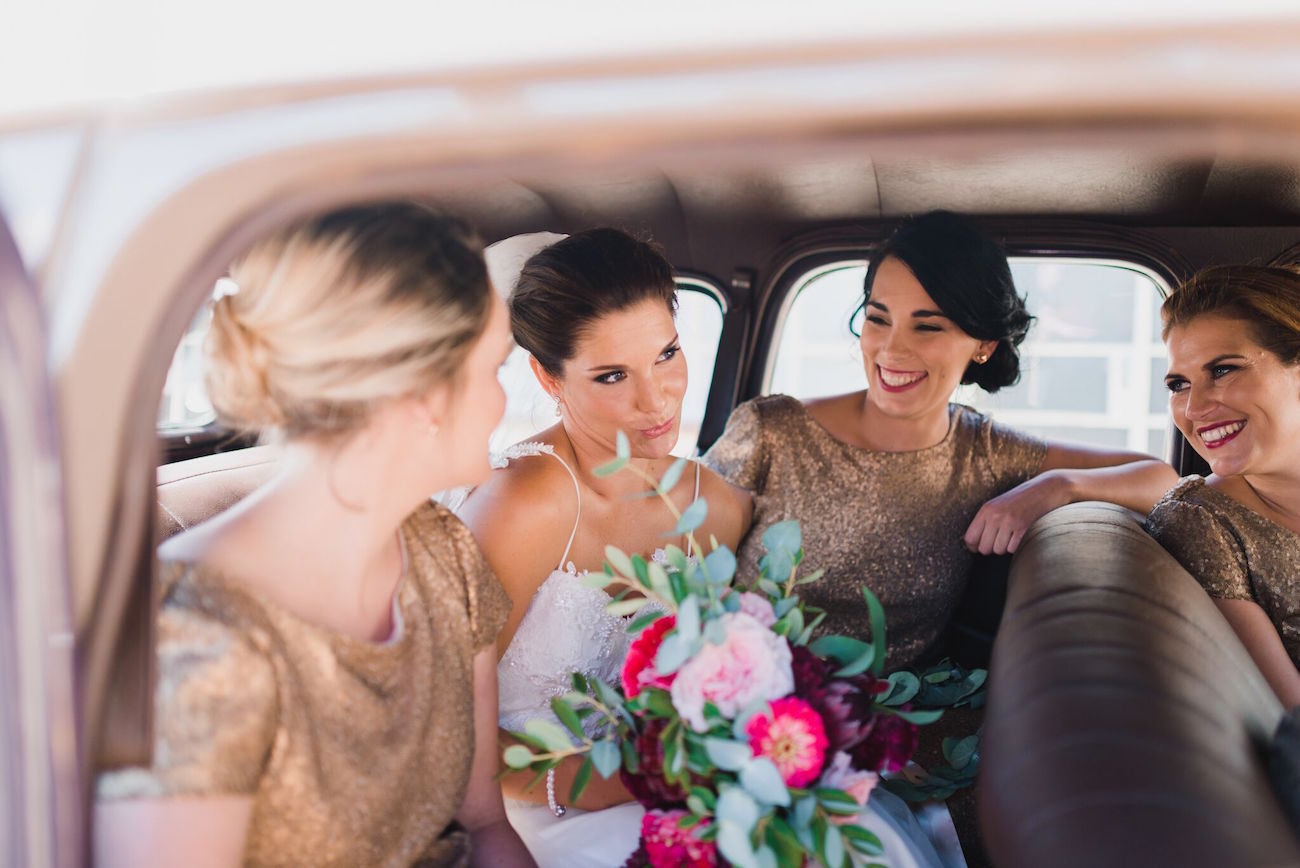 Love Story
We knew each other from the past but never talked, just glared at each other. One day at the gym I greeted one of his best friends (who ended up being best man at the wedding). Manus just stood there, amused, but did not say anything. I was on my way home when he made contact through Facebook messenger, with the most corny pick up line ever. That's when we started to chat and he invited me to his family's beach house that evening. He arranged a walk on the beach so he could show me the spot where his sister got engaged. When we arrived there, suddenly out of nowhere, out popped a bottle of champagne and he was on his knee! I thought he was proposing! I freaked out and said it was too sudden. He started to laugh and said, "Sal jy asseblief my meisie wees?" I was so stunned I didn't answer, but he just assumed it was yes. And that's how we got together!
The Proposal
We arranged a weekend away in Hermanus with his mother. He booked us all in at Old Harbour House hotel, the most amazing five star hotel with the most beautiful view. The whole day he acted very distant and strange, but he told me he was ill so I ignored it. It was before sunset that he told me we had to go to for a walk before dinner, and then I was suspicious that something was going on. On the way, I had the idea to look at his pockets but there was nothing, no box. A bit disappointed, I just walked on and smiled as if I was enjoying every moment! At the end of our walk, we were down by the rocks at the harbour and he said: "Liefie kyk daar, 'n dassie". I looked for a dassie, but did not see anything. When I turned turn back around, he was on his knees proposing and I screamed "Yes!"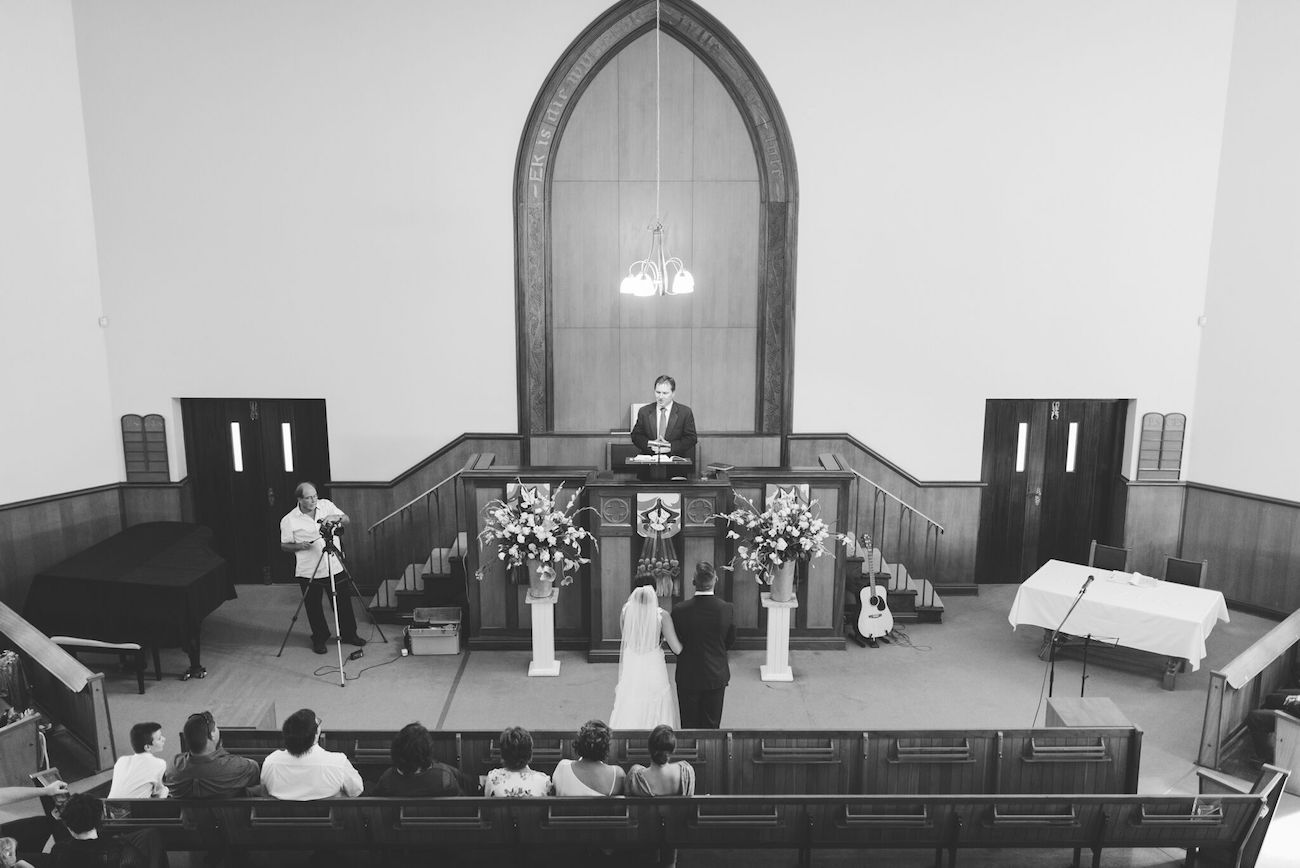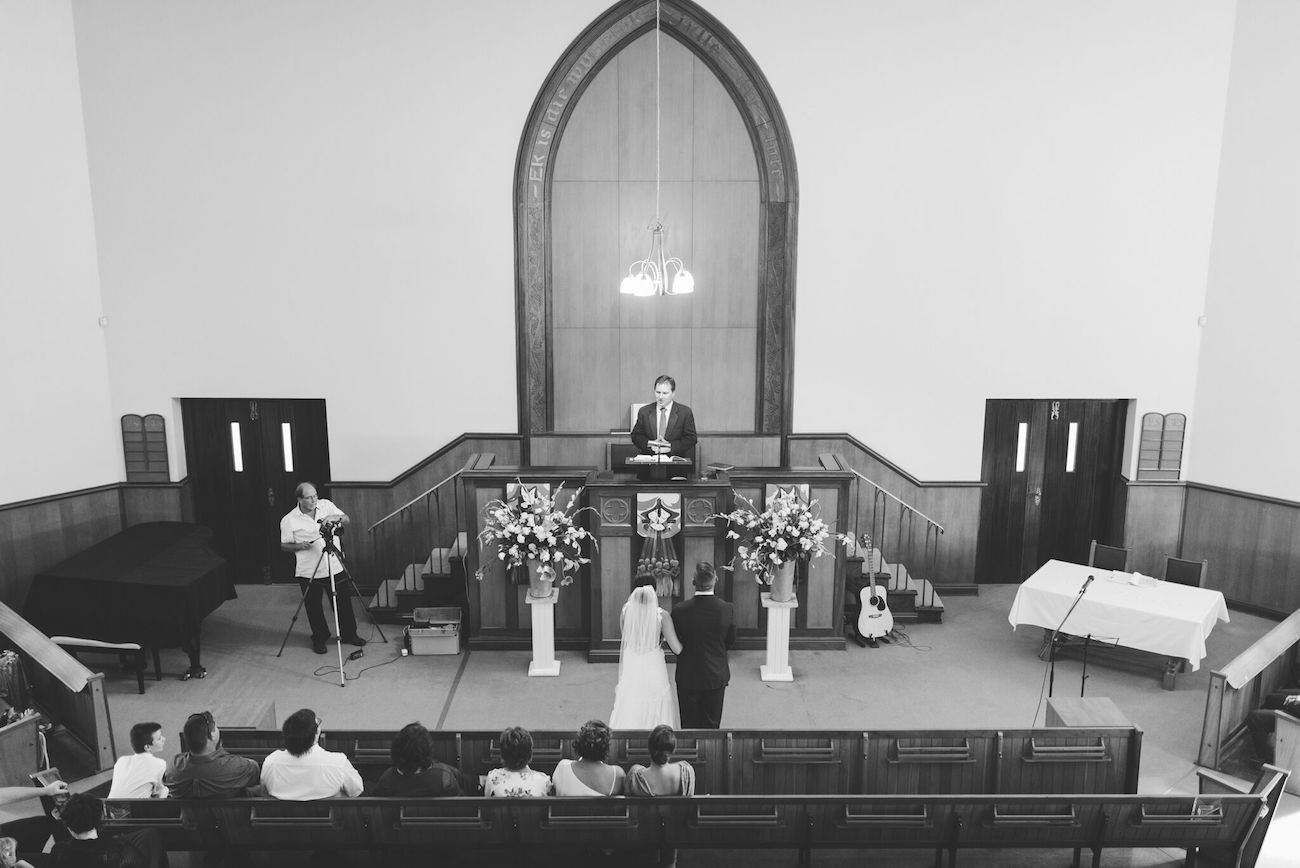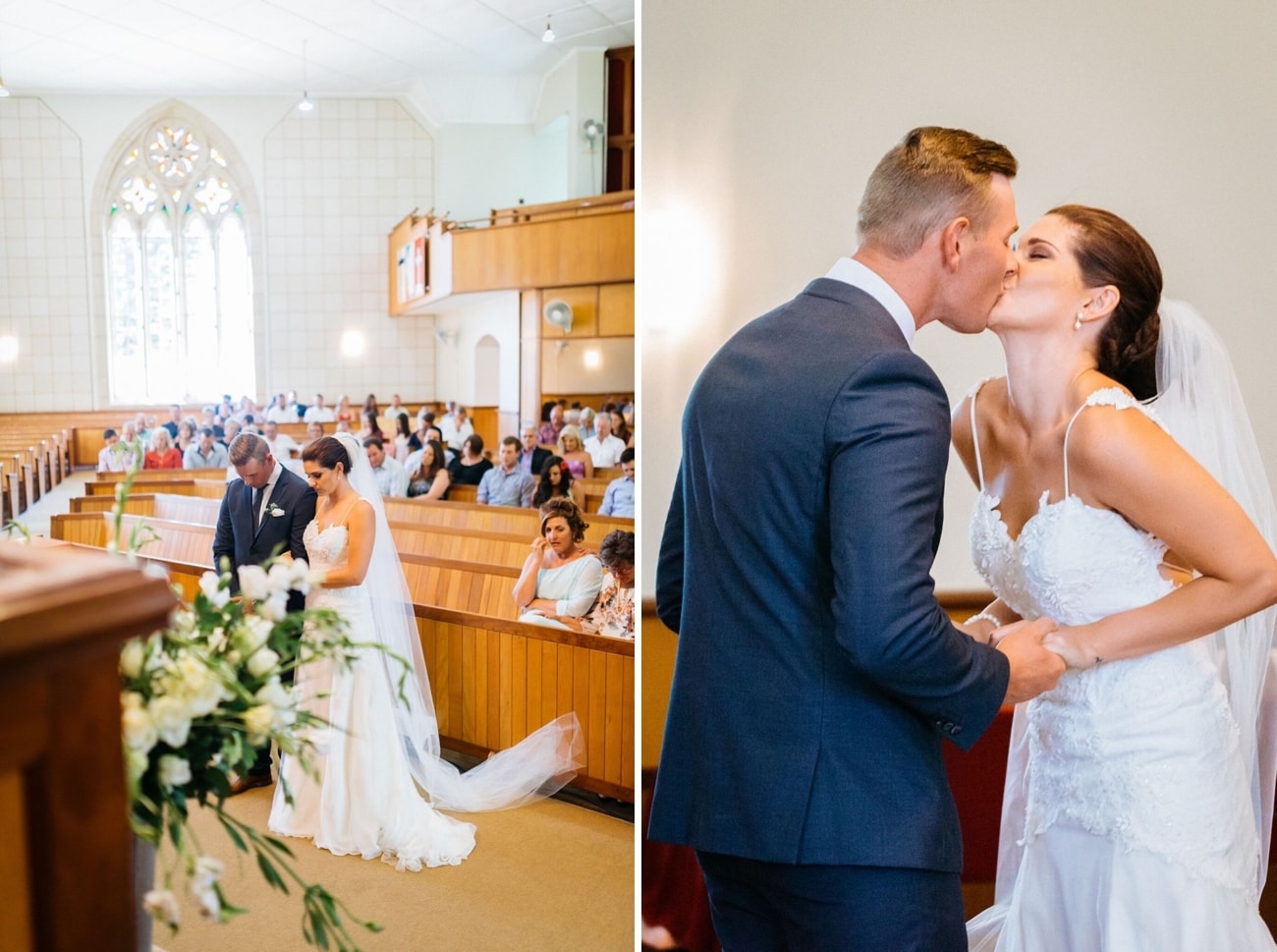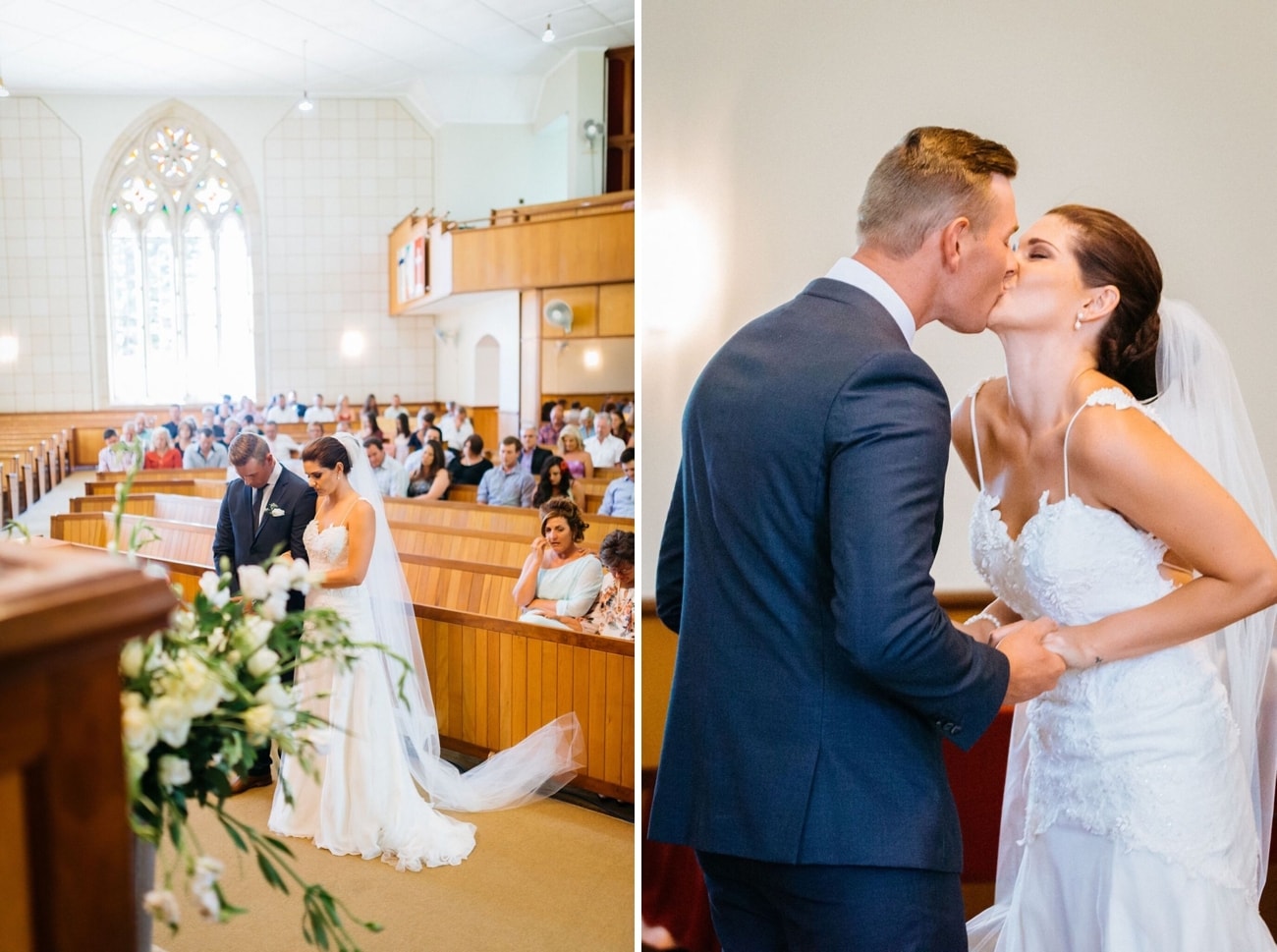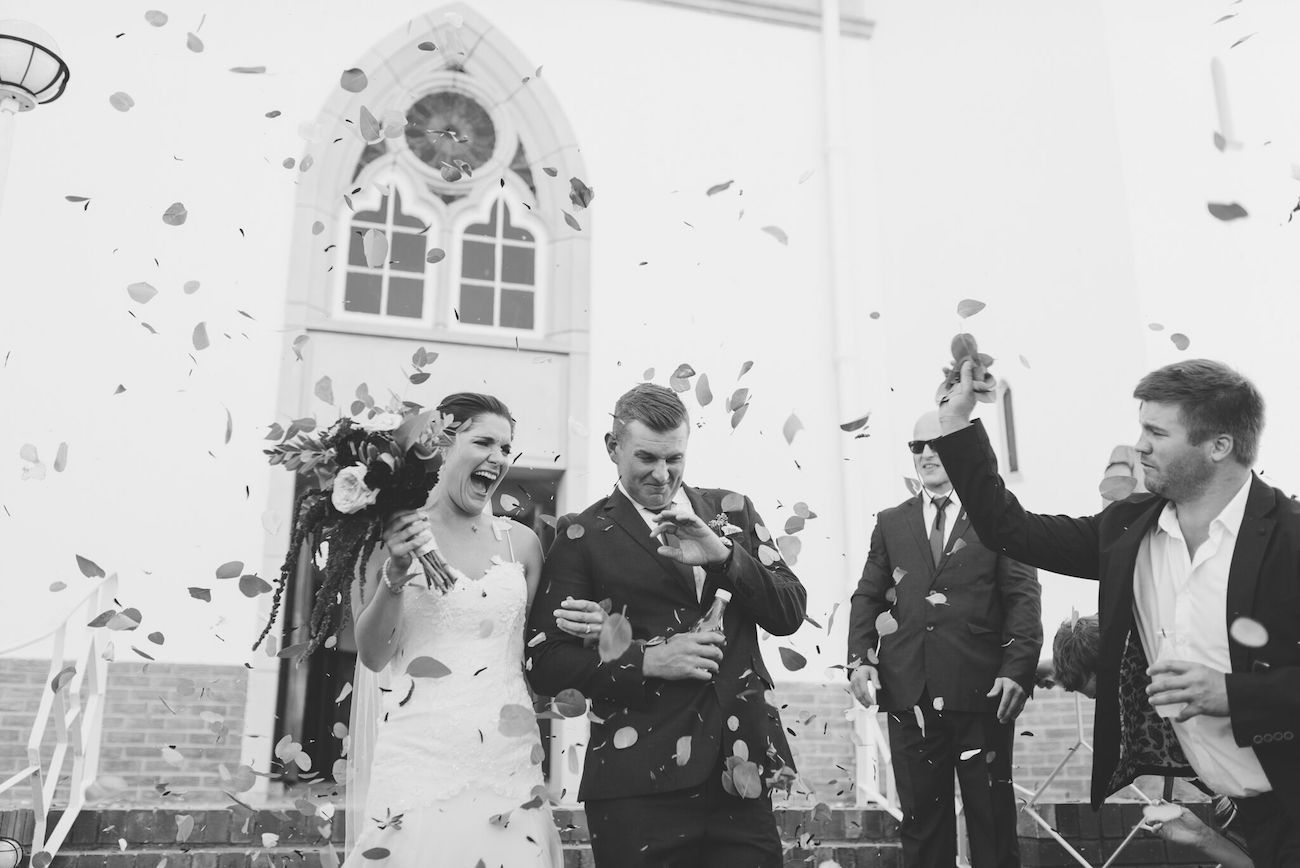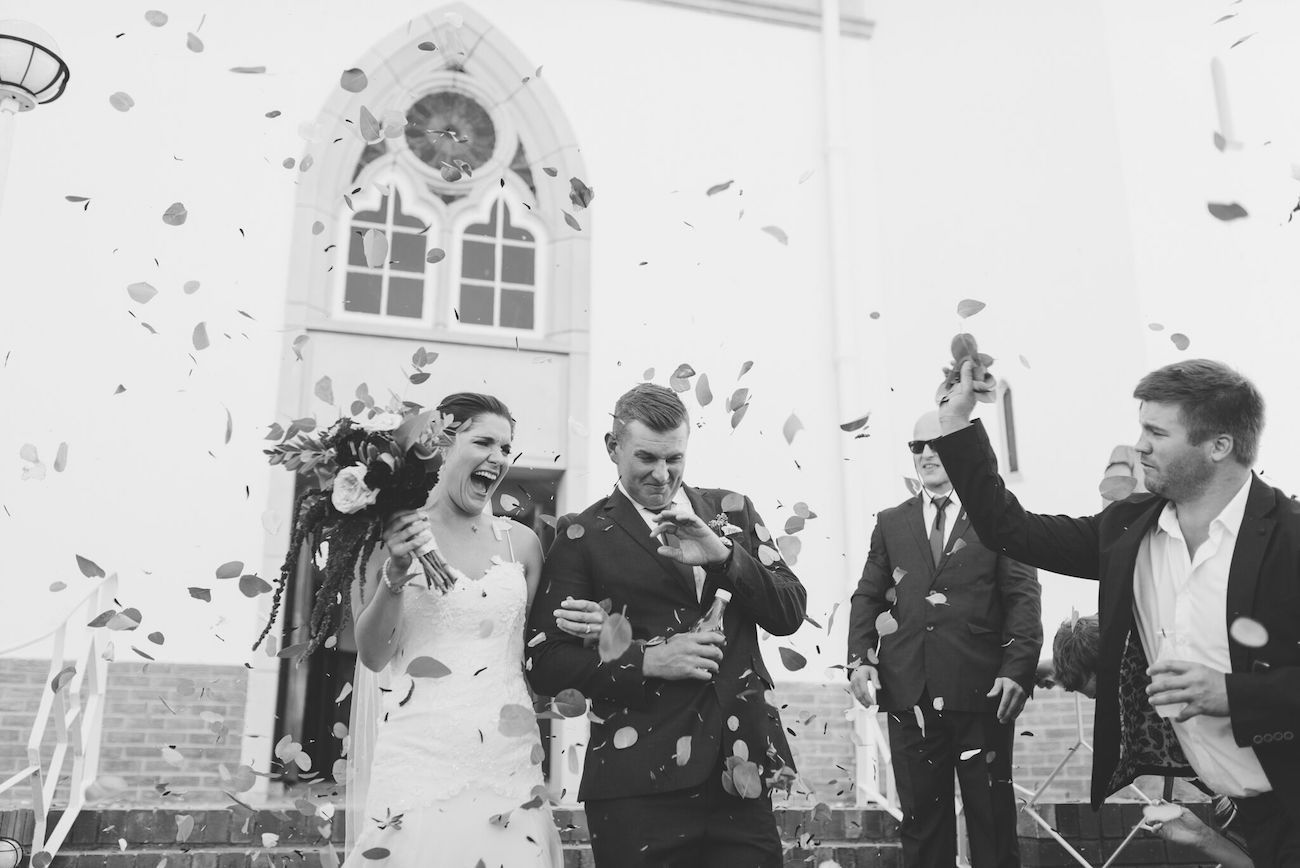 The Venue
I love the rustic look, but venue fees were so expensive it killed my budget, so my sister-in-law showed me a shed on their farm and I was immediately in love. Inside there was an old light green Ford, and the ideas started to flow! My cocktail area was the most perfect way of starting the day with craft beer and wine, dining from platters arranged on pallet furniture under white umbrellas, enjoying the view of the Wellington mountains and winelands!

Wedding Style
My vision was rustic, gold farm theme, with a splash of classic in it. Floating chandeliers with fairy lights and raw wooden tables in the shed. My colour scheme was gold and Marsala with a big white dance floor. I didn't want my wedding to look like something found on Pinterest and wanted my guests to walk in and say wow, this is so Hendriette! And that was the reaction I got.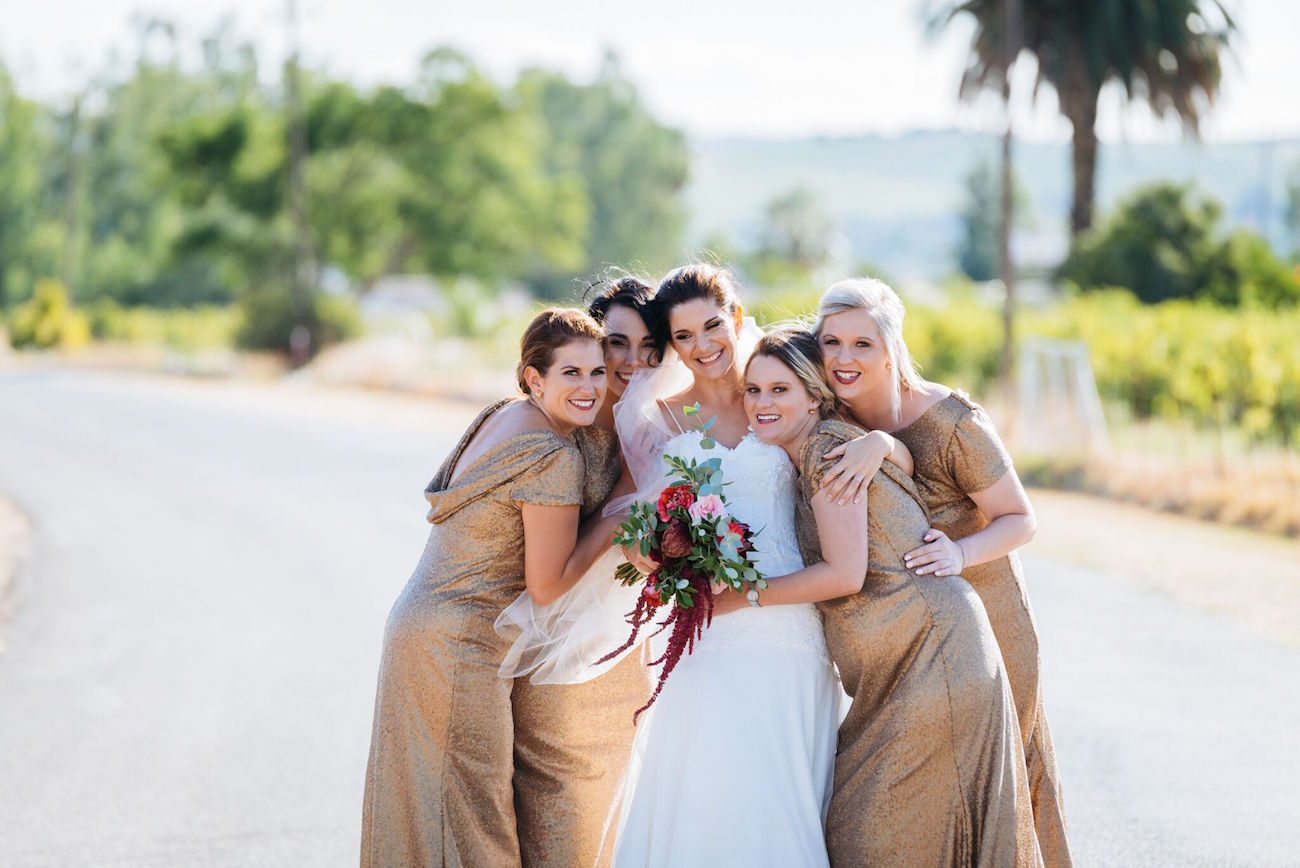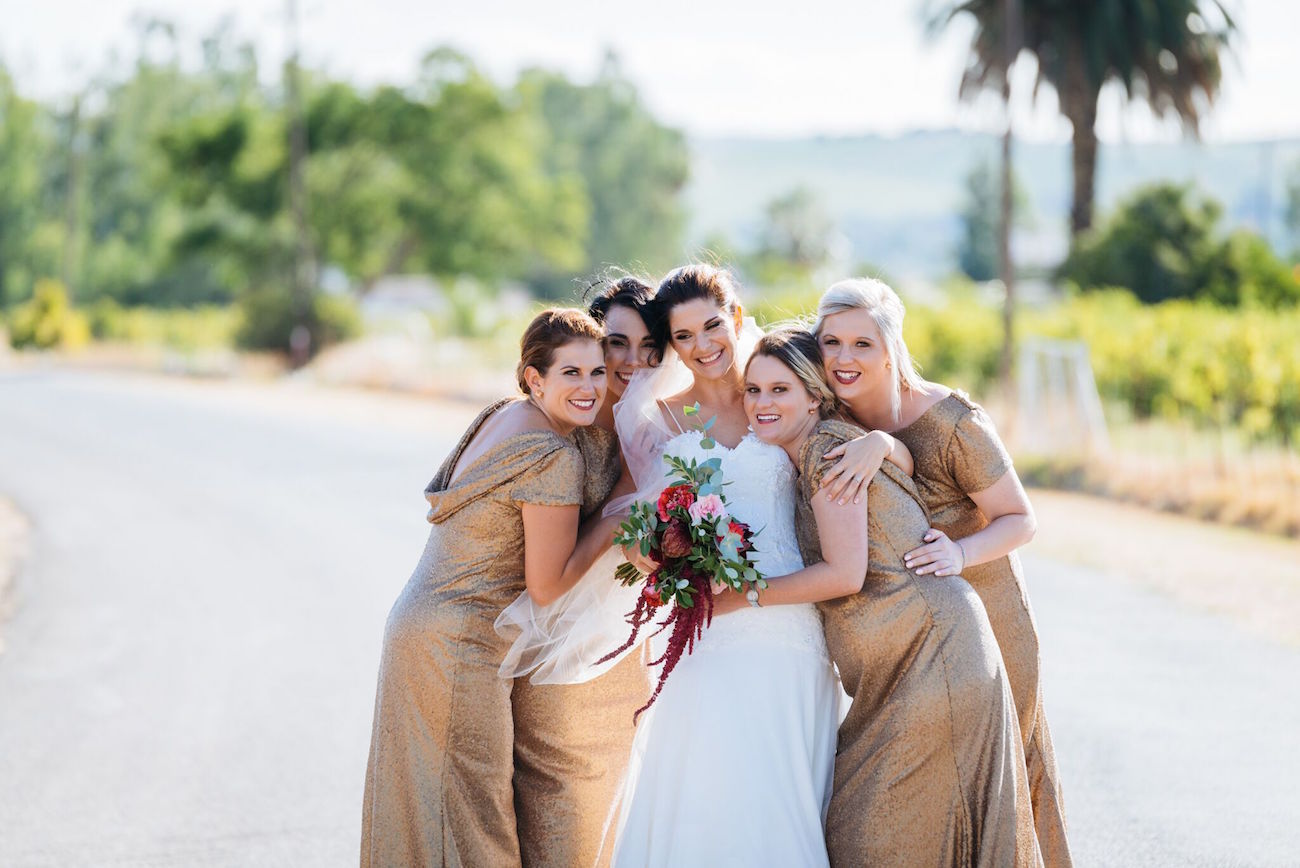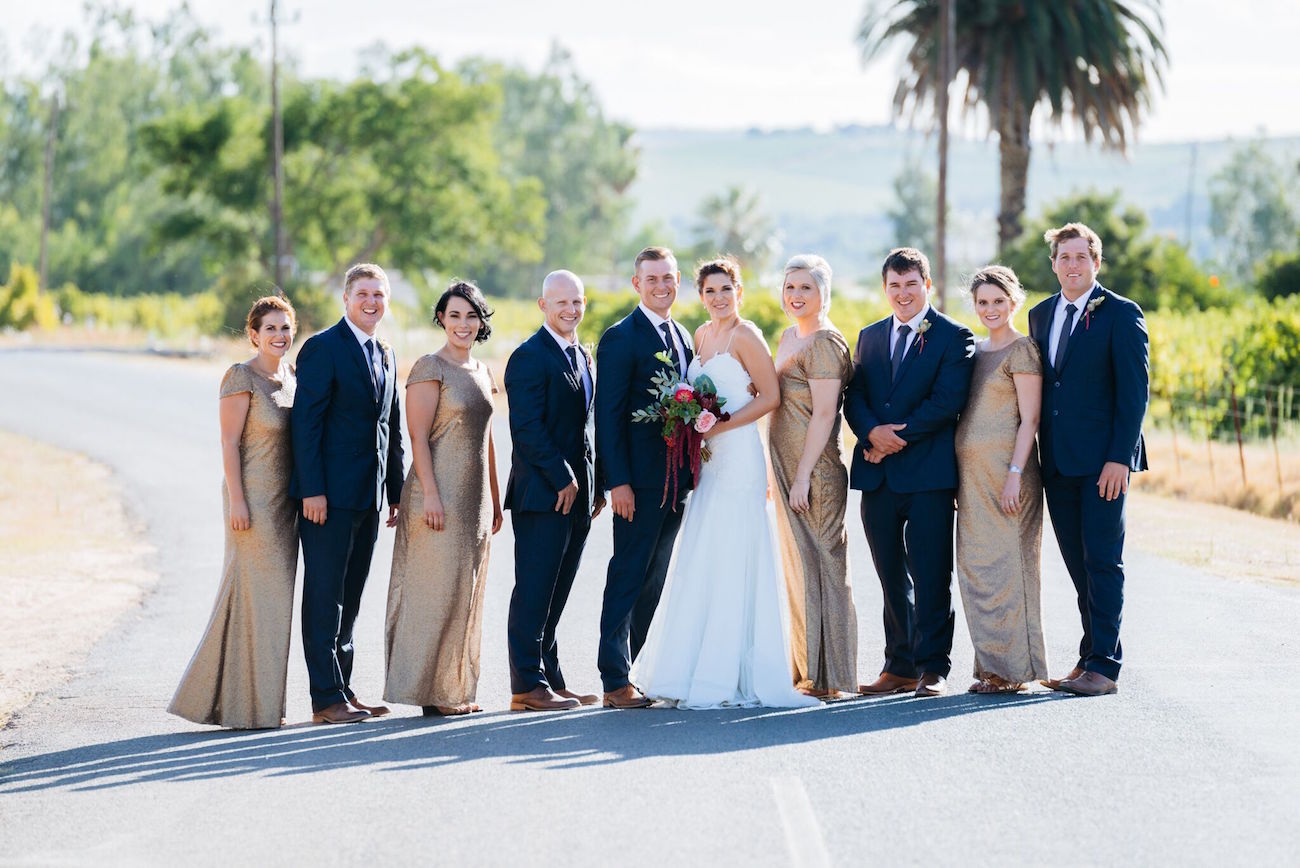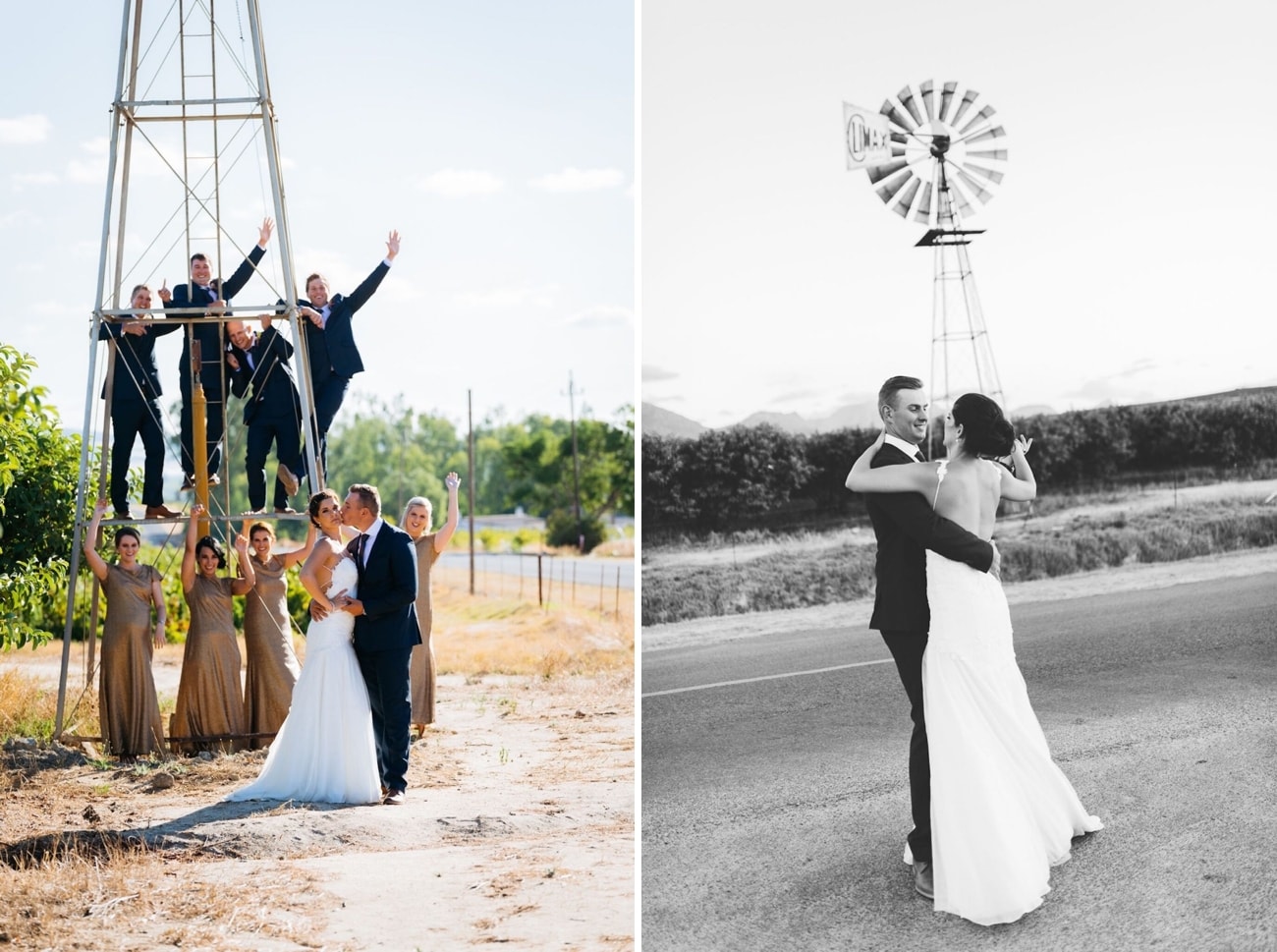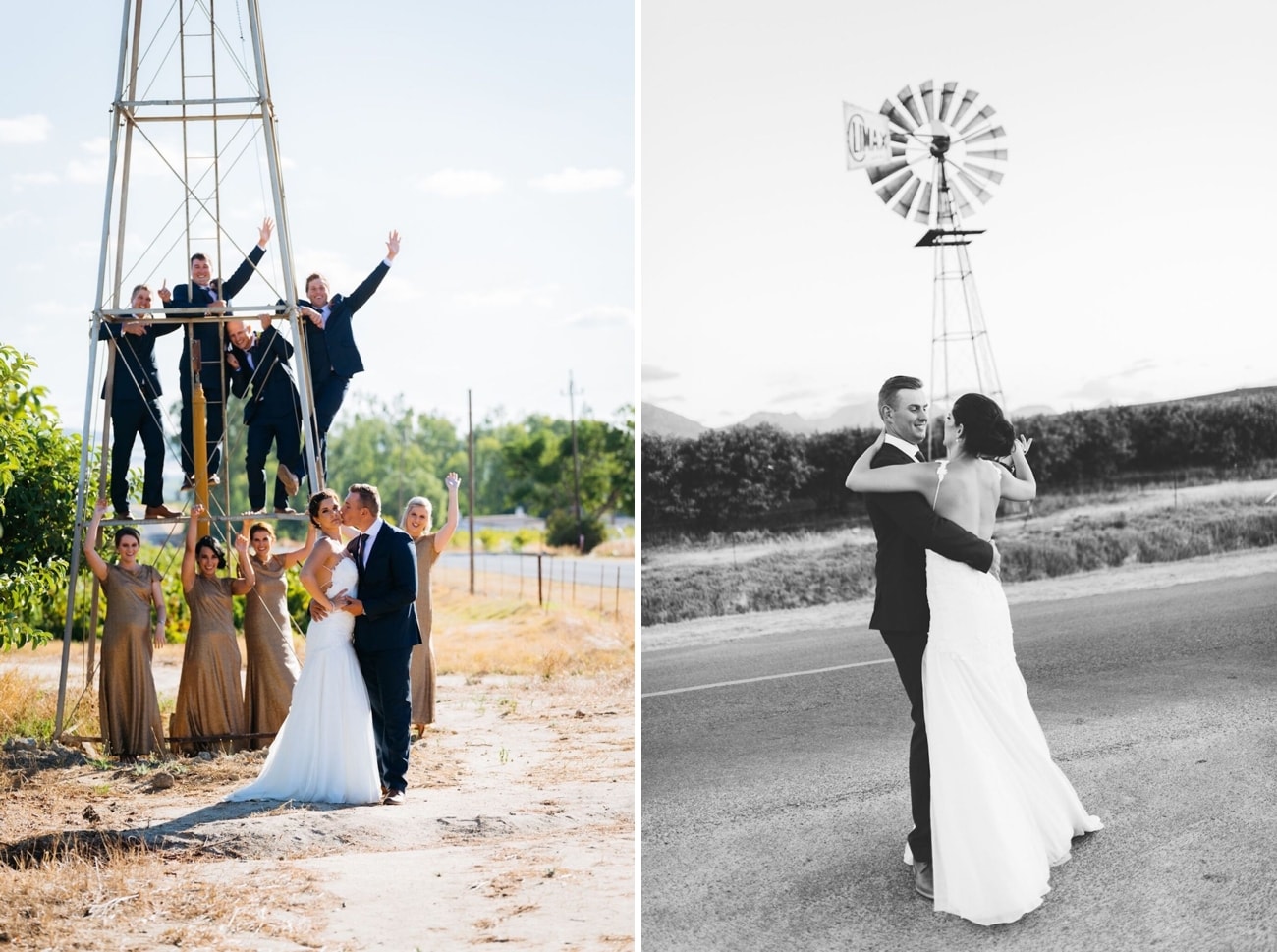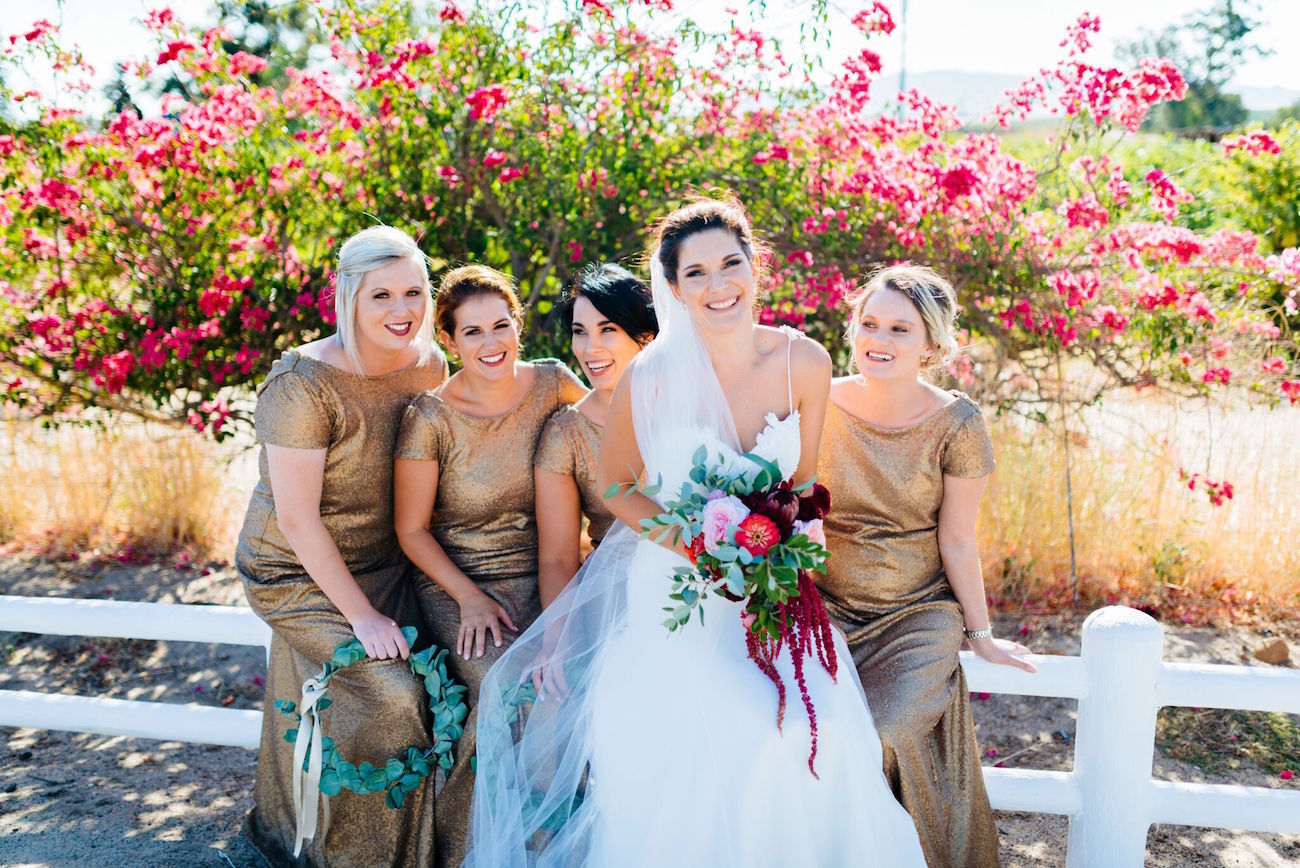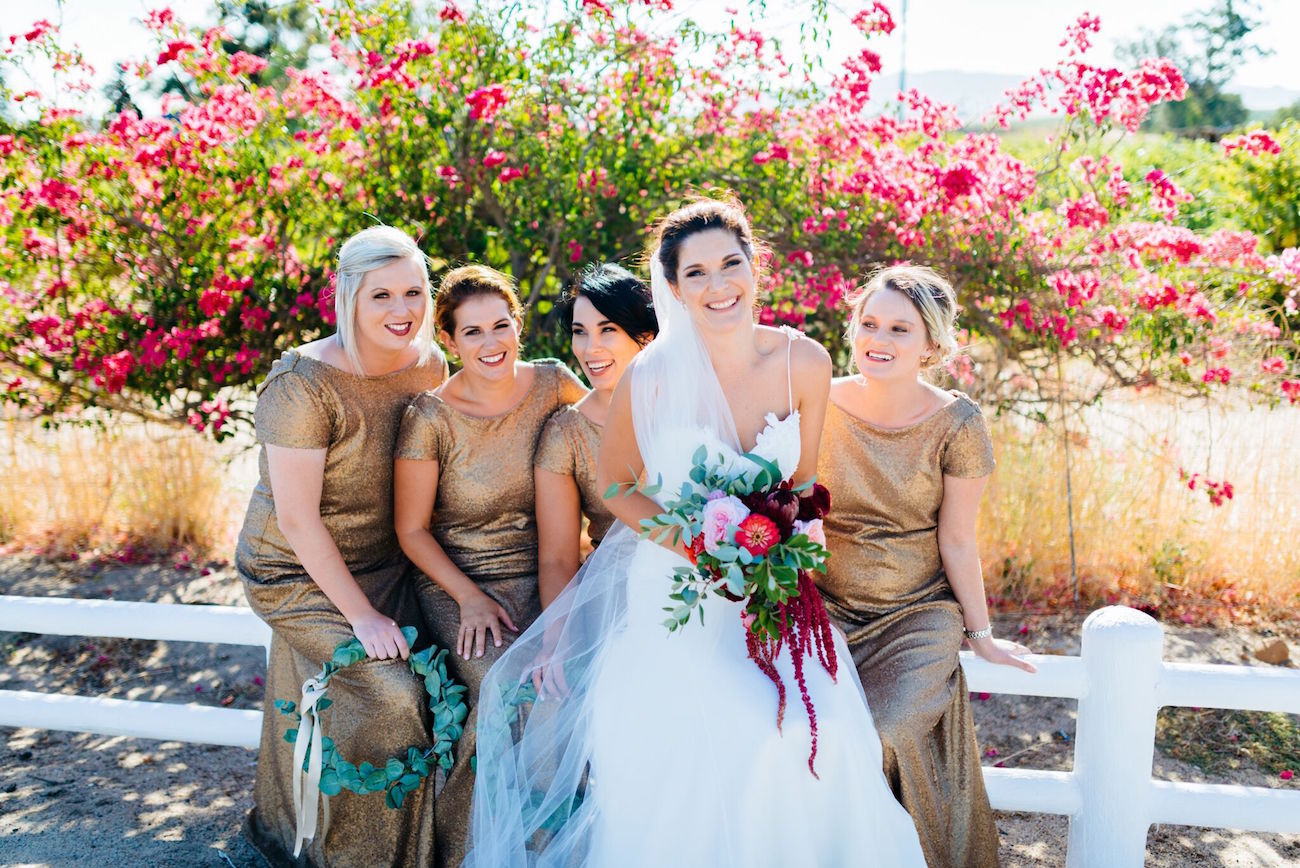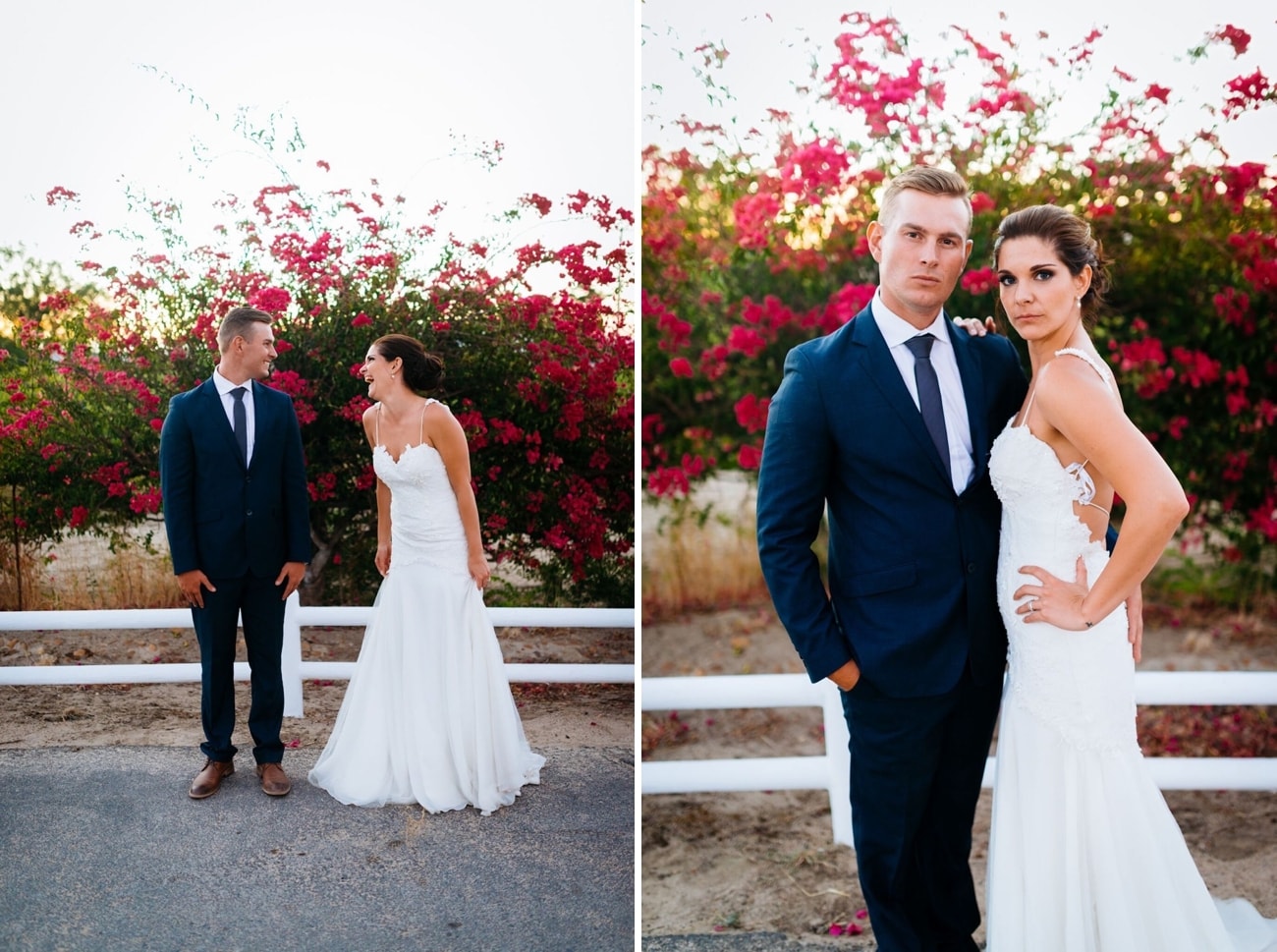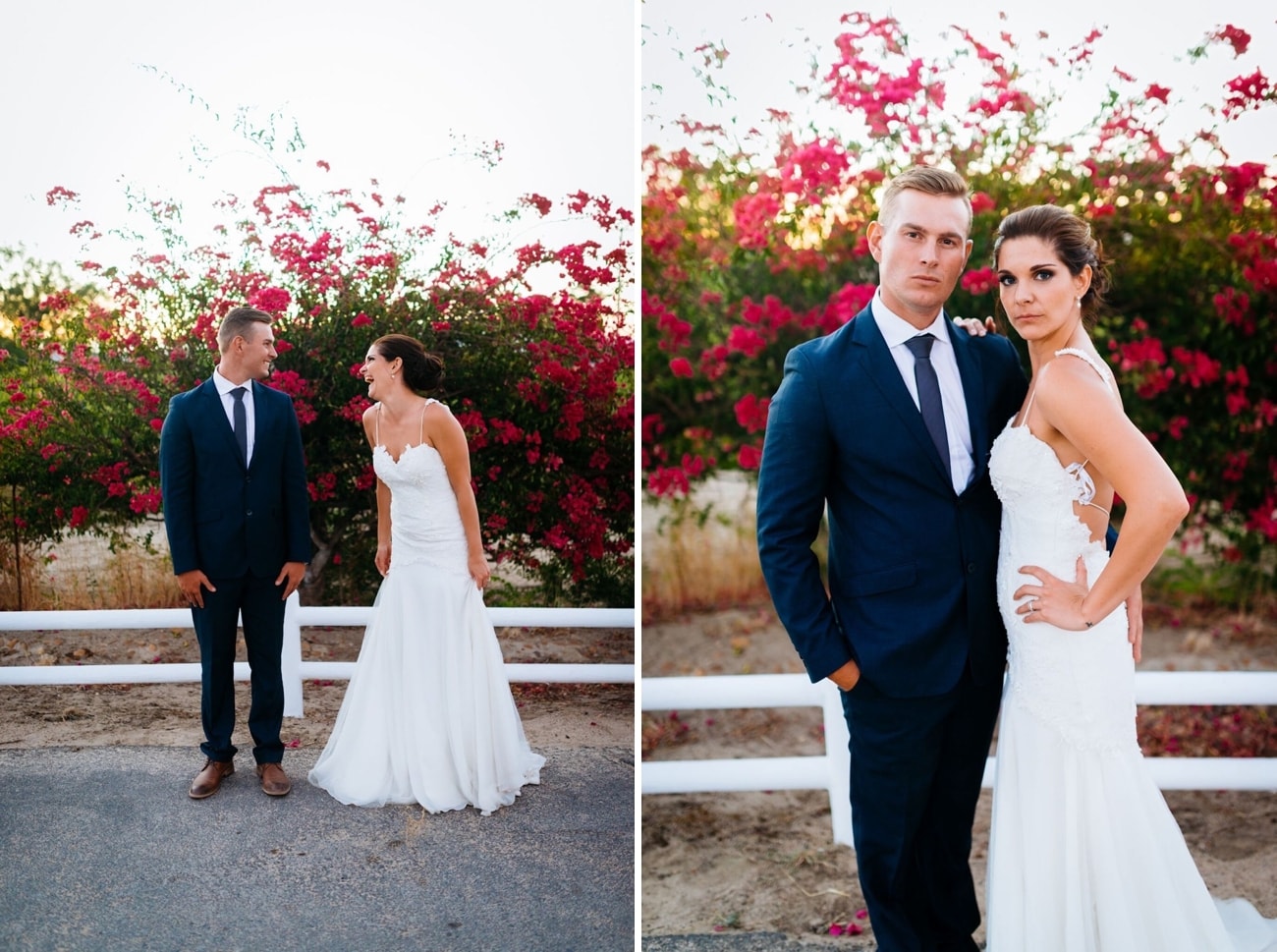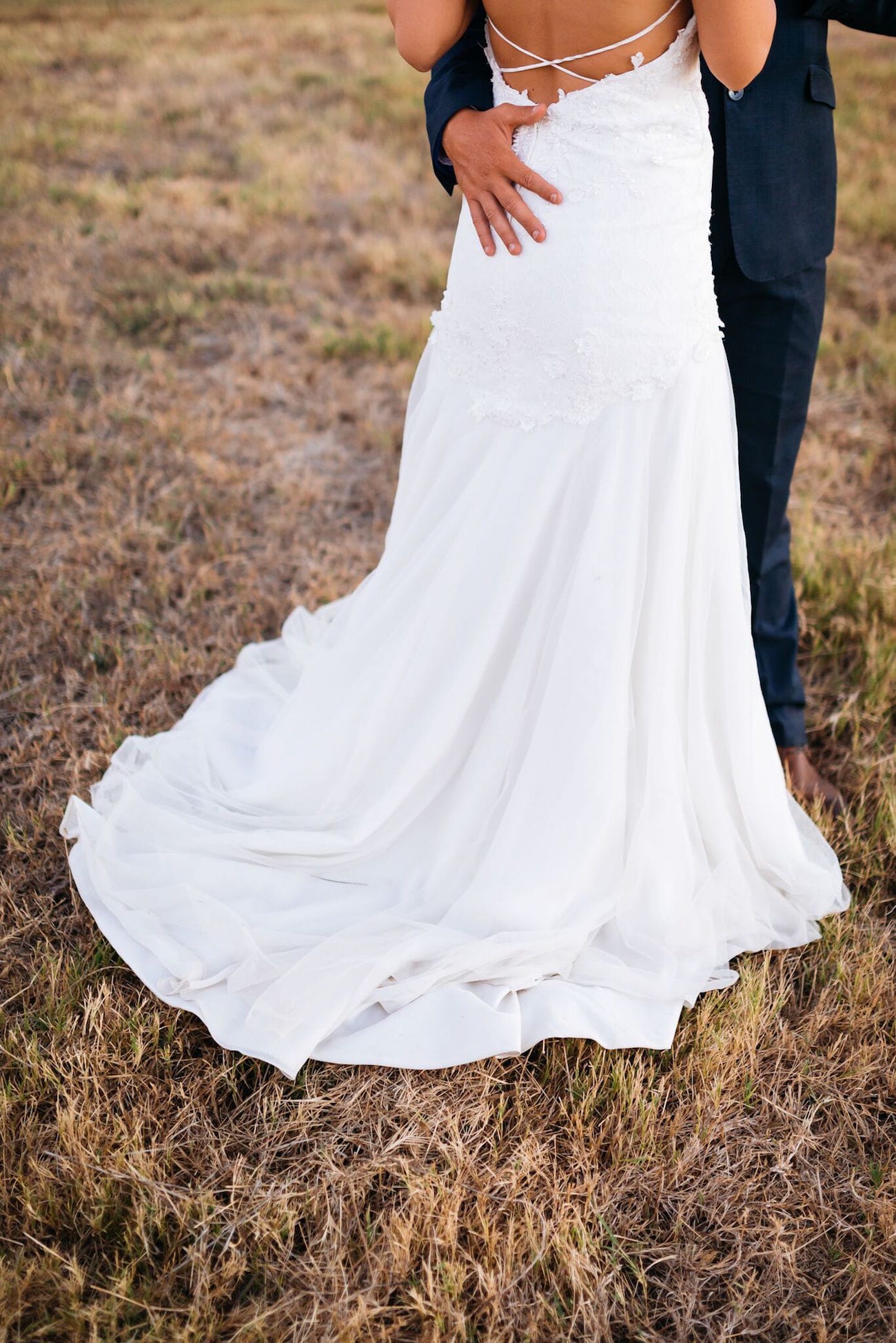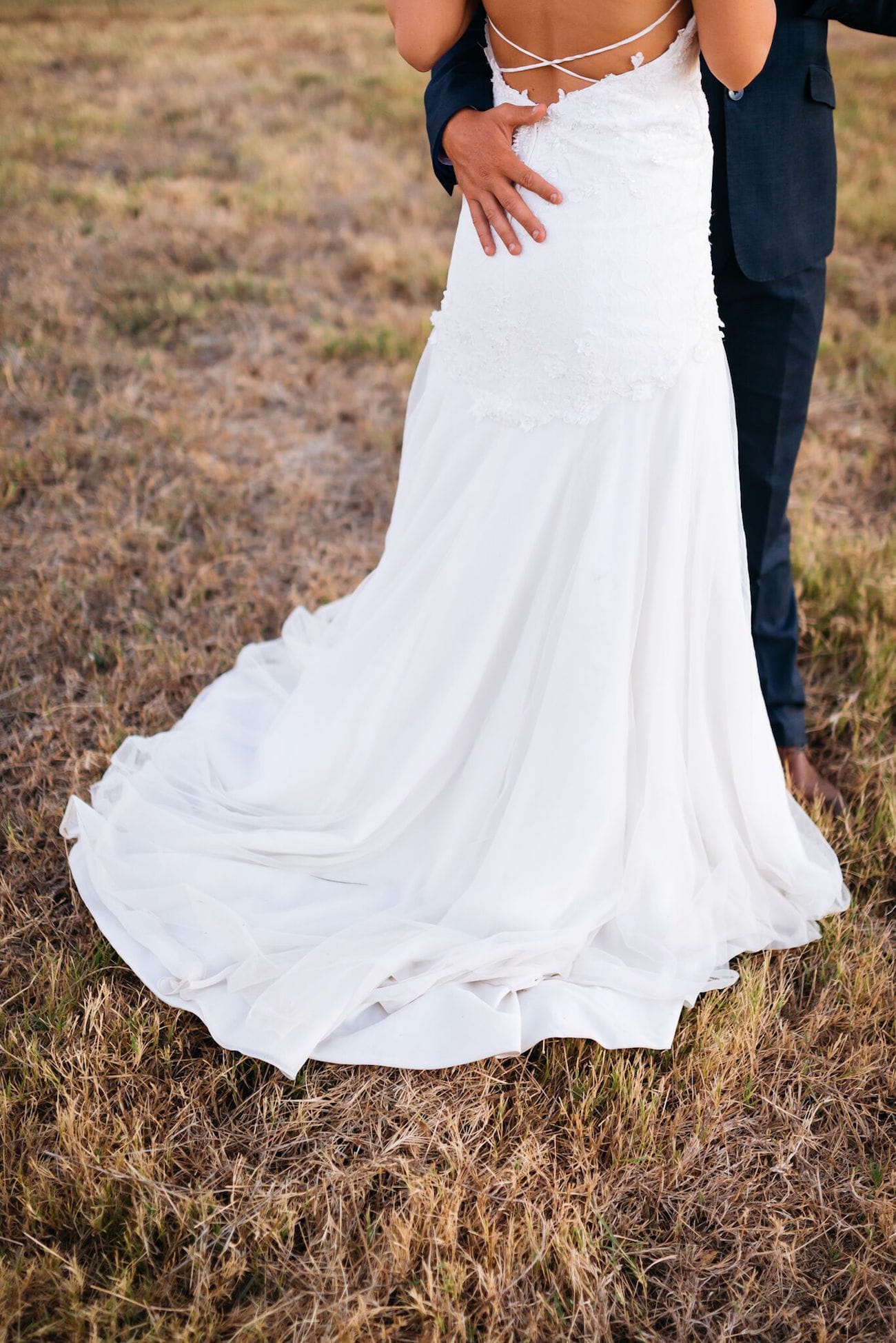 Wedding Details
We had big marquee letters that said H&M. It stands for Hendriette and Manus but my friends knew that H&M is my favourite clothing shop, and that was something that was so me. Also we took this old light green Ford bakkie arranged it with flowers, and on the back decorated it with beverages (we both drive Fords). Our favours were salt and pepper shakers shaped like two love birds, because Manus always complains my food needs more salt. But my favourite detail was when we had our first dance as a married couple. It was Ellie Goulding's 'Still Falling For You' by Ellie Goulding, and at the moment the chorus started, a fan above us blew gold confetti over us to signify we'll fall in love with each other every day.
DIY Elements
My dad made platter boards with our initials Also our table numbers were old books covered with velvet and a number, that me and my mother-in-law made.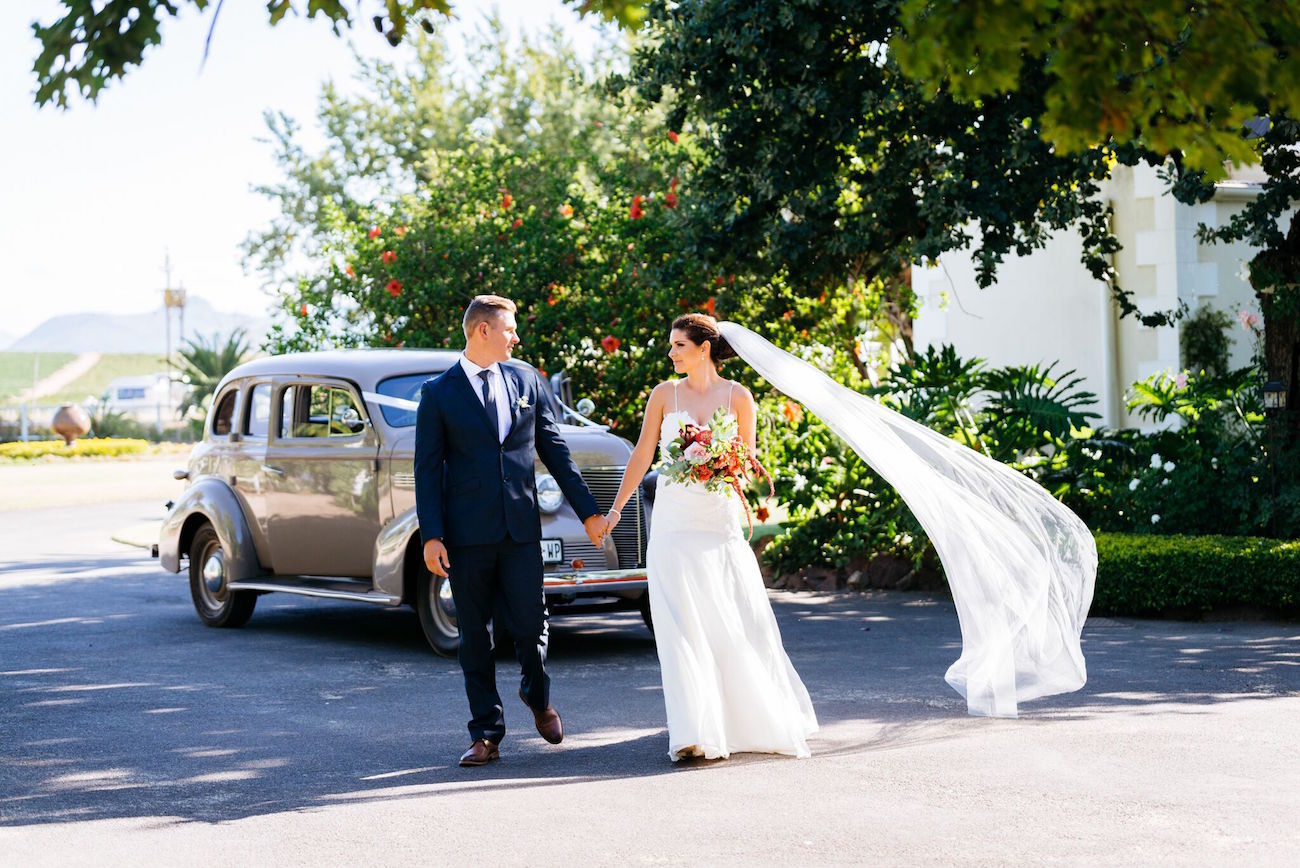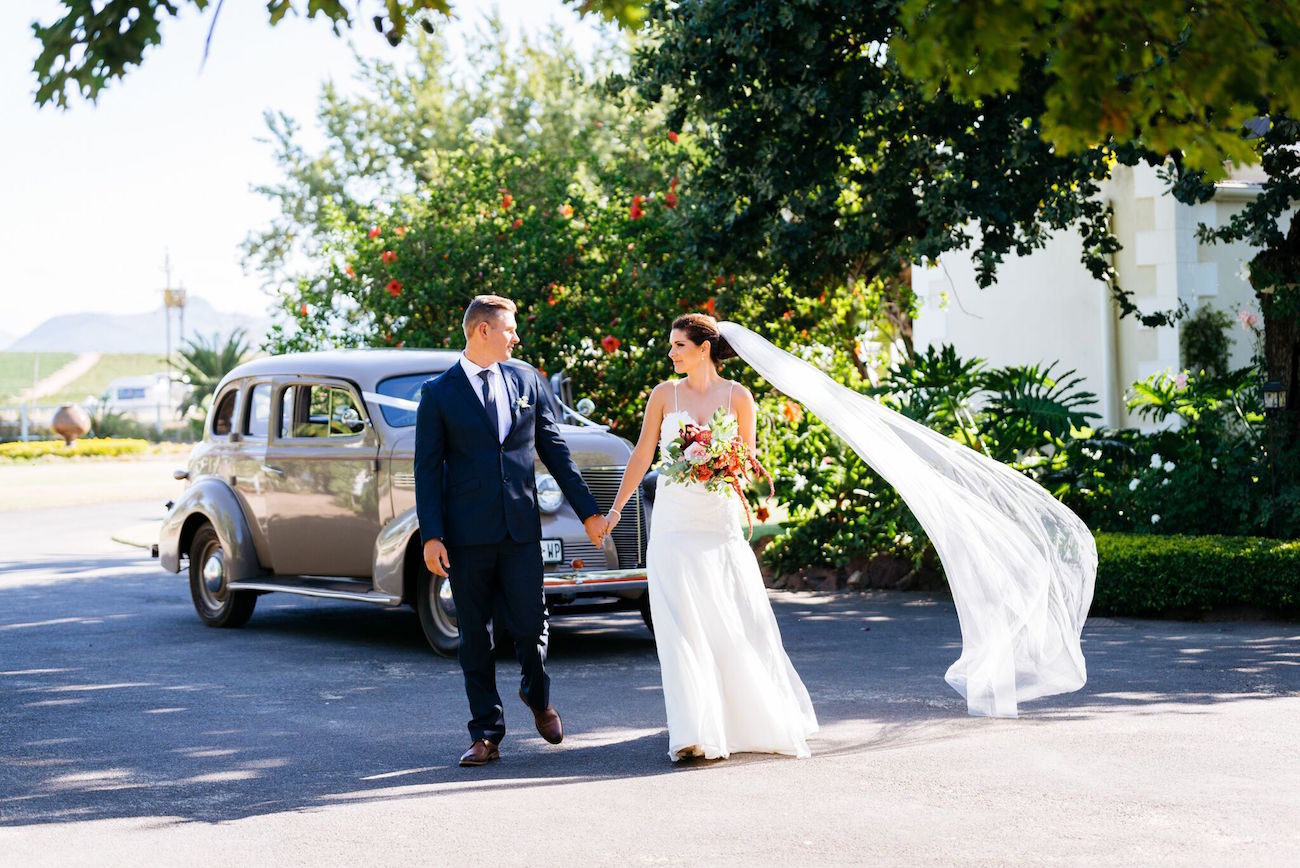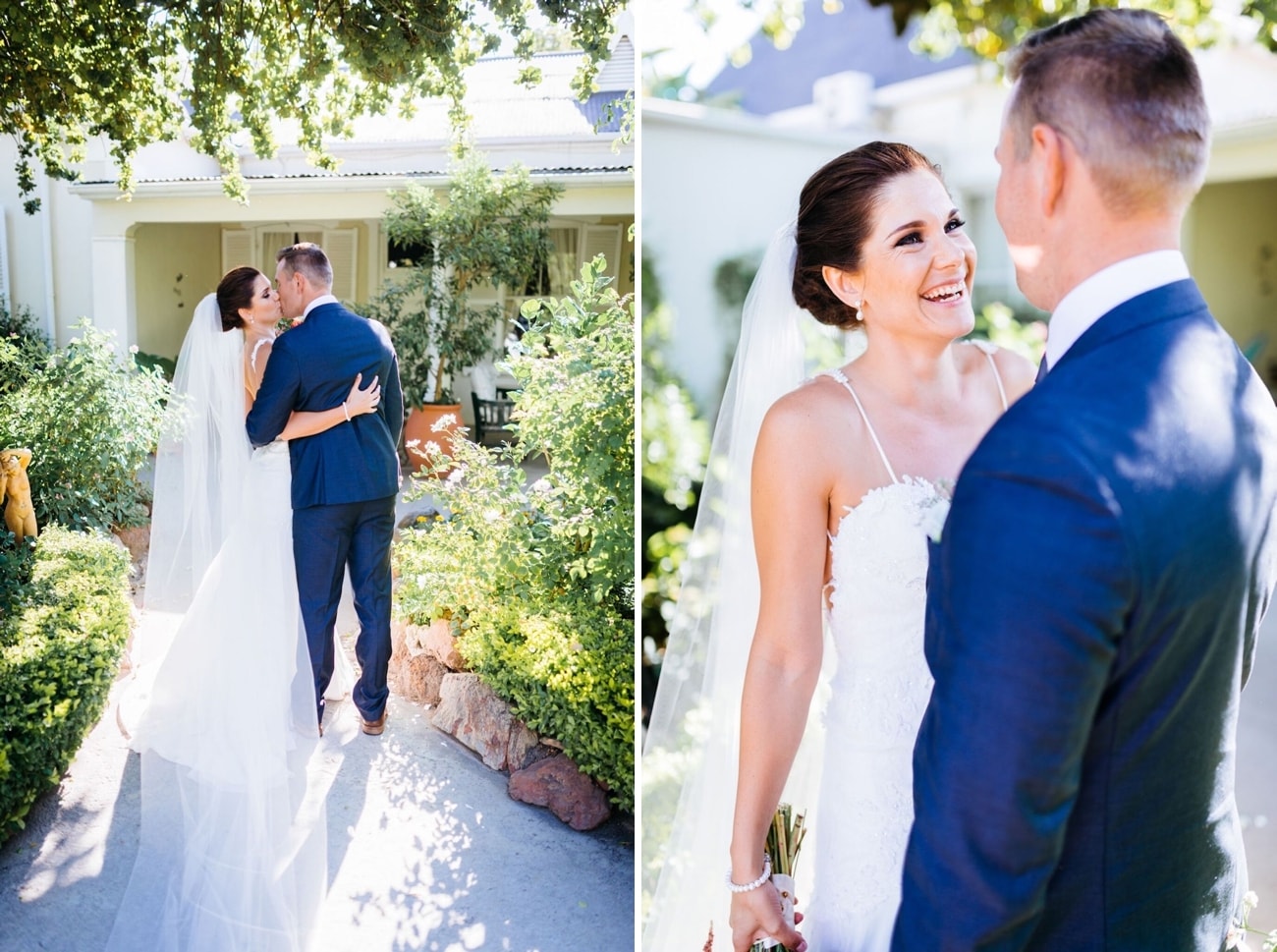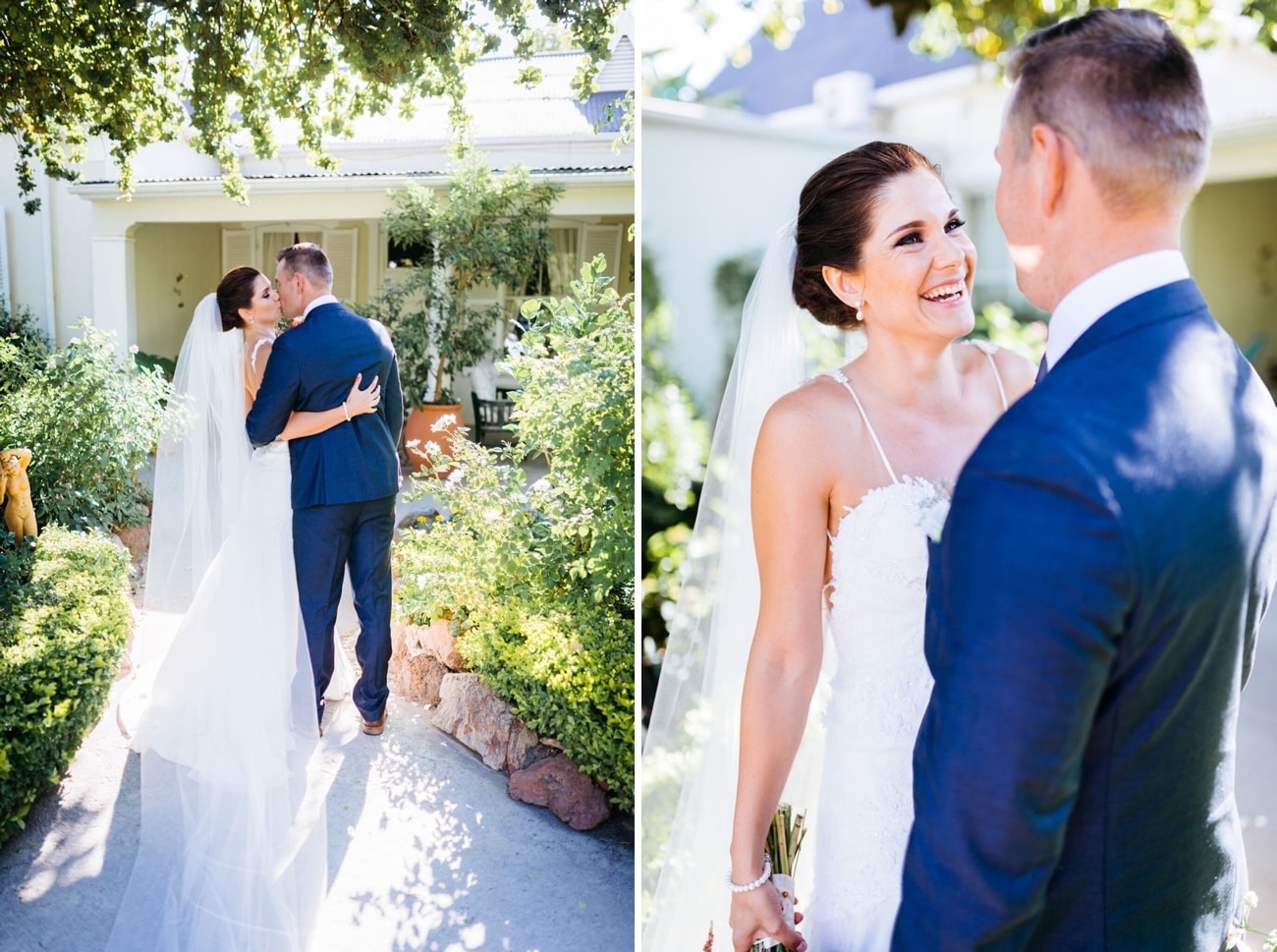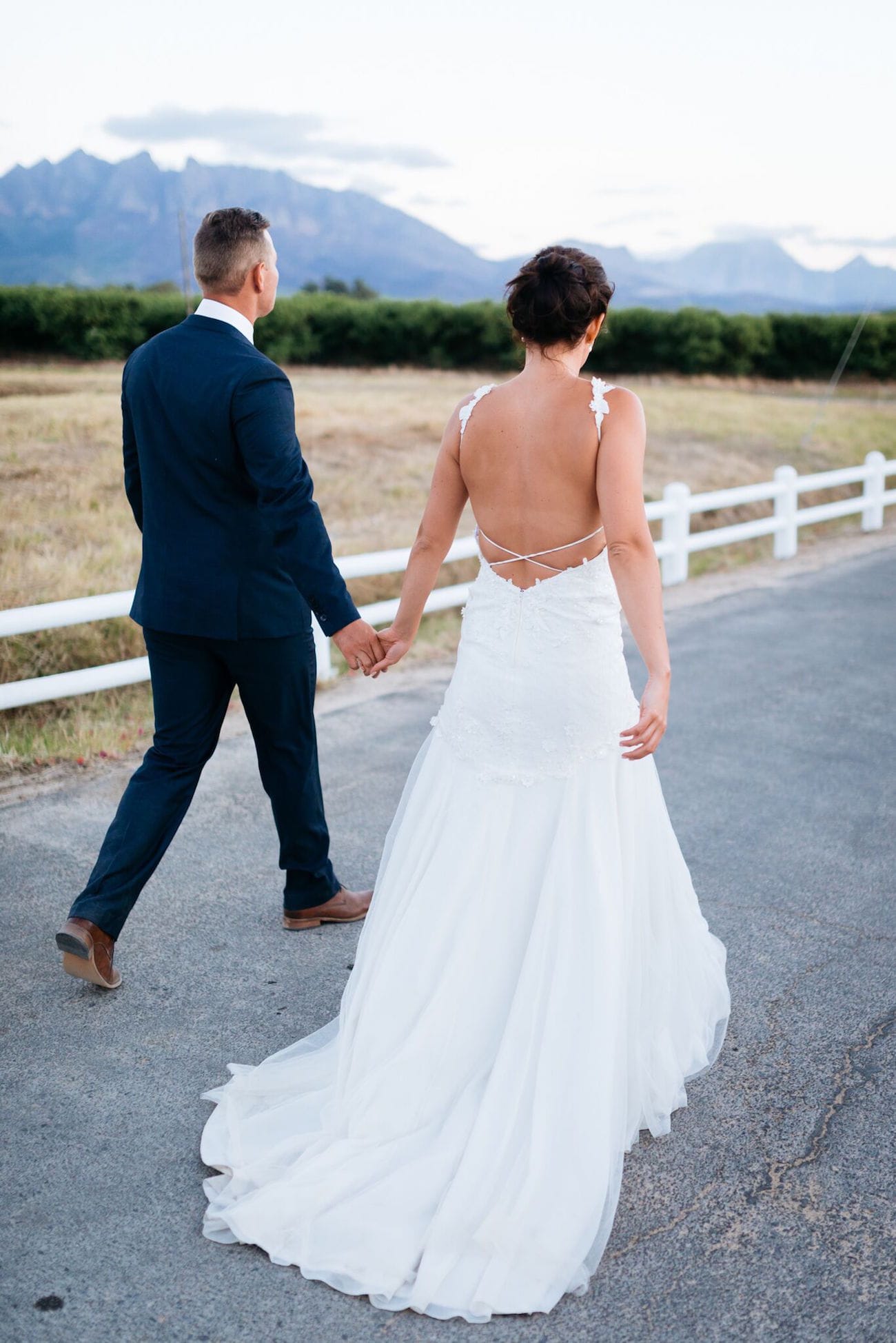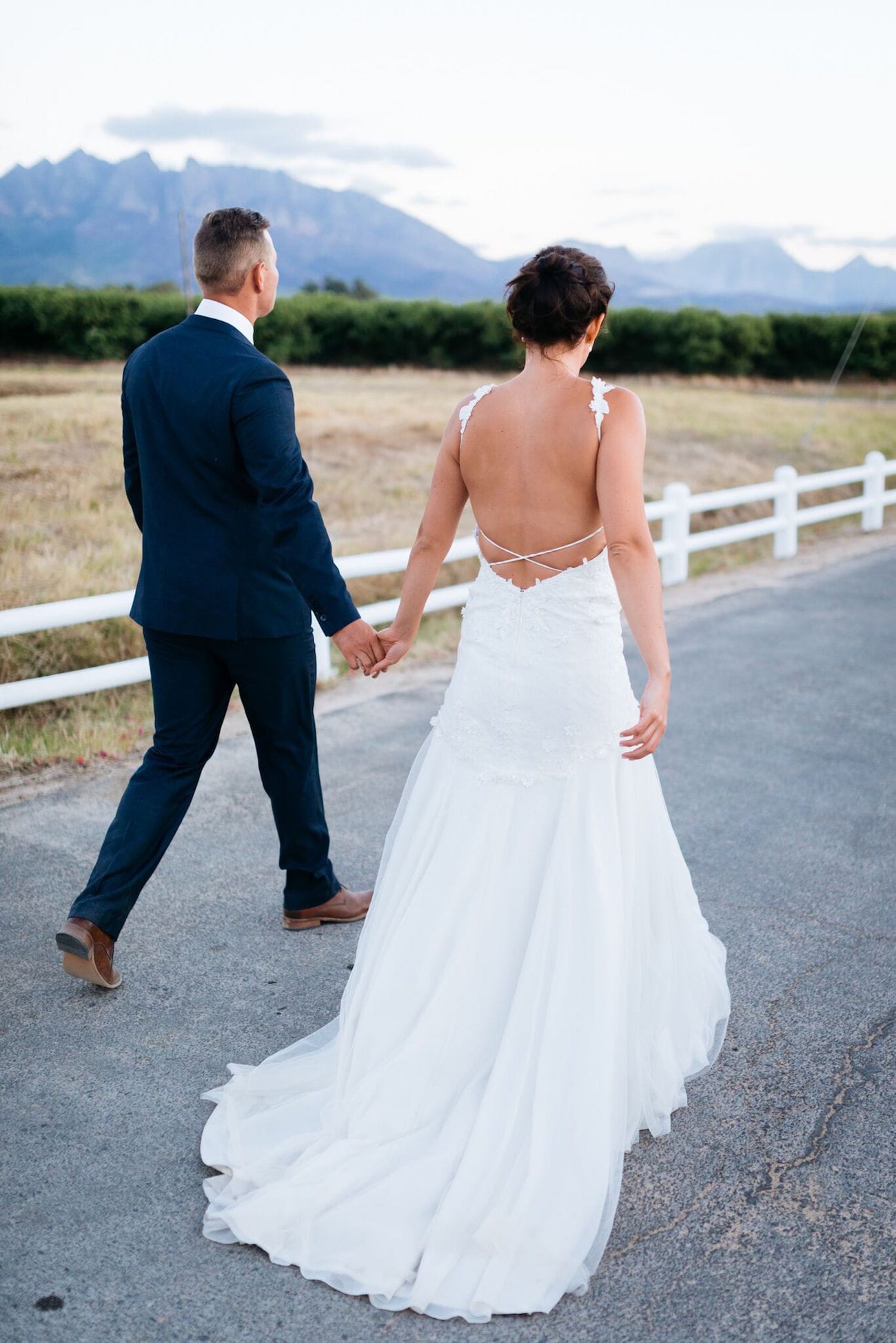 The Dress
I just walked into the boutique with an idea, showed them a picture, and was given options. I think the fourth dress was mine, but I still wanted to change a few things, which they did, and made my dress perfect!
The Bridesmaids
I choose golden sequin low back dresses for them, in a classic style.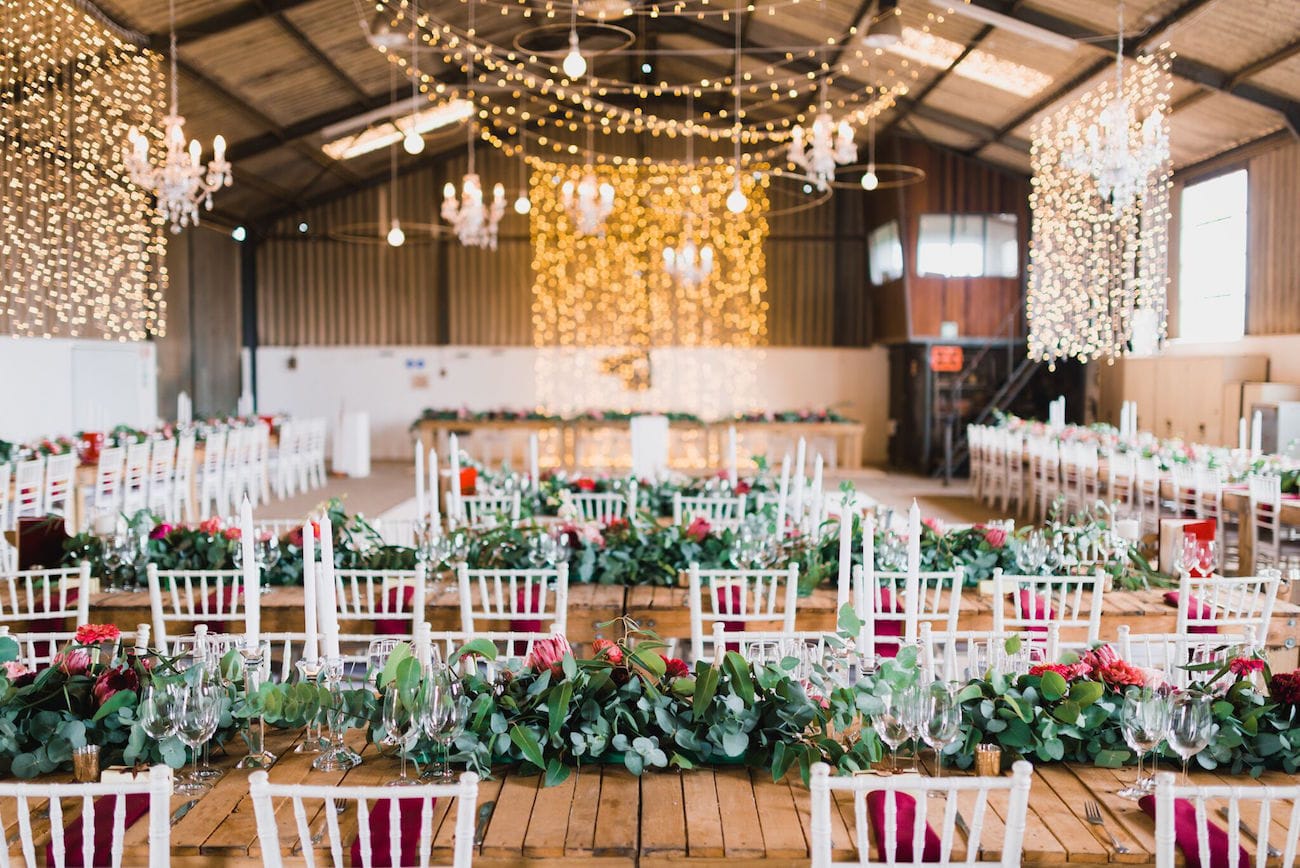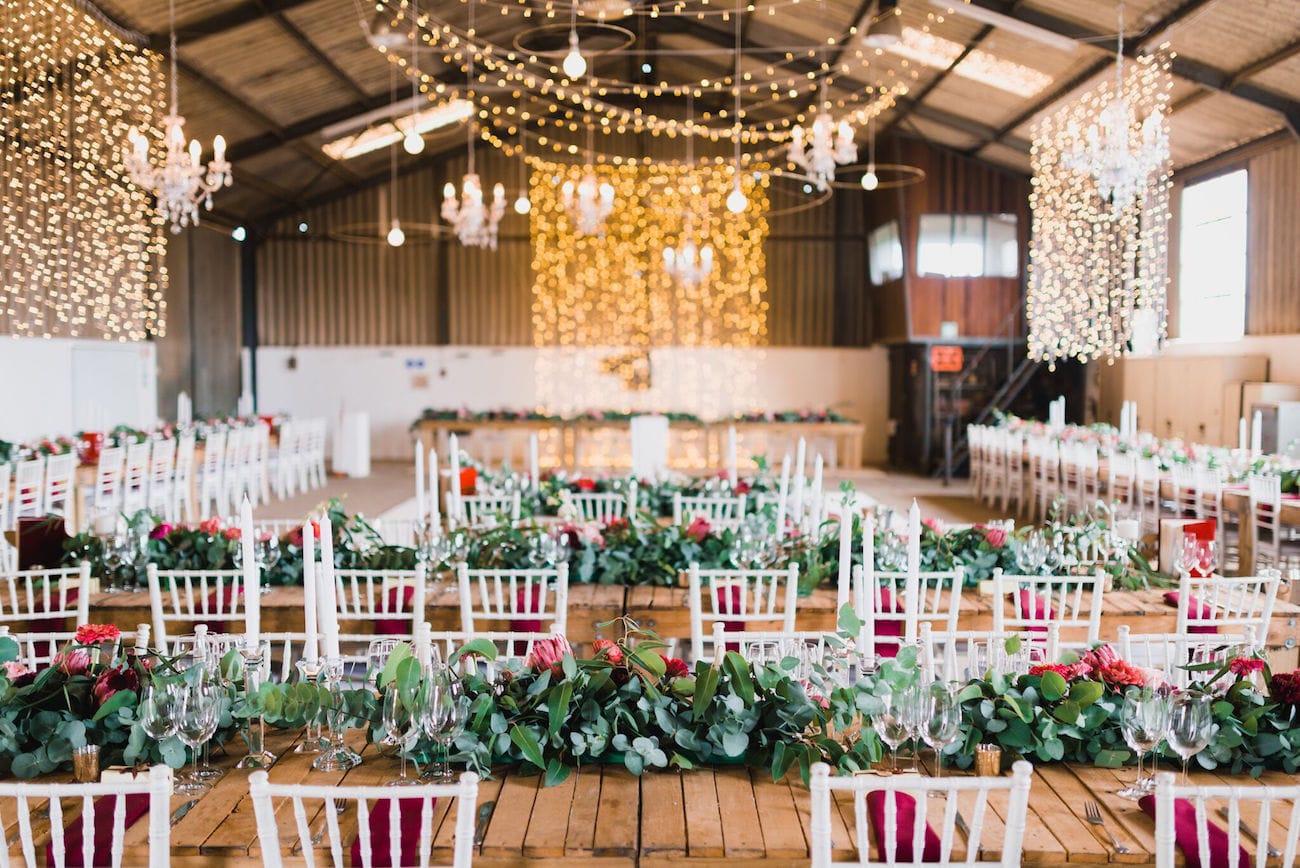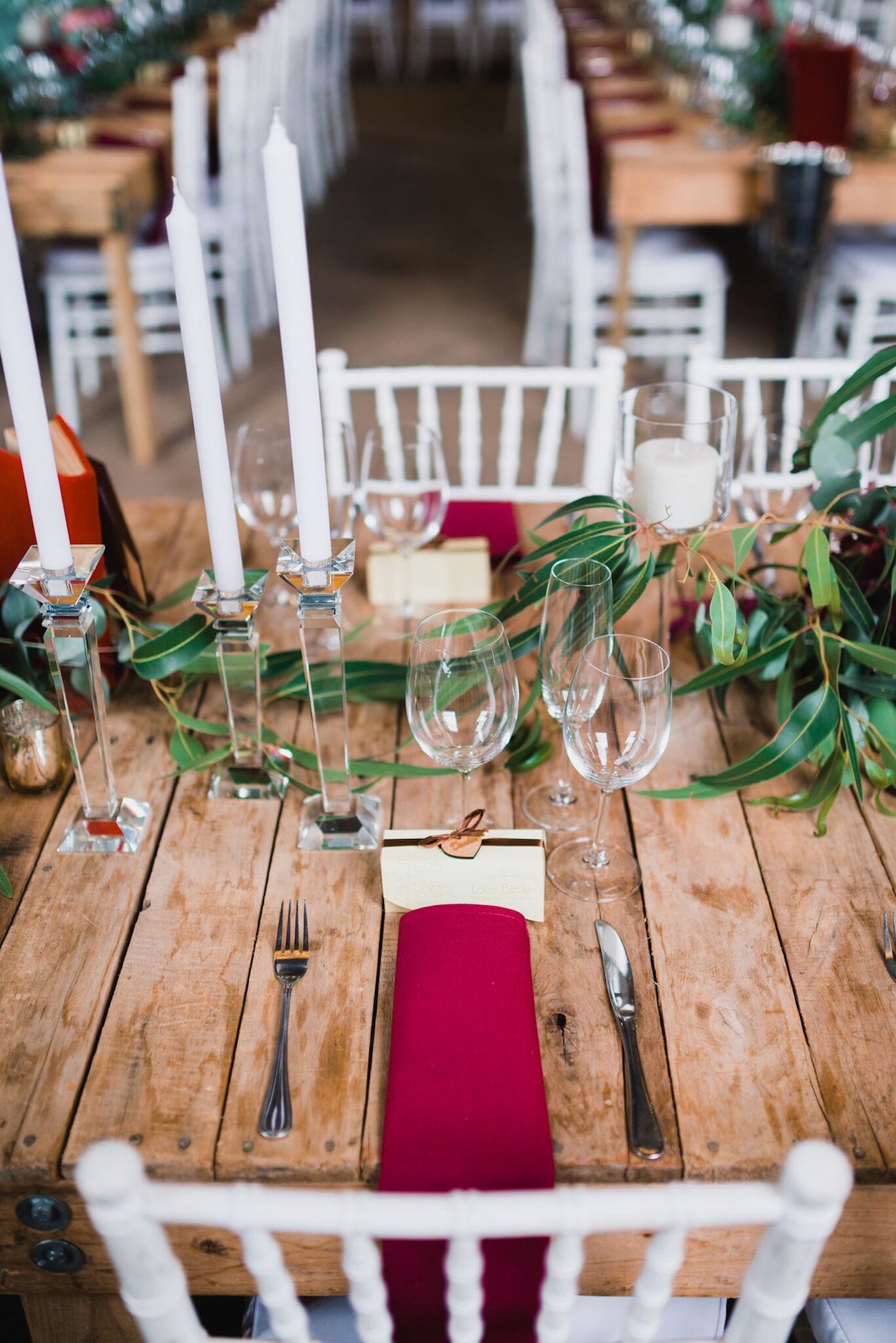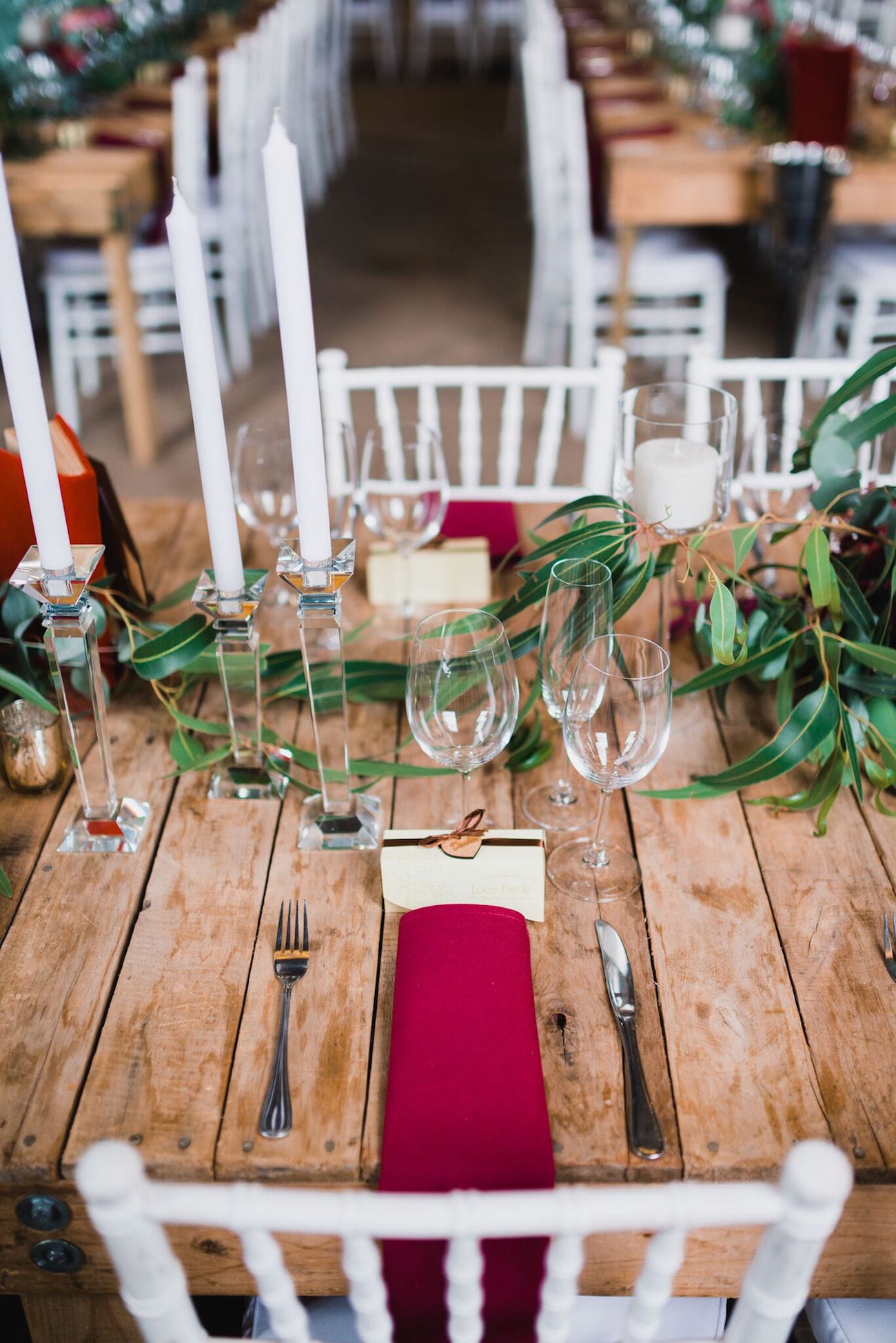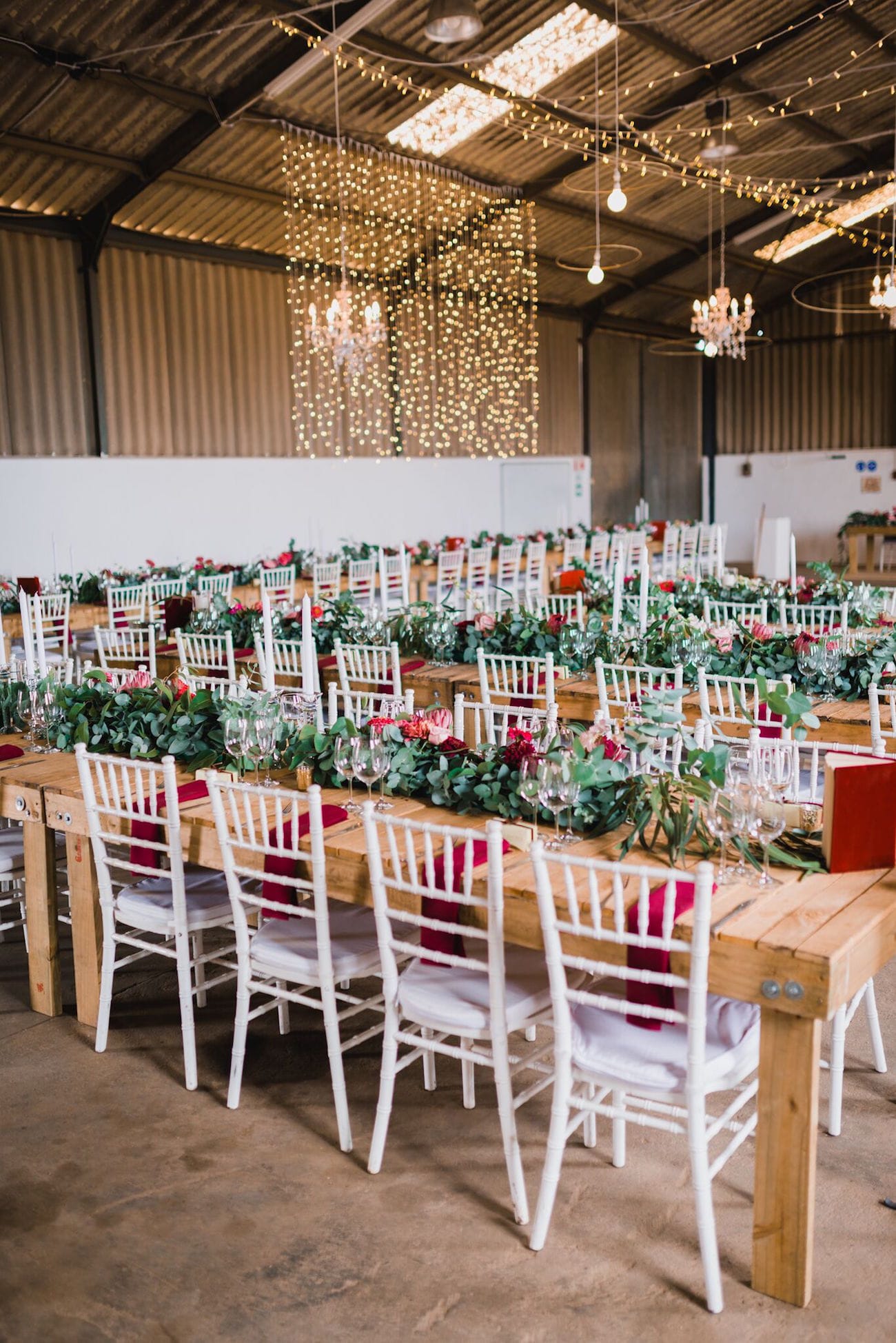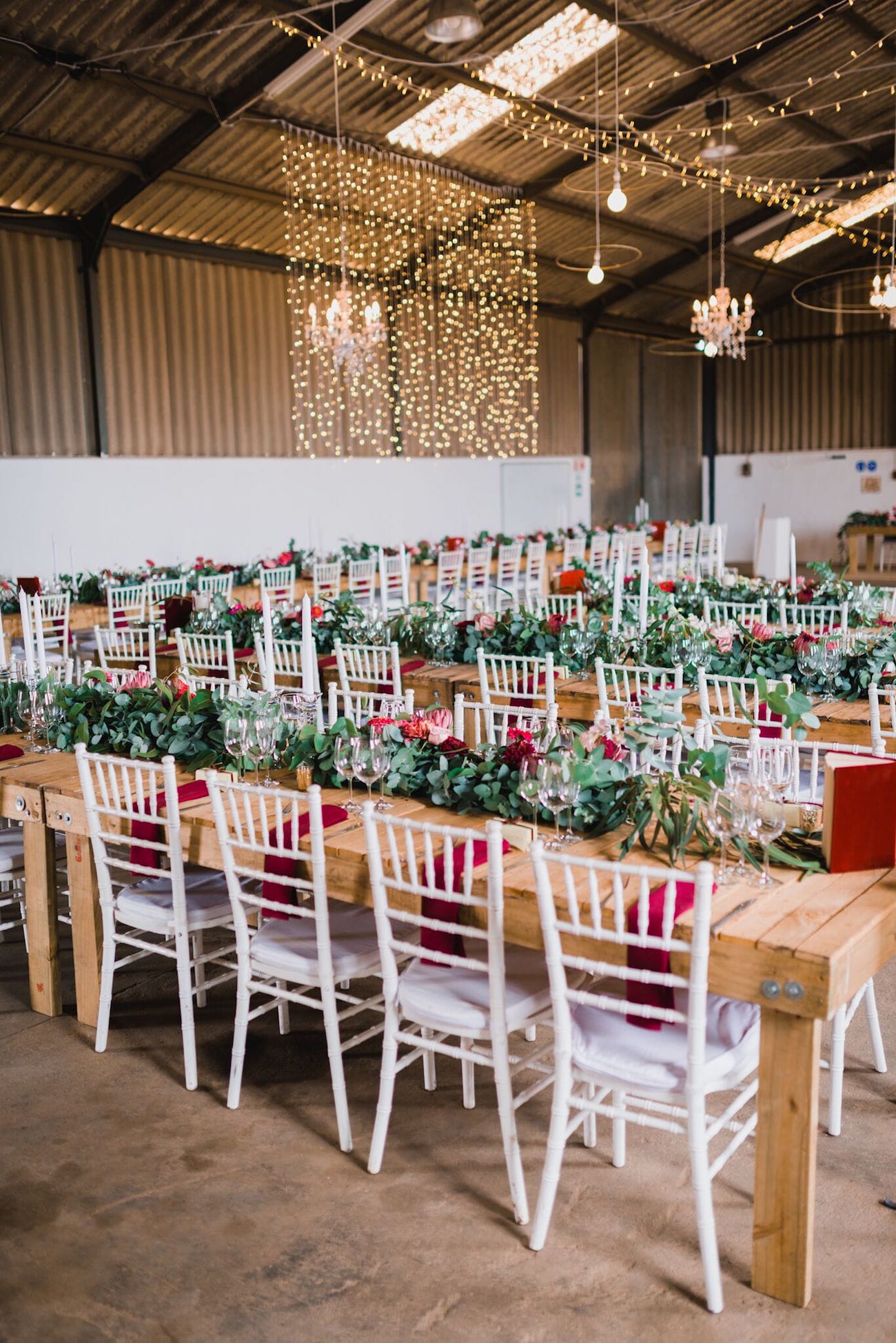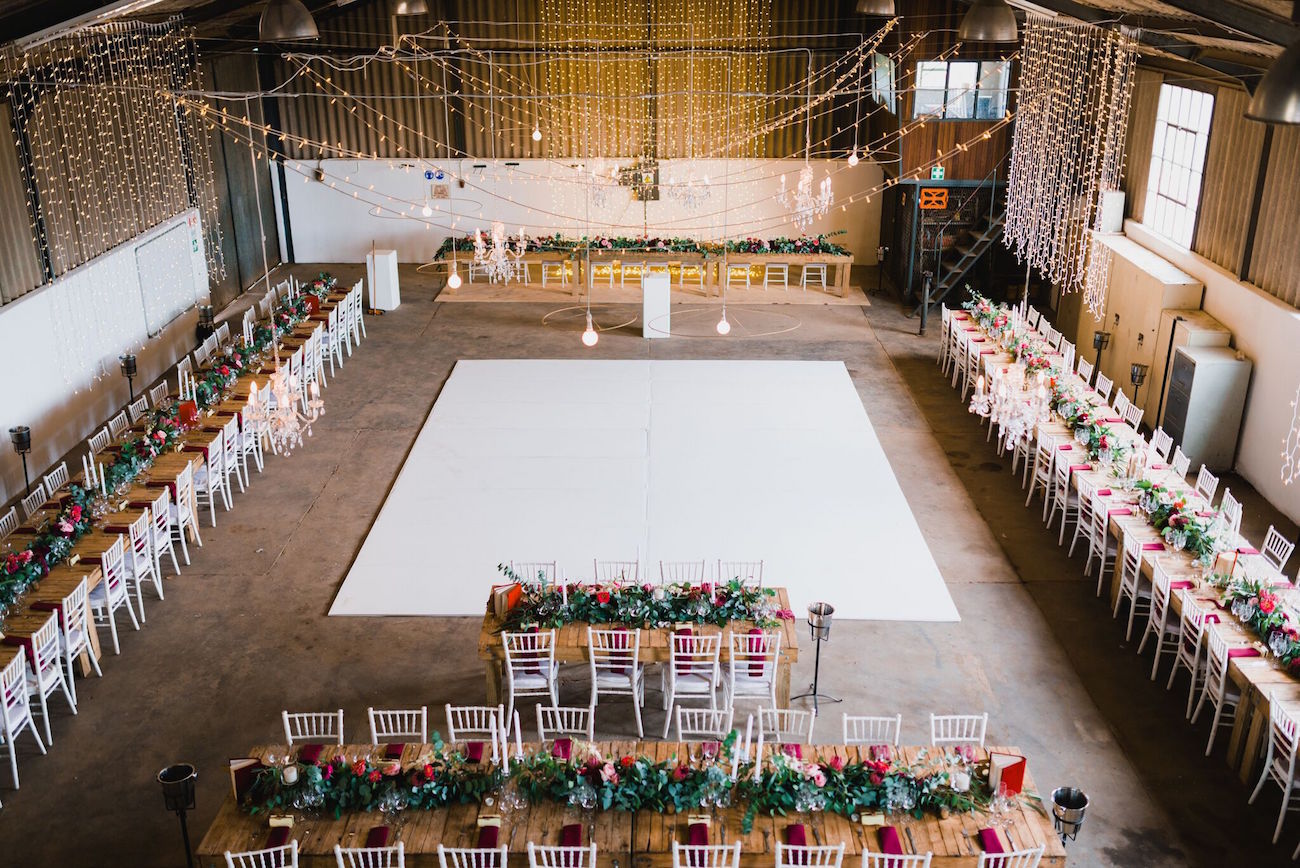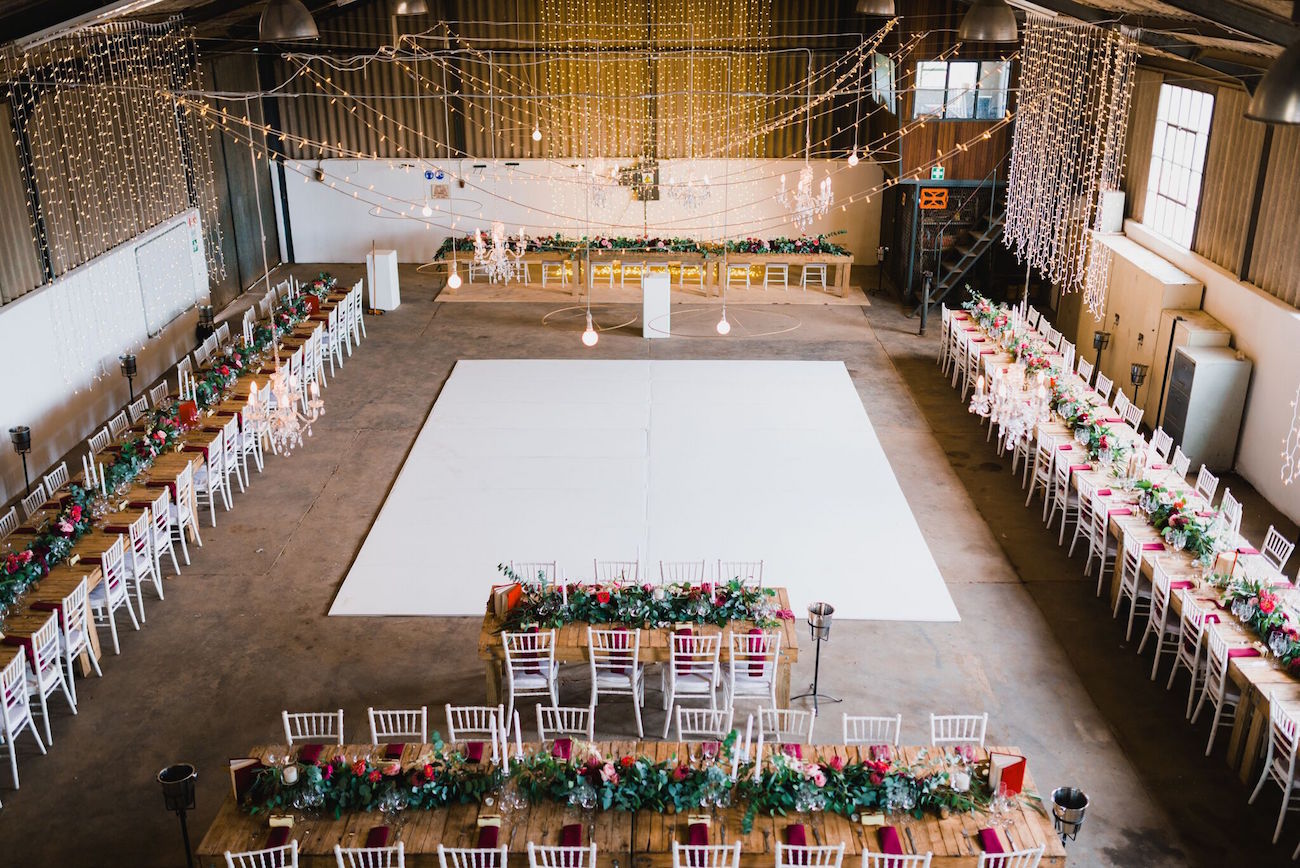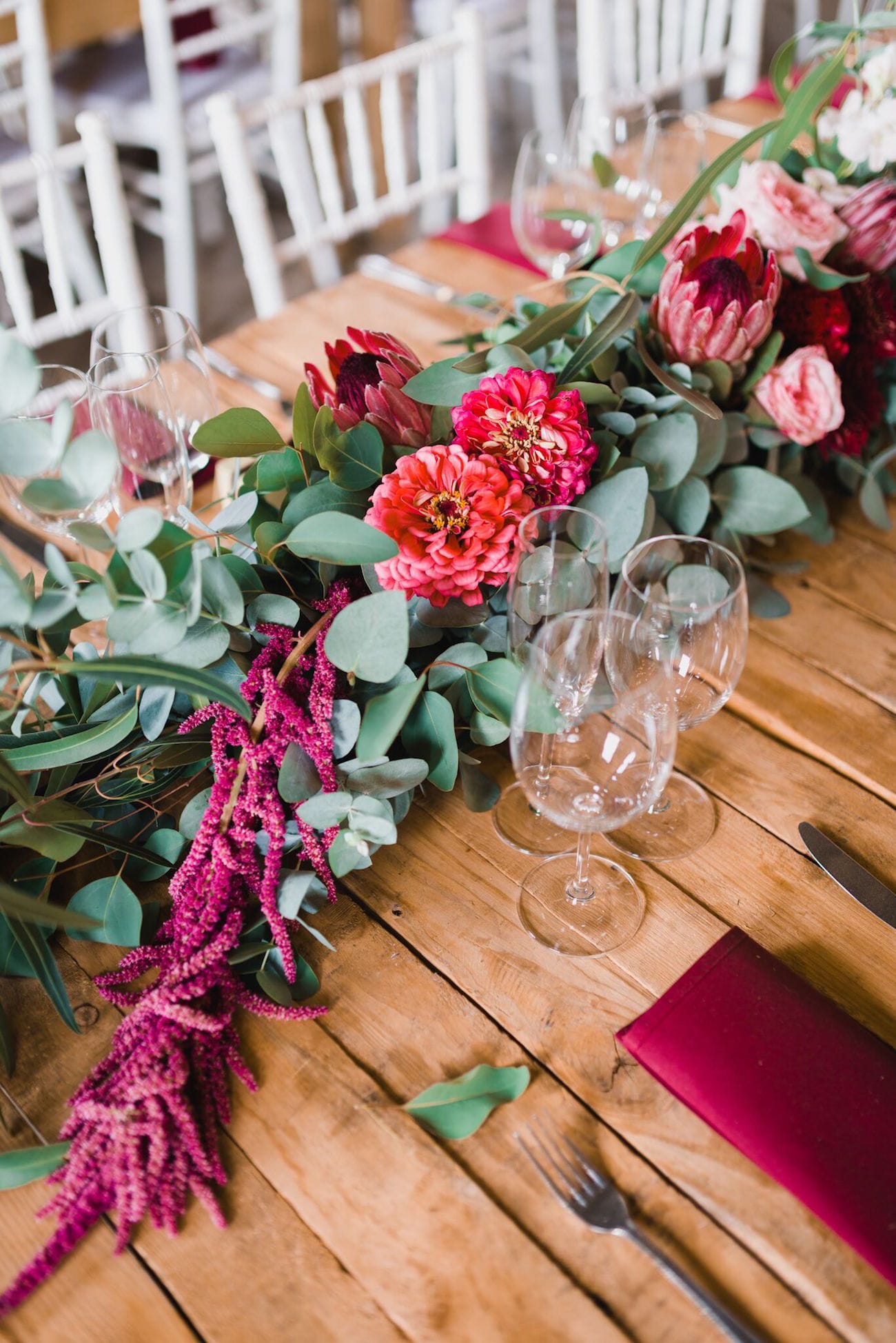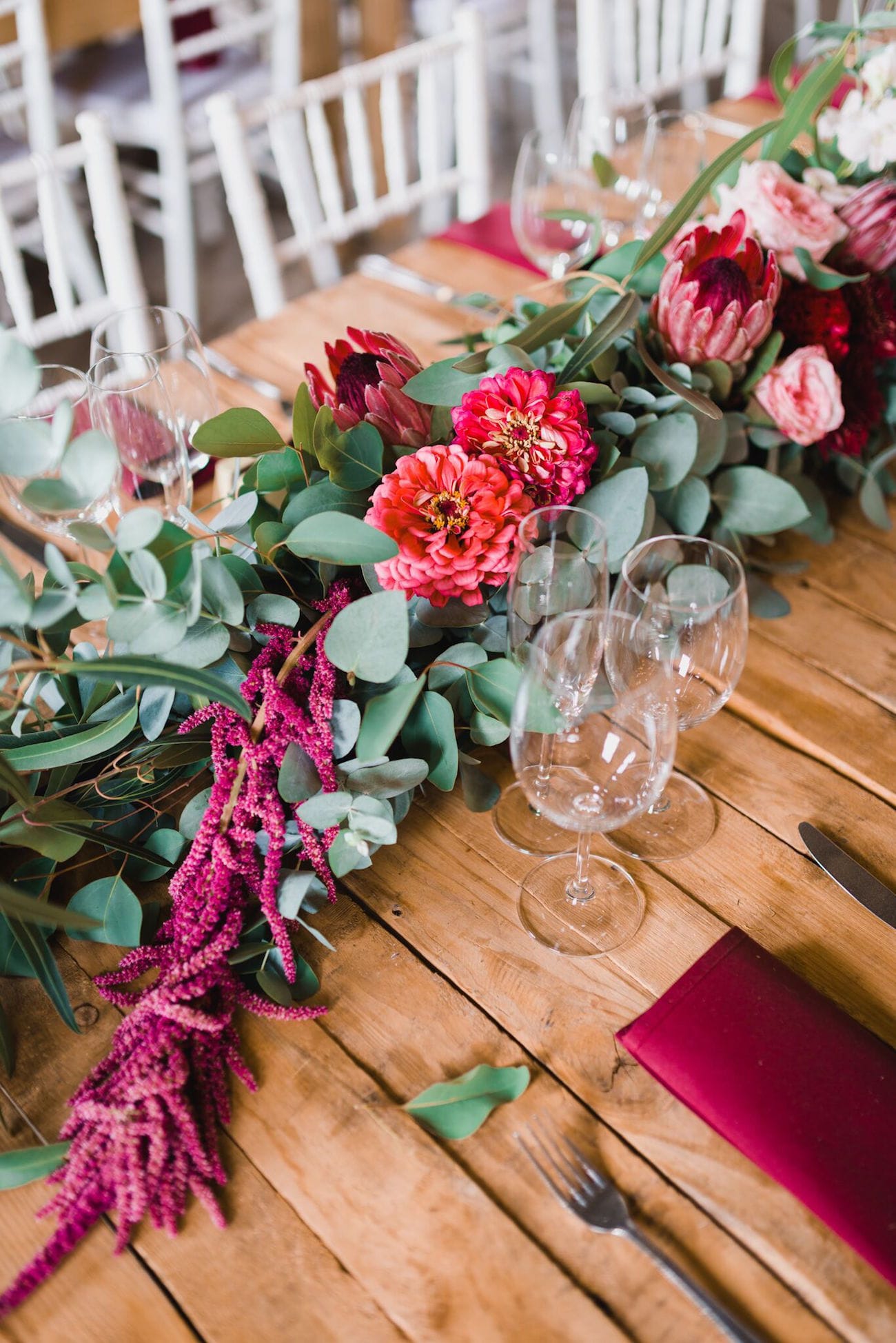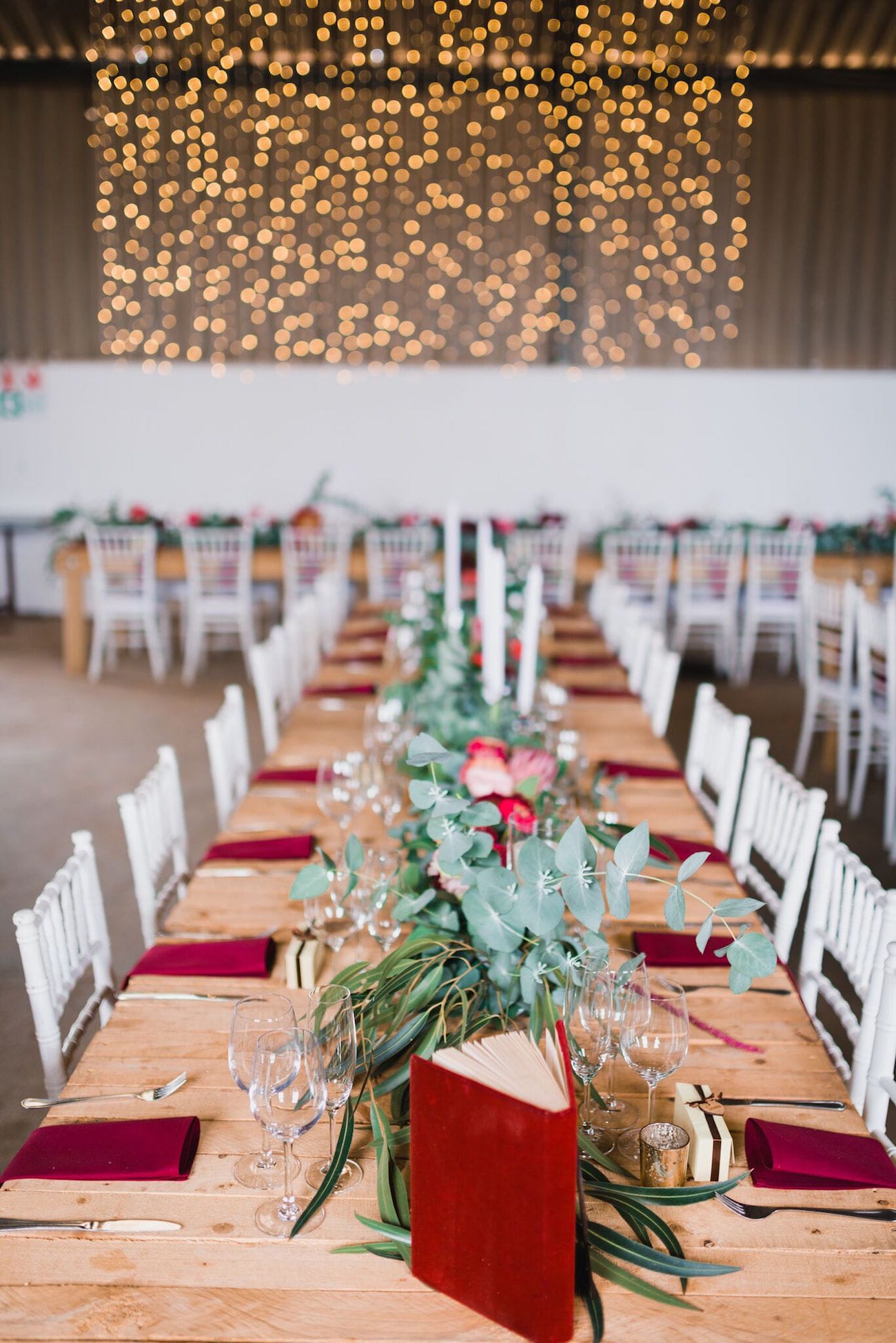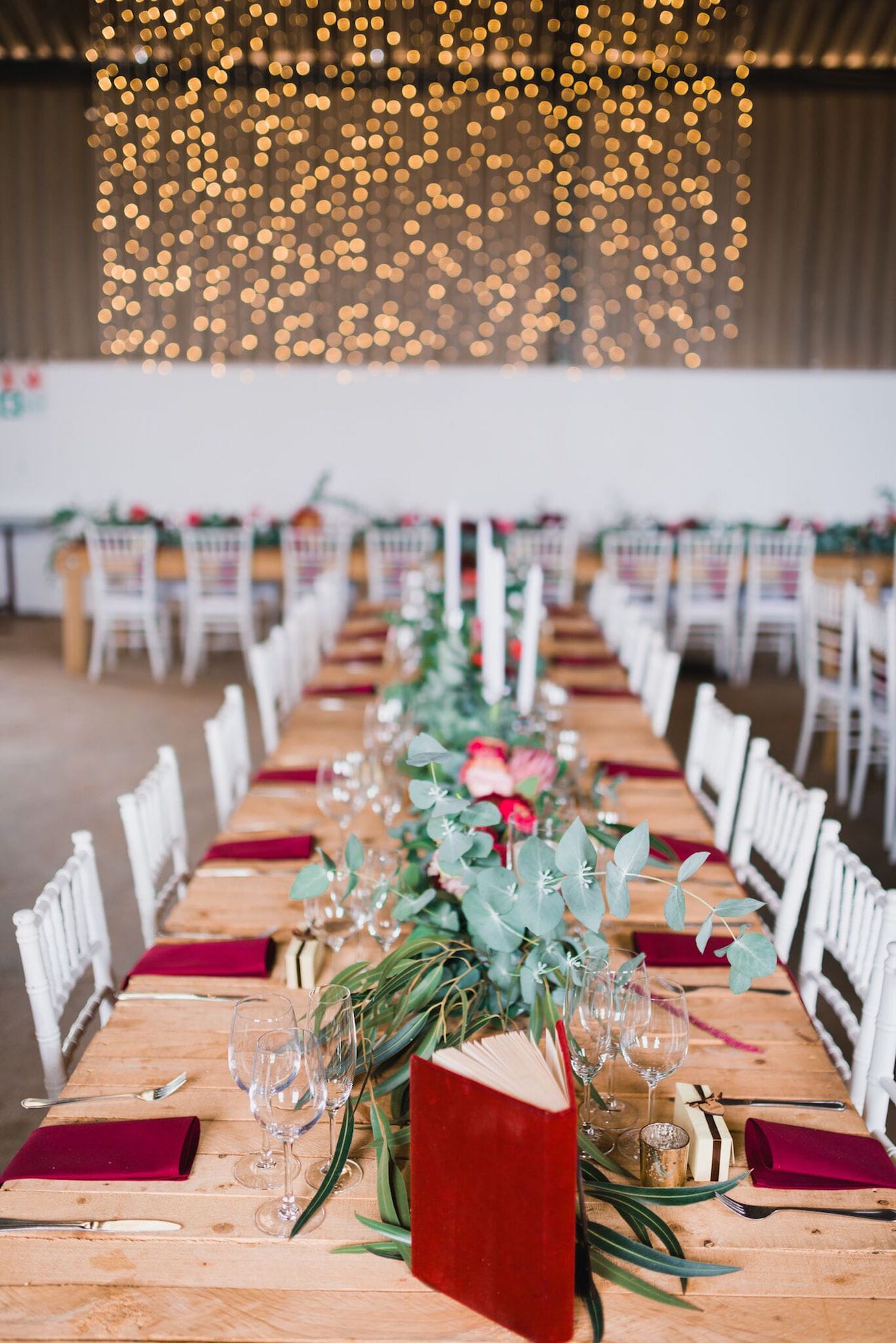 The Flowers
Proteas. I'm in love with proteas!
Memorable Moments
I loved the planning of the whole day and every moment of it. But the best moment was to walk in the shed and see how all the planning just worked out perfectly, ever detail of it!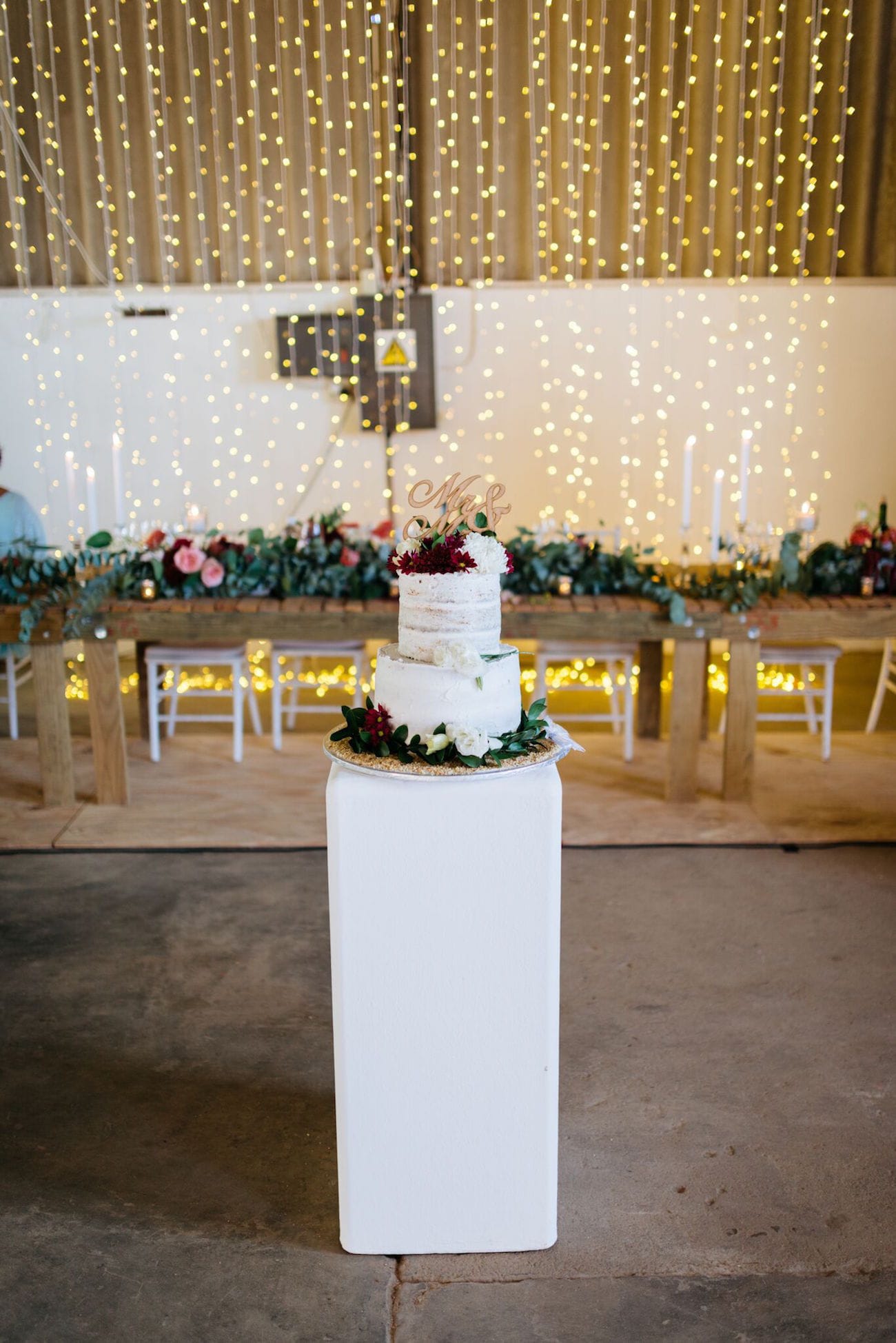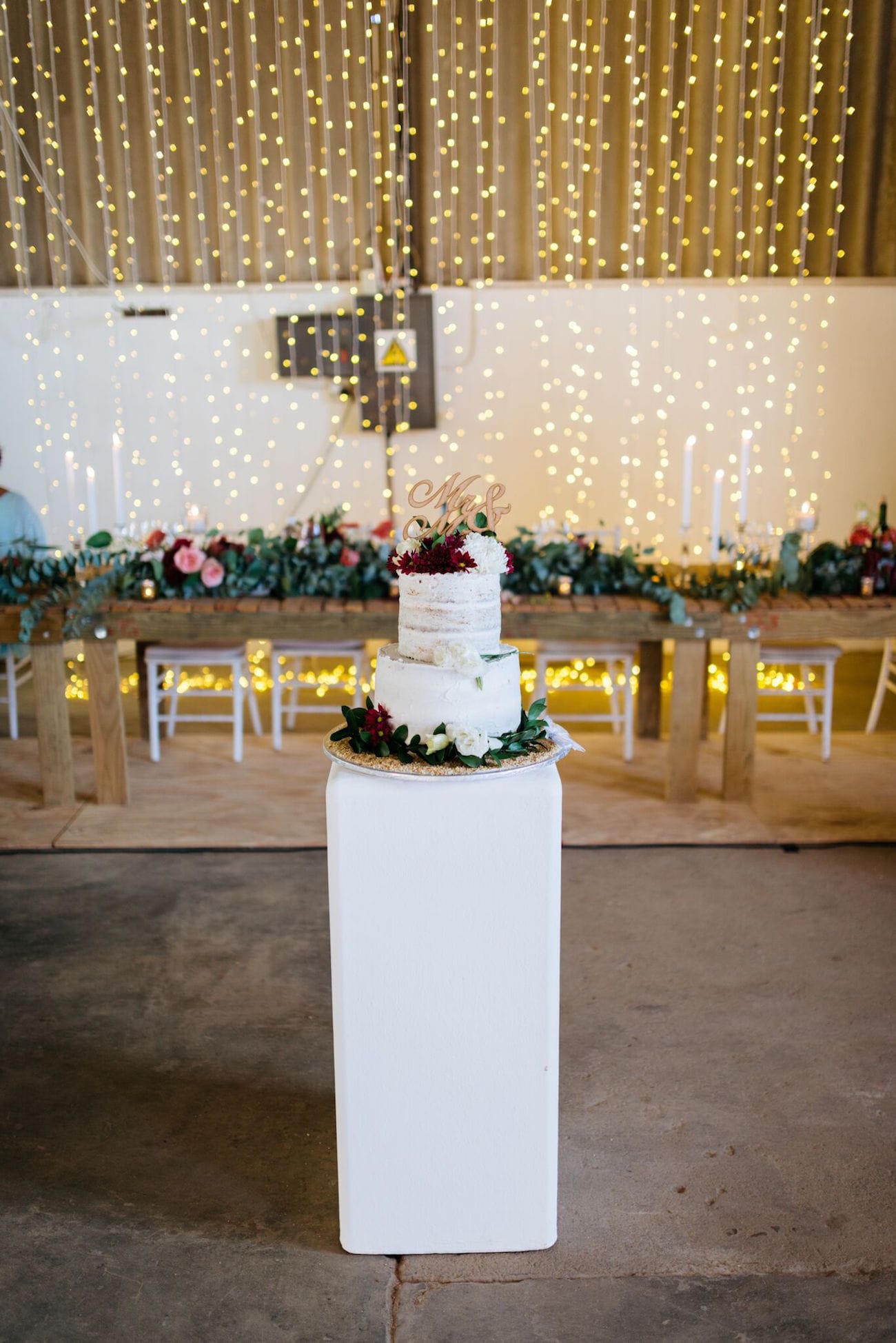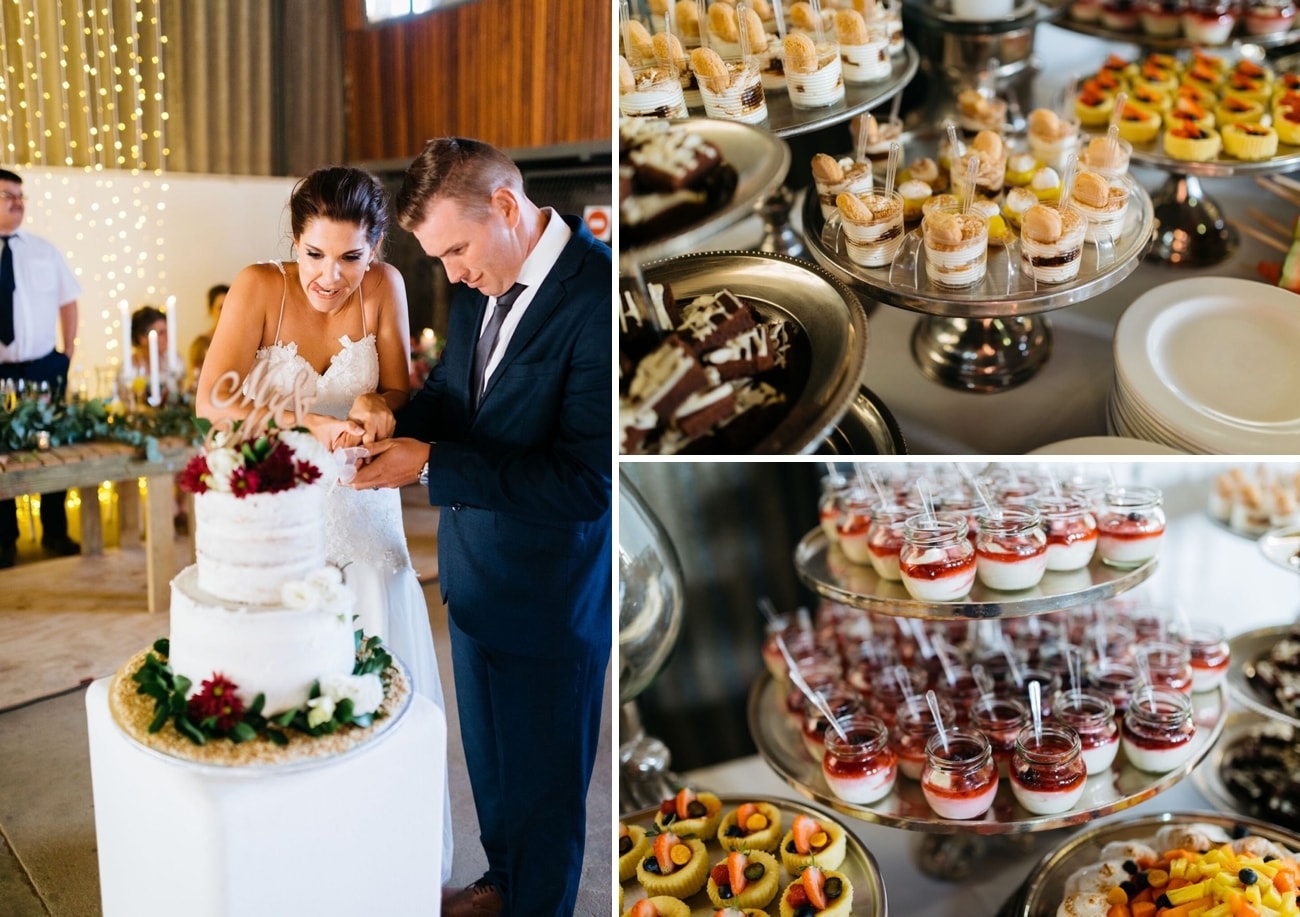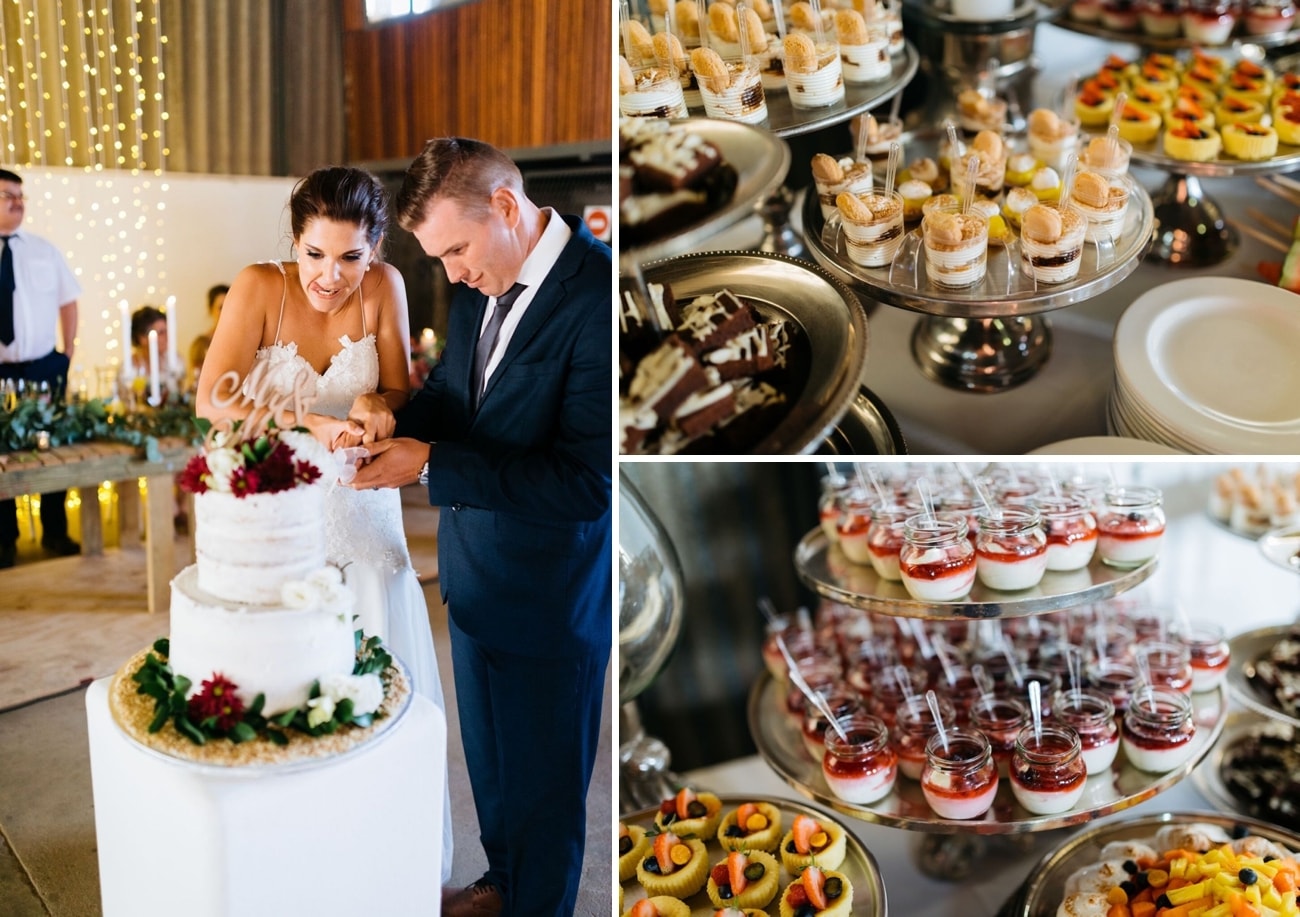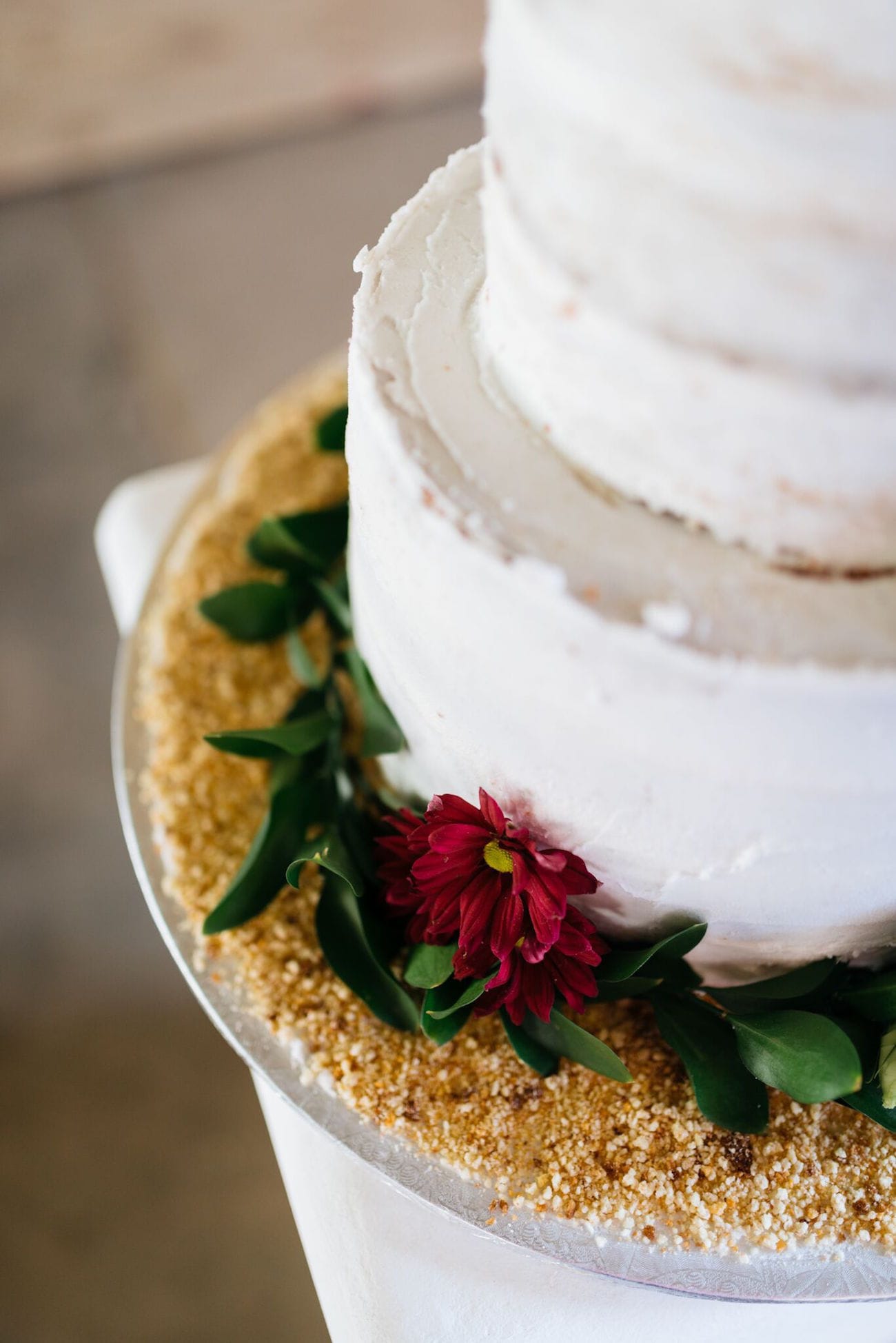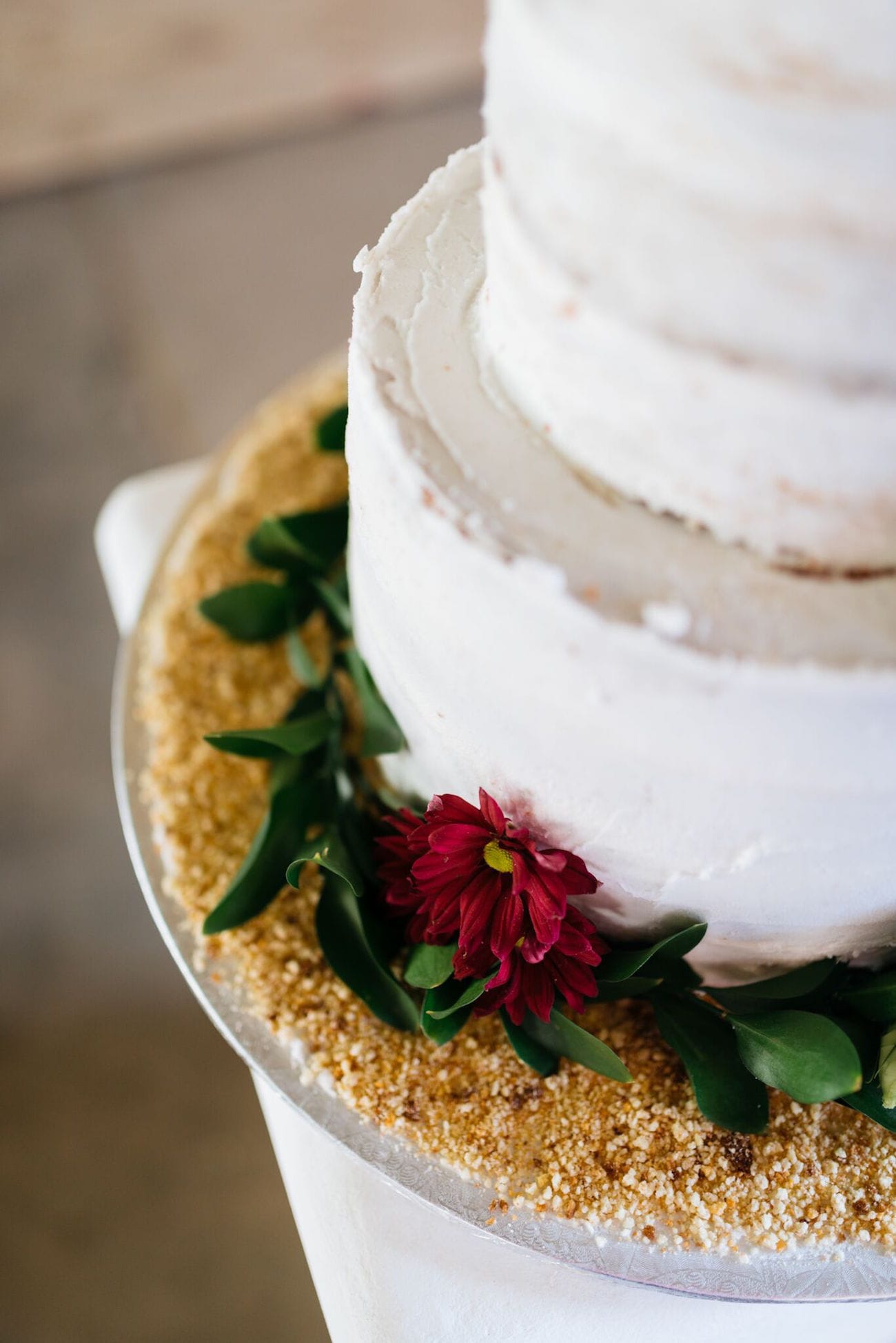 Best Decision
My food – every guest complimented us on it!
Advice for Future Brides & Grooms
Don't stress – it's so unnecessary!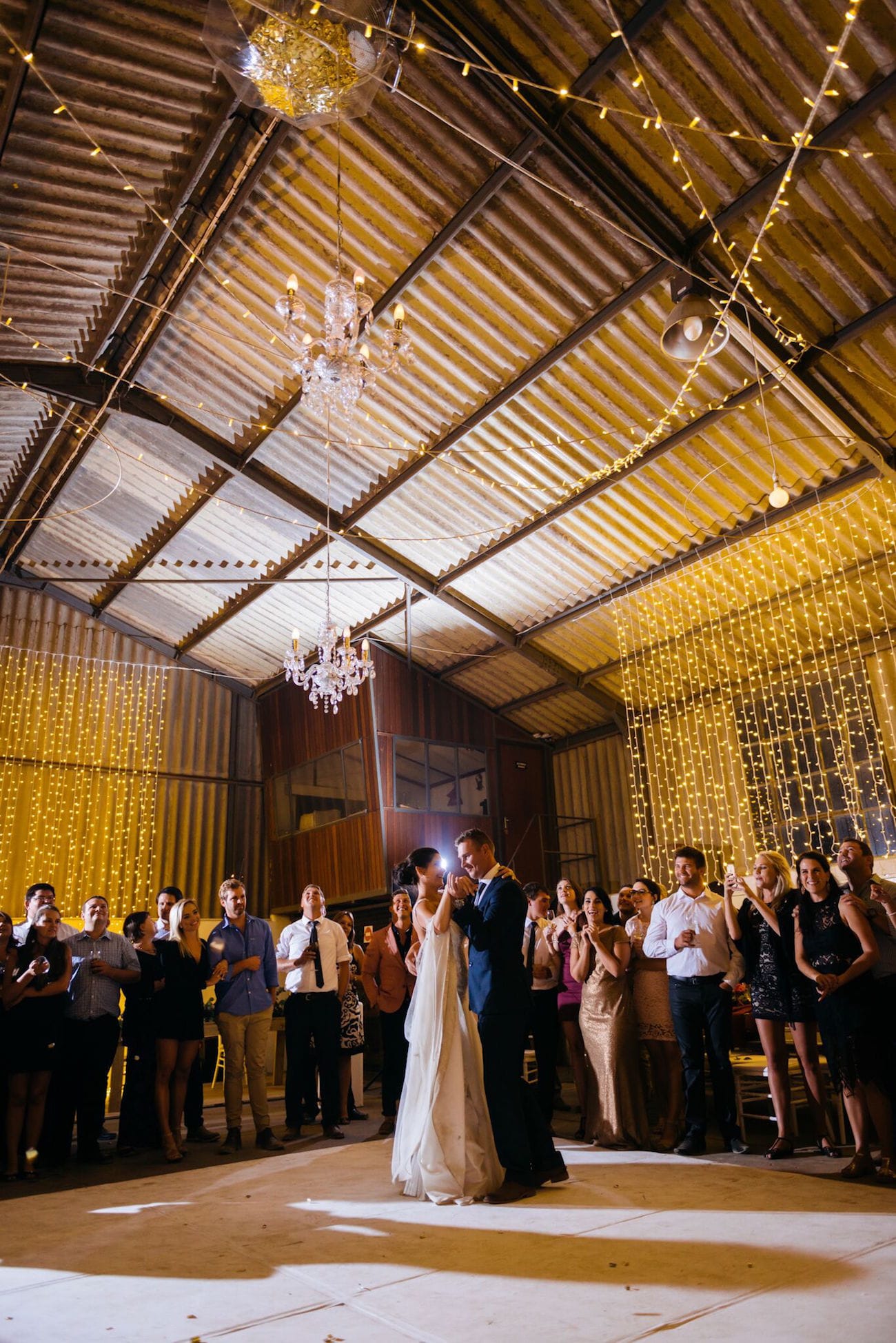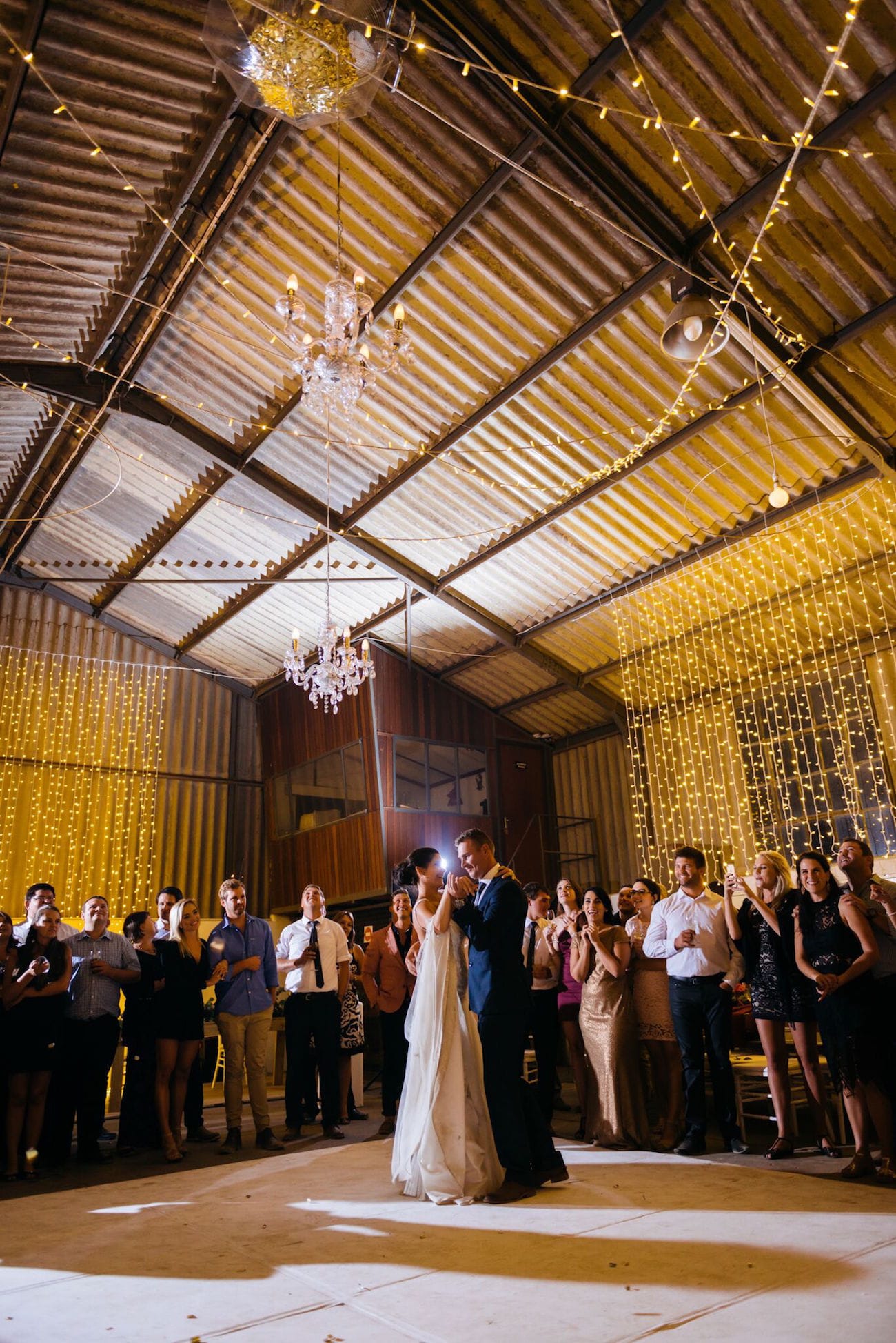 SERVICE PROVIDERS
Venue: Oakdene Farm, Wellington | Catering: Poline Catering | Photography: Matthew Carr | Flowers & décor: Lizel Floral | Cake: Lize Fleum | Bride's dress: Bride&co | Hair & makeup: Iza Cloete | Bridesmaids' dresses: Anri Ham | Groom's attire: Suit and Hire | Hiring: Goeters + Basson & Basson + Deejays Paarl | DJ: Deejays Paarl