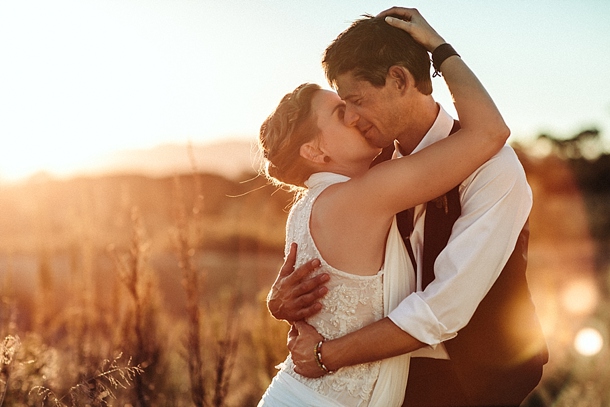 I love bringing you fresh wedding venues here on SBB, and they don't get fresher than this one (in fact, Deidre & Leon were the very first to get married at the lovely Little Farm on the Stream, a gorgeous olive farm in Wellington. They incorporated the intimate, rustic feel of the farmyard into their DIY-tastic celebration, which also has a lovely, earthy feel to it – the heart-stamp leaf confetti is my fave! I also love that this fun couple included a whimsical element, with both river stones (from their own trips) and toys in between the antique bottles filled with wildflowers on the tables. There are so many gorgeous personal touches, right down to a handmade dancefloor, which is where they closed out the night with one final, incredibly romantic, dance. Sigh! And speaking of fresh talent, I'm so happy to welcome photographer Kristi Agier to SBB for the first time too!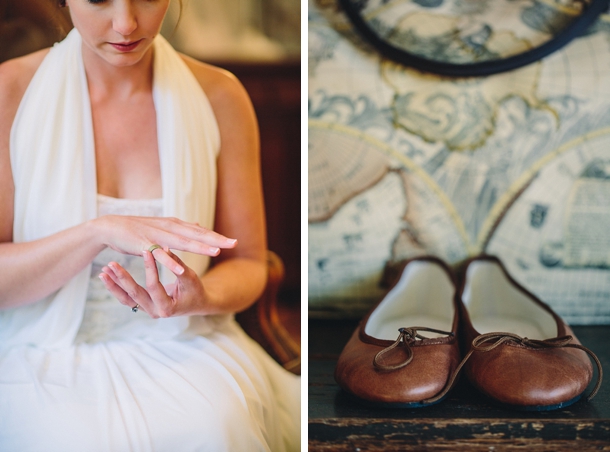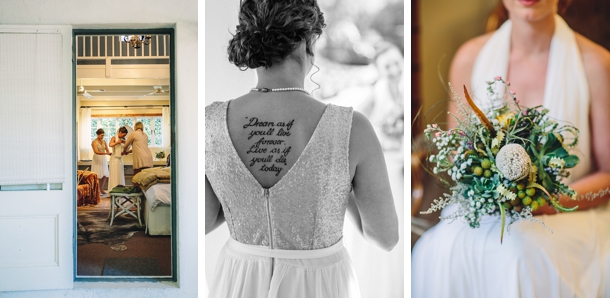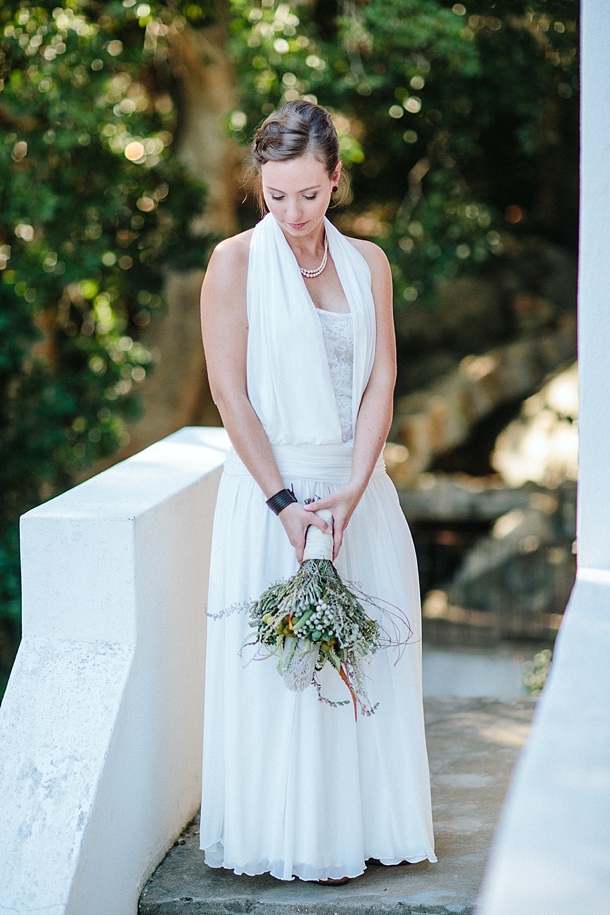 Love Story
Our journey together started in my beautiful hometown, Parys, on the banks of the Vaal River. Leon, a keen paddler, and I had just come home after two years travelling abroad and so our paths crossed. After that first stolen kiss at a concert in Potchefstroom our lives would never be the same again. It has changed a lot and often, we have lived in three different provinces, ten different houses, met lots of different people, many dear friends, climbed mountains, cycled trails, paddled and swum and in all this chaos and change only one thing was constant and true, the love shared between us two. After nine wonderful years of exploring, playing, laughing and loving, we embarked on our biggest adventure yet, starting our lives together as husband and wife.
The Proposal
One crisp June morning last year, while on a paddling holiday on the Orange River, in the cosiness of our little tent, Leon went down on both knees and asked me to be his wife. Without any hesitation I said YES!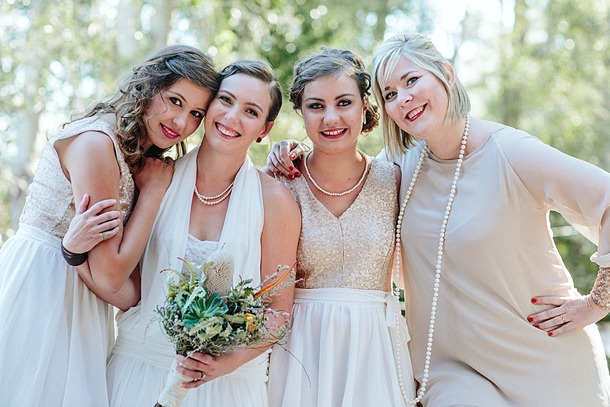 The Venue
We arrived at the Little Farm and felt relaxed and at peace and did not want to leave, so we knew there really was no other choice.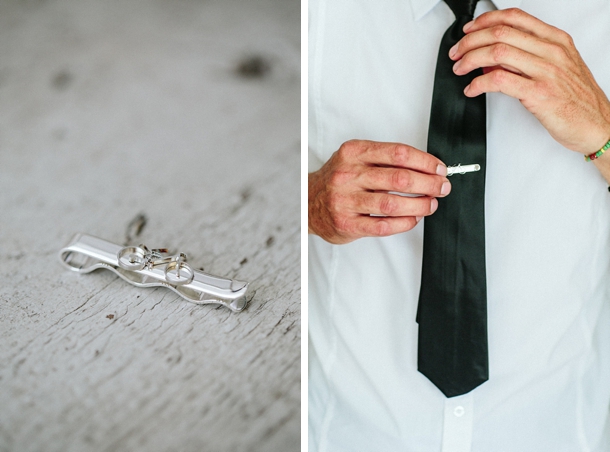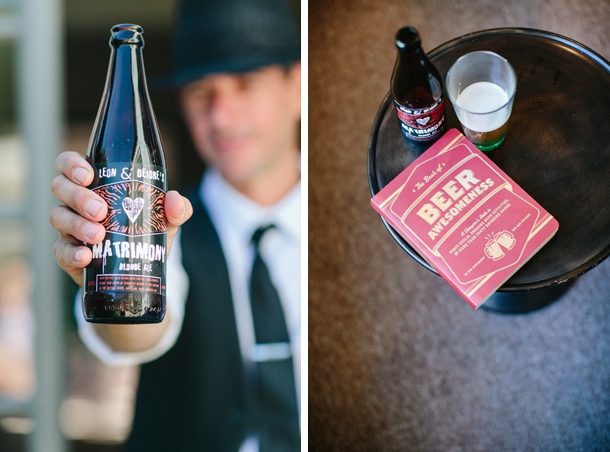 Wedding Style
Natural and earthy and very personal!
Wedding Details
Our table decor included heart shaped pebbles collected over many years, representing many happy days together in the mountains. All the toys also added a fun element.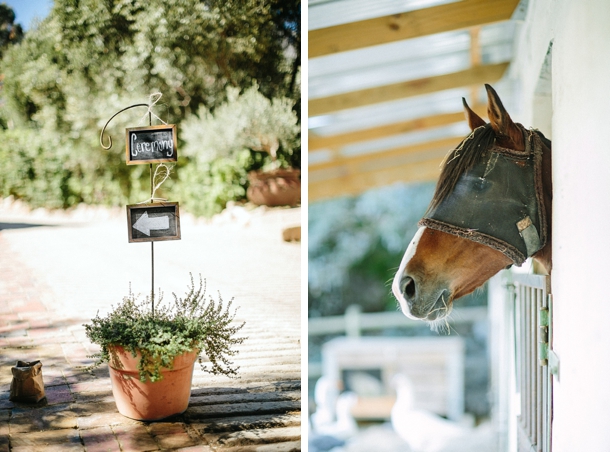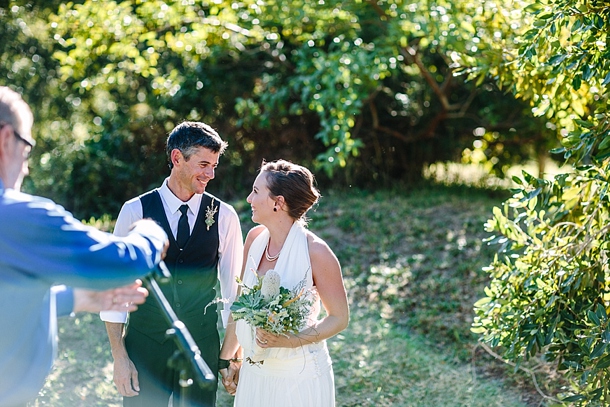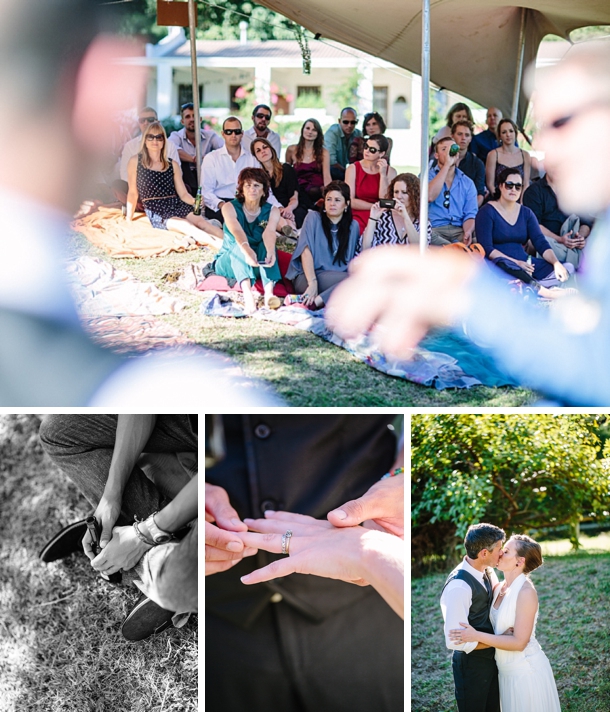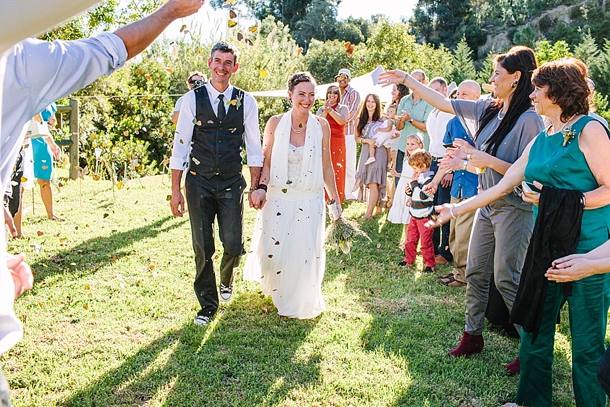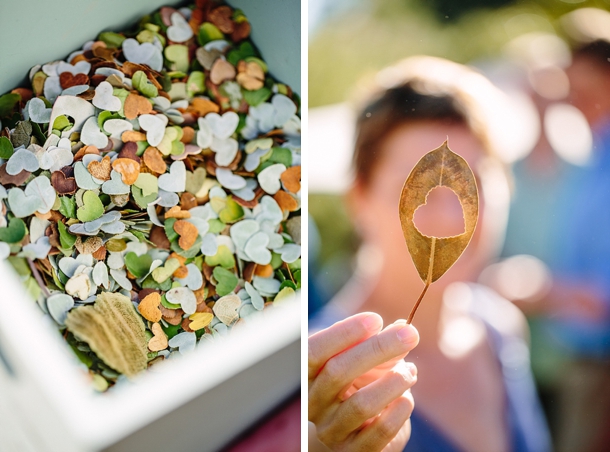 DIY Elements
Our confetti was one of our biggest DIY projects. I decided that I wanted something organic, so punched thousands of hearts out of many different leaves. We also got Leon's Mom involved in this project – she punched so many leaves and then travelled with them all the way from Durban. Our dancefloor was masterminded by Leon – he used wooden boards and covered them with checked floor vinyl. Such hard word but so worth it! Other DIY projects we took on with the help of our special friends were wax paper boats, lace covered Consol jars with candles, paper hearts, green chalkboards and hessian bunting.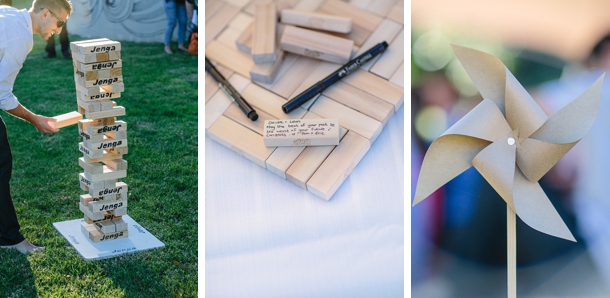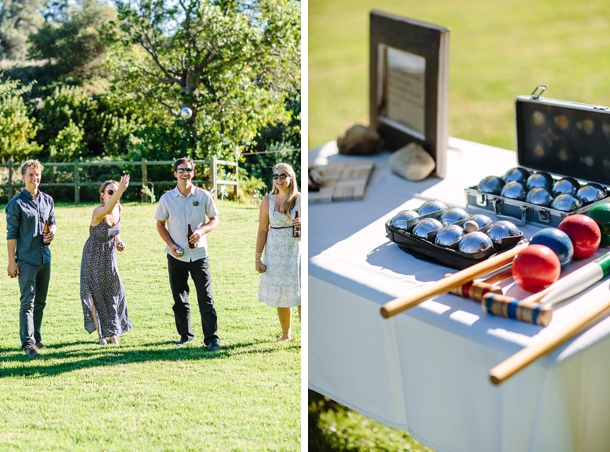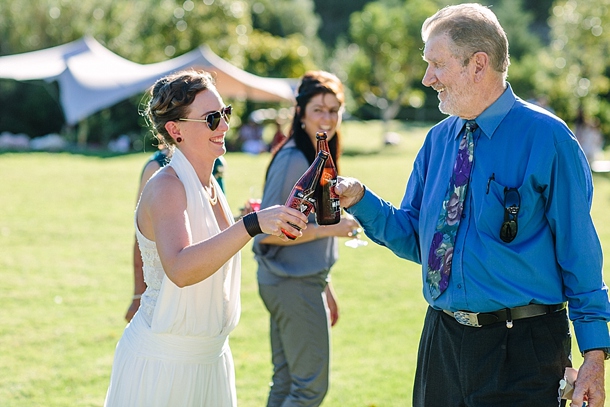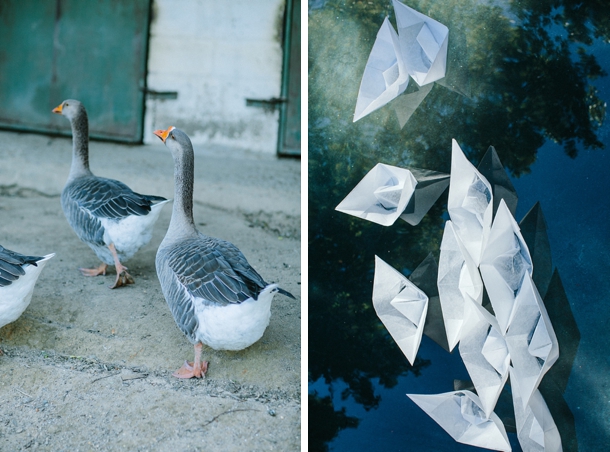 The Flowers
Succulents, fynbos, proteas, olive branches, rosemary and buchu carefully arranged by my bridesmaids in my grandfather's (dad's side) collection of antique bottles.
The Dress
A couple of years ago when a friend of mine got married I was lucky enough to meet her dressmaker Mrs Hendricks. She has been making wedding dresses for more than 40 years and has such a passion for it! I sketched a drawing of what I wanted and searched for 1920's dress styles and armed with this I arrived at Mrs Hendricks' door. And so the gown I dreamed up came to be.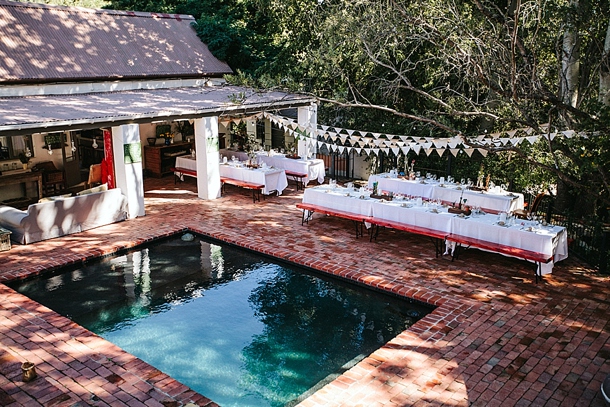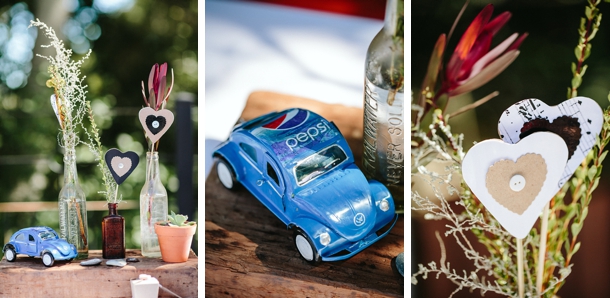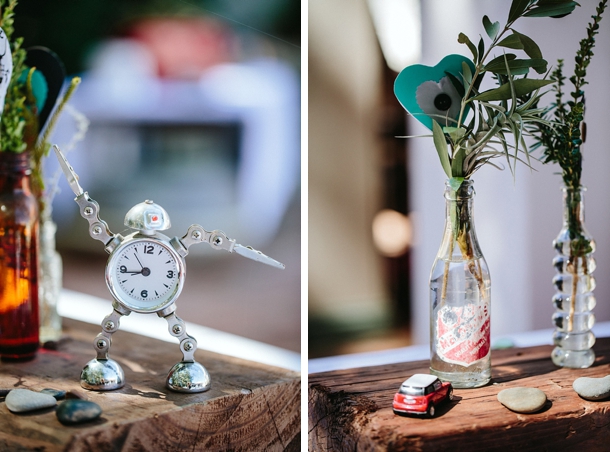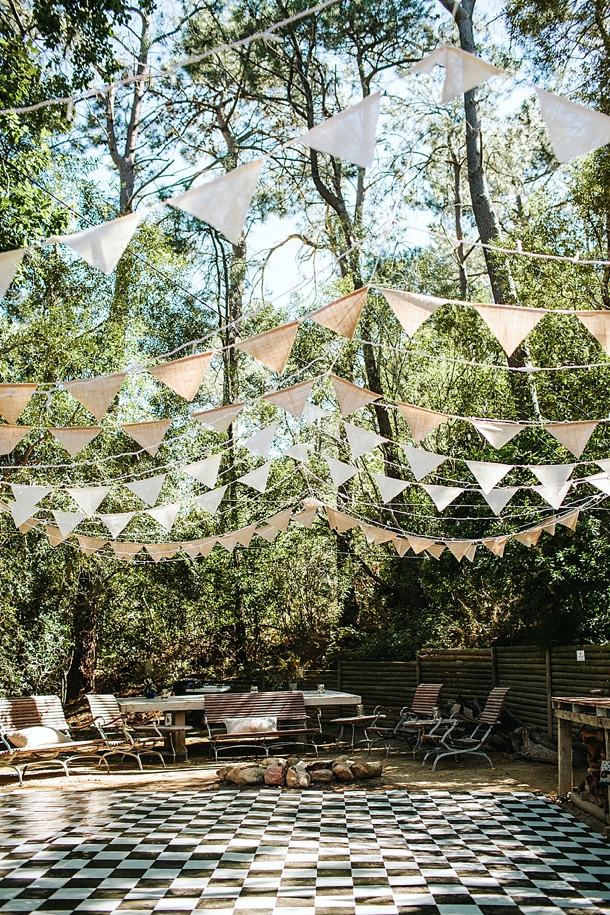 Memorable Moments
There were so many! The beautiful ceremony and Leon's face when I walked down the aisle, the celebration with our family and friends. I loved it all but I think most memorable was after everybody had left, just before we switched off our beautiful fairy dance floor lights Leon and I had our last dance and we took a couple of minutes to take in what had just happened and we felt truly blessed.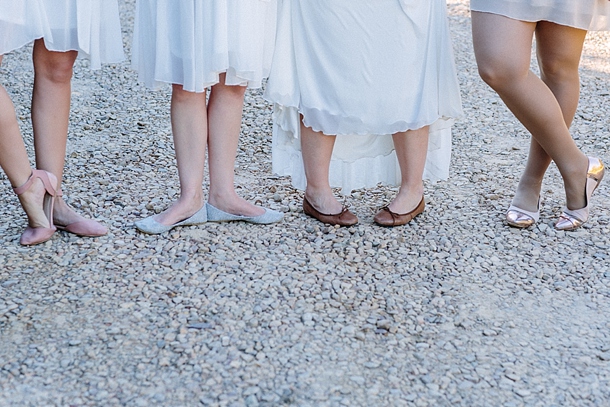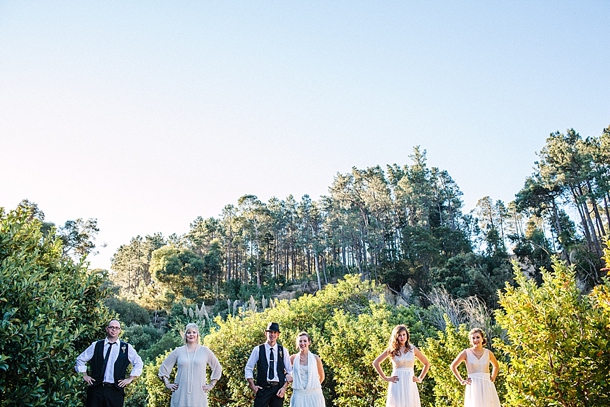 Proudly South African Details
In our catering we included many proudly South African dishes and delights: gingerbeer, fresh homemade bread, mini boboties and chicken pot pies.
The Honeymoon
We didn't have too much time but thought it was important to get away for a couple of days, just the two of us. So we went on a little road trip. For the first three nights we stayed at the beautiful Bergendam Cottage where we did not see one other person – absolute bliss! After that we did a couple of nights in Struisbaai, Cape Agulas and then Montague.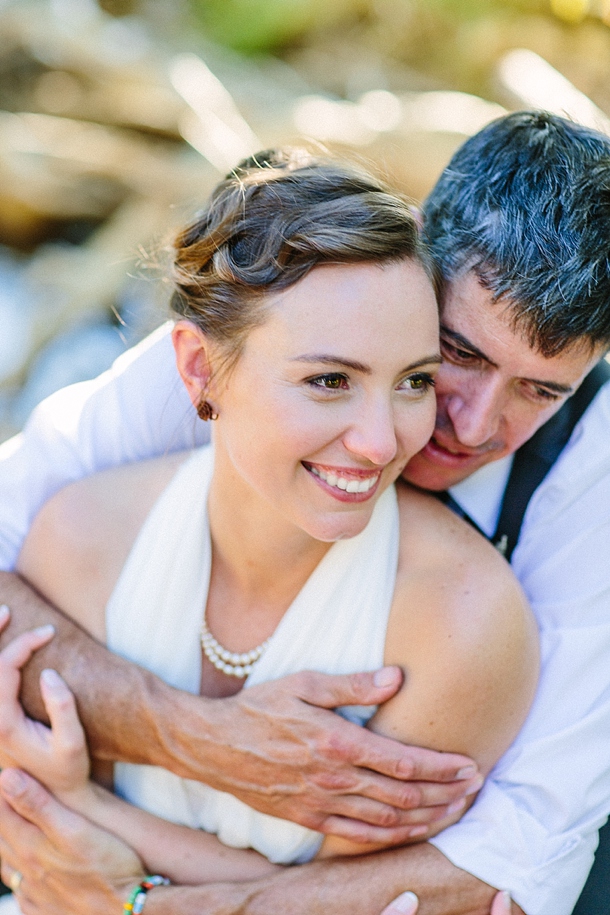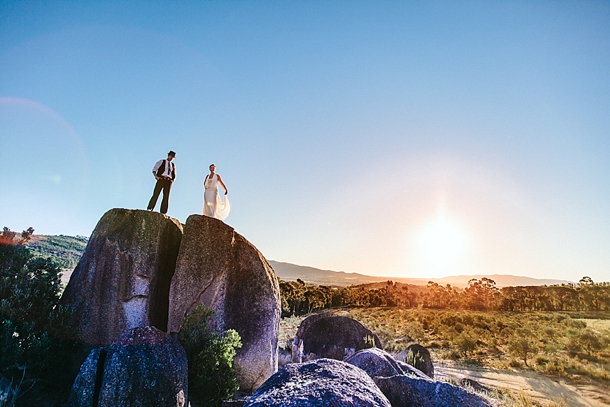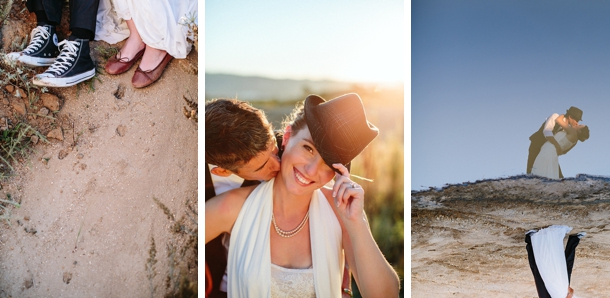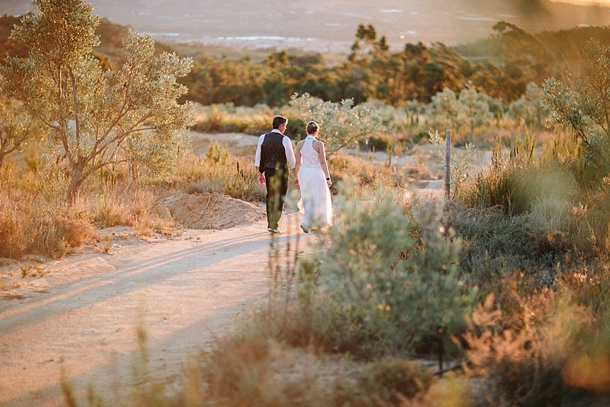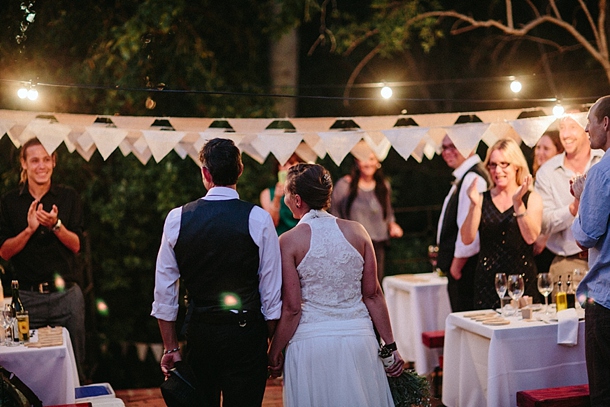 Advice for Future Brides & Grooms
Be as prepared as you can be, then just sit back on the day and watch it unfold and enjoy every minute. Don't let little details stress you out!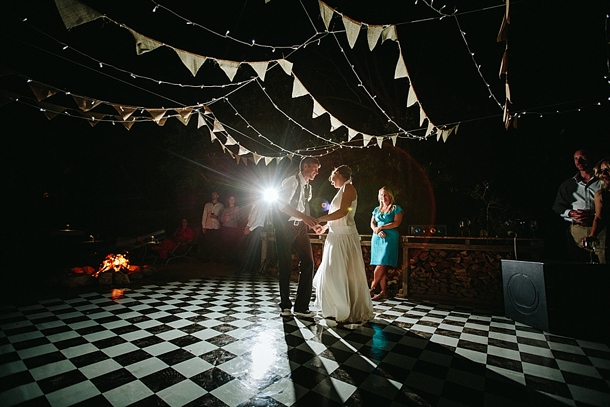 You can see more from this wedding on Kristi Agier's blog.
SERVICE PROVIDERS
Venue: The Little Farm | Catering: Erlo & Rendil from King's Catering (absolutely exceptional!) | Photography: Kristi Agier (I could not have wished for a better photographer, she captured all the moments perfectly. She made us feel so comfortable with her soft presence, I can truly recommend her.) | Cake: Ursula Pieters (groom's sister) | Bouquet & boutonnieres: Aartsappel | Flowers for tables: Bunches for Africa |Stationery: Nearly Weds (we didn't want to print anything so used online invitations instead) | Bride's dress: Mrs Hendricks | Bride's accessories: All antique pieces from bride's grandmother | Hair & makeup: Donna Tailor from the Make-up Madonna | Groom's tie clip: FreeRange Jewels | Hiring: All Events (tables & benches); Table Cloth Hiring Company (tablecloths); Family Games (lawn games) | DJ: Nadia Sanetra (082345025) (People kept complimenting her choice of music and how she worked the crowd. When you combine a wine scientist and a music nerd = best DJ ever.)