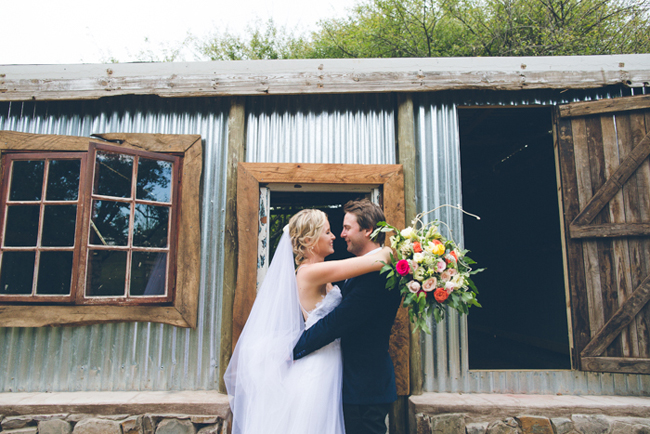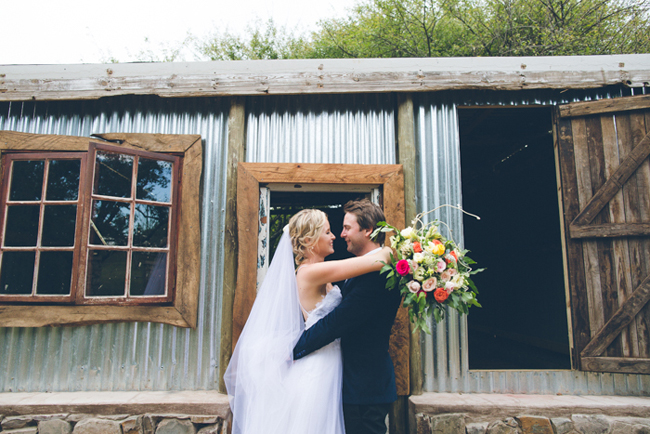 If there were ever a pair to give us #CoupleGoals, then it would be Kelsi & Tim. They've already been through more than many couples do in a lifetime, after a near-tragic car accident three years ago left Kelsi with over 20 broken bones, and a long road to recovery, where she had to learn to walk again. Tim was there by her side all the way. Today, Kelsi still struggles with constant pain, but you wouldn't know it from the positivity, devotion and joy that radiate from the couple, especially on their wedding day. It's a reminder of what really matters – the love and commitment at the centre of a marriage, which eclipses all the pretty details. But, as it happens, those pretty details are also in abundance, with the flower-loving duo choosing a bright palette of yellows and pinks and oranges and creams, with touches of copper to add a sophisticated edge. And speaking of sophisticated, the lovebirds rocked their own looks – Tim in a velvet blazer, and Kelsi in an exquisite custom-made gown from SBB fave Hanri Lues. And let's not forget photographer Katie Wisdom, who was on the scene to take these beautiful photos!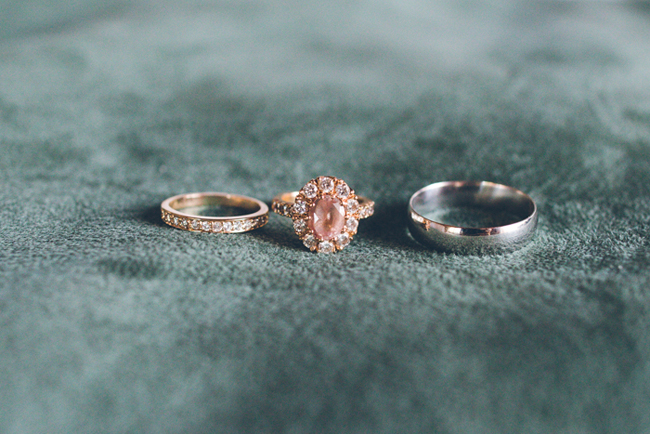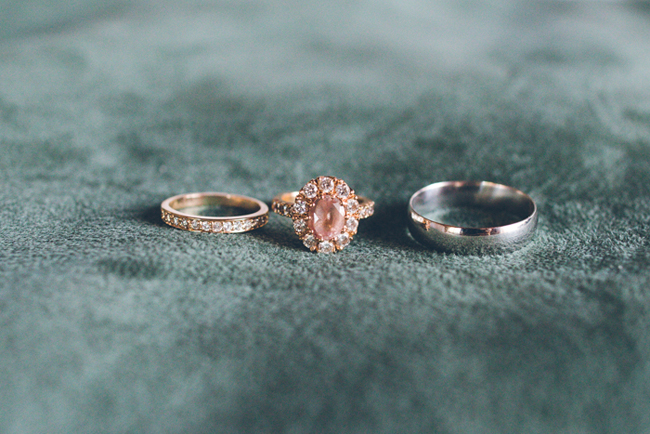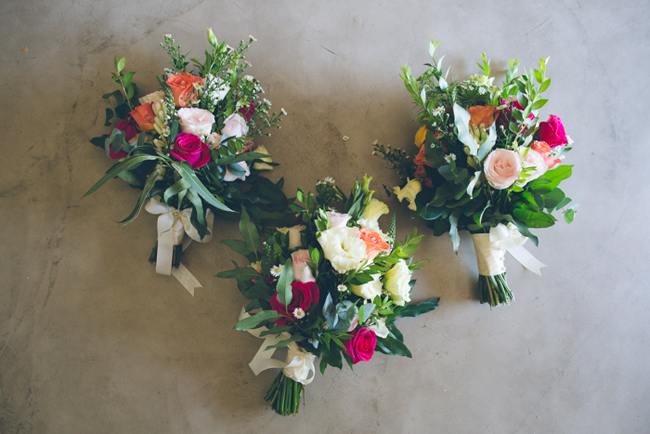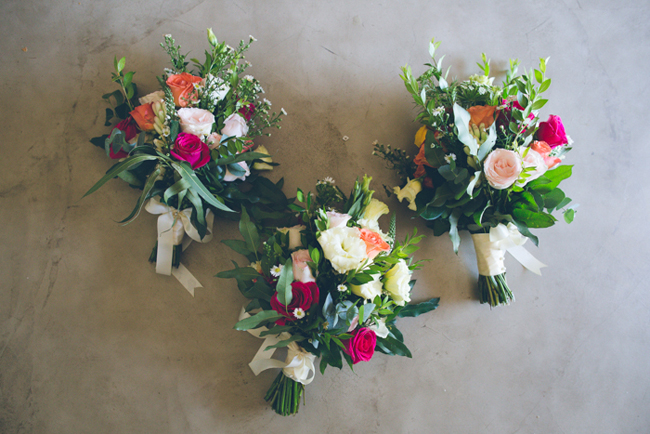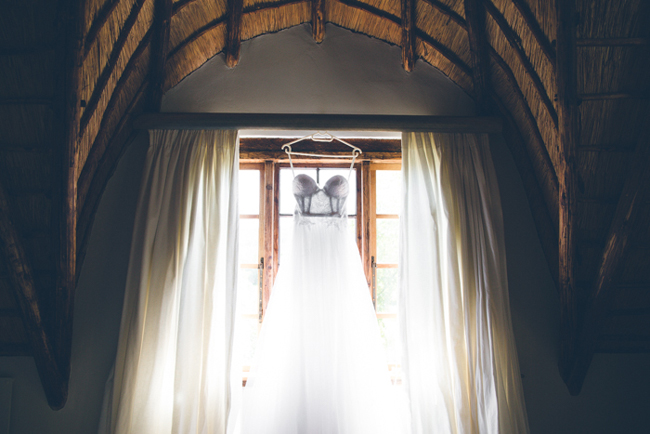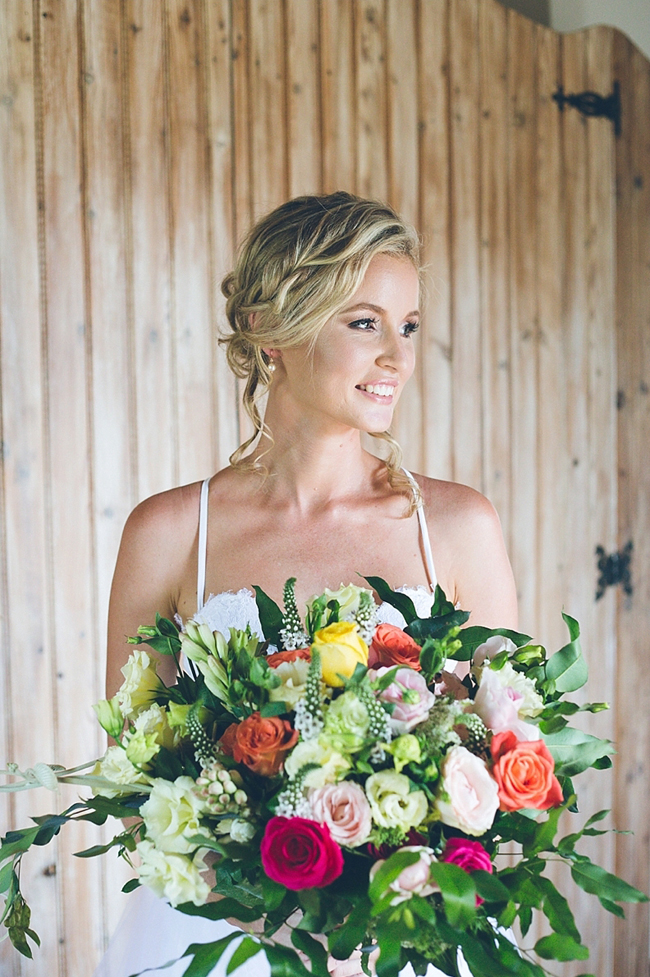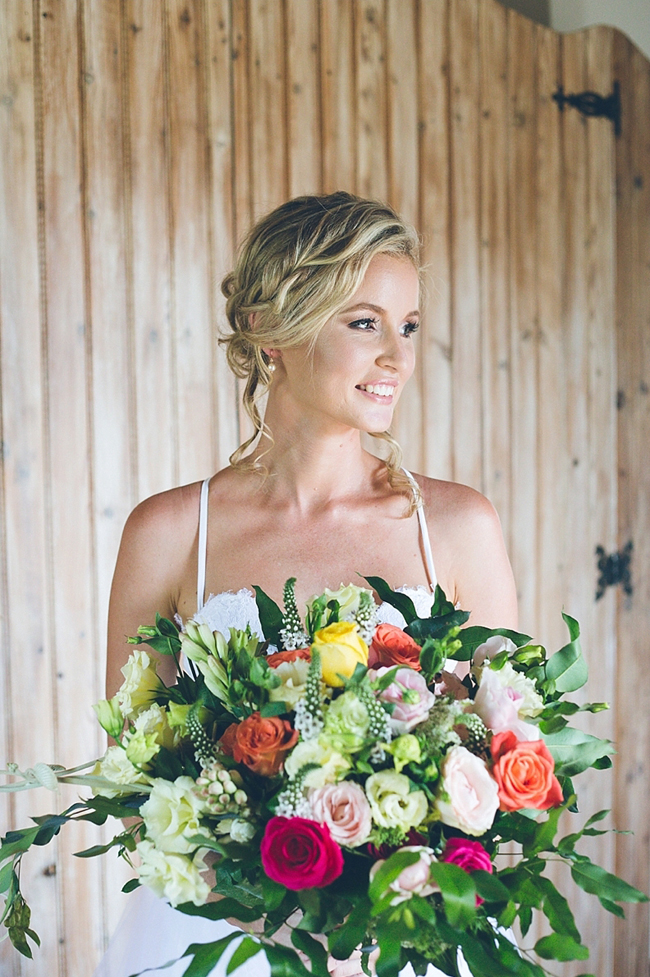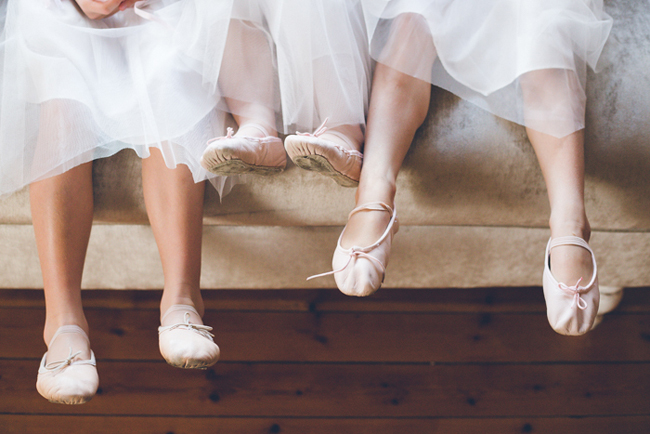 Love Story
A mutual friend had told Tim about me and vice versa. He had connected with me on Facebook and that was that for a long while. Durban is a pretty small place so we were bound to meet sooner or later. I had just come home from a trip to Cape Town and went out for drinks and there was Timmy. He didn't give me the greatest first impression, but he was very persistent and his hard work paid off – six years later we got married ;)
The Proposal
It was New Year's Day. I can't drink so Tim was struggling through the day by himself. We had been to his parents' house for an early dinner and as we were leaving he asked if I wanted to open a Christmas cracker at home. I thought it was a little random, but Tim is well known for his randomness. Once we got home, I had forgotten about it, and was just lying down on our bed. Tim came in with our furchild, Daisy, and said she wanted to open up the cracker with me. She jumped up on the bed and we opened it together. I got the 'bigger' half and Tim asked what was inside? I didn't really look in too much of a hurry because I remembered that there wasn't anything worth getting excited about over Christmas. I was more interested in seeing what Daisy was doing. I then turned it over and this ring fell out. I thought, I don't remember anyone getting any rings in their cracker over Christmas, I then picked it up and saw it was real, I looked at Tim, and WITHOUT (!) getting down on his knee, he said "Will you marry me Cheeky?". Tim did so well, it was nothing overly fancy but I couldn't have planned a better proposal myself! (Except maybe just him getting down on one knee, haha.) I had always said I wanted my pup involved somehow and we got to share the moment, just the two (three) of us for a while, before letting family and friends know.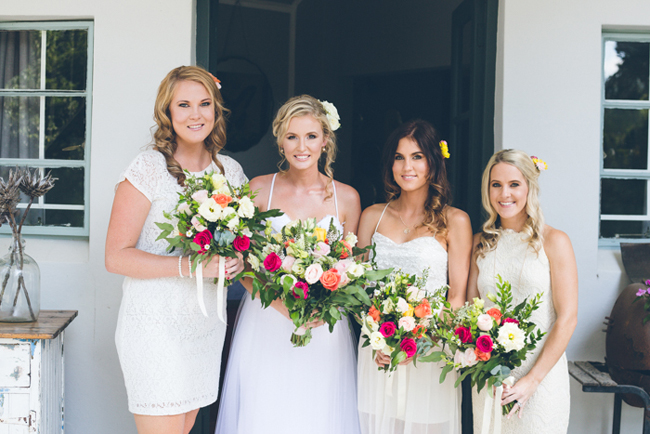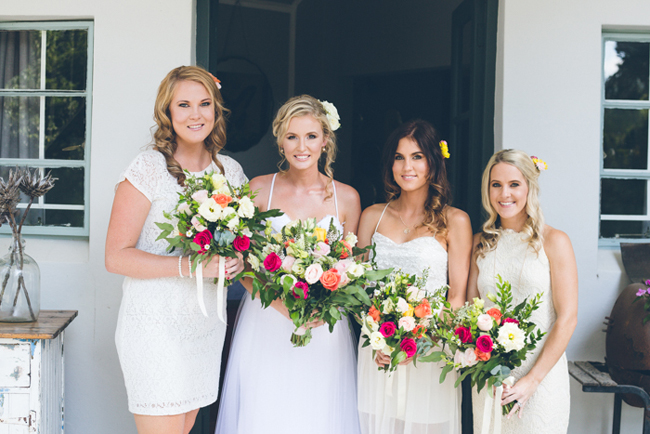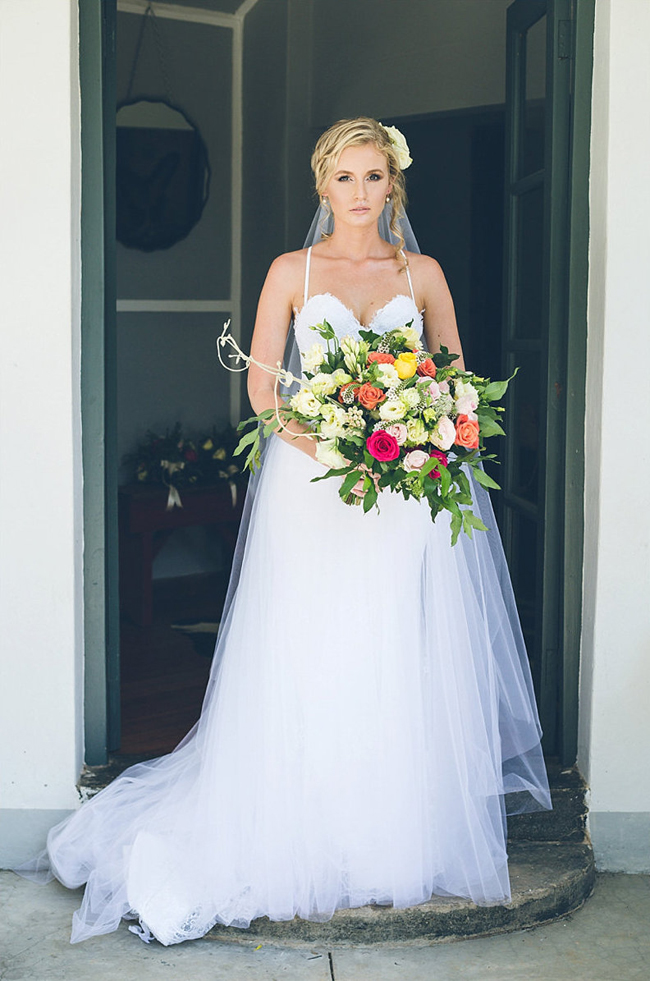 The Venue
I had been to see a couple of places with my mom and sister and I had liked most of them, but nothing had really 'wowed' me. Tim's mom and aunt had also been on the lookout for us and recommended we go and have a look at the Orchards. Tim and I were in the Midlands for a wedding and decided to phone the Orchards on the Sunday morning to see if we could pop past to see it quickly. We both absolutely loved it. It was so us. It is a venue that will allow for almost any vision or style you have for your big day. What we also found really convenient was that everything was there on site. Belinda, the owner, also really sold us. She was so accommodating and just so amazing.
Wedding Style
We both knew that we wanted a fun, relaxed, love-filled day that we could enjoy with our nearest and dearest. We didn't have a specific colour in mind, but my engagement ring is a peach sapphire set in rose gold, so I wanted to kind of base things on that. So we decided to have warm tones of shades of pink, yellows and oranges and lots of foliage too. Hints of lace and copper were also on our wish list.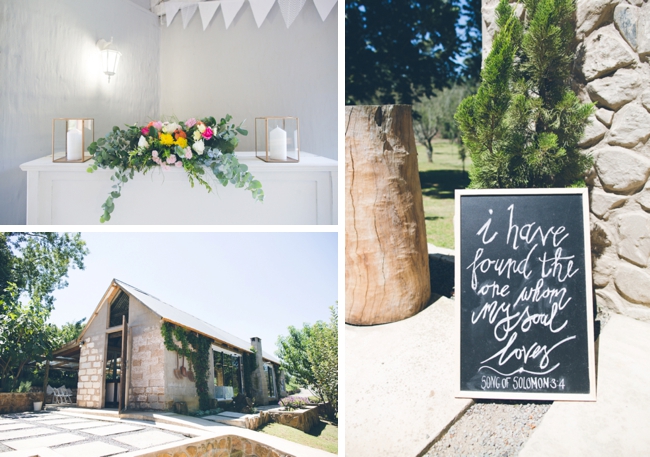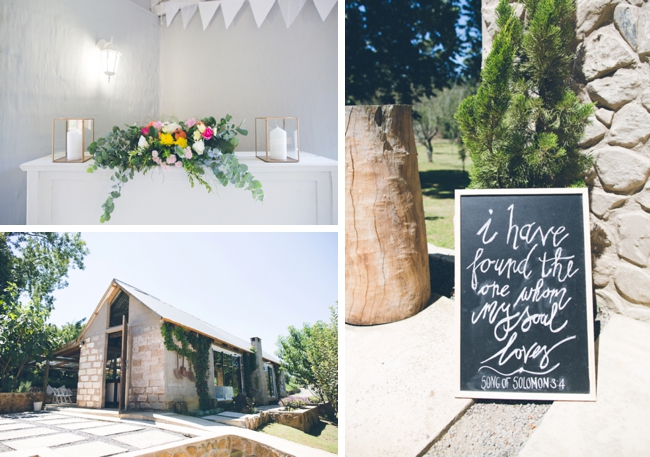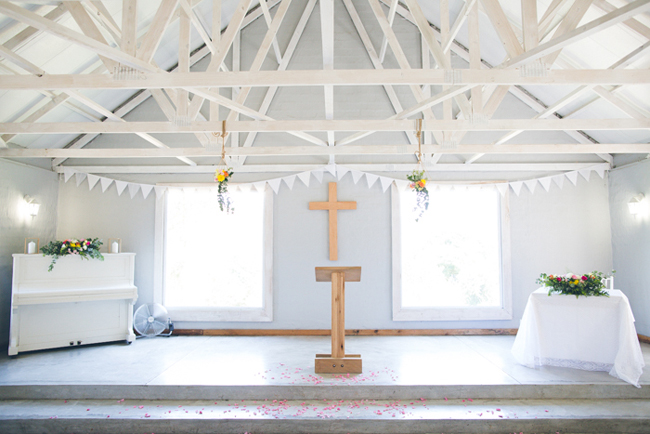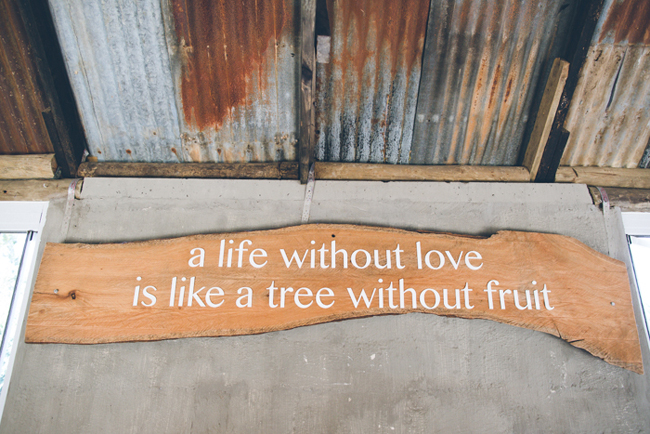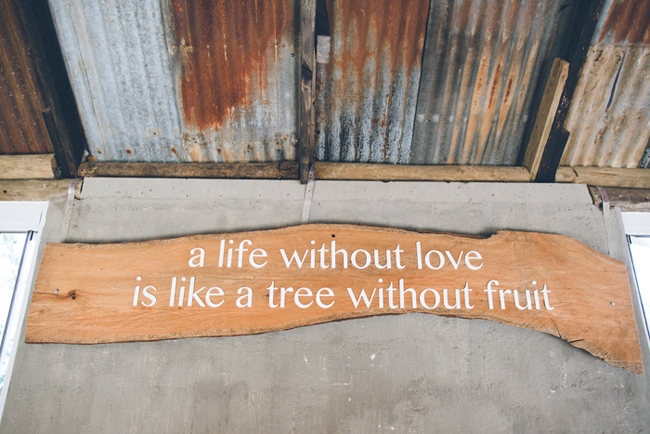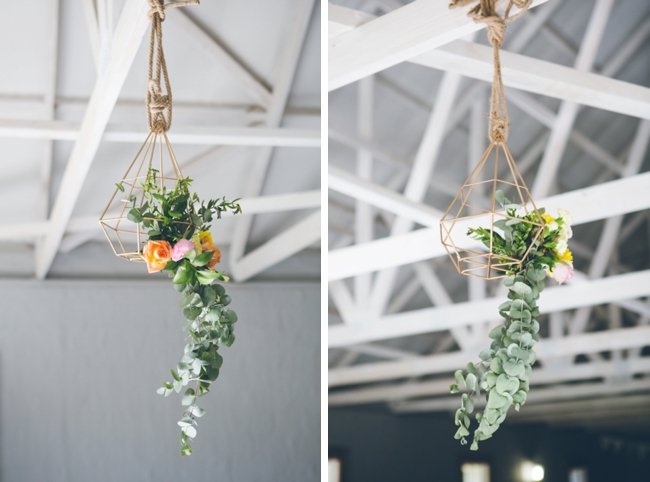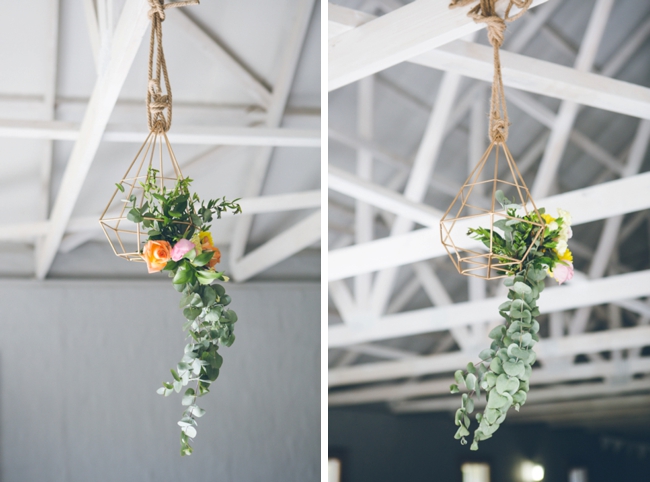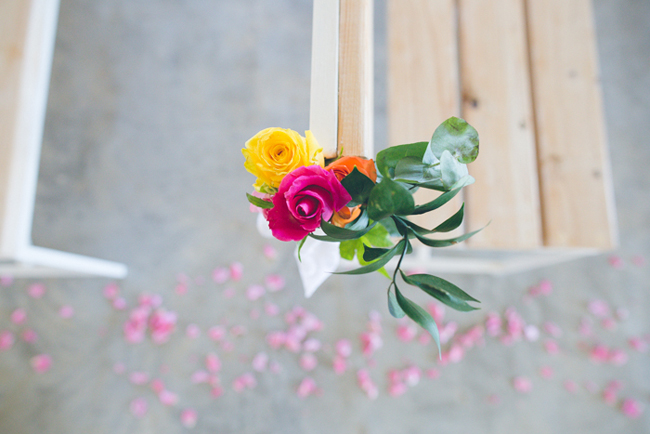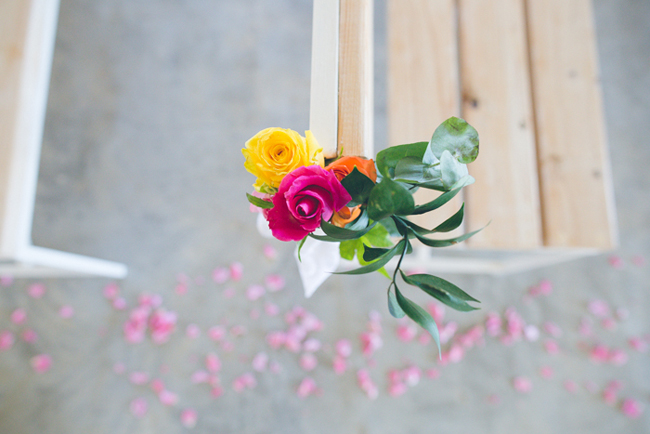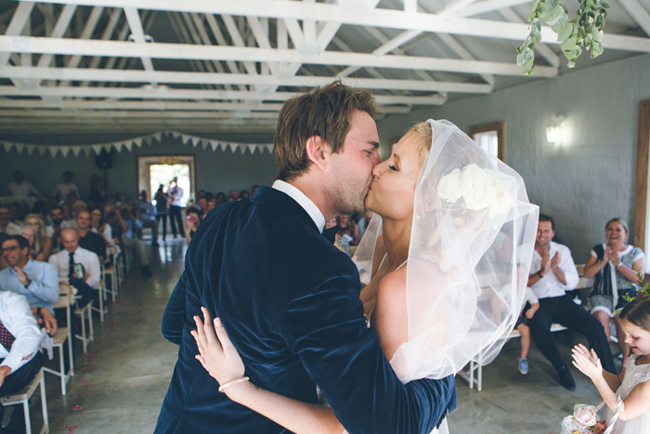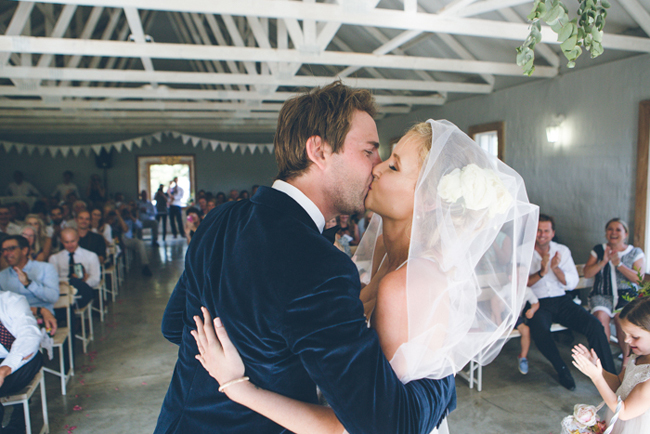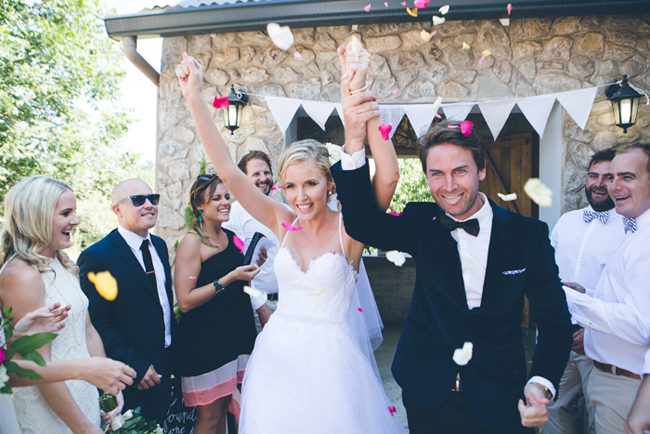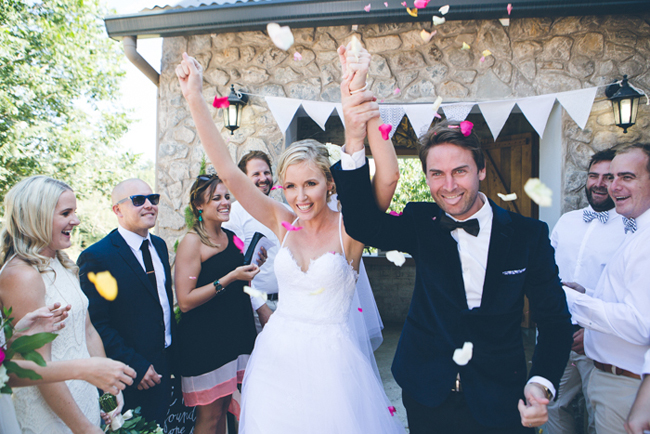 Wedding Details
Our two pups mean everything to us. We had a pic of them at the entrance to the church, 'welcoming' our guests. Our flowers were also something we both loved. Tim and I both adore flowers and both love colour. So the bright colours and flowers really suited our personalities.
DIY Elements
Yes, I made all our stationery, the save the dates, invites, ceremony programmes, name tags, seating plan as well as our guest favours. I enjoy doing that sort of thing and it also saved us quite a lot. All our signs were made by myself and Tim's aunt. Lastly, my bridesmaids, my mom, Tim's mom and aunt and myself did all the chapel décor ourselves. It was such a nice bonding time for the day before.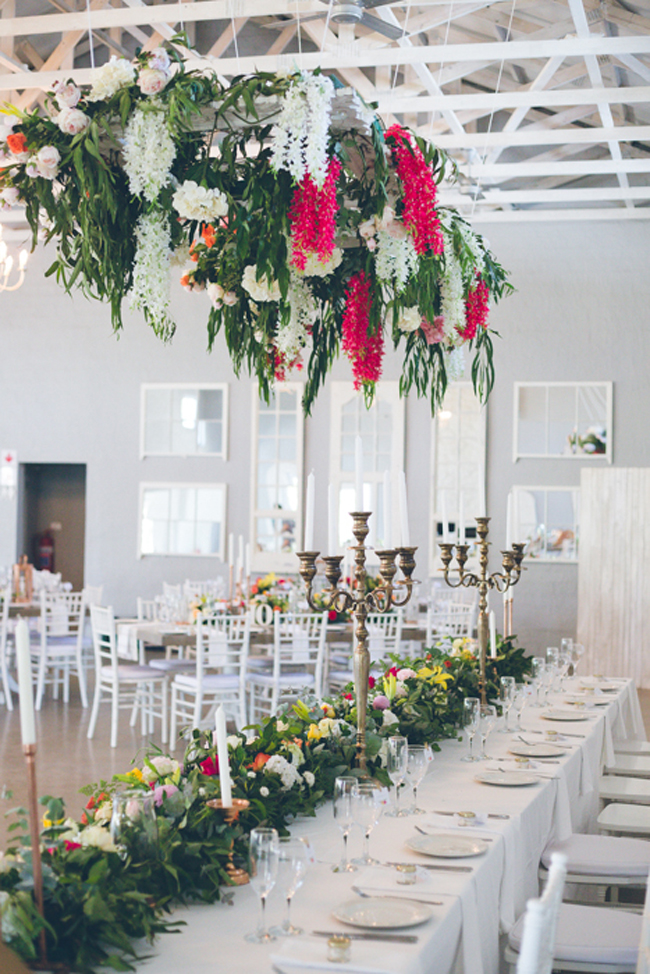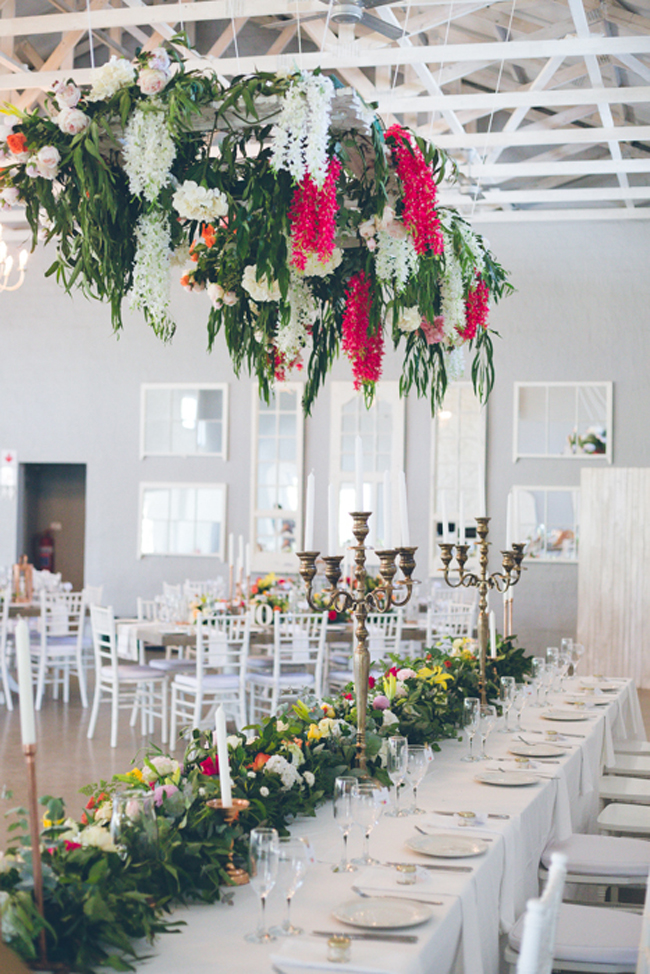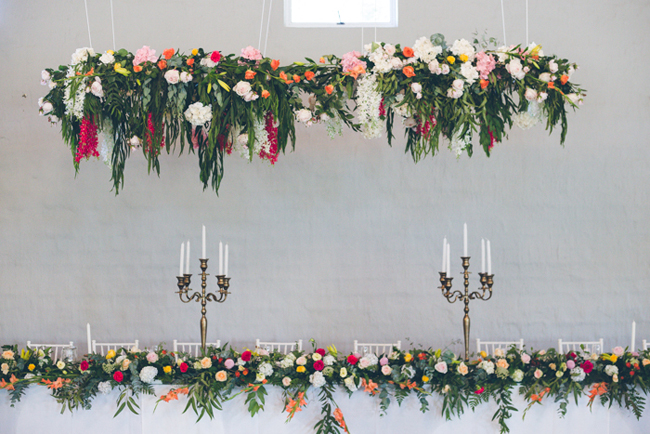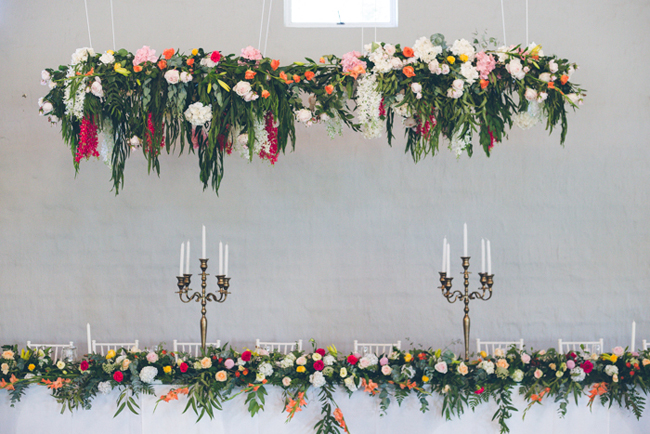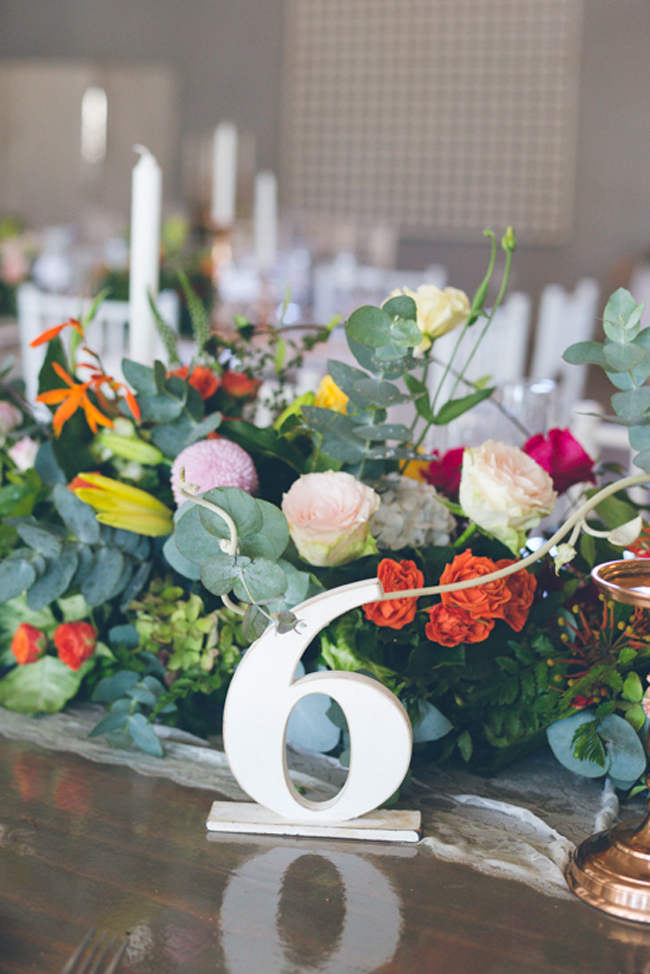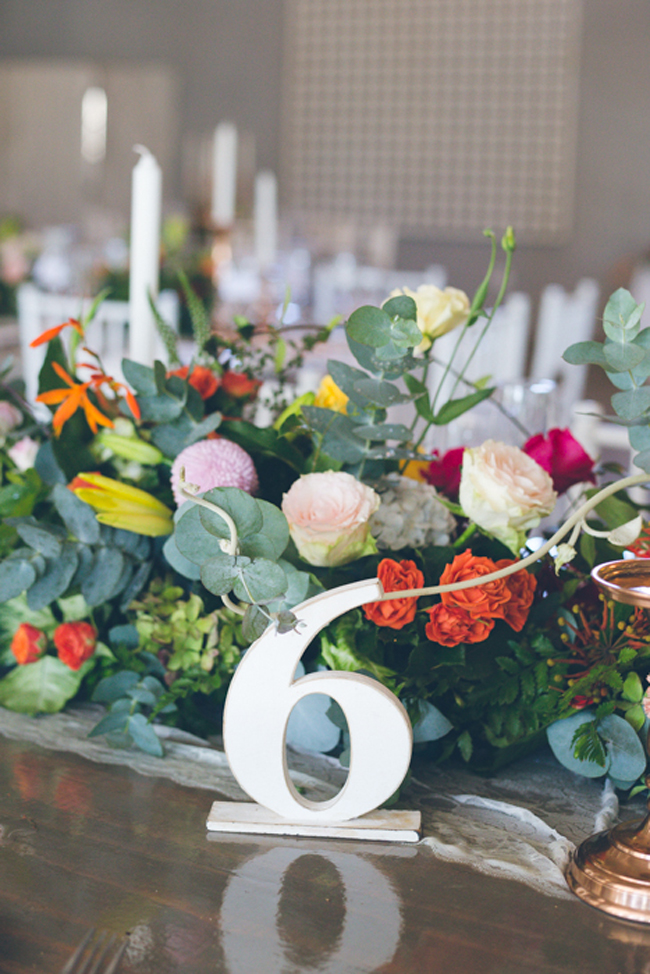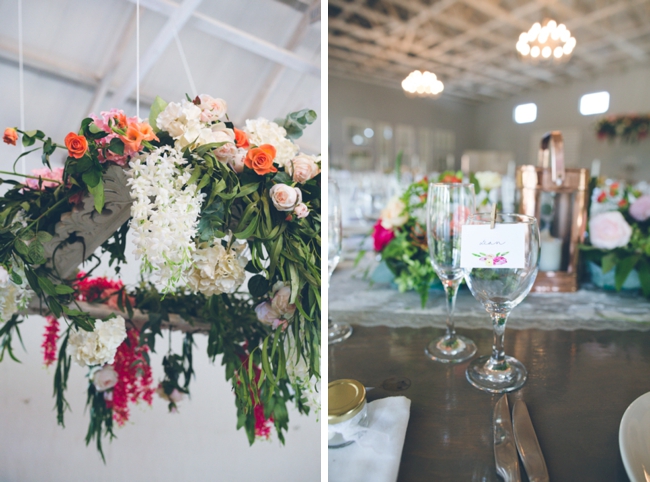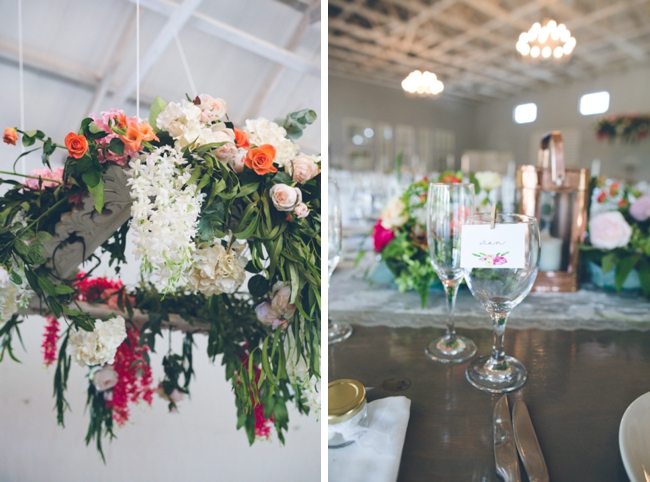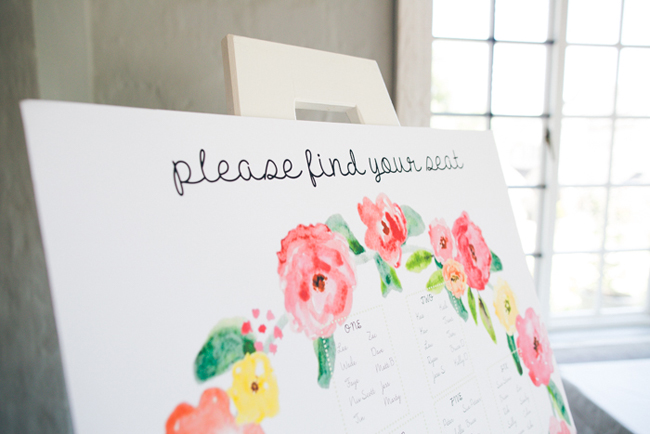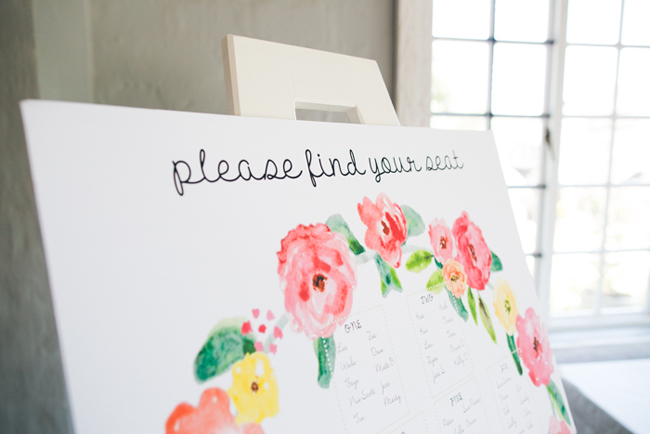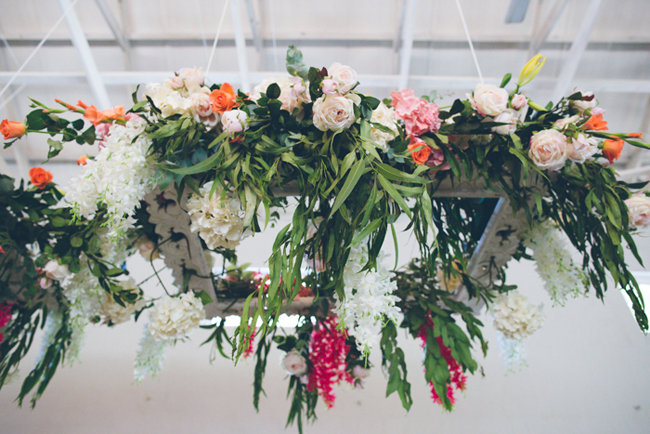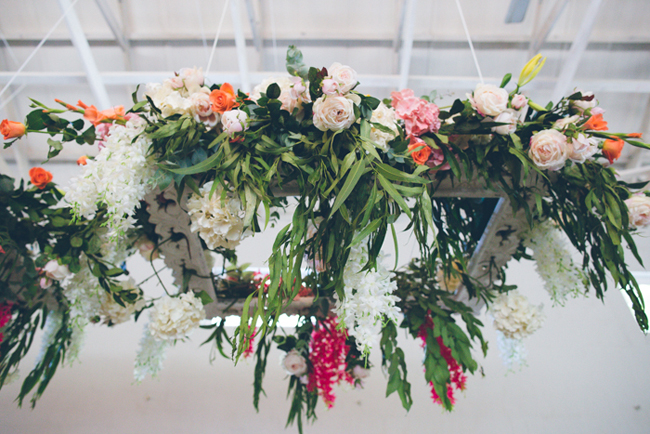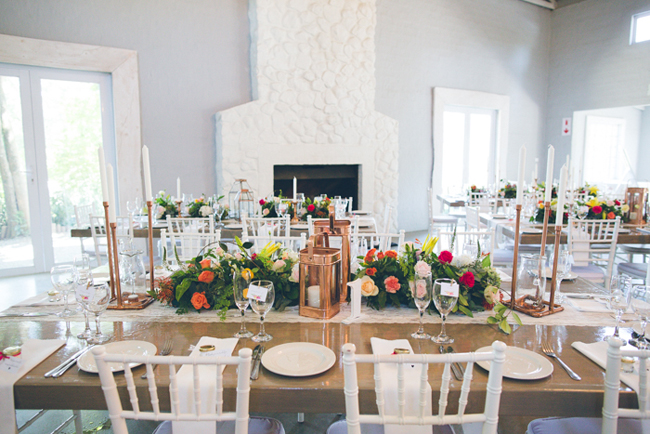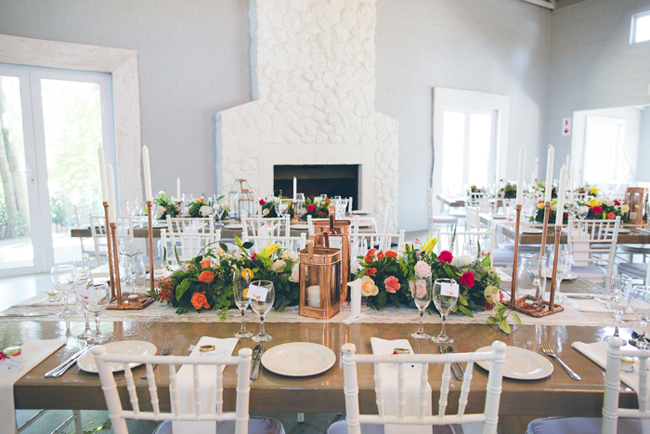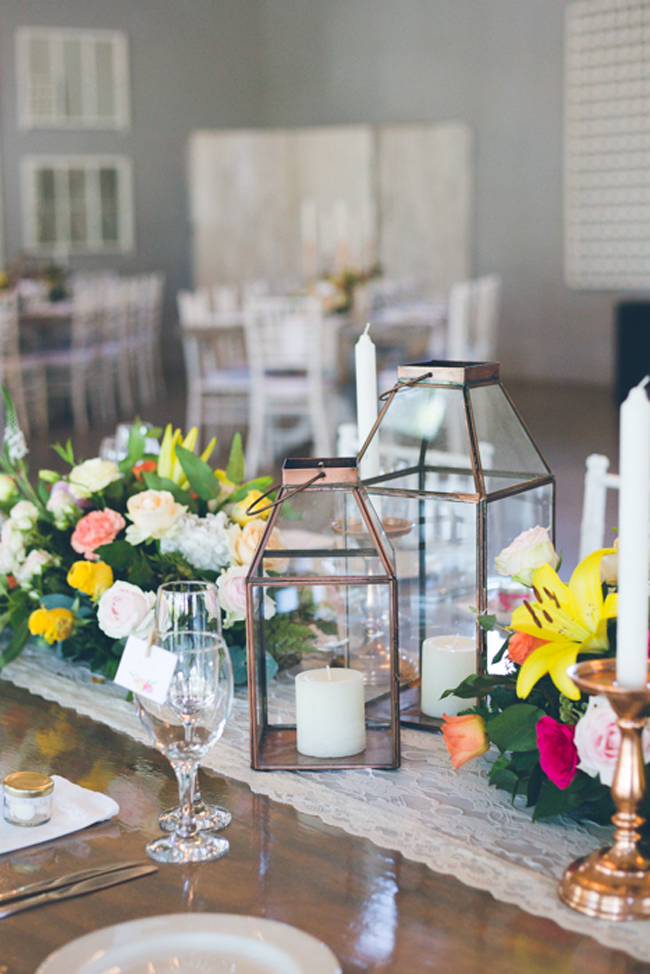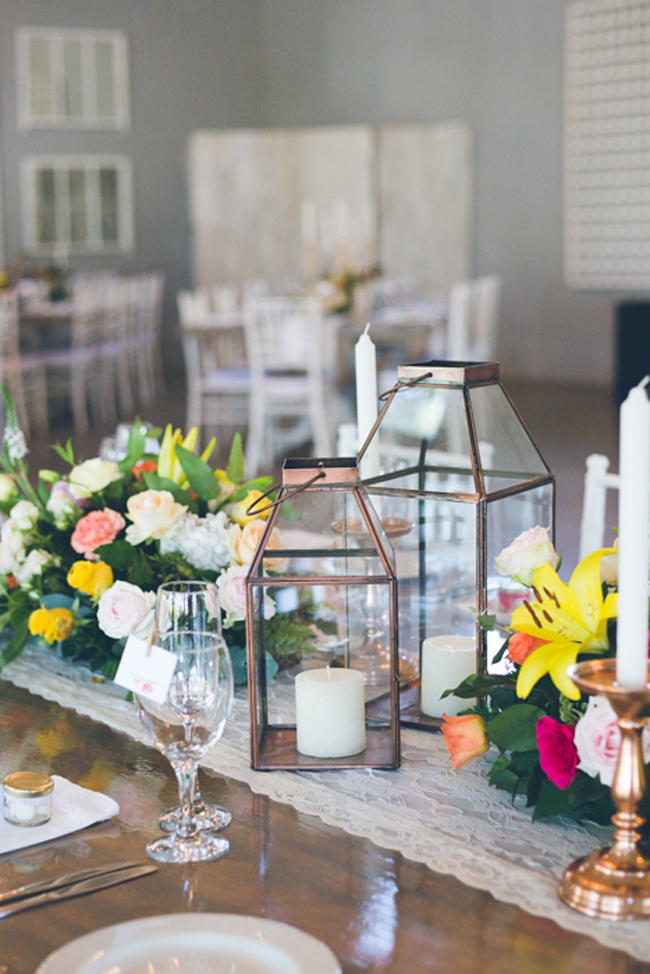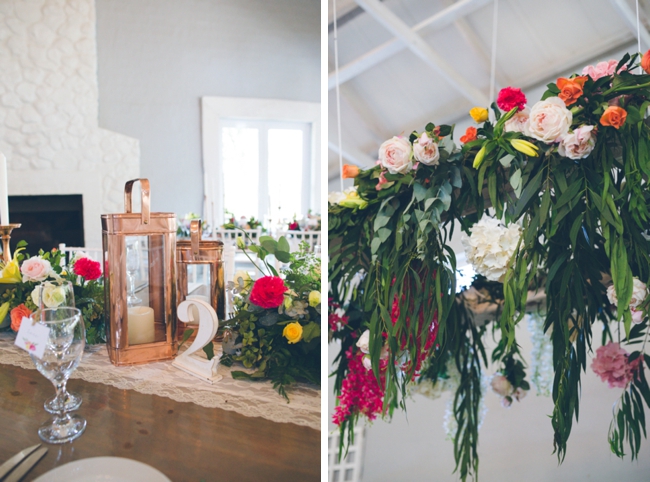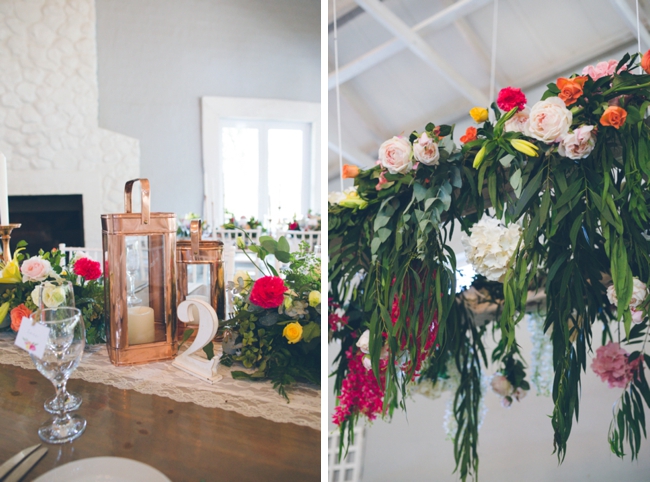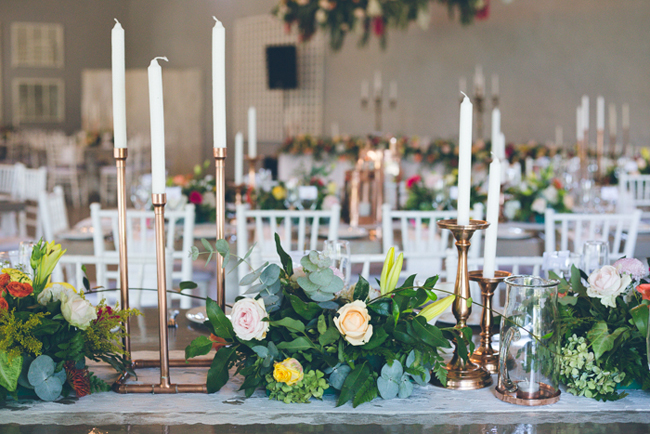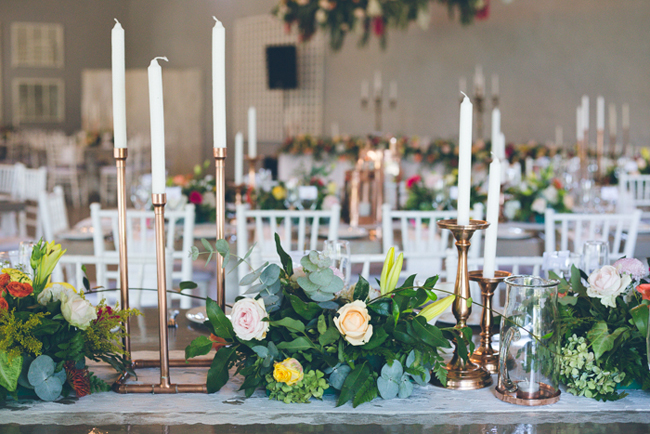 The Dress
Ah, my gown turned out better than I ever imagined… It was one of the things I was most looking forward to in the planning process. I knew I liked tulle and lace, but I went shopping with an open mind. I have a morphine pump implanted in my stomach that makes quite a big bulge, so I knew that would probably restrict my choice of dress. However, there were so many styles and dresses that I liked but no dress that I loved in its entirety. So I knew I would probably have to get a dress made. I, by luck, found Hanrie Lues, who is such an incredible designer. She created a fitted lace mermaid dress with a bustier bodice and then we decided just to conceal my bump a bit to put a tulle skirt over it. It was my perfect dress!
The Bridesmaids
I had five bridesmaids originally, but two couldn't make it (one is a dancer at the Lido in Paris and the other gave birth the day before our wedding!) I knew I wanted them to be in lace and off white but when it came to their styles, we went shopping together and I let them choose their own dresses. I wanted them to choose something they liked and I wanted it to be something they would wear again. We landed up getting their dresses from YDE, The Space and my sister's genius of a friend, Tam, made her dress.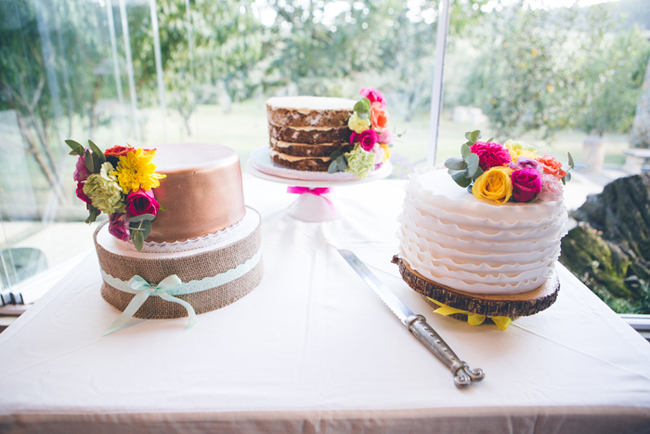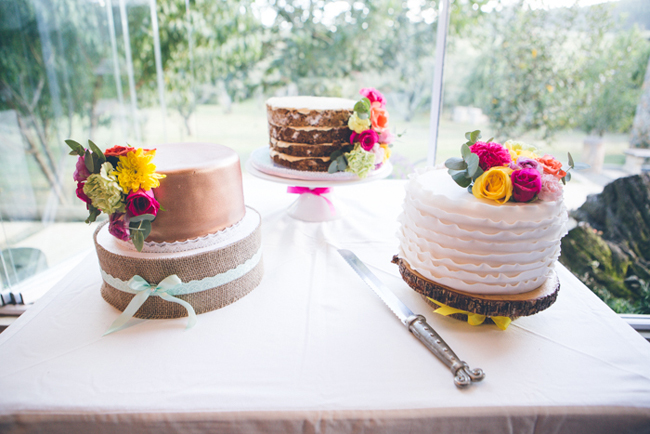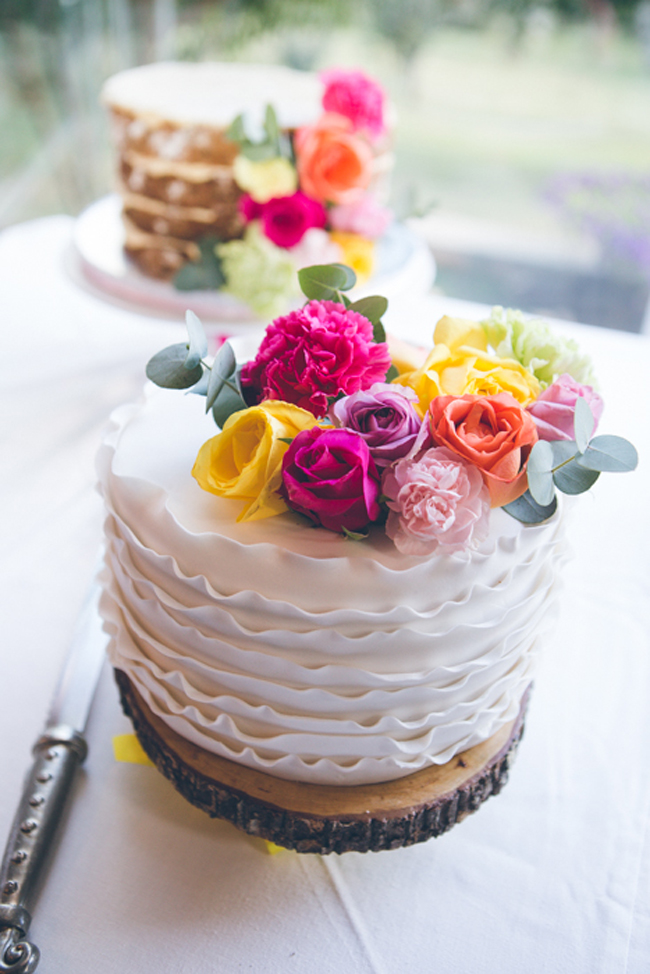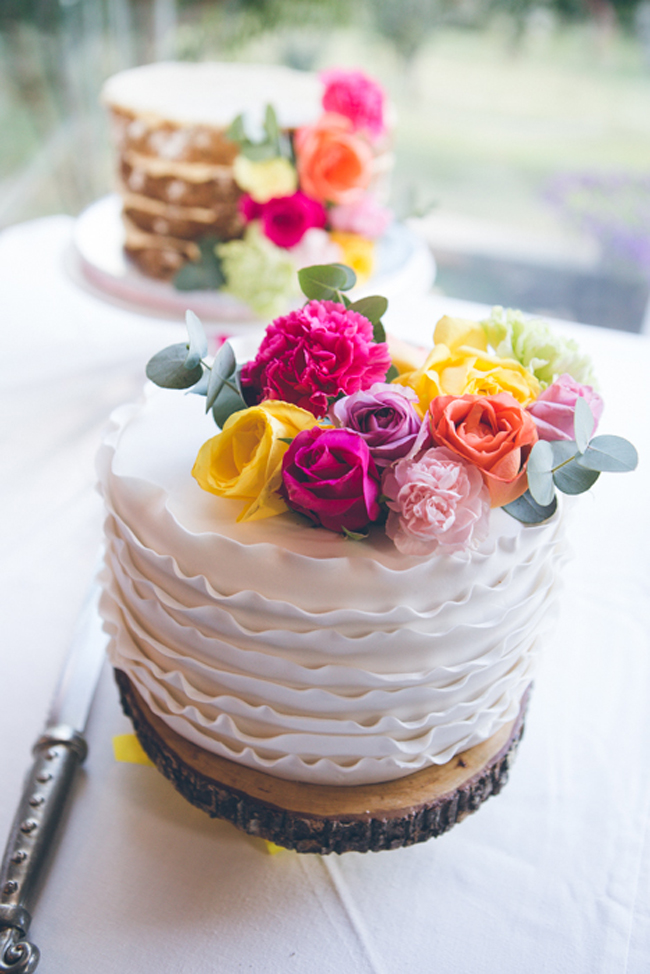 The Flowers
As I mentioned, Tim and I both love flowers, so it was something we both agreed to spend as much on as our budget would allow. I met with Kerry, from Kerry's Flowers & Décor, and had told her there was no specific flower or colour really that we wanted, we just wanted as many flowers as possible. She totally got our vision. I LOVED our flowers. They completely represented us and what we had envisioned for our wedding day.
Memorable Moments
I loved every second of our day. My dad and I were a bit of an emotional wreck, in a really good way, before walking down the aisle, so we had almost forgotten to put the veil over my face, and then I think the whole moment was a bit much for my dad that he then forgot to remove the veil. So I had it over my face for the whole service. It's something that we laugh about now. I know it's cheesy but seeing Tim at the end of the aisle, knowing it was the start of our forever, was definitely a stand-out favourite for me. The speeches are always one of my favourite parts of weddings, so listening to our speeches was also really special.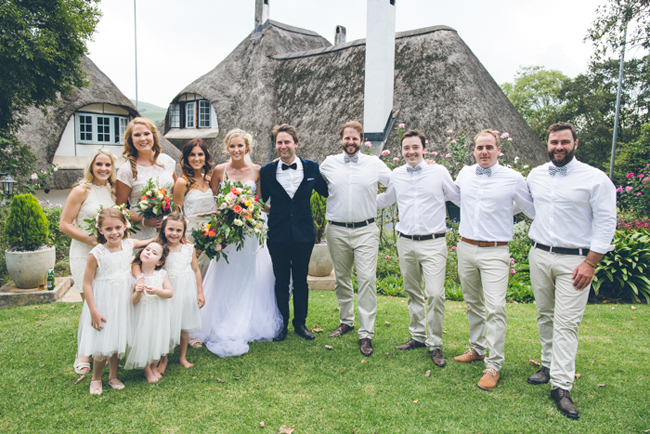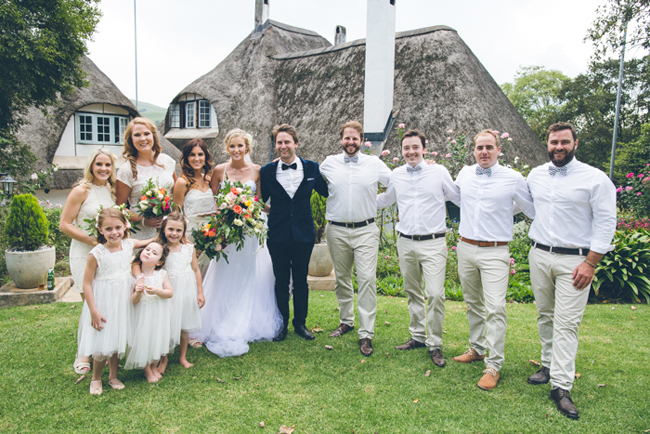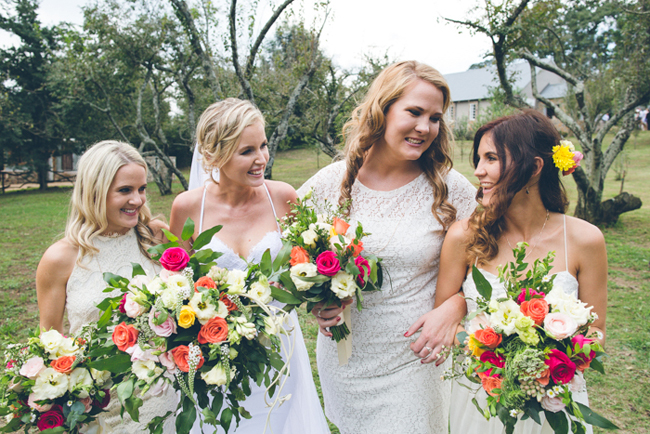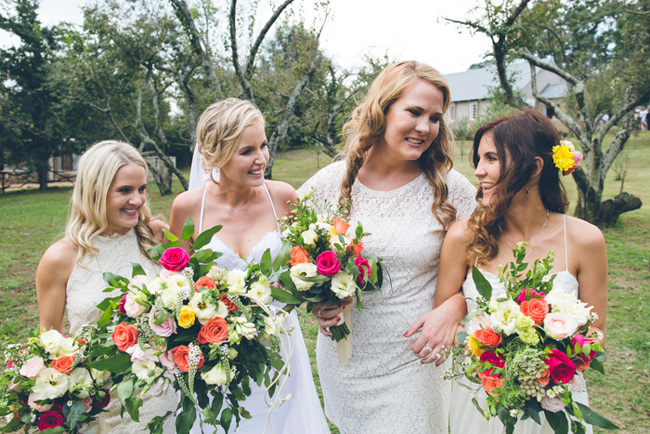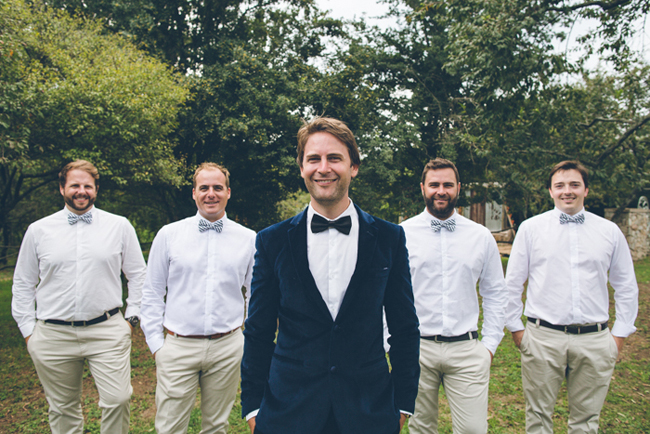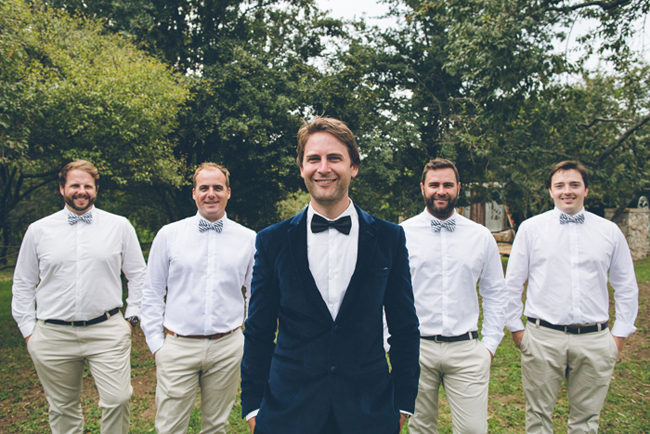 Best Decision
The best decision we made was all the service providers we chose. We just clicked with them and they honestly made the whole process the most stress free experience ever. This meant we got to enjoy everything. We still get compliments on a lot of the aspects.
Advice for Future Brides & Grooms
Try and enjoy the whole process so you can take everything in. Don't sweat the small stuff on the day – if something minor goes wrong you will be the only one that knows about it. Also, prioritise what is important to you both and allocate your budget accordingly.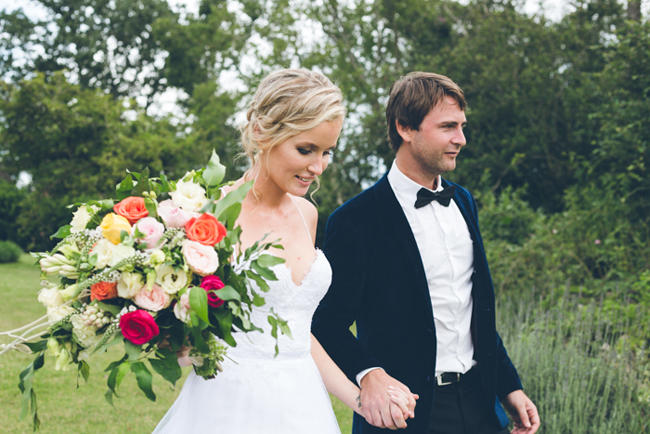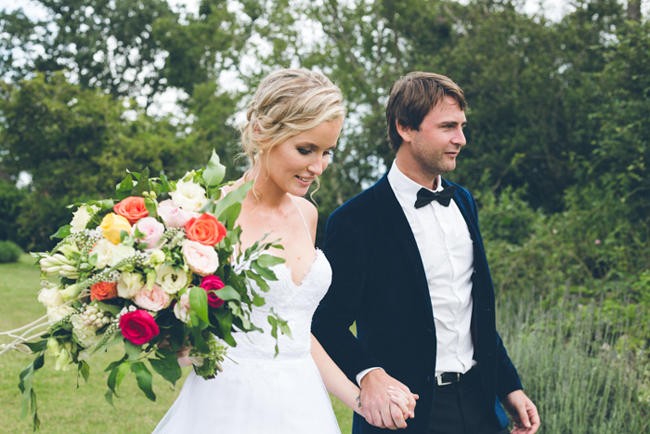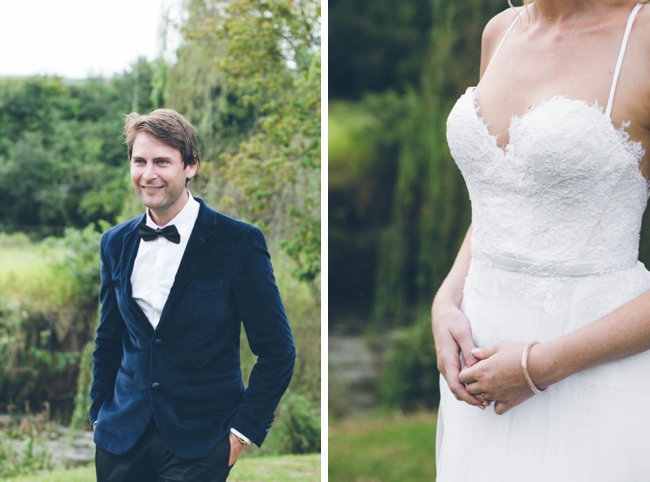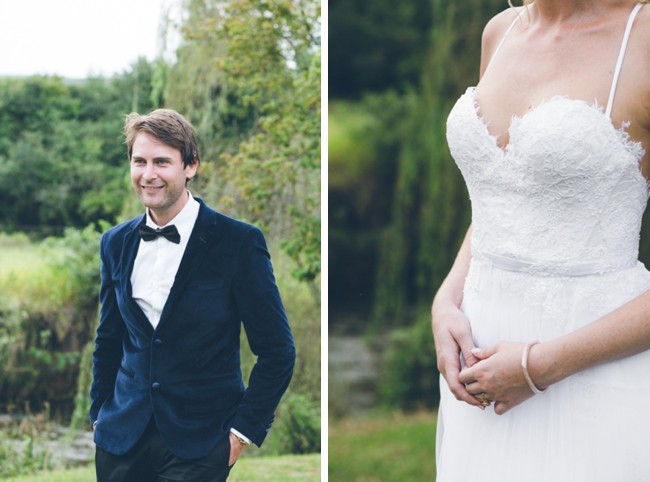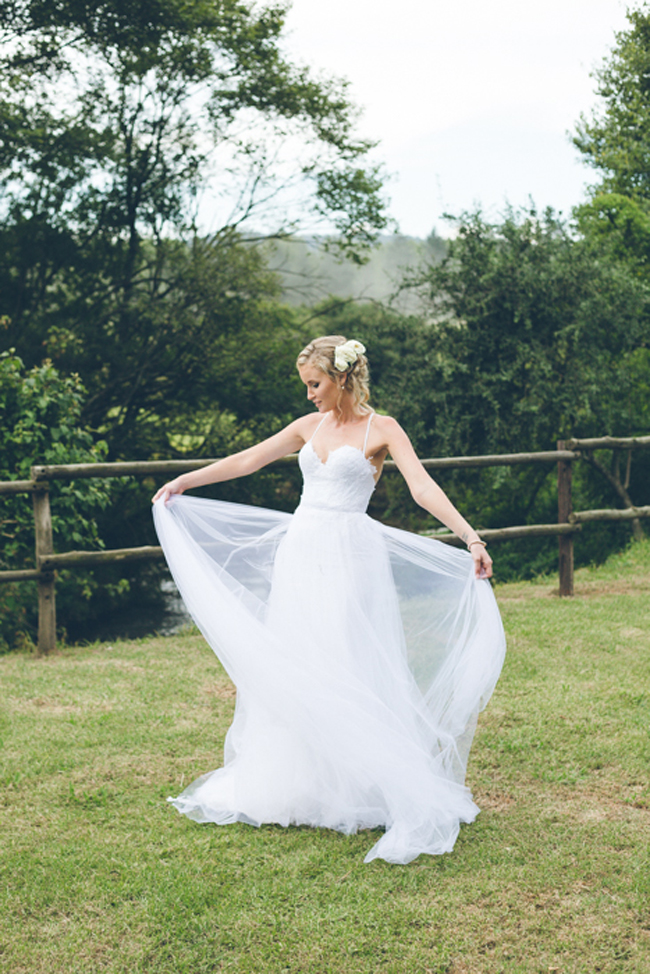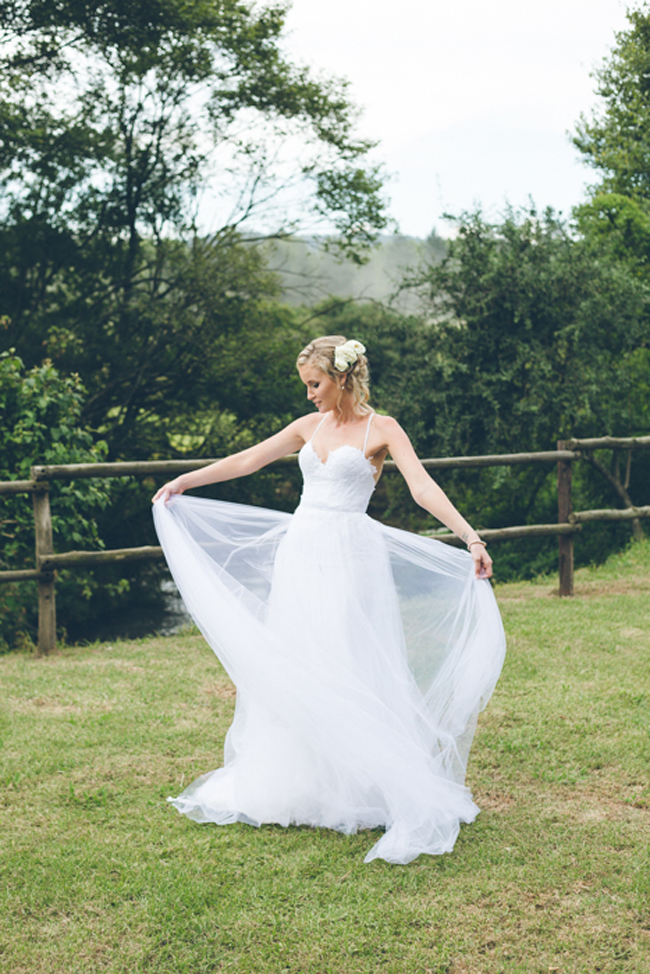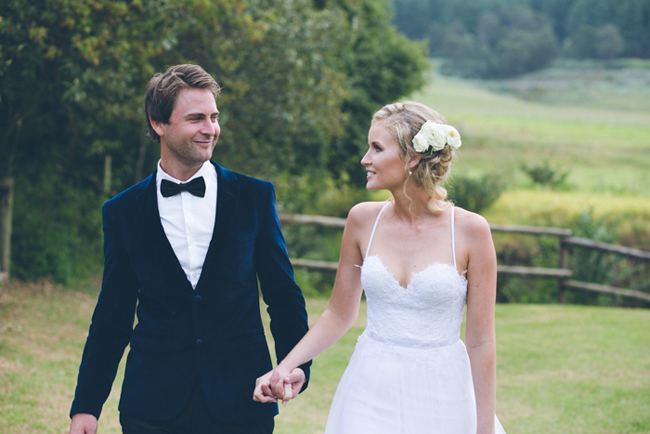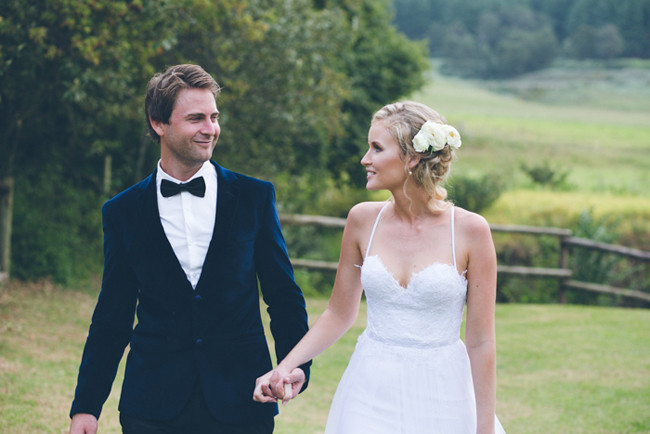 SERVICE PROVIDERS
Venue: Orchards Wedding Venue | Catering: The Fat Aubergine | Photography: Summertown Pictures | Flowers & décor: Kerry's Flowers & Decor | Cake: Kouklas Cakes | Bride's dress: Hanrie Lues Bridal | Hair: Hairitage Hair Salon | Makeup: The Durban Makeup Artist | Bridesmaids' dresses: The Space, YDE & Tam Bergoff | Groom's attire: Holmes Brothers (velvet jacket); Woolworths (trousers); Markham (bow ties) | DJ: DJ Tyron Smith


Save