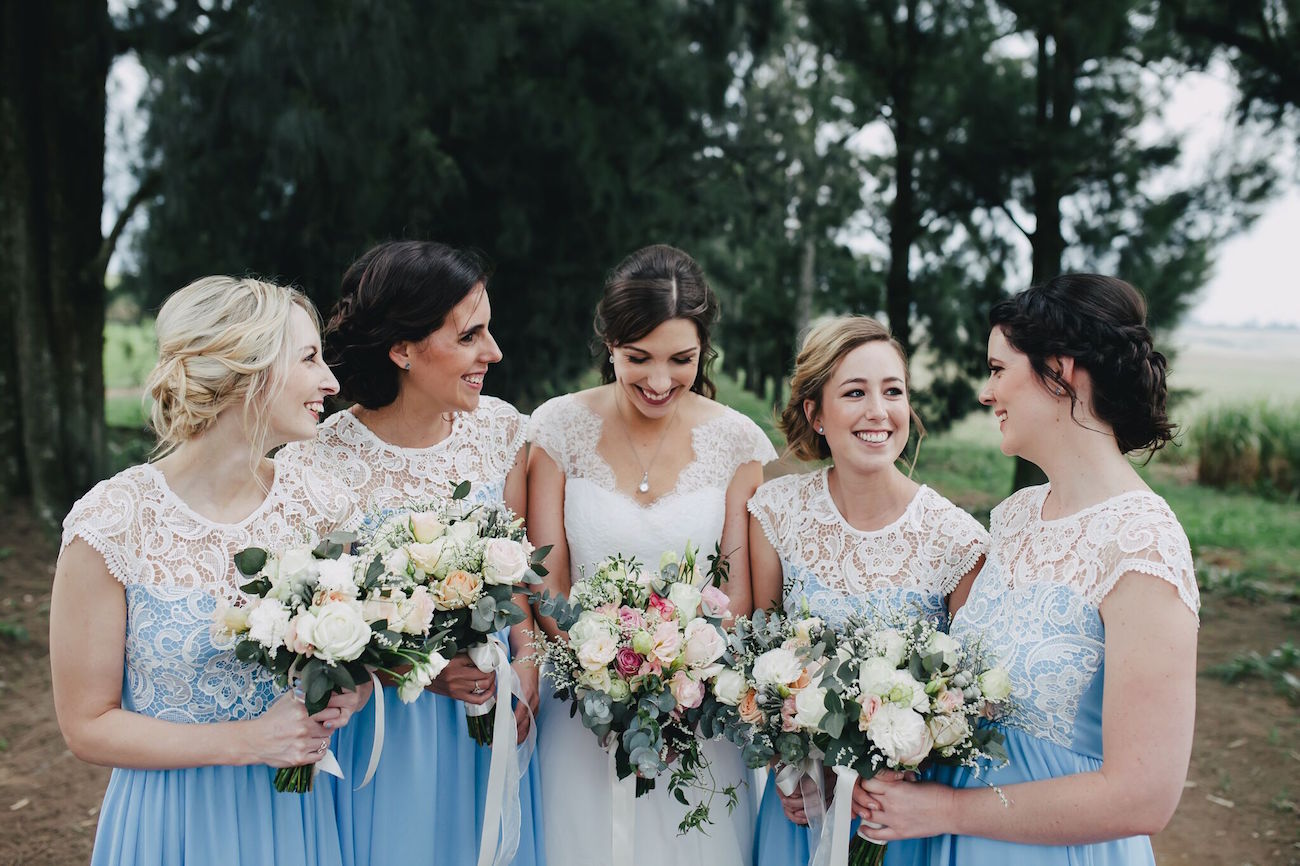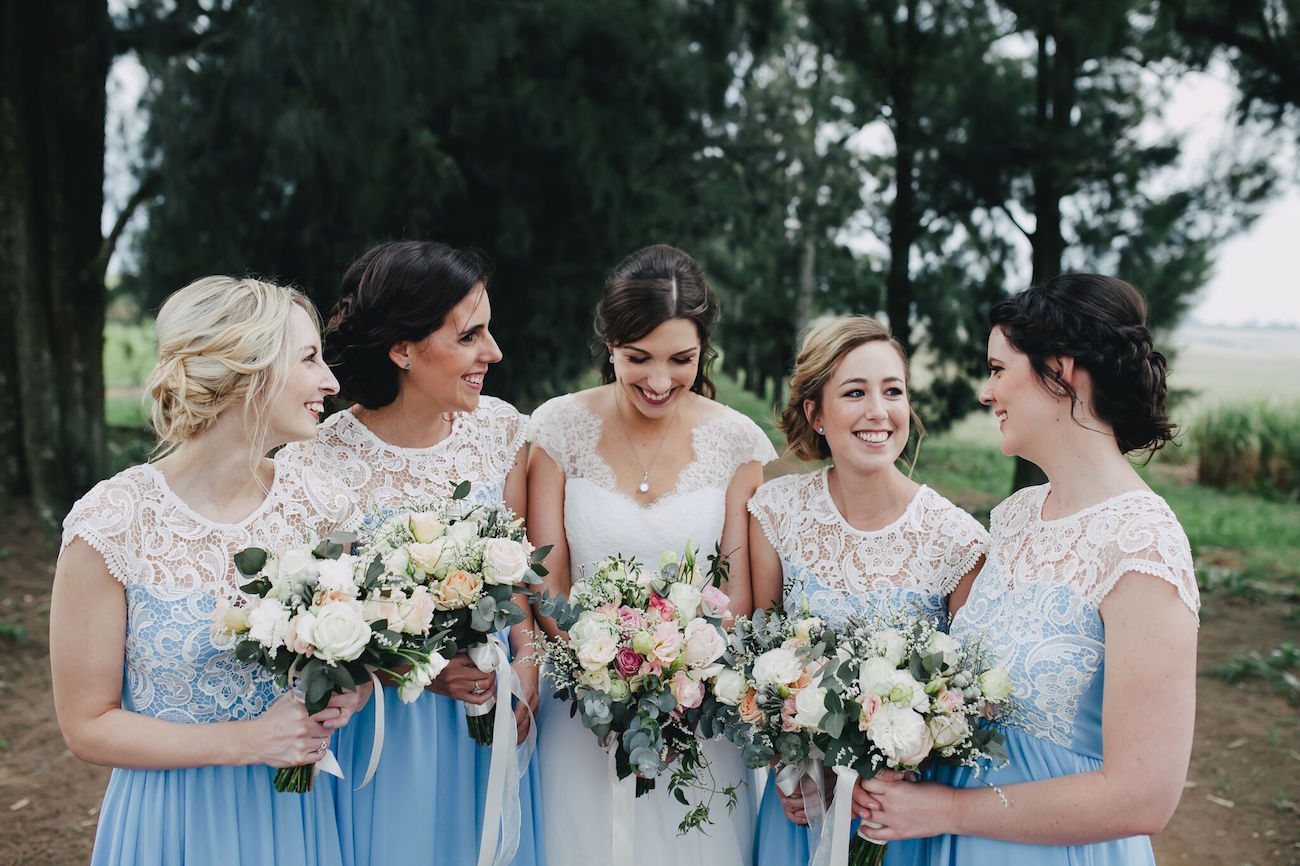 My first clue that Andrew and Marie are a couple after my own heart? The fact that the Proudly South African pair went about sourcing every detail of their gorgeous KZN Midlands wedding from local businesses – rings, bridesmaid dresses, decor, everything. All in line with their pretty-as-a-picture garden-style wedding vision, and the result is an affair that will have all you country wedding-loving brides jumping straight out of your seats and cheering for joy! I loved the way that the pair chose a cool blue hue to contrast with the mixed colours of all the flowers – such a lovely touch that really stands out. And the blooms really were everywhere – in floral runners along the tables at the reception (thanks to Marie's mum's 'army of ladies' and their very own gardens!), in beautiful bouquets, in darling little embroidered wreaths on each napkin, on the wine labels and stationery… even right on down to the bridesmaids' getting-ready robes. And love was in bloom too, of course, overflowing on the faces of the delighted bride and groom, and those of their family and friends. Michigan Behn was on the scene to capture these precious moments for Vanilla Photography and share them with you today.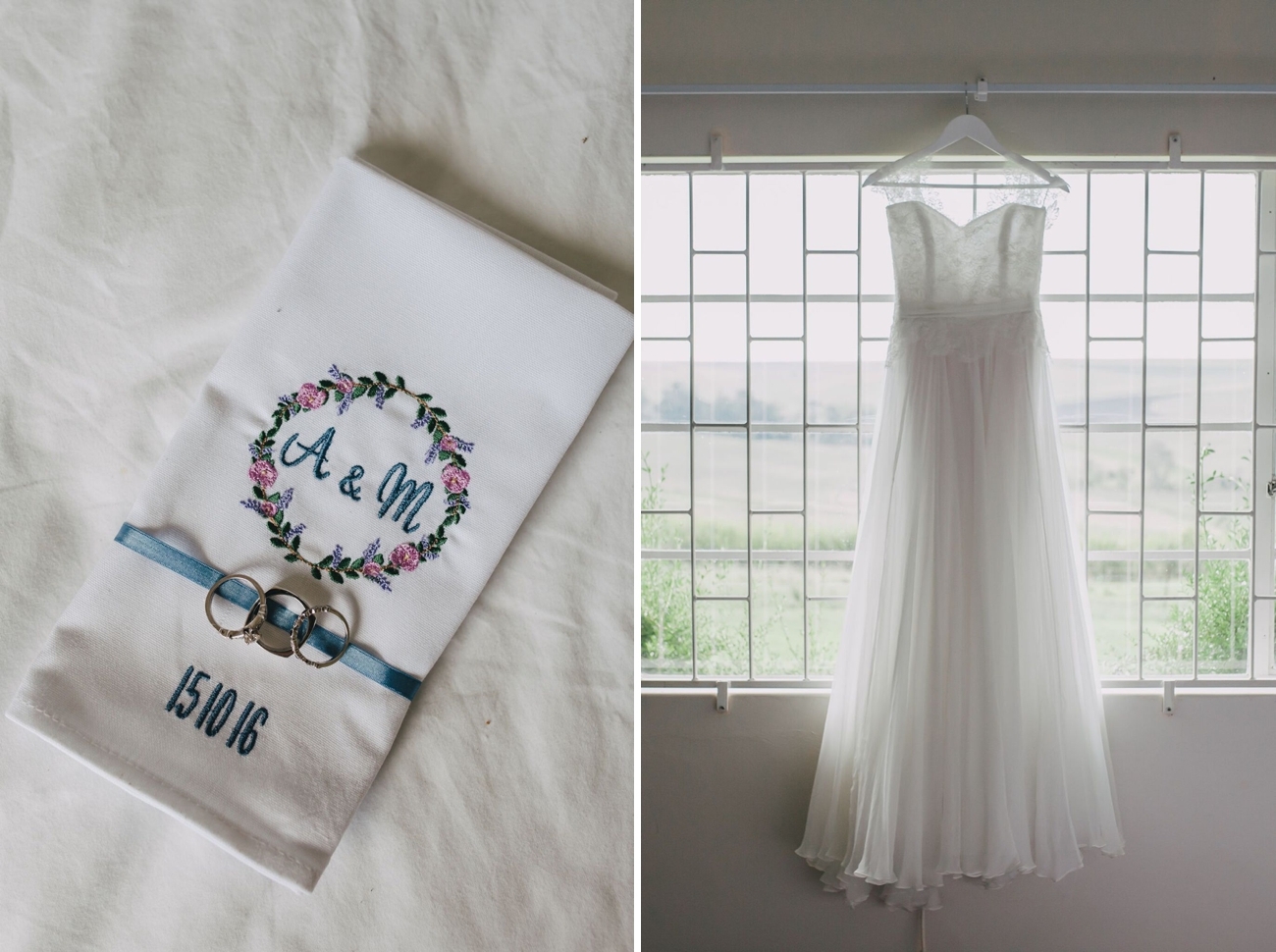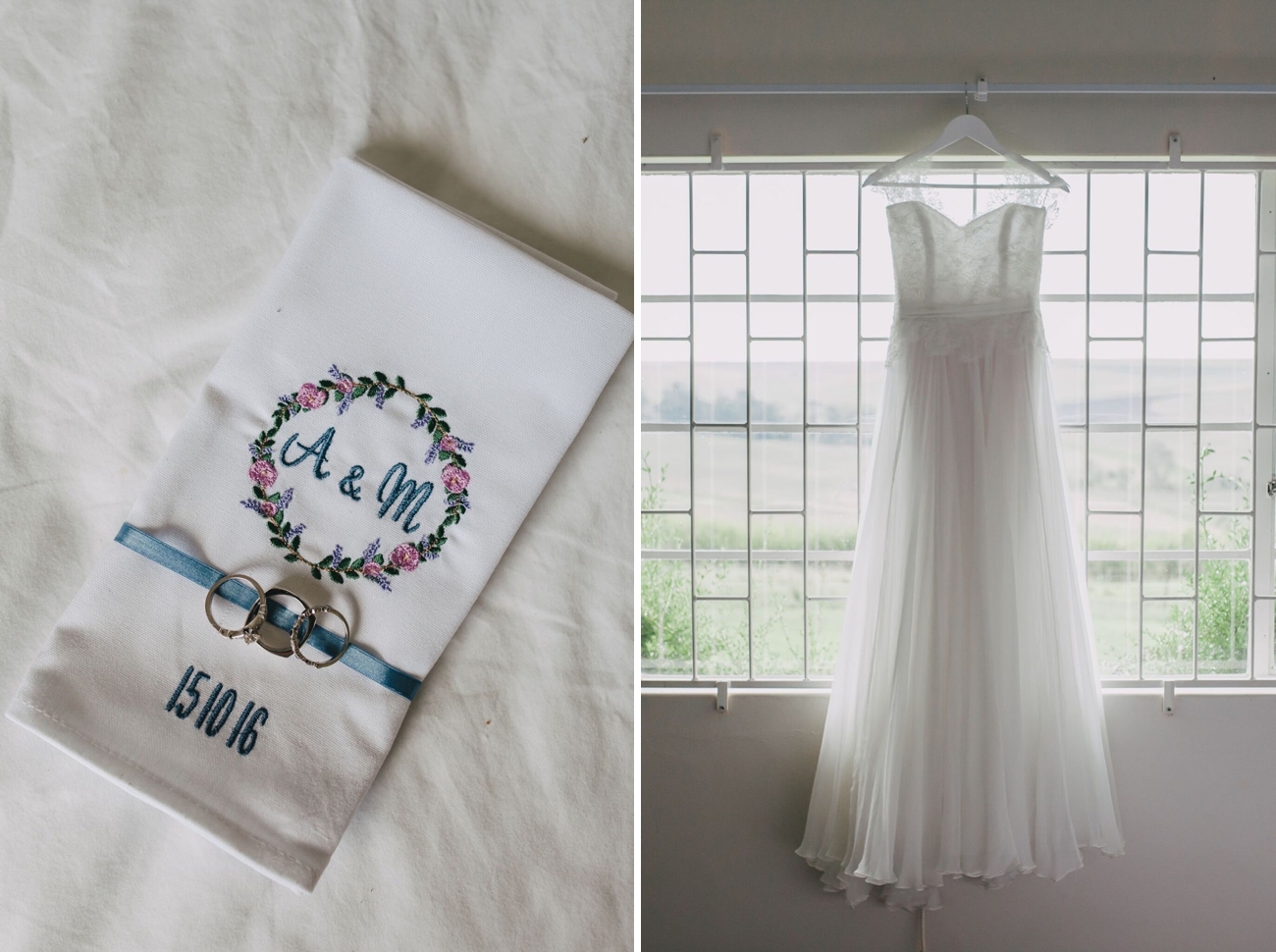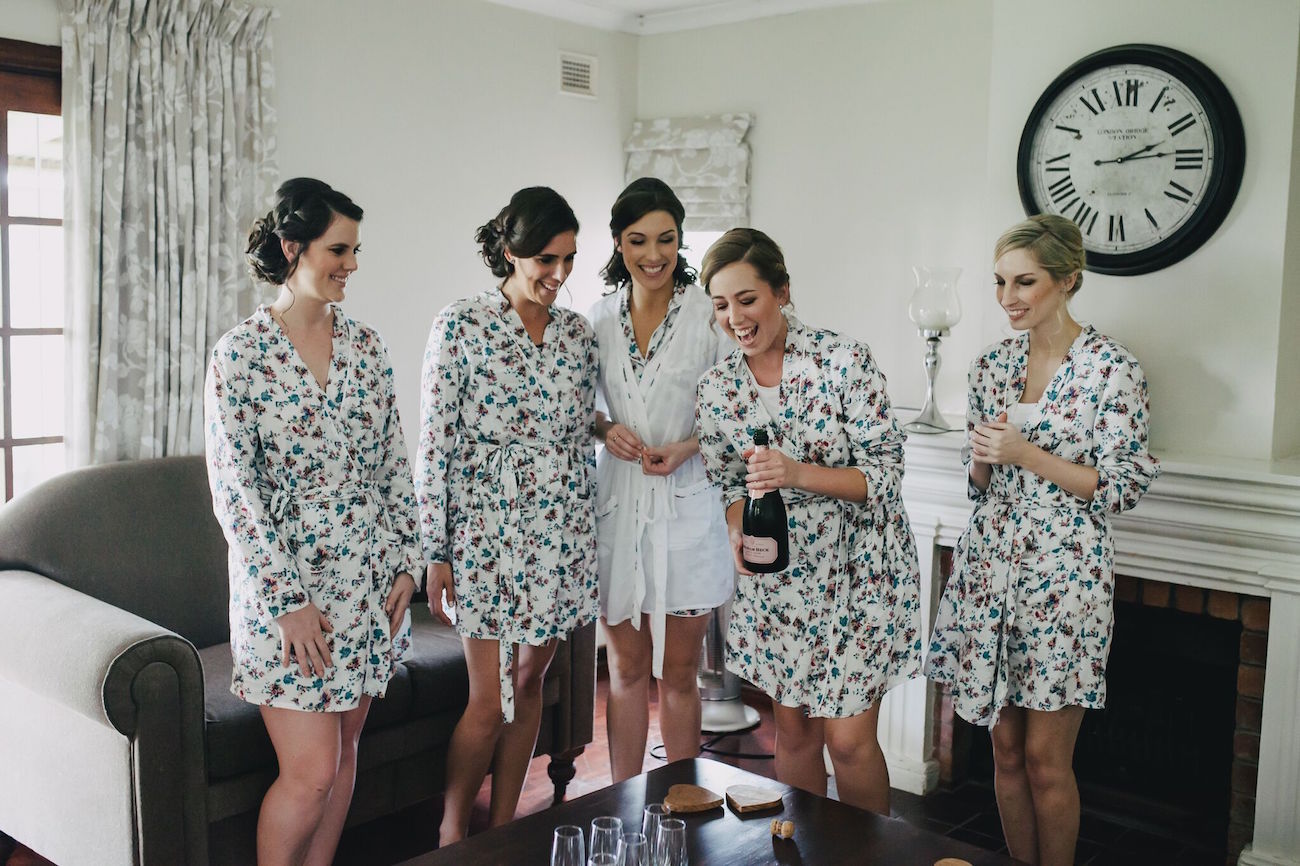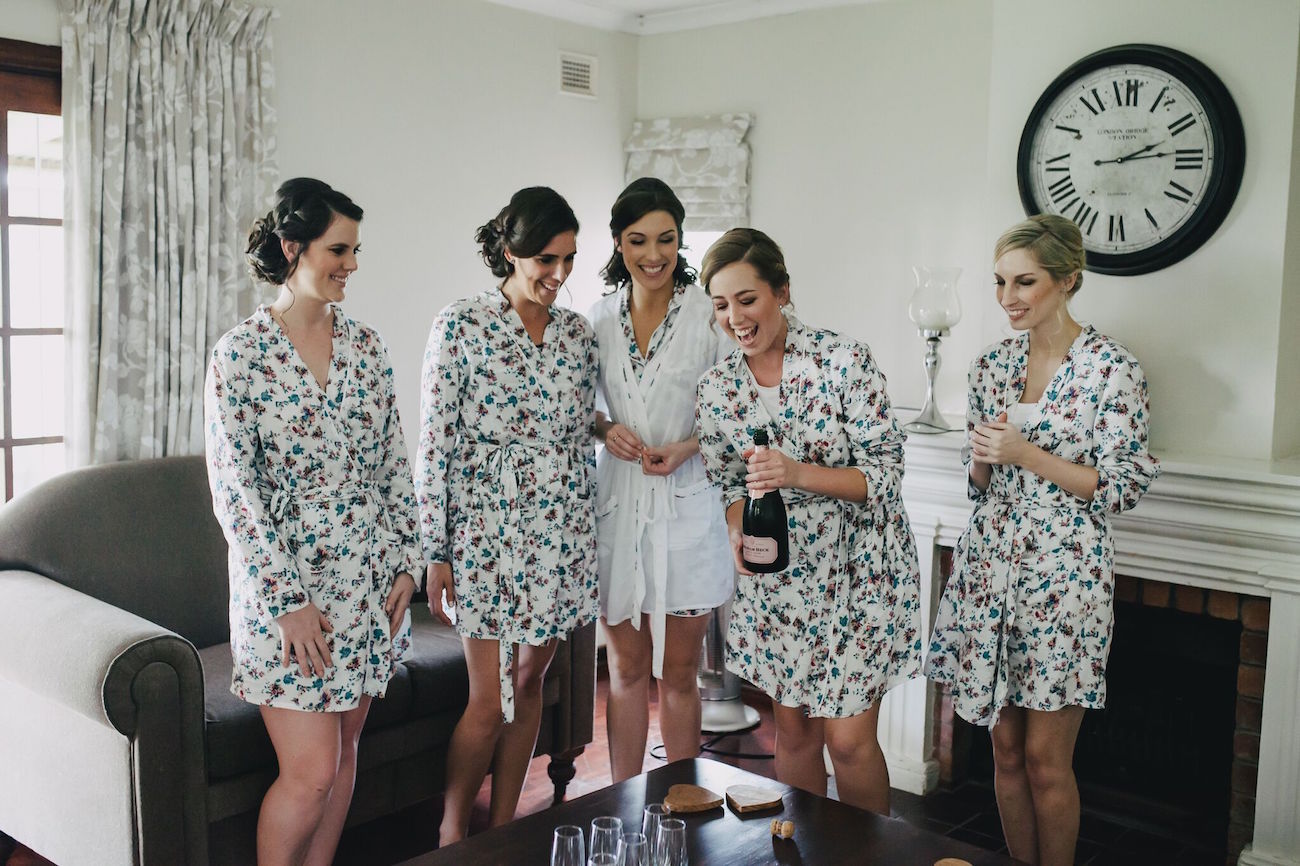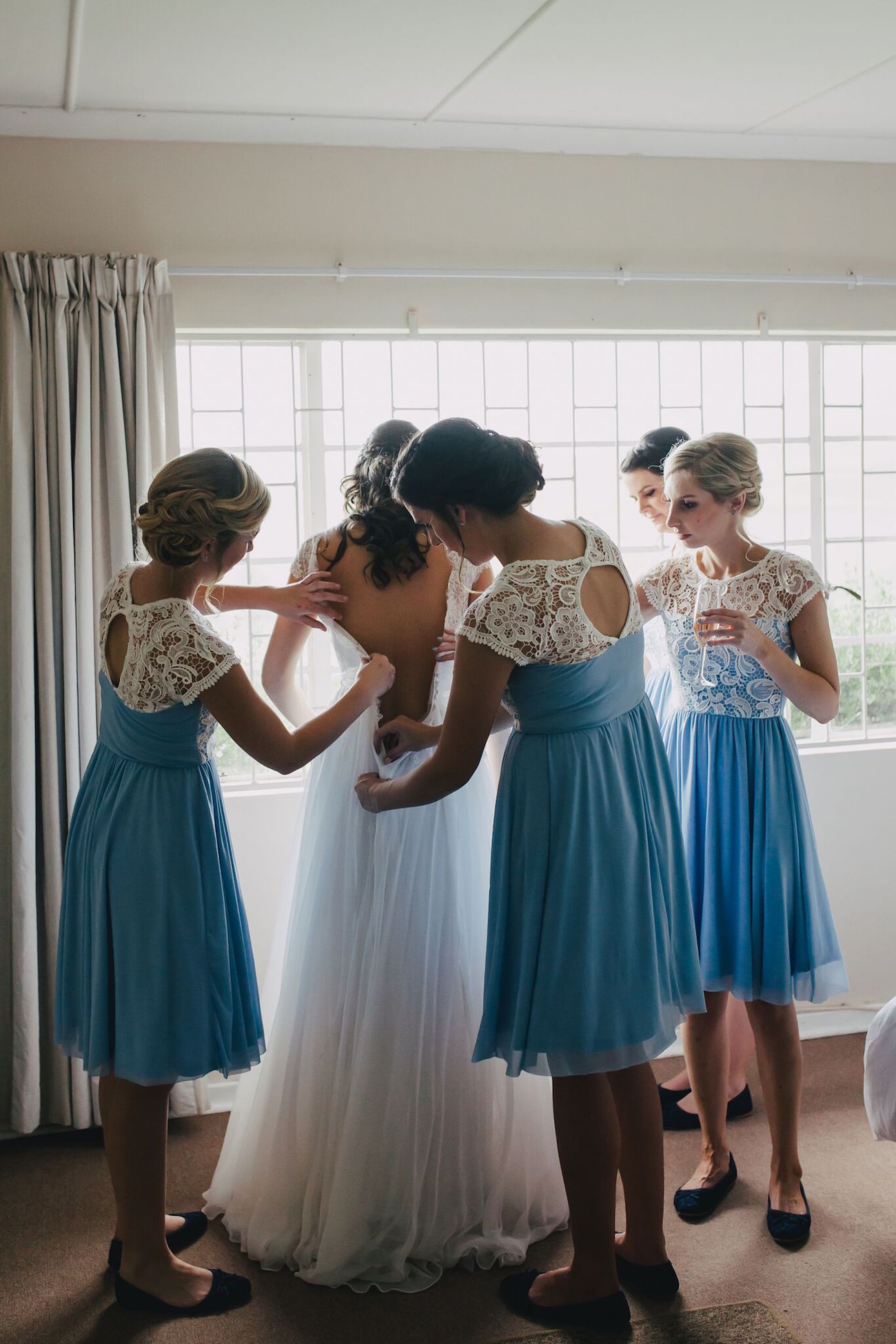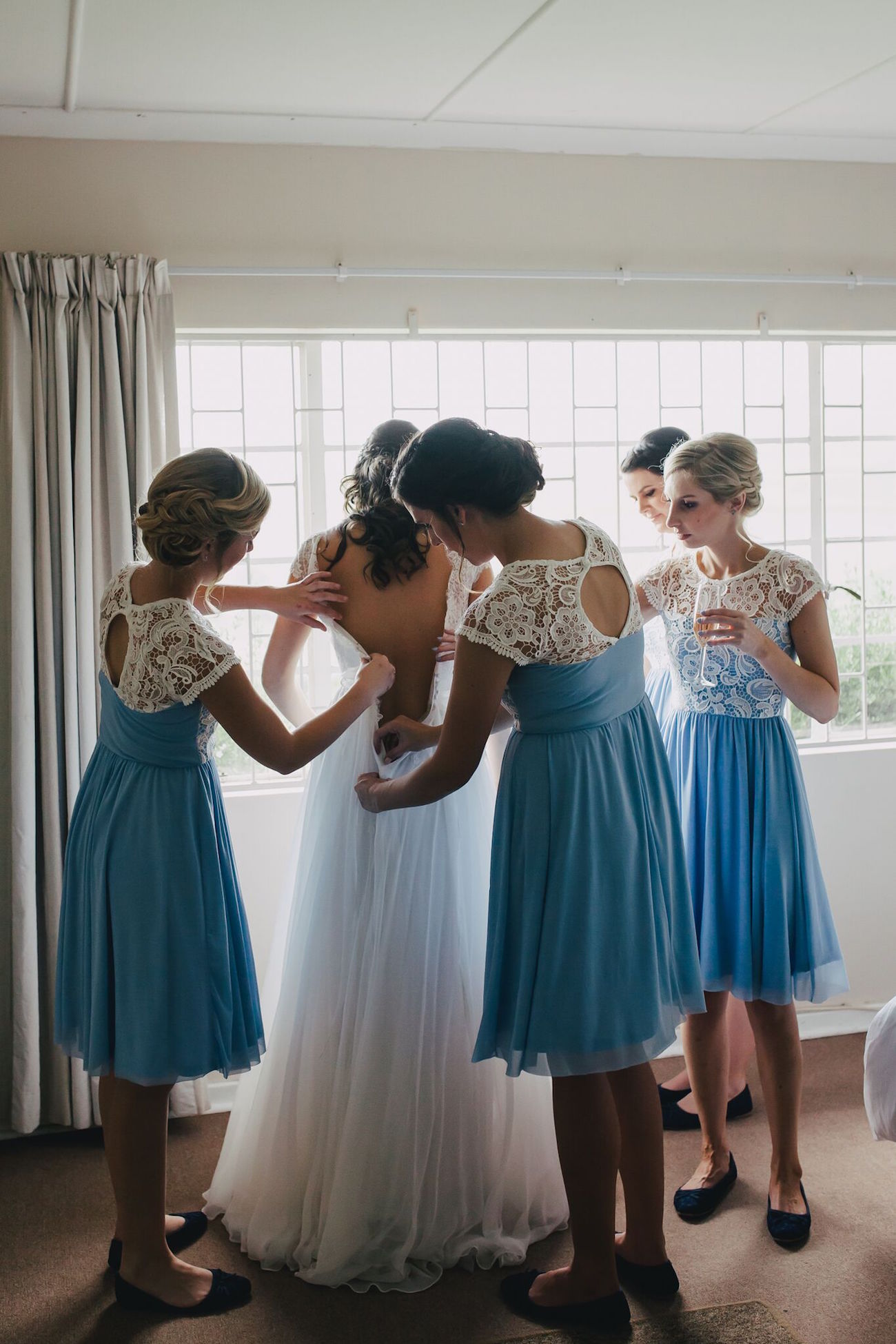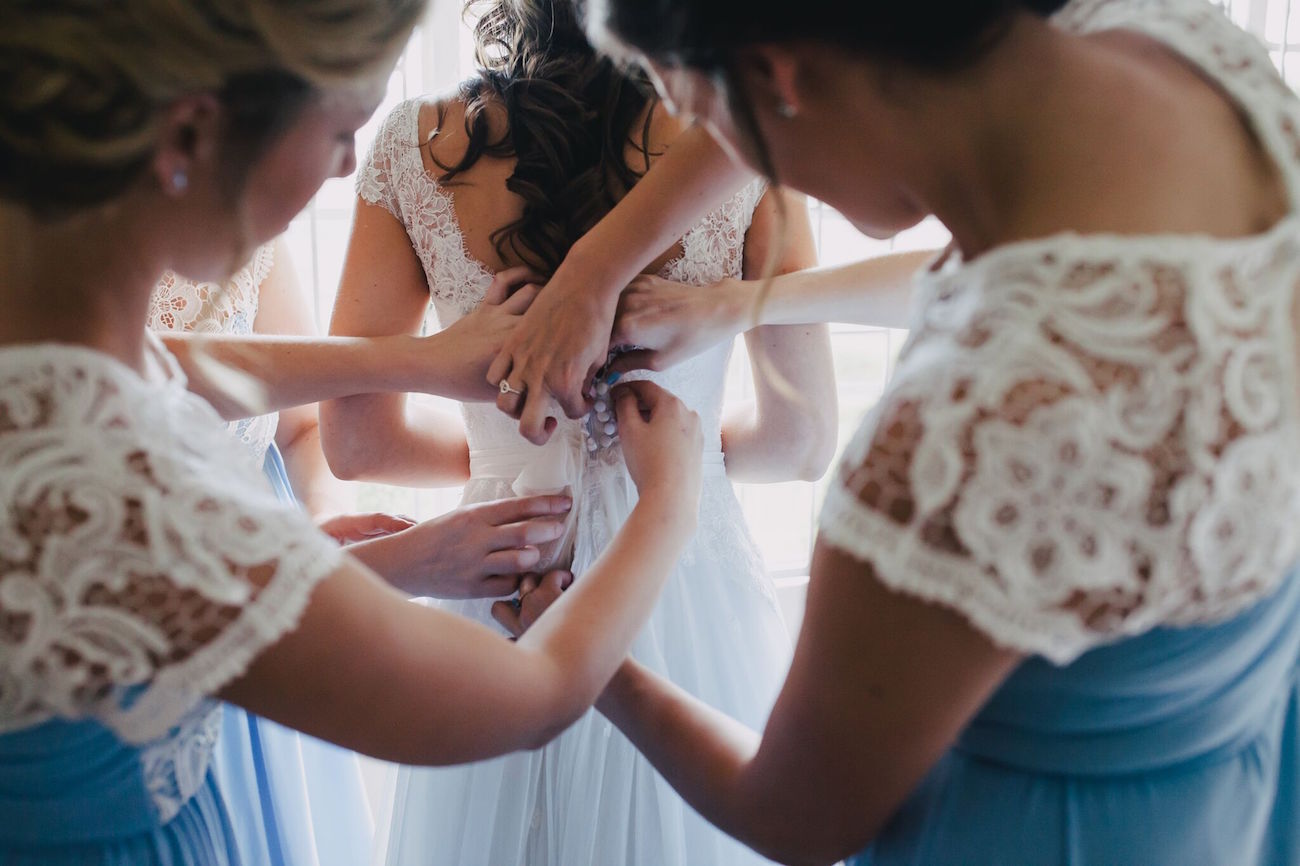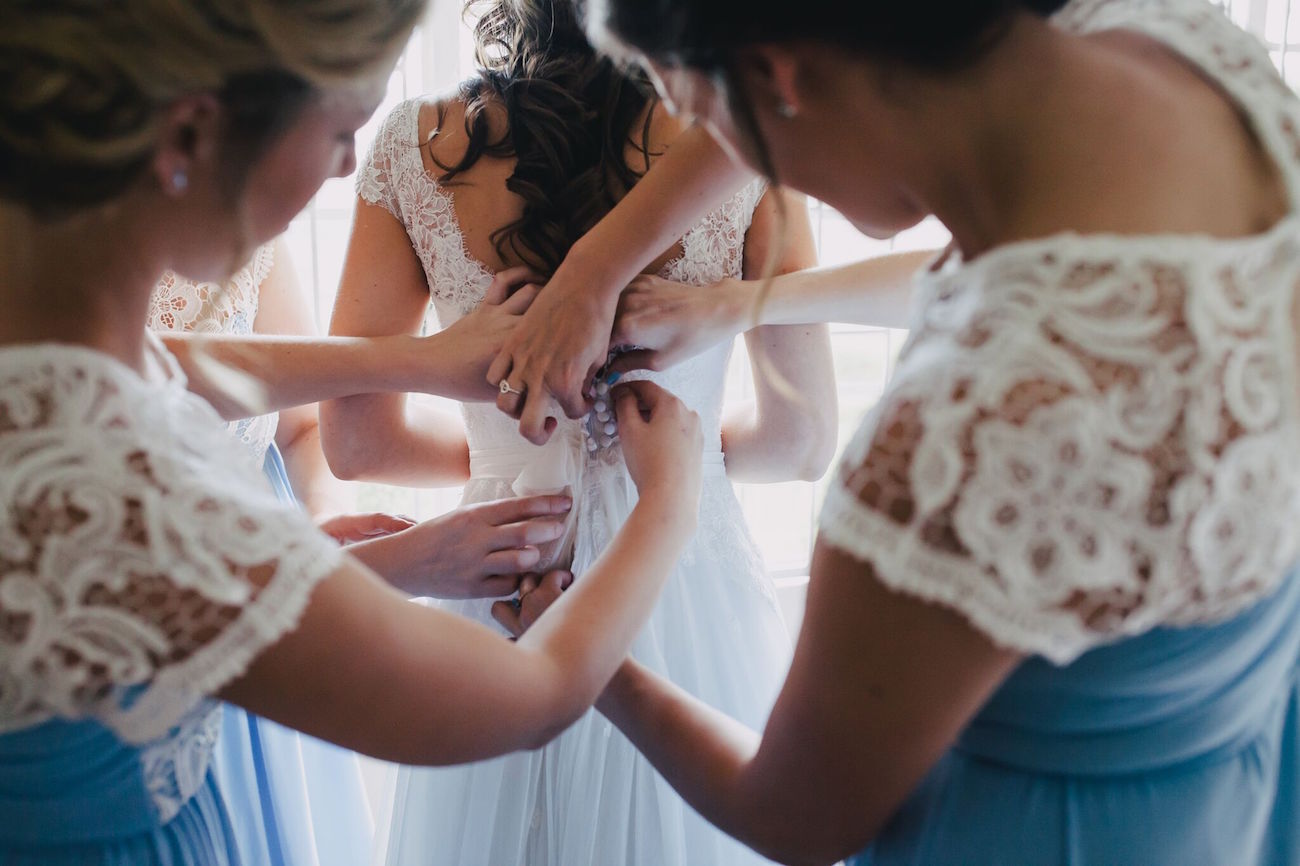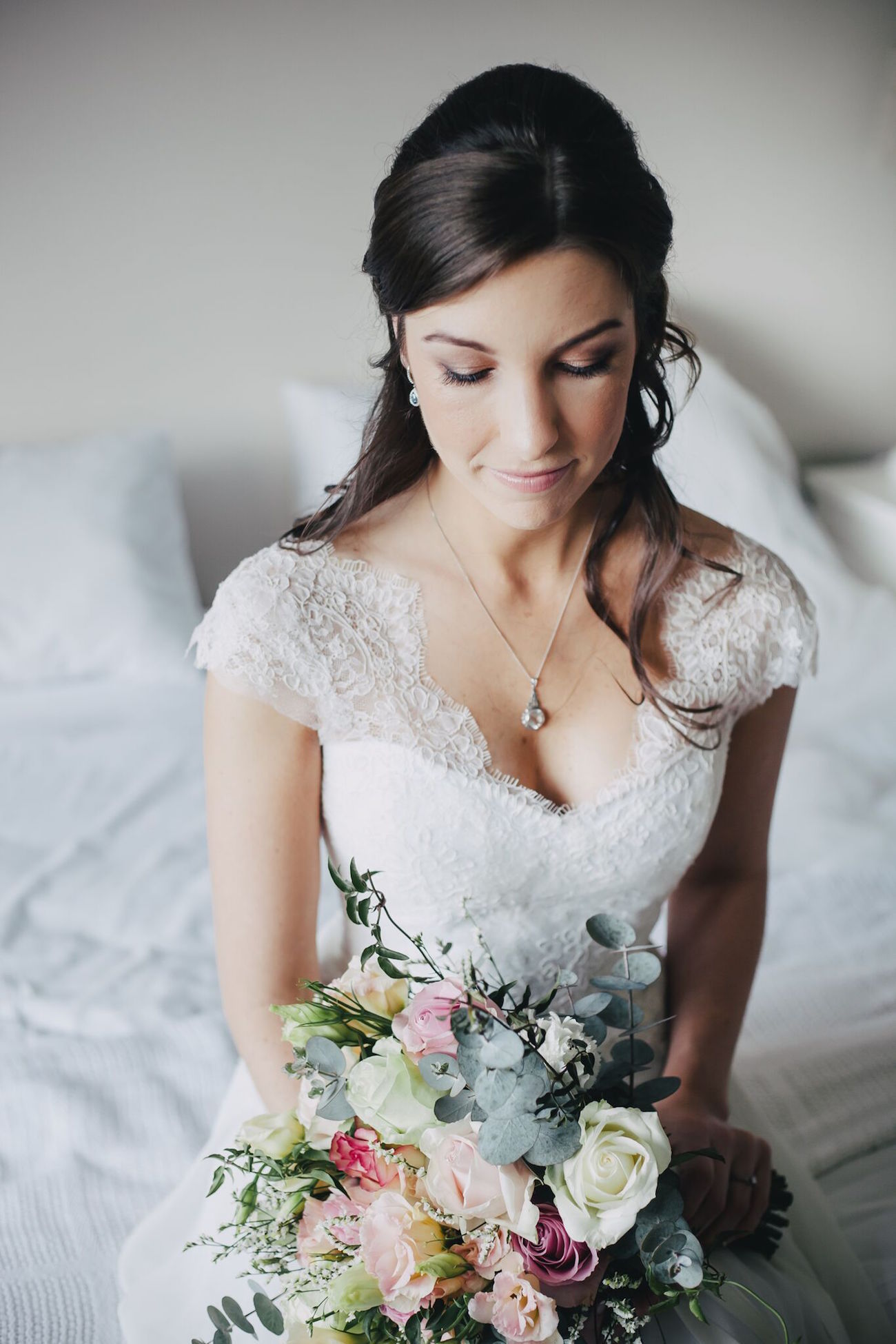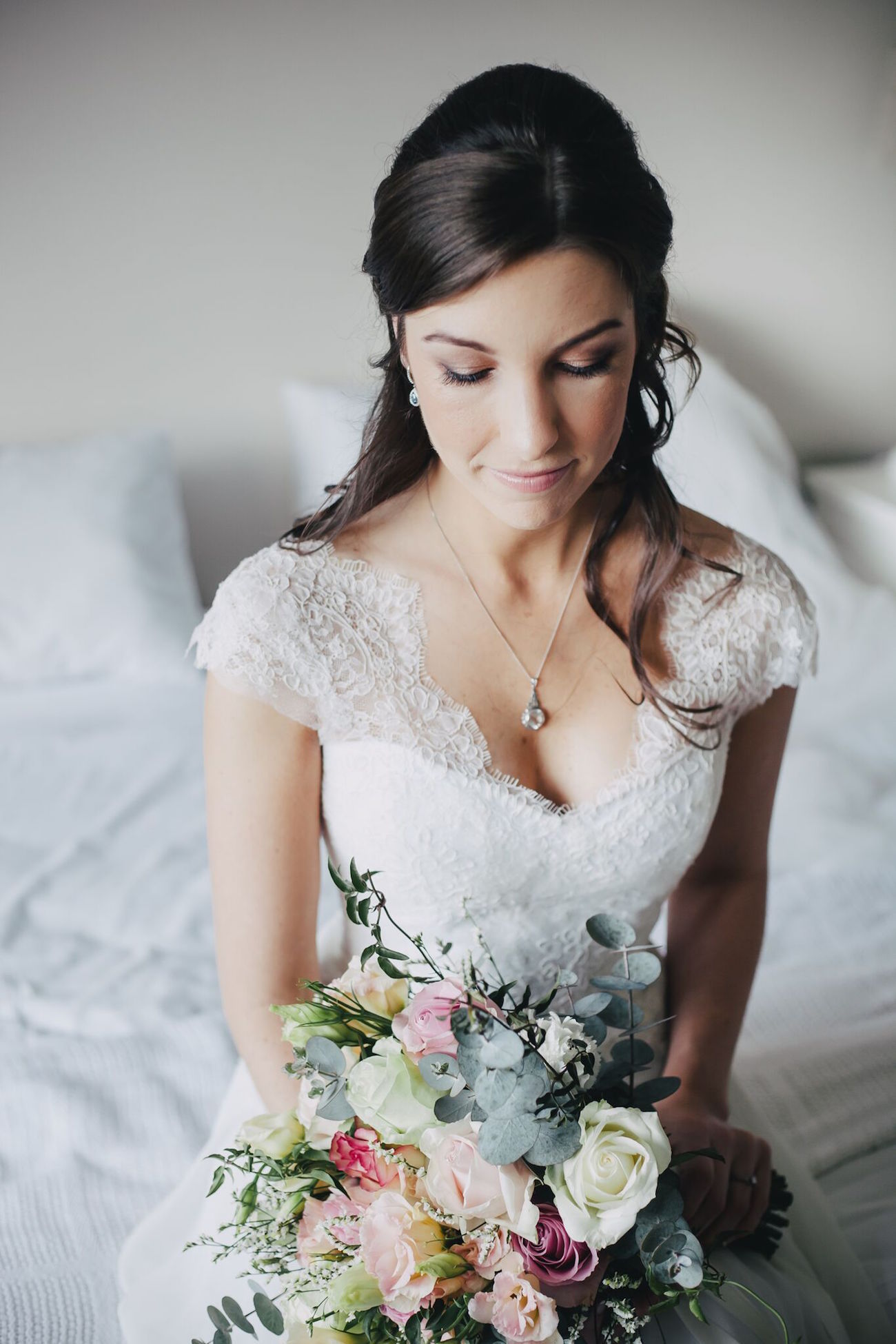 Love Story
I grew up in Grahamstown, a tiny town in the Eastern Cape where I went to school and university. After 21 years I escaped to do a post grad in Cape Town. After this two year break I decided to return to Rhodes to do an Honours degree. So I moved back home, temporarily putting my life on hold (so I thought) for the year. At this stage I only had one friend still studying at Rhodes. She happened to live in a digs with Andrew (also known as Harry – that was his Rhodes name and who I met him as). After a week or two back in town I went to her digs for some predrinks where there was this good looking, quiet, blue-eyed boy. As the evening wore on, drinks were consumed, shyness was overcome and conversation started to flow. A few weeks later we were dating and three and a half years later we were engaged.
The Proposal
In Easter of 2015 we went to Clarens in the Free State with my parents and Andrew's parents. At one point, my dad and Andrew had a chat where Andrew asked for my hand in marriage. My dad came back from this to tell me, and ask if he should go get some champagne – I then had to remind him I hadn't actually been asked the question yet… Unfortunately a month or two later we lost a very important family member and our focus on things shifted a bit. Several months later, I got a phone call from my dad telling me he had seen the ring (he wins all the secrecy awards). At this stage Andrew and I had a trip planned to go to Clarens for the weekend with just us and our dog after a lot of work stress and a difficult year. So I had my suspicions (thanks to Dad) and after a hike up a buttress in the Golden Gate Park with the most spectacular view all around us and just us two alone, Andrew proposed.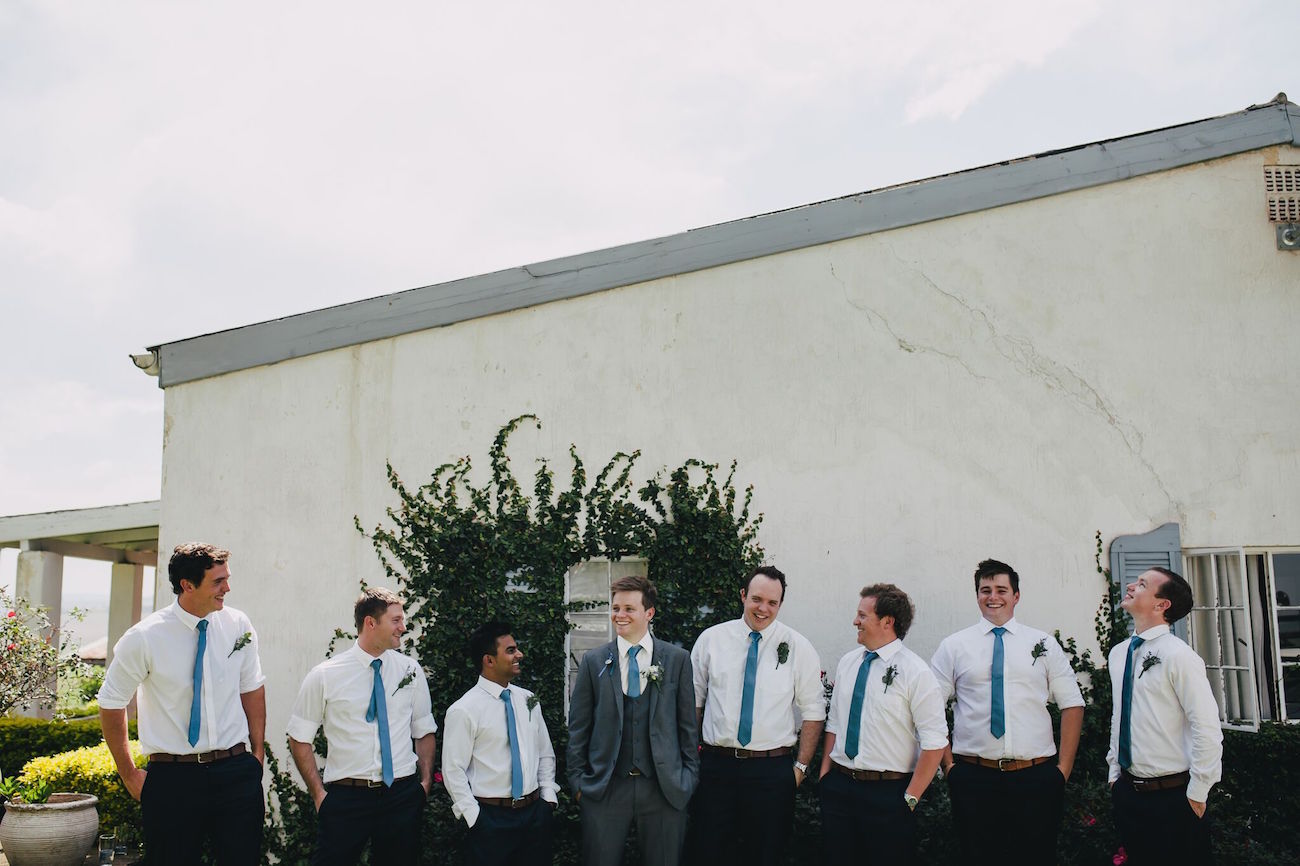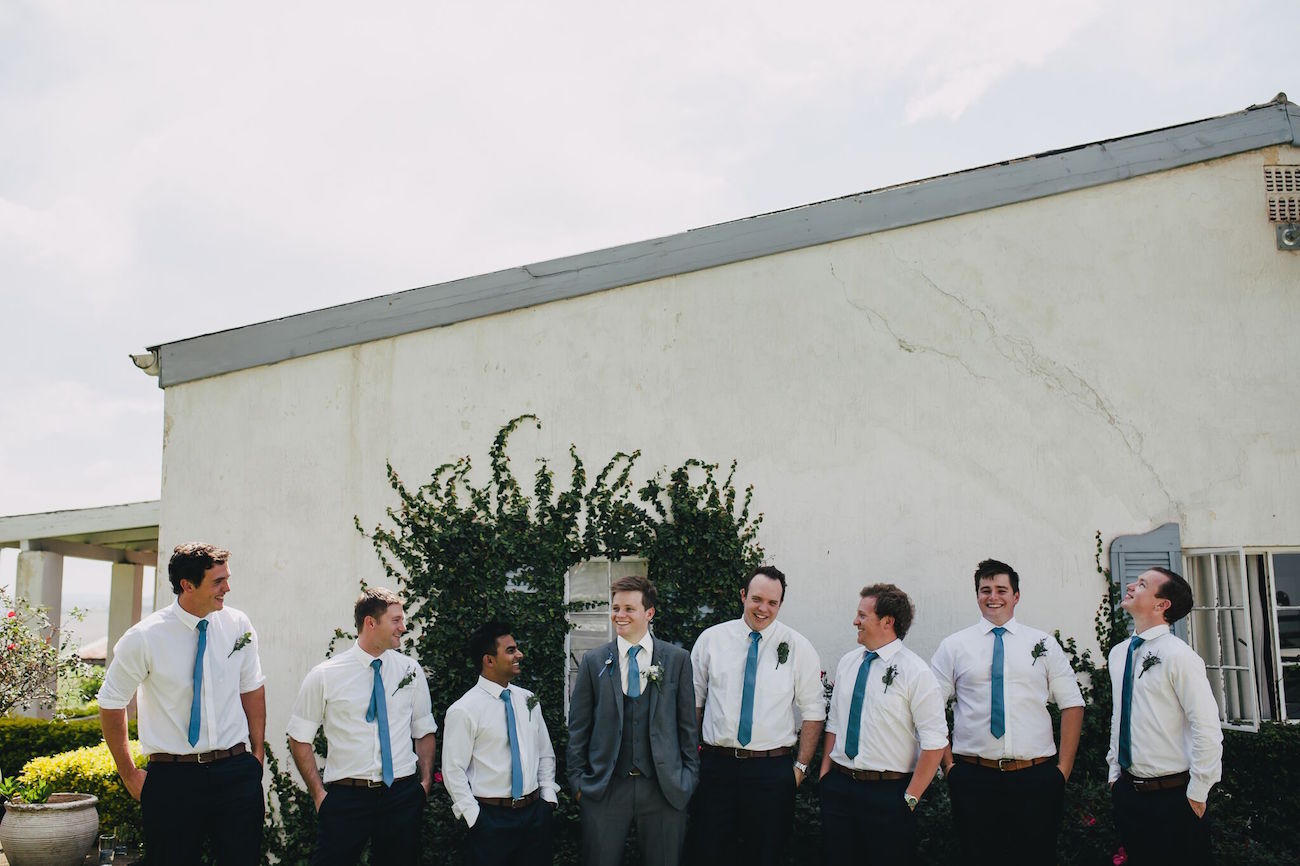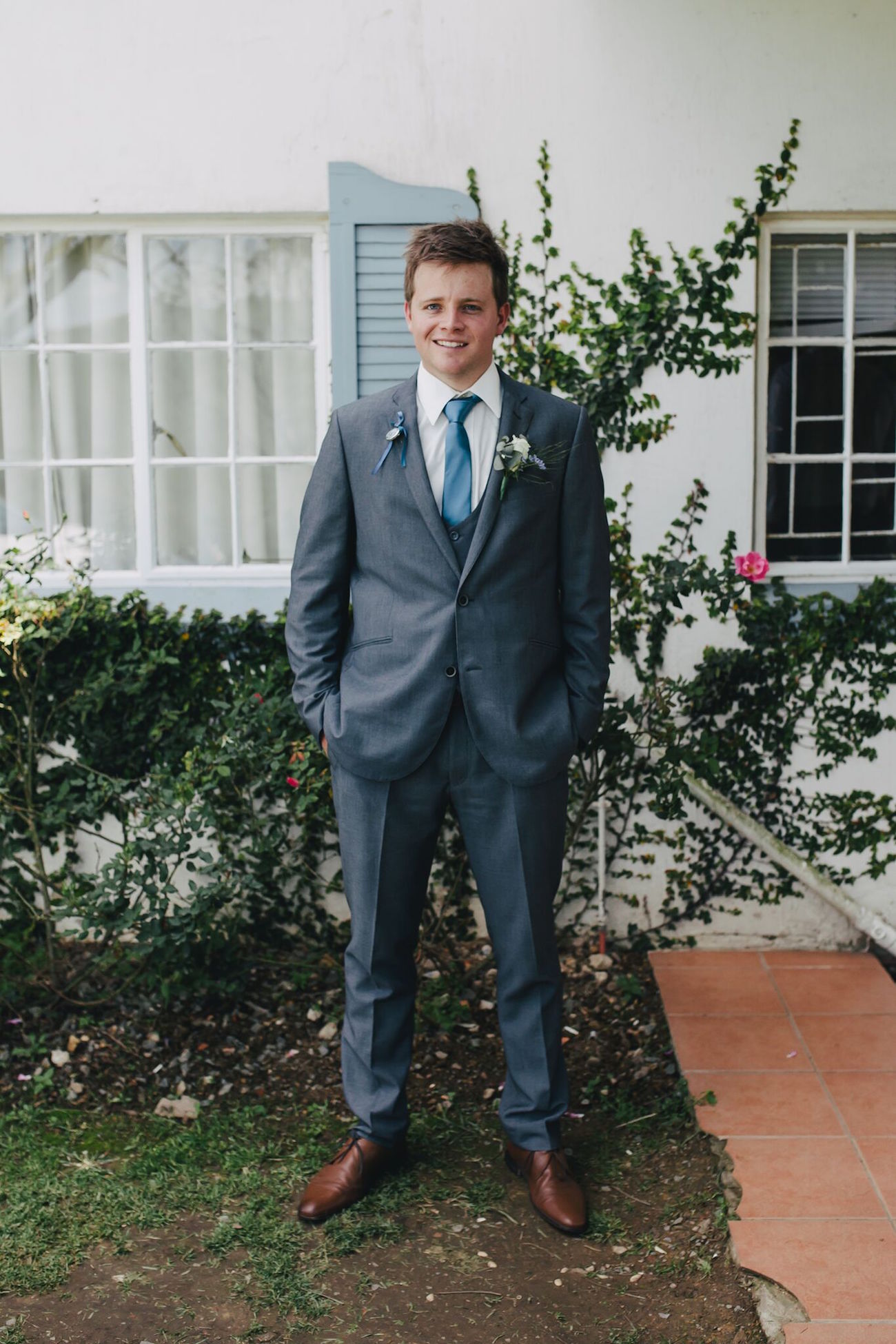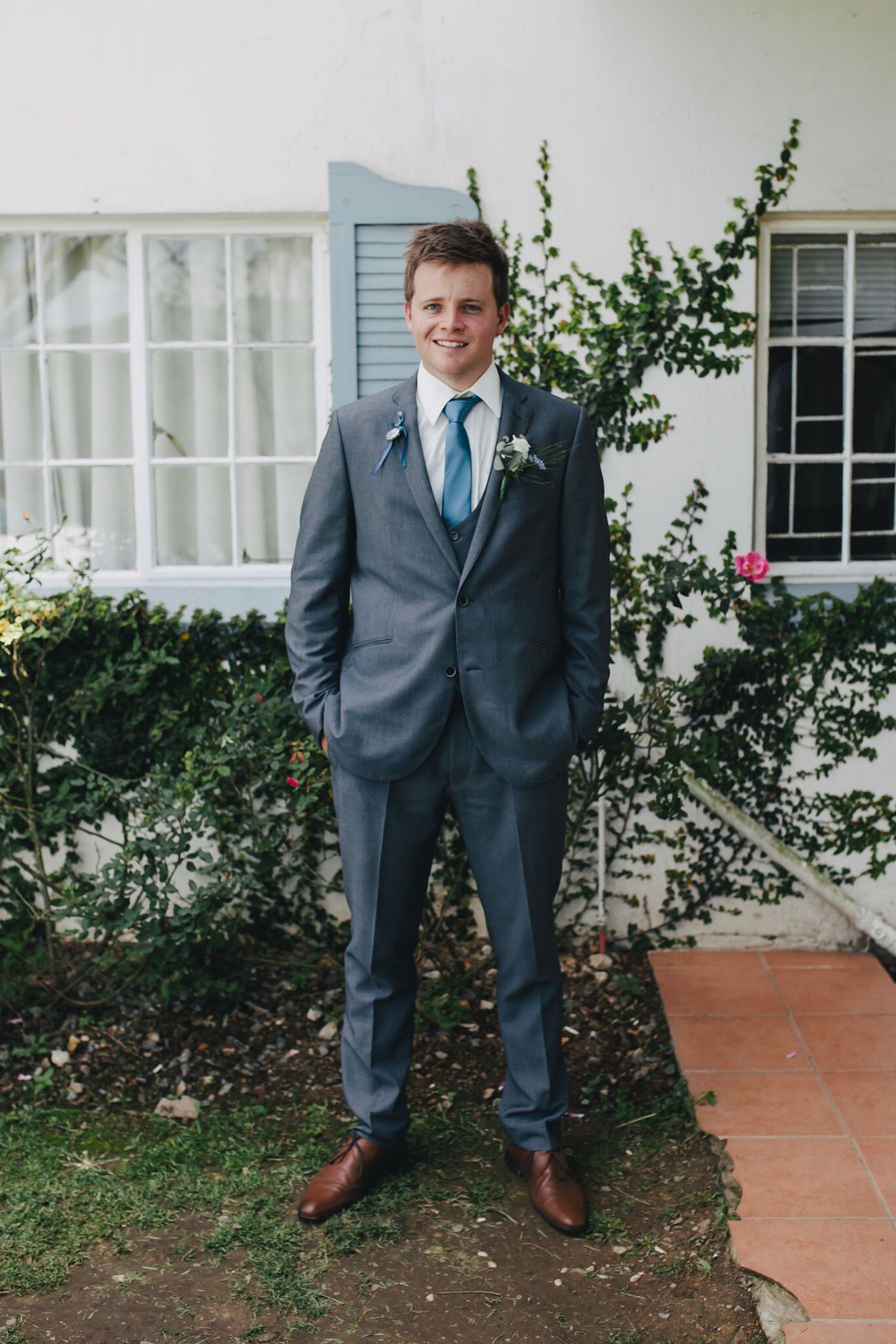 The Venue
Andrew is from KZN and during the year we got engaged we spent a lot of time there. It is such a beautiful province that offers a lot and isn't too difficult for most people to travel to, so with family in Grahamstown and friends and family in the Western Cape and Johannesburg, we looked there for a venue that offered a peaceful, beautiful farm environment, and some accommodation. We did our research and got a lot of quotes, and stumbled upon Thorner Country Estate. It offered idyllic scenes, a significant amount of accommodation, the most beautiful stone chapel and a stunning venue that was the perfect base off which to build any decor theme. Added to this that Chey, who runs the venue, was super organised and upon meeting her we immediately felt at ease. Another key thing for me was that after getting a wide range of quotes, and seeing places which charged for any extra thing you might want, Thorner offered value for money, including extras rather than charging more for them.
Wedding Style
I didn't have a specific vision in mind, but I spent a lot of time on Pinterest and slowly a sort of theme came together. I knew I wanted the colour 'dusty blue' (which I then saw was Pantone's Serenity blue), mixed in with a natural green colour as well as the natural wood, brown and white of the reception venue. I didn't want giant bouquets of flowers blocking people at the same tables from seeing each other, and with the beautiful chandeliers at Thorner there wasn't a need to 'fill space'. Instead we ended up replacing table runners with 'flower/plant' table runners, which also limited the amount (and expense) of table decor required.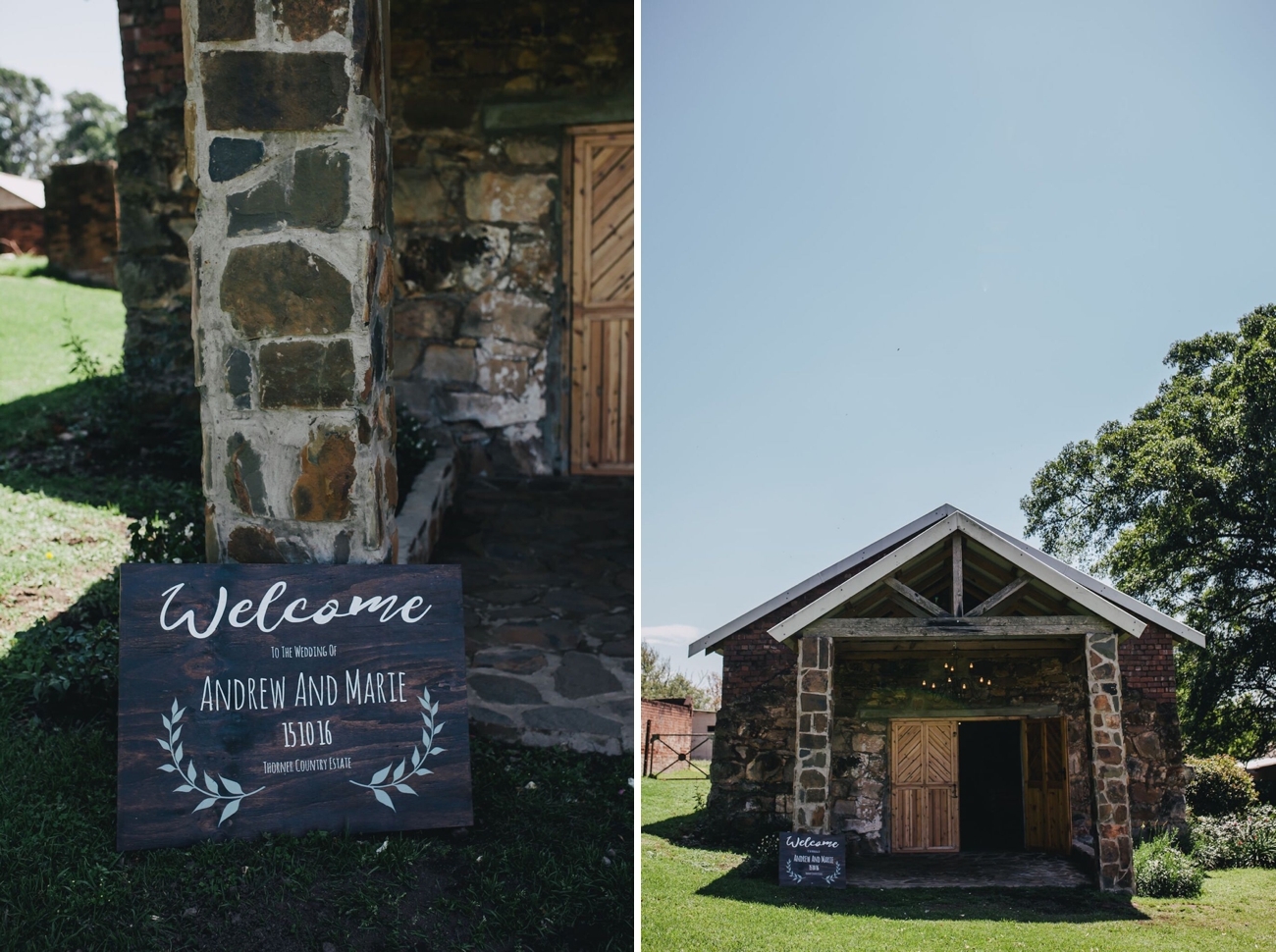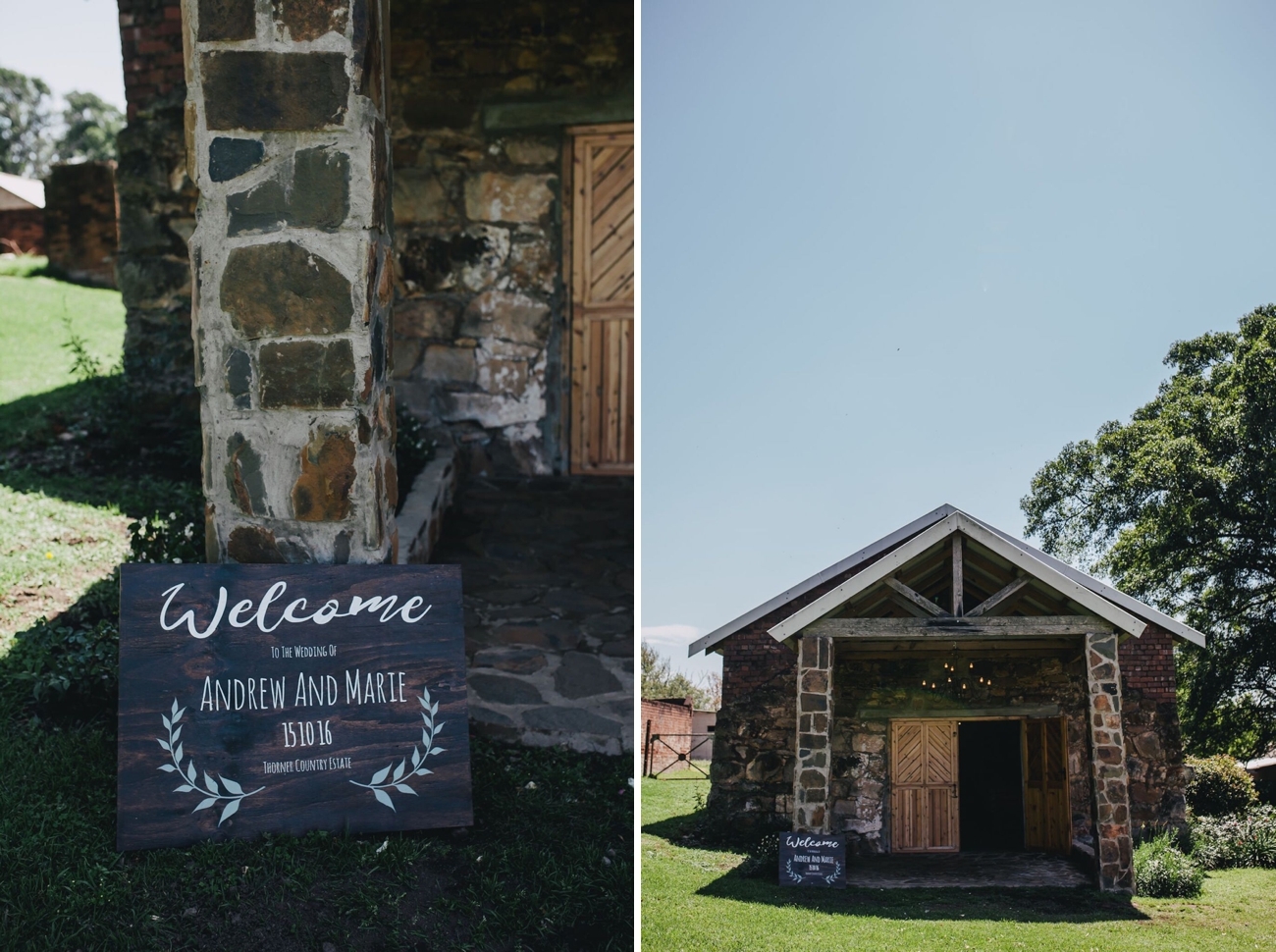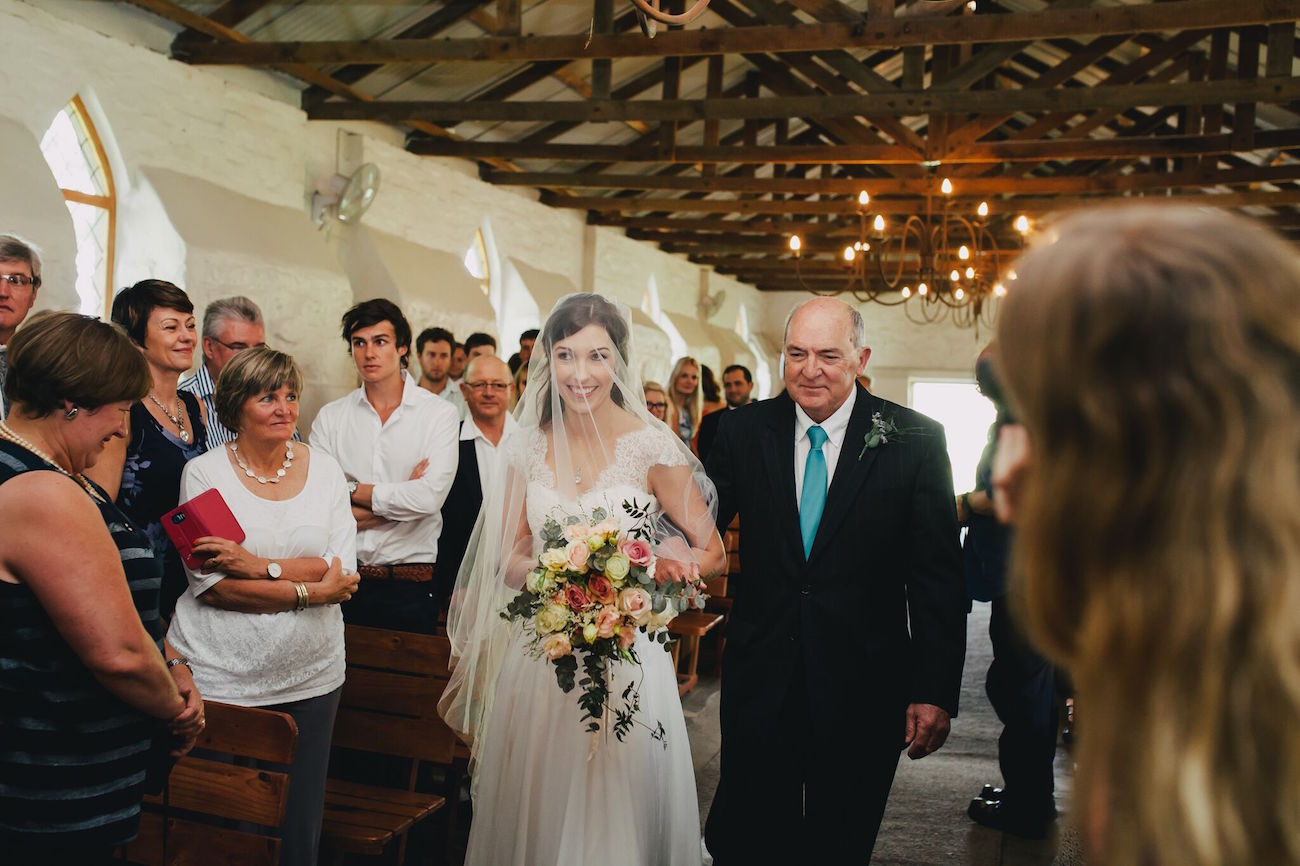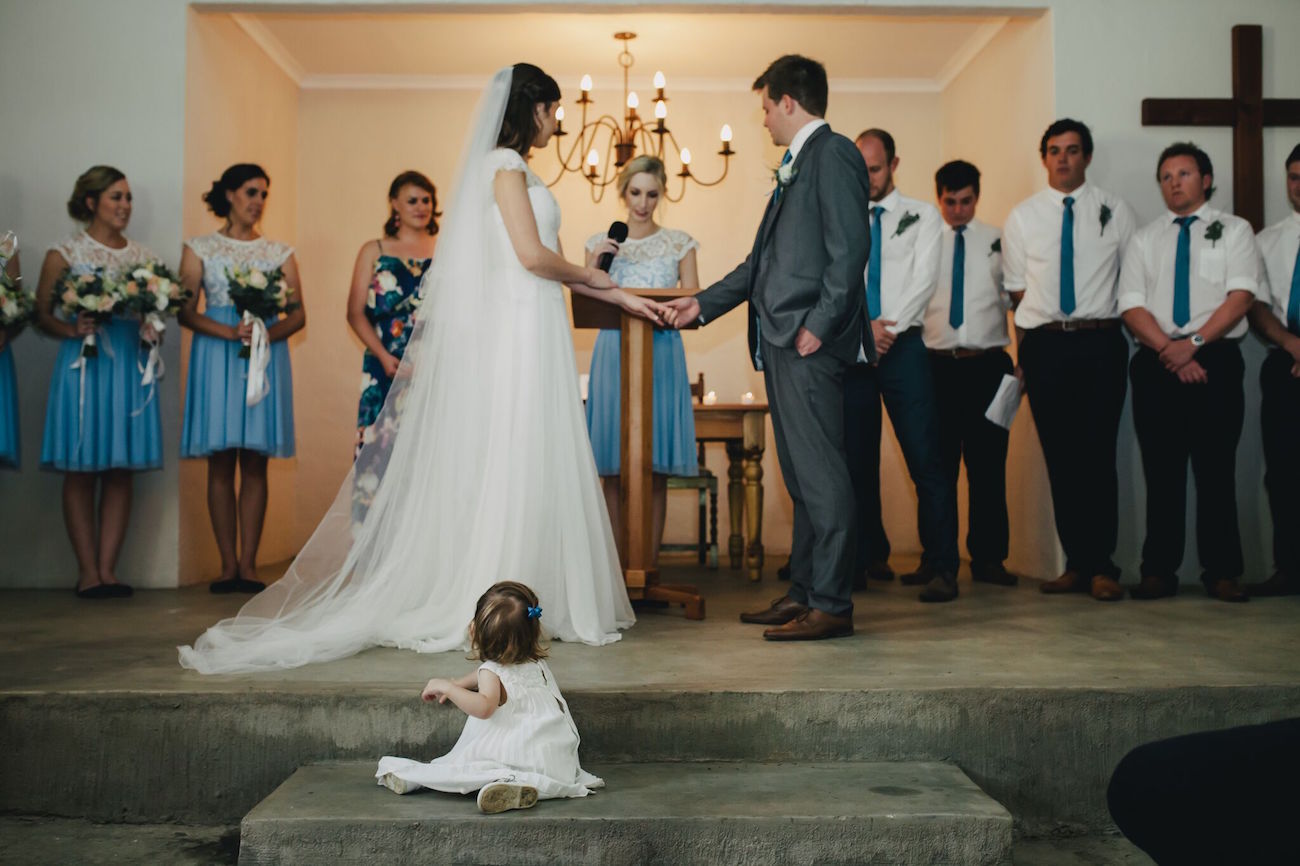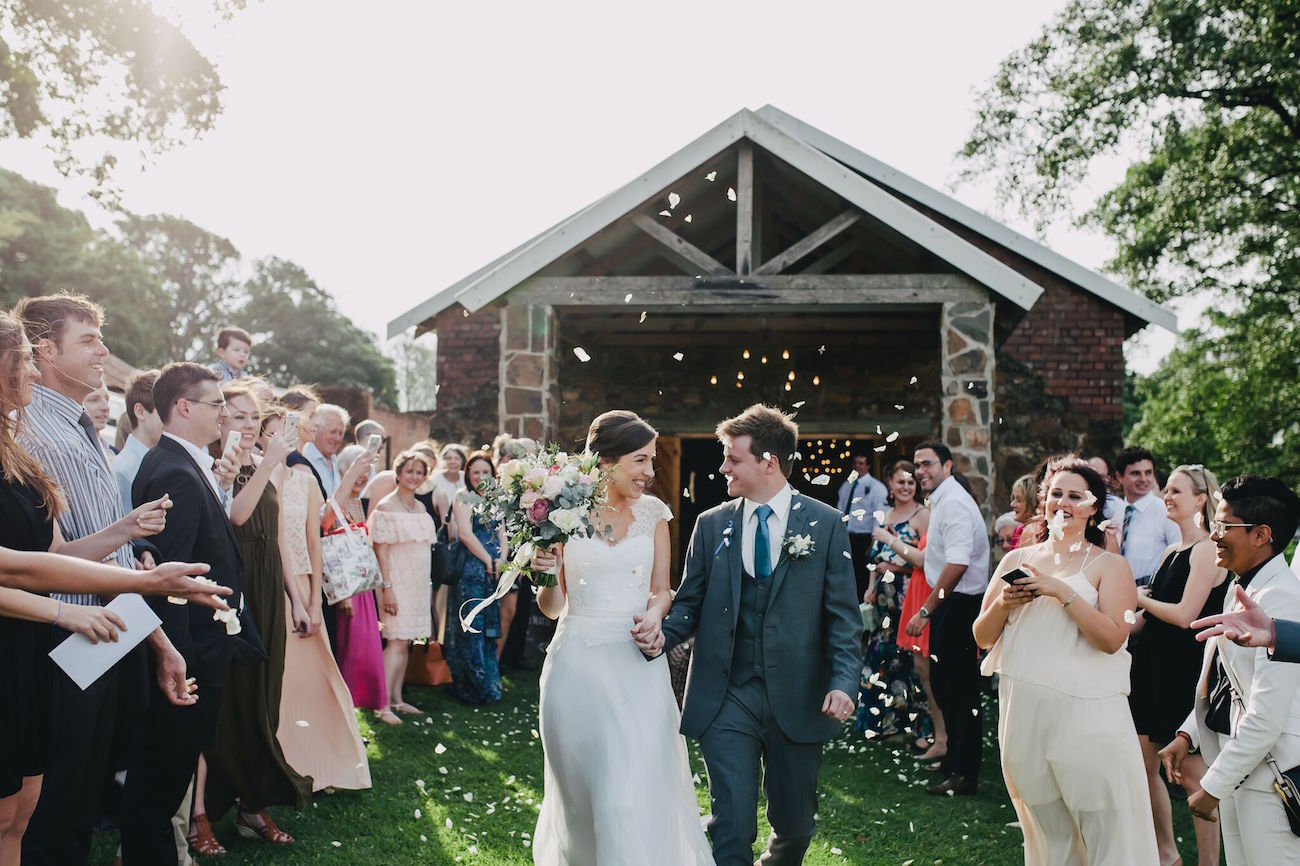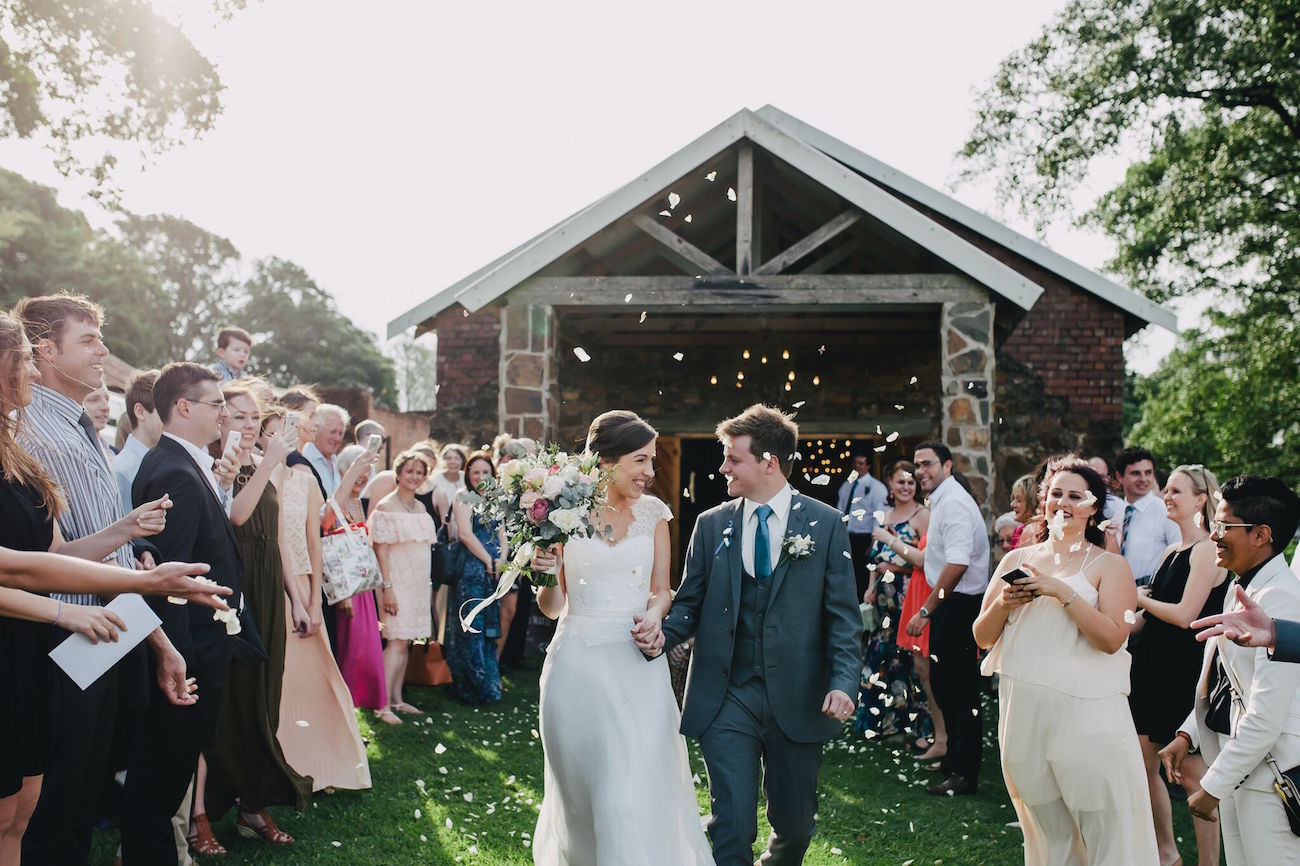 Wedding Details
My favorite wedding details were those extra little things that came together to make up the wedding. Like the little wooden Africas we tied around our napkins (Andrew and I are very proudly South African and love living here, and wanted to incorporate this blessing where we could). We also had a custom-made wedding topper that included our Boston Terrier, had our own wine labels made, a designated kids' table, and we had Andrew's 1 year old nephew, and my cousin's cute 1.5 year old as our ring bearer and flower girl (more for cuteness factor than functionality).
DIY Elements
My mother-in-law and her army of amazing ladies did all the reception flowers, largely from their own gardens with minimally bought flowers. I described what I wanted and they made it come to life. A childhood friend of mine who couldn't make the wedding designed the monogram for the serviettes my aunt's friend made, and I (rather foolhardy) made the cupcakes and wedding cake that made up dessert at the wedding. Our guestbook was also a photobook of our pre-married years together with spaces for people to write, and Andrew and I put together hangover kits for those staying at the venue.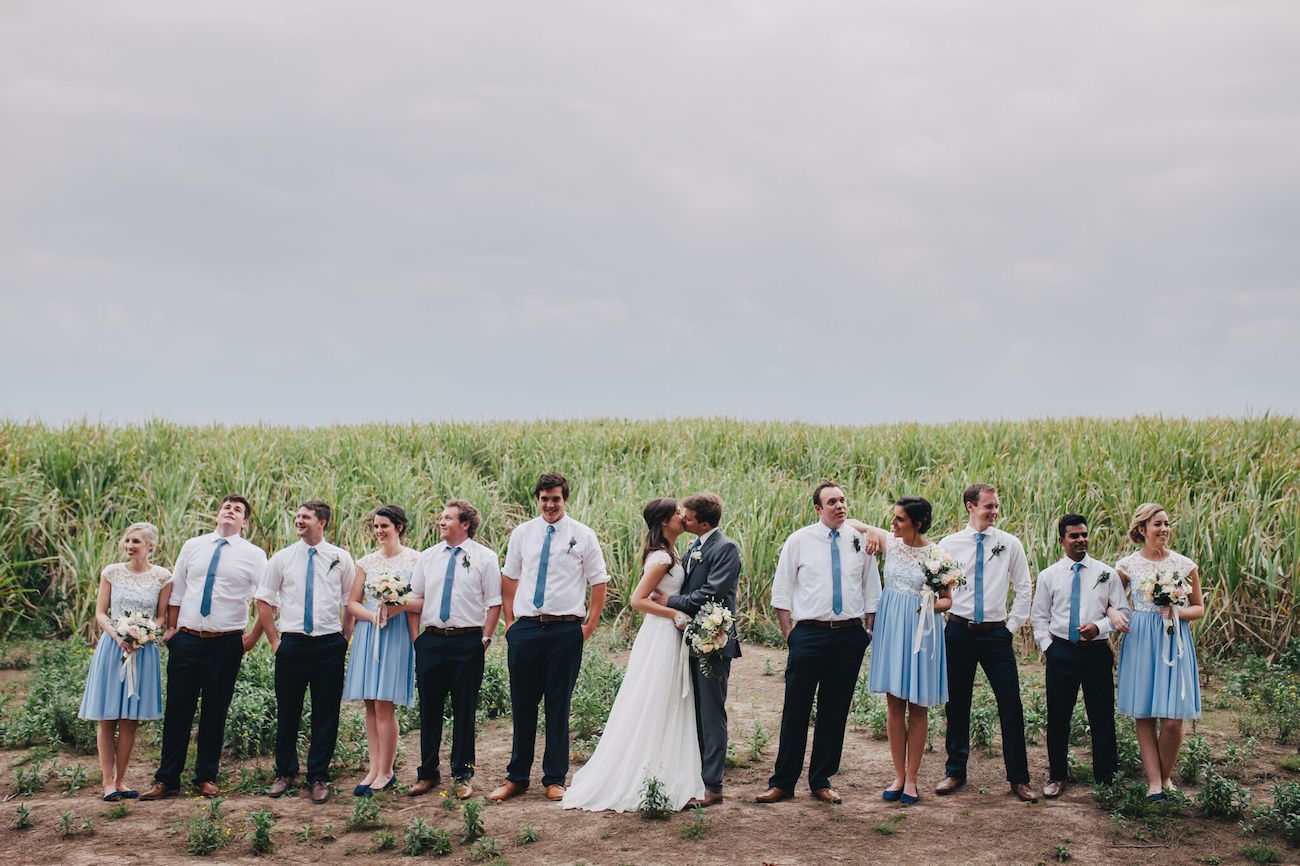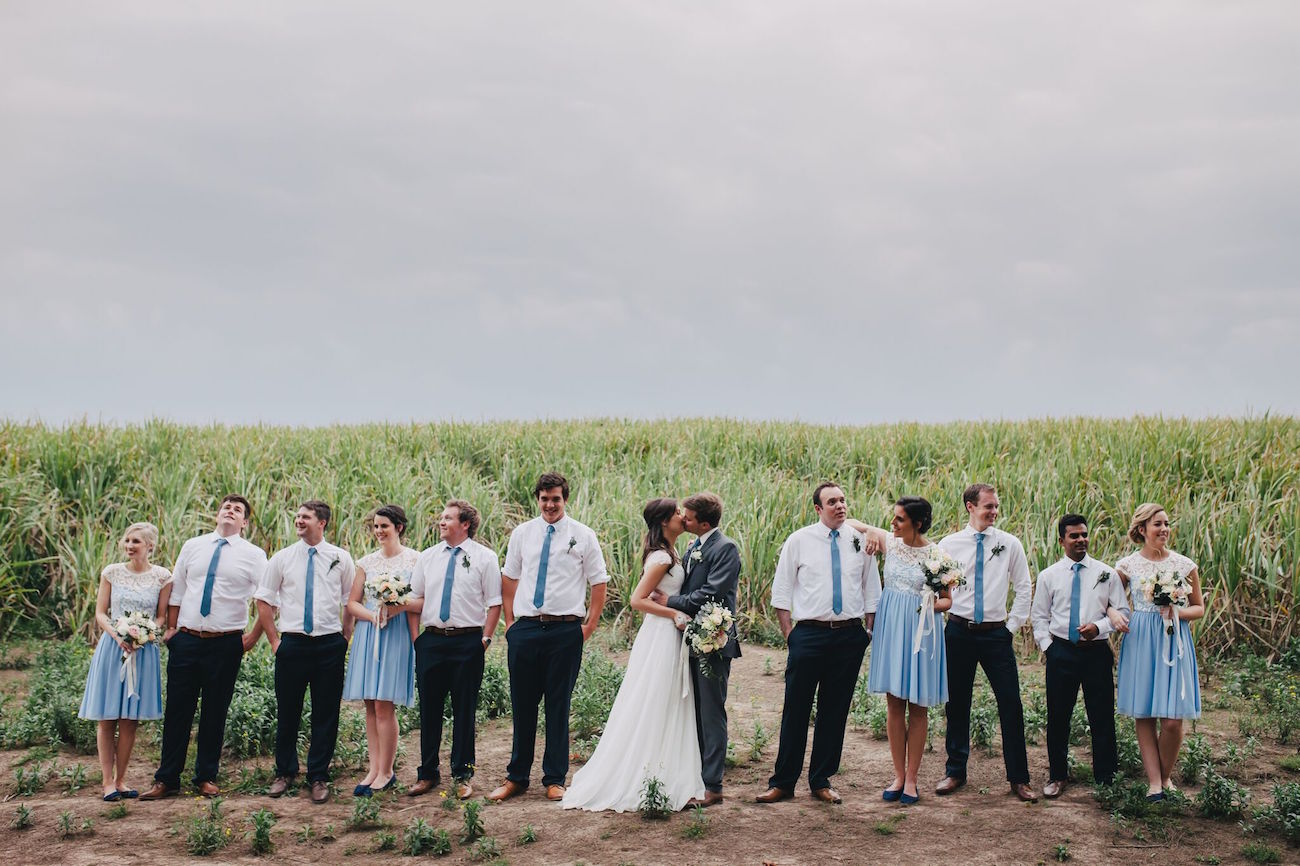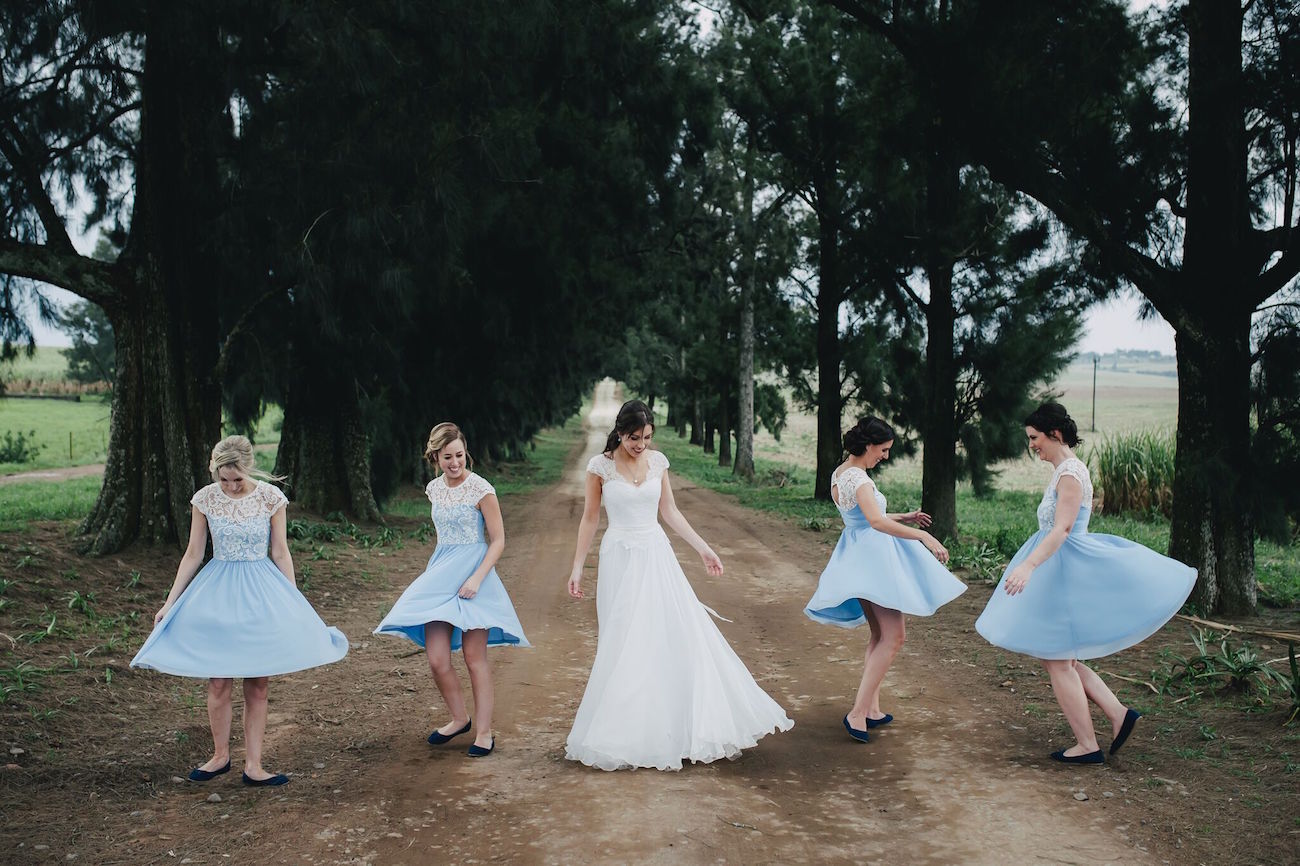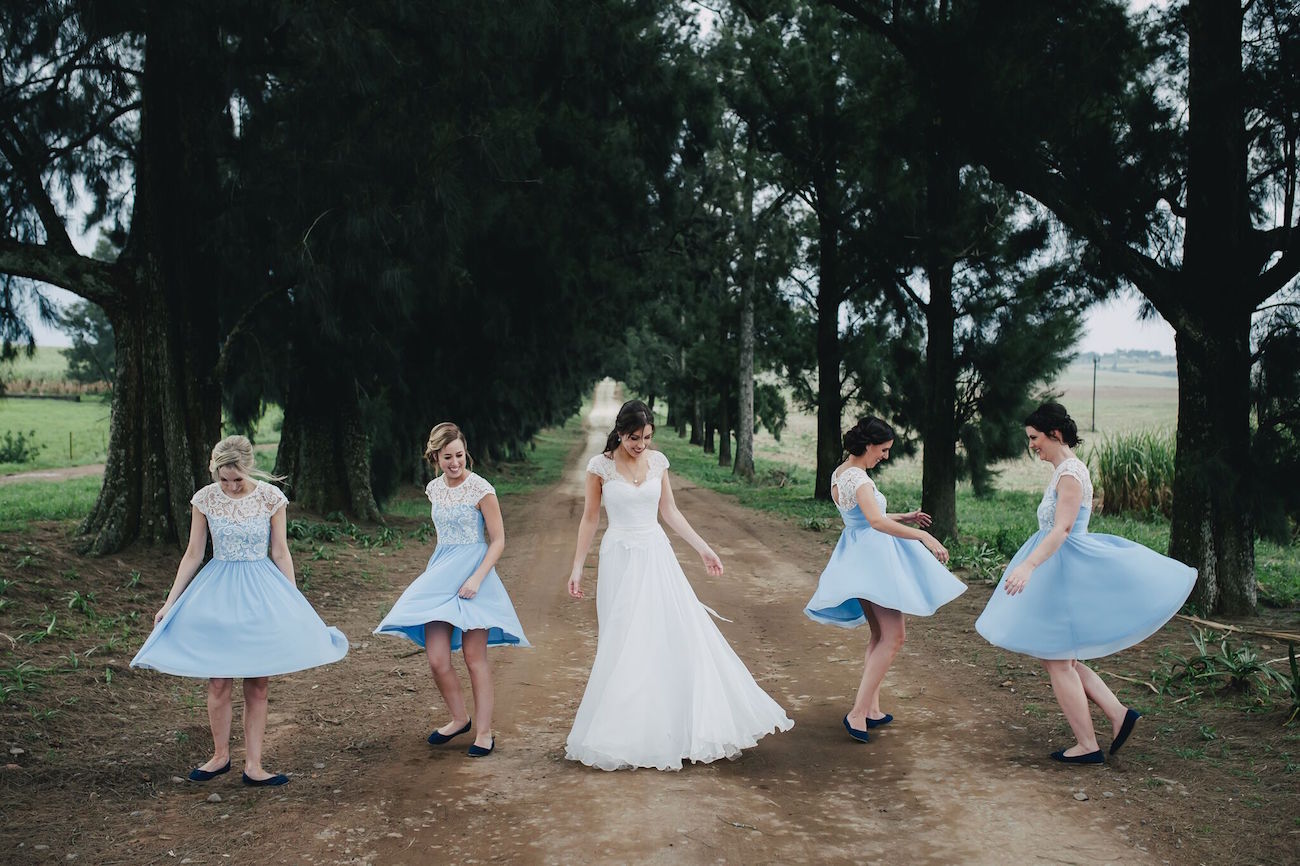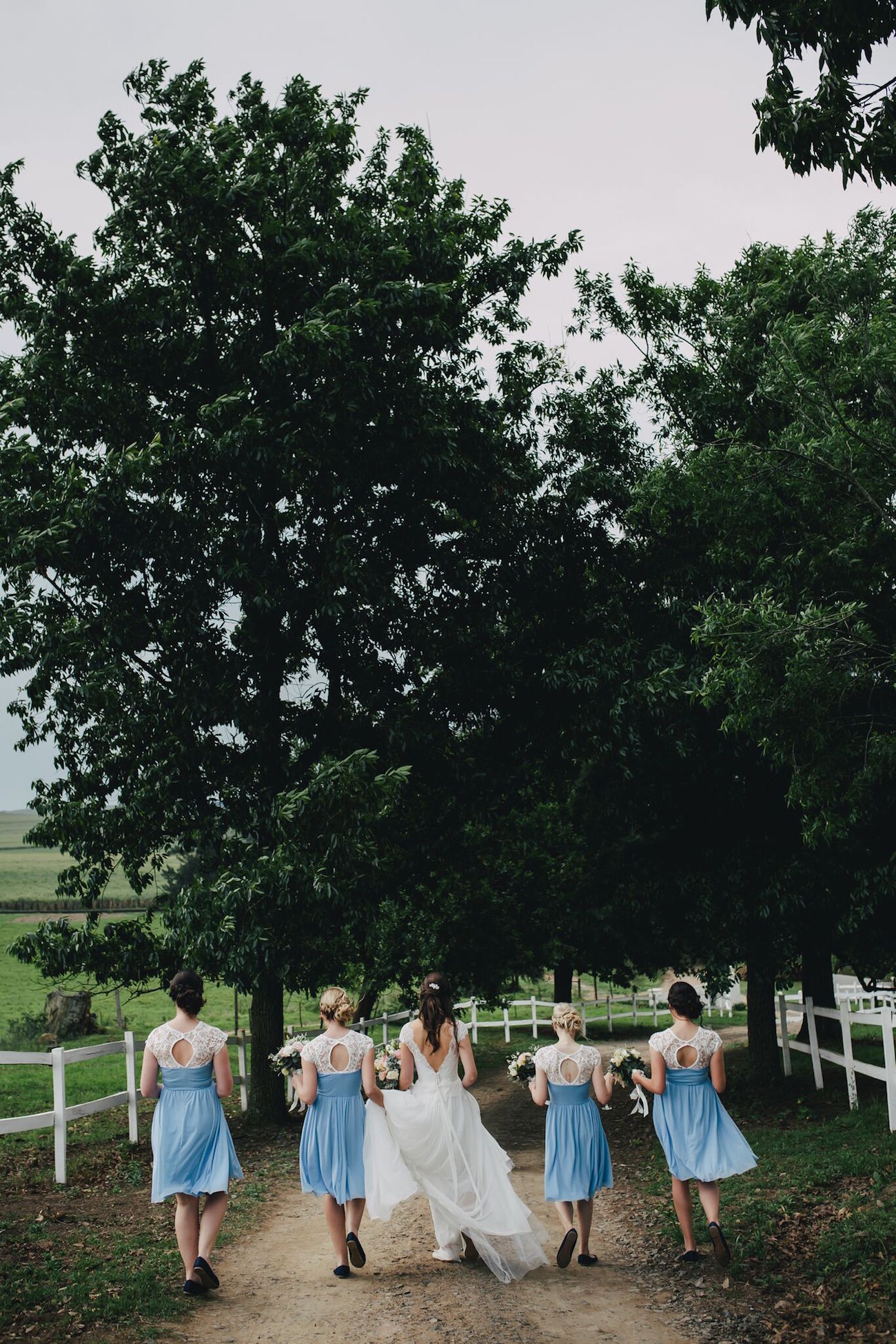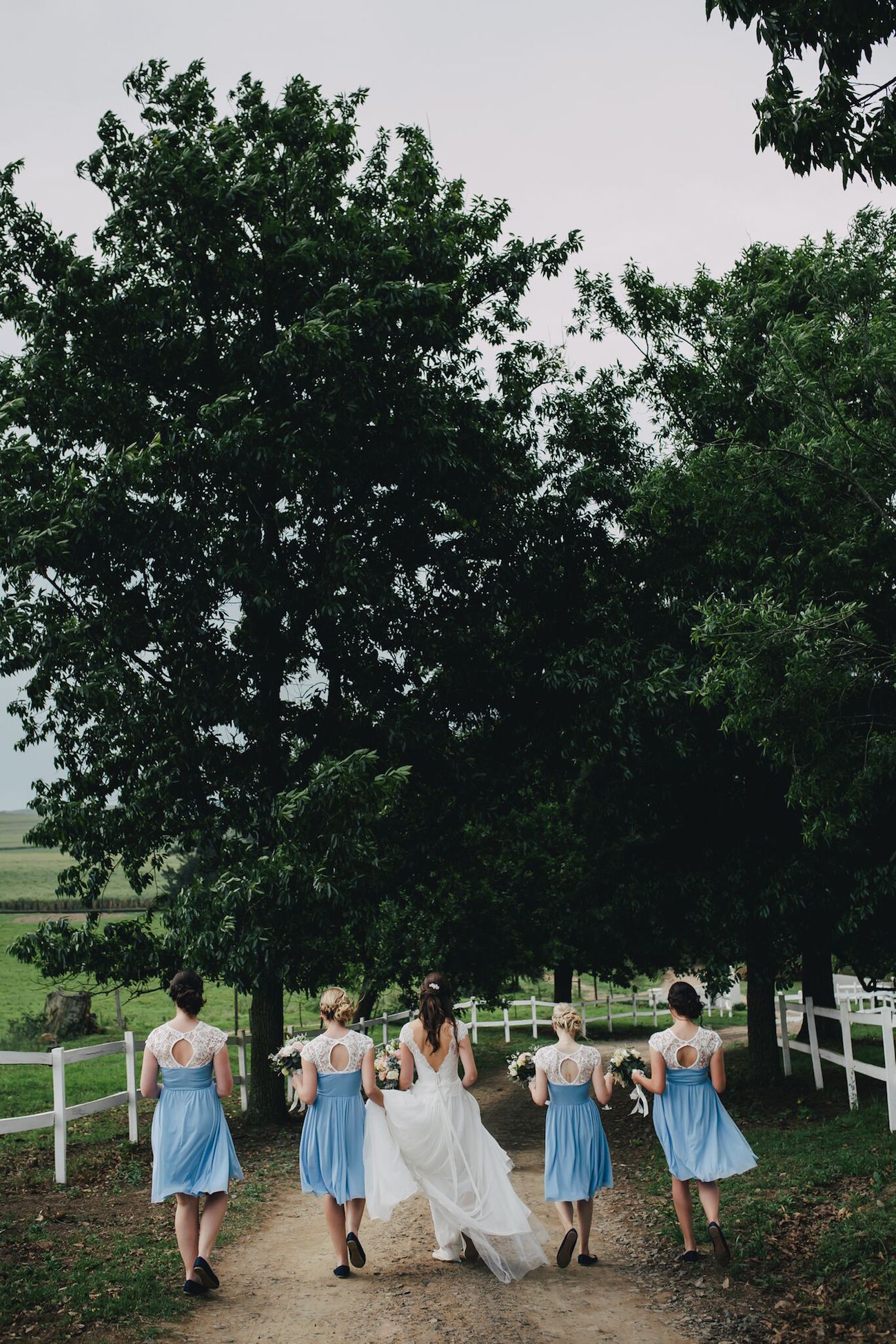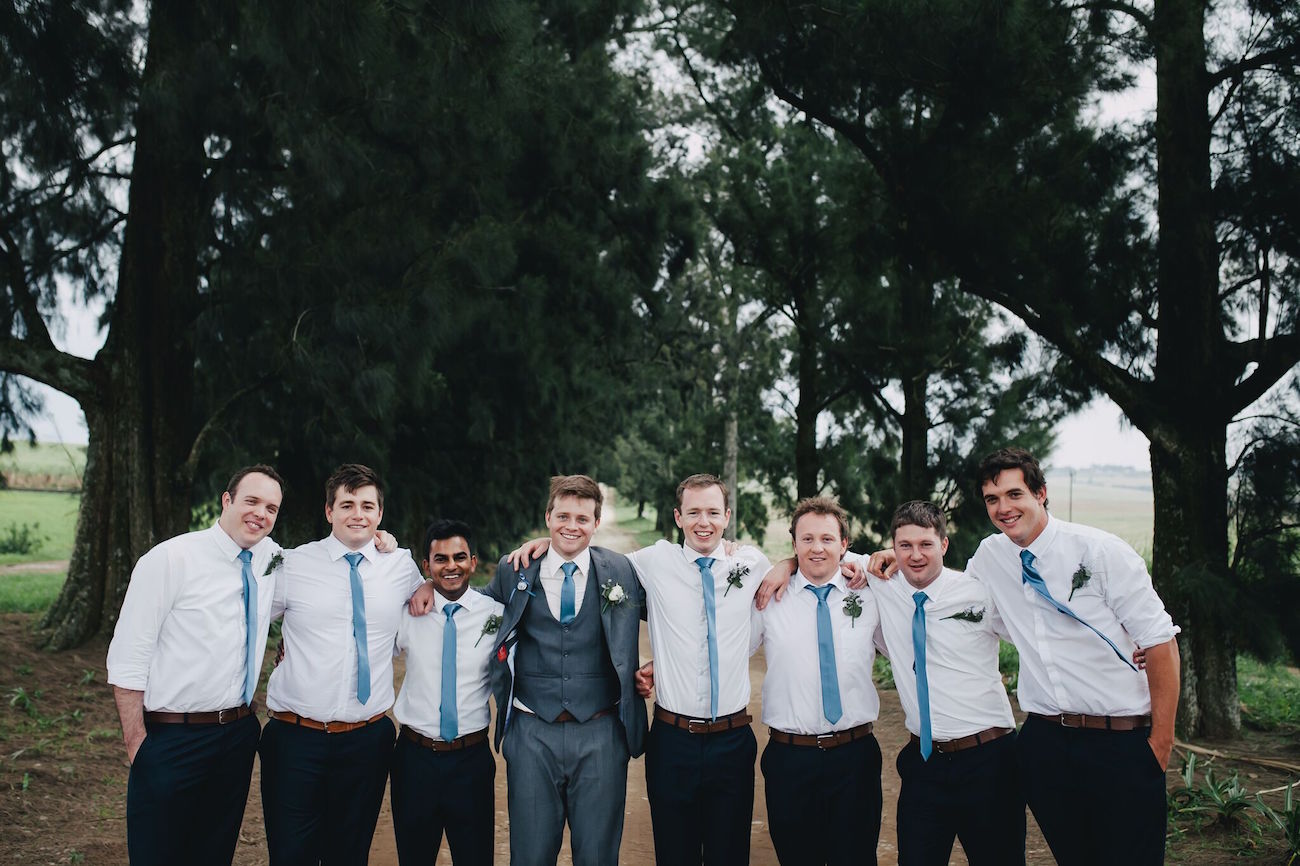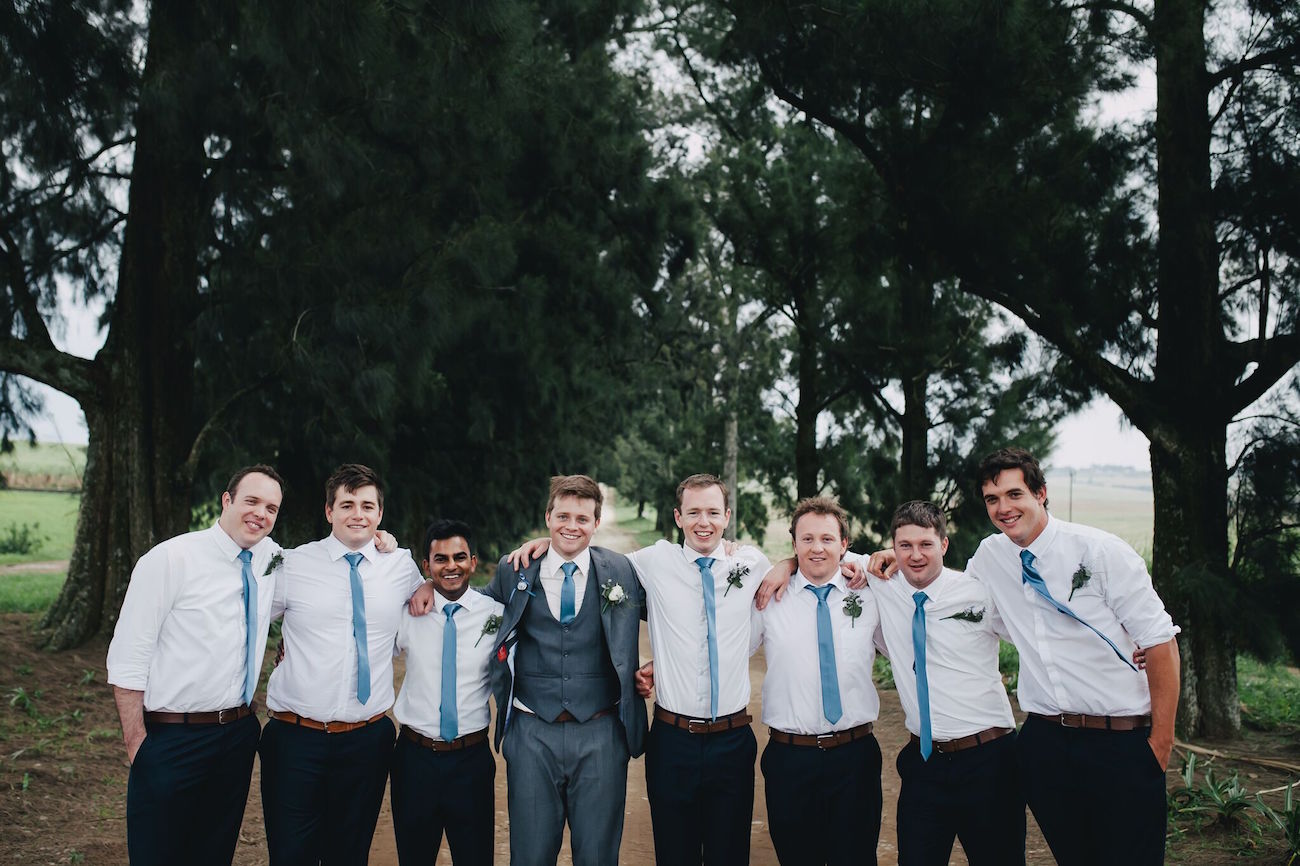 The Flowers
As mentioned, my mother-in-law and her wonderful friends did the reception flowers. I had my and the bridesmaids bouquets made by Anne from Petals Fine Flowers. I literally just sent her a brief description and some pictures of what I was looking for and the bouquets she created were absolutely what I was looking for and looked amazing!
The Food
Our caterer was amazing. Hayley Fyvie from A Pinch of Salt Catering only caters selected venues near her farm and luckily Thorner is one of them! We knew food would be a significant (and greatest singular) cost, and Hayley offers incredible value for money. On top of that her food was absolutely spectacular! People are literally still commenting on it today. We had an array of canapes as a starter and then shredded lamb shank and Thai veg curry as the mains.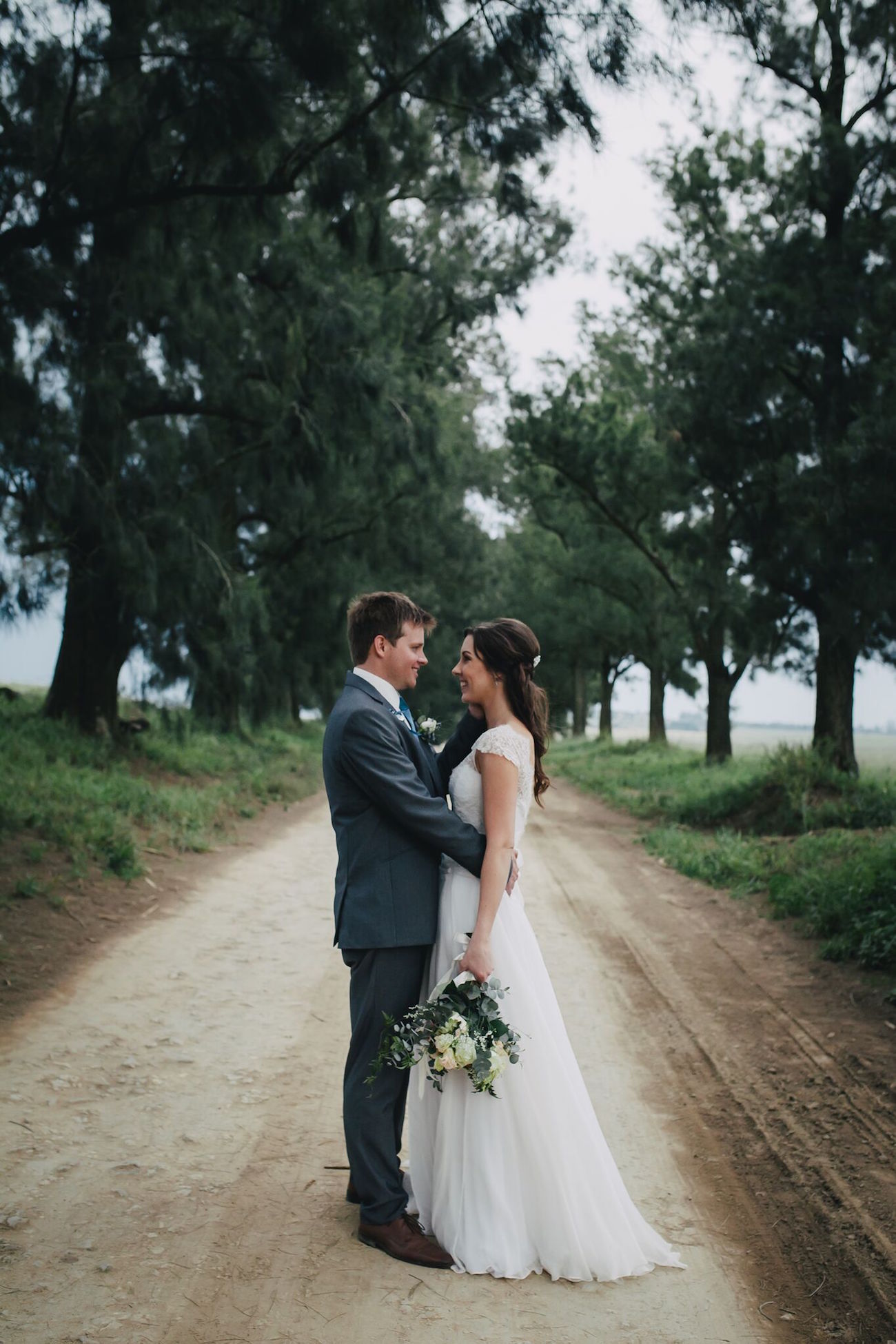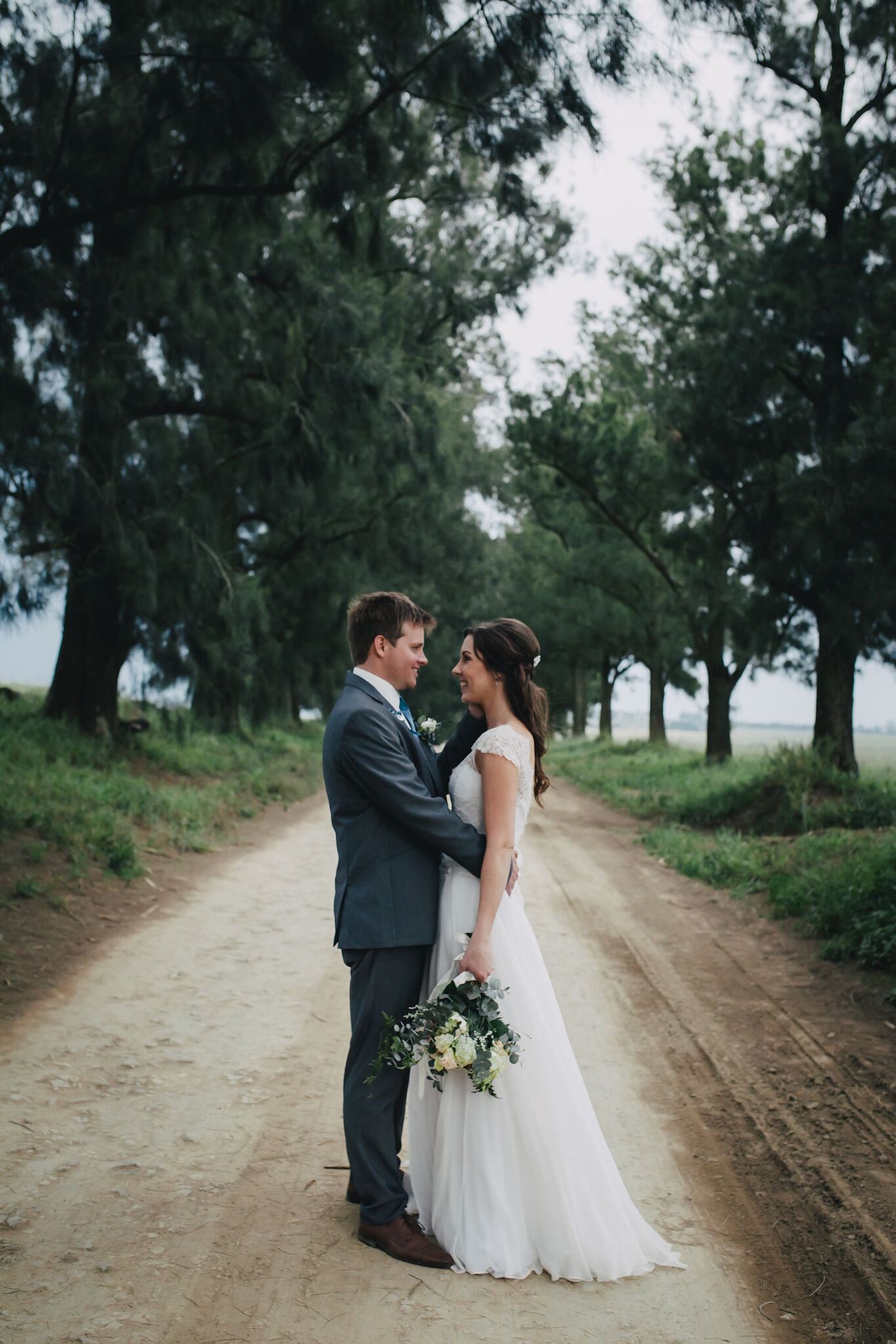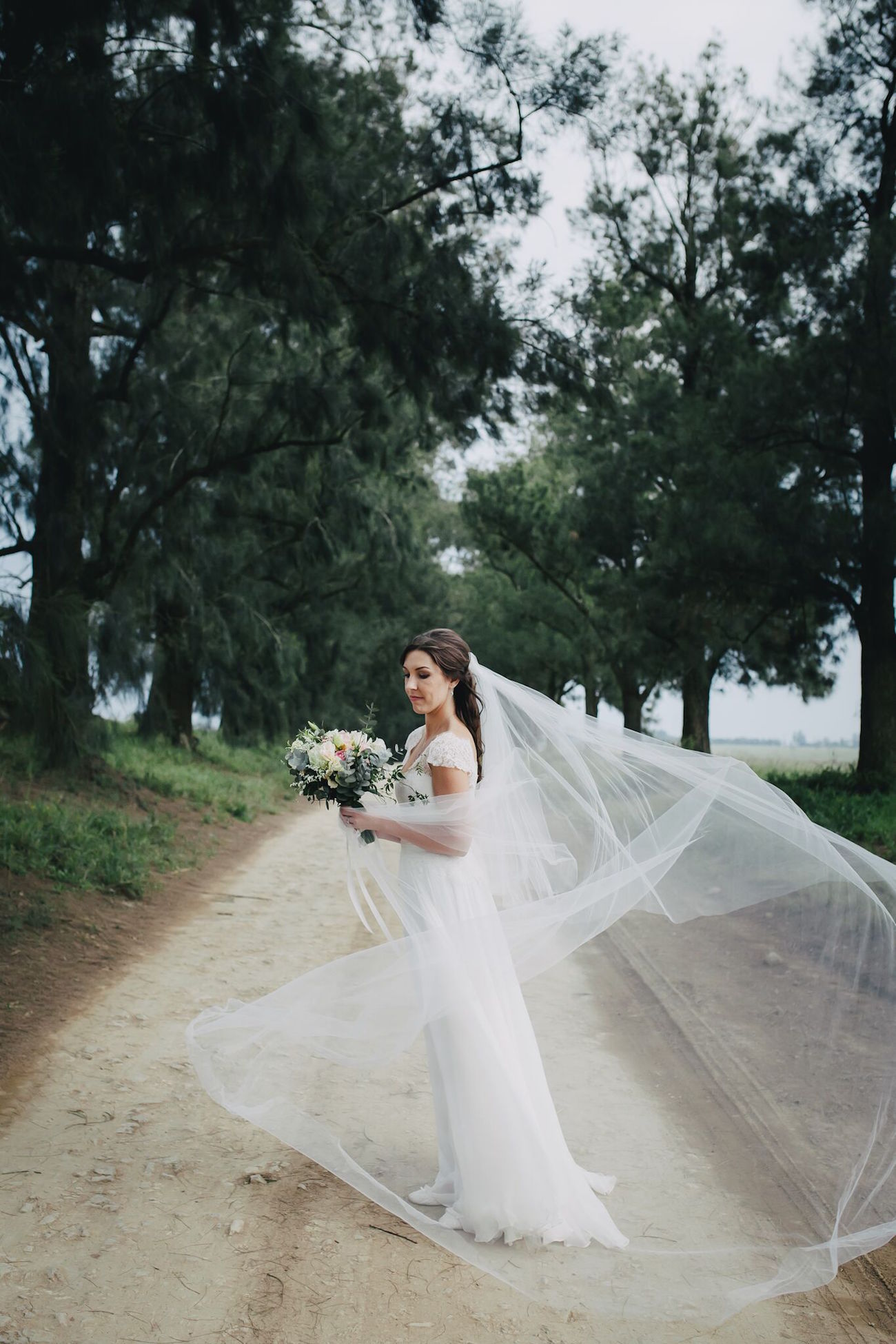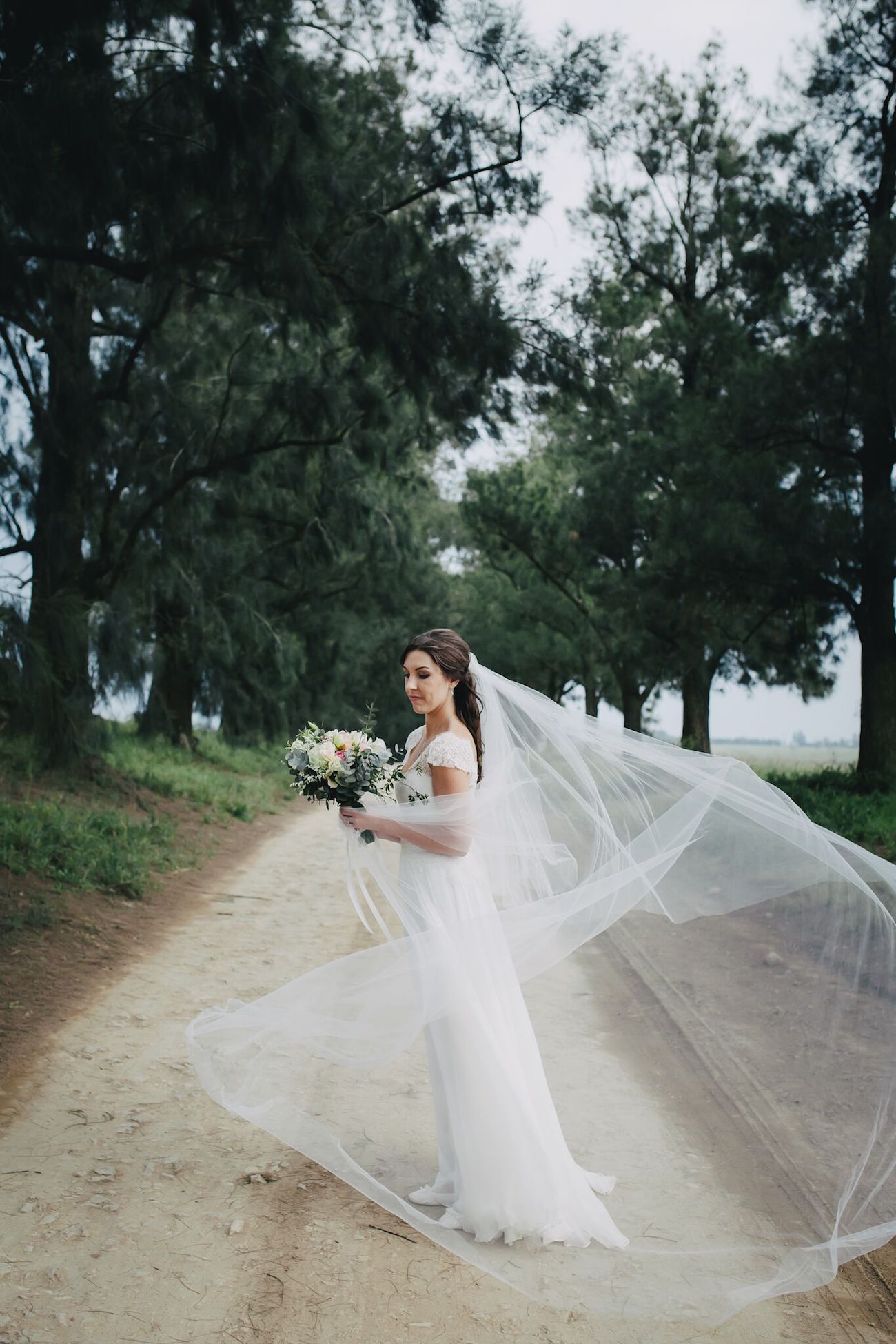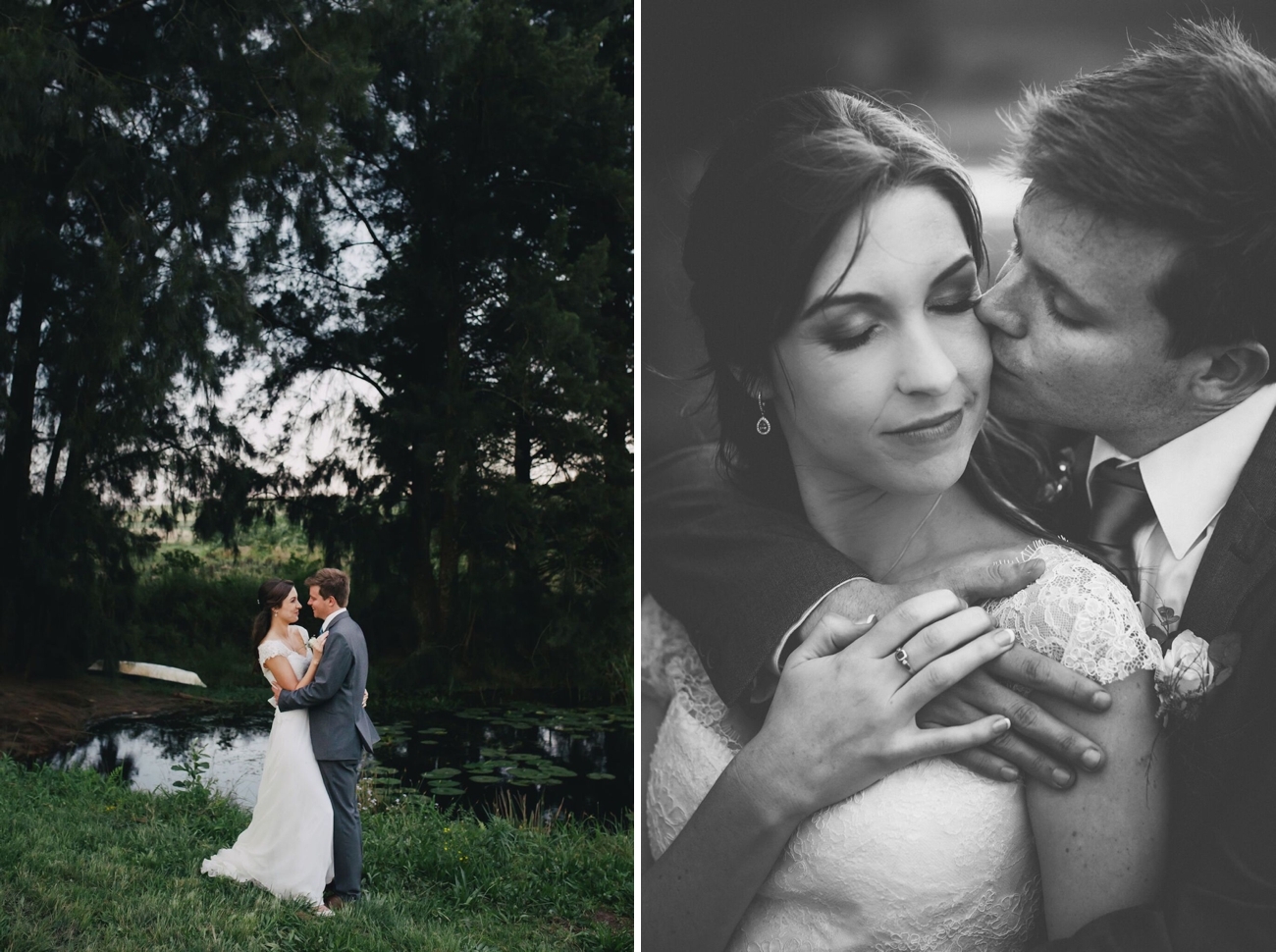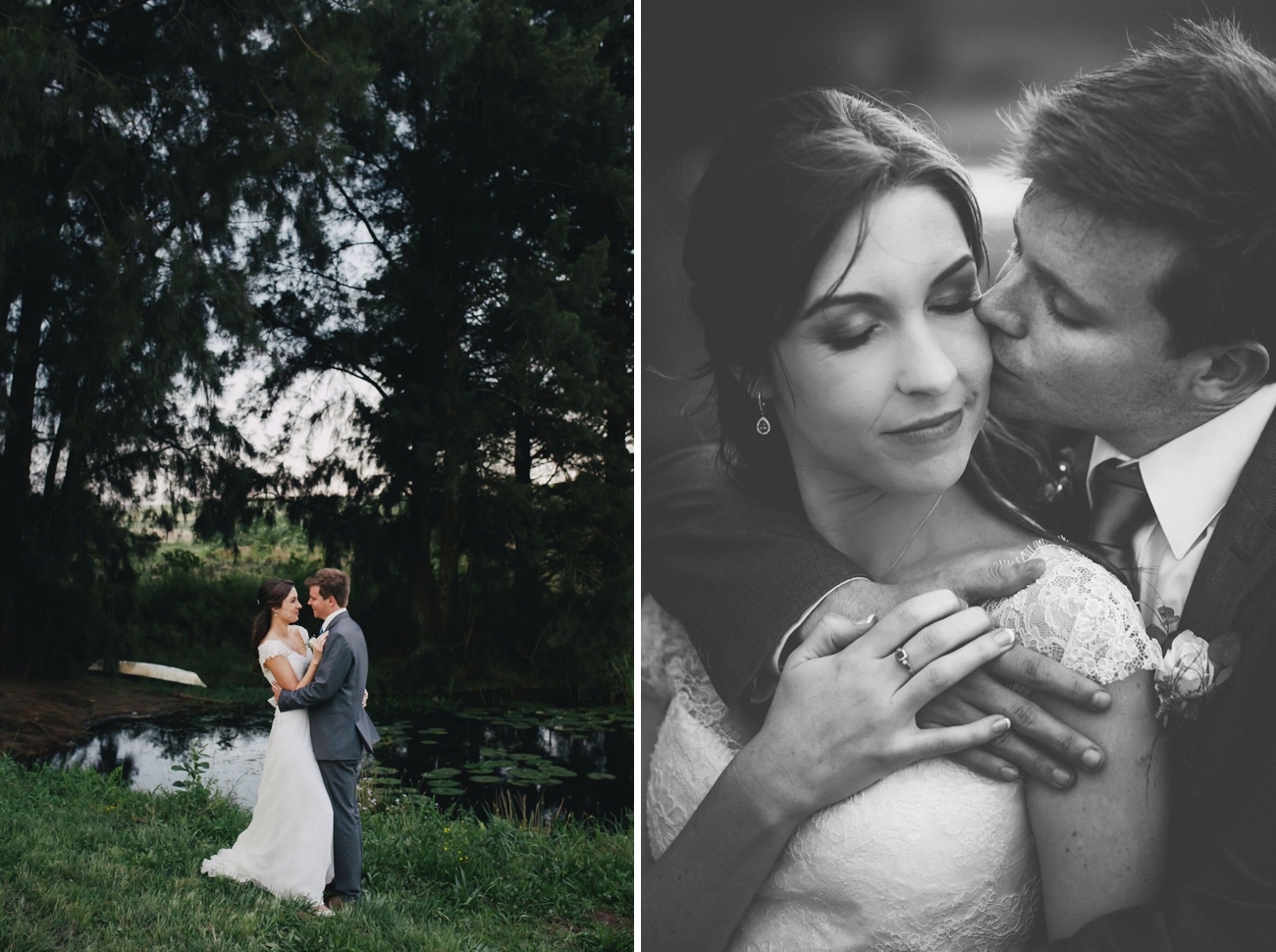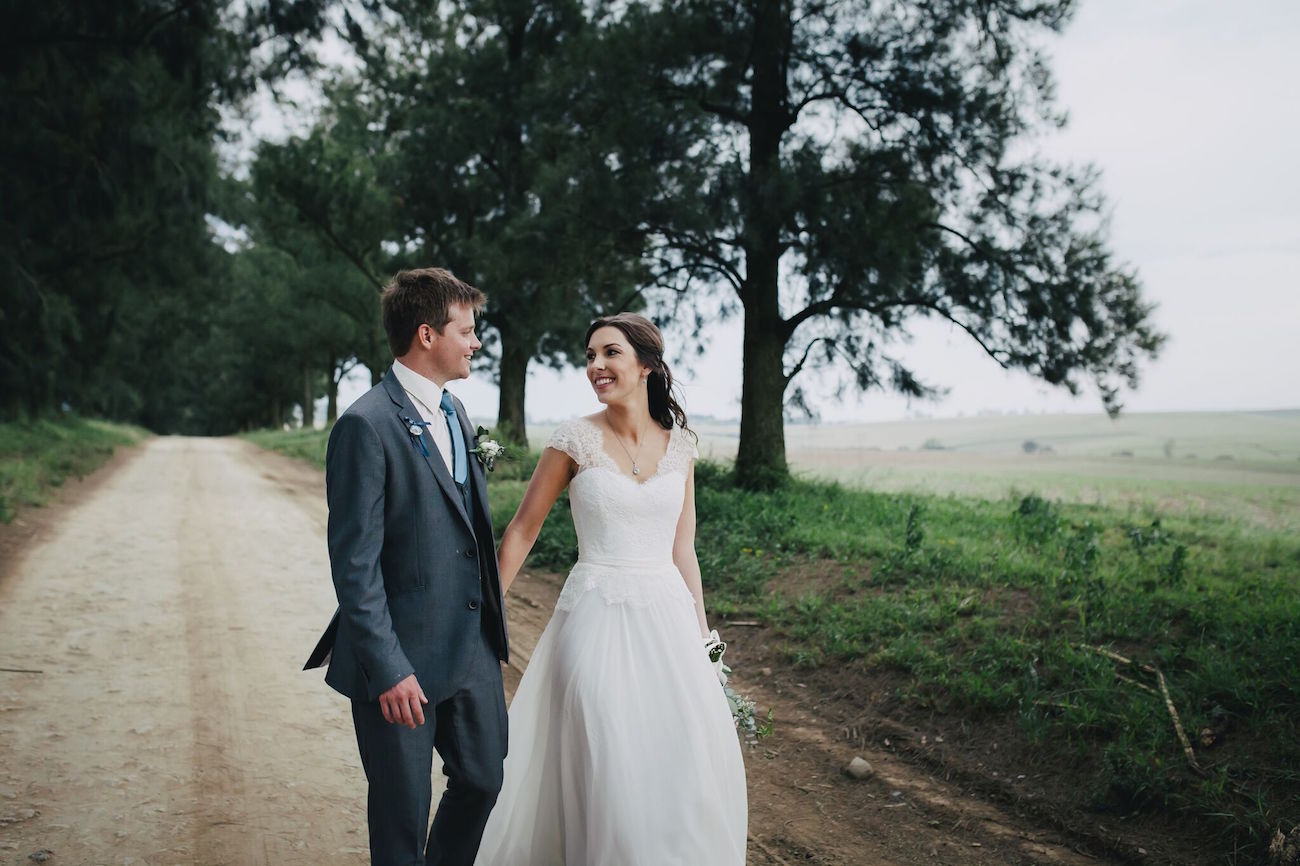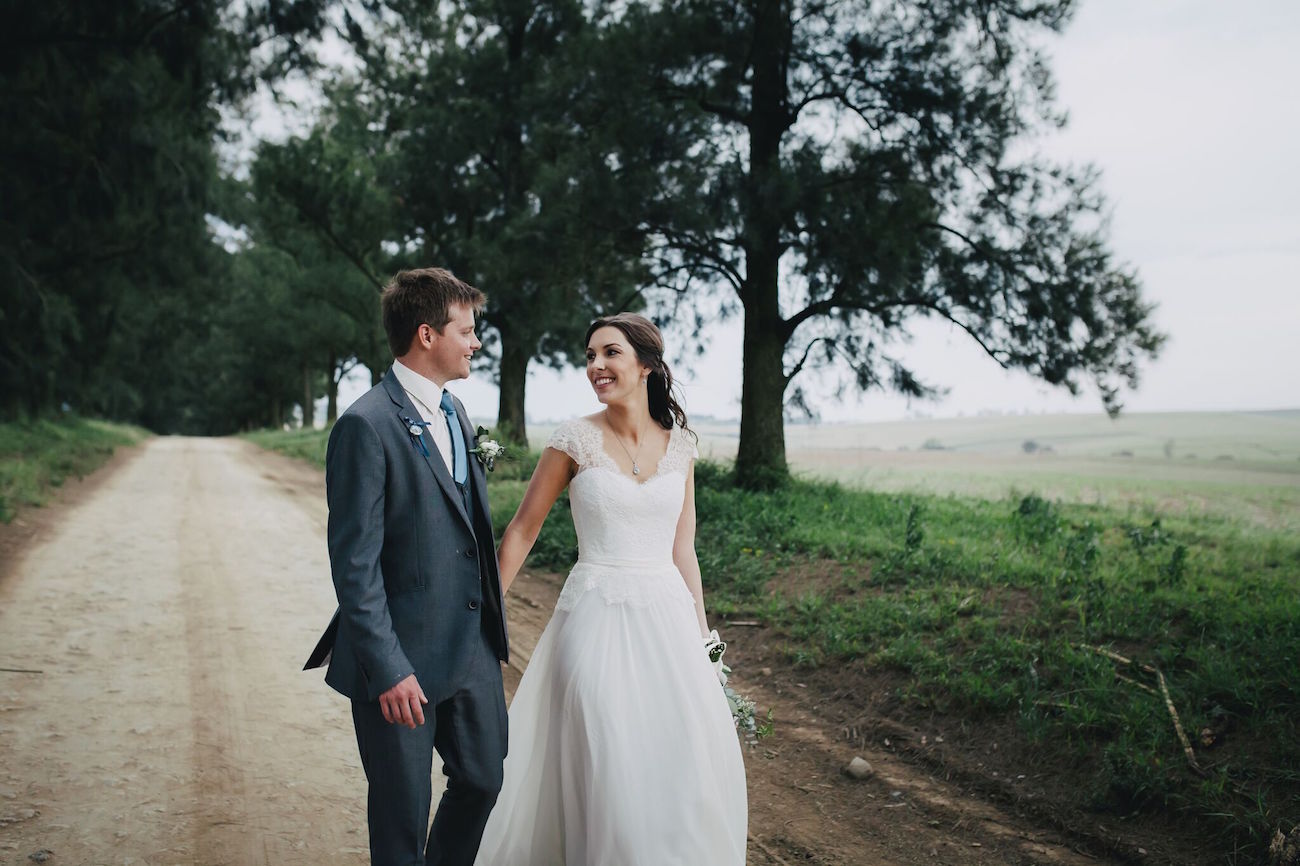 The Dress
I tried on a wide range of dresses, and did a lot of Pinterest research, but everything I liked I wanted to have changes made to, which would add to some already significant prices. So against most advice, I decided to have my dress made. Amongst the quotes and dress makers situated in Johannesburg, I found Joss Bridal Wear. When I met with Joss I immediately felt comfortable with her and that she understood what I was looking for. This was confirmed when she sent through the sketch for my dress. Having my dress made by her was part of my wedding experience, she did everything with me piece by piece. My dress was everything I dreamed of and I am still trying to find another excuse to wear it again.
The Bridesmaids
I had four amazing bridesmaids. Around the time I got engaged I discovered Hoiden Bridesmaids on Facebook. Not only are they from PE (i.e. my home province of the Eastern Cape), but the designs are beautiful and the prices don't break the bank. I wanted my bridesmaids to feel comfortable, and maybe even be able to wear the dresses again. From the Hoiden catalogue, I found a dress design I really liked, and to fit in with the colour scheme I wanted to go for a dusty blue fabric they had. However there wasn't a lace that matched the blue (and was needed in my dress choice). This worked our for the better as the lovely ladies at Holden recommended a white lace which I think translated better on the day than one-colour dresses would have.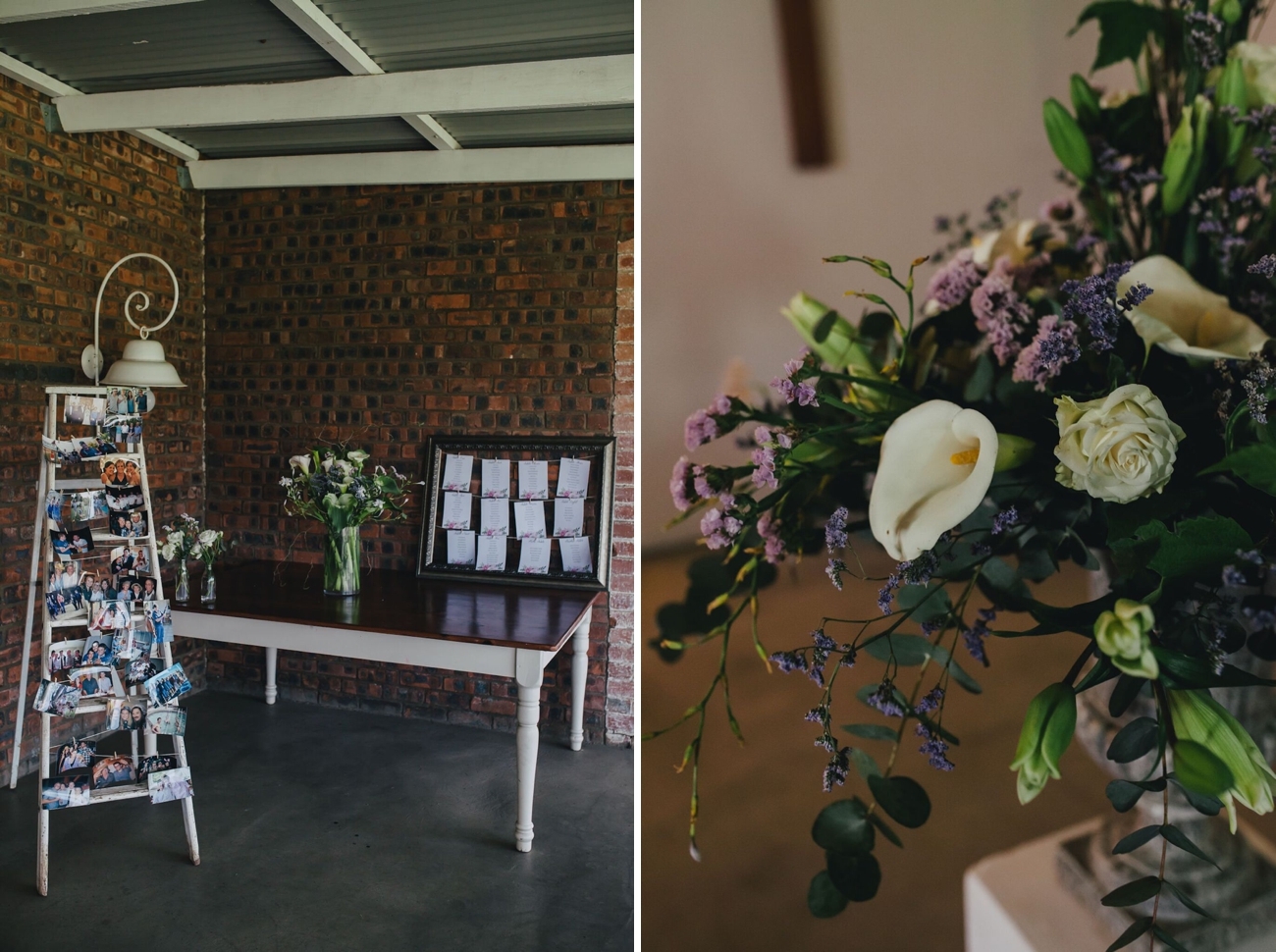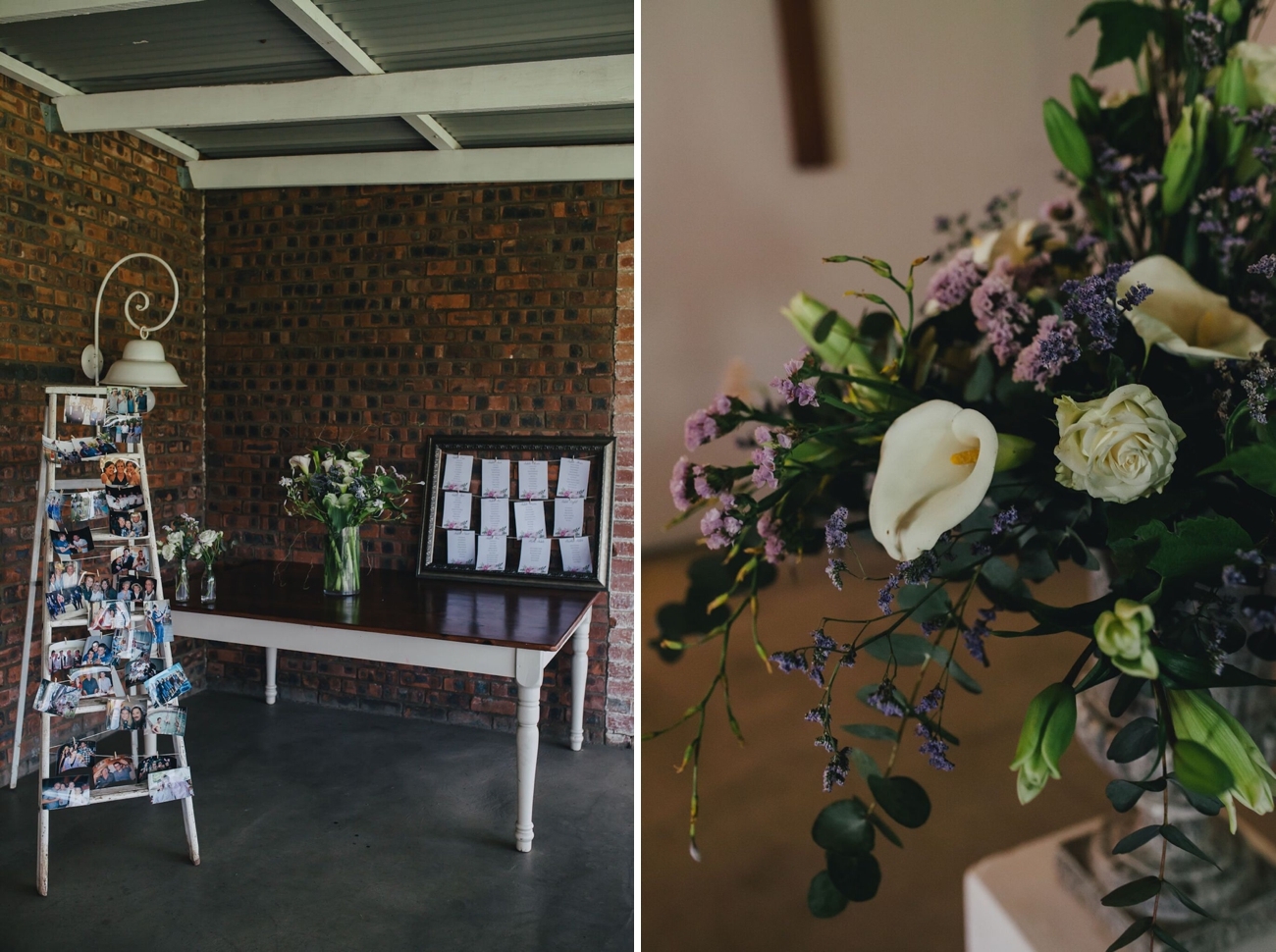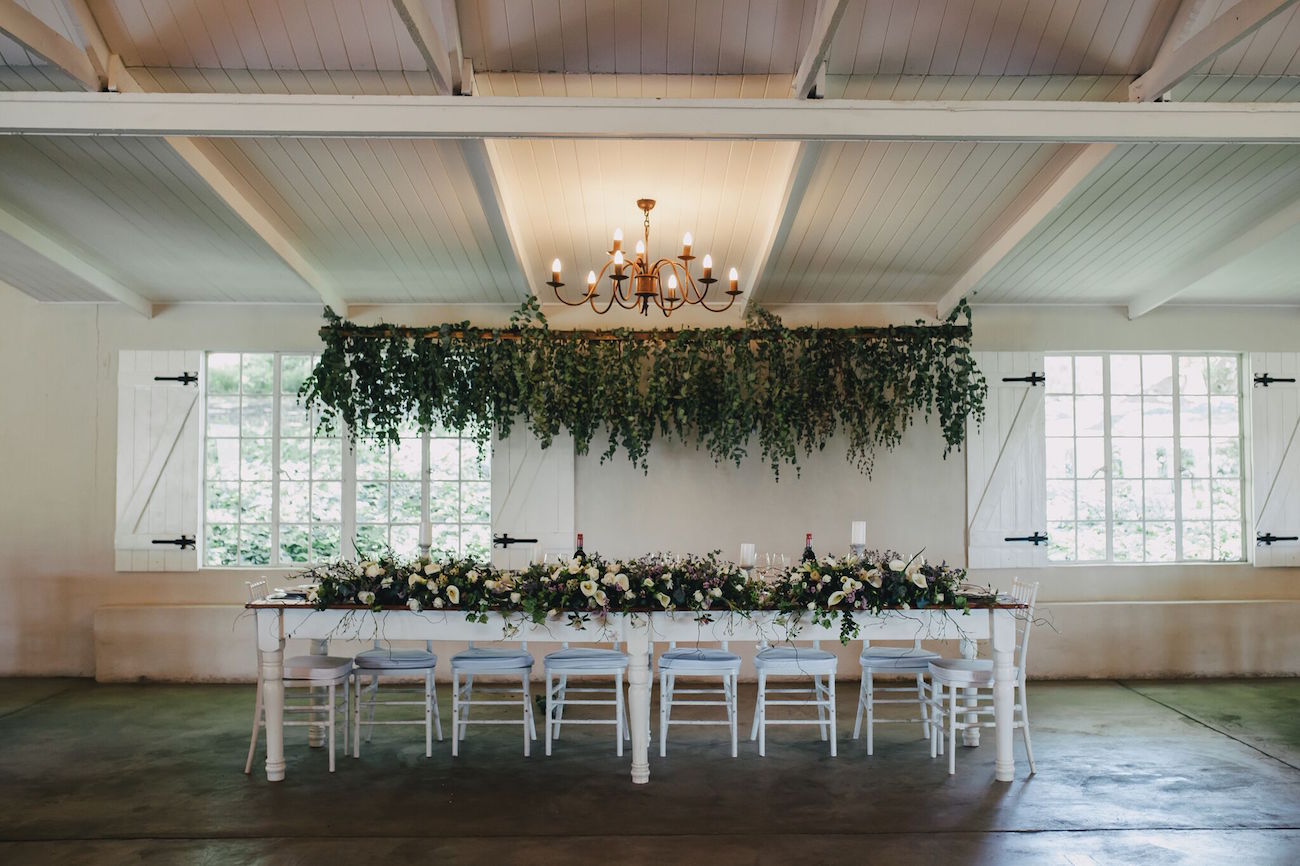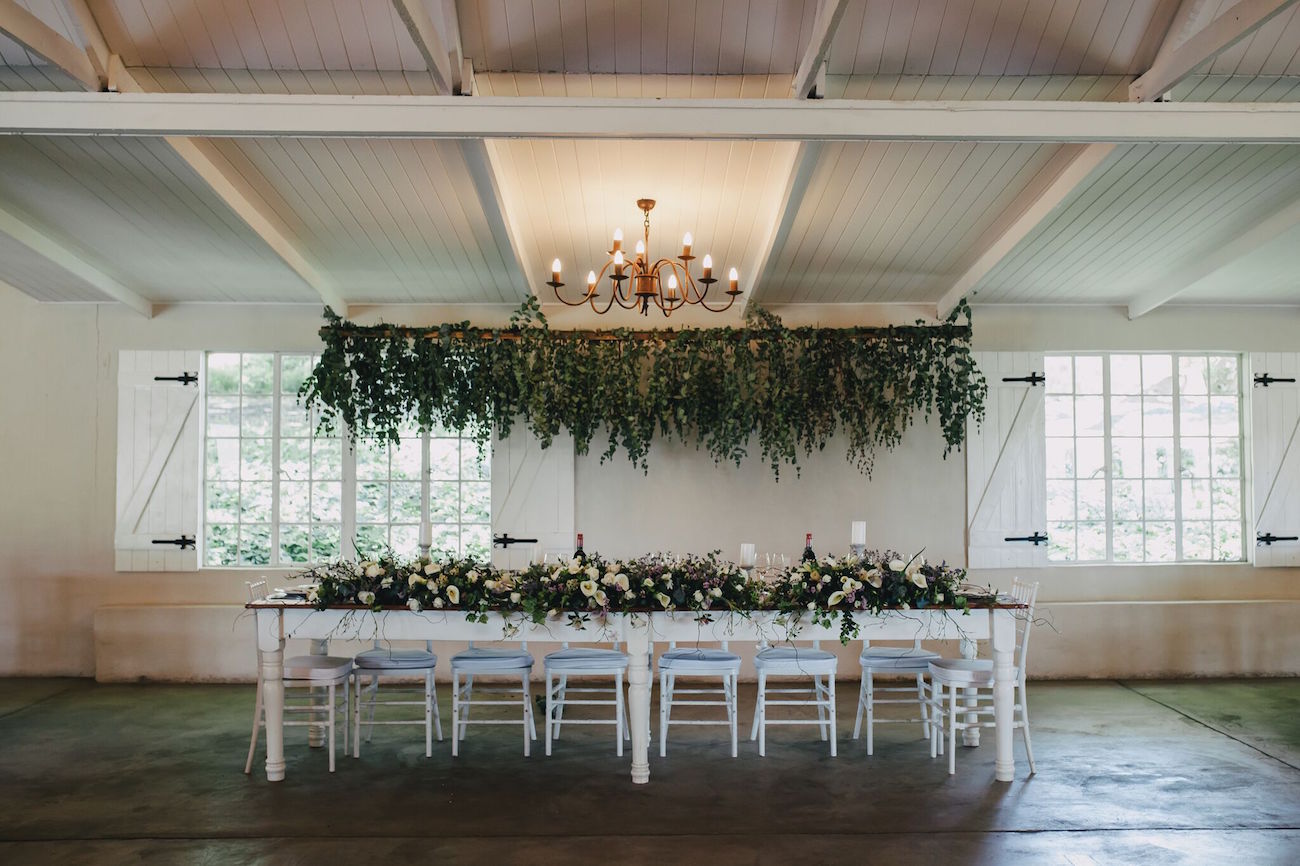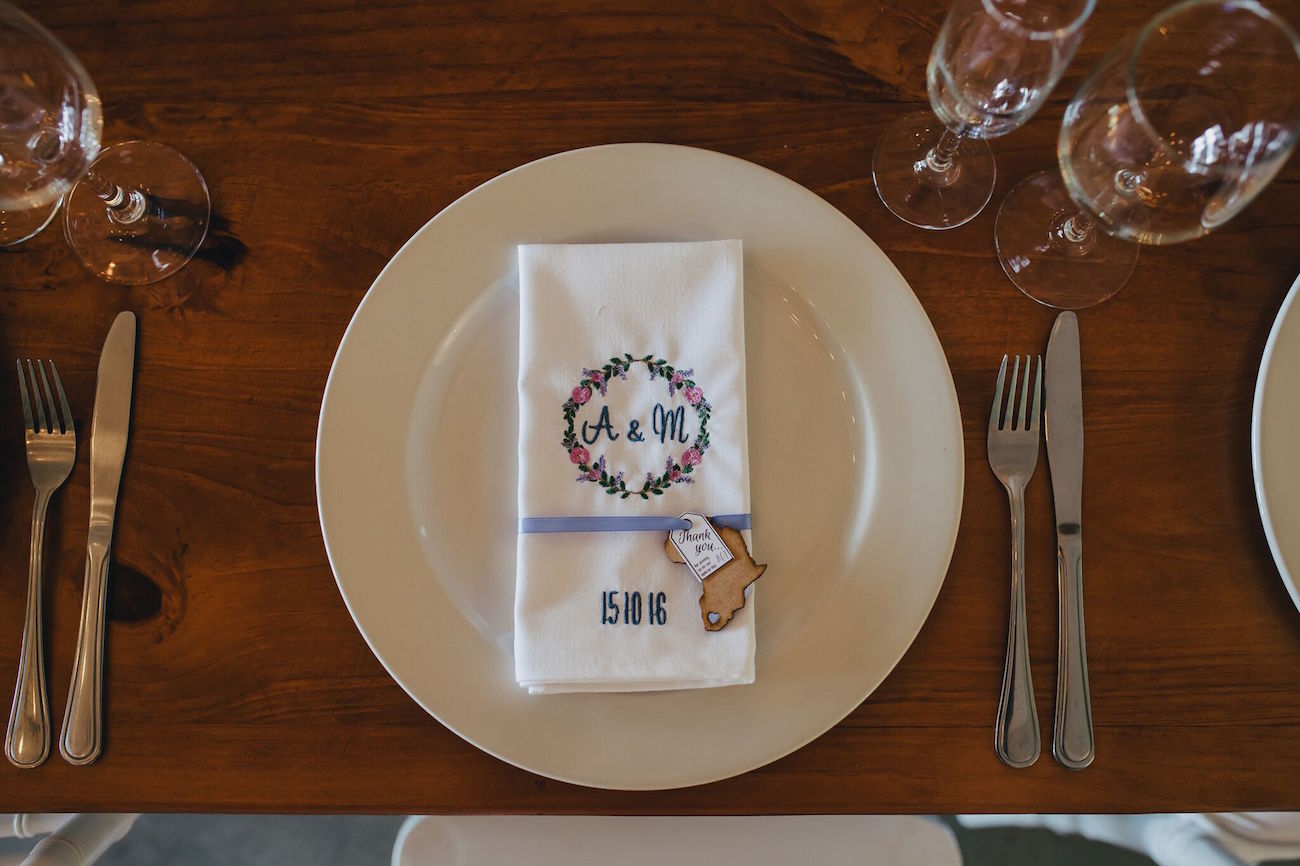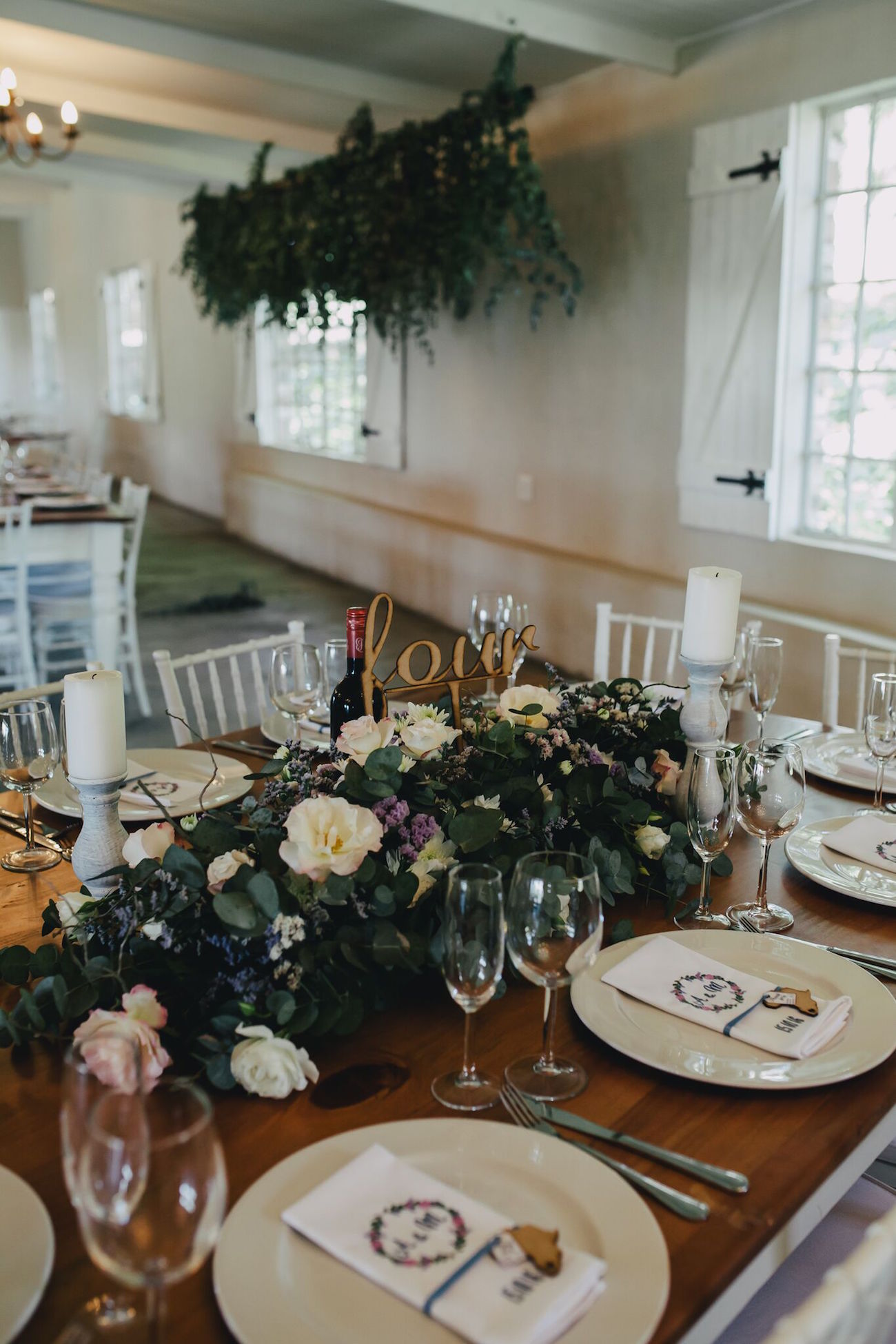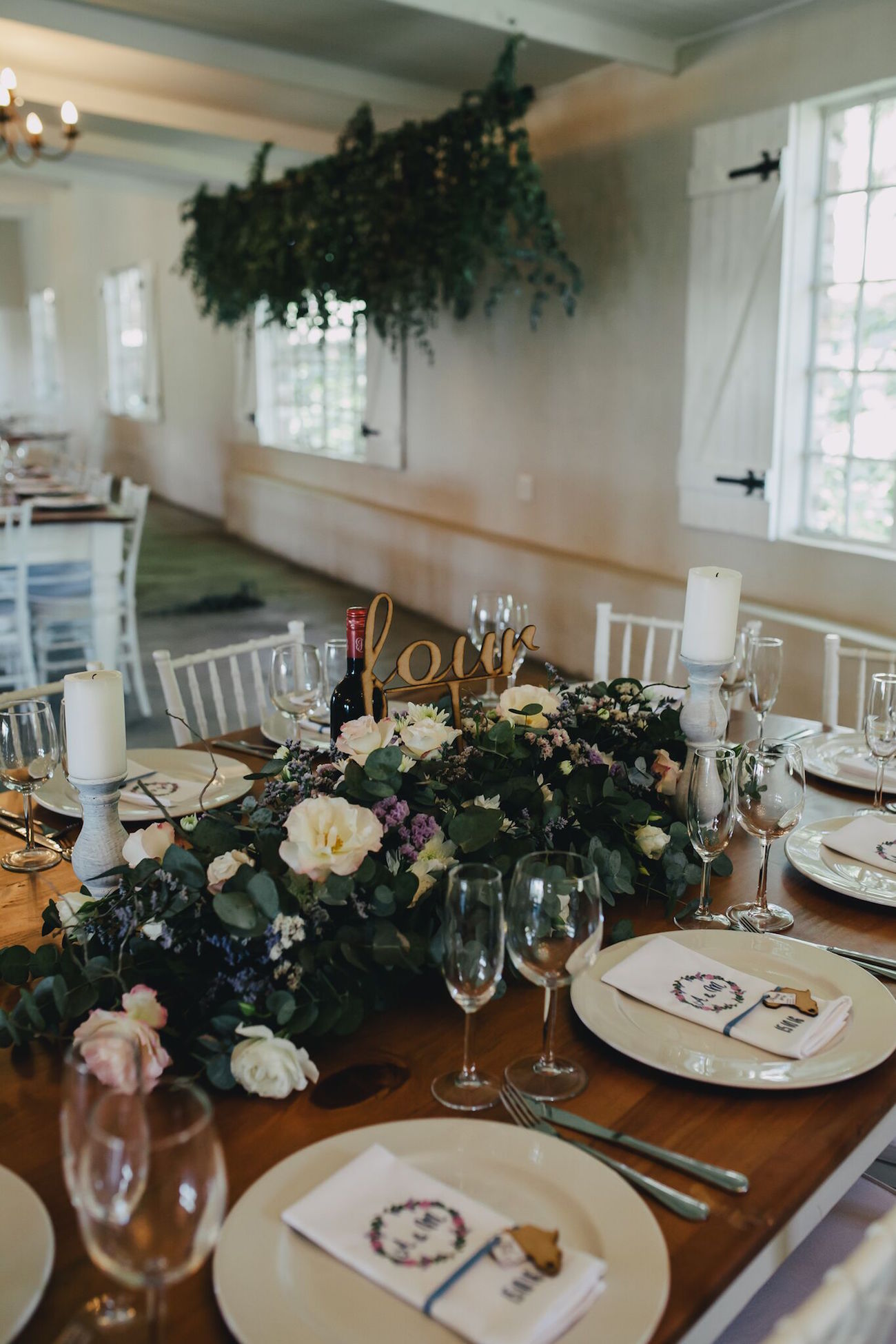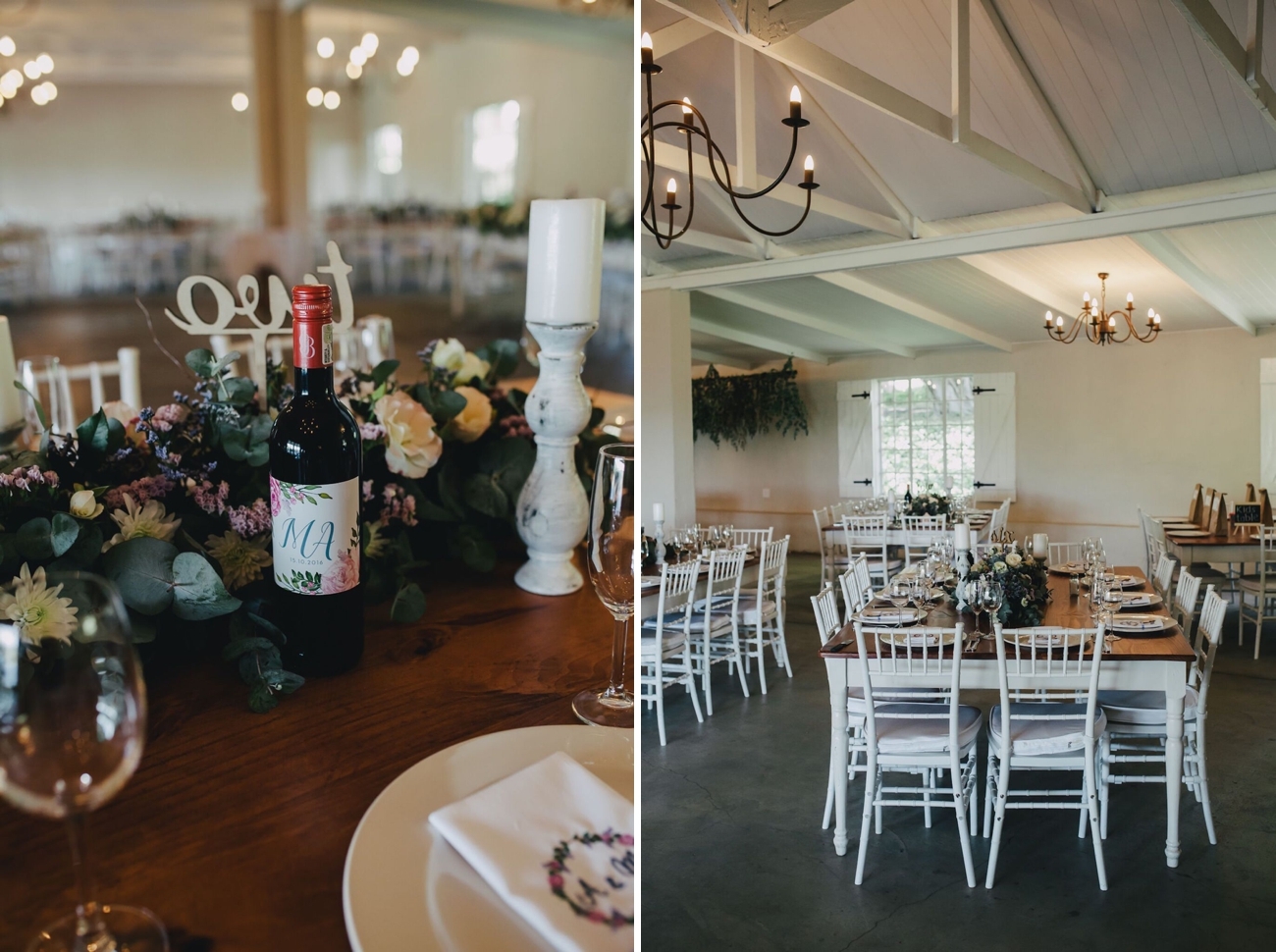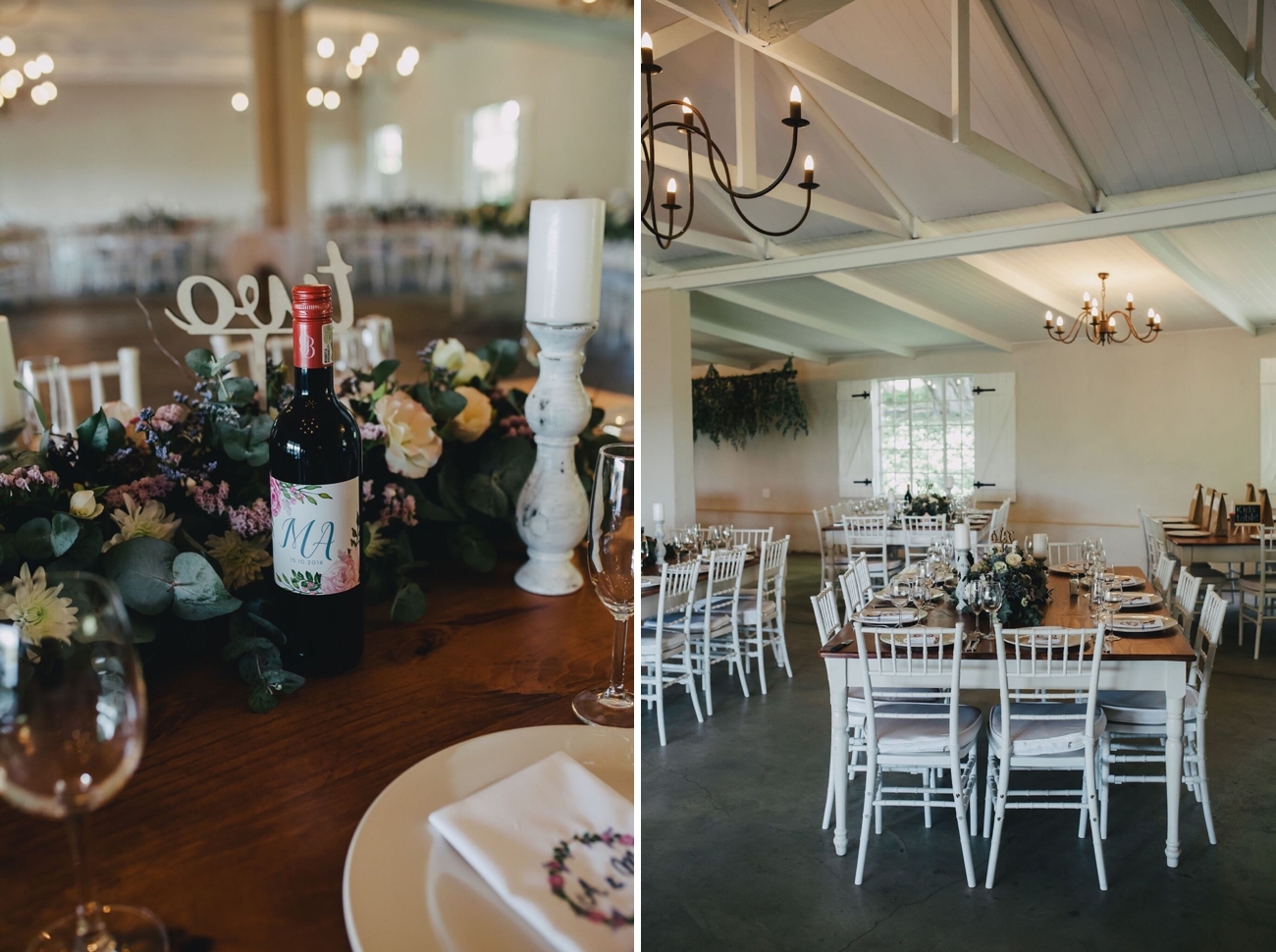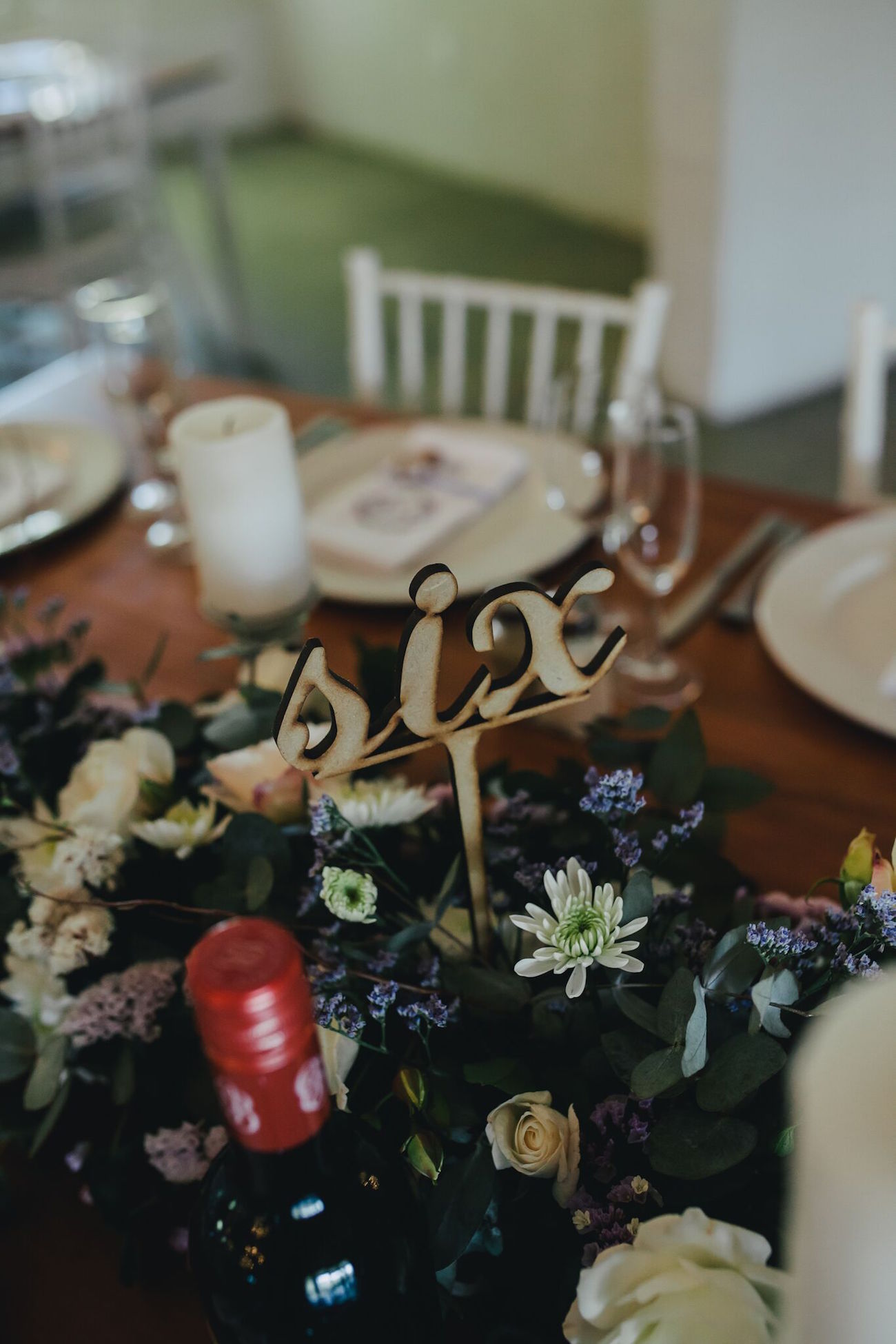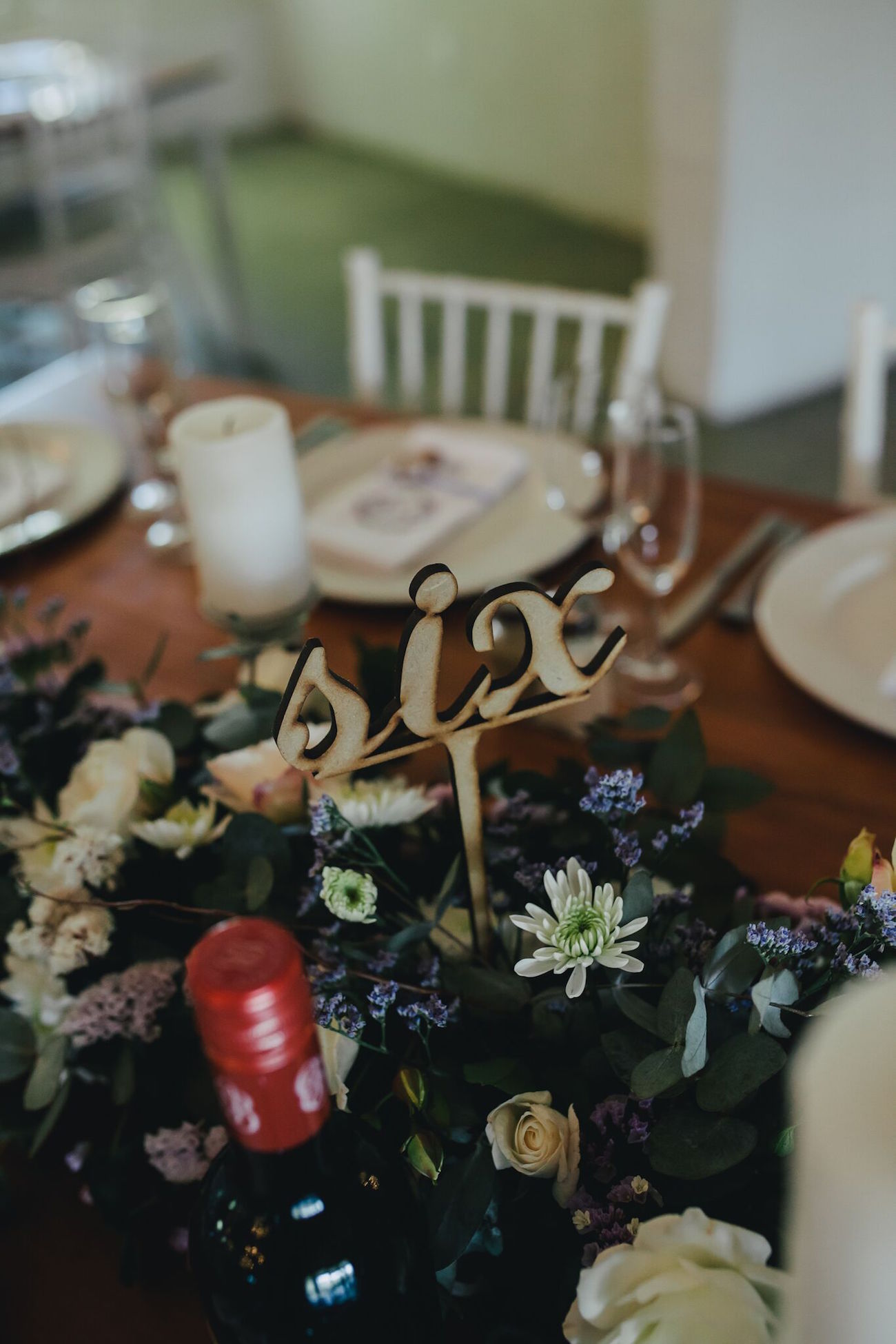 Memorable Moments
There are too many moments to choose from! There was when my dad saw me in my dress for the first time, walking down the aisle to Andrew, our 'I do's' and seeing all our friends and family afterwards. We were then blessed with amazing speeches, our first dance and a hilarious scramble for the bouquet, as well as our friends and family's fun and antics all night long.
Proudly South African Details
Andrew and I are very proudly South African and were lucky enough to find local suppliers for all our wedding needs. So our suppliers were all South African, from the dresses to the rings to the accessories and decor. We felt the best way to be proudly South African was to support local businesses, promote them where we could and celebrate the country we live in.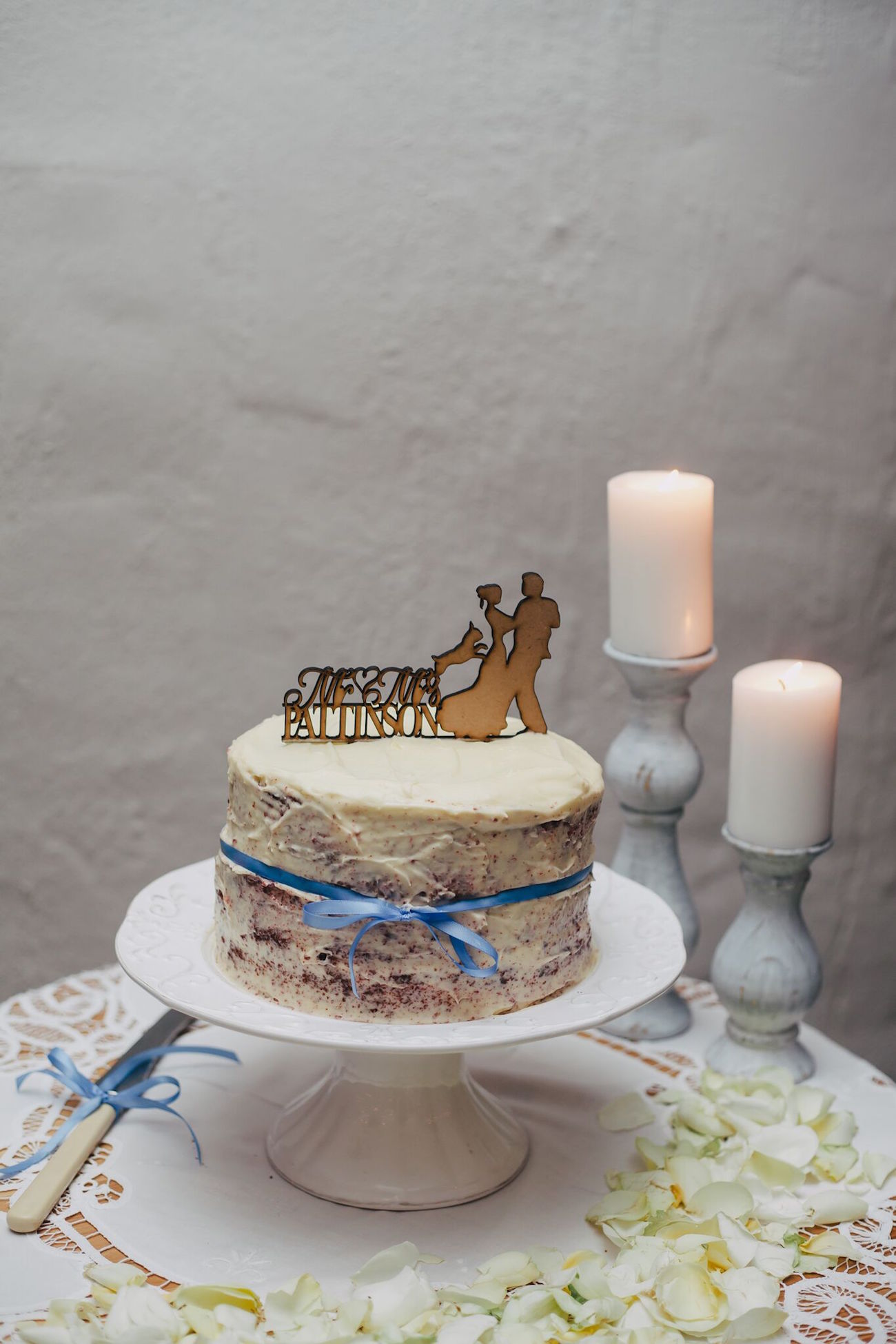 Best Decision
I think our best decision was choosing amazing suppliers, and staying true to ourselves as a couple. We also approached things slowly, giving ourselves time to be sure we were happy with the decisions we had to make.
Advice for Future Brides & Grooms
Suppliers can make or break a wedding. They are who you rely on before, and on the day, and there is so much that can, or can't go wrong. Added to that a wedding is an expensive undertaking and a good way to get a handle on costs is to get a wide range of quotes. This initial interaction with your suppliers will also help you get a feel for them.
Everyone says it, but you must remember it is your wedding day. There will always be opinions from others, which are worth listening to and taking into consideration, but at the end of the day it is your day. You don't want to look back at your wedding pictures in twenty years remembering how you weren't happy with this caterer or that DJ, and regret not following your own intuition. It is easy to feel overwhelmed, but when happens, take a step back, take a breath and go with your instinct; you do know what you want, you just have to remember it.
Don't sweat the small stuff. Things will go wrong, and a lot is out of your control. It's up to you as to how this affects your day. We didn't have electricity in Hilton the last day before we went to the venue, preventing me from icing the cupcakes and wedding cake until the morning of the wedding! And the weather leading up to the wedding was the worst – fog, mist, rain. But we made sure there were options at the venue for all conditions, and the actual day was a beautiful (hot, 30 degree) day which unfortunately had wind, but that brought through a late afternoon thunderstorm that created beautiful clouds as a backdrop for photos.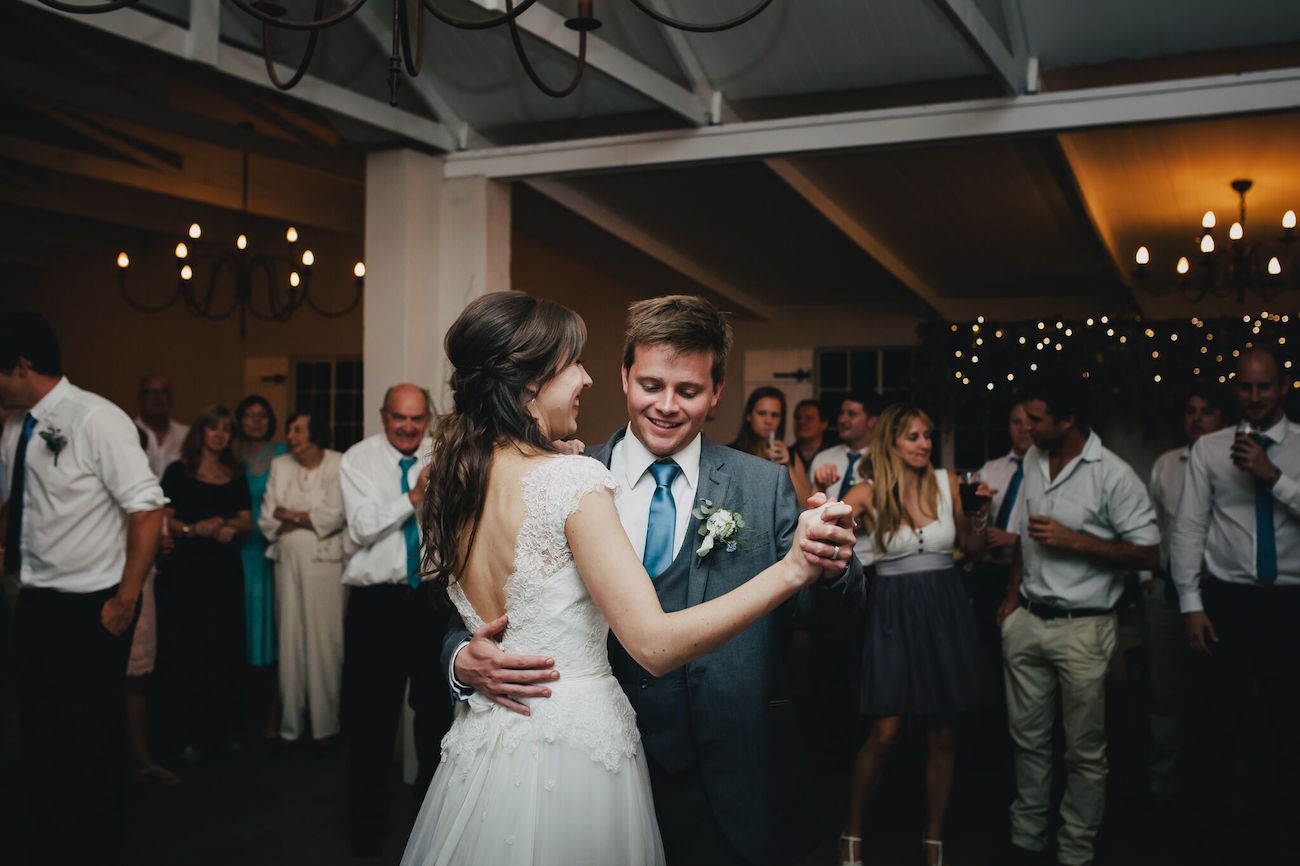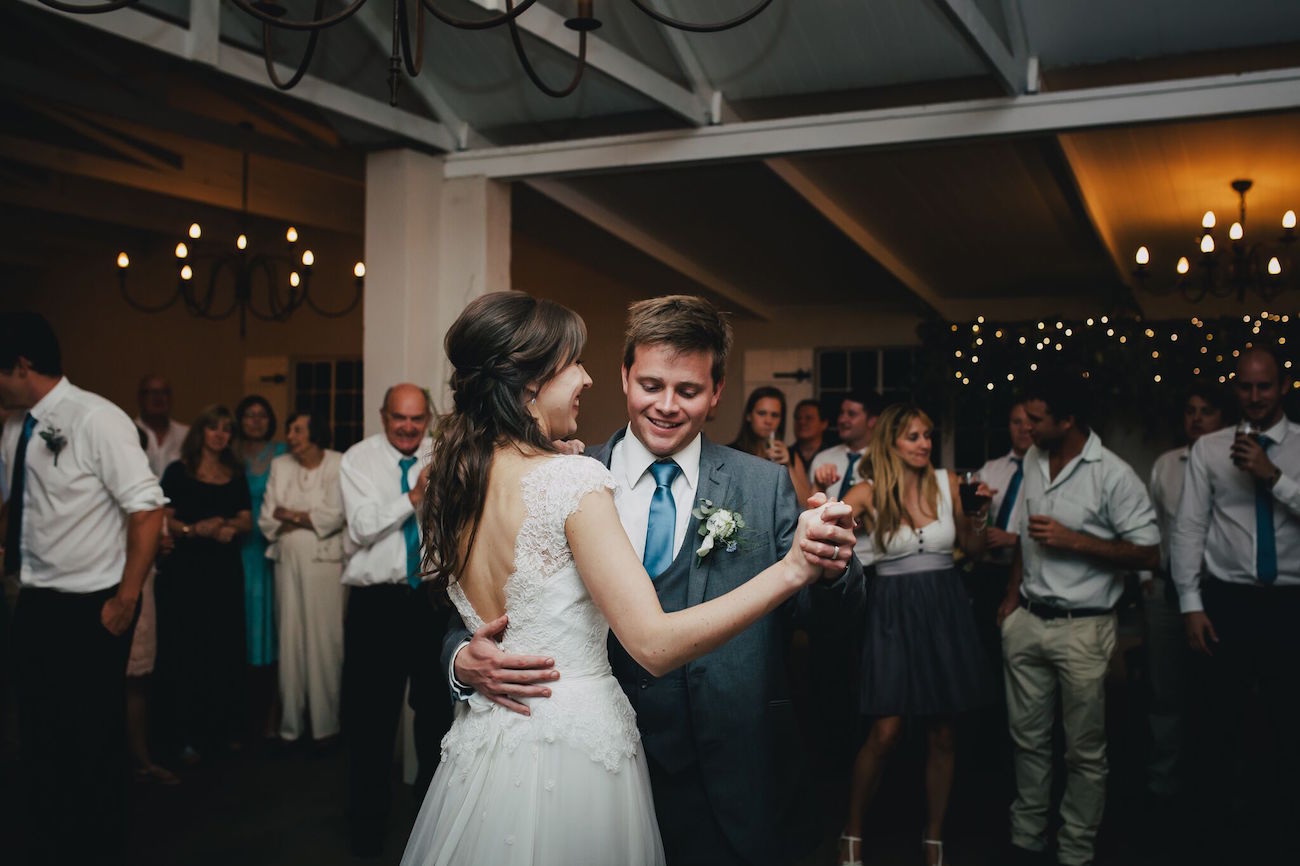 SERVICE PROVIDERS
Venue: Thorner Country Estate | Catering: A Pinch of Salt Catering | Photography: Michigan Behn for Vanilla Photography | Bouquets: Petals Fine Flowers | Stationery & wine label design: Pretty in Stains | Bride's dress & veil: Joss Bridal Wear | Bride's accessories: Swarovski (earrings) + Jack Friedman and Browns (rings) + Bejewelled SA (hair clip) | Hair & makeup: Juliet Martin for Juliet Downes Makeup Eye | Bridesmaids' dresses: Hoiden Bridesmaids | Groom's attire: Woolworths + Papermoon Collective (photo locket) + Androkini (ring) | Hiring: Midlands Style Events | DJ: Alan |
Signage: It is Written Creations | Cake topper: Vows Wedding Decor | Lasercut Africa shapes: Blooming Wonderful Decor | Napkins: Shameez Joubert | Robes & sleepwear: Anna-Louise Sleepwear | Registry: Yuppiechef | Wine label printing: Wine Gifts