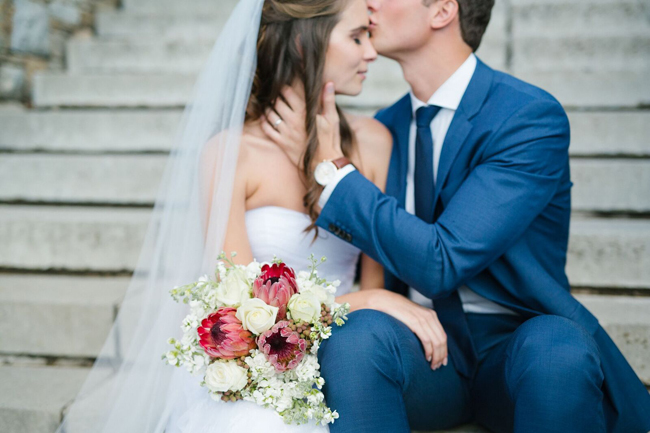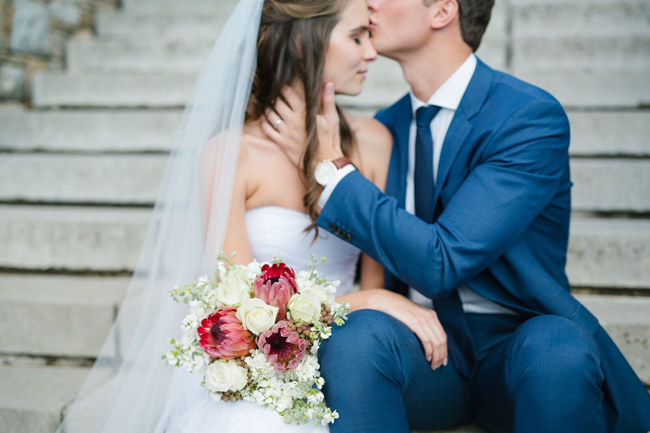 Not being funny, but I'm pretty sure I have the best job ever. Howcome? Well, because every day I get to read and tell love stories. And look at pretty details, sure, but I like to think the love stories are at the heart of this blog. Today's wedding features an epic one of those – a transcontinental connection, a tale of (almost) star-crossed lovers and long distance love, and making big decisions and sacrifices, all because Jenna and Philipp felt like when they met, they KNEW. Because they shared an unshakeable believe that what they felt was real. And what could have so easily been a story of 'the one that got away' for both of them, came to fruition in a beautiful Stellenbosch vineyard, at a heartfelt ceremony and a modern chic reception – and happily ever after, of course. The lovely Tasha Seccombe captured this fairytale ending in these beautiful images. Also, a very special shoutout to SBB Directory members Bright and Beautiful for the gorgeous florals, especially the bride's deliciously South African protea bouquet.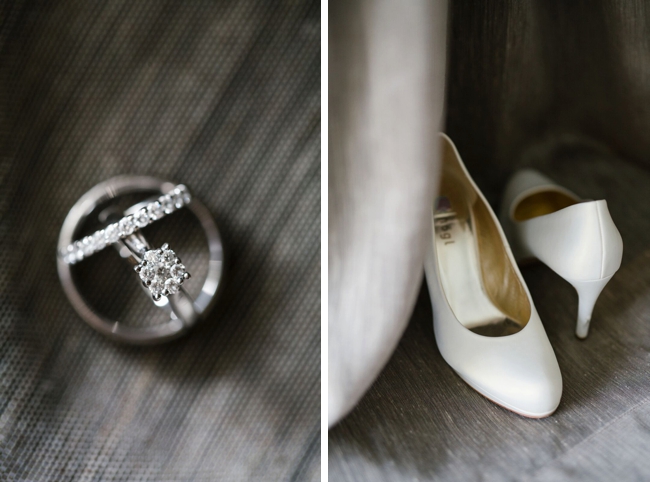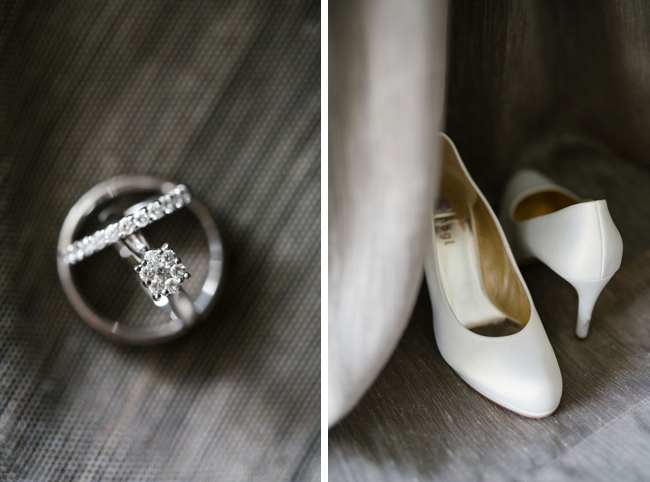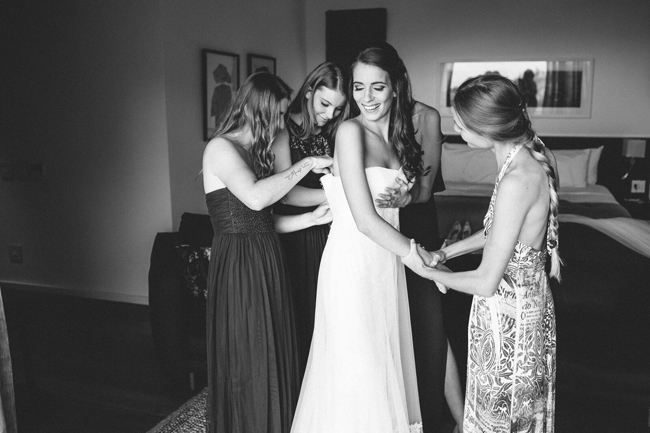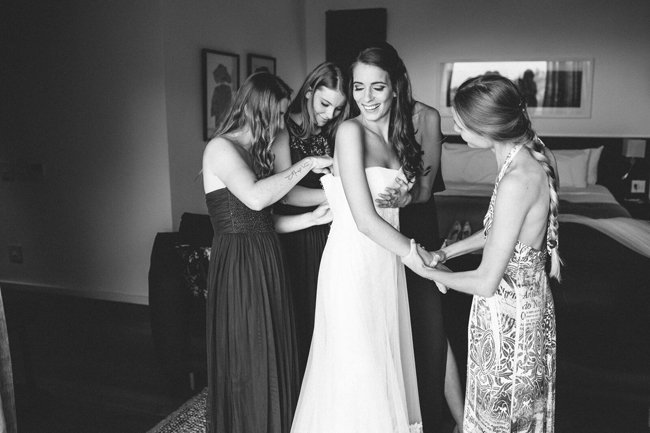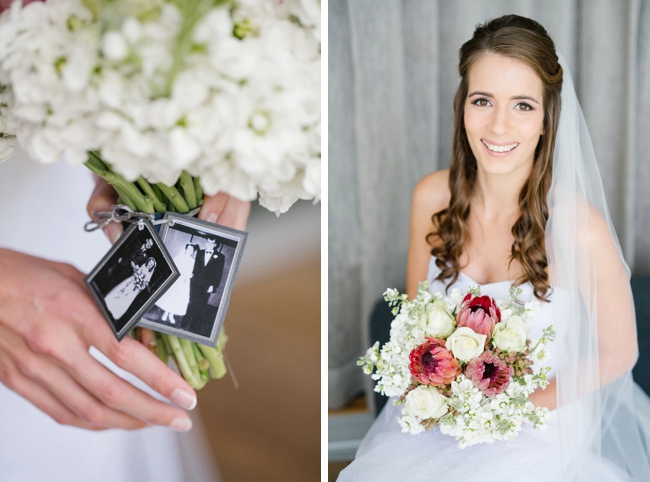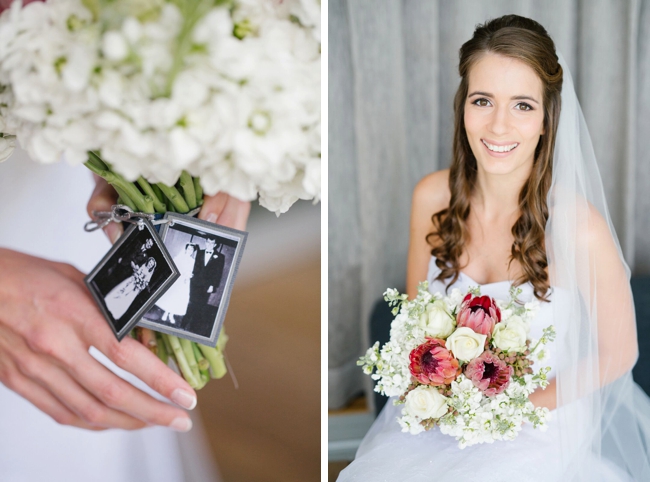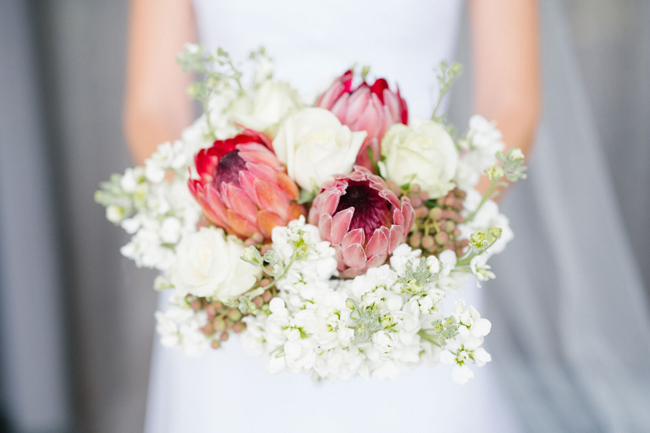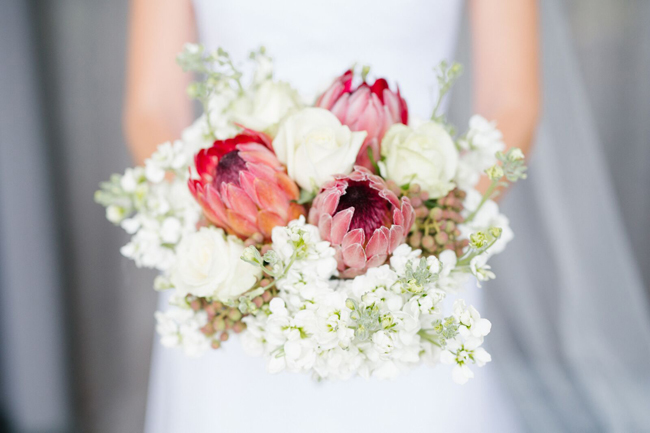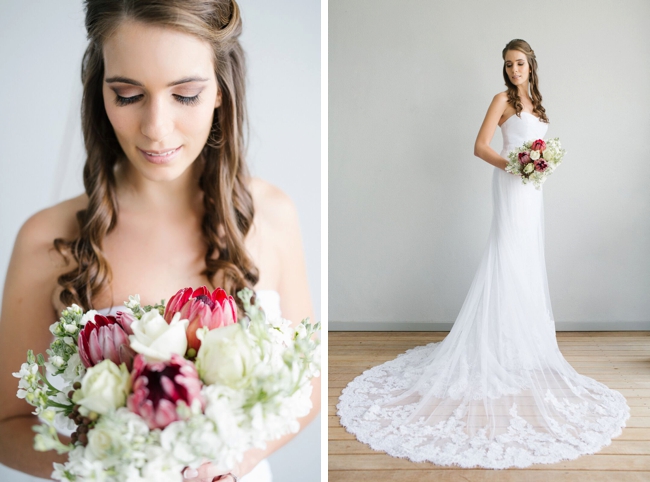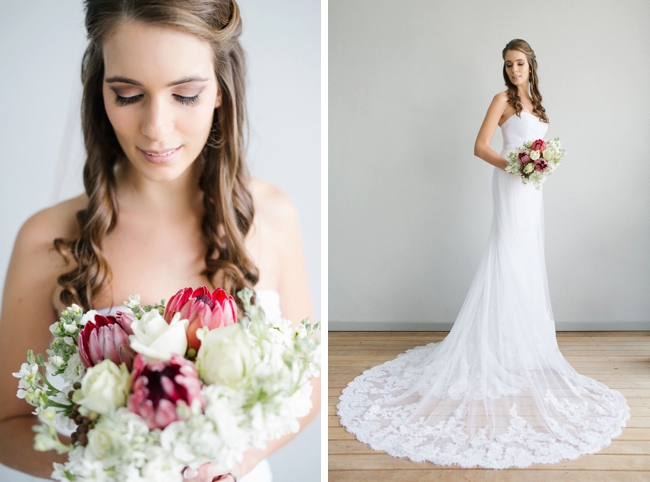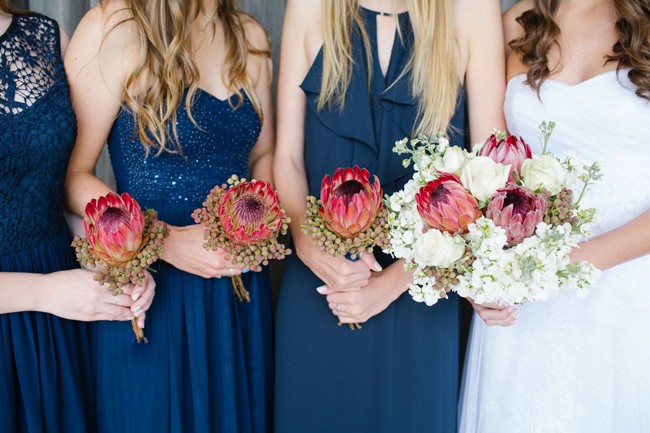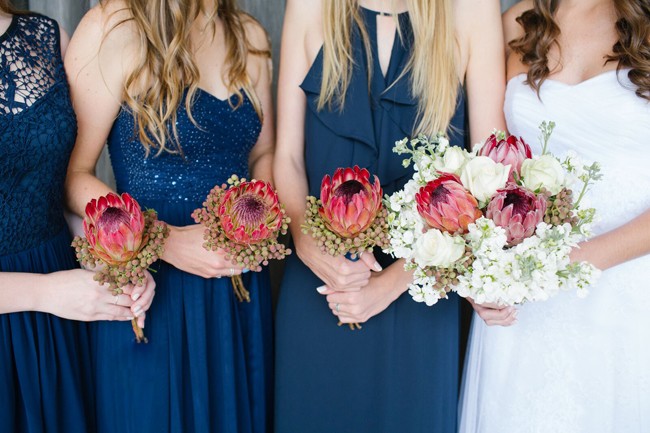 Love Story
Philipp and I met in Vienna, Austria, where I was working over the summer at the company where he works. Although we were both involved with other people at the time, our connection was instant, and we became good friends in a very short space of time. After I returned to Cape Town, we didn't speak often, but later that year, Philipp and a group of friends from Vienna decided to come and visit me in Cape Town. By the time he arrived, I was single, but he was engaged. This really didn't matter to me, because we were just good friends. However, during that week it became undeniable that the connection we had was much more than just a friendship. There was something unexplainable about it. Something Philipp had felt from the day he met me, but was afraid to put into words as he didn't think he stood a chance. He finally found the courage to admit his feelings, and in that moment, just like a switch, my own feelings for him became so frighteningly clear. I was still convinced he would go home and realise how crazy this all seemed, but I was proven wrong. As difficult as it was at the time, he returned to Vienna and ended his relationship. A week later, I flew to Italy with a friend for a skiing holiday and one evening there, I received a picture of Philipp sitting in what looked like my hotel lobby. I went downstairs, and to my disbelief, there he was, sitting in an armchair with the biggest smile on his face. The next three days were magical, but they ended sooner than we wanted. And so, after only those three days together, our long distance relationship began. In the months that followed, we had long talks about how we could make it work logistically, but there was no question of whether it would work because we both knew that this was it – him and I, from now until forever. We only got to see each other every couple of months, and when Philipp proposed, we had only actually spent 21 days together in the same place. I now live in Vienna and we couldn't be happier. When I think back to the day we met, I never would have imagined it working out the way it has, but when does life ever go according to plan? Our story really is one of those 'when you know, you know' fairytales.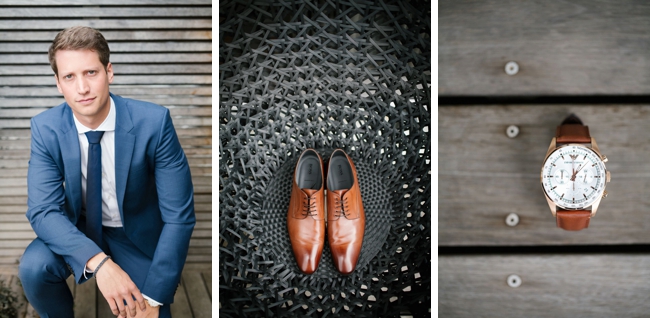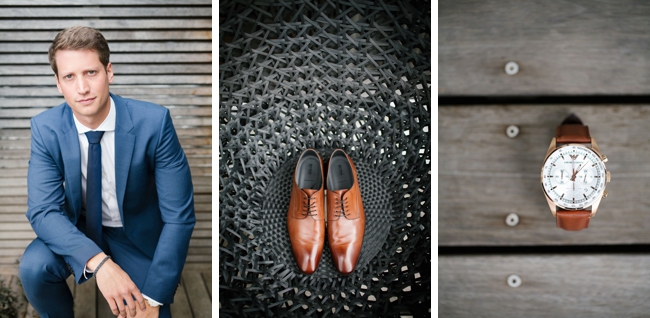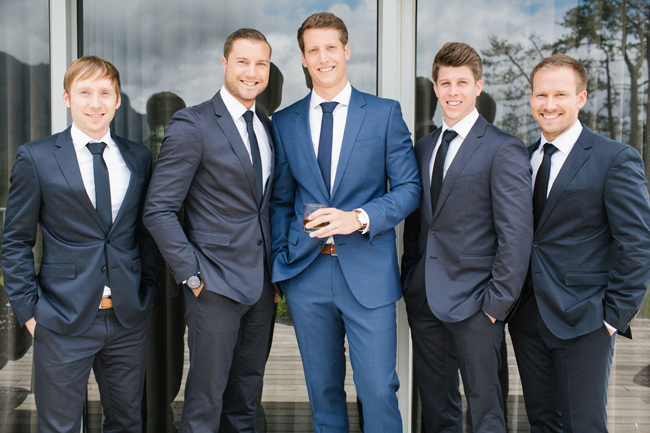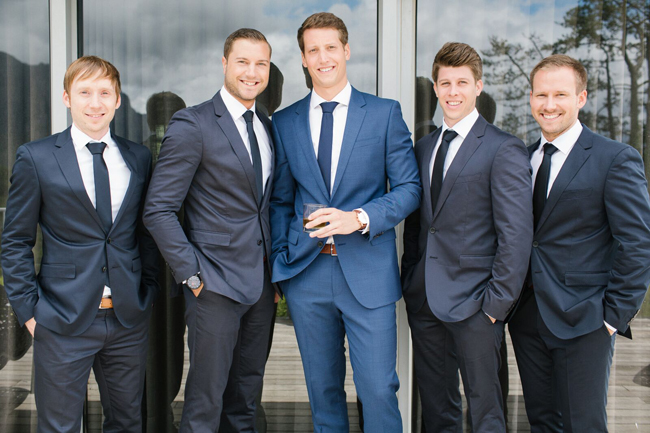 The Proposal
I was visiting Philipp and on one of the weekends I was there, he planned a surprise trip for us. The first stop was the most incredible nature reserve in Croatia, and we spent the whole day exploring its hundreds of waterfalls. The next day we headed to the coast, to a small town called Opatija, where we spent most of our time relaxing on the beach. On our final day, we enjoyed breakfast next to the ocean, before riding bikes through the vineyards of Slovenia and finally settling down for the evening at one of the most gorgeous hotels in southern Austria. After dinner on the terrace and a spectaculr sunset, Philipp led me to our room, asked me to close my eyes, and when I opened them, he was down on one knee holding a ring with 'Marry Me' spelt out in fairy candles on the balcony behind him.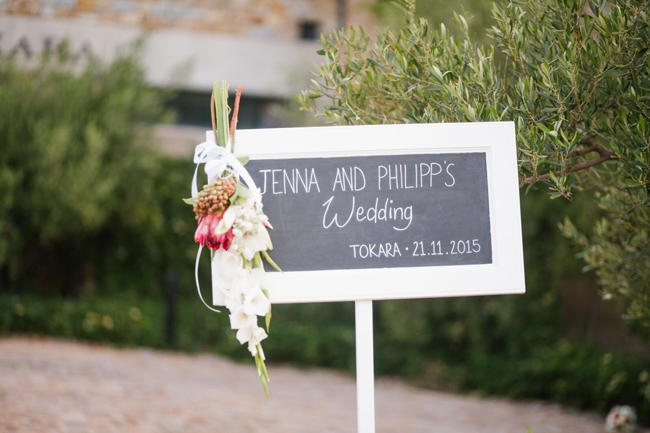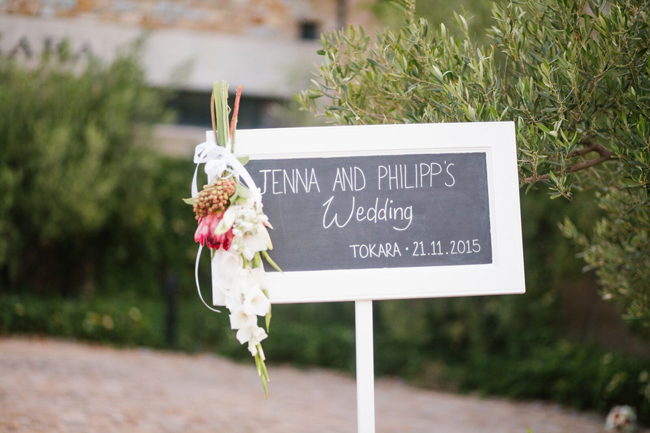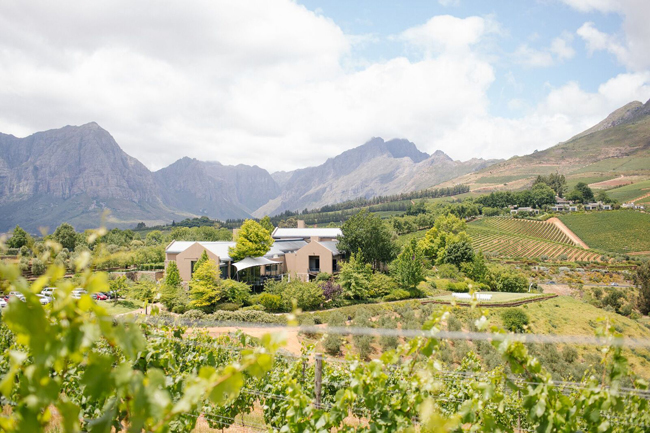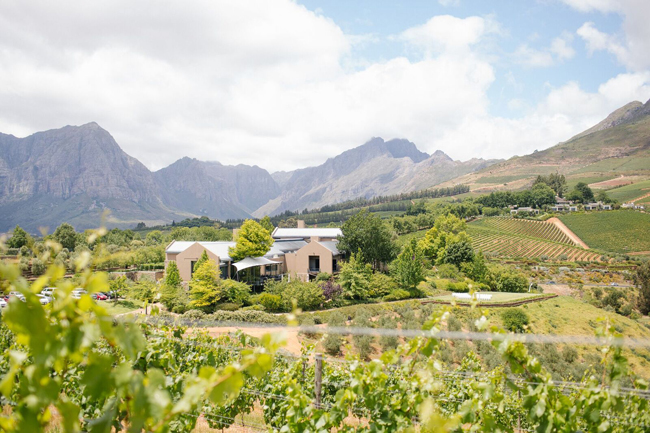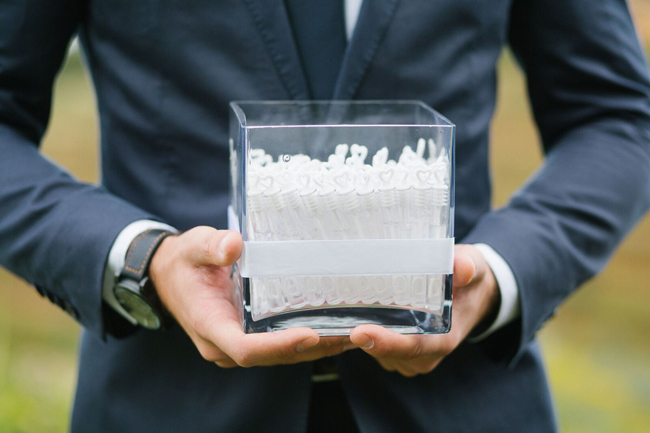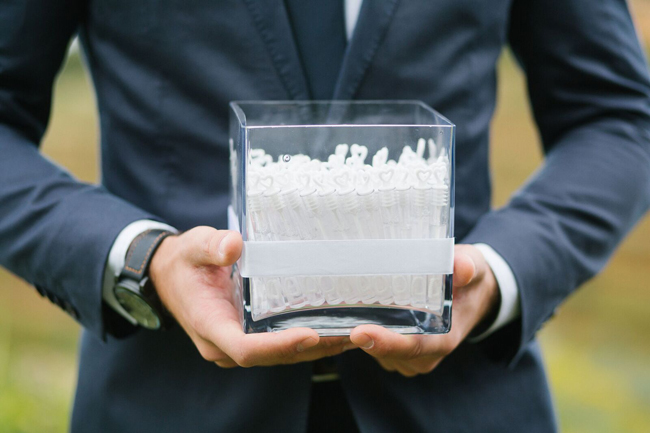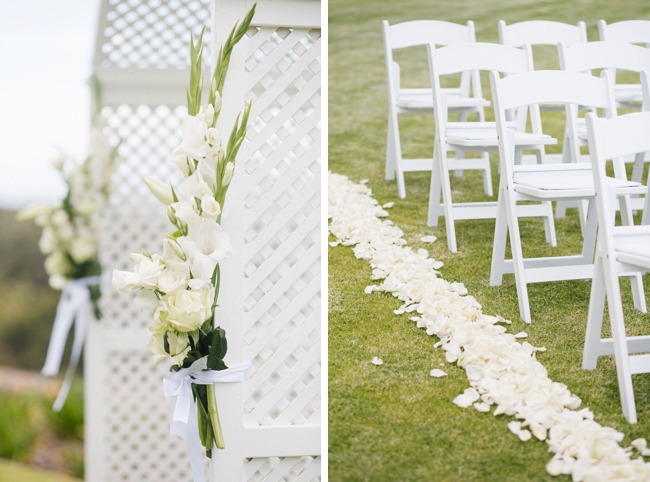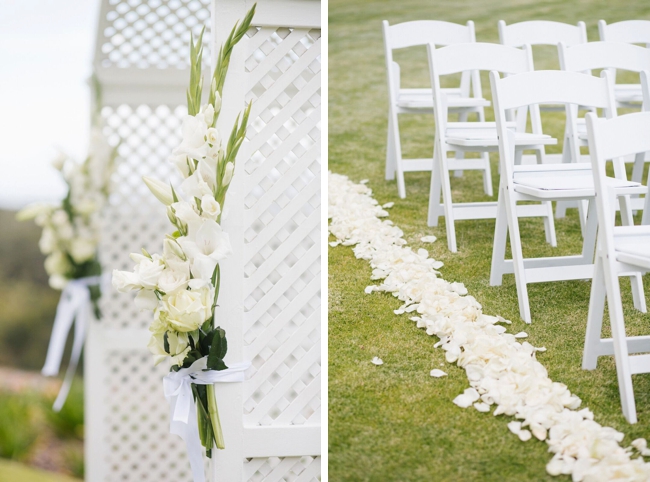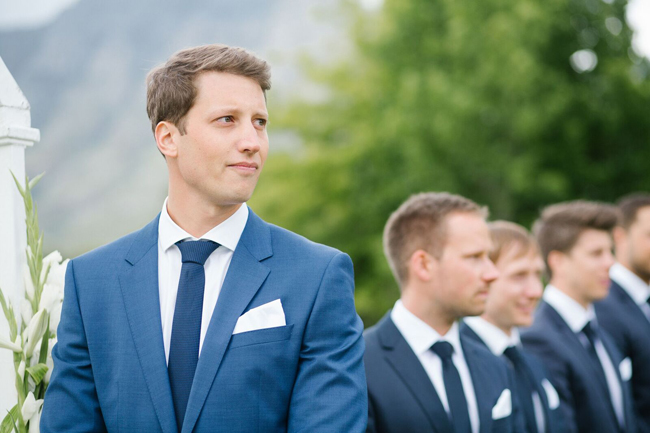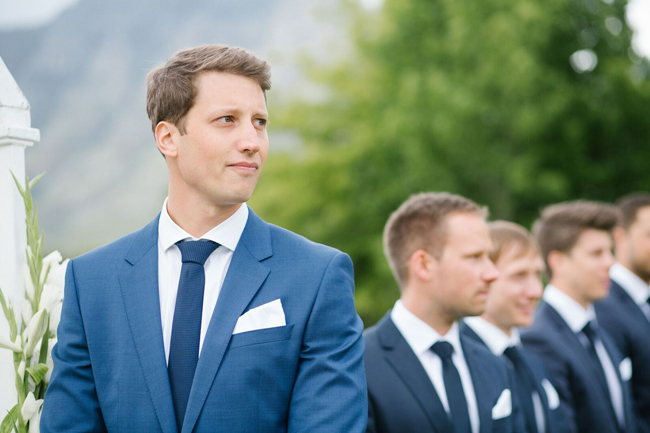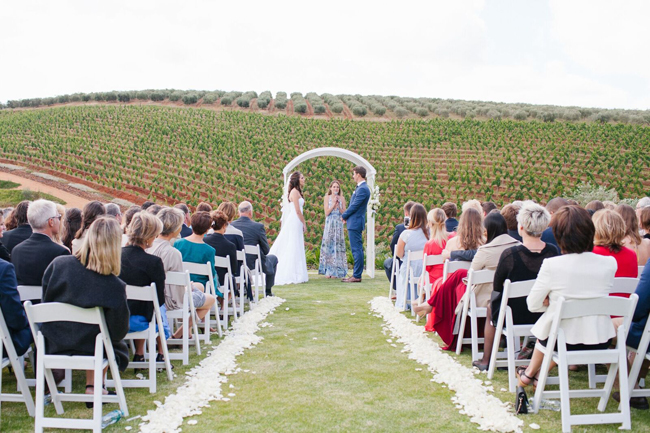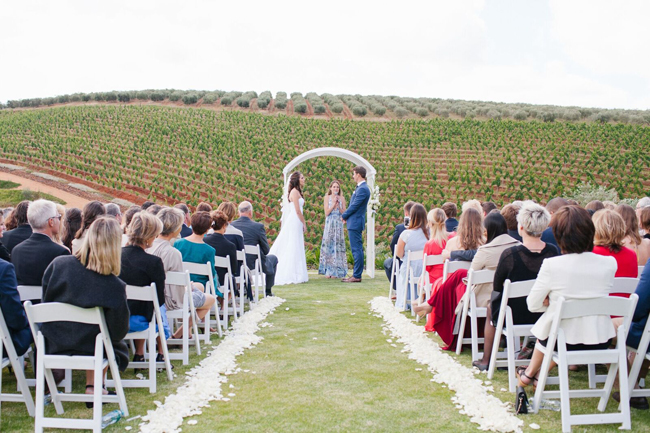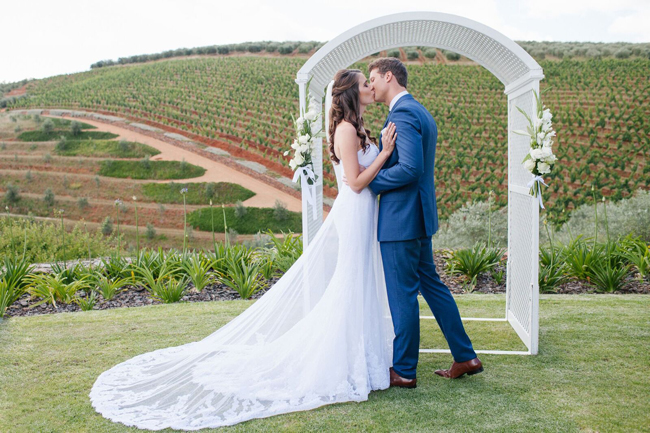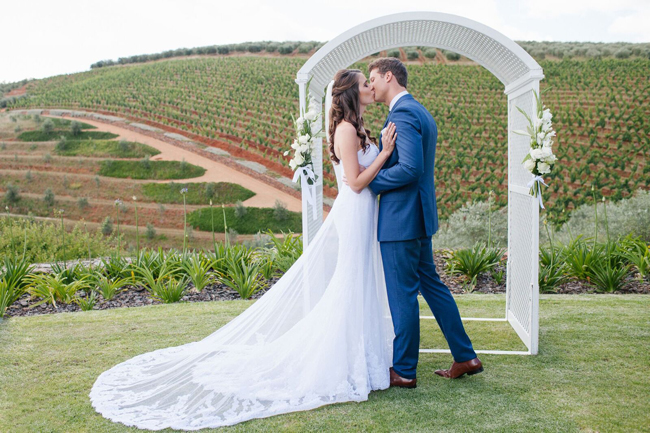 The Venue
Our first big decision was which country we would have the wedding in. All my friends and family were in South Africa and his in Austria. We decided to get officially married at the end of June in Graz, a little town in Austria, with only our close family and friends present, and then hosted a big celebration in Stellenbosch in November. We knew that we wanted a venue with beautiful views, good food and good wine, so naturally Tokara was the perfect choice. I had visited Tokara many times before but had no idea it was a wedding venue and after a long day of venue viewing around Stellenbosch, we decided to stop in at Tokara just because we were in the area. We got talking to the manager (who is an absolute gem) and as soon as he told us that they host weddings we were set. The thing that we loved about Tokara is how many special areas there were for each part of the wedding. We held the ceremony on the lawn out front and had the vineyards as our backdrop, appetisers we served under the iconic Tokara metal tree and the reception we held in the newly renovated restaurant.
Wedding Style
Our vision was modern and elegant but simple, because planning a wedding from half way across the world is no easy task. We didn't want any over the top centrepieces. Our colour scheme was mostly white with a touch of navy and copper.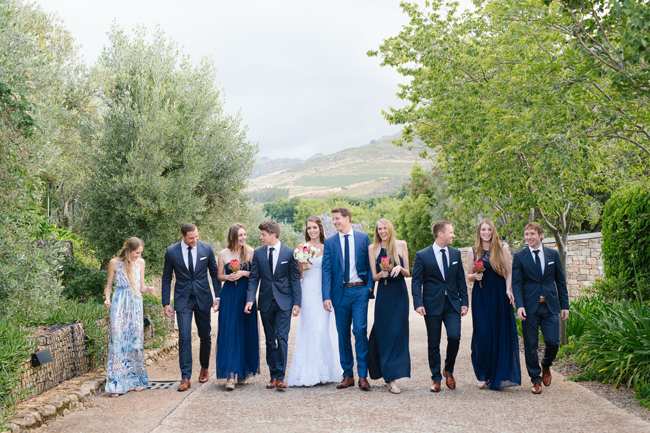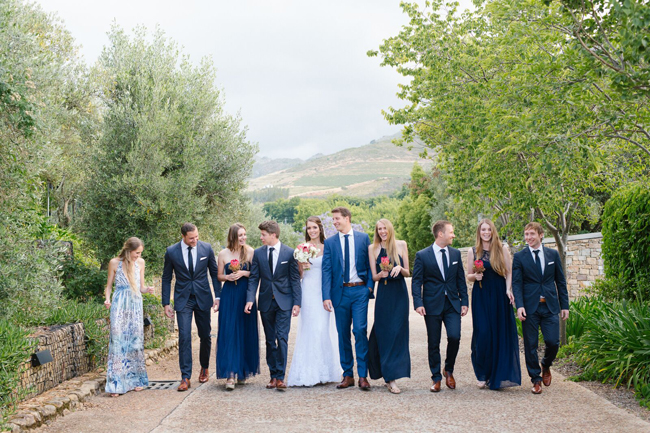 Wedding Details
Probably my most favourite detail of the day was the fact that one of my best friends married us. Because neither of us is very traditional and because we were already married by law in Austria, we didn't need anyone official to conduct the ceremony, so we asked my best friend Lauren if she would do the honours and she was perfect. She has always been a good public speaker, but her wedding speech could not have been more perfect. She had everyone in tears, including herself, for most of the ceremony. I loved our wedding 'cake' (not that I actually ended up eating any of it). Neither of us are big fans of cake so we decided to go with a tower of cupcakes, some big, some small and an assortment of our favourite flavours. I also loved our wedding guest 'book'. I decided I wanted to create something that could be put up on display in our home in Vienna, and so, instead of having the traditional book format, our stationers, Seven Swans, designed a beautiful big tree where guests could put their thumbprints on as leaves. It worked out perfectly and is now hanging in our spare bedroom as a constant reminder of our special day and all the people who shared it with us. We also had disposable cameras on the tables so that our guests could capture some special moments too.
DIY Elements
It is tradition in Austria for the groomsmen and bridesmaids to create a 'newspaper' about the couple which includes facts, silly stories, memories, wishes, etc. about the bride and groom. And little to our knowledge, one of our groomsmen and bridesmaids had created one for us, which was lying on each table when we arrived at the reception.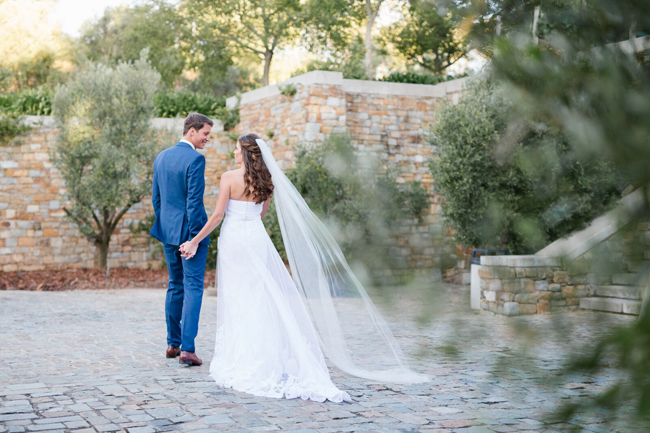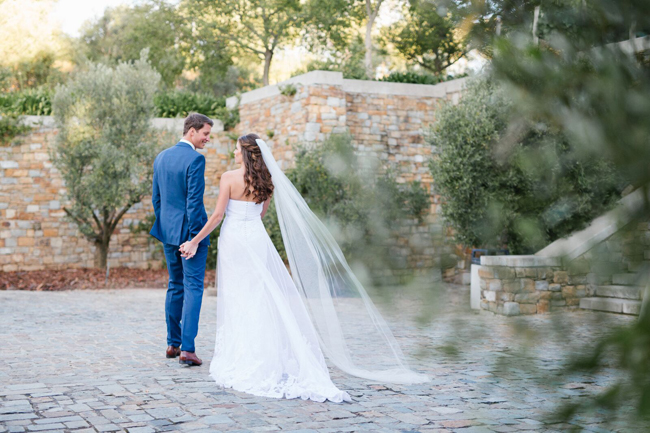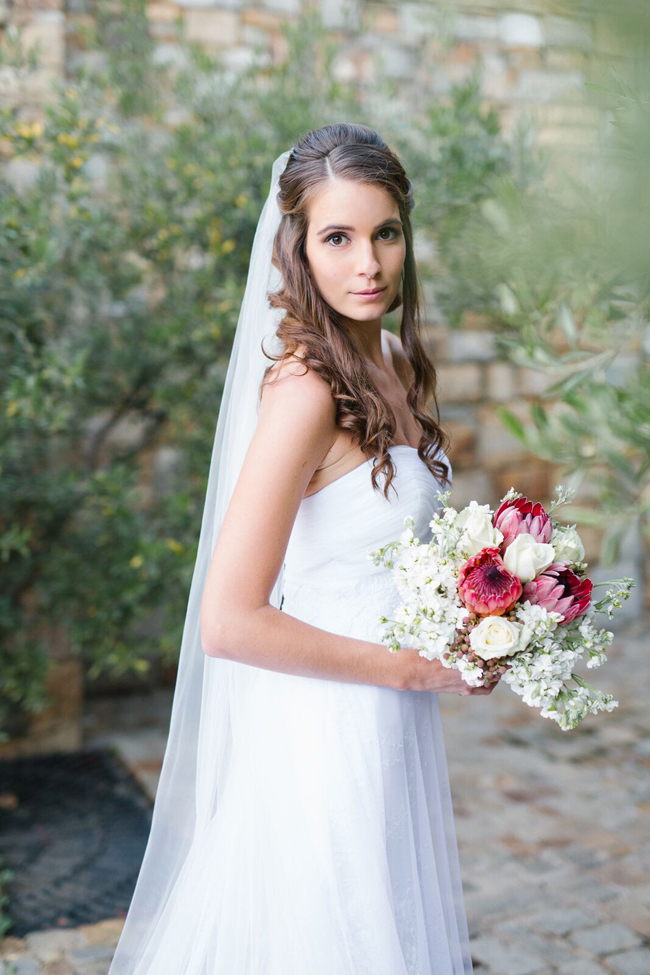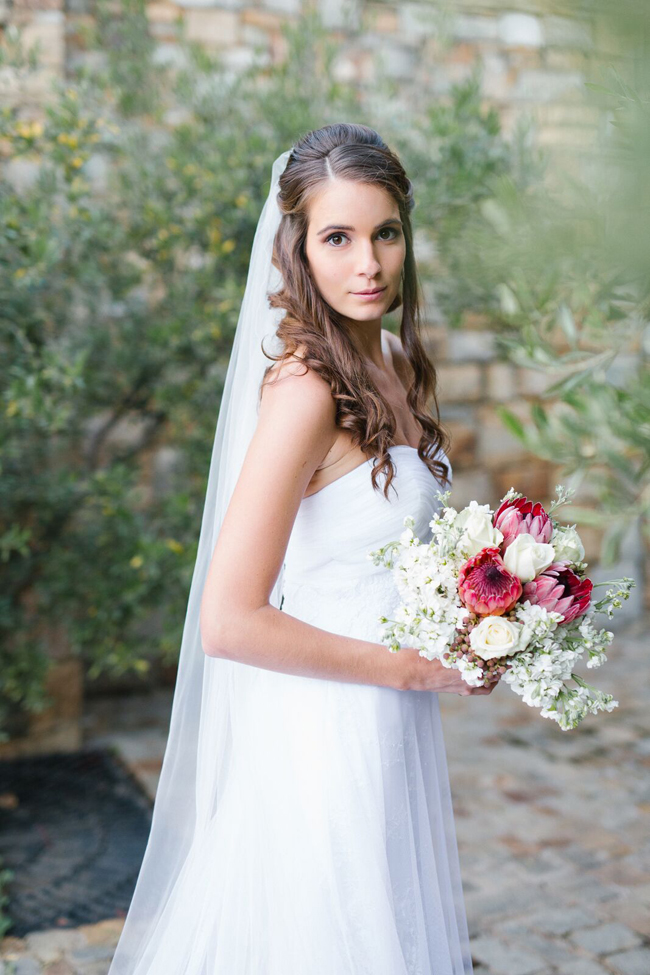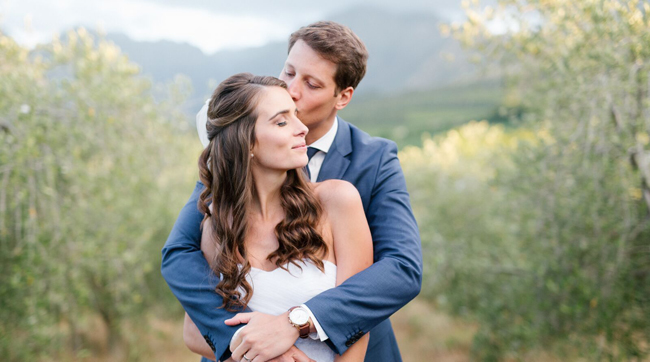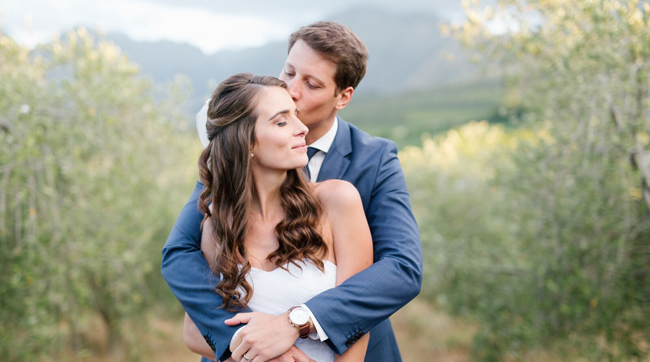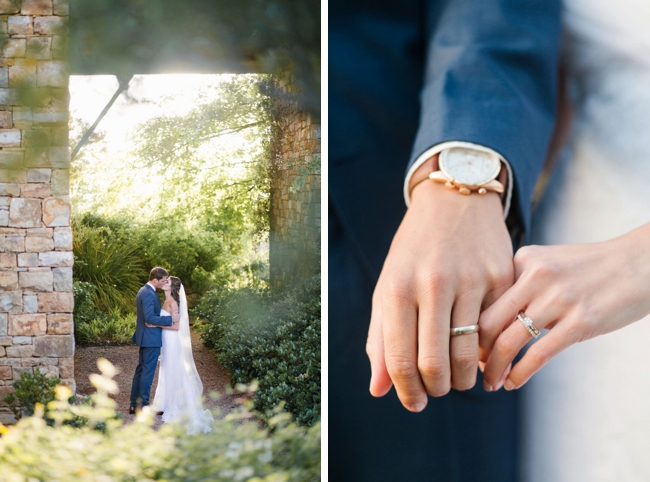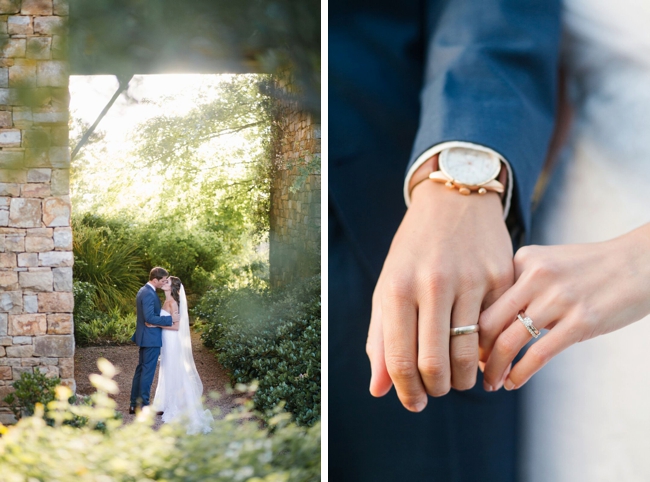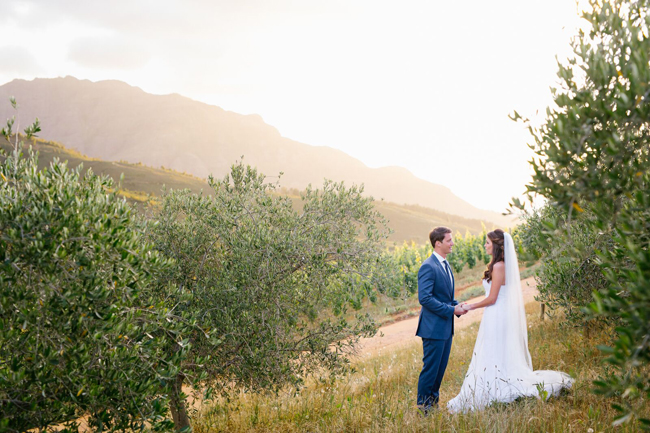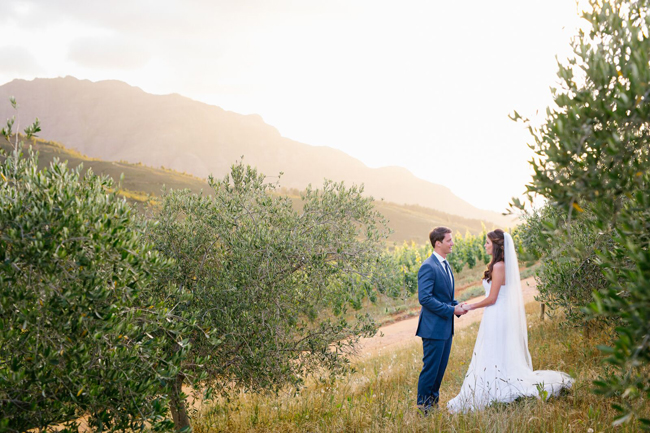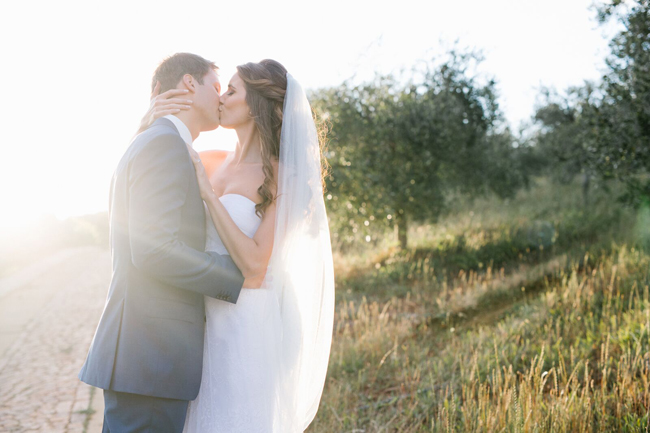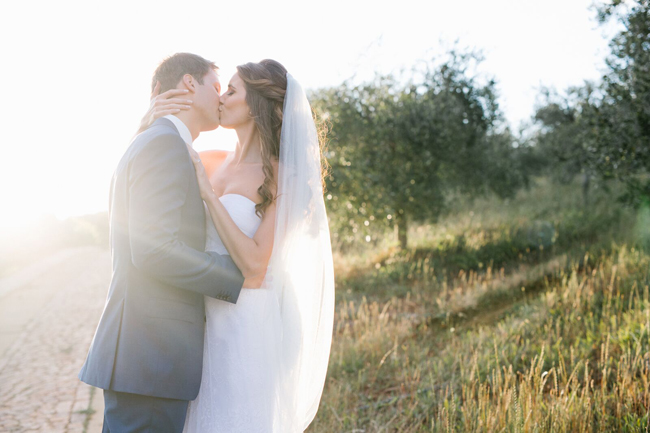 The Dress
I was so excited to try on dresses, I mean most brides are, but the first time I went it felt more like I was playing dress up. I think the idea that I was actually getting married hadn't quite set in. It took two or three trips to different bridal boutiques until I found the dress, but when I did, there was no way I could have worn anything else. I knew I wanted something big, not big and poofy, but something that would wow people, something that you could definitely only wear on your wedding day. The day I found my dress it was just my mom and I. We drove out to the House of Silk, a bridal boutique in Blouberg, and after trying on a couple of dresses, I finally put on The One. It was everything I didn't even know I wanted and was perfect. I made the decision to rent the dress for the day, mostly because I had no idea how I would get it back to Austria but also because I had no idea what I would do with such a wedding dress after our wedding.
The Bridesmaids
I had three bridesmaids and the most important thing for me was that they felt beautiful too. I didn't force them to wear any specific style but rather gave them the colour, navy, and told them to find something they loved.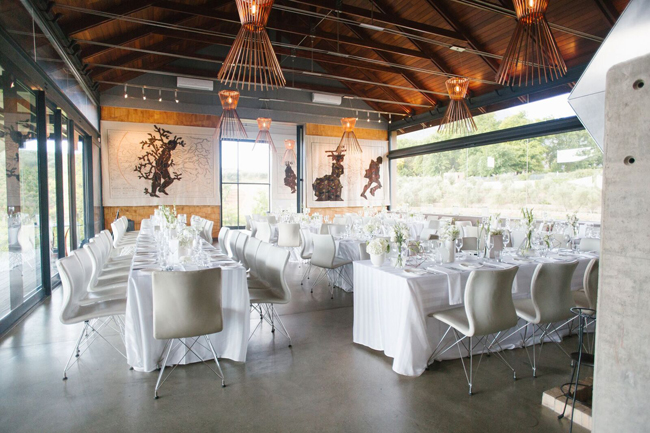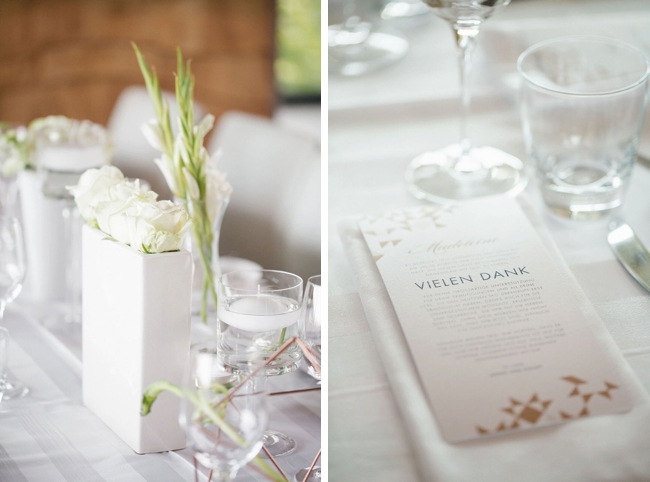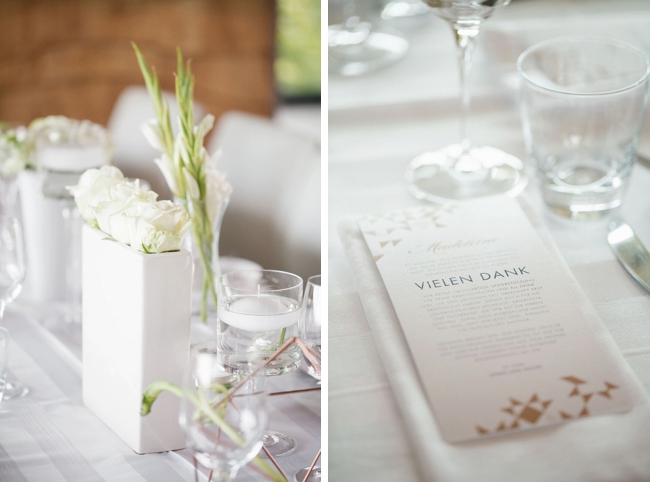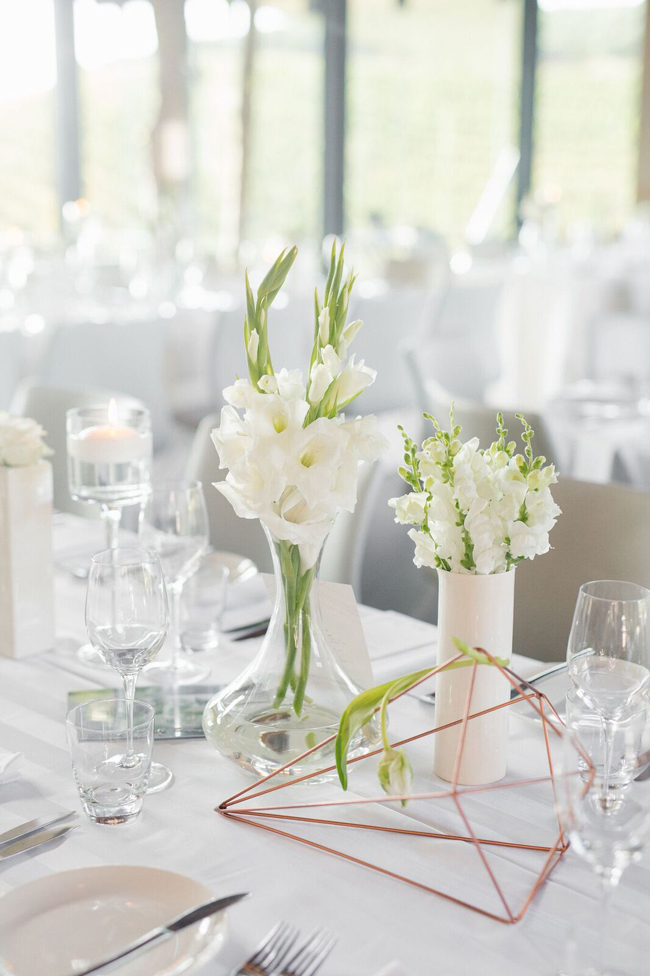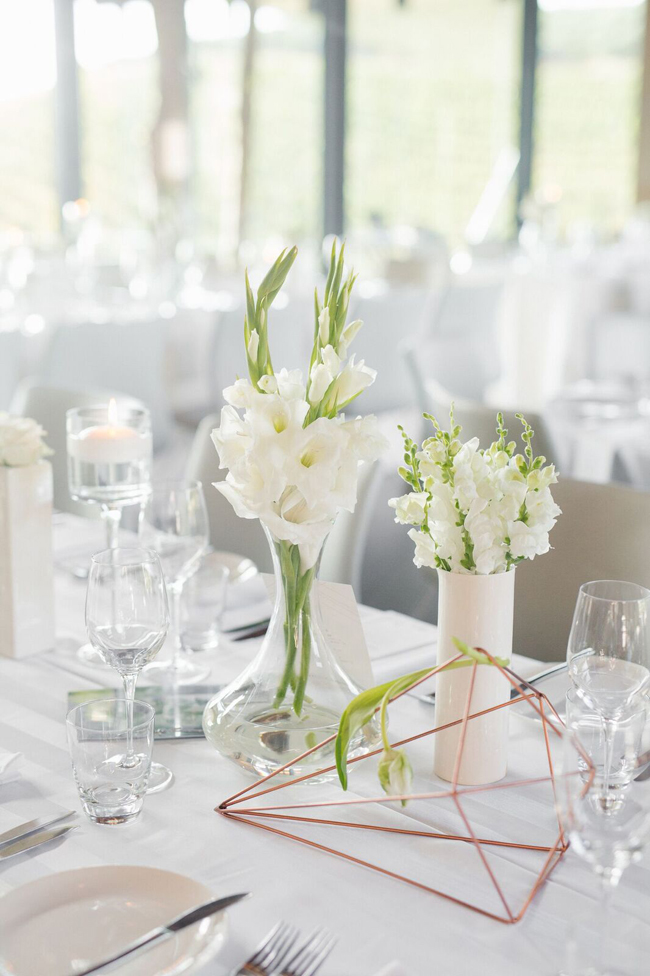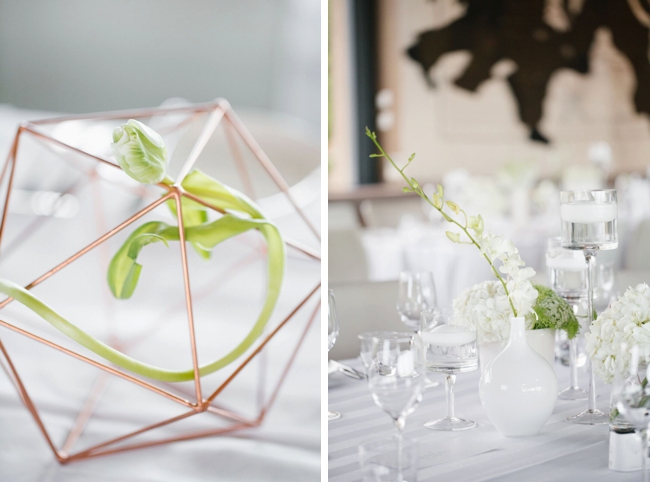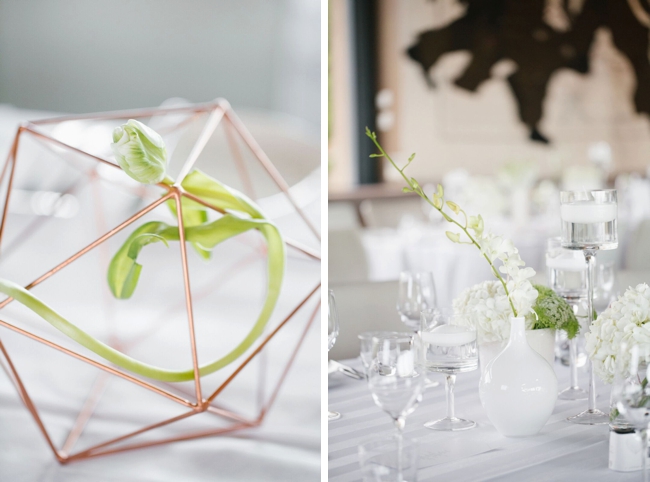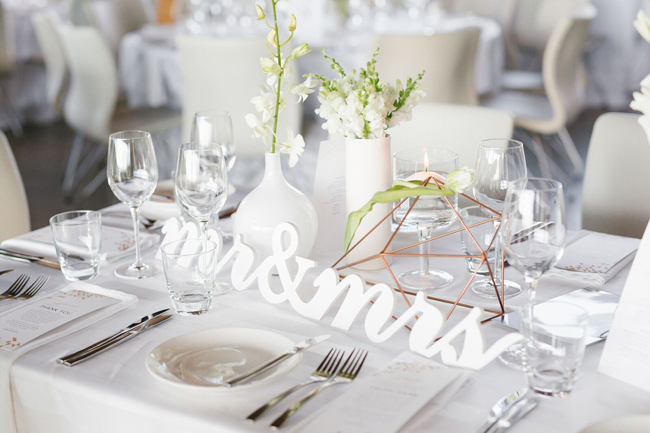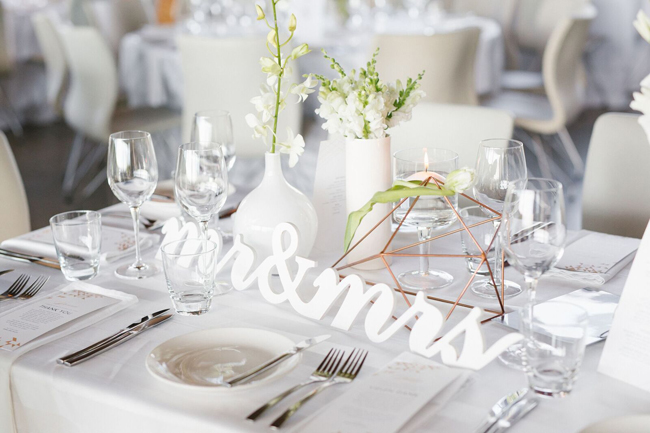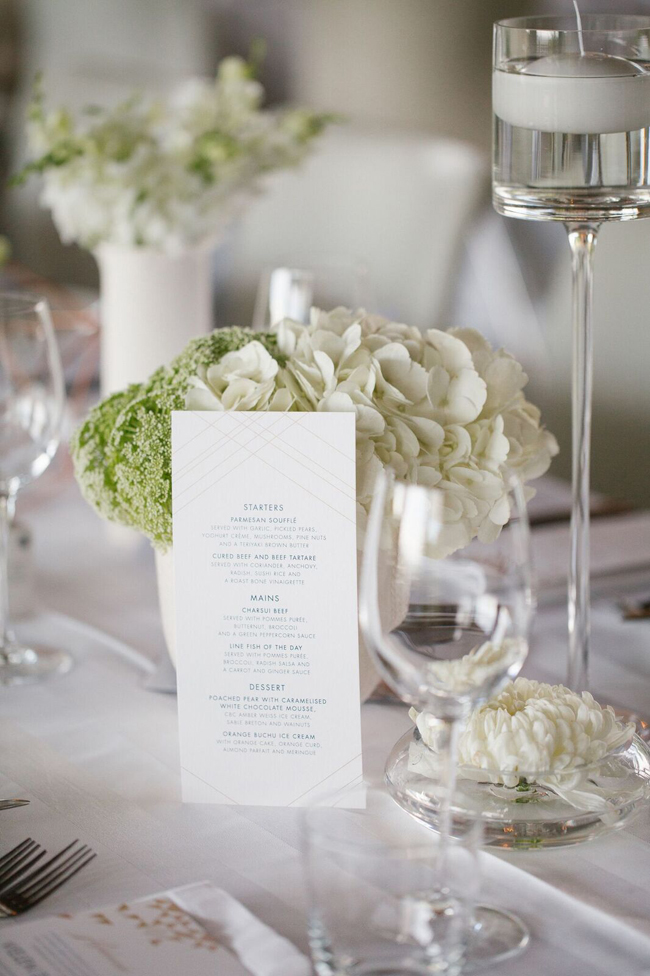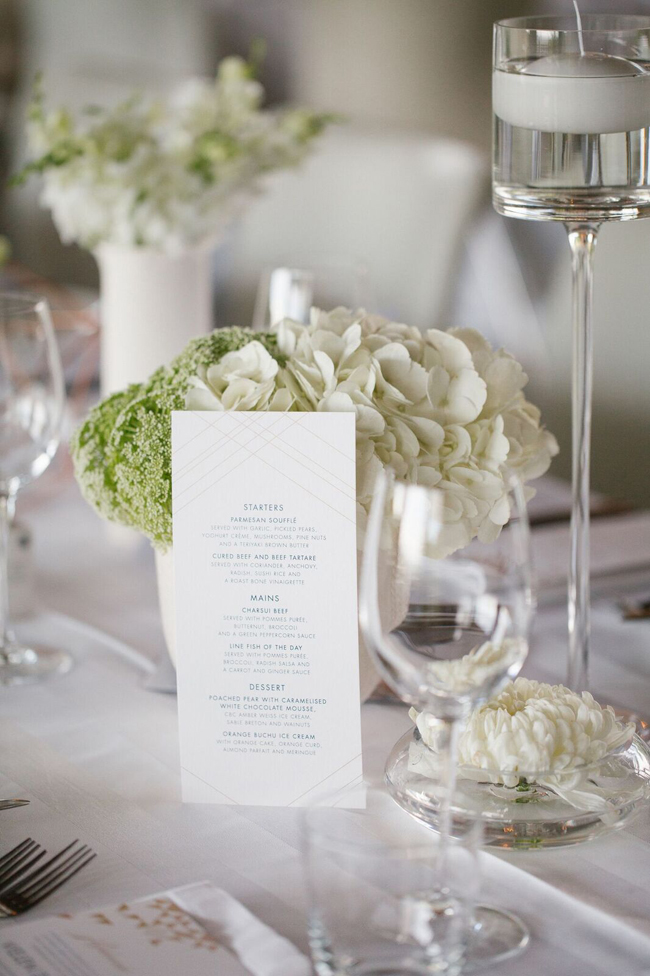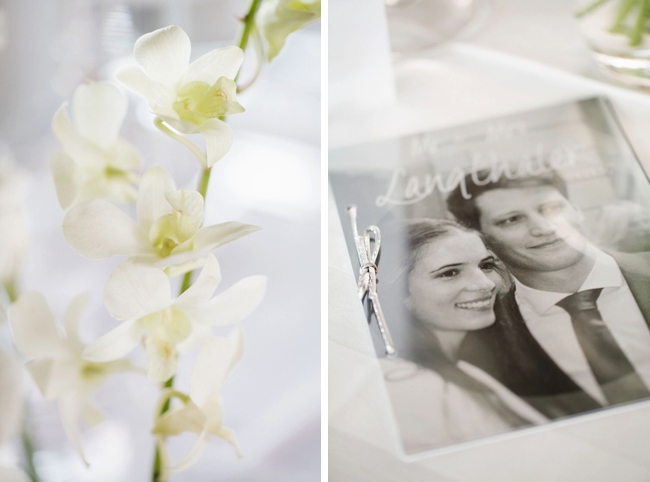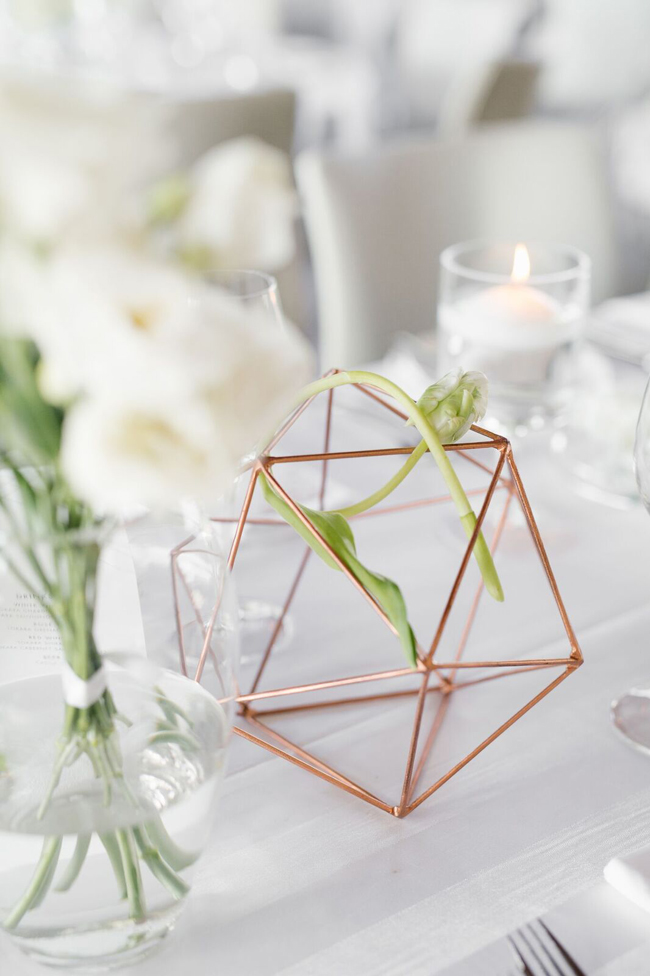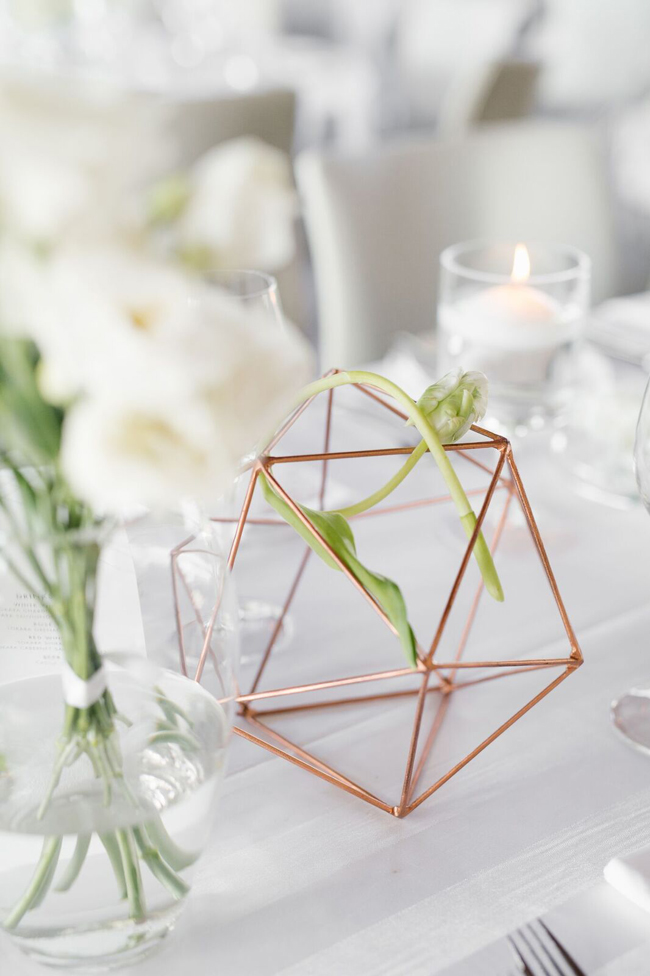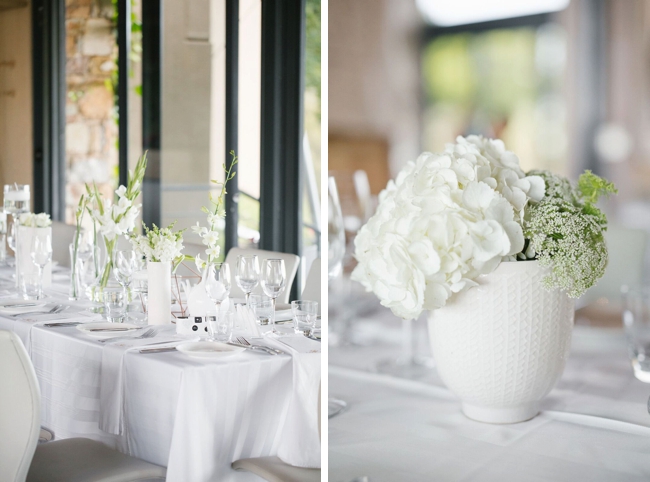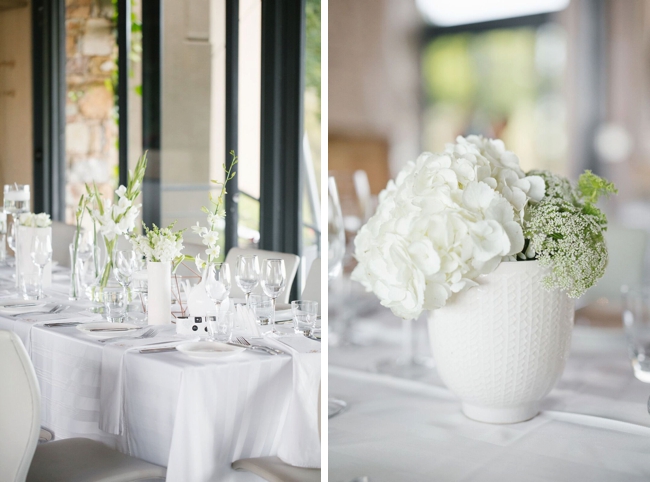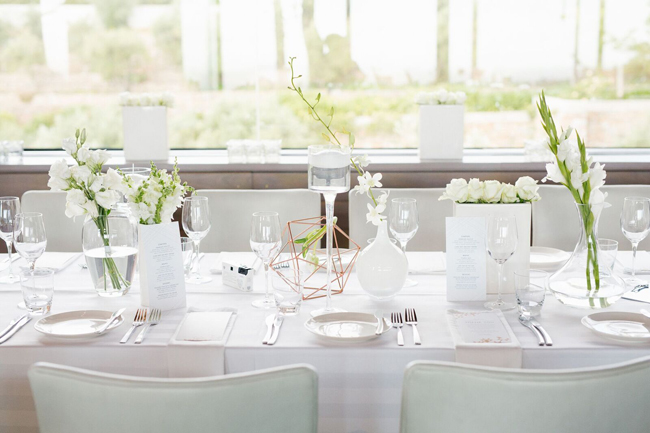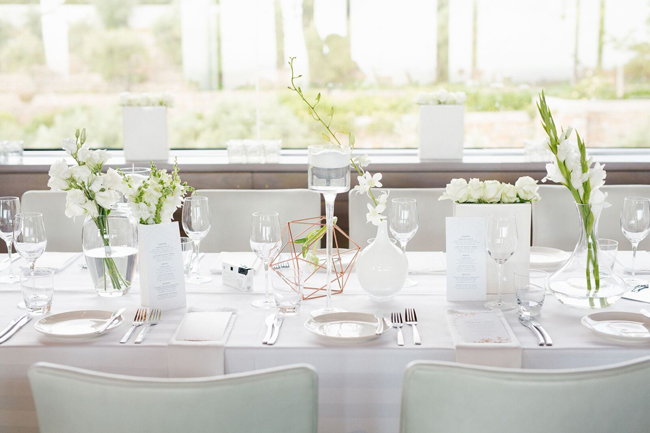 The Flowers
We had two different sets of flowers. For the ceremony it was really important for me to carry protea in my bouquet because my dad grows them on his farm, so our flower lady made up a beautiful bouquet for me using my dad's proteas and other fynbos, and a single stem protea for my bridesmaids. The reception flowers were very simple, bunches of white flowers (all different kinds), different lengths, placed in different shaped and sized vases. It was also very important for me that the flowers didn't go to waste, so at the end of the evening my wedding planner tied up little bunches of flowers and gave them to the guests as they left.
Memorable Moment
Mine has to be the ceremony – from beginning to end, it was better than anything I could've imagined. Walking down the aisle with my dad, seeing all our loved ones in the audience with the biggest smile on their faces, seeing Philipp waiting for me at the end of the aisle with that indescribable expression, my best friend marrying us, exchanging our own vows, all of it was perfect.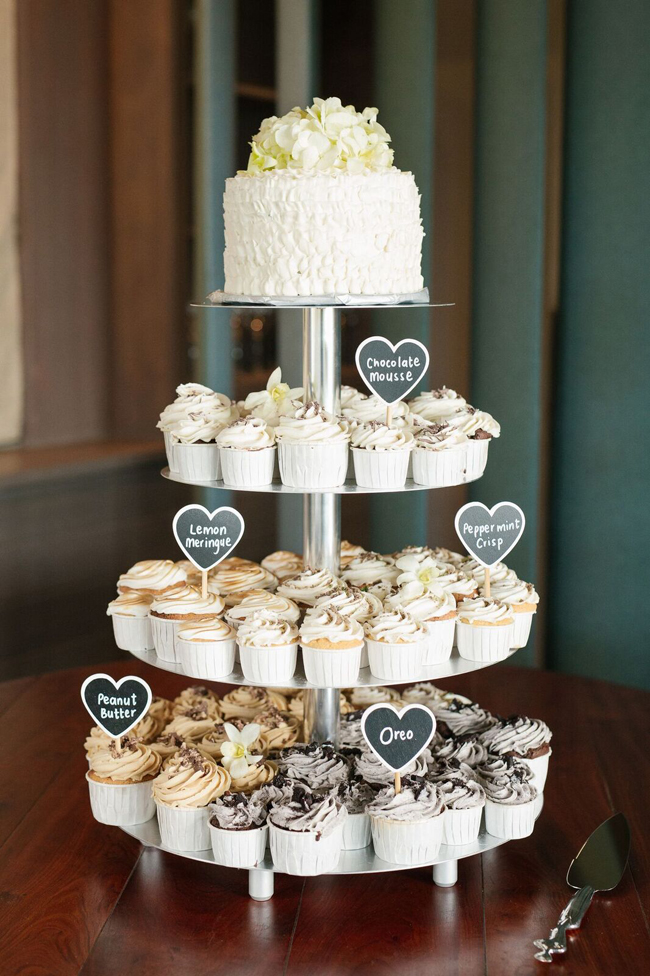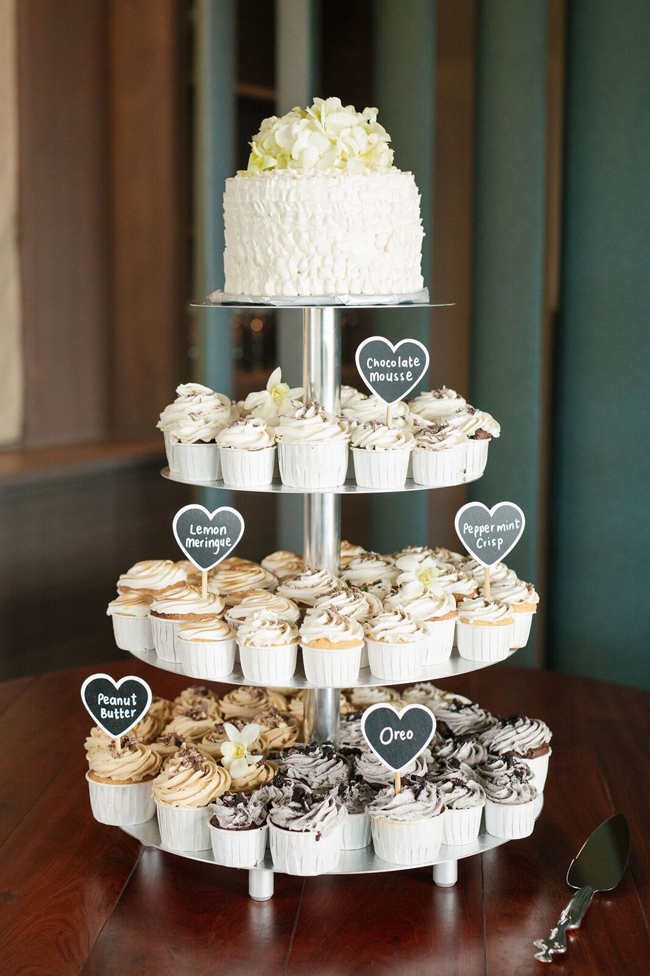 Proudly South African Details
For the Austrian guests I guess the whole wedding was proudly South Africa, or actually the whole week leading up to the wedding was proudly South African. We went above and beyond to show all the foreigners how beautiful Cape Town is, so I was not only a bride but also a tour guide. My family also hosted a massive spit braai two days before the wedding so the two families and friends could get to know each other before the big day.
Best Decision
Being organised and having a good wedding team (our planner was amazing and so was my mom). Planning a wedding from half way across the world was always going to be a challenge, but I tried to make it as stress free as possible by starting the planning really early so that when we got to South Africa the week before the wedding there wasn't too much to do (there was still quite a lot but not nearly as much as it could have been). This meant that we had time to enjoy being with friends and family (who we hadn't seen in a good couple of months) and to show the Austrians the beautiful city of Cape Town.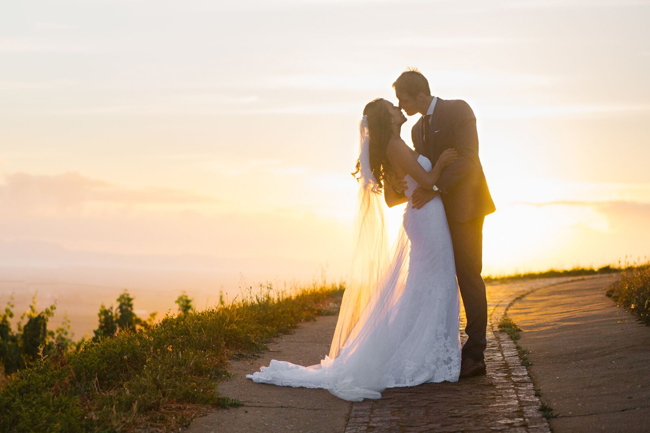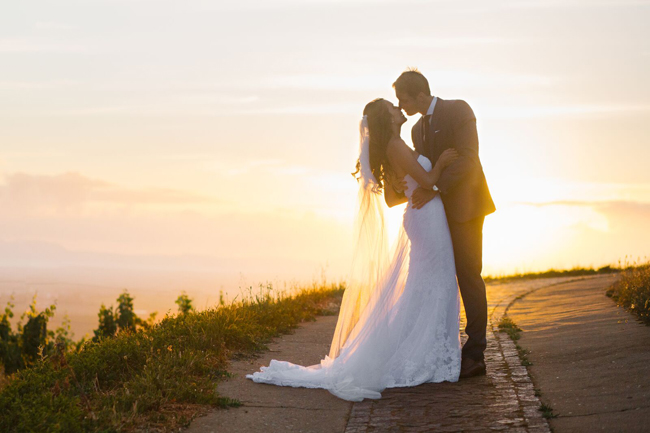 Advice for Future Brides & Grooms
Don't sweat the small stuff. I'd heard it a million times before the big day and couldn't help but stress the small stuff leading up to the wedding, but on the day you really don't notice. Also, don't be afraid to go against tradition, do what feels right for you as a couple. Having a friend marry us was the best decision we made and all of our guests loved that part of our wedding. Be prepared for the unexpected. It thunder stormed the whole day before our wedding and rained most of the day of the wedding, so we were prepared to move the ceremony inside. Thankfully just before it was time for me to walk down the aisle the clouds cleared and the ceremony went by without a drop. During appetisers however, the skies decided to shower down on us so we quickly had to move everyone inside; lucky we were also prepared for this so the guests hardly noticed. We also decided to move the dance floor inside at the last minute because it was so cold, so with the help of the DJ and some strong men, we moved the tables and cleared an area in the reception to create a dance floor. Get a wedding planner, or at least someone to coordinate the wedding on the day, because everyone who you would usually count on to keep things under control will most probably be guests at your wedding and you want to let them enjoy the day, stress free.
You can see more from this wedding on Tasha Seccombe's blog.
SERVICE PROVIDERS
Venue & catering: Tokara Wine and Olive Farm | Photography: Tasha Seccombe | Co-ordination: Gabi van Niekerk | Flowers & décor: Bright and Beautiful | Stationery: Seven Swans | Video: Emdon | Cake: Your Hearts Design | Bride's dress: La Sposa from House of Silk | Hair & makeup: Ida Webster | Groom's attire: Hugo Boss | DJ: Colin Sher


Save
Save