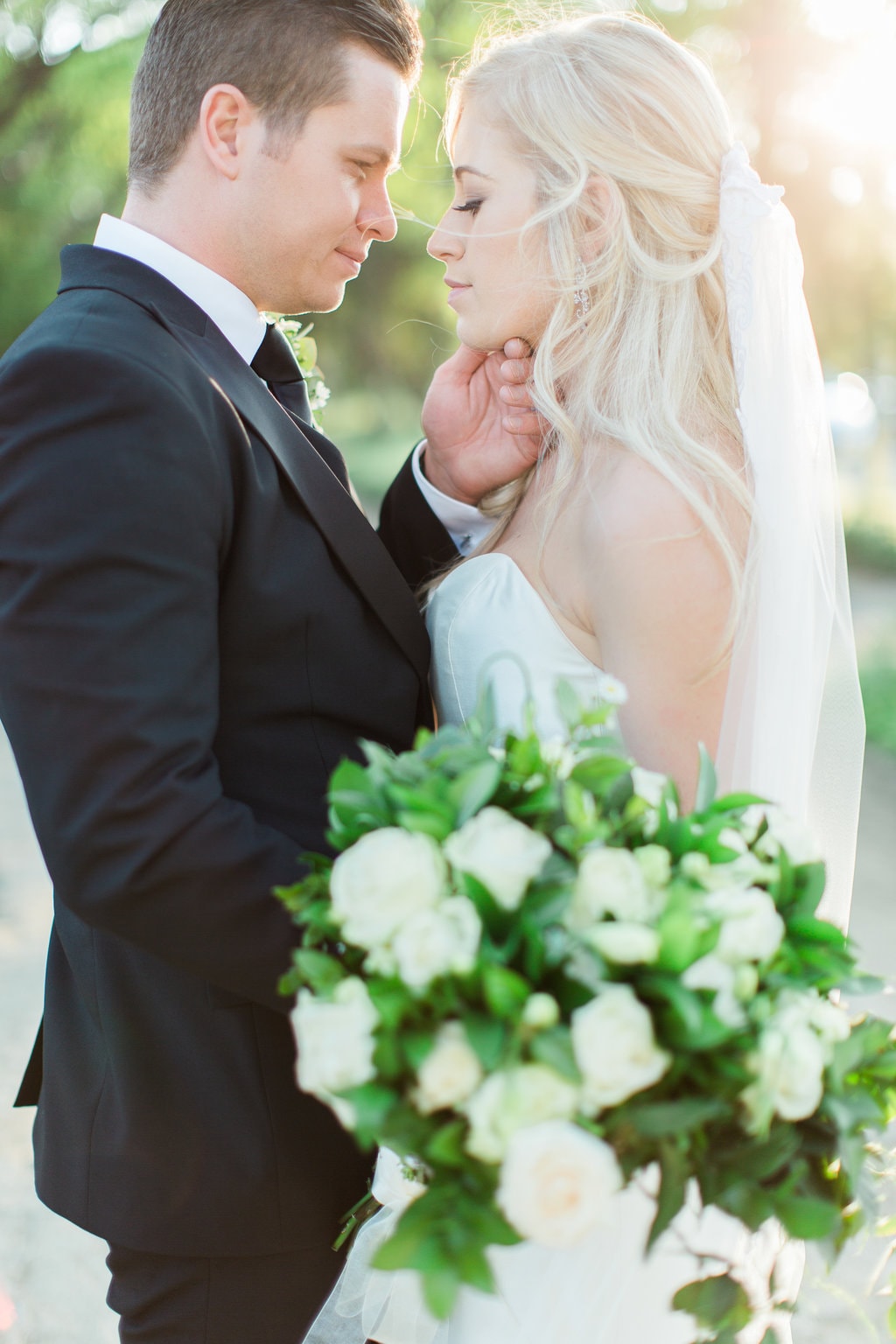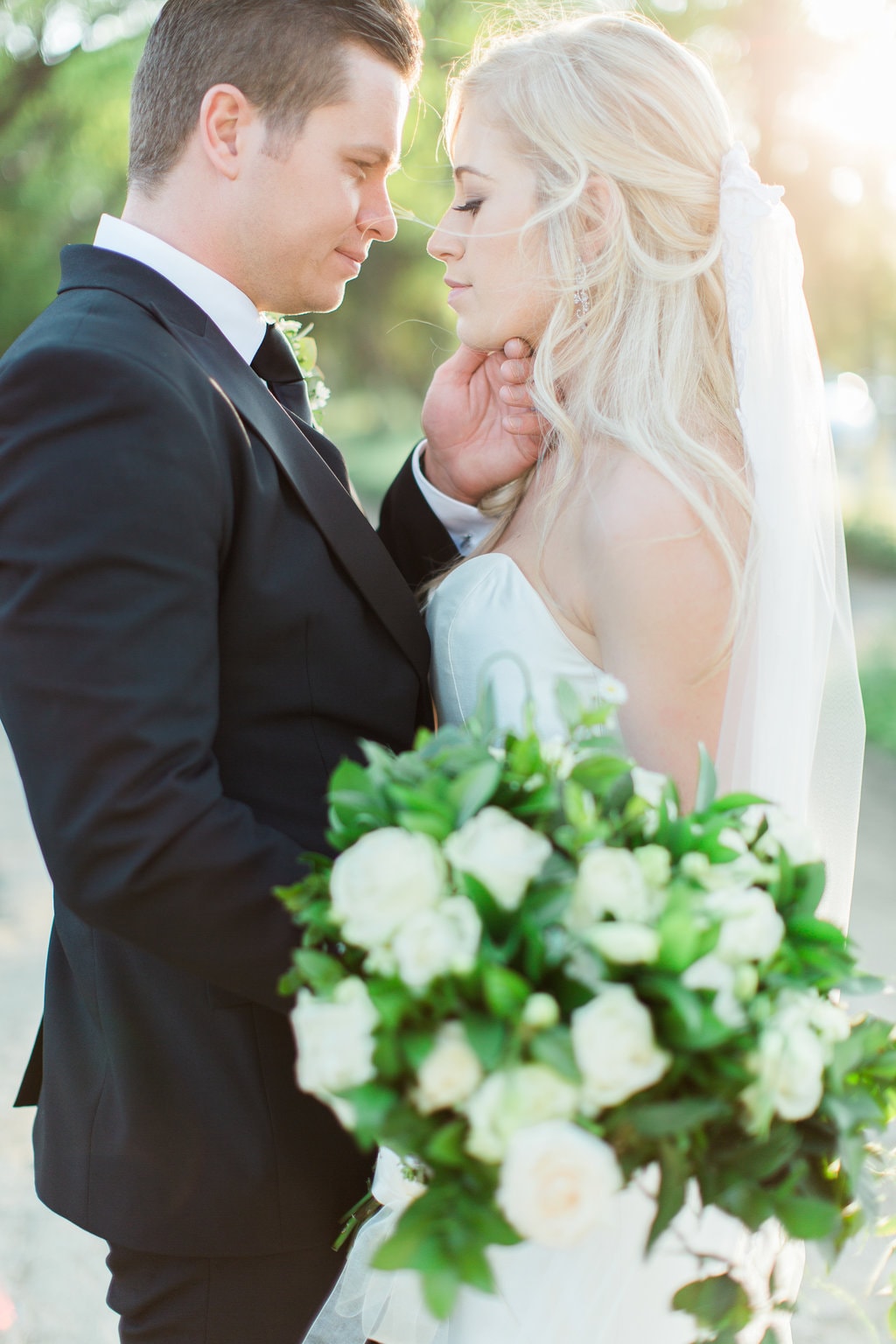 Light, bright, beautiful. That's just three of the words that come to mind when I look at today's wedding, which is like a modern meets classic meets botanical wonderland. From gorgeous bride Lauren's getting ready images, through the greenhouse-style ceremony, to the incredible portraits, to the reception decor which made the most of a blank slate space and prettied it up to perfection, on to a sparkler-lit first dance, every one of Grace Studios' images of Juan-Pierre & Lauren's wedding is gasp-worthy! There's so much attention to detail – from the bridesmaids' black-tie style gowns, to the wax-sealed invitations, to the lush florals, I want to pin every picture! The Forum White Light was the absolute PERFECT venue for this wedding – its classic but modern dimensions and clean lines showed off the couple's vision and I'm still dying over how wonderful and unusual that chapel is! As I say: light, bright… and absolutely beautiful.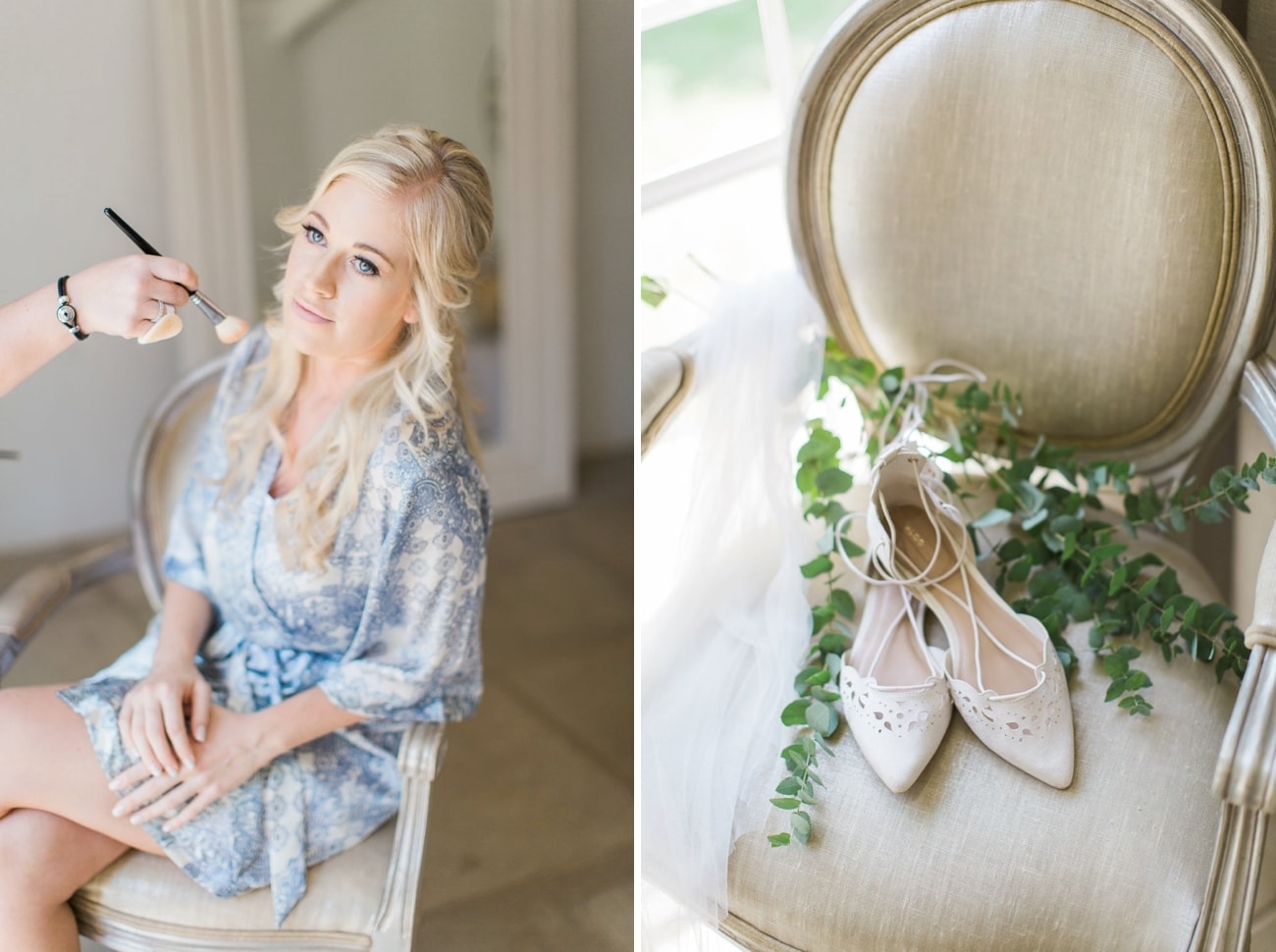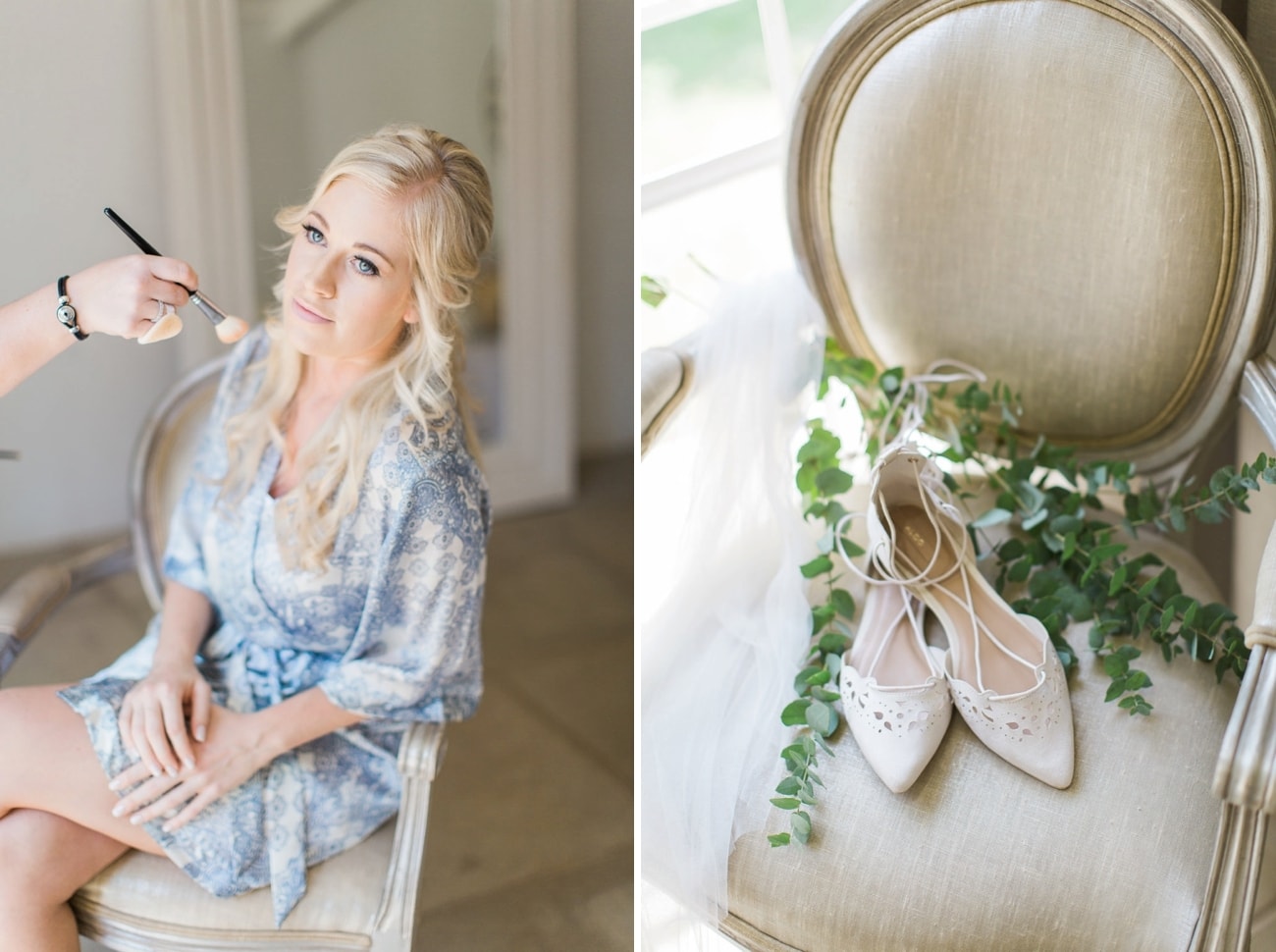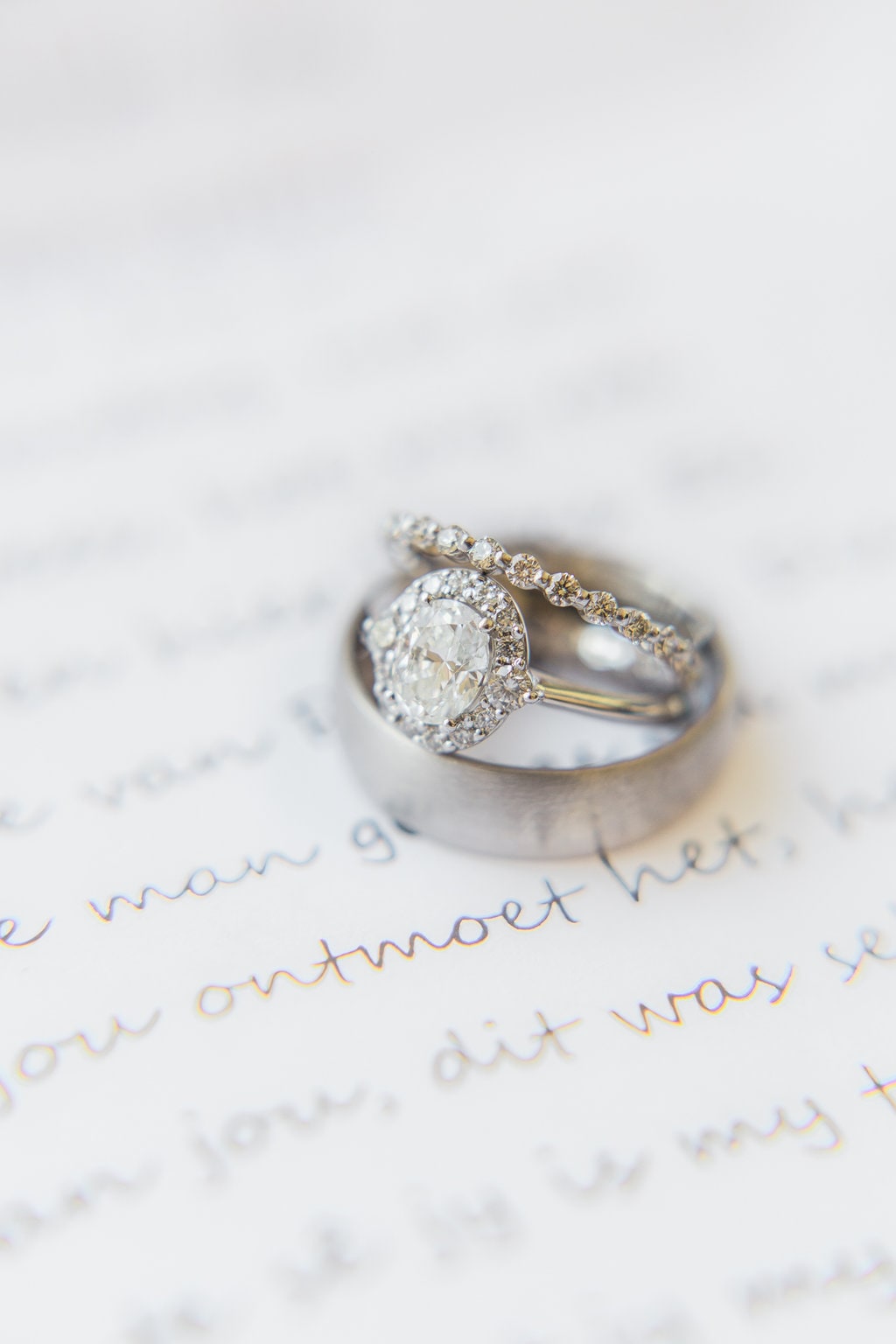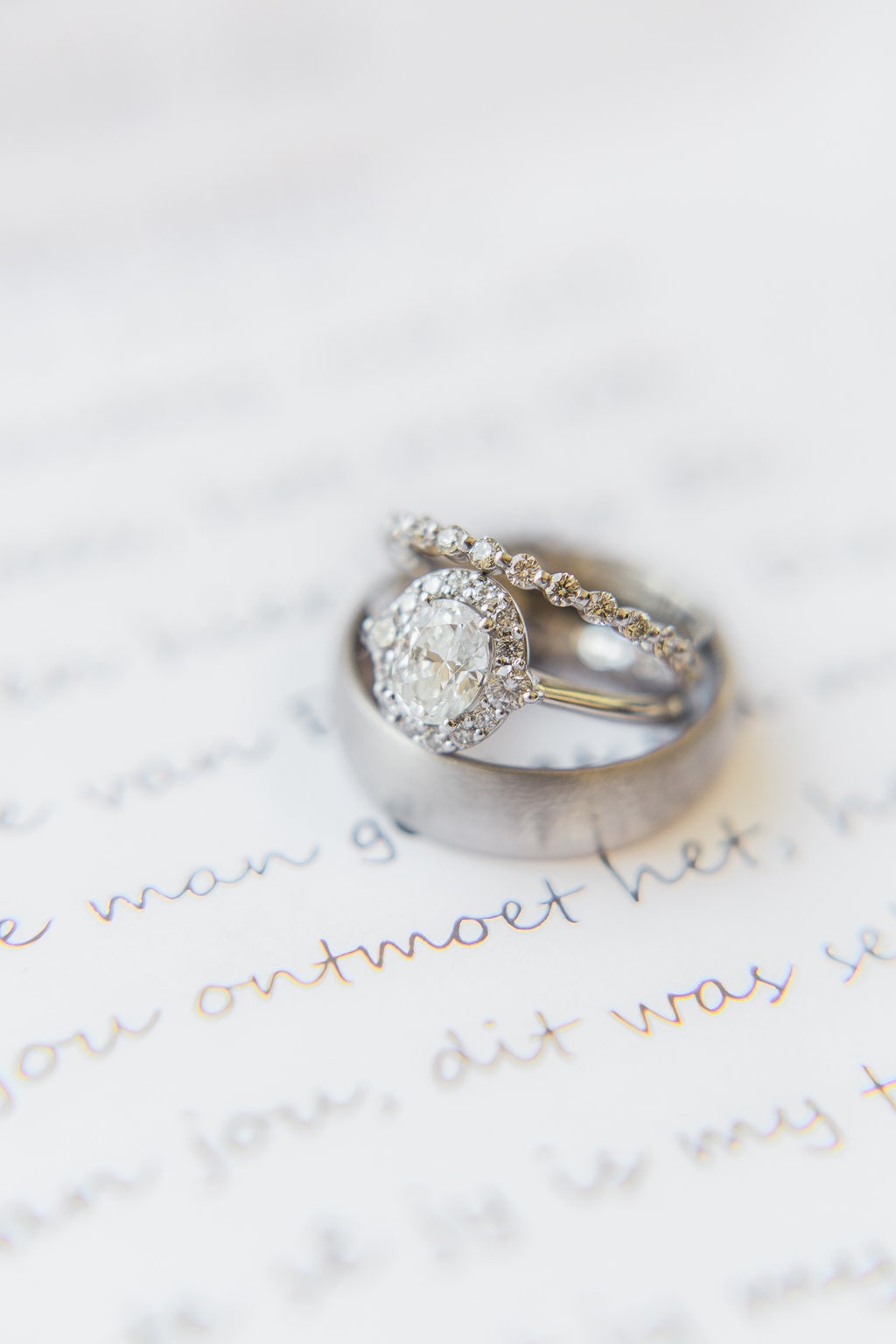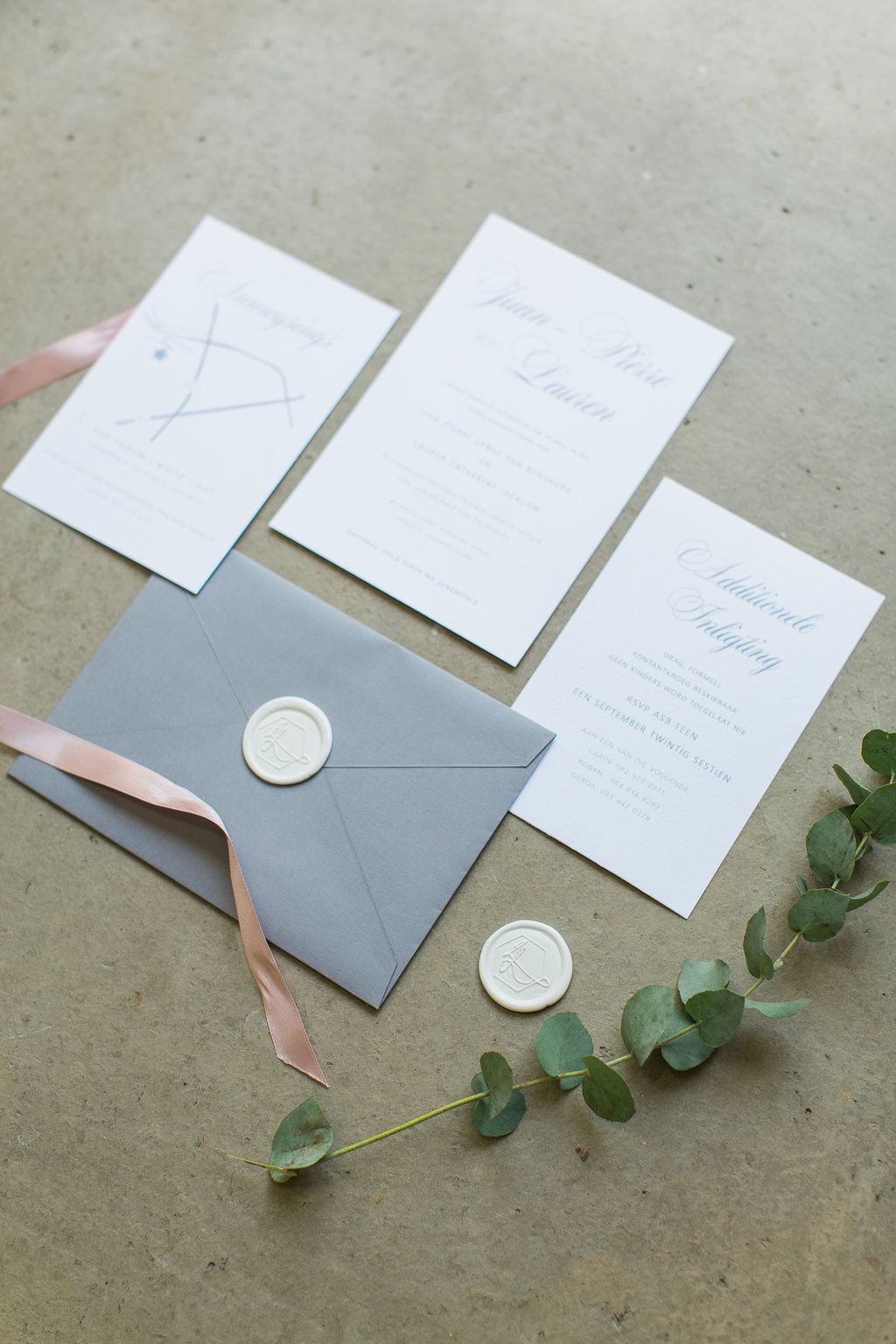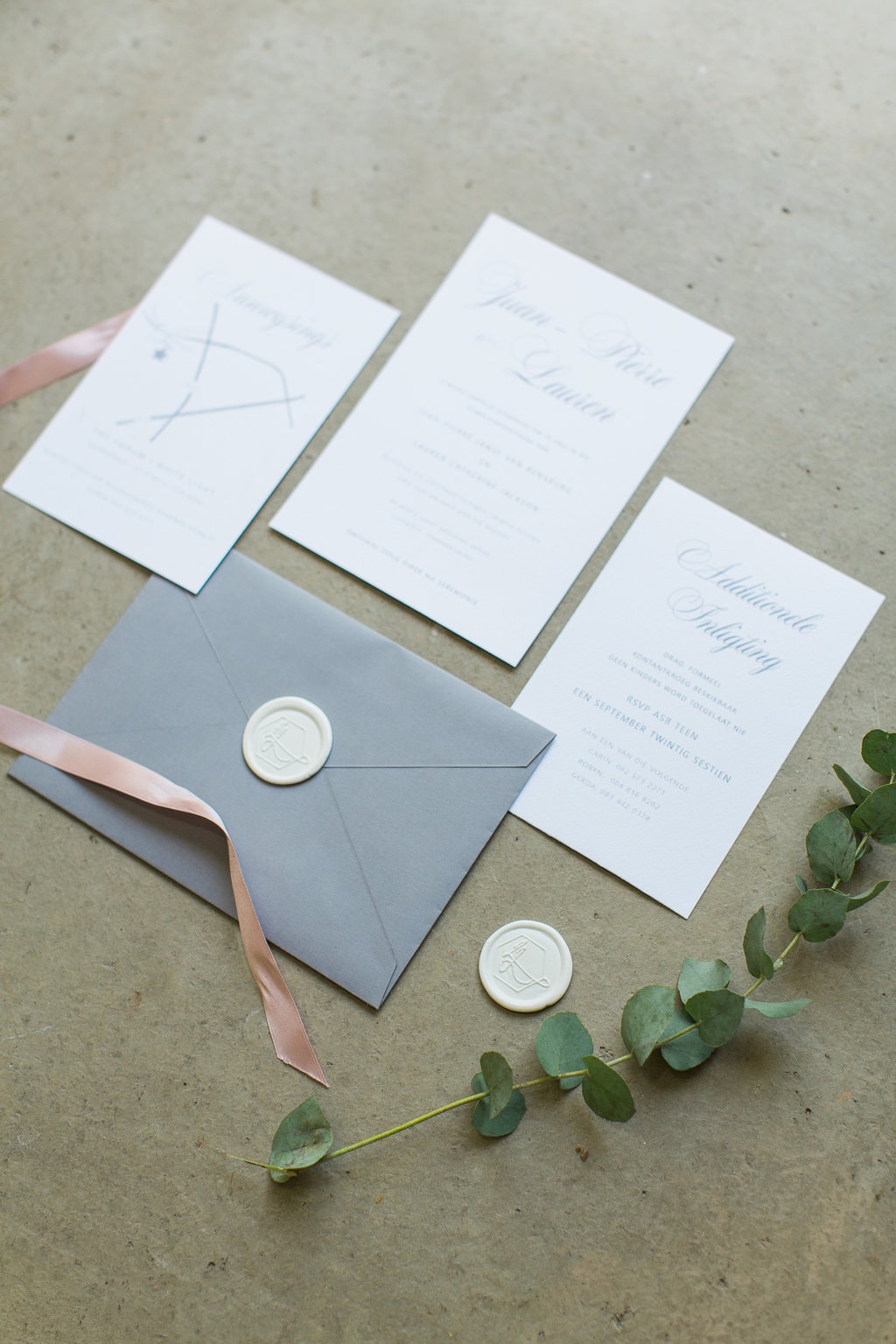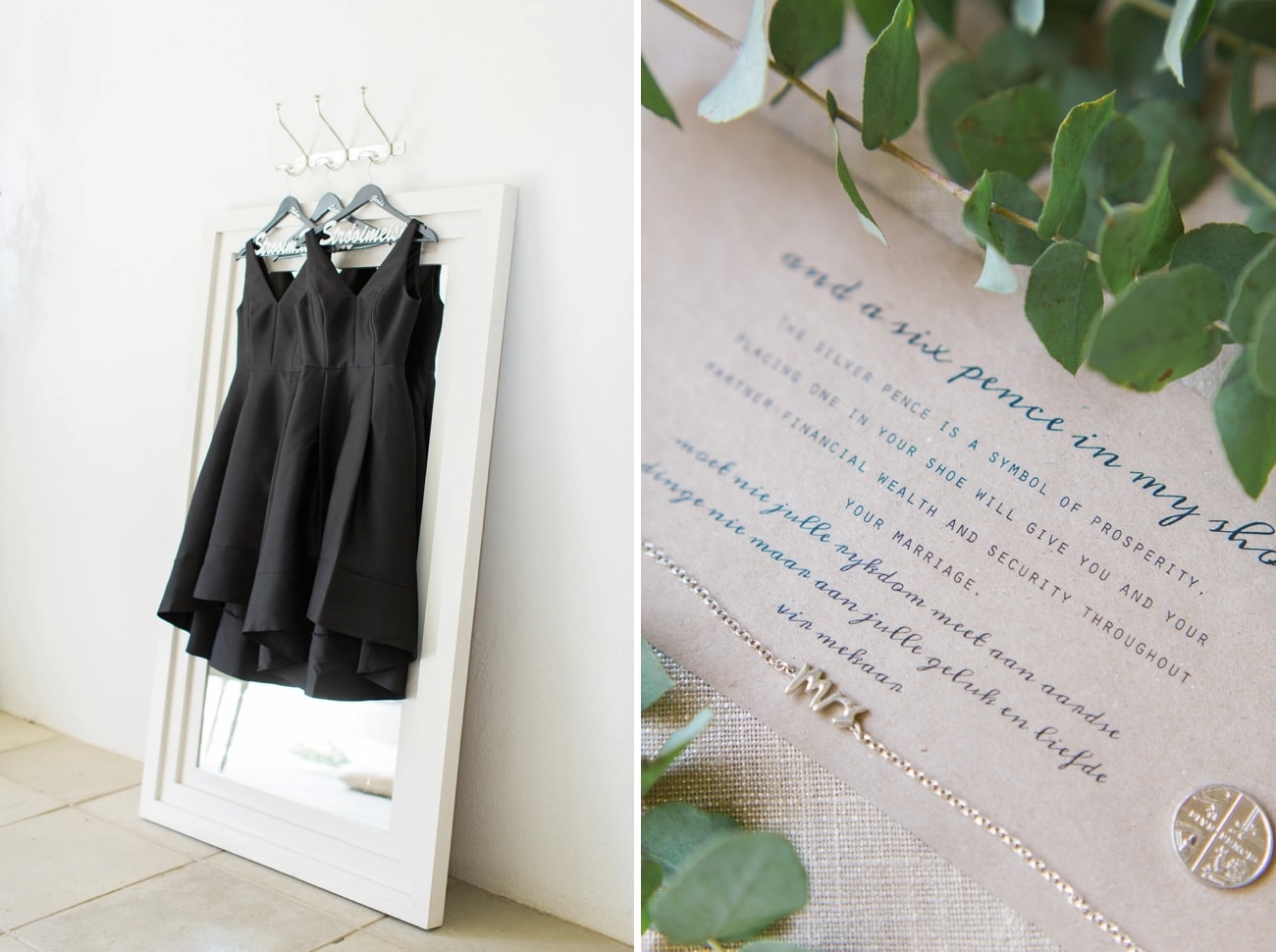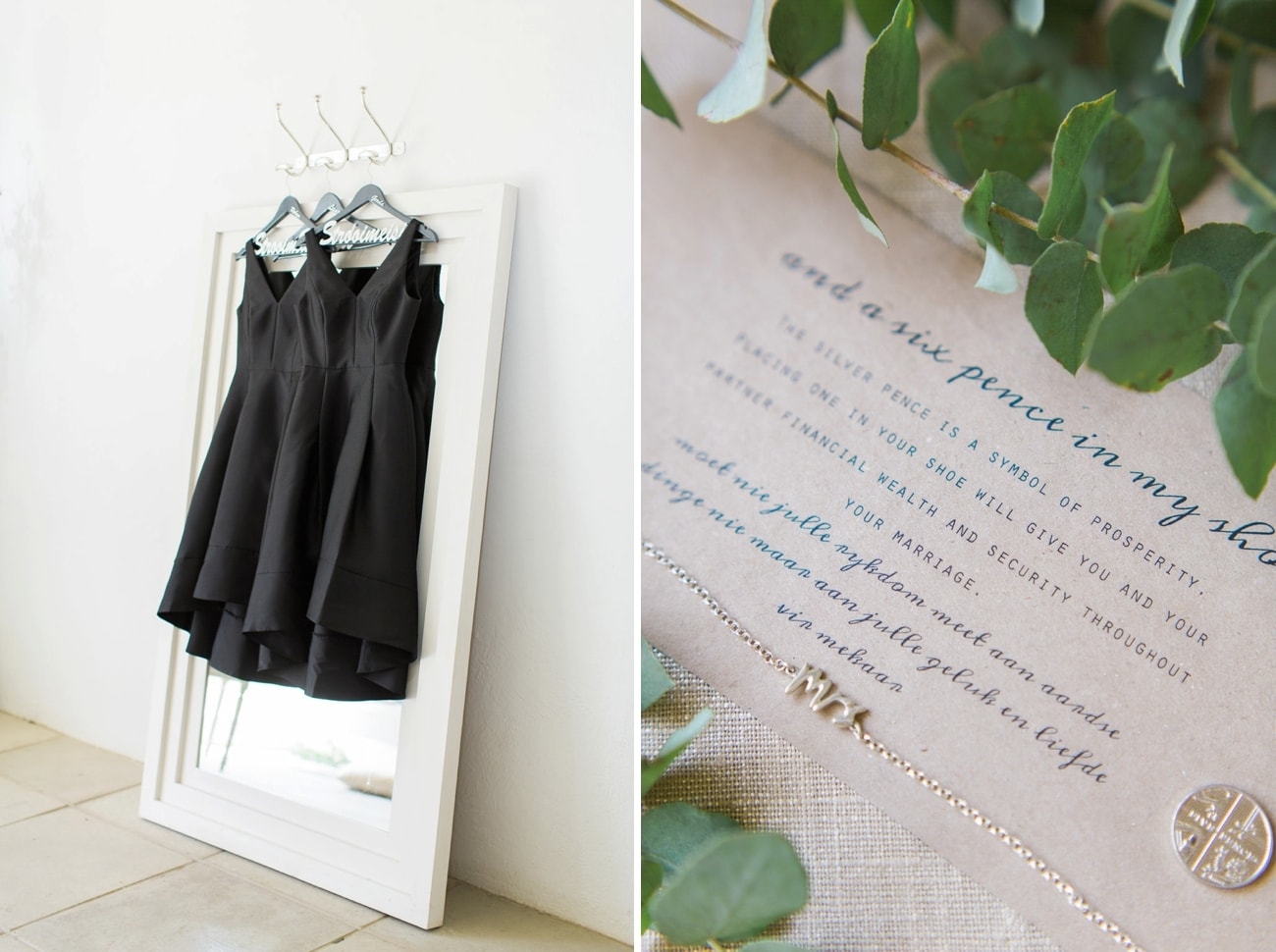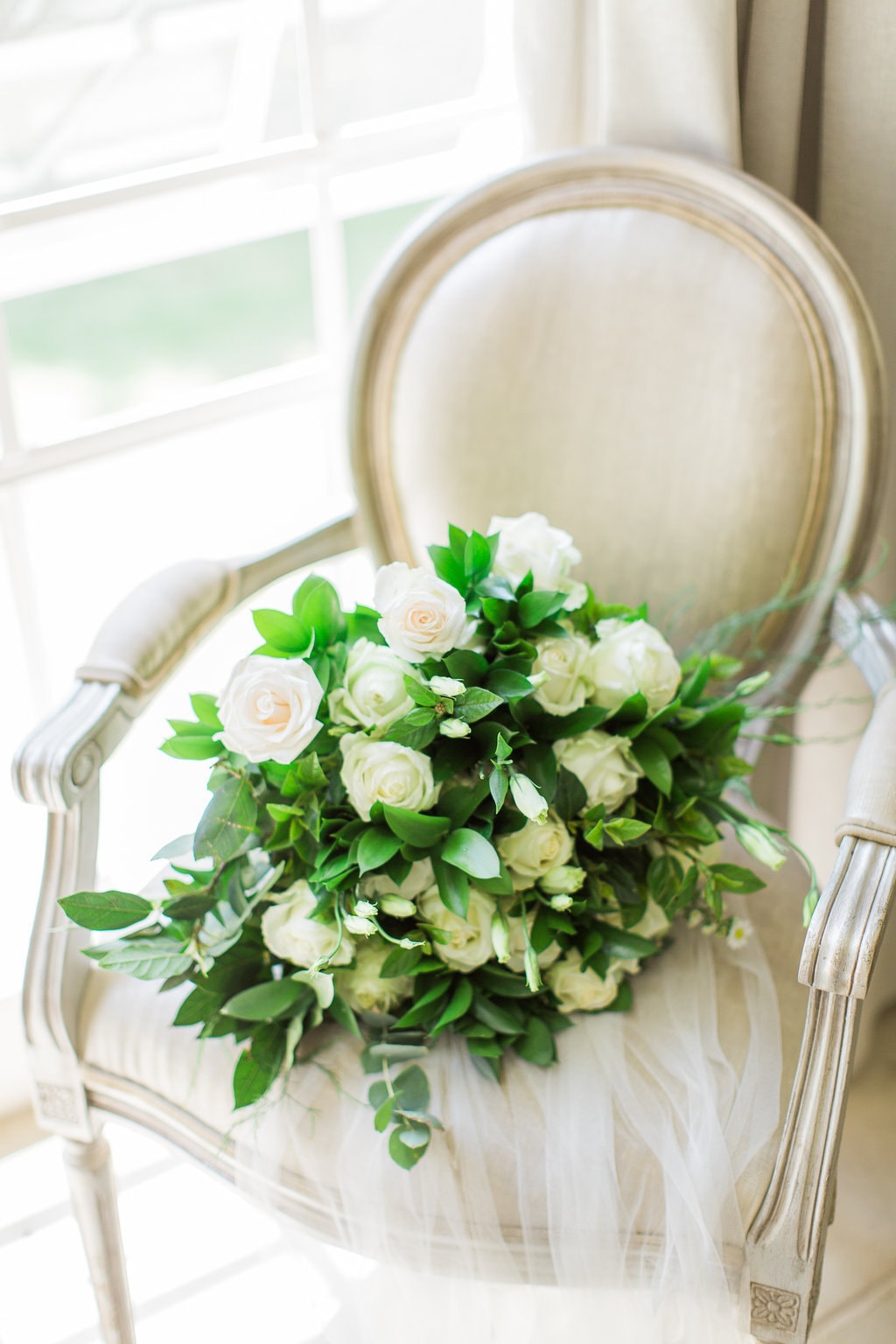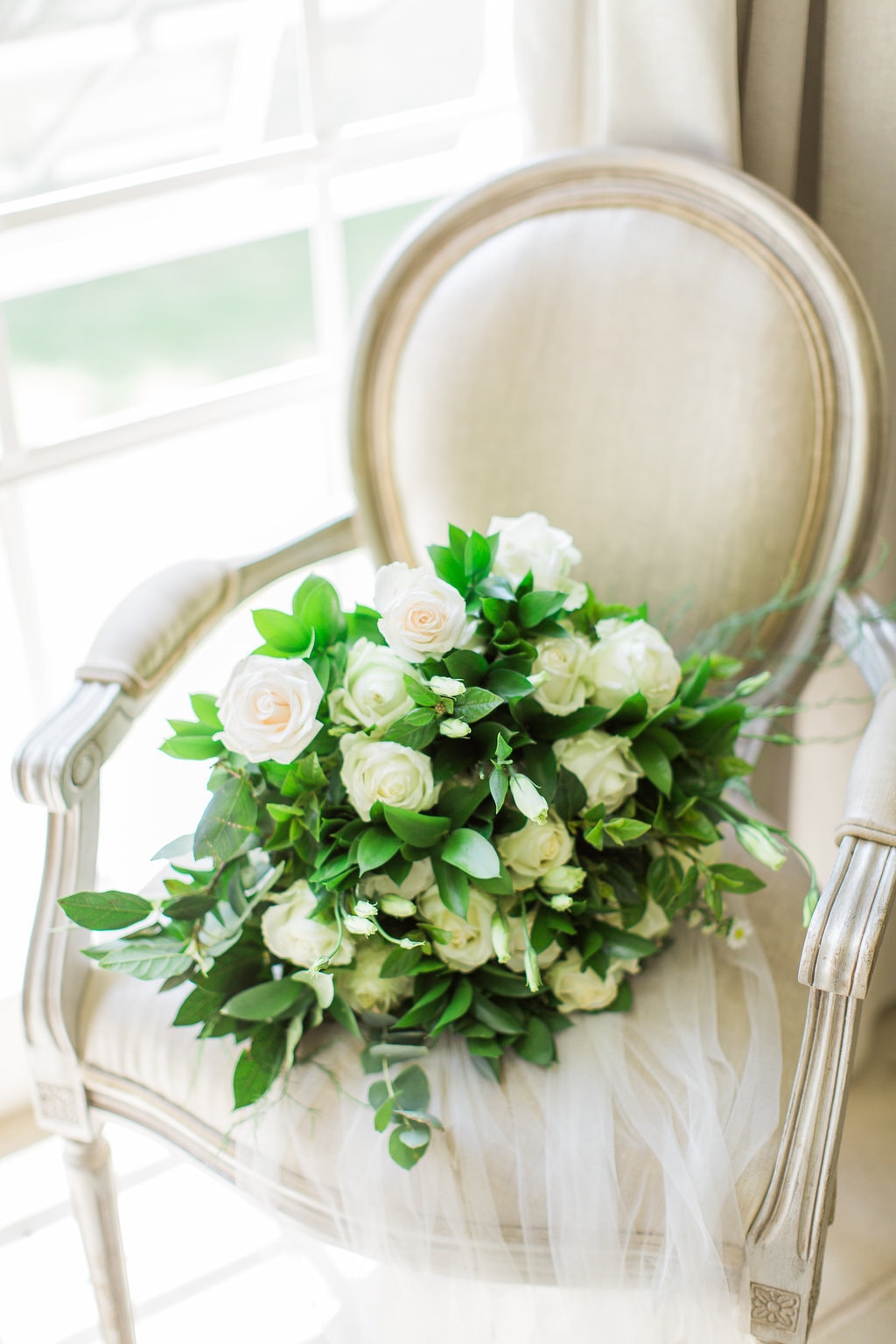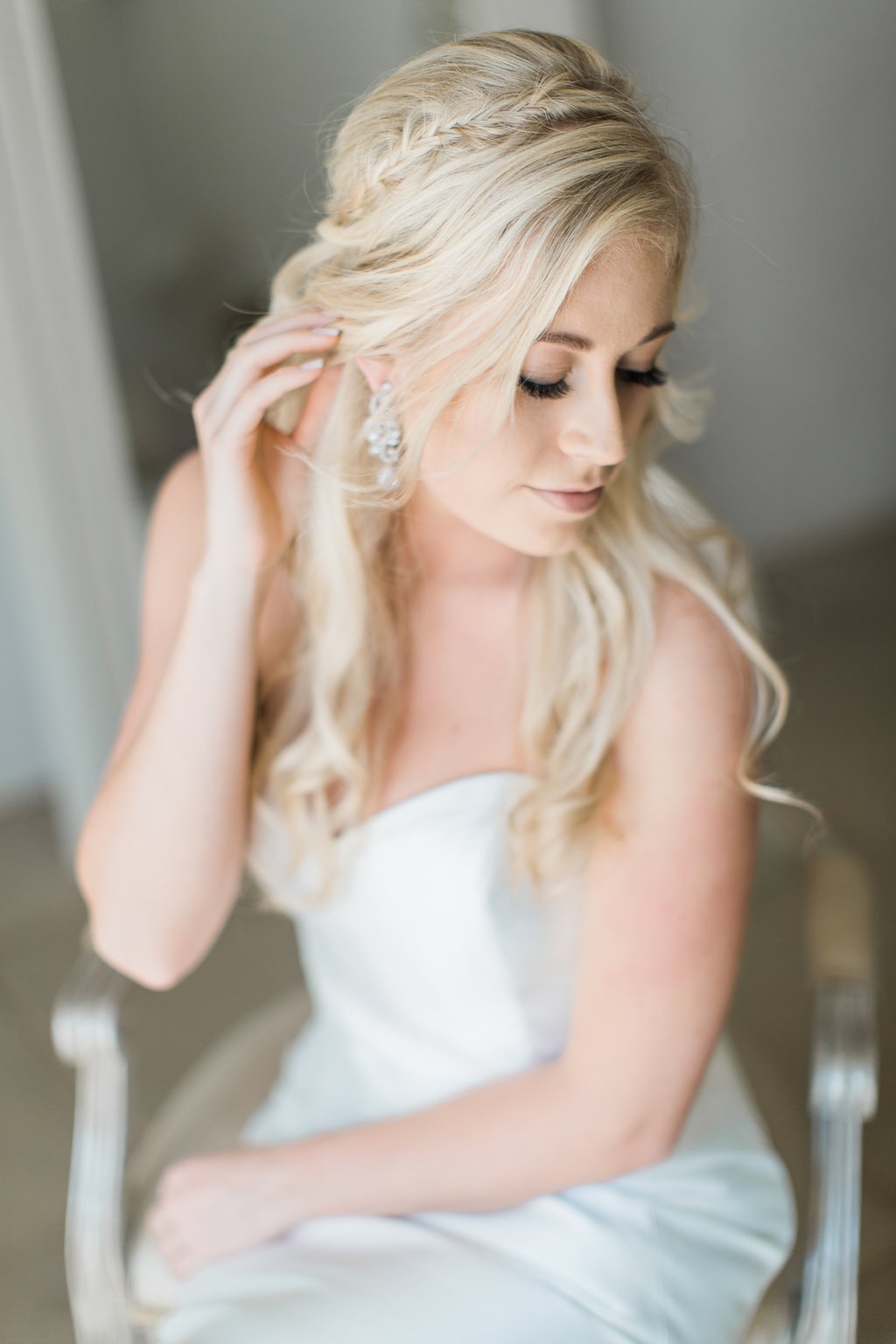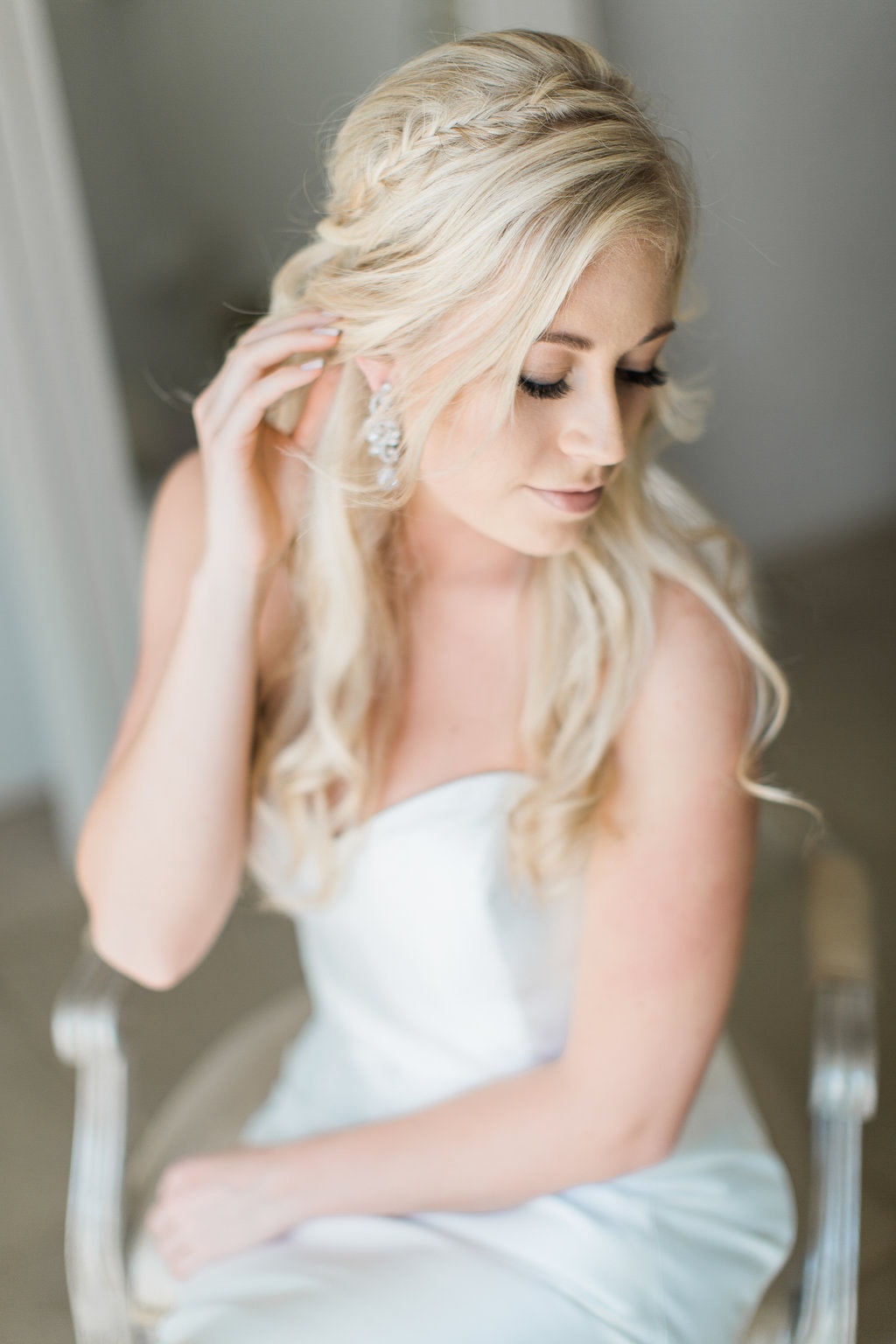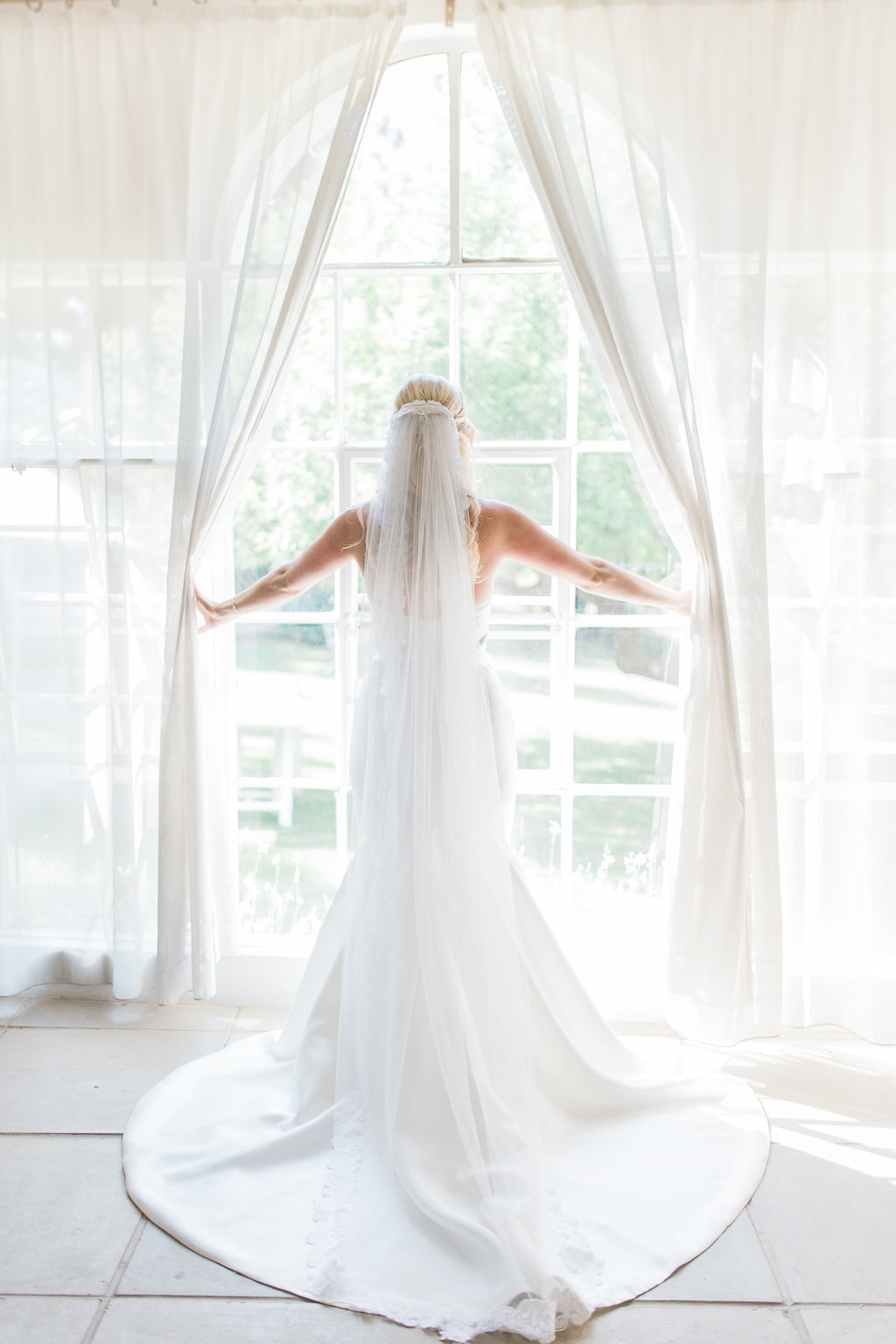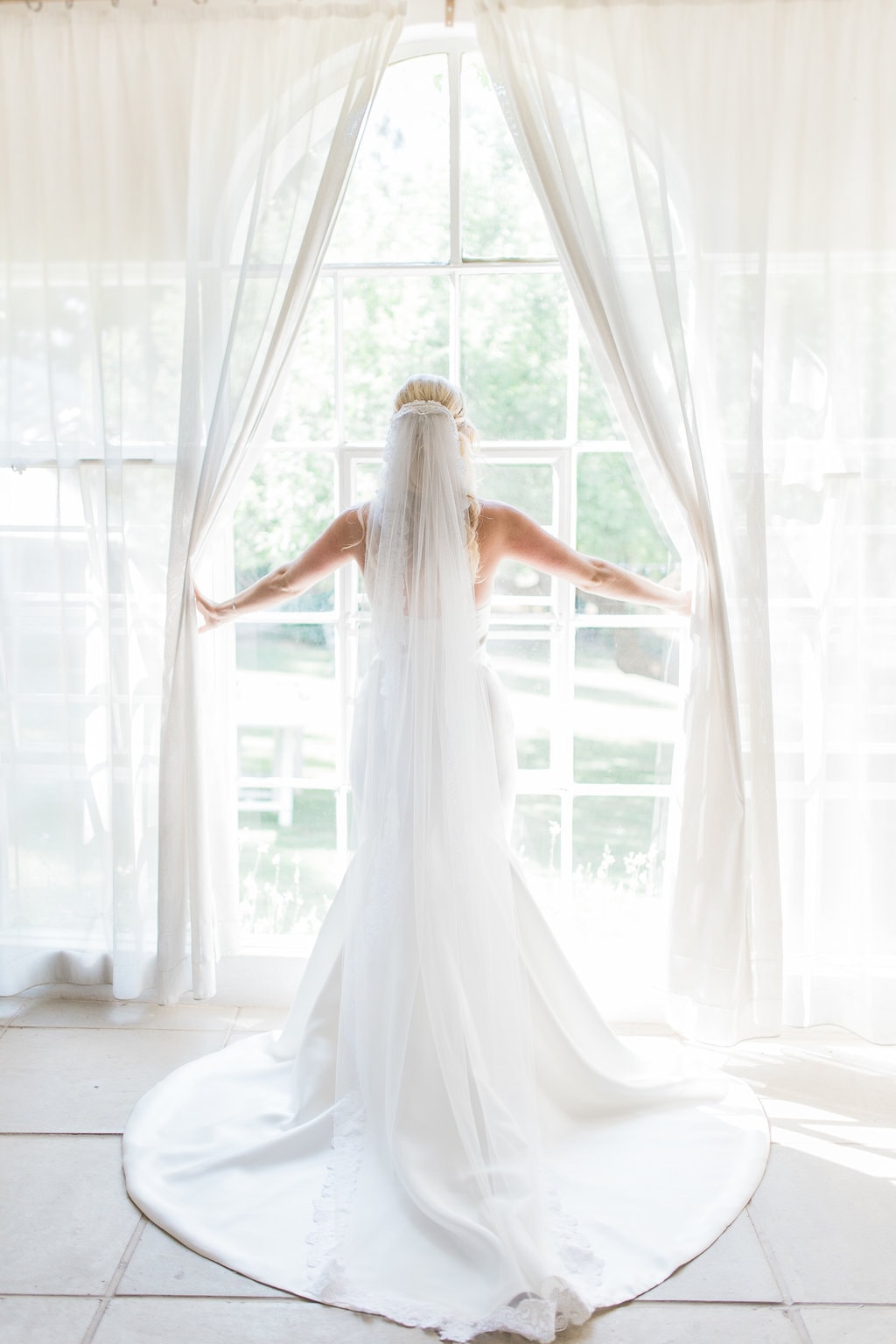 Love Story
We met close to New Year at our beach house in Uvongo in KZN. Turned out there was a good looking blonde guy living next door! I casually chased my cousin up and down the lawn in front of their house until our eyes met!
The Proposal
We went camping at Cape Vidal with our best friends. This was in the middle of my final year of studying, so I had no idea what was about to happen, as I had school on my mind. My friend told me that we were going to the beach to take some pictures, as that is a hobby we share. So we did our make-up and did our hair, for the 'pictures'. As we walked through the tall oak trees, where the beach meets the trees, I saw handmade signs leading down to the beach, complete with hundreds of candles. At first I thought that we were about to interrupt someone's romantic evening, but then I saw him, standing there, waiting for me. I immediately burst into tears, instant tears! He went down on one knee, used my full name and I said YES!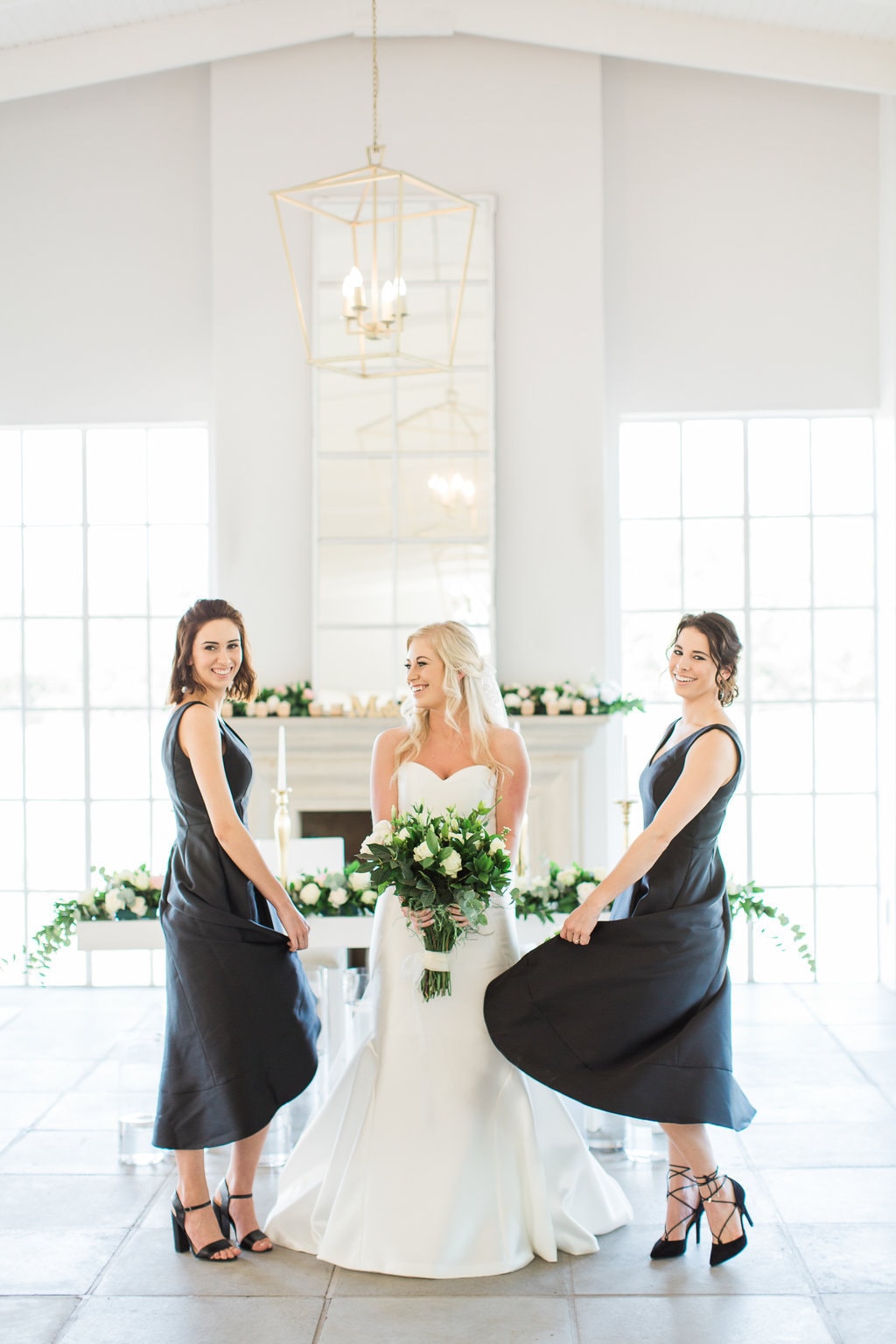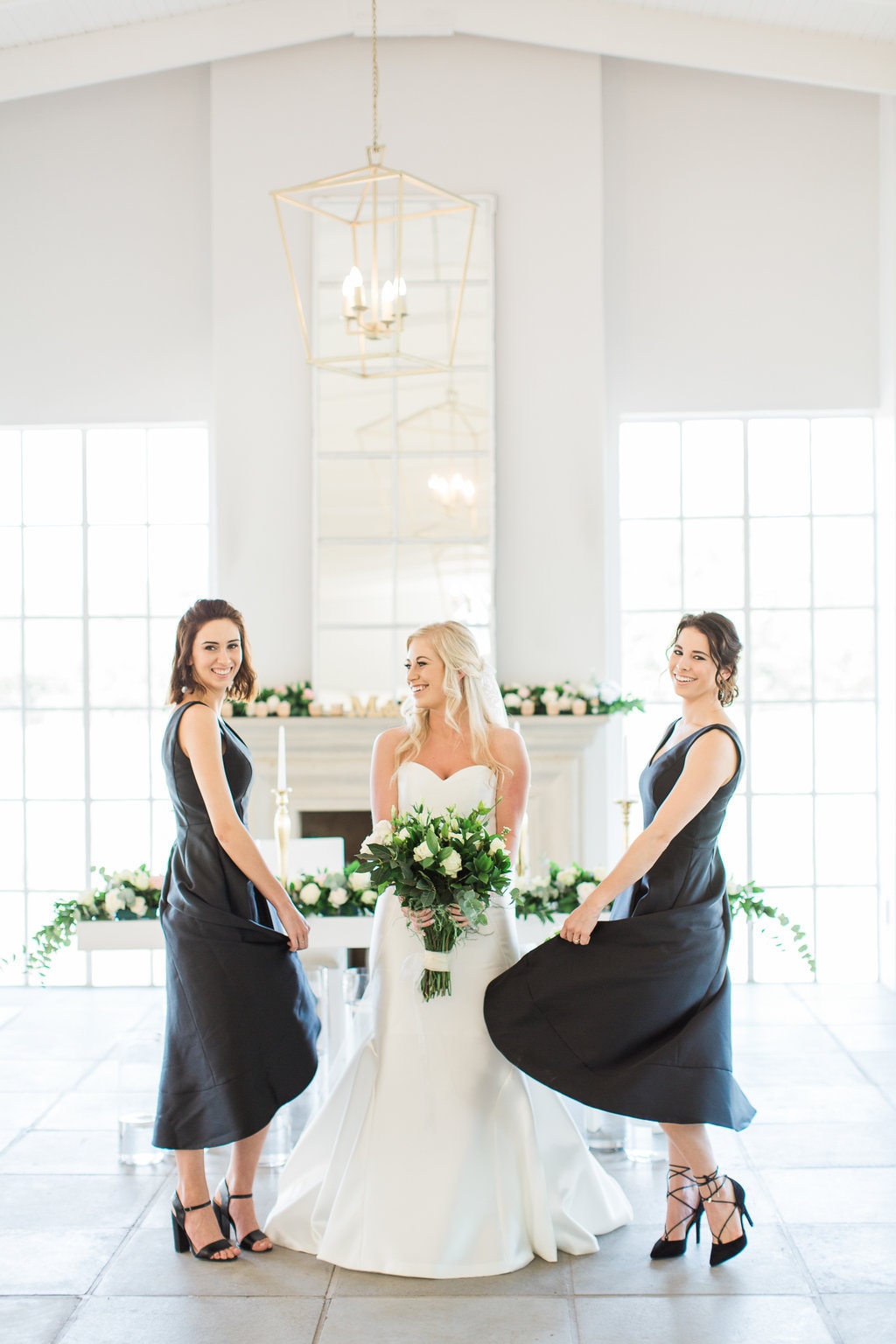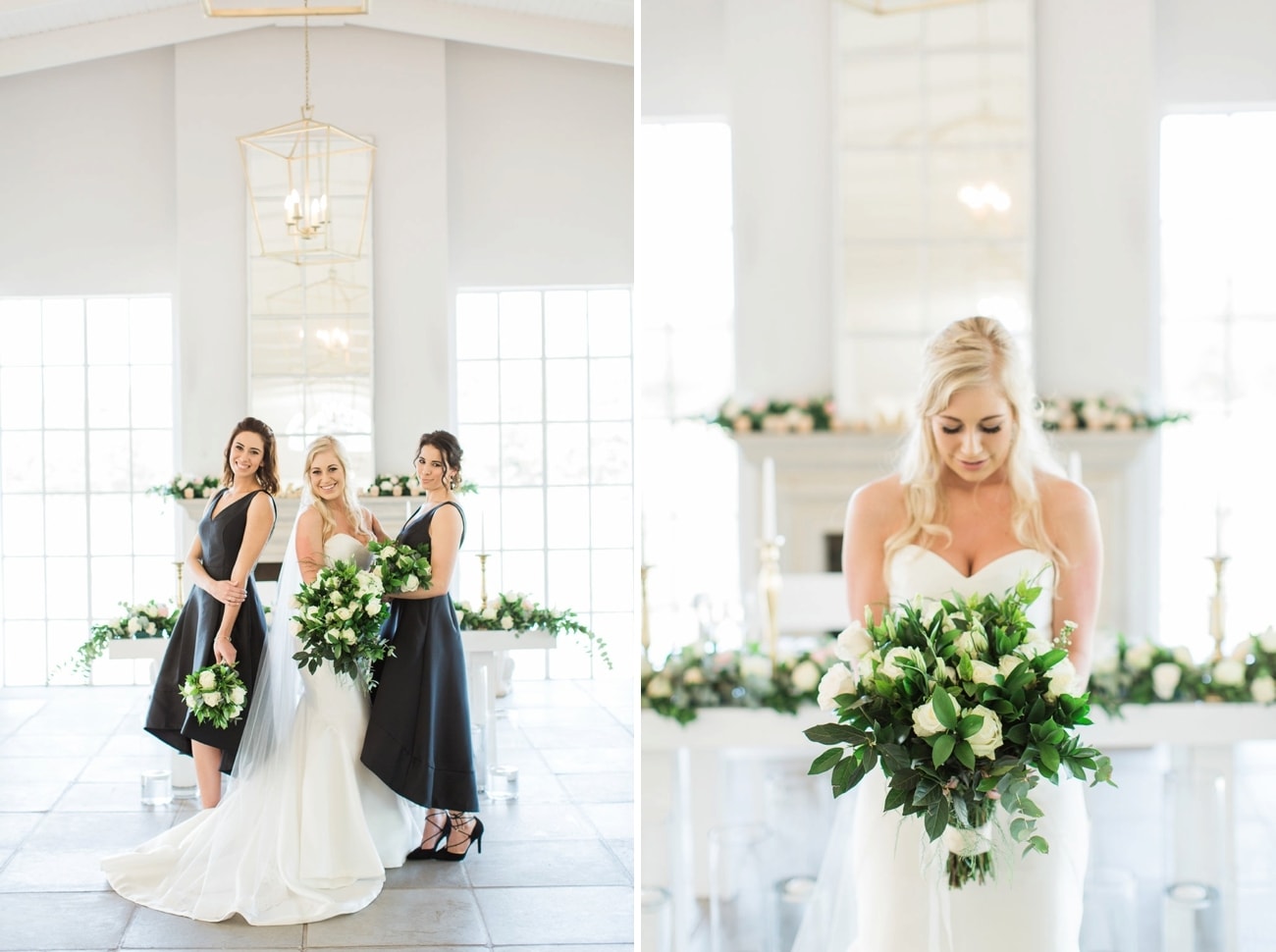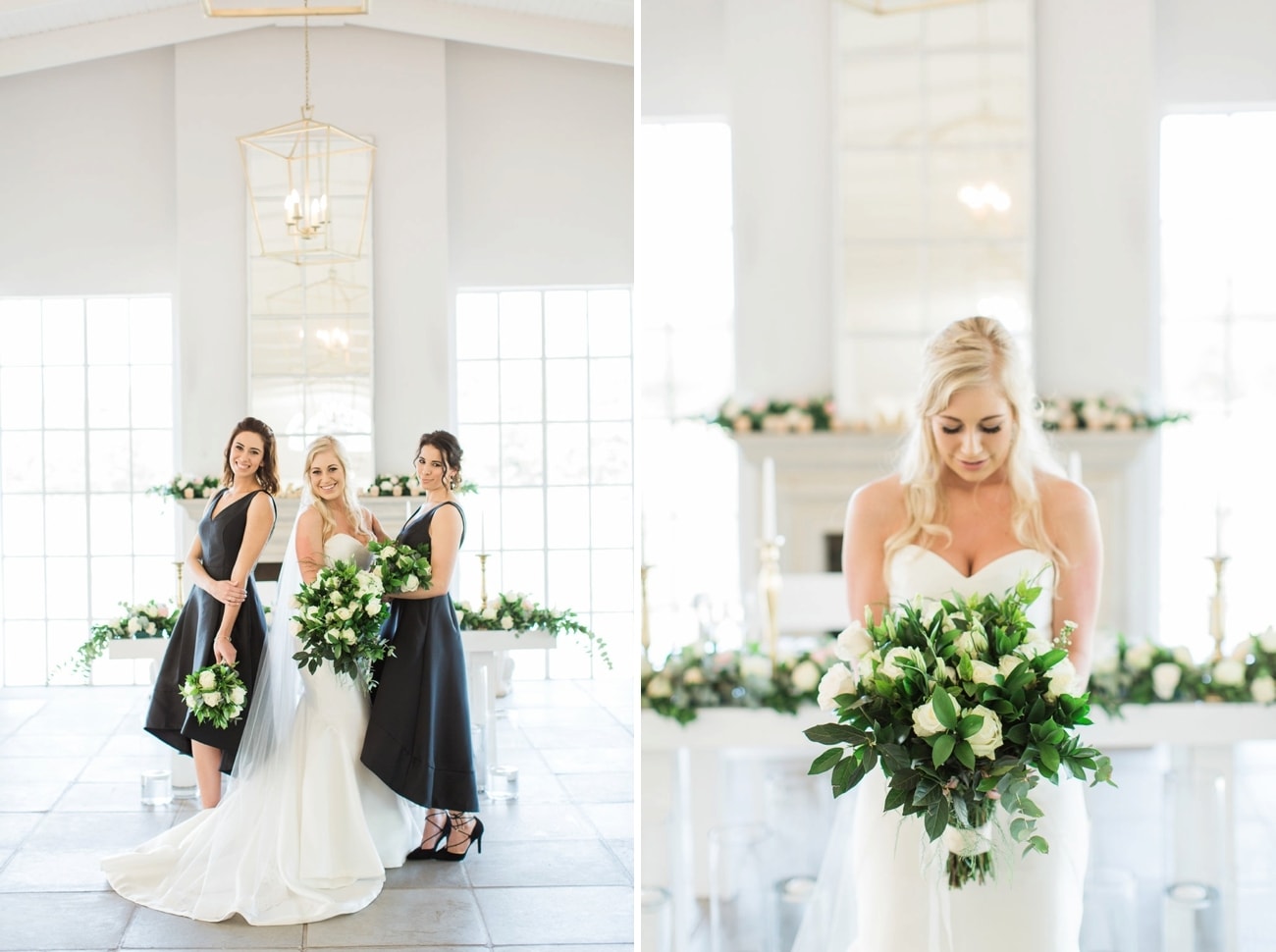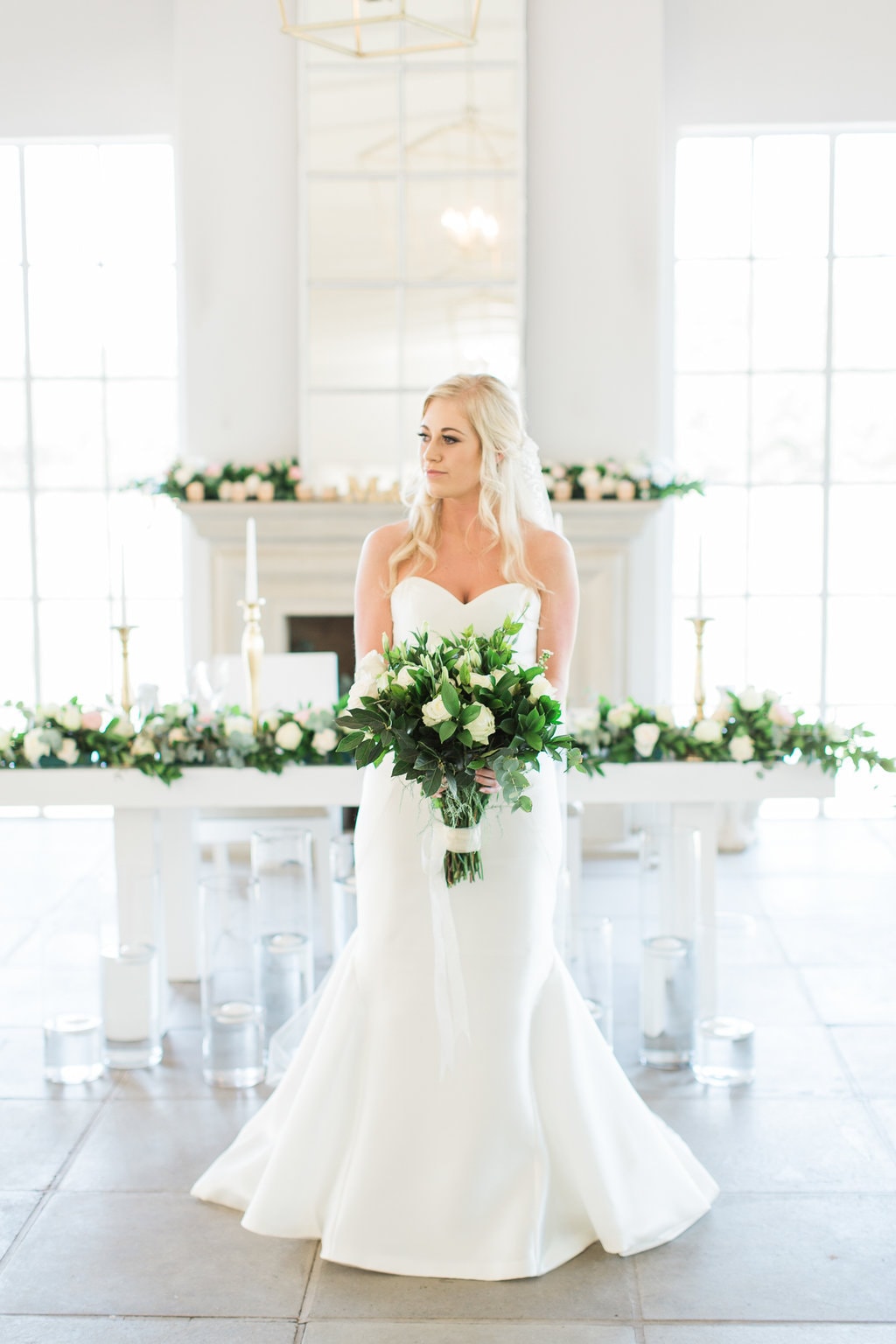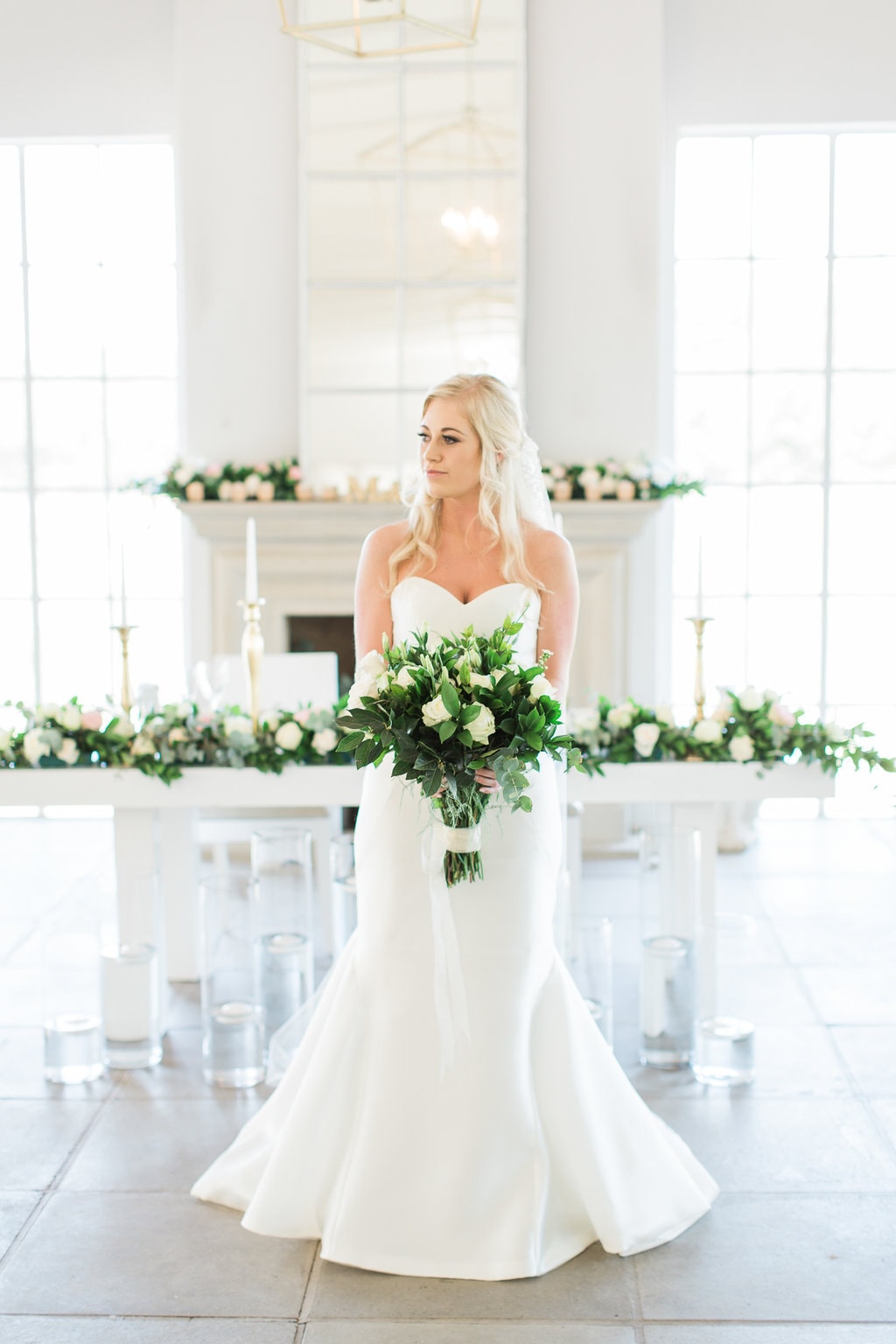 The Venue
We were looking for something simple, something clean and elegant; a blank canvas, with lots of natural light. That is exactly what we found at White Light.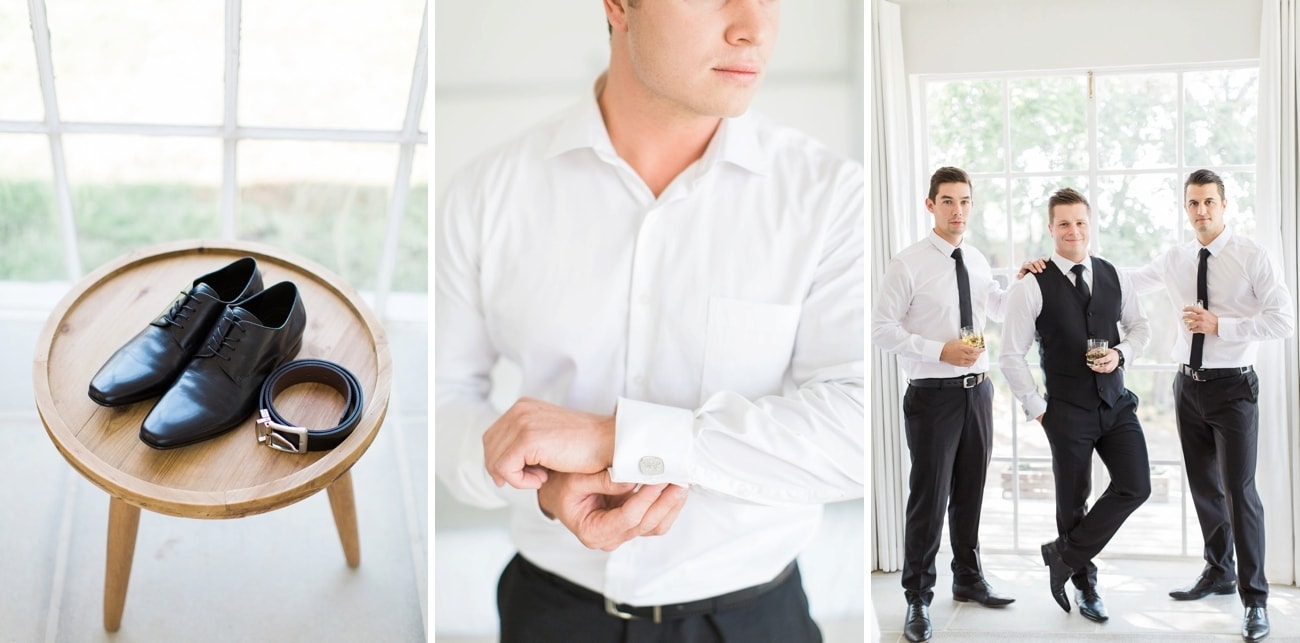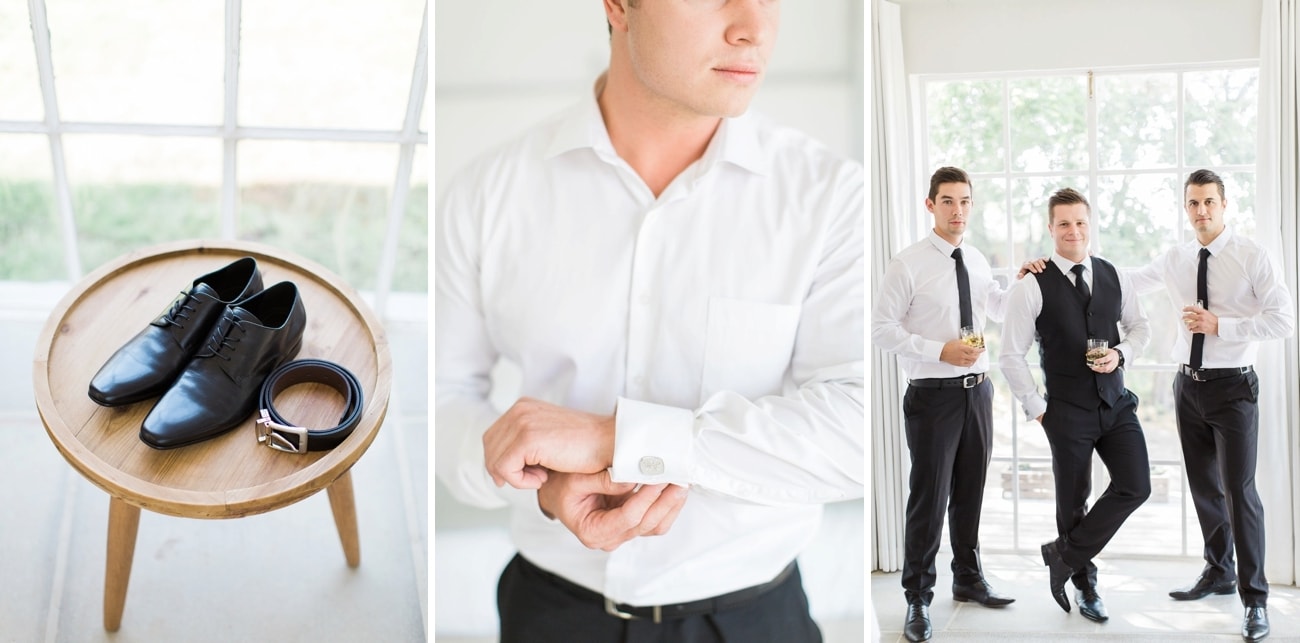 Wedding Style
We knew from the start that we wanted the wedding colour scheme to be natural: grey, white, green with a touch of gold. When we saw the venue, complete with what we wanted, we knew it was meant to be. Walking down the aisle at the venue viewing, I just knew this was where I would marry my best friend. You just know.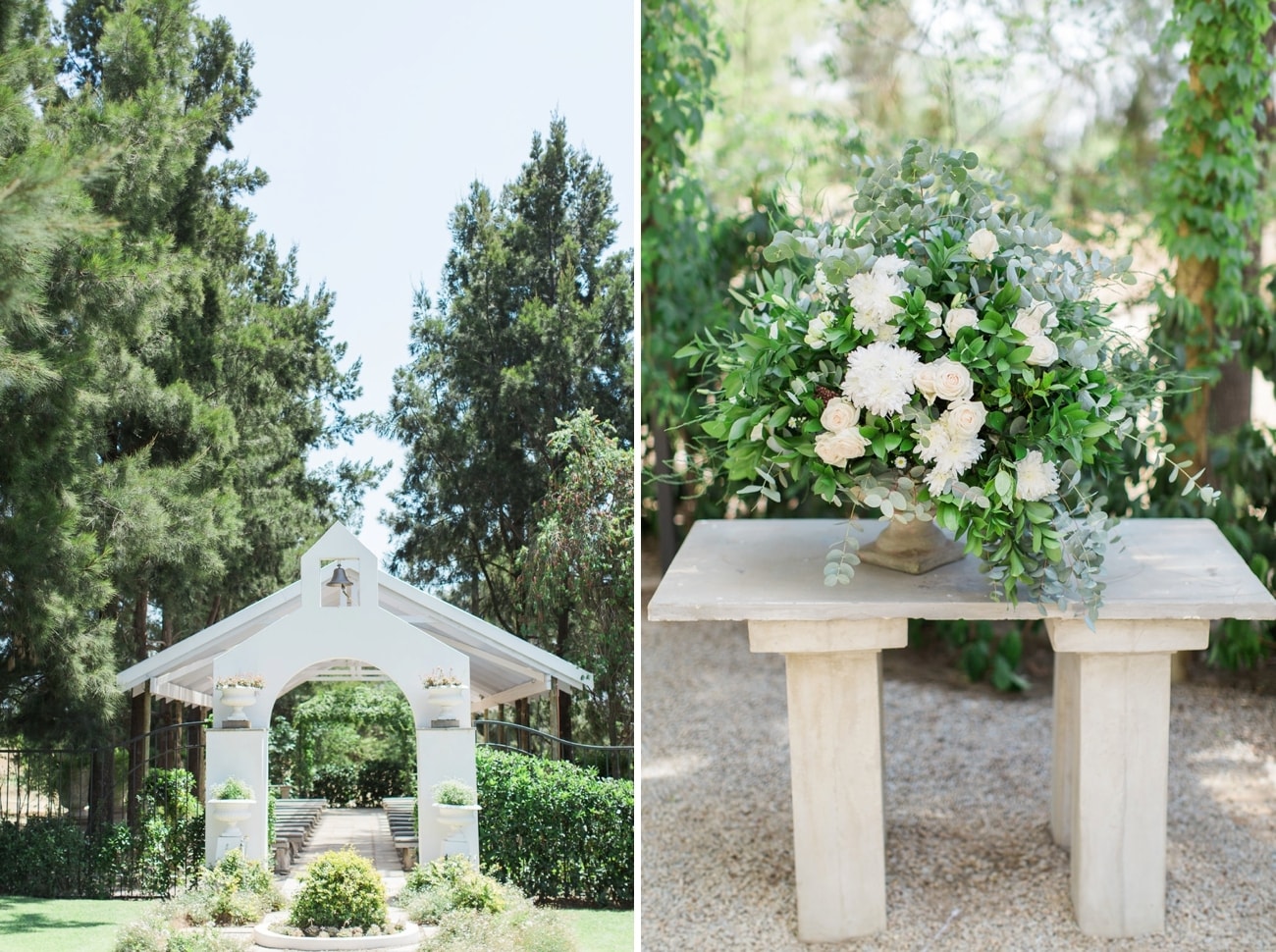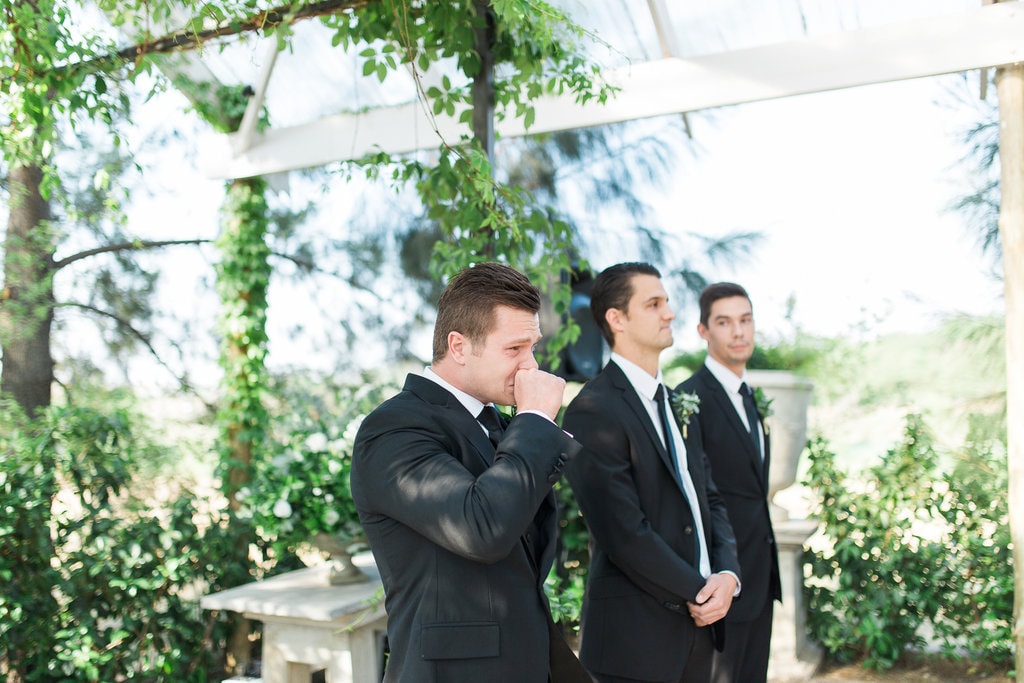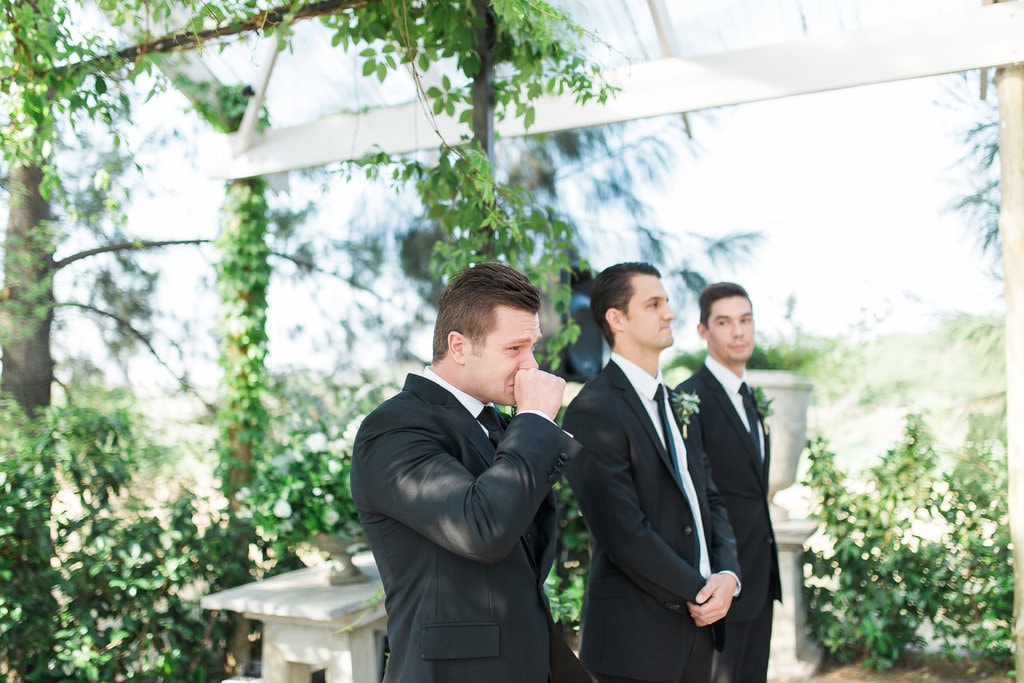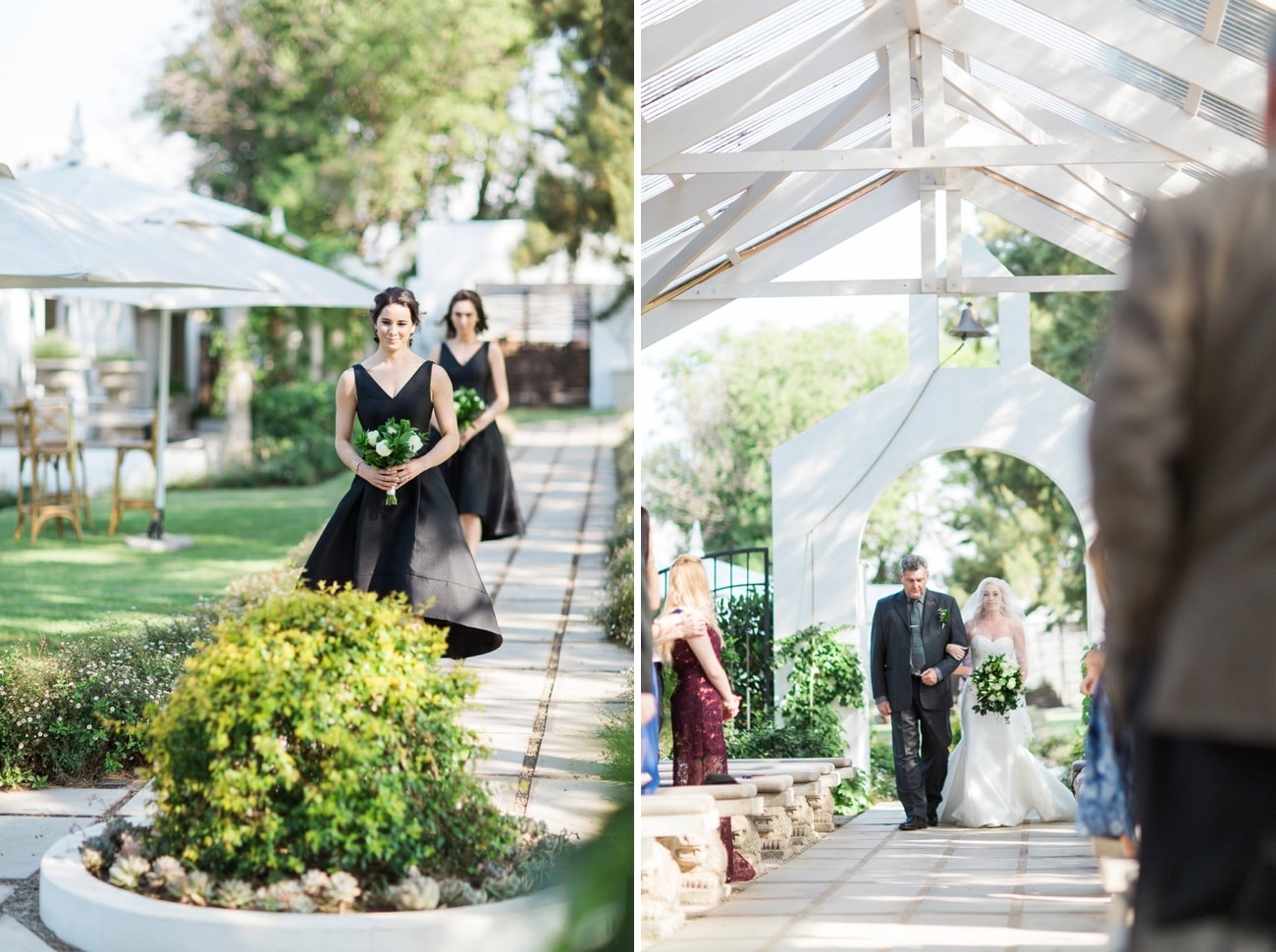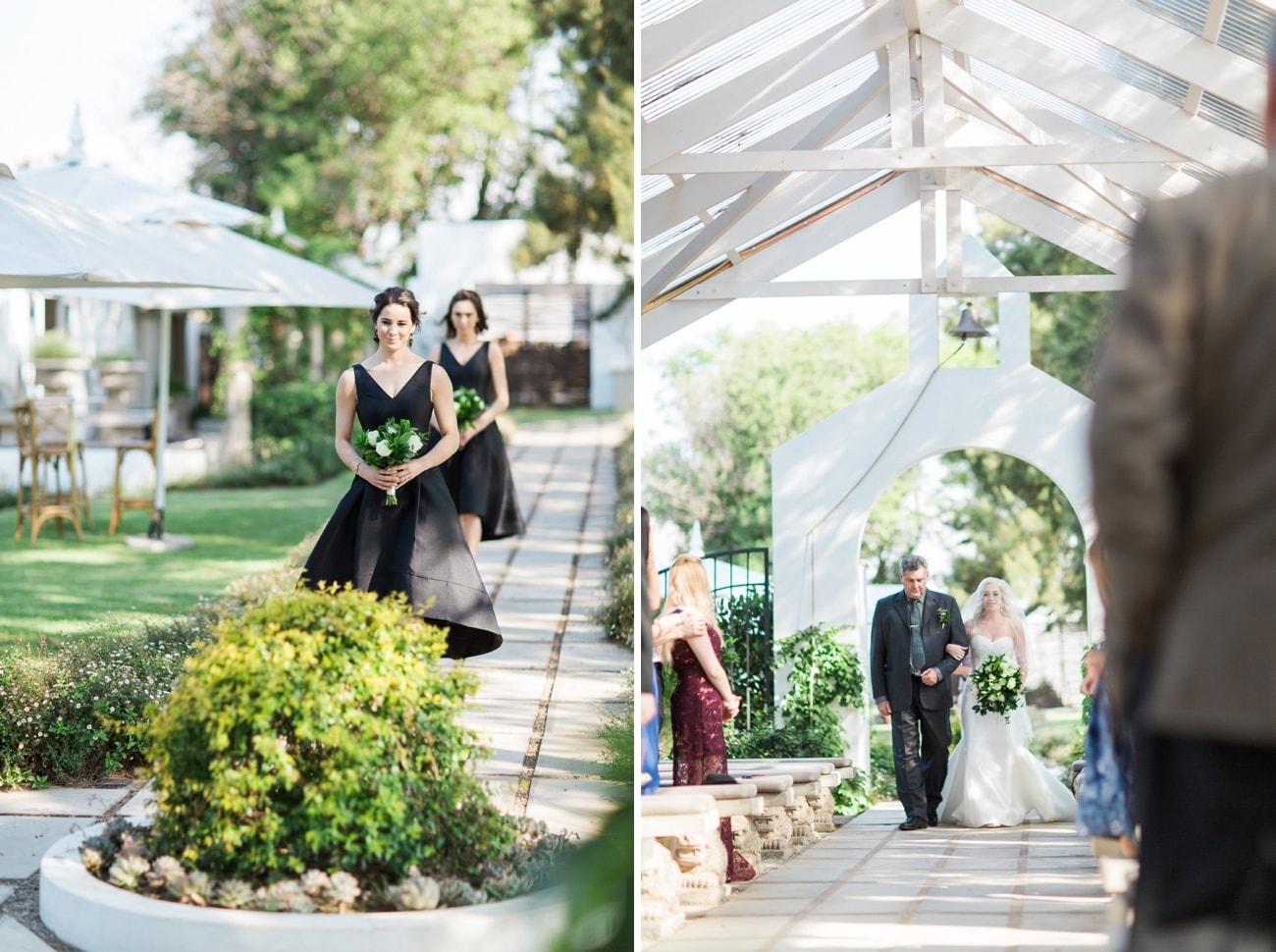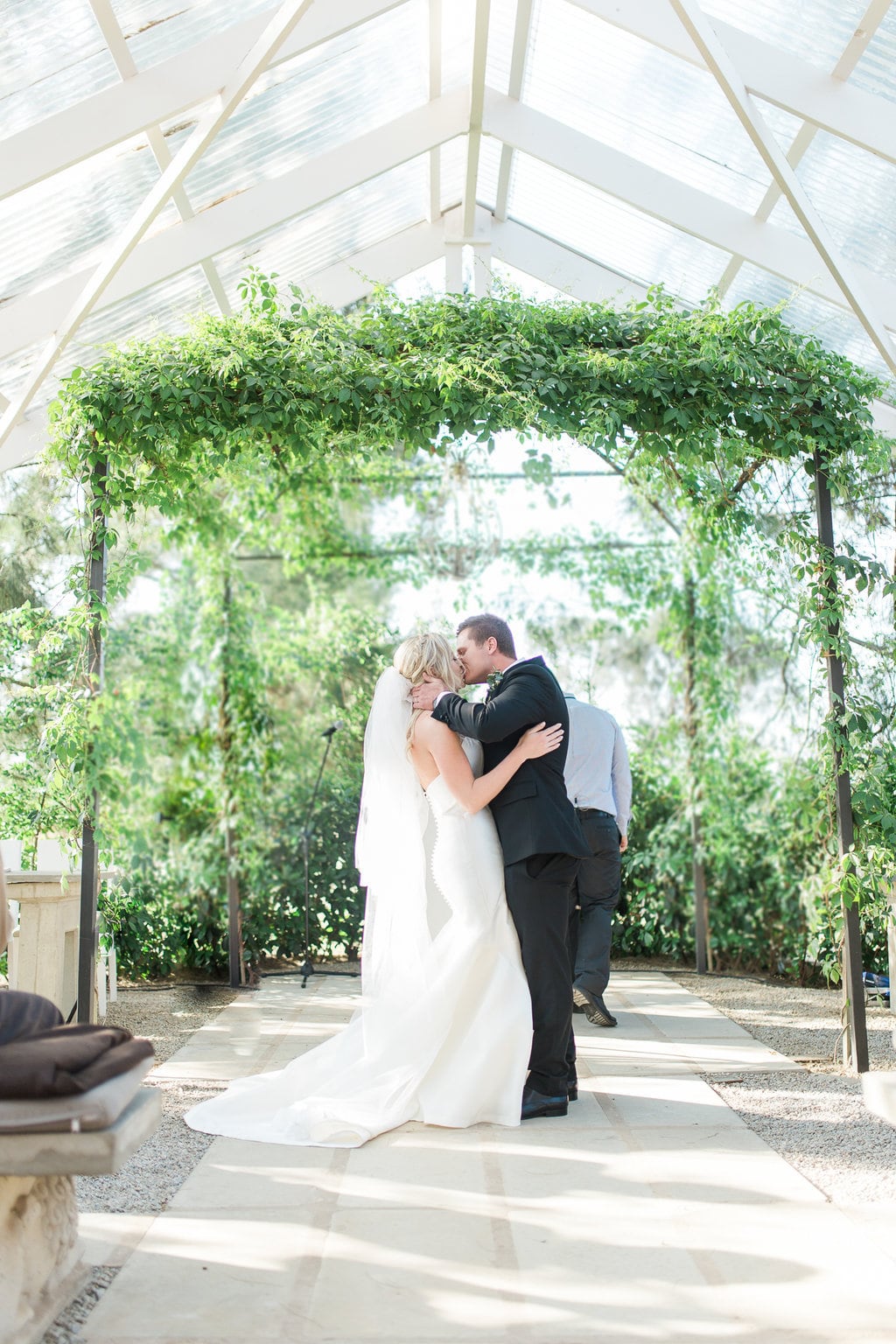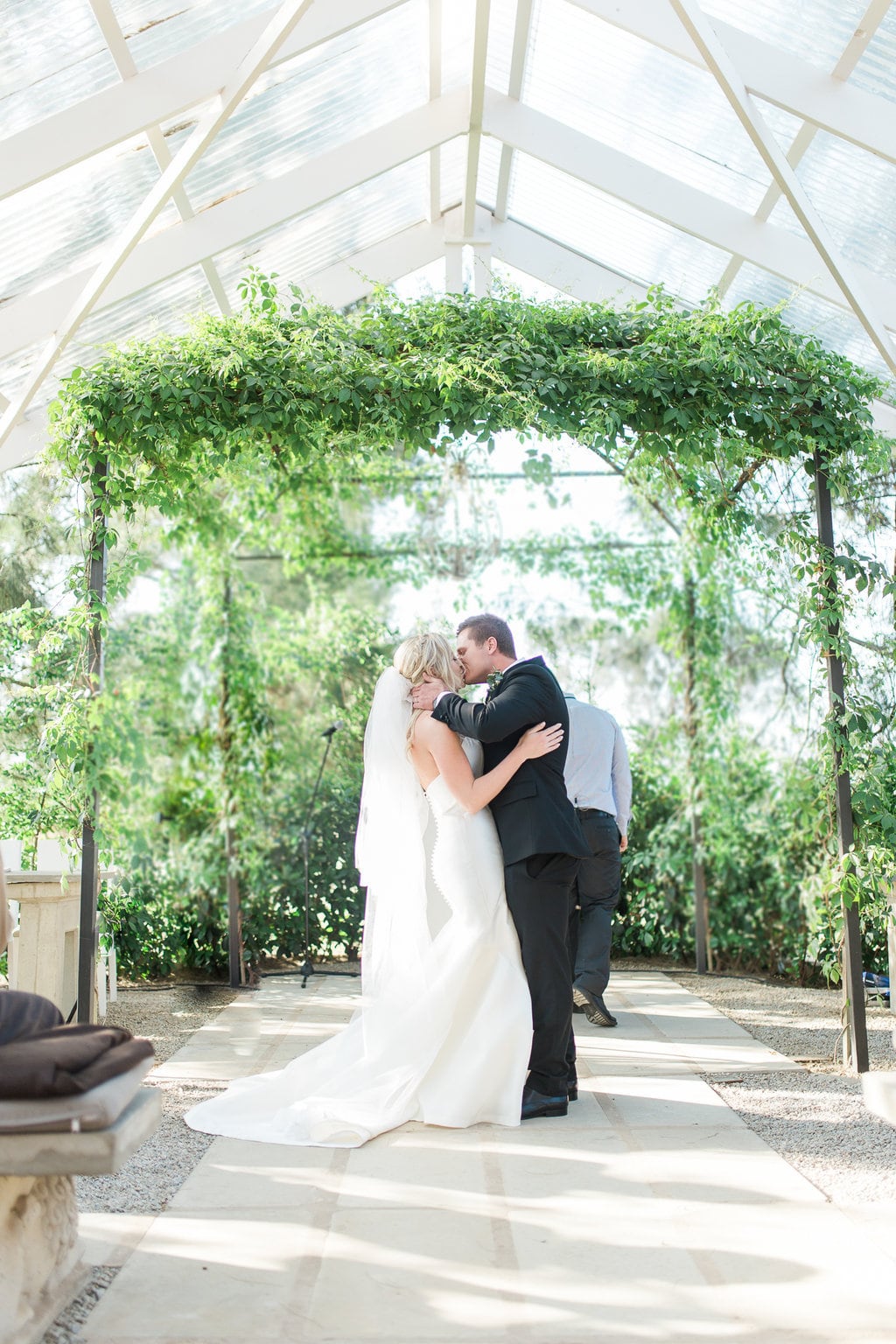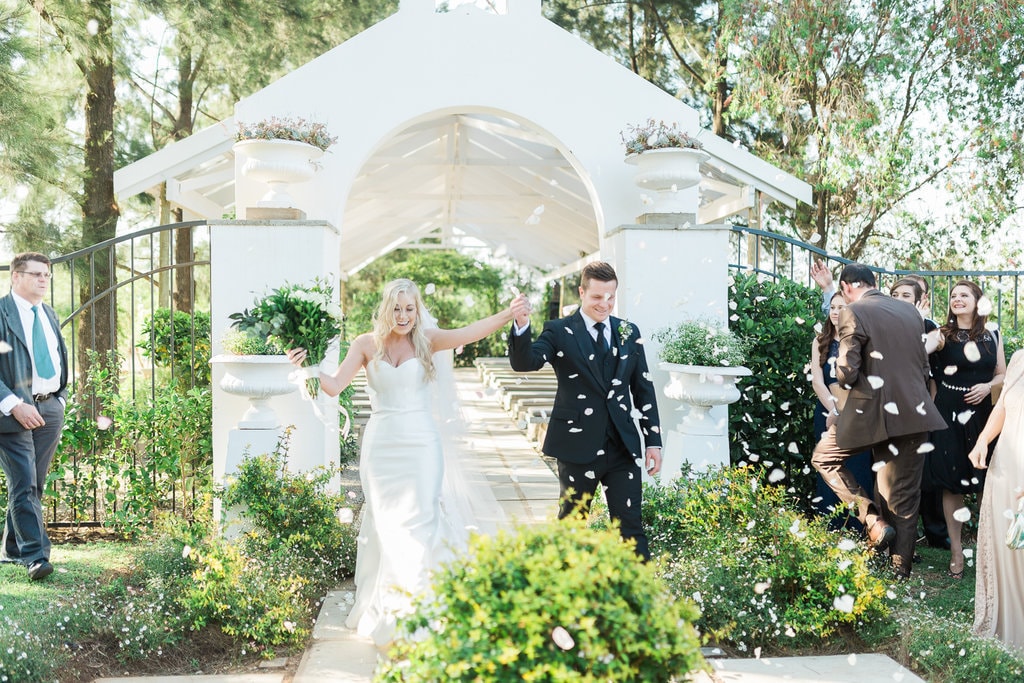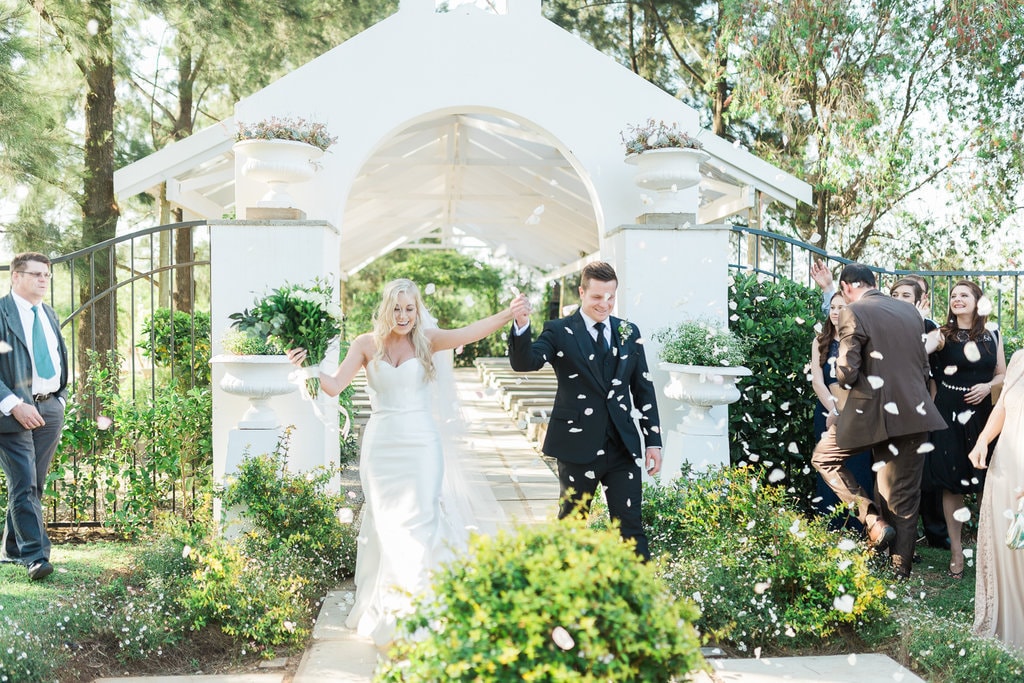 DIY Elements
My best friend designed our wedding stationery for us. We also customised our Polaroid guest book, and had the easels made for the welcome sign by a family friend.
The Flowers
Vibrant green leaves, with white and soft pink roses. I wanted the flowers to frame the blank canvas of the venue. The venue was already so beautiful, it didn't need much to look spectacular.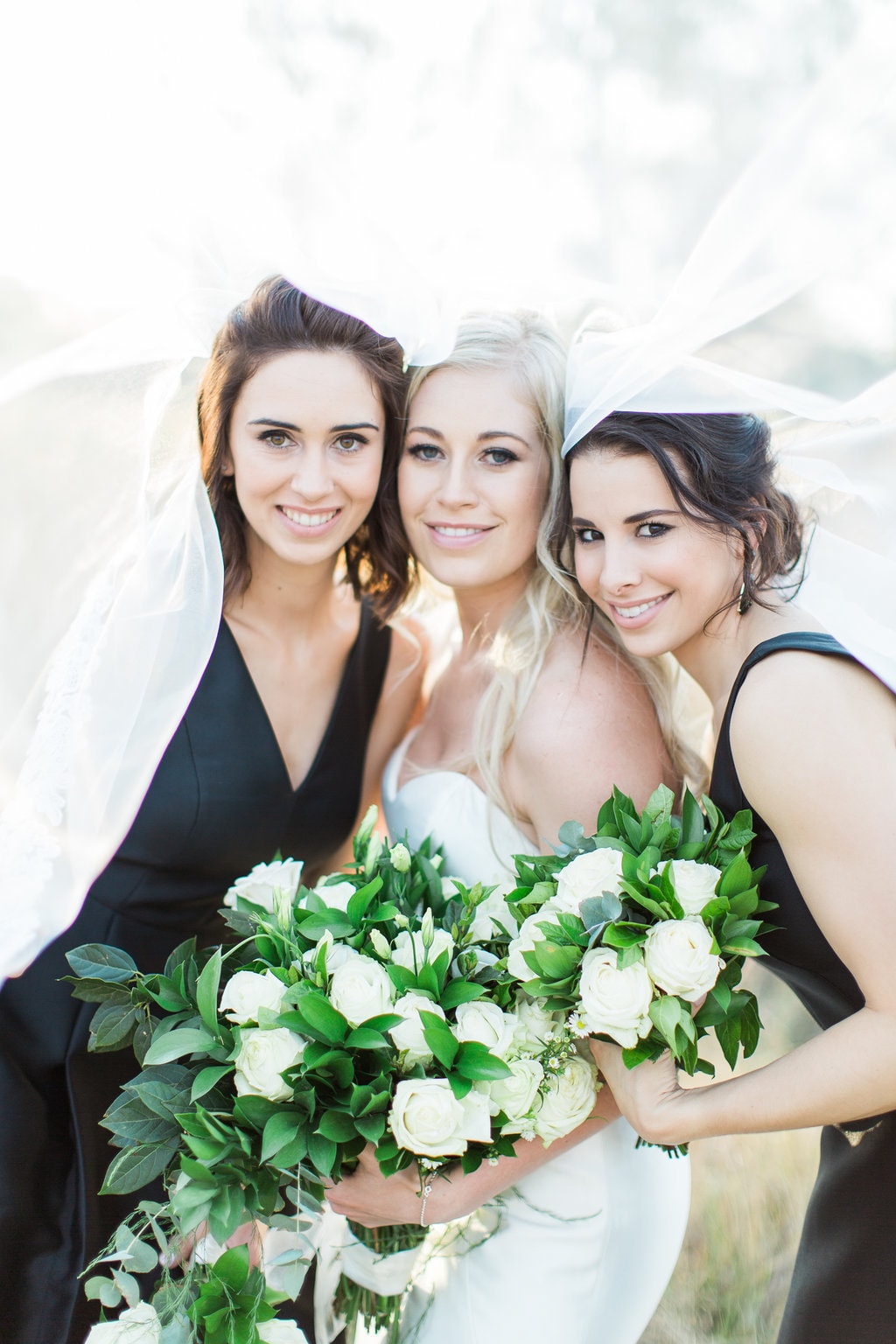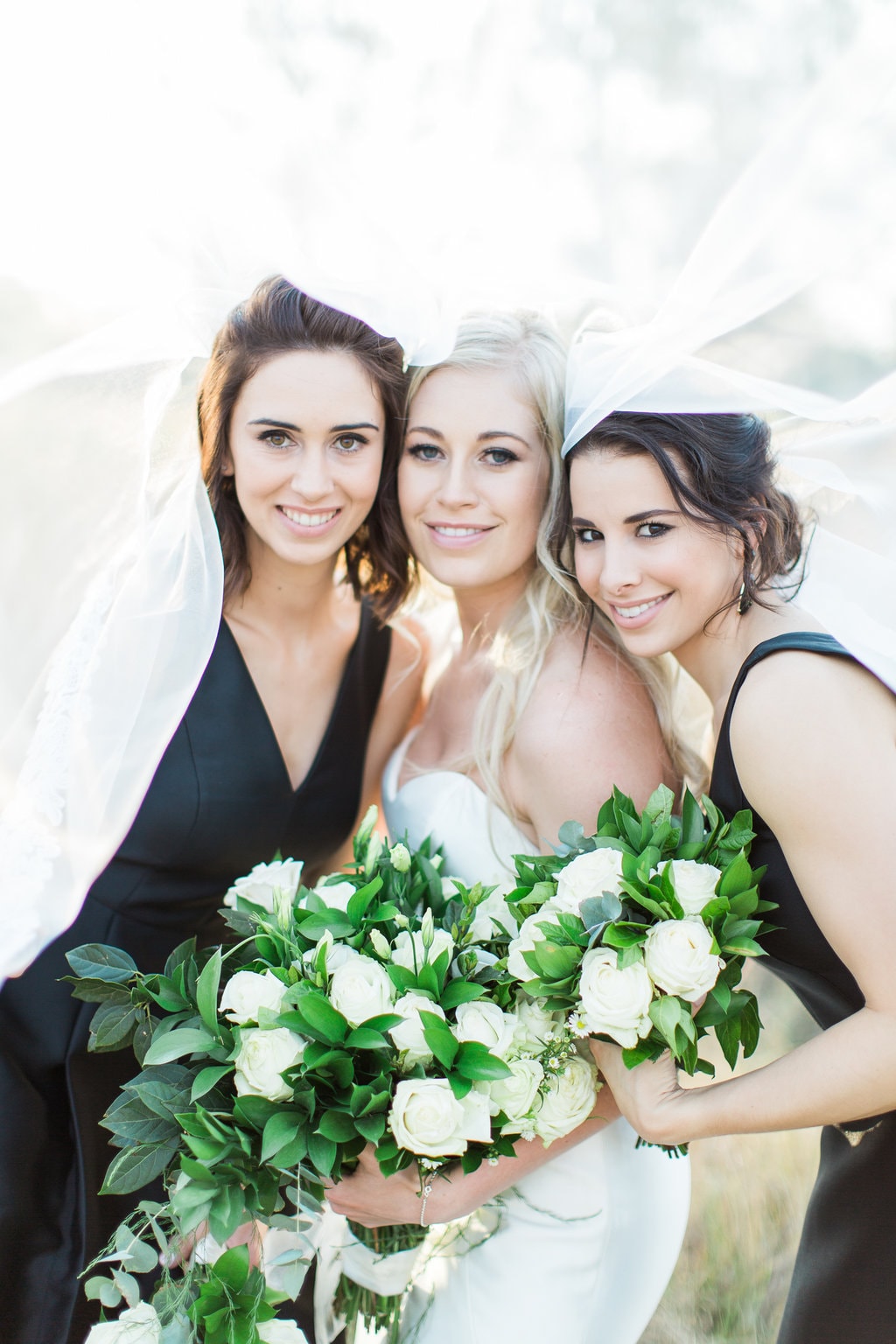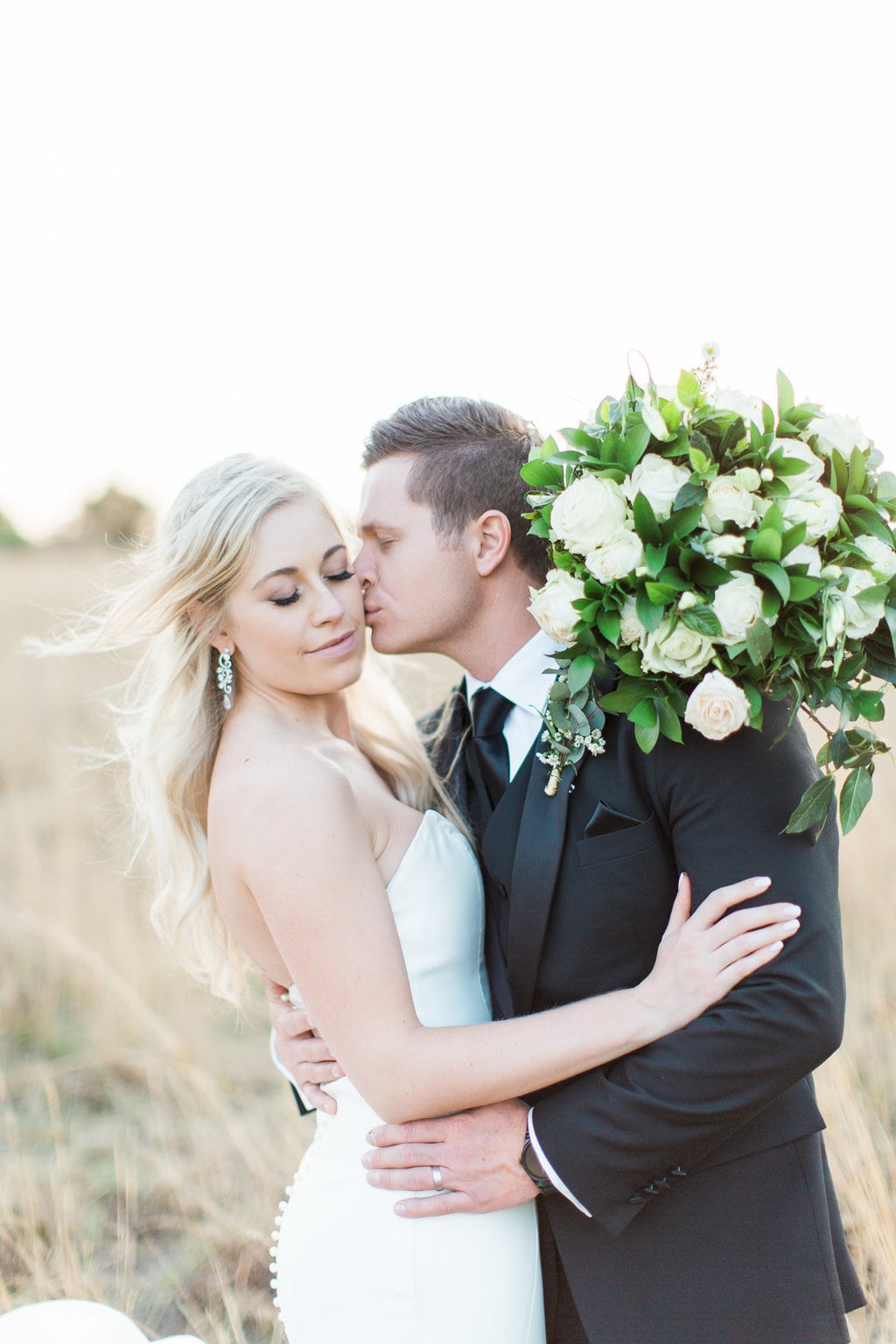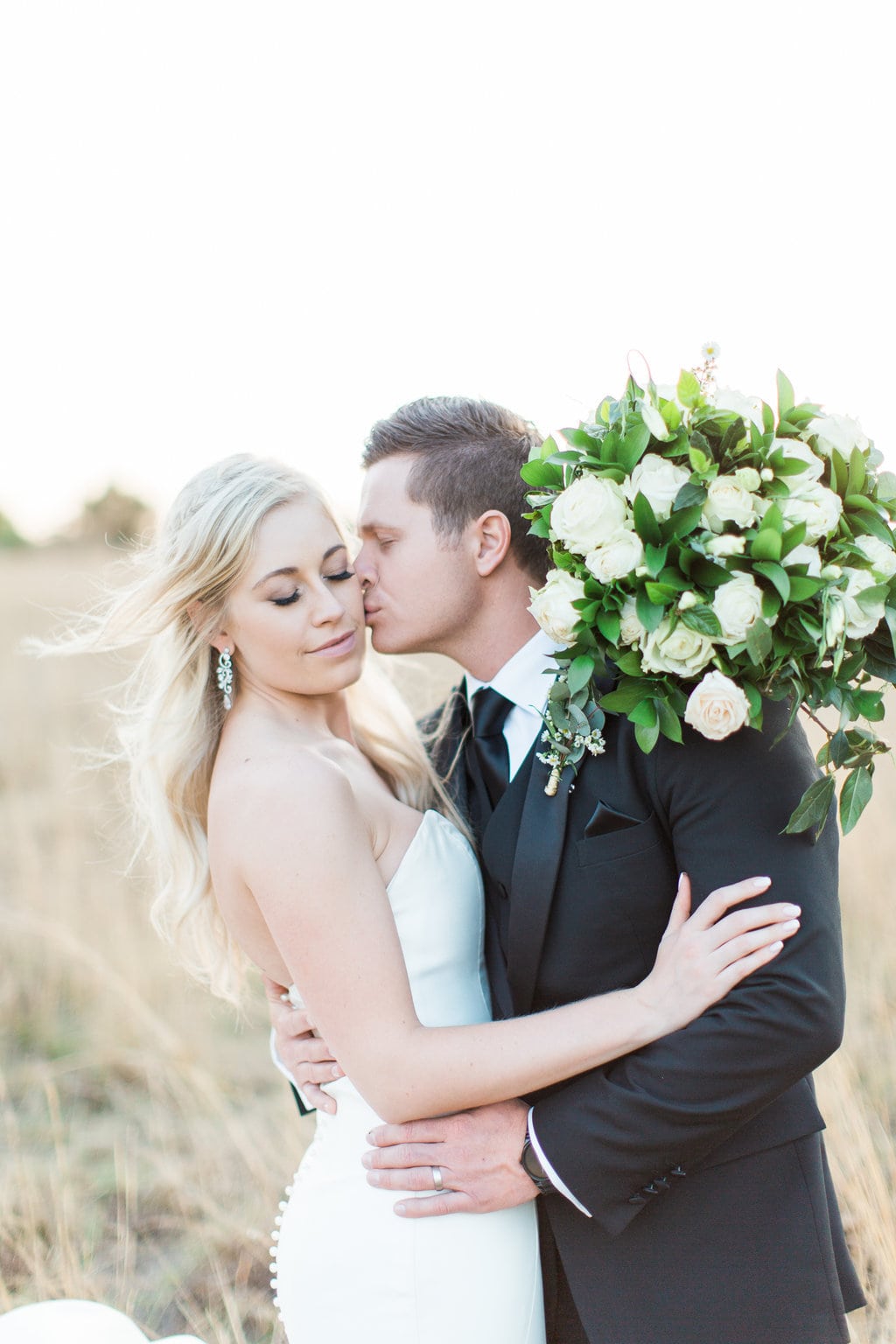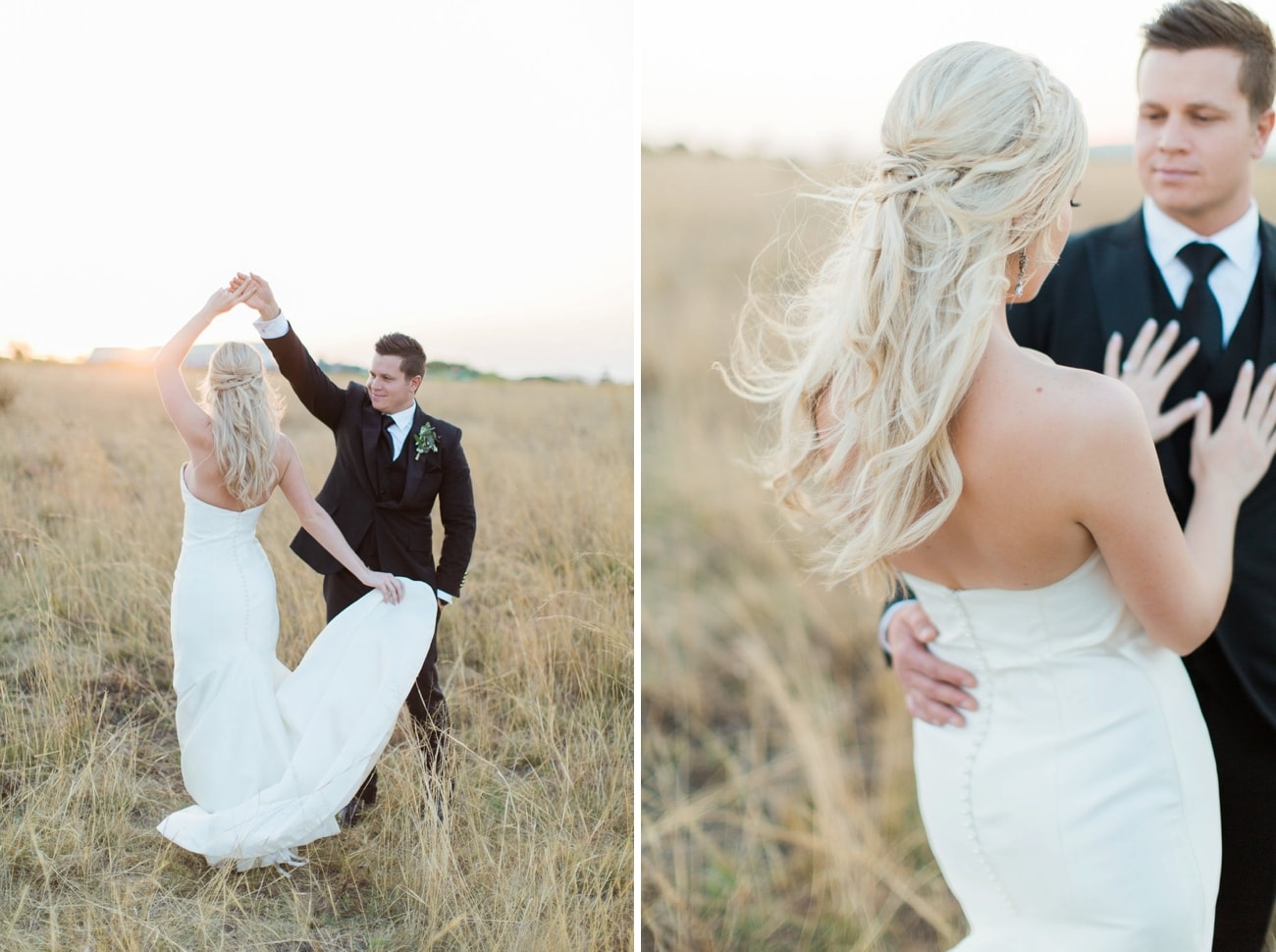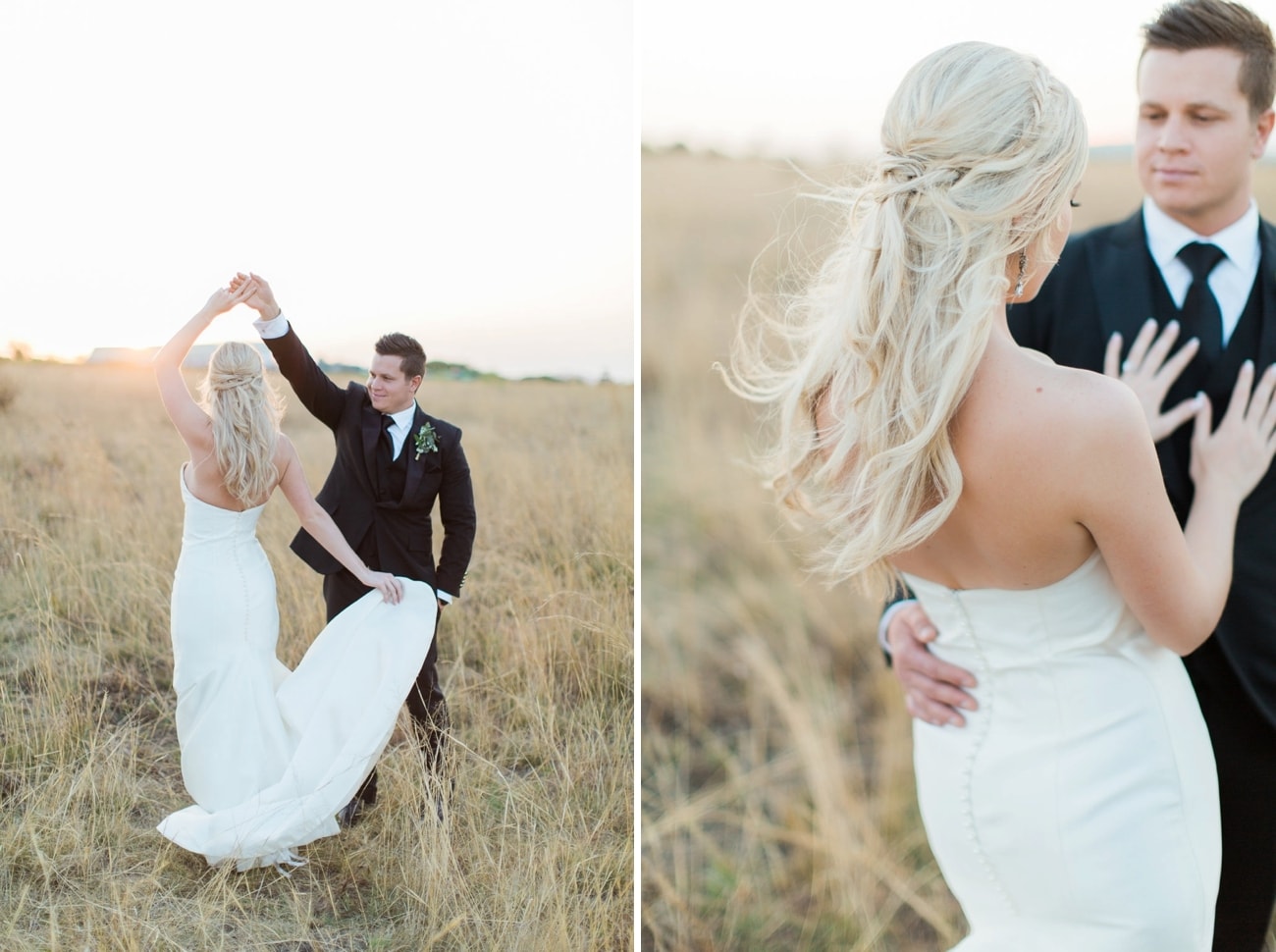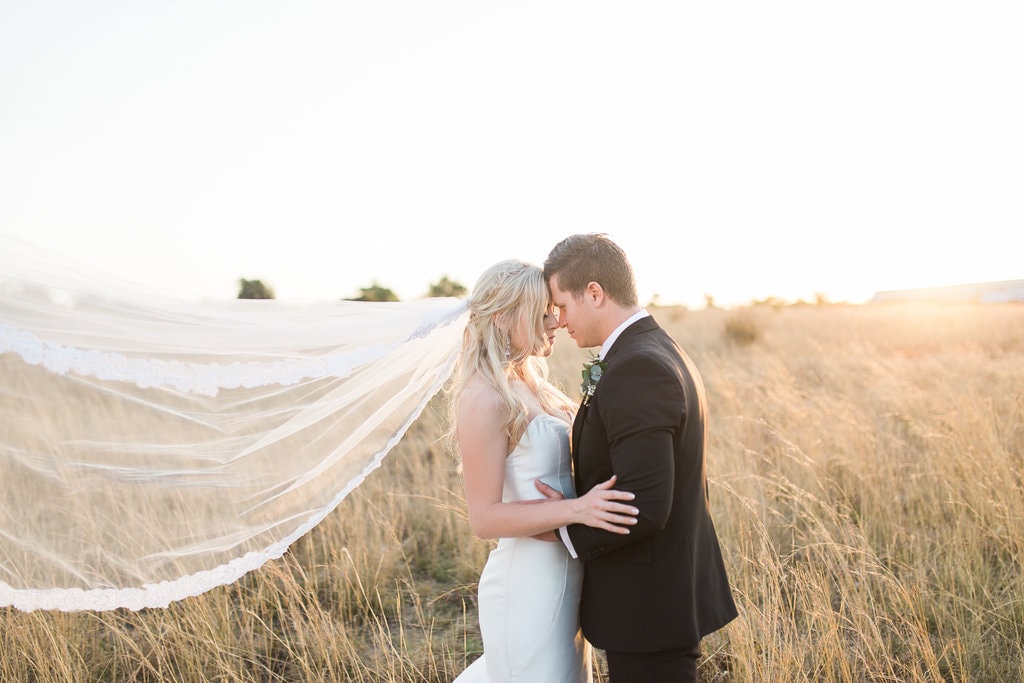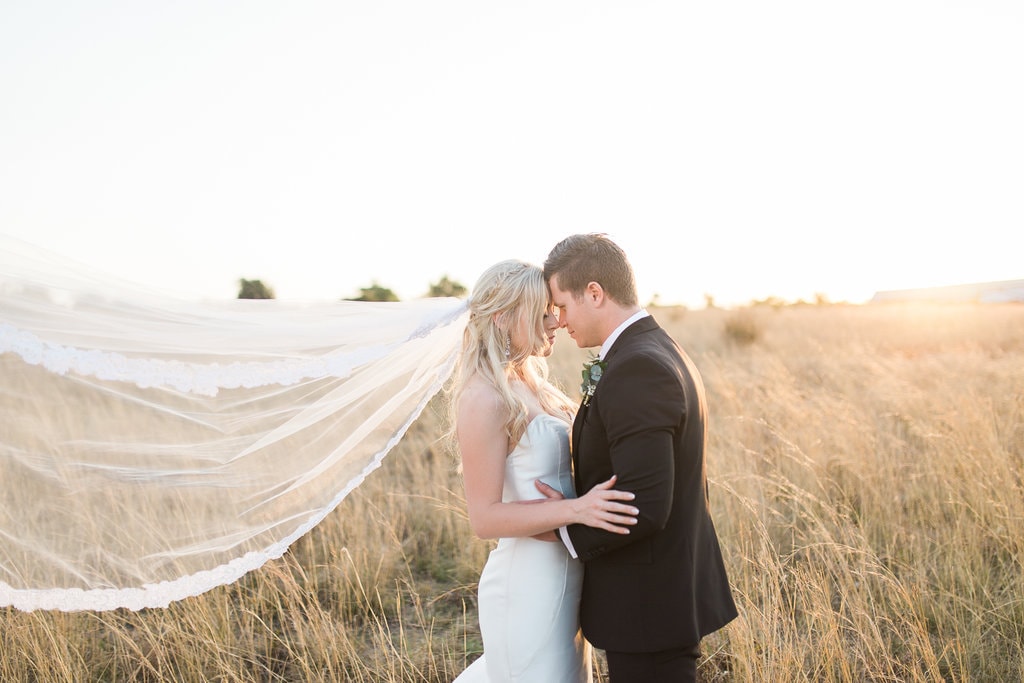 The Dress
What a journey. Being an indecisive person, this posed quite a challenge. I had no idea what I wanted before I started looking for a dress. I tried on anything and everything until I found something that really spoke to me. I went to Bridal Wardrobe to purchase another dress, then I saw this one, which I hadn't seen before. It was completely me, simple, elegant and timeless.
The Bridesmaids
My two best friends were my bridesmaids. We found their dresses at Forever New, in the same material as my wedding dress – we just knew it was meant to be. The entire wedding party had dark hair and was dressed in black, except the bride of course. Being blonde and wearing white, I definitely felt unique and stood out.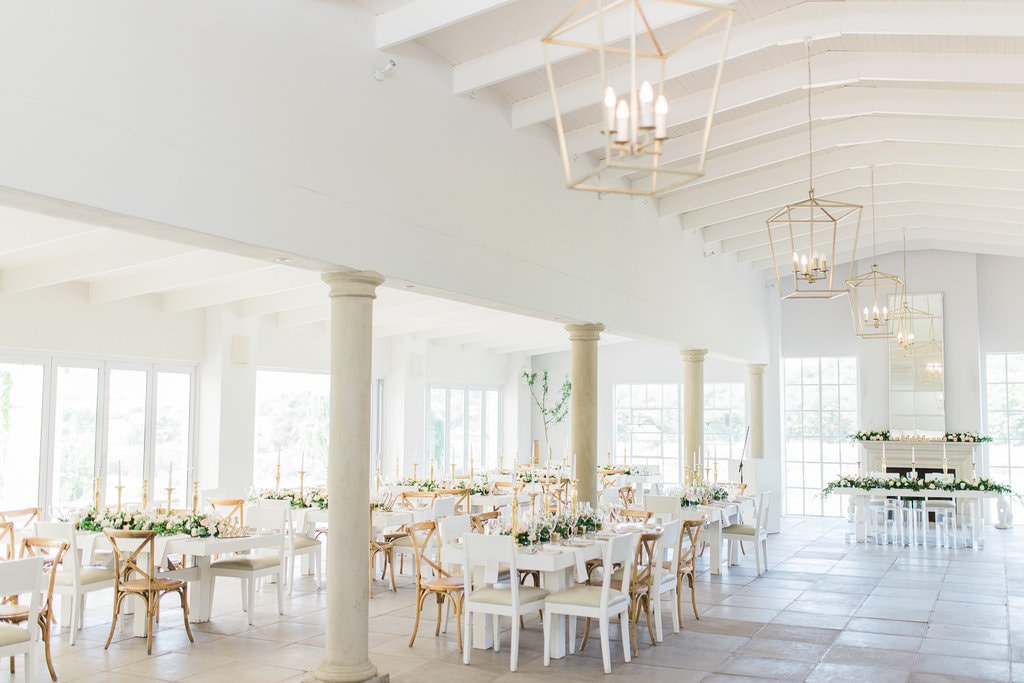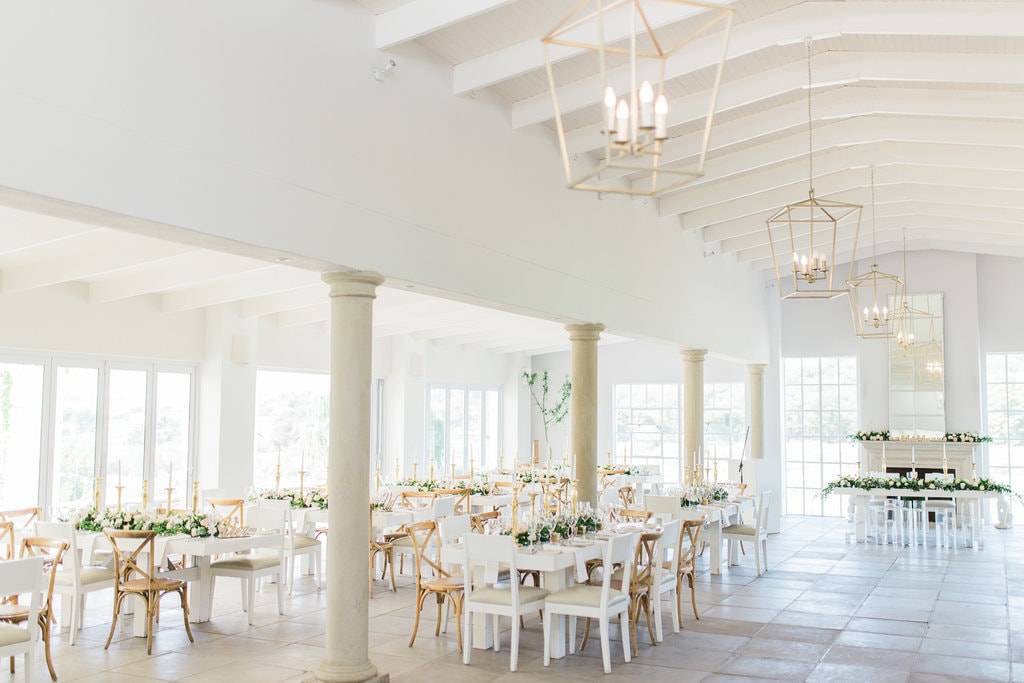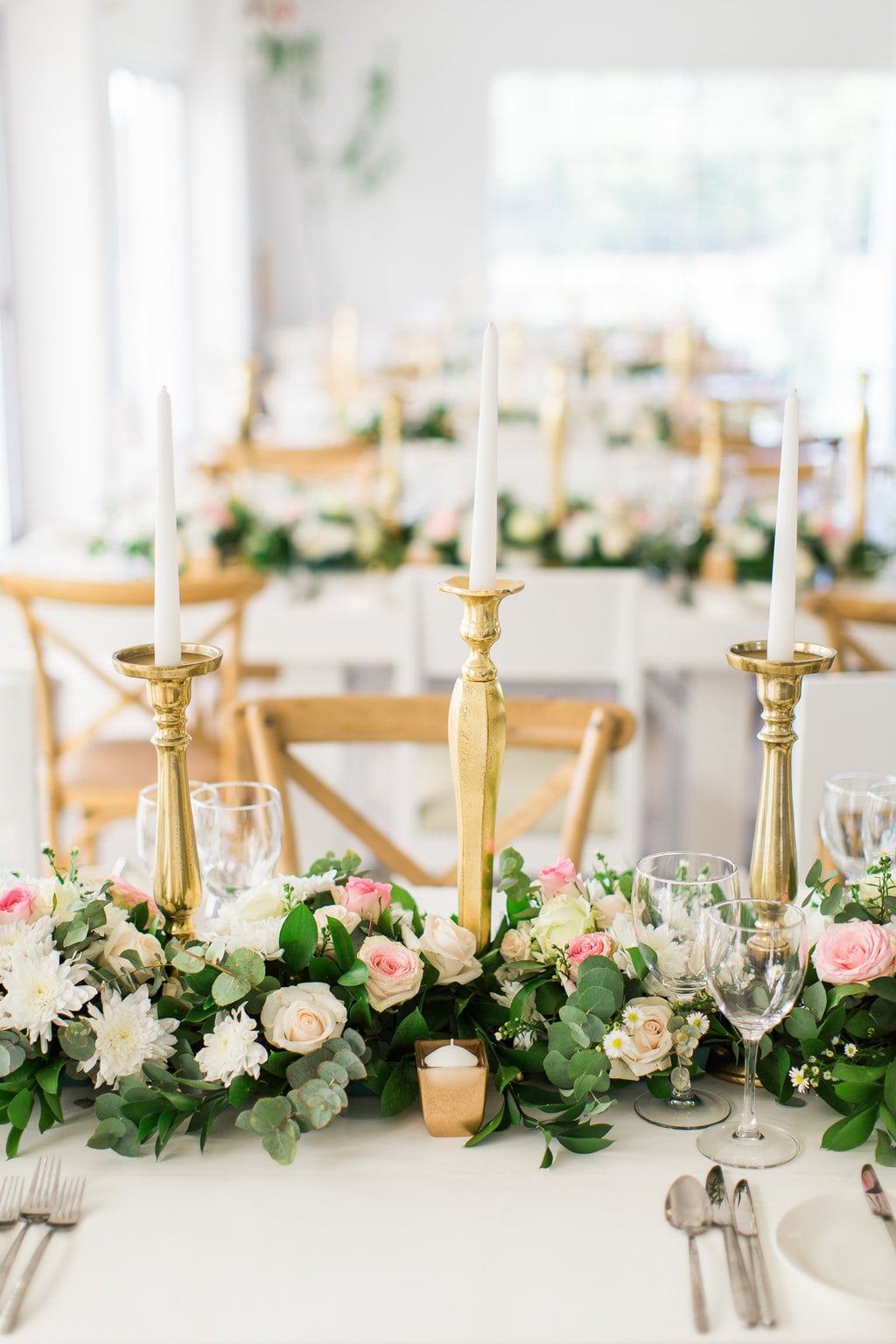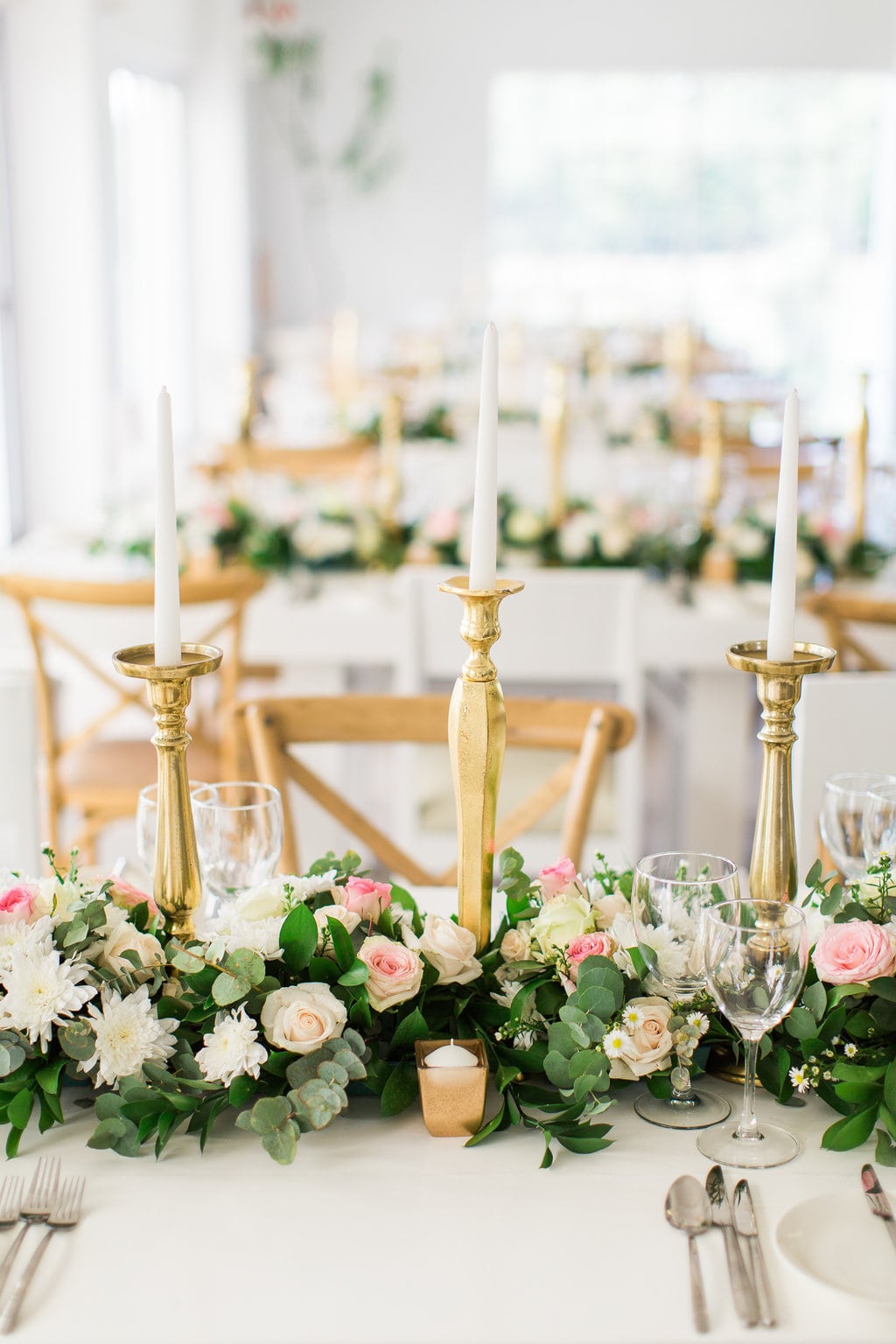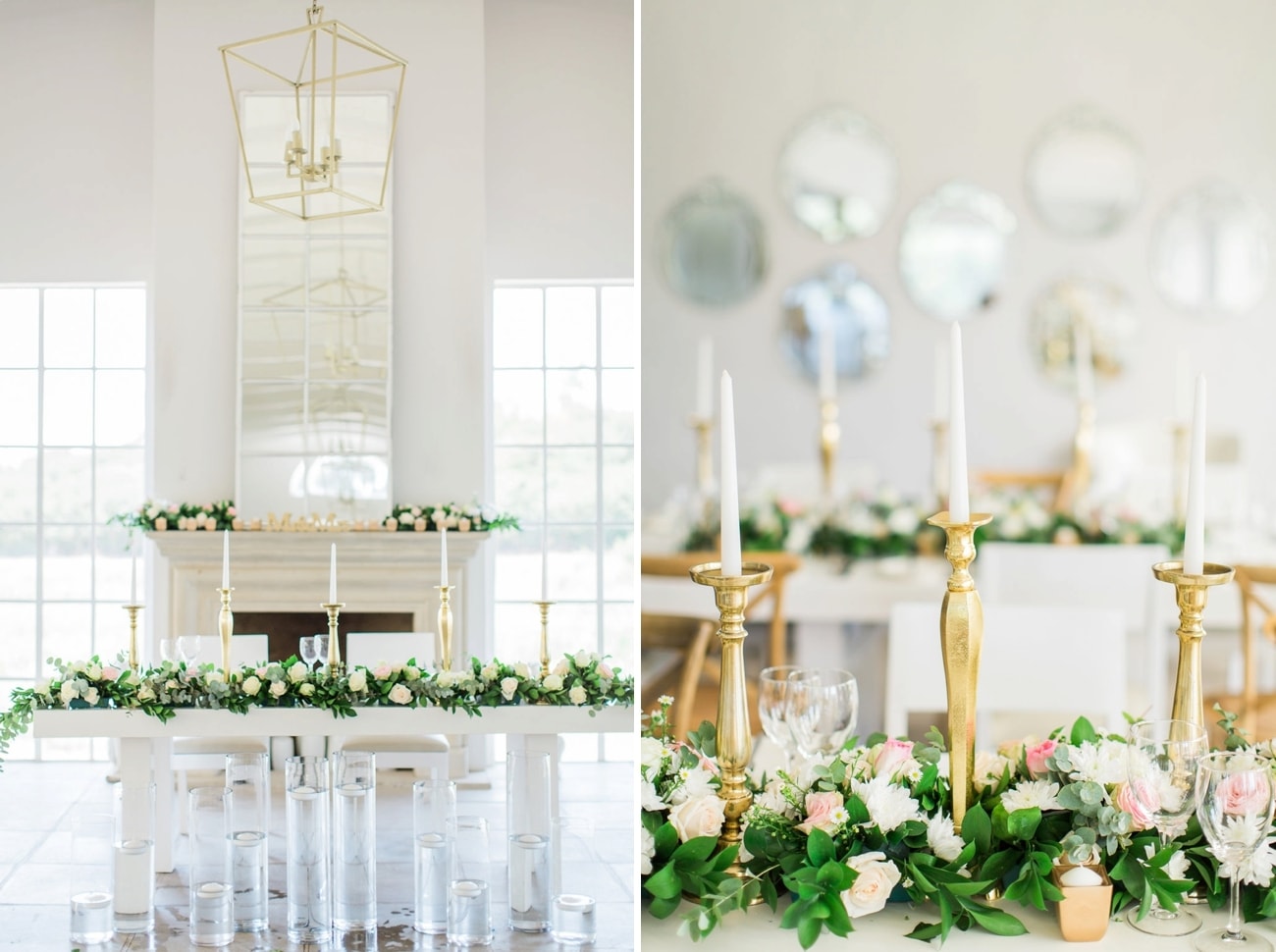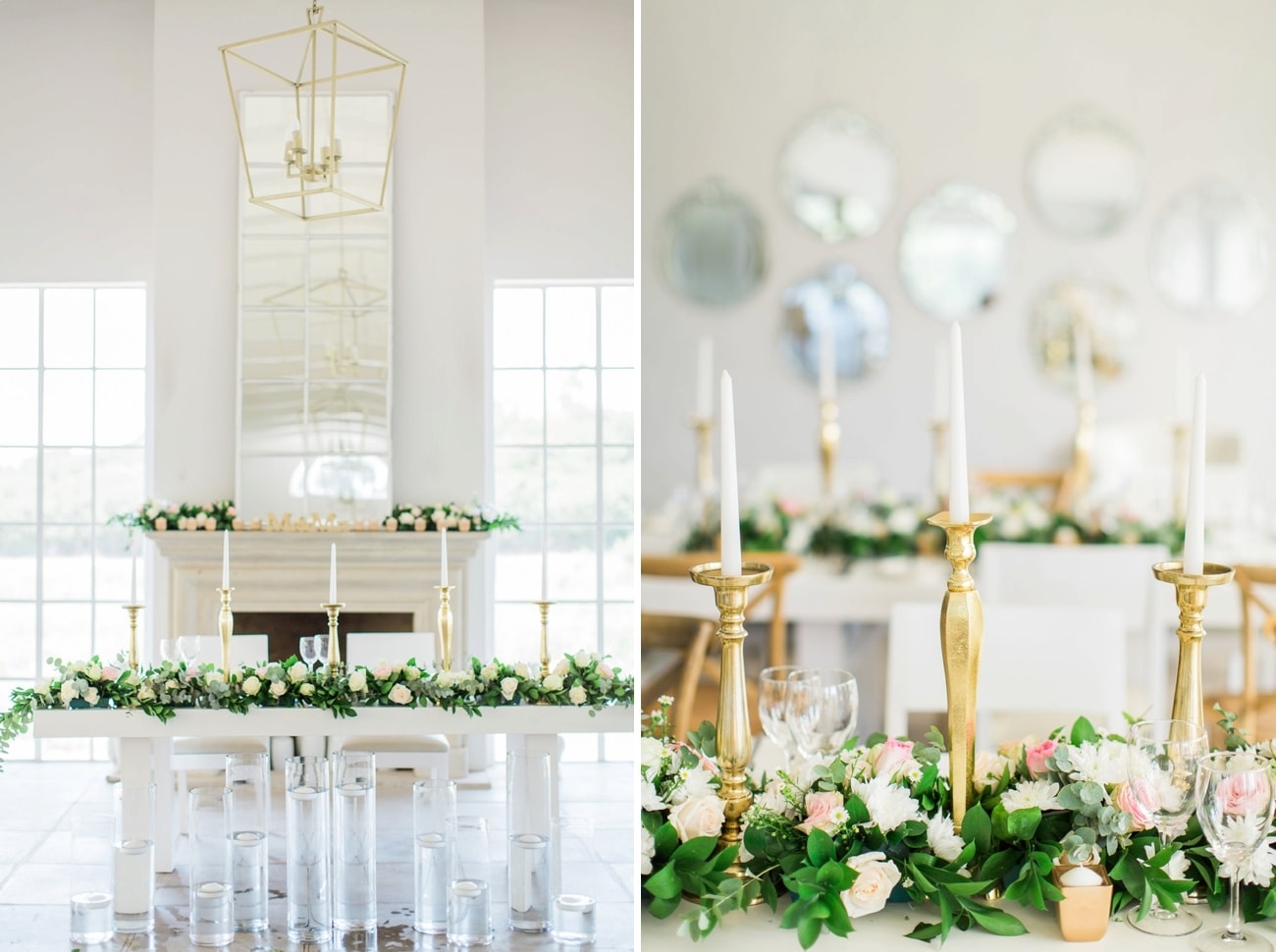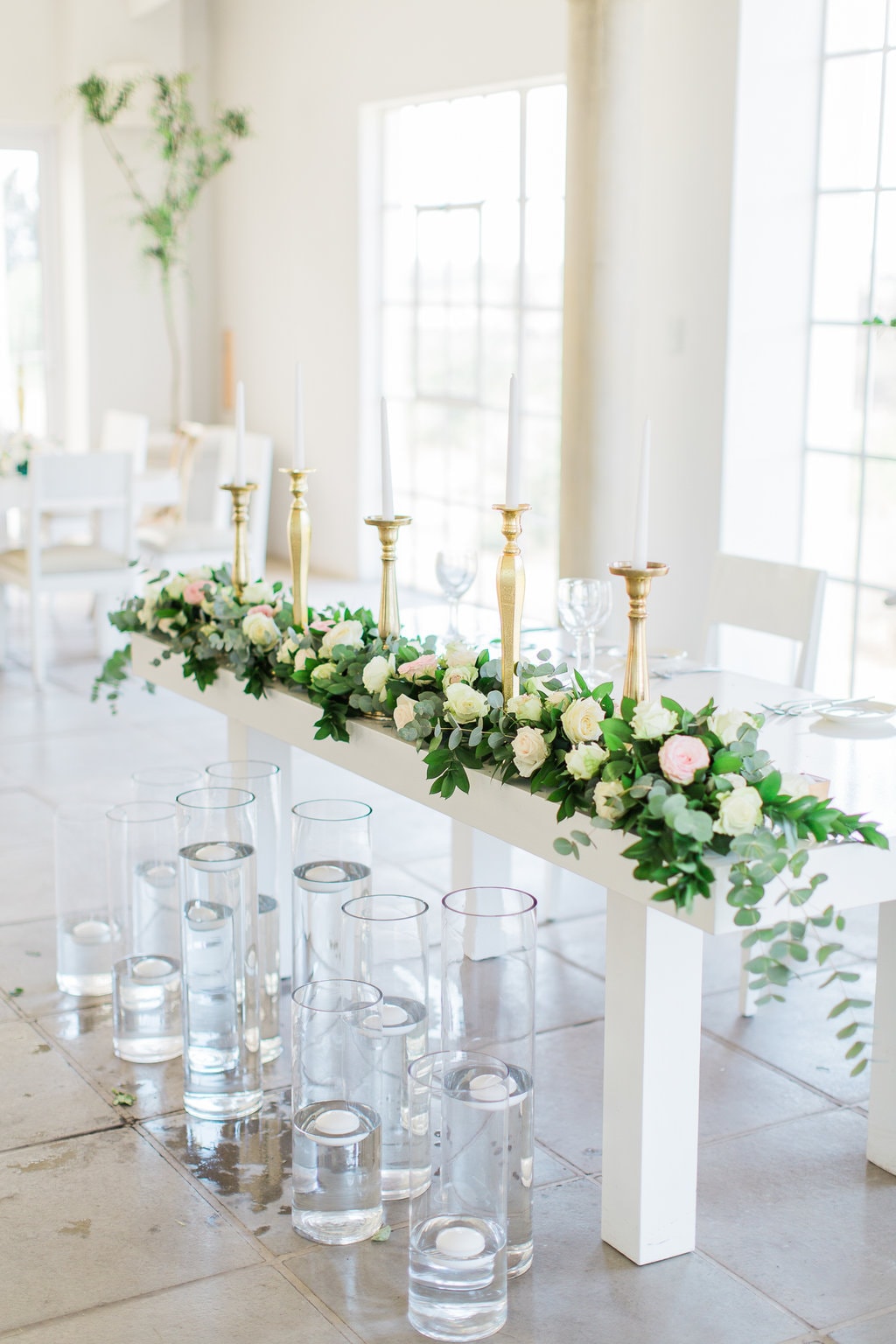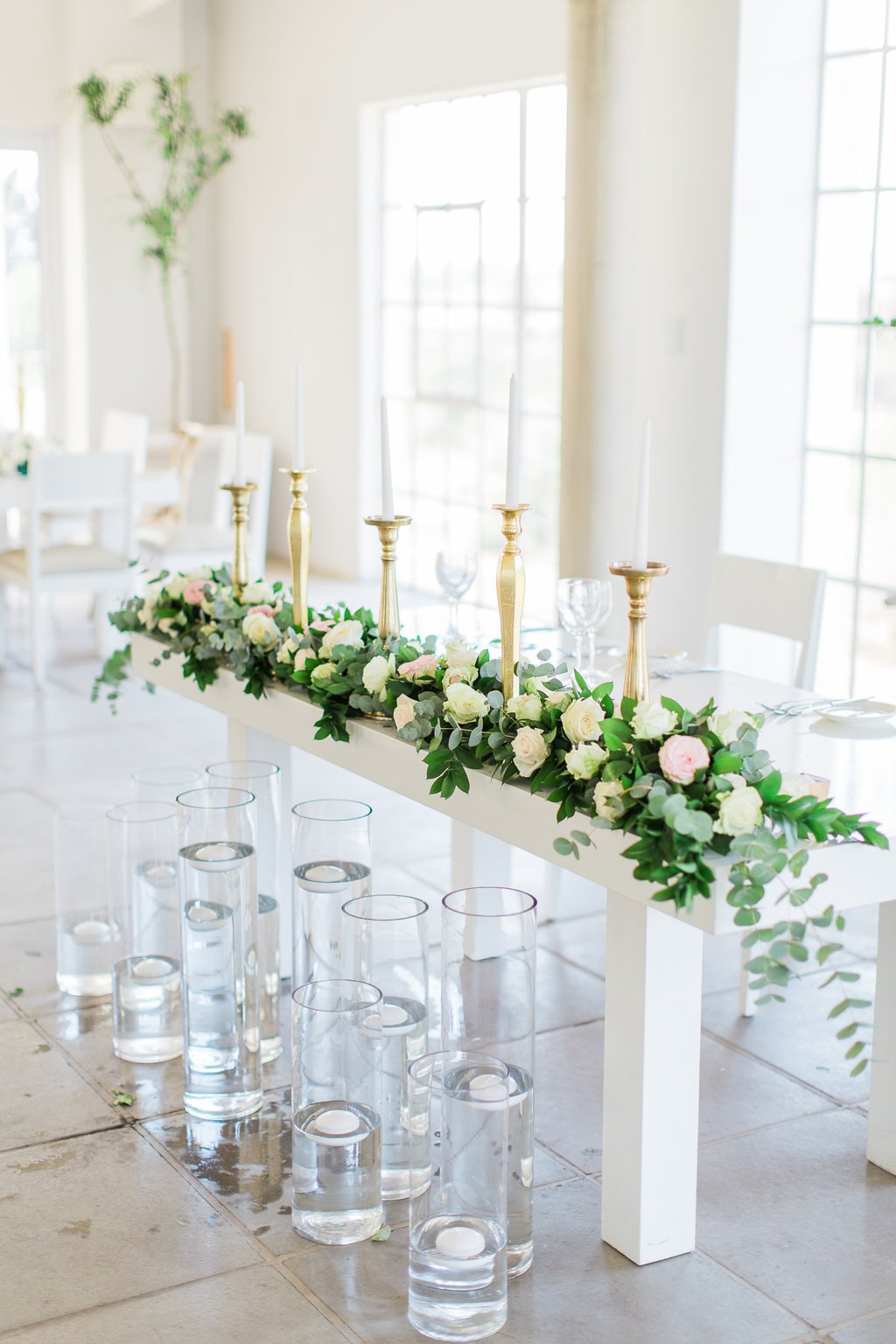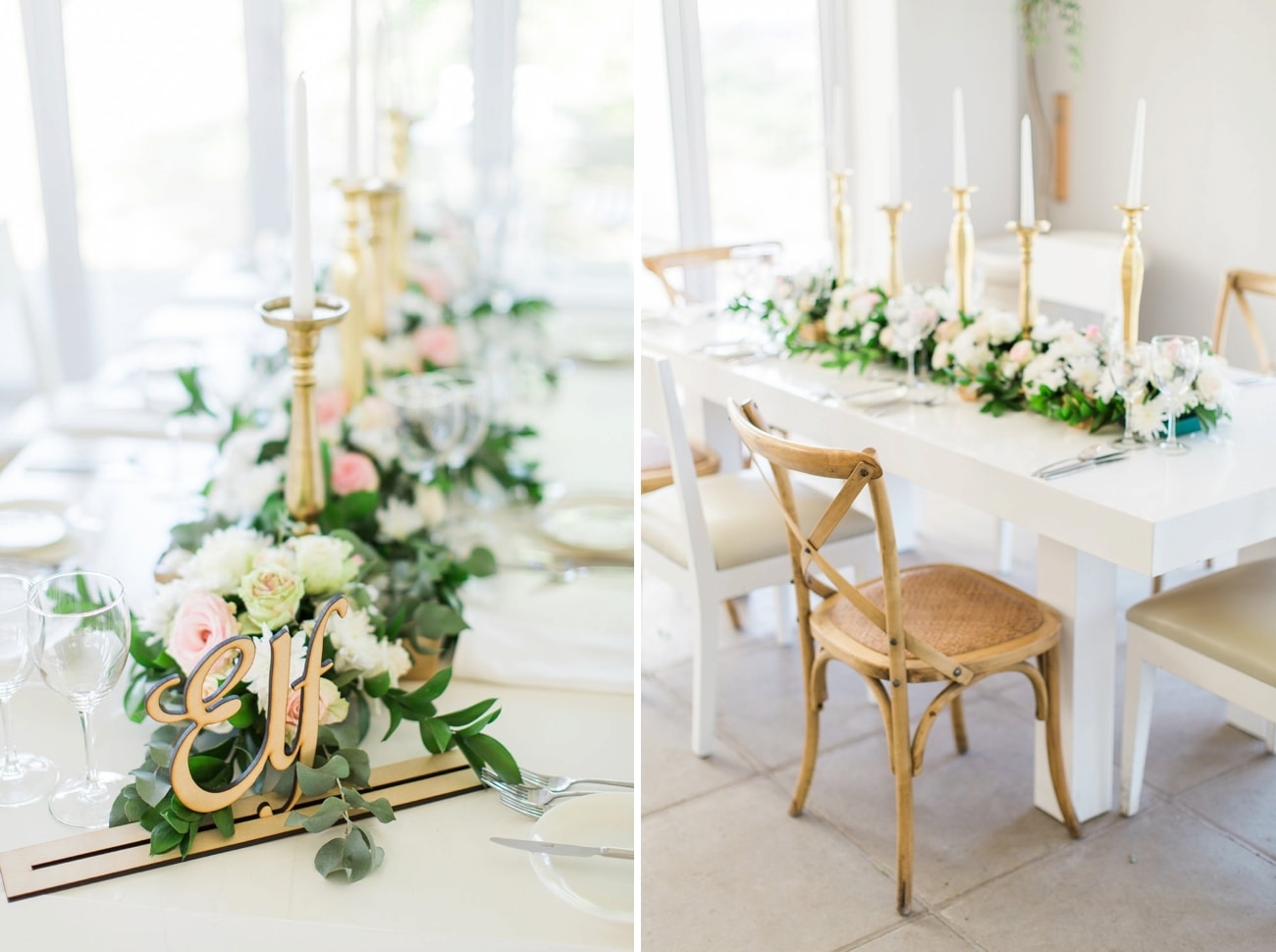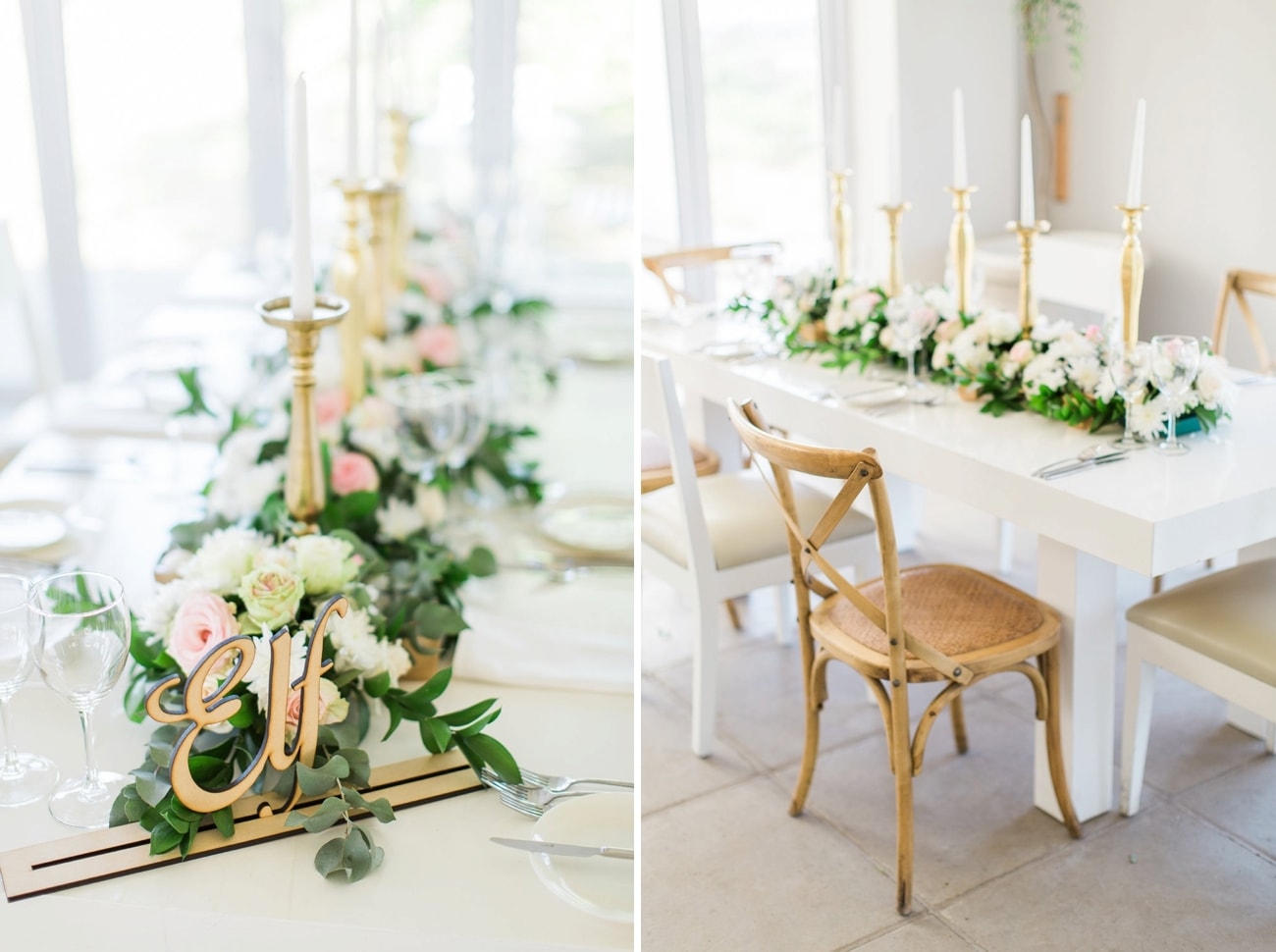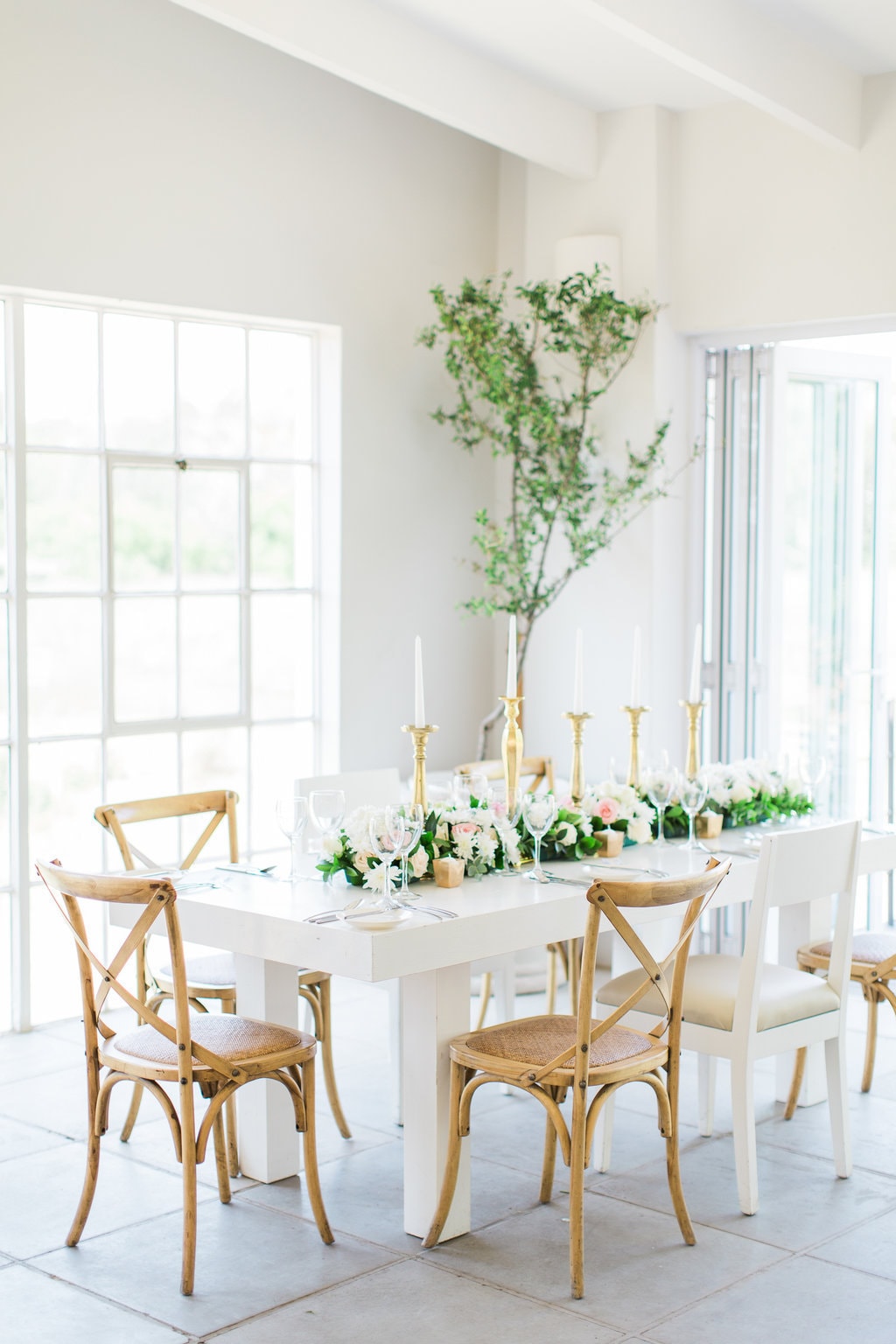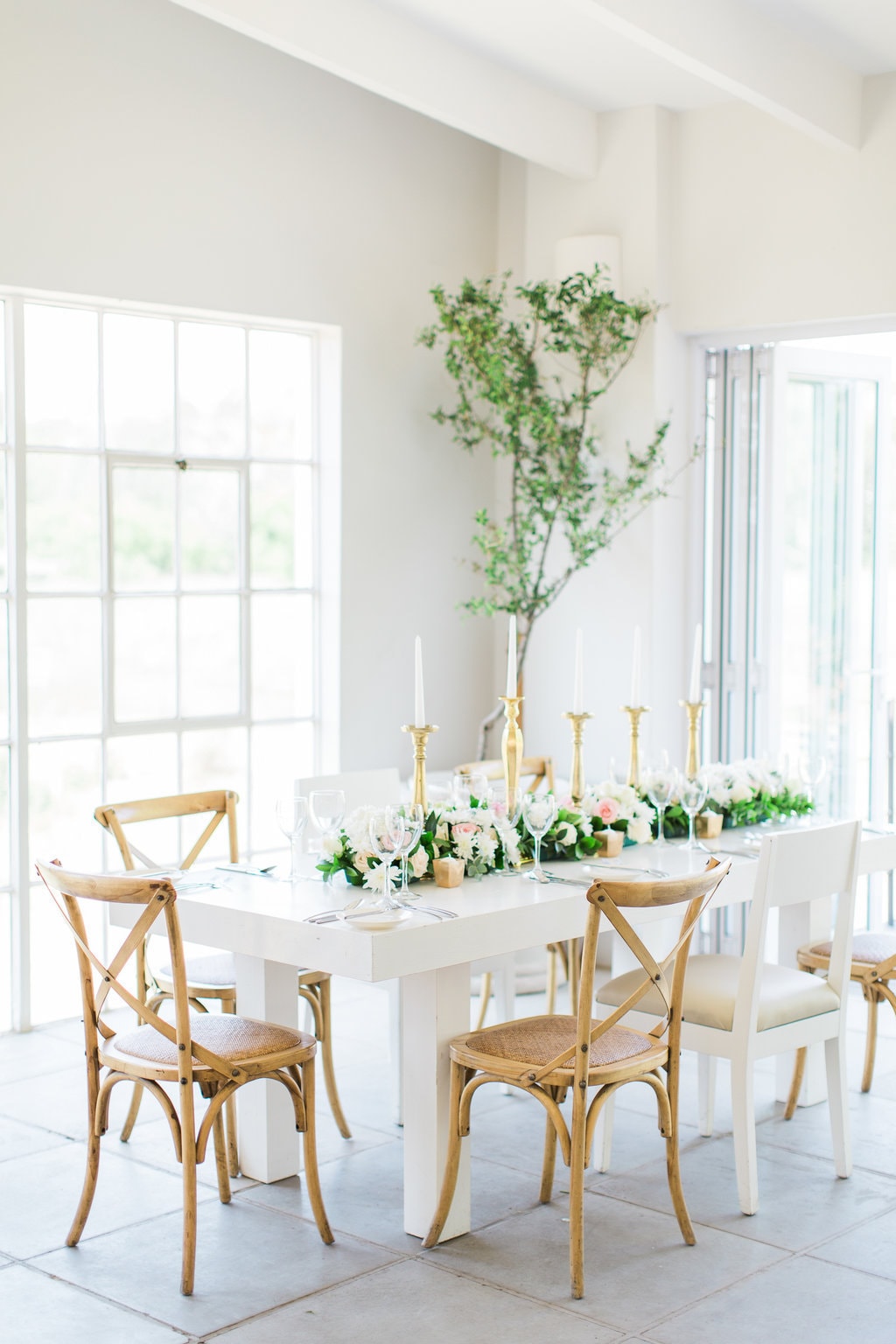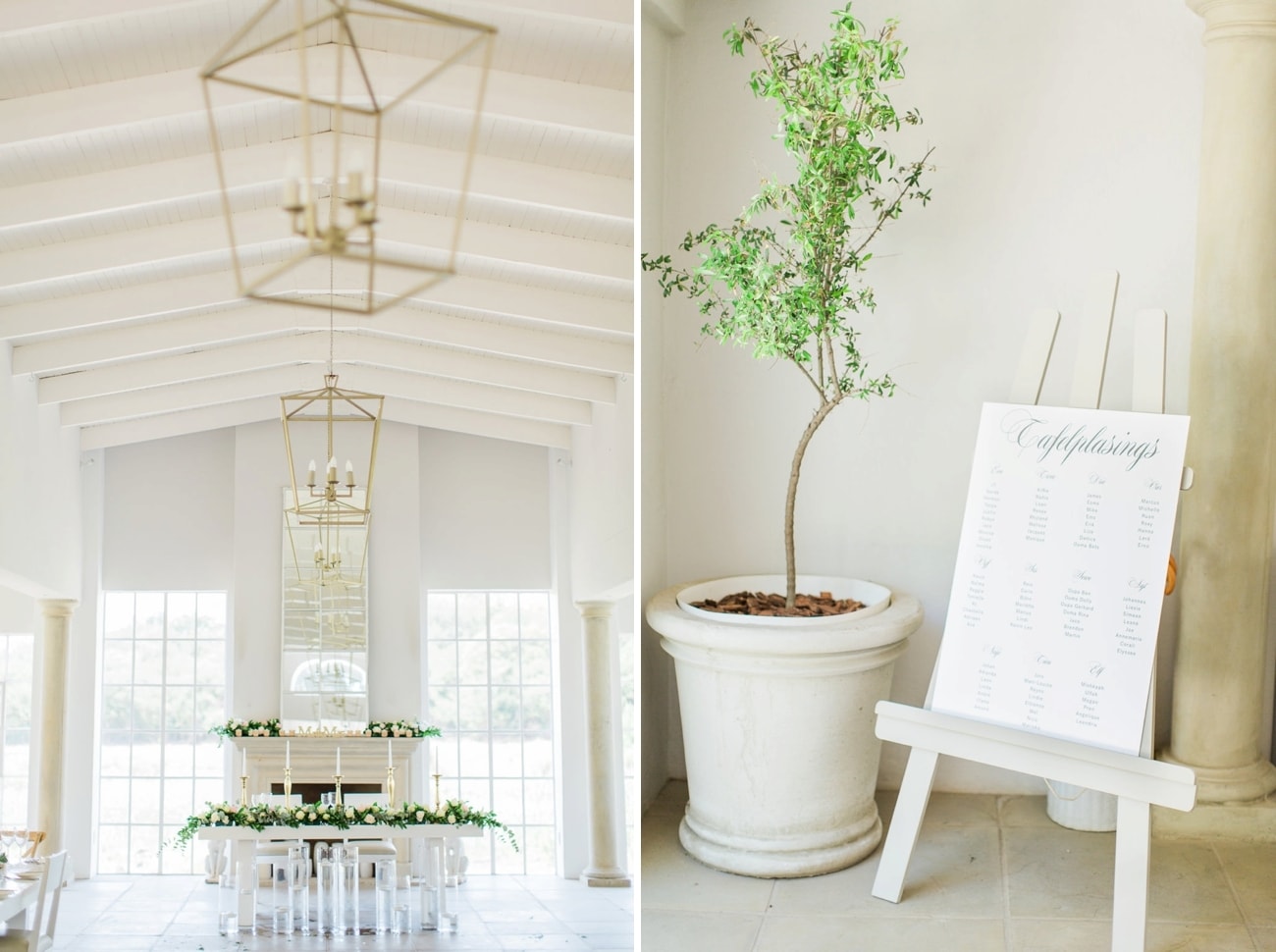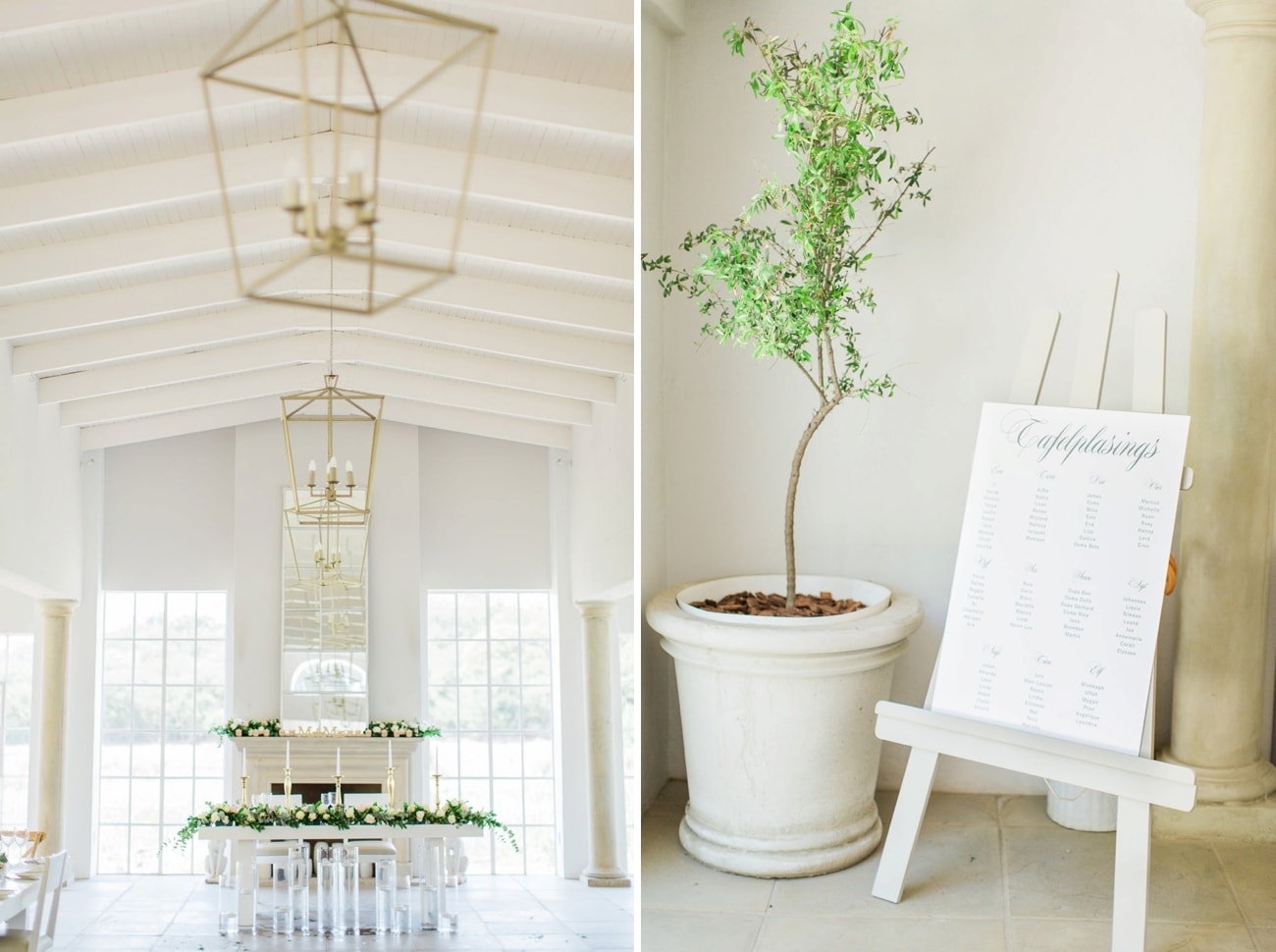 Memorable Moment
That morning, when I woke up next to my mom, she was looking down at me with tears in her eyes and a song playing in the background. No words for literally ten minutes, just holding each other and crying tears of joy. (Even as I write this I am tearing up.) Then the moment my dad saw me in my wedding gown and of course, when I saw my future husband waiting for me in front of the altar.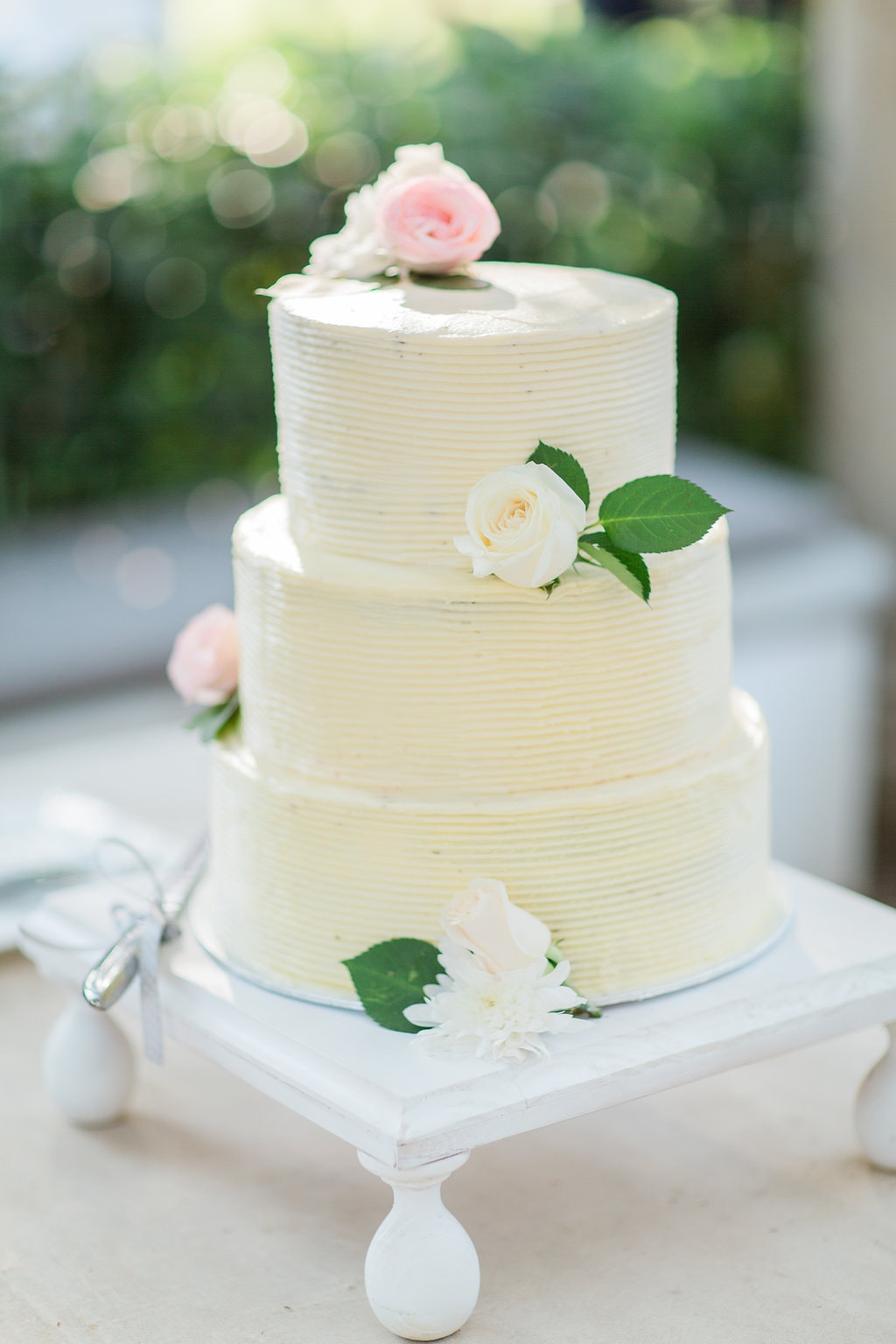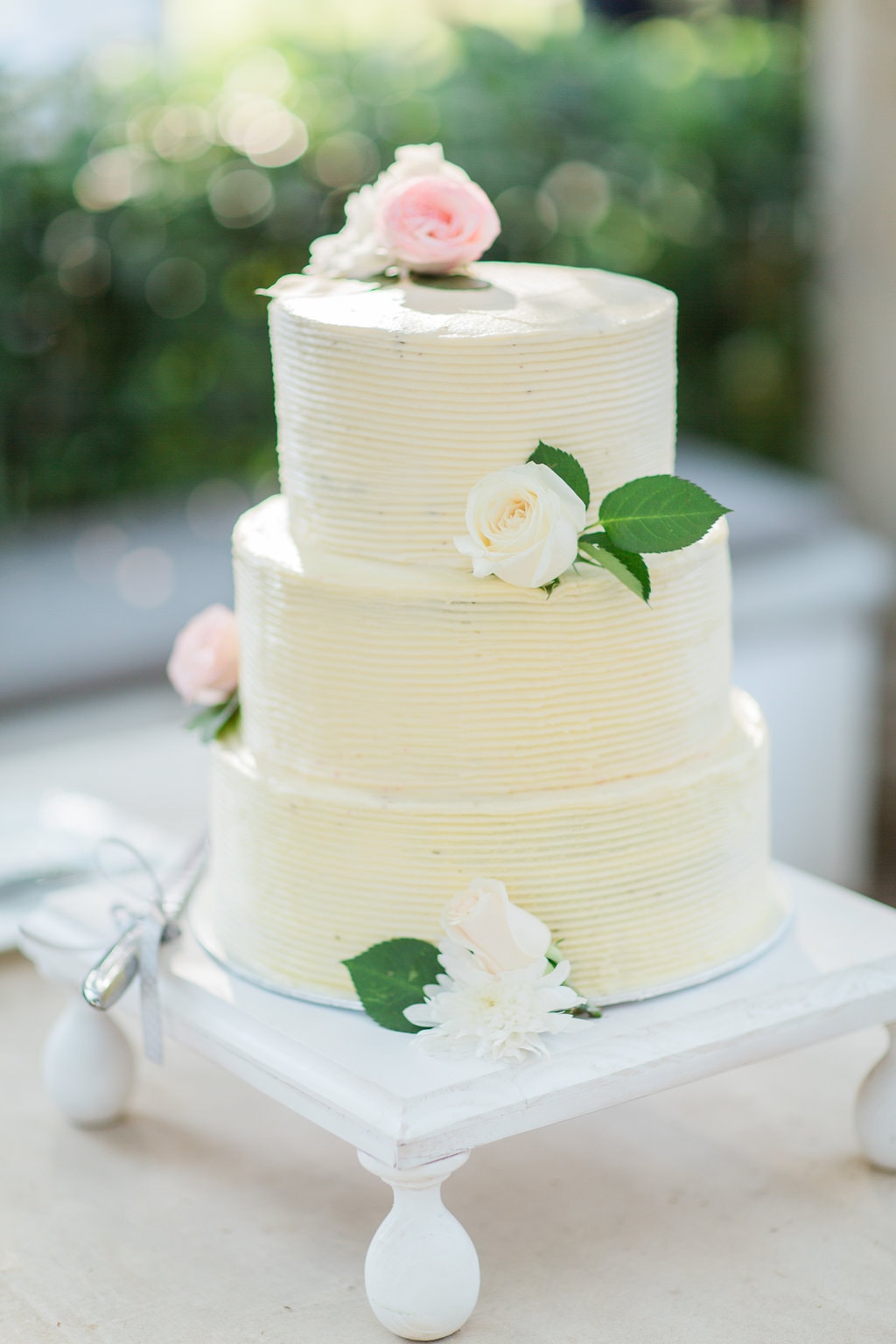 Best Decision
Not having too many people influence my decisions and our vision. We all have different tastes and different styles. Your wedding is about you and your husband/wife, no one else. Stay true to you.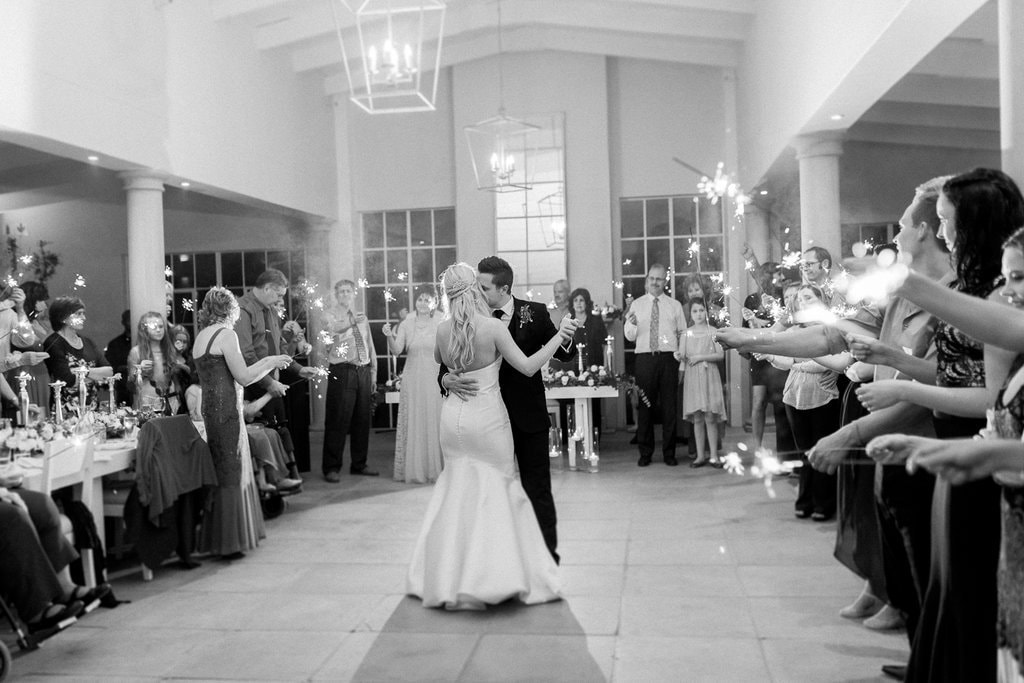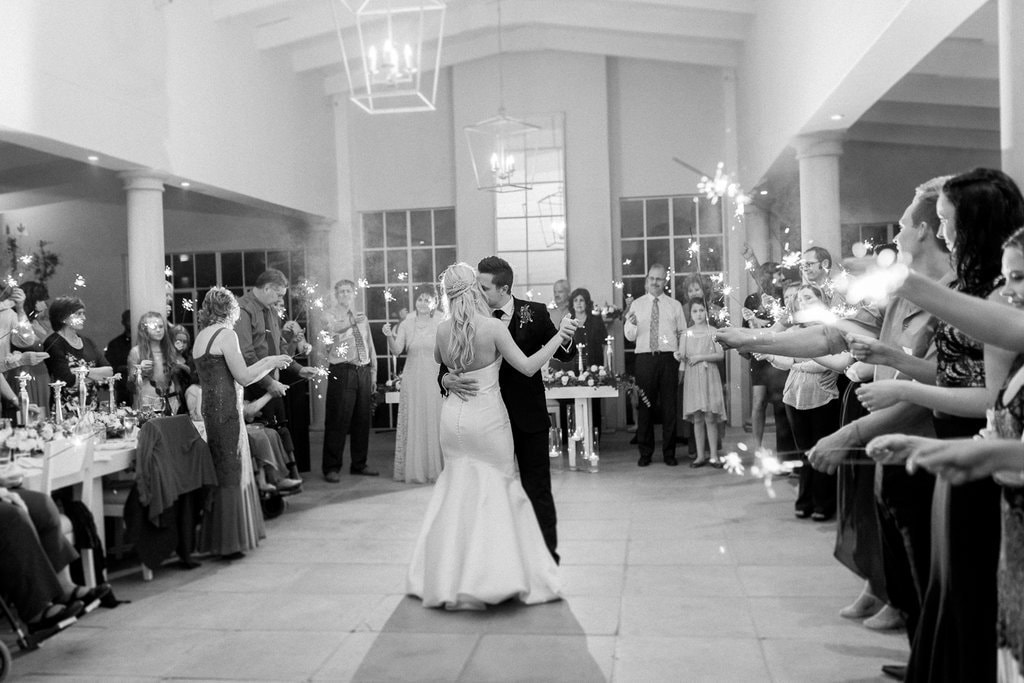 Advice for Future Brides & Grooms
Don't sweat the small stuff, soak in every second, it goes by so fast. As the bride, take some time alone before walking down the aisle, stare at yourself in the mirror for two minutes and just feel and be present. Don't rush down the aisle; that is probably the best moment of the whole day; take your time and don't take your eyes off your future husband.
You can see more from this wedding on the Grace Studios blog.
SERVICE PROVIDERS
Venue & catering: The Forum White Light | Photography: Grace Studios Photography | Flowers & décor: CDK Events | Stationery: Gerda Scheepers – Interior Architect | Video: Mighty Fine Videography | Cake: Cake Me Away | Bride's dress: Bridal Wardrobe | Hair & makeup: Make-up by Michelle | Bridesmaids' dresses: Forever New | Groom's attire: Reliance Tailors | DJ: AJR Audio | MC: Kevin Leo, the Singing Chef