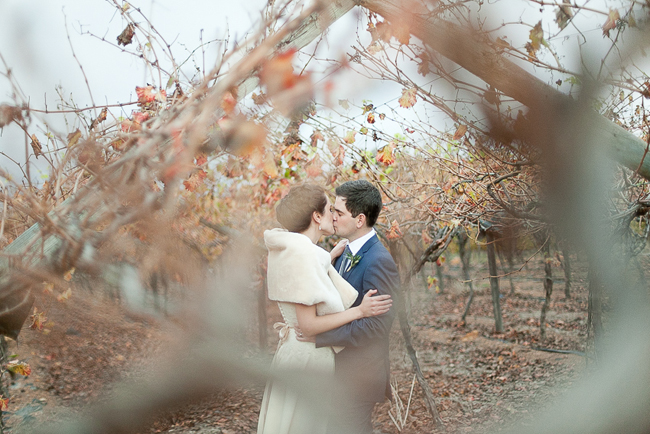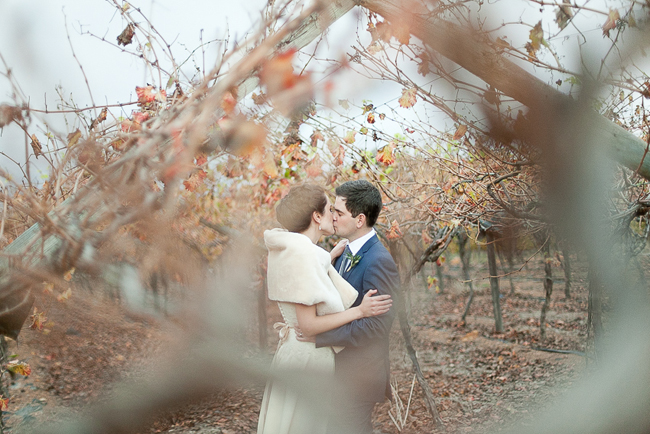 The best weddings, in my book anyway, are those that are infused with the couple they celebrate – their likes and loves, their history, the things that are central to their lives. For Marli and Inus, today's bride and groom, that thing is their religion, and while I would never consider belief a wedding theme as such, they did bring their faith into concrete elements of the day, right down to the favours of olive oil and salt. Beyond that, the key word was simplicity – a neutral palette, garlands of olive leaves and succulents and soft white blooms, a combination of rustic and modern that worked beautifully against the blank canvas of their venue. The result is light, elegant, and allowed their love to take centre stage, just as it should do. The talented Nadine Aucamp, one of our SBB Directory members, captured the day in these beautiful images.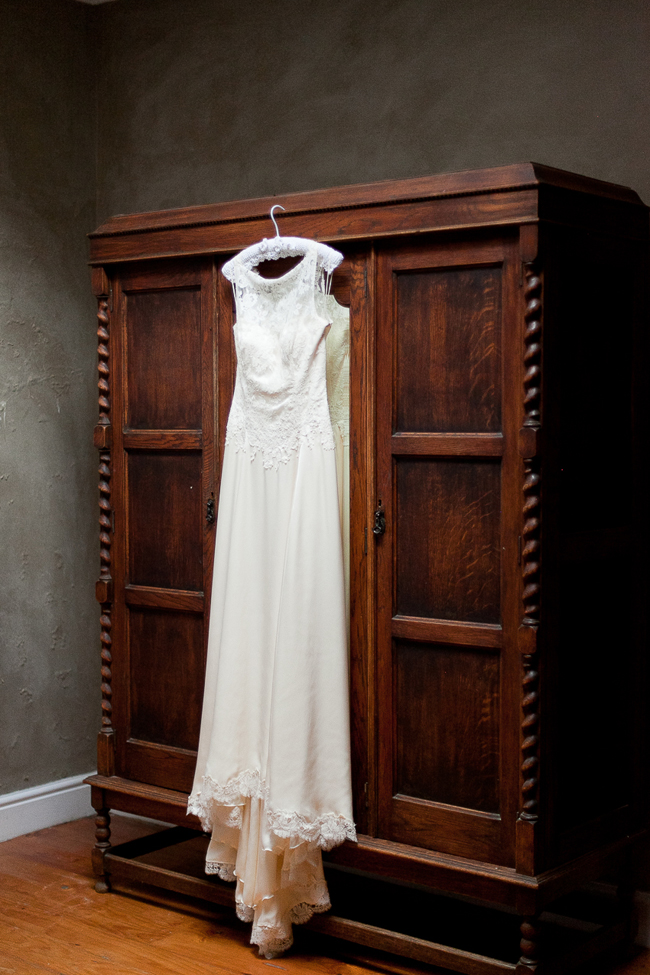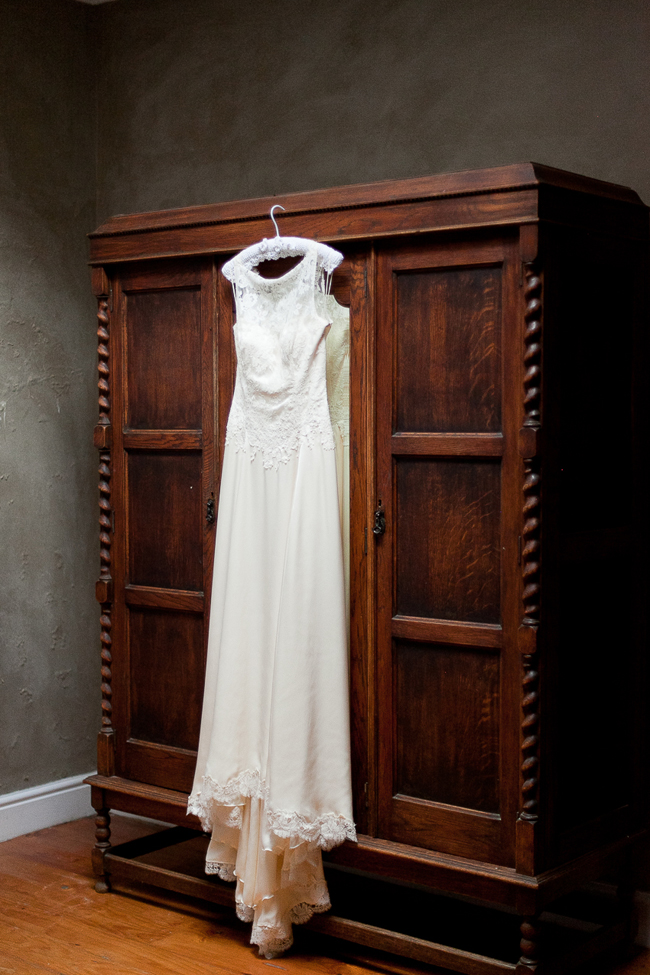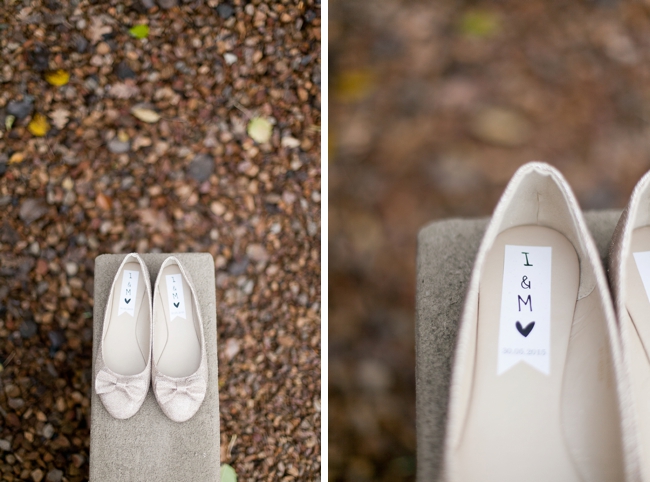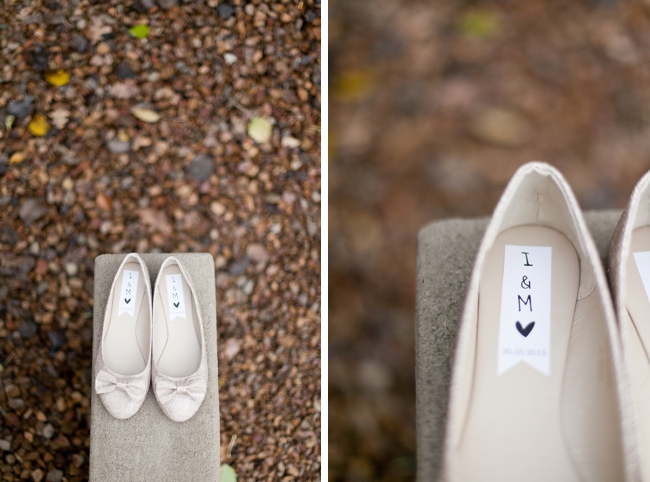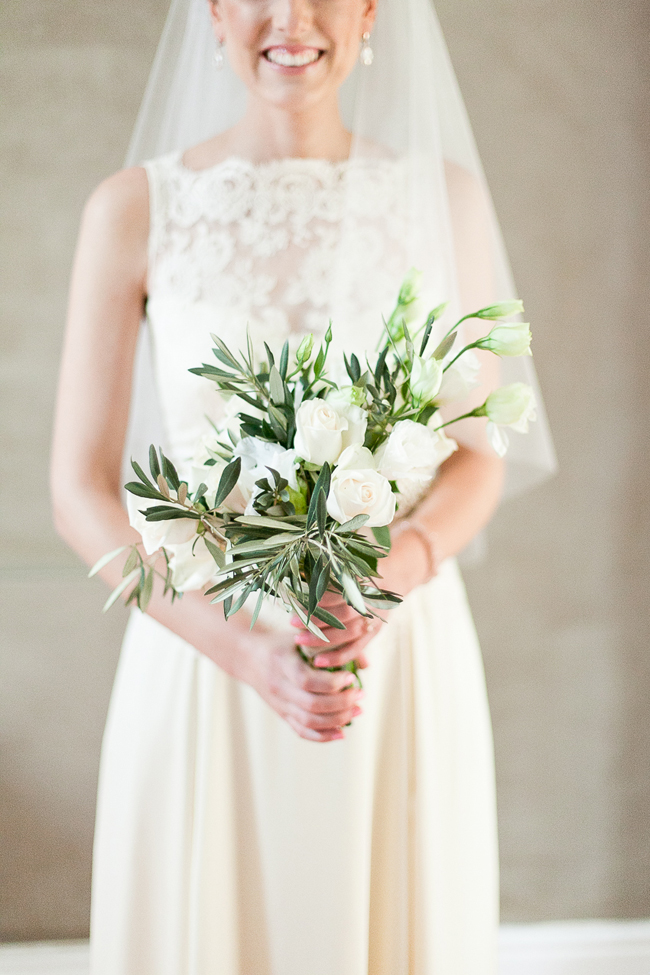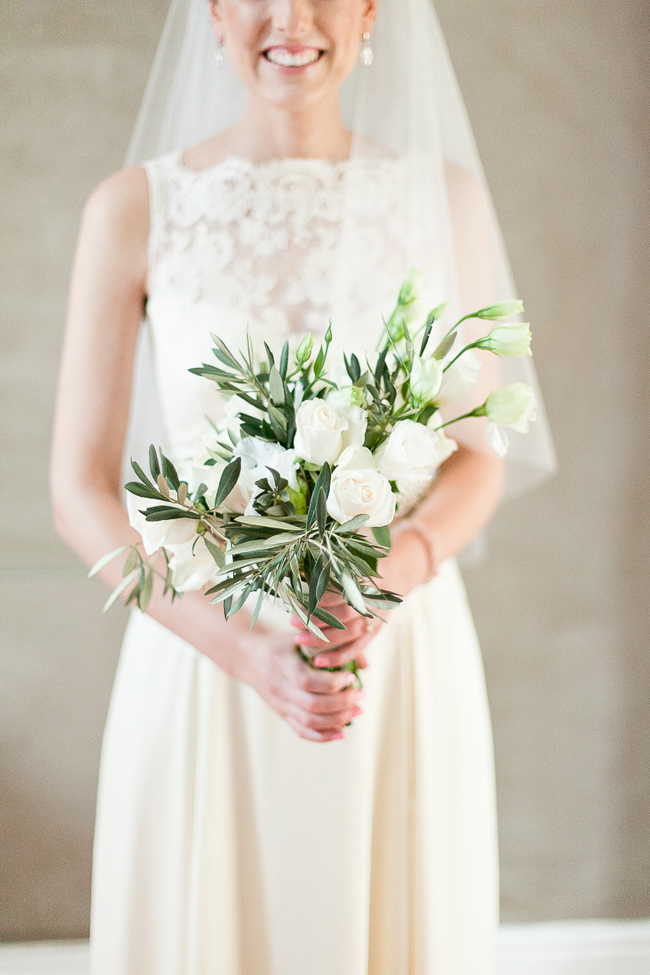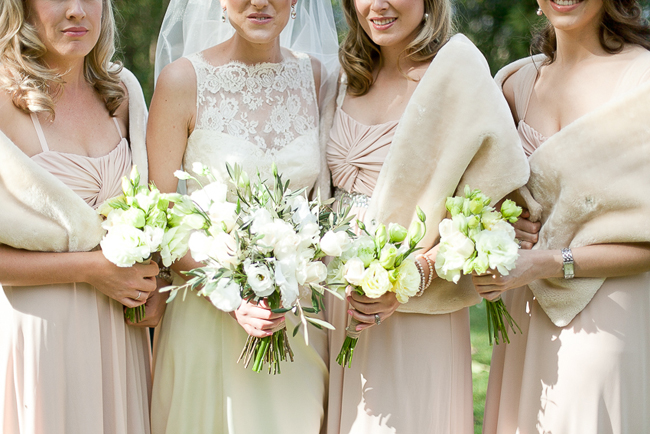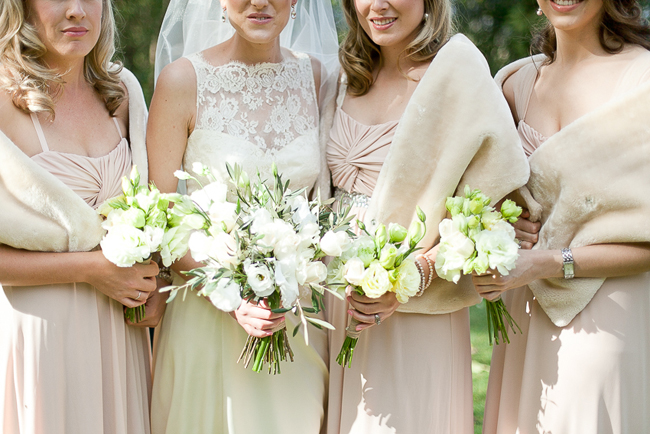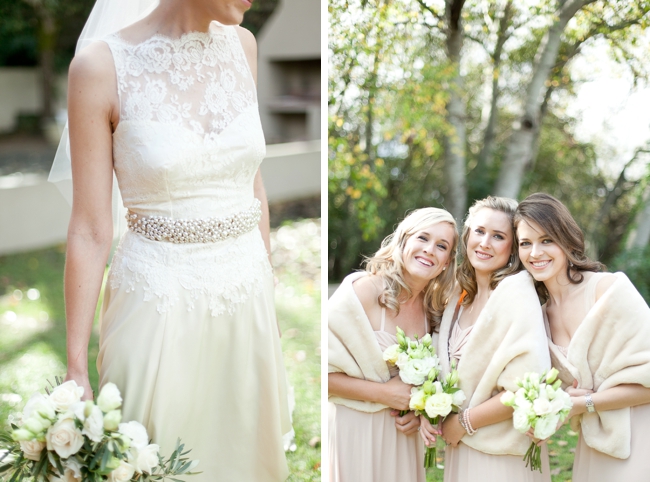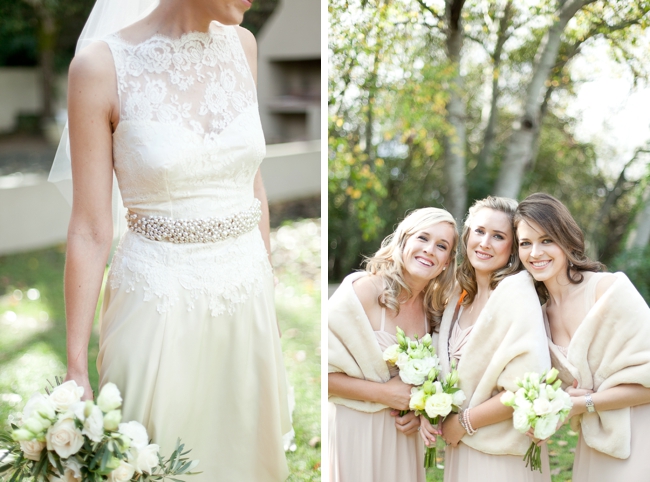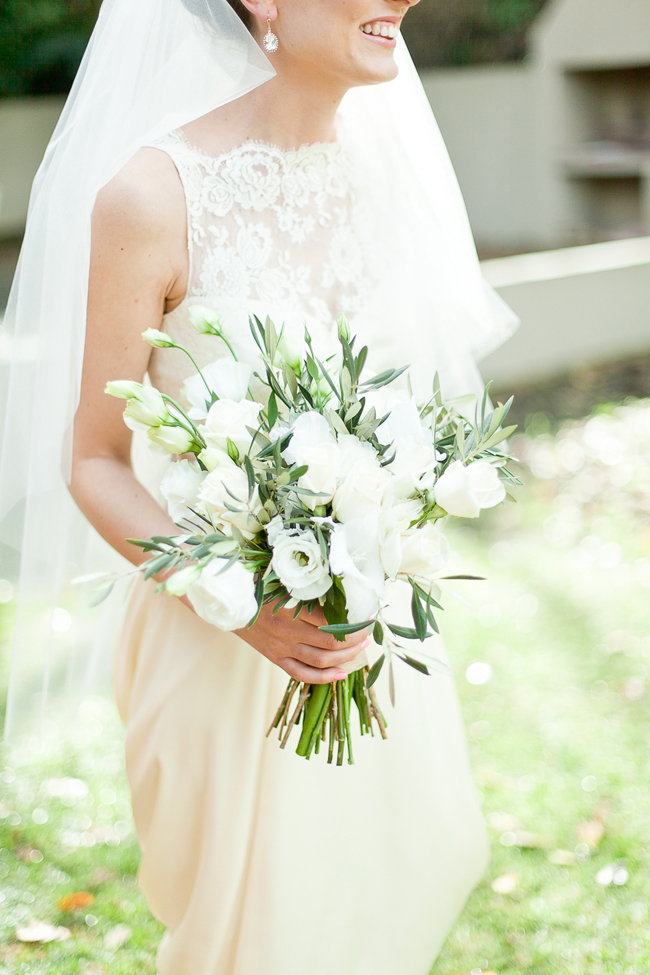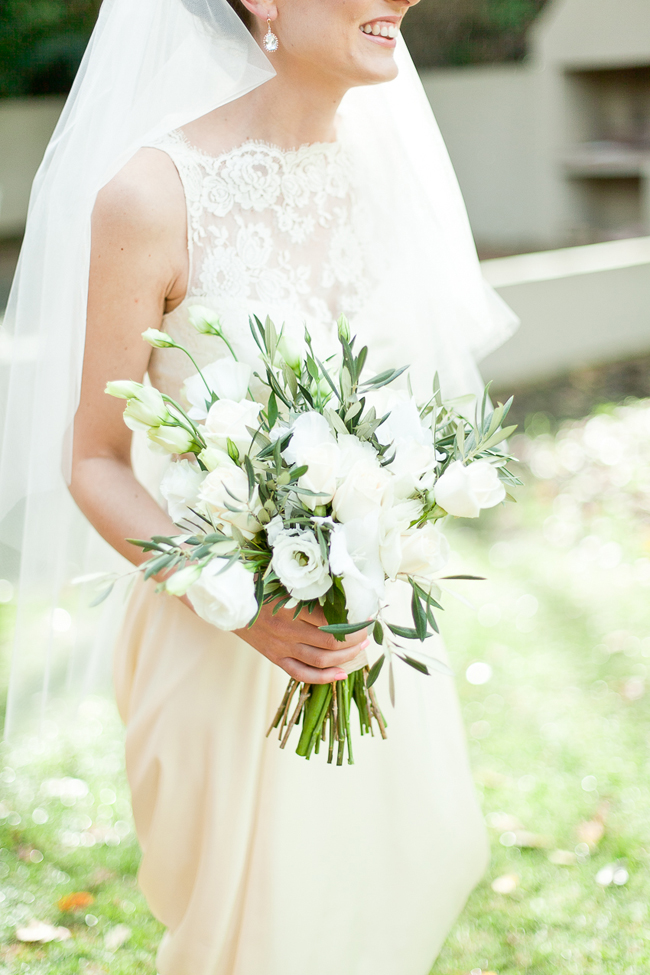 Love Story
Inus and I went to the same church in Paarl where we knew of each other for about two years before we actually got to know each other better. He asked me for coffee, which I almost declined, because I didn't really think there was potential, so to speak. With some persuasion from a wise friend, I accepted his invitation and spent an evening getting to know him a bit better over a cup of coffee at my house. What I found significant about that first 'date' was how comfortable I felt in his company, even showing him some of my drawings, which I hadn't really shown to anyone before. I couple of months passed without us really spending much alone time together, but during that time my heart towards him changed completely. Inus, meanwhile, knew that I was the girl he wanted to marry, but was just biding his time. At a mutual friends' wedding we sat next to each other and that evening something just clicked. He phoned me the next week to invite me for coffee again, openly shared how he felt about me and asked me if we could spend more time together to get to know each other better. I happily accepted his invitation, because by this time I felt the same as he did, and two weeks later we officially started dating. Other than really liking each other, we both had a deep conviction that God put us together, and we knew from the start of our relationship that we would eventually marry.
The Proposal
We had spoken about getting engaged and I had a very specific design in mind for my ring. My specific requirements were harder to meet than I anticipated and after Inus did some research he eventually ordered my ring from overseas. I sort of knew what was happening, but Inus wanted to keep it a surprise. I thought we were only having dinner at his house on our eleven month 'monthiversary', but when I arrived he led me to a room where he had lit some candles. He sat me down and after sharing why he wanted to marry me, he asked me to become his wife. I obviously said yes and he put the exact ring I wanted on my finger.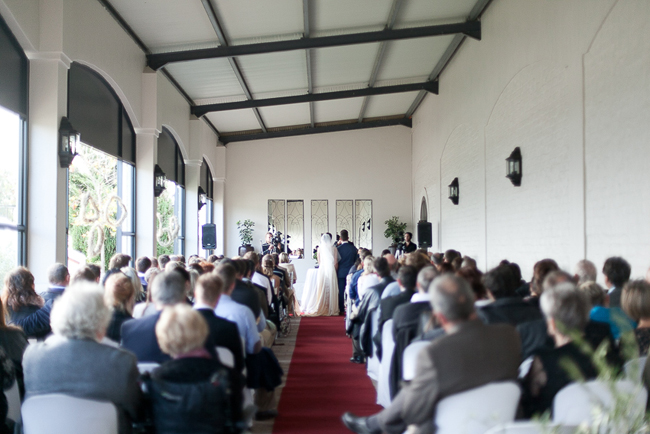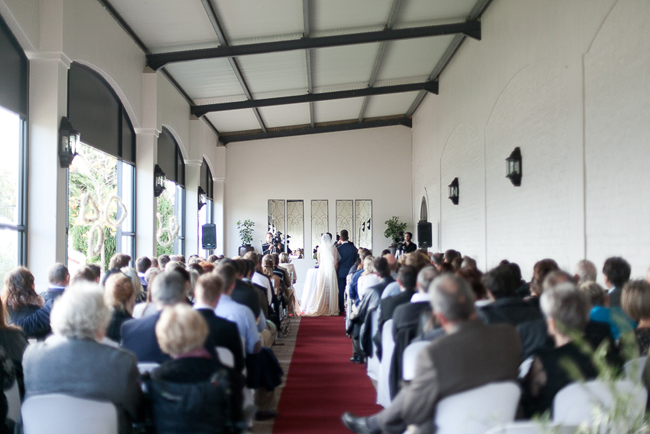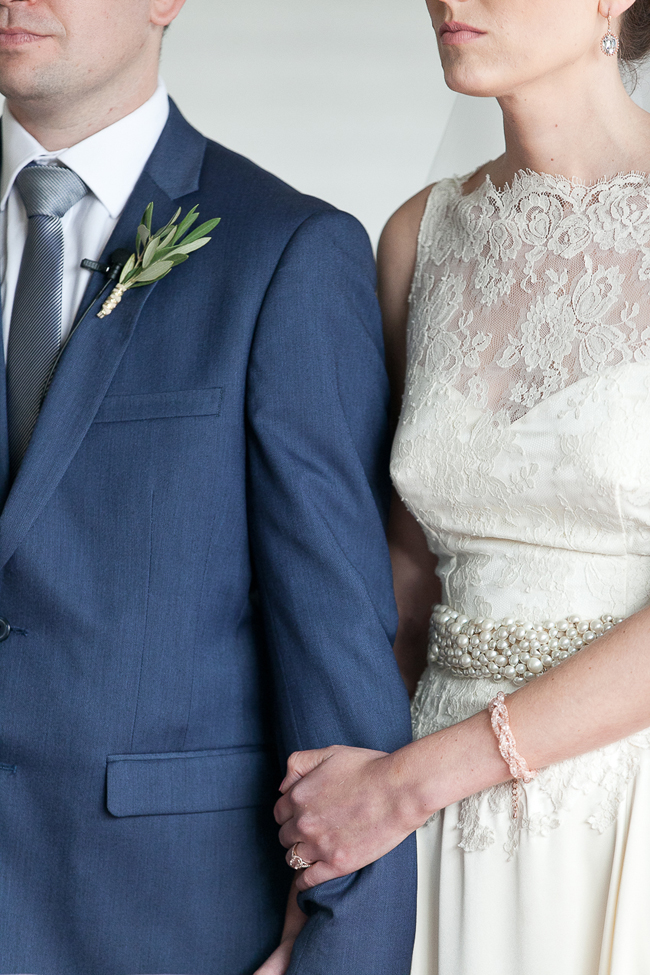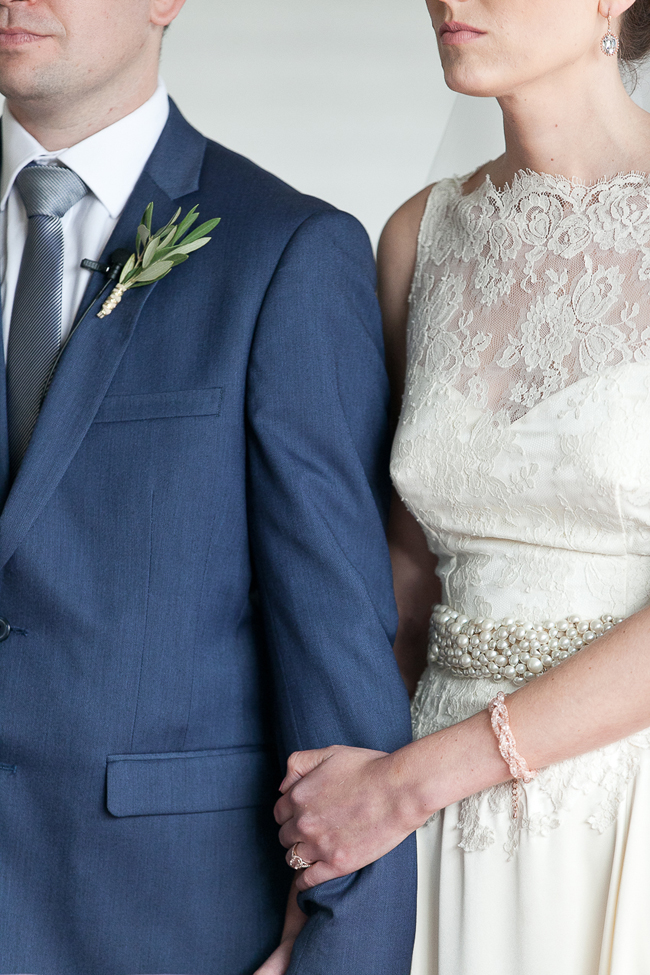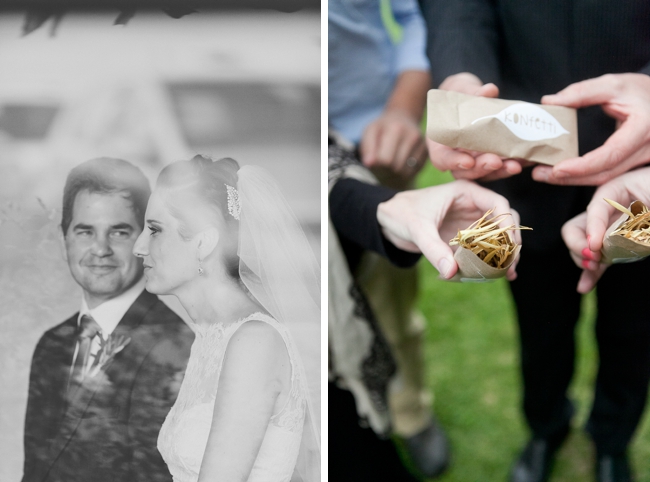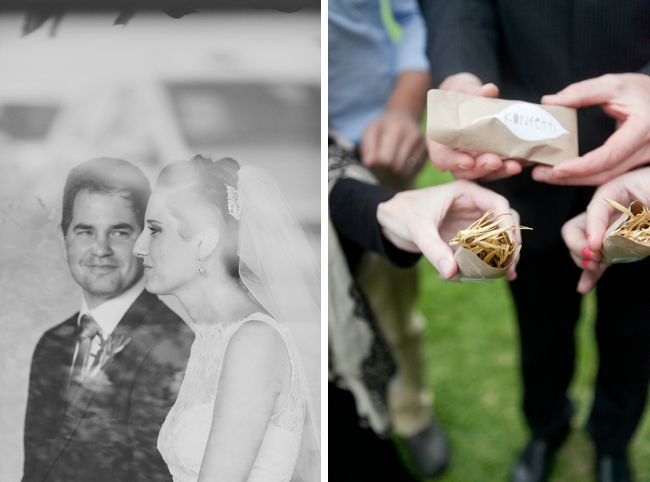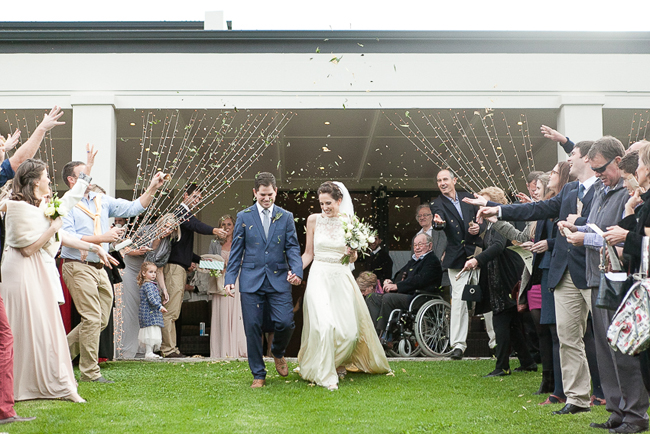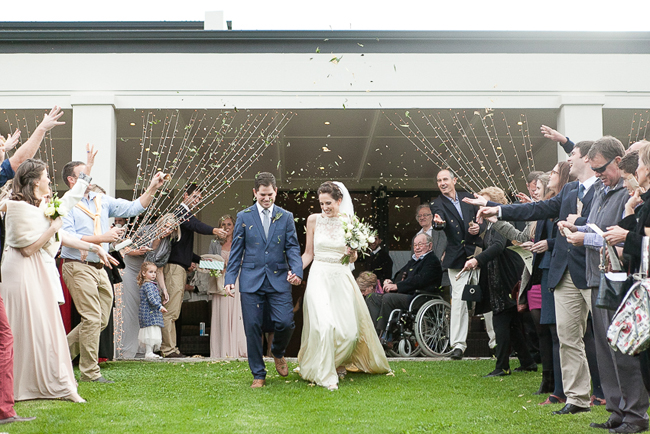 The Venue
We got married in the afternoon and had a evening reception at Kronenburg, which is situated in the Cape Winelands outside of Paarl. We chose Kronenburg because it had sufficient space for our 150 guests, with a big dance floor, a separate bar area, a big patio and beautiful setting; there was a covered space outdoors in case of rain for the ceremony; everything is basically included and the cost is determined on a per guest basis; and overall it offered us the best value for money.
Wedding Style
My vision was to have a natural, earthy, pure, clean and relaxed feel. This entailed using mostly white, green, grey and brown colours.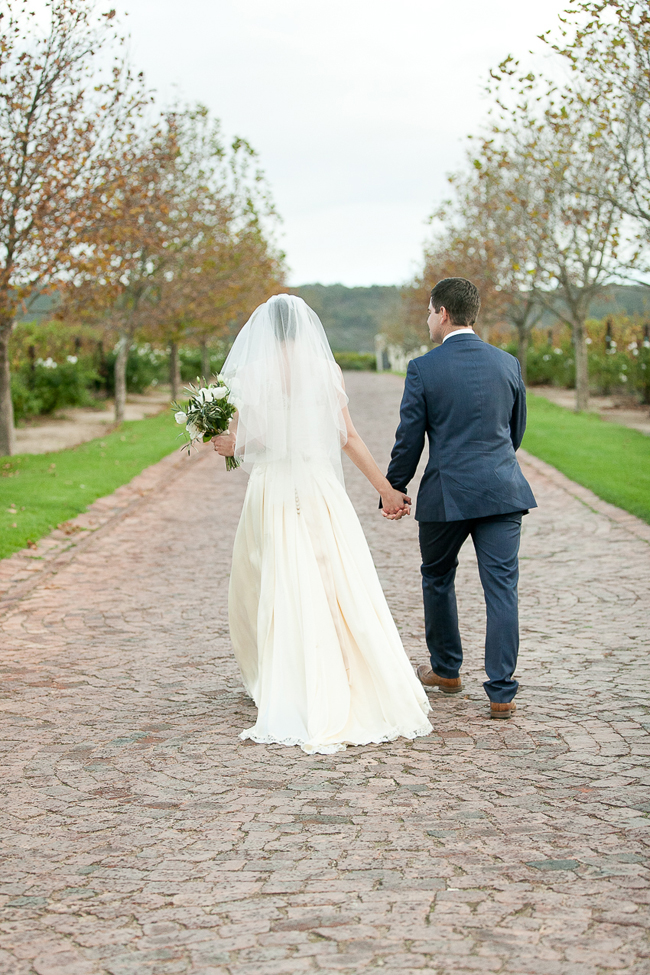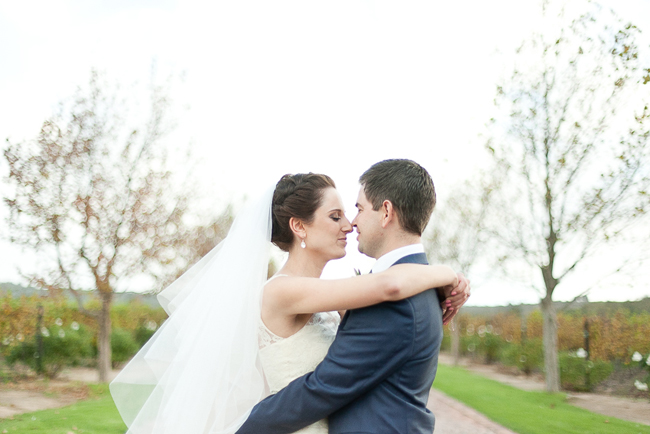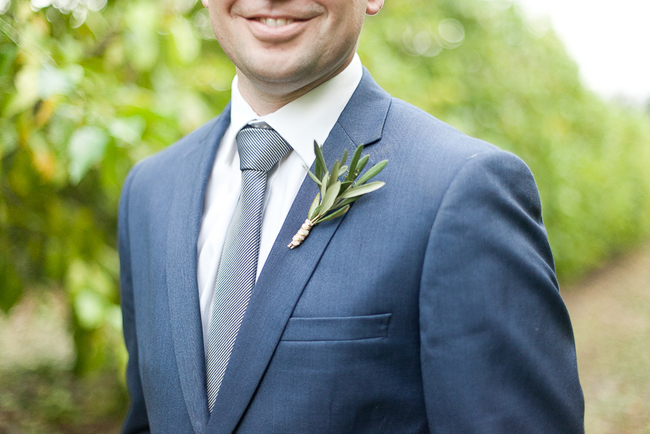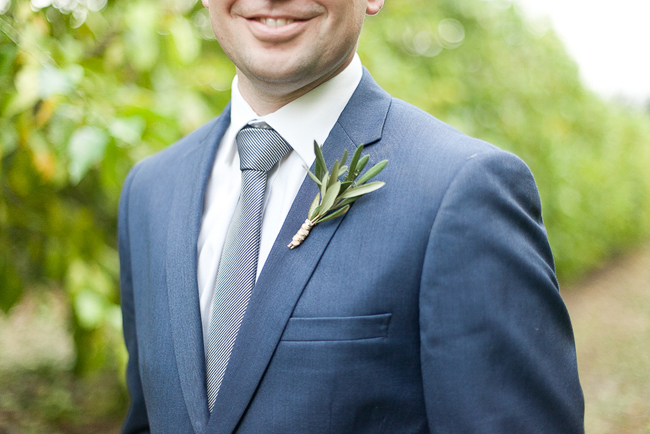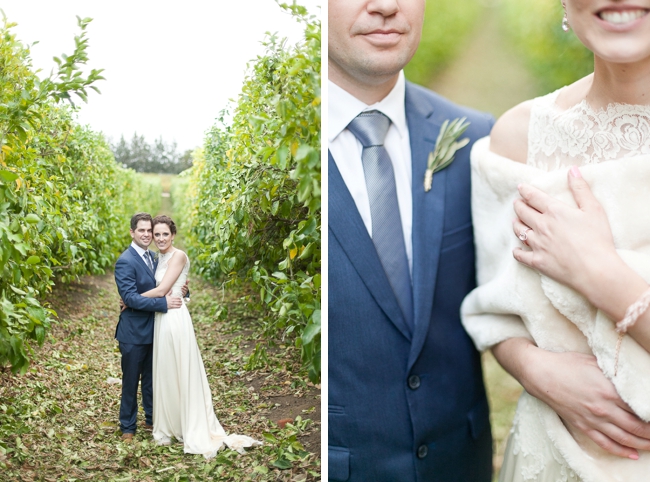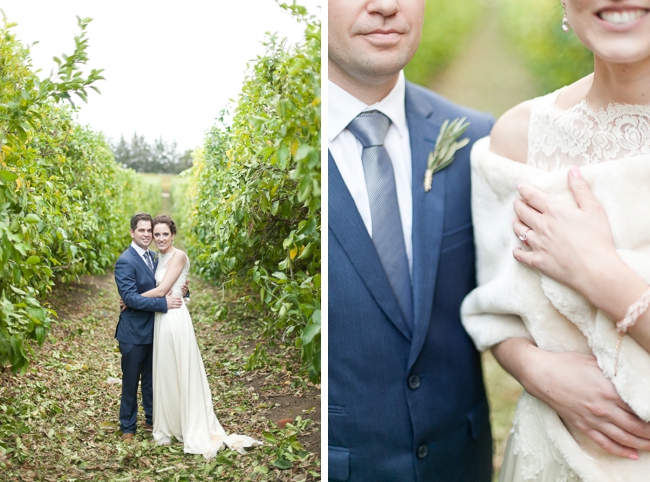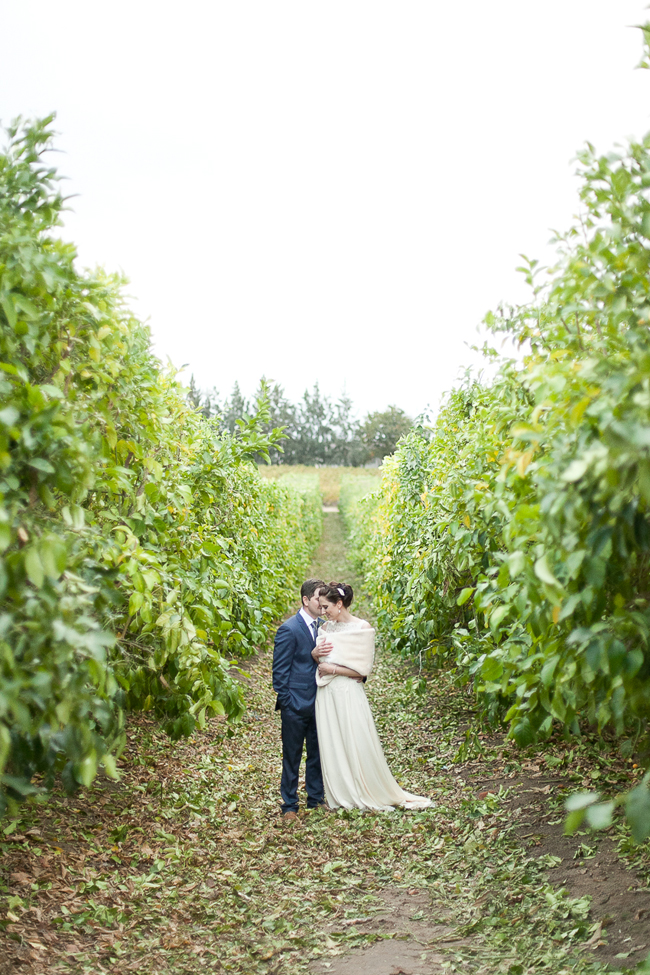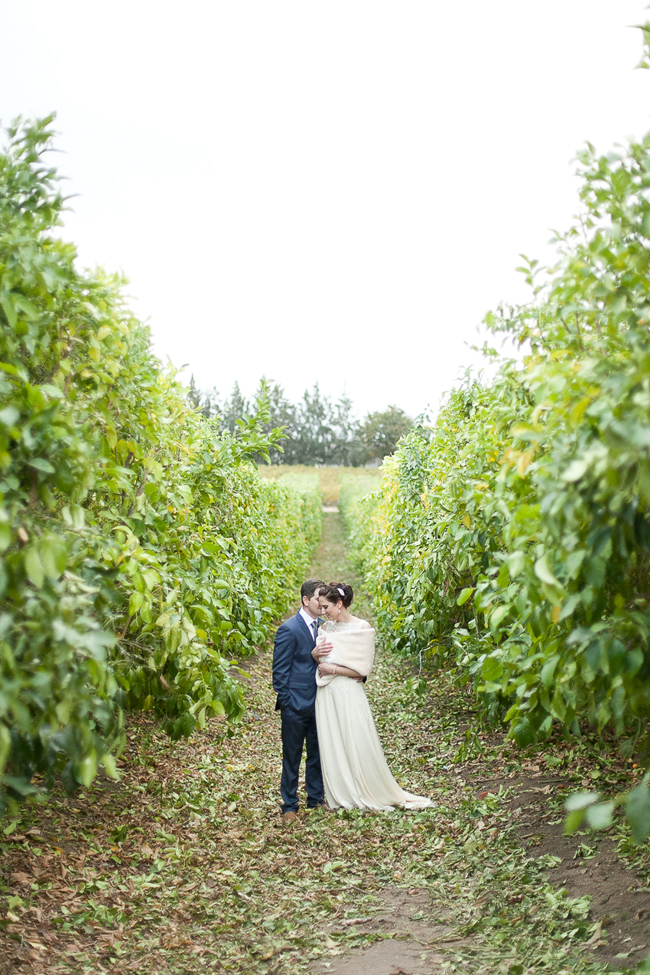 Wedding Details
We chose the various elements for symbolic reasons. One of my favourites were the little bottles of olive oil we gave as gifts to the men, with a reference to John 12:3 in the Bible where Mary poured oil on Jesus' feet as an act of worship. We gave tins of salt to the ladies with reference to Jesus' words that His followers must be salt to the earth. Jesus Christ is centre of our relationship and we desire to honour Him first in everything we do. These specific gifts were therefore one of the ways we wanted to share that with our guests.
DIY Elements
I am a graphic designer by trade and designed all the wedding stationery myself. We put the wedding favours together ourselves, used mostly olive branches and other plants and flowers from my sister and her husband's farm and only bought some white seasonal flowers.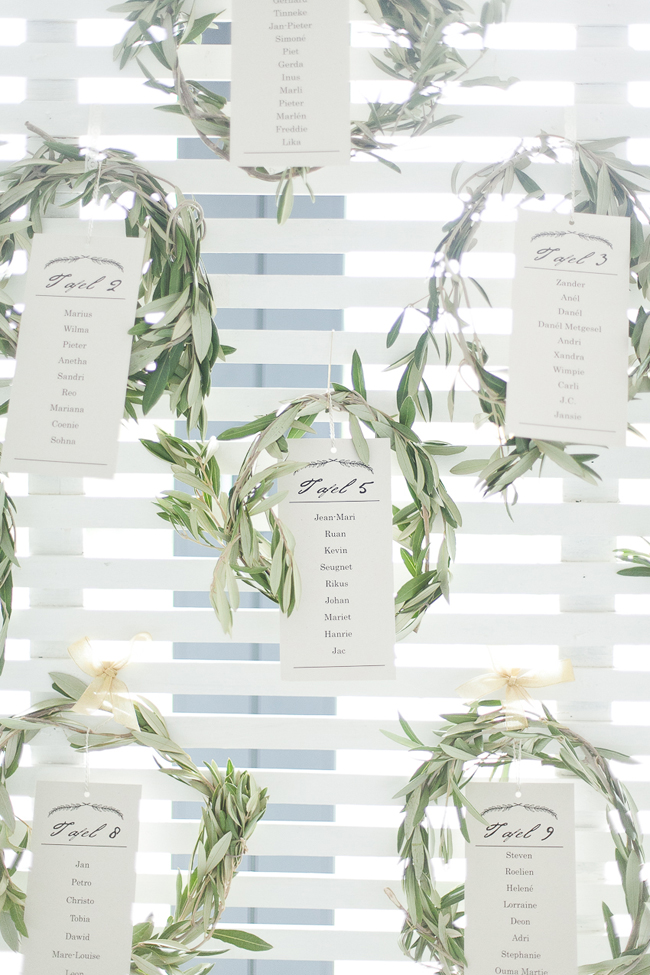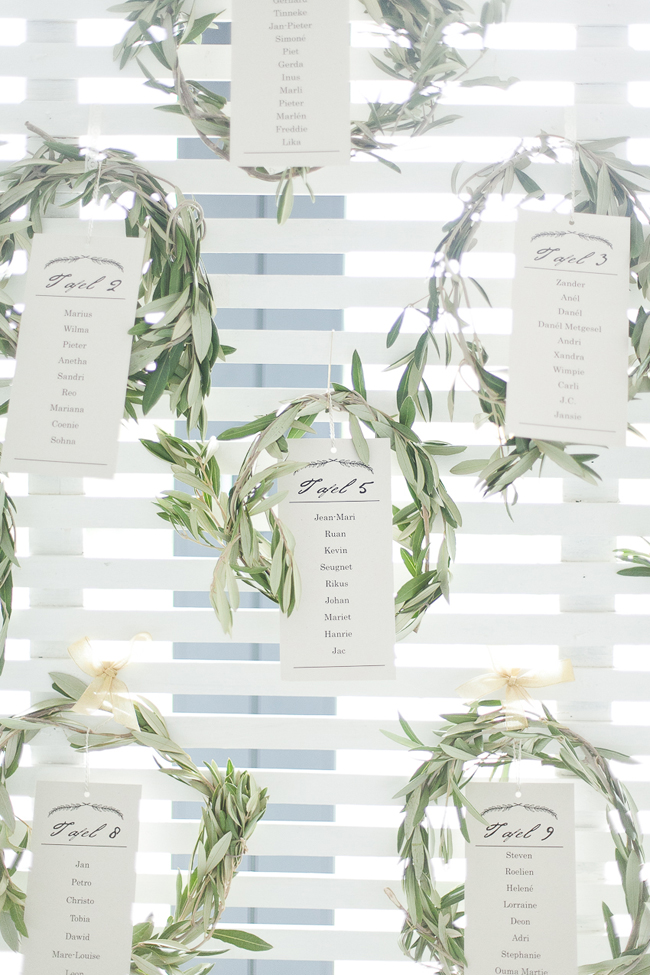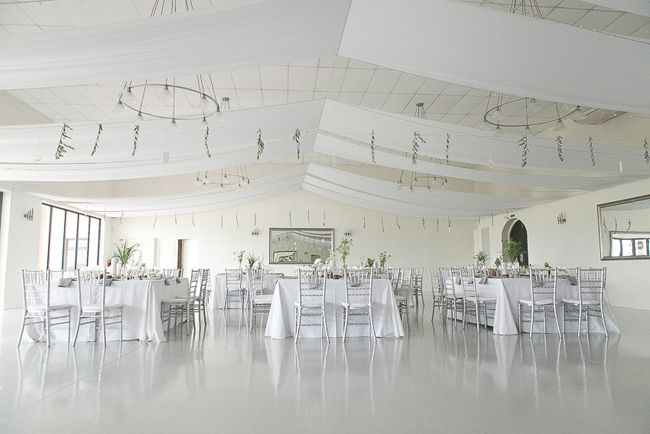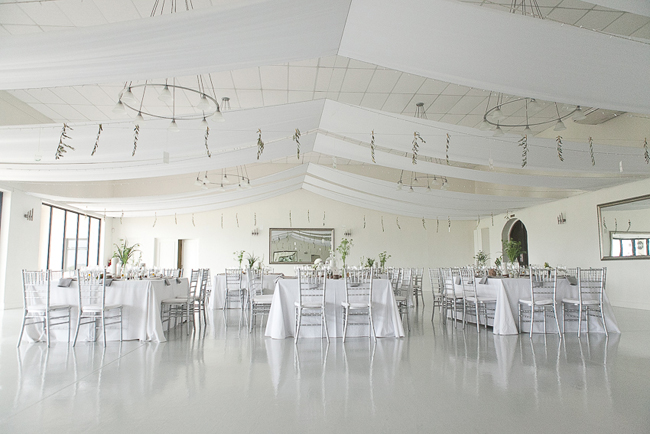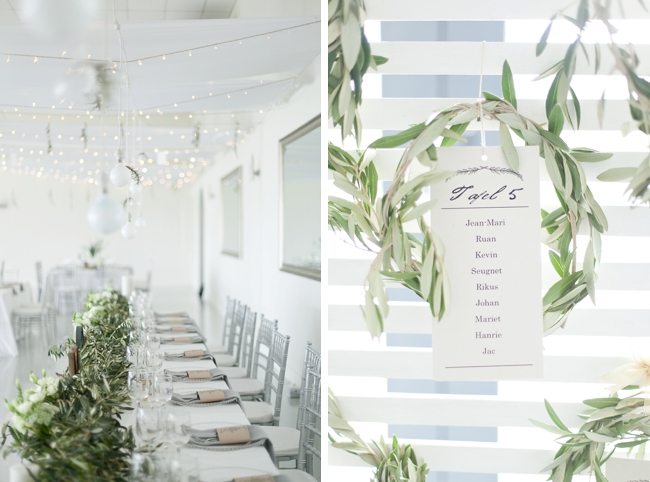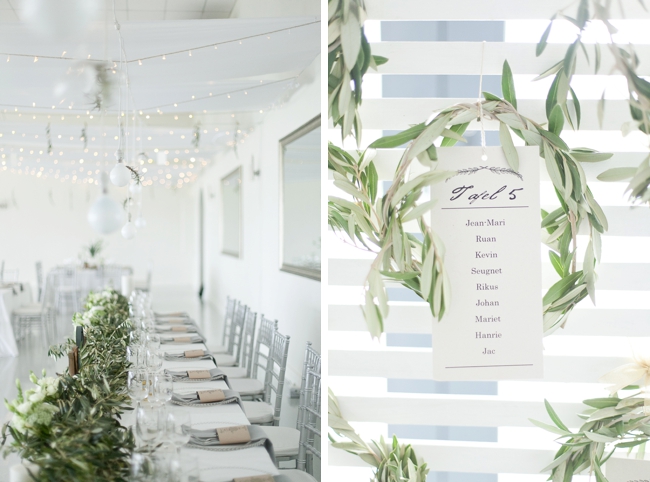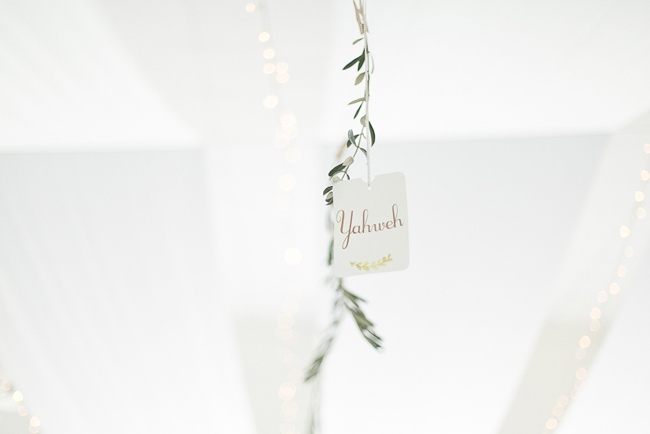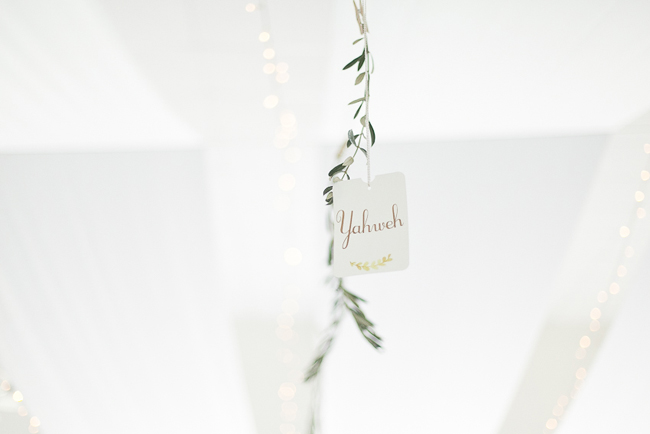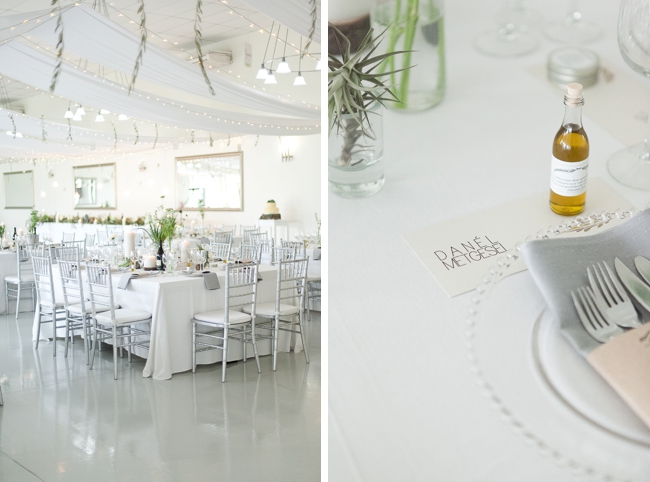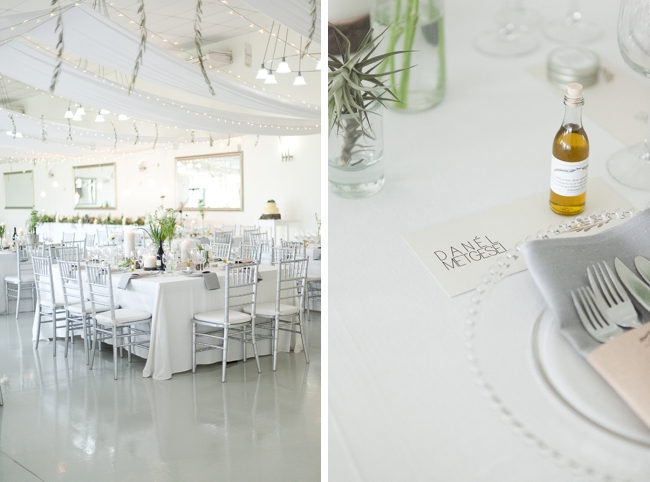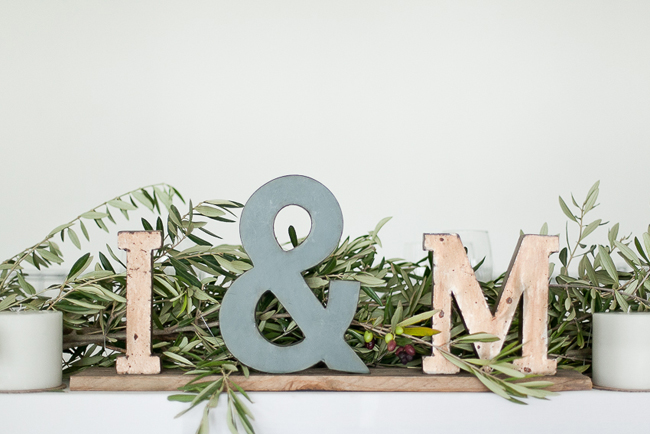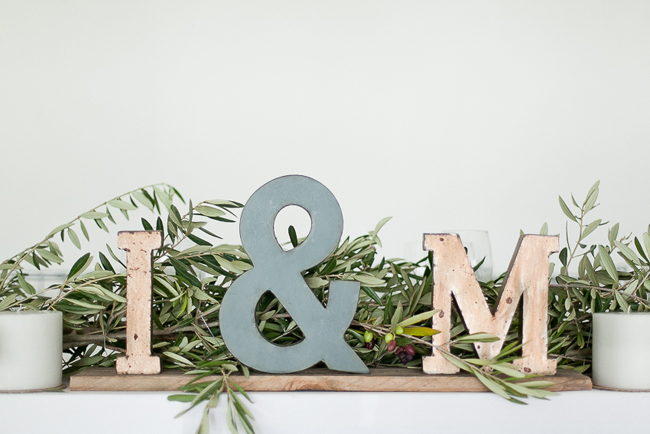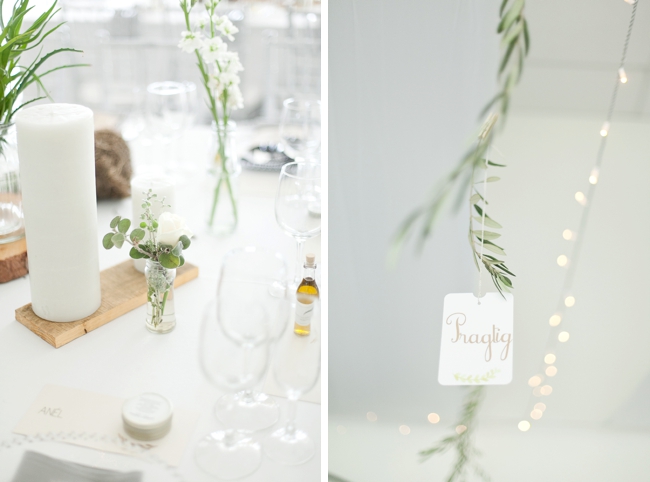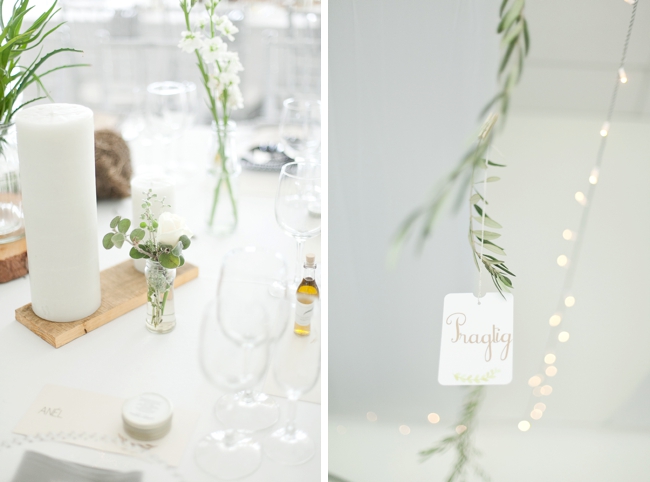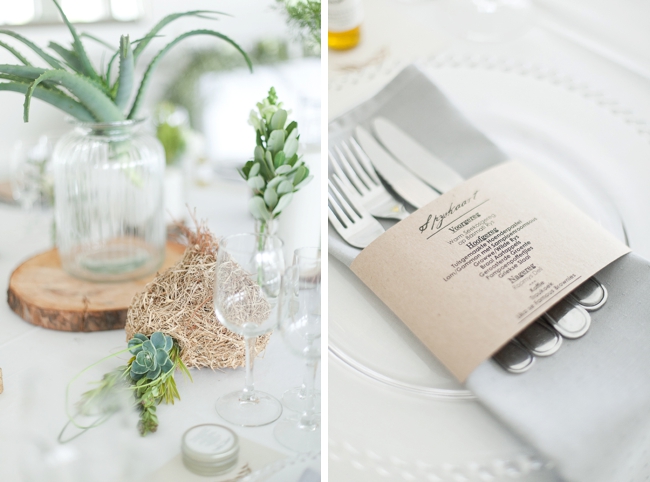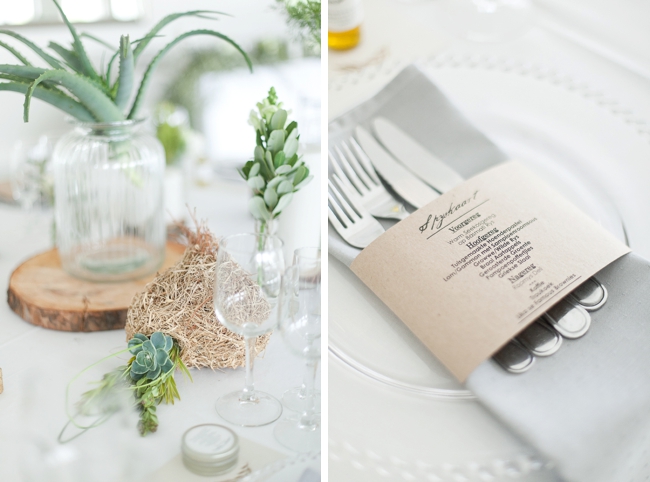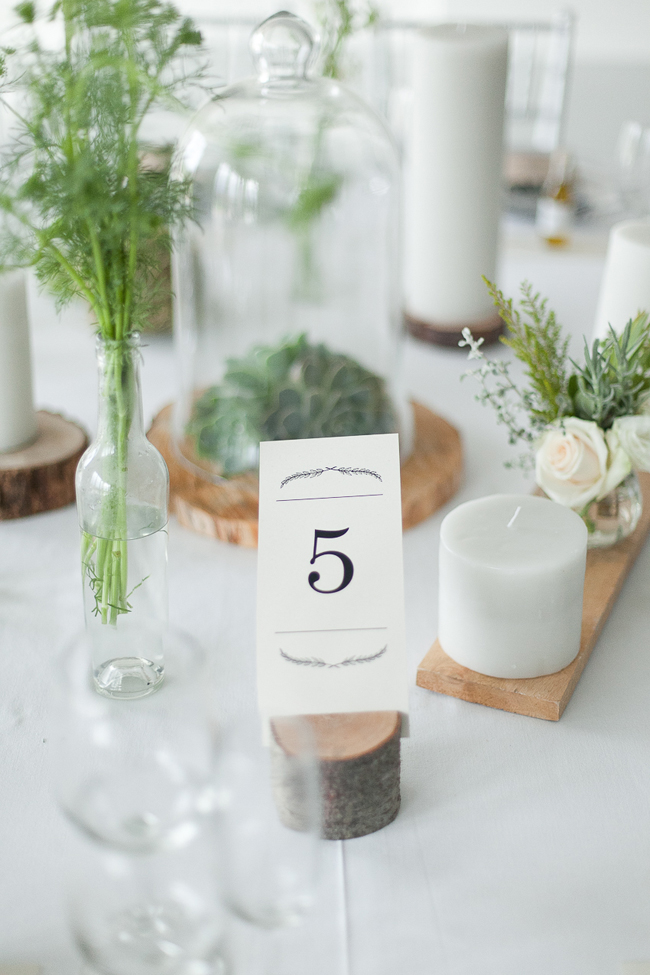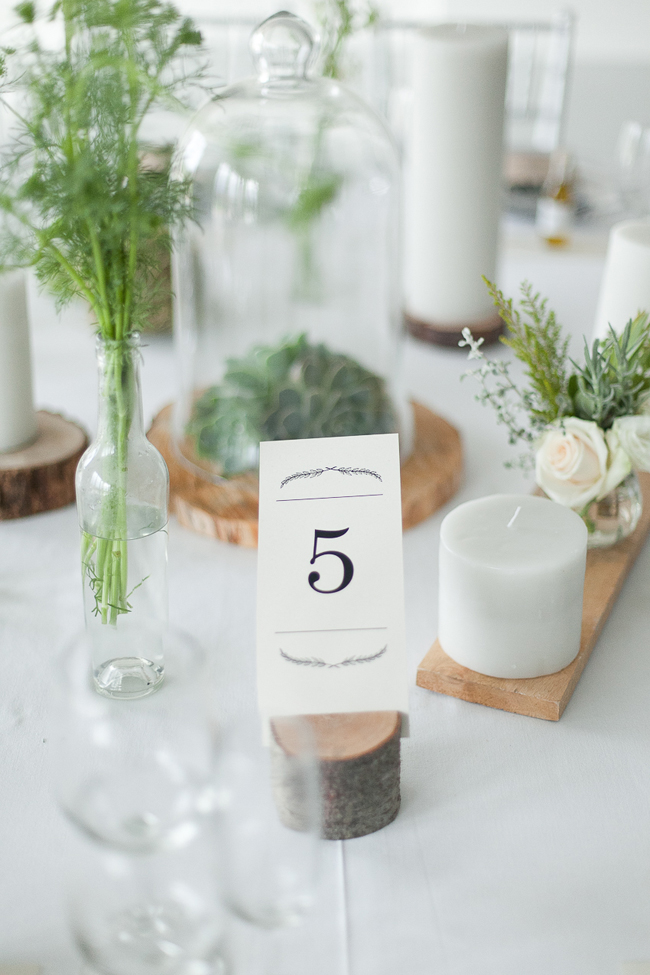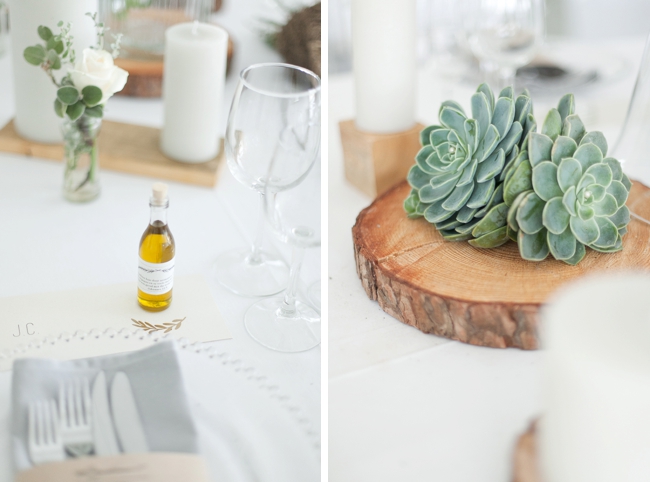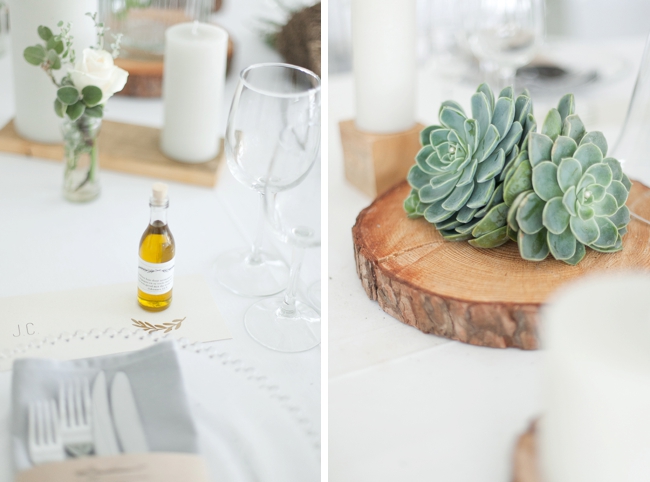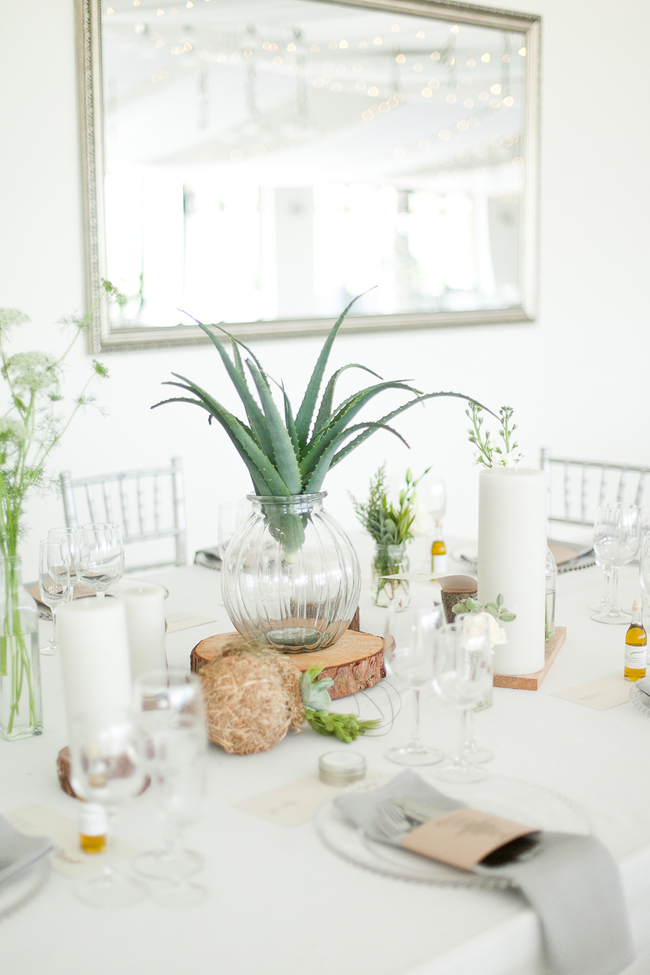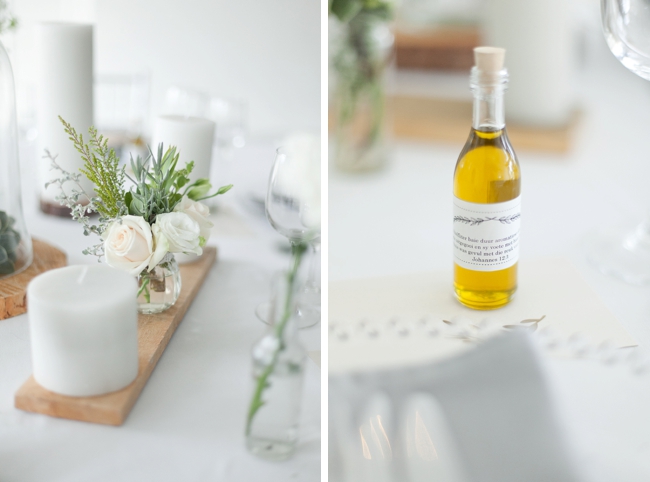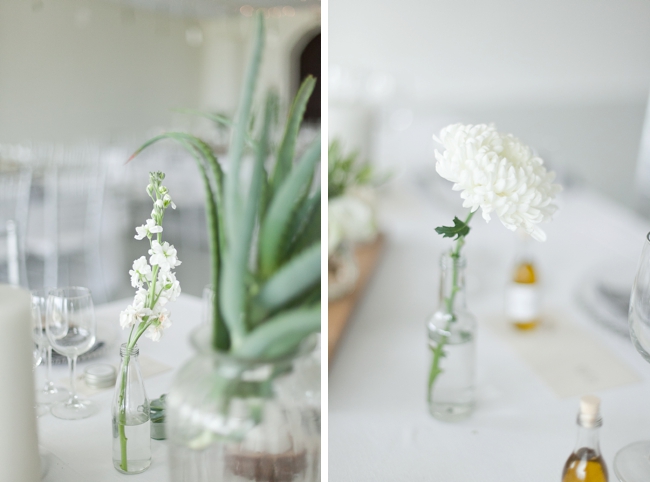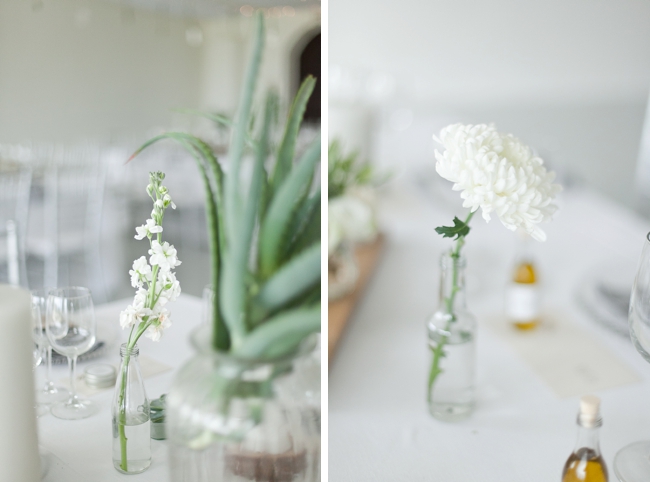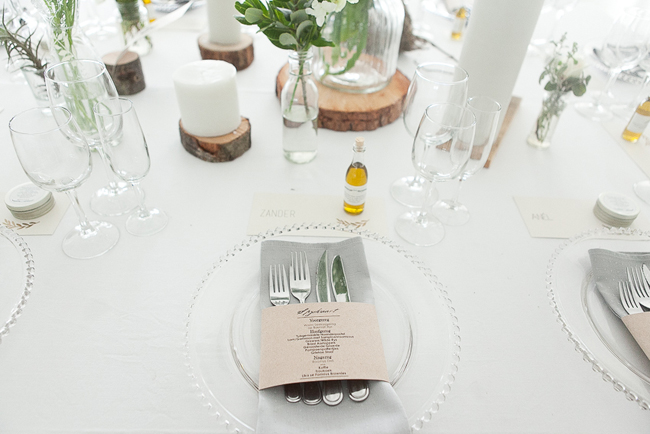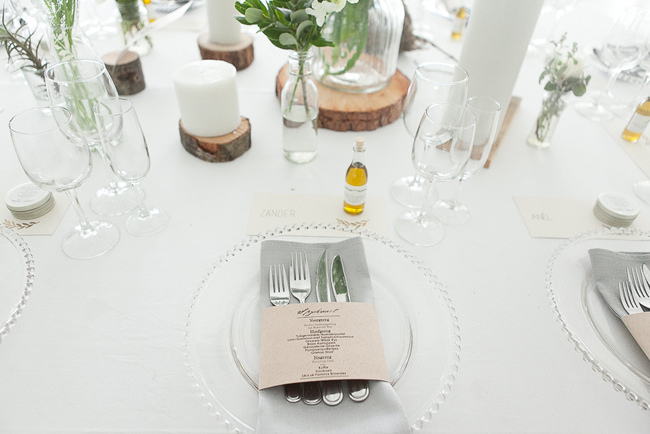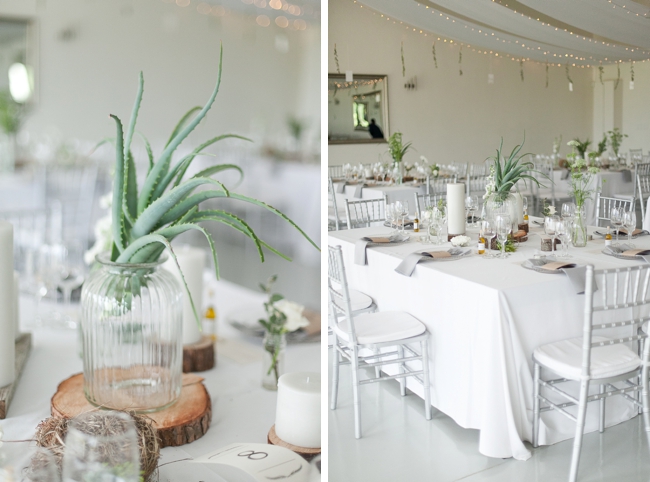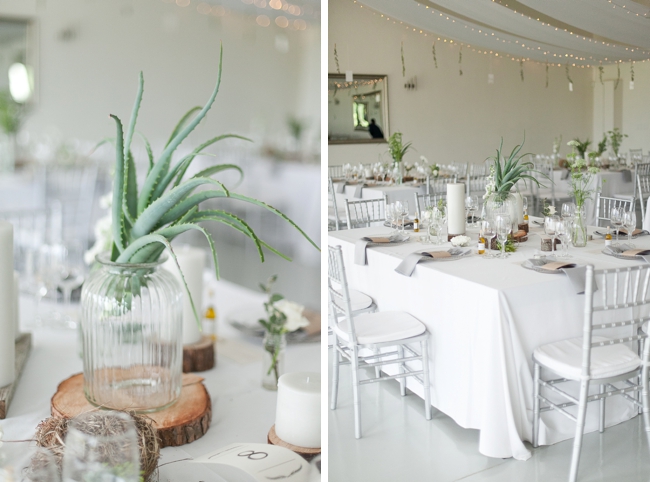 The Flowers
We used white seasonal flowers and fynbos.
The Dress
I got married in my mother's wedding gown. One of my good friends, Juanri Du Toit, a designer and dress maker, took off the sleeves and added a pearl studded belt.
The Bridesmaids
I had three bridesmaids. I did not a have a specific style in mind for them. We just started looking for dresses online, found the perfect ones and bought them. The dresses fitted perfectly and each lady added their own style with their accessories.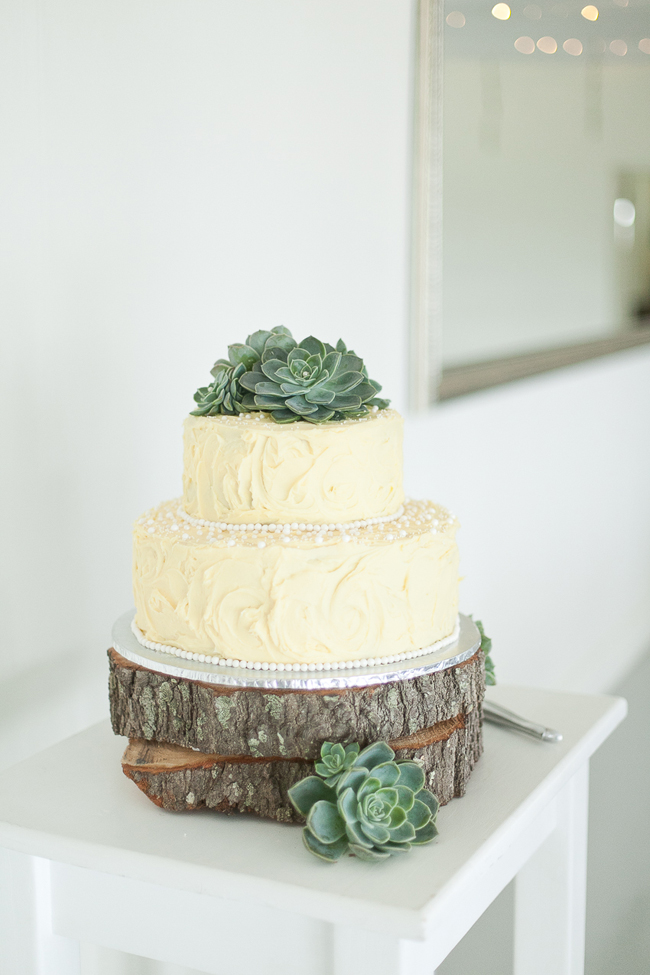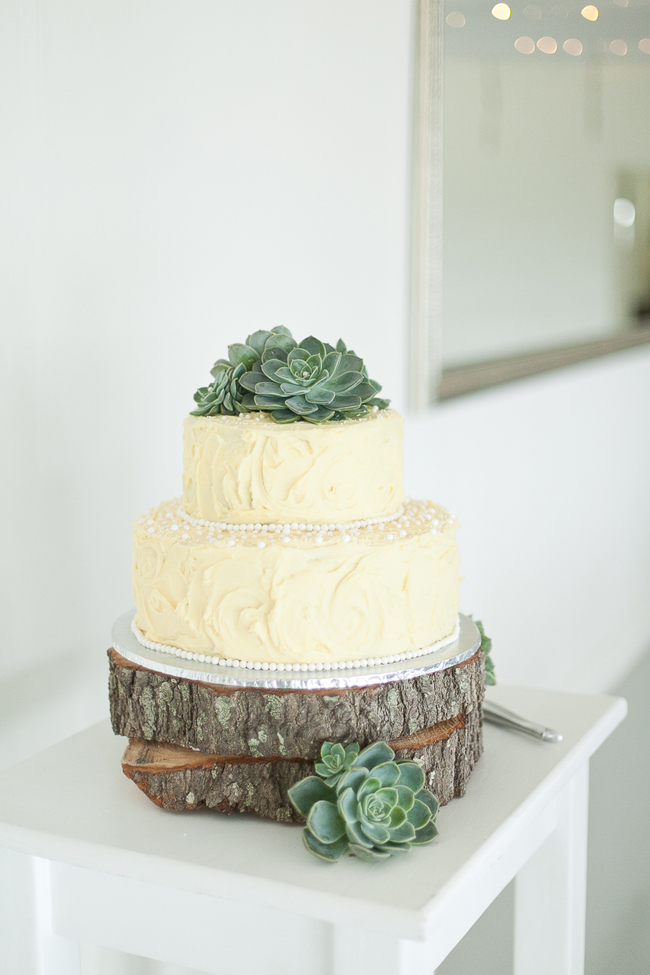 Memorable Moment
Saying I do was definitely a highlight. We also specifically took time and enjoyed speaking to most of our guests during the evening. Experiencing their sharing in our joy is something we will always treasure.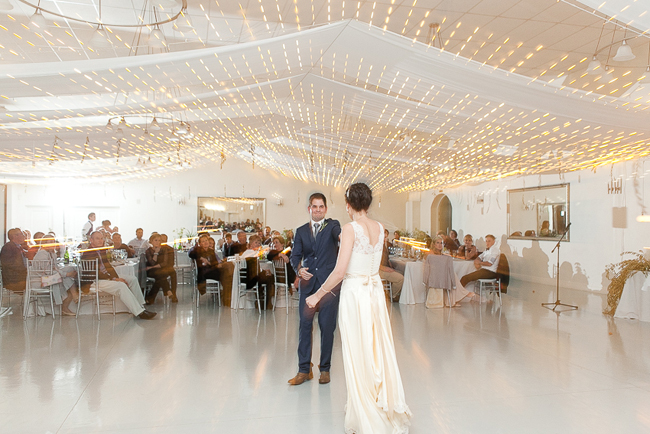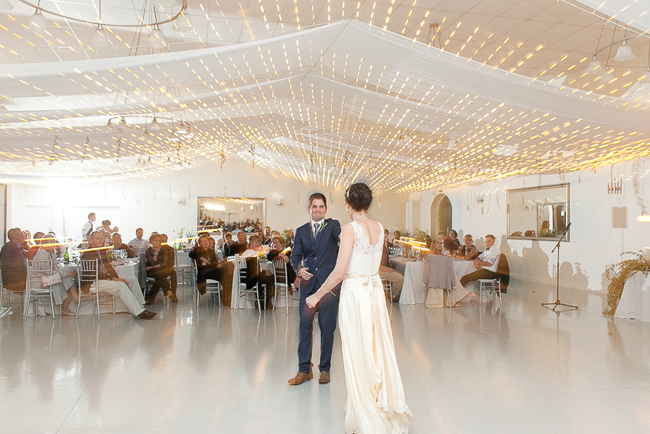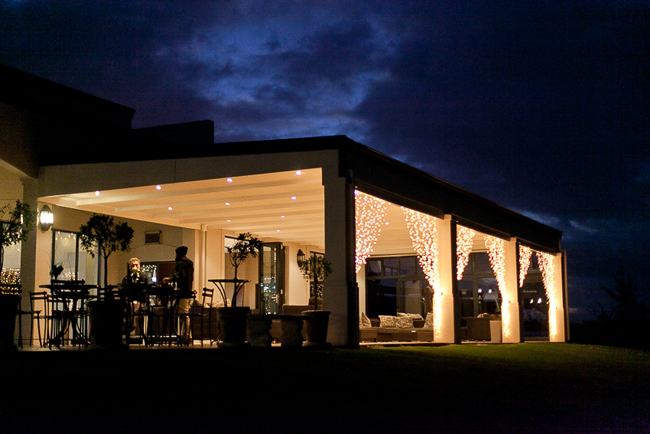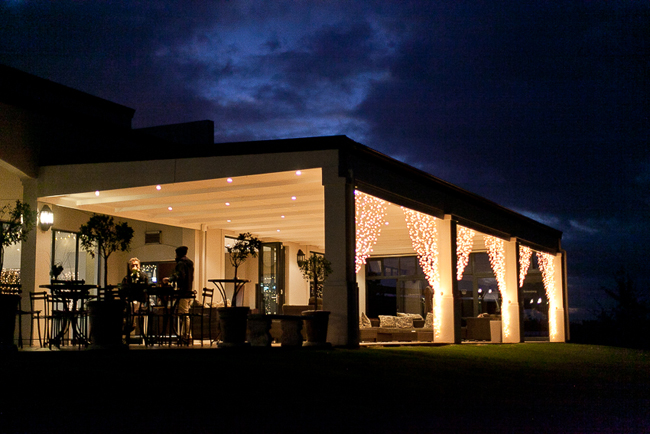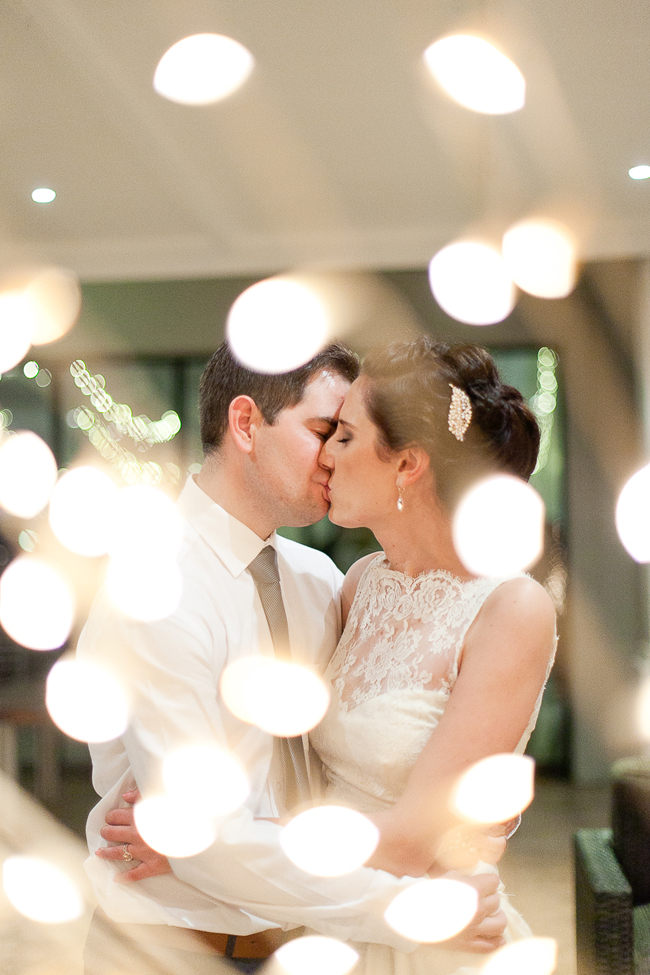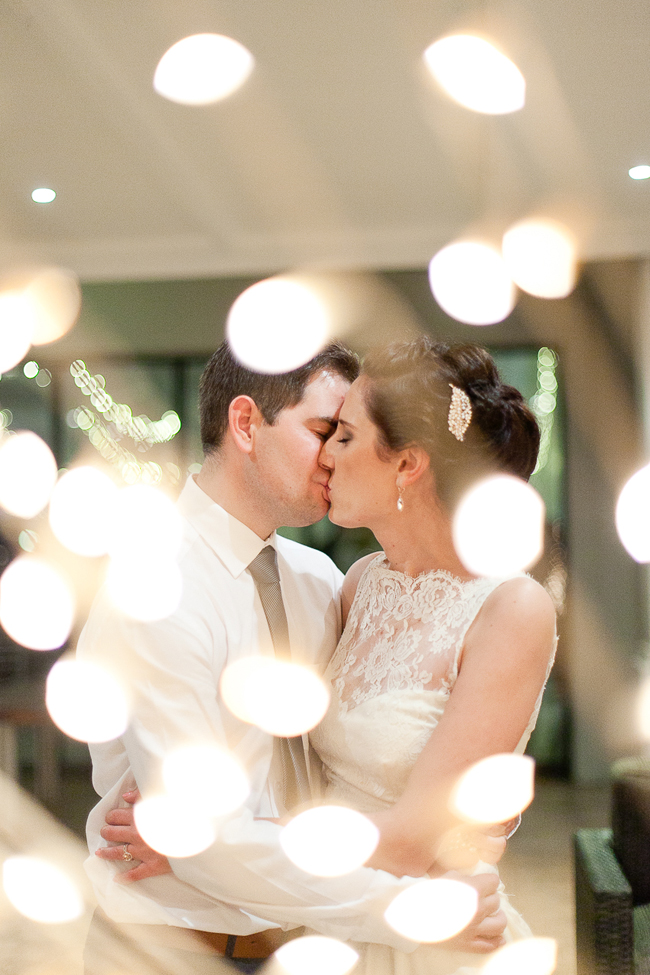 Best Decision
The best decision was to start as early as possible, book everything as early as possible, do more sooner than later and to trust God that everything would be fine. We were extremely pleased with all our service providers. They met all our expectations and more and we could just enjoy our day.
Advice for Future Brides & Grooms
Constantly remind yourself what it is really about: your covenant with each other before God. Every detail of your wedding is important, but do not get bogged down in the detail. Dream, plan, decide what you want to do and then go for it. Please do start early and remember to enjoy it.
You can see more from this wedding on Nadine Aucamp's blog.
SERVICE PROVIDERS
Venue & catering: Kronenburg Estate | Photography: Nadine Aucamp | Flowers & décor: Anel Botha | Stationery: Bride | Video: Pie in the Sky | Cake: Bride's sister | Bride's dress alterations: Juanri du Toit | Hair & makeup: Caren Blom | Hiring: Classy Hire; Goeters | DJ: Hein de Swart