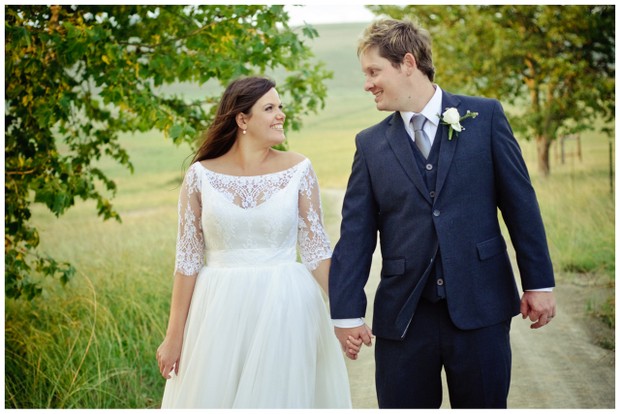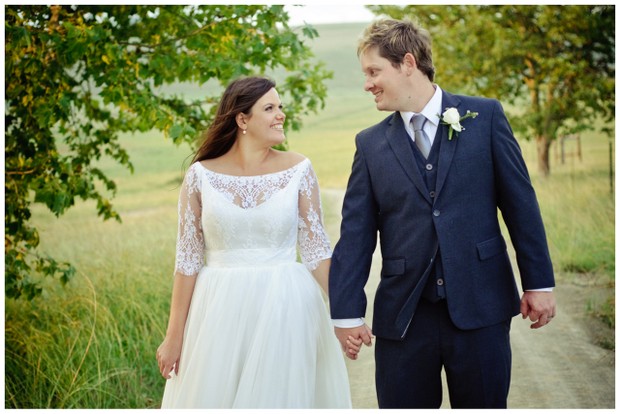 When I'm deciding which weddings to feature, there's always something in the pictures that grabs me and makes me think "ooh!" (The Ooh Moment. It's a Thing. Like Oprah's Aha! Moment, but for weddings. And also, copyright me.) With this wedding, it was the colour scheme (followed by lots of other oohs as I looked more closely at the decor, especially the wall of mirrors). I just LOVED the way Kristy & Greg combined a sweet cornflower blue with soft cream and peach colours, and created this lovely romantic English country feel but in a farm location. And to be honest, I can see Kristy's an SMP fan, because this has the same sense of refinement that makes me love the SMP style. But in the end, the real Ooh Moment TM for me with this wedding was when I was reading Kristy's write-up. I always ask my brides what the three highlights of the day are for them, and this was what Kristy said: "Greg. He was by far my most favourite thing about the day. He's my most favourite thing about every day!" Okay, maybe that's more of an Aaah Moment, but either way, it made me smile. And I'll bet you'll be smiling to0, as you enjoy these beautiful images by the awesome Thea Cogill of Tink Photography (welcome to SBB, Thea!).
From the lovely Kristy:
Greg and I have actually been friends ever since we were about fourteen, but only started dating when we were older. He used to play county cricket over in England for half the year, and after we'd only been together for a month, we decided to try long distance because I think even in those early days we knew we were onto something special! The next year when he went over, I went too… and that's when we both knew that we were going to be together forever.
Greg proposed on my family's farm in Rosetta (Nottingham Road) at a beautiful rustic old table and bench overlooking the dam (and a really beautiful sunset). Whilst I knew a proposal was coming, I thought that he was going to do it at his family's beach cottage over Easter while his sister was visiting from London, so he really fooled me! We had already decided that we wanted to get married on my folks' farm (as it is both of our happy place) so Greg thought doing the proposal there would be perfect. It was so special, and simple, and honest, and perfectly "us". He did so well! And to directly quote him "now when we take our kids to the farm, we can show them exactly where daddy proposed to mommy, and where we got married".
Looking at the bigger picture, our entire wedding was actually home-made. We got married on our family farm, in a shed my parents converted into a ceremony site, next to a field that they flattened, and mowed and cared for and worked incredibly hard for, all just for one special day! My mom had always envisioned Greg and me getting married in the old tractor shed, with a beautiful big field next to us, and so when we got engaged, she couldn't wait to show us her inspired ideas. It was old and dirty, but it had huge potential! It had a walk-in fridge in the end room (which my dad later turned into a kitchen for our caterers), and my dad even made bathrooms – which he plans to turn into stables!
Greg and I both liked the idea of a 'shabby chic romantic country wedding'. I used to pore over wedding magazines and loved the feeling of the English country or garden weddings. My colour scheme came about pretty organically; I wanted a soft blue to be my main colour from the outset, as it's always appealed to me – and it happens to be the colour of my gorgeous husband's eyes! I found the cornflower blue fabric for the table runners with my mom very early on in the wedding planning process, and it became the cornerstone of our colour and décor themes. Adding in touches of whites, creams and soft peaches finalized the look for me – 'soft, romantic and country' – this was the motto that I repeated over and over to my wedding co-ordinator, my dress designer and the bridesmaids' dress designer – actually to pretty much anyone that had anything to do with the look or feel of the wedding… "Soft, romantic and country" With TONS of flowers!
The home-made theme continued with our favours, as my darling granny made ALL the jams, marmalades, chutneys and preserves that we gave our guests, which I will be eternally grateful for, as NO ONE can do that better than my dangie. She also made the two fruit cakes we had along with our big wedding cake for people to eat. My mom sewed the dresses for my three little flowergirls (three little sisters, just like me with my two sisters).
The whole vibe of the day was awesome – it was such a happy, relaxed and warm atmosphere. We had 230 guests, but we planned hard to make sure that all of them never once felt overlooked or bored. Straight after the ceremony we cut the cake and then left for photos, but rather than just leave our guests with a small selection of beer and wine to sip on while they ambled around for two hours, we hired an incredible live musician named Des Rasmussen who belted out awesome rock and country tunes from decades past, and had tables swelling under platters of "picky picks" as well as big jars full of home-made lemonade and two juicy alcoholic cocktails (as well as regular drinks). We had also scattered tables made of hay bales with a round piece of wood secured on top and a big white umbrella coming up through the middle (Greg's idea!) around the field. When we came back from our creative photo shoot, people were so comfortable and relaxed outside that they didn't want to move into the marquee!
I enlarged and framed wedding photos of our parents and grandparents and placed them on a beautiful old table next to the entrance of the shed. I absolutely loved this, and it meant so much to both Greg and I to celebrate the six earlier marriages that made ours possible – as well as honour the grandparents we both had that were missing.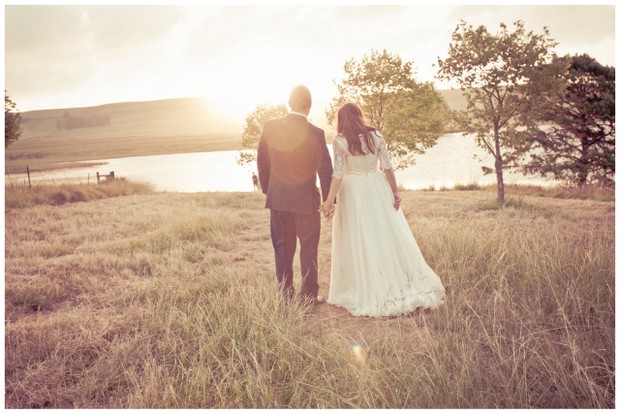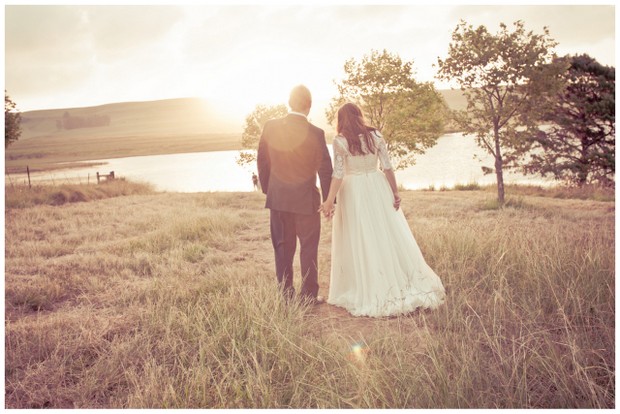 Kristy's advice for brides-to-be:
Make a BIG and STOCKED wedding file and take it EVERYWHERE with you to show service providers – descriptive words can only go so far!
I went mental for wedding magazines… it helped me so much to finalise the look and feel that I wanted.
And finally… wedding blogs! Style Me Pretty was my homepage! There is nothing better when you're planning a wedding then to be able to look at how other people have done theirs.
Congratulations Kristy and Greg! Wishing you a life of happiness together. And big thanks to the lovely Thea – head over to her blog to check out more gorgeous images!
SERVICE PROVIDERS
Venue: Private farm | Catering: Avonmore Superspar | Photography: Tink Photography | Florist & decor : Kerry Dinkleman (033 347 2706) | Cake: Claire Young (072 463 3480) | Bride's dress: Carita Adams (084 853 3911) | Bridesmaids' dresses: Madelain Clark (082 505 1093) | Hair & makeup: Stacy Shea (072 316 1076) | Makeup: Robyn Bowles (082 787 2777) | Entertainment: Des Rasmussen (082 055 2494) | DJ: Kevin McKune (083 417 0466)