Flowers. Fleurs. Blumen. Flores. Blodau. Kukkia. Fiori. Blomme. It all comes down to the same thing: those little bits of fresh prettiness without which a party just won't be complete. There is so much you can do to make your wedding beautiful, but the flowers play a central role. Place a glass pot with fresh flowers in any room and it just brightens up. The wonderful thing is that the possibilities are endless. Starting with the array of different flowers and colours to choose from, to how you present them, you can have whatever you want. Literally. It's difficult not to get carried away.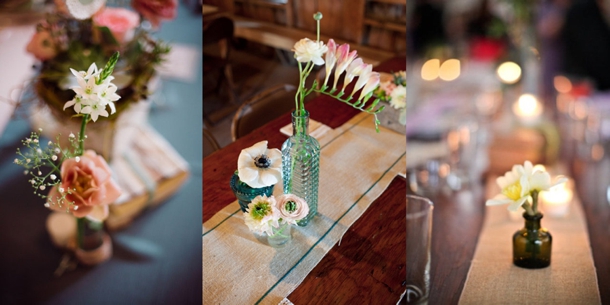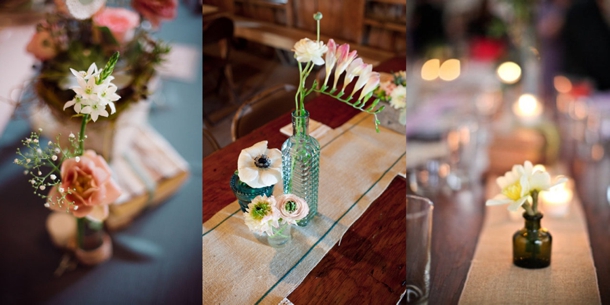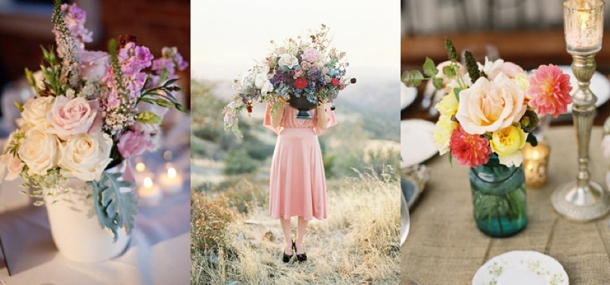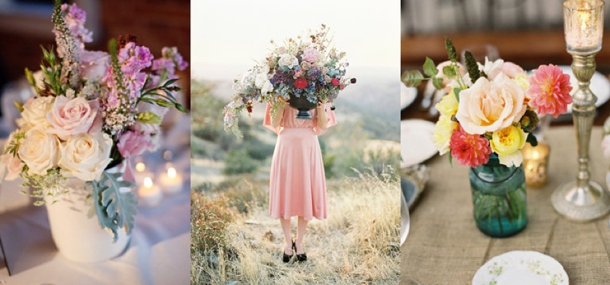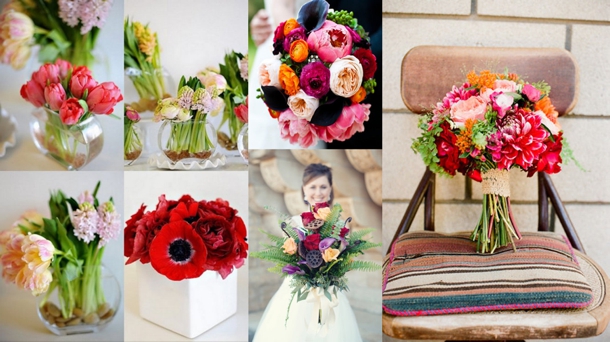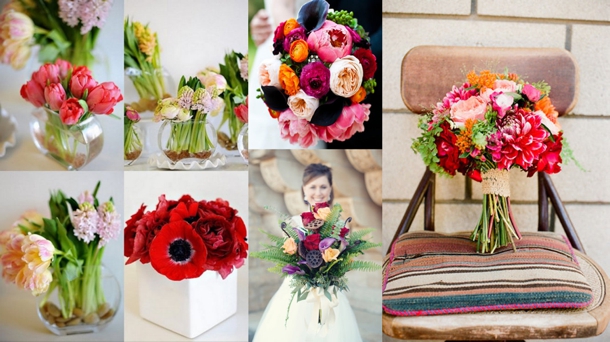 Images: Row 1 – Charlene Schreuder (left); Via Ruffled (centre); via Style Me Pretty (right); Row 2 – via Style Me Pretty (left); Plumtree Weddings (centre); Jose Villa via Style Me Pretty (right); Row 3 – Aoife Callaghan/ JLDESIGNS (four pics on left); via Belle the Magazine (centre top); Blue Elephant Photography.com (centre bottom); Bellavista Flower Merchants (right)
One of the things I miss the most about the South African setting is the fynbos. That these plants can flourish in such a barren, harsh environment with the hot sun beating down on them in summer and the evening frost covering them in winter – there's something so wonderful about that. For me it speaks to the perseverance needed to survive in Africa. Those beautiful sunsets on Table Mountain and Sunday afternoons spent at Kirstenbosch admiring the many types of proteas…sigh.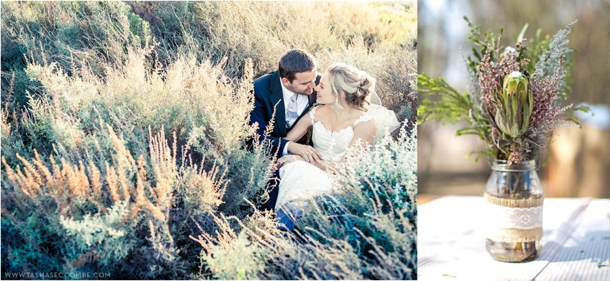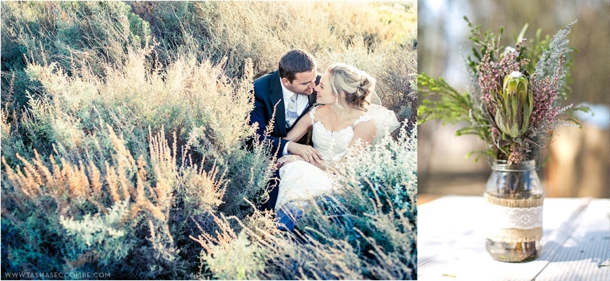 Images: Row 1 – Tasha Seccombe (left); Melanie Wessels; Row 2 – Via I Want That Wedding.co.za (left); via Webblog Girl (centre top); via Lovilee (centre bottom and right).
It's no surprise that I chose mainly indigenous flowers with a touch of something classic to add that freshness to our wedding. In fact, the flowers were my starting point, and that's where my colour scheme developed from.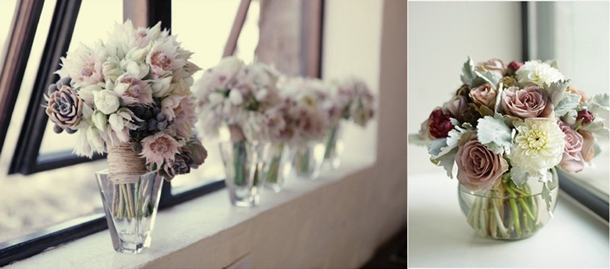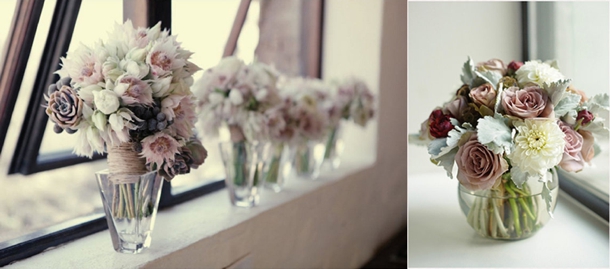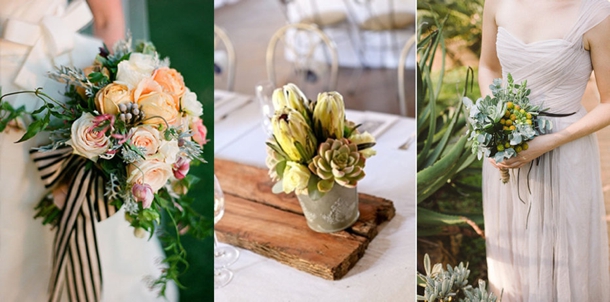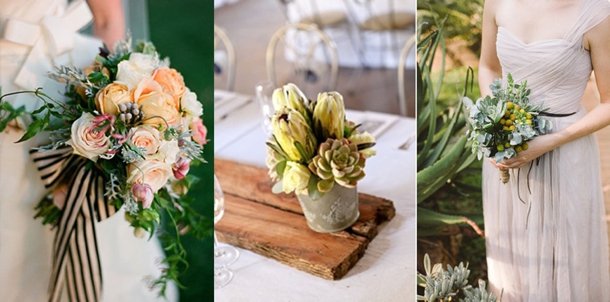 Images: Row 1 – We Take Creative Pictures via The Pretty Blog (left); Heartlove Weddings/Luminaire Foto (right); Row 2 – via Elizabeth Anne Designs (left); SouthBound Bride/Michael Tree (centre); welovepictures (right)
Just as important as the flowers, is the lighting. Nothing serves to create as romantic an atmosphere as candlelight. My décor brief therefore said an "abundance of candles" – and that in different shapes and sizes. I don't think it's possible to have too many. We'll also be having some lanterns and fairy lights, to create just the right mood for our barn style wedding.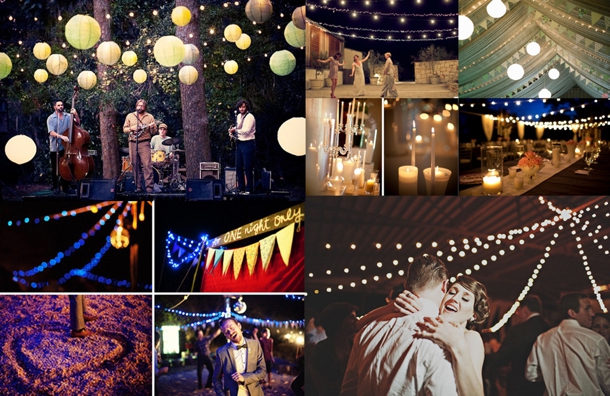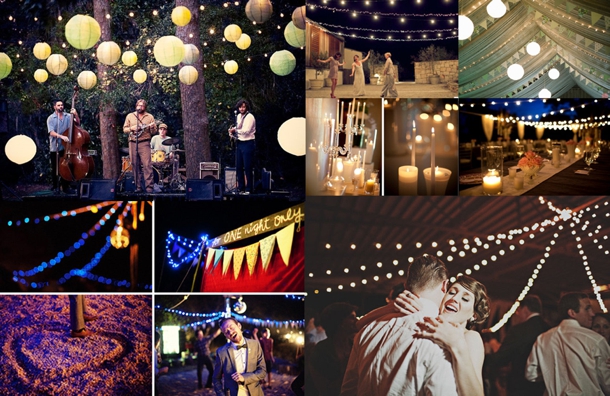 Images (clockwise from top left): Britt Productions; Jaco Le Roux via The Pretty Blog ; dna photographers; ; via Bridal Buds; Sean Flaniganvia Green Wedding Shoes; welovepictures.com; Wedding Concepts
Our décor will also include a few other indigenous touches and some little DIY projects but for that, my darlings, you'll have to wait and see…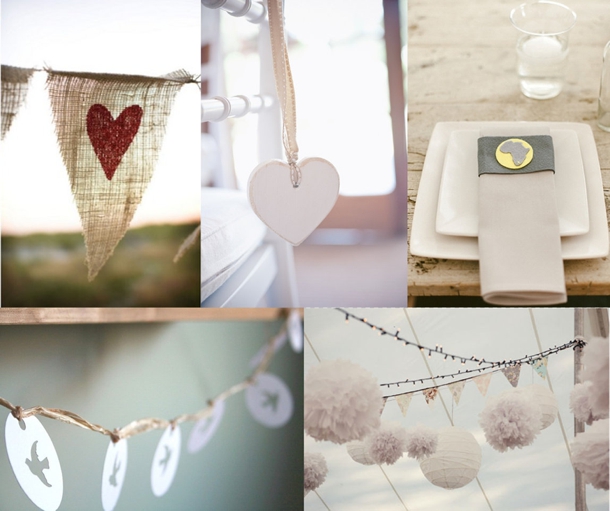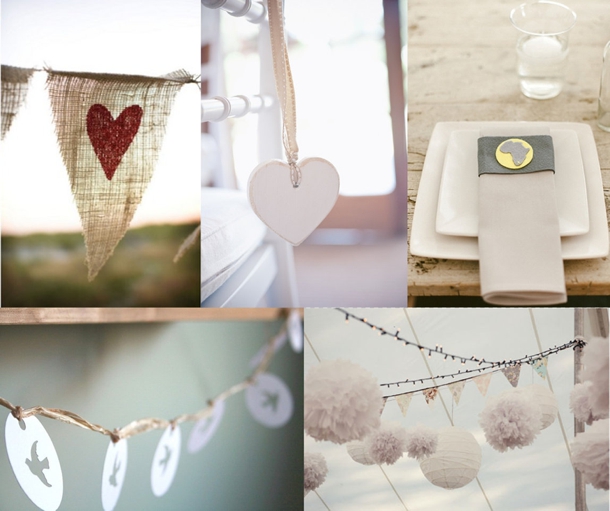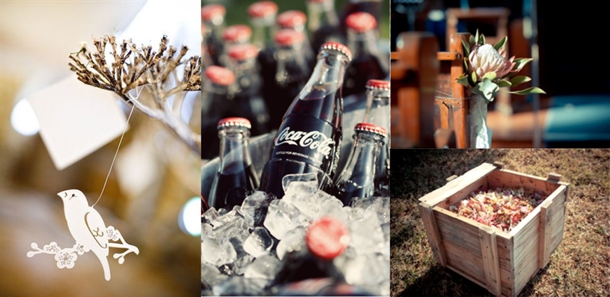 Images: Row 1 (clockwise) –  Limelight Photography via Style Me Pretty; ; Bright Girl Photography via The Pretty Blog; Yolande Marx via The Pretty Blog ; Cupcakes and Cashmere; renee anne on etsy; Row 2 – Adene Photography via Oh Darling Days (left); The Cowshed/Black Frame Photography (centre); SouthBound Bride/ Lad & Lass Photography.
BRIDE ABROAD TIP: The wonderful thing about DIY projects is that you can do them anywhere you are – whether it's folding origami birds, making signposts, or sewing your own napkins. This is a wonderful way of playing an active role in your wedding planning and adding your own personal touches to the decor.
To make the long distance planning a little easier and help me turn the picture I have in my head into a reality, I've got the lovely Marinda from Saffron helping me with the flowers and décor. She'll also be taking care of the coordination on the wedding day and her services include special touches like preparing breakfast/lunch baskets for you and your bridesmaids while getting ready. With three and a half months to go and the stress starting to build up, I'm very happy to have her help out!
Next time: Liana chooses a photographer…
The series so far: The Proposal | The Inspiration | The Venue | The Stationery