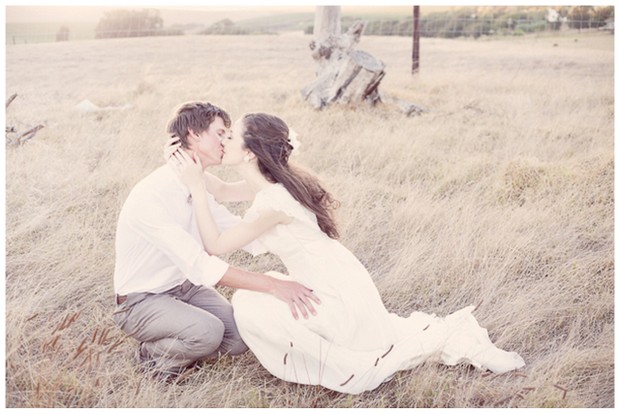 Yay for summer, SouthBound Brides. It's finally hit London, and I am loving it! Yesterday I spent a brilliant afternoon with the lovely ladies of The Pretty Blog over at Peggy Porschen, eating cake and drinking champagne, and was home in time for sundowners in the garden. Delightful! Today's Bloemendal wedding has the same lazy, hazy, glorious feeling that a good summer afternoon always gives me – Kim du Toit's pictures are so dreamy and yummy! I adore the romantic details done just right – the peachy neutral palette, the mismatched bridesmaids dresses, the outdoor photobooth, the papel picado gardlands, the ribbon backdrop, OMG. I've seen these in lots of inspiration shoots, but I love that this couple incorporated it into their décor. Having it over the door to the venue meant that it was a focal point both inside and out, and they placed the bridal table in front of it accordingly. Very clever! But it's no surprise the bride has great taste, since she's one of the team over at the fantastic Secret Diary Designs, one of my favourite SA wedding stationers. I know you ladies are going to lap this one up!
From the lovely Candice:
Jacques and I went to Prep School together and my first memory of him was as my art class competitor. We were in Grade 3! We had to design a commemorative t-shirt for our school and it was neck and neck between our designs. I won though, of course! ;) In Grade 11 we were in the same art class, competing for the top mark again. He was the quiet, awkward type, and although we chatted here and there, we had our own separate groups of friends and activities. After school, when we were studying near one another, he embarked on a mission to pursue me, even after I had blatantly (and not very politely) told him I was definitely not interested! My dear husband, ever patient, still remained my friends and made a particular effort to come and see me at my home in Paarl (30 mins from his home). I started to see him in a different light and eventually agreed to go out with him. Long story short, after some time of dating and being unsure, I started to fall in love with him. His patience and commitment to me, the friendship we had forged the way he treated me like an absolute princess, and the laughs and adventures we had shared, finally made me see what an incredible man I had in my life.
After just under two and a half years of dating, he took me on an outing one Saturday to a beautiful nature reserve in Betty's Bay called Harold Porter Nature reserve. We had planned to hike up the mountain and then go for lunch. On our walk we stopped at a bridge, and Jacques bent down to get some water out of his bag – I turned to see him his knee with a ring in his outstretched hand, asking me to be his wife! Round the corner, our dear friends had organised a picnic for us in the middle of an exquisite garden, and later that day, Jacques had arranged a surprise celebration at his parents' house with all our friends and family. So in the end, I may have won our initial art competition, but he completely won my heart! For life! ;)
I wanted the day to be relaxed, laid back and just a big celebration with the people in our lives who matter the most. The 'theme' was along the lines of quirky/classic with hints of pastel and a neutral colour palette. I wanted it to be playful and fun, with the focus being on what is most important. I always envisioned getting married outside and we were blessed with a venue that was referred to us by a friend of mine's mom. Jacques and I designed and illustrated our invitations and reception stationery together and this was one of the most enjoyable things to do together leading up to the wedding. My mom made all the bunting, and my bridesmaids (who were unbelievable) di all the set up of the stationery and décor on the day. One of them, Megan, also did all the flowers for me as well as the pinwheels along the aisle, the groom's boutonnieres and bowties. Jacques's cousin Albert Frost and his Uncle Rob Nagel provided us with live music at the wedding and this was a highlight of the night! We had so much fun!
Things I loved the most: walking down the aisle with my dad, kissing my new husband at the altar, having friends and family surround us with prayer, escaping with my husband for the couple shoot in a golden lit field, dancing barefoot while the band played and waving goodbye to all the guests while getting into our shaving foam-coated car with my gorgeous husband, to embark on a lifetime adventure of marriage!
In the run-up to the wedding, I was lucky that my friends/bridesmaids were the best and greatest help. Many of them, having been recently married, offered a lot of support, advice and perspective as well as prayers and wisdom. My amazing photographer Kim Du Toit (now one of my best and most cherished friends) also took me under her wing and prepared me with practical and spiritual wisdom and guidance, for not just the wedding day but more importantly, for the actual marriage. Jacques and I also tried to have as many 'wedding-planning-free' dates to remain focused on our relationship and not get caught up in the little details that cause stress and unnecessary worry.
Thanks so much, Candice and Jacques – congratulations on your marriage! Big thanks and welcome to Kim du Toit also – I'm looking forward to seeing more from this talented lady. You can catch more from this wedding over on her blog.
SERVICE PROVIDERS
Venue & catering: Bloemendal | Photography: Kim du Toit | Flowers & decor: Beautiful Day Designs | Cake: Bride's aunt | Bride's dress: Cindy Bam | Makeup: Ida Webster | Hiring: Styled Functions | Hiring: Secret Diary Designs | Entertainment: Albert Frost performing with Rob Nagel as Harp Dog Frost | Entertainment: Evelyn Hart