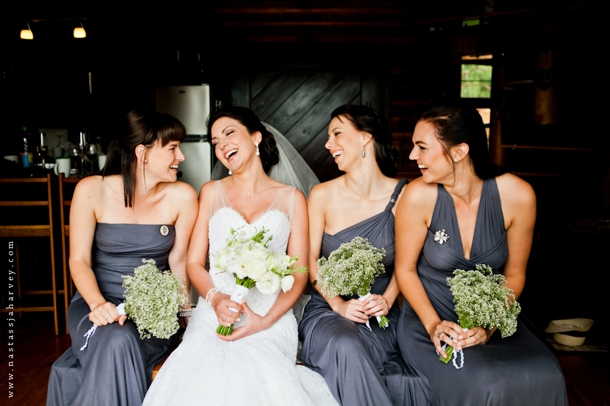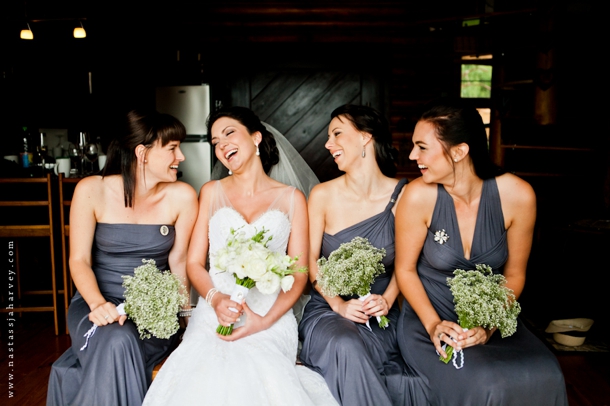 Hello lovelies, are you ready for your daily portion of wedding gorgeousness? Well, we're serving it up hot, with awesome on the side. Today's wedding is a mixture between fun and elegant, with a cheeky nod to the bride and groom's M&M initials with M&M favours and cute monogram details throughout. Lush white flowers, cute cartoon stationery, soft stripes, grey bridesmaids dresses with billowy baby's breath bouquets and adorable personalised cake toppers continue to walk the line between classic and light hearted. It's a combination that really appeals, especially since the gorgeous wedding pics were taken by none other than SBB fave Nastassja Harvey. Tash's clean, bright style is just perfect for this wedding – enjoy!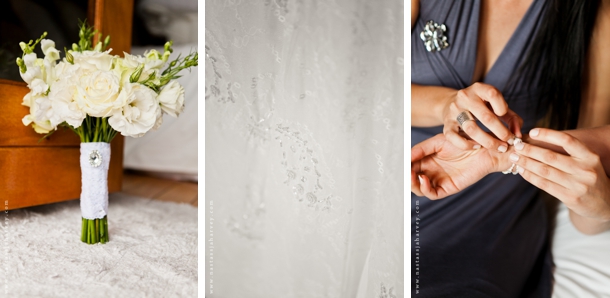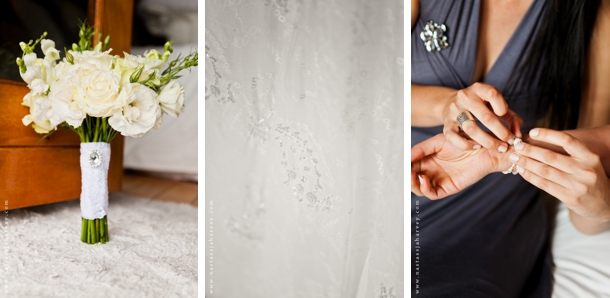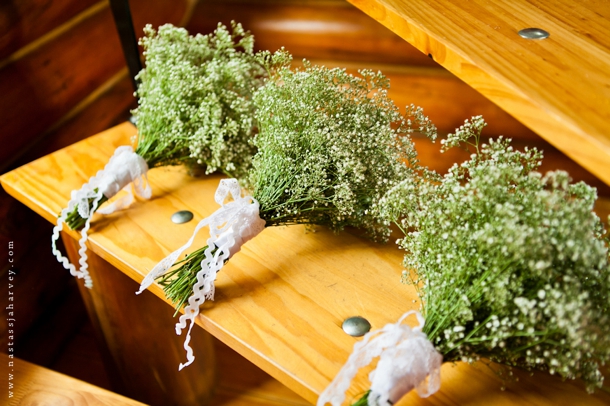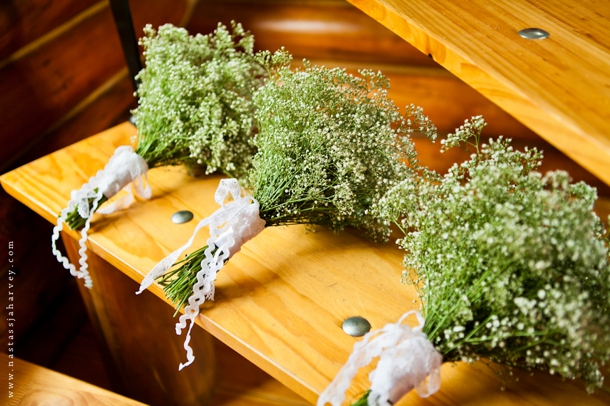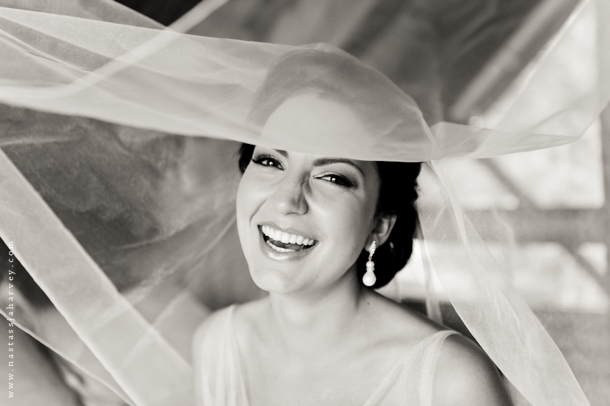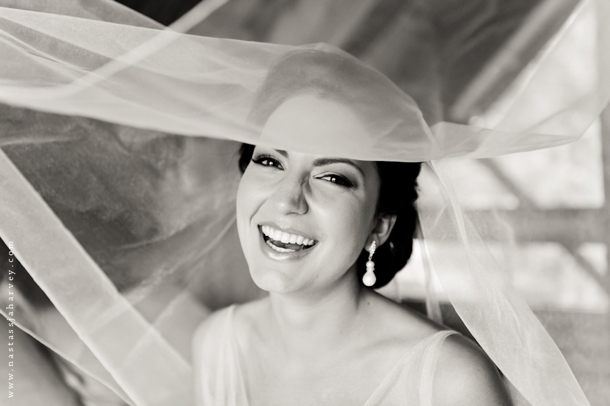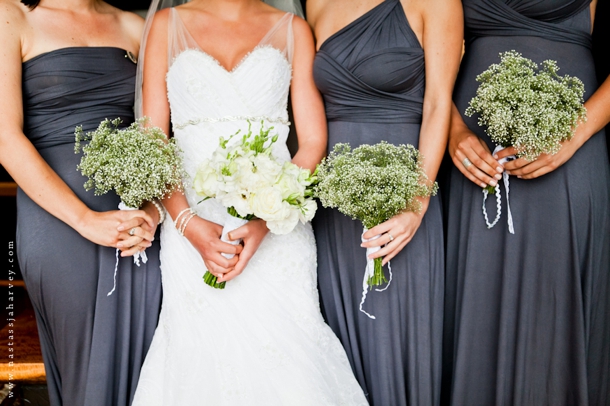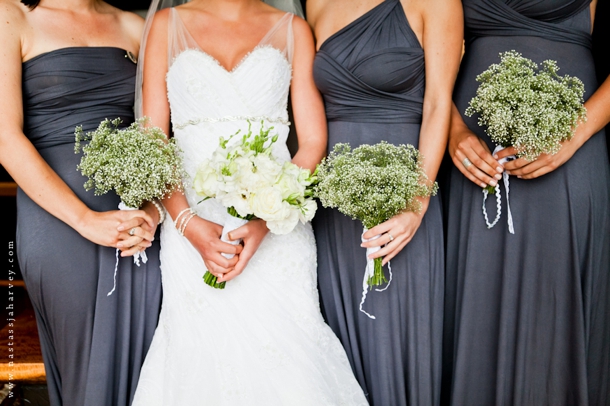 From the lovely Mari:
Morné and I met at an auditing firm where I was just starting as an article clerk and he was newly qualified and starting out as a manager. We got along well but had a very slow romantic start. After a few months of working together I couldn't ignore his irresistible confidence and charming personality any longer. At first I didn't want to admit how much I was attracted to the hot shot manager, but there was no fighting it, I was crazy about him.
Three years after we met, the day after finishing my articles, Morné surprised me with a wonderfully romantic picnic with sushi and MCC. Thinking we were celebrating my qualification, I had no idea that he was about to pop the question. Words can't describe the pure joy I felt when I saw the ring and heard the most beautiful words "will you marry me?" (after many other unforgettably loving words of course).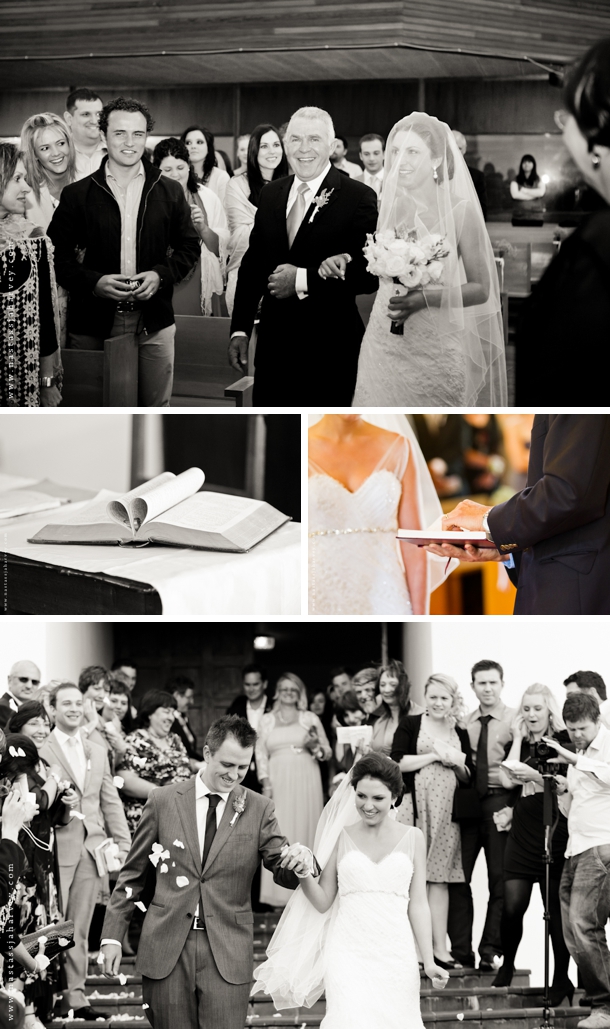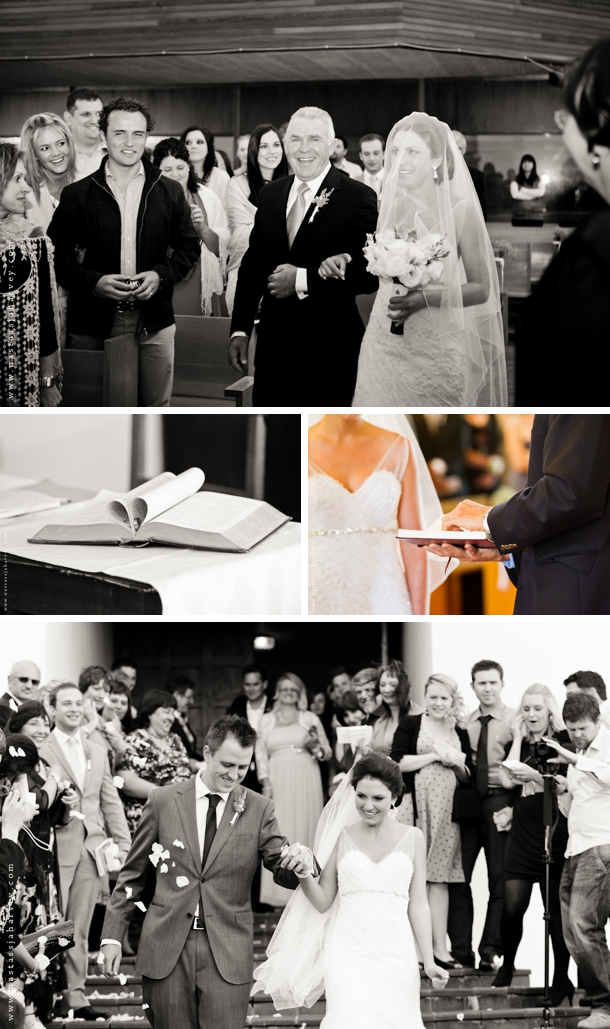 Morné and I had a very clear idea of what we wanted to spend and as both of us are accountants, Excel spreadsheets and logic played a big role in picking the venue, until both of us fell completely in love with Olive Rock in Wolseley. The Breede River runs through the farm, magnificent mountains surround it and fruit trees provide splashes of colour. Finally, the passion that Nick and Simone have to make every wedding at Olive Rock perfect according to the couple's personalities and requirements convinced us that this was where we wanted to celebrate our wedding day.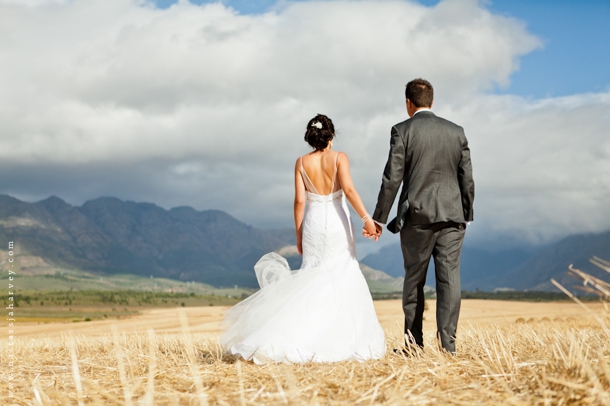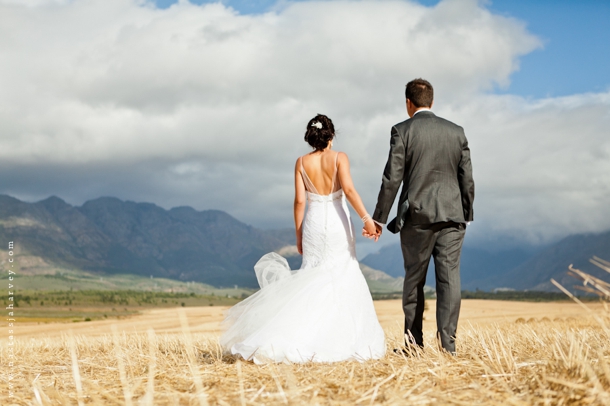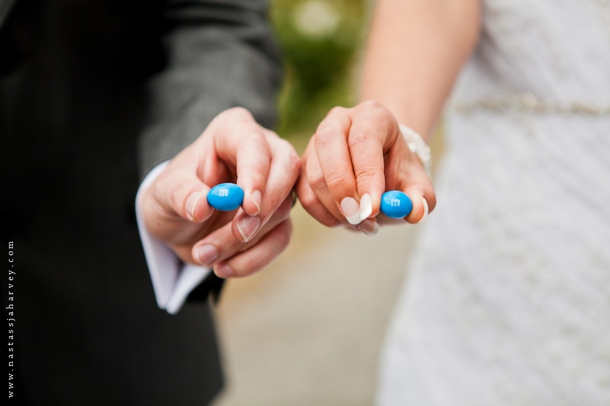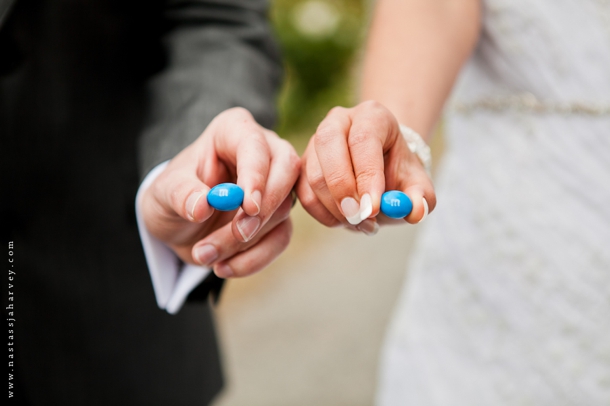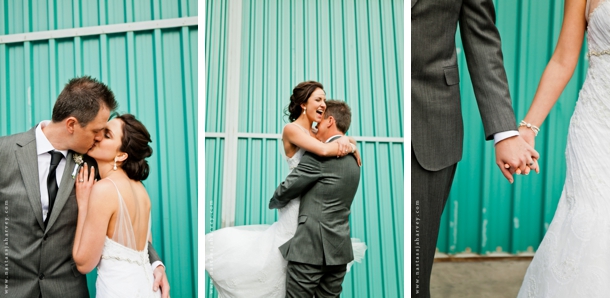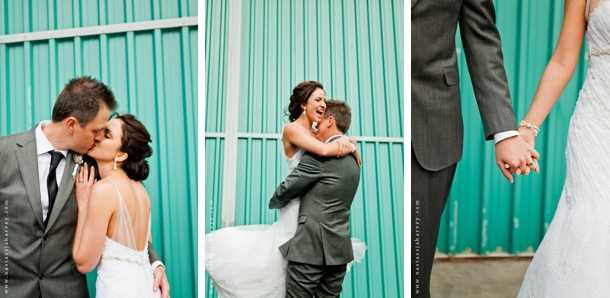 I love natural colors and wanted everything to flow naturally into the surroundings. Allowing the venue to dictate the colors we were going to use, we decided on classic decor and flowers in white, grey and a little bit of green. We didn't really have a theme for the wedding but we wanted our guests to be entertained during cocktail hour and for everyone to have fun. Olive Rock has beautiful lawns with a Bedouin tent extending the venue on to one of the terraces. The idea was to set the tables under the tent and to create a picnic area on the bottom terrace with croquet, picnic blankets and a live band. But as Murphy would have it, it was bucketing down the entire day, forcing us to change our plans. Because of the tent we could still have the lawn games and picnic, the tables were set up inside and we danced the night away on the massive farm 'stoep'. It turned out to be such a cozy evening, everything definitely turned out the way it was supposed to.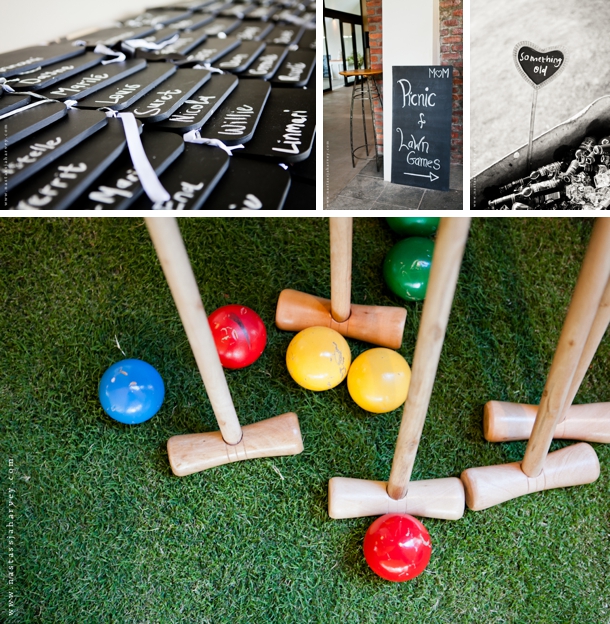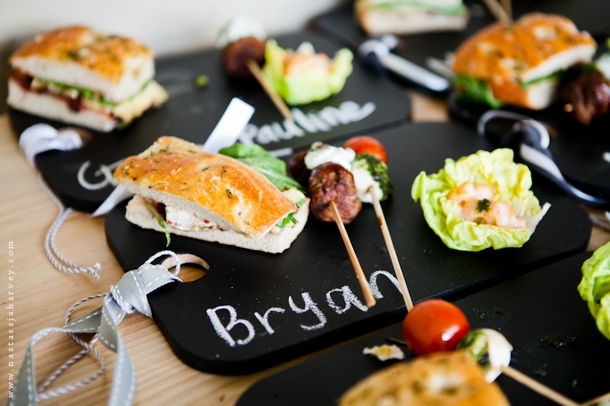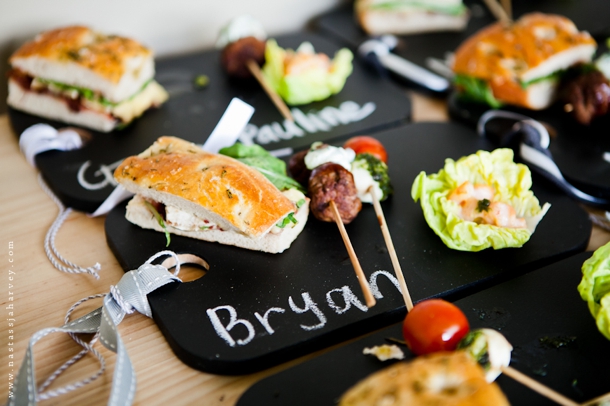 If it was not for our parents I have no idea how all of my ideas would have materialised. My parents' house was a proper wedding workshop for seven months and they put so much effort into the wedding. My brother even came out from Korea a week early to help out with last minute tasks. Between Morné's mom and mine, they made little "padkos" boxes for the drive from church to the reception, complete with love heart sweets, heart shaped cookies with "M loves M" stamped into them and, of course, M&M's. My mom and I made picnic blankets which ended up being a hit with the ladies to keep them warm. My dad made individual picnic slates, painted with blackboard paint, for each guest to take home.
I absolutely adored our "Love is…" table pictures which represented special moments from our relationship. It was sketched from pictures of Morné and I and were too cute for words. Instead of name cards, we had magnets made with each person's name and its spiritual meaning printed onto them to make it a bit more personal for our guests.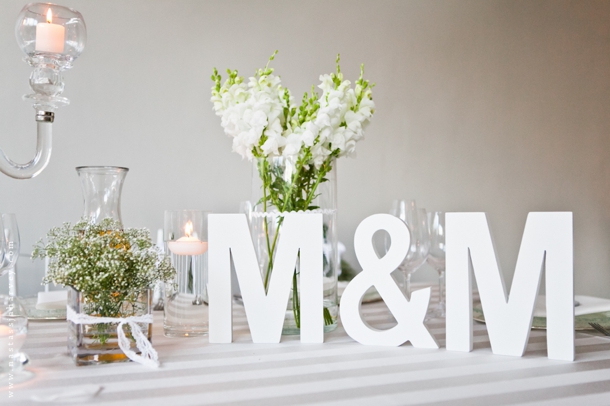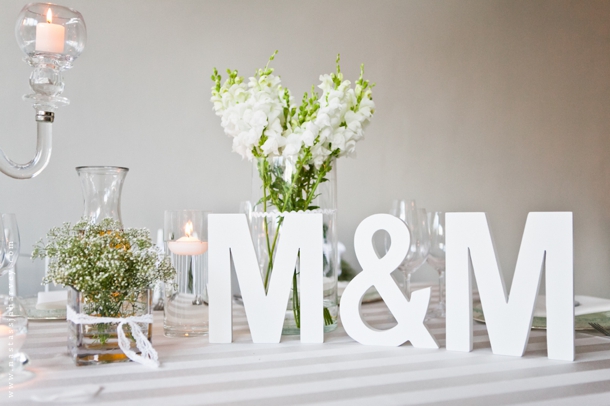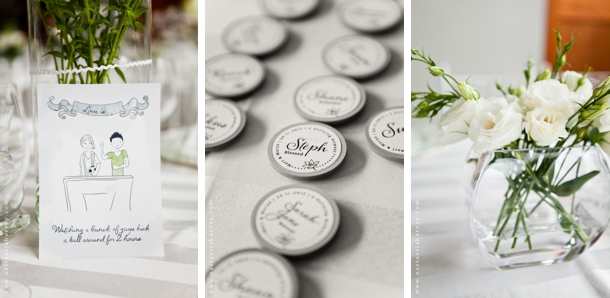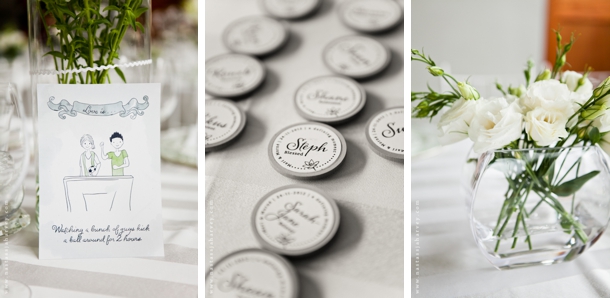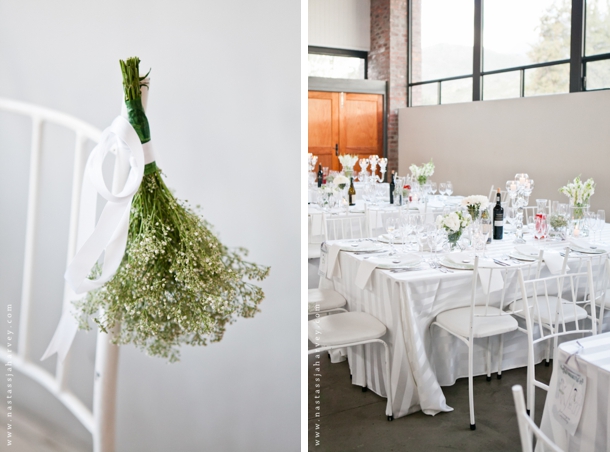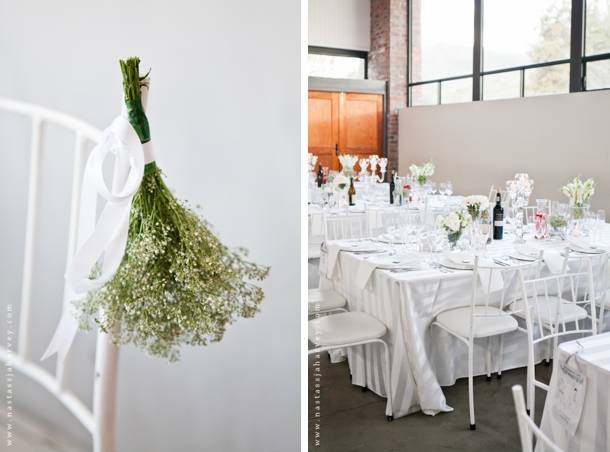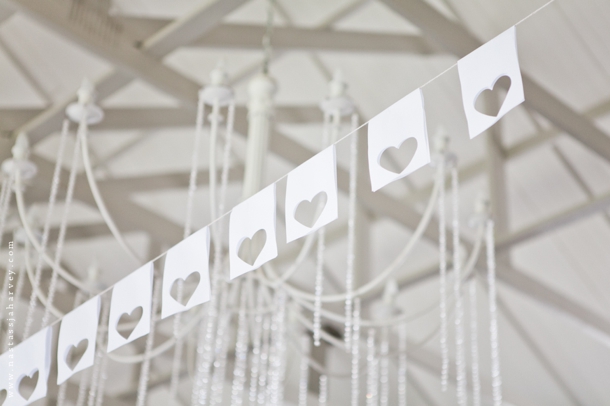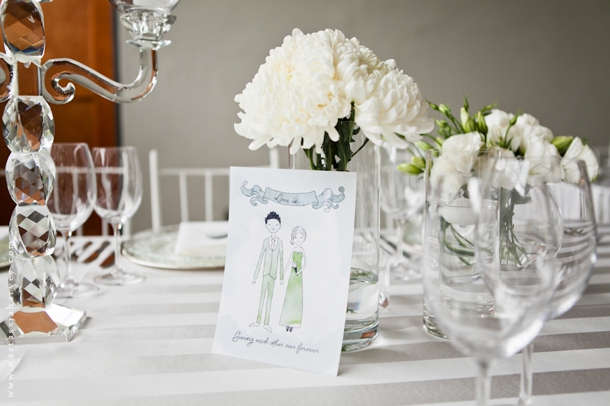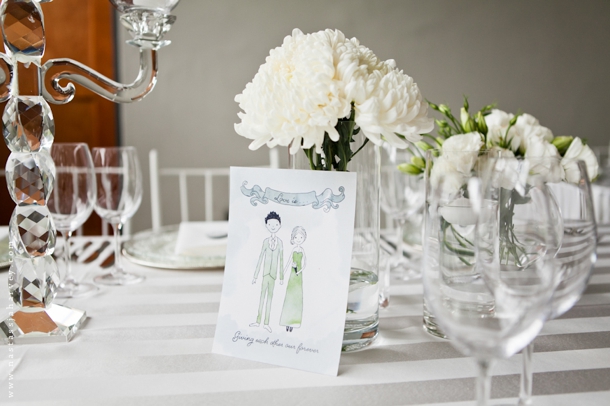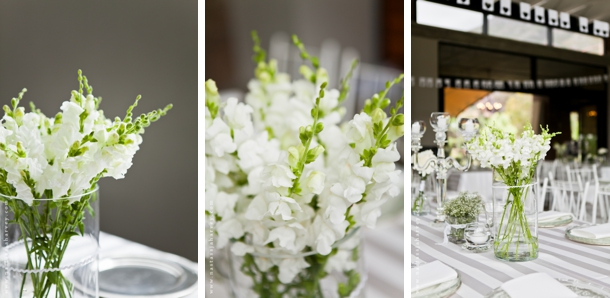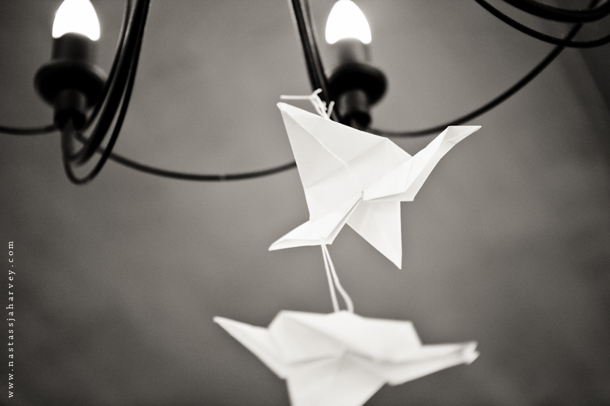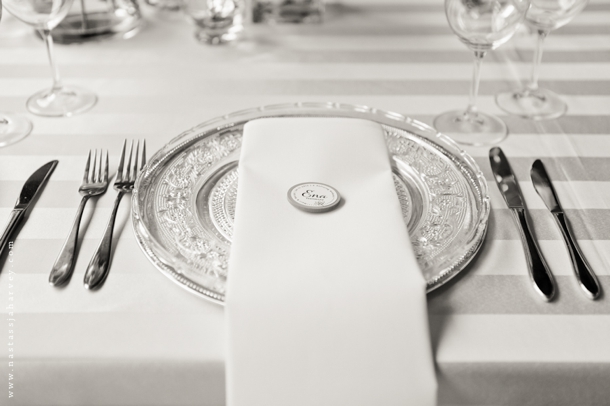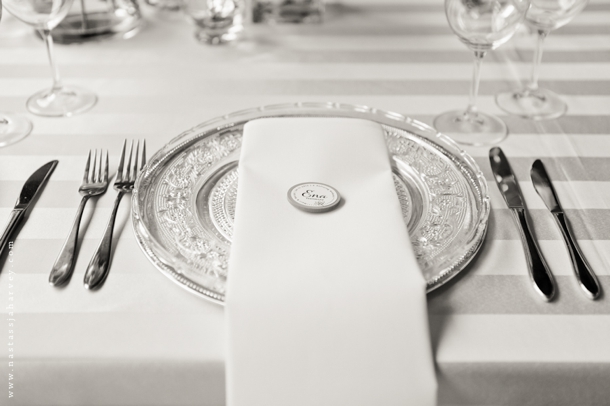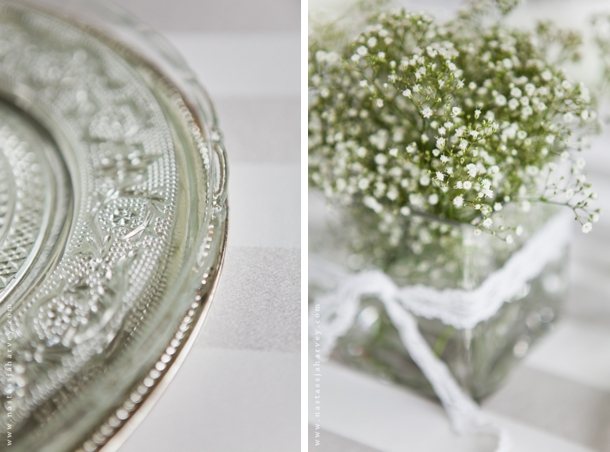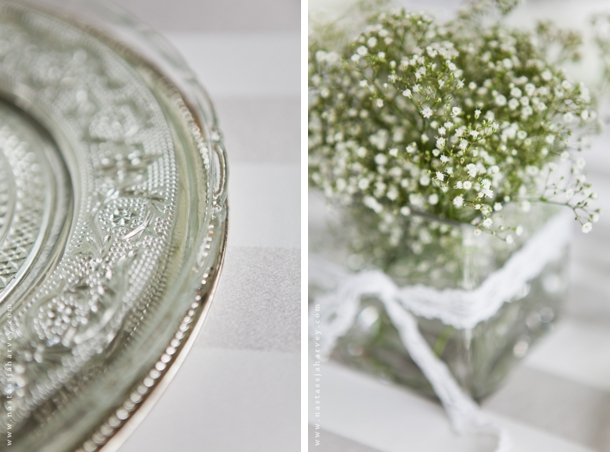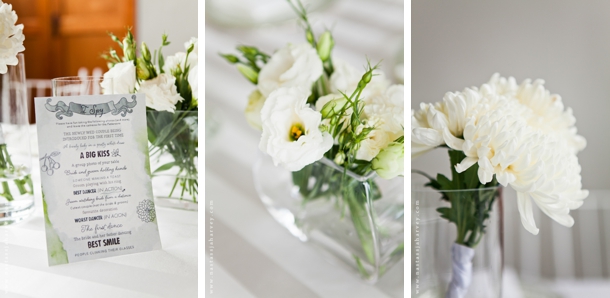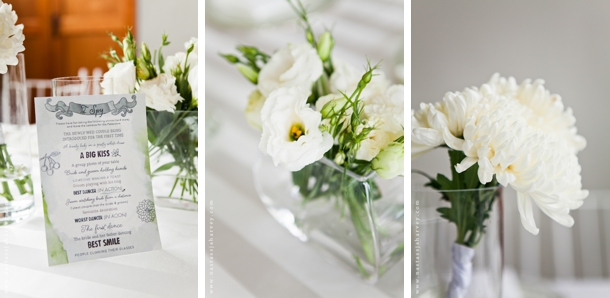 Spending the day with my three best friends and both moms was extremely special. As I was woken up by the sound of rain, Cornelle said a prayer for Morné and I, soon followed by Wendy running into the room, jumping on the bed and singing "You're getting marriiiiieeed, you're getting marriiiiieeed…". After that, the whole day was super blessed and filled with pure excitement, smiles and laughter. Walking down the aisle with my dad and seeing the most handsome man waiting for me, overwhelmed with emotion, was something I will never forget. Most of all, being able to celebrate our love with our favourite people was a true blessing. We had guests from all over the world and we are really grateful for everyone making the effort to be there.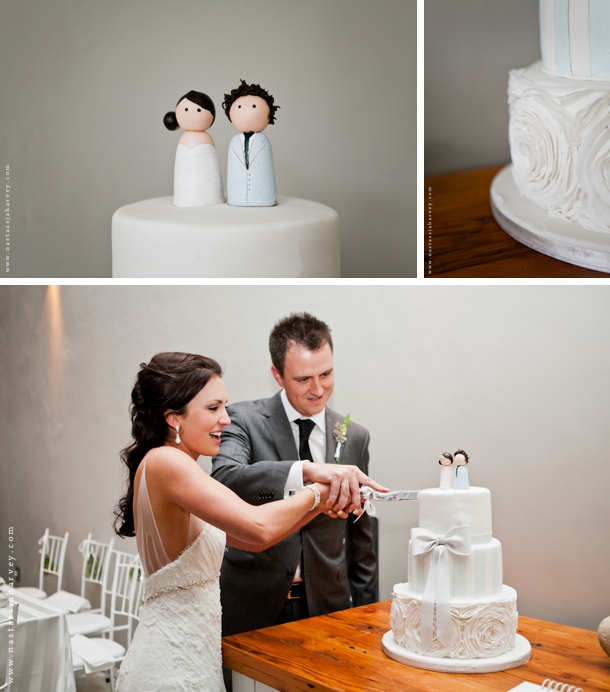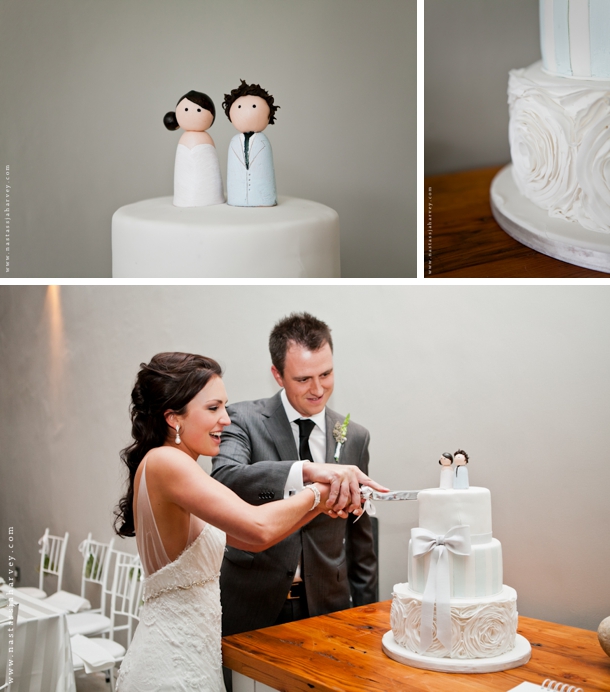 I got a lot of ideas from about ten different blogs as well as Pinterest. My advice would, however, be to decide on a theme or a general feel you want for the day and narrow all those ideas down as soon as possible. You don't want all your hard work to seem out of place or just too much. Also, the smallest thing might become a big expense, so decide what is really important to you as a couple and stick to it. Most importantly, remember, you are getting married to the man of your dreams. Although you want your wedding day to be perfect, being married is far better than any one day could ever be. So try not to stress about the small things.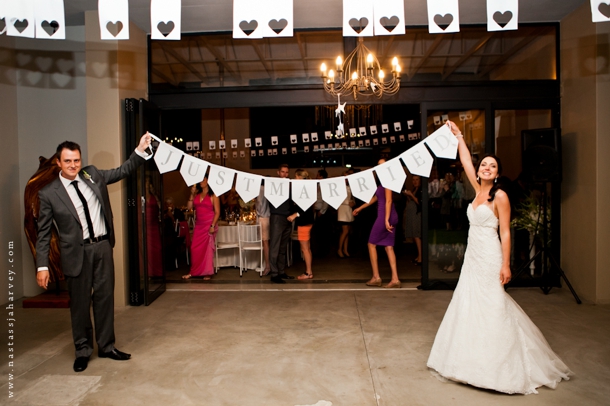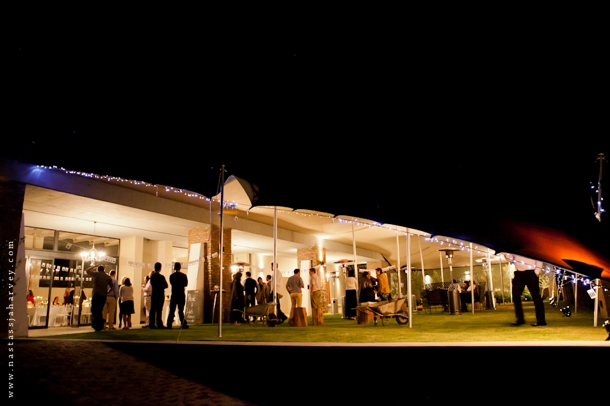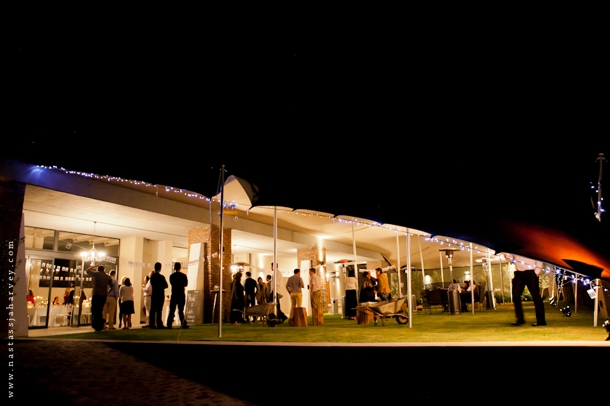 Thanks so much, Mari & Morné, for sharing your big day with us, and thanks to Nastassja for her gorgeous pics! You'll find a couple more of them over on her blog.
SERVICE PROVIDERS
Venue & catering: Olive Rock | Photography: Nastassja Harvey | Co-ordination: Simply Style Sorted | Flowers & decor: Prickly Pear | Cake: Edible Art Cakes | Stationery: Susan Brand | Bride's dress: Elizabeth Stockenström | Bridesmaids' dresses: Phoenix Wardrobe | Hair & makeup: Ida Webster | Band: Newton | DJ: Neil Benjamin | DJ: Randy Oliver | Video: BMG Wedding Cinema