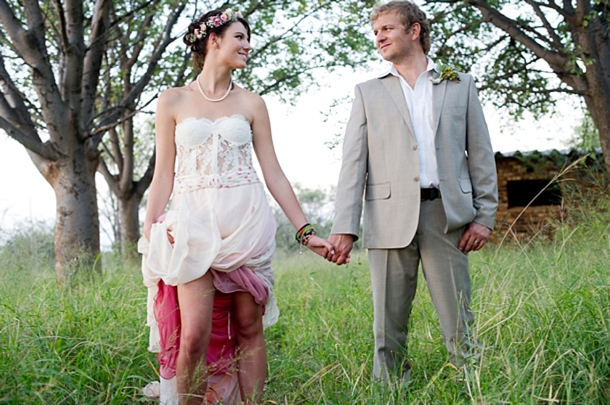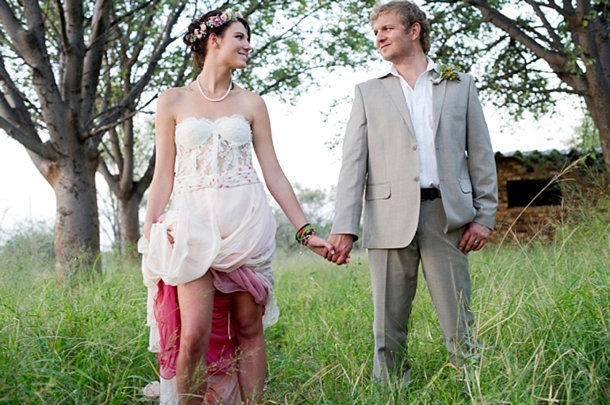 You people bring me such joy, you know, with your clever weddings! Over here in the UK, or when I'm speaking to American friends, people are always saying "South Africans have seriously beautiful weddings, and you're not afraid to take risks and do something different". They're right, and I absolutely love that. It's what made me start this blog in the first place. I love that I get to feature everything from incredibly luxurious, elegant affairs with the finest of everything through to relaxed celebrations on the beach, or in someone's back yard. They all bring something new to the table. Take, for example, today's wedding at Bushfellows in Limpopo. Maxine and Frans are a couple of free spirits, who wanted to have an amazing party with their friends and capture that perpetually laid-back African beach bar vibe, but in the bush. Just the concept of that is so cool – I mean, how much fun would that wedding be, right? And then of course, there's the execution: bridesmaids in flower crowns and sundresses with individual bouquets (yay!), a beautiful bride in the most fun dress ever (lovingly made by her mother), mismatched florals, colourful tables under flower awnings, and a pinata instead of a wedding cake. No seriously, a pinata. That is the awesomest. And they gave new meaning to the term 'barefoot wedding' when they took all their guests' shoes as an 'entrance fee' (to give to charity) – with socks as favours in case of cold feet! I absolutely love these pictures from friend of the blog Simone Franzel – she's done an amazing job of capturing such a special day and it was so hard to narrow them down. This is really going to get your Wednesday off to a blazing start, so buckle up, and enjoy the ride!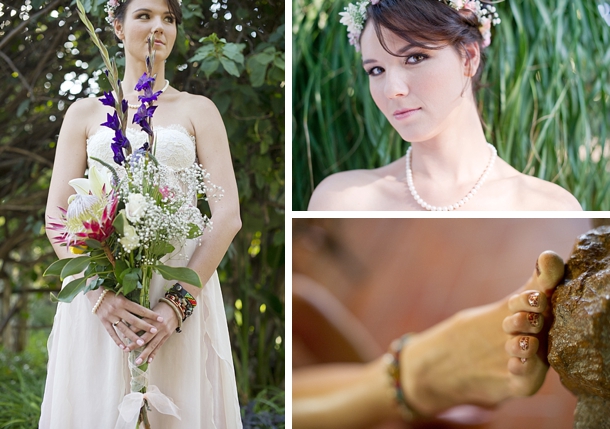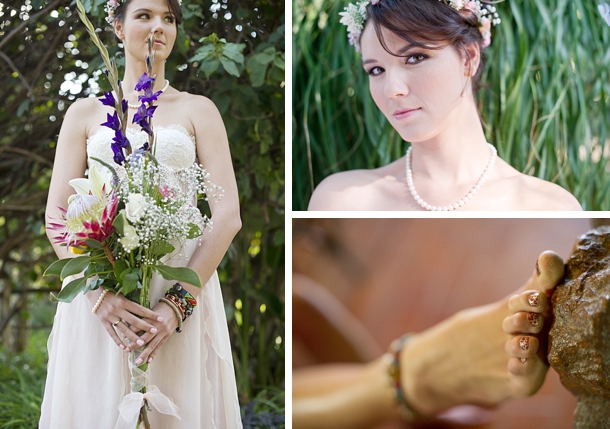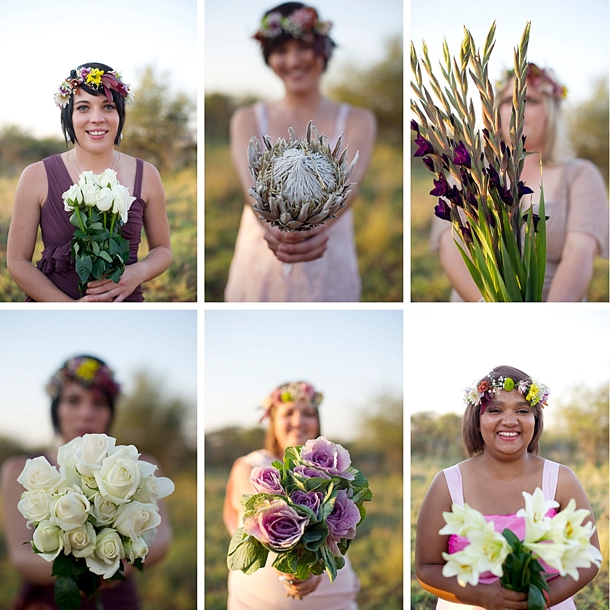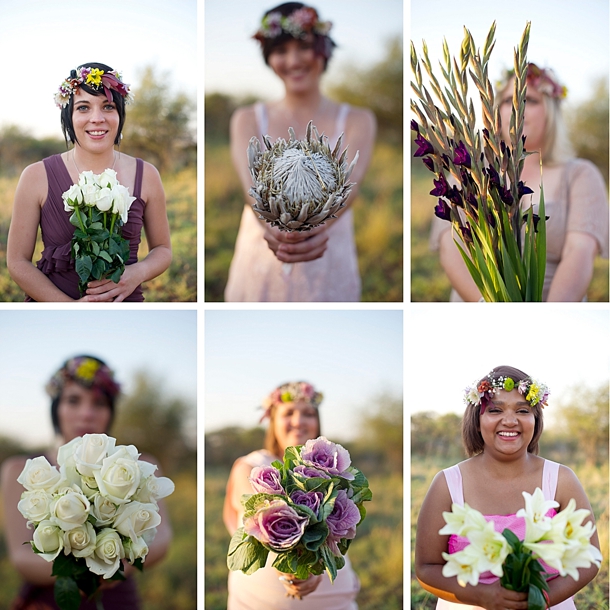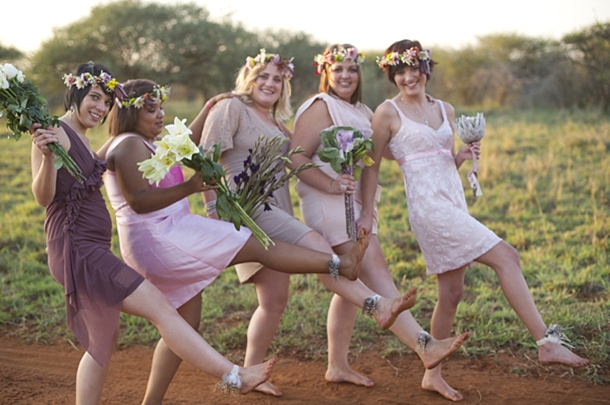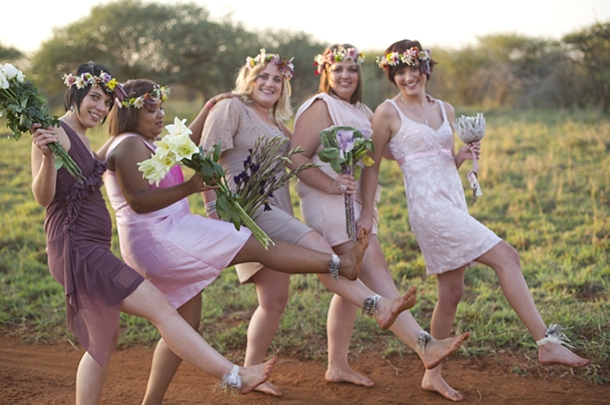 From lovely bride, Maxine:
Frans and I met in a bar. I pinched his ass and the rest is kind of history! I am an artist and he is a financial manager… although luckily for me, not a conventional finance person but an adventurer and a happy-go-lucky kind of guy.
We had just bought our first house together and Frans was planning to propose to me on the first night we spent there, but alas, Murphy had other plans! After his car broke down with all our furniture on the trailer at the back and my car stuck an hour away with its keys locked inside, we'd had quite the rough day. So he eventually asked a week later, which was totally unexpected! We now live in Kampala, Uganda, and are having a ball in the Pearl of Africa!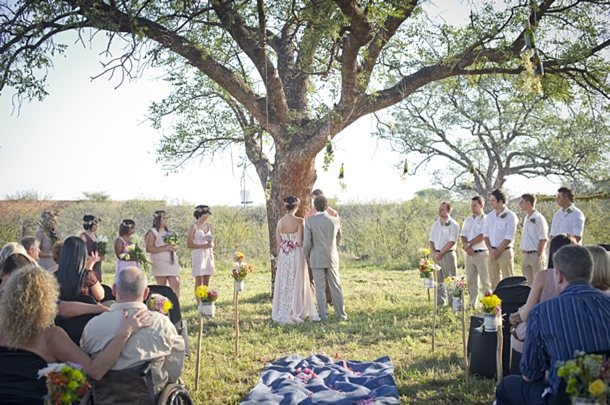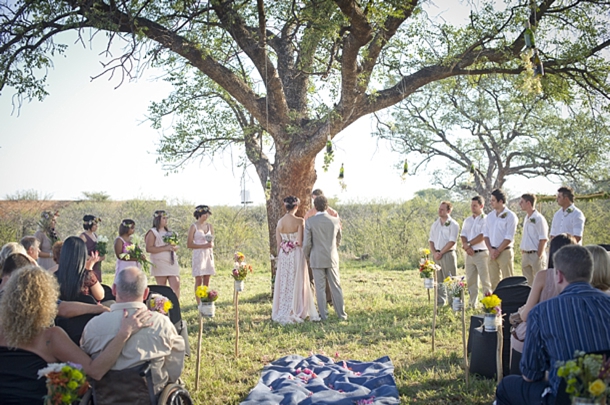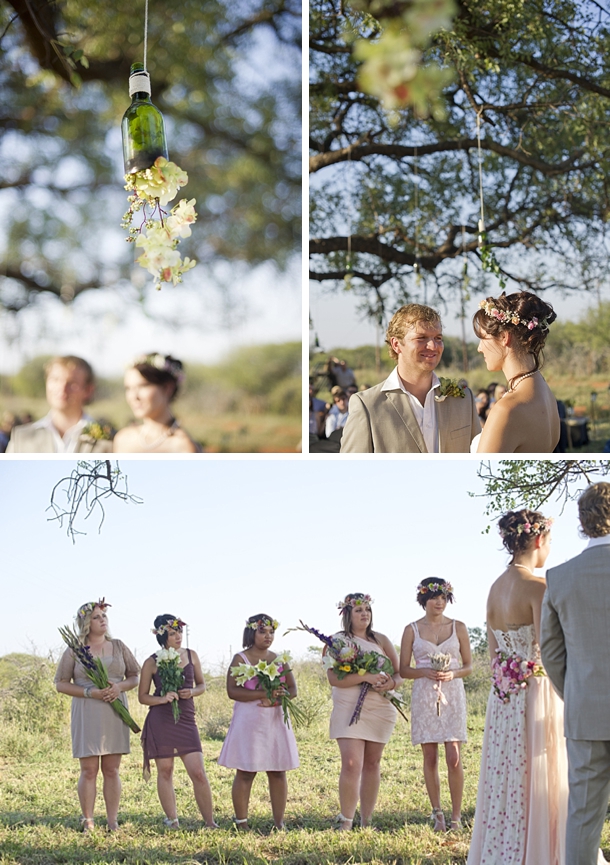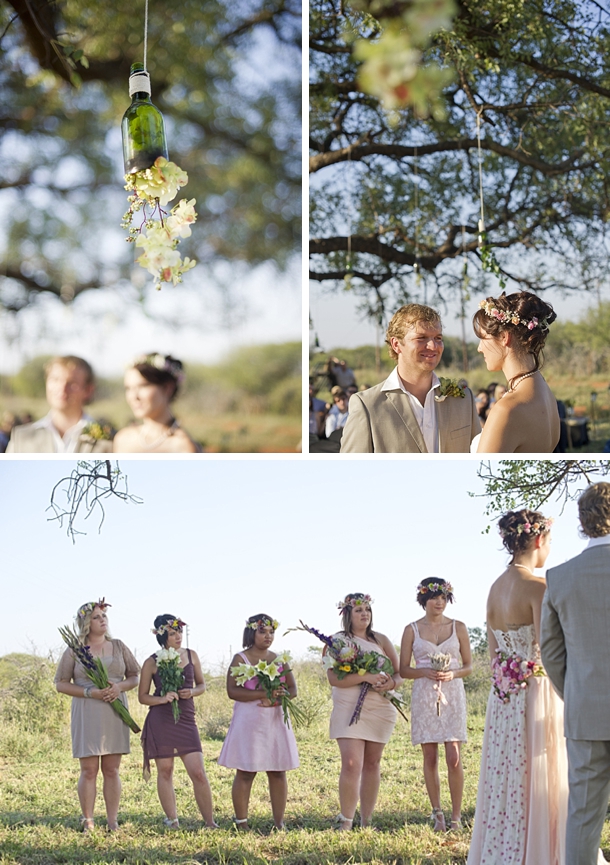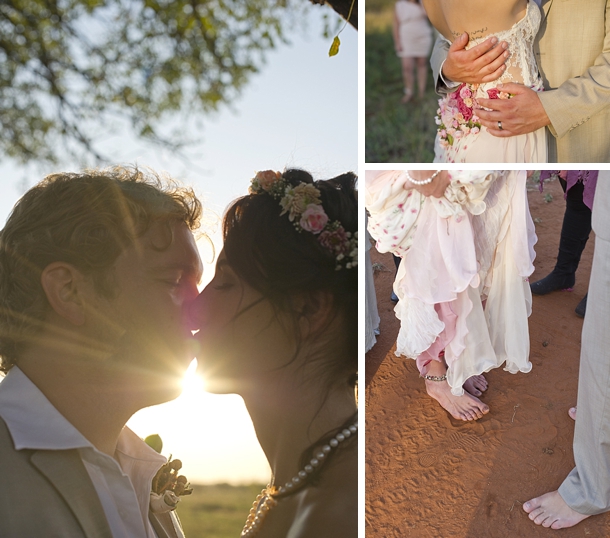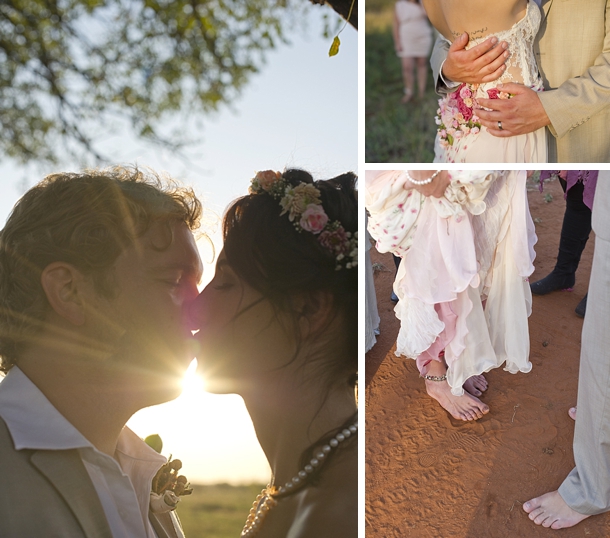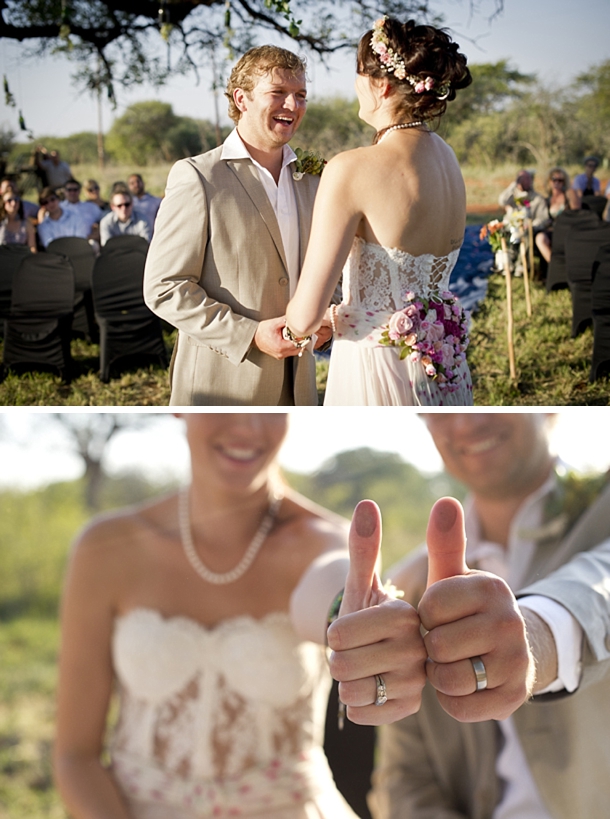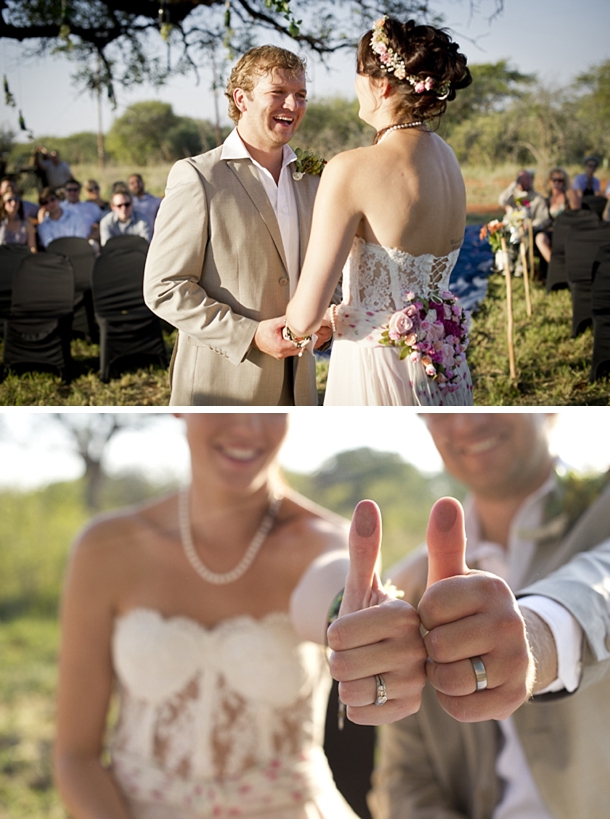 I wanted to have a bush wedding with a Mozambique/Kenya beach bar vibe. And I wanted to do everything myself! It was hard work, but I planned it thoroughly and we had a good time doing it, with everyone helping and drinking at the same time. We had little rock paintings as table numbers and flowers in random bottles and tins, which I loved. The little 'dakkies' (roofs) really brought the beach-bar feeling to life. Incidentally, it was Cinco de Mayo, so we had a pinata instead of a wedding cake.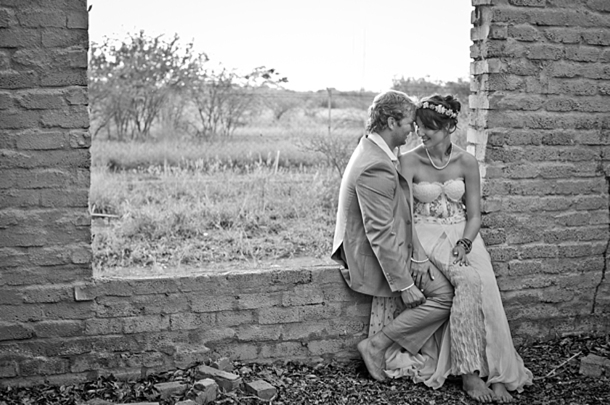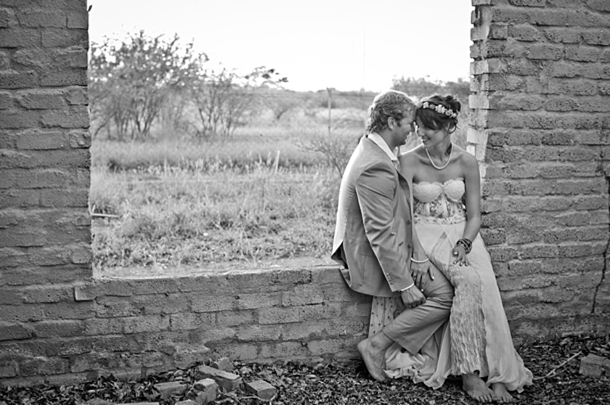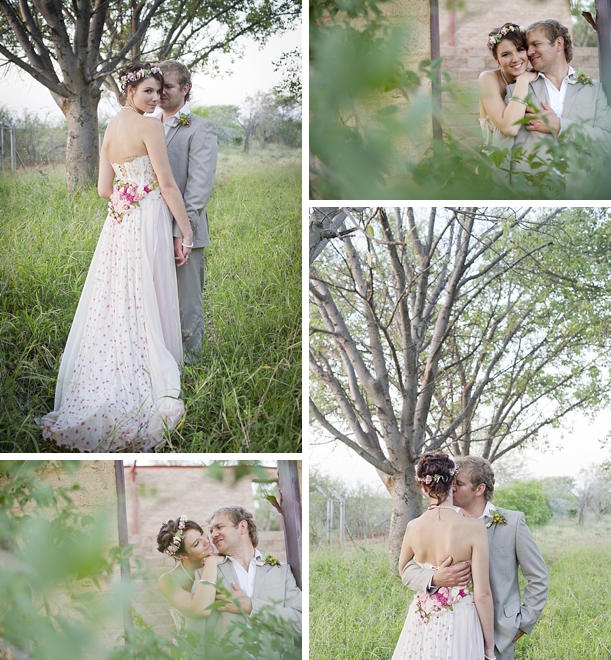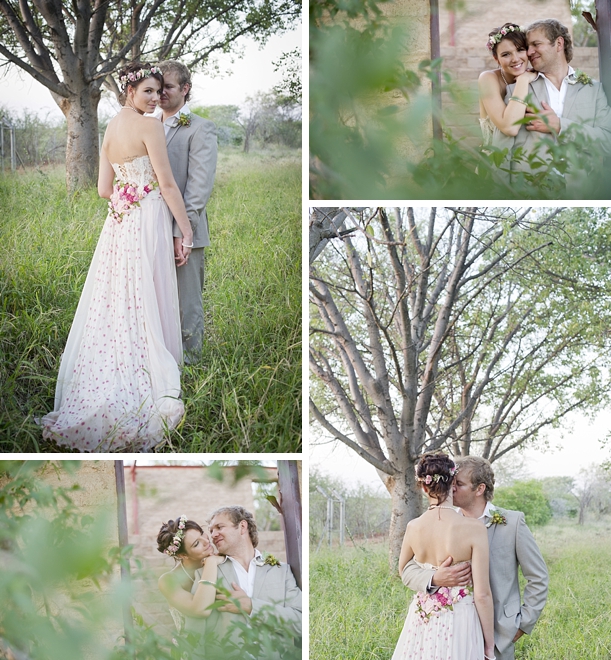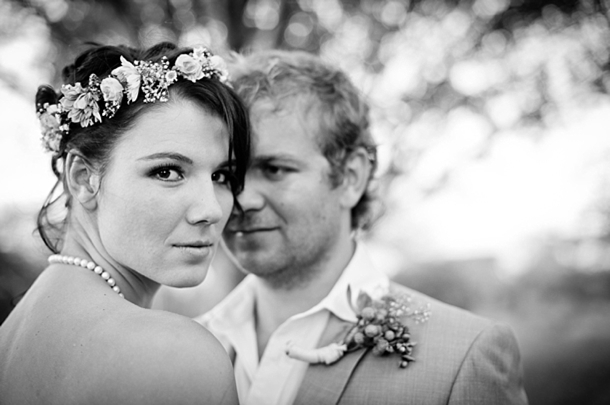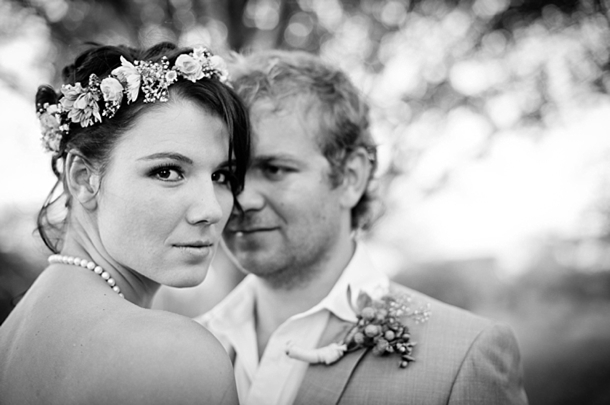 One of my favourite parts of the day was saying our own vows – it was really personal. I also absolutely loved the outdoorsy feel. We had perfect weather, and the biggest full moon!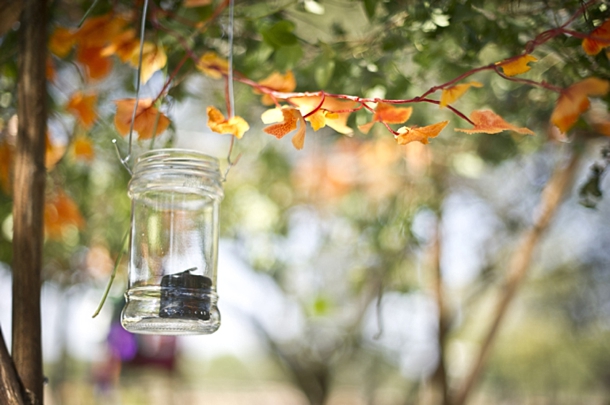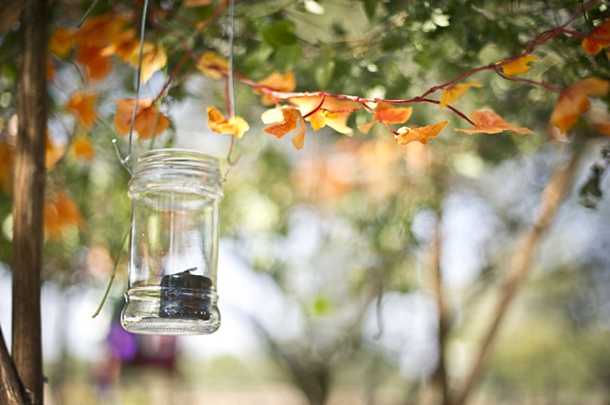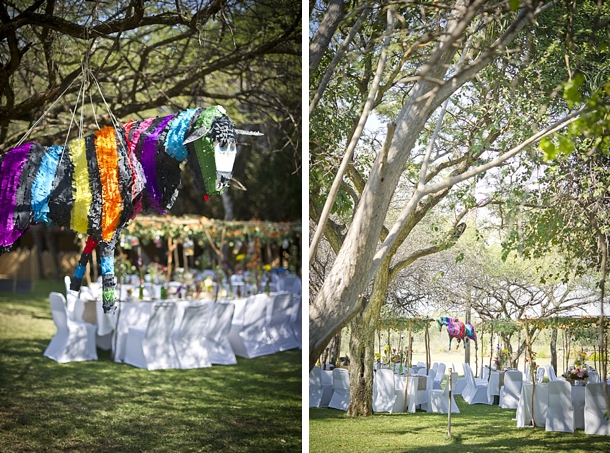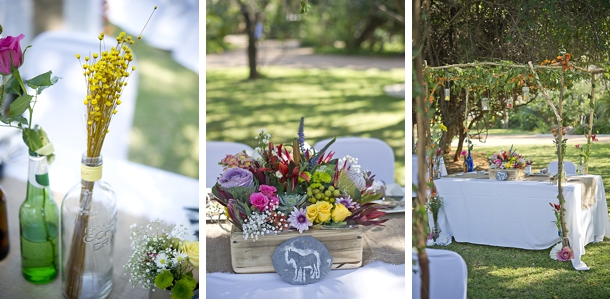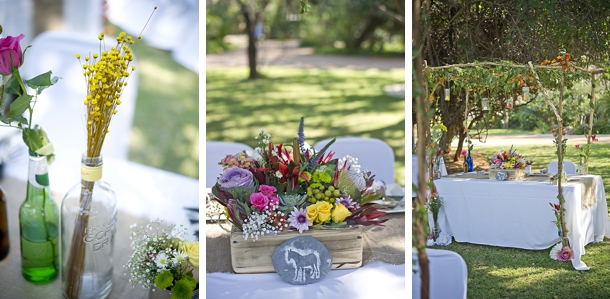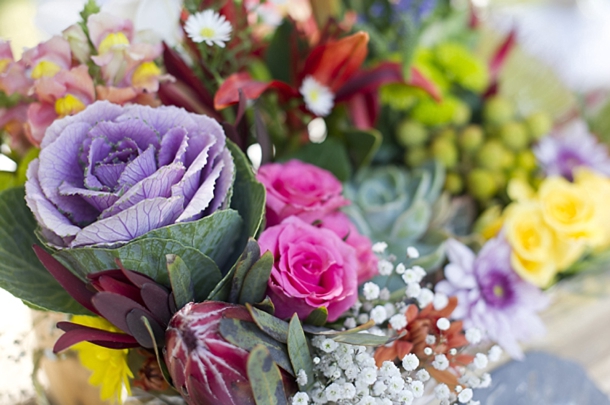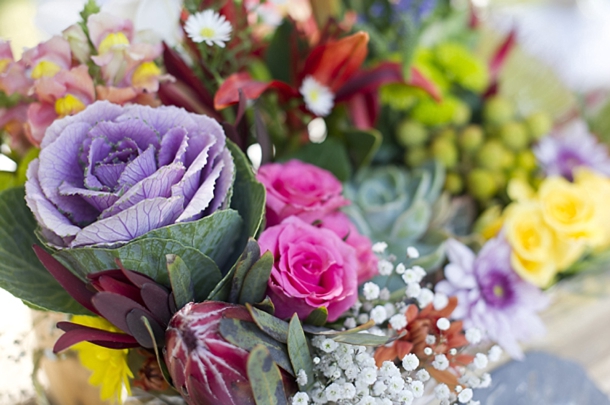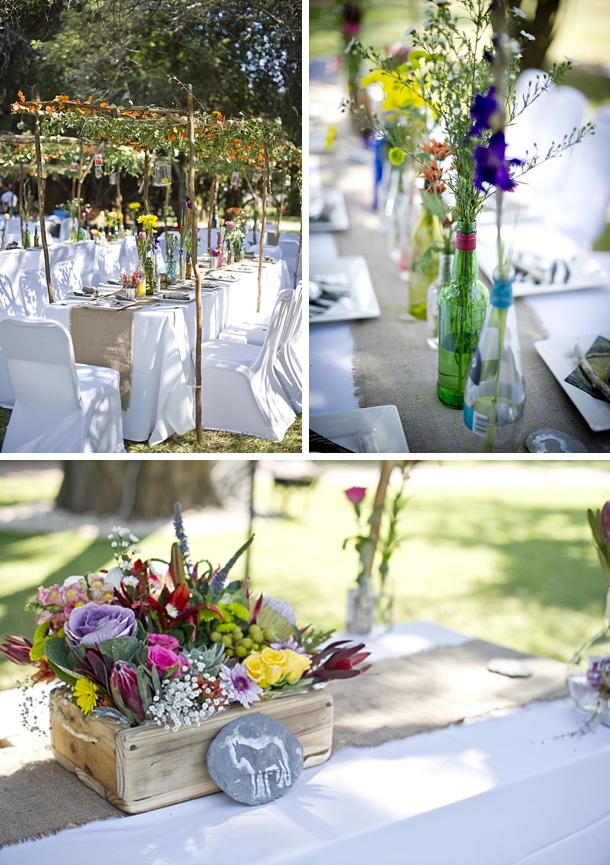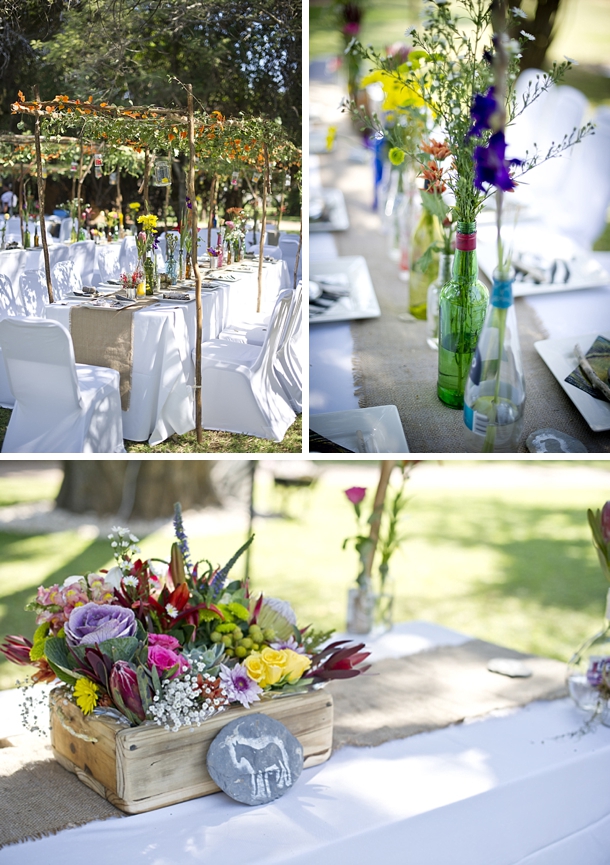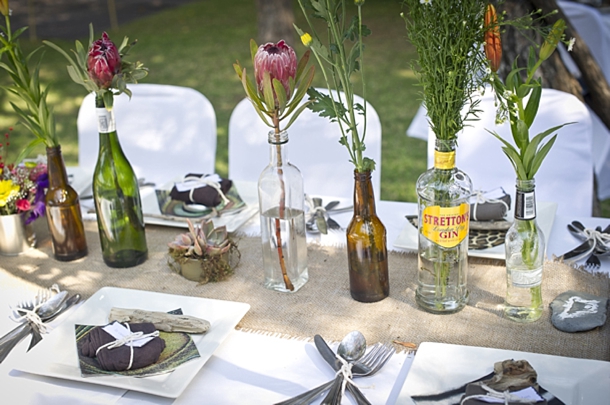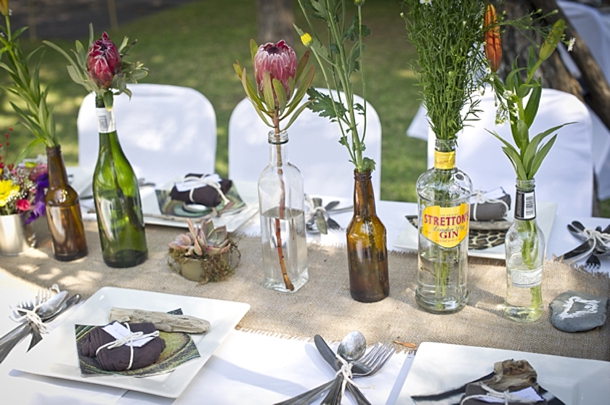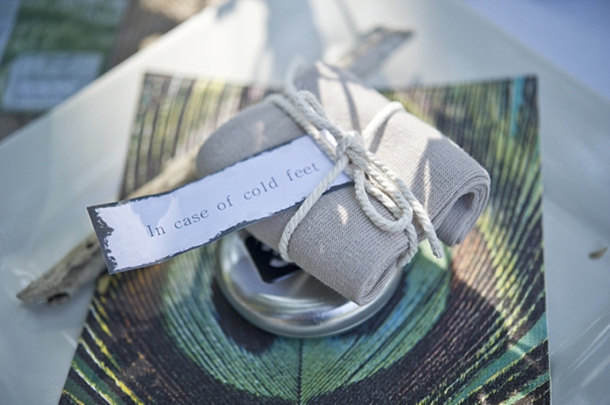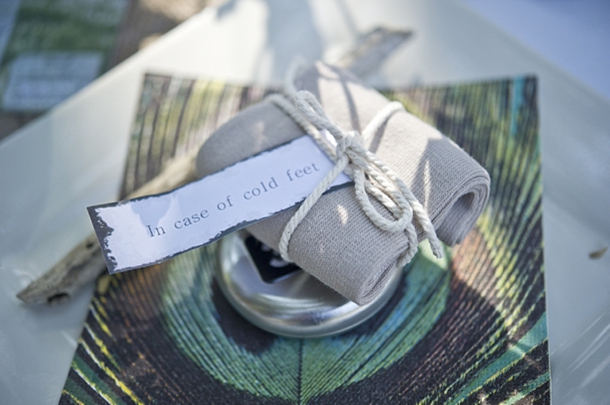 My advice to future brides is to know what your budget is and then plan what you want around that. And then make it work! There are so many ways of getting the cheaper option if you just look.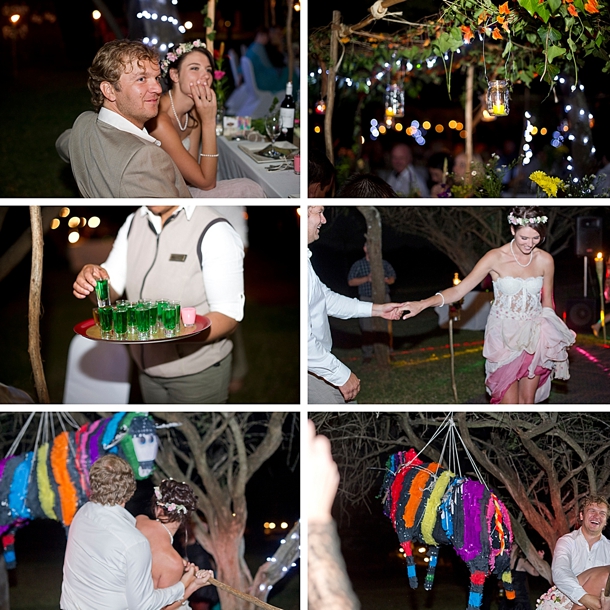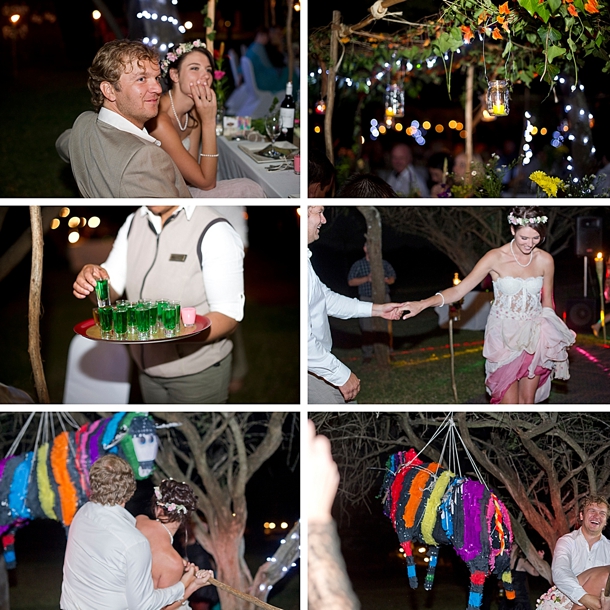 Many thanks to Maxine and Frans for sharing their story, and to Simone for sharing her beautiful pictures with us today. You'll catch even more from this colourful day on her blog.
SERVICE PROVIDERS
Venue & catering: Bushfellows | Photography: Simone Franzel | Hair & makeup: Natascha Struwig | DJ: Jaco van Stryp
Simone Franzel is a member of the SBB Directory