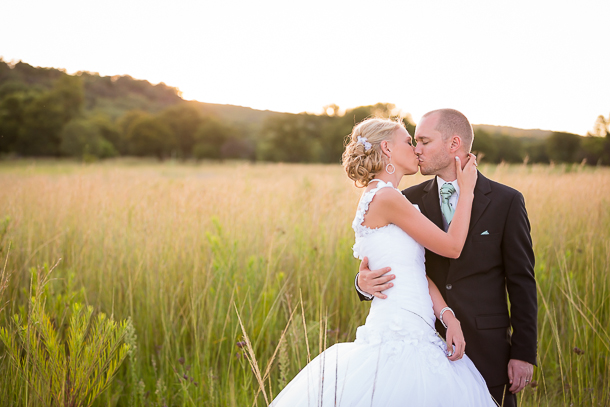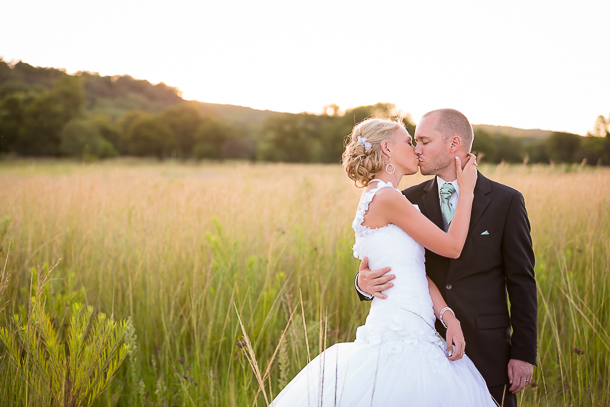 As a huge fan of our indigenous flowers, I have always wished more strelizias popped up in wedding design (that's 'bird of paradise' flowers to you overseas readers) – they aren't as versatile as proteas, sure, but they're another bloom that immediately makes me think of home. And that's not the only homegrown touch that Helen and Johan incorporated in their gorgeous, rustic, South African-inspired wedding – from Karoo style details like tin windmills and enamel cups, to a boma reception, this is truly a sunny SouthBound wedding. My favourite moment though? Johan picking up a guitar and singing to his bride during his speech. Not a dry eye in the house – it doesn't get much more romantic than that! Kobus of Dreampix was there to capture every colourful moment (as he was for the couple's farm engagement shoot, previously featured on SBB).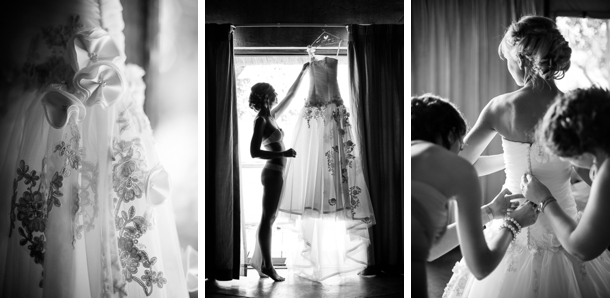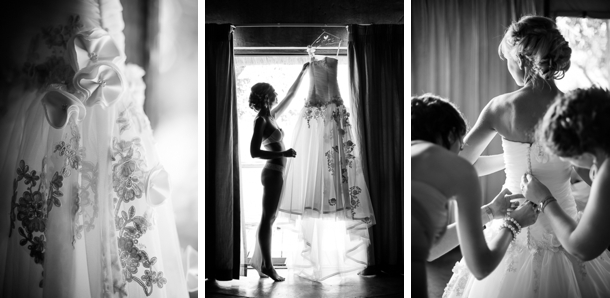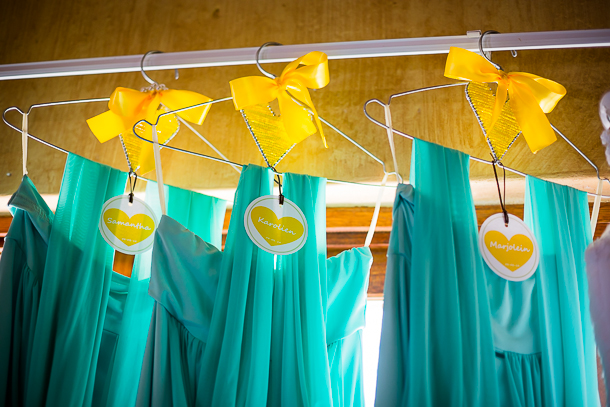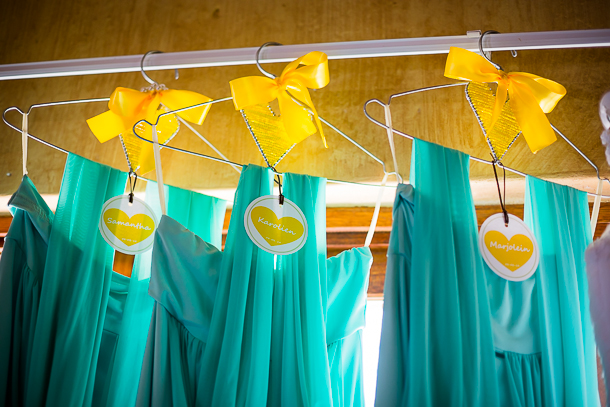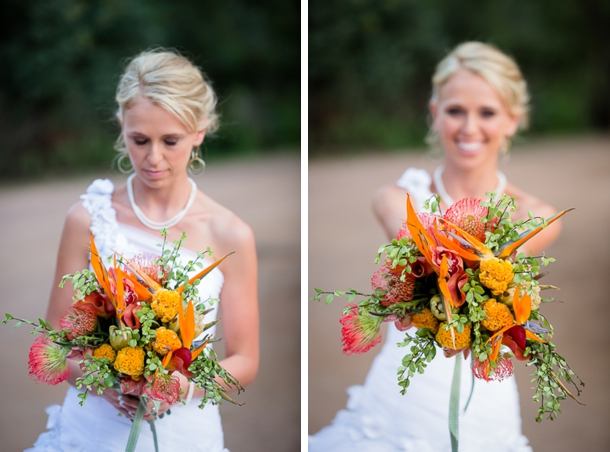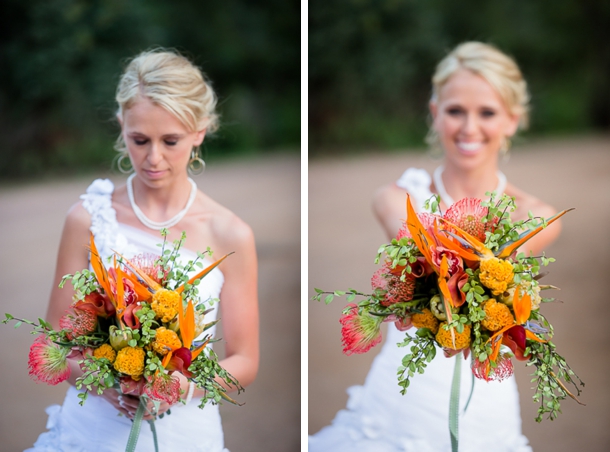 Love Story
Johan and I met at the awesome U2 concert in Joburg in 2011 through a mutual friend. My first impressions: "Whoah he's Afrikaans!", his sentiments: "Whoah she's English!" We went on a few dates, and after a while he took me up in the hot air balloon at Monte Casino. I had broken my arm and I still remember he was such a gentleman helping me on and off the balloon and offering me his jacket. During the balloon ride, Johan asked me to be his girlfriend, and he gave me a bracelet that I still wear today!
The Proposal
Johan had been in Cape Town for a few weeks for work. As a surprise one Friday afternoon, he sent me an air ticket to fly down and meet him. He booked us in at a beautiful hotel overlooking Cape Town. Armed with champagne, chocolates, the most gorgeous ring and the Cape Town city lights, he asked me to be his wife. This turned into a full engagement weekend, exploring the beauty of Cape Town.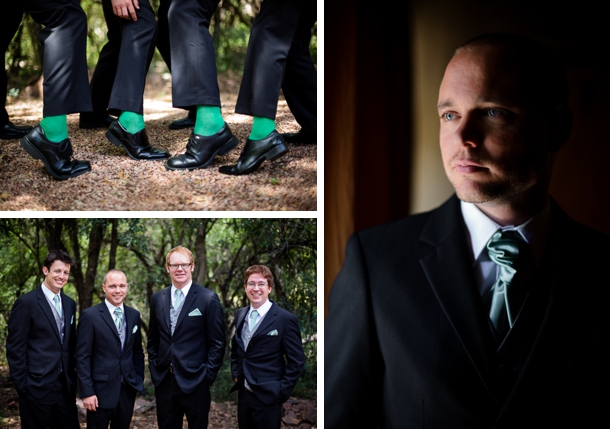 The Venue
Kuthaba Bush Lodge is the most wonderful place – it's right in the heart of the Waterberg mountains and exudes a truly bush-like vibe, while still being wonderfully classy. I always dreamed of a wedding in the bush, and Kuthaba was the perfect answer to that dream – from the ceremony on a cliff face (with the most spectacular view) to the outdoor reception boma, to the fantastic people that work there and the amazing food.
Wedding Style
I got a lot of inspiration from local Karoo-themed weddings; I love the simple yet beautiful elegance of the Karoo and the bush. We wanted our style to be relaxed, rustic and African inspired. We chose pale mint green and bright yellow as our colour palette, and combined this with lots of natural wood and bright flowers.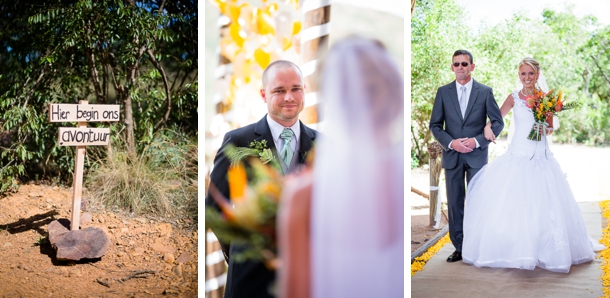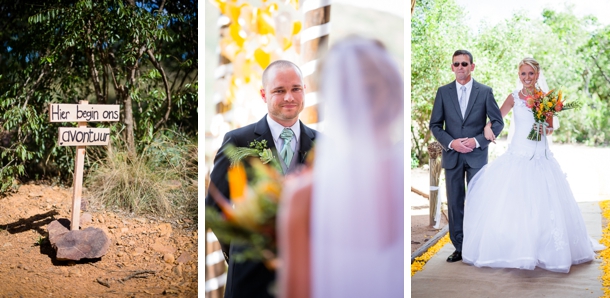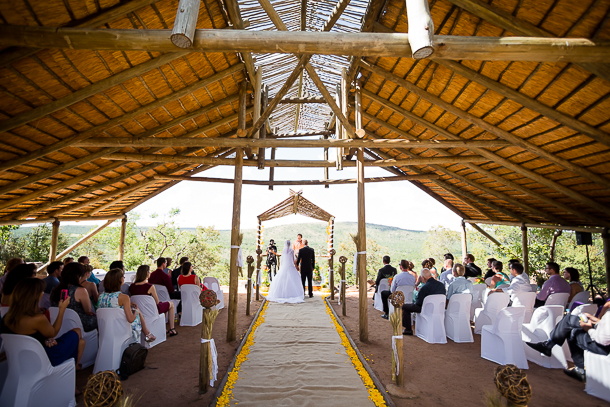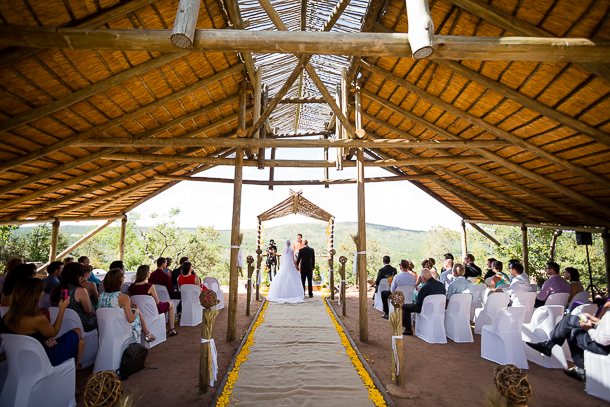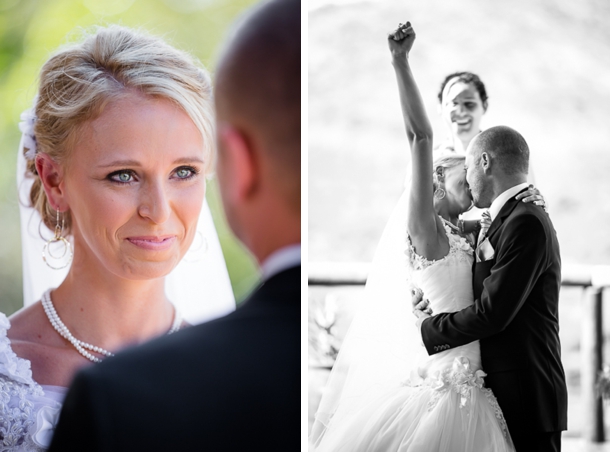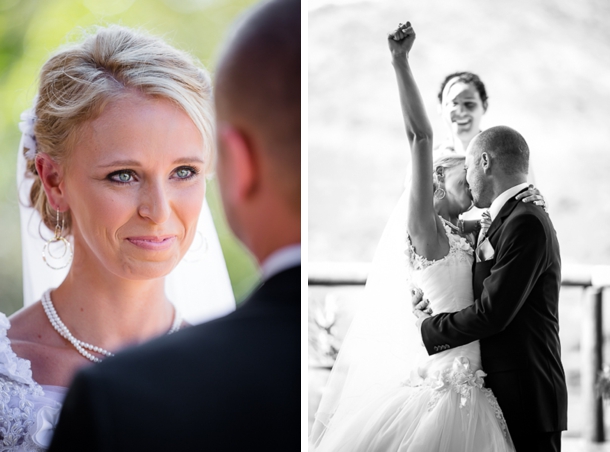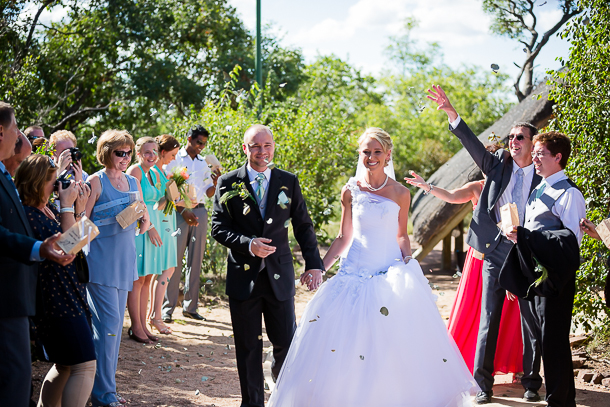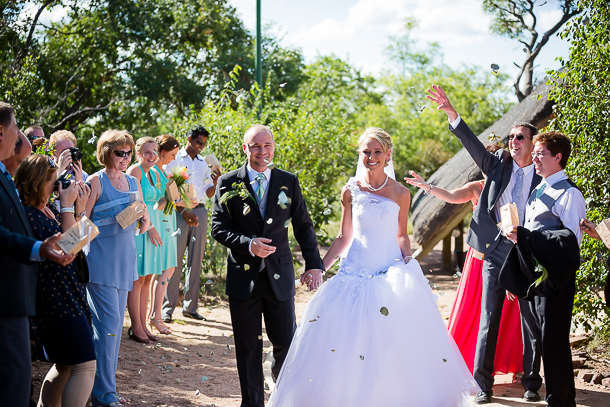 Wedding Details
From the minute we began planning, we knew we wanted our wedding to be a real personal reflection of us. We spent hours creating little personal touches to all our décor and gifts. Growing up in two very different homes (Johan is Afrikaans and grew up in a tiny town in Mpumalanga, while I am English and grew up in the massive Jo'burg), it was very important for us to find a way to incorporate both of our cultures and languages into our special day. We had a lot of fun thinking of creative ways in which to do this!
DIY Elements
We had HEAPS of DIY elements! From our cake toppers, to the confetti, to the gifts (homemade fudge), to the place names (little succulents in tin cups), to the signs scattered around the lodge, to the paper and wooden hearts at the ceremony, to the menu board and our version of a "guest book", we made most of our décor elements ourselves, with the help of our ever-willing and wonderful families.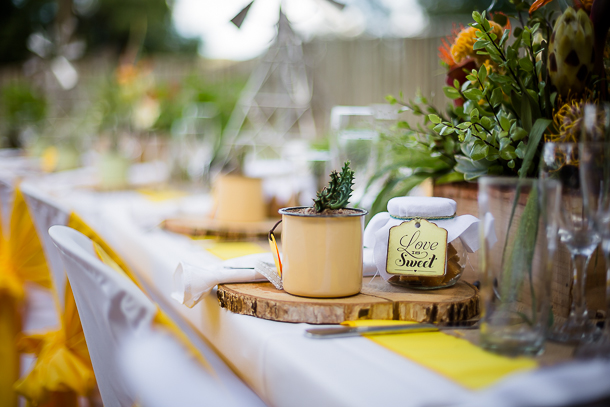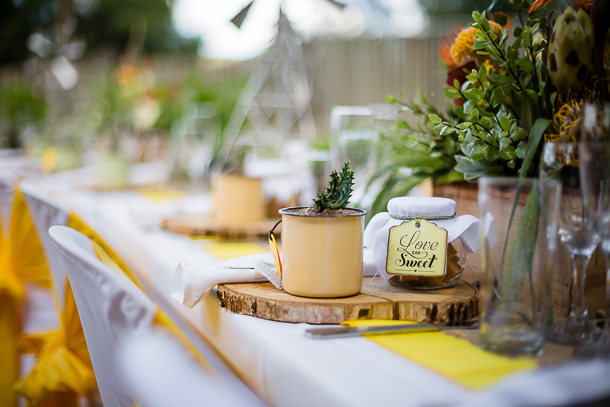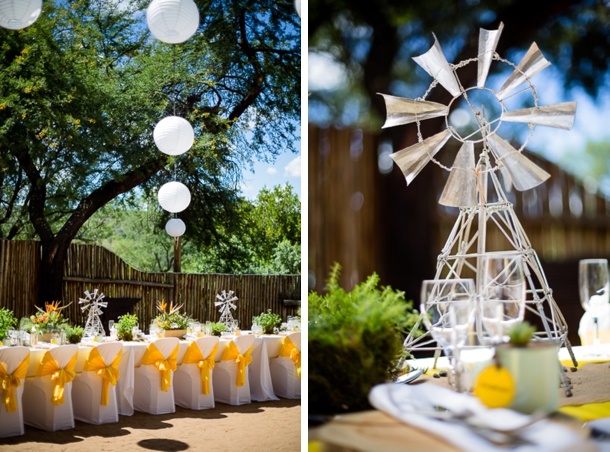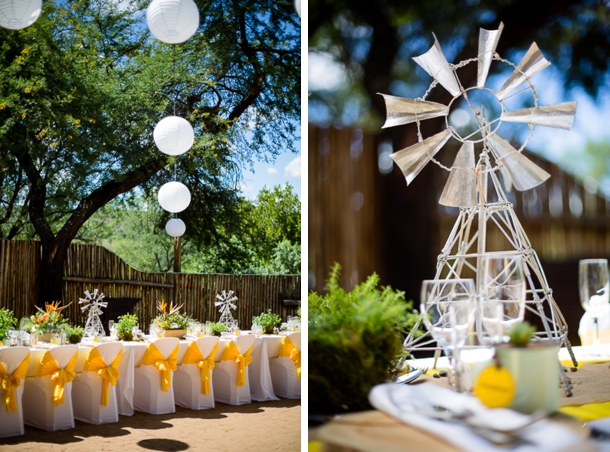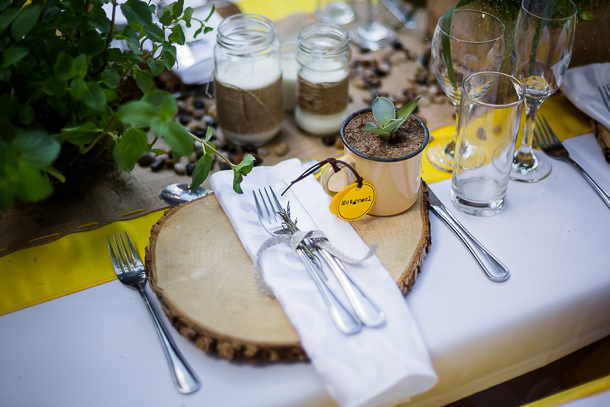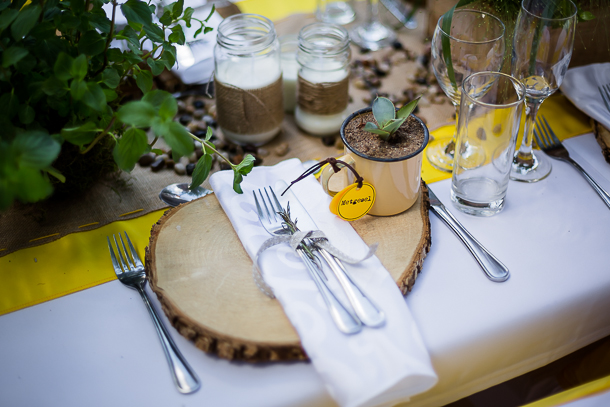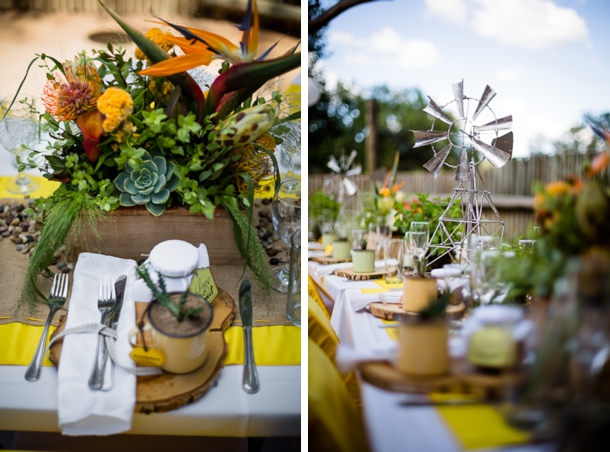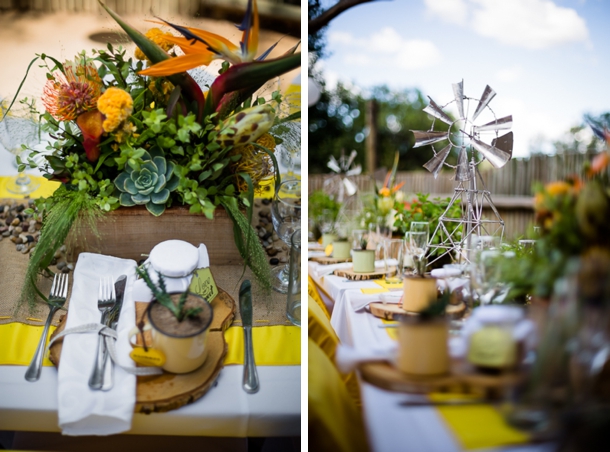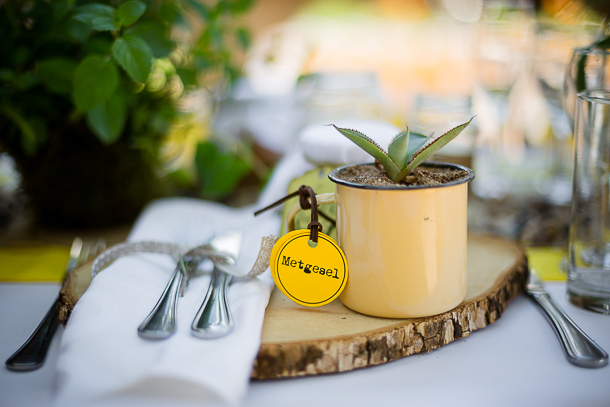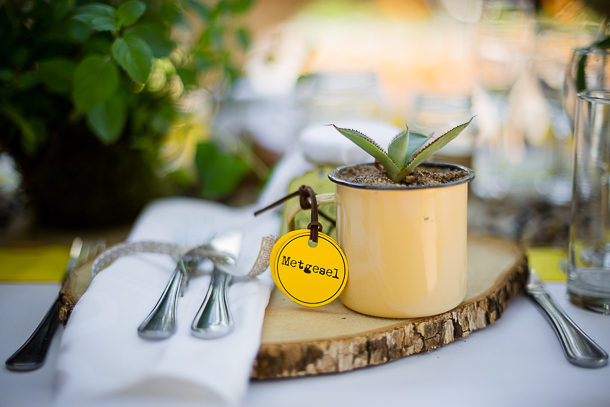 The Flowers
Anyone who knows me knows that I am not someone for traditional rose bouquets! Instead I opted for quite a different selection of flowers including strelitzias, succulents and pin cushions.
The Dress
My wonderful mom made my gown. We went to a few bridal stores, tried on some gowns, and once I found a style I liked, she set to work and spent many many hours perfecting it, and it was just gorgeous.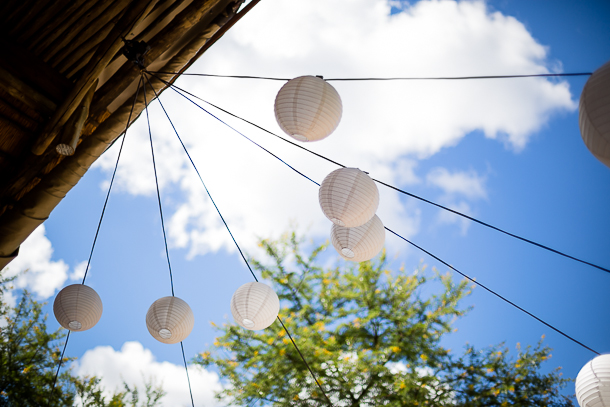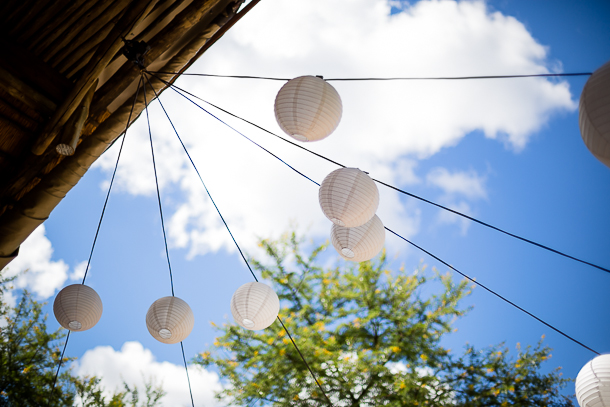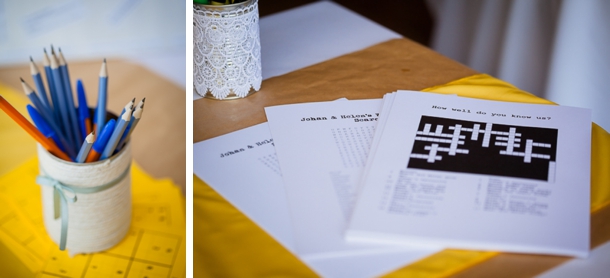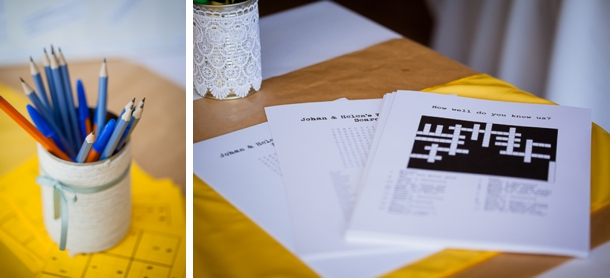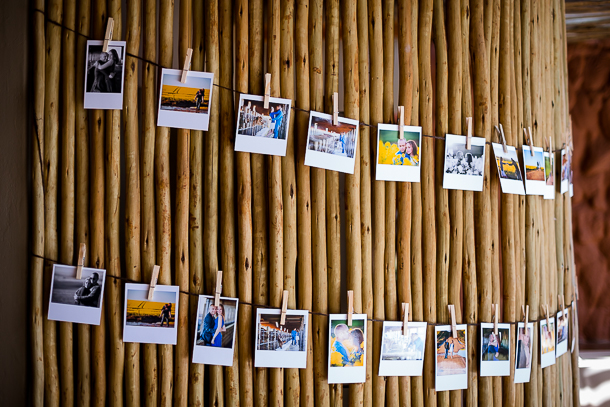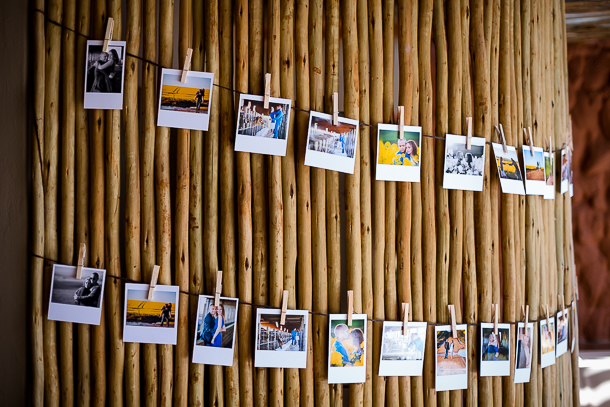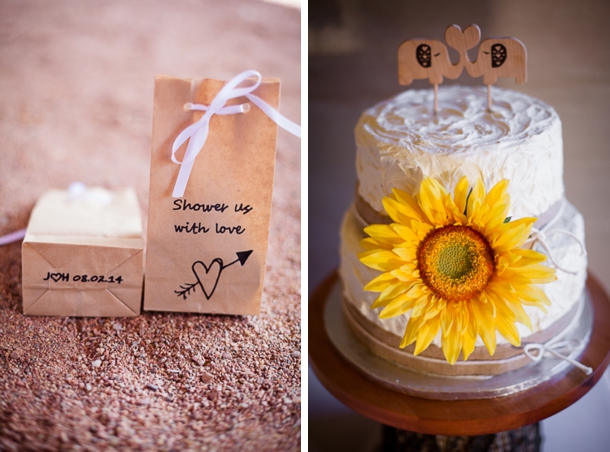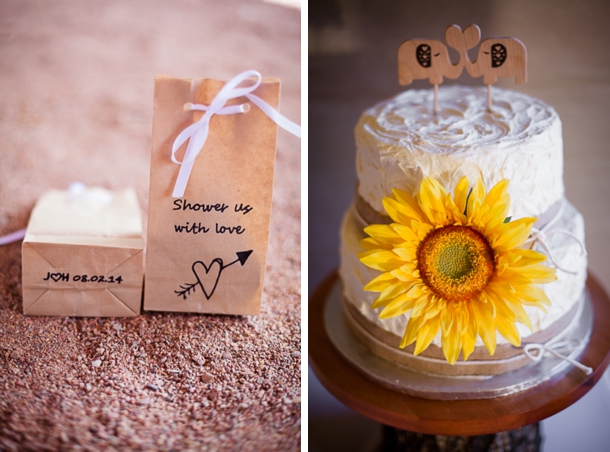 Memorable Moments
Wow, there are so many I cannot pick just one! One would have to be sitting in the wedding car (i.e. safari vehicle) and being driven up the mountain to where the ceremony took place; I had a few minutes to catch my breath and take in what was going on before walking down the aisle. Another one would be when Johan surprised me (and everyone else) by picking up his guitar and singing a very special song to me during his speech. He had most of the ladies, and some of the gents, wiping away a tear. Oh, and jumping on the bed with my wedding dress on was great fun!
Proudly South African Details
Our whole wedding was focused on an "African" theme and we had many South African and African details included in our décor.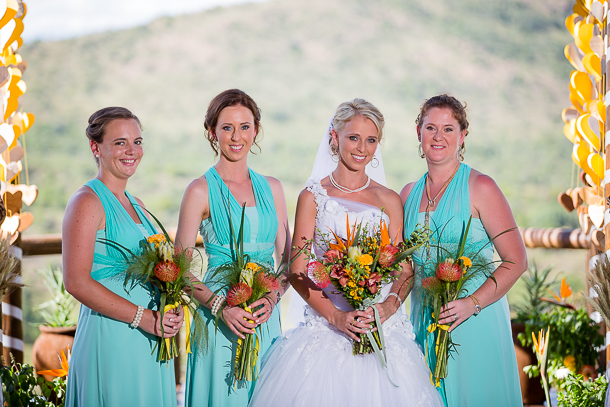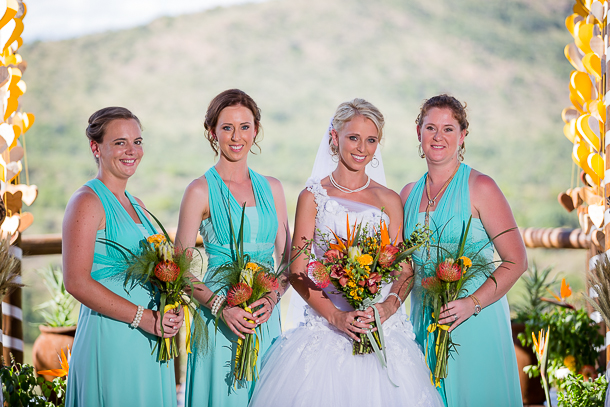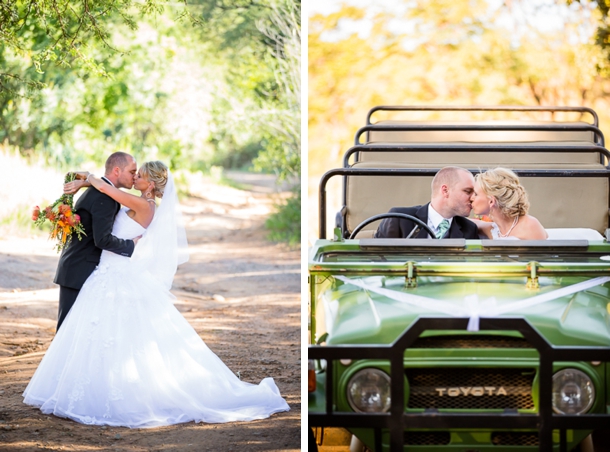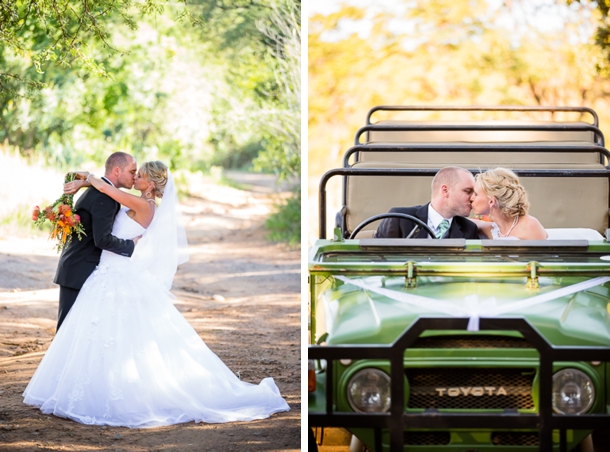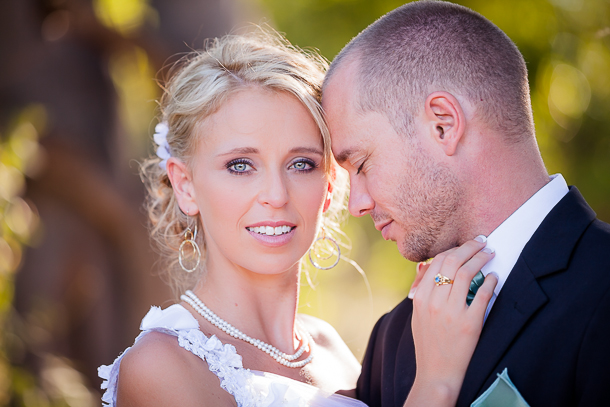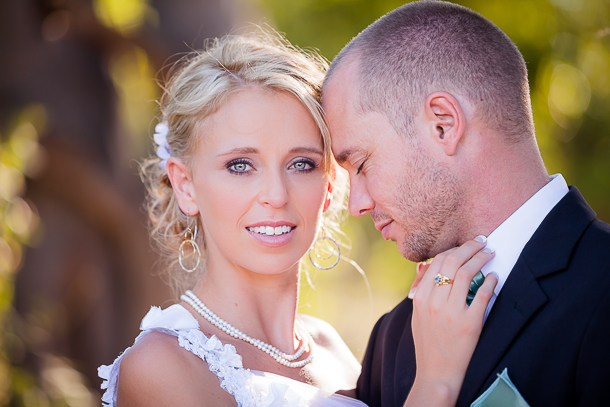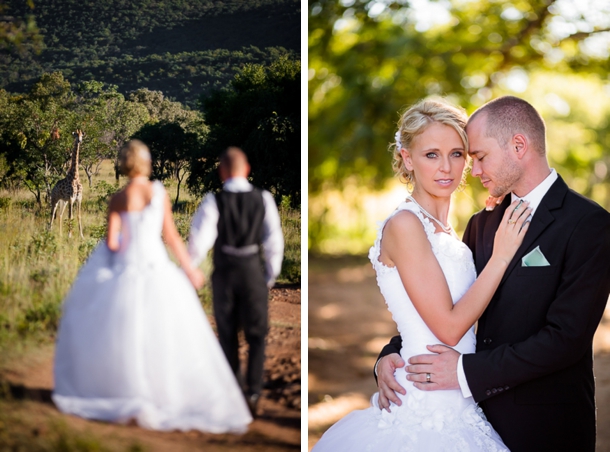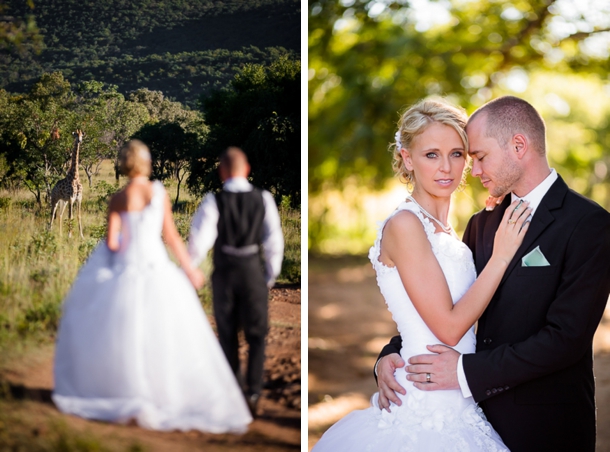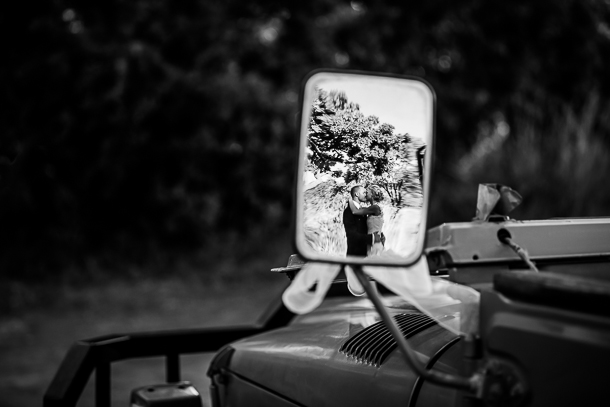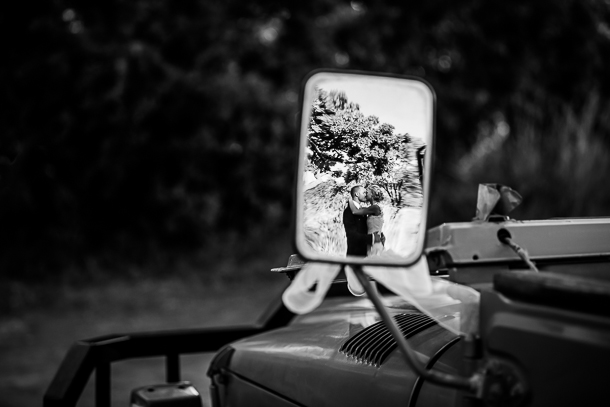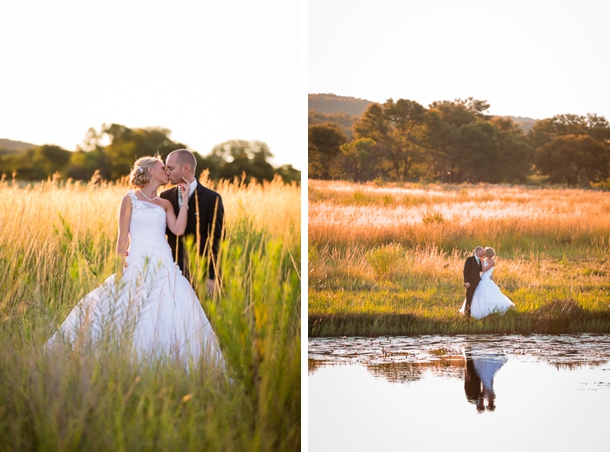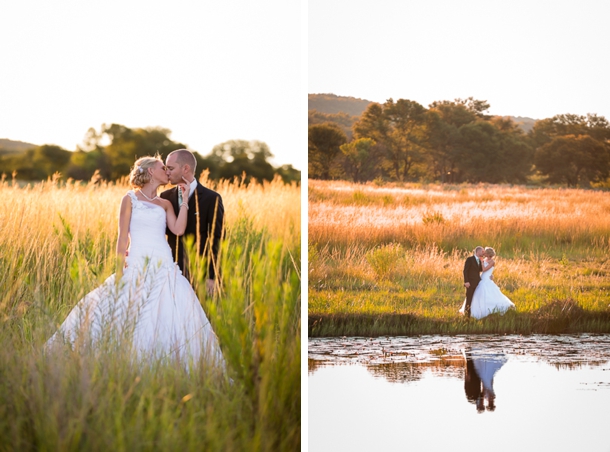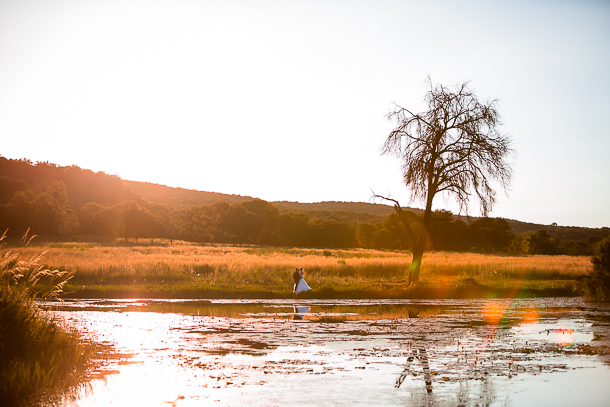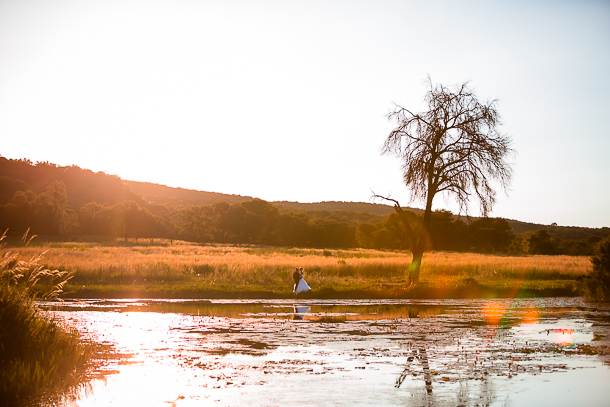 The Honeymoon
Bali!!! It was a total surprise, I only found out at the airport when we were about to check in. He did a super good job of keeping me guessing for all the months leading up to the wedding. And what a phenomenal honeymoon it was!
Advice for Future Brides & Grooms
MS Excel is your friend! We used it from day one to assist us with all the planning, and it really helps in keeping things on track.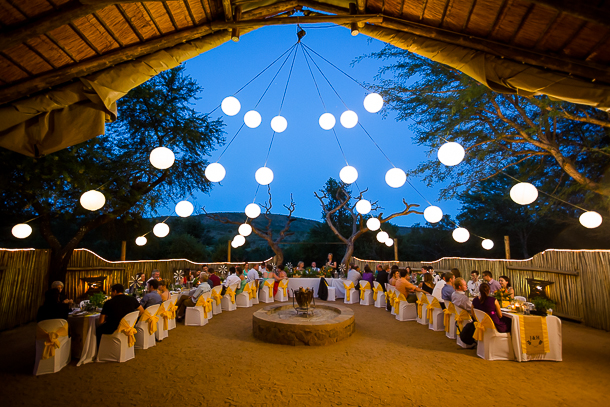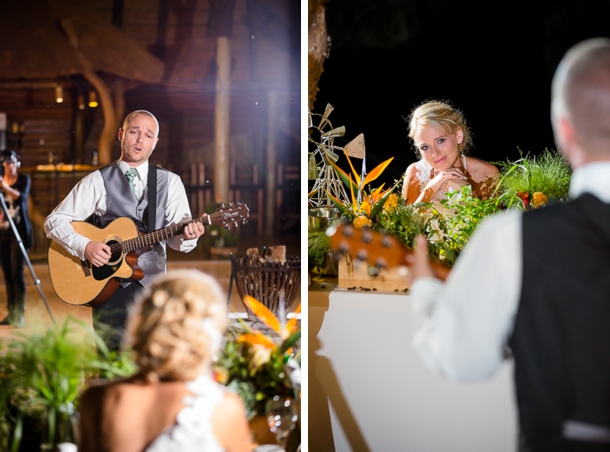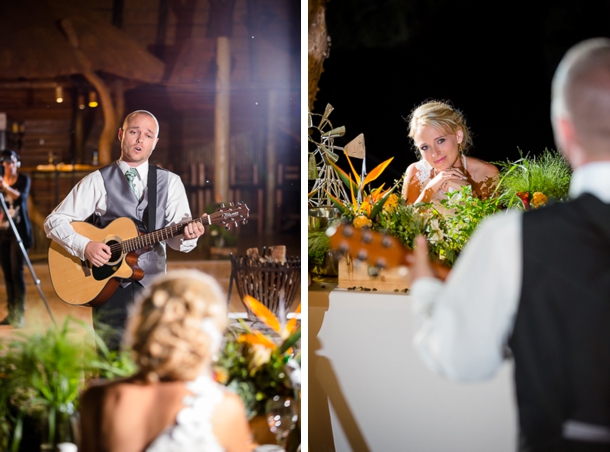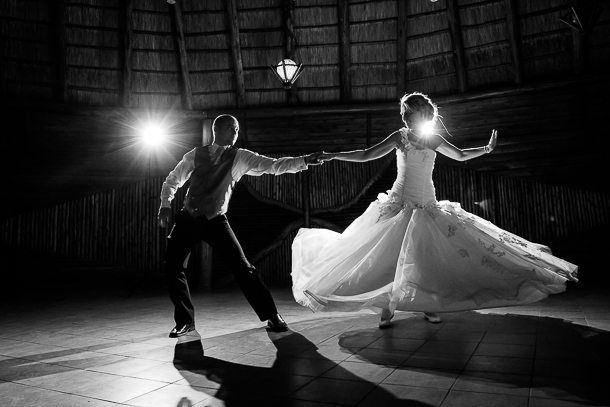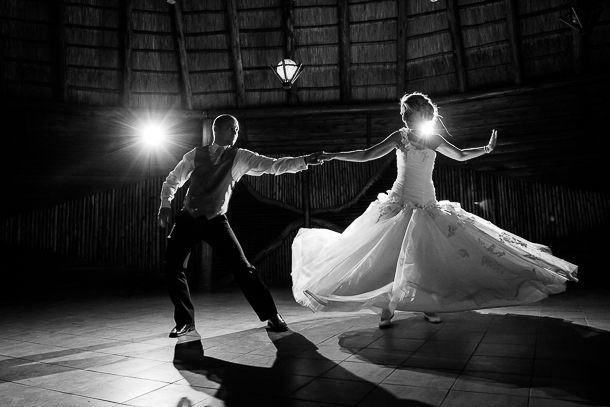 You can see more from this wedding on the Dreampix blog.
SERVICE PROVIDERS
Venue & catering: Kuthaba Bush Lodge | Photographer: Kobus Tollig from Dreampix Photography | Cake: Sweetest Cakery | Flowers & décor: Carol-Anne Frey from Eco Chic Weddings | Stationery: Essence Design Studio | Bride's & bridesmaids' dress: Bride's mother | Bride's accessories: HooDoo Design (jewellery)  and Heavenly Garters (garter) | Hair & makeup: Erin Smylie Hair and Makeup | Music: Rike Coetzer