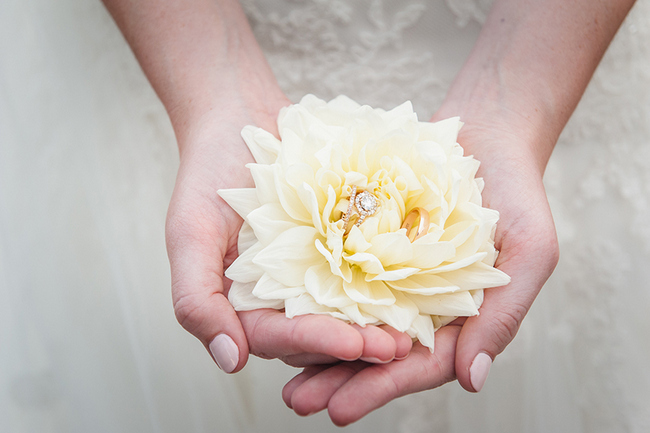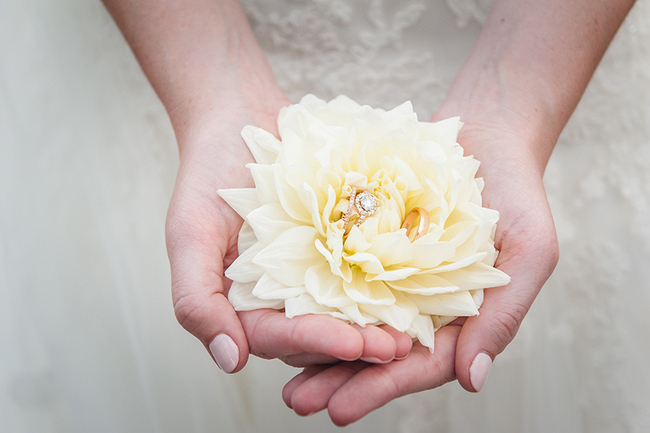 I don't know what it is exactly that makes a wedding sing "timeless" and "classic" and "elegant", but whatever it is, Nikki & Robbie's has it in spades. Of course, it has a lot to do with the beautiful elements they chose for their big day – a super romantic lace wedding gown for Nikki, groomsmen in tuxes, bridesmaids in blush, and a reception hall decked out in lush white flowers that trailed off the tables in graceful garlands (oh my gosh, not to mention Nikki's glorious bouquet – masterfully put together by our faves at Green Goddess flower studio!). But this wedding has bags of personality too, from the Portuguese traditions they incorporated, to the vintage cars that delivered the wedding party to the church and reception, to the delicious ice creams and oversized Jenga that entertained guests during cocktail hour. And, my fave, a garter that was made from the bride's grandmother's dress. Every detail was thought about so carefully, and while the style is classic, it has Nikki and Robbie all over it. Capturing it in her gorgeously romantic style, is photographer Lauren Kriedemann.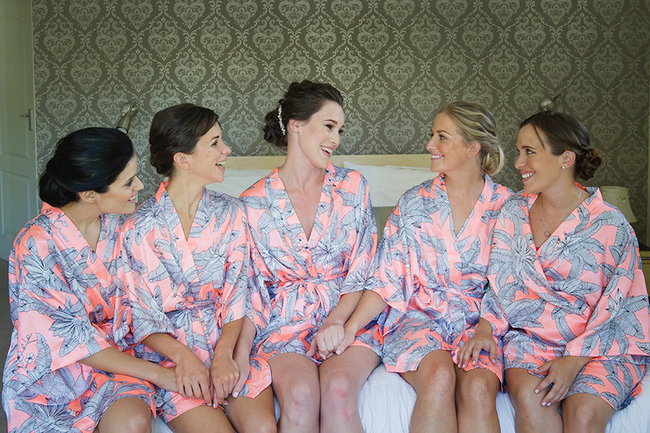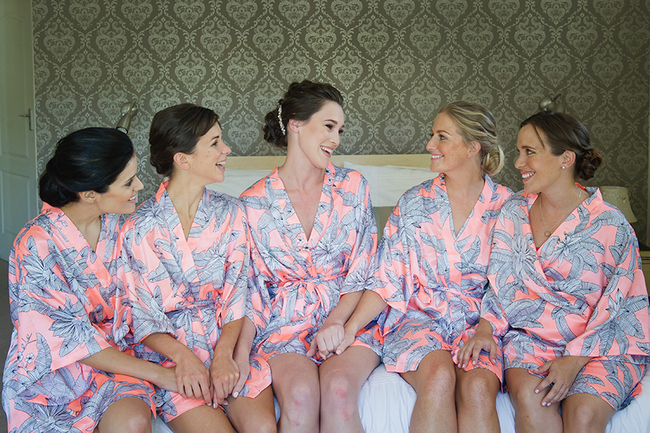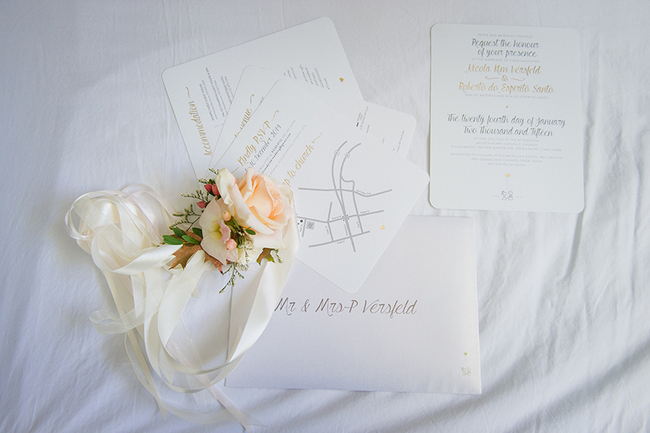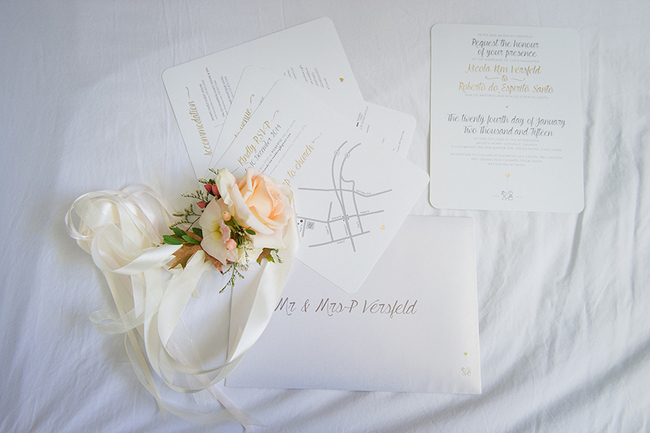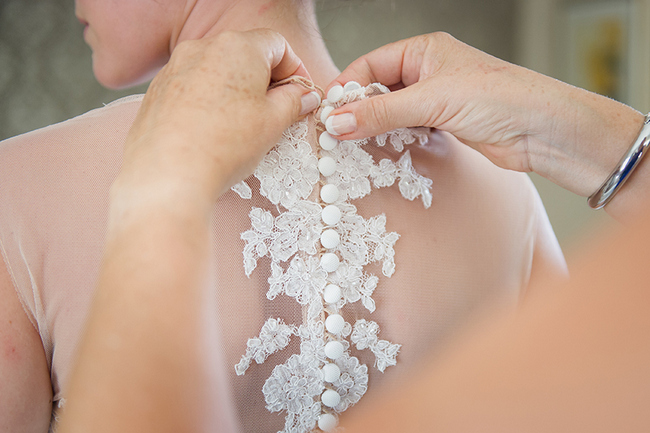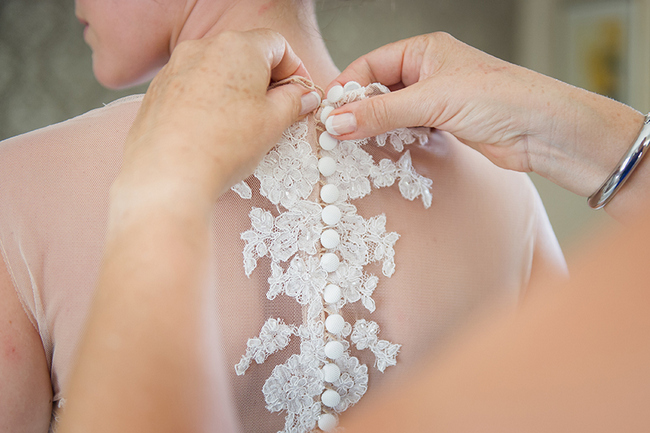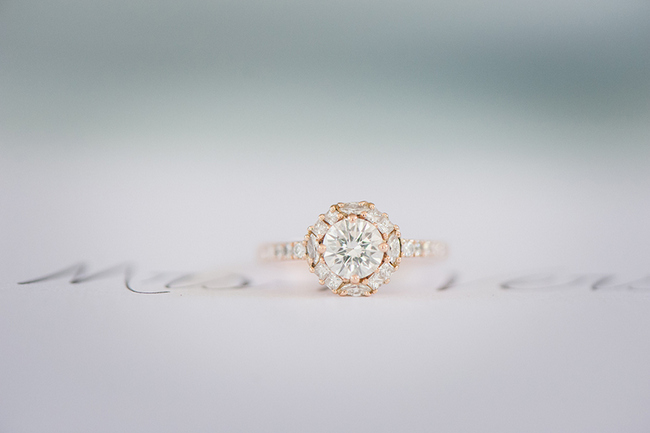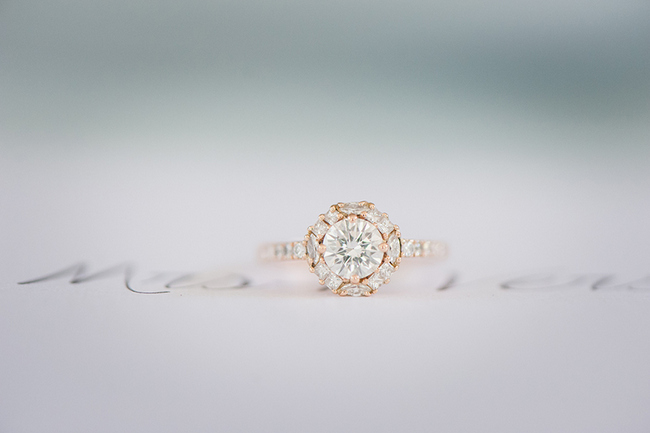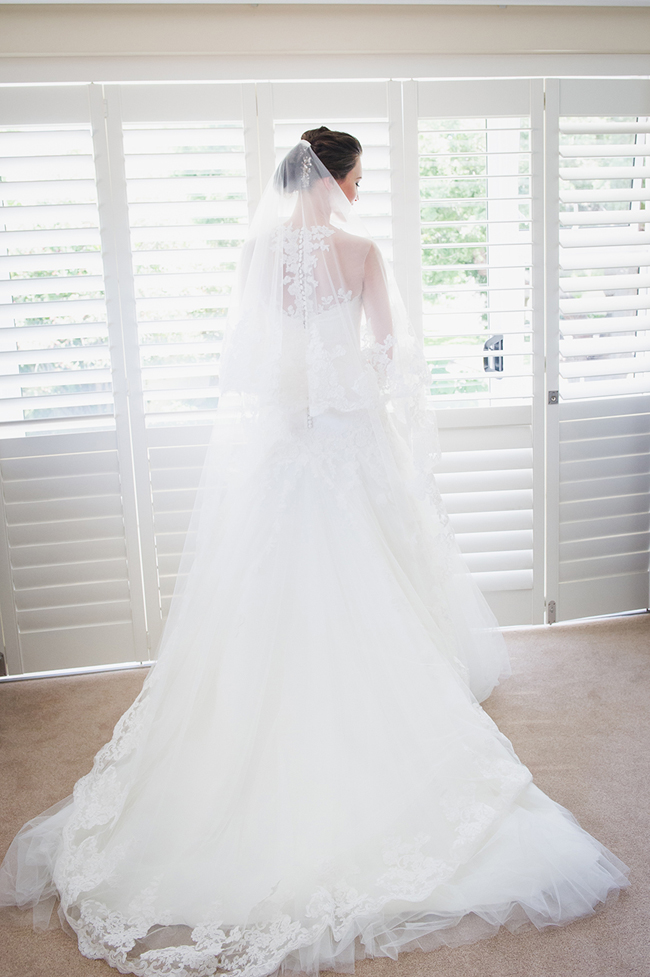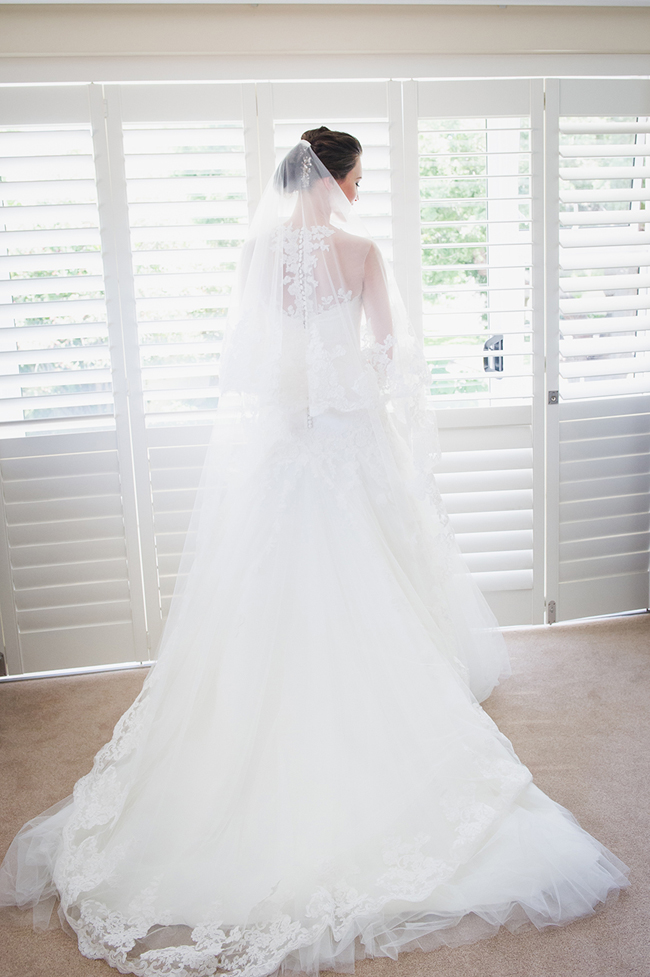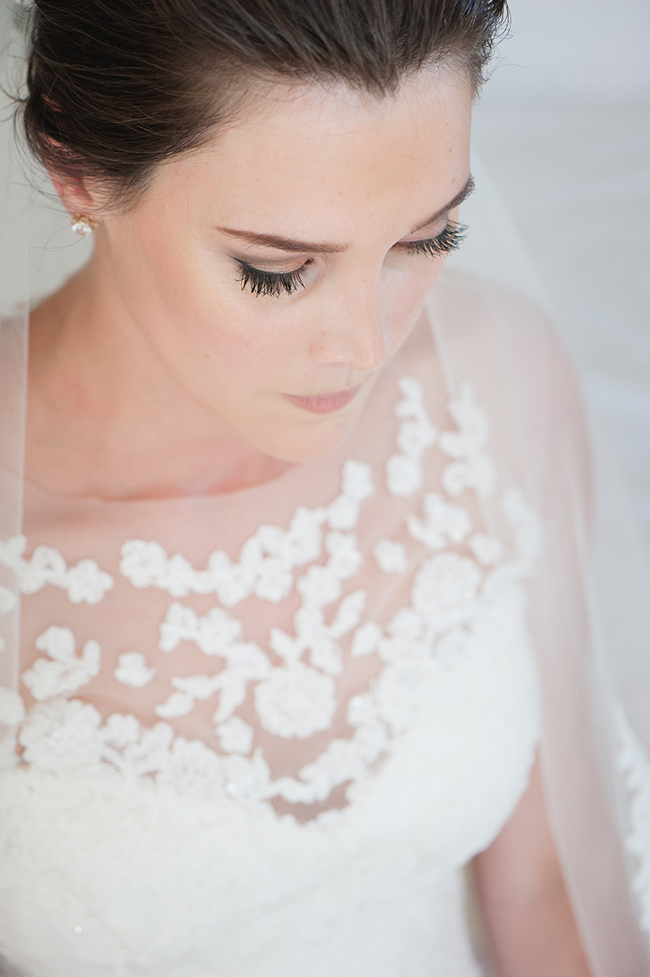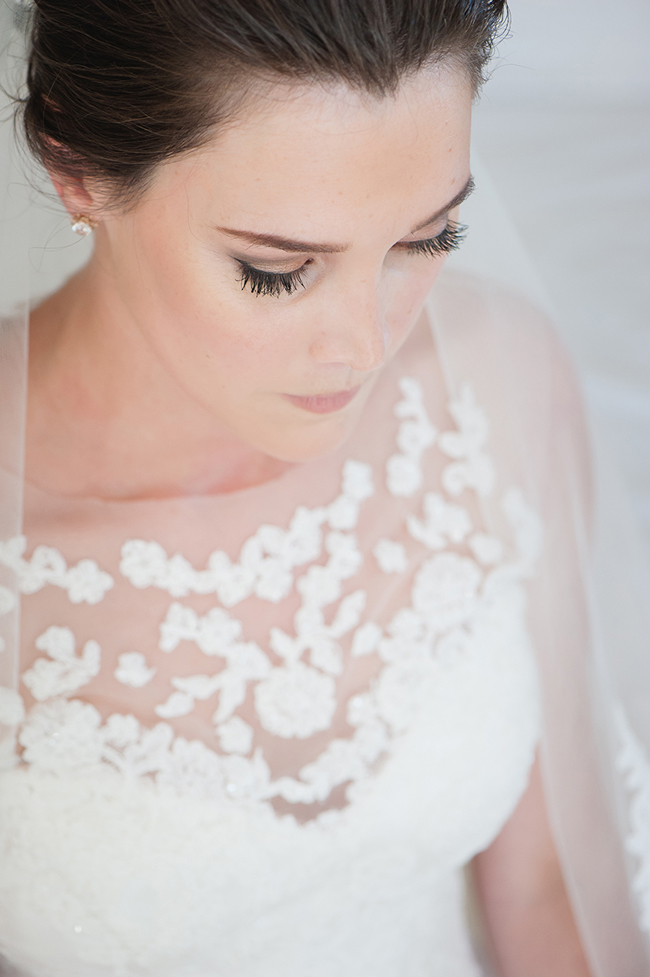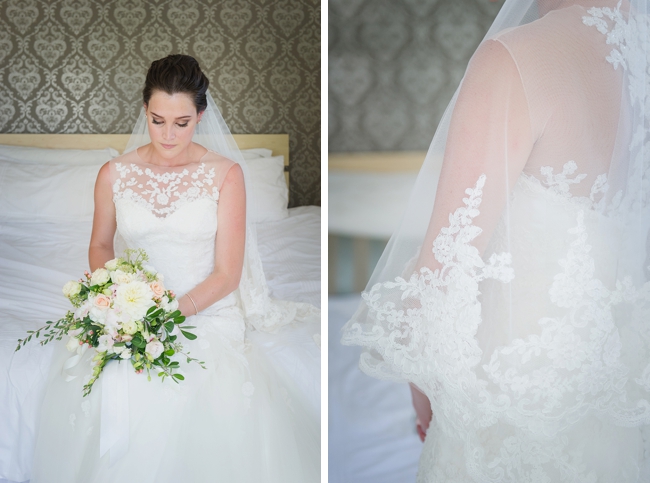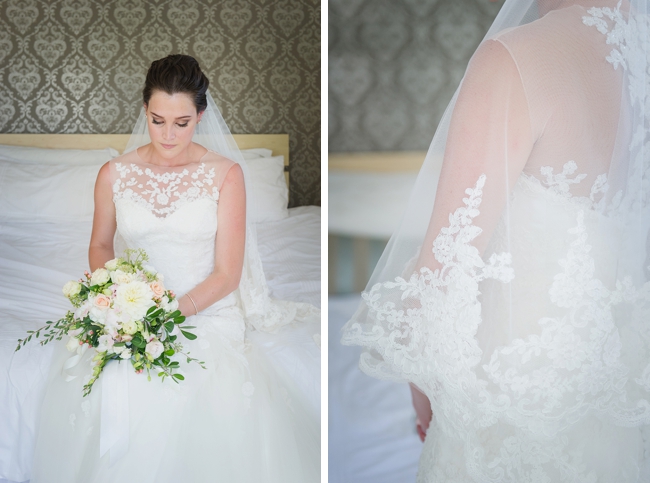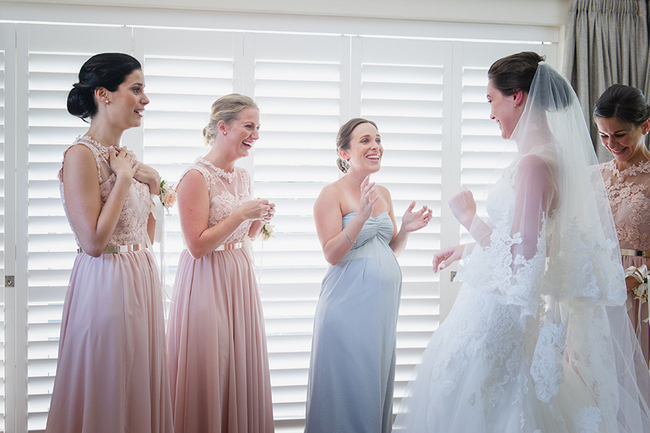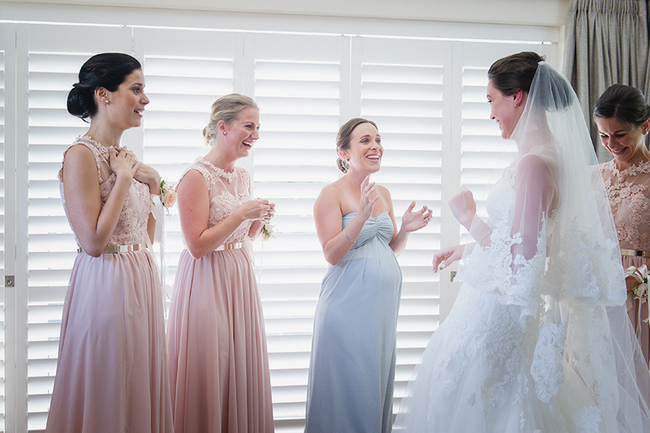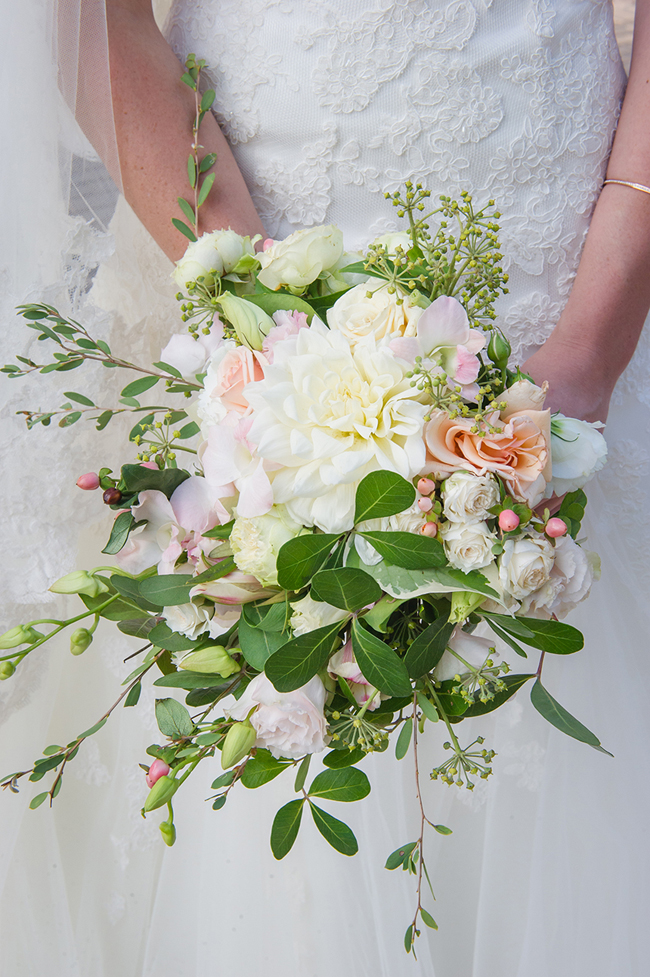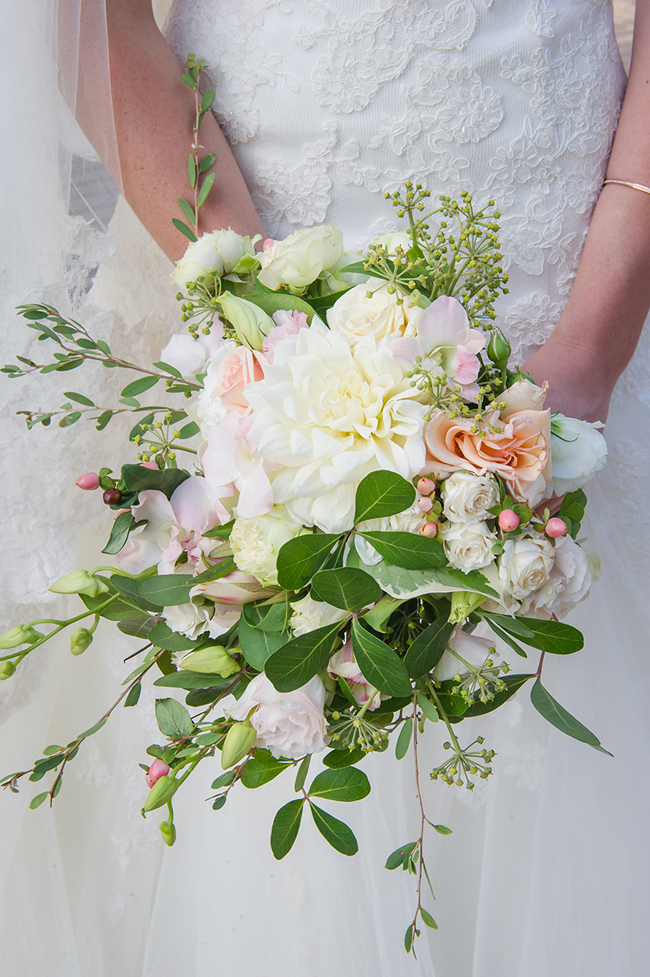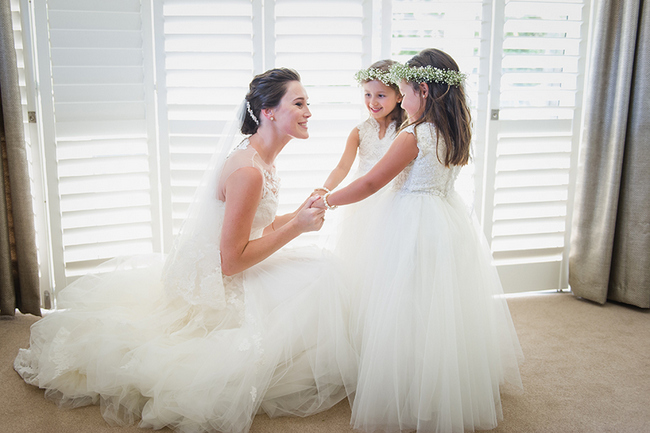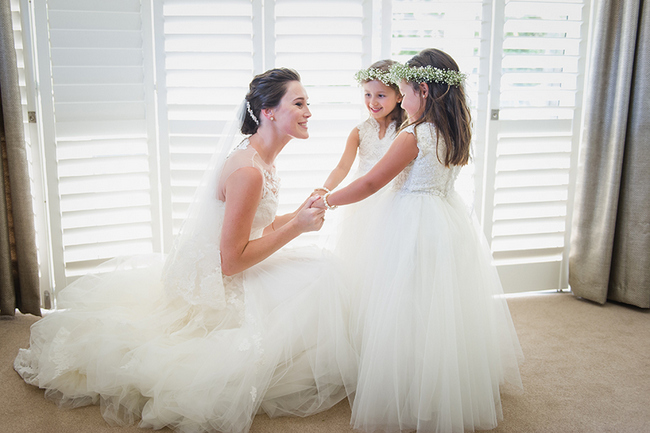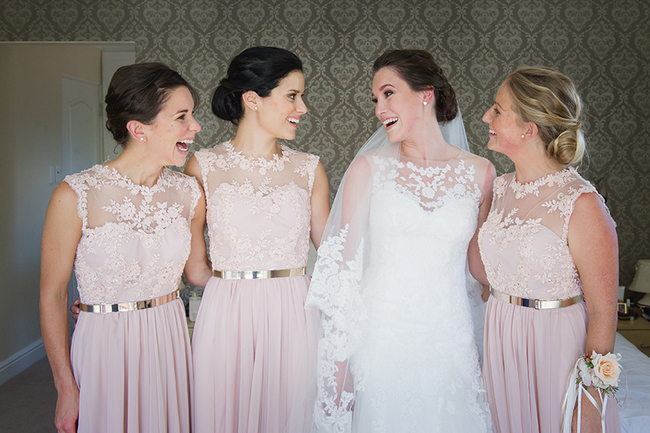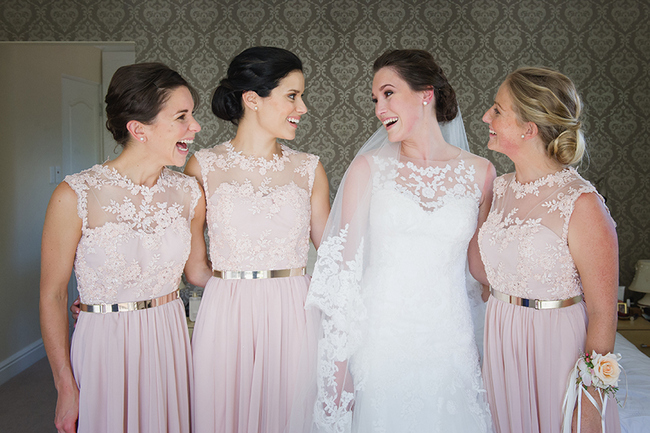 Love Story
They say you'll never meet the love of your life in a nightclub, so we're definitely the exception to the rule. We met through mutual friends in a nightclub in Claremont, Cape Town.
The Proposal
Having been together for nearly ten years, I didn't suspect anything when Robbie casually suggested we head out for a day in Franschhoek Valley. I've always loved Babylonstoren and when we approached it, I suggested we pop in there, not knowing that I was playing beautifully into his plan. We had lunch at the Glass Conservatory and meandered our way back through the beautiful gardens. When we were close to the hotel, he suggested we walk through 'Hotel Only' area, so I followed, thinking it was a little odd at the time. There, waiting for us was a golf cart with a very friendly chauffeur, clearly in on the whole thing judging by his smile from cheek to cheek! We drove up to a secluded lake on the property where there was a small rowing boat waiting for us. With tears flooding my eyes at this point, we rowed out to the middle of the lake where Robbie proposed. It was beyond anything I could have ever imagined and the biggest romantic gesture I've ever experienced. I was blown away!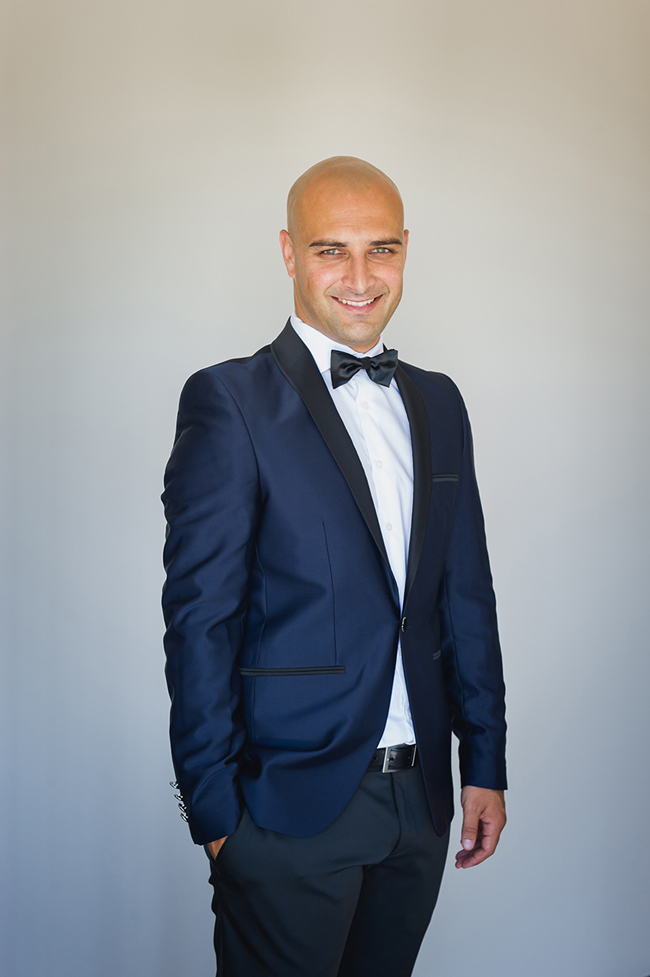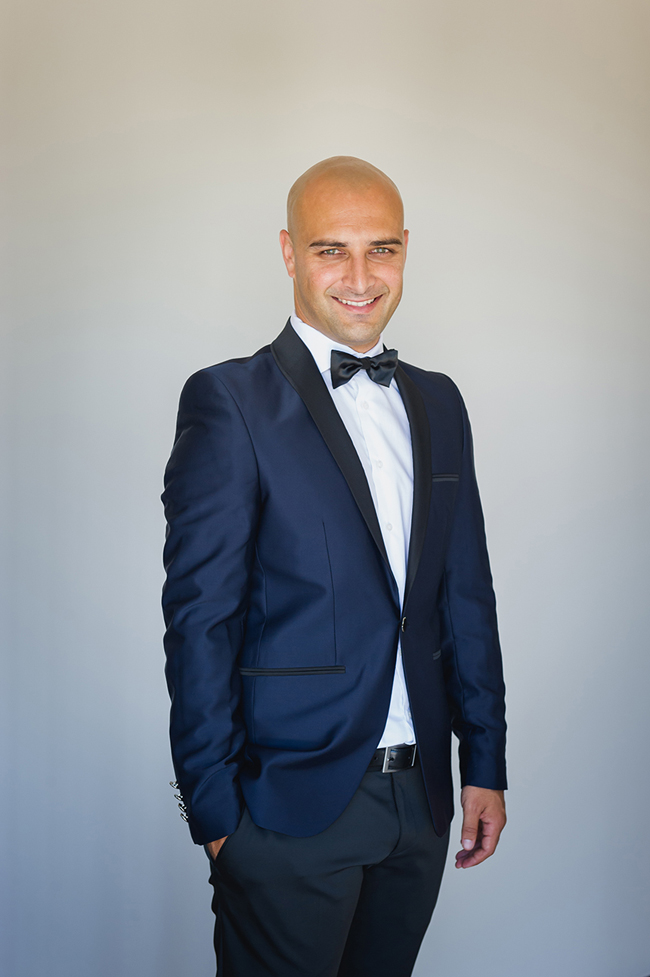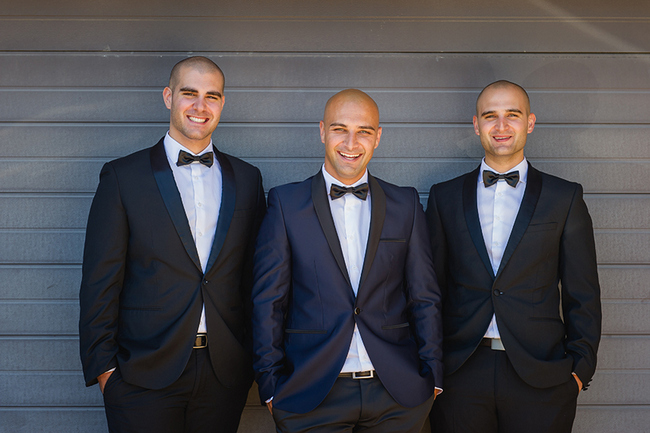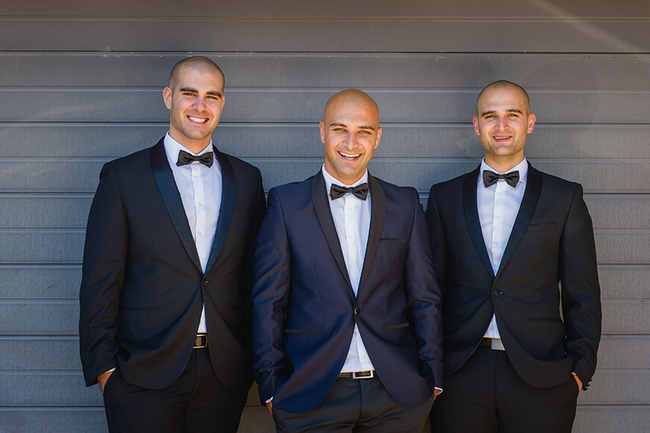 The Venue
We always knew we would get married in the Green Point Catholic Church. It is unassuming from the road and spectacular inside. The venue was slightly harder. We hunted high and low for the perfect reception venue. I had a list of probably over 100 venues that I had researched, either contacted or visited. We both have big families so it's really tricky to find something that was big enough, not too far, but not too close, light, bright and modern… and perfect of course! We had been to a wedding at Kleinevalleji before and I had loved the all-white venue, rolling lawns and beautiful views. When we went back again to visit Sunita at the venue, we knew it was the one.
Wedding Style
I had been planning my wedding since I was probably five! And with the help of Pinterest in the last year, I had narrowed down my ideas – I can also be indecisive so it was overwhelming at first because I wanted everything! Robbie was extremely helpful in helping me filter and narrow down to the final items, we both like simplicity and sometimes less is more. I would say our style was elegant, personal and traditional. I wanted the whole day to be an expression of both our personalities and our love for one another. So it wasn't about a specific theme, but rather elements that we both liked and felt right. Our colour scheme was rose gold and blush pink. My beautiful bridesmaids were in beaded blush pink gowns and the colour followed through into our flowers and small details.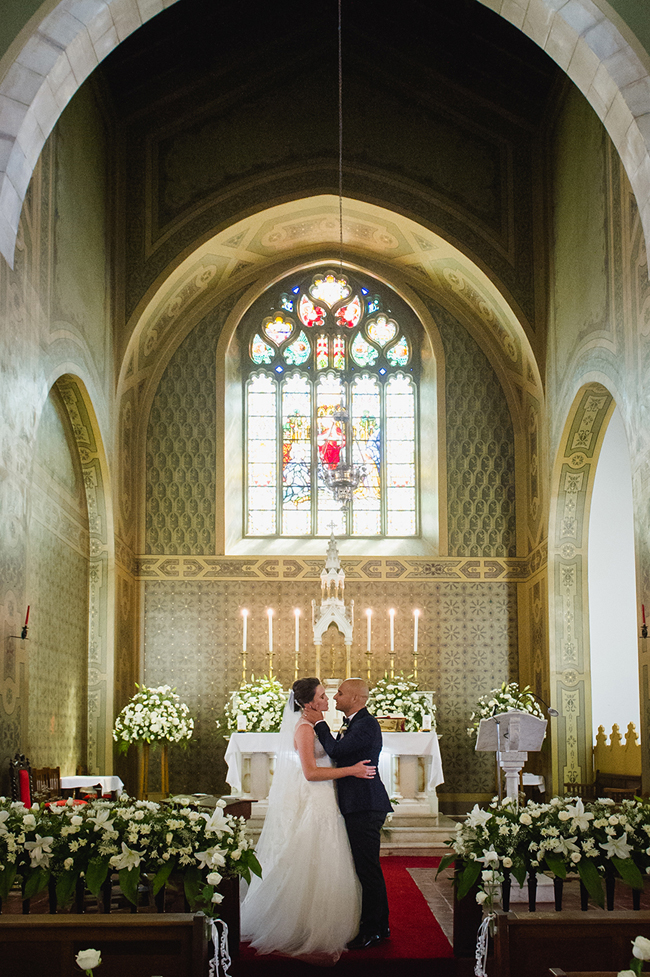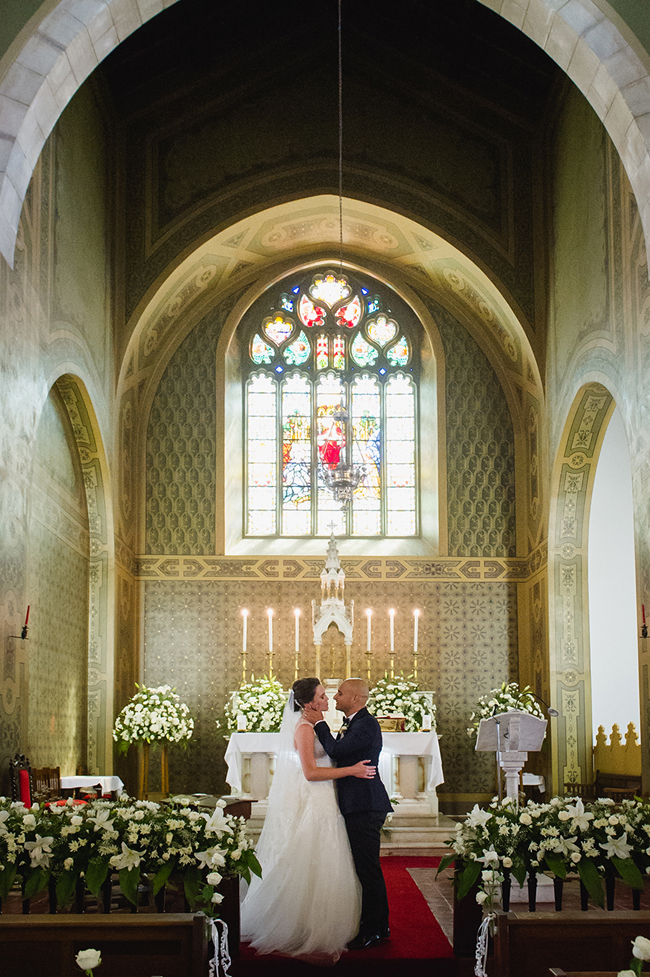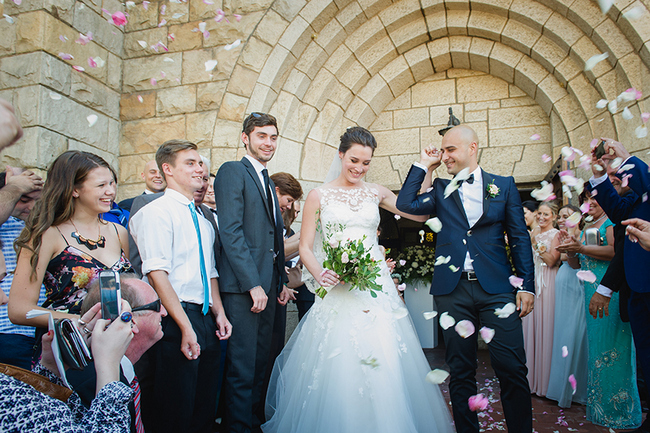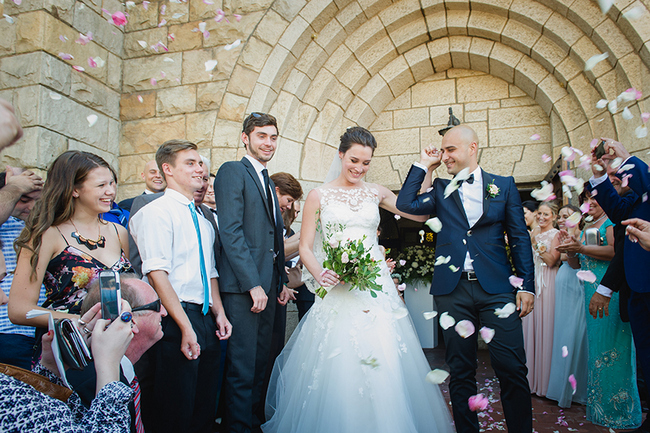 Wedding Details
One of my favourite wedding details was a little illustration of a man and woman designed by Liezel Liebenberg that we carried through onto all our wedding details as our golden thread. Instead of a menus on the tables, we folded 280 cootie catchers (remember those things you used to play with during breaks at school, "pick and number, ask a question and get an answer"?). It really brought out our fun side and we had eight questions that helped our guests get to know us better. I've always been the first one to cry at weddings so all our guests received tissue packets when they arrived at the ceremony for their 'Tears of Happiness'. As our bomboniere, I had cute cotton bags printed for all the ladies from Heart Works in Salt River, with 'To Have & to Hold' on them. I thought they'd come in handy when everyone had their shoes off at the end of the night after dancing!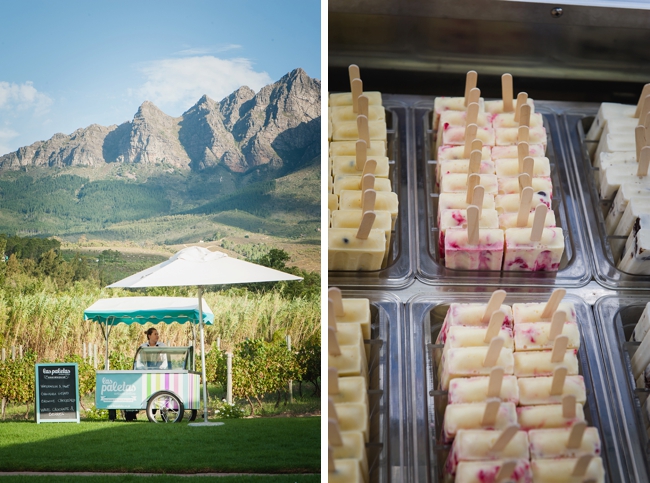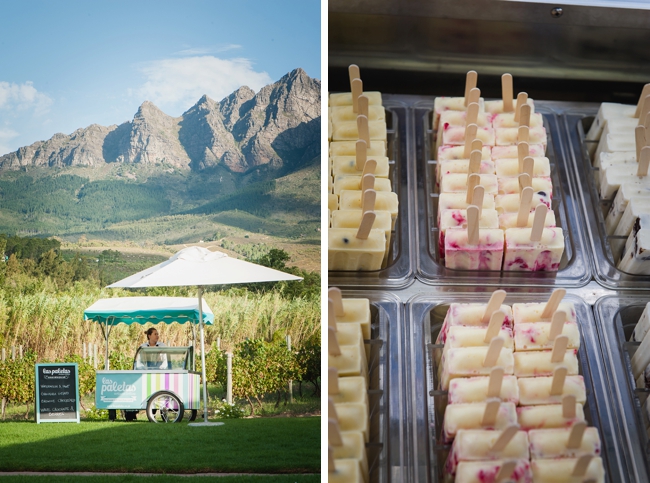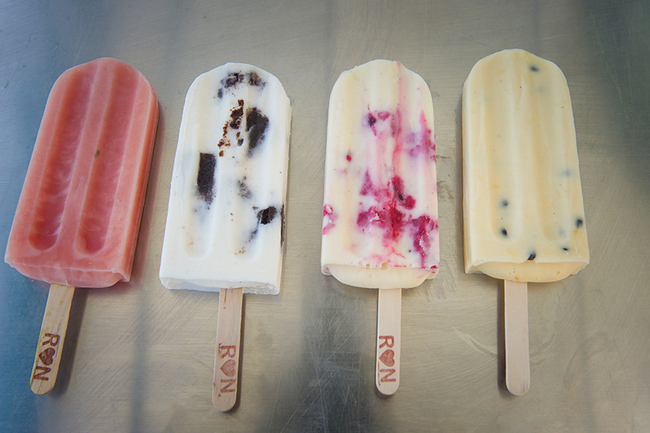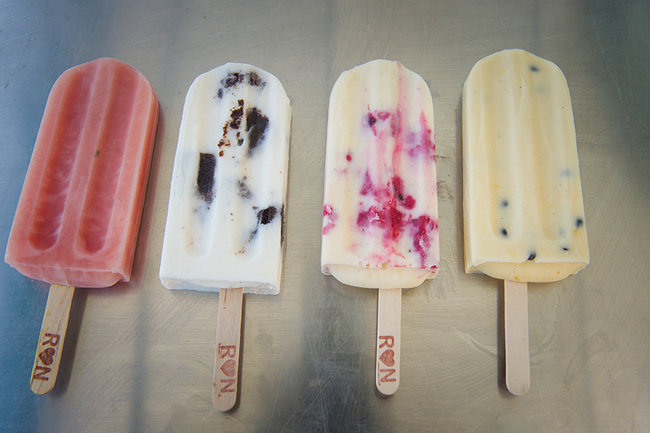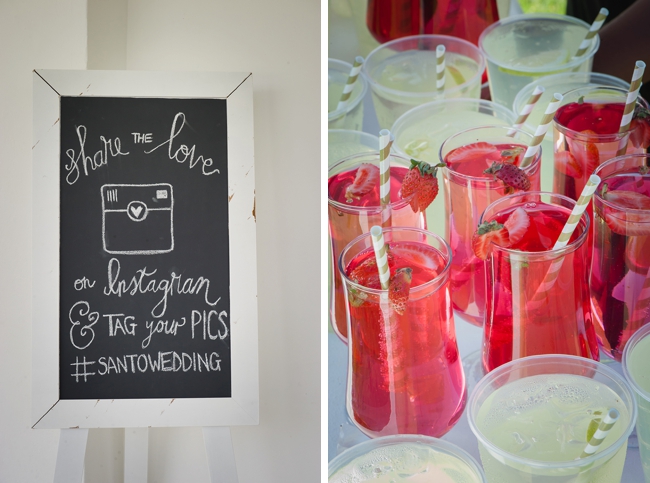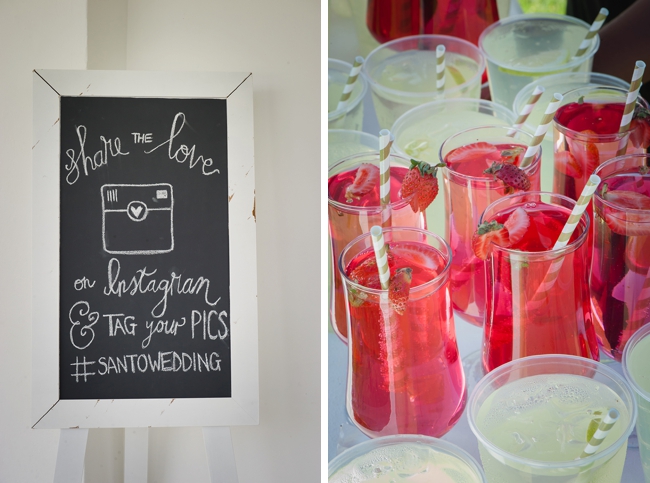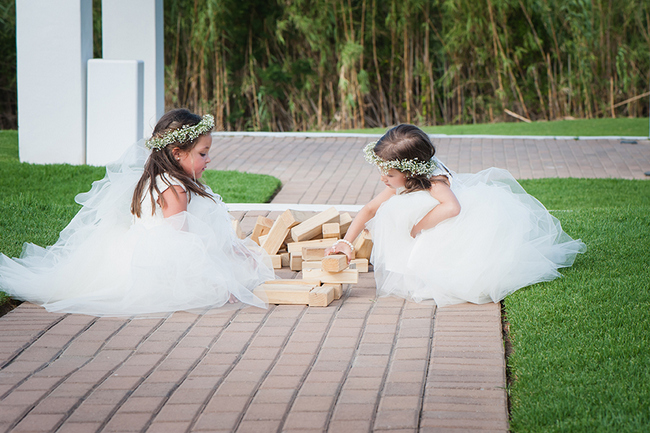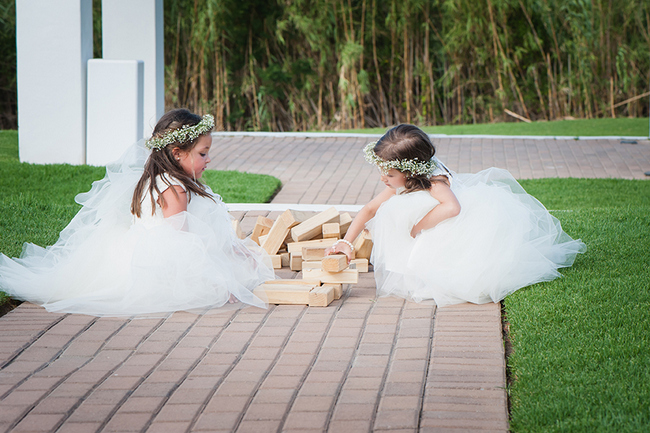 The Flowers
I wanted all the flowers throughout the wedding to be soft and whimsical. The flowers for the ceremony at the church were exquisite big bunches of white flowers and decorated down the aisle with small versions of the main ones on the altar, all carefully created and placed by talented Portuguese family friends of Robbie's.
Green Goddess brought my vision for the reception to life. We set up long banquet-style tables all connected to the main table to give everyone the feeling that they were equally important and we treasured them being there. Beautiful long garlands of soft blush pink and white flowers combined with delicate greenery ran the full length of the tables and trailed off the end to give a never-ending feel. The result was spectacular and with low flower arrangements, we were able to install big naked light bulbs to hang over the tables, so there was plenty of ambient lighting and you were still able to have a conversation with the person opposite you. It all looked perfect in the evening light.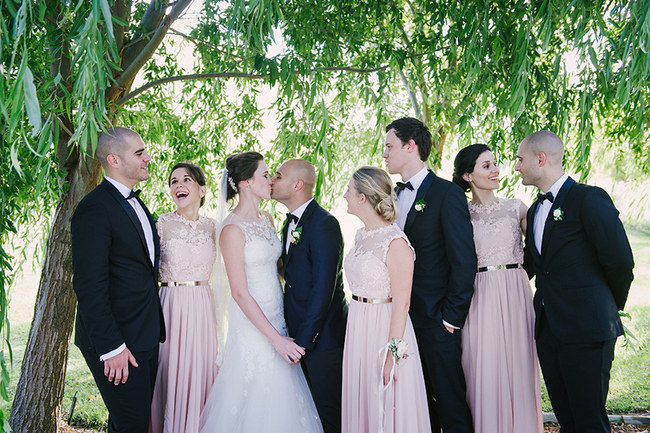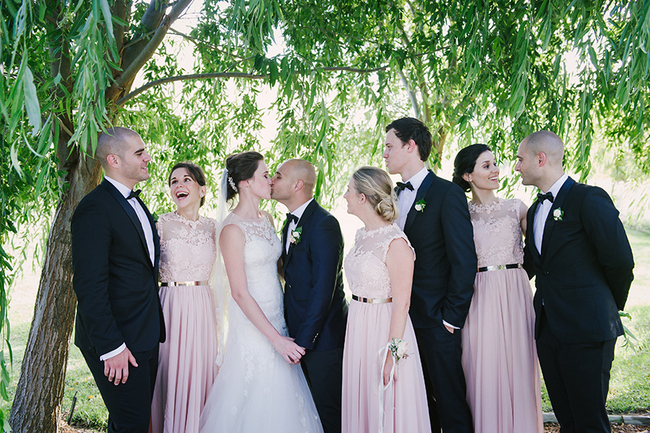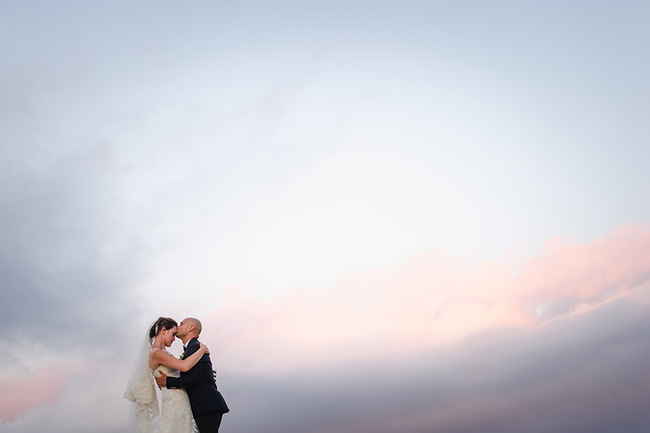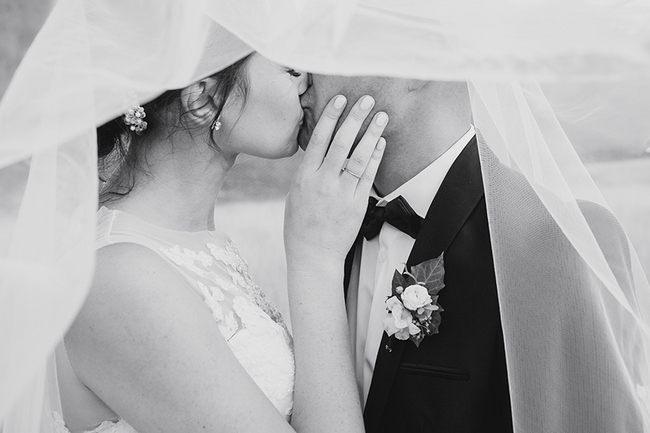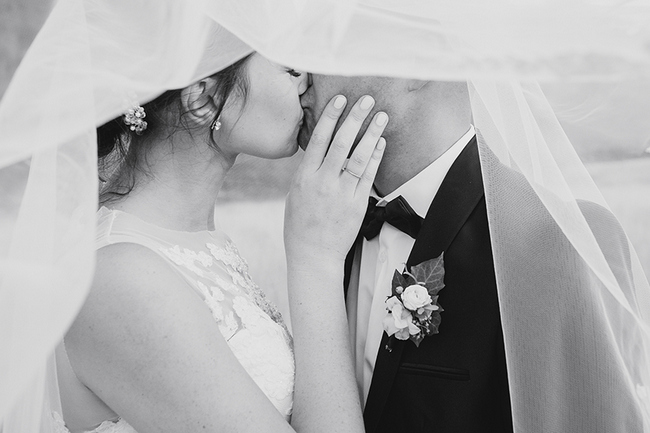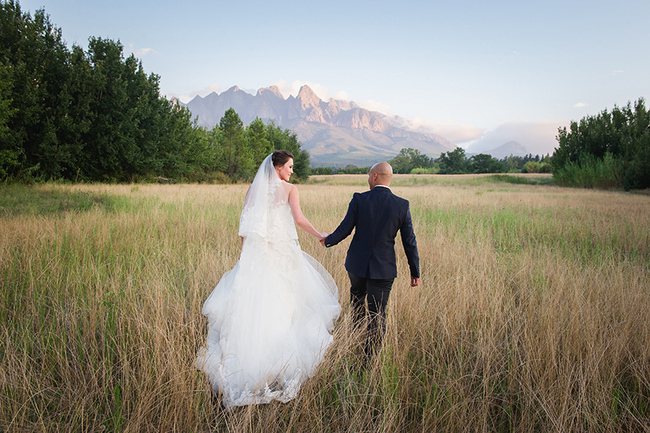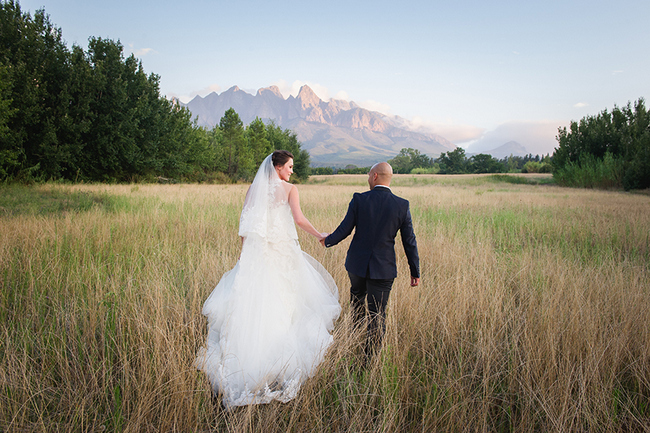 The Dress
Finding the right gown was a very special journey with just my Mom and I. I wanted to keep it a surprise from my bridesmaids, and judging from their reaction on the day, it was worth it! We visited numerous bridal ateliers and nothing felt right until we spent the morning with Michelle at Robyn Roberts. She was incredible. I must have tried on ten dresses that morning and with her guidance and patience, we took a little from each one and she created my dream dress.
I loved been involved in the entire process and we took it slowly to ensure I was happy with every step as we proceeded. I also knew that seeing as I was having a big, traditional wedding, I couldn't have a simple, sleek dress. The result was an exquisite ball gown style dress with an airy tulle skirt and delicate Chantilly lace hand-appliquéd onto the bodice. The illusion lace along my collar bone and down my back, giving the impression that the lace was gently floating on my skin. I also wore a timeless, yet modern, cathedral-style veil which was edged with Chantilly lace to complement my dress.
The Bridesmaids
Three of my best friends, who all have gorgeous figures, so it was easy selecting a style for them. They all wore matching blush pink, hand beaded gowns with floaty chiffon skirts for a romantic and soft finish.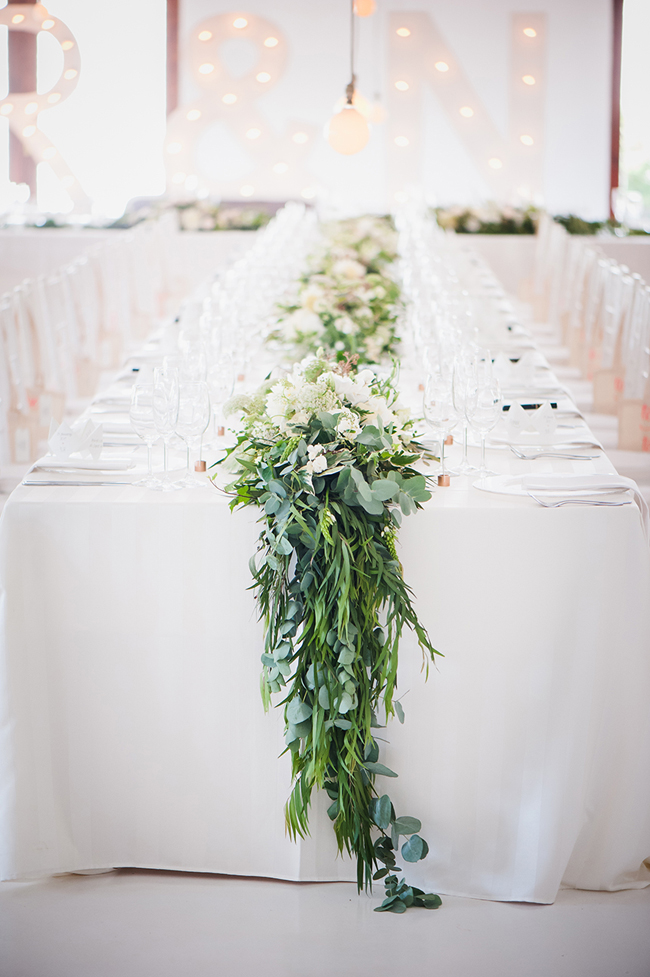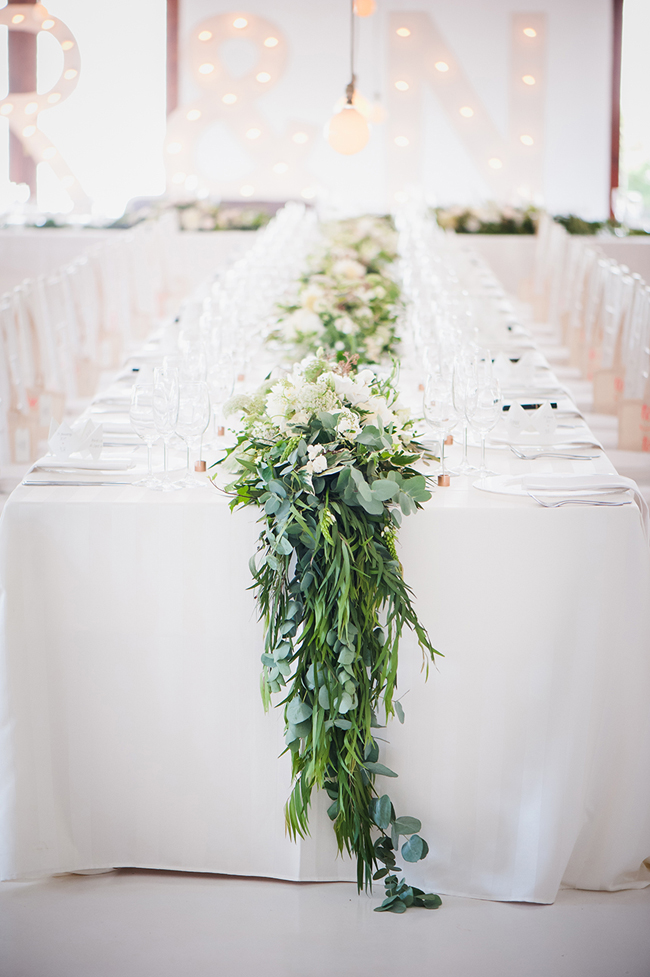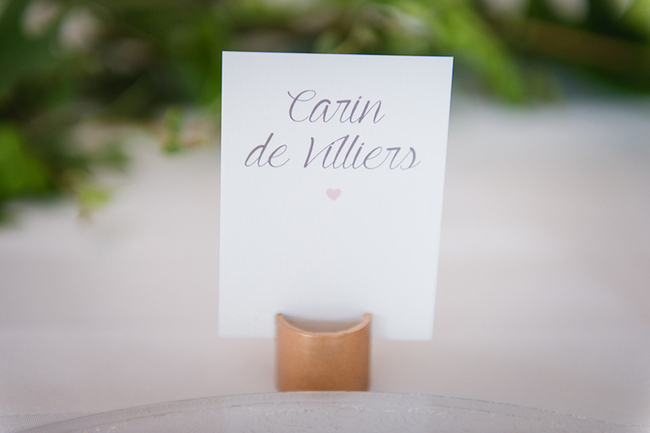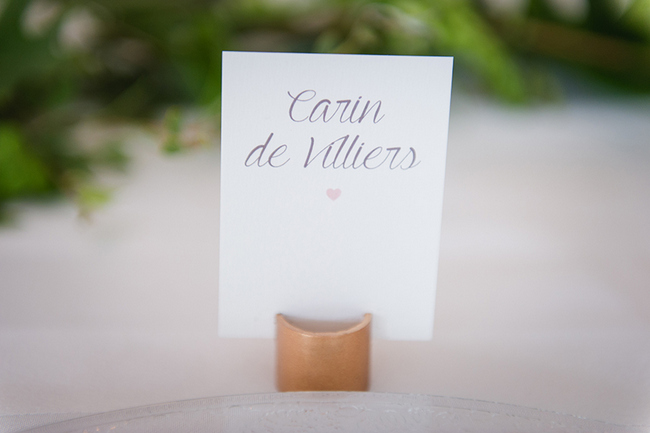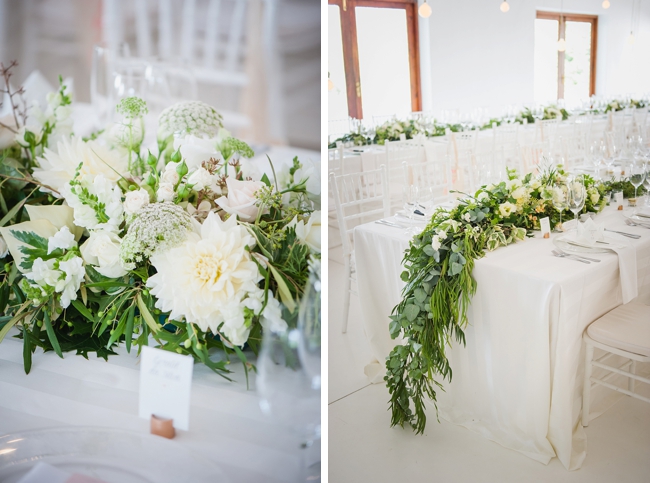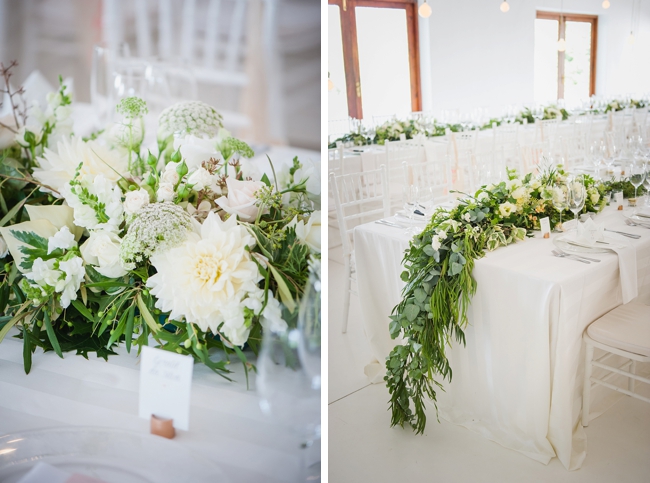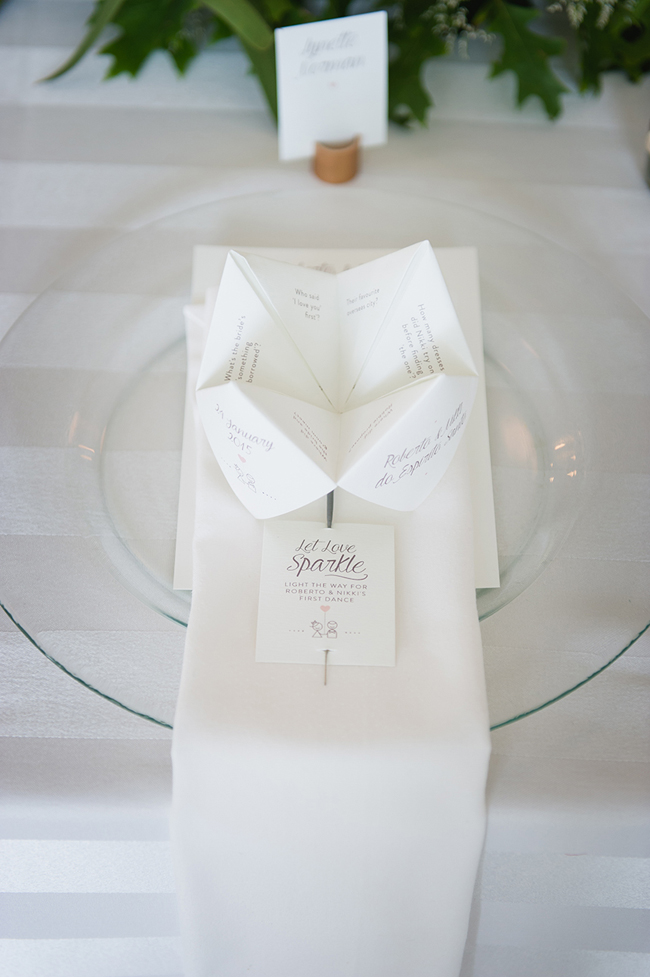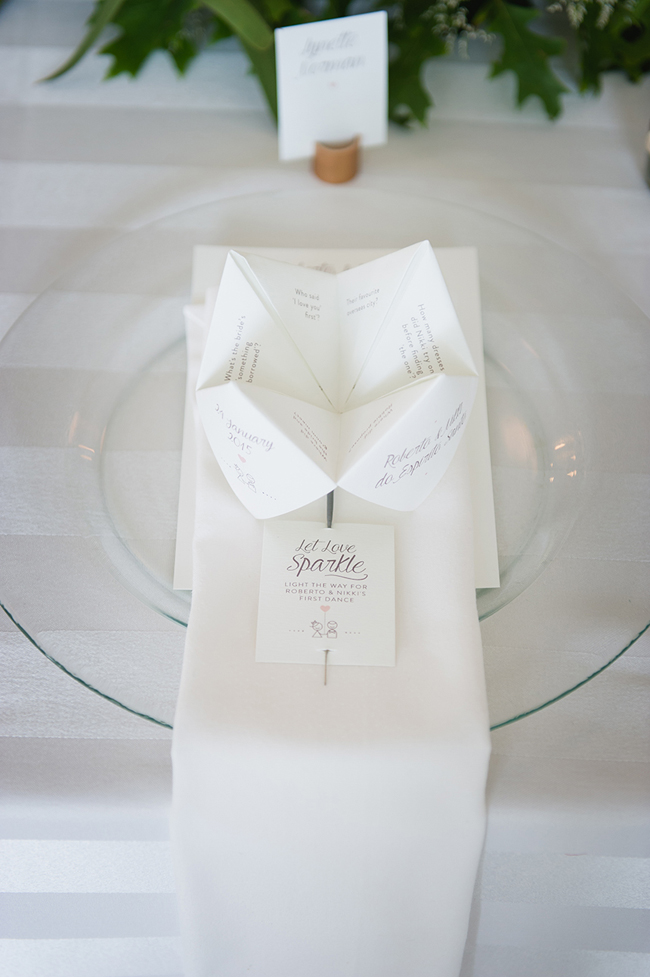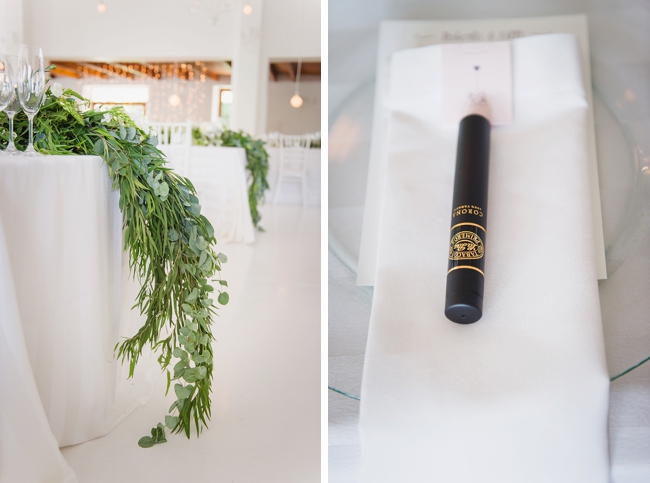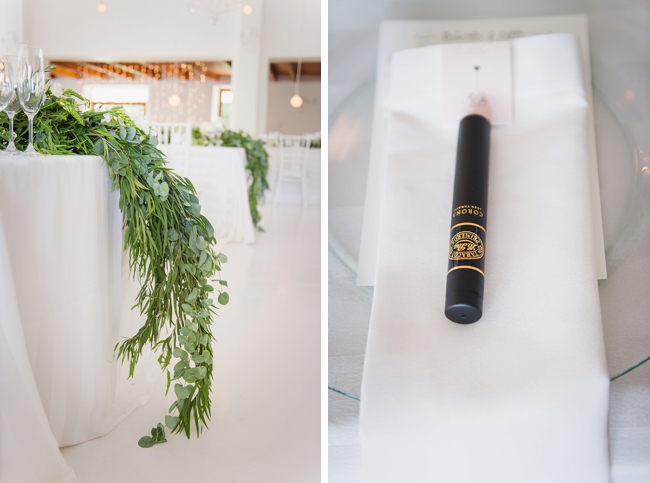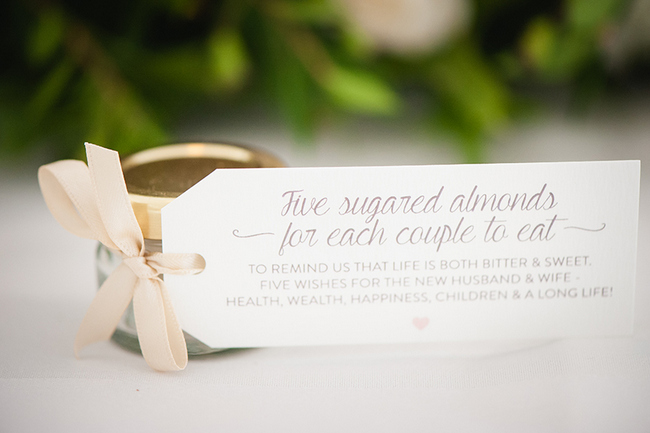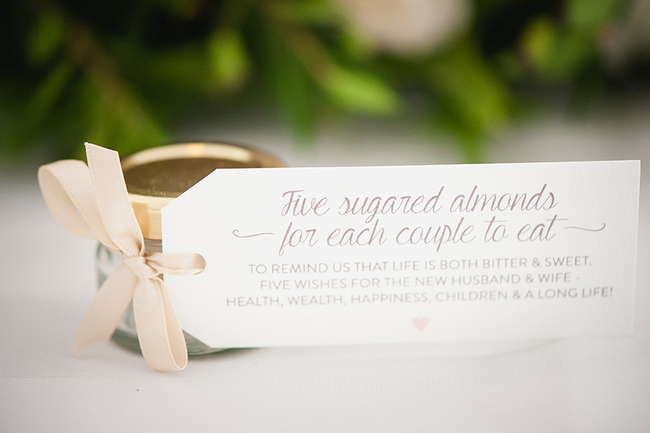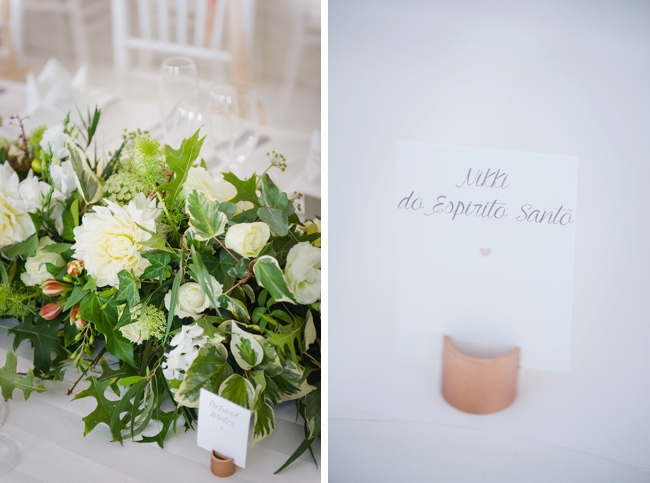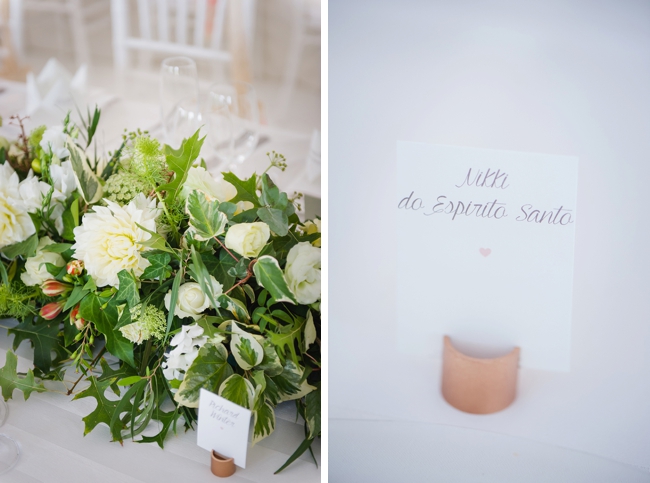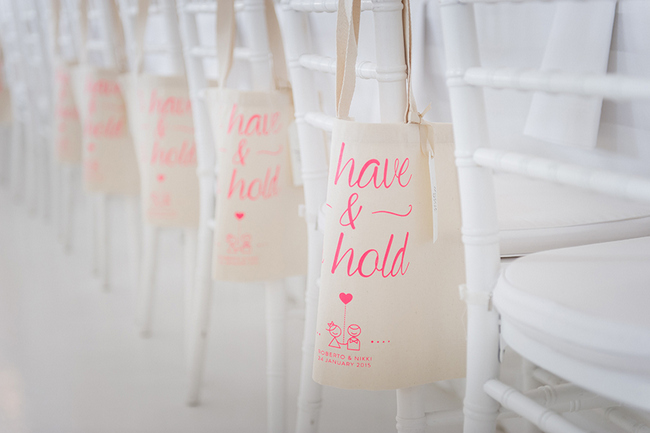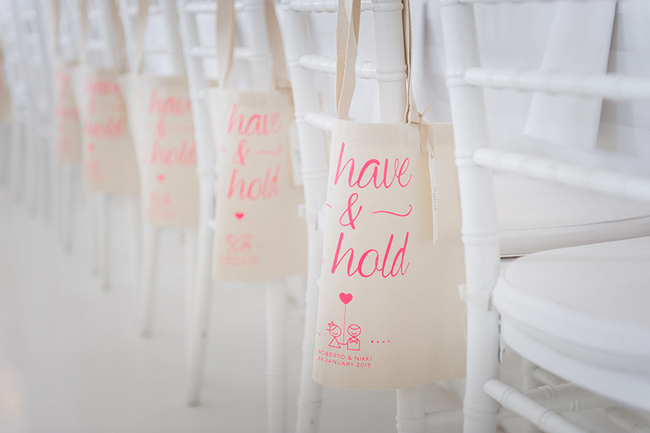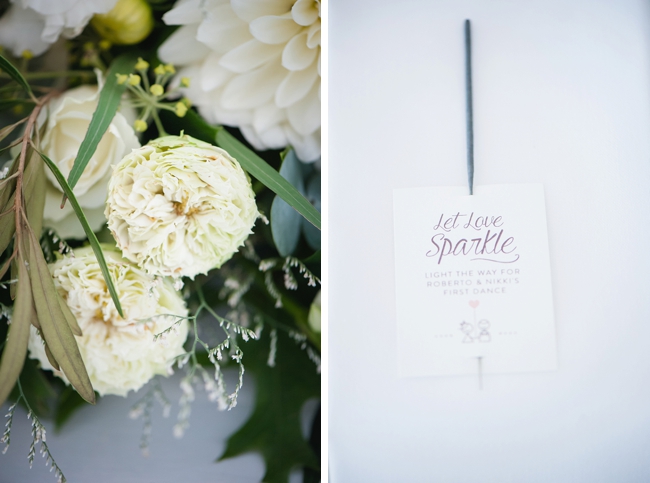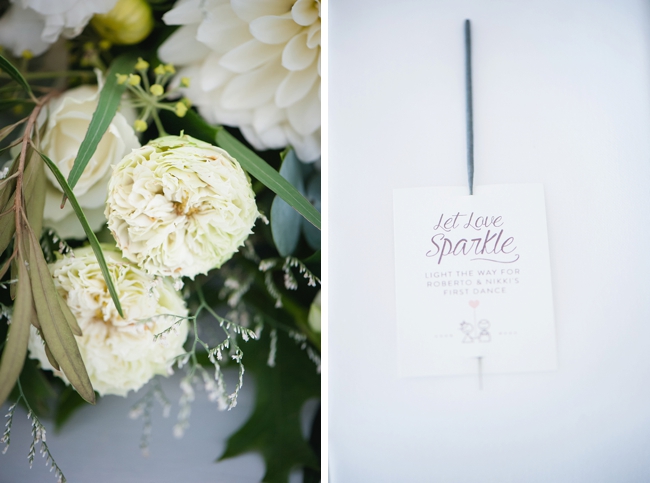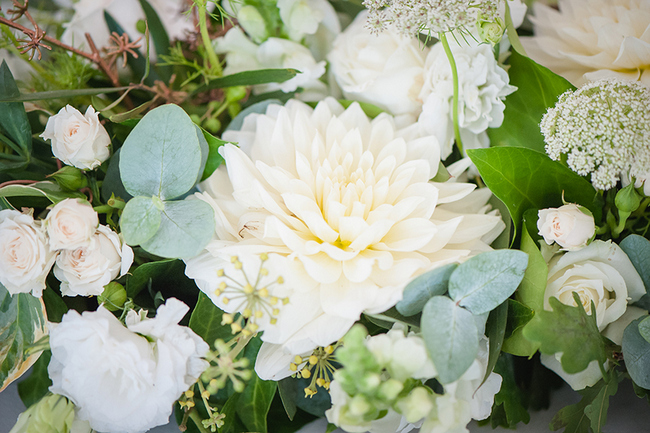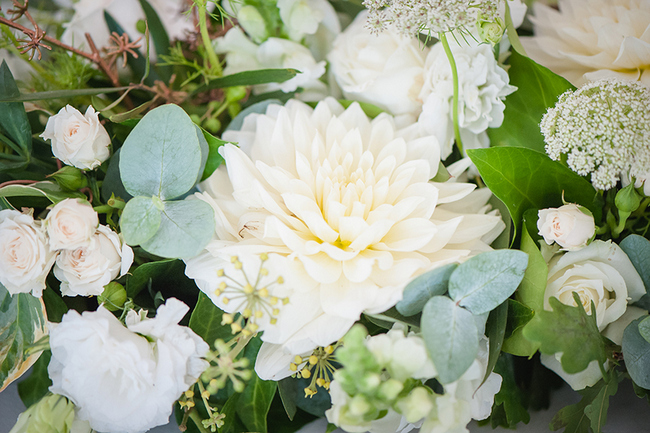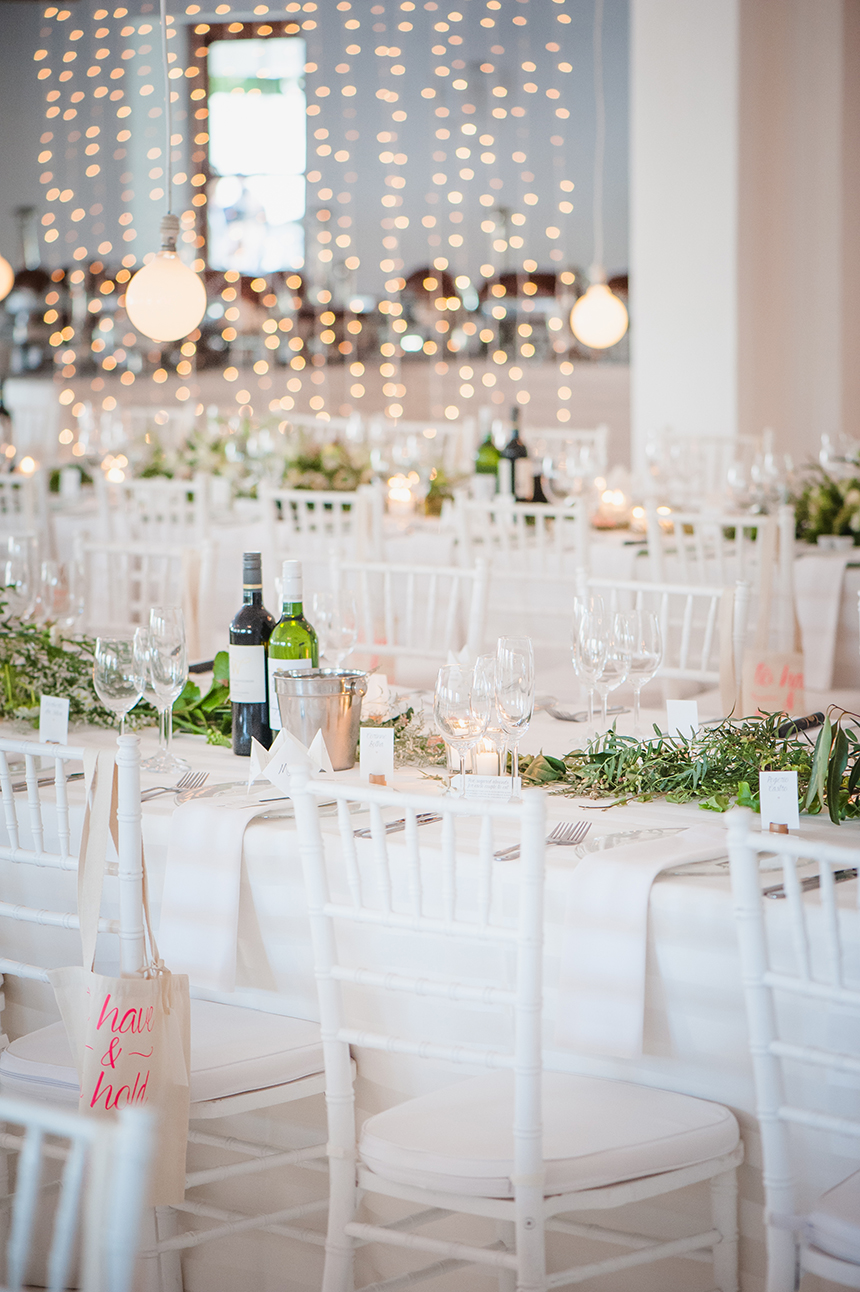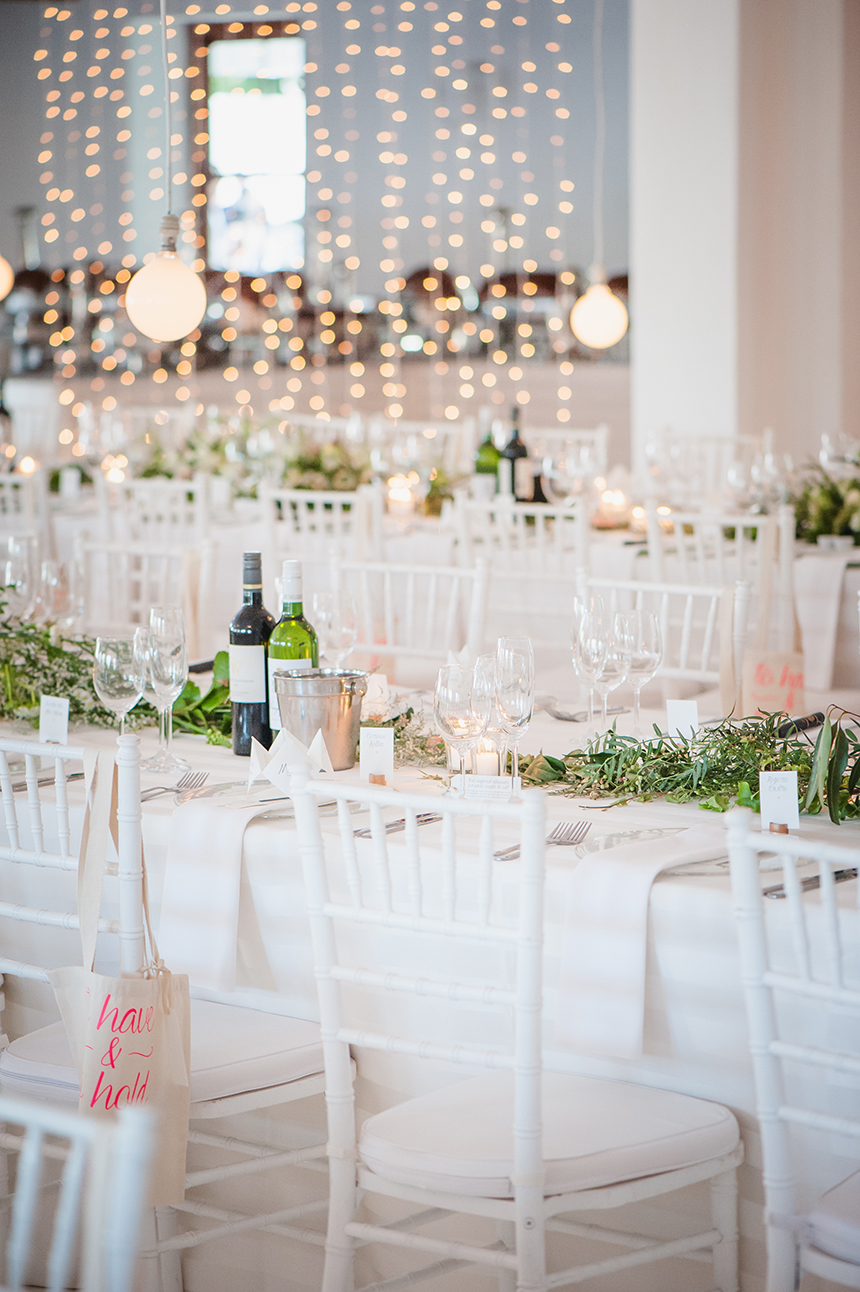 Memorable Moments
A couple of moments stand out for me. Firstly, having my bridesmaids and my best friends see me in my dress for the first time which had us all in tears. I shared a very special moment with my dad and brother in the drive from our home to the ceremony where it was just the three of us. My amazing photographer, Lauren Kriedeman, who kept me calm, on schedule and relaxed the whole day. All while capturing the most beautiful pictures! Finally, when I saw my husband at the altar and I knew it was the beginning of the best journey we'll ever have together.
Family Traditions
My husband is Portuguese so we definitely had to have the Portuguese tradition of Poncha being passed around and shared amongst friends and families. Hand made by his talented aunt, Poncha is a traditional alcoholic drink from the island of Madeira.
We were lucky enough that between our families we had a collection of vintage cars to choose from. My father built a Shelby Cobra in 2008 and promised me that I would be the first bride to ever ride in the car. Even after numerous requests, his dream came true on our wedding day. Our groomsmen were also lucky enough to arrive in Ford Mustangs, lovingly restored by my father-in-law.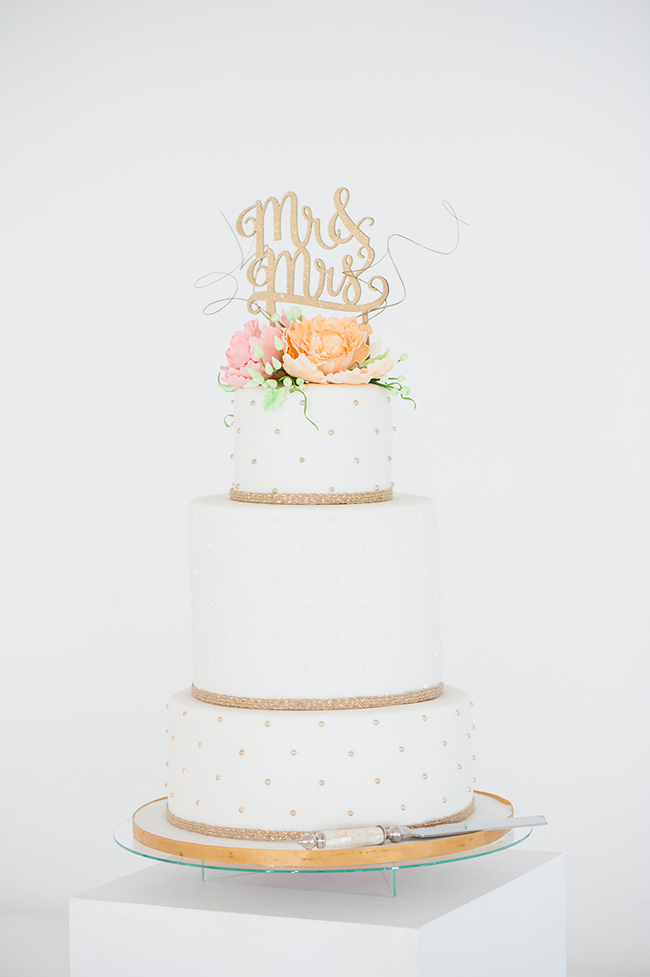 Best Decision
To involve everyone! It was such a special time not only for Robbie and I, but for our families. It's lovely to see everyone take on their role naturally and bring something to contribute if you let them.
Advice for Future Brides & Grooms
Take it slow – we never rushed into any decision and carefully thought about everything. Trust your gut, I decided right from the beginning to only work with wedding suppliers I liked. There are hundreds of people out there that all the do the same thing, so select the people you have the best connection with because it will show in the results! Also, don't let it take over your life and be the only thing you talk about – we would have dinners out and there would be a strict no-wedding talk policy. The wedding is only one day and your marriage is for a lifetime so don't let it affect your relationship.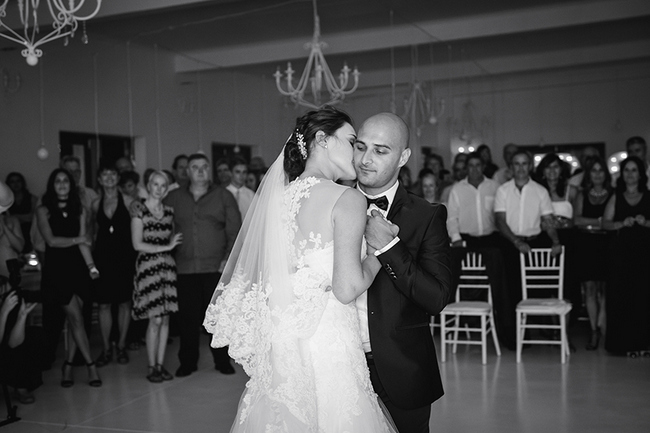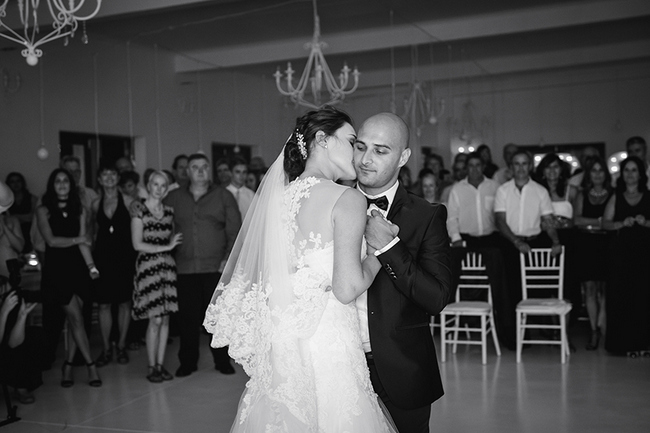 You can see more from this wedding on Lauren Kriedeman's blog.
CREDITS
Ceremony venue: Sacred Heart Catholic Church, Green Point | Reception venue: Kleinevalleij | Photography: Lauren Kriedemann | Flowers & décor: Green Goddess flower studio | Stationery: Liezel Liebenberg | Video: Hand Stitched Films | Cake: Cake Duchess | Bride's dress & accessories: Robyn Roberts | Hair & makeup: Natasha Papadopoulos | Bridesmaids' dresses: Leonie Jardin | Groom's attire: Robert Daniel | Hiring: Goeters | DJ: DJ Slim (Shaun Meyer) | Entertainment: Claire De Kock Duo