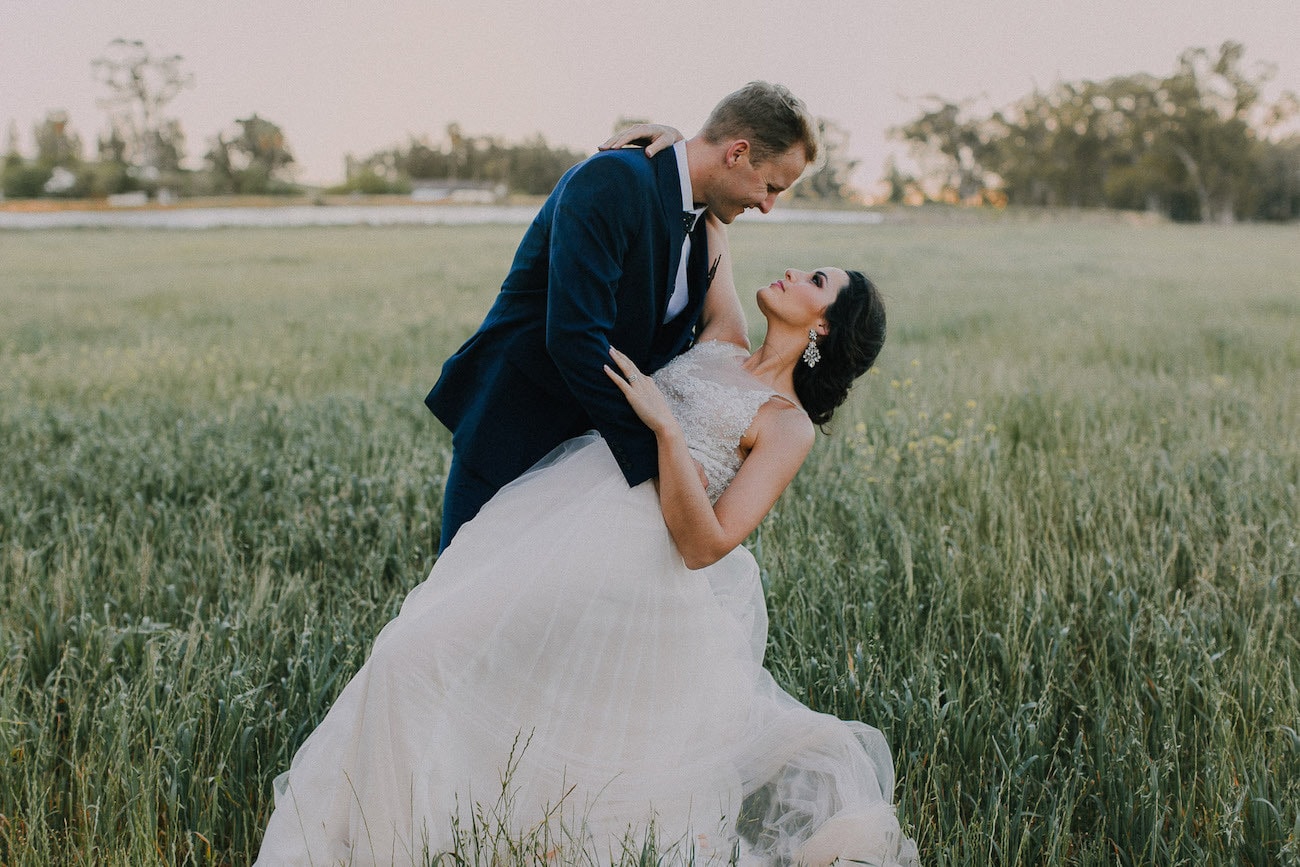 I don't know about you, but I'm a sucker for a botanical print. Love 'em. Love 'em anywhere, any size, on anything. (Especially tropical botanicals, my goodness!) Today's wedding (of two teenage sweethearts grown into a loving bride and groom) takes botanical art and makes it a focus, right from the invitation through to the table settings and even to the whimsical touch of floral print napkins-turned-installation on the walls. So awesome! Offset with copper and shades of pink and blush, as well as both elegantly rustic and chic transparent elements, Lize-Marié & Rikus' wedding is a feast of textures for the eye, not least thanks to Michelle du Toit's always drop dead gorgeous photography! Let's dive in!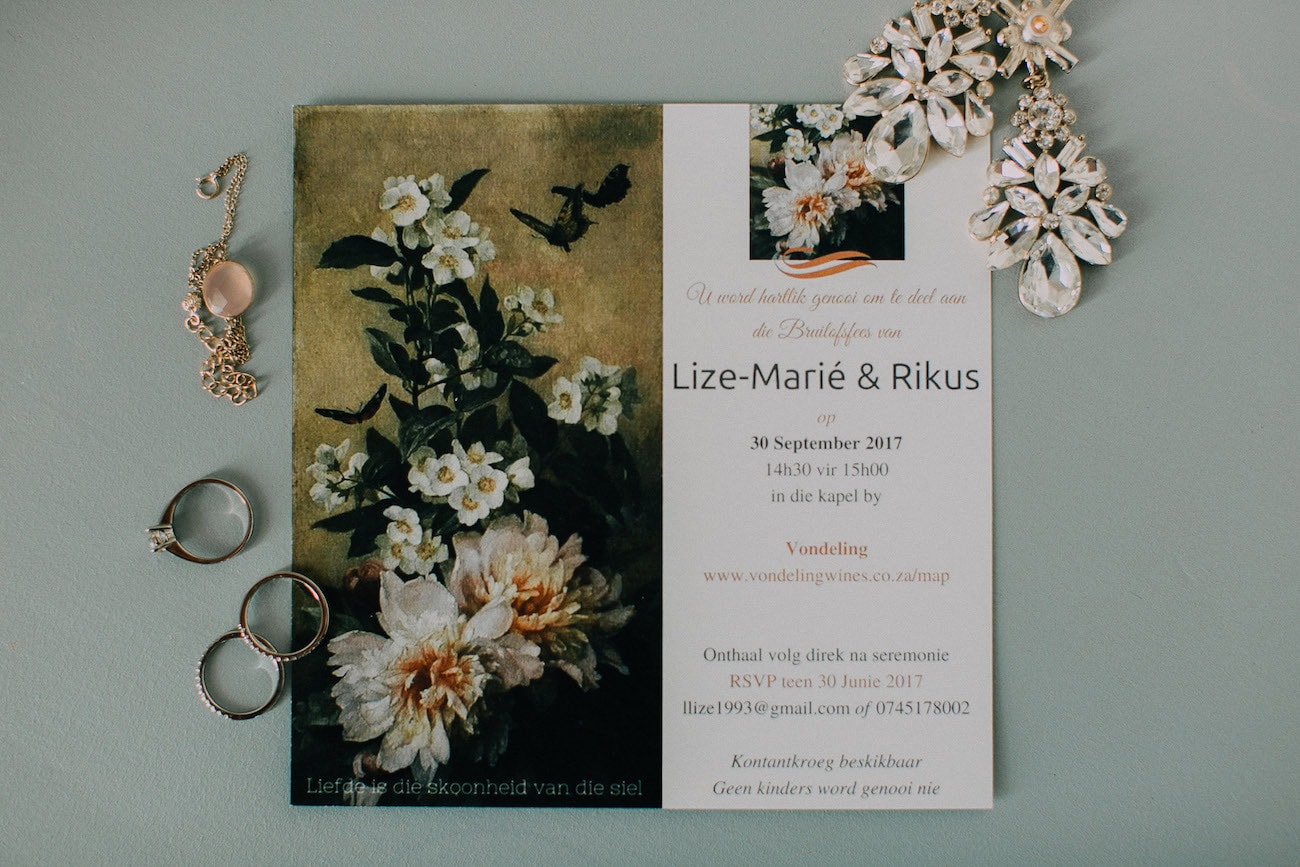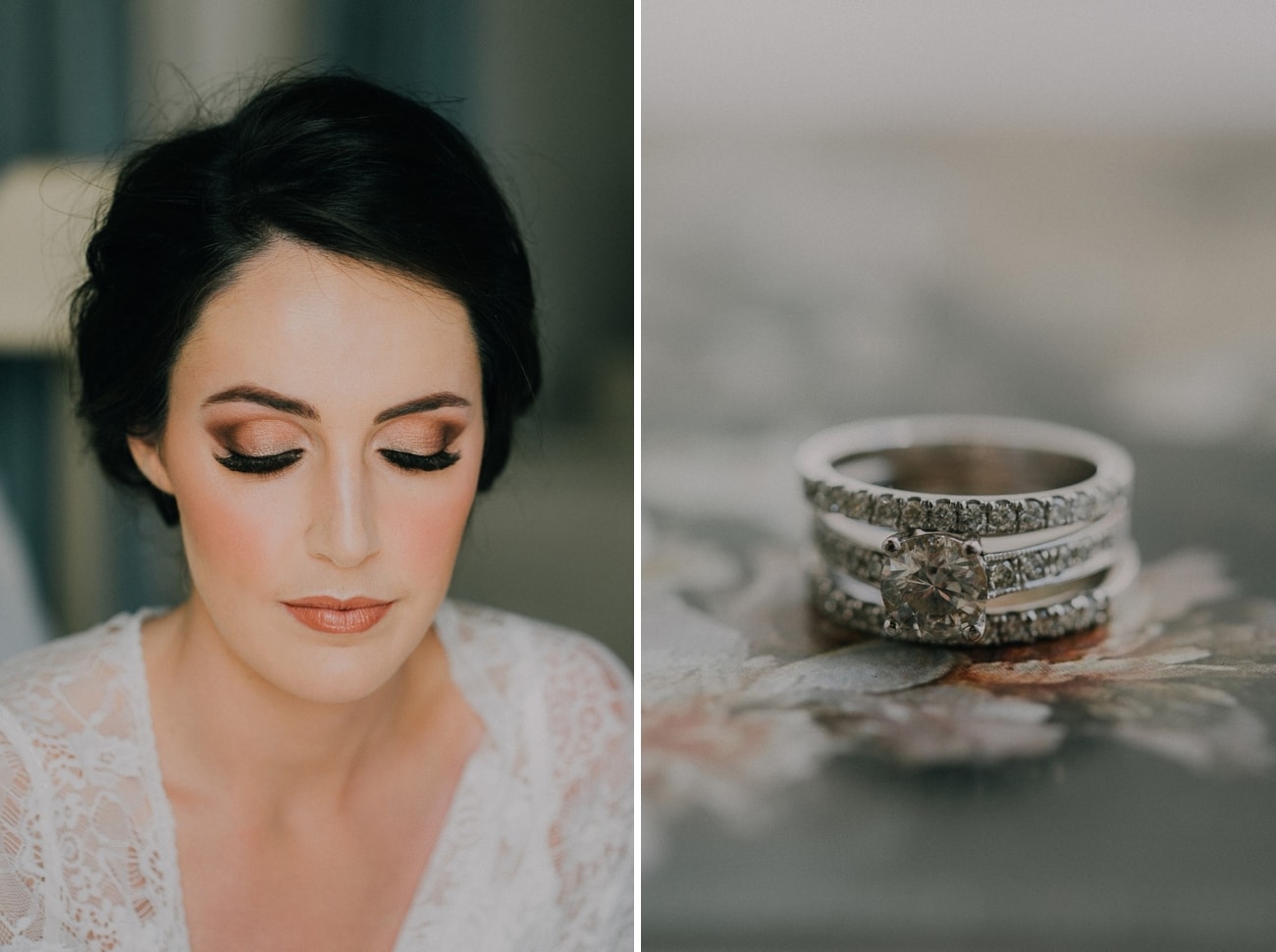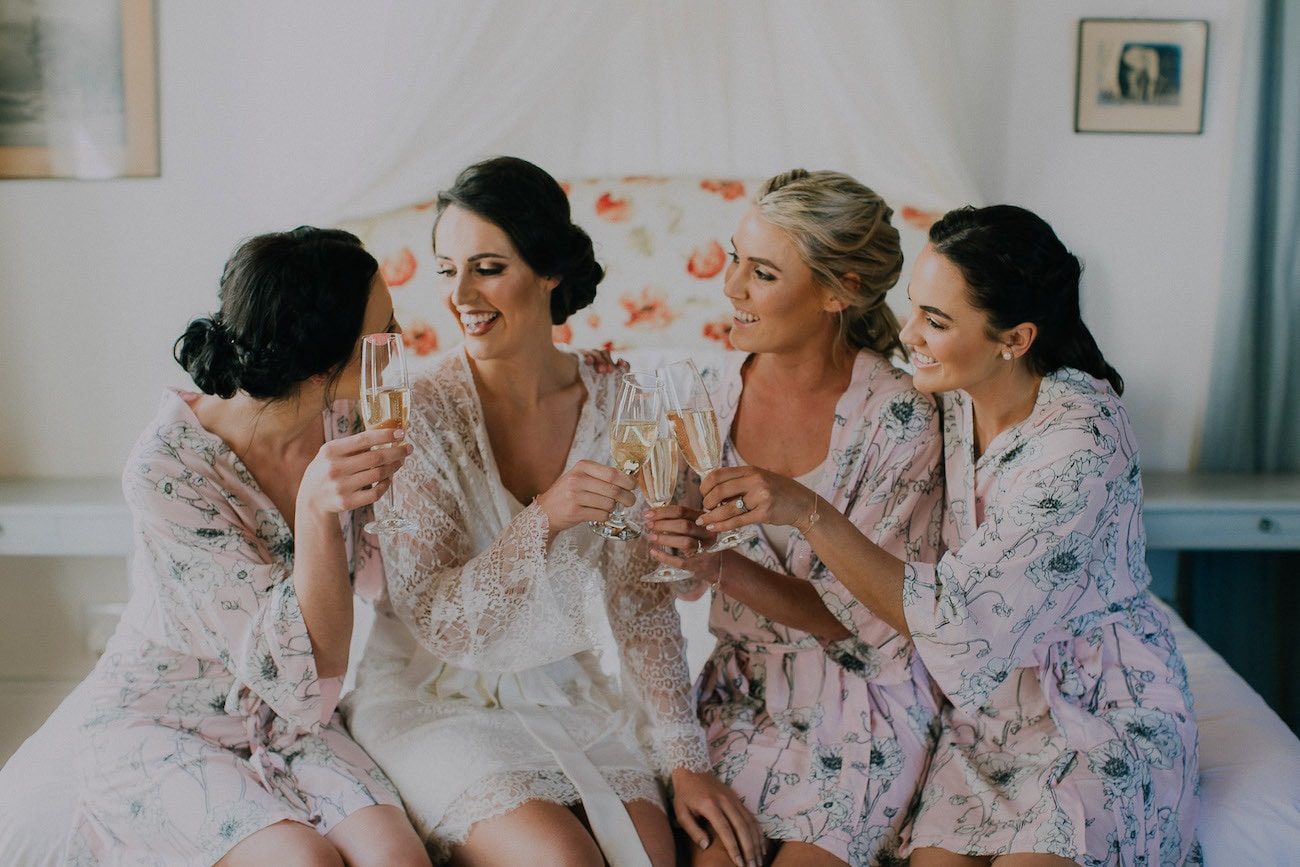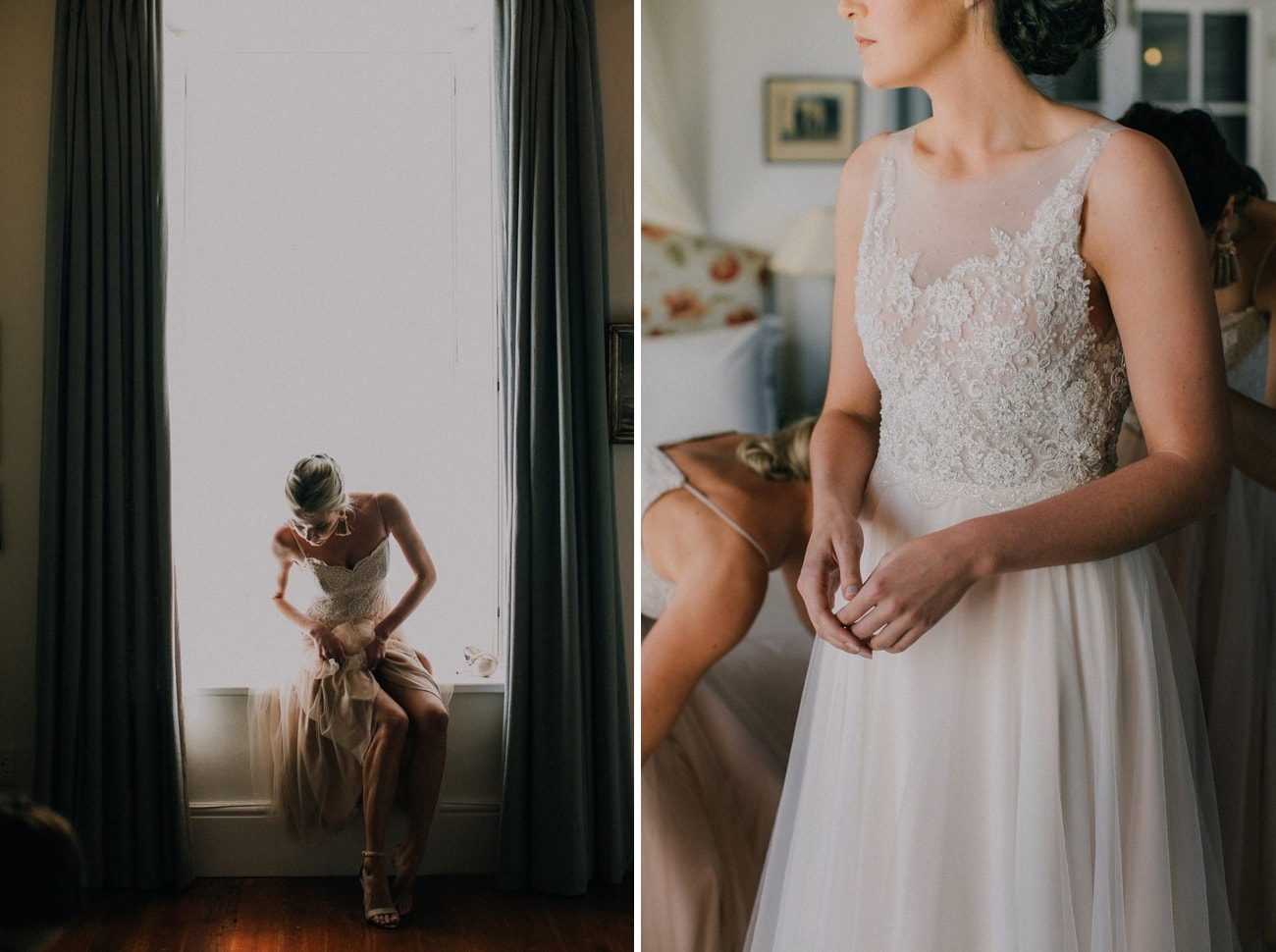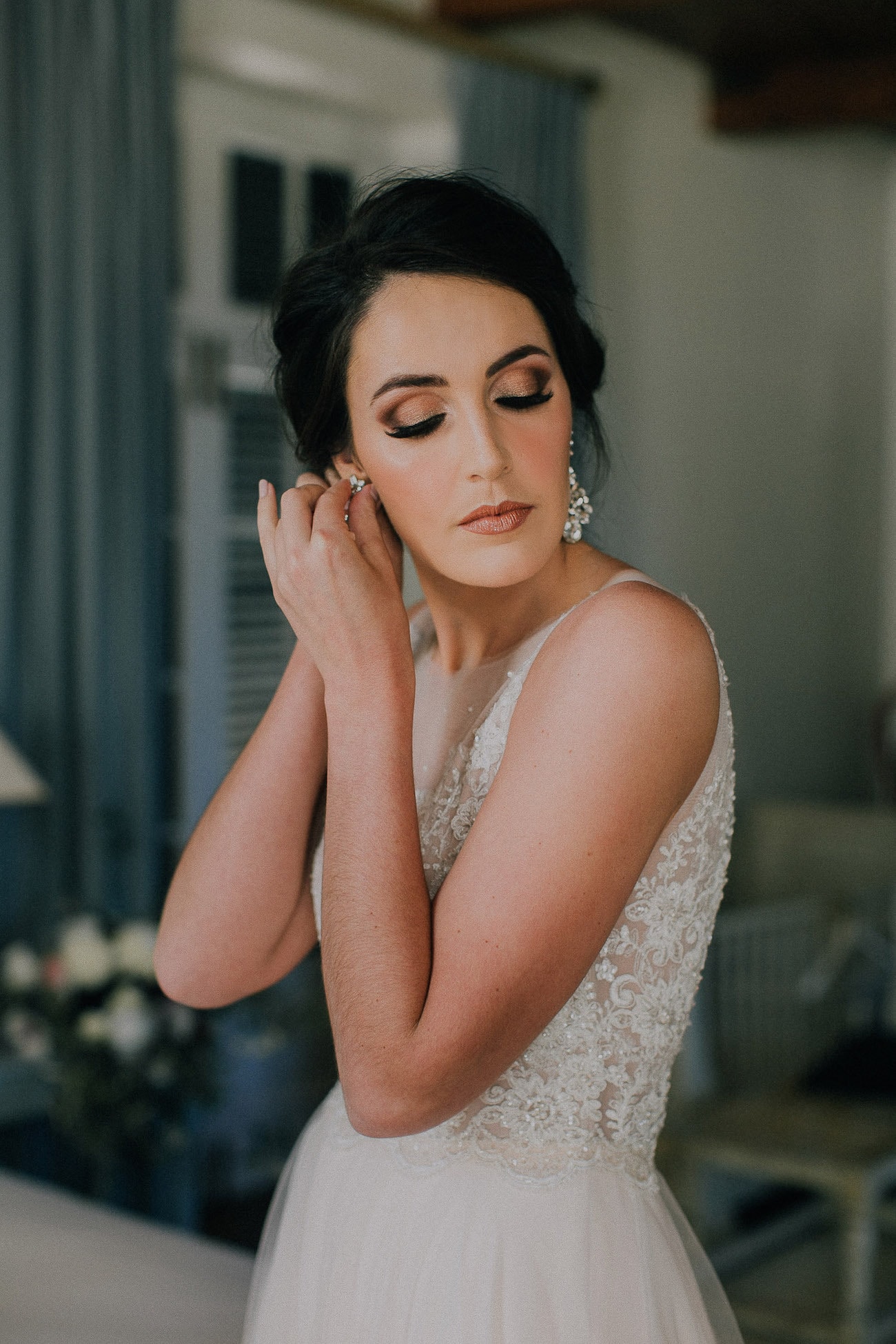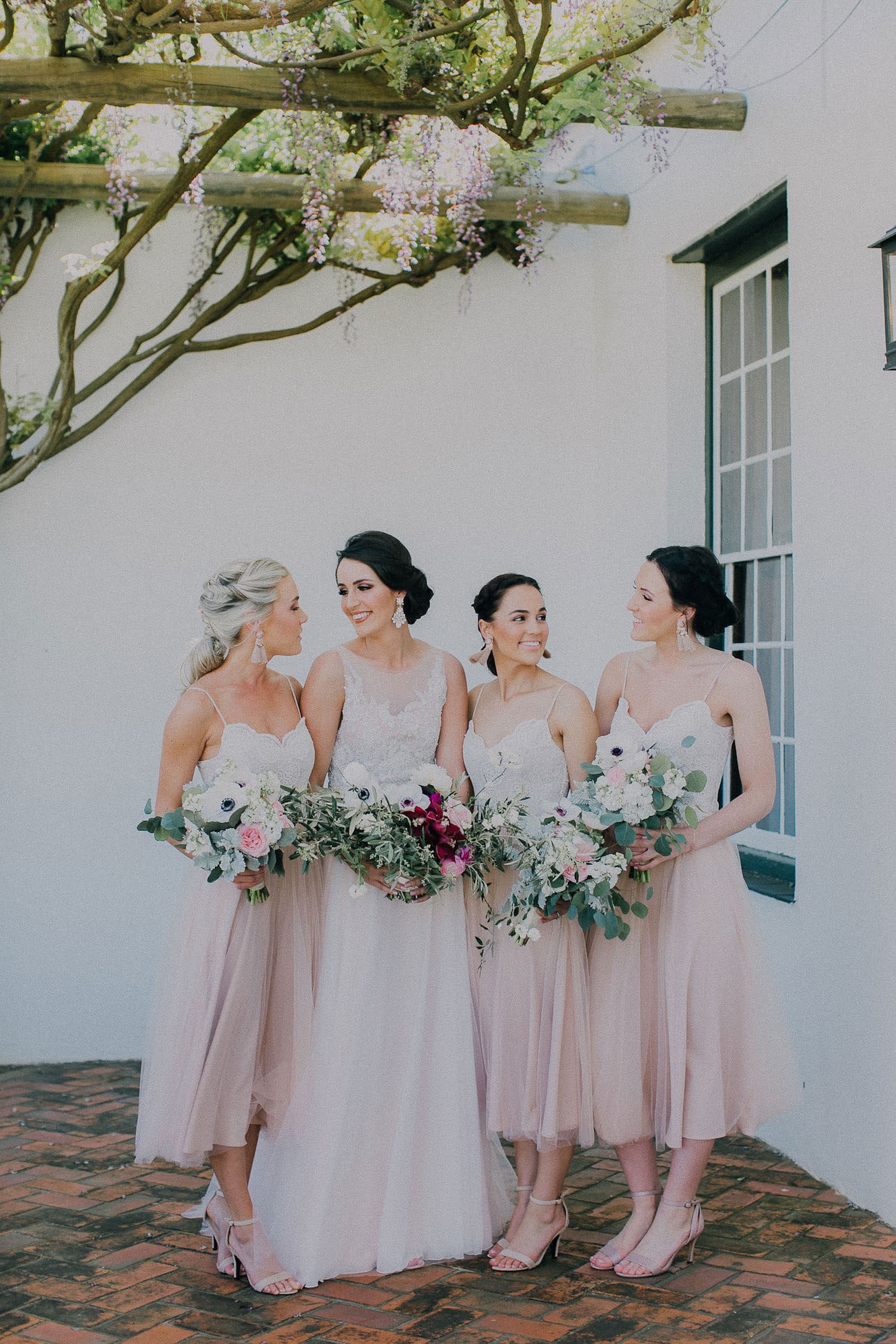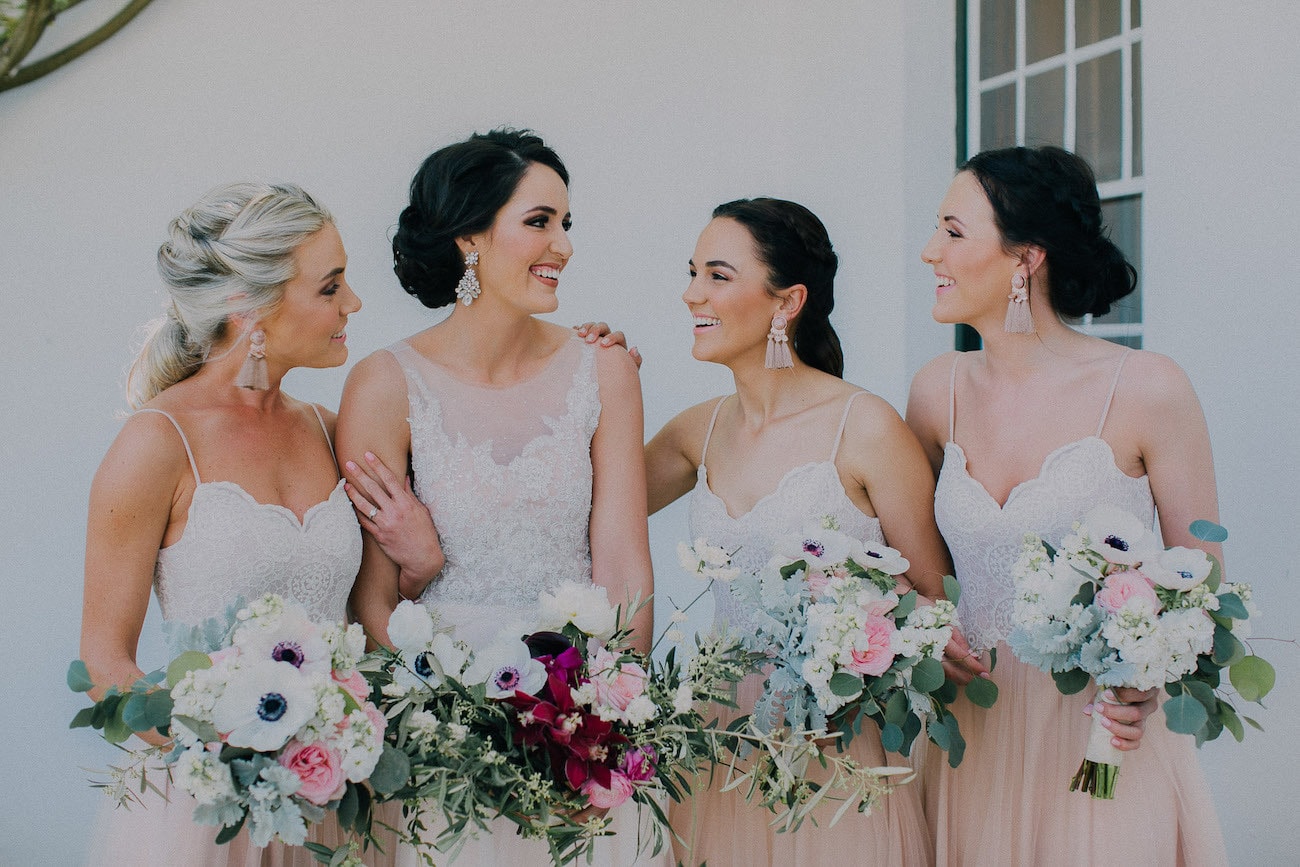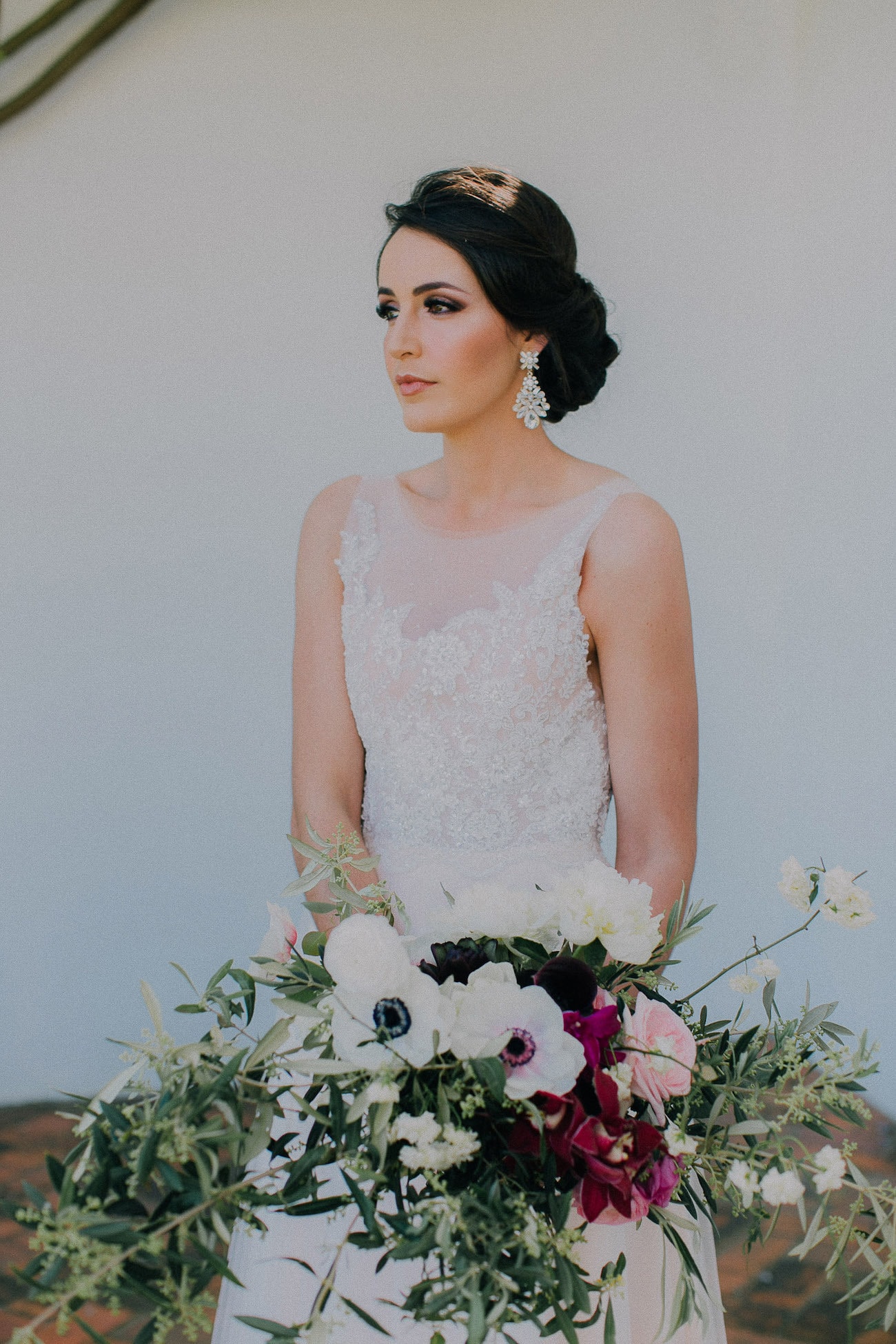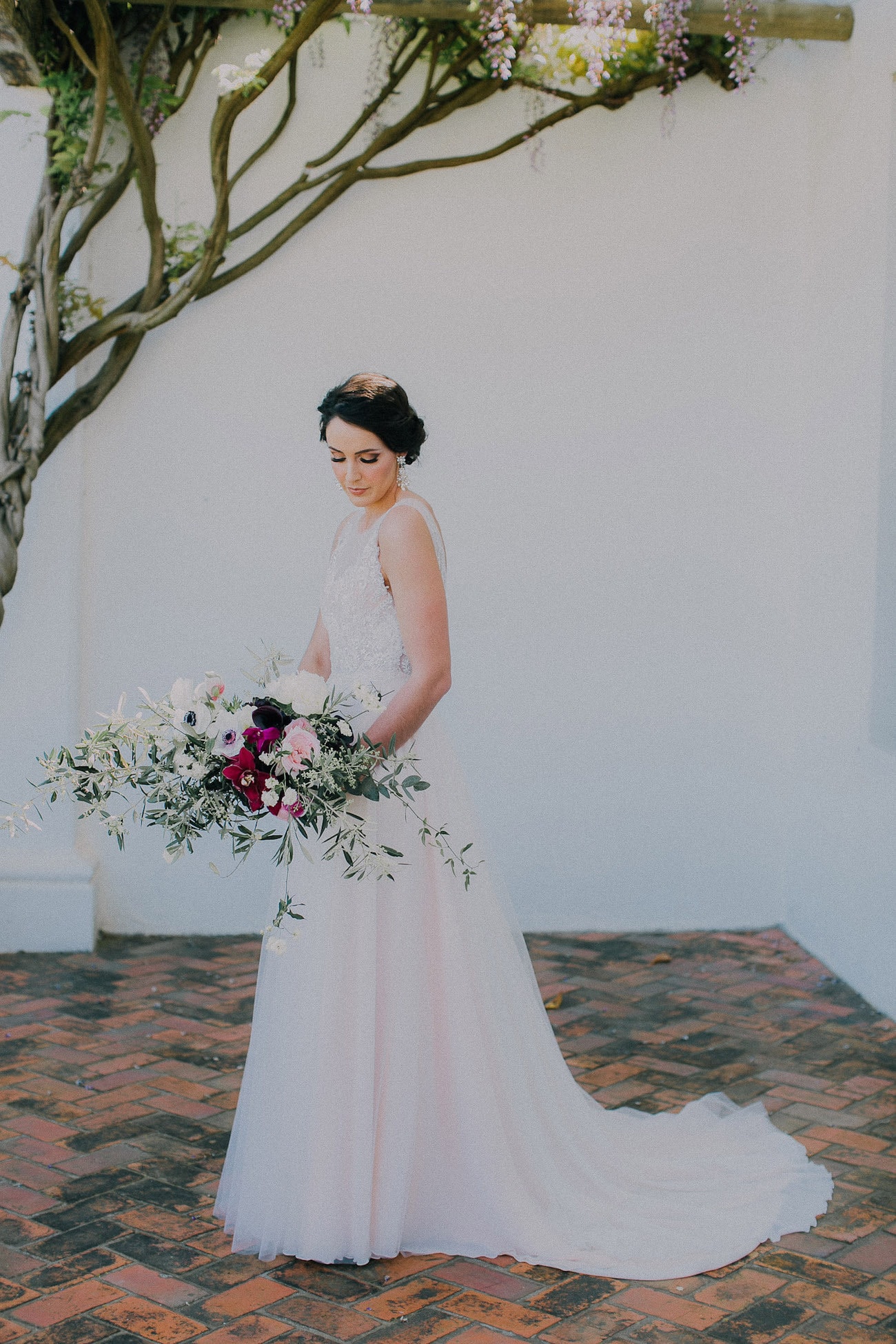 Love Story
We met on the majestic beach of Britannia Bay way back when we were no older than sixteen. Rikus was catching some waves and I was casually strolling by, having no interest in meeting anyone new along the way. I clearly caught his attention because a short while after, he was quick to introduce himself, and very friendly I might add. It was love at first sight, for Rikus at least. I had no interest in being anything more than friends. We never exchanged numbers and by the end of our December holiday it was back to school. As I did not have a Facebook account back then, looking for me on a social media platform only ended in disappointment. Years later we bumped into each other and after I had 'kissed a couple of frogs' in the intervening years, I asked Rikus to accompany me to my matric farewell. Right there I realised that the third time is truly a charm and that every girl has to kiss a few slimy frogs before her Prince Charming can sweep her off her feet.
The Proposal
The proposal took place a day after our five year dating anniversary. He proposed to me at the beautiful Babelonstoren. We were making our way to the arranged picnic spot when I stumbled upon a basket, champagne and the most beautiful bunch of flowers. He got onto one knee, and before I knew it, I was repeating the yes word multiple times just to make sure he heard me loud and clear!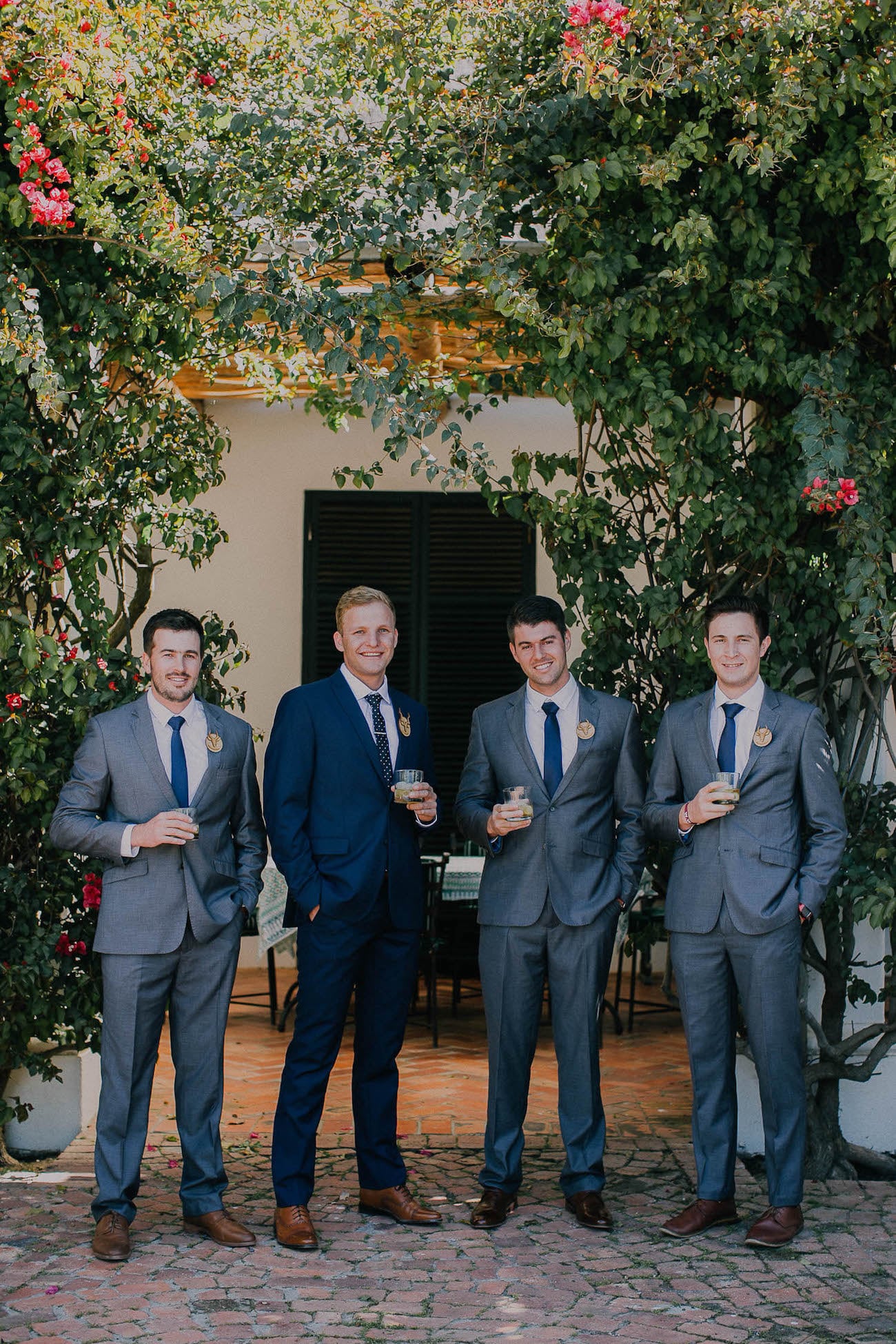 The Venue
Vondeling has the most beautiful chapel that mesmerises you every time you set foot in it.
Wedding Style
Light shades of pink, white and green could be seen. I also brought in an element of rose gold. Words that could translate my idea of theme would be magical, fairytale, almost like 'Alice in Wonderland'.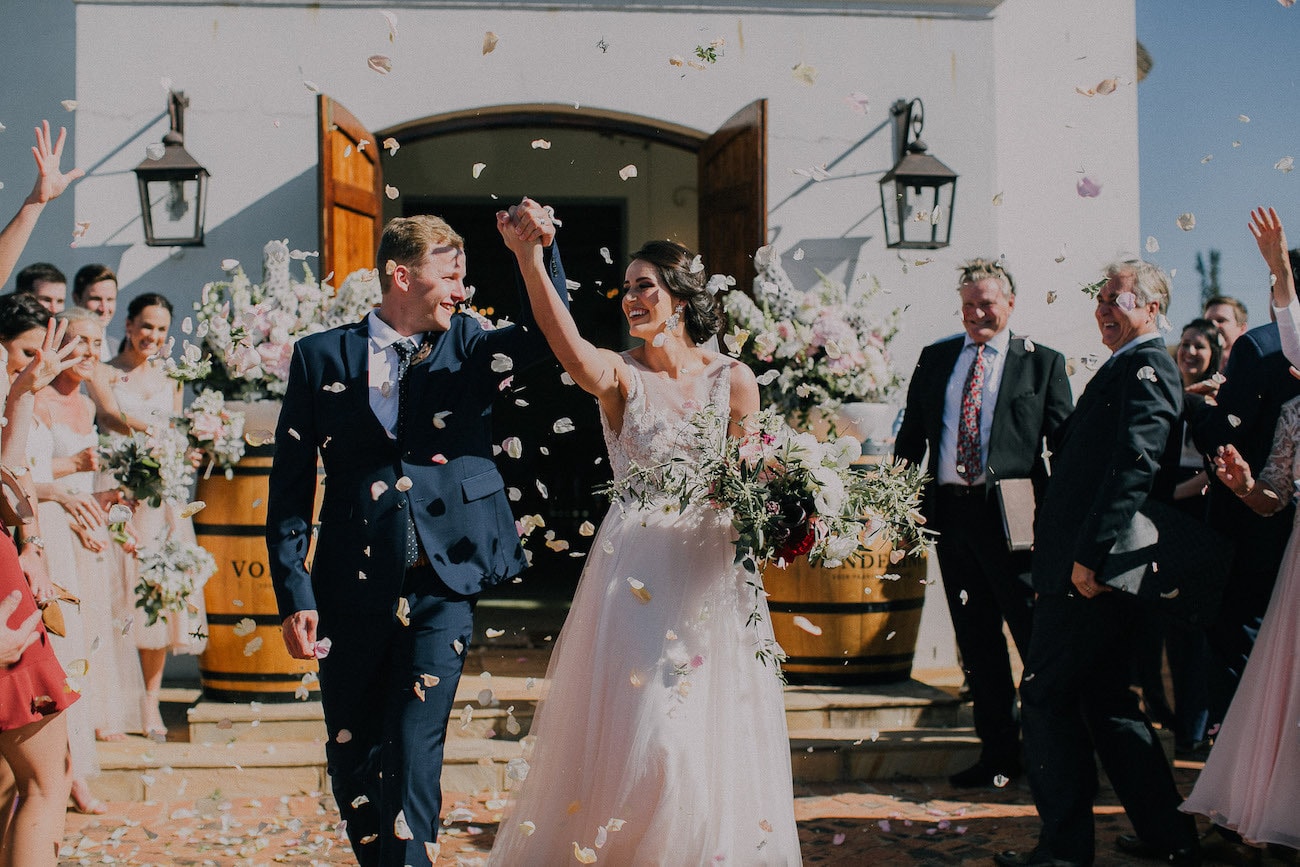 Wedding Details
It is difficult to only highlight a few, but the rose gold cutlery, together with the wonkyware plates and handmade linen serviettes looked magical. The beautiful, yet simple, flower arrangements in glass domes paired with white ceramic rabbits added to the Alice in Wonderland feel. The arrangements hanging from the roof were just as exquisite as well as the leftover linen serviettes hung against the wall. For the favours, guests received a small bottle of wine with a personalised label, portraying an elderly couple on a bench. Just like red wine. it symbolises that our love will only grow better as we grow older.

DIY Elements
We had two very unique pumpkins made from paper where guests could throw in their gift envelope. The napkins that each guest got to take home were also handmade.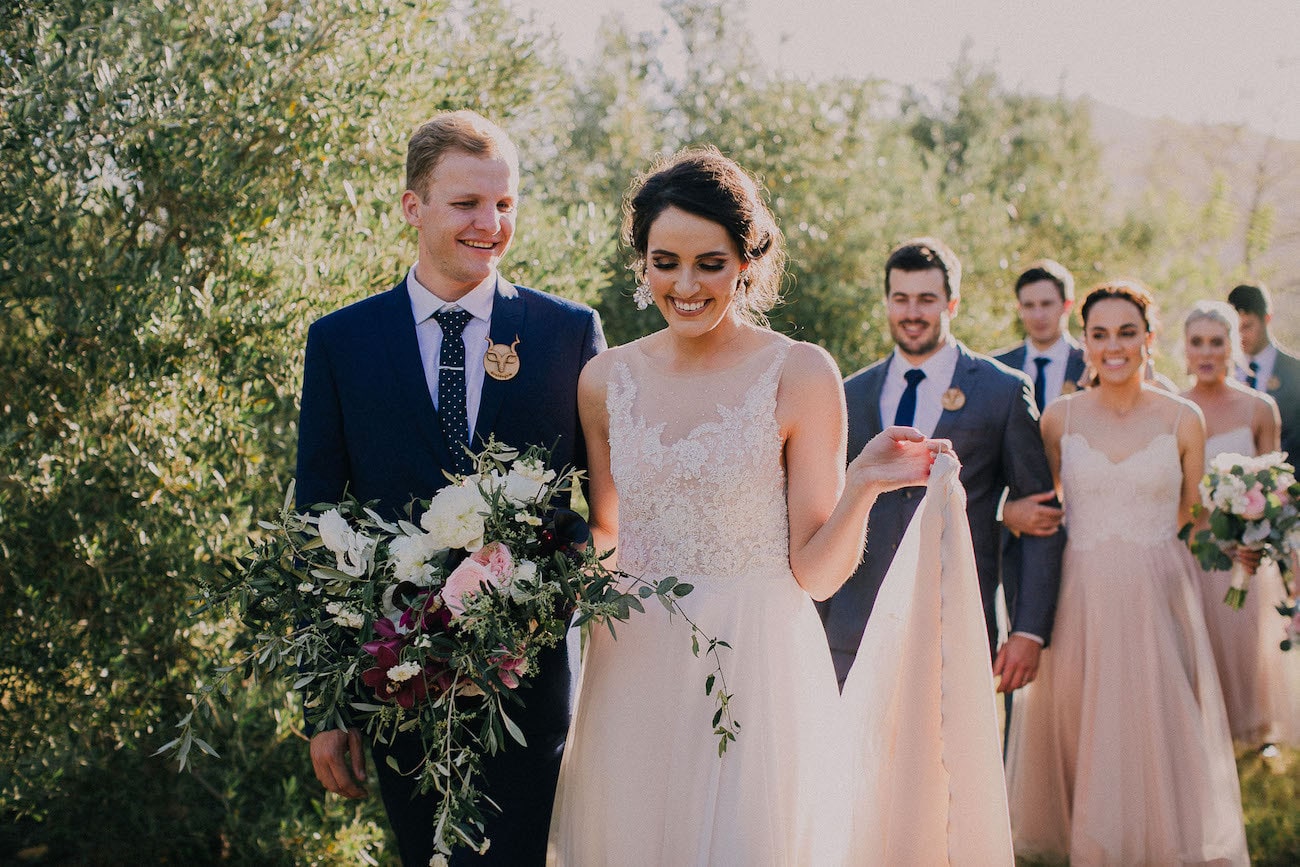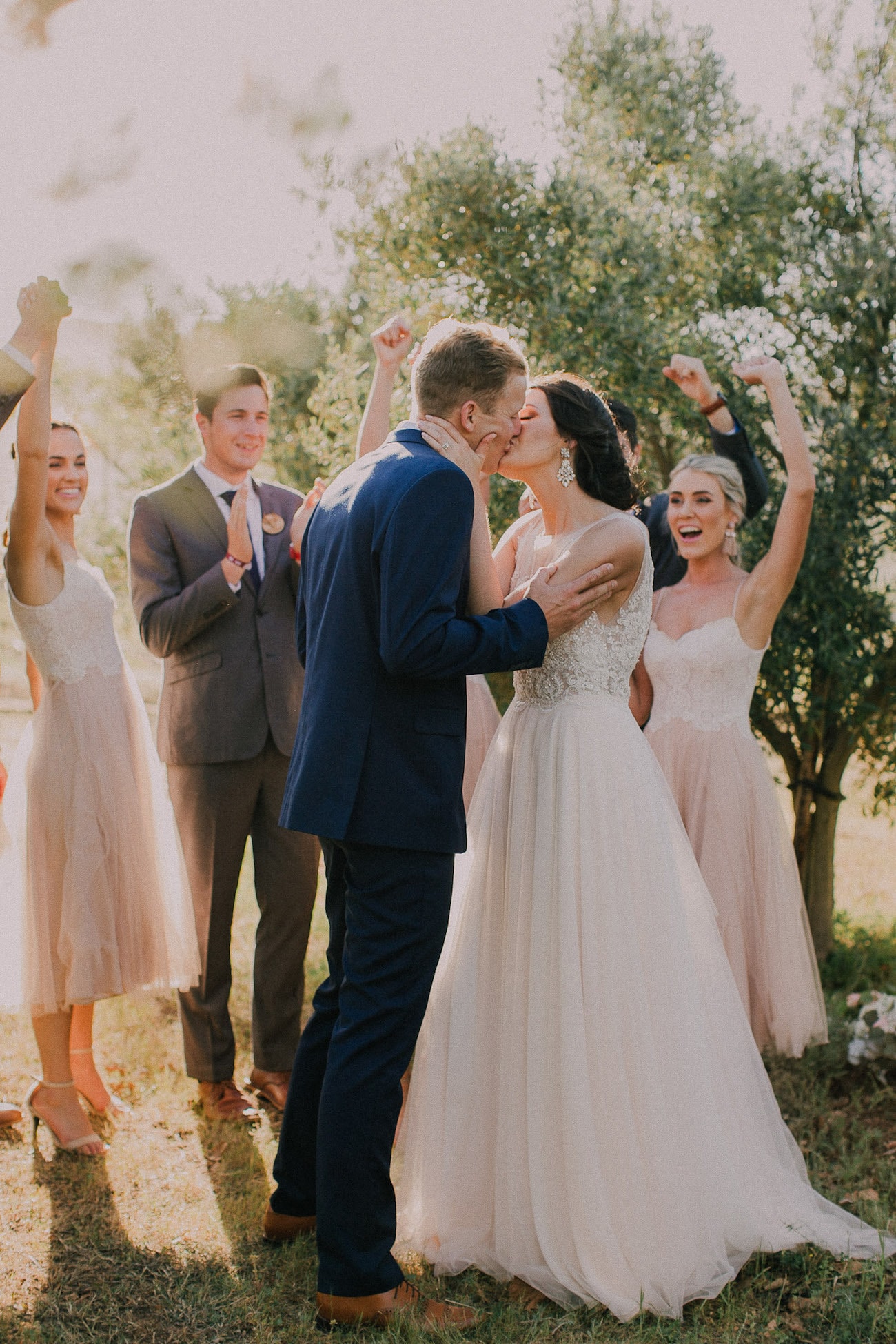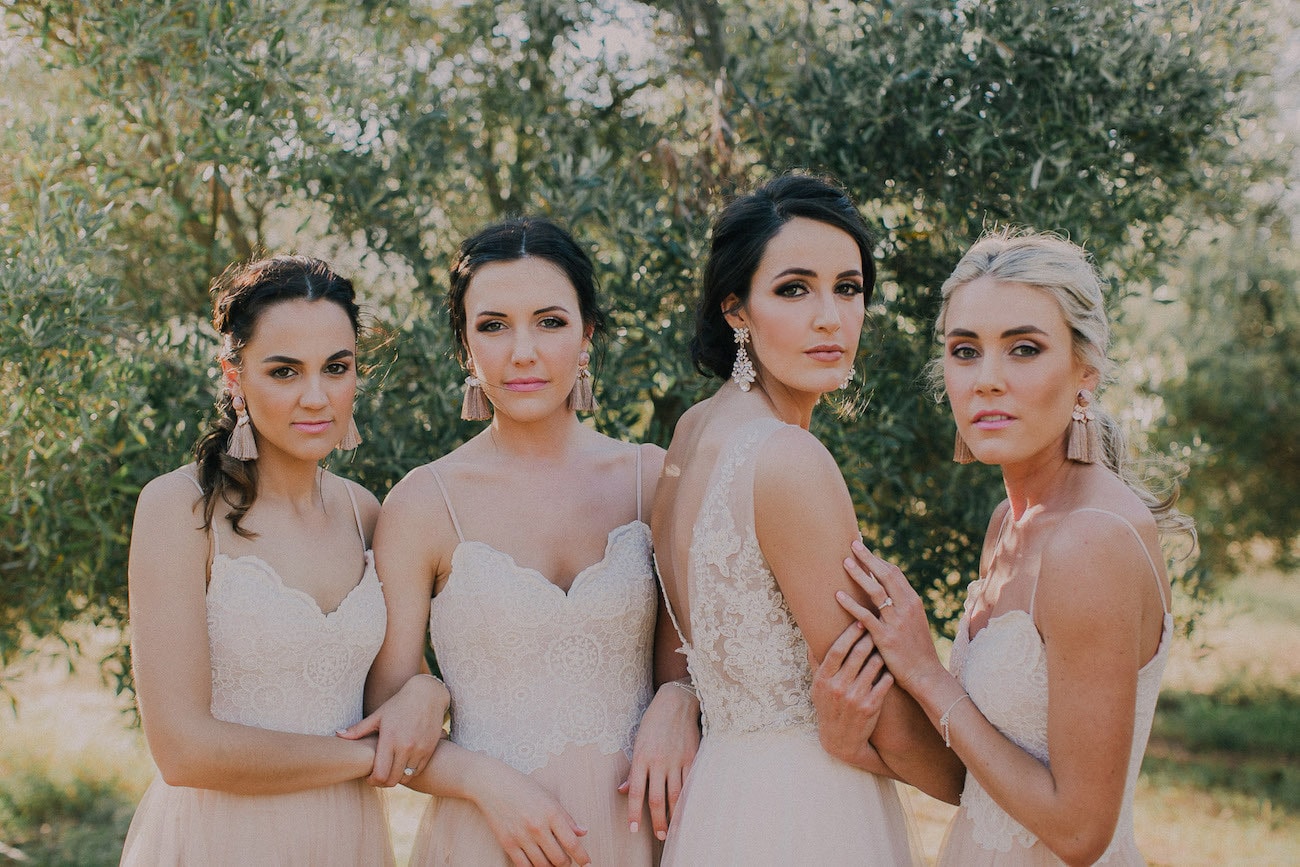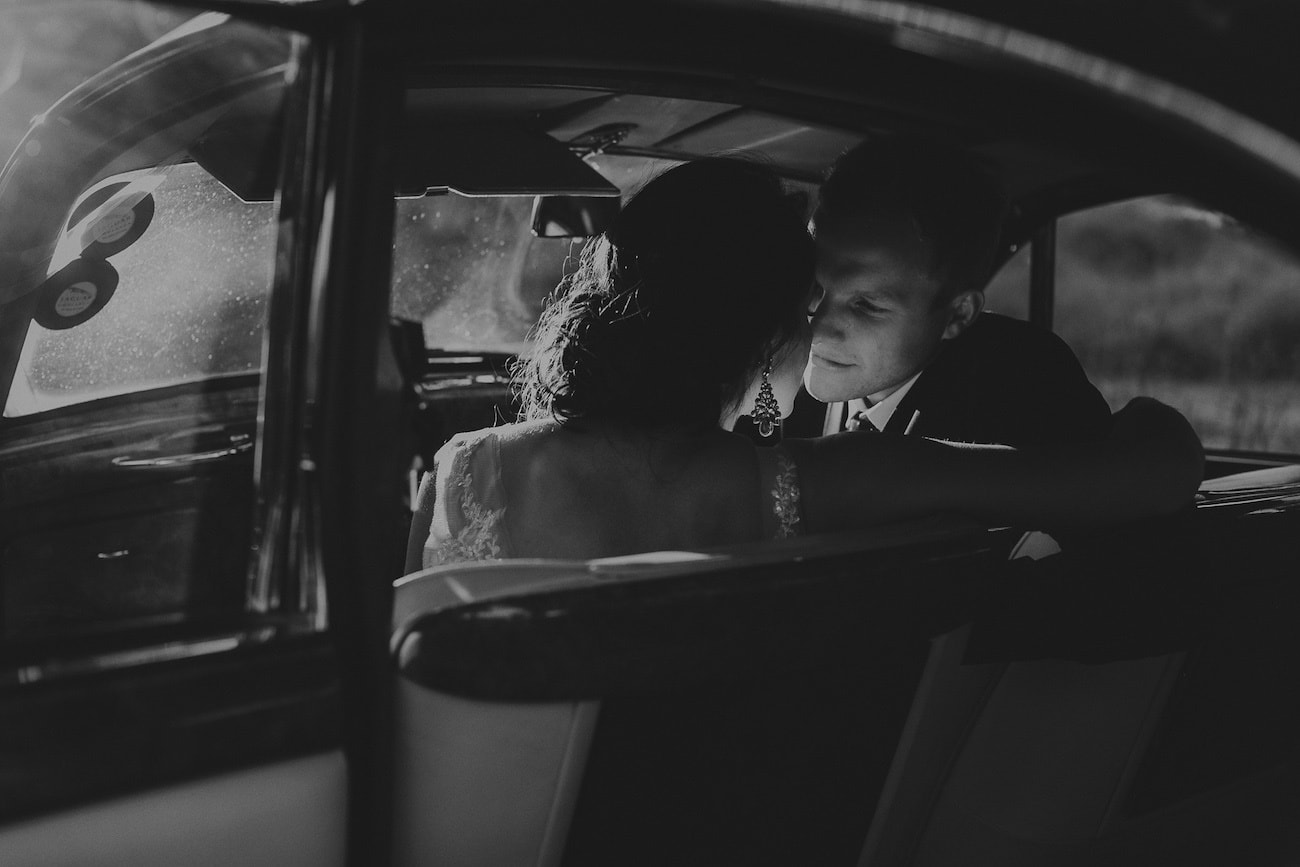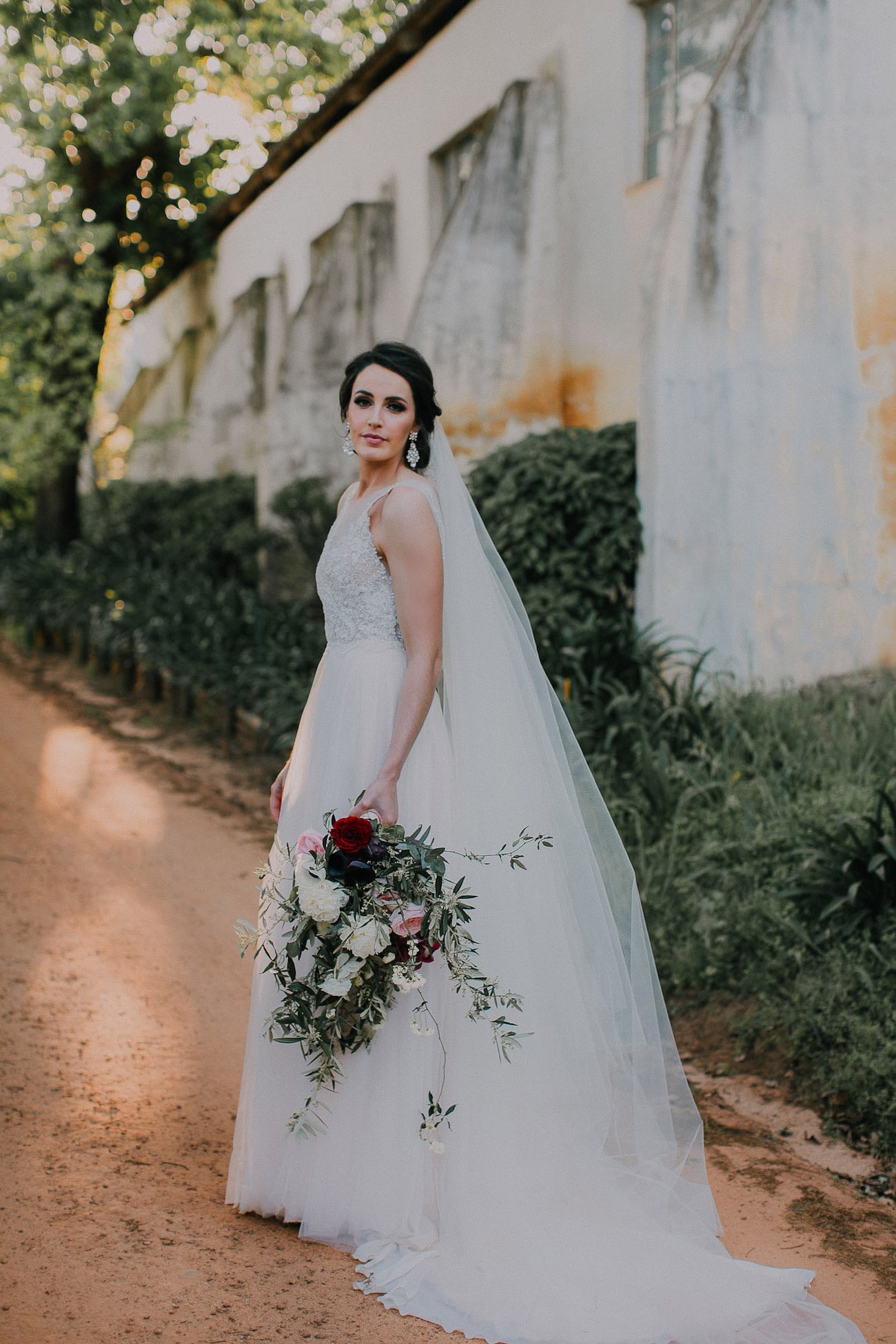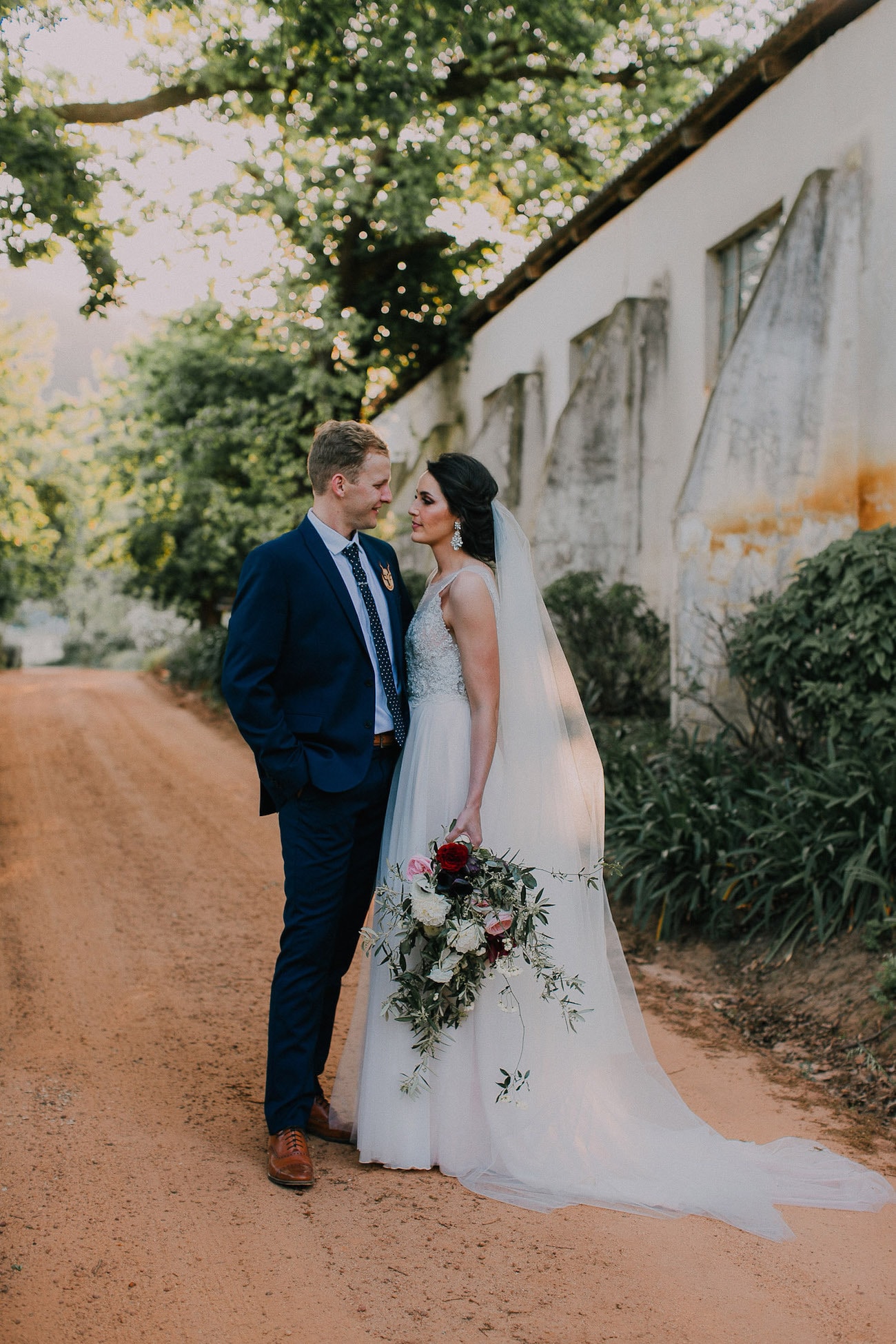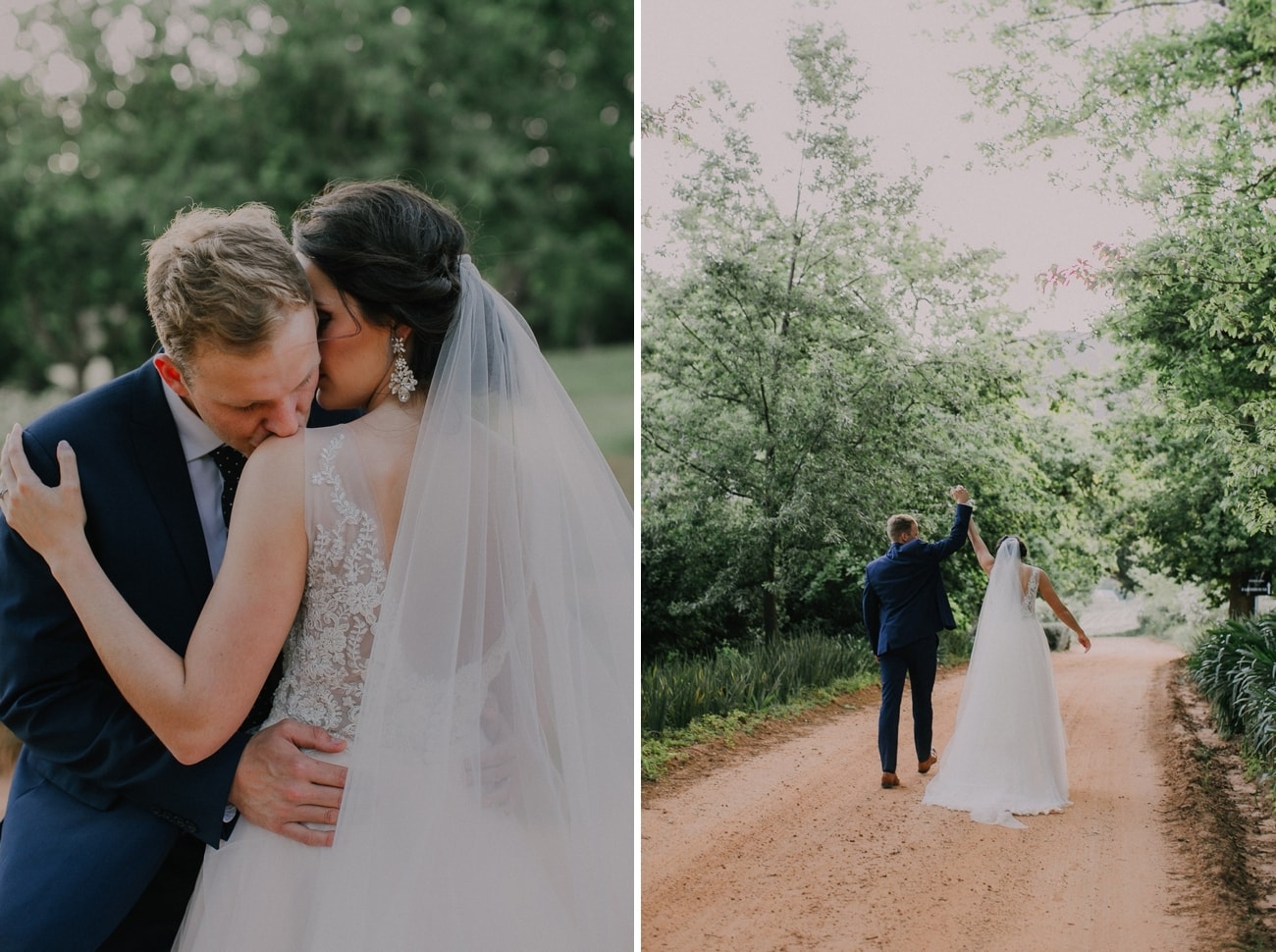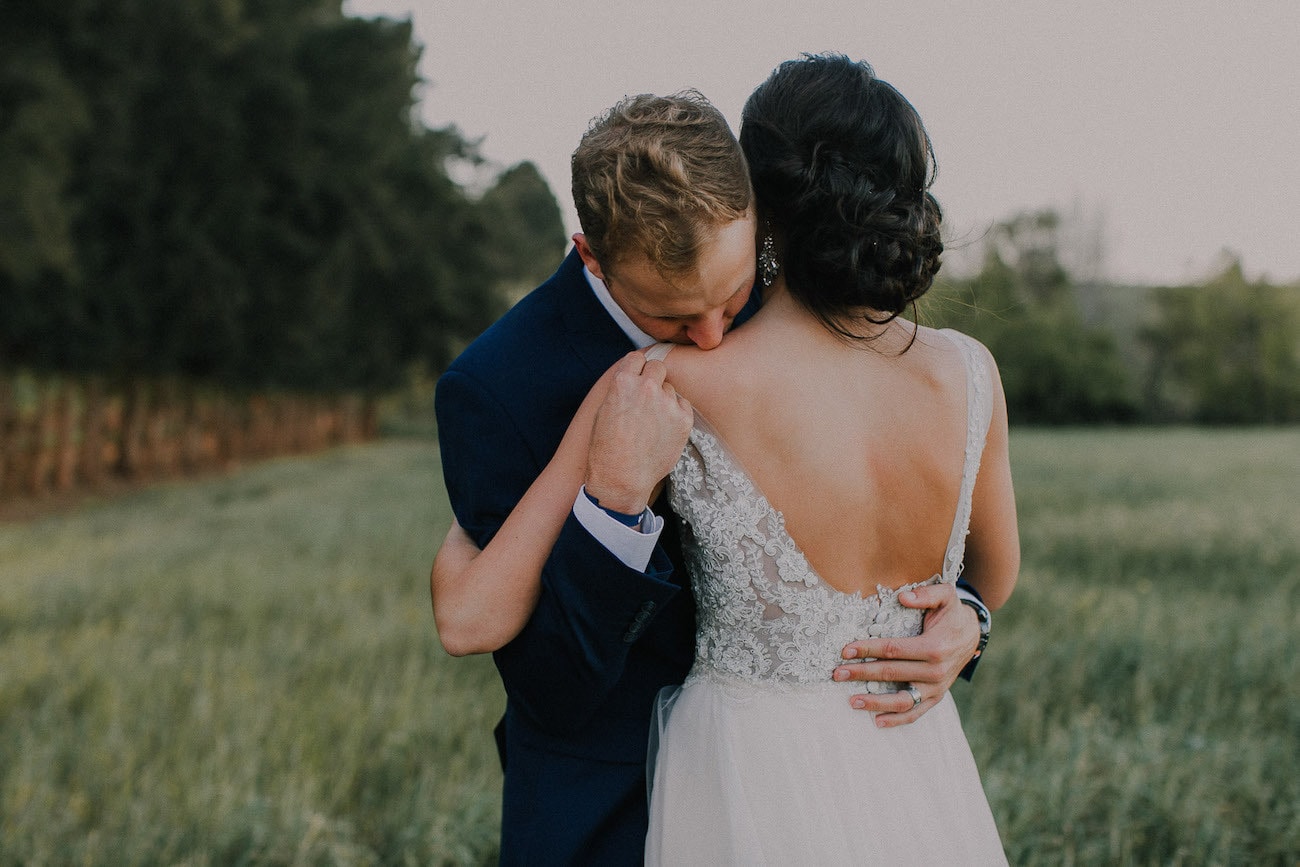 The Dress
The very talented Janita Toerien designed and made my dress.
The Bridesmaids
I had three bridesmaids. I wanted to dress them in something elegant, soft, timeless and romantic.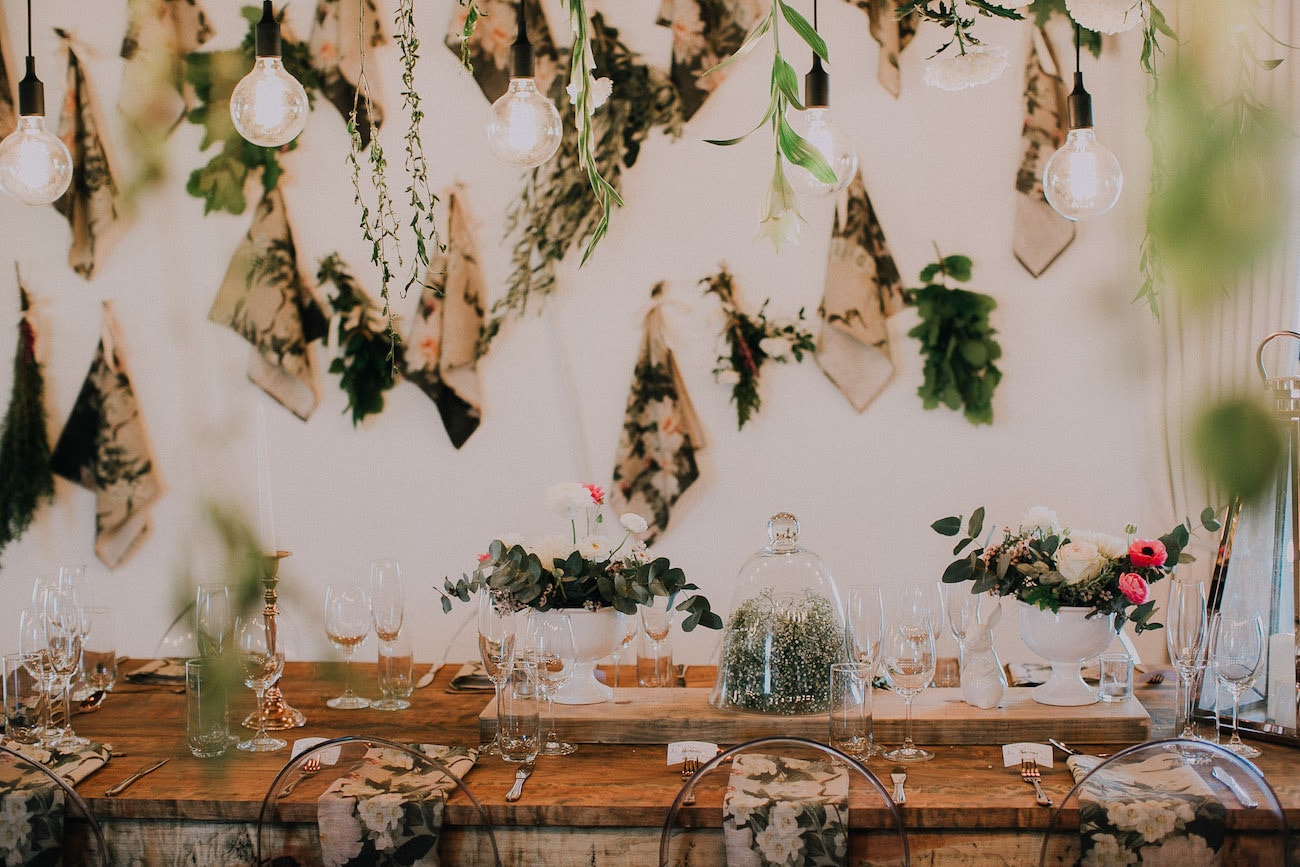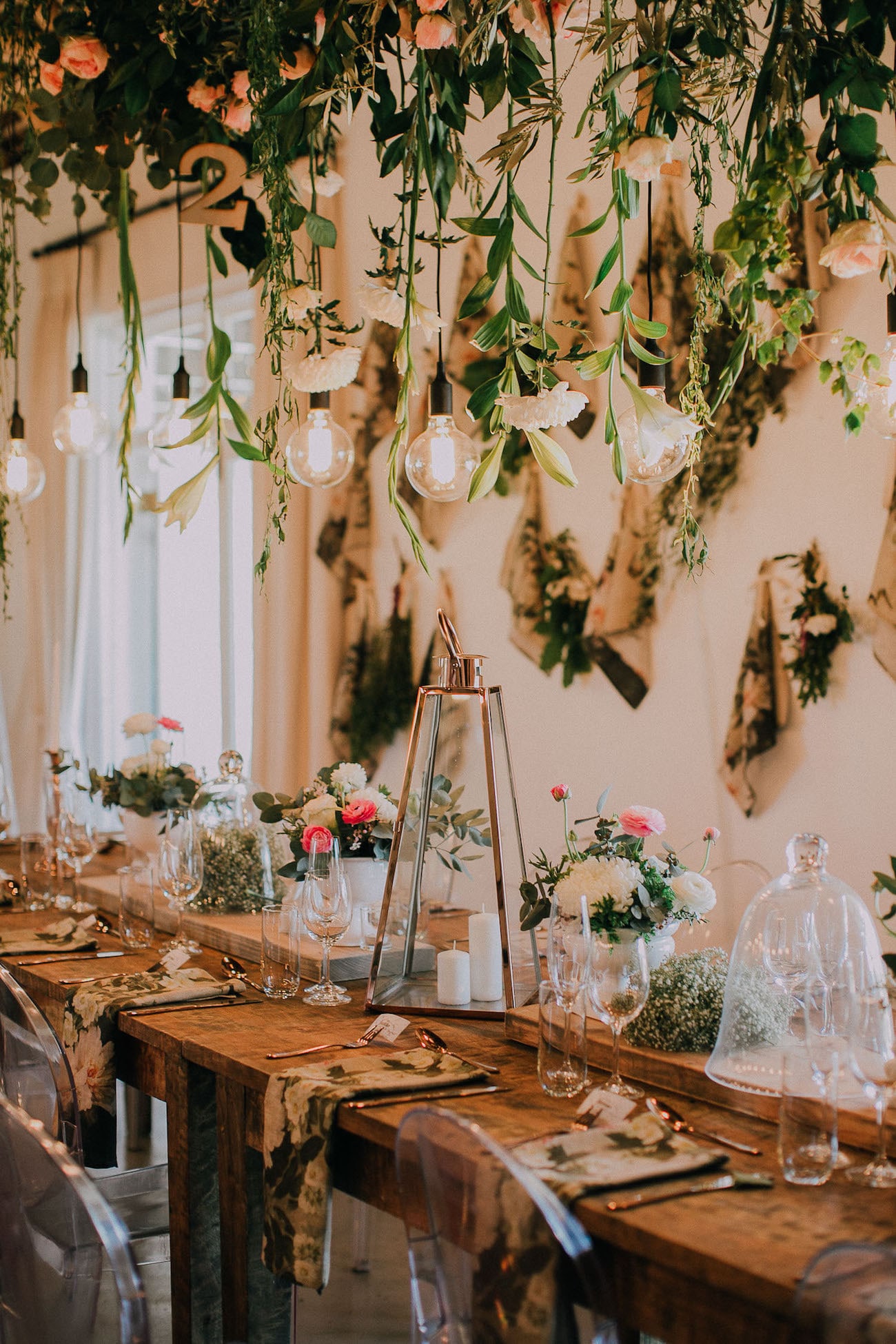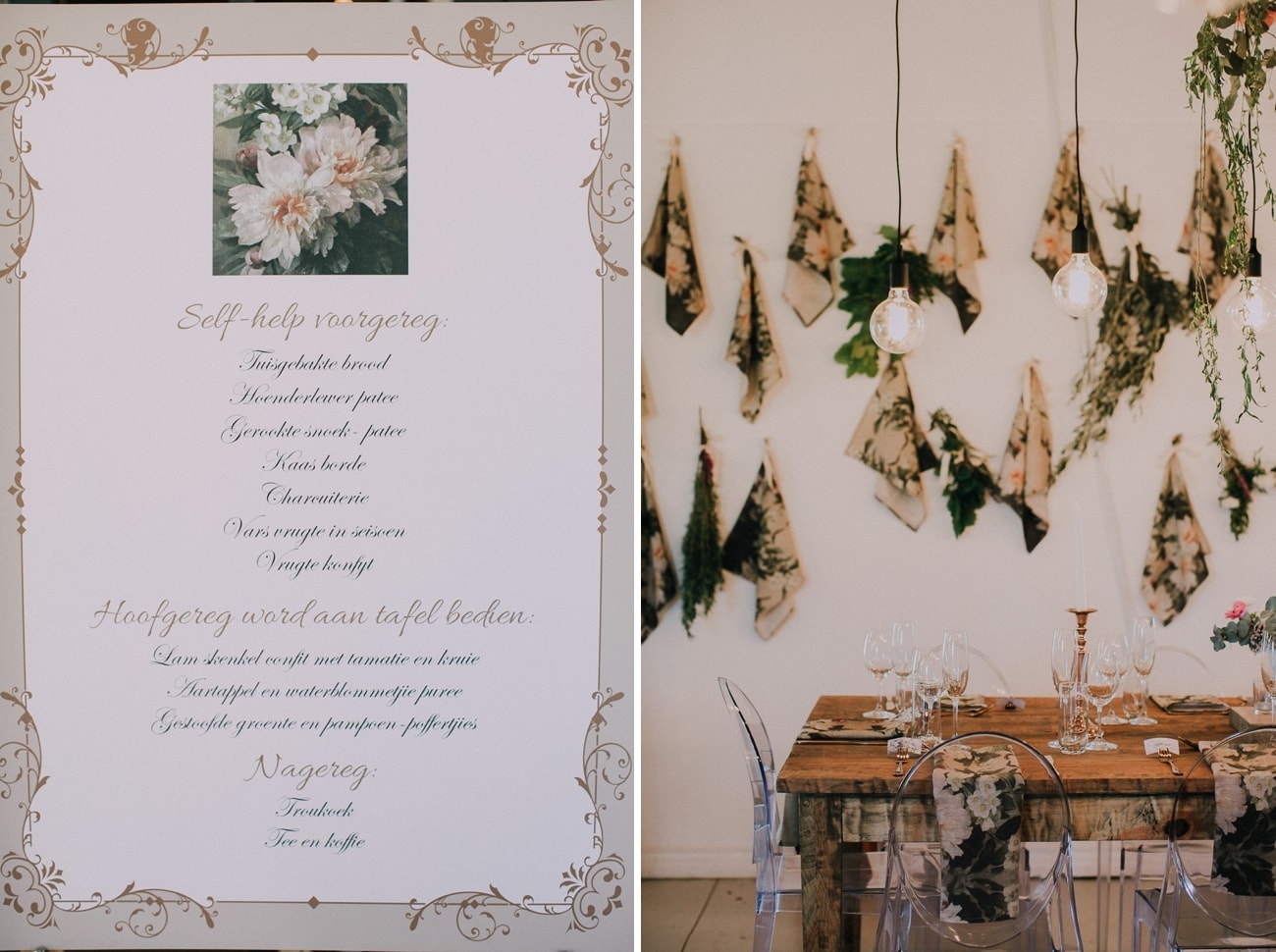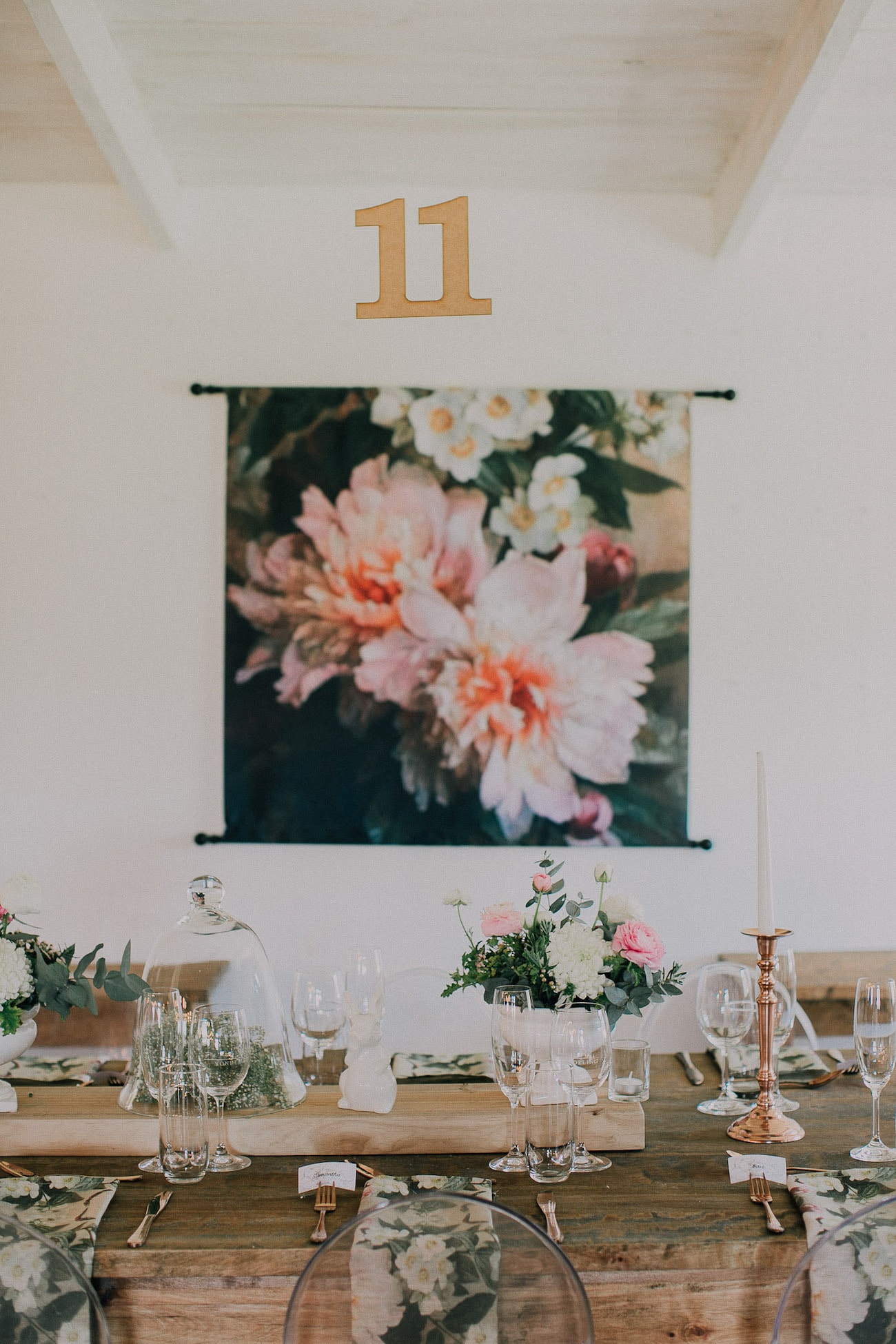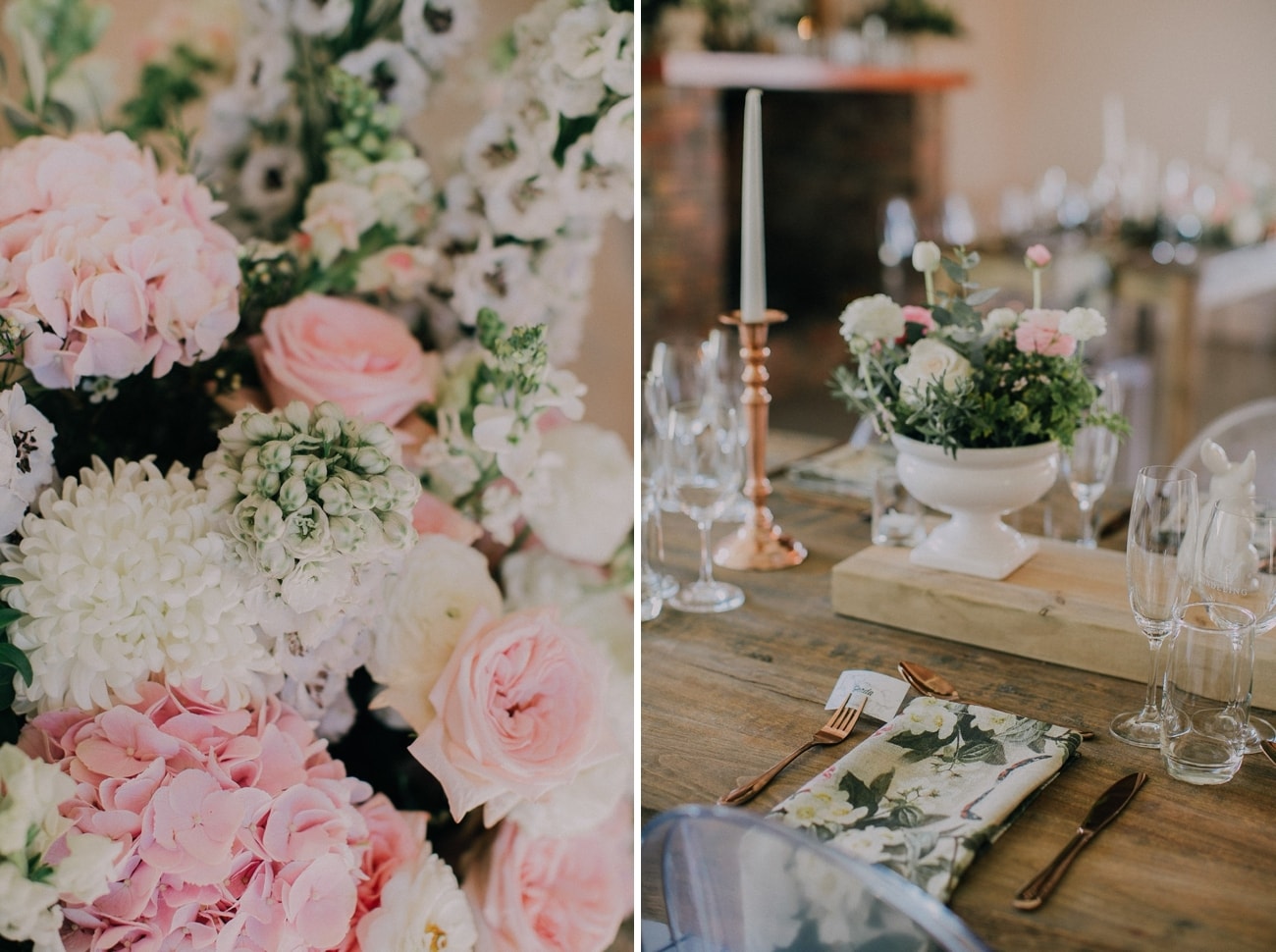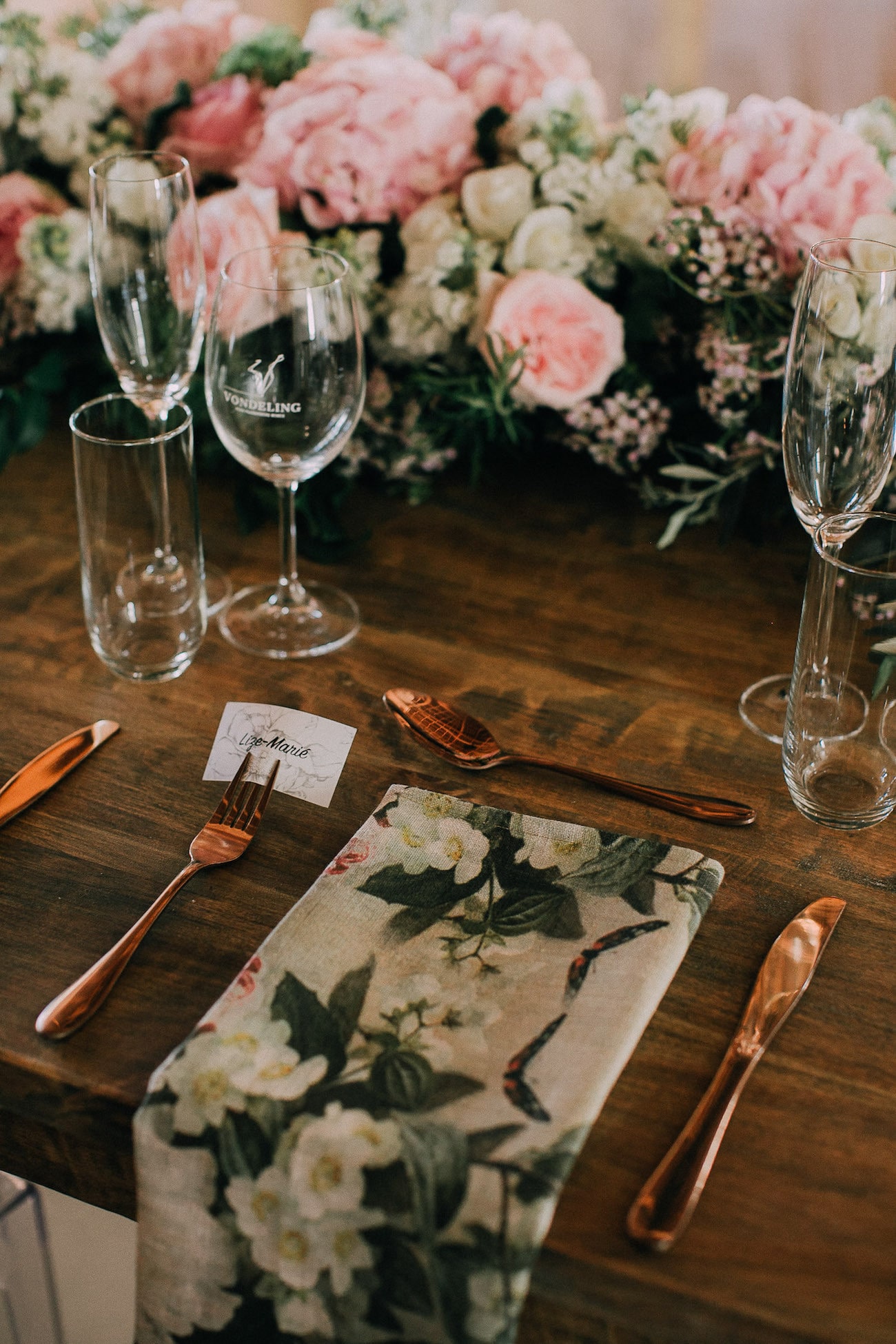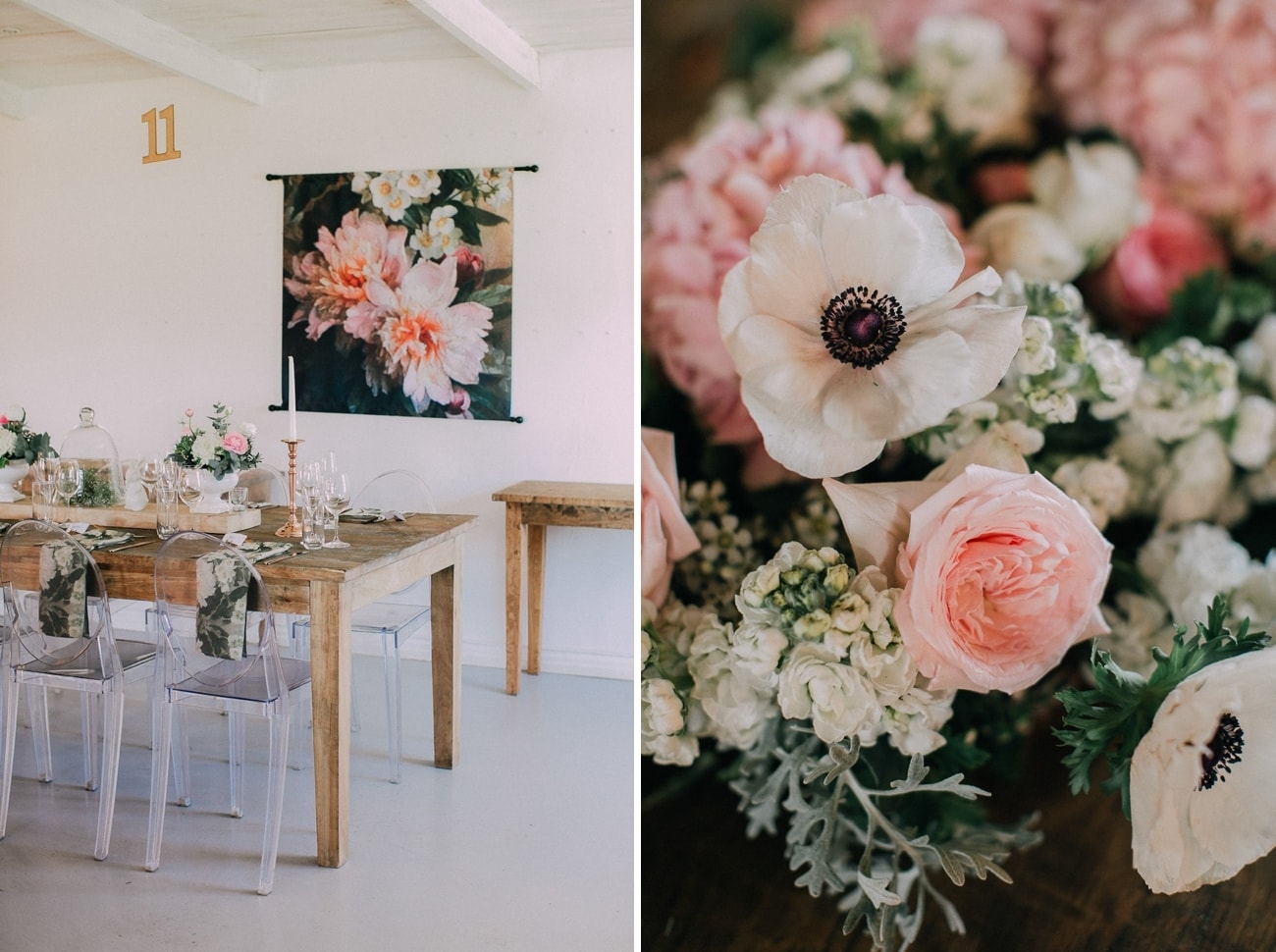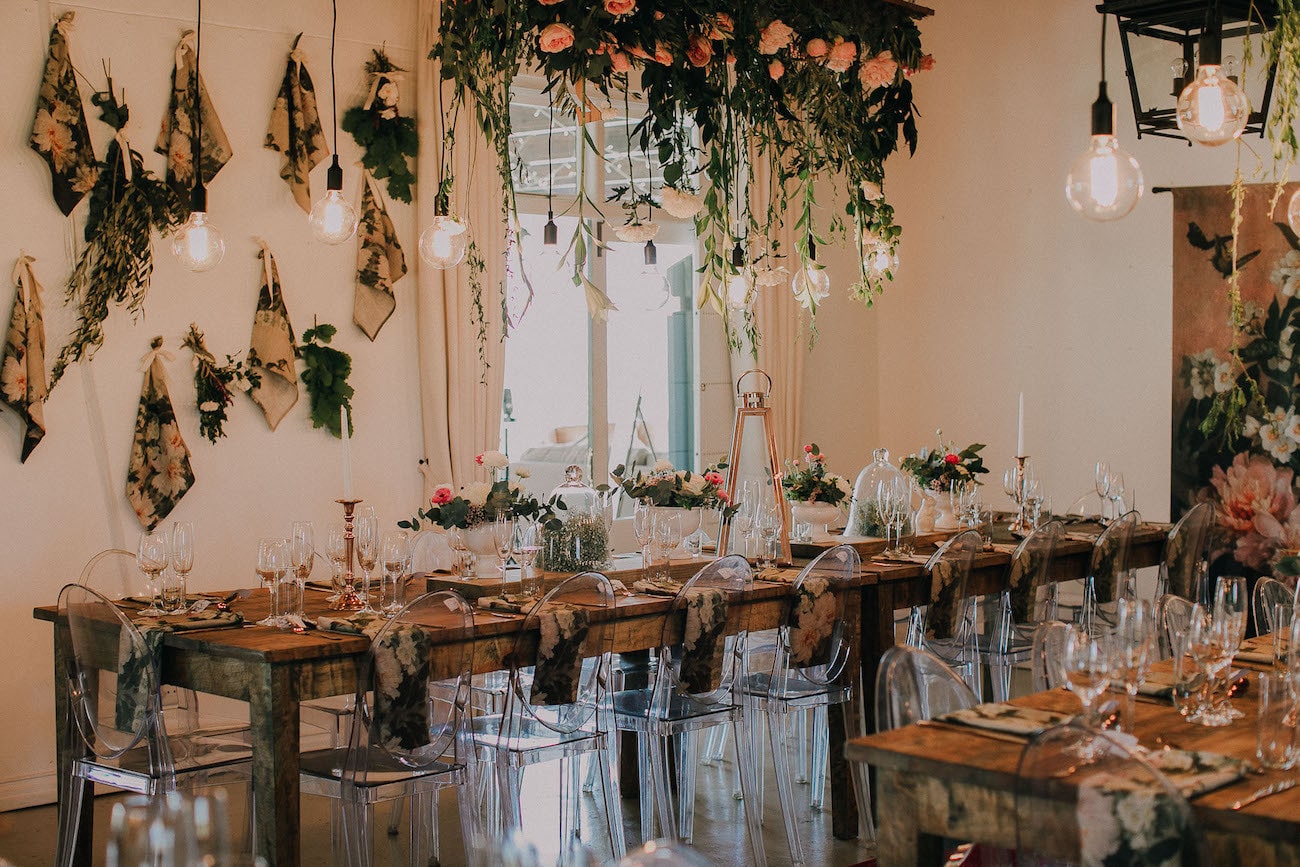 The Flowers
Soft colours, beautifully arranged to complement each other. Shades of pink, purple, white, green and a splash of burgundy in my bouquet.
Memorable Moments
Walking down the aisle, my eyes meeting those of my groom's and being welcomed by a tear of pure joy running down his left cheek from his most loving, honest and gentle blue eyes. Saying "I do" was just as memorable.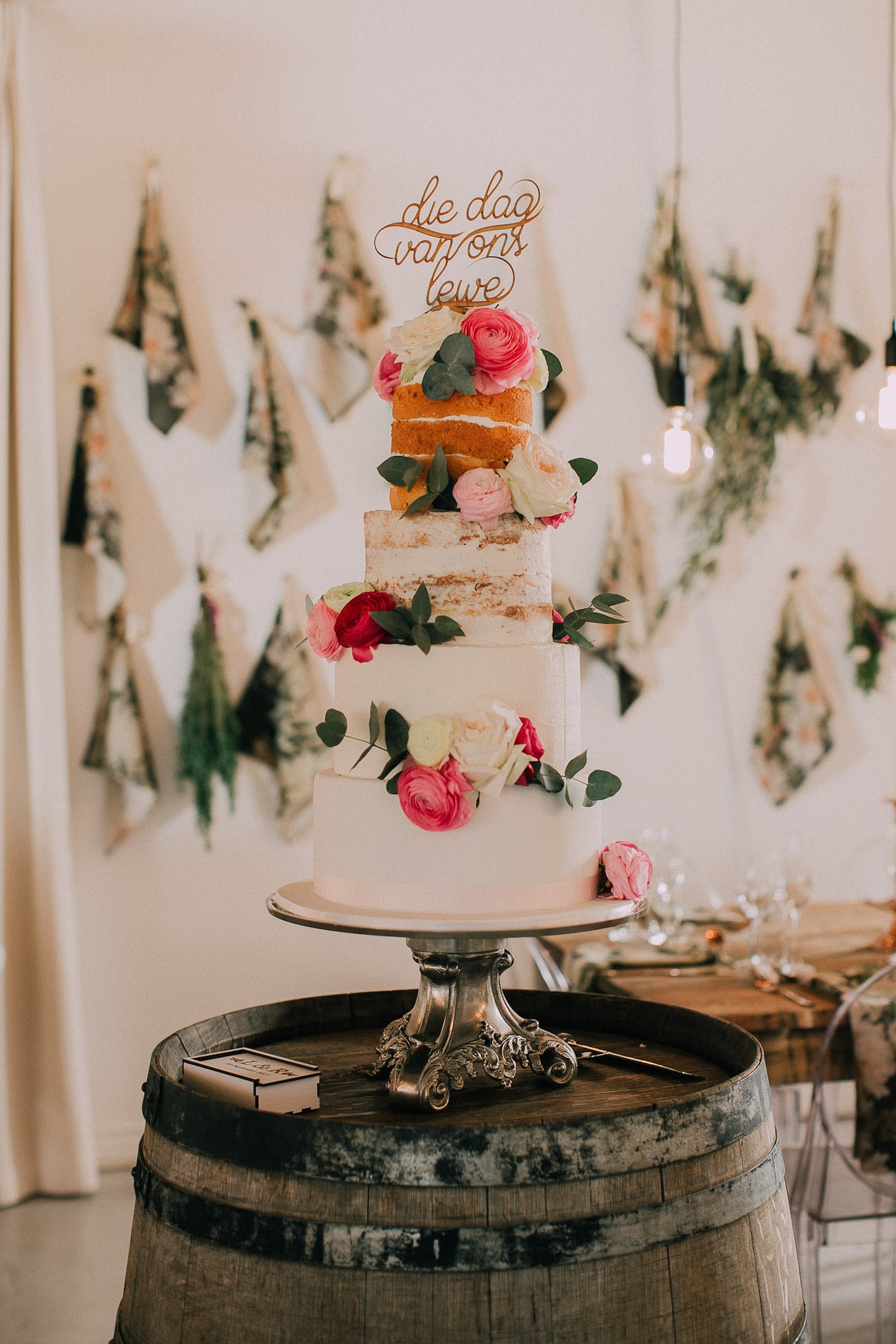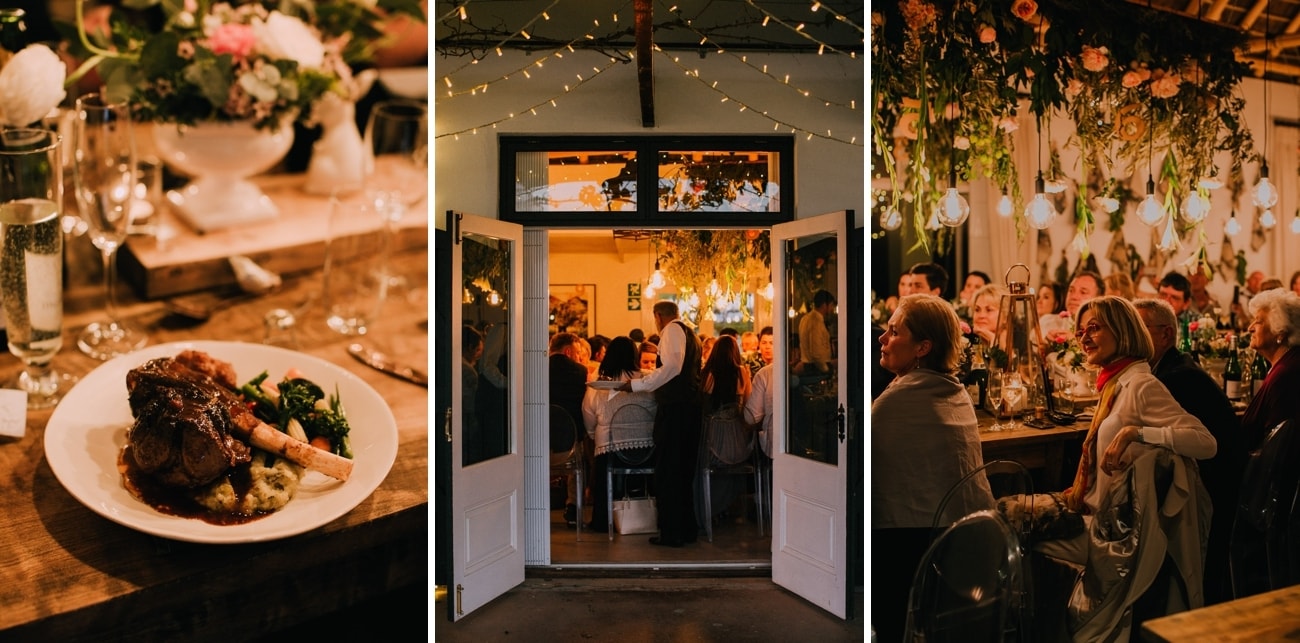 Best Decision
Not wanting to do everything myself but handing it over to someone professional who has experience, contacts and a true passion for turning days like these into the best ones ever.
Advice for Future Brides & Grooms
Don't leave things to last minute. Get it done. Do not settle for anything less than what you dreamt of. Remember to enjoy this most amazing journey along the way; it should not be all work and no play.
You can see more from this wedding on Michelle du Toit's blog.
SERVICE PROVIDERS
Venue: Vondeling Wines | Catering: Kings Catering | Photography: Michelle du Toit | Co-ordination: XL- Events | Flowers & décor: Flowers in the Foyer | Stationery: Annalize Streicher and Louis Jansen Van Vuuren | Video: White Motion Films | Cake: Belinda Koen | Bride's dress: Janita Toerien | Bride's accessories: Lovisa | Hair & makeup: Efraine van Heerden | Bridesmaids' dresses: Joystrings | Groom's attire: Woolworths (David Jones) | Hiring: Suit Hire | DJ: Paarl DJs | Entertainment: Valiant Swart | Other service providers: Linalinasouthafrica + Mitat