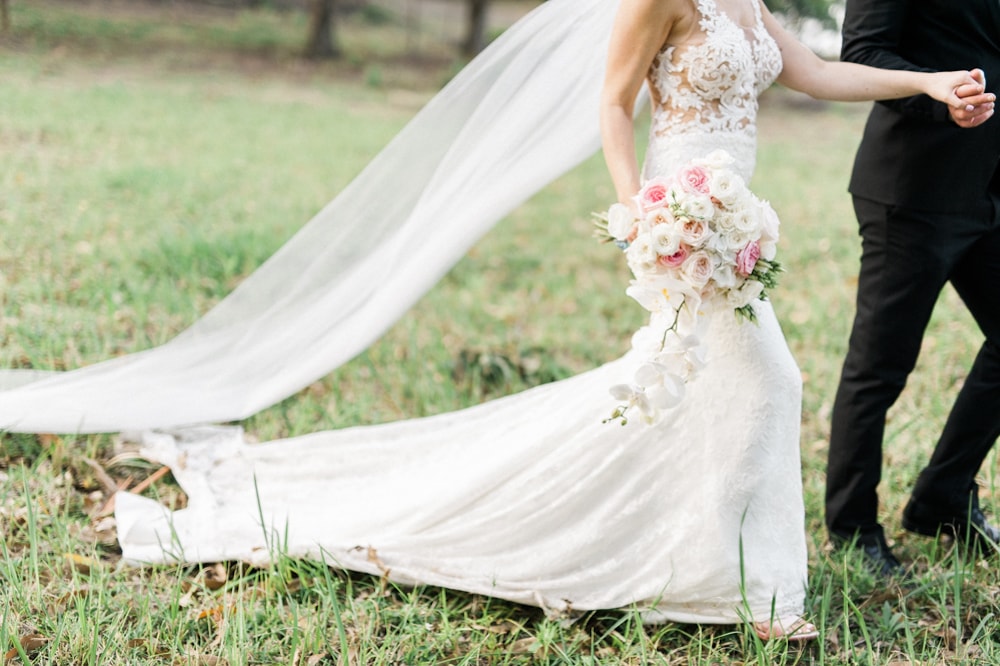 When it comes to describing Coral and Devon's dreamy, elegantly rustic wedding, I can't think of any better way than as the lovely Eileen of Bright Girl Photography told it to me! "I knew their wedding would be amazing, but I was blown away when I arrived and saw all the beautiful decor and the warm sunshine bouncing off the green leaves in the forest where the ceremony was going to take place. It was magical. When Coral slipped her dress on, the magic continued… The friends, the flowers, the tears of happiness and all the stones which the guests held throughout the ceremony… all was magic or so it seemed. I mean who else can catch popcorn with a smiling mouth wide open with laughter while leading his gorgeous bride up the aisle. Yes, Devon can! These two were wrapped with warmth and love for each other and from their friends and family." Awwww! It really is a special day, and includes the work of some of my very favourite KZN wedding pros, including the very talented Eileen, Hanrie Lues Bridal (who made Coral's gorgeous dress!) and one of my all-time fave venues, The Venue Fontana. Enjoy!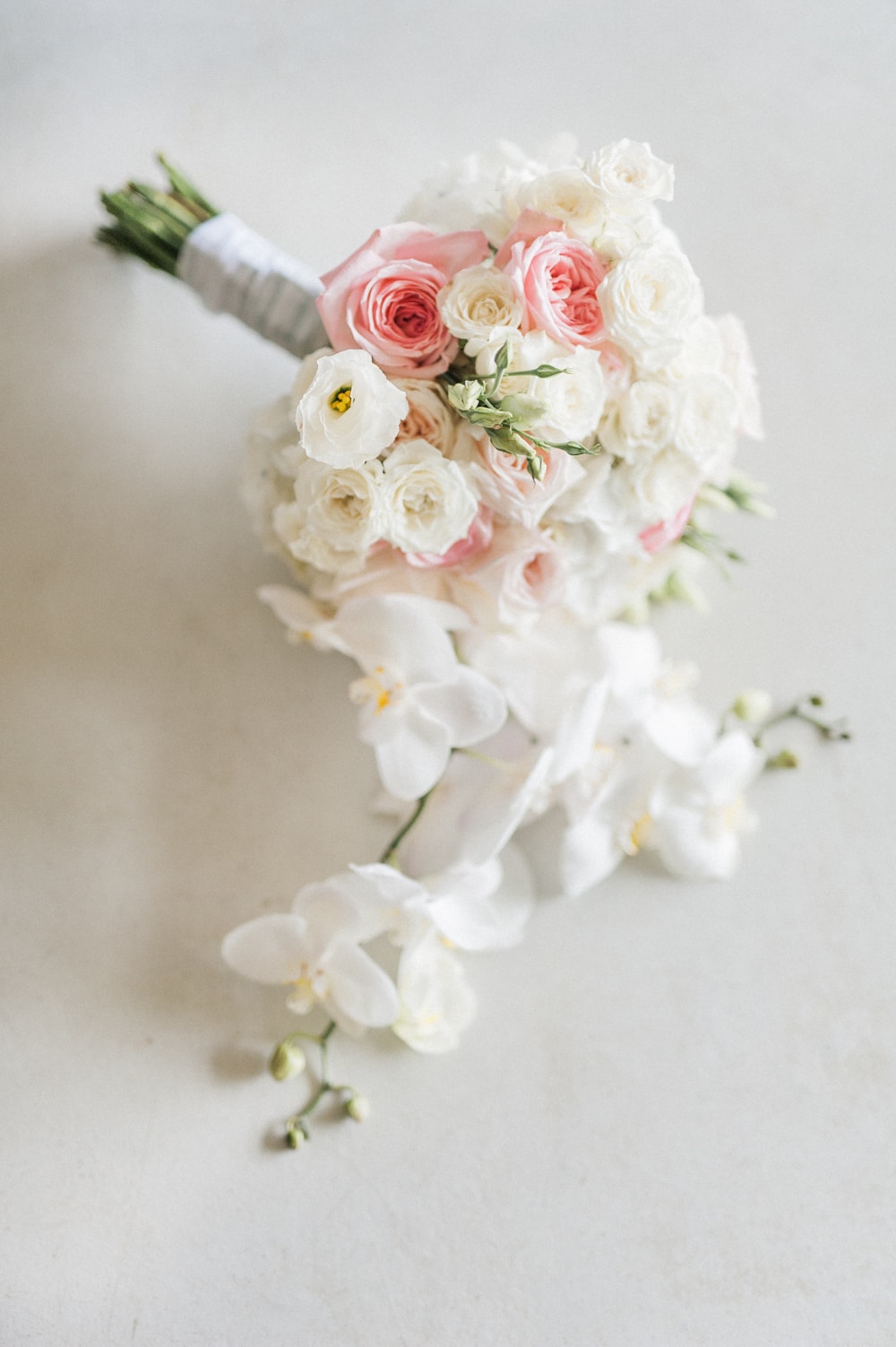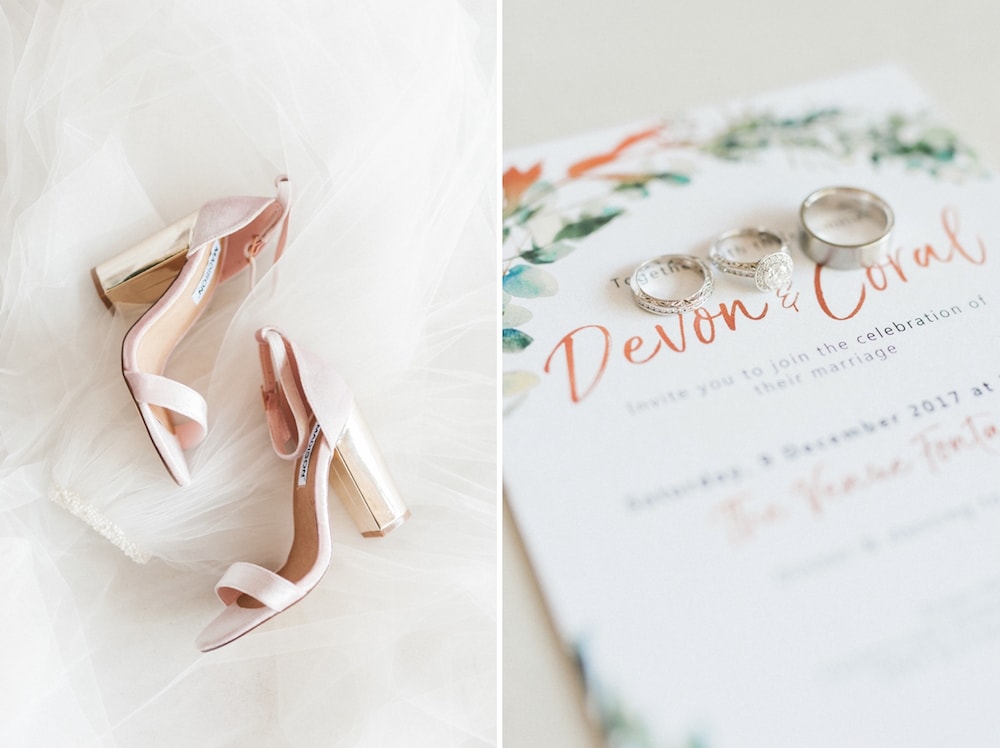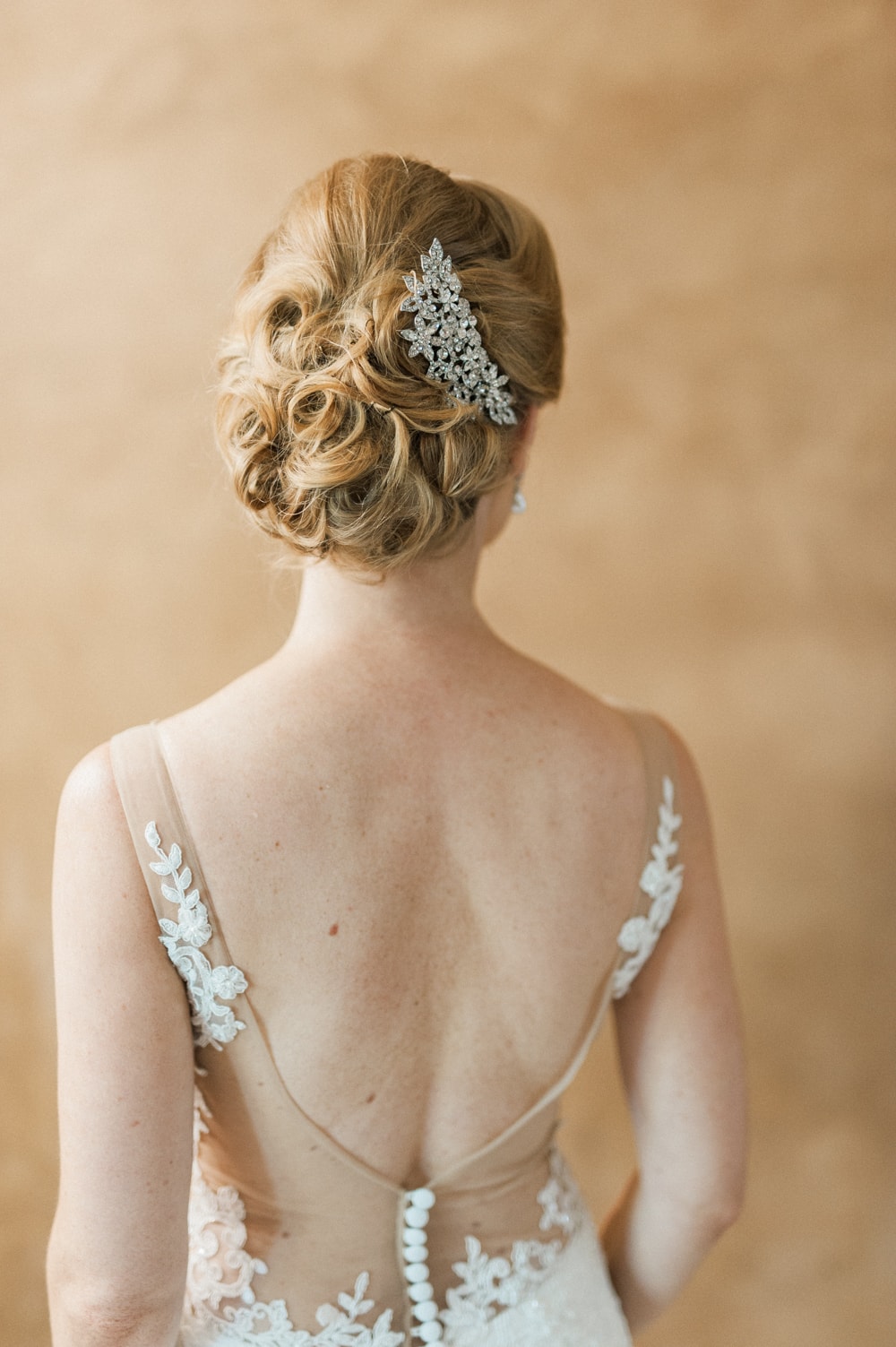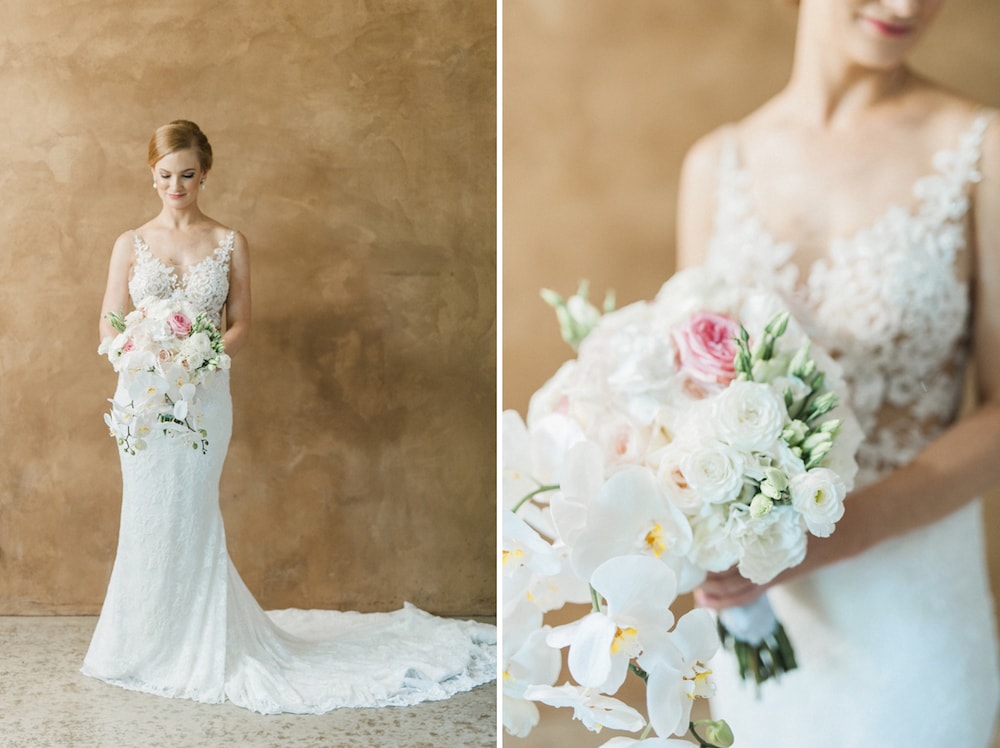 Love Story
We met online and decided after some time that it was a good idea to meet. Our first date was drinks at the Oyster Box. By the third date, we realised that this was going to be something special. A few months later we had an awkward conversation while away with friends where Devon assumed we were an official couple – which we weren't. It didn't take us long to seal the deal when when we realised that we loved each other.
The Proposal
We did things a little backwards. We booked our venue, sent out Save the Dates and invites before the proposal! It happened the day before my birthday. I was told that we were going to dinner that night as the restaurant we were going to was fully booked on my birthday. I was told to wear to work what I was going to wear to dinner as we were leaving straight from work. When I got home, there was a note in our foyer on our wedding stationery (I didn't even realise) and it said "take off your jacket". As I continued to walk toward the passage, there was another note that read "I kept my promise". I teared up at this point and couldn't believe it was happening! All the way down our passage were rose petals and tea light candles with nine photos of us as a couple (representing the 9th of December – our wedding day). As I opened our bedroom door, there was Devon in a suit! Our whole bedroom had been cleared and in it stood a table set for two. The entire room was filled with 808 tea light candles (the number of days we had been together) and rose petals. There were floral arrangements on the table, similar to our wedding arrangements. The table arrangement had four pincushion proteas – representing Devon, myself and our two fur children. There was so much to take in. While I was still looking at this amazing set up, a waiter walked into the room and offered me champagne. Devon then told me that there was a private chef in the kitchen preparing our dinner! When Brett, the waiter, came back into the room, he had two bread rolls. I thought this was part of the starter. It was then that Devon took the ring box out of his bread roll and got down on one knee, told me he loved me and wanted to spend the rest of his life with me and placed the most beautiful ring on my finger. The reason for the bread roll was that I had had a dream that my ring was made of bread! It was amazing what detail Devon had put into the proposal – everything had a significance. Our starter arrived and was in the crescent shape of our starter for our wedding day. The main dish was my favourite prawn dish from our favourite restaurant and dessert was my favourite pavlova. Lots of champagne, smiles, laughter and complete awe of how much love and effort Devon had put into the proposal to make it a great story to tell just made it that much better.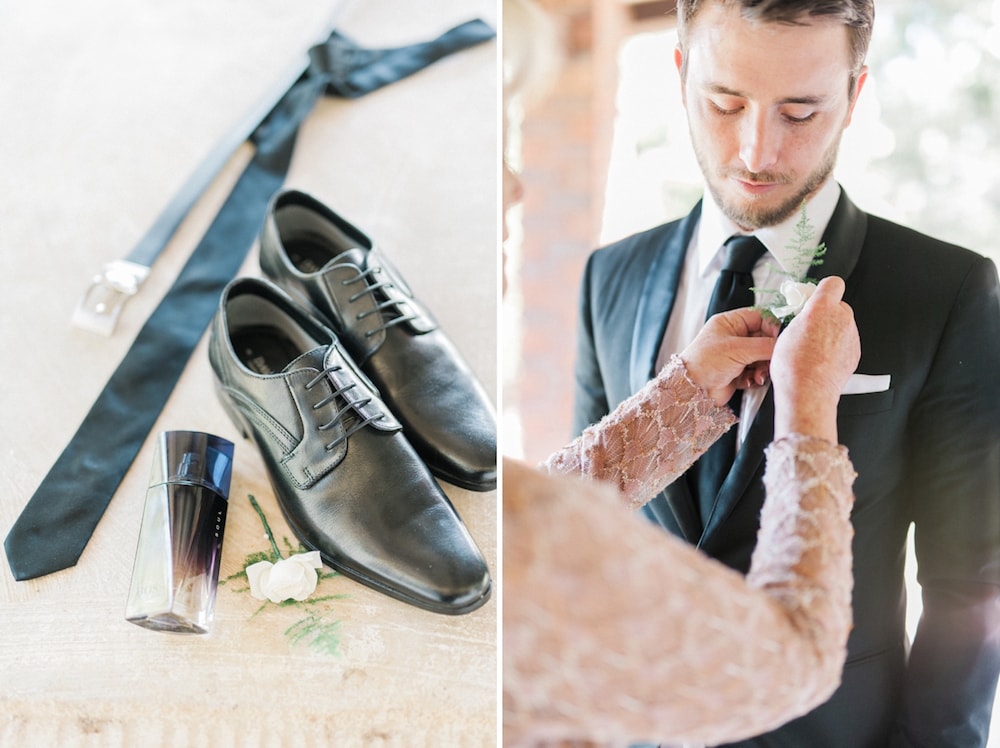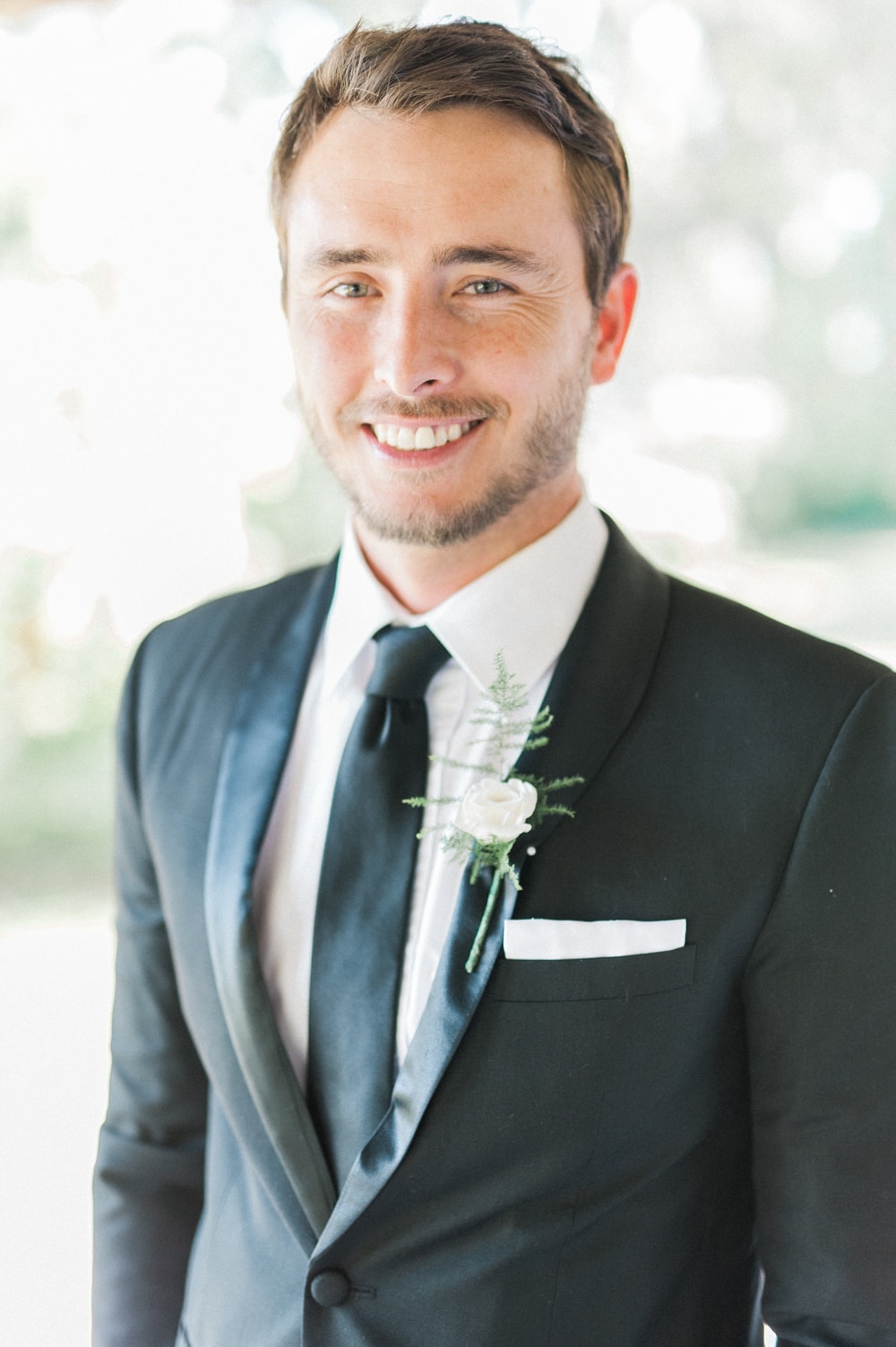 The Venue
The Venue Fontana is the most amazing venue we had ever seen. The beautiful barn setting, with high ceilings and exposed beams, just fitted our taste perfectly. Our vision for the wedding was rustic elegance and the venue just made that all come to life! We loved the whole greenery look so we went with a lot of penny gum with beautiful roses and white hydrangeas to bring in some colour. The rose gold decor and flowing pink table runners just added to the beauty of the tables. We were married in the forest and had canapes down by the river. The Venue Fontana made everything look spectacular – we were so happy we had found this place.
DIY Elements
Devon is a graphic designer, so it was very special for us to both work on our wedding stationery. I am in marketing, so I briefed him and he created the most beautiful stationery to fit our greenery theme with touches of rose gold.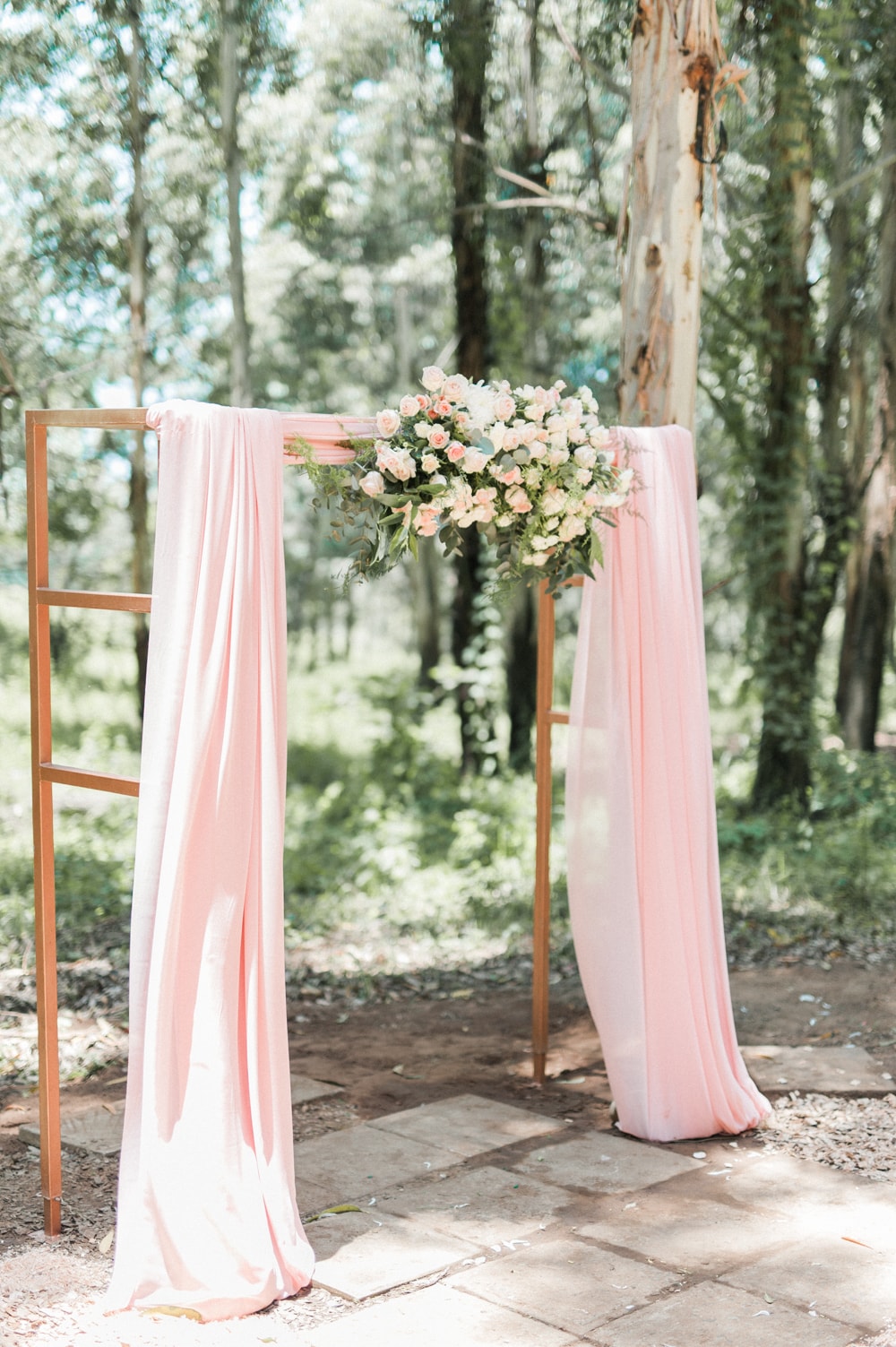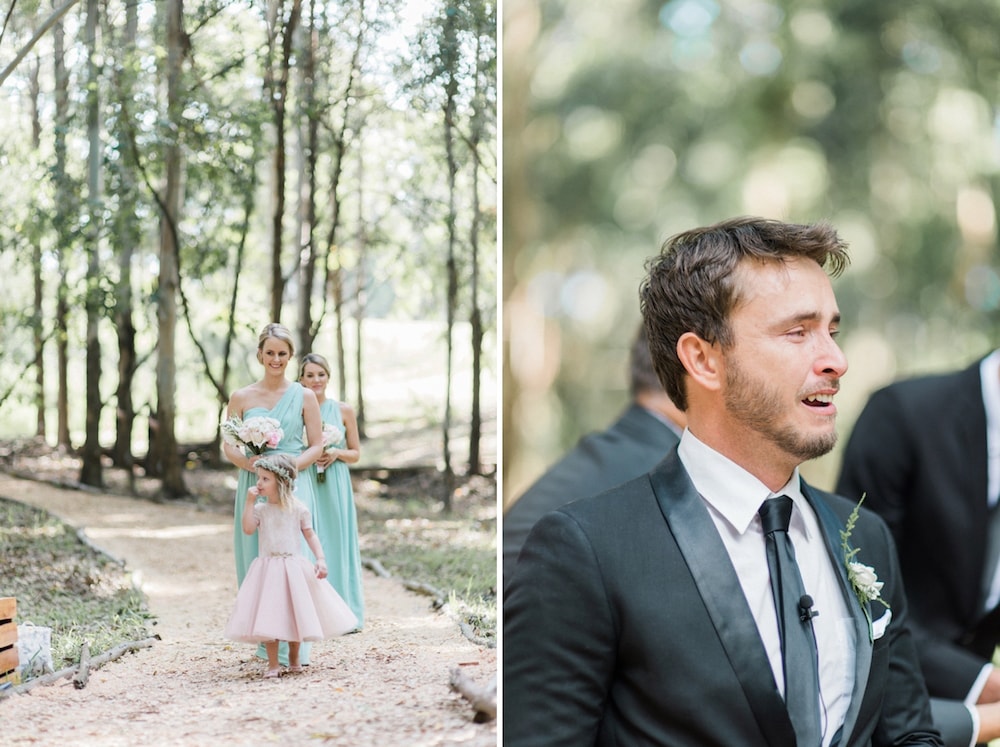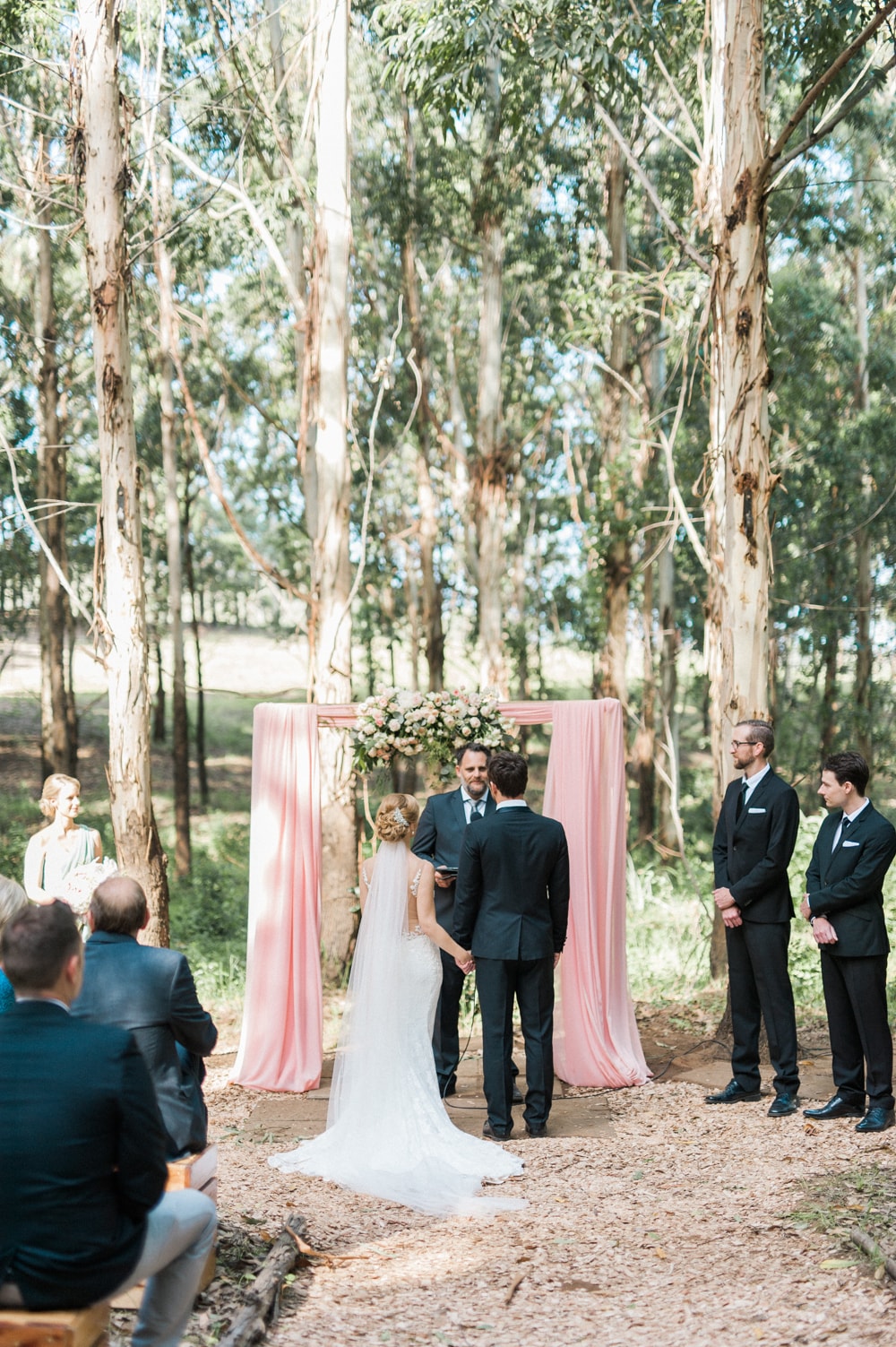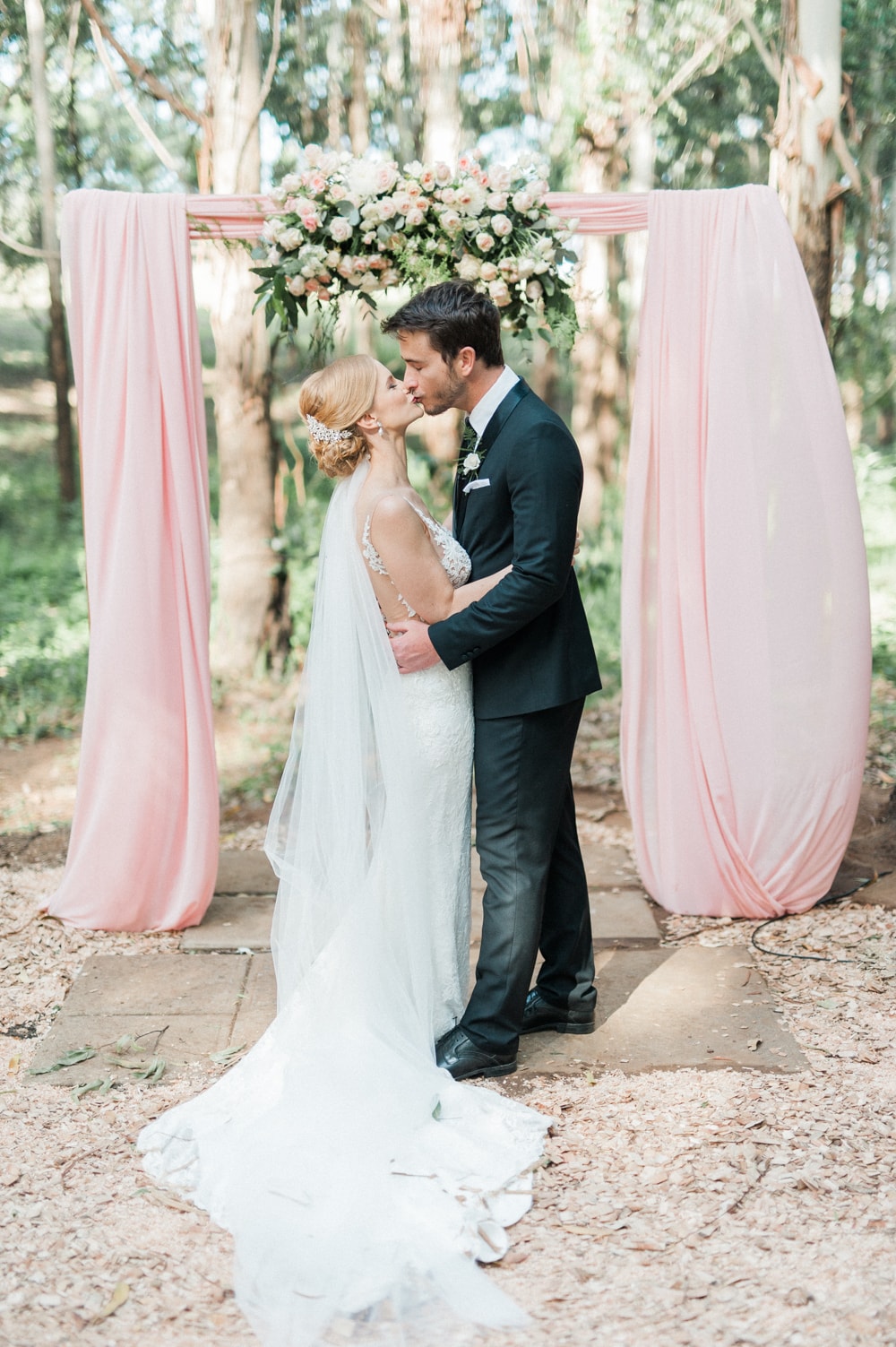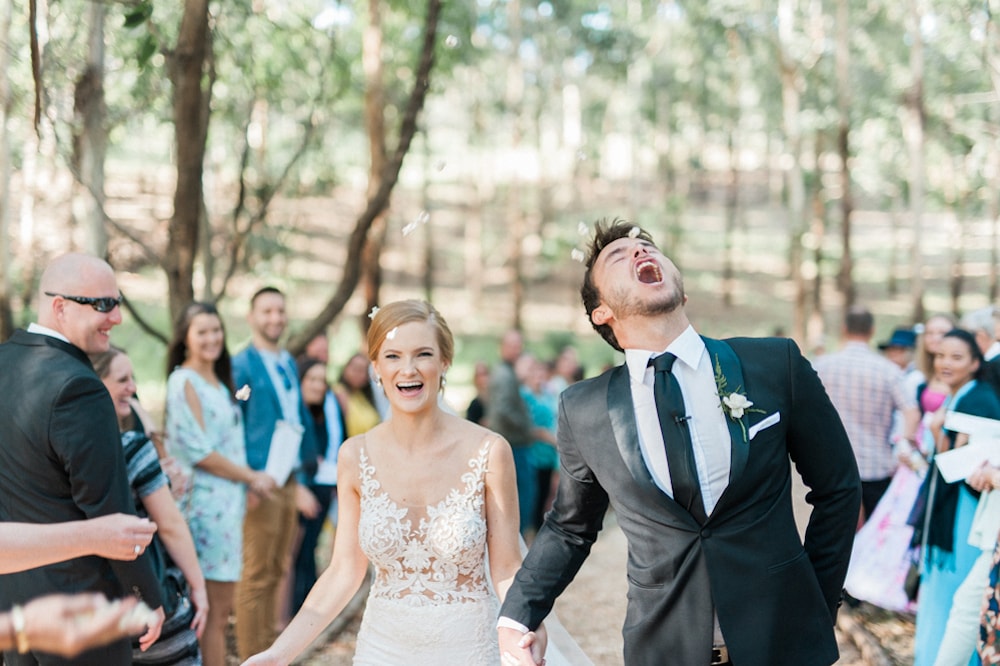 The Dress
I had decided to get my dress made and approached Hanrie Lues. I sent her some of my ideas, and she put two sketches together. It was amazing when the second sketch she showed me was my dress! It was as if she had seen the dress from my vision and drawn it! She is just so professional and my dress came out beautifully. I loved the lace work, it looked like it had been painted on me and the open back and train just finished off the look. It was so comfortable to wear, perfect for dancing the night away!  For something old, I used my gran's brooch on my bouquet. My sister used the same brooch for her wedding and we hope to pass this special tradition on to our children when they get married.
The Bridesmaids
Our bridesmaids had their dress made by a friend, Niccinoo Creations. Sage is my favourite colour and I was so happy that I could bring it into the look of the wedding.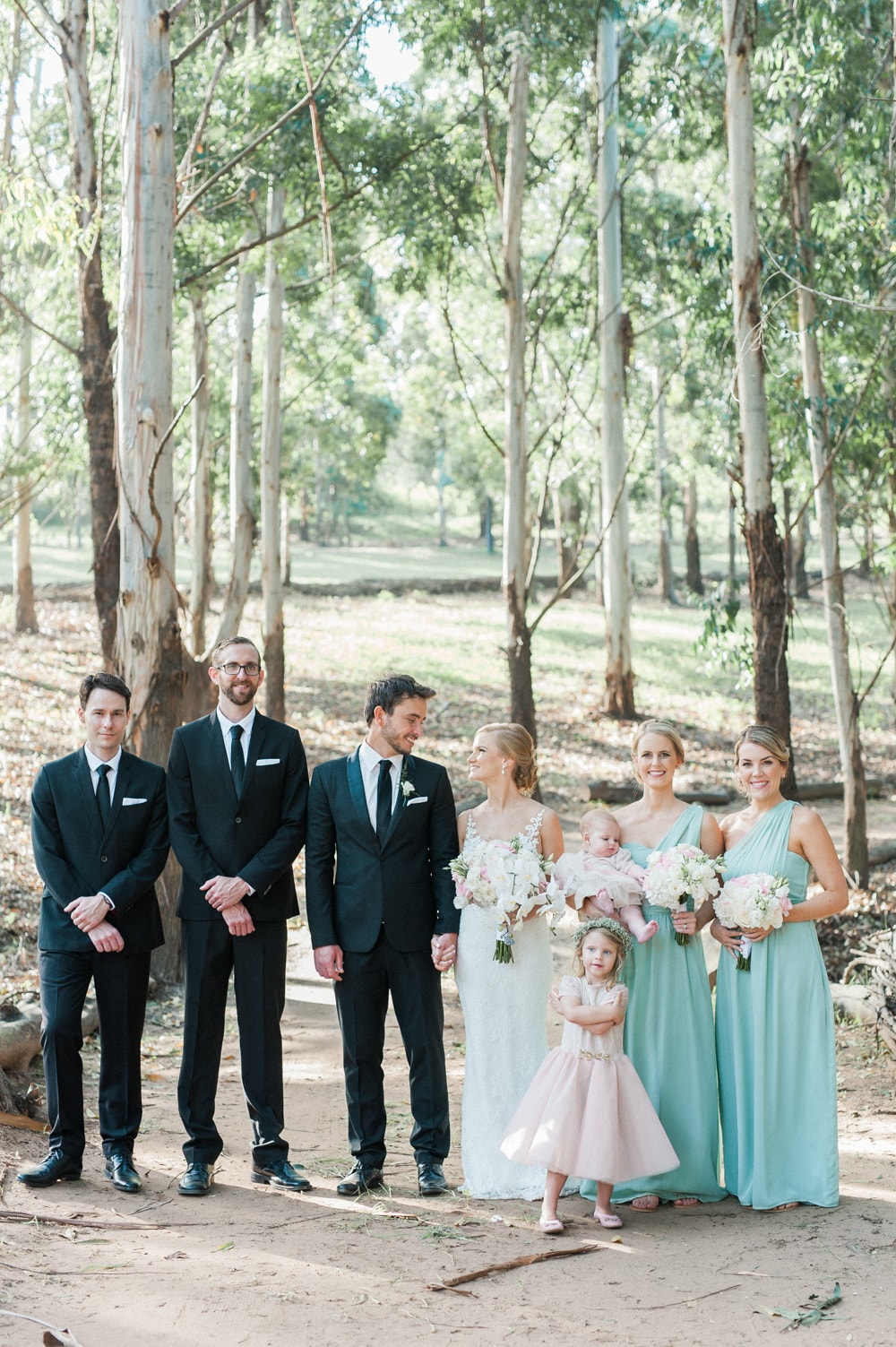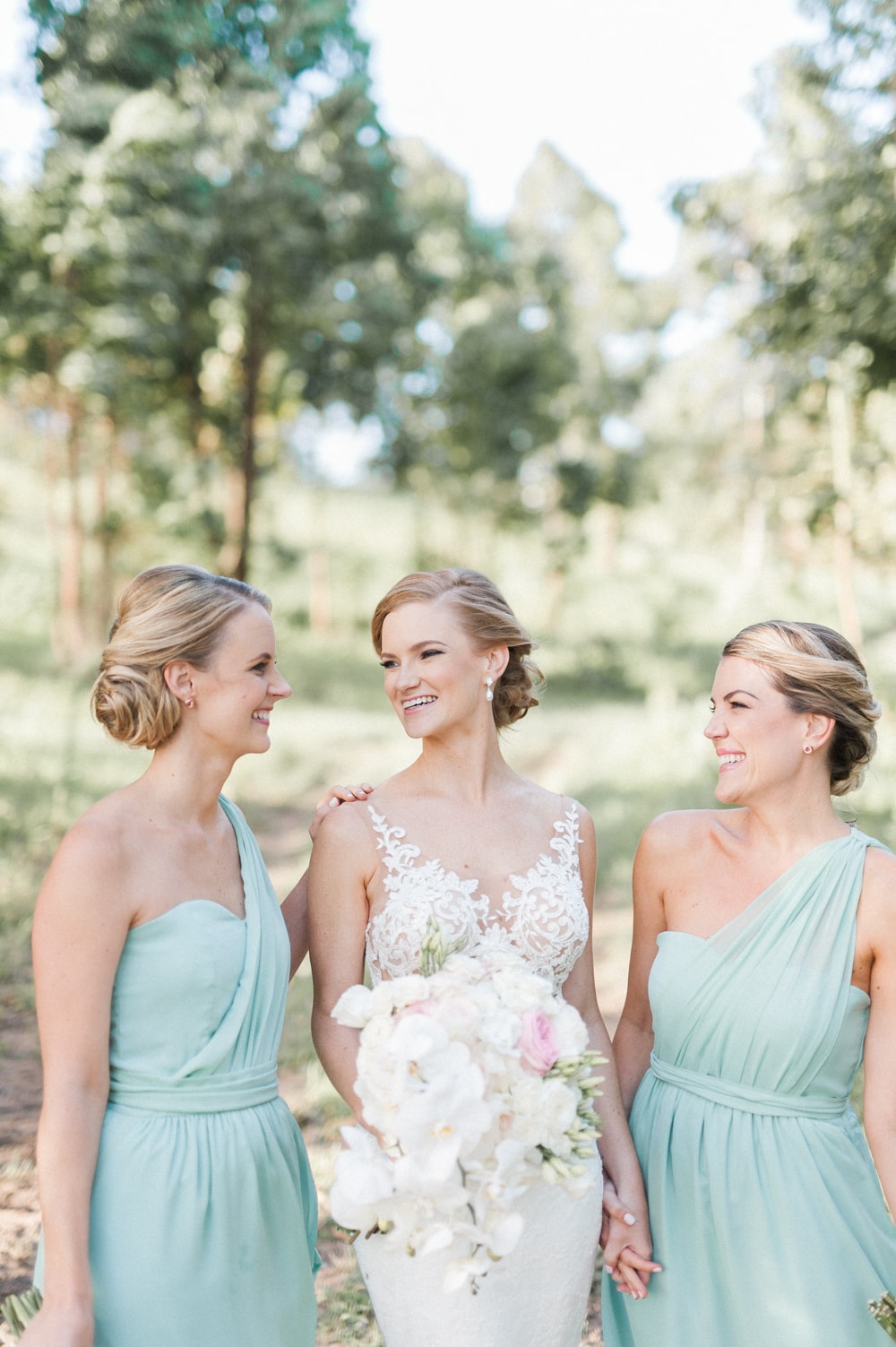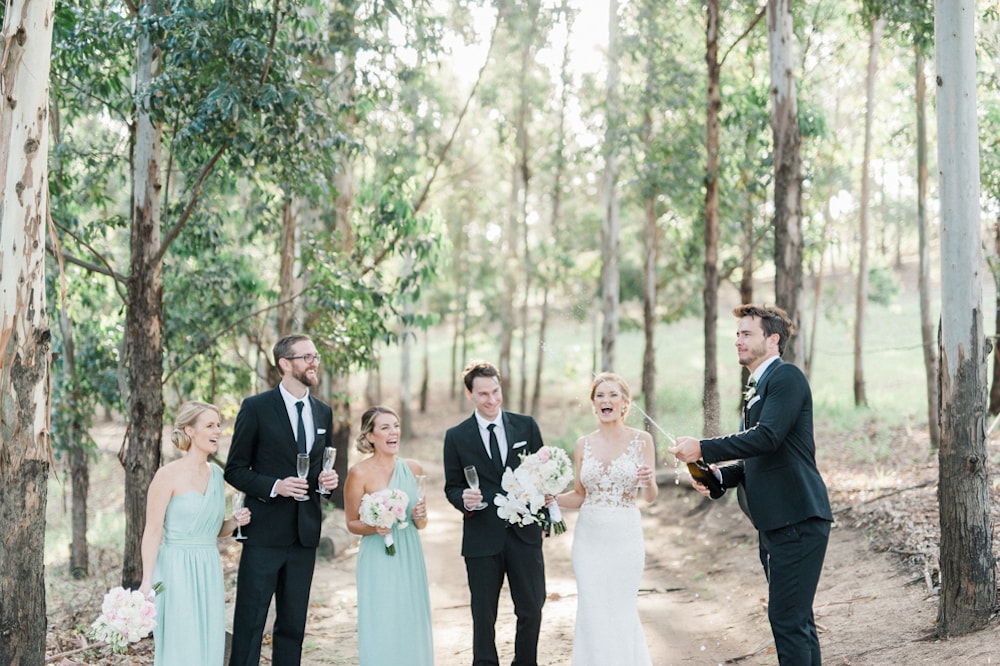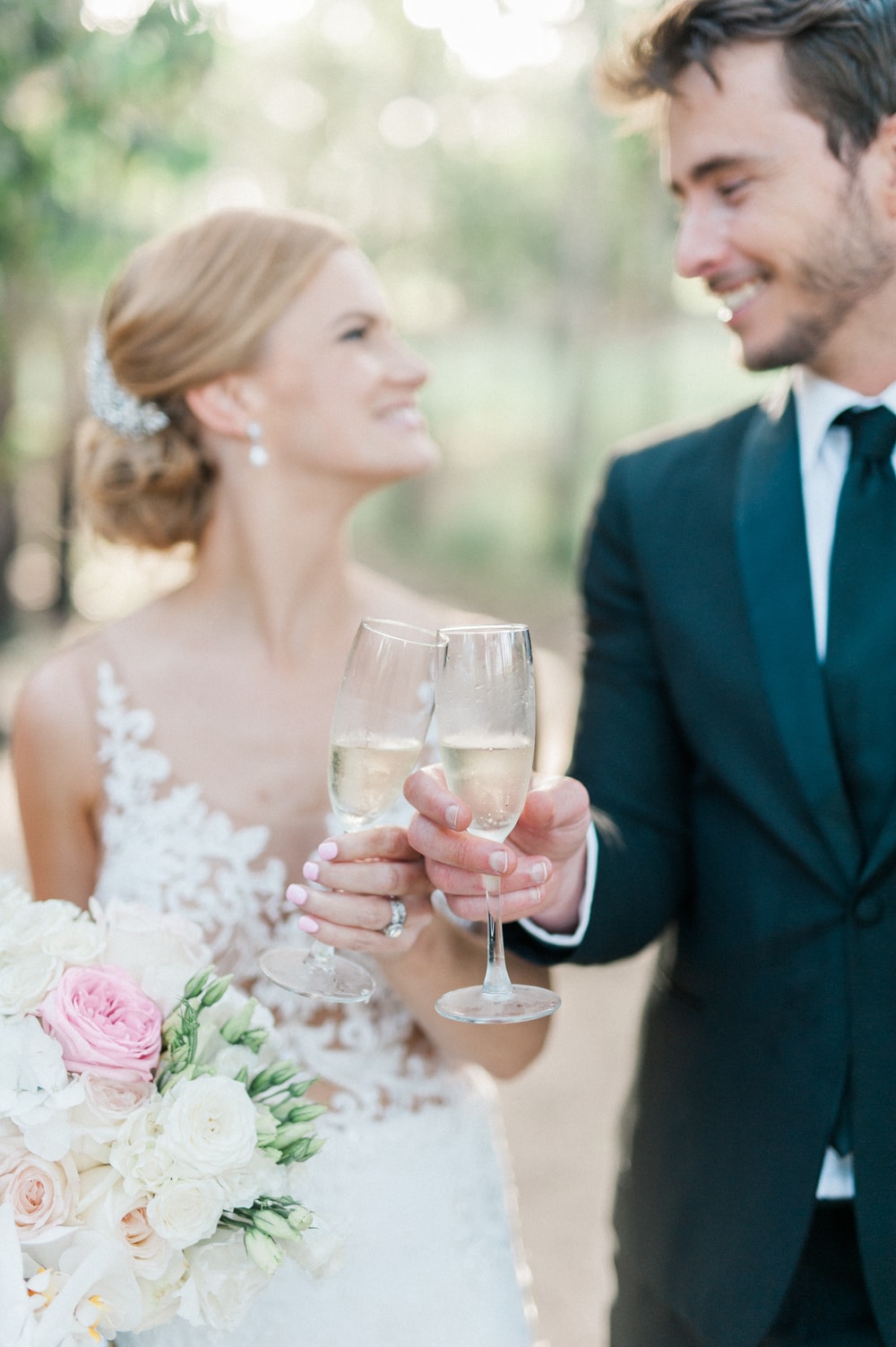 The Flowers
Oak Celebrations does the most amazing wedding flowers! From my bouquet and table flowers to the arch at the ceremony, they were just exquisite! Kay's attention to detail is obvious in everything she does. We had a combination of penny gum, roses and white hydrangeas. In my bouquet I had a beautiful orchid to finish off the look.
The Cake
Our wedding cake was a three-tiered vanilla cake with salted caramel buttercream icing. It made me smile when we cut the cake and I was finally able to eat it! It was so easy working with Audrey from Serendipity – she made choosing the cake so easy.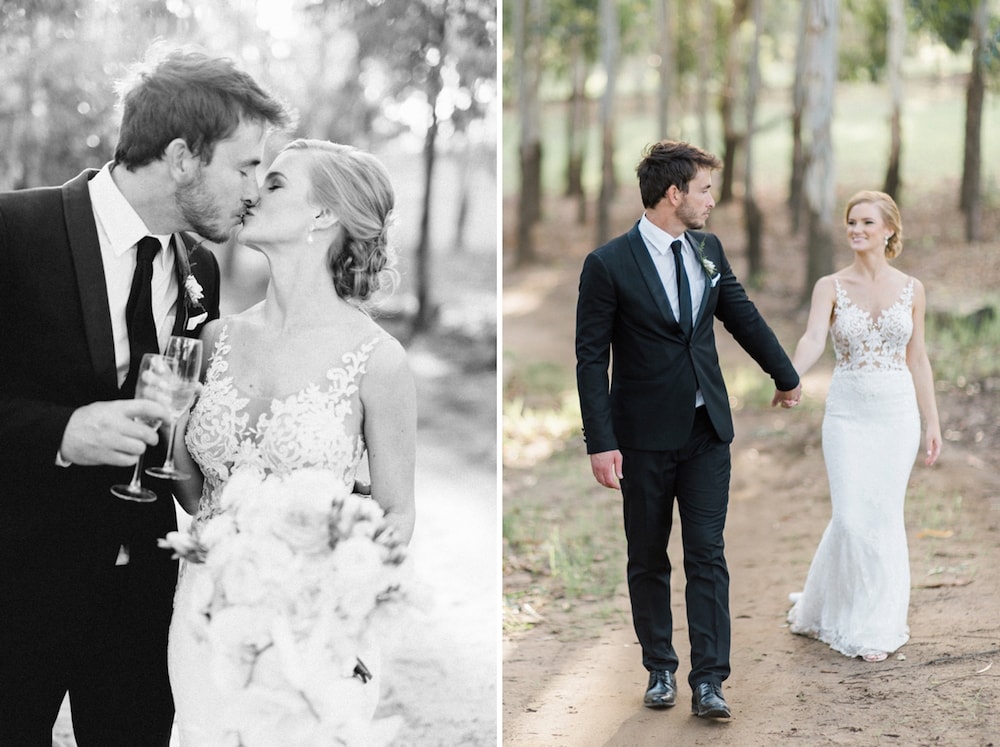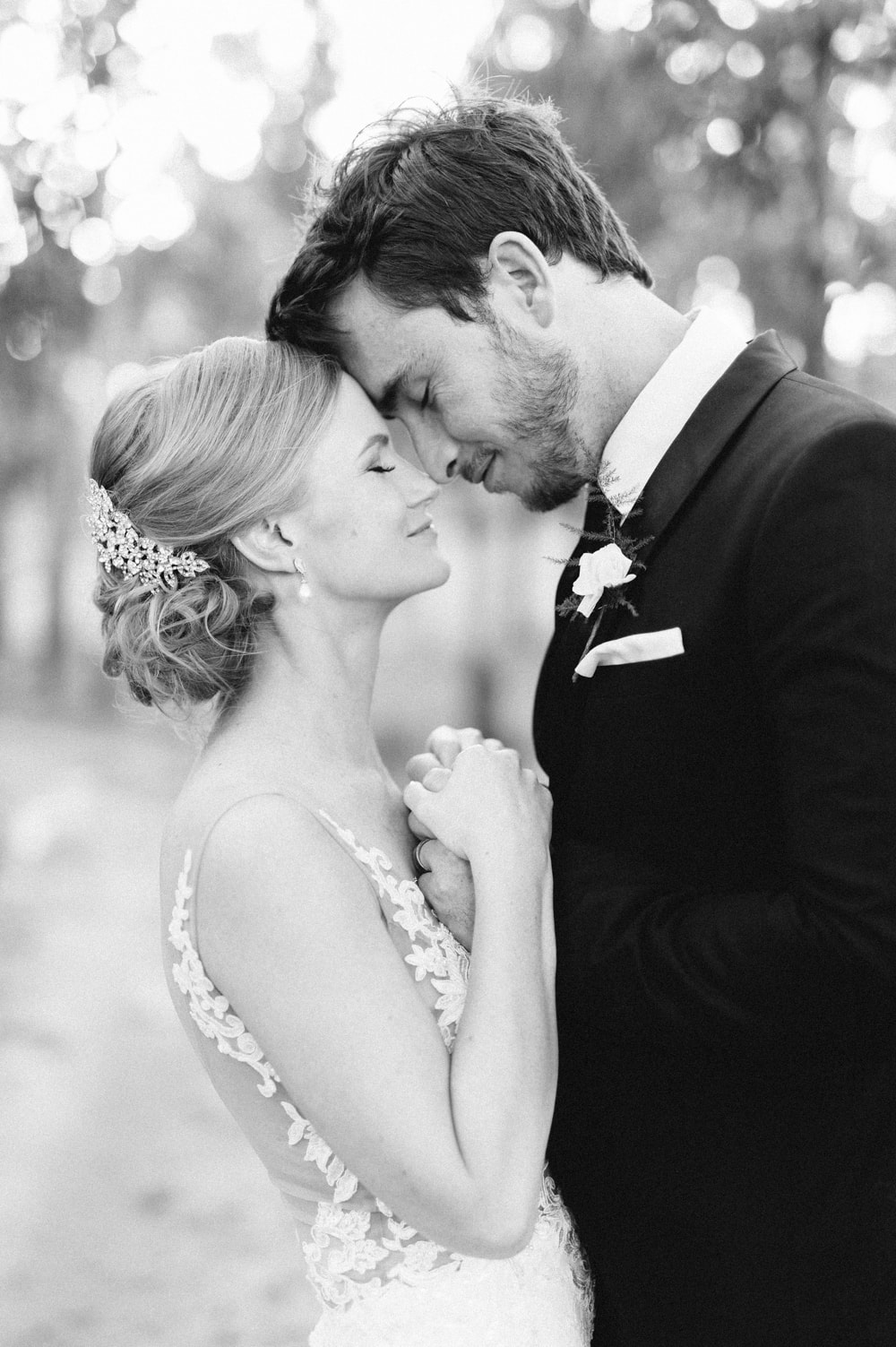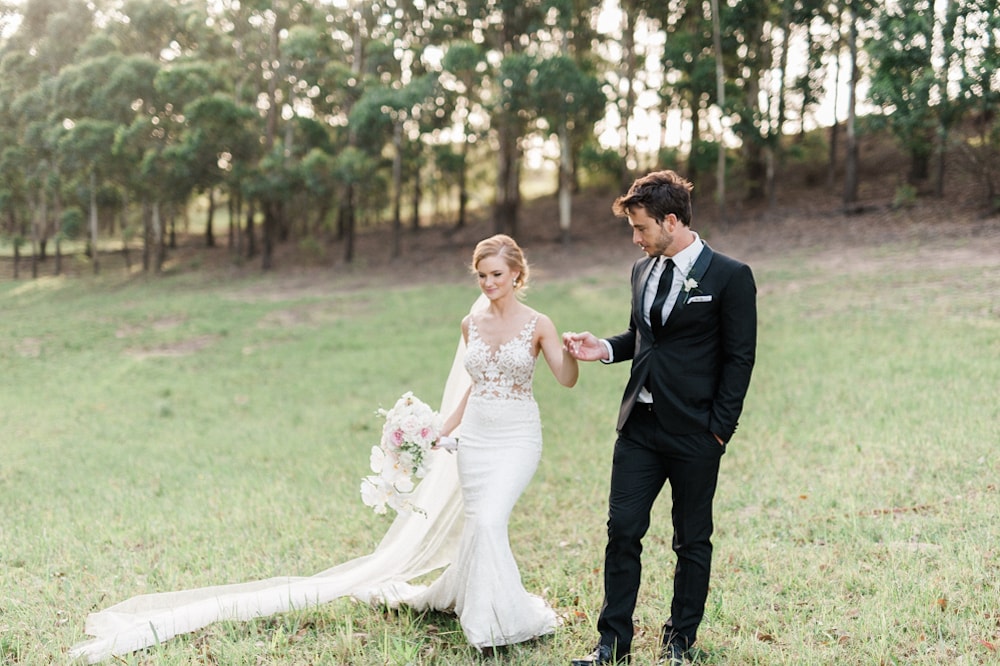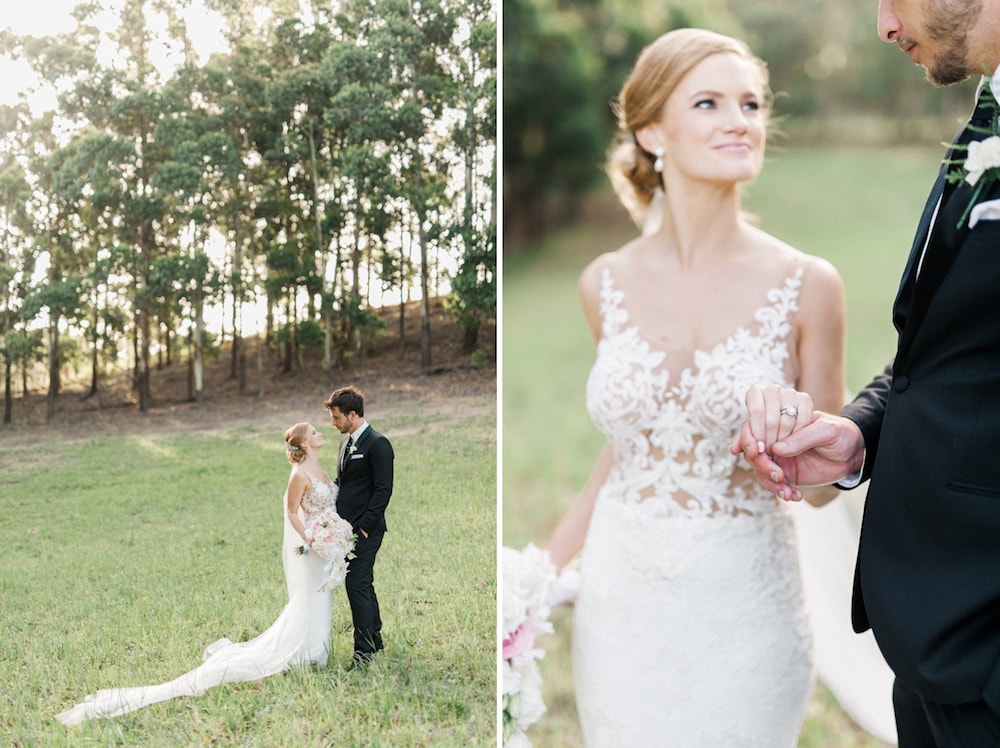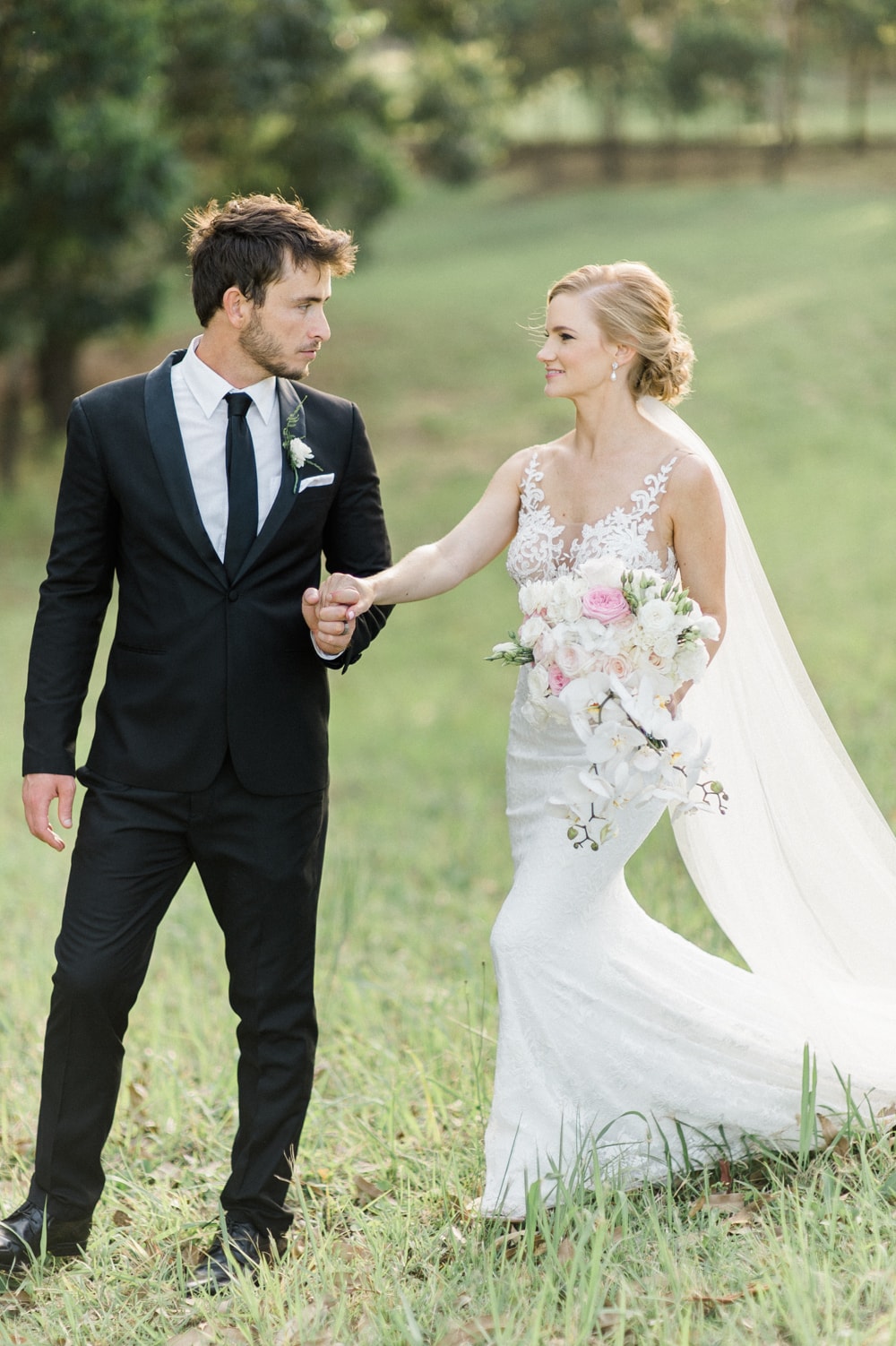 Memorable Moments
It's crazy how fast your wedding day goes, but for me the favourite part of my day was seeing Devon get so emotional when he saw me walking down the aisle. It was so real, it gave me a lump in my throat! The best advice I had received was being told to take a step back and take it all in and that's exactly what we did. We took a few minutes for ourselves and just looked around and tried to absorb that moment. Seeing our family and friends having an awesome time made it so worth it!
Proudly South African Details
We served the local craft beer (East Coast Brewery) made at the venue at our wedding.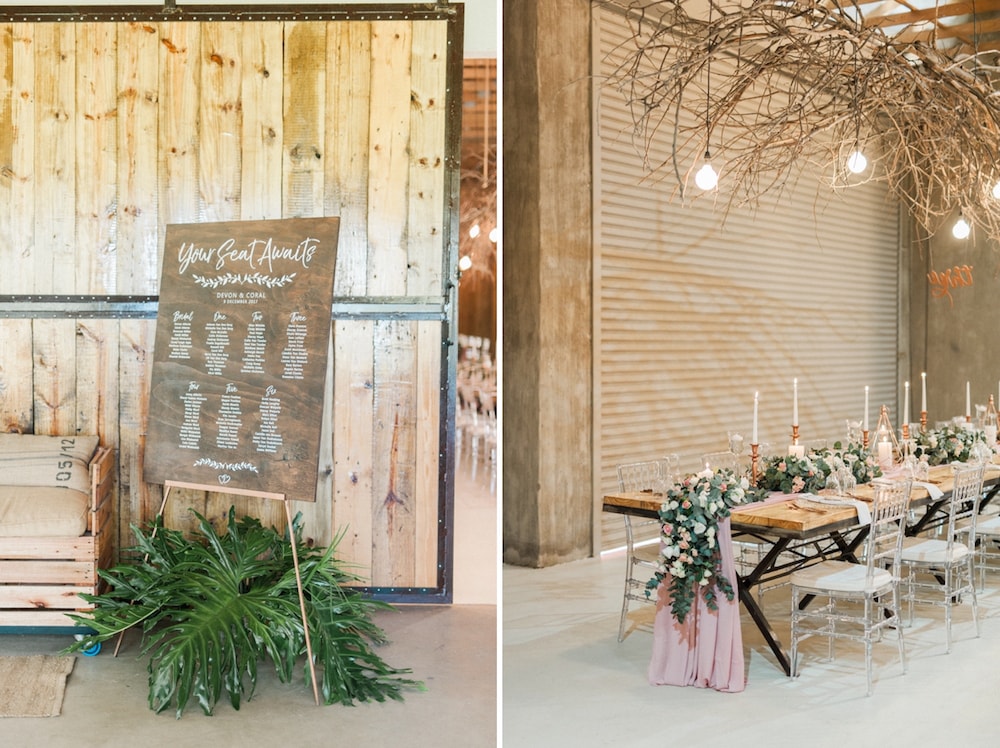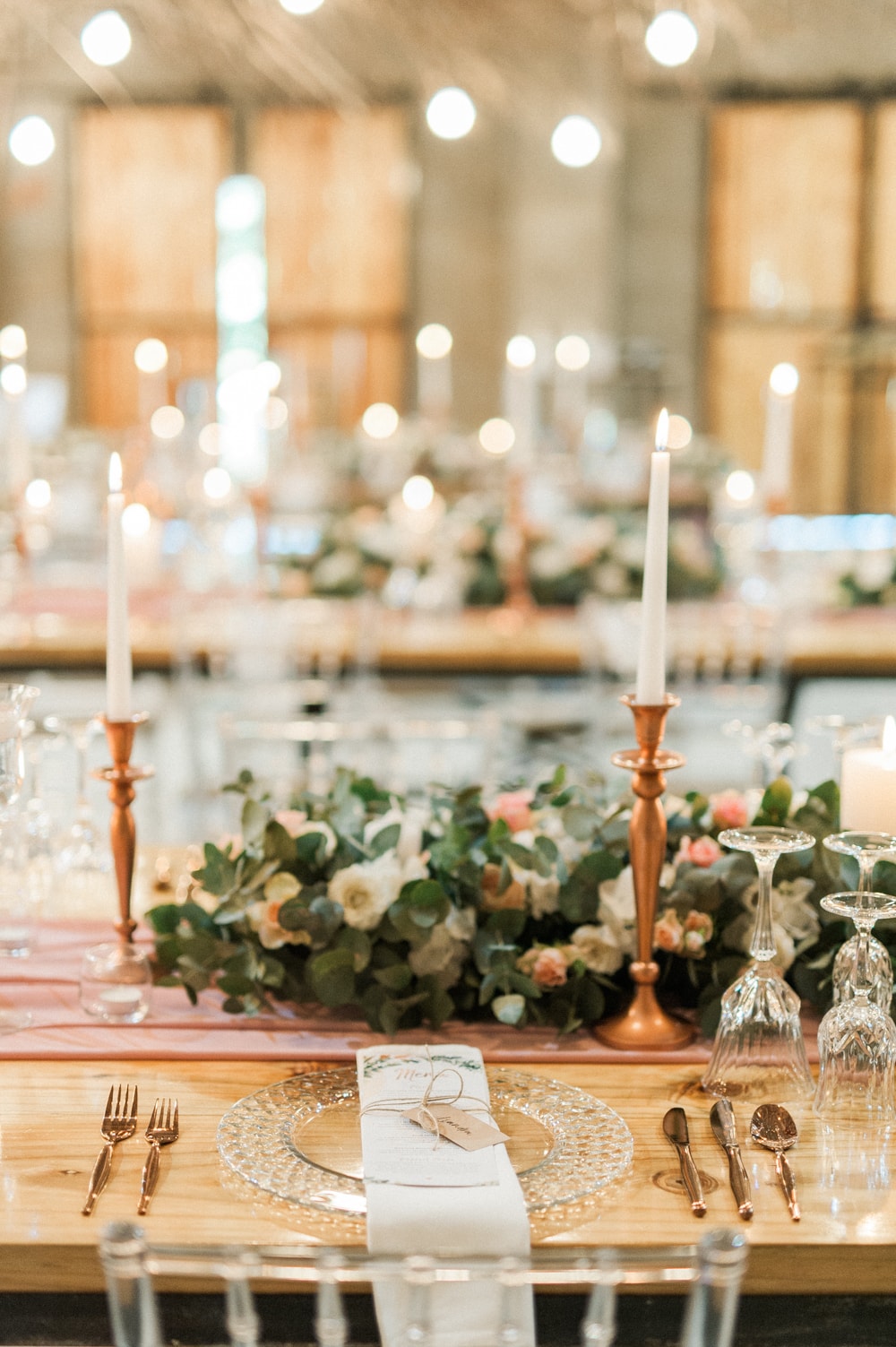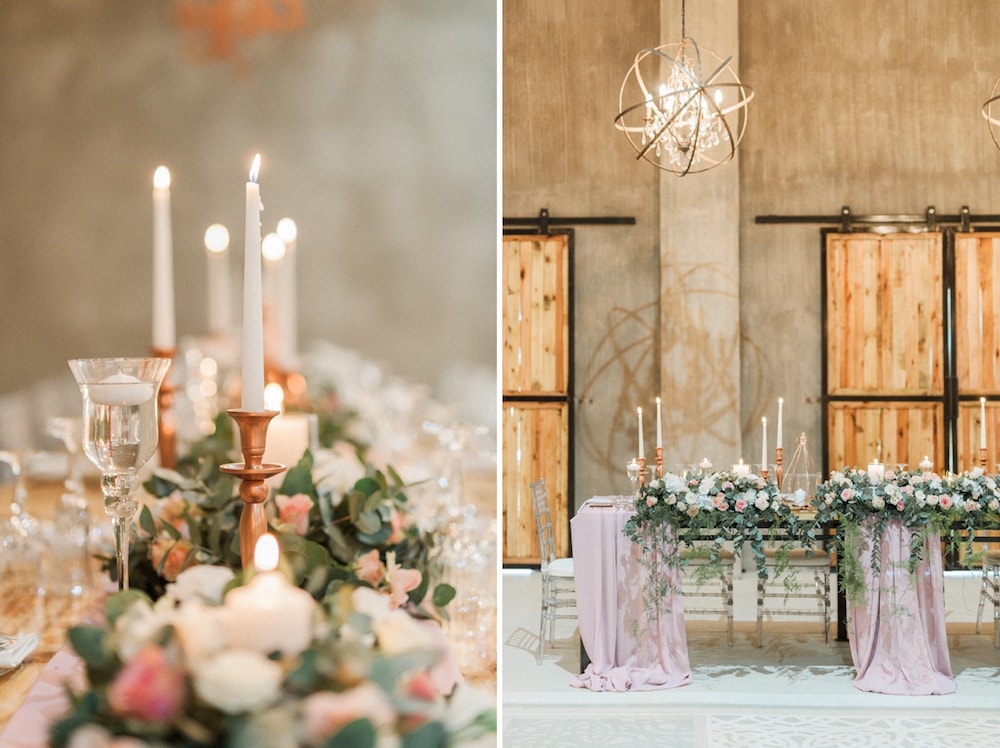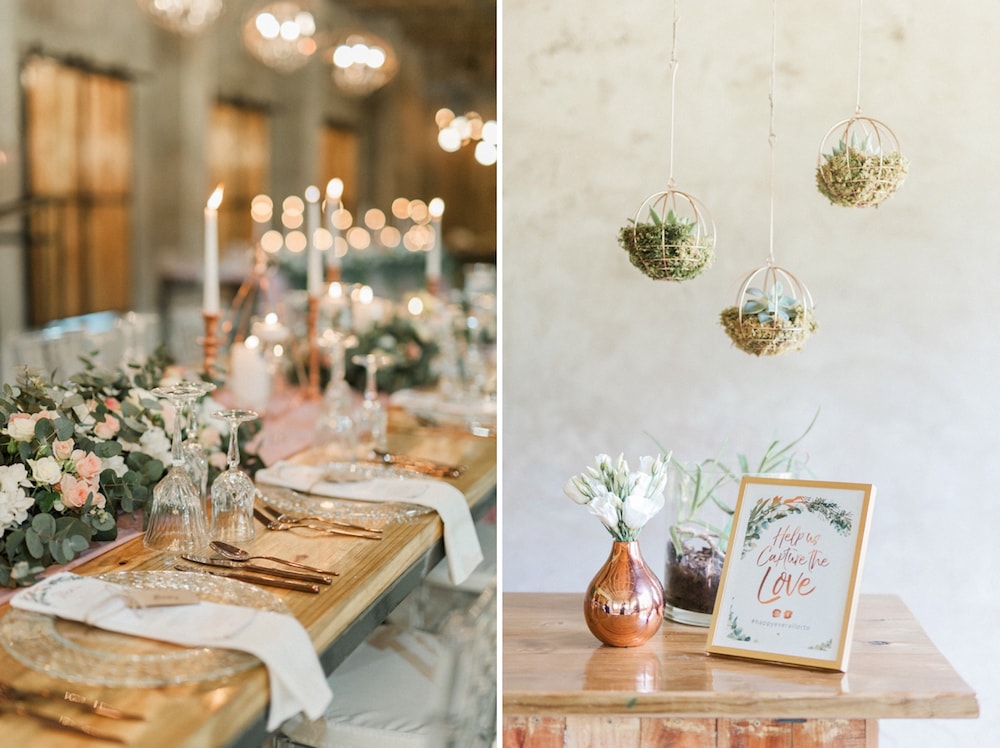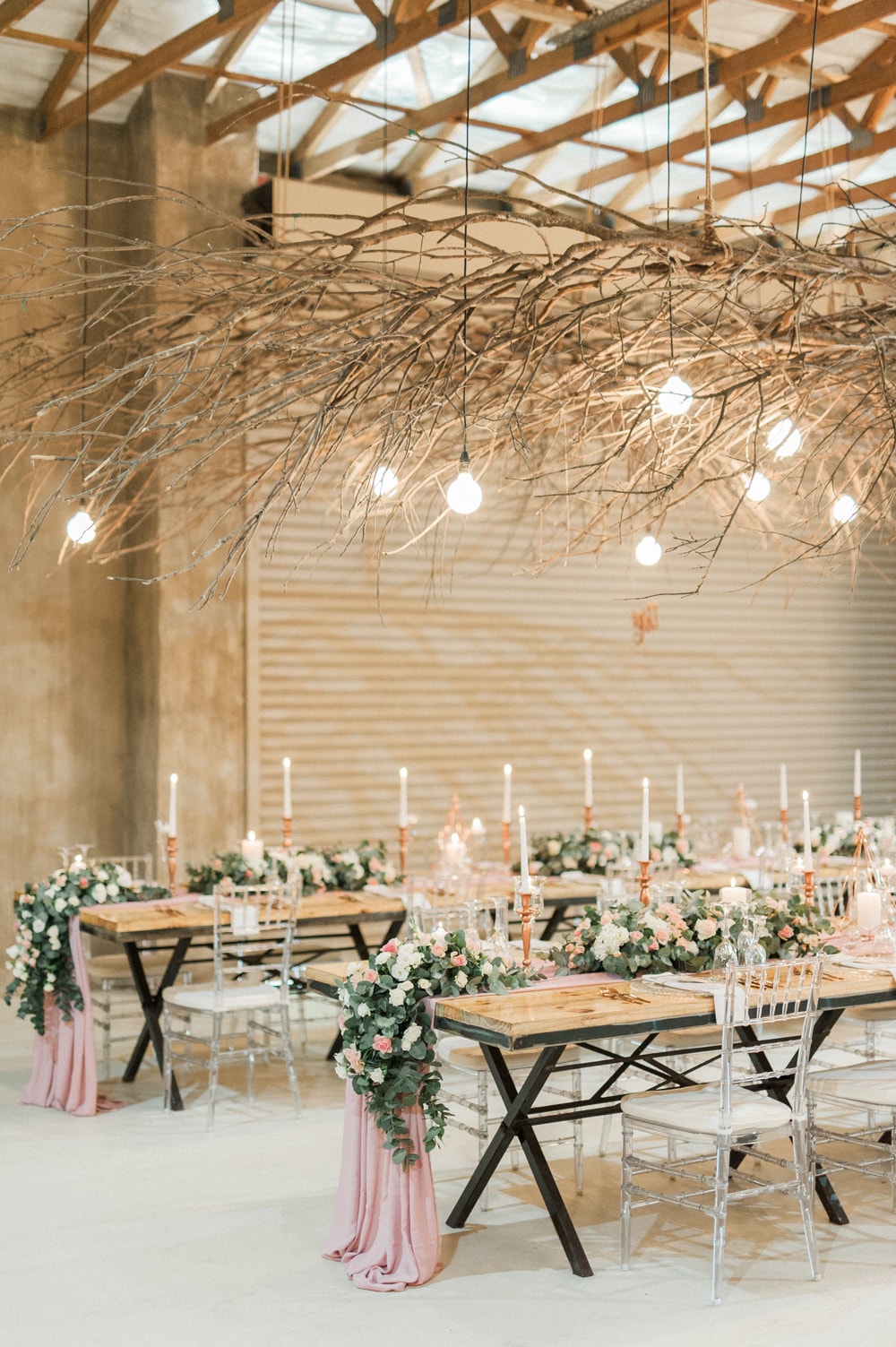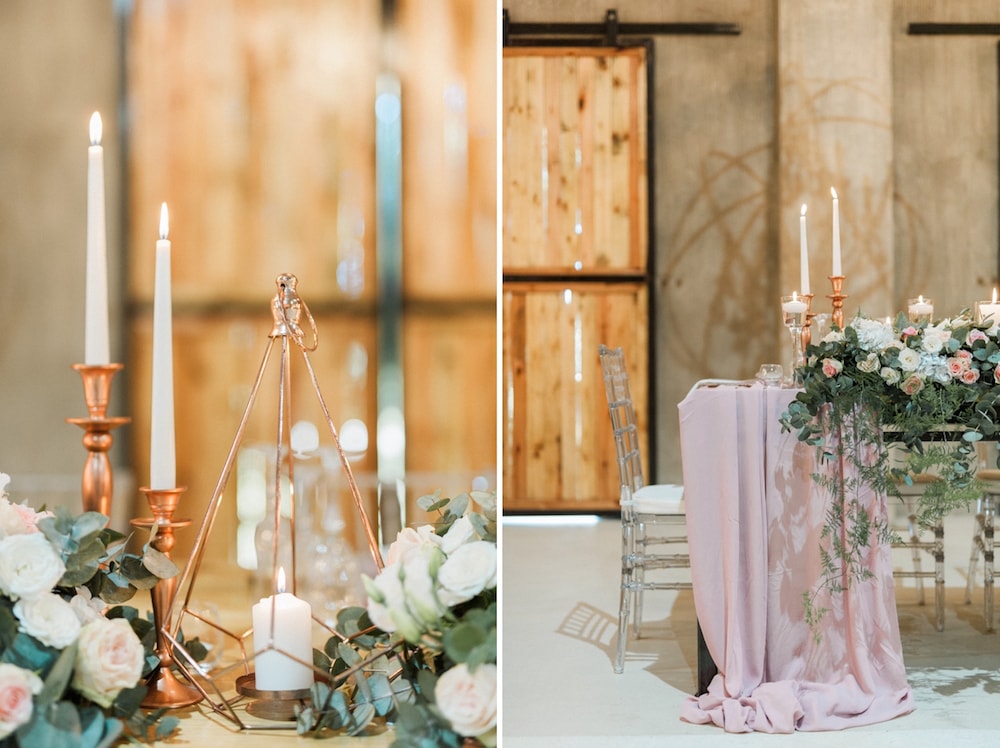 Best Decision
I think the most important part of the planning was to make a priority list. For us, the photographer, food and decor was something we wanted to splurge on. We debated on having a videographer and finally made the call that we would have one. It was the best decision we made! We skipped wedding favours for our wedding and didn't miss them on the day.
Advice for Future Brides & Grooms
Planning a wedding is a lot of work, but if you have chosen what will make you happy on the day, then stick to it. I found sticking to a budget helped me make decisions on what to skip and what to splurge on. Pinterest is an amazing tool to have when planning a wedding, but you can't do all of it. Choose the ideas that are possible within your time and budget.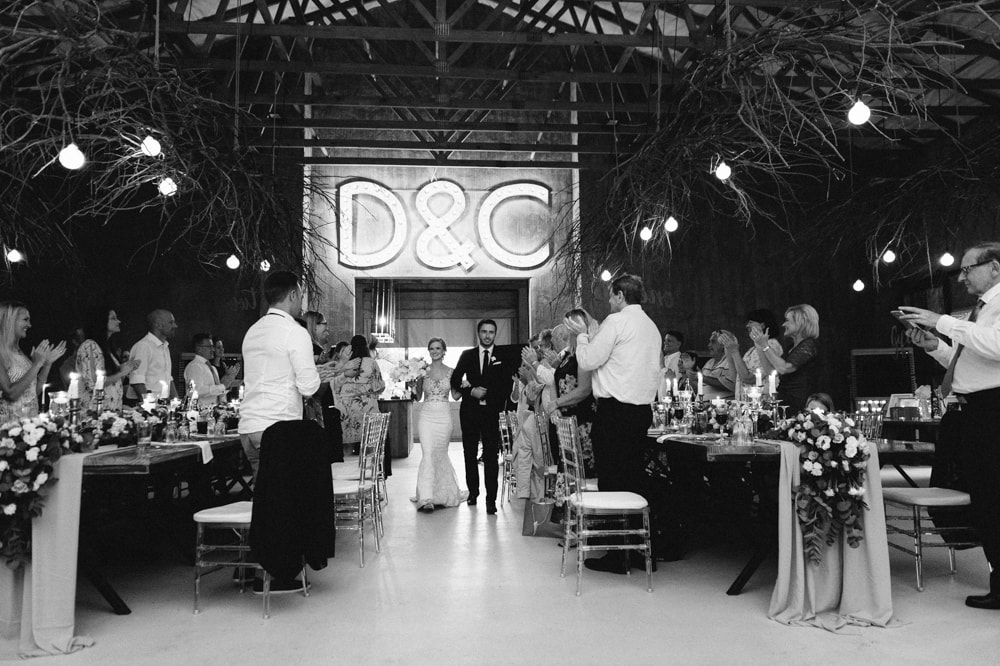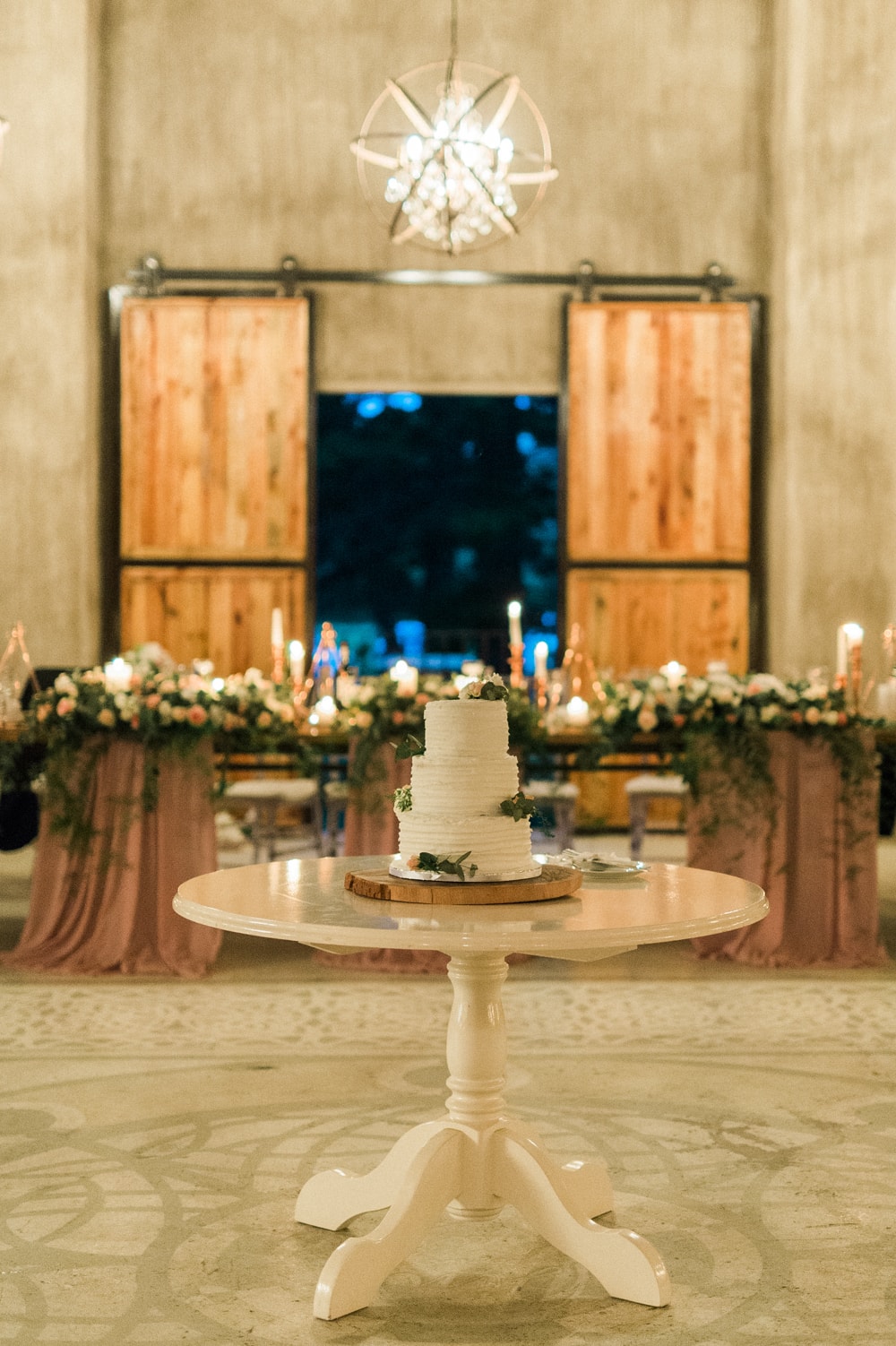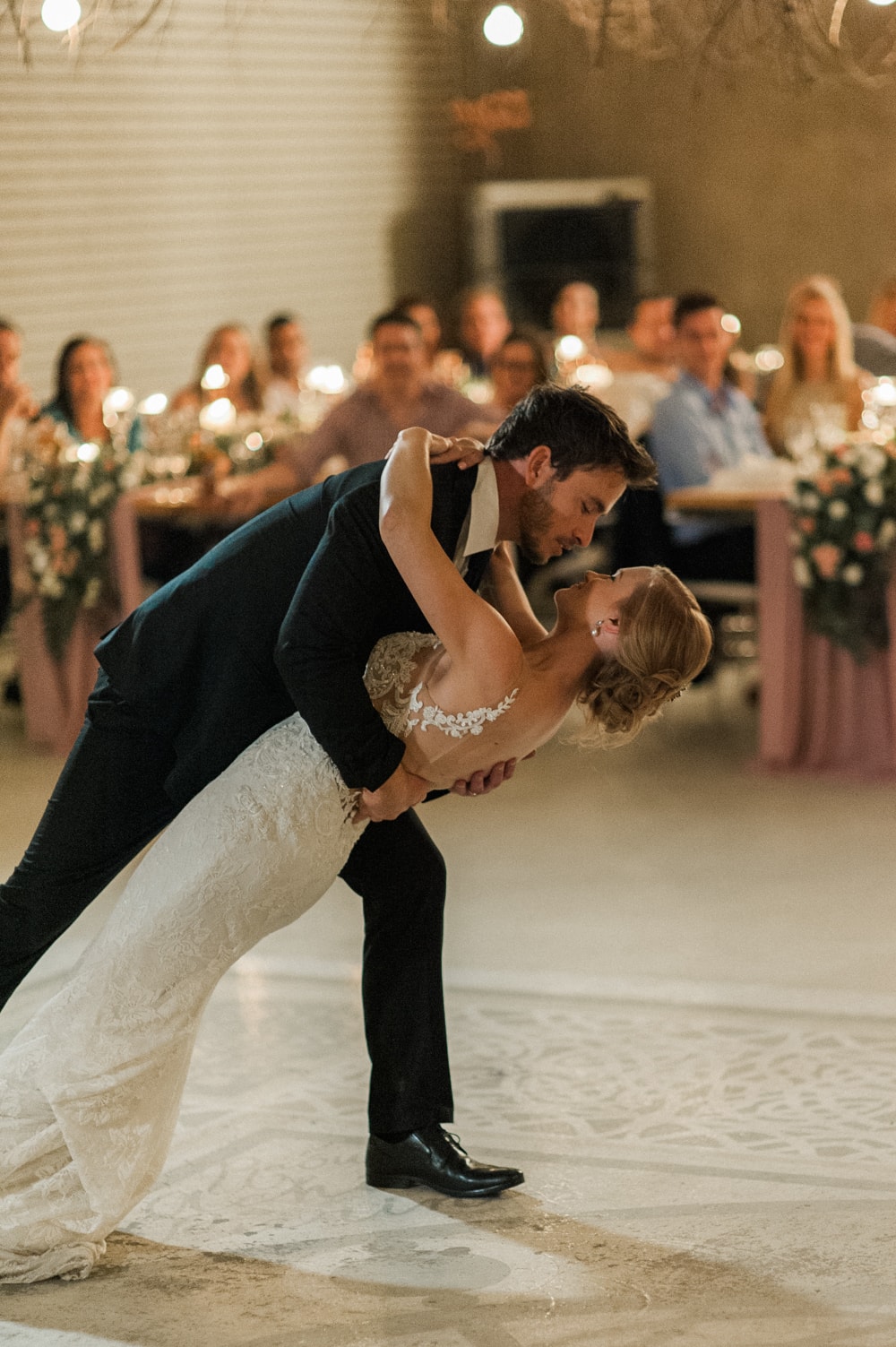 You can see more from this wedding on the Bright Girl Photography blog.
SERVICE PROVIDERS
Photography: Bright Girl Photography | Ceremony Venue: The Venue Fontana | Reception Venue: The Venue Fontana | Floral: Oak Celebrations | Videography: Heartistic Production | Hair: Juliet Martin (makeup and hair artist) | Makeup: Juliet Martin (makeup and hair artist) | Wedding Cake: SERENDIPITY GOURMET TREATS | Catering: Food by Andrew Draper | Linens: Oak Celebrations | Wedding Dress: Hanrie Lues Bridal | Bridesmaid Dresses: NICCINOO | Groomsmen Attire: Suit Yourself | Bar: BAR SERVE | Veil: Hanrie Lues Bridal | Submitted via: Matchology