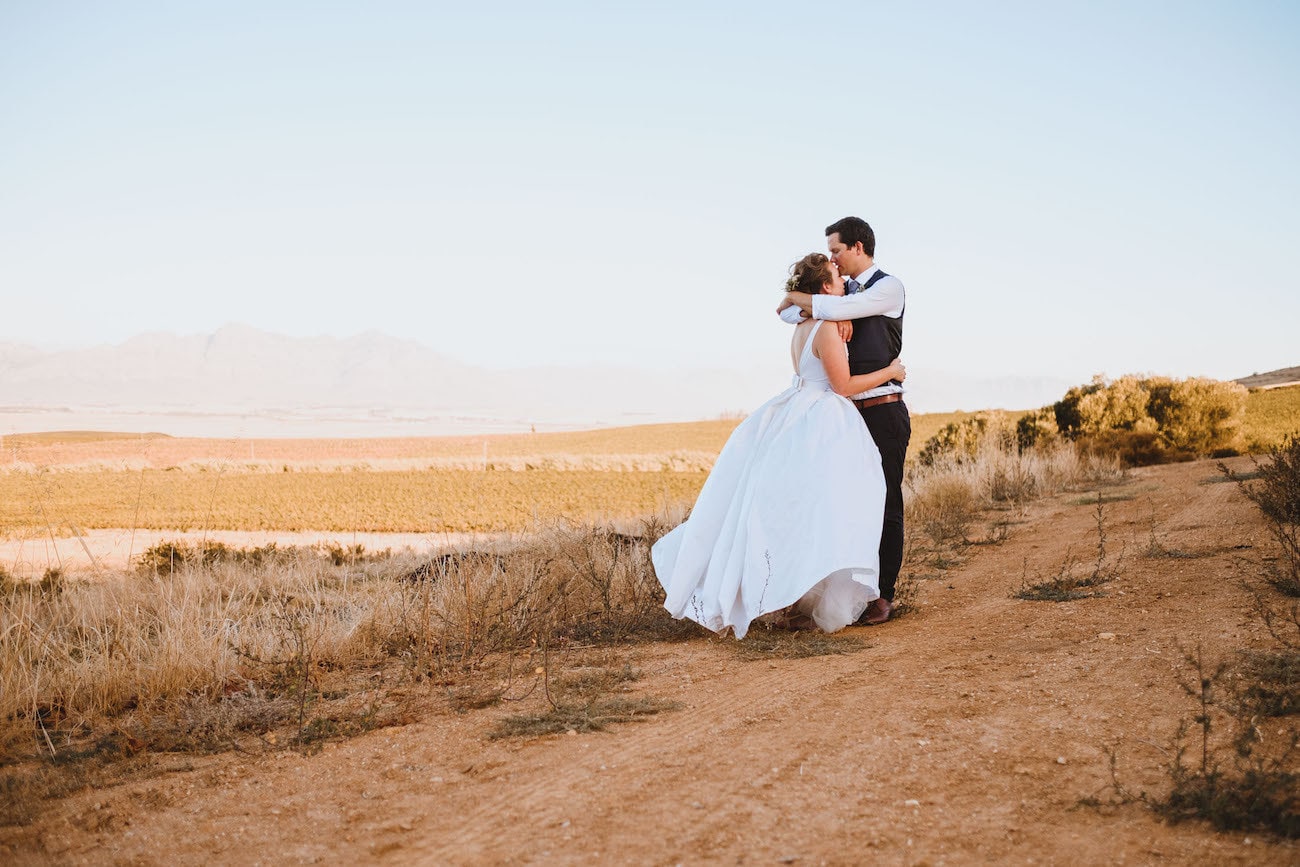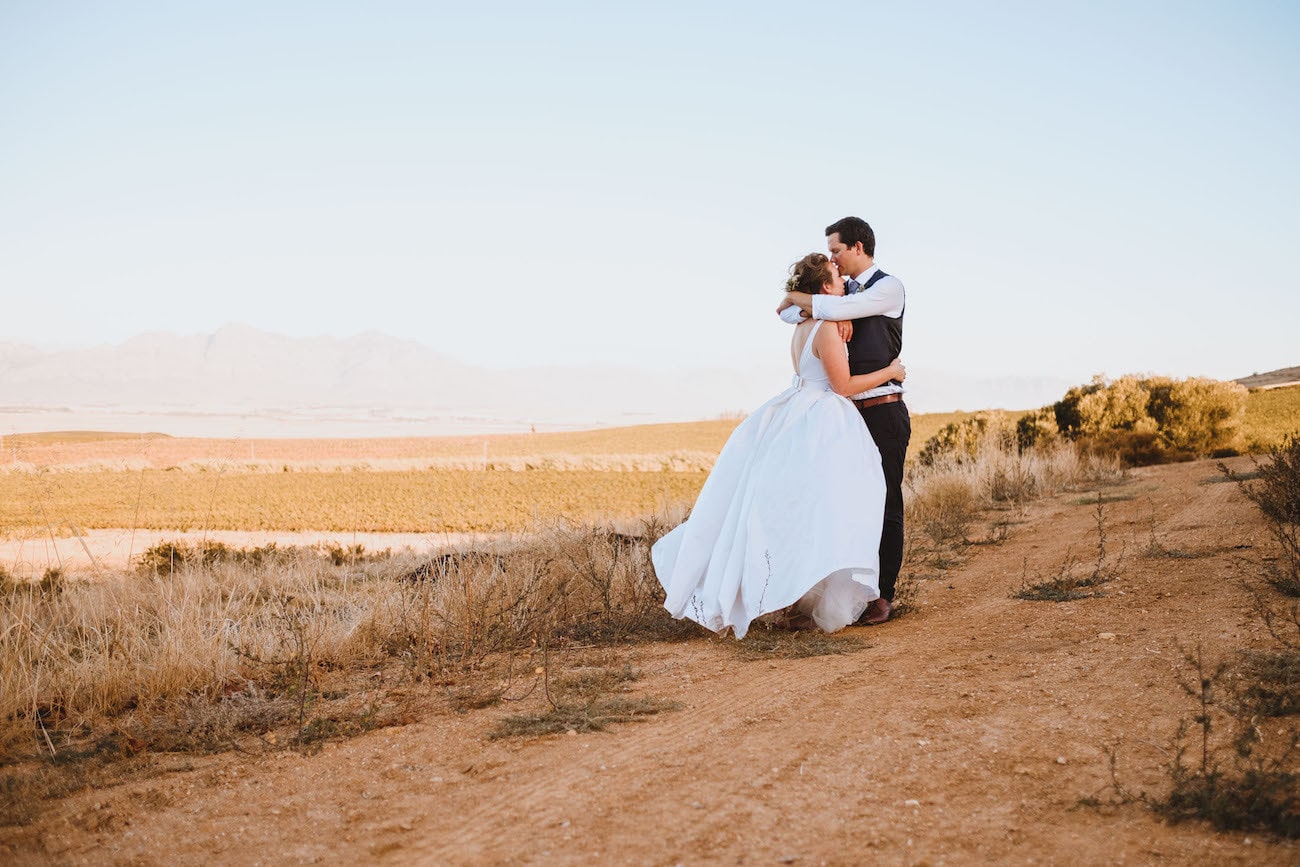 I think it's safe to say that when it comes to wedding planning, subtlety can be vastly underrated. After all, this is the world of extravagant walls of flowers, and crystal embellished gowns worth thousands of dollars. But sometimes the best weddings focus on the most important things – the setting, the food, the vibe of fun and togetherness and love; and when that's the case, just the littlest touches can pack the biggest punch. Case in point? Ashleigh & Tim's sweet-as-pie Riebeek West wedding, which brought together their nearest and dearest for a beautiful, heartfelt garden ceremony and then adjourned to the courtyard at Café Felix for wining, dining and dancing under the stars. Tables overflowing with greenery, and fairy lights everywhere… it's just magical. And Hewitt Wright's photographs bring all of it to life for us again. Who needs a bunch of bling when you have this kind of enchantment?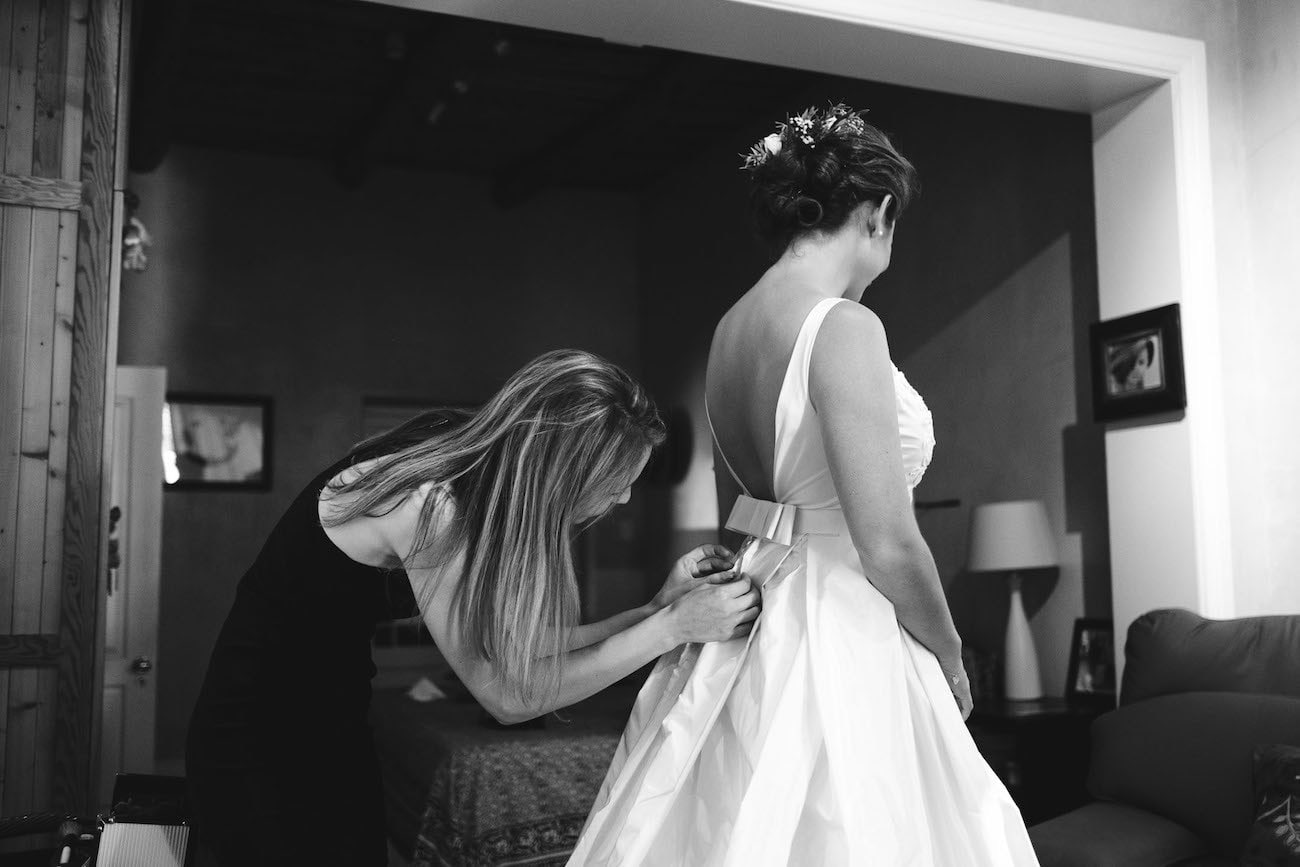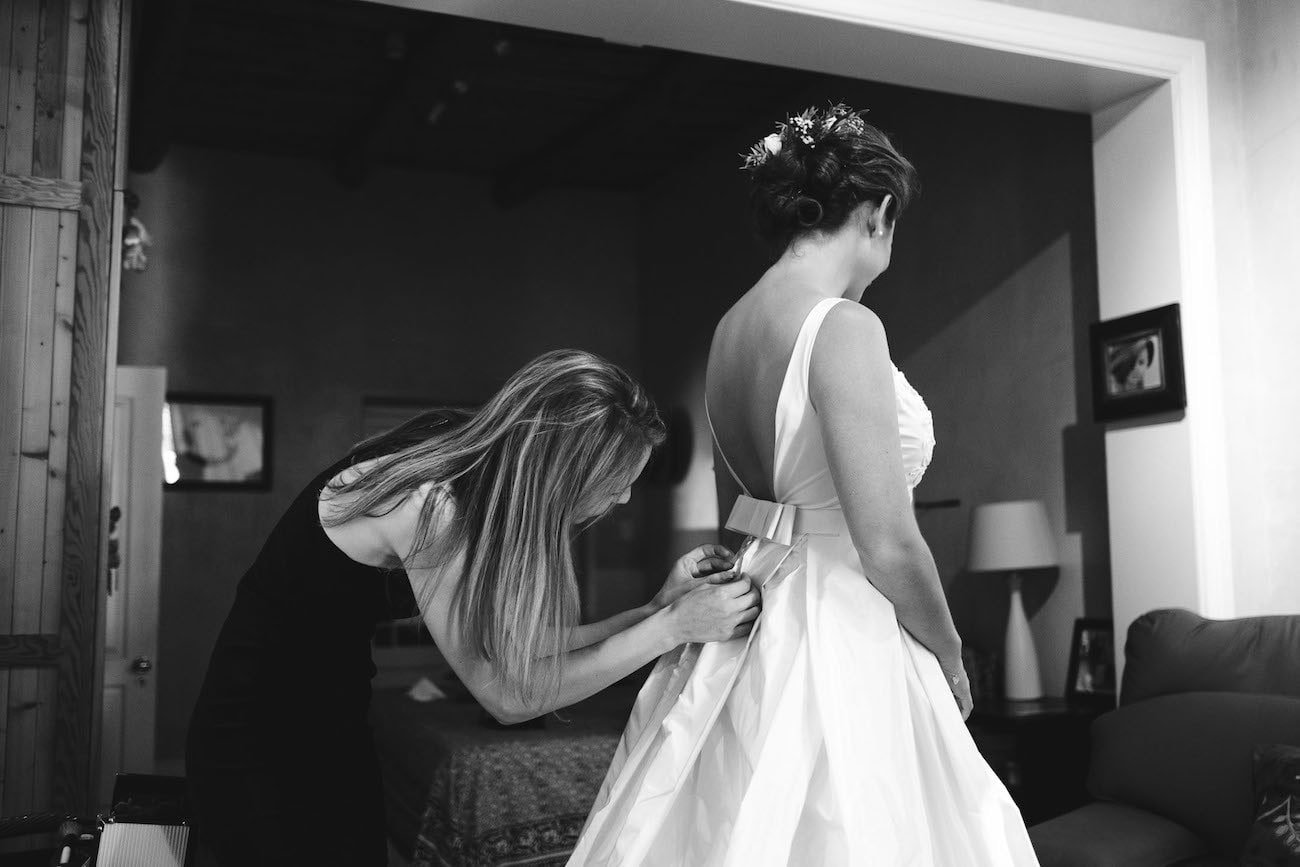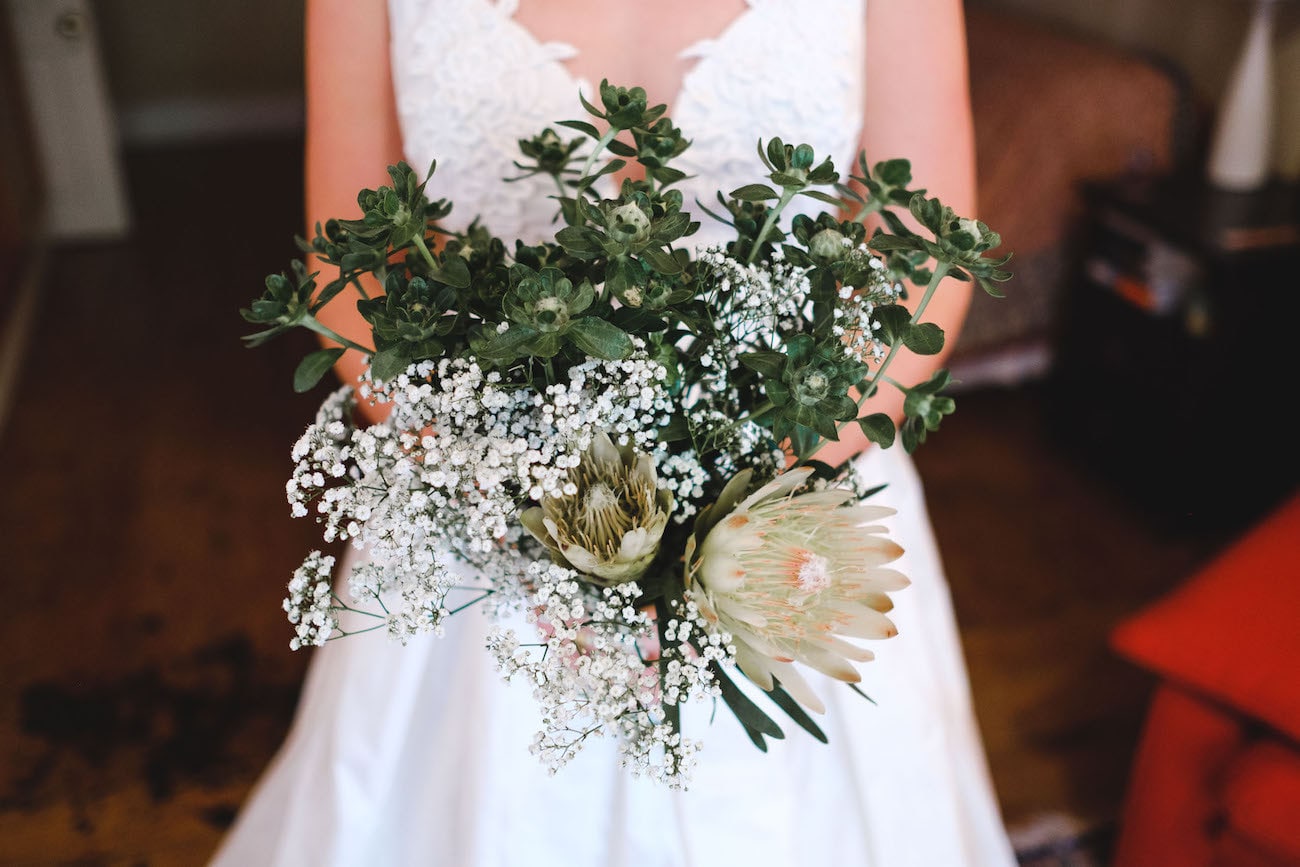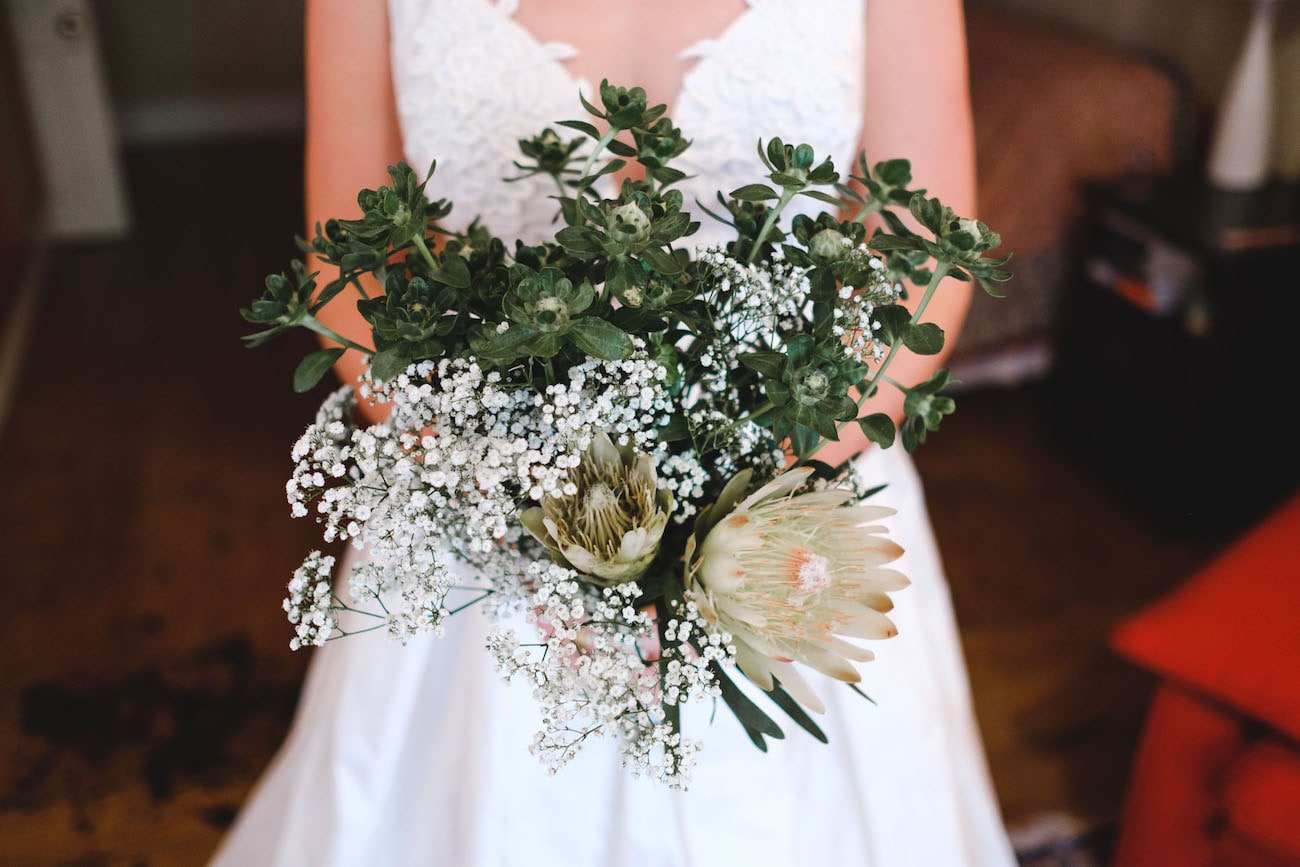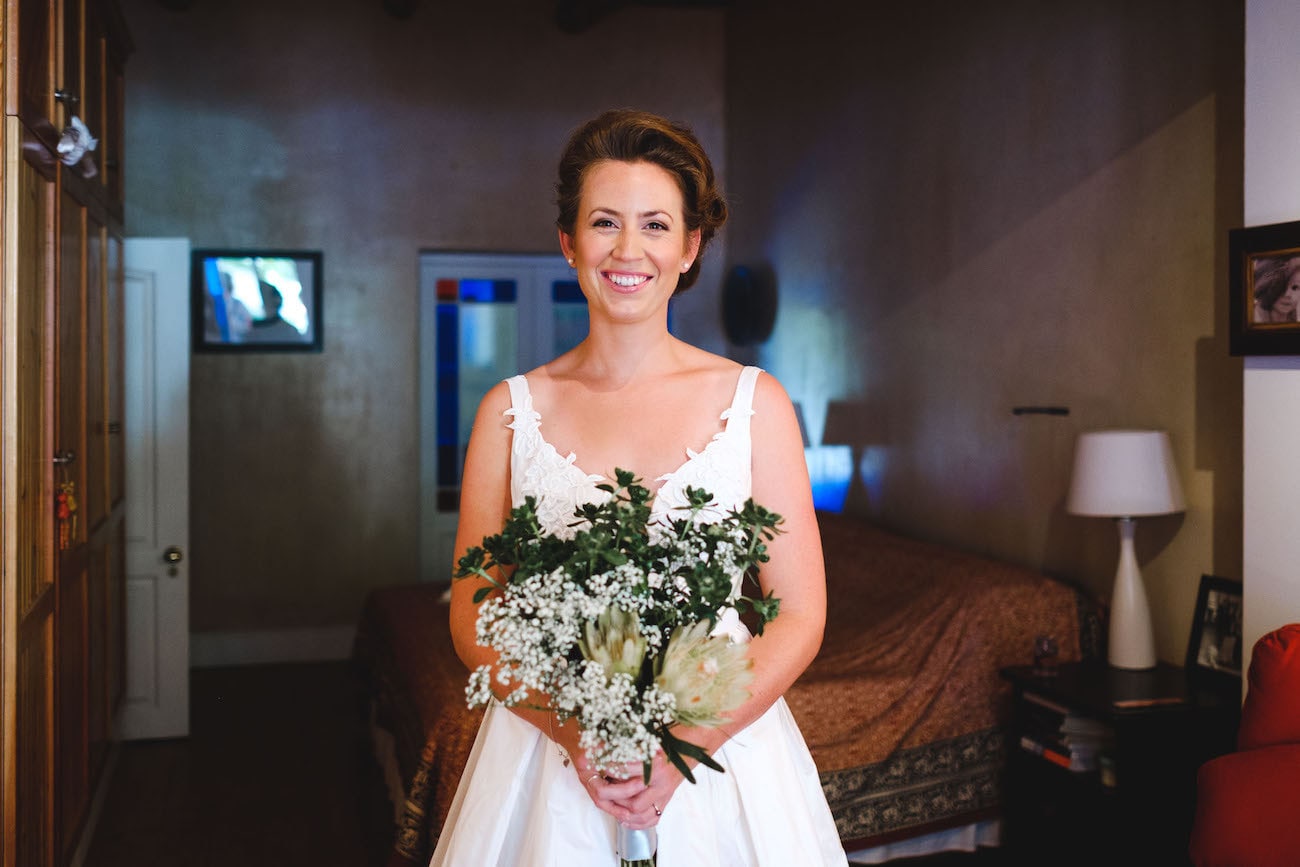 Love Story
We met in our final year at university (UCT). We were both doing our master's dissertations in the same workspace, where we ended up spending endless hours together.  It was a stressful time, so we got to know each other very well, through highs and lows, and very quickly became very good friends. Knowing we were going to see each other every day made finishing the dissertation a lot easier! On the day we handed in our thesis we of course went out to celebrate and the rest is history.
The Proposal
We were away with twelve friends over New Year's in the magical Transkei. On New Year's Day, Tim suggested we go for a walk, as we had not spent that much alone time together. I thought nothing of it. The first of January is my favourite day of the year and we were talking about the upcoming year and travel plans, etc., when Tim just popped the question. It was perfect, we were in the most beautiful place, surrounded by nature with not another person in sight. A very special moment. On our way back we bumped into small groups of friends who were going for their own New Year's Day walks. It was so great to tell everyone almost individually and see their reactions. No one suspected that Tim would propose, so everyone was very excited. After some sand dune surfing  we had a mini celebration back  at the house of tea and biscuits. Unfortunately we had finished all the champagne the night before!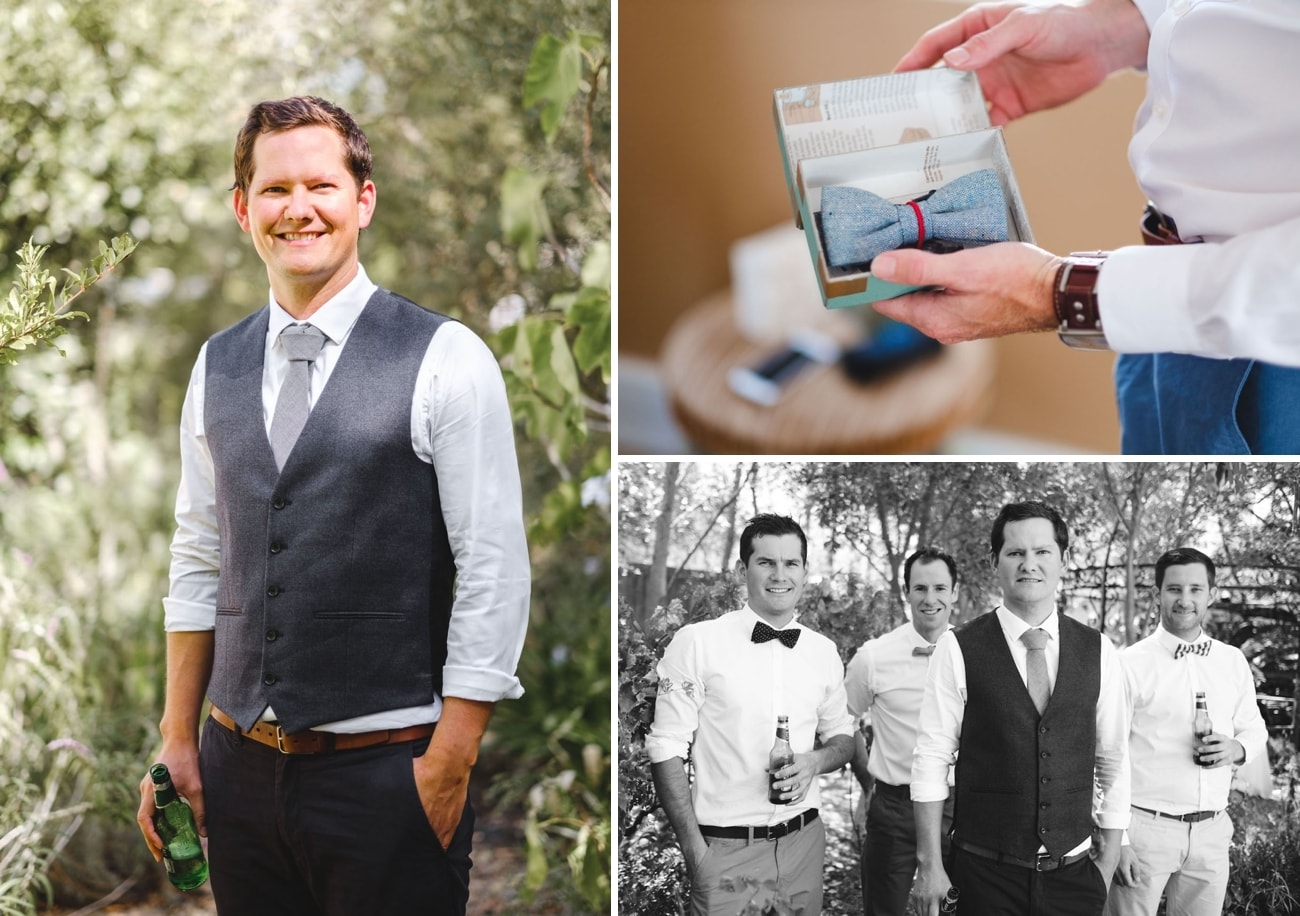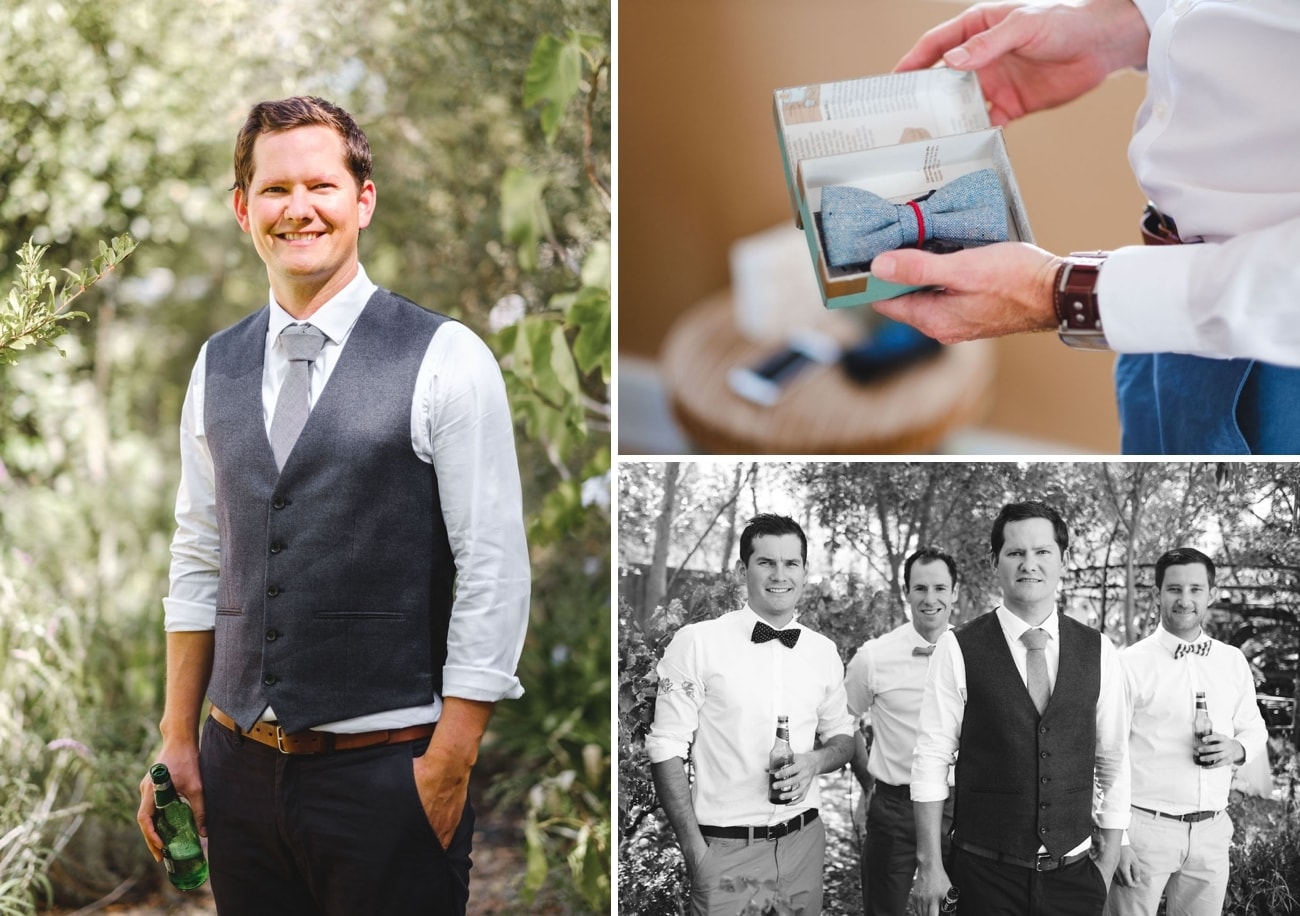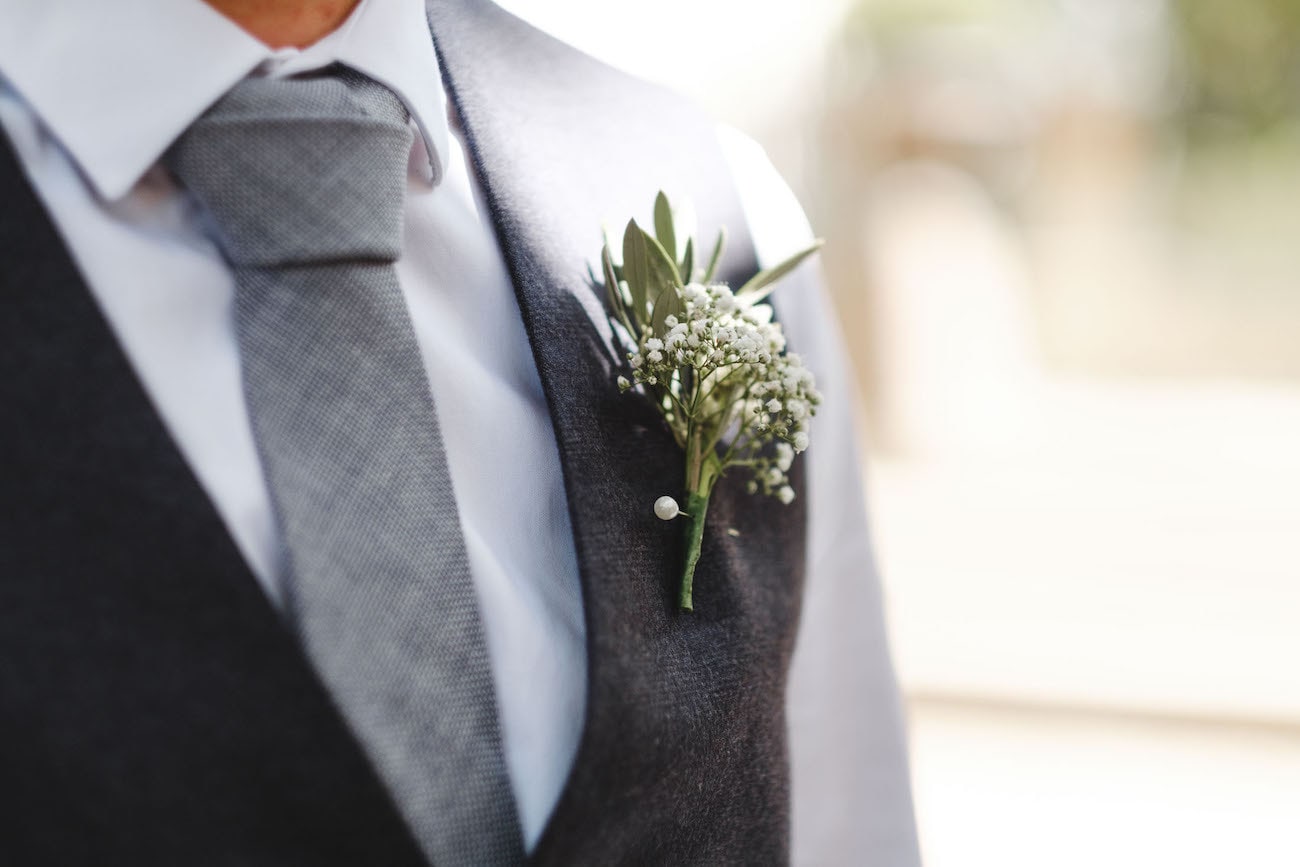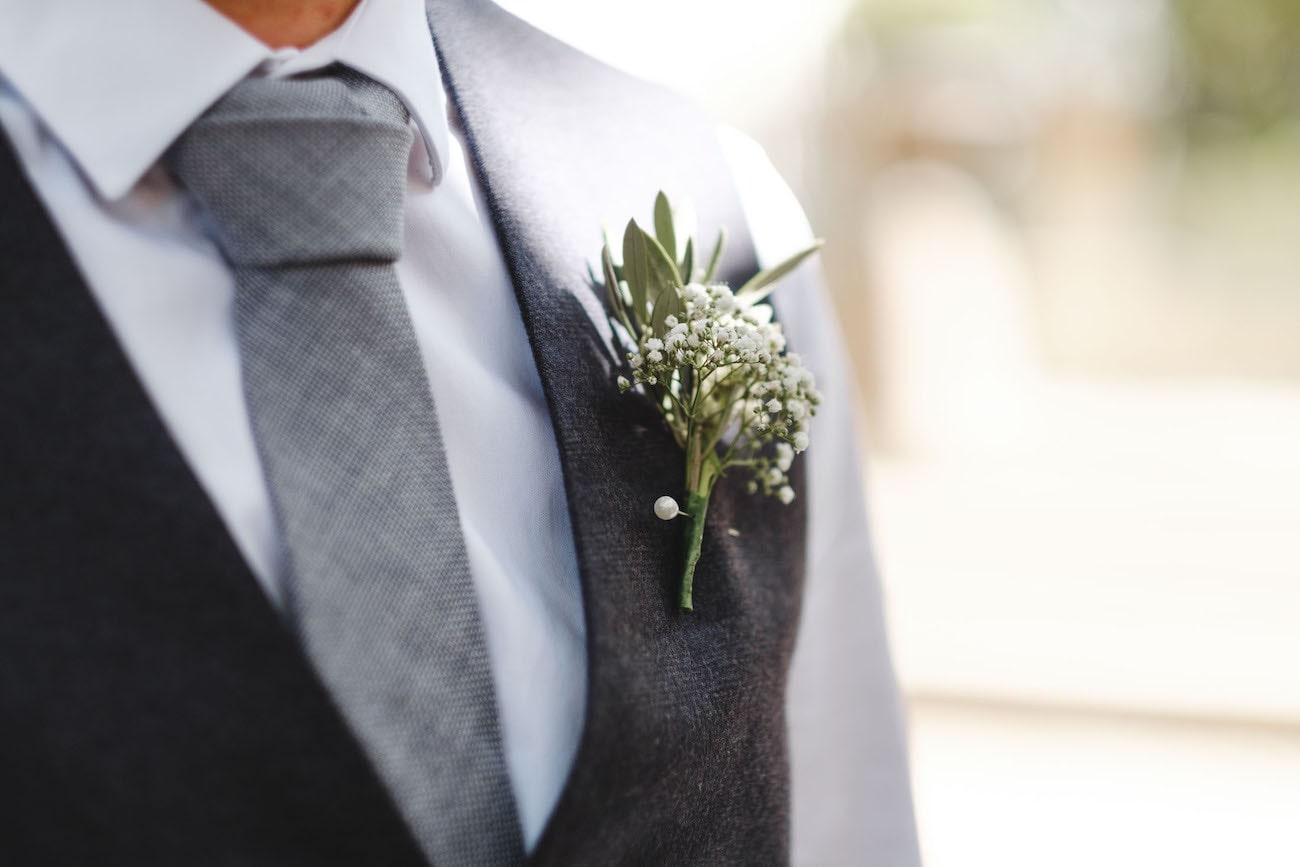 The Venue
We held the ceremony in my parents' garden in Riebeek West. Their garden is absolutely spectacular and so we knew straight away that we wanted to get married there. It also allowed us to create a more intimate environment and a casual/rustic feel. It was lovely. We had post-ceremony drinks and snacks in the garden, after which we moved to Café Felix in Riebeek Kasteel. There's such an intimate and charming ambiance at Café Felix, so it was the perfect venue to complement the vibe of our ceremony.
Wedding Style
There was no particular theme, other than to create a relaxed and intimate occasion. The one thing we wanted for our wedding was to be surrounded by our favourite people in a relaxed environment. My parents' garden is on a slope, so has a series of different spaces on different levels which meant we almost had a few 'rooms' to have different parts of the wedding in. The ceremony was held in a small garden next to the house. We had several seating options from chairs for the oldies and hay bales and picnic blankets for the youngsters, which set a relaxed tone for the day. We decorated the garden with beautiful bunting handmade by a friend's mom for her wedding. Recycling is the best!  Food and drinks were served in another section of the garden with a few drinks stations dotted around the garden. Instead of a wedding cake we had a cheese round cake which we cut after the ceremony and everyone enjoyed as snacks. The reception was slightly more formal, but the outside courtyard at Café Felix allows you to create an intimate setting at night with the use of lighting. Lots of fairy lights and lots of candles gave us the effect we were after. It was a beautiful evening so we were dining under the stars.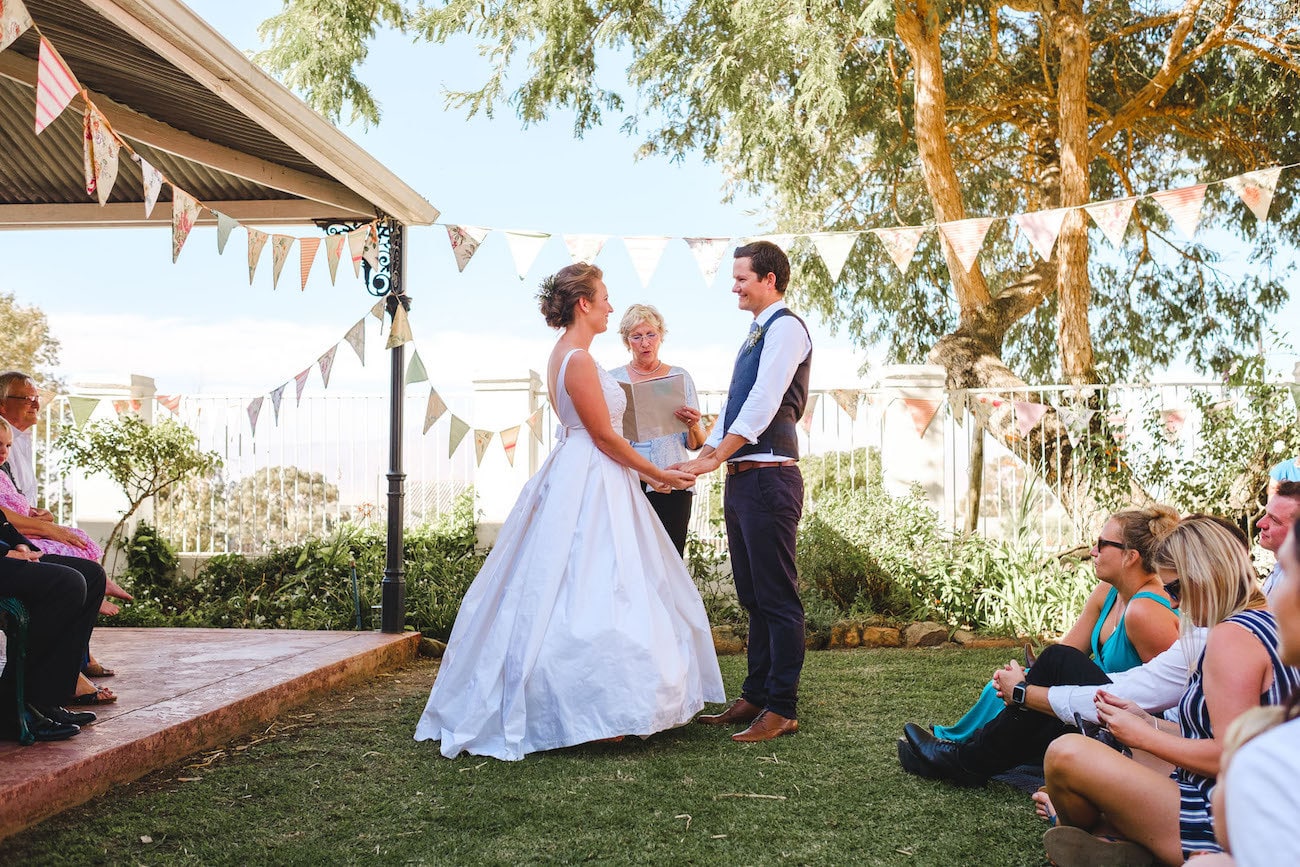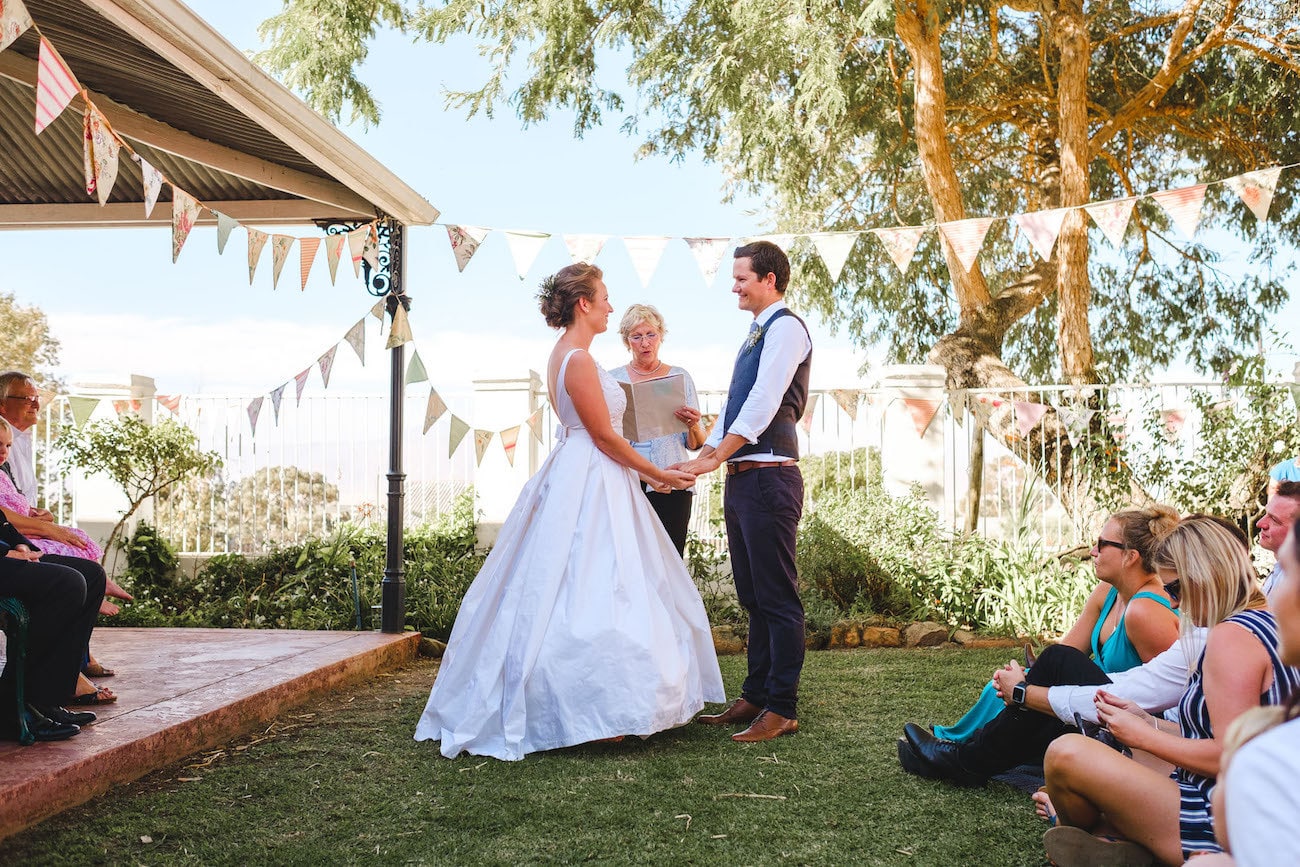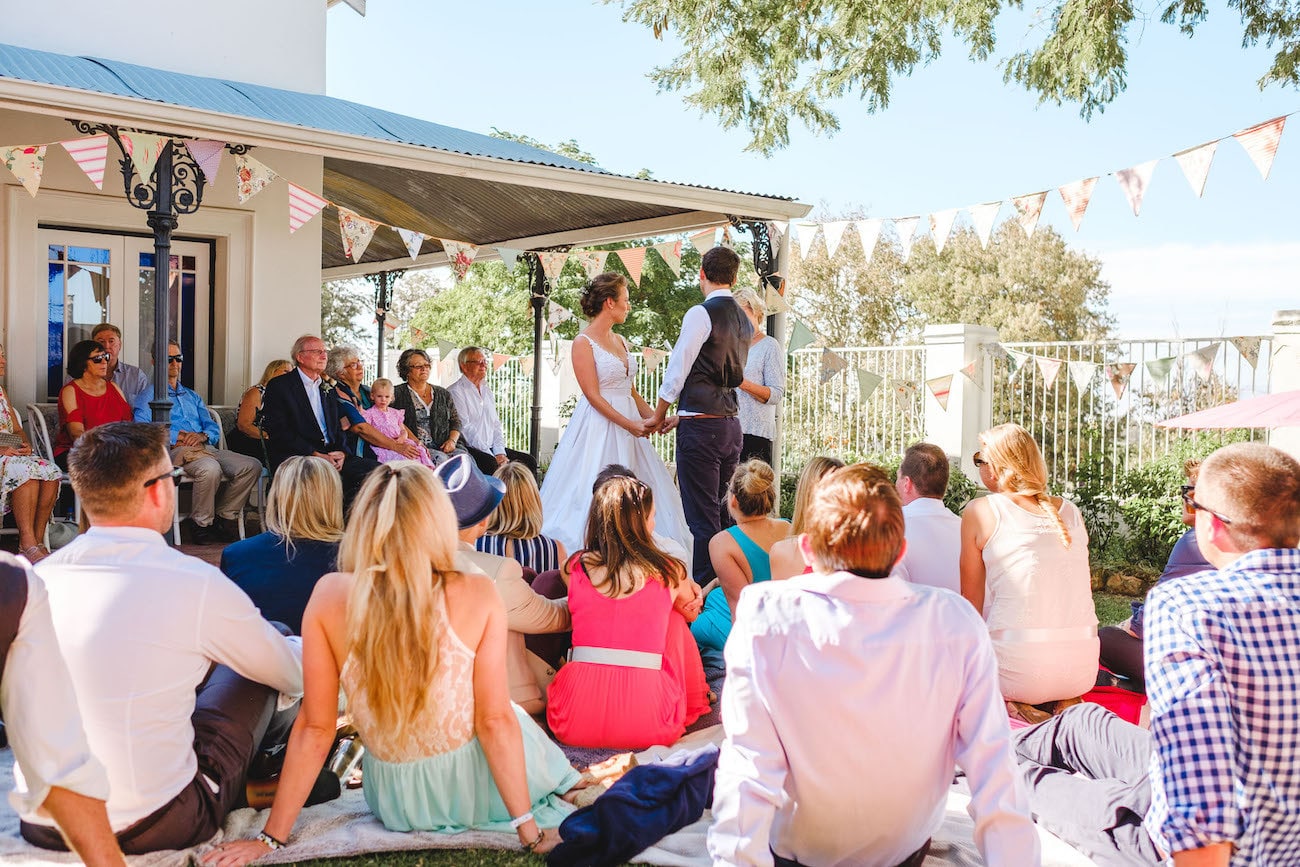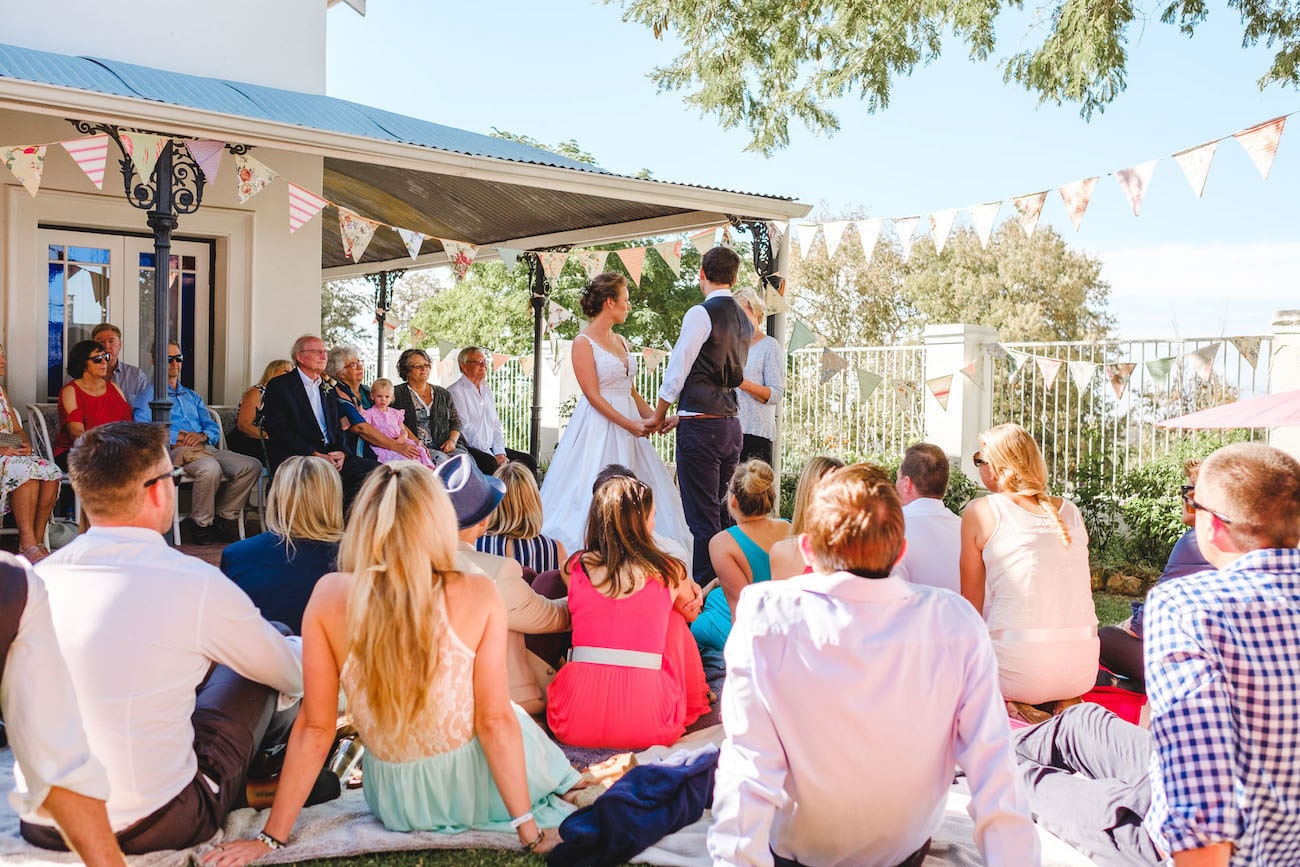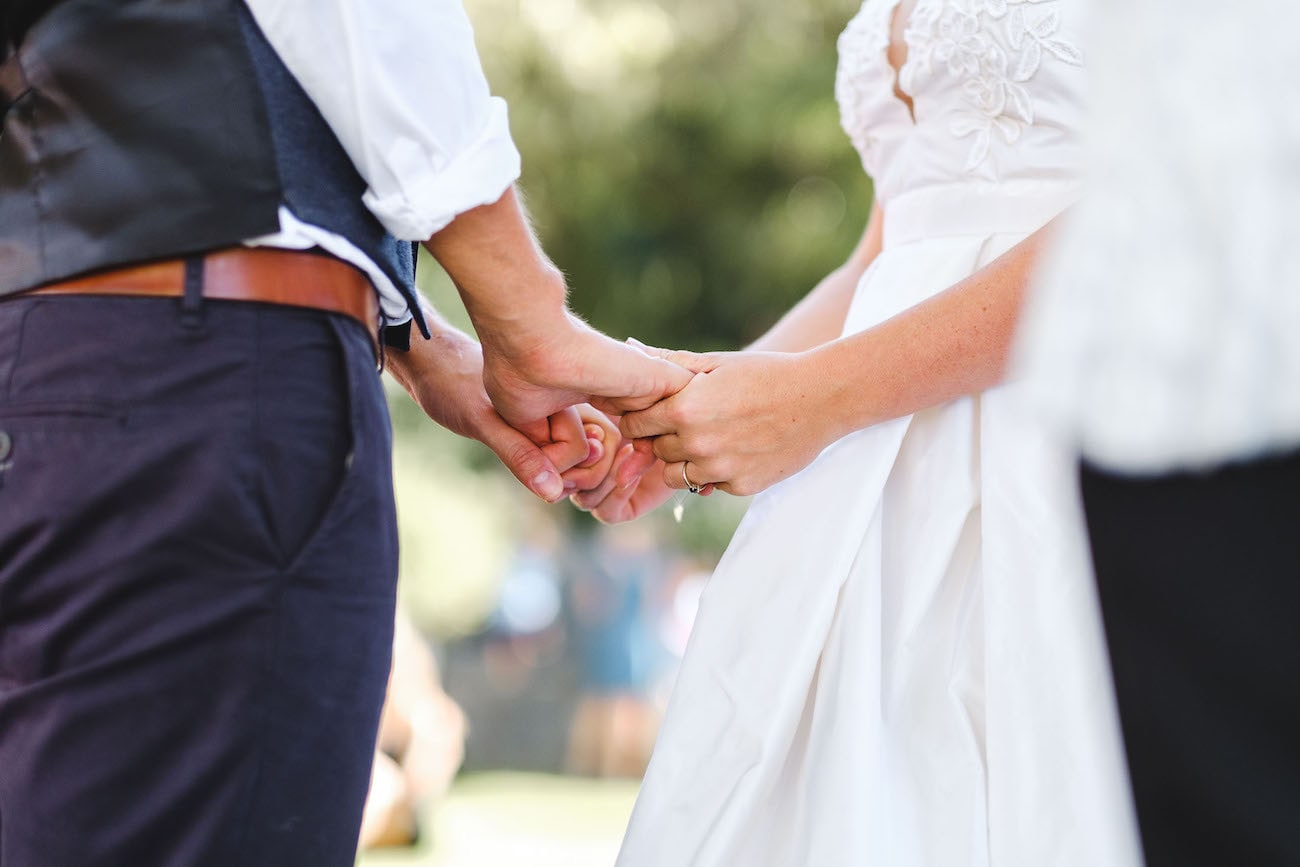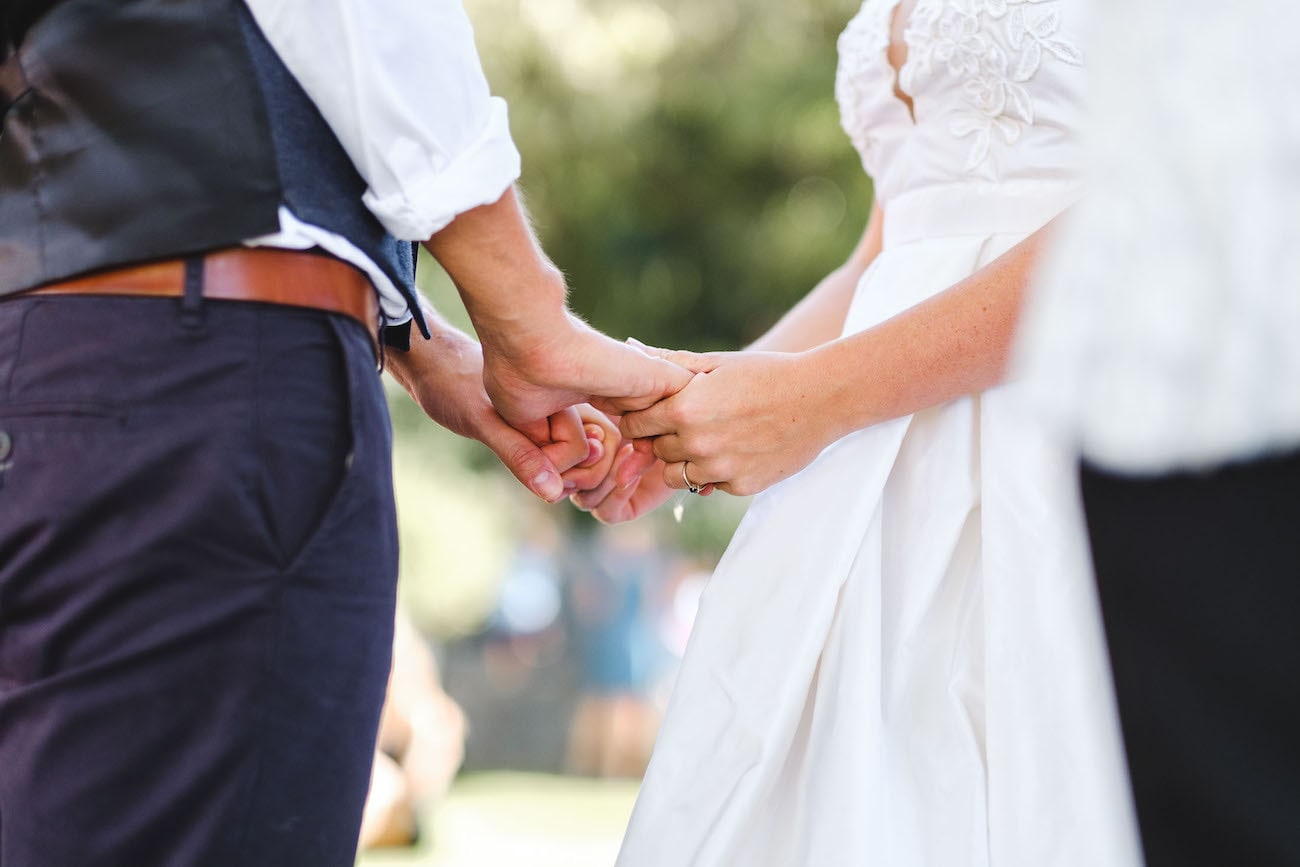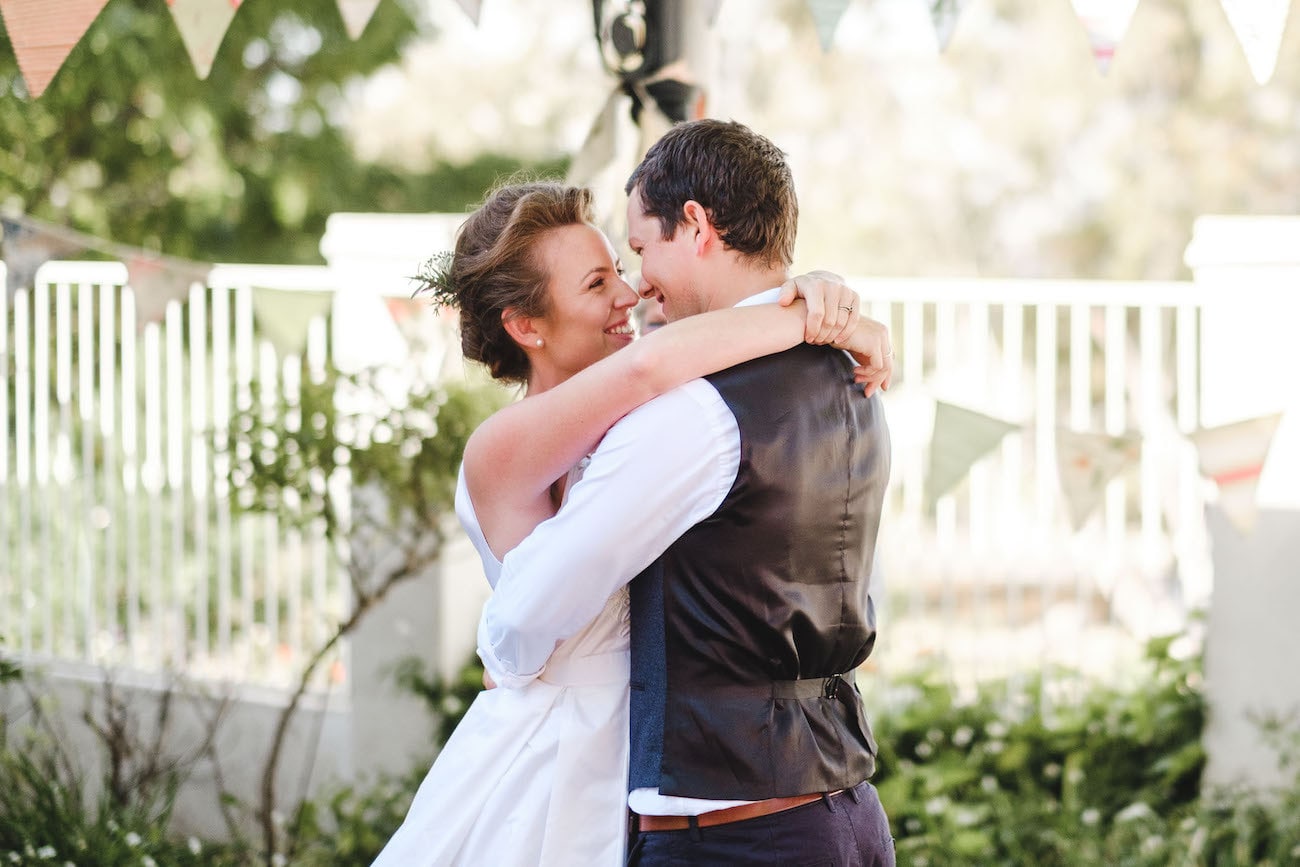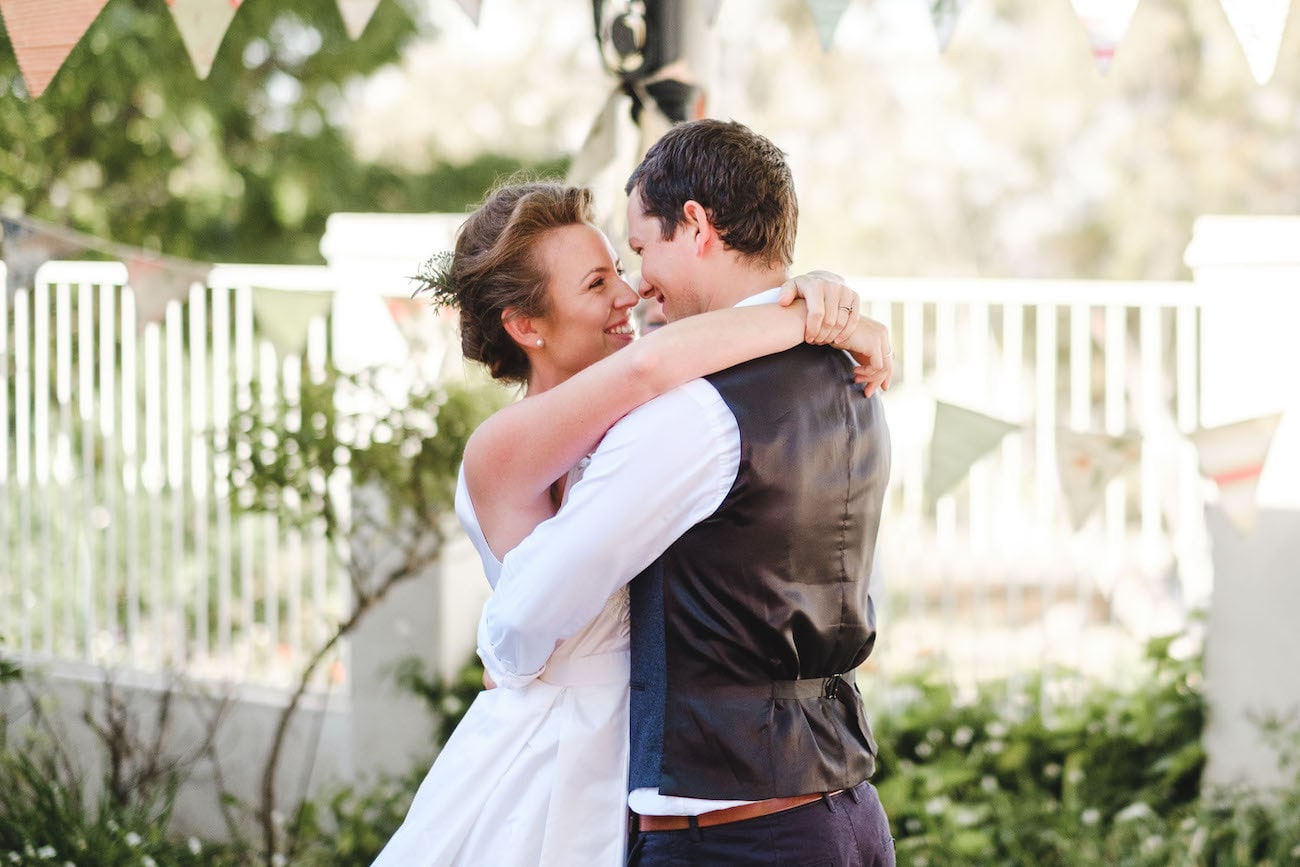 Wedding Details
Neither Tim nor I are 'spotlight' people and we like to keep things simple and understated. Our main aim in planning our wedding was to keep it casual and about the people rather than anything else. We kept things very very simple. We didn't want to spend a huge amount of money on decorations, so we chose our venues with that in mind. My mum spent many hours in the garden leading up to the wedding making sure it was perfect. We were all very thankful that they have a big borehole, so despite the drought the garden looked magical. Cafe Felix is a beautiful restaurant as it is, so we had to do very little to make it special. We mainly used lighting to do that. Tim loves fairy lights, so we decorated the whole venue with lights and candles.
DIY Elements
Lots of DIY went into this wedding! As we organised the whole day oursleves, we called on many friends and family members and their talents to help us out. It's a great way to cut down your budget and it also gives you more control over the look and feel of the day (although it is time consuming and so significantly increases the stress levels!) For the table decorations, we collected hundreds of glass jars with candles, interspersing them between flowers. We designed and made all the stationery for the day: invitations, website and table settings. We also had a dessert table instead of individual desserts, so people could help themselves when they got hungry from all the dancing. My mum and sister made over a hundred meringues and we had a Pavlova 'station' which included homemade lemon curd, berry coulis and cream. Also, a friend who is an incredible baker made the most delicious chocolate cupcakes.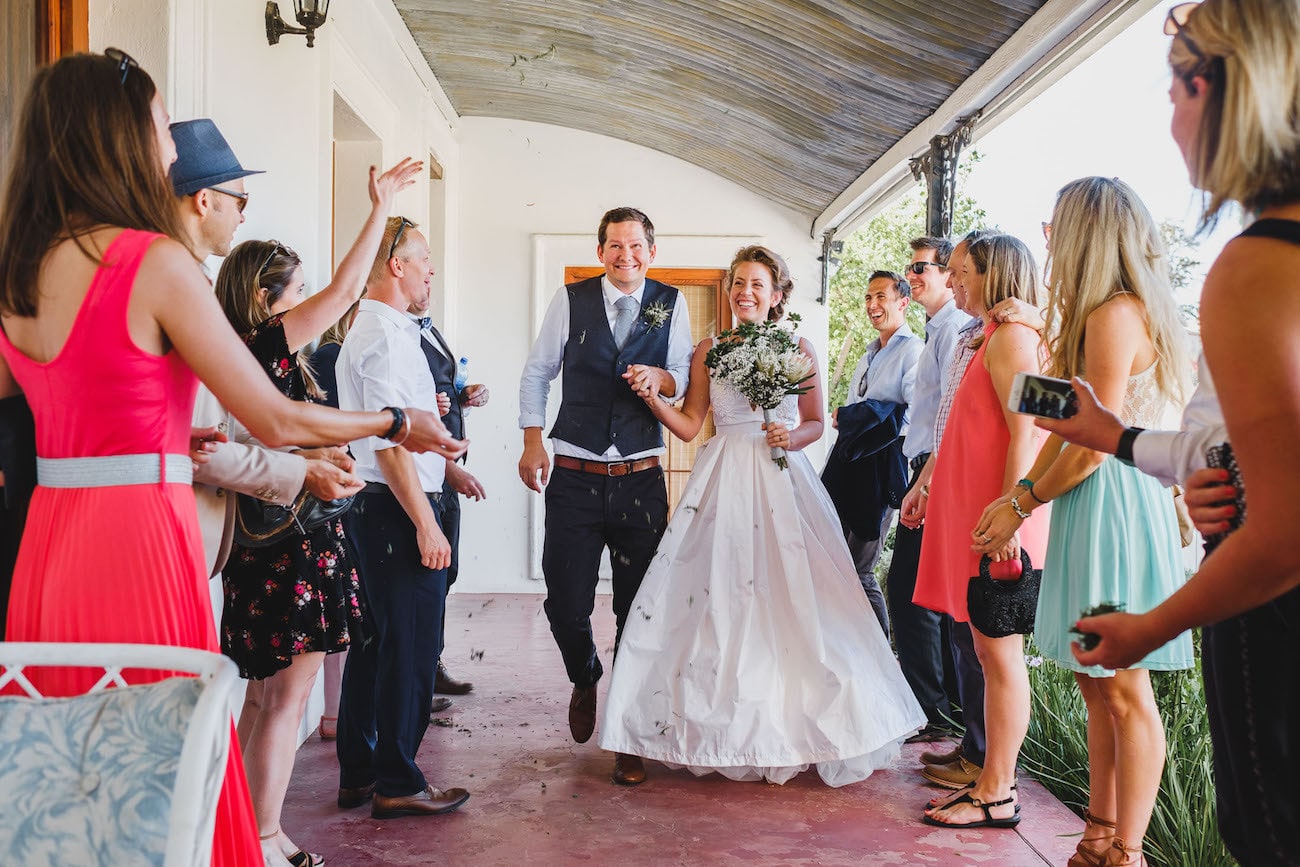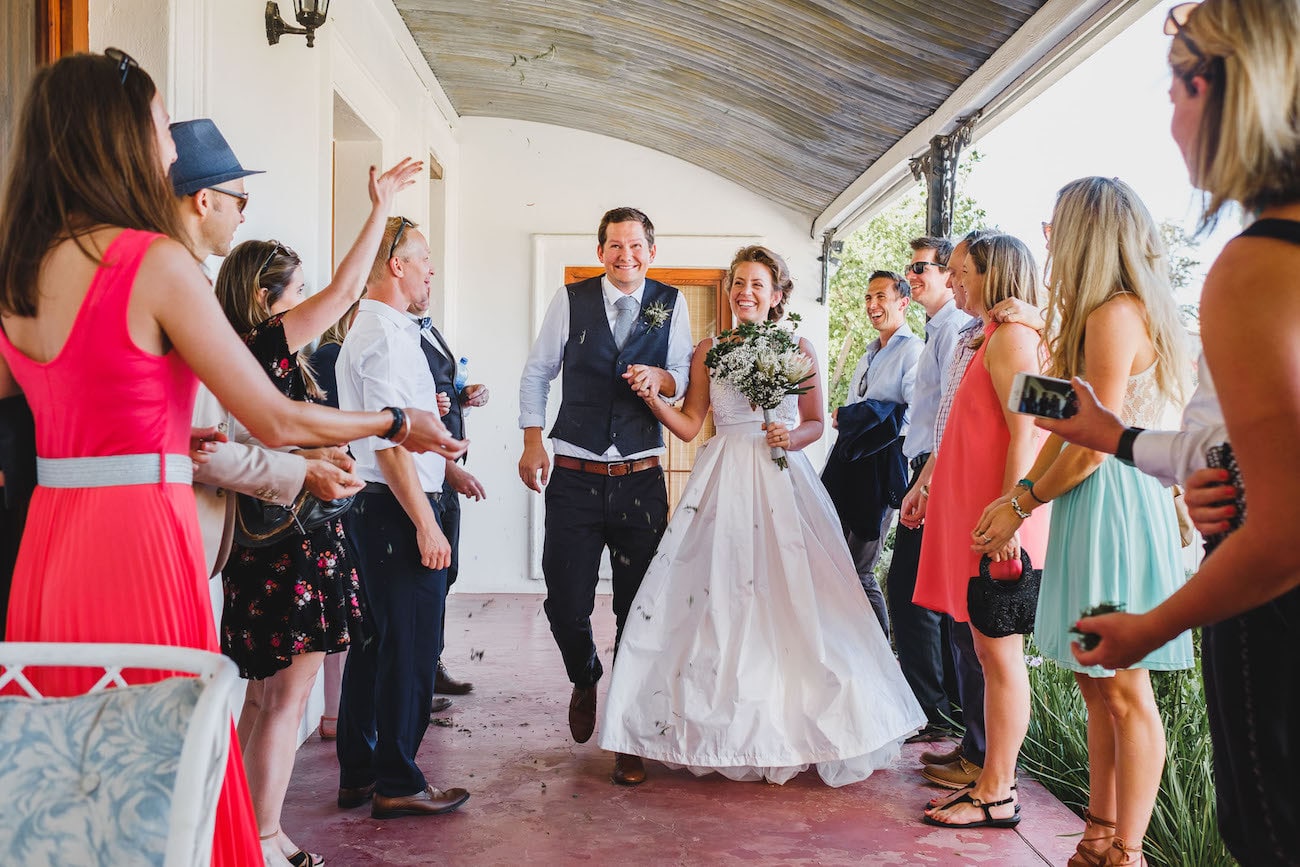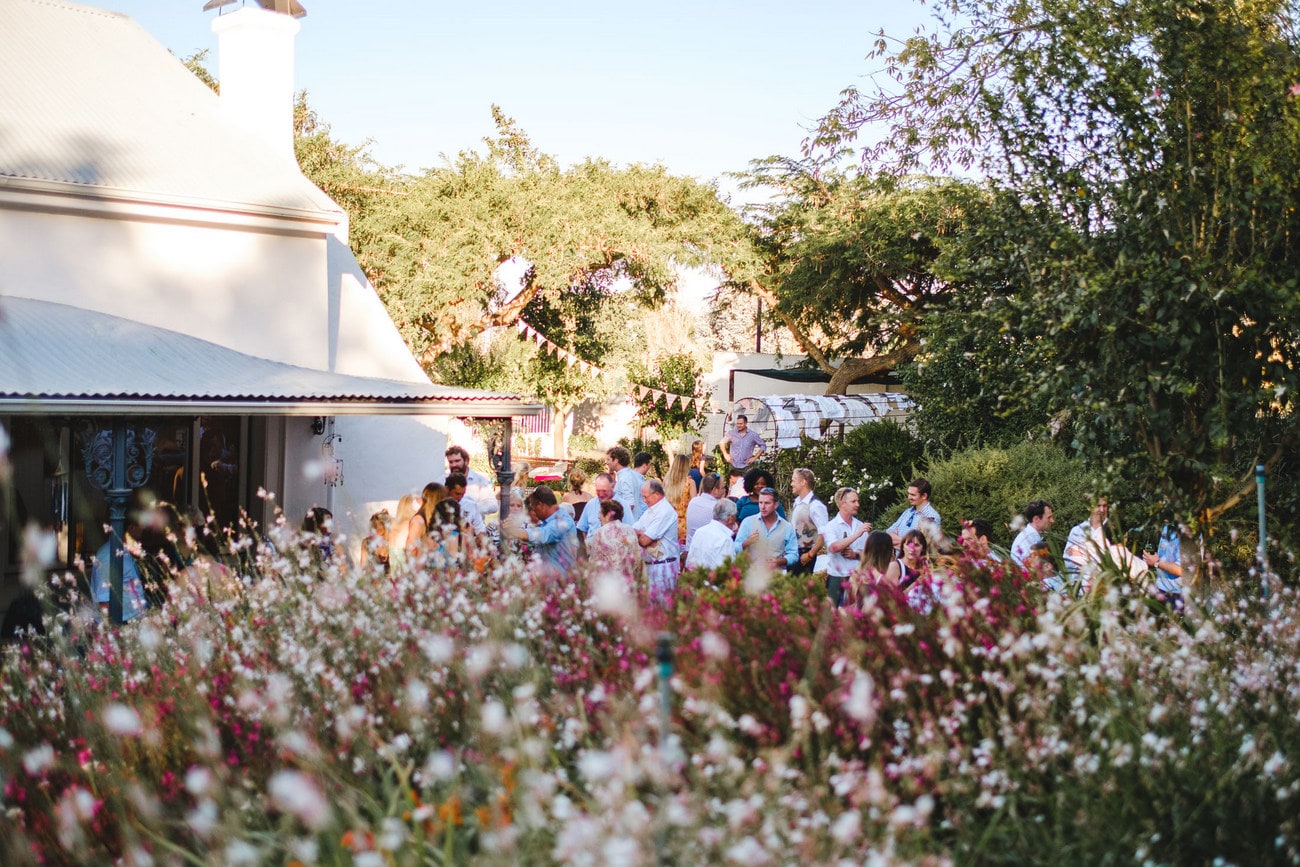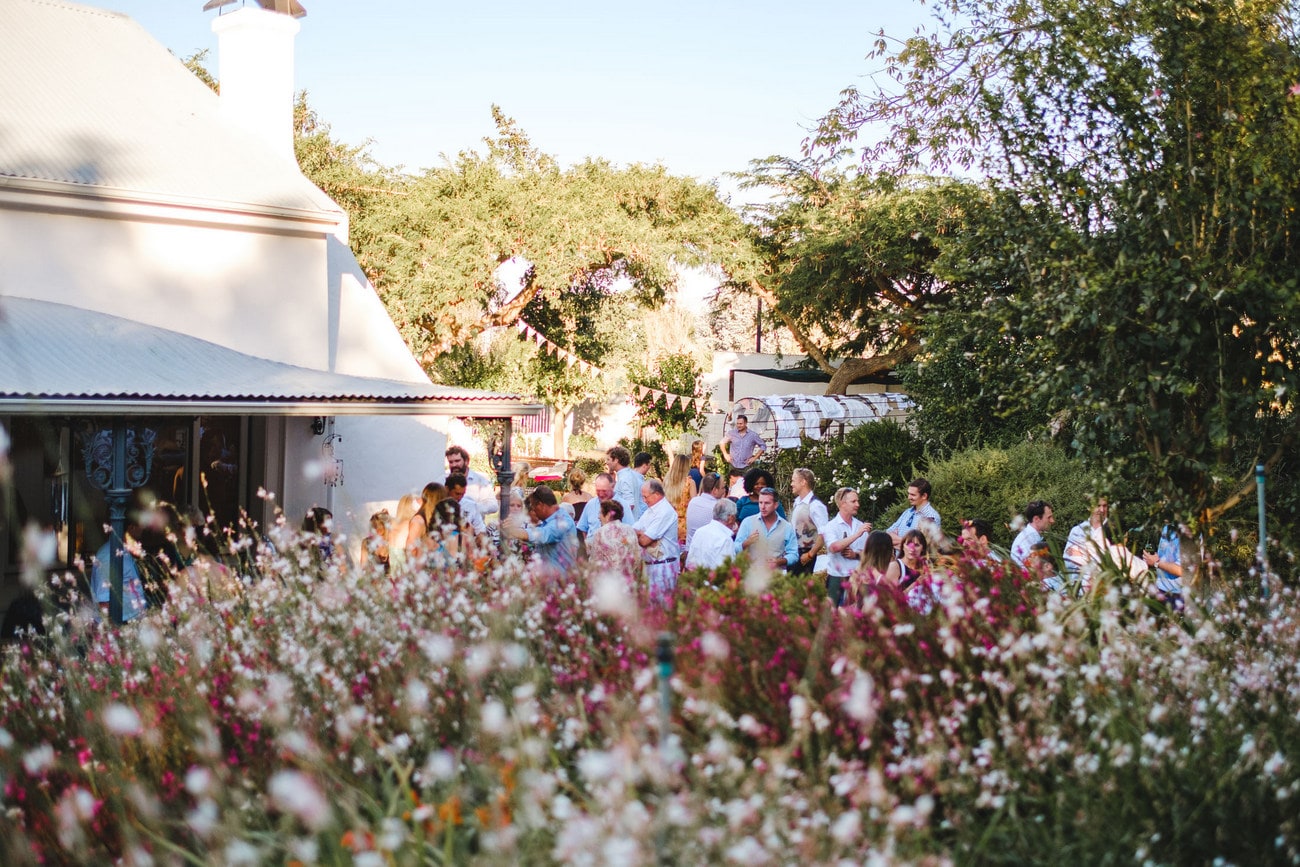 The Dress
I have never like the idea of wearing an expensive, extravagant wedding dress for one day, so when we first got engaged I thought hard about what to do. At one stage I wanted to wear a simple white jumpsuit but Tim was not on board with that idea. One day I was talking to my talented friend Zoe Nepgen (of Soul Play World) and she asked me what I was going to do about my dress. I had no idea at this stage and she offered to make it for me! Although it would be her first wedding dress, I knew she was a great seamstress. Zoe runs a company making handmade felt toys which means she is amazing with detail and very creative, so I knew she would do a great job. And she did!  I wanted a simple, comfortable dress that I wouldn't get hot in. I know that the Riebeek Valley can get extremely hot in summer and I wanted to be able to enjoy the day without being uncomfortable. I had a dress in mind that had detail on the top with a straight skirt but all the dresses I tried on didn't give me that wow feeling. As a joke I tried on a dress with a much fuller skirt and I ended up loving it! We decided to go with that style , keeping the detail at the top with a full silk skirt. The only stressful part of the dress was finding the lace. We wanted to use 100% cotton lace which matched the colour of the silk and we could not find it anywhere. In the end we realised the lace on my mum's wedding dress was exactly what we were looking for, so my mother in law and I spent hours unpicking the lace off my mum's dress. This of course made the dress even more special. I loved that special people got involved making it and so much love was put into it, which made it the most amazing thing to wear. 
The Bridesmaids
I had two brides maids. I didn't chose a particular style for them, I just wanted them to be able to wear the dresses after the wedding. My sister lives in America and had a three-month-old baby at our wedding, so finding a dress for her was a bit tricky. We decided to find a dress for Meghan first and then find a dress for my sister that matched. In the end we bought a royal blue dress from Mungo and Jemima for Meghan (which she has already worn again since our wedding!). For my sister we went with a teal colour dress from H&M.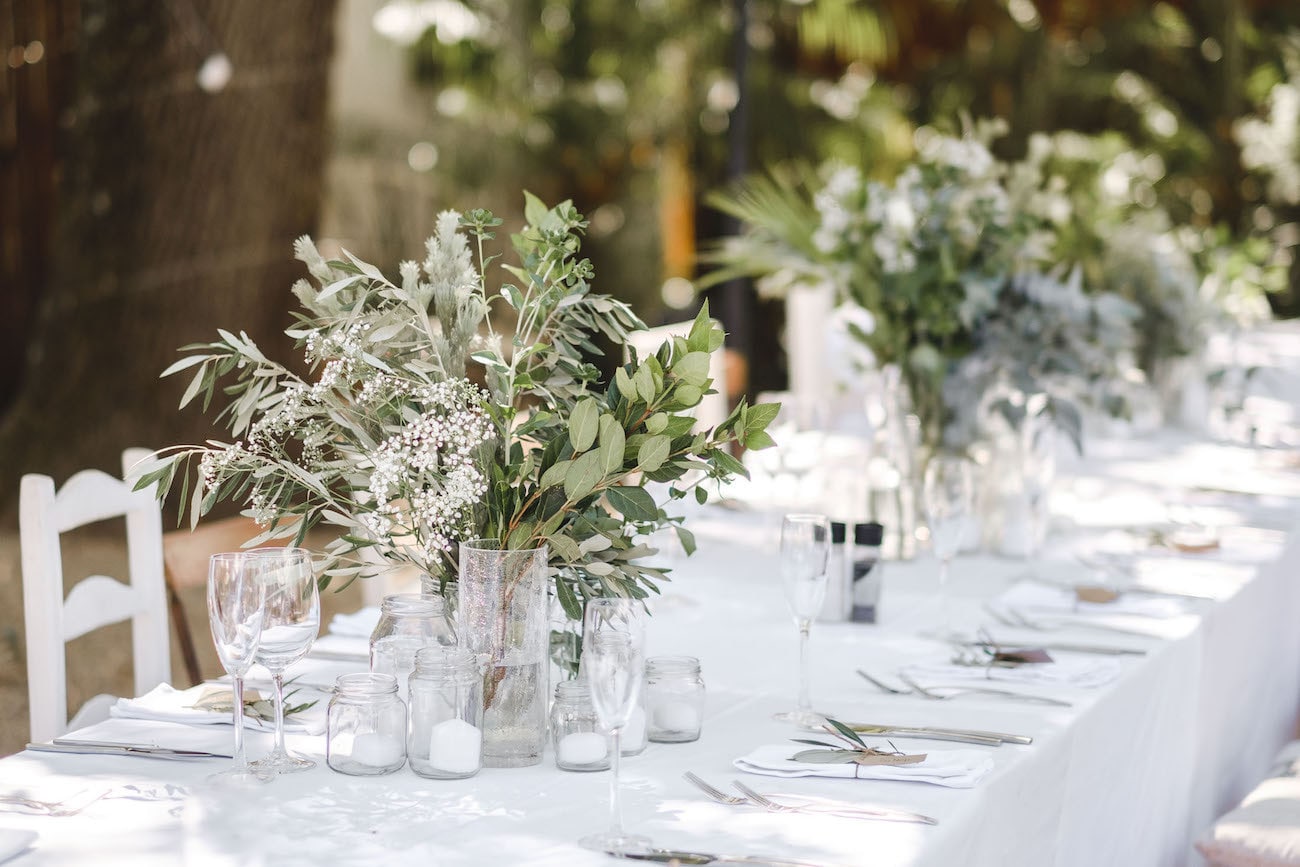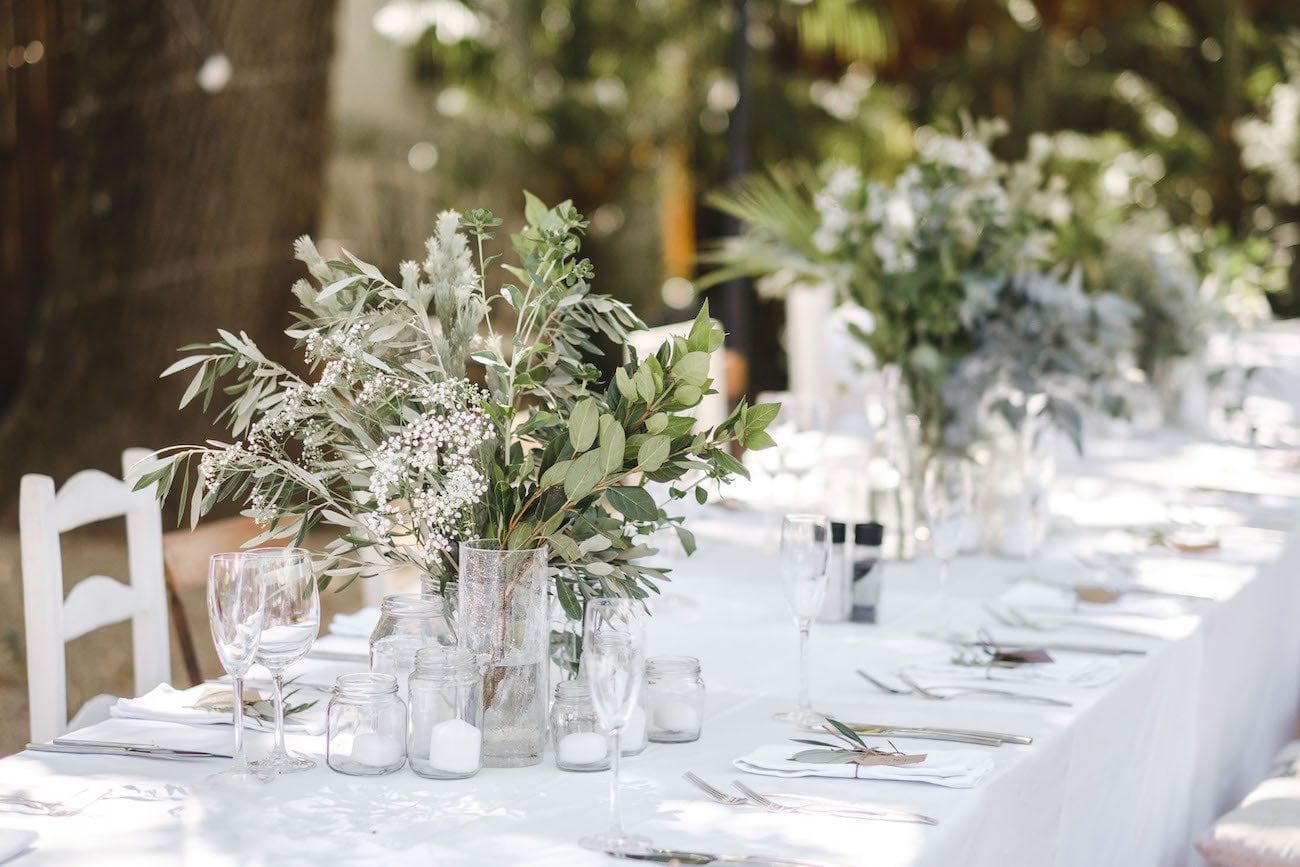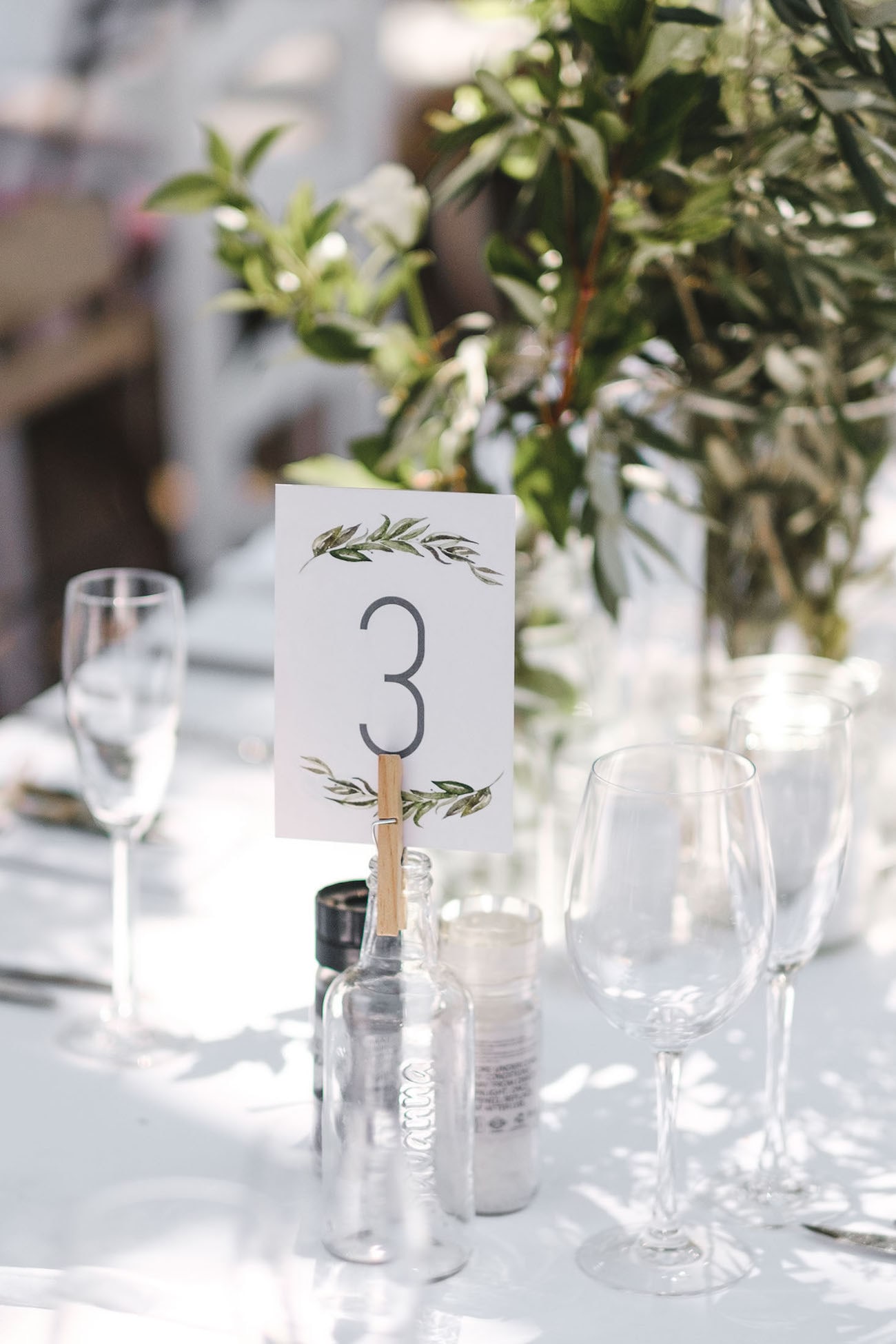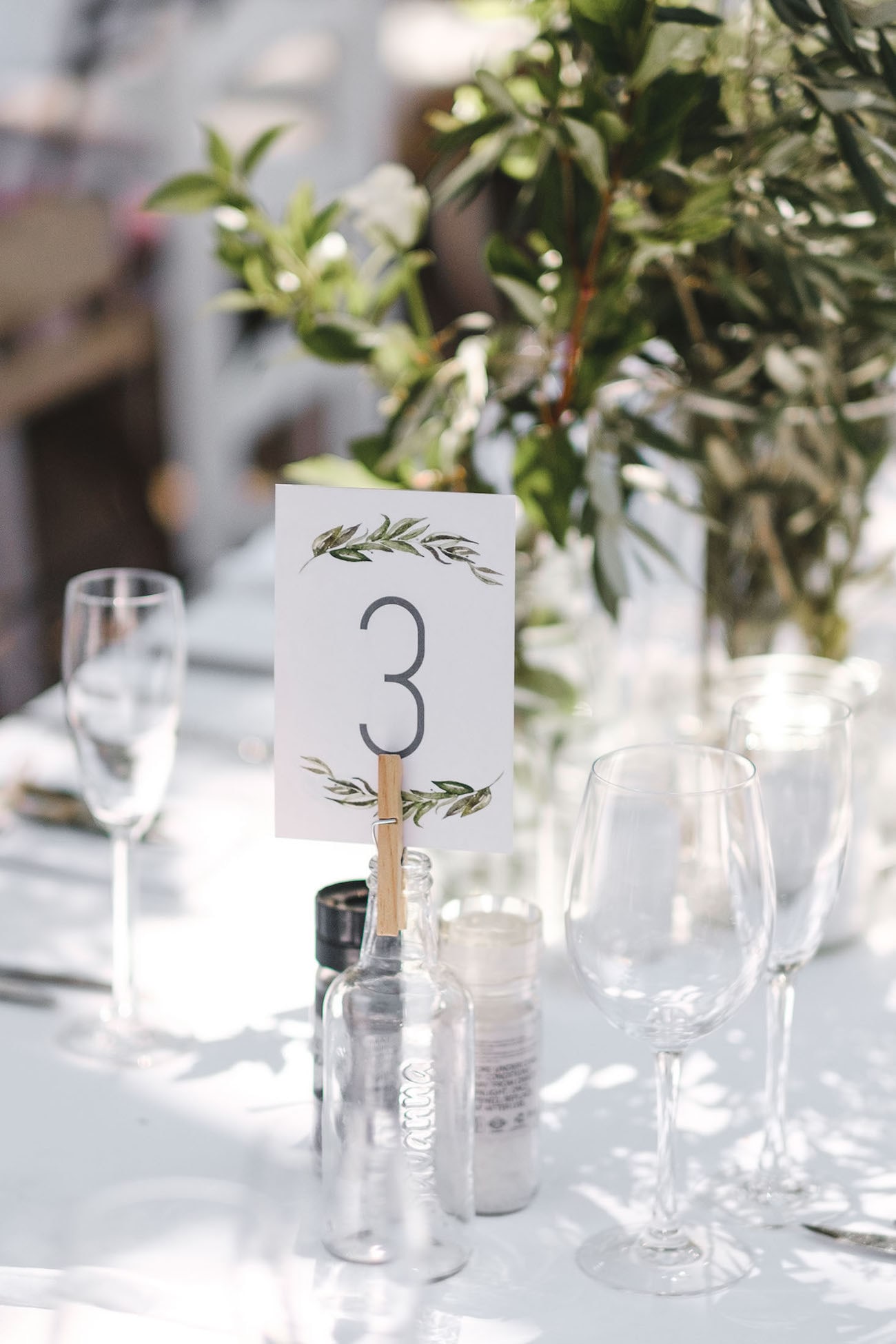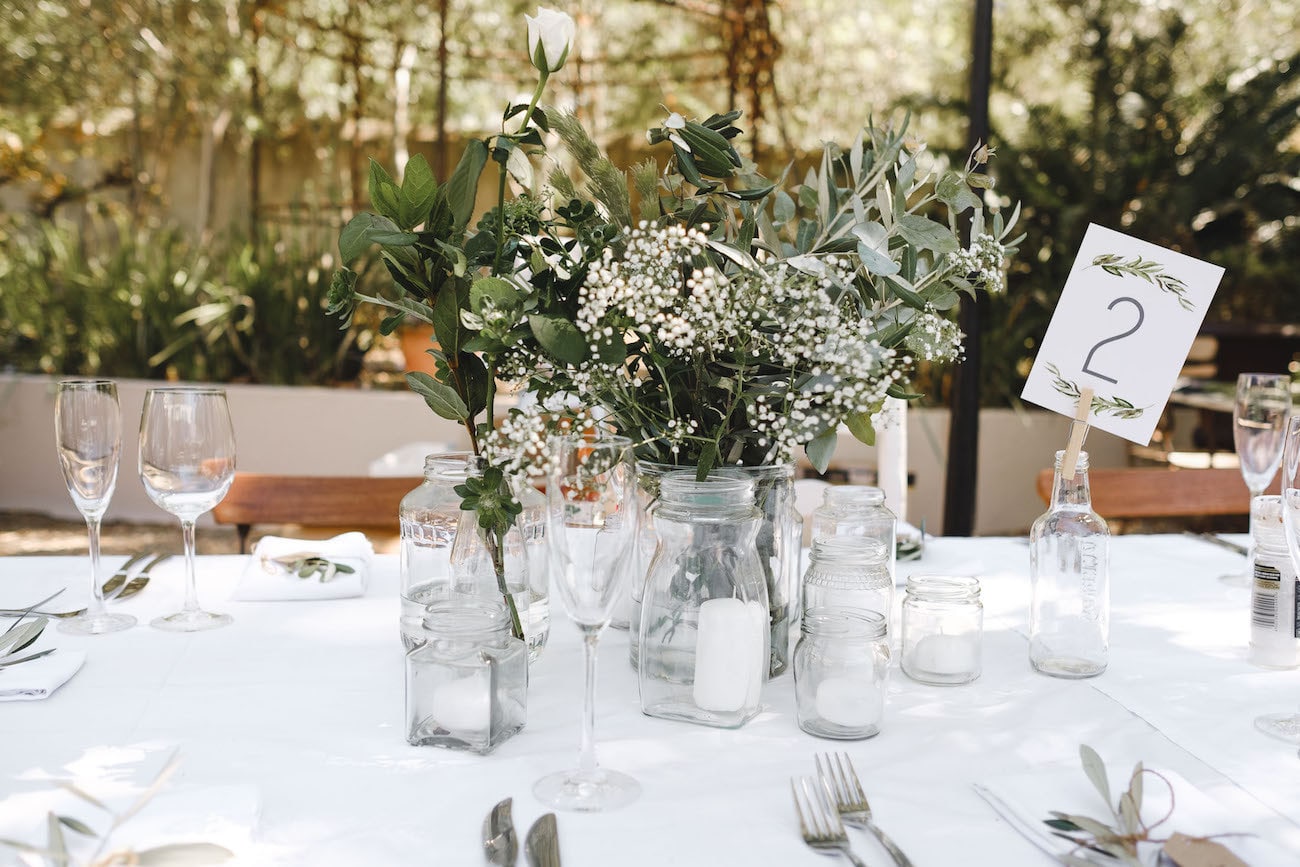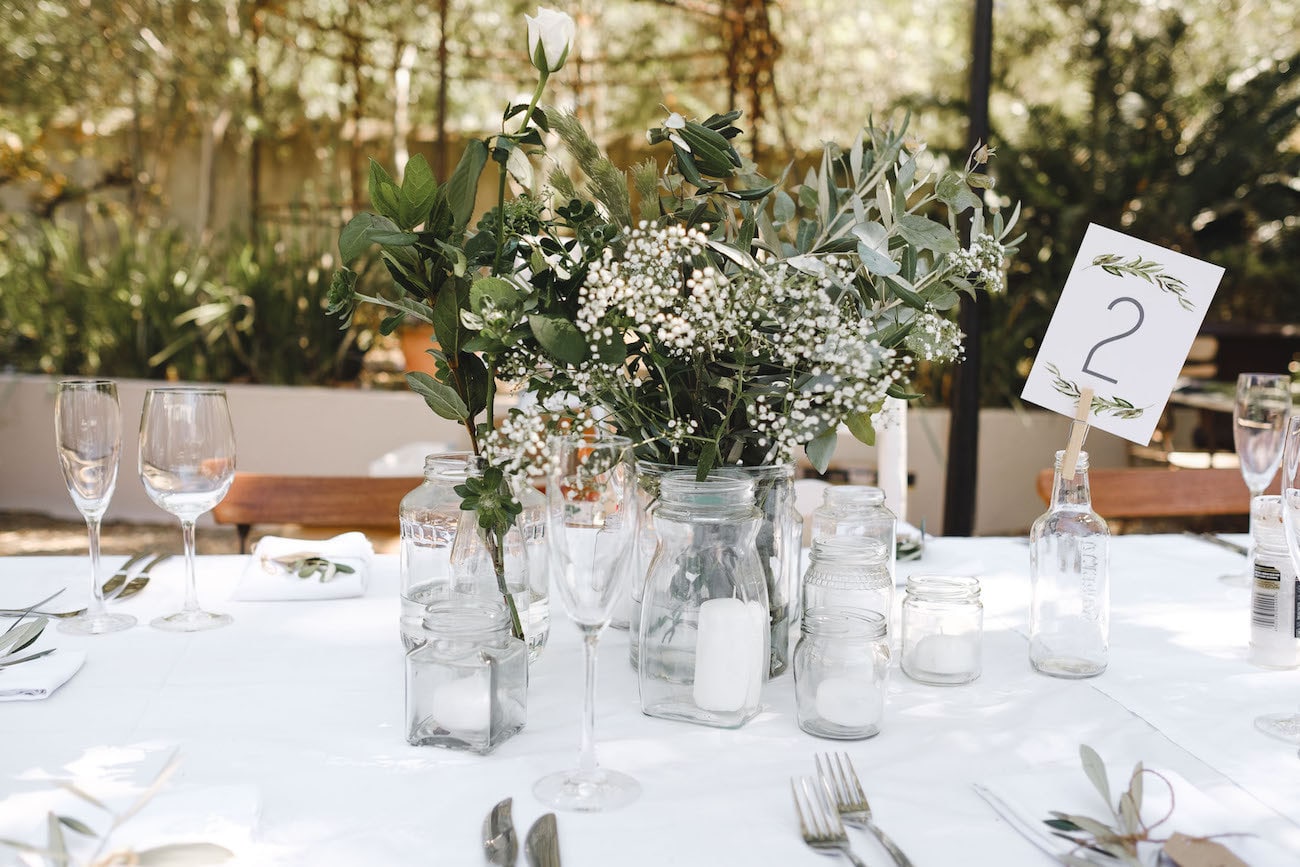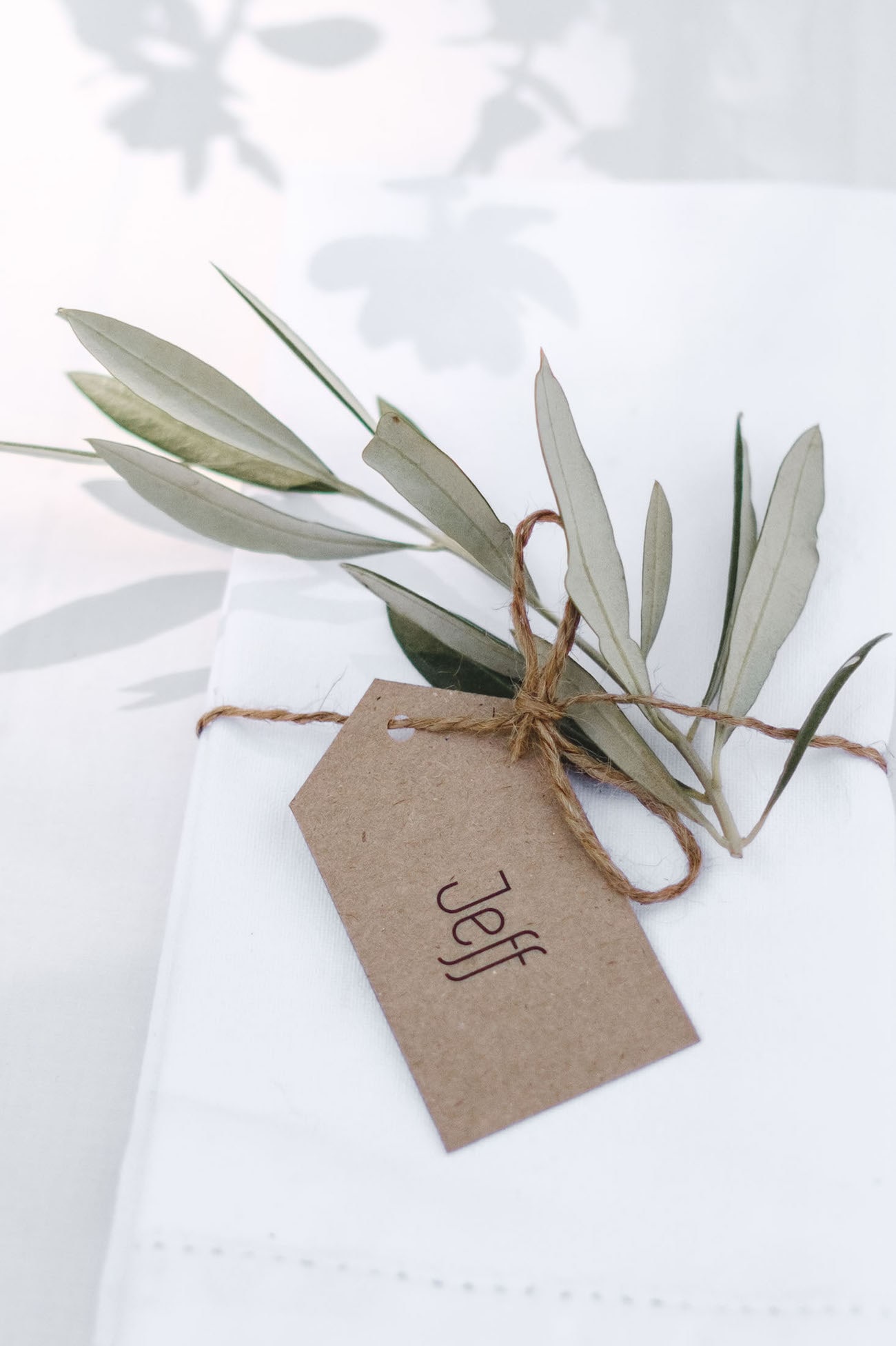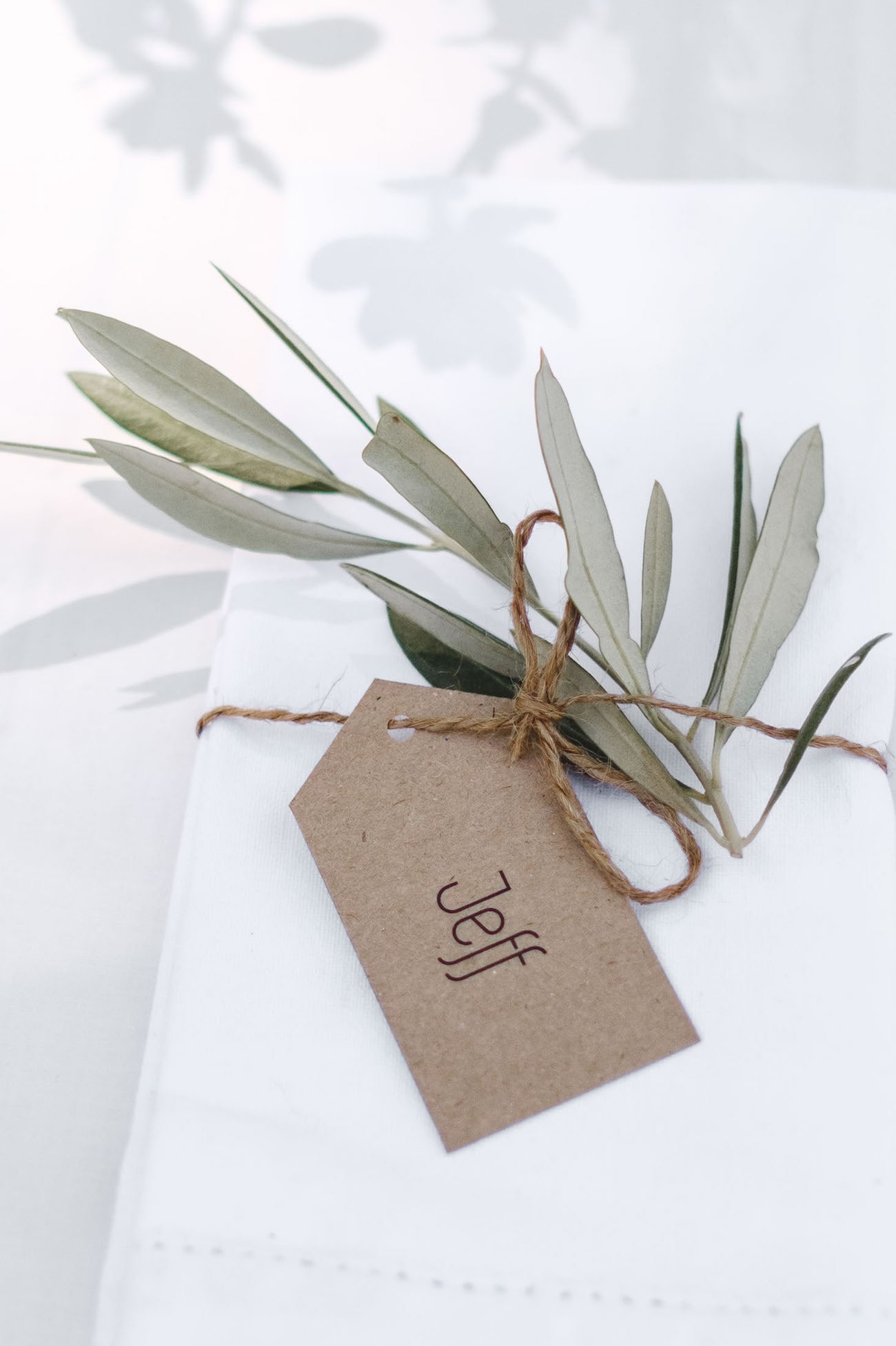 The Flowers
We always thought we would just do the flowers ourselves, keeping it simple, using different green leaves. Luckily, about a month before the wedding I had lunch with a friend from Petal and Post and after hearing our flower ideas she offered to take over and do the flowers for us. What a relief! And the flowers were amazing. The girls from Petal and Post helped us source the flowers from local markets and so we were able to have beautiful flowers on a minimal budget. We cannot tell you which plants they used, but it looked great! They also made the flowers for the bride and bridesmaids' hair as well as the groom's and groomsmen's boutonnière's.
Memorable Moments
The whole day was pretty incredible. But the speeches were very special for both of us. There was so much love in the room and everyone spoke so well. Another favourite part of the day was our vows; we had written them ourselves and they were beautiful – we cried most of the way through.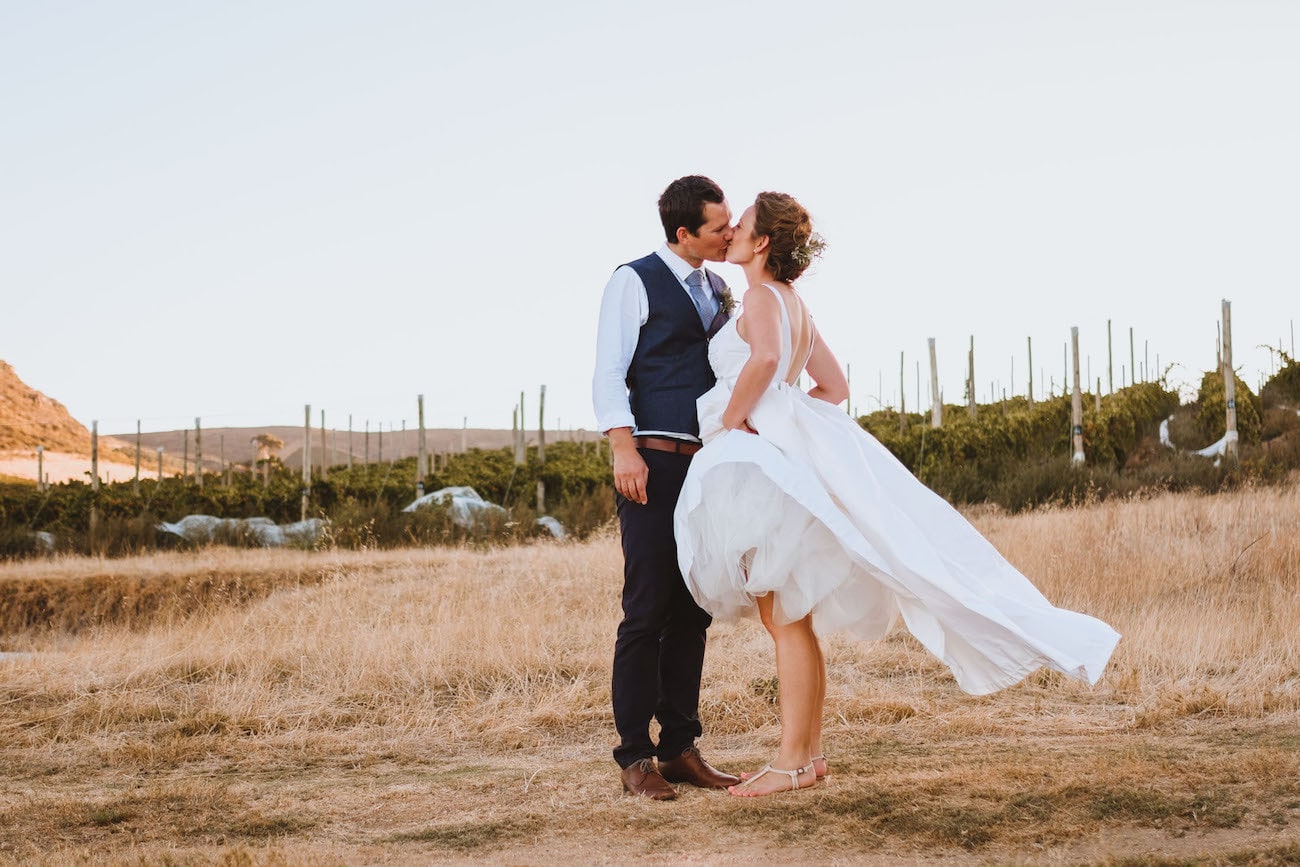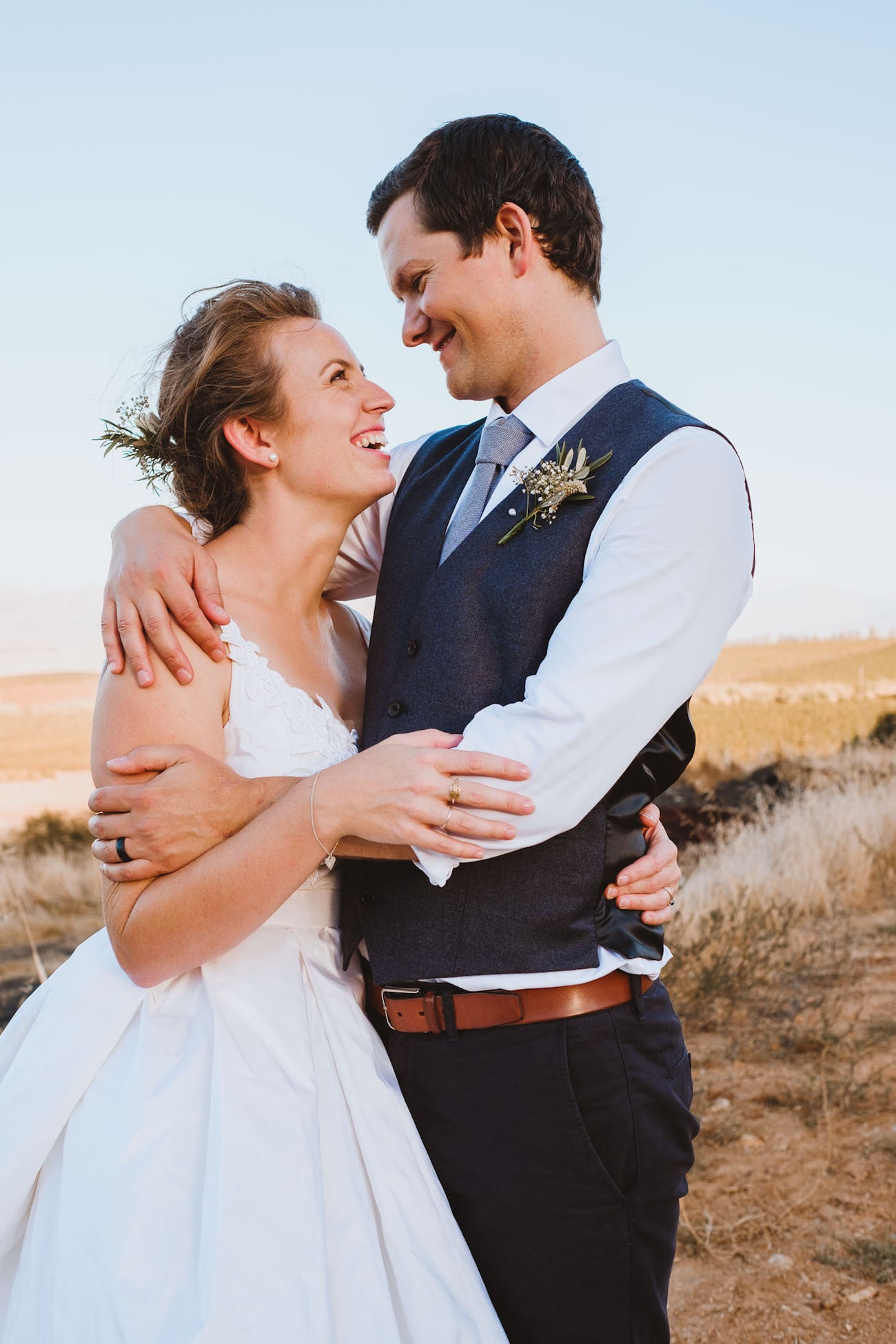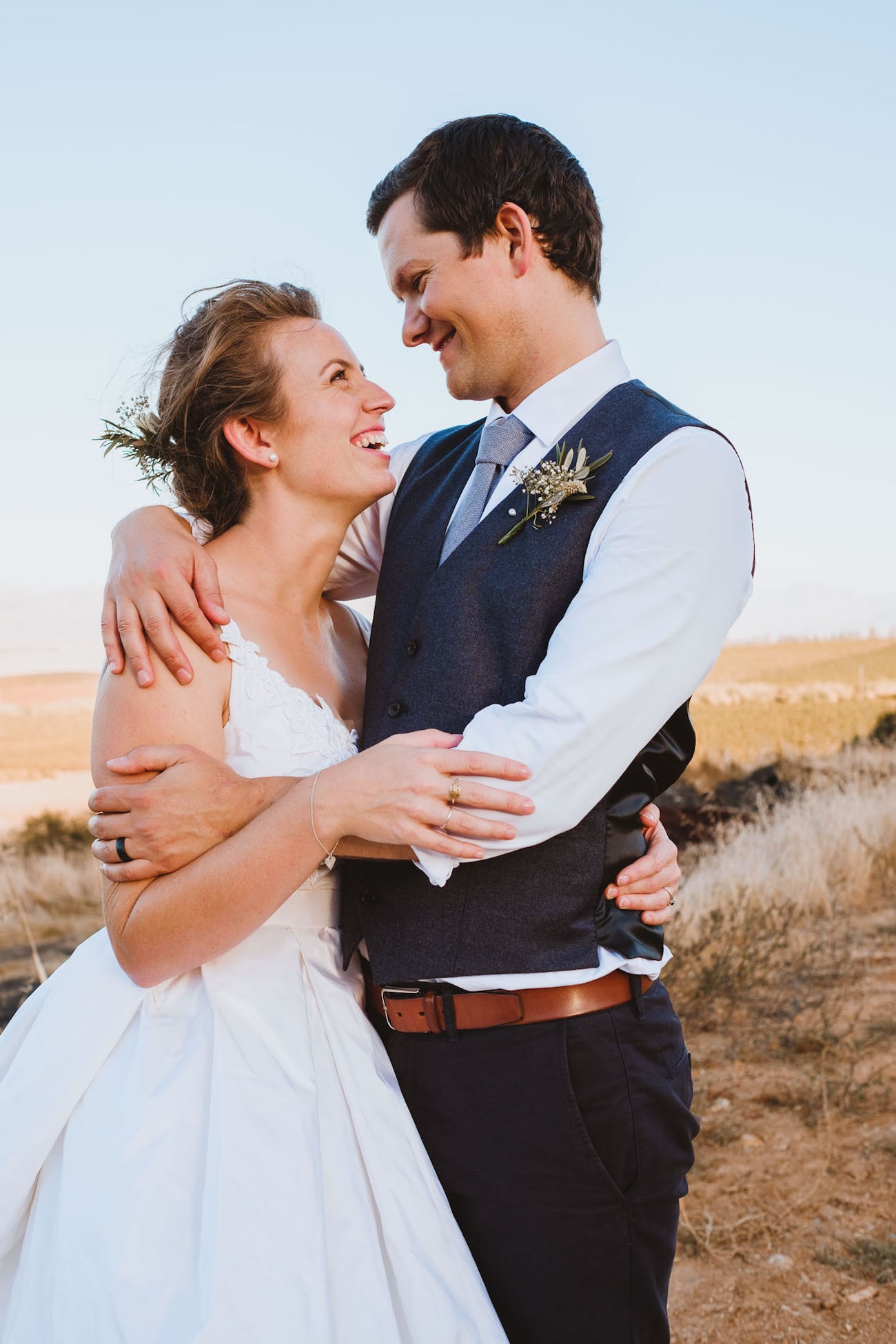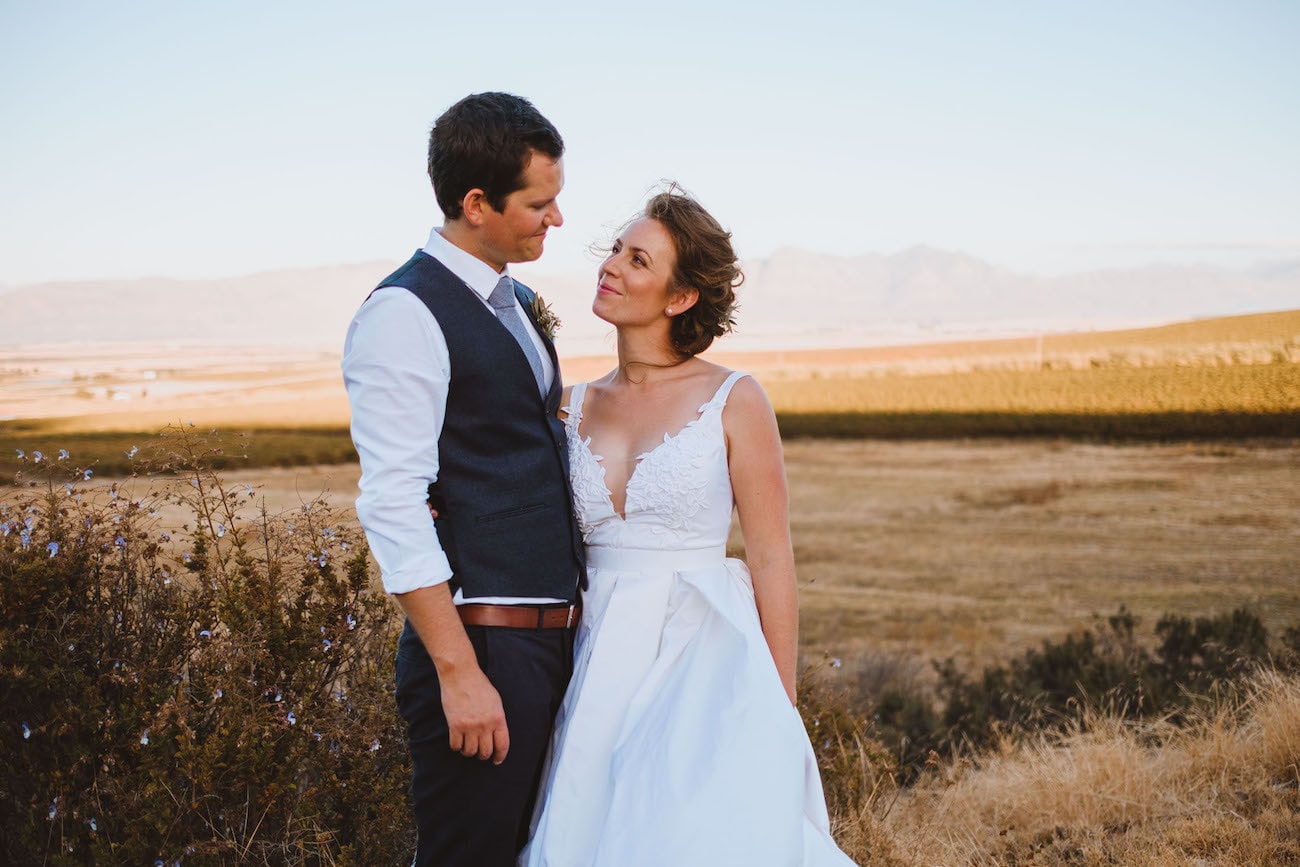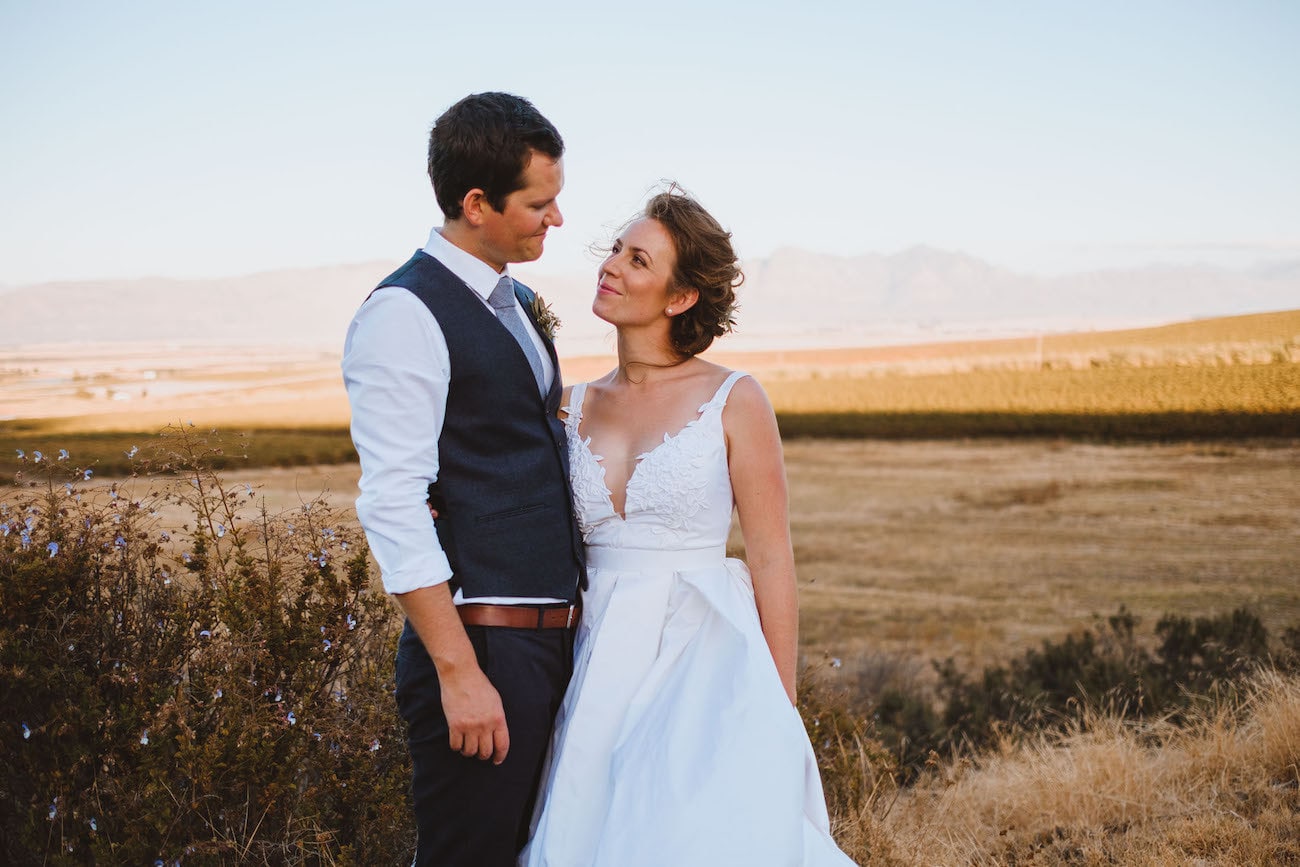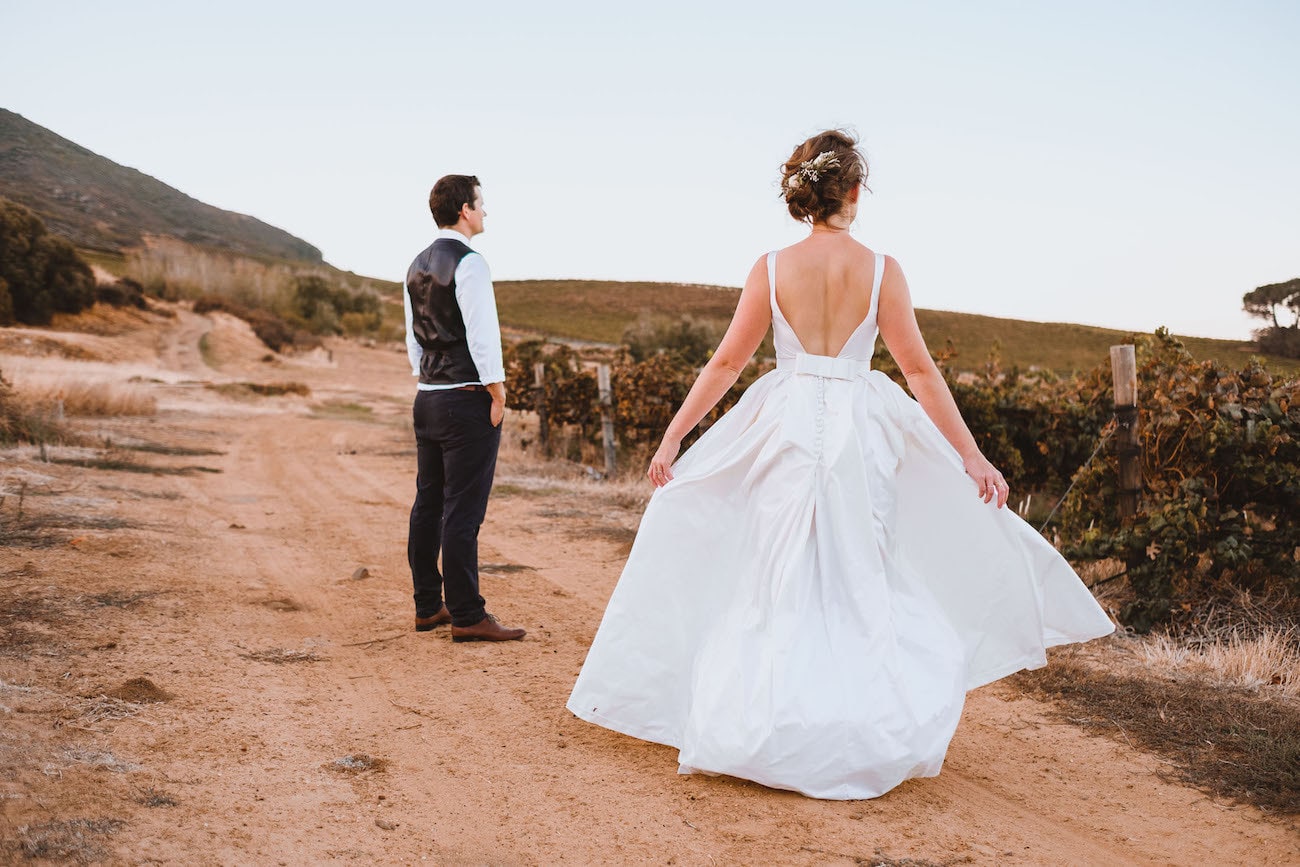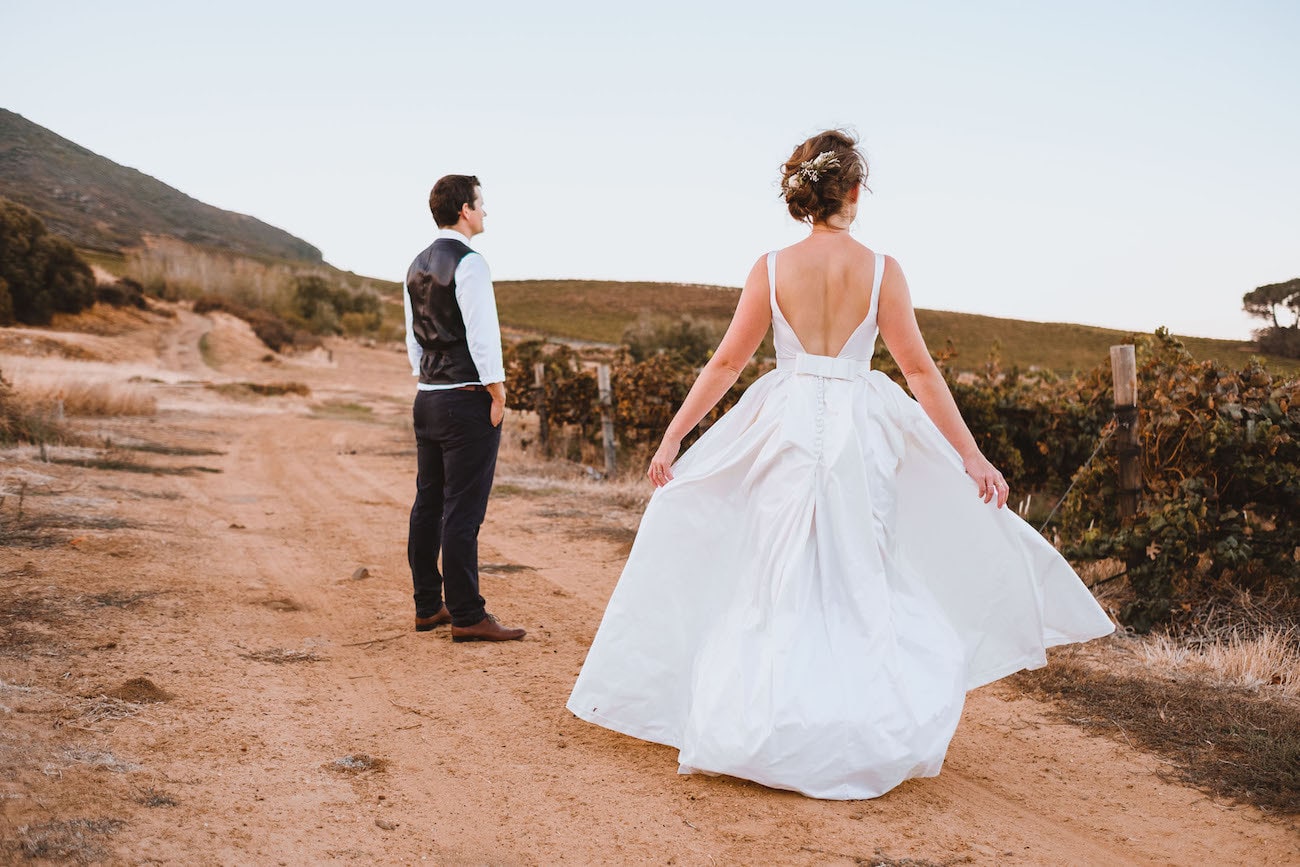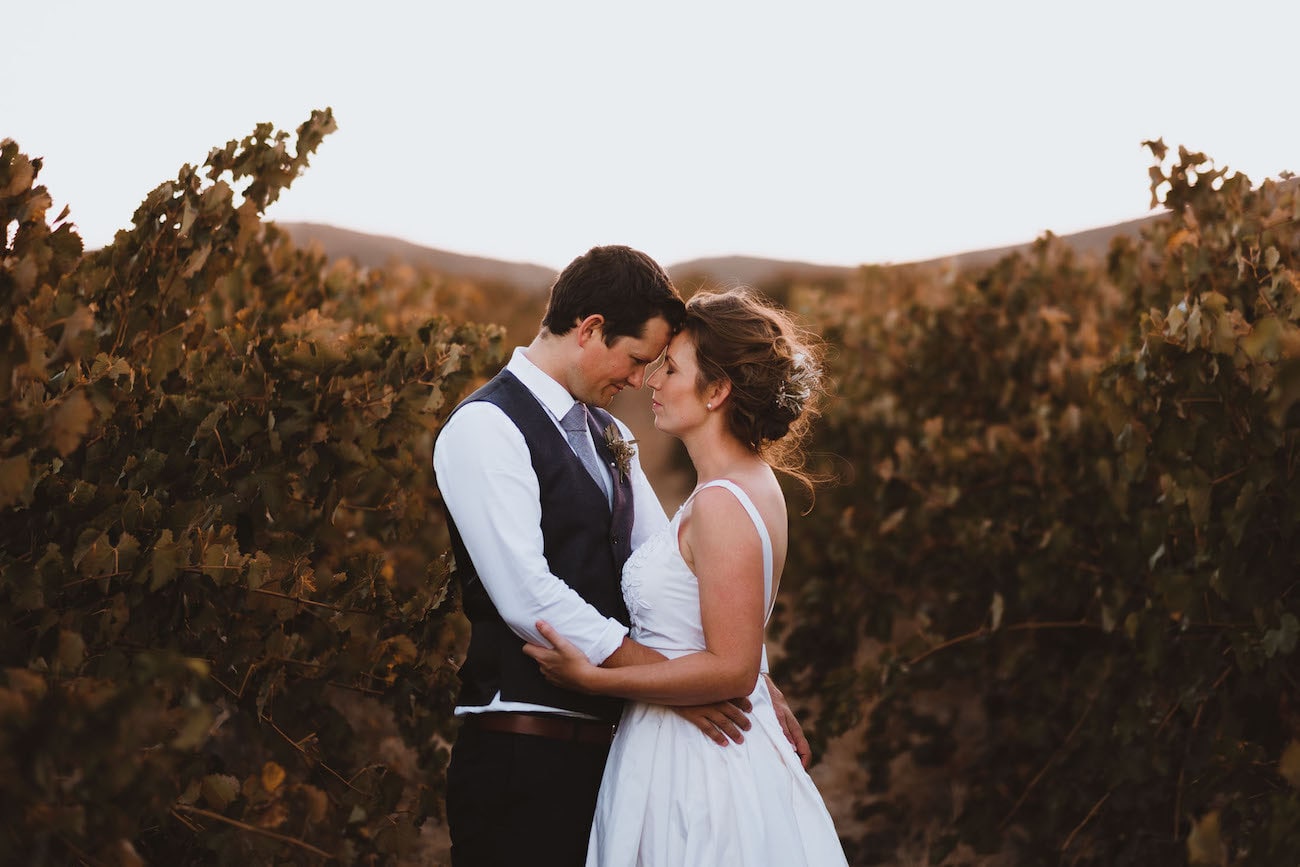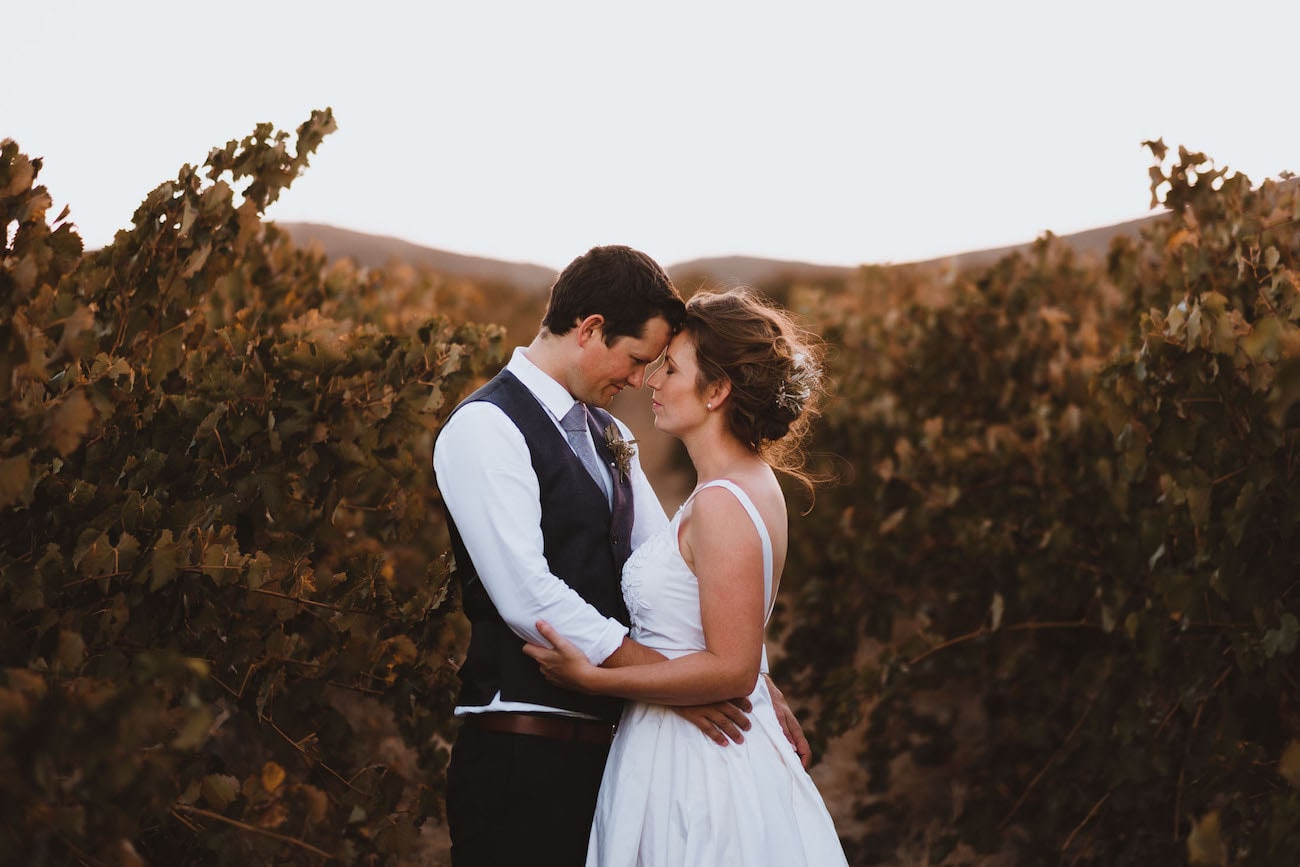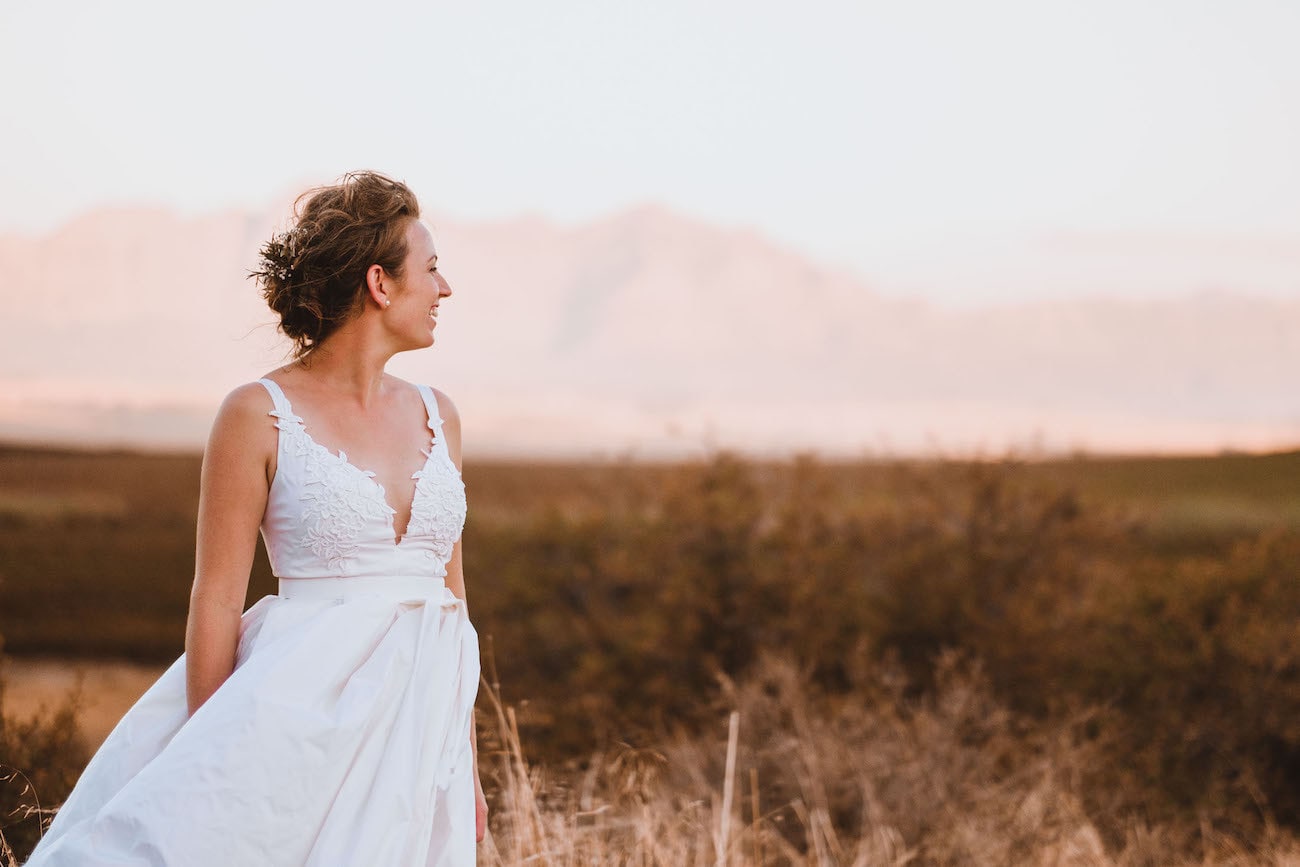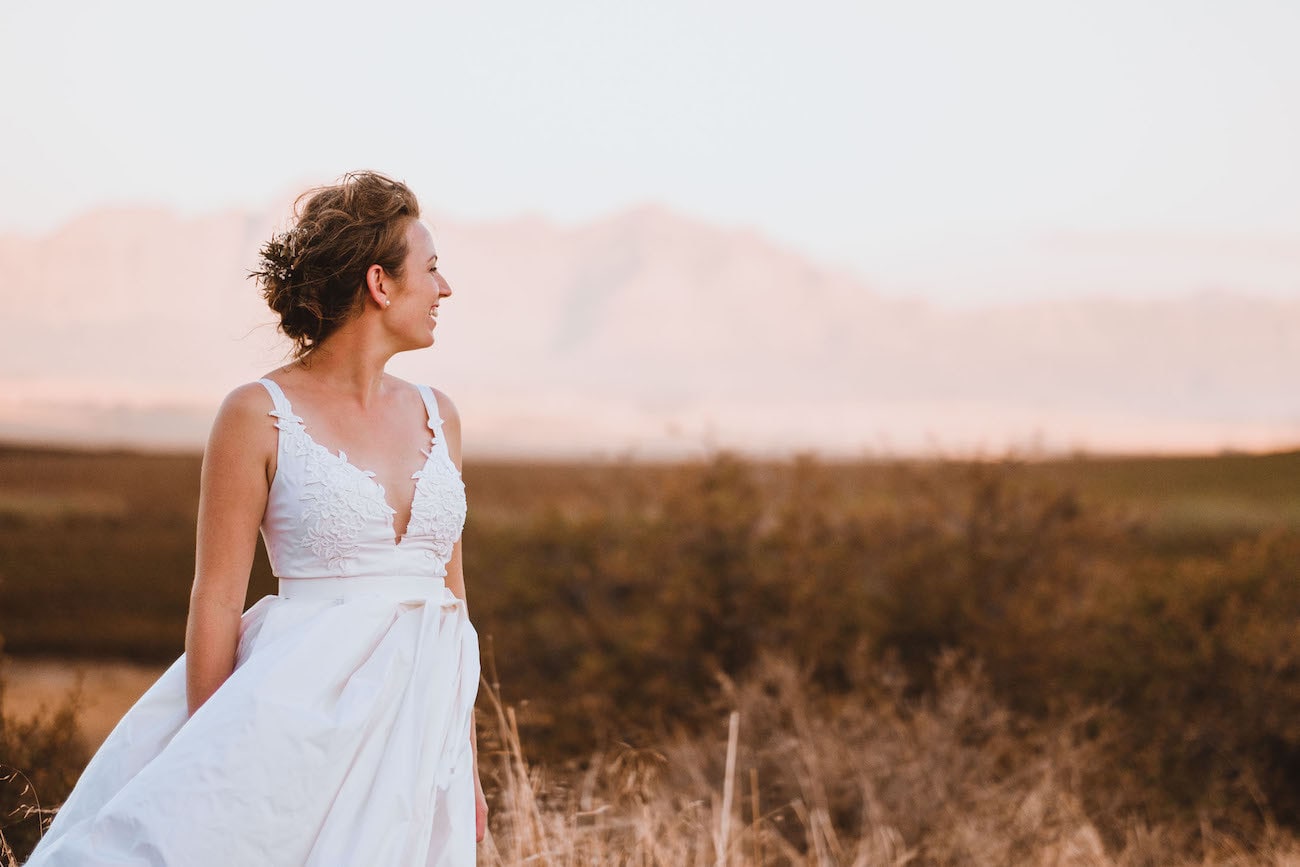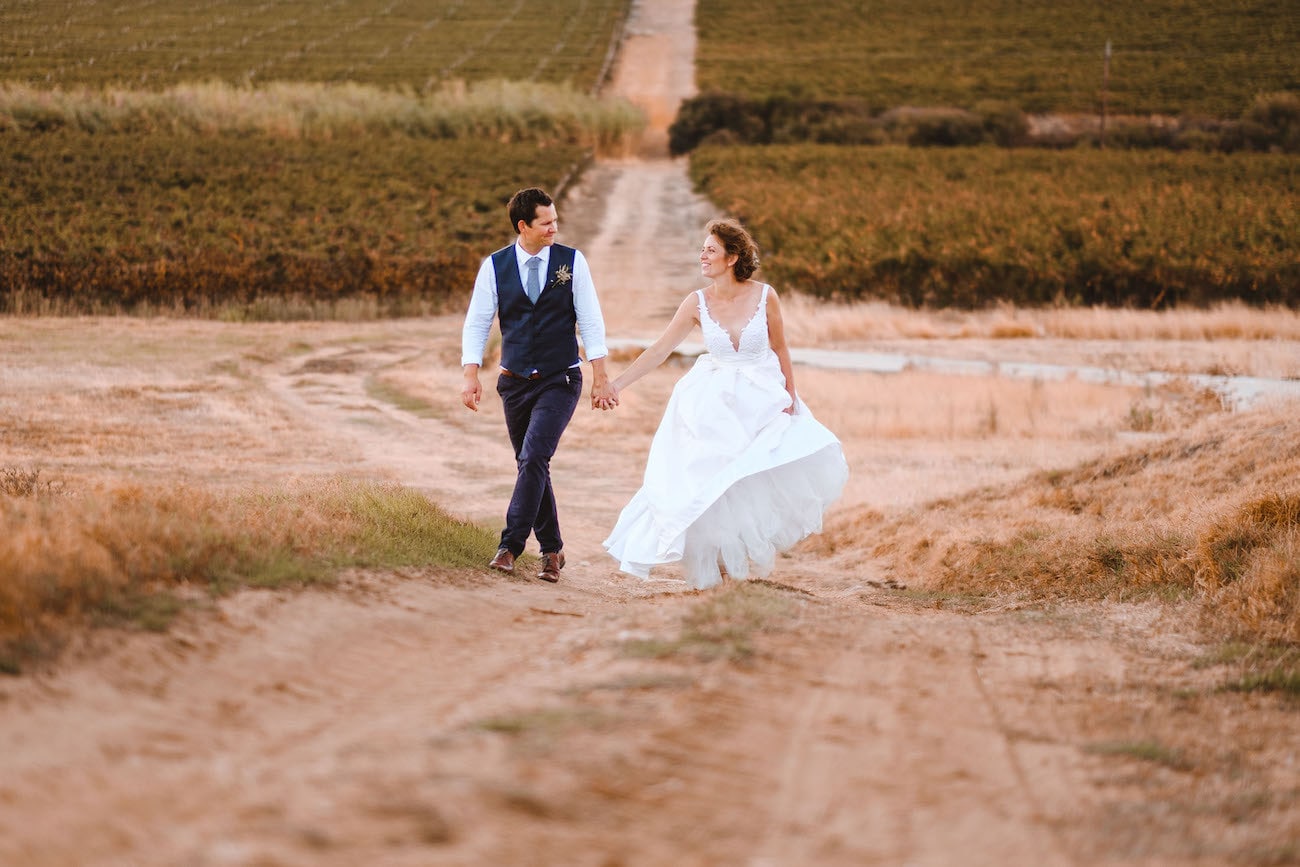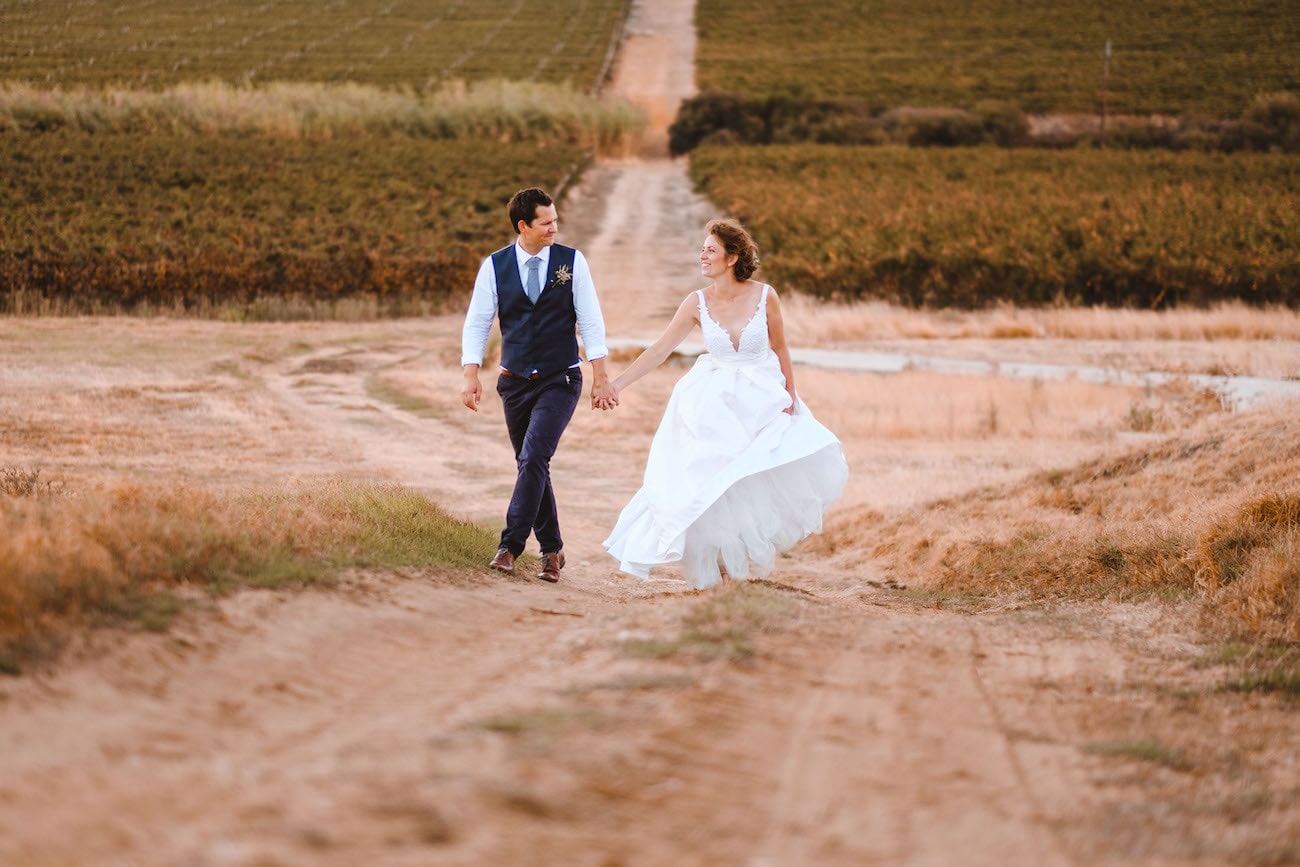 Best Decision
Choosing Café Felix as our venue. It is such a special setting and it was the perfect choice to give effect to the vision we had. The food is also yummy!
Advice for Future Brides & Grooms
Hire a wedding planner. We did not do this and the morning of the wedding was a little crazy making sure everything got done. We had completely forgotten to choose a song to walk down the aisle to, so an hour before the wedding I was trying to organise that. Lucky all our friends rallied together and sorted everything out for us and the day was perfect.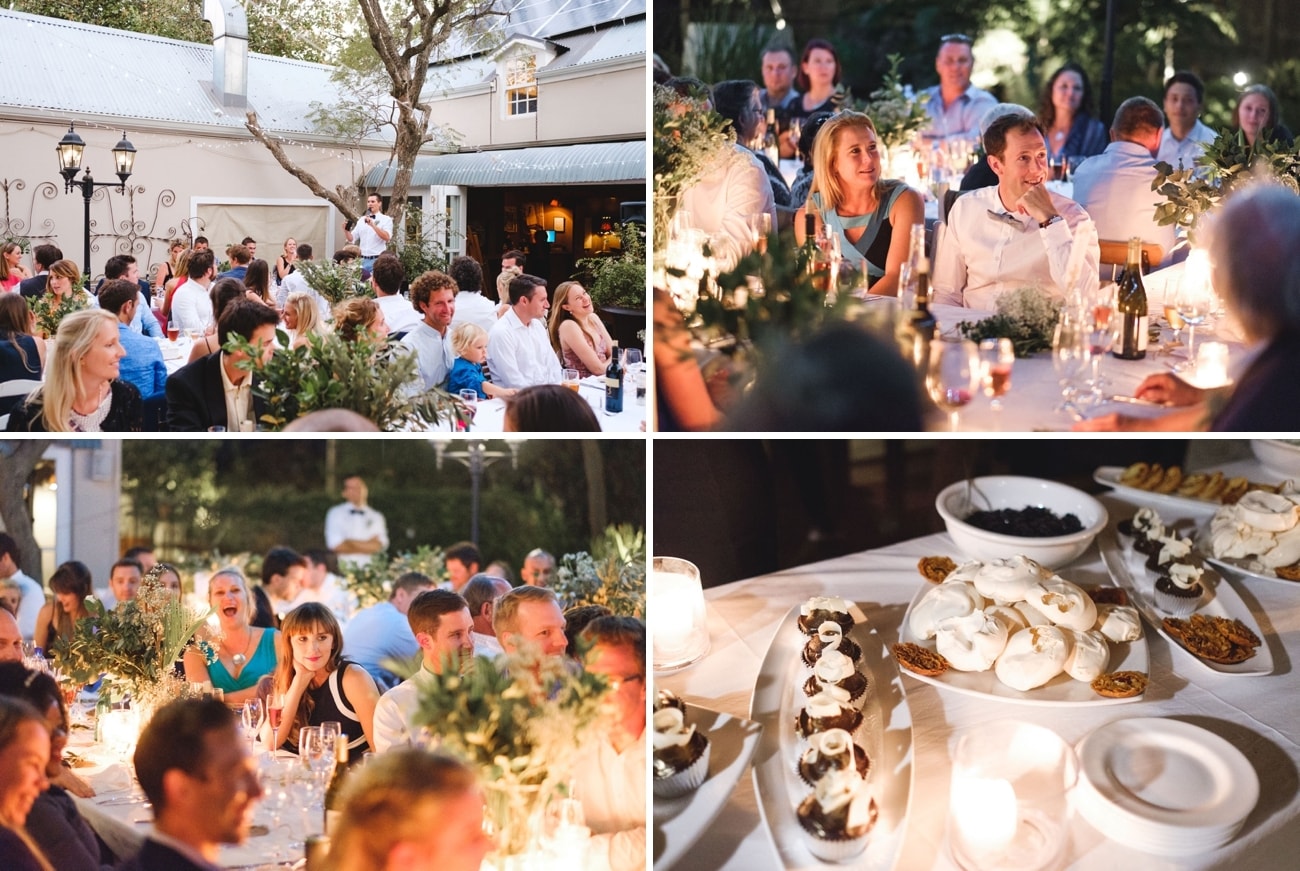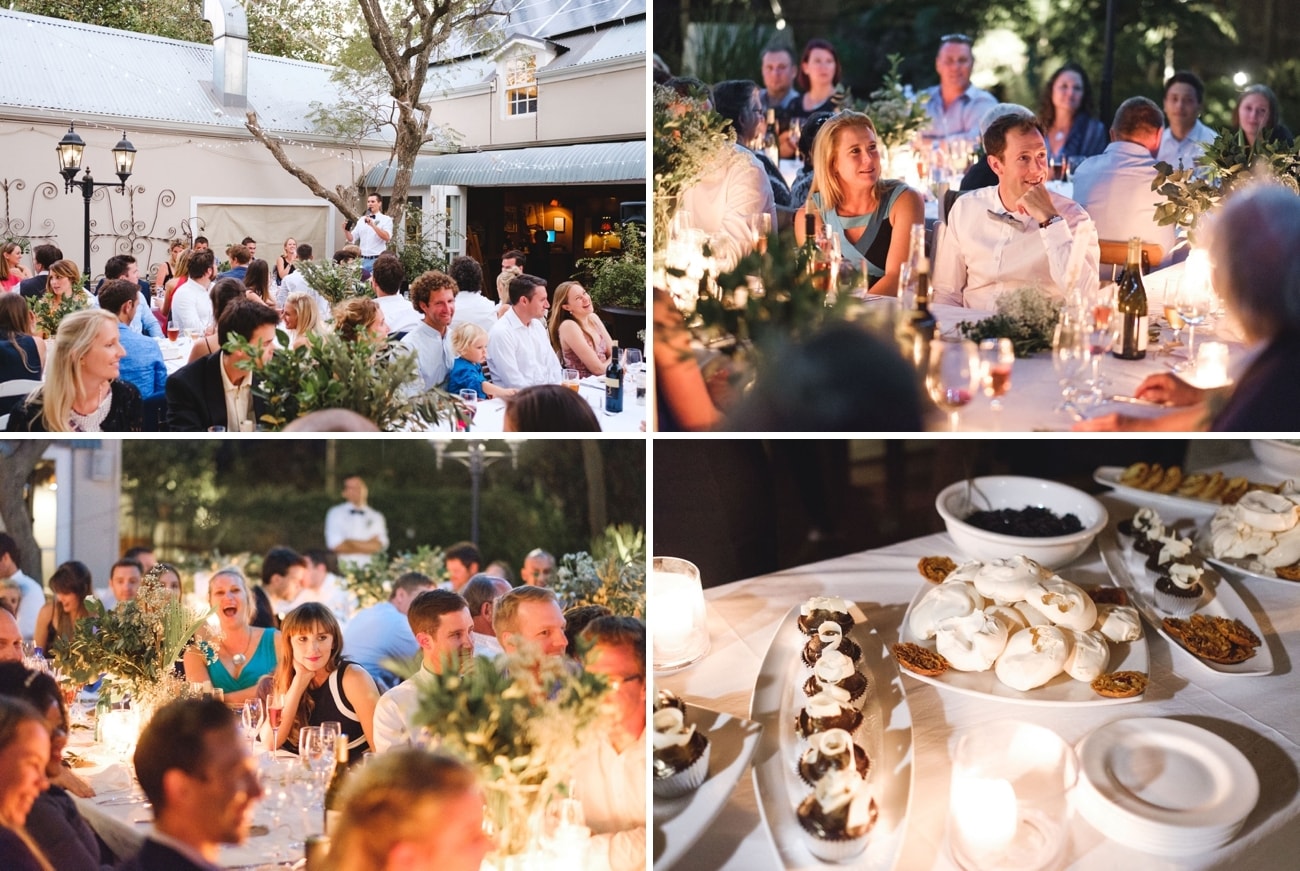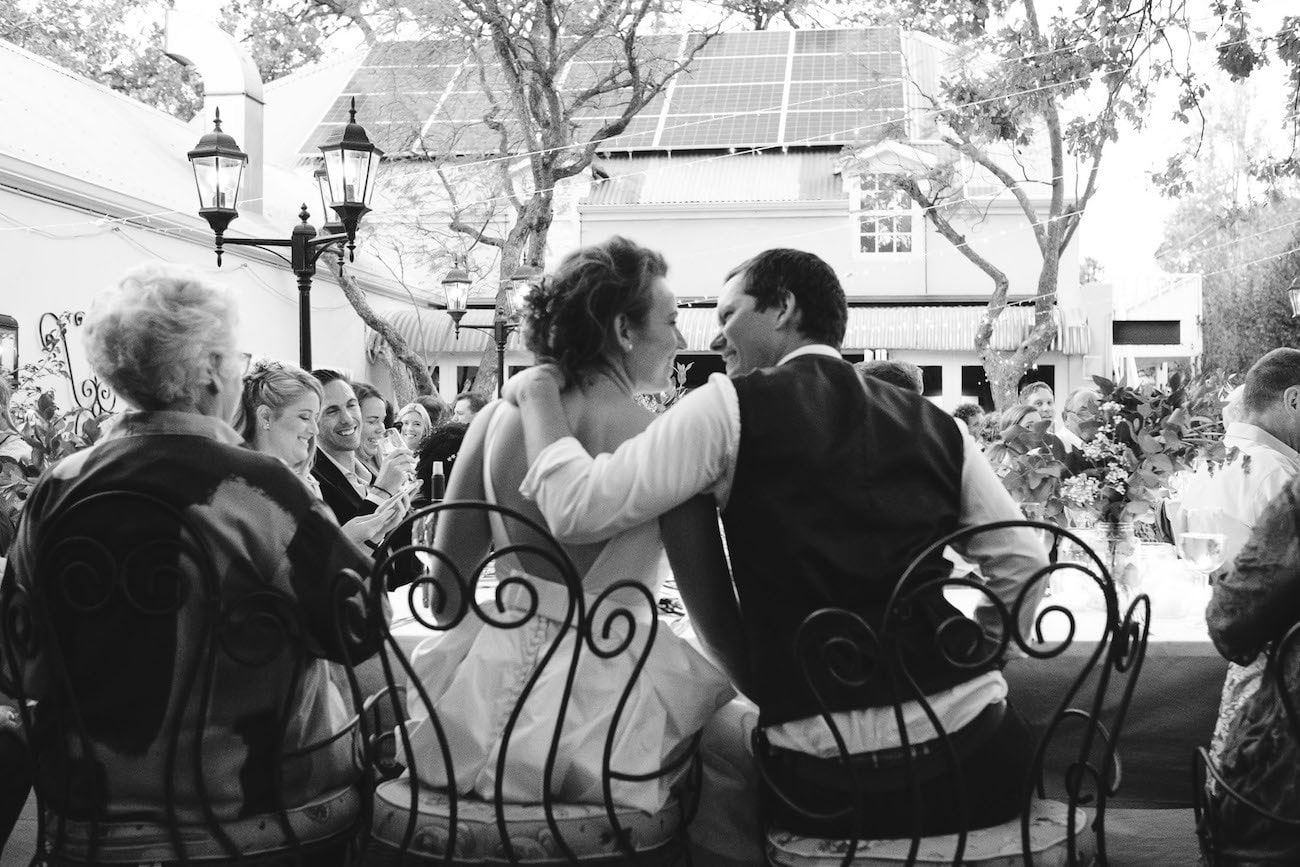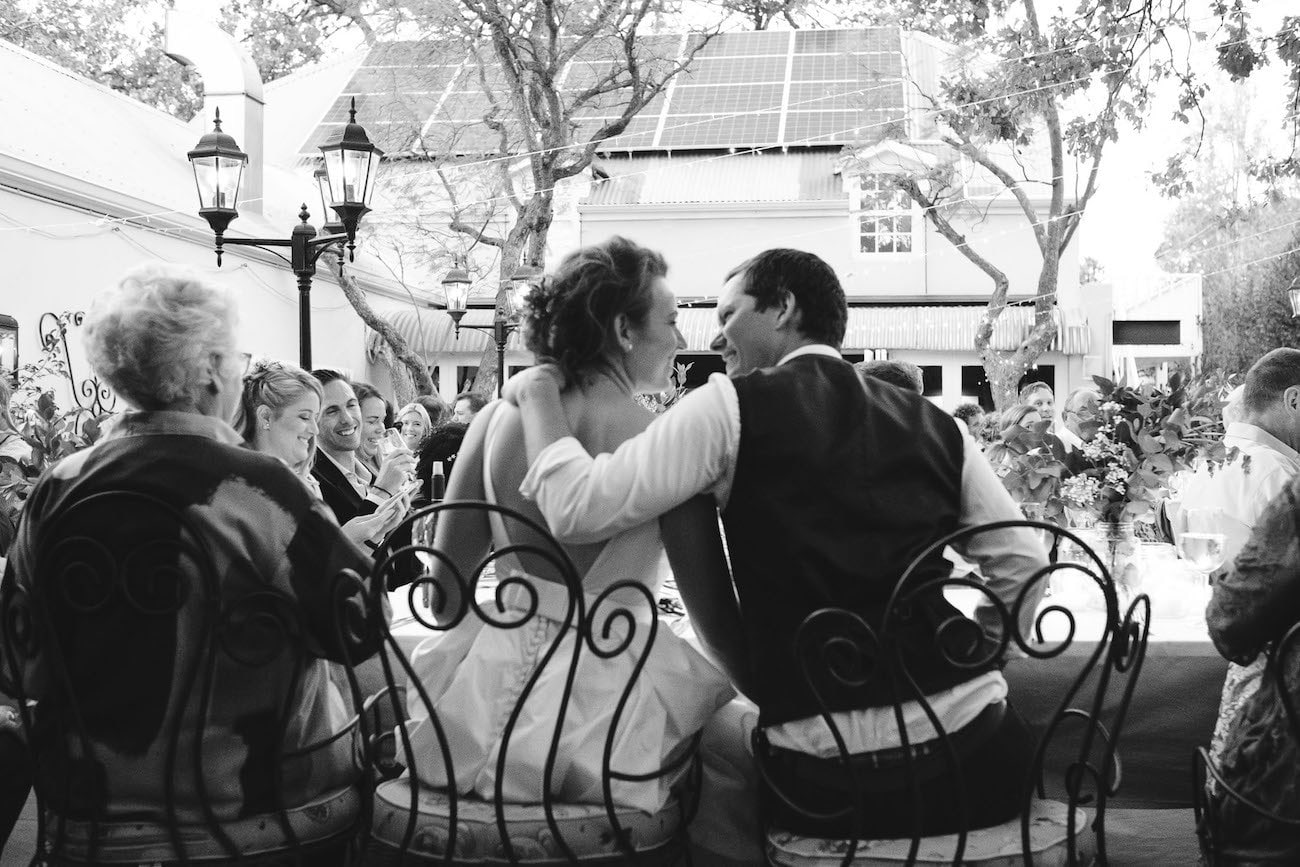 You can see more from this wedding on Hewitt Wright's blog.
SERVICE PROVIDERS
Ceremony venue: Private home | Reception venue & catering: Café Felix | Photography: Hewitt Wright Photography | Flowers: Petal and Post | Bride's dress: Zoe Nepgen | Hair: Richard Wood | Makeup: Loricka Smuts | Bridesmaids' dresses: Mungo & Jemima + H&M | Groom & groomsmen's attire: Woolworths and H&M (pants and shirts) + My Bro Tie (ties) | Hiring: Riverside Hiring Services, Malmesbury | DJ: Capricorn Music