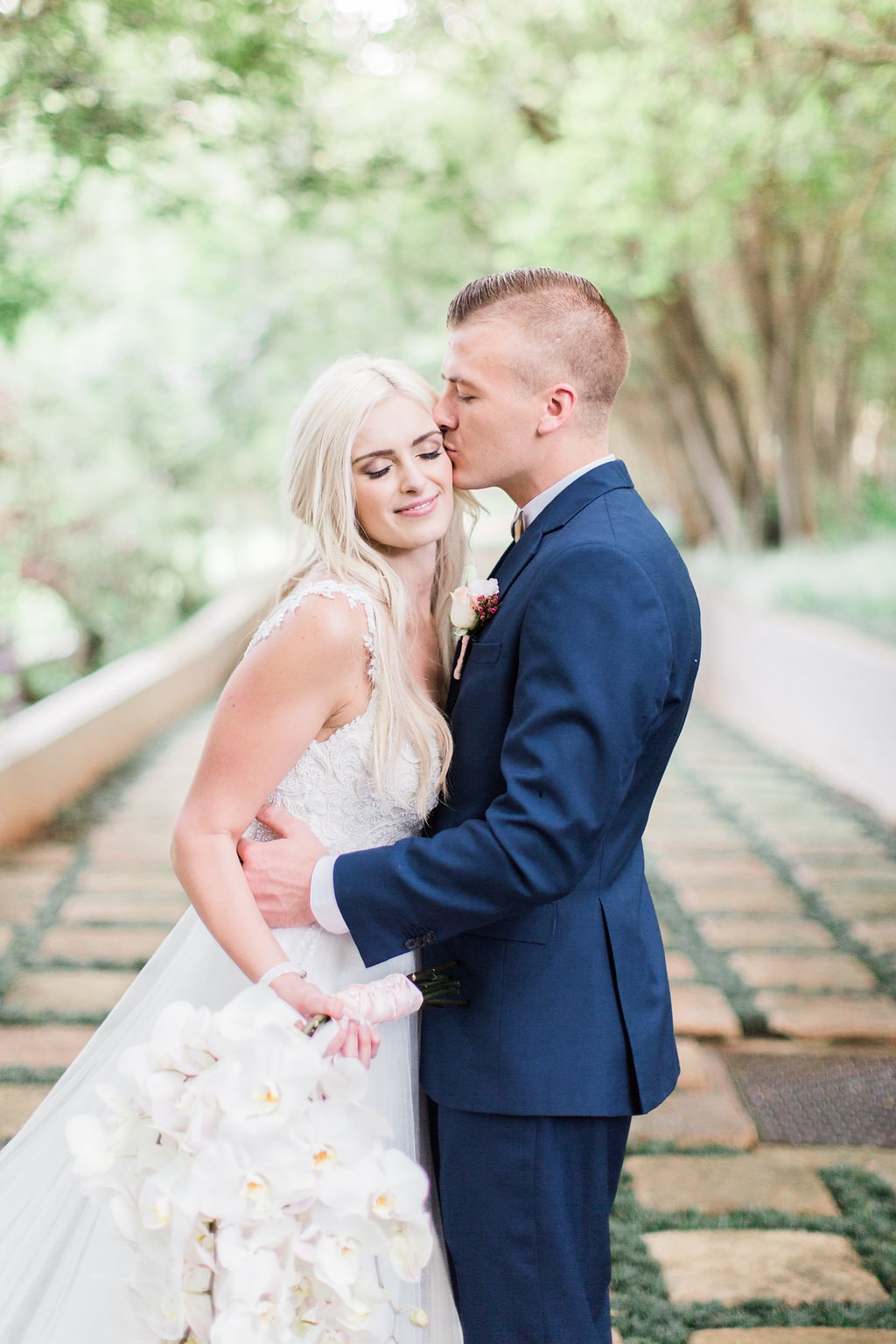 Pink and pastels can look impossibly chic, and if you have any doubt, this beautiful, heartfelt wedding at Johannesburg's Memoire will show you the way. From the bride's romantic cascade of orchids bouquet to the bridesmaids in dove grey lace, from the pretty watercolour stationery to the tall arrangements of roses and hydrangea at the reception, everything is colour co-ordinated to absolute perfection. And let's not forget the vision in white that is bride Duané – she wanted to make the kind of first impression on her groom that he'd made on her the night they met (i.e. love at first sight!) and Micah's emotional reaction was proof that she hit the mark. I love the way these two look at each other – it's pure love, like there's nobody else in the room but them. So no wonder they decided to opt for a sweetheart table (dripping in blooms, obvs!) for their reception – every moment of togetherness is clearly treasured. The lovely Genevieve Fundaro captured these light-filled images of their beautiful big day.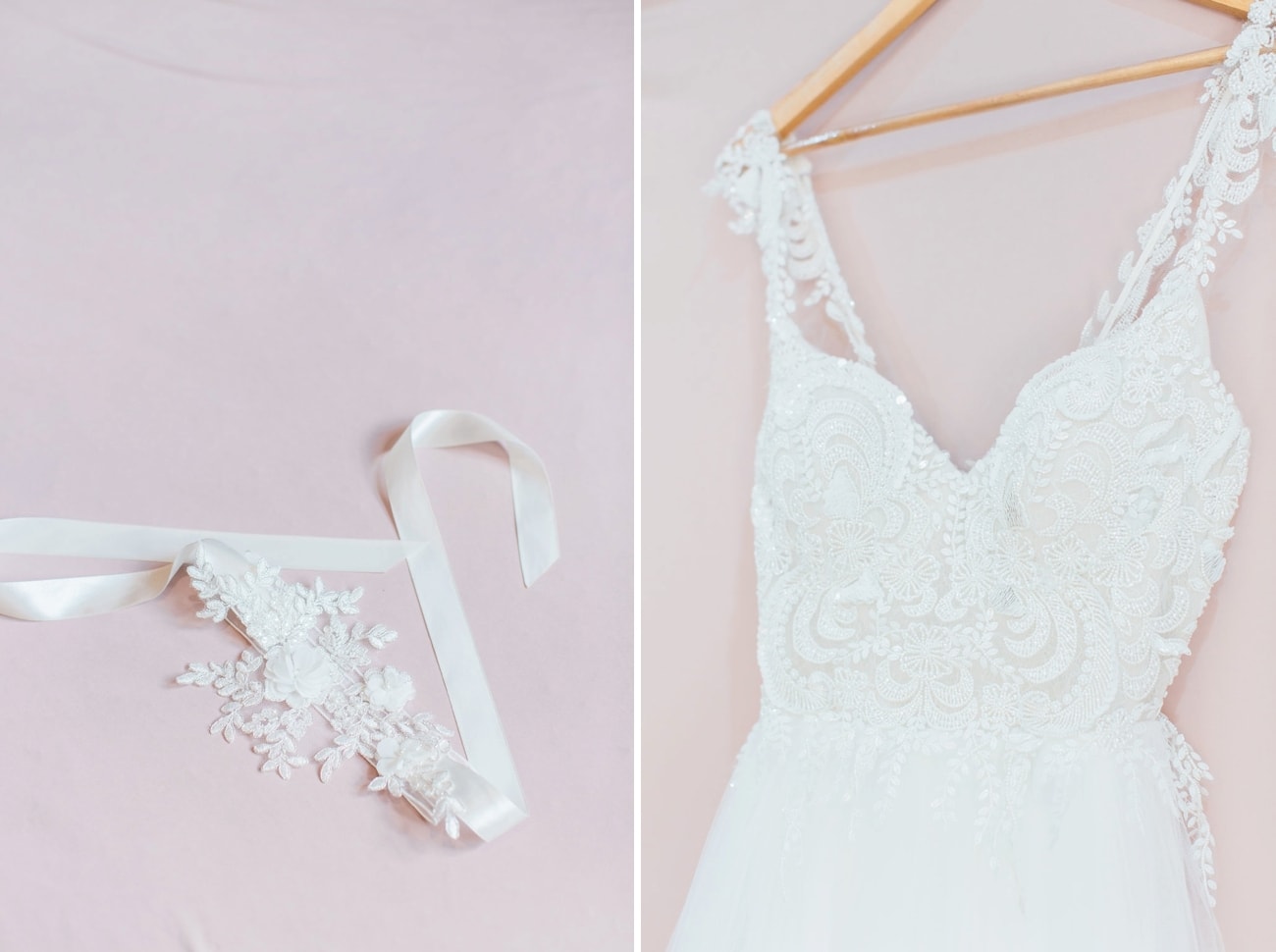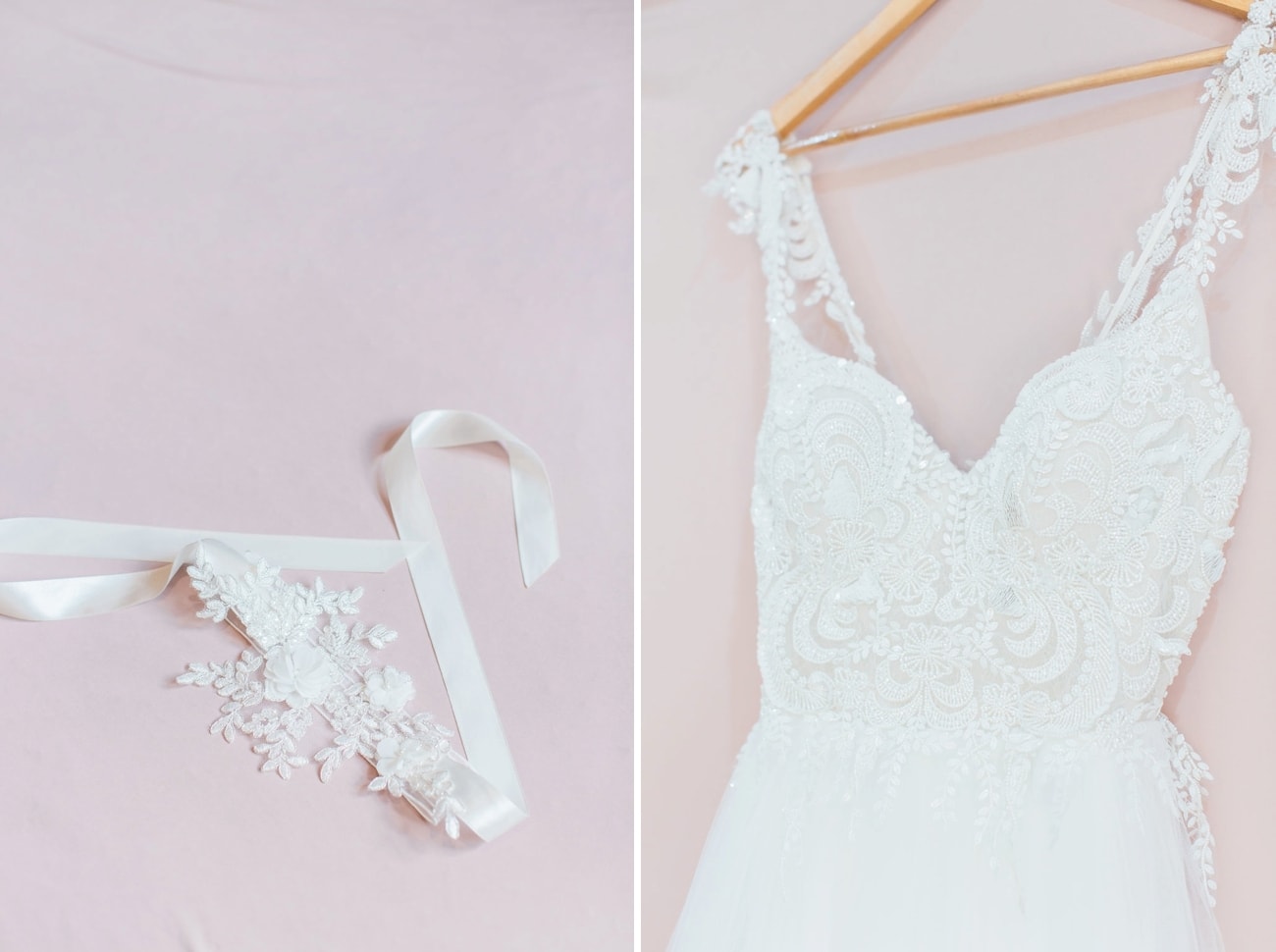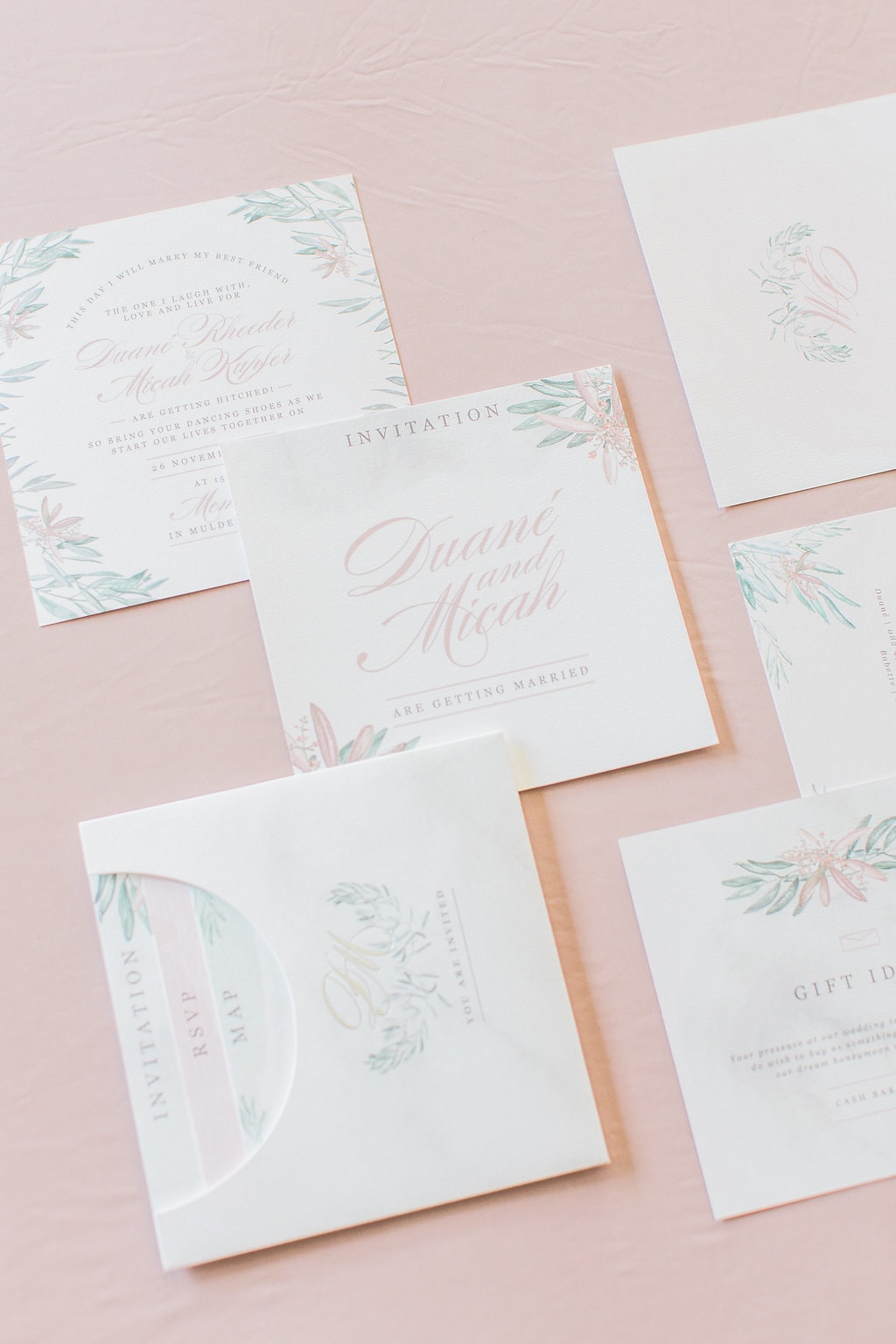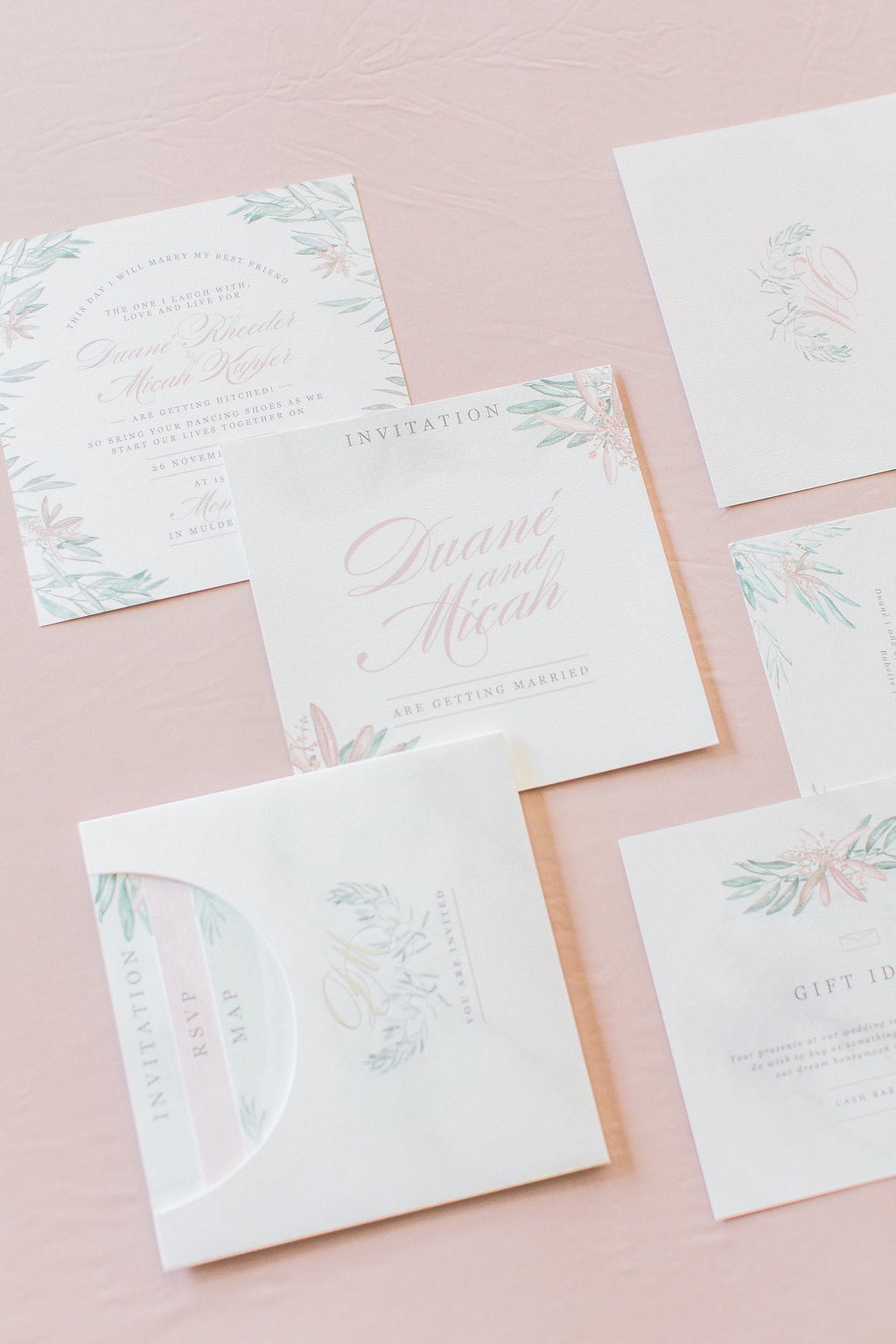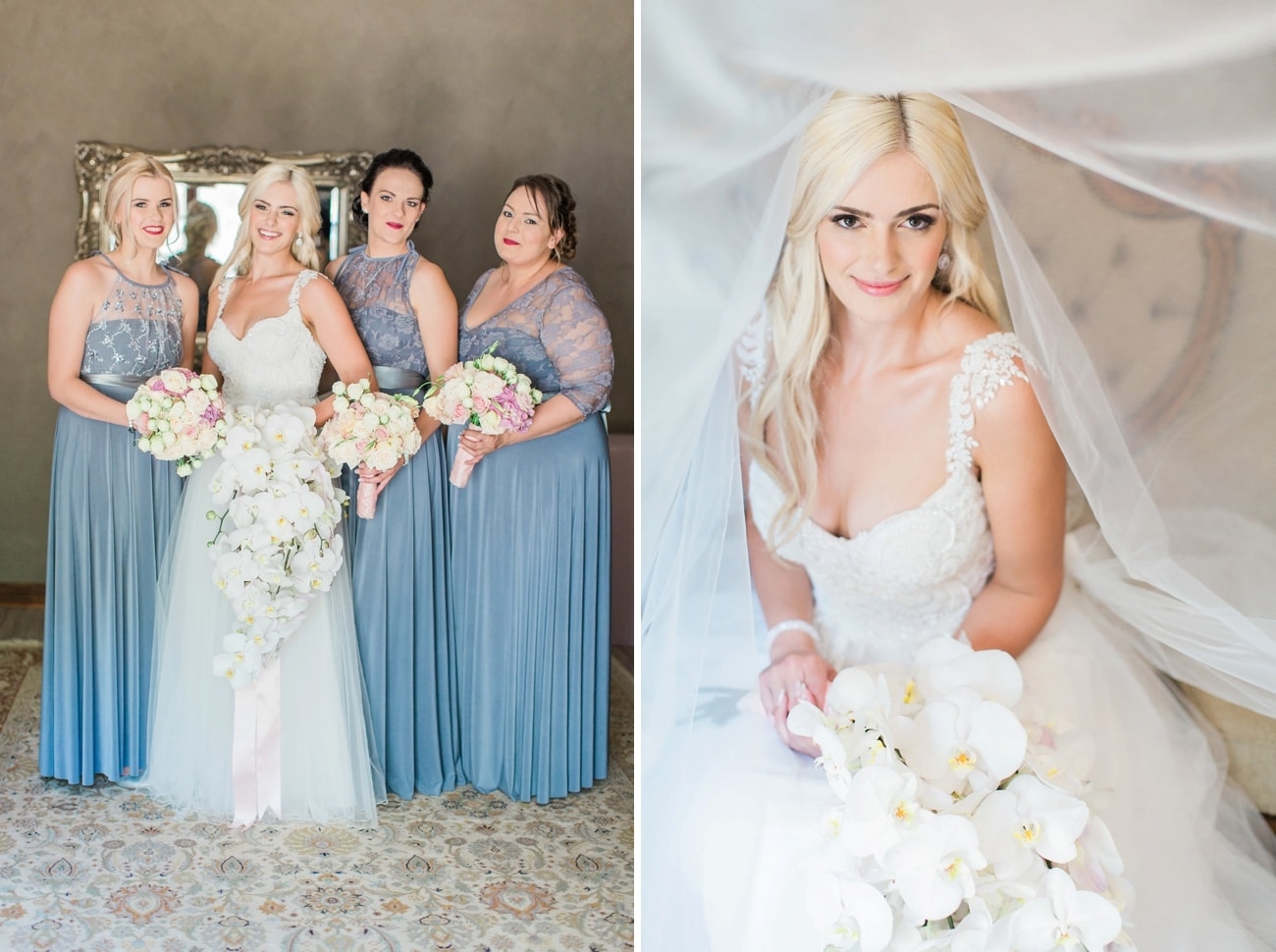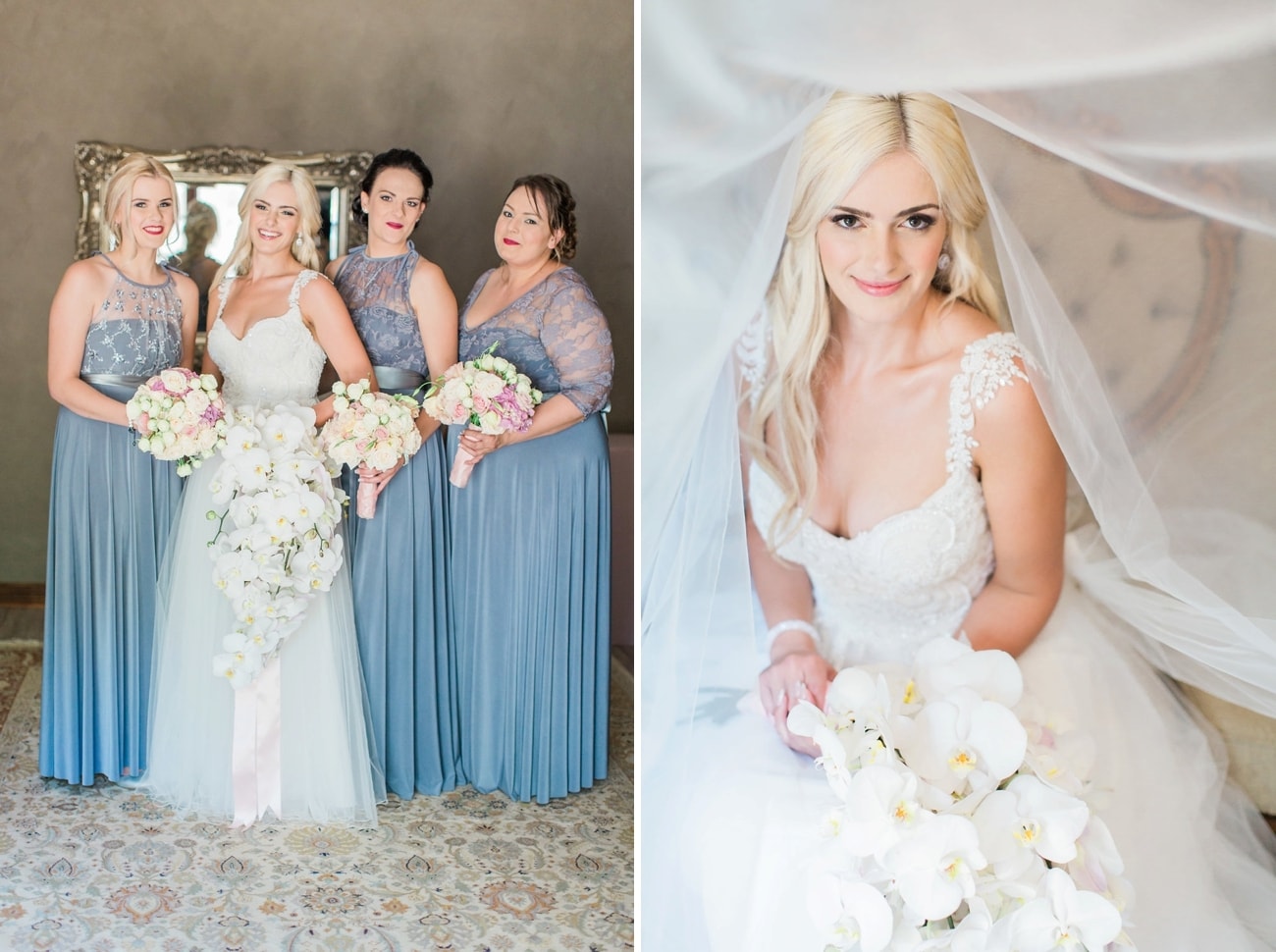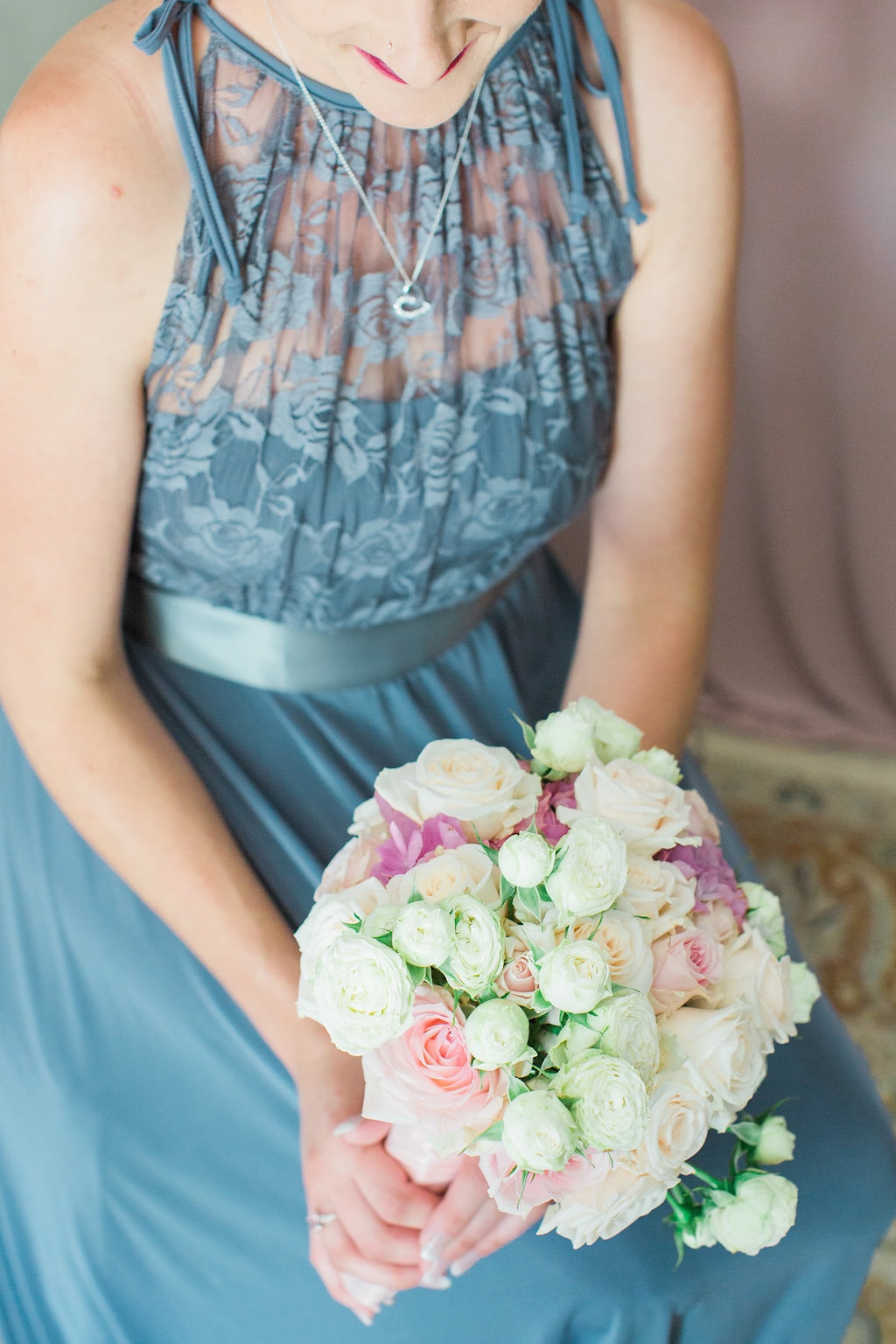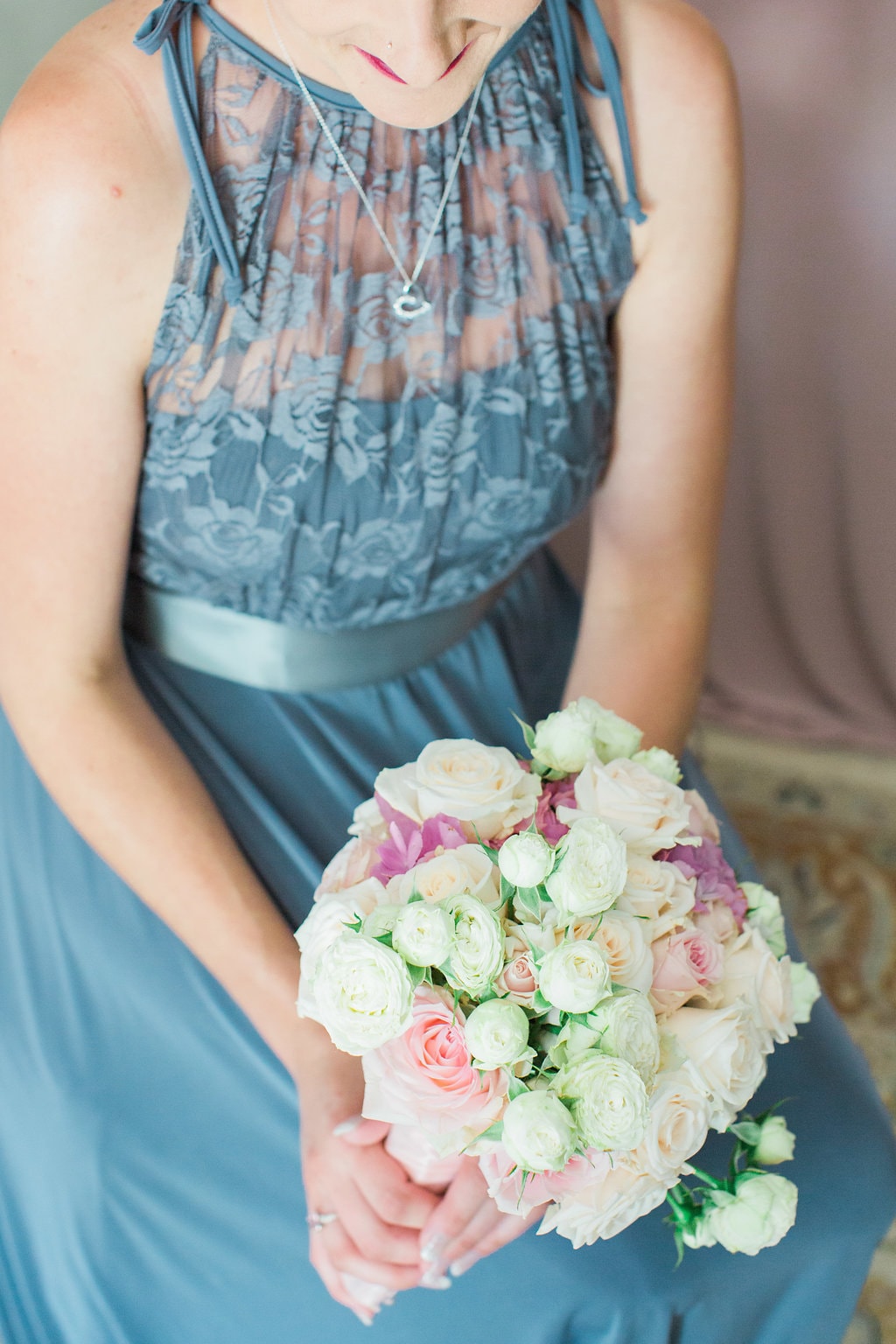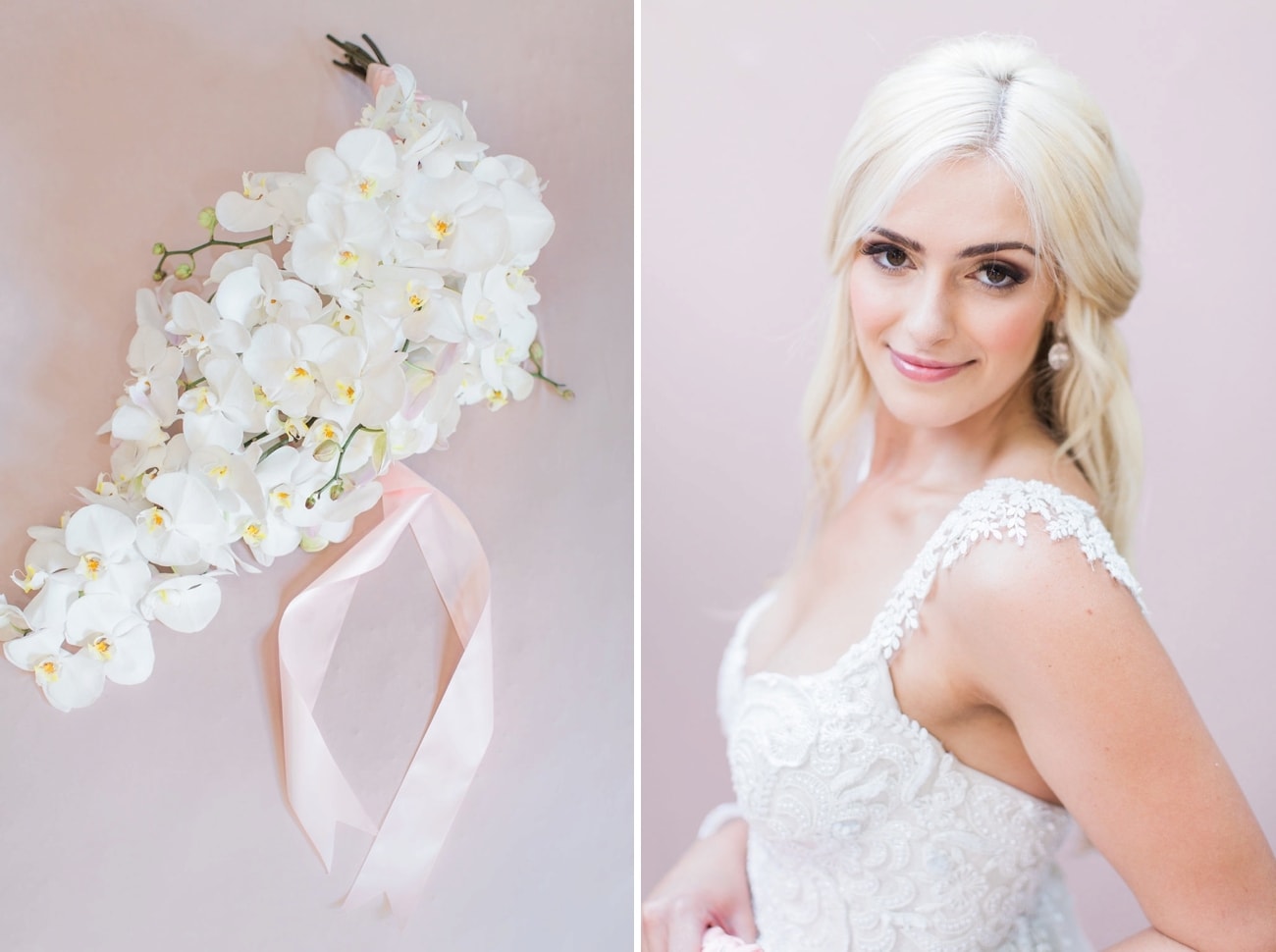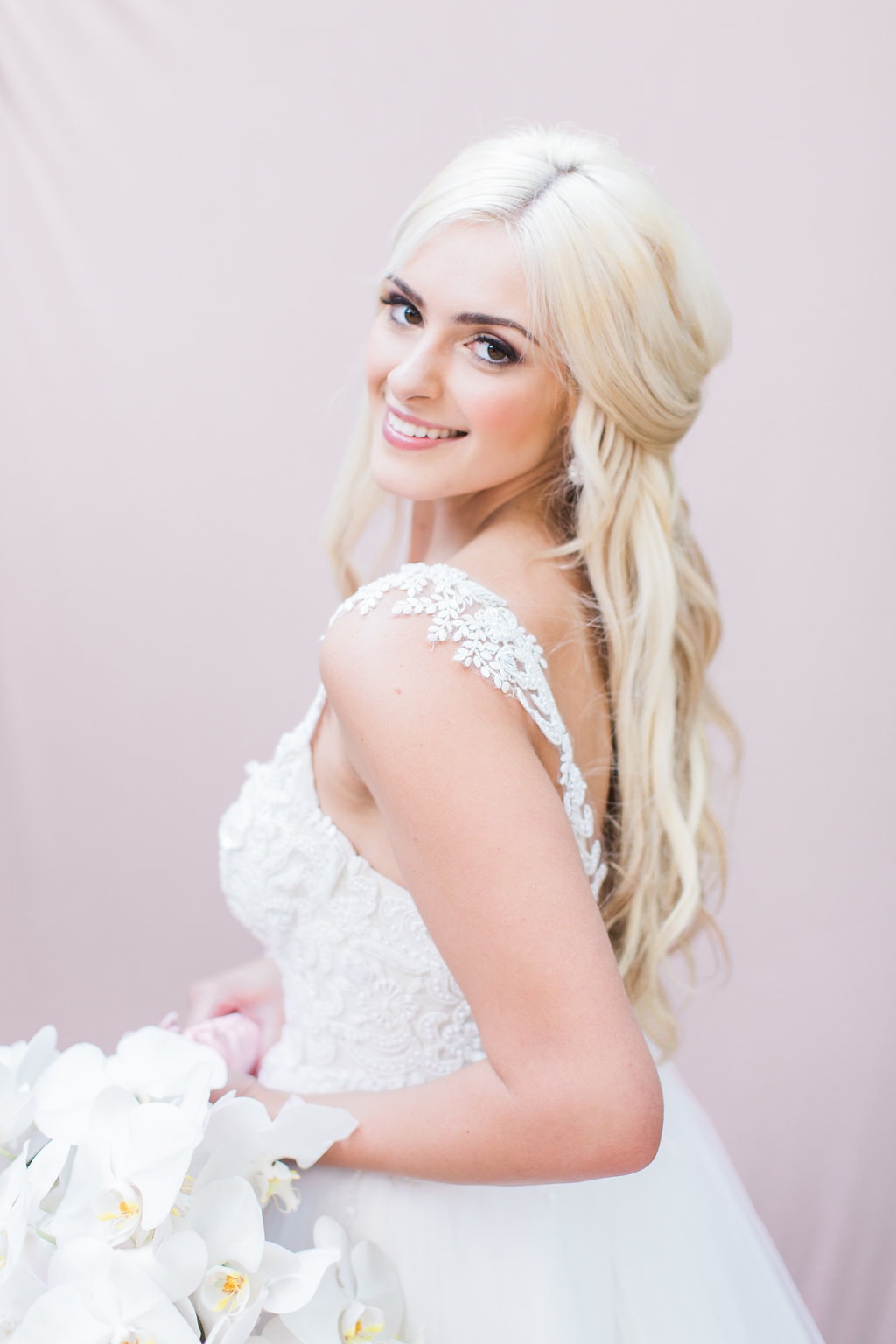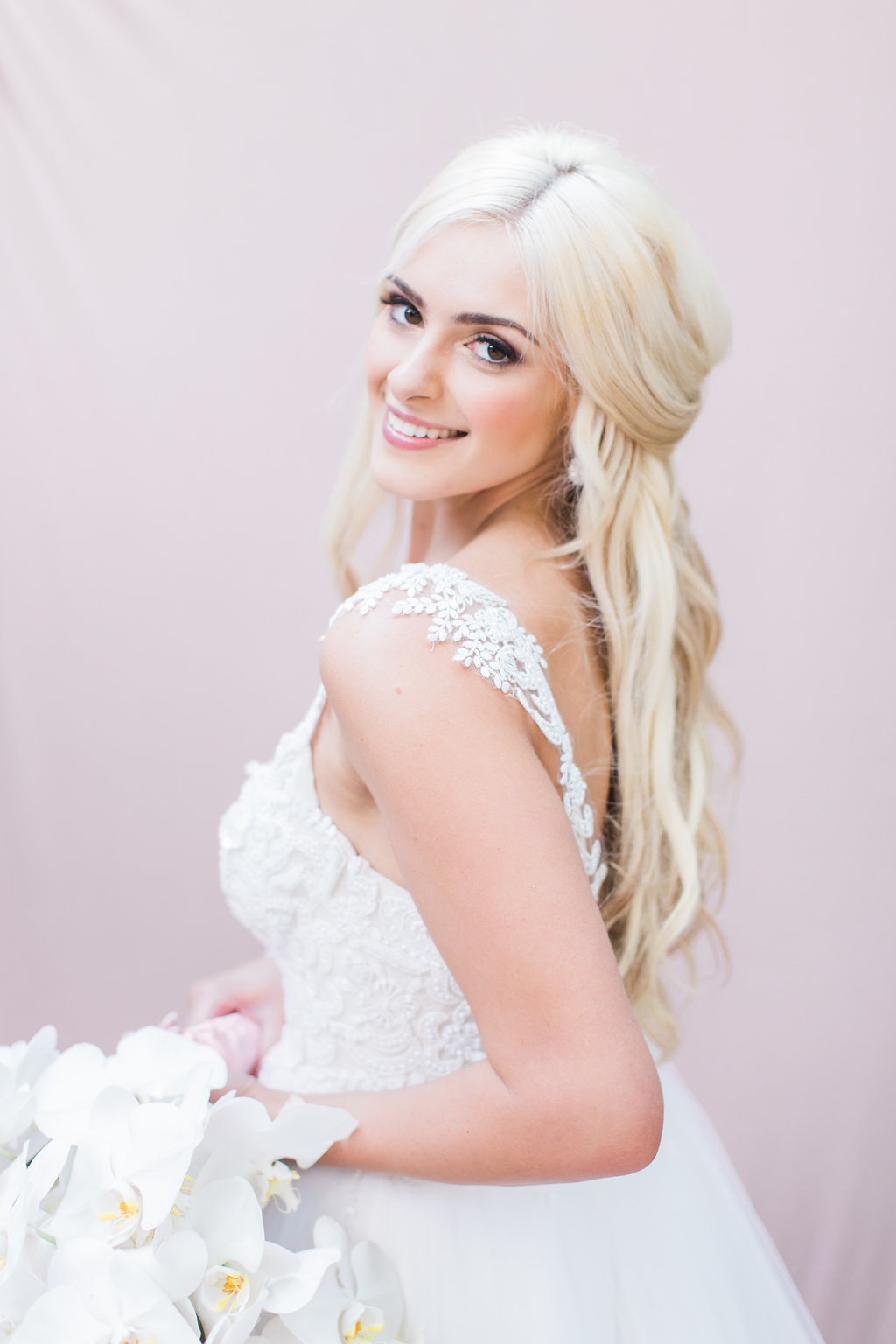 Love Story
Micah's friend had recently split up with his partner, and so had my friend and his partner. Micah and I were invited to go out to a restaurant/bar in Parkhurst – we went not with the intention of meeting anyone, but to help our friends get over their loss. As the night progressed, I guess we both felt like a third wheel. I was standing around whilst my friend was chatting to someone that he clearly liked. Then, out of the blue, someone came over to me and asked if I was single. I laughed and said: "Yes I am". He then explained that it was his friend who wanted to know. I was very confused and didn't understand why the guy couldn't ask me himself (knowing Micah now, I totally do!). So Micah came up to talk to me and it was literally love at first sight. Despite being a very very attractive guy, he was so sweet and down to earth. We "clicked" right away, and started seeing each other straight after. We thank our friends regularly for inviting us along that night! After a month of seeing each other, we decided to officially date. We both have the same interests and absolutely love nature and animals. I think we probably went to every zoo, nature reserve or animal sanctuary in Gauteng in the year we were dating before we got engaged. We lived almost an hour from one another, so on Valentine's Day he decided to get me a puppy. Number one strategy to get me to move in with him, which I did a month later! Micah wasn't only my lover, but truly my best friend.
The Proposal
Micah decided to plan a romantic weekend away in the Welgevonden Game Reserve for our One Year Anniversary. He told me nothing about it and just said that it was a surprise and I mustn't try to fish for information (I am very nosy like that). Upon our arrival on the Friday afternoon, we were picked up with a game drive vehicle and escorted to the very beautiful Ekuthuleni Lodge. I was blown away, it was so stunning. On the Saturday afternoon, we went for a game drive and got back that evening. At dinner, our table was private, next to the fireplace (very romantic, Micah!). He looked very stressed and his face was so red; I asked him what was wrong, and he said that his tummy wasn't well, ha ha. We had our main course, and I munched away, but he barely touched his food (not like him at all). He then stood up, got down on one knee, and took the wrong hand, blabbering on about something. He was so nervous and eventually calmed down enough to ask me to marry him. I, of course, was in tears and I think I shouted "yes!" I really didn't expect him to propose that weekend. It was one of the best, most treasured moments of our lives. I remember it like it was yesterday.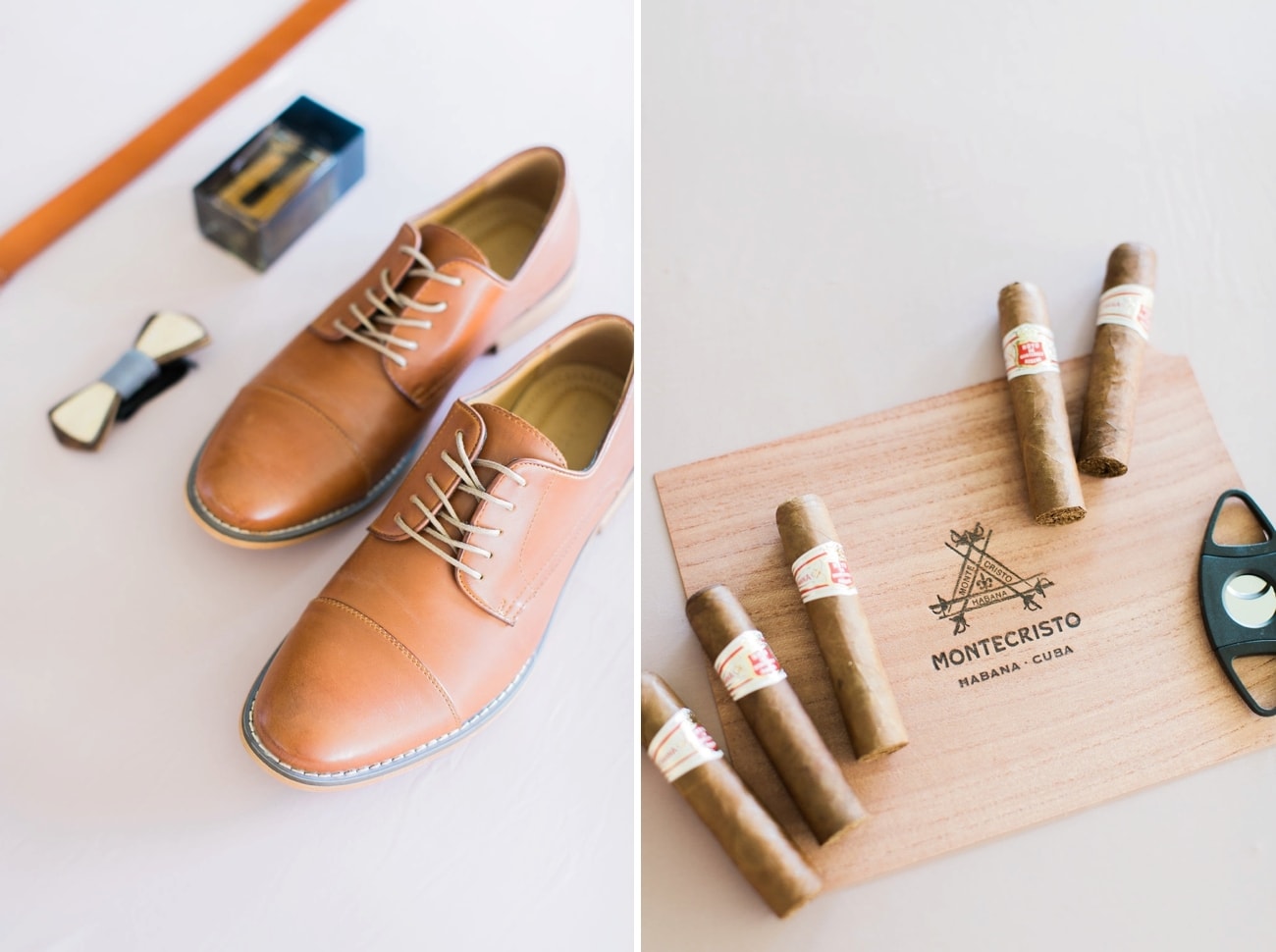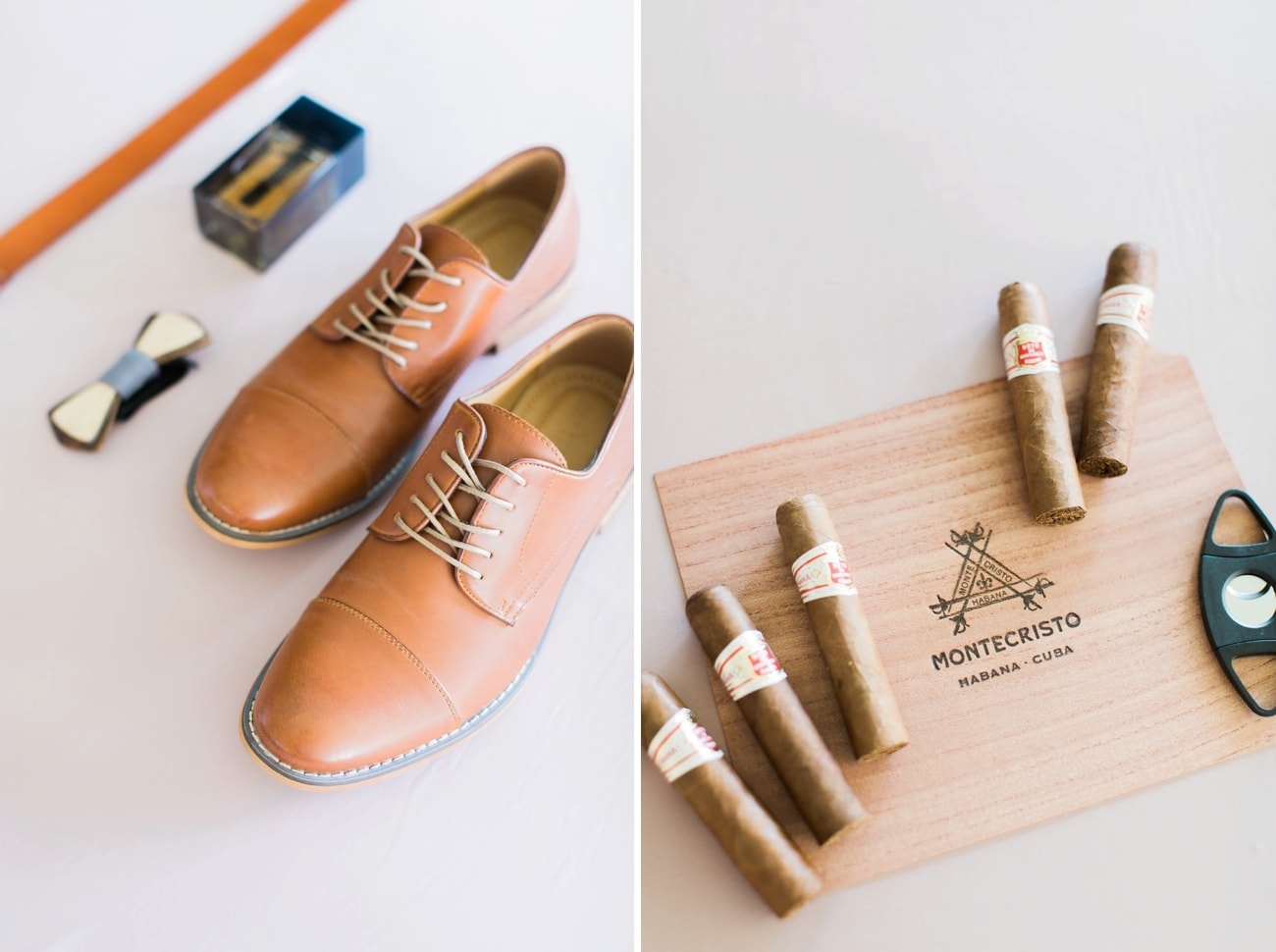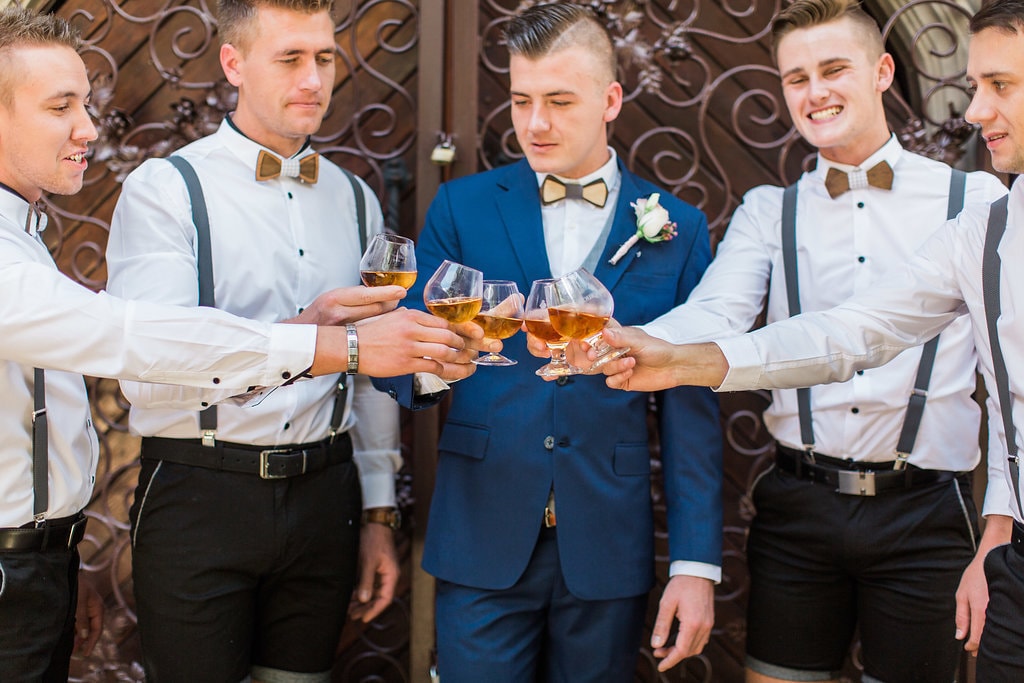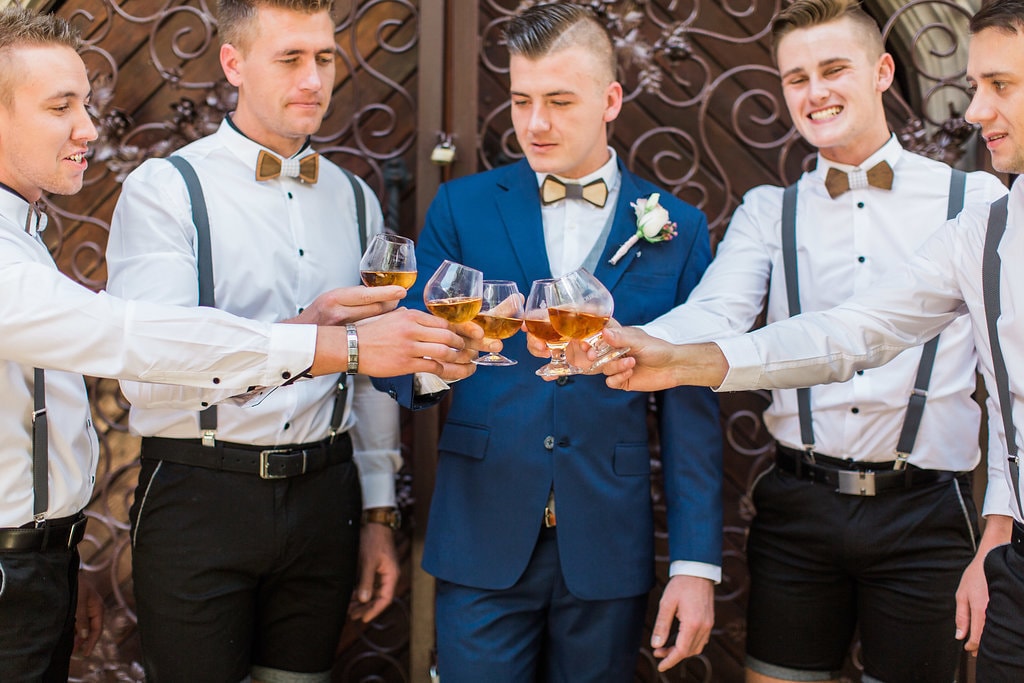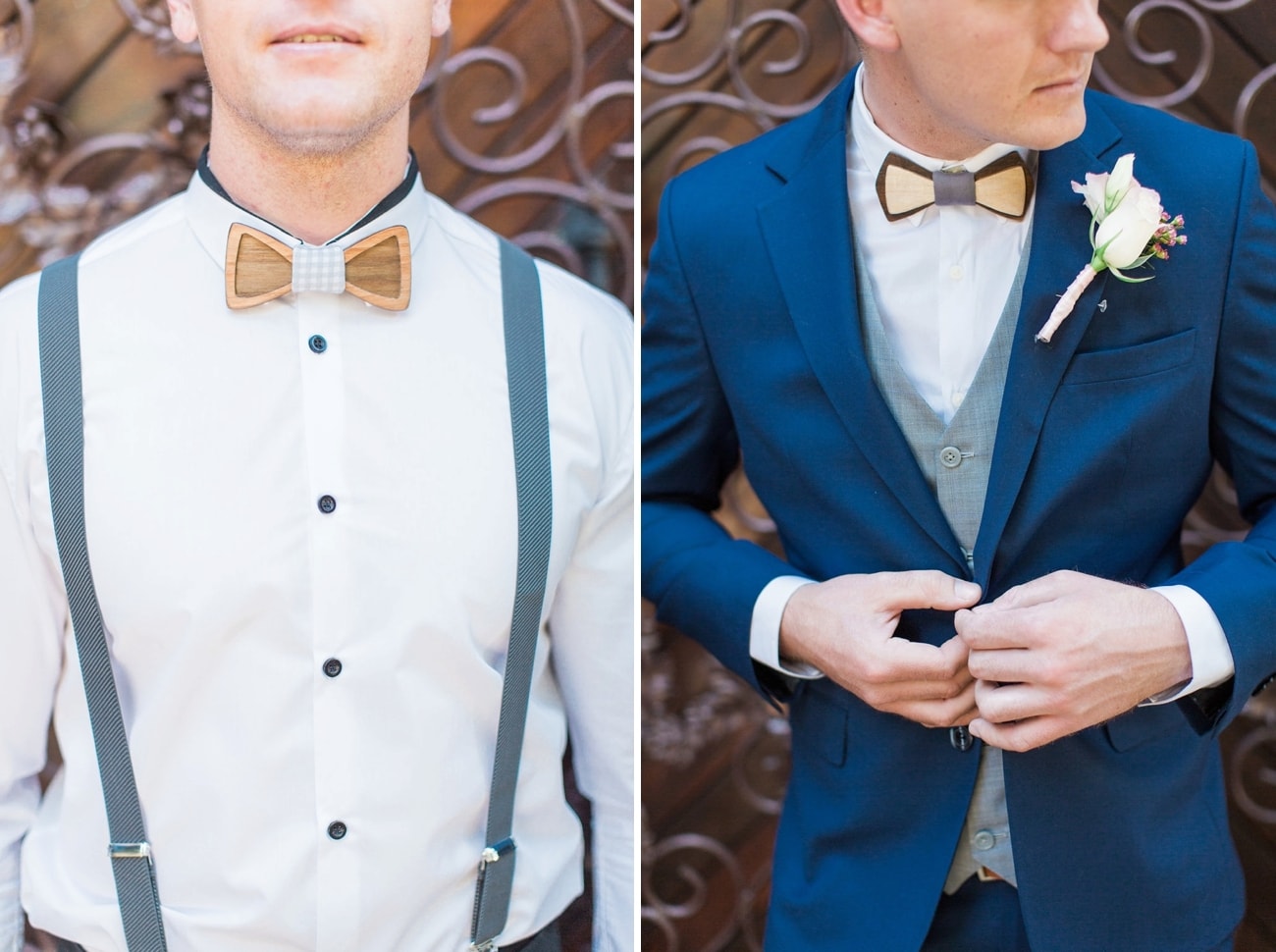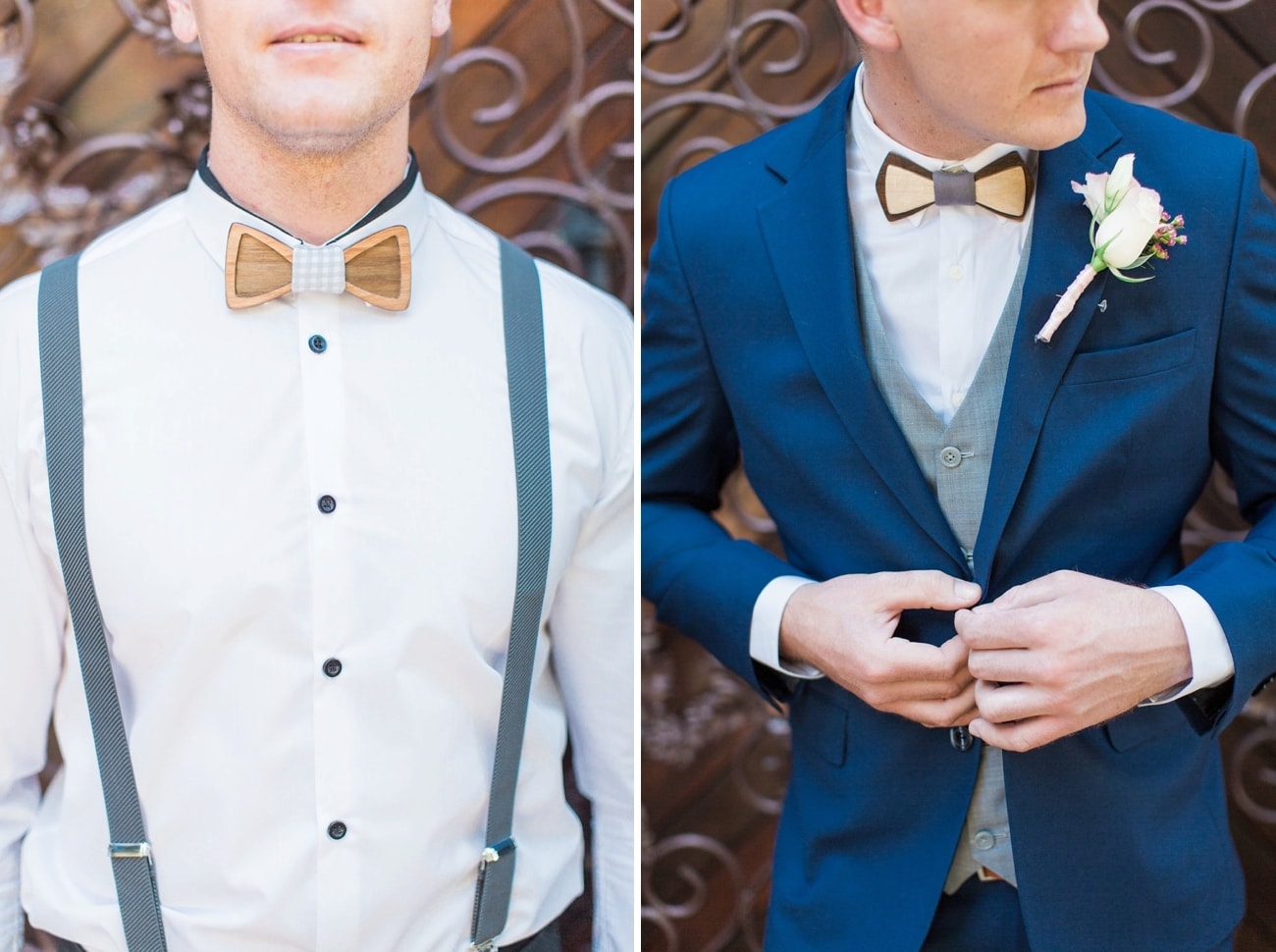 The Venue
After visiting numerous ceremony/reception venues and looking for our dream wedding venue, we finally found Memoire. Just like our story, it was love at first sight. It was absolutely beautiful. The most beautiful gardens and fountains. The forest and little stream by the chapel and us loving the feel of nature – it was perfect and so romantic and elegant.
Wedding Style
We wanted our wedding to reflect "us". Thus, soft and romantic, but still with our individual touch and personalities. Our colour scheme was soft pastels with silver/grey. We both like subtle, soft colours, but to be a little different, Micah wanted a navy suit and his groomsmen in shorts with suspenders. I went to Casey Jeanne to get the wedding dress I had always dreamed of. I am a bit of a horsey girl, so I wore my vellies instead of high heels! My bridesmaids also wore soft, flowing grey dresses to add to the theme.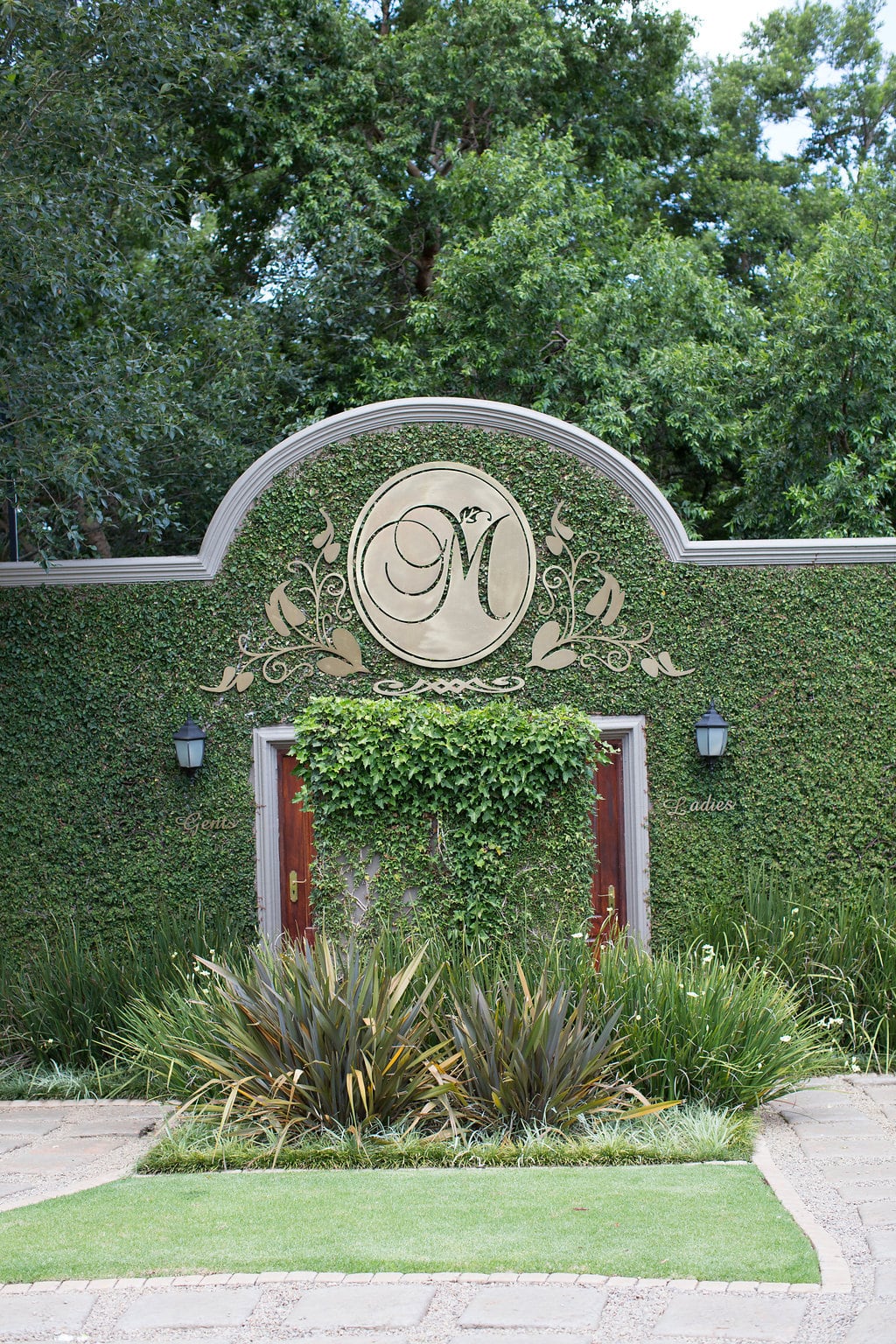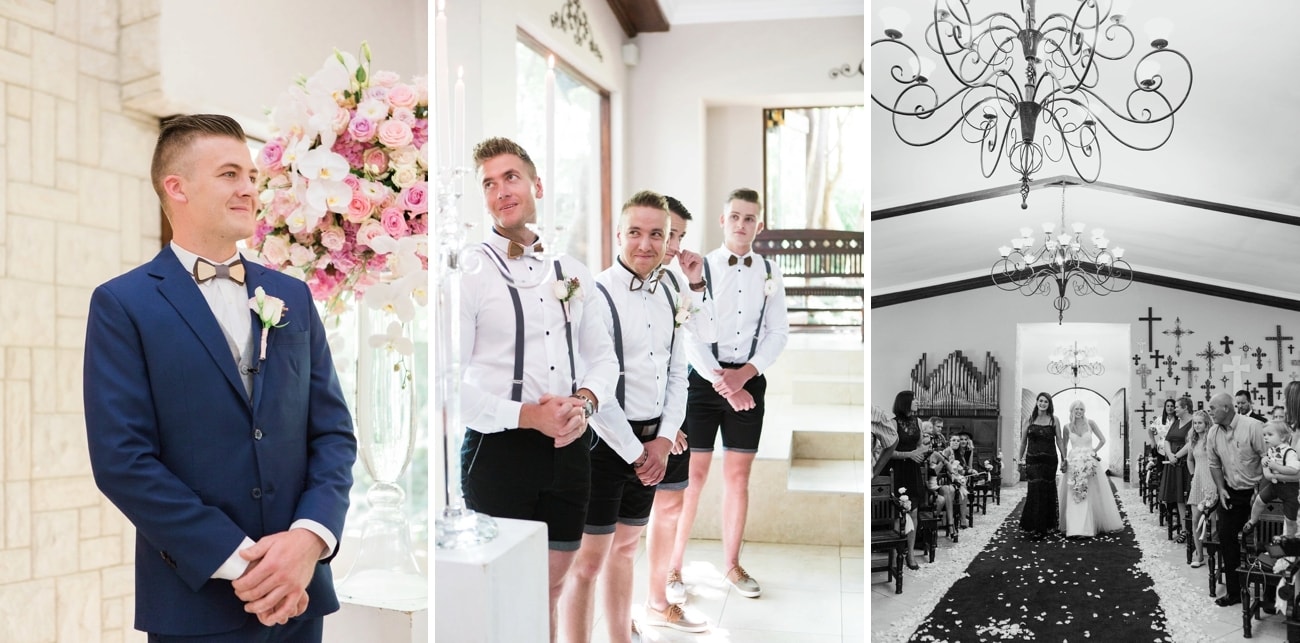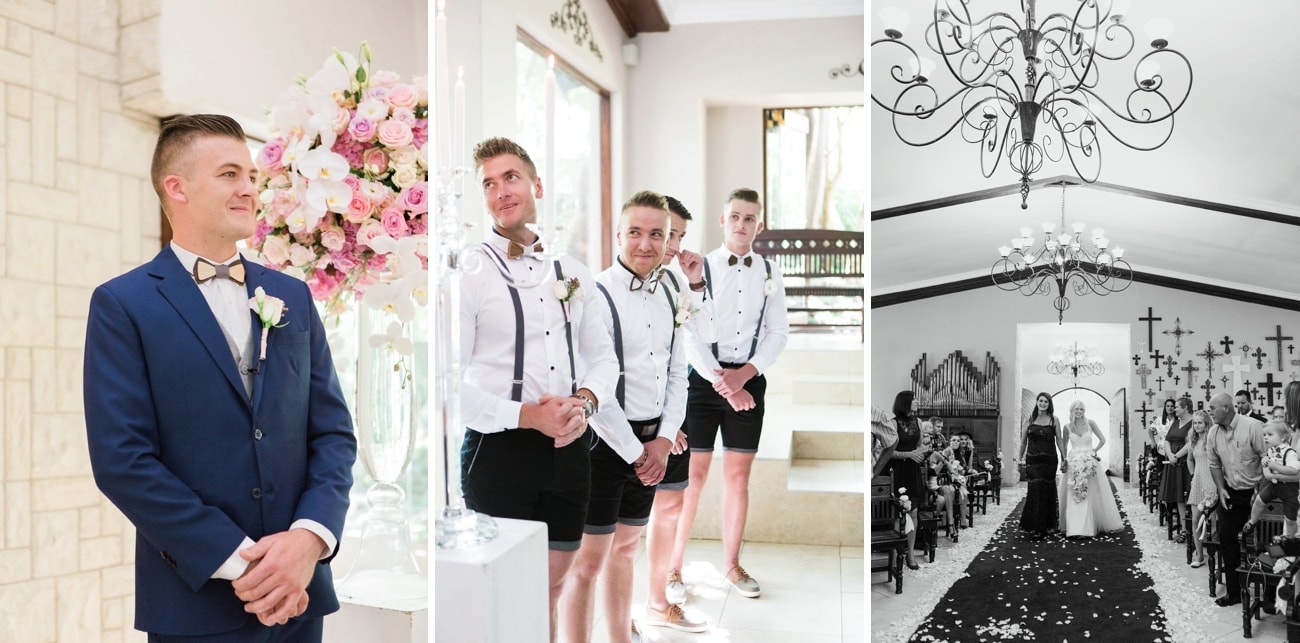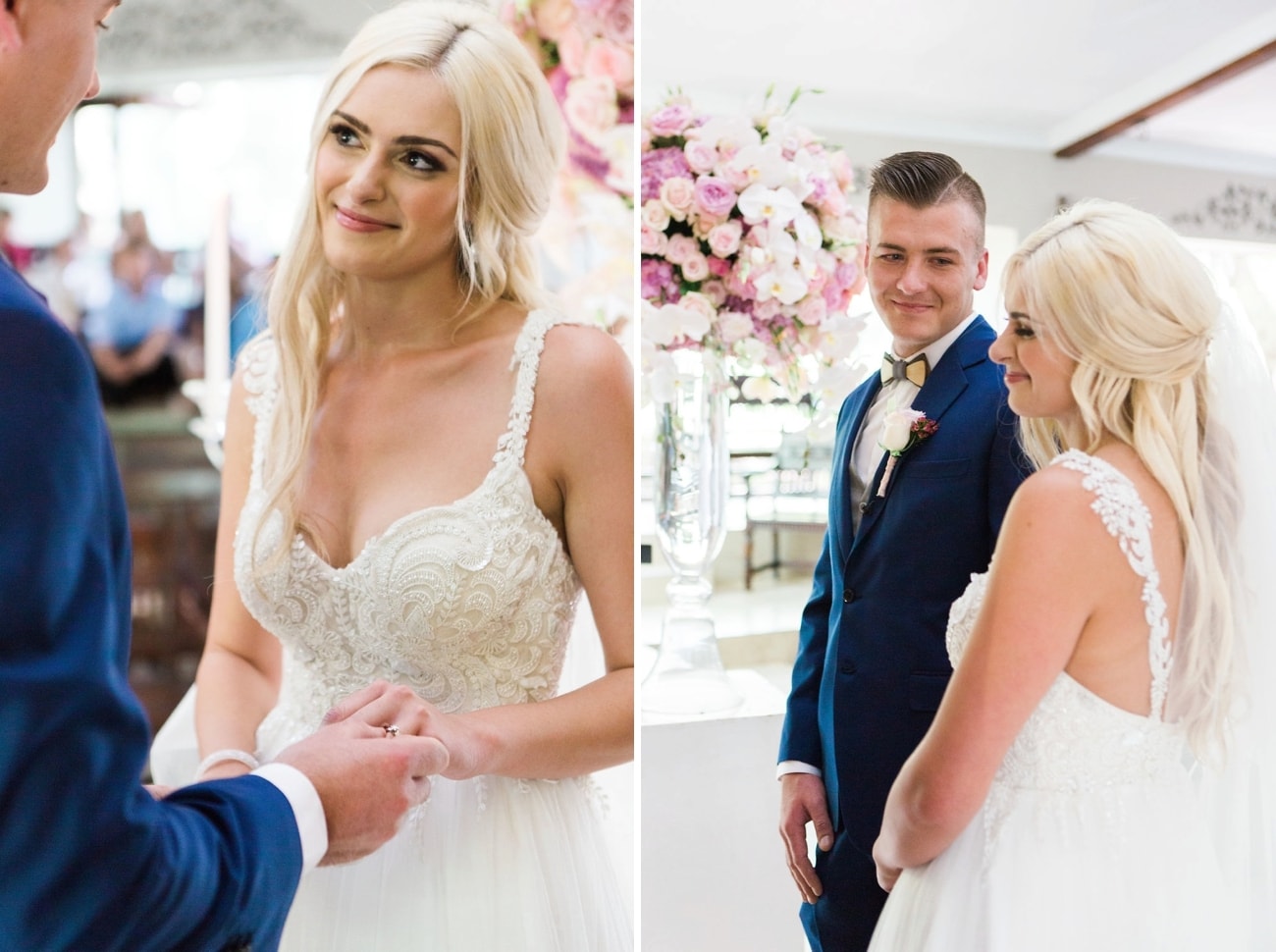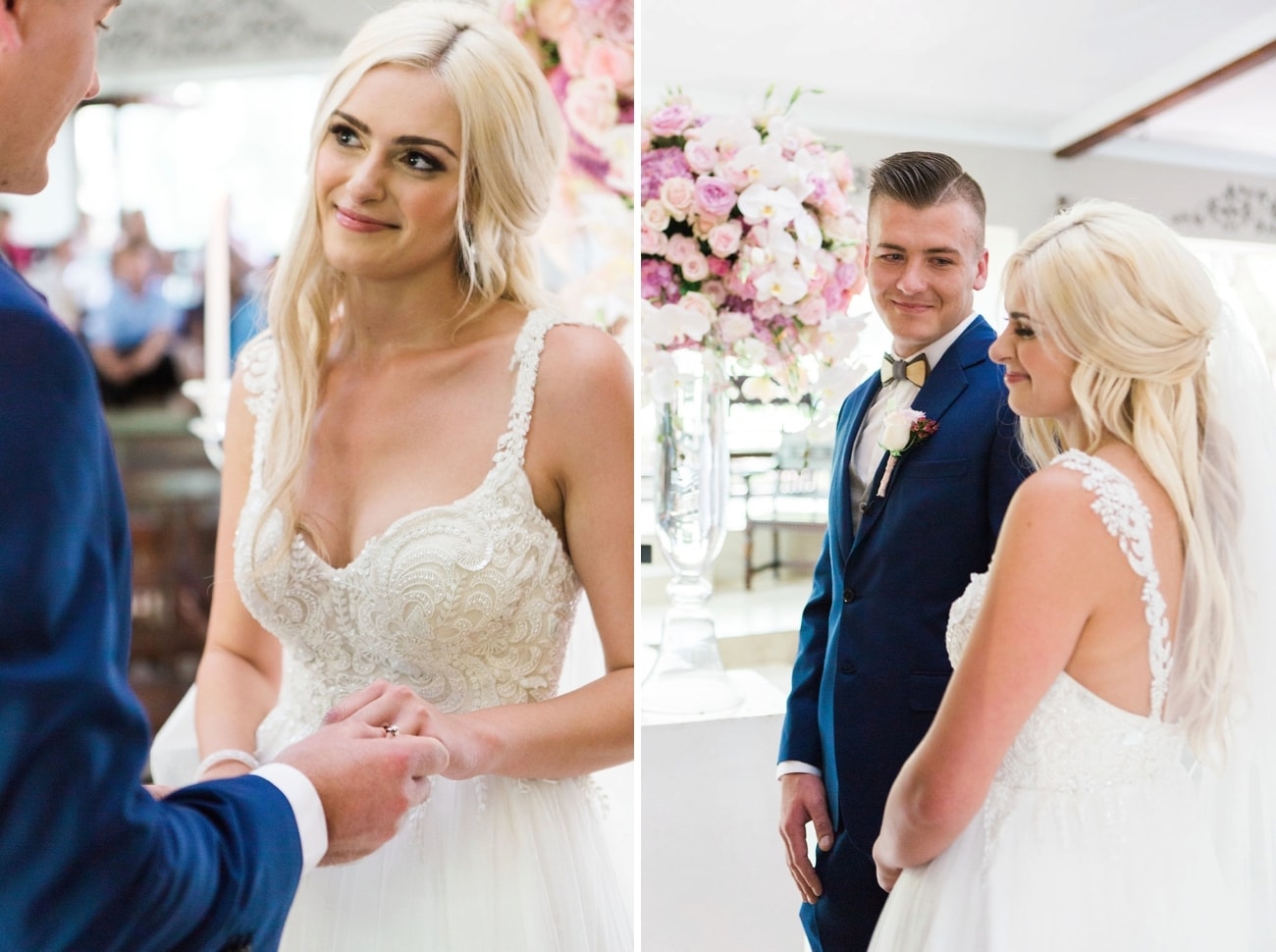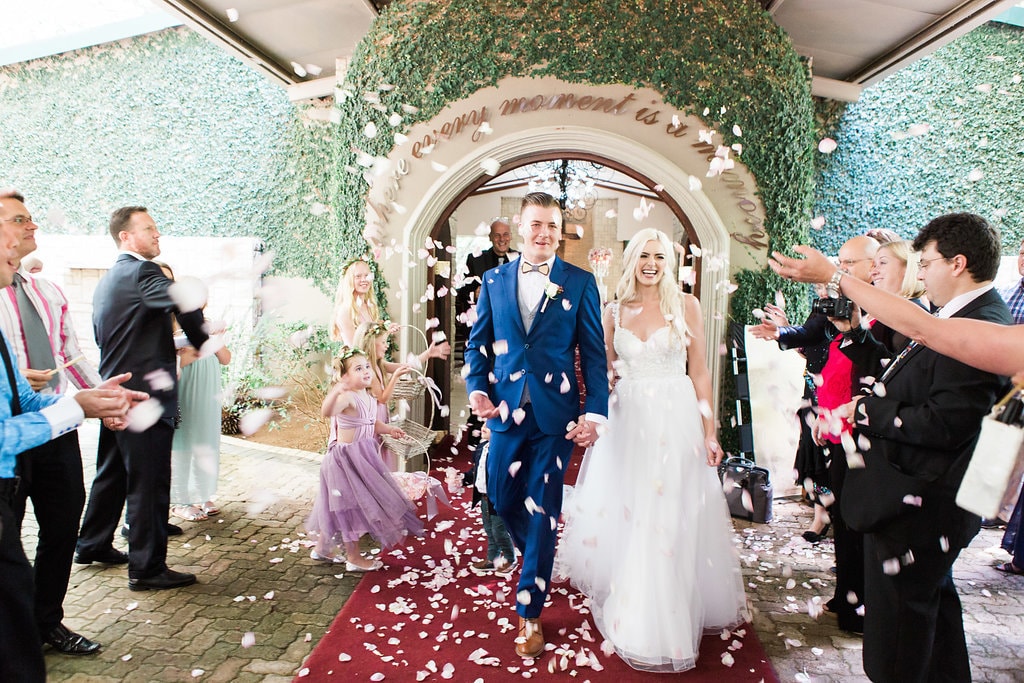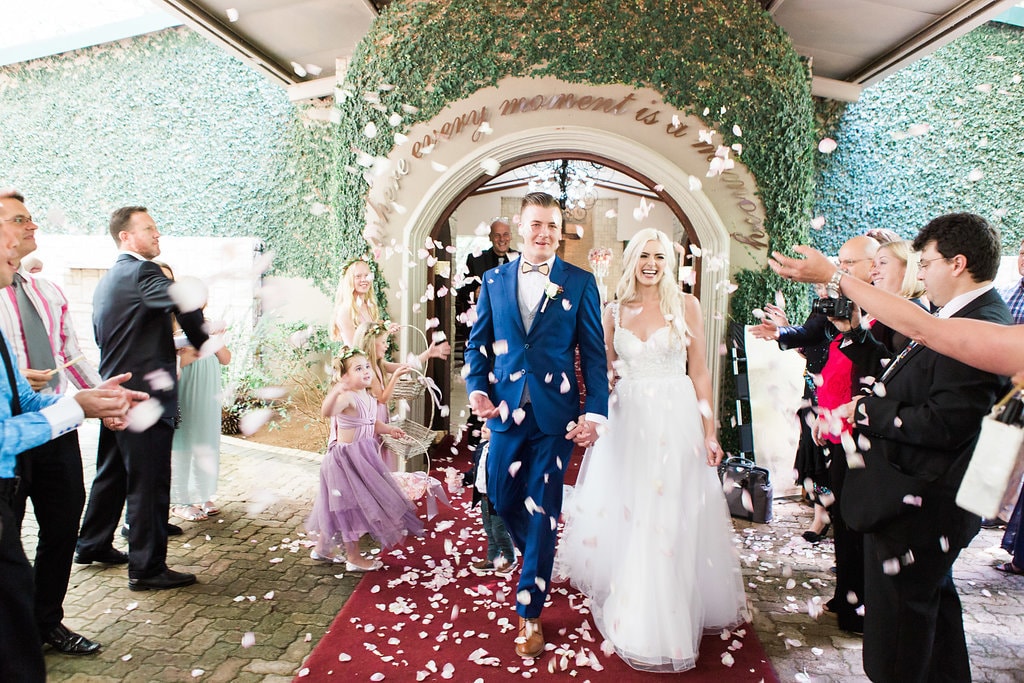 Wedding Details
We wanted our wedding cake to be personalised, but not with too much bling, so we decided to get cake toppers to resemble us. After the wedding, we kept them to remind us of our special day! Micah also had a lock designed with our names and wedding date – we added it to the 'lock garden' at Memoire and threw the key into the stream, symbolising everlasting love!
DIY Elements
Our lock, wish board 'guest book', bowties and garter were all handmade.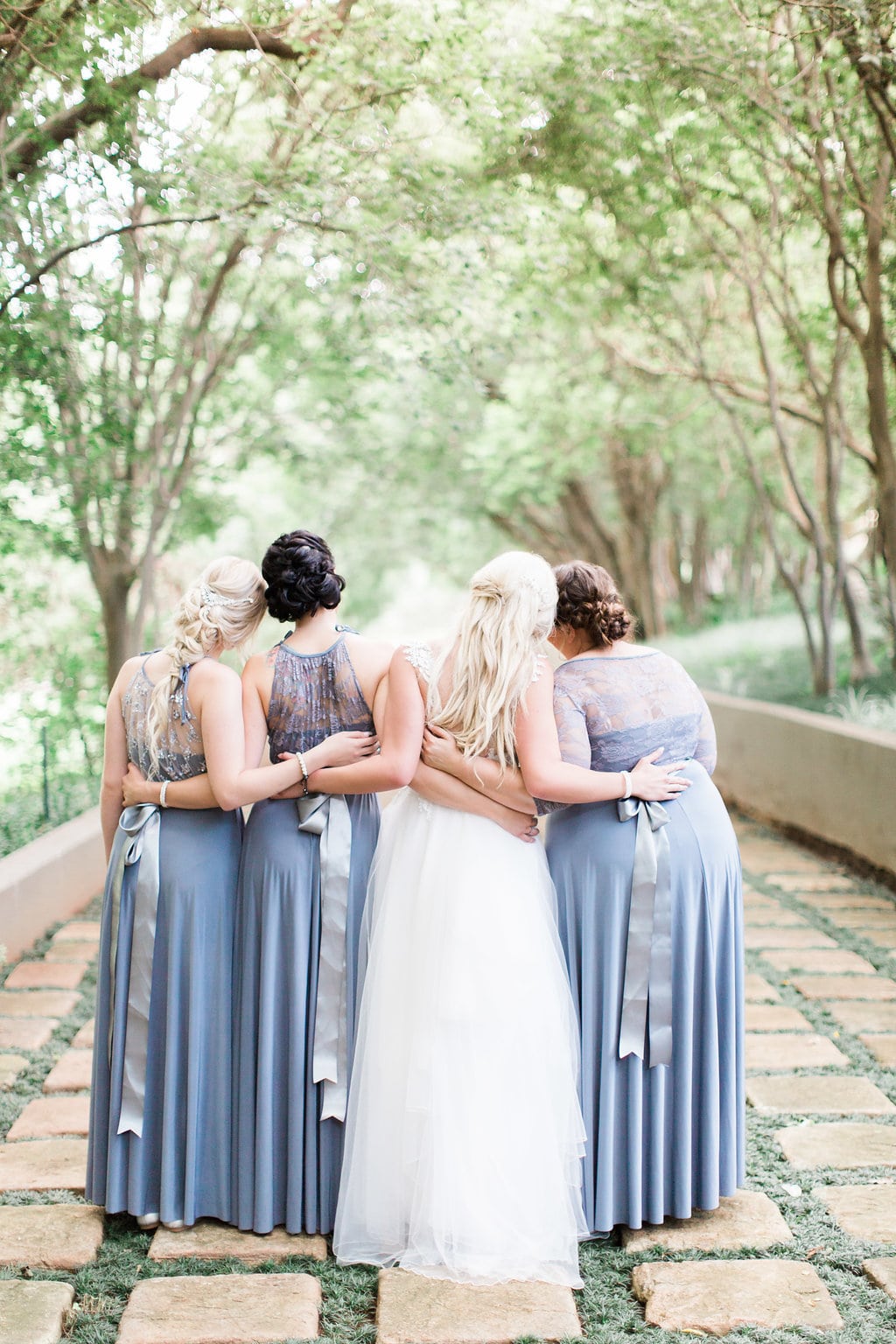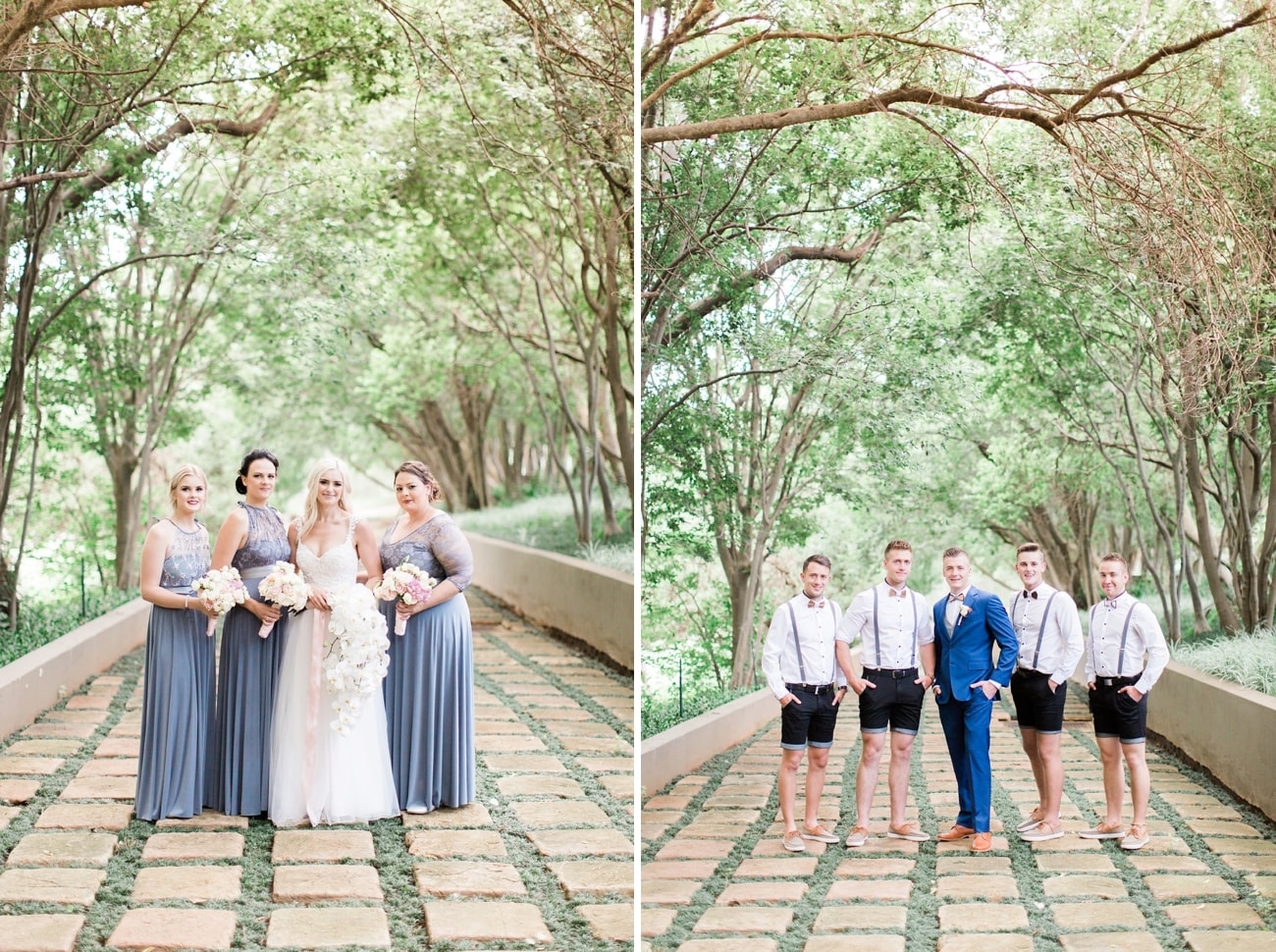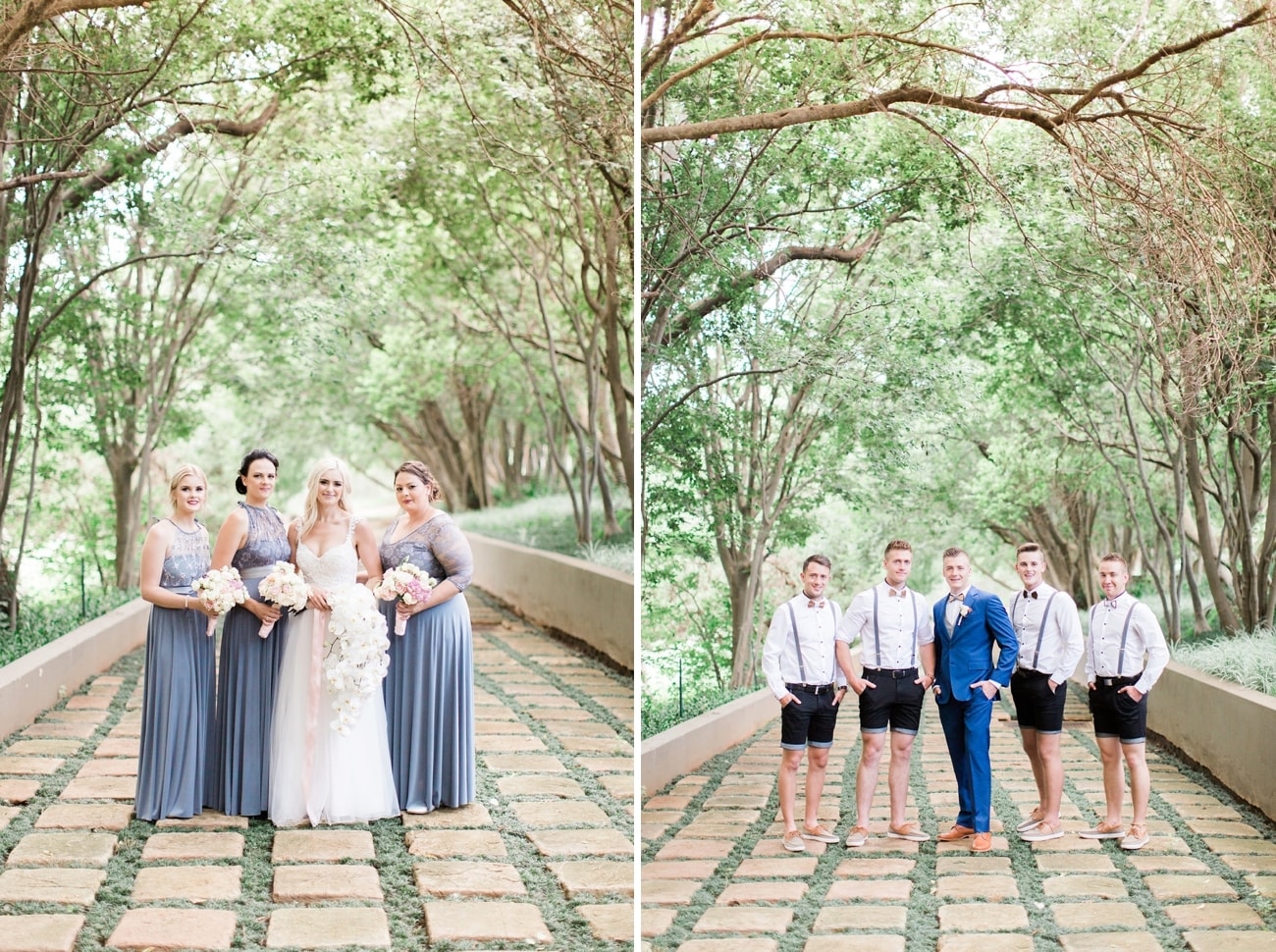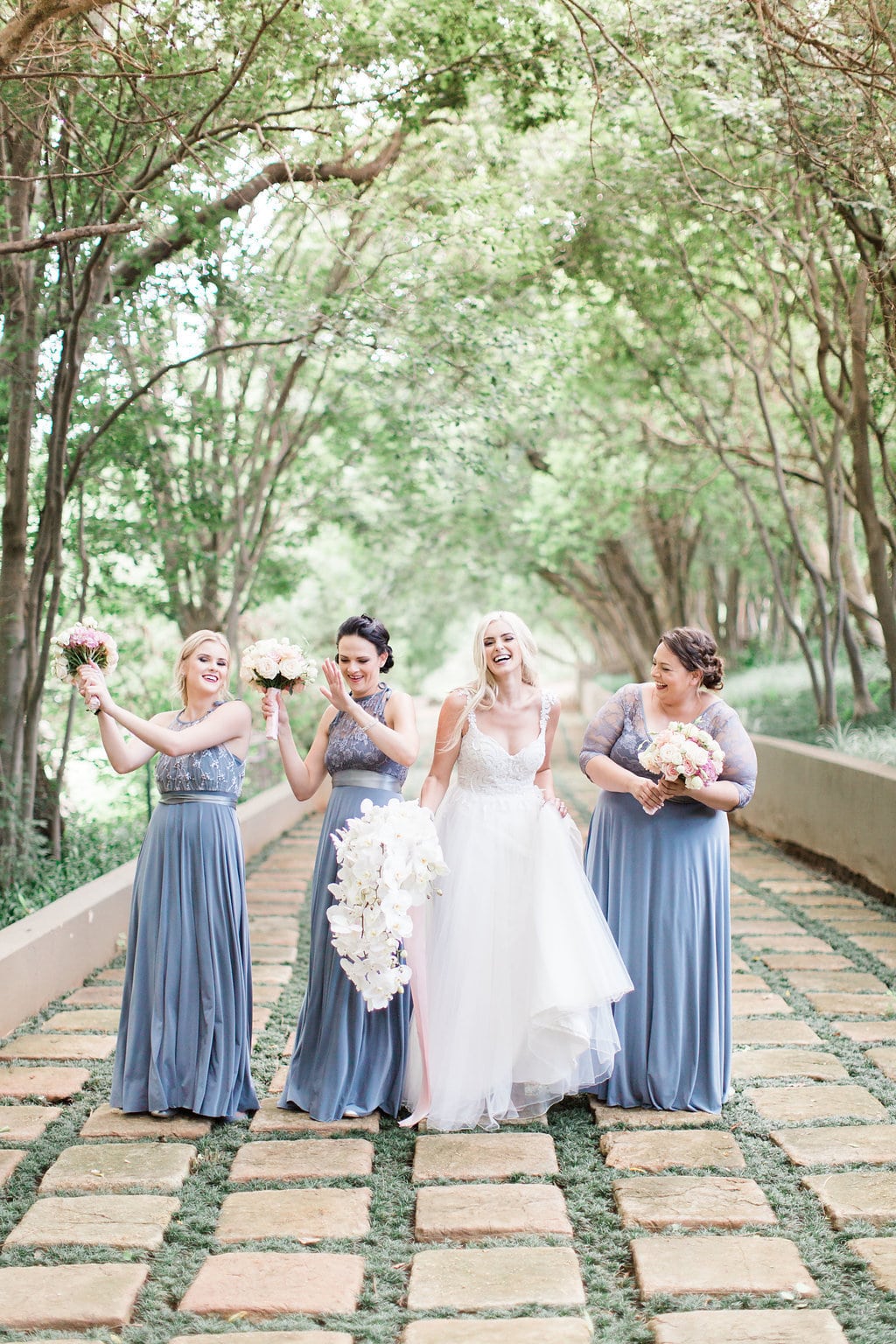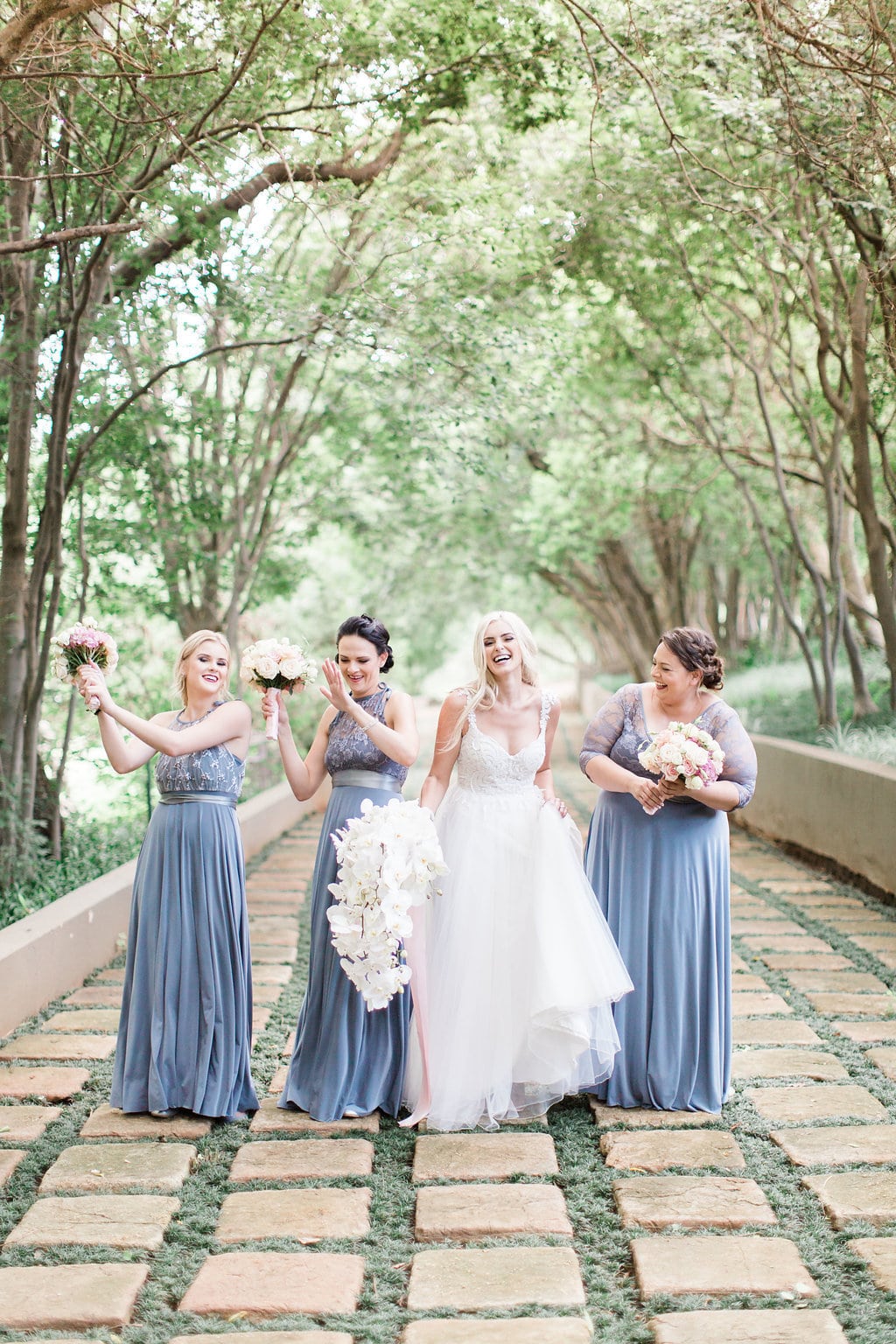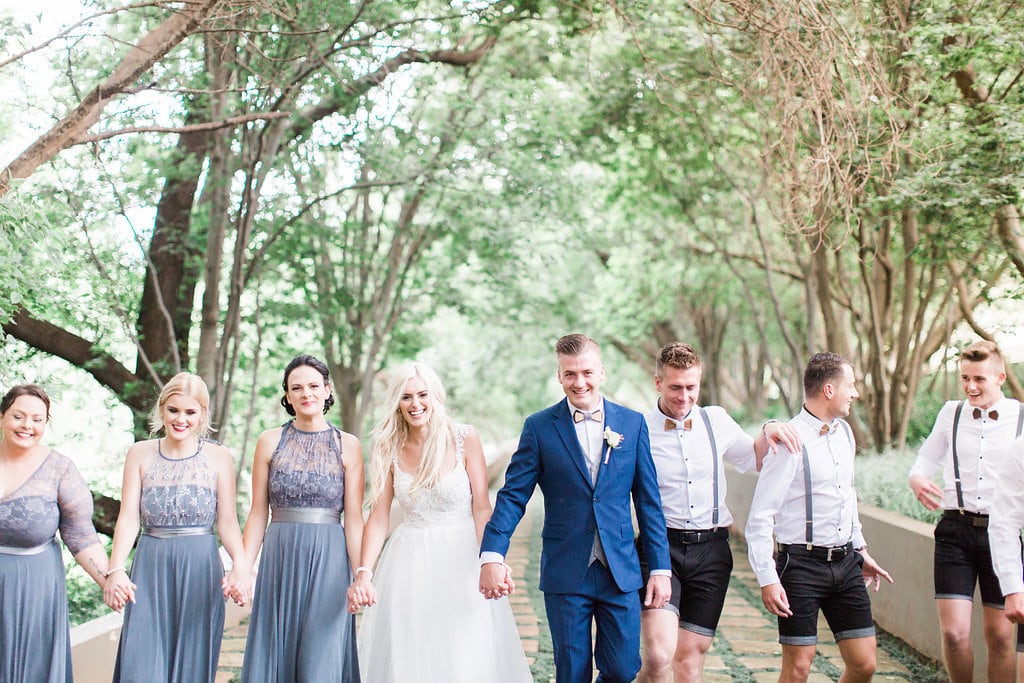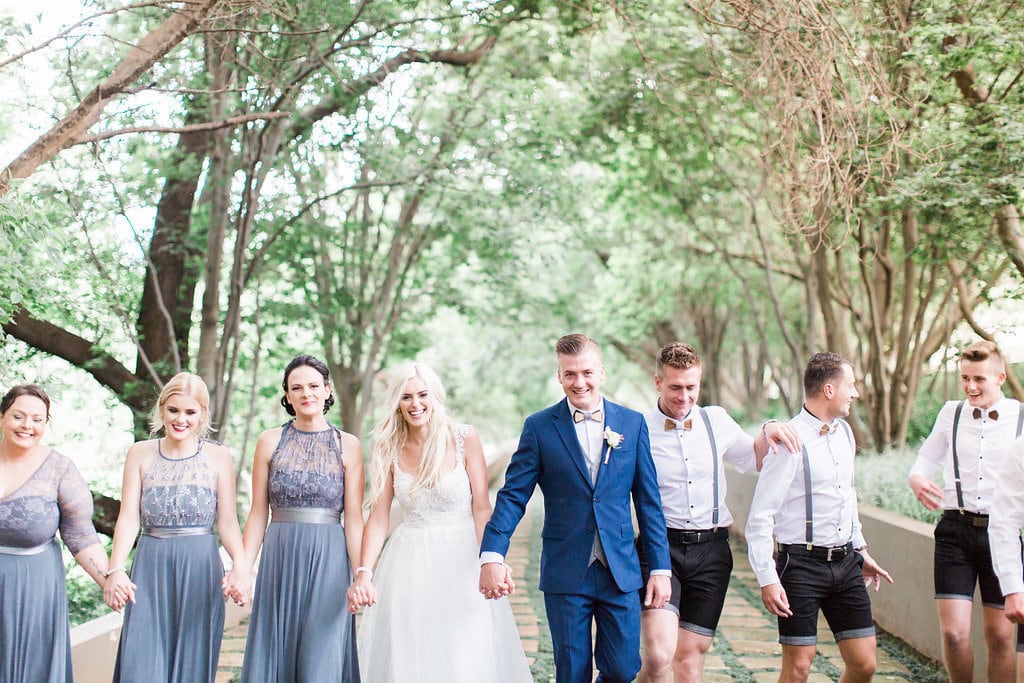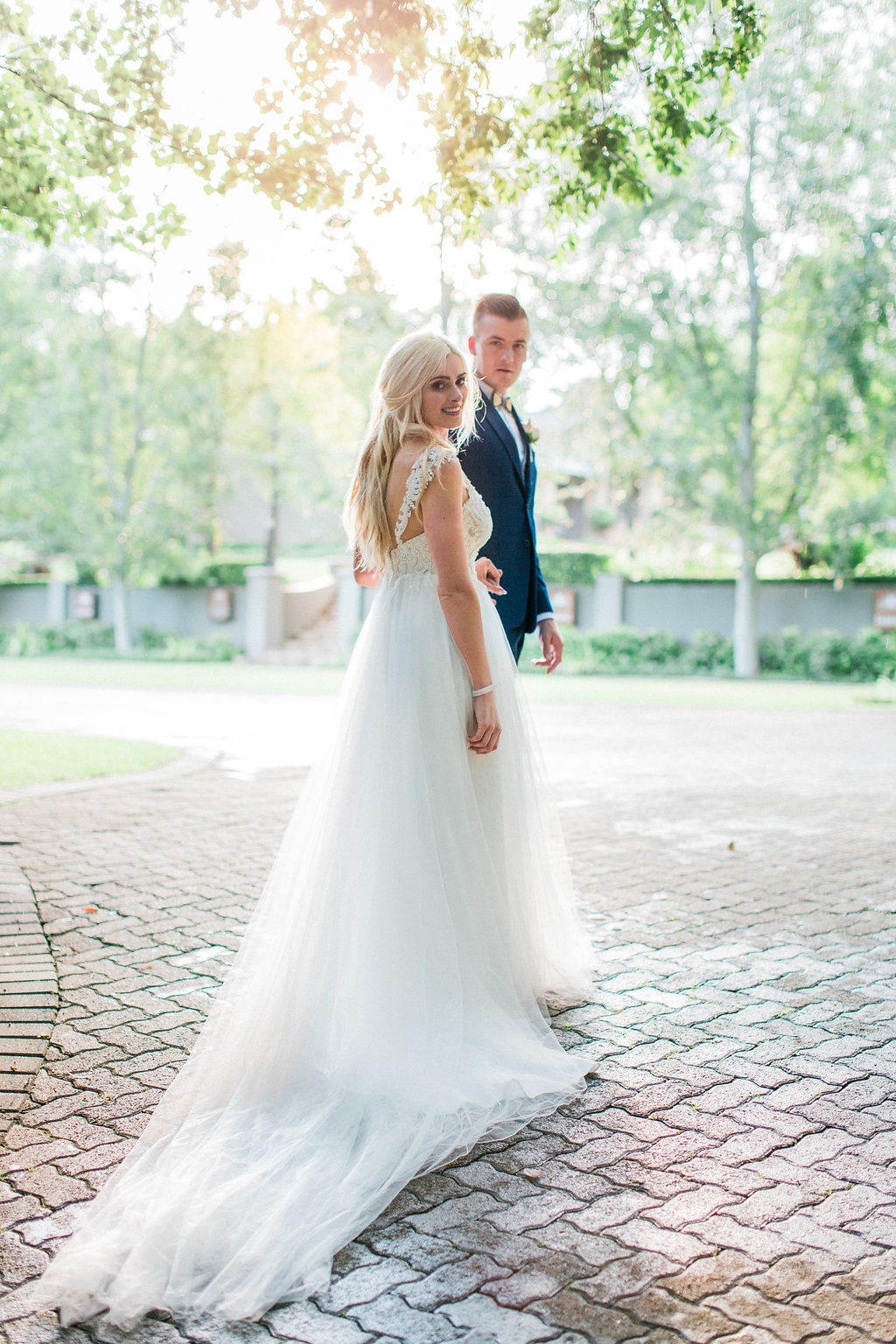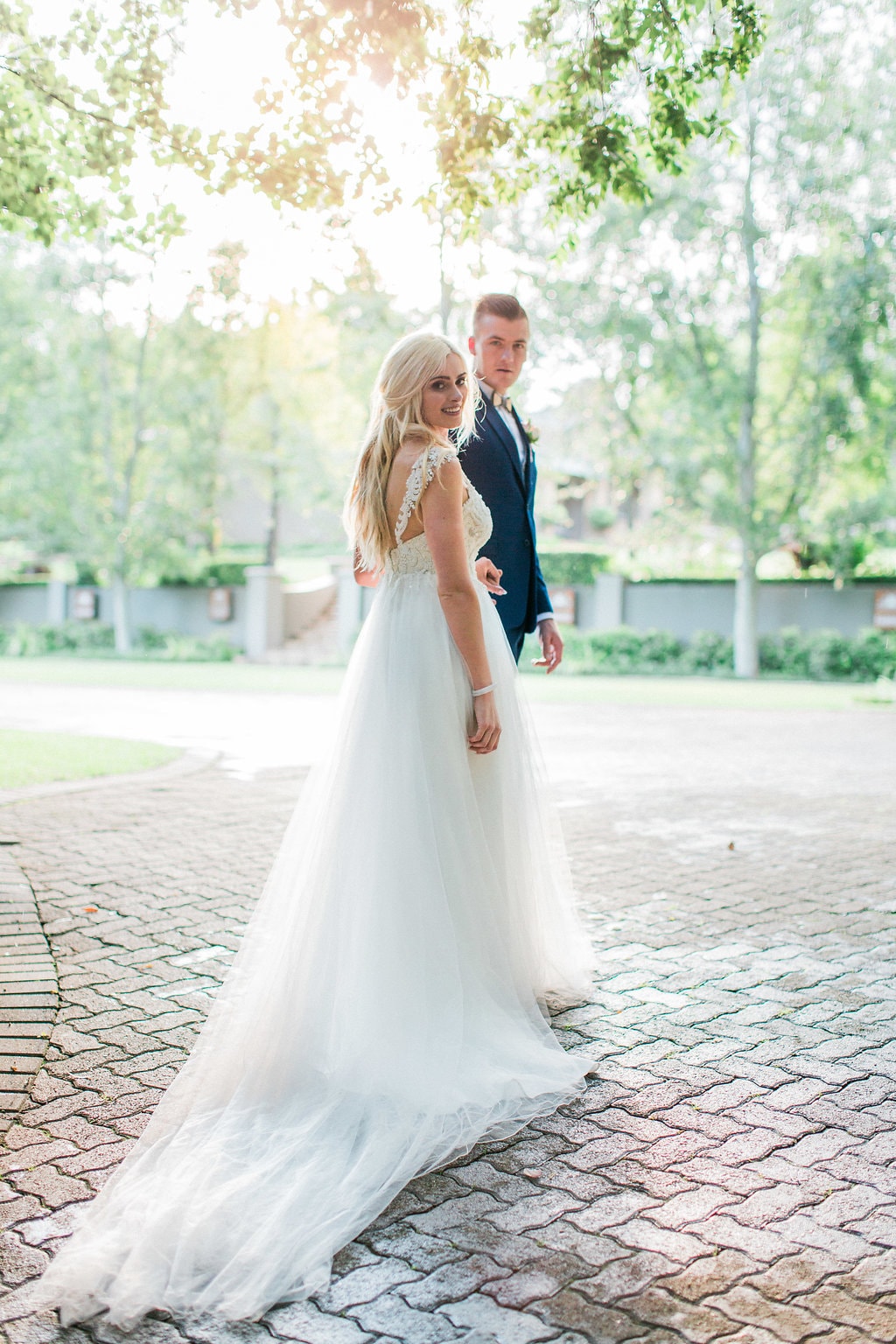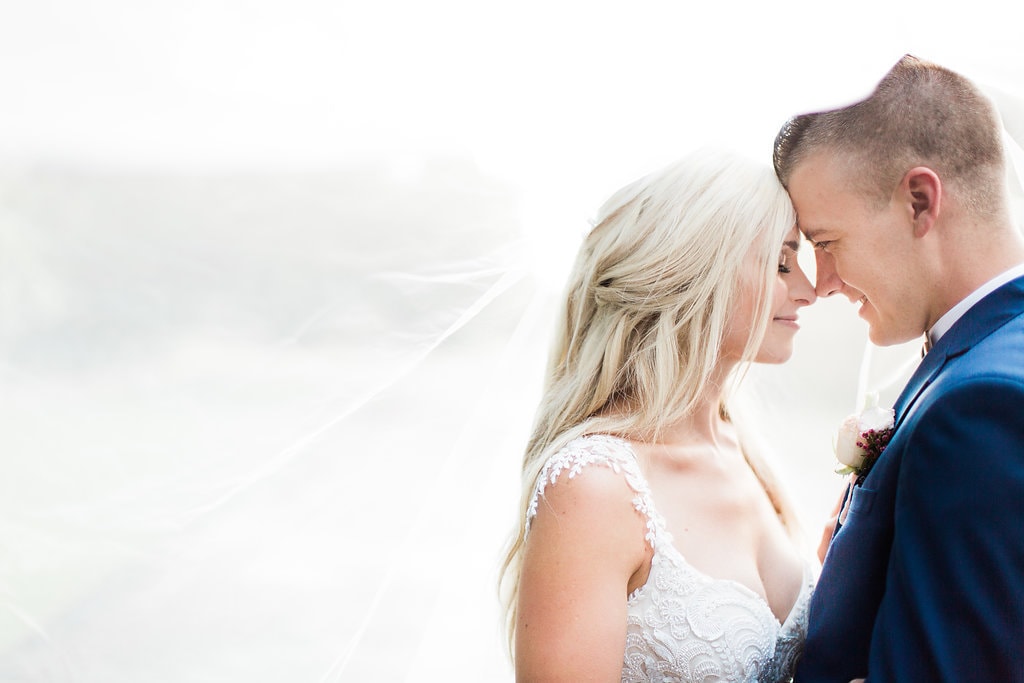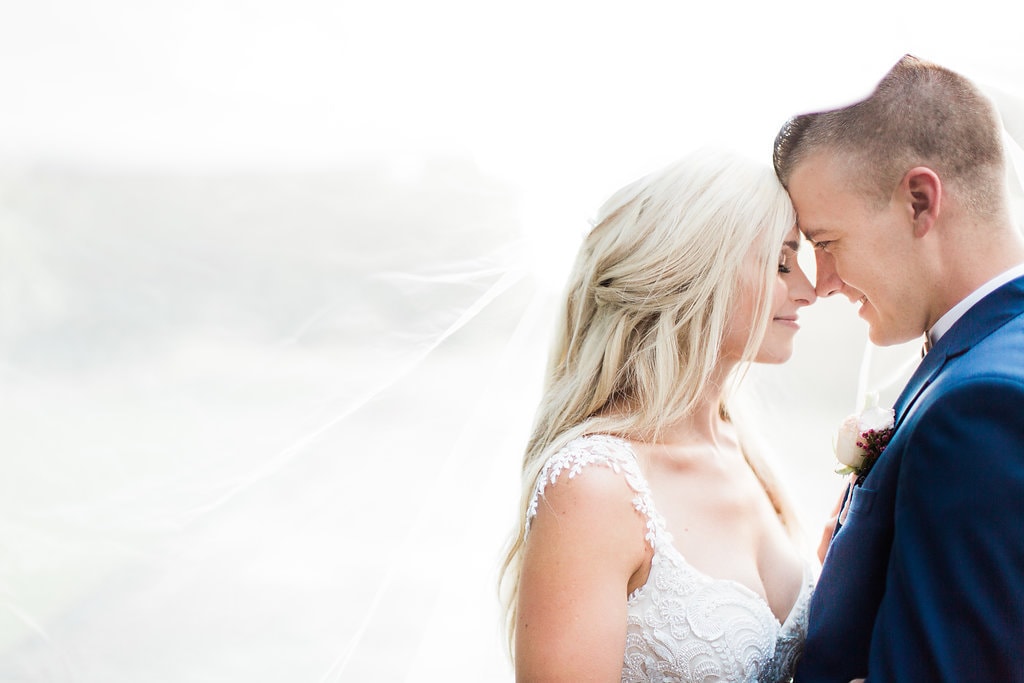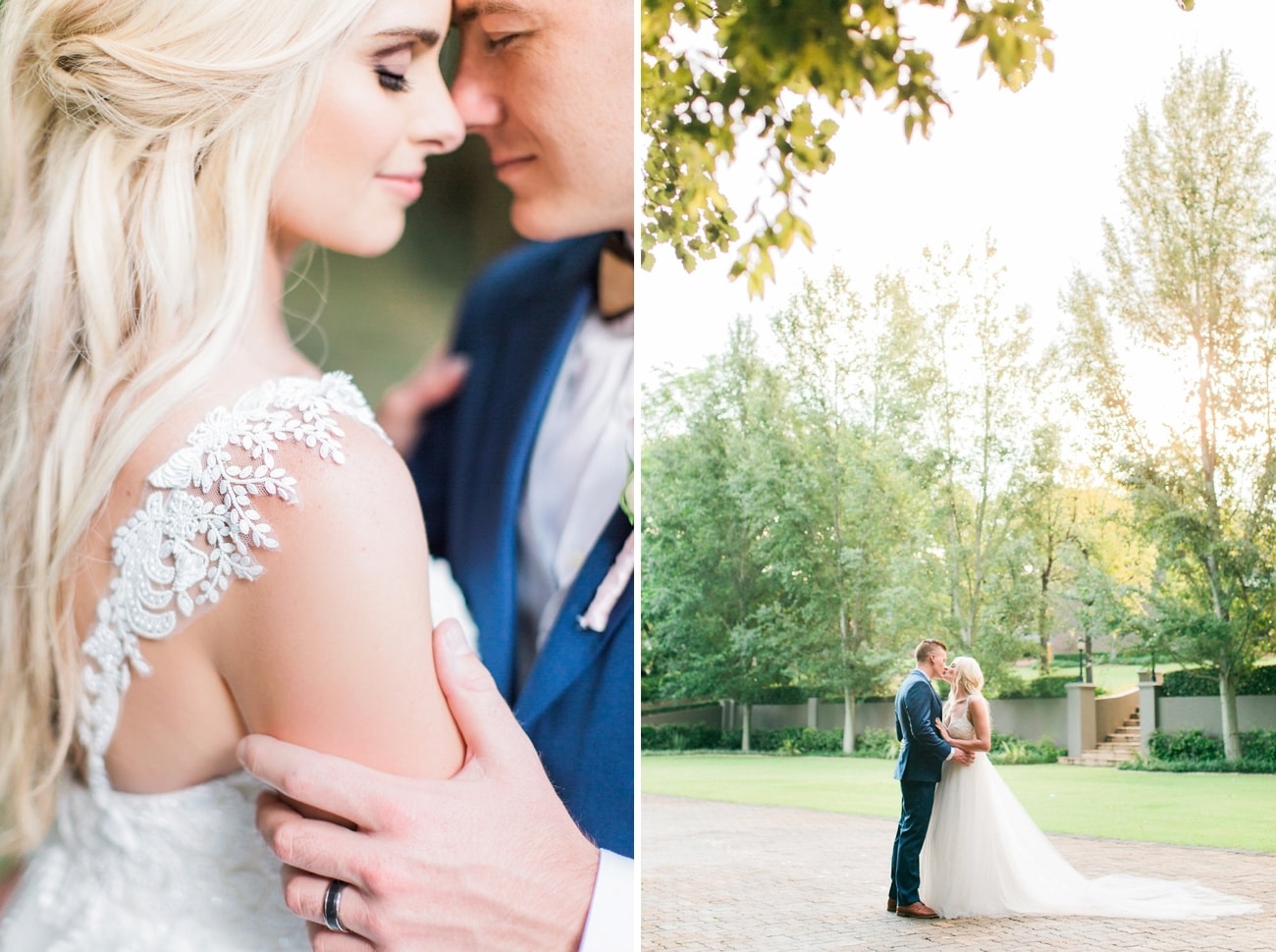 The Dress
I wanted my dress to be as breathtaking to Micah as he was to me the first time we met. However, I didn't know where to begin when finding a wedding gown. Luckily, Zavion referred me to Calegra Bridal House in Pretoria. I had the honour of meeting Casey Jeanne, and I literally chose the second dress I tried on. I didn't even want to try on any others; I knew it was 'the one'. I then added extra tulle to my dress, as well as the Julienne beaded straps to make it more personalised, and added my vellies underneath – princess with a twist!
The Bridesmaids
I had three bridesmaids. I chose a soft, flowing style for them. Most of all I wanted each one of them to be comfortable, so I chose the basic dress, and they were allowed to change the sleeves, etc. to also add their touch. I chose Gelique for their beautiful dresses.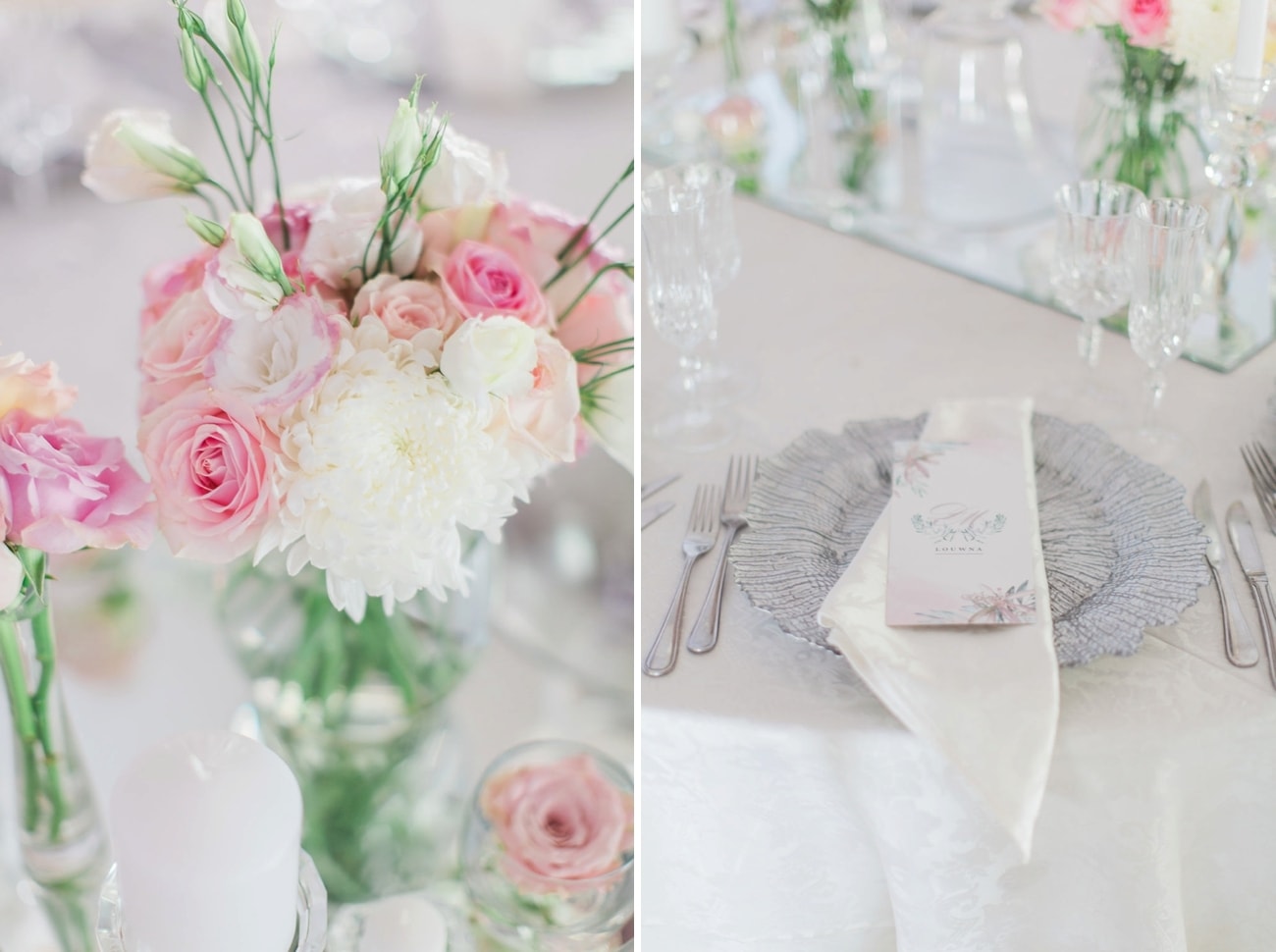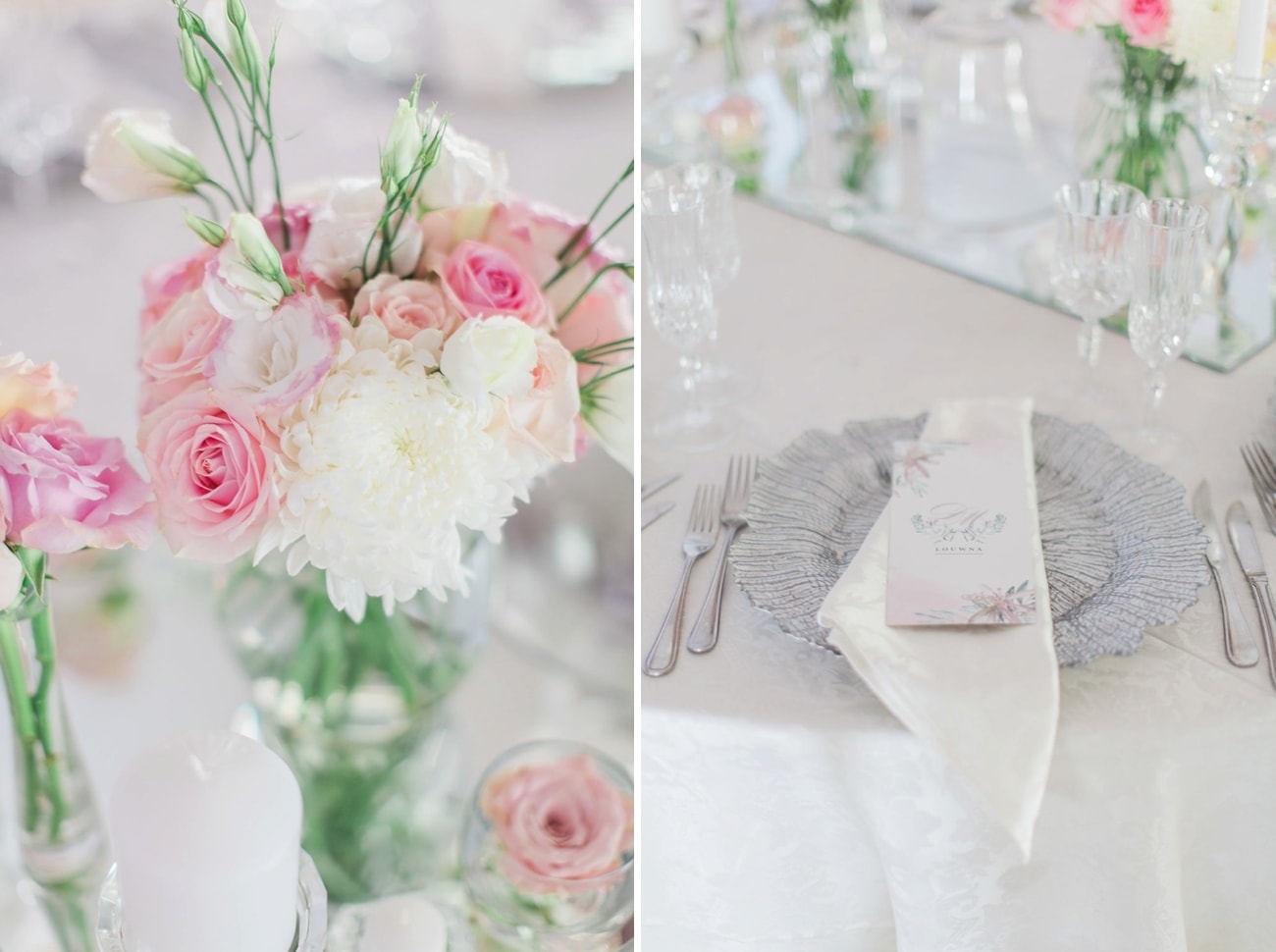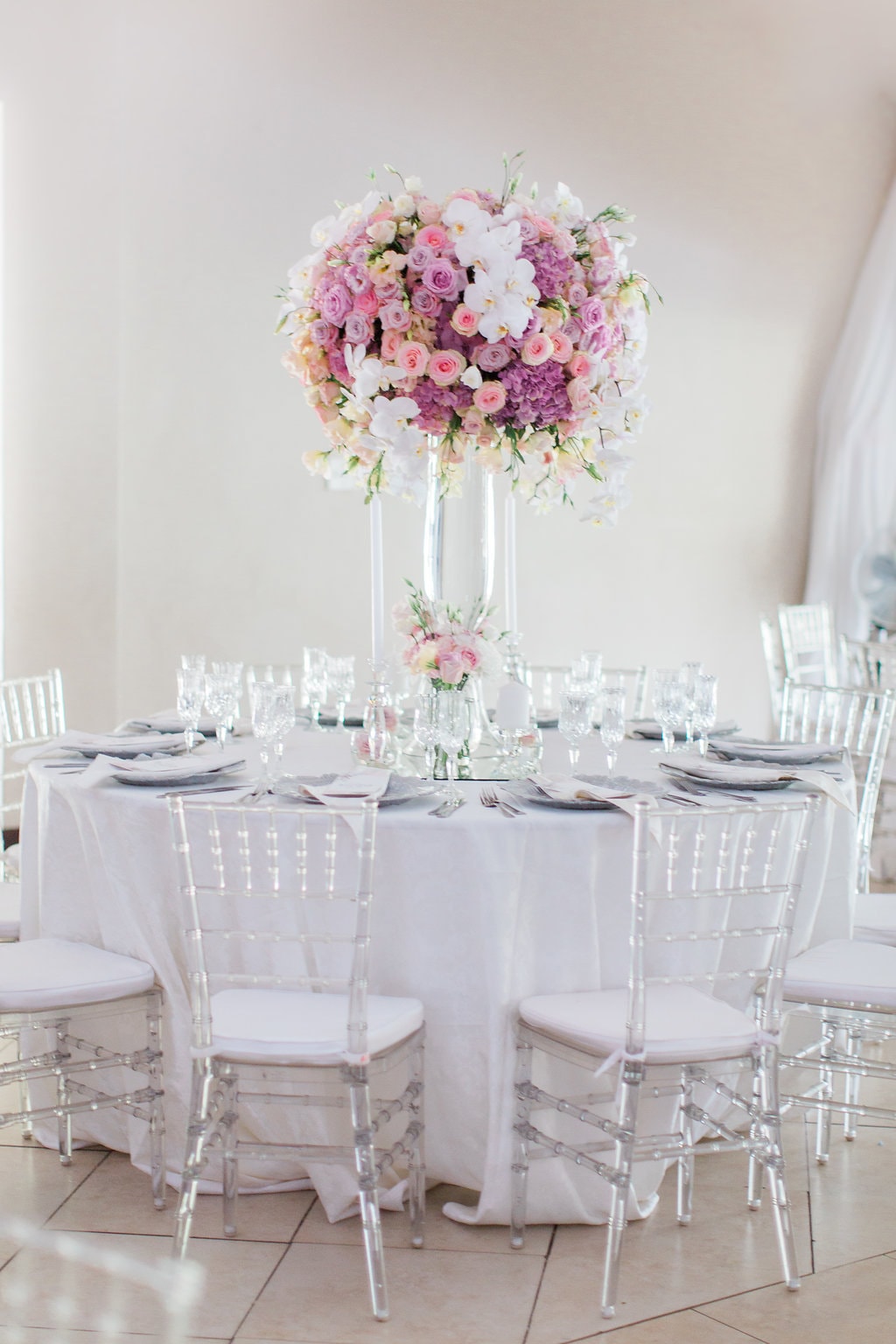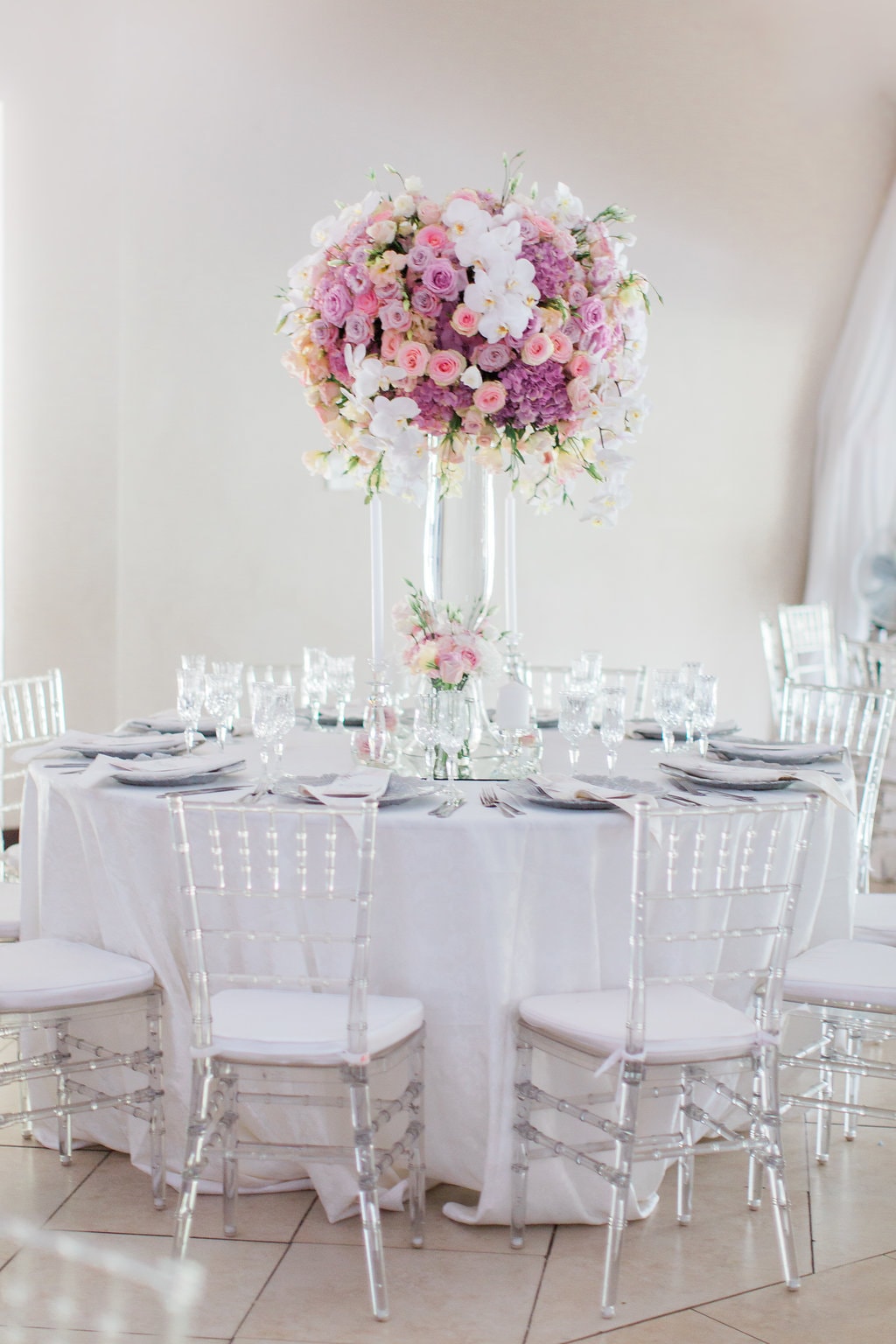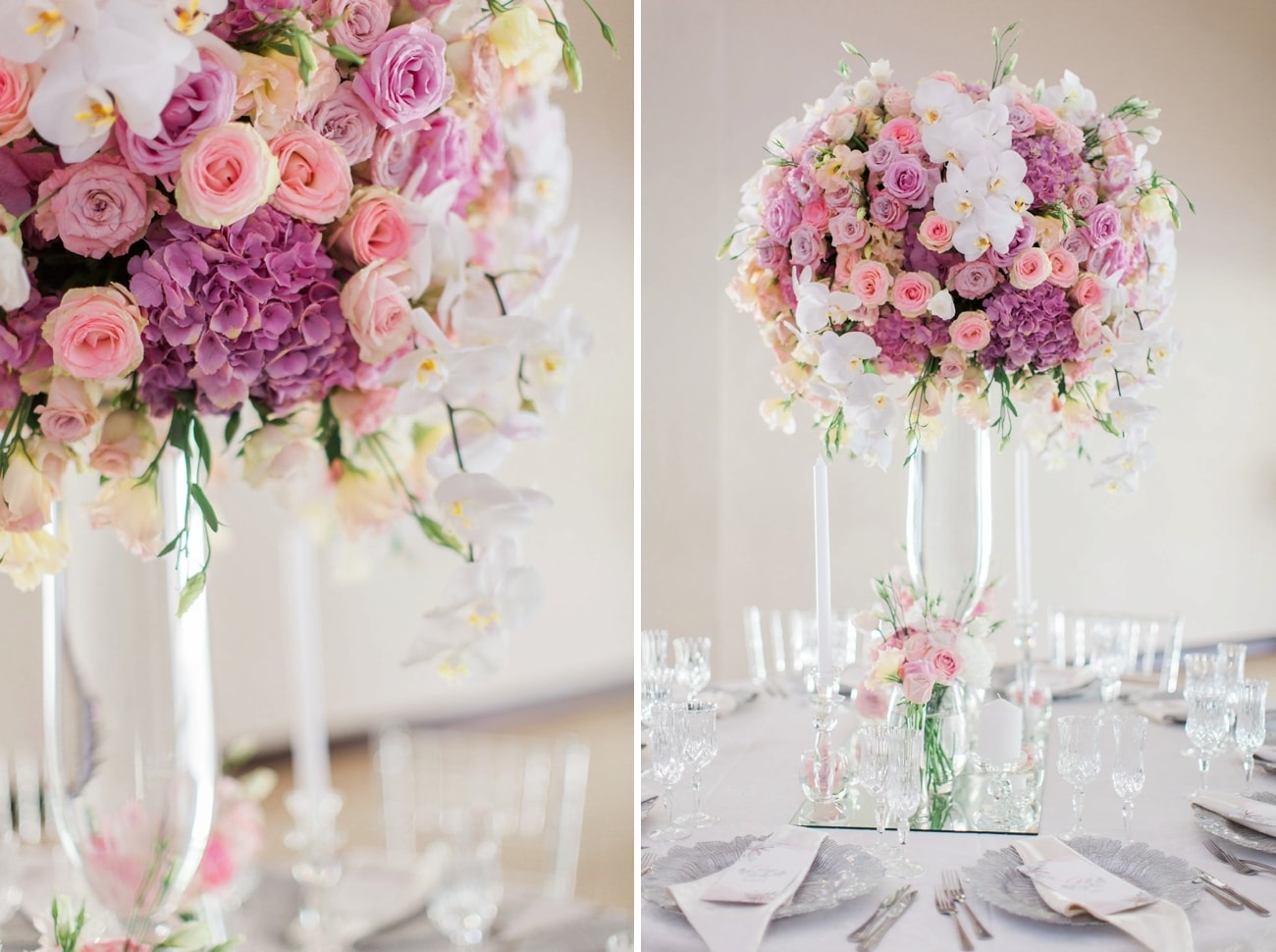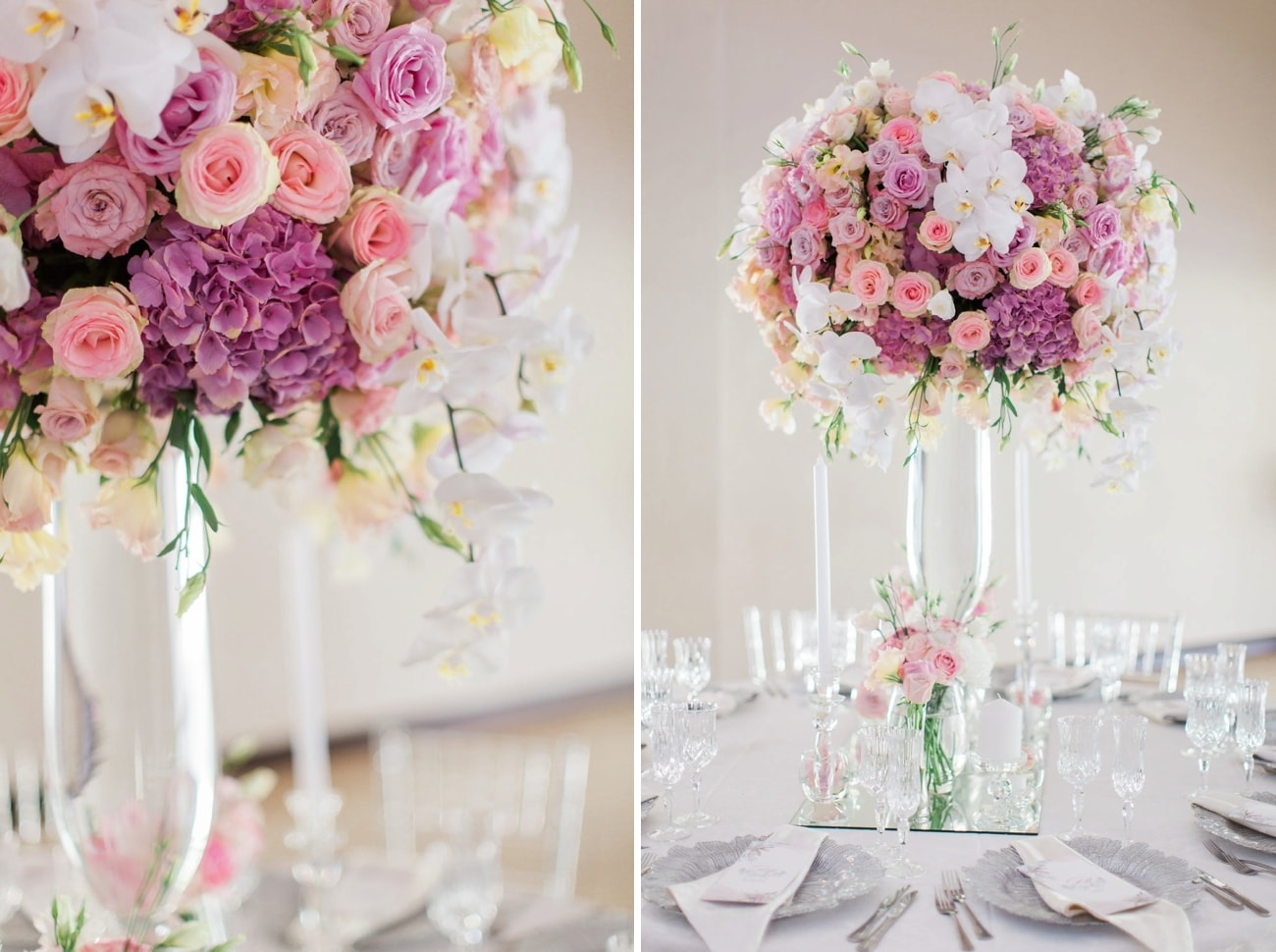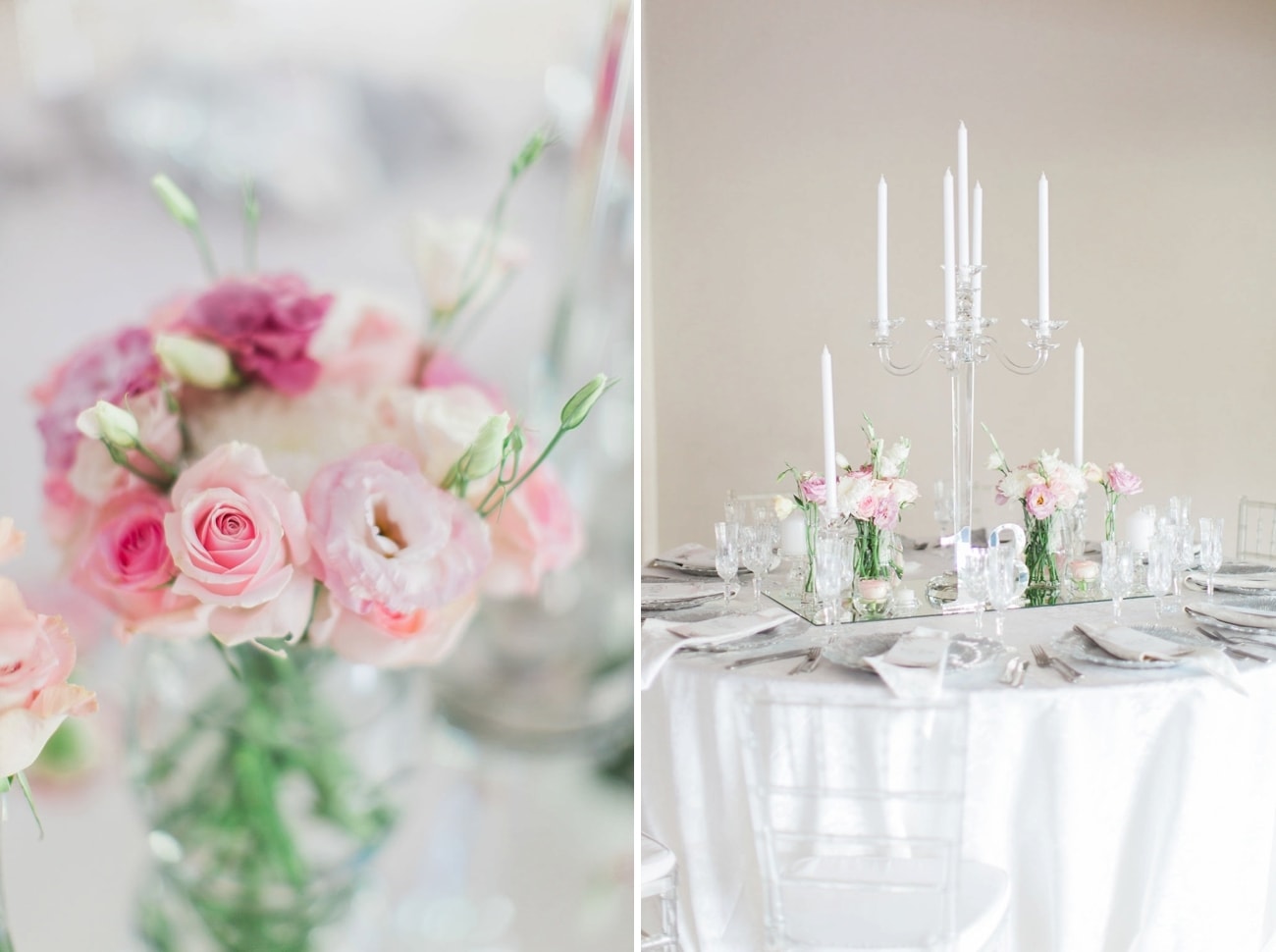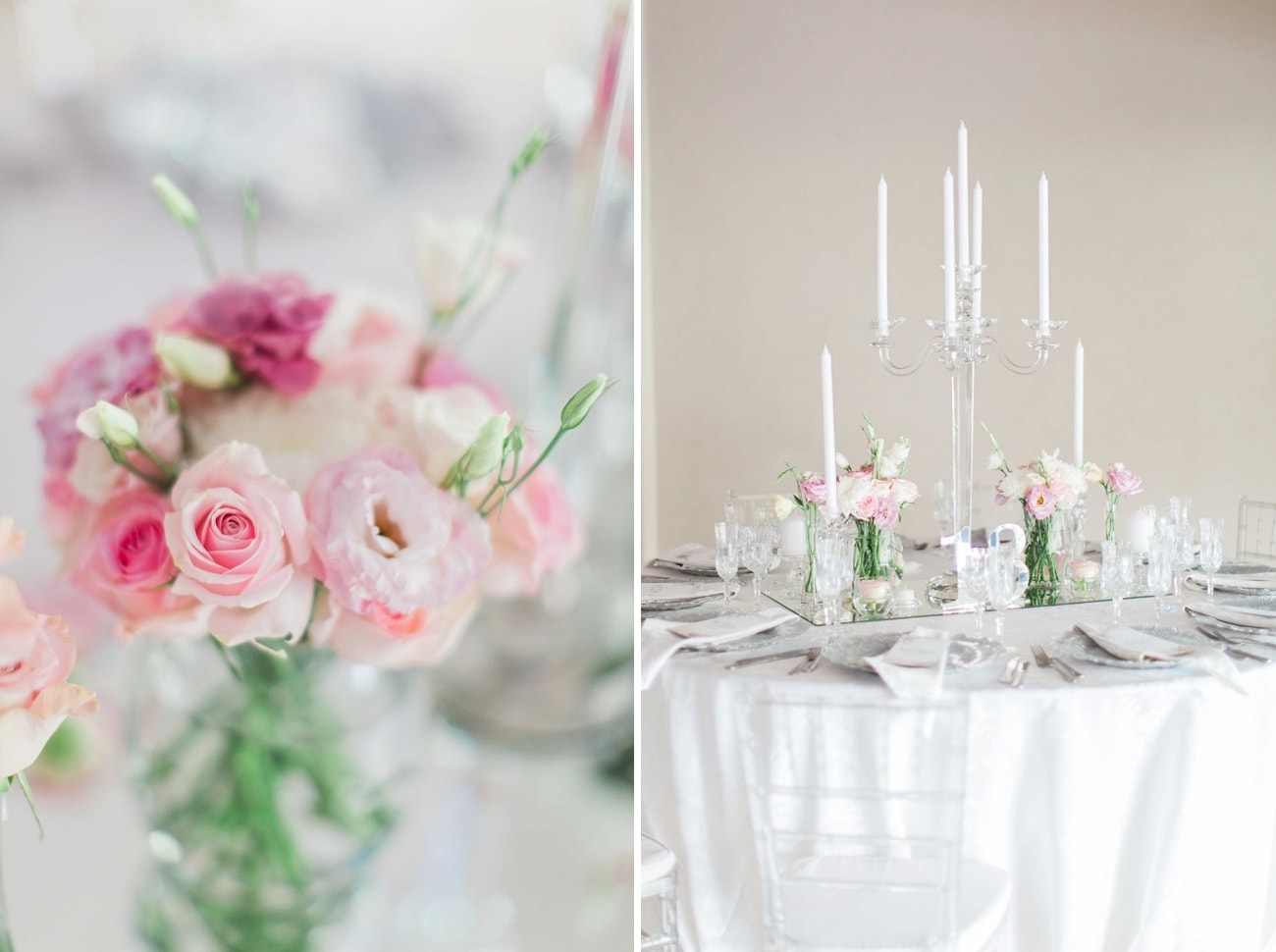 The Flowers
Micah and I are both people who rather go a bit overboard in assuring that something looks incredible and perfect, to make it more memorable (I think it is because he is a German and it has rubbed off on me!) We wanted our flowers to be soft, subtle and still be breathtaking at the same time. We chose soft pastel colours, and had lots of pastel pink roses, hydrangeas and beautiful orchid arrangements.
Memorable Moment
Definitely our first dance. It was when we both just had the time to process that "wow we are finally married" feeling and to just cherish that very special moment between the two of us.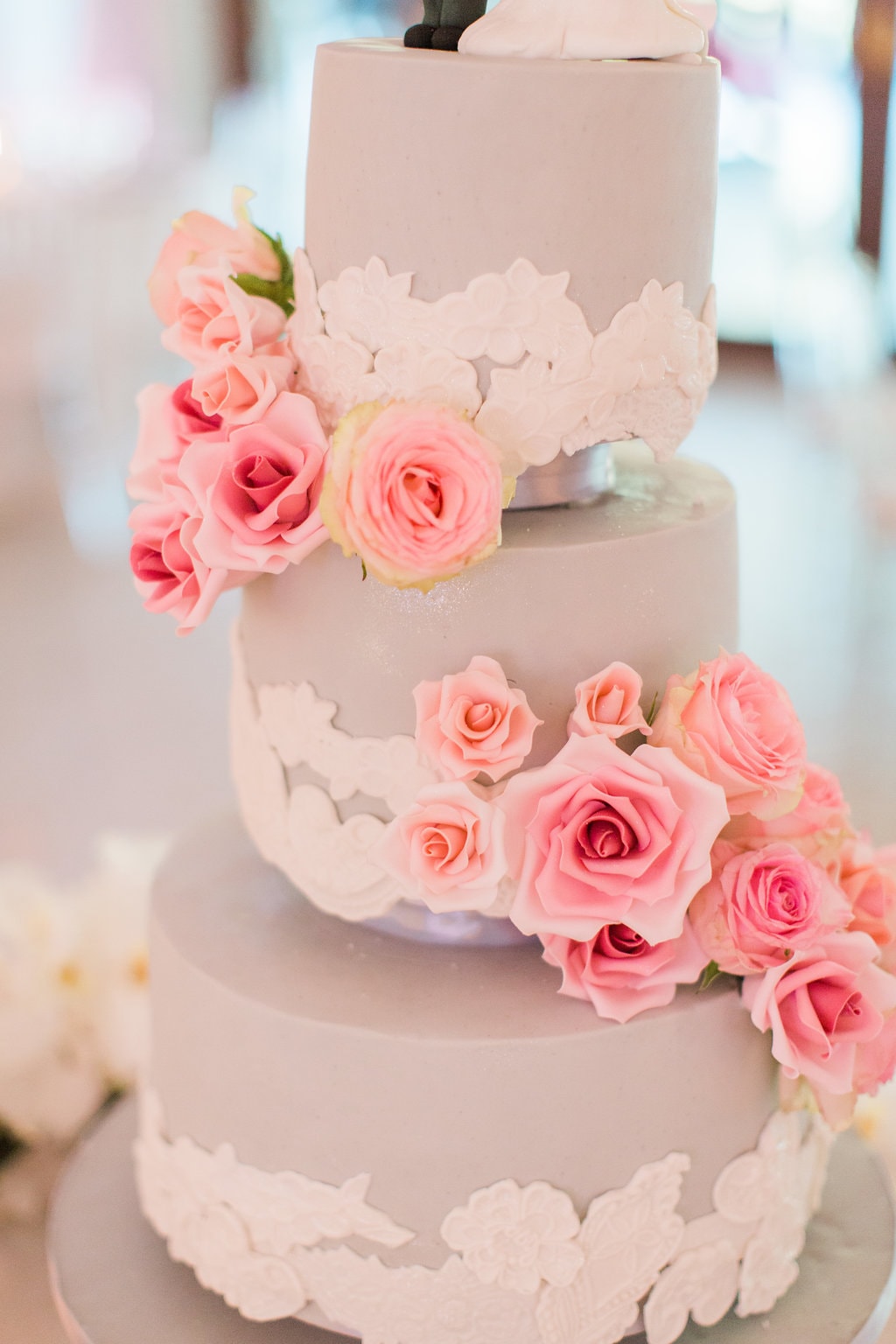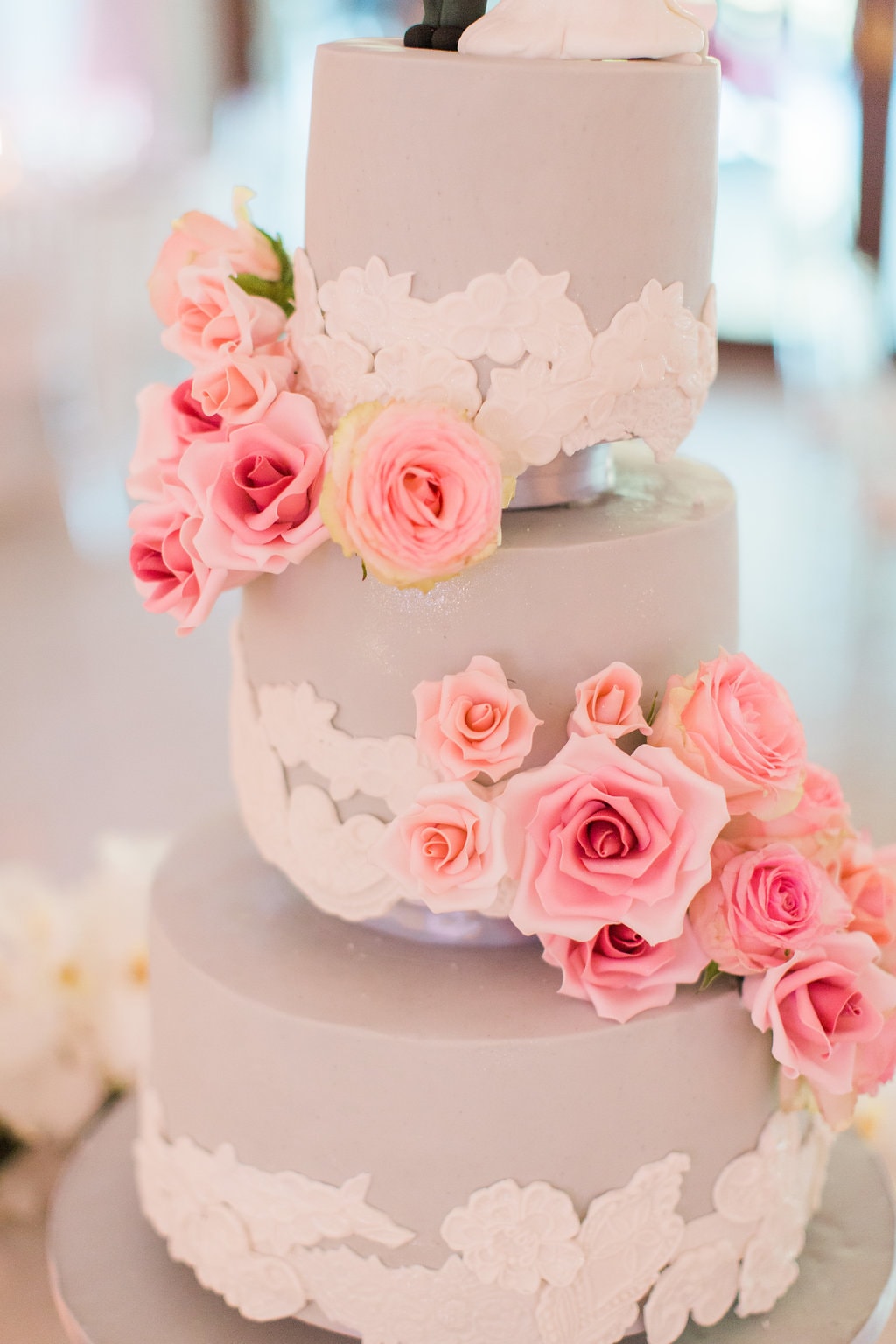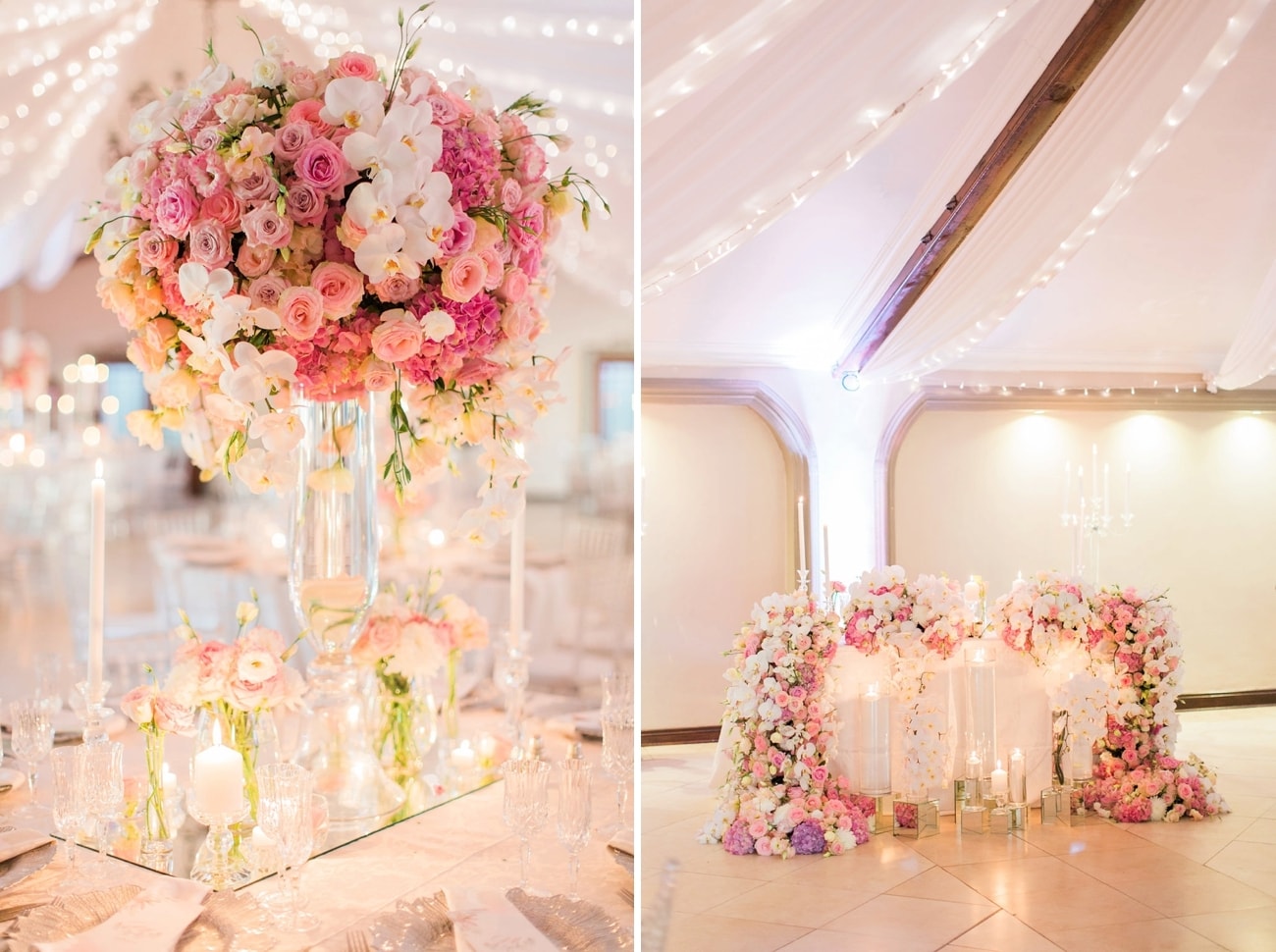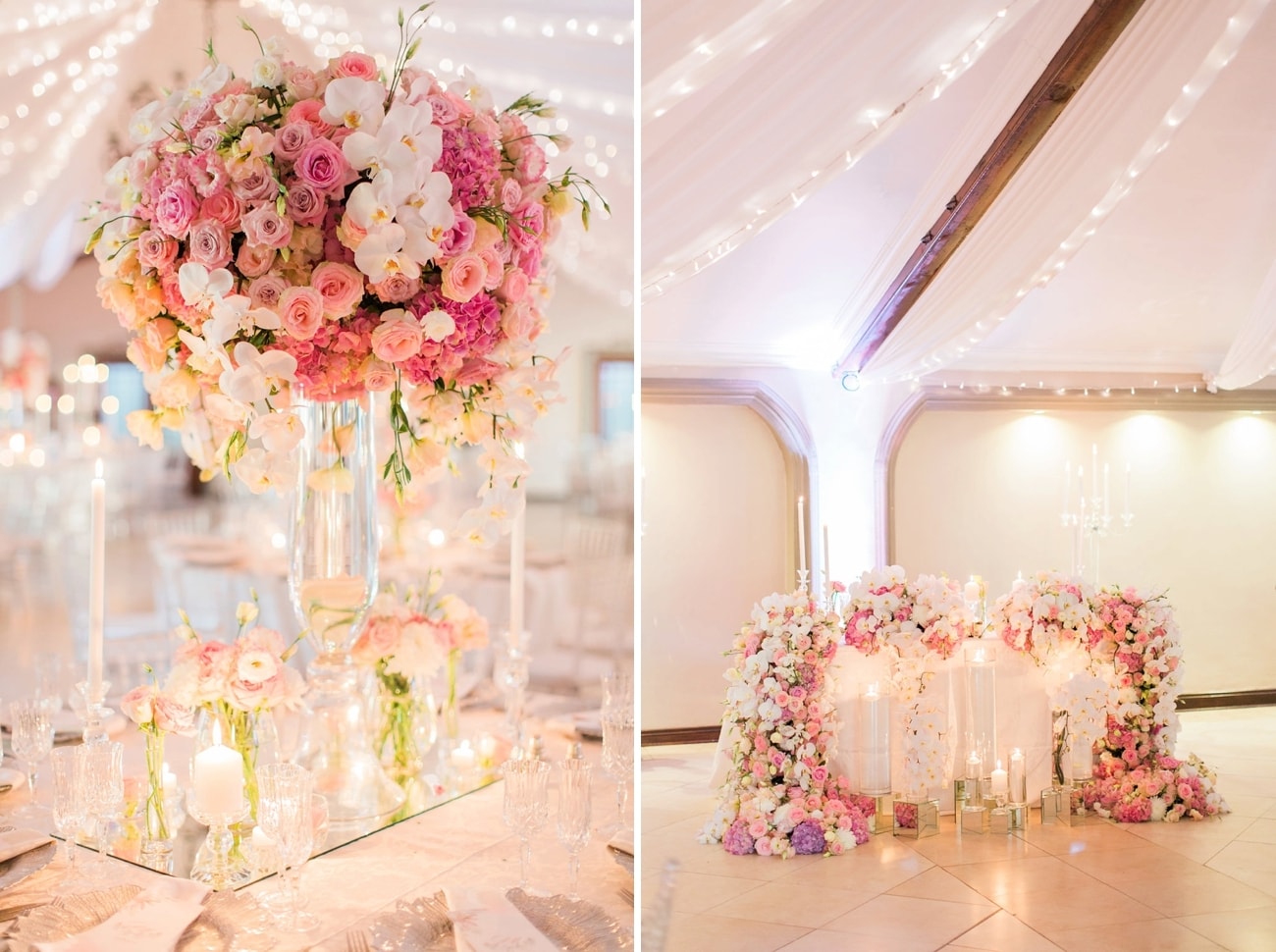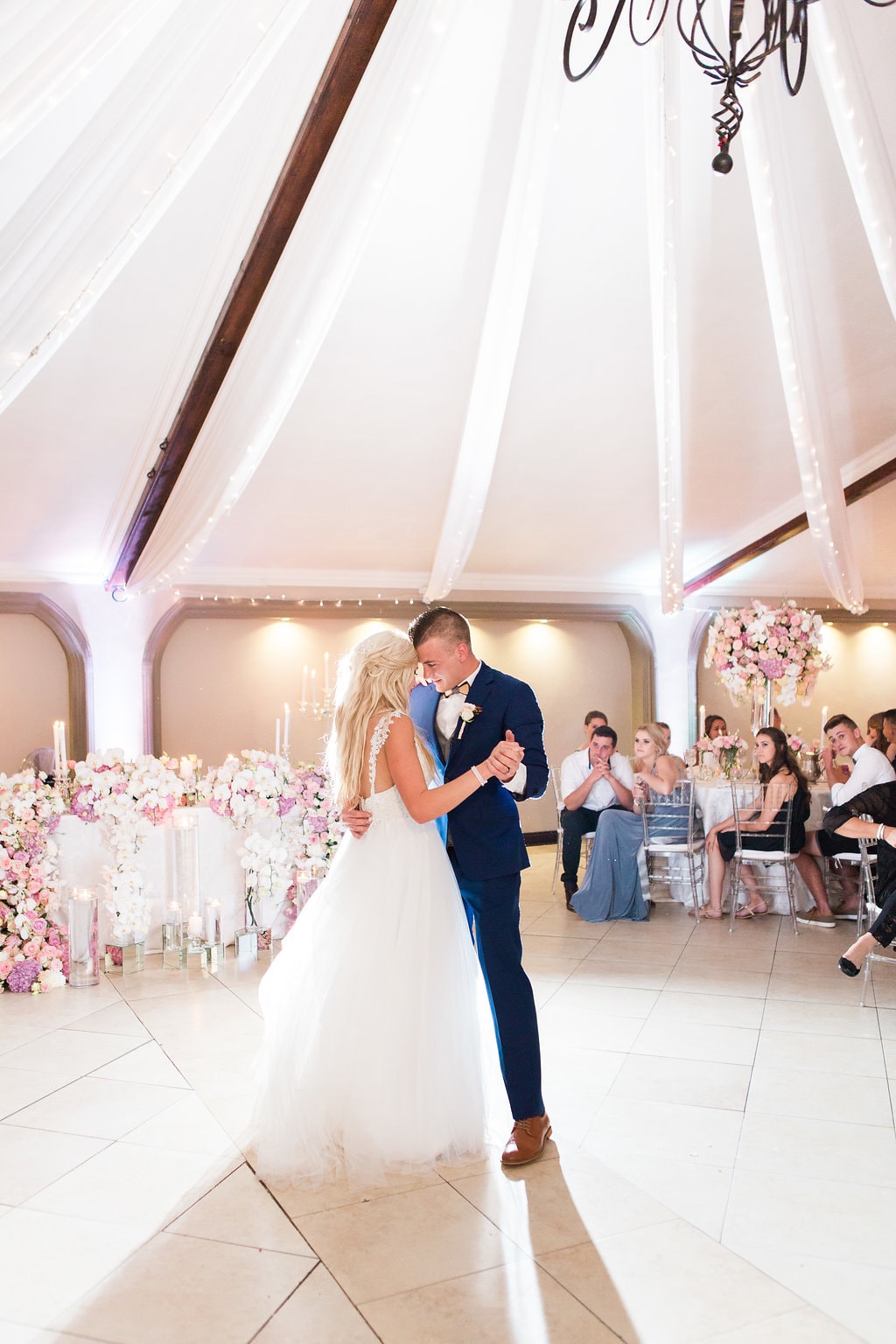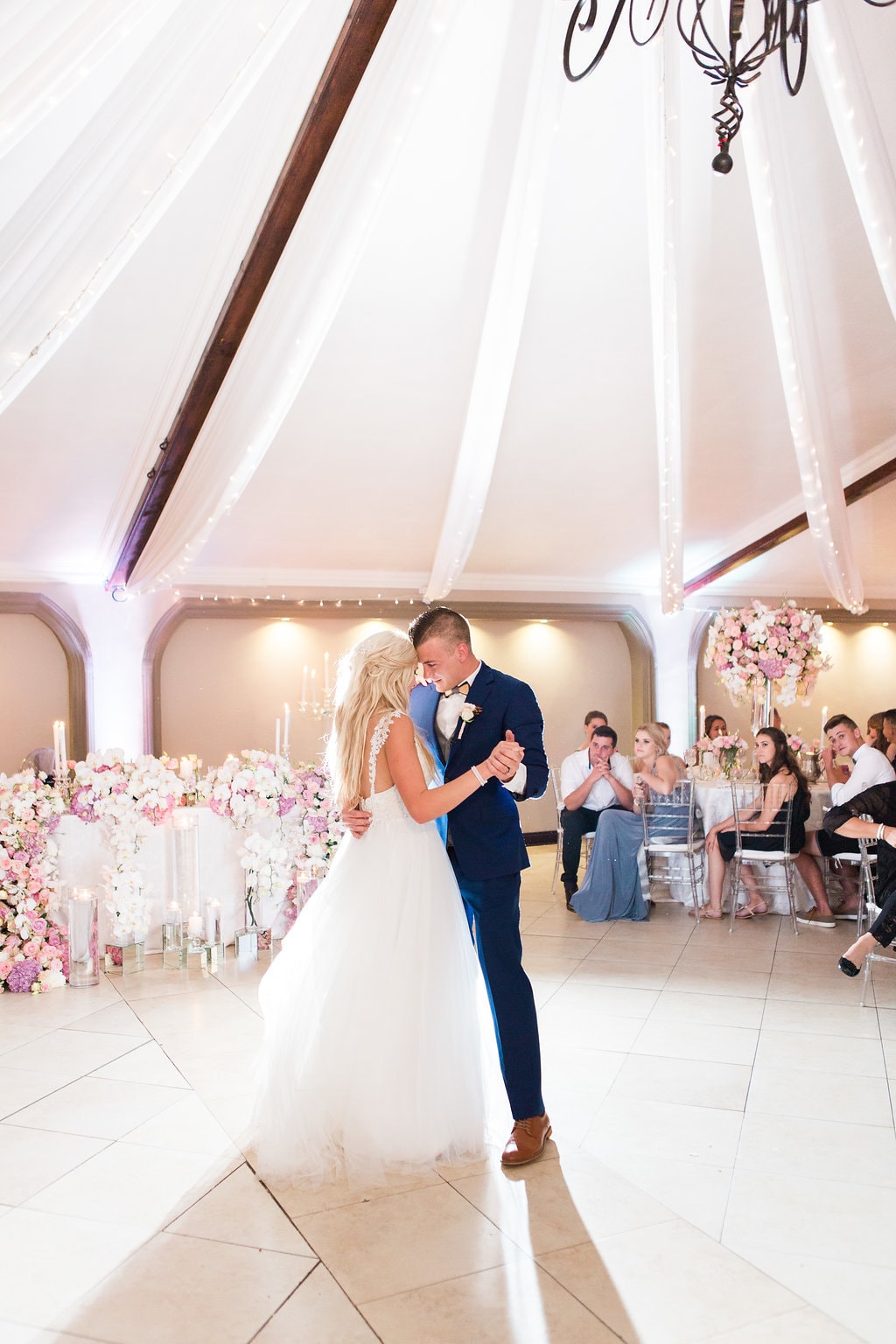 Best Decision
I must say, choosing an event coordinator/wedding planner was one of the best decisions. We wouldn't have known where or when to start if it wasn't for Zavion Events Company. Everything went so perfectly.
Advice for Future Brides & Grooms
Even though it is very stressful and frustrating at times, enjoy your time together whilst planning your wedding. Make it fun, as it really goes by so quickly. Savour every moment and remember to add your personal touch to your wedding, because that is what it is all about: celebrating the two of you.
SERVICE PROVIDERS
Venue & catering: Memoire | Photography: Genevieve Fundaro Fine Art Photography | Co-ordination, flowers & décor: Zavion Kotze Events Company | Stationery: Chrystalace Wedding Stationery | Video: First Kiss Wedding Videos | Cake: Kelly Jayne's Cake Boutique | Bride's dress: Casey Jeanne from Calegra Bridal House | Bride's accessories: Calegra Bridal House | Shoes: Liefde Wen Vellies | Hair: Scissor Queen Hairdressing Salon | Makeup: Kryolan South Africa | Bridesmaids' dresses: Gelique | Groom's attire: Taylor Me Bespoke Suits  | DJ: Zoo Sound