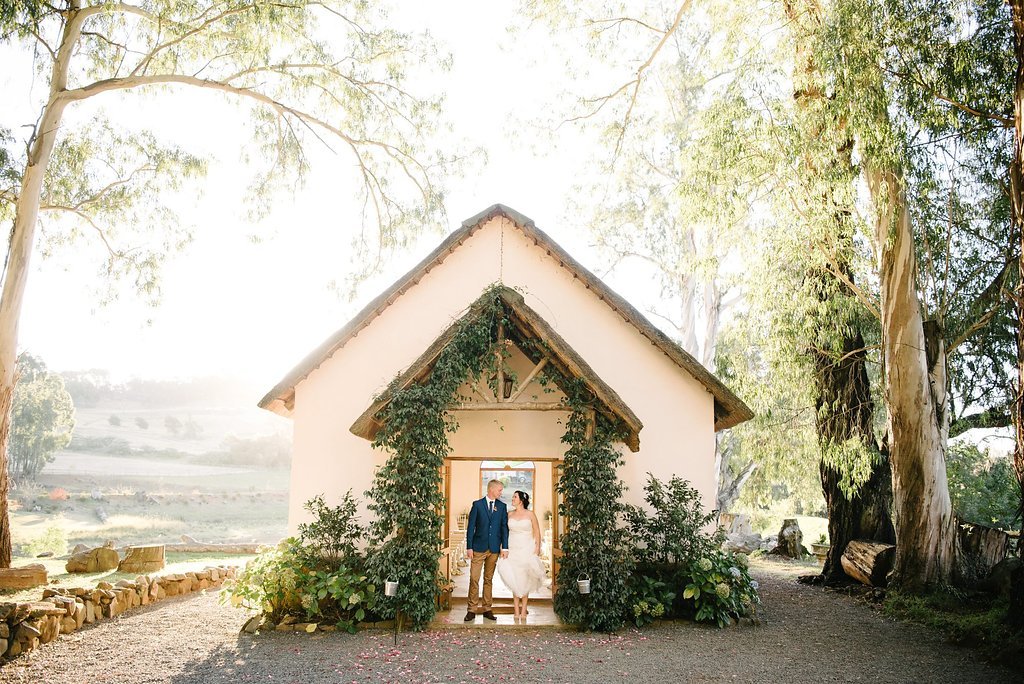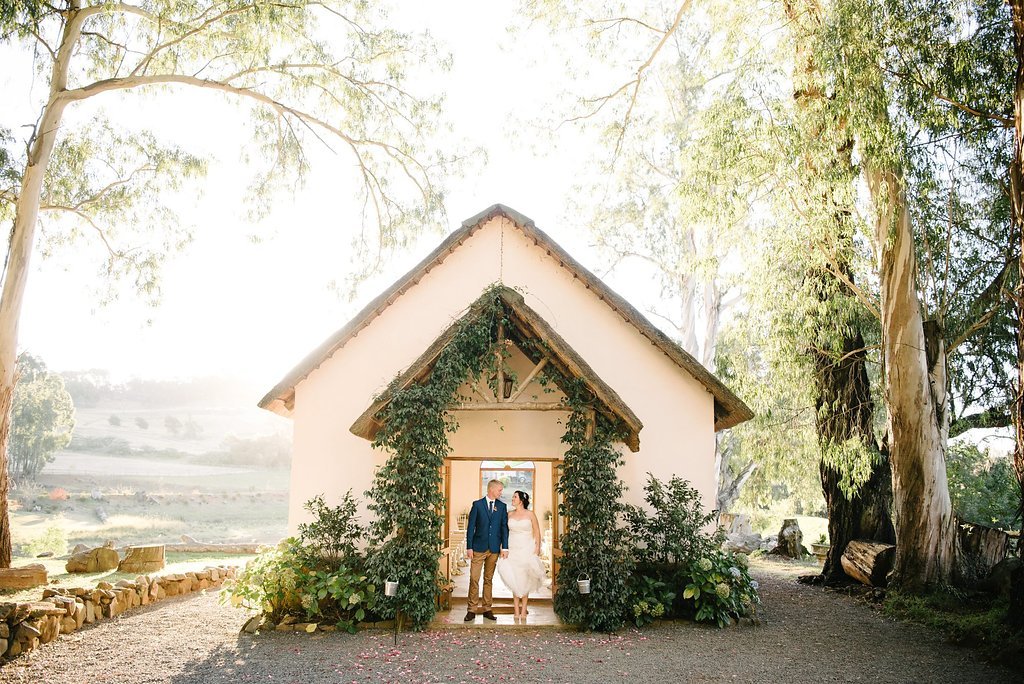 If I think of a countryside wedding, and imagine the most perfect place to exchange vows, I always picture the chapel at Cranford Country Lodge (one of SBB's preferred venues and a member of the SBB Collection). With an ivy covered doorway and views over the spectacular little England that is the Natal Midlands, it's pure rural romance, and a perfect example of why the phrase 'country wedding' immediately puts a smile on any wedding lover's face. Today's wedding shows Cranford off in all its pretty glory – Charl & Kim are an adorable couple who wanted to infuse their intimate celebration with their personalities and the things they love, and did it by DIYing their way to a celebration that was oh so charming (and budget savvy too!). From the colourful bunting to Kim's wreath bouquet, to her bridesmaids' peachy two-pieces and the groomsmen's cork bow ties, from the sparkly linens to the origami flowers, you can see that every detail has been selected and created with love, and caught on camera beautifully by Tanya Jacobs!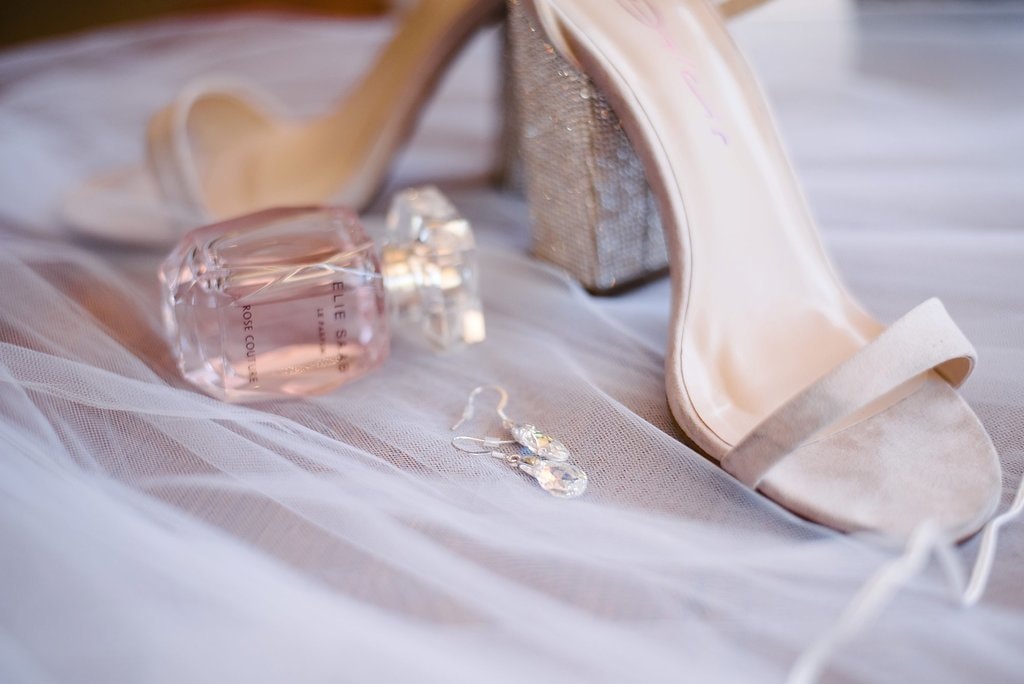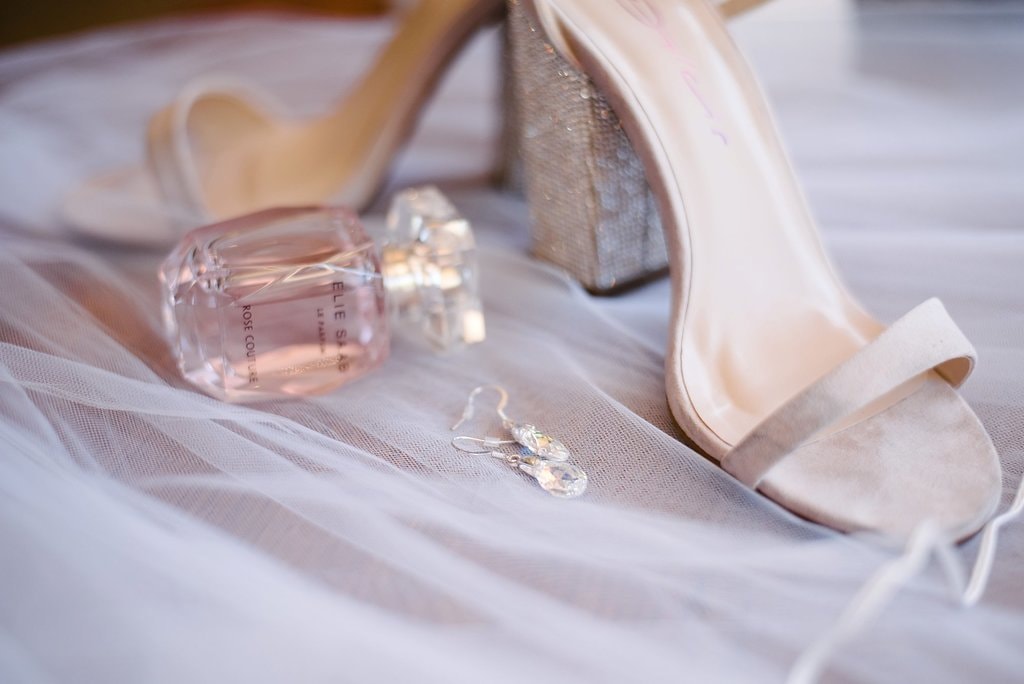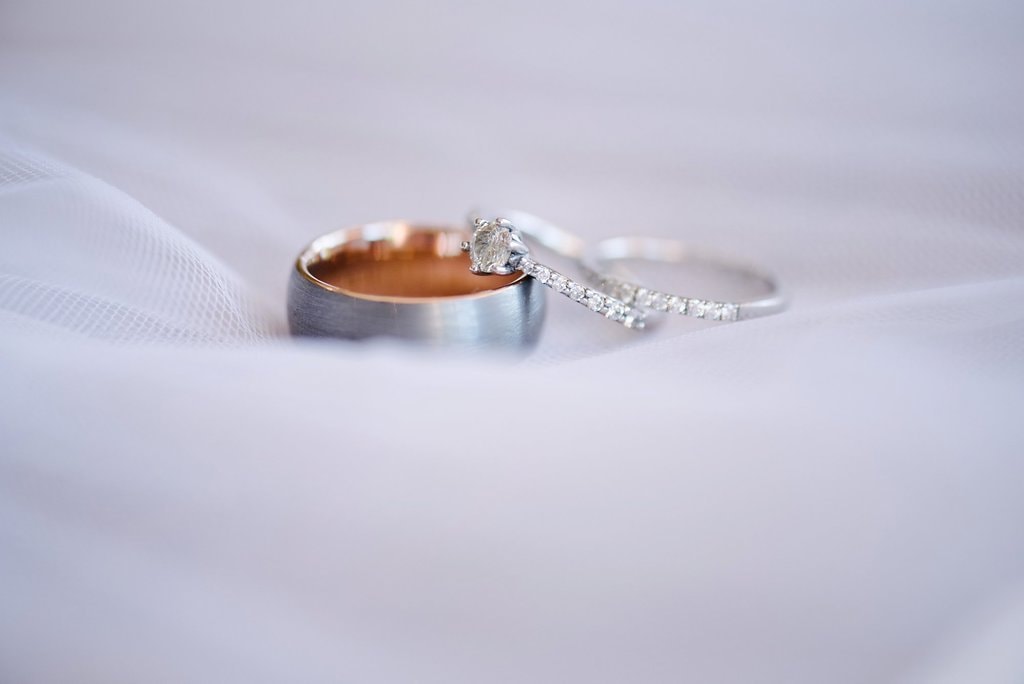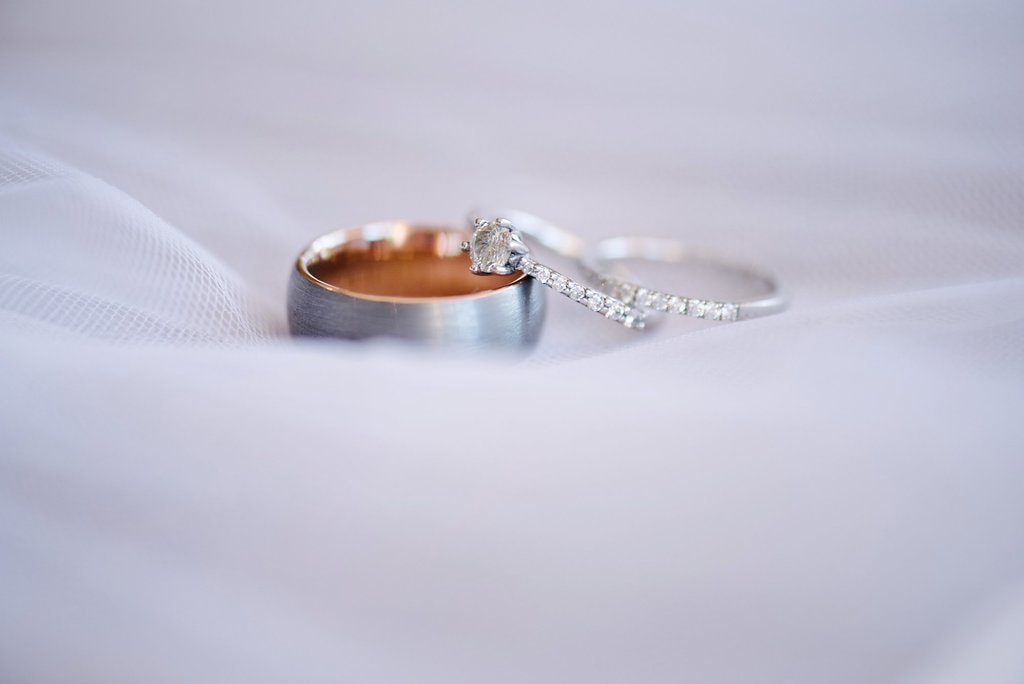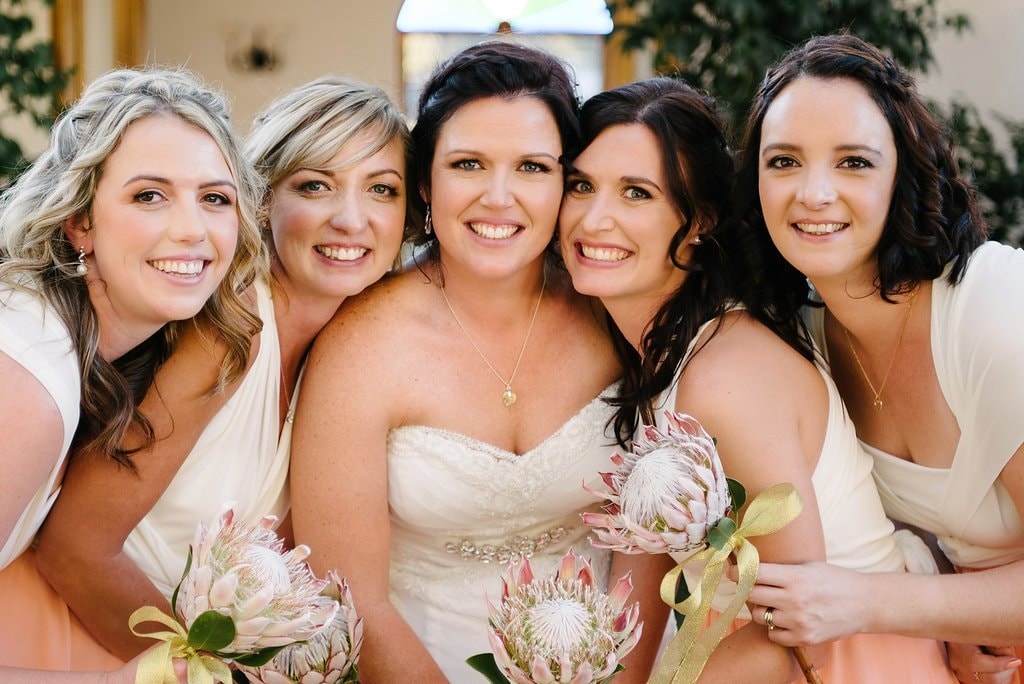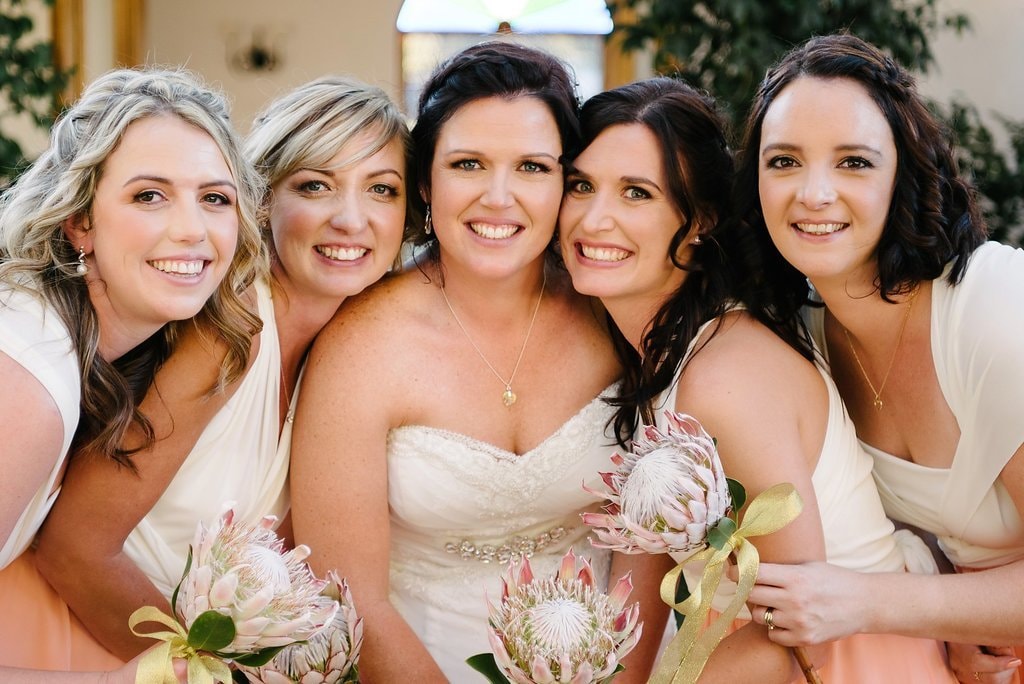 Love Story
Charl and I actually met online. After chatting for a while we decided we should meet. I arranged an escape plan with my sister, involving a blank message and an 'emergency phone call'. But this was never needed. We chatted for hours and hours and that was that, we never looked back. My sister is still waiting for the blank message!
The Proposal
We had been planning a family holiday to Marloth Park. There are not many places that we love more than being in the bush, and it was the first holiday where both the families would be going away together. Charl had been rather grumpy and snappy the previous week and I was wondering how fun this trip was going to be. The morning after we arrived, Charl wanted to go for a walk to one of the hides we liked on our last visit, so off we went. I didn't have a clue! After spotting a few birds, listening to the hippos and willing something amazing to come out of the bush, I turned around to go sit on the bench, and there Charl was down on bended knee with a ring box in his hand. After figuring out which was the right way the box opened, Charl asked me if I would marry him and to his dismay… I burst out laughing (which is my go-to response when I don't know what to say). After coming to my senses I said a big fat YES and we rushed back to share the moment with our families!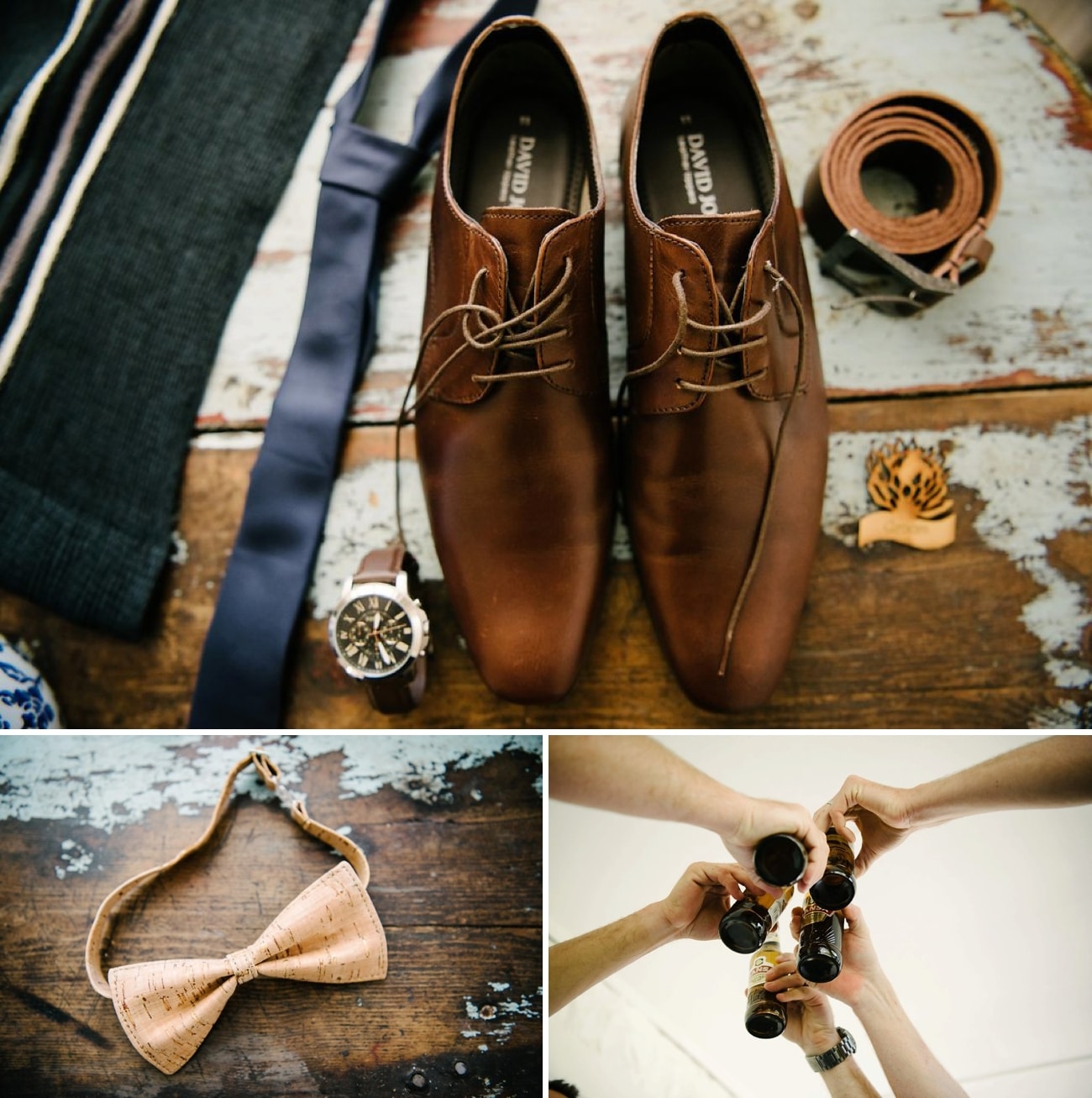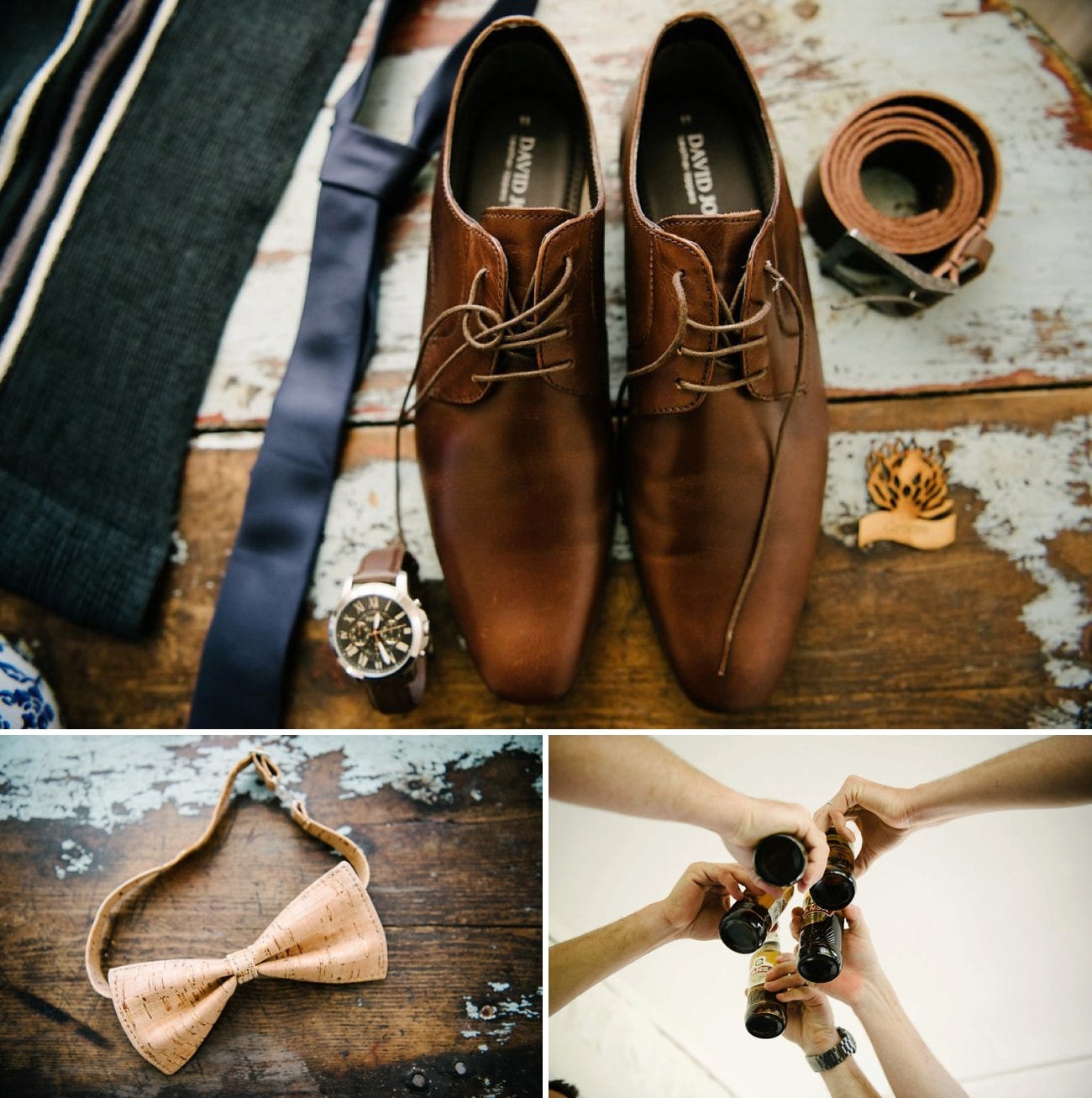 The Venue
The first thing I wanted to do when we got back home was start looking at wedding venues. I mean, where do you start? I came across a website and started browsing the venues, and instantly loved that there were horses in the cover picture for Cranford Country Lodge, so put a big star next to it on my list. We added a few other venues and sent off our inquiries. We wanted to keep the cost down as much as possible for the wedding so eliminated a few costly options. We decided we would go visit the rest of the venues according to the areas they were located in, starting off with the Midlands. Cranford was the first of three venues we went to look at that day and it was love at first sight. The grounds were beautiful, there were horses aplenty and Debbie, the owner, made you feel like you wanted her to be a part of your family. After this no other venue really stood a chance. My heart was sold. We never went to go visit any of the other areas.
Wedding Style
We both agreed that we wanted to create a relaxed and happy atmosphere for our wedding where the emphisis was on love and laughter. We didn't really have a specific theme aside from colourful. I wanted there to be bursts of colour with a touch of gold. Another thing we wanted to incorporate was that there were as many DIY elements as we could fit in. Cranford's Great Room venue had a wonderful open feel to it and the neutral colours opened it up to any ideas we had. Carryn Whitmore from Desire2Hire did a fantastic job with understanding what I wanted with the flowers in terms of colour and arrangement.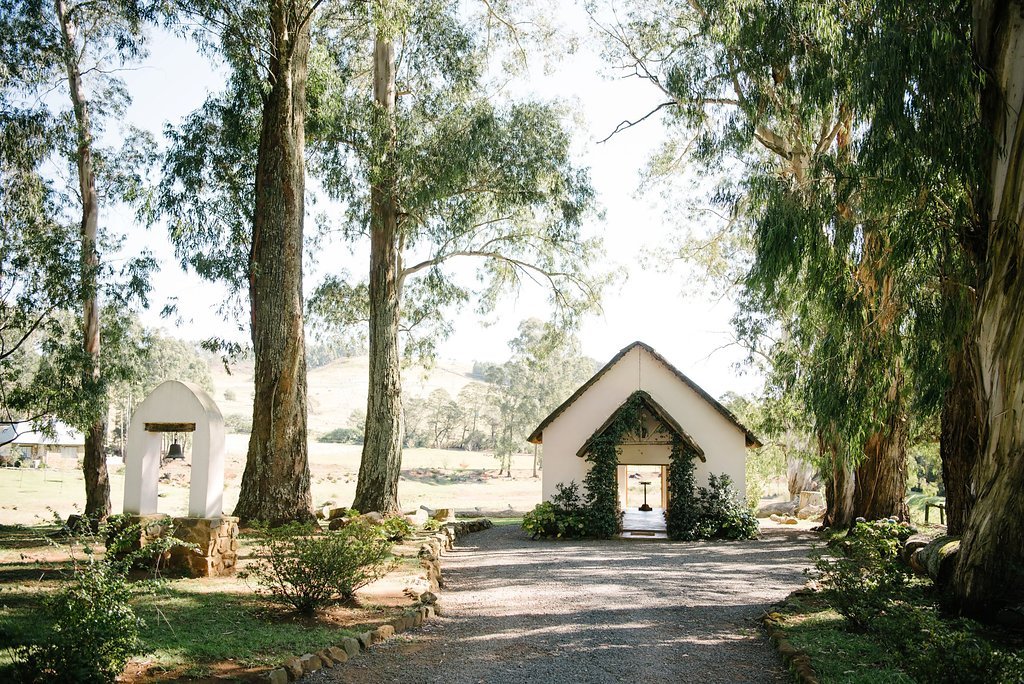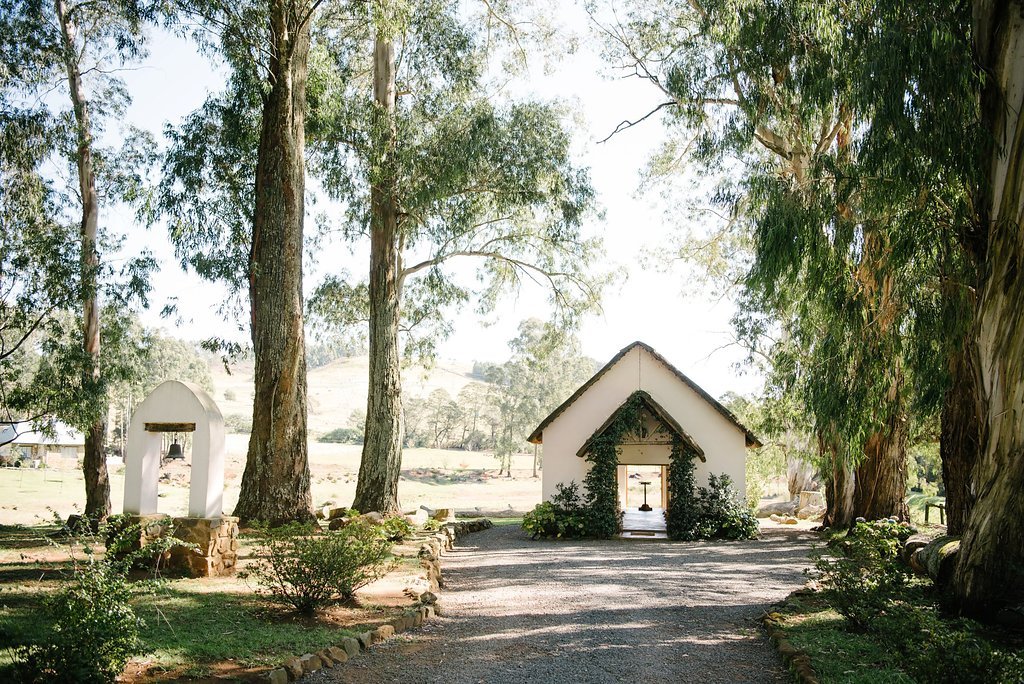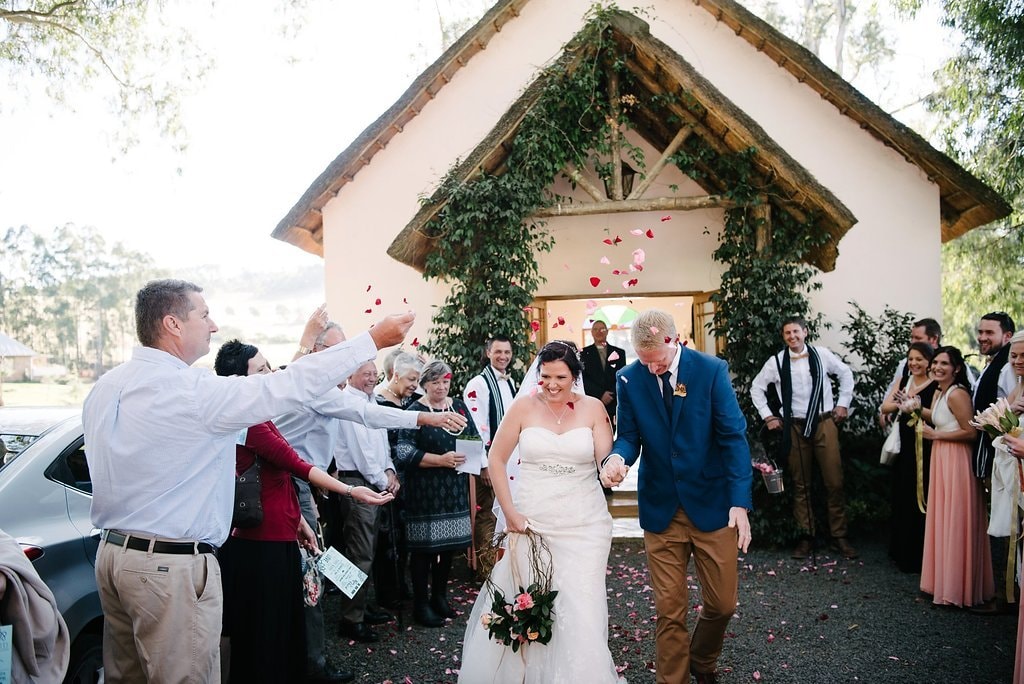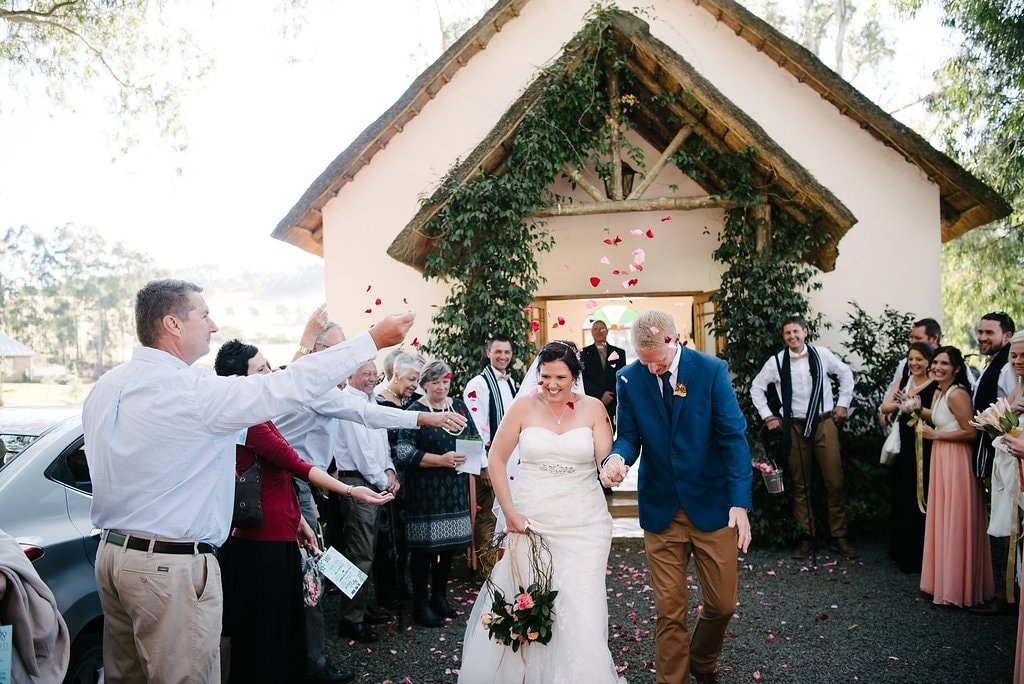 Wedding Details
I loved every aspect of our wedding; it truly was a day to remember for the rest of our lives. We were lucky enough to be married by Charl's uncle, which helped to make the day even more personal and special. We kept our guest numbers down and it was wonderful to look around and see people we were close to and who had walked many different journeys with us. Charl sells cork products (there are more than you might think!) and all the groomsmen's bowties were made from cork! My Dad has been through many health problems in the last few years and it was so special that he was able to walk me down the aisle. When we were planning the wedding timeline we got to the throwing of the bouquet. We soon realised that there were way more married couples than single people and this might pose a problem. So what we decided to do was give the bouquet away to the oldest married couple. We did this by asking all the couples to stand. Then we asked anyone who had been married for a year or less to sit, then five years or less and so on until we the last couple was standing (it came down to a few months difference.) The couple was Charl's aunt and uncle and they had been married for 48 years. Instead of doing wedding favours that some would like and others wouldn't, and that would end up being left scattered on the tables at the end of the night, we decided to make a donation on behalf of our guests to the Rhino Revolution. This is super close to my heart as I am passionate about wildlife. The whole day was filled with laughter and love and that is what we had wanted.
The Flowers
After realising that many of the flowers I thought I liked were out of season, I abandoned the control freak in me and decided to describe the flowers I wanted as colourful! We wanted loose, casual arrangements of country type flowers and Carryn understood this and more. What she put together was beautiful! Not only did the flowers look amazing but they smelt gorgeous too! There were big fat garden roses, carnation and mini-carnations, stocks, sweet williams, king proteas, daisies, chrysanths and rock roses, all in beautiful colours. The bridesmaids each had a single king protea tied with gold ribbon and Carryn made my dream come true with a stunning willow wreath bouquet with roses. (I didn't put it down the whole day – I loved it so much). Instead of corsages and buttonholes we had protea pins laser cut for the guys and roses laser cut for the moms and my gran.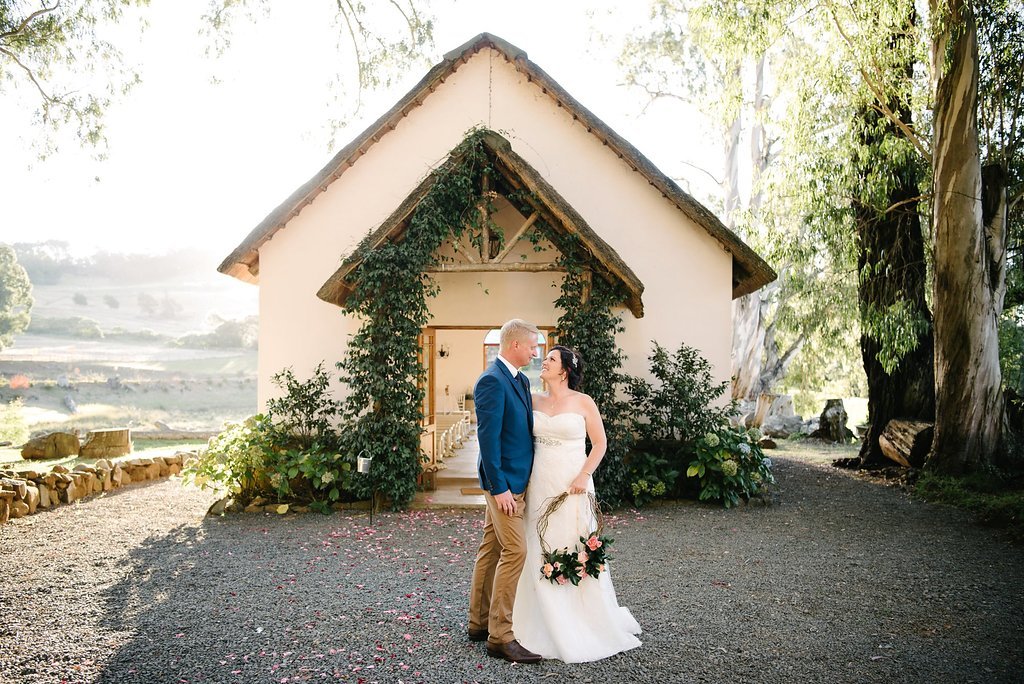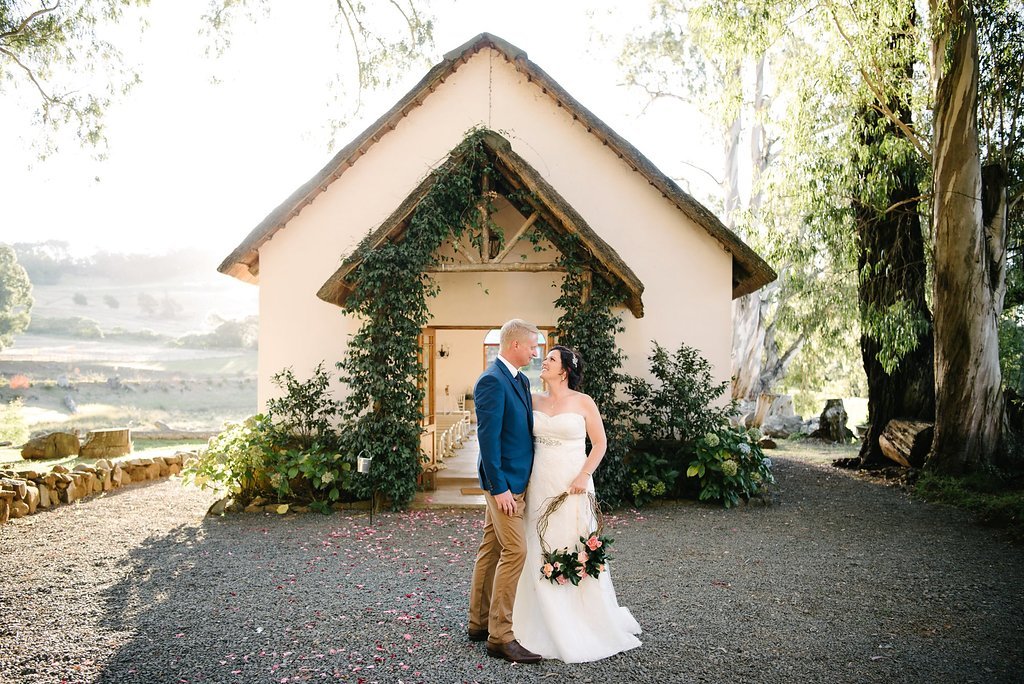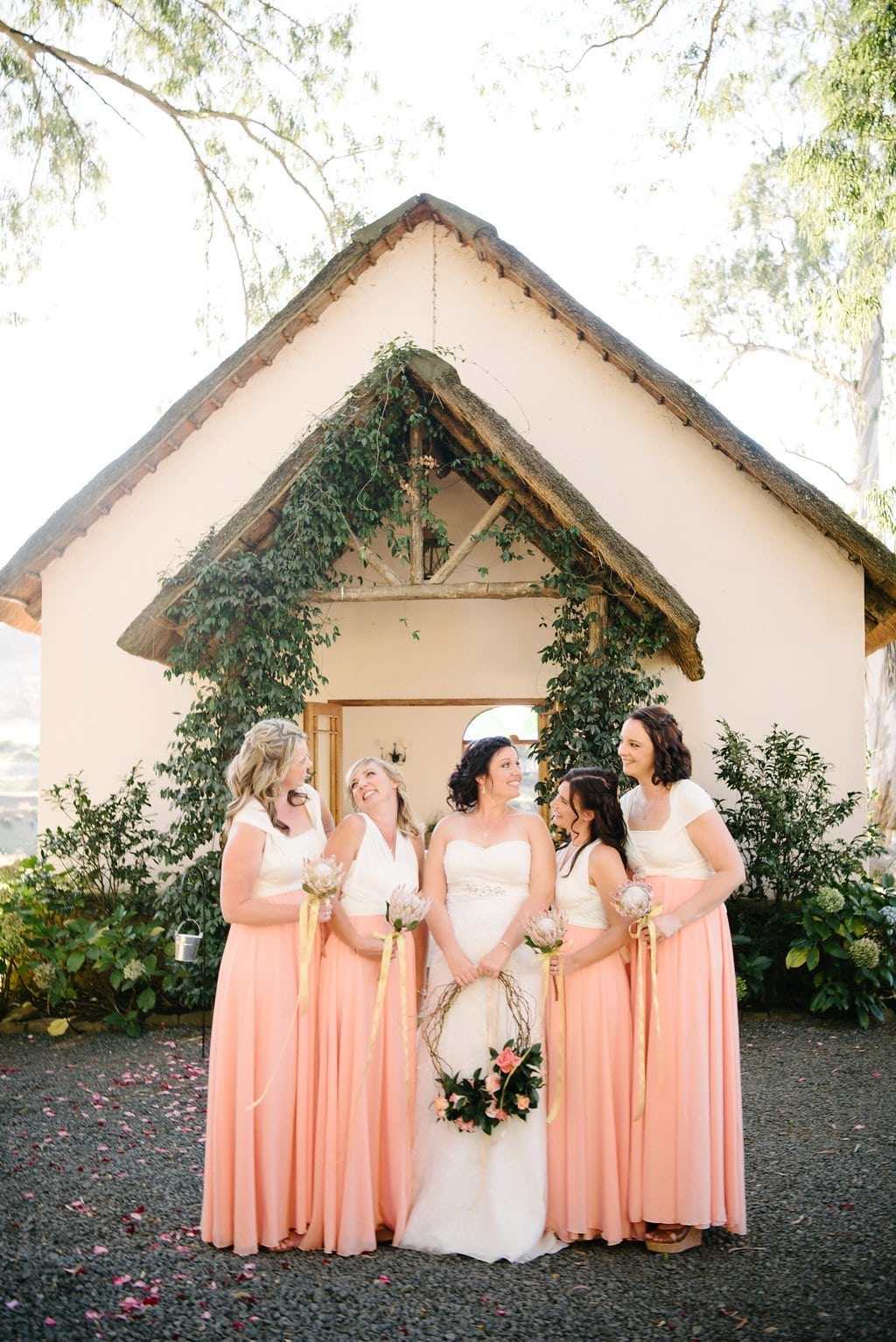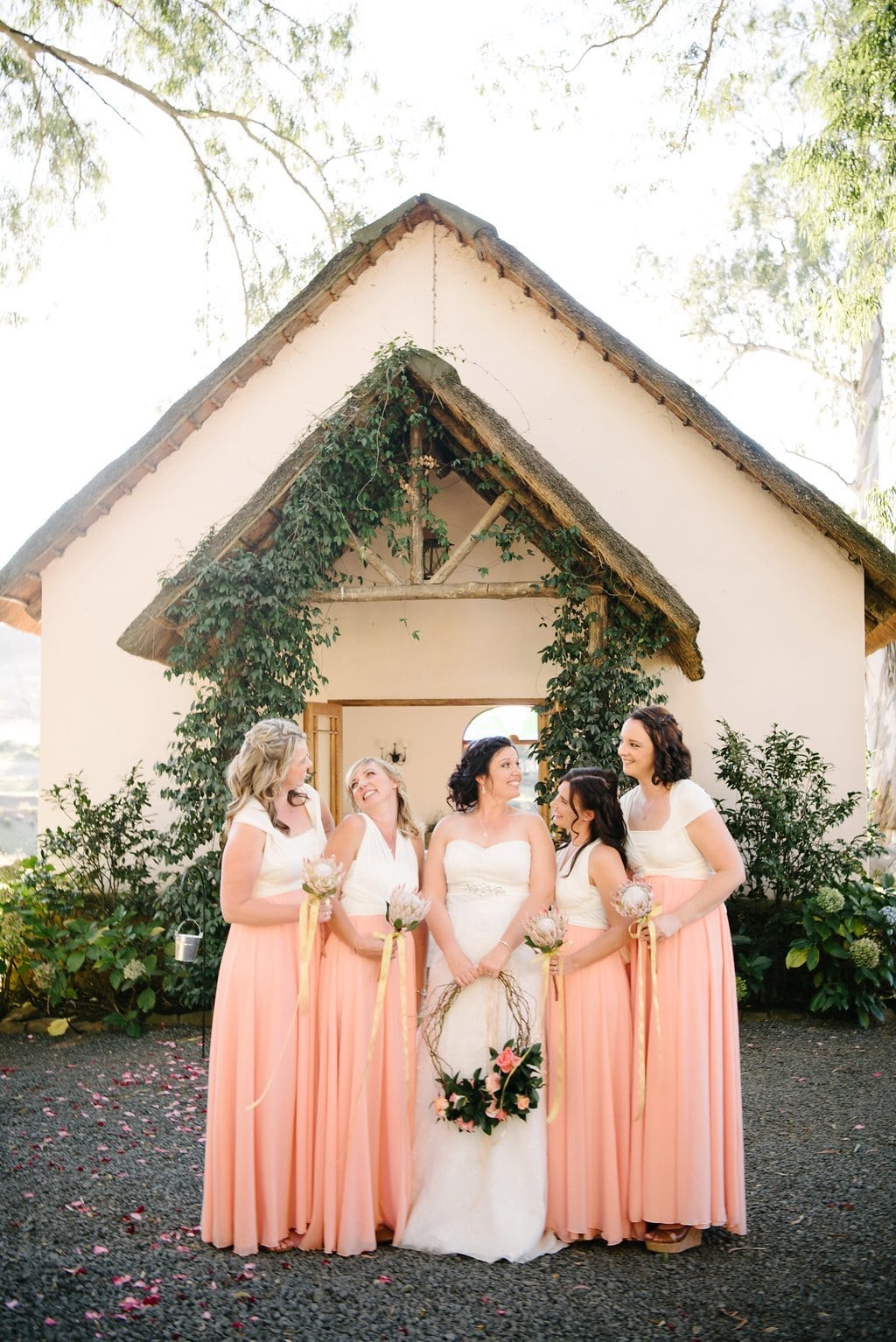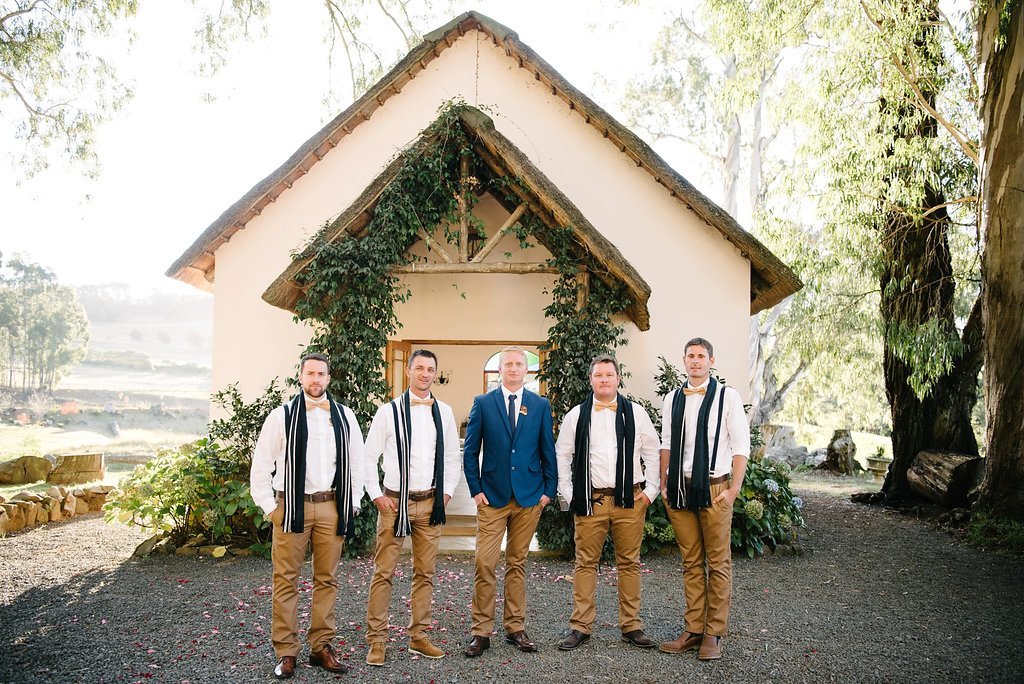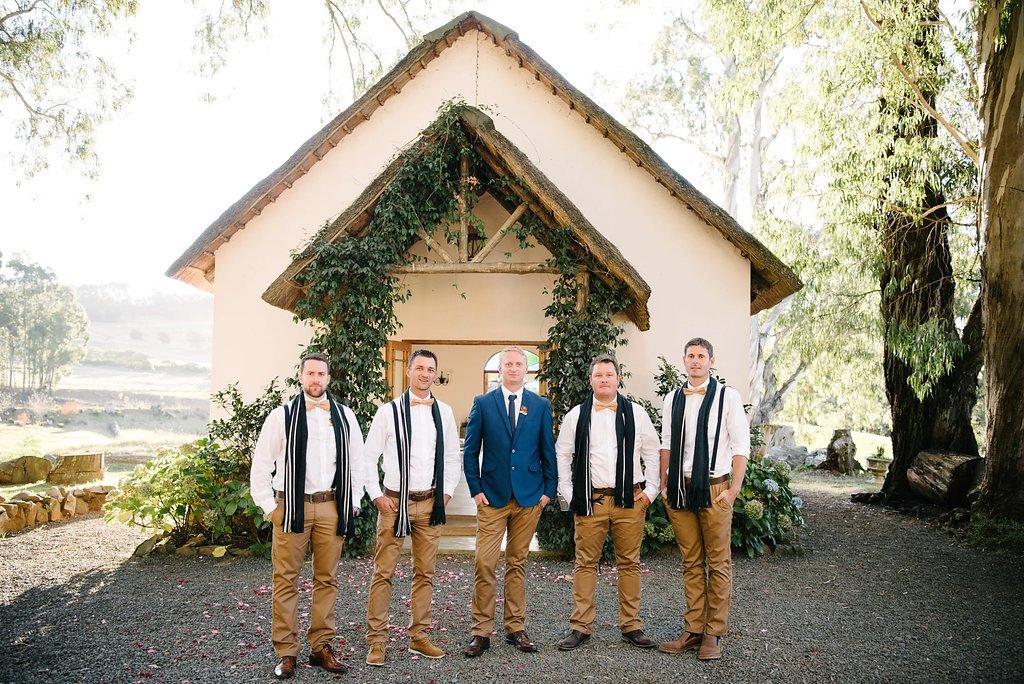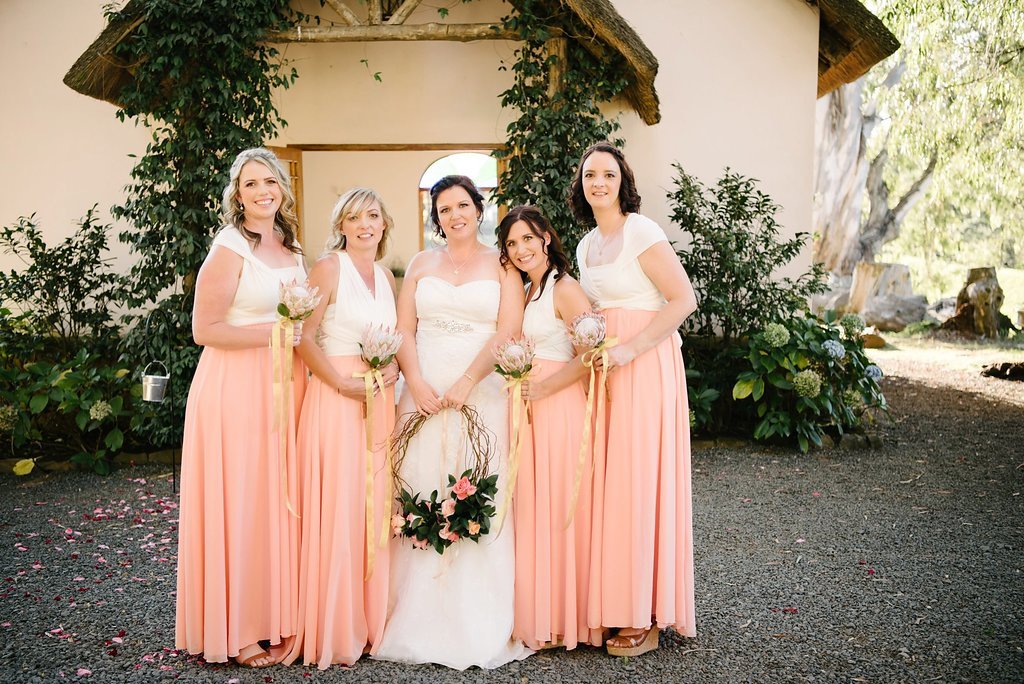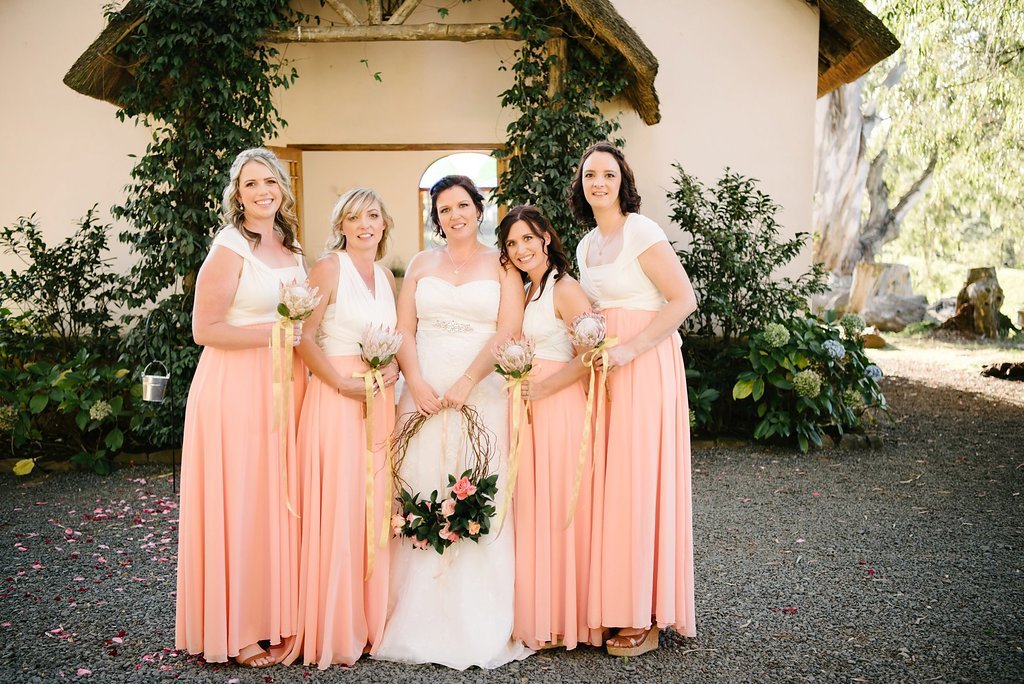 DIY Elements
I'm quite a crafty person and Charl is hands-on. I had great plans for DIY elements and I think at one stage Charl was planning on running away. With all of the pressures of work I gave up on doing DIY and was reluctantly going to hand it over to someone else. But it nagged at me and I felt like I wasn't being true to myself and decided to pick it all up again.
We designed all our wedding stationery. We decided to save costs and emailed our wedding suite out to our guests. We also sat glittering and gluing wine corks together to make our menu holders. Charl cut and sanded corks to make our name tag holders (go cork!) We had a work party where the bridesmaids, moms and a close friend sat and made origami flowers to go on the plates (80 flowers!) We painted all the signs that Charl had made from pallets. These signs were put along the road to direct our guests and were planted around the venue with little messages. We also had to try out different bottles of champagne – because you know, it has to be done by someone. The staff at my school and family members helped me to collect different bottles and jars which we used to hold the flowers. I then decided I wanted to make bunting. Now those who know me will tell you that when it comes to colour I can sometimes go overboard, so after many trips to different material stores I finally selected an array of colours. I cut the bunting out, Charl's mom helped by sewing the triangles, my mom helped me to pin the bunting onto metres and metres of bias and I sewed it all together (75m to be exact.!) We grew rock roses in our garden to use down the aisle (although some of mine did not look so healthy after being transported to the venue). We made our own signature frame for our guests to sign. My sister help to make the order of ceremony programmes which were stuck onto popsicle sticks. My gran punched out heart confetti which we sprinkled on the tables. The night before the wedding, the bridesmaids stayed with me at Cranford and we giggled and laughed while we came up with cheesy sayings to write on little chalkboard hearts which would go around the "cheese tower" cake. I am so glad that I stuck to my guns and we did as much as we could ourselves. It really just made it all the more special. You spend months trying to imagine what it will all look like together and to see it is so exciting!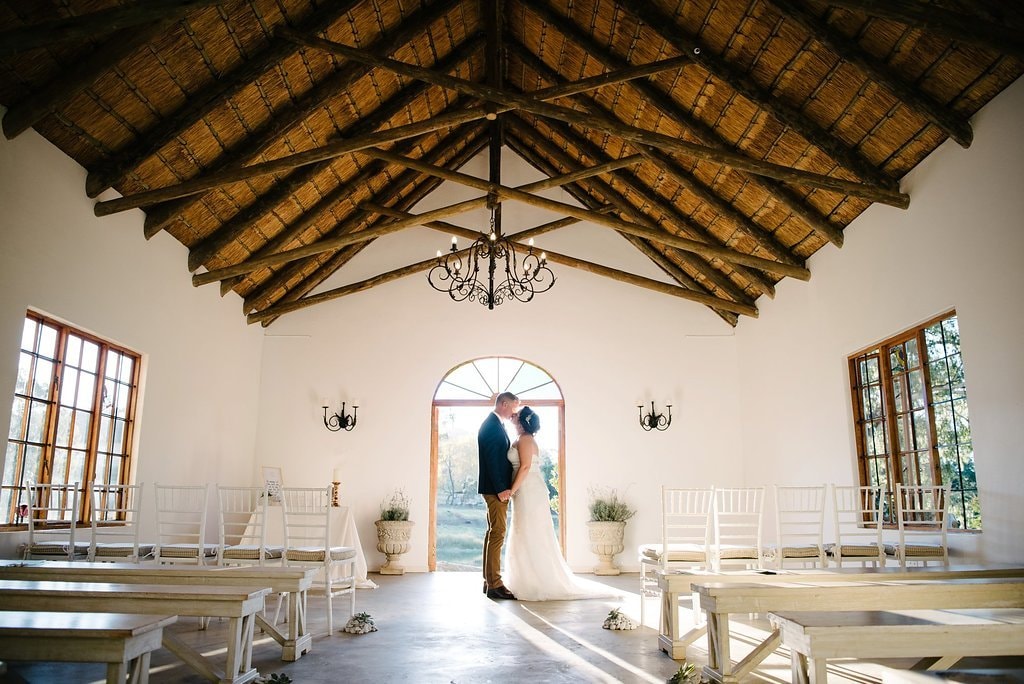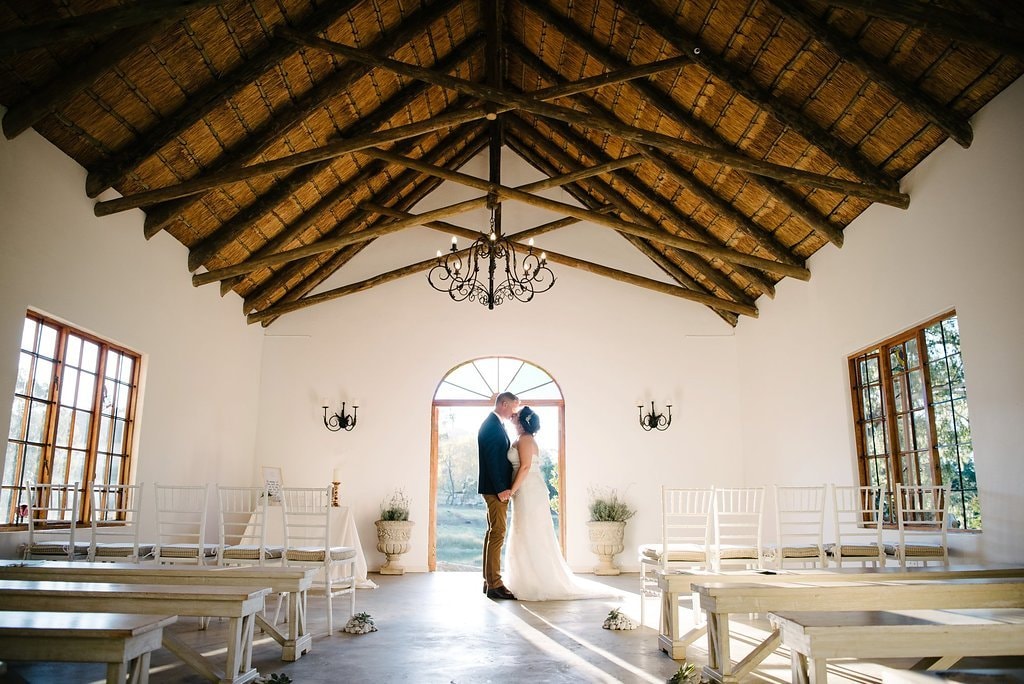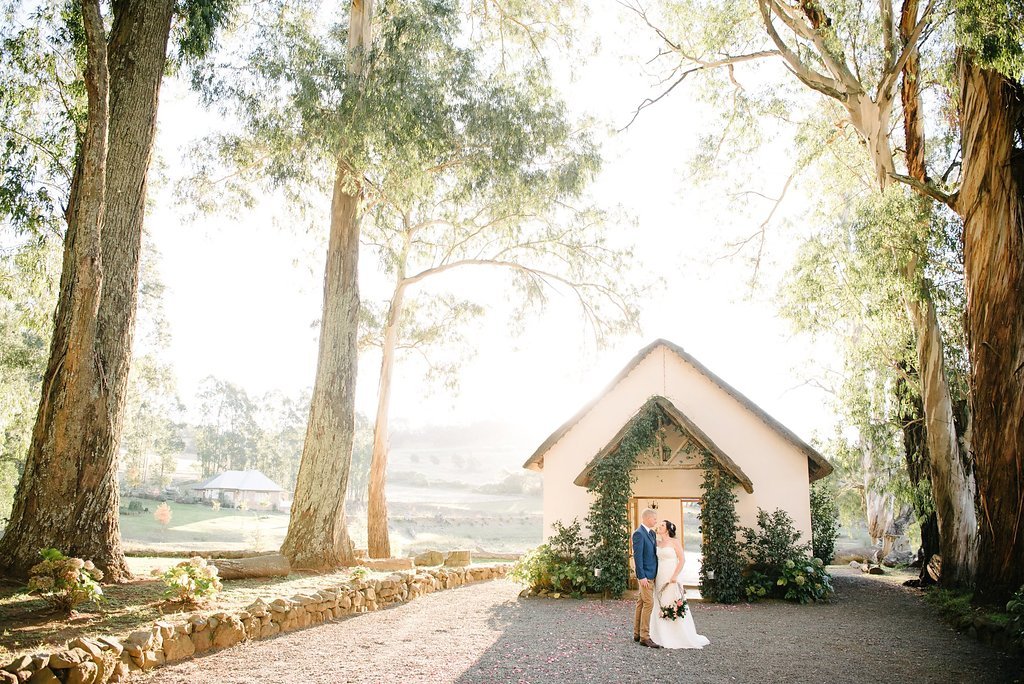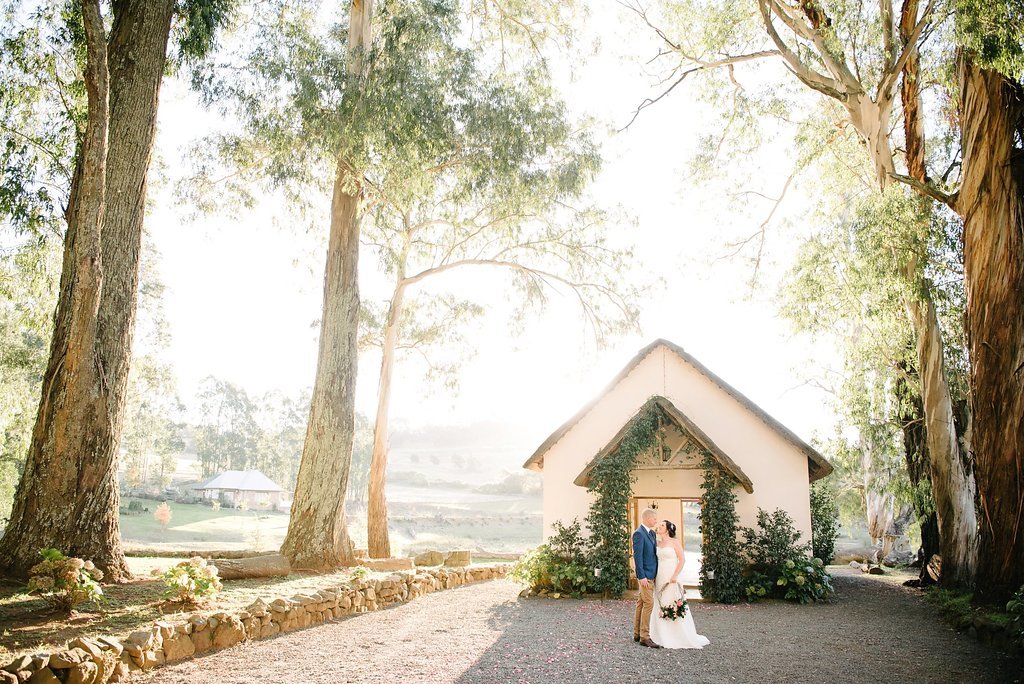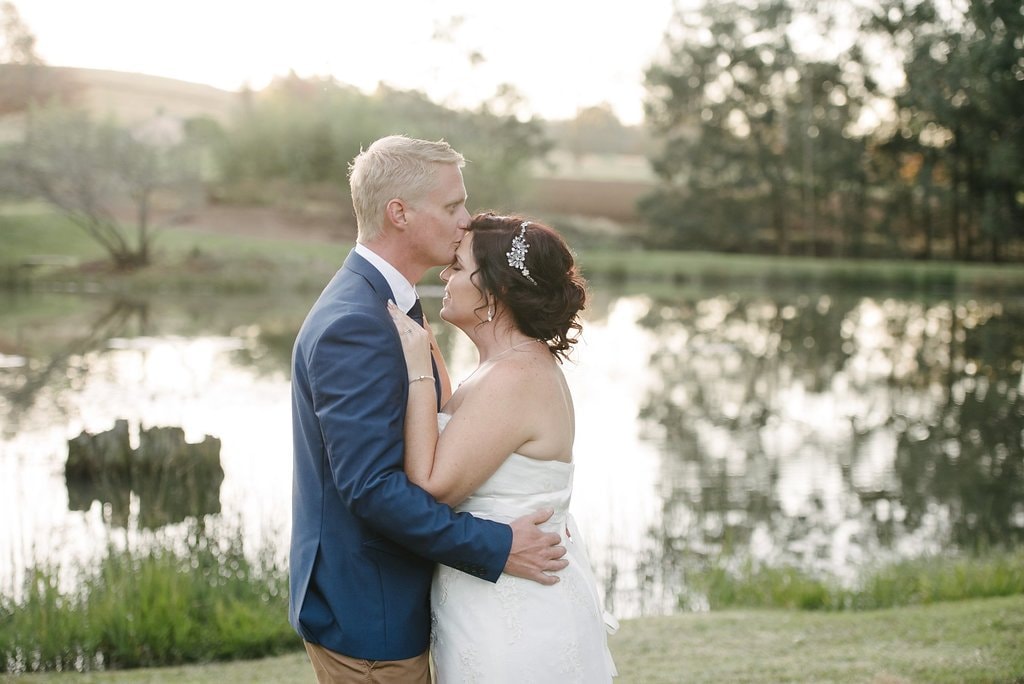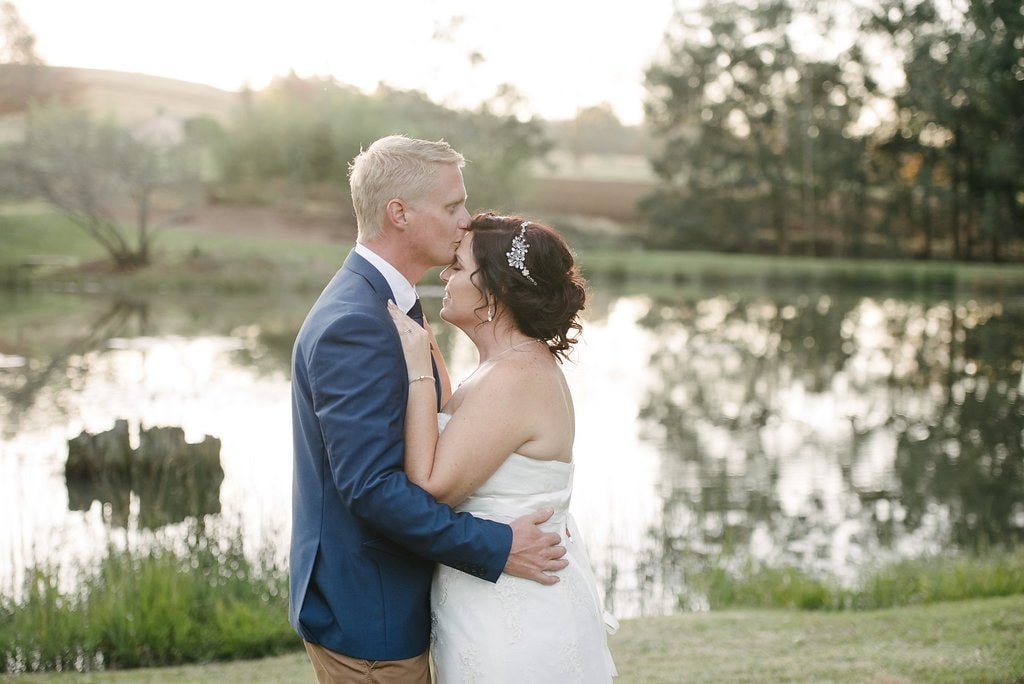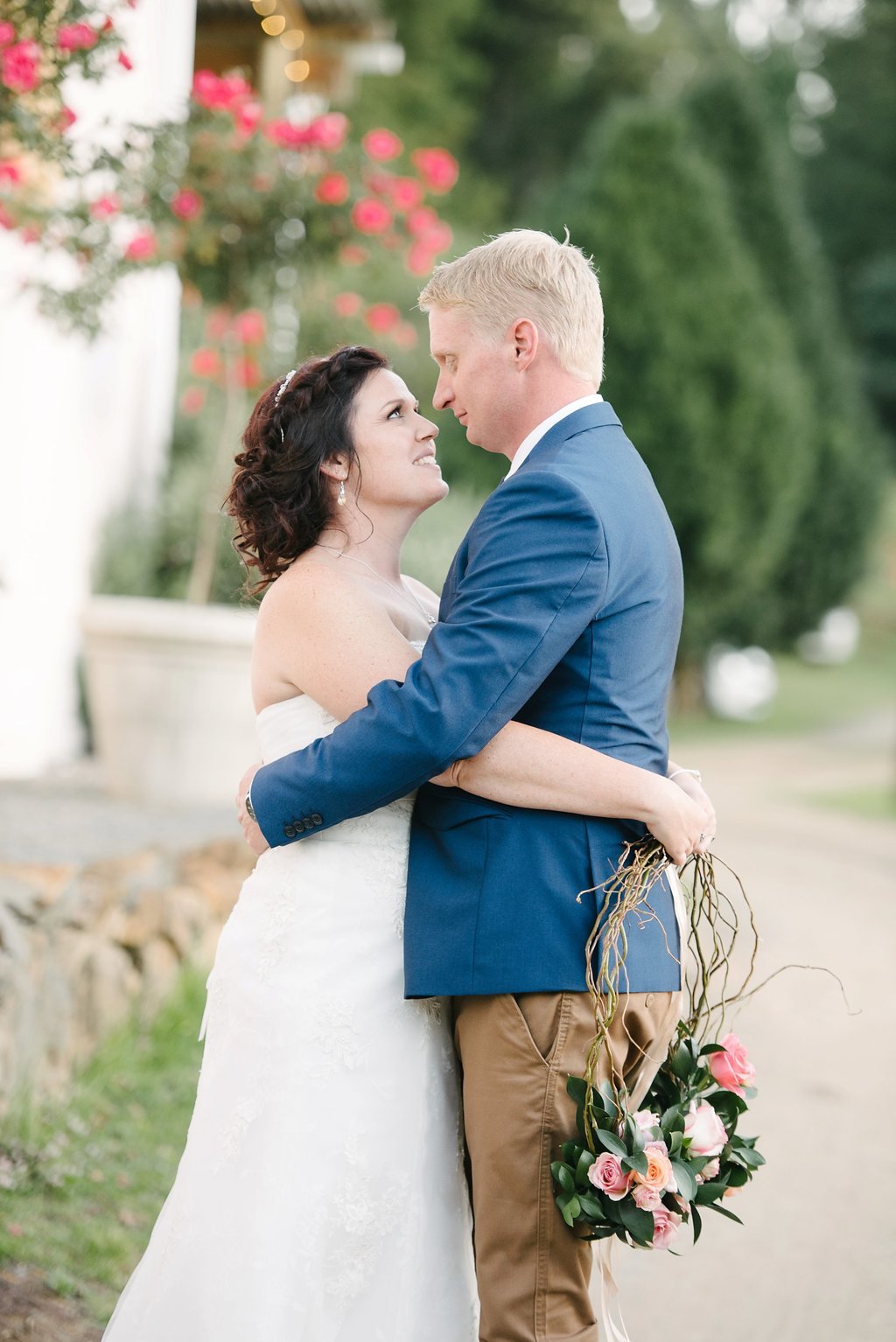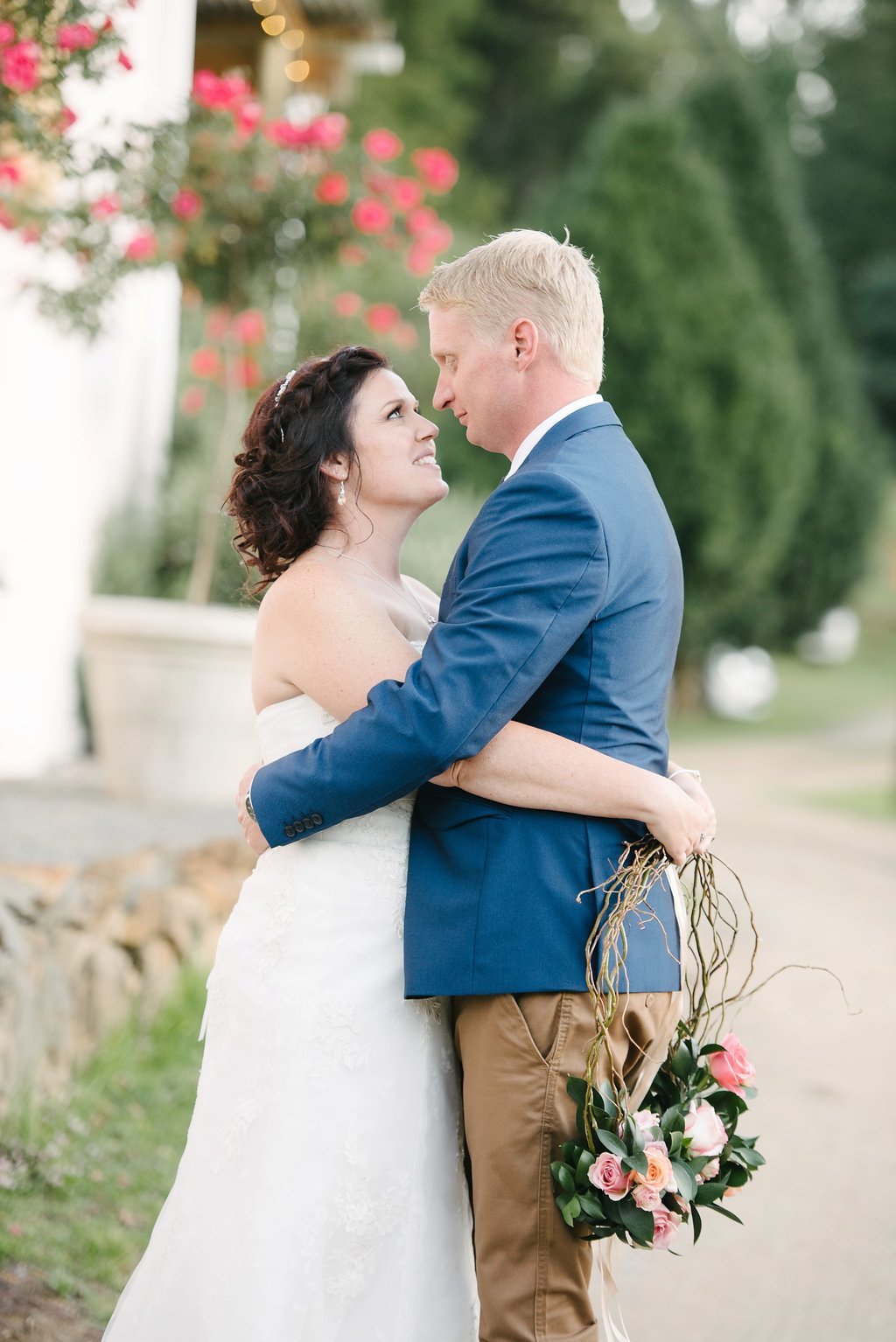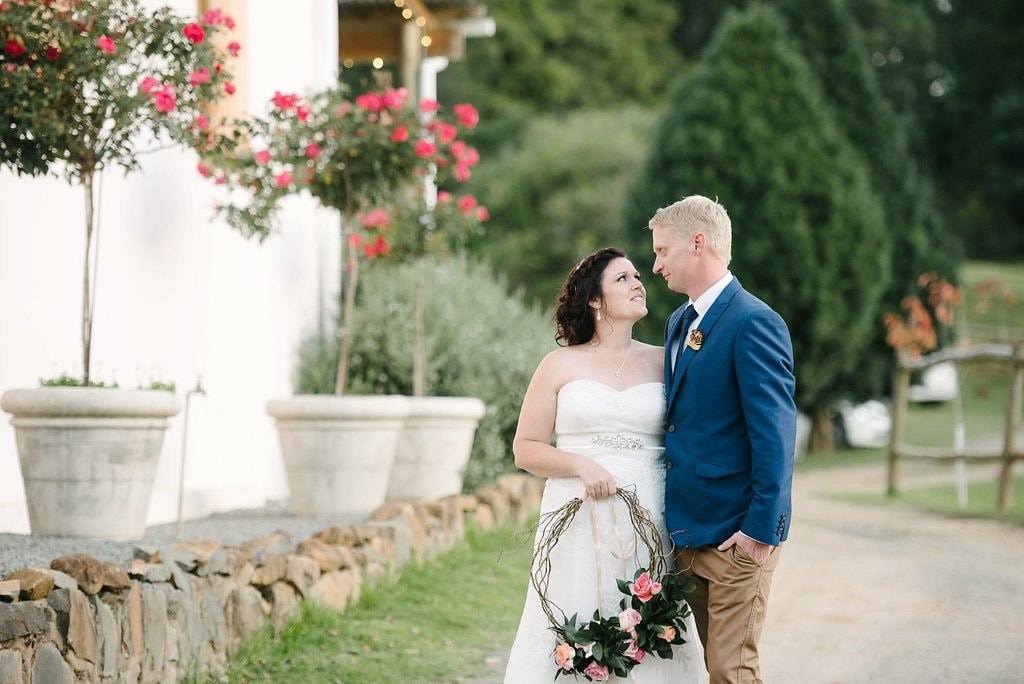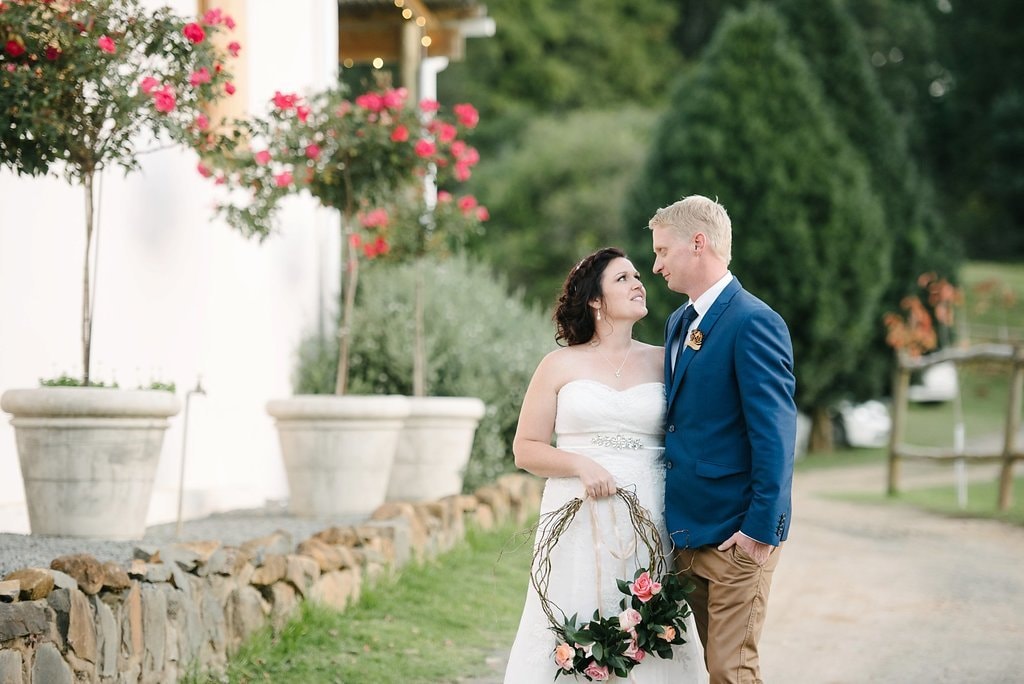 The Dress
Hmmmm… my wedding gown. We had a love-hate relationship over the months, as it sat in my mom's cupboard. Being more of a shorts and T-shirt girl it felt strange trying on wedding dresses – almost as if it was too "grown-up". I found a dress at Bride and Co. and bought it on the spot because it was on sale. After a few months I tried it on again and decided I didn't like it. (YIKES how was I going to explain this one to Charl?) I didn't like the beaded detail around the waist. I didn't want to wear this dress. I looked at other dresses that I could hire, but none really felt like me – long trains, too heavy. I felt so despondent. After watching too many episodes (I mean a lot!) of 'Say Yes to the Dress' I was convinced I should be crying with happiness over my dress and I wasn't feeling that way. After being an ostrich I found a local lady who made and altered dresses and she said she could help me. They unpicked the beads from the waist and sewed them onto the sweetheart neckline. She added a ribbon under the bust, illusion cap-sleeves and took it in. I felt happier. I went home but still felt there was something missing (oh dear, would I ever be happy?) And I remembered a beautiful belt that my sister had and asked if I could borrow it. I collected my dress on the thursday evening, we went off to Cranford on Friday morning. My mom sewed the belt onto the dress on Friday night and at the same time we removed the cap sleeves. Aaaahhh this dress, we fought a battle but in the end I was happy. It was light enough to move easily in and I loved the lace detail. Don't give up on your dress, sometimes you have to squeeze lemons before you get lemonade.
The Bridesmaids
We had four special bridesmaids. My baby sister was my Maid of Honour, and our other bridesmaids were my friends Sarah (whom I have known since high school), Sarah (who I met on a trip to Thailand) and Charl's sister Heila. Sarah and Sarah were trying to establish who was Sarah 1 and Sarah 2, which had us in stitches over the weekend. I fell in love with a picture of a two-toned infinity dress and I found a local lady (because local is lekker) who could make them for me. She found the perfect material and we were not disappointed. The girls looked amazing in the dresses and felt comfortable. A victory! Dresses that the bridesmaids actually liked. The dresses had off white wrap straps and a salmony coral skirt.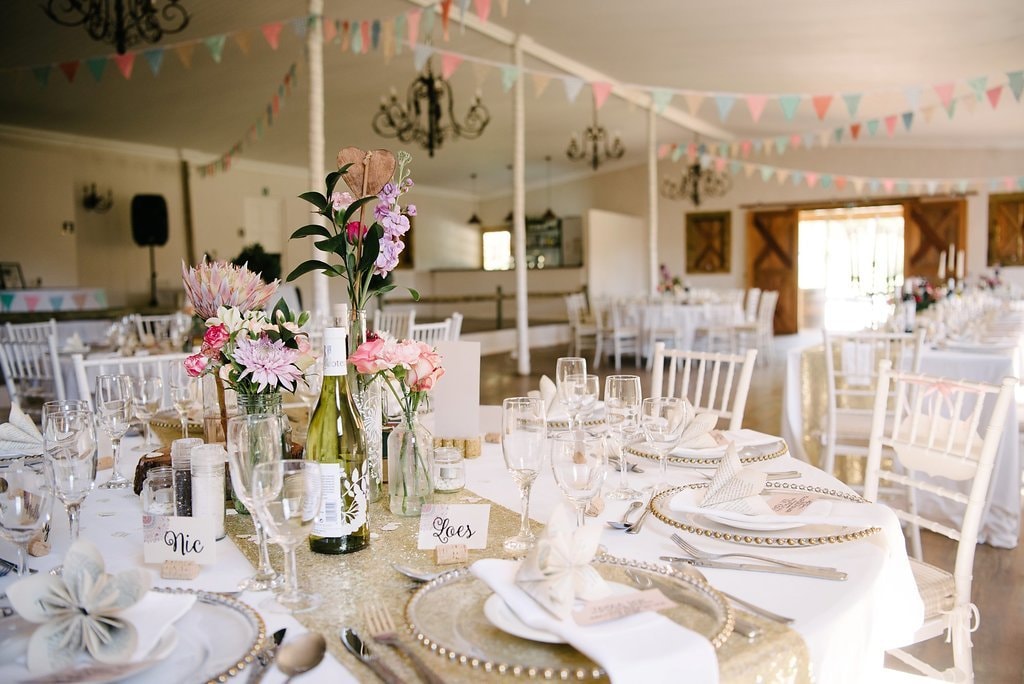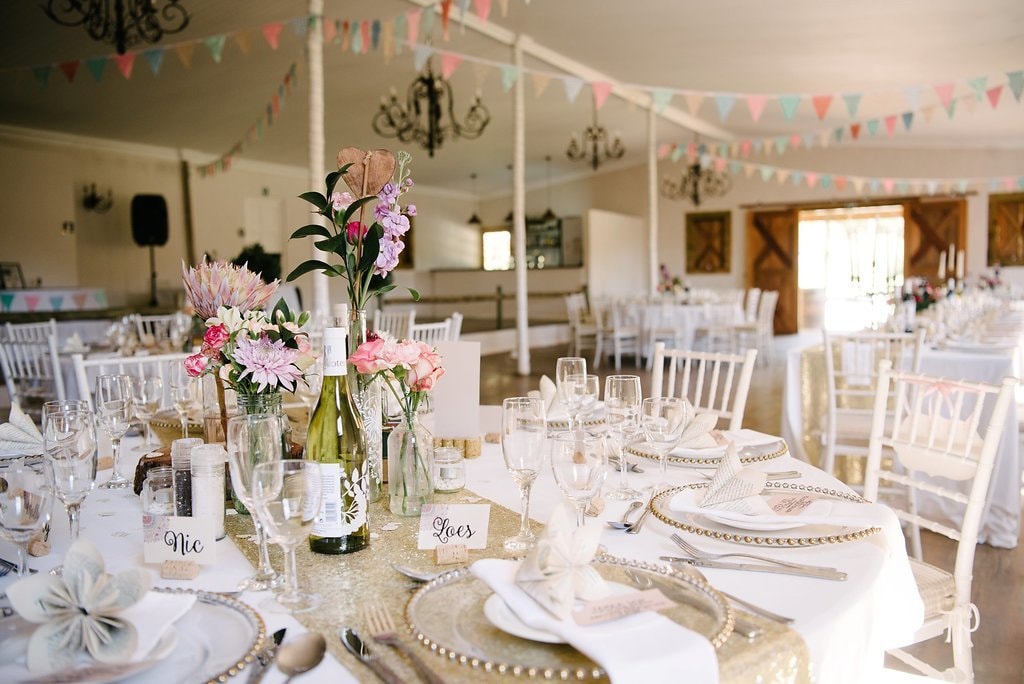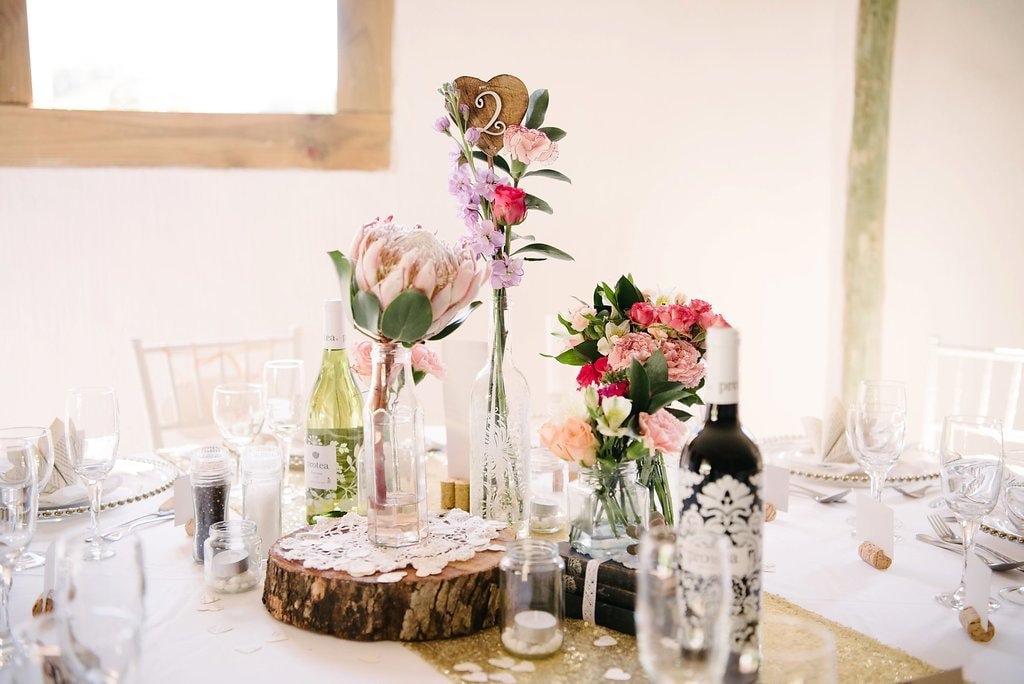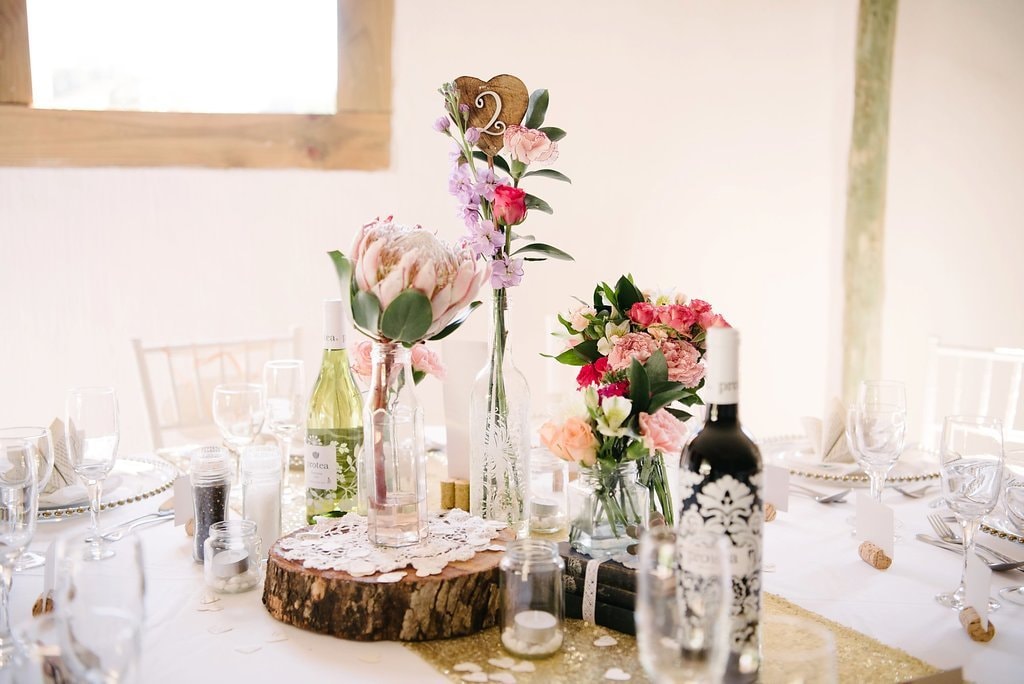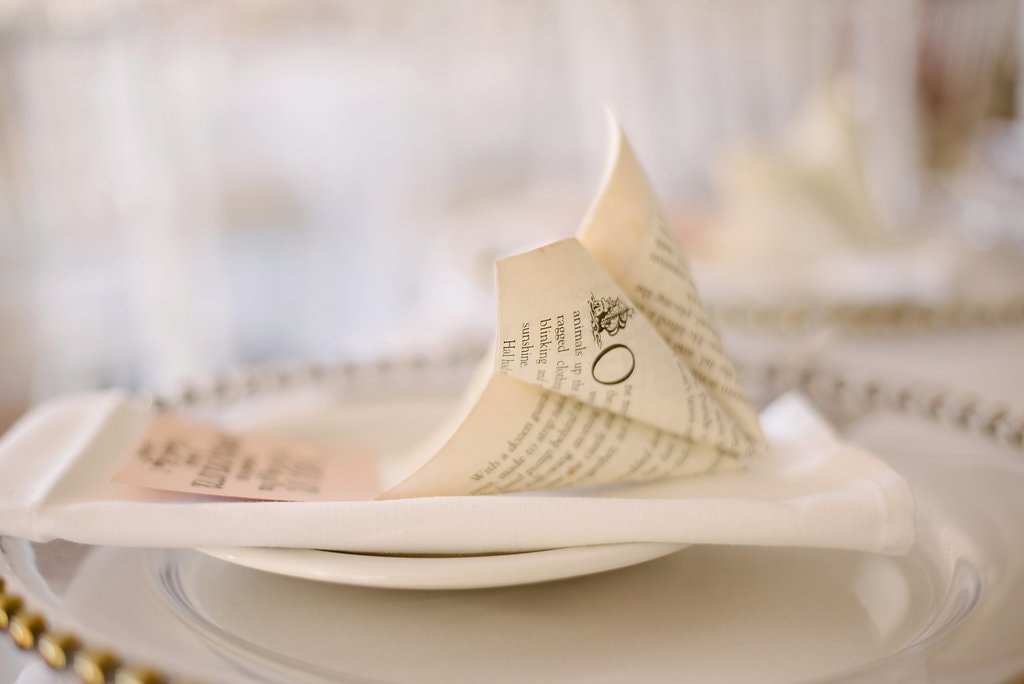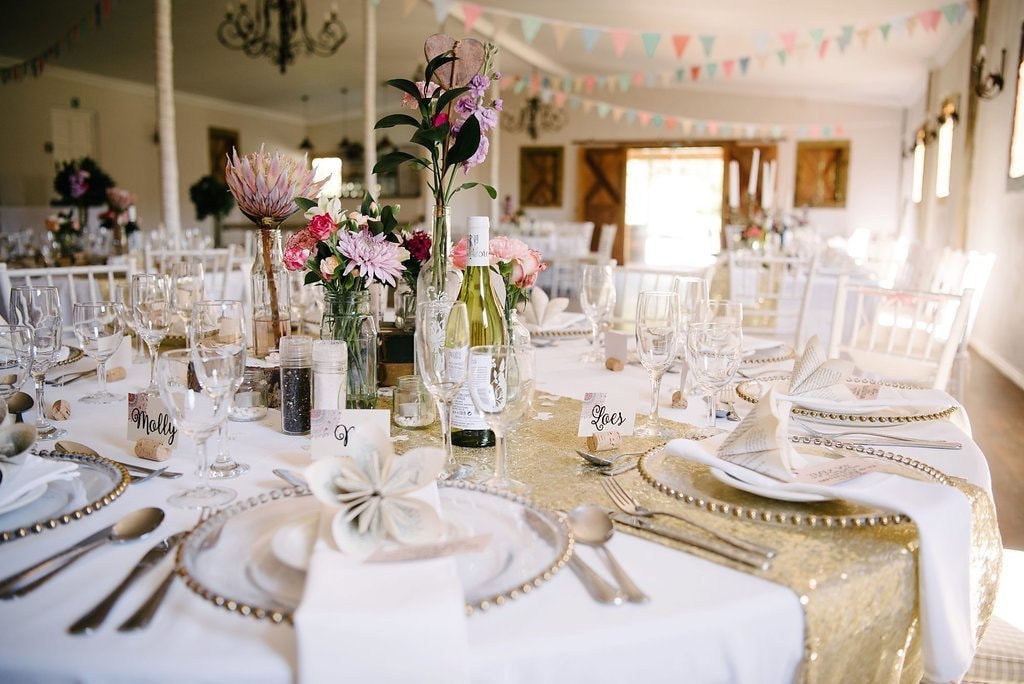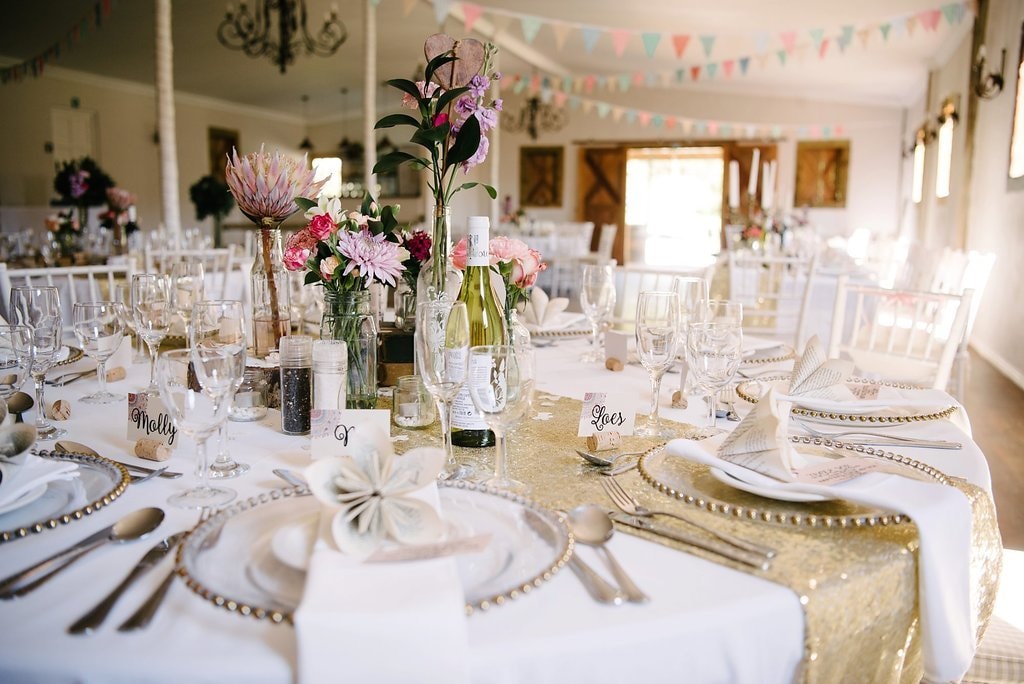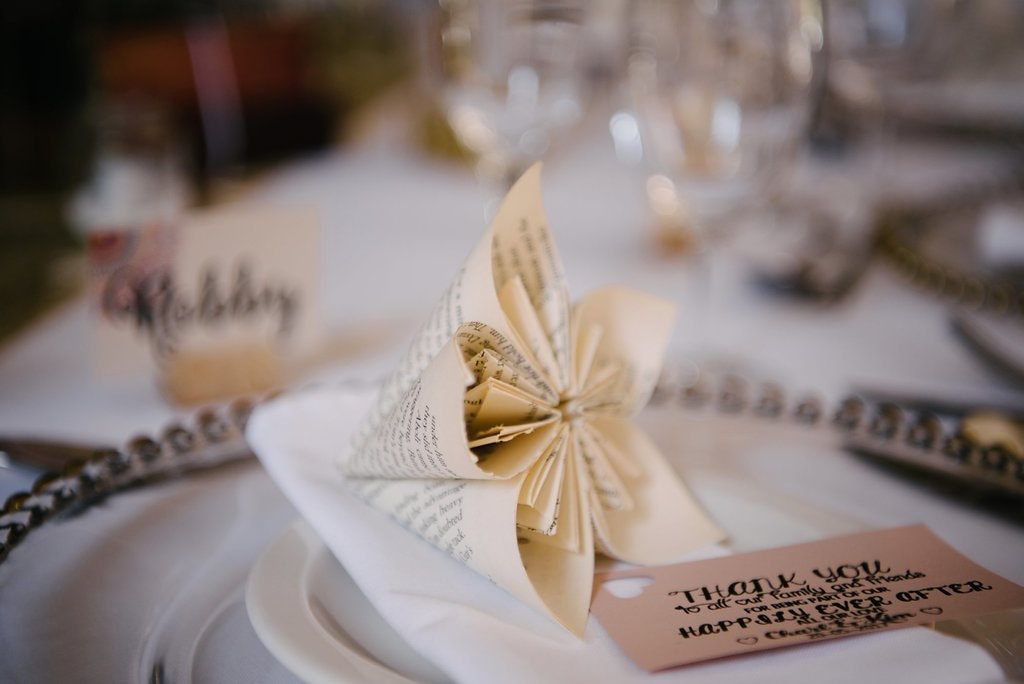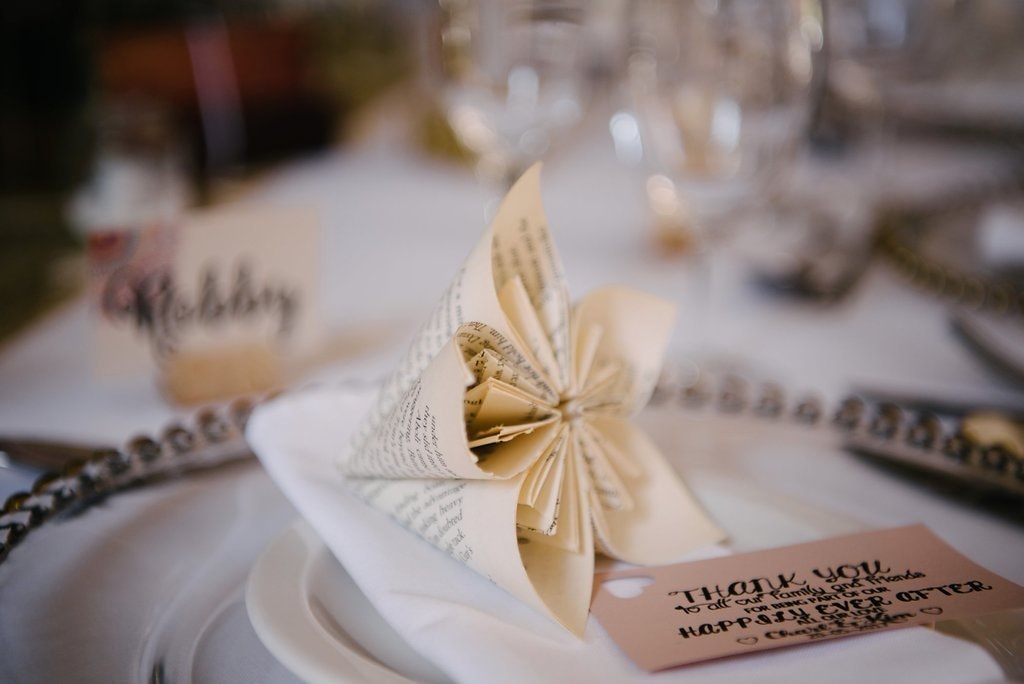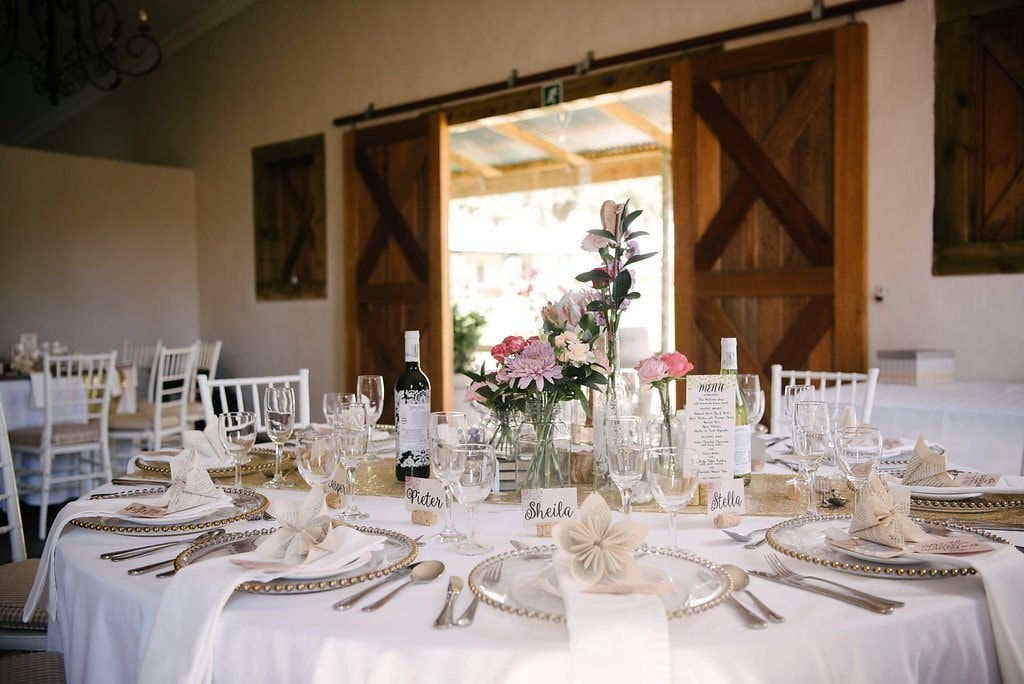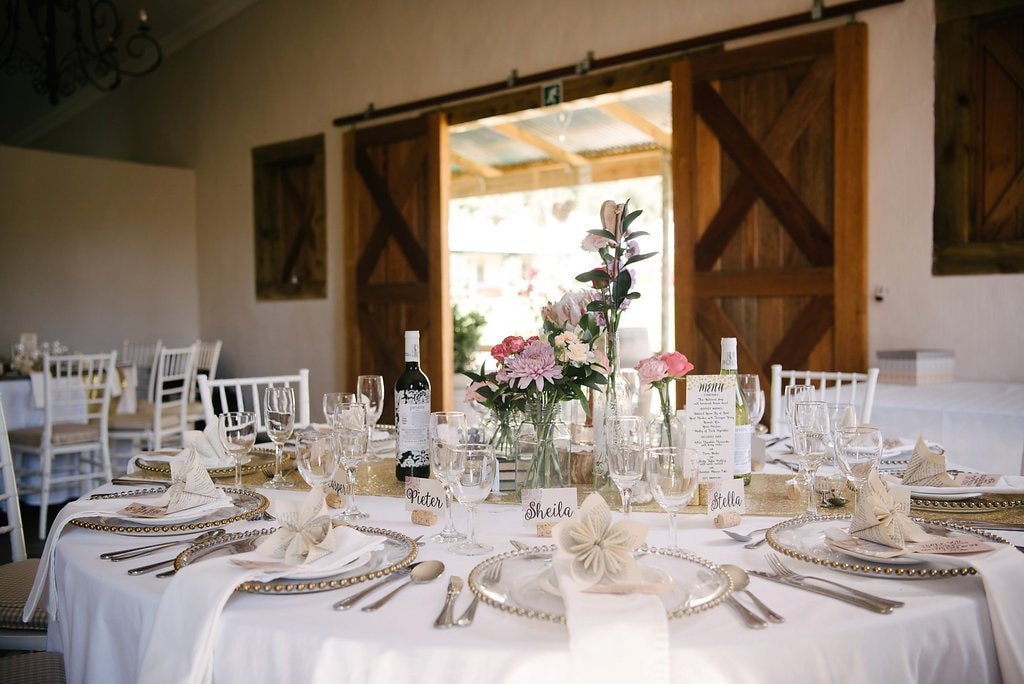 Memorable Moments
Can I say that my favourite part was the whole day? There were so many special moments but I loved standing next to Charl at the altar knowing that this was the first step in our amazing new journey together. He had a tear in his eye as I walked down the aisle. I loved how he would squeeze my hand during the ceremony, a secret message. It made the day so special that the people who were there really were our nearest and dearest, people who had watched us grow up, who we had met in our life's adventures, and they were all there together in one place to share in our love.
Favourite Detail
Char had given his sister, Heila, a gift to give to me the night before the wedding. It was a beautiful Pandora bracelet with a heart charm that said " My wife always". It also contained a perfume that I had been eying out – Ellie saab – Rose Couture. And best of all was one of his special letters.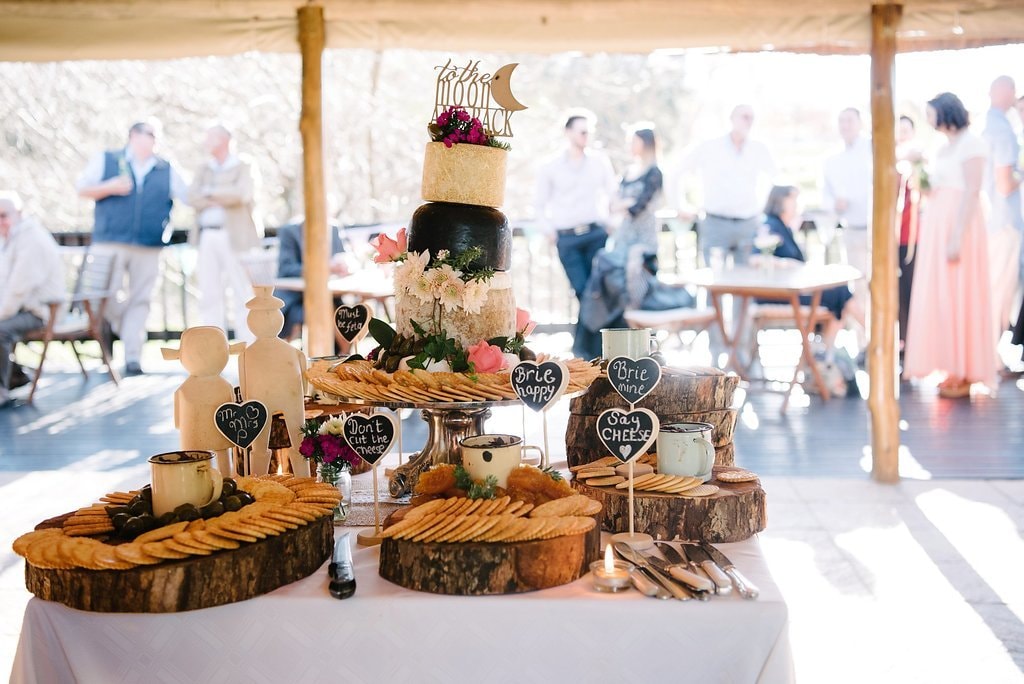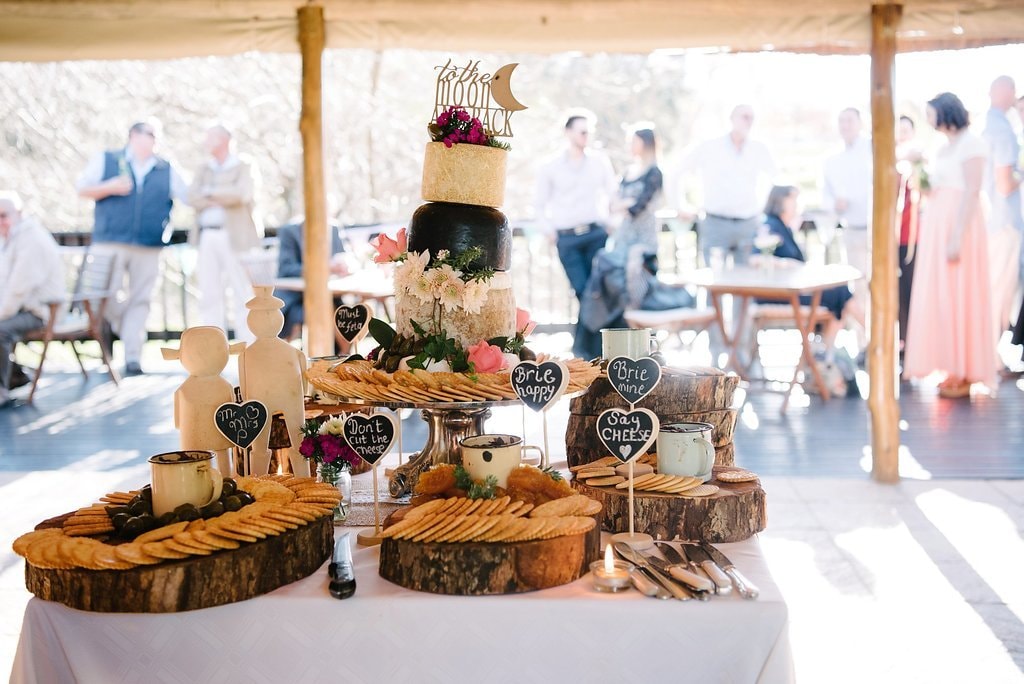 Best Decision
The best decision we made was not to get carried away in the hype that is created around planning a wedding. It is all too easy to get lured in by all the beautiful things on offer. We decided that we wanted the wedding to reflect us and we stuck by that. We put so much of ourselves into the wedding, it was hard work at times and stressful but is the best thing we could have done. The sense of pride you feel is a wonderful reward. All the DIY was a great way to get the families involved and gave everyone the feeling that they had a special role in our wedding. We loved having a few special people who loved us around us, instead of lots of people that we "knew".
Advice for Future Brides & Grooms
Do as much as you can yourself. This day is too special to not have a hand in it. Even if it is one thing that you and your partner made, designed or collected, do it. When you look at everything all set up, what you did will stand out to you; it will be something special. Make sure you remember what the day is really about. You and your partner making a commitment to each other. Make sure you spend time with your partner taking in the small details on this special day because what everyone tells you is true, you will blink and it will be all be over. Lots of people will offer you advice, give suggestions and even try pressure you into a decision. Just say thank you and that you will definitely think about it, and then stick to your vision and go with your ideas. It is your day after all.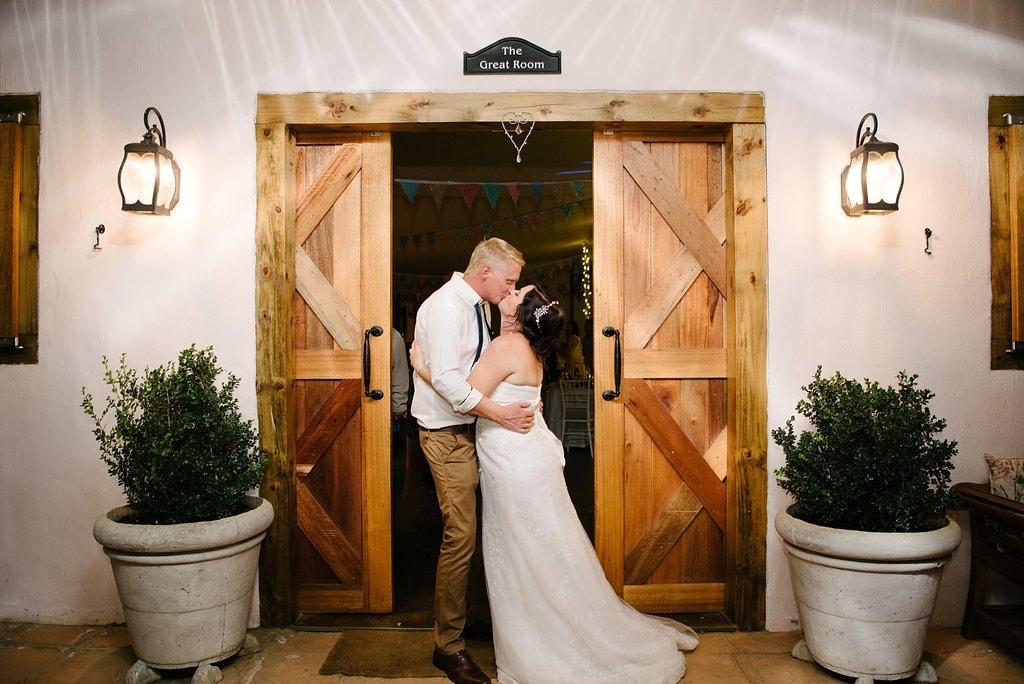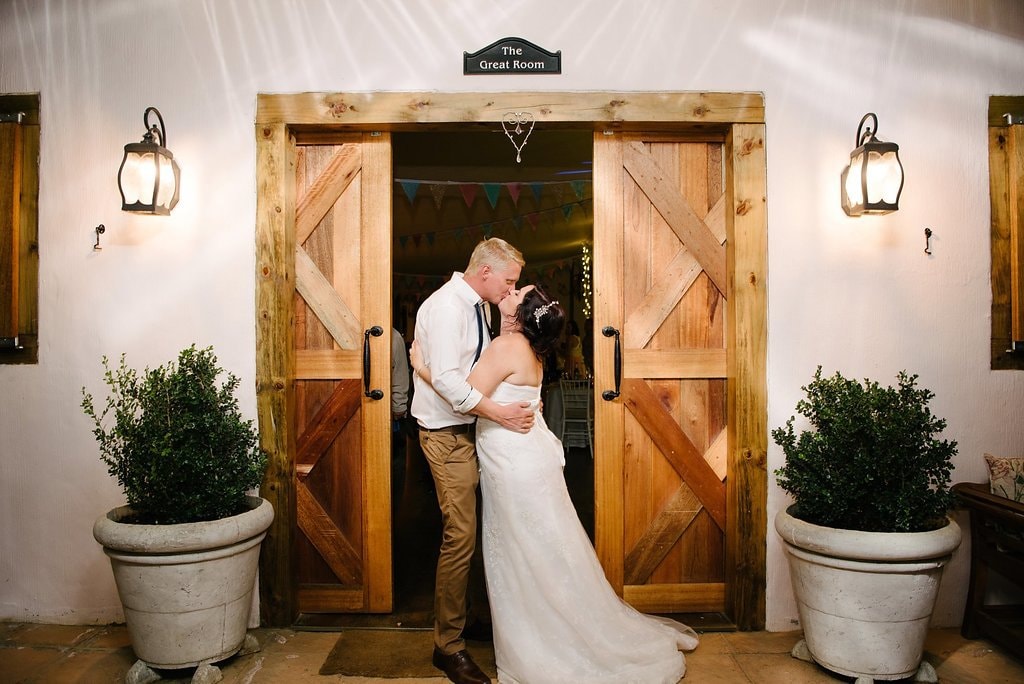 You can see more from this wedding on Tanya Jacobs' blog.
SERVICE PROVIDERS
Venue & catering: Cranford Country Lodge | Photography: Tanya Jacobs Photography | Flowers & décor: Desire2Hire | Cake: The Farmer's Daughter | Bride's dress: Bride and Co. | Bride's accessories: Kristen (garter) + Lovisa (headpiece, earrings & necklace) + Pandora (bracelet) + Spree (shoes) | Hair & makeup: Blush Makeup | Bridesmaids' dresses: Suné Holms | Groom & groomsmen's attire: Mr Price (chinos) + Edgars (shirts) + Old Khaki (belts) + Hub (scarves) + Everlasting (suspenders) + Woolworths (shoes & blazer) | DJ: Southern Lights and Events