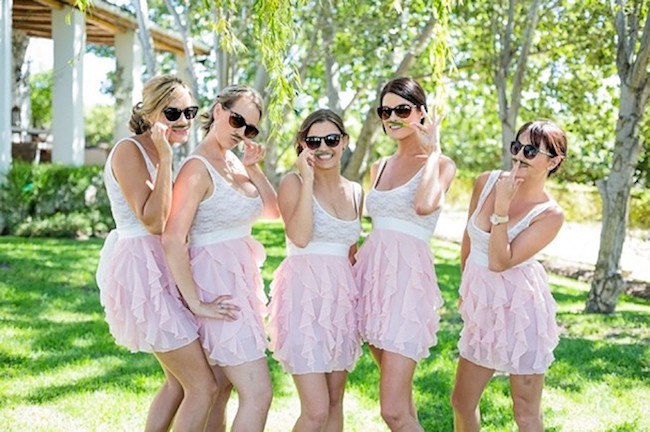 *UPDATED FOR 2021* If you're planning a summer wedding, a beach wedding or a tropical destination wedding, then sunglasses wedding favors are a great idea! They're fun, they're weather-appropriate, and they look great in photos! And best of all, they can be customized with your names, colours, wedding date, etc. There are loads of ways to display sunglasses wedding favours too, and some super cute sunglasses wedding favor signs that you can buy from Etsy. I thought it would be cute to round them up, and to have a little fun with it too. So, with huge apologies to Dr Seuss, here we go…!
*Links in bold denote affiliate links. The cost to you remains the same, but SBB may receive a commission for any sales made.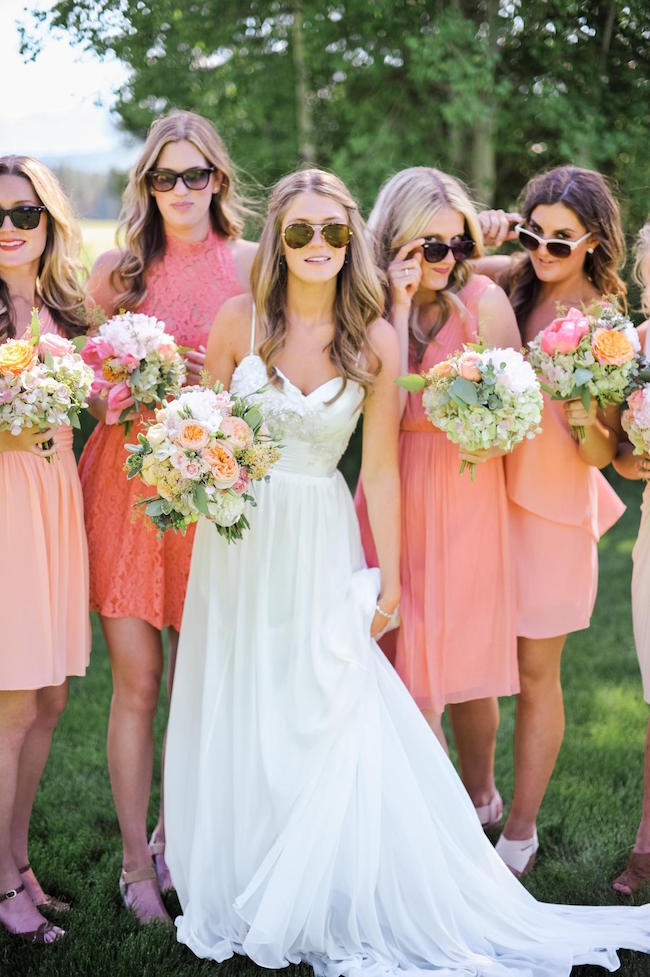 FROM YOUR GRANNY TO YOUR MAIDS
SPOIL YOUR GUESTS WITH NIFTY SHADES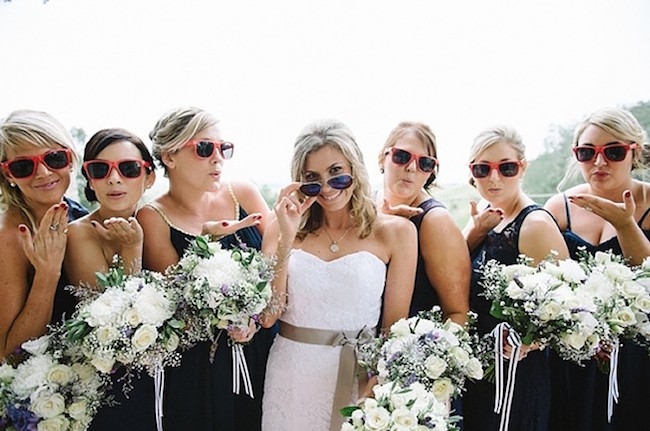 COUPLES KNOW THAT SHADES ARE FUN
EVEN WHEN THE SUN IS GONE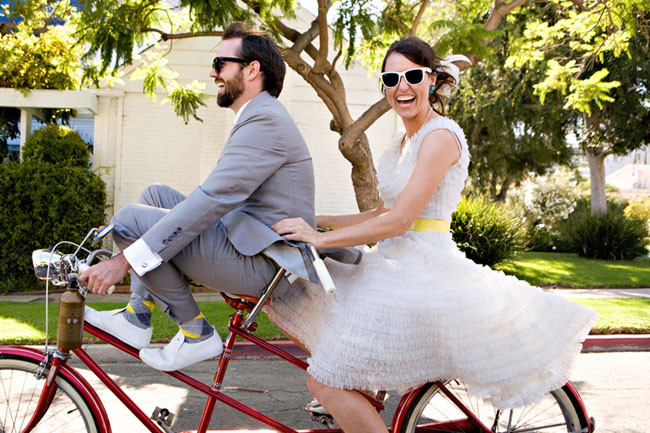 YOU CAN WEAR THEM ON YOUR HEAD
YOU CAN WEAR THEM AS YOU WED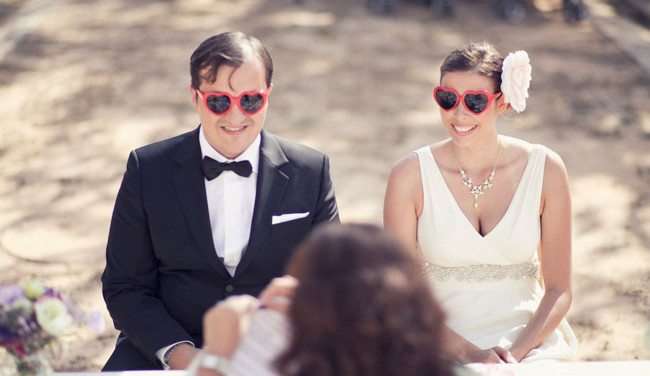 YOU CAN PUT THEM ON A PLATE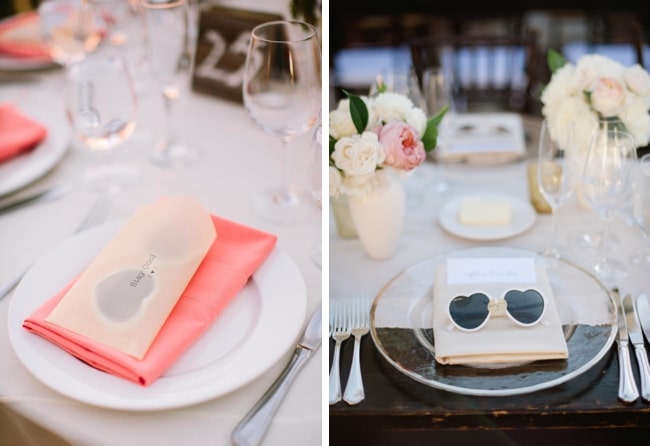 YOU CAN PUT THEM IN A CRATE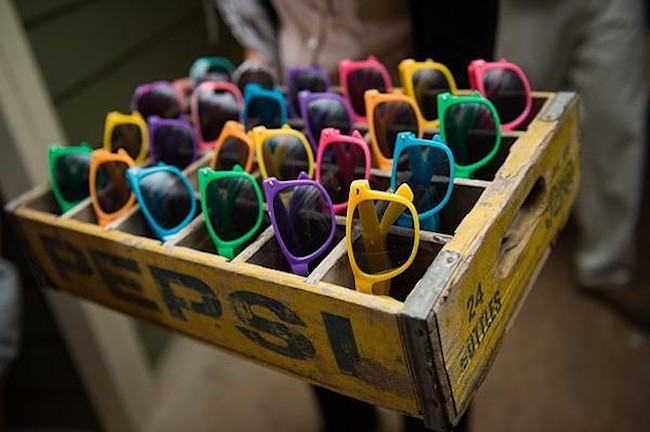 YOU CAN PLACE THEM ON A CHAIR
YOU CAN PLACE THEM ANYWHERE!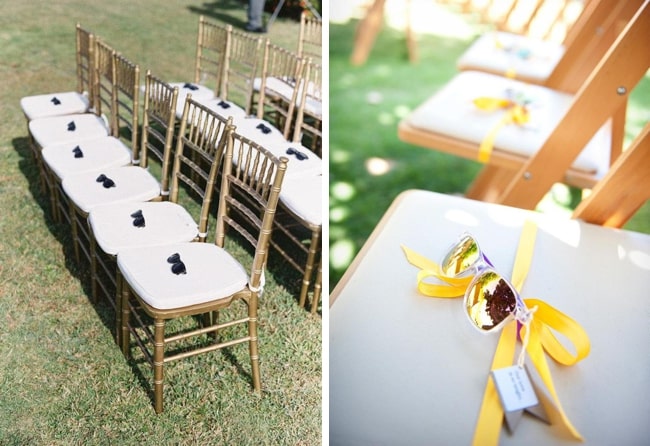 WOULD YOU, COULD YOU, ON THE BAR?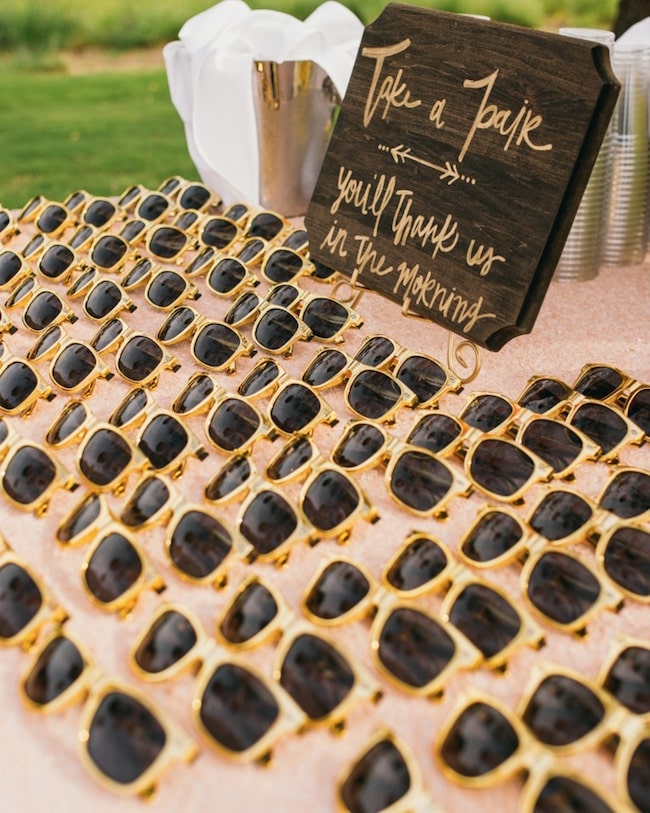 WOULD YOU, COULD YOU, IN A CAR?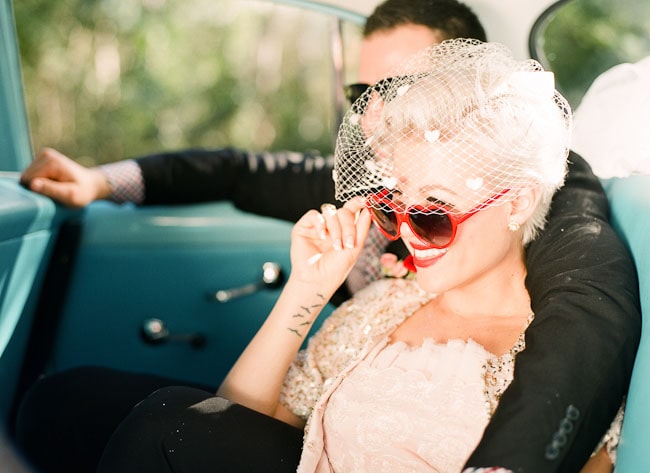 ON YOUR HEAD, AS YOU WED, ON A PLATE, IN A CRATE, ON THE BAR, IN A CAR, ON A CHAIR, ANYWHERE!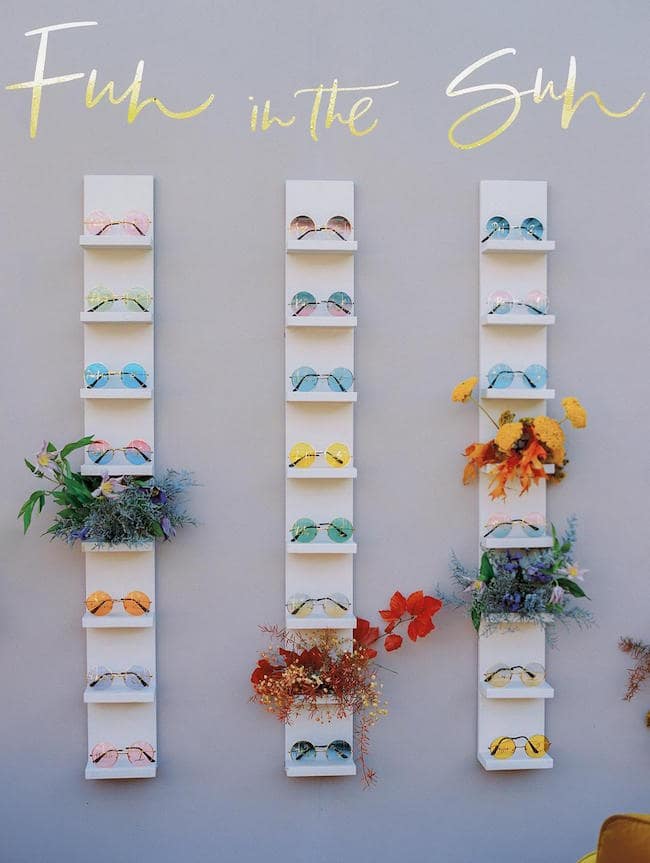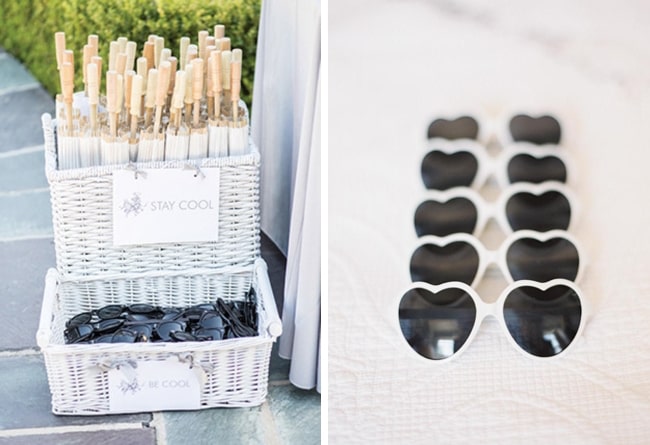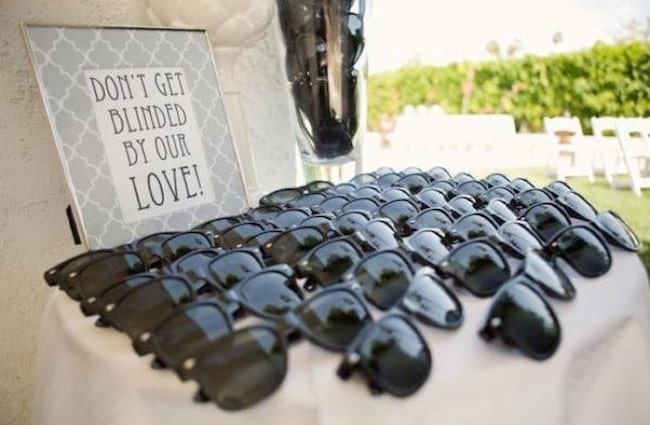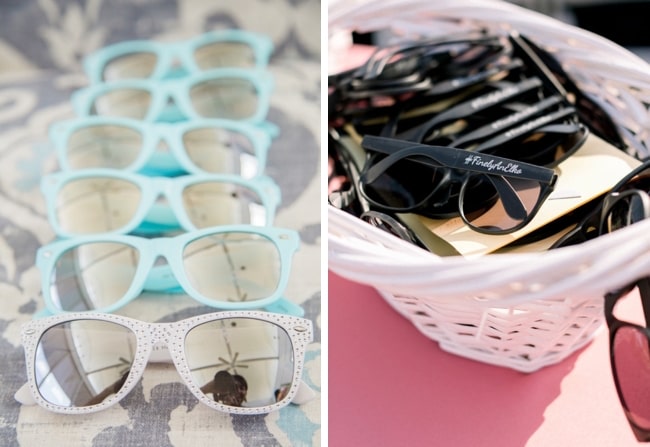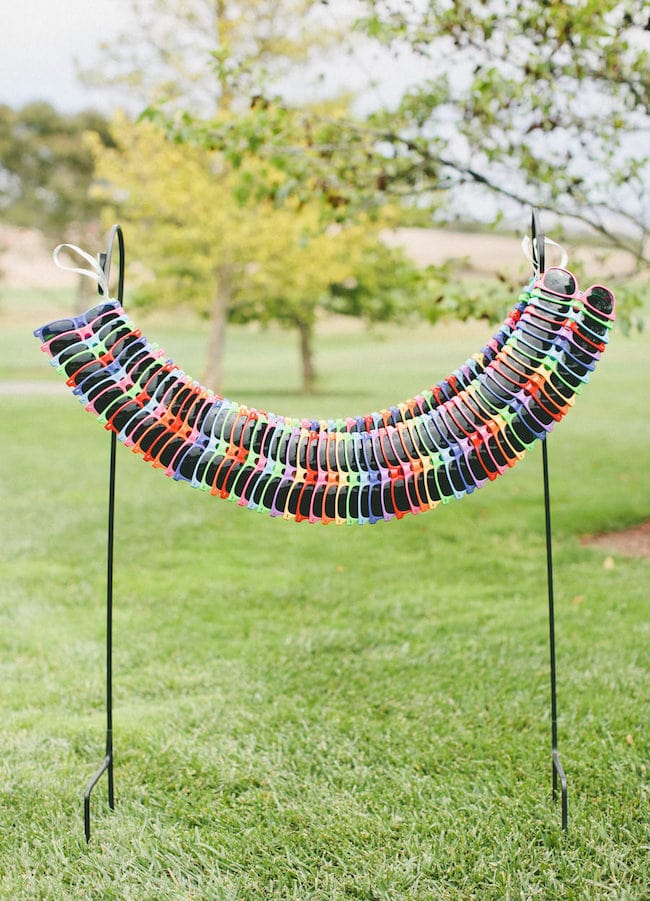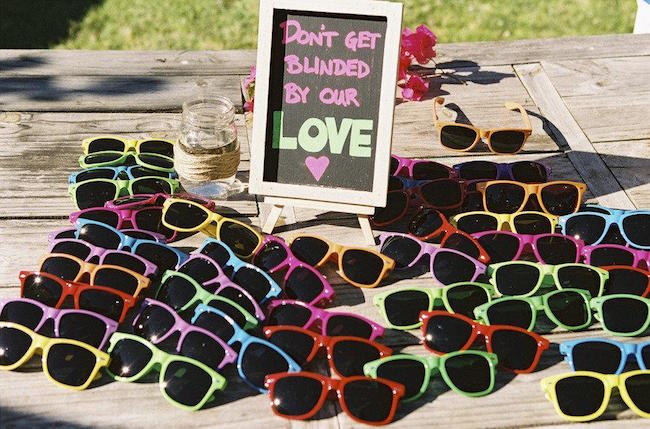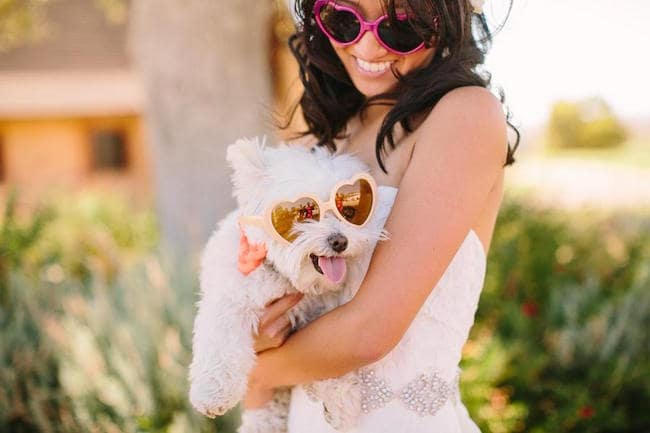 Image sources: 1- Dreampix on SouthBound Bride; 2-Blue Rose Photography/Patti Bosket Au Naturel via Style Me Pretty; 3- Bright Girl/Kerry's Flowers & Decor on SouthBound Bride; 4- Rachel Thurston via Green Wedding Shoes; 5- Brancoprata via Green Wedding Shoes; 6- Danielle Poff Photography/Touch of Style Events/PaperSky via Style Me Pretty; 7-Hazelnut Photography/You & Me Events/Toast via Elizabeth Anne Designs; 8- Bryce Covey Photography via Style Me Pretty; 9- Rachel Robertson Photography via Style Me Pretty; 10-Sarah D'Ambra Photography/Southern Hospitality Weddings & Events via Wedding Chicks; 11- Us is Greater Than You Plus Me via Green Wedding Shoes; 12-Natalie Bray Studios/Amorology via Style Me Pretty; 13- Eileen Liu Photography/Kate Fujimoto Event Design via One Fab Day; 14- Judy Pak via Style Me Pretty; 15- Marianne Wilson Photography via Style Me Pretty; 16-Elizabeth Burgi via Aisle Society; 17- Brittany Thomas Photography/Satin & Sage Events via United With Love; 18- Onelove Photography via Style Me Pretty; 19- Braedon Photography via Style Me Pretty; 20- Danielle Poff Photography/Touch of Style Events/PaperSky via Style Me Pretty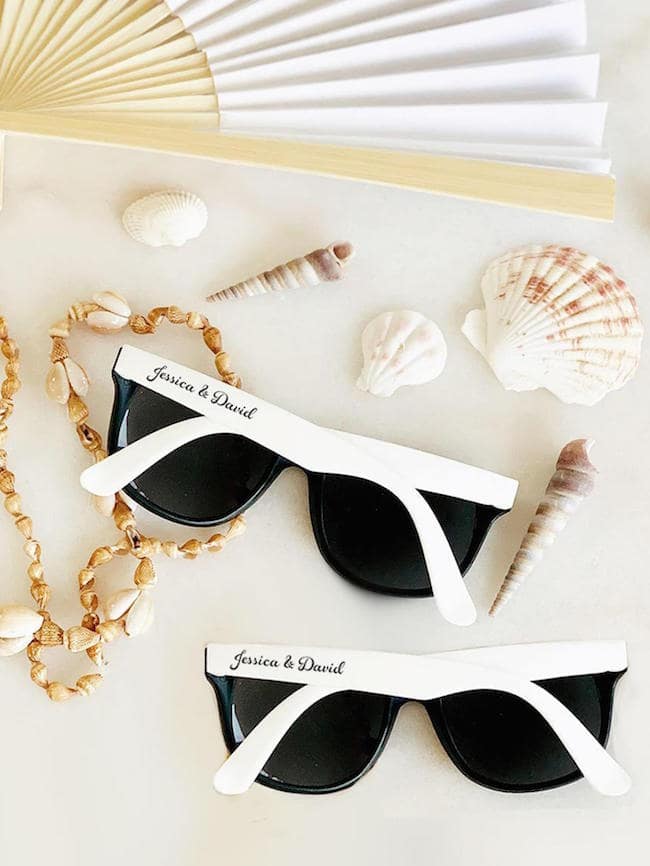 Personalized Wedding Sunglasses by Mod Party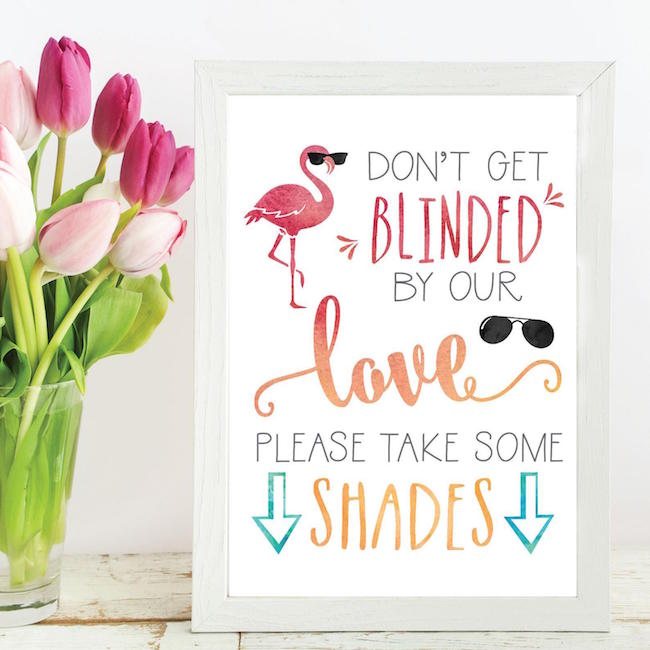 Printable Wedding Sunglasses Sign by Shop Hadley Designs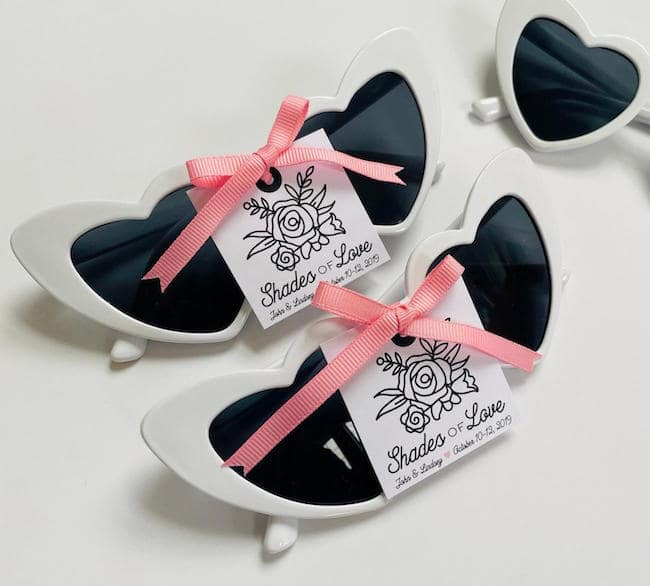 Wedding Retro Heart Sunglasses for Guests by Sweet Talk Designs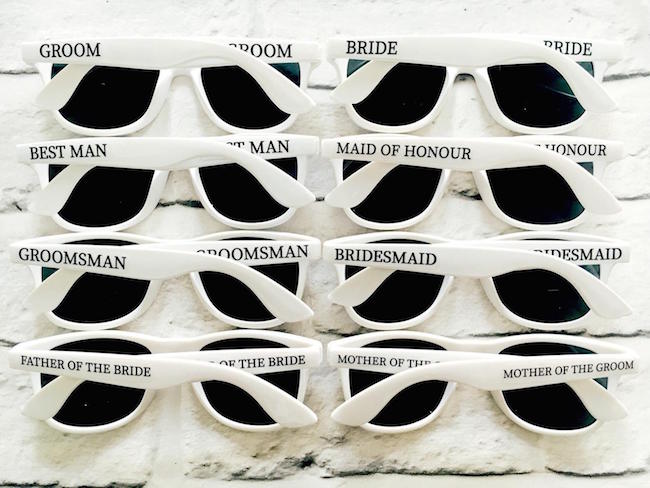 Personalised Wedding Sunglasses Favours by BRIDEA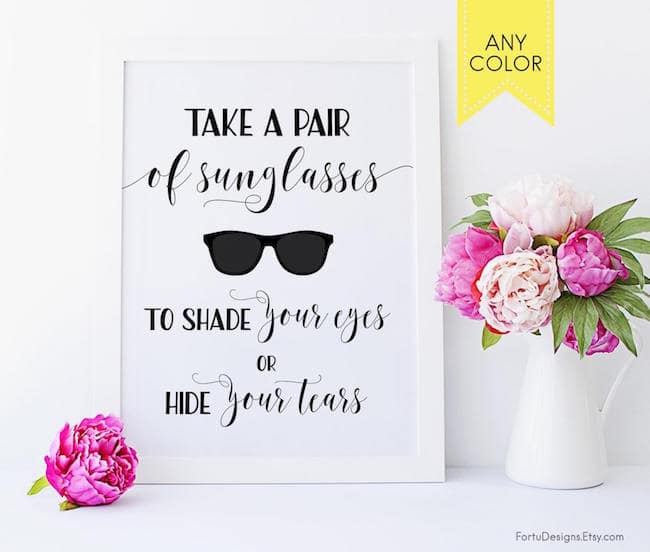 Wedding Sunglasses Sign by Fortu Designs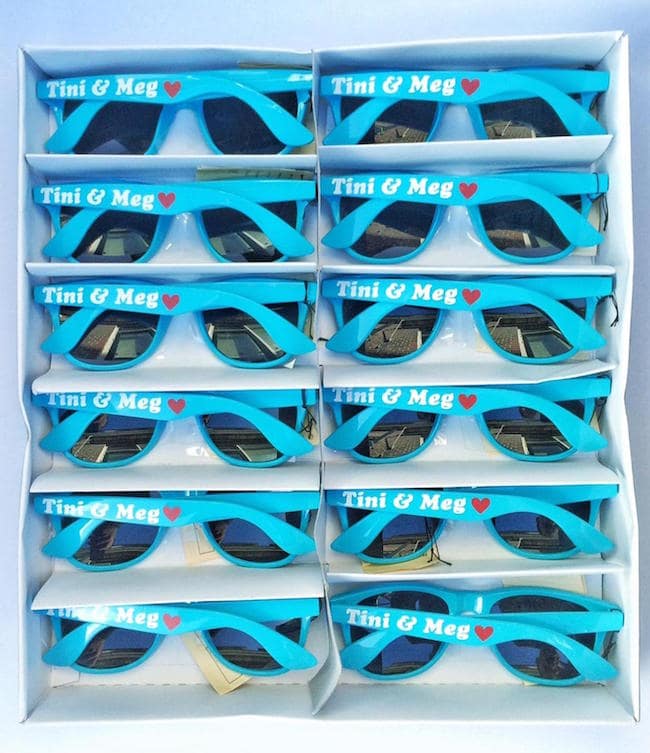 Sunglasses Beach Wedding Favor by Sticky Business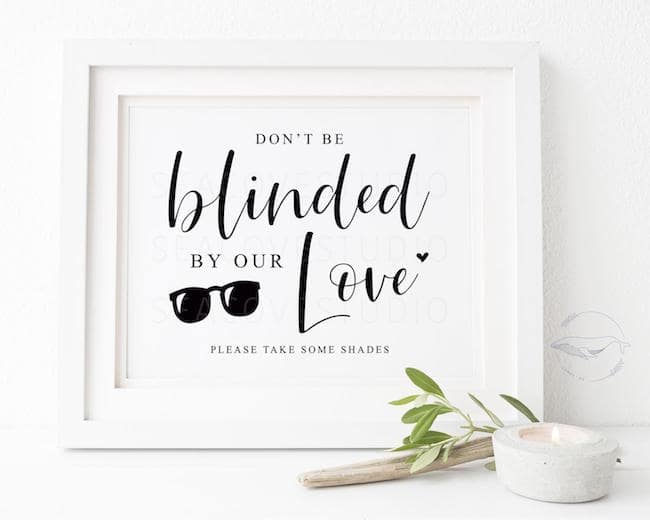 Wedding Sunglasses Favor Sign by Sea Cove Studio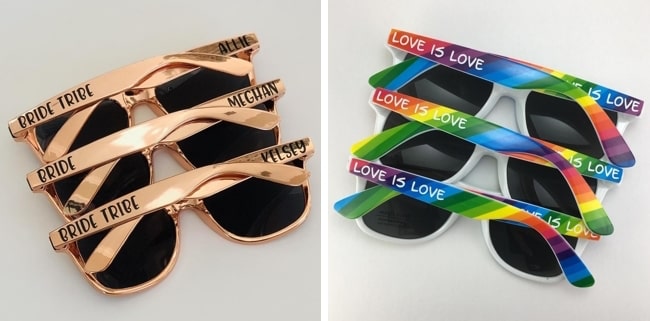 Personalized Rose Gold Sunglasses Wedding Favors by The Glass Heart Co (left) | LGBTQ Rainbow Personalized Sunglasses Wedding Favor by New York Favors (right)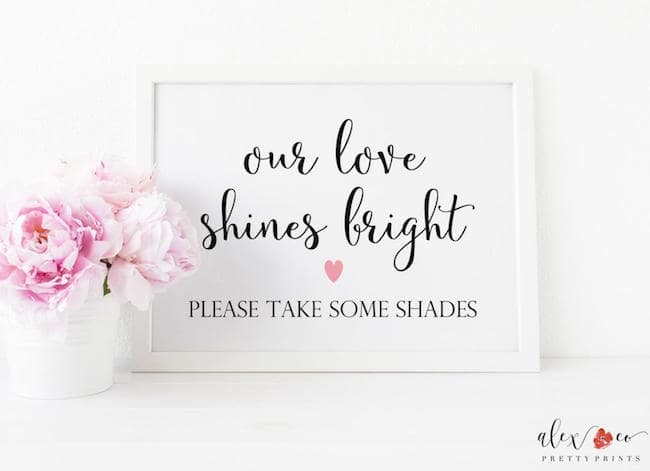 Our Love Shines Bright Printable by Alex and Co Printables