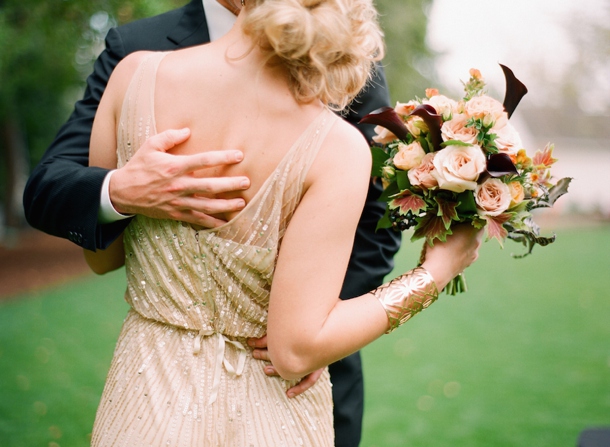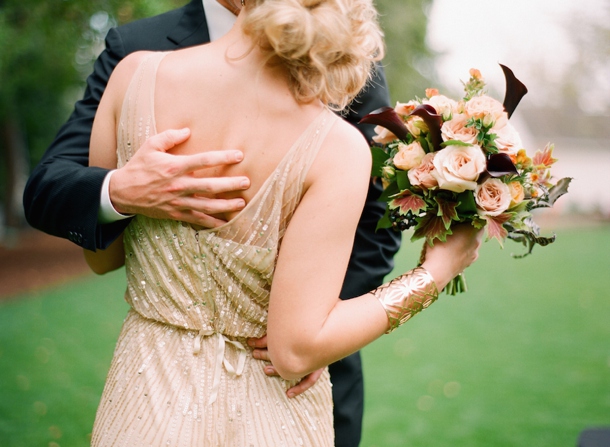 Source: Oak & the Owl/Em the Gem
This morning, lovelies, we're talking about one of my all-time favourite things. Jewellery! Oh yes indeed, because who doesn't love looking at (and wearing) pretty jewels? I'm a huge fan of sticking to classic fashion and using interesting accessories to make it pop, so it's no wonder really that I'm so in love with the current trend for wearing statement jewellery on your wedding day. After all, if it's not your personal style in day-to-day life, why suddenly revert to a demure string of pearls on your wedding day? The big question for a number of brides I talk to, though, is how exactly to rock this look without going overboard – after all, nobody wants to look like a bride who (as someone once said about Joss Stone) was covered with glue and rolled through Claire's Accessories. So today, courtesy of the good folks at Fragments Jewelry, we're bringing you all the tips and inspiration from real brides that you need. And, just because I can't resist it, I'm sharing some of my favourite pieces from the Fragments collection. If you're not already familiar with the brand, then do head over to their online store – but you might want to get someone to hide your credit card first, because I warn you, what you'll find there is seriously gorgeous!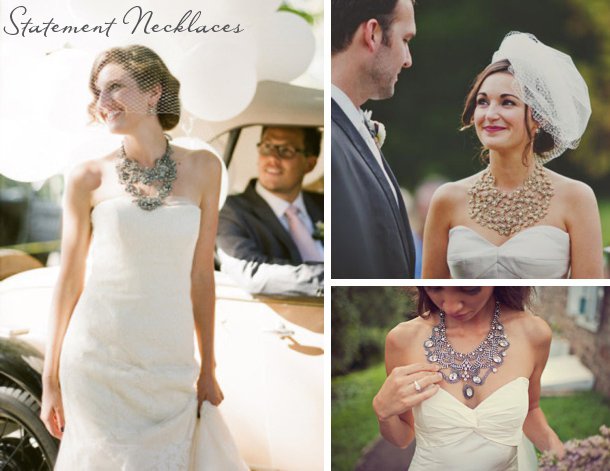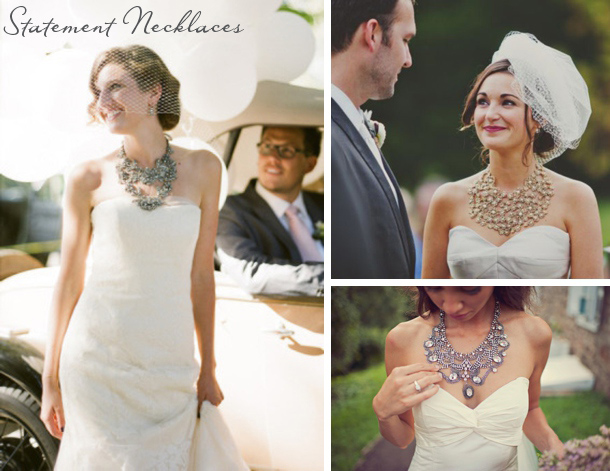 Sources: Gia Canali via Style Me Pretty (left); Teale Photography/Cedarwood Weddings via Green Wedding Shoes (top right); Brooke Courtney Photography via Postcards and Pretties (bottom right)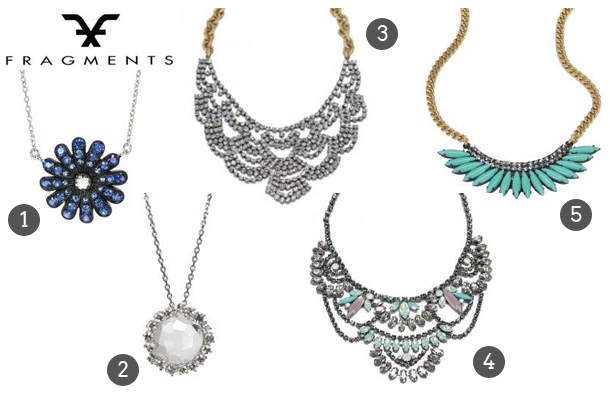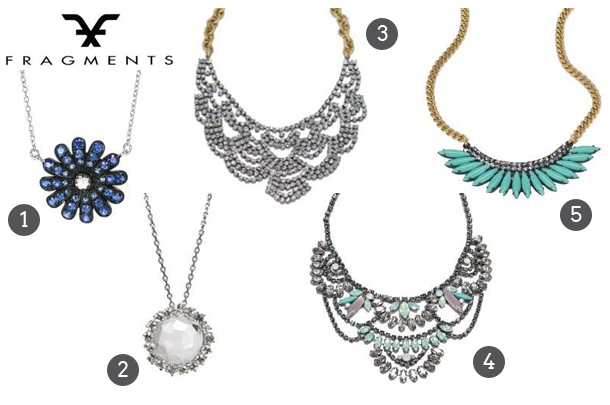 1: Blue sapphire flower necklace; 2: Starburst set round; 3: ; 4: Stephanie necklace; 5: Mint mohawk necklace
So why go for a statement piece? Well, apart from the fact that it has a lot of personality and style, it's a great way to have a piece of your wedding that you can carry through to life afterwards – every time you wear the jewels you'll think about where they made their debut and how special and wonderful you felt on that day. Maybe it's even something you can pass down – what a special gift for your own daughter one day. Another good reason is that you can customise the piece to the theme of your wedding, with colour or style (think bold and graphic for a modern wedding, rustic for a beach one and vintage-influenced if that's your wedding look). Without being too matchy, it's a cohesive way of bringing the wedding look and yours together.
So what if you love the idea, but just can't get past the idea of it being 'too much' for church? Or maybe you have a special piece of family jewellery you always imagined you'd wear during your vows? Well, the good news is, you don't have to choose. In fact, I've seen a number of brides who saved their statement pieces for the reception, which is an absolutely brilliant way of changing your look for the evening without spending a fortune on a second dress.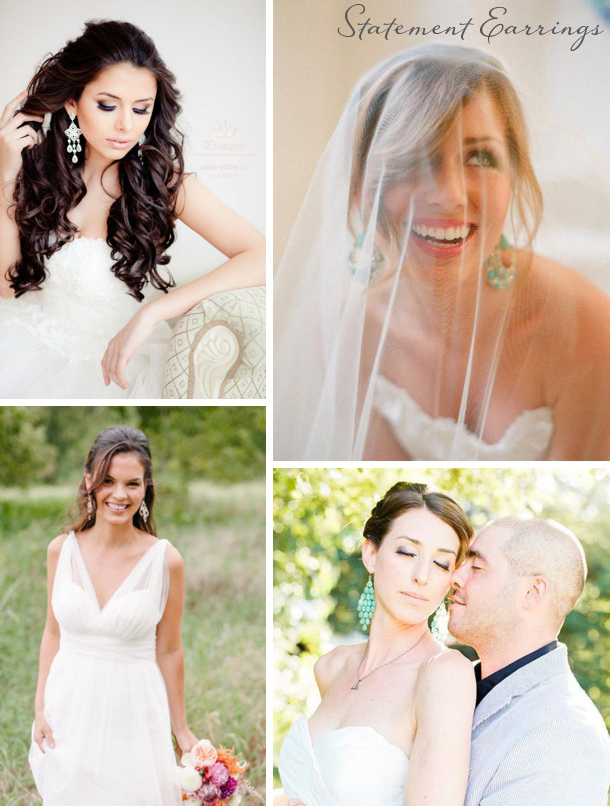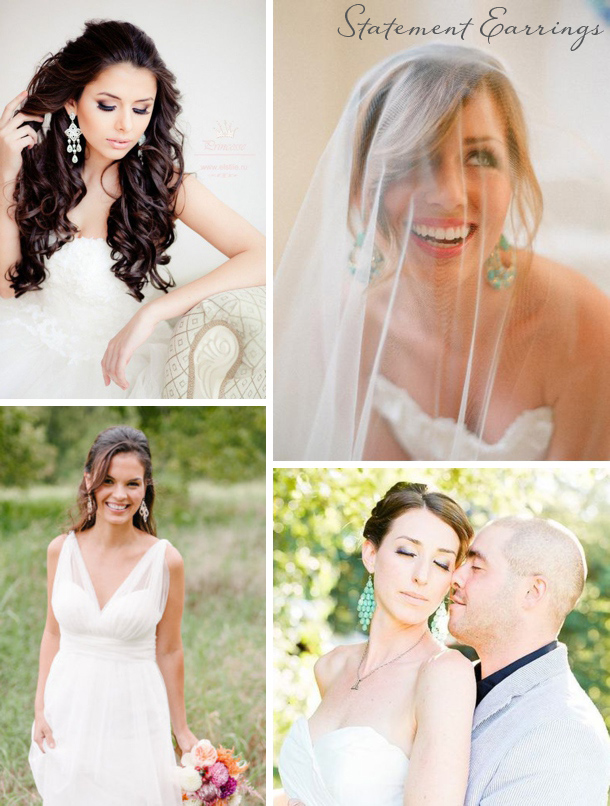 Sources: via El Stile Weddings (top left); Matt & Julie Weddings via Style Me Pretty (bottom left); Elizabeth Messina via The Bride's Cafe (top right); Mandy Mayberry Photography (bottom right)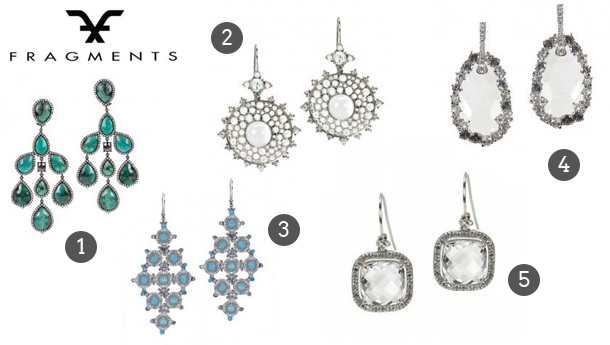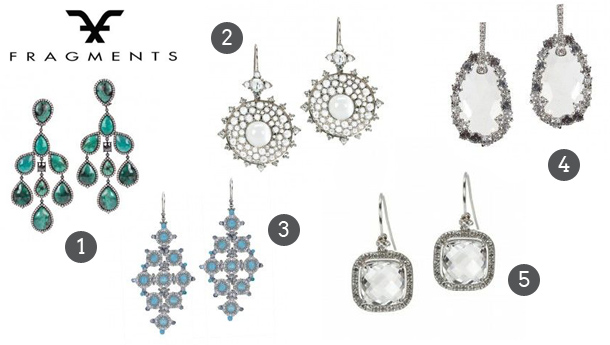 1: Emerald chandelier earrings; 2: White sapphire bullseye earrings; 3: Mist Ravenna drop earrings; 4: Pear cluster earrings; 5: Sparkly cushion drop earrings
As I mentioned before, the key to statement jewellery is not to go overboard. In general, I'd advise picking a single statement piece, and allowing it to speak for itself. That said, I have seen brides rock more than one – maybe a set of sparkly earrings right next to a sparkly headpiece, or perhaps a bracelet as well as a pair of earrings. As I say, it can work, but to be on the safe side, stick to just the one. And you definitely don't want to go necklace + earrings, as they'll not only completely overwhelm each other, but they'll overshadow your dress as well.
When choosing your statement jewellery, follow your instinct. If it's a piece you love, that suits your personality and you know you'll feel comfortable in (and not just comfy – thrilled to wear it), then go for it. These days you don't need to feel constrained by what is 'bridal' – this is a chance to show off your fashion sense, so don't be afraid to express yourself! After all, it's in the name – you're making a statement!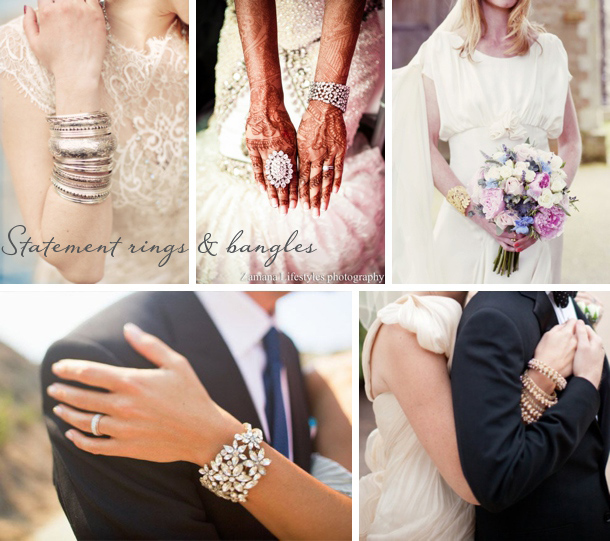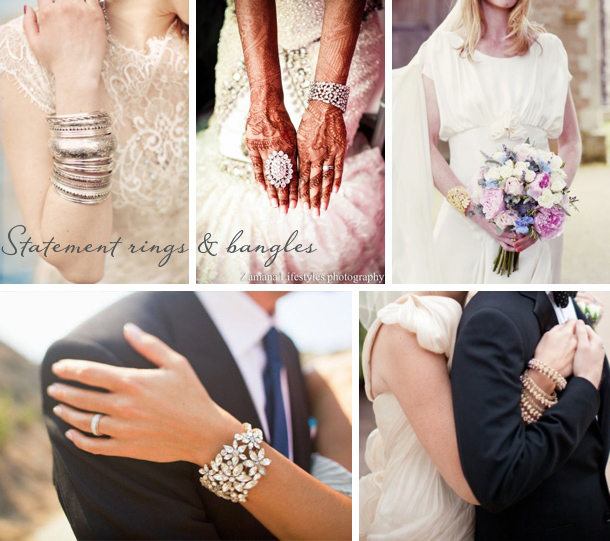 Sources: Row 1- Shoot In Love Photographie/ via Elizabeth Anne Designs (left); Zamana Lifestyles via South Asian Bride (centre); Rebecca Wedding Photography via Belle & Bunty (right); Row 2- Max Wanger via 100 Layer Cake (left); m three studio via Style Me Pretty (right)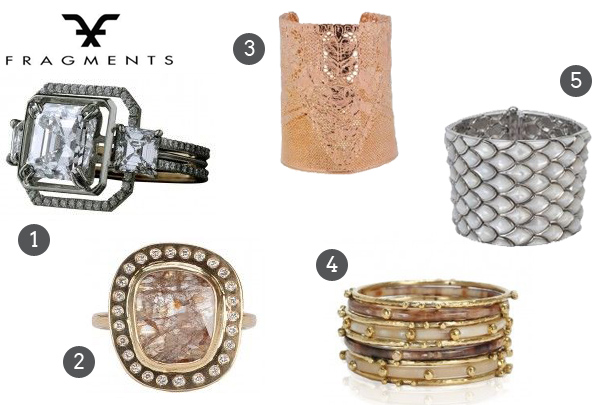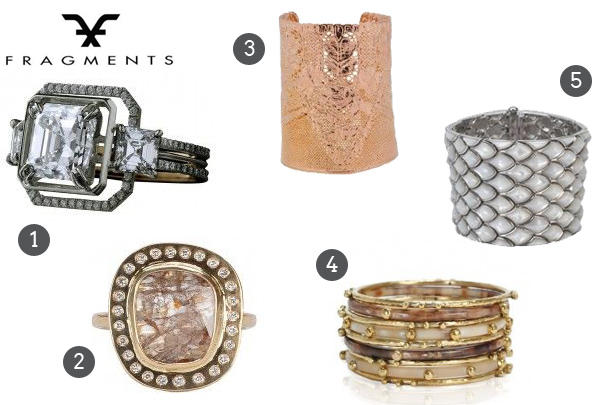 1: Three stone Asscher cut diamond ring; 2: Rutilated diamond halo ring; 3: Golden Pauline cuff; 4: Shaba bangle set light horn; 5: Mother of pearl scale cuff
There are two more key aspects to take into account with your styling. First, your dress:
Remember, it should always be the showstopper, the star attraction (apart from the person IN the dress, obvs). So make sure that your accessories enhance the beauty of your gown instead of competing with it. ALWAYS try them on together ahead of the big day.
Take into account that your dress may have its own accessories built in – the lace back, the sparkly belt, etc. These are statement pieces themselves, and they must be allowed to shine. So, for example, if you're wearing a one shoulder dress with sparkly detail, opt for chandelier earrings instead of a necklace. On the other hand, if your dress is strapless, your neck and shoulders are a blank canvas for a gorgeous chunky necklace.
Don't limit yourself to just necklace or earring ideas either – bracelets are BIG news in bridal next season, and I love seeing brides in fabulous cocktail rings (a great option if your dress has a lot of sparkle already).
The other thing to think about is your hairstyle. In general, for necklaces and earrings, I'd recommend going for an updo that allows them to be seen. However, if you have your hair down but off your face/away from your ears, this can work very well too. However, do avoid side ponytail styles if you have a statement necklace – go for bracelets or earrings instead.
You can find Fragments Jewelry online here – including their beautiful bridal range!