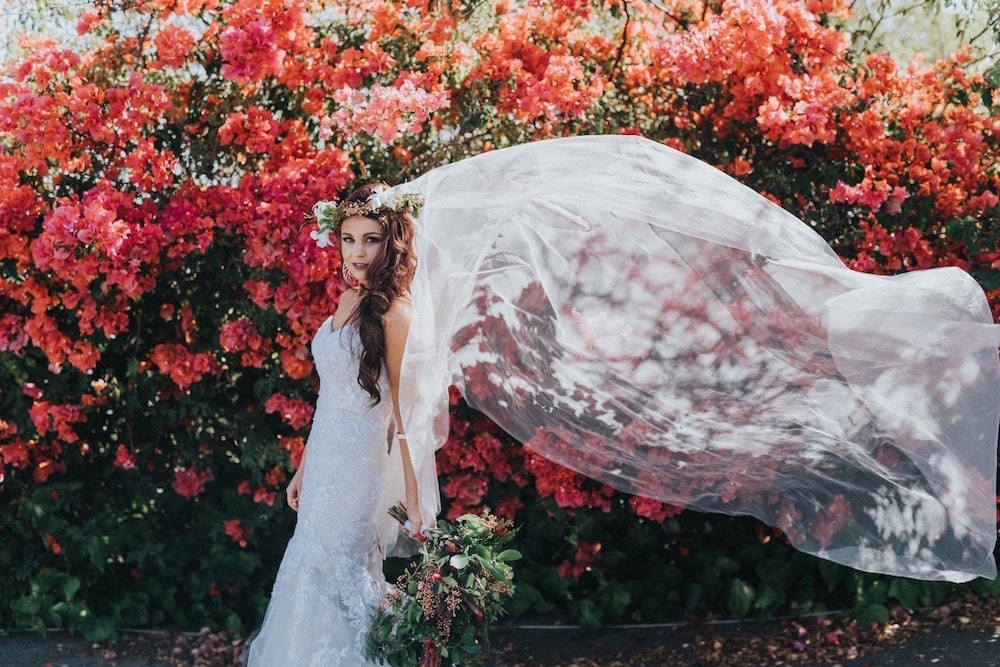 There are some weddings I fall in love with more every time I look at them, and Juan and Mari's is one of them! Which probably has something to do with the fact that Mari is such a creative soul – not only did she design all the stationery for her big day, and come up with some gorgeously unique ideas (like the cork boutonnieres and origami crane invitations), she applied to same creativity to writing a sweet poem that bagged the couple two of our favourite wedding cinematographers, the fab Barefeet Videography, in a competition they ran (be sure to check out the video at the end of the post!). The style was modern meets bohemian, with a divine palette of pomegranate red, leafy green, and rose gold. I love the mix of clean, contemporary geometrics with more rustic elements, as well as the addition of rose gold safari animals as a nod to the couple's love of the bushveld. And I LOVE the happiness in all Debbie Lourens' wonderful photos – not just between the high school sweethearts who became newlyweds, but among their family and friends as well. What a happy, pretty day.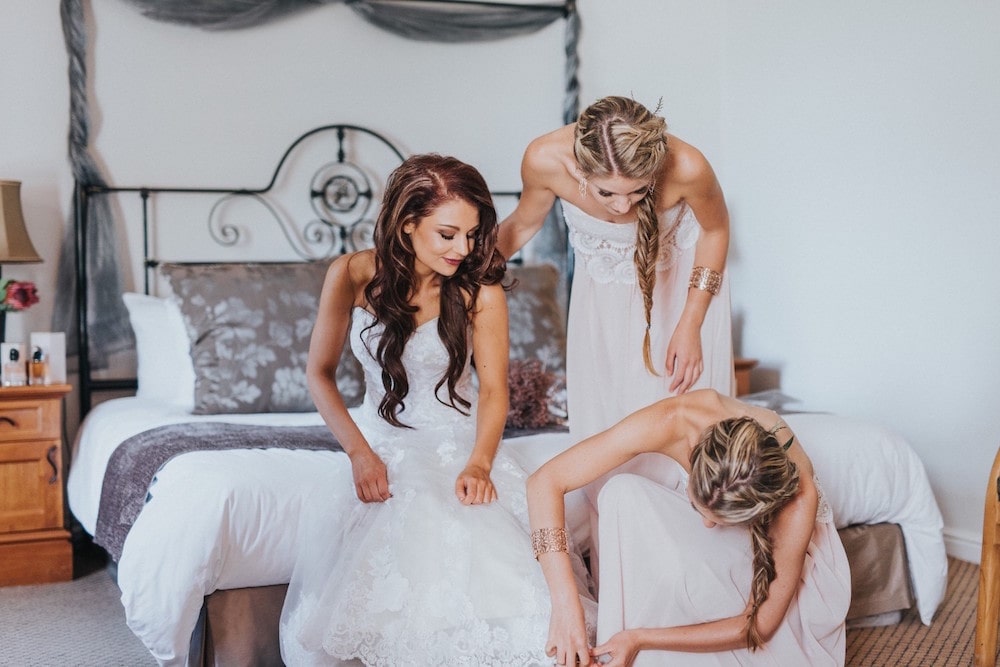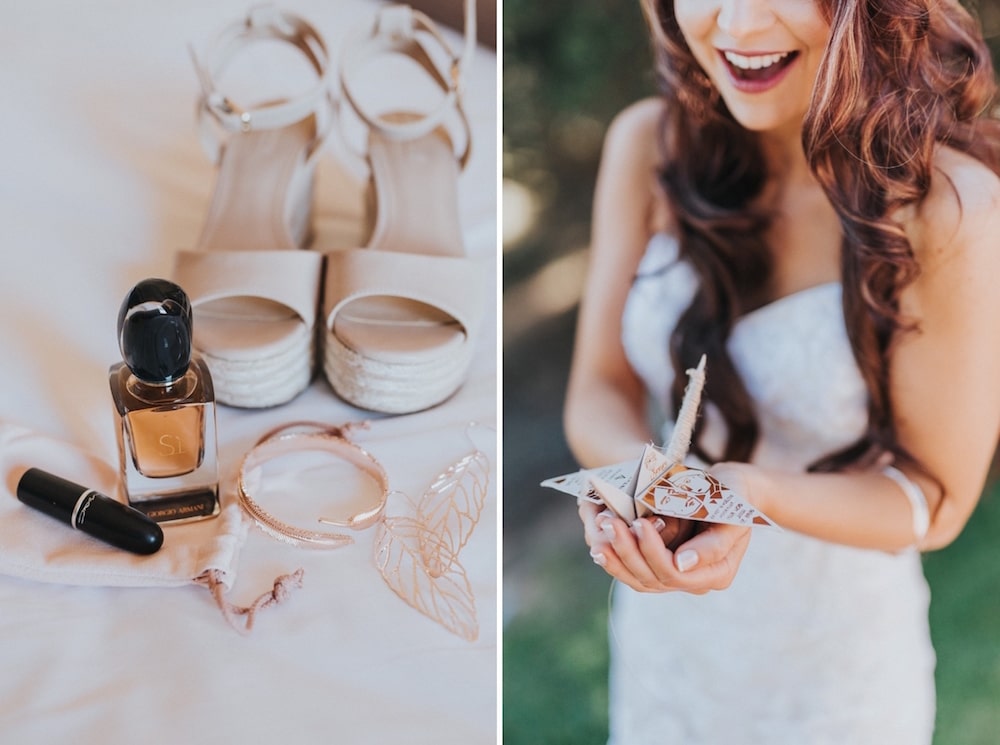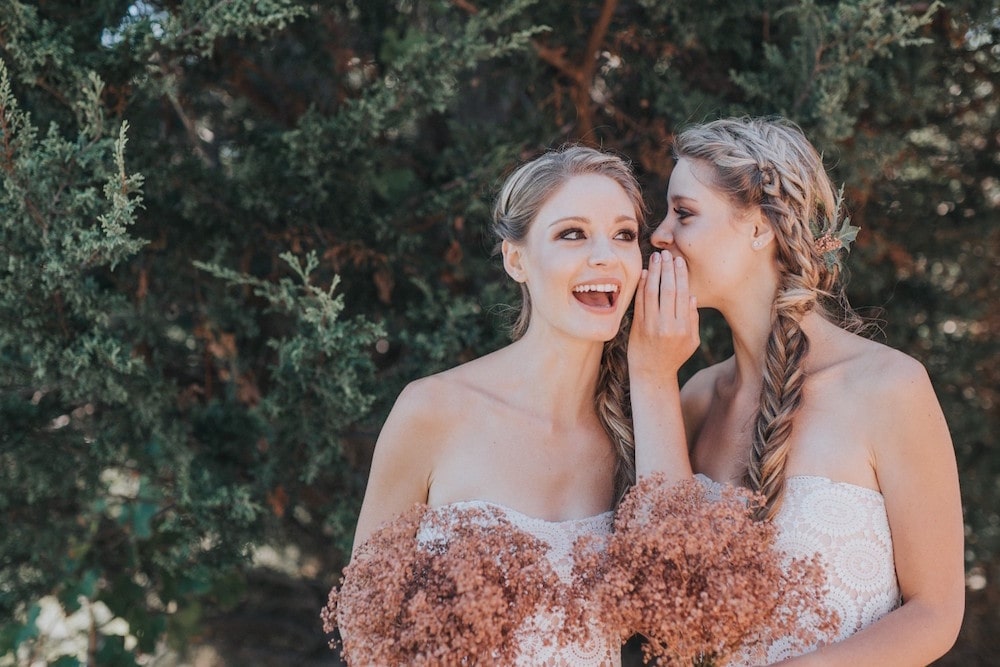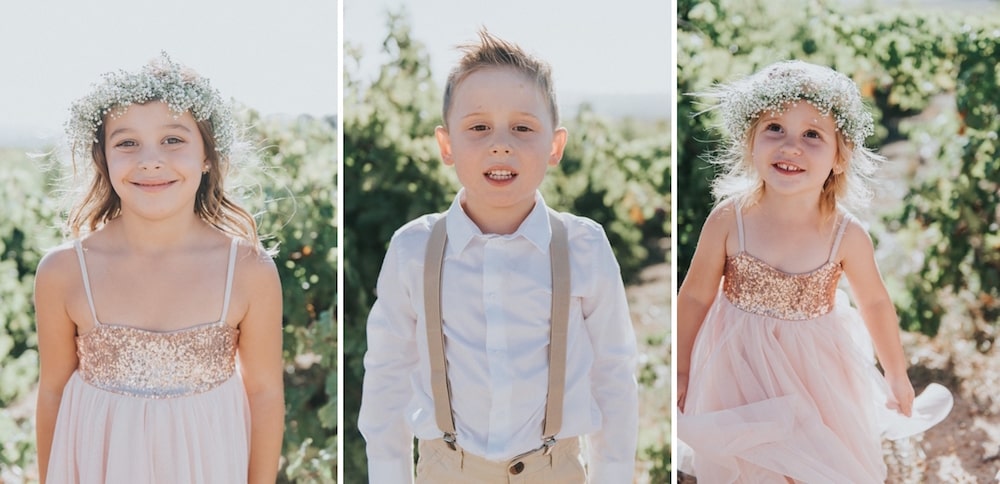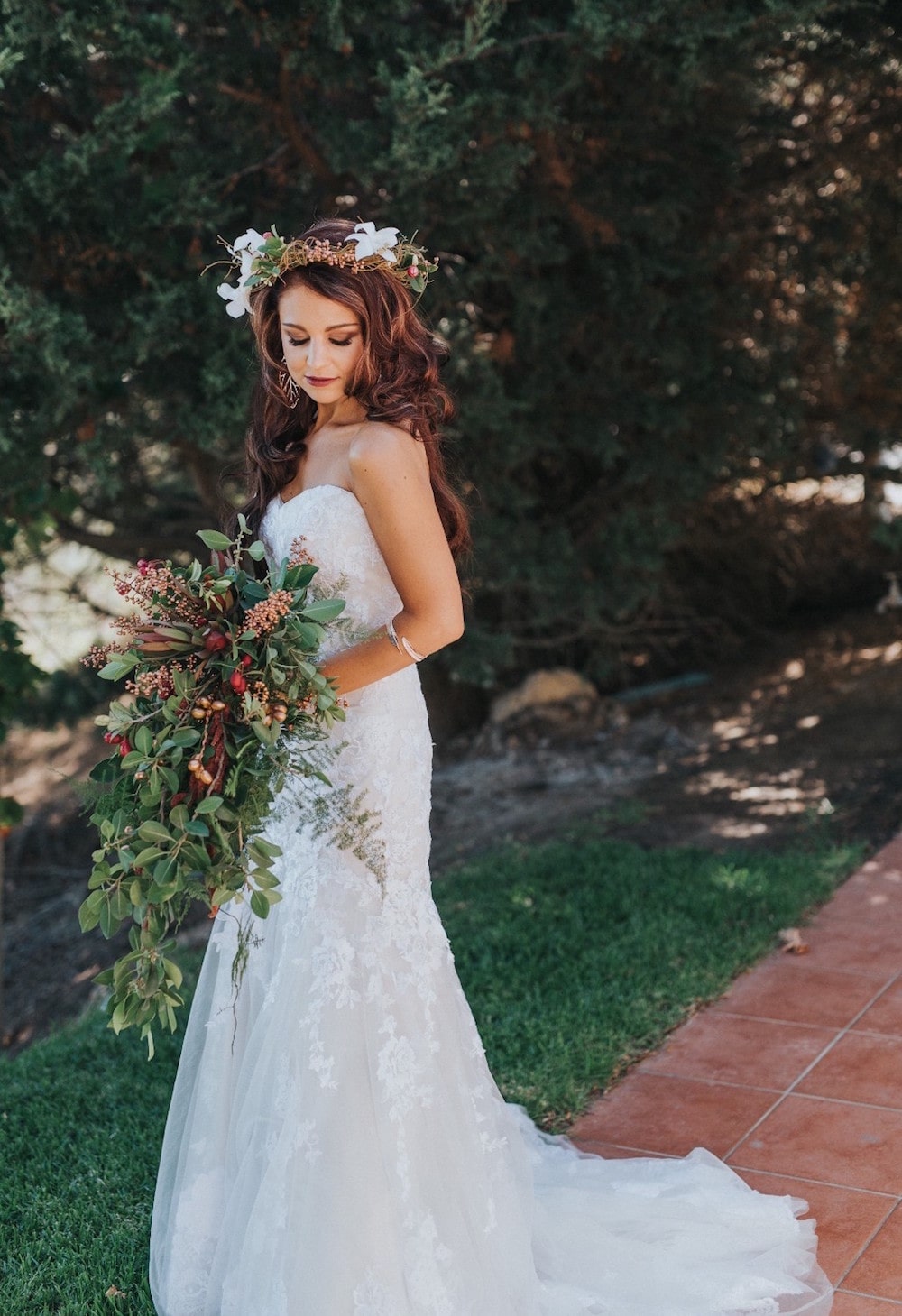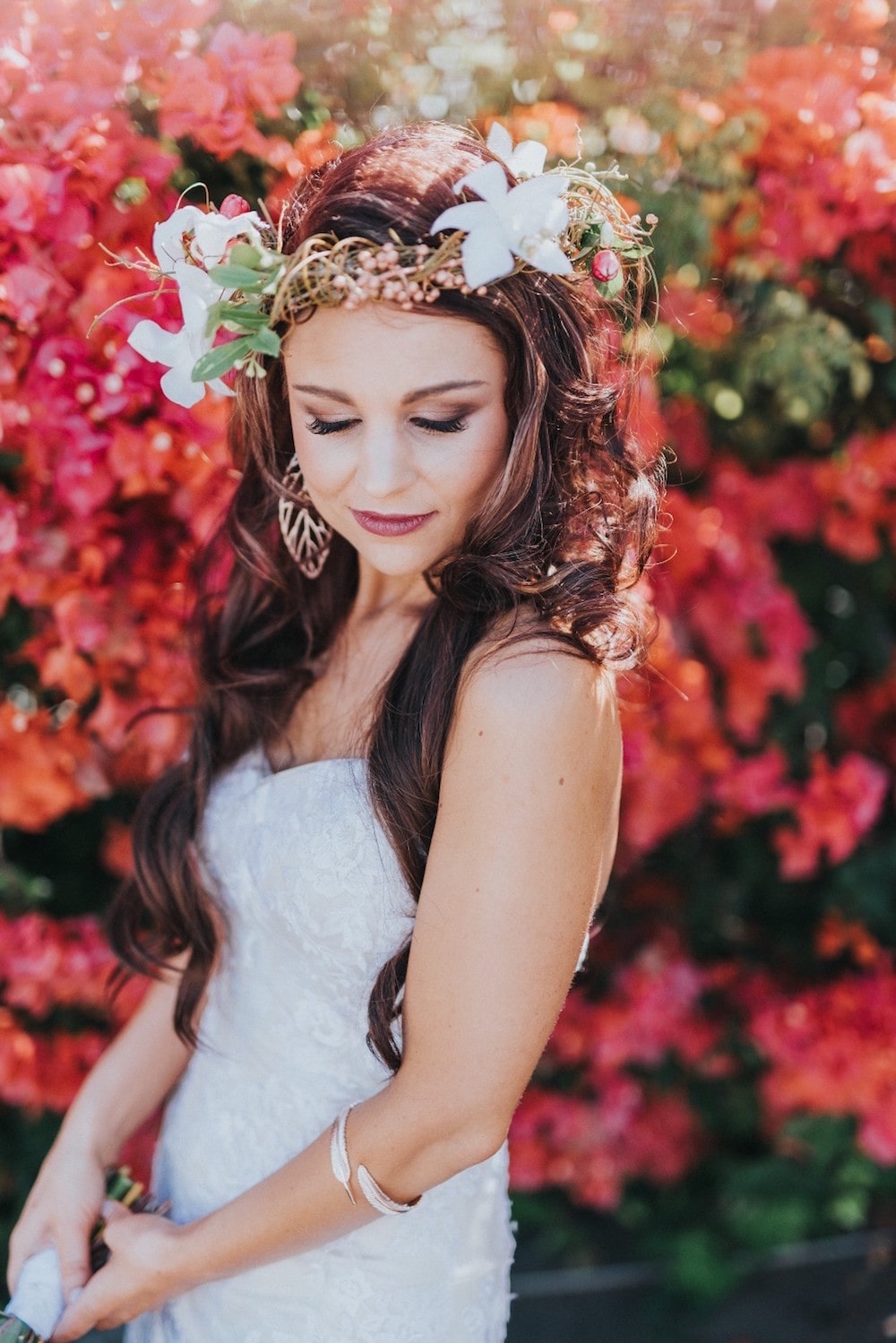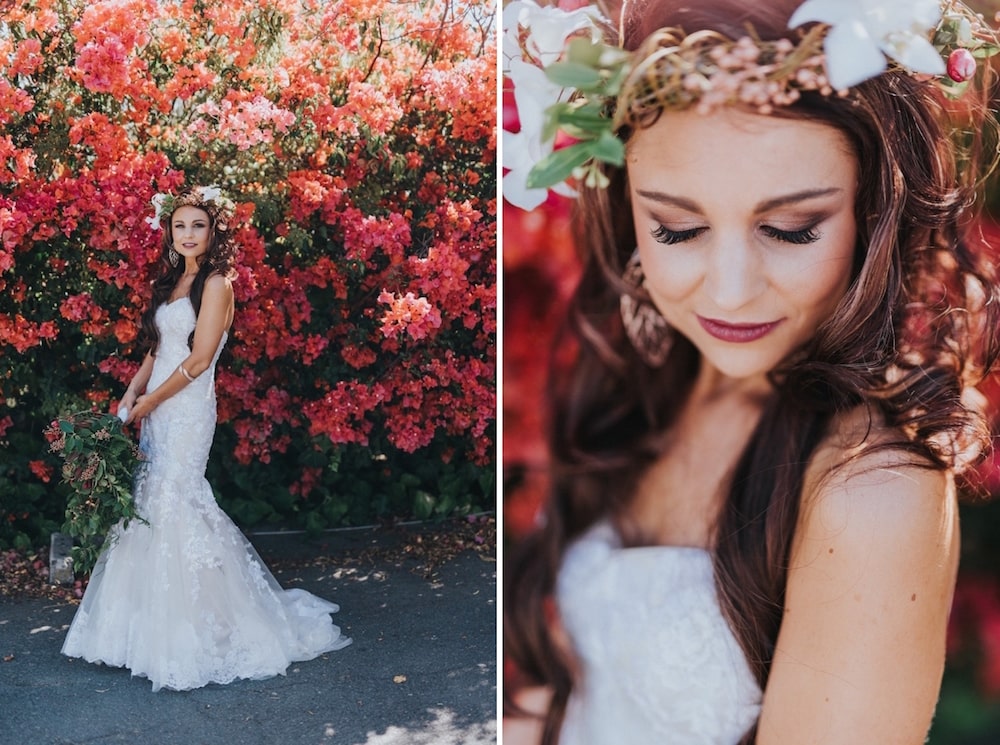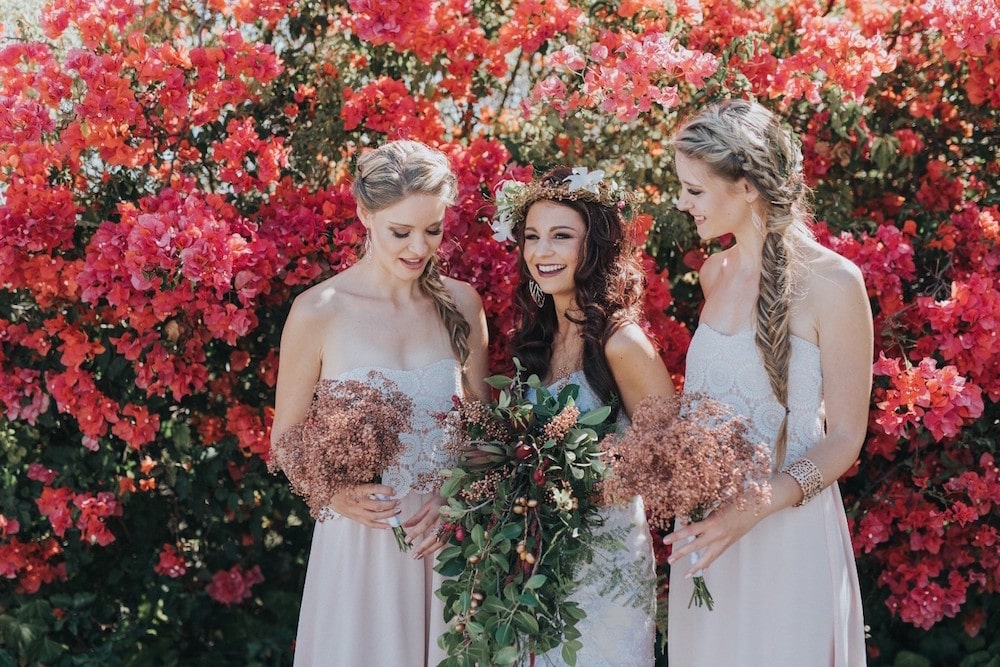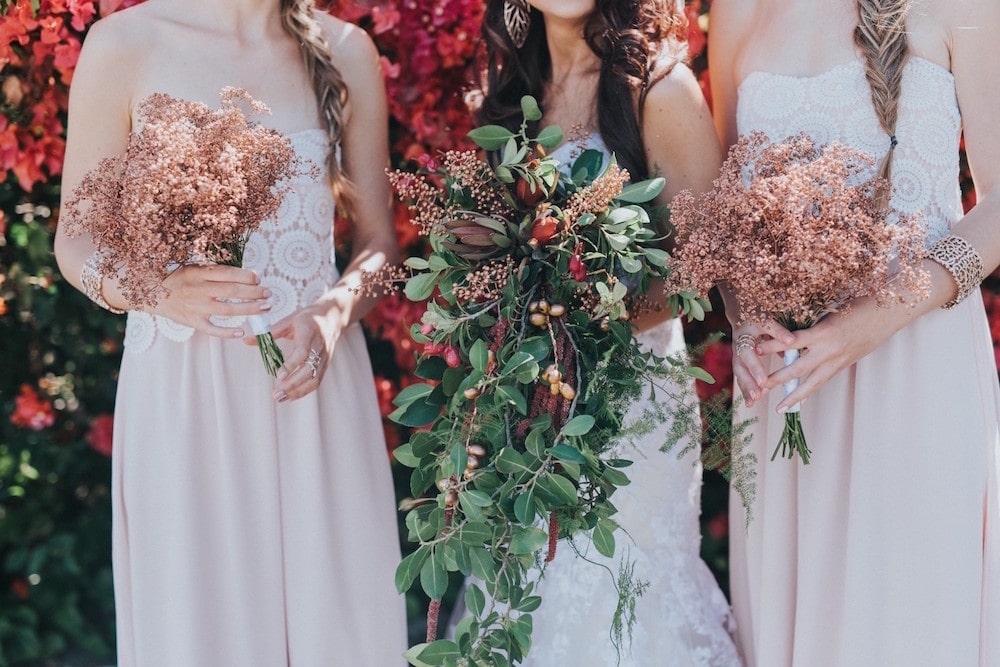 Love Story
We are high school sweethearts. Juan and I met in high school when we started to share the same friends in matric. For him, it was love at first sight and our love story began when he started writing letters to me. We had different subjects and classes, but at the end of each, Juan would wait at the classroom door to give me a letter that he'd written on a small piece of paper. I started to write back and we exchanged letters after each class. This became the "talk of the town" as the teachers started to notice Juan waiting for me after each class. They even encouraged me to pack my bags faster as my friends and I were always the last ones to leave class! Juan eventually scratched together enough courage to ask me to the matric farewell and the coffee dates at my parents' home became dinner dates, until eventually he asked me to be his girlfriend. Juan became part of my family from the first day that they met him. "'n Vrou soek 'n man soos haar pa" is the perfect saying to describe us. Juan and my dad share the same interests/hobbies and vocabulary, such as braai and fishing, and their personalities are also very much the same. After all these years, we have kept every single letter, which became the first pages of our love story.
The Proposal
Our families arranged a weekend away in Langebaan. Juan had got his boat license in 2015 (although it was mainly for fishing, it was also part of the proposal strategy!), and both families decided we should enjoy a picnic at Kraalbaai. The arrangement was that Juan and I, together with my twin sisters, would go to Kraalbai by boat early in the morning to reserve a picnic spot on the beach, and the rest of the family would travel by car to meet us there. We had just arrived when my mother phoned and asked us to go back and fetch Juan's brother. We left my sisters to reserve a spot and turned back to Langebaan's Yacht Club but on the way, the boat suddenly stopped in the middle of the lagoon. Juan said he suspected something was wrong with the engine. I was not impressed! He went on his knees to get something out of the bait box. Little did I know that Juan was actually on a mission to "catch a fish"… and that fish would be me! Instead of smelly bait, I saw very expensive 'bait' – a beautiful diamond ring! I was stunned. The whole boat routine was so typical of our lives that I did not expect the proposal at all. Of course, I shouted "yes"! Juan smiled and opened the picnic basket, which was full of all my favourite foods. We opened a bottle of champagne, and celebrated our engagement there in the middle of the lagoon.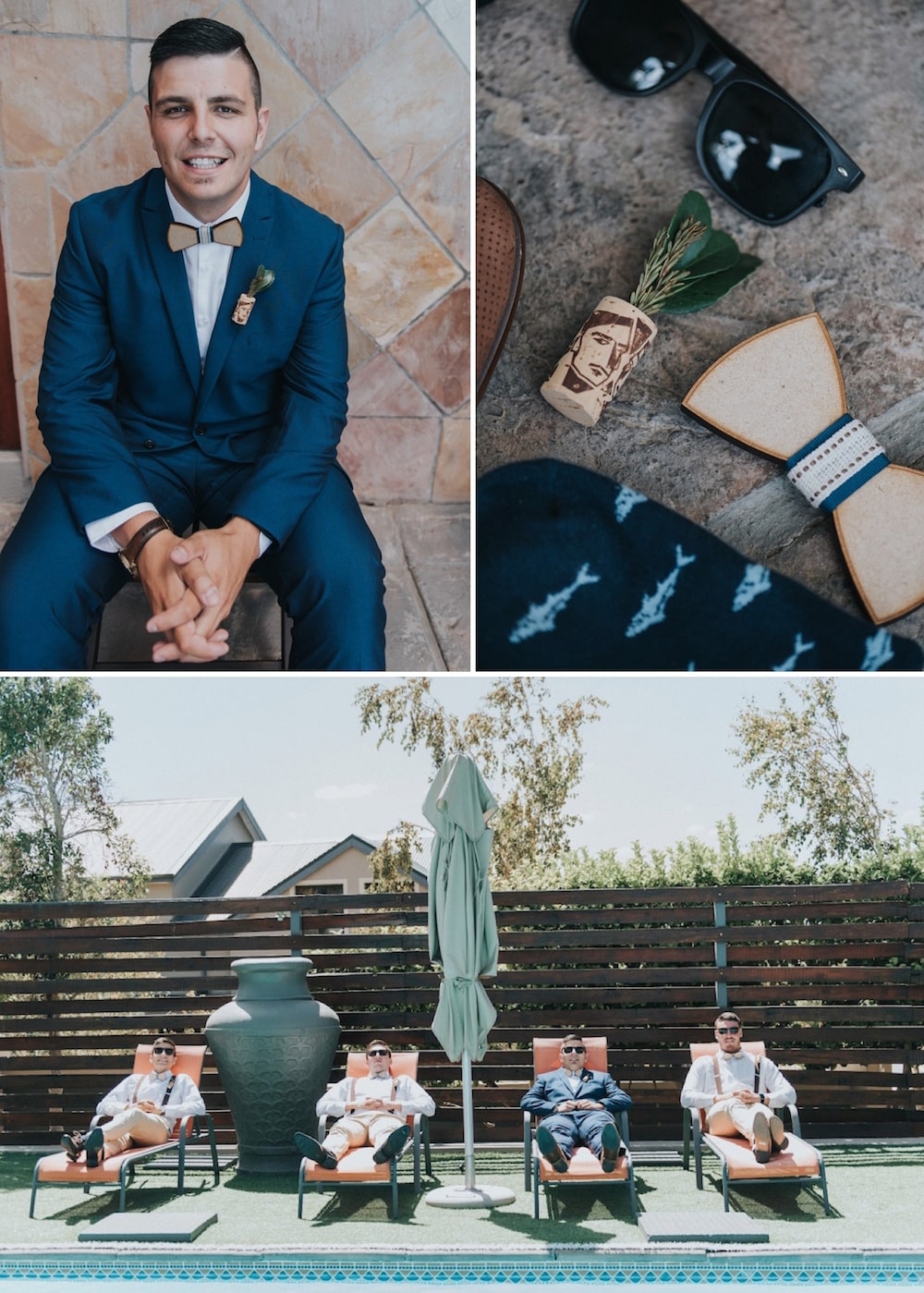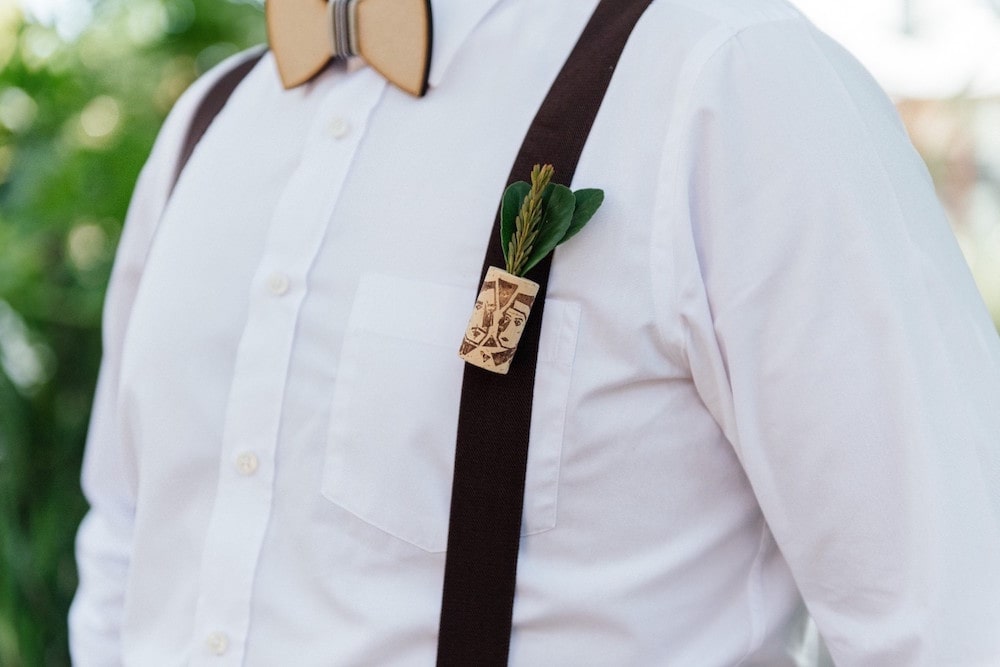 The Venue
I fell in love with Altydlig from the moment that I saw the venue. Budget also played a role – if you make use of Altydlig's caterers, there is no venue fee, so it was meant to be! My dream venue had to be white with wooden tables and my DIY elements had to work with the venue. Altydlig checked all of my boxes and Katherine who runs the venue was absolutely amazing – nothing was too much effort (she's a natural)!
Wedding Style
Our wedding theme was modern with a touch of bohemian. My main colour was rose gold with greenery (leaves). Modern elements included rose gold geometric shapes, which were part of the wedding décor and were mainly used as a feature on the tables. A love for nature and birds inspired me to use greenery (leaves & ivy), berries, pomegranates, wooden elements as well as origami paper crane birds, which were also a bohemian element. Some leaves and berries were also sprayed with rose gold, which can also be seen as a modern element. We also had naked bulbs hanging from the roof above the bridal table.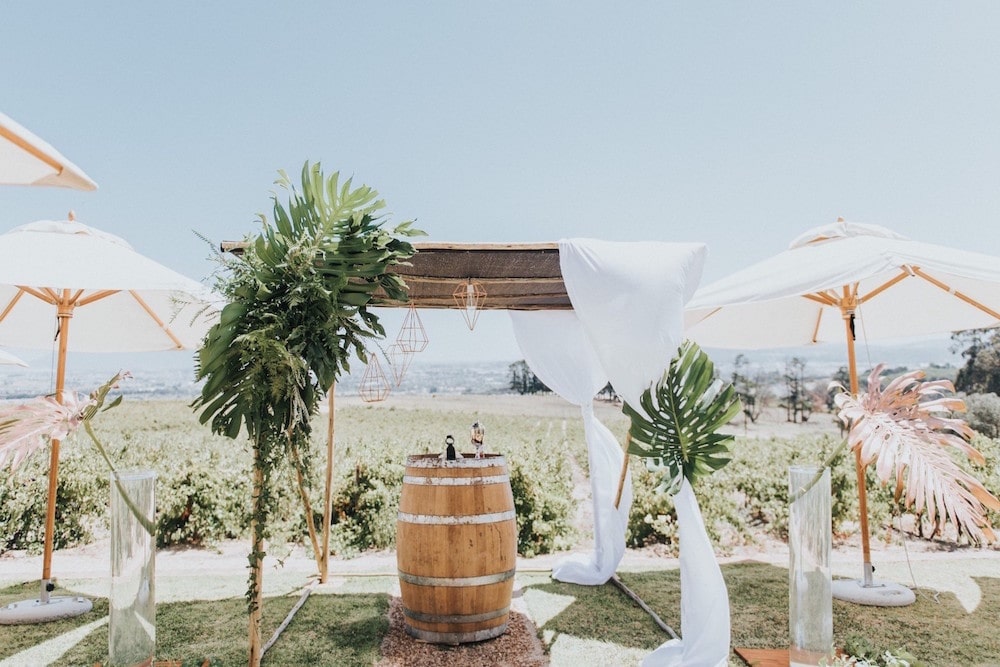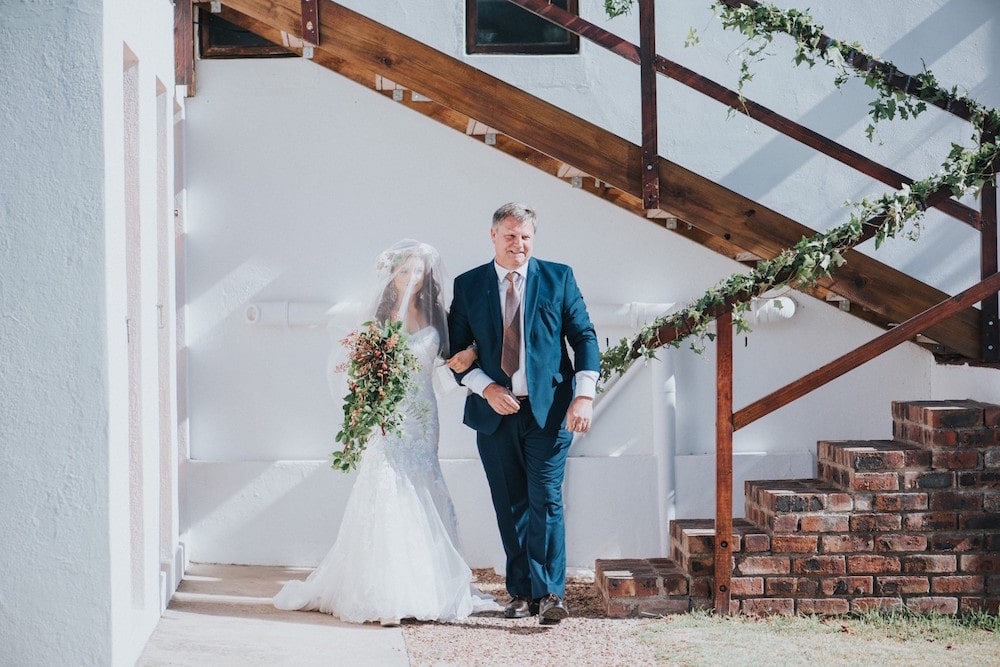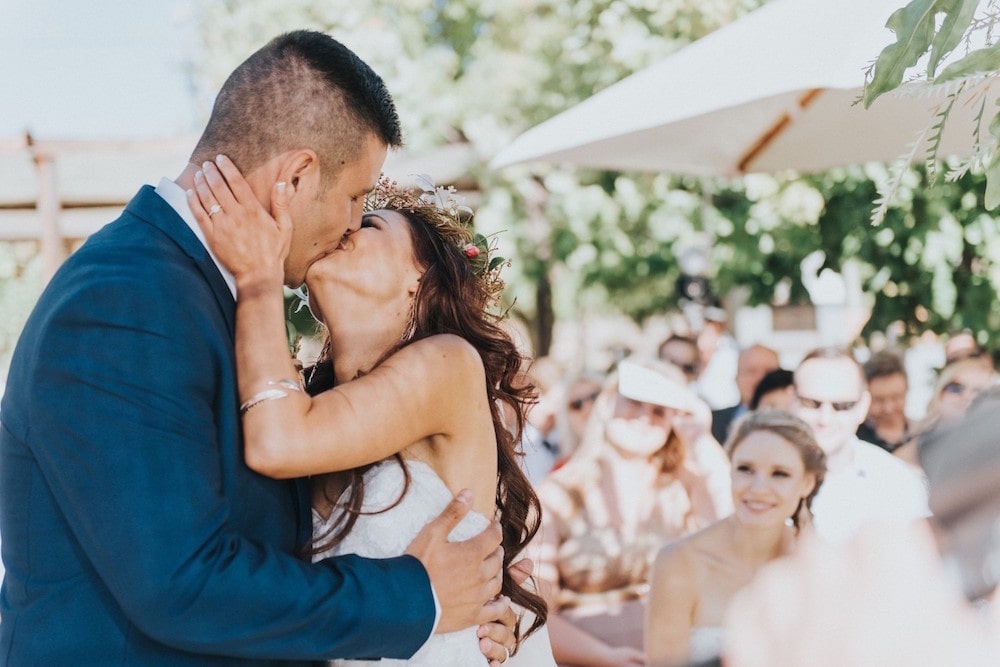 Wedding Details
As a graphic designer, I designed my own wedding stationery and had the freedom to create something totally out of the box. For the Save the Date, I created an abstract geometric drawing of our faces. This drawing was printed on wine corks and used to make fridge magnets. A slit was made into the corks for the save-the-date cards (which were almost like a name card) to fit into. I also did my own rose gold foiling on the save-the-date cards by using a laminating machine. The same corks were used as boutonnieres for the groom and groomsmen. Ever thought of origami for your wedding invitations? I used the same abstract geometric drawing, together with the wedding invitation details, and designed a template so that the wedding details were on the wings of an origami crane bird when folded. I also designed a little booklet which included the ceremony program and other wedding details, as well as stories that friends and family wrote about Juan and me. I absolutely loved designing my own wedding stationery and decided to incorporate wedding stationery designs as part of my graphic design services for the business I recently launched, Mari Moodie design studio.

DIY Elements
I had many DIY elements, such as designing all of the wedding stationery and creating (with the help of my dad, Juan and my family) some décor elements like the table numbers, wooden arch (ceremony outside), wooden direction signs, rose gold branch candle holder, rose gold Big 5 animal place card and menu holders, origami crane birds (about 300 birds, which were part of the stoep's décor where the canapés were served), and wooden bow ties (laser cutting done by Cape Craft).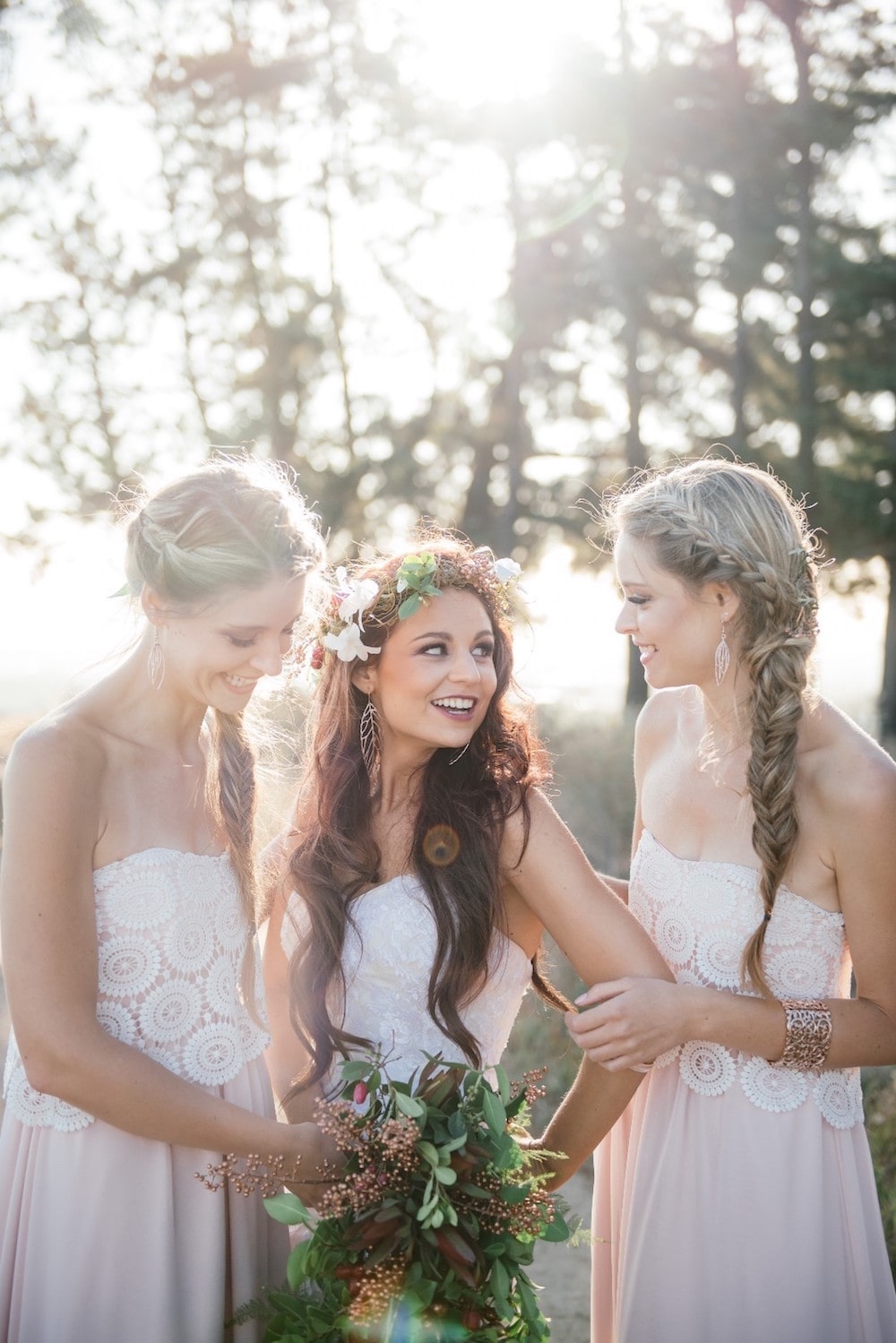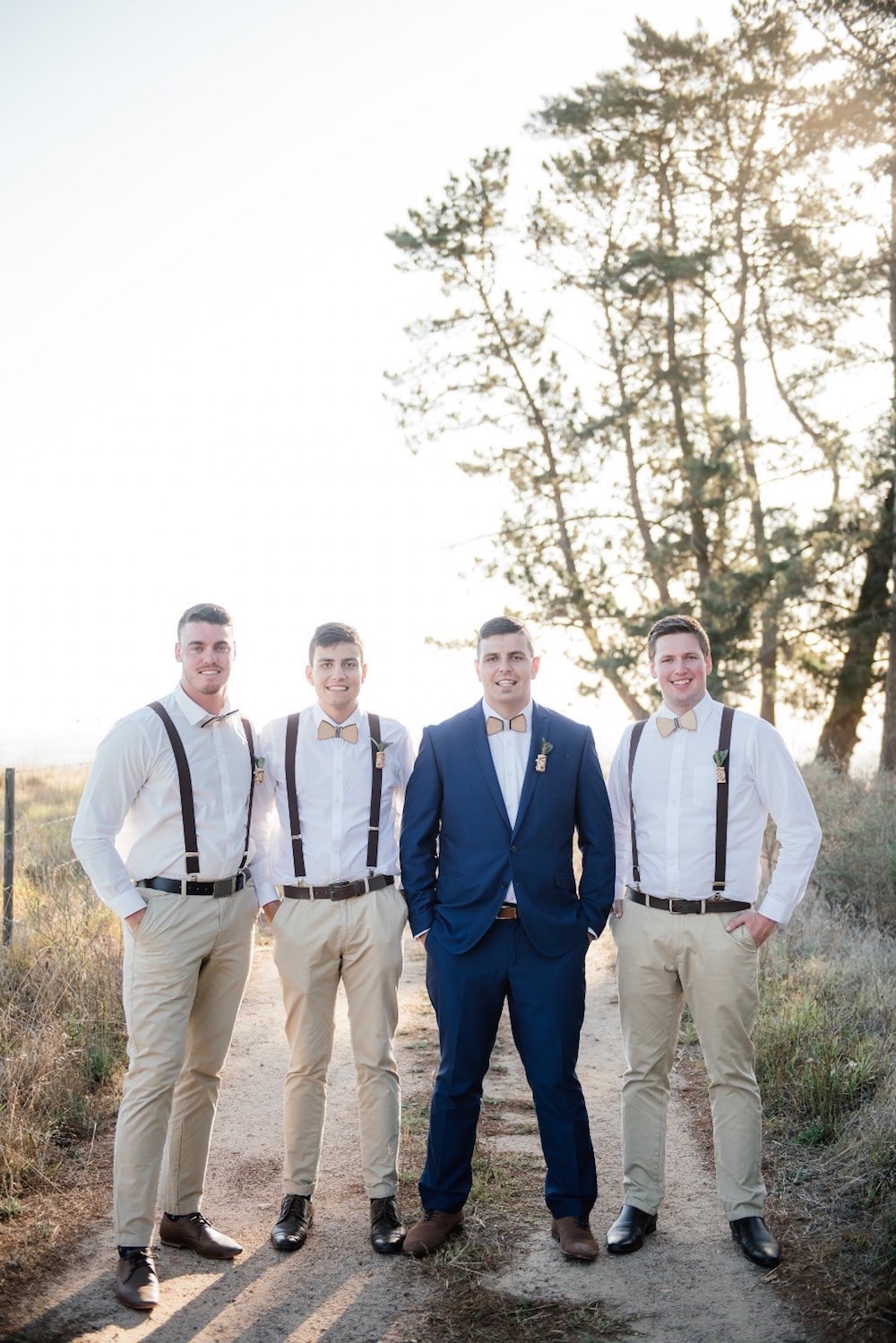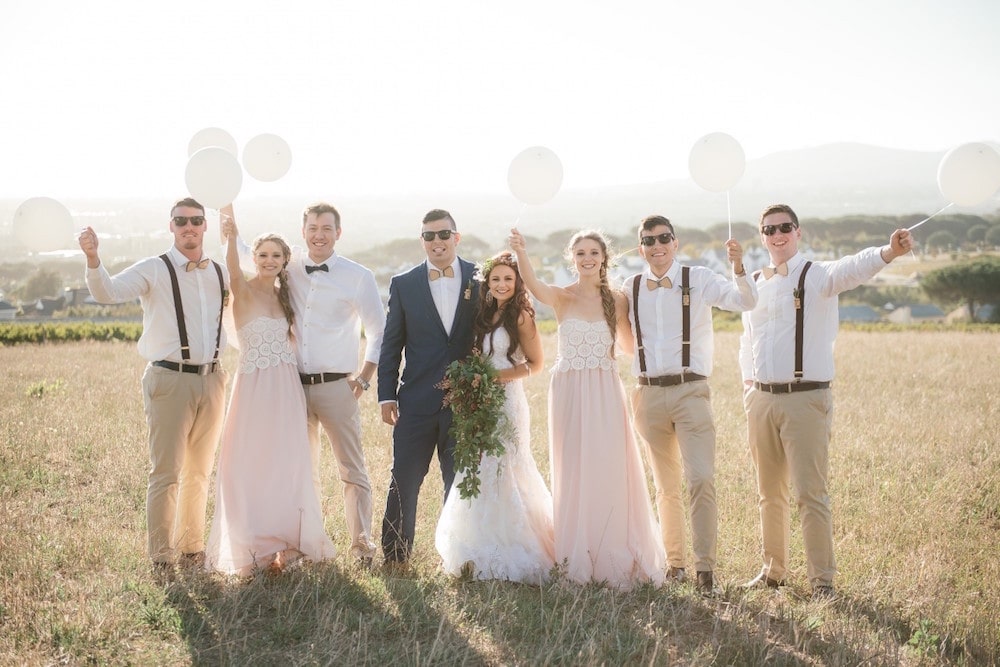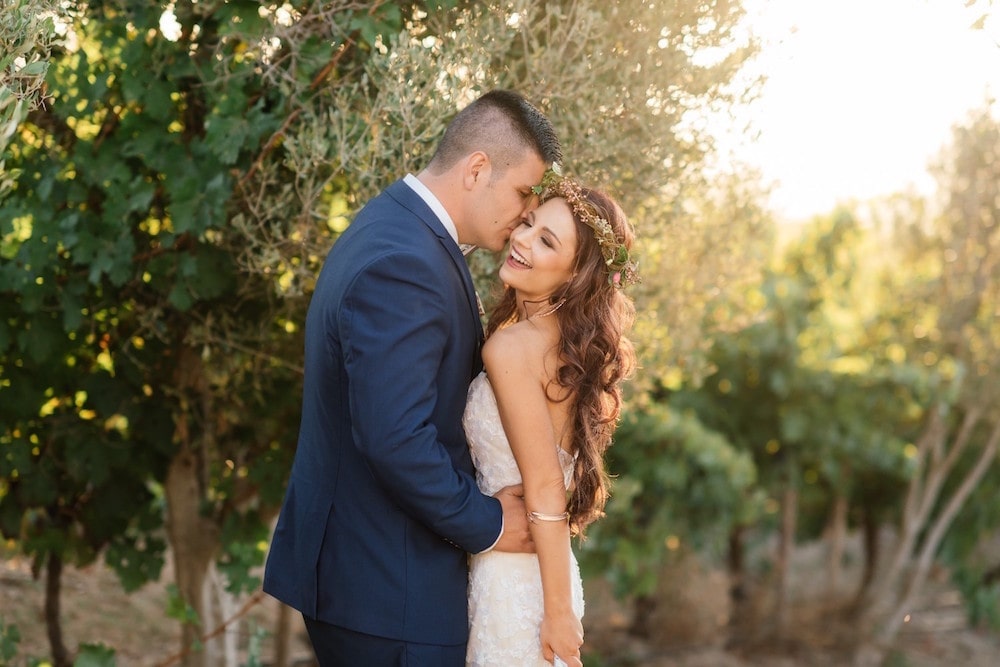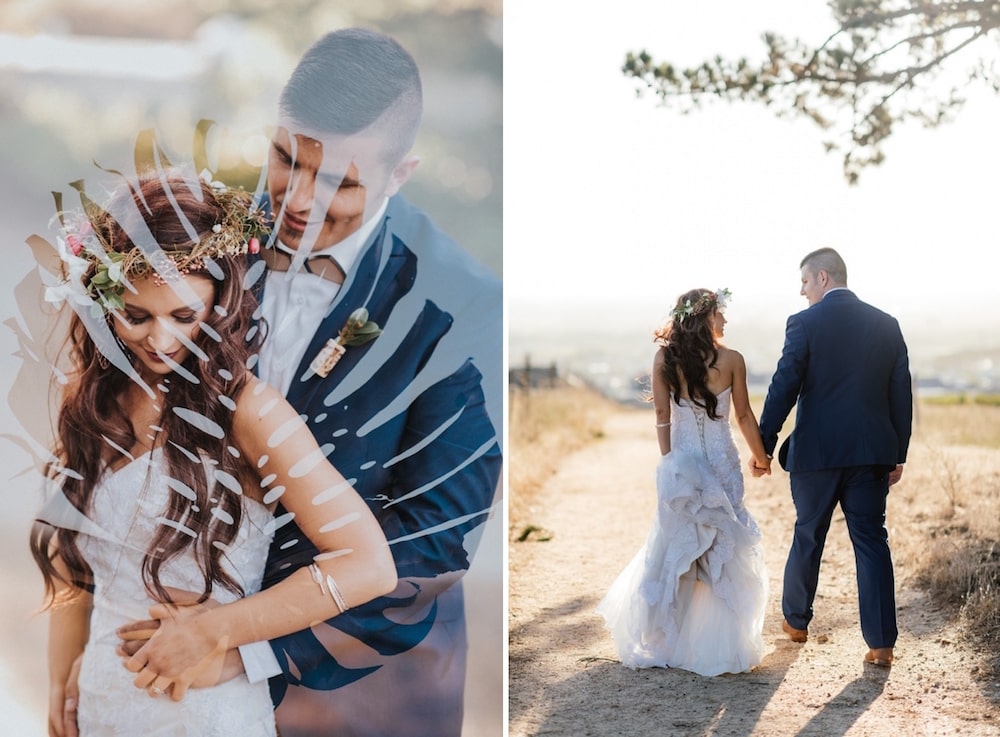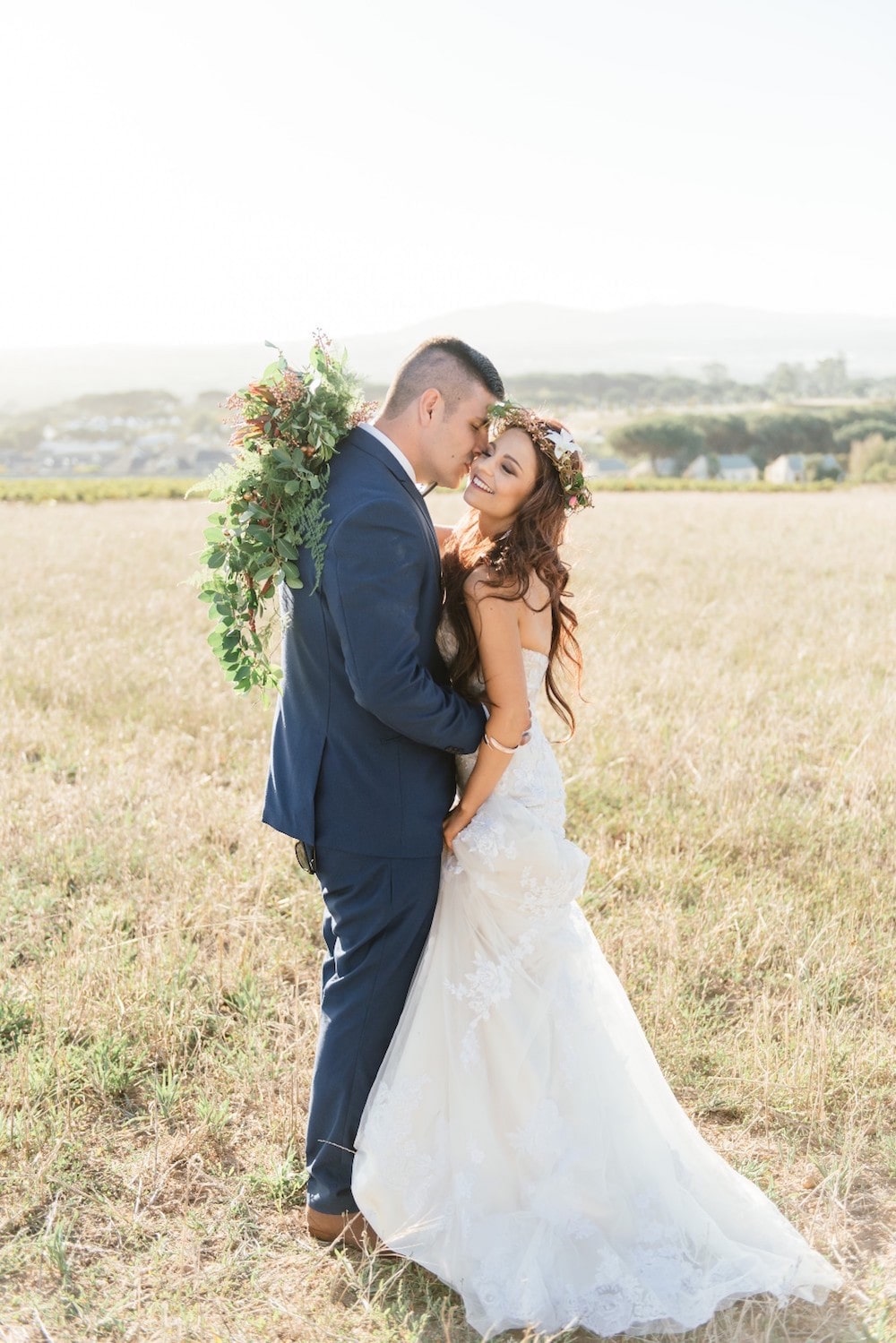 The Dress
Being a creative, my initial idea was to visit a few bridal hire companies in order to check which type of wedding gown style fit me best and to look for ideas so that I could design my own wedding gown and have it made. Our first appointment was at Eve's Bridal Wear and I fell in love with the first dress that I tried on, a Maggie Sottero, but it was too good to be true that this dress could be the one. After visiting a few more bridal boutiques and having booked a lot of fittings, I still dreamed of the first dress. I made up my mind and decided to book it. It is an all-over embroidered lace fit and flare gown, finished with a strapless sweetheart neckline. This fit and flare style was my perfect match and the fact that it was ivory with an ivory-white lace overlay made it so phenomenal and breathtaking! It was the one.
The Bridesmaids
I have two beautiful younger twin sisters and they were my bridesmaids. They know me better than anyone else and were my right hand from the beginning to the end. They went out of their way to arrange a bridal shower that I could only have dreamed of and they supported me emotionally, physically and with all my DIY elements. Hoiden Bridesmaids had a Facebook competition to win 2 x bridesmaid dresses and 2 x flower girl dresses, so I decided to enter. As part of my entry I mentioned and commented that they would be like my fairy Hoiden mothers if I won the competition. I couldn't believe my eyes when they announced me as the winner, as I am a huge fan of their designs. Marjorie and Esté (the Hoiden team) were amazing and they really made me feel so special (their product quality, service and friendliness were excellent). The dresses that I chose (style HB1612 from the 2016 collection on their website) had white circular lace at the top of the dress and a soft blush colour material at the bottom. This style was a perfect match for the "touch of bohemian" theme. The flower girls' dresses had rose gold sequins at the top and a soft blush colour material on the bottom.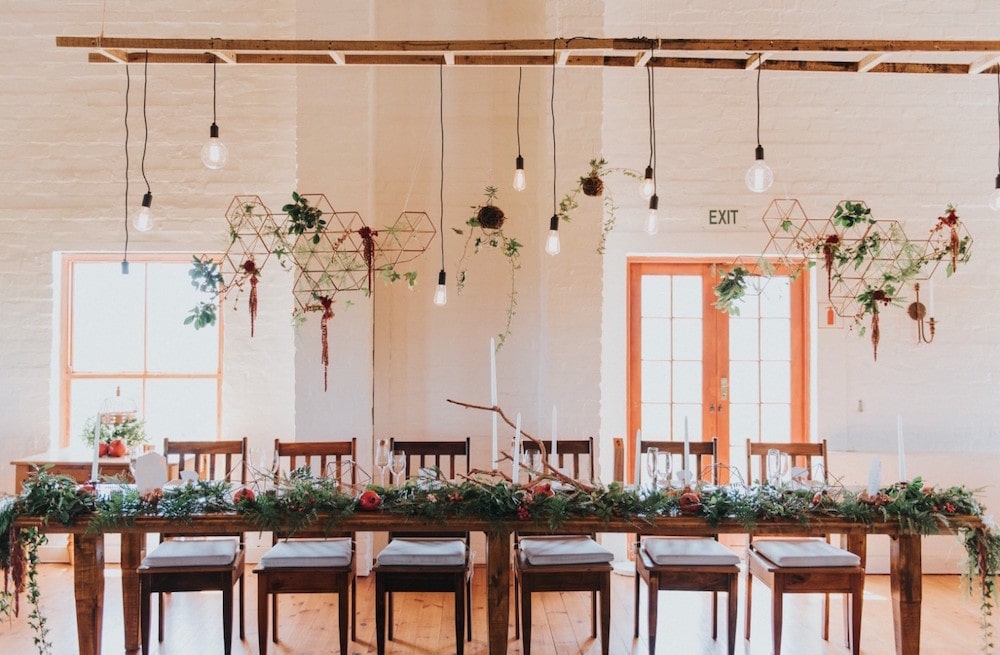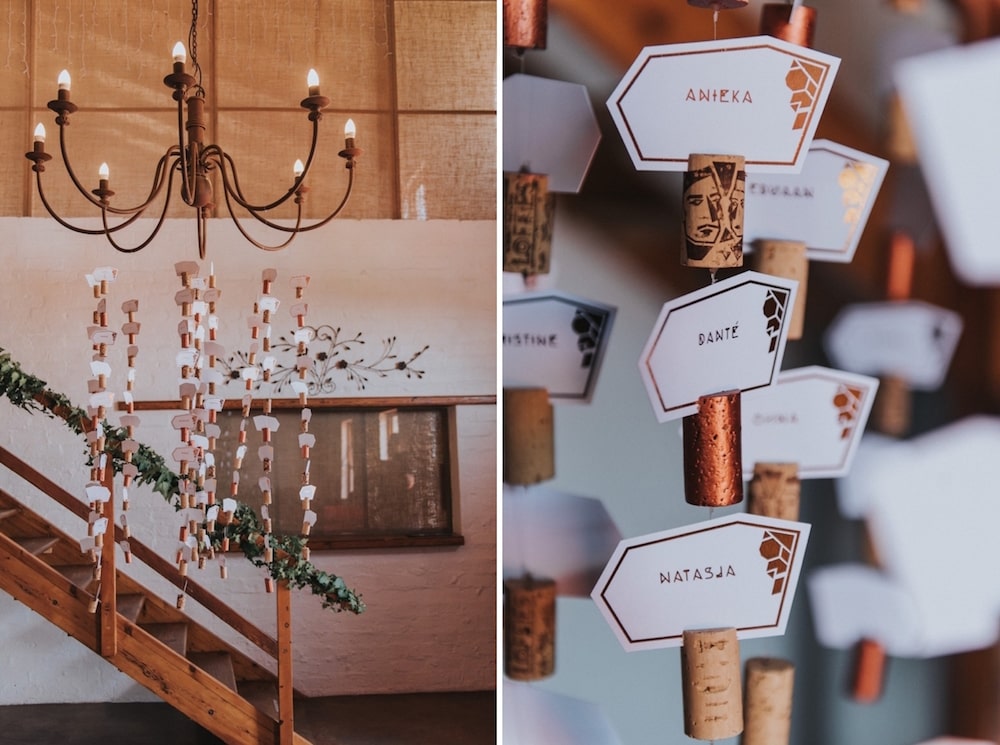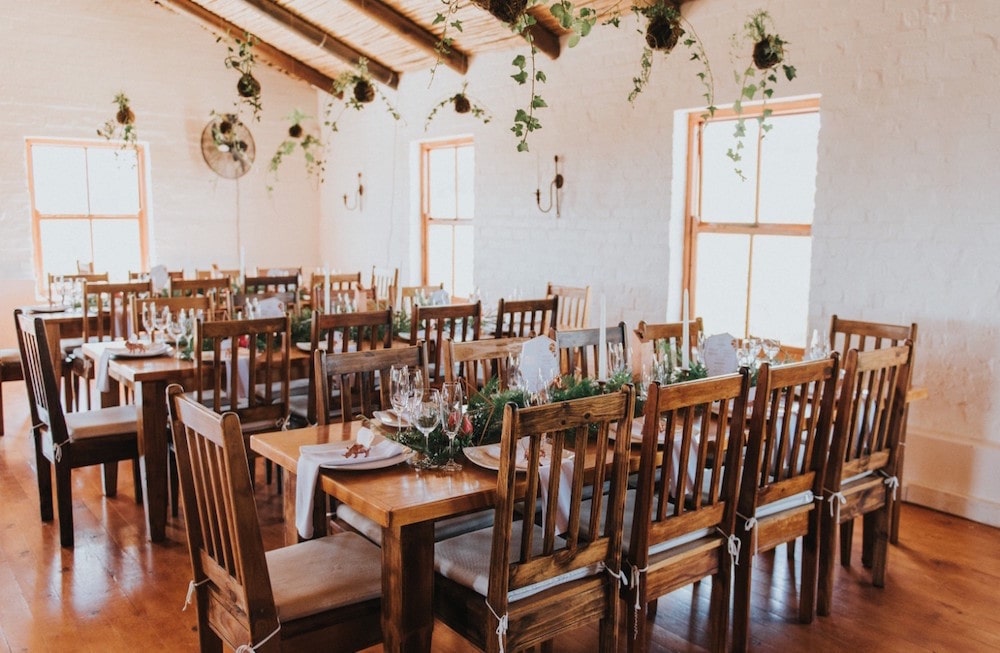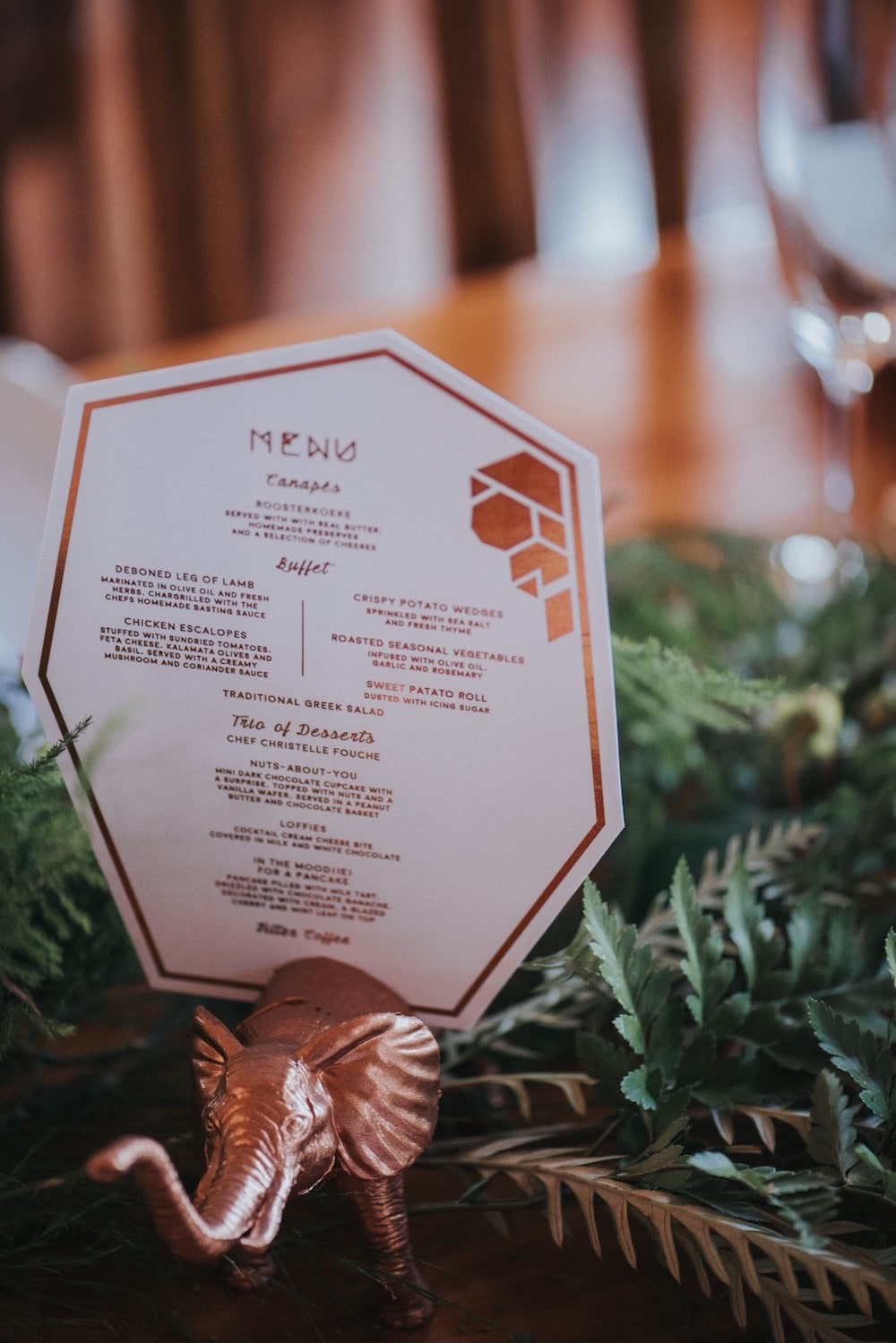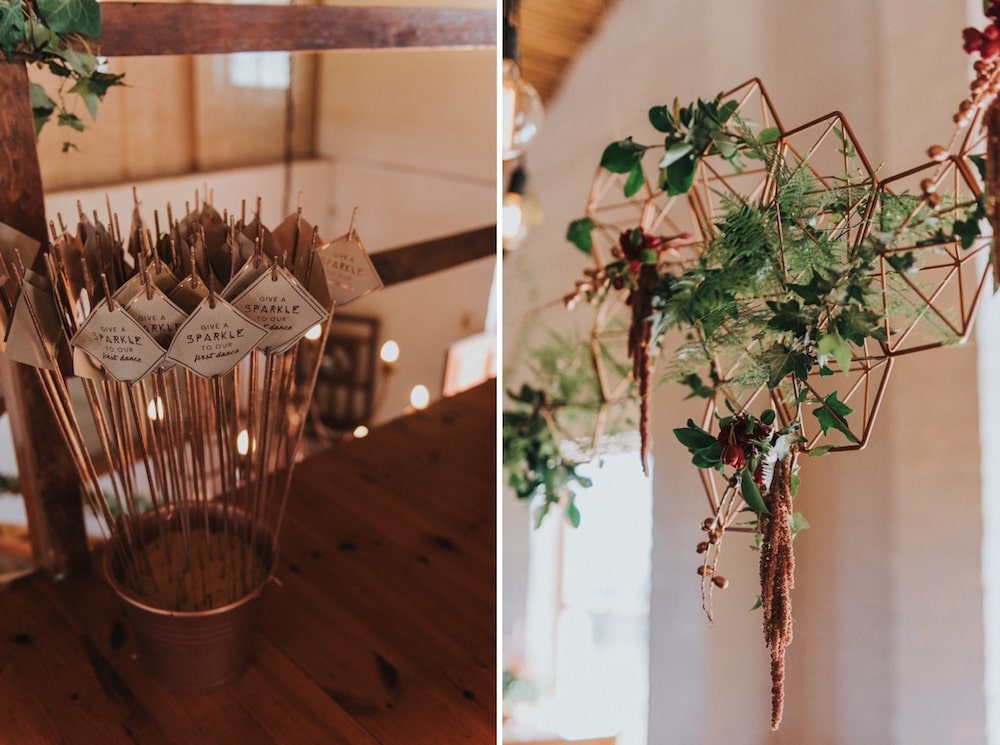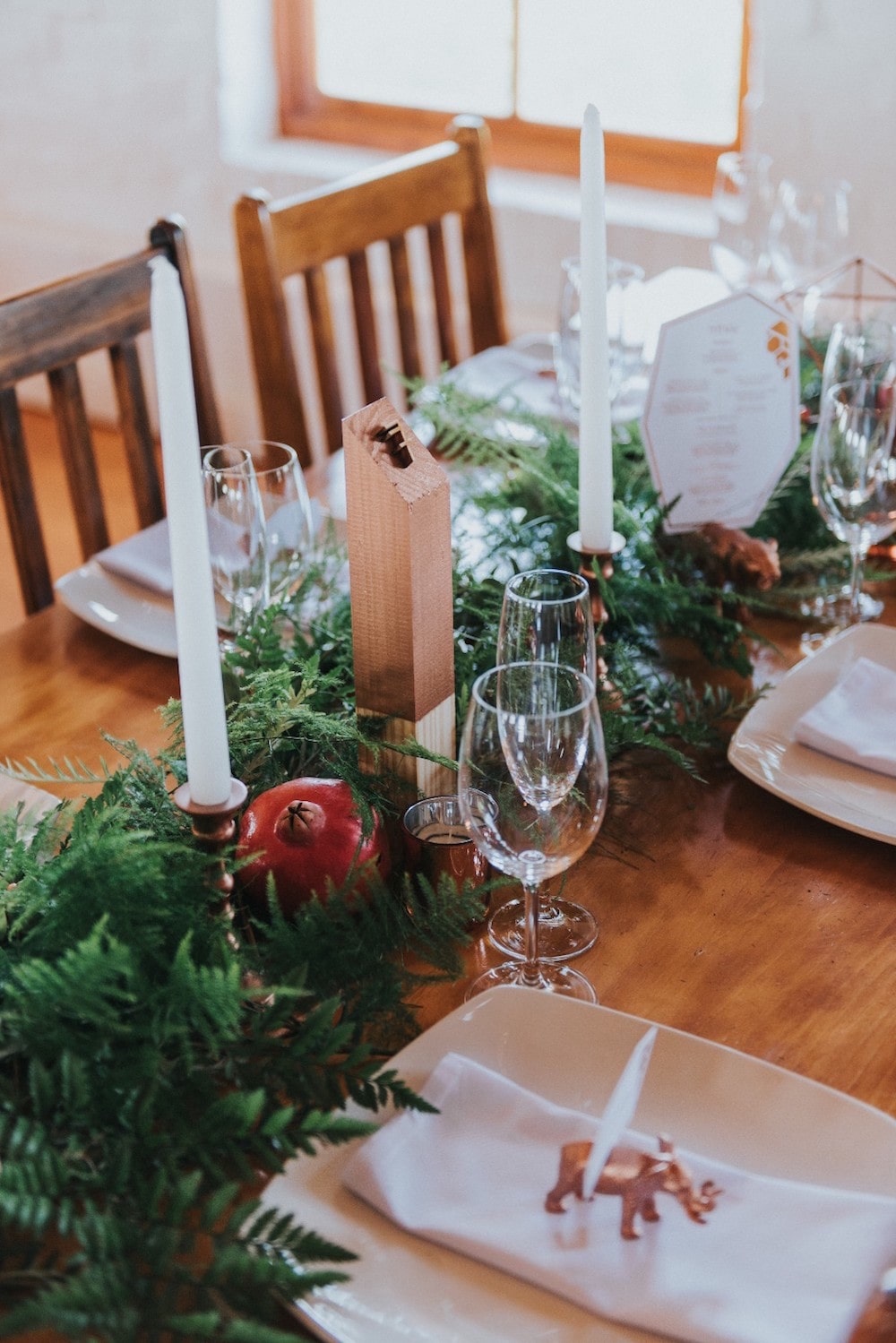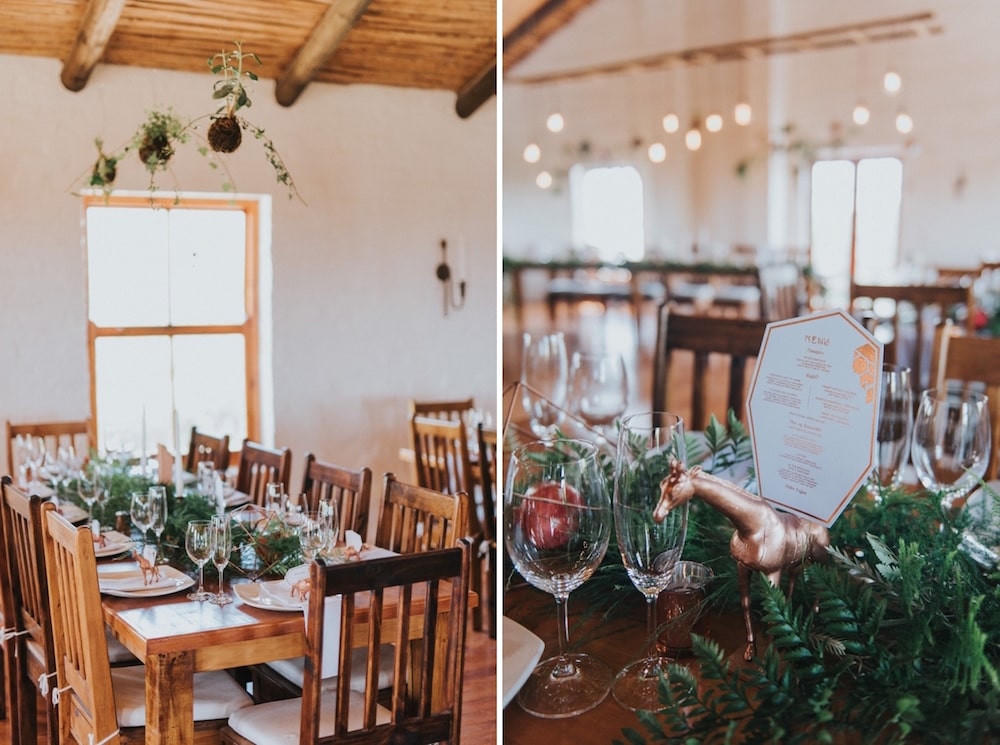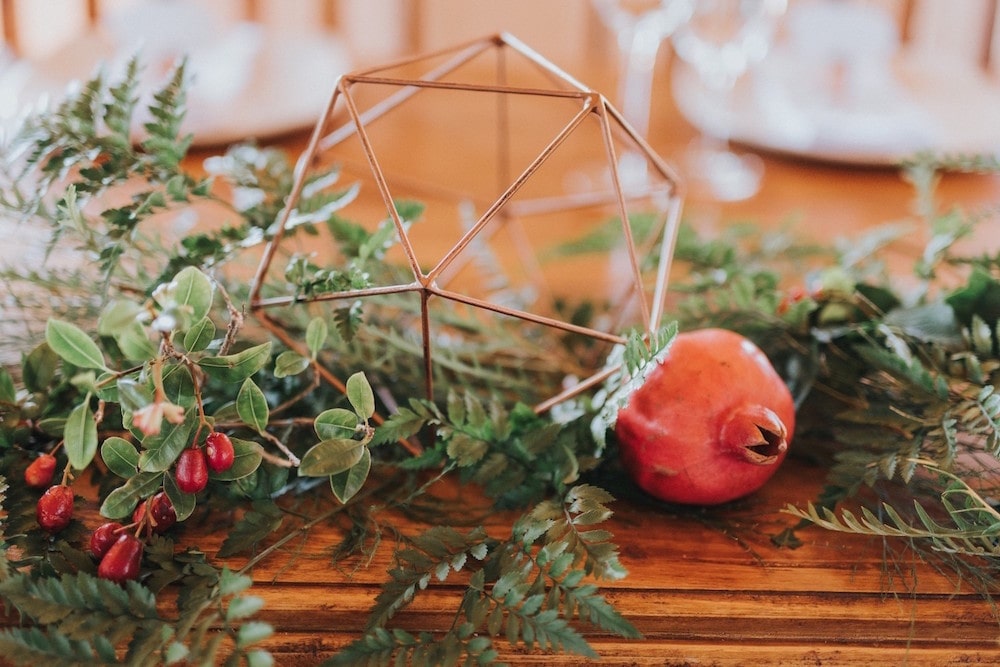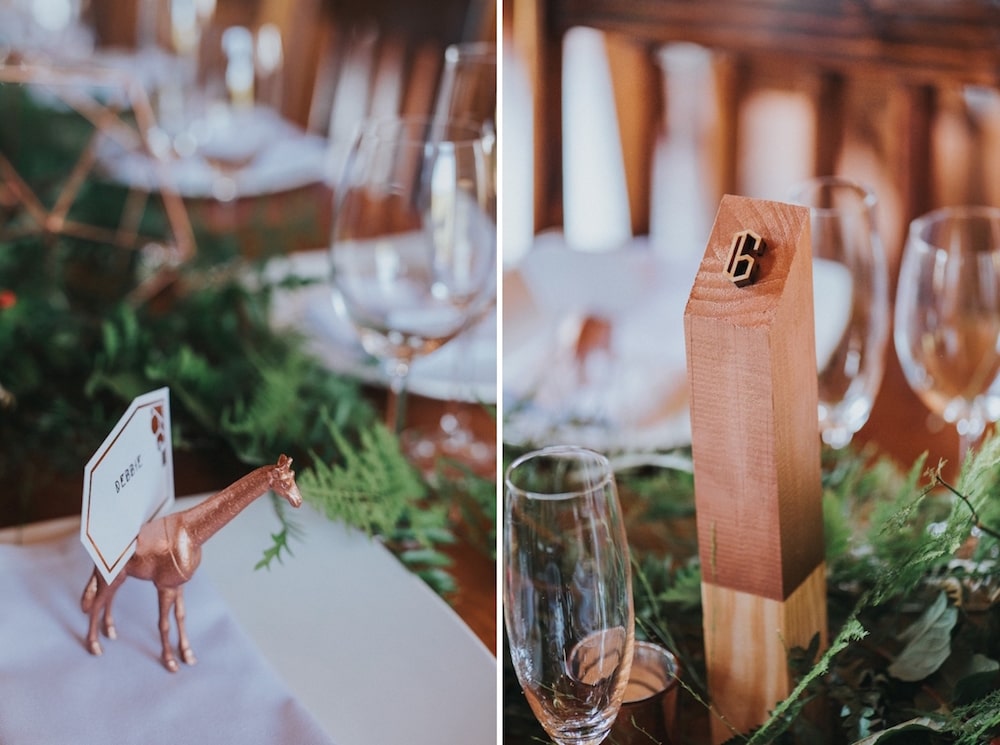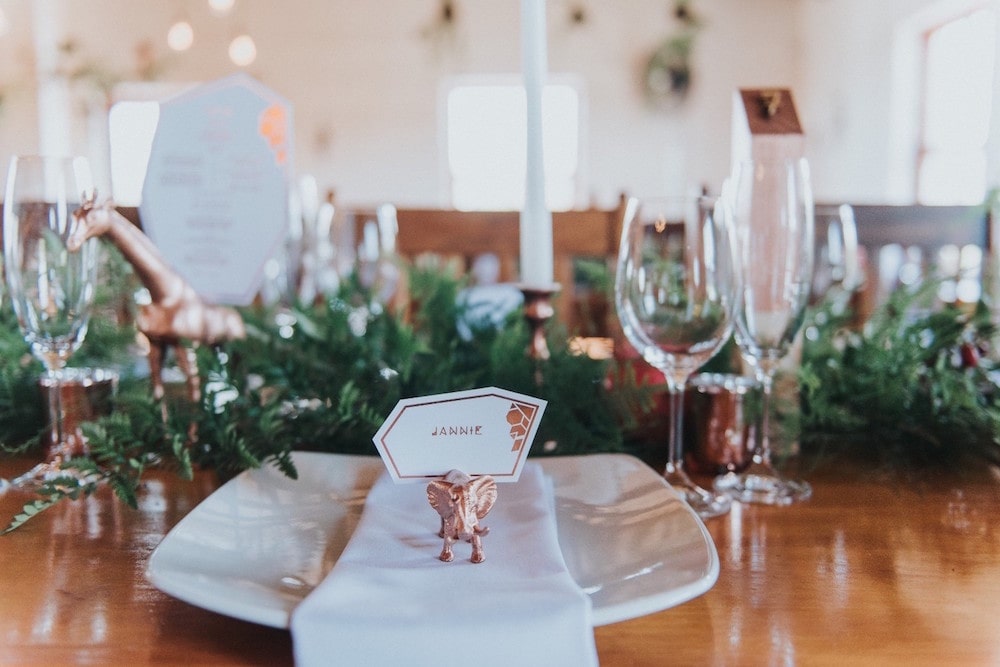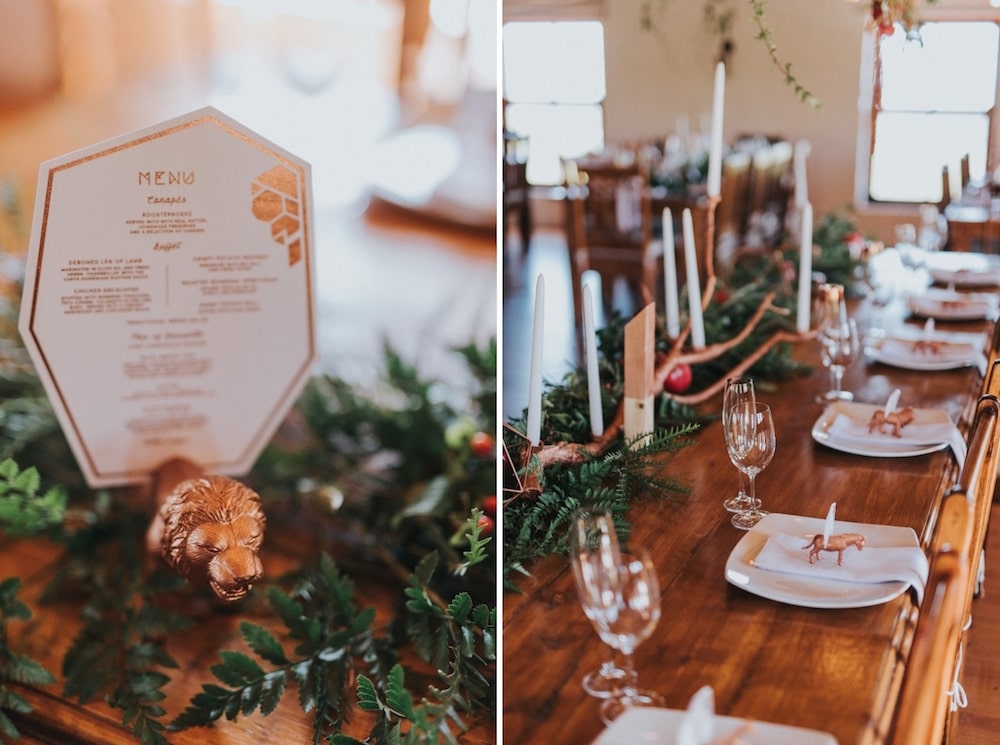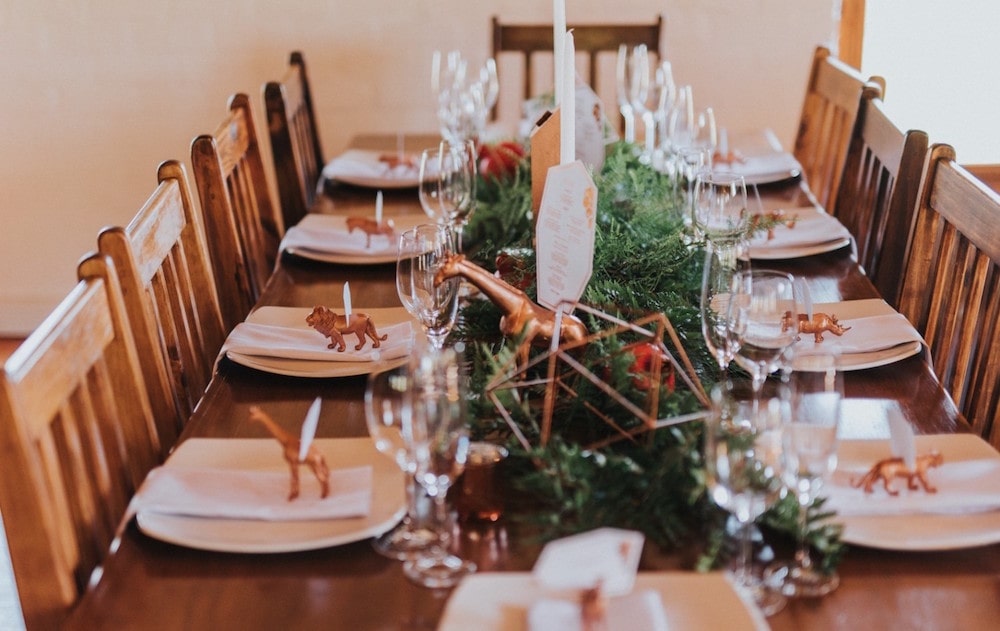 The Flowers
Greenery with berries (some were sprayed with rose gold), amaranthus (mainly used in bouquet) and pomegranates. For the ceremony (outside), the staircase (my dad and I, as well as my bridesmaids, flower girls and ring bearer walked down the staircase) had ivy wrapped around the rail. The one side of the wooden arch was decorated with greens and monstera leaves. We also had two monstera leaves sprayed with rose gold in two large vases in front of the wooden arch. I had a cascade bouquet with greenery, berries (some were sprayed rose gold) and amaranthus, and wore a crown of loosely arranged greens with a few small white flowers and berries. My bridesmaids carried Gypsophila bouquets sprayed with rose gold, and my flower girls wore gypsophilia crowns. For the reception, we had kokedamas hanging from the roof as well as two rose gold shapes hanging above the bridal table, decorated with amaranthus, berries and greenery. The tables had a green leaf runner in the middle of the table with berries and pomegranates.
Memorable Moment
The highlight of our wedding would definitely be when Juan surprised me with a song that he sang just for me!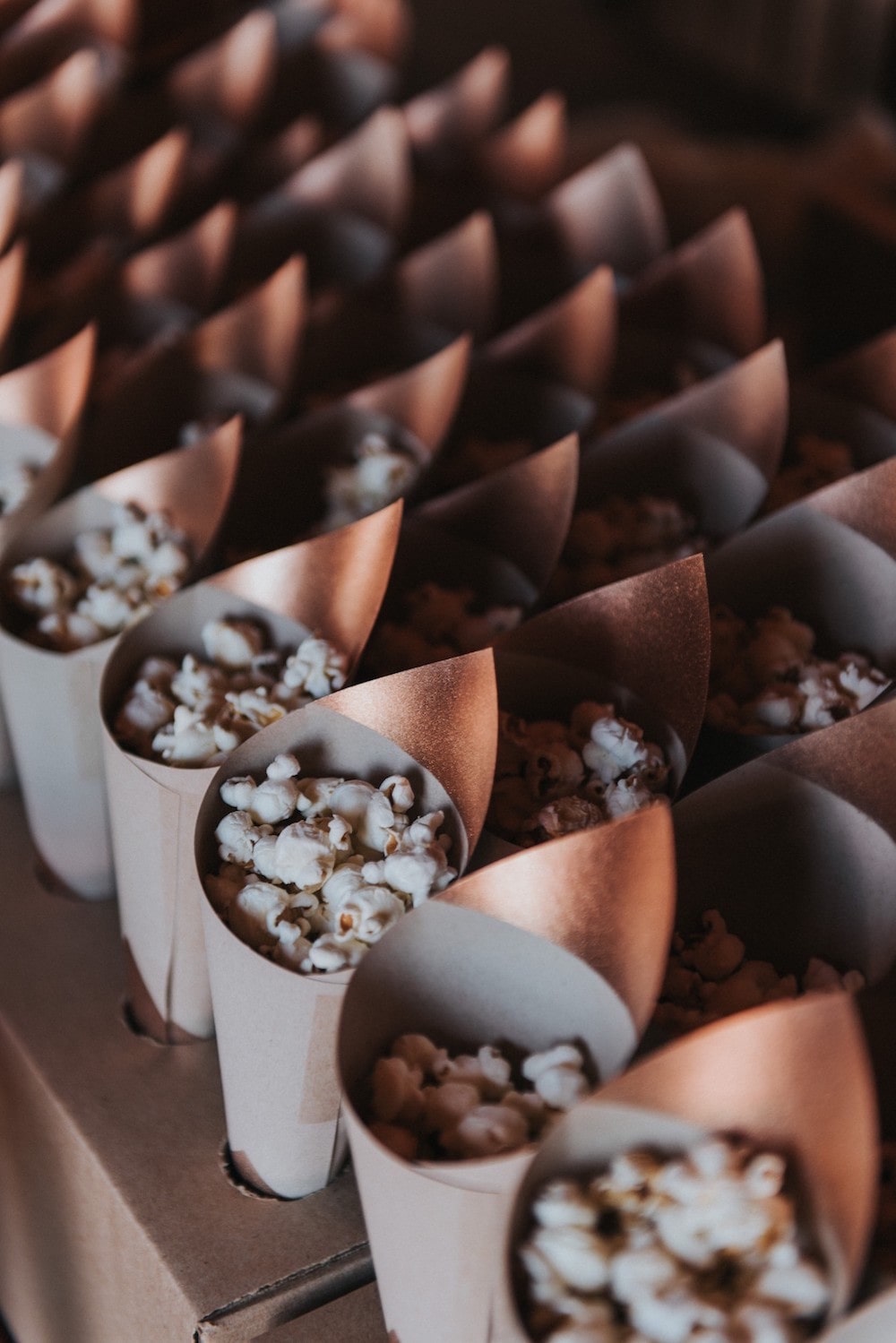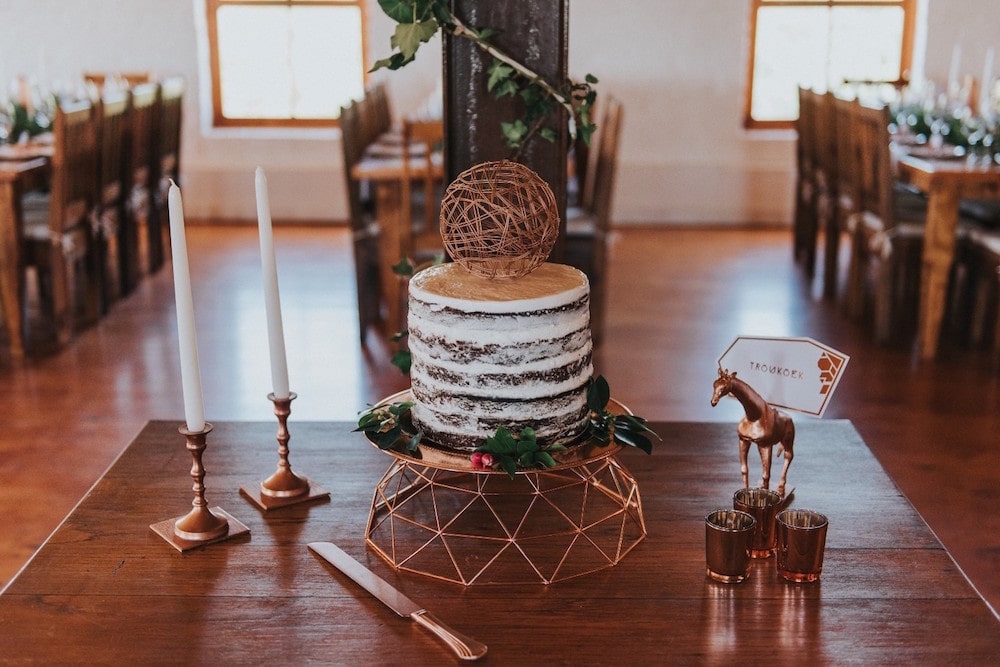 Proudly South African Details
Juan and I both have a love for wildlife and South African National Parks like the Kruger National Park and Kgalagadi. I decided to incorporate the Big 5 by using plastic toy animals and spraying them with rose gold. The smaller size animals were used as name card holders and the bigger size animals as menu holders. I also did my own rose gold foiling on the name cards and menu by using a laminating machine. Our food was also proudly South African, which included traditional dishes like roosterkoeke as canapés, and pancakes filled with milktart as one of the desserts.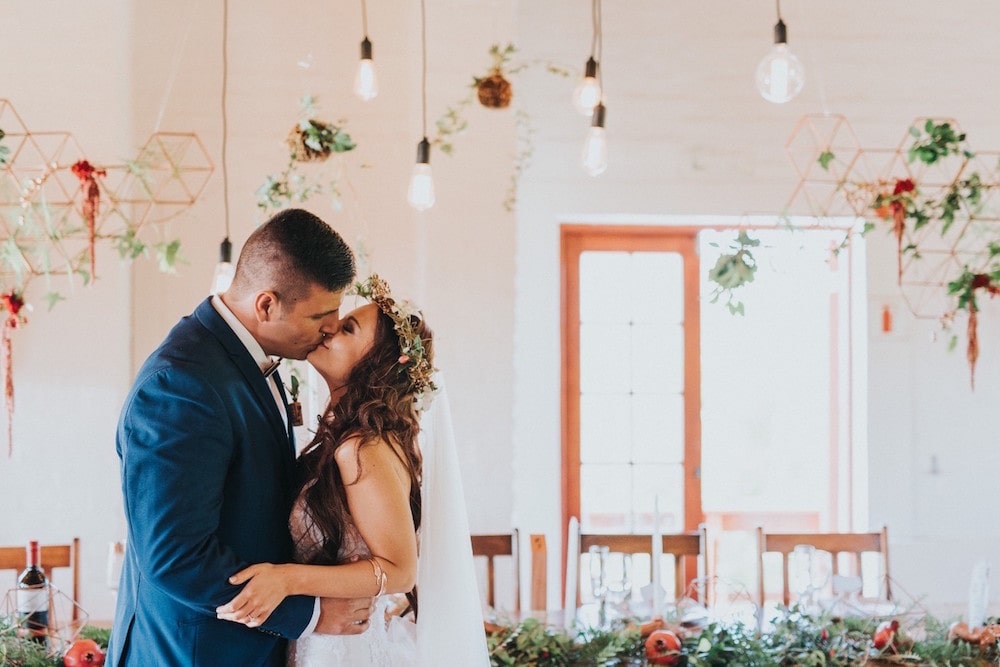 Best Decision
I decided to keep everything a secret (only my family and Juan knew about all the décor, wedding details, etc.), which made the entire day just so much more of a surprise and special. The guests were curious and amazed at every detail.
Advice for Future Brides & Grooms
Start planning your wedding as soon as you are engaged. If you start early, you will most likely save money, because if you have to arrange wedding details at the last minute, it will start to cost a lot of money. If you start to plan your wedding early, you will also most likely be able to book your first choices of service providers and venue (some of them are already booked out a year in advance). Try to complete something for your wedding (no matter how small) every weekend – this will help you to finish on time and will keep the stress levels under control.
Be sure to check out this video by the awesome Barefeet Videography!
SERVICE PROVIDERS
Venue & catering: Altydlig | Catering: Ebony & Ivory Event Management & Catering (via Altydlig) | Photography: Debbie Lourens Photography | Co-ordination: Special Events (Sylvia Strauss) | Flowers & décor: Special Events (Elizabeth from Special Events is now the owner of Betta Lilly floral design and partners with Special Events on a regular basis as a florist) | Stationery: Mari Moodie design studio | Video: Barefeet Videography | Cake: Christelle Fouché (a friend of the bride's who is also a qualified chef) | Bride's dress: Maggie Sottero hired from Eve's Bridal Wear | Bride's accessories: H&M + Lovisa | Hair & makeup: Lisa Brown | Bridesmaids' dresses: Hoiden Bridesmaids | Groom's attire: Woolworths | Hiring: Makiti Hire (rustic wooden benches for ceremony) + Prolific Hiring Supplies (wooden frame umbrellas) + Function Hiring 4U (large glass vases) | DJ: DJ Dean SA