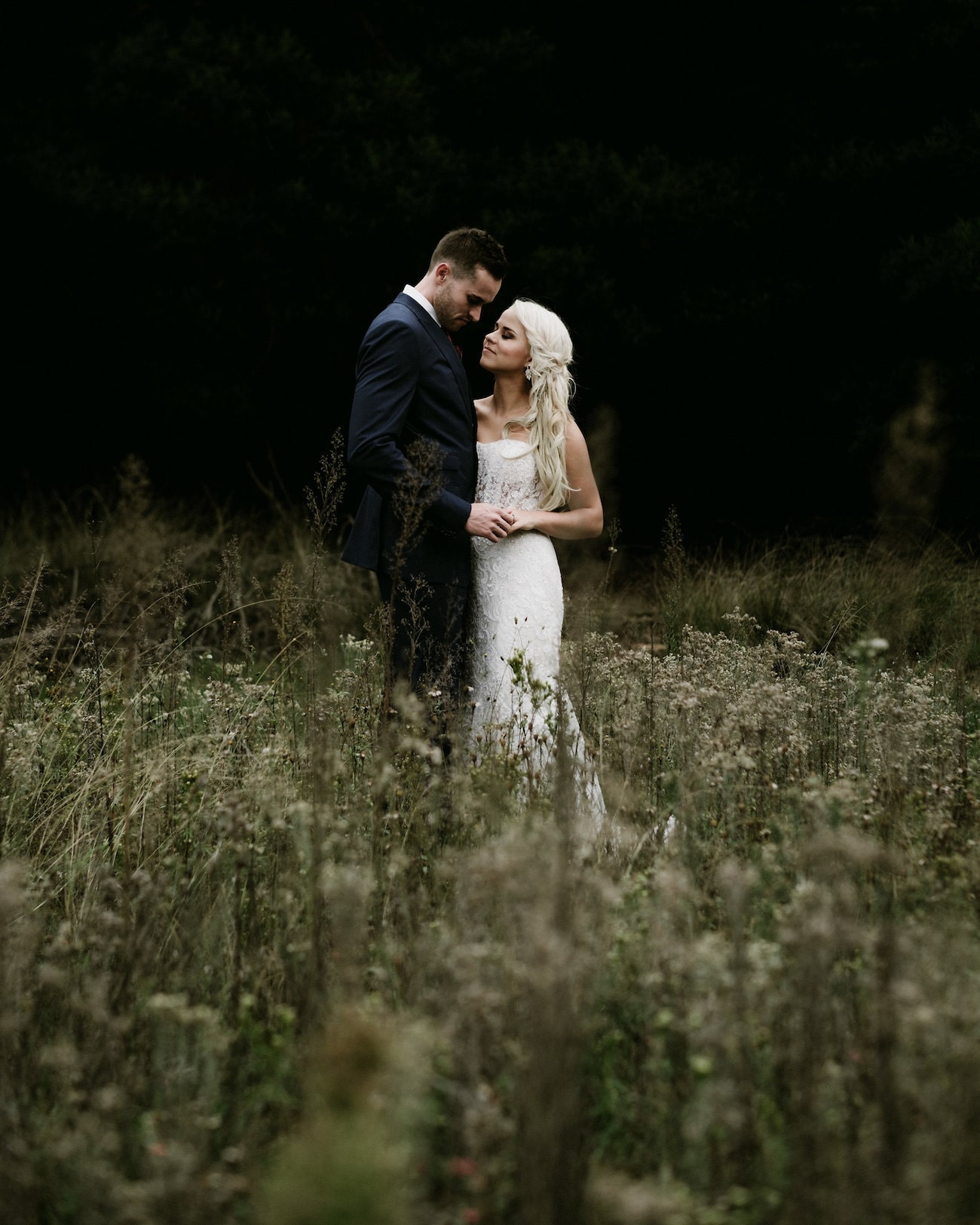 Settle in, friends, because this Gauteng wedding involves a hidden-away-in-the-woods ceremony, proteas everywhere, even a rainbow! Hilde & Jaundre's big day also has tons of emotion and heartfelt moments – the groom's face as the bride walks down the aisle (tears!), the way he scooped up his new wife when the rain started to fall (the chivalry!), and the way they looked at each other all day like they were the luckiest people on earth. Add in Chris de Wet's gorgeously moody images, and you have an affair to remember!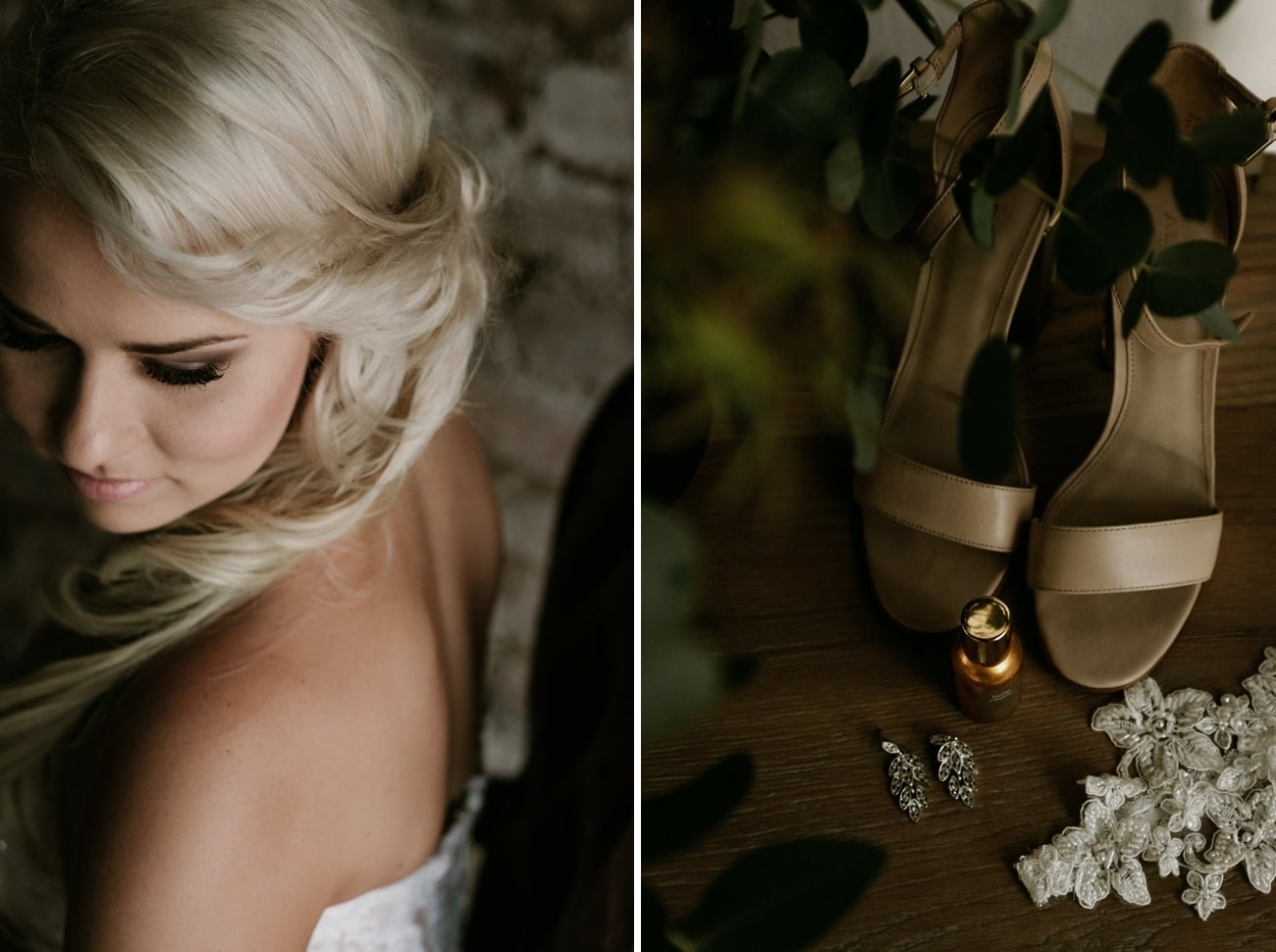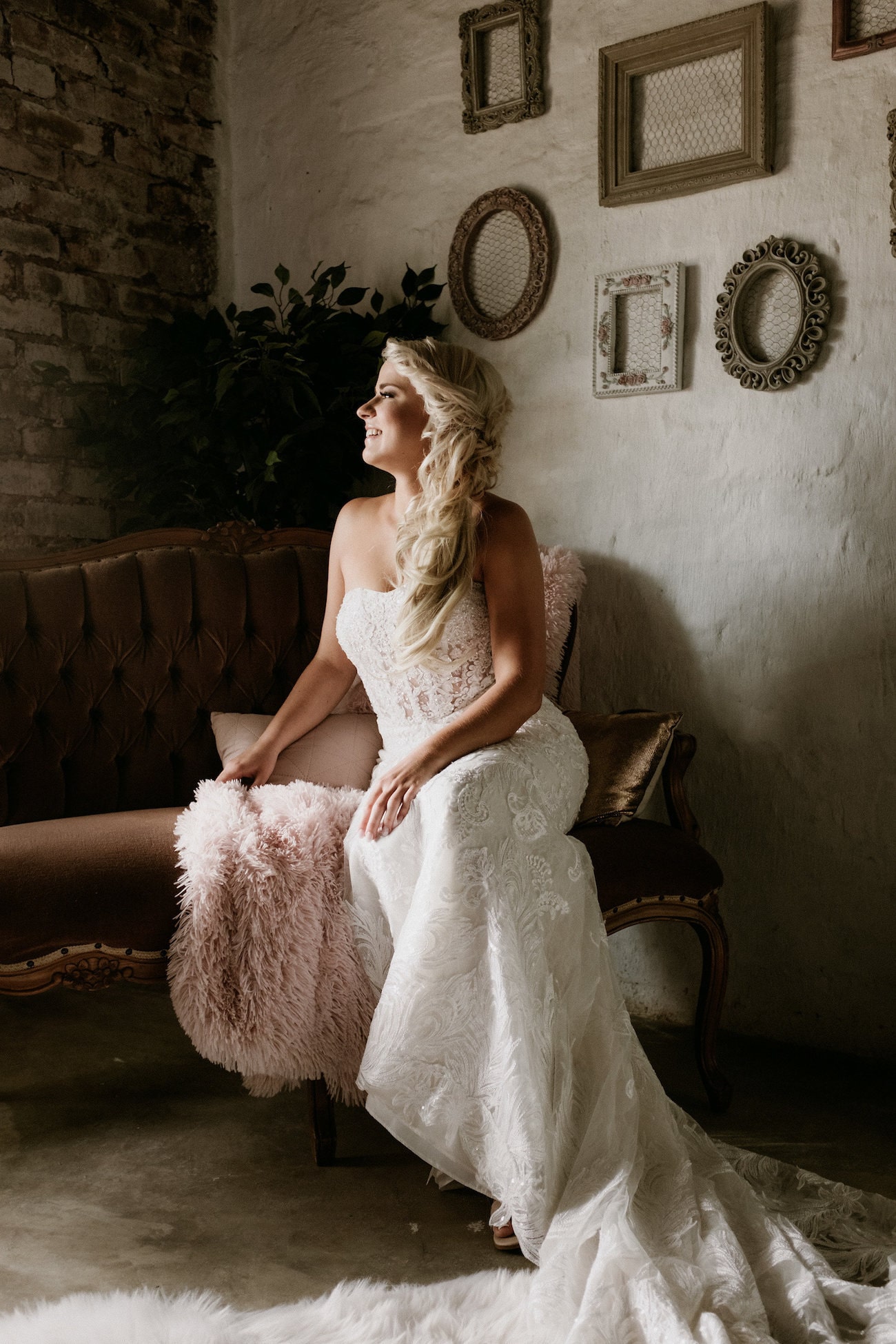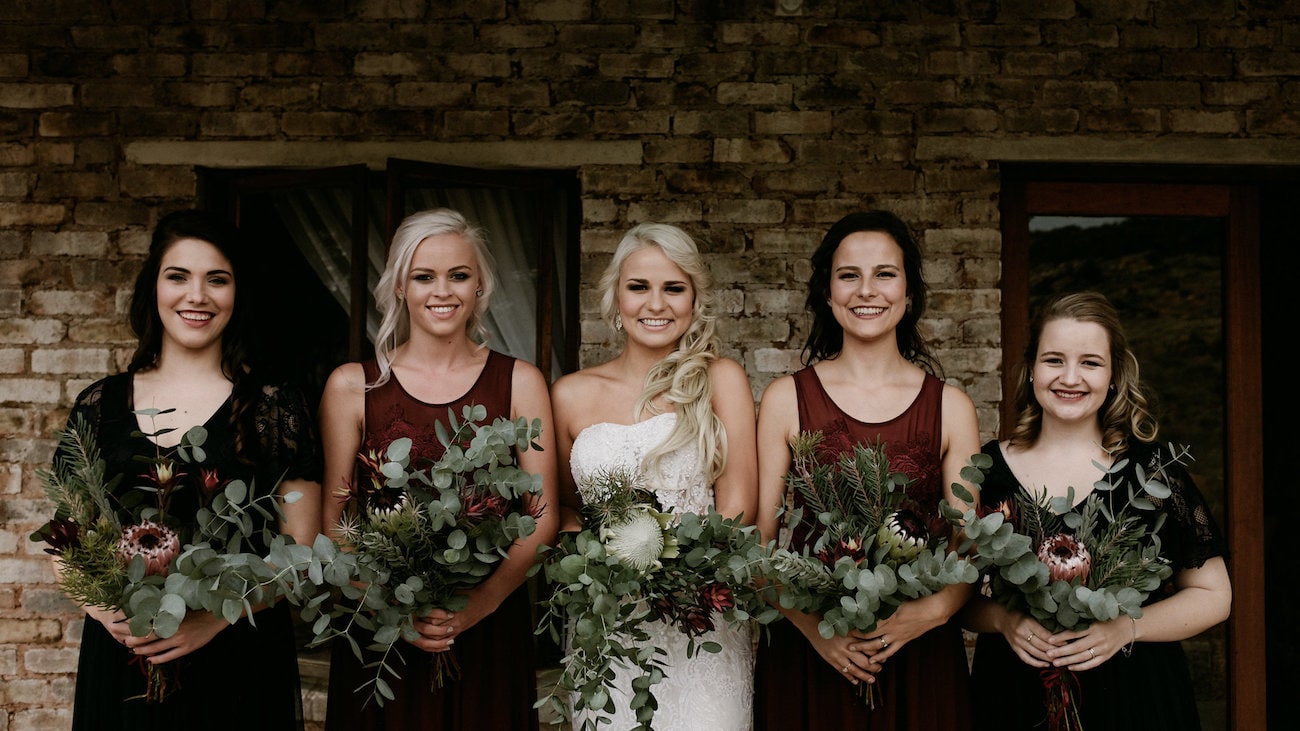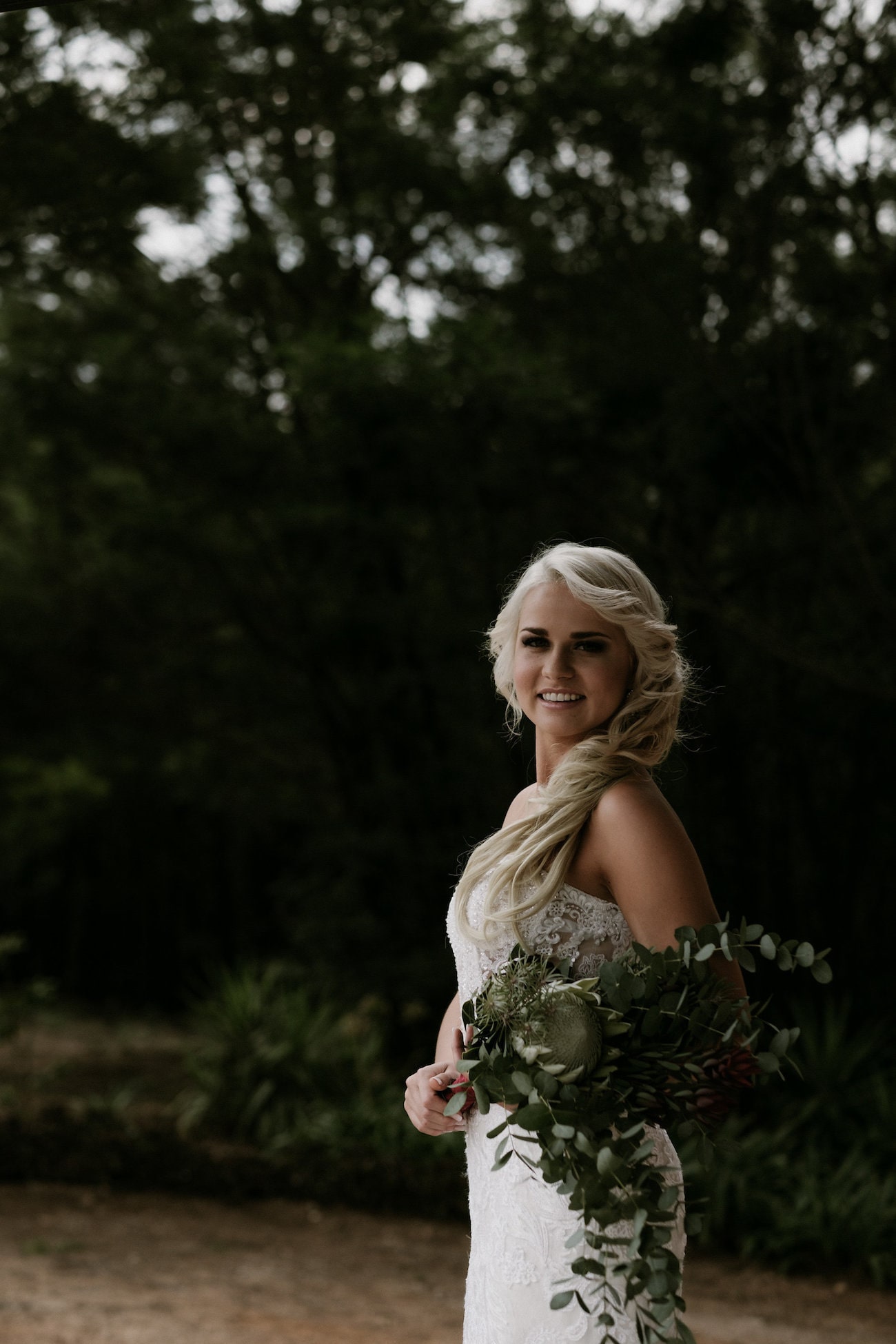 Love Story
We met at a mutual friend's birthday party. I had a boyfriend at that time, but later that year, when Jaundre discovered I was single, we connected on Facebook and went on a pizza date!
The Proposal
Jaundre told me he and a friend had entered and won a competition for a weekend away to Koggelberg Nature Reserve (bucket list place!). I was completely unaware that everything was arranged FOR ME. After getting stuck at Babelonstoren, Jaundre rushed to the venue, and told the others to fetch wood. We walked with a drink for a sundowner between the mountains in the beautiful fynbos region. He looked at me in a funny way, then turned me towards the sun between the pathway, and stated that this was NOT a competition. He started to cry and popped the question. I frantically said: "nee, nee, nee!" and jumped for joy!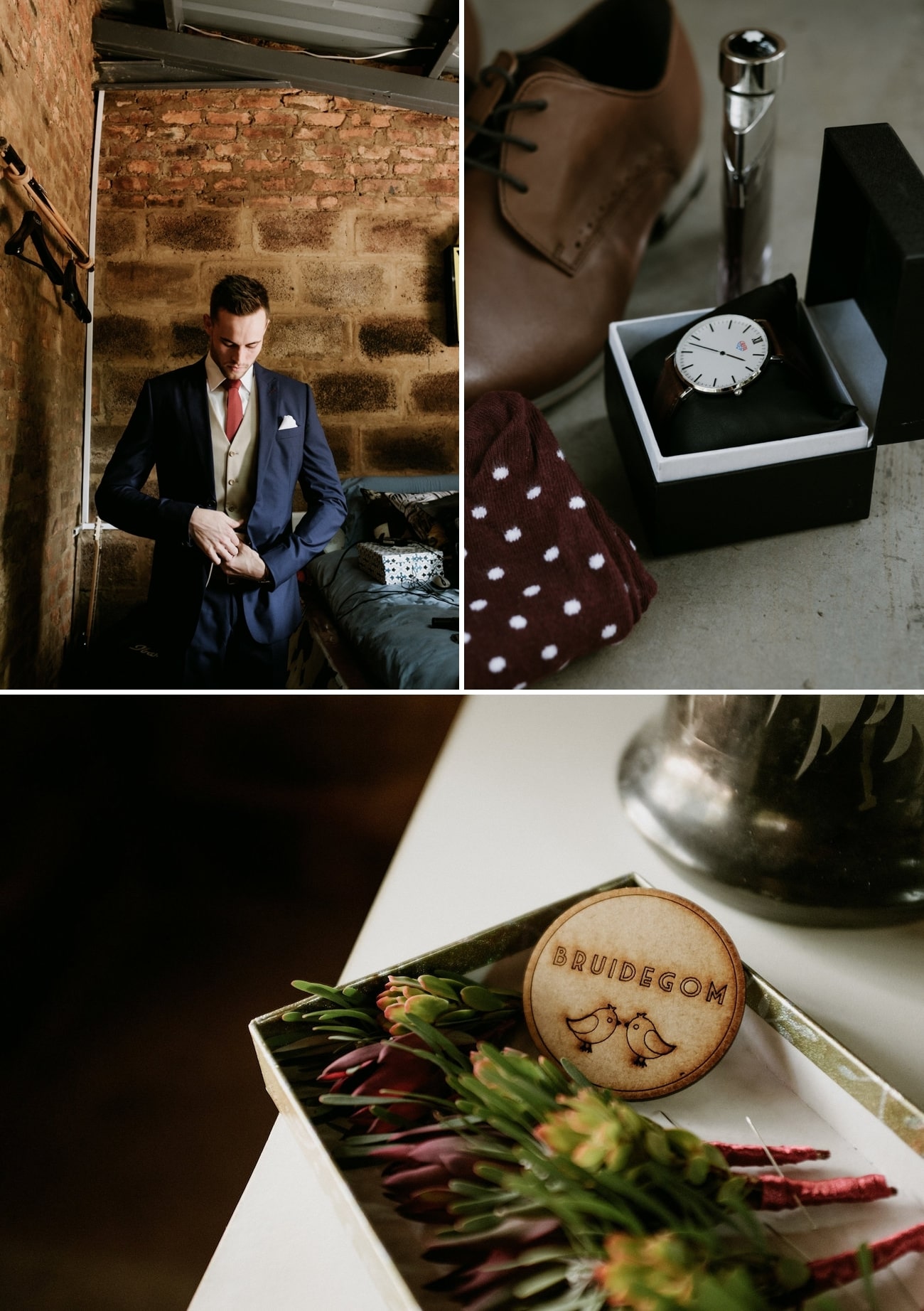 The Venue
We got married at De la Mas Wedding Venue, in Pretoria. It is the perfect backdrop, with a very open and natural atmosphere.
Wedding Style
The styling was all about the details. Proteas are our special symbol, so we incorporated them everywhere. We created a natural yet modern and exposed feeling with our decor, with unique touches representing us as a couple.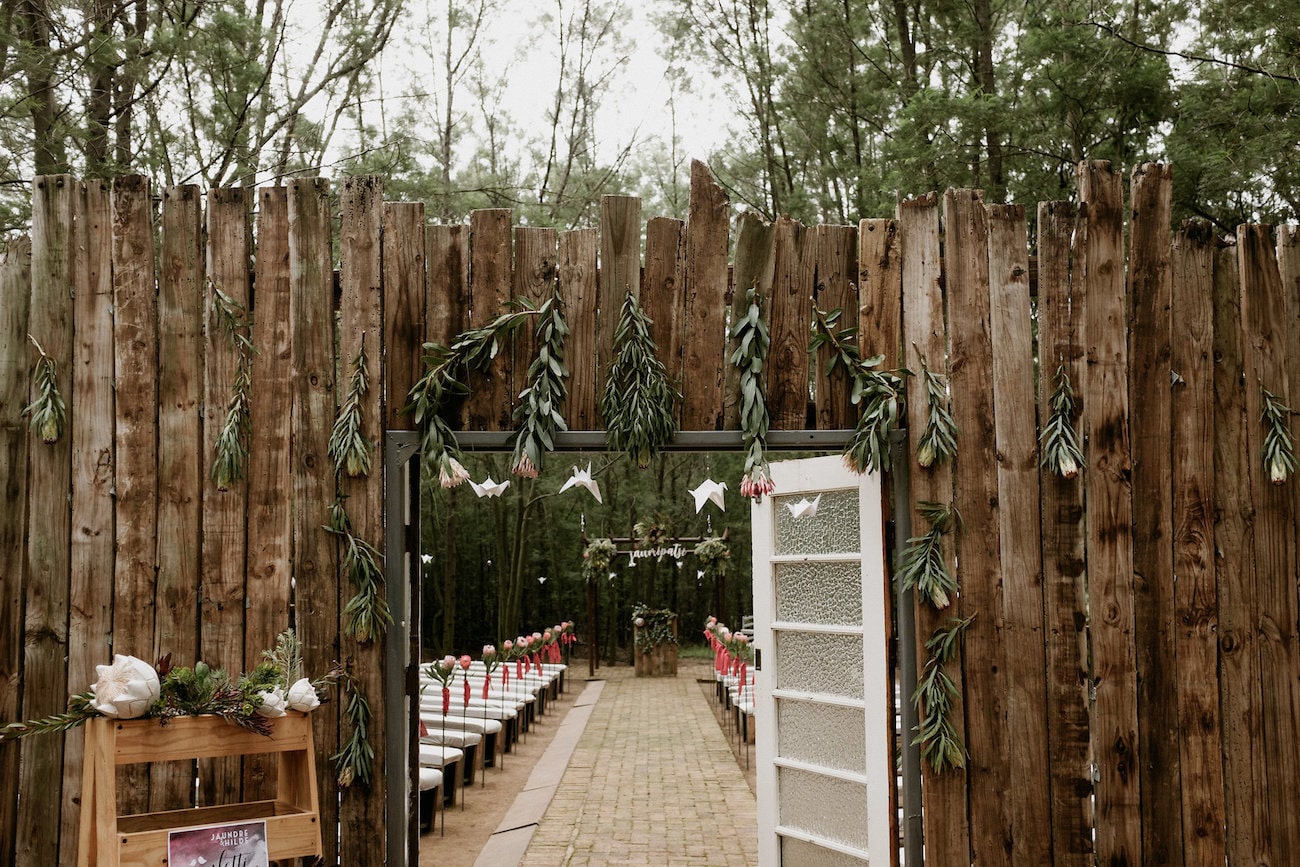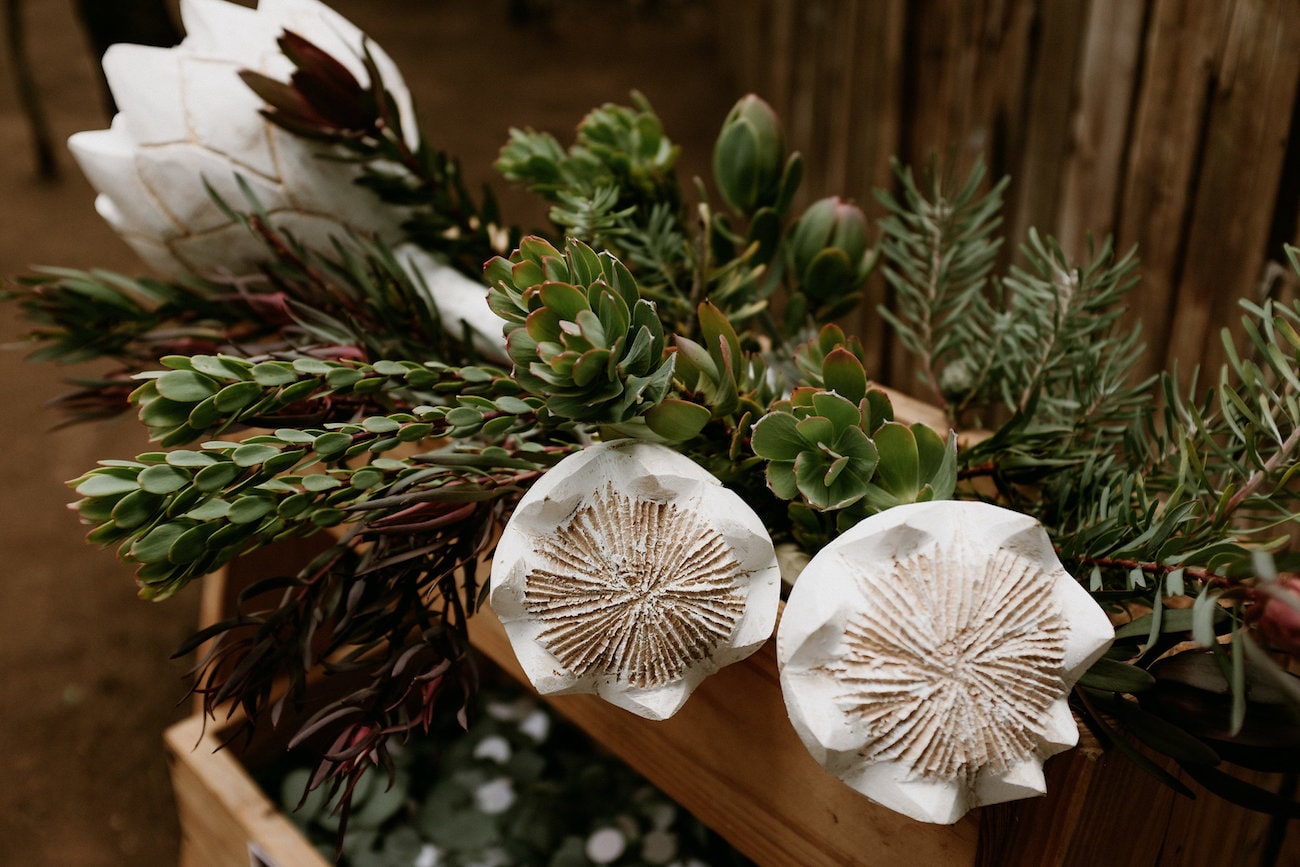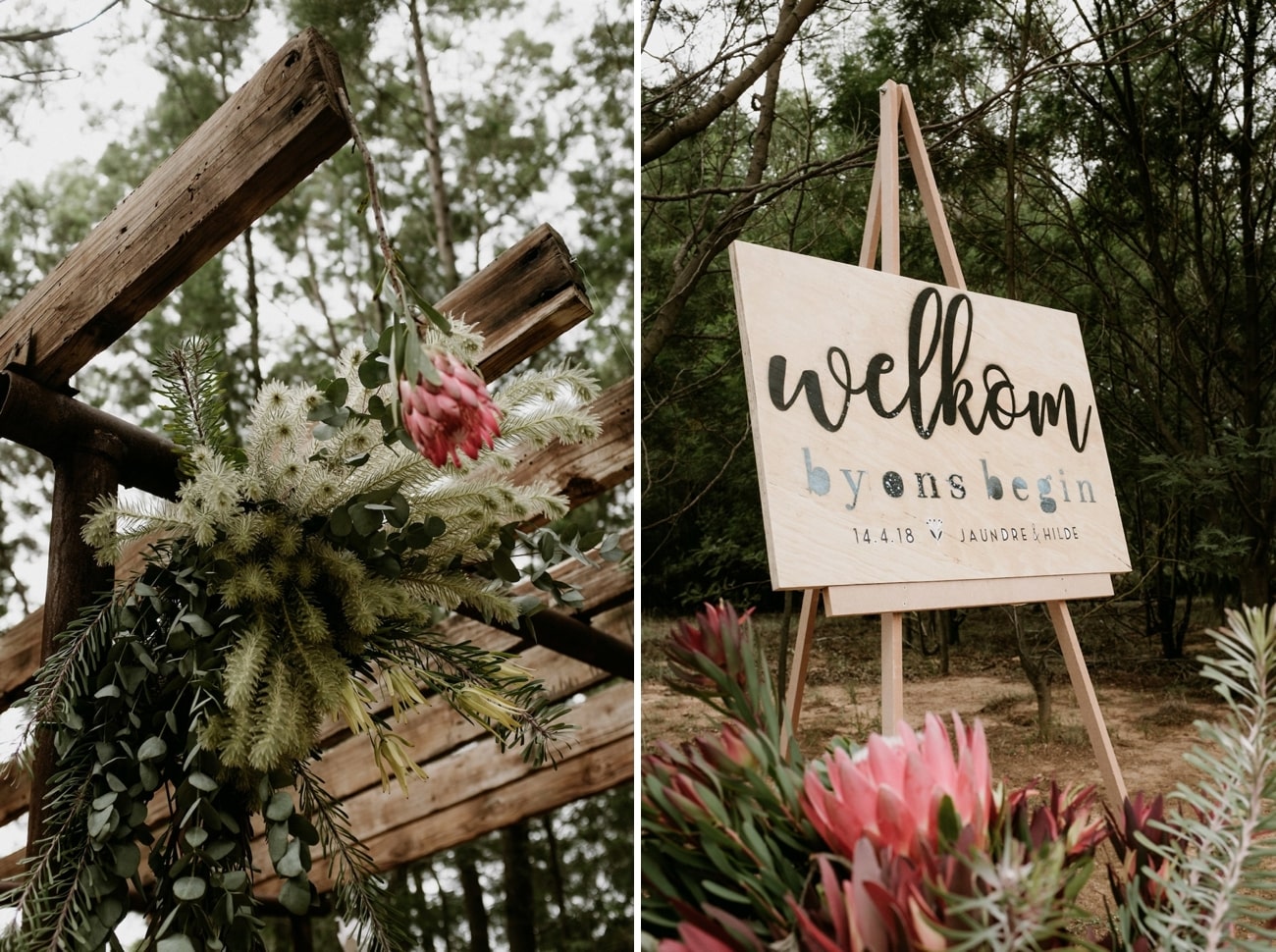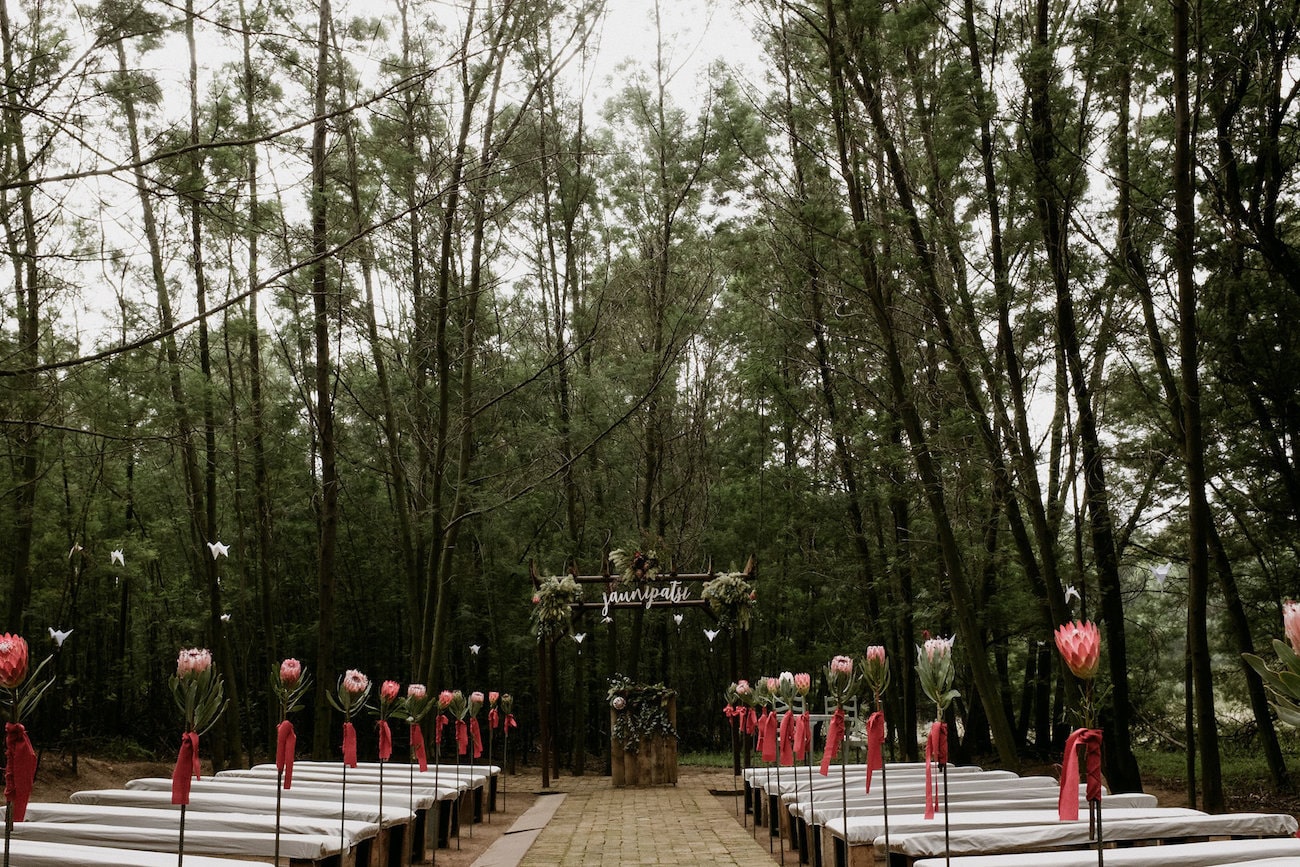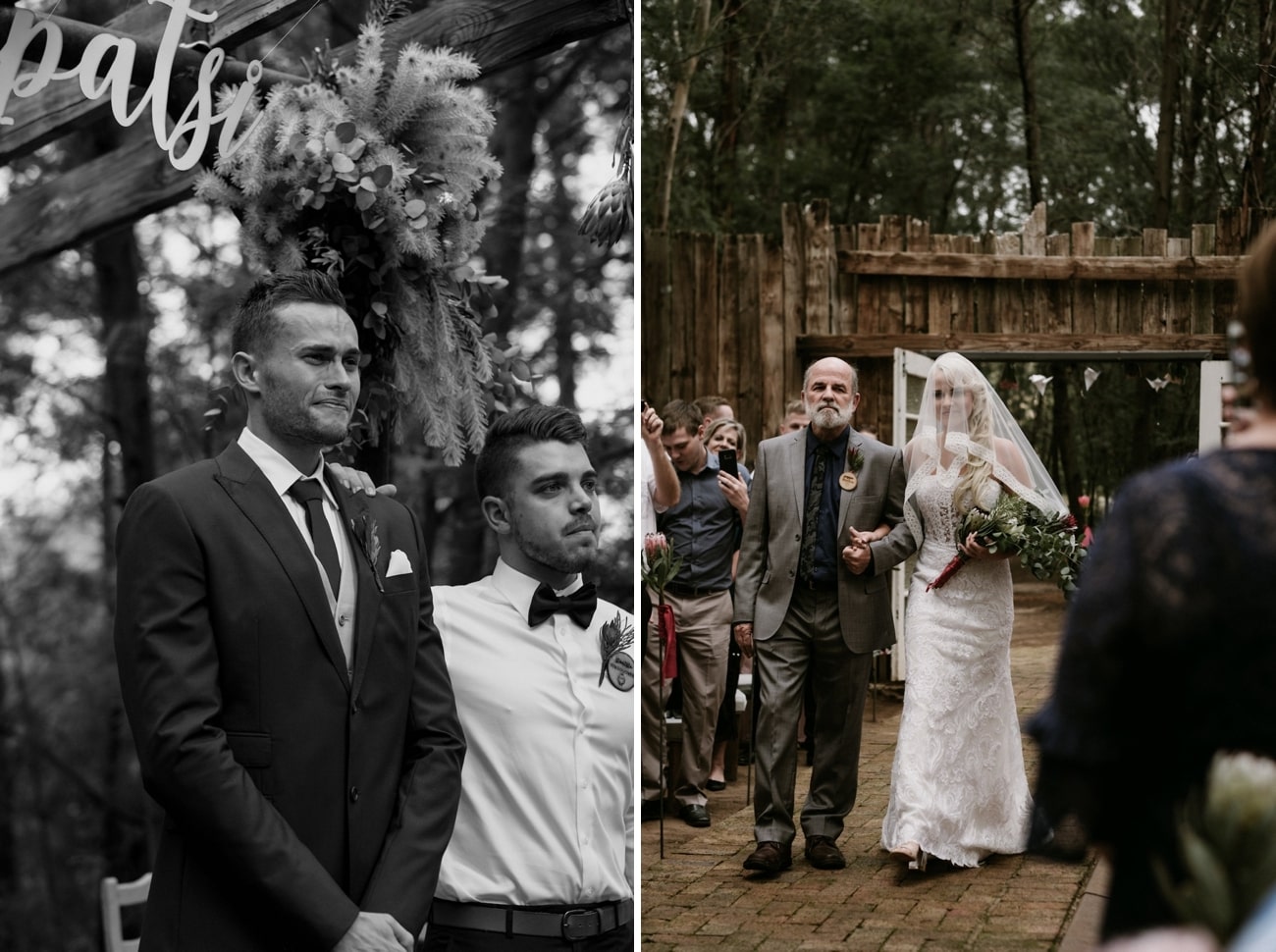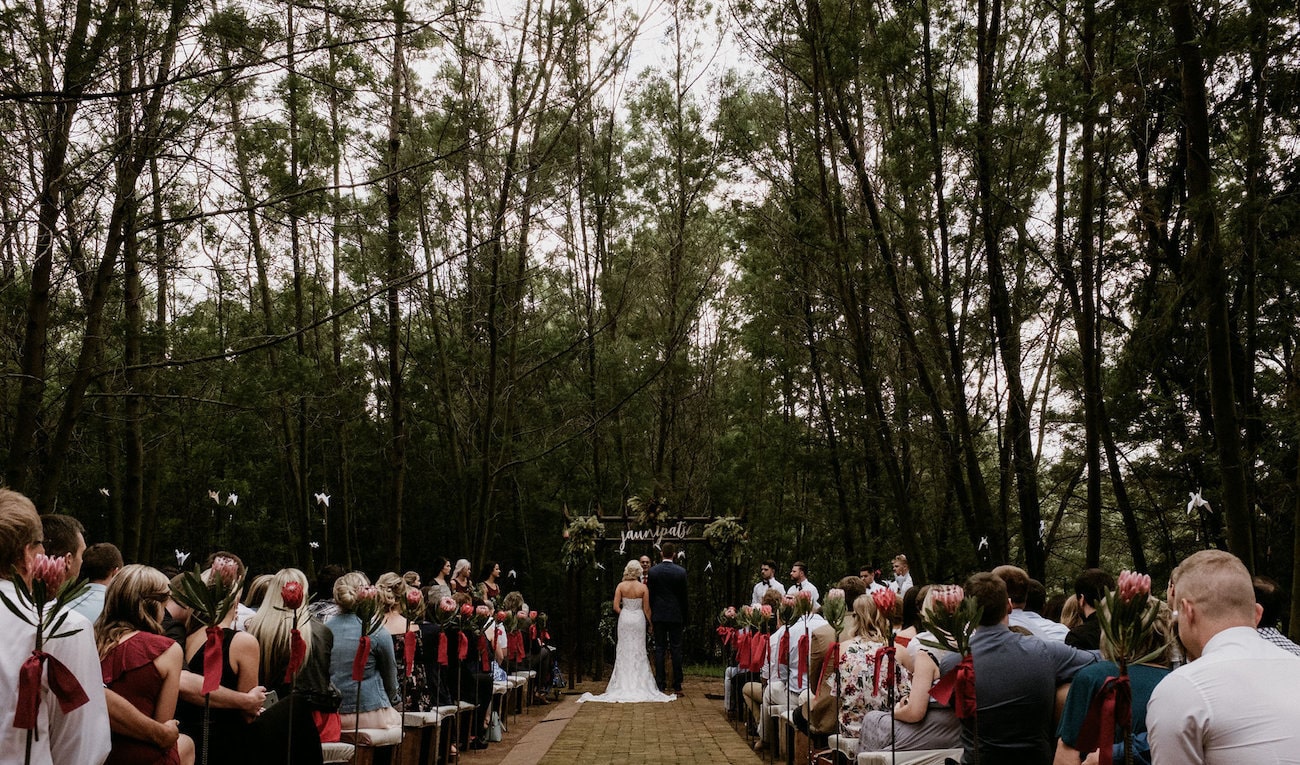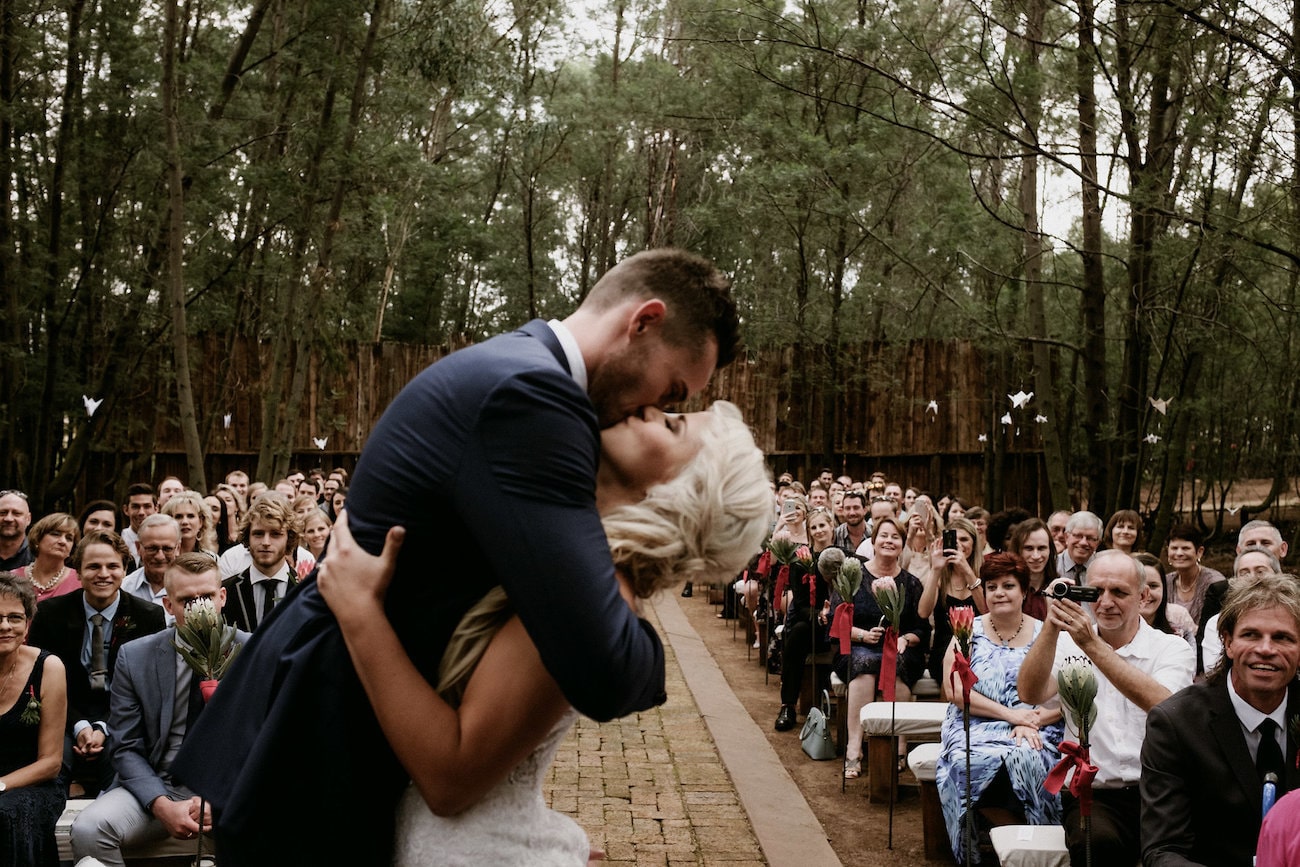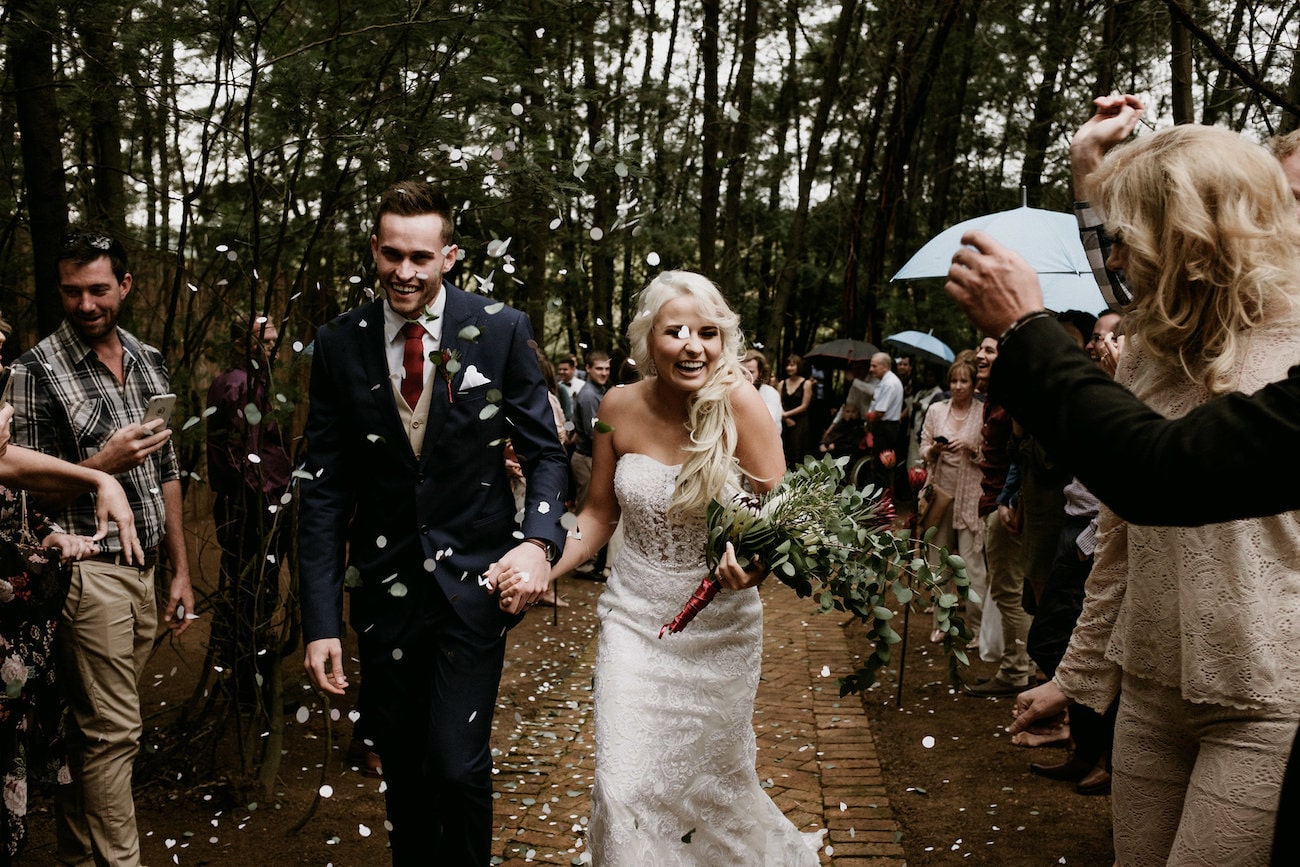 Wedding Details
On the tables, the flowers and greenery were placed in a modern style, in individual glass bottles of various sizes. We also hung them from the trusses, tied them on poles at the ceremony and pinned them to our timber backboard. It truly created a magical atmosphere with the lighting. The female guests took the flowers home as an extra gift after the celebration, so they were not wasted. My father built a custom lighting installation from aluminium and exposed bulbs, which hung above our table. The flowers weere complemented on the raw timber tables with burgundy table cloths, laser cut coasters (thank you gift), a custom designed A3 table place mat (designed by pause_collectmoments), and a single leaf on each plate attached to the natural looking name-tag. We also had a vinyl monogram on the dancefloor.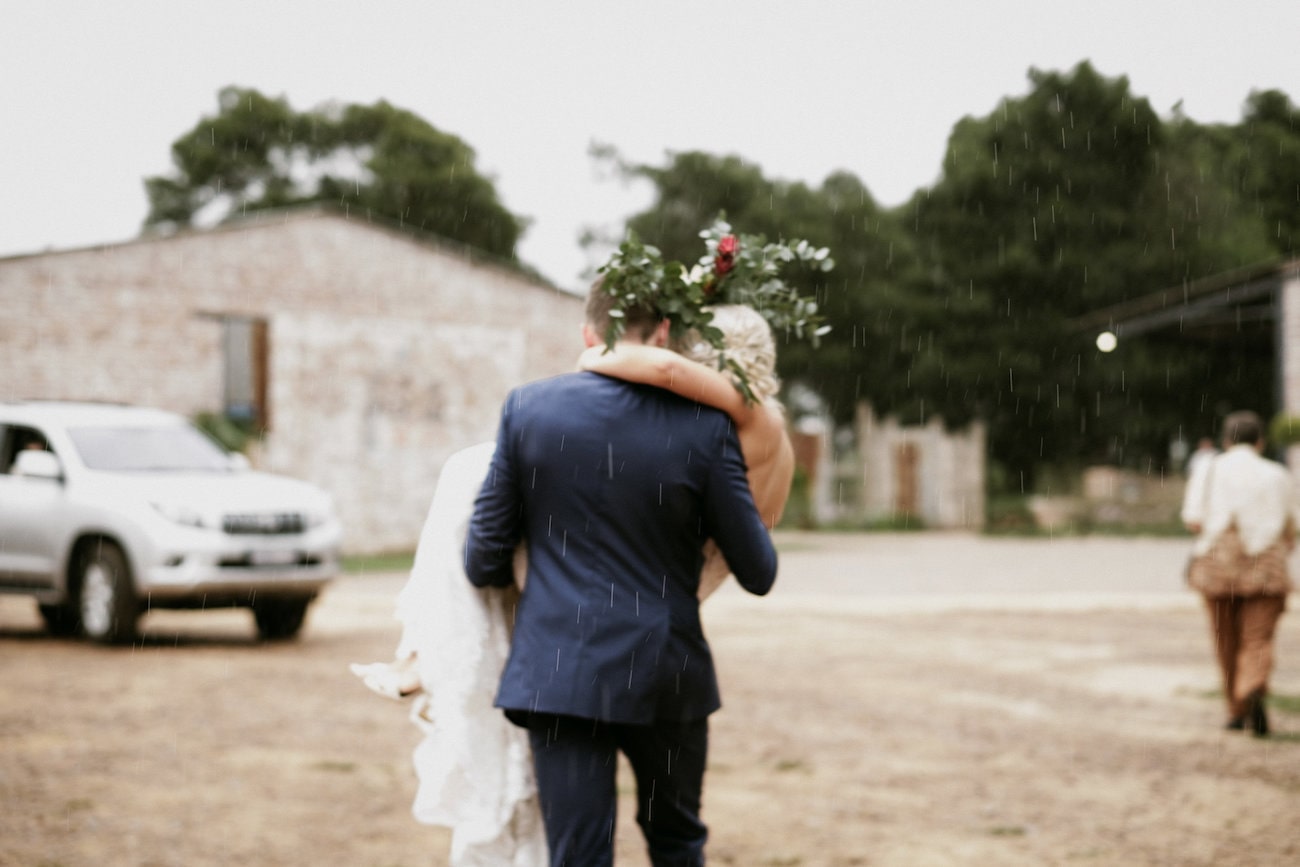 DIY Elements
Everything! Stationery, lighting installation, origami birds hung on trees at the ceremony. I also hand drew six protea sketches, sold at the wedding.
The Flowers
Proteas, fynbos leaves, and eucalyptus. Our flowers made our wedding extra special, as they were exceptional Protea blooms. This flower has a special meaning to us as couple, as it is our symbol of strength and diversity when exchanged. We also got engaged in the Koggelberg Nature Reserve, the richest region of Proteas/fynbos in South Africa.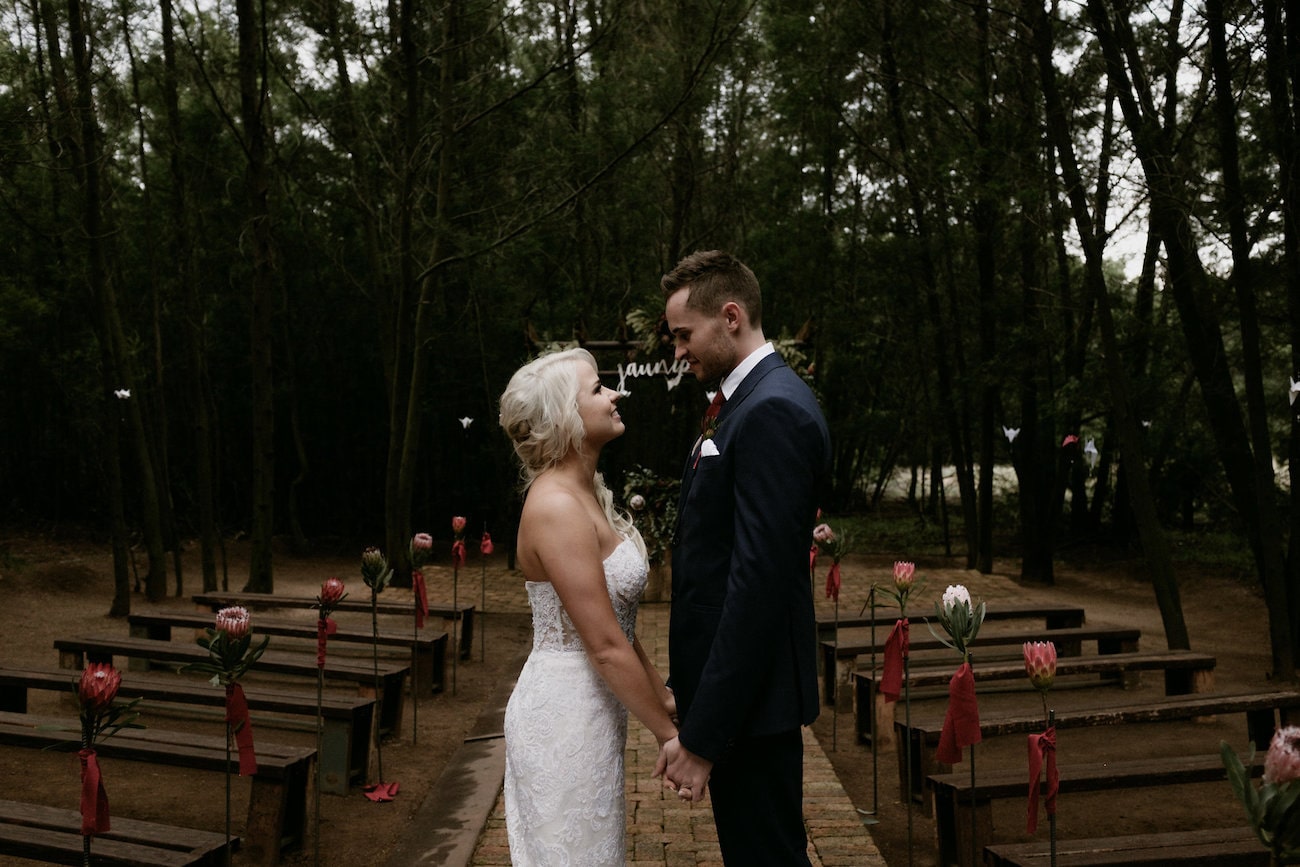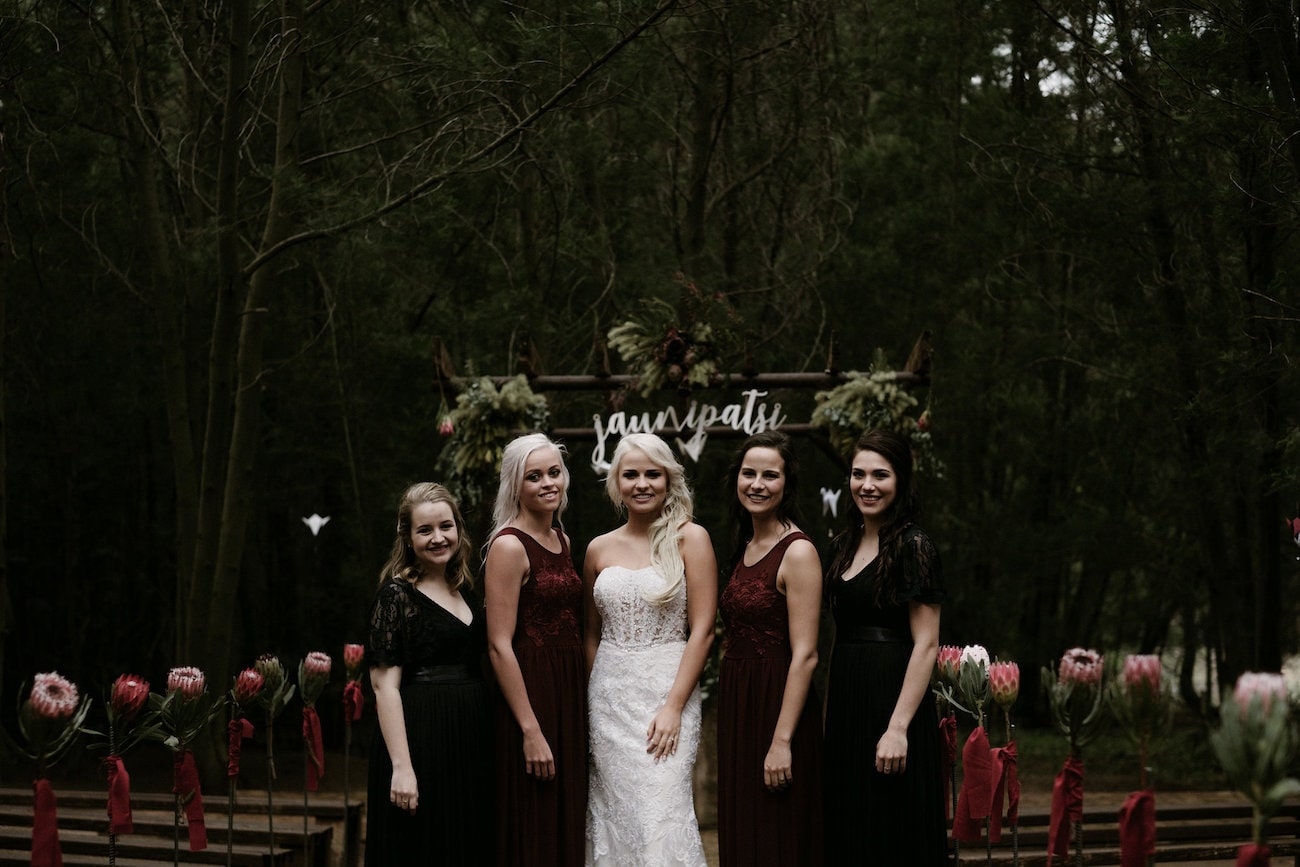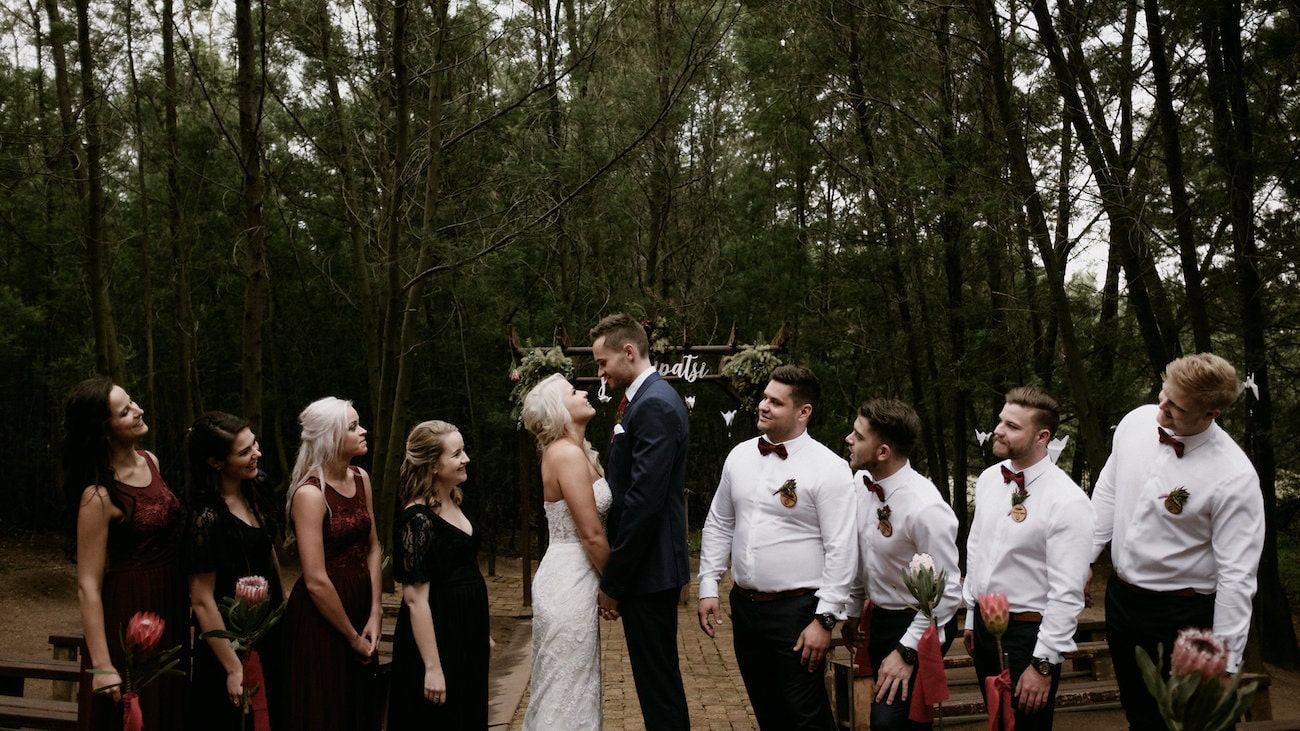 The Dress
I bought the first dress I tried on – after trying on various others, it returned to me! It was a slim fitted boob tube lace (feather pattern) dress, with crystal beads. The alluring part of the dress was the boning being see-though, but the most iconic part is its long and impressive train. The garter was also detailed, a delicate cut out flower pattern. I had quite high modern and simple nude heels.The earrings were silver with diamond insets, complementing the feather-like lace. For perfume, I had a small rose gold bottle from a French perfumery (we as couple bought it in Paris when we were on a Contiki tour in 2016. It is therefore a very sentimental scent and piece to us). To highlight the dress and complement my style, I pursued a NATURAL look: long soft white blond curls pinned to the one side with a smokey eye, volume lashes and nude lips.
The Bridesmaids
The four bridesmaids wore "flowy" navy and burgundy long dresses. The bodices were made of lace and the skirt softly hanging fabric. They styled them with a silver leaf hair pin, soft curls with the top part pinned up, and comfortable silver flat sandals.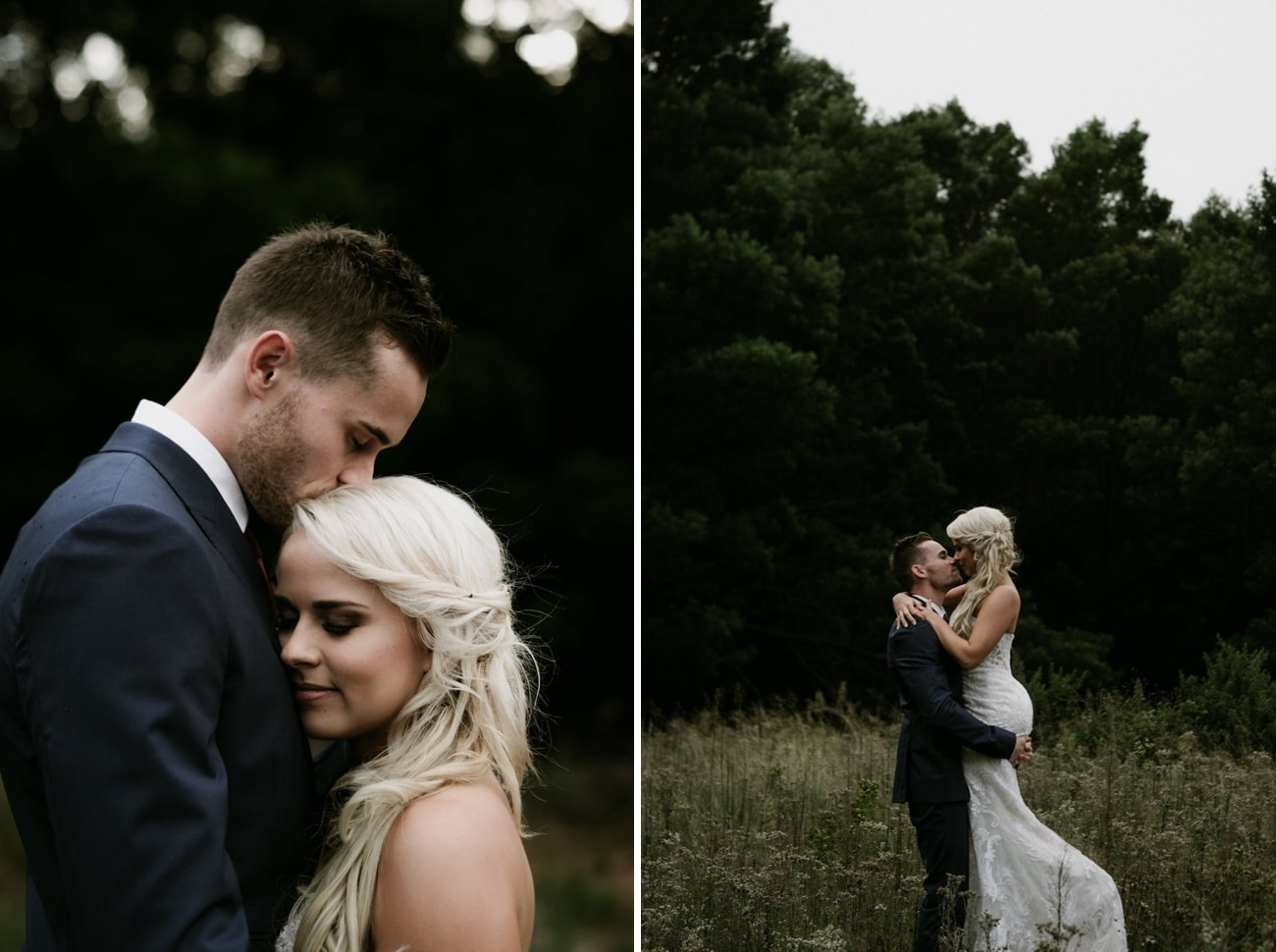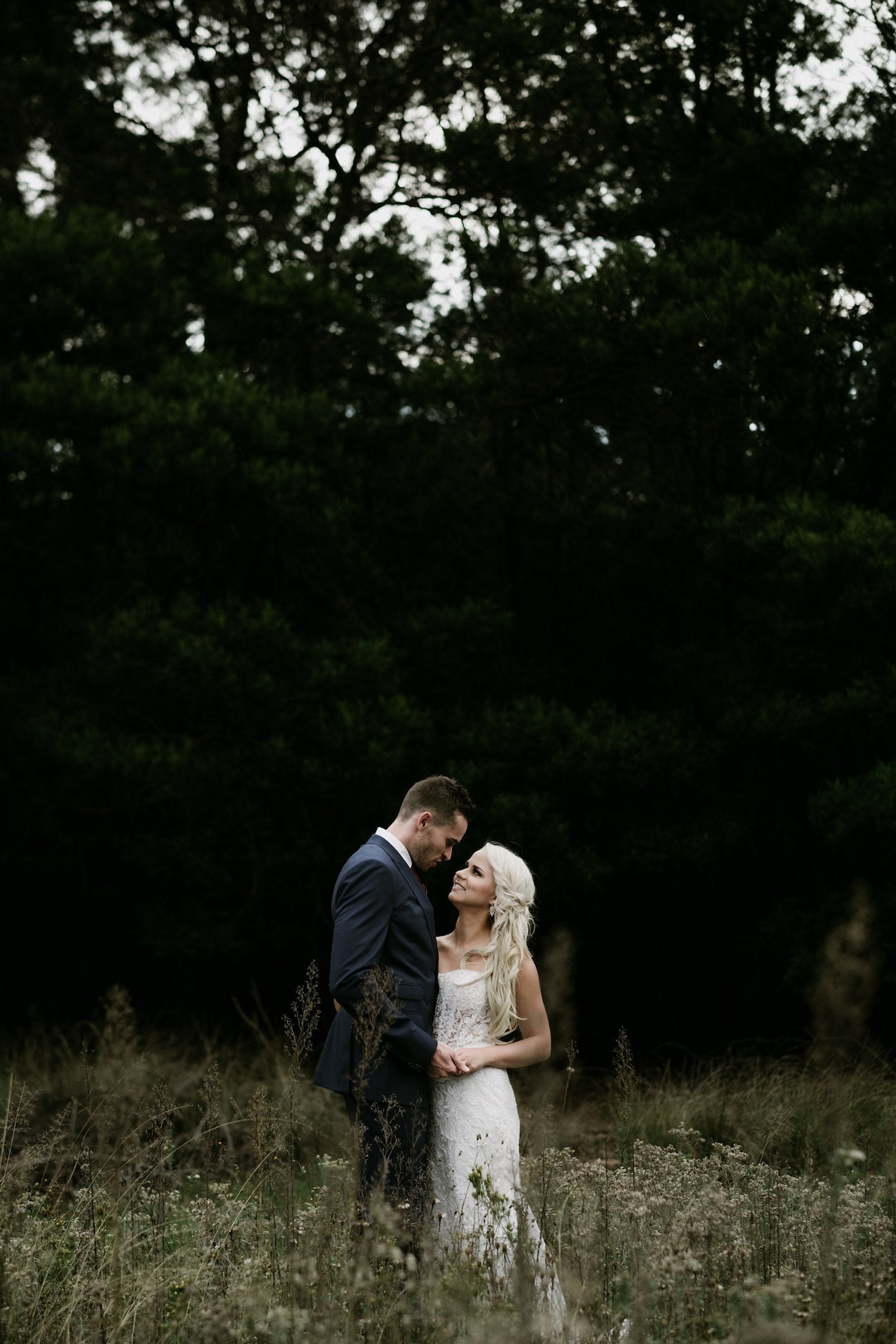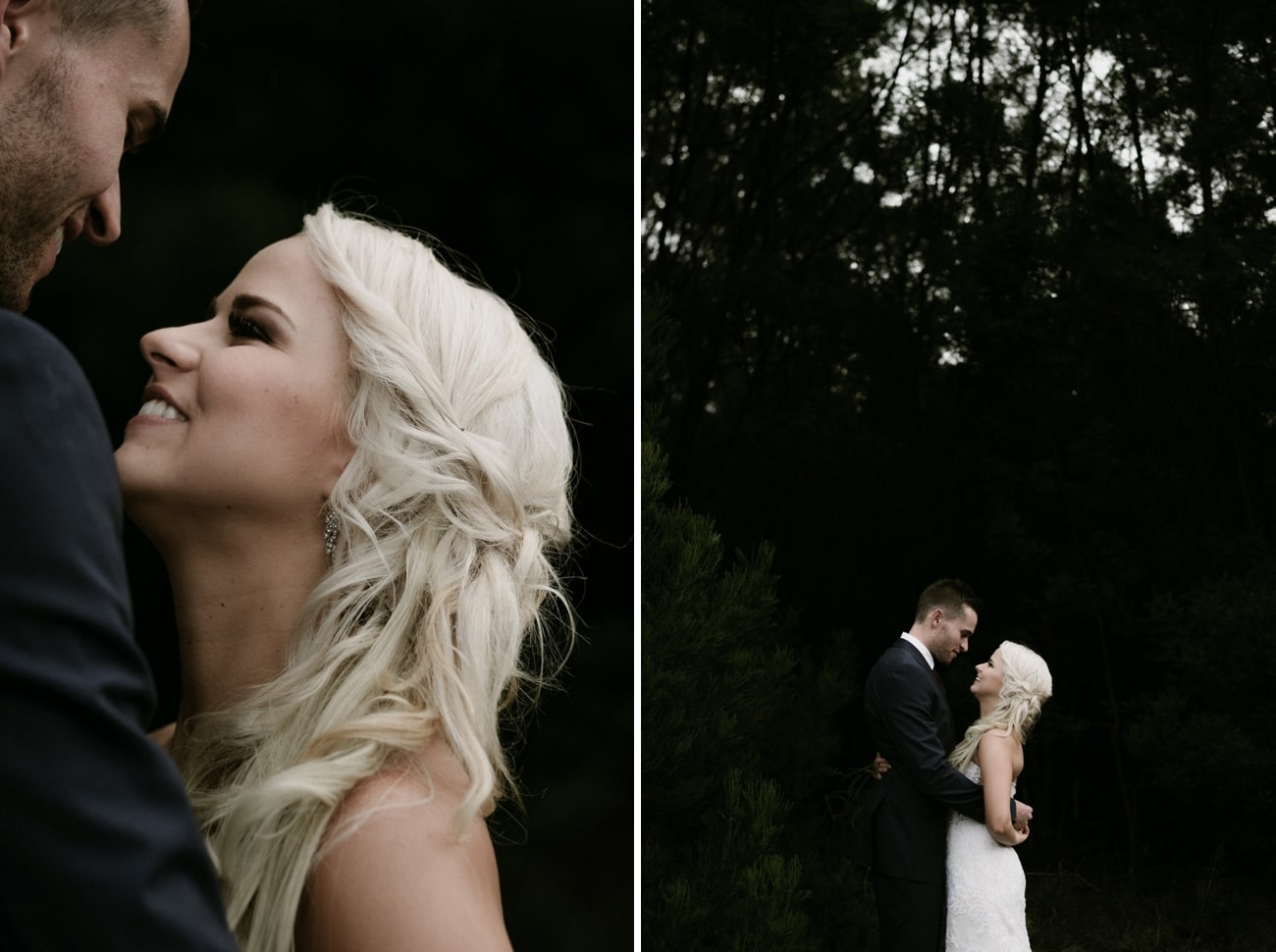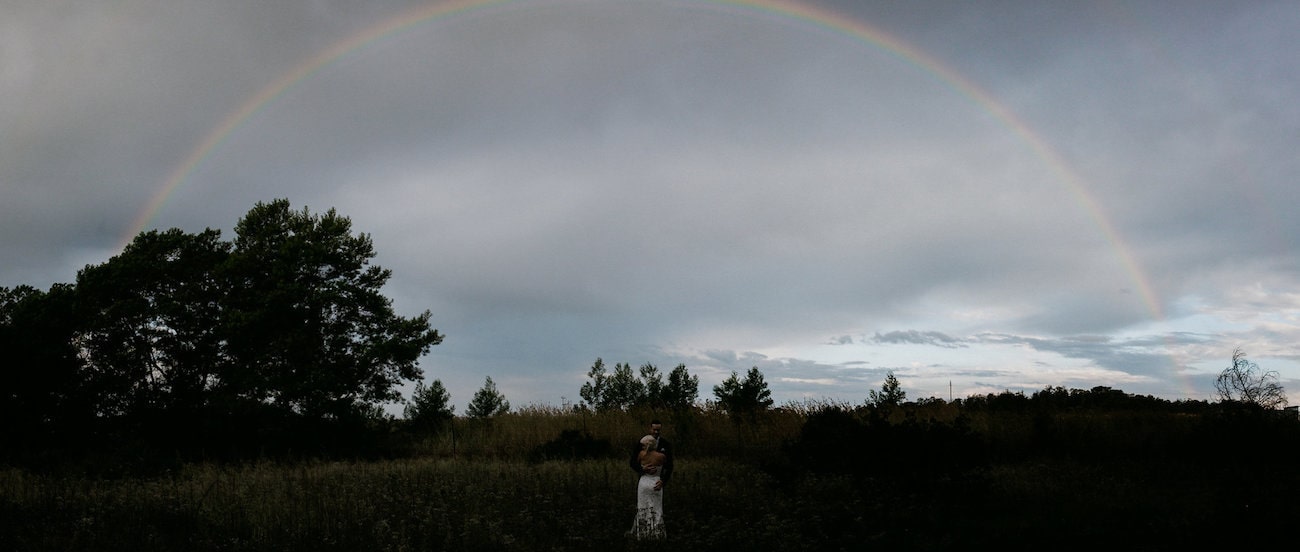 Memorable Moments
On a beautifully crafted and exciting day, yet a very emotional one when entering the ceremony, what could have been more special than to be blessed with rain? A RAINBOW! The weather was a little daunting during our ceremony, with the high trees and leaves making mystical sounds. As the confetti was thrown, it began to rain. My husband swept me off my feet and ran to the hall up the hill. The rain stopped when we cut the cake, so we left then to take our couple photos. As we were busy in the veld, I turned around and saw we were standing IN THE MIDDLE of the rainbow. It was not a miracle or planned or asked for. It was a symbol of GRACE.
Afterwards we entered the hall, immediately starting with the first dance, for which we compiled a special mix of three songs. We had a blast, laughing at all of the funny games our head of ceremonies planned for the guests. It was so creative (such as a special branded wine bottle with our photo on, auctioned off). We also had a special game for extra spending money for the honeymoon: our guests had to donate coins, into the jars of the bride/groom to receive a "cake in the face".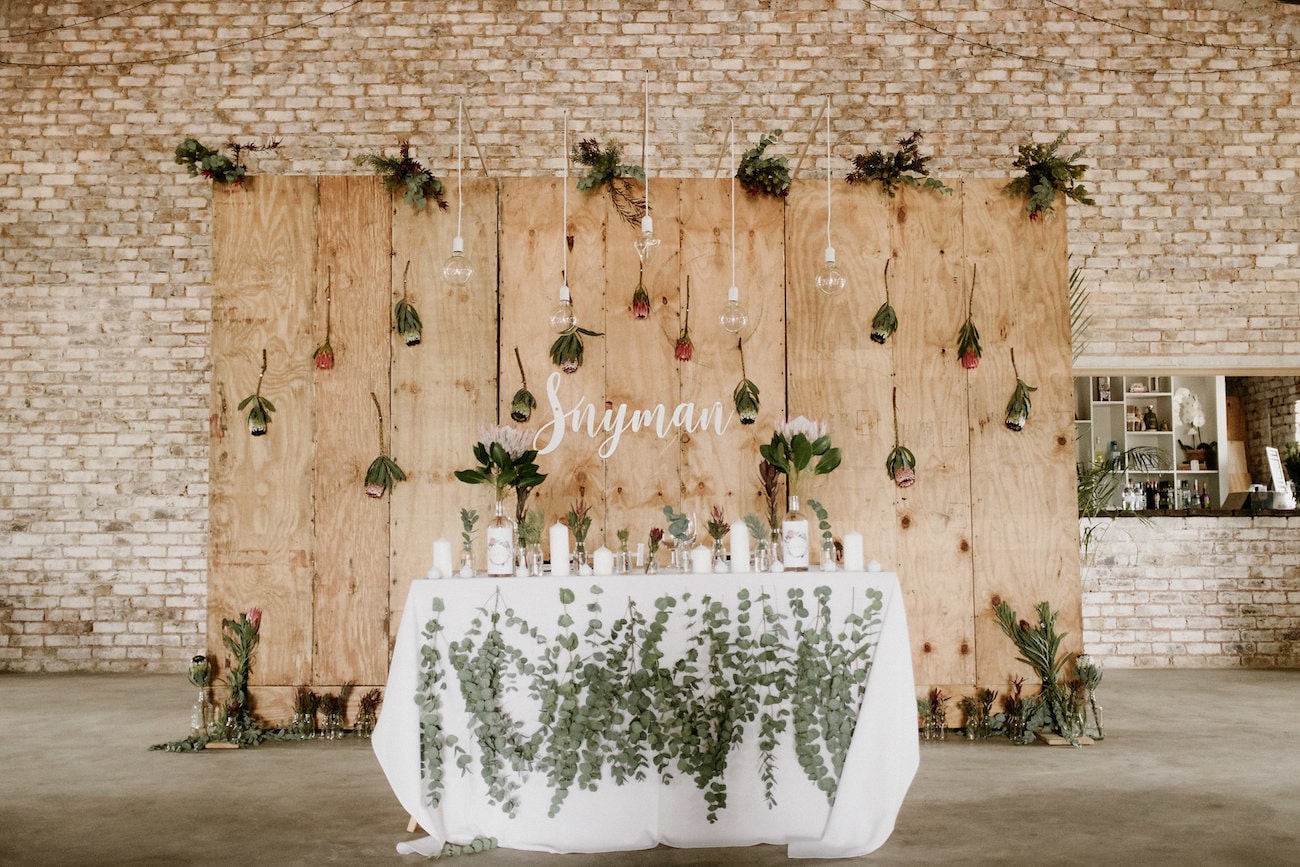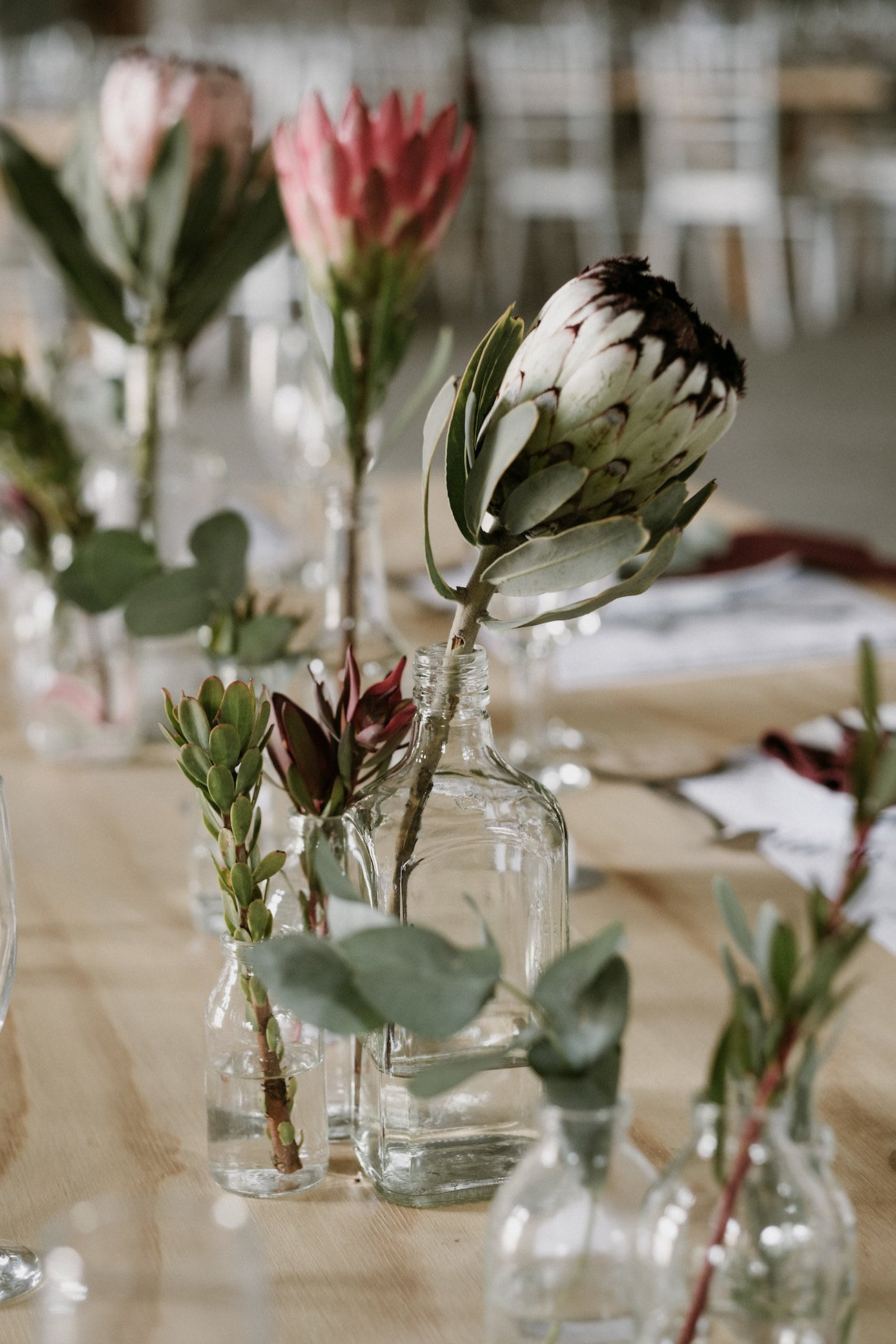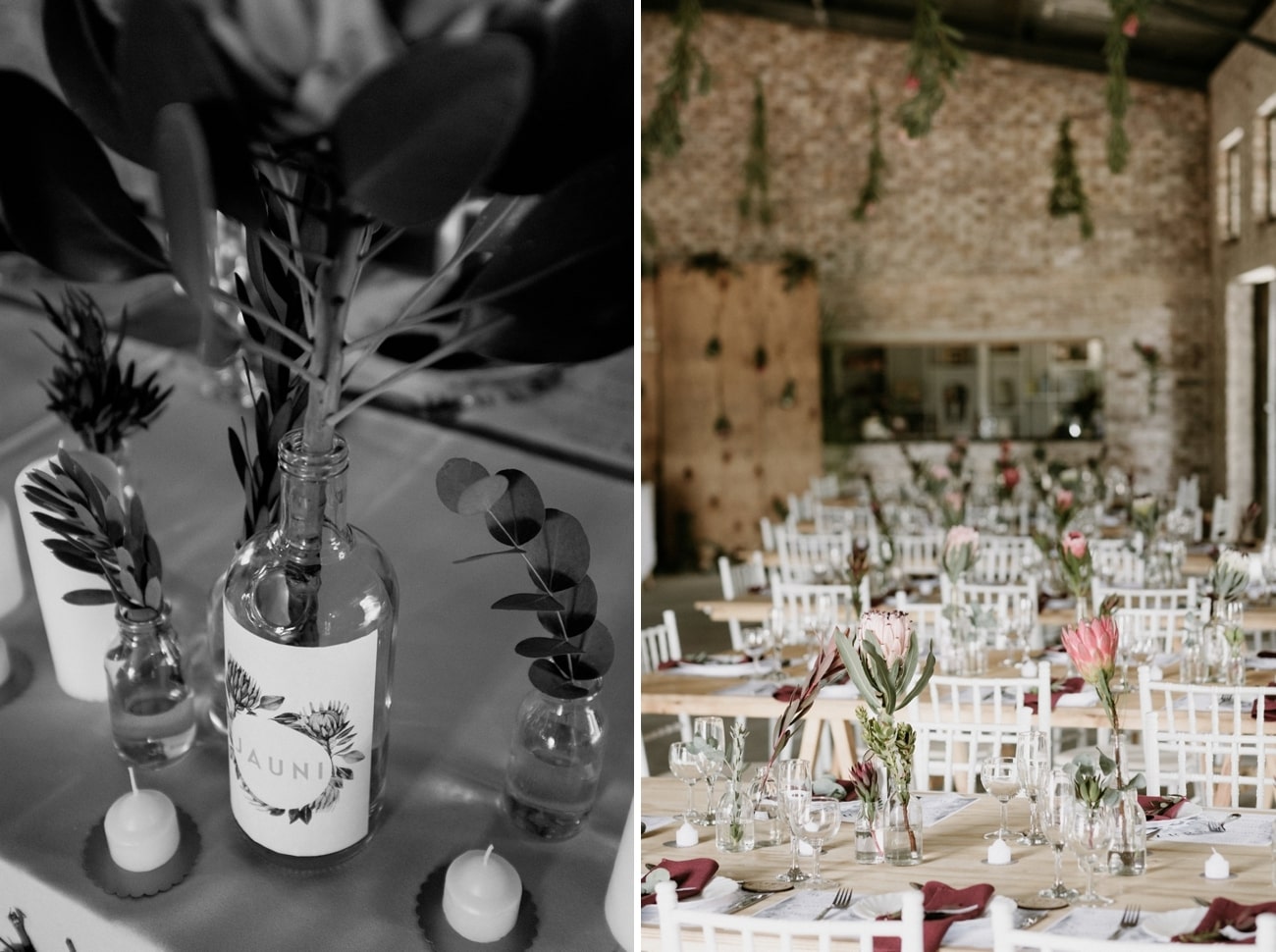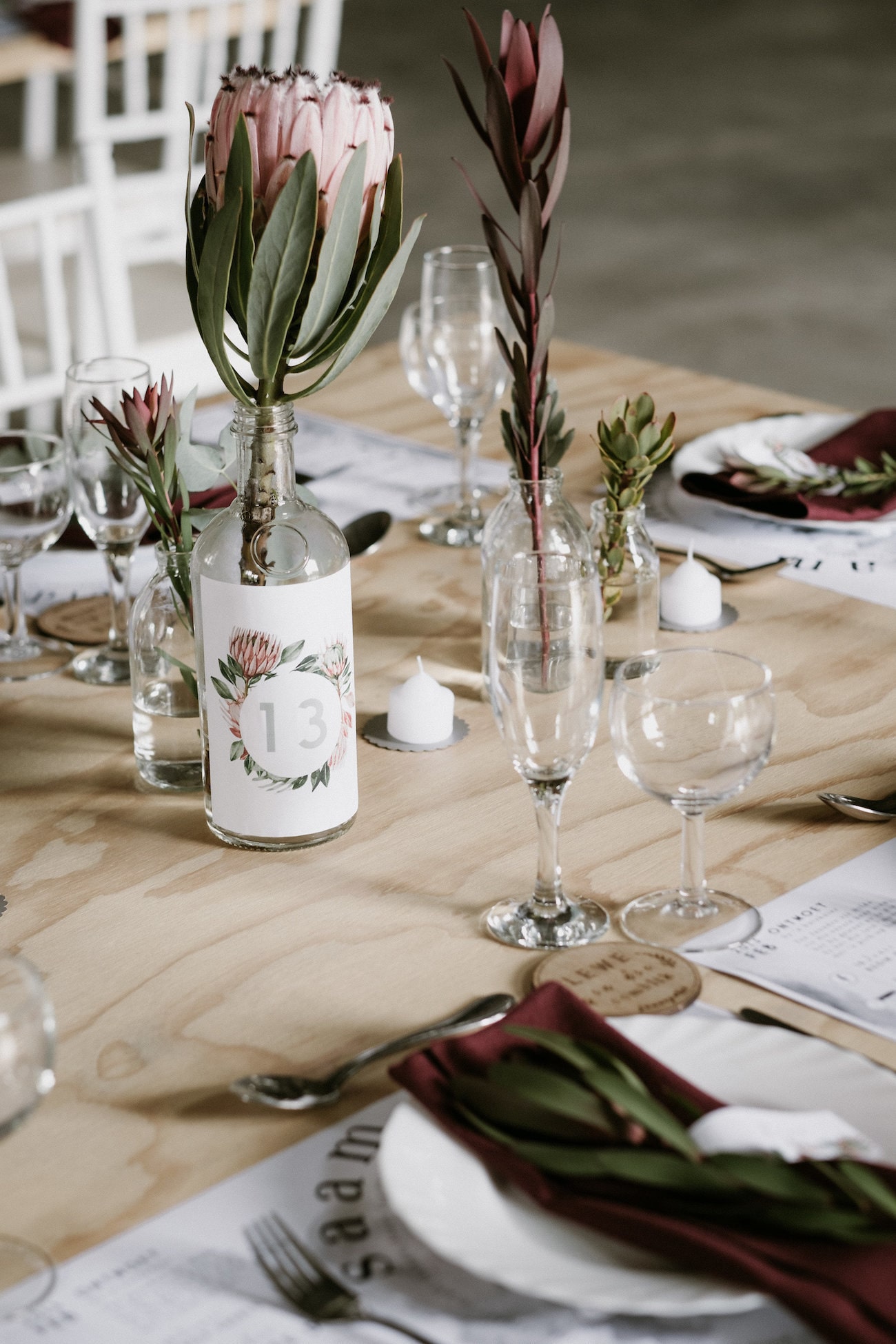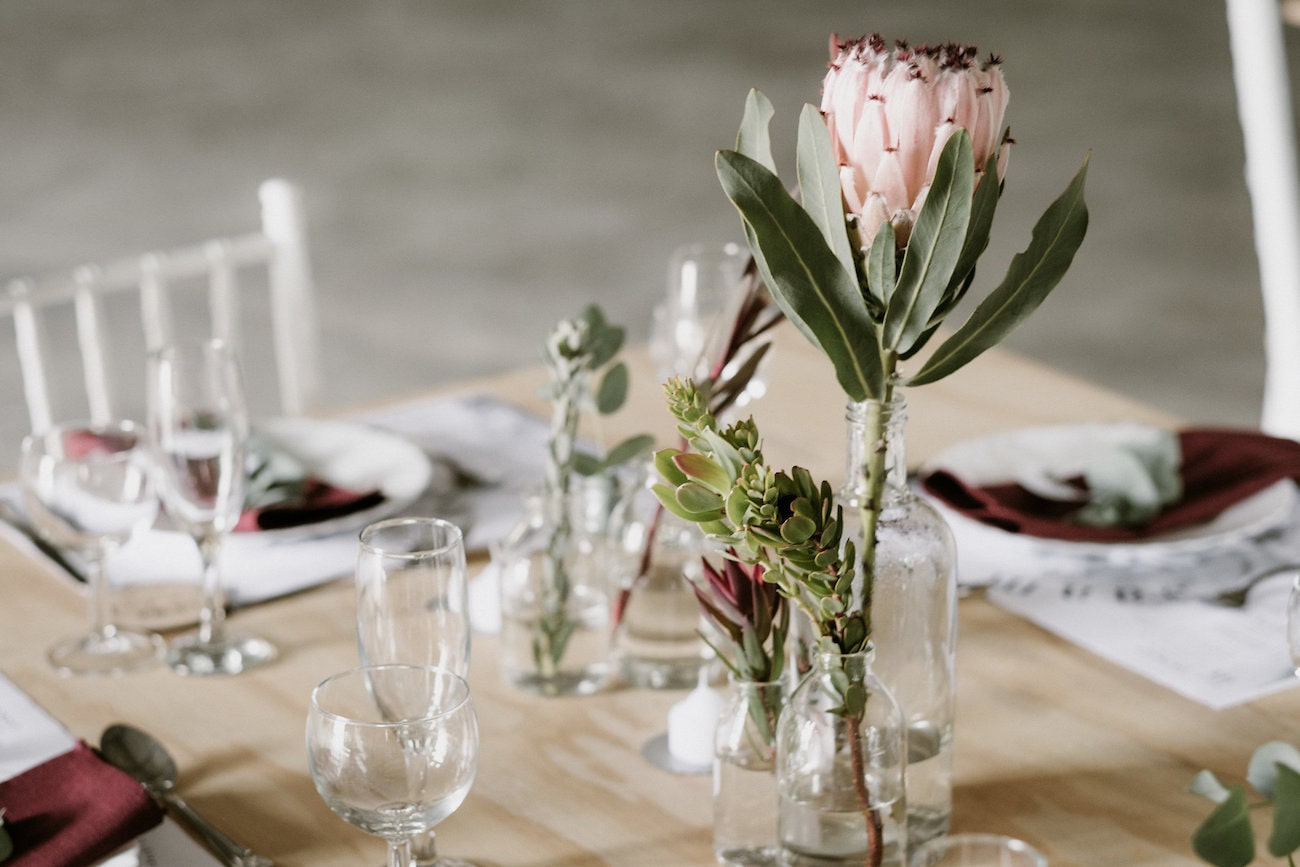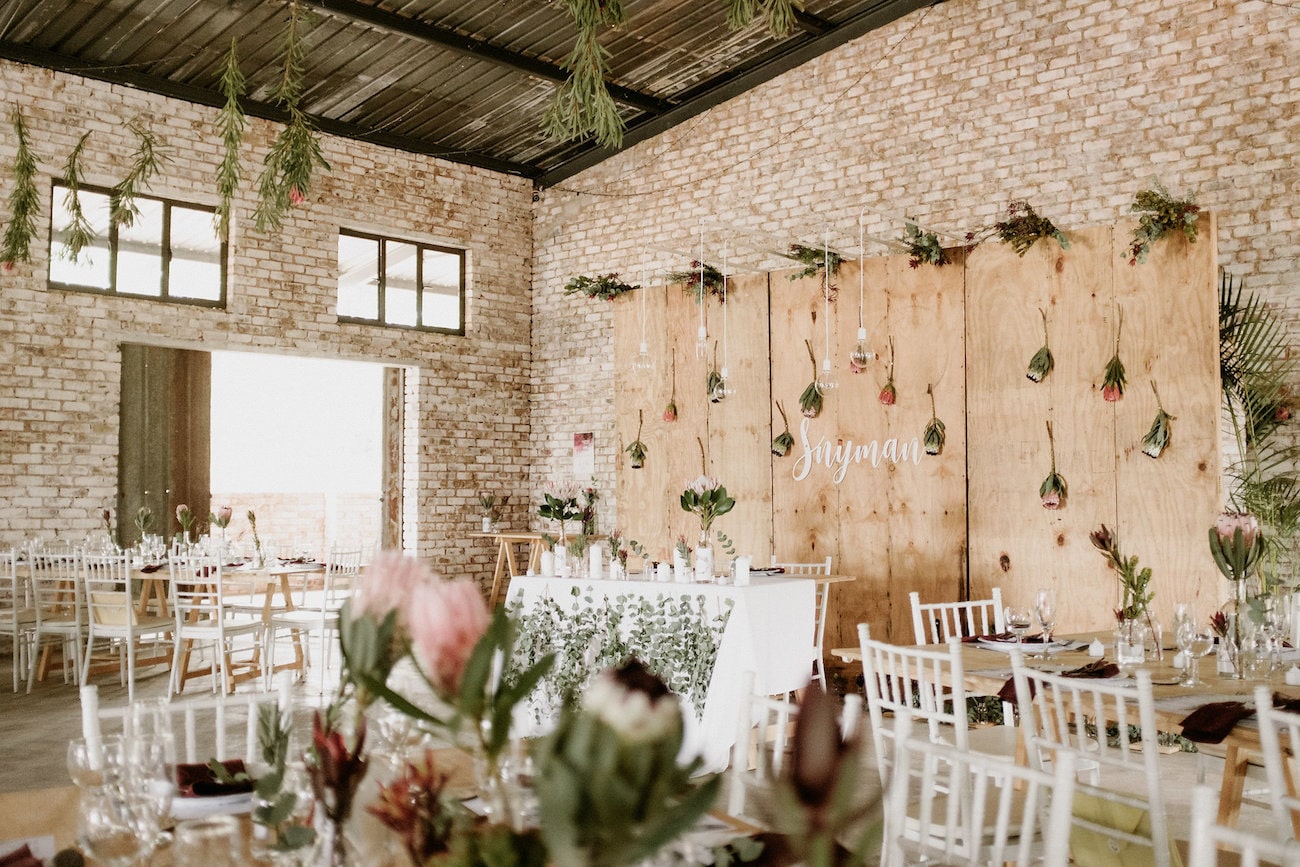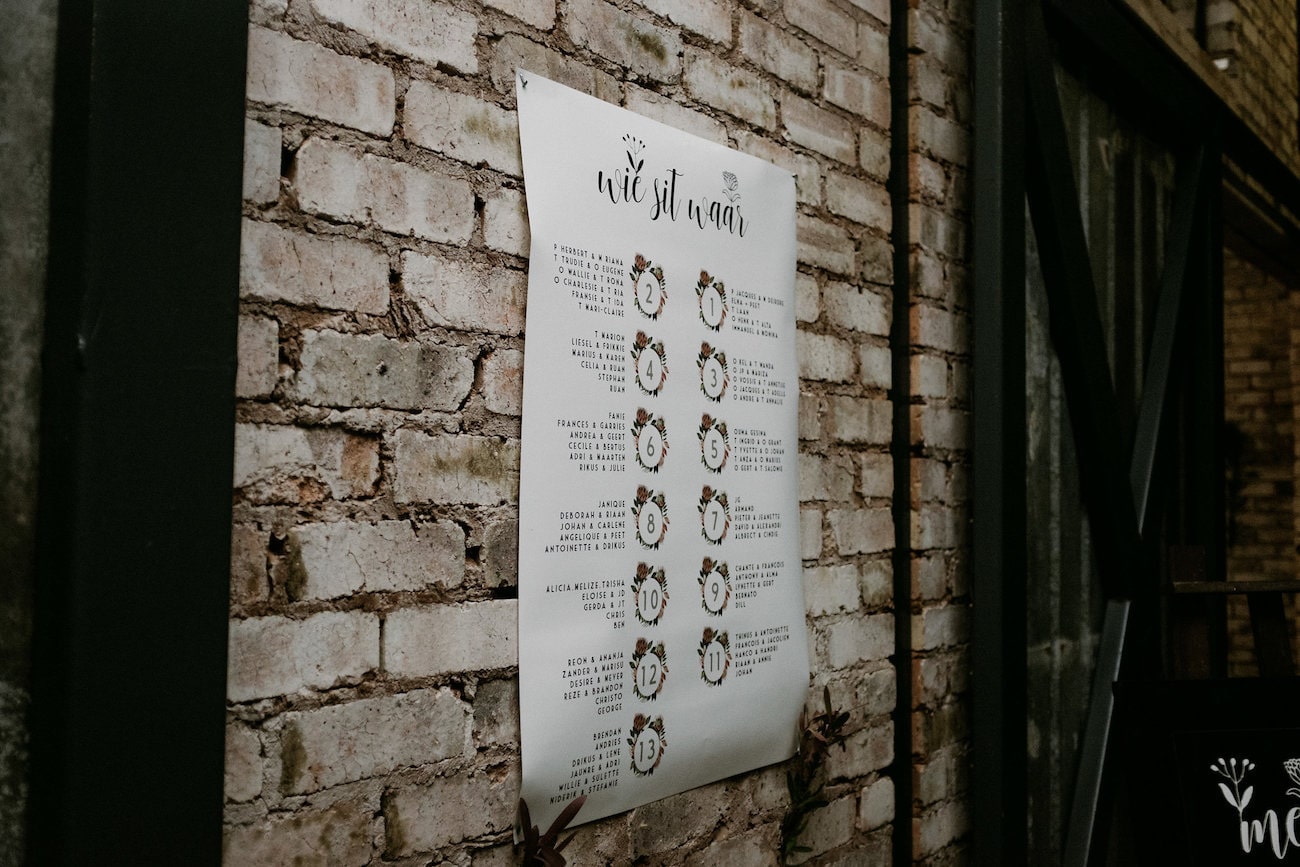 Best Decision
Lists: keep track of all of the ideas and decisions.
Unique elements: to create a special atmosphere.
Budget: setting an outline, focusing on what is needed to make the day special.
Advice for Future Brides & Grooms
Do not copycat other ideas. Create unique elements fitted to portray you as a couple. Do not overspend.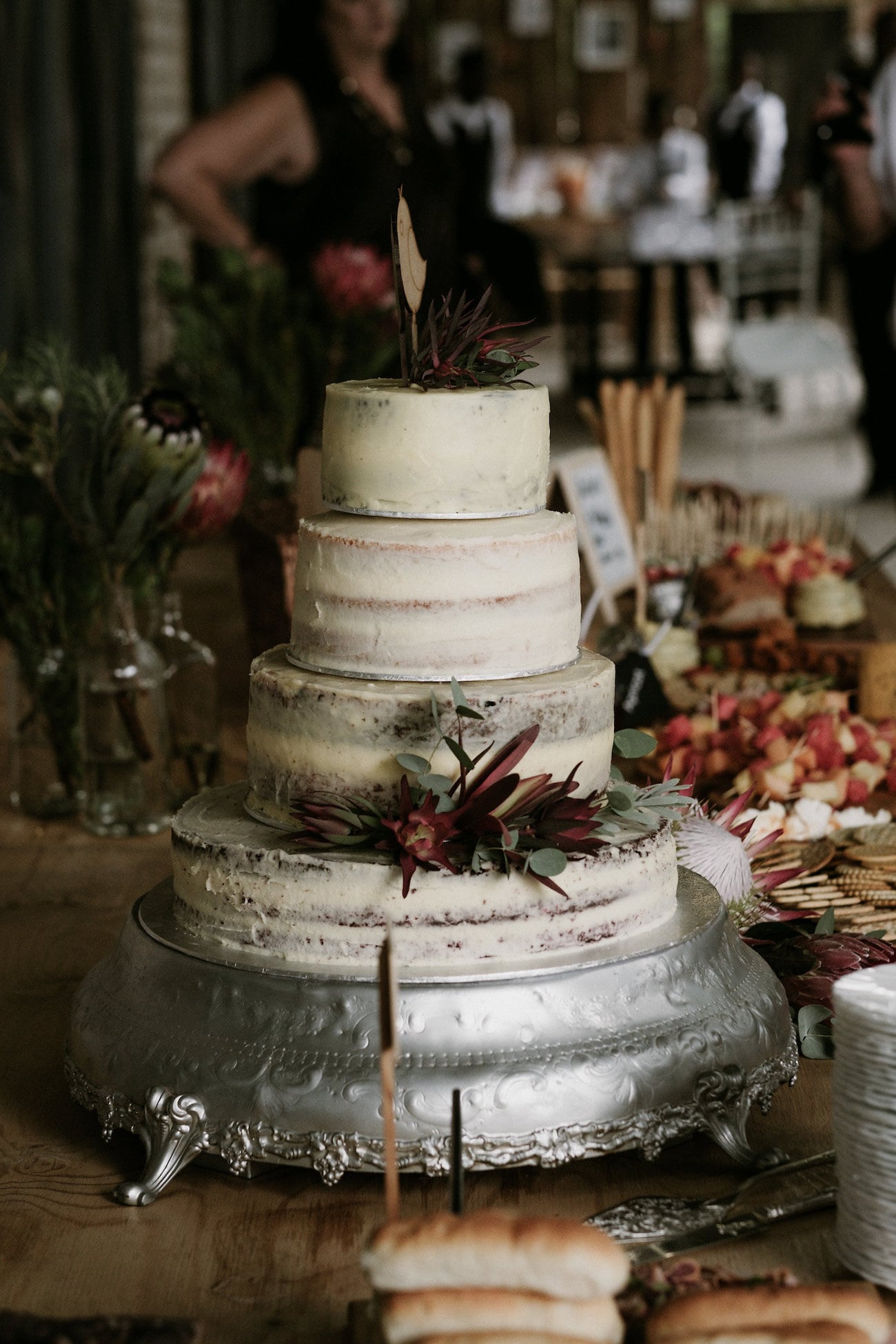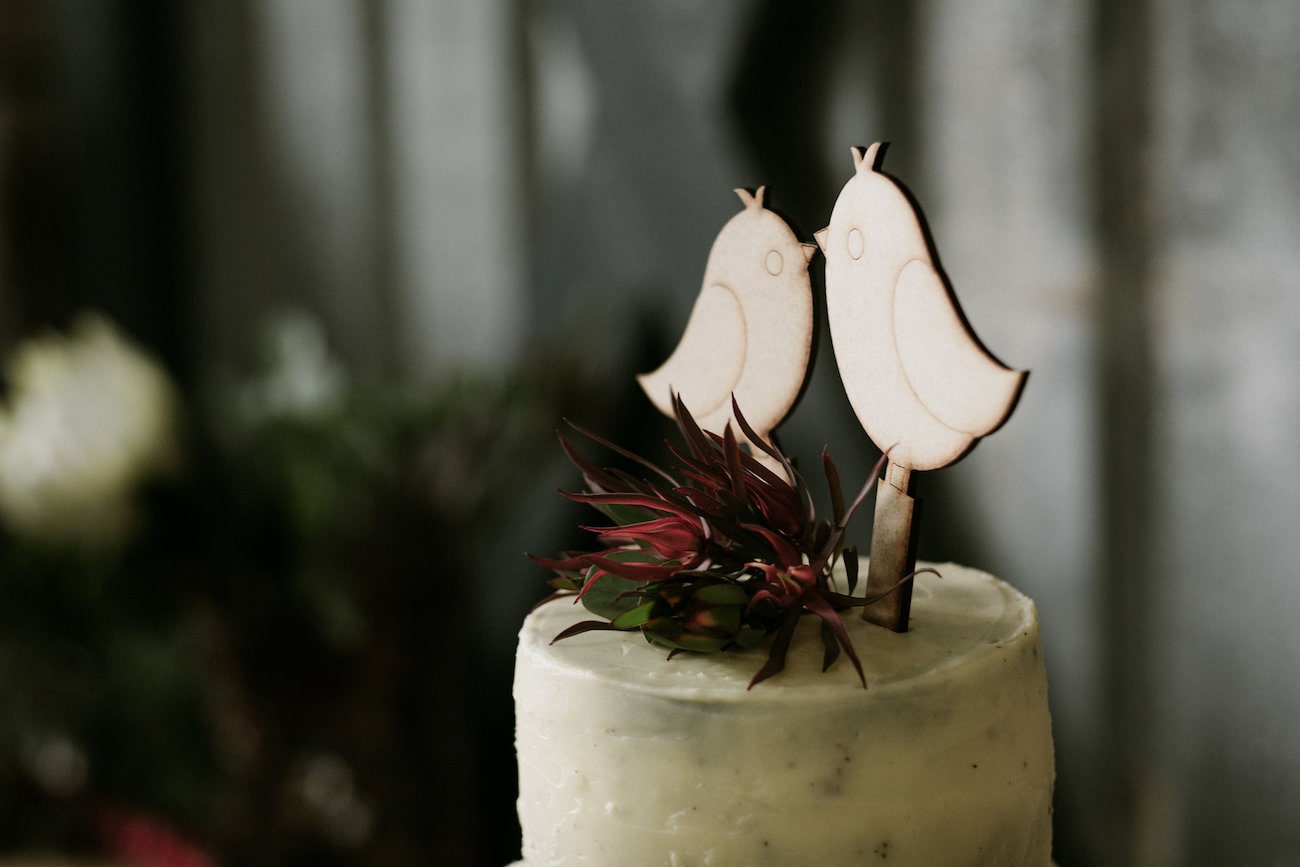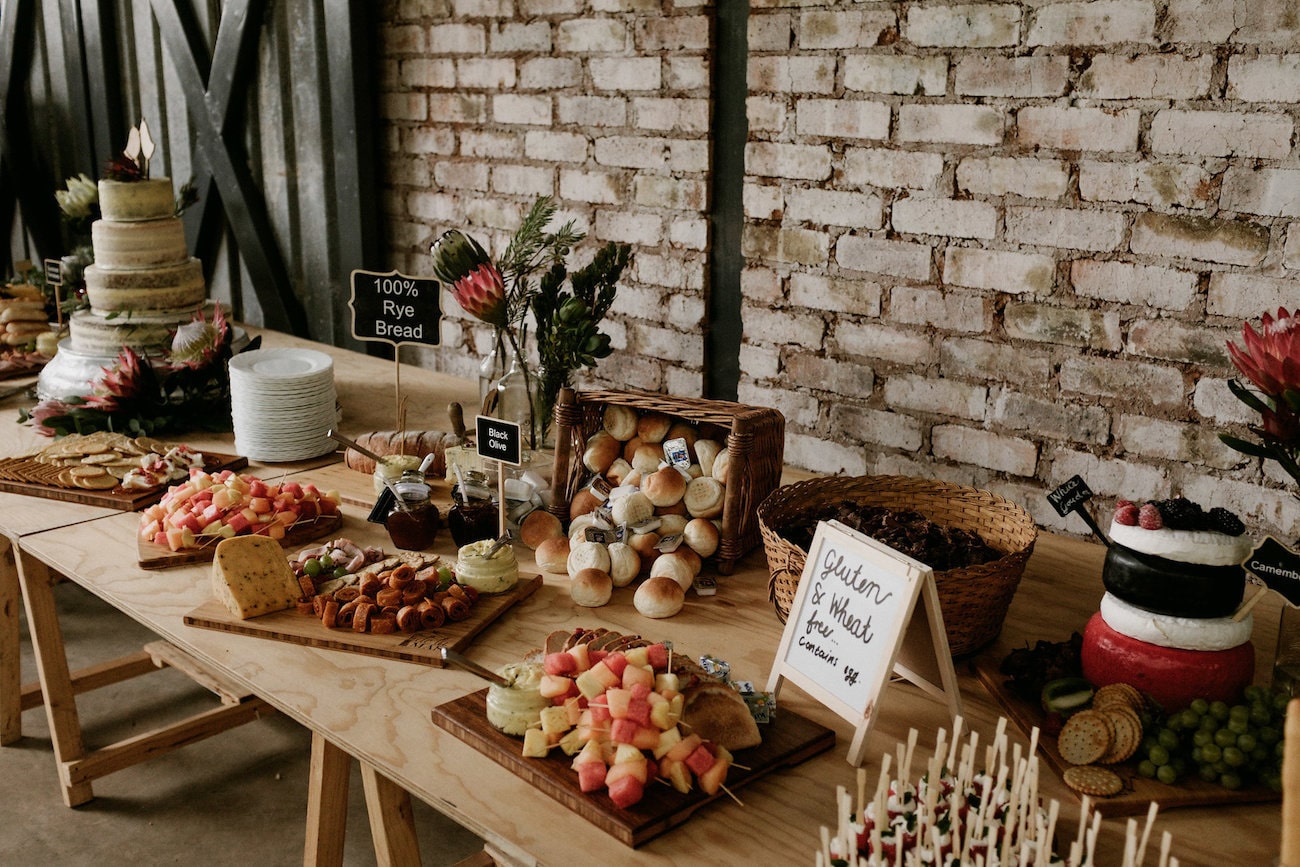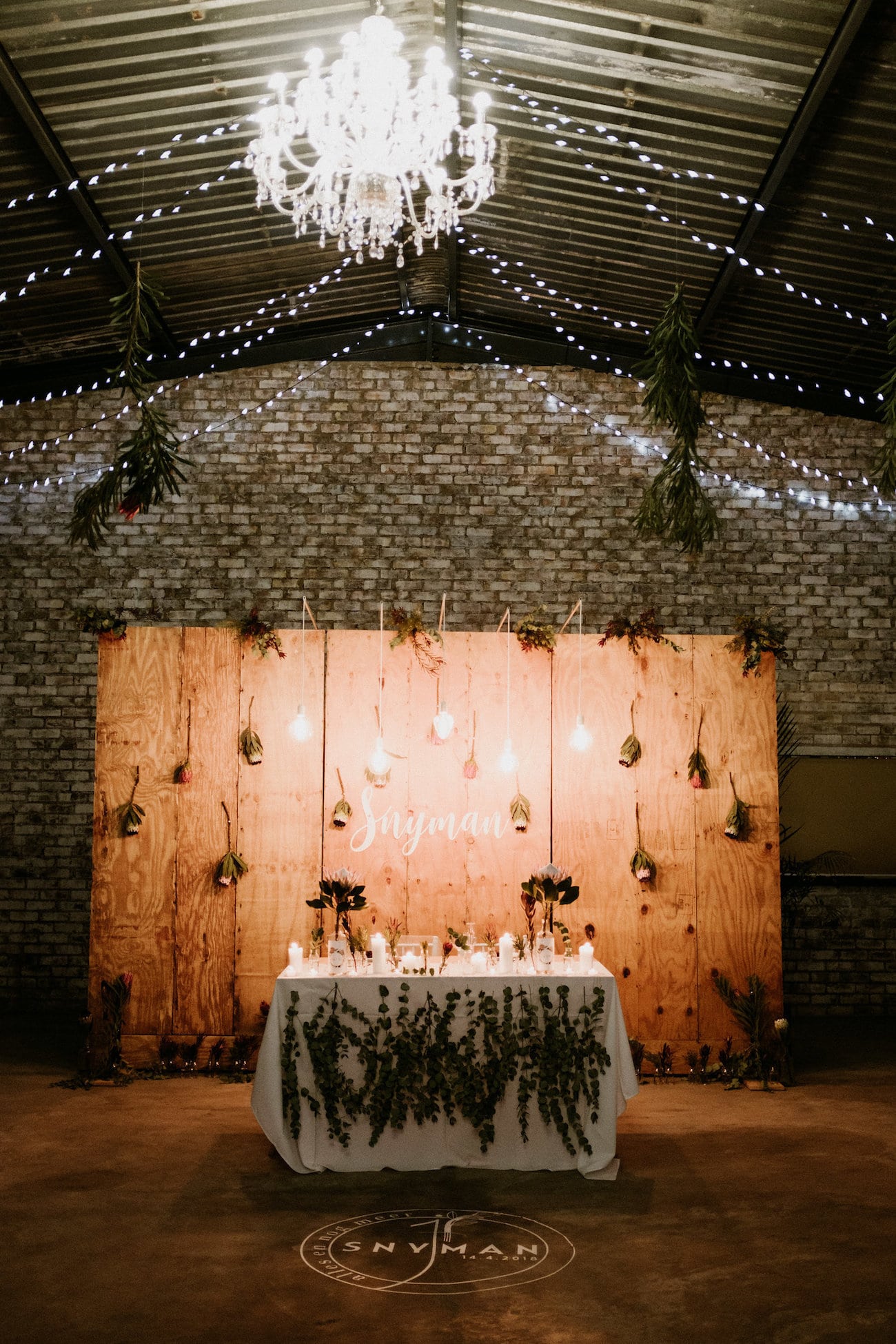 You can see more from this wedding on xx's blog.
SERVICE PROVIDERS
Venue & catering: De la Mas | Photography: Chris de Wet | Flowers & décor: Say It Proteas | Stationery: Pause | Video: Ben Booysen | Cake: Elaan Kelly | Bride's dress: Bride & Co. | Bride's accessories: Poggenpoel (ring & band) + Lovisa (earrings) + Aldo (shoes) | Hair: Manetain | Makeup: His & Her Hair Co. | Groom's attire: Tailorme.SA (Grooms suit and groomsmen's bowties) | DJ: Stefan Nortje