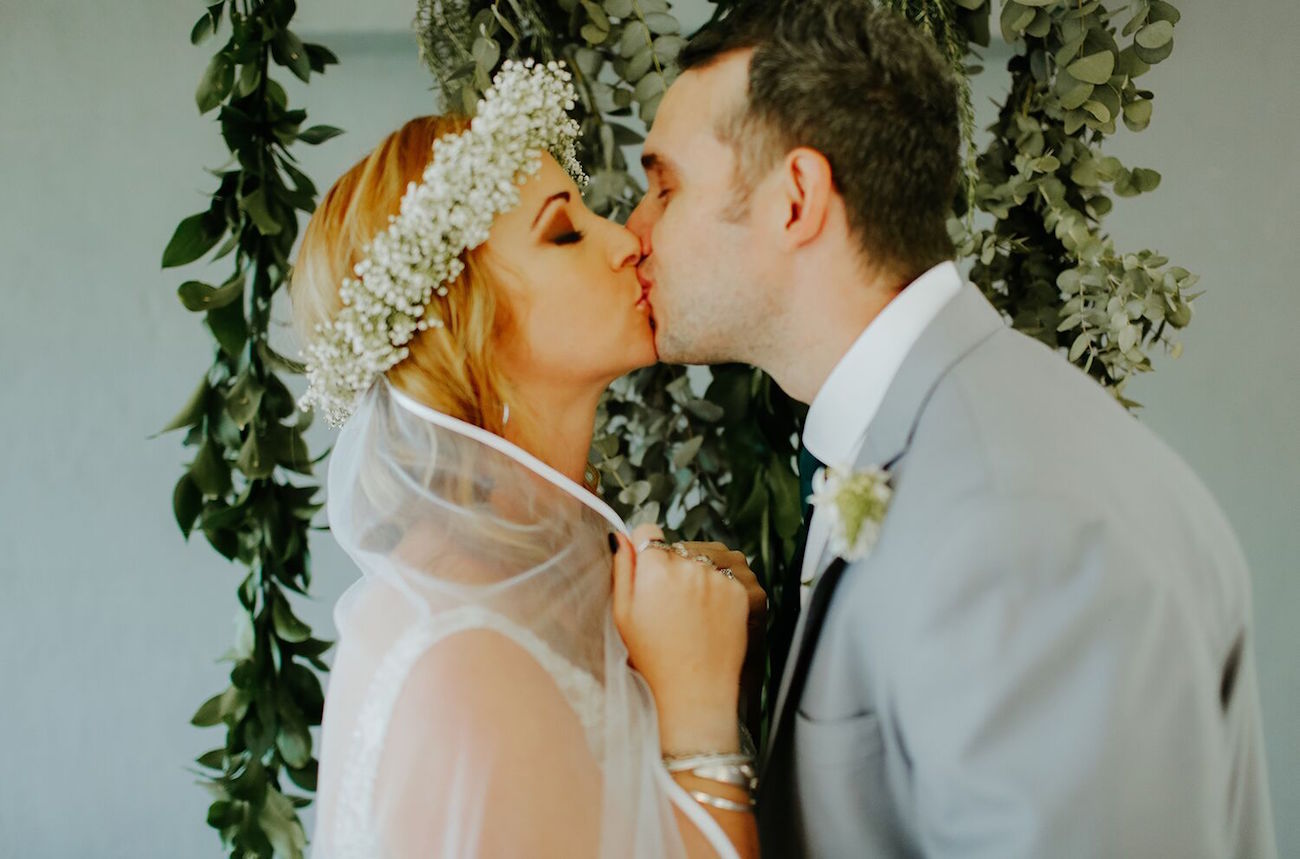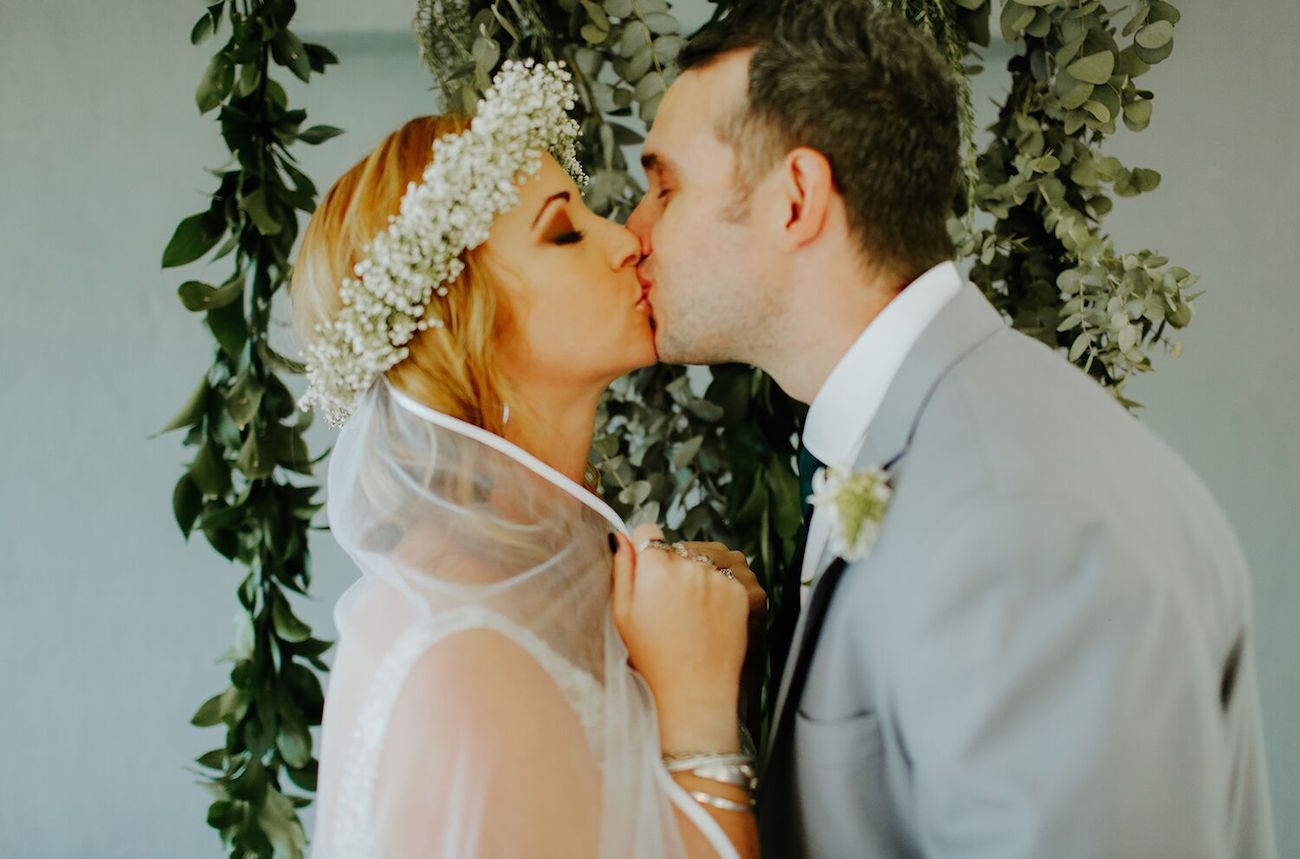 Happy Monday lovelies! We're finishing off a month dedicated to Greenery with this wedding which is full of greenery (only appropriate, right!). Kerry and Warren are one of those wonderful couples who are all about being themselves on their big day, which made many of their design choices simple (and simply lovely!), and the feeling of their big day intimate and personal. (Even more so thanks to some soft mist that rolled in over Talloula to make their photos extra romantic!) Greenery was definitely the design theme of the day, thanks to Kerry's love for eucalyptus, succulents and other greens, which adorned the tables in long twists, lined the aisle, and made for the loveliest of flower crowns and bouquets. Add in a constellation of twinkle lights, and you have something special, all captured by Duane Smith!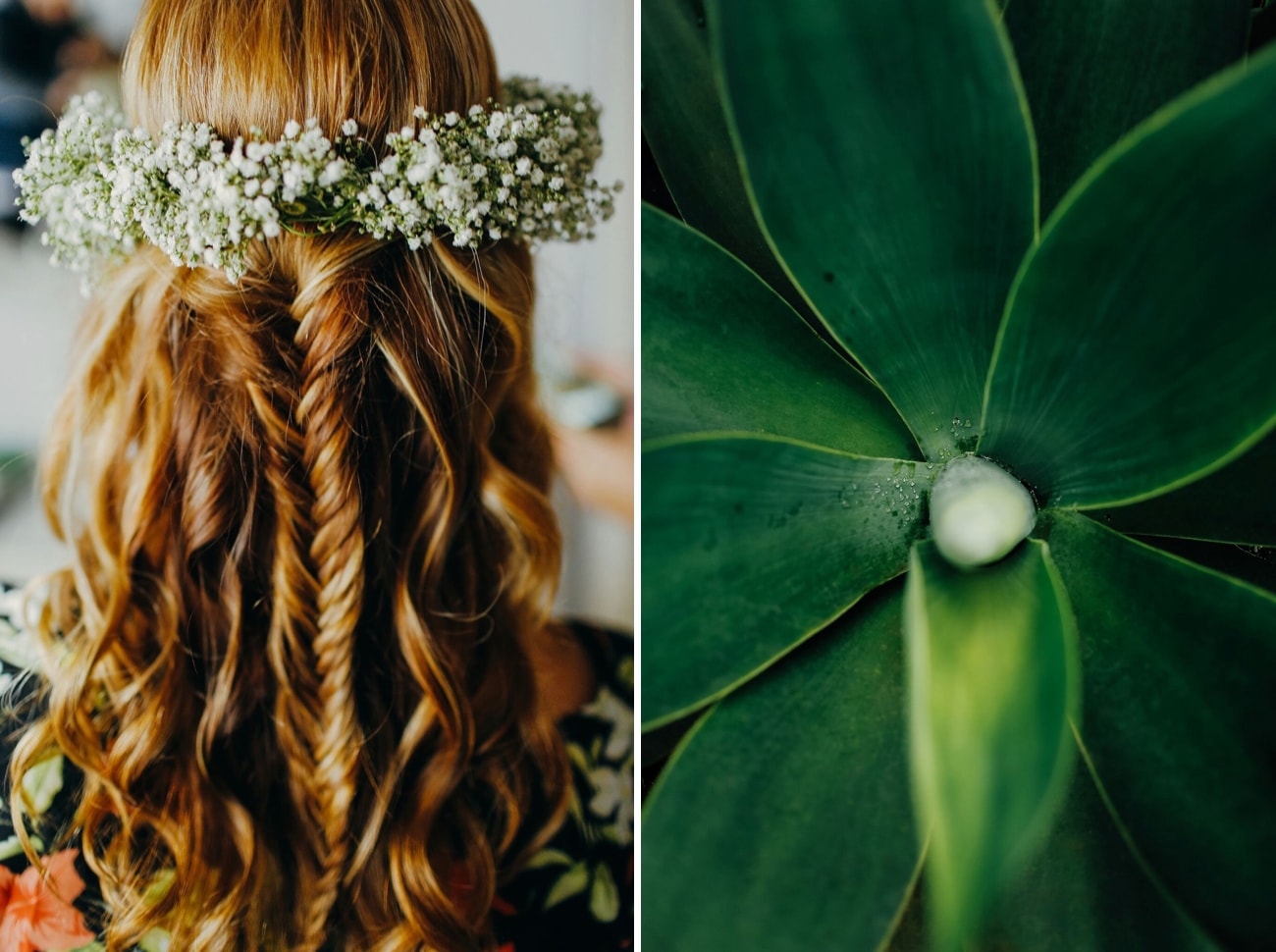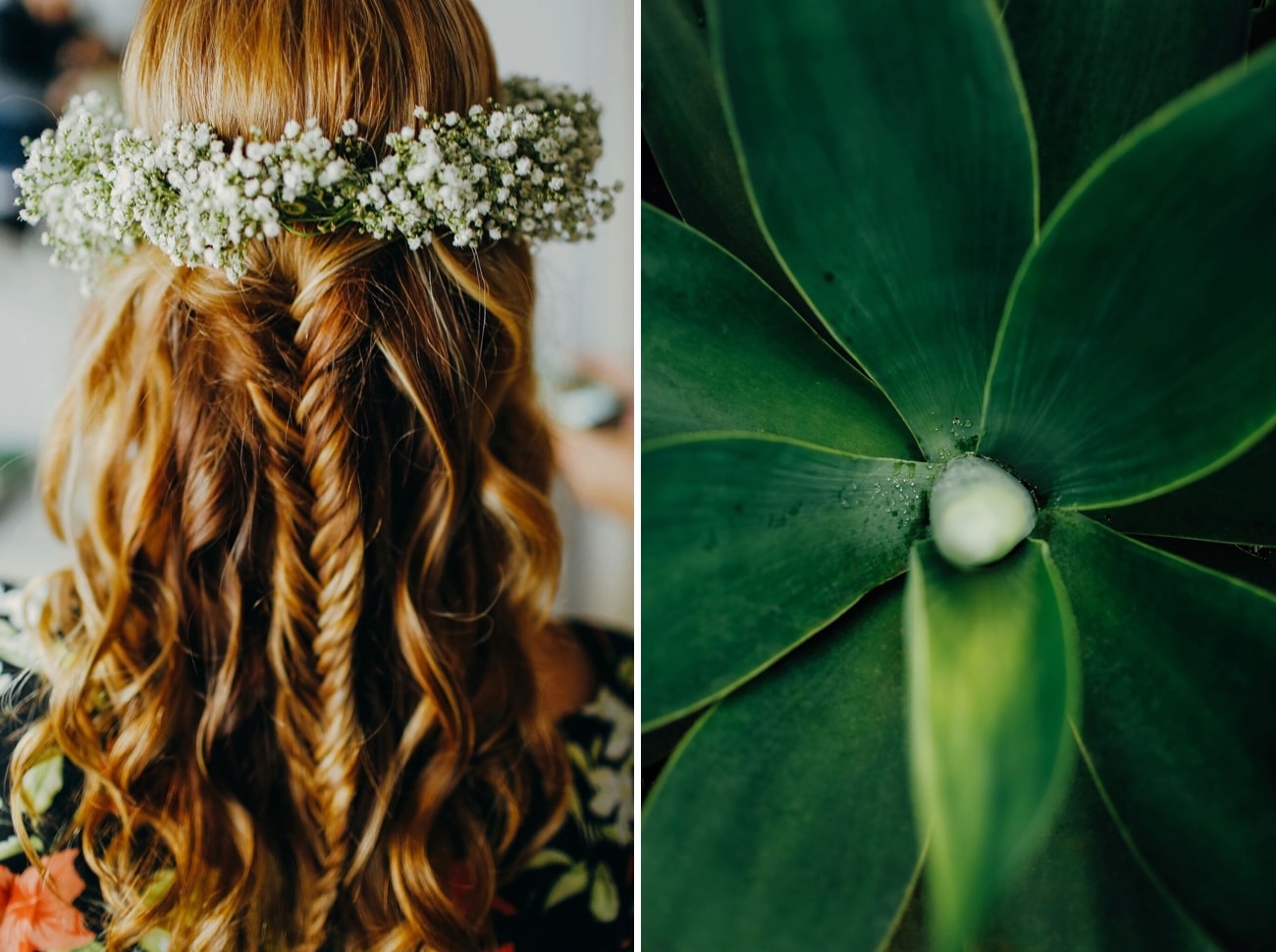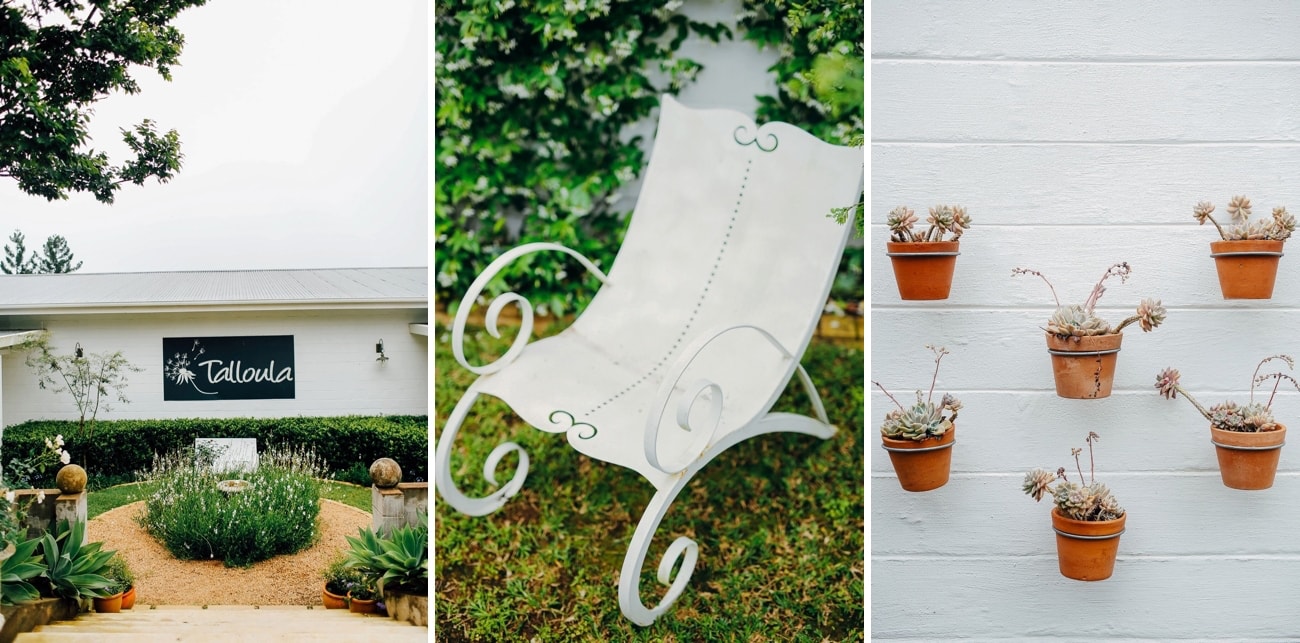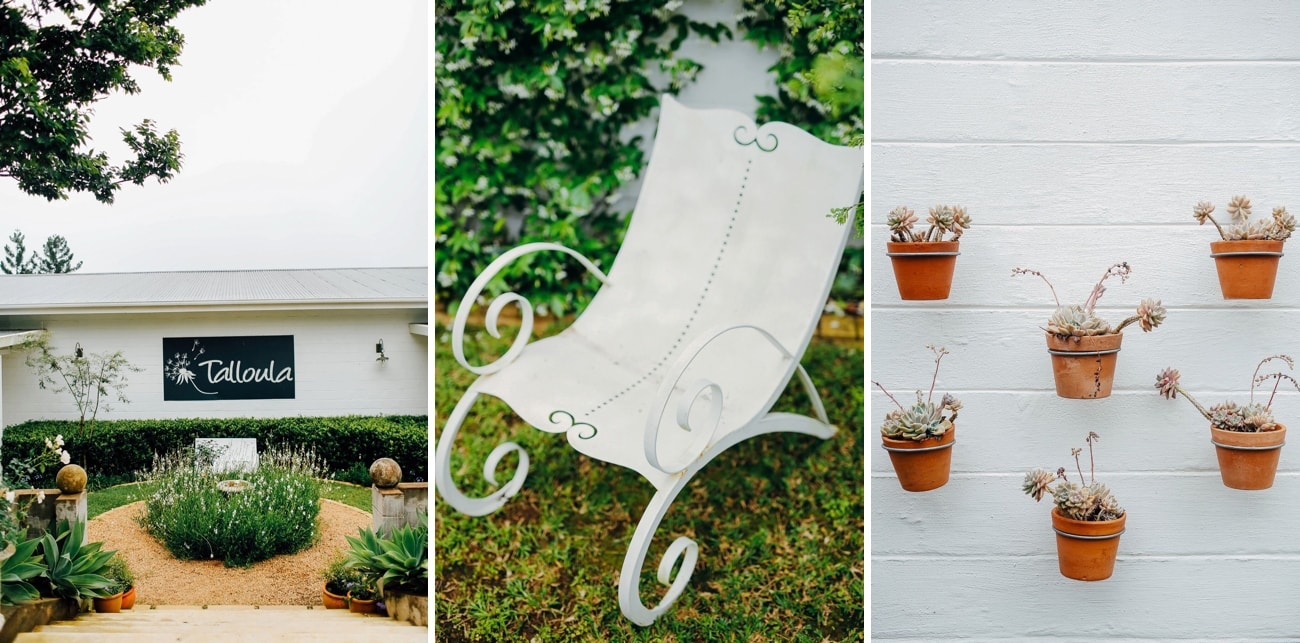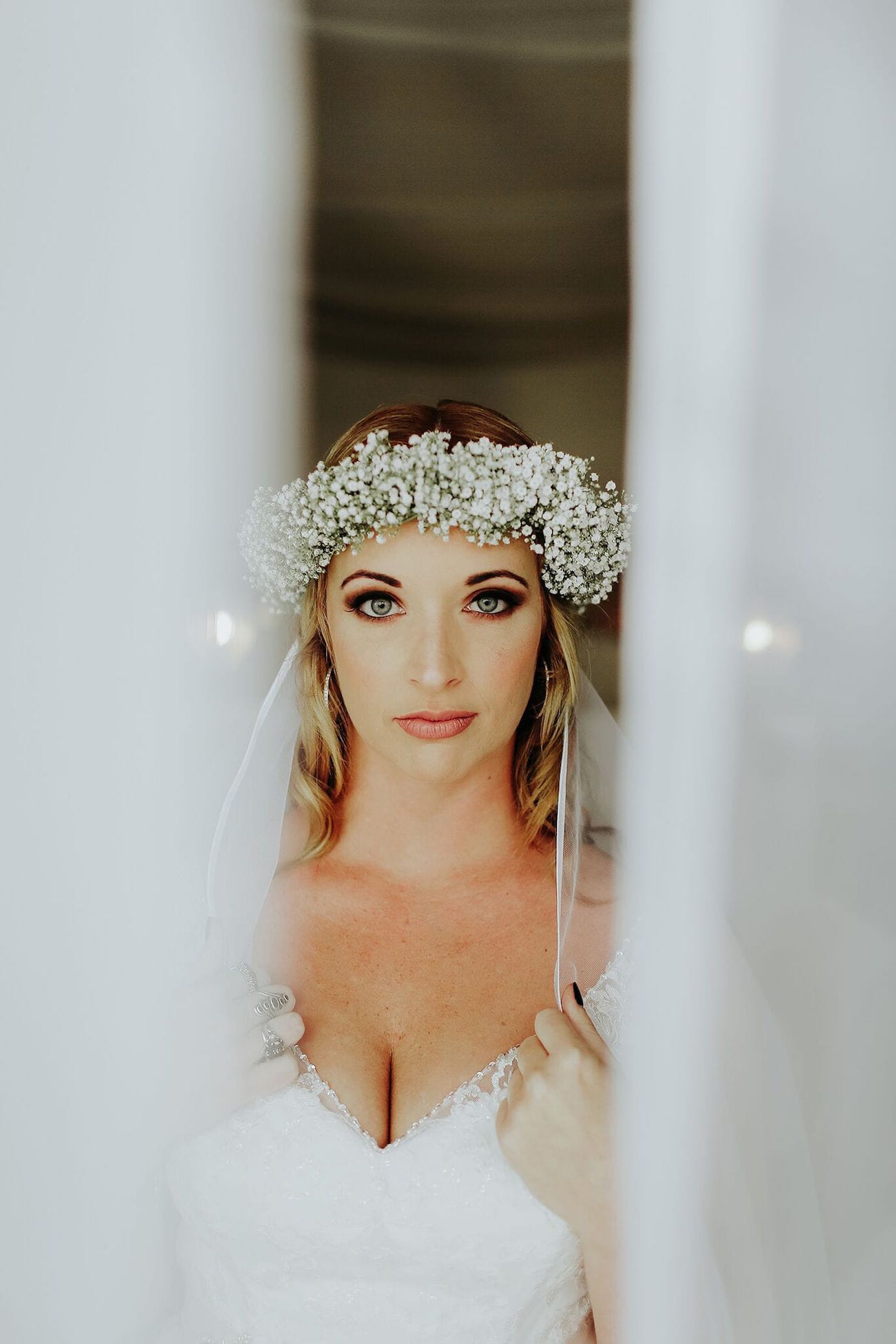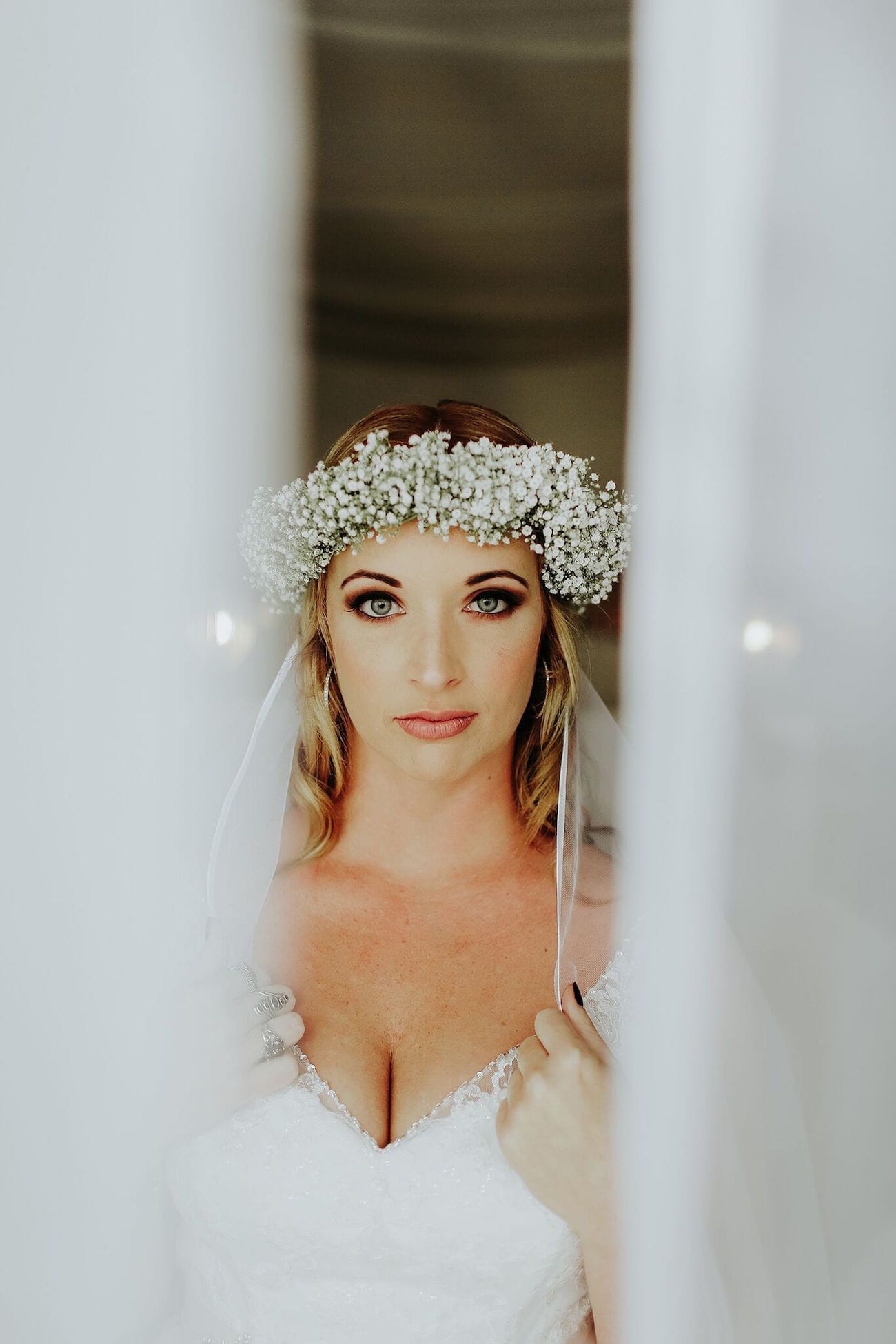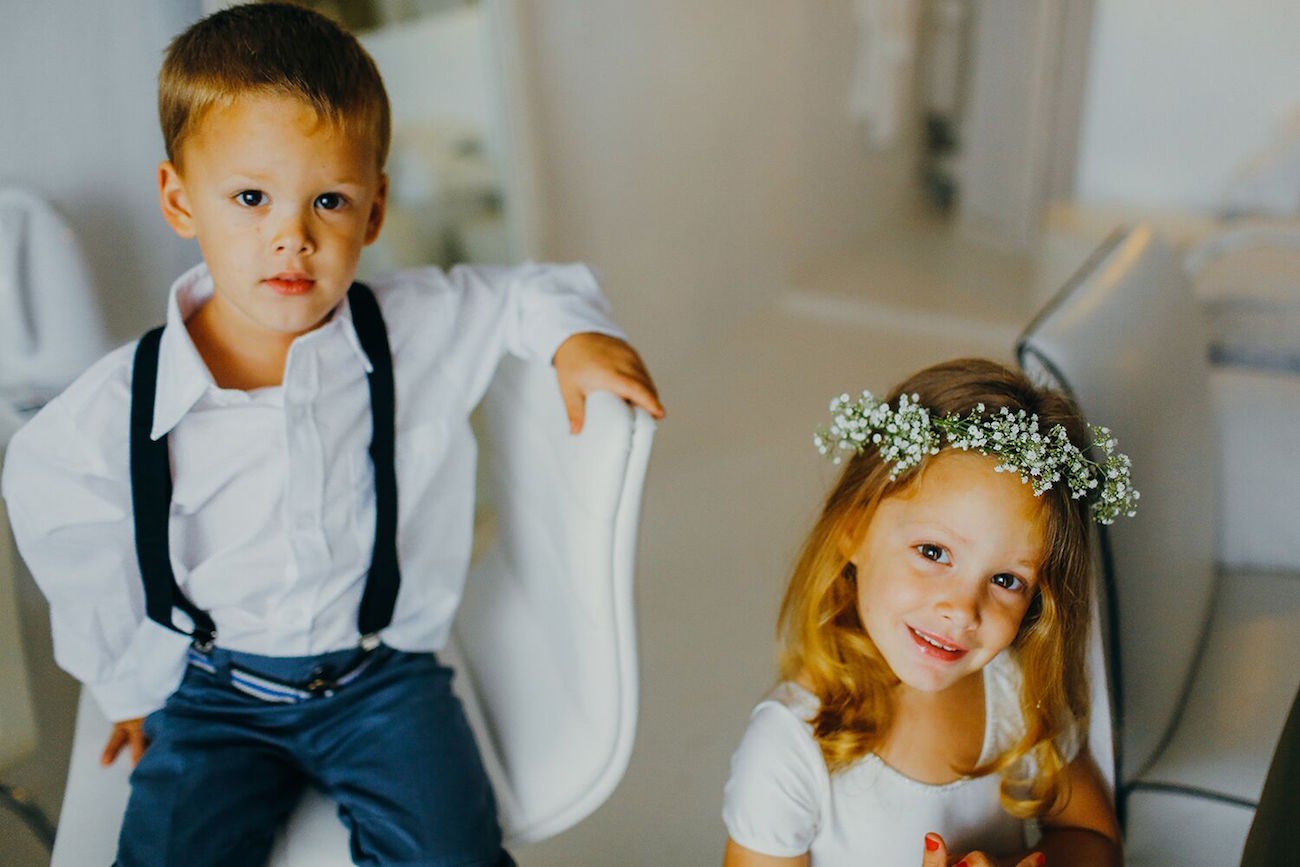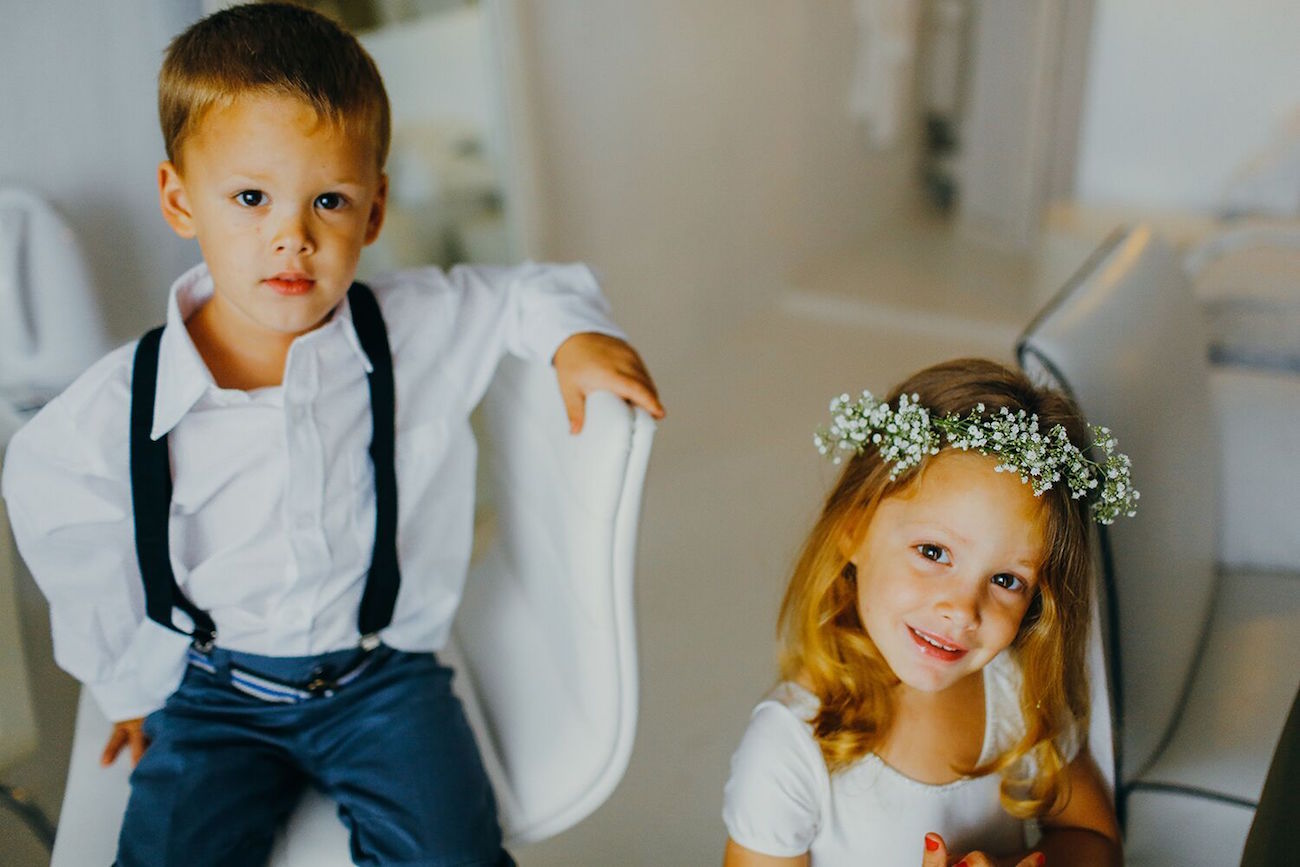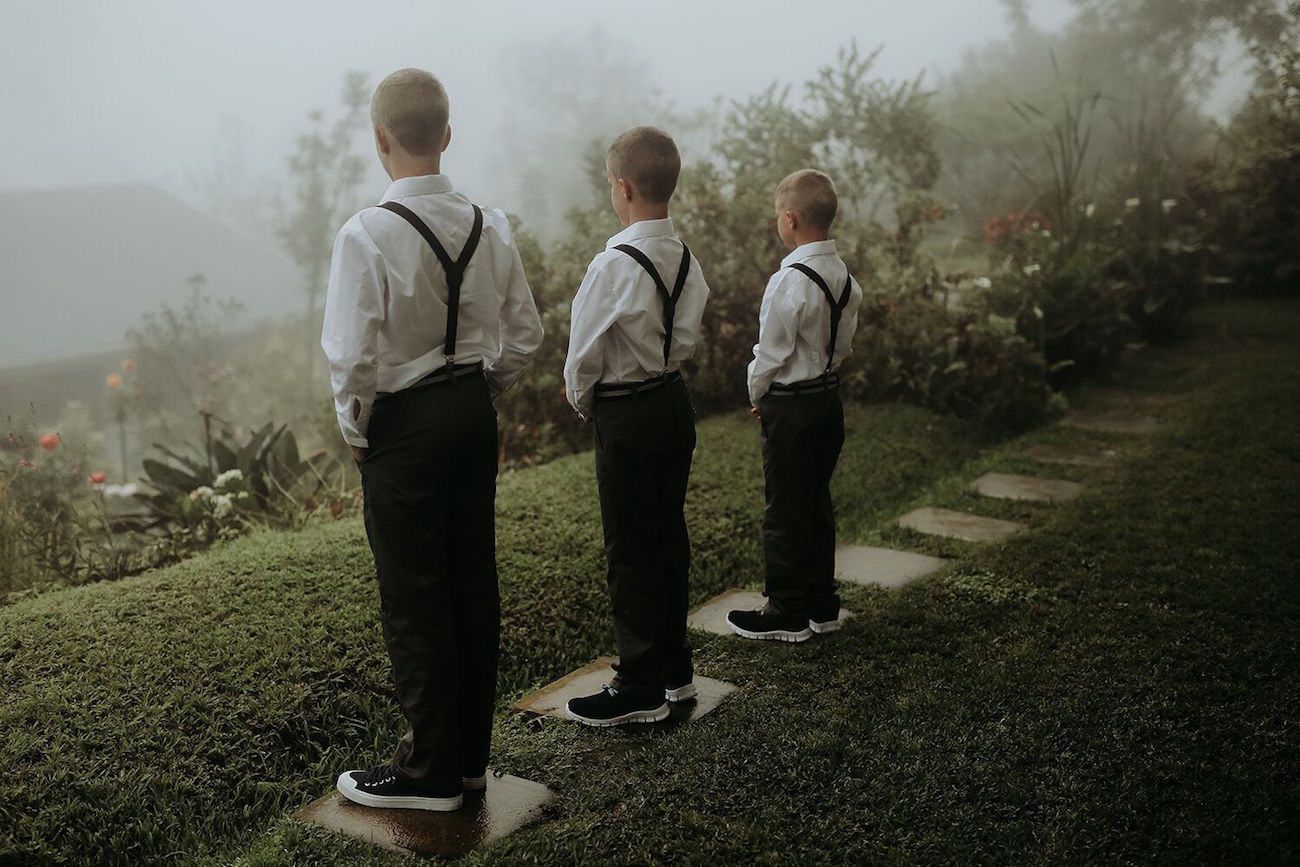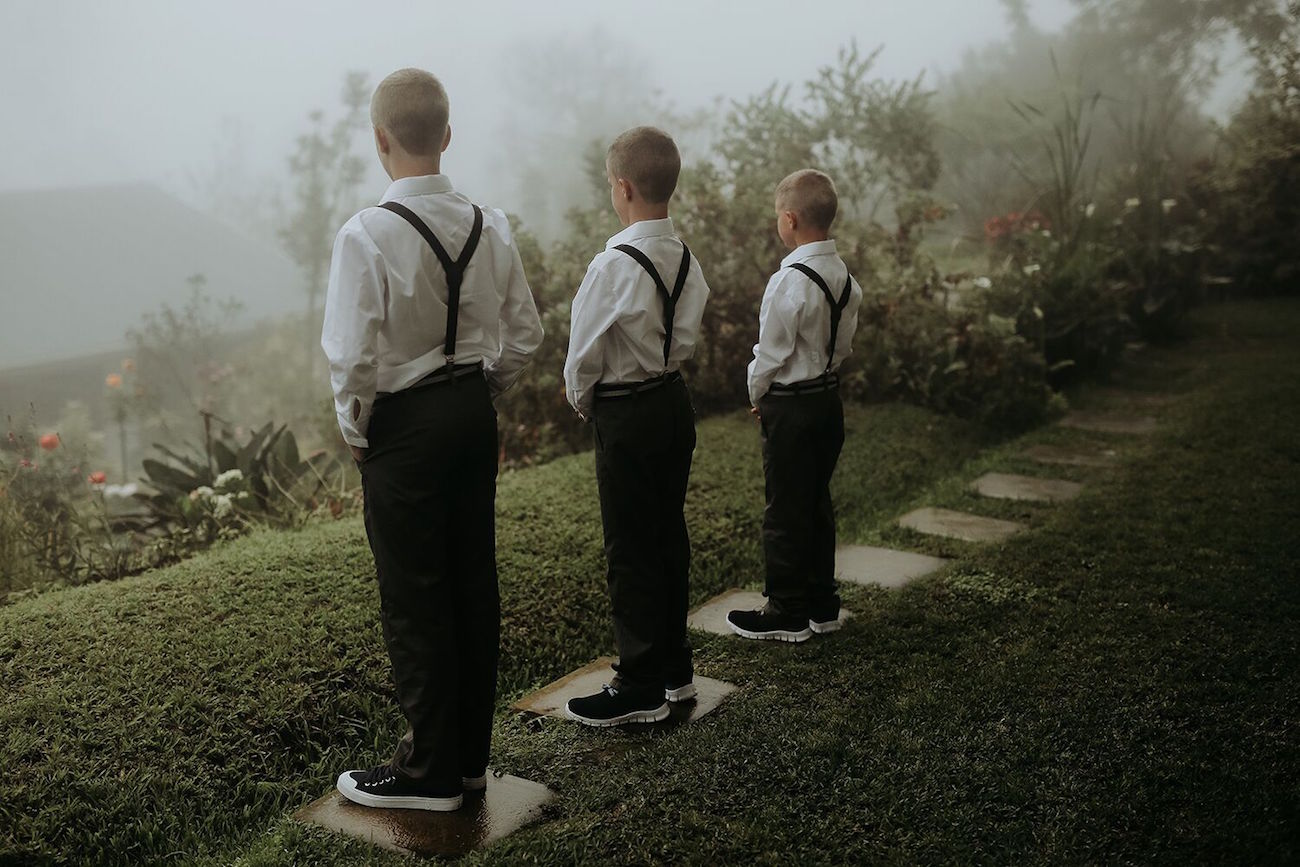 Love Story
Warren and I had been friends on and off since we were young as he was friends with my brother, and eventually became best friends. Warren was keen to try and move things into a relationship but I always held back, as he was such a good friend to me and I did not want to change that. We would chat everyday (almost all day) on MXIT back then, and moving to Whatsapp with the times. We would share everything with each other, from as simple as how our days were going to real heart to hearts on how we were doing really and what hurt us. We would always listen, always care for each other and we were always there for each other. Whenever something joyous would happen, we would want to share in that with the other, and when something would hurt us we would want to cry with the other. We would take long drives and just chat for hours, sharing life together and making awesome memories. During this time I was falling more in love with this man than I allowed myself to see. It was only when I moved to London that I began to feel the void of not having him around. When I moved back at the end of that year and saw him for the first time, I could feel that something had changed in my heart. I did not tell him right away as I wanted to make sure I was certain about my feelings in order to not ruin the friendship or hurt him. When we were at a friends' wedding early the next year, Warren was the best man and I saw him looking so handsome in that suit and knew that I had to chat with him or my heart would ache. Needless to say I took him aside and told him how my feelings had changed – which was a big shock for him of course but has set us on this path to happiness that we have shared since then.
The Proposal
Warren and I had known we wanted to get married from early on in our dating relationship. I of course had plans in my head that were not in his as yet, and so I tried not to read into situations and think it might happen on this day or in that place so as not to upset myself. So when the day finally came, I didn't read into it at all, and was still completely taken by surprise! We had decided to go for a long drive one Saturday, which is completely normal for us. However, when we went through Mooi River, I realised just how far our long drive was going to be! I kept trying to guess where we were going, and next thing I knew we were at Cathedral Peak in the Drakensberg. We started up Mike's Pass in his little Golf – an adventure all in itself trying to get that low car up a terrible road only made for monster trucks! I kept laughing and he was so tense (about the car but also from knowing what was about to happen!). We managed to get three quarters of the way to the top and then pulled over to look out at the berg. It was a breathtaking view, with Cape vultures flying above us, and that was where he dropped to one knee and asked me to be his wife! He later told me that when he had hiked there many years ago, he had been at the top of the pass and knew that THAT was where he wanted to propose one day. He had designed the most incredible ring for me as well!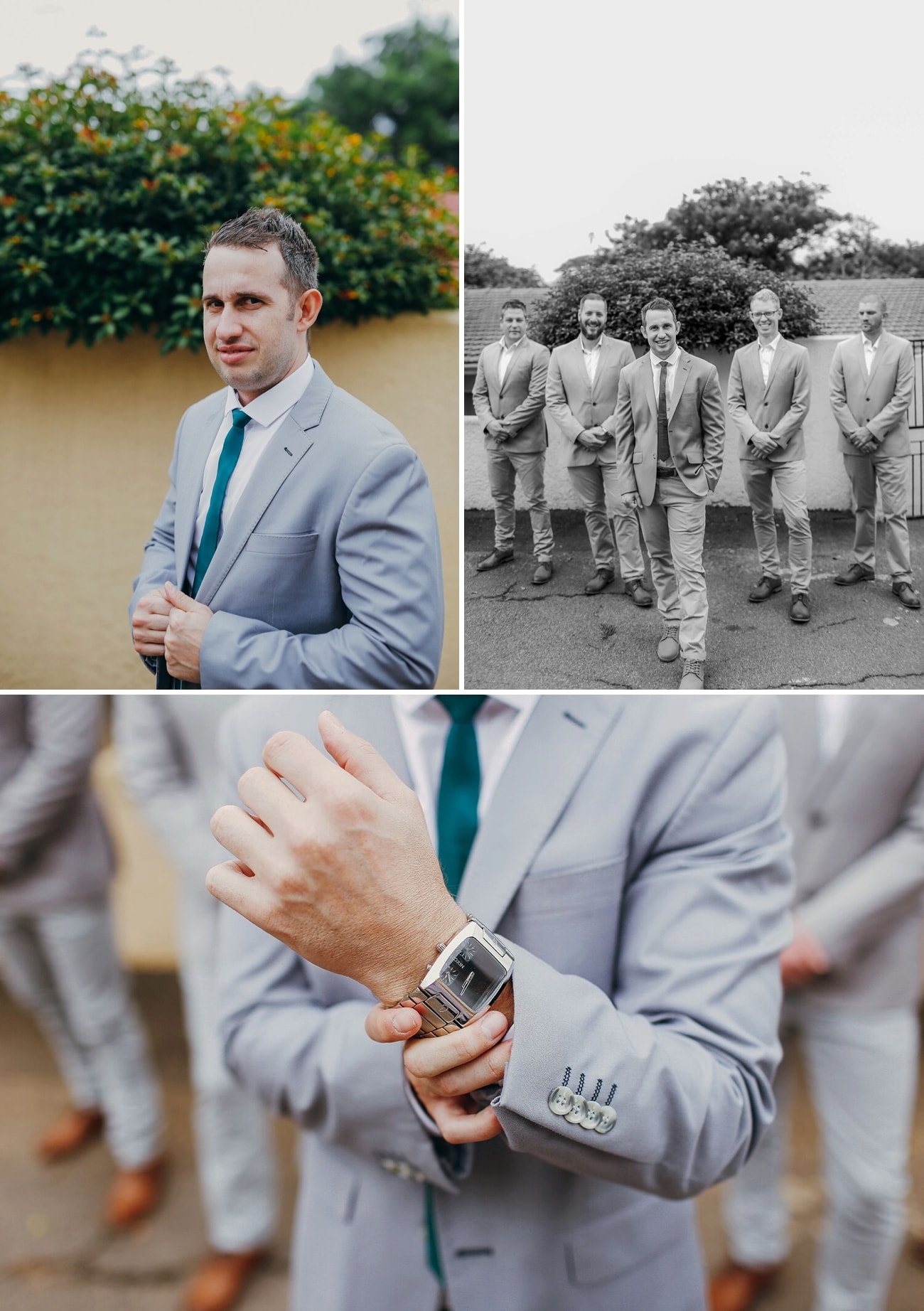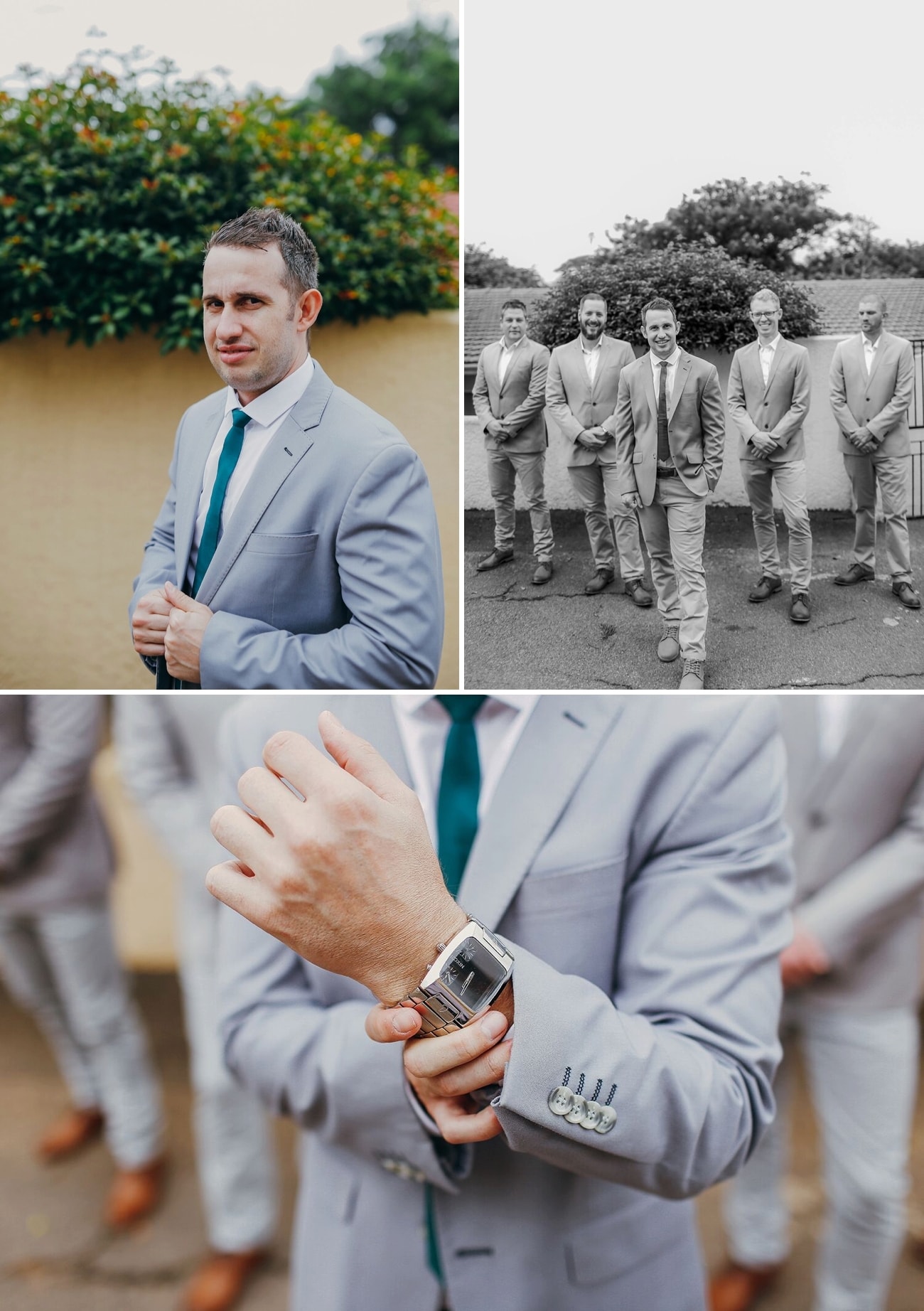 The Venue
Talloula was the first place that we looked at in person and immediately FELL IN LOVE! We had chatted about aspects that we wanted the venue to have and Talloula ticked all those boxes. The white wooden exposed beams, Tiffany chairs, open spaces, beautiful gardens for photos, lots of greenery, a homey feel, great food and most importantly – AMAZING service.
Wedding Style
I am a very naturally inspired person – loving forest green colours, a clean look and true simplicity. Succulents, baby's breath and eucalyptus were a must – knowing that I wanted them incorporated in my flower crown and table decor. Even all makeup was simple and neutral tones, and hairstyles were curls and soft styles.
Wedding Details
We worded things the way that we wanted to, and didn't try to be too formal. For example, our seating chart heading read: "Sit Your Bums Down!". We also had loads of family involved in our special day: my one brother led the worship songs for our ceremony, my other brother was the pastor that married us, my 5 nieces and nephews were involved with handing out programs and being the in the wedding party, one of my cousins was our MC, another said grace for us, I had both of my sisters-in-law as part of my bridal party and Warren had one of my brothers as part of his grooms party. We are such family oriented people and the day would not have been the same without this!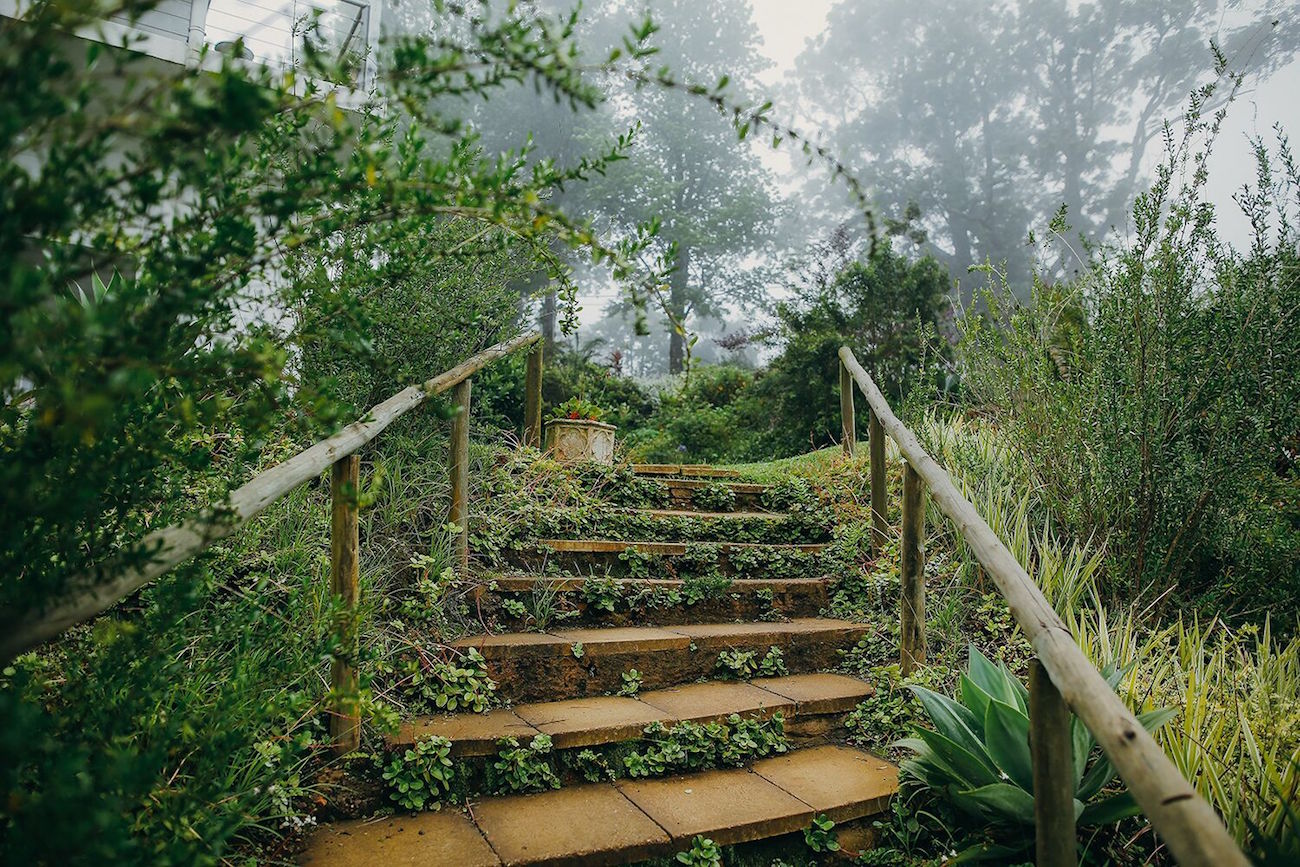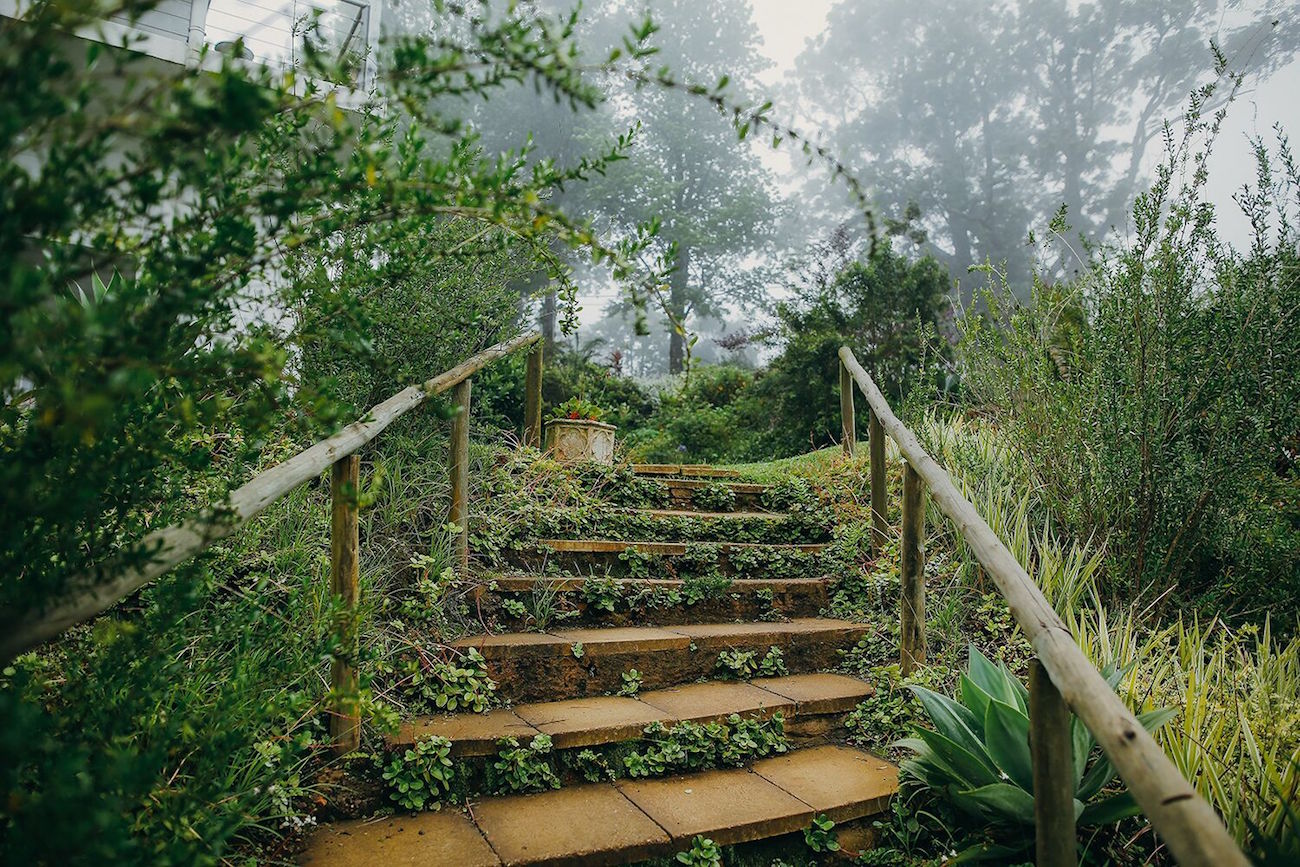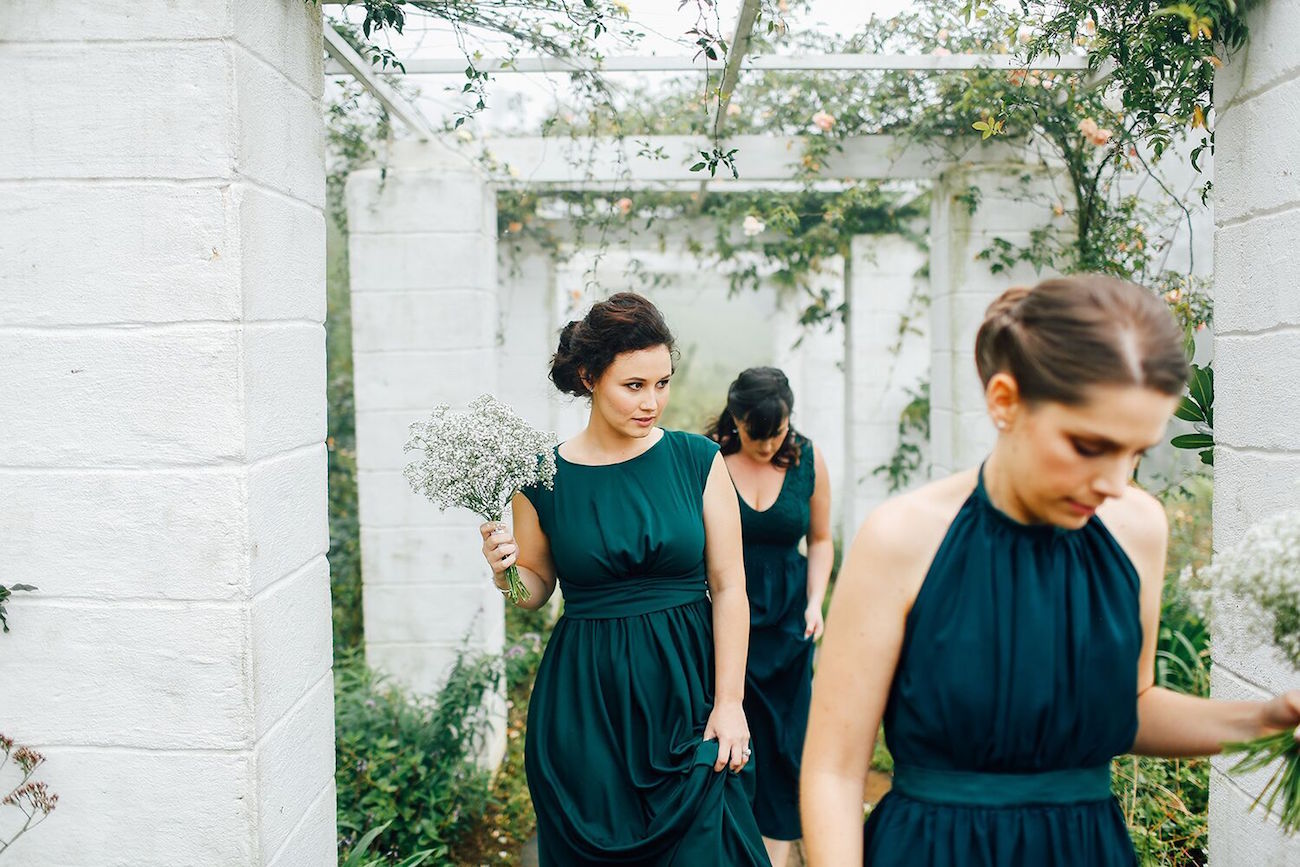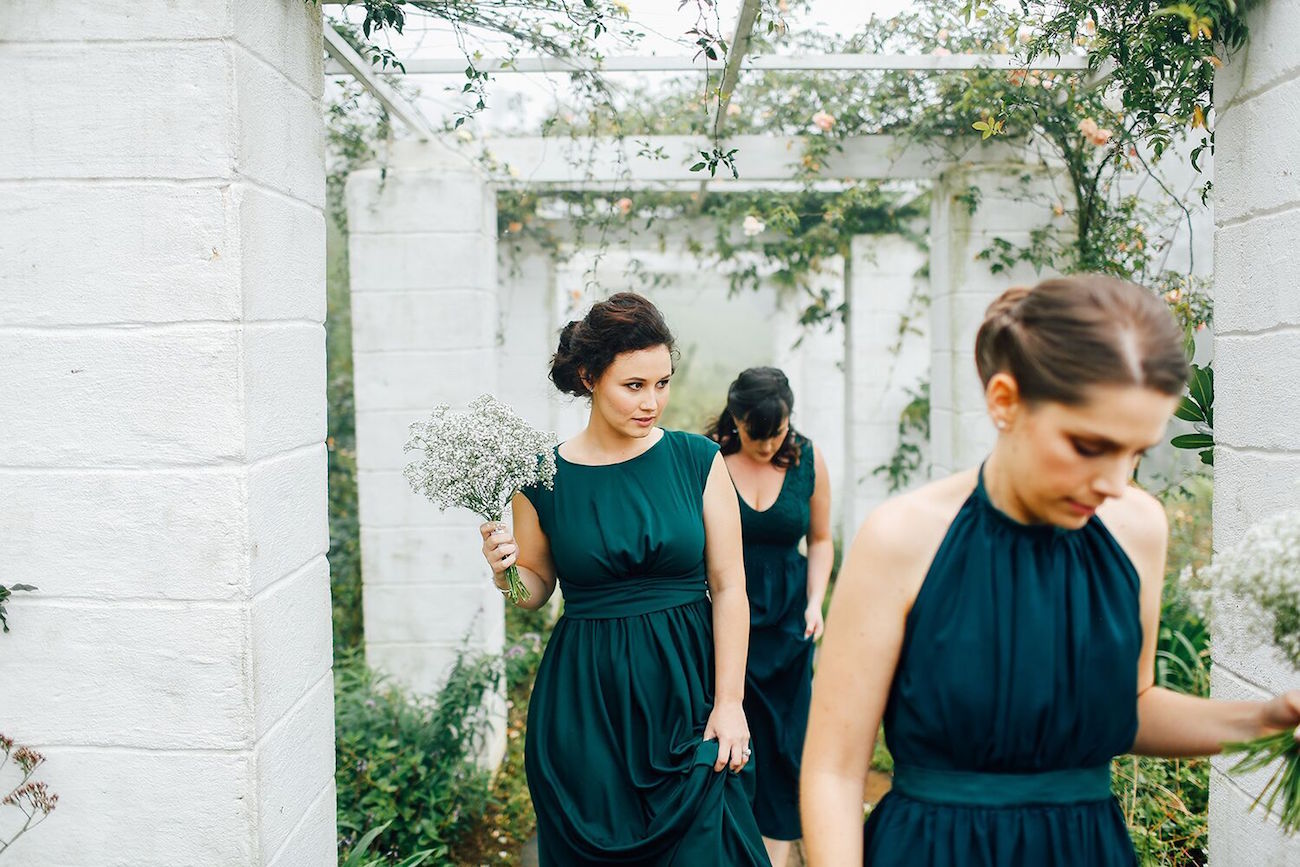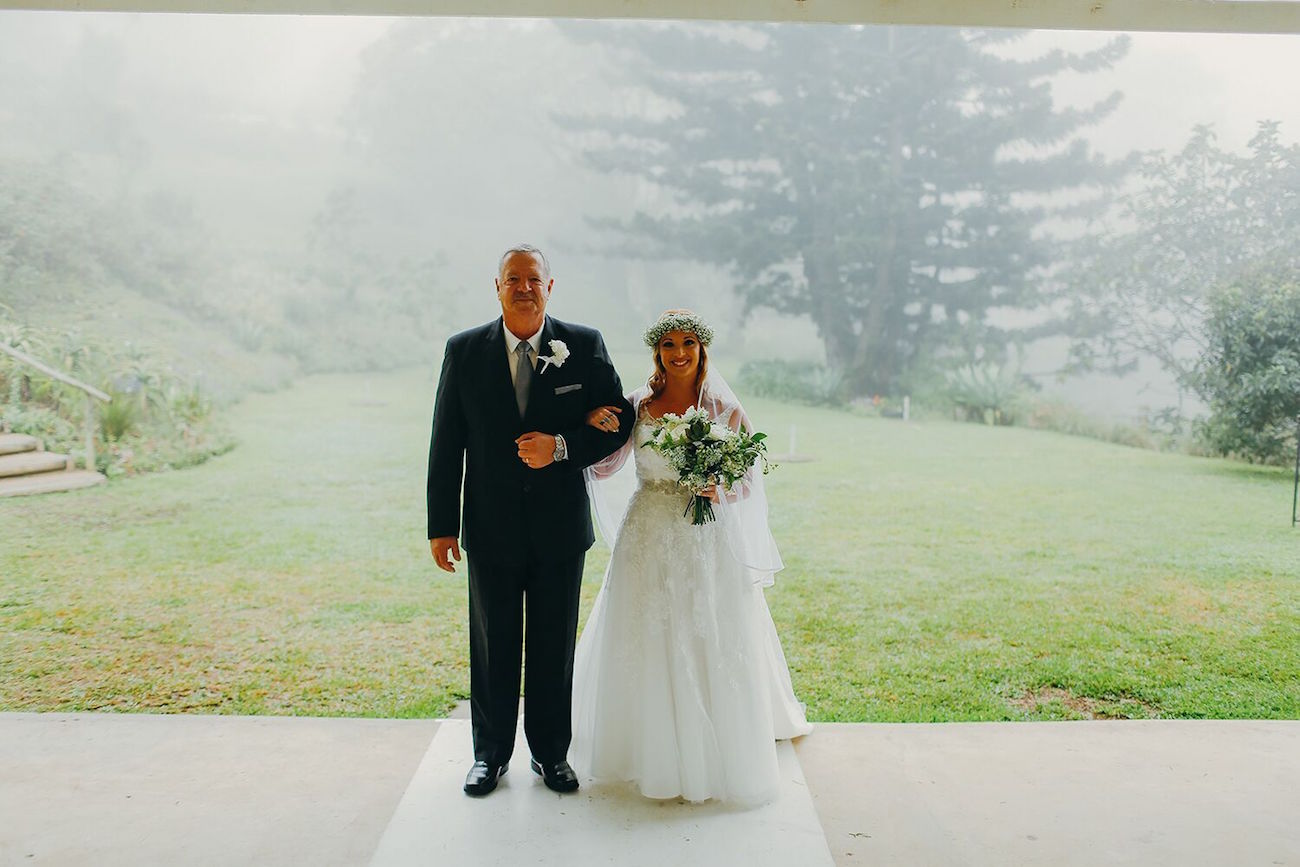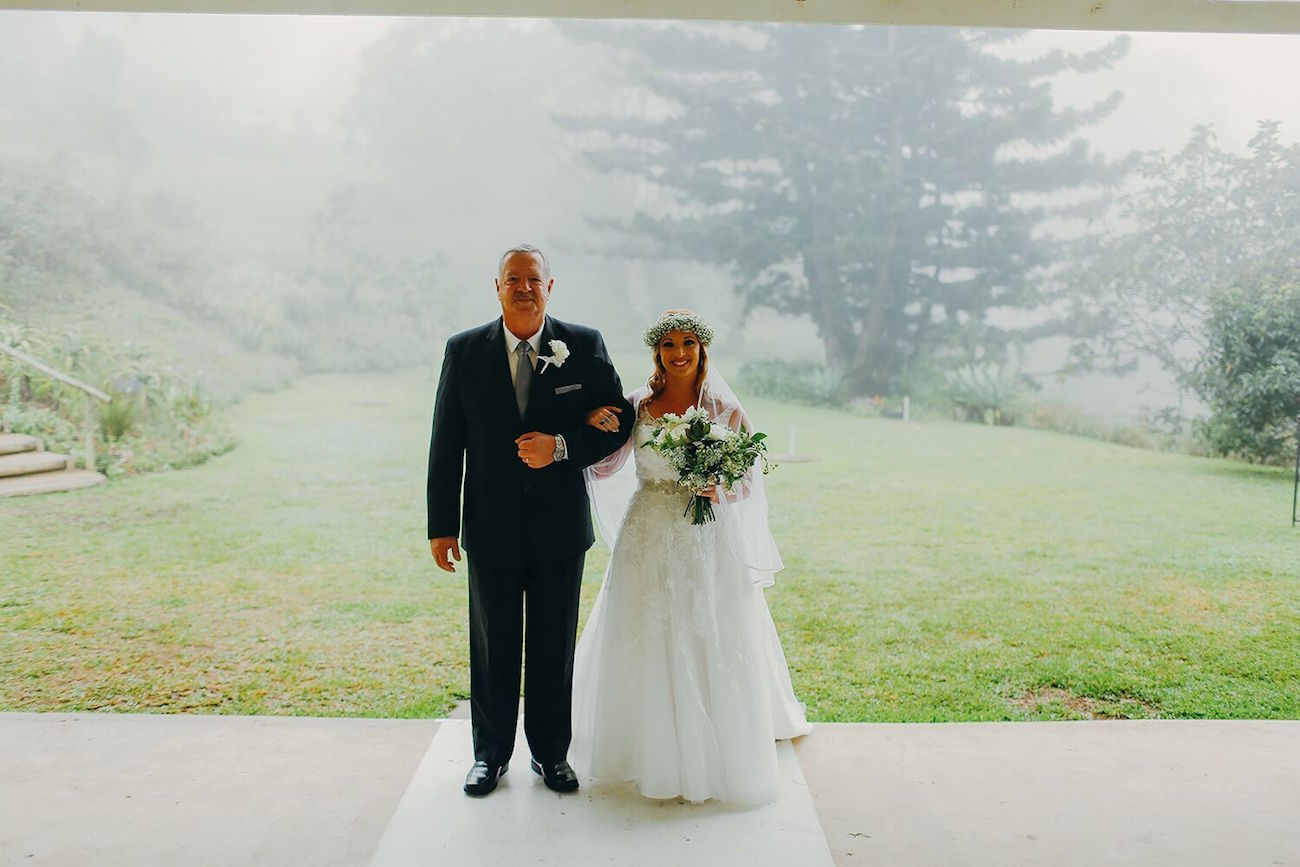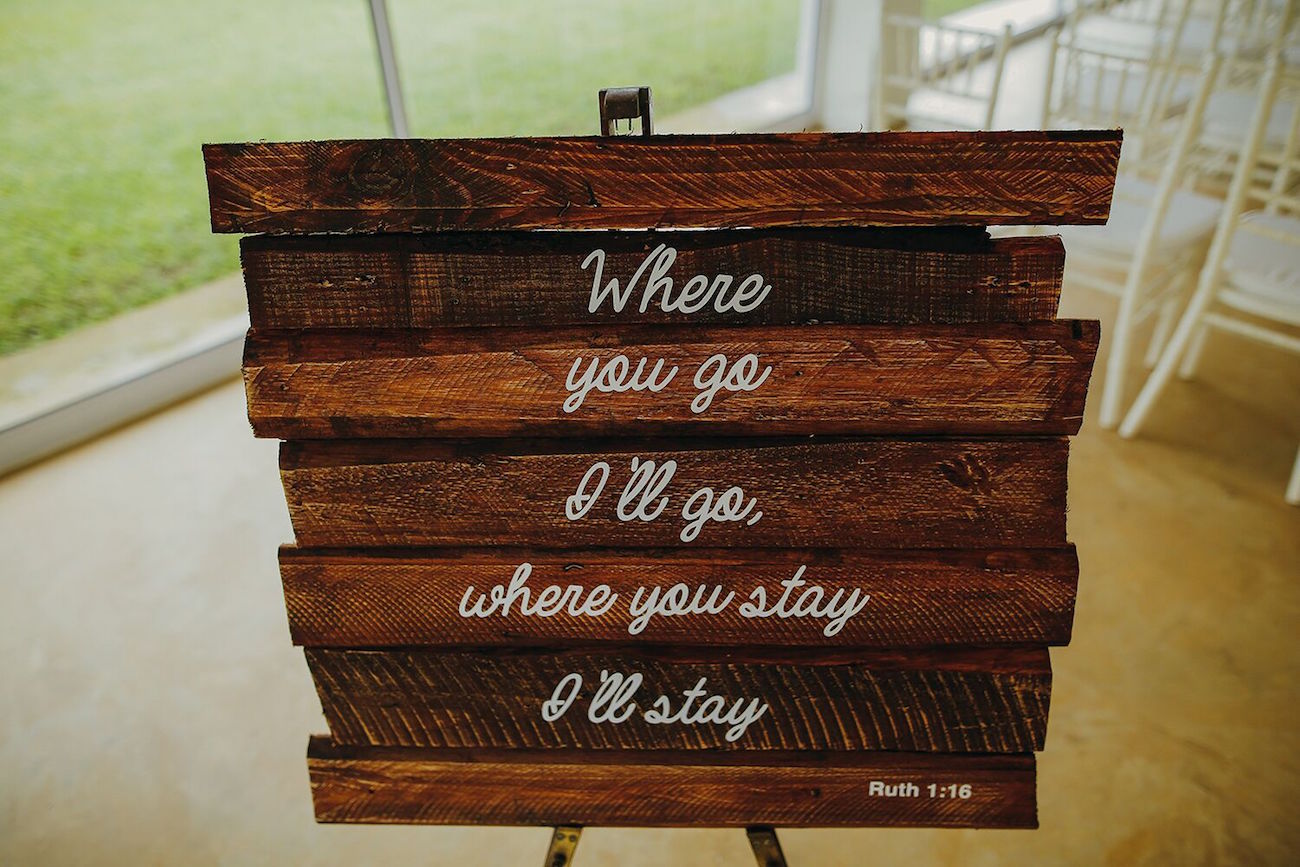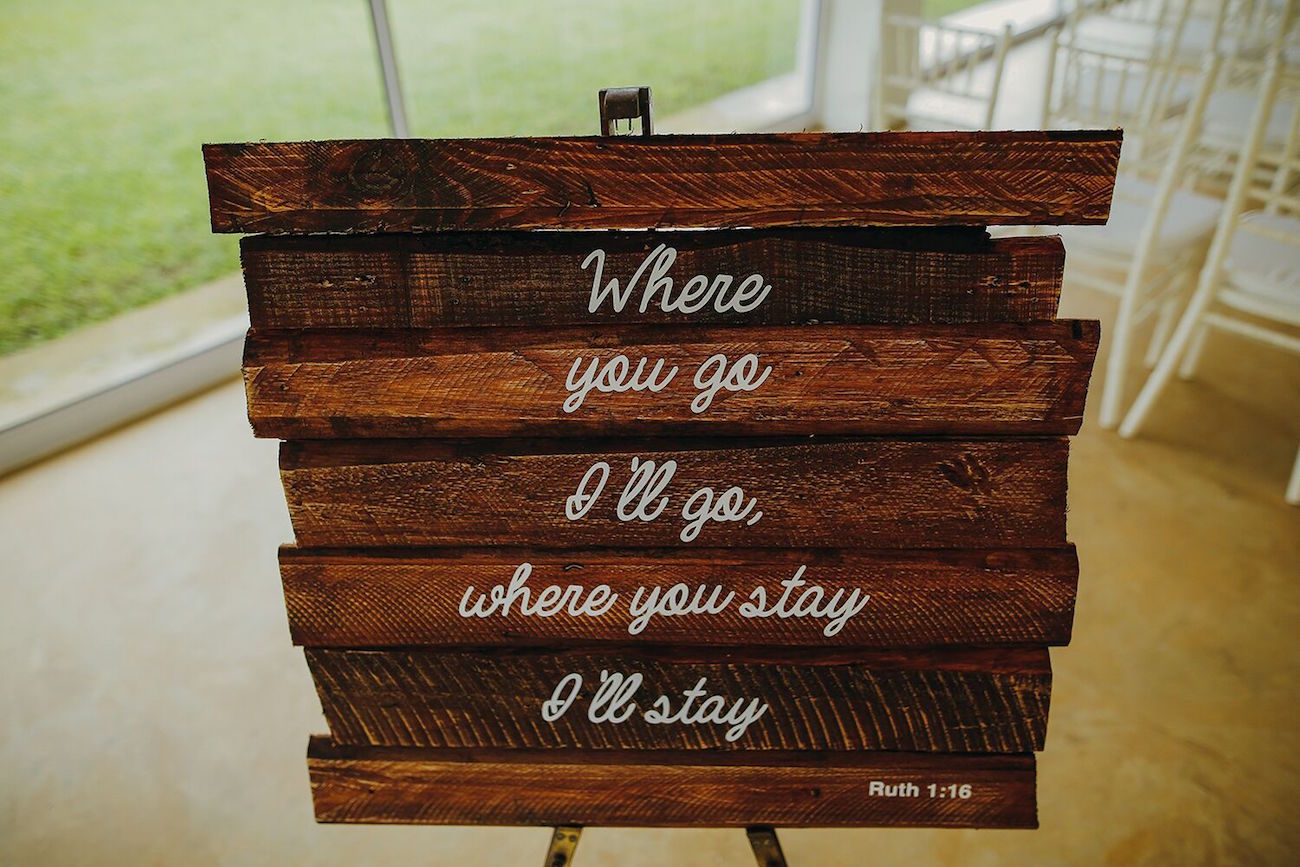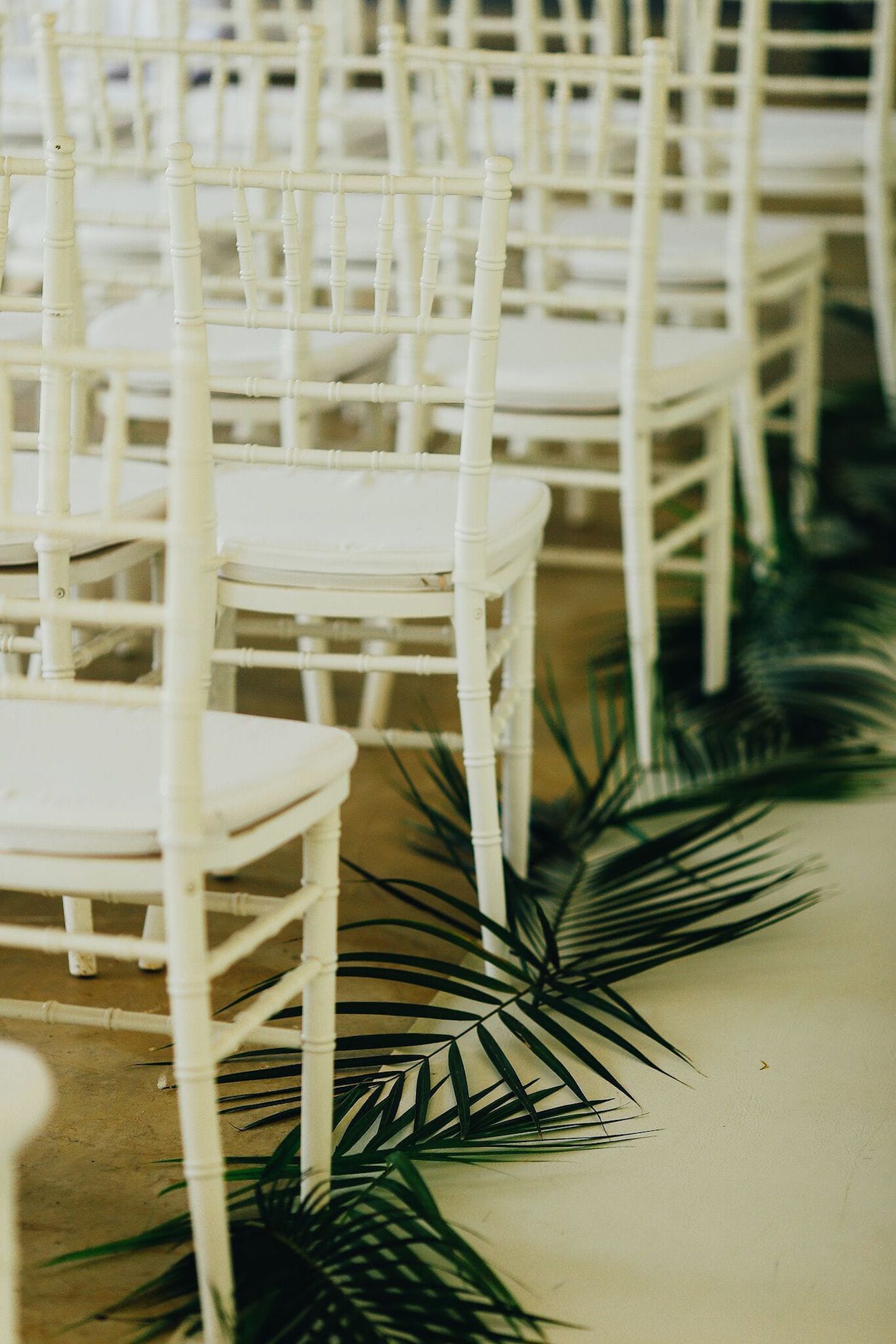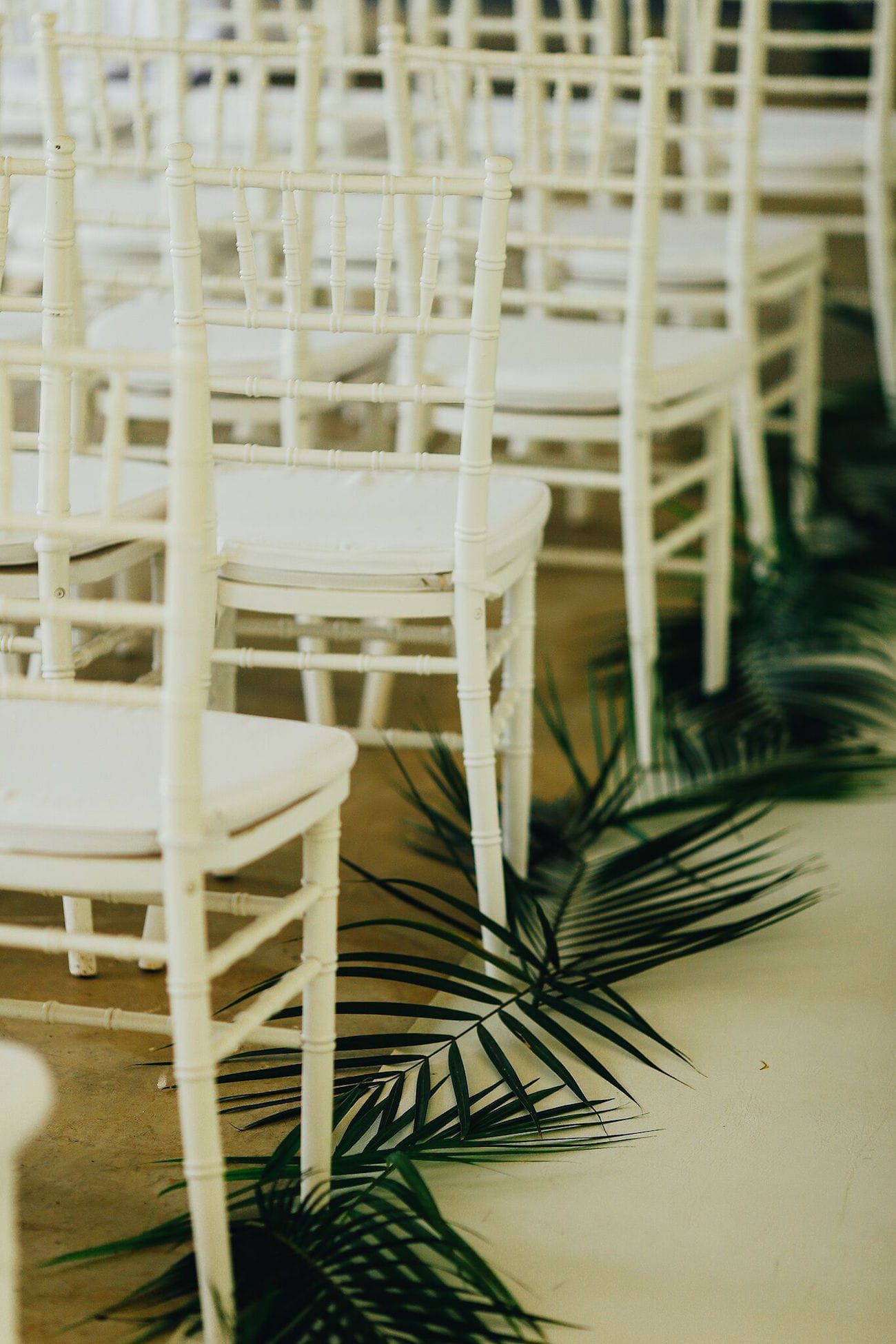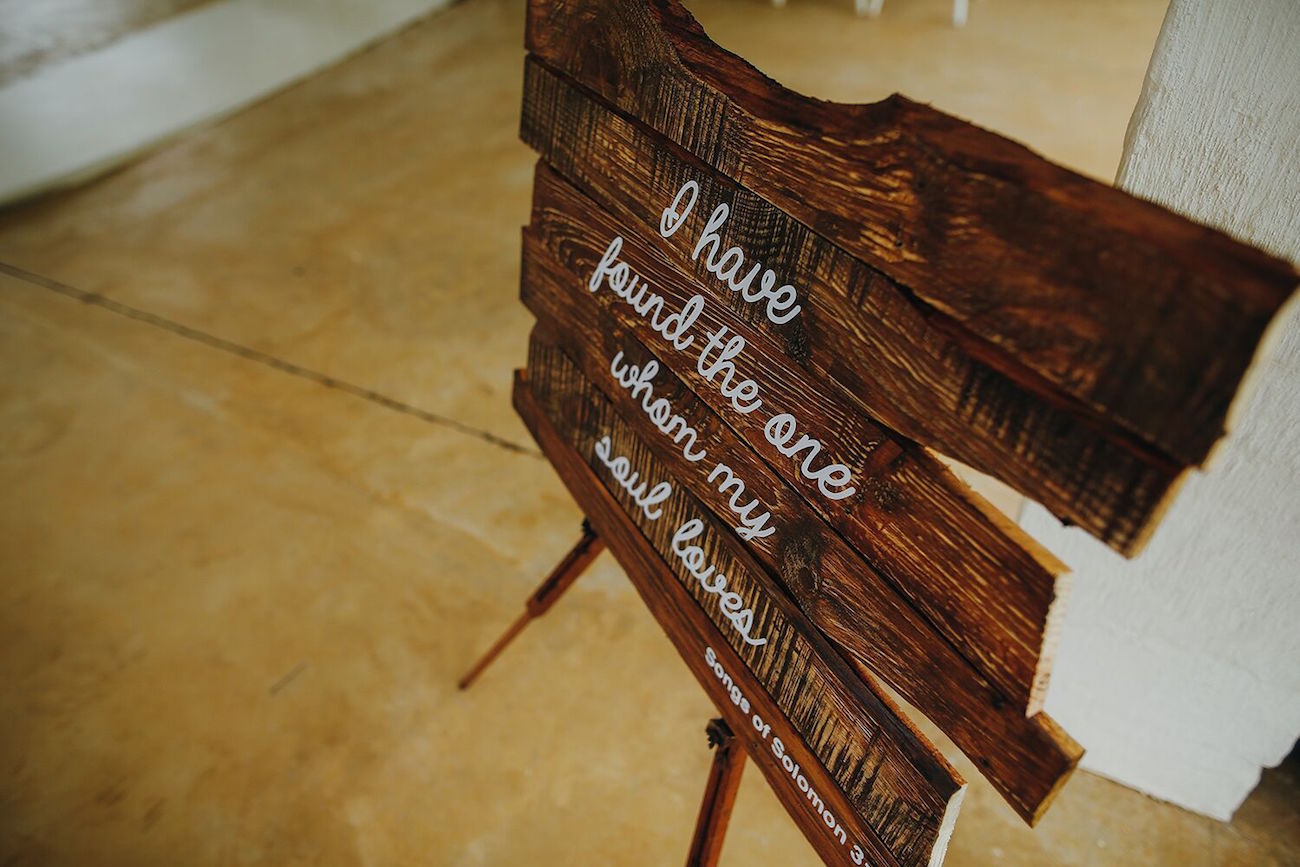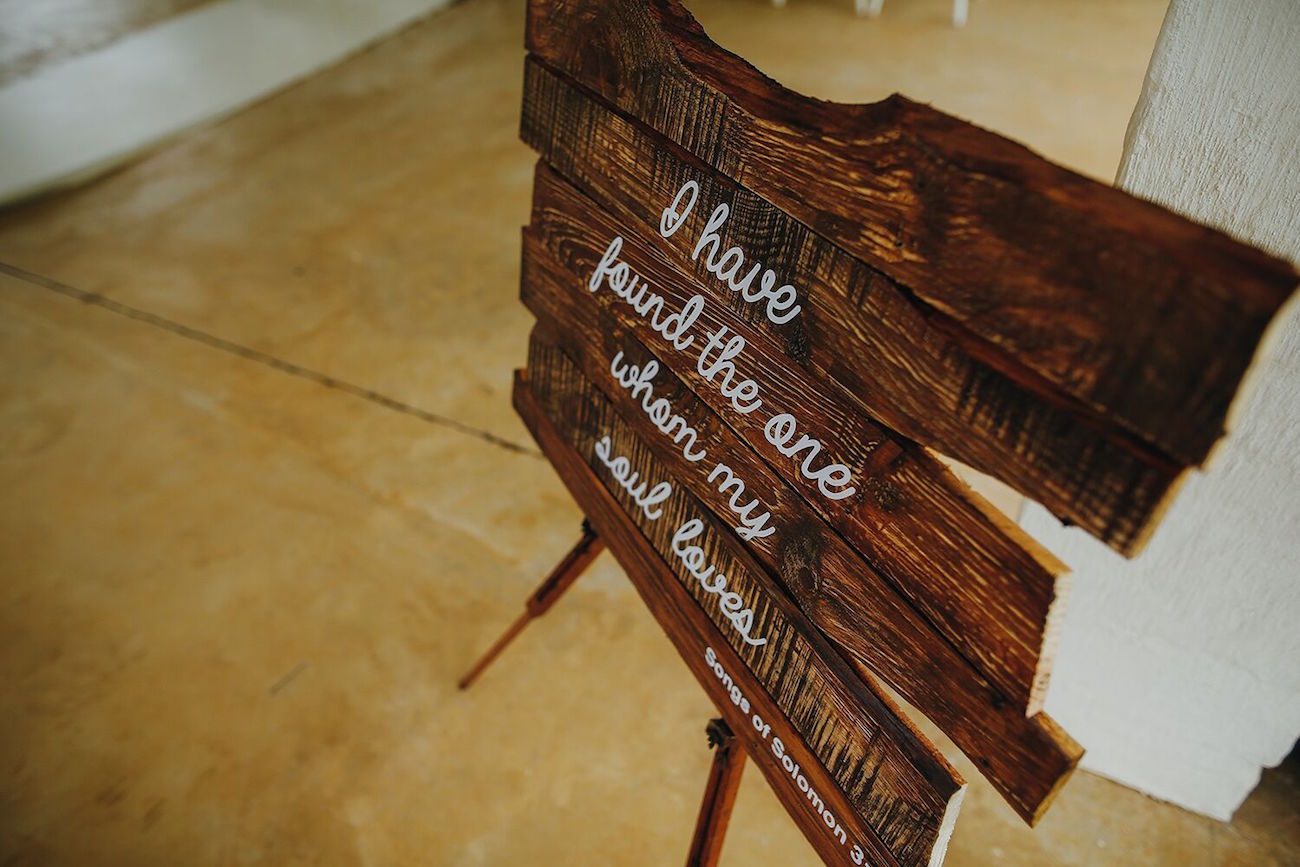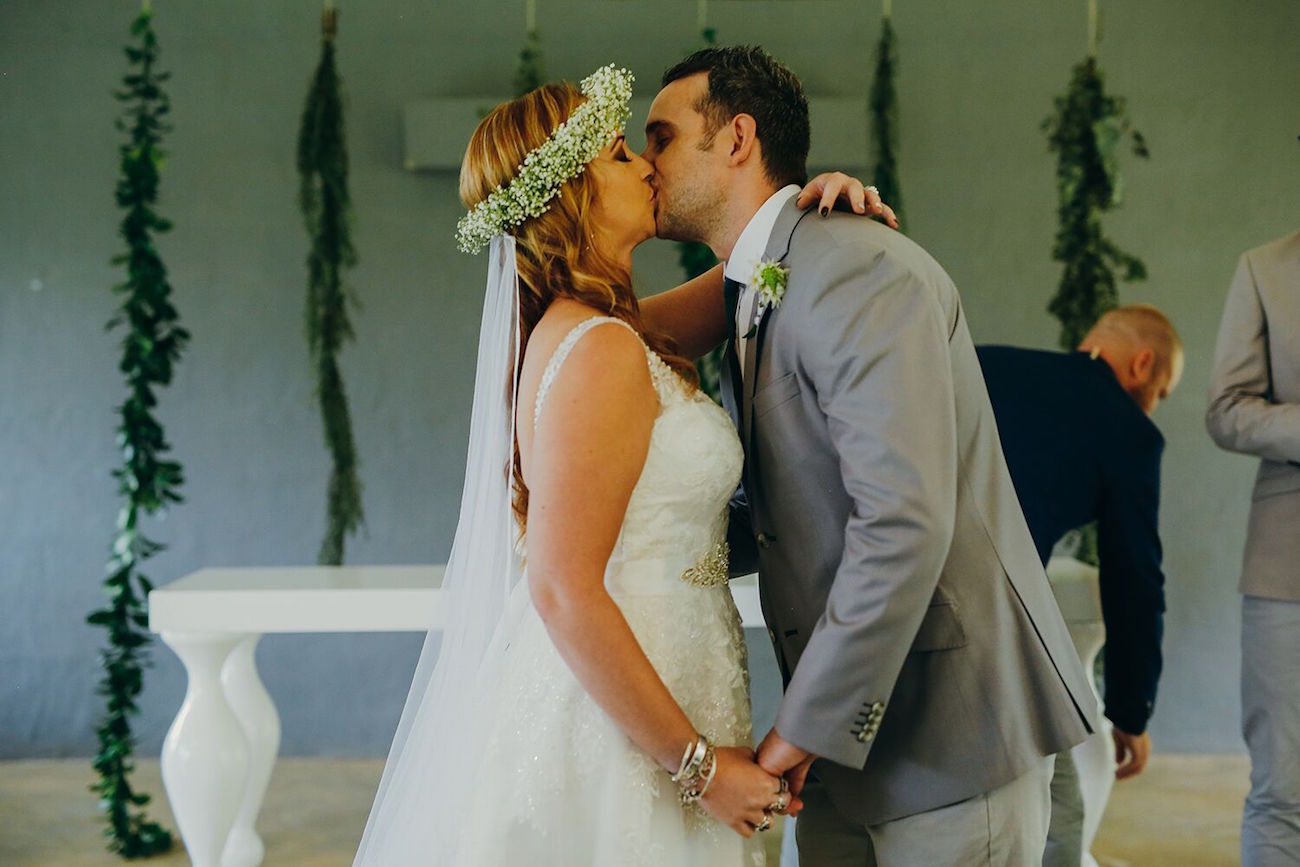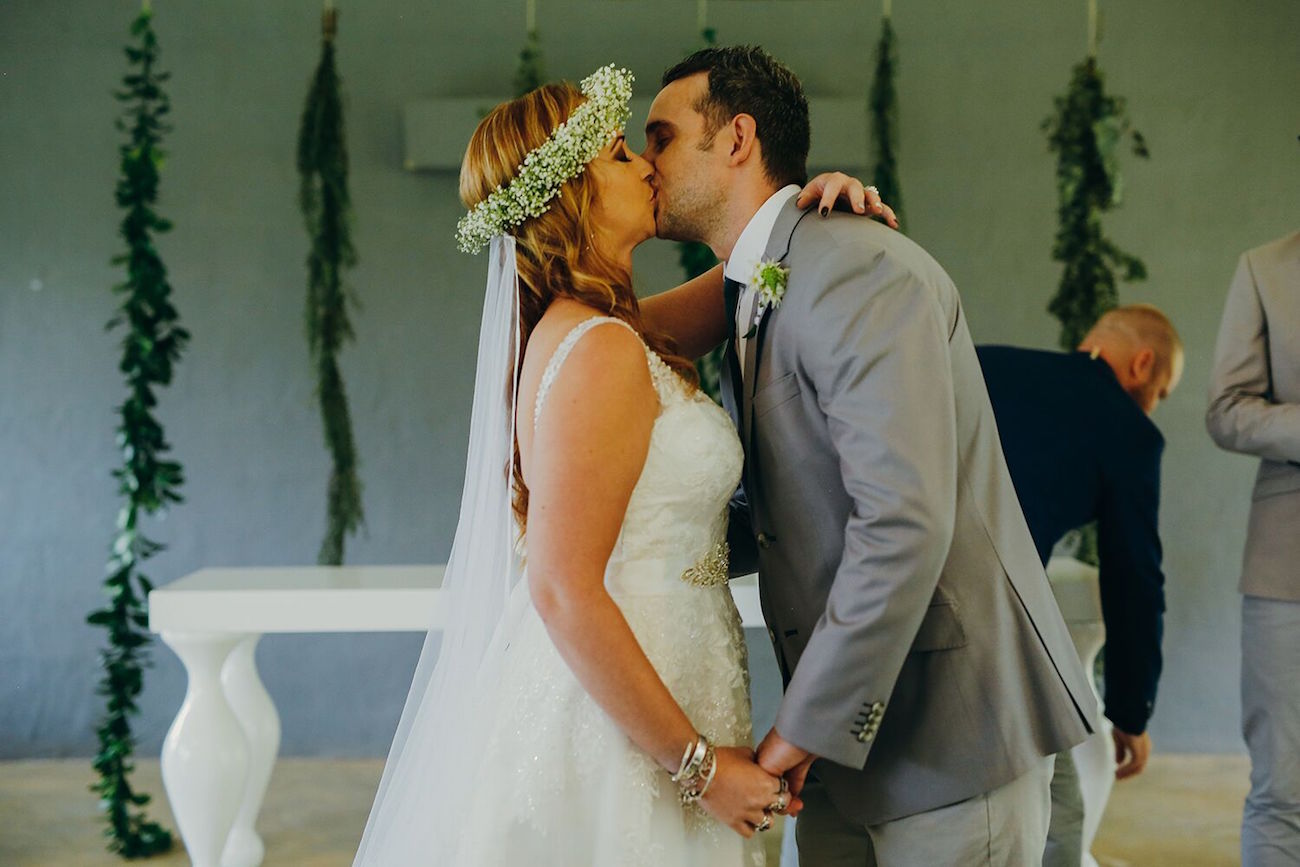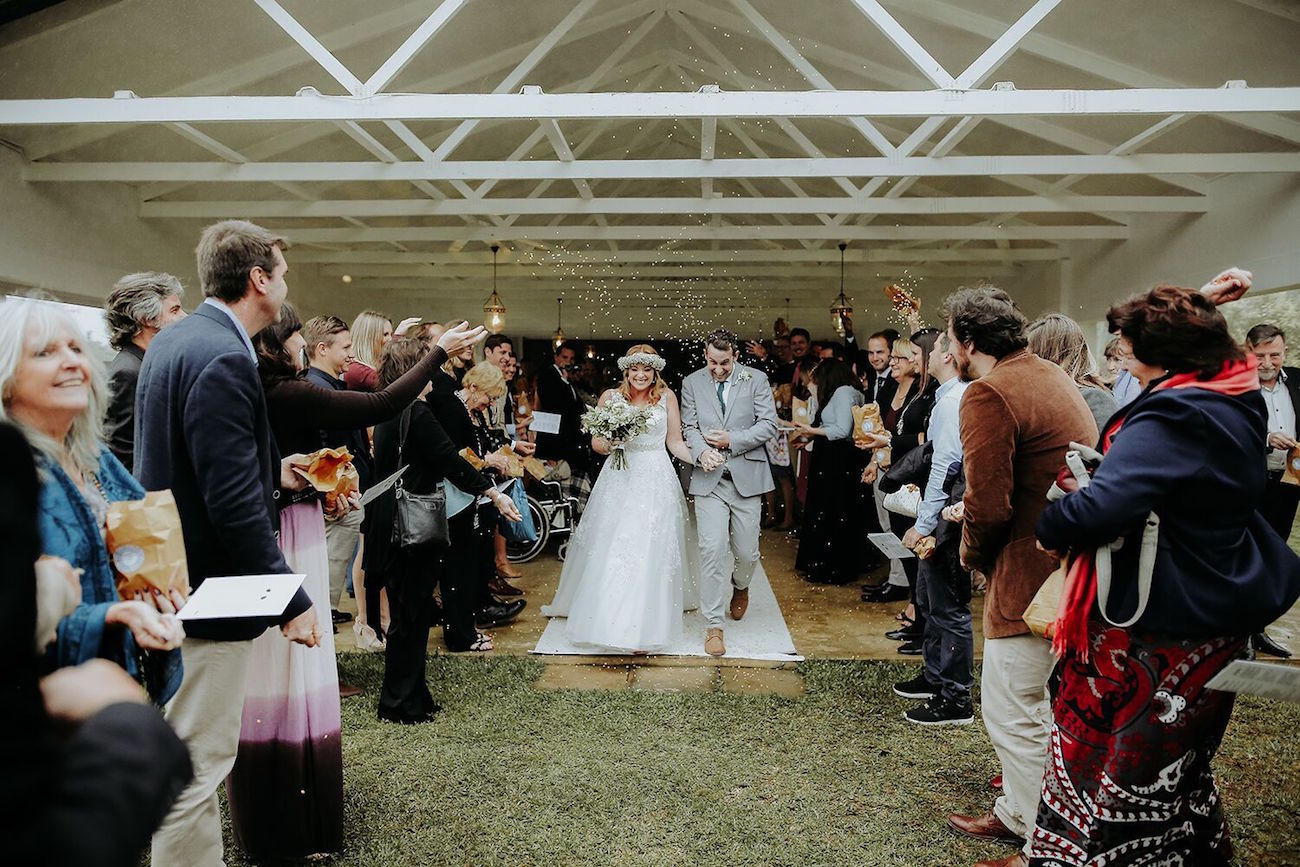 DIY Elements
We designed and had an amazing hobby shop on the Bluff make our table numbers and our main table's love bird display. We designed and put together our own wedding website as our invitation. I hand made the following: engagement party invites, thank you cards that went on each table, seating chart display, menus for the tables, the confetti bags and labels, the wedding programs (these were program fans), bridesmaid and MOH ask cards, special thank you cards for my bridal party as well as our parents, a frame and insert for each month of the year (our way of doing photos of everyone at the wedding was to do their birthday months). My mom also made my garter and veil, which was special, and my aunt made my mini bride's dress.
The Dress
My wedding gown actually started as a dreadful experience for me. I had started losing weight a year before my wedding for health purposes – this has always been a sensitive topic as it is. I had some people who were close to me asking if I would even be able to find a dress that fit me (great start!). I know my body well, and knew exactly what would suit my figure and flatter me. The very first store I went to was a nightmare. From the moment we entered they were very unfriendly and showed me everything opposite to what I wanted. I found two I liked, only for them to tell me they don't keep those dresses in BIG sizes for me (that was a word they used a lot!). They tried to squeeze me into one dress that was two sizes too small, and snickered when it wouldn't do up. I ended up crying and we all left the store. I was ready to throw in the towel, but my mom said let's try one more, and we went to Bride&Co, Crescent. It took some convincing but was the best thing we could have done. From the moment we entered, the ladies there were so welcoming, friendly, helpful and excited for this process with us! I found six dresses in the style I was looking for and ALL in my size, and tried them on, loving each one more than the next. And then I had that moment I had really hoped and prayed I would – I put on a dress that made me, my mom, and all my bridesmaids cry. Even the lady who helped me got emotional, and a stranger stopped and said "Wow! That dress looks incredible on you!". I knew this was THE dress and I couldn't have loved it more! On the day, I wore sneakers as my wedding shoes as we are both big sneaker people. I also had black nail polish with glitter accent nails and my ring fingernail had "I Do" written on it. I am a huge jewelry person and still wore a lot of my bracelets as well as my three garnet rings, which can be quite chunky to some. These are all ME, who I am and I wanted to make sure that I stayed true to who I am instead of fitting a mold.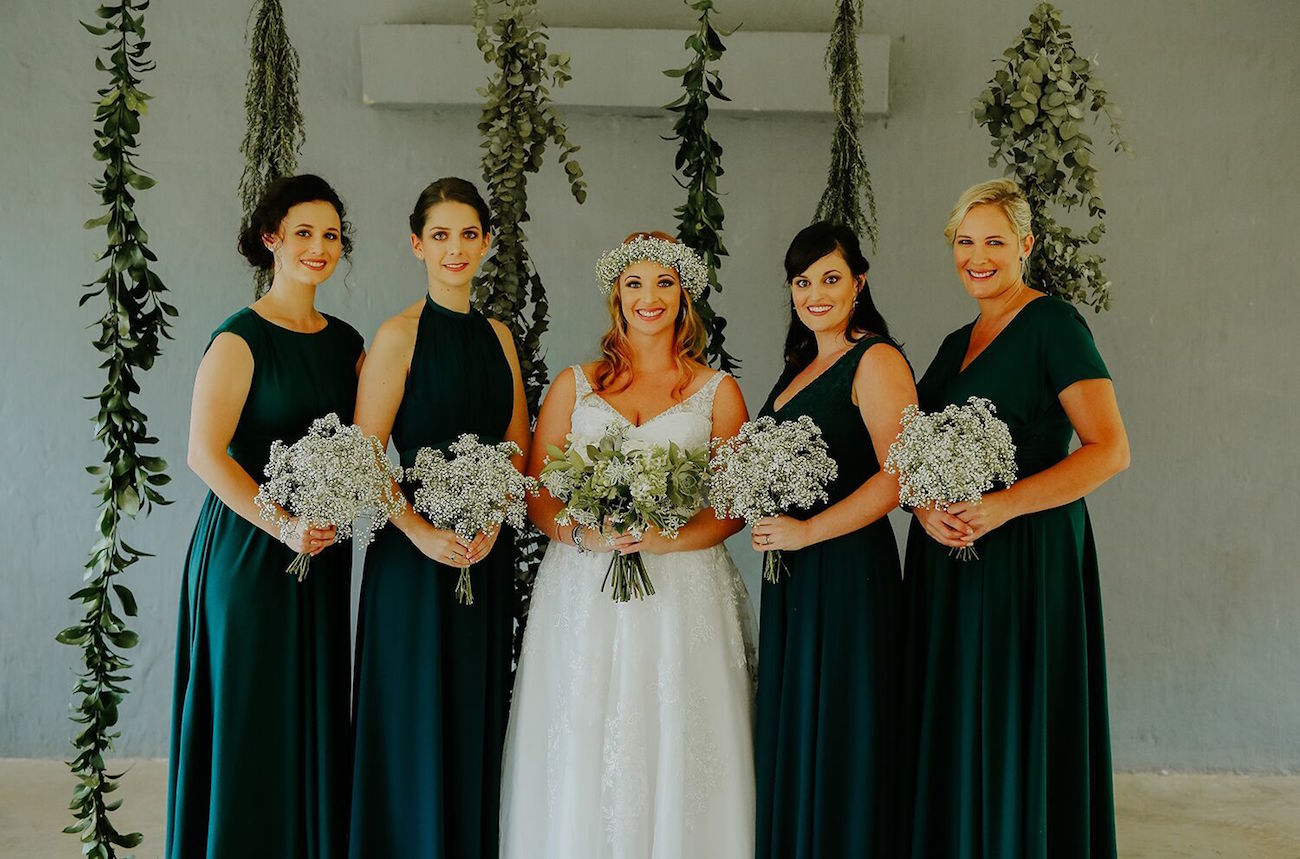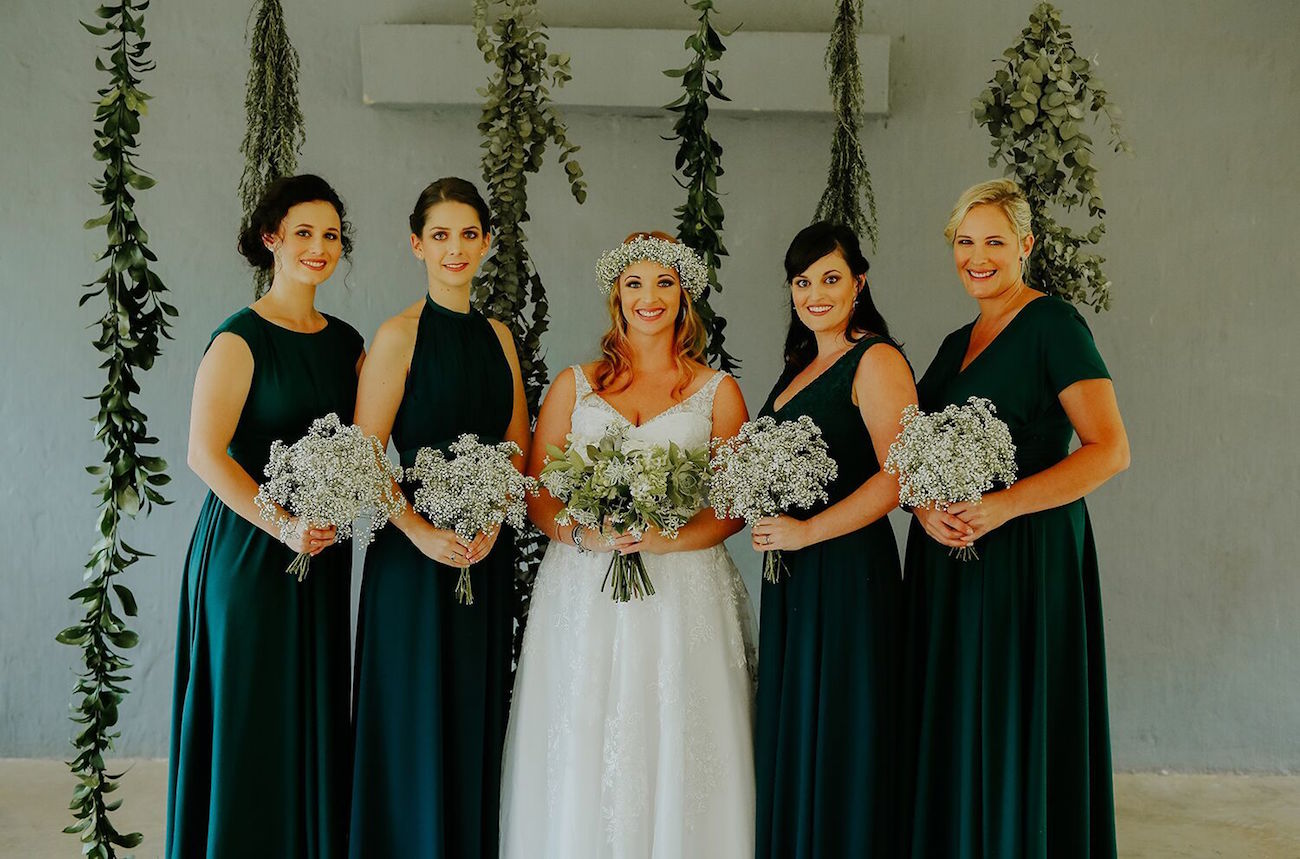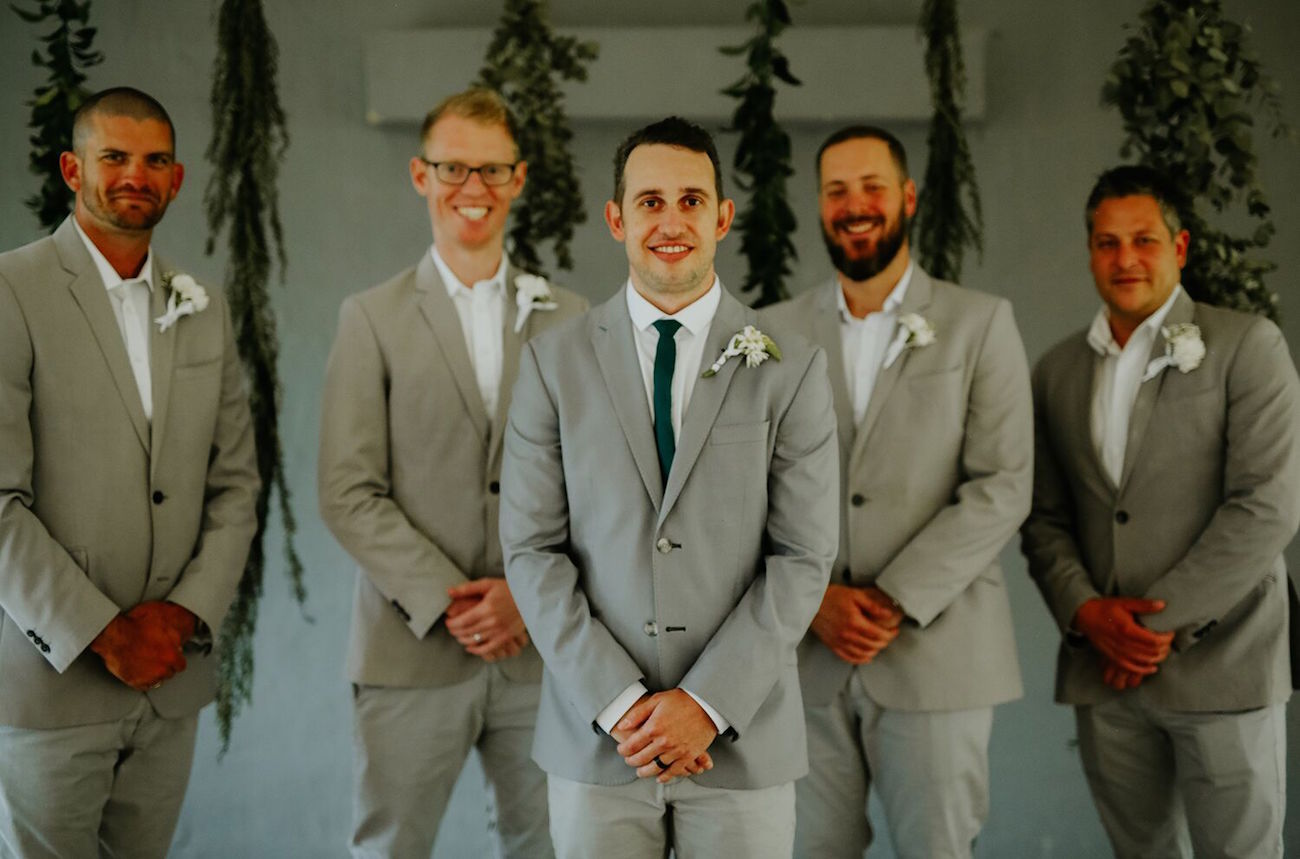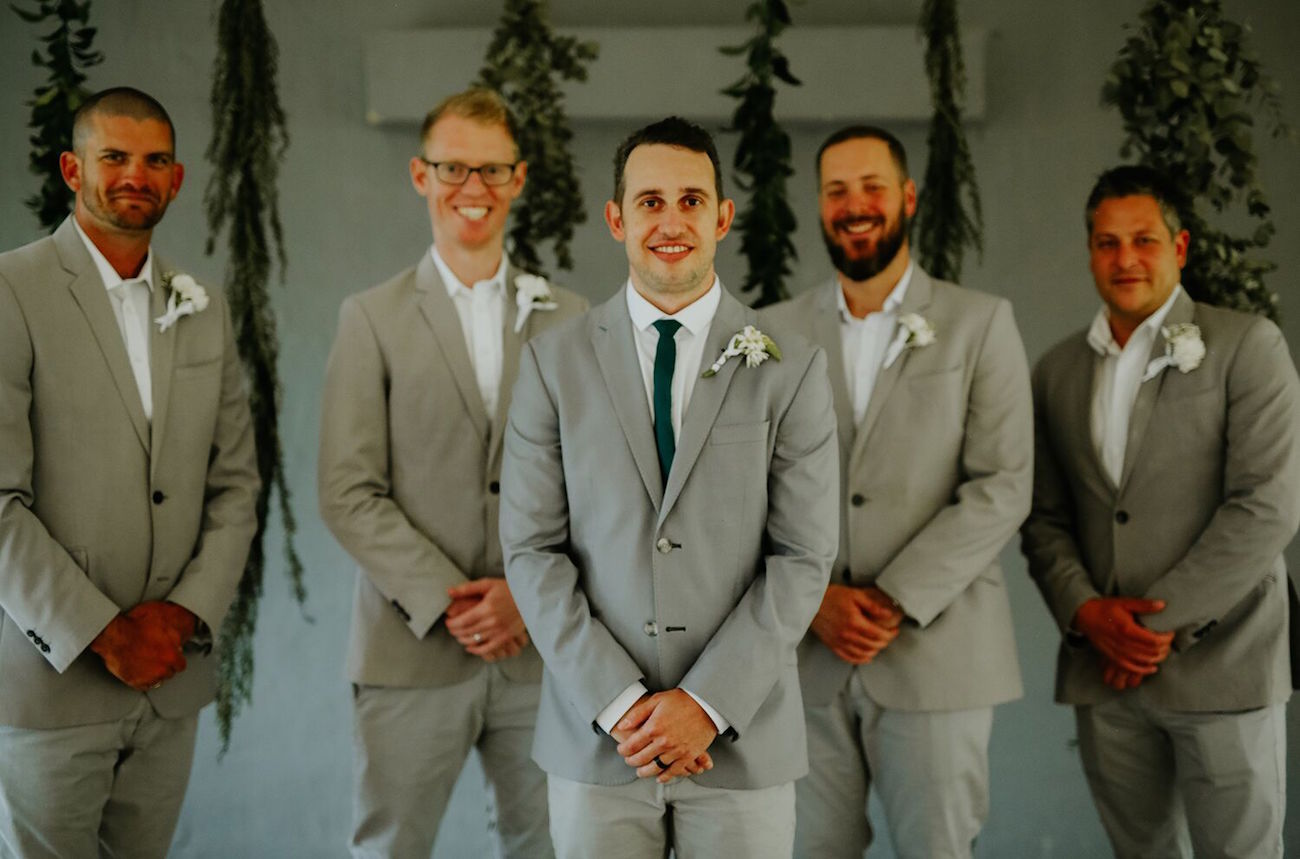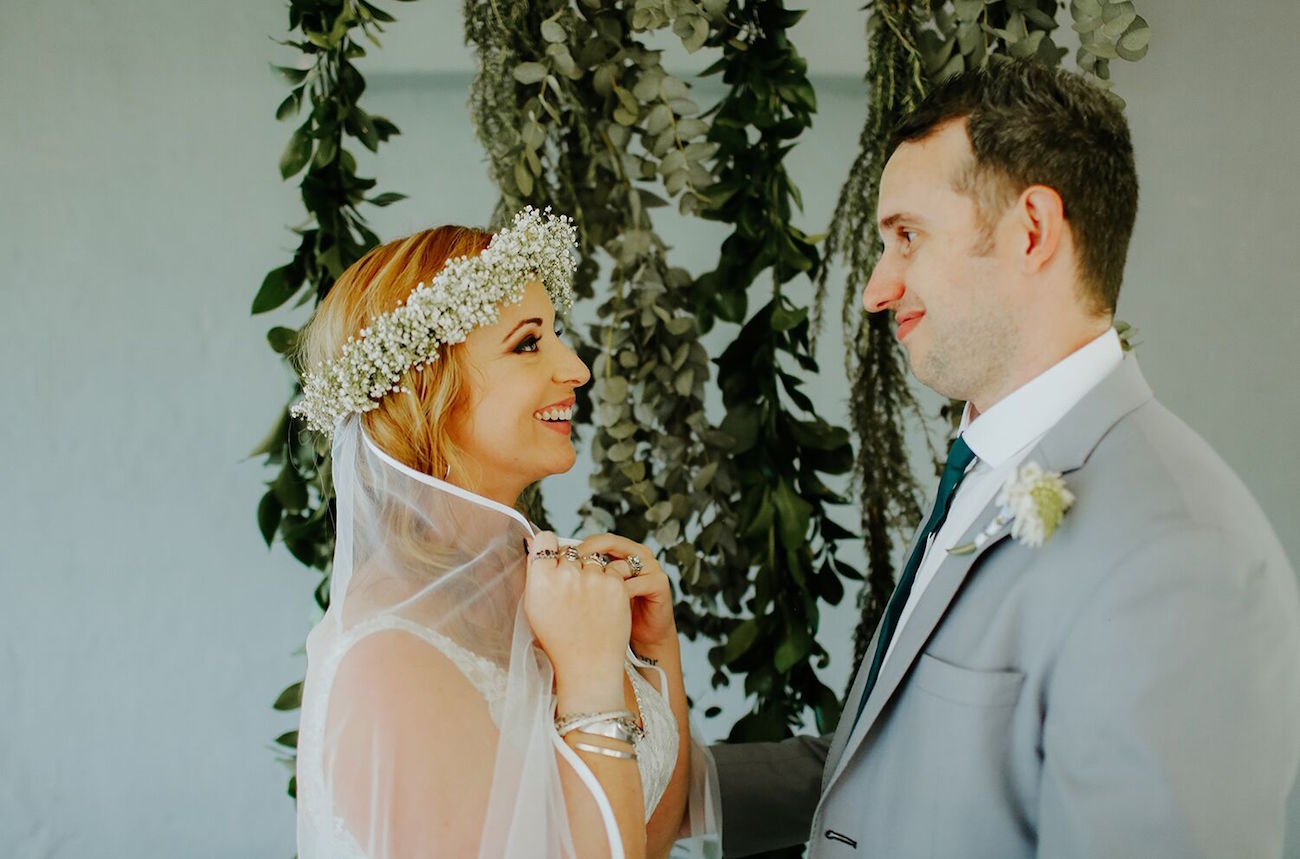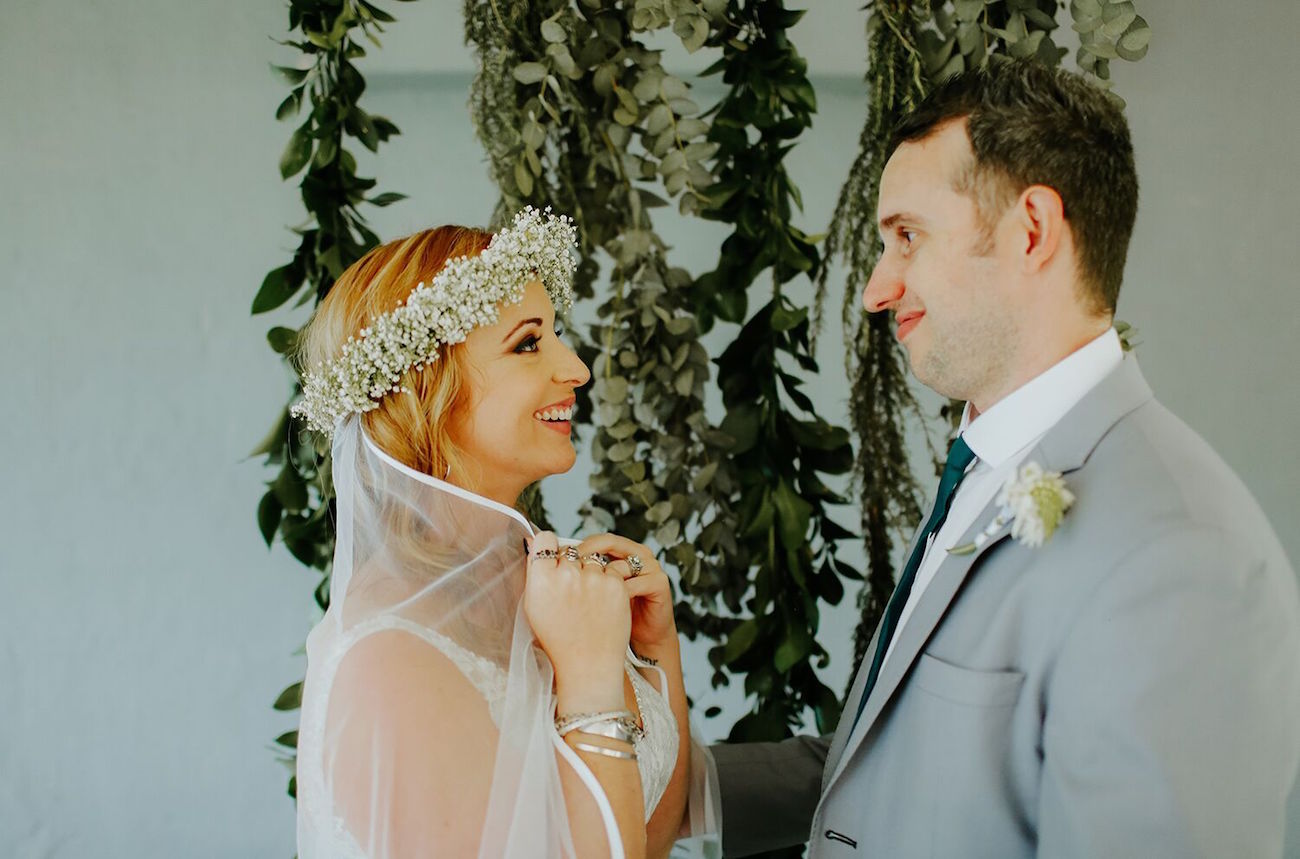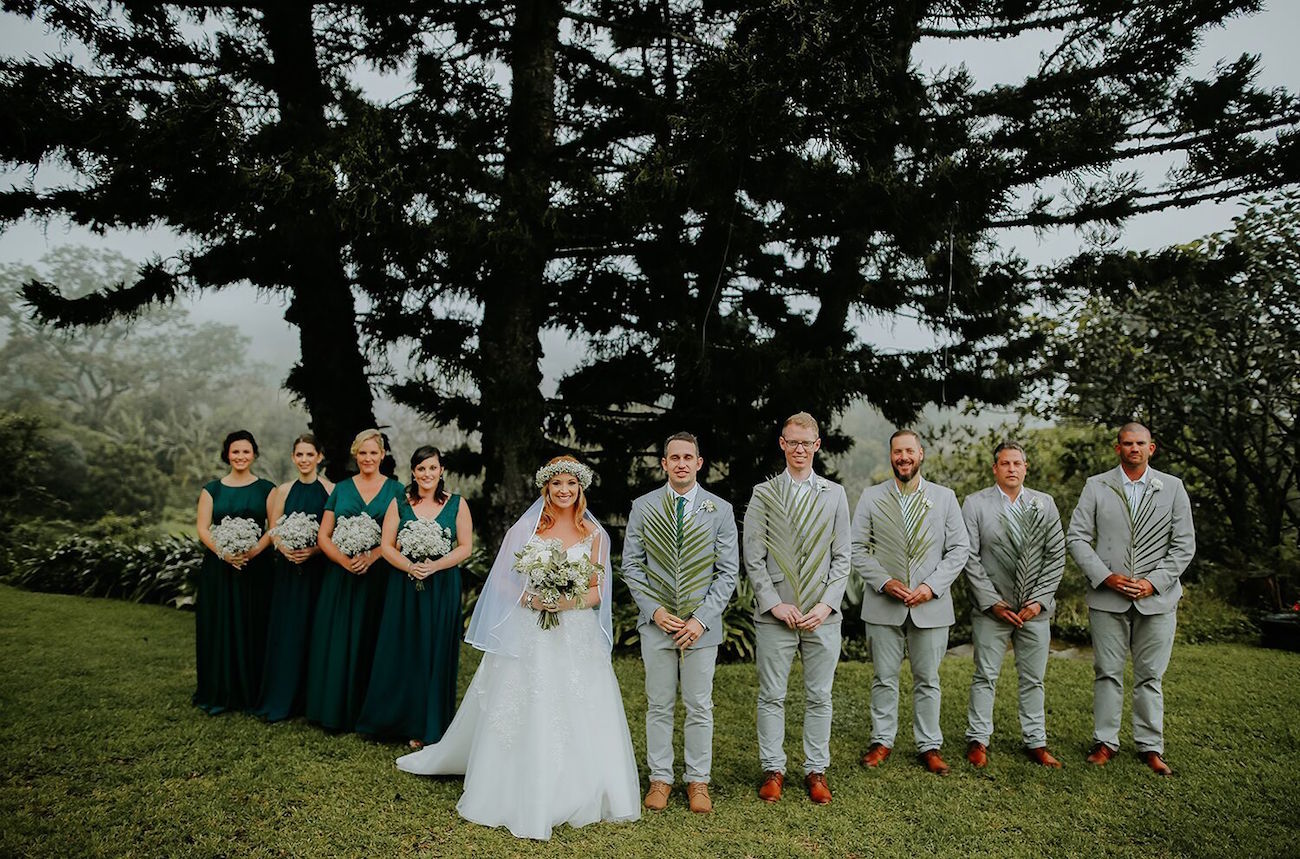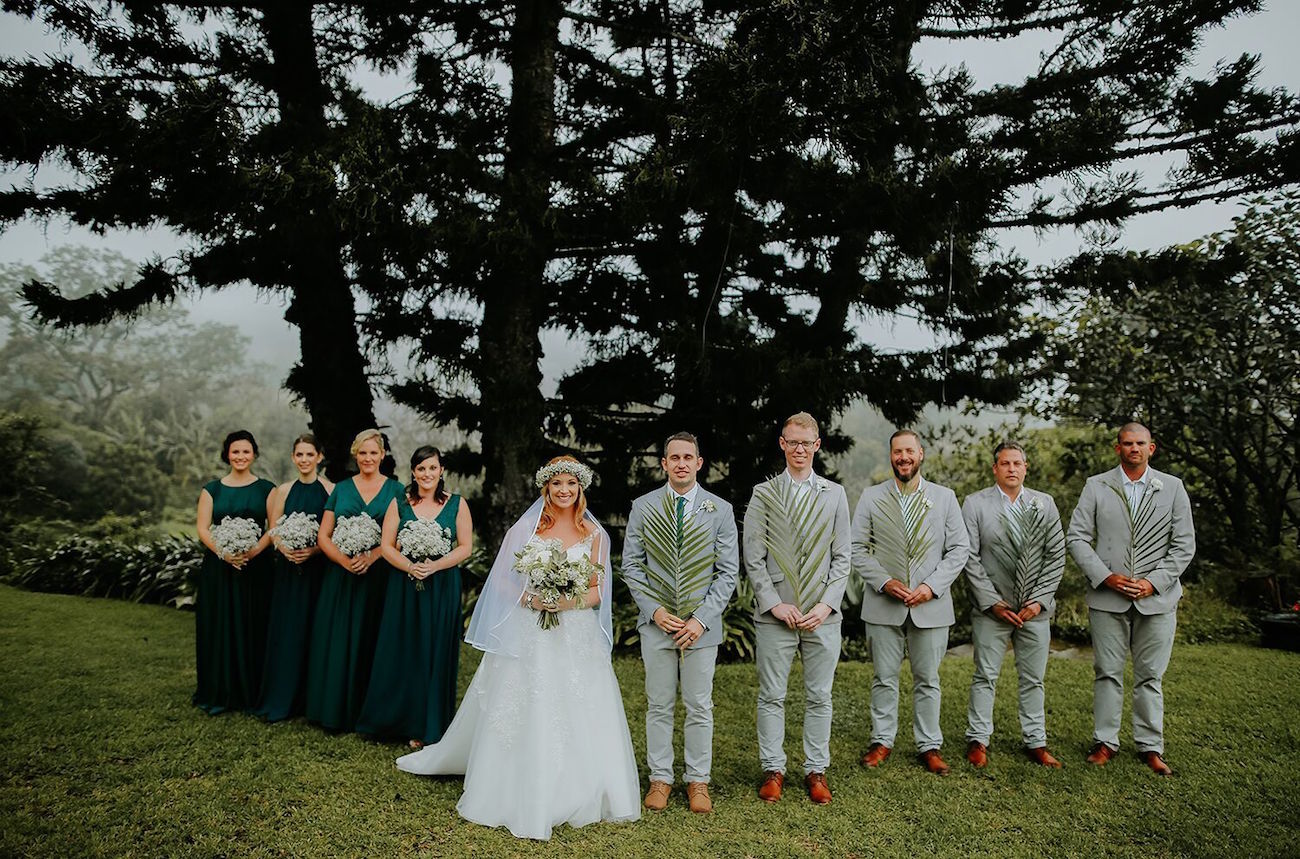 The Bridesmaids
I had four bridesmaids: my sister-in-law and best friend Nix, my best friend Kath, my lifelong friend Bronny and my other sister-in-law Mel. They are all gorgeous women with individual and unique bodies, so I wanted each of them to be comfortable in what they wore as well as for it to suit each of their bodies. I kept the same forest green colour and the maxi length of the dress the same, then let them choose the style that they each wanted. The circle skirt complimented them all beautifully and each neckline was unique to them, their personality and taste.
Mini Attendants
My mini bride was in a white dress (that she wanted to sleep in and would cry every time she had to take this off!) with a flower crown like me. She also had pink nails that she chose and was so happy to show off to everyone. My mini groom as well as all my other nephews were in grey chinos and white shirts like the groomsmen, but had little suspenders too. They were so classy and they each felt handsome, which made my day. The one thing they said was to "please not call them cute". Bless.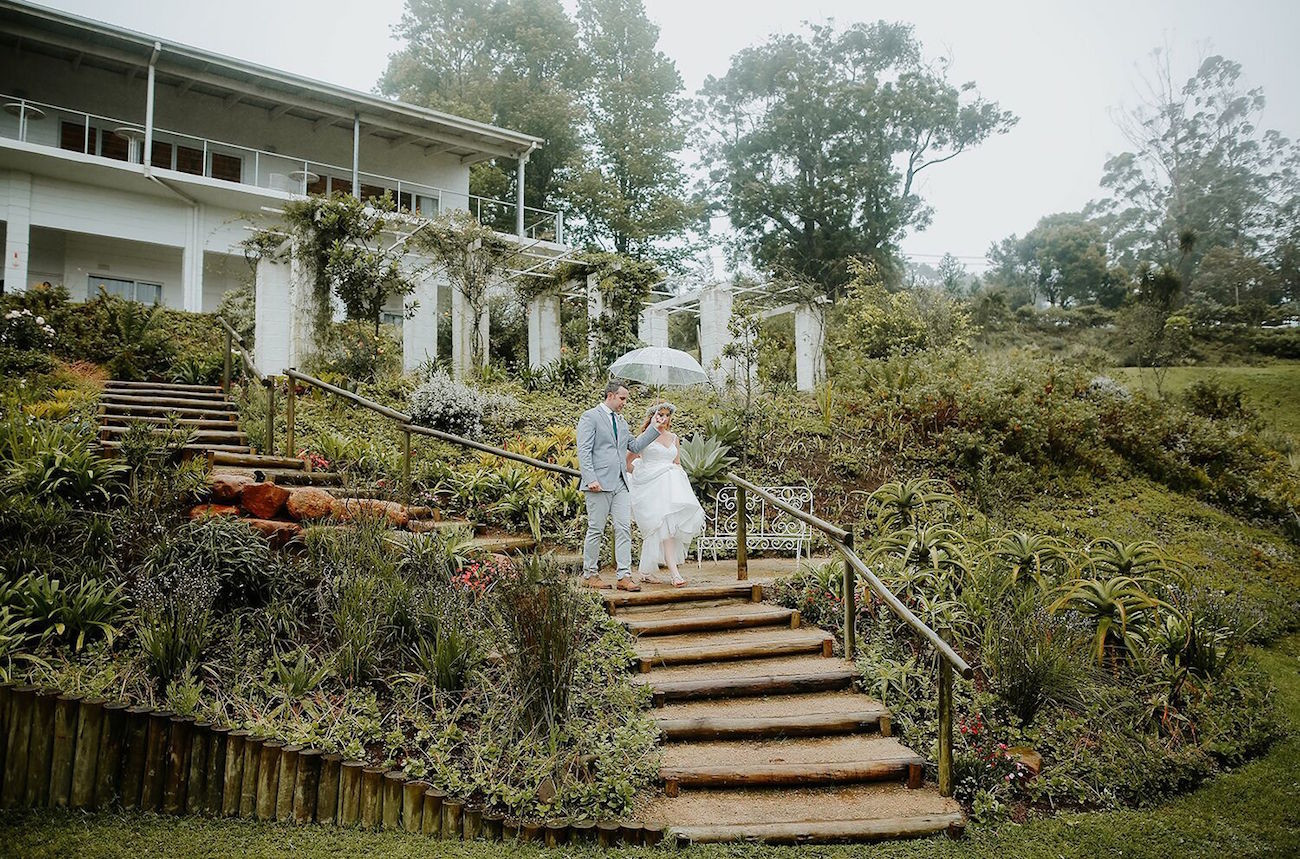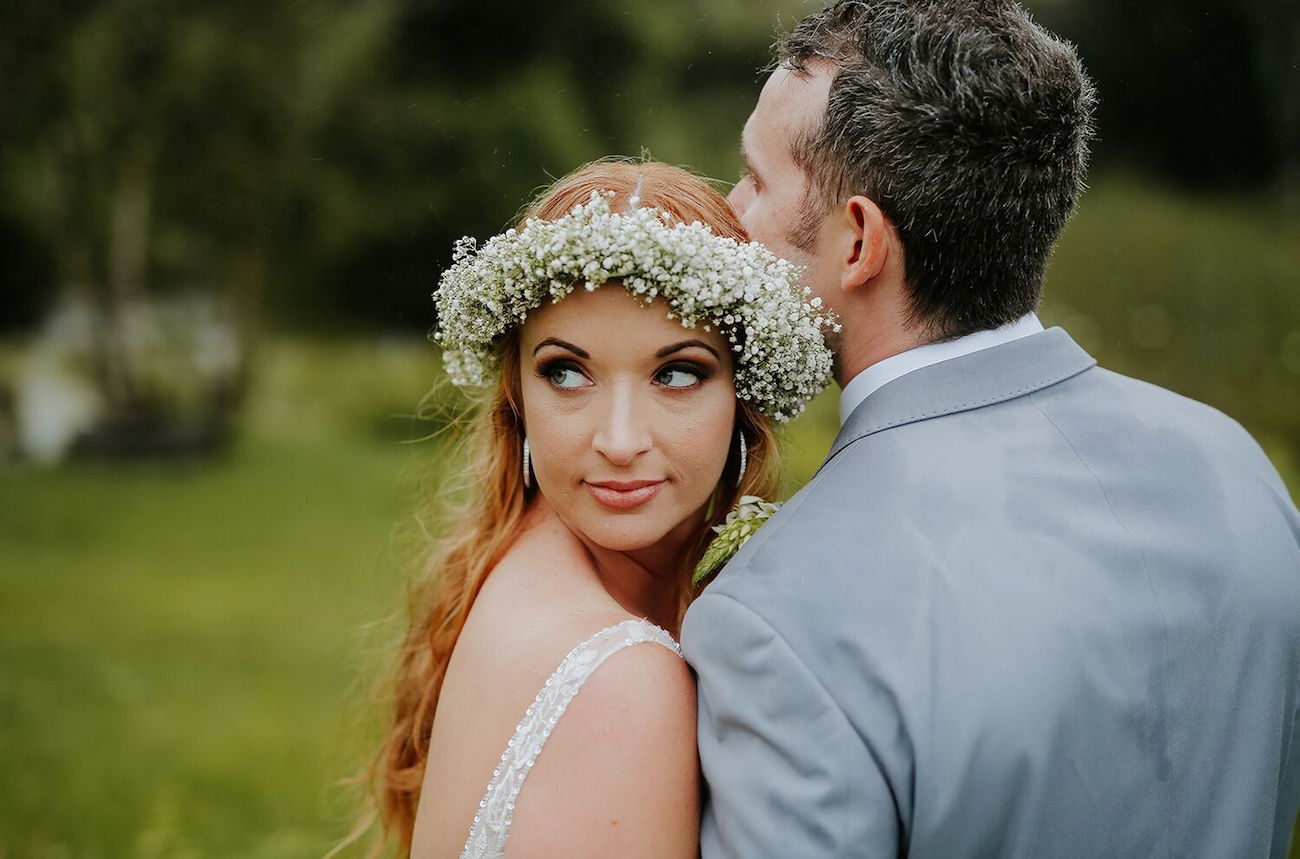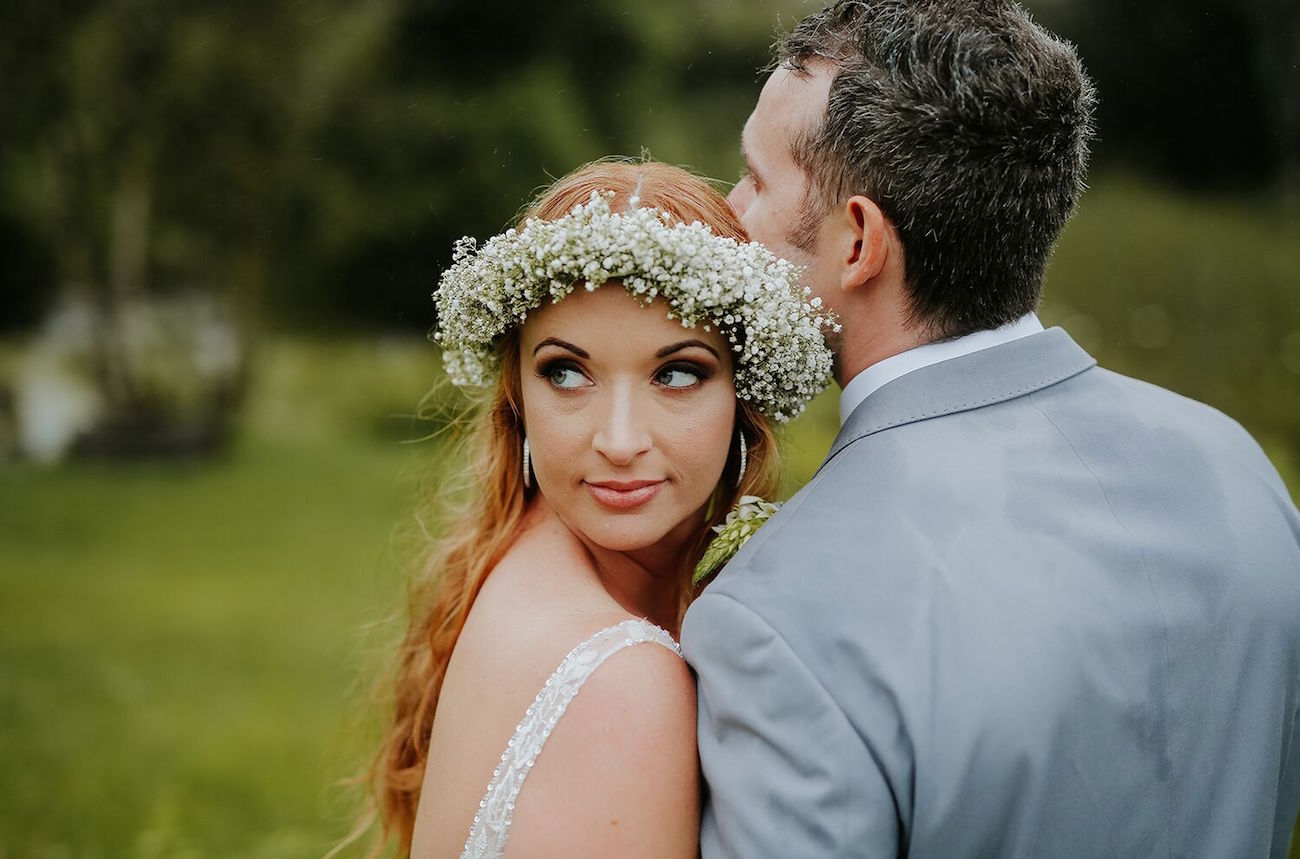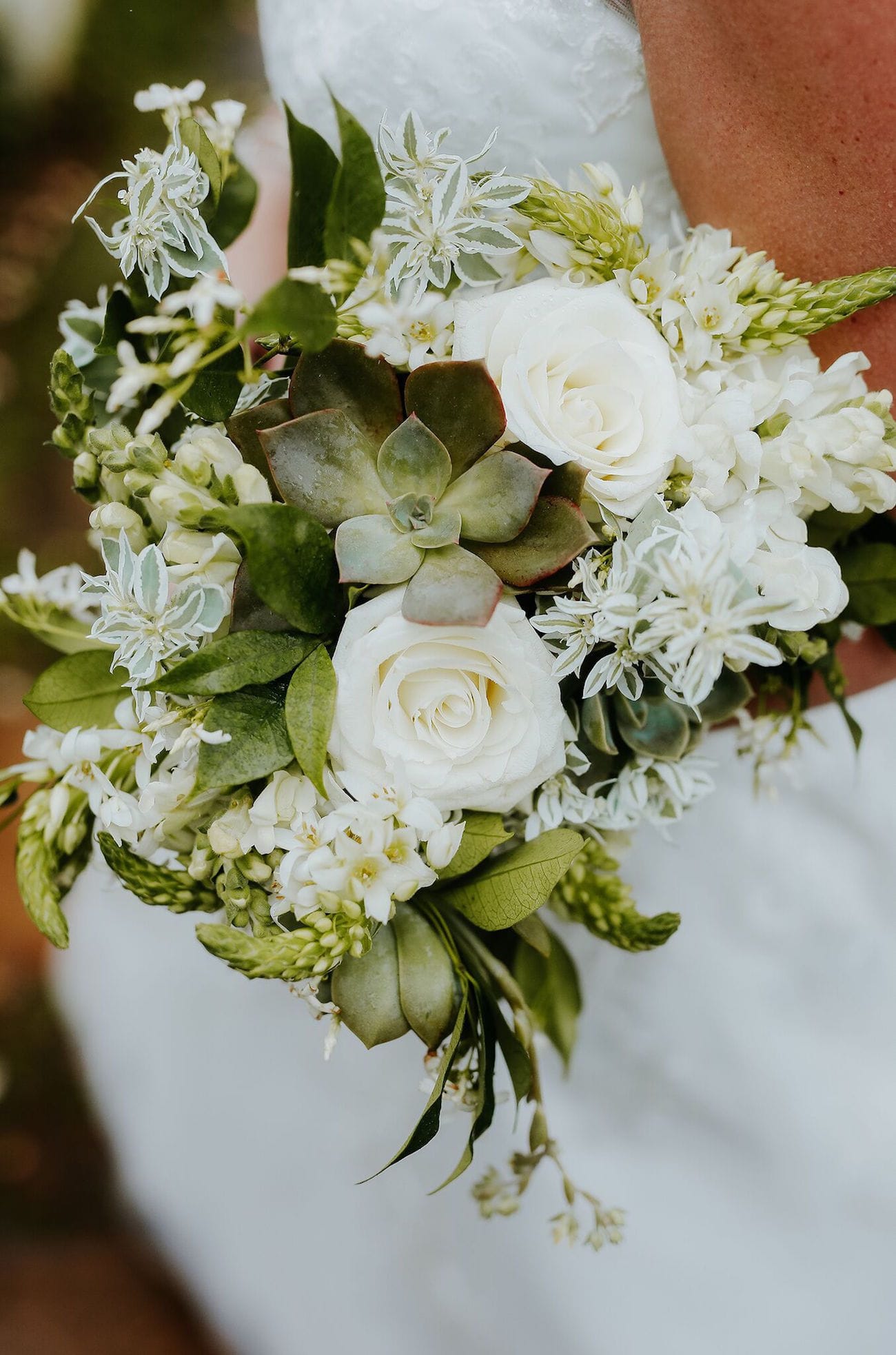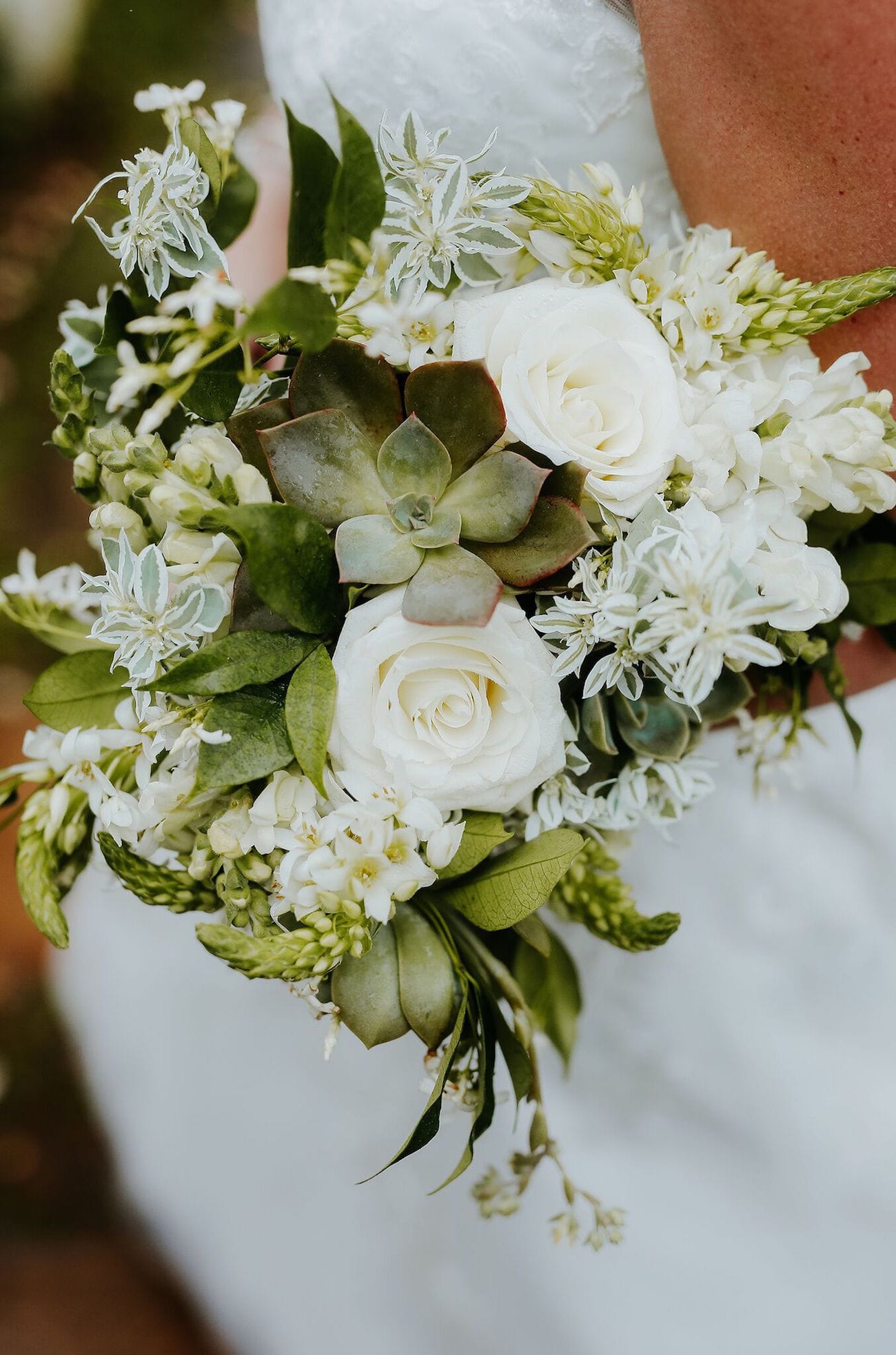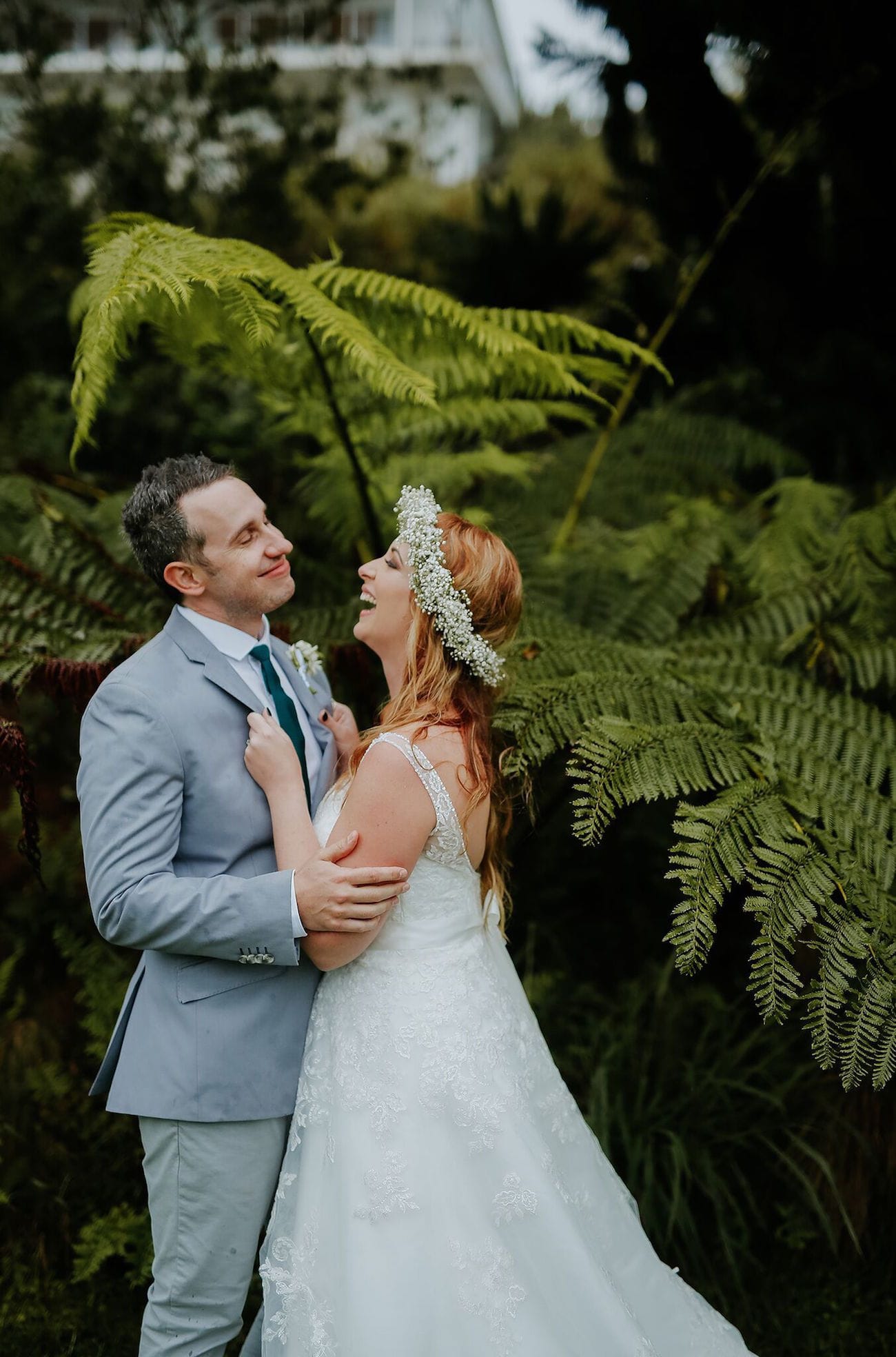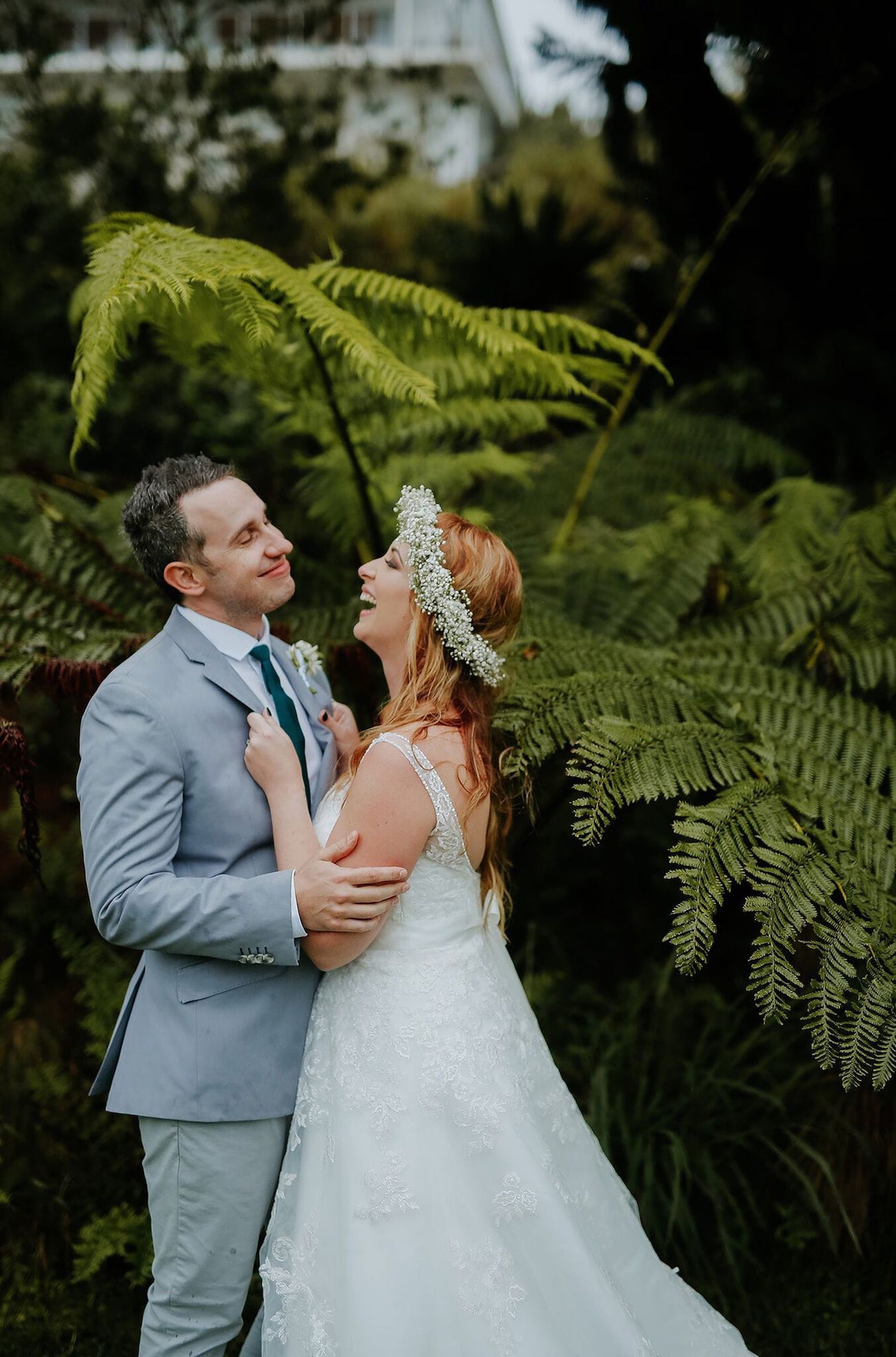 The Flowers
As mentioned before, I love baby's breath, succulents and eucalyptus – amongst all other greenery too. So this is what we wanted, to keep things simple, natural, clean and elegant. For table decor, we went with a greenery runner accented with succulents and white roses. The main table had a greenery drape along the front of it and we had a greenery curtain that hung at the end of our aisle. My bridesmaids' bouquets were baby's breath and my bouquet was a combo of baby's breath, white roses, succulents and greenery. We also had fern leaves down our aisle.
Memorable Moments
I loved the worship, as it was so special and we value our relationships with God. I loved my brother's sermon at the ceremony, it was so unique and touched many people. I loved the speeches, they were hilarious and so special… I think most of all though, my most memorable moment was that I was now married to my best friend and he was stuck with me forever!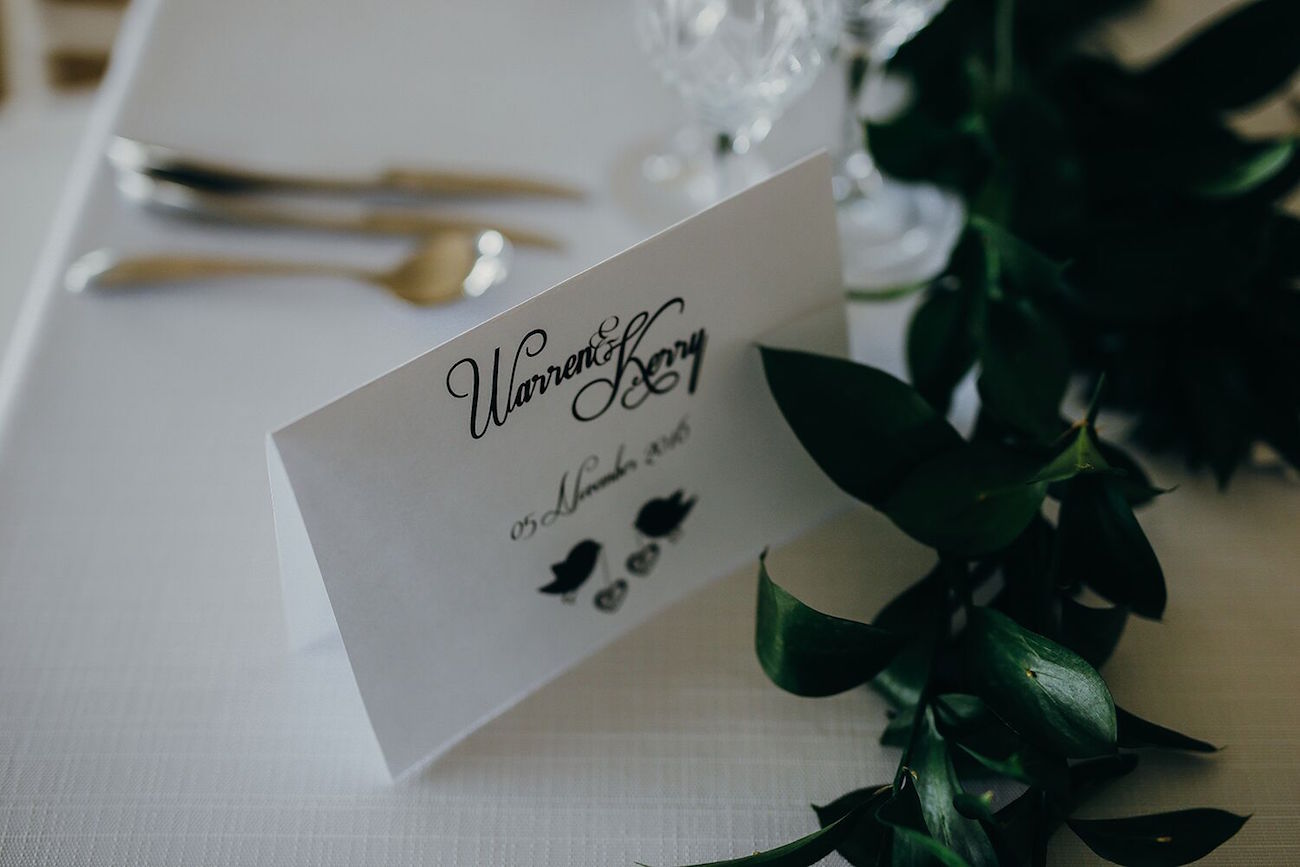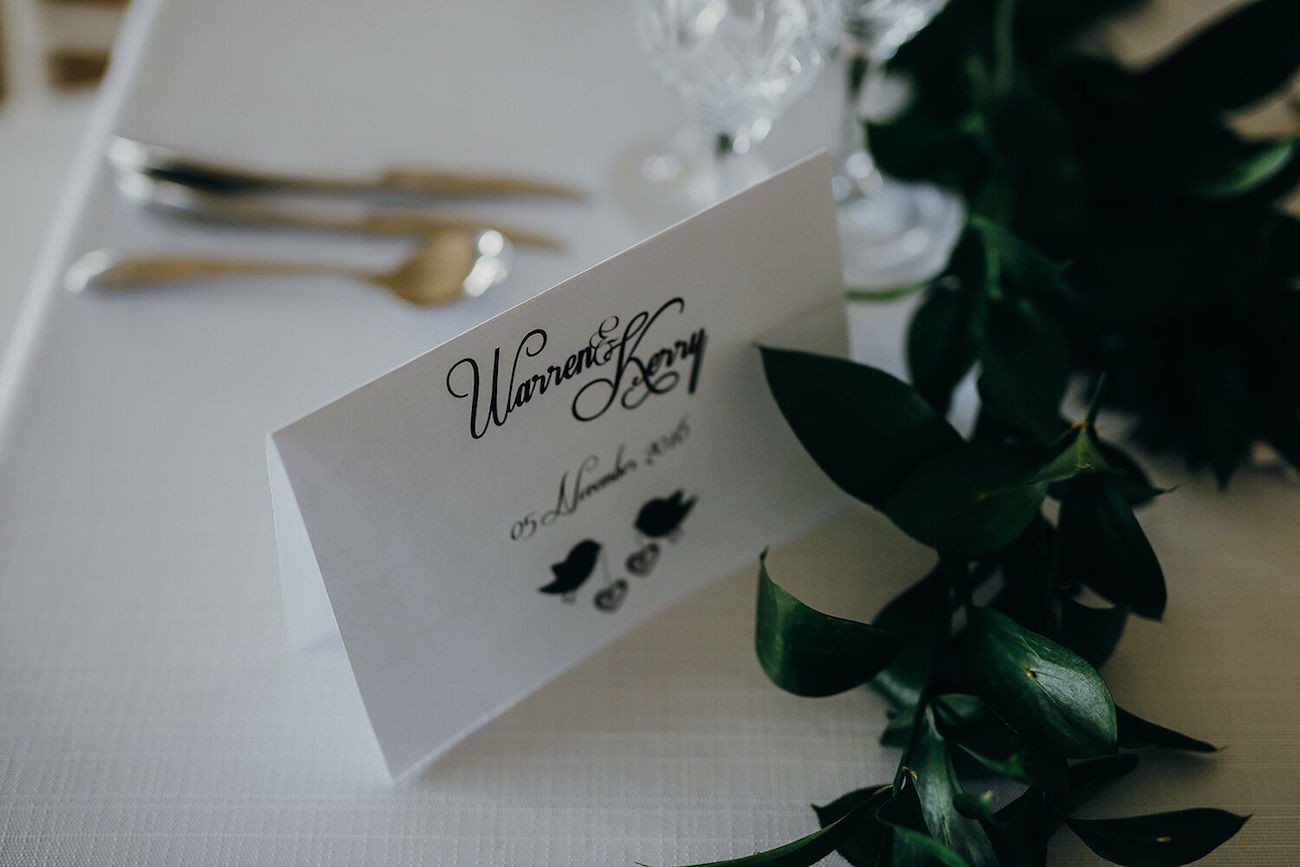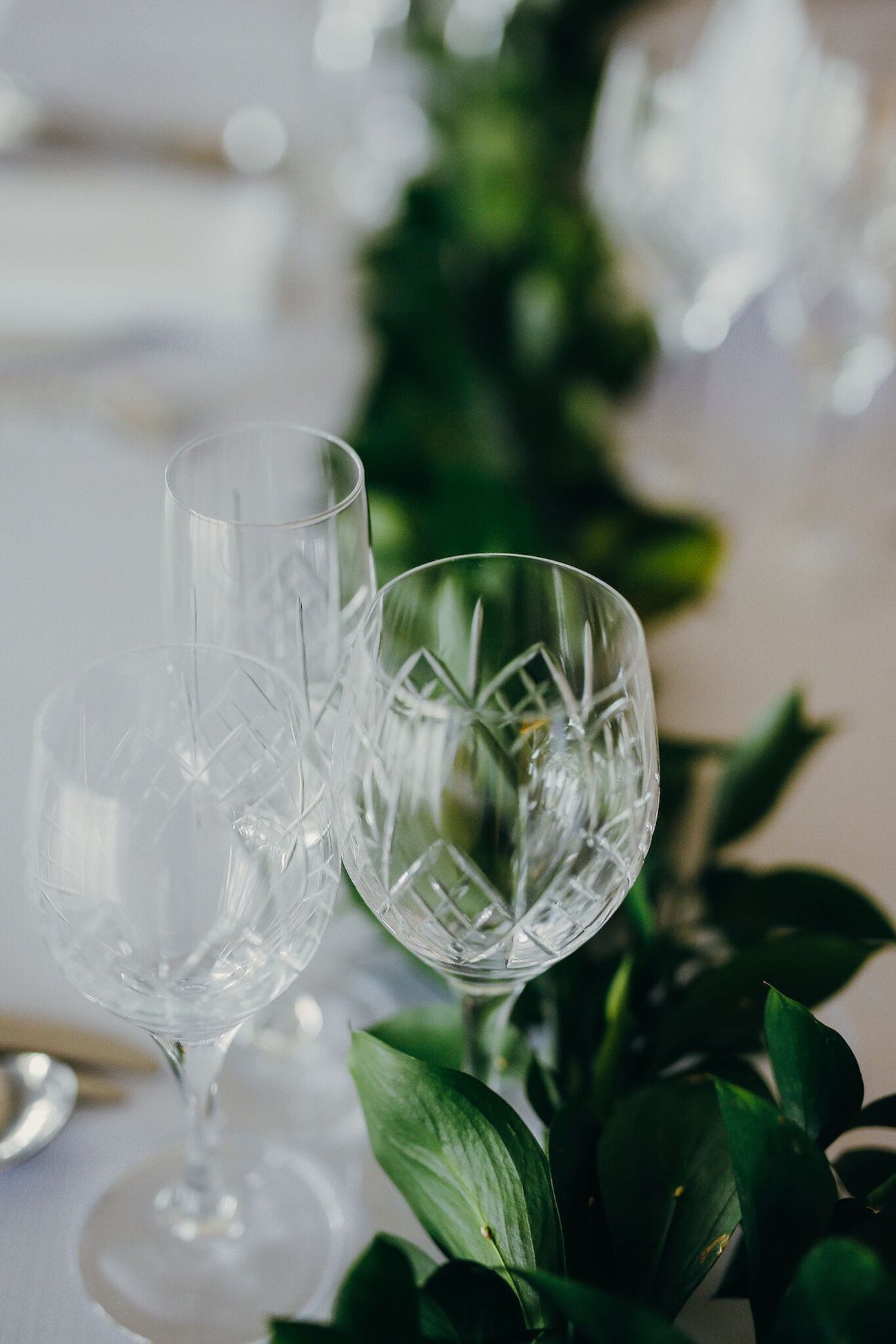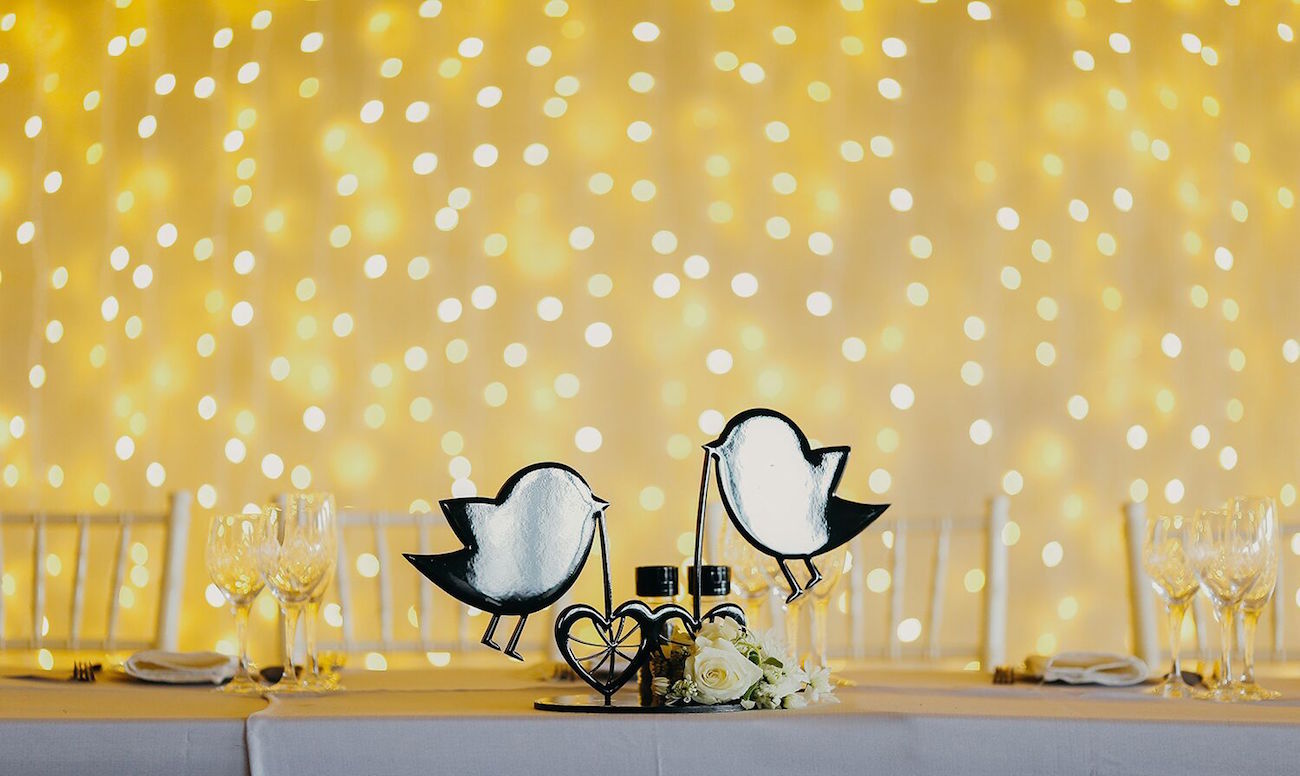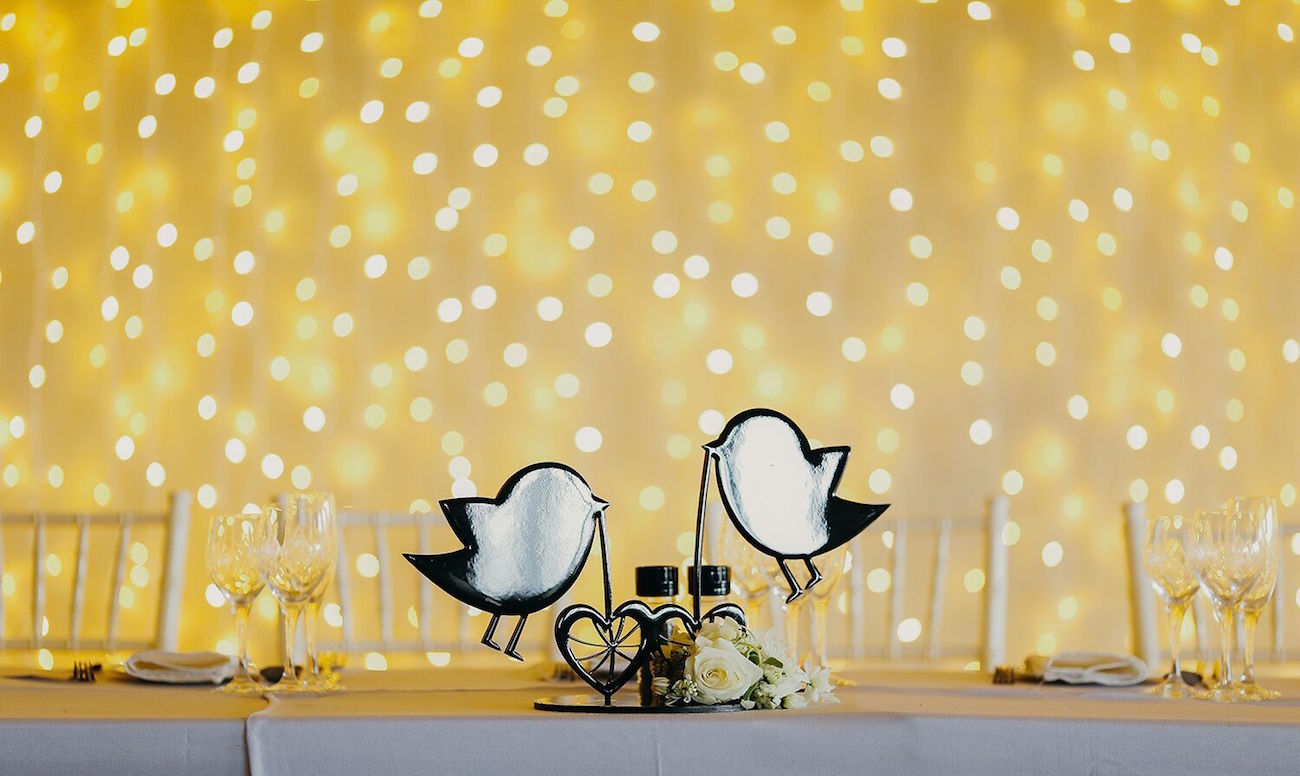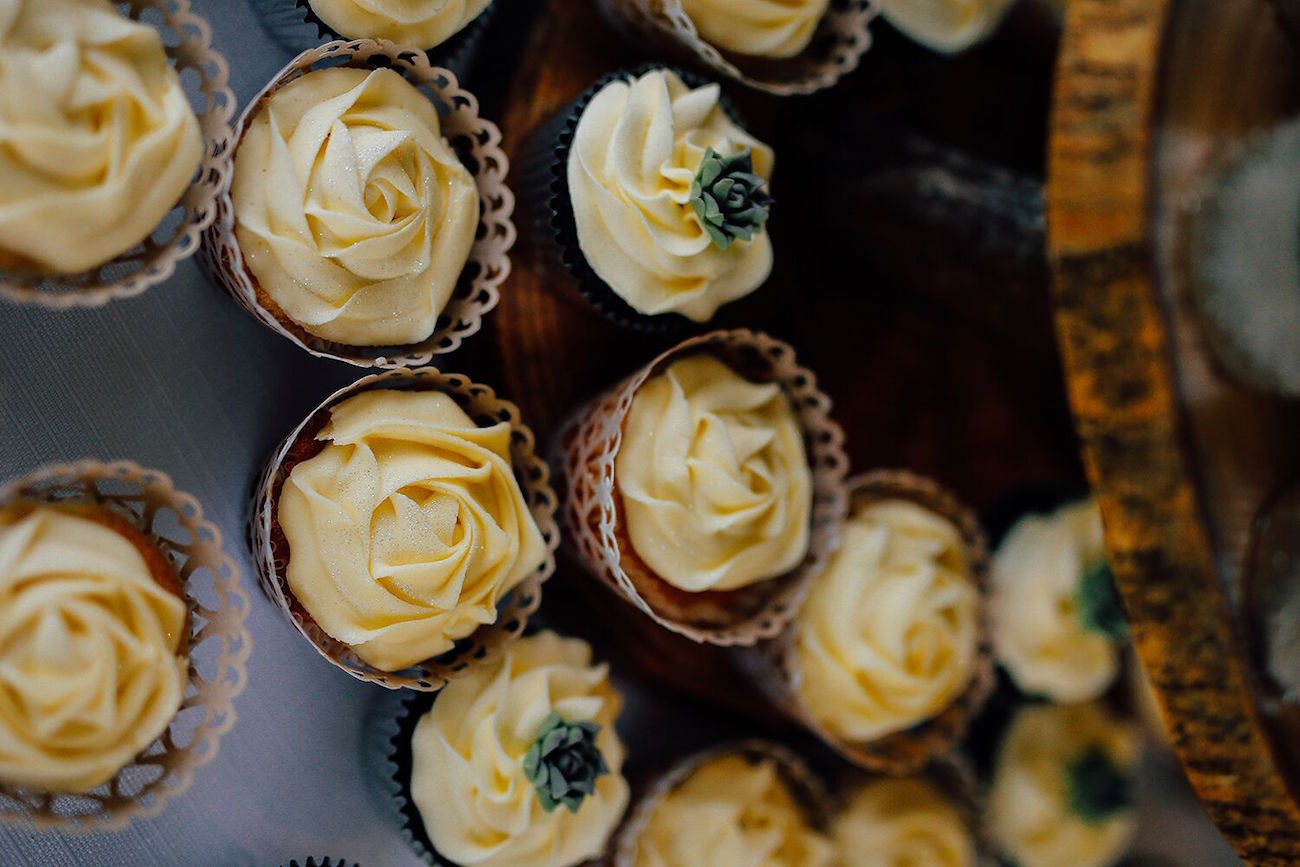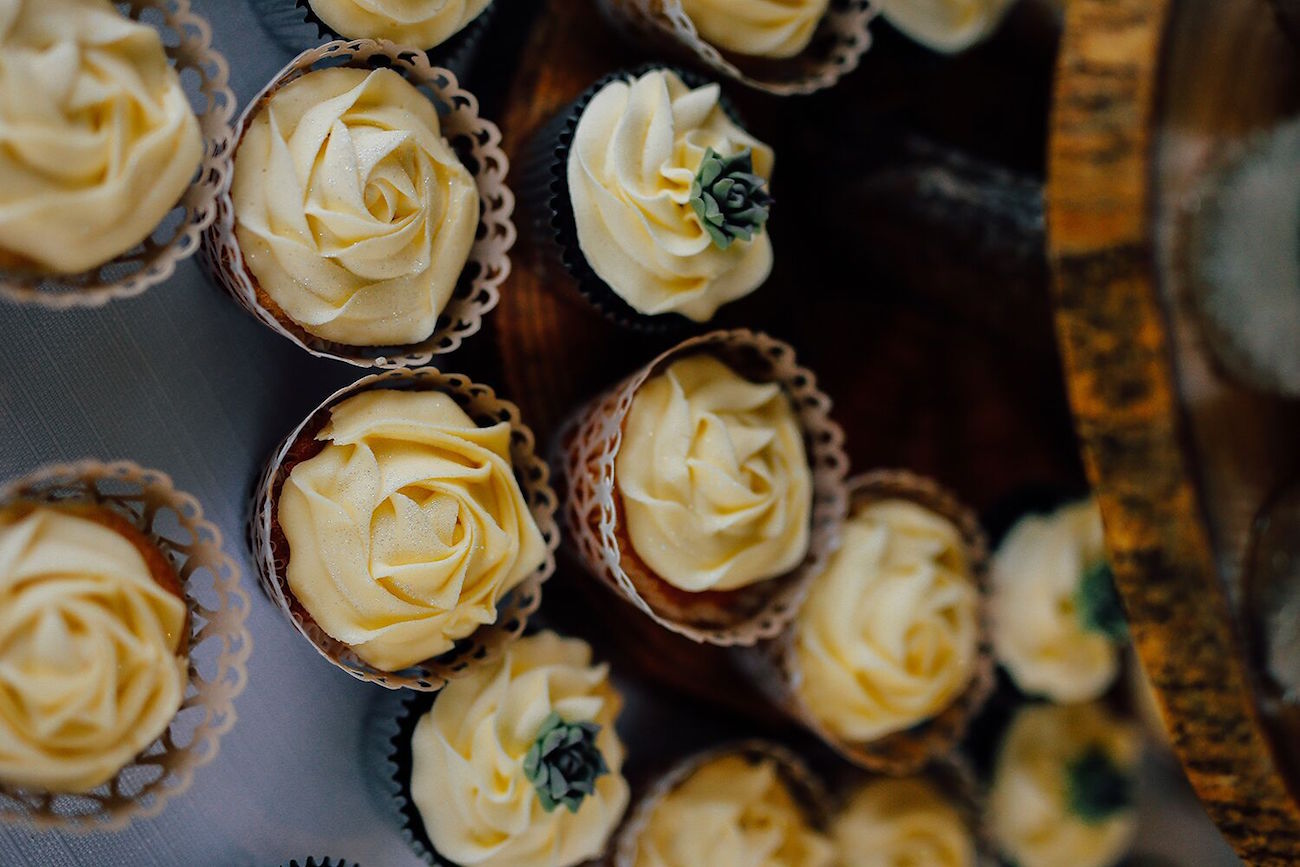 Best Decision
The best decision was doing the planning myself (I am OCD and love organisation as well, so this way I could obsess and make loads of spreadsheets as well as have no one to complain about except myself). Second to this was to do WHAT WE WANTED. I think all too often people worry about "what will people think?", especially with family involved, and if it is something out of the ordinary for a wedding. This was OUR day and we wanted that to be shown; it was what made it so fun and comfortable.
Advice for Future Brides & Grooms
My day was the perfect day! From start to finish, I had so much fun. It was a day that was so "us" and I loved every moment of it. This is YOUR day, fight for what YOU want and what you have always envisioned. When it comes to family, guest lists, etc. – choose your battles. Will it change your day for you? If not, then let it go. If so, then put your foot down. When it comes to guests, they are people – they get offended. LET THIS GO. It is not worth your energy!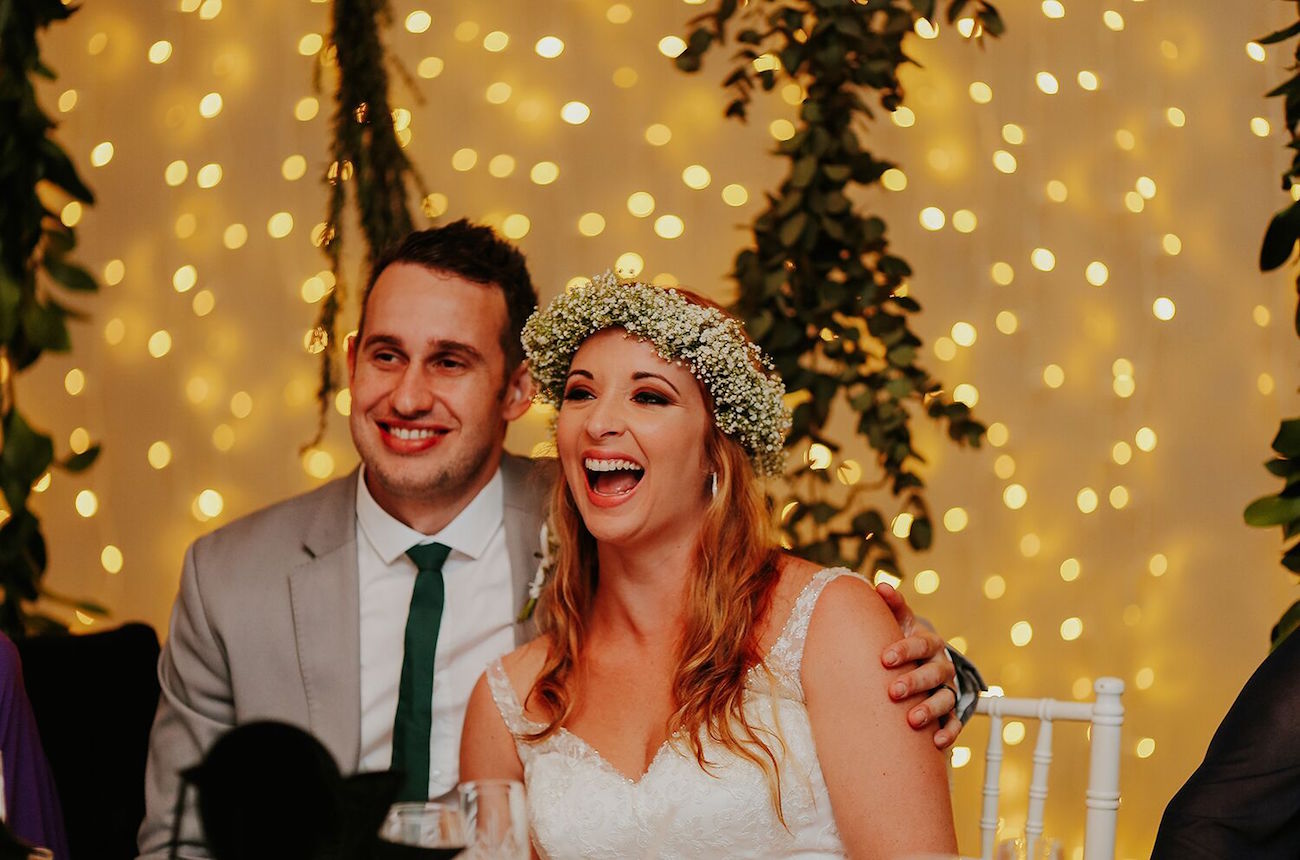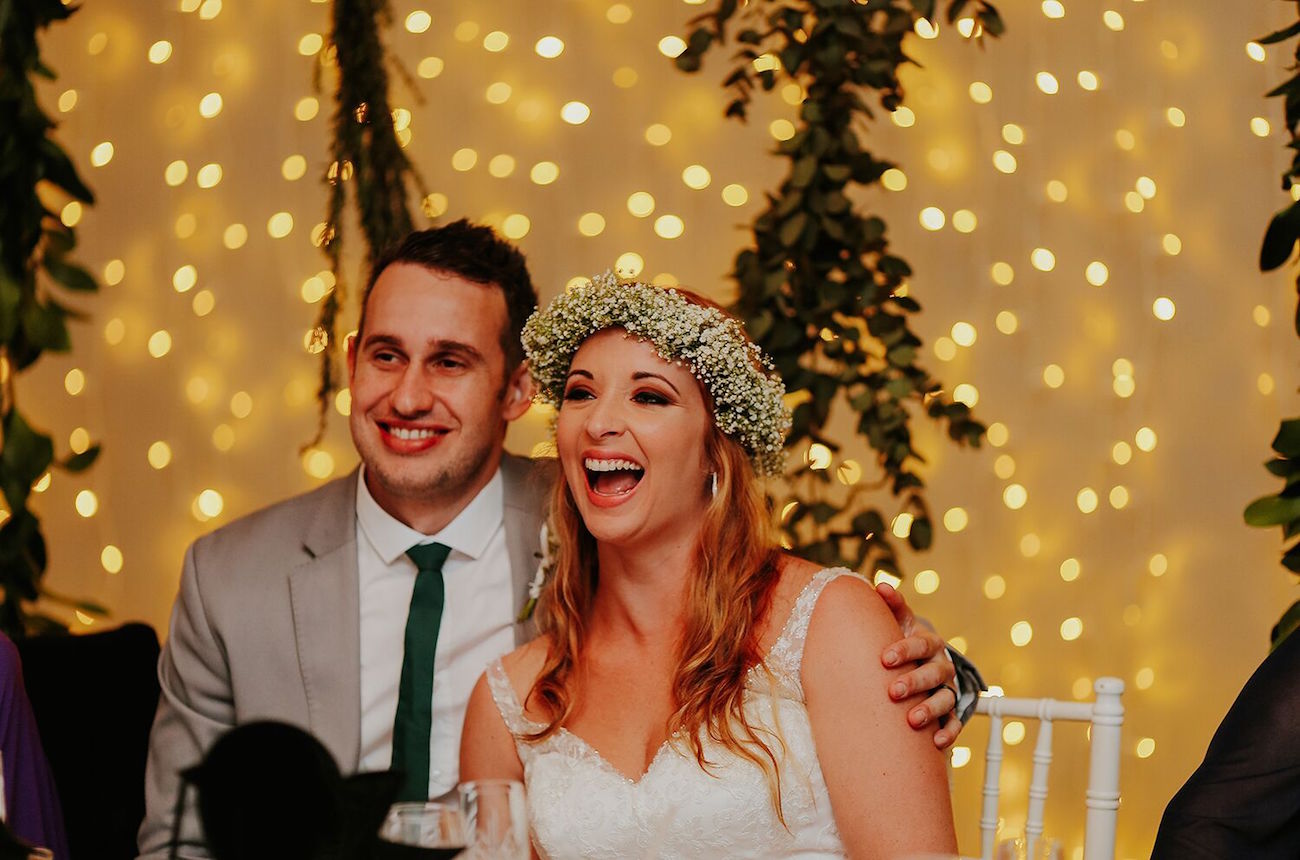 SERVICE PROVIDERS
Venue, catering & floral: Talloula | Photography: Duane Smith Photography | Cake: Louise Silcock | Bride's dress: Bride&co. | Bride's shoes: Holster | Hair & makeup: Tammy Pienaar of PRO Makeup | Bridesmaids' dresses: Made by Joslyn | Groom & groomsmen's attire: Woolworths + Call It Spring + Suit Yourself + Occasions | DJ: DJ Grant Rust from GBM Productions
Save