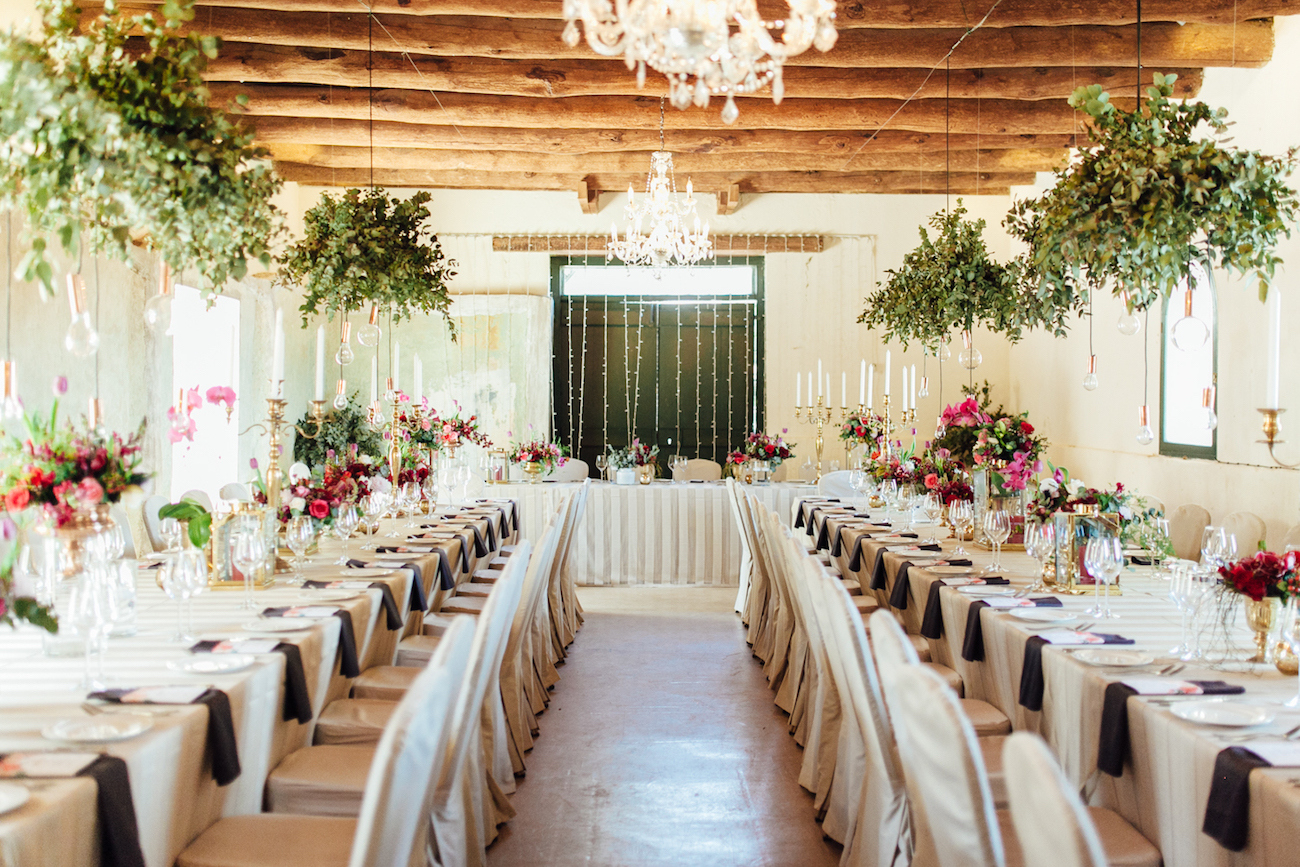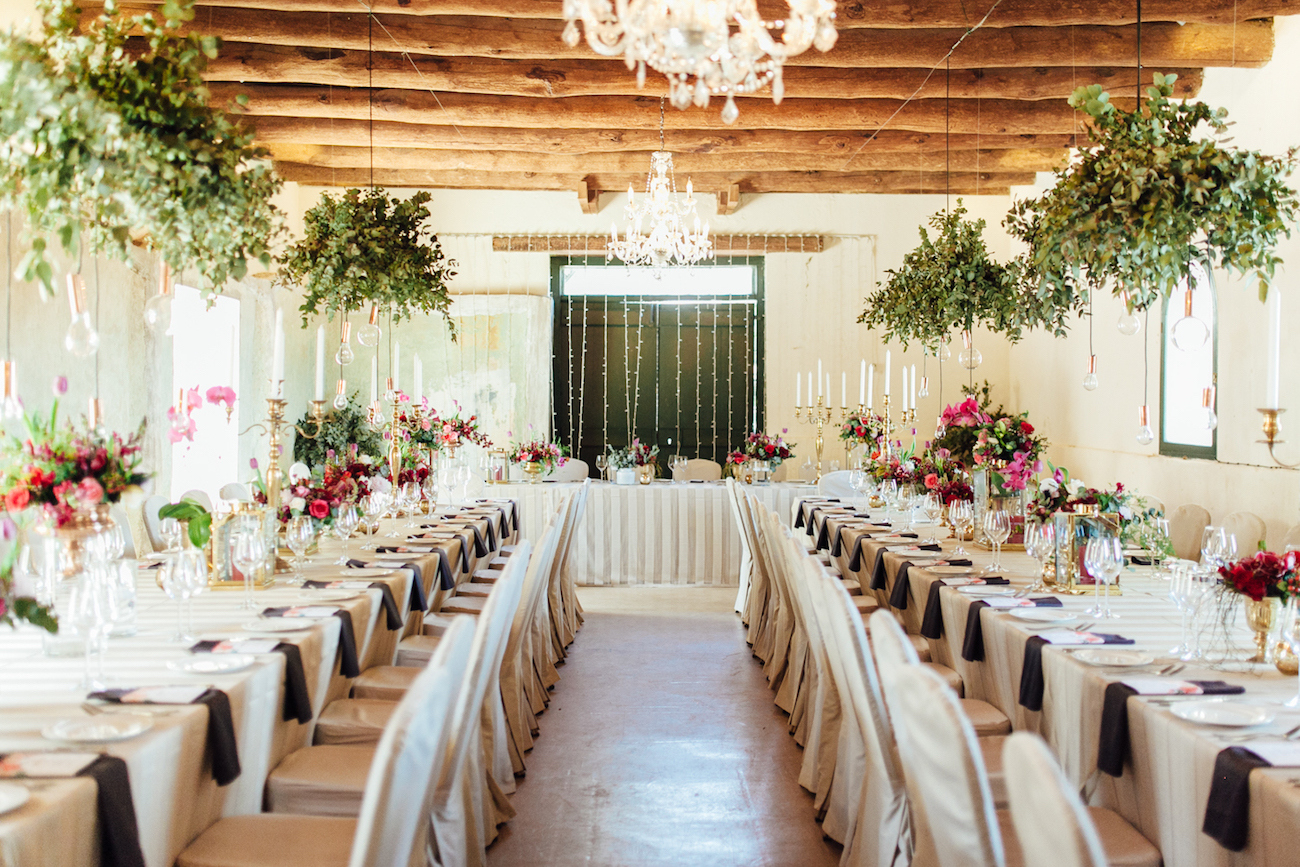 You know, I've spent a lot of the last couple of weeks talking about wedding trends, and although I adore the whole greenery thing that's going on at the moment (because what's not to love about foliage?), I just don't see flowers going anywhere for so many couples this year – or any year. You just have to look at the bright blooms in Stephanie and Tiaan's spectacular wedding (which also has plenty of pretty greenery, thank you very much) to see why. Bright blooms in vintagey vases, overflowing organic bouquets, even floral print stationery (so pretty!). I love how this wedding comes together in a range of gorgeous shades, but I especially love how over the moon happy the bride and groom are on this special day, and all the smiles on the faces of their wedding party and guests. Now that's a trend that never goes out of fashion. Our fave, Nadine Aucamp, took these absolutely beautiful pics!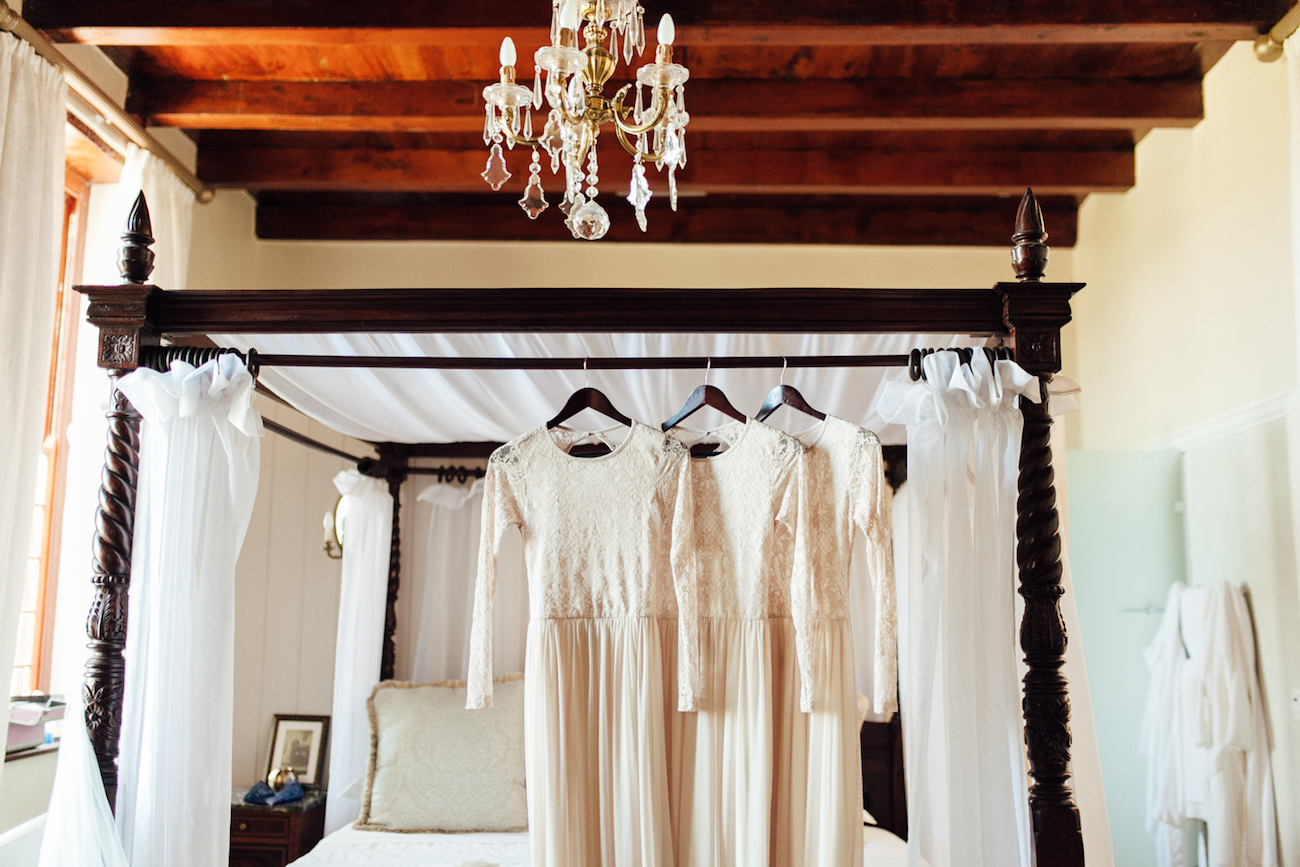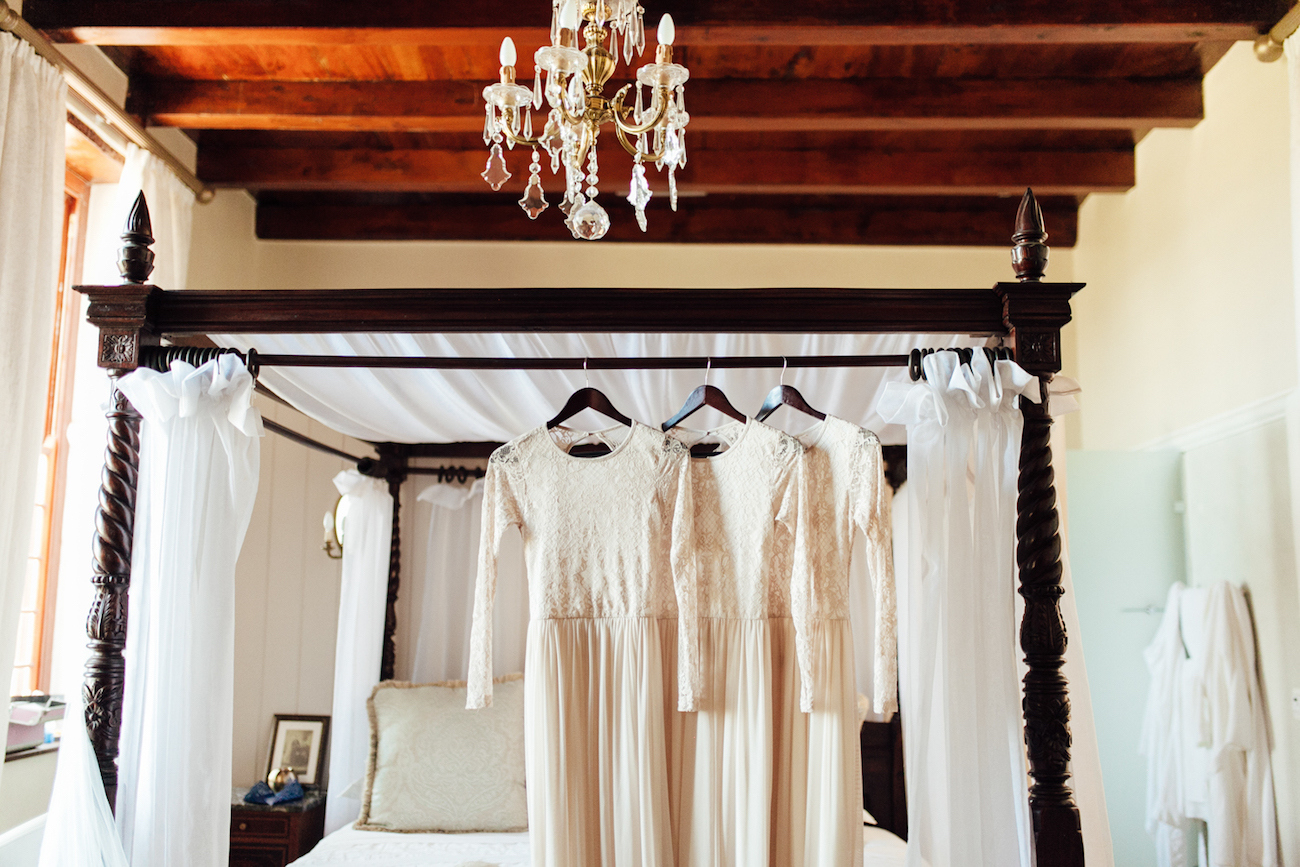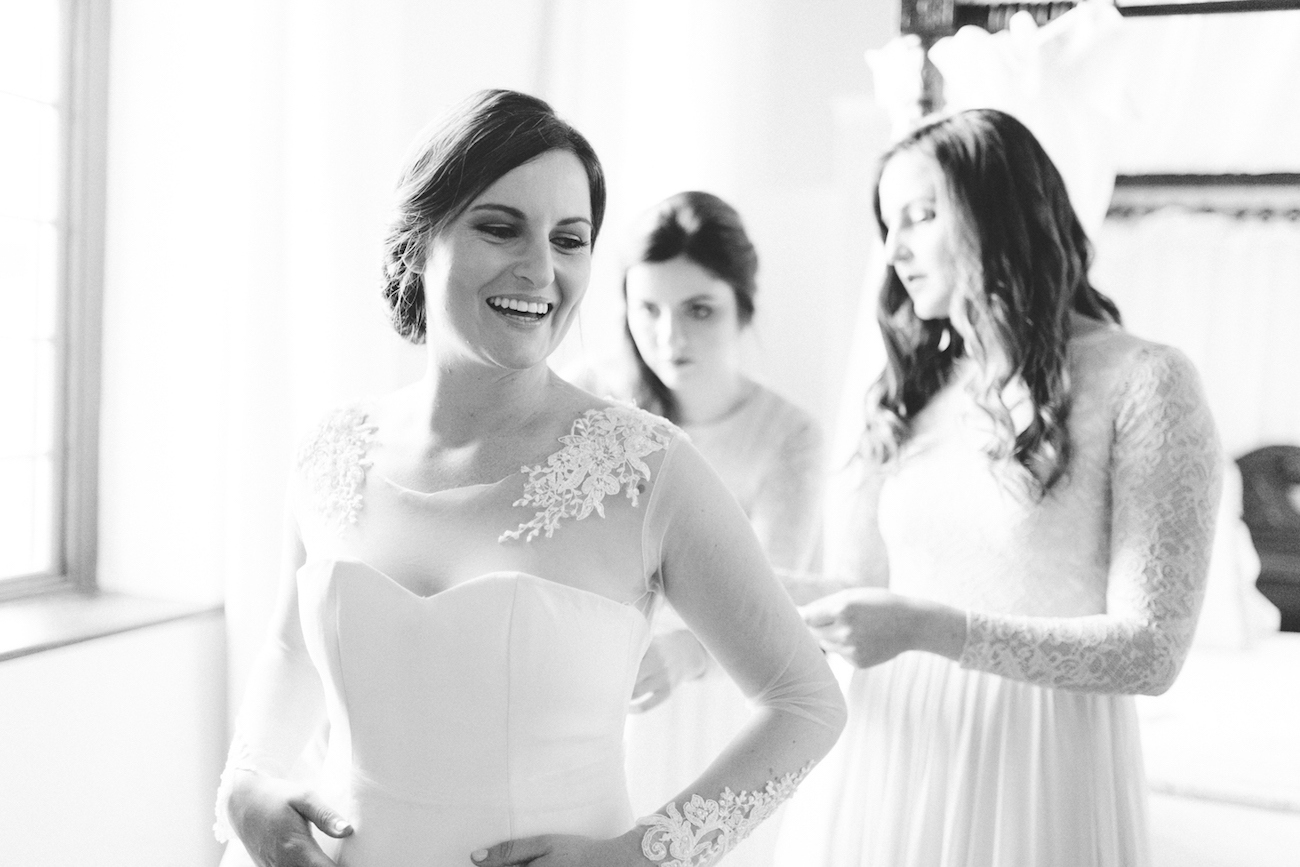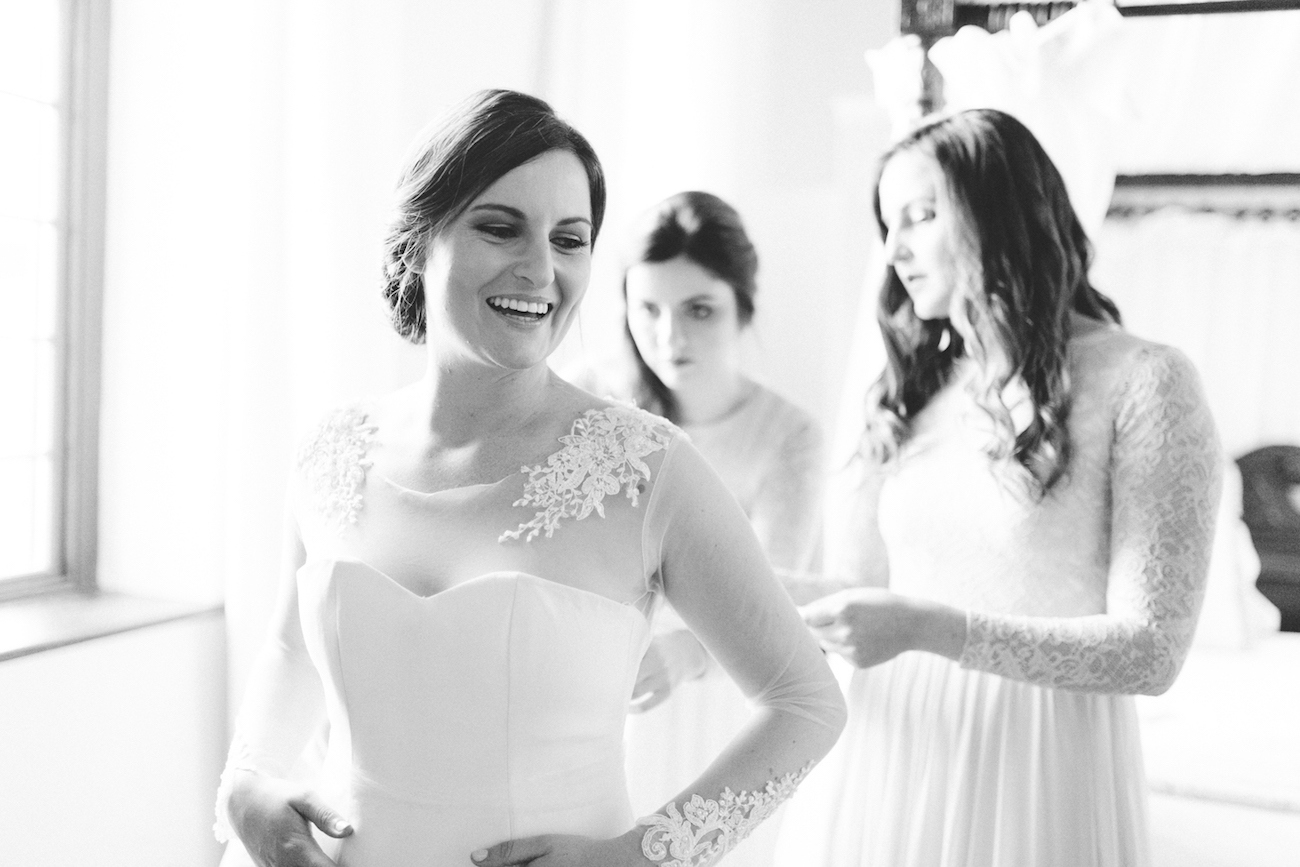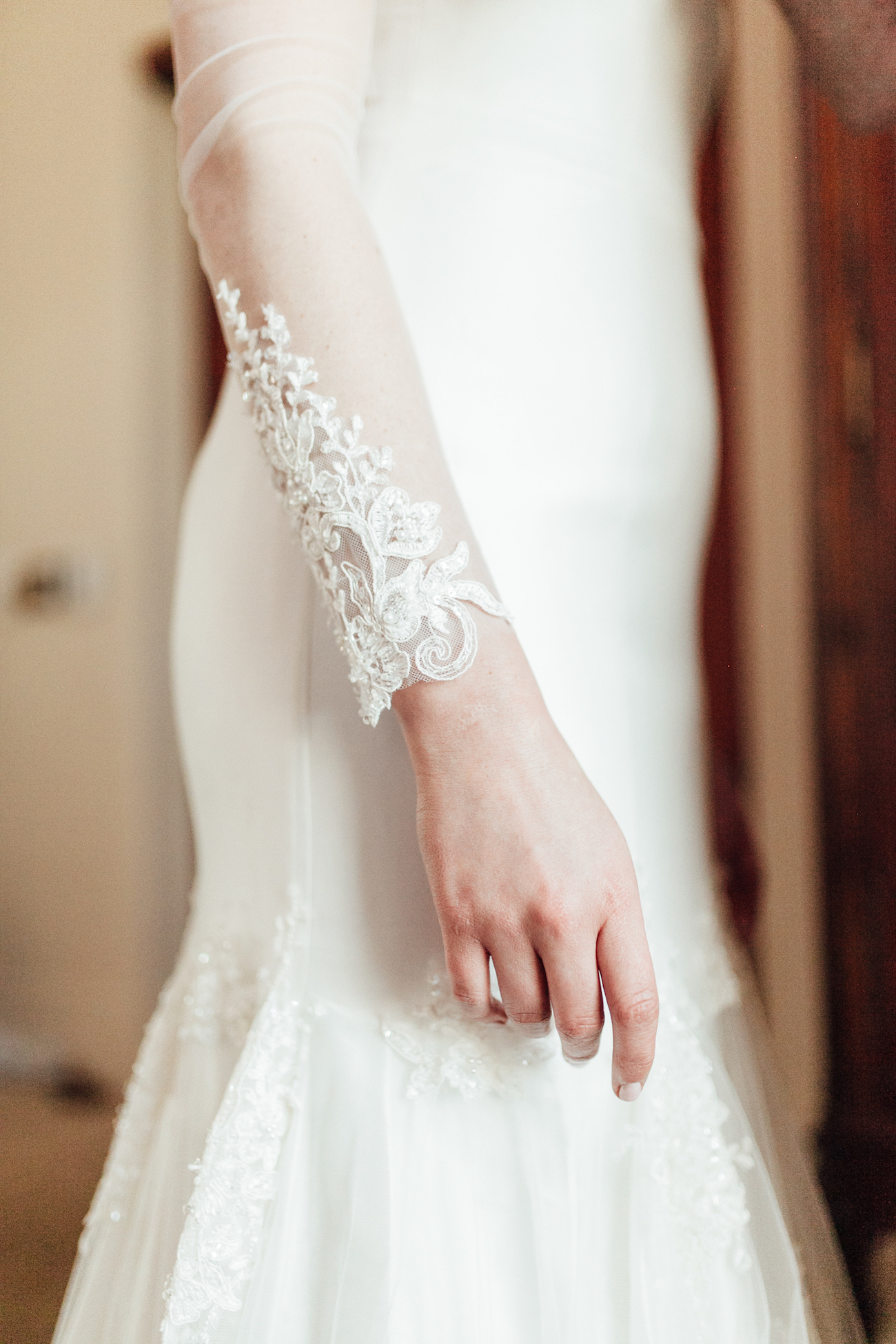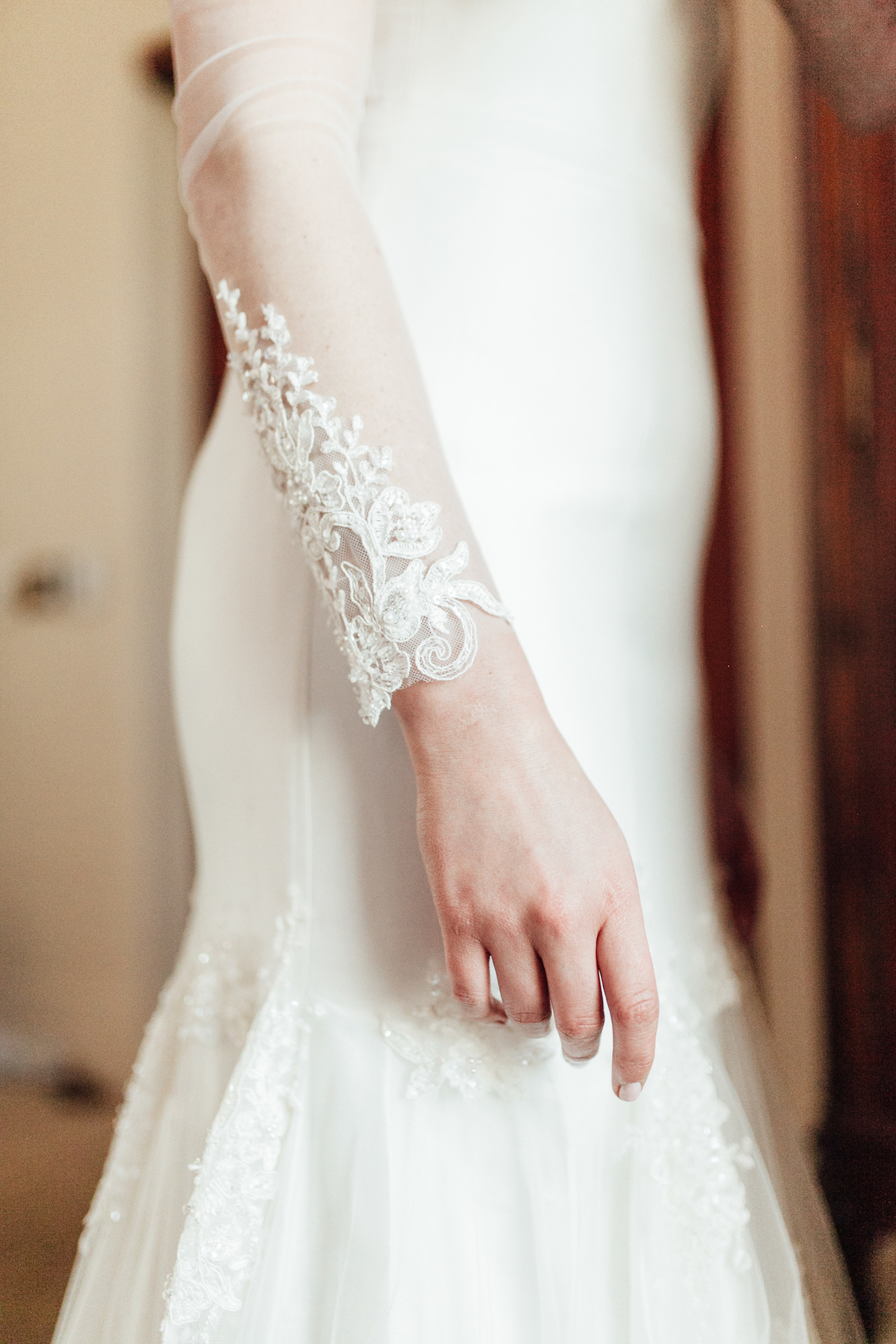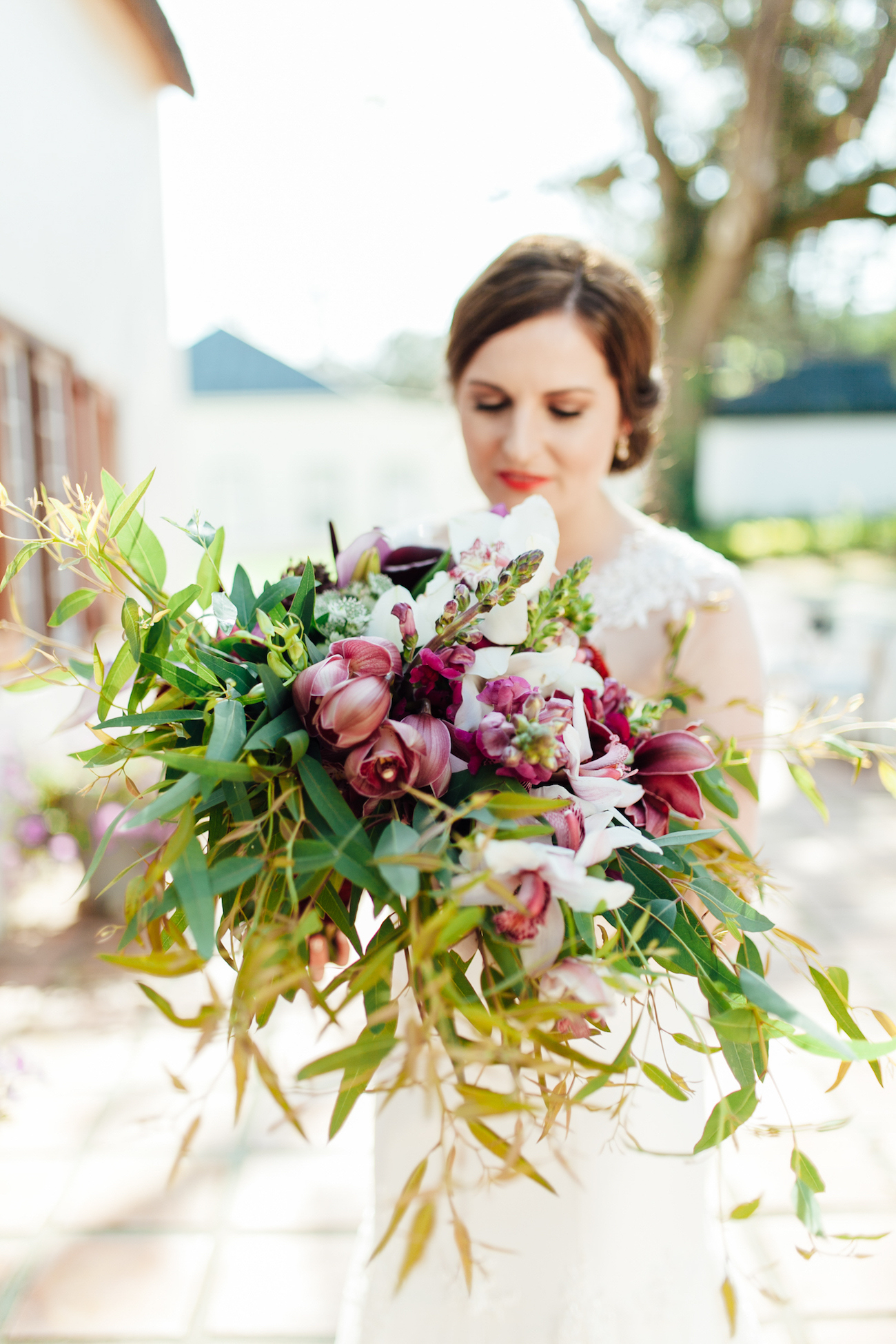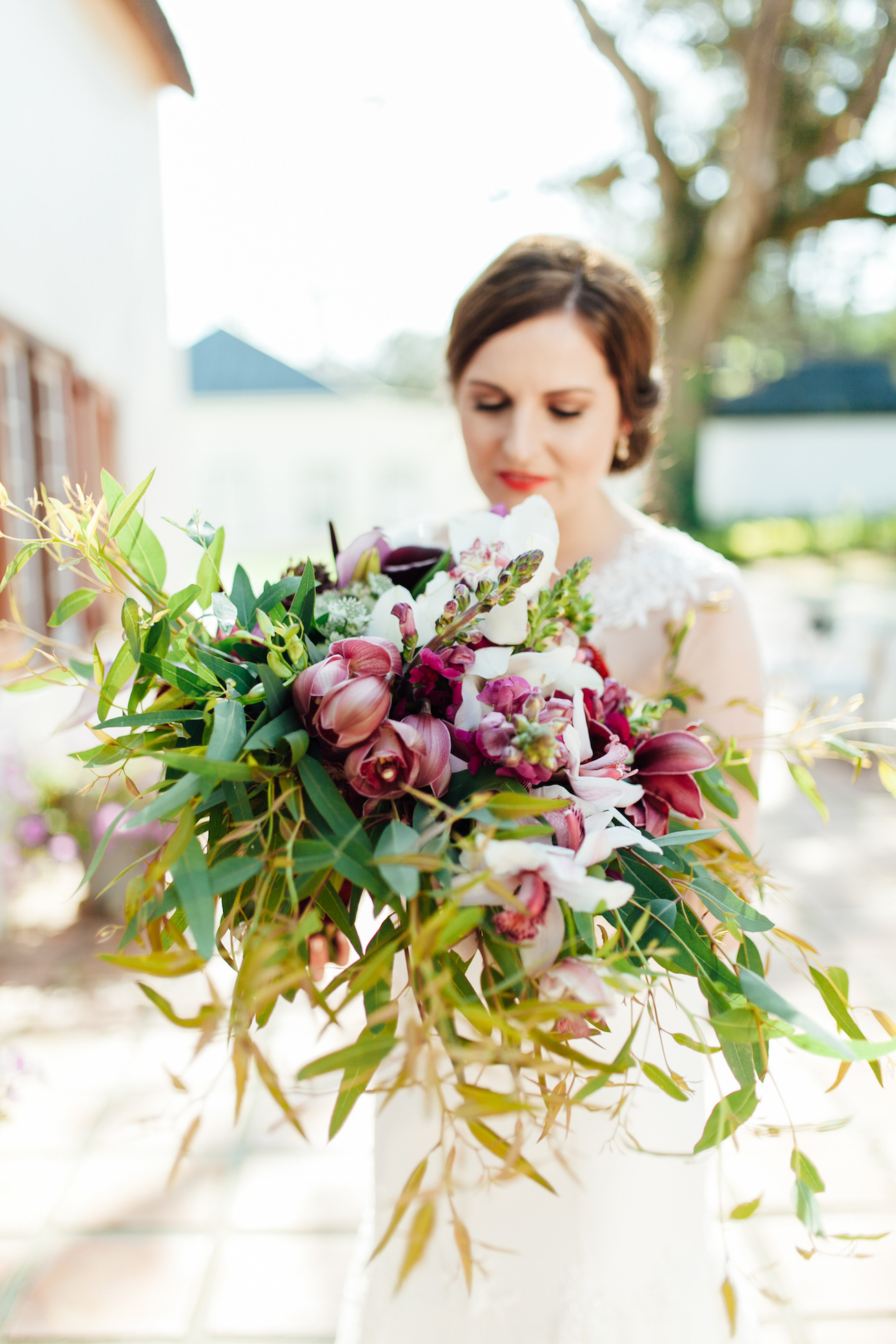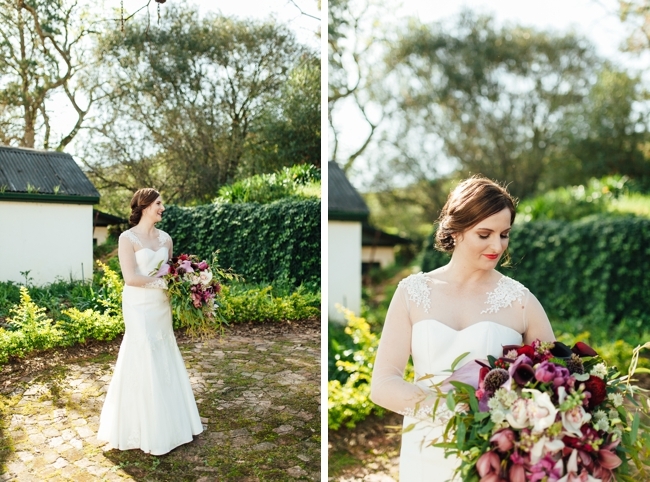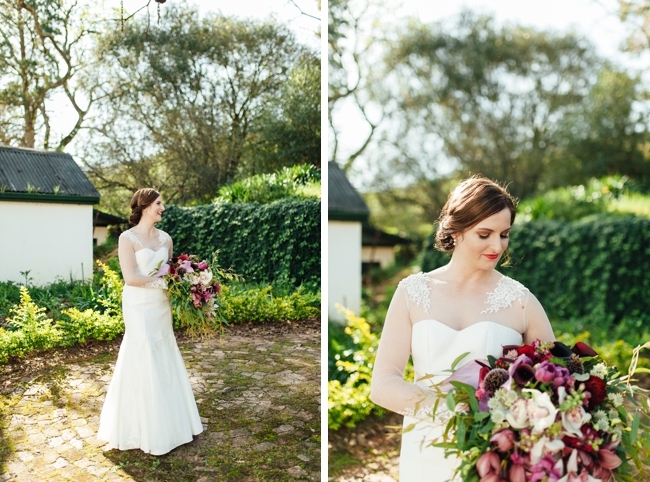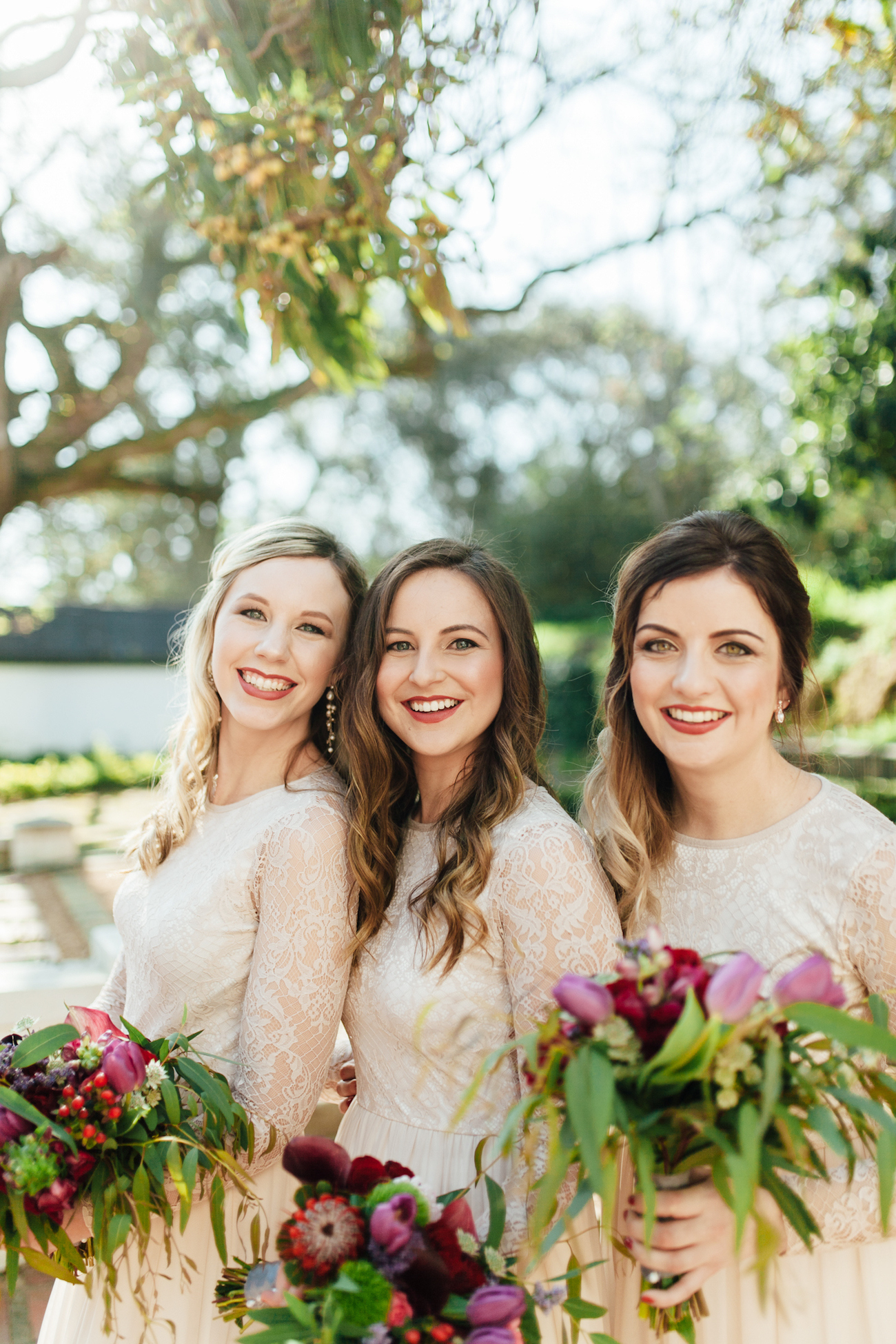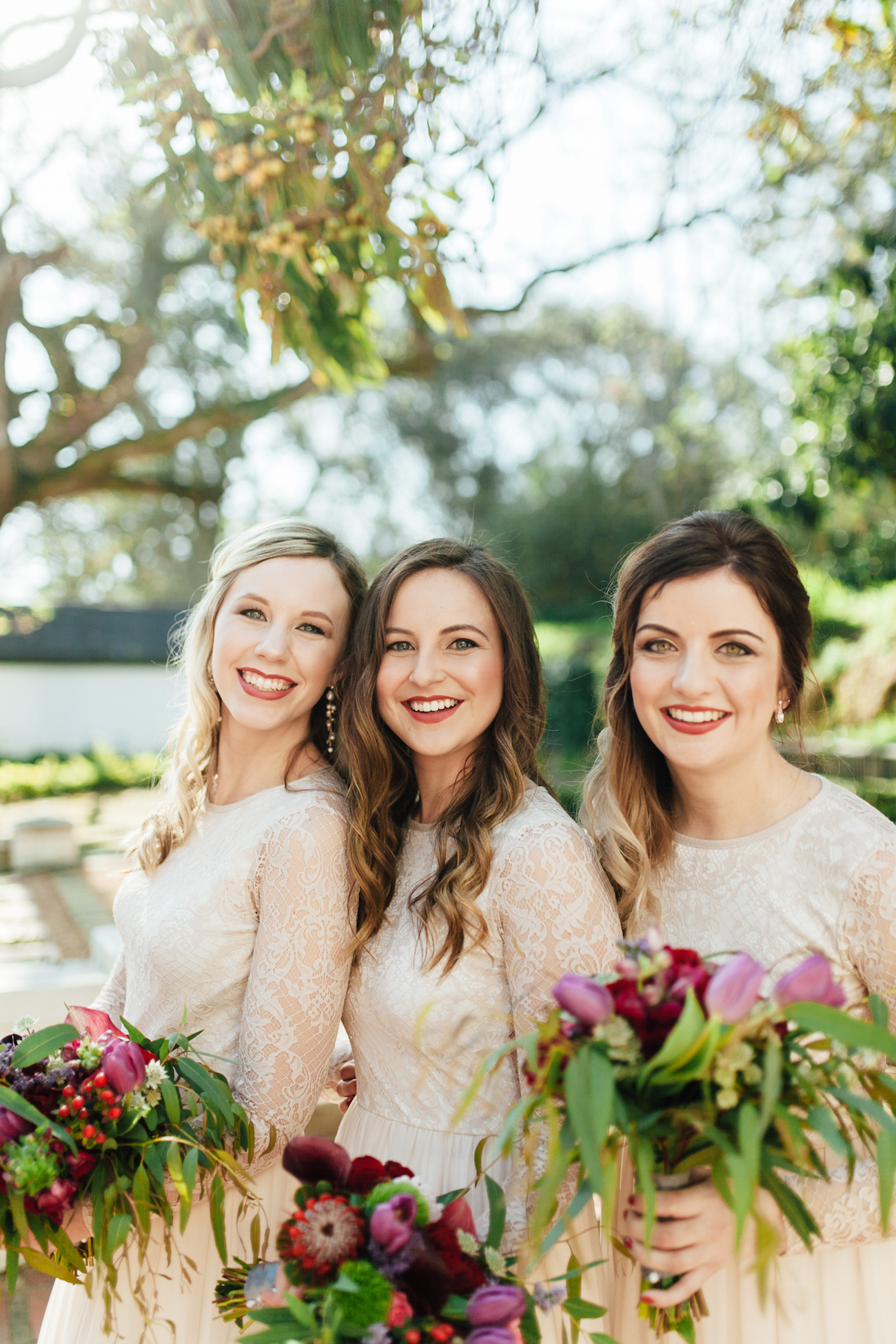 Love Story
Our love story is a testimony to God's perfect timing, favour and unconditional love. Tiaan and I met in varsity – our residences "jooled' together. We were aware of each other, loved dancing together, but the romantic in Tiaan killed it with a poem – much too serious for a first year. Years passed, life happened and I was on the verge of marrying someone else (no hard feelings here – everything worked out perfectly fine for both parties – a great blessing). We briefly saw each other on few occasions. Being allergic to the male species in general at that time of my life, Tiaan lavished me with his thoughtfulness, wining and dining with friends and we started texting and having long conversations over the phone. My birthday is in December and the day before, he decided to suprise me, driving from Williston (Karoo "boytjie") to Struisbay, just to have to drive back on the following day. At New Year's, he made another exception and drove to see me yet again, just so we could have our first New Year's kiss. A month passed, there were a few bunches of flowers, and then he asked me out during church, writing in my bible under Zephaniah 3:17. I couldn't resist and with a peaceful heart I said yes.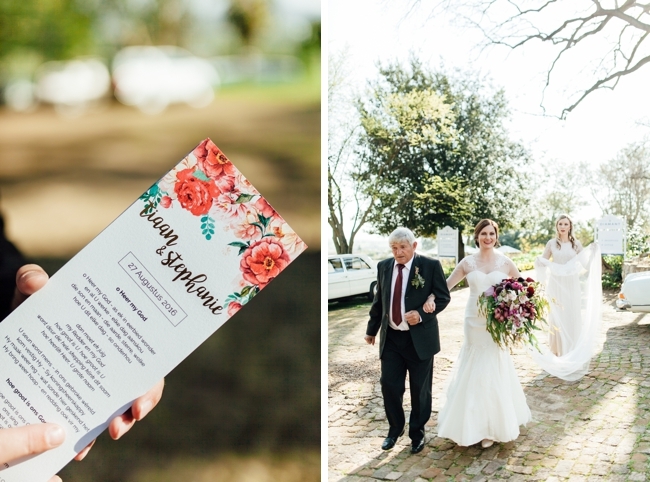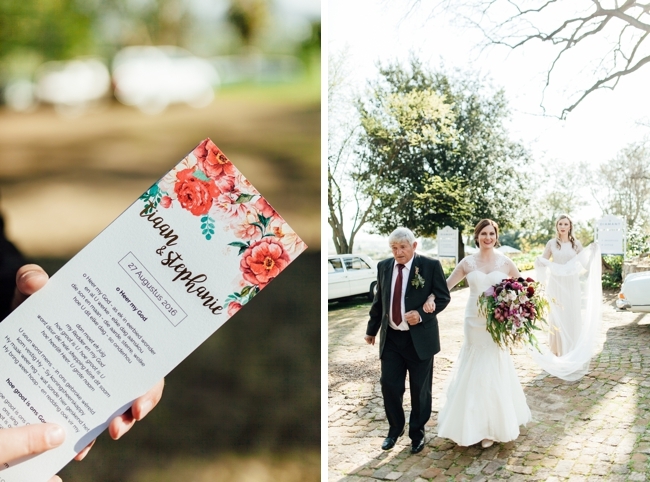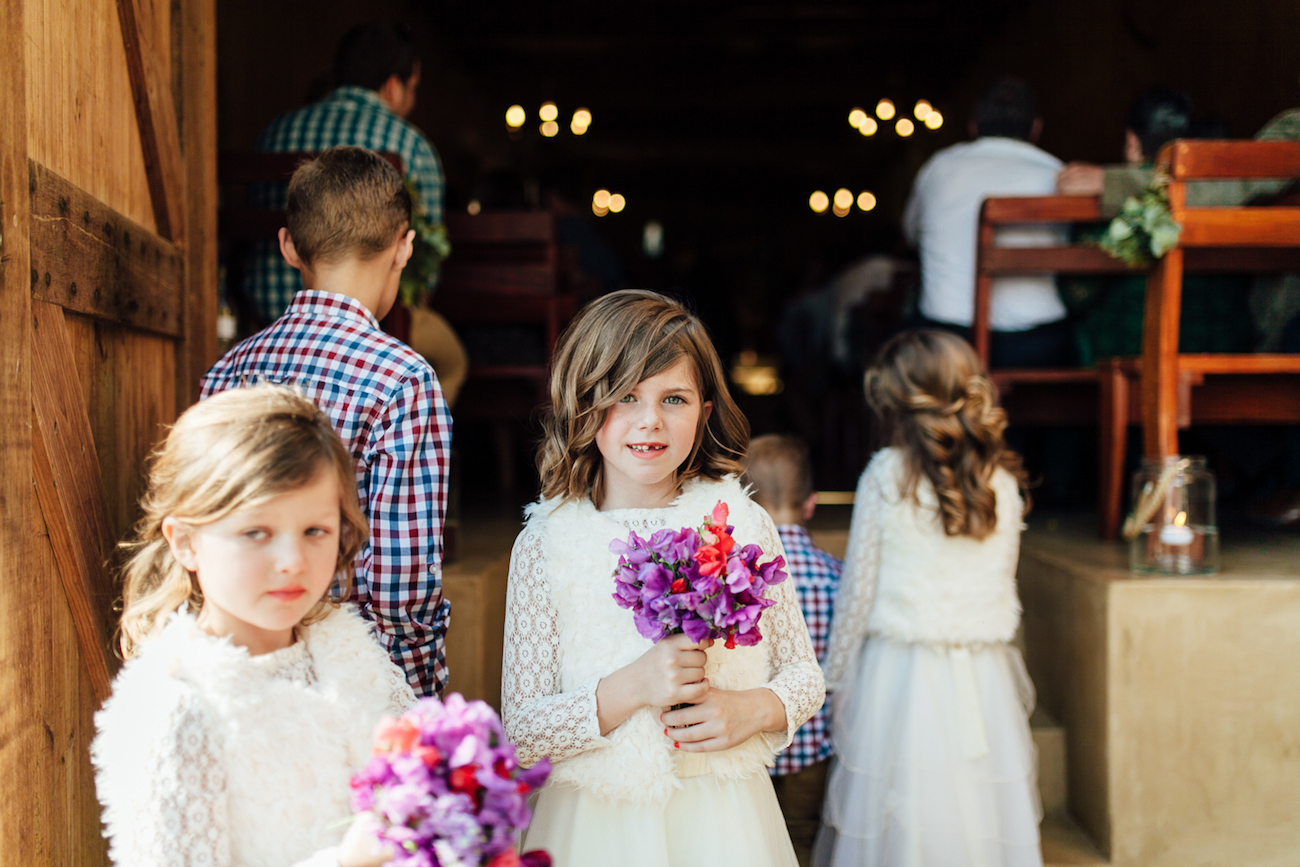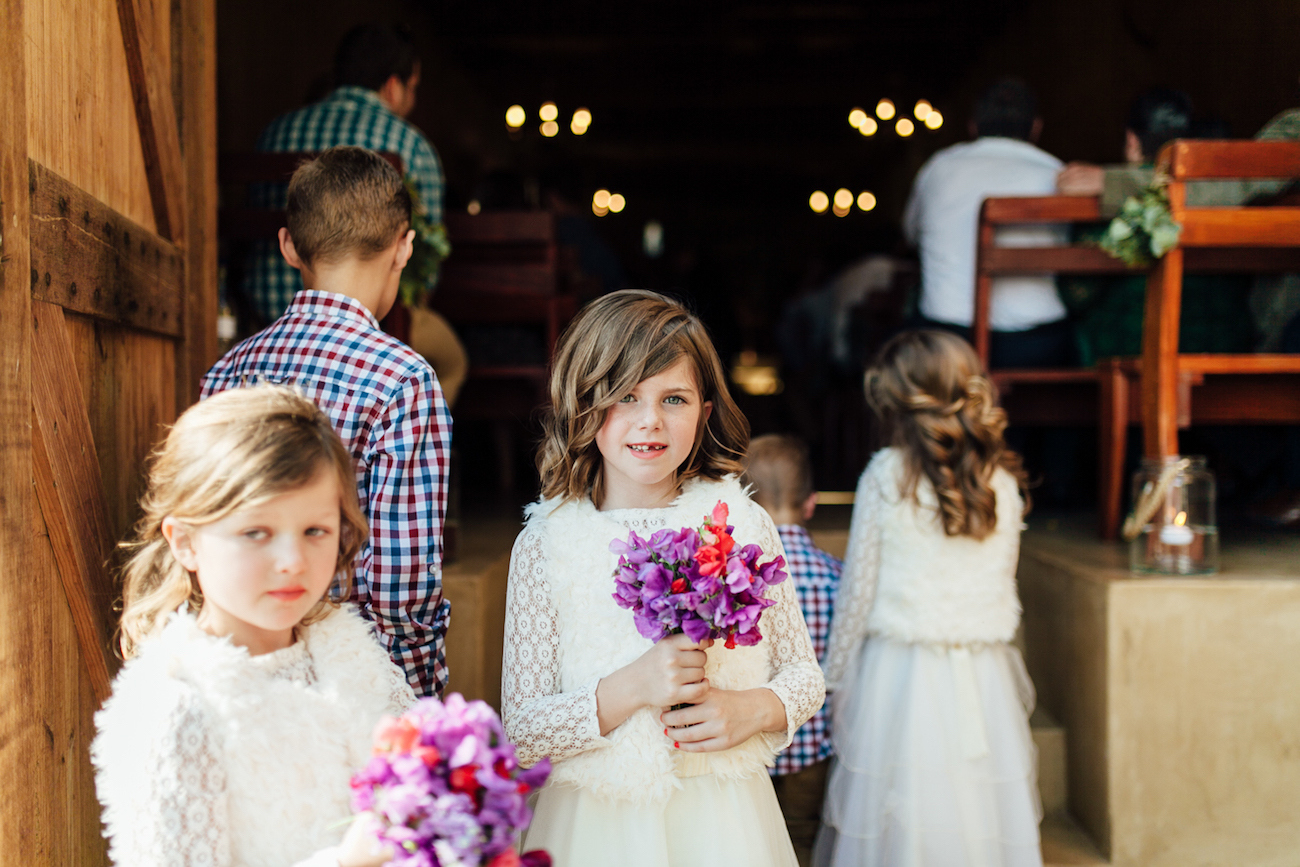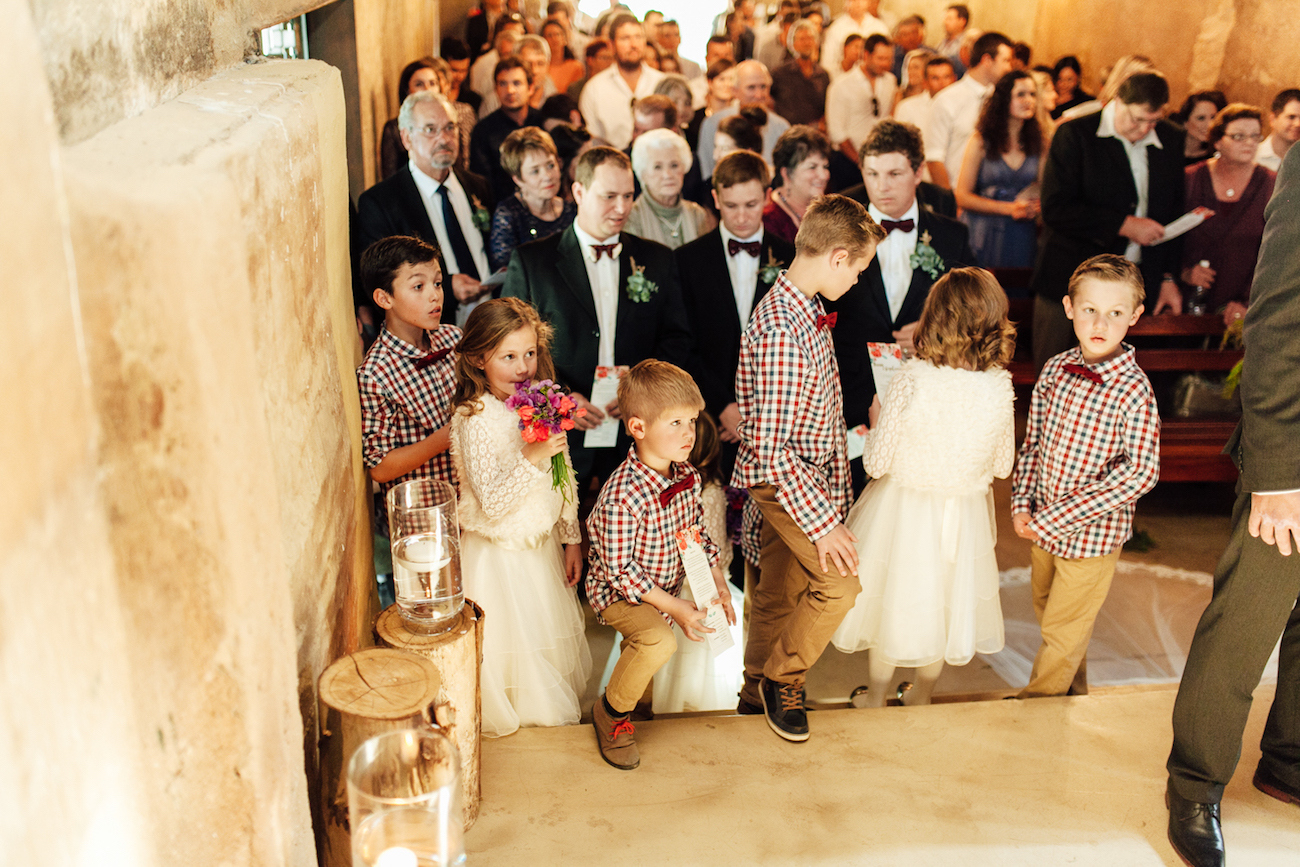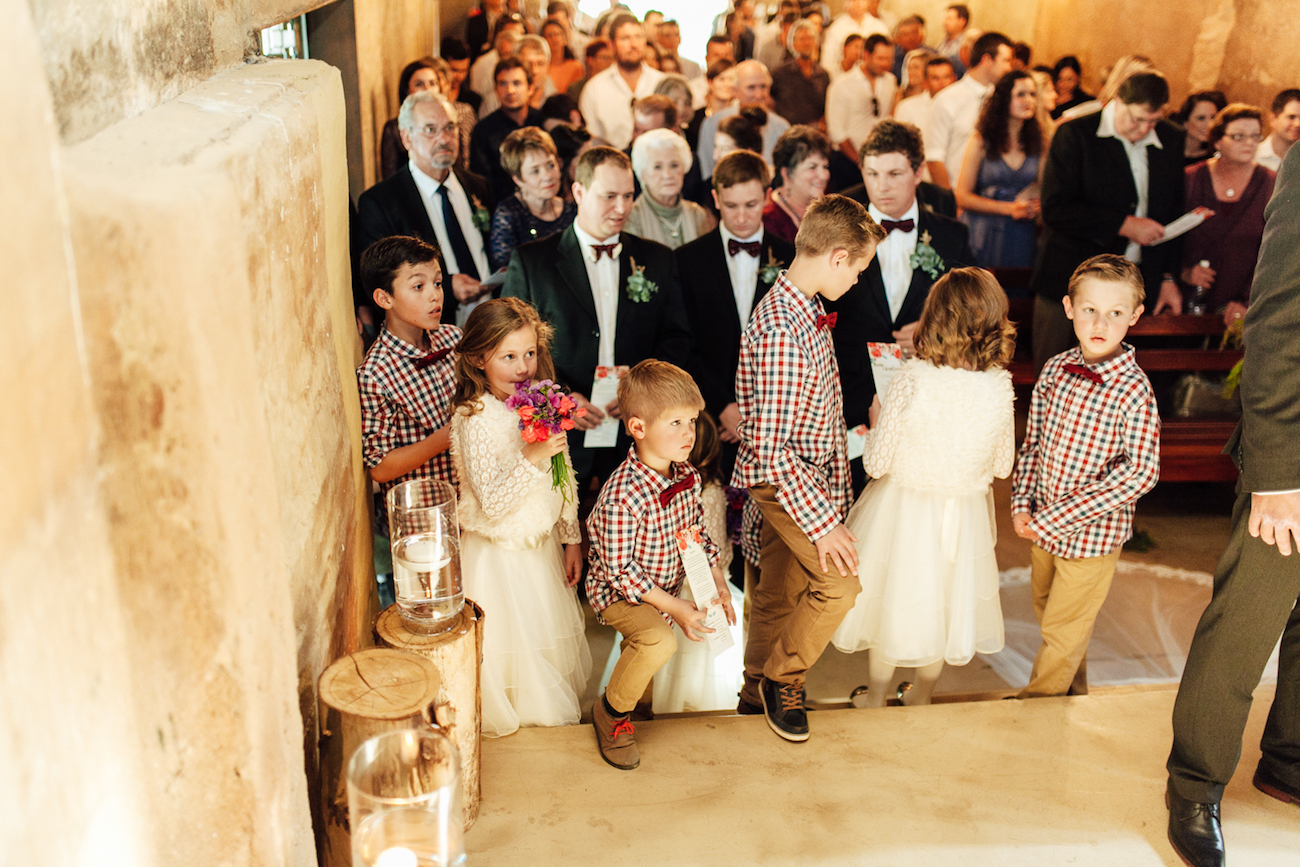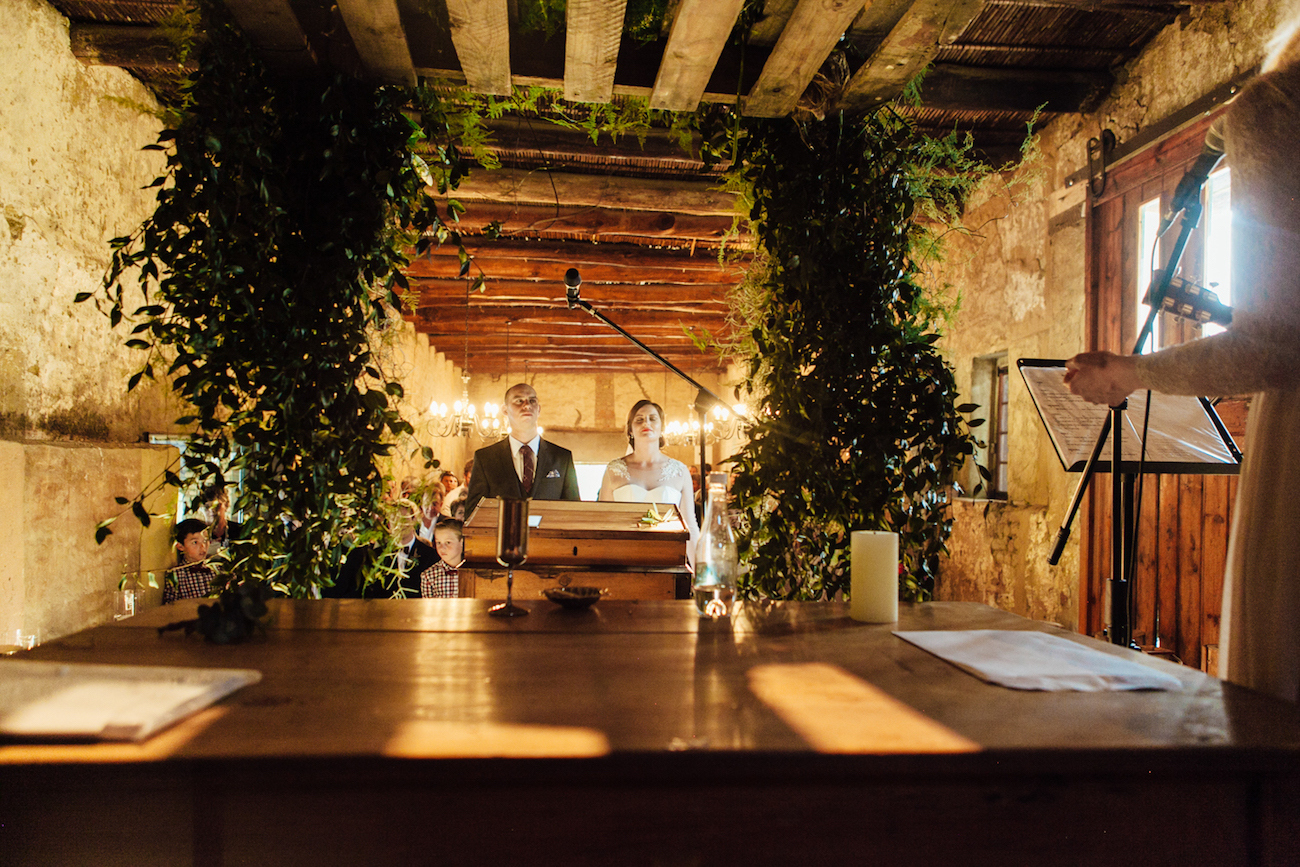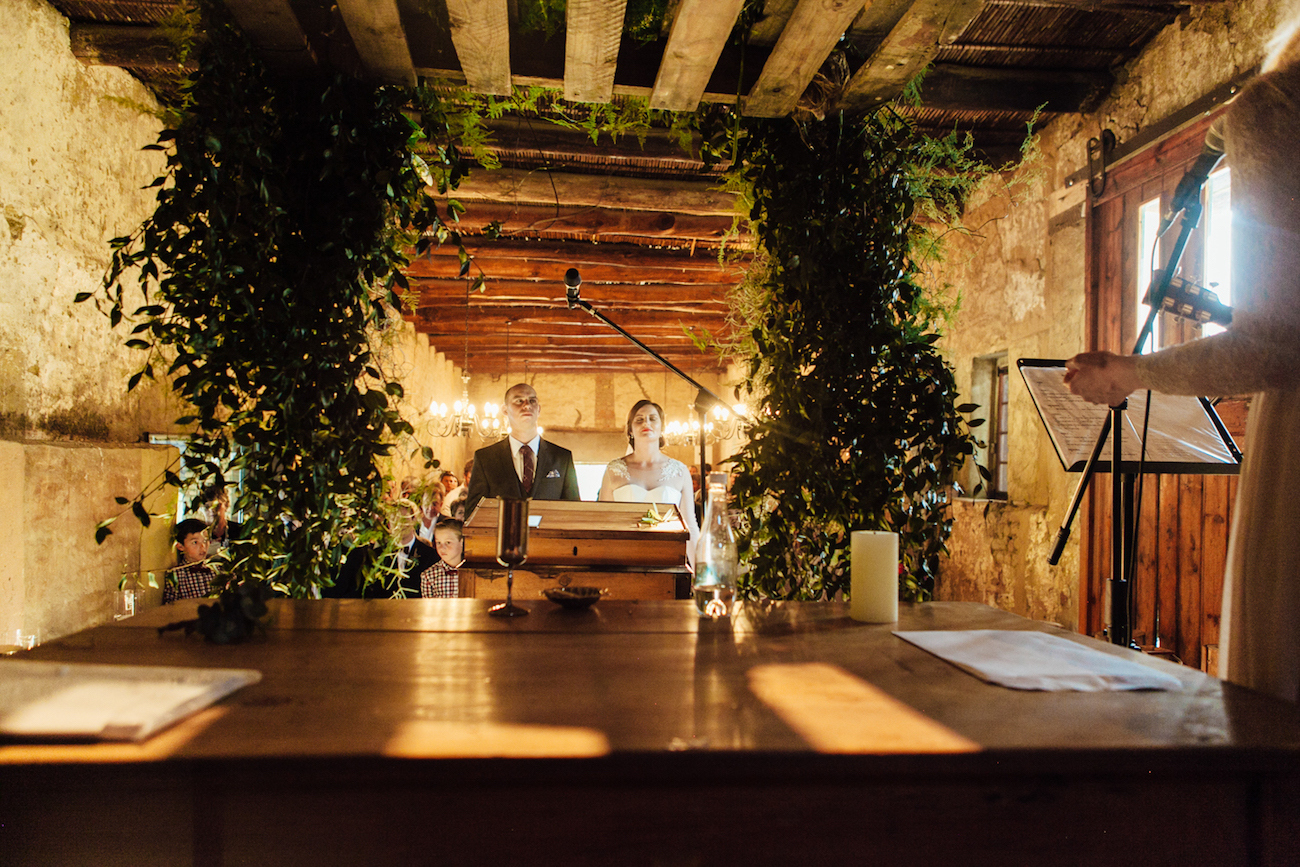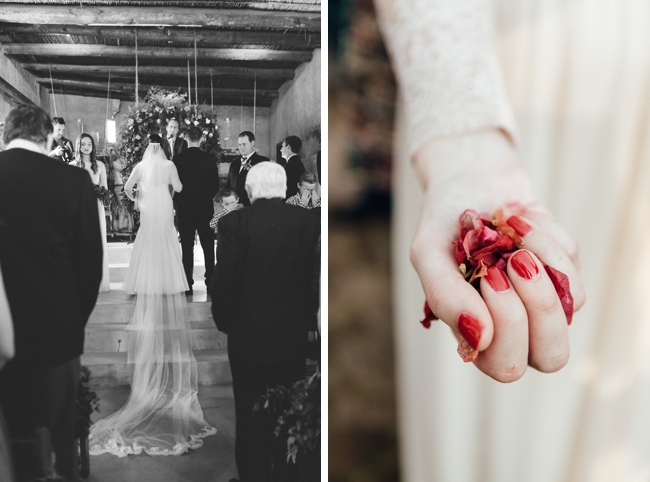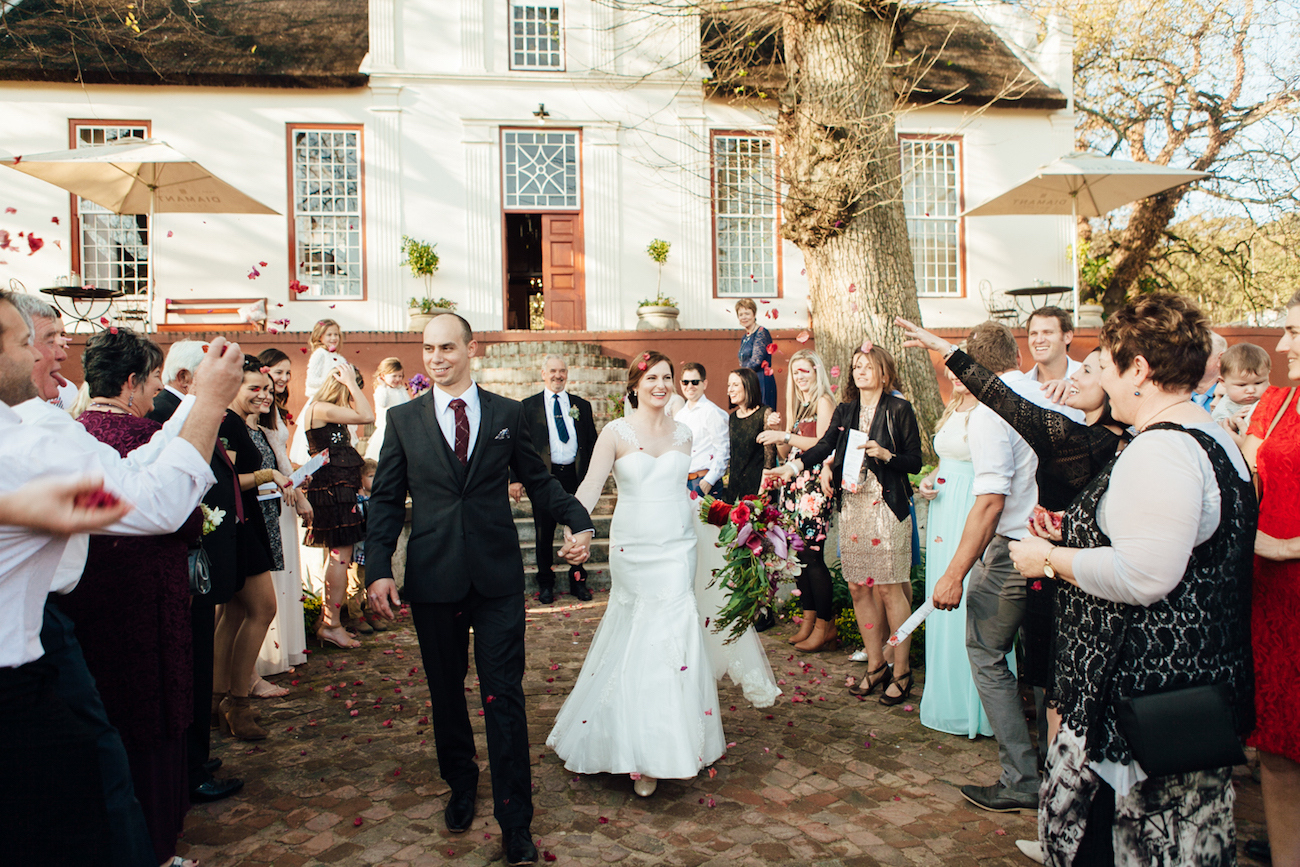 The Proposal
After a week in Struisbay with the whole family, Tiaan insisted we go by our farm (a place close to both of our hearts). I did not expect anything as he usually wanted to go through the fields and check everything. There is a lookout and he stopped and told me that he had a suprise. He normally has a lot of surprises up his sleeve, so I still did not expect anything. He gave me a new bible, and on the front page he had written that it was our bible for future use, and started to read about what love is in 1 Corinthians. Then he dropped down to one knee and proposed!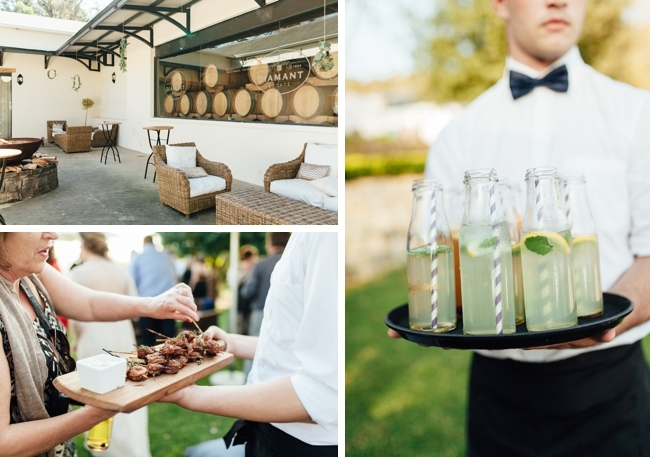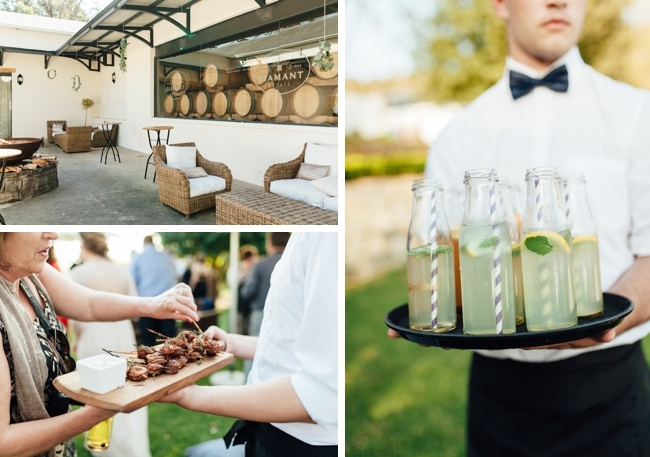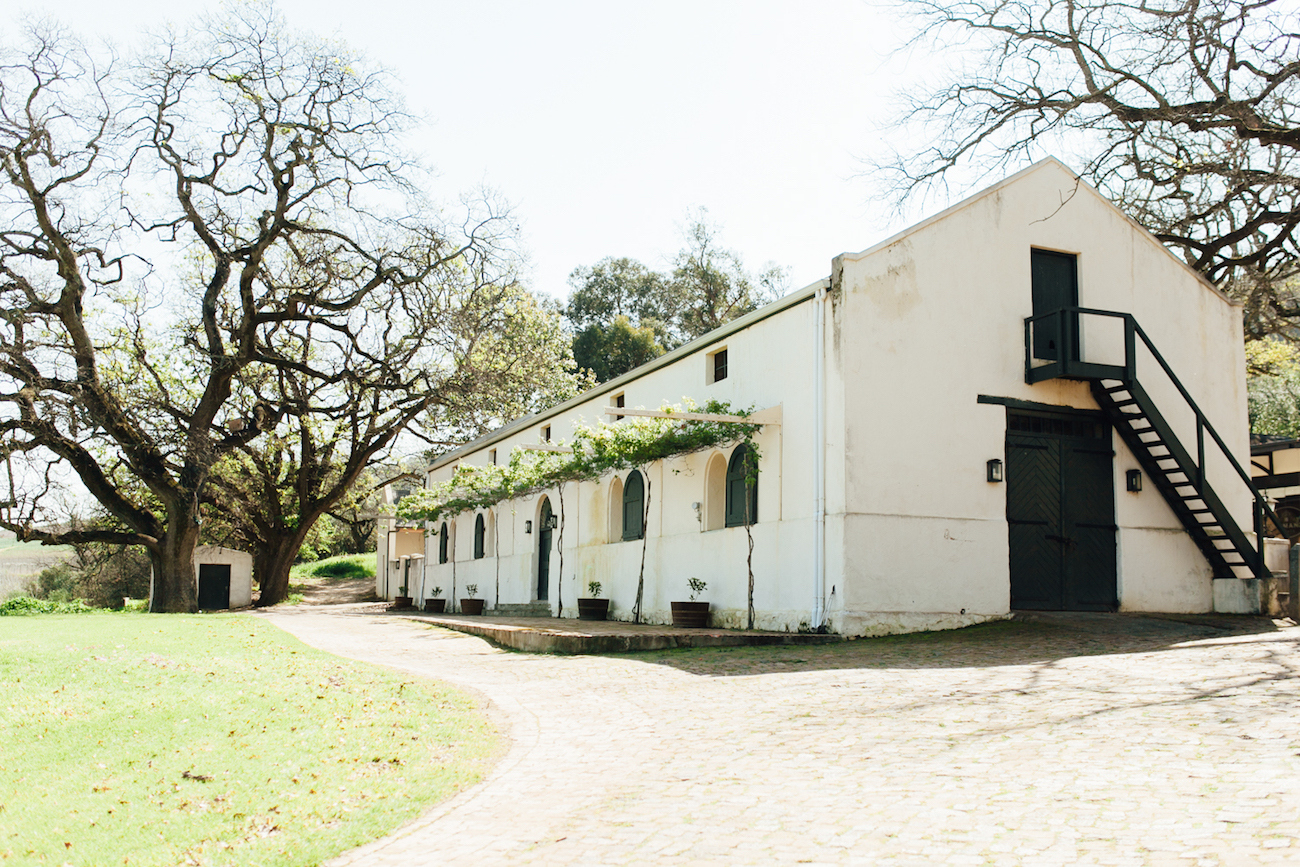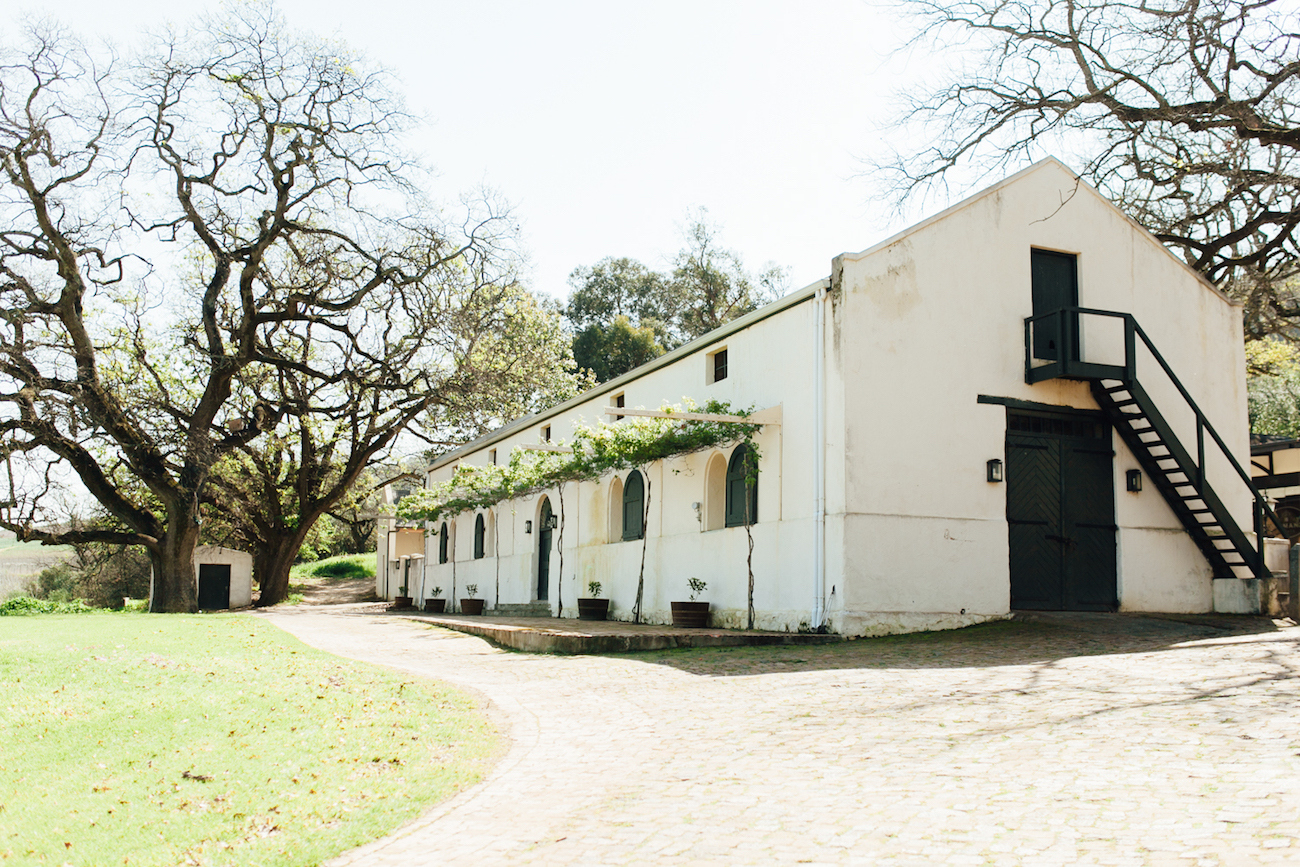 The Venue
My sister's husband is in charge of Diamant Estate – and is also an excellent chef! We secretly pre-booked our date even before we were engaged. We fell in love with the historic feel, beautiful cozy chapel and crazy stunning views. Being just around the corner, it also helped with the pre-wedding craziness.
Wedding Style
I honestly don't know how everything came together so perfectly. Maybe my personal experience, helping a friend with her wedding – I loved her colour scheme! Being totally indecisive, I decided that once I liked something, I would stick to it no matter what. The gold trend with a rich marsala feel was my inspiration. I wanted a lot of flowers, and Berena Malherbe absolutely understood my vision even better than I did! She took over the table decorations and I was just in awe of her talent, kind heart and a "teetjie" with every session. All glory to God, the ultimate wedding planner that gave me the perfect service providers. We were also blessed with the best videographer. Pieter Seyffert of White Jasmine Films captured our wedding perfectly.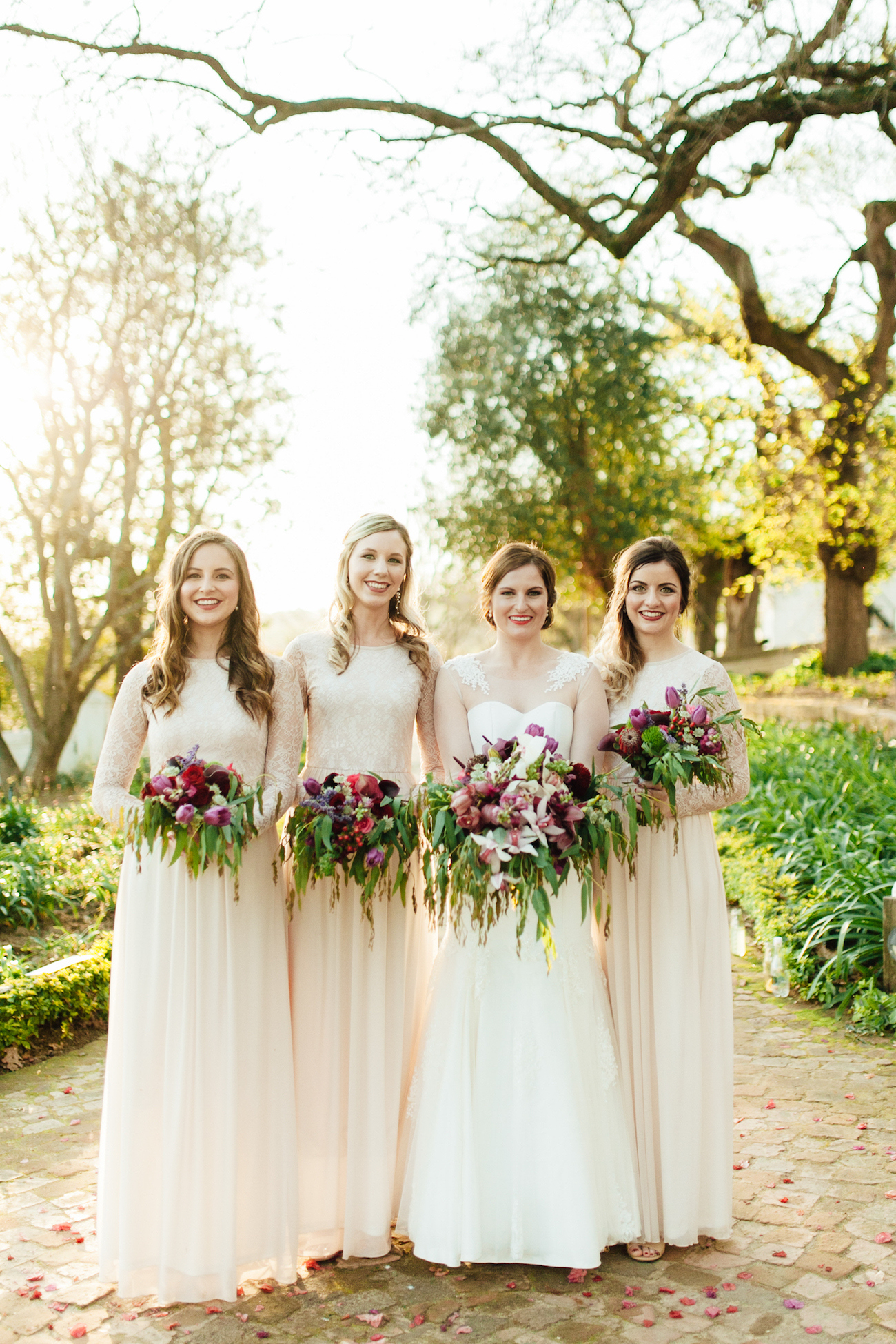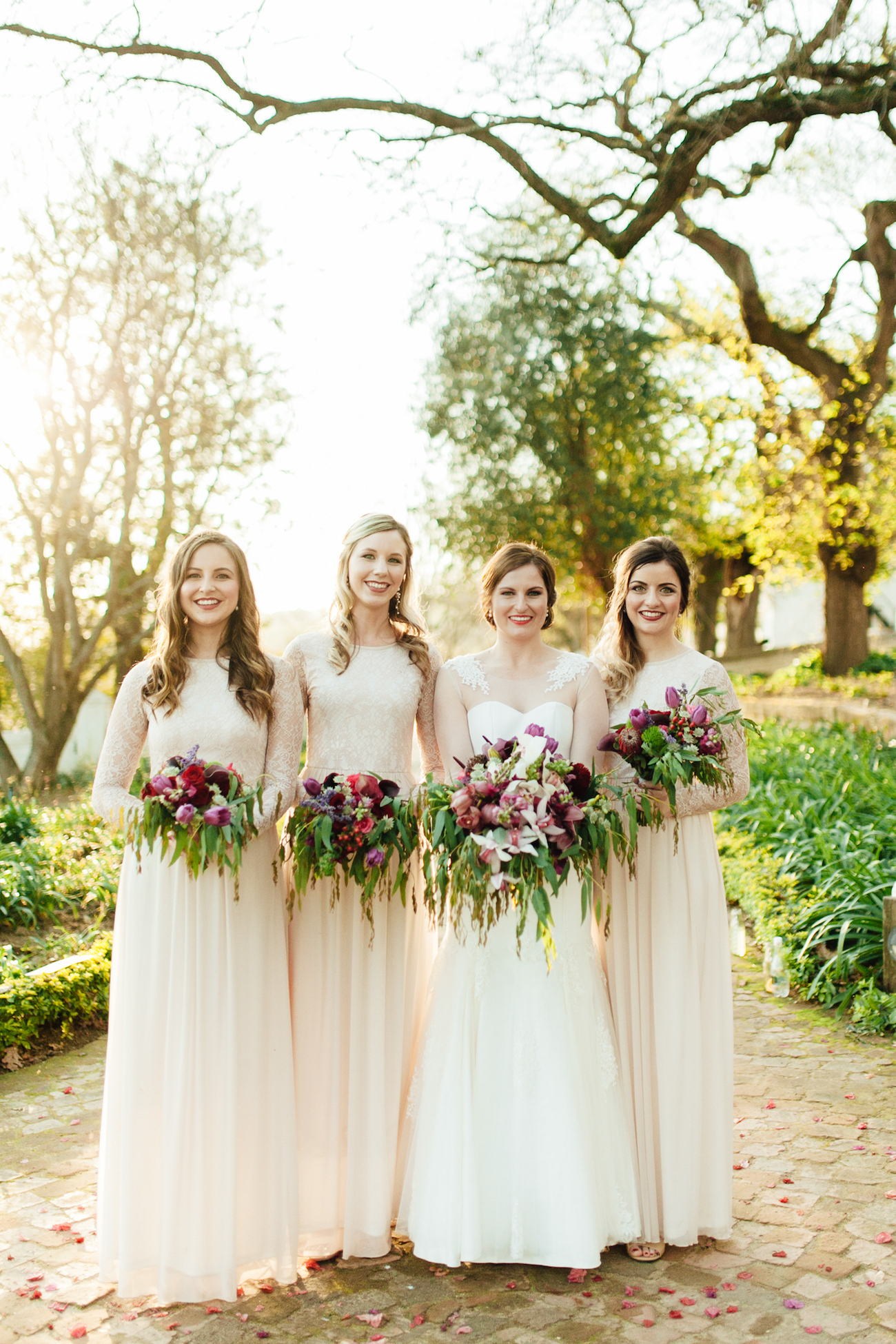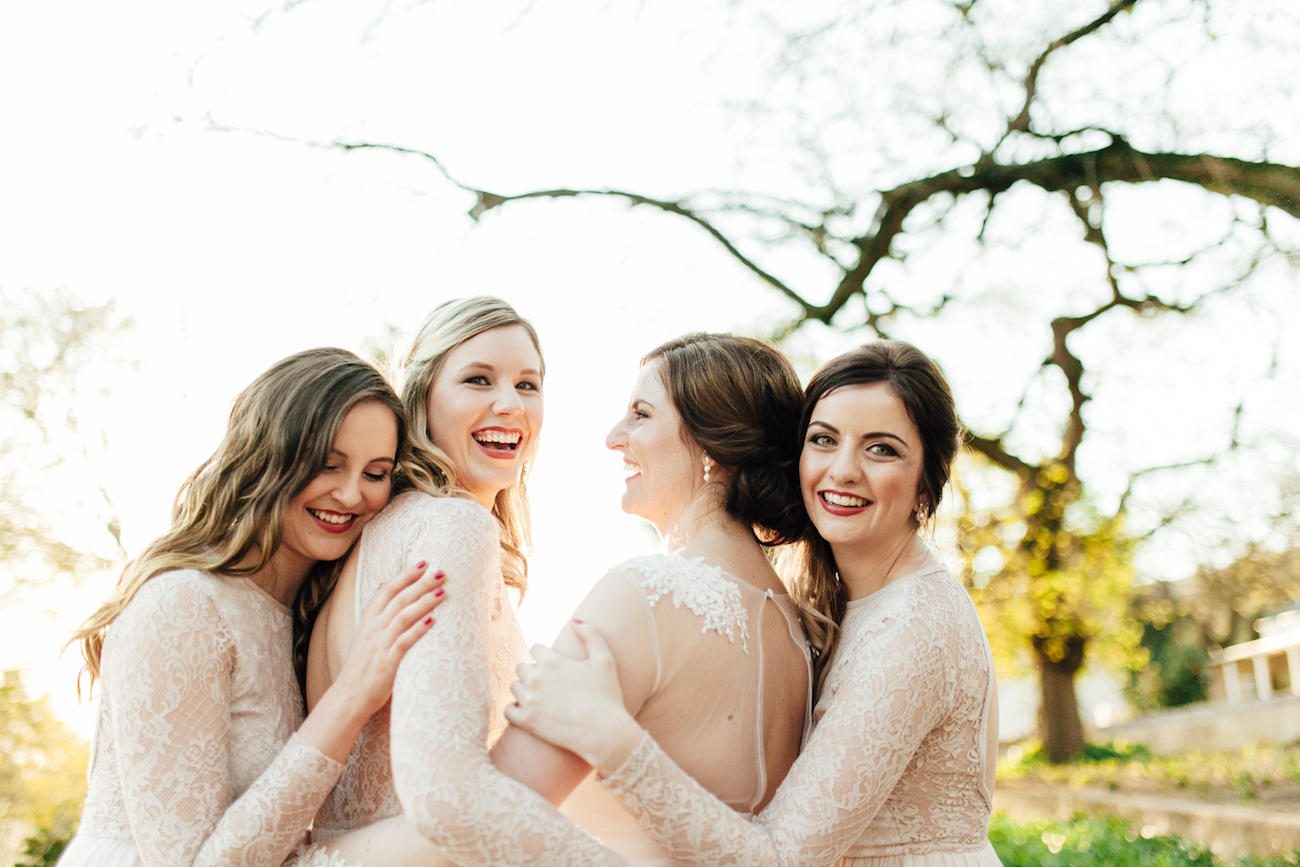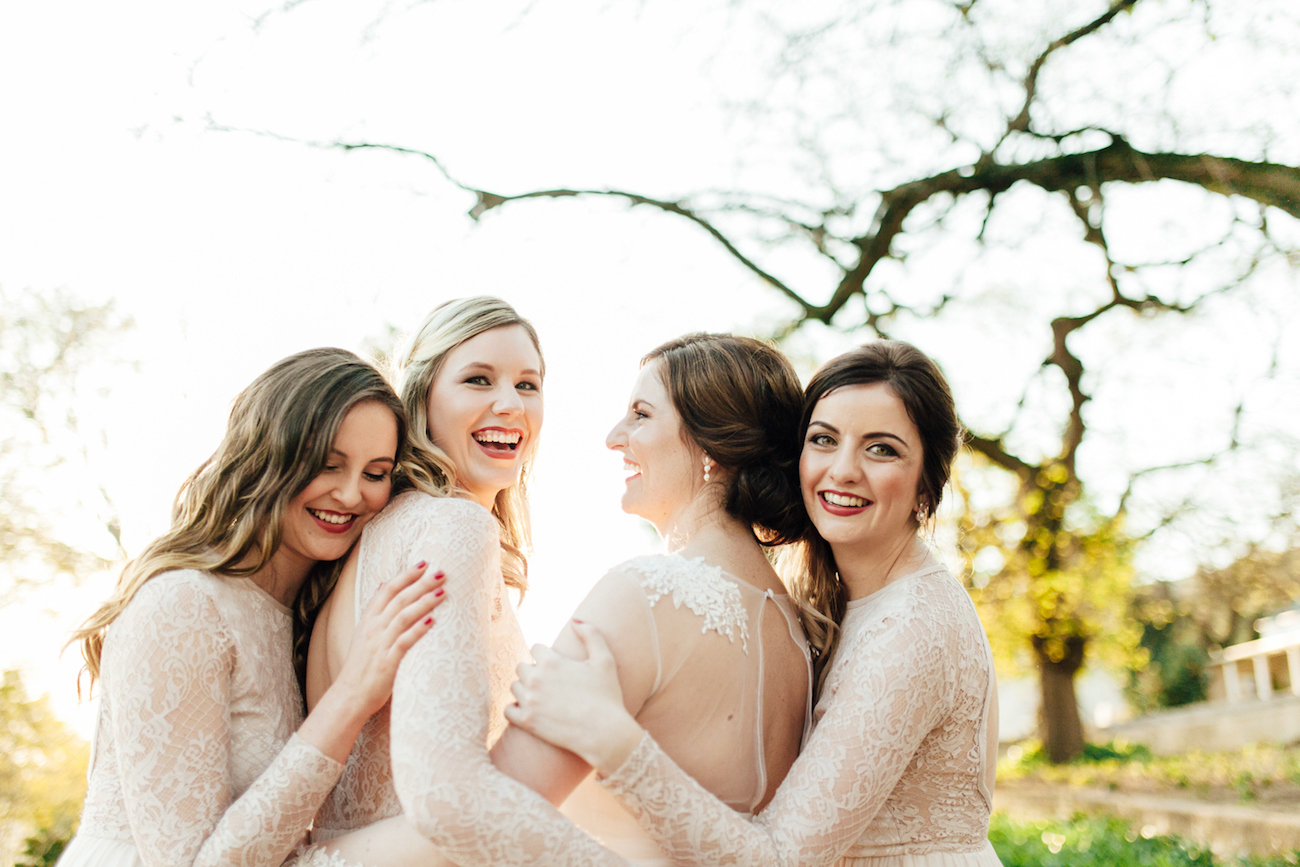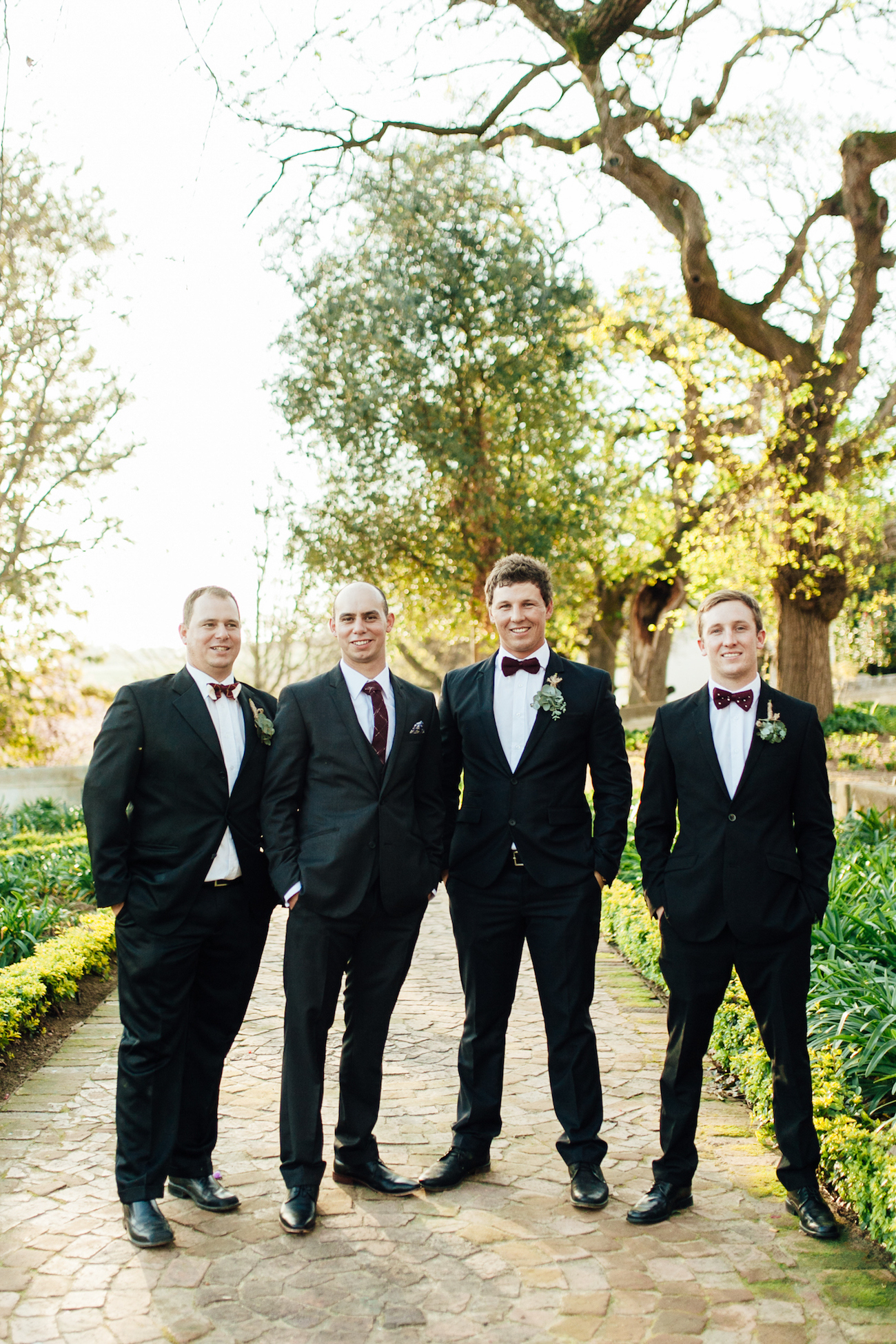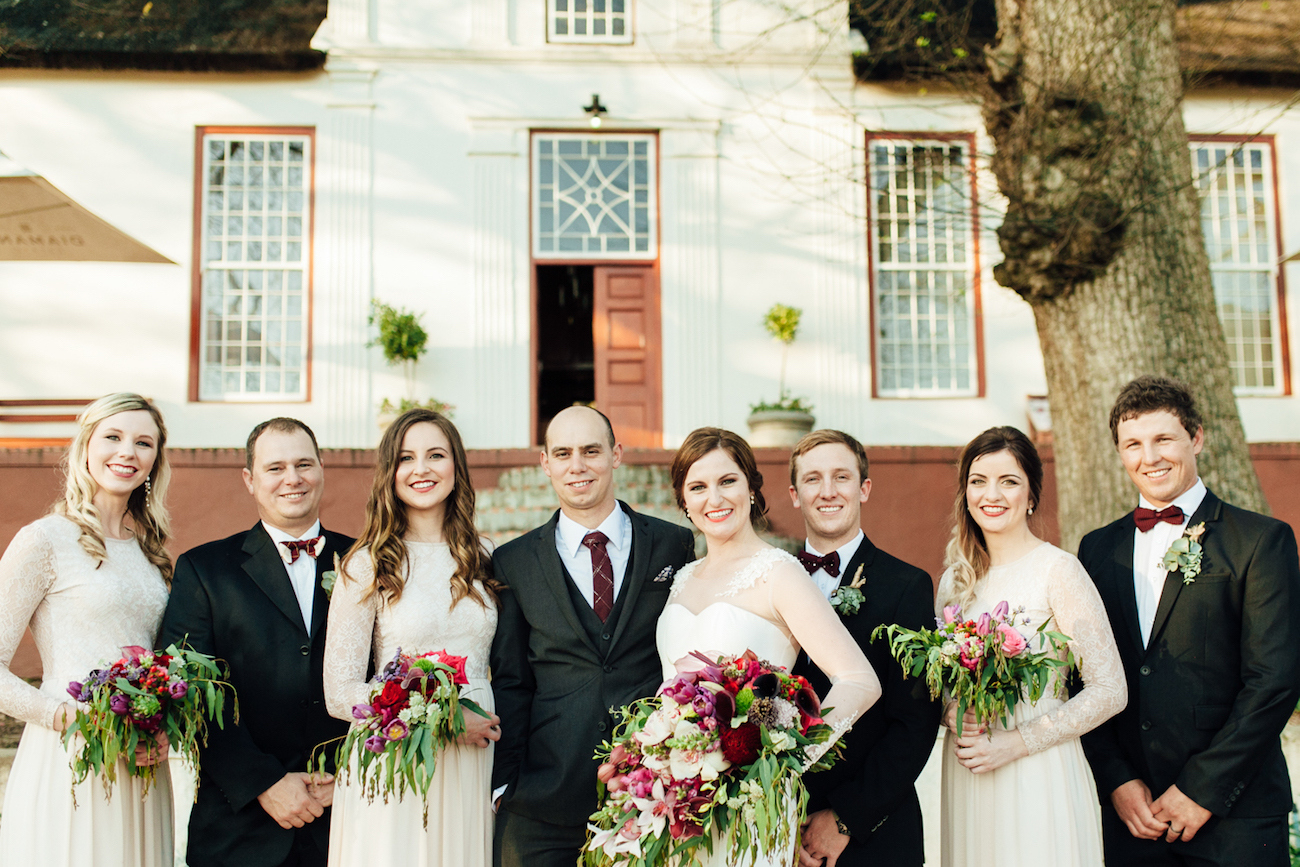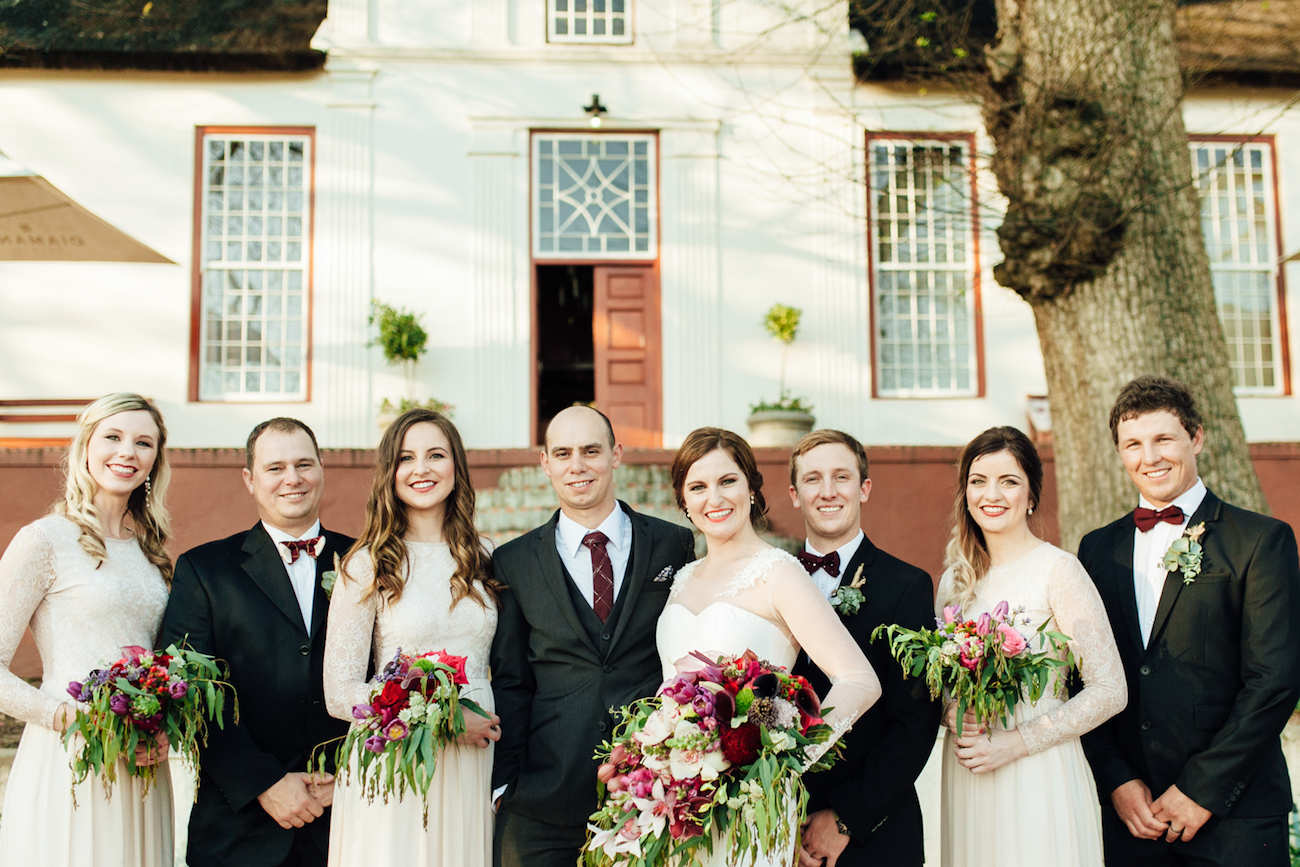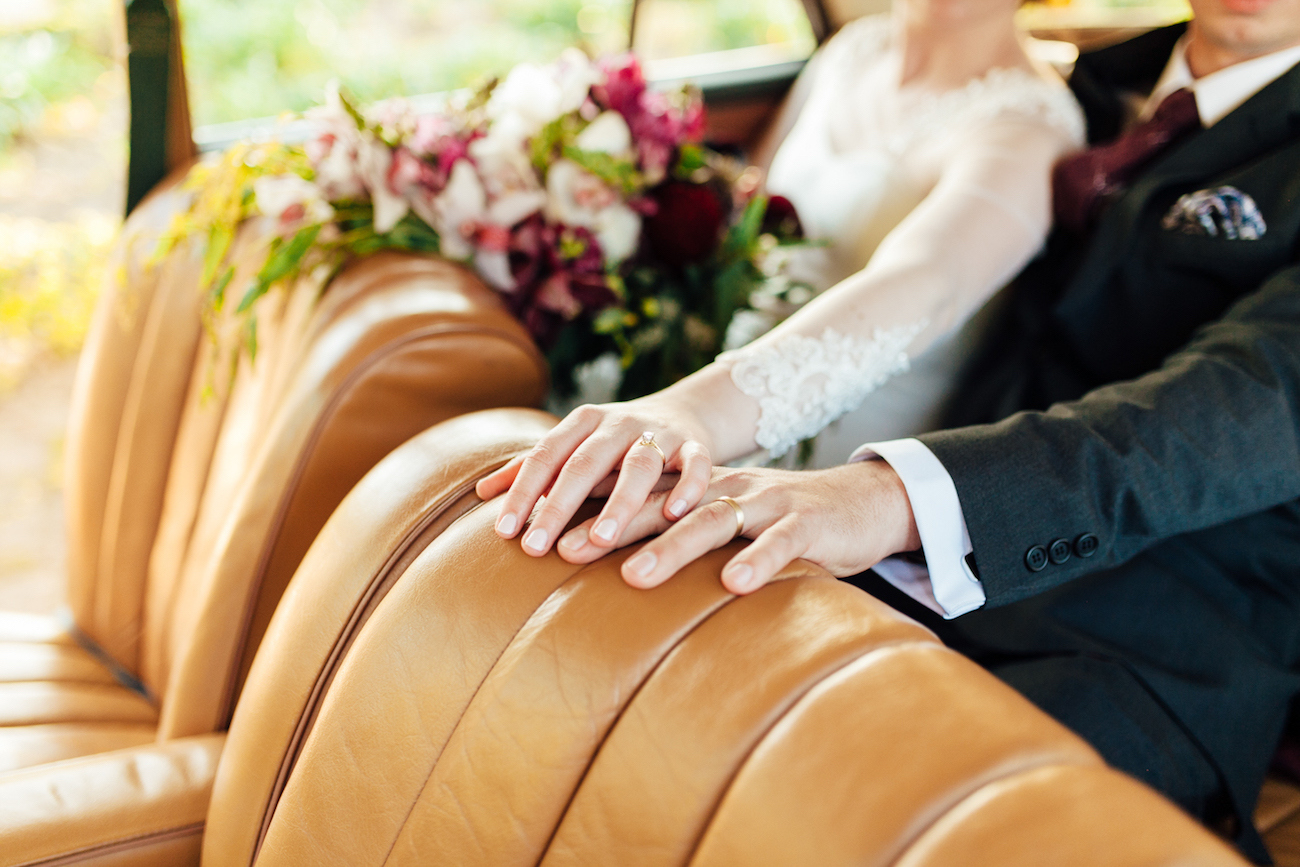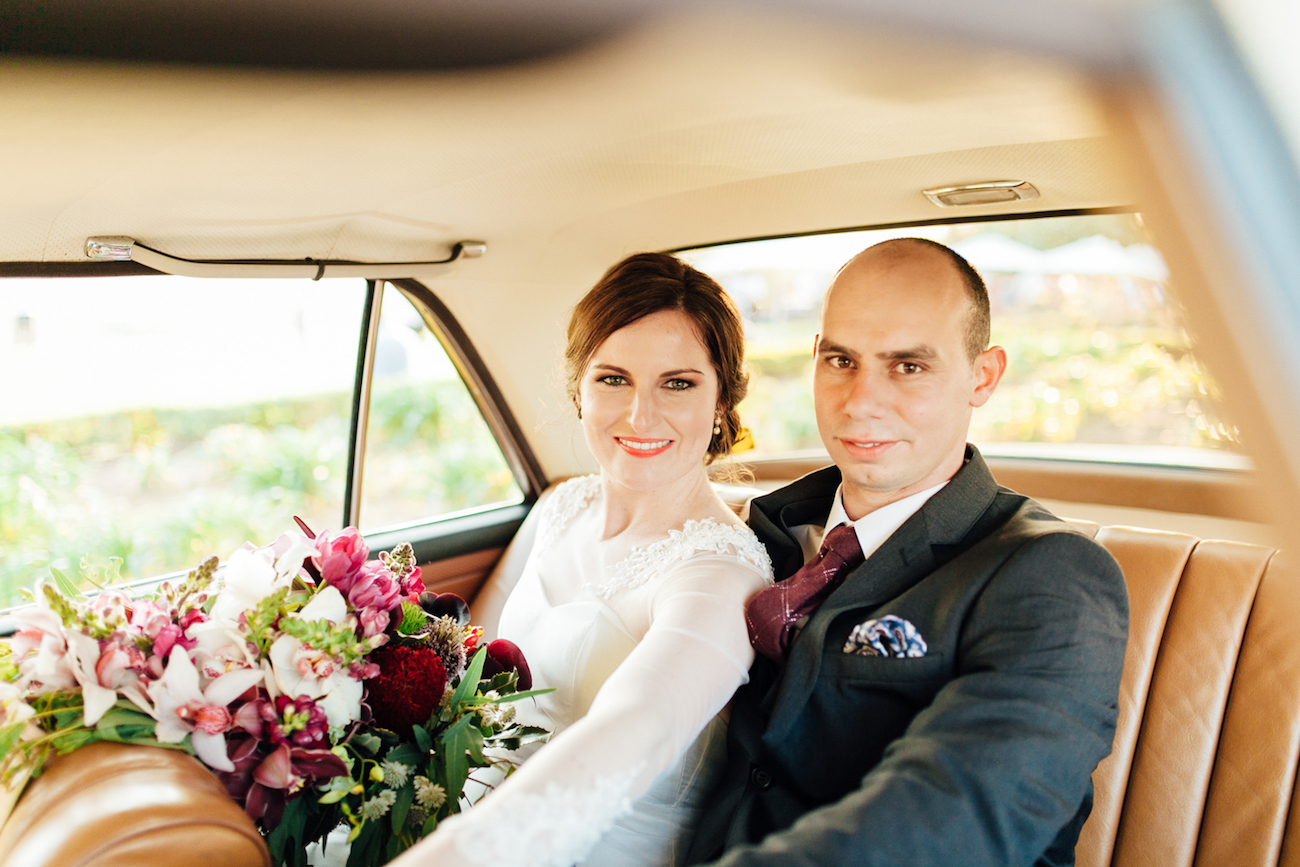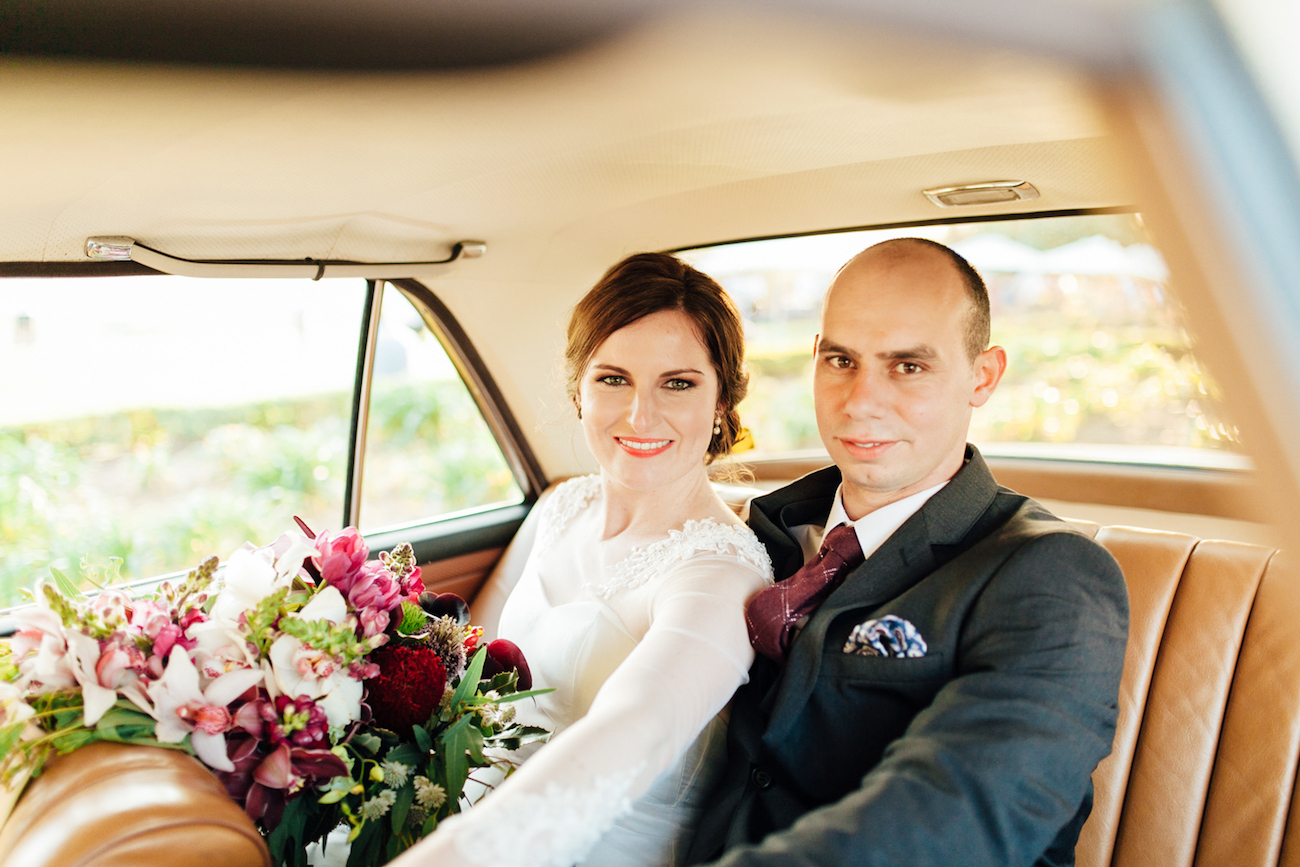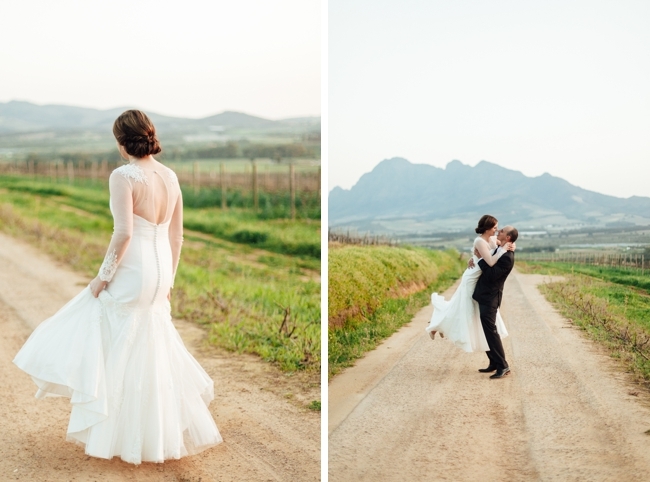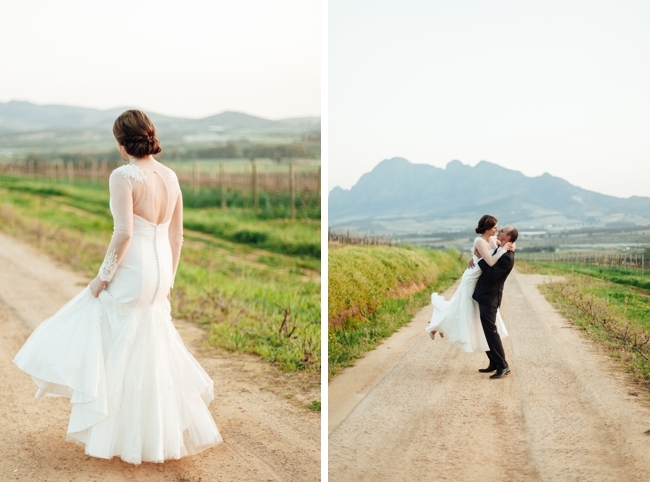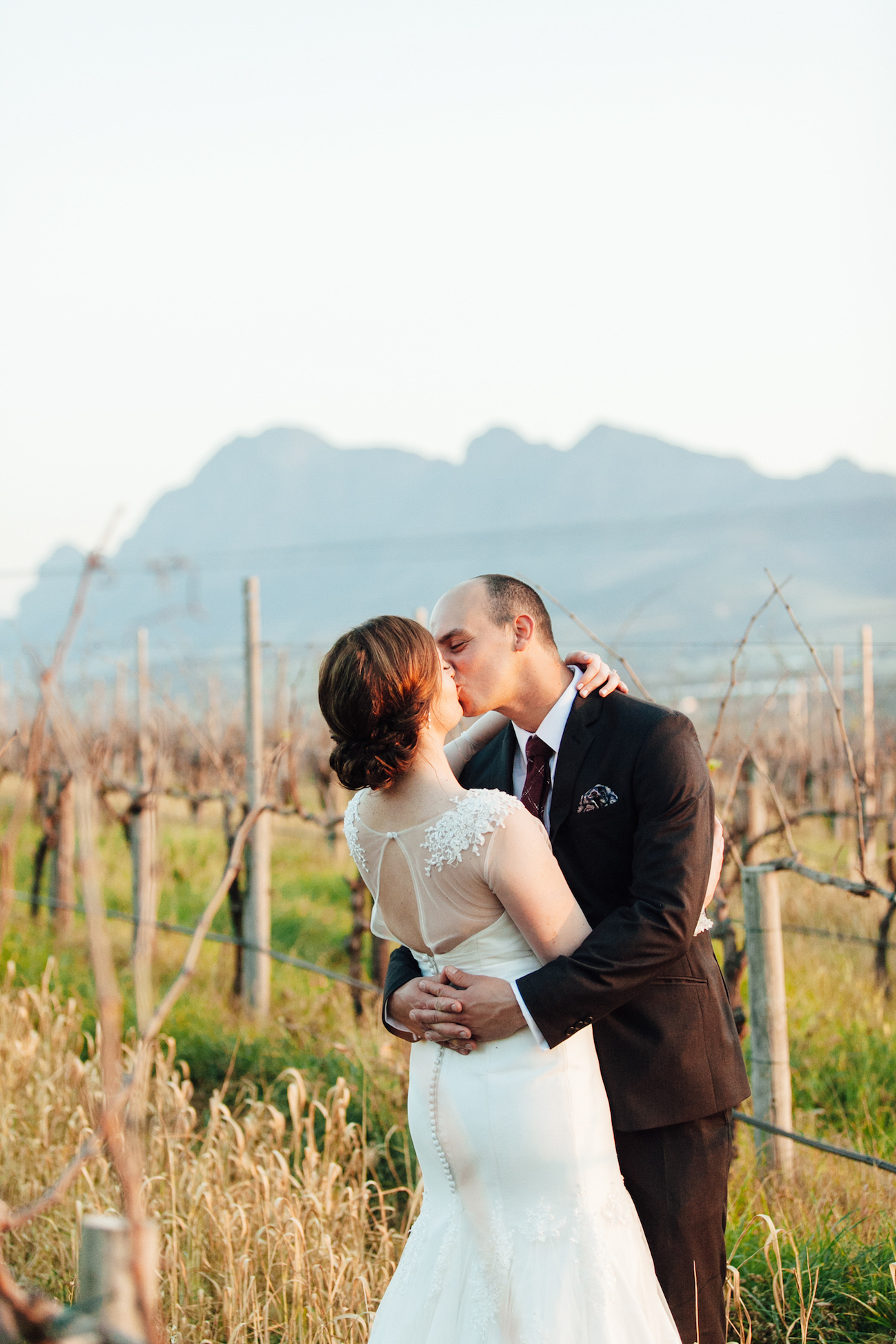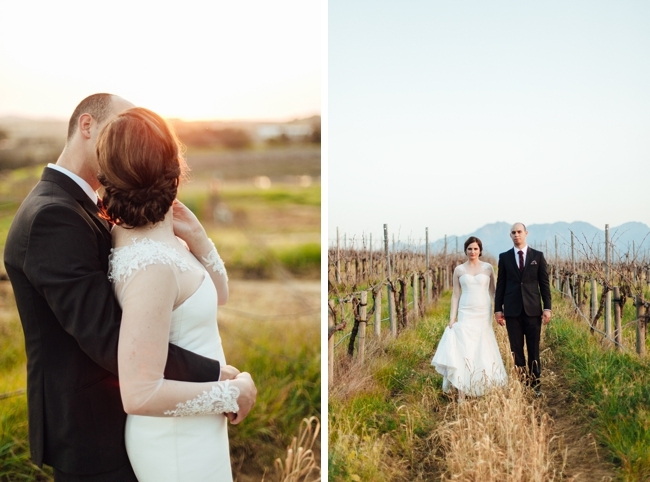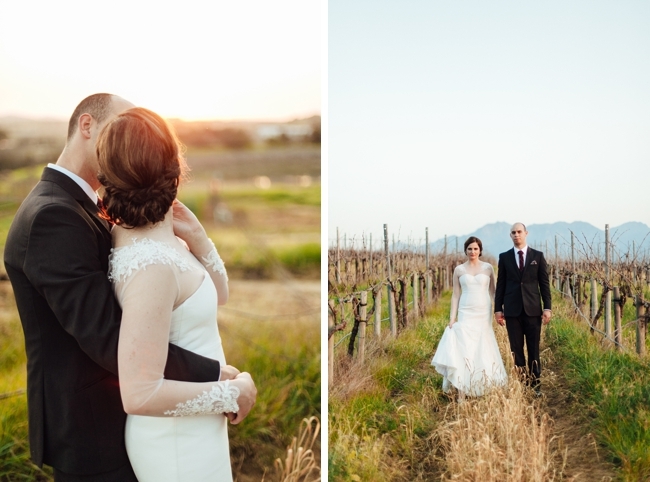 Wedding Details
I am a very 'attention to detail' person, so I really don't know how to choose a favourite. All that I can say is Tiaan made my crazy unrealistic ideas a reality and absolutely supported me and made my dreams a reality!
DIY Elements
The eucalyptus leaves with naked bulbs above the tables – a team effort between the friend whose wedding I had helped with (her father and husband made it) and us, as we just added the eucalyptus and made it our own. I decided not to go too crazy with the DIY as we had limited time (we were only engaged for five months). My mother in-law made the flower girls' dresses.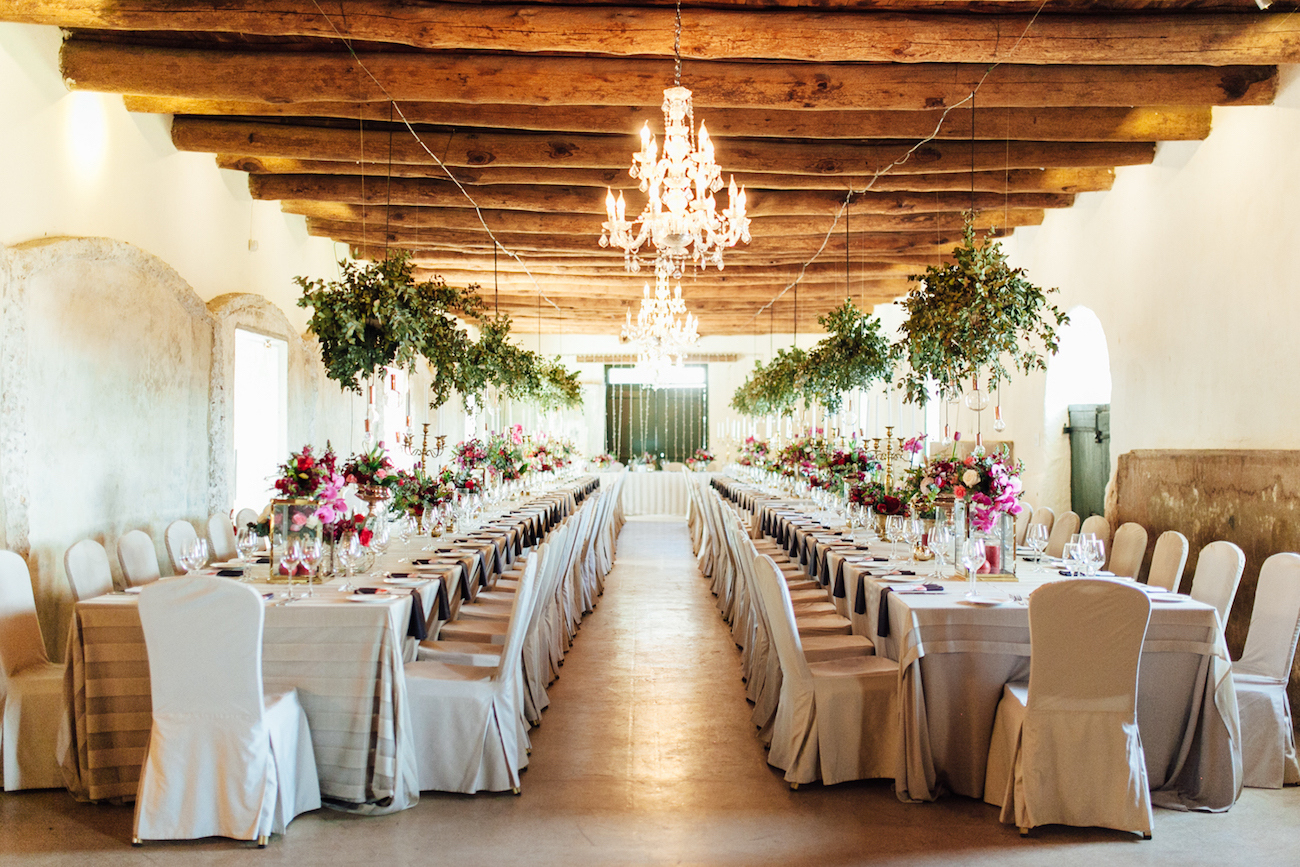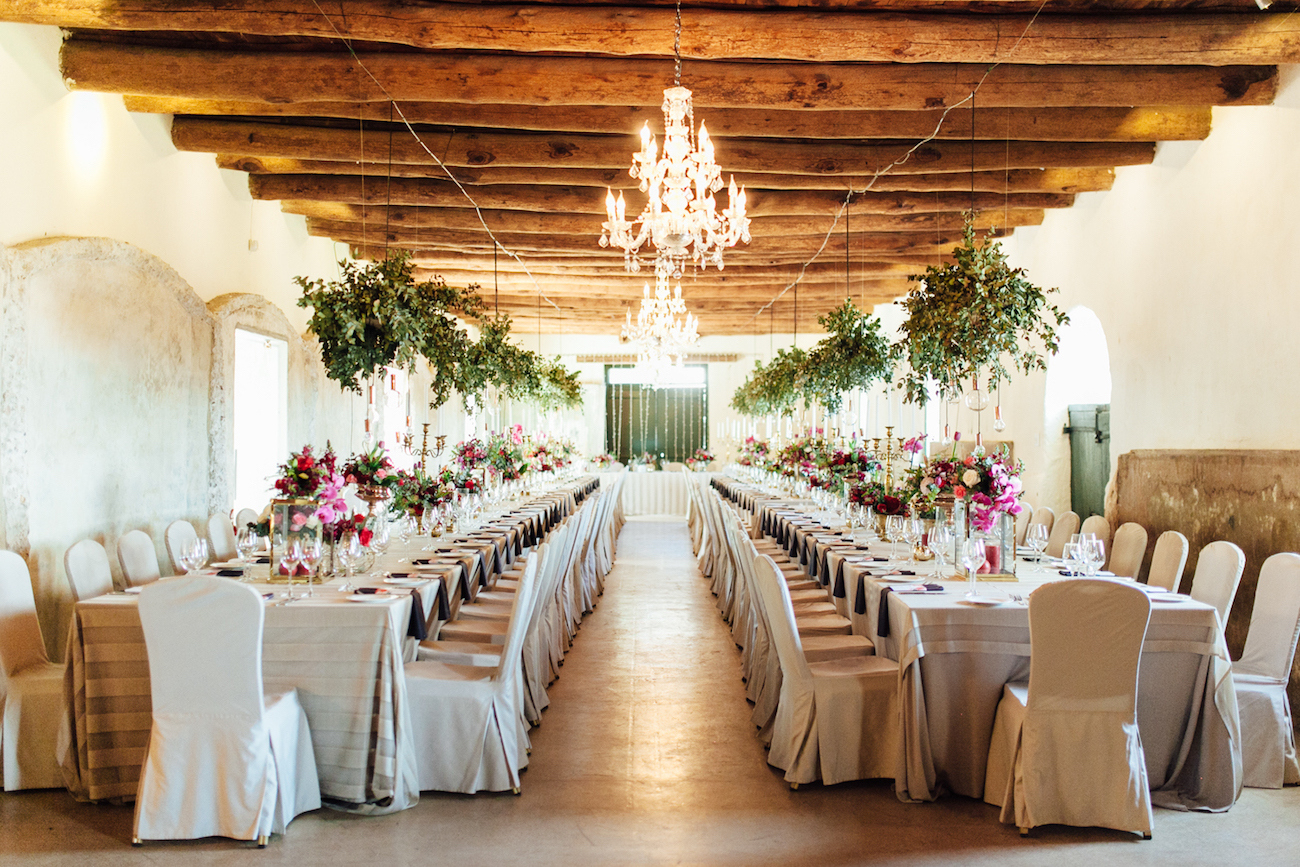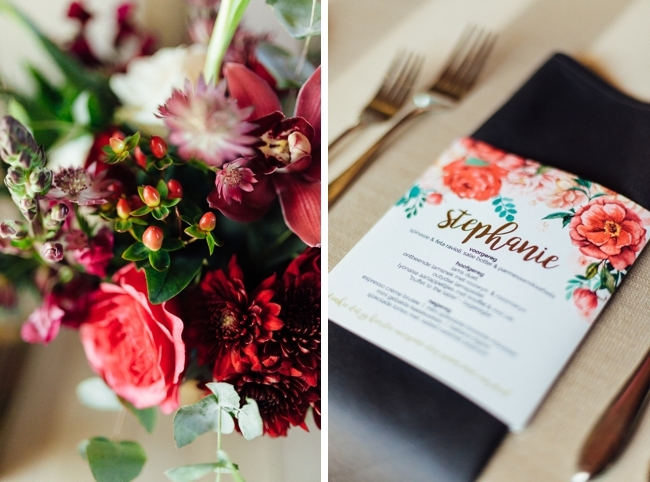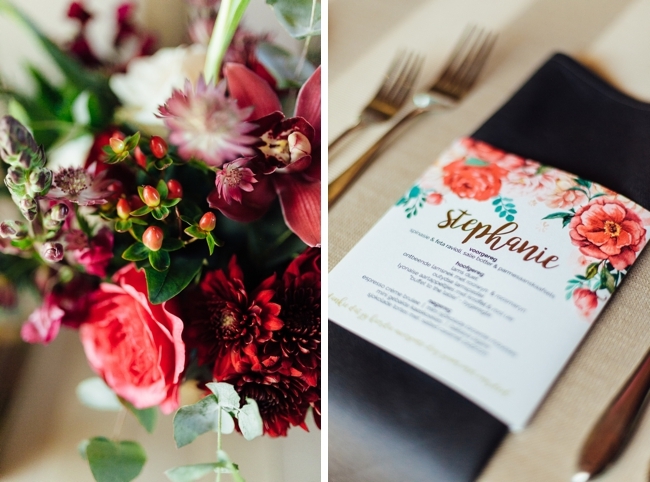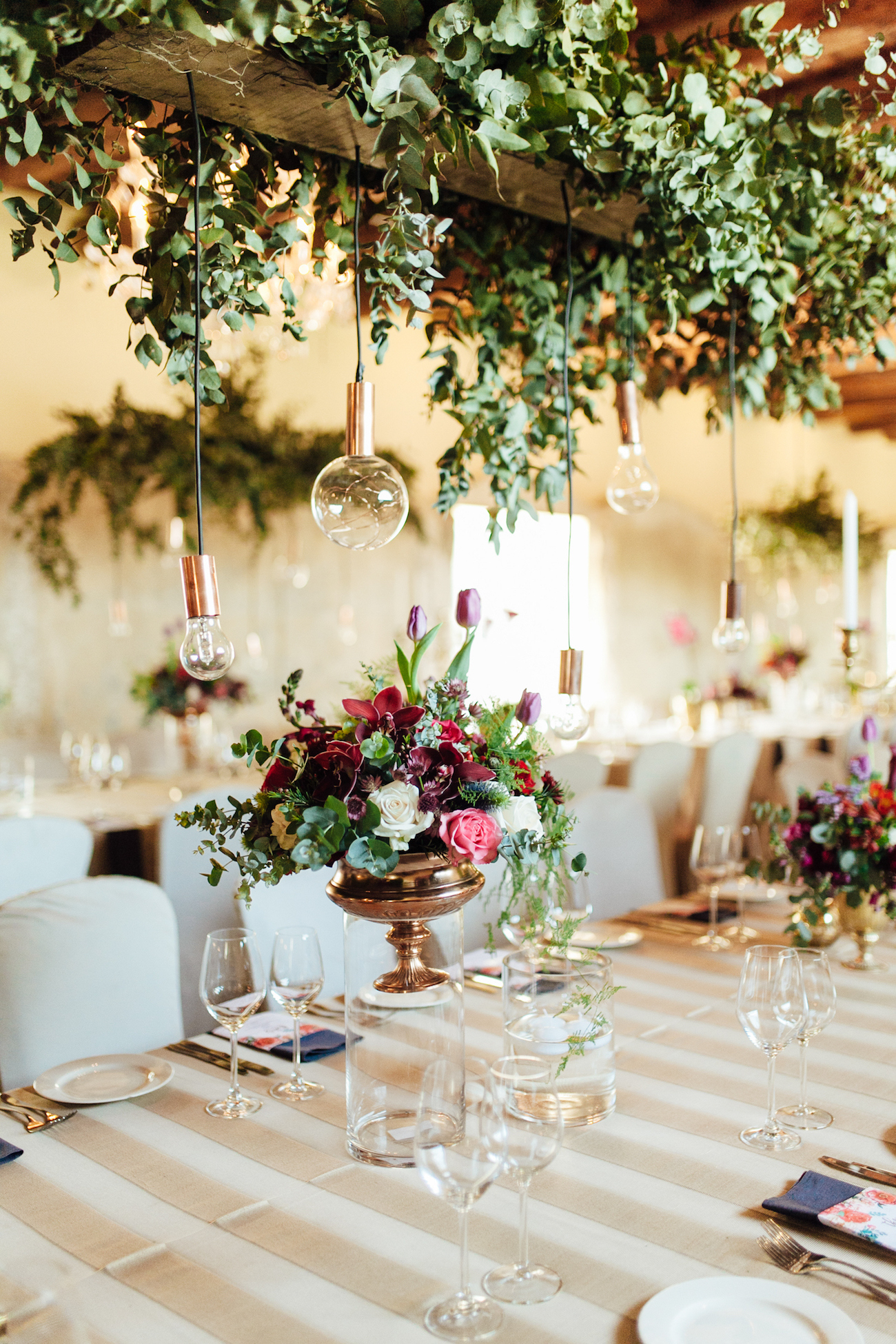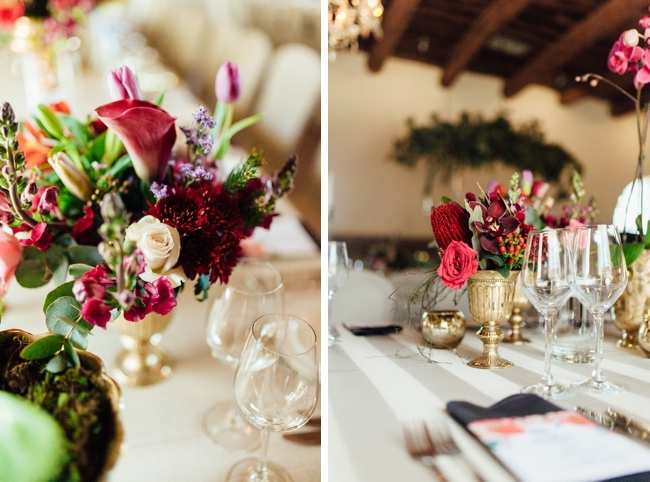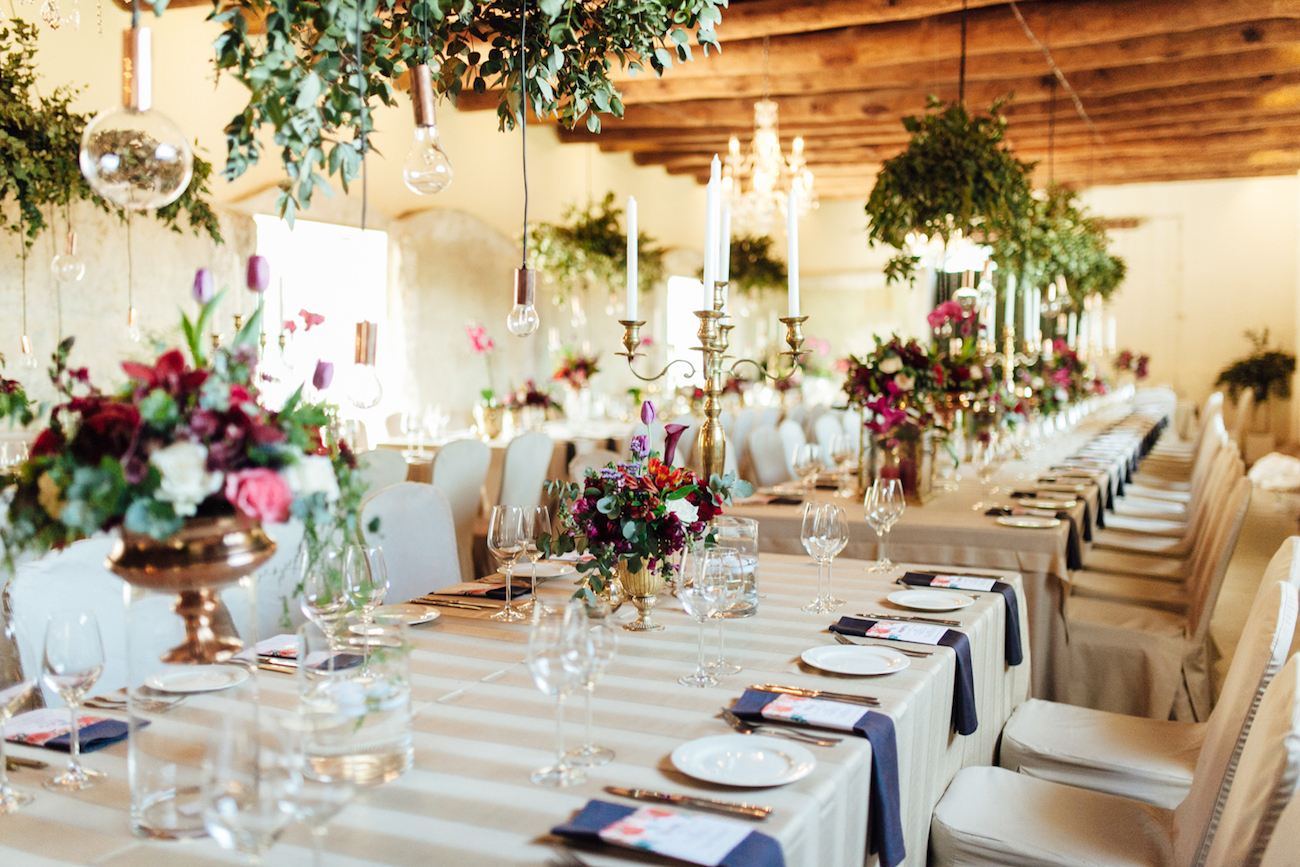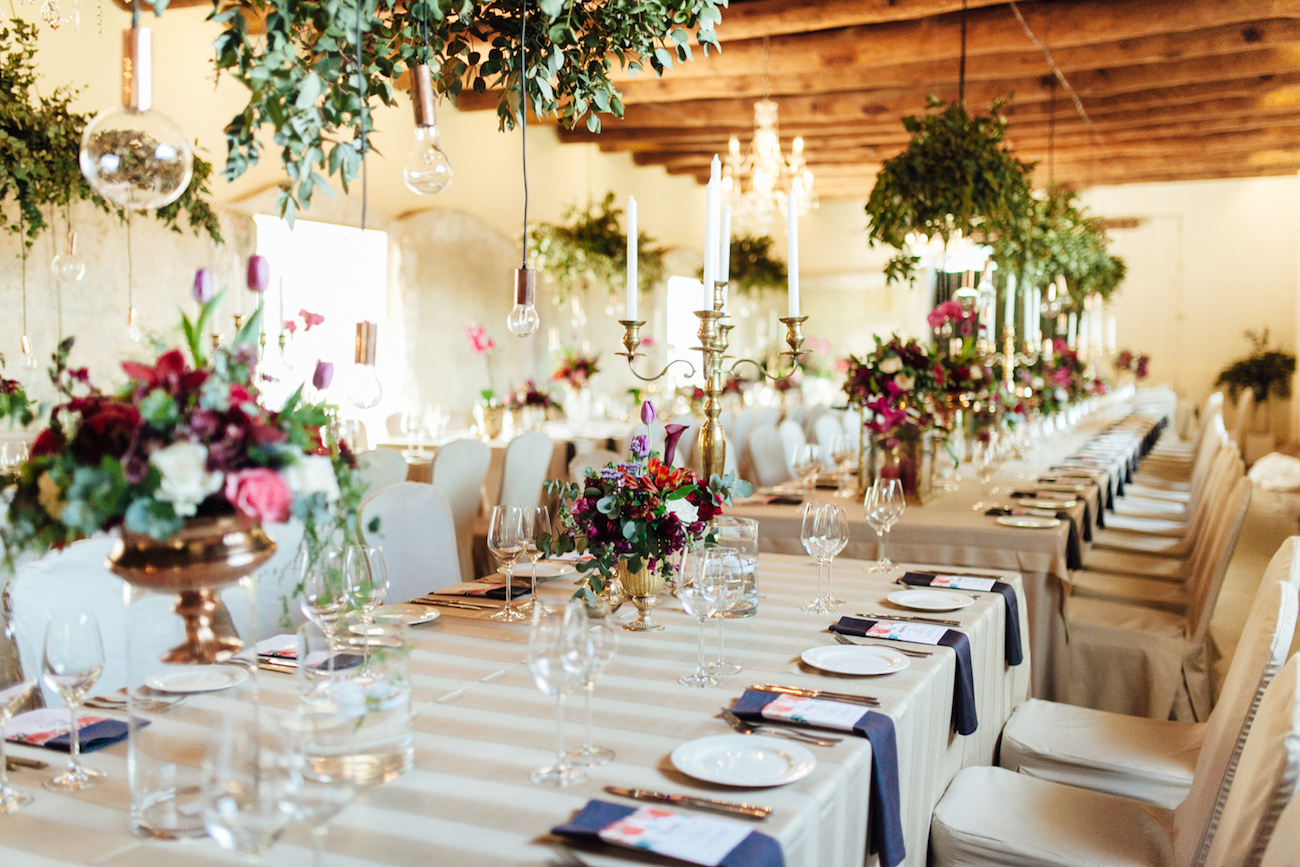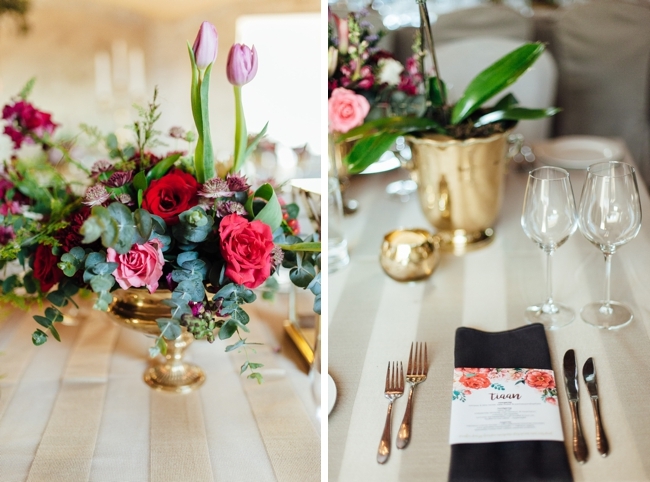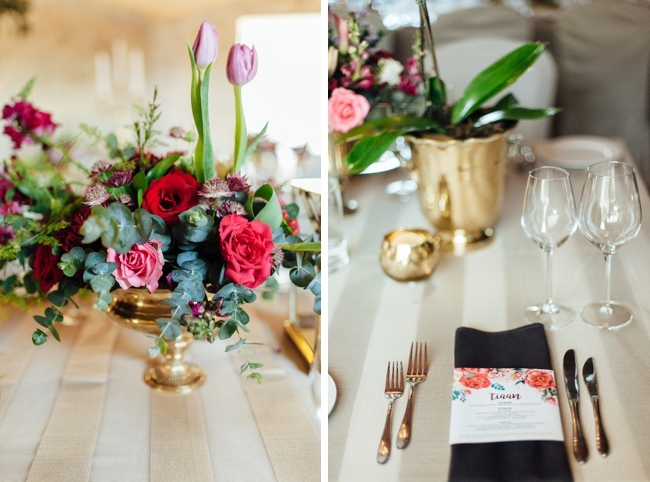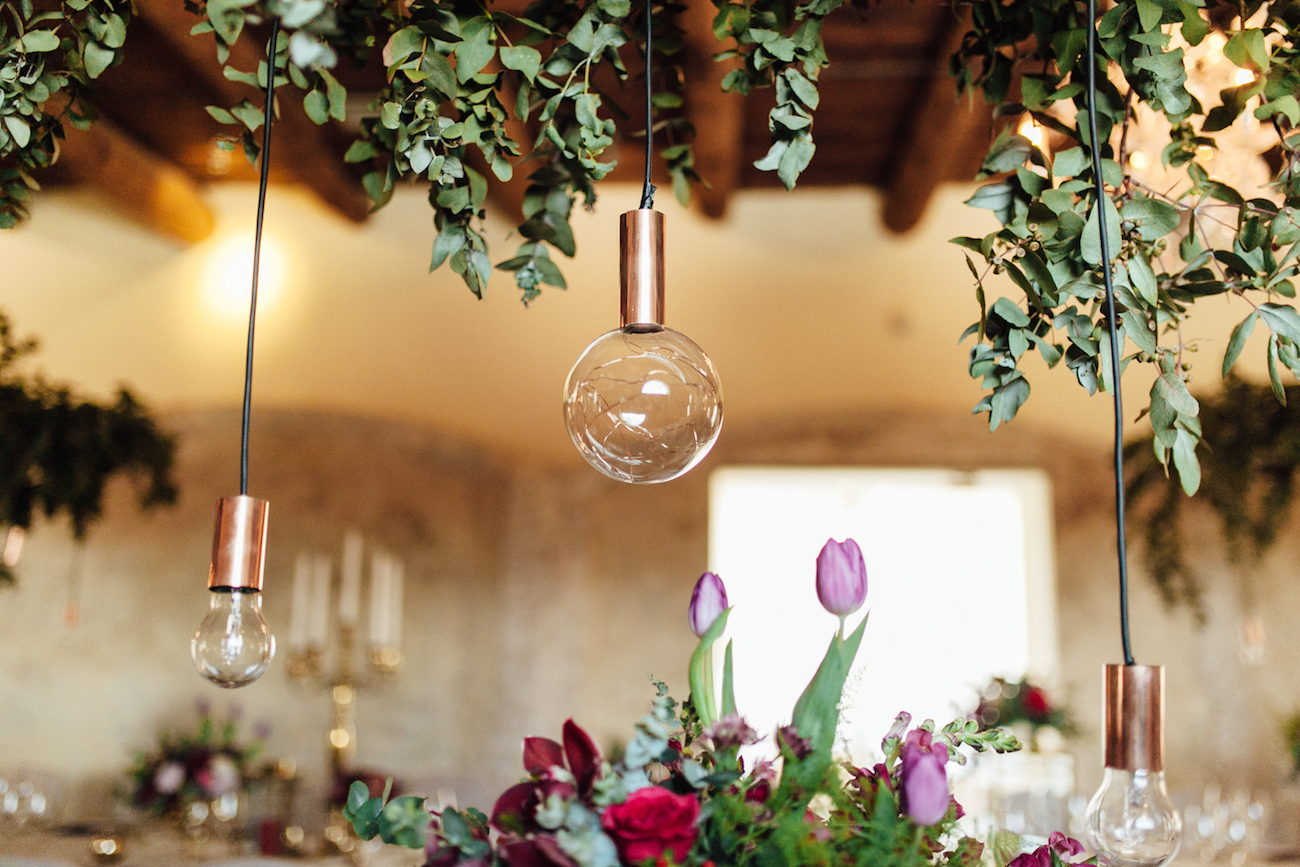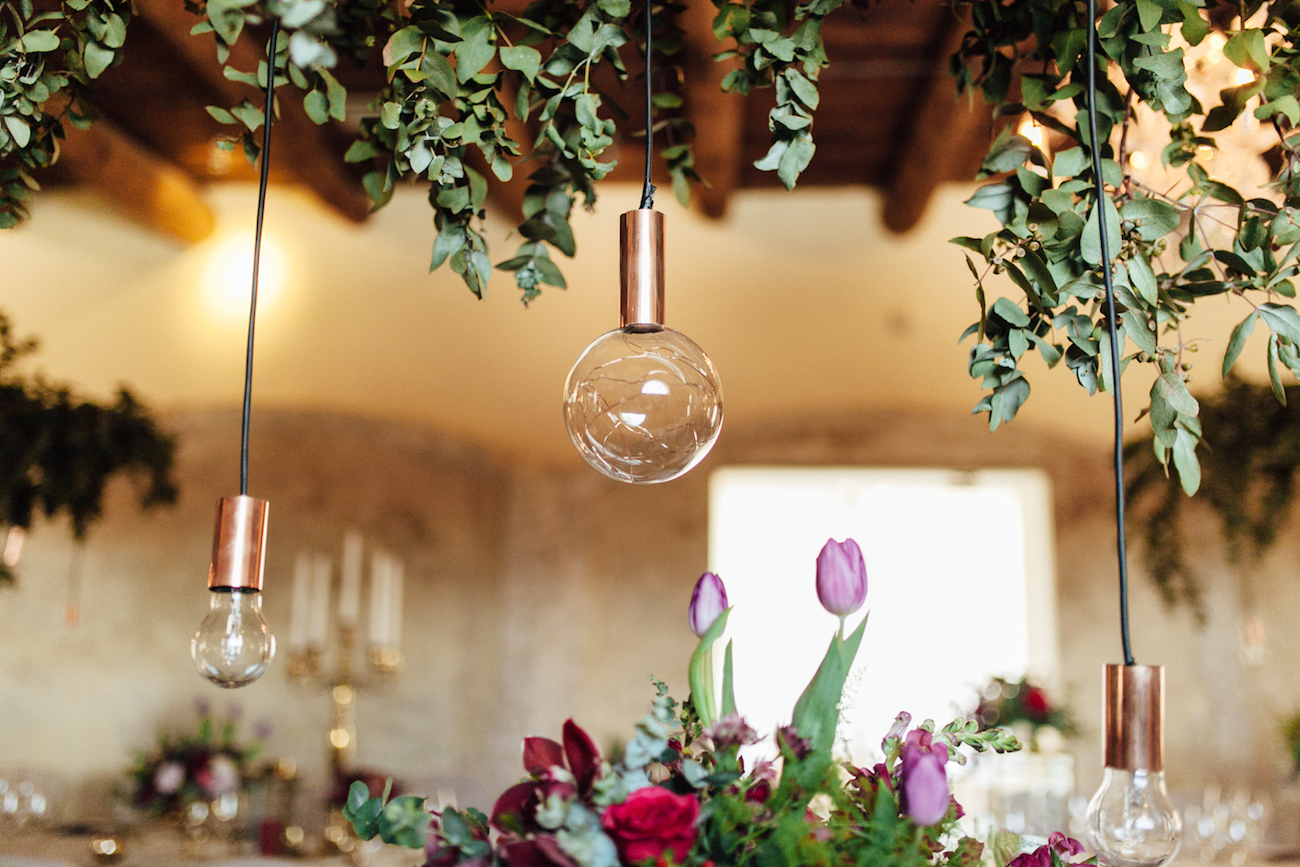 The Dress
I decided to wear the dress that I had made two years ago. As my designer, Juanri du Toit, described my style – plain romantic and dramatic. My veil was five metres long with lace at the end.
The Bridesmaids
I had three. Originally, I thought that they could wear anything they wanted to, but my cousin and I saw the perfect dresses early in my engagement and we bought one immediately. The girls were sneaky, and went and tried on the dress secretly and sent me a picture. I wanted them to feel comfortable, sexy and true to themselves. Jacobi Sadie did their makeup and hair perfectly.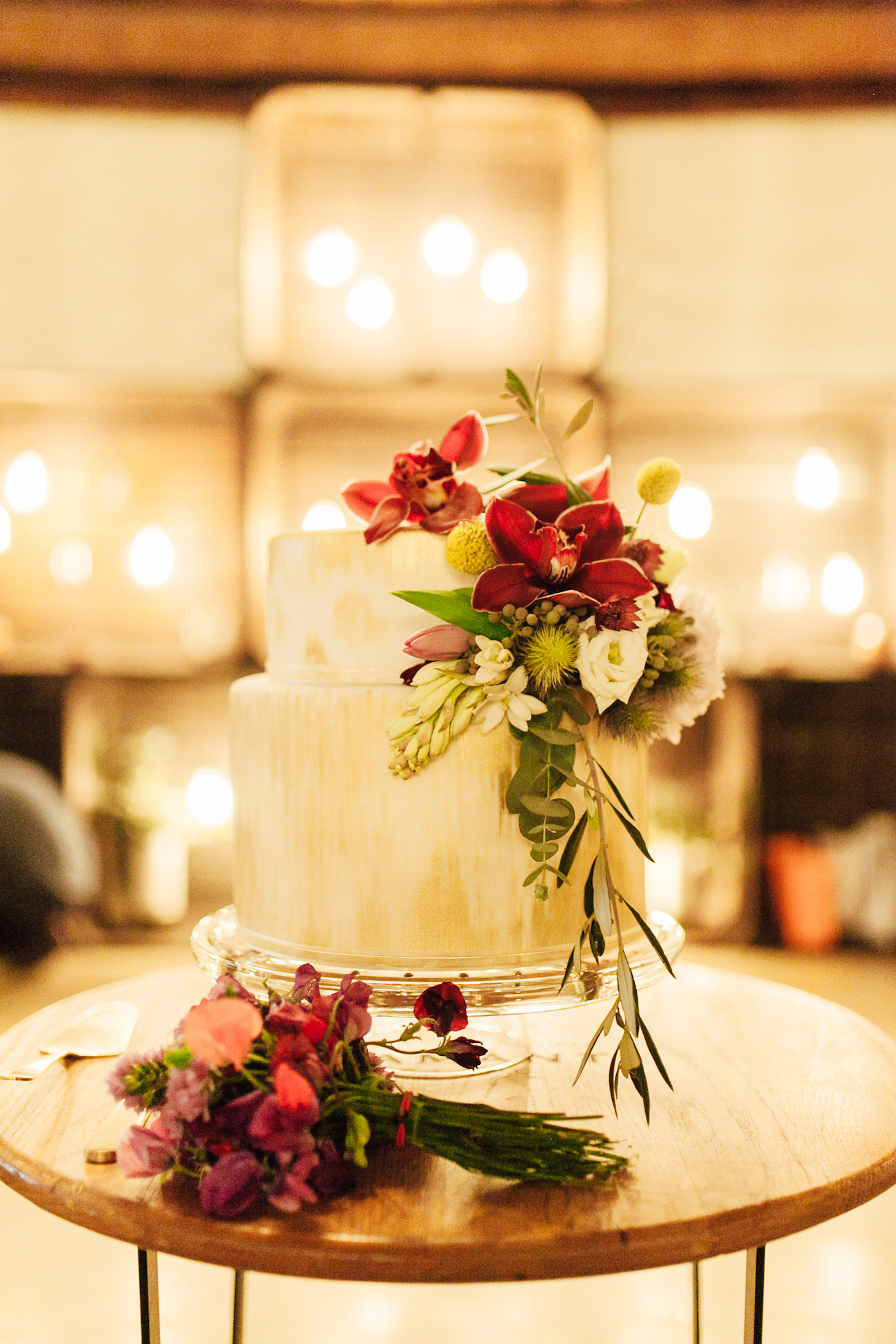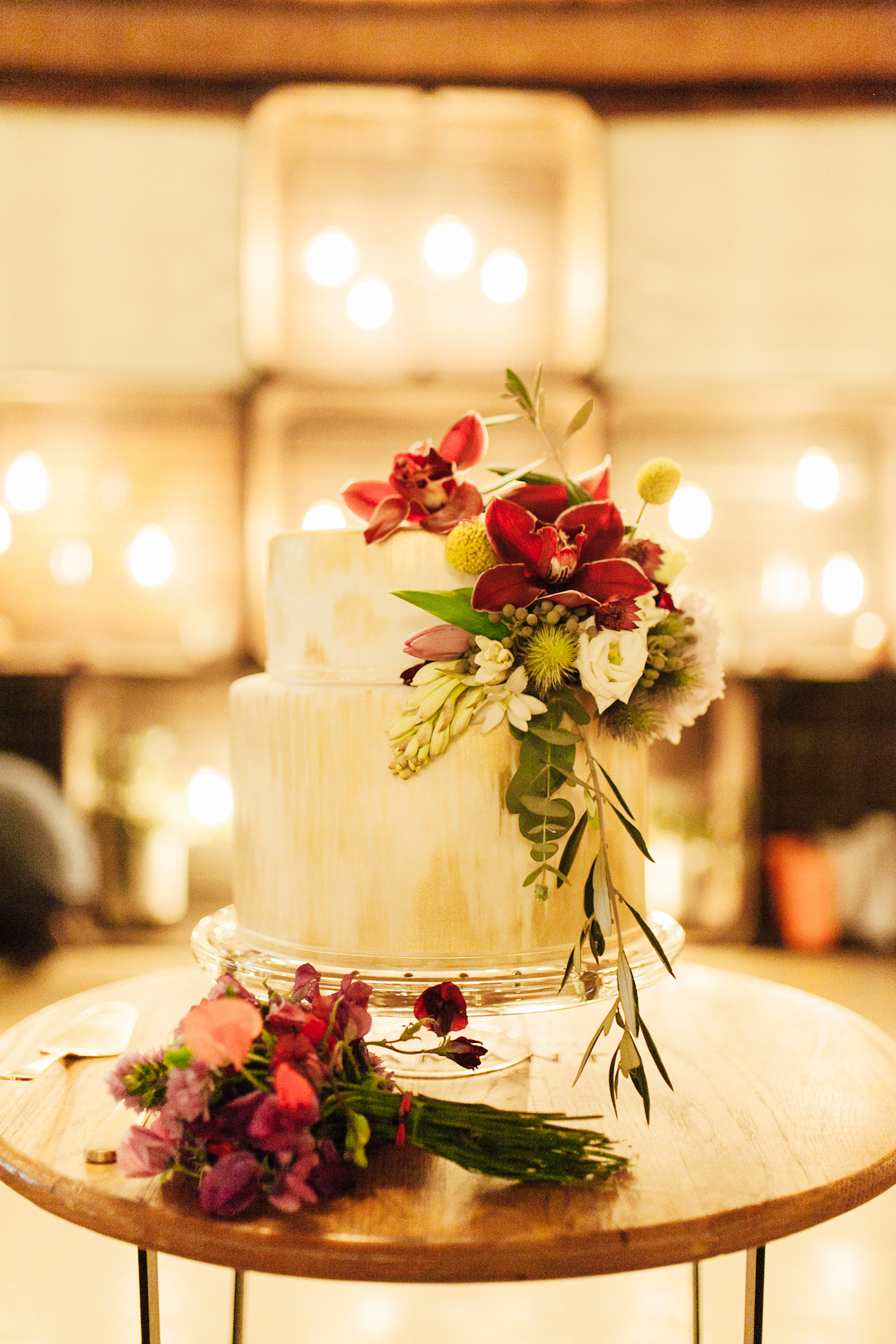 The Flowers
Indescribable! We were blown away.
Memorable Moments
Steph: Walking down the aisle to my future husband, and a shout from one of our page boys during the ceremony that he would bring the rings!
Tiaan: The same – and the moment my dad and I stepped into the chapel.
Proudly South African Details
We definitely incorporated proudly South African details in our food. With both of us being raised on sheep farms, and my parents having an abattoir on the farm, we couldn't resist having a lot of meat. We are blessed and our guests could not stop going on about the food, thanks to Dawid from Red Pepper Catering's impeccable skills when it comes to catering. During cocktail hour, there were lamb sosaties, pork belly and "skilpadjies". Our main meal was deboned lamb and "outydse" lamb pie.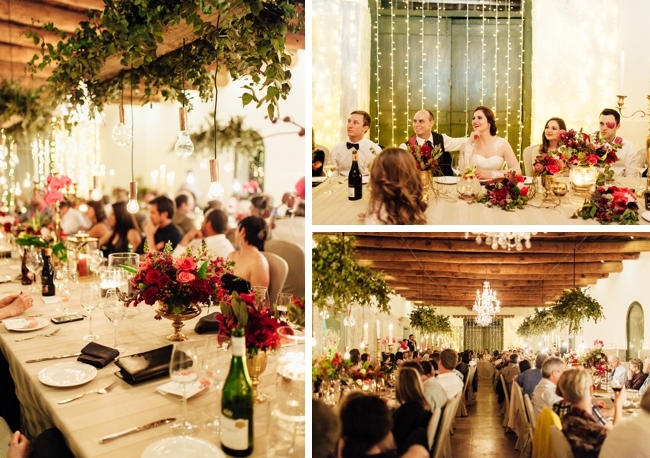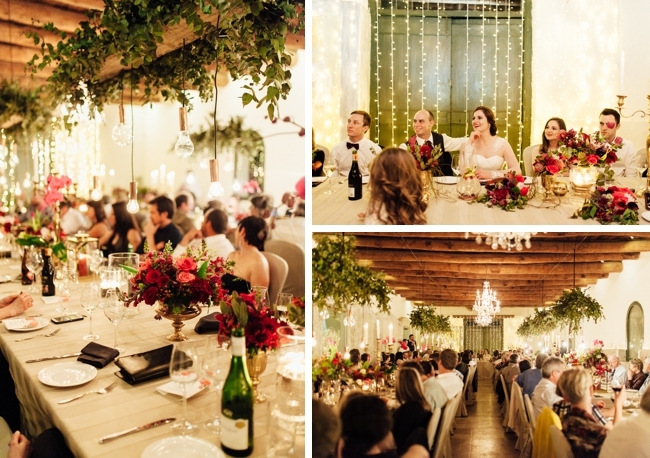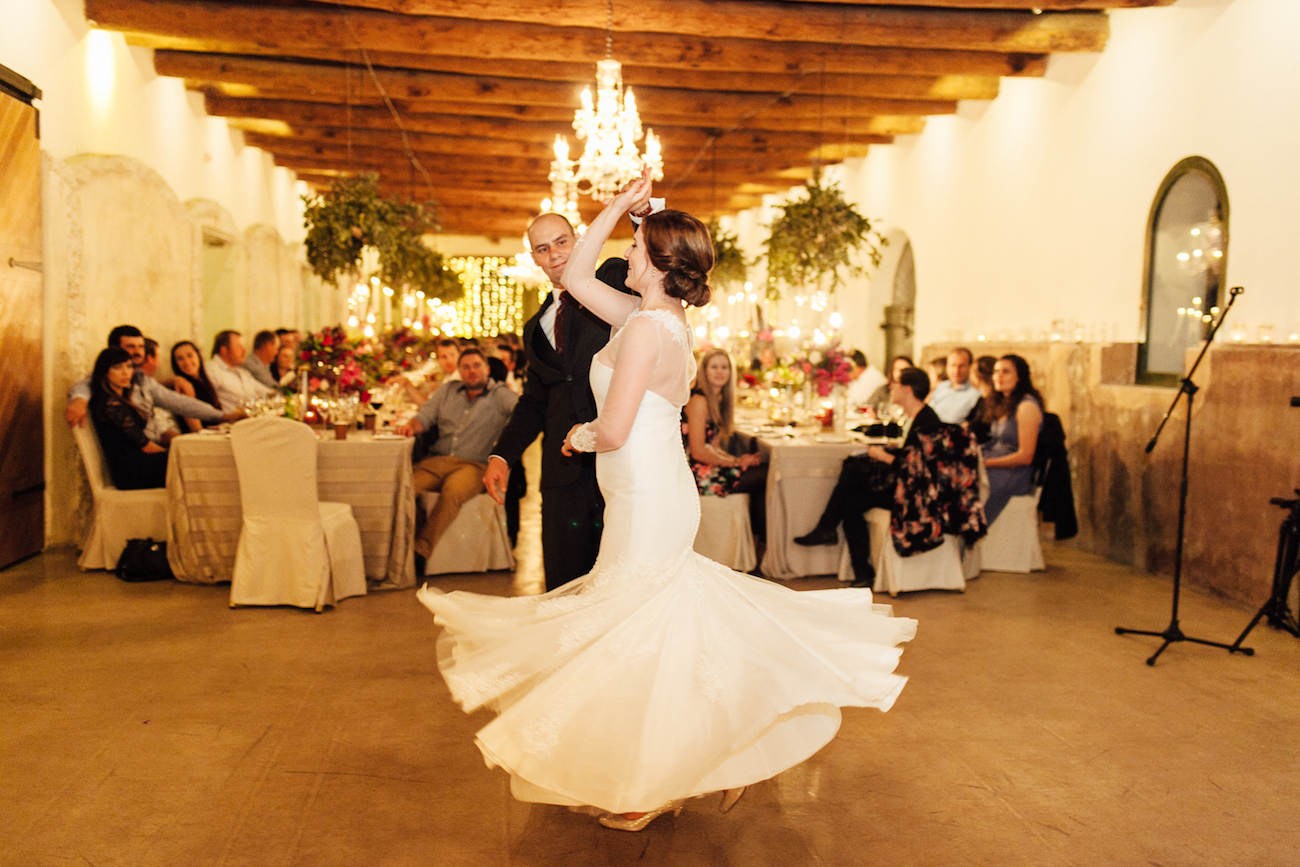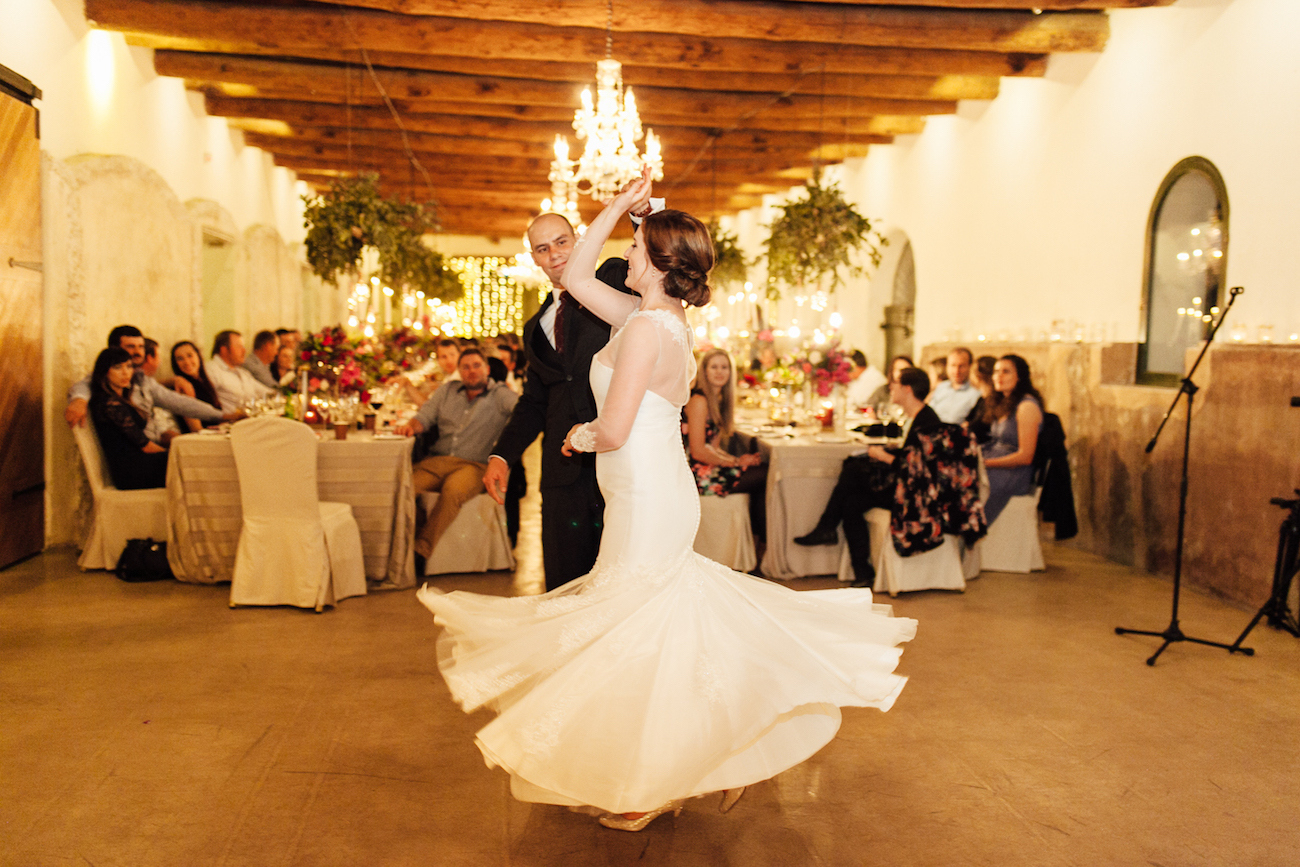 Best Decision
Giving everything over to God and being blessed by His joy and favor. In our last week before the wedding, I decided to just skip everything on my To Do list that had not been completed in the last three months as it was definitely not that important. Handing over to your service providers – they are the experts and there to take the stress away. In short, this quote described it best: "A secret to happiness is letting every situation be what it is, instead of what you think it should be." We enjoyed our wedding and did not sweat the small stuff. We laughed about the stuff that did not work out.
Advice for Future Brides & Grooms
Get a second shooter. And everything mentioned above
You can see more from this wedding on Nadine Aucamp's blog.
SERVICE PROVIDERS
Venue: Diamant Estate | Catering: Red Pepper Catering | Photography: Nadine Aucamp Photography | Flowers & décor: B Flowers (Berena Malherbe) | Stationery: Marli Fouchee | Video: White Jasmine Films | Cake: Wiesie Erasmus Burger | Bride's dress: Juanri Designs | Hair: Vasti Professional | Makeup: Juanri du Toit | Bridesmaids' makeup: Jacobi Sadie | Bridesmaids' dresses: YDE | Groom's attire: Moi Styling | Hiring: Function Hiring 4U; To-nette's | DJ: DJ Hein de Swardt | Worship: DG and Juanri du Toit | Artistic elements: Johandrie Buckle Artist