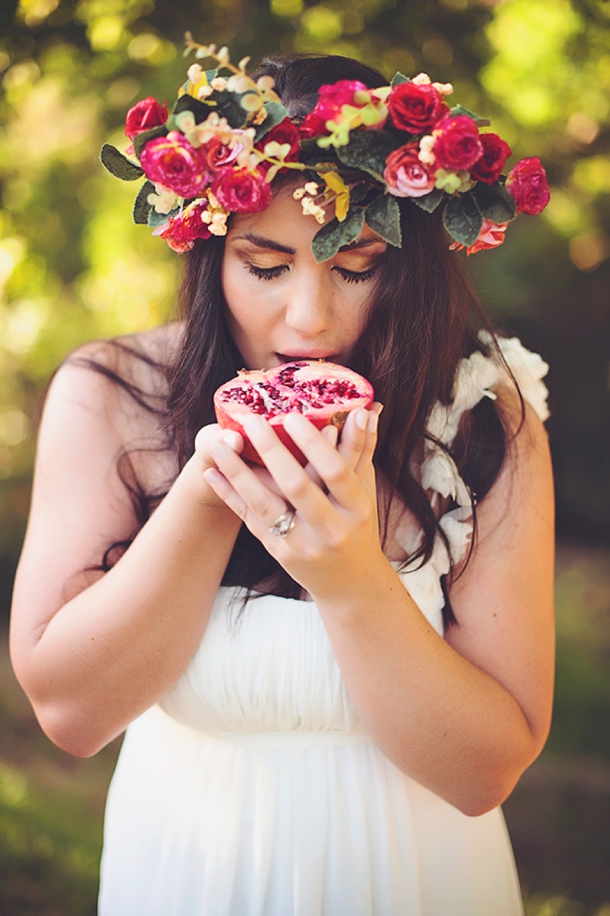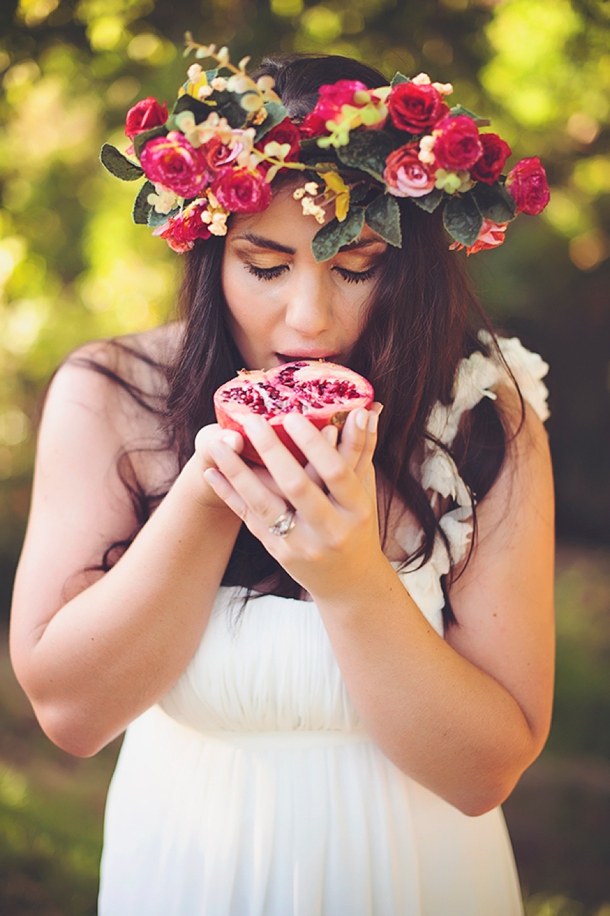 Afternoon, my lovelies! Time for some unusual and pretty inspiration, courtesy of Debbie Lourens, a Cape Town-based photographer. Debbie has a fresh approach to bridal portrait sessions for those brides who have approached her wanting to 'rock the frock'. I am not always a huge fan of the so-called 'trash the dress' sessions as they CAN be tacky, but do I love the idea of a bride getting to wear her dress again and create something special and beautiful together with her photographer! In this case, Debbie was inspired by her own love of Greek mythology (which I totally share) to produce a shoot themed around the myth of the goddess Persephone. In case you're not familiar with the story, it goes that Persephone (the daughter of Zeus and harvest goddess Demeter) was kidnapped as a young maid by Hades, god of the Underworld. Her mother, devastated, went searching for her, and eventually Hades agreed to allow Persephone to return to her mother, but first gave her a pomegranate to eat. When Demeter saw Persephone with the ruby stain on her lips, she knew that her daughter had tasted the fruit of life, and made a new home for herself. So a bargain was made. Each spring, Persephone returns to the world, heralded by flowers. Each autumn, she enters to the underworld, and as her mother grieves, the winter season comes. Lovely, isn't it? And what a perfect inspiration for boho brides.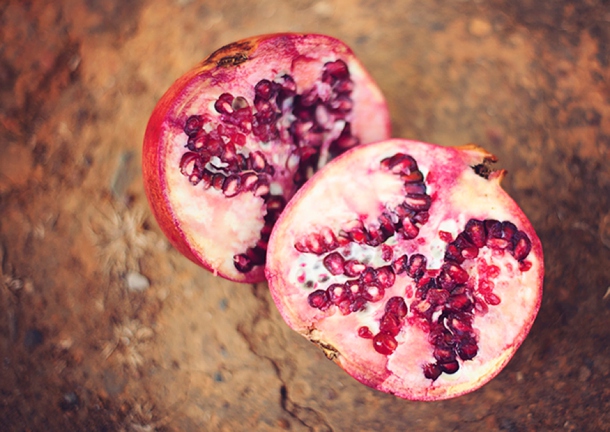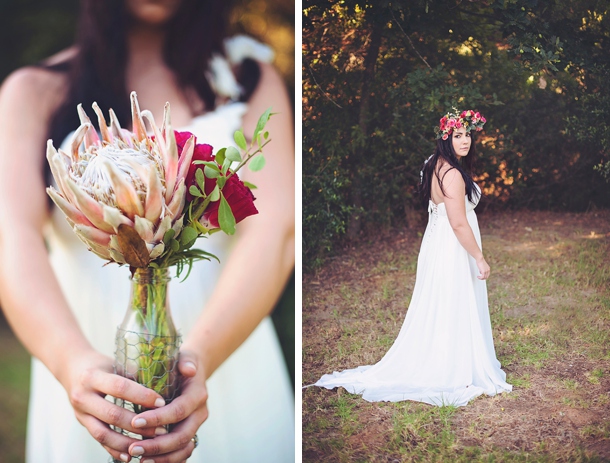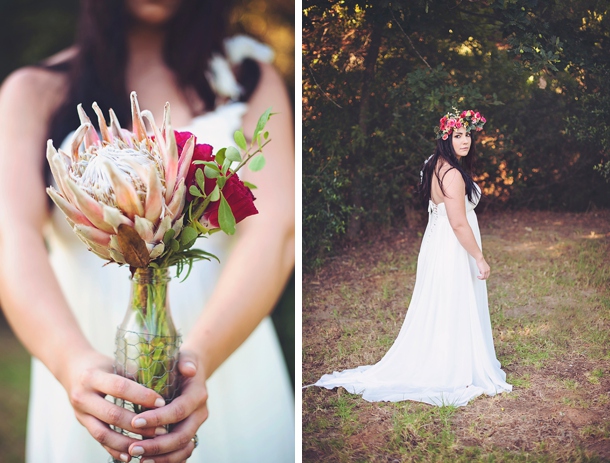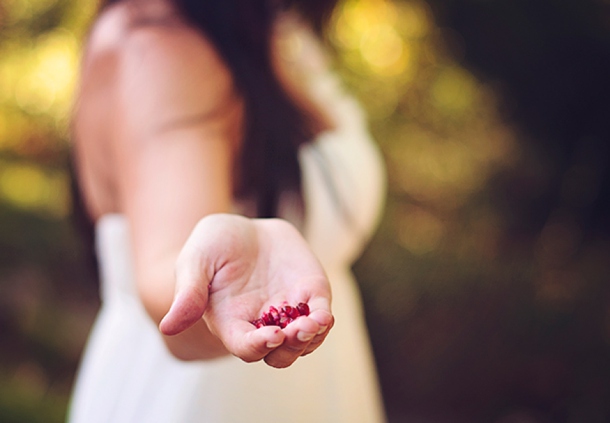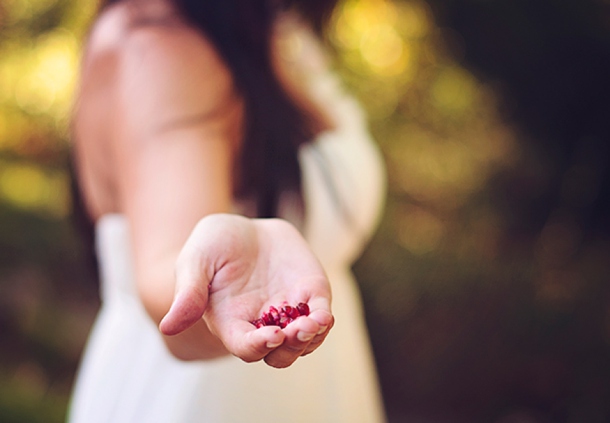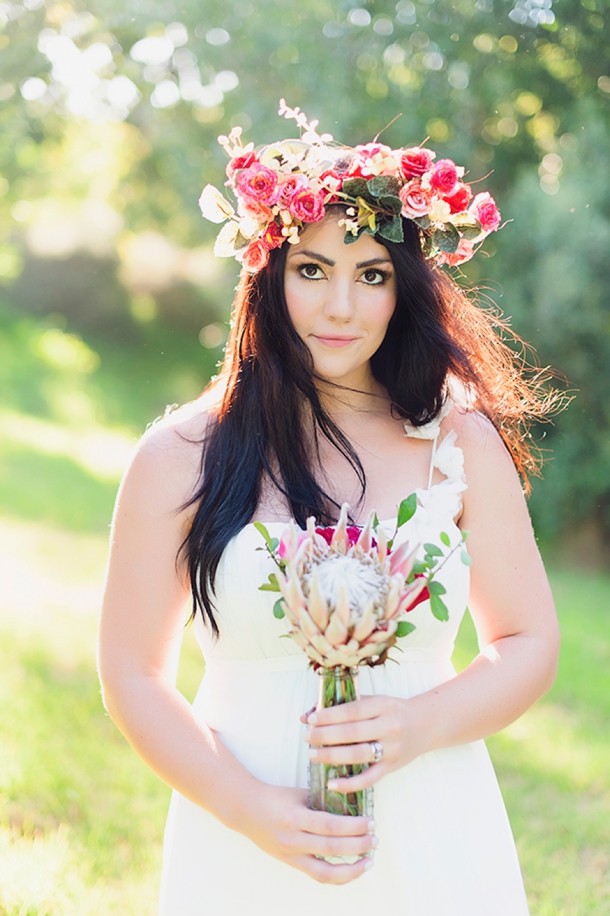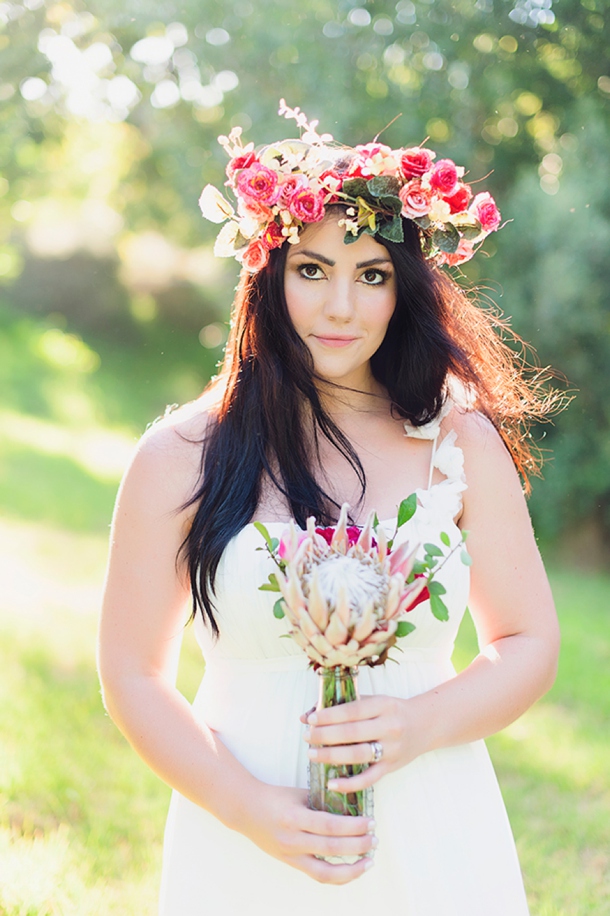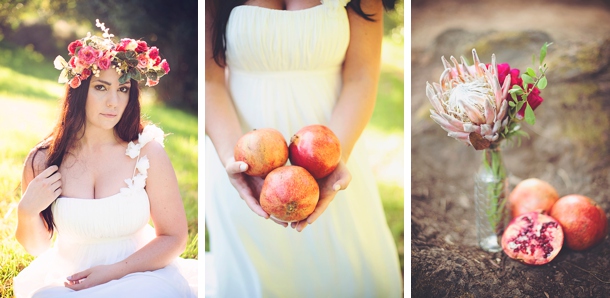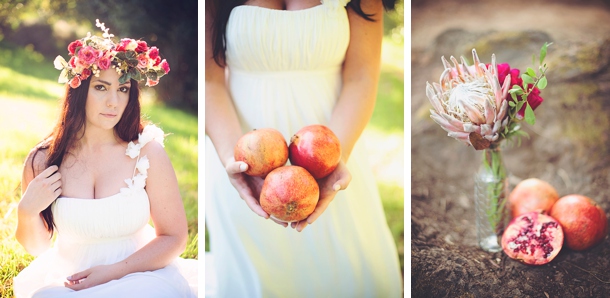 A bit of background from Debbie:
Carla, (the bride) had a very Grecian-inspired wedding dress and I thought to use that as my base to create the theme for her. Always inspired by Greek mythology, I incorporated elements from my favourite story. We used the signature pomegranate to help illustrate Persephone's transition from care-free daughter of a goddess to the goddess of the Underworld.
Something that was not part of the story, but that I hoped would also help convey the message of transformation was Bougainvillea. Where we live, the streets are covered in Bougainvillea shrubs and I had the impulse to collect some of those shrubs and cover Carla in them. She was such a cool model to work with, not once complaining about any thorns, etc.!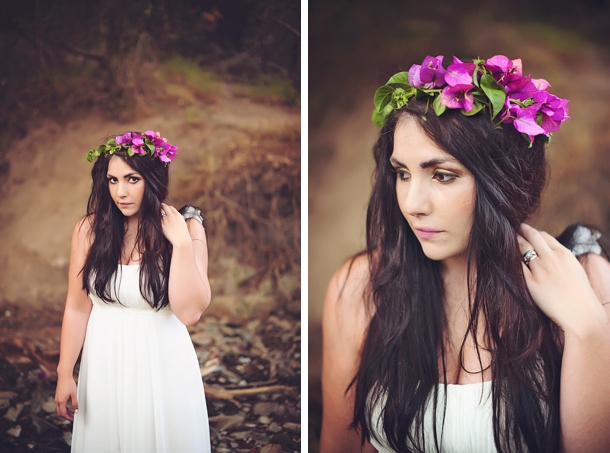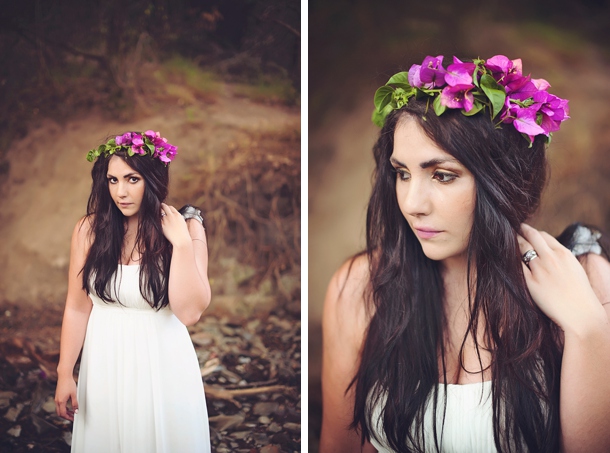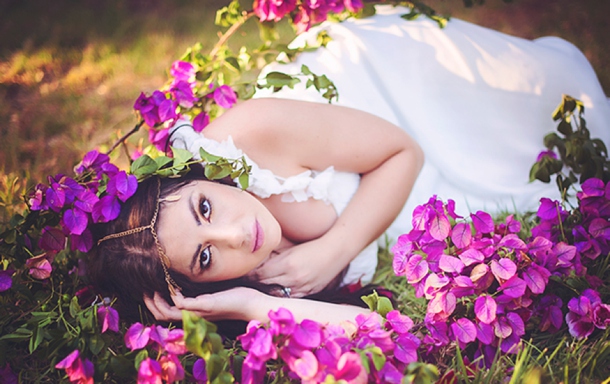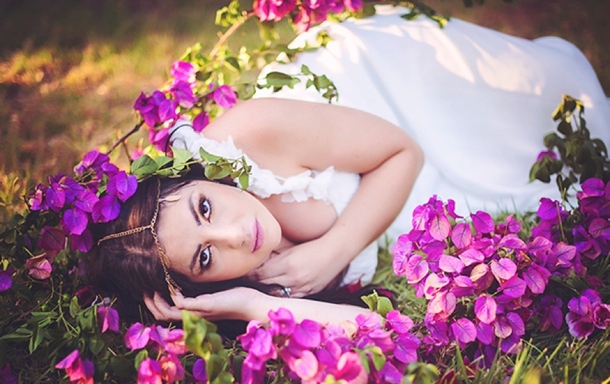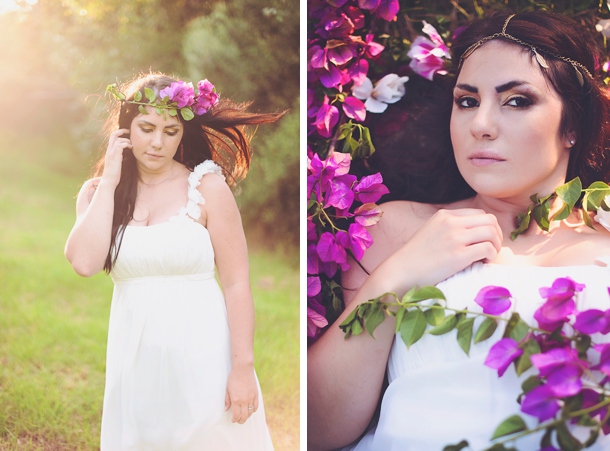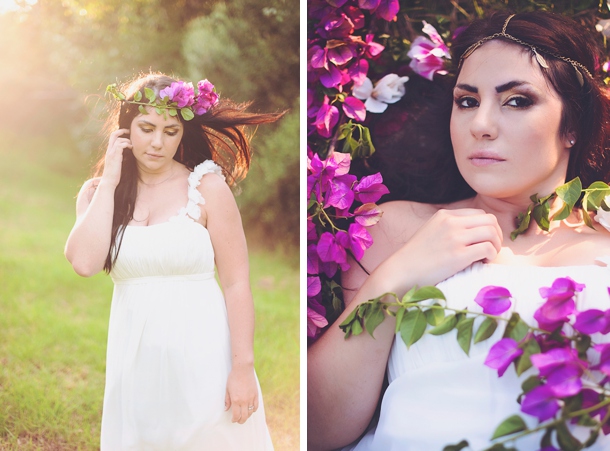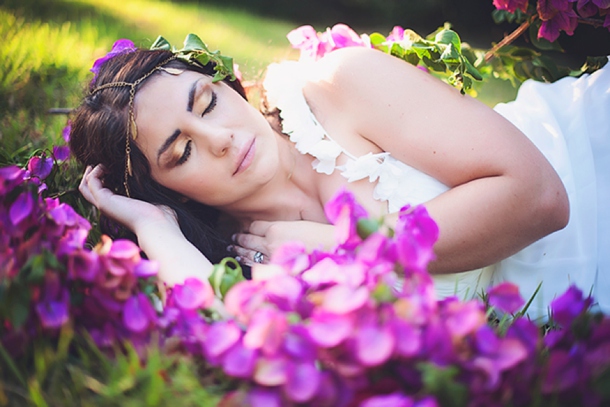 SERVICE PROVIDERS
Photography: Debbie Lourens | Makeup: Samantha Klopper | Crown & feather gypsy hair accessory: Sunkissed