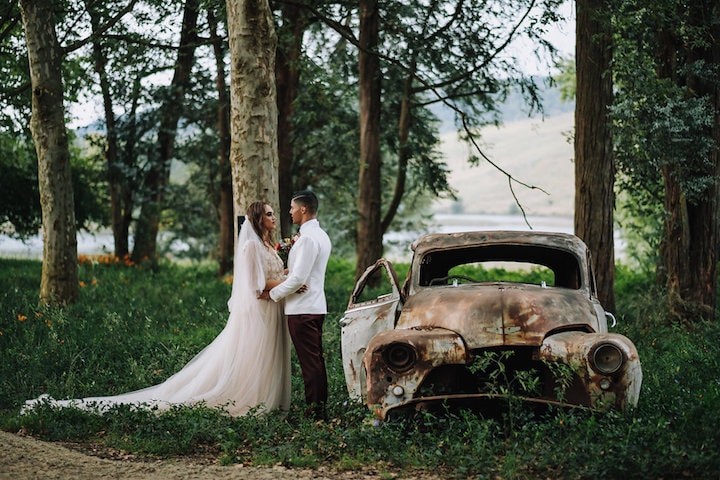 This wedding is just a feast for the eyes in every way. First of all, it features the most gorgeous couple (who, by the way, are also living proof that it is possible to escape the friend zone and fall in love!). Then consider that it takes place at one of our all-time favourite venues, Crystal Barn, with its beautiful forest ceremony area and cool, eclectic reception decor, which Melissa and Pierre complemented perfectly with their opulent marsala, blush and rose gold decor. Not to mention the quirky little details: a draped faux arch for the seating plan, a hanging stand for the chocolate shard cake, geometric shapes, hoop bouquets for the bridesmaids, touches of transparent decor and macrame at the ceremony… I could go on. Or the attire – I'm loving everything about the mismatched bridesmaids, the suited and booted gents, and OMG the wedding dress! It's all beautifully photographed by the fab Shank Tank team, who we adore. So yep. Pretty much all-round amazing!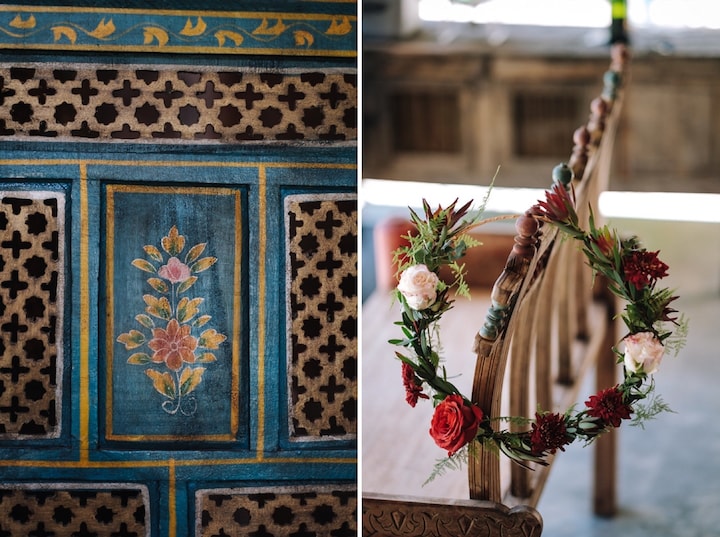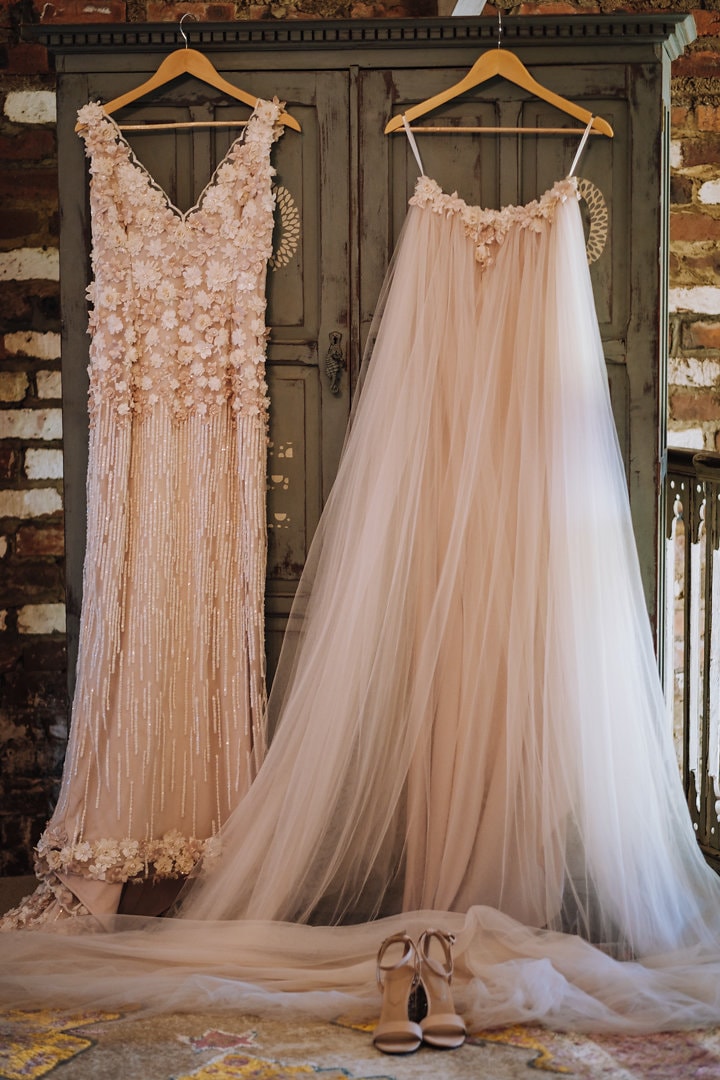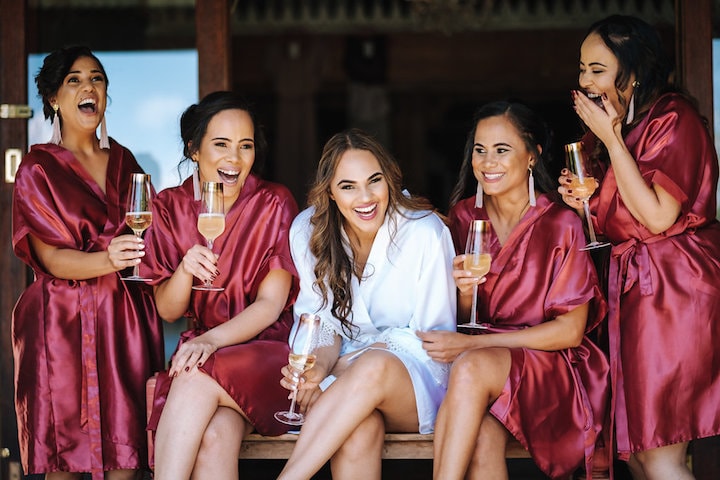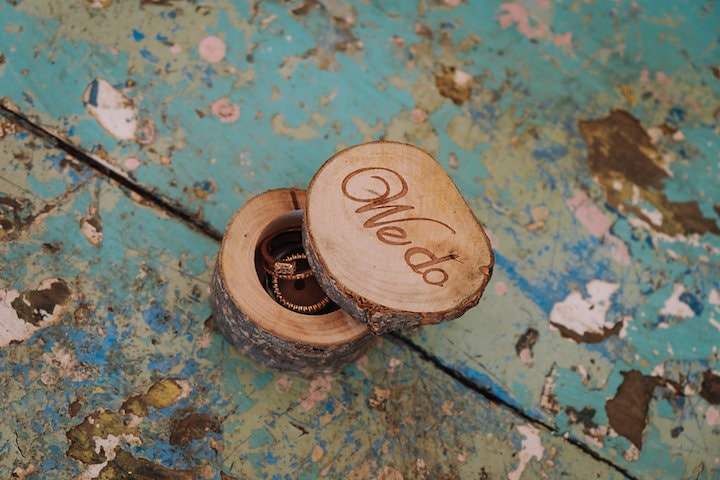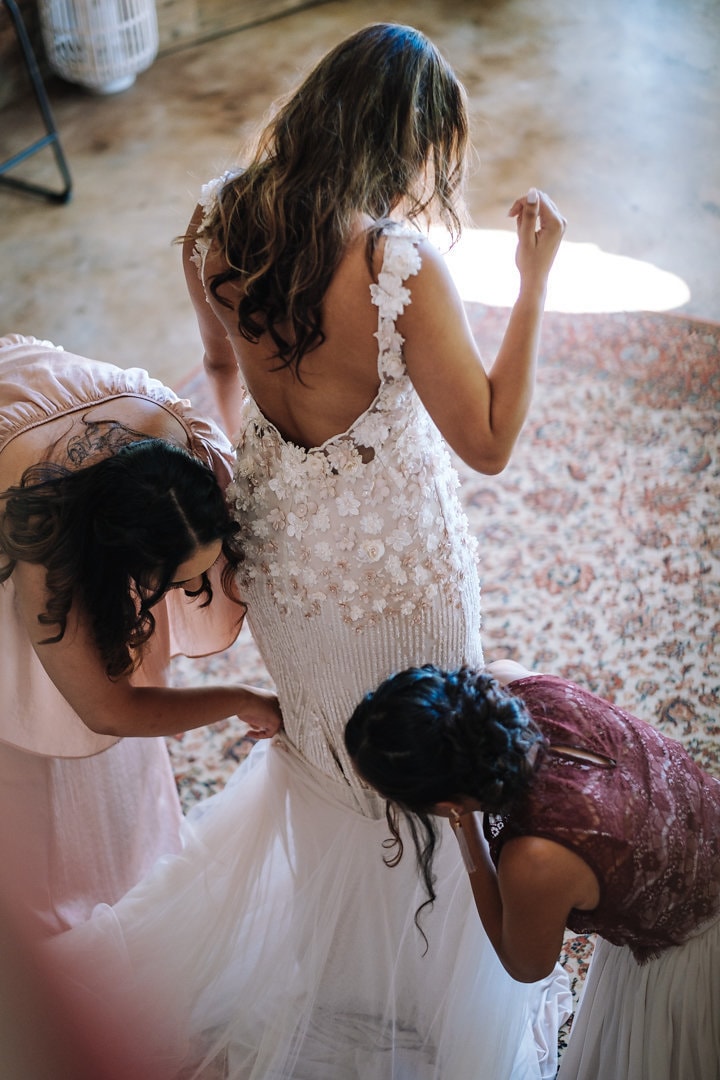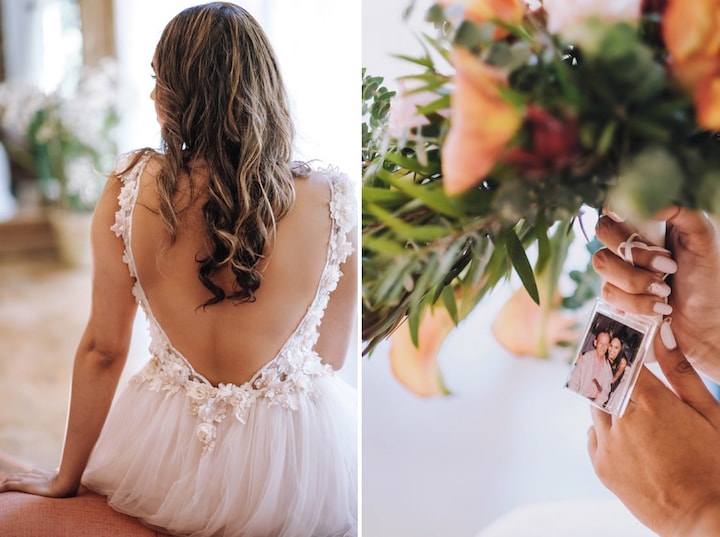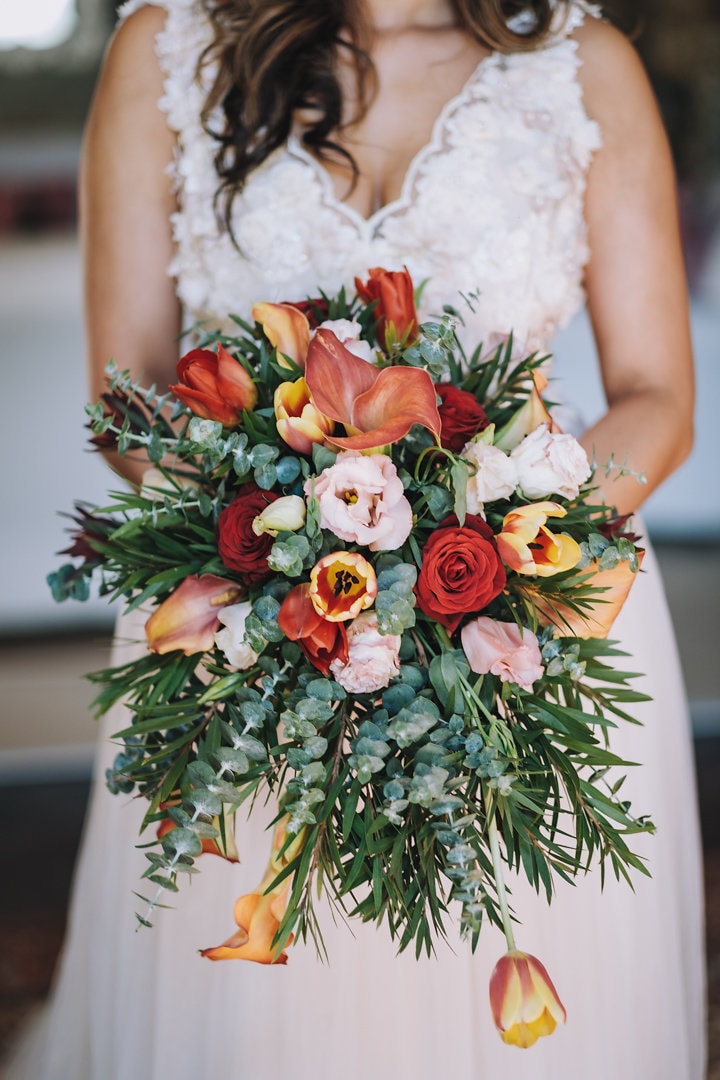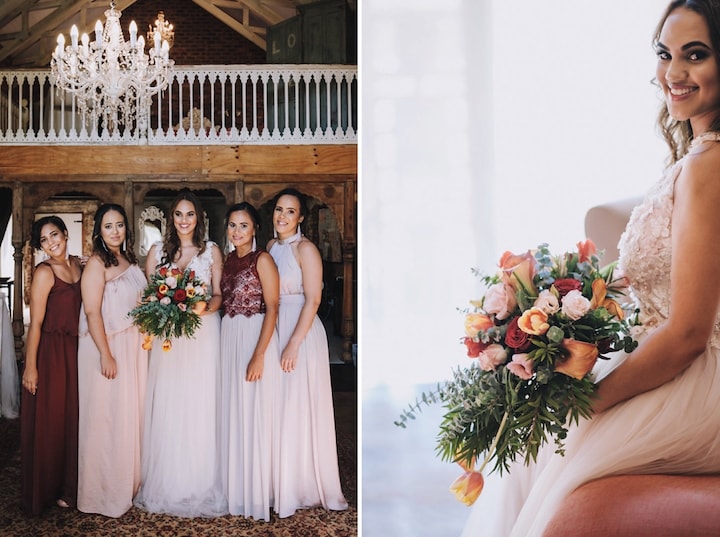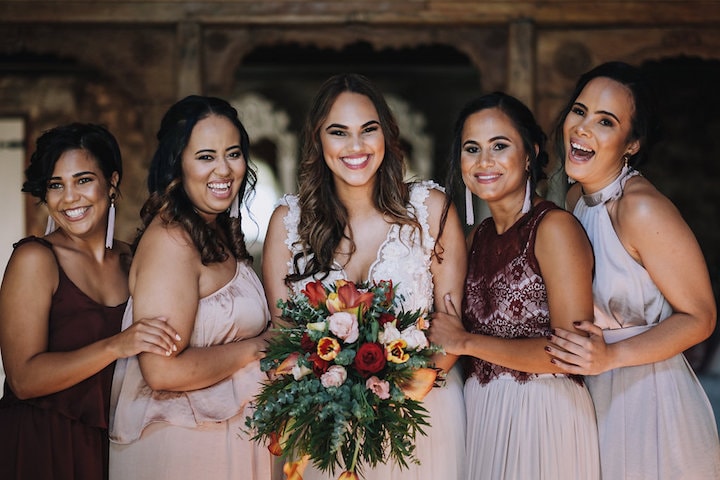 Love Story
We first met as mutual friends in school. Pierre then went to Australia after his matric year and when he came back home to South Africa, we saw each other more often. It was during the 2010 Soccer World Cup that we first held hands and shared our first kiss.
The Proposal
Two of my best friends, Shelley and Nicole, picked me up for a 'lunch date', which was pretty normal for us as we are always lunching when we are in the same city together. We arrived at Makaranga Gardens and sat in the Deli area for what seemed like ages, without a waiter coming to serve us. I seemed to be the only frustrated one, as the others proceeded to excuse the behaviour of the waiter, saying that the restaurant only started serving lunch at 2pm! To 'kill time', Nicole suggested a walk to the waterfall. I must admit that by now, I had started feeling super anxious, yet still not thinking that I was about to walk into my proposal! As we got to the pathway to the waterfall, both Nicole and Shelley insisted that I lead the way. I took the last step before reaching the waterfall and turned around to find my friends, phones in hand and smiling. As I turned back to the waterfall, Pierre was down on one knee. I can only remember saying "YES!" We then proceeded to lunch, where our family and close friends were waiting to celebrate with us. It was perfect. And special. In every way.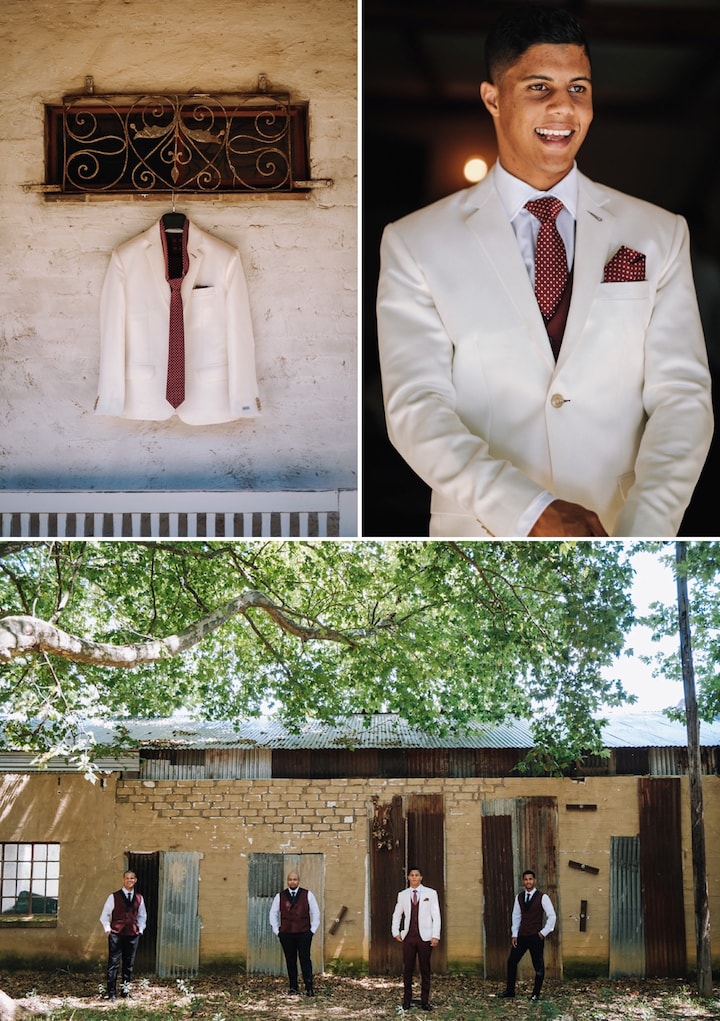 The Venue
I wanted to go for a very romantic but countryside feel for our wedding. Pierre grew up in the countryside and I am a typical city girl, so I really wanted to bring our two worlds together. Crystal Barn Country Estate was our first venue viewing and we both fell in love with it immediately. With both of us being from Pietermaritzburg, it was important for us to find a venue that hadn't been utilised by anyone we had known, but that was also close enough for our family and friends to travel to. The forest setting is out of this world and truly lives up to their award winning ceremony venue. I loved the eclectic feel of the reception venue and when I spotted the chandeliers, I was sold! Driving out of Crystal Barn that day, we knew we had already chosen our venue.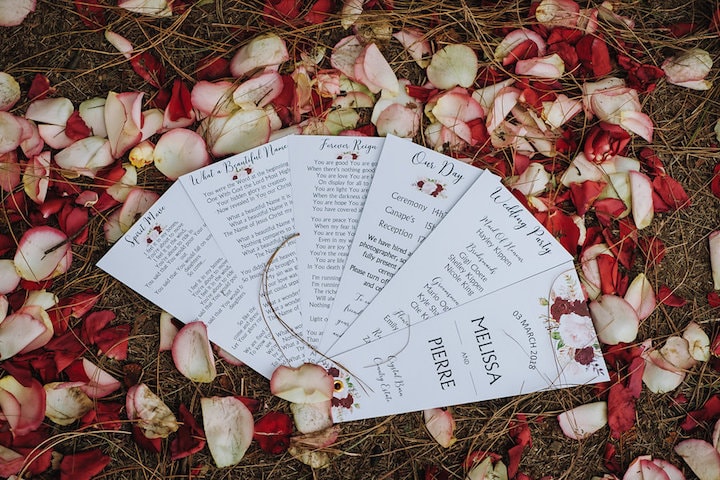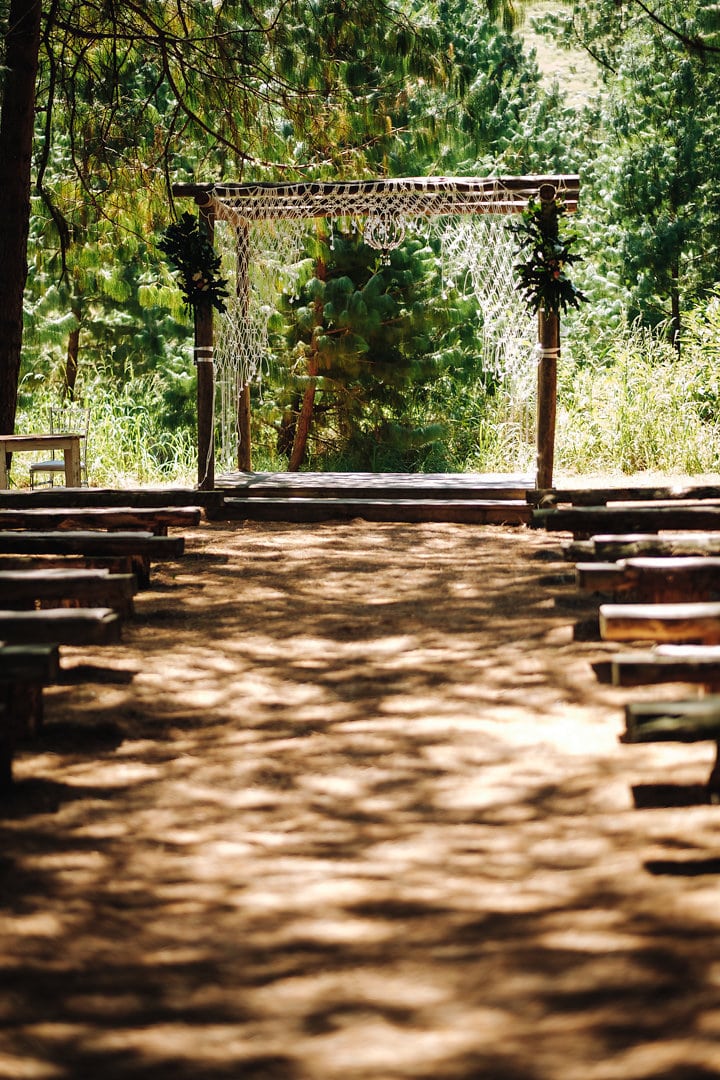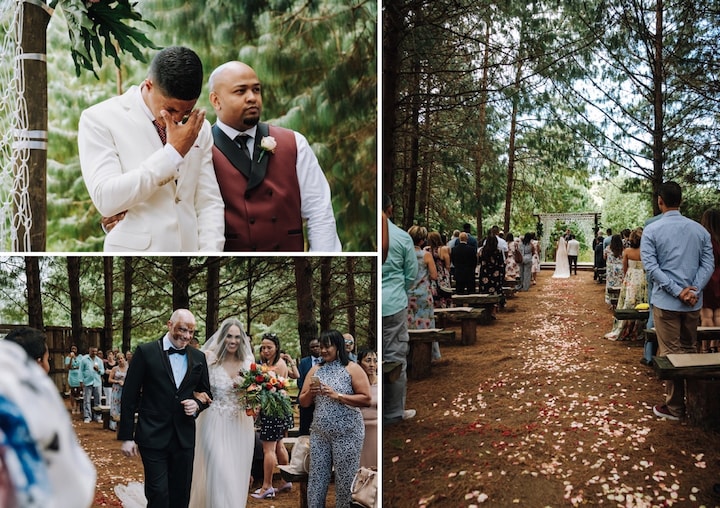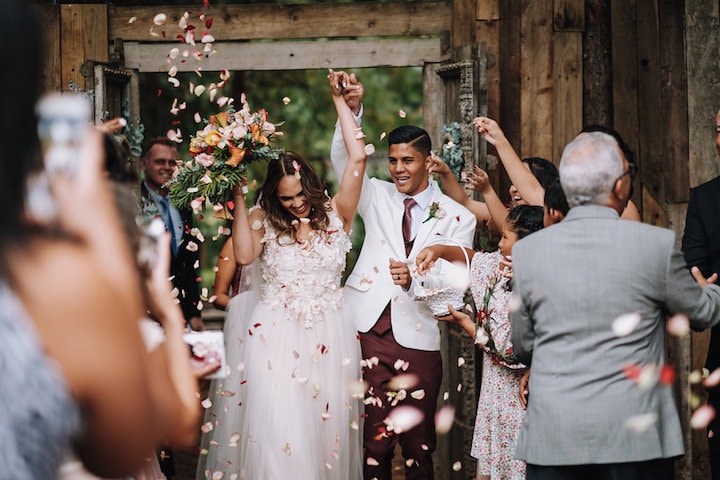 Wedding Style
My colour choices were formed out of my obsession with rose gold, and so we had that, paired with rich accents of marsala and blush tones to soften it all. The colour combination worked so well with the venue and created the romantic feel I envisioned.
Wedding Details
I got our wedding cake inspiration from a bakery in Cape Town of a cake they made using chocolate shards. I then found a similar idea on Pinterest and Taryn recreated it perfectly. The filling was a normal vanilla filling, which is my absolute favourite. The cake formed part of the dessert table as well. We had a memory table at our reception, which was so special for family to see. I also carried a picture of my great gran and grandpa who had passed away in my bouquet, which my bridesmaids made for me. That was really special.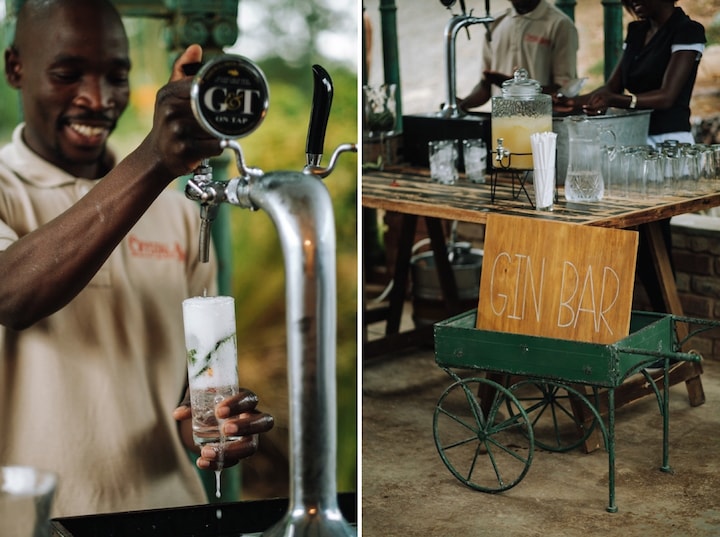 DIY Elements
My gran made the most amazing macrame for the altar at the ceremony, and she draped hula hoops with flowers that hung on the entrance doors in the forest. My husband also made our suspended cake stand.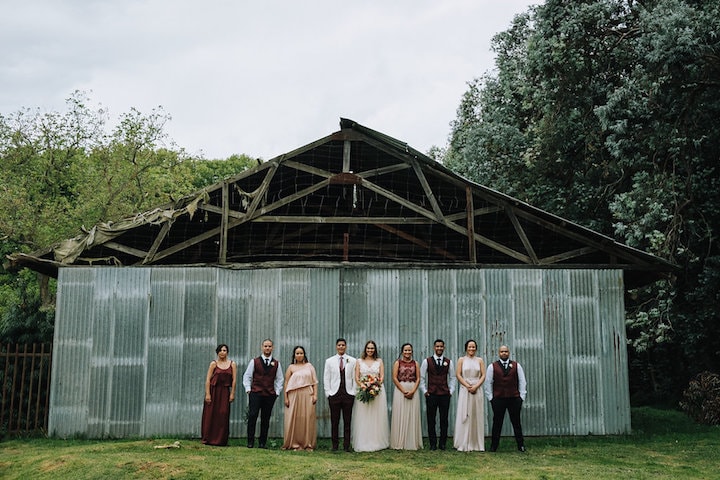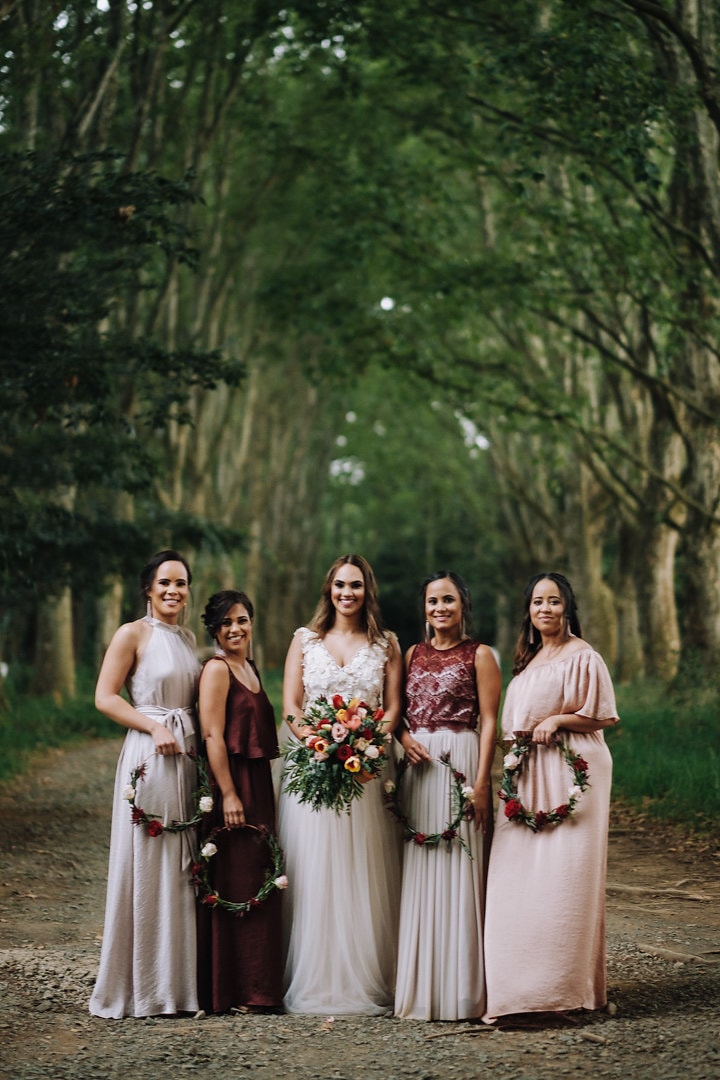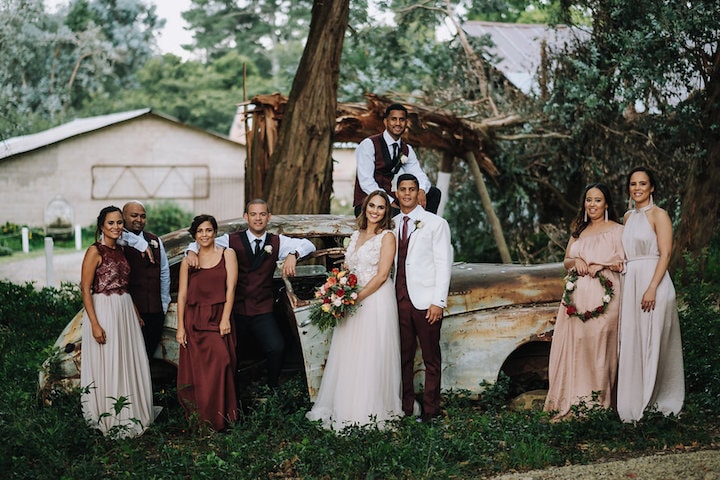 The Flowers
The wedding flowers were the creative work of Stacy from Sparkle Planners. She worked with the colours of the wedding and with what was in season at the time and lots of greenery. The reception flowers lined the tables as runners and my bouquet was a cascading colour pop that complemented my wedding dress so well. The bridesmaids carried beautiful floral hoops.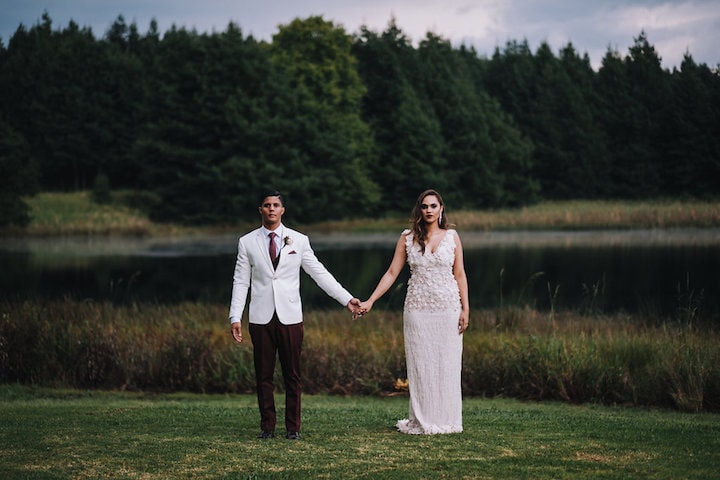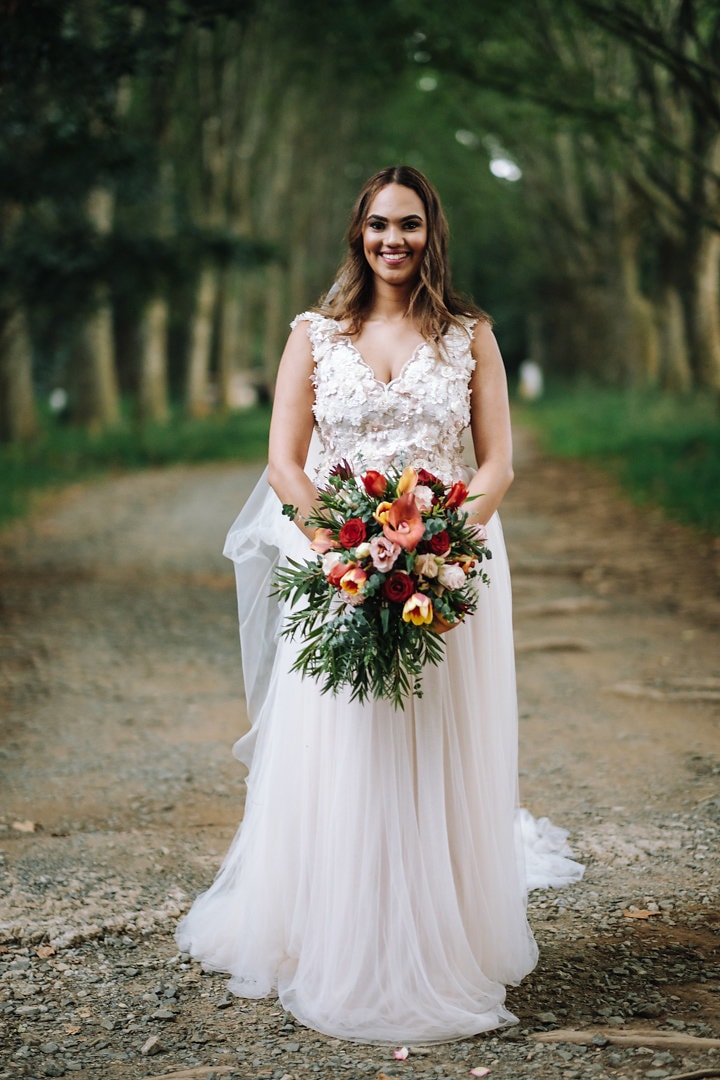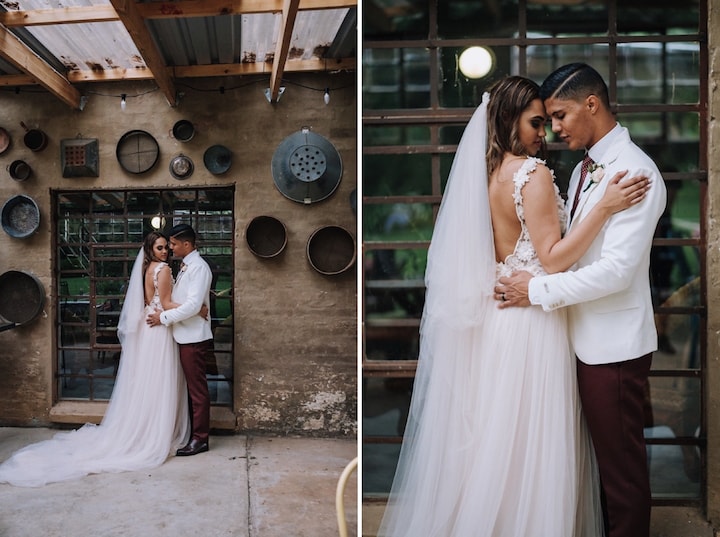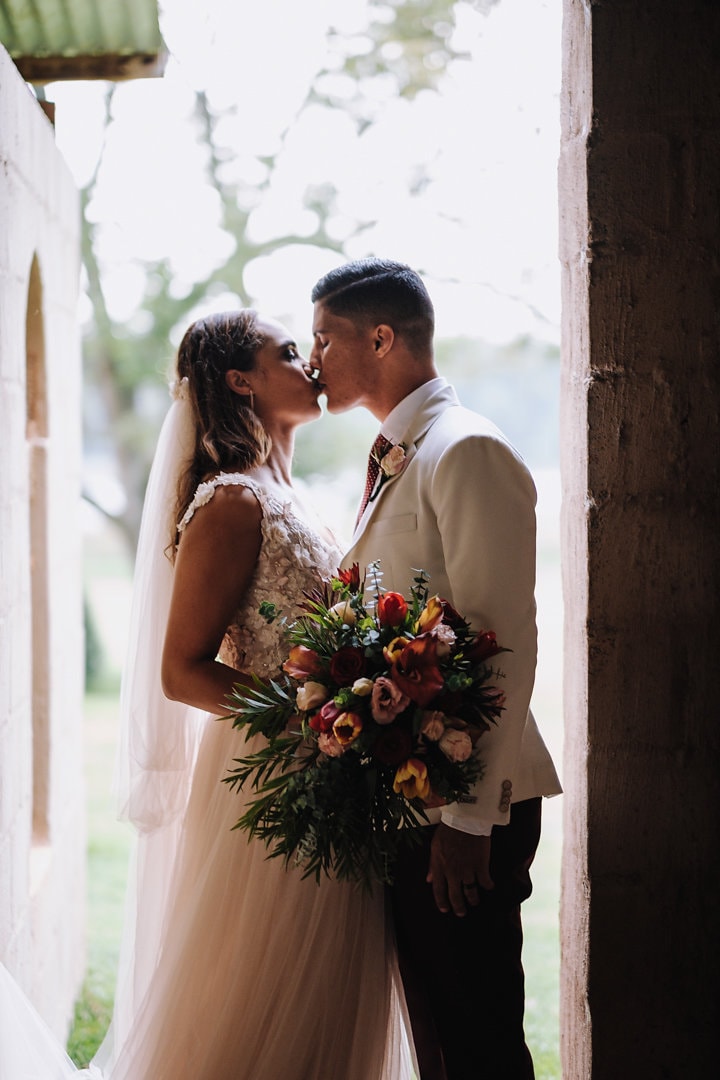 The Dress
My wedding dress was extremely special because I got to create it with Aunty Merle, a former designer who I always knew would make my dress. We created my wedding dress on the shop floor of the material store! It was a delightful experience. I wanted two dresses without having to change. The end result was everything I dreamed it would be.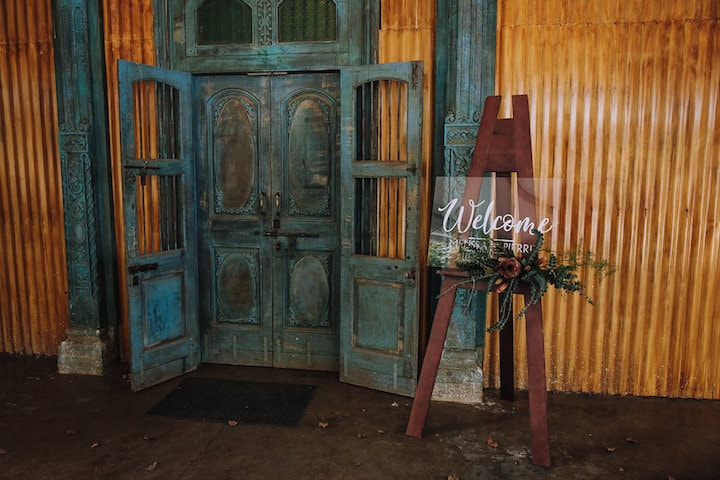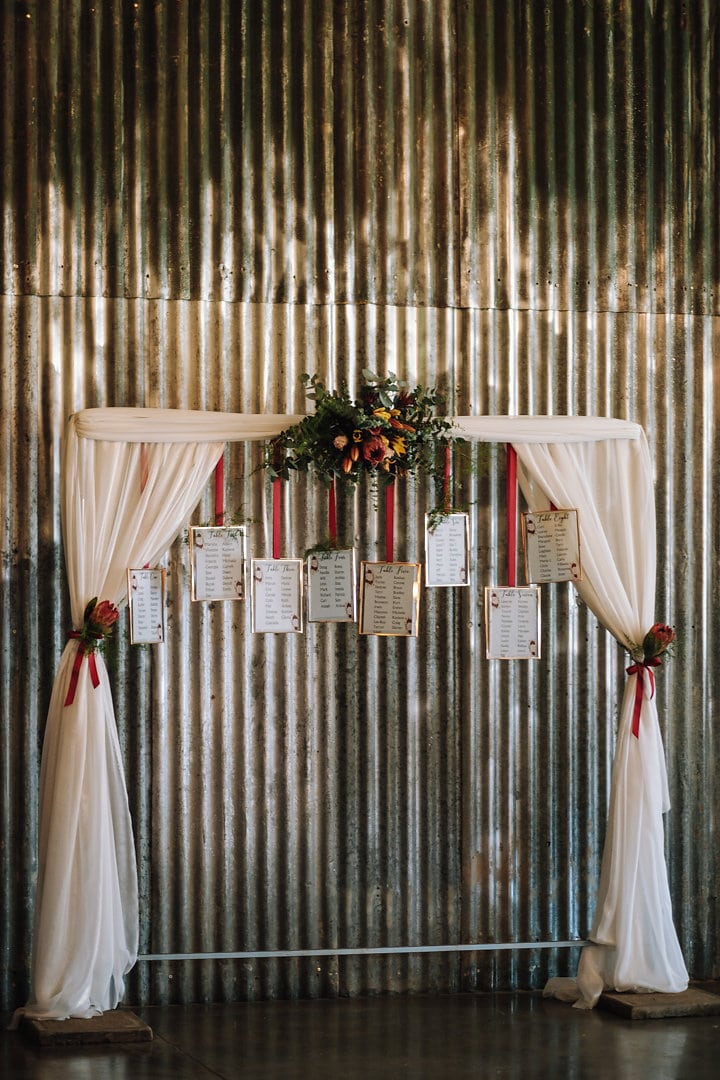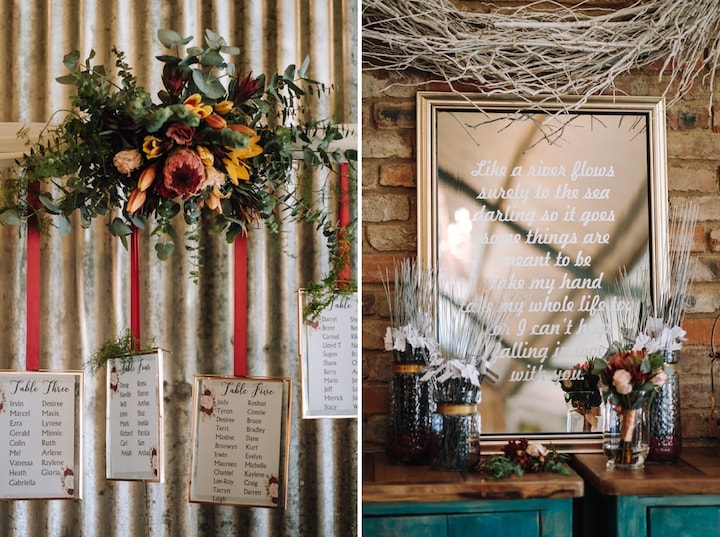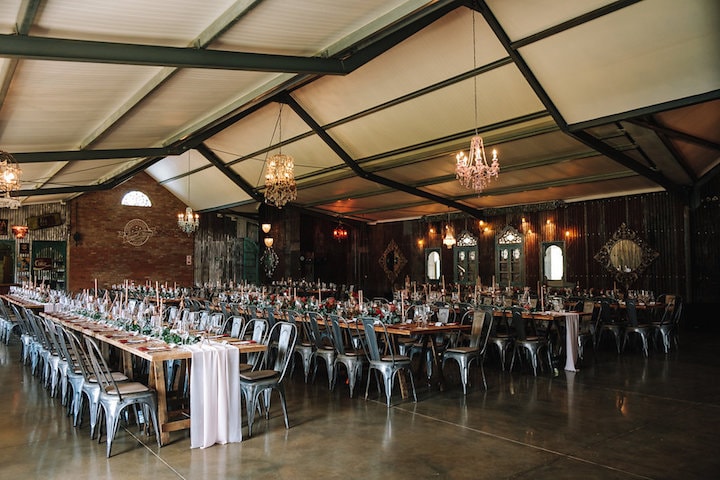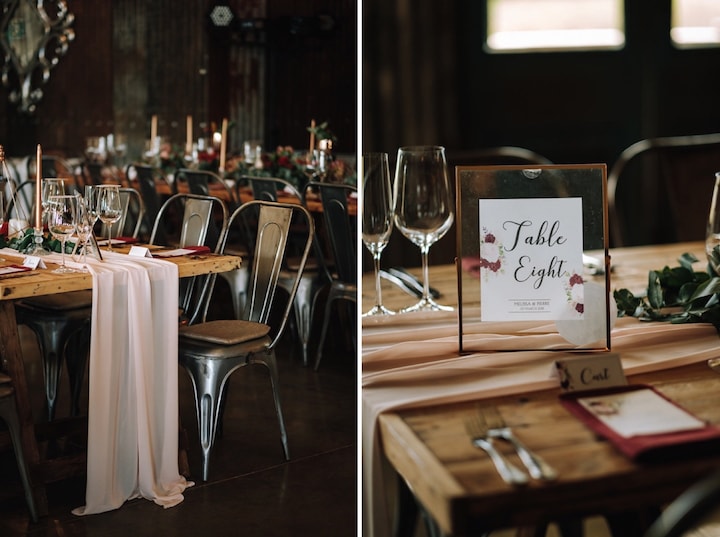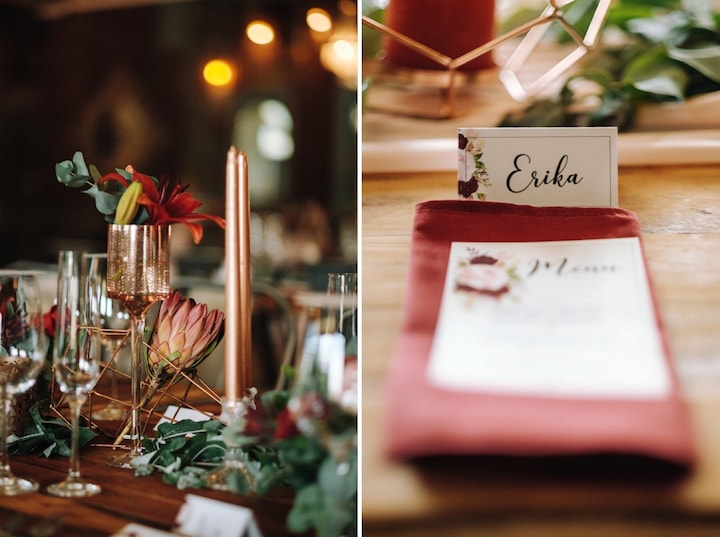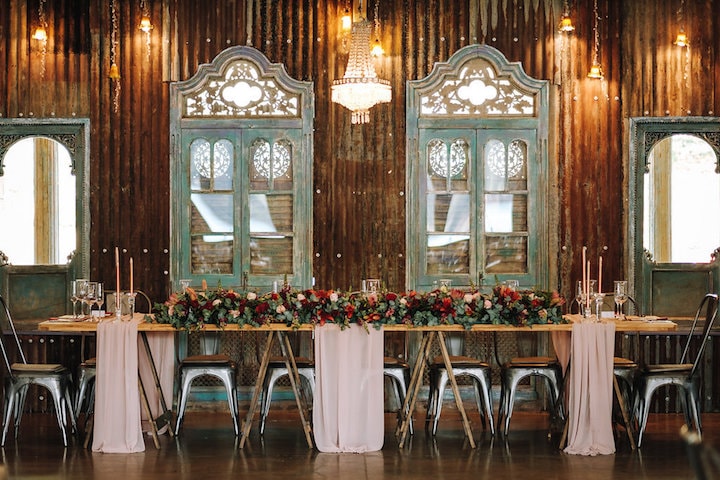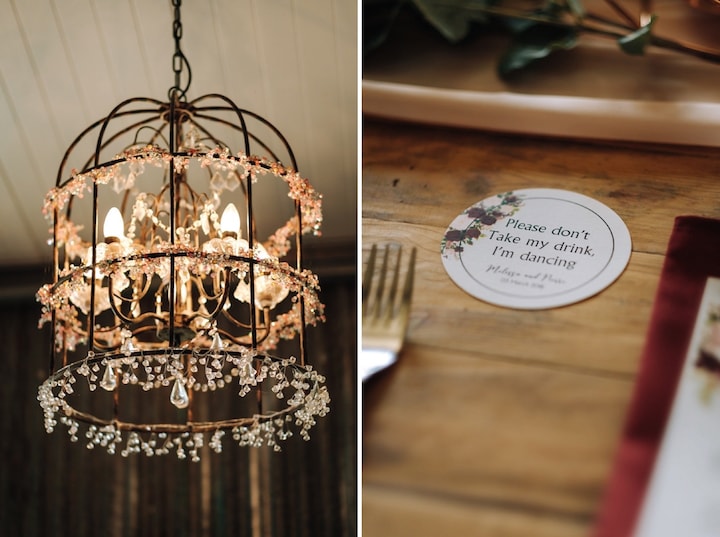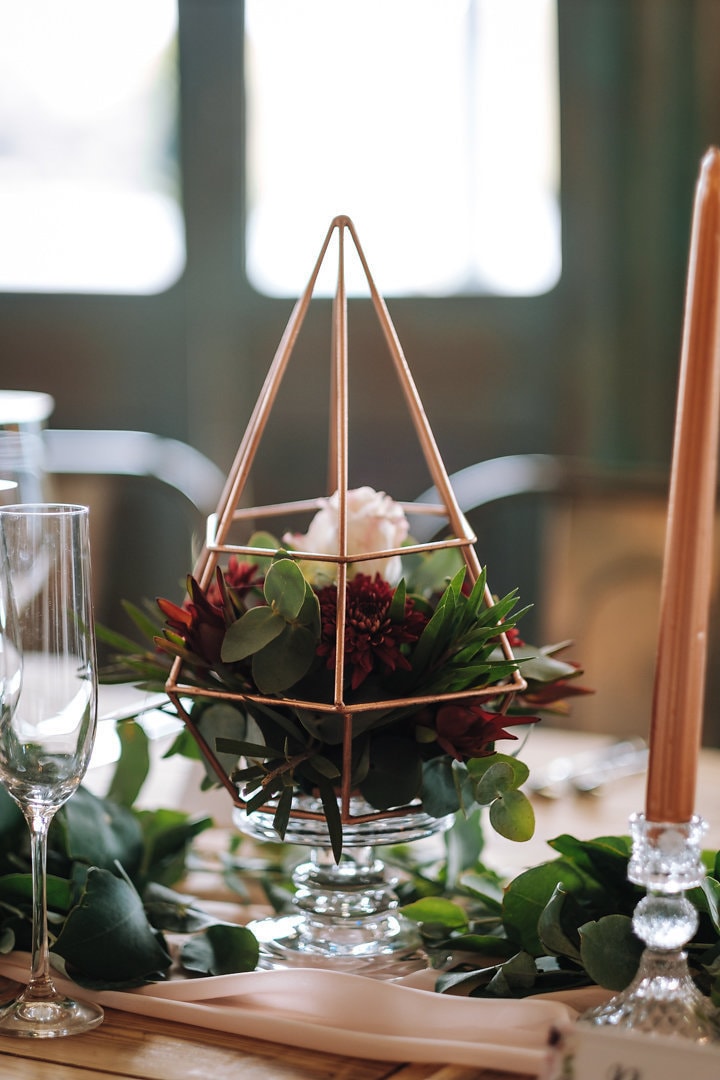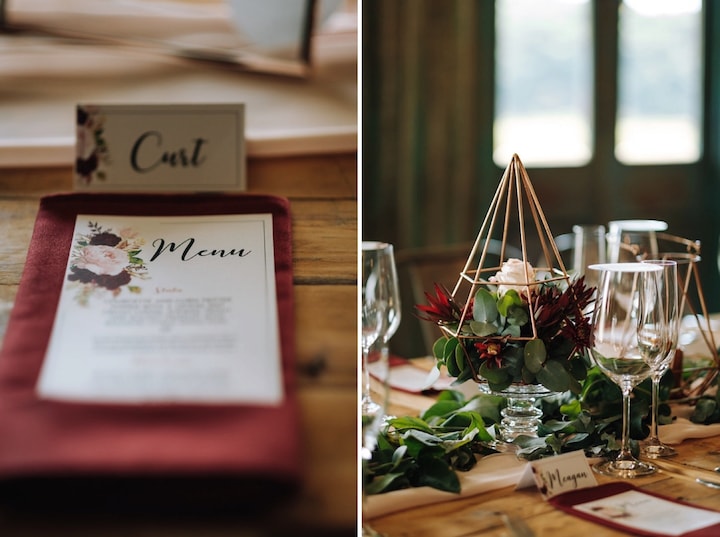 The Wedding Party Attire
Our attire was probably the most stressful part of the whole wedding. I had a very specific look I wanted for everyone. I chose Chanelle Wright for my bridesmaid dresses at our first meeting. I remember walking in and finding the exact colours I wanted for the bridesmaids. I let the girls choose their styles and we went with a combination of burgundy, blush and rose gold, with the maid of honour wearing a combination of the colours. The groom and groomsmen's suits were made by a Durban tailor, Vic. He has made nearly all of my dad's suits and I just knew we could trust him with the colour choice and the end prodct as all the groomsmen were in different parts of SA. I showed Vic the material of my dress and the colours of the bridesmaid dresses and he chose the colour of the suits, with Pierre's approval of course. I was very wary about getting all of our attire tailor made because I needed to see the end product first, to know that it would be what I wanted. Our designers did not disappoint and the overall process was seamless. We also got exactly what we wanted and did not have to compromise on anything.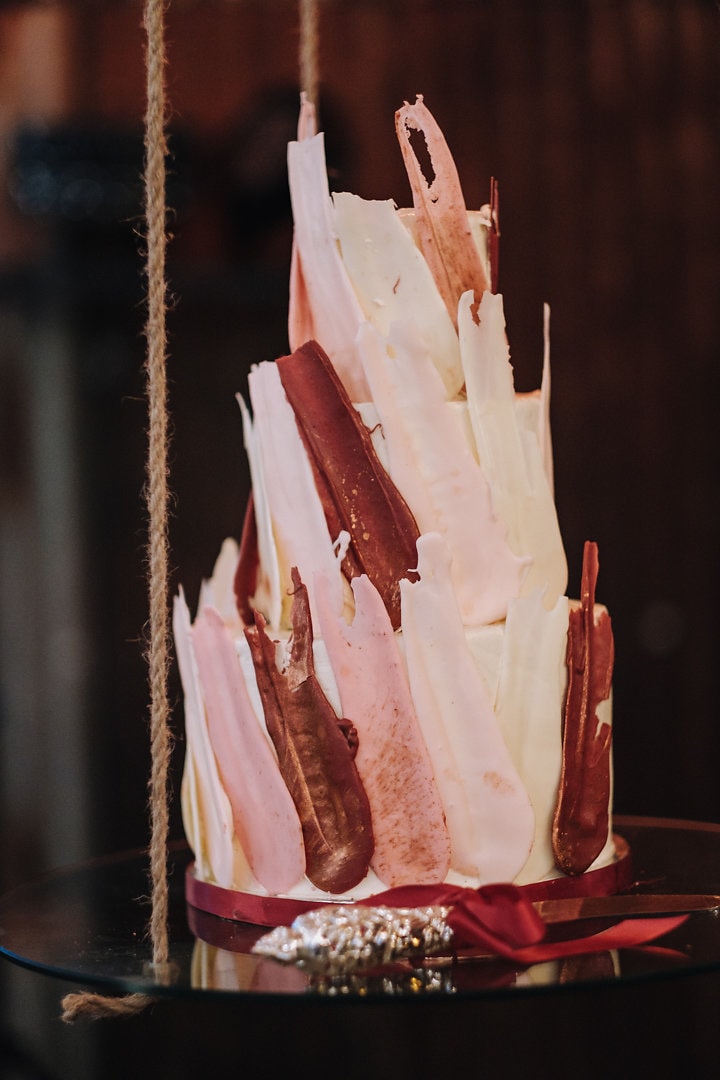 Memorable Moment
Our favourite part had to be when we stood back at the reception and took it all in. All the months of planning had been so worth it. We had our closest family and friends around us, celebrating our marriage. It was truly a dream come true. Leaving the ceremony as husband and wife was pretty special too.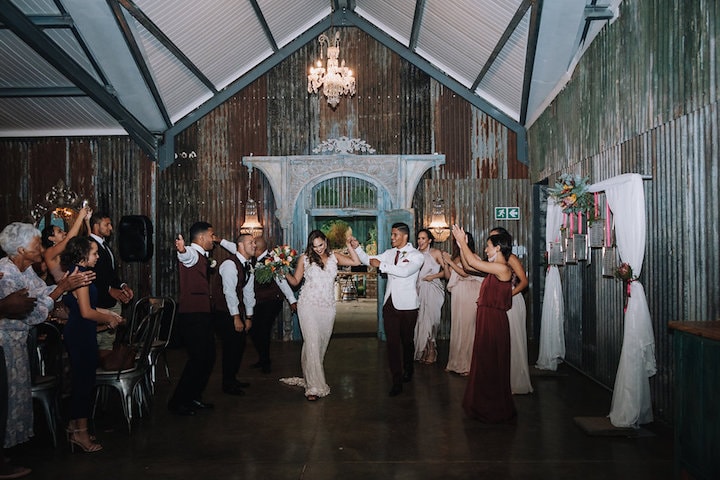 Advice for Future Brides & Grooms
Don't sweat the small stuff. I know you hear this all the time, but it steals the joy of planning the wedding. Choose reliable and trusted vendors. They ease a lot of the stress. Remember that the most important thing about the wedding is that you are marrying your partner.
You can see more from this wedding on the Shank Tank blog.
SERVICE PROVIDERS
Photography: The Shank Tank | Venue: Crystal Barn | Event Planning: Sparkle Planners | Floral: Sparkle Planners | Videography: The Shank Tank | Wedding Cake: Smith's Bake Shop | Hair: Teri Cole Hair and Makeup | Makeup: Teri Cole Hair and Makeup | Hair: MC Beaty | Accessories: Lovisa | DJ: ALLEYNE THE WIZ MORTON | Officiant: MARK WIMBLE | Wedding Dress: Bride's aunt | Bridesmaid Dresses: Chanelle Wright | Bride's Shoes: ALDO | Flower Girl Dress: Zara | Veil: Brides aunt | Groom's Attire: VIC- THE TAILOR SHOP | Bridesmaid Robes: The Wedding Shop | Groomsmen Attire: VIC- THE TAILOR SHOP | Submitted via: Matchology