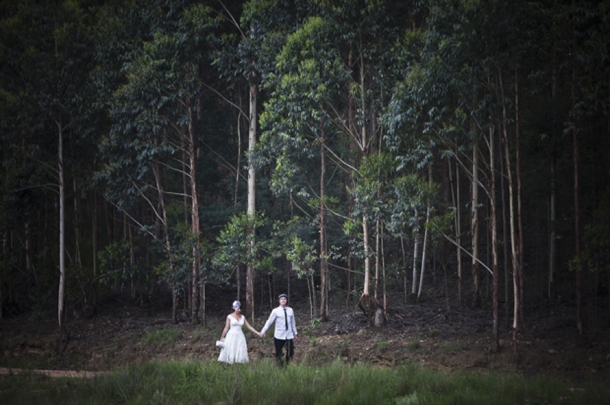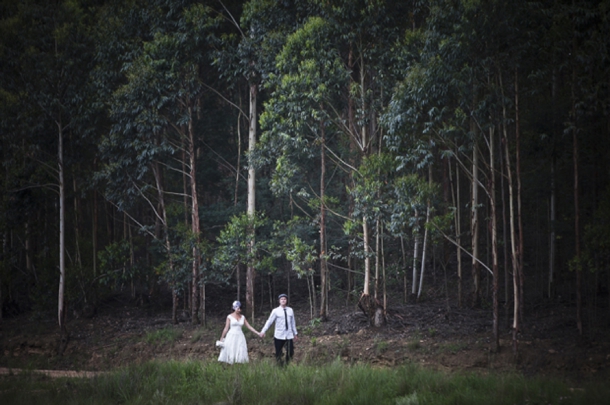 Hello friends! It's our first real wedding of the week, and this one is chock-full of handmade goodness! You know, people who have met me always assume (because I'm not much of a child person) that I'd be the first person to say that I prefer weddings kid-free. In fact, the opposite is true. I love kids at weddings (unless they're screaming through the vows – take them outside, folks). They're always so giddy and excited and awed by the whole thing, and they're the most fun on the dancefloor. But more than anything, they remind me that a wedding is a community celebrating an event that isn't just happening to someone else, but is part of who they all are and the fabric of their lives and friendships – having children there (another part of that fabric) just seems right to me. Anyway, this isn't a lecture on why you should have kids at your wedding (do, don't, up to you) but rather a thought that came out of today's lovely wedding which also happens to have been particularly child-friendly. And the thing is, that with all the colour and beauty and detail (how much do we LOVE that altar backdrop, for example?), it seems very much a colourful tapestry of celebration in the way I've described. Samantha Maber was there to take these beautiful photos, and I'm thrilled to share them with you today!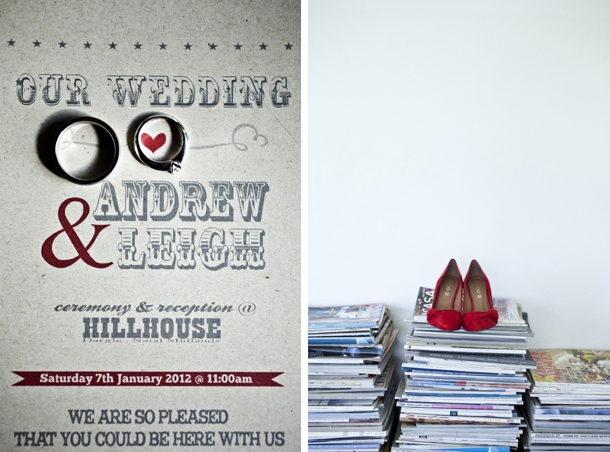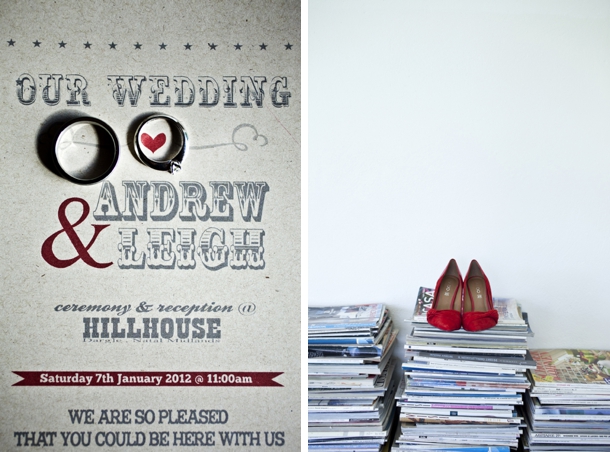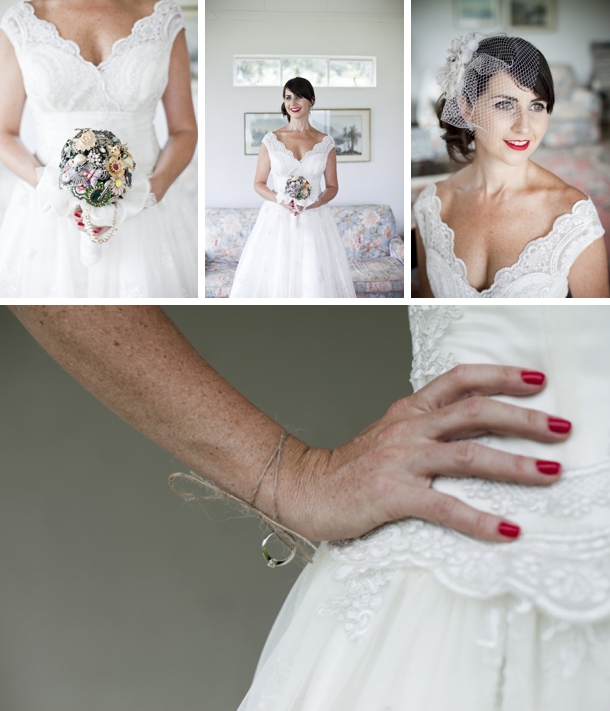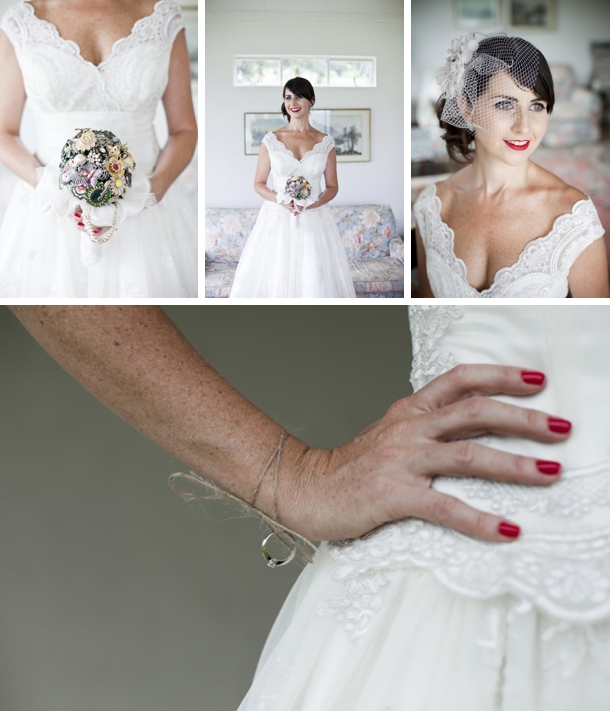 From the lovely bride, Leigh:
Andrew and I met through mutual friends towards the end of 2003. A group of us decided to spend New Years at a music festival called Flux, and he finally sealed the deal, after a good couple of weeks' courtship, by very romantically kissing me at the stroke of midnight (with the sounds of Max Normal, the now Die Antwoord, playing live in the background)!
We dated for nine years before we got married, but we didn't officially get engaged! We just decided one night while cooking dinner together that we were 'gonna do it'… just get married! Later he did tell me he had been carrying his Granny Lucy's ring around with him for a while.. I guess a proposal just wasn't meant to be.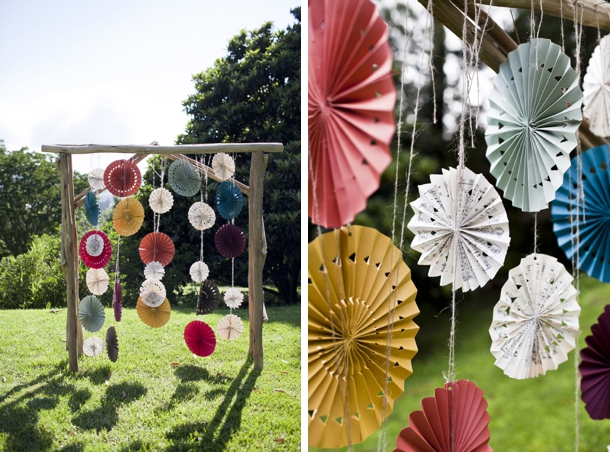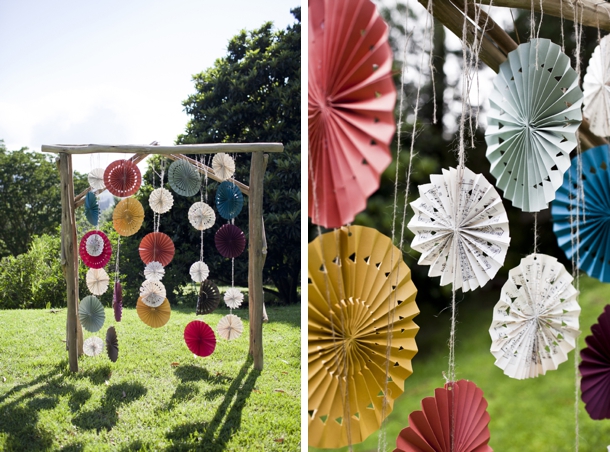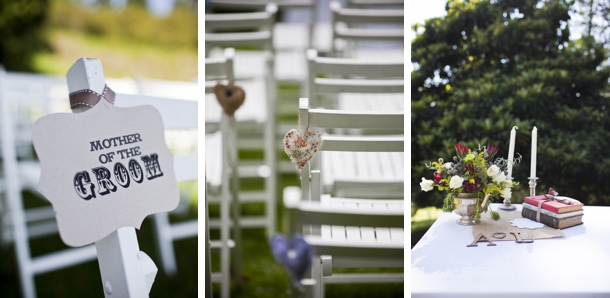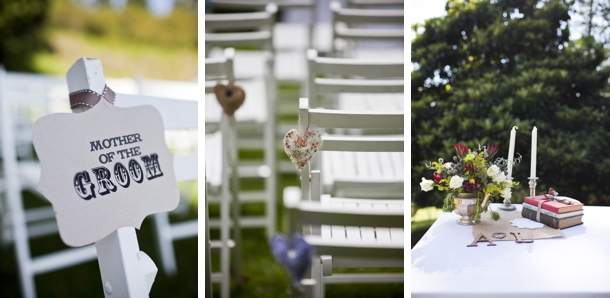 We'd stayed at Hillhouse before and knew it was perfect for a small intimate wedding; the view is phenomenal and the feel of the place was perfect. The night we decided to get married, it was the first venue that popped into my head, and when we phoned to book they only had one date free – perfect. We wanted to surprise our friends and family, as they had been on our case for nine years. We told our folks first. My mom lost her voice, my dad was quiet and just grinned, Ando's mom screamed and his dad shed a tear! Our siblings were super stoked, everyone sighed 'finally' I think. The surprise was in the 'Save the Date' we sent out via email, taken with the photobooth app on Ando's phone, to our friends and extended family. It was done… two months until our wedding day! Our emailed invite went out the next week and the wedding adventure began. There was soooo much to be done! Unfortunately I was not one of those girls who dreamed of wedding dresses and already had her entire wedding pinned on Pinterest – all I knew was that the thought of a marshmallow gown and dancing to the Locomotion freaked me out! I didn't have a clue, I wasn't even sure about this whole 'being a bride' thing… I had a venue, that's it!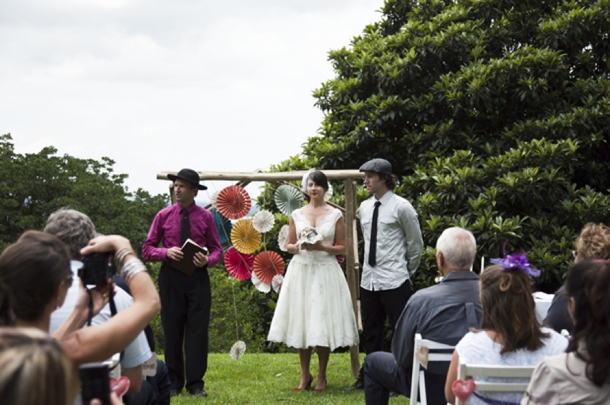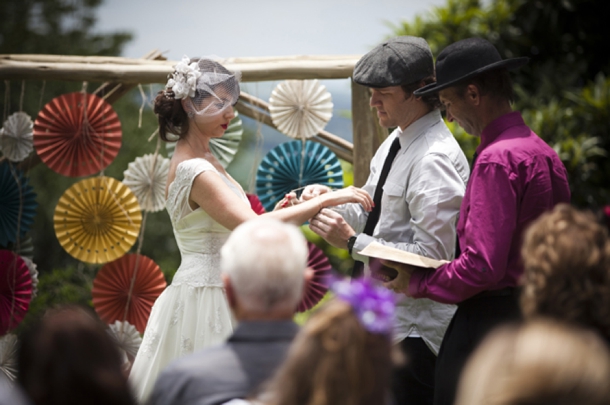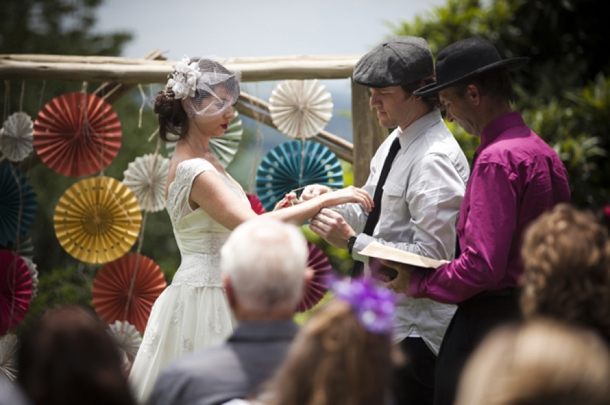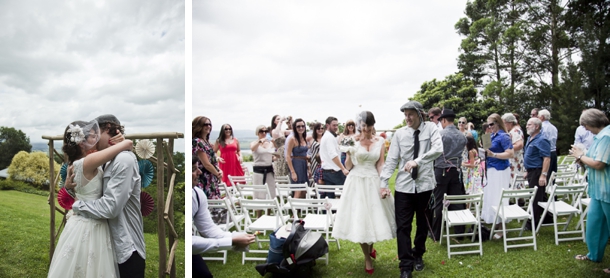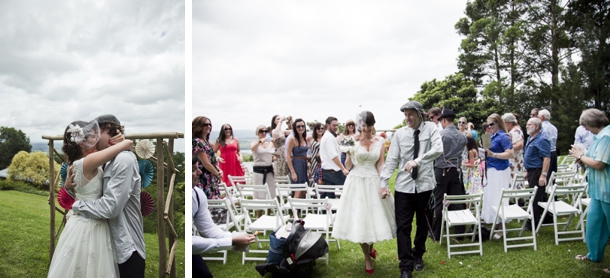 Ando and I knew that we wanted a very relaxed atmosphere, a simple un-fussy day, a short relaxed ceremony, and a long lazy (help-yourself) meal. We wanted our family and friends to be able to witness our vows and celebrate all together over a meal, and most importantly be able to bring their kids. Hence a day wedding! The venue in the midlands Hillhouse is open and airy and lends itself to exactly that, enjoying the company of the special people in our lives, and celebrating a beautiful day together.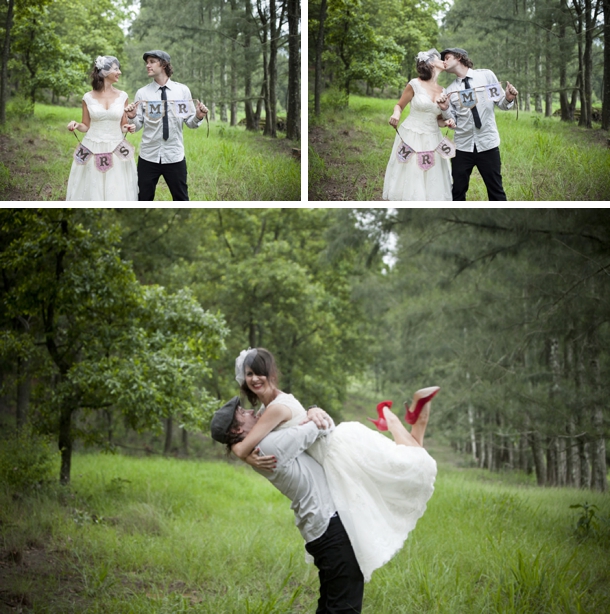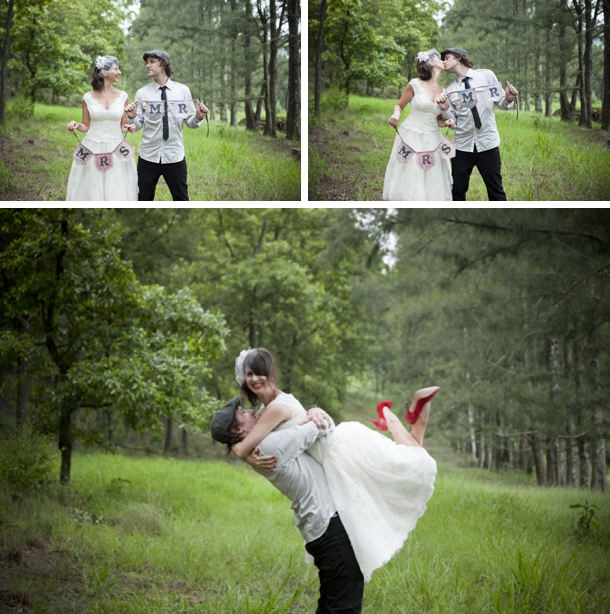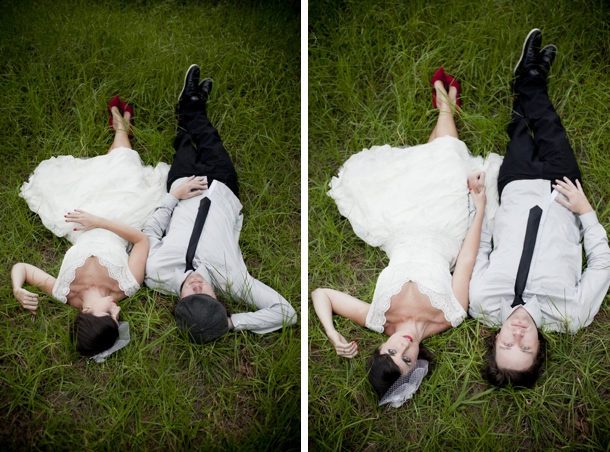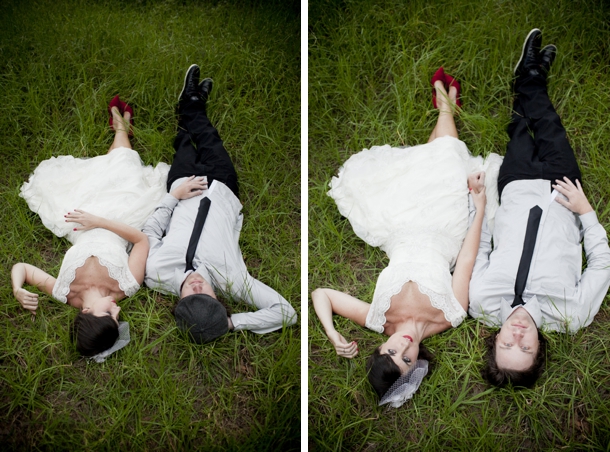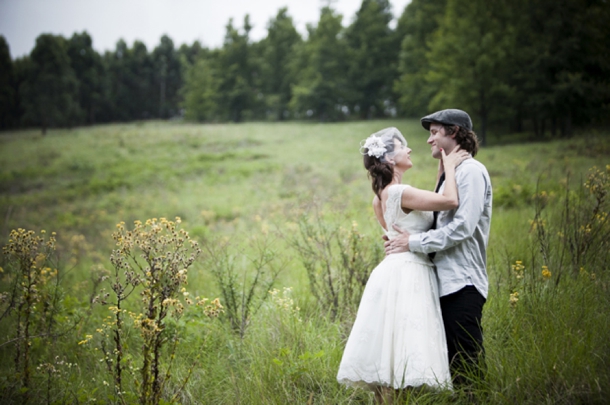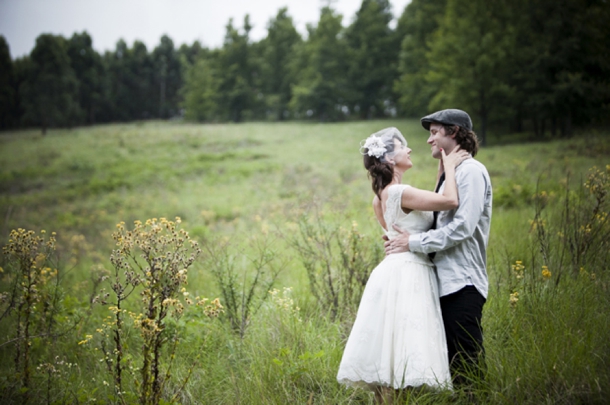 Our day was simple, without the 'normal' traditions like bridesmaids and cutting the cake and throwing the garter, things we felt were not necessary to us, but filled instead with other memory making traditions like family and friends, laugher and fun. The kind of stuff that makes you happy and unique as a couple. There was no real design for our day, just a bunch of stuff around that I love (I can't drive past a hospice shop or second hand shop with out going in!). I didn't want fussy or breakable, just simple, pretty and elegant. Ando didn't have much to do with the décor, he just laughed as he said 'not too many doilies'. However, I did want it to have memories of things of the past, family games that we would have played together as kids on the table, as well as things familiar to the guests, simple settings, to make people comfortable and relaxed, so they could enjoy the day with no worries which knife or fork you had to pick up first, or what event/speech is next on the agenda. So the speeches were lumped altogether, short and sweet, and for the rest of the day we just had chill time with the special people around us! The Pimms flowed all day and guests did what they pleased, played some croquet or boulle, chilled on the couches or played with the games on the tables inside.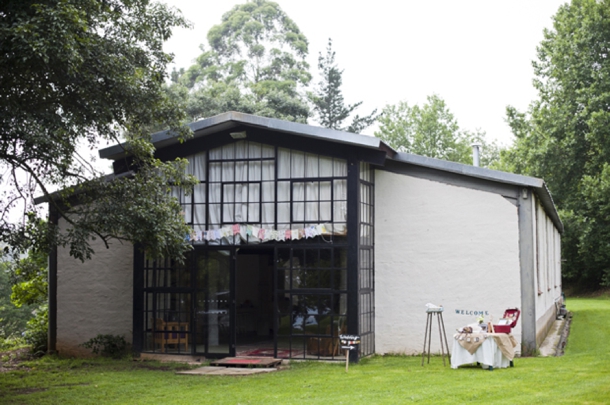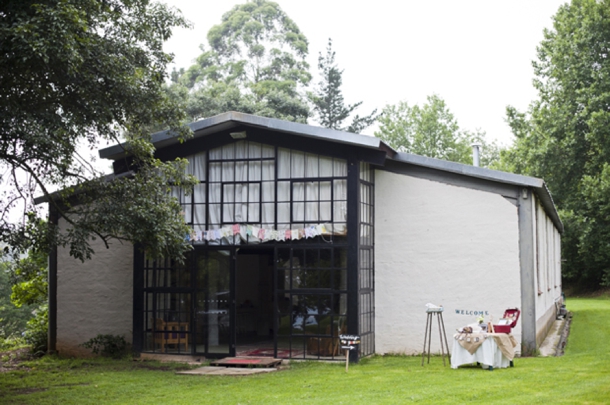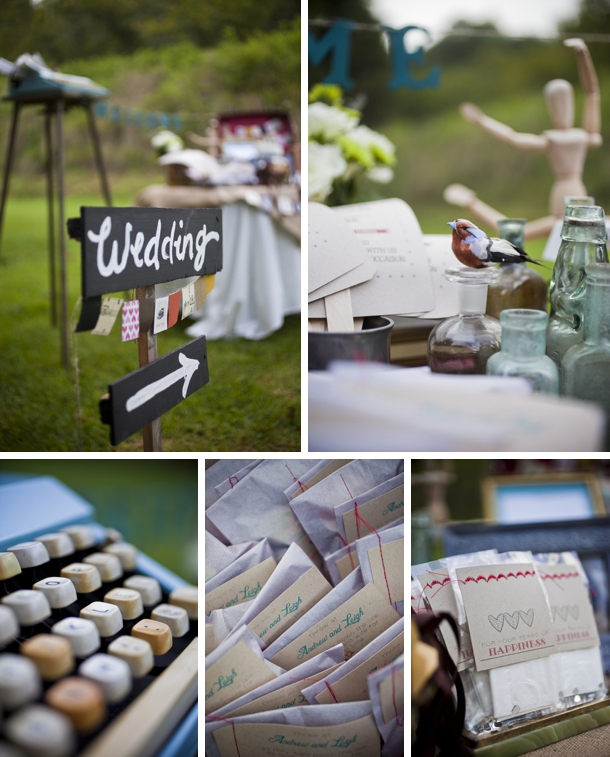 I love doing anything crafty, so most of the sewing, painting and printing décor was done by myself. Friends were delegated and helped with cutting and folding of hearts, airplanes and the quack quacks (cootie catchers), as well as surprising me by what they wrote inside. My mom was in charge of the flowers, and her best friend and my aunts decorated and laid the tables. My dad built the arch and did all the collecting of hired things and any other manual organisation. My mom's sister finished off the bouquet I made out of family brooches. Because we were having a bunch of kids at the wedding, we had a special table for them, they got hotdogs and sweets, colourful plates and dishes, even straws with moustaches on. I organized a bunch of activities and crafts and there was also a jungle gym and a nanny to look after the babies, it was a pleasure to have them part of our day! And of course the photobooth is always a hit, with the adults and the kids, some pretty awesome family portraits were taken!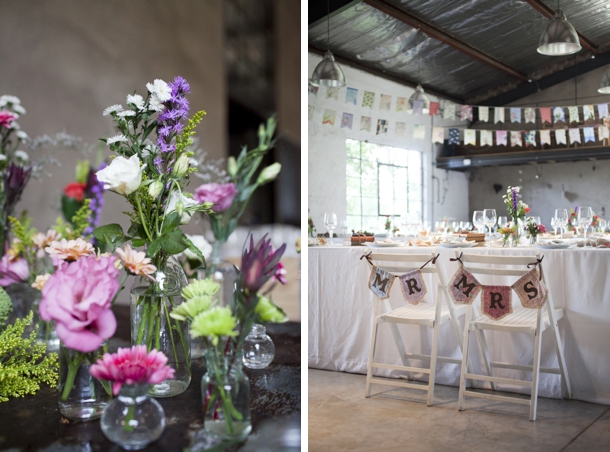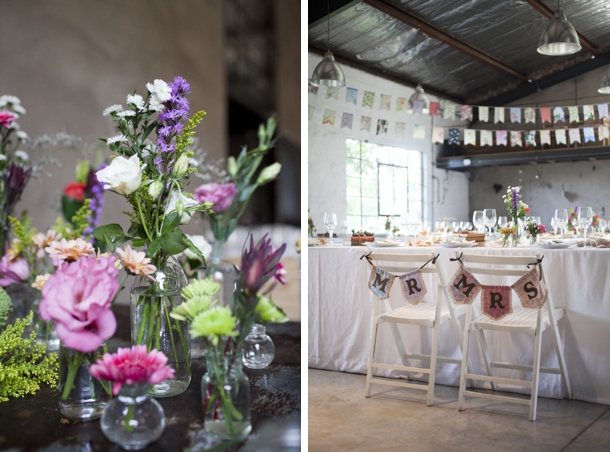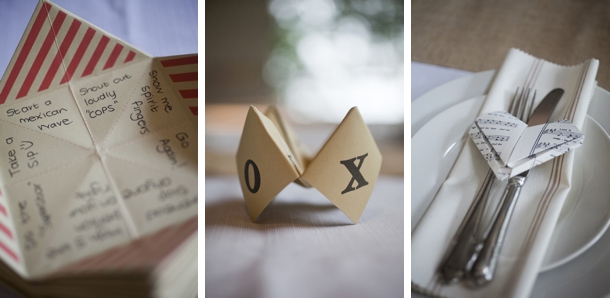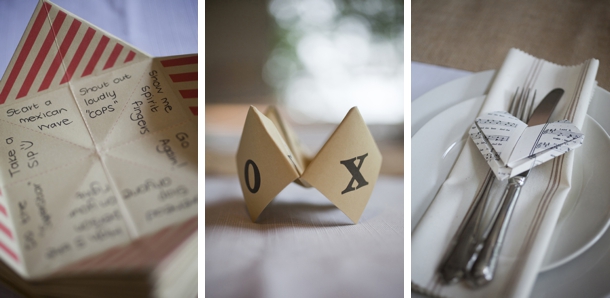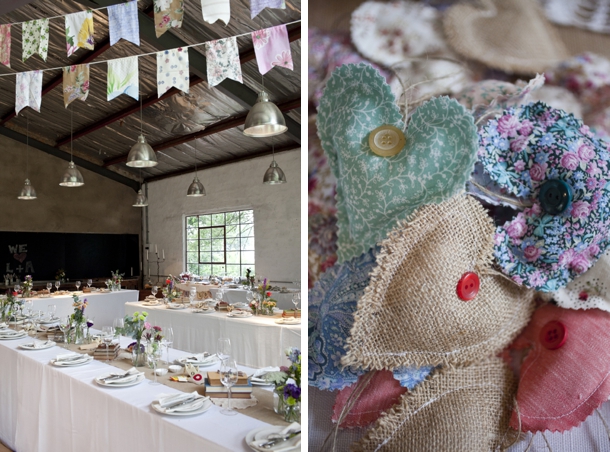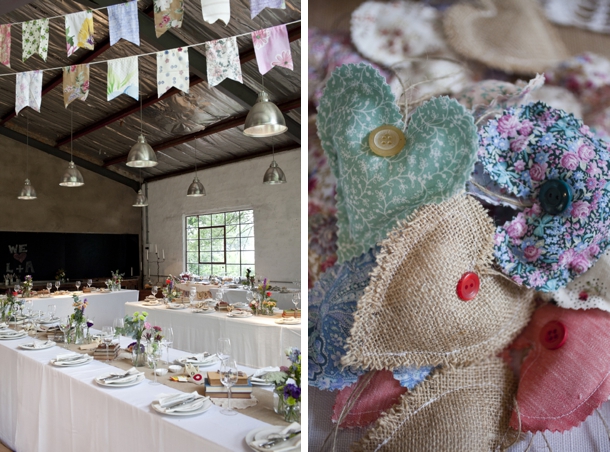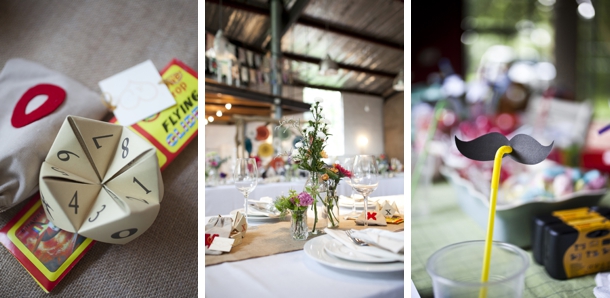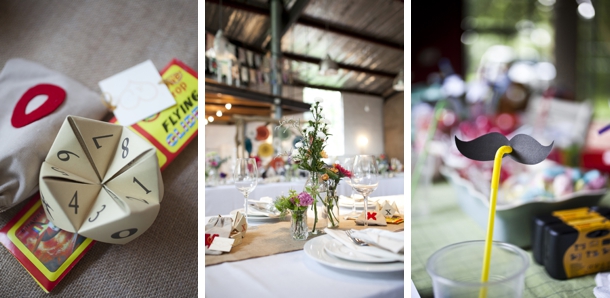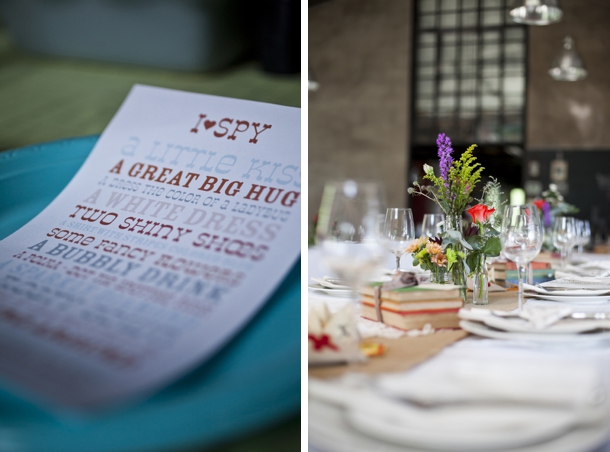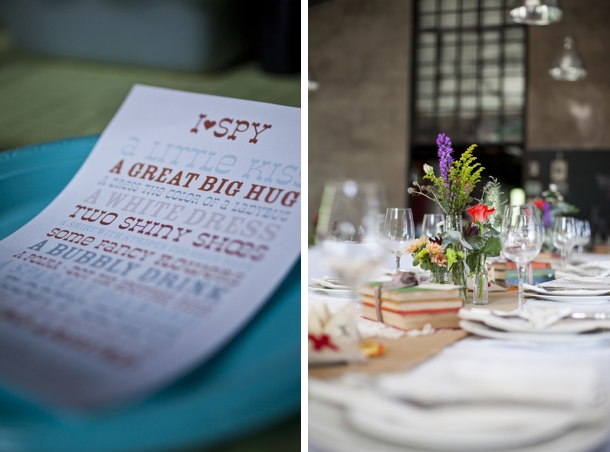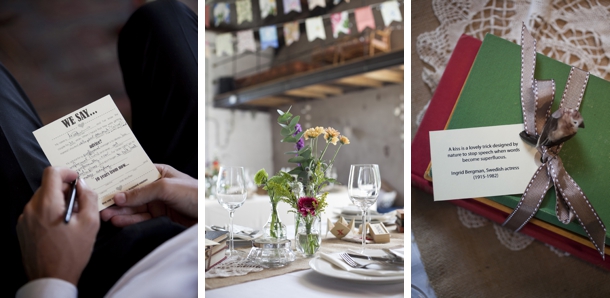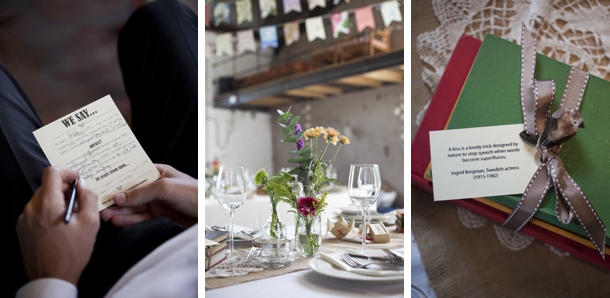 My dress was specially made by Andrew's brother, Warren Morck, who 'came out of retirement' to design and make the dress. I wore my grandmother's marcasite earrings (with the matching brooch in the fascinator) and the diamond in my ring was Granny Lucy's. Andrew works in the skate/street clothing industry, and doesn't wear a suit at all/ever, so thought it was pointless him wearing one on his wedding day. He would have been uncomfortable and it would not have been who he is, plus for us inappropriate for a day wedding! His shoes and pants were from work and Brixton helped us out with some head gear (as he is always wearing a cap on his head). We didn't have ring bearers – instead we carried our own and wore them tied to our wrists and swapped them during the ceremony. My brother, Richard, works in the alchohol trade, so the fully stocked bar was amazingly sorted by him, enabling us to have access to Pimms and anything else we desired all day! My amazing sister-in-law Lorien was just as incredible – the night before she stepped in, took all my jobs away so I didn't have to do anything on the morning of my wedding, and organised everyone for the next 24 hours, it was extremely special!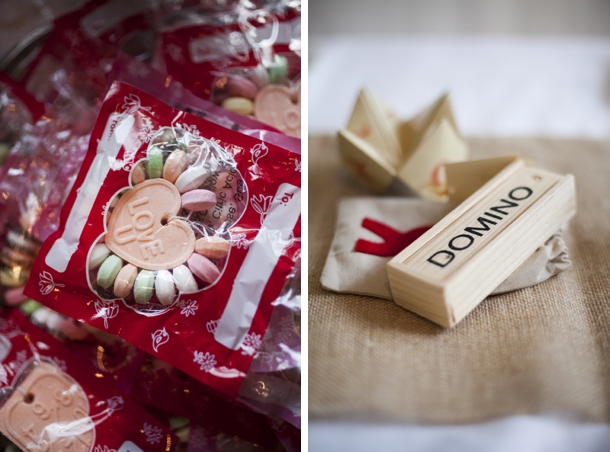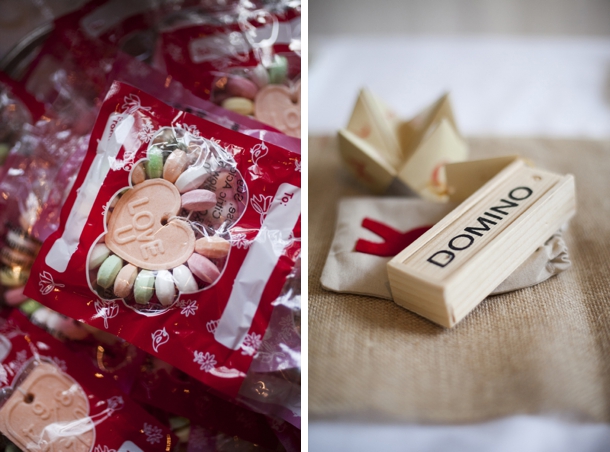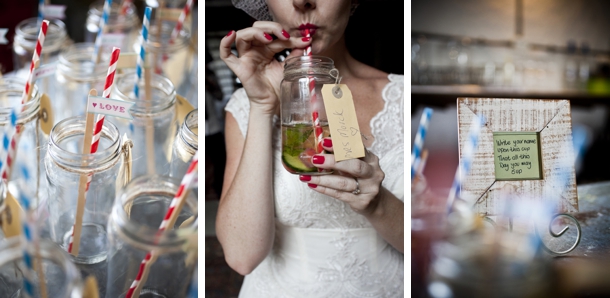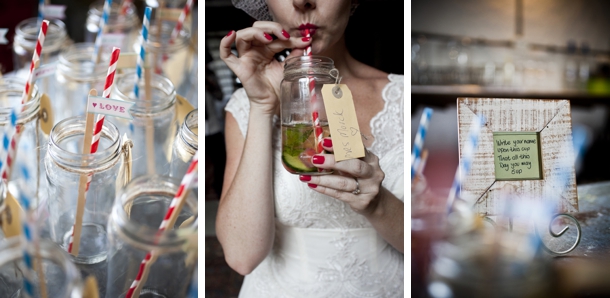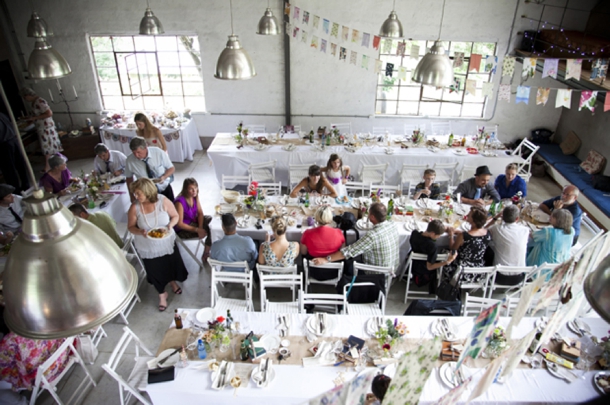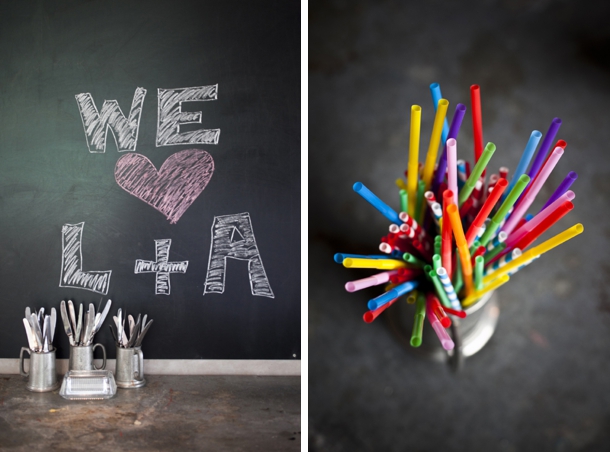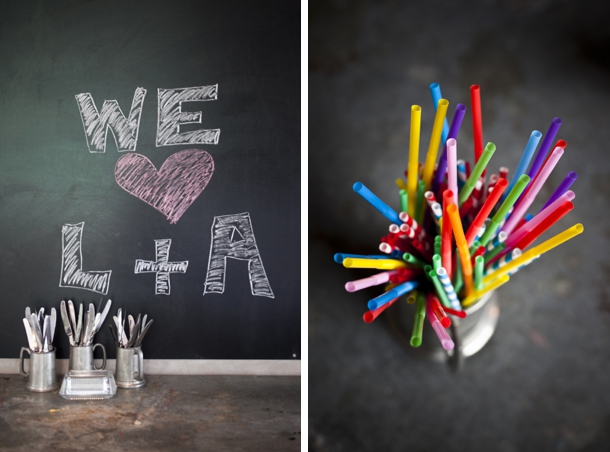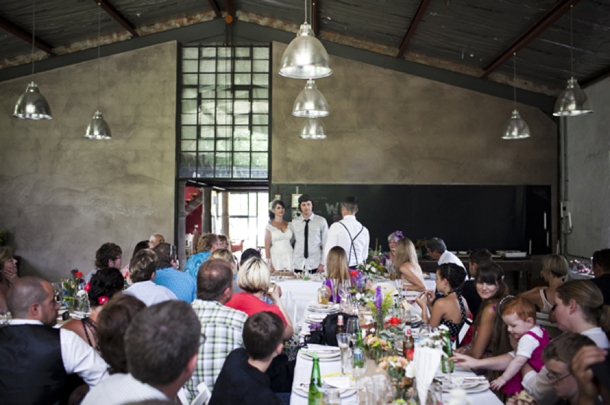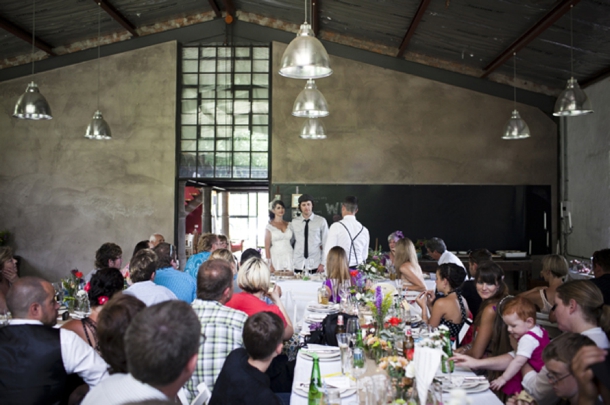 Waking up early, sitting on a bench that overlooked the view of the Midlands, sipping on a cup of Earl Grey tea, was a huge moment that I will treasure. It was only then that I realised I was getting married that day. I was getting married to my 'dream boat' of a guy, and my best friend – this was the most natural thing in the world. It was a still, quiet bubbly excitement that I felt as I thought about how we were about to turn over a new page in our love story! My dad and I also shared a very special time together before we walked to the ceremony. We chatted and stared at the magnificent view, taking in the beauty of the day and the surrounds and the awesomeness of the event that was about to take place. I also loved that Andrew and I felt part of things, and not on display. We had a whole day to really spend time and have conversations with people. We were totally relaxed and got to enjoy the day with our families and guests – that's the bonus of having a day wedding!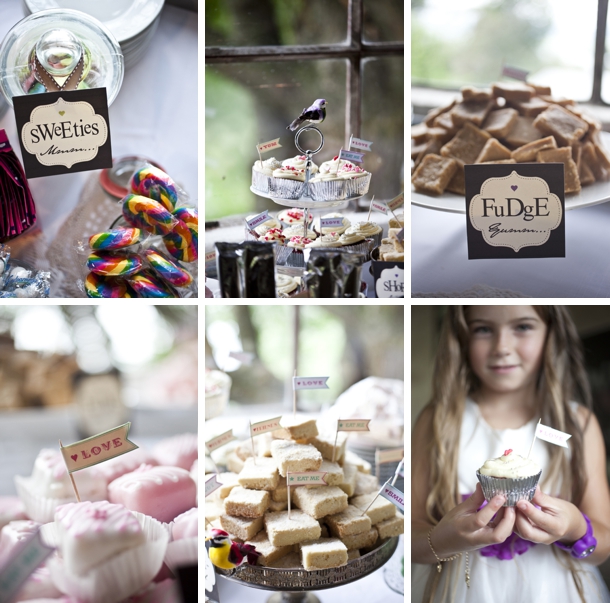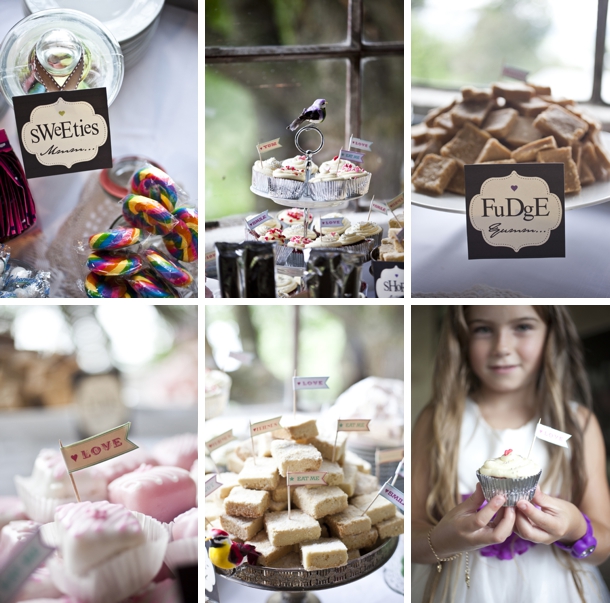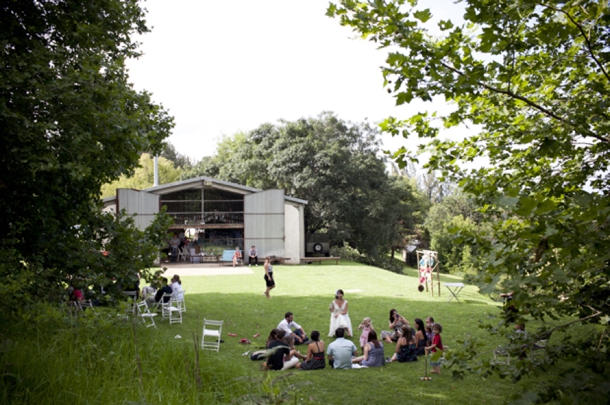 My advice for future brides, is to go with what makes you as a couple unique as this will make it special. It's tough, because there are so many people telling you how your wedding should be and what you should have. Compromises are inevitable! But guests will never know there was supposed to be five candles on the table instead of three, or that the colour of your bouquet is two shades off! Enjoy the planning adventure; this was a very special time for me! Make memories with special people along the way and document the events in between. Get friends and family involved, people love to help out with wedding stuff, it takes pressure off you and it's fun for them to be involved! Get crafty, don't be scared to make things yourself! Blogs, and most of all the SA ones, were my biggest source of inspiration and help (I am not just saying that!). We have such a fantastic vibe in SA when it comes to weddings, more and more brides are getting creative and making new traditions and memories, using things we have at our fingertips, like indigenous flowers and locally made goods as part of the décor! I love it!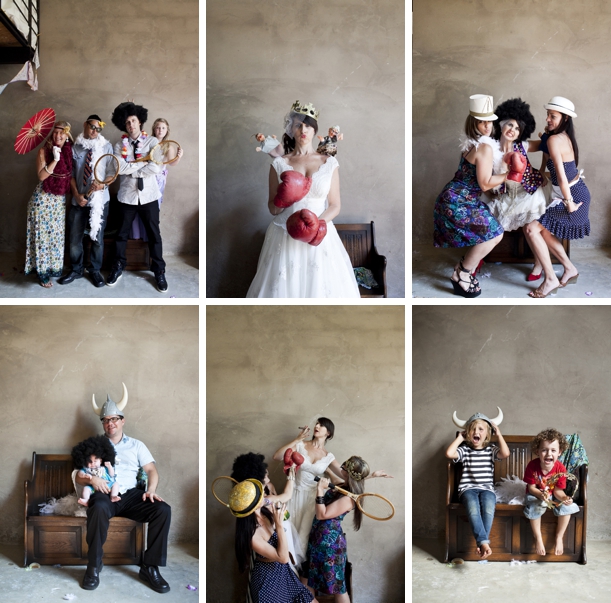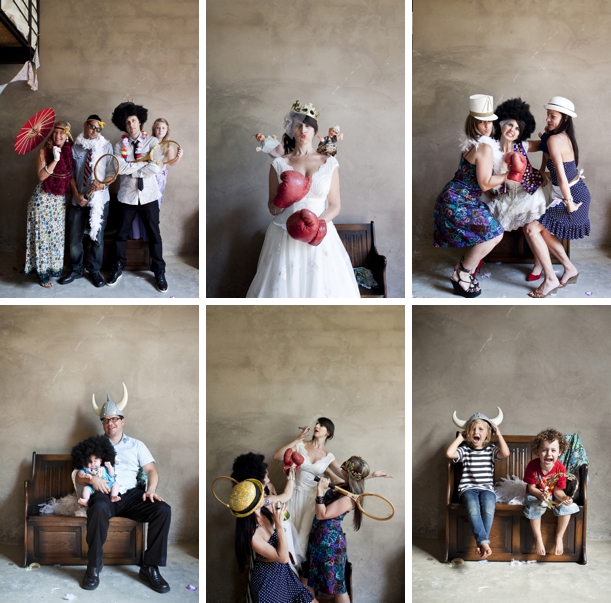 Thank you so much, Leigh and Andrew! Congrats on a lovely day. Big love (and welcome) also to Samantha – you can as always head over to her blog for more.
SERVICE PROVIDERS
Venue: Hillhouse | Catering: Sprigs | Photography: Samantha Maber | Flowers: Flower Fusion | Bride's dress: Warren Morck