I suppose there are many different ways of deciding on the people that you'll have walking down the aisle before you and many factors play a role in this (sometimes difficult) decision. Some stick to family members, some to friends, some choose according to what the budget allows or how many groomsmen the groom will have. I didn't set myself any rules. My two sisters are a pair of amazingly awesome, beautiful, fantastic ladies who I wouldn't trade for anything in the world. Naturally, they would have to be bridesmaids. But I also want my bestest friends to be by my side as they are the pillars on which I rely in life. So I'm going to have five bridesmaids. Yes, it has its complications in terms of the dresses, time schedule, budget, etc. but I wouldn't change anything. I'm a very determined person so I figured I would make it work despite the odds.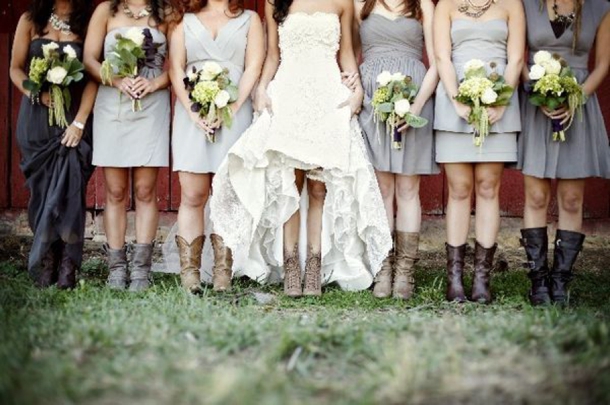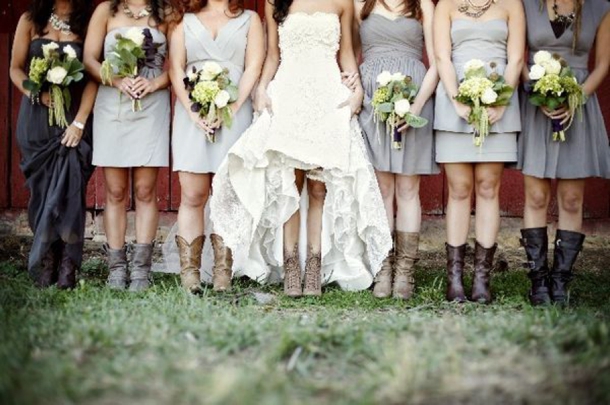 Making a group of girls with different figures and personalities wear the same dress is not my thing and I am a big fan of bridesmaids wearing different dresses. It adds an element of fun to the outfits and reflects the individuality of the girls themselves. For me personally, it's also important that they like their dresses, feel comfortable in them and would therefore want to wear them again sometime in future. On the flipside, it is also important that everything flows well together and fits into the general colour scheme and theme of the wedding.
I thus gave my bridesmaids a framework with different dresses which I think suit the style we're aiming for at the wedding and asked them to pick a design within that framework which they really like. Lucky for me, my mother is making some of the dresses, which was a good point of departure as we could get a first-hand idea of what the possibilities in terms of fabric would be. Getting five different dresses made with bridesmaids spread between Pretoria and Cape Town has not always been smooth sailing, but with seven super-determined women involved in the task we've conquered every problem so far.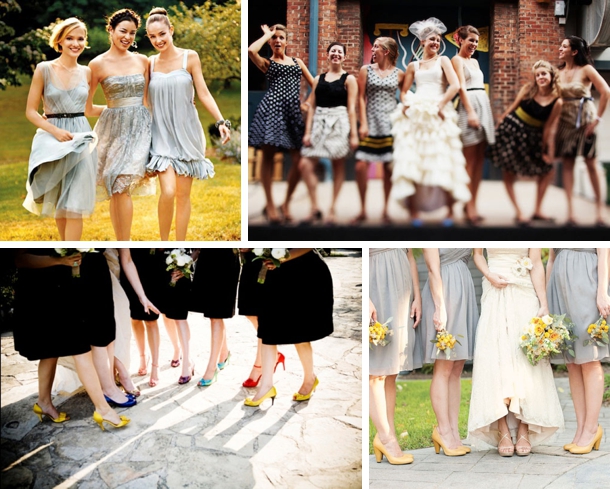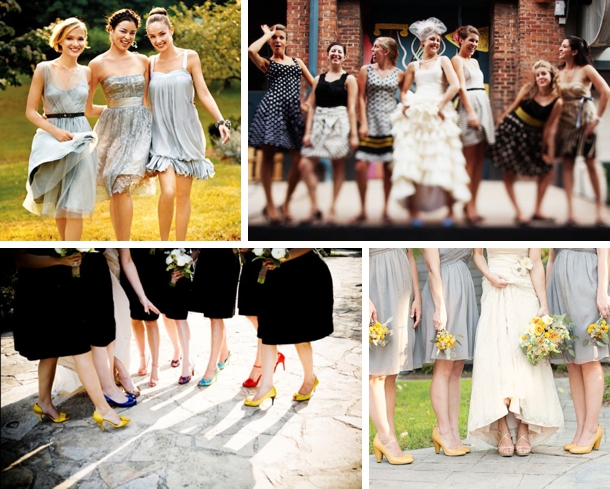 Pictures where the bridesmaids wear the same or similar shoes always come out so nicely, so this element of similarity in their outfits has appealed to me from the start. We managed to find two pairs of shoes which everyone liked and the girls were given the option to choose between the two – depending on what they feel more comfortable with and which pair suits their dresses better.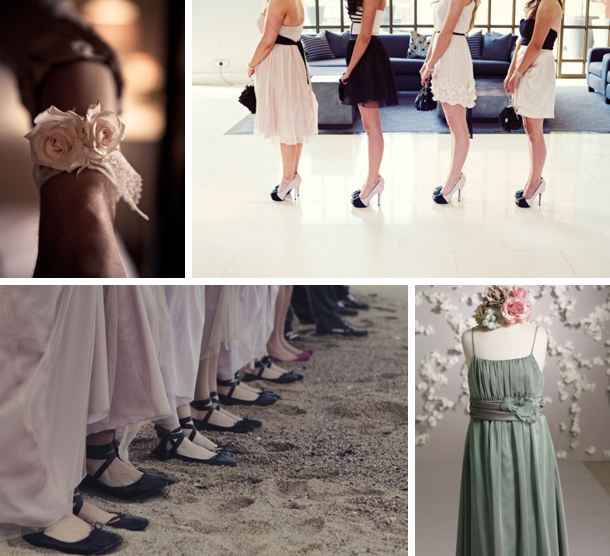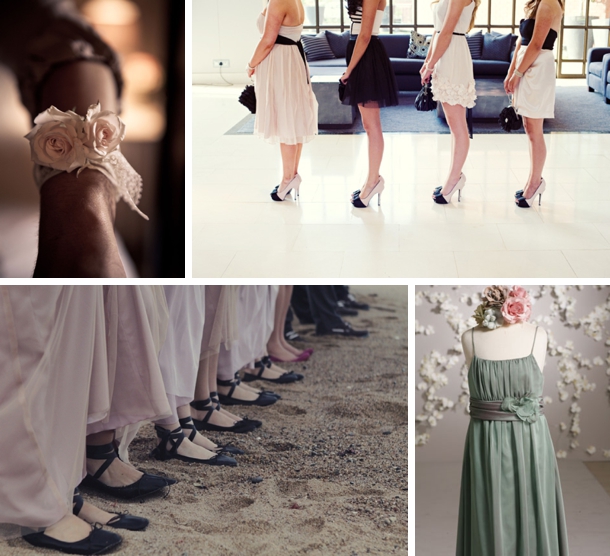 I think my "wing ladies" are going to look great and cannot wait to share my special day with them all – from early morning hair and makeup styling to late night boogying on the dance floor. With these five at my side, it feels like I can conquer the world – or at least my wedding day ;-)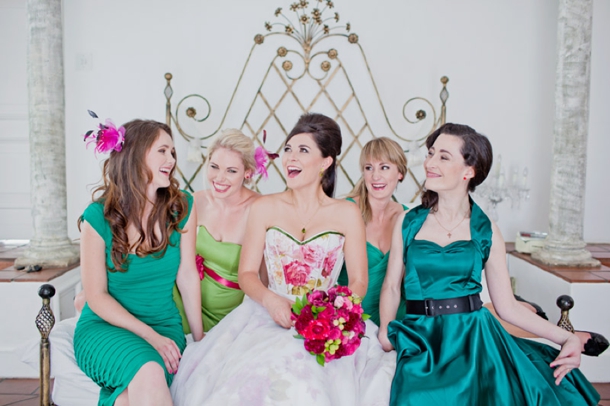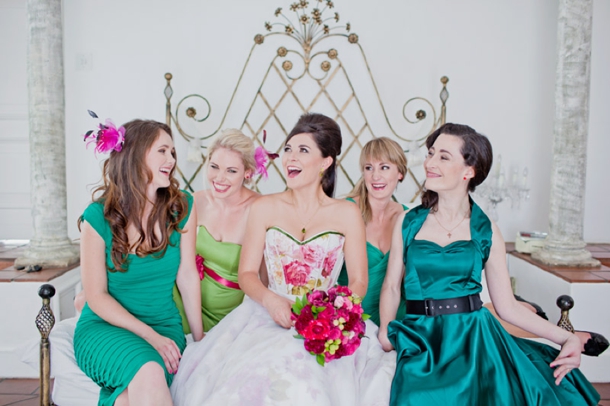 The image of a small girl with a pretty dress and flowers in her hair and a little giggle in her smile….so cute and romantic! I absolutely wouldn't want to have my wedding without a little flower girl to top it all off. I'm fortunate enough to have the sweetest little cousin who is exactly the right age for this role and is (according to the pictures and SMSes I have been getting from her mom) suuuuuuuuper excited about being my flower girl. We've found a lovely, soft, flowing dress for her and she'll be wearing a flower wreath to round off her look. Now we just have to get her to walk down the aisle as planned instead of putting up a little show for everyone (can someone say drama queen?)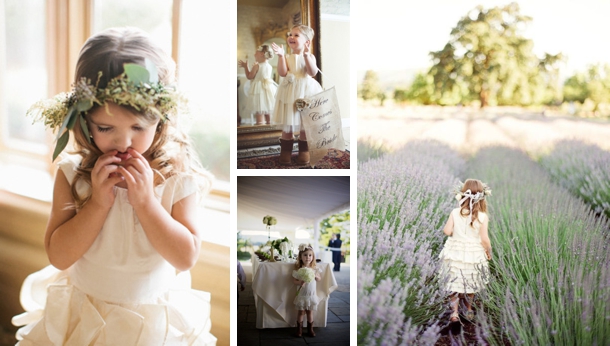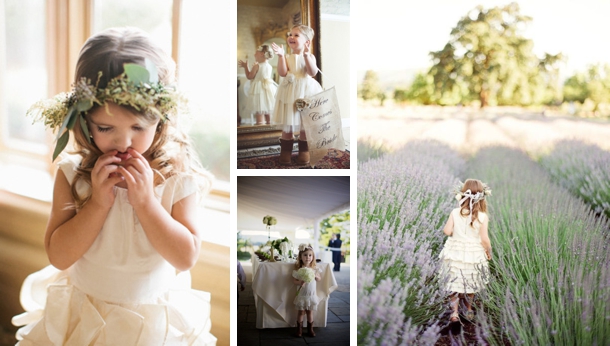 Images: Row 1 – The Photographix/Williamson County Weddings & Events via Style Me Pretty; Row 2: Bridalwave  (left); Poser Image via Ruffled (right); Row 3: Jolynne Photography via Inspired By This (left); Akil Bennett via Brides (right); Row 4: Welovepictures via The Pretty Blog (left); Aaron & Samantha Photography via Style Me Pretty (centre); Love Made Visible (right); Row 5: Love Made Visible (left); Leigh Miller Photography/Luna Photography/Della Chen Photography via Doubly Happy Too (right); Row 6: Gavin Casey Photography (left); Welovepictures via Love and Lavender (right); Row 7: We Take Creative Pictures via The Pretty Blog (left); JLM Couture (right); Row 8: Rensche Mari on SBB; Row 9: Josh McCullock via Grey Like Weddings (left); EE Photography via Style Me Pretty (centre top); Readyluck via Style Me Pretty (centre bottom); KT Merry/Dreamy Whites via Style Me Pretty (right)

BRIDE ABROAD TIP: Don't let the fact that you're planning your wedding from afar put a spanner in the wheelworks when choosing your bridesmaids and their outfits. Although I would have loved to have dress fittings and shopping sessions with my friends, it has been more than just possible to organise their ensembles from a distance because of the team I have involved. My mom has been a great help in co-ordinating the designs and colours of the dresses and the girls have all been very optimistic about making everything fall into place. The key element is communication, which is no challenge in today's times.
Decide about the basics first, such as colour, style, design and what the girls' roles in the process will be and make sure to start early on in your engagement so you have enough time for any unexpected challenges. If you're working with a tight budget, it need not imply fewer bridesmaids. Most girls would be so honoured and happy to play a role in your special day that they would most likely be willing to carry a portion of the costs involved, but be realistic with your expectations then. Also remember that the little extra effort and cost it may take from your side is by far outweighed by the fun you'll have on the day and what these girls mean to you in your life. And who said the groomsmen and bridesmaid numbers have to balance? Go with your heart and do what feels right to you. The rest will follow by itself.
The series so far: The Proposal | The Inspiration | The Venue | The Stationery | Flowers & Decor | The Photography
| The Dress | The Bride's Accessories