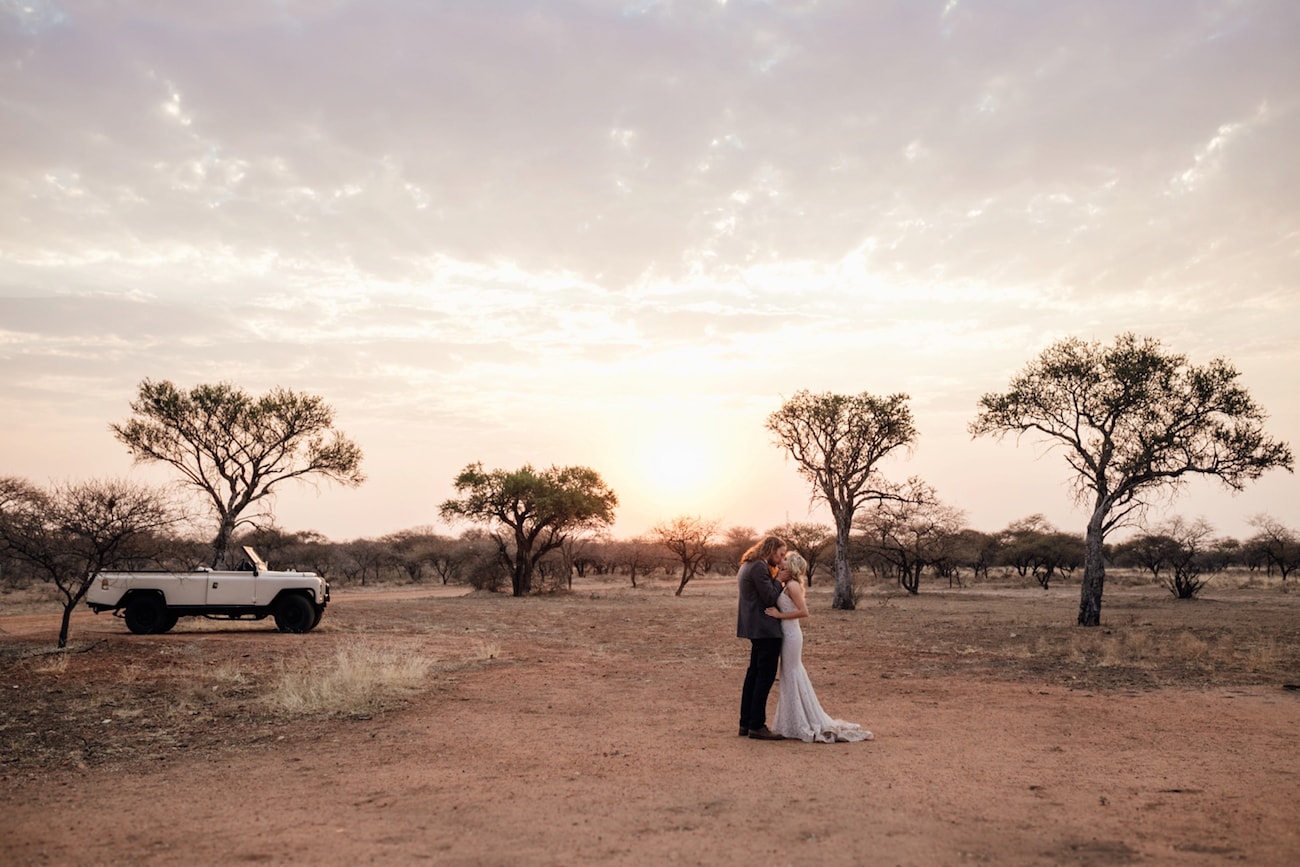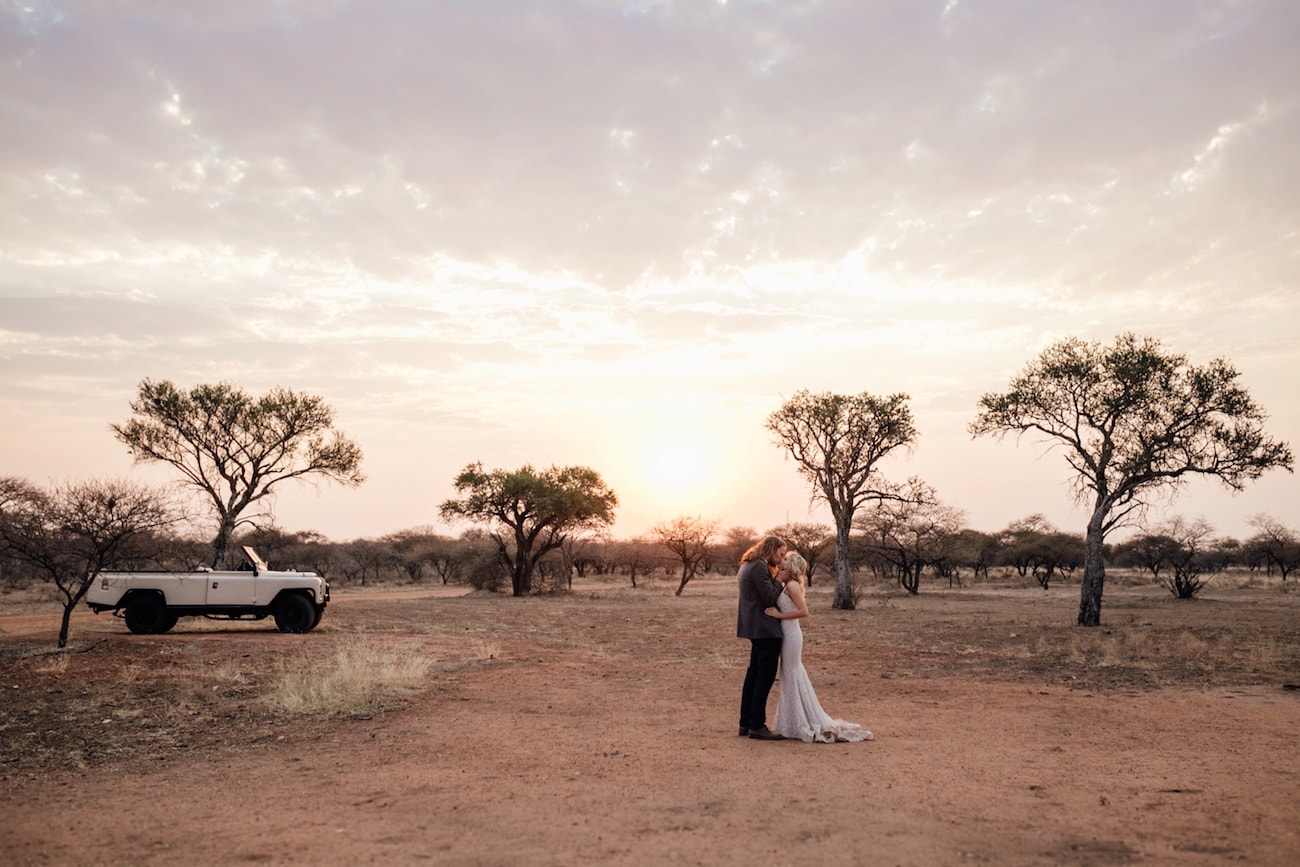 I love a wedding that speaks to a couple's personalities, and Pieter and Nanette made sure to do just that when they planned their wedding. The duo, who the bride says "love an adventure" chose to have their big day at a destination that's an adventure in itself, the incredible Bordeaux Game Farm in Limpopo. Due to the gorgeous bush setting they kept the details relatively simple and natural, like wreaths of greenery on the walls and beautiful foliage runners on the tables. But throughout, there was this touch of drama and sophistication ("to represent my personality a little," says Nanette!), like bridesmaids in cheeky crop top and flare skirt ensembles, and pops of colour on the tables. But the most dramatic detail of them all was the scenery, like the huge tree under which the couple said their vows, or those vast African skies just before sunset, captured so beautifully by photographers Page & Holmes.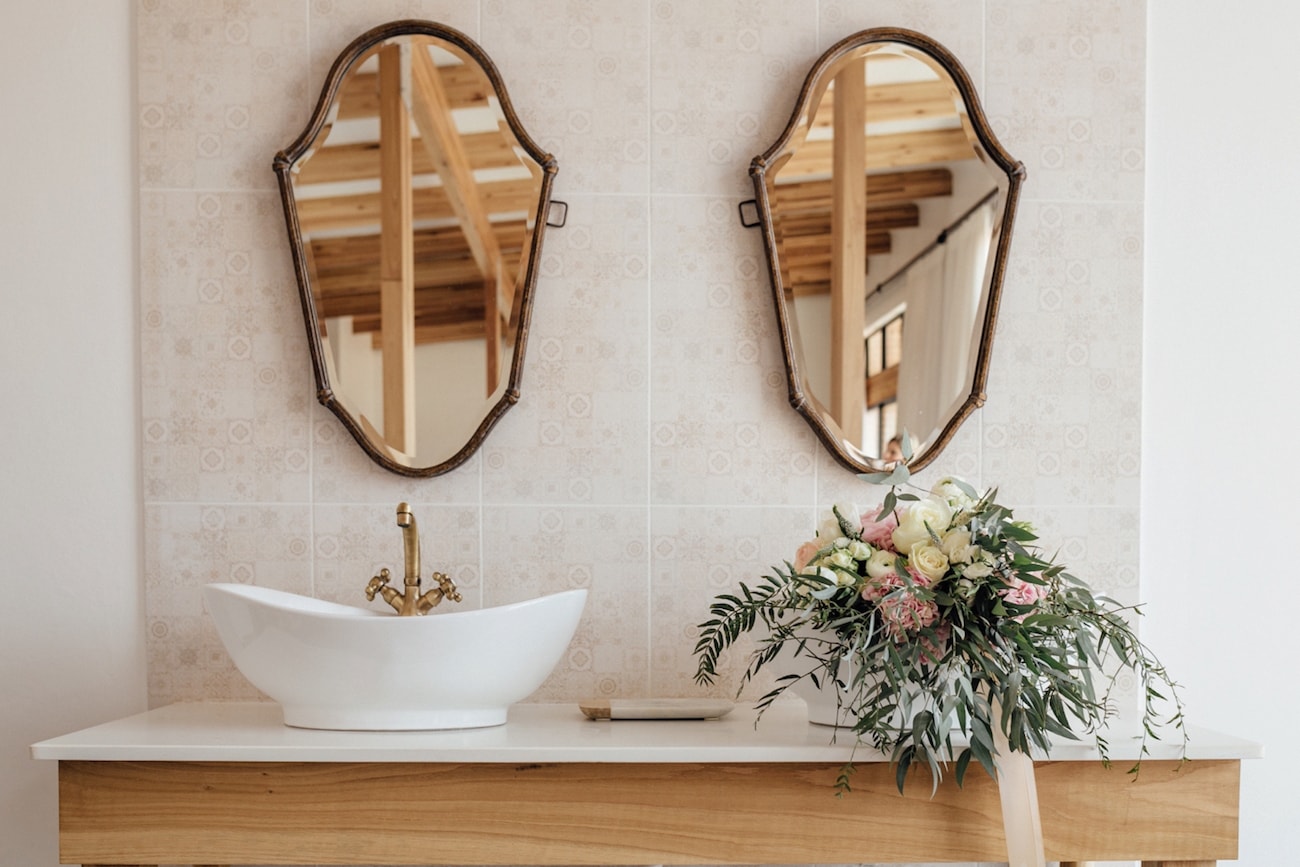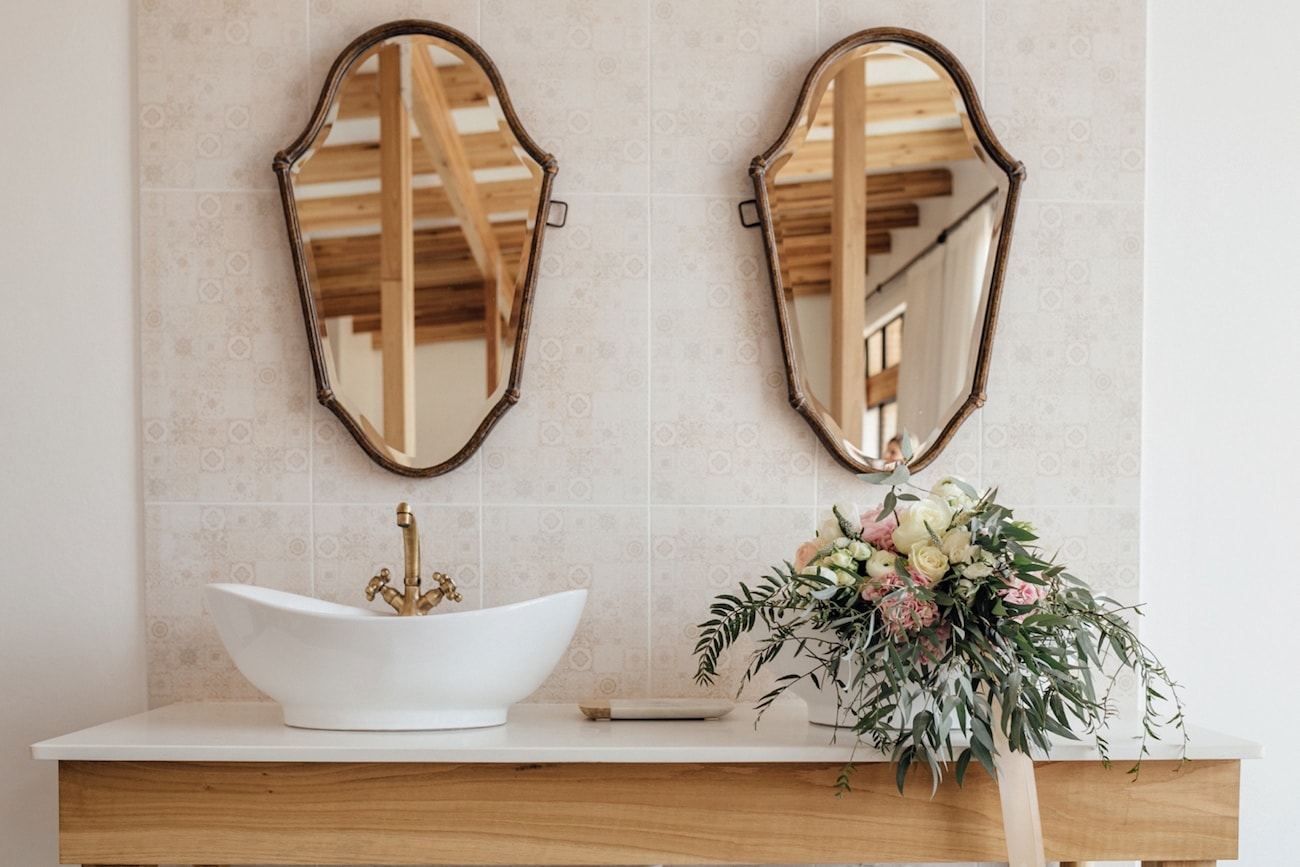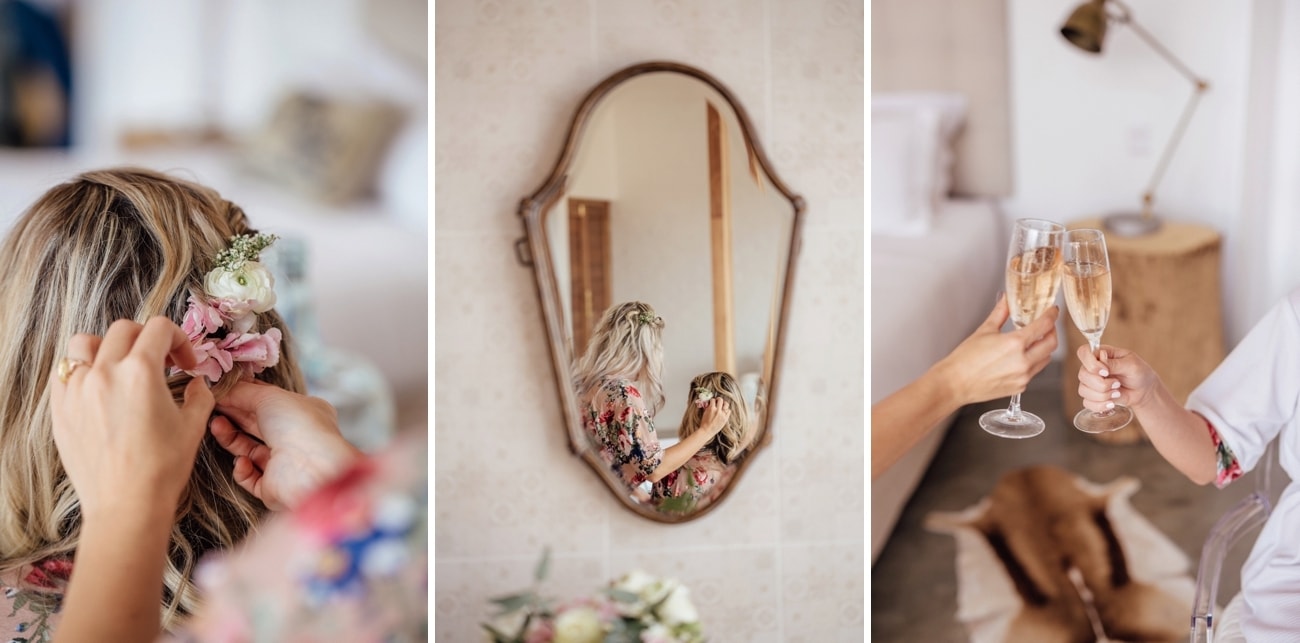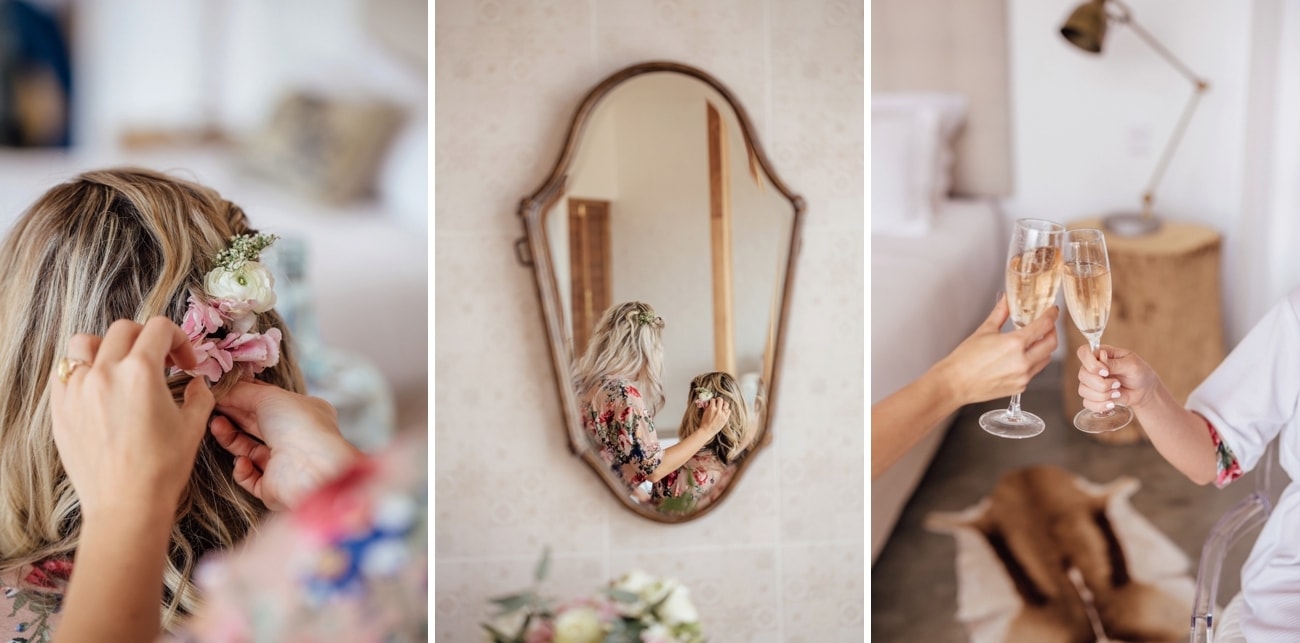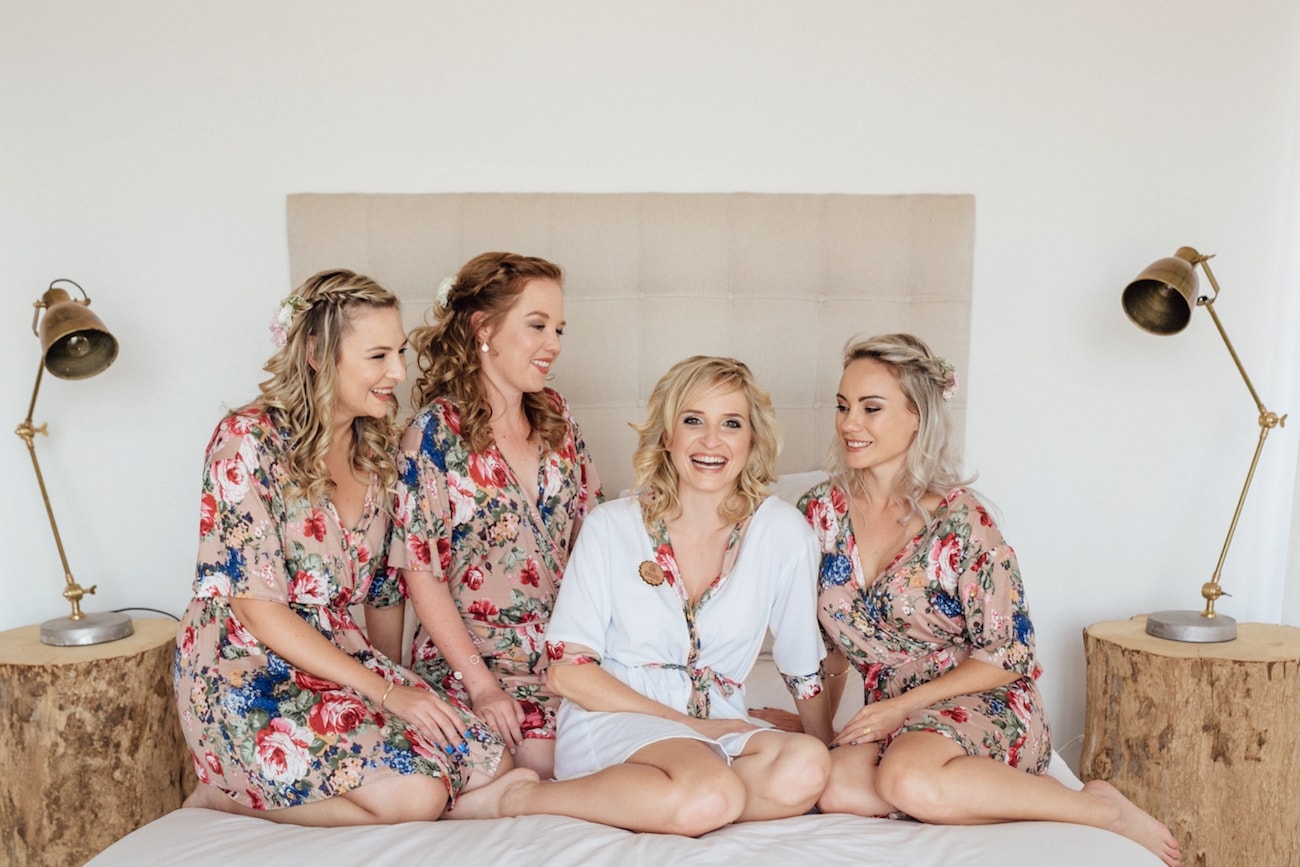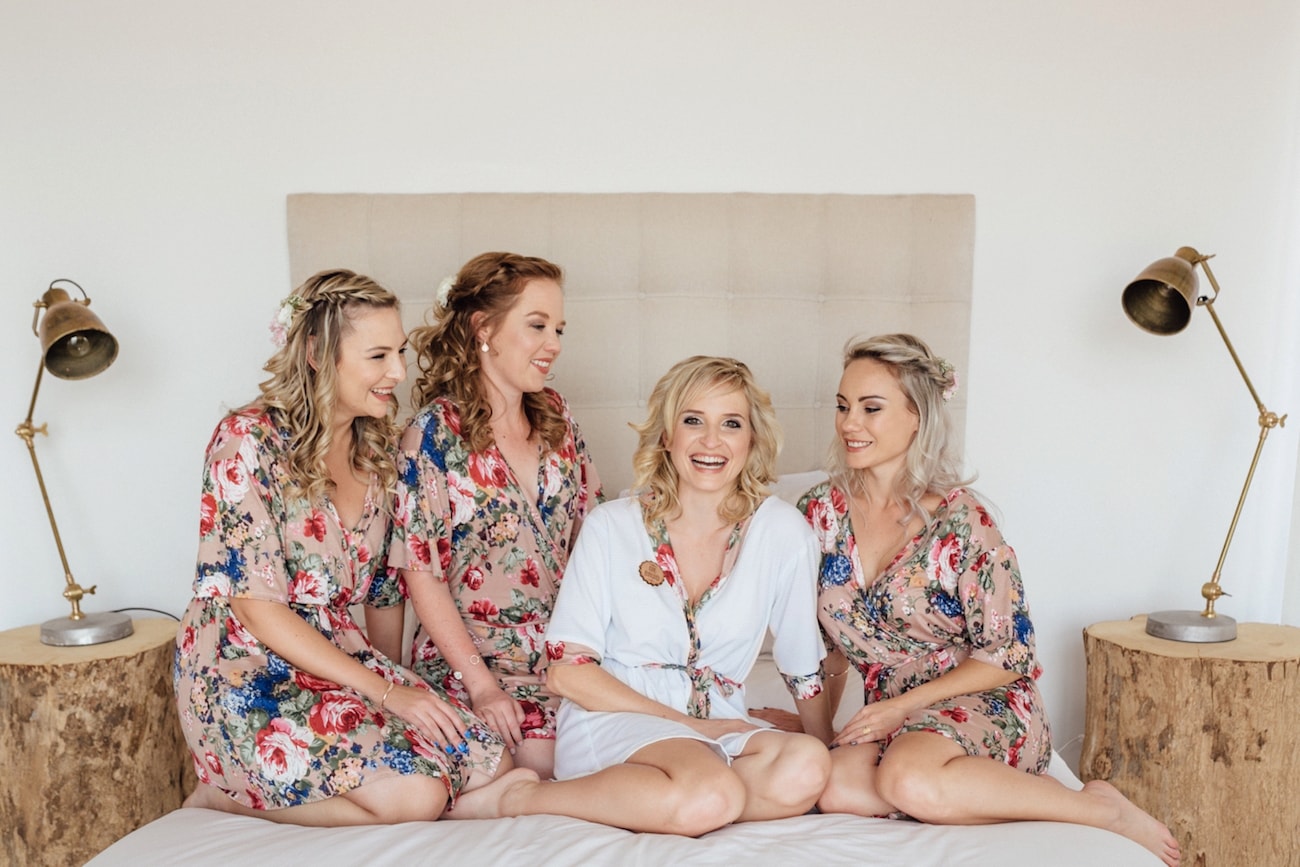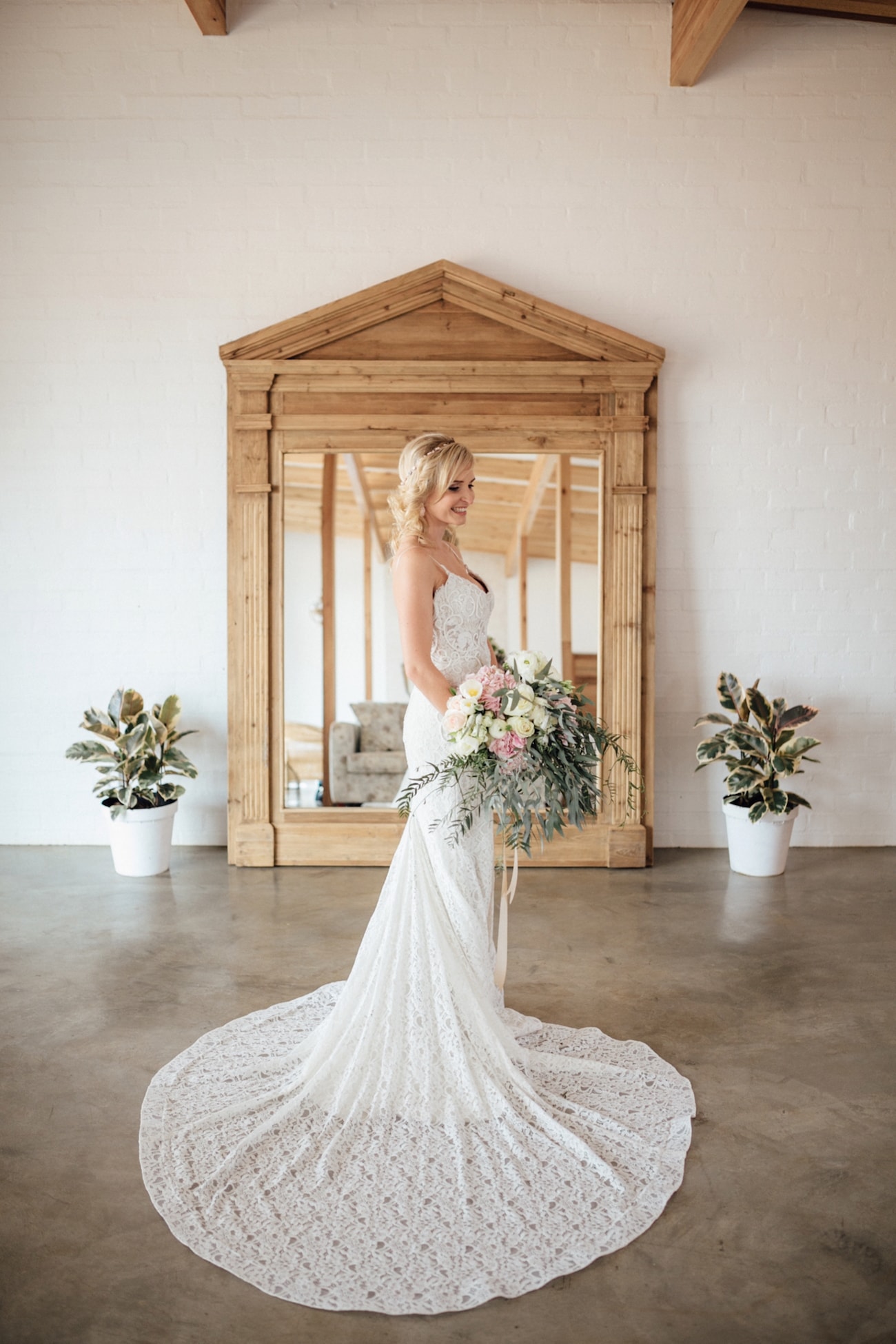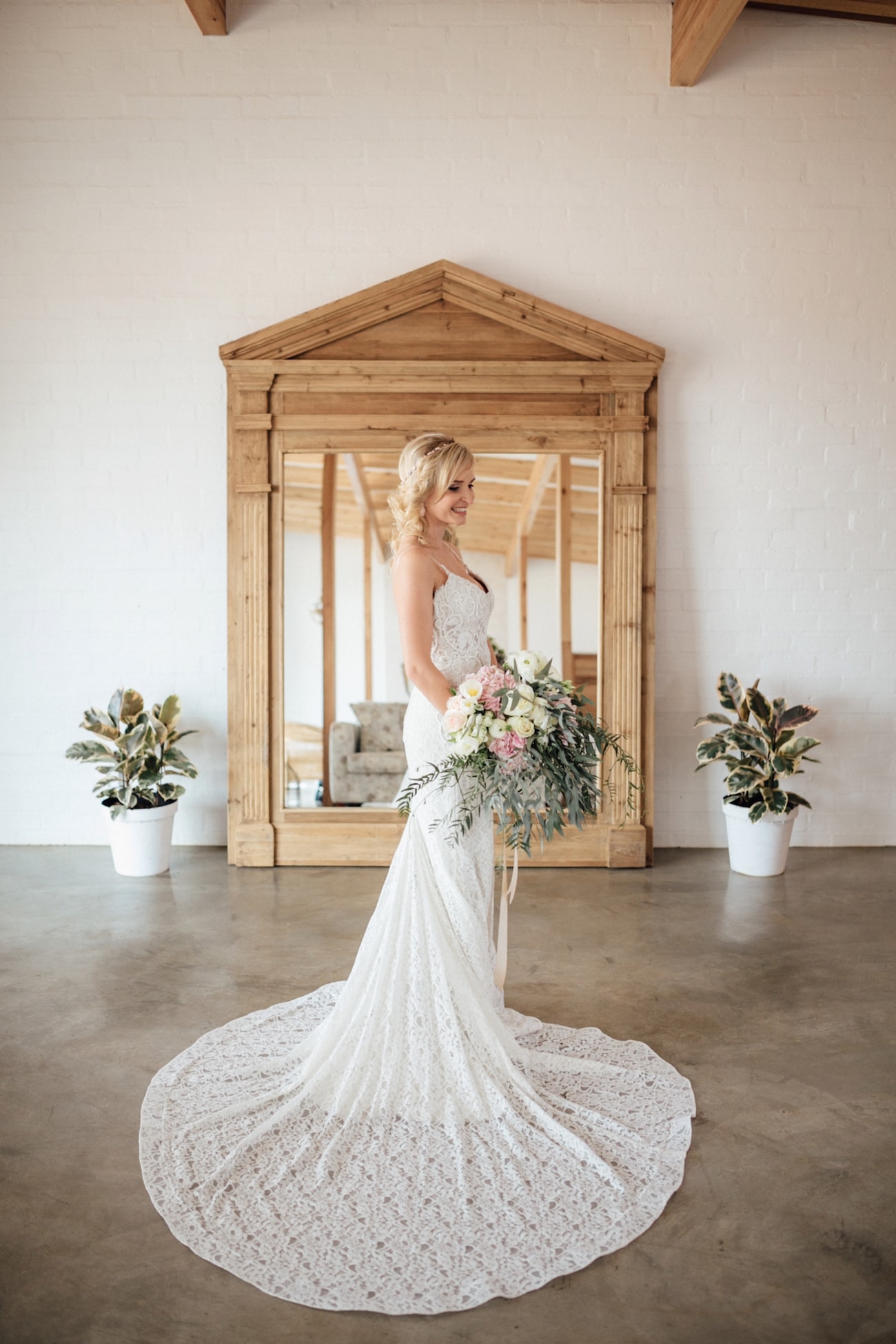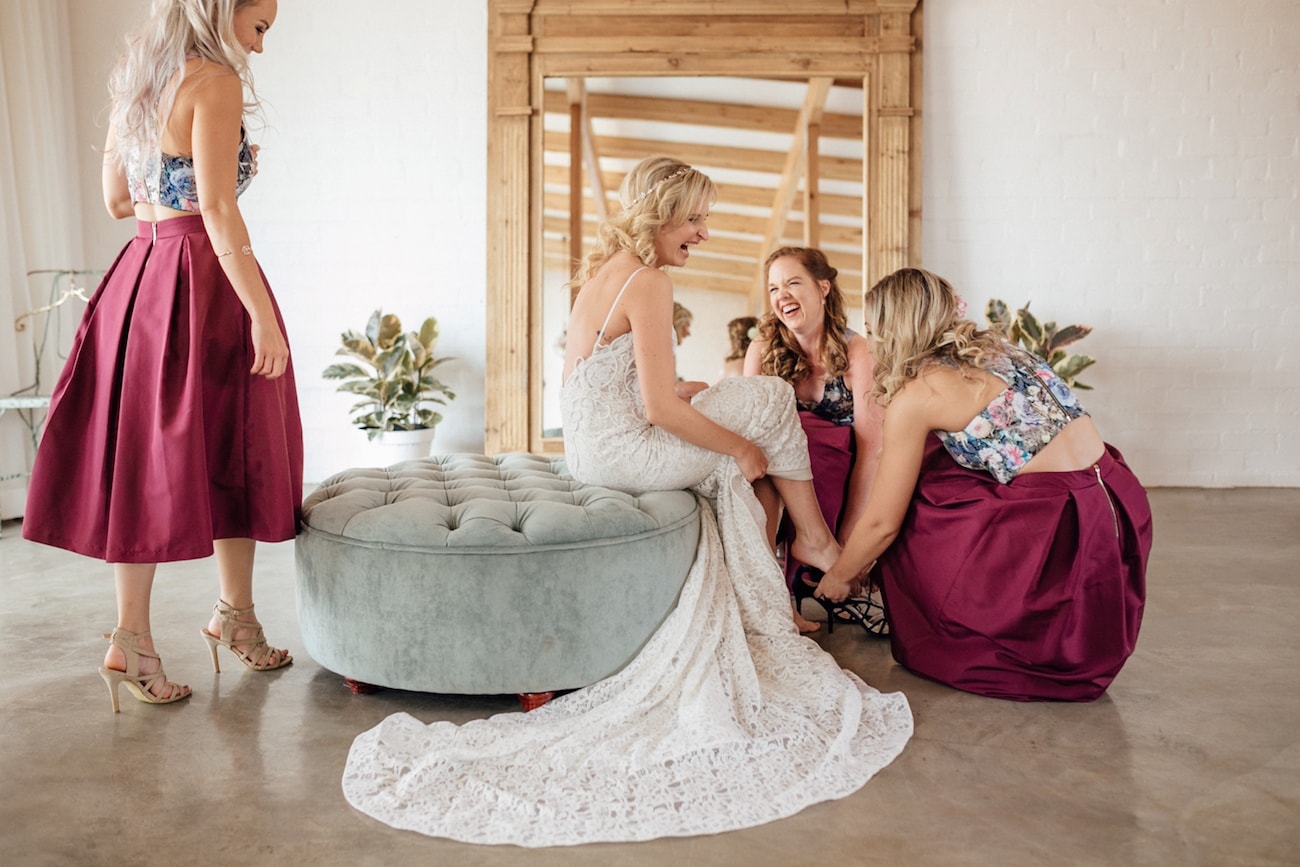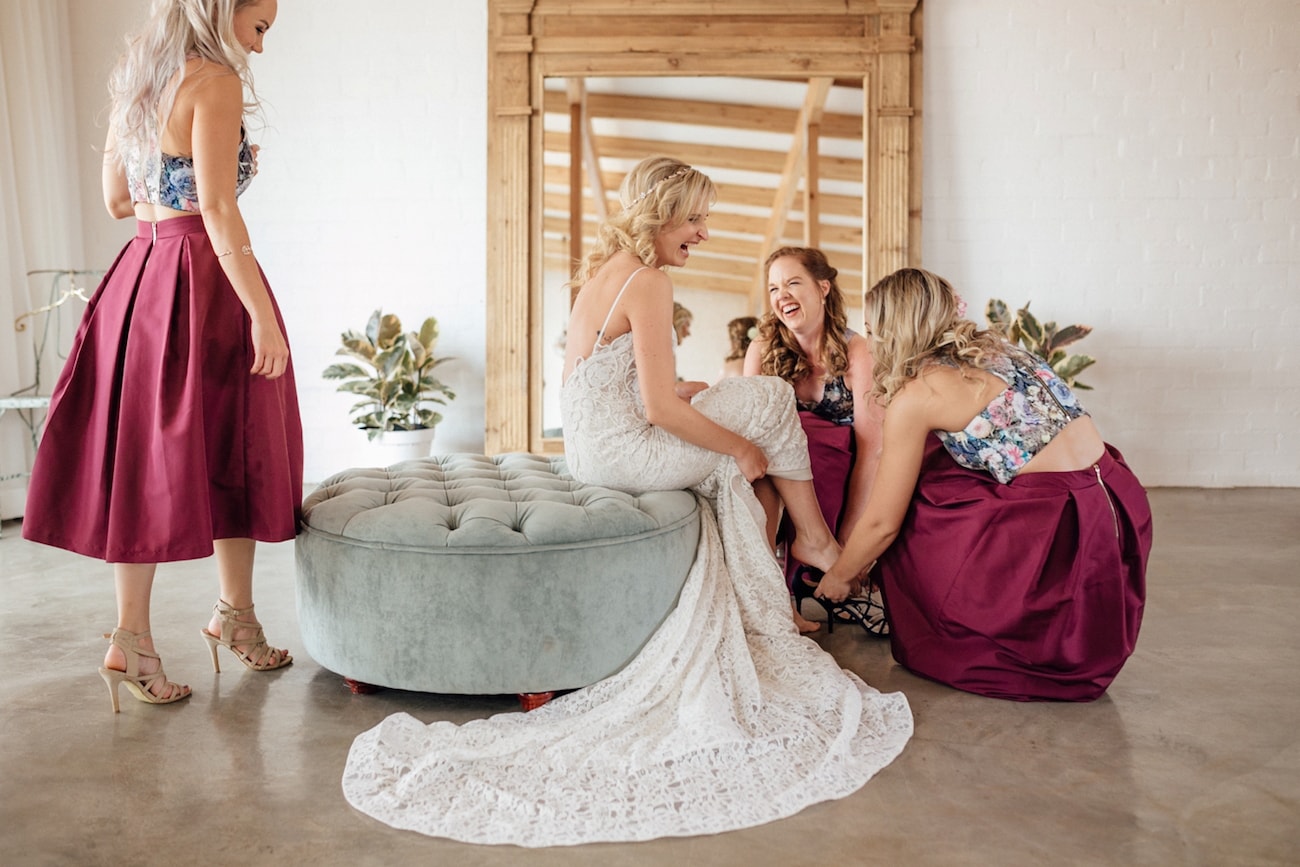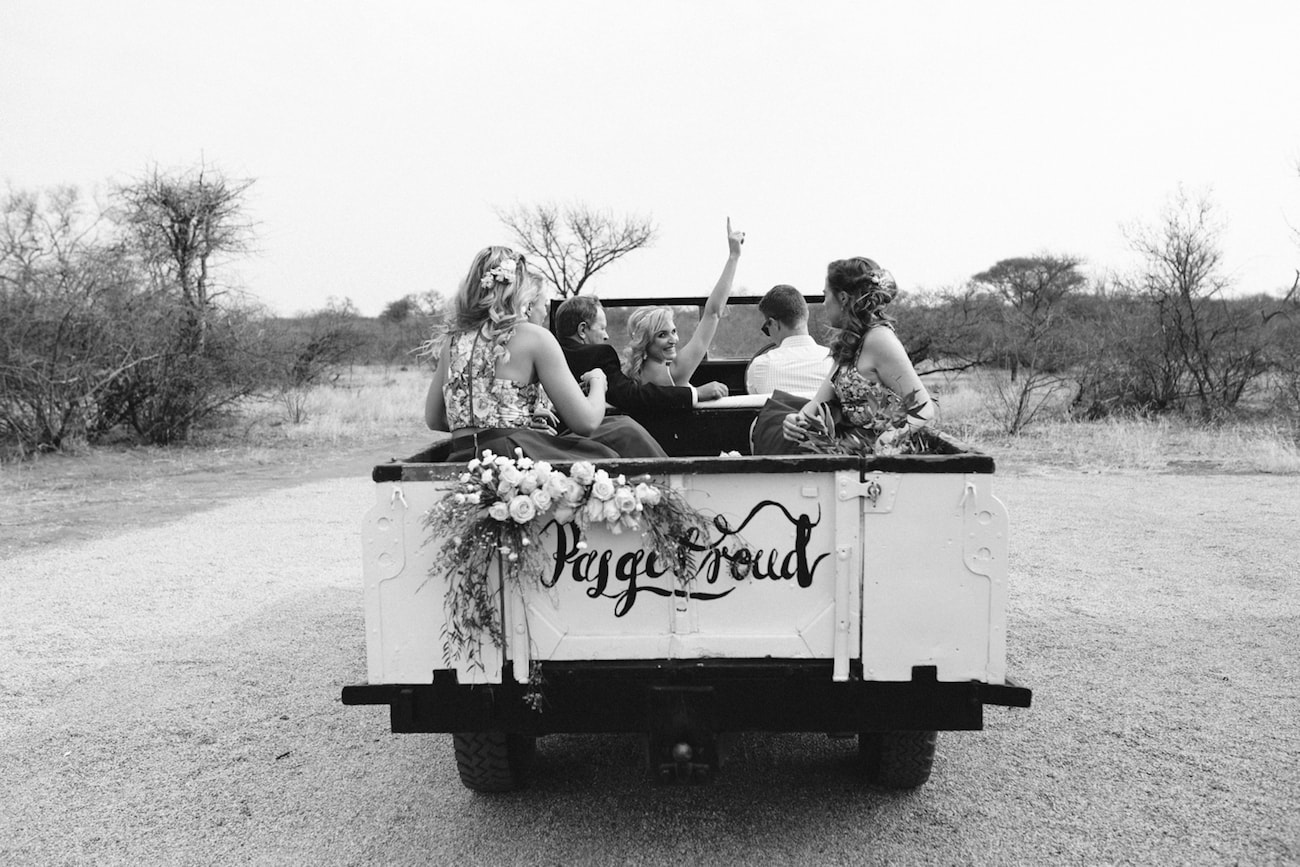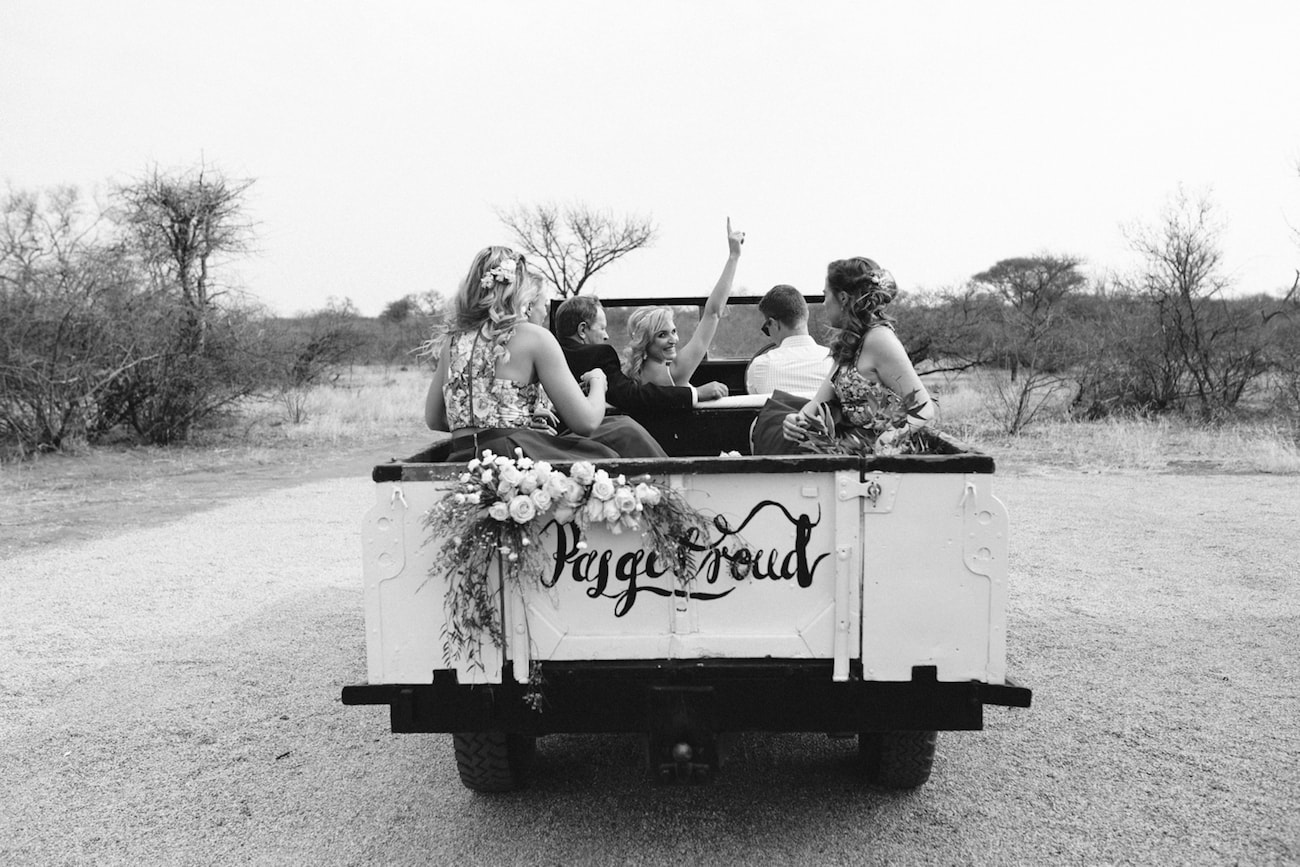 Love Story
We met on a dive trip in Sodwana. We both love a little adventure so this was such a special setting to get to know someone and fall in love. At the time we were separated by 400km, but that didn't stop Pieter. He jumped at every opportunity he could get to take a drive for the weekend and visit me. And so our love grew…
The Proposal
Pieter planned a Cape holiday and on the first day of our trip he popped the question at a beautiful wine farm in Franschhoek overlooking the stunning valleys and vineyards.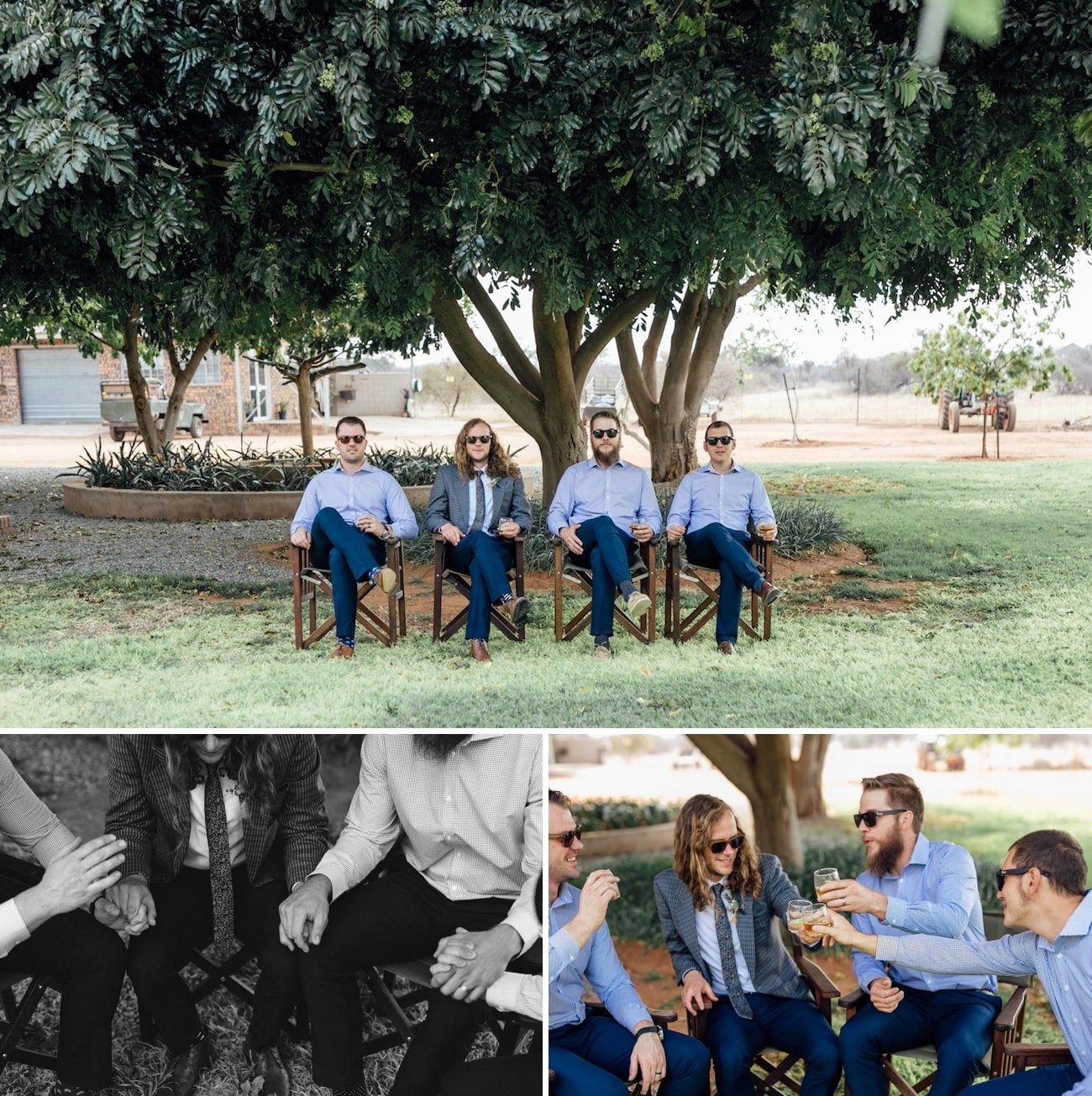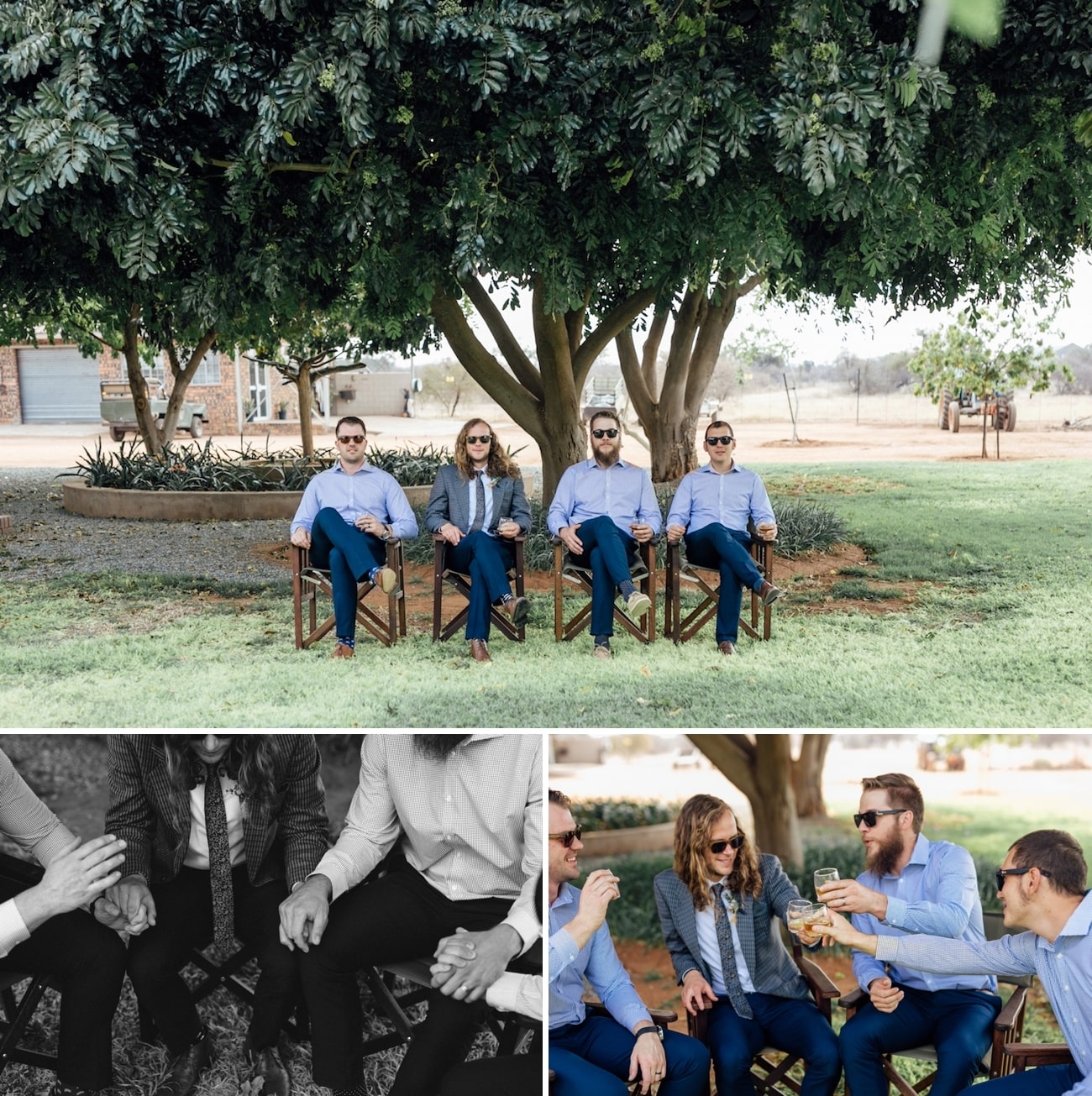 The Venue
We immediately fell in love with Bordeaux. The bushveld and picturesque sunsets were a no-brainer for us.
Wedding Style
We wanted our guests to really feel at home at our wedding and just enjoy themselves. That's why we also decided that we would sit with our guests and not at our own table. We wanted simple flowers and greenery to represent the beautiful setting of the bushveld but bring in more dramatic elements like coppers, blue wine goblets, etc. – let's say to represent my personality a little :)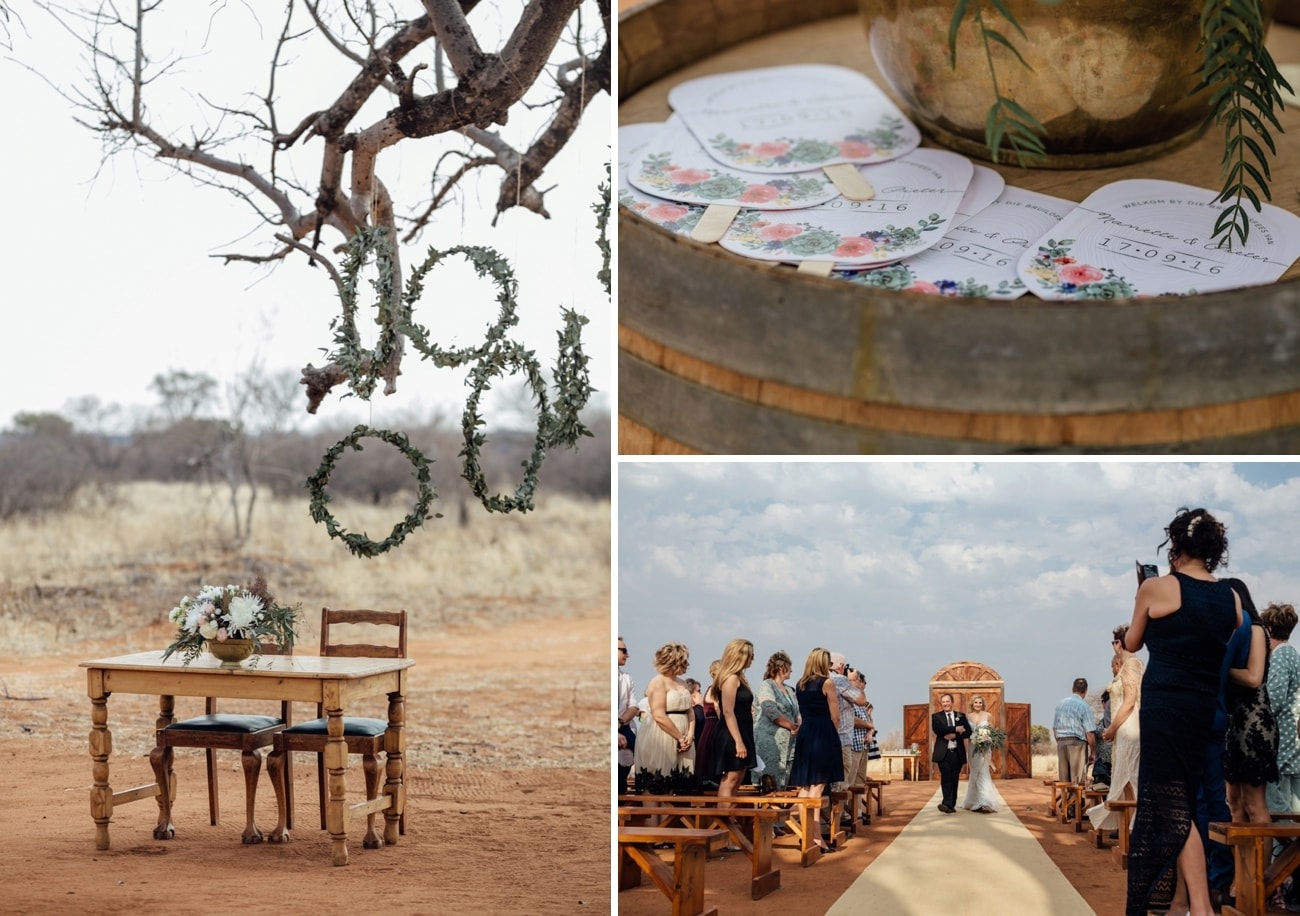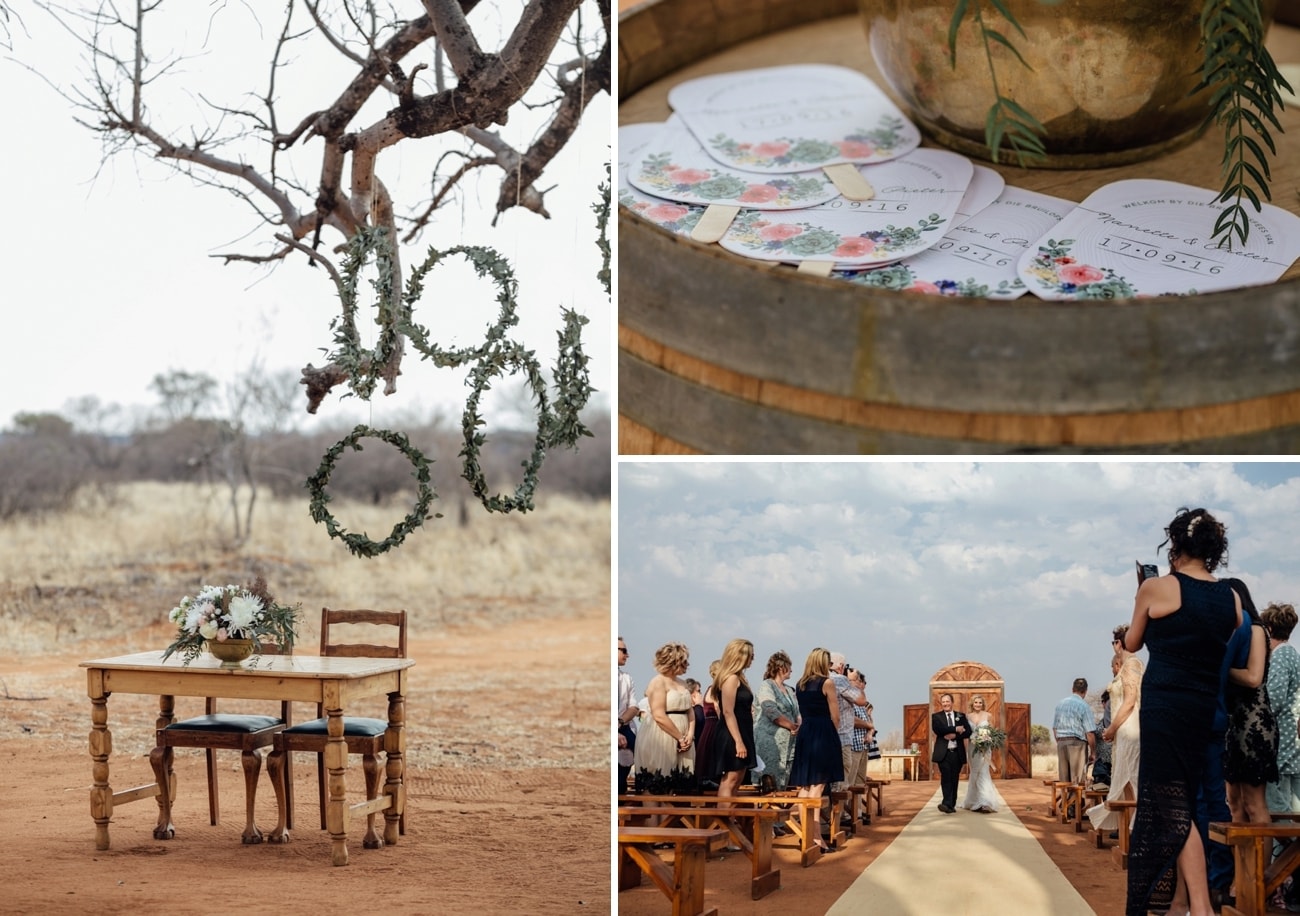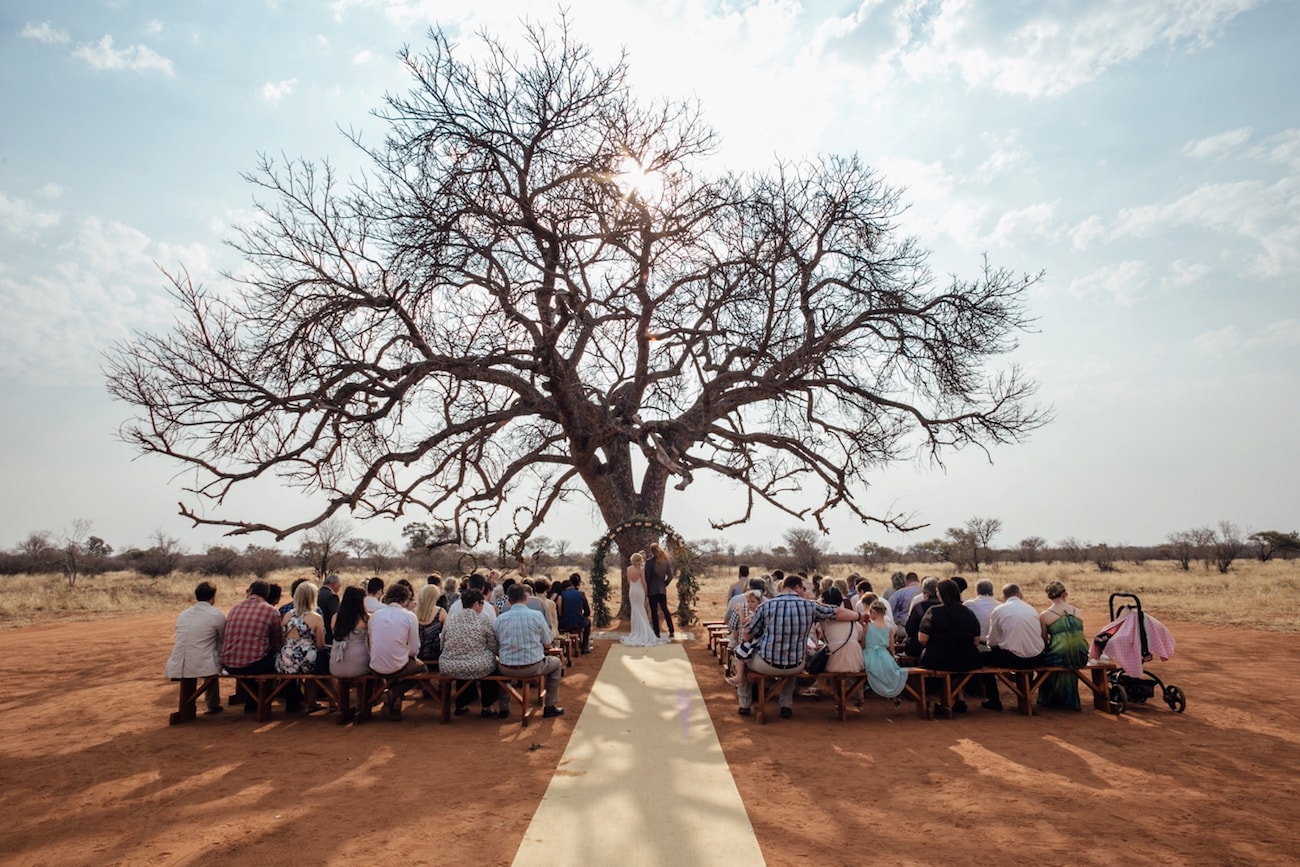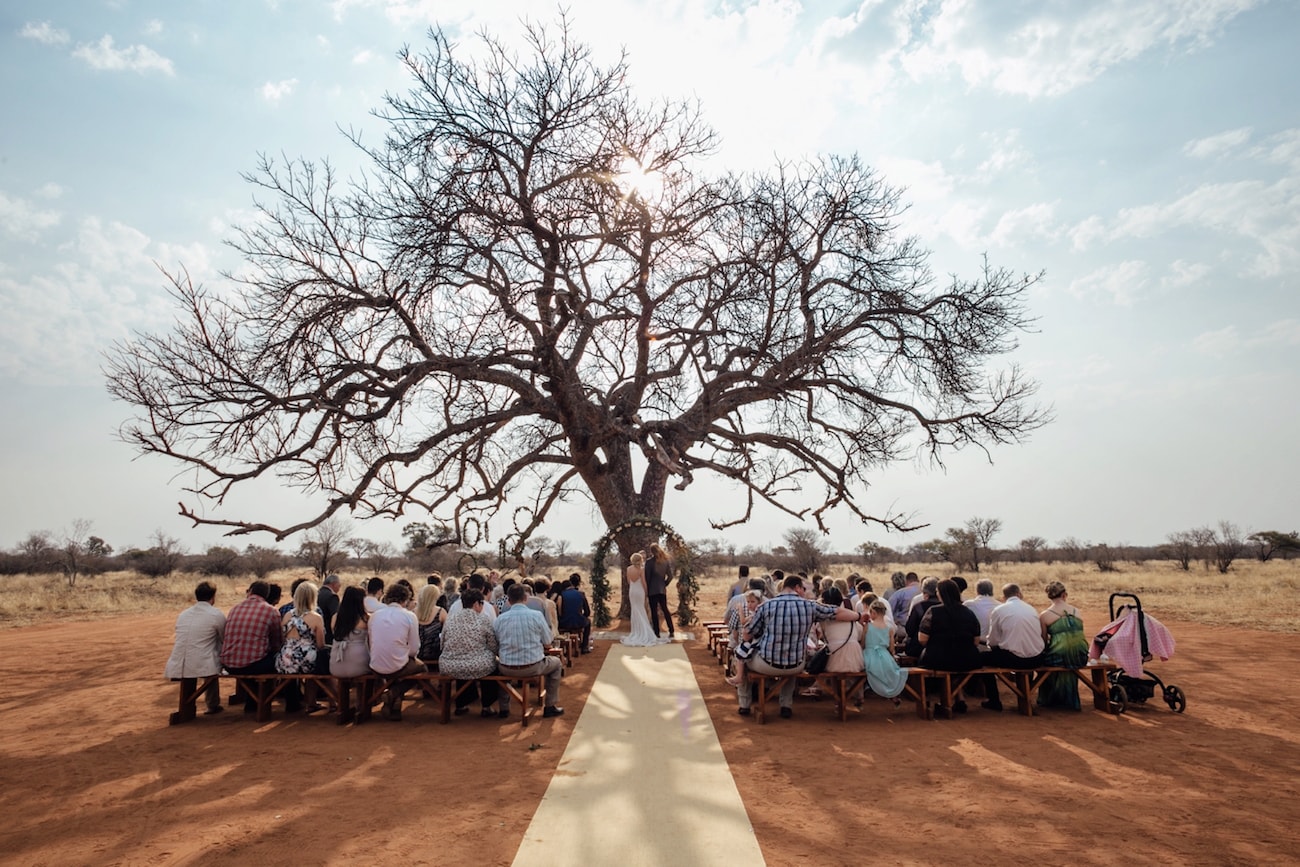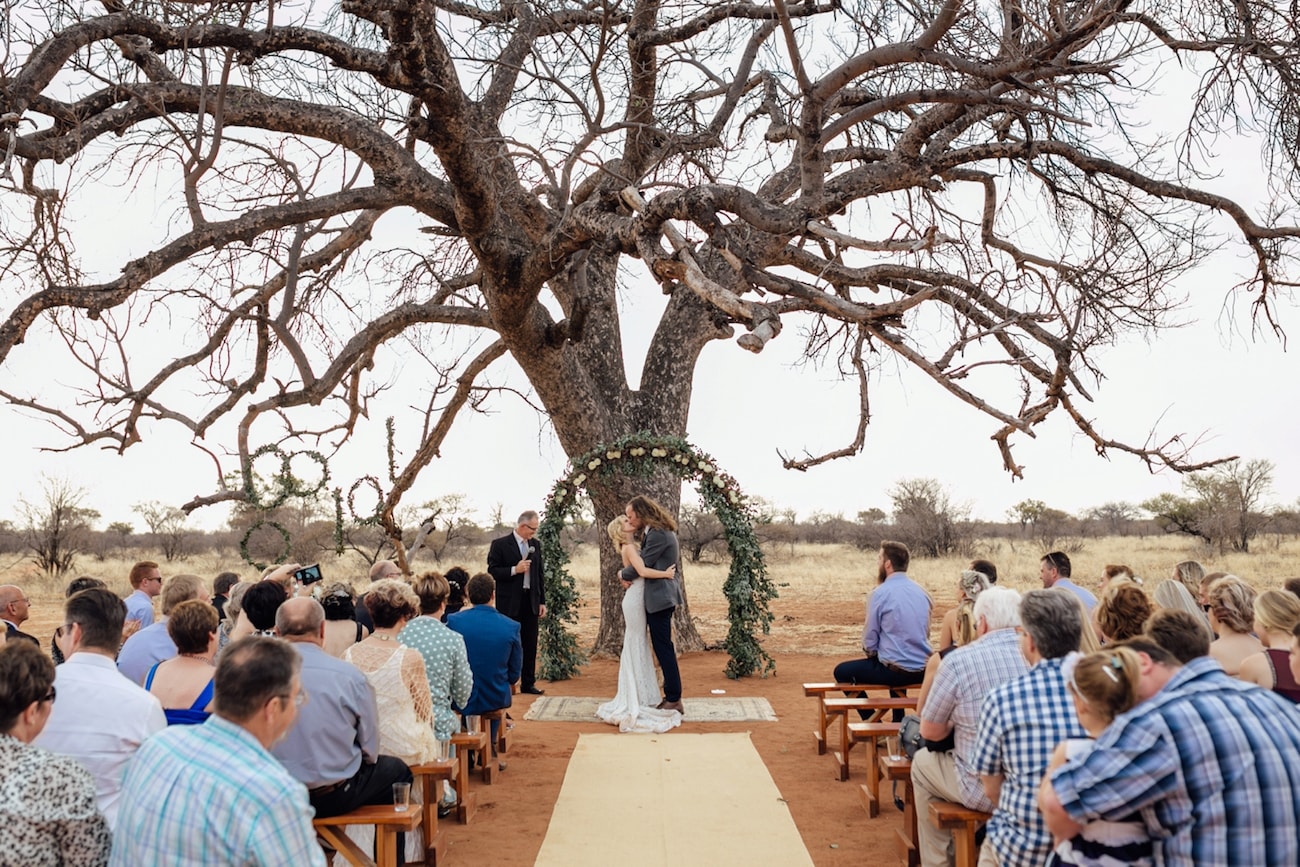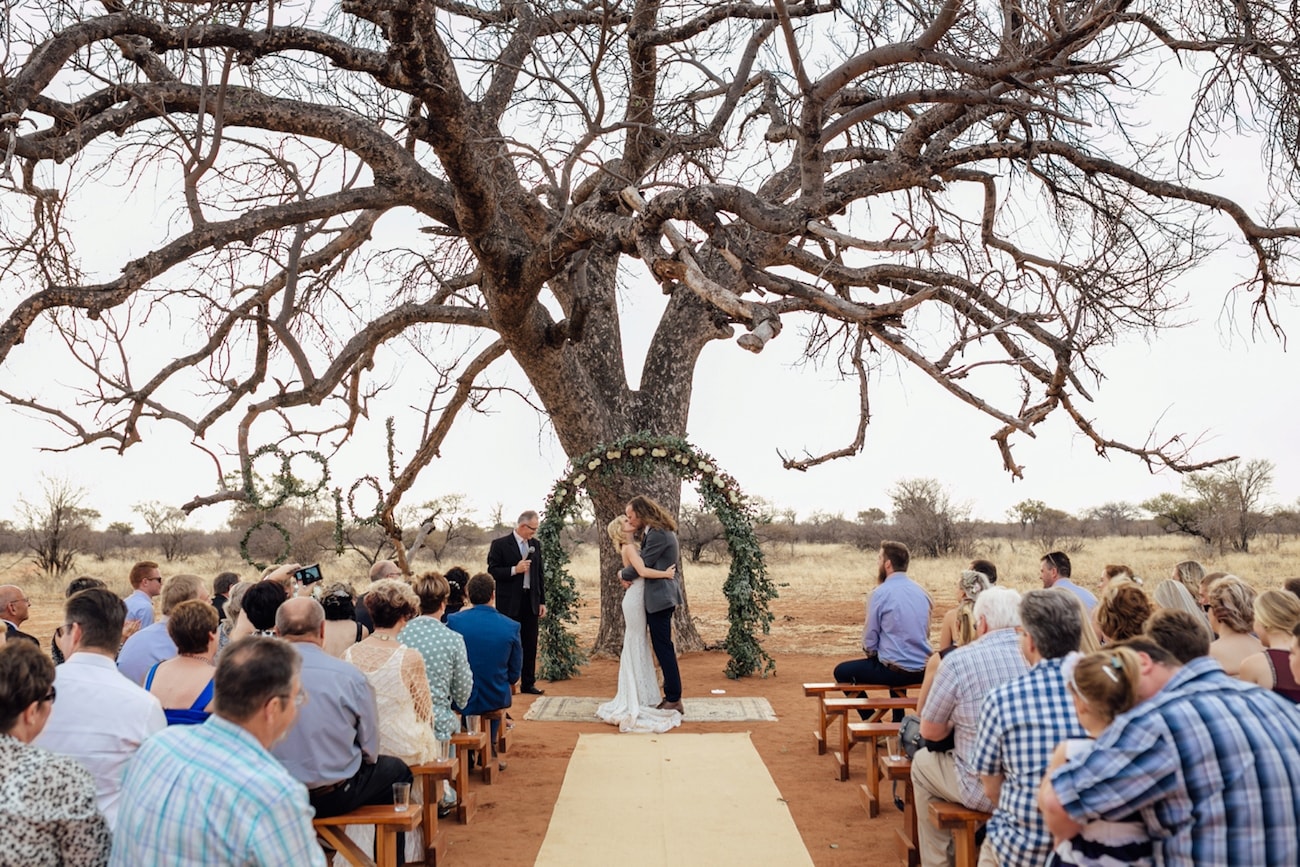 DIY Elements
We made the name tags on the plates. Our menu was painted by a family member. We made the table numbers and seating plan using bottles with printed numbers on them and Louise put flowers in them.
The Flowers
Loads of greenery, with soft, smaller flowers of all sorts and a pop of bright colours here and there.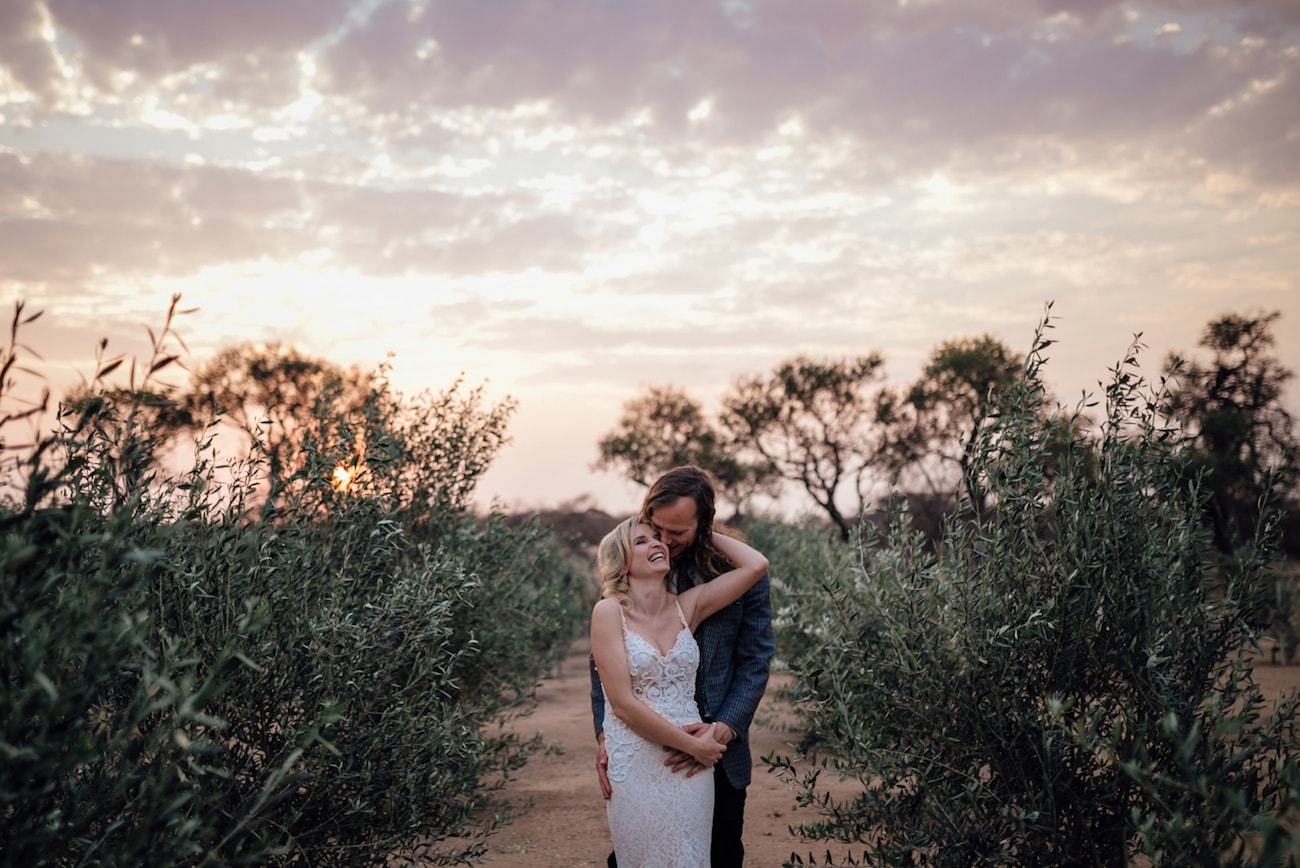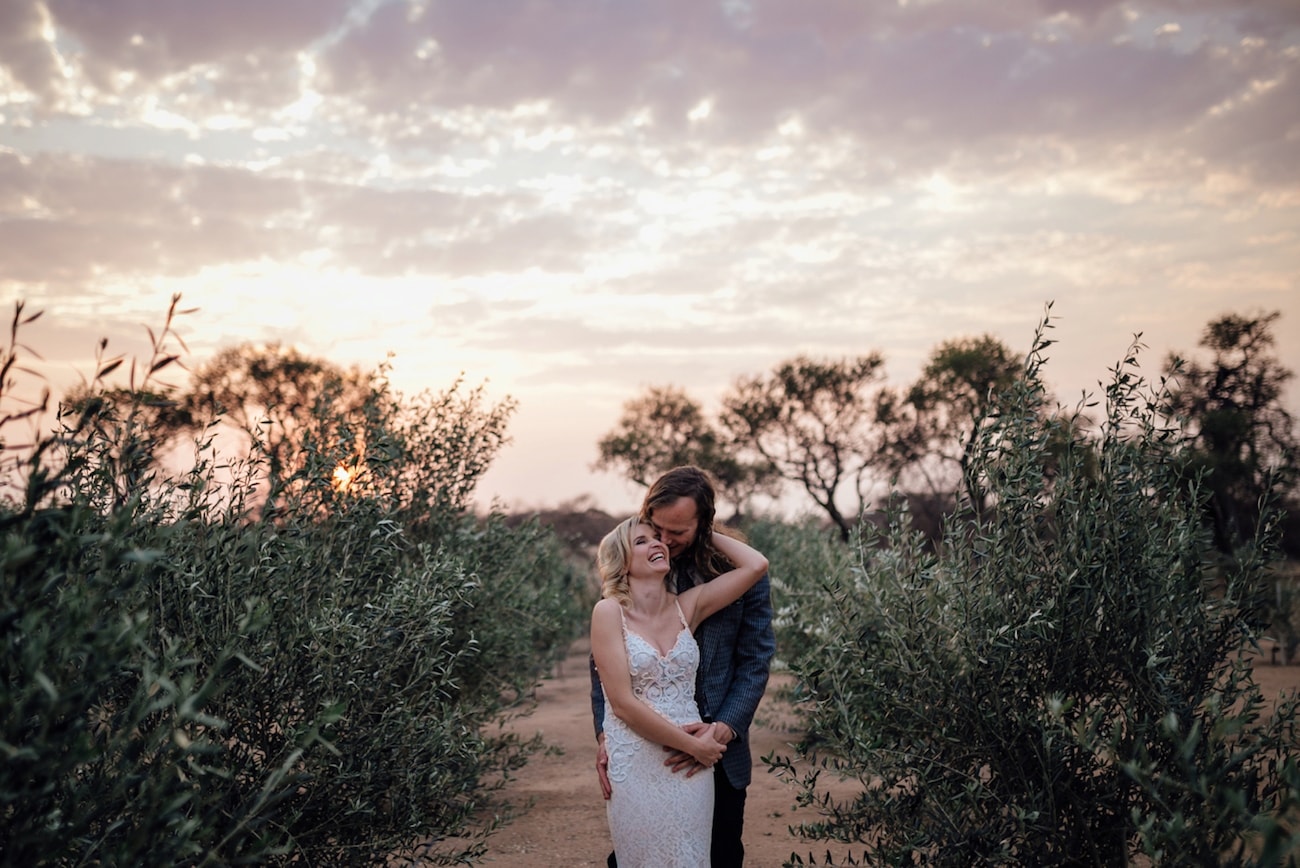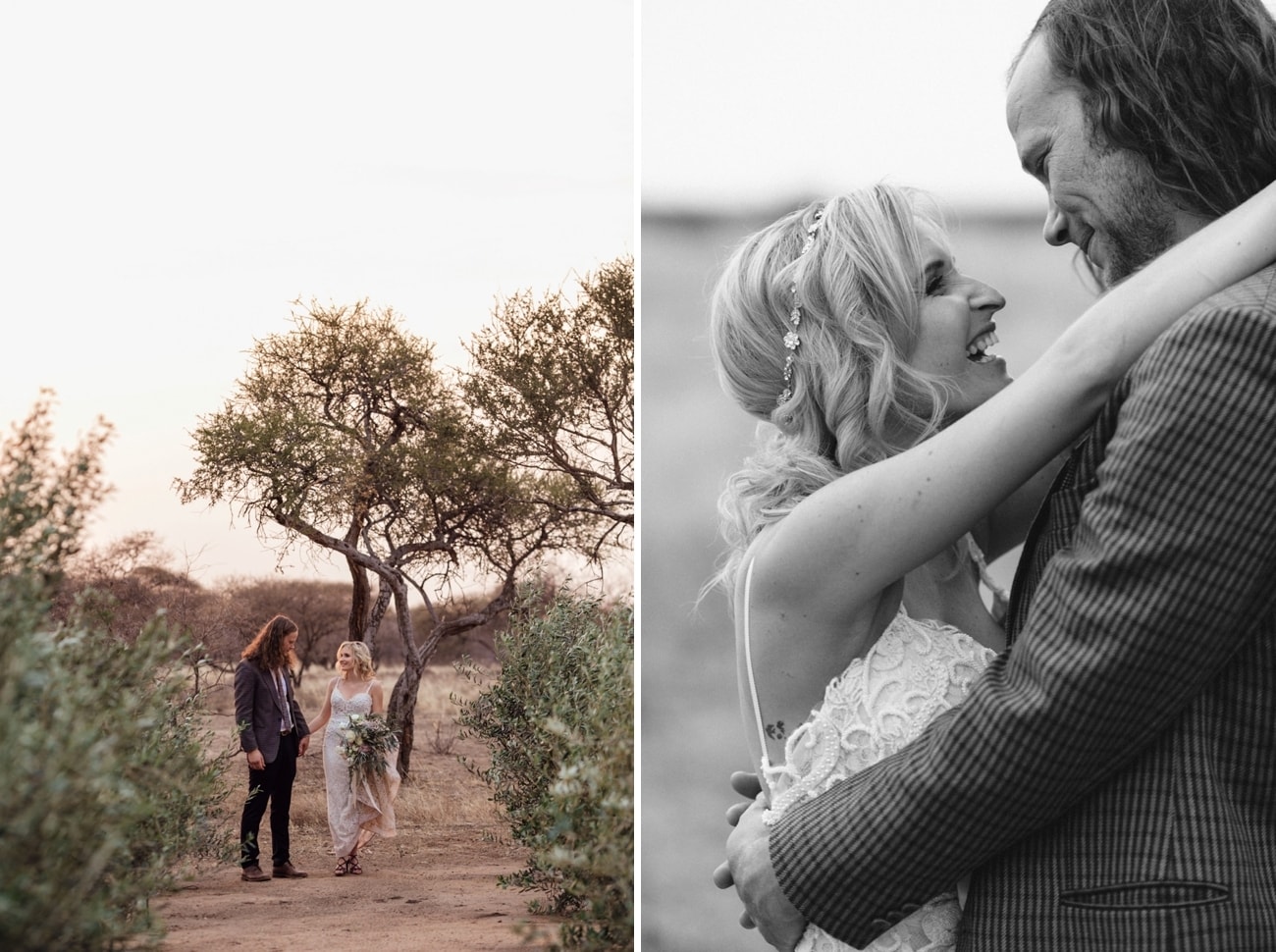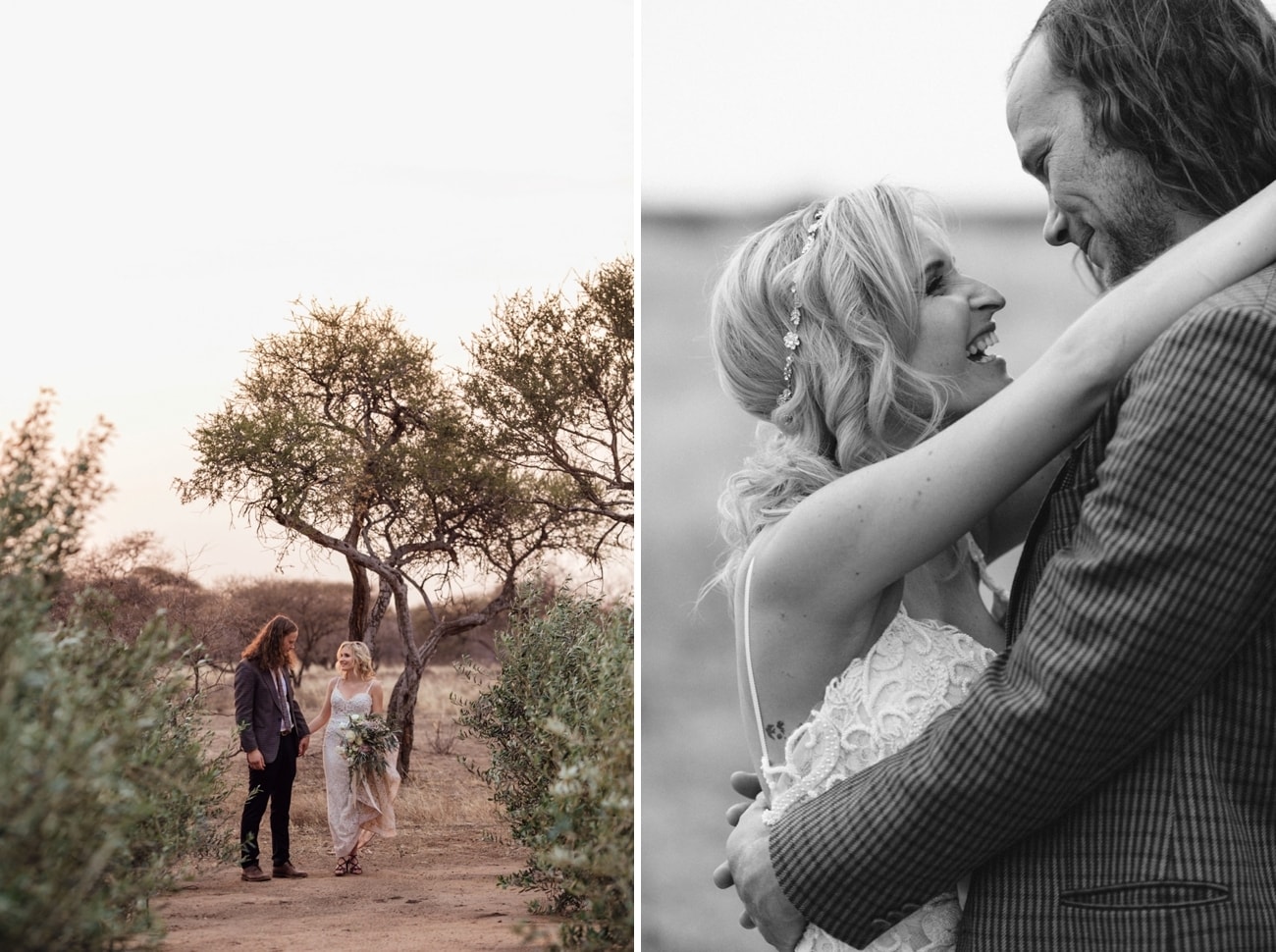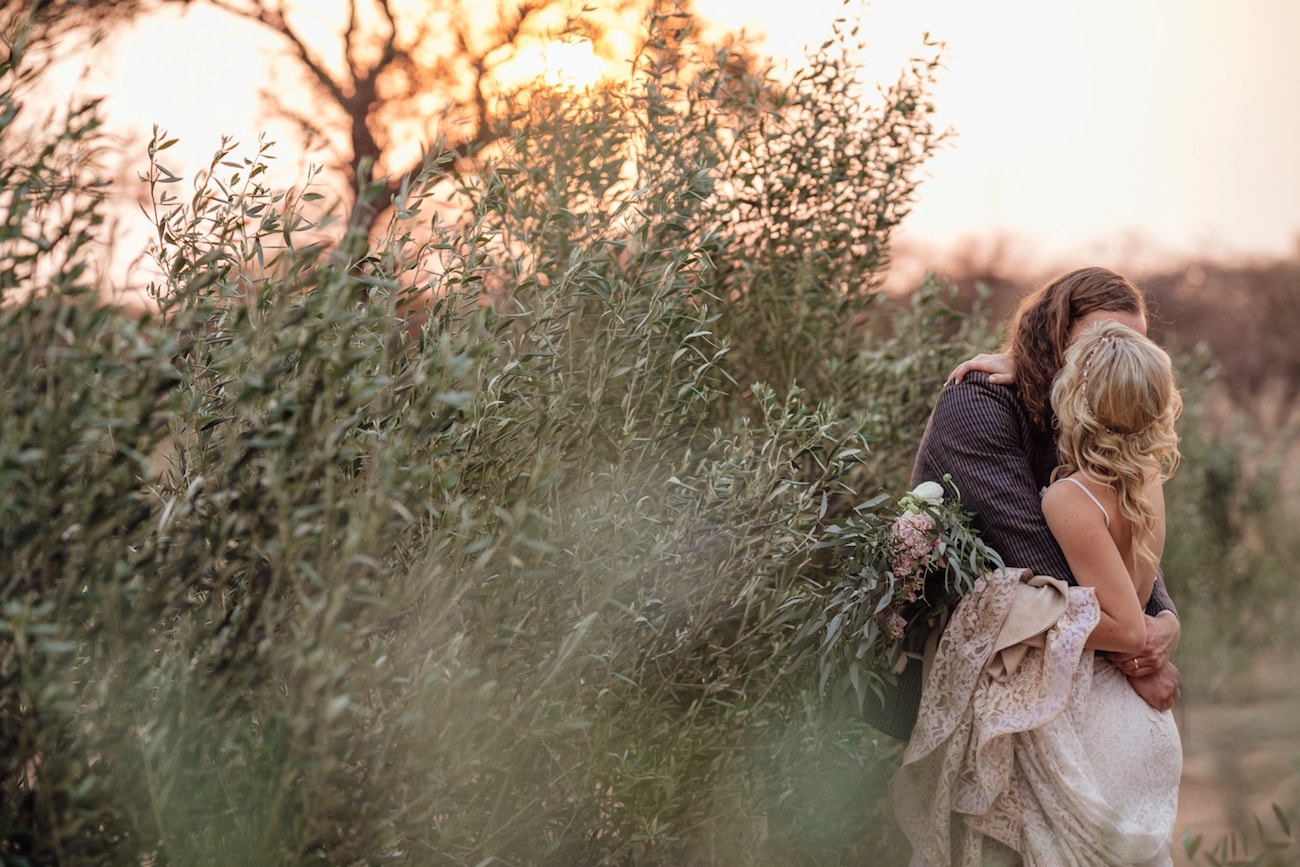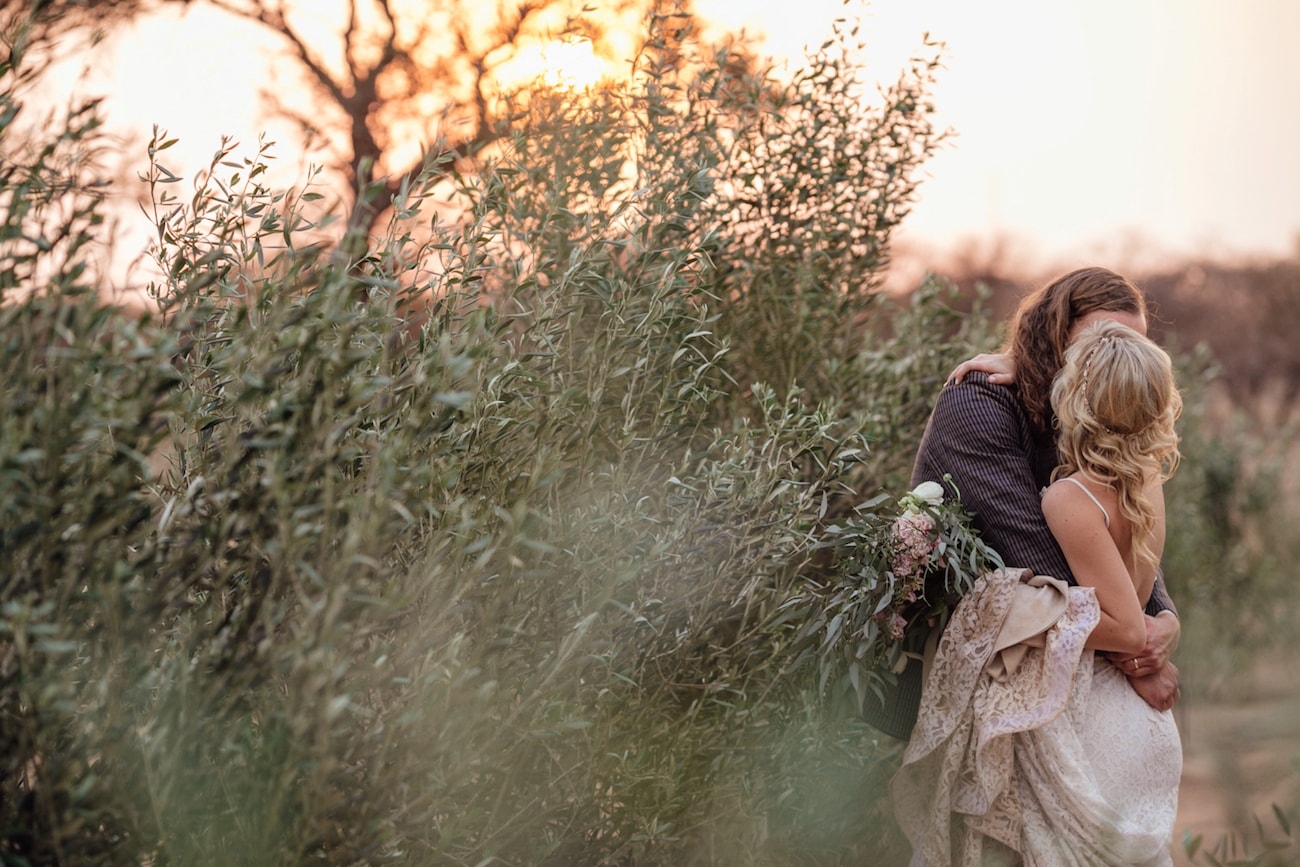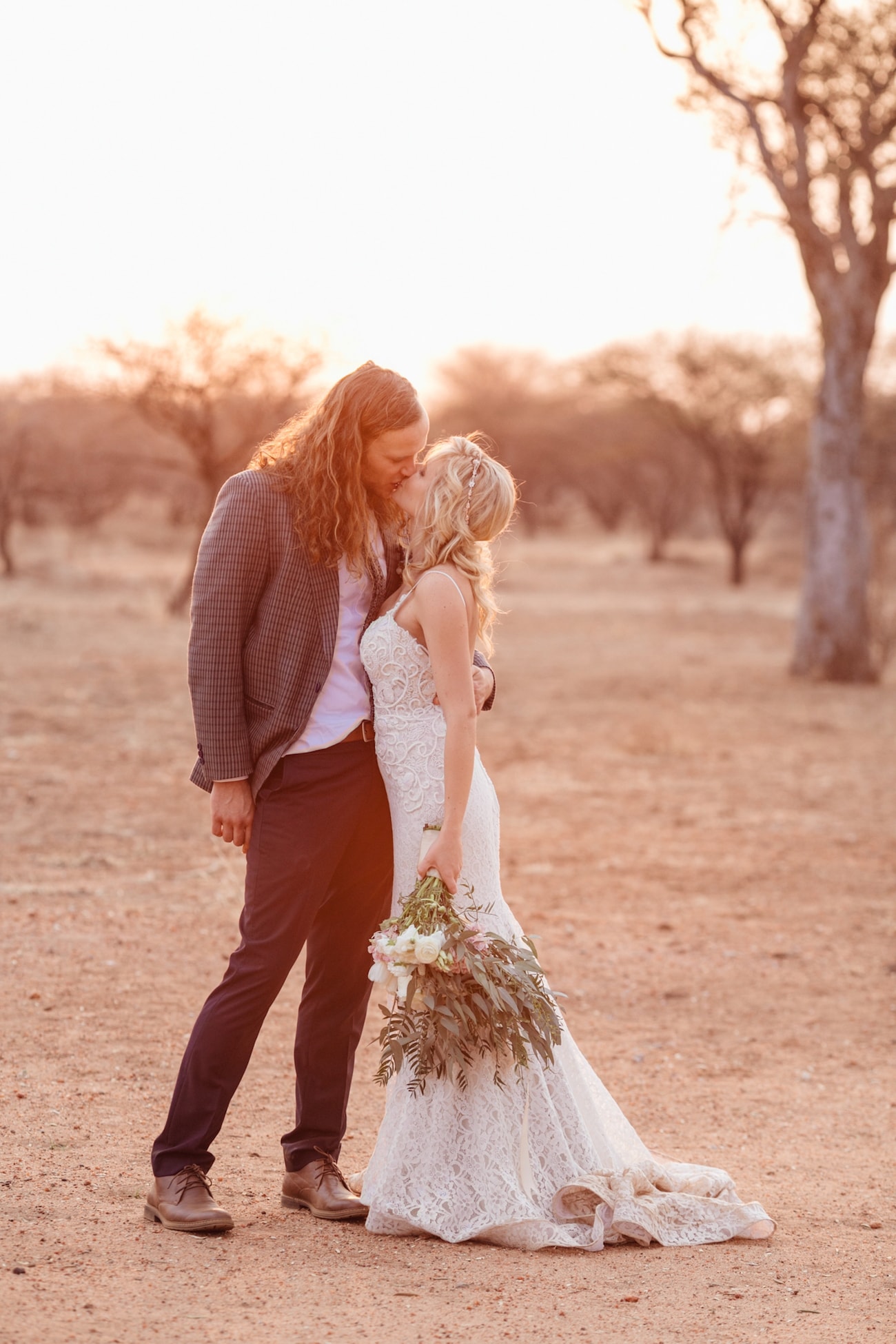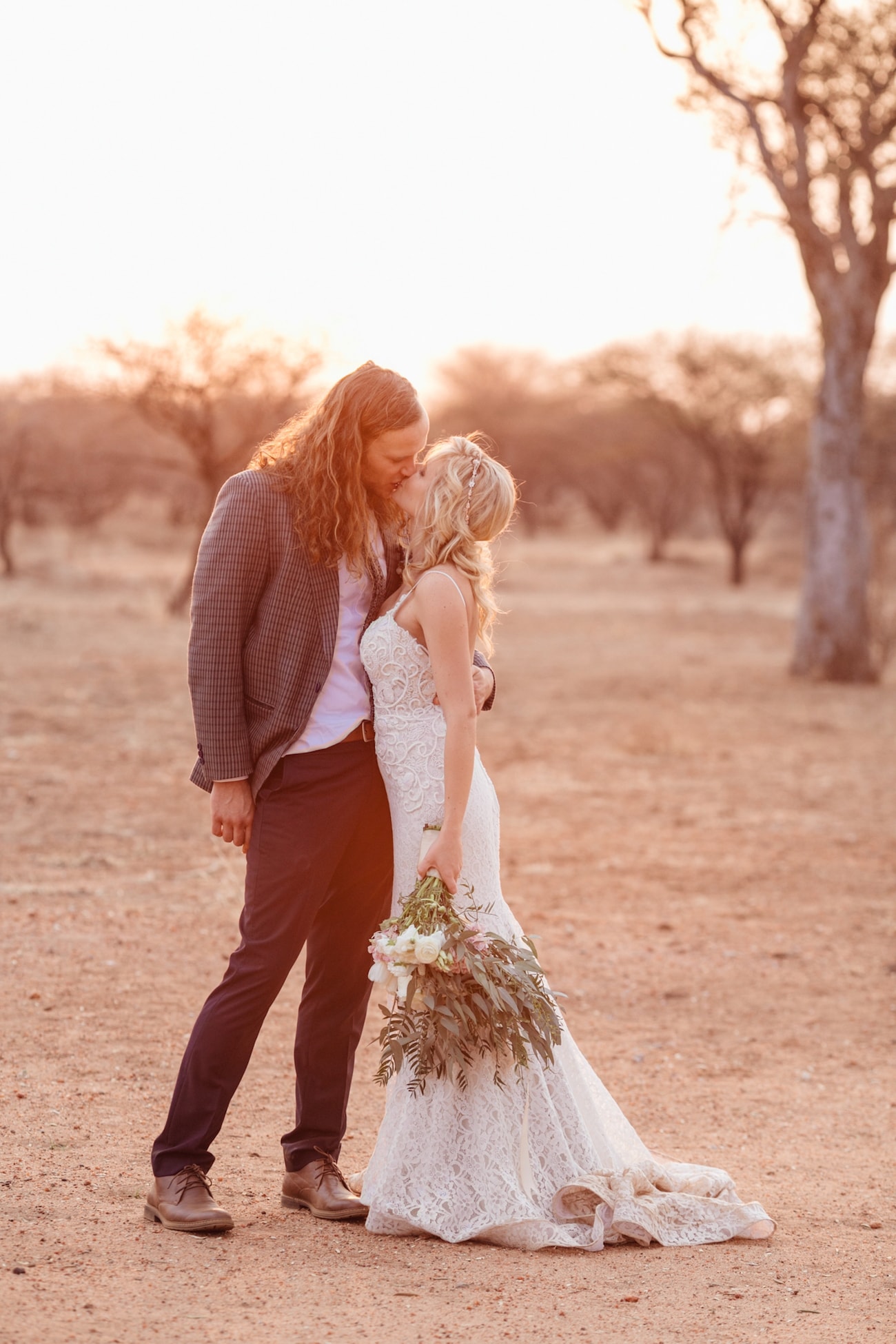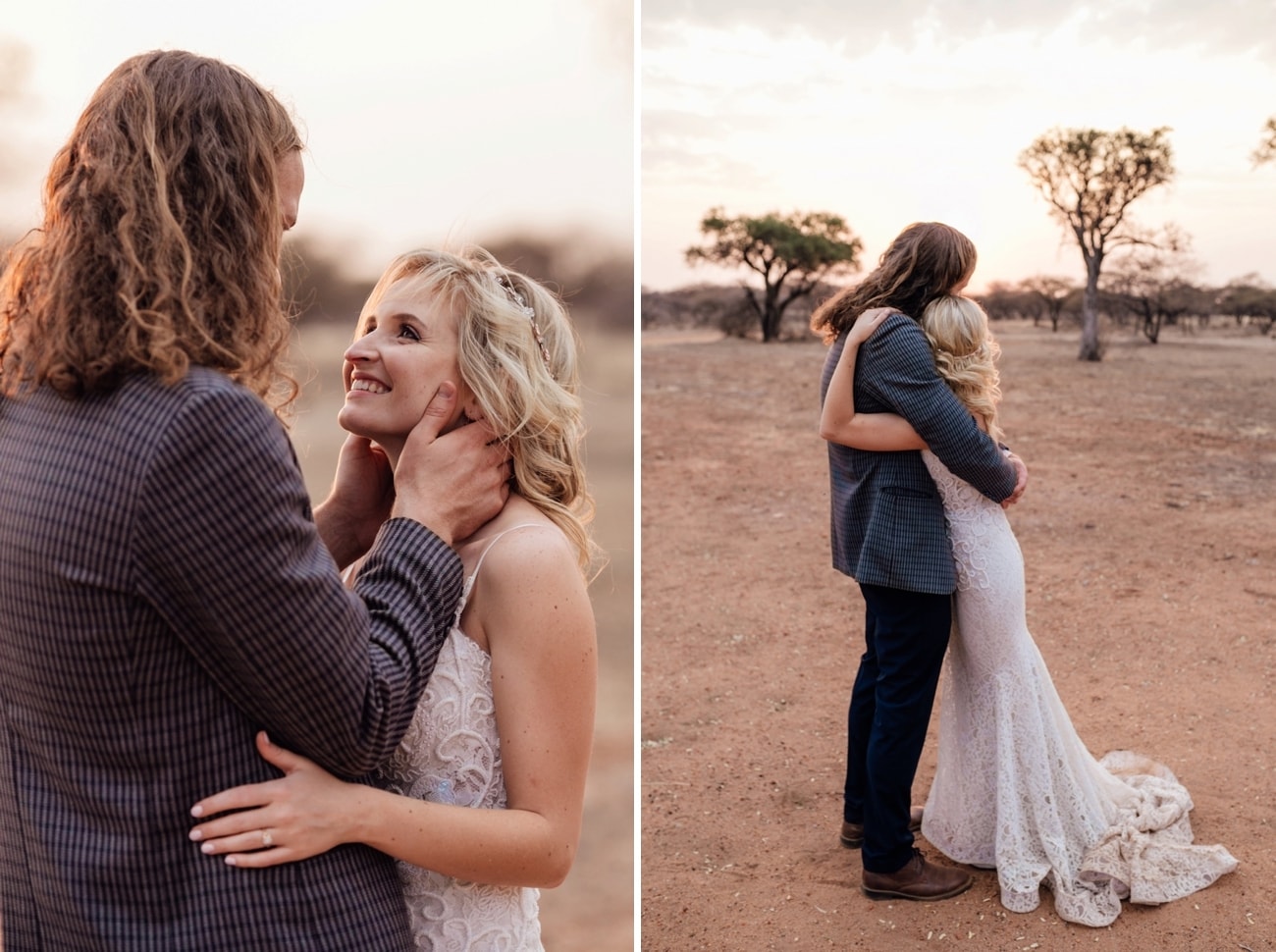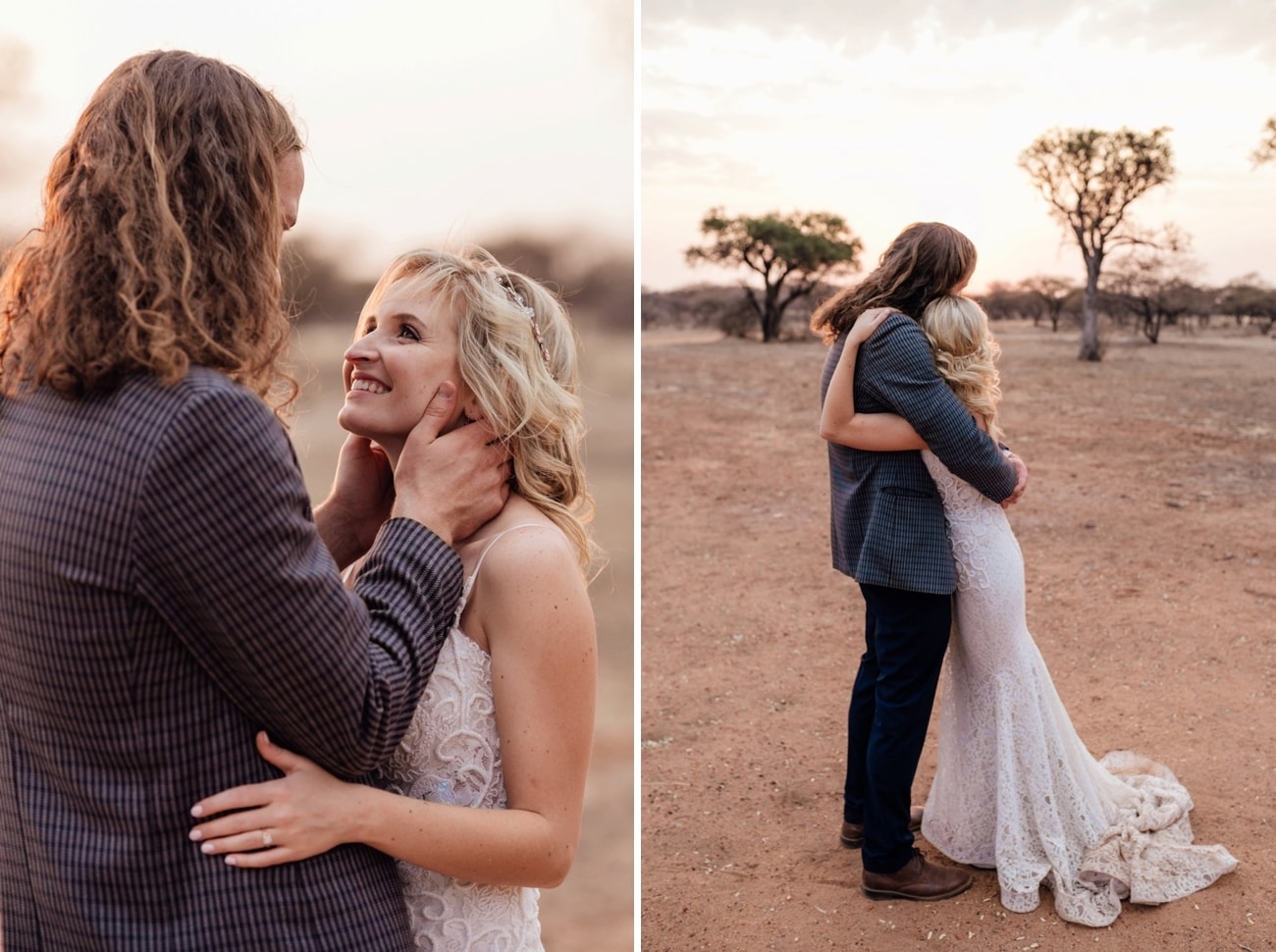 The Dress
I went for a dress fitting with my mother and best friend at Calegra Bridal House. As I walked in, I saw the dress and knew I had to try it on! Needless to say I shed a few tears when I tried it on. I tried a few dresses after that one and when I put it back on the tears came back – that's when I knew. Casey-Jeanne's collections are magnificent but I felt that that specific dress represented who I am: soft yet bold and dramatic!
The Bridesmaids
I wanted my bridesmaids to wear something that is current and trending which they can wear again for a different occasion. I loved the idea of crop tops and flirty skirts and I knew my bubbly, beautiful crew would pull them off! When I saw the floral crop tops I was sold on the idea.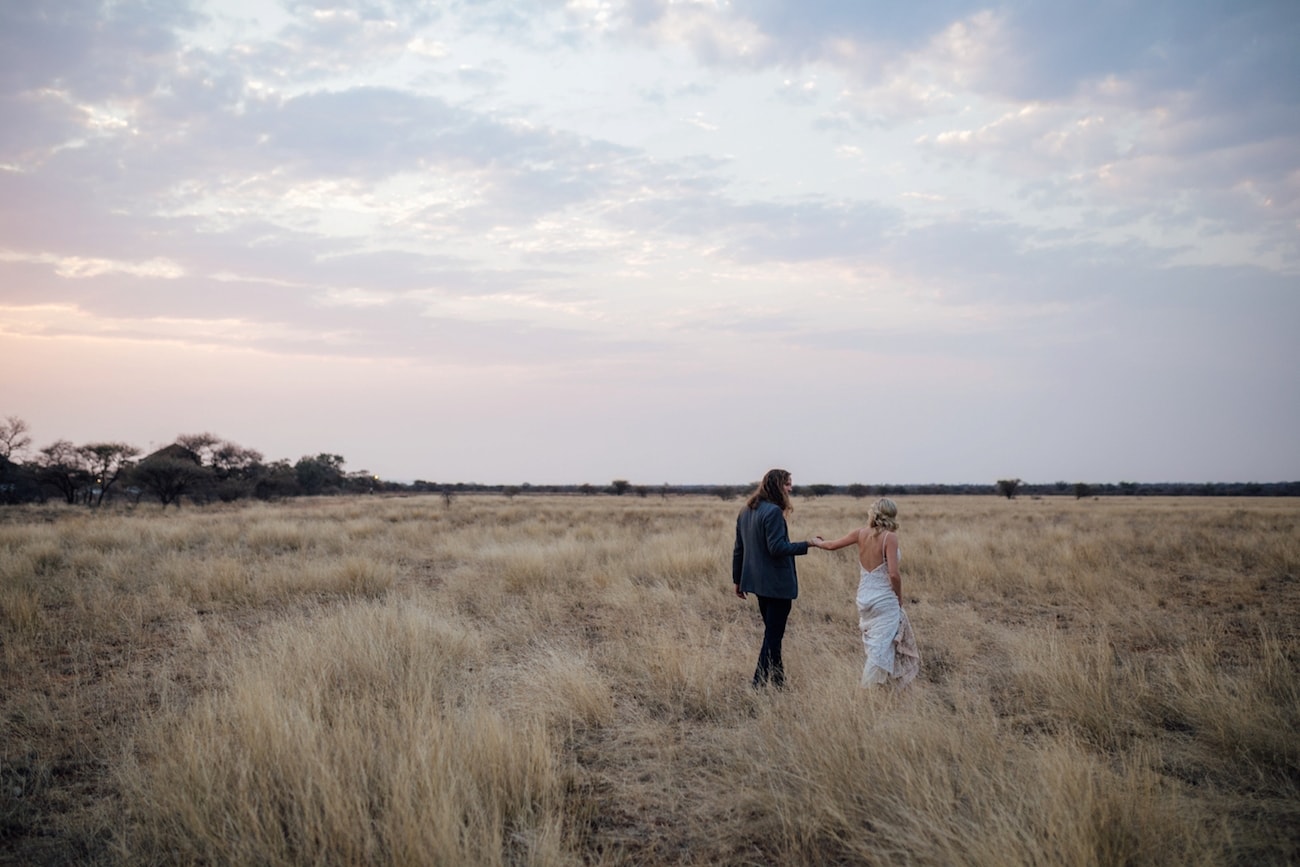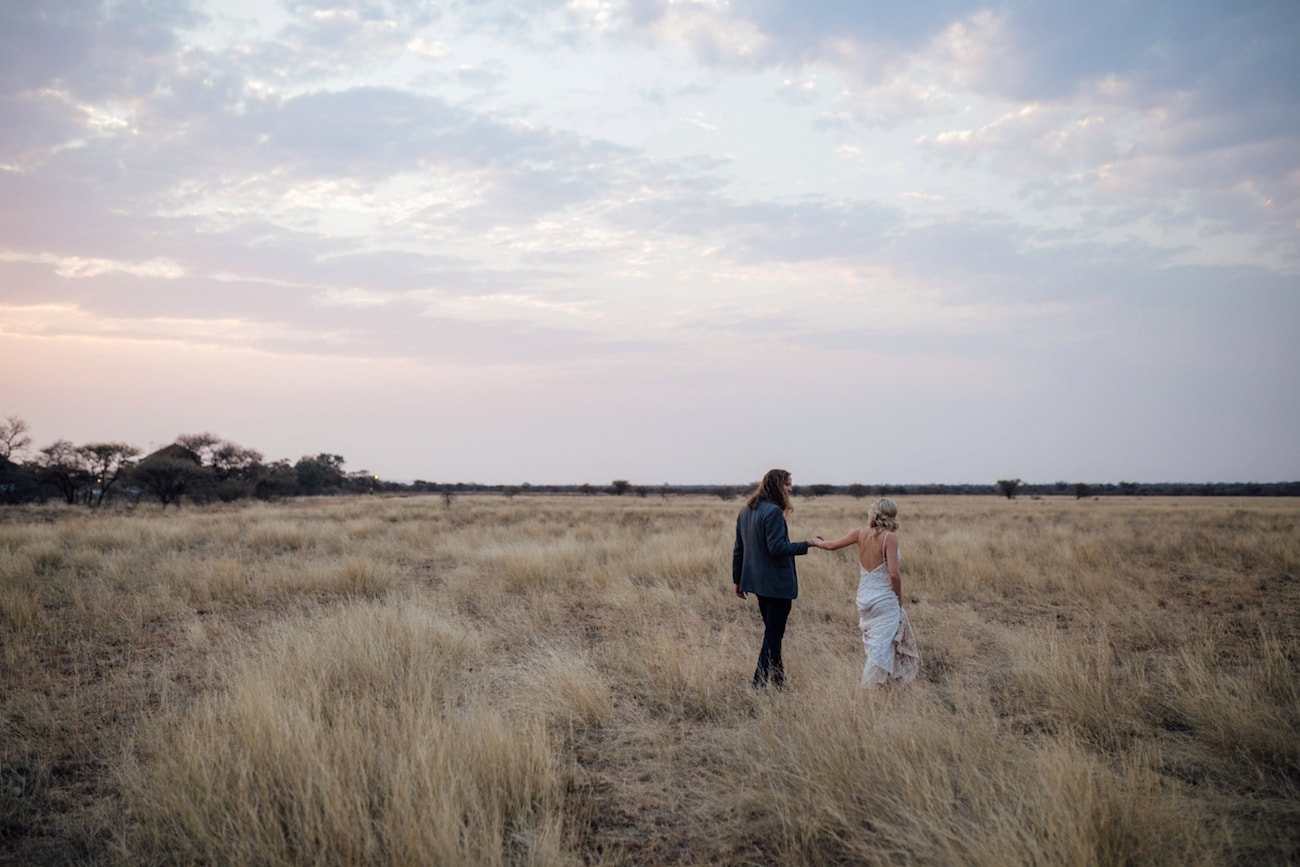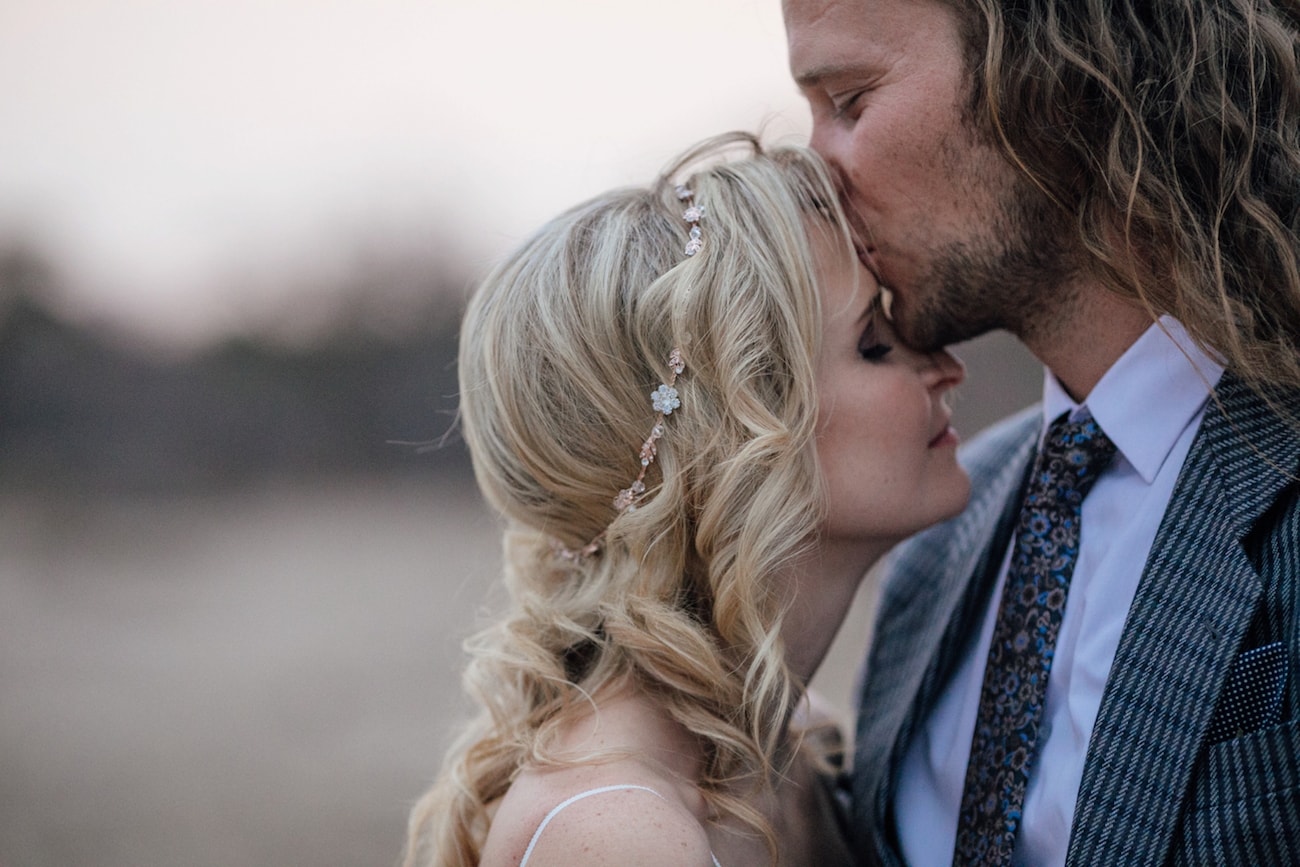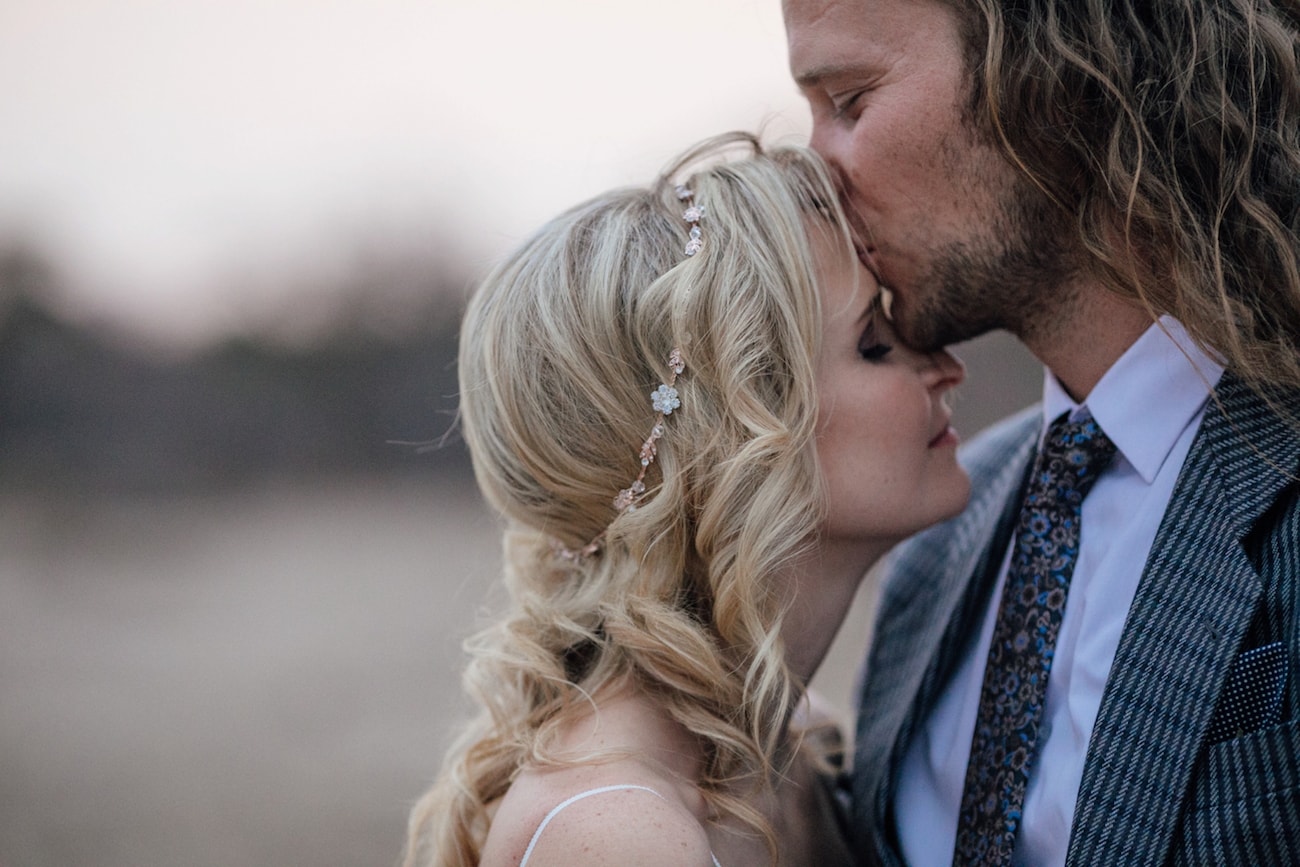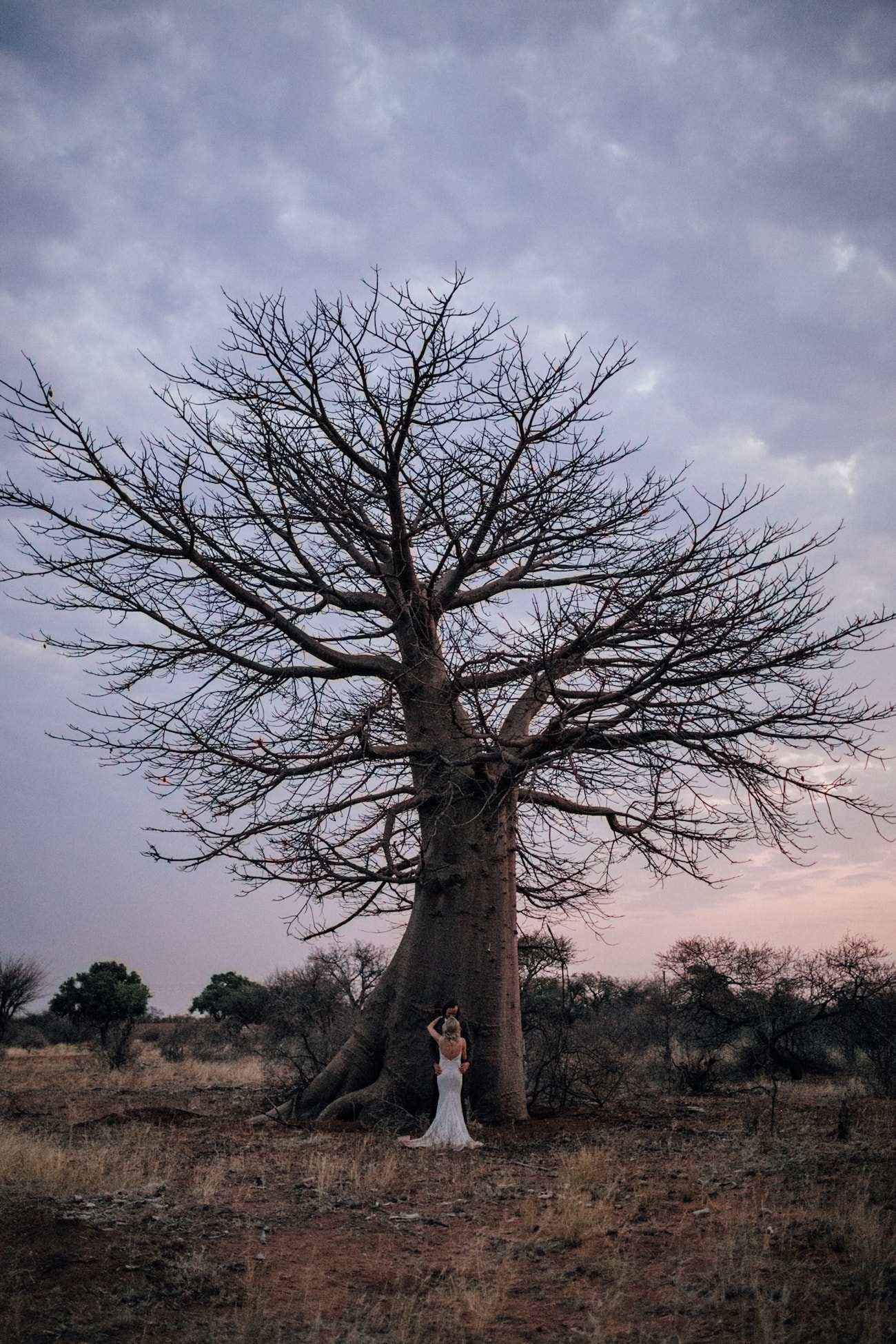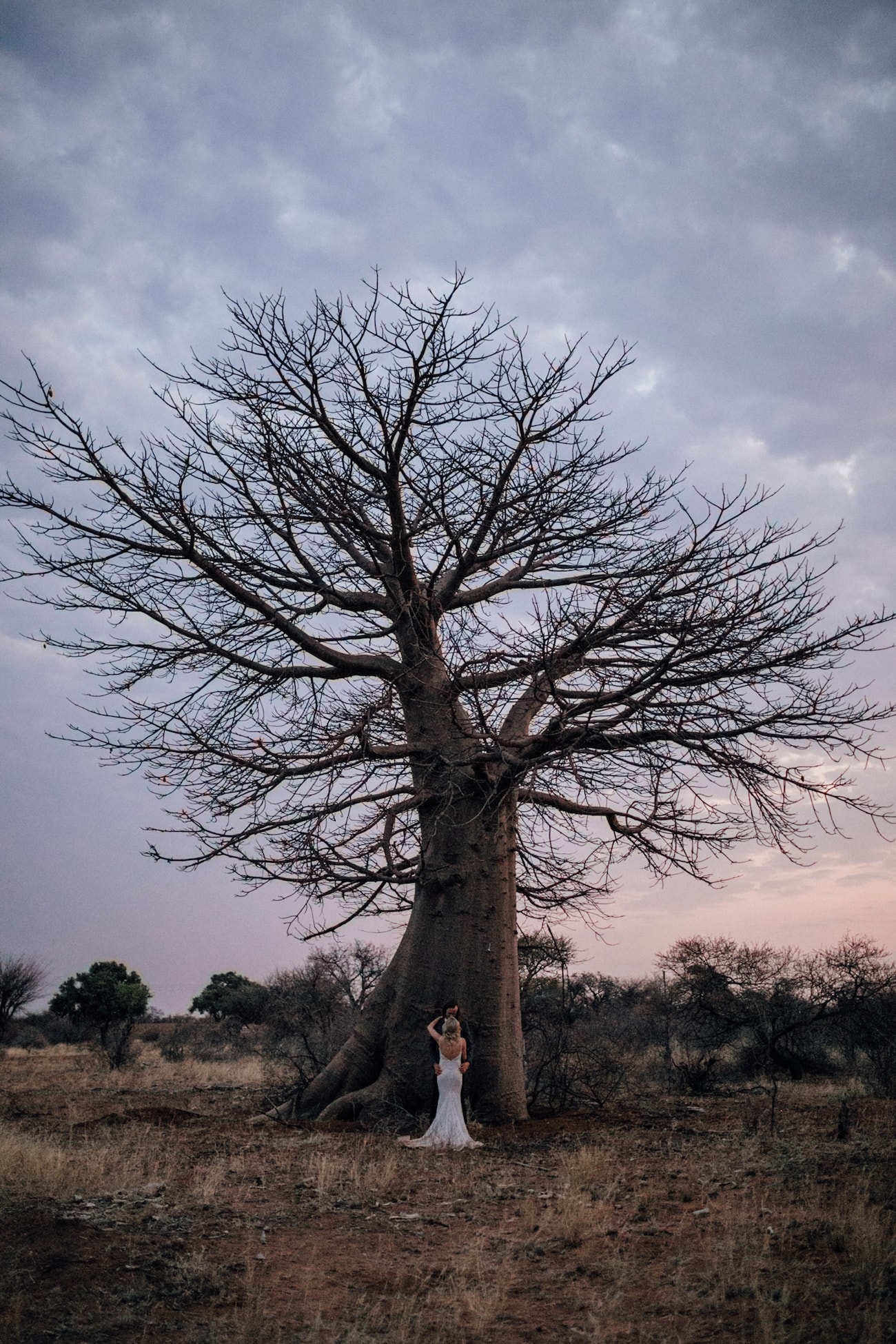 Memorable Moment
Meeting each other at the end of the aisle and realising that what we'd prayed for had just become a reality. God created the perfect day for us and we loved every second of it!
Proudly South African Details
I think the venue in itself represents the best of South Africa. Louise and her team know how to make everyone feel at home and feel proudly South African.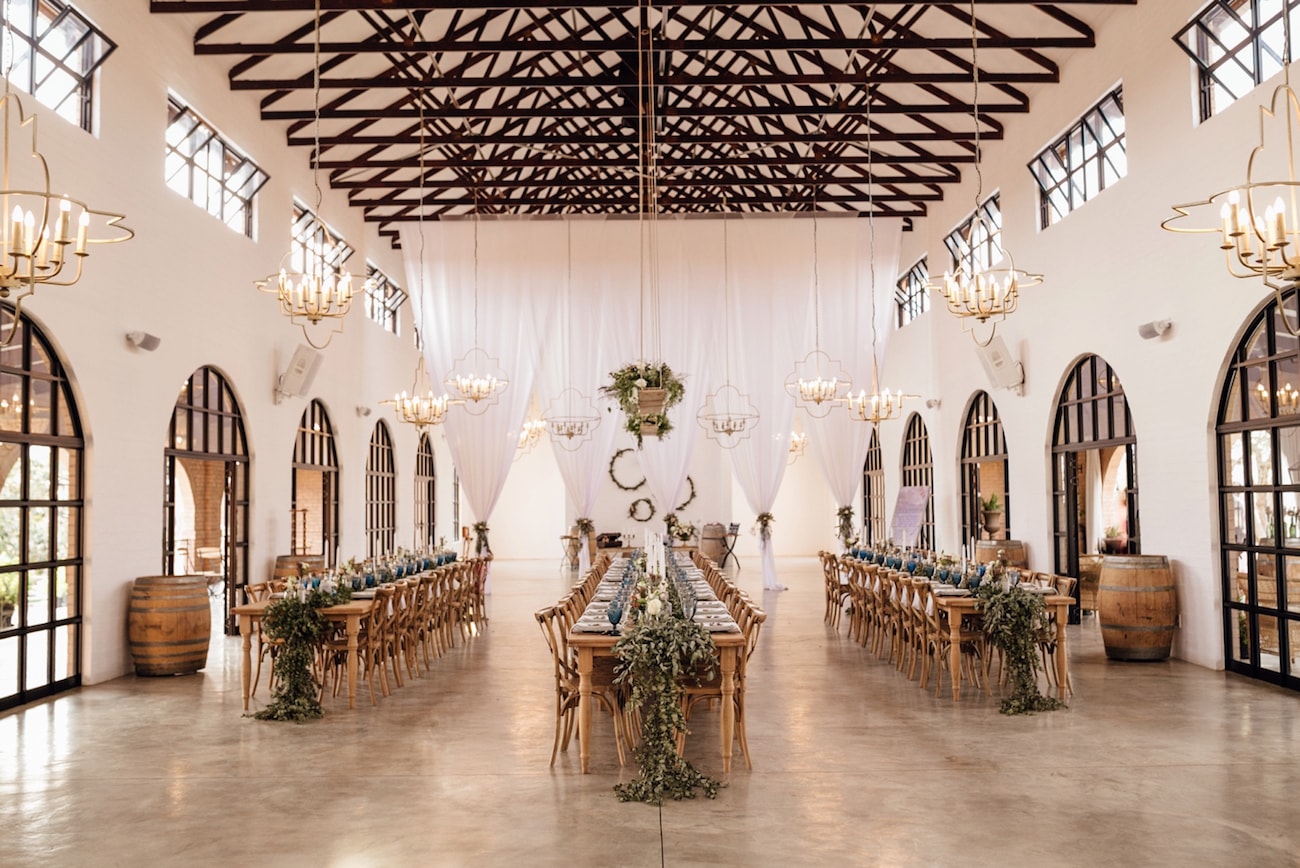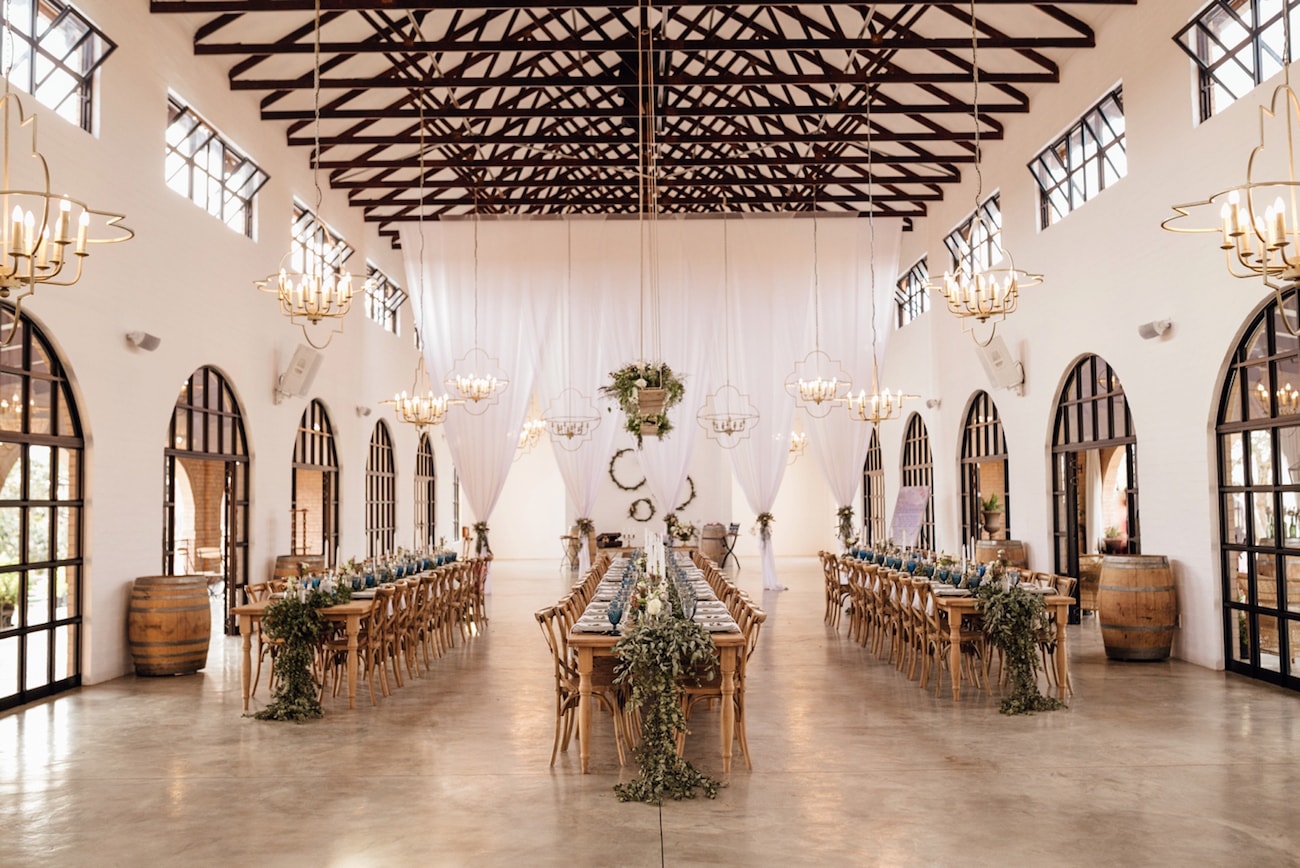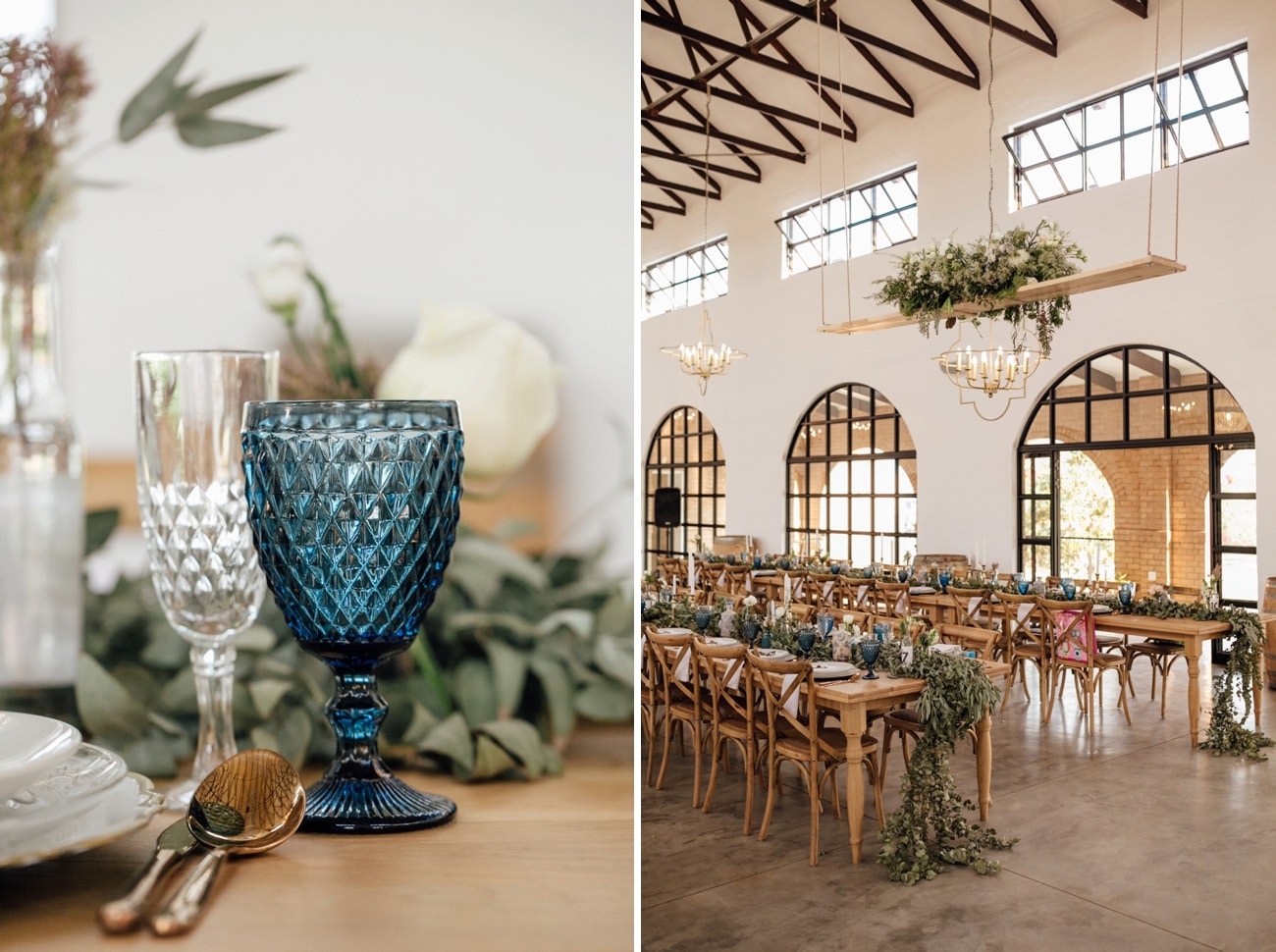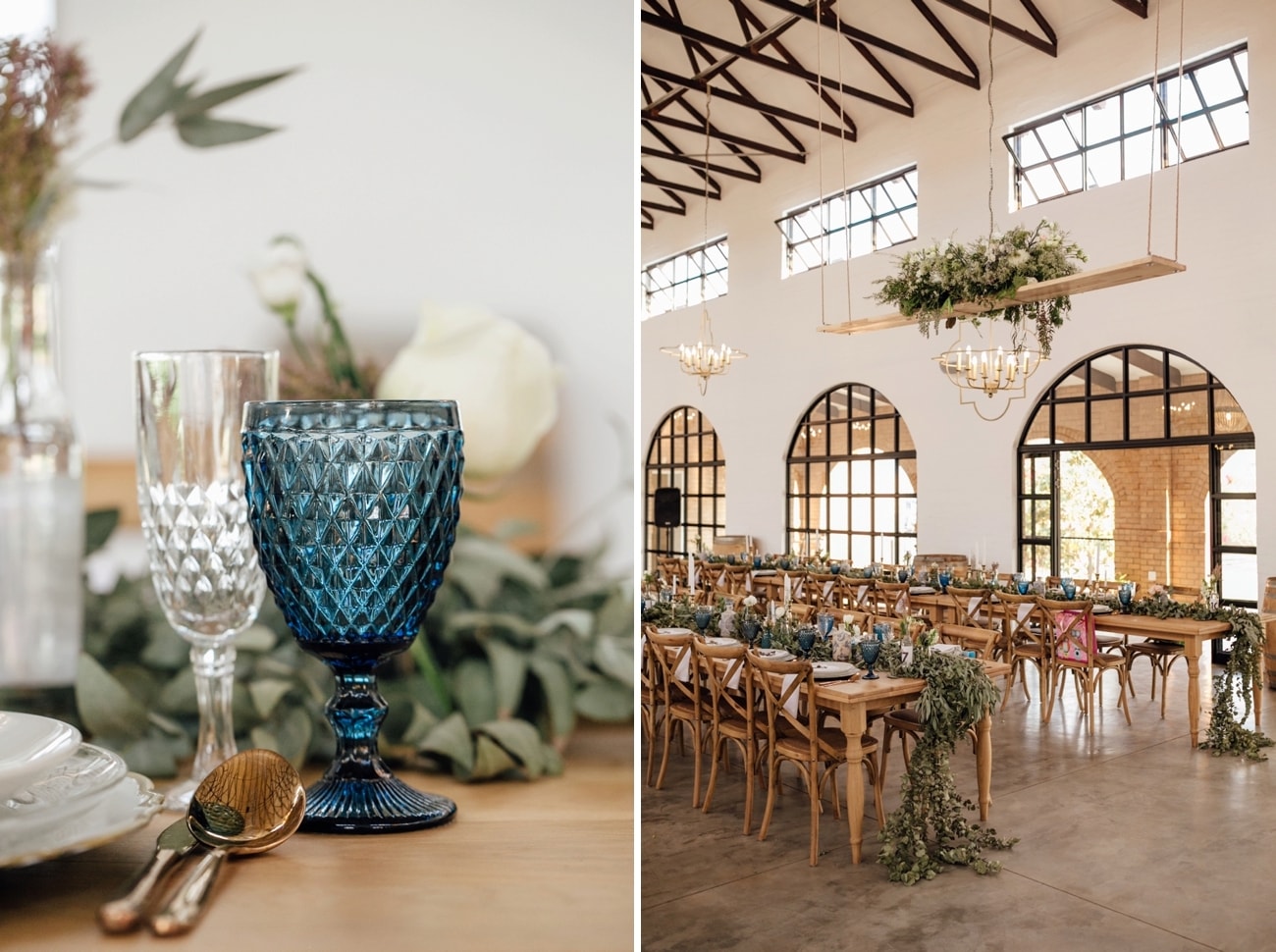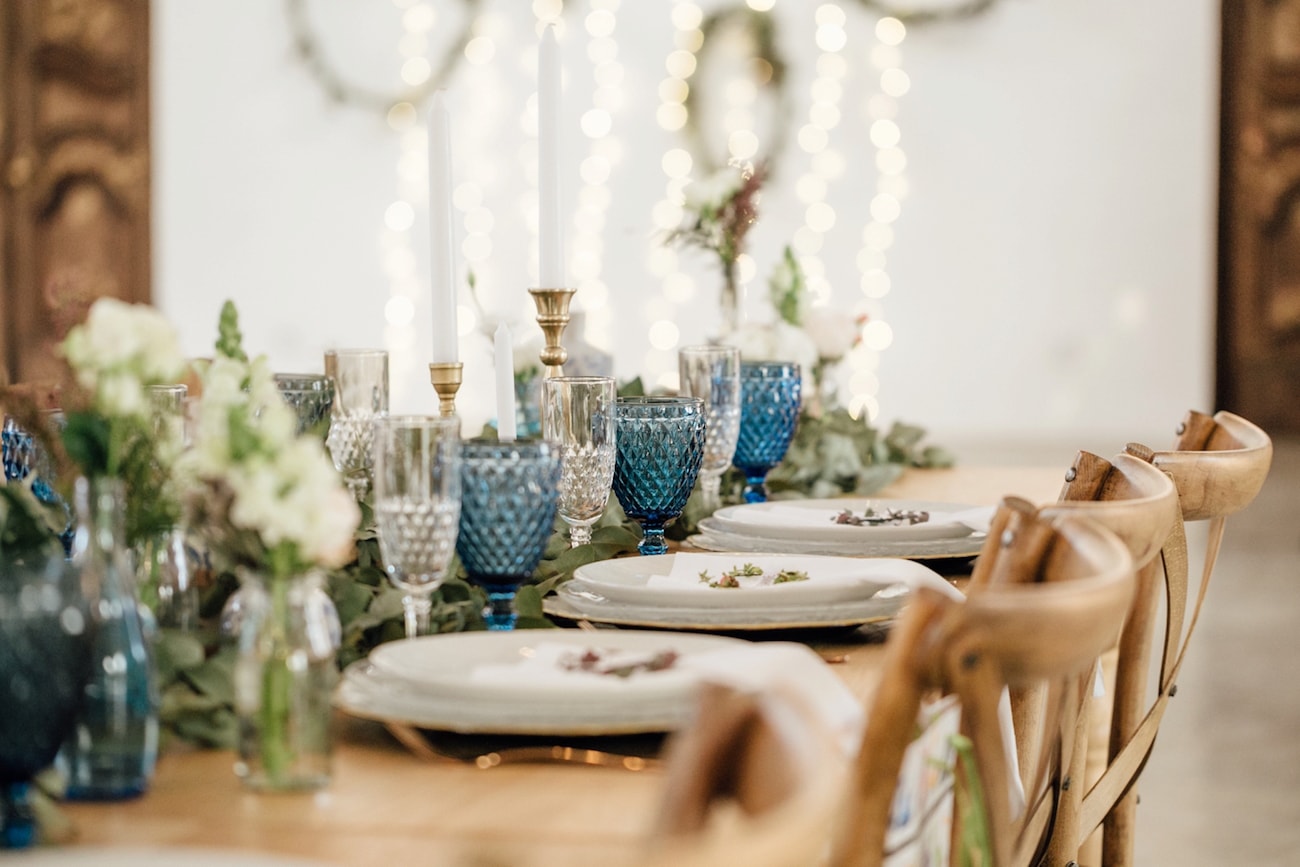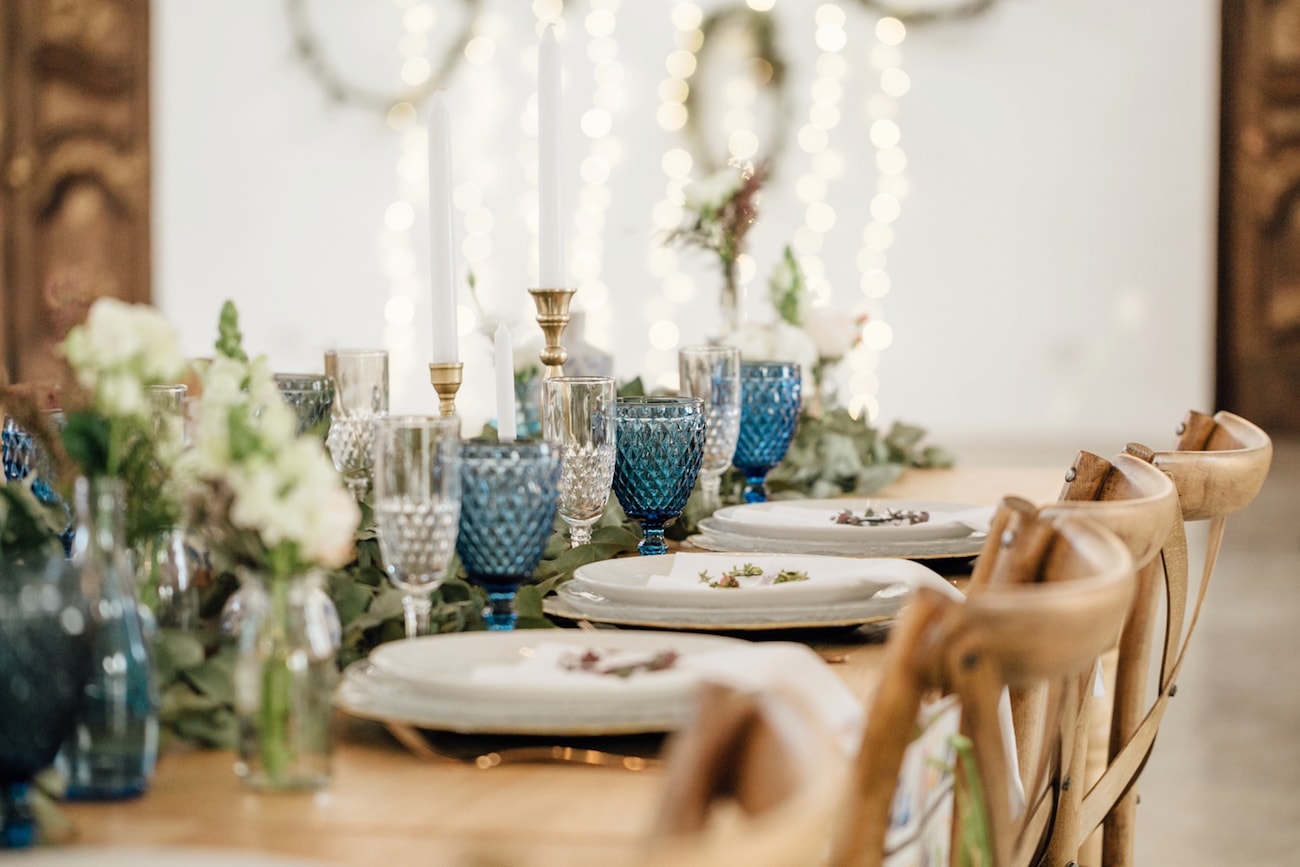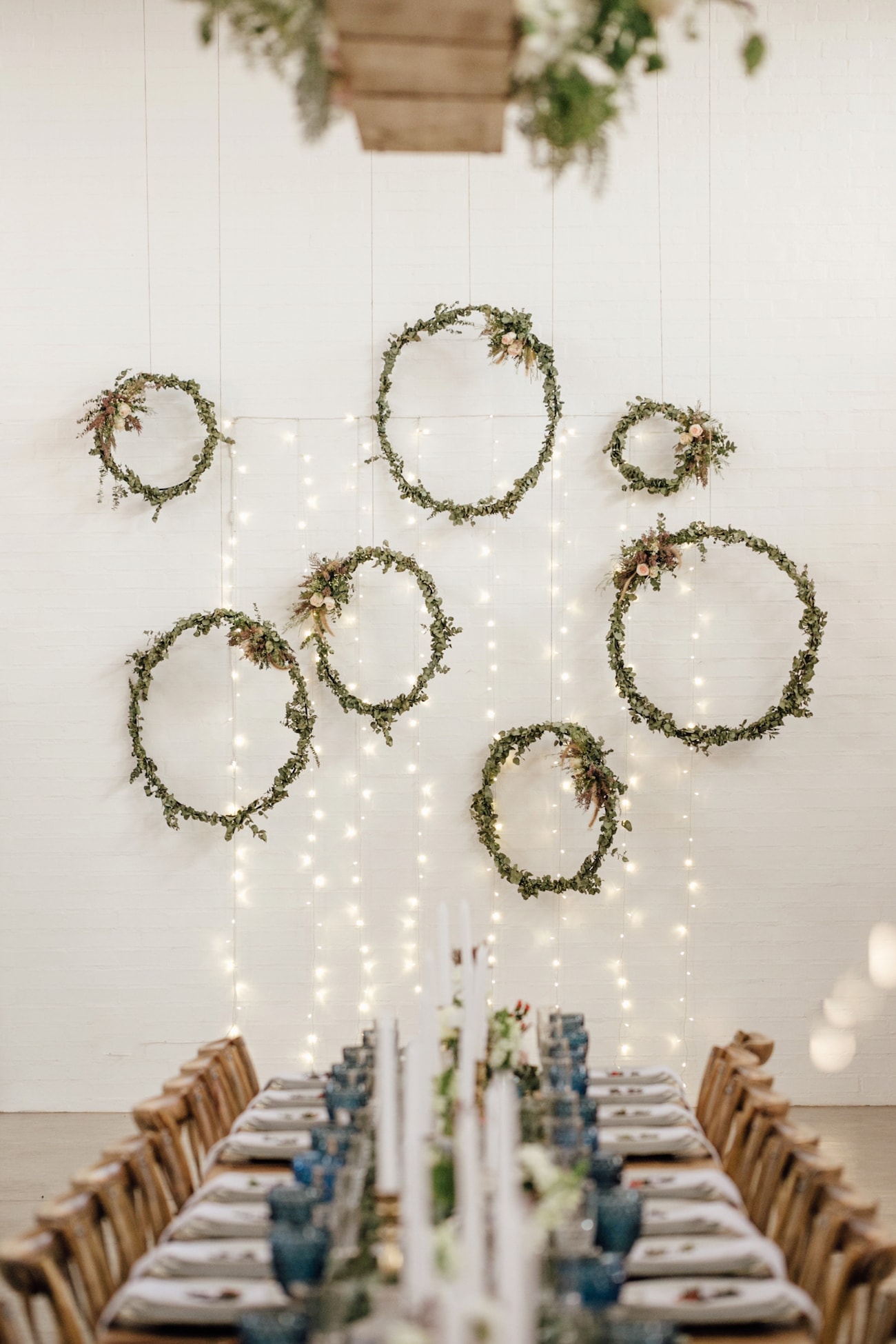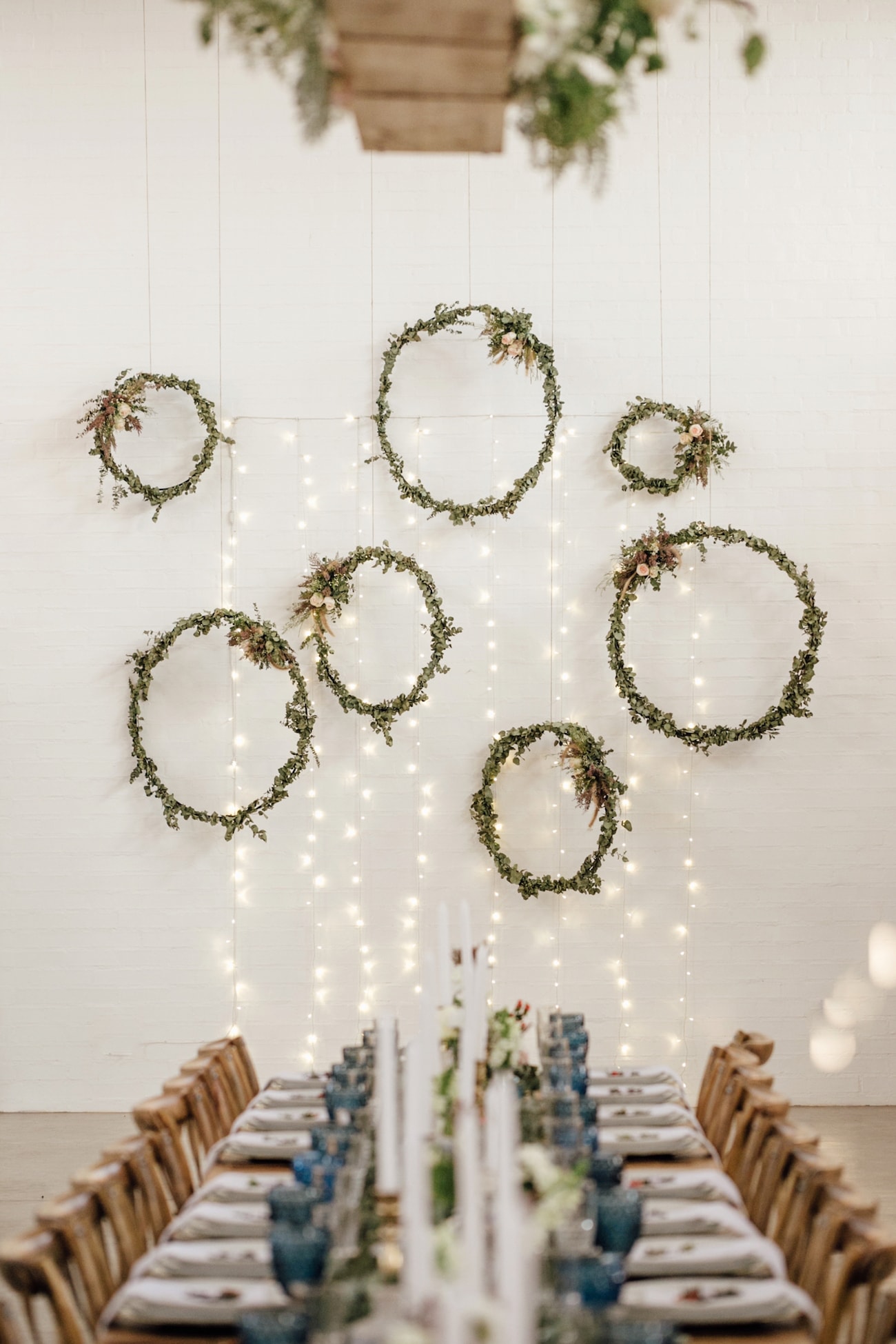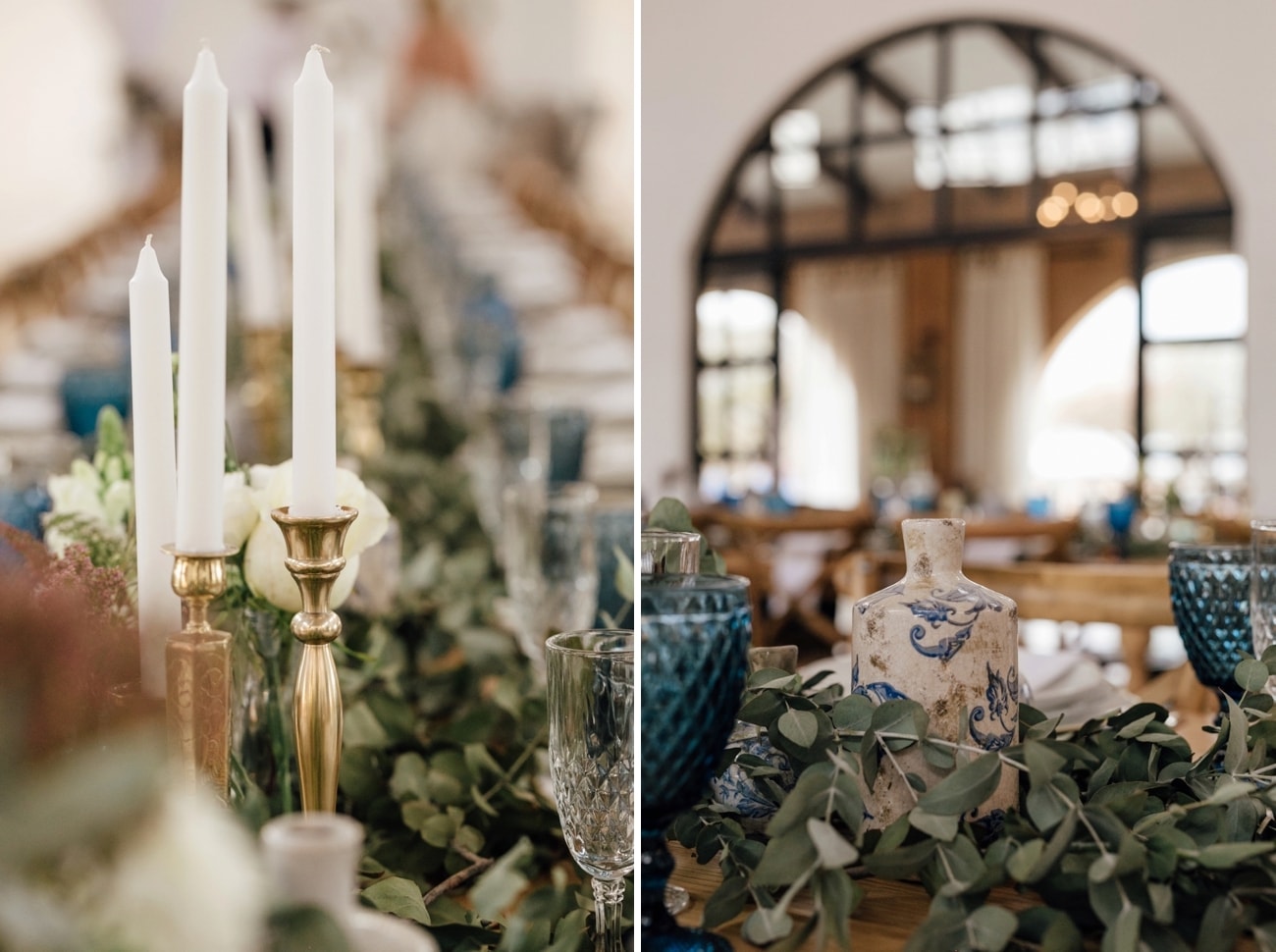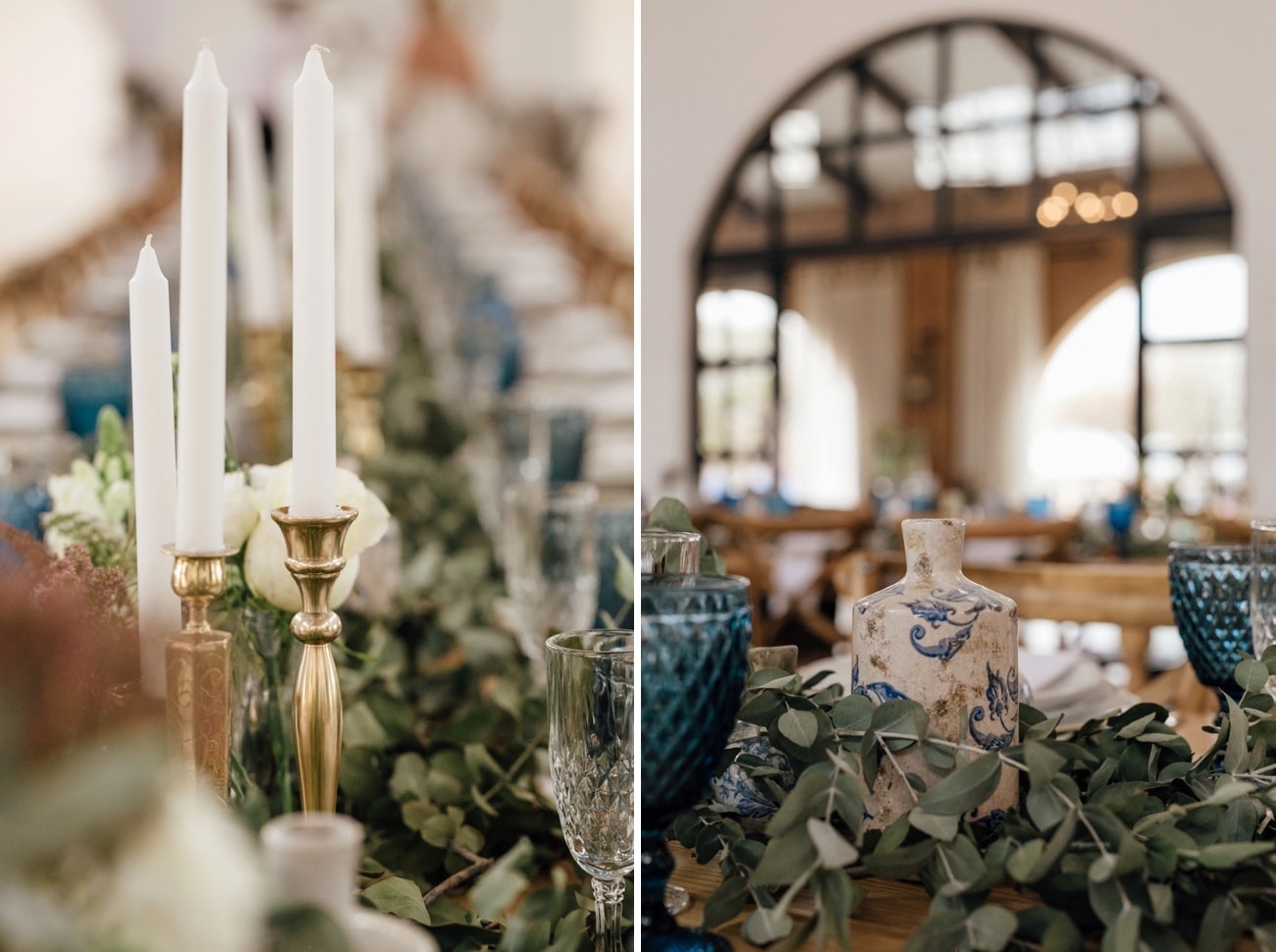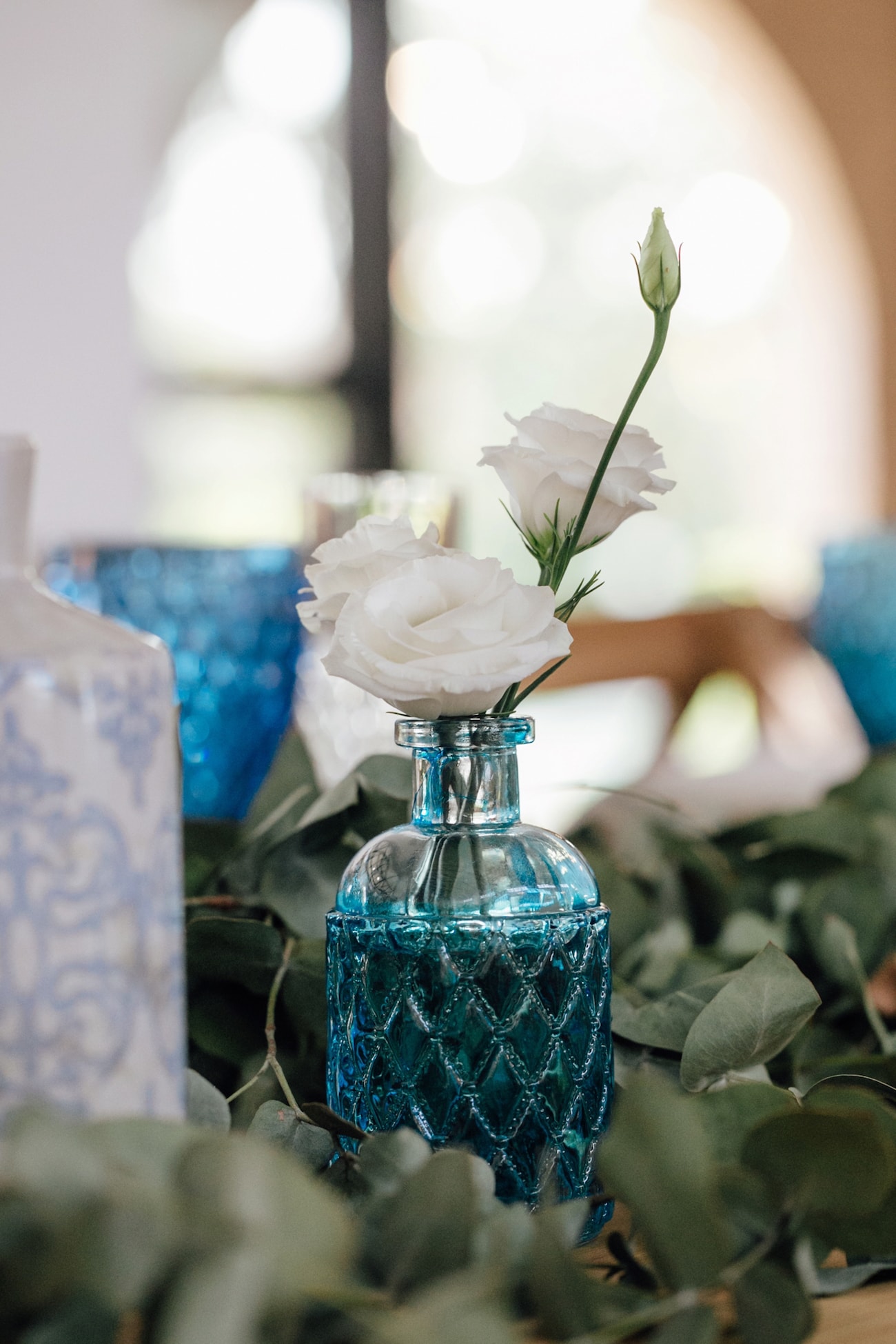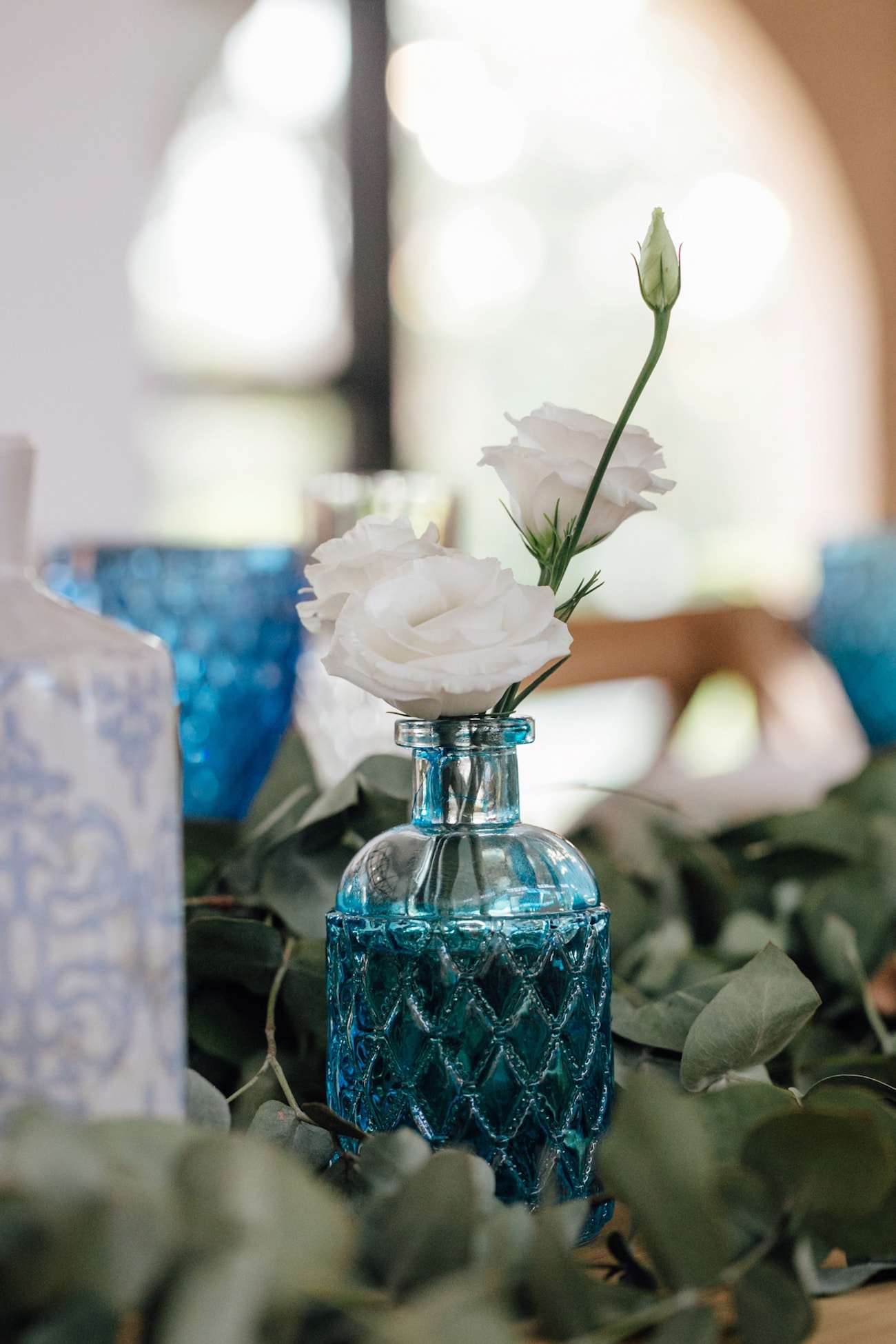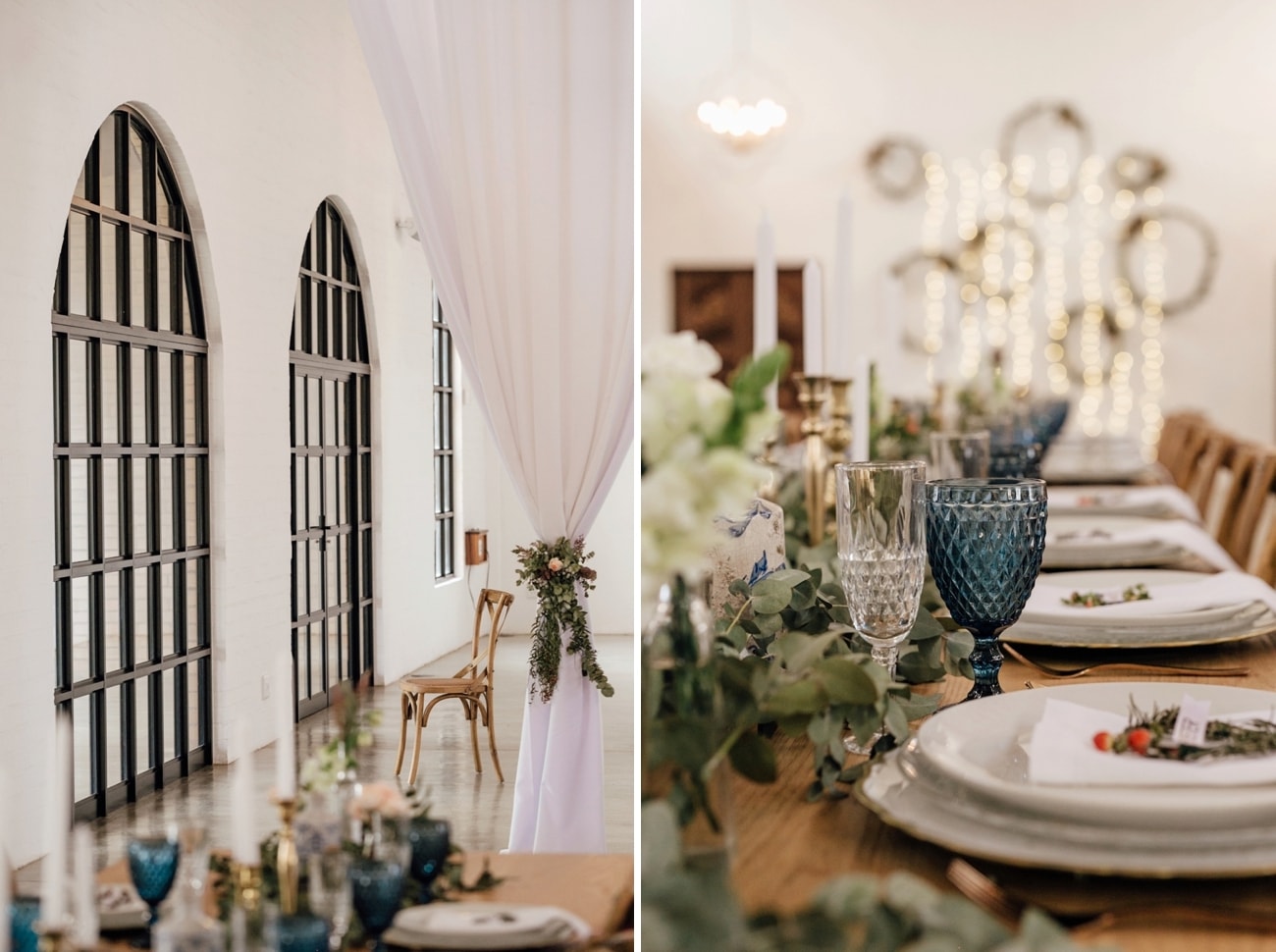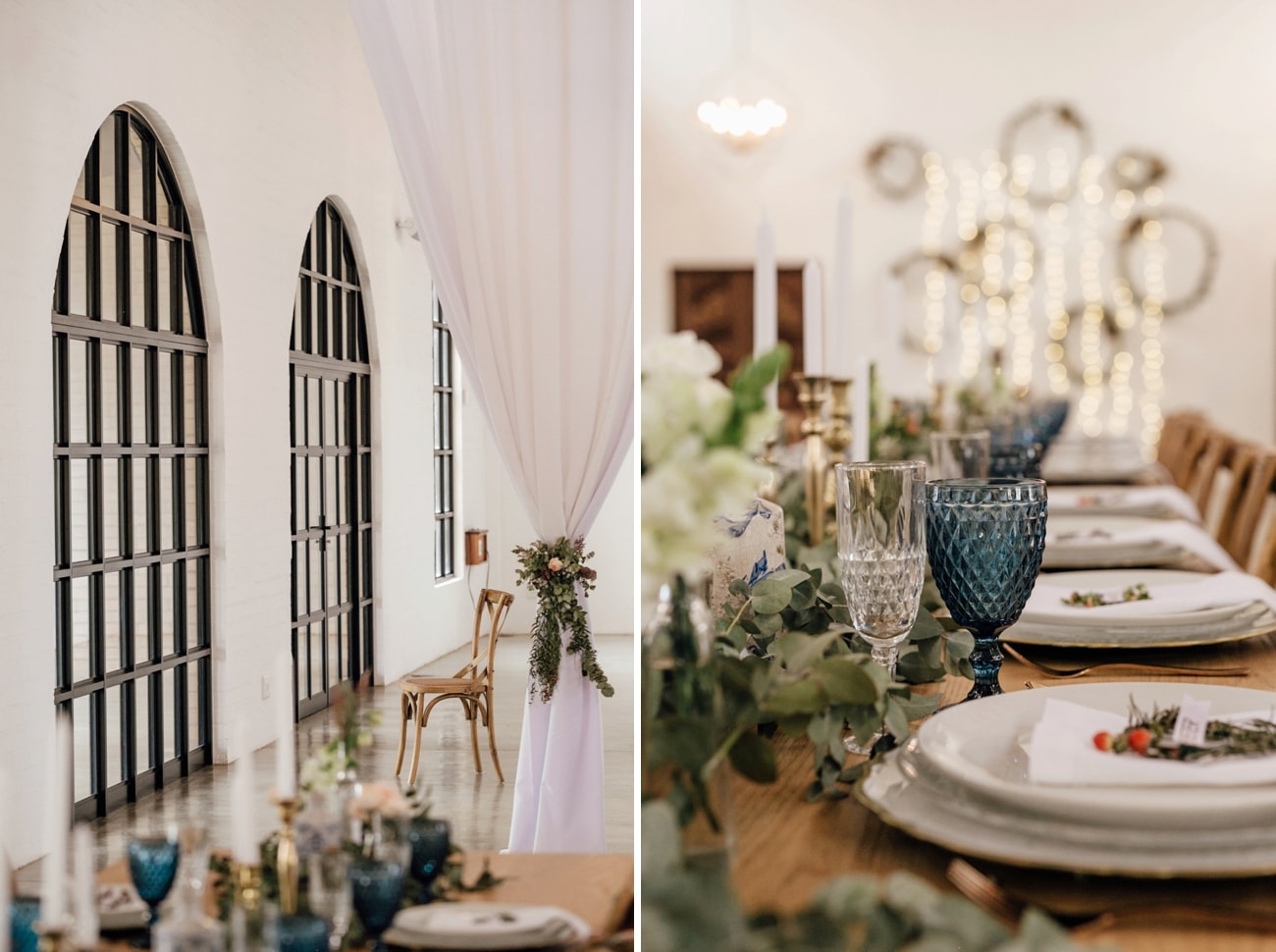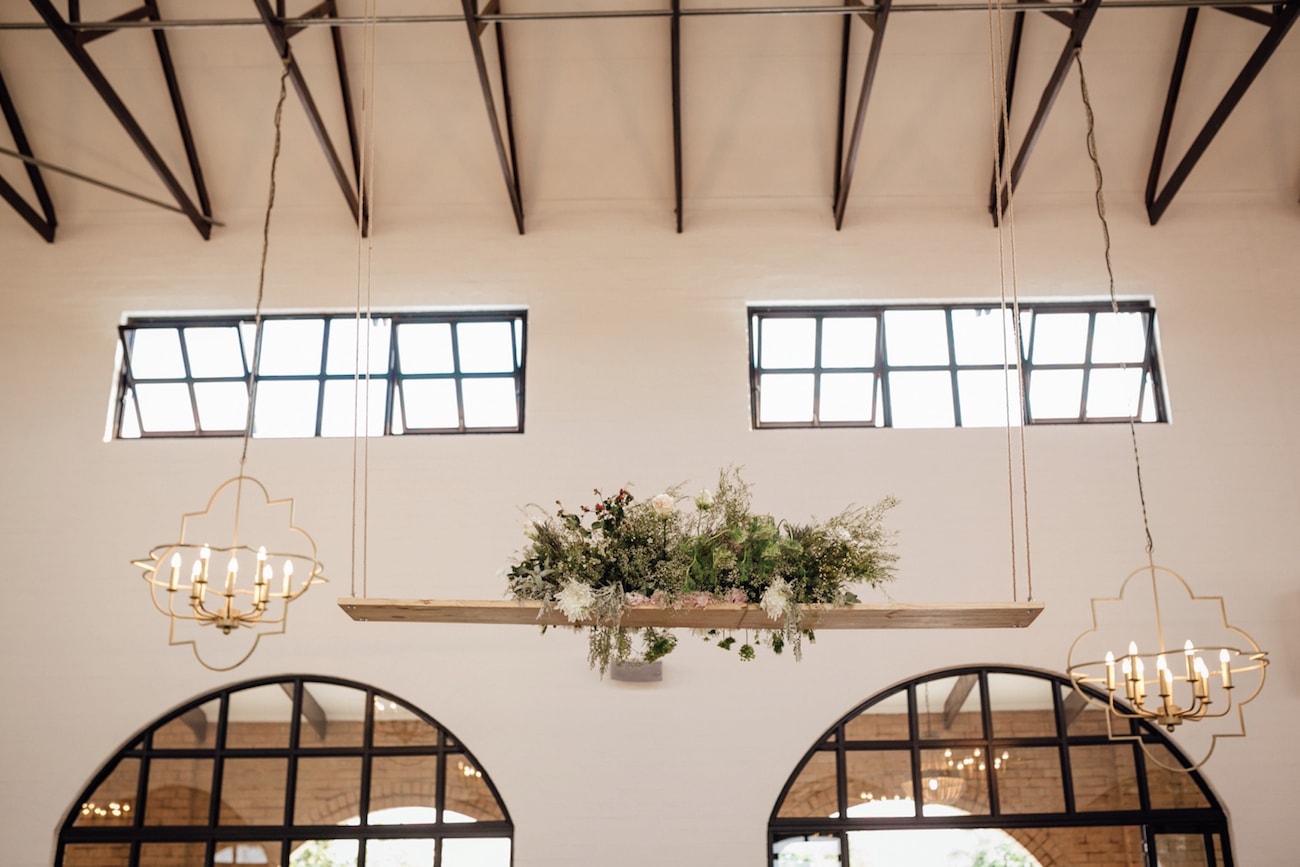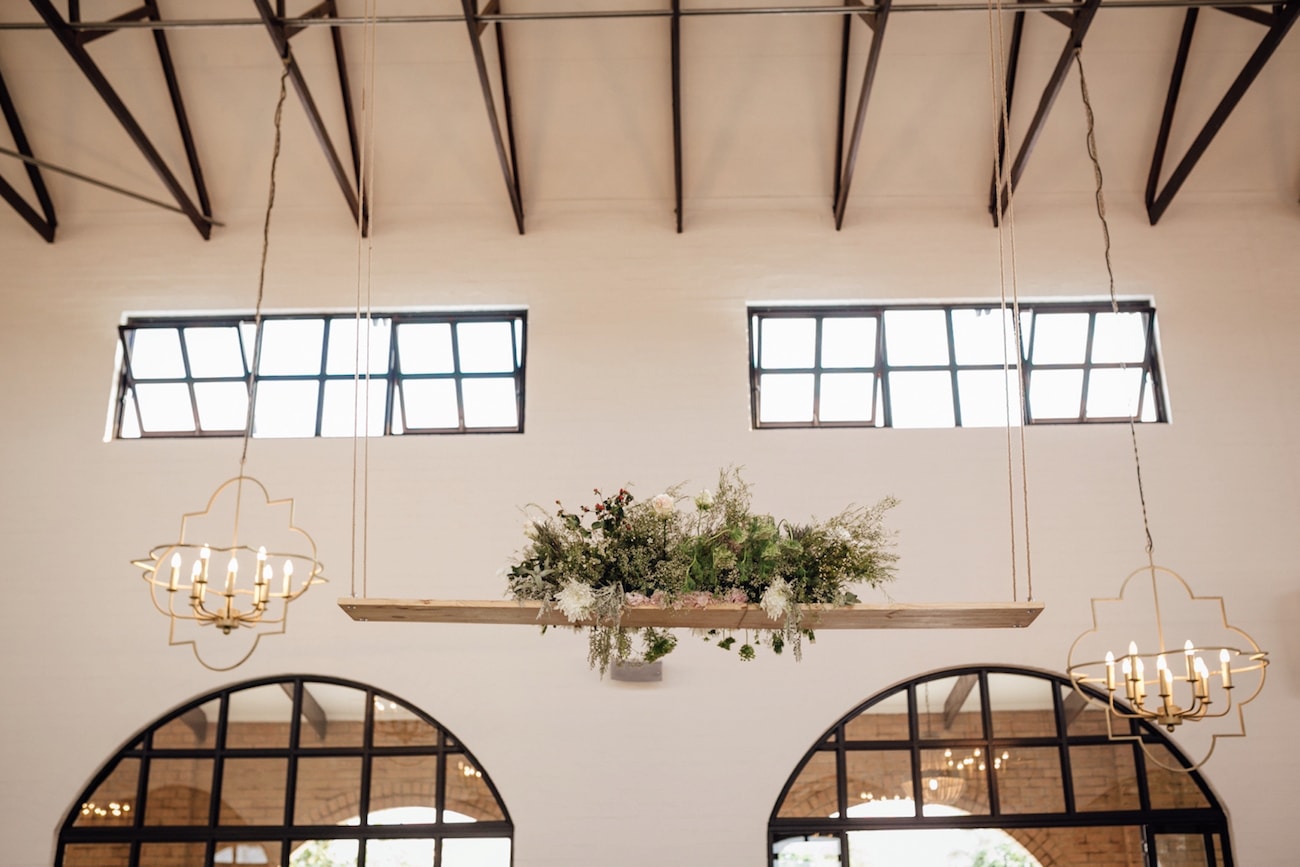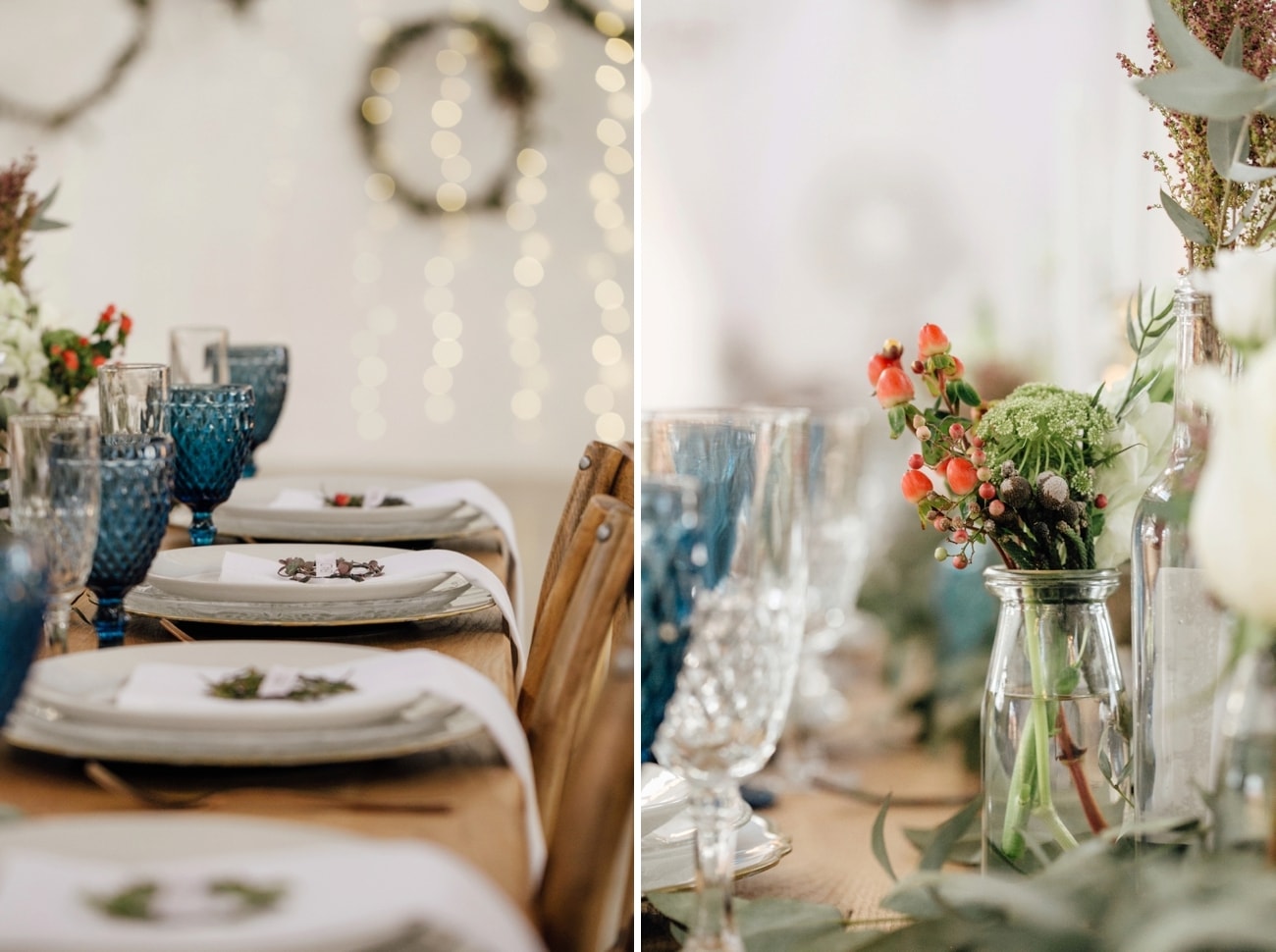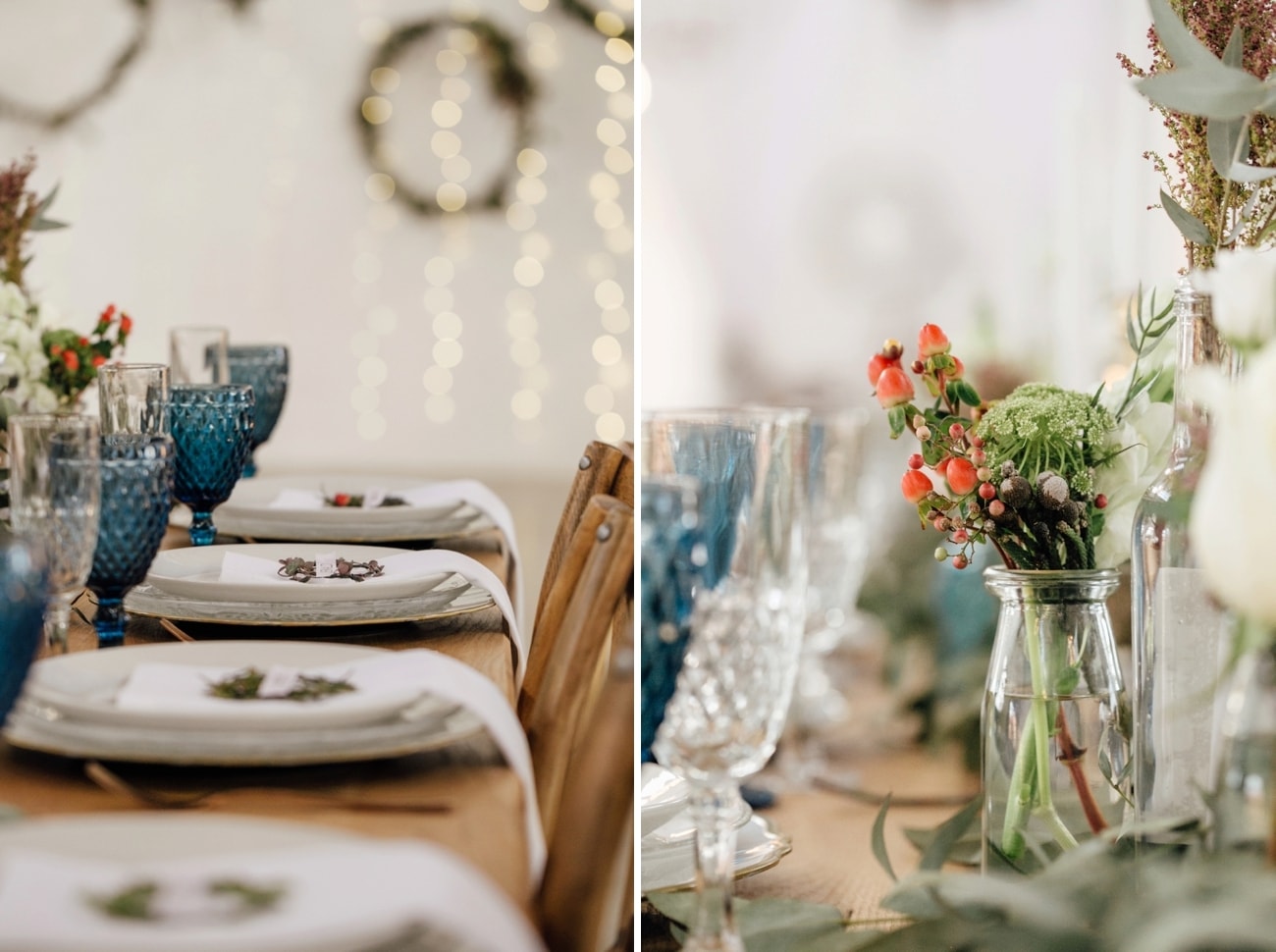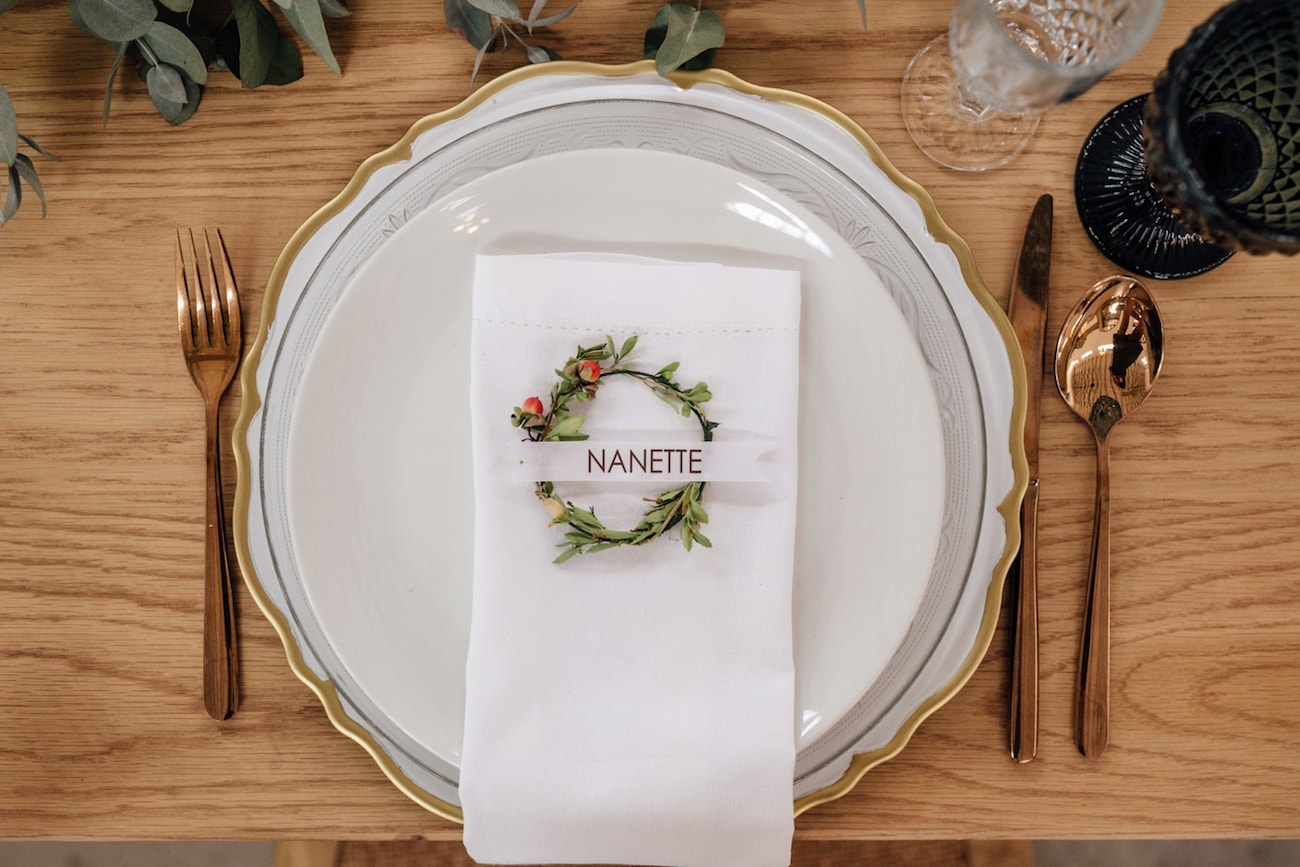 Best Decision
To stay true to who you are. There are so many stunning ideas out there and it often becomes overwhelming as you would like to bring in so many elements of what you've seen and like. But keep it simple and ask yourself if the elements represent you and mean something to you.
Advice for Future Brides & Grooms
Enjoy every second, don't worry too much – somehow everything just falls into place on the day. Remember that your guests don't know what your ideas or inspiration was – if something doesn't work out as you planned, chances are you will be the only one who notices it. Let it go and enjoy your big day.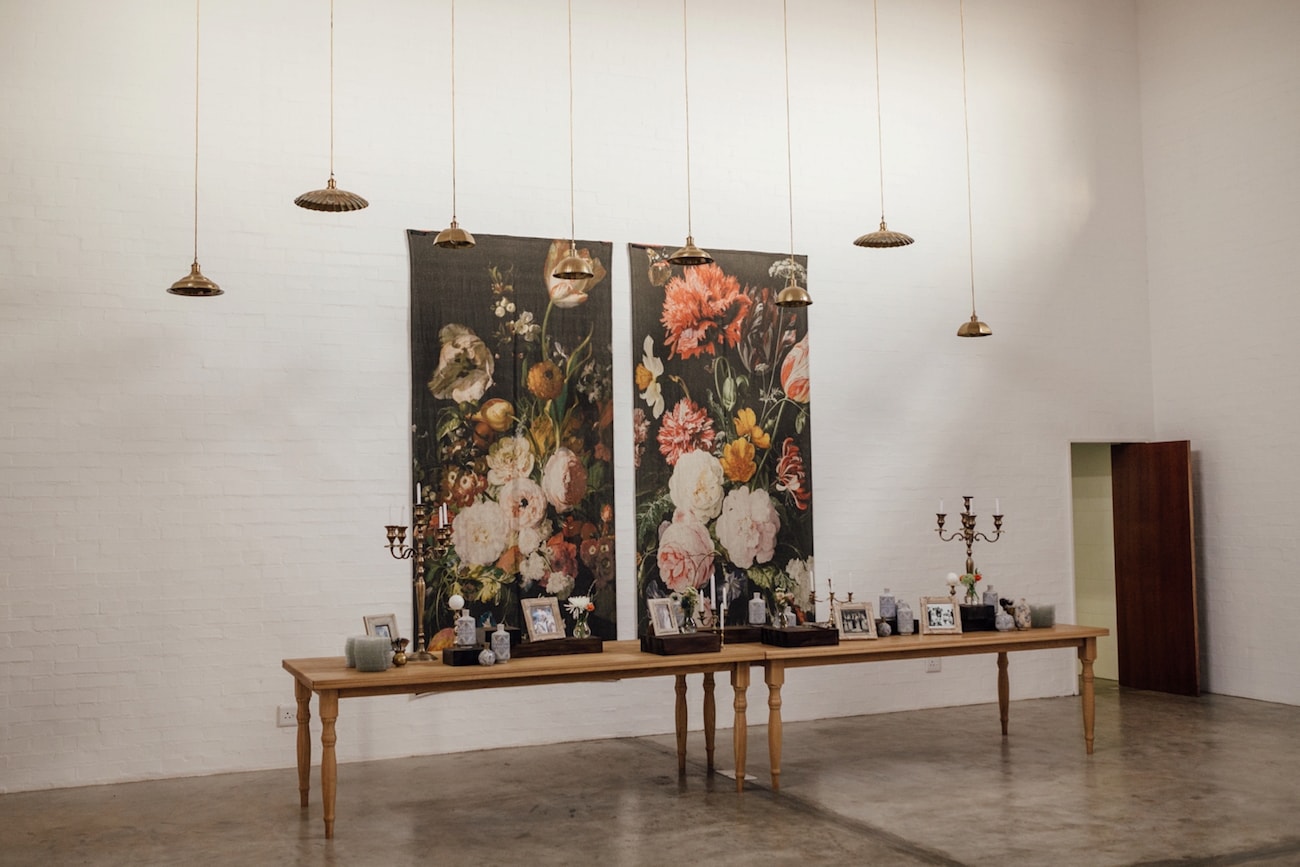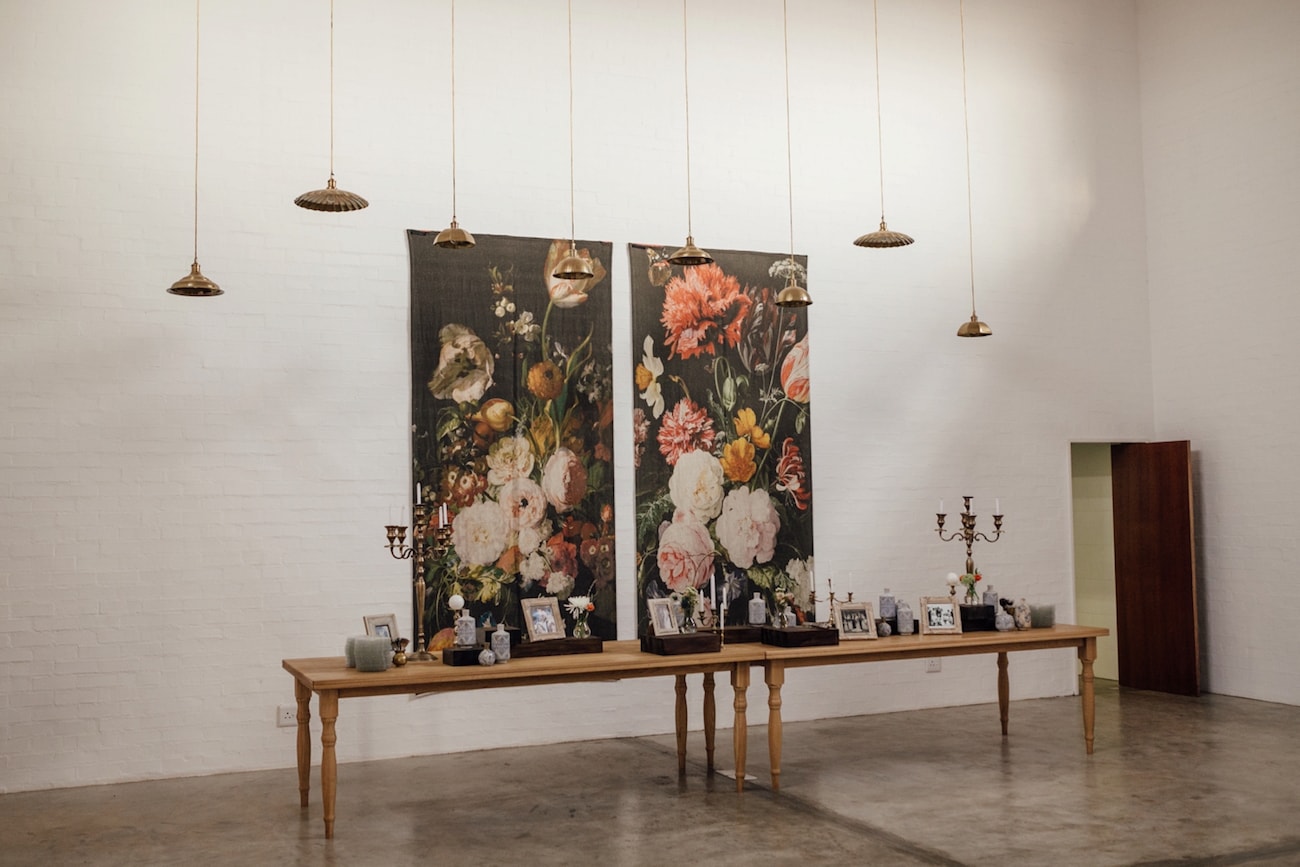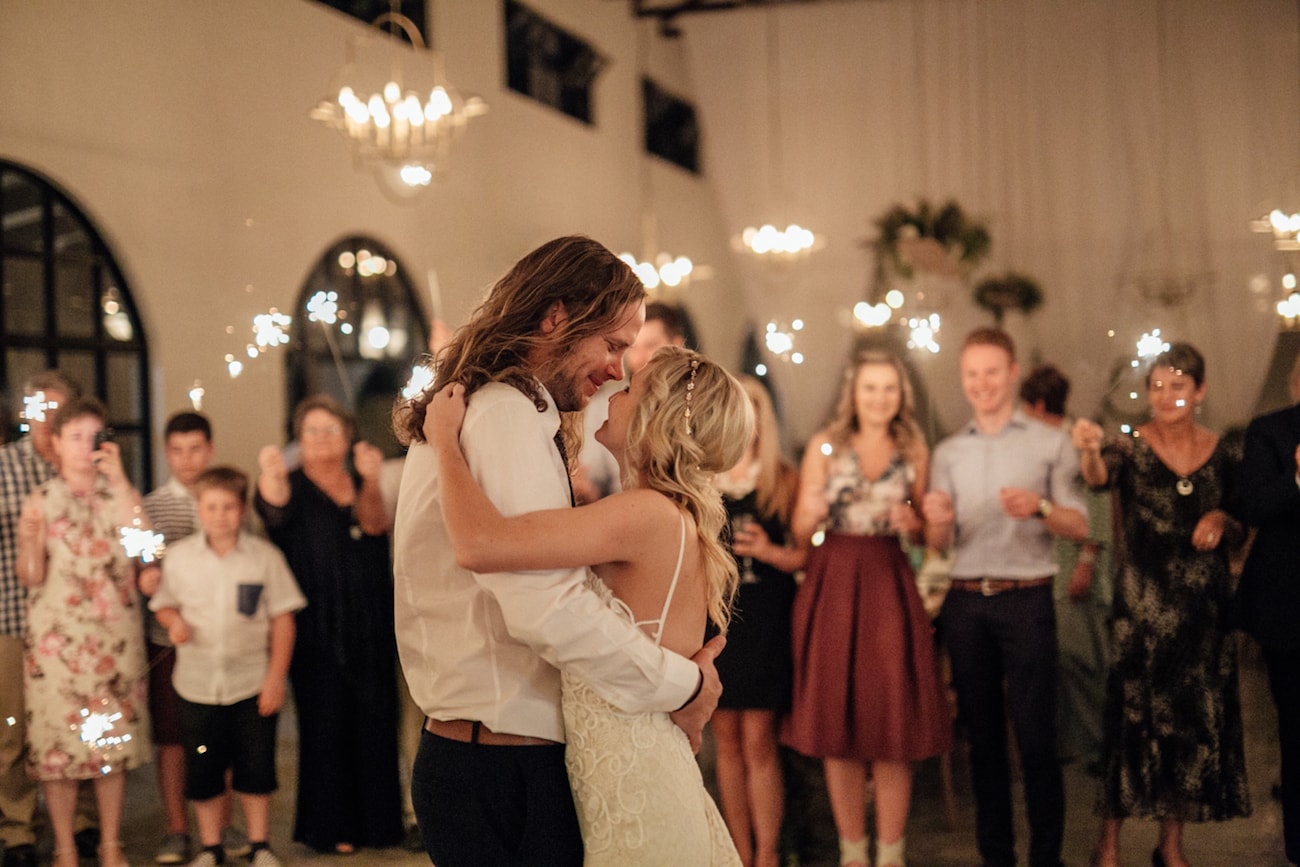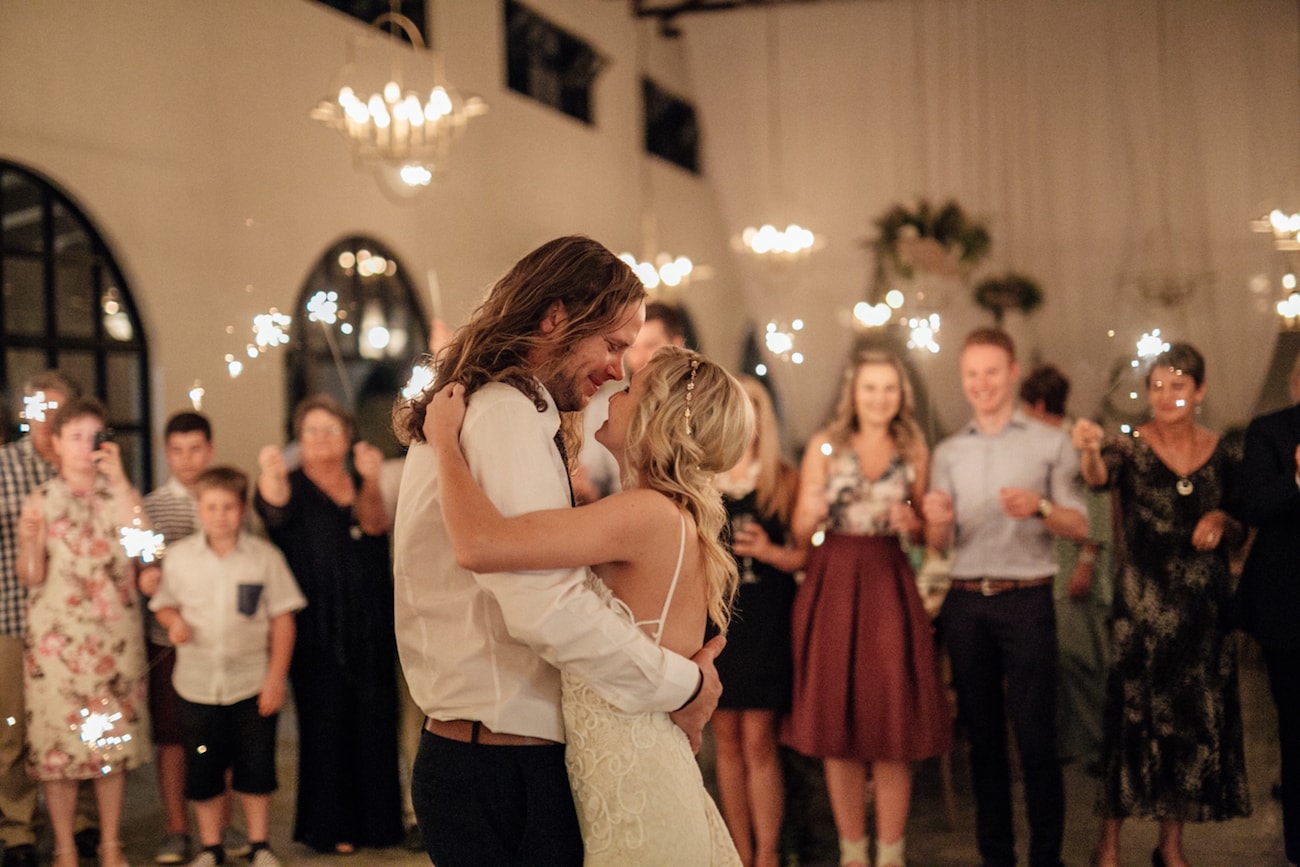 You can see more from this wedding on the Page & Holmes blog.
SERVICE PROVIDERS
Venue & catering: Bordeaux Game Farm | Photography: Page & Holmes | Co-ordination, flowers & décor: Louise Strydom for Bordeaux Game Farm | Stationery: Toast Studio | Bride's dress: Casey Jeanne from Calegra Bridal House | Hair & makeup: Angelique Wentzel