Heya SouthBound brideys – how has your weekend been? Everything in Gabyland is AWESOME, because the sun is out and everyone in London has a smile on their face. Seriously, it just takes a few days of sunshine to feel the mood lift here, and we even pulled off our first braai of the year last night (English housemates: chicken and burgers; South African housemate: glorious steak – once a Saffa, always a Saffa! ;) ). Today I'm off to spend time with two of my favourite girls – there MAY be some wine involved. ;)
♥ WEEKLY FAVES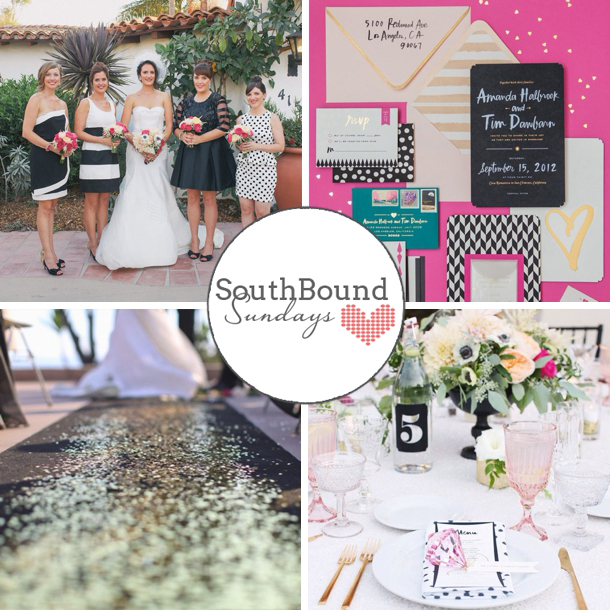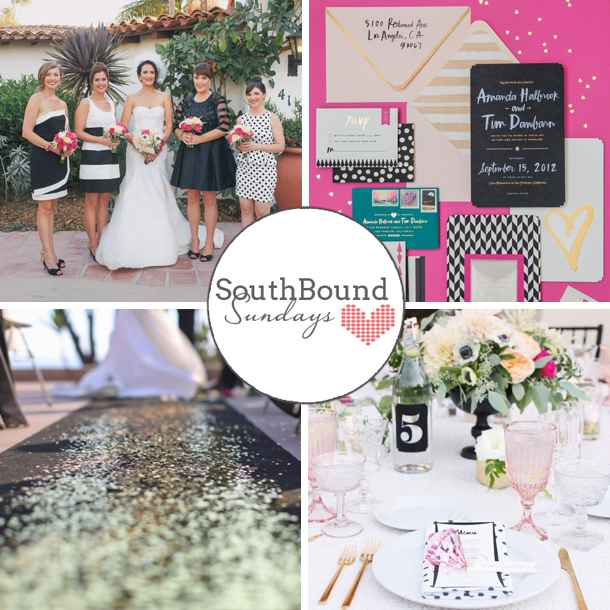 So usually in my Weekly Faves I would be showcasing a few of my favourite links, but this time, it's just one wedding. Because, you guys, I am in LOVE. You know, I always feel sorry for industry people getting married because we have so much pressure to live up to the hype, pull off the most beautiful weddings ever and also, for bloggers, sum up our style and aesthetic in one fell swoop. I swear, I'd run off to Vegas. But then I look at Amanda from 100 Layer Cake, who pulled off a wedding so gorgeous that it reminded me why I fell in love with wedding styling in the first place. Amanda and Tim had a sort of California meets James Bond theme (anyone who knows me will tell you that they had me at James Bond), but it's not the least bit themey. Instead, it's all about fun touches, beautiful details and a rich combination of graphics, glitter, soft florals, hand lettering and glamorous cocktails that form a cohesive whole. I loved every single moment of looking at it, not least because the awesome Max Wanger took the pictures. So if there's one link, one wedding to check out this week, it's this one! (Actually, there are a few posts, but they start here.)
And, of course, if you want more, you can find it in my 'SBB's Weekly Faves' board on Pinterest.
♥ SOUTHBOUND ROUND-UP
Next week is so packed with loveliness including (SPOILER!) one of our Real Life Brides' real weddings. But first, here's all the goodness from the week that was.