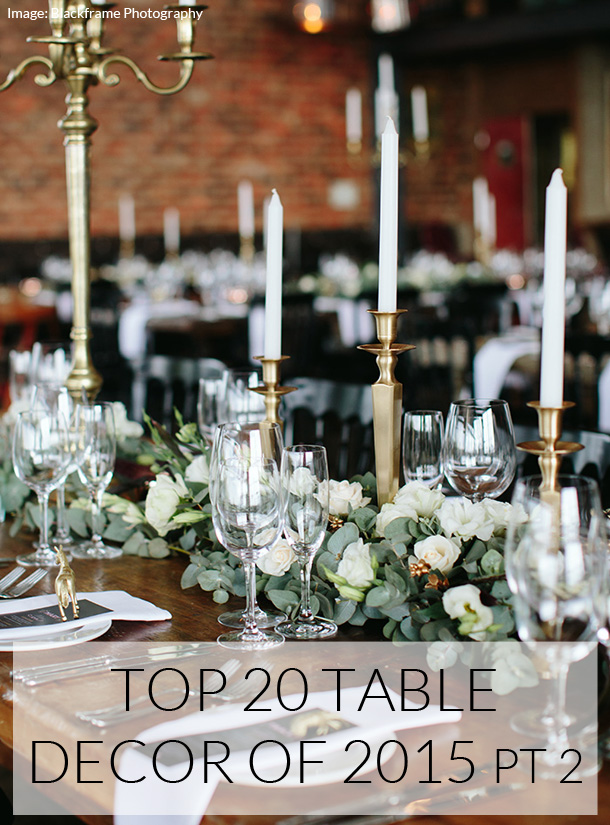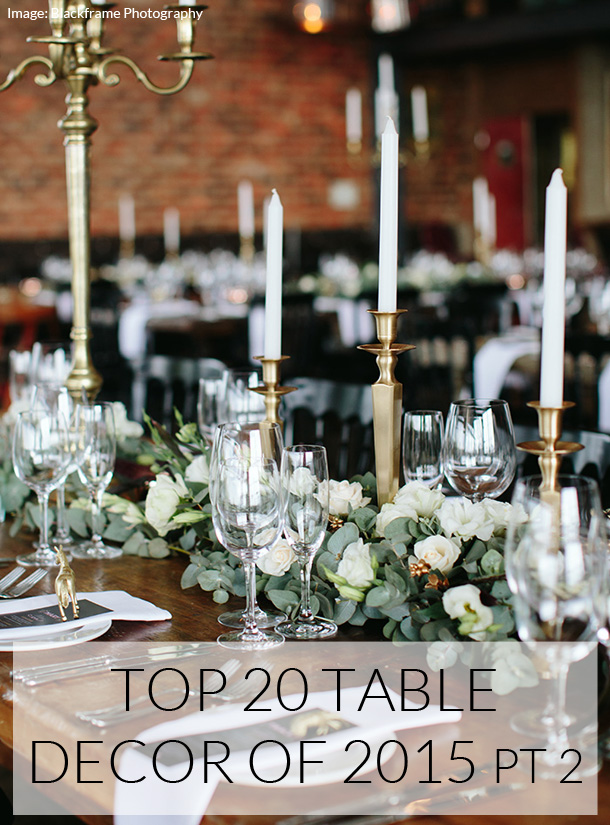 We're continuing with our roundup of the Top 10 tables from SouthBound Bride in 2015, and breaking them down into their components so you can recreate the look for yourself. There's such a mix here, from formal to casual, and from simple, classic colour schemes to wildly colourful and inventive. Every one of them we loved, and so did you, from the response across Pinterest, Facebook and Instagram. So, in no particular order, let's take a look shall we? (You can find Part I here.)
Table #6: Glamorous Brights
SUGGESTED FLOWERS: Orchids, roses, hydrangeas & tulips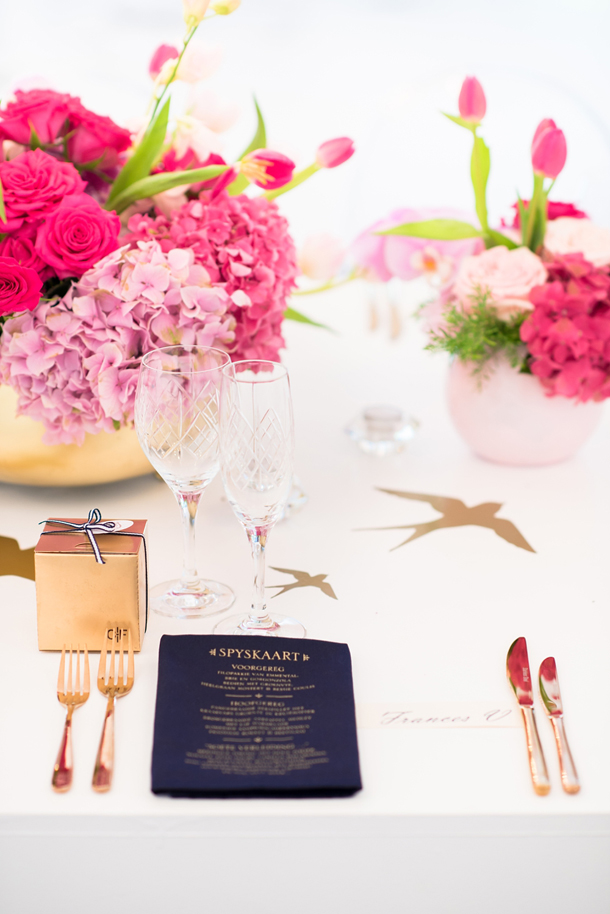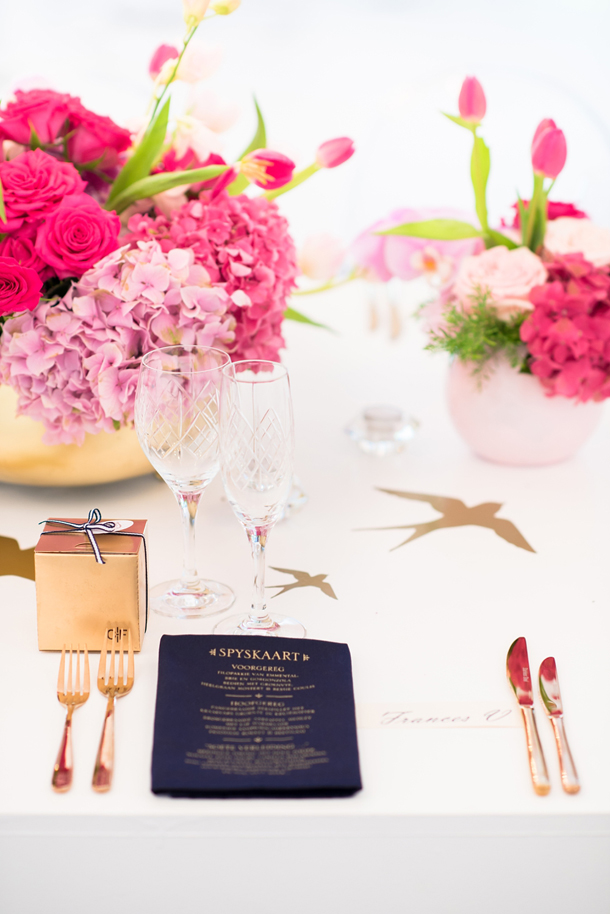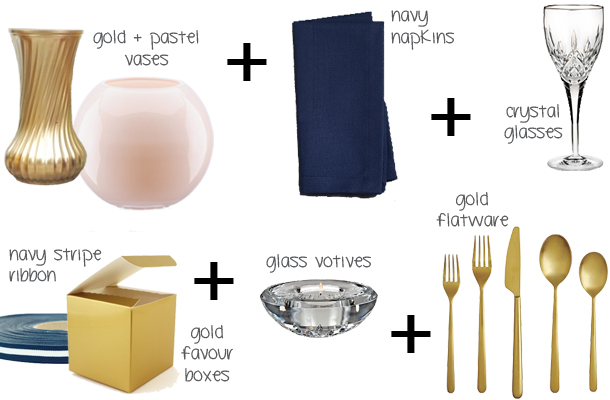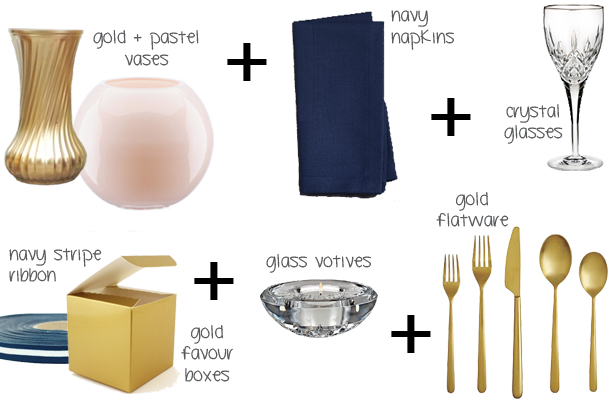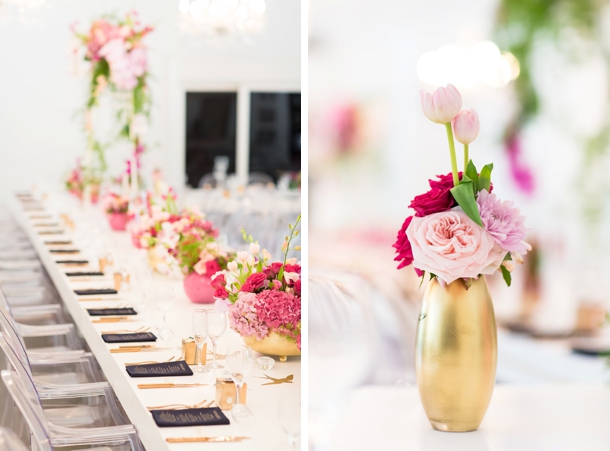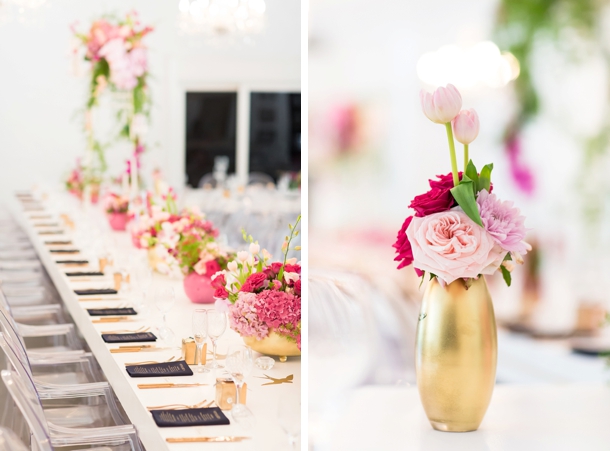 from FRANCES & COBUS' GLAMOROUS NAVY, PINK & GOLD WEDDING
Flowers & decor: Fleur Le Cordeur | Photography: Marsel Roothman | Coordinator: Kraak | Cutlery: 2 Birds at The Dairy Shed
What don't we love about this table? Everything about it was stylish and perfect, from the gold and pastel vases to the gold swallow decals, to the gold flatware, and the navy napkins printed with the menu – also in gold. The perfect final touch was the gold favour boxes tied up with navy and white striped ribbon – the same combination of preppy and glam that made this whole wedding design so fabulous.
DIY DETAIL: You can create your own gold vases following this simple tutorial, or pastel glass containers following this one.
SHOP THE LOOK: Gold cutlery | Gold vase | Pink rose bowl | Favour box | Striped ribbon | Navy napkins | Crystal votive holder | Cut glass wine glasse

Table #7: Industrial Elegance
SUGGESTED FLOWERS: Roses, succulents, tuberoses, eucalyptus & gold-sprayed berries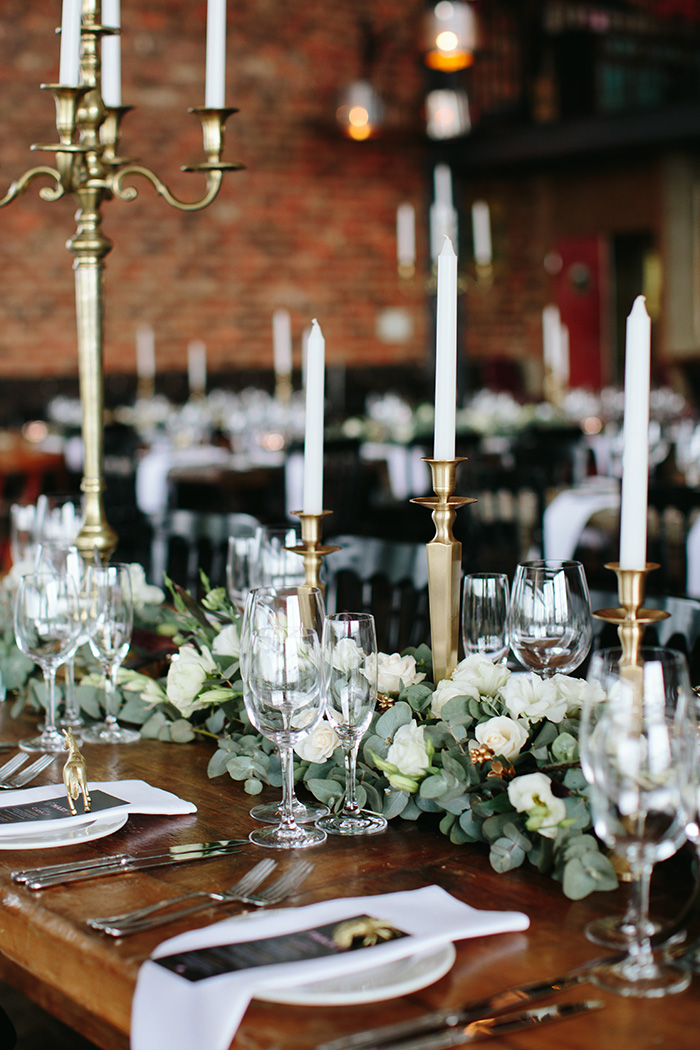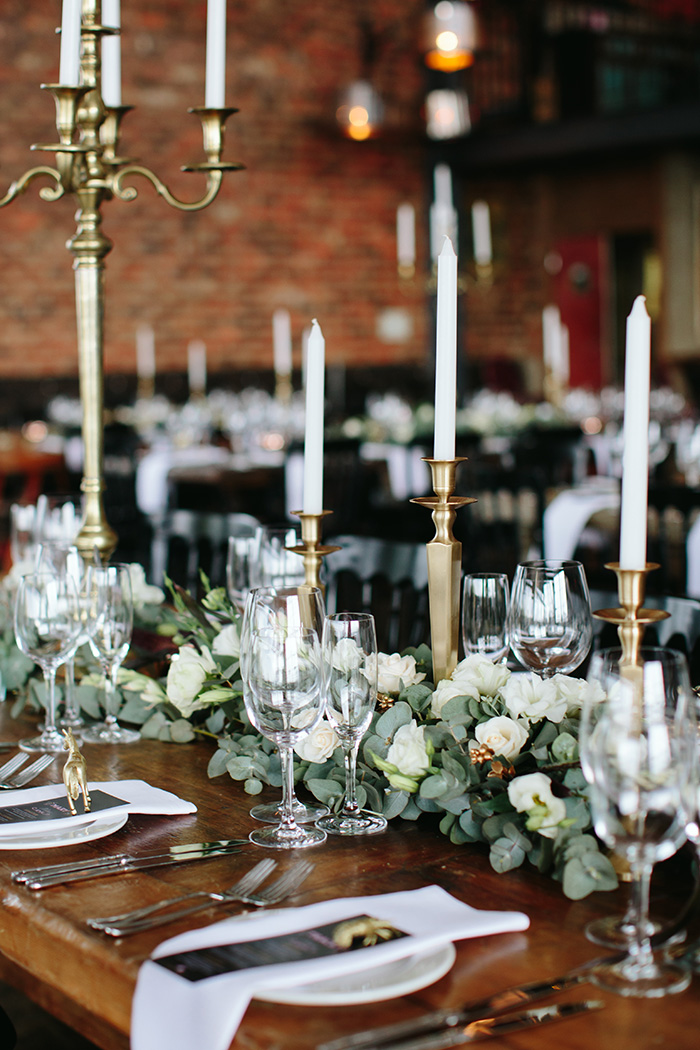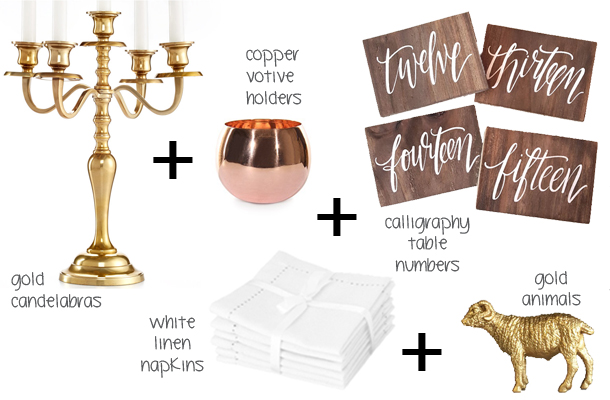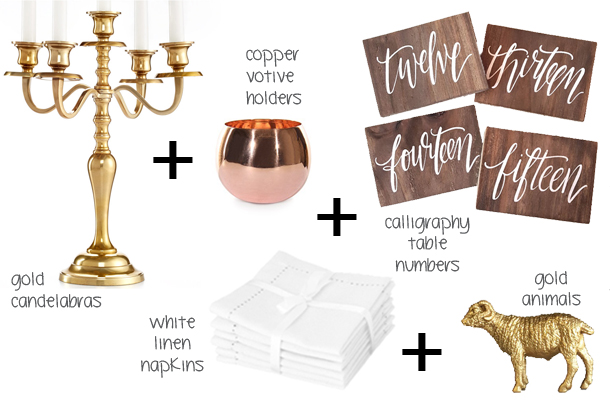 from GEORJA & DANNY'S URBAN GARDEN GLAM WEDDING
Flowers & decor: Hire Society | Photography: Blackframe Photography
We absolutely love city weddings, and Georja & Danny's epitomised why – a seamless mix of urban glamour and garden prettiness. The tables were my favourite detail, especially the use of gold-sprayed berries, gold animals, black and pastel invitations, and shiny gold votives and candelabras. So lovely.
DIY DETAIL: Making little gold animal place markers/favours from plastic toys is a doddle and they look absolutely adorable. Here's a great tutorial.
SHOP THE LOOK: Gold animals | Gold candelabra | Calligraphy table numbers | Copper votives

Table #8: Botanical Beauty
SUGGESTED FLOWERS: Moss, succulents, Anthuriums & mixed greenery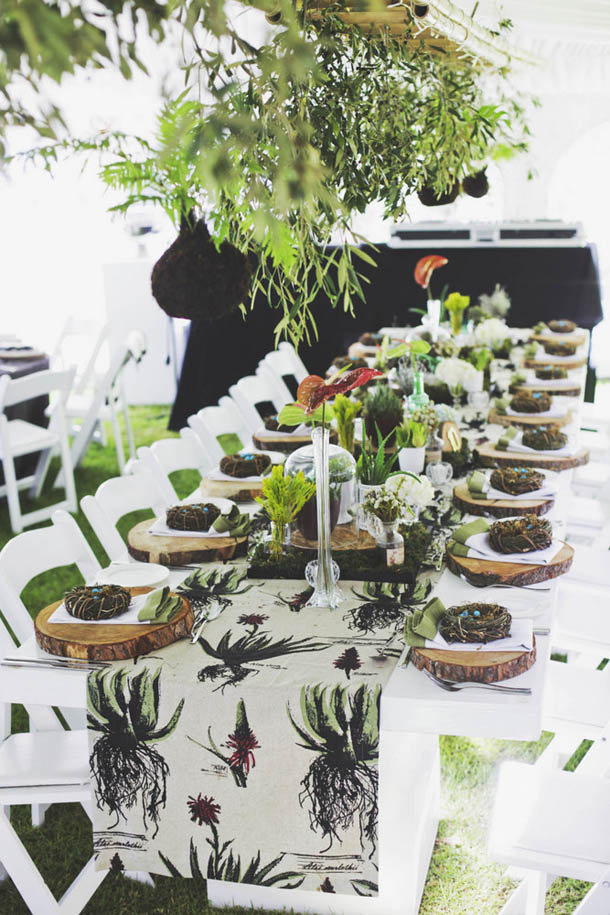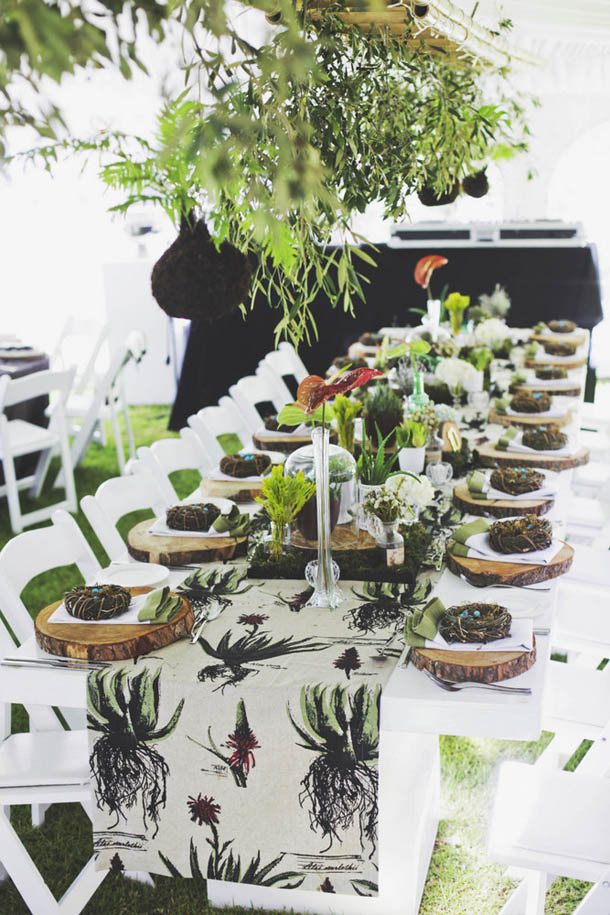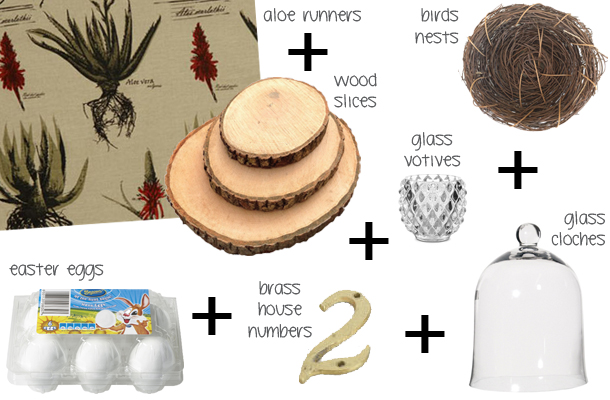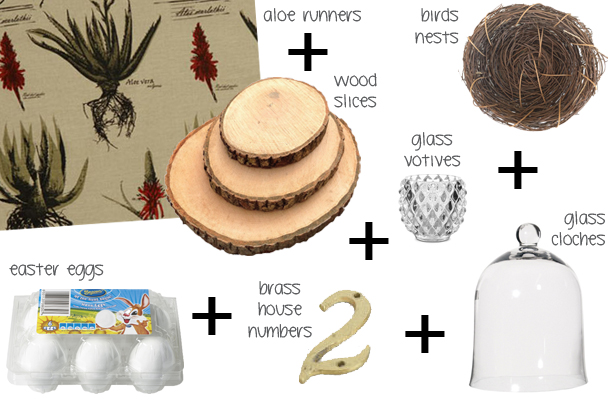 from REBECCA & CRAIG'S BOTANICAL OLIVE FARM WEDDING
Flowers: Sorrento | Photography: Justin Davis Photography
Rebecca & Craig's tables were probably my personal 2015 favourite, because they were not only so unusual and lovely, but they brought together all sorts of bits and details from a range of South African suppliers. The bride's family owns Cape Town's The Table Cloth Hiring Company, so of course the linens were fabulous (and fabulously South African) – perfect for the botanical vibe they were trying to create. Each centrepiece was built from organic textures – moss, wood, cloches with succulents, and single blooms in bud vases. At each place setting (marked with wood slice placemats), guests were welcomed with an egg-filled nest, a nod both to the Easter wedding date and the groom's father, an avid birdwatcher. There's a lot going on here, but it all works together beautifully  to create something really special.
DIY DETAIL: Create your own bird's nests using this tutorial.
SHOP THE LOOK: Aloe print runners | Wood slices | Glass votives | Birds nests | Metal numbers

Table #9: Heavenly Handmade
SUGGESTED FLOWERS: Roses, lilies, proteas, succulents & olive leaves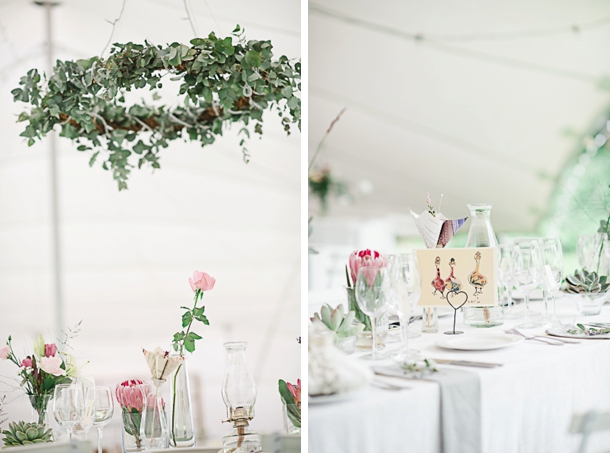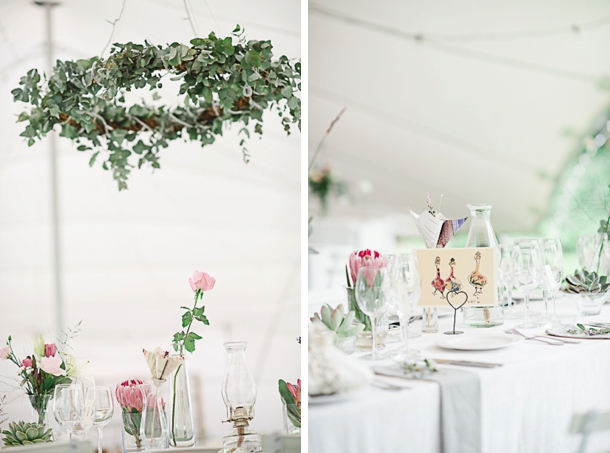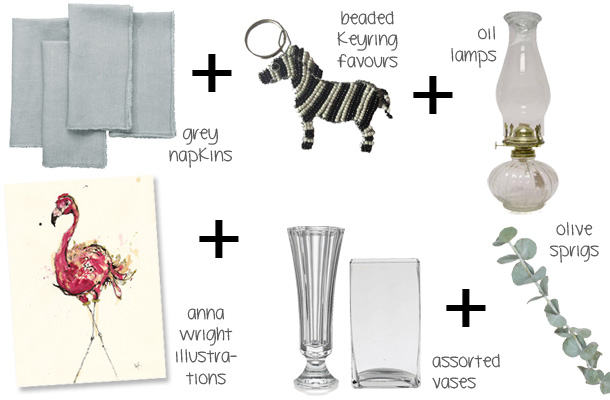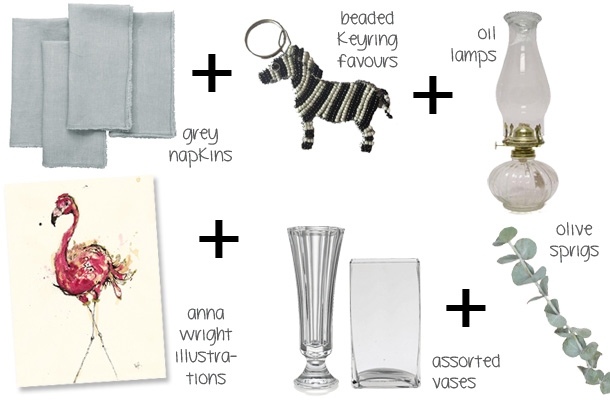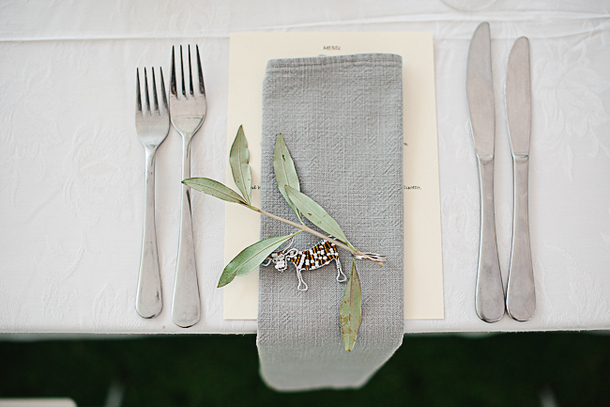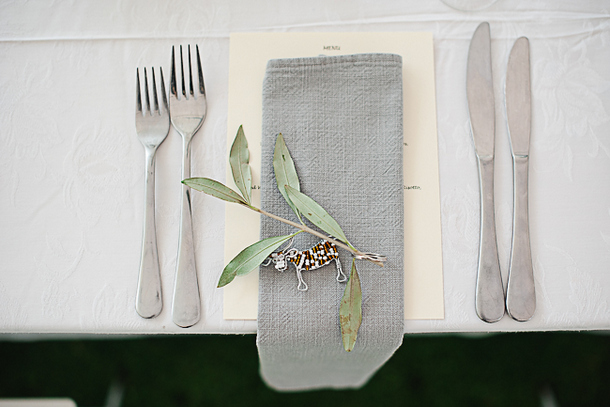 from JEAN & CORMAC'S ELEGANT HANDMADE WEDDING
Décor and hiring: 4EveryEvent| Photography: Jules Morgan | Flowers: Judy Preen and Jacqui Orton
Jean & Cormac's wedding design was so personal – a collection of beautiful and meaningful things rather than a colour scheme or theme. We especially loved the beaded animal keyring favours (especially that the couple had Nguni cows to reflect their farm venue!) along with olive sprigs at each setting, the eclectic collections of clear glass vessels (keeping things light and bright along the tables), the vintagey oil lamps, and the illustrations by Anna Wright used in place of table names/numbers.
DIY DETAIL: We love the inclusion of kusudama origami flowers alongside the live ones – make your own using this tutorial.
SHOP THE LOOK: Anna Wright illustrations | Bud vase | Grey napkins | Beaded keyring

Table #10: Colourful Rustic
SUGGESTED FLOWERS: Dahlias, hydrangeas, roses & tulips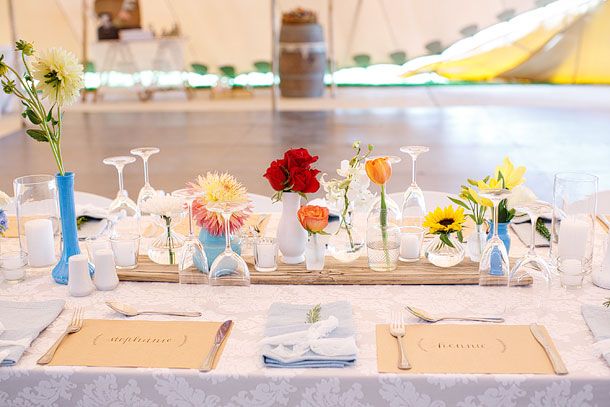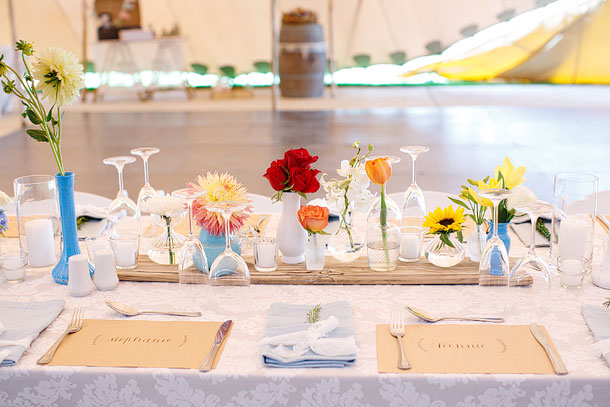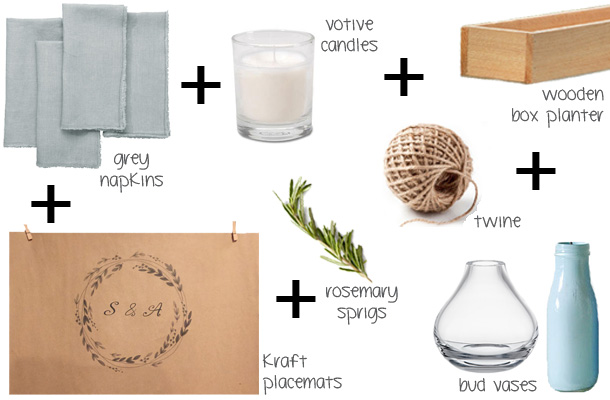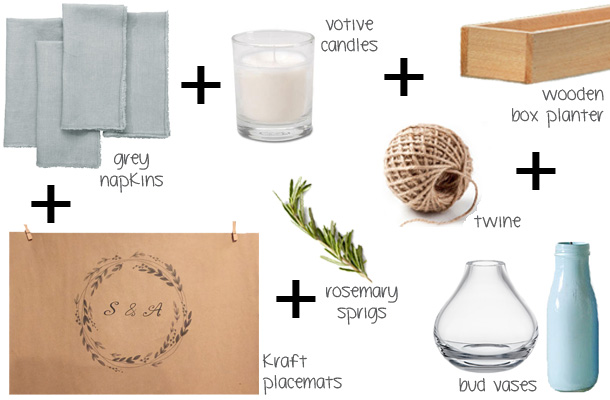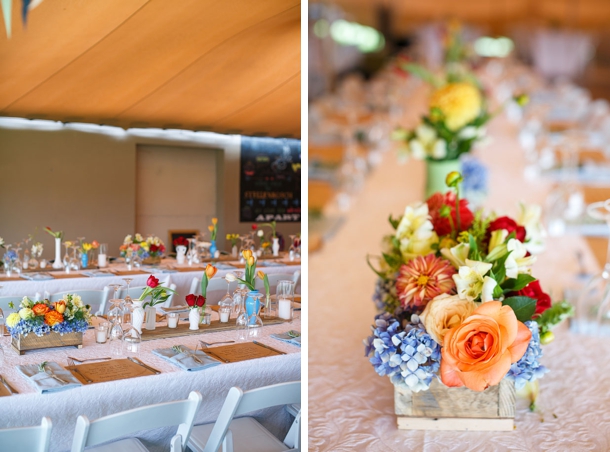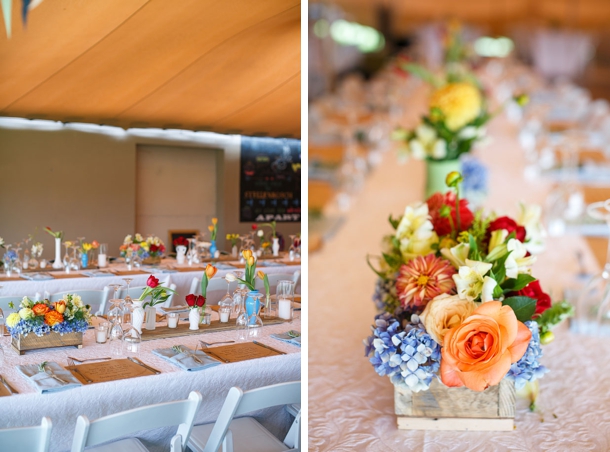 from STEPHANIE & HENNIE'S RUSTIC BRIGHTS WEDDING
Flowers: The Flower Scene | Photography: Adene Photography
Last but not least, here's a sunny, pretty table that proves that pretty doesn't require a ridiculous budget – in fact, many of the ingredients can be picked up around your home or at the local hardware stor. A wooden plank makes a gorgeously rustic runner, and is topped with a mix of vessels in clear glass, white ceramic and blue – ask around with friends and family to make up a collection of bud vases to fill with colourful flowers. The look also makes use of wooden box planters, and each place setting reflects the rustic look with kraft placemats and napkins tied with twine or lace and a twist of rosemary. Finally, you can add simple white votives for soft candlelight once the sun goes down.
DIY DETAIL: You can use a range of vessels as vases – just look around your kitchen and see what you can recycle! Paint them in your colours using this tutorial.
SHOP THE LOOK: Clear glass bud vase | Kraft placemats | Grey napkins

CLICK HERE TO SEE ALL OUR 2015 FAVOURITES: