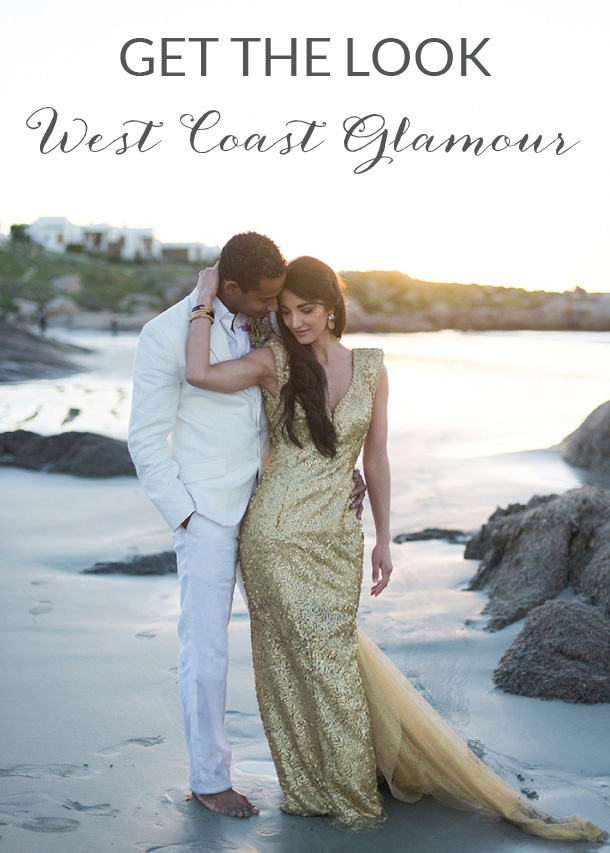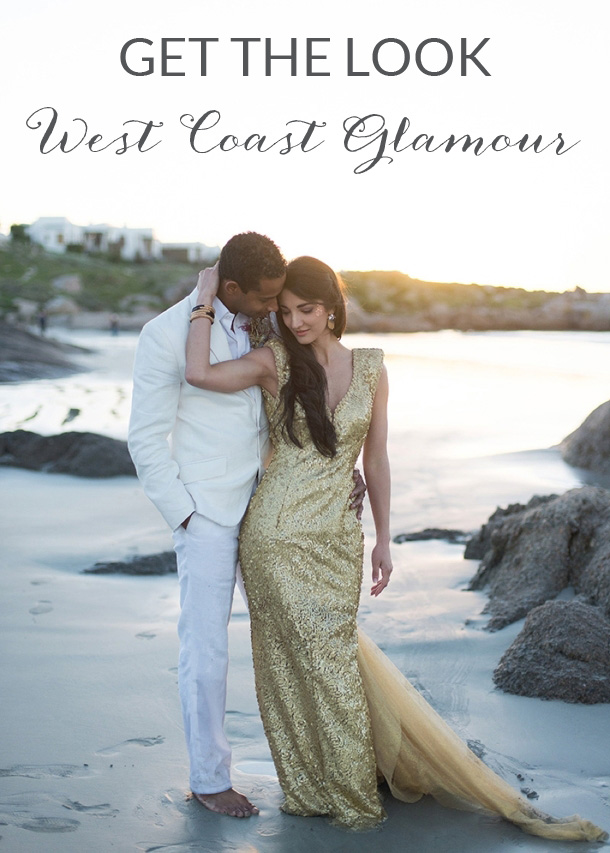 The best part of a styled shoot for brides and grooms (apart from basking in the sheer prettiness, of course!) is the wealth of fresh ideas that you can borrow to add an extra special touch to your own celebrations. As part of our Styled Shoot Competition showcase this week, we're breaking down five of our favourite ideas from each shoot, as well as bringing you tips and advice for recreating the look from the talented team behind each entry. Next up, we're taking a second look at our gorgeously glitzy West Coast Glamour shoot by the very talented Memory Box Photography and Blank Canvas Event Design.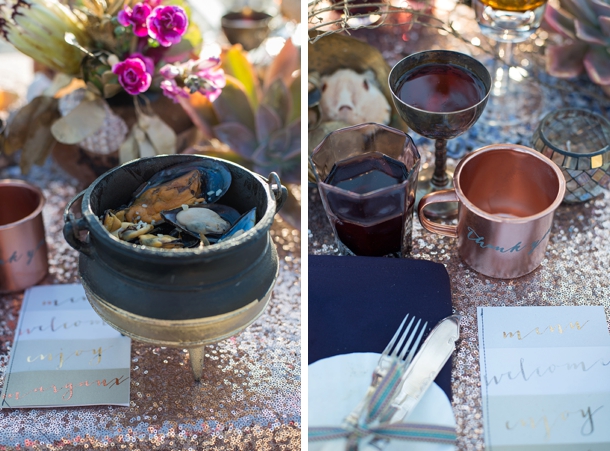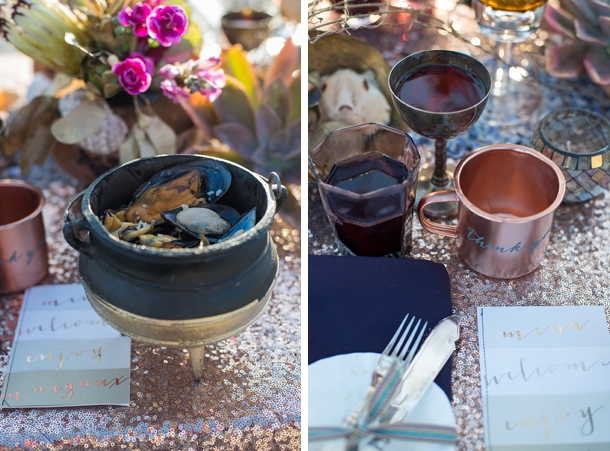 Glammed-up ordinary
Maybe my favourite element of this whole shoot is the way that ordinary (even rustic) household items have been made extraordinary through the use of a little bit of sparkle. Potjie pots dipped in gold paint or glitter, tin cups turned into gleaming copper-coloured favours, glitzed up shells. There's an element of surprise and whimsy in transforming something unexpected, so don't be afraid to get creative and playful with your table decor.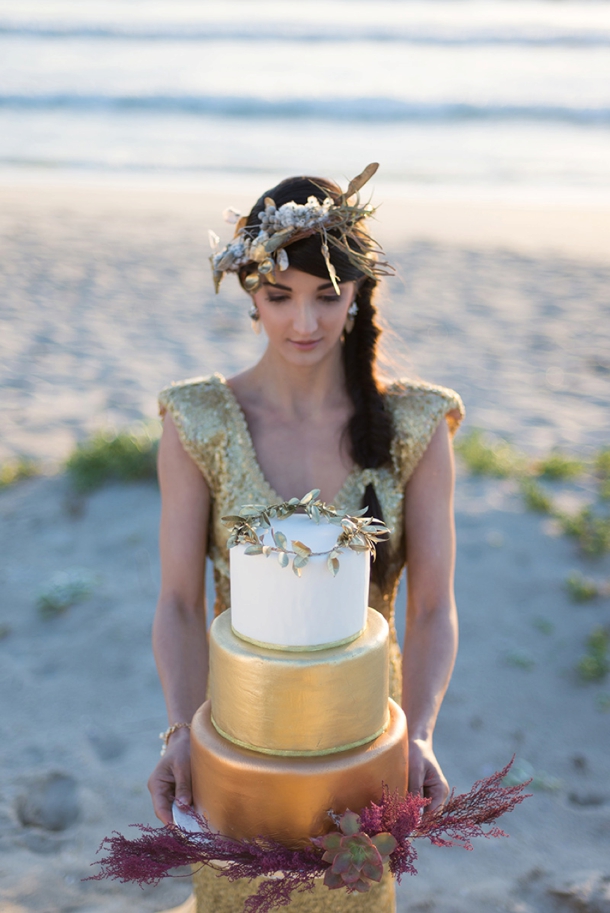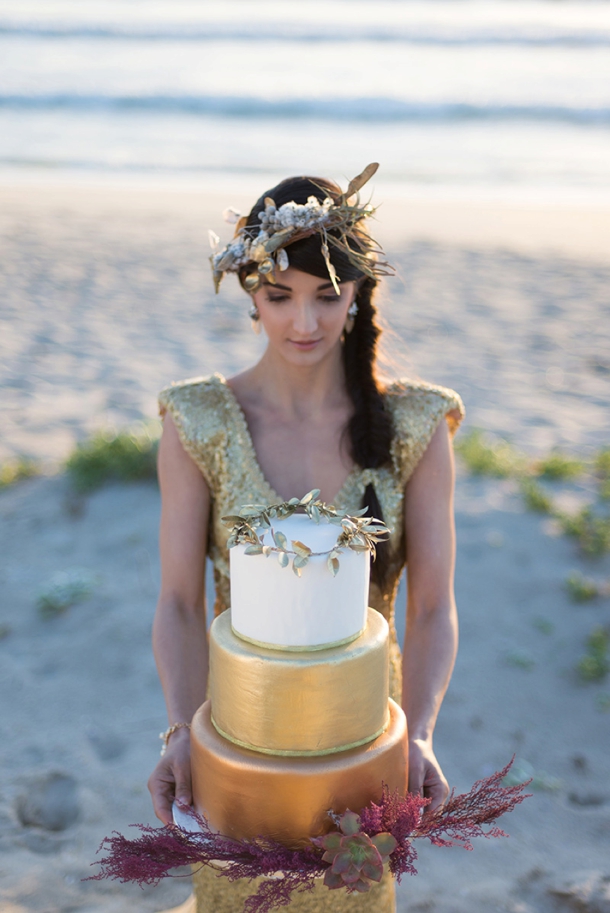 Metallic cake
I ADORE this trend, and especially the simple but very effective mixed metallic tiers of this particular cake by Edible Art Cakes, topped with a gold laurel. Your baker will be able to work with you to create something lovely and shiny of your own or you could do what one of our real couples did and DIY glam glittery dummy cakes for decoration and then serve a simple sheet cake behind the scenes.
See more: Sparkle & Metallic Wedding Cakes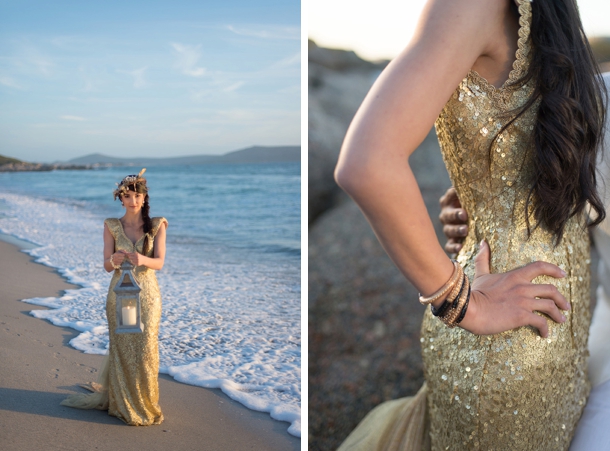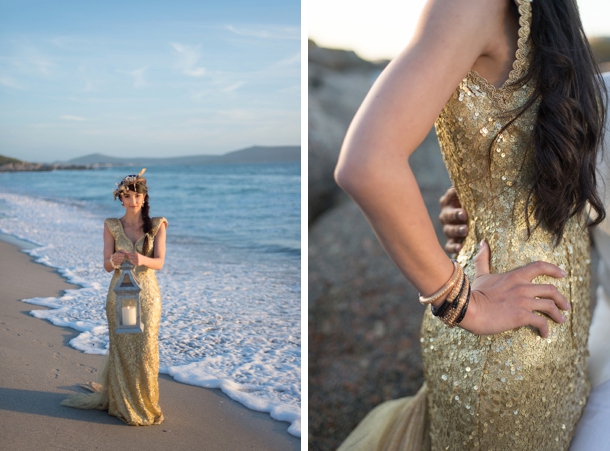 Gold wedding dress
Have I mentioned yet how crazy I am about this dress by Ilze Delport Couture? Because I am actually a little obsessed. It's SO gorgeous with the v-neck, low back and bustle, and then accented with a boho gold crown… gown swoon. In fact, more brides are now choosing dresses with a little or a lot of sparkle and, as you can see in the pictures from this shoot, they're showstoppers.
See more: Gold Sparkle Wedding Dresses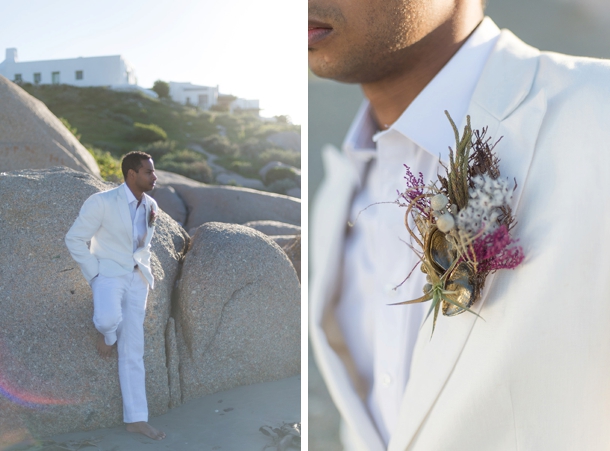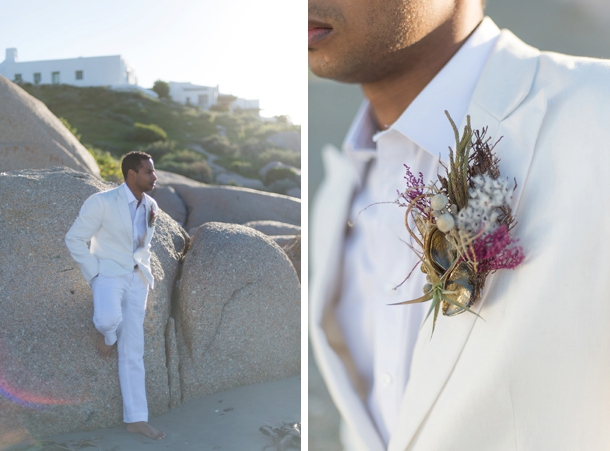 White suit
Okay, the model couple in this shoot are both drop dead gorgeous and would probably look good in anything, but I can't help but think that white suits might be my next groom fave. It's the clean, crispness of it against the beach, as well as the over-the-top (in a good way) bling of the decor. He looks cool and classic, elegant too. Get your groom over to Jagadi Couture so he can steal this suave style.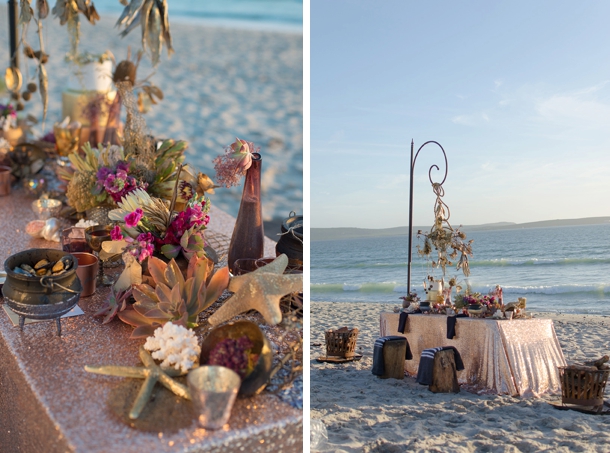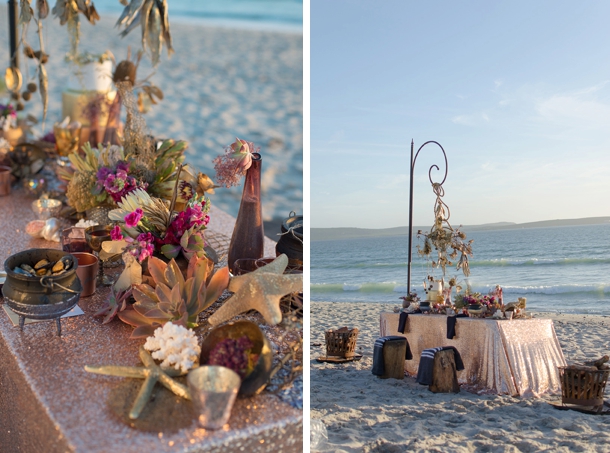 Sparkly table linens
South African brides, rejoice! This look was once only available to our overseas friends, but thanks to the clever folks at Uber-chic, you can now hire glittering tablecloths of your own. So pretty, you won't want to give them back.
See more: Sequin Table Runners
TOP TIPS FROM THE TEAM
Don't be afraid to think 'outside the box'. Work with your colour scheme and incorporate it in as many different ways as possible.
Use what you have – many of our elements are found objects, picked up on a walk along the beach, in the woods, around the house. Find ways to make these elements work together.
Use paint to bring objects into the colour scheme (for example, the tin cups).
Most of all, just have fun!!

SERVICE PROVIDERS
Photography: Memory Box Photography | Styling & co-ordination: Blank Canvas Event Design | Venue: Boesmanland Plaaskombuis | Stationery: Lezanne's Designs | Dress: Ilze Delport Couture | Suit: Jagadi Couture | Flowers: Blomlief | Cake: Edible Art Cakes | Make-up: Ophelia Paisley Wedding Studio | Hiring & décor: Uber-chic | Models: Andrea Gomes & Courtney from D&A Models
This shoot is part of the SouthBound Bride Styled Shoot Competition 2014