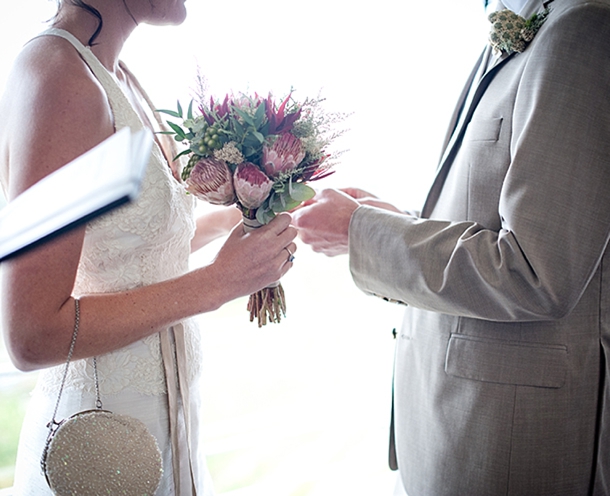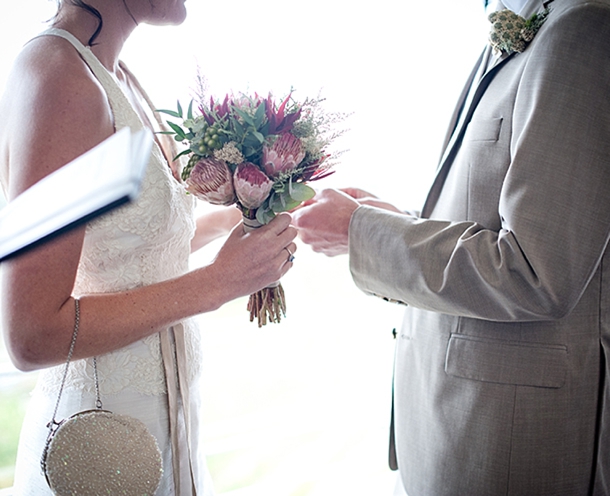 Oh my heart is so full, blogging these pictures! You all may remember that when I relaunched the blog this May I was on an extended stint in South Africa, where I attended no less than four weddings, and this was the first. I can't tell you how happy it makes me to share it with you all today! Jo is a dear friend of mine from varsity, who for a few years moved herself out to Canada. Now, I like Canadians, but I'm pretty glad that they didn't manage to steal Jo away from us, because she's not only one of my favourite people, but she's now putting her considerable talents to work doing awesome things for education in South Africa. One souvenir she did manage to bring home from oot north is the lovely Tim. You know how sometimes when you meet a friend's boyfriend and you're just like, oh okay, this makes sense? Well, that's Tim and Jo. He settled into our group of friends like he'd always been part of it, he made Jo super happy, and we were absolutely thrilled when the two of them (eventually!) decided to make it official, not least because it gave all of us the excuse to reunite in Hermanus for the first time in forever. Our group flew in from as far as Singapore and Sydney and rented three adjoining houses for three days. It was the BEST time. And we weren't the only ones who trekked to be there – with so many people coming from all over the world, there was an awesome sense of celebration all weekend and a chance to make new memories as well as rehash the old ones.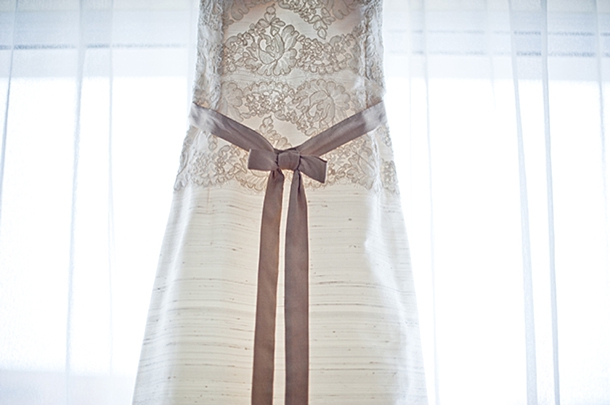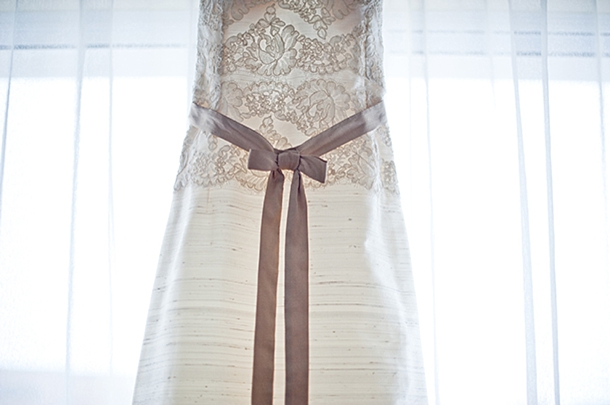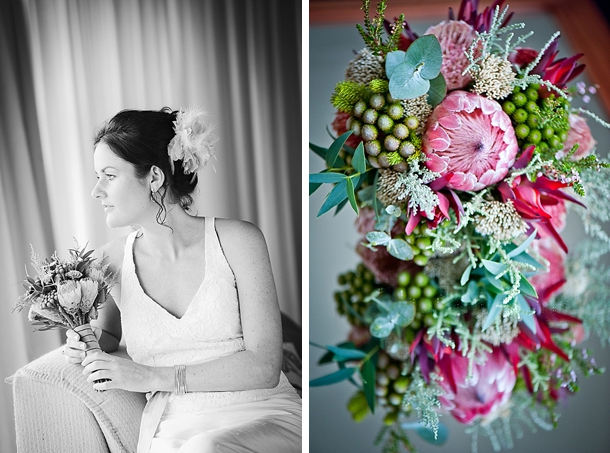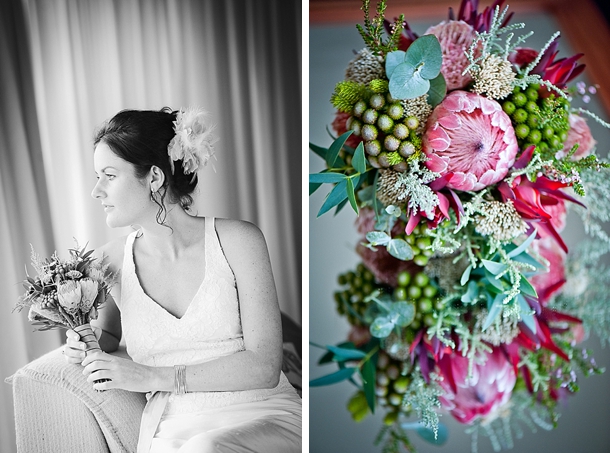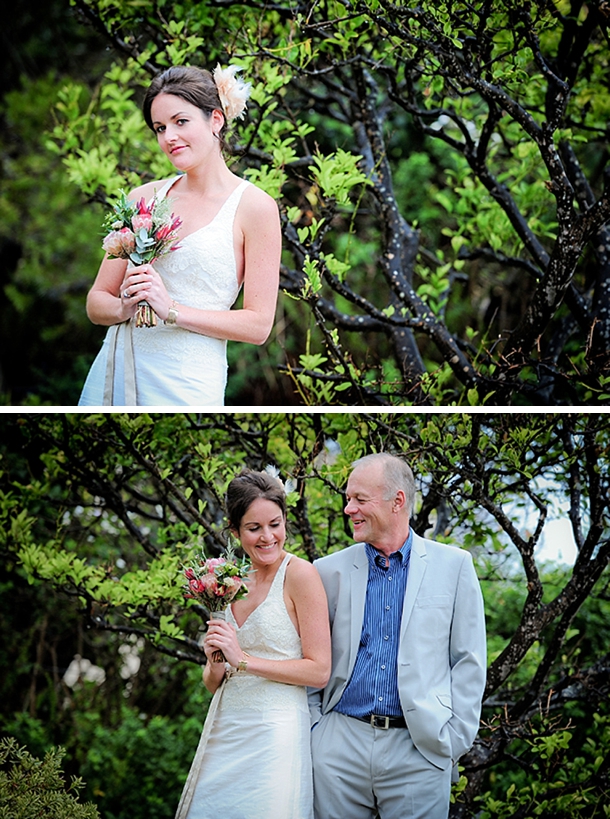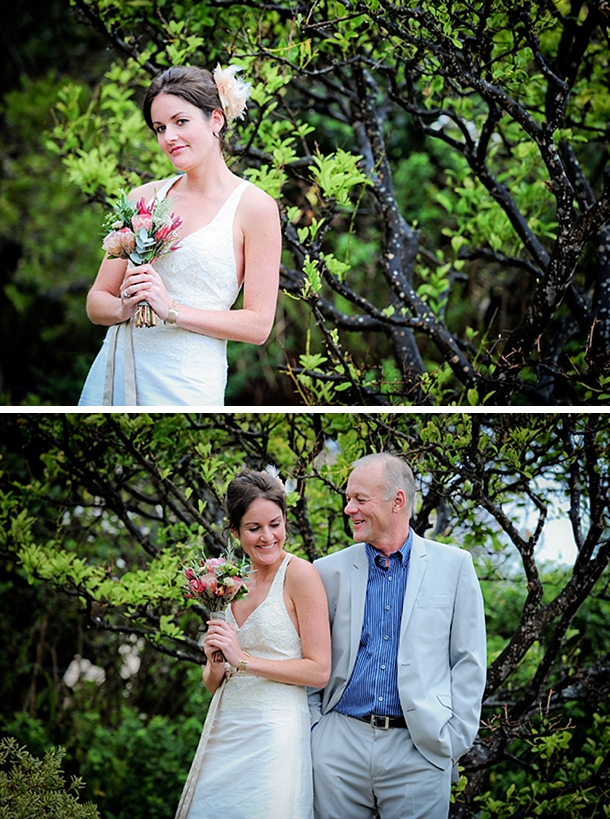 The main event was a huge party, and at the centre of it all was the relaxed attitude that we love so much about these two. First, it rained all day, so their beach ceremony and reception taking advantage of the splendid La Vierge view became a wedding on the now-covered La Vierge veranda. Disaster? Not even a little bit. Their ceremony (conducted by another of my besties together with an officiant) was incredibly moving. No bridesmaids or groomsmen – although they did have their closest friends to support them, help Jo get ready, etc. Table plans? No thanks. Apart from reserved seats at the top table, it was sit where you like, with the only enforced groupings being those that kicked off the photobooth – talk about a fun way for guests to break the ice! Traditional speeches? Nope – after Jo's parents and Tim spoke, the mic was opened up generally (the result being what has to be the all time greatest non-best-men-best-man-speech). The flowers were beautiful – Jo chose a protea 'theme' to reflect the local fynbos, and Okasie blew me away as always – and then we all hit the dancefloor in a big way! It was an amazing wedding and (I think) everything the couple was hoping for. And bonus, I got to finally meet Cape photographer Carmen Visser, who took these beautiful pictures. You'll recognise the first one from the SBB Facebook page since Carmen has kindly let me use it – I love that it not only reflects a typically South African wedding aesthetic, but was a special moment for me, between special friends. Jo and Tim: this one's for you.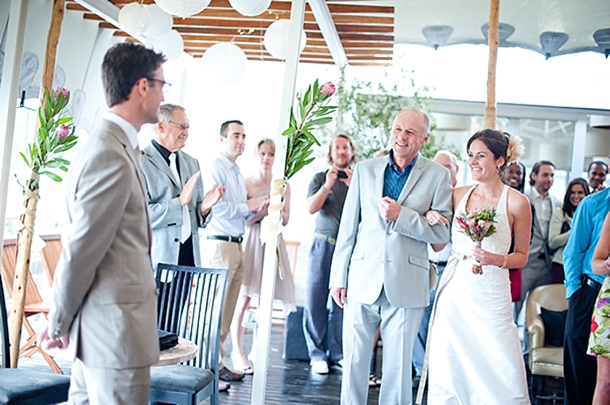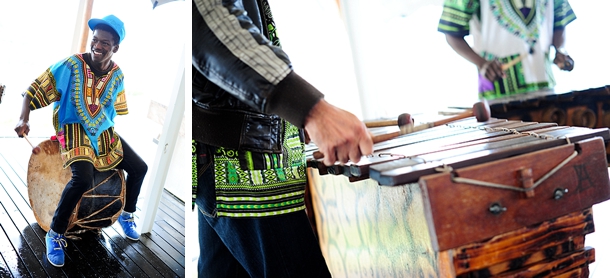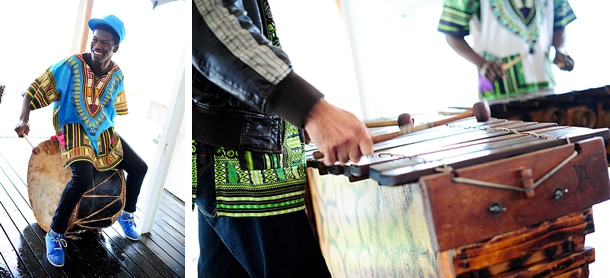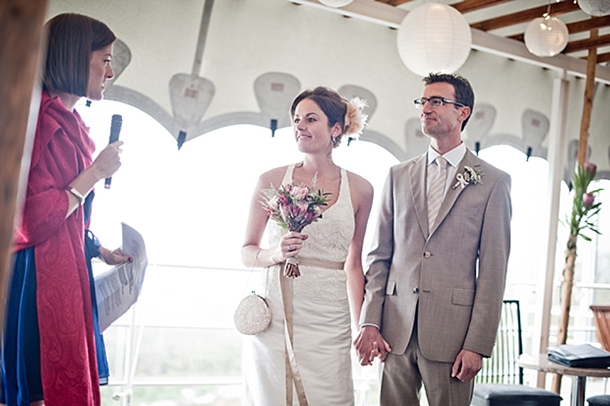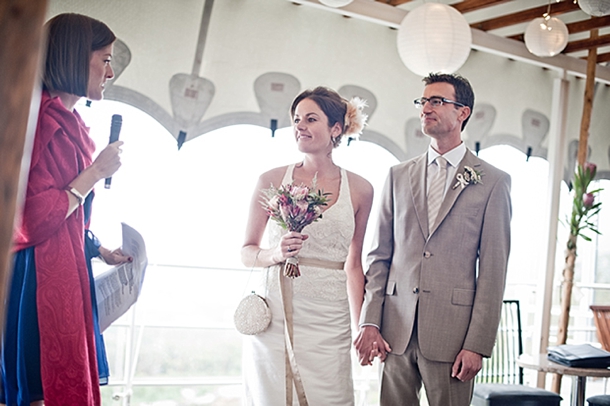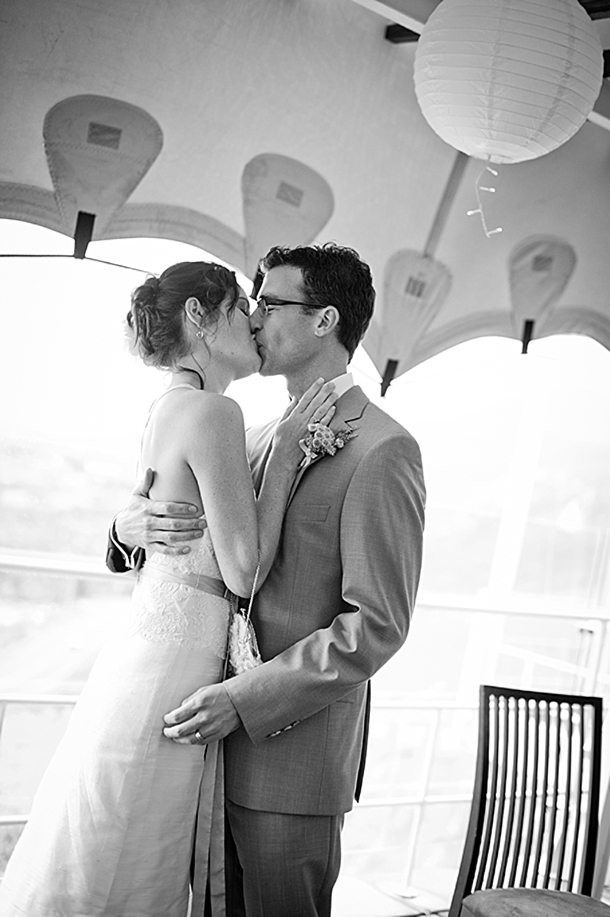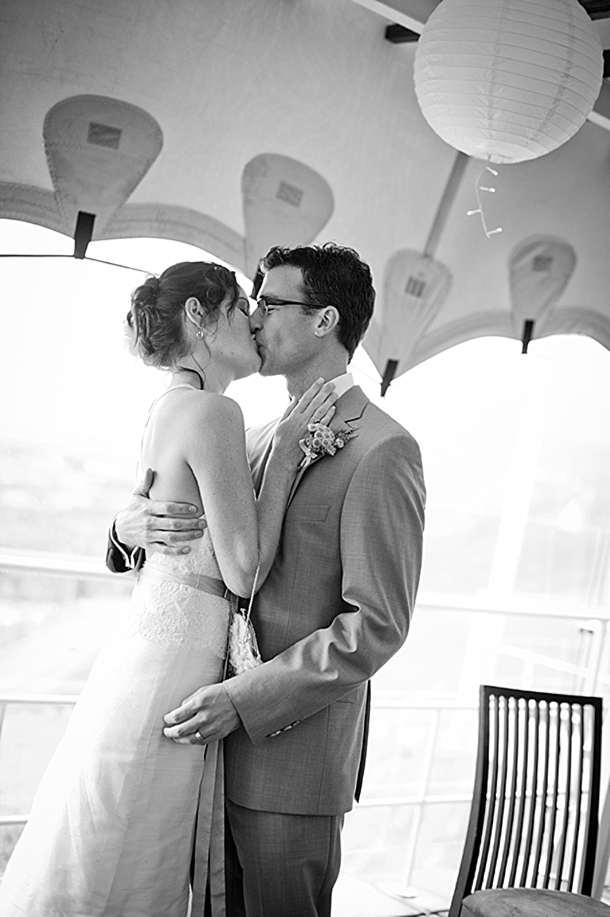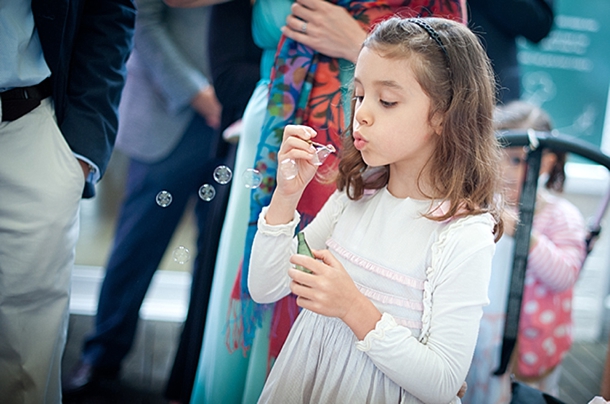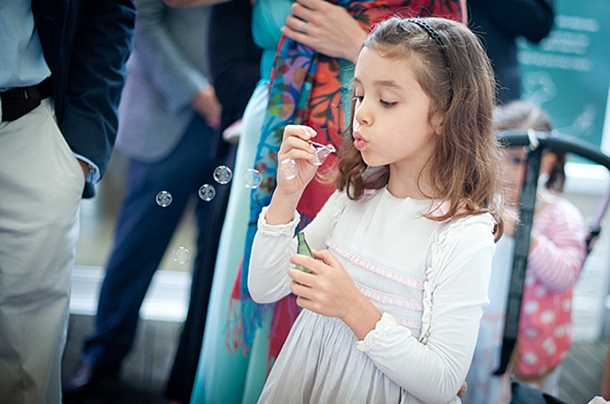 From Jo:
Tim and I met in 2004, online. We were just friends for six months (while Tim pursued me through movies, shopping and helping me organise charity events) before I realised the error of my judgement and gave him a second chance. ;). We both love to travel, did long distance twice (he in France, while I was in Toronto in 2005 and then me in Switzerland and him in Egypt in 2007) due to our love of adventure and new places.
He proposed in bed on a lazy Sunday evening. No – not what you're thinking!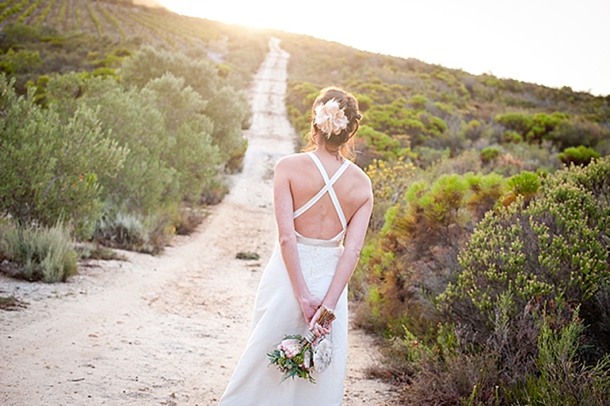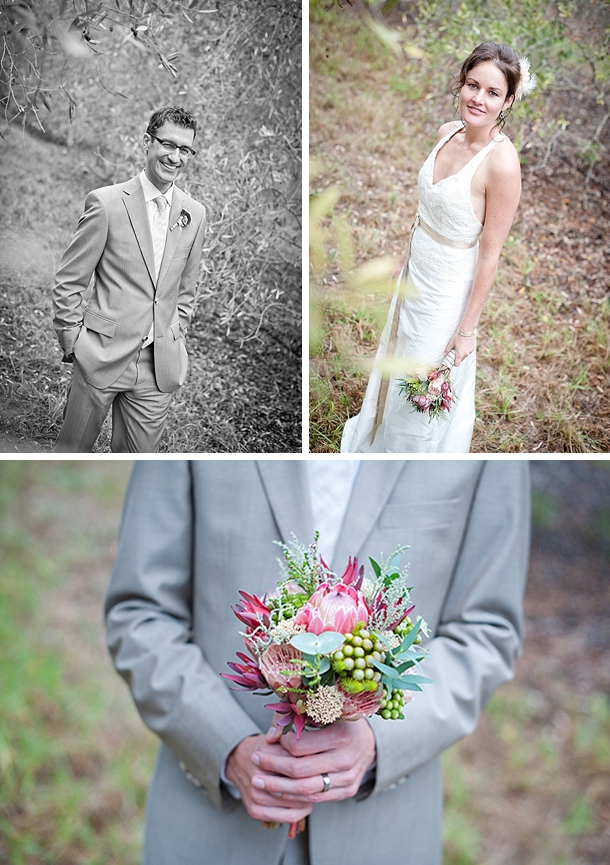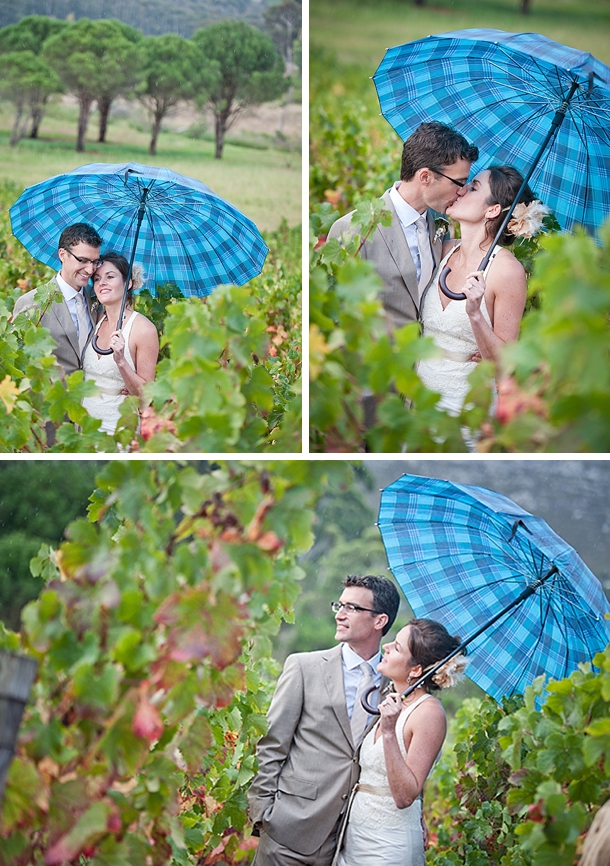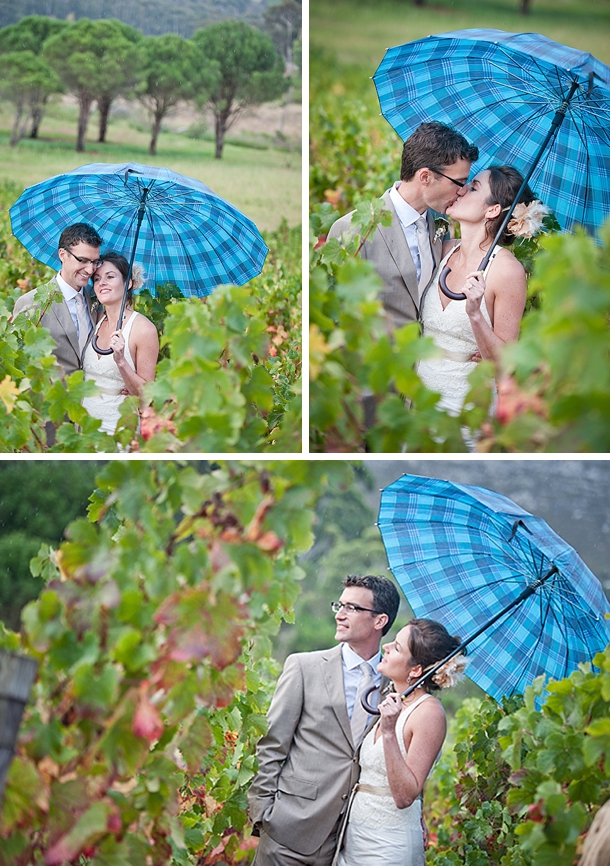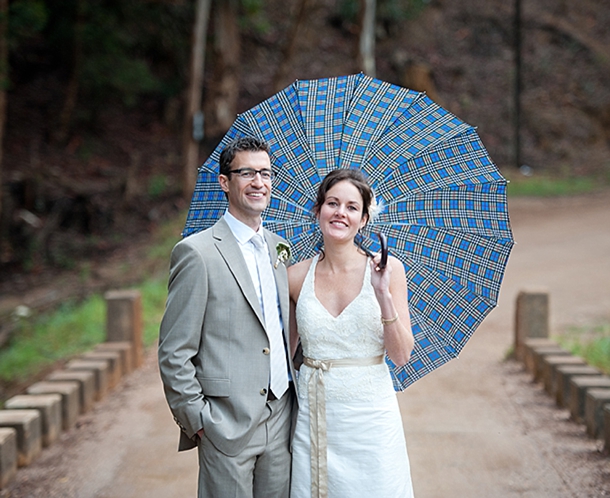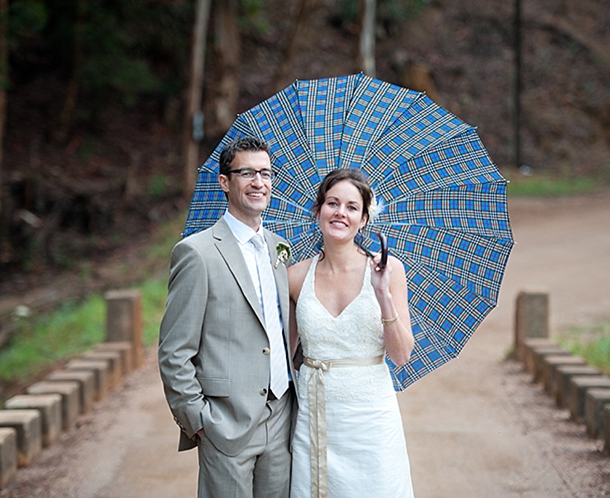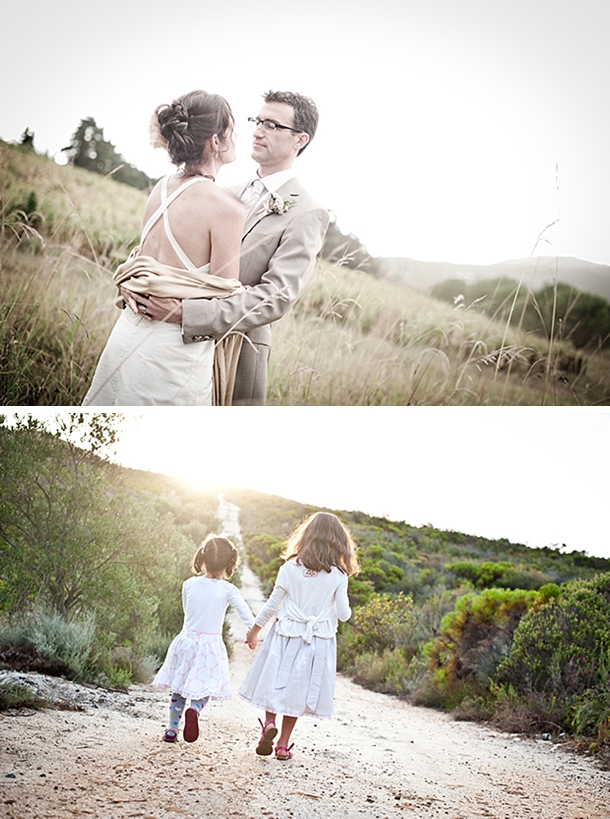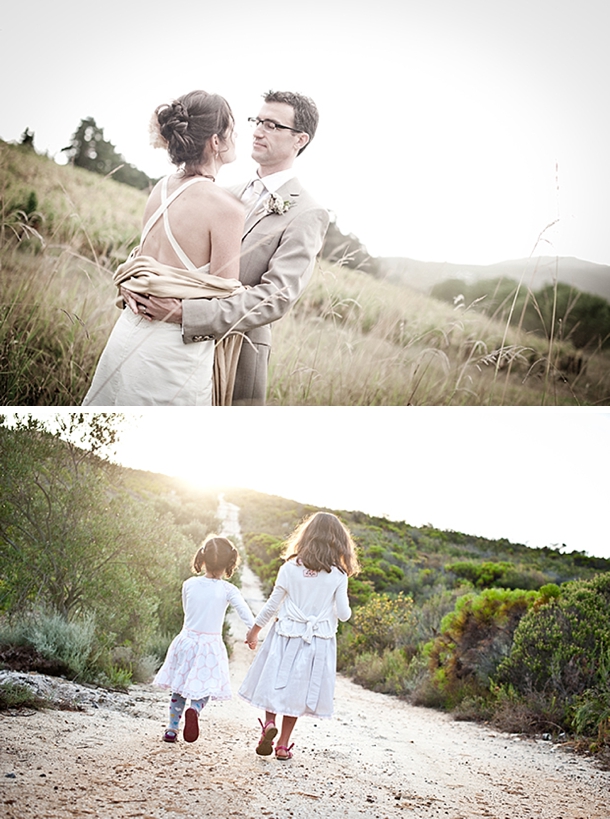 Our concept for the day was fynbos and au natural. Hermanus is a special place for my family and we have a home there, so we definitely wanted to get married there, and we chose La Vierge because the view and food rocks! It combines the perfect amount of stylishness with serene, natural surroundings.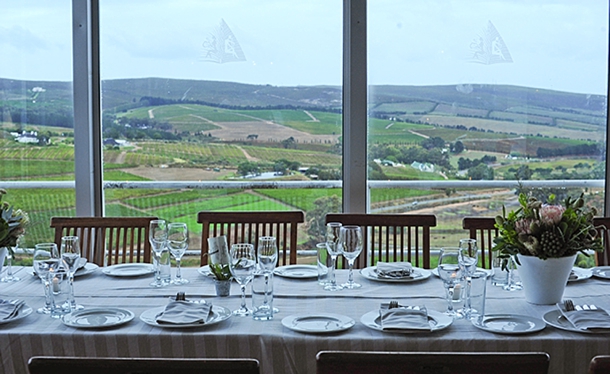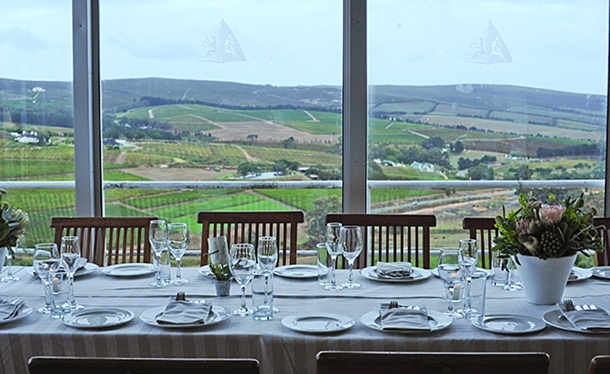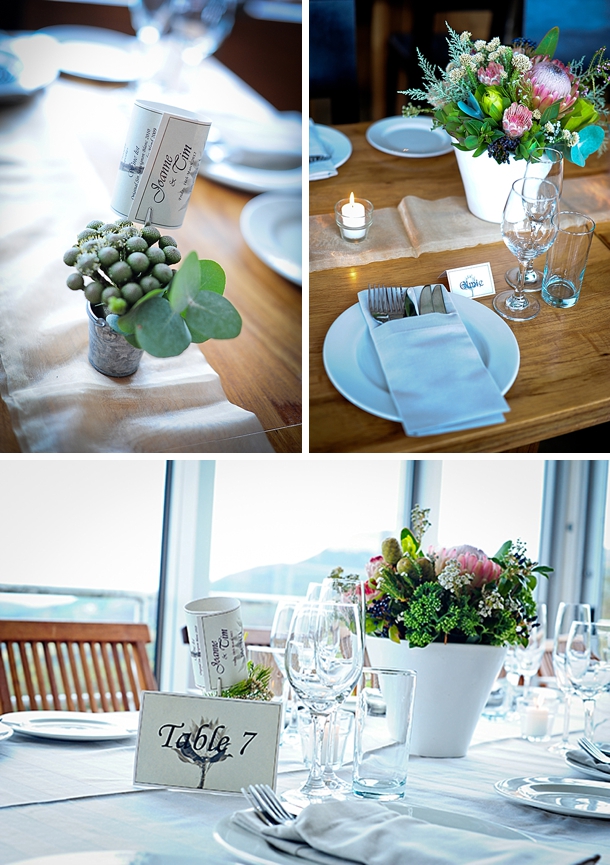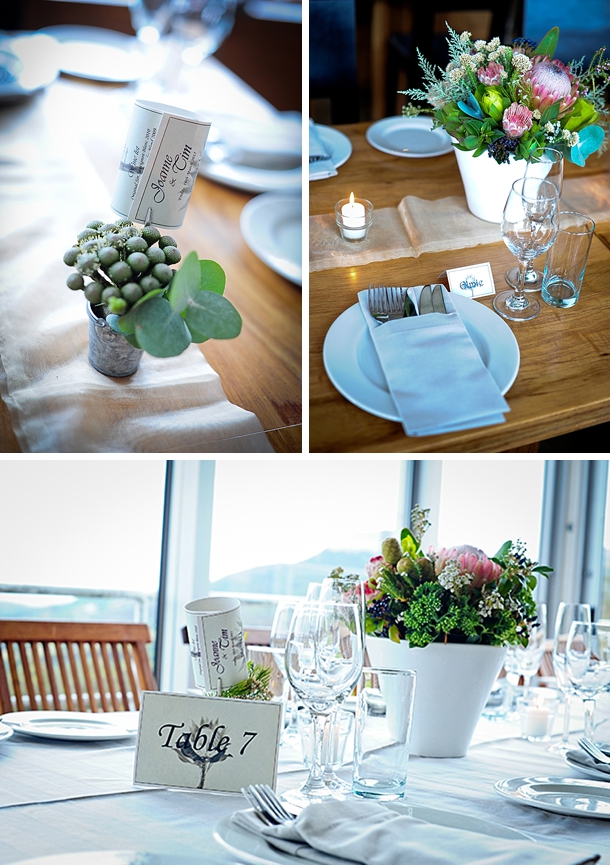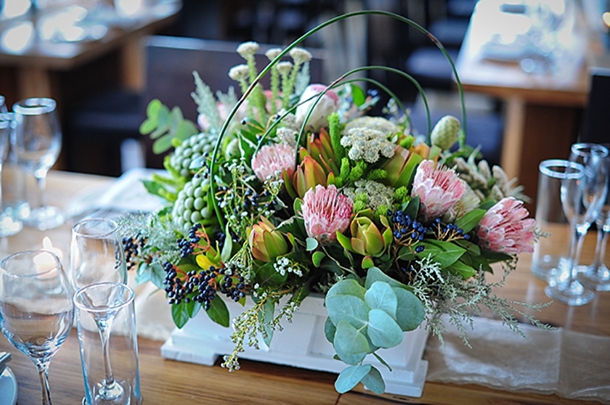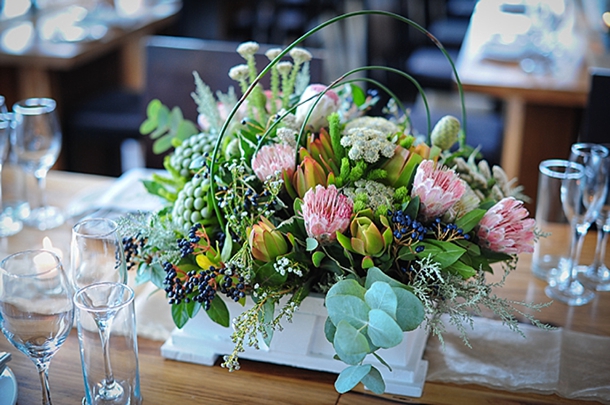 The change in plans due to rain made everything a surprise for me. Tim and I generally don't like planning things to the 'n-th' degree, so I guess having a last minute change in plan fit with our personalities! Seeing all our favourite people in one place was so emotional, and I loved our vows. Throughout the day I remember laughing out loud at so many awesome moments, and dancing with sheer abandon! A crucial ingredient was the photo booth (set up by my brother-in-law, a professional photographer in Canada), which helped to get friends from across continents to mingle and share memories.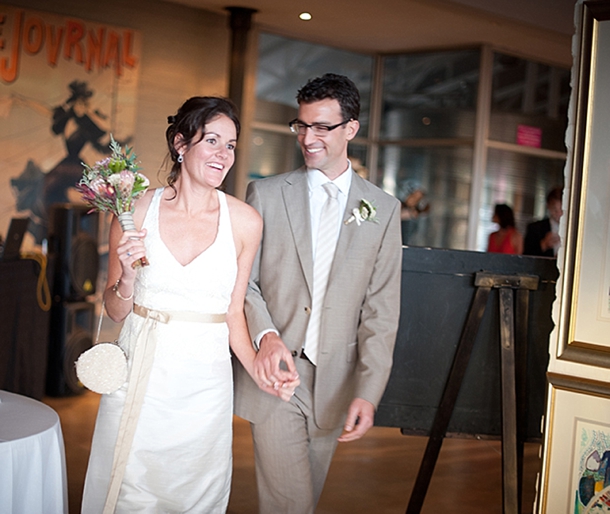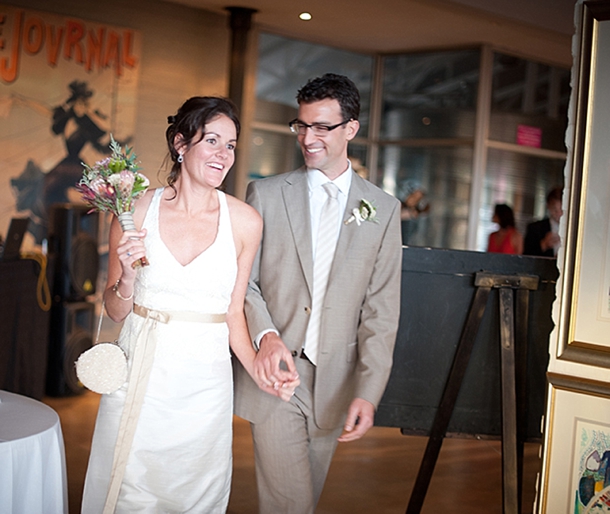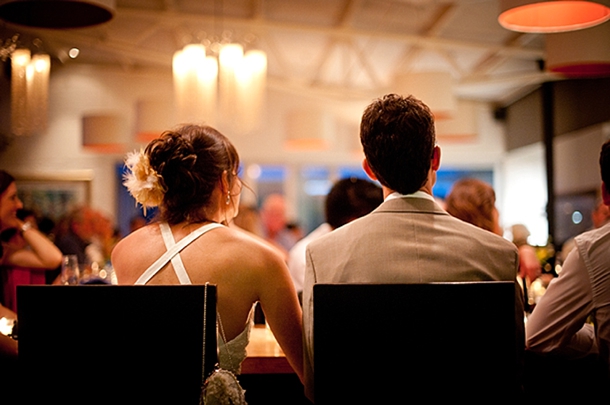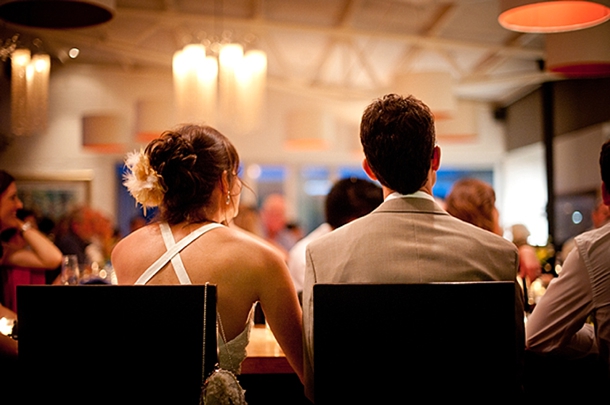 My advice to future brides is not to stress, as it will be fabulous regardless. And give your mom a few key things to do, otherwise her stress will infect you. ;)
Besides the venue, caterer, DJ and photographer, don't bother with anything else until two or three months before.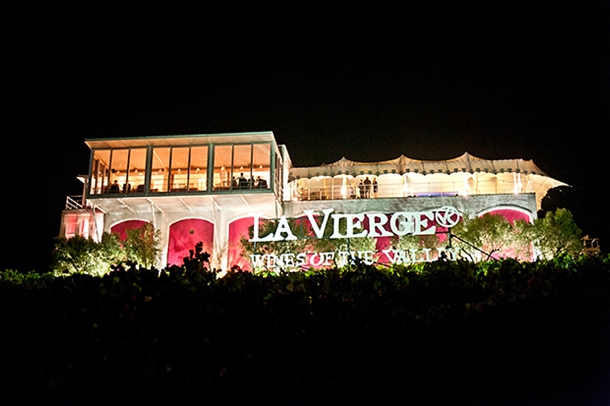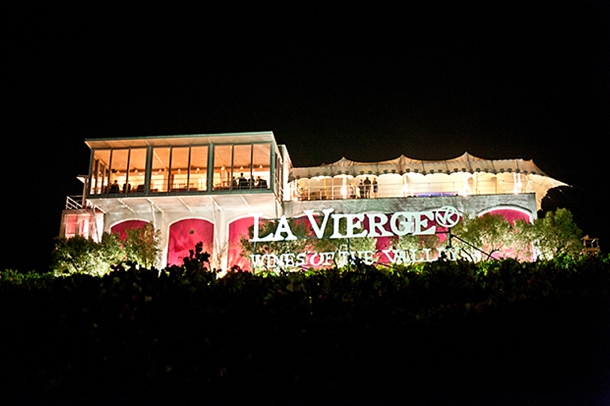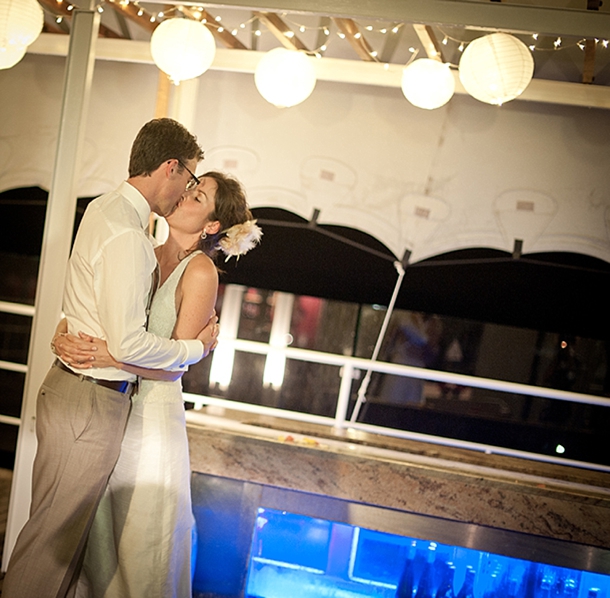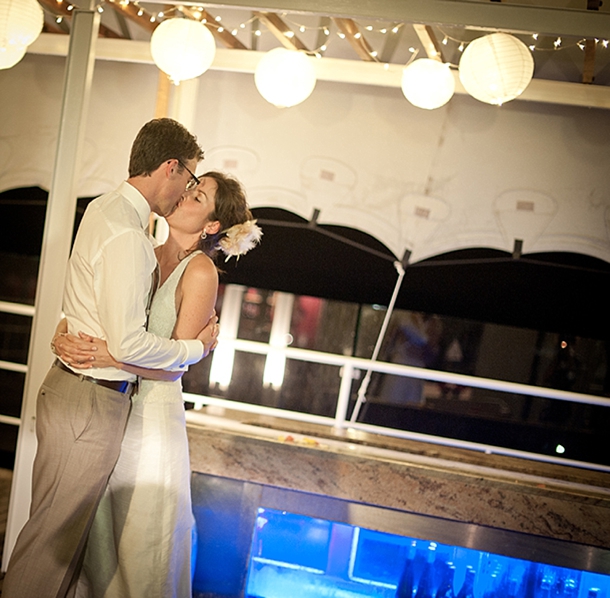 Guys, congrats again and thanks for such a wonderful wedding – here's to your next adventure! ;) Thanks so much also to Carmen – you can see more from this adorable wedding on her blog.
SERVICE PROVIDERS
Venue & catering: La Vierge | Photography: Carmen Visser | Co-ordination & hiring: Nanette & Dieter of Function Hire | Flowers & decor: Okasie | Cake: Leigh's Cakes | Bride's dress: Stephanie Corney
Carmen Visser is a member of the SBB Directory