GET READY. You're about to have your socks blown off by today's styled shoot, which takes the whole mermaid/iridescent/pearlescent wedding trend to the next level. Or rather I should say, the level below – way below. Under the sea to be precise. And I do mean literally, because the sterling team that put together this incredible shoot not only created a pastel wonderland on dry land, they shot an entire sequence underwater too. Insane. Well, as the song goes: darling it's better down where it's wetter, take it from me! From balloon backdrop to holographic flatware to geode cake to florals to… oh my gosh, I seriously am at a loss for words here. So let's just, um, dive in, shall we? ;) Huge congrats to the talented pros who put this fabulously inspiring piece of work together, including SBB fave Tickled Pink, Ninirichi, Gingerale Photography, and underwater photography genius Ilse Moore.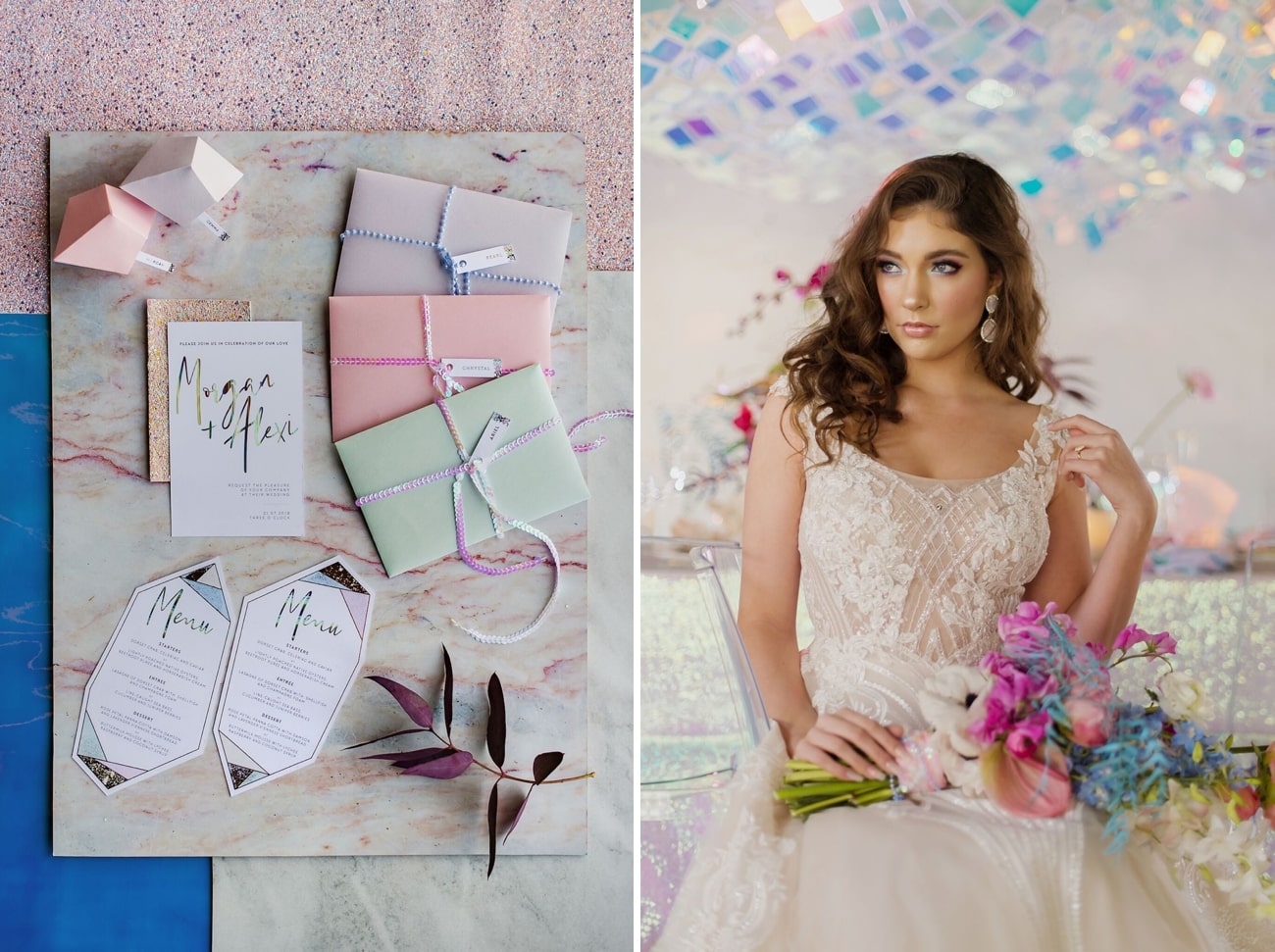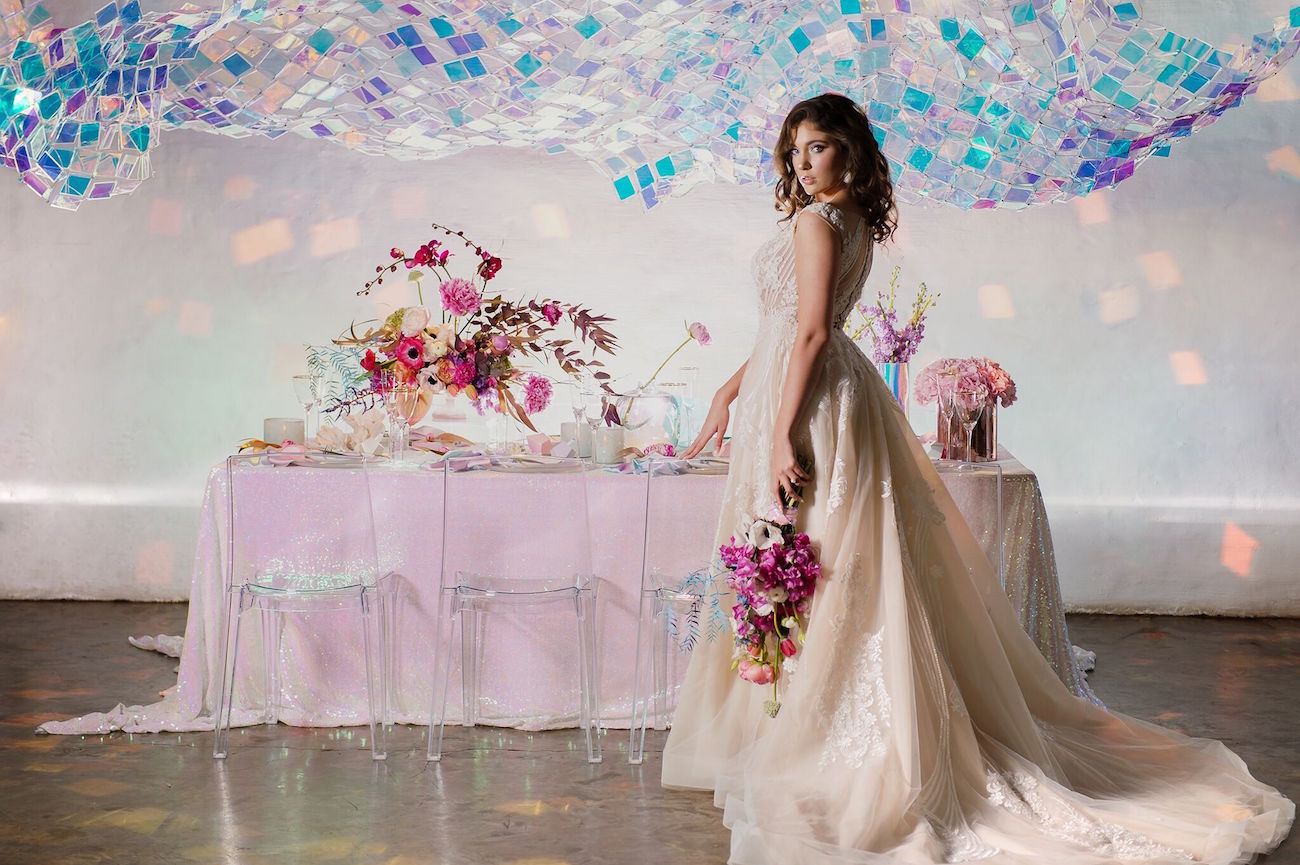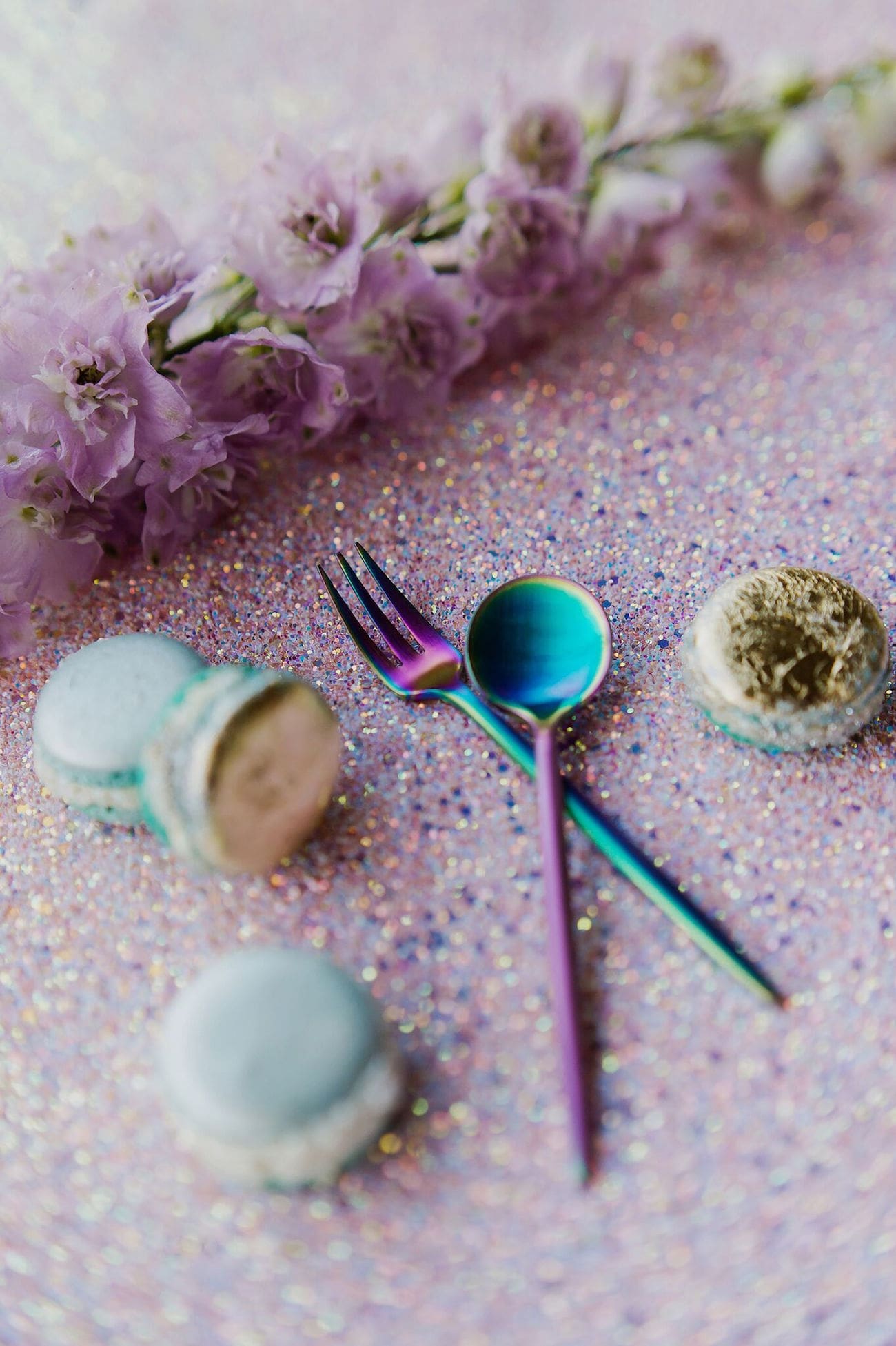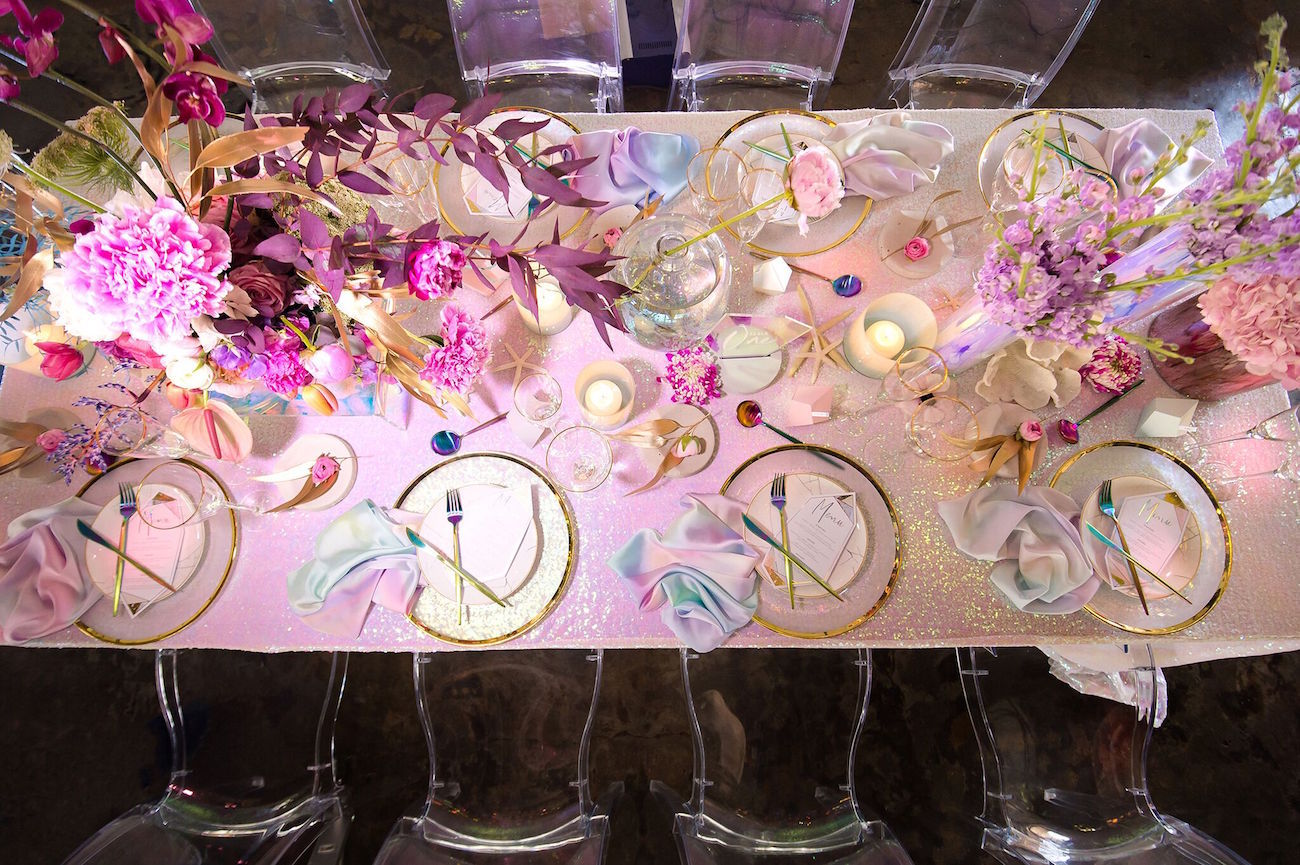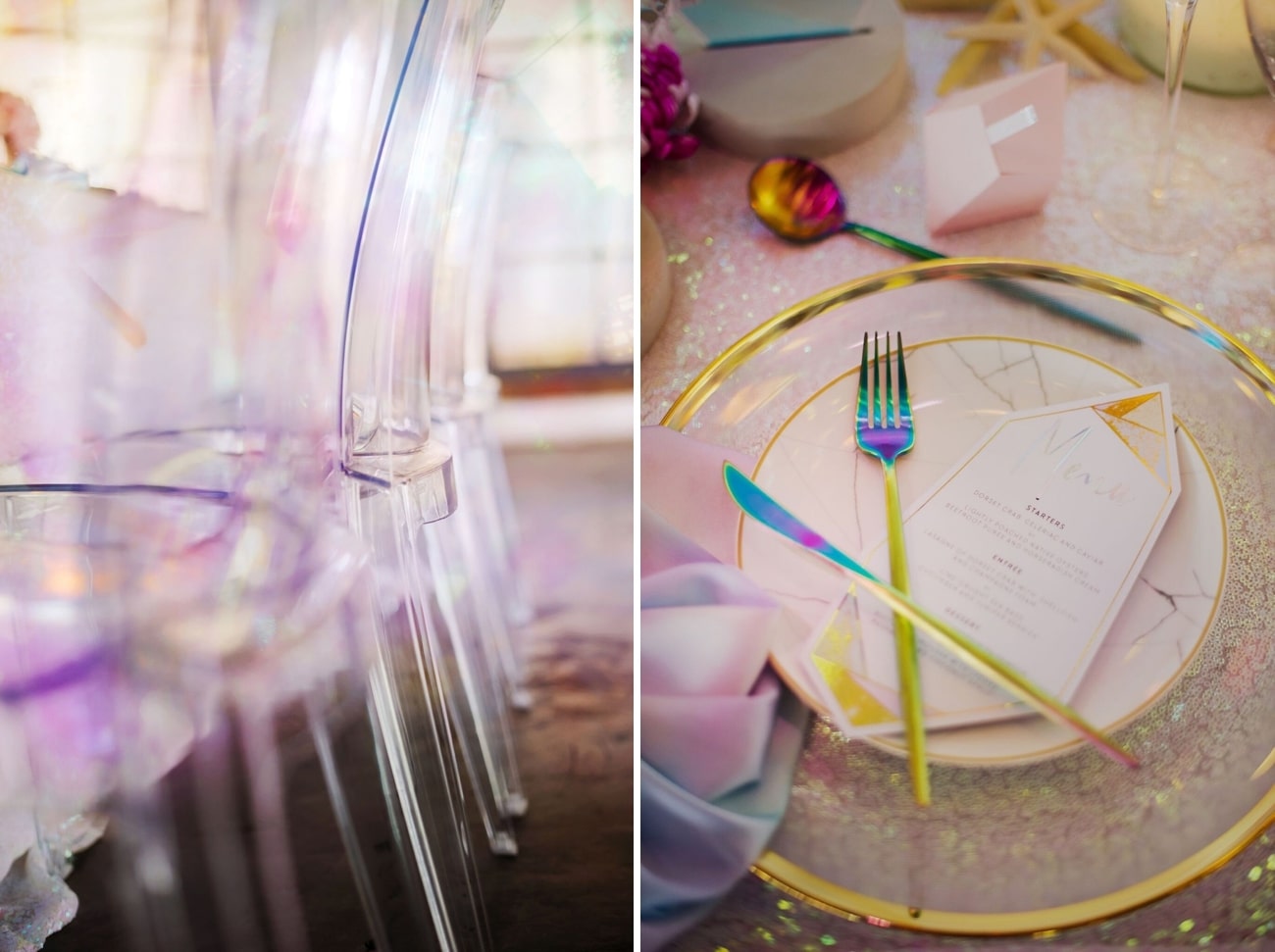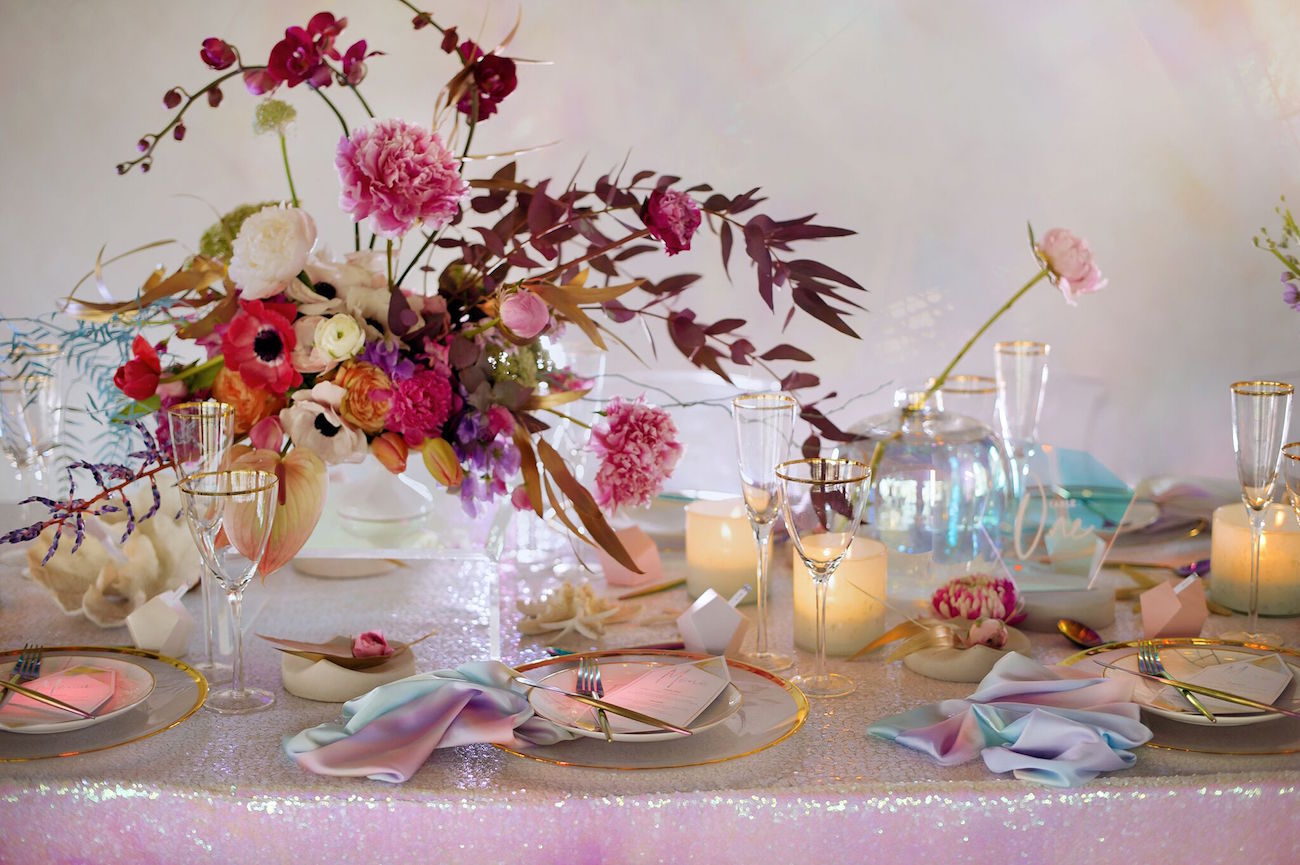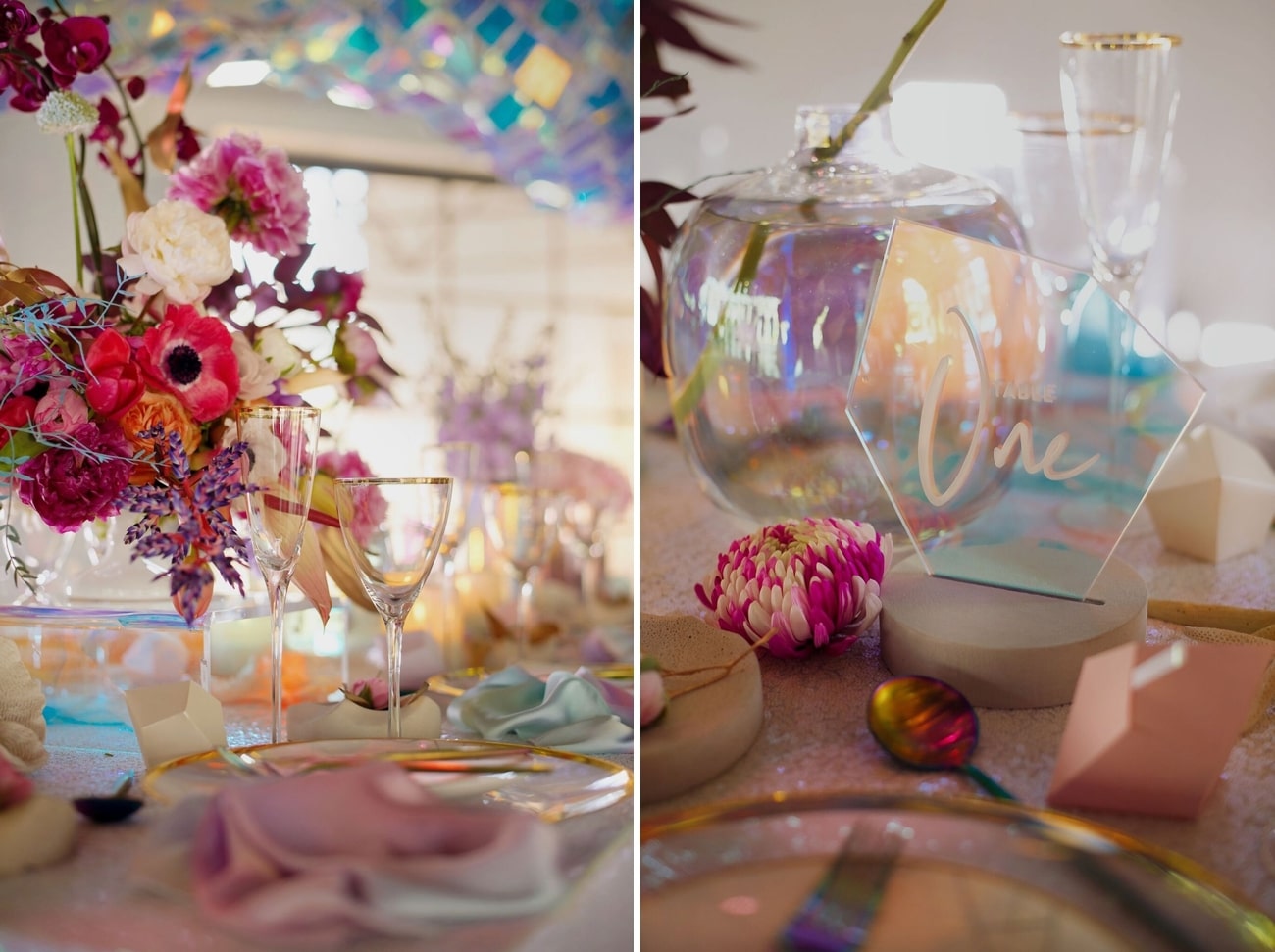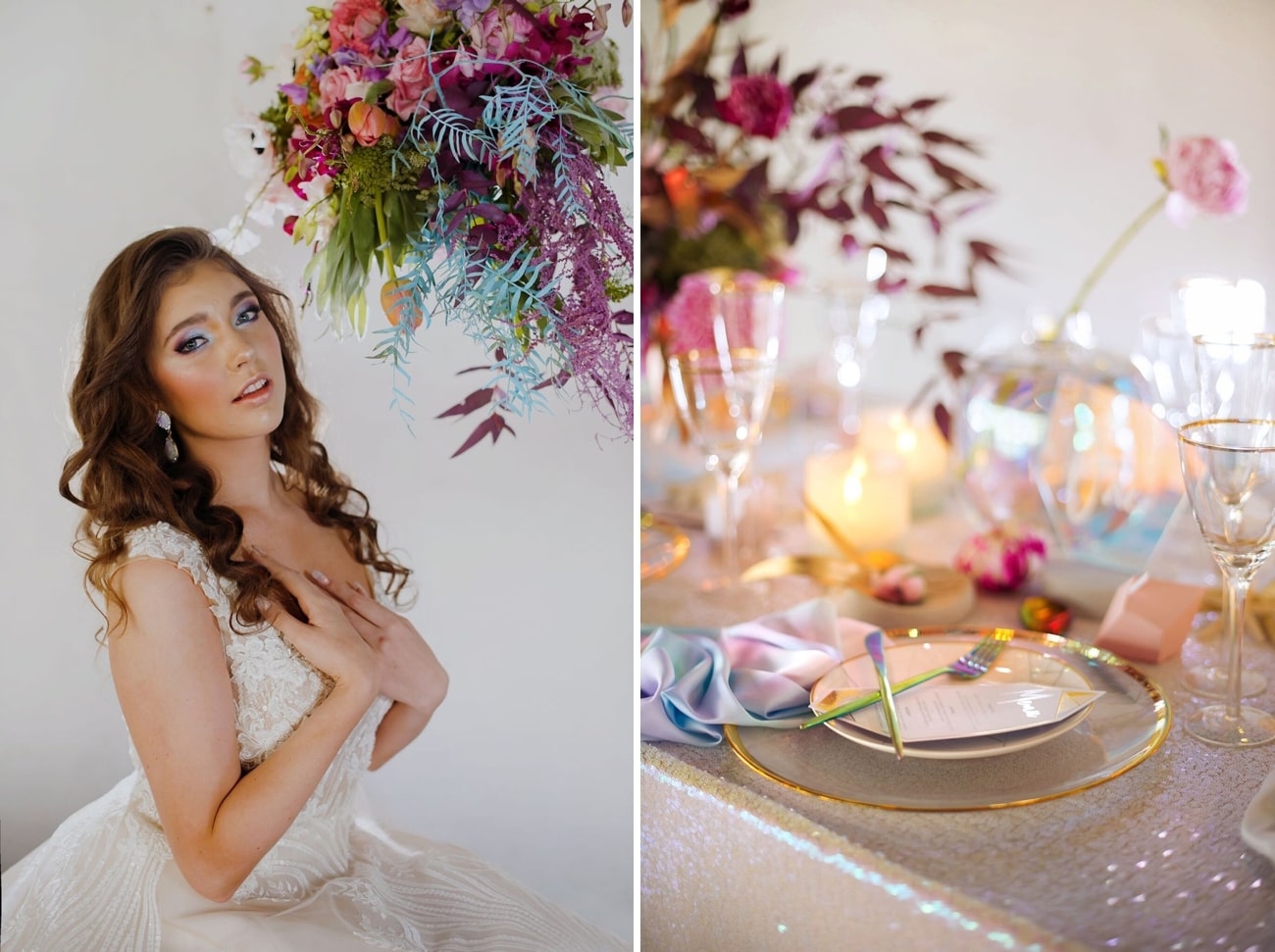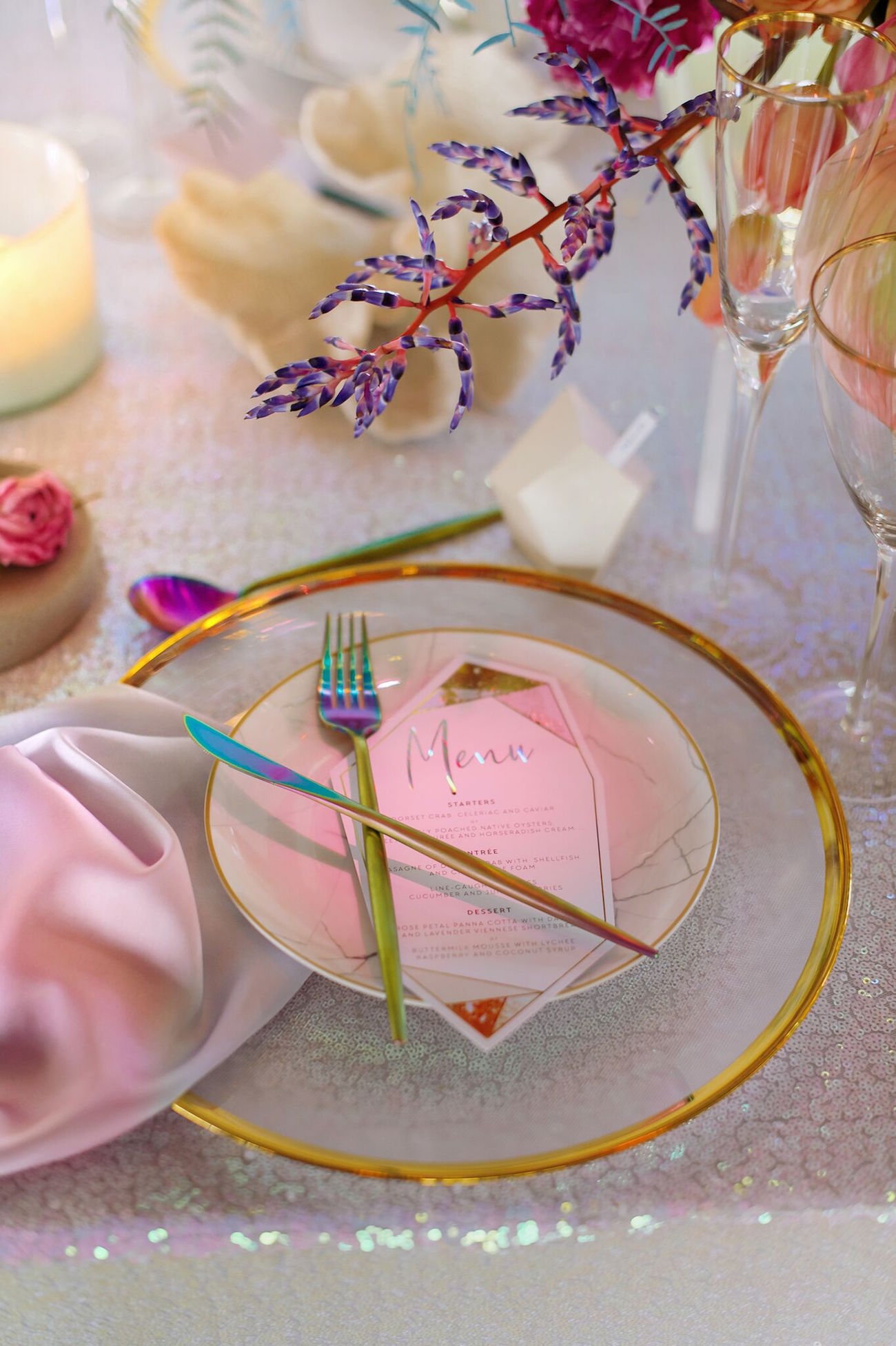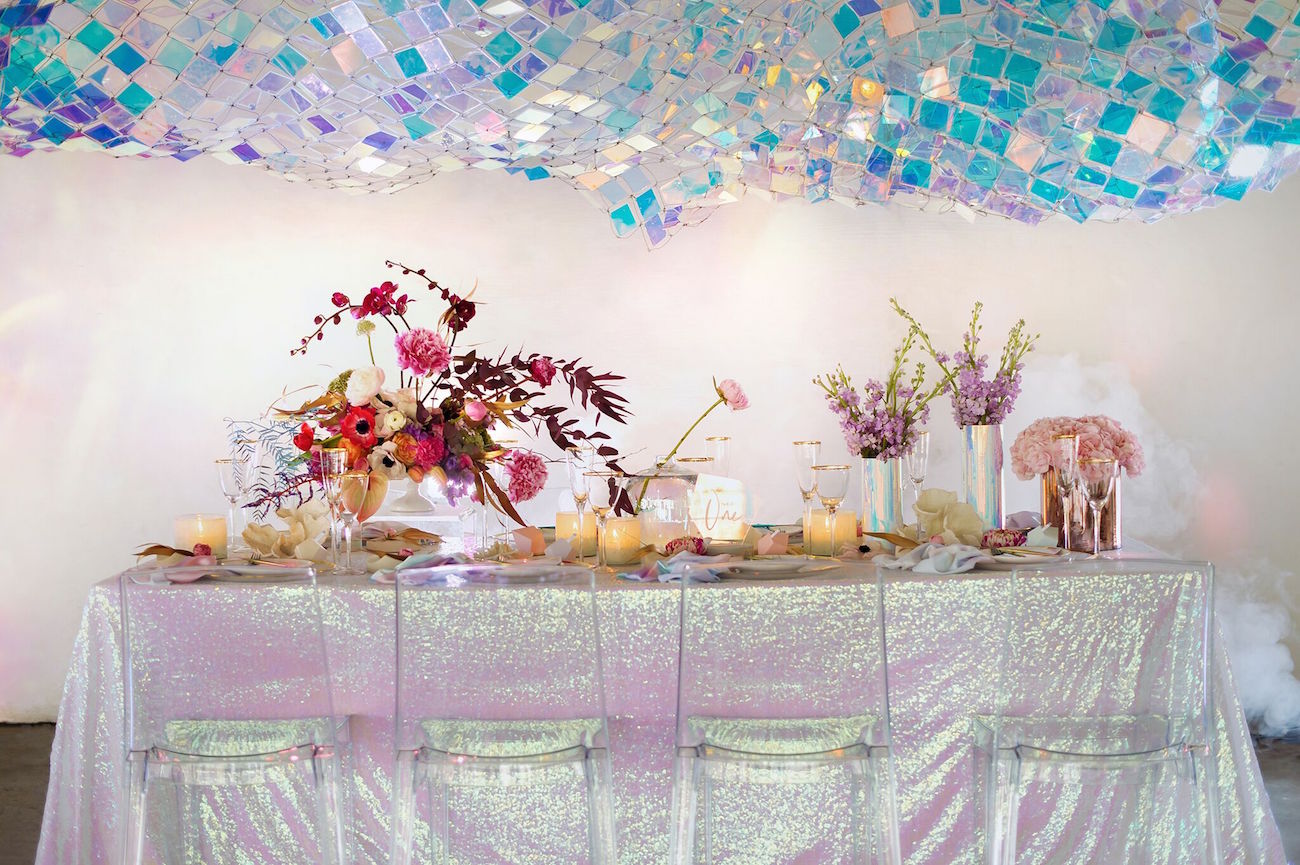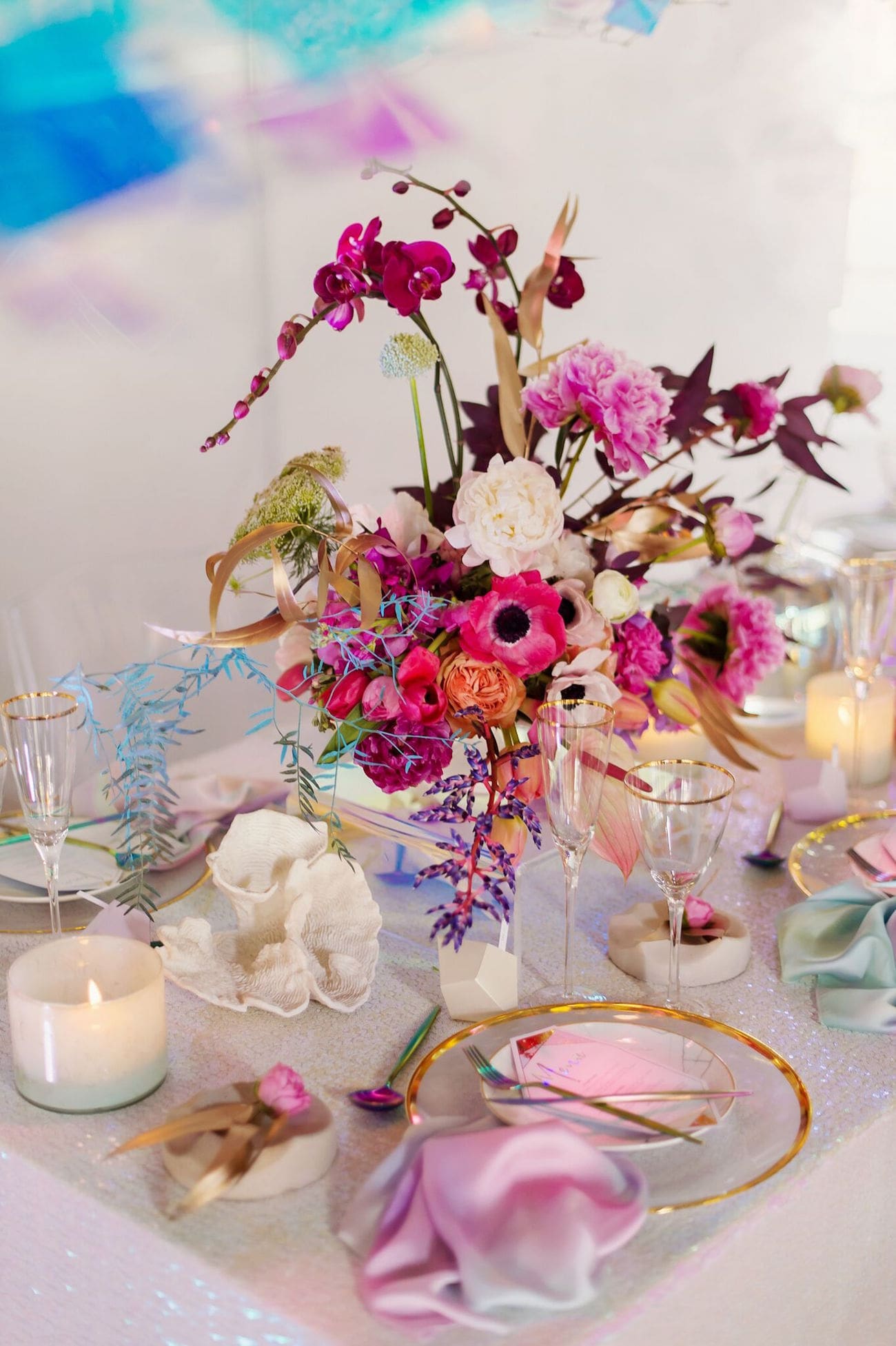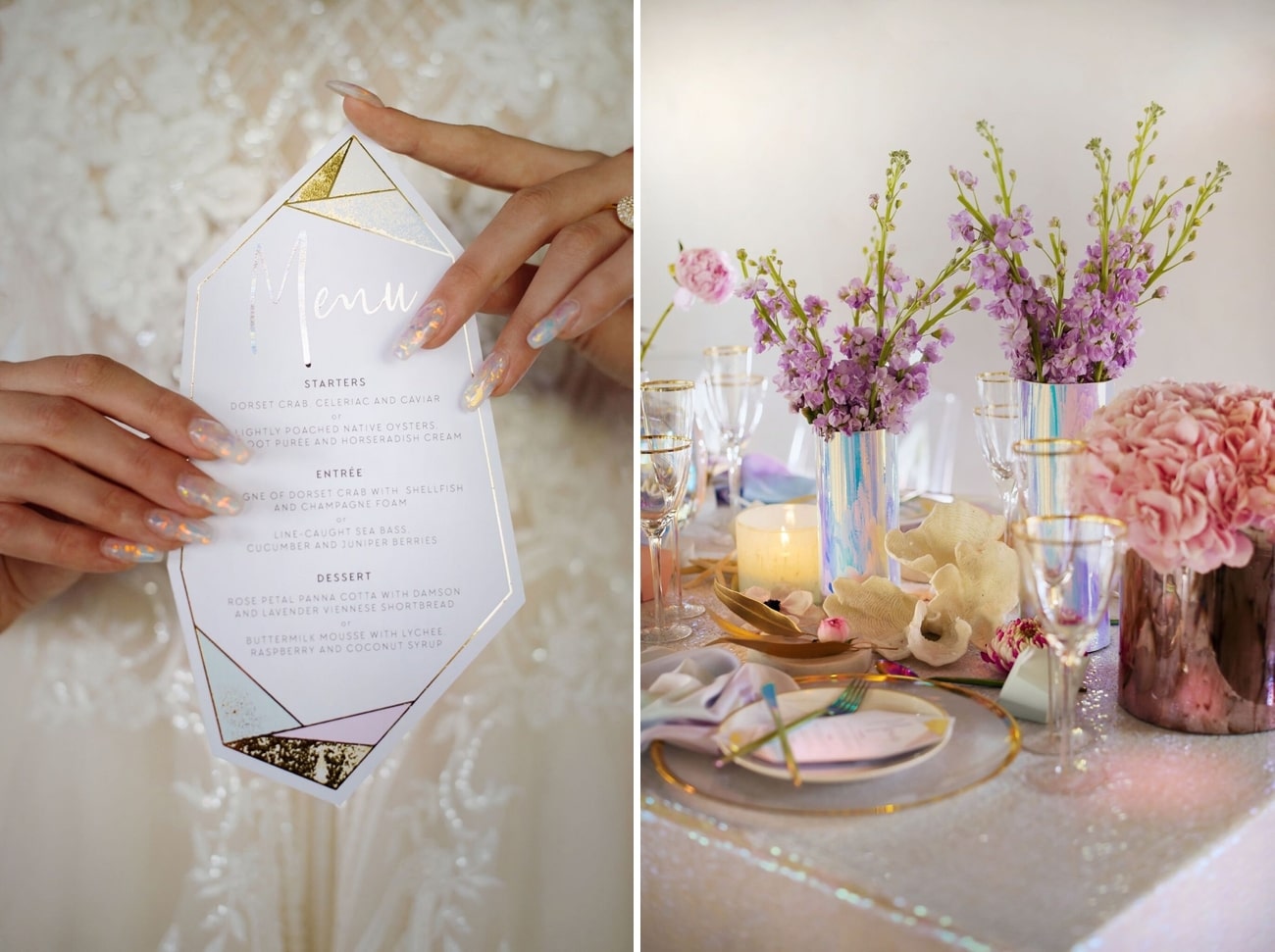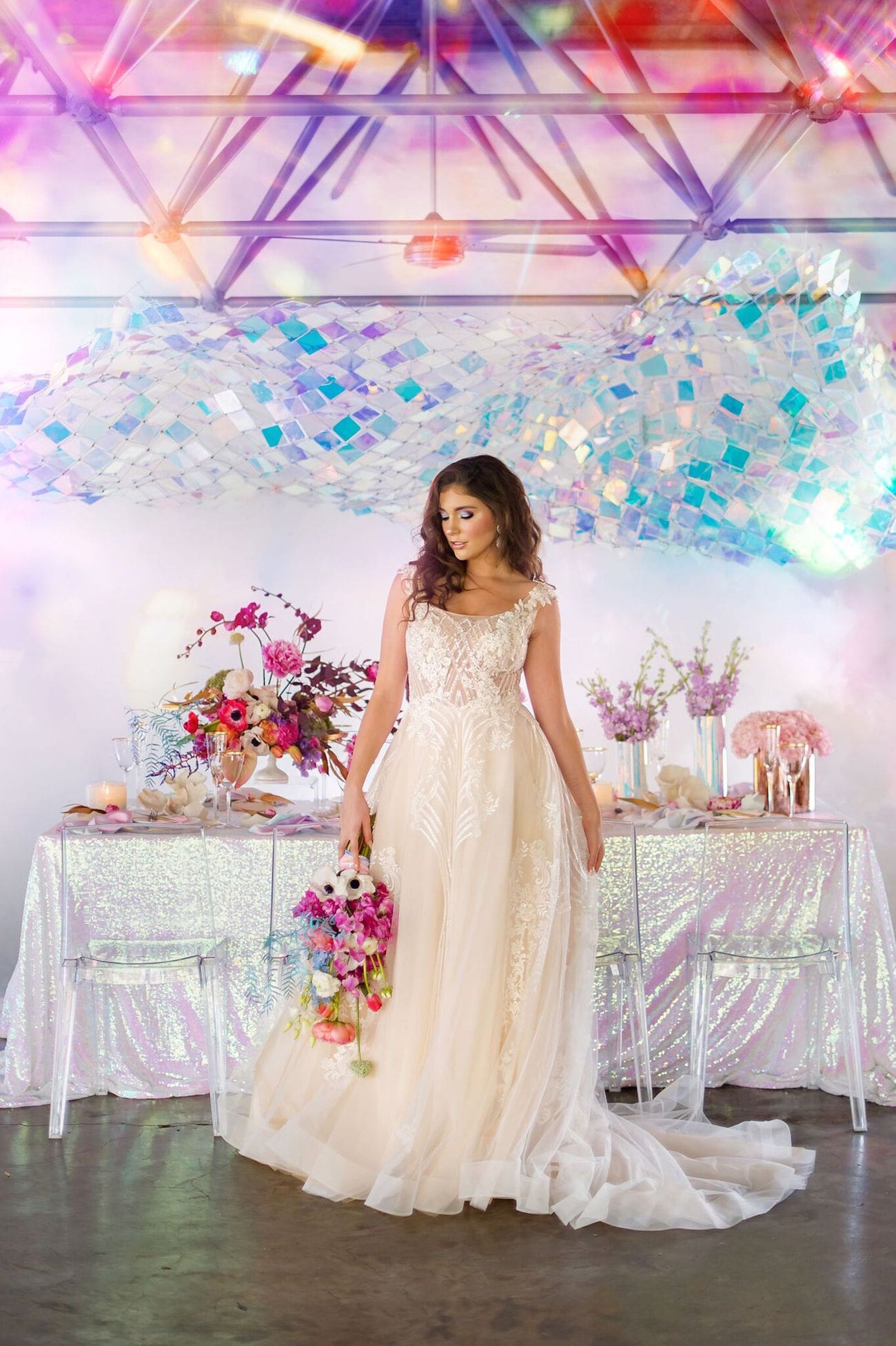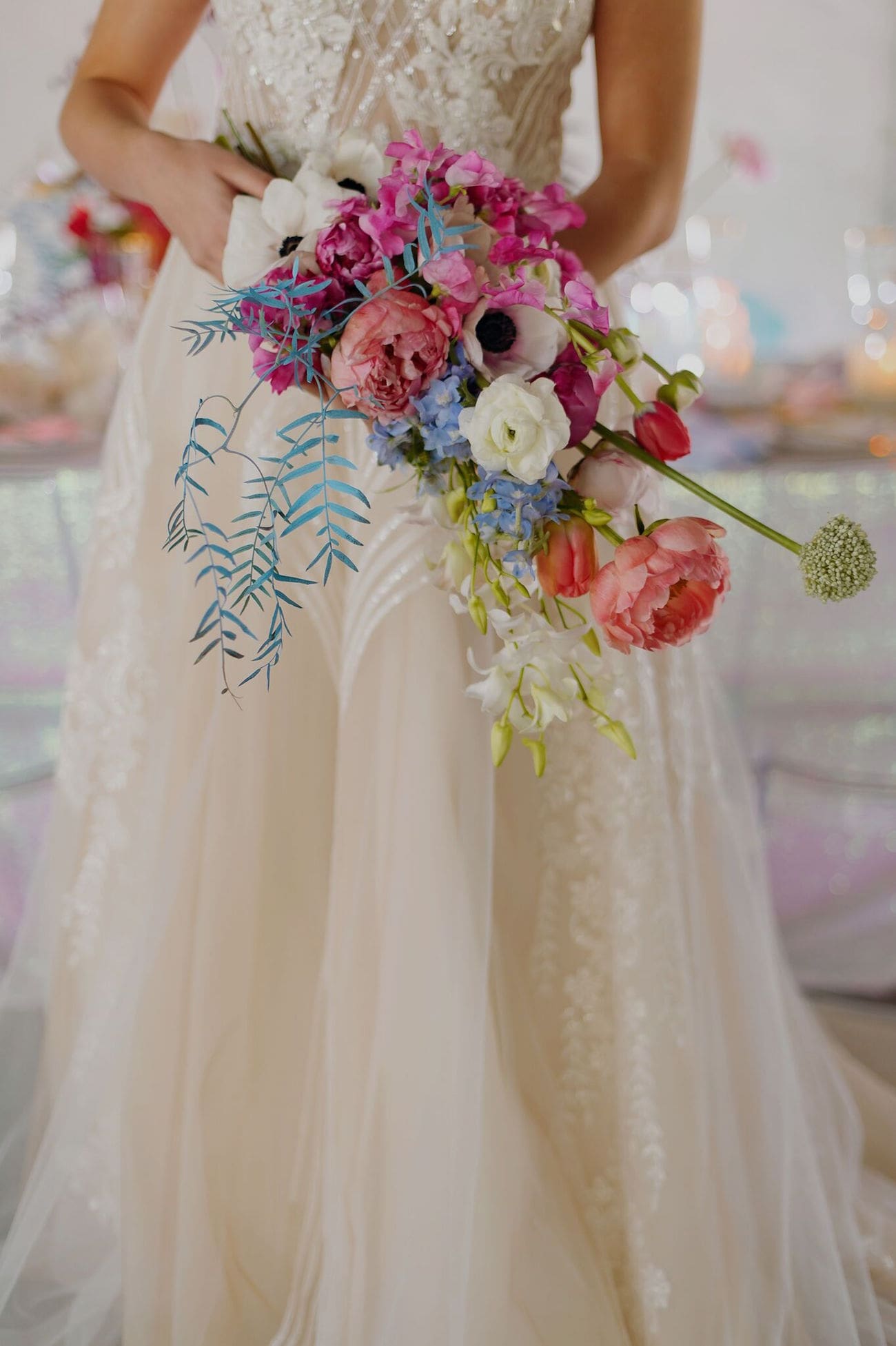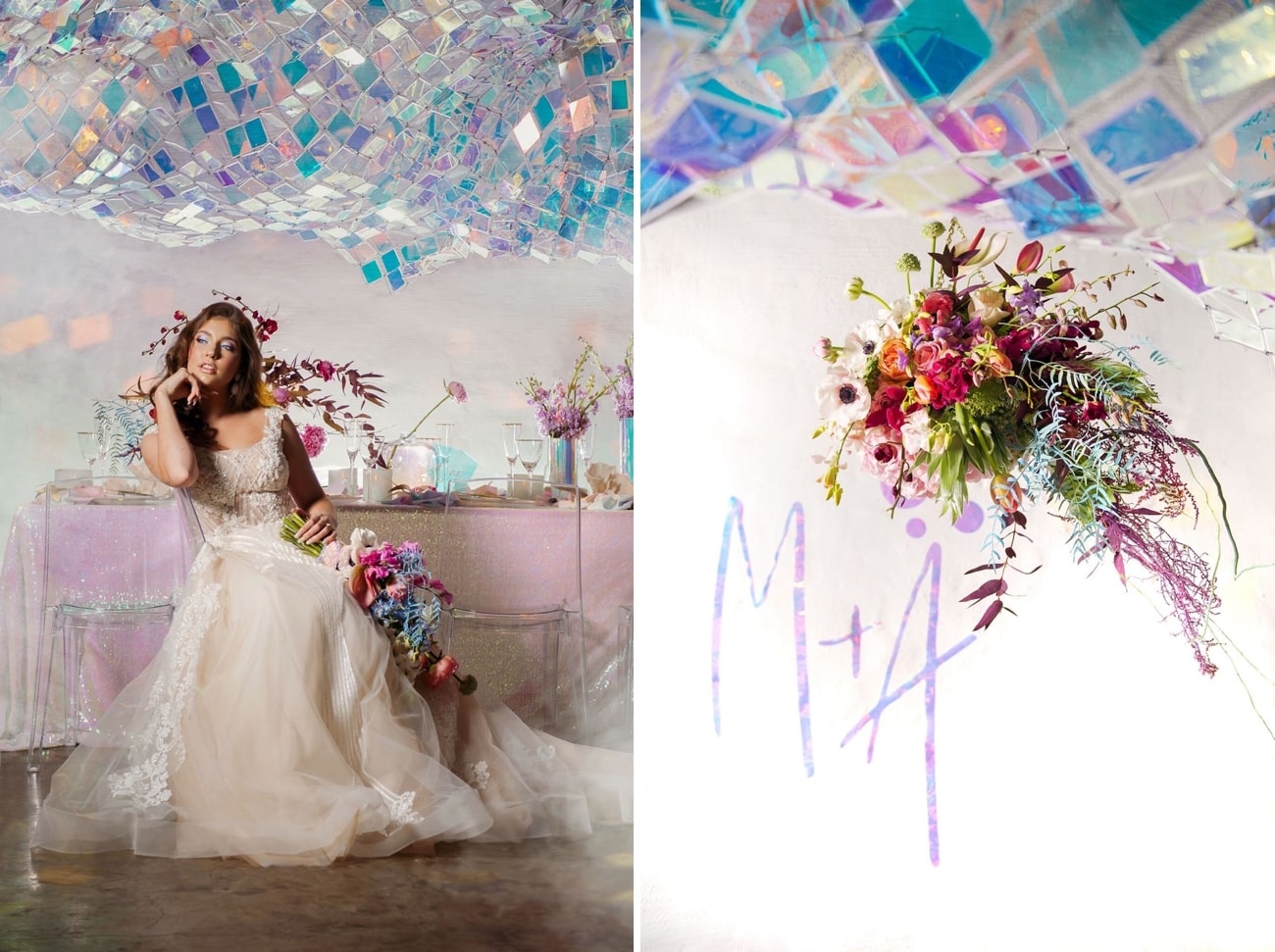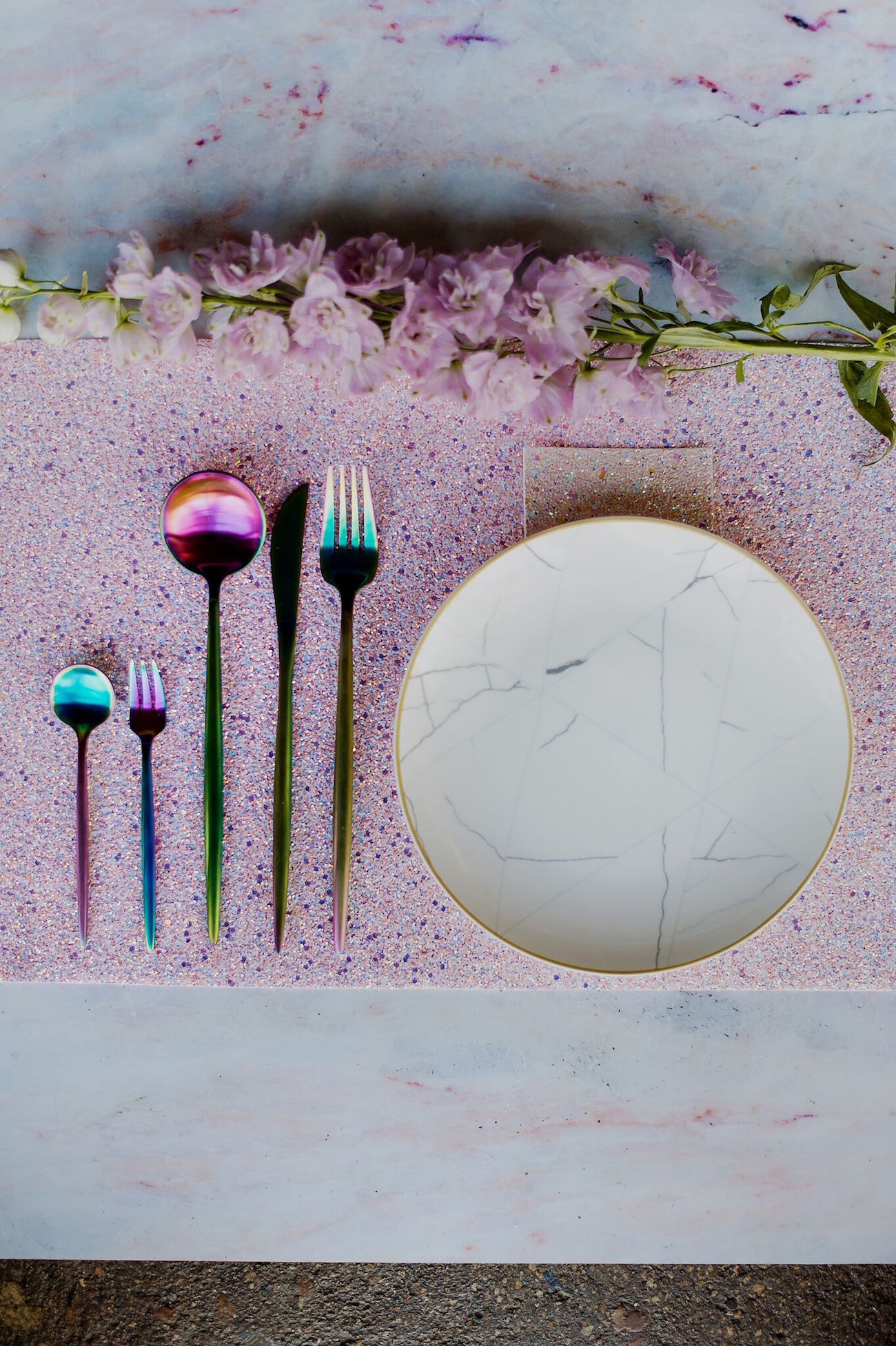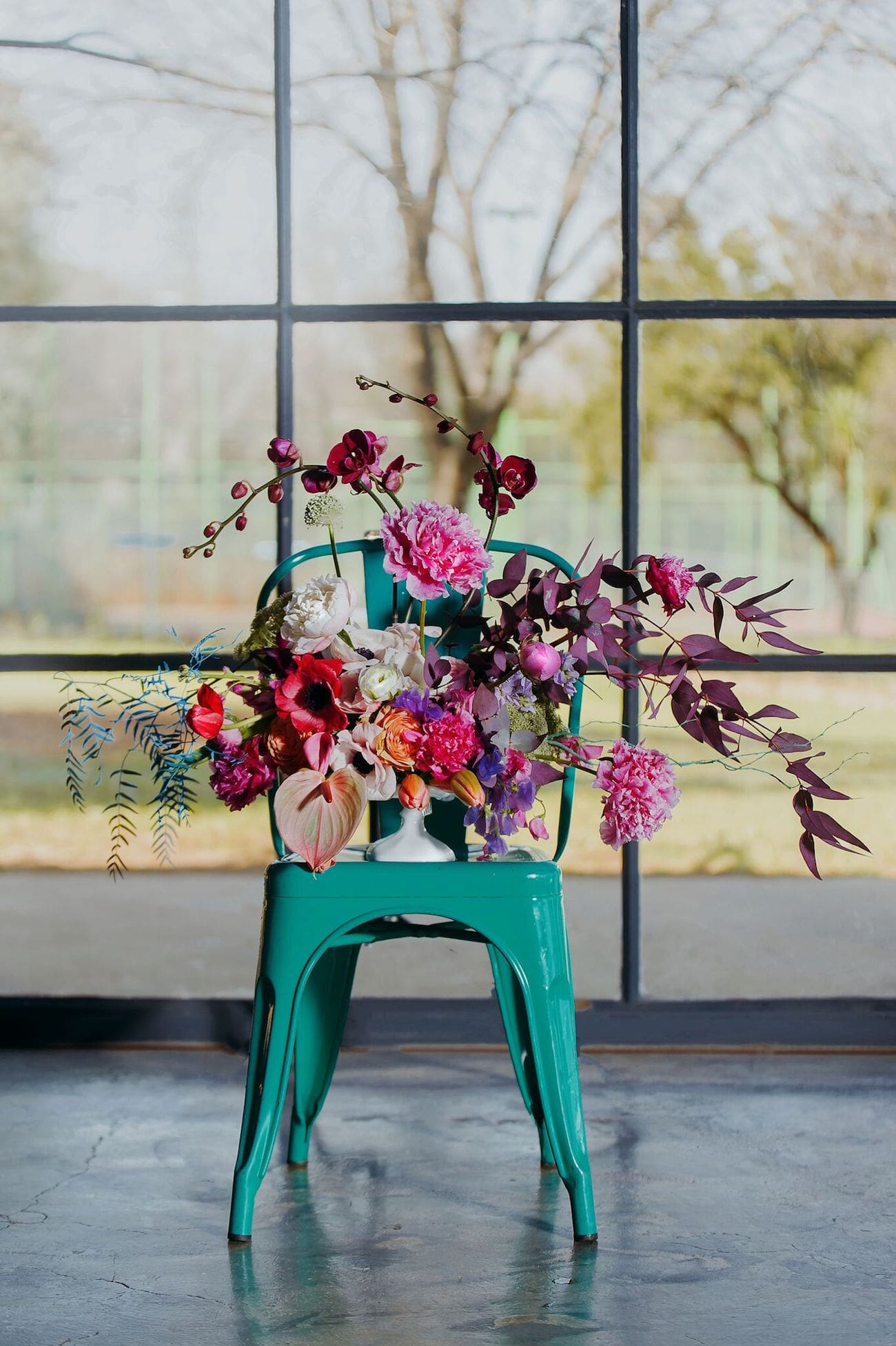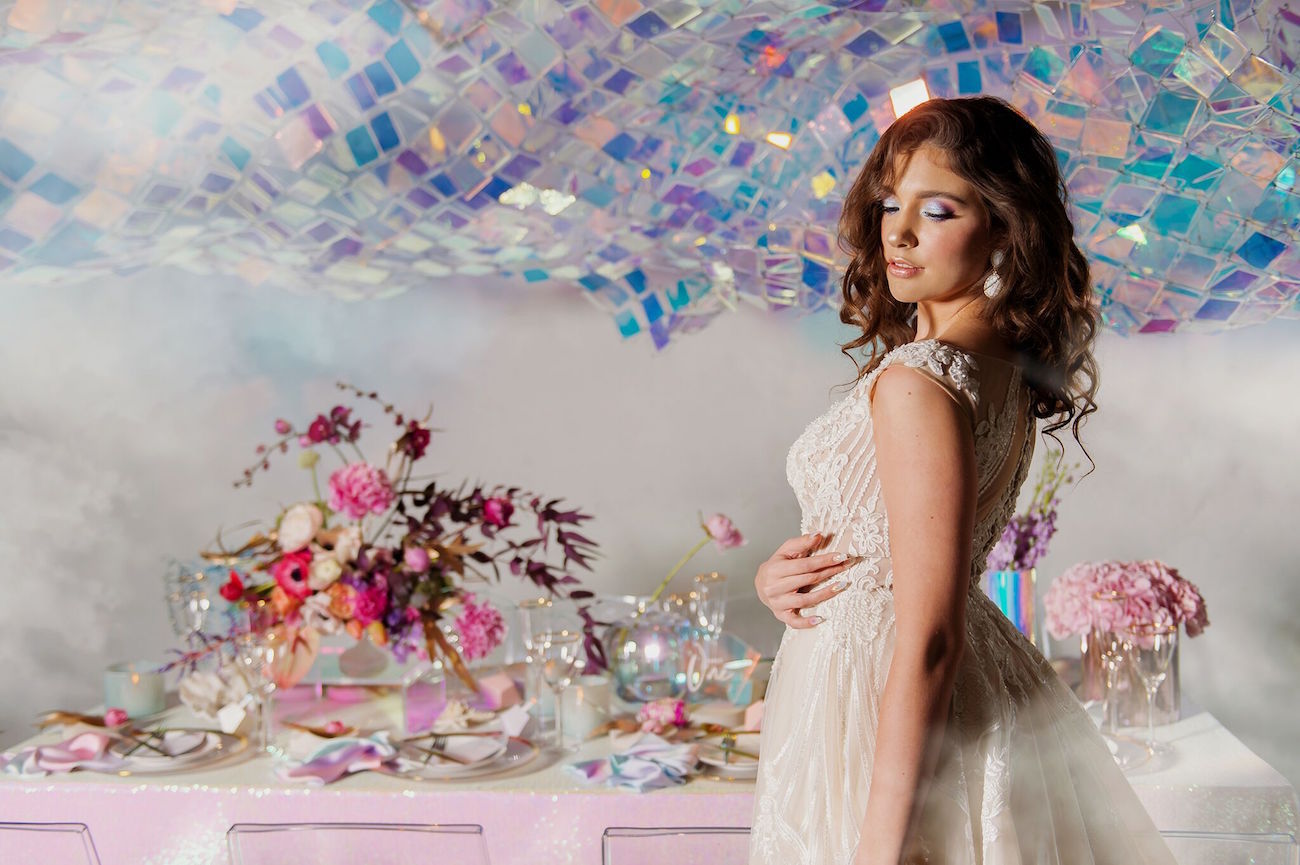 Here's some background from the shoot team:
Alluring iridescent colours and textures have been trending in the fashion, interior and fine arts arenas for some time now, and it is about time this lustrous colour theme was brought to life for the South African wedding market as material and rental resources come available. The scintillating colour palette is just a magnificent choice for a bride looking to add a dream-like kaleidoscopic quality to her big day. We jumped at the opportunity to work with the amazing Ilse Moore, renowned for her underwater fine art photography. Hence, we opted to do both a wet and a dry shoot, with subtle under the sea references tying the theme together. Iridescent colours are prevalent in the submersed natural world, bringing to mind images of mermaids, gleaming shells, scales, marble, gems and treasure jewels. The stylised underwater 'wet' shoot is representative of our bride's fantasy as she imagines herself immersed in the iridescent beauty of all her styled multi-faceted design choices. We manufactured a gleaming iridescent backdrop sculpture which we immersed in the underwater studio tank as a backdrop to our bride model. We also submersed floral arrangements, plants with bare roots and single stems of assorted florals representative of corals and seaweed. (How exciting that our passion for scuba diving was given expression in our workday as we explored underwater "extreme floristry" for the first time – painstakingly gutting, wiring and weighting the flowers to stay in position.)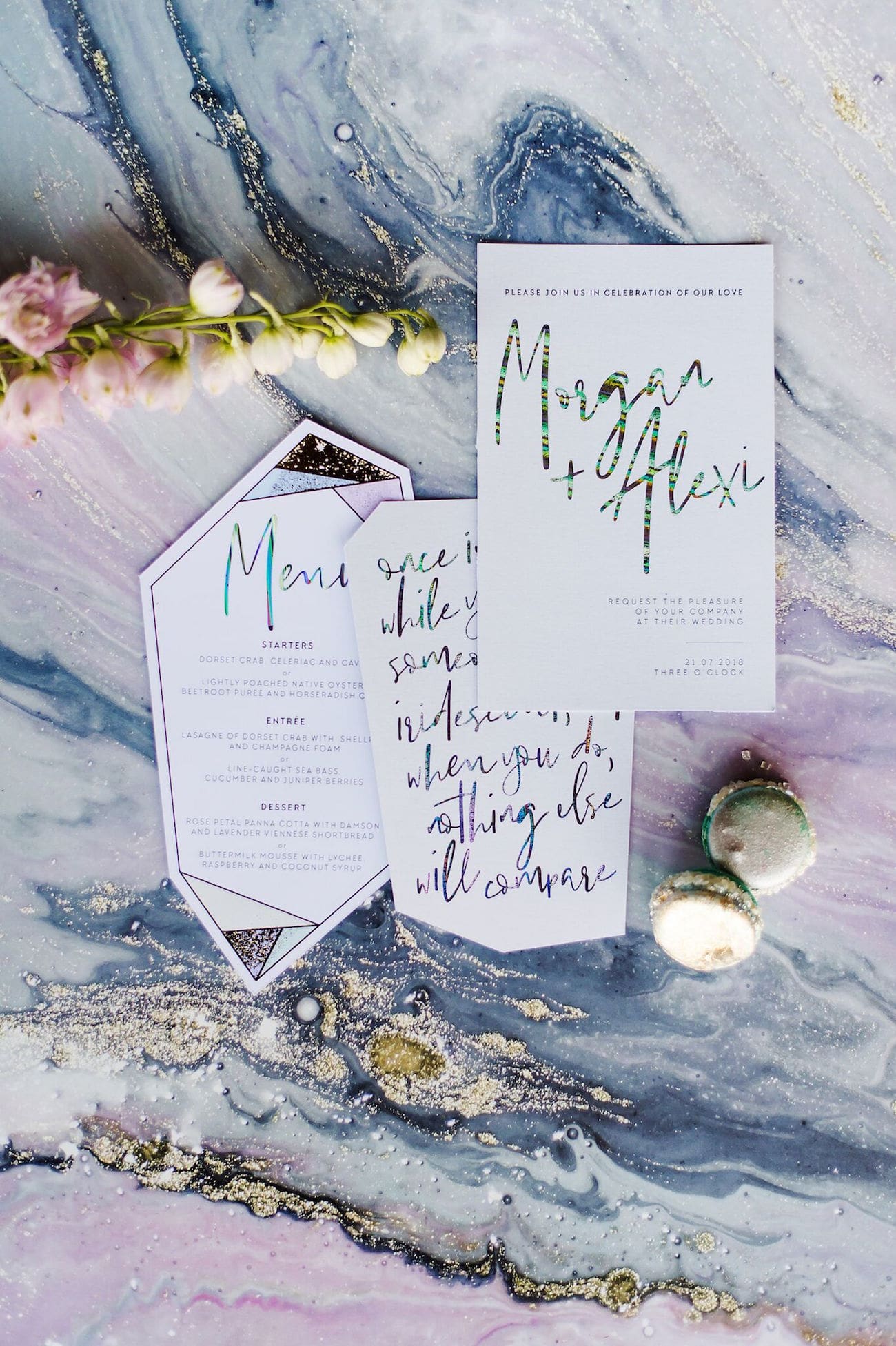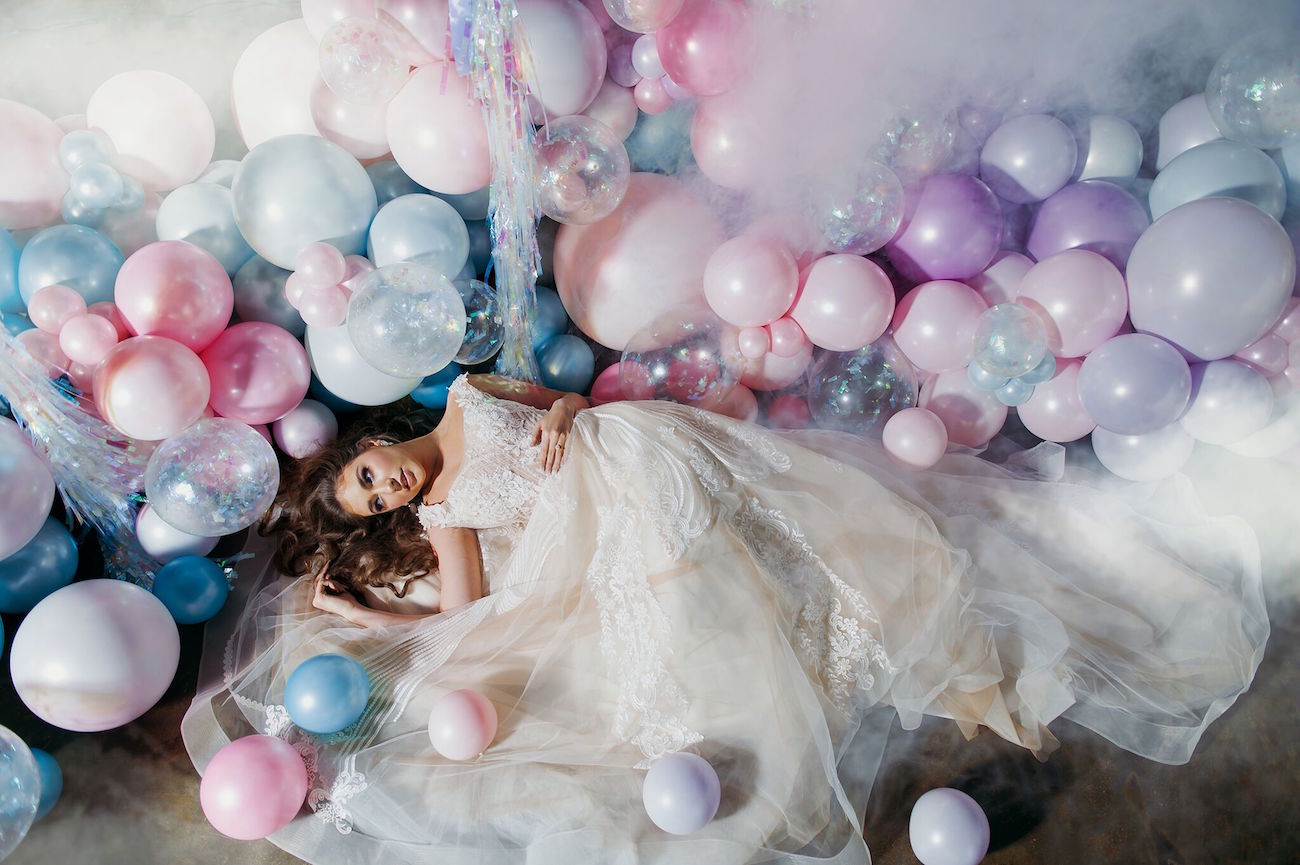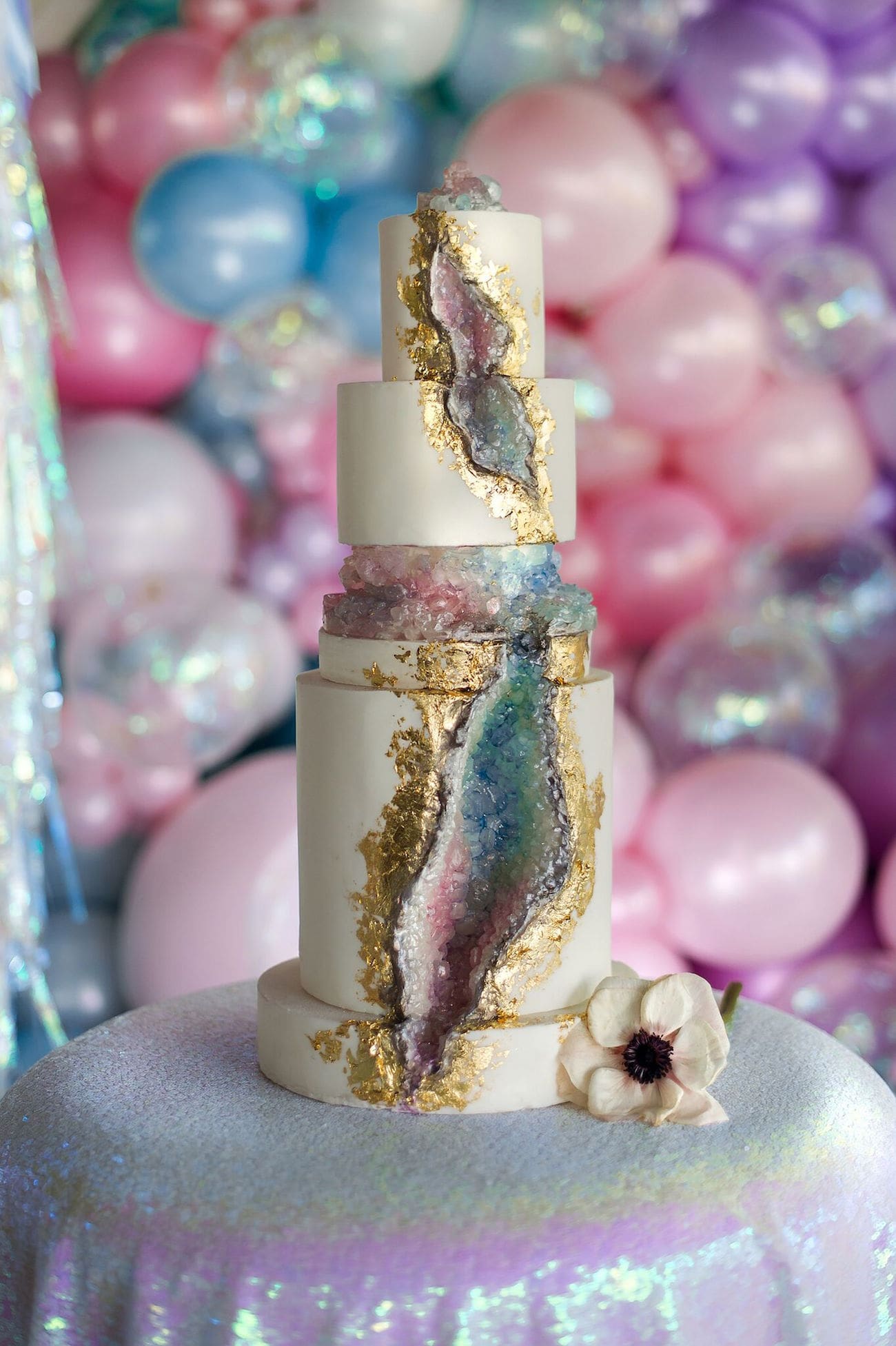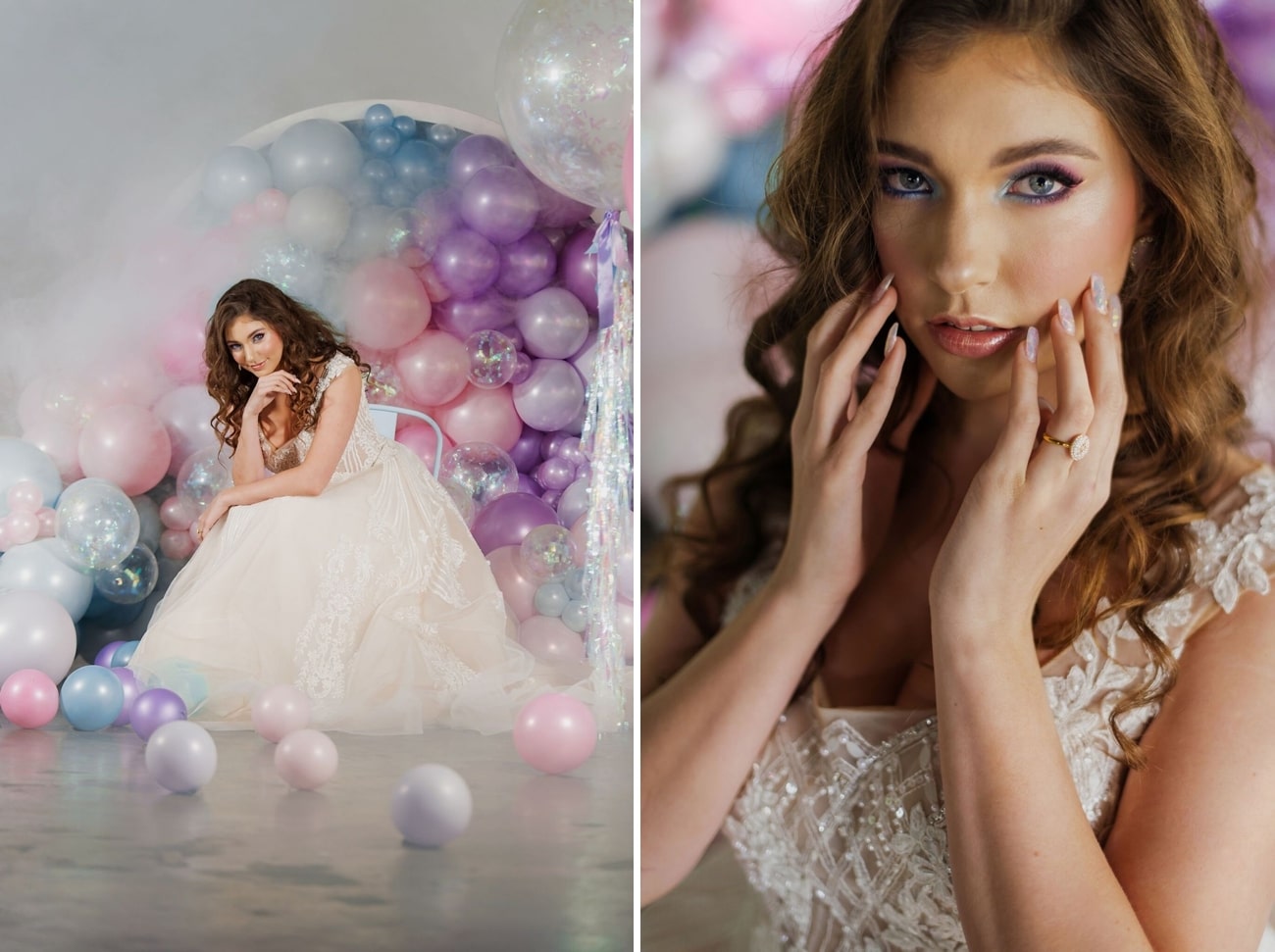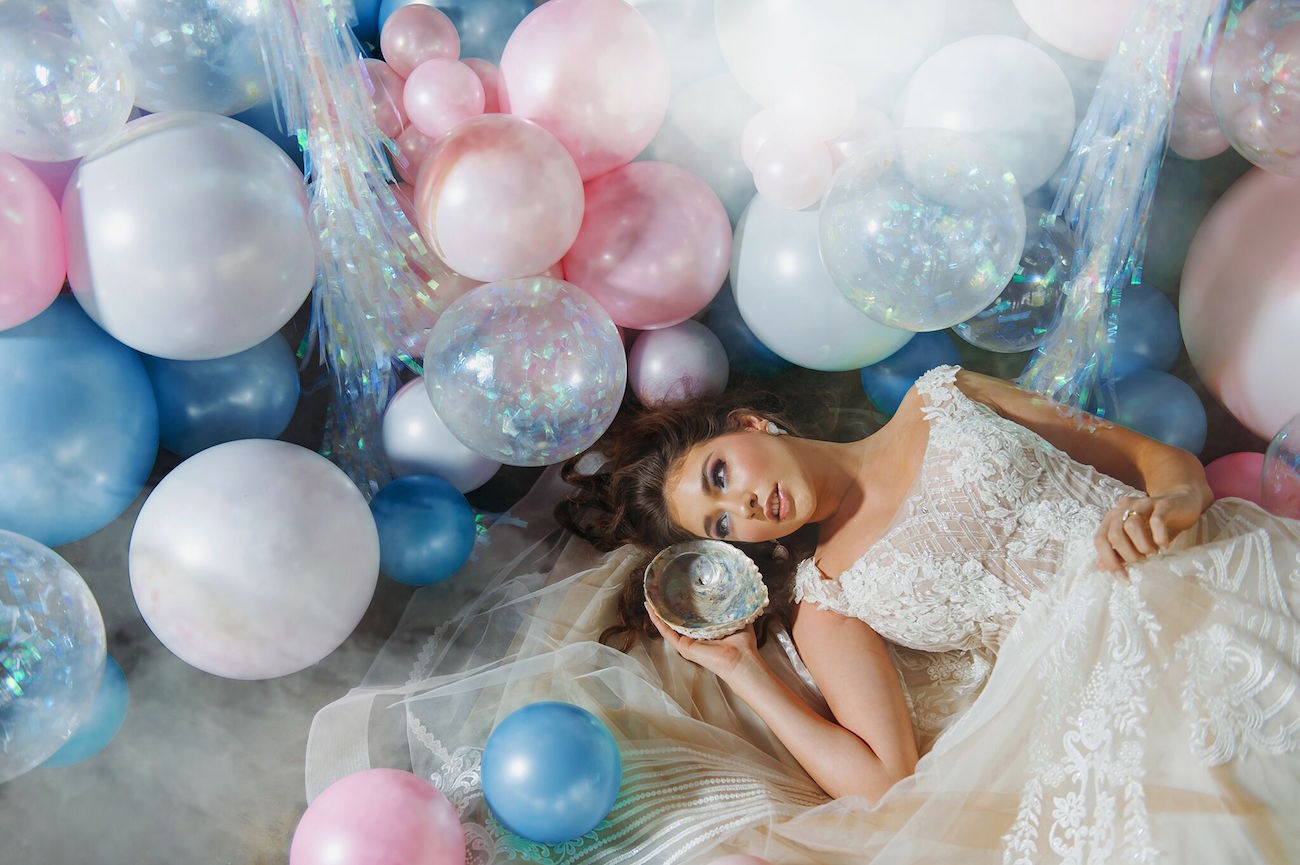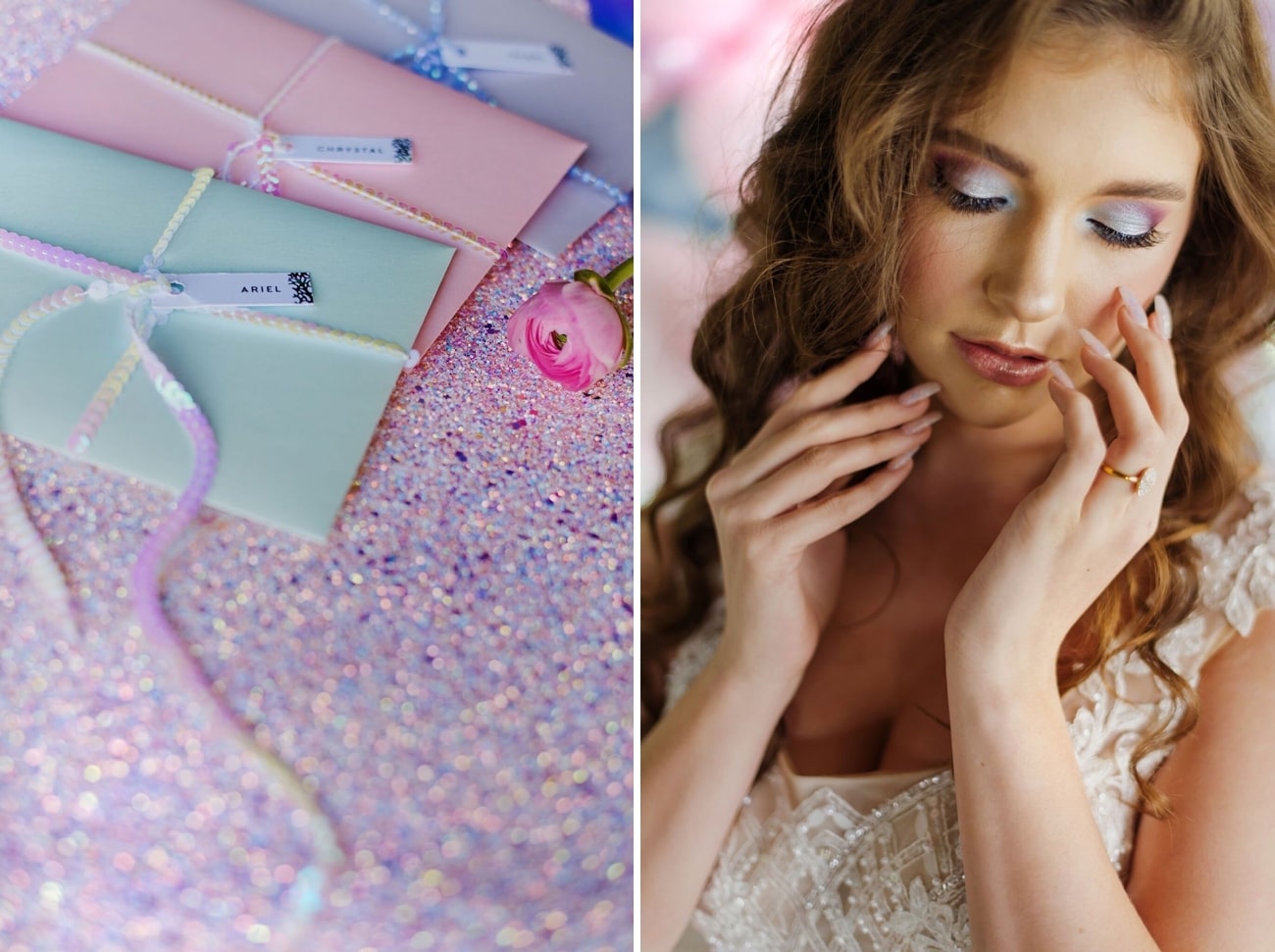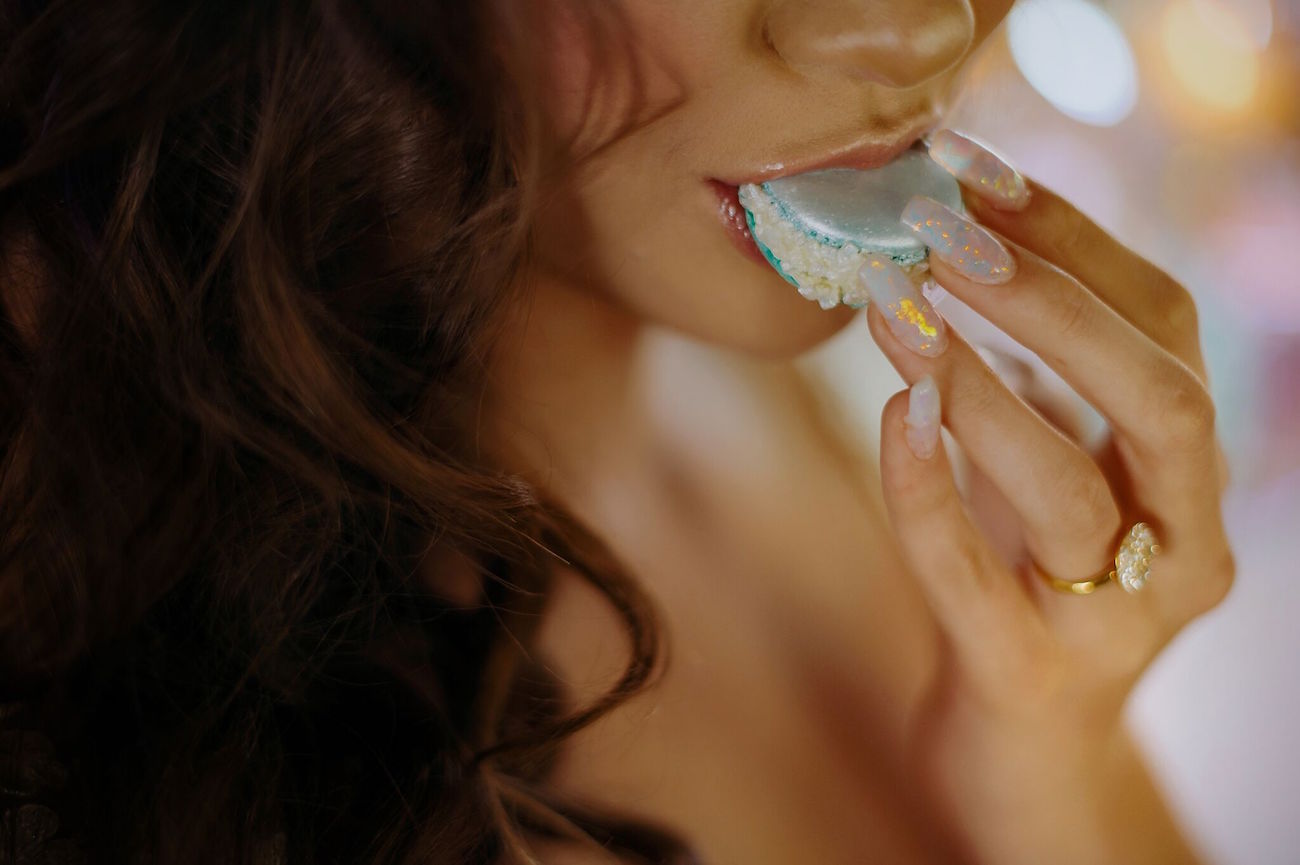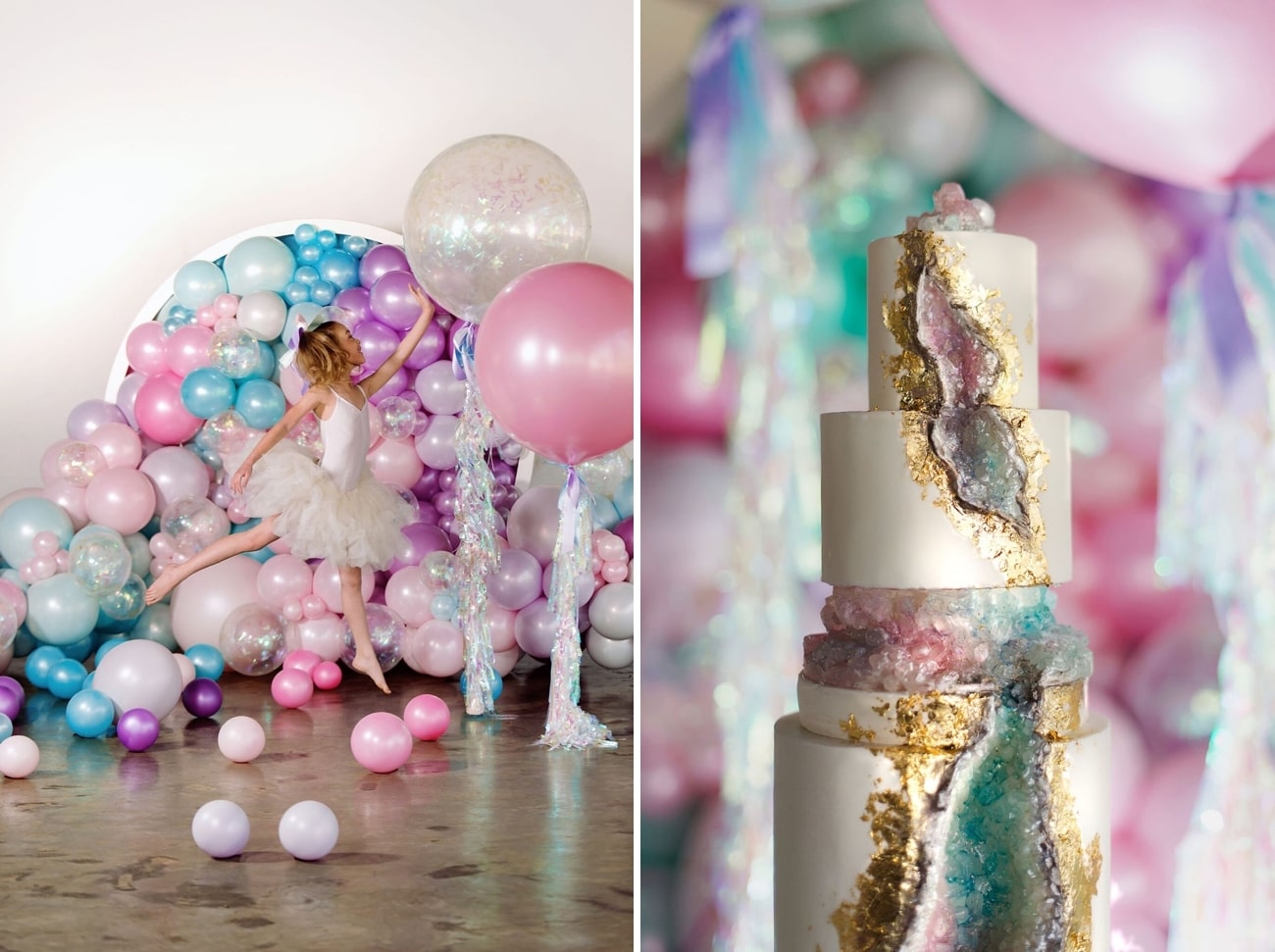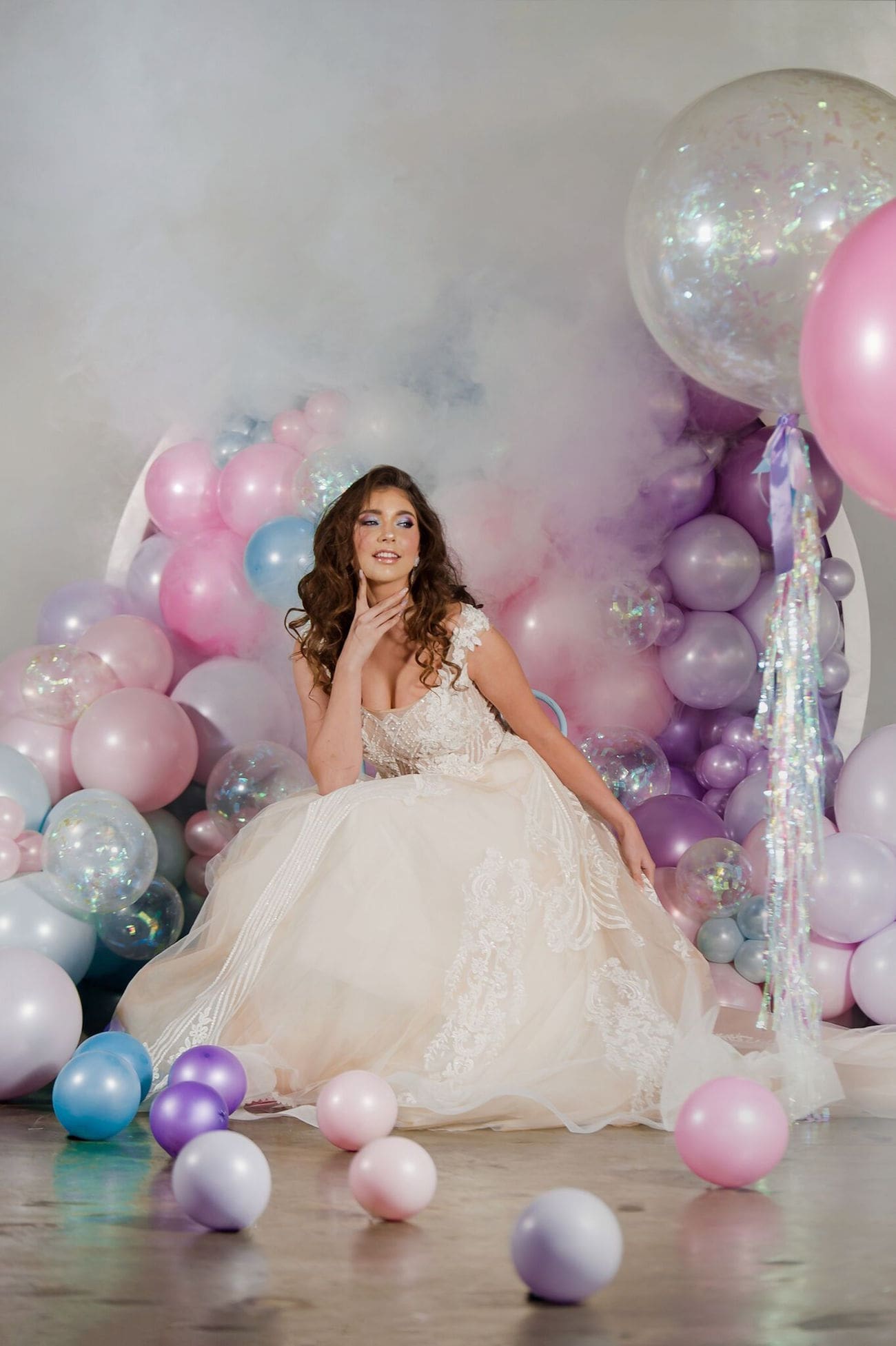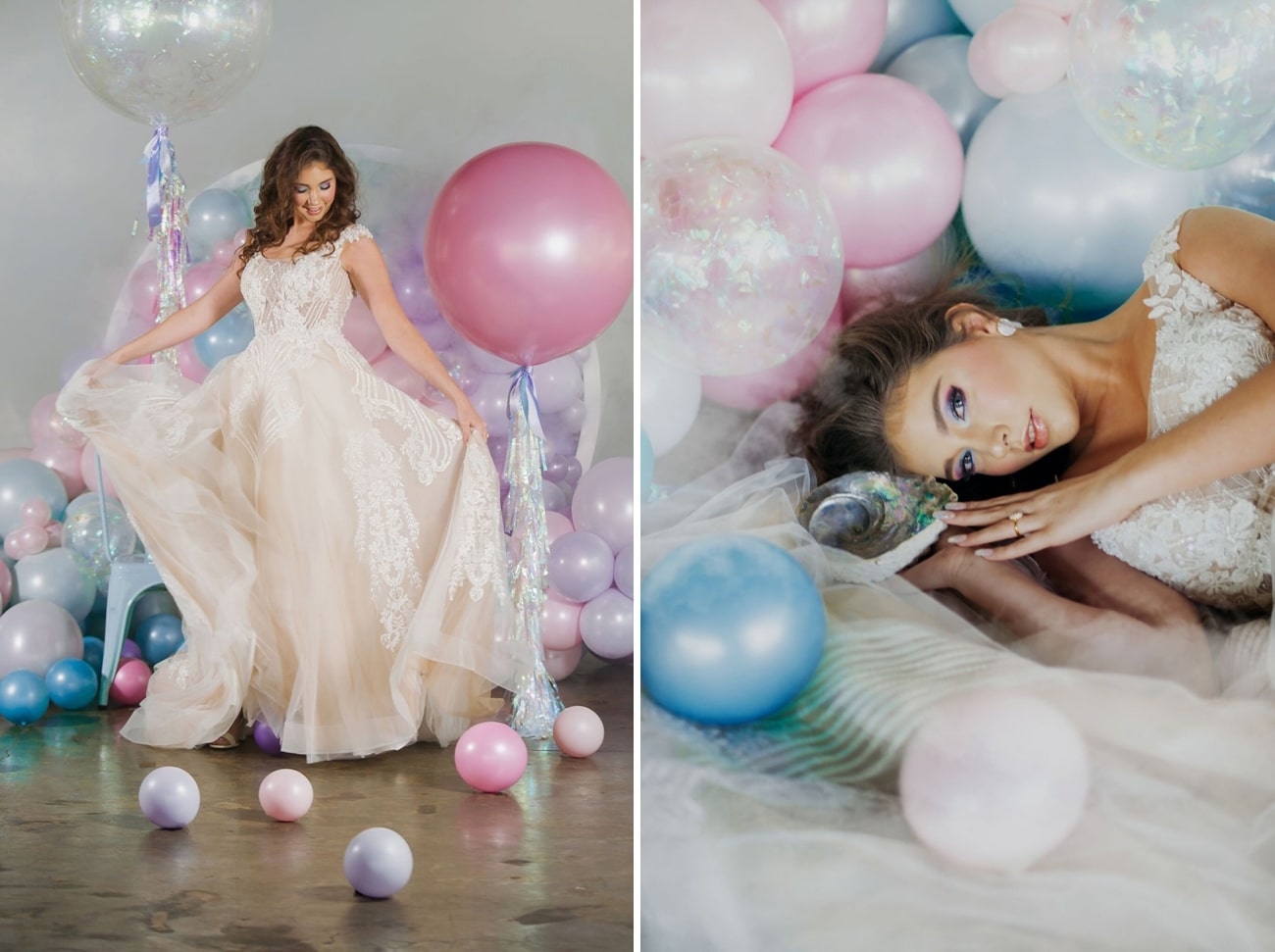 The main design element for our 'dry' shoot is our new iridescent cutlery set – the shipment set to arrive this Spring. We draped the table with an iridescent sequin tablecloth, then layered gold rim halo glass charge plates with marble printed porcelain side plates and paired them with gold rim goblets. We manufactured bespoke rainbow printed napkins and a bespoke iridescent geometric perspex table number. For the main centrepiece floral arrangement, we picked up on the dreamy reflected colour pallet and available springtime seasonal blooms – working with rhythm, visual balance and movement – creating a "floating" or "dancing" floral composition – balanced with simple single floral groupings in gleaming iridescent vases. Coral and starfish sculptures were casually scattered between the other elements, subtly alluding to the underwater theme. The bespoke geometric iridescent foiled stationery perfectly complemented the other design elements. The hero of this dreamy tablescape is of course the multifaceted iridescent sculpture hanging over the table refracting an array of dazzling light; reflected beautifully in the perspex phantom chairs, perspex raisers and other glass elements. Our gorgeous circular framed iridescent balloon feature is an inspirational concept to carry the theme through to other focal display areas. The agate foiled wedding cake and macarons perfectly complement the other design elements. Makeup and hair reflected the "mermaid-esque" qualities and we played with a subtle, shimmery look for underwater and a more striking vibrant look for the land portion. We wanted to reflect a bride with a wild, free, spirited and adventurous nature in her hair and choice of makeup. The venue we chose was a cool blank and modern space in the heart of Sandton that worked beautifully to frame the very feminine quality of our iridescent theme and bring the space and energy of our entire team to life.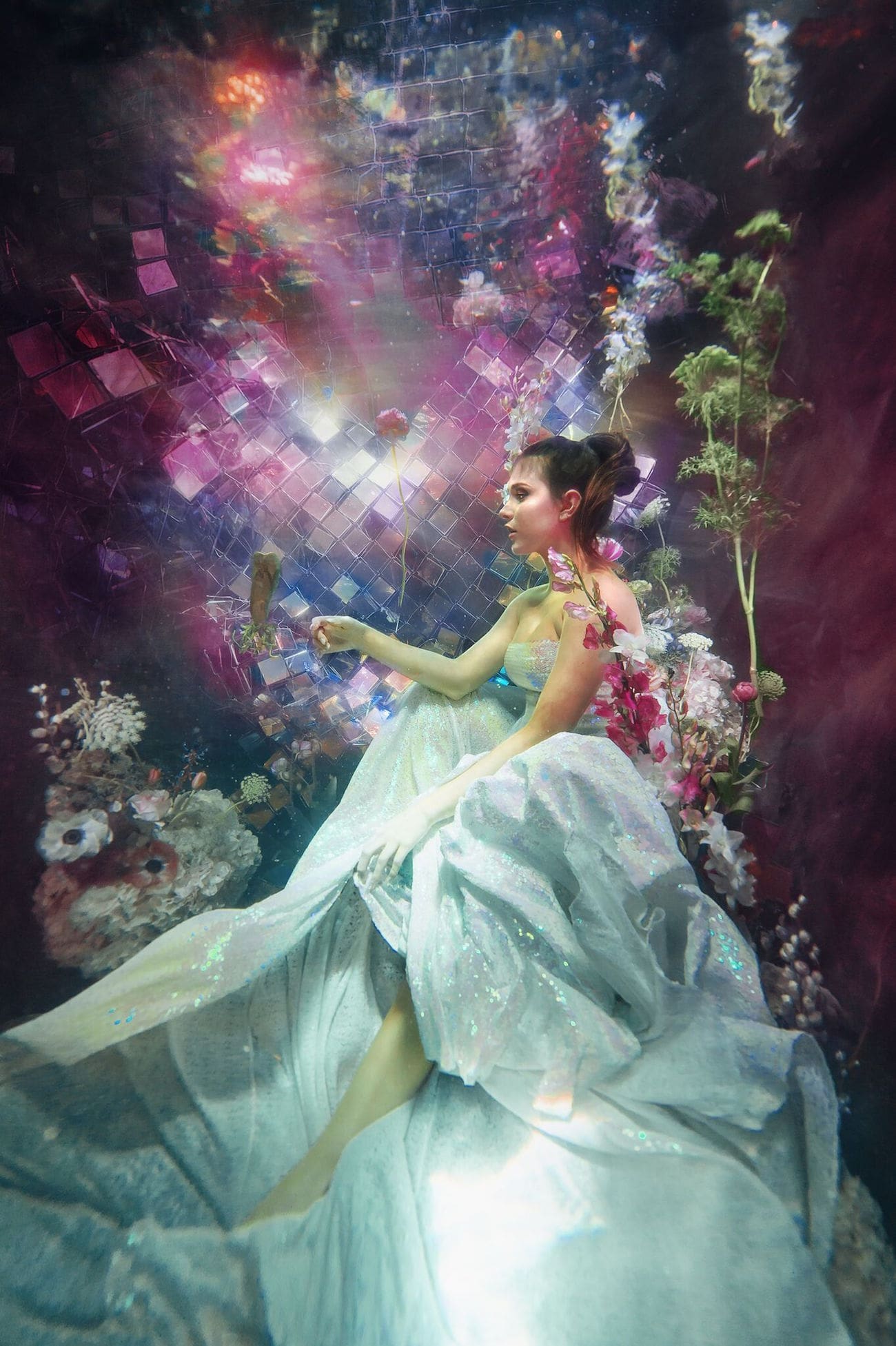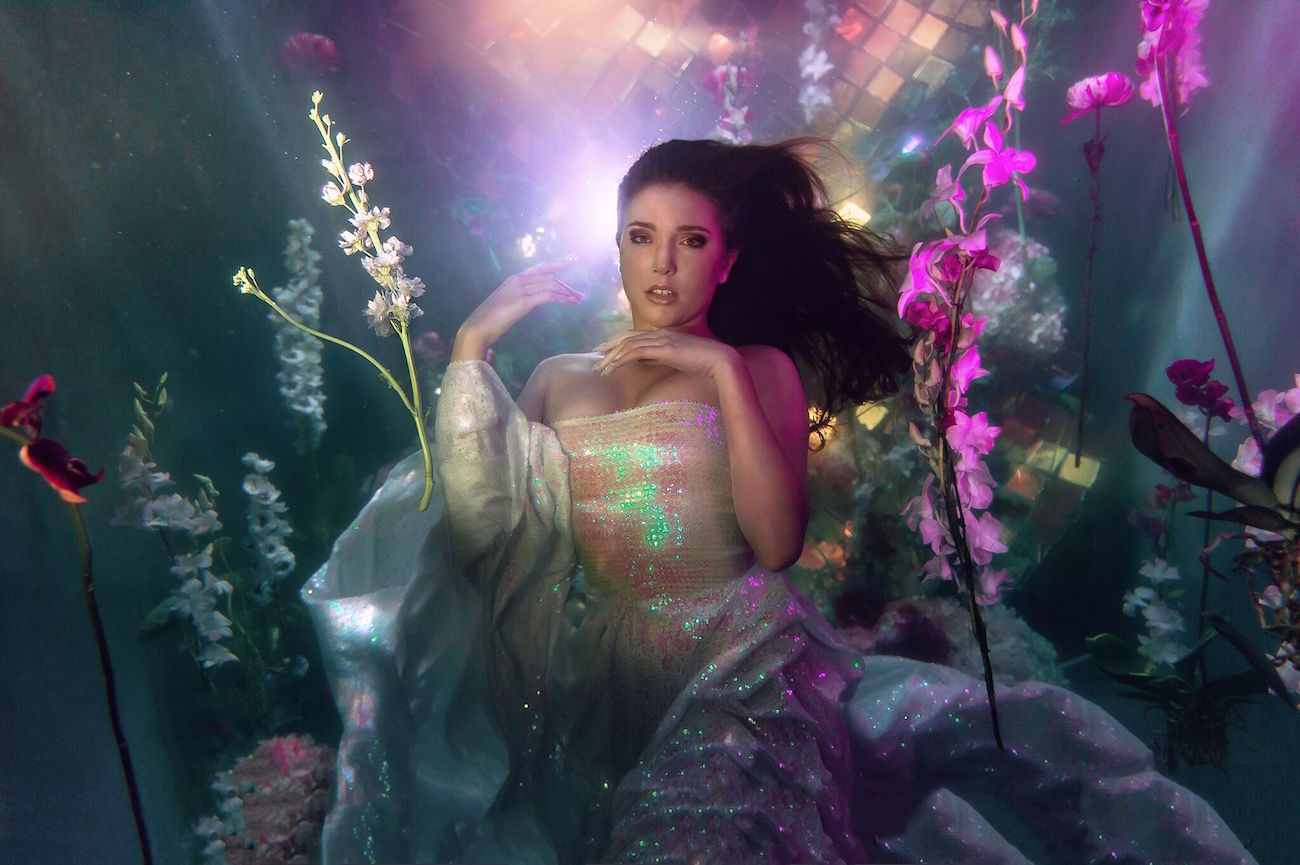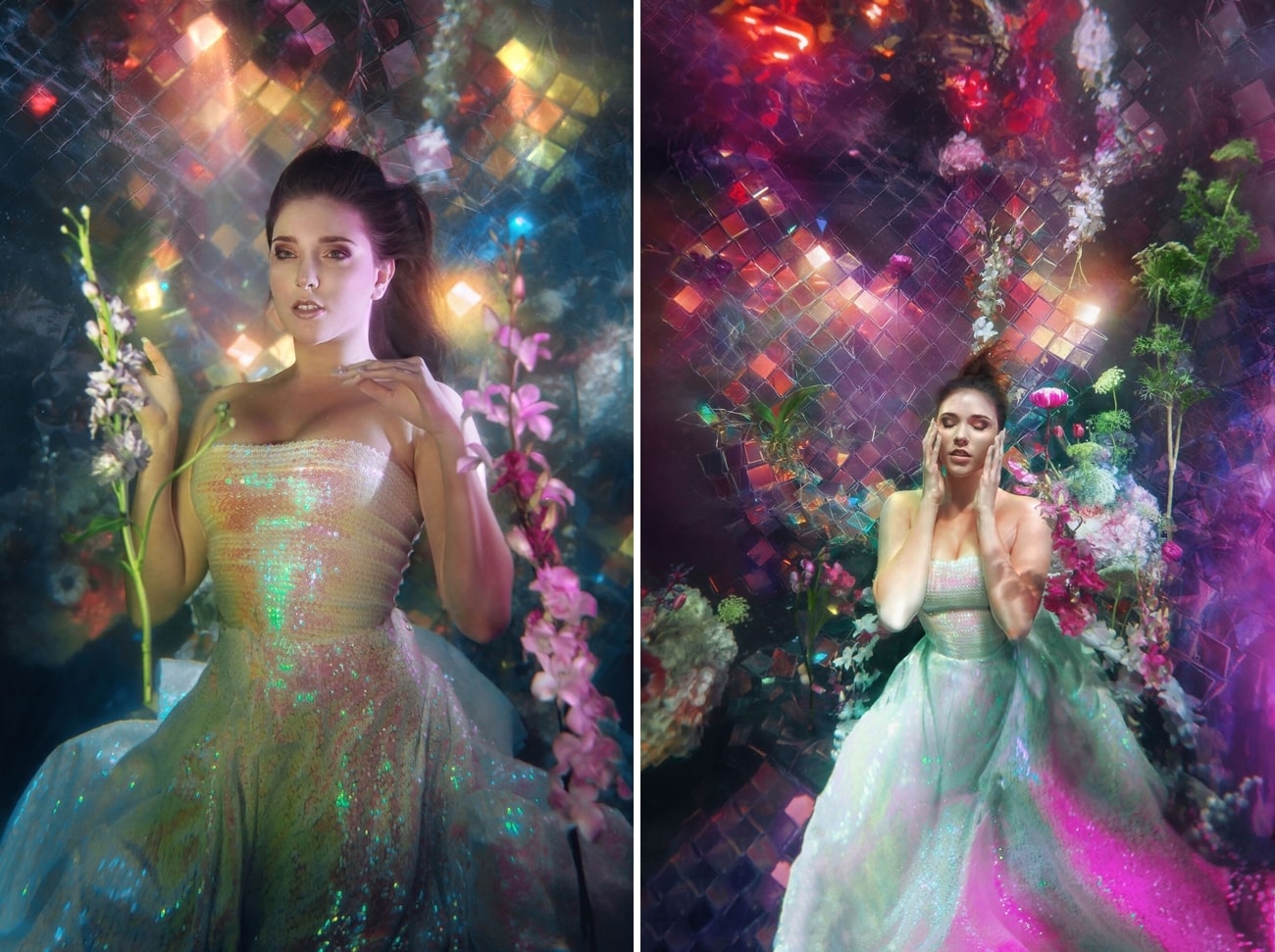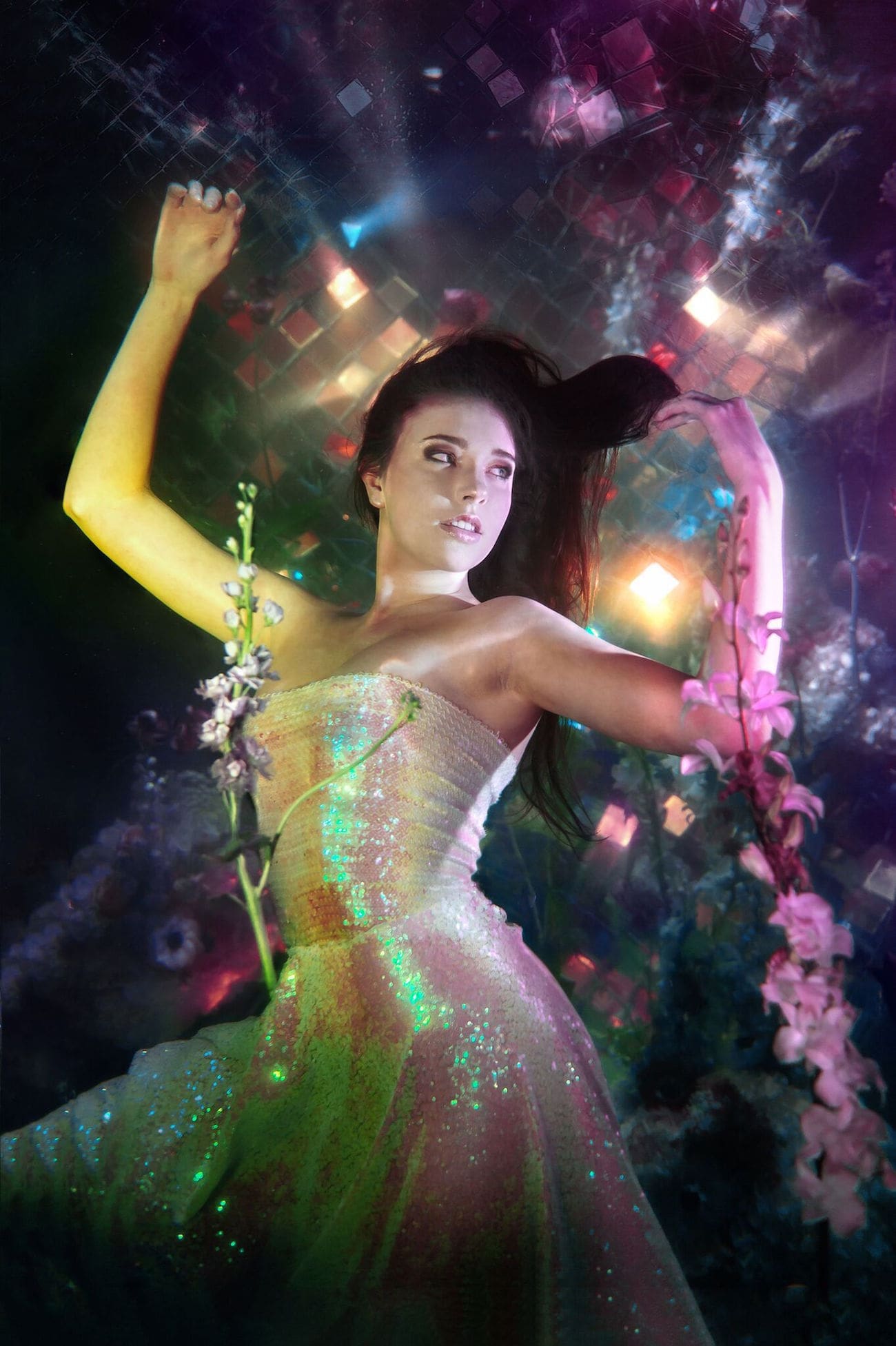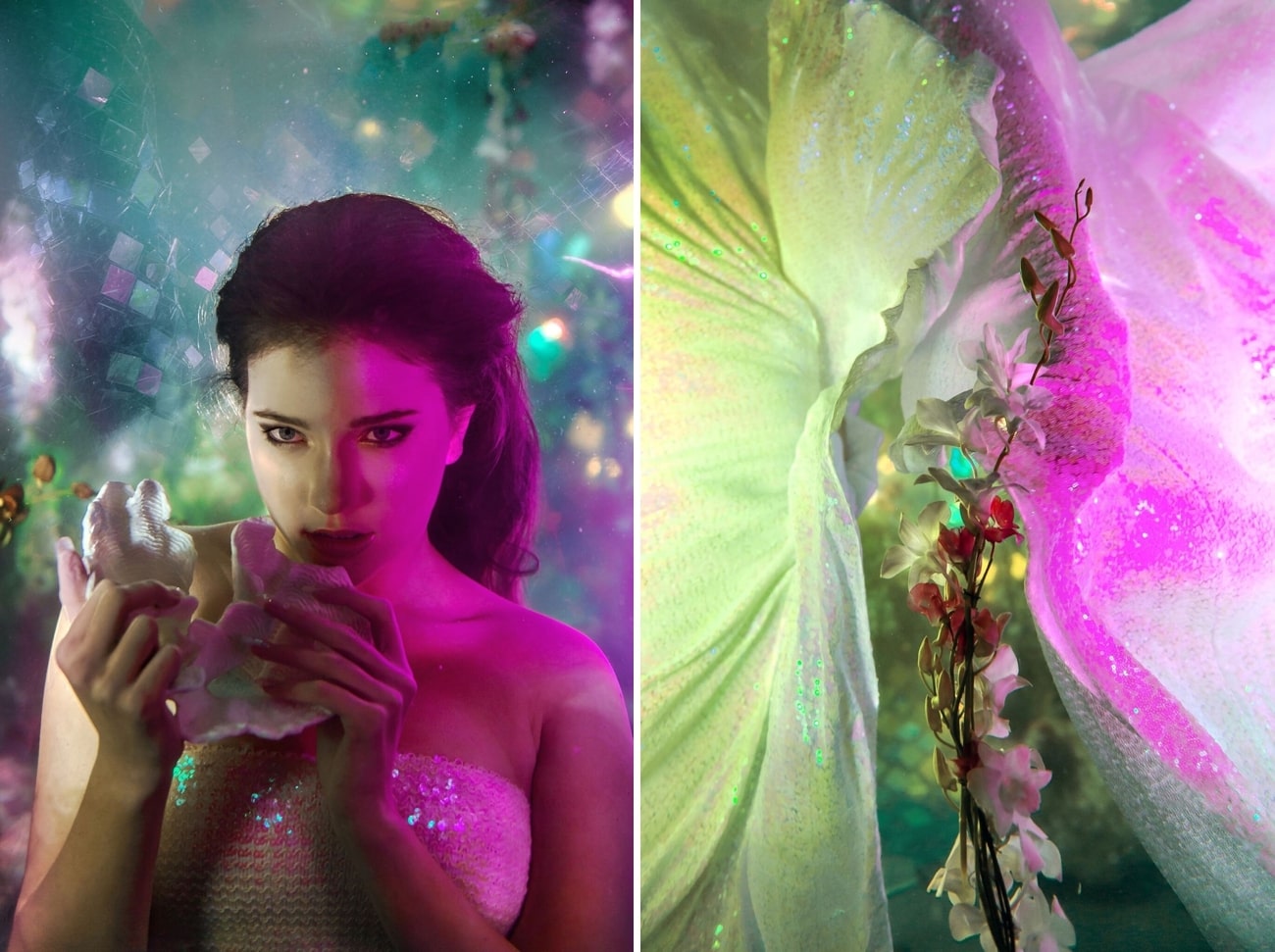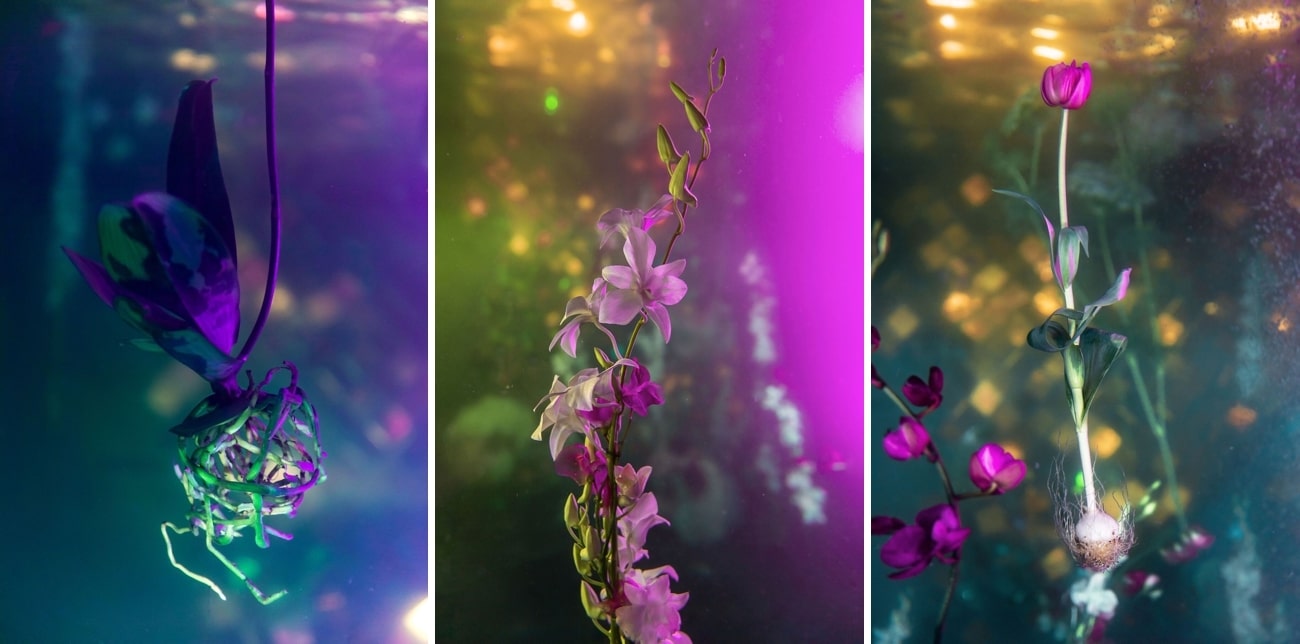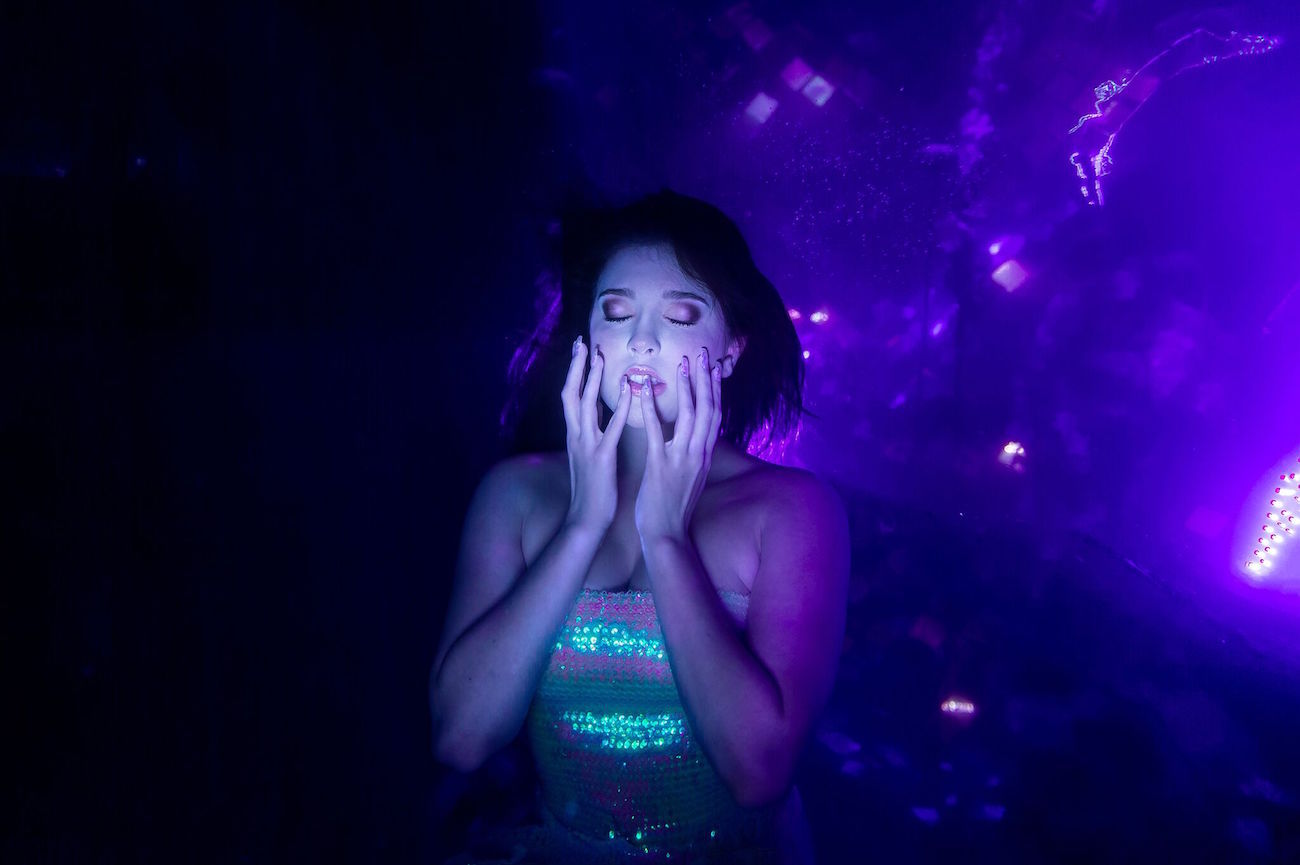 CREDITS
Underwater Photography: Ilse Moore Photography | Other Photography: Gingerale Photography | Styling, décor, concept & flowers: Jeanine Richards for Ninirichi | Co-ordination & planning: Natalie Elliot of Tickled Pink | Stationery: Charlotte Smith for The Design Lot | Cake: Elli Saayman for Turquoise Squirrel | Dress: Vonve Couture | Accessories: Model's own | Hair & makeup: Nicole Amory | Video: Gingerale Photography | Venue: The Botanist, Sandton | Model: Courteney De Kock | Smoke Machine: Starry Night | Balloons: The Pop | Furniture: Inspire Furniture