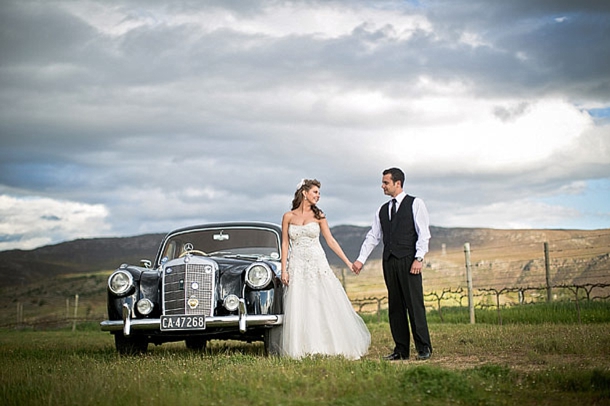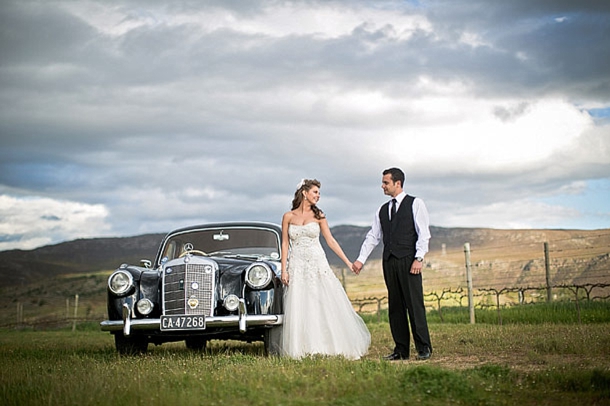 A few months ago, as you may recall, I opened up our Real Life Bride feature to our readers. I was hoping to hear from one or two of you, but instead, within days, my inbox was full. The BEST kind of emails – mails full of passion and excitement and plans and inspirations. I felt like I could picture each and every one of those weddings, and even though I could only pick one (okay, I picked three), I knew it wasn't the last I wanted to hear of the others. One of my favourites was a submission from self-confessed "huge SouthBound Bride follower" Estie, whose big day was too soon for the series, but who described in detail the French-inspired fantasy wedding she and her fiance had dreamed up (with a bit of help from SBB!). She described a spring wedding, romantic and glamorous in Parisian shades of mauve, pewter, black & white, with a water feature and a transparent marquee full of twinkling lights reflecting the stars above. It sounded… well, dreamy is the only word I can come up with (even if it makes me sound like I should be at a sock-hop). Anyway, fast forward to a few weeks ago when talented Cape photographer Adene told me about her latest wedding, which she described as A-M-A-Z-I-N-G. And amazing it was. It also turned out to be Estie's, and I'm thrilled to be sharing it with you today! (Oh, and PS: THAT CAKE!)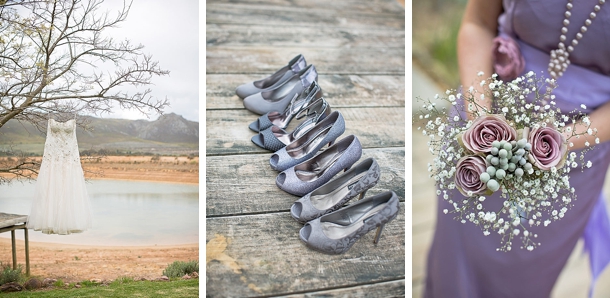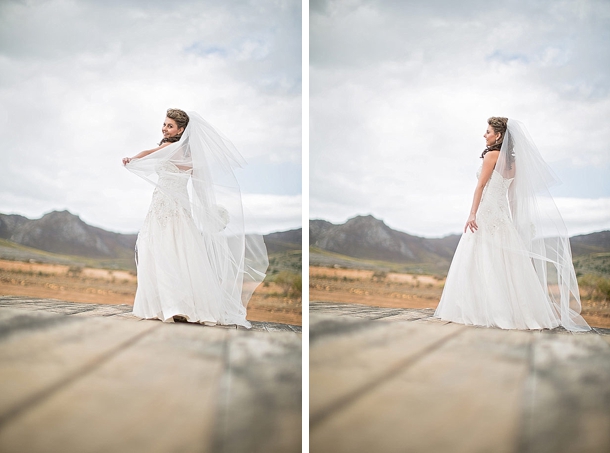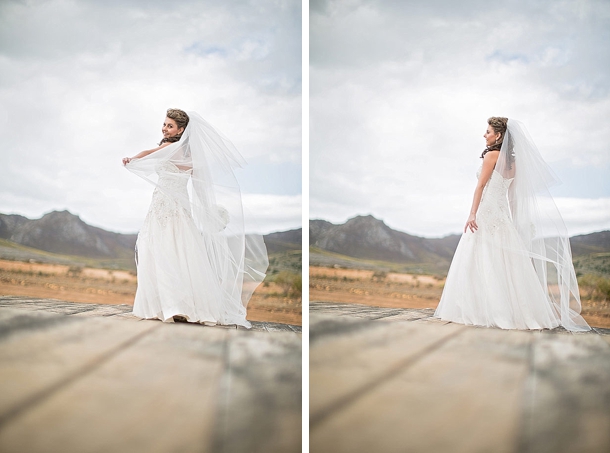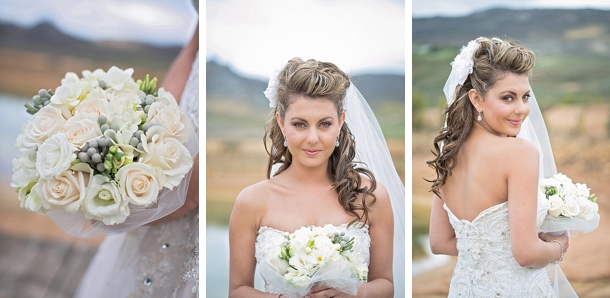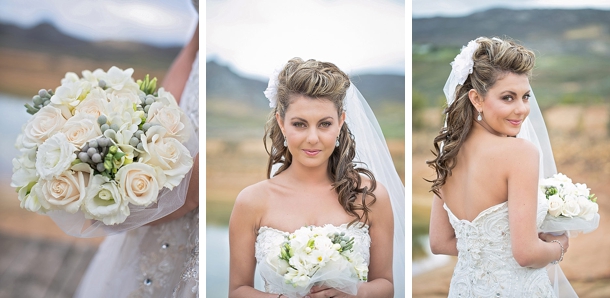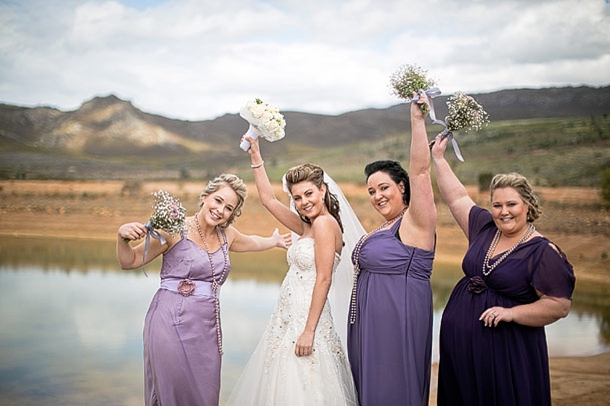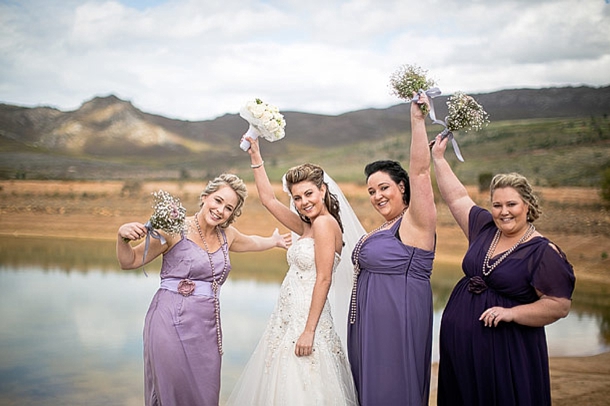 From the lovely Estie:
Francois and I met about ten years ago when I walked into his classroom as the new girl… and since that day we've walked a long road together, getting to know each other and sharing our life experiences. He has always been my best friend and because he was a very shy guy and I was always skeptical of love and commitment, it took us a bit longer to finally confess our feelings to one another and start our journey together!
He finally proposed about a year ago on our anniversary. He took me to Herold's Bay for a surprise weekend and proposed out of the blue while we tasted wine. He was so nervous! It was adorable.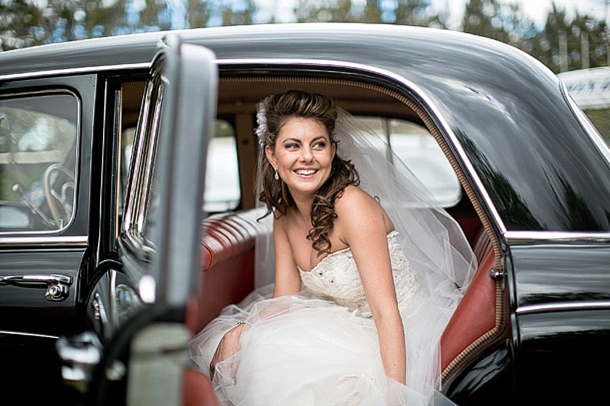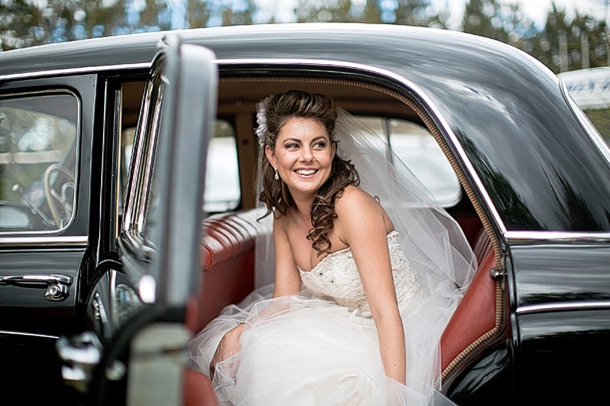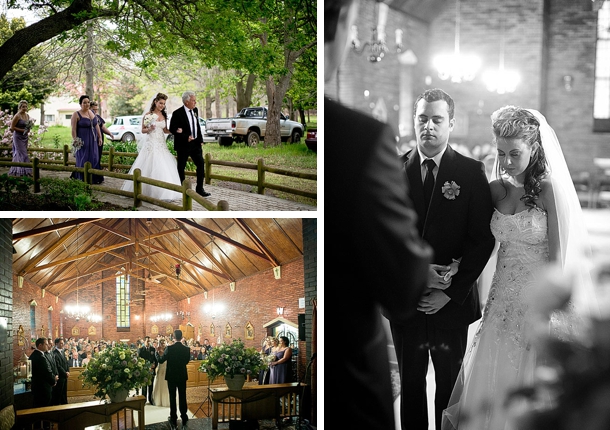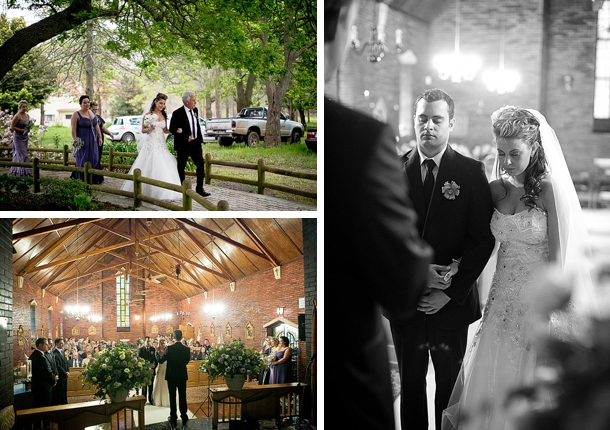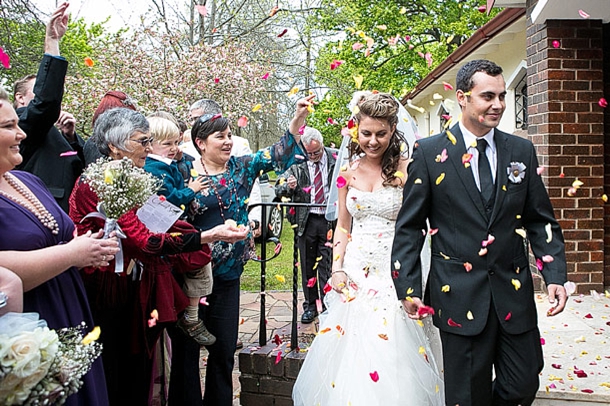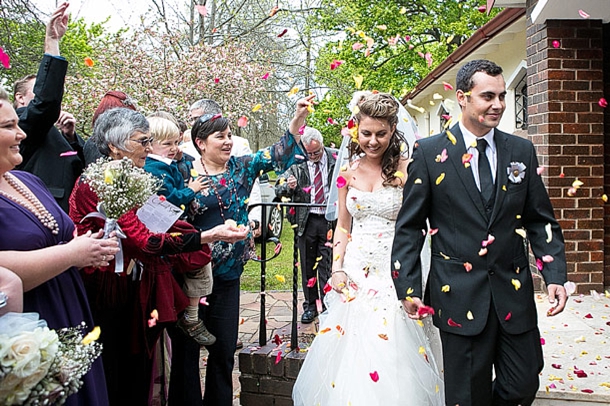 I'm one of those brides who's always been dreaming of their wedding day. So Francois and I sat down and combined our ideas to create our perfect day. We wanted a wedding where our guests would enjoy good heartfelt food, music to keep everyone off their seats and a vibe that said: romance with a touch of sparkle! We decided on black, white, pewter grey and hints of mauve and purples for our colours and a French theme with a sparkling, magical feel.
The venue sort of fell in our lap… I wanted to get married in springtime in the blossoms, and South Hill in Elgin had a stunning water feature that we wanted to incorporate. I pictured a see-through marquee, glittering with chandeliers in the night reflecting onto the water… and of course, if you look up you'd have the stars for more sparkle! Plus, Gordon end Emma from South Hill were incredibly helpful and flexible – nothing was too big or impossible, which made it so much easier for us to pick their venue.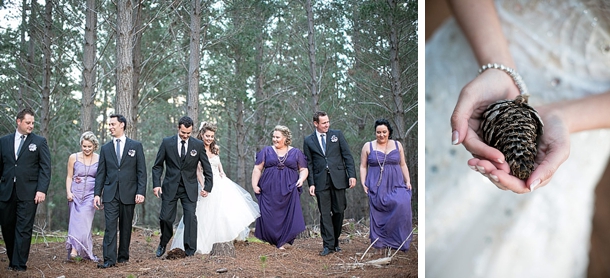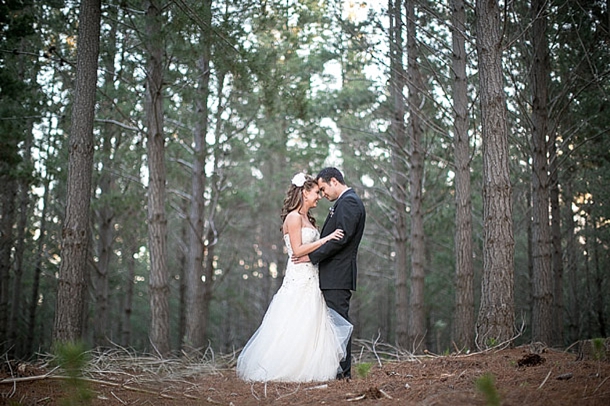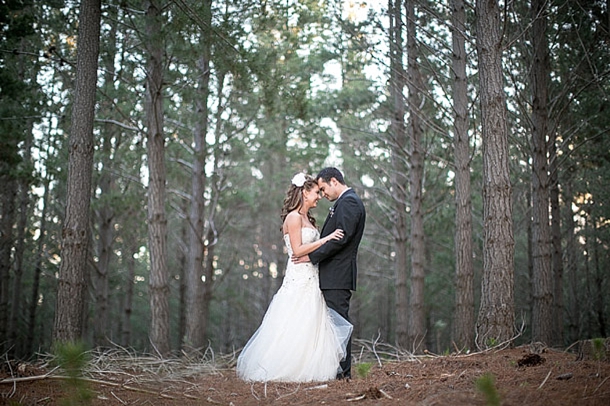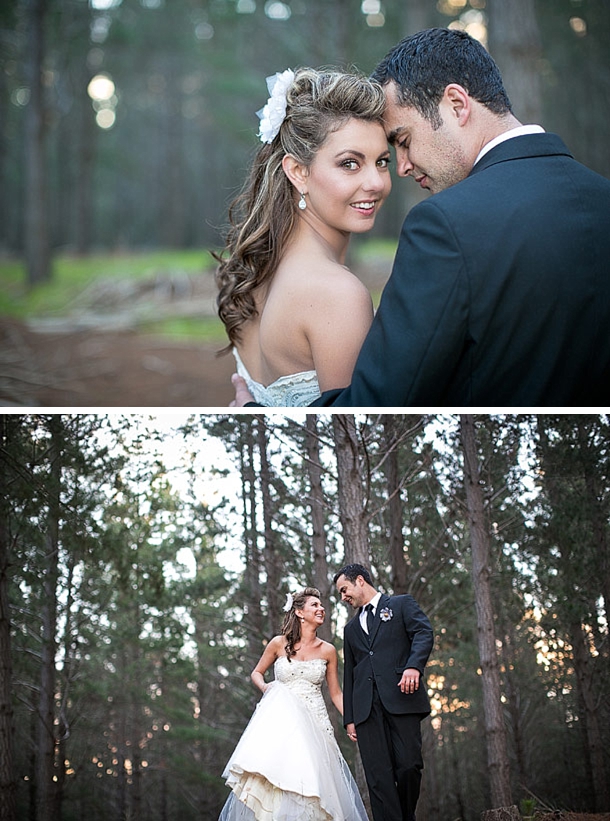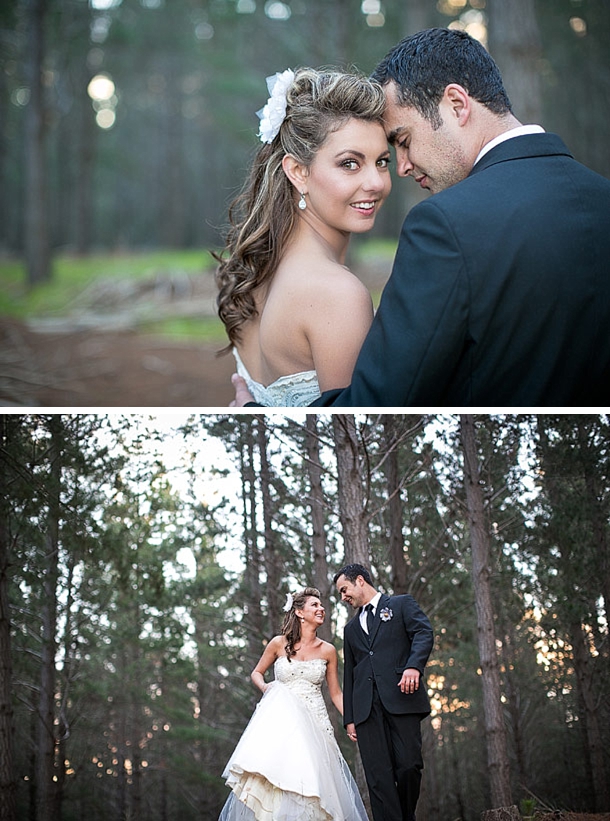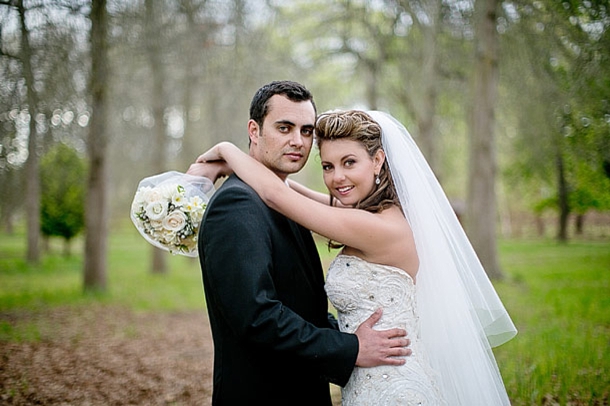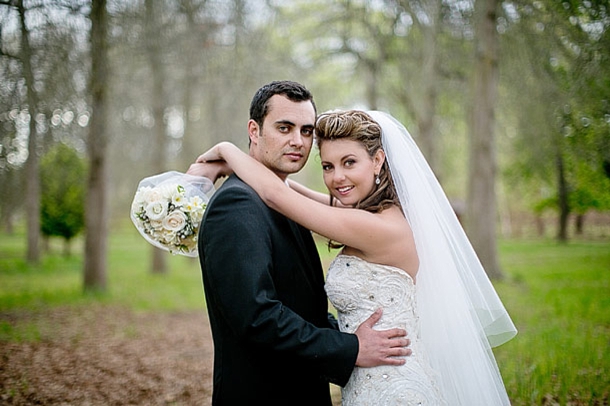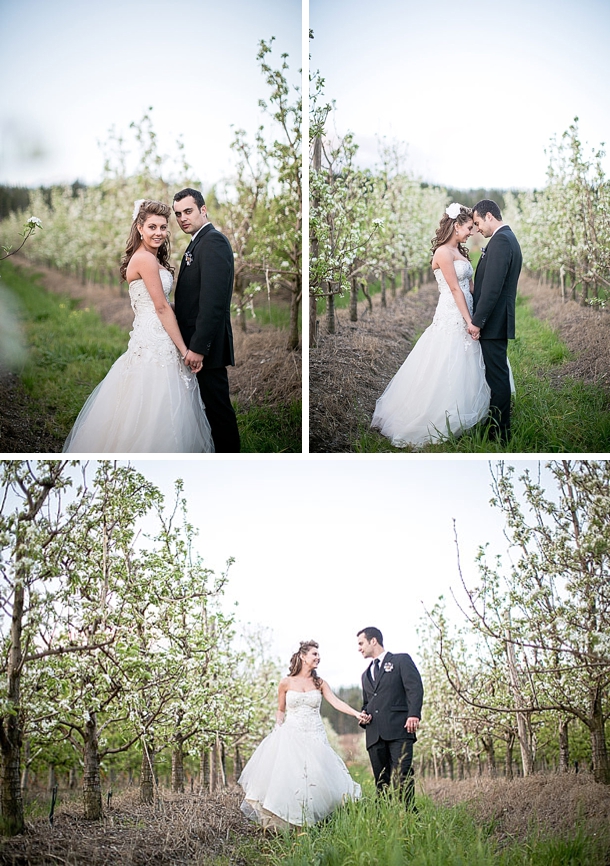 Flowers were a challenge because of the time of year. I knew I wanted soft roses in a mauve/purple colour and also an off white rose and lots of grays in between..and lots and lots of baby's breath! I find it beautiful and romantic and so so soft. We wanted chandeliers everywhere to create that magical feel, plus candles all around the water feature. To create a French market feel at the pre-dinner drinks, we had French furniture scattered everywhere, a violinist and accordion player playing French café music, and delicious warm crepes and yummy coffee.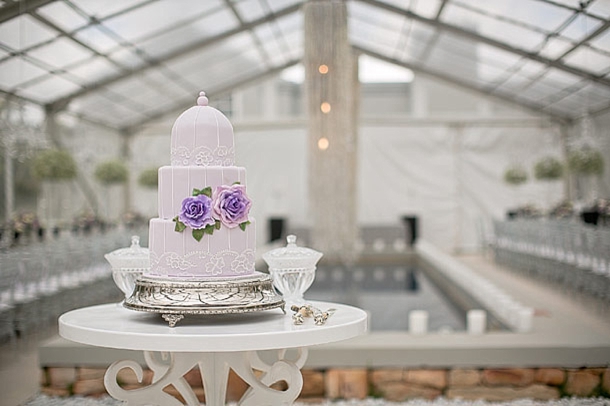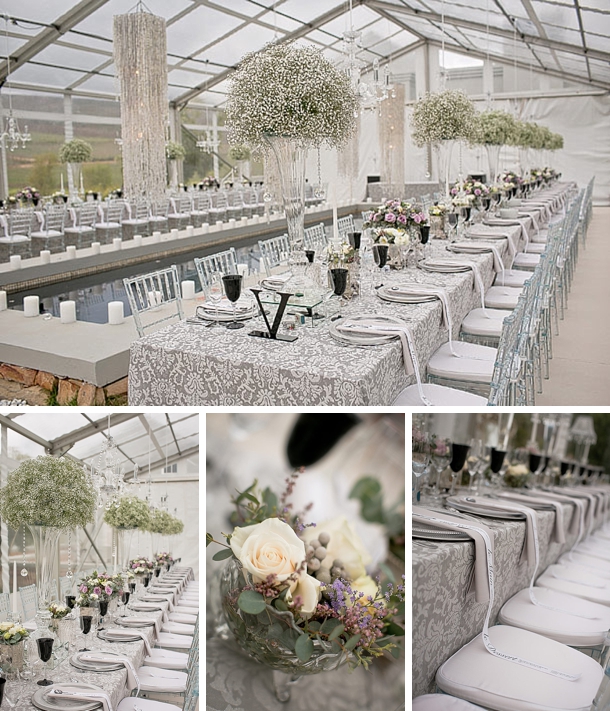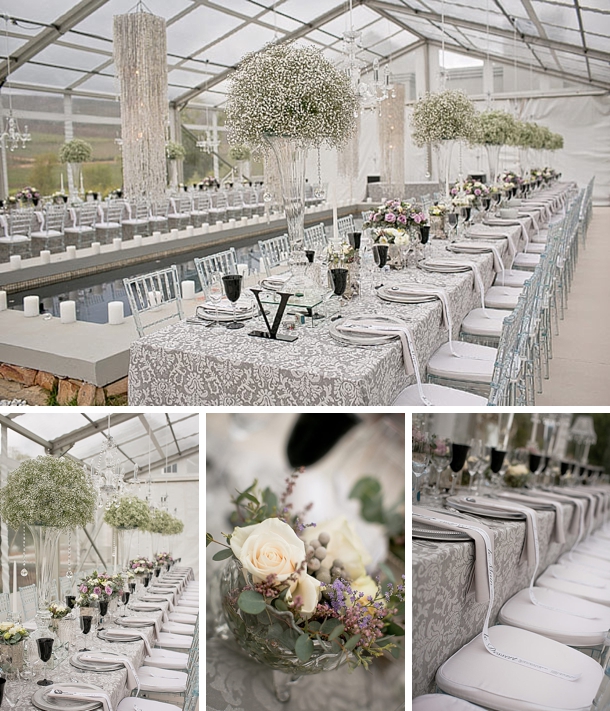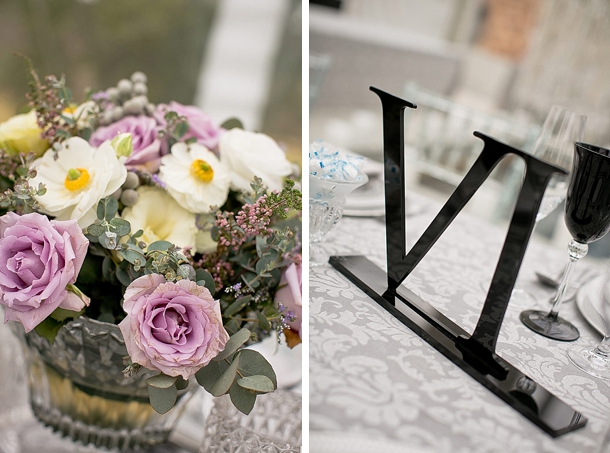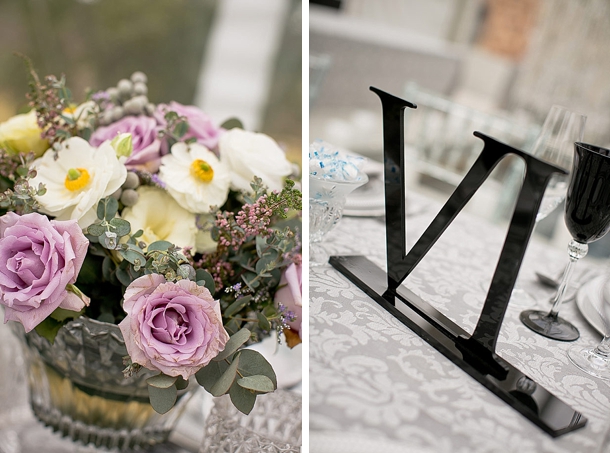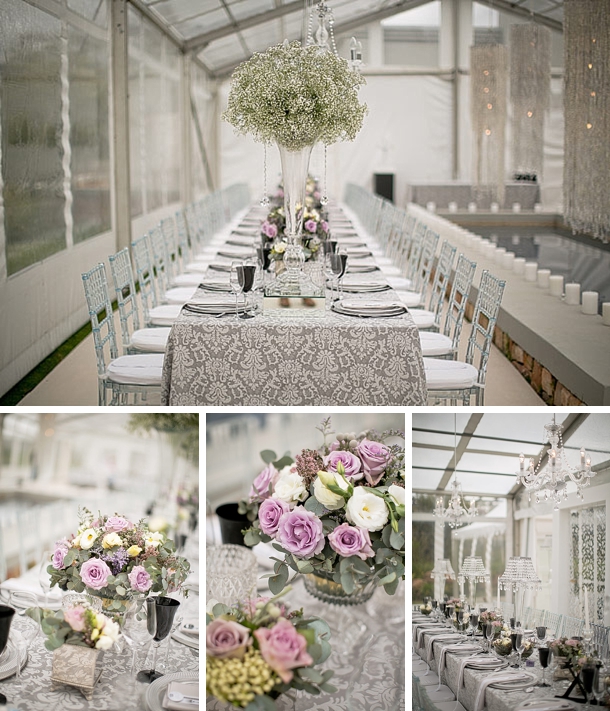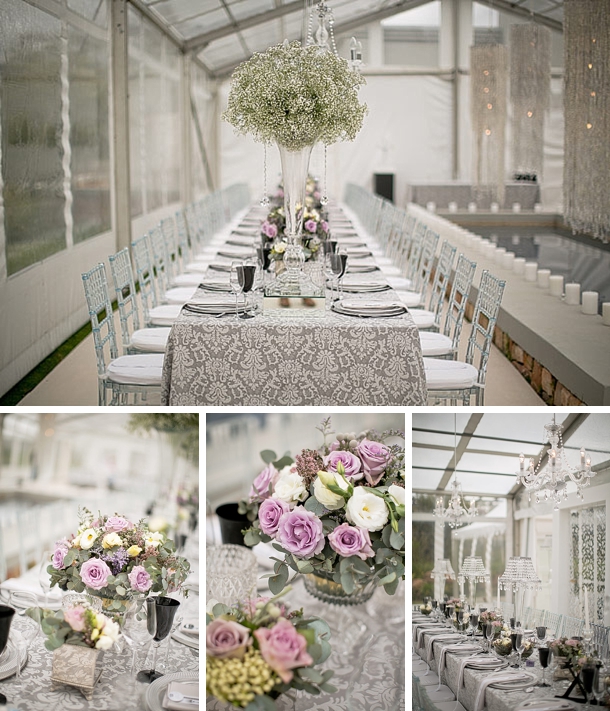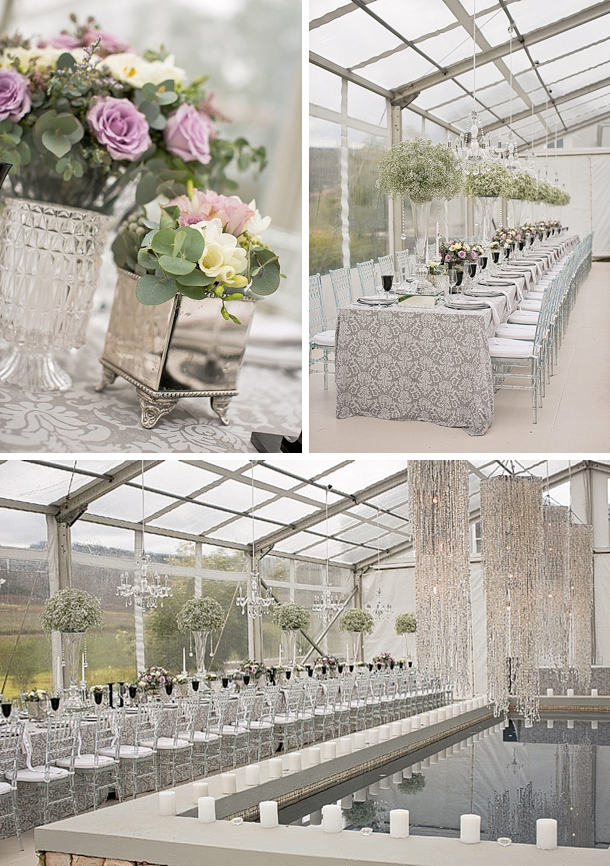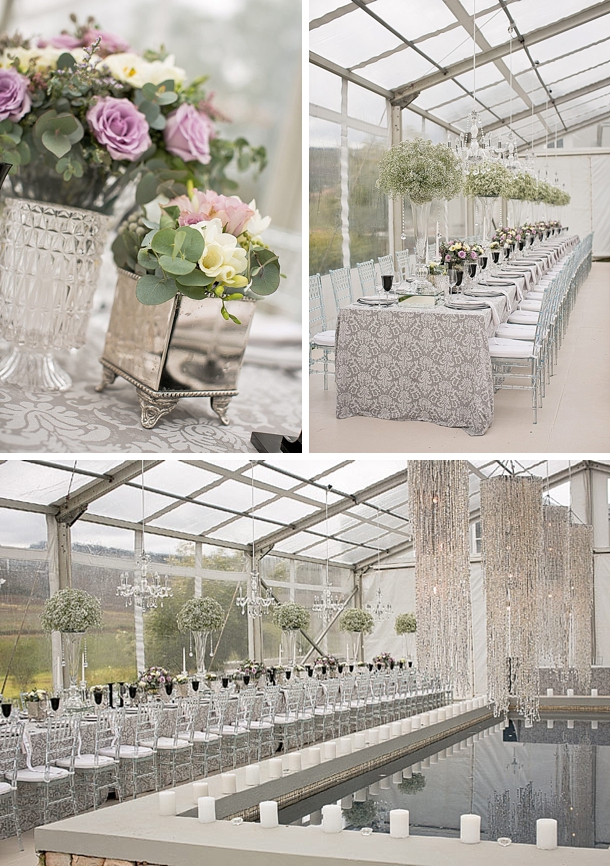 The moment I walked down the aisle is a special memory for both of us. For me it was having my dad walk me down the aisle and being there to share in that big moment every girl dreams of, keeping me calm and slowing me down. Francois says that it was the moment he knew this would be the best day of his life. Another memory that we treasure is when we first climbed into our wedding car after the ceremony. We looked at each other and just smiled. We didn't have to say anything, we just smiled. It was such a perfect moment!
Our wedding day was the greatest day of our lives. We both love our families, music and good food it was important for us to show this in our wedding. We decided to make a whole weekend of it and we picked a long weekend filled with fun, laughter and just making the most of the time with our friends and family. Just knowing that the people we love were there to share in our joy and happiness made it so special. You truly could feel the excitement in the air. And I'll never forget those nights before the wedding when our whole family sat around a big table and everyone just jumped in to help with all the DIY projects. Those are the moments we'll never forget.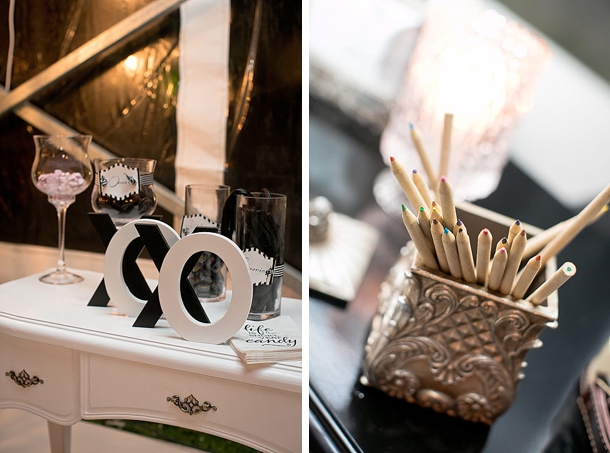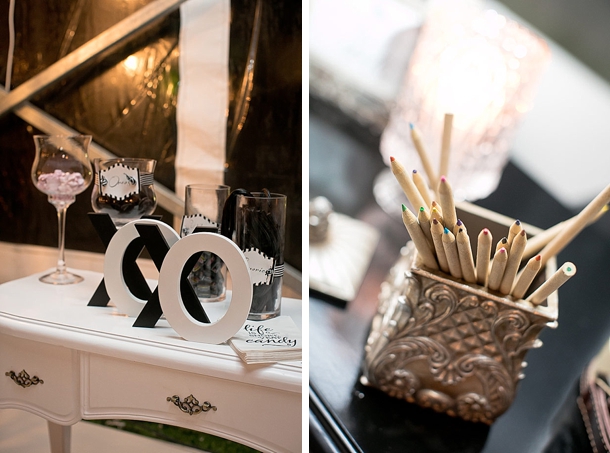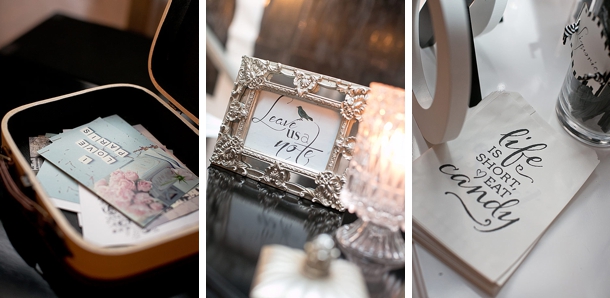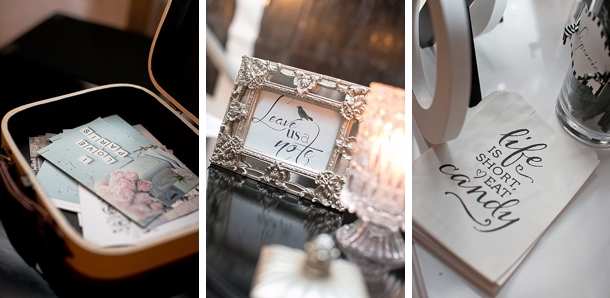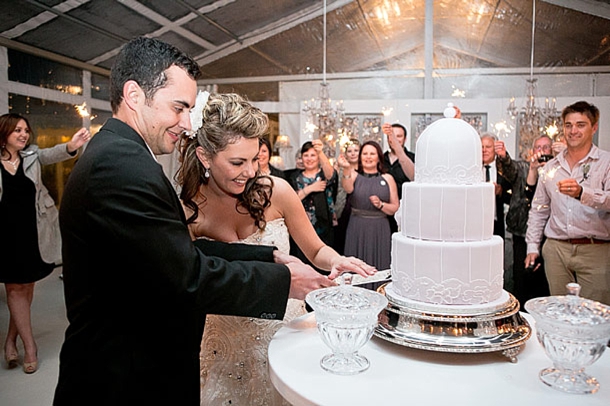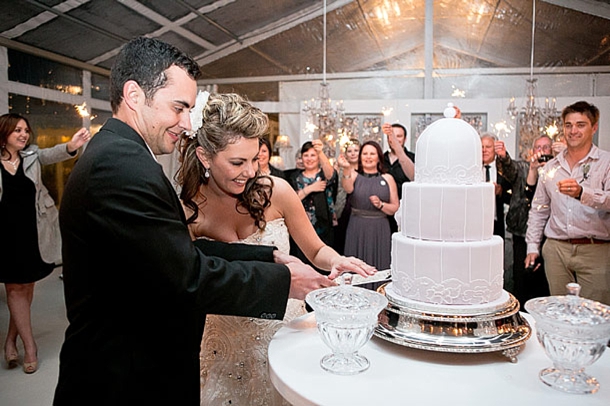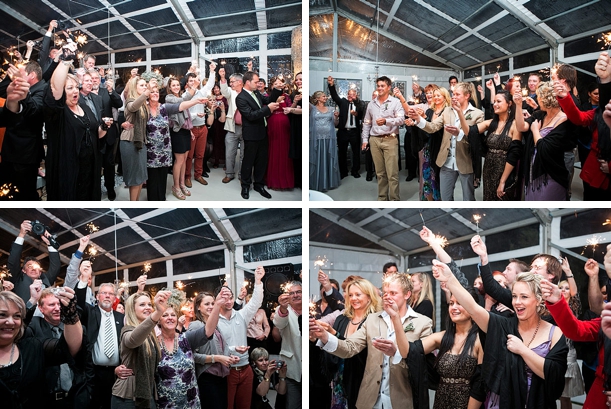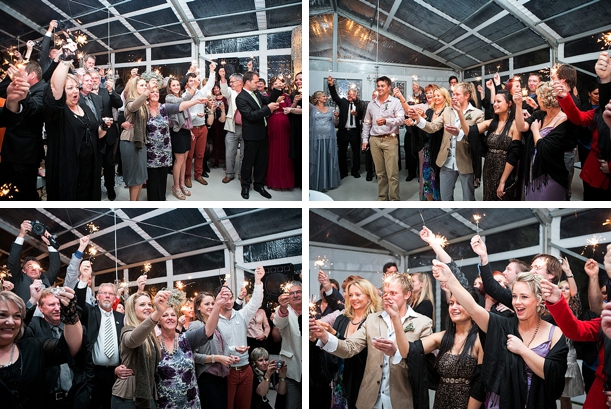 I know they say that time flies on your wedding day, but it really does. So my advice to future brides is to savour every moment. We decided to have a fifteen minute break just for us, after we had taken all the photos and just before we entered the reception. We had asked that they arrange a glass of champagne and some of the canapés. And we sat down, stopped, and took everything in. We looked around and just soaked up the moment together. Otherwise it sort passes you by.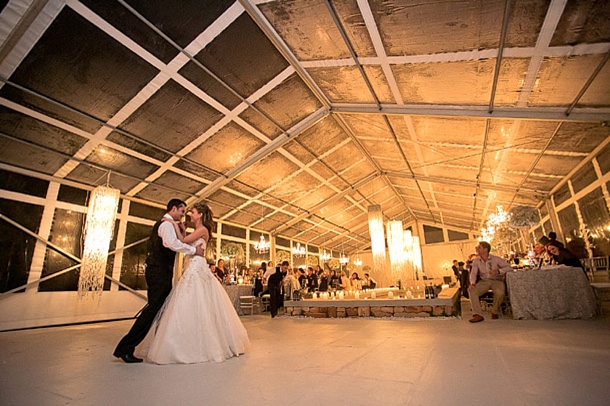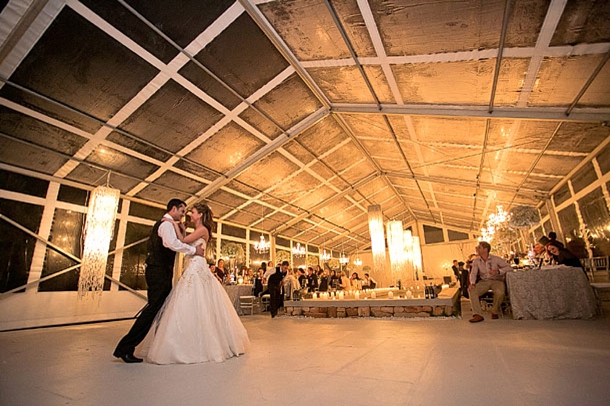 Thank you so much Estie and Francois, and I'm delighted to be sharing your big day here. And a huge thank you to Adene for sending over her beautiful pics – as always, you can find more over on her blog.
SERVICE PROVIDERS
Venue & catering: South Hill | Photography: Adene Photography | Flowers & decor: Marina Moorcroft | Cakes: Edible Art Cakes | Stationery: Blueprint Design Studios | Bride's dress: Magda Grové | Hair & makeup: Amelia Kotze | Hiring: La Maison | Marquee hire: Elite Marquees & Events | Accordion: Andre van Vuuren